THINGS TO DO in LAKE KÖNIGSSEE, GERMANY
[Updated 2023]
This article highlights the best things to do in Lake Königssee in Germany. This beautiful lake was one of our favourite places that we visited as we motorhomed through Germany.
Nature's exquisite scenery abounds around Königssee. And these top tips for visiting Königssee will help you to enjoy both its scenic beauty and its serenity.
Lake Königssee is part of the Berchtesgaden National Park, in the southeast corner of Germany. It's at the foot of the magnificent Berchtesgaden Alps in the Bayern district, also known as Bavaria. Bayern is the German word for Bavaria.
Königssee Lake is the crown jewel of the small town, Schönau am Konigssee and is one of the most impressive scenic areas in Germany.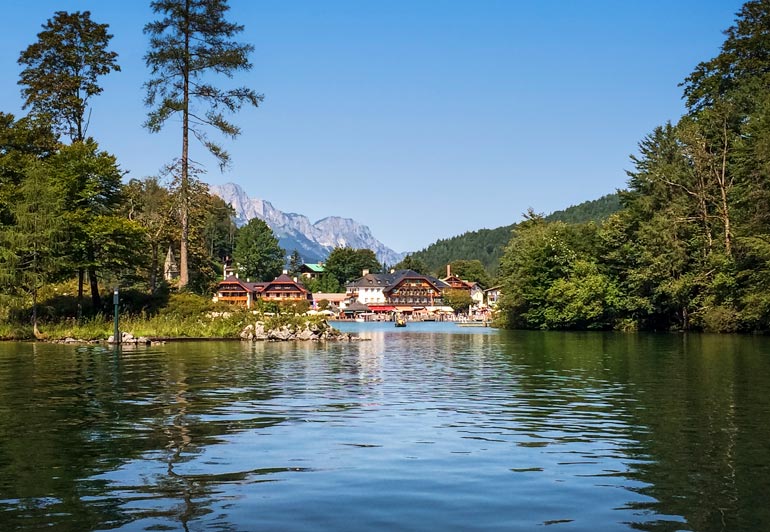 Planning a Trip to Germany?
ABOUT LAKE KÖNIGSSEE
Konigssee Lake (sometimes spelt Koenigssee), is the cleanest lake in Germany because, since 1909, only pedal, rowing or electric boats have been allowed on it.
The Lake is 7.7 km in length and 1.7 km at its widest point. It was originally carved by glaciers thousands of years ago, during the ice age.
At its deepest point, Königssee Lake is 190 metres, but on average it's about 100 metres deep, making it the 3rd deepest lake in Germany.
The Watzmann Mountain to the east, reaches almost 9000 feet above the lake's shimmering green ripples. The scenery around Konigssee Lake reminded us of Norway's fjords.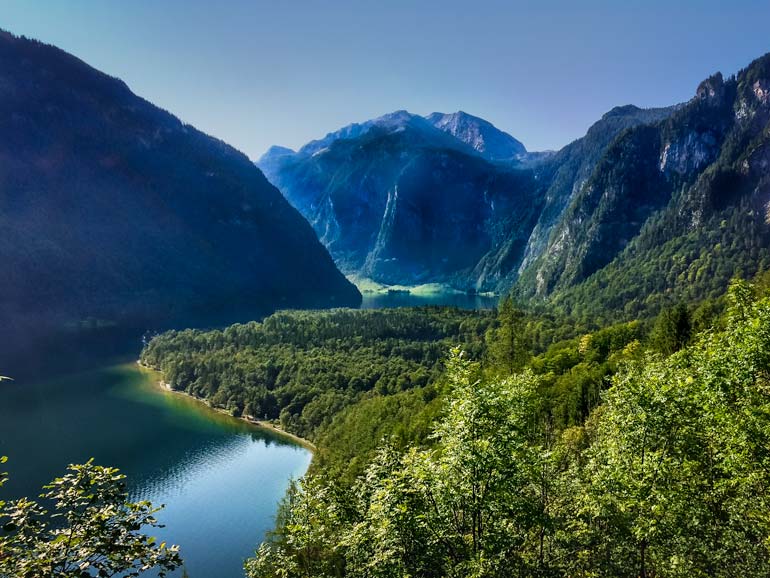 MAP: LAKE KONIGSSEE – Things to Do
HOW TO USE THIS LAKE KONIGSSEE MAP
To use this map, expand it using the square symbol on the top right-hand side and you will find the key on the left-hand side.
THE TOP THINGS TO DO AT LAKE KÖNIGSSEE
---
1. STROLL LAKE KONIGSSEE HARBOUR
The cutesie village around the harbour is full of classic Bavarian-style buildings with plenty of restaurants for refreshments and gift shops to browse.
Near the car park, you'll find the tourist information office and there are a couple of nice walks accessible from behind the boathouses.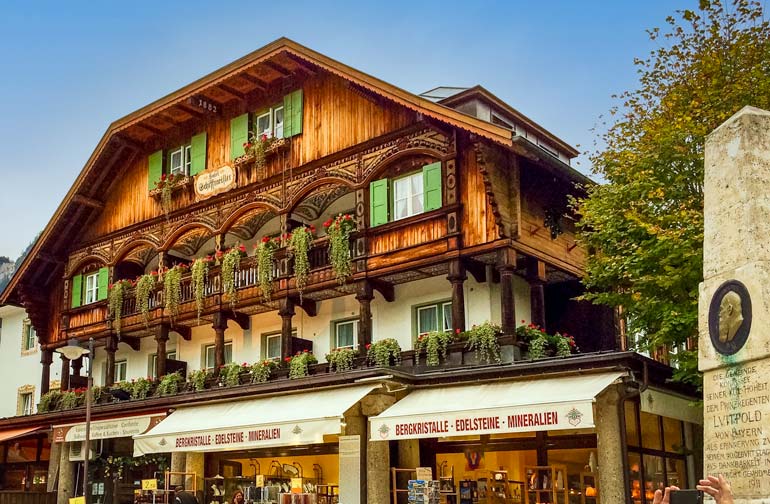 2. TAKE A KONIGSSEE BOAT RIDE
If you are visiting Lake Konigssee, then taking a Königssee boat tour, on an electric boat to the further reaches of the lake is a must.
There aren't any paths around the lake, so unless you are up for serious mountain climbing and hiking then the boat is your only option.
We recommend booking your ticket a day in advance because, as we mentioned earlier, Konigssee Lake is one of the top places to visit in Germany and can become extremely busy.
We arrived at Konigssee the night before and bought a ticket for the first boat, at 8 am the next day. However, you can also order your Konigssee boat ticket online a day before.
Tickets are collected from the kiosk at the lakeside, where it is also possible to hire a rowing boat.
The boats normally run every 30 minutes with times changing depending on the season.

Konigssee's 19 electric boats run year-round unless the lake freezes. They leave from the pier at Konigssee (see map, 'Seelände Königssee') and can take you to three stops.
Kessel: this stop is by request only, (usually only used by hikers)
St. Bartholomew Church and the farthest stop,
Salet. (Note – the boats don't go to Salet in the winter season)
These eco-friendly boats carry about 80/90 passengers so although the boat itself is quiet, if the passengers are chatty you might not get the serene experience that you might expect.
There aren't any toilets on board so make sure you have taken care of business beforehand — watching all that water and 'needing to go' don't make for a good mix.
The first stop at St. Batholomew church is about a 35-minute trip and onwards to Salet takes another 20 minutes.
Note: Bayerische Seenschifffahrt, the company that runs the Konigssee boat tours, advises that when it is busy, to take the boat trip to St. Bartholomä before 10.30 a.m. and return from St. Bartholomä by 2.30 pm at the latest.
Listen to the Flugelhorn Echo
A special part of the Konigssee boat ride is the flugelhorn echo.
At a certain point on the boat trip, the captain will stop the boat and play the traditional flugelhorn (a type of trumpet). The sound of the horn echoes back from the steep rockfaces and creates a mesmerising experience.
Note: Dogs can be taken on the boats, but they must wear a muzzle.
3. VISIT ST BARTHOLOMEW CHURCH
St. Bartholomew Church (Kirche St. Bartholomä), is an attractive red-domed Baroque-style building, named after the patron Saint of alpine farmers and dairymen.
A church was originally built here in the 12th century but it was remodelled in the Baroque style in the 16th century.
The church, on what is now called St Bartholomew Peninsula, overlooks Konigssee Lake, so it's easy to spot its red and white facade as you approach.
It's close to the pier where you disembark, and right next to it is what was once the summer residence of Bavarian kings, the old Hunting Lodge, now a restaurant offering local delicacies.
St.Bartholomew Church is a pilgrimage church and an annual pilgrimage still occurs in August.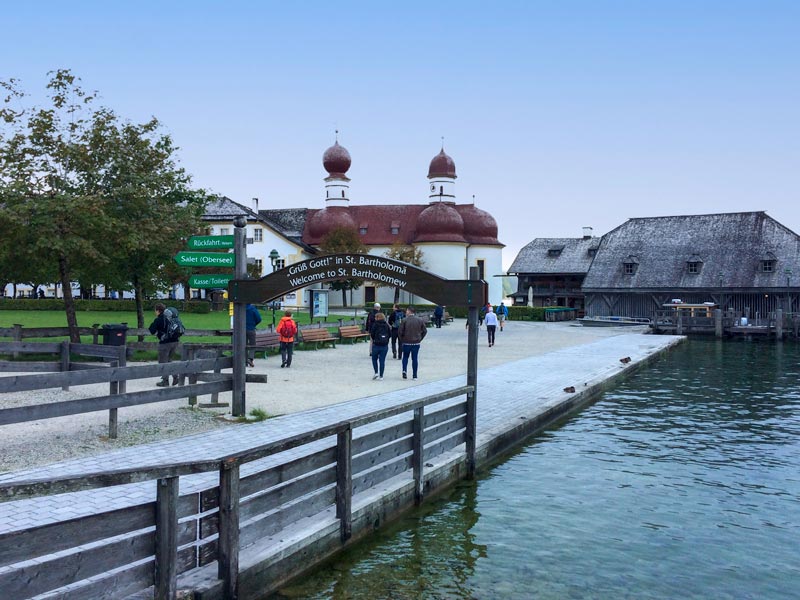 4. TAKE IN THE MAGNIFICENCE OF LAKE KONIGSSEE
Along the side of the lake, just past the church, is a paved path that gives you magnificent views across the lake.
As we arrived early, about 8.30 the path wasn't busy and we had it to ourselves. With the addition of early morning mist, the lake had a magical mystical feel.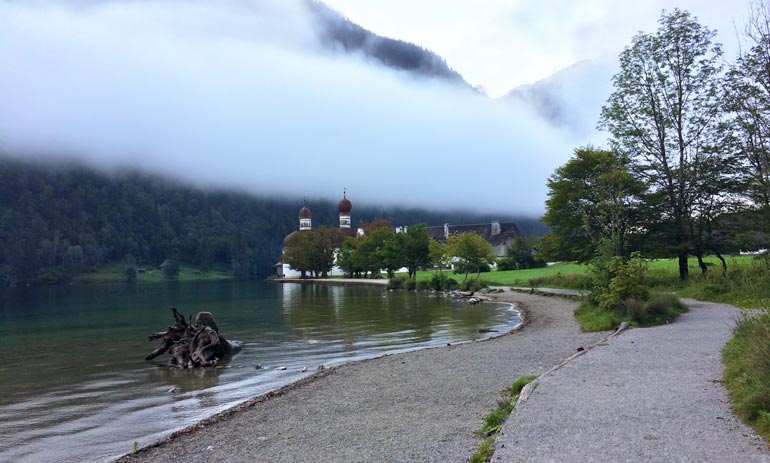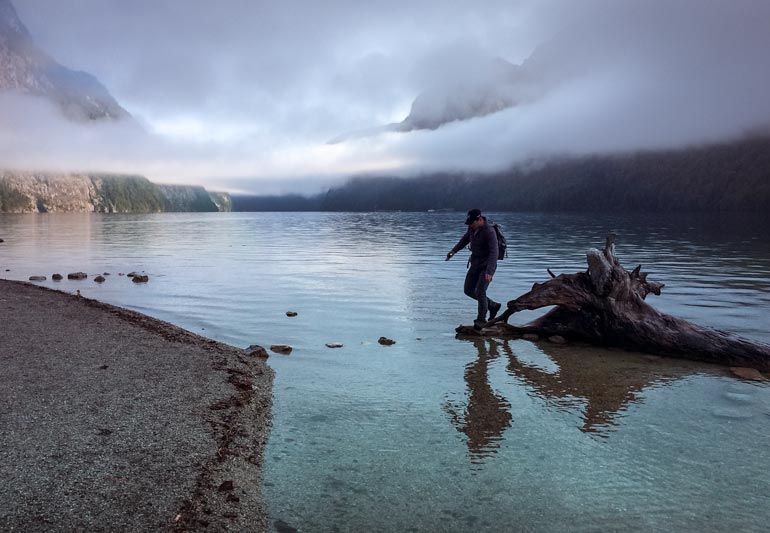 5. CLIMB THE MOUNTAINSIDE FOR A BIRDSEYE VIEW OF LAKE KONIGSSEE
If you continue along the paved path, past the church on the left, you'll finally come to a trail leading upwards.
This hiking trail is quite steep but it will bring you up to a height where you can look out over the lake. From here, you'll have a stunning birds-eye view of Lake Konigssee.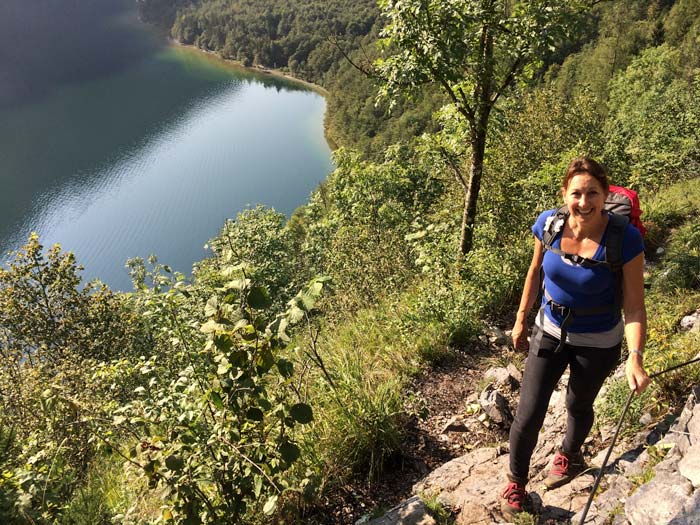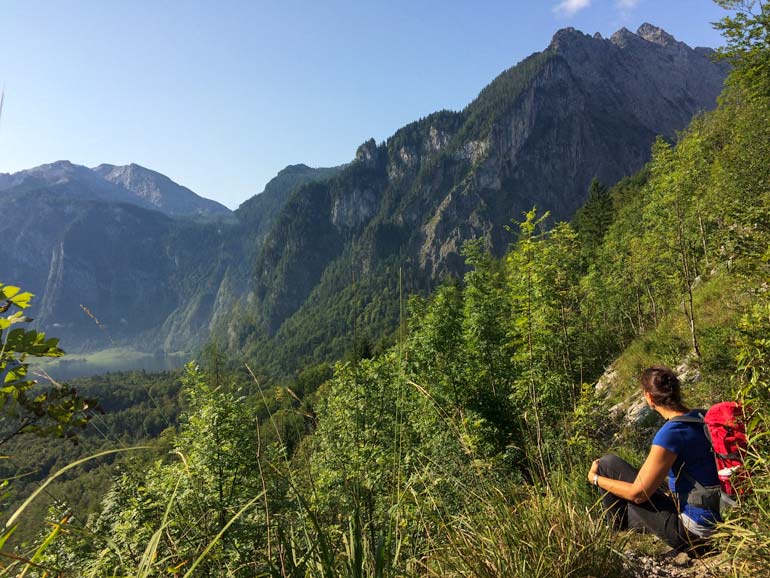 6. WALK TO ST. JOHANN AND PAUL CHAPEL
About a kilometre from the Bartholomew pier, you will arrive at the most charming little church of St. Johann and Paul, dating from 1620.
The pathway here is an easy walk and great for those who aren't up for the more difficult hike to the Ice Chapel which is further along the trail.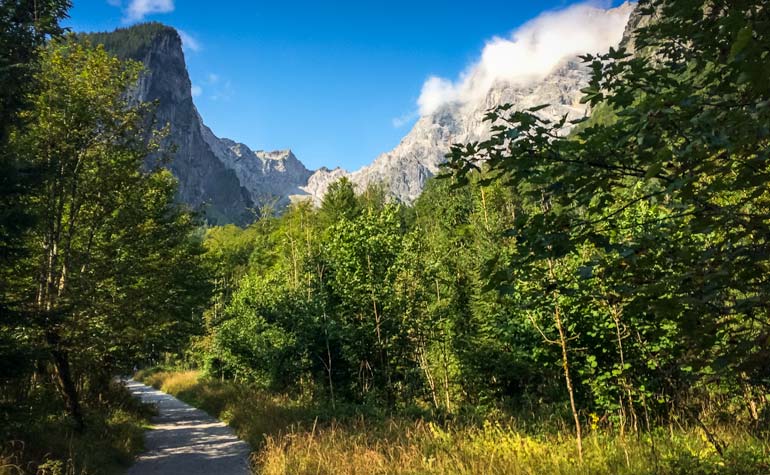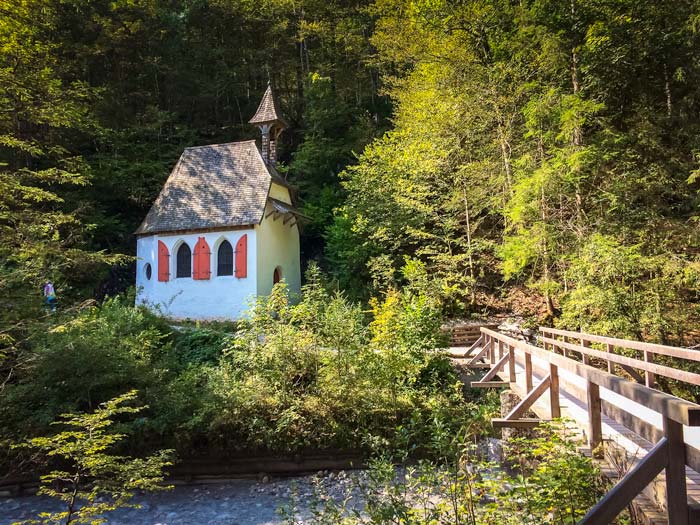 7. TAKE A HIKE TO THE ICE CHAPEL (EISKAPELLE)
The ice chapel (Eiskapelle) sits at the foot of the imposing Watzmann Mountain. Although it is nothing like a chapel, (it's an ice cave), the hike to get there is worth it.
The scenery on the way and the view across the mountains from the ice cave was spectacular.
The Ice Chapel is about a 6km hike from the St. Bartholomew pier taking about one and a half hours to reach.
Note that the trail, after St Johann and Paul Chapel, isn't suitable for pushchairs and involves some rough ground.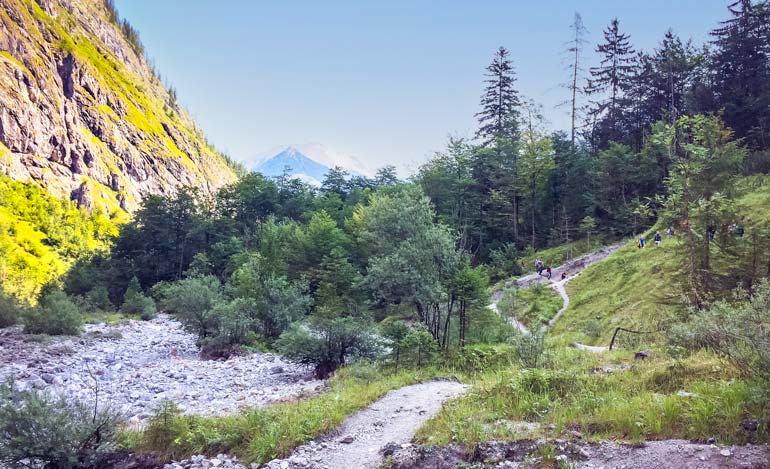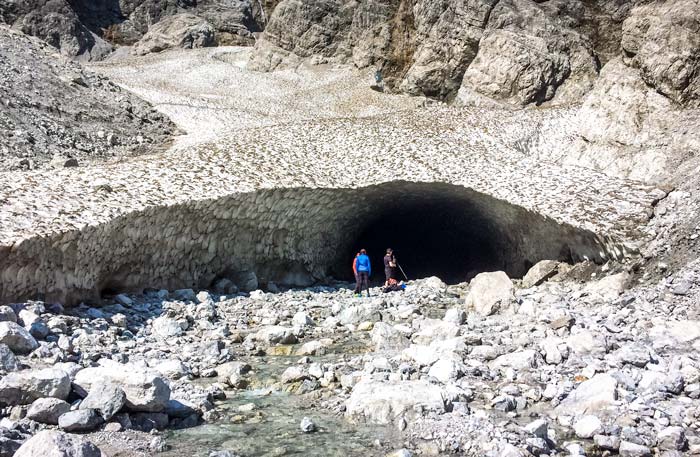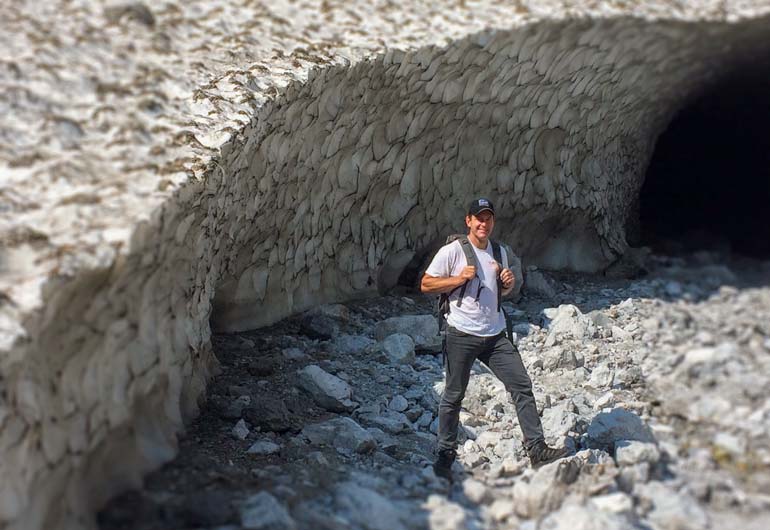 8. WALK TO OBERSEE LAKE AND RÖTHBACH WATERFALL
If you take the boat all the way to Salet, you will be able to walk a short distance to Lake Obersee. The path is easy to walk and takes about 15 minutes.
If you are feeling a little more energetic you can take the trail around the lake and travel a few more kilometres to the opposite end, where you'll find the highest waterfall in Germany.
The Röthbach Waterfall falls 480 metres but may look a little underwhelming in the summer months.
Due to its out-of-the-way location, it isn't too busy and you are more likely to find the tranquillity that is perfect to enjoy the beautiful scenery.
9. WALK TO THE MALERWINKEL VIEWPOINT
The Malerwinkel viewpoint is easily reachable from Konigssee Lakeside. The path starts behind the boathouses on the left as you face Konigssee Lake.
Malerwinkel's viewpoint is otherwise known as 'Painter's Corner'. From here you have a stunning view of the lake framed by pine trees.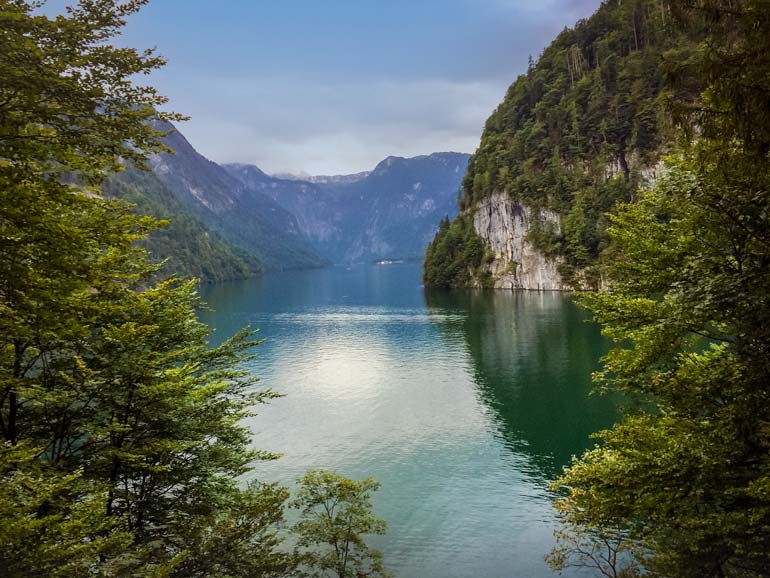 10. Ride the Jennerbahn Cable Car
In June 2019, the new Jennerbahn Cable Car began operating with passengers taking their seats in floor-to-ceiling glass 10-seater gondolas.
There are three cable car stations; one in the valley, another halfway, called Halftime, and the one at the summit is called Jenneralm.
There are several hikes that can be taken and more information can be found at the Jannerbahn. They include:
Bergstation uber Forststrasse: 3.5 km, 1.5 hours, Easy
Gipfelweg: 550 metres, 15 mins, Easy
Rundwanderweg: 1.8 km, 45 mins, Easy
Stufenweg: 4 km, 1.5 hours, Medium
Bergstation uber Konsweg: 6.5 km, 2.5 hours, Medium
The ticket office at the Jennerbahn Valley Station is open daily from 8:00 a.m. There are restaurants at both the middle and summit which are open daily from 9.30 am – 5.00 pm.
11. WATCH THE ANNUAL ALMABTRIEB
Each year, at the end of the summer season, the Alpine cattle roaming the lush pastures around Salet are brought back down from the hills and taken to their owner's cow sheds for the winter months.
In Bayern (Bavaria) this event is marked by the tradition called Almabtrieb. The whole village joins in the celebration of the safe return of the herd.
Locals wear their traditional costumes of dirndl and lederhosen and the cows are decorated in elaborate headdresses called Fuikl. The farmers can spend up to 30 hours making these from spruce branches and brightly coloured twigs.
Because there aren't paths along Konigssee Lake, the only way to get them back to Konigssee is by boat. Special wooden transporter boats called Landauer are used to bring the cows home safely across the lake.
So if you are visiting Konigssee in September, it is worth finding out the date of the Almabtrieb.
Scroll to the bottom of the Bavaria website page for dates
12. Enjoy a Konigssee Day Trip or Tour
Most of the Köngssee day trips and tours leave from Munich. We've included a selection of your best options below:
1. Eagle's Nest, Lake Königssee and 'Fuehrer Headquarters' Private Tour from Munich
If you prefer to have a tour guide all to yourself and the luxury of a private tour then this private tour from Munich, with luxury transportation and historical commentary is a great option.
With a multitude of stops and sights to explore, this is a perfect whistlestop tour of Bavaria's Obersalzberg and Berchtesgaden area.
The tour has all 5-star reviews with guests leaving comments such as:
"An Unforgettable Private Day Trip with our Highest Recommendation" — AnnLynn.H
"Awesome private tour" – Richard.H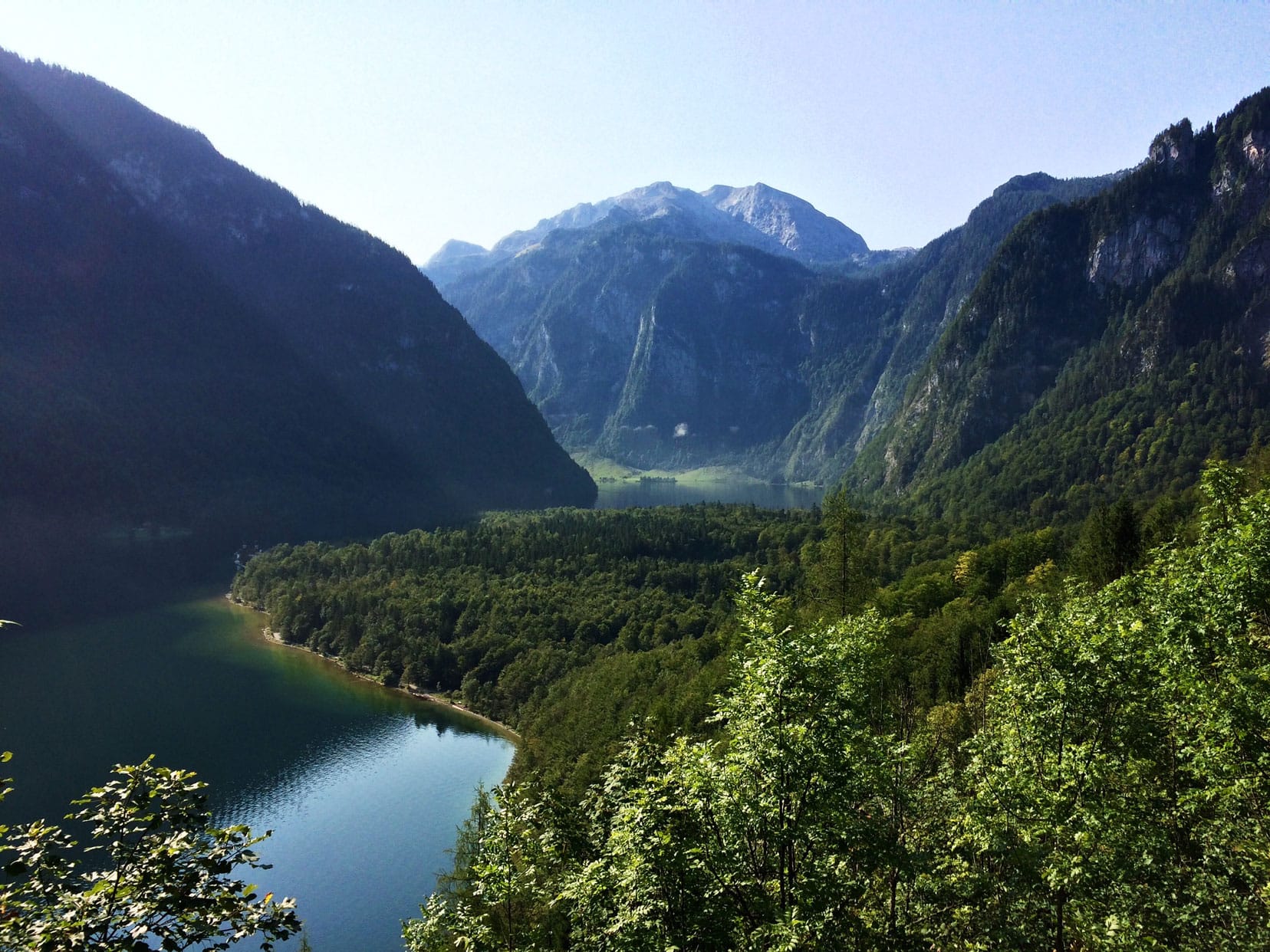 Eagle's Nest, Lake Königssee and 'Fuehrer Headquarters' Private Tour from Munich

| ⭐️ 5/5 Star Reviews | ⏰ 9-11 hours| Find out More or Book Here
2. Lake Konigssee and Berchtesgaden Salt Mine with Bavarian Lunch
This private tour is all-inclusive, so there aren't any extra costs to account for. You will be picked up from your accommodation in Munich where your fully catered day trip begins.
Explore Königssee Lake, a boat trip included and enjoy a traditional Bavarian Lunch before heading to the famous Berchtesgaden Salt Mine.
Visitor comments include:
"The service was above and beyond" — Tripadvisor Review, May 2023
"What a recommendation. What a wonderful time." Tripadvisor Review, May 2023
Private Tour to Lake Königssee and Salt Mine Berchtesgaden with Bavarian Lunch

| ⭐️ 5/5 Star Reviews | ⏰ 9-11 hours| Book Here
3. From Munich: Königssee Day Tour by Van
This day tour includes:
Drive along the most scenic German Alpine road
Enjoy the marvellous valley of Berchtesgaden and Königssee
Take a boat ride to the peninsula
Visit the famous chapel of St. Bartholoma
Hear the wonderful echo of the Königssee on the boat ride
Do note that the cost of the boat ride isn't included in the cost of the tour.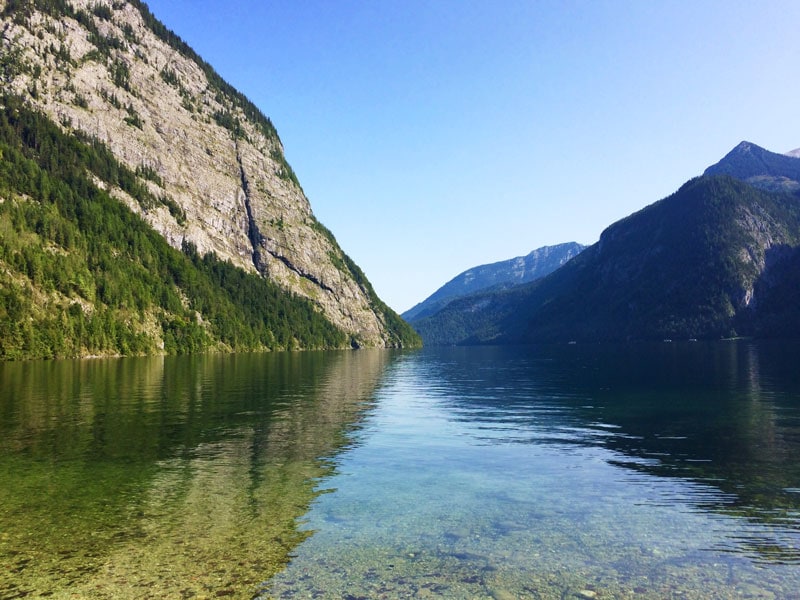 Königssee Day Tour by Van

| ⭐️ 4.8/5 Star Reviews | ⏰ 9 Hours| Book Here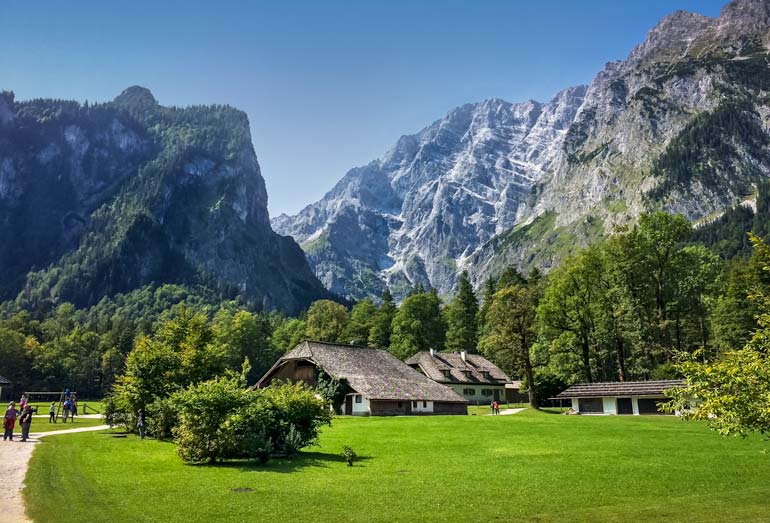 WHEN IS THE BEST TIME TO VISIT LAKE KONIGSSEE?
The best time to visit Lake Königssee depends on the activities that you might be interested in.
Between May and October, the temperatures are milder and the days longer, which means this is a great time to visit if you like to go hiking, and for exploring one of the most beautiful lakes in Europe.
The peak season in Germany is from July to mid-September, so although the weather may be warmer the crowds will also be larger. Visitor numbers will also swell on public holidays and in good weather.
The main obstacles when visiting Konigssee Lake at these busy times will be getting a ticket for a boat ride and increased waiting times for your return Konigssee boat trip.
As mentioned earlier, in busy periods, it is recommended to take the boat trip to St. Bartholomä before 10.30 a.m. and return from St. Bartholomä by 2.30 pm at the latest.
If you are looking for fewer crowds and cheaper prices, the shoulder season of May and June or September and October would be the best time to visit.
Winter, is another option with the chance of snow-filled scenes, but temperatures can get below freezing.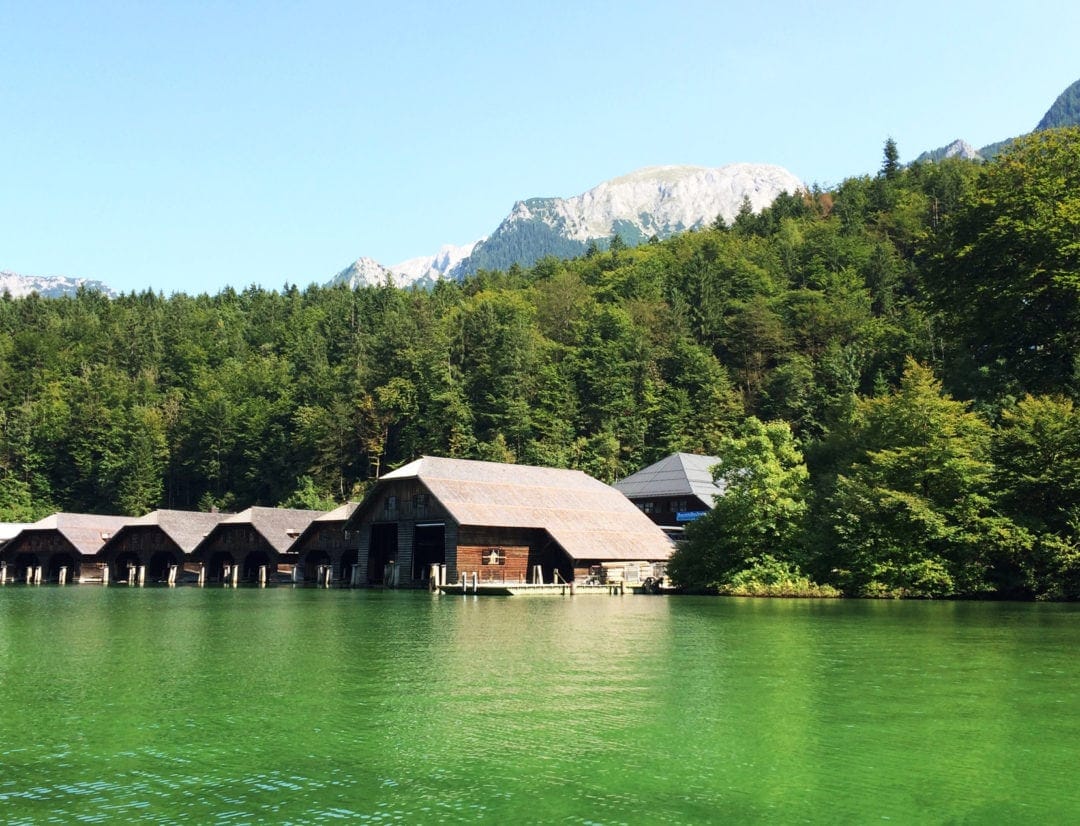 HOW TO GET TO LAKE KONIGSSEE, BAYERN
Konigssee By Car
Konigssee From Salzburg: Schonau am Königssee is close to the border of Austria and is only 30 kilometres, about a 40-minute drive, from the cultural city of Salzburg. If you are driving to Konigssee from Salzburg you would take the B150 and B305.
Konigssee From Berchtesgaden: Lake Königssee is about 5-minute drive south of Berchtesgaden in Bayern.
We were in our motorhome and parked in the Lake Konigssee car park as marked on the above map. It is paid parking and we suggest buying a day ticket; the other options are 1-3 hours, but if you are taking a boat ride you will need the extra time so that you don't have to rush.
Konigssee By Public Transport
If you don't have your own transport then the number 841 bus takes about 10 minutes from Berchtesgaden Train station to Konigssee. As it is a relatively short distance, so you could also catch a cab or even walk, which would take about 40 minutes.
The Deutsche Bahn (DB) website provides train and bus times from other points of travel within Germany.
WHERE TO STAY IN LAKE KÖNIGSSEE
Camper and Motorhome Campsite in Königssee
We were motorhoming in Germany and stayed overnight in the Konigssee car park with other campervans. However, there was uncertainty as to whether we were actually allowed to.
There is a 'proper' campsite, Grafenlehen campsite to the rear of the car park which looked nice and if you plan to stay for a few days then that looks like a good option.
Könnigssee Hotel Accommodation
There are plenty of other accommodation options in the nearby Schönau am Königssee, where you have choices of mountain views, forests, heated pools and Bavarian cuisine.
A few of our favourites we found that have good reviews are:
🛏 Ferienwohnungen Manger apartments have a fully equipped kitchen, a flat-screen TV with satellite channels, and a private bathroom with a shower. Guests have rated it as exceptional and as a bonus, it is only an 8-minute walk to Königssee Lake.

👉 Find the Price and read reviews here.

🛏 Hotel Köppeleck is set in stunning scenery with views of the mountains and is surrounded by forest and Alpine meadows. Guests rave about the great breakfast and it's only a 5-minute drive to the lake.

👉 Find the price here or read reviews on Tripadvisor

🛏 Stoll's Hotel Alpina is a traditional Alpine Style hotel with a heated indoor pool, as well as an outdoor pool. The restaurant menu includes Bavarian cuisine and a half-board option with a 3-course menu that can be booked upon arrival. Lake Königssee is a 10-minute drive away.

👉 Find the price here or read reviews on TripAdvisor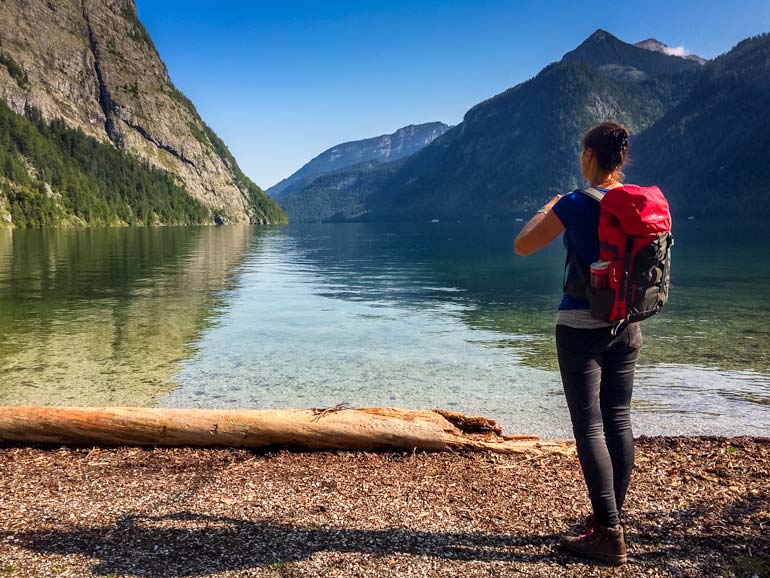 Lak Konigssee FAQs
Why is Königssee famous?
Königssee is famous for its stunning natural beauty. Lake Konigssee is surrounded by majestic mountains, dense forests, and picturesque landscapes, and as nature lovers and photographers, this made it a wonderful destination to visit.
Can you swim in Königssee?
You can swim in Konigssee but the temperature rarely gets above 20 degrees so be prepared for an icy dip.
How do you explore Konigsee?
The best way to explore Königssee is by boat and walking or hiking. The Jennerbahn Cable Car also takes you to hiking routes accessible further up in the mountains.
Can you walk around Konigssee?
You can't walk around Konigssee because there is limited access to the shoreline. You can take a boat ride to a certain part of the lake which is interesting to walk around and can also take a cable car into the surrounding mountains from Konigssee Valley.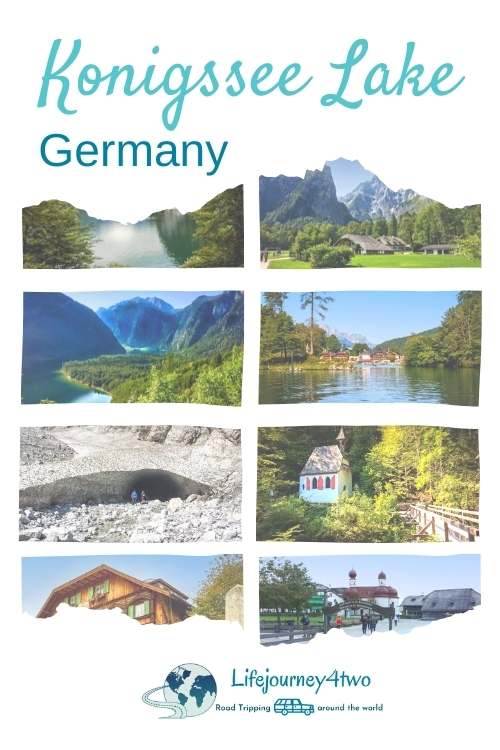 THINGS TO DO AT LAKE KÖNIGSSEE… THAT'S A WRAP
So there you have it, a list of Konigssee things to do and our top tips for visiting Lake Konigssee.
Königssee's combination of natural beauty, pristine water, unique acoustic features, historic landmarks, and recreational opportunities make it a fabulous place to visit in Germany.
We hope this has given you some inspiration for your trip to Germany's beautiful Bavarian Alps. Remember to book your boat tour in advance, and take plenty of photos to remember your visit.
Enjoy the scenery, breathe in the fresh mountain air, and soak up the magic of Konigssee.
If you enjoyed this post and found it useful why not sign up for our monthly newsletter — we send you new travel guides, tips and inspiration for your future travel, discount codes and you can also download a 23-page FREE Travel Planner.
YOU MAY ALSO LIKE TO READ:
PLANNING YOUR TRAVELS?
These are some of the travel resources we use when planning our trips.
For a more thorough list visit our Travel Resources page here.