MOTORHOMING IN GERMANY
Germany brings to mind Black Forest gateau, bratwurst, fairytale castles, the Berlin Wall, Oktoberfest, beautiful Lake Königssee and pretzels.
It is also the country that gave birth to one of the most famous scientists of all time — Albert Einstein. Whether you are campervanning or motorhoming in Germany, you will have the freedom to experience the true essence of German culture.
Germany's landscapes include scenic mountains, Alpine-like meadows, waterfalls and wonderful freshwater lakes.
Its capital Berlin, along with Hamburg, Munich, Frankfurt and Cologne make up the five largest cities in the country.
So, whether you prefer to tour Germany's rural roads or taste its urban culture, you'll find a German proud trip route to suit you.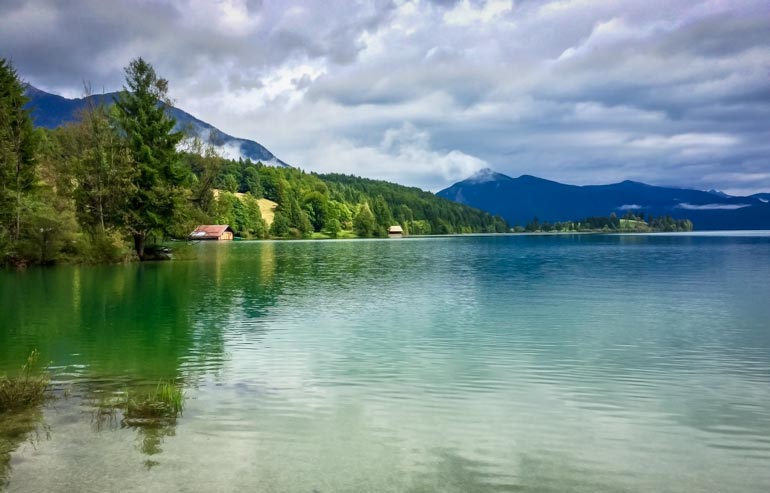 Planning a Trip to Germany?
For those of you who are new to motorhoming, our article, Motorhoming Tips for Beginners will give you good pointers to make your trip so much easier and stress-free. We also highlight many of the Campervan Accessories we find useful.
HOW THIS CAMPERVANNING AND MOTORHOME IN GERMANY ARTICLE WILL HELP YOU:
♥ Suggested Motorhome routes and road trips in certain regions of Germany
♥ We include our stopovers and motorhome sites in Germany
♥ Details on motorhome or campervan rental in Germany
♥ Advice in relation to driving a motorhome in Germany
♥ An interactive map with motorhome overnight spots and places to visit
♥ Handy tips to make your motorhome tour of Germany as stress-free as possible
MOTORHOMING IN GERMANY INTERACTIVE MAP
HOW TO USE THIS MOTORHOMING IN GERMANY MAP
To use this map, expand it using the square symbol on the top right-hand side and you will find the key on the left-hand side. By clicking each location you will find extra information.
For example, each campervan/ motorhome/RV overnight park on the map has the web link to Camper Contact where you can see the facilities available, price, opening times, and useful user reviews on each campsite.
The motorhome overnight stops we used are marked with an orange circle and a motorhome icon and the places we visited are marked with purple icons.
QUICK OVERVIEW: PLACES TO VISIT AS YOU MOTORHOME IN GERMANY
Summary of places to visit on your motorhome or campervan trip through Germany, (we cover these in more detail with extra recommendations in the post – click on a place name to find it in the post)
VIDEO: GERMANY IN 2 MINUTES – A ROAD TRIP TASTER
MOTORHOME CAMPING IN GERMANY
---
WHERE CAN YOU CAMP WHEN MOTORHOMING IN GERMANY?
Throughout Germany, there are many stellplatz — places where you can stay overnight in your motorhome or campervan.
These are like the aires you would use if motorhoming in France. Facilities and the length of permitted stay vary so it's best to use an app to check the services available.
We used the Camper Contact app (about 6 euros/year) to find our motorhome overnight spots when we were travelling through Germany. They have over 6000 motorhome parking and service areas listed throughout the country.
Some motorhomers also use Park4night – our preference is camper contact but sometimes it's good to have a backup option.
In Germany, there are also boutique campsite options such as Landvergnugen. However, unless you are planning on spending quite a while in Germany, they may not be worth it. You will need to buy both the booklet and pay shipping fees for a pass that is valid for a year from each March. They allow you to stay for one night free at a local winery or local farm.
They really cater more towards those who regularly motorhome in Germany.
There are also Autohofs, which are similar to the motorway service stations but are found a little way off the main route. Autohofs charge a parking fee but are considered safer and quieter than the main service stations (which are renowned for break-ins).
To help with your road trip planning – we've included our motorhome overnight stops on the above map.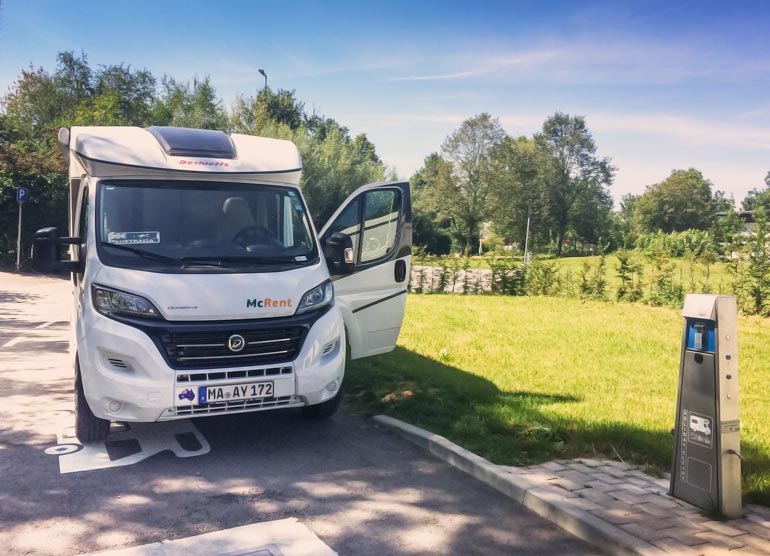 CAN YOU WILD CAMP IN GERMANY?
Wild camping in Germany isn't allowed, however overnight parking is. Therefore as long as you are just parking overnight you should be ok.
Parking means that you stay no longer than 24 hours and do not 'set up camp'. Basically, you should be able to drive off at any moment. So that means no awning out or any furniture such as chairs or tables.
MOTORHOME HIRE IN GERMANY
If you are going to be hiring a campervan or motorhome, then German motorhome rental is one of the cheaper European countries to rent from.
💥 Looking to HIRE a motorhome or camper? We used, and highly recommend, Motorhome Republic — they have an EXCELLENT rating on Trustpilot, and their customer service was amazing.
It was for this reason that our year in a motorhome journey began in Germany.
The first motorhome that we hired was from McRent and the second was from DRM. Being newbies we organised our McRent motorhome ourselves but when we knew we wanted to extend our trip we went through Motorhome Republic.
They were able to negotiate a much better deal than we could get when we tried going to the motorhome rental companies ourselves – and they did all the hard work! We are now affiliated with them because we were so impressed with them.
Also, remember to check what campervan accessories come with the motorhome and whether the price includes them.
DRIVING TIPS FOR YOUR GERMANY MOTORHOME TRIP
In Germany, you drive on the right and overtake on the left
Seatbelts are compulsory
Always have the following documents to hand:

Driver's licence (An international driver's licence isn't required if you hold a driver's licence issued by an EU Member State) See more here
Vehicle insurance (including a green card)
Vehicle registration document
Passport

The following equipment is compulsory:

Reflective Vest – to be used when getting out of the car in an event of an accident or breakdown on any road.
First Aid Kit
Headlamp beam deflectors (or adjust your beams manually if possible)
Warning triangle in case of an accident
Recommended – spare bulb kit

Speed Limits are as follows unless otherwise signposted

No speed limit – unless otherwise signposted, but recommended max is 130 km/h on motorways (Autobahns)
130 km/h on dual carriageways (recommended max)
100 km/h outside built-up areas
50 km/h in built-up areas.
Winter Tyres -You must have winter tyres if you are driving in winter conditions – you can be fined 60 euro or 80 if you cause an obstruction.
Dipped headlights must be used in tunnels and it is recommended to use them during the day
Do not overtake a school bus at a stop – you can be fined.
If you have a GPS or Satnav system that shows the location of speed cameras, then this function must be disabled and the use of radar detectors is forbidden
Campervans/ motorhomes RVs and cars with caravans are not allowed to exceed 18.75 metres in length, 4 metres in height and 2.55 metres in width.
Germany does not have tolls (unless your vehicle weighs more than 2.5 tonnes)
However, some cities have low emission zones – Unwelt Zones. (You can apply for a 'Plackett' online or at a testing station in Germany) Read more here.
To find Germany's LPG stations – check locations here.
Germany Road signs – find a comprehensive guide here
Emergency Number: 112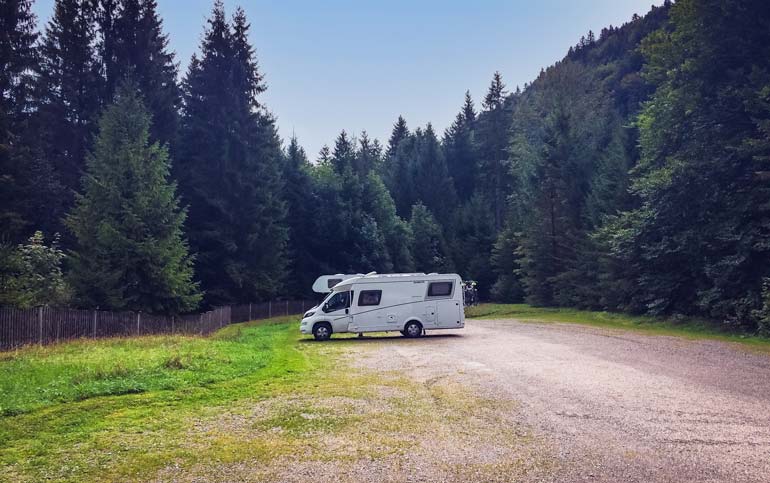 PLANNING YOUR MOTORHOME ROUTE THROUGH GERMANY
---
MOTORHOME APPS TO HELP YOUR PLANNING
We have included all of our motorhome camper stops we stayed at in Germany – with most having links to the camper contact site where you can see reviews and available services. We used this app the most when motorhoming through Germany. Another app you might find useful is Park4 night, which many motorhomers also use.
If you are travelling as a couple, this post: 15 Fantastic Road Trip Tips for Couples will be super helpful.
HAVING FLEXIBILITY AS YOU MOTORHOME GERMANY
Motorhoming through Germany means that you are totally flexible on your road trip, and you can either have a fixed plan and route all mapped out or you can travel along and decide where to go as your fancy takes you.
When we travel, we kind of end up with a happy medium of both. We basically know where we are headed but we try not to lock anything in so that we have options to stay longer in certain places we like.
While Motorhoming through Germany, we tended to stay off the motorways as much as possible. This meant that we avoided the tolls and also, as in most countries, you see much more while driving the back roads than you would ever see stuck on the motorway.
However, if you are time-poor and need to get to your next destination pronto, then the motorways would be the way to go because the back-road routes are likely to be much slower.
Things to also consider when planning your campervanning trip to Germany:
The high season in Germany is in July and August (as is most of Europe), so expect the main cities, Berlin and Munich and the southern regions of Bavaria and the Black Forest to be very busy in those months.

PLACES TO VISIT ON YOUR MOTORHOME ROAD TRIP IN GERMANY
---
SOUTHWEST GERMANY MOTORHOME ROAD TRIP ROUTE
The southwest area of Germany is the Baden-Würtemburg region, and one of its main attractions is the Black Forest.
The region is known for its kirsch brandy (schnapps), the world-renowned Black Forest gateau and hand-carved cuckoo clocks. The Black Forest is also one of great natural beauty with rolling hills, rivers and many pine forests – a beautiful place to road trip.
There are also rumours that associate the Black Forest romanticism with the fairytales of the Brothers Grimm, such as Hansel and Gretal, Sleeping Beauty and Rapunzel.
But, there is no evidence at all which substantiates these claims and I think it is more of a marketing ploy to attract tourism.
The Brothers Grimm did indeed live in Germany but they lived in the Frankfurt region, further north.
Regardless, the dark forests are prolific in the Black Forest and the German style of half-timbered housing does bring to mind those types of stories.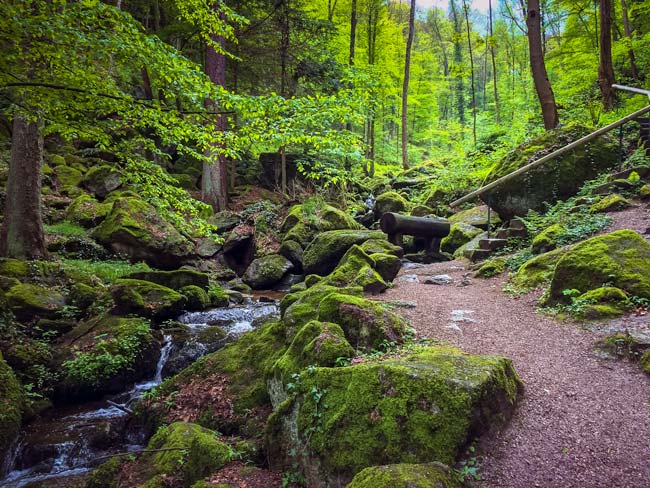 LADENBURG
Ladenburg was our first stop on our motorhome Germany road trip. We'd flown into Frankfurt from Australia and picked up our motorhome from McRent in Mannheim. We were excited but extremely jet-lagged.
One of the first things we needed to do was to stock up on groceries. McRent pointed us towards a supermarket just a few minutes' drive away. New to motorhoming and driving on the opposite side of the road that we were used to, we set off.
An hour or so later, between tears (me) and raised voices, we found a supermarket. I'd accidentally navigated us onto the motorway, taking us around in confusing circles.
Note: If you fly internationally to pick up your motorhome – book a hotel for a couple of nights to recuperate – especially if you are new to motorhoming!
So, we arrived in Ladenburg a little frazzled, to say the least. Luckily, getting outdoors and experiencing a new place is great for reducing stress levels.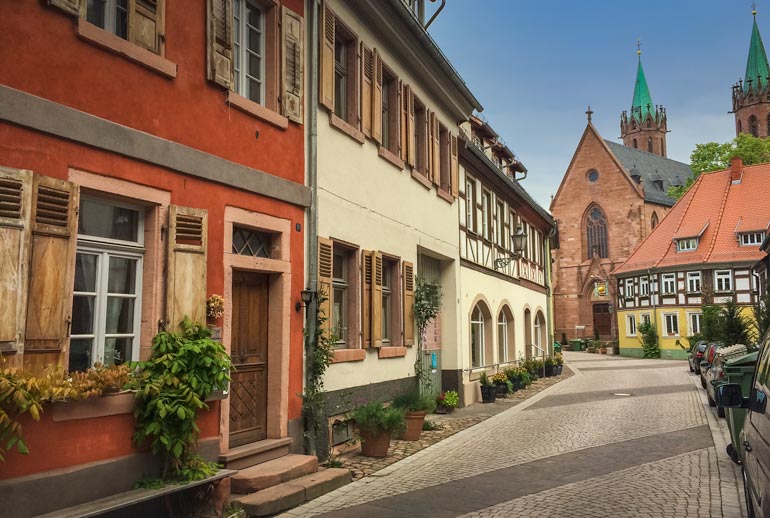 In the old town, the houses of Ladenburg were adorned with wooden shutters and wood detail on their coloured facades. Cobbled streets lead you to the central square and the town's church.
Ladenburg was the home of Carl Benz, and here you'll find the Dr Carl Benz Auto Museum, which is in the actual production factory used by Benz. There are over 300 vehicles on show, along with historical documents and information.
Opening hours: Wednesday, Saturday, Sunday and on holidays from 2 p.m. to 6 p.m.
Address: Ilvesheimer Straße 26, 68526 Ladenburg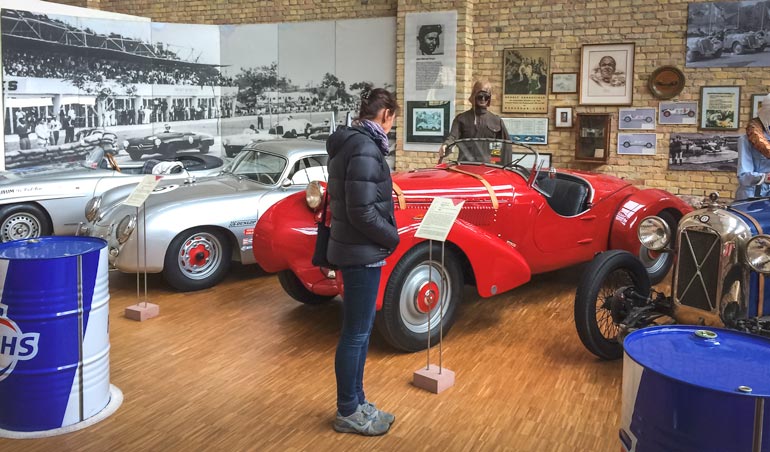 SASBACHWALDEN
Visiting Sasbachwalden was one of our favourites in the Black Forest. It was here we had our first taste of the original Black Forest gateaux, and we hiked along waterfalls and alpine meadows.
Sasbachwalden is known as the flower and wine town because of its beautiful flower displays in the summer and the local winemaking.
Around the village, you'll also find plenty of Schnapps fountains where you can pour a glass of local Schnapps for a small sum. The fountains are run on a trust basis and are even found in the heart of the forest.
The campsite was located at the bottom of the town and was within easy reach of all the suggested walks around this pretty village.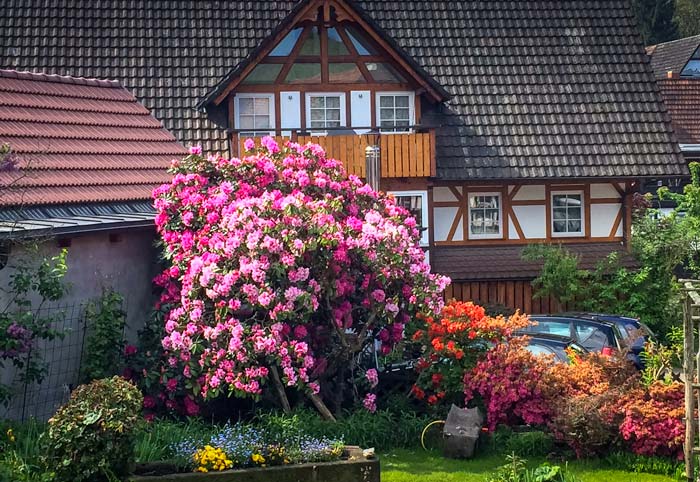 GENGENBACH
Gengenbach is another traditional German town with a medieval town centre. Explore its narrow cobblestone streets that are lined with half-timbered houses and windows adorned with shutters and flowers dripping from window boxes.
Gengenbach's old town hall becomes an Advent calendar at Christmas time. Its 24 windows are magically lit up, making it the World's largest Advent calendar.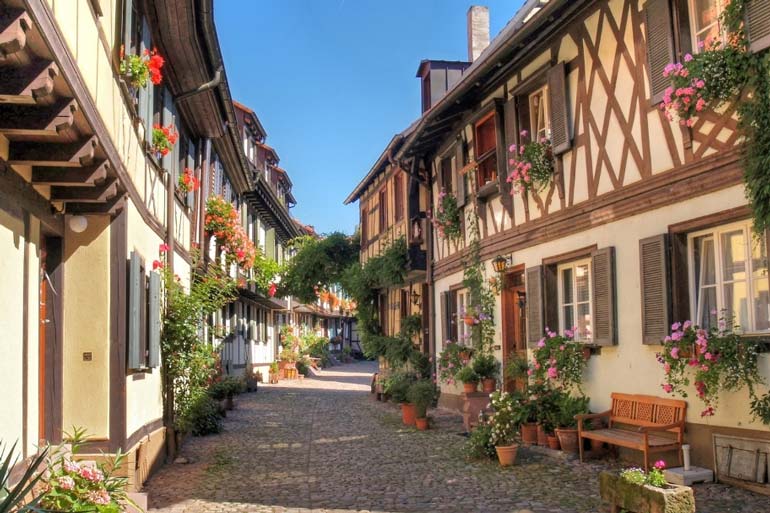 TRIBERG
Triberg is famous for its woodcarving and cuckoo clocks. Step inside one of the clock shops on the main road, and you'll be mesmerised by the tick-tocking, cuckooing and musical chimes of these intricate clock masterpieces.
While there, you could visit the Black Forest Museum, walk to the Triberg waterfalls, take a look at one of the most scenic railways in Germany and visit the largest cuckoo clock in the world.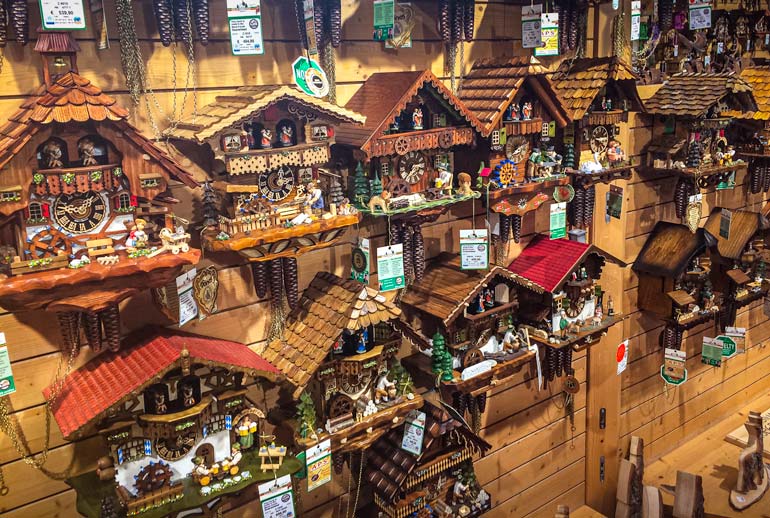 TITISEE
Titisee was much busier than we expected. The lake was beautiful, and there were lots of hiking opportunities, but unfortunately, it poured with rain while we were there so that we couldn't make the most of it.
This camp was also more expensive than our normal stops, but we needed a washing machine and dryer (due to incessant rain), so we trundled on in.
This would be a beautiful spot in nice weather, albeit a little touristy.
SOUTHEAST MOTORHOME GERMANY ROAD TRIP
Southeast Germany is the region of Bavaria (or Bayern in German), the largest state in Germany. It is here that you will find more of the stunning scenery that Southern Germany has to offer.
On our road trip through Bavaria, we saw fairytale castles, stunning crystal-clear lakes and picture-postcard scenery. But Bavaria also houses its capital city, Munich, and heartbreaking memories at Dachau Concentration Camp.
Many tourists follow the super well-known 'Romantic Road' route, otherwise known as the Romantische Straße. It runs 460 kilometres from the southern town of Füssen to the northern town of Würzburg.
However, as we prefer to avoid large crowds, we decided against that route.
We did take a quick drive-by of Neuschwanstein Castle, but on a cloudy day, it didn't look quite as impressive as the photos we'd seen. Below are a few paces we recommend adding to your Motorhome road trip in Bavaria.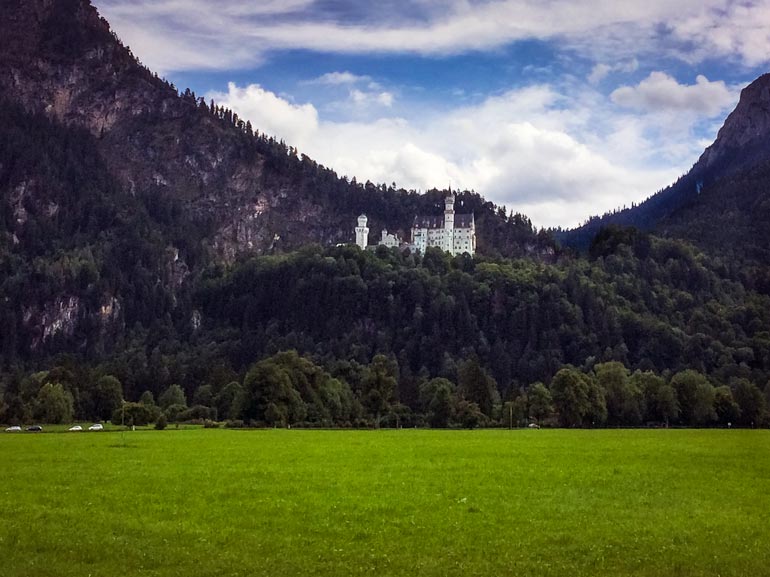 WALCHENSEE
Lake Walchenseee is surrounded by the Bavarian Alps and verdant pine forests, creating the perfect picture-postcard scene. It's an ideal spot for hiking, bike riding and swimming.
The large campsite was quiet and surrounded by pine trees. Facilities were sparse, but being beside the lake and the scenery by far made up for that. Great if you are motorhoming on a budget.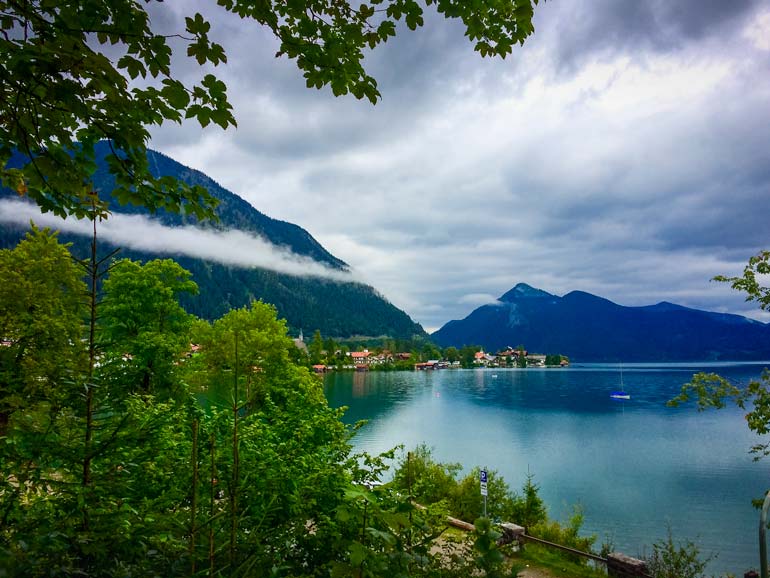 KONIGSSEE LAKE
Königssee Lake was one of our favourite spots in Germany, and if you are motorhoming in southern Germany we'd recommend stopping there for at least a whole day.
We advise getting there the night before so that you can beat the crowds the next morning and take an early boat ride out onto this majestic lake. There is plenty to see, and if you love walking and hiking, then this is the place to be.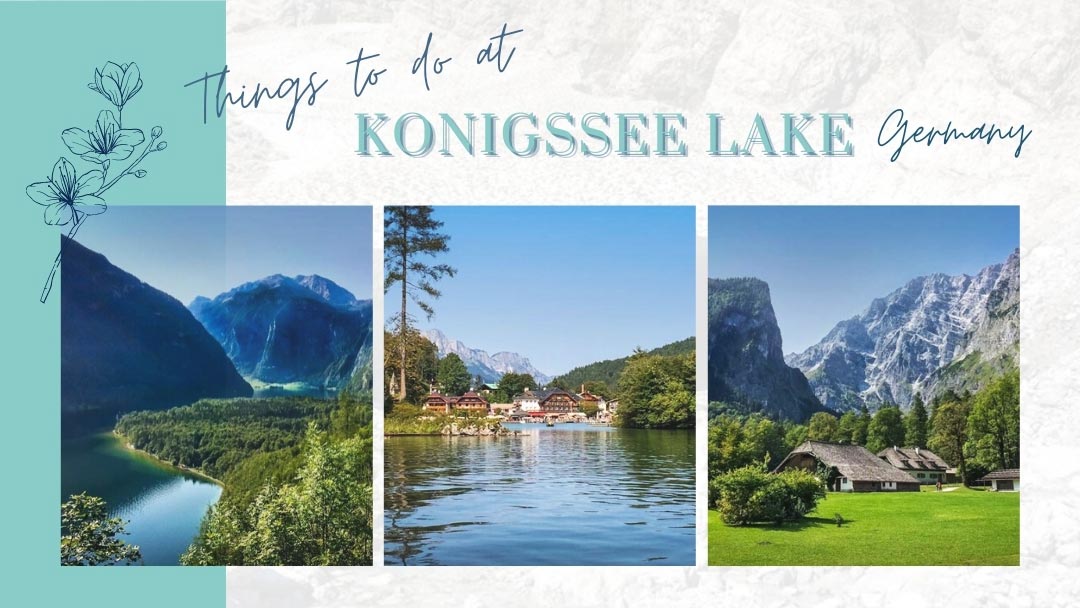 BERCHTESGADEN
The Berchtesgaden old town is itself a beguiling town to stroll around in, with its classic southern Germany Lüftlmalerei (painted frescos on the building walls) and Alpine-style houses.
The area around the town is known as Berchtesgaden Land and the views are spectacular.
Take a drive along Rossfeld Road — a high alpine mountain road that gives you panoramic views across this stunning area.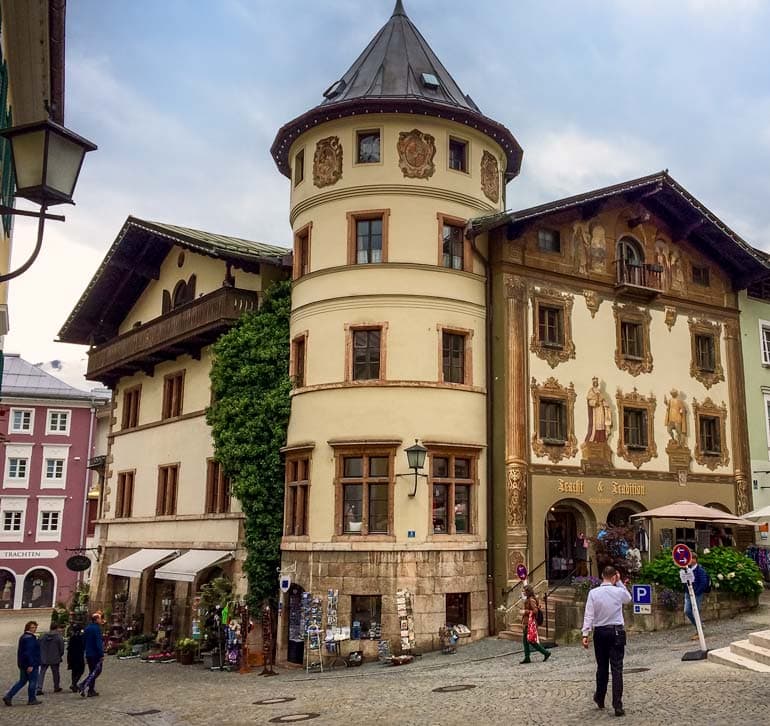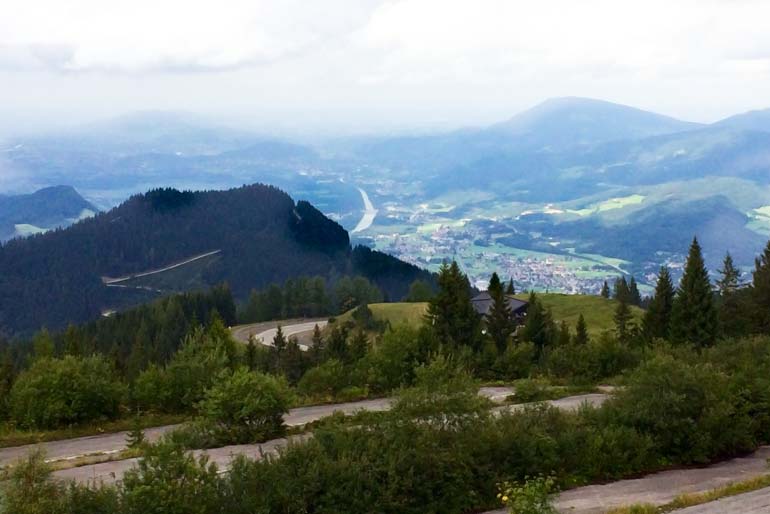 Berchtesgaden is only about a 30-minute drive to Salzburg in Austria. So, if you are wanting to continue your motorhome trip – it's an excellent gateway into Austria.
MUNICH
Munich is famous for its Oktoberfest beer festival so we felt we couldn't be in Germany and not visit Munich. As big cities go, Munich felt quite approachable.
Its 12th-century centre, Marienplatz Square was busy but not too unbearable. At 11 am, 12 pm and 5 pm, at the Rathaus-Glockenspiel clock tower, you'll see its musical figurines jousting.
Our motorhome parking choice was great as it was on the outskirts of Munich but with easy train transport into the city. We do our best to never take the motorhome into the heart of a major city because it can get way too stressful!
The site we chose was in the carpark of Munich's soccer arena, Allianz Arena.
⚽️ This is also the perfect site for football fans because you are right on the doorstep to do a City Tour & FC Bayern Munich Soccer Arena Tour | ⭐️ 4.2/5 | ⏰ 4 hours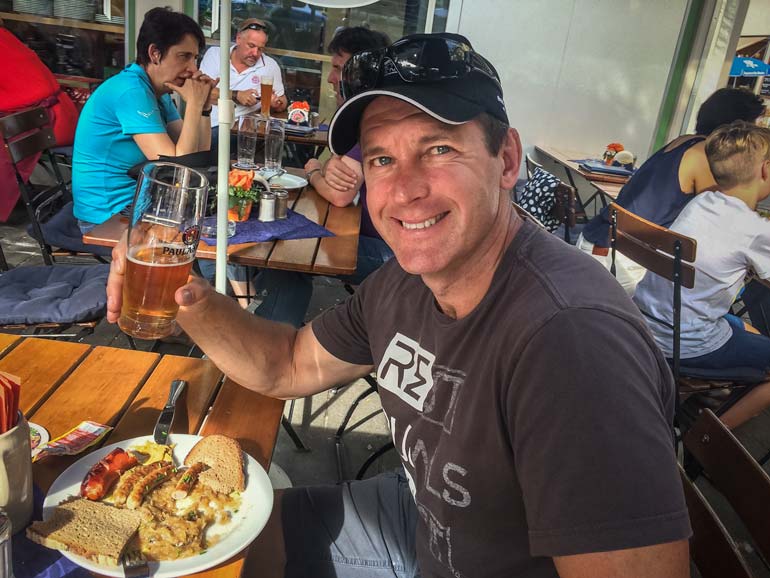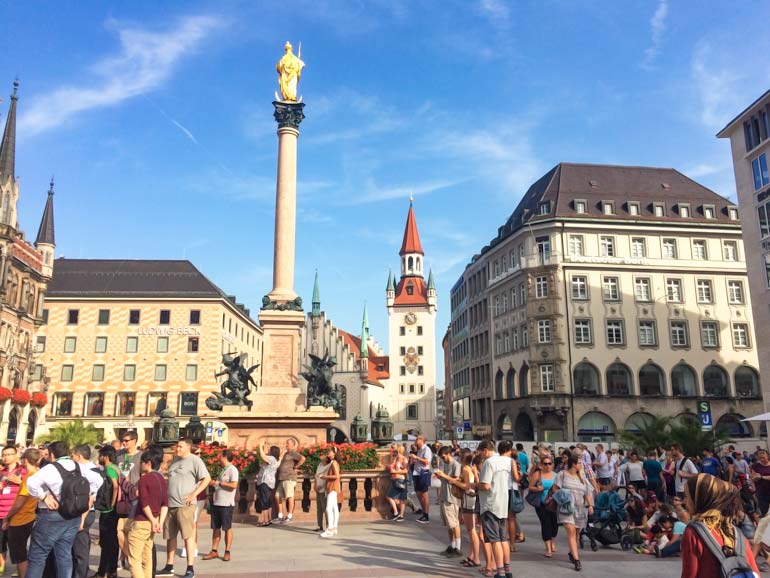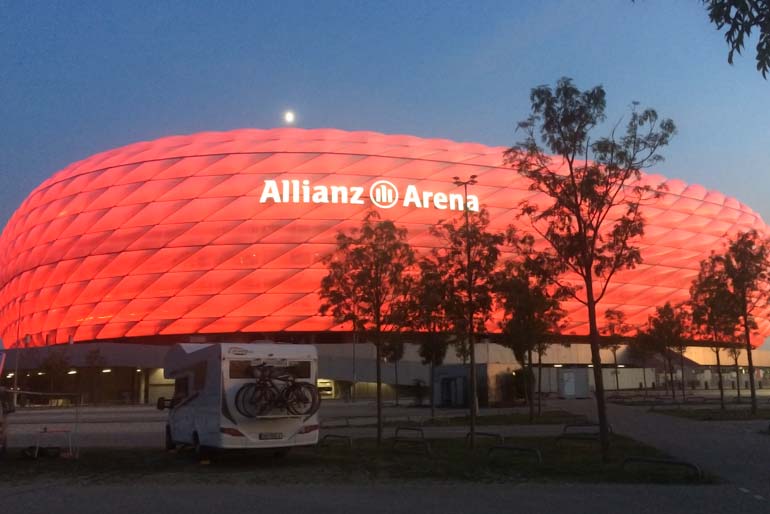 DACHAU
Dachau was the first Nazi concentration camp built in 1933. The site was made into a memorial and opened to the public in 1965.
A visit to Dachau evokes deep sadness. As we wandered around, the disbelief at what happened on the very grounds where we stood was palpable.
Visitors silently moved among the exhibits struggling to take in the information. Old photographs on display- a testament to the awful truth.
The atrocities that happened and the tragic loss of so many lives are hard to comprehend.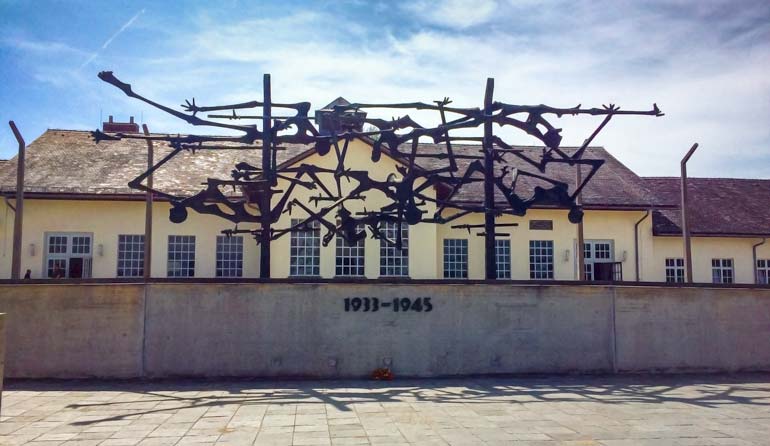 HANDY INFORMATION: CAMPERVANNING AND MOTORHOMING IN GERMANY
---
HANDY GERMAN WORDS FOR MOTORHOMING GERMANY
Unlike many European countries, German signs, brochures and information leaflets are often in German only.
Therefore, knowing a few of the words relevant to your motorhoming in Germany trip will help.
Motorhome → Wohnmobile
Motorway → Autobahn
Motorhome overnight stop → Stellplatz or Wohnmobilstellplatz or Reisemobilstellplatz
Motorway Service Station (directly off the motorway) → Rastätte [parking free of charge]
Service Station a little way off the motorway → Autohof [parking fee but likely safer with security]
Pay and Display → Nur mit Parkschein
Exit /Entrance→ Ausfarht/einfarht
Petrol Station → Tankstelle
Petrol → Benzine
SUPERMARKETS IN GERMANY
Lidl (discount)
Netto (discount)
Aldi (discount)
Real
Rewe
Edeka
Kaufland
Note that shops will be closed on Sundays, shopping trollies are normally chained so you will need a coin to release it which you get back when you return it.
You will also need to have your own shopping bags or you can buy them for a few cents at the checkout.
MOTORHOMING IN GERMANY … THAT'S A WRAP
We loved our time motorhoming in Germany experiencing so many of its beautiful towns and villages.
Enjoy your touring in Germany, and if it is your first time, good luck with everything and welcome to the world of motorhome or campervan travel, freedom and adventure.
Although we've now swapped out a motorhome for a 4×4 bush camper (more practical for Overlanding Africa), a motorhome is a perfect way to explore Germany and the rest of Europe.
This article will be a useful guide to help you plan your motorhome trip to Germany. Please reach out to us if you have any questions or any further suggestions for our readers taking a campervan trip through Germany.
---
Pin and save for Later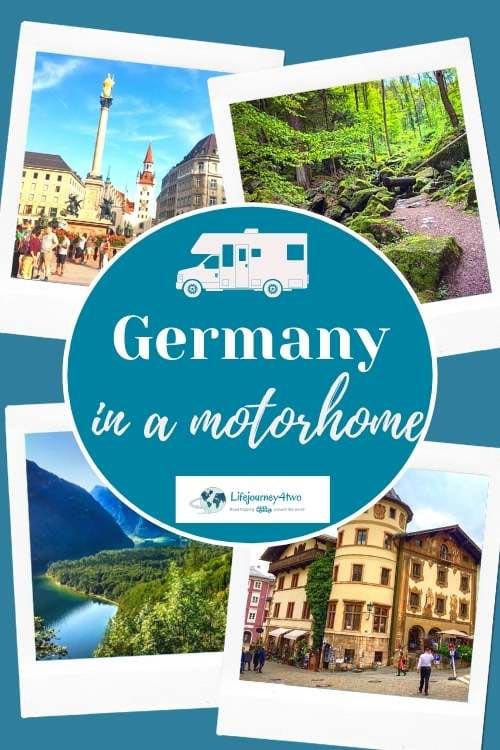 YOU MAY ALSO BE INTERESTED IN READING
---
PLANNING YOUR TRAVELS?
These are some of the travel resources we use when planning our trips.
For a more thorough list visit our Travel Resources page here.