Sony a6000 Moon Settings – Intro
With a growing interest in photography, I knew it was time to purchase a proper camera. I researched carefully and quickly decided that a mirrorless camera was a good travel camera and a better option than a DSLR for me. What camera did I settle on? It wasn't a full-frame but the little pocket rocket e-mount Sony Alpha 6000 known as the Sony a6000, with its 24MP APS-C sensor.
Why? It was compact, had an unbelievable 11 frames per second, was packed full of features at a very reasonable price. Buying the bundle which included the Sony a6000 with these two kit lens: 55-210mm telephoto lens and the 16-50mm zoom lens, was the most cost-effective way to go. Throw in a couple of extra batteries, battery charger and memory card and I had all the gear I needed to get going.
Photographers seem to have their own particular genre of photography that they enjoy shooting whether that be portrait, landscape, Astro, macro or wildlife photography… the list goes on. Really, I was keen to try it all, but tonight would be my first attempt at Astro or moon photography to be precise. Here I was in Norway, awaiting the rise of the blood moon over the iconic Vikeholmen lighthouse in Skudeneshavn. What an inauguration!
Equipment for Sony a6000 Moon Photography
For this shoot of the Blood Moon, I was using the Sony a6000 with the telephoto SEL 55-210 lens on a borrowed tripod. Ok, the 55-210 is no super telephoto lens but it should get some passable results. I also unleashed my Samyang 2.0/12mm for a couple of test shots just on sunset for practice purposes then put it away as the wide angle lens wouldn't' give the good close up shots of the moon that I wanted.
I was using a wireless shutter release and relying on the sony a6000 back LCD screen to follow the moon and ensure it was always in the frame as it moved across the sky. The plan was to keep the lighthouse in the frame for all of my shots as a front-lit subject and move the tripod head and camera horizontally.
Checking and double-checking the camera settings
Sony a6000 Moon Settings – Behind the Scenes Planning
How to Photograph the Moon – Foreground and Moon Trajectory
I didn't want just moon shots in the final image. I was aiming to have something interesting in the foreground. So I scouted out an interesting location with minimal light pollution. I then needed to know where the moon was going to rise above the horizon so I checked out MoonCalc website which gave me the all-important azimuth and elevation values of the moon. Once I knew this, I was able to plan the foreground composition of the photos so that the moon would pass above this foreground subject. The Vikeholmen lighthouse I had chosen would work perfectly.
How to Use the MoonCalc Graph
With the MoonCalc website open. Add your location and date into the table at the top left. The table will automatically update the moon information (Rise, Culmination, Set, Distance). These values will be fixed for the day you have selected and shown as different coloured curves on the map.
Now what you are able to change is the hour of day slider located at the top of the map. Shifting the hour of day slider gives a corresponding Moon Azimuth and Moon Altitude value. It's important to note that the Moon Altitude value must be a positive value otherwise the moon will be below the horizon.
From the below image, the azimuth is about 140 degrees with an elevation of 3.5 degrees at the hour of day slider value of 2300 hrs.
Azimuth 140 degrees, Elevation 3.5 degrees: www.mooncalc.org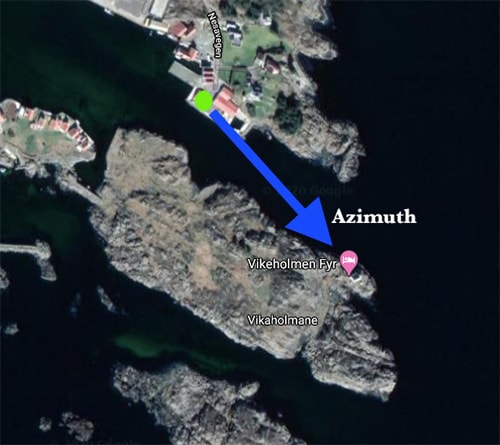 The Moon Azimuth is measured as an angle from 0 to 360 degrees (N, S, E, W) and Moon Altitude from -90 to +90 degrees. What we are interested in is the azimuth value where the moon rises just above the horizon. This is the direction we want the camera to be facing including the foreground subject.
Sony a6000 Moon Shot Settings
With a full moon and few clouds, there was going to be plenty of light about. The plan was to keep the ISO low, let the focal length float between F8 to F13 and play with the shutter speeds. With low ISO, I should have improved dynamic range in the images to capture more colour.
I would manually focus on the lighthouse (about 500m away), using the camera focus magnifier to fine-tune the setting and after gaining focus, make sure that I didn't move the manual focus ring on the lens. Ideally, I would have taped the focus ring down but I'll remember that for next time. Not sure about manual focusing? Take a look at this video by Jason Vong.
The tricky part would be getting the correct exposure for the images as the moon transitioned from a dull blood colour with only a little reflected light into a full moon reflecting a whole lot more light. Juggling the focal length/aperture and ISO would be key here. Although my camera has multi-metering which would show an underexposed shot due to the dark sky, I would be controlling the exposure in manual mode.
First glimpse at full eclipse: Sony a6000 with SEL 55-210mm: f/13, 6s, ISO 100 
The blood-red crescent moon: Sony a6000 with SEL 55-210mm, F/9.5, 8s, ISO 160
Moon emerging from the Earth's shadow: Sony a 6000 with SEL 55-210mm: F/8.0, 6s, ISO 200 
Sony a6000 with SEL 55-210mm: F/9.5, 8s, ISO 400 
What I'd Do Differently – Sony a6000 Moon Photography Settings
 Use tape on my lens to fix the position of focus and prevent it from moving
 Once the moon started to reflect more light I could have tried the Moony 11 rule. To be honest, I'd never heard of this one until recently. The camera settings are f11, you set the ISO you want and then select the shutter speed at 1/ISO.
 As the moon becomes brighter, I should have stopped down or increased my focal length, decreased the shutter speed and maintained the ISO at 100 so the image didn't over-expose with bright reflected light from the moon.
The Sony a6000 has the best ISO range between 1600 and 6400 for low light photography where noise is least visible in an image. (A comparison is made in this article by LonelySpeck). It would have been better when the moon was completely shadowed by the Earth that I increased the ISO into this range.
 For post-processing of the image, I used Photoscape which is a neat, free imaging processing software. Investing in Adobe Lightroom or Capture One might be worth looking at but neither are free.
If you have any tips or techniques that work well for you, then I'd be really keen to hear about it in the comments section below. You never stop learning about photography and it sure is an interesting and fascinating journey. My next challenge? Capturing the Milky Way. Enjoy everyone!
Update: New Sony a7III + Moon and Milky Way Shots
Below I talk through the hardware setup of my Sony a7III with the Sony FE 200-600 f5.6/6.3 G  and test it out on a moon shot and later use the Sony a7III with the Sigma 16mm APS-C lens.
Sony a7III with Sony FE 200-600 F5.6/6.3G
I have now retired my Sony a6000 and added a new filly to the stables, a Sony a7III. It's fair to say that this camera is a work-horse in any situation and comes at a reasonable price. What particularly attracted me was its low ISO wide dynamic range, great auto-focus speed, fast frame rate burst shooting and a large number of auto-focus points covering 93% of the sensor.
A great camera is not complete without a great lens: the Sony FE 200-600 f5.6/6.3 G OSS lens. This internally focusing lens is not a heavy-weight by any means weighing in at 2.1kgs and once you add in the weight of the camera, a little over 3kgs.
I decided to invest in a Peak Design carry strap which I attach to a couple of Peak Design anchor connectors via a 3/8″ D-ring screwed into the Kirk Replacement footing on the lens. It means I carry the lens and camera upside down but it is very comfortable and easily accessible.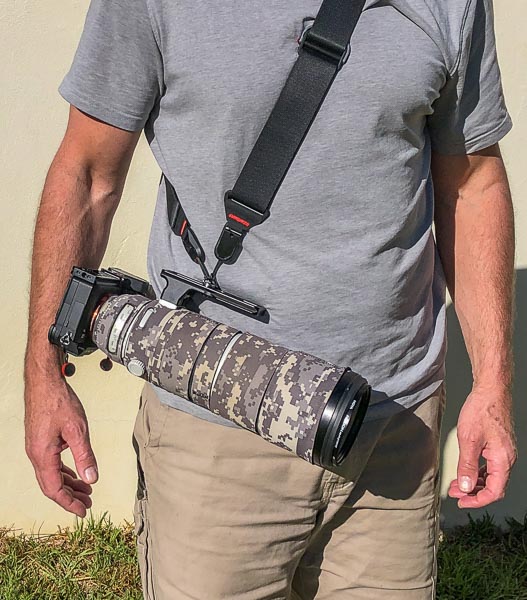 I found that hand holding the lens with the original Sony footing did not give me enough purchase on the footing itself making it quite unsteady. The additional length of the Kirk footing gave me the added purchase to steady the lens which also helps when I need to use the manual focus ring and hold the lens with the same hand. The Kirk footing is also dove-tailed which means it can quickly mount directly to the tripod clamp.
I invested in a 3/8″ D-ring which I screwed into the base of the Kirk footing with a bit of Loctite. I found that the 1/4″ hole on the Kirk was too far forward and didn't give enough purchase when mounted on my Manfrotto tripod.
The neoprene cover on the lens is made by LensCoat.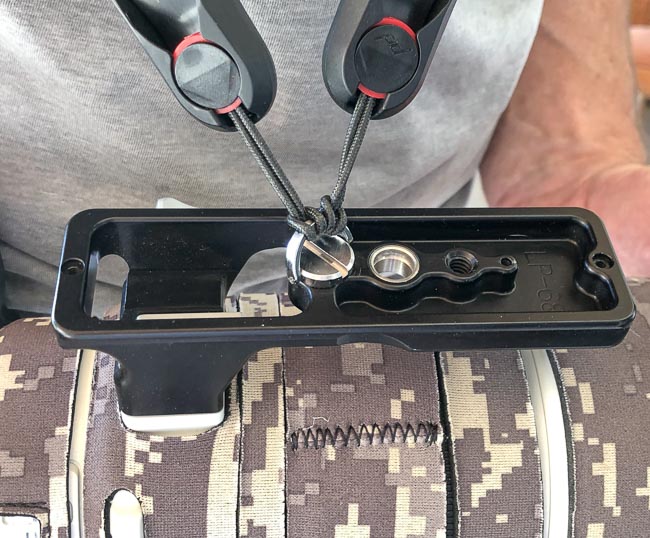 Moon Shot: Sony a7III with Sony FE 200-600 F5.6/6.3G
This image was captured hand-held at the maximum focal length 600mm, ISO 640, shutter speed 1/1,600 using Spot Metering, DMF (direct manual focus) and then processed in Lightroom. Mode 1 was selected on the Sony lens. This camera/lens combination is brilliant during bright daylight and I have to say that I am more than pleased with this nighttime result.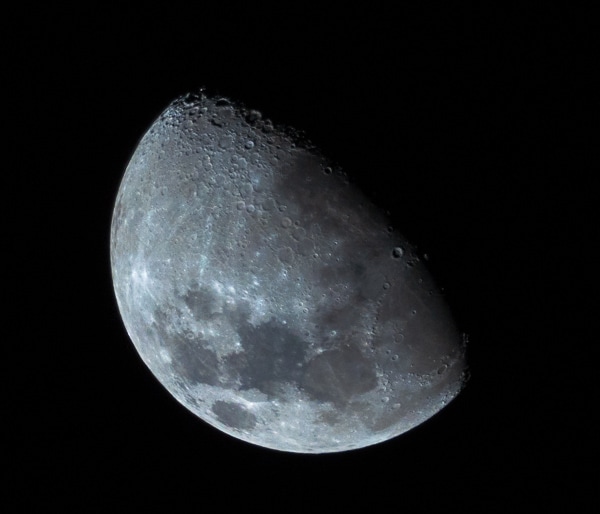 Handheld image shot with Sony a7III and Sony 200-600
Below is a shot of the full moon with the a7III and 200-600mm lens at f/9.0 and 600mm. It was shot with a tripod, bracketed 3 shots (-1, 0 +1 EV) and using a remote shutter release to reduce potential vibrations. The 3 images then underwent a HDR merge in Lightroom. Manually focussing on the moon at focal length 600mm with the telephoto lens, whilst mounted on the tripod, was the most challenging part. Even though the Manfrotto tripod has a 6kg load rating and the camera + lens is about 3 kg, just my touch when manually focussing the lens, induced wobble which made sharp focusing difficult. I believe the below image could be better but this was the best of my shots.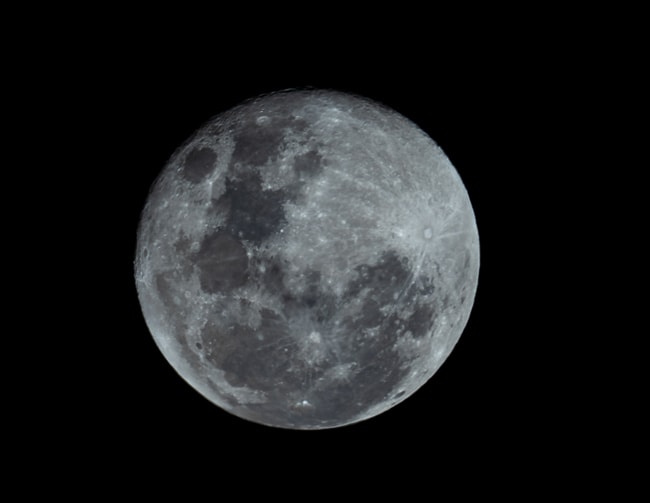 Milky Way: Sony a7III with Sigma 16mm APS-C
This image was captured at 20s exposure, f/1.8, ISO 1600 in our backyard as you can tell, there is no stunning foreground. The APS-C lens achieved a natural vignetting on the image and Lightroom used to fine-tune the image. Here are the before and after images.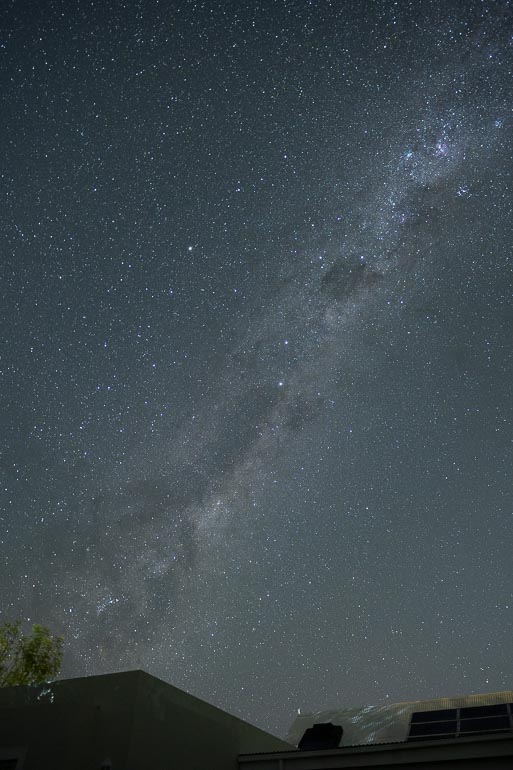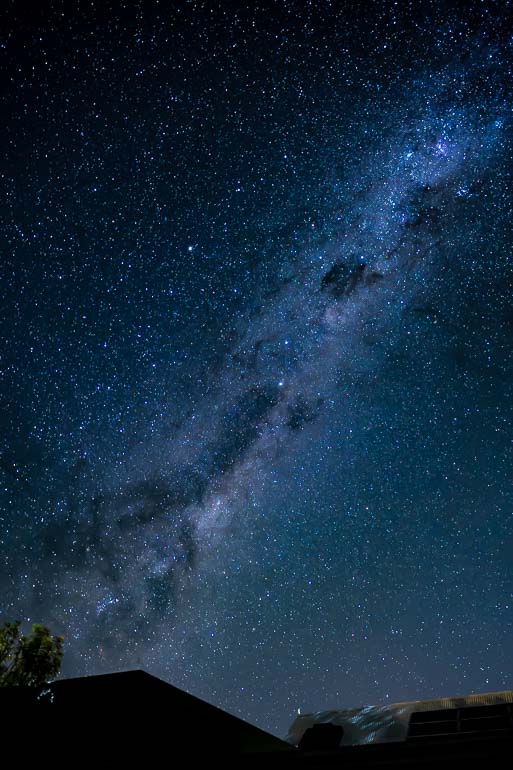 I'd have to say that using Lightroom to tweak the image was a challenge but the end result is passable. Do you have any tips or tricks you swear by? It would be great to hear about it.
Happy shooting!
My Photography equipment mentioned in this post:
This post may contain affiliate links. This means that we may earn a small commission from purchases you make through our links, at no extra cost to you. Thank you for supporting us. For more info, read our Disclosure Policy.
You May Also Enjoy Reading
If you enjoyed this article, you may like these FREE RESOURCES:
FREE Travel Guides (many countries)
FREE 23-page Travel Planner, including menu planner, journal pages and budgeting)
FREE Phone Wallpapers
FREE Photo Ebooks
Monthly Travel News 
Arrange Your Travel Insurance
Get a quote from World Nomads - one of the best options for travellers. Find out why here.
Book Your Accommodation
We use Booking.com and Tripadvisor to find accommodation that suits our budget and to get a great overview of available specials and deals. 
Travel Gear and Accessories
We've been on the road since 2017 and have added items we've found useful to our Lifejourney4two page on Amazon  
Car Hire
We use  Rentalcars.com to find the best car rental deals.
Motorhome/Van Rentals
If you are looking for a motorhome or van rental - we highly recommend the Motorhome Republic who can find the best deals worldwide.
Finding Activities to do
We use Get Your Guide and Viator to get ideas of what to do in a place - sometimes it's best to get tickets online and jump the queues.
Flexible Accommodation Options/ Or Finding someone to look after your pets
We often use house/petsitting as it really makes our travels much more affordable - as accommodation is FREE
Get 25% off  Trusted House Sitters by using our link here: Join Trusted House Sitters either as a house sitter or if you want to find a house sitter.
Photography Prints and Products
Shop our ETSY store for digital downloads of our best photos and our unique photographic designs.