Awesome Places to Visit in Tashkent
Uzbekistan offers the modern-day traveller a journey back to a time when what we now see as small Uzbek cities, were once the major trade centres on the lucrative Great Silk Road route.
Images of harsh desert landscapes, earthen fortifications, camel trains, fierce warriors and monuments heralding the glory of Islam are brought back to life. Uzbekistan still holds onto the vestiges of this glorious past. It's main ancient cities: Tashkent, Samarkand, Bukhara and Khiva, all reflect glorious snippets of the past intertwined with their own unique modern-day atmosphere.
We start our journey through Uzbekistan by highlighting the awesome places to visit in Tashkent, Uzbekistan's capital city. This is one of a series of posts that we have completed, showcasing the countries historical past including recommendations for great places to visit that should be given serious consideration for inclusion in any Uzbekistan itinerary.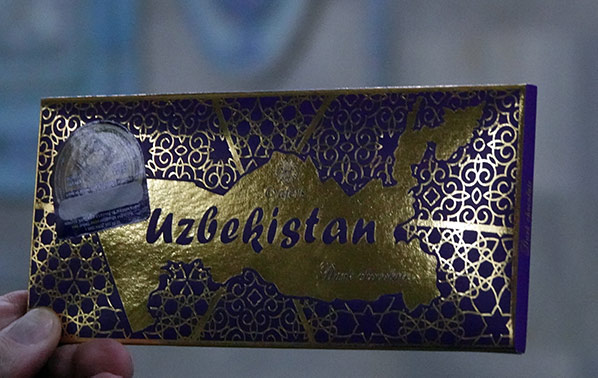 What's more fitting than munching on Uzbek dark chocolate in Uzbekistan.
Tashkent – Uzbekistan's Capital
Similar to other cities within Uzbekistan, Tashkent formed as one of the major trading posts and later a city, on the lucrative Silk Road caravan route in this part of Central Asia.
Tashkent was a favoured stop for merchants given its geographical location along the Silk Road and, for its reasonably temperate climate. Its history can be traced back over thousands of years and what we see today, is a modern-day version of this once glorious city.
Map: Awesome Places to Visit in Tashkent
Getting to Tashkent, Uzbekistan
1) Flights to Tashkent
Most international flights arrive in Tashkent, the capital of Uzbekistan. Here are some flight duration times to give you an idea of how long it may take you to get there:
Dubai to Tashkent = 3 hrs 20 mins
Moscow to Tashkent = 4 hrs
London to Tashkent = 10 hrs
New York to Tashkent = 14 hrs 30 mins
Singapore to Tashkent = 15 hrs 45 mins
(See our Uzbekistan Tips for much more info on Flights to Tashkent.)
2) To Tashkent by Train
International train travel crossing the borders to and from Uzbekistan are designed for low-cost travel. These are mainly served by Russian and Uzbek Railways and travel on designated days.
For specific train information see, tutu.ru or if you prefer to use the Uzbek service, then click here. Make sure you keep hard copies of your train tickets on hand to show the train station attendants.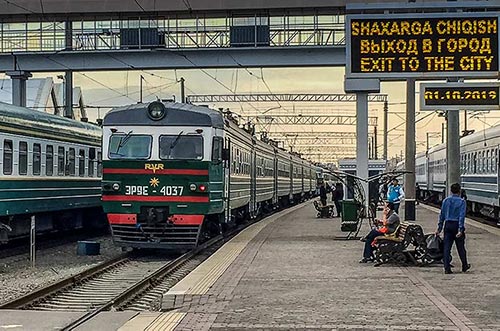 The 'standard' and cheaper train which we found to be absolutely fine for travel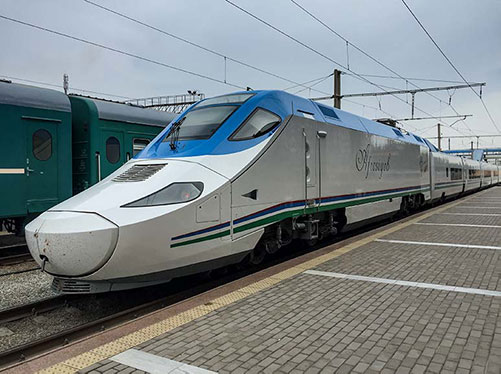 The fast train 'Afrosiyob'
Awesome Places to Visit in Tashkent
1) Explore the Tashkent Metro
Want to start your visit with something really special? How about subway hopping on Tashkent's vast underground Metro. This array of 29 stations, each themed in its own colours and design, drew upon the concepts of famous Uzbek artists and architects. Simply stunning works of art. Additionally, these metro stations were built to not only withstand earthquakes but to act as nuclear bunkers.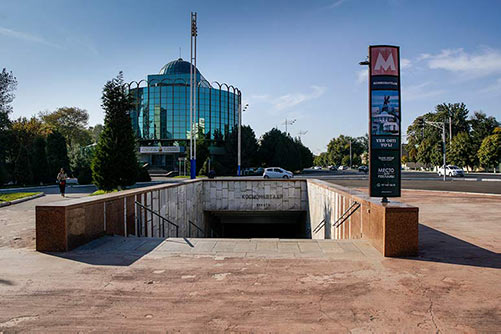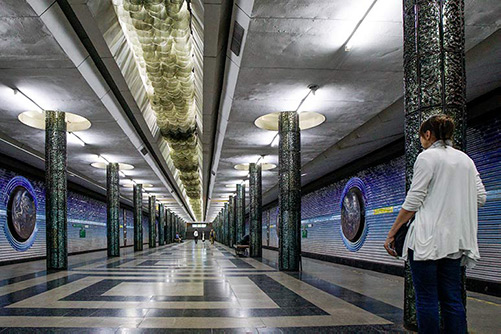 The metro stations sit on 3 subway lines:
The red Chilonzor line running south-west/north-east
The blue Uzbekistan line running north-west/south-east and
The green Yunusabad line running north/south.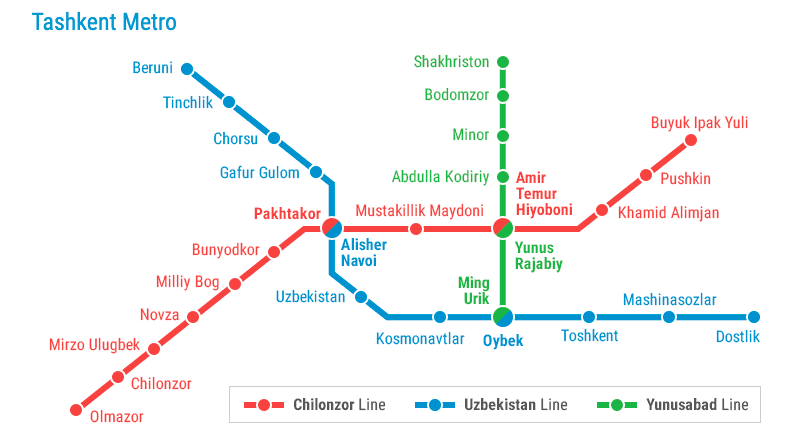 Tashkent's underground Metro station showing the 3 lines
Tashkent Metro Video
Check out this video of some of these amazing Tashkent underground Metro stations.
Taskent Metro Costs
The cost to ride the subway is only 1400 SOM (1.40 USD). You buy a small plastic token that is used to pass a turnstile and enter the subway. As long as you don't exit the subway to the streets above, you can then legitimately ride from underground station to underground station.
Swap onto the different Metro lines and criss-cross your way along on this amazing underground adventure without paying anything more. This is exactly what we did. Here are a few more images just to whet your appetite.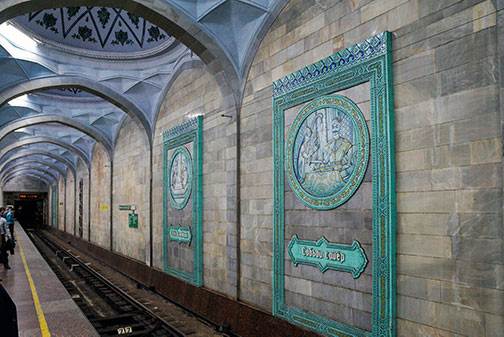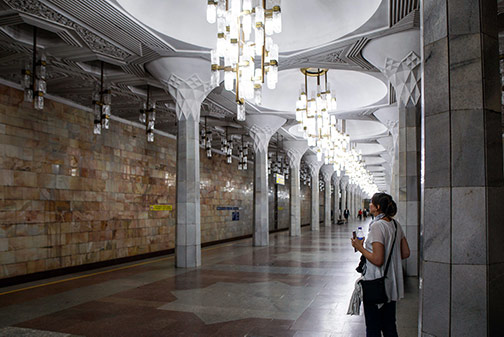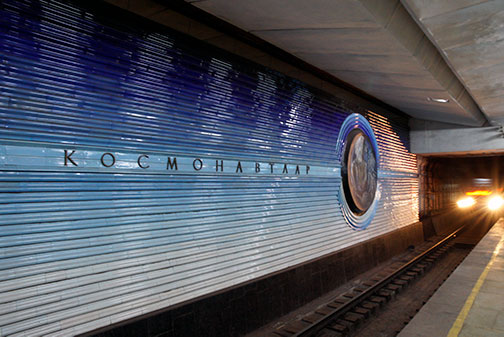 2) Visit the Uzbekistan Hotel
Riding the Metro red line (Chilonzor) or blue line (Yunusabad), will have you arriving  at Amir Temur Hiyoboni station. Here, you arrive pretty much on the doorstep of the Uzbekistan Hotel, just a few hundred metres away. This hotel exemplifies the typical Soviet 1970's modernist architectural style, boasting 243 rooms on 16 floors.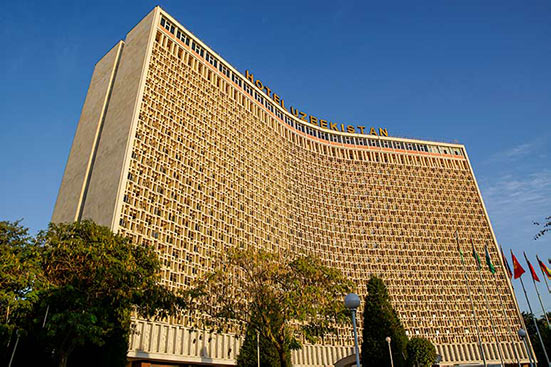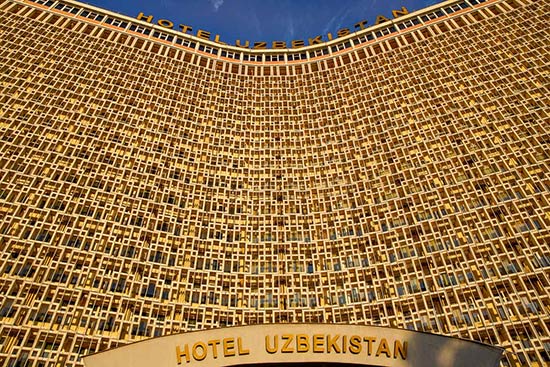 We decided to have ourselves a bit of a look inside the building and took the elevator up to a random floor. Unfortunately, we couldn't enter any of the rooms, but it is said that they are classically furnished. Here's what we did see …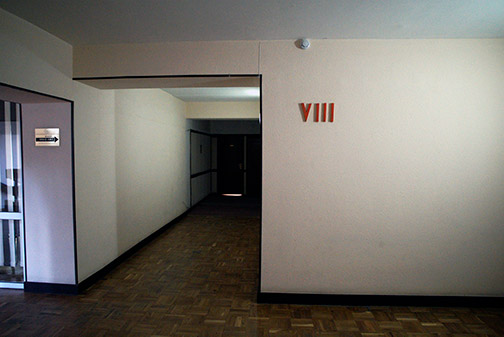 Hotel Uzbekistan, Floor 8 – the rest I leave to your imagination
Keep your eyes peeled as the local parks are home to some pretty interesting artwork.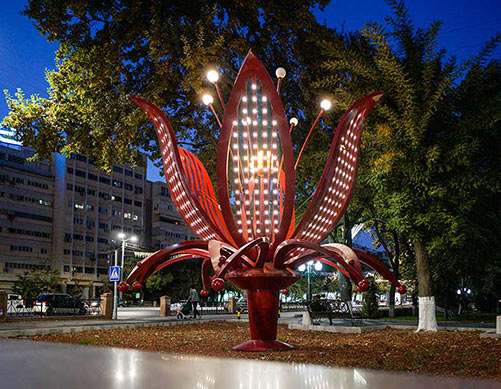 Park art is quite tasteful in places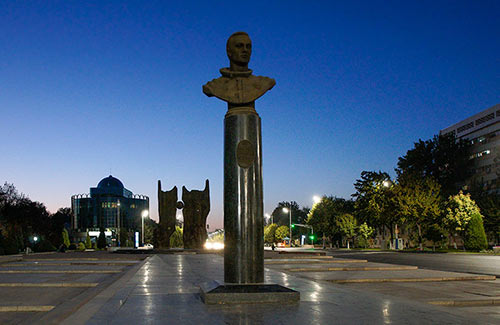 No city is complete without dedications to the past
Other Tashkent Options You May Like
We spent one day in Tashkent, preferring to head to the northern parts of Uzbekistan, but you may find some of these awesome places to visit:  
1) Chorsu Bazaar – a traditional marketplace of bread, spices, fruit and vegetables. The closest Metro stop is easy to remember – Chorsu, on the blue 'Uzbekistan' line leaving a 750m walk to arrive at the bazaar.
2) Plov Centre or also known as the Central Asian Plov Centre – this restaurant serves up Plov, an Uzbek traditional lunchtime dish of rice and meat, cooked in basically huge woks which may be fun to watch. The centre opens at 9 am. The closest Metro stop is Shakhriston on the Yunusobad Line, which is roughly 650m from the restaurant.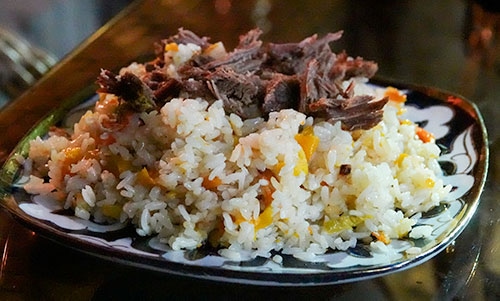 'Plov' – a traditional Uzbek rice-based dish
3) Tashkent Museums: 
 State Museum of History tracing Uzbekistan's history
 State Museum of Art with several thousand pieces of art being the largest collection in Uzbekistan
 Amir Timur Museum dedicated to the Mongol warlord Amir Timur housing antiquities relating to his life
Museum of Applied Art showcasing Uzbek carpets, ceramics, textiles and handicrafts
Tashkent Museum of Railway Technics displaying diesel and steam locomotives and other train equipment.
We simply dropped by at some of the local eating places that the locals were eating at. This usually indicates that the establishment at least has some decent food and normally at local prices. Also, we were keen to try typical Uzbek cuisine made by locals, for locals.
You can't really go wrong if you order the main Uzbek traditional dish of Plov, meat and rice dish, or a bowl of Lagman Soup, which is a meat, veg and noodle dish.  
Where to Stay in Tashkent
We stayed at the Art Hotel while in Tashkent. The reception staff spoke great English and were super helpful in all areas, especially organising taxis. The hotel is situated within a 1-kilometre easy walking distance of our favourite Metro station: Kosmonavtlar (Kosmanaut).
Check out other Tashkent accommodation deals here.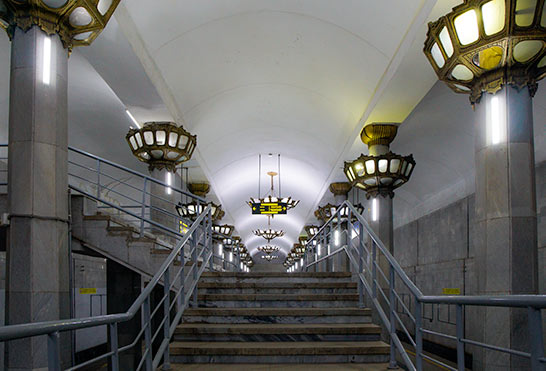 Symmetry adds to the aesthetic appeal of this Metro station
Places to Visit in Tashkent – That's a Wrap
Tashkent sure has some awesome places to visit and it definitely won't break the bank in regards to the cost of getting around and seeing the best the city has to offer. Having the main Uzbekistan Airport here, Tashkent is a great place to either start or end your Uzbekistan trip. If you've found other interesting places to visit in Tashkent that we haven't included then please let us know as we'd love to hear about them.
Want to Know More About What to See in Uzbekistan?
Check out some more of our Uzbekistan posts:
This post may contain affiliate links. This means that we may earn a small commission from purchases you make through our links, at no extra cost to you. Thank you for supporting us. For more info, read our Disclosure Policy.
If you enjoyed this article, you may like these FREE RESOURCES:
FREE Travel Guides (many countries)
FREE 23-page Travel Planner, including menu planner, journal pages and budgeting)
FREE Phone Wallpapers
FREE Photo Ebooks
Monthly Travel News 
Planning Your Travels?
These are travel resources we use when planning our trip and can recommend: