Amazing Things to Do in Samarkand
Over the centuries, this southern Uzbek city of Samarkand, has worn the scars of battle having been conquered, destroyed and rebuilt by the likes of Alexander The Great and Genghis Khan. As one of the oldest continually inhabited cities in Central Asia, it formed an important trading post along the ancient Silk Road route.
More recently, it has been Samarkand's remarkable ancient structures and now historic sites that are proving to be the drawcard for visitors, gaining international acclaim. There are so many amazing things to do in Samarkand but we've put together the list of what we think are the most interesting.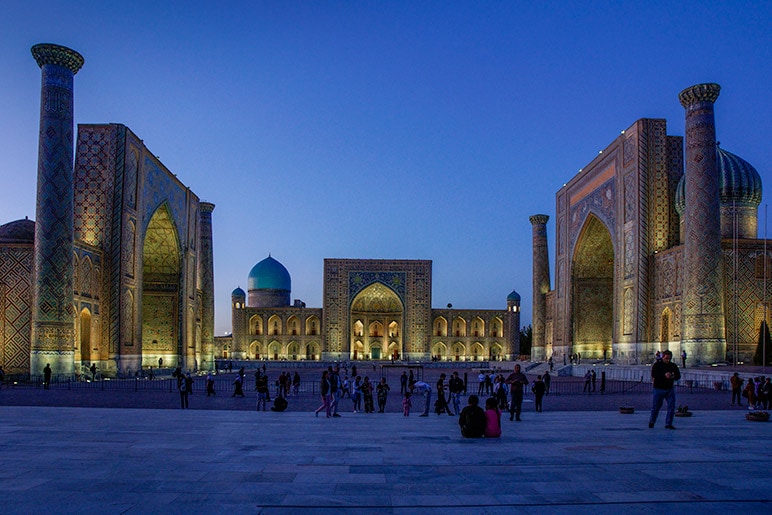 Just one of the amazing things to do in Samarkand – watch the sunset at Registan Square!
Getting to Samarkand – Train Travel
It's likely that you are either in Tashkent or Bukhara and looking at your onward travel to Samarkand. Honestly, train travel is a cheap, stress-free and pleasurable way to travel within Uzbekistan. We booked and paid for our train tickets online before arriving in Uzbekistan via the secure website:
tutu.ru.
I was a little apprehensive as to whether this process would be straight forward but the website offers an English language version which gave straight forward instructions. You can, of course, buy train tickets at the train station on the day but if you're on a fixed schedule then you'll want to guarantee a seat so booking in advance is the way to go.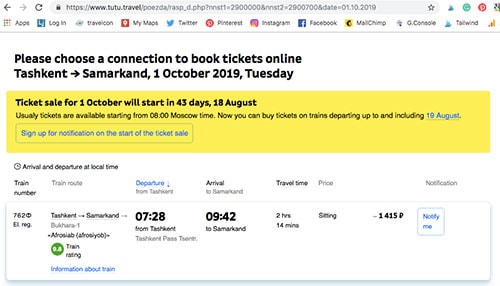 Screenshot of the online booking and notification process using Tutu.ru
The general practice when arriving at the train station is that you present your passports and tickets for inspection, bags are x-rayed and then you're given directions to your departure platform. That only thing that may confuse you is the Cyrillic numbered platforms but just ask one of the local Uzbek people who always seem happy to assist.
Things to do In Samarkand
1. Visit Registan Square
Of all the things to do in Samarkand, visiting the majestic Registan Square is a fitting first stop of the day. Not only is it a breathtaking sight,  this is a good place to orient yourself for other travel around Samarkand.
Registan Square consists of three madrasahs (ancient universities):
Ulughbek (the madrasah to the left when at the entrance)
Sher-Dor (the madrasah to the right when at the entrance)
Tilla-Kori (the madrasah directly ahead when at the entrance)
These huge structures date back to the 15th century and frame a central square in the heart of this ancient city.  In 2001, Samarkand was included in the UNESCO World Heritage List.
Entry to Registan Square is controlled by officials at the fenced-off area of the square's only entrance. Tickets, which are valid for 24 hours, can be purchased with cash only from a booth close by the main square entrance. The entry price for foreigners is 40,000 SOM (USD $4) whilst Uzbek citizens enter for 3,000 SOM (USD $0.30). Gate officials check that you have a valid ticket.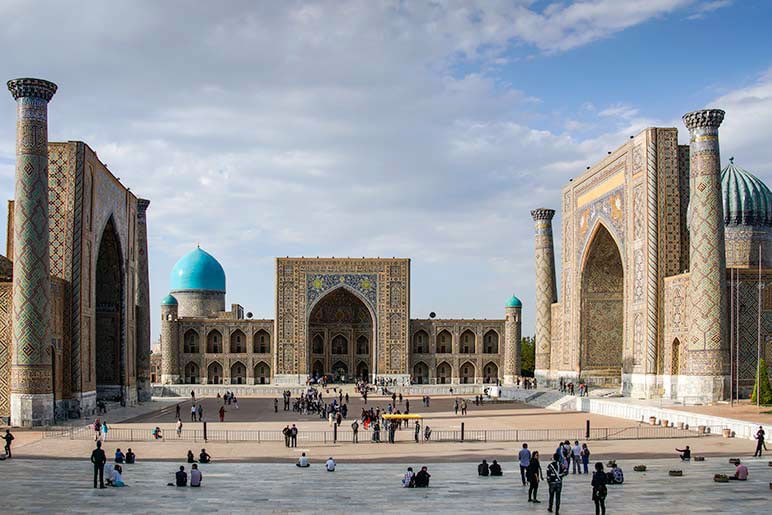 The magnificent Registan Square with its 3 madrasahs (Left to Right): Ulughbek, Tilla Kori and Sher-Dor
So, where do you start once you're in the square? Well, two of the three madrassahs (Tilla-Kori and Sher-Dor), open into internal courtyards which house small retail shops, pigeon-holed into the massive earthen walls. The half-height doors of these shops accentuate just how huge these buildings really are. The third madrasah, Ulughbek, does not permit access to the courtyard but just inside the entrance, a long hallway covets artefacts and old photographs of the madrasahs.
Ulughbek Madrasah
This madrassa (the one on the left when at the entrance), opened into a gold chamber displaying mosaics of exquisite form and colour. The architect sure had an eye for detail. Here, it was not possible to access the inner courtyard, but you could wander a long hallway containing many old photographs of the time before any Russian restoration.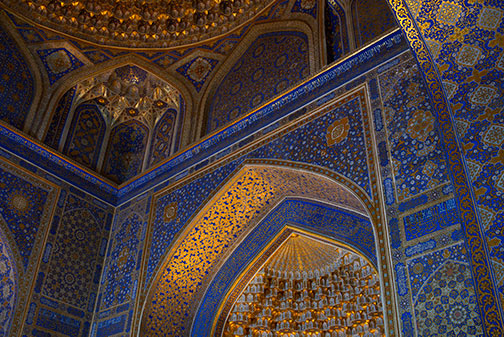 The stunning mosaics of Tilla Kori madrasah, Registan Square
Tilla-Kori Madrasah
This madrasah faces you when standing at the entrance to Registan Square. There are the usual handicraft shops with vendors greeting you with smiles, beckoning you to 'come inside' and see their displays of cashmere scarves, silk hats and ceramics. One shop worth visiting is the Dil-Suzani Boutique. The shop owner, Dilshod, is immediately upfront about not pushing a sale and then launches into an interesting talk about Uzbek history, traditions and the carpet trade. Pulling out different carpets, he proudly explains the symbolic meaning of the earth, wind and fire patterns on the material.
He encourages you to take plenty of photos and ask all the questions you want. Would you believe he also speaks eight languages fluently – and is self-taught!
(Generally, we found the shop owners in Samarkand to be very friendly and definitely not trying to do the hard sell.)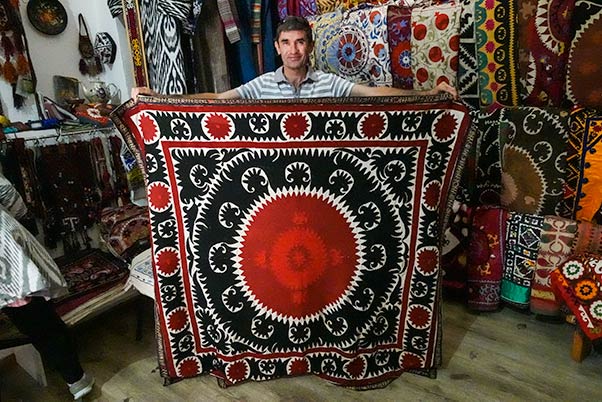 'Dilshod', owner of Dil-Suzani Boutique, proudly holding an Uzbek carpet
Sher-Dor Madrasah
This Madrassa (the one on the right when you enter Registan Square), has retail shops inside its courtyard. Something a little different, and maybe a bit of fun too, is the Uzbek traditional dress-up garments that can be hired.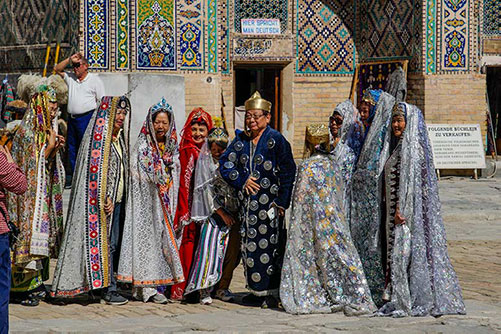 Some tourists trying out the Uzbek traditional dress-up costumes
Registan Square Light Show
Every few nights, a laser light and sound show is projected onto the Madrassahs. This starts roughly an hour after sunset, with the best vantage point at the tiered concrete area behind Registan Square's entrance.
We asked the tourist police and local vendors about the schedule for the light show but no-one seemed to know.  Was it every second night or third night?  The attendants of the coffee shop in Sherdor Park right by the Madrassah, seemed confident that the show was on a 2-day cycle.
(Note: we have since been informed that only the organisers of the light show know exactly when the date it will occur. However, guaranteed performances are on special days such as the New Year, Nawruz (21st March), Independence Day (01st September) and every day in one of the months of the tourist high season (June to August).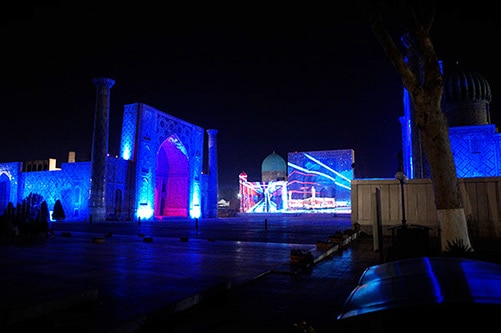 Registan Square light show
Tips: Visit Registan Square to capture the sunset over the madrasahs. You have about 20 minutes of natural light after sunset before the artificial lights illuminate the square and surrounding structures. Tilla Kari Park (just behind Registan Square) offers some interesting perspectives of the Registan Square madrasahs.
2) Samarkand Tourist Information Center
Leaving Registan Square and walking 850m north-east down Islam Karimov Street, will take you past ATMs and shops where you can find a 
tourist information centre
. It's a great place to stop and ask any questions. Actually, the staff here were so helpful, even to the point of joining us at the local bazaars to help us find a pair of shoes in western sizing.
3) Bibi Khanym Mosque 
This was one of the largest mosques in the world during the early 15th century. It was built by the famous conqueror Amir Timur, in honour of his favourite wife Bibi Khanym. Unfortunately, the grand construction collapsed soon after being built. What now remains are the main portal, three domed halls and a minaret.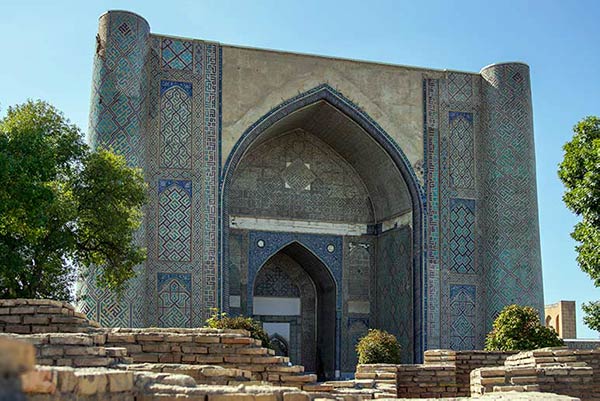 4) Bibi Khanym Mausoleum
Opposite the Bibi Khanym mosque, is an unobtrusive and rather plain mausoleum containing five tombs, one of which is believed to be the mother (Sarai Mulk-Khanym) of Amir Temur's wife. This mausoleum is all that remains of what was originally the Khanym Madrasah.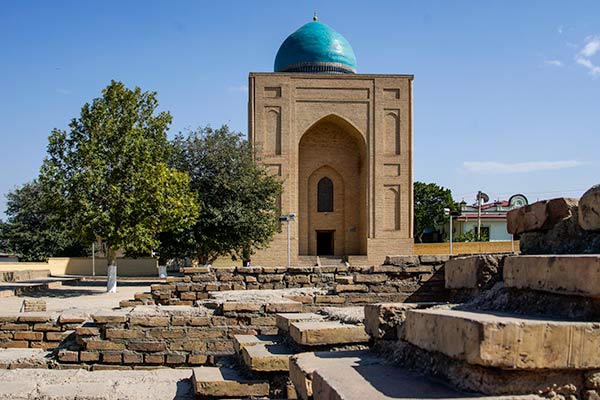 5) Siab Bazaar
Tucked behind Bibi Khanym Mosque is Siab Bazaar. This marketplace sells dried fruit, nuts, vegetables, clothes, homewares and of course, bread. Vendors happily gesture for you to try some of their produce, hopeful that this will clinch a sale. It's all pretty friendly. Definitely mornings are where you'll see the market in full swing and by midday, most of the local crowd has pretty much disappeared.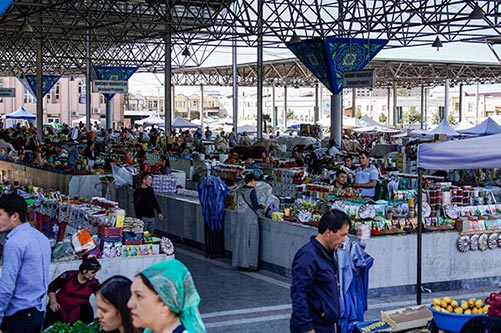 6) Shah-i-Zinda Cemetery 
The entrance to the Shah-i-Zinda Cemetery is found on Islam Karimov Street, about 100m north-east of Hazrati Hizr mosque. The path winds its way past an opulent array of ornate marble and granite graves and headstones cramped together as if vying for the best position to look onto the path. This is in stark contrast to other poorer parts of the cemetery. This 500m walk offers some great behind-the-scenes views of the Shah-i-Zinda Complex arriving approximately 200m from the Shah-i-Zinda Complex entrance.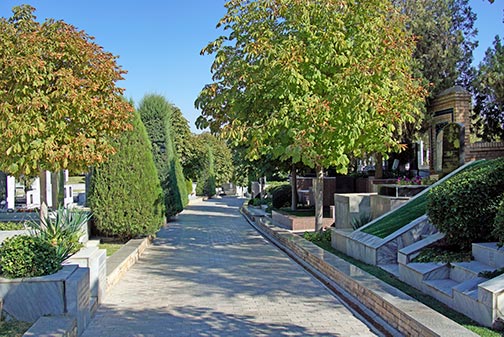 The immaculately kept centre pathway of the Shah-i-Zinda Cemetery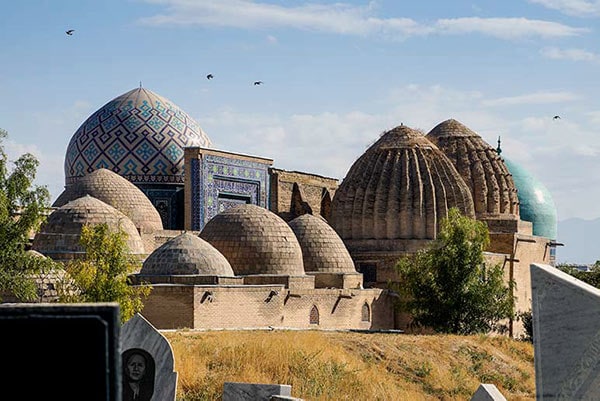 Views of the Shah-i-Zinda Complex from the Shah-i-Zinda Cemetery
There are 2 ways to access the Shah-i-Zinda Complex, either following Shozinda ko'chasi road or via a much more interesting walk through the Shah-i-Zinda Cemetery bordering the Shah-i-Zinda Complex.
7) Shah-i-Zinda Complex
The Shah-i-Zinda Complex (sometimes called the Zinda Necropolis), consists of more than 20 richly appointed mausoleums of the nobility, dating back to the 12th century. The mausoleums are packed closely together and tower over the small streets about them.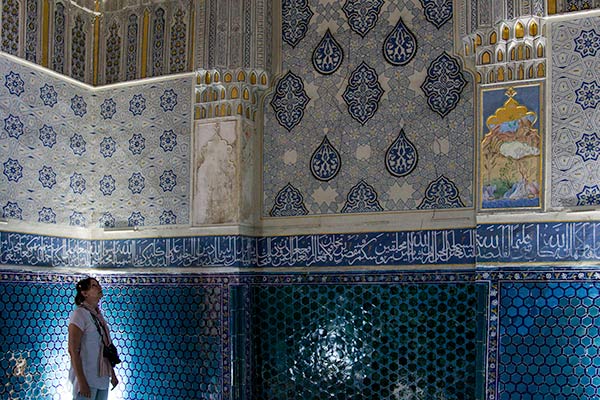 Beautiful mosaics of a mausoleum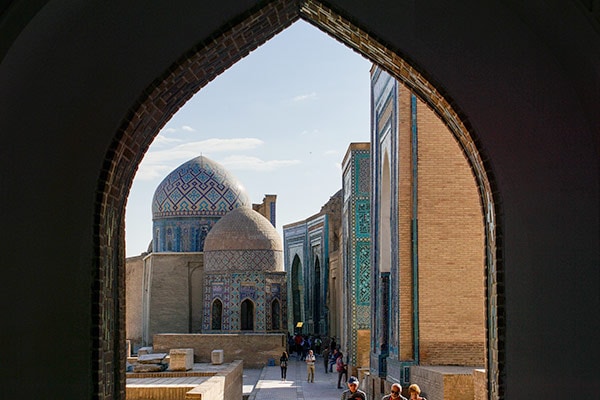 Tightly packed mausoleums are all beautifully appointed
It is permitted to walk up the few steep steps and step inside each mausoleum to view the exquisite colours and mosaics adorning the ceiling and walls. To take photos here is an additional cost on top of the entry fee.
8) Amir Temur Mausoleum
Approximately 1-kilometre south-west of Registan Square lies Amir Temur Mausoleum. This mausoleum is the burial place of Amir Timur, a revered conqueror of many lands, his two sons and two grandsons along with Amir's spiritual mentor. The mausoleum is exquisitely appointed.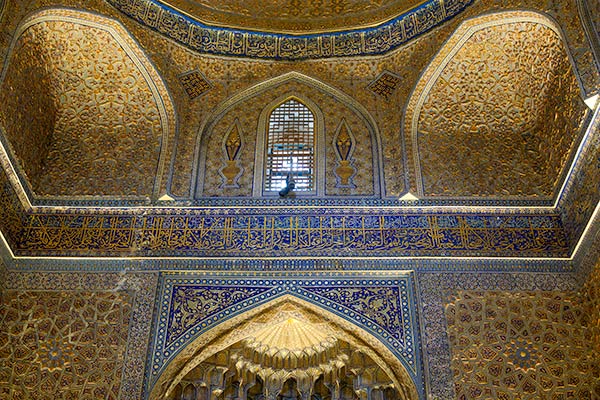 Intricate mosaics adorn Temur's burial chamber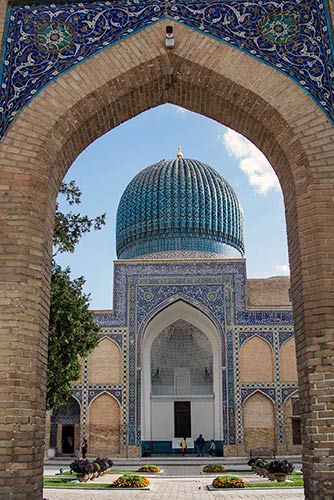 Amir Temur Mausoleum entrance 
Amir's coffin is unique in that it has a covering of a single piece of black jade. From the outside, the back part of the mausoleum is not renovated leaving you to admire the many centuries-old patterned brick structure. Here, you'll also find a small underground market selling Uzbek handicrafts.
9) Amir Temur Statue
Crossing into University Boulevard, a mere 200m away, you can see a giant-sized statue of a seated Amir Temur. It's a busy roundabout but if you time it right with the lights you'll be able to cross over. Because the statue is so large, we found the best vantage point for photos was right opposite in Hamid Alimjan Park.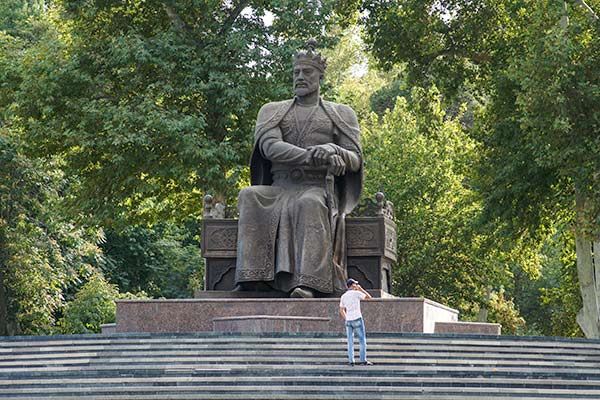 10) Street Art
Close by Registan Square you can find a long wall of street art. You might be thinking that this would definitely be out of place in this ancient realm but unusually, it has been executed rather tastefully.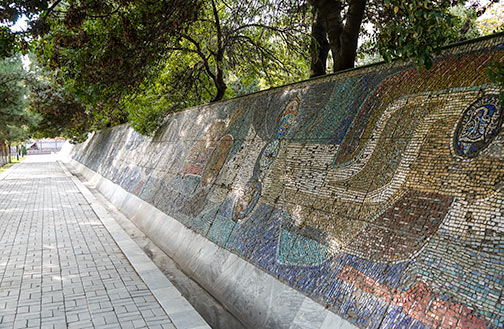 Street art near Registan Square
11) Other Samarkand Options You May Like
1) Hazrati Hizr Mosque (close to the Shah-i-Zinda Cemetery)
This 17th-century mosque was renovated in the 1990s and is quite new looking. Be aware that you are not allowed to take photos inside this mosque. We chose to enjoy the street views of the mosque.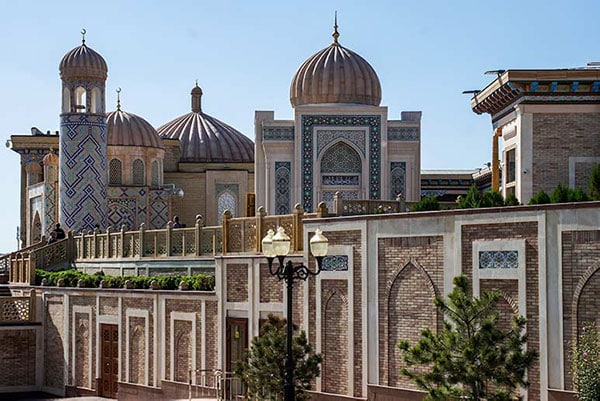 The modern mosque of Hizrati Hizr
2) Islam Karimov memorial
Located close by Registan Square, this bronze figure depicts the first president of Uzbekistan who reigned from 1991 when the country gained its independence from the Soviet Union until his death in 2016.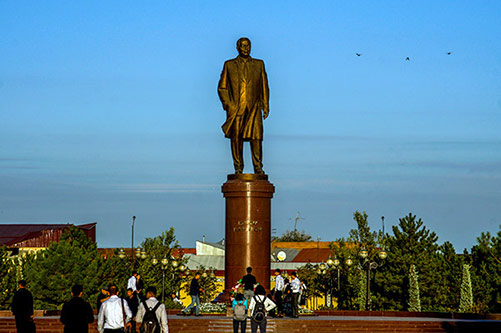 3) A Visit to the Ulugh Beg Observatory
The remnants of this early 15th-century building were only discovered in the early 20th-century after being reduced to ruins. The building housed a huge sextant of 40m radius, carved from the surrounding rock, of which part of the sextant now remains. This structure has been afforded Ubekistans's highest level of cultural protection and can be found approximately 4.5 kilometres to the north-east of Registan Square in the foothills of Chupan-ata mountain.
Where to Eat in Samarkand
1) Lunch – Sharq Shirinliklari – we can personally recommend this restaurant which is situated about 300m from Registan Square. The food isn't the cheapest around, but the traditional Uzbek food was certainly tasty.
2) Dinner – Bobur Shashlik – tucked behind Bibi Khanym is a local restaurant serving all types of barbequed meat kebabs. Simply pick how many you want and what type of meat for your kebab knowing that the finished product will be delicious. We ate here for two nights as the prices were really good.
The simple entrance to the Bobur Shaslik restaurant 
Where to Stay in Samarkand
Karvon Hotel – (Address: М39, 422876 Samarkand) – We DO NOT recommend that tourists stay at this BnB. Wifi was ok but that's the end of the good news. Breakfast consisted of some bread and an egg with coffee or tea. The patrons spoke no English and the hotel was located 11 kilometres from Registan Square requiring the hire of taxis. It's definitely better to book a hotel within a kilometre of Registan Square.
Accommodation options for Samarkand can be found here.
Samarkand's Recent Past
Arriving in Samarkand we had an interesting discussion with one of the shop owners. Although the 20th-century Russian occupation of other countries has been associated with negative impacts, here in Uzbekistan, it was welcomed change. The Soviets allowed the Uzbek people more equality than their old ways had allowed under Islamic rule. A good example is the Soviets encouraged and made it possible for girls to attend school.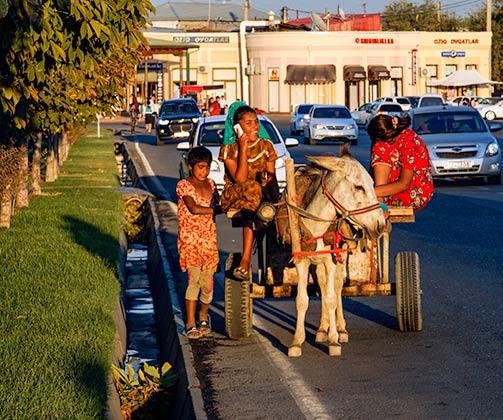 Samarkand maintains a seamless mix of the old, with the new
Another very important task that the Soviets undertook, was the much-needed restoration of many of the ancient buildings, returning them to a state close to that of their former glory. The disrepair over the many centuries caused by earthquakes and harsh weather had taken its toll on the beautiful facades of these grand structures.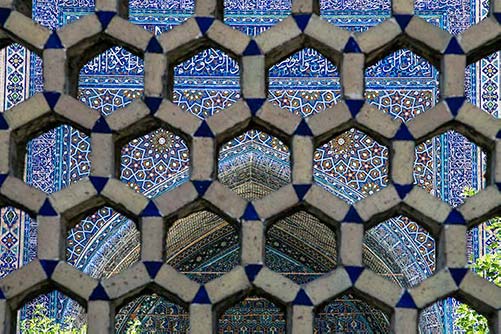 A different take on one of the madrasahs in Registan Square
Things to do in Samarkand: Wrap 
So how much time do you need to do all these things in Samarkand? Ideally, a minimum of 3 days should do the job.
We hope you enjoyed these Samarkand highlights as much as we did. The old city sure has a lot to offer. From Samarkand, other popular tourist destinations you may choose to travel to, are the cities of Bukhara, Khiva and Tashkent.
Tourism in Uzbekistan is definitely on the rise. This is due to the country's willingness to embrace foreign travel within Uzbekistan and the efforts to promote the country as a secure travel destination.
If you enjoyed this post of things to do in Samarkand then we'd love to hear your favourite places. Or, if you've found something that you think should be included in our list then please let us know by leaving a comment below. Thanks.
Want to Read More About Uzbekistan?
Check some of our other Uzbekistan articles here:
Useful Travel Planning Resources (inc. Special Offers)
Book Your Accommodation
We use Booking.com as we can find a variety of cheap and budget accommodation such as local guesthouses and cheap hotels.
We also use Airbnb – Get up to €34 credit for your first Airbnb stay when you use our Airbnb link 
Travel Gear and Accessories
We've been on the road for almost three years now and have added useful items to  our Lifejourney4two page on Amazon  
Car Hire
We use  Rentalcars.com to find the best car rental deals.
This post may contain affiliate links. This means that we may earn a small commission from purchases you make through our links, at no extra cost to you. Thank you for supporting us. For more info, read our Disclosure Policy.