There are so many amazing things to do in Samarkand, so to make it easier for you, we've put together a comprehensive list of the most interesting attractions.
We travelled through the country by train and visited all the main cities on our Uzbekistan itinerary. This is, therefore, one of a series of posts showcasing the best attractions in the Uzbek cities of Tashkent, Bukhara and Khiva.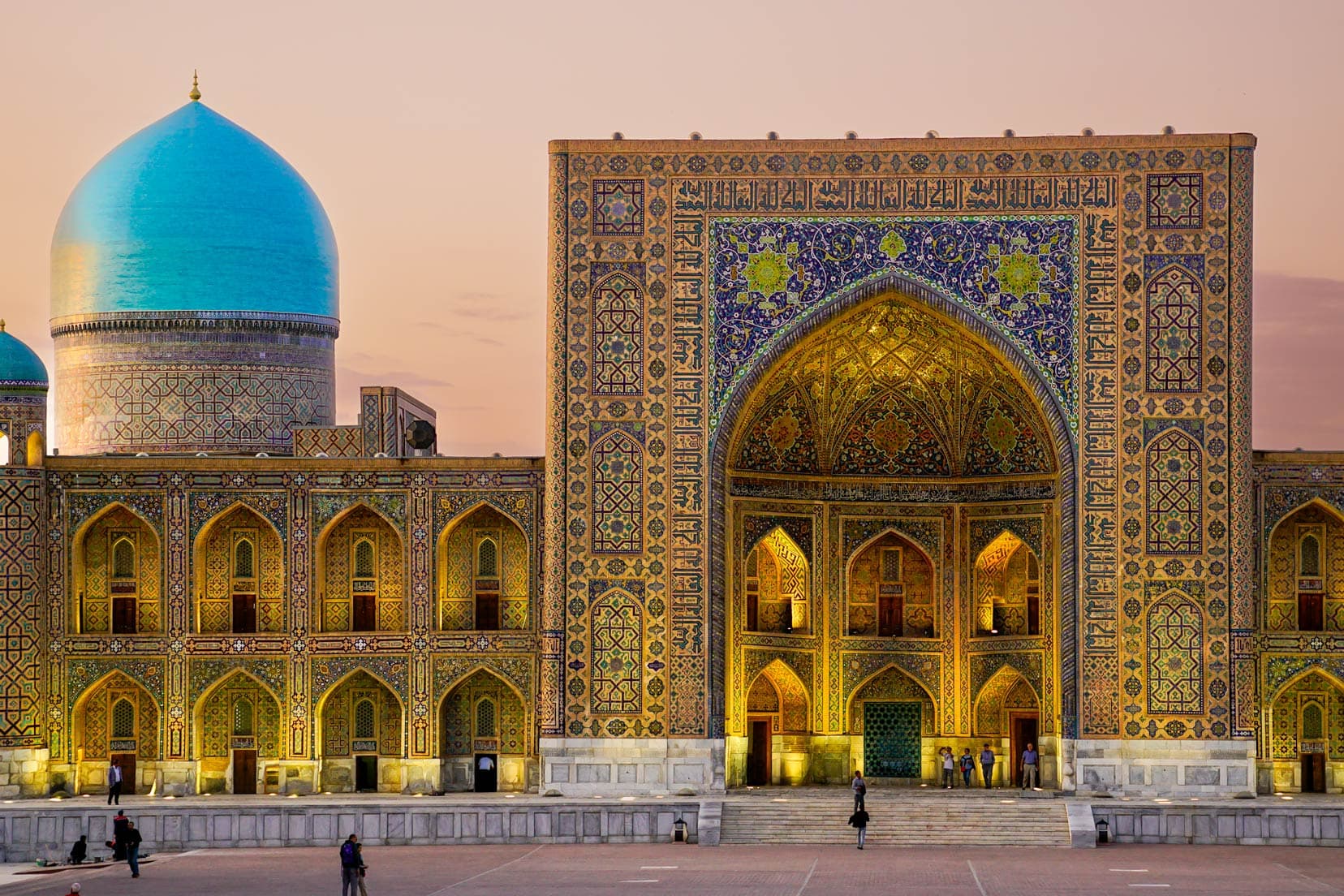 Why Visit Samarkand?
Over the centuries, this southern Uzbek city of Samarkand has worn the scars of battle — having been conquered, destroyed and rebuilt by the likes of Alexander The Great and Genghis Khan.
Samarkand formed an important trading post along the ancient Silk Road route as one of Central Asia's oldest continually inhabited cities.
More recently, Samarkand's remarkable ancient structures and now historic sites are proving to be a major drawcard for visitors, gaining international acclaim.
In 2001, the historic centre of Samarkand was included in the UNESCO World Heritage List.
A visit to Samarkand is truly unforgettable.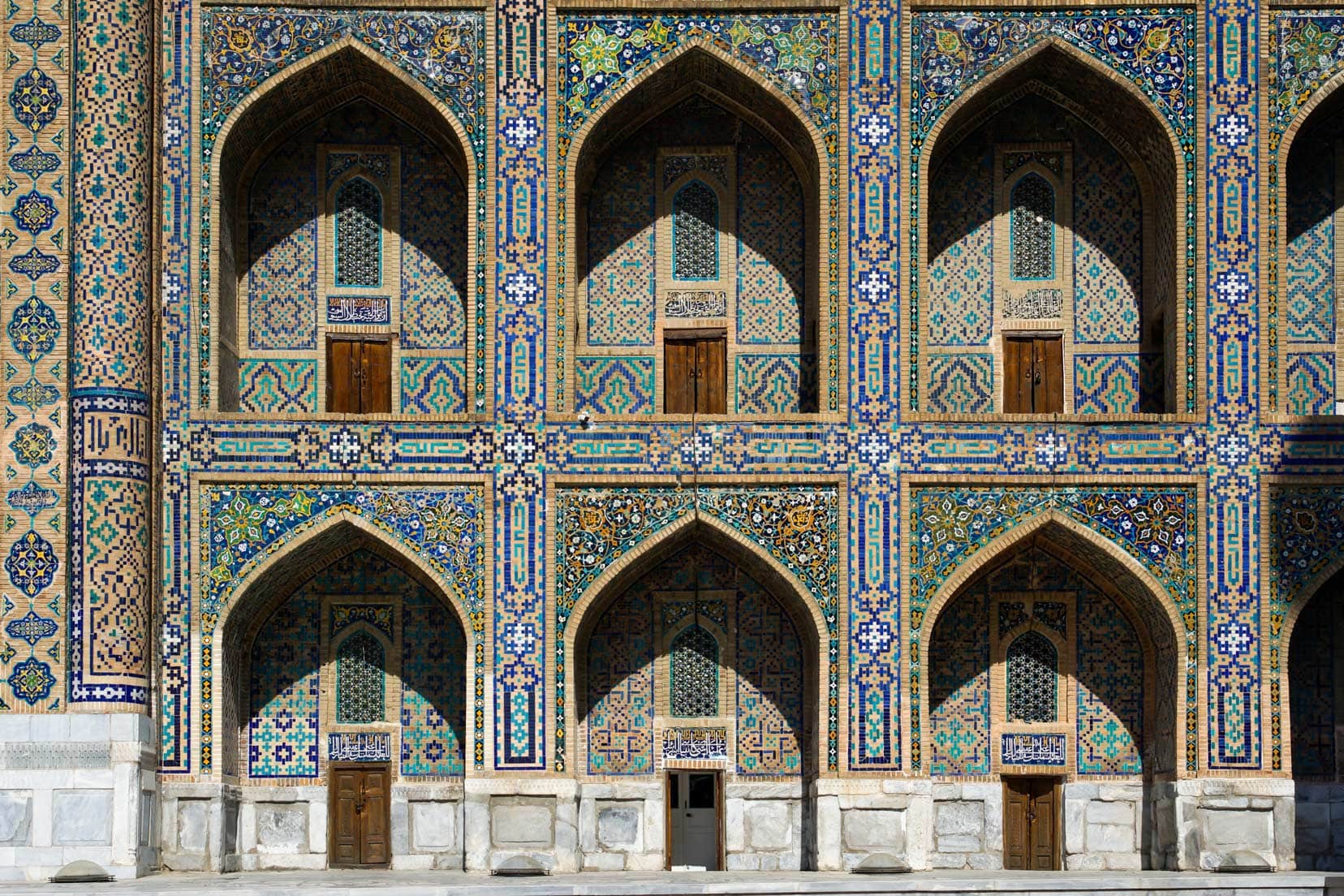 Planning a Trip to Uzbekistan?
Need some Uzbekistan tips? Our article below will help you out.

READ MORE: THE ULTIMATE UZBEKISTAN TRAVEL TIPS & GUIDE
Samarkand Map of Attractions
15 Things to Do in Samarkand
Samarkand is a city where the allure of ancient history meets the pulse of modern culture. If you're seeking a comprehensive experience that's not just for the photo album, you're in the right place. I've curated a list of 15 essential activities to help you explore Samarkand's multifaceted beauty.
Drawing from my own firsthand experiences—and yes, those invaluable photos that serve as mementos—I aim to guide you through a well-rounded journey into this captivating destination.
1. Visit Registan Square
A fitting first stop is a visit to the majestic Registan Square. It's a breathtaking sight.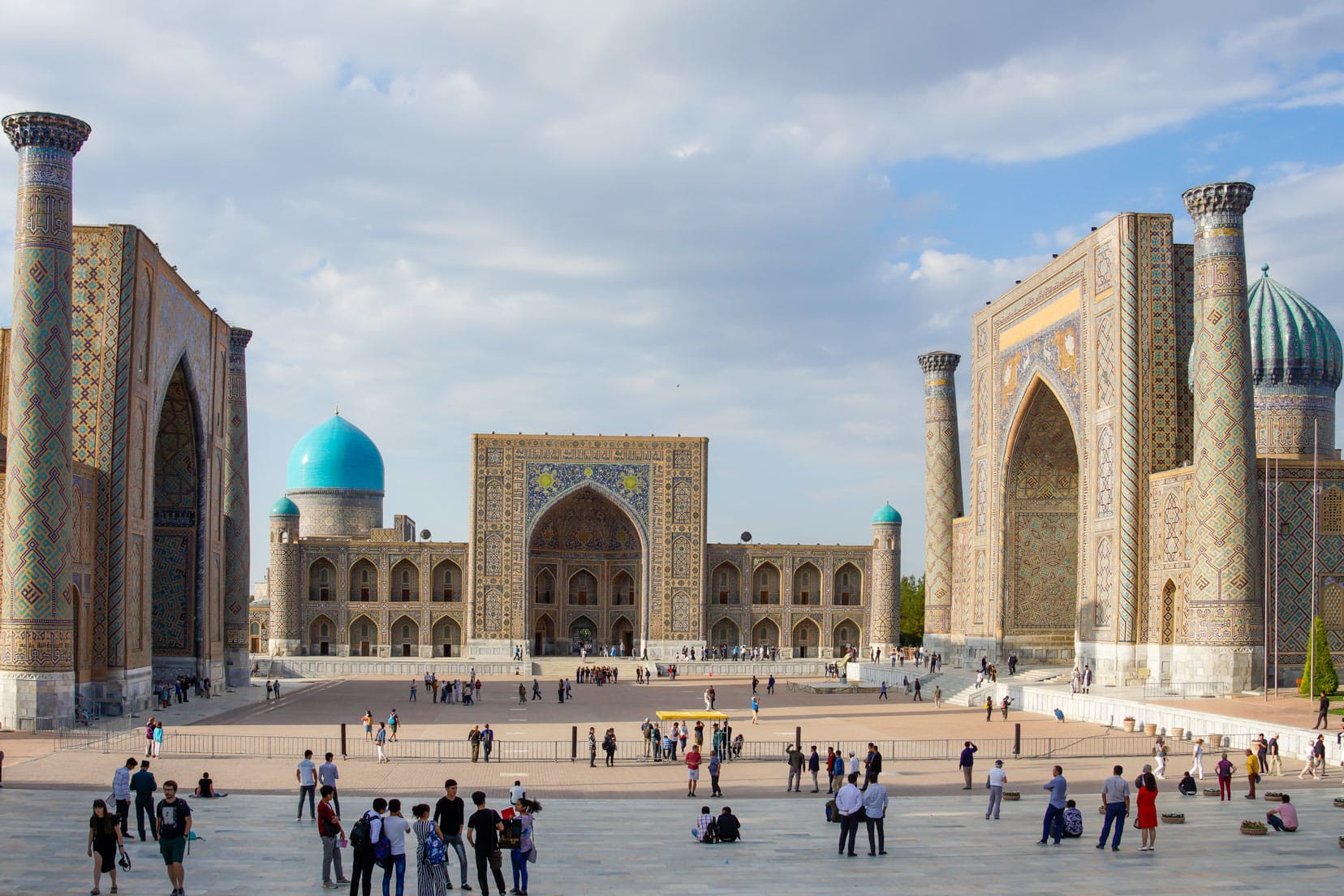 Registan Square consists of three monstrous madrasahs (or schools), each with unique facades:
Ulughbek madrasah (to the left when at the square entrance. The square entrance is the open area in the above image.) Ulughbek was the first madrasah to be built during the 15th century.
Tilla-Kori madrasah (directly ahead when at the entrance). Tilla-Kori was completed in the 17th century.
Sher-Dor madrasah (to the right when at the entrance). Sher-Dor was completed in the 17th century.
The three madrasahs face a central open area, the original sand-covered square, where proclamations were made and markets could be found.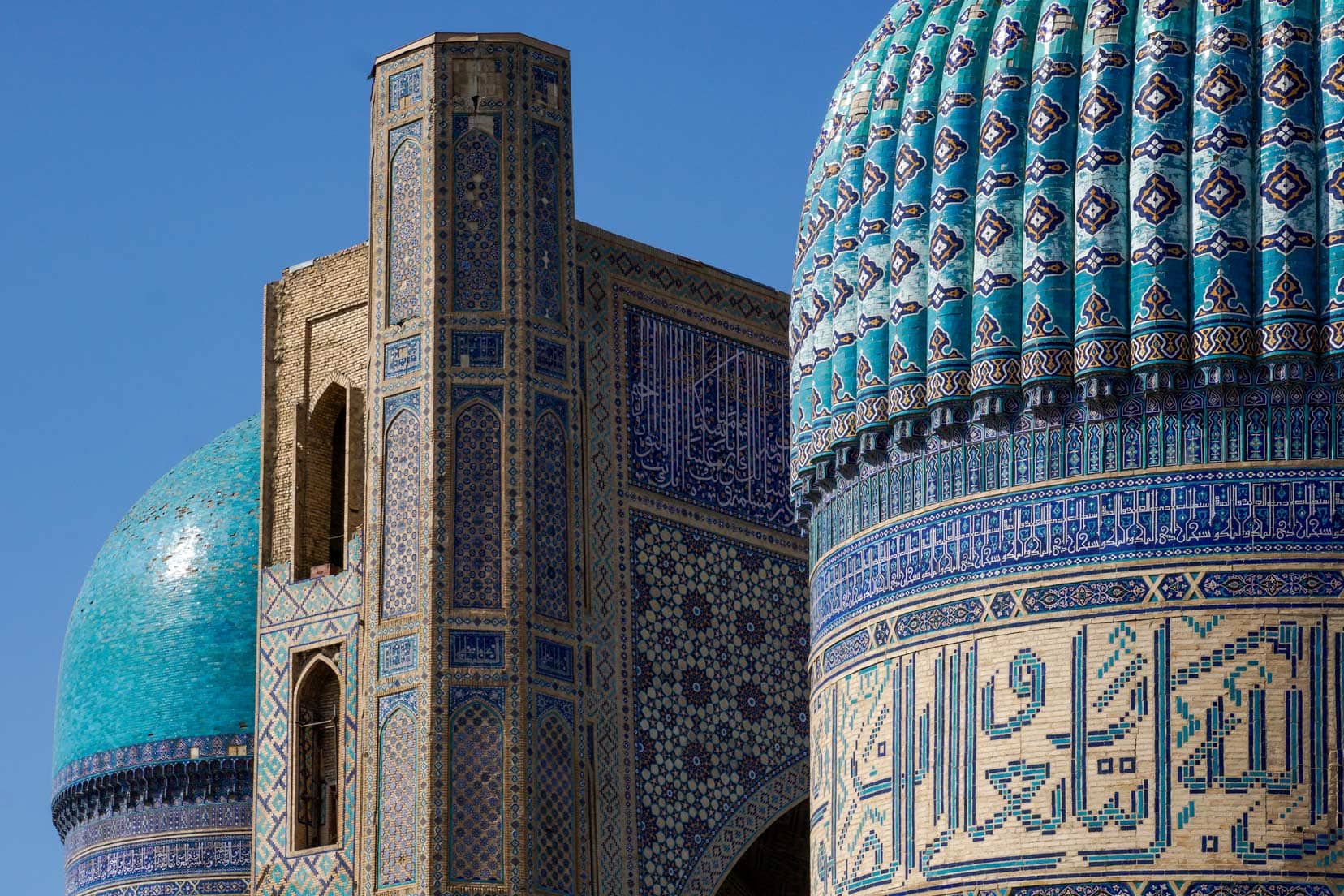 Entry into Registan Square, Samarkand
Officials control entry to Registan Square Samarkand at the fenced-off area of the square's only entrance.
Tickets, which are valid for a one-time entry during the following 24 hours, are purchased with cash only from a ticket booth close to the main square entrance.
The entry price for foreigners is SOM 50,000 (USD $4.10), while Uzbek citizens enter for SOM 3,000 (USD $0.25). Gate officials check that you have a valid ticket.
Ulughbek Madrasah
The Ulughbek madrasah (the one on the left when at the square entrance) was built between 1417 and 1421 A.D. under the authority of the governor at the time, Ulugh Bek. He was a preeminent astronomer who also lectured on the subject at the madrasah.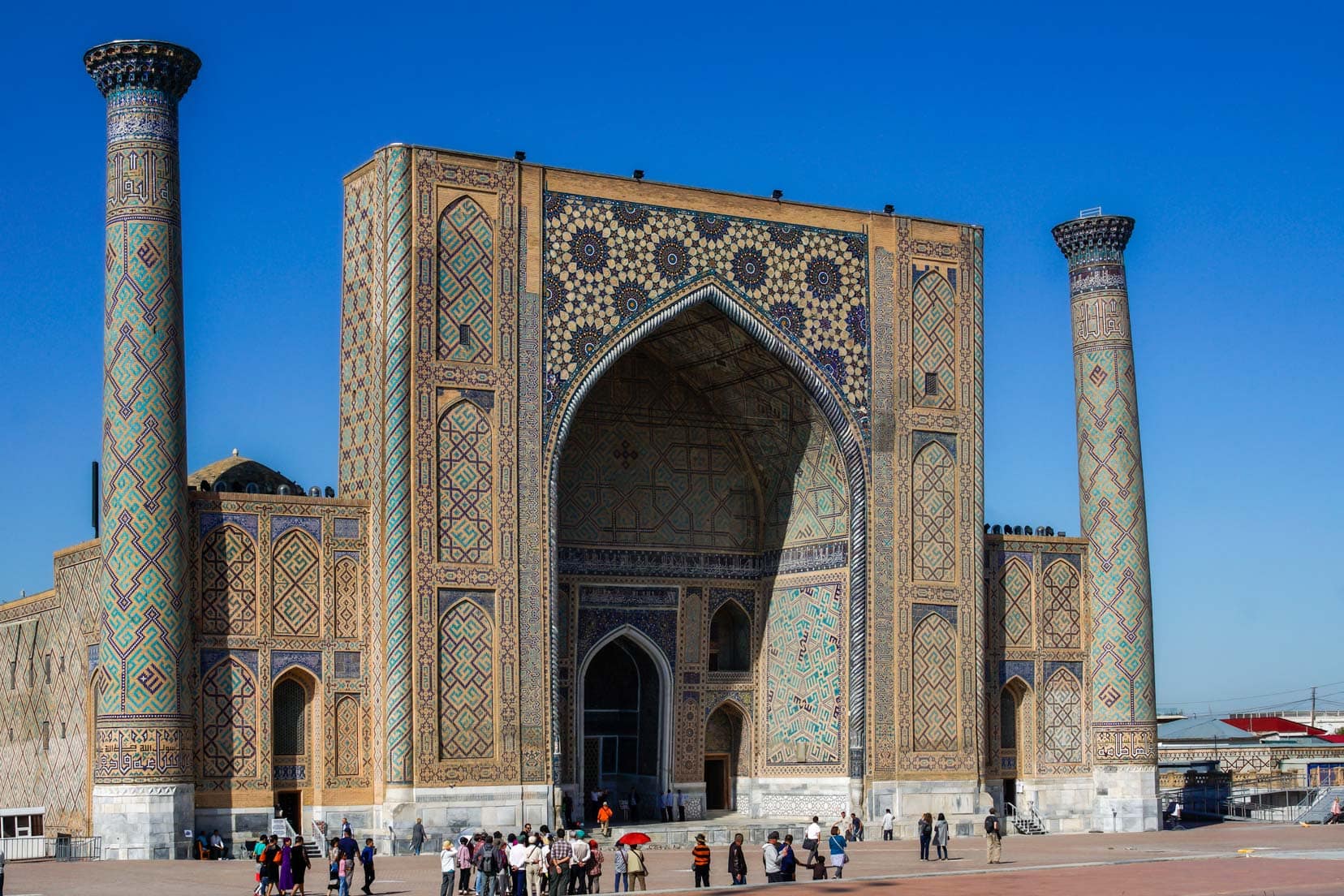 To give an idea of dimensions, the pishtak or front portal of the madrasah, is 35m in height and is adorned with azure-blue stars in his honour.
Upon entering the madrasah, a gold chamber displays exquisite form and colour mosaics. The architect had a real eye for detail.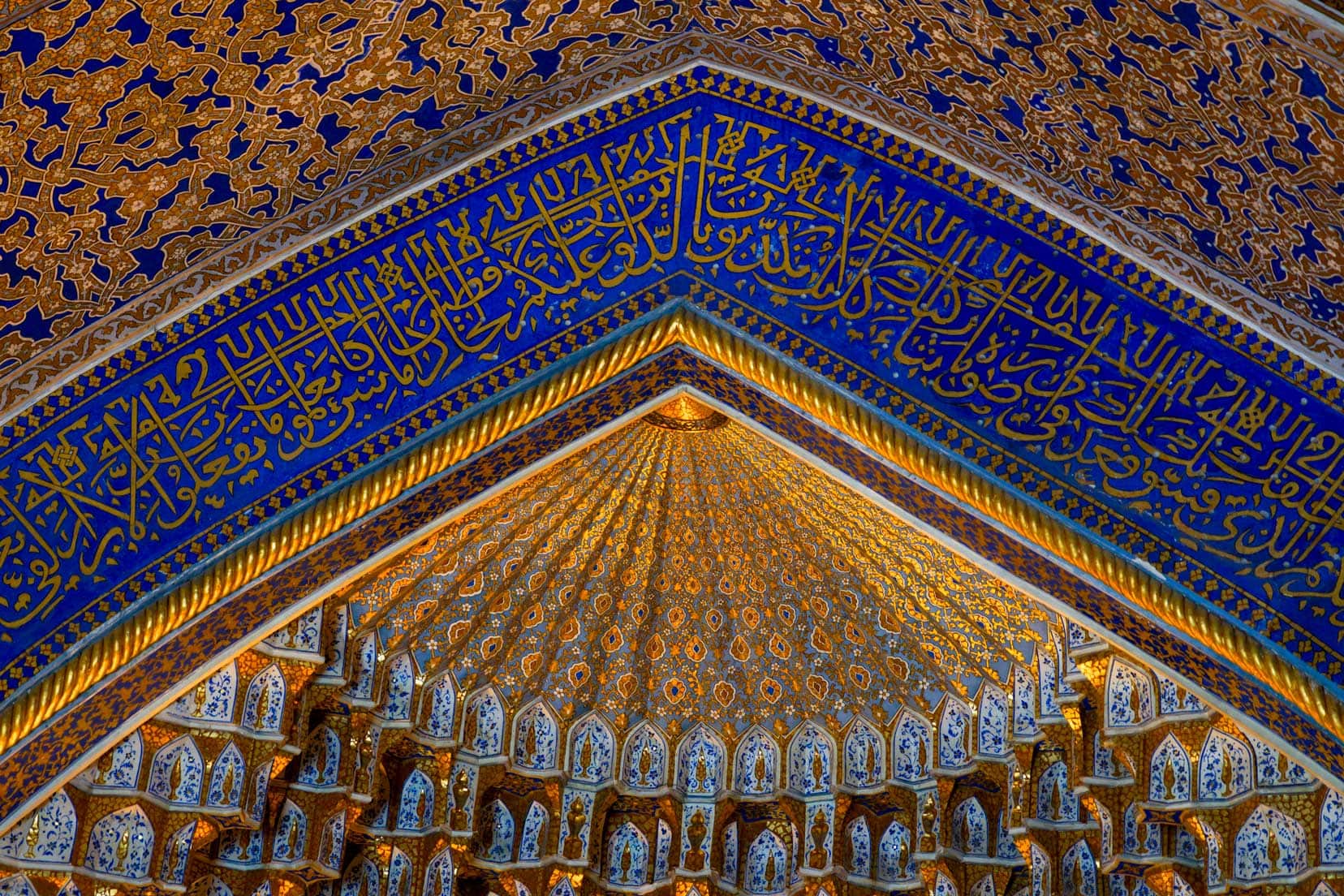 It isn't possible to access the inner courtyard of Ulughbel madrasah; however, you can walk through the long hallway containing many old photographs captured at a time before the Russian restorations began.
Looking at these images, it's obvious that the madrasahs fell into great disrepair over time.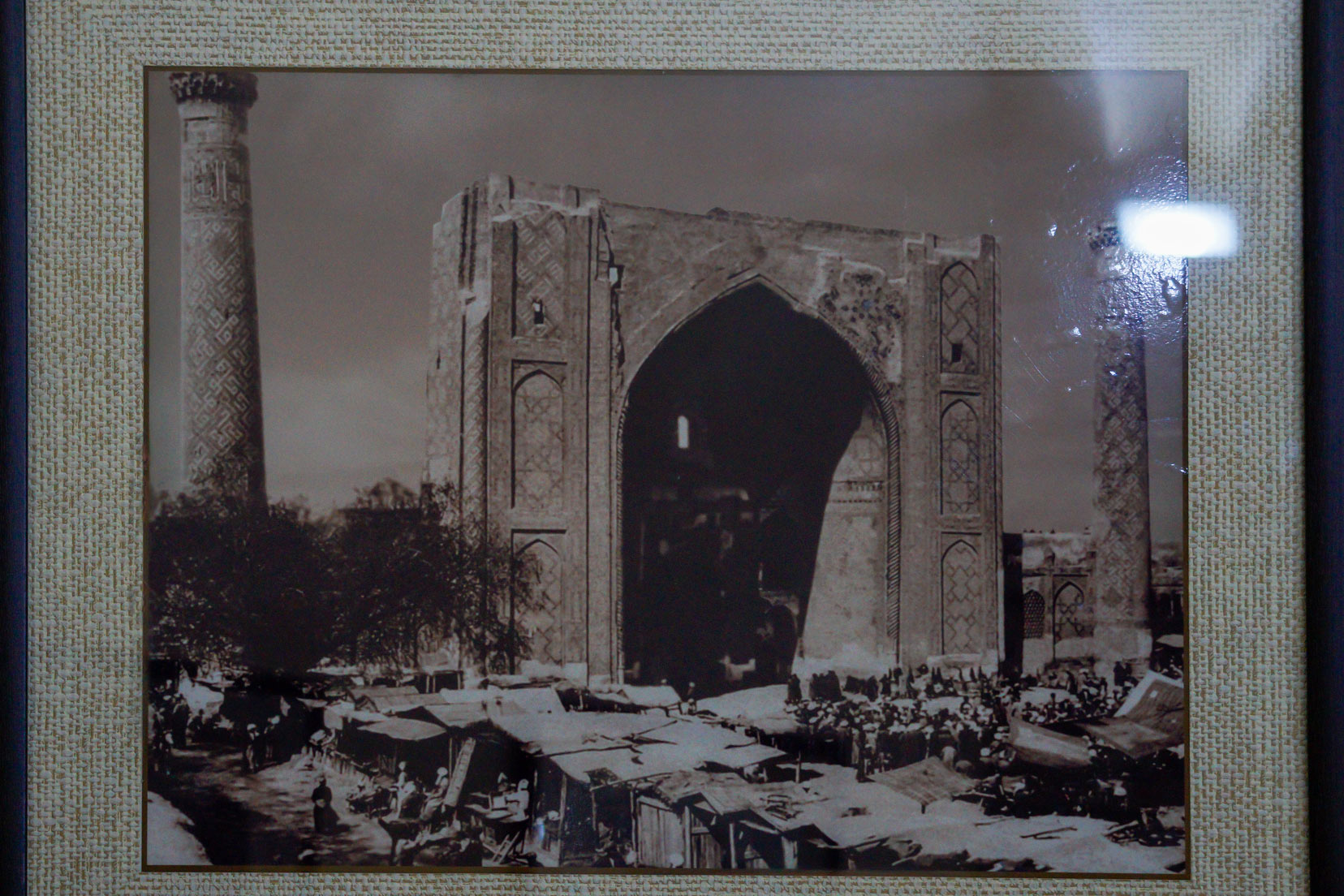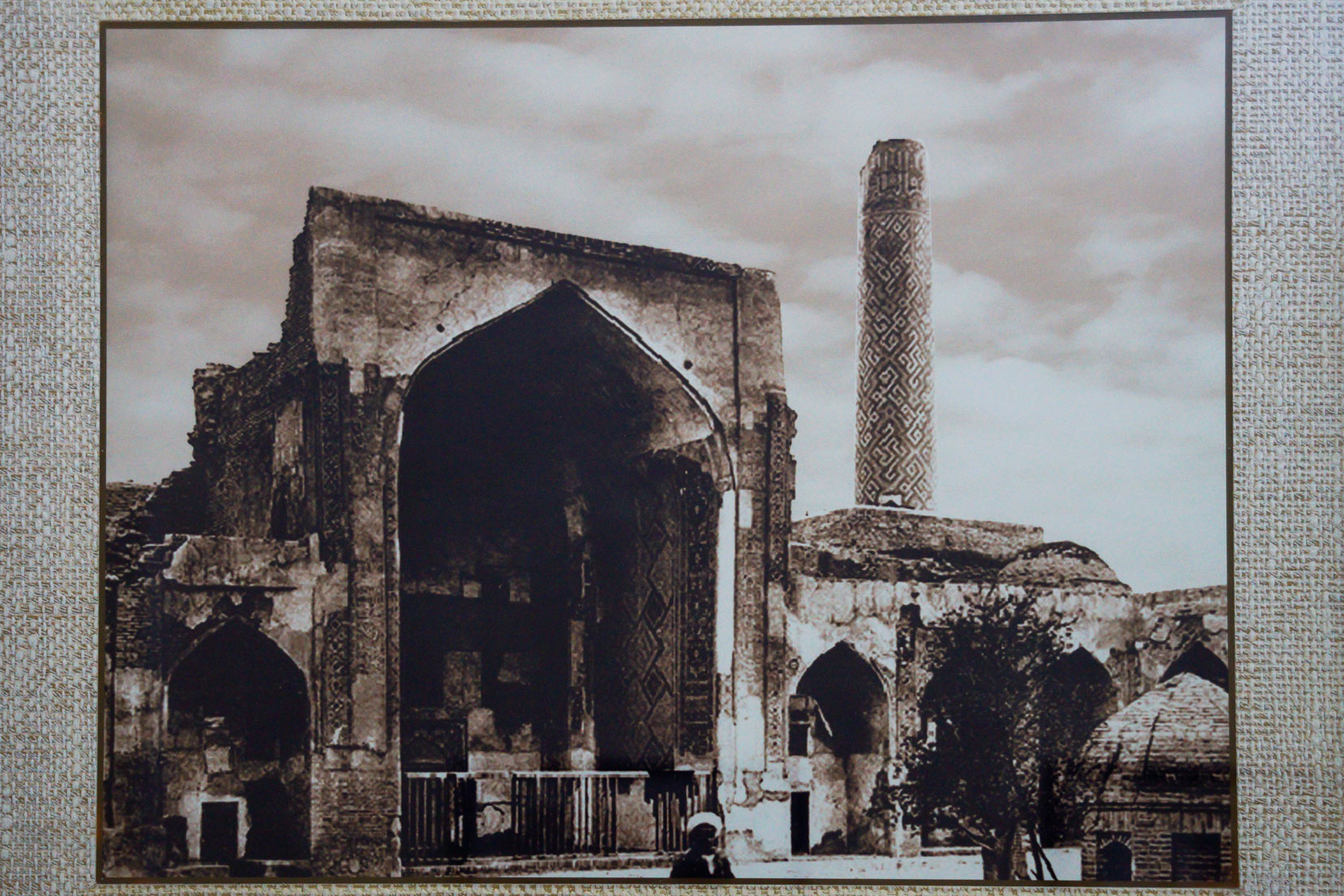 Tilla-Kori Madrasah
Tilla-Kori madrasah faces you when standing at the entrance to Registan Square with an interior with rich blue and gold trappings. This is not surprising as the name Tilla-Kori translates to 'decorated with gold'.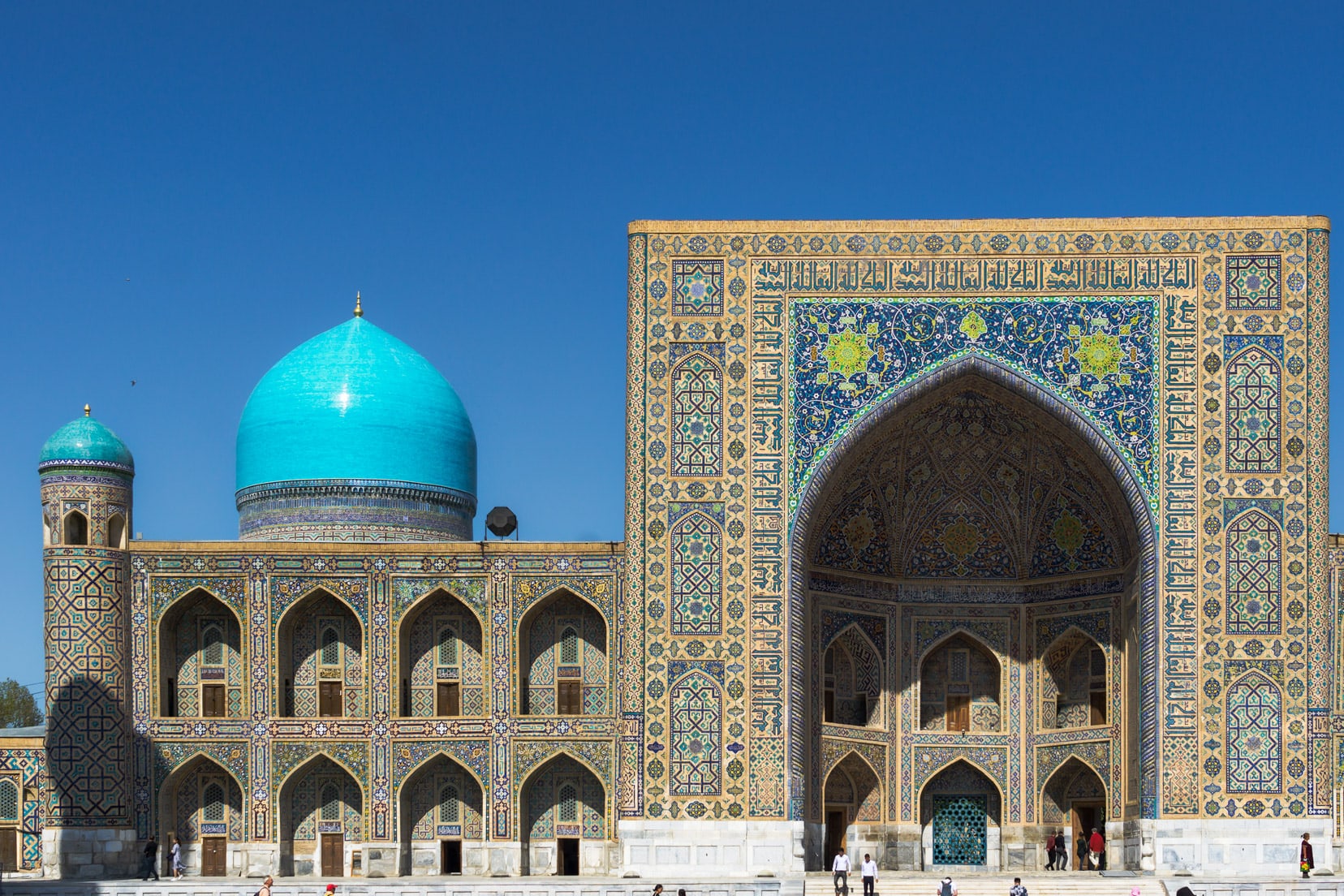 The madrasah's ceilings are adorned with stunning motifs. It's a visual masterpiece with such fine detail that's almost too much for the eye to take in.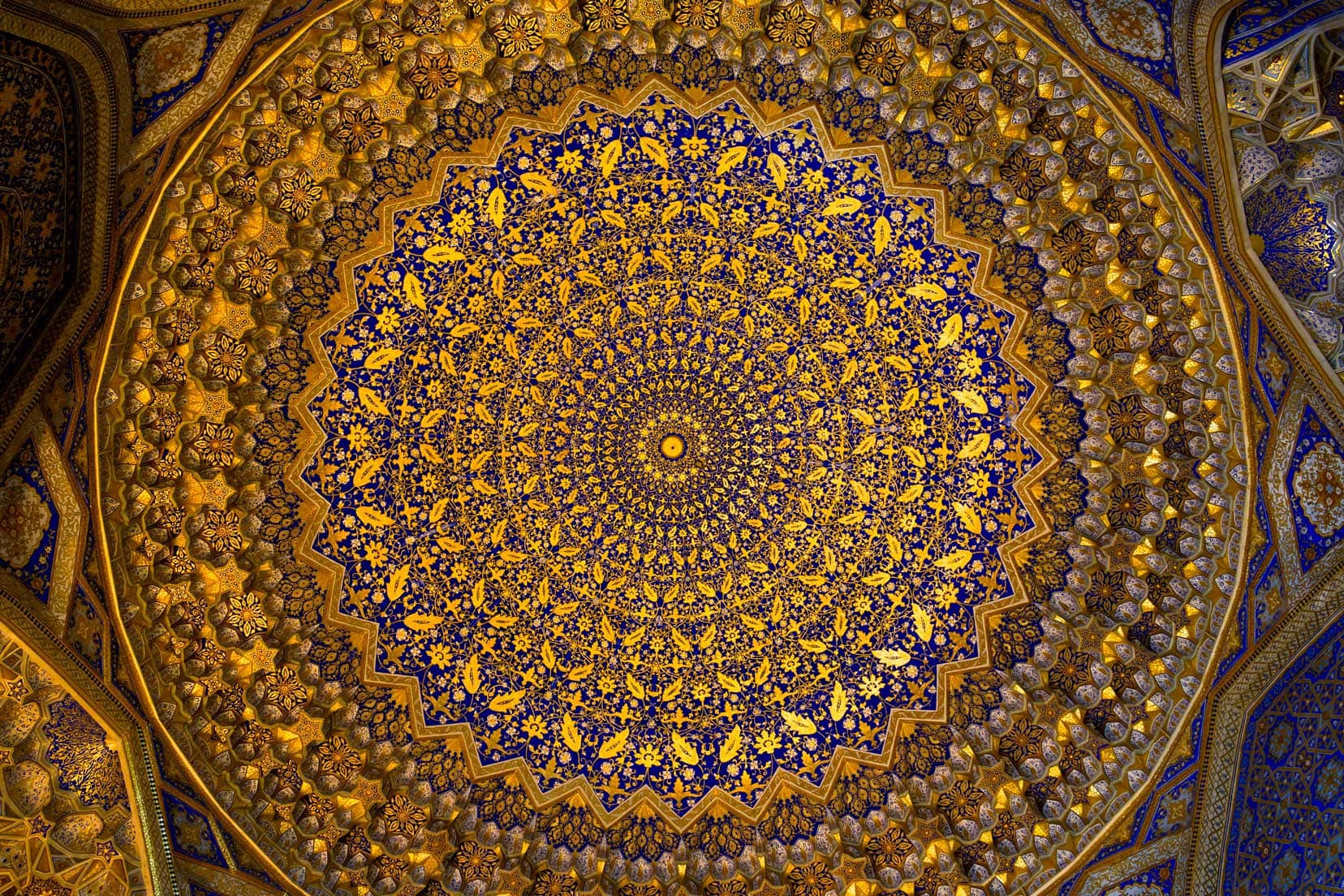 Islamic designs are typically repeated, overlapped, and interlaced squares and circles forming intricate and complex patterns. Islamic artists adhere to the belief that the creation of living beings is the work of God and should not be portrayed in artwork.
Common Islamic art patterns, geometric shapes, designs, and representations of flora or vegetation are used in lieu.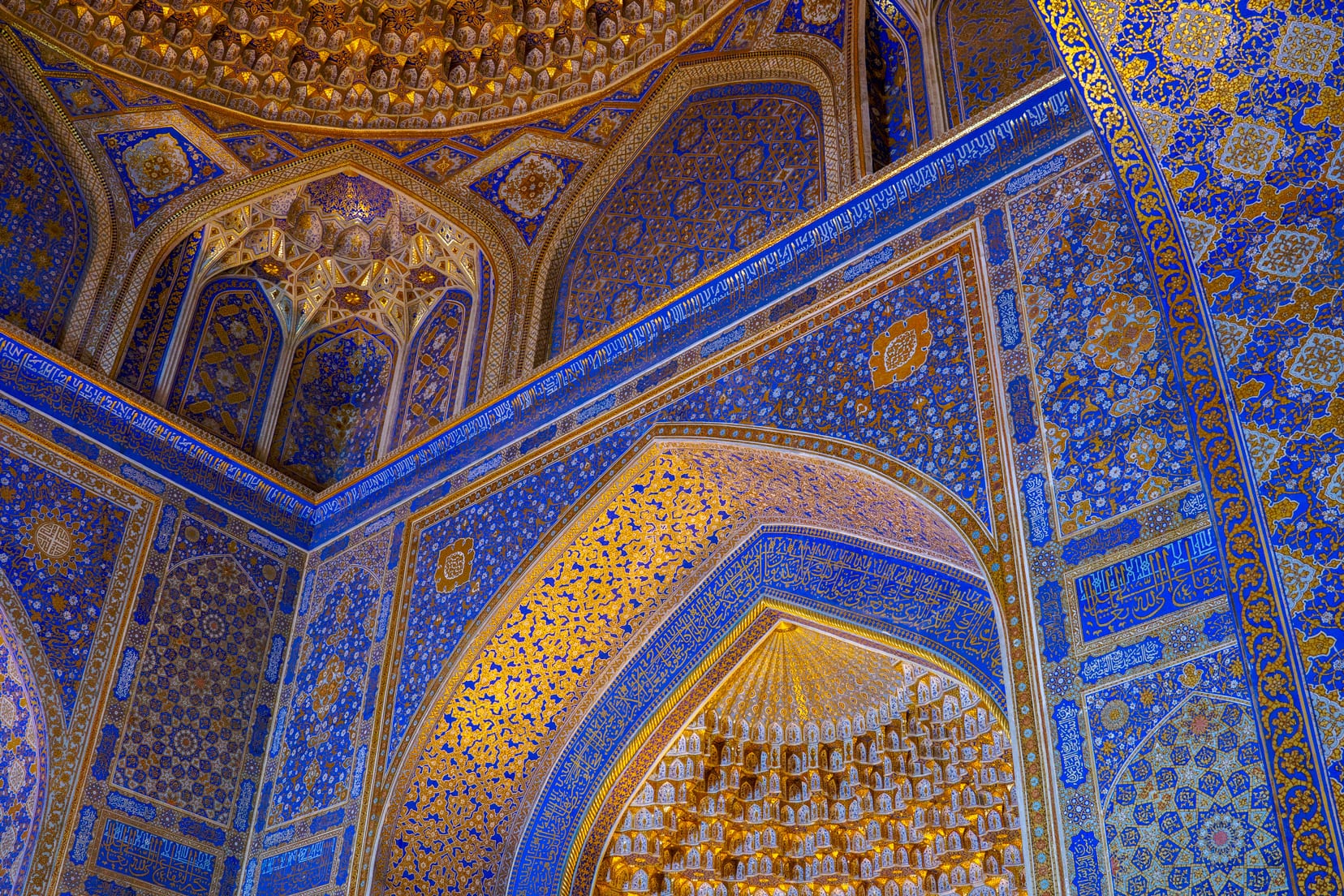 Passing through the front of the madrasah leads into an internal open-air courtyard. Here, many small retail shops are pigeonholed into the massive earthen walls.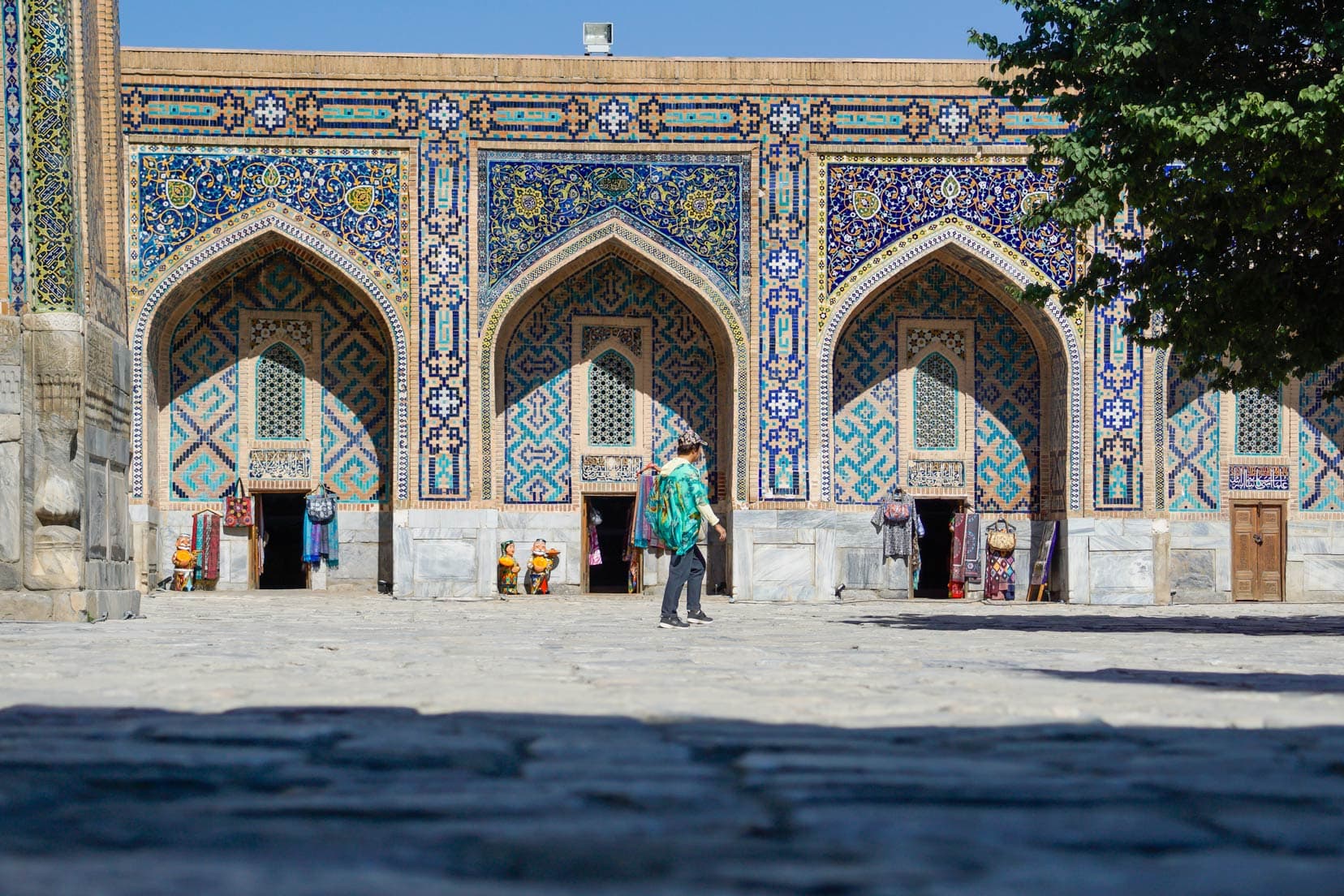 Vendors attempt to draw your attention with hellos and smiles, then beckon for you to 'come inside' and see their handicrafts, cashmere scarves, silk hats and ceramics displays. The sellers are not pushy, and a polite 'no thanks' is enough to stop any further communication.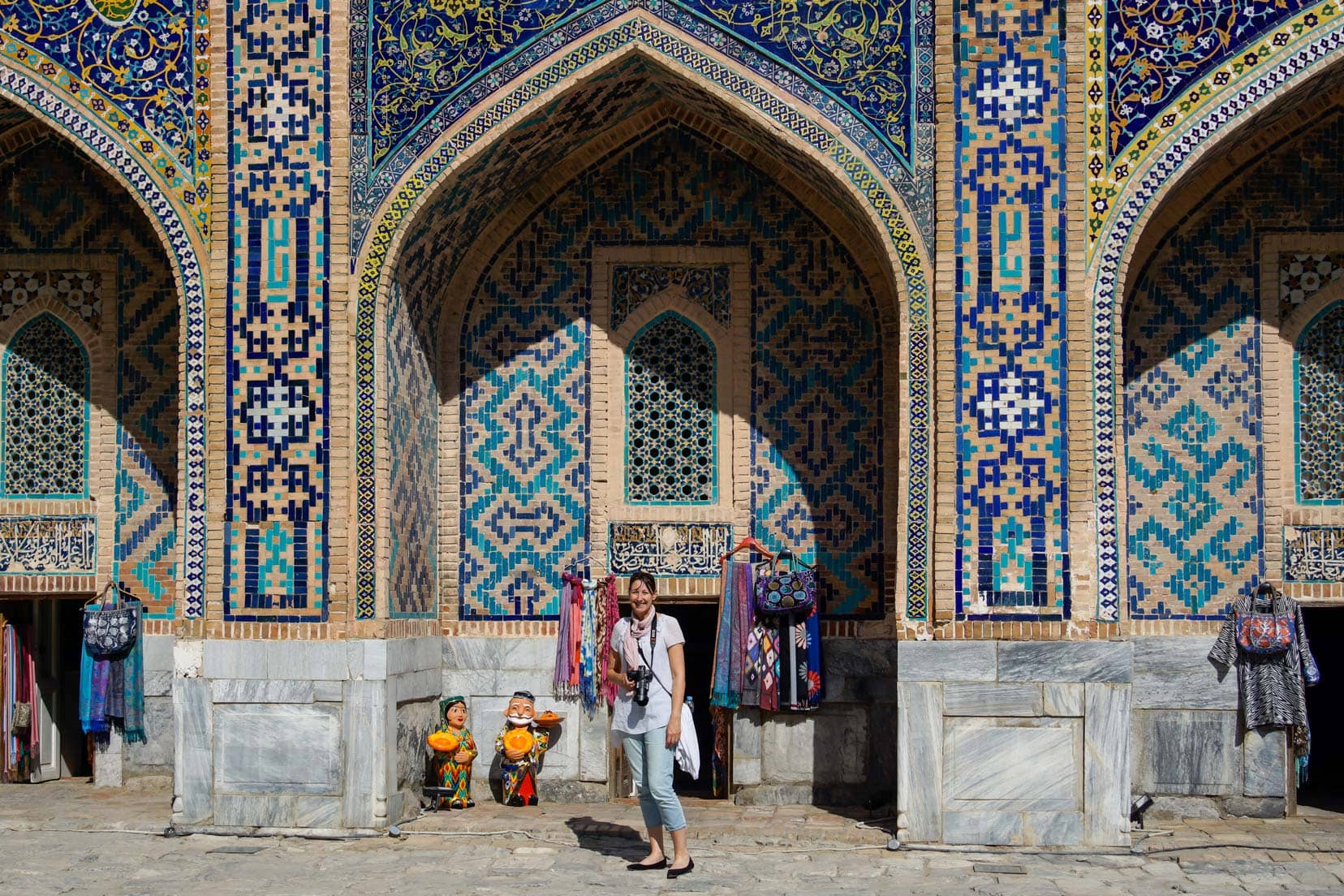 One shop definitely worth visiting is the Dil-Suzani Boutique.
The shop owner, Dilshod, is immediately upfront about not pushing a sale and then launches into an interesting talk about Uzbek history, traditions and the carpet trade. He is very knowledgeable about the history of Uzbekistan.
Pulling out different carpets, he proudly explains the symbolic meaning of the earth, wind and fire patterns on the material. He encourages you to take plenty of photos and ask all the questions you want without any further obligation.
Would you believe he also speaks eight languages fluently – and is self-taught?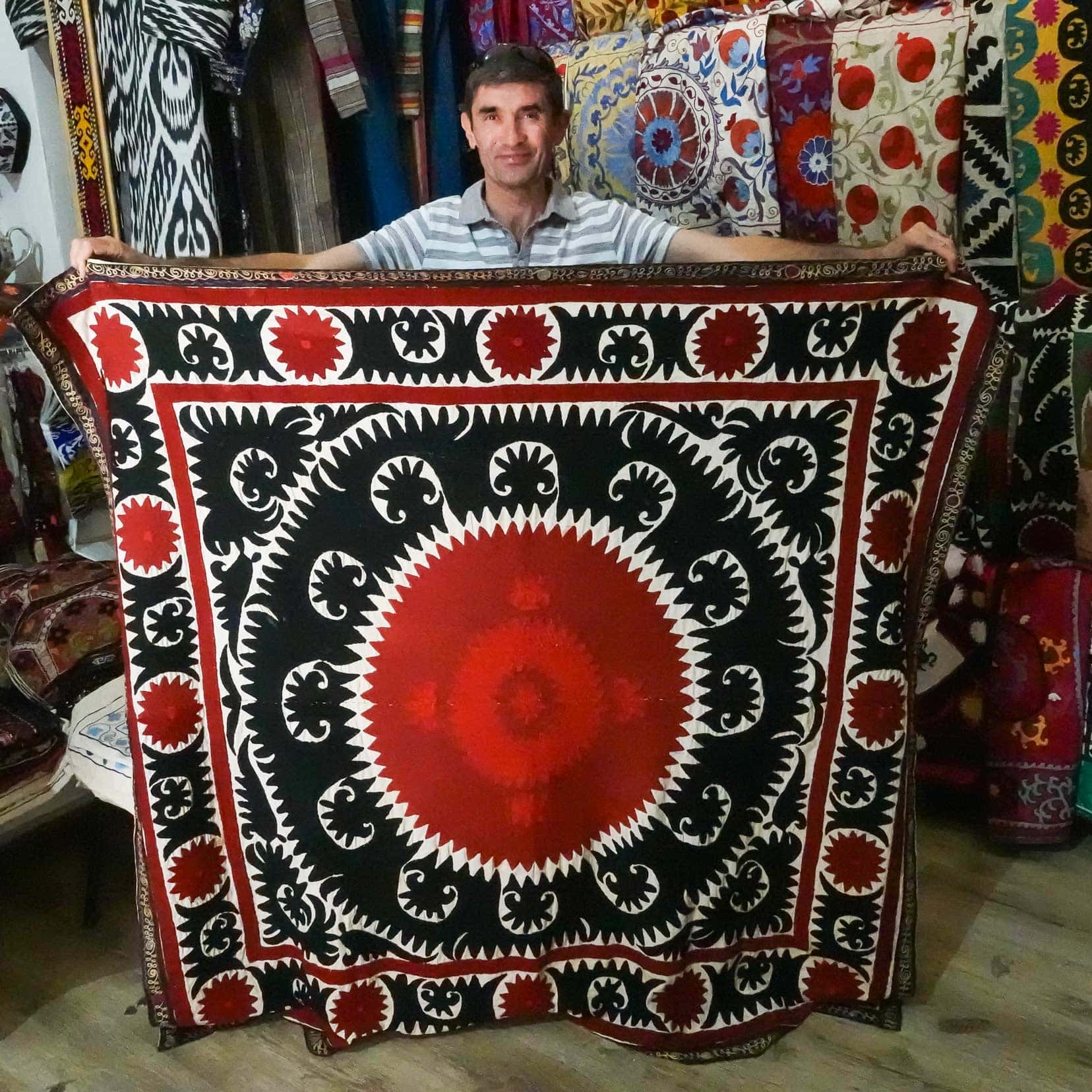 Sher-Dor Madrasah
The Sher-Dor madrasah (the one on the right when you enter Registan Square) was built to reflect the design of the opposite madrasah, Ulughbel.
A hunting scene is represented on the Sher-Dor portal of an animal from the cat family, a tiger with the mane of a lion overseen by the beams of an ascending solar face.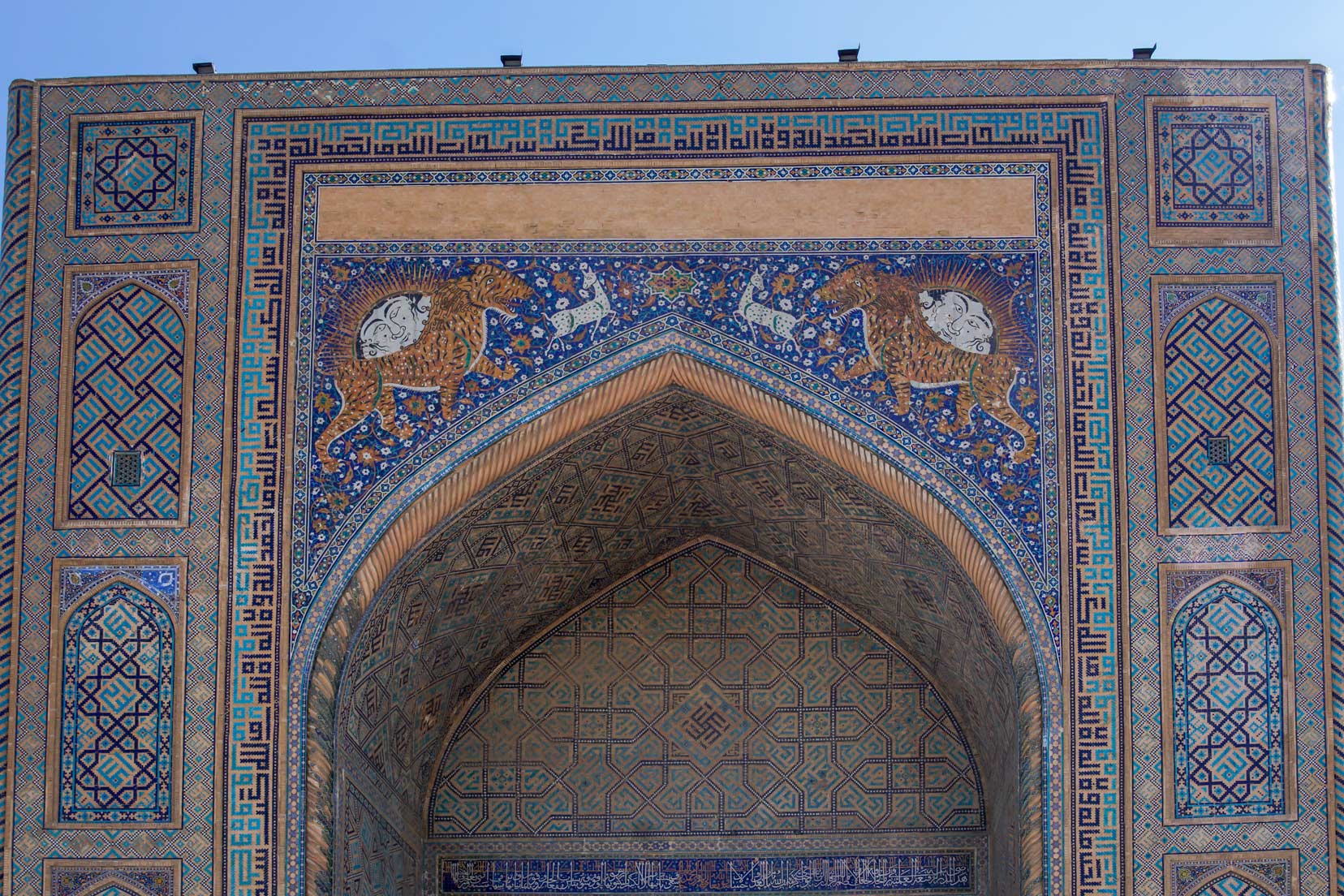 This depiction on the portal of Sher-Dor madrasah has been slowly adopted as one of the Republic of Uzbekistan's national symbols.
All three madrasahs have suffered earthquake damage over the years. However, out of the three Registan Square madrasahs, Sher-Dor has undergone the most extensive restorations to repair earthquake damages.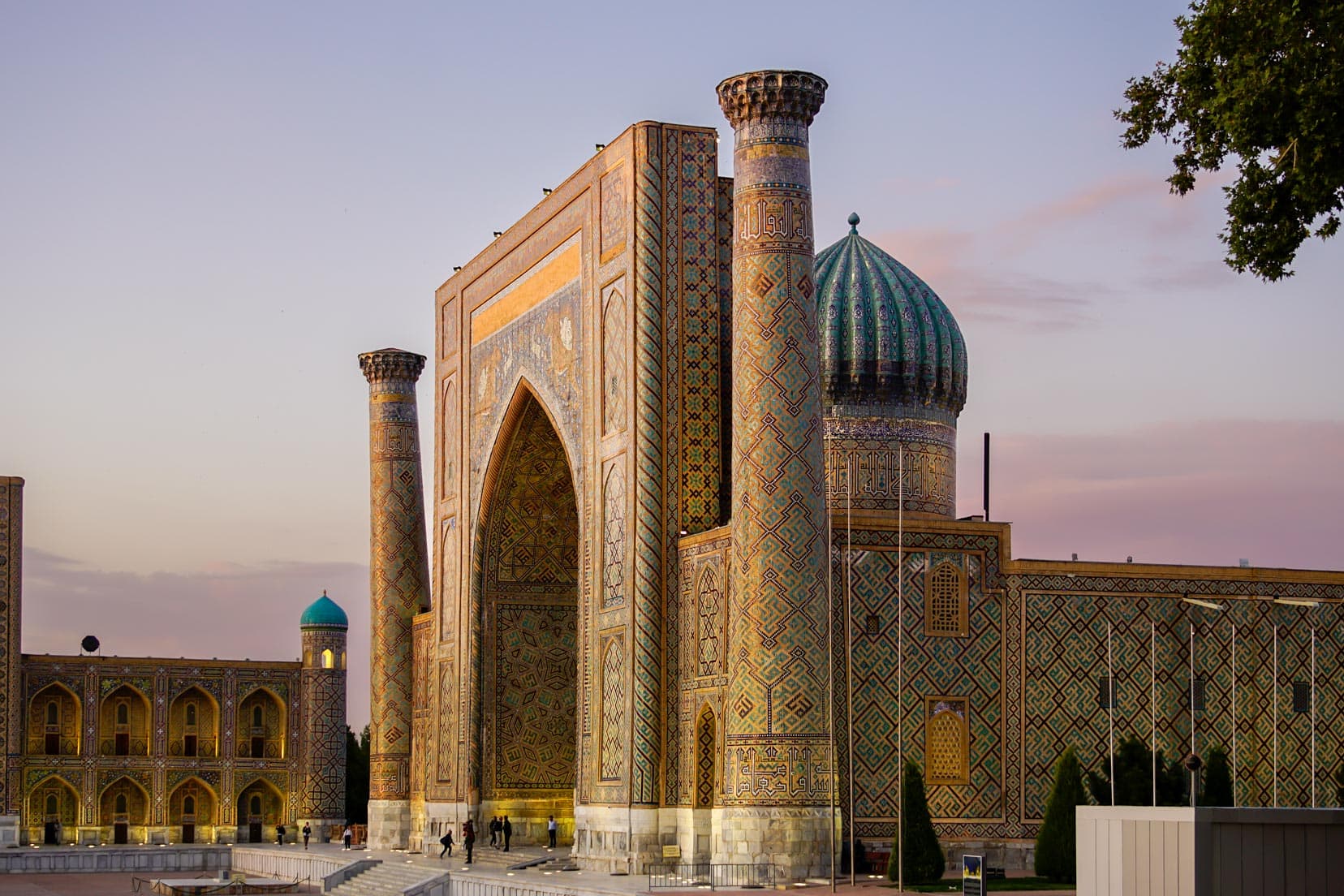 This madrasah also has retail shops within its courtyard but offers something a little different and a bit of fun. Traditional Uzbek dress-up garments can be hired, and then the person/s photographed.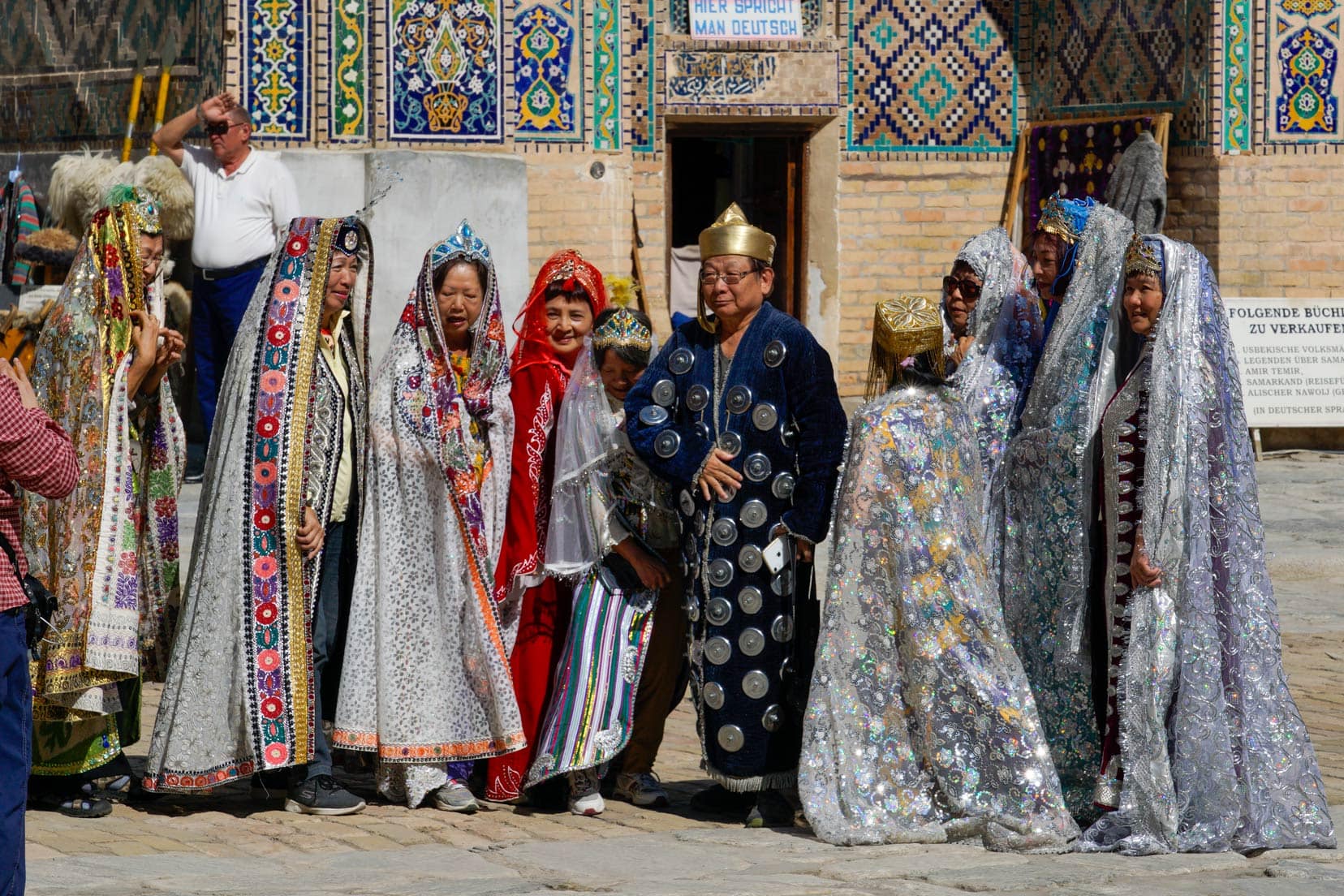 2. Gaze at the Registan Square Light Show
The Registan Square light show is a highlight of the day when in Samarkand.
Mingle at Registan Square at dusk and await the magical laser light and sound show that follows. Colourful and lively imagery projected onto the different madrasahs portraying the 2750-year-old history of Samarkand.
The show really brings Registan Square to life. You don't want to miss it.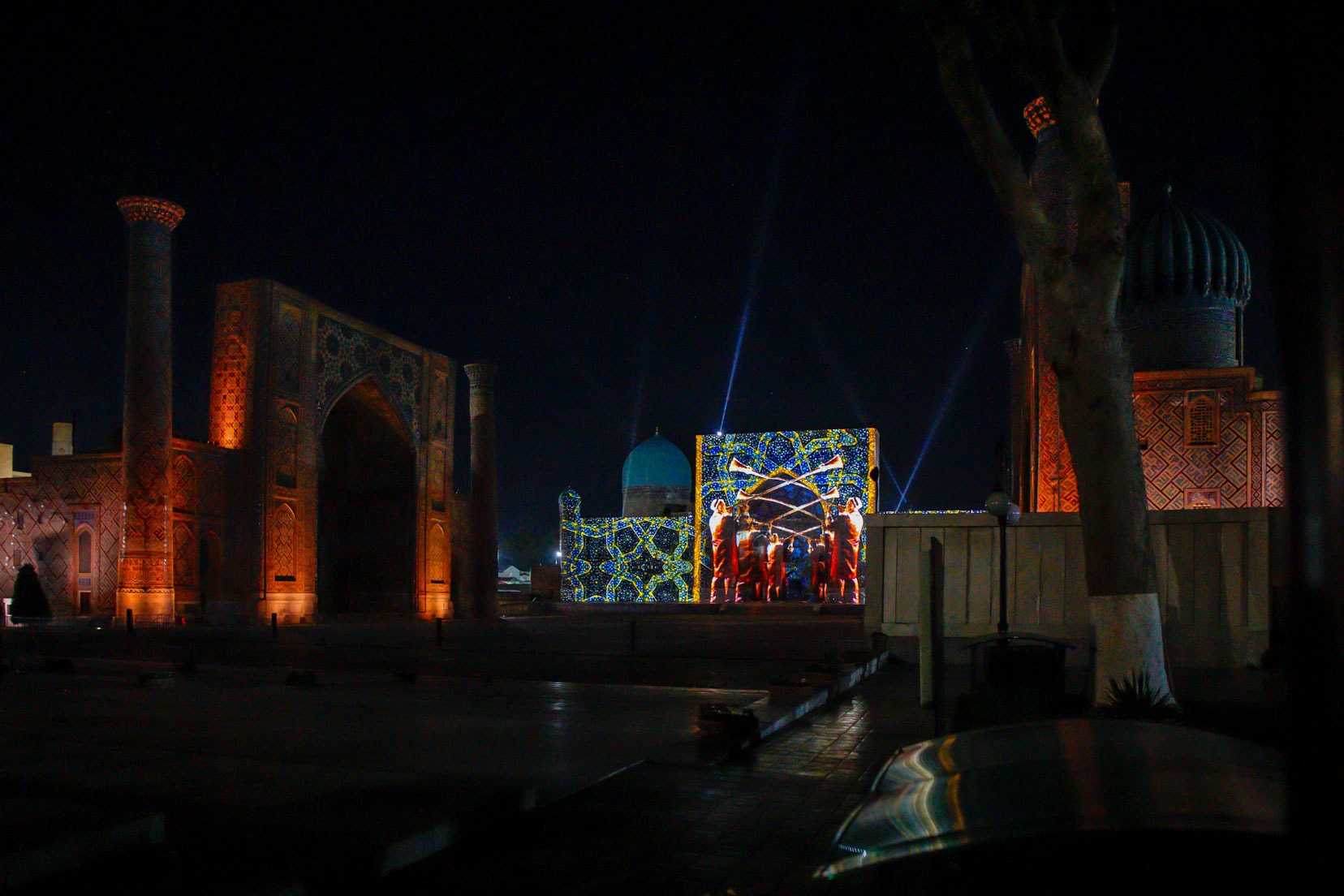 About Registan Square Light Show
The Registan Light Show time is 21:00 hours on a daily basis during the high season (June to August) and on special days such as the New Year, Nawruz (21st March), and Independence Day (01st September).
The theme is the same for each show, lasting for 20 to 30 minutes.
The best vantage point for viewing the Samarkand Registan light show is at the tiered concrete area behind Registan Square's entrance.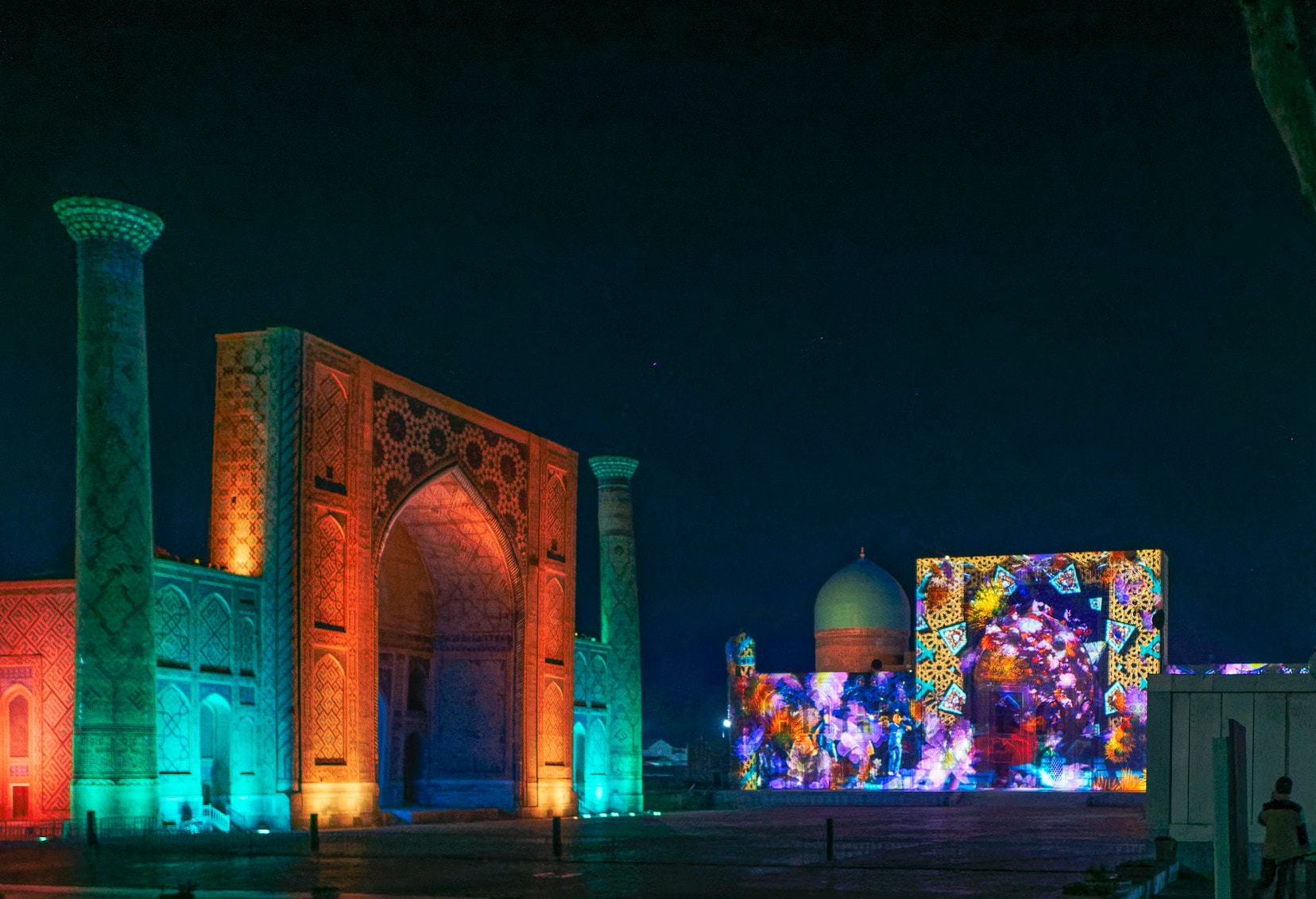 You will need to buy a separate ticket for the light show at a cost of USD $8 per person. If you want to watch the lights without paying for a ticket, then you can do so from outside the perimeter fence of the square.
Note: On offer are also 3D mapping light shows of 19 minutes duration, which are a special individual order. This is on an ad-hoc schedule, and really, it's just down to sheer luck if you do manage to see one of these special shows. Here's a YouTube link to the 'special' light show.
Below is a taster of the 'standard' light show. Whatever show it is, this Samarkand light show is a magical sight.
Registan Square Photography Tip:
Visit Registan Square close to sunset to witness the soft afternoon light spill over the madrasahs. After sunset, about 20 minutes of soft, natural light falls on the madrasahs before the bright, artificial lights are switched on to illuminate the square and surrounding structures.
This artificial lighting is turned off during the shows but remains on from sunset to 11 p.m.
Tilla Kari Park (just behind Registan Square) also offers some interesting perspectives and lighting of Registan Square at night.
3. Samarkand Tourist Information Center
Why include a tourist info centre on our list? The staff here are really knowledgeable and just so helpful. It's worth a stop early in the day to ask if something special may happen on the day or something of interest you haven't accounted for in your plans.
To find the tourist information centre from Registan Square, walk a kilometre northeast down Islam Karimov Street, past the ATMs and shops.
The staff here were so helpful that they even joined us at the local bazaar, helping to find some needed footwear. How thoughtful.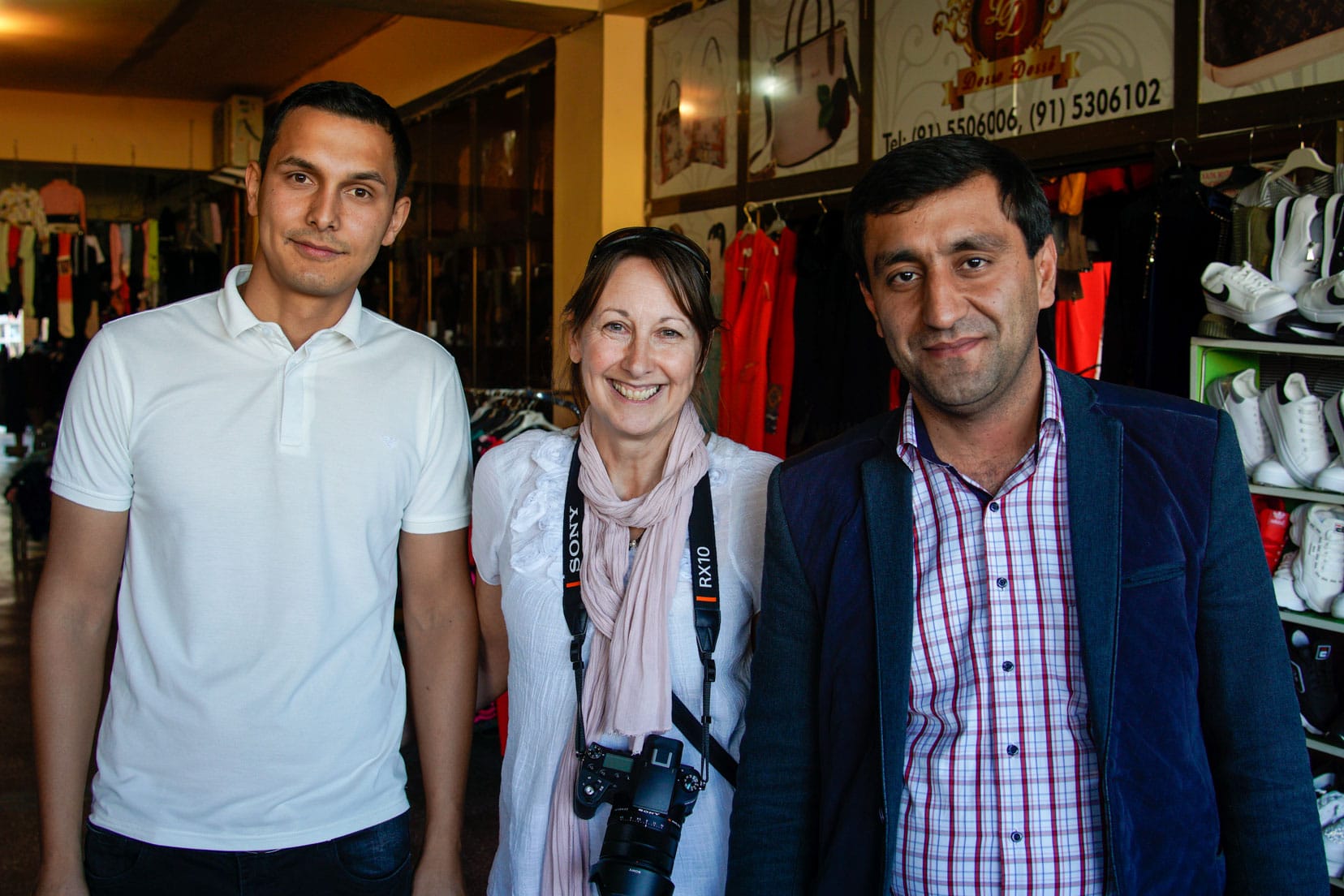 4. Bibi Khanym Mosque
A short 15-minute walk from Registan Square brings you to the Bibi Khanym Mosque. This massive congregational mosque, a rectangular 167m by 109m, is able to hold 10,000 worshippers.
The Bibi Khanym mosque was built between 1399 and 1404 A.D. by Timur, the undefeated imperial ruler at the time, in memory of his wife. This mosque compound is unique in the Islamic world, comprising three separate domed units.
In 1405, construction stopped when Timur suddenly died. However, the Bibi-Khanym Mosque remained in use until the 17th century, after which the Tilla Kori Mosque was built as a replacement.
During the 1970s, the Soviets began massive restoration works to repair earthquake damage.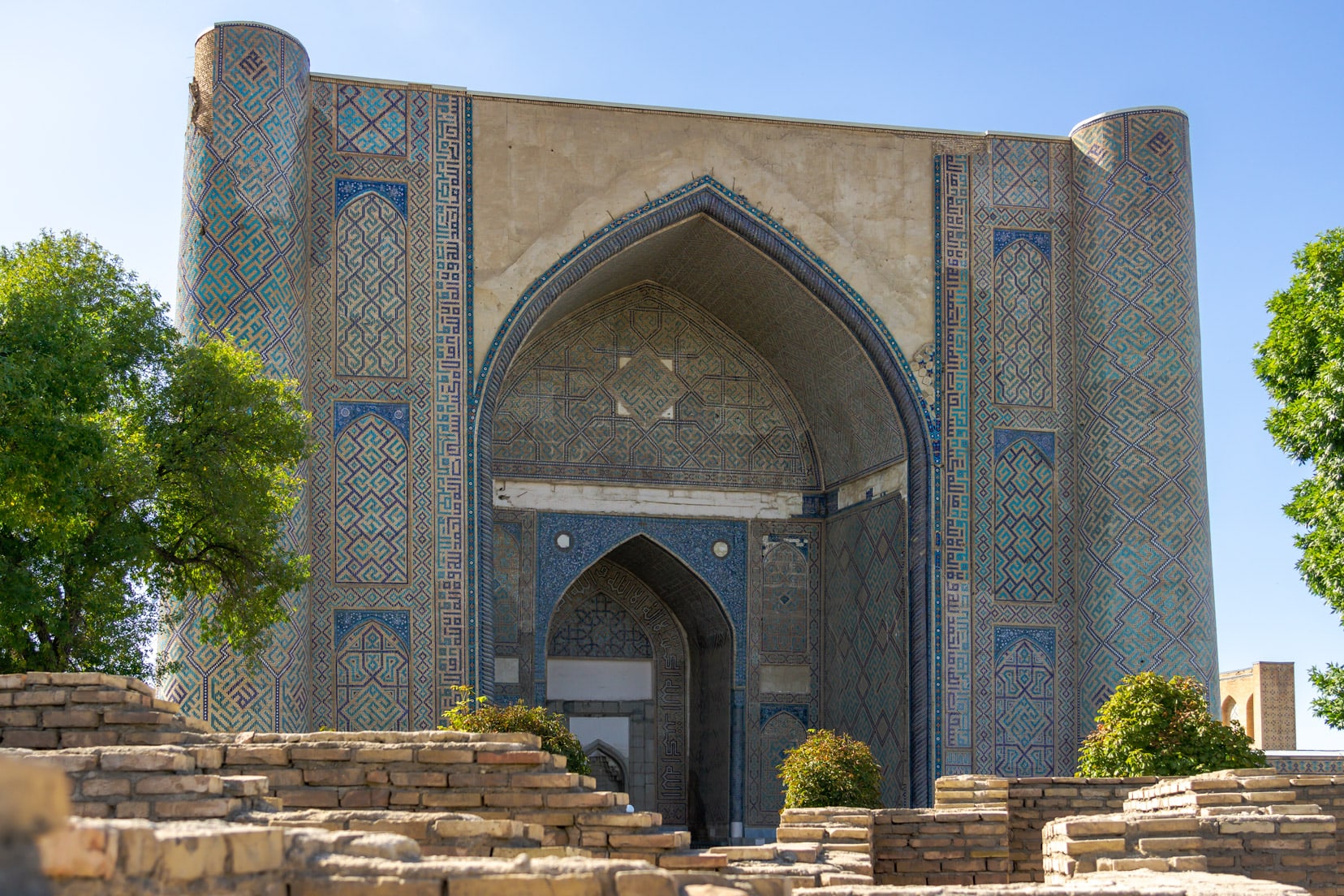 5. Bibi Khanym Mausoleum
The Bibi Khanym mausoleum lies opposite the Bibi Khanym mosque and houses three sarcophagi. It is said that the mausoleum was built in honour of Bibi Khanym's mother, who was reputedly the first to be buried inside.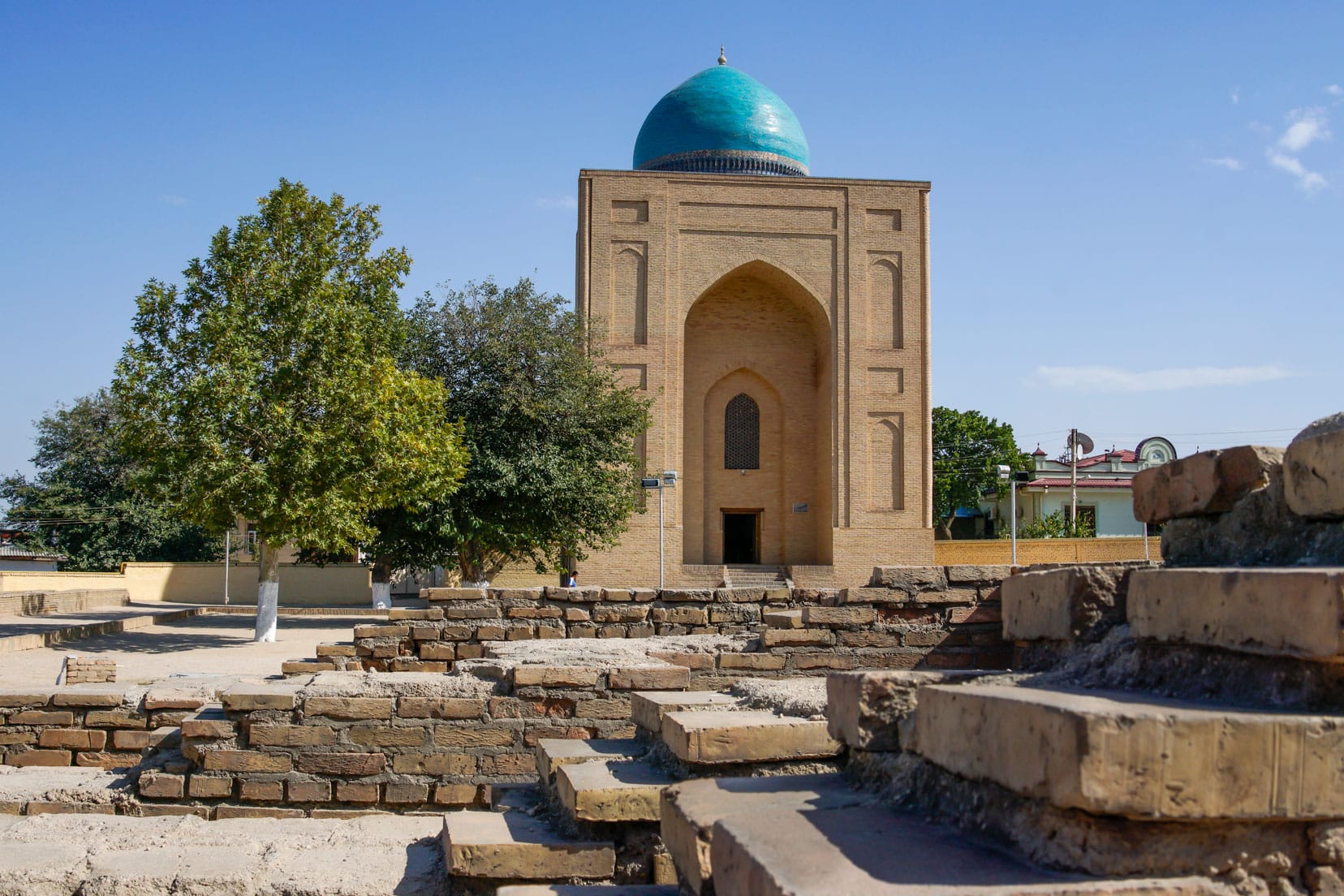 Nothing is actually known about the burial of Bibi Khanym, wife of the then-imperial ruler Timur. Where she is buried, or the ceremony marking her departure, remains a mystery.
It is surmised that the Bibi Khanym mausoleum may be a burial place for women and that the other two sarcophagi are likely female family members of Bibi Khanym.
6. Siab Bazaar
Skirting the boundary of Bibi Khanym Mosque brings you to Siab Bazaar, an agricultural market selling mostly fruit and vegetables. The main entrance is a fancy 3-arched portal.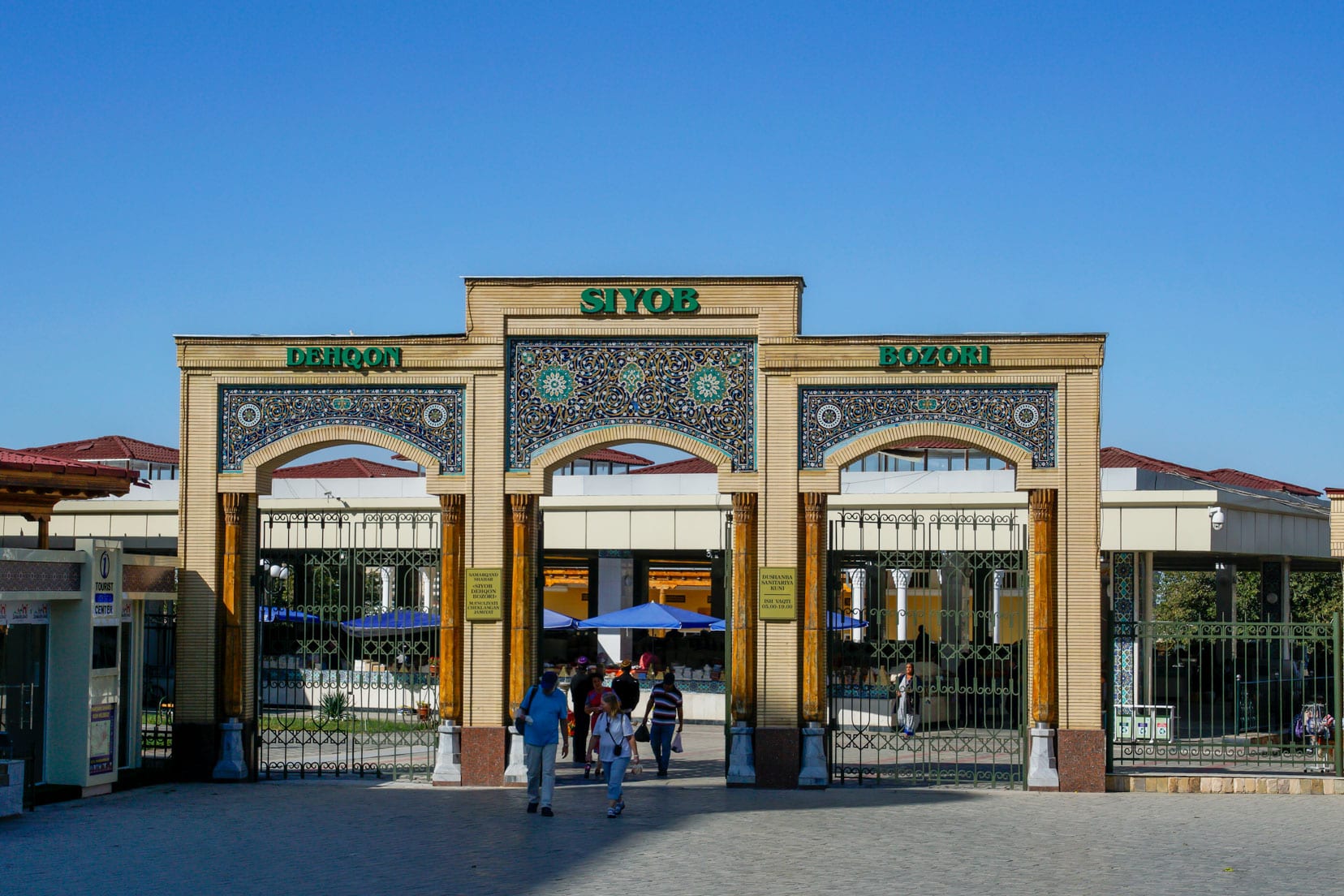 Also on offer are a wide array of spices, homewares, local works of art and the special hot bread. The bread, and there are a lot of different types sold at the bazaar, is made of a special local flour product. We thought the bread was very tasty.
It's a cheery venue with vendors happily gesturing for you to try their produce. As with most markets, mornings are when you'll see the market at its best and in full swing.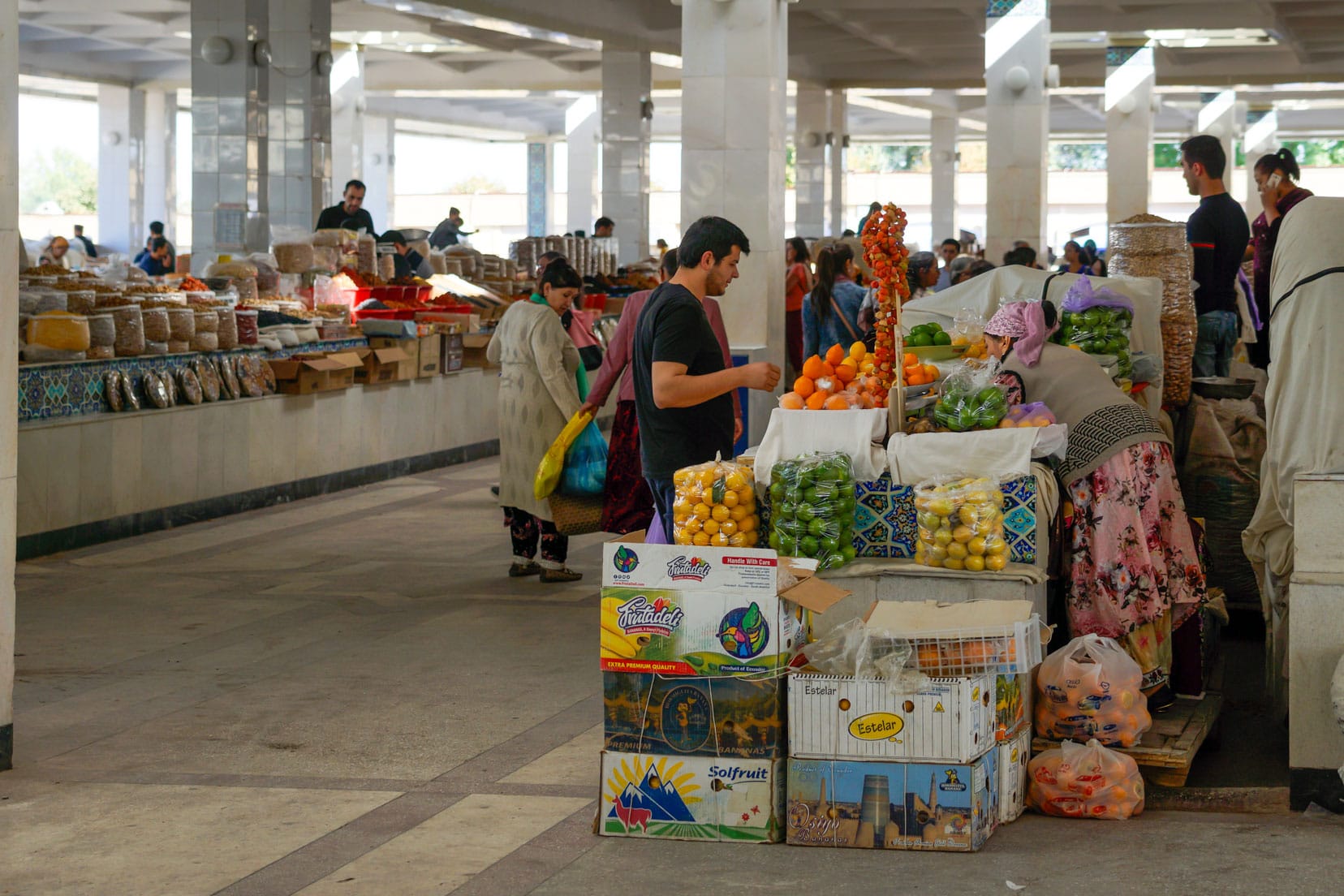 Siab Bazaar, Samarkand ©Lifejourney4two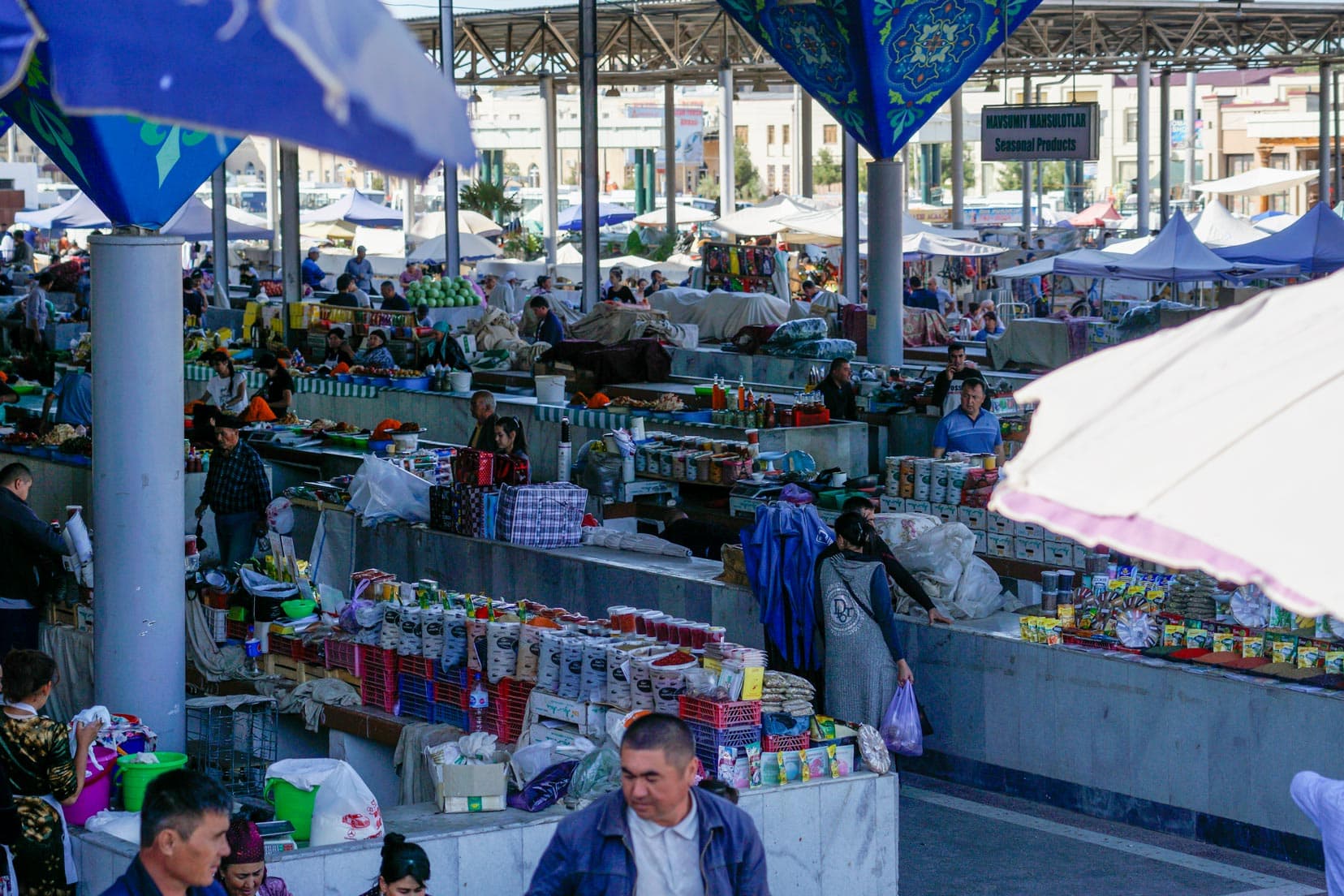 7. Shah-I-Zinda Cemetery
The Shah-I-Zinda cemetery has a vast array of modern gravesites, with an exclusive interior section of historical mosaic tombs and mausoleums known as the Shah-I-Zinda complex.
The modern gravestones close to the main paved cemetery paths, with their lofty views, are often ostentatious.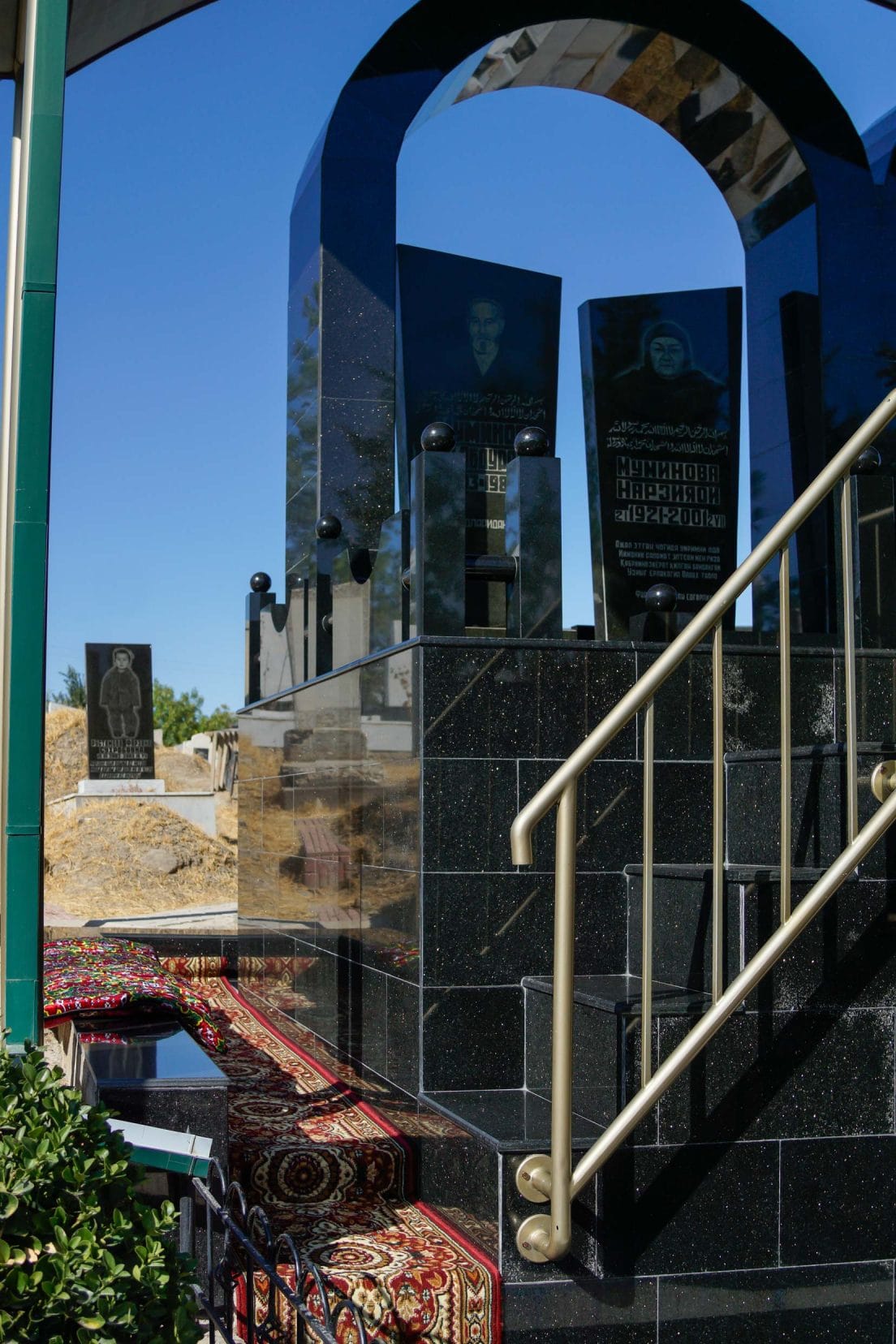 In stark contrast, the lower-sited gravestones in the poorer parts of the cemetery are much more plain. Really, the main reason to walk through this cemetery is to access the Shah-i-Zinda complex; however, the cemetery walk itself, to see these lavishly appointed headstones, is quite interesting.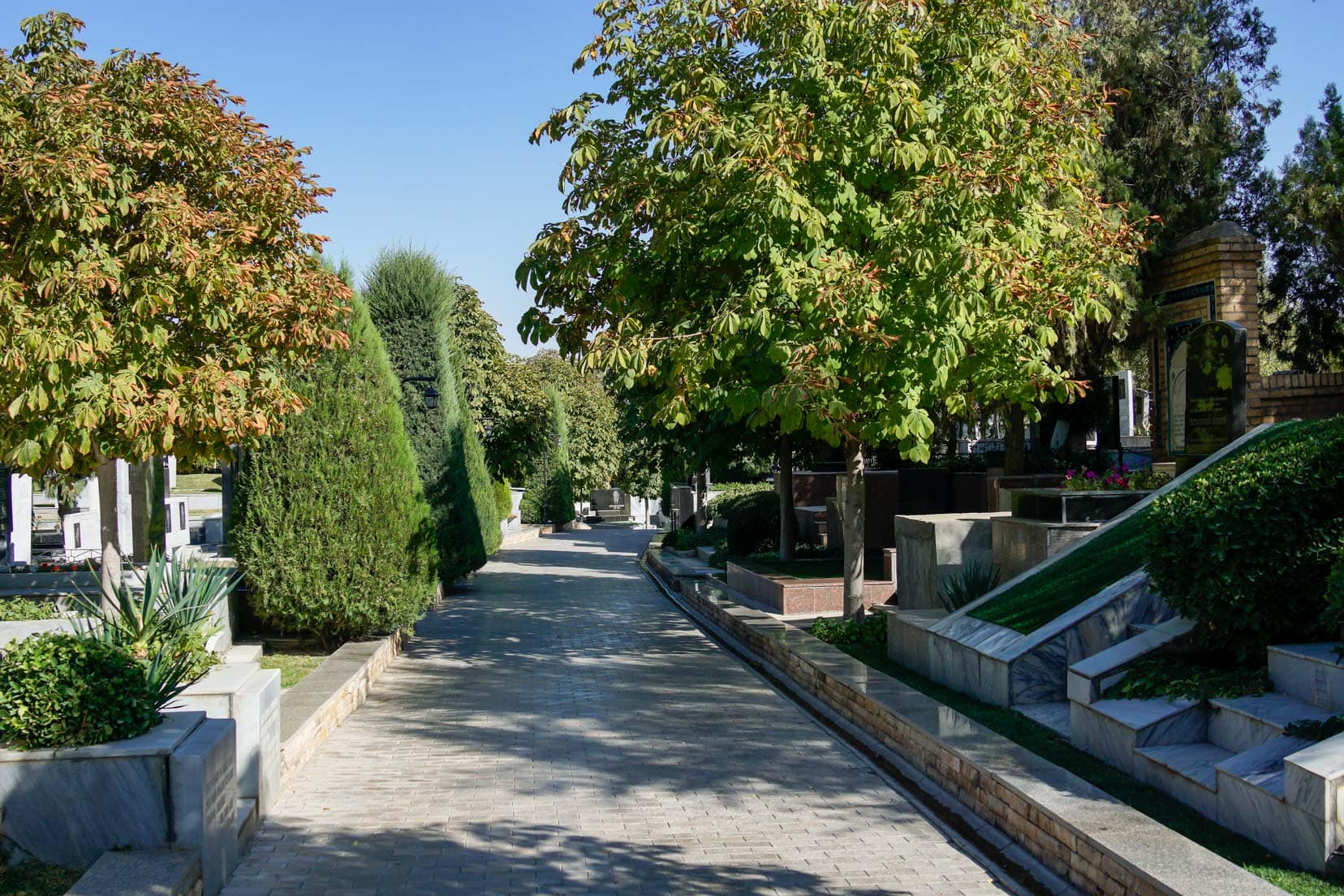 If you've chosen to walk the cemetery paths, you can catch views of the next stop, Samarkand's beloved Shah-I-Zinda necropolis.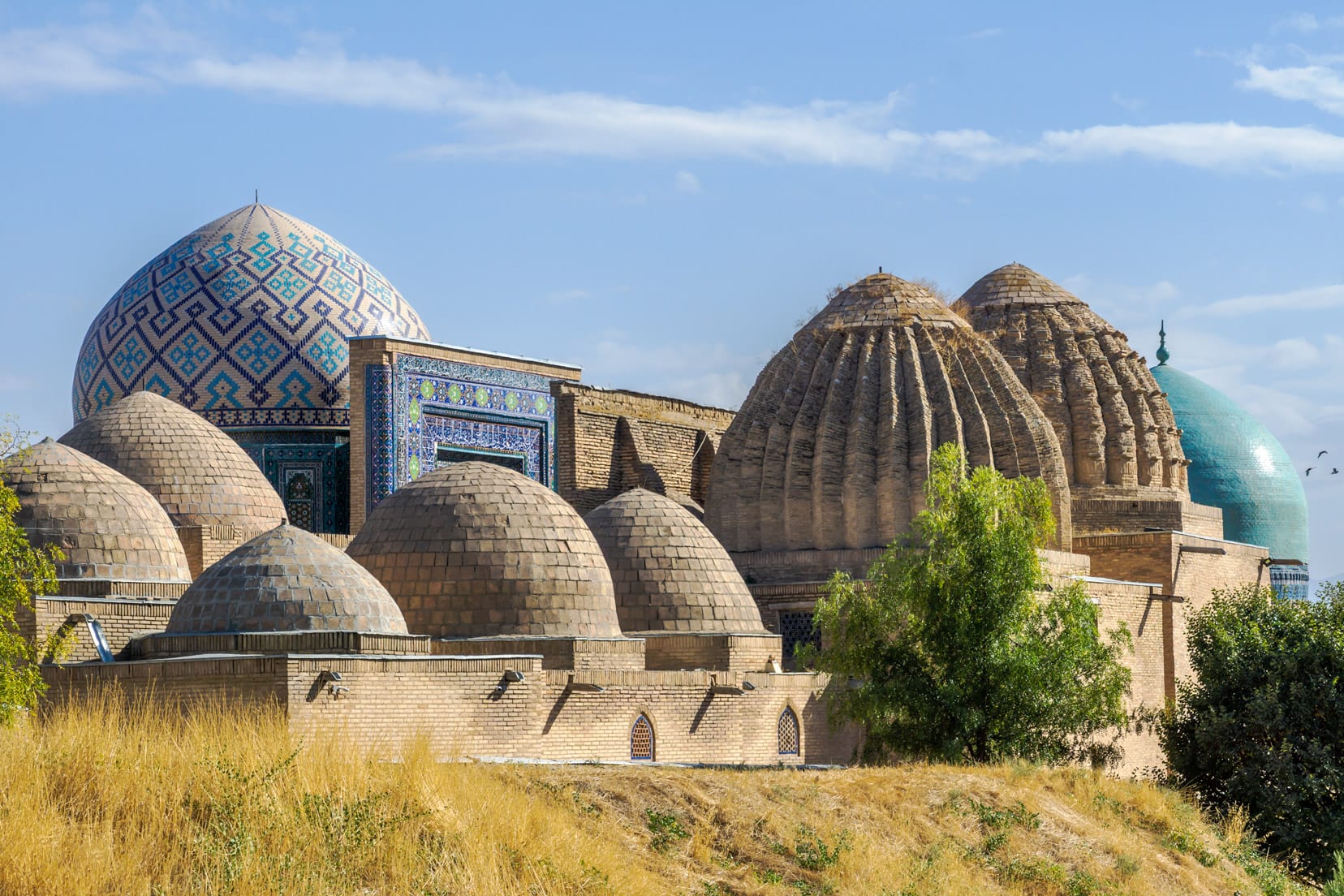 8. Shah-I-Zinda Necropolis
The Shah-i-Zinda necropolis (sometimes called the Zinda Necropolis) consists of an avenue of more than twenty richly appointed tombs and mausoleums of the nobility.
As the story is told, this site was founded to honour the original burial place of Prophet Muhammed's cousin, Qusam.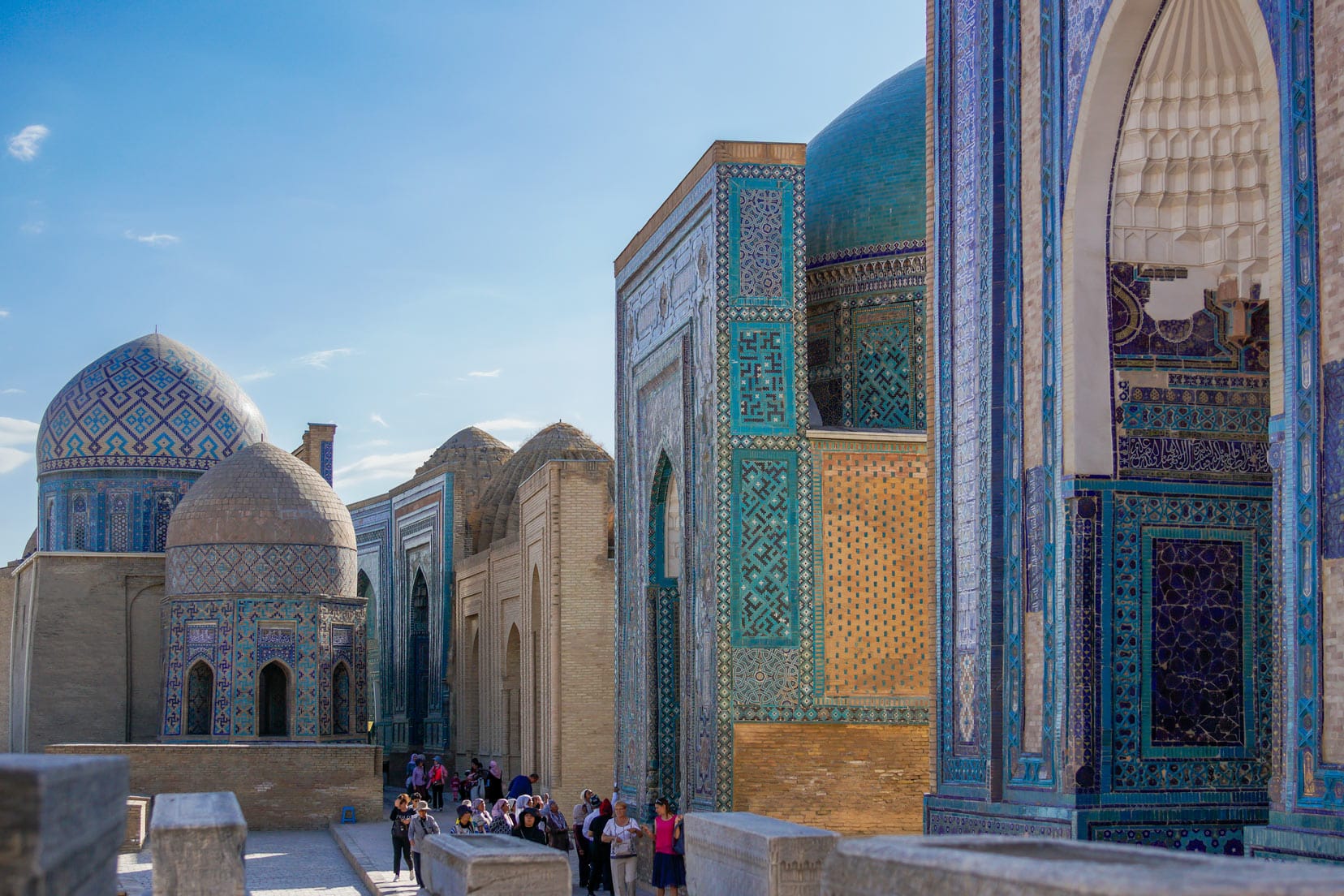 Shah-i-Zinda translates to 'Tomb of the Living King', in reference to the holiest shrine in the necropolis and what is widely reputed to be the grave of Qusam ibn-Abbas, who, in the 7th century, introduced Islam to the area.
This necropolis is so special because the various mausoleums, temples and buildings were continually added between the 11th and 19th centuries, a span of about 1000 years. This has resulted in an intriguing and spectacular mix of decorative craftsmanship and architectural styles.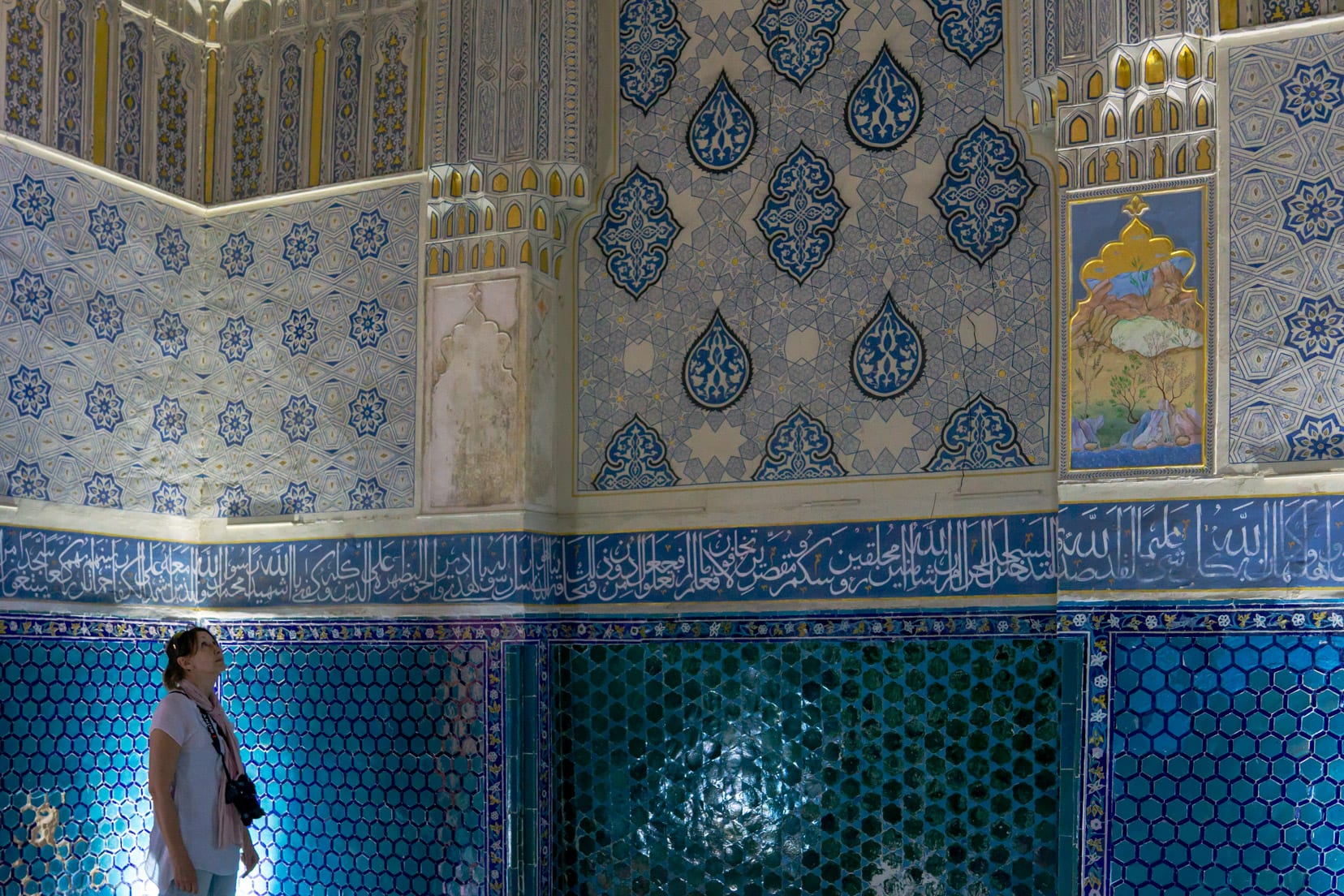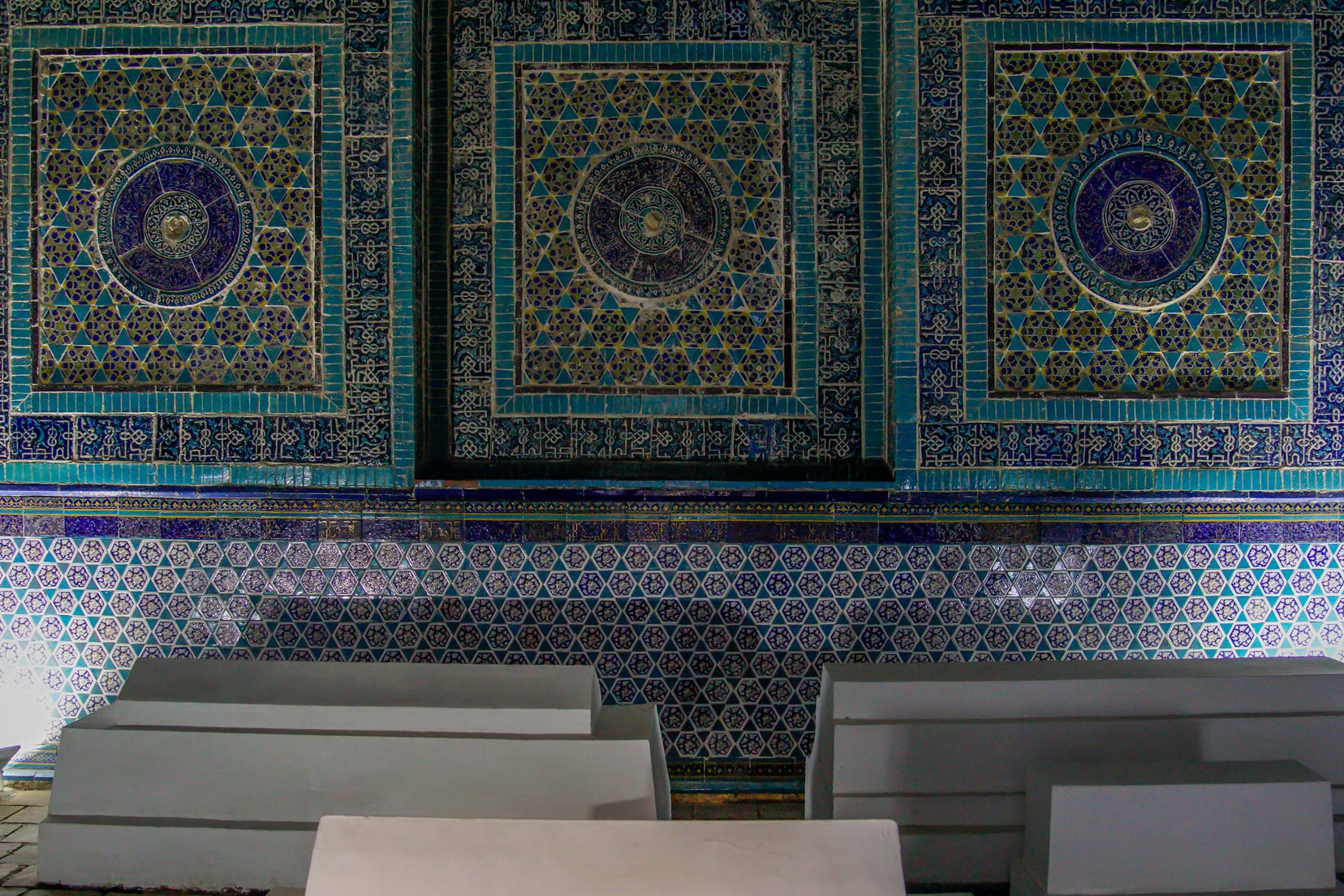 These structures are tightly packed together, towering over the paths connecting them. Steps lead into the mausoleums, giving limited access to the space but enough to see the boggling array of exquisite colours and mosaics that adorn the ceiling and walls.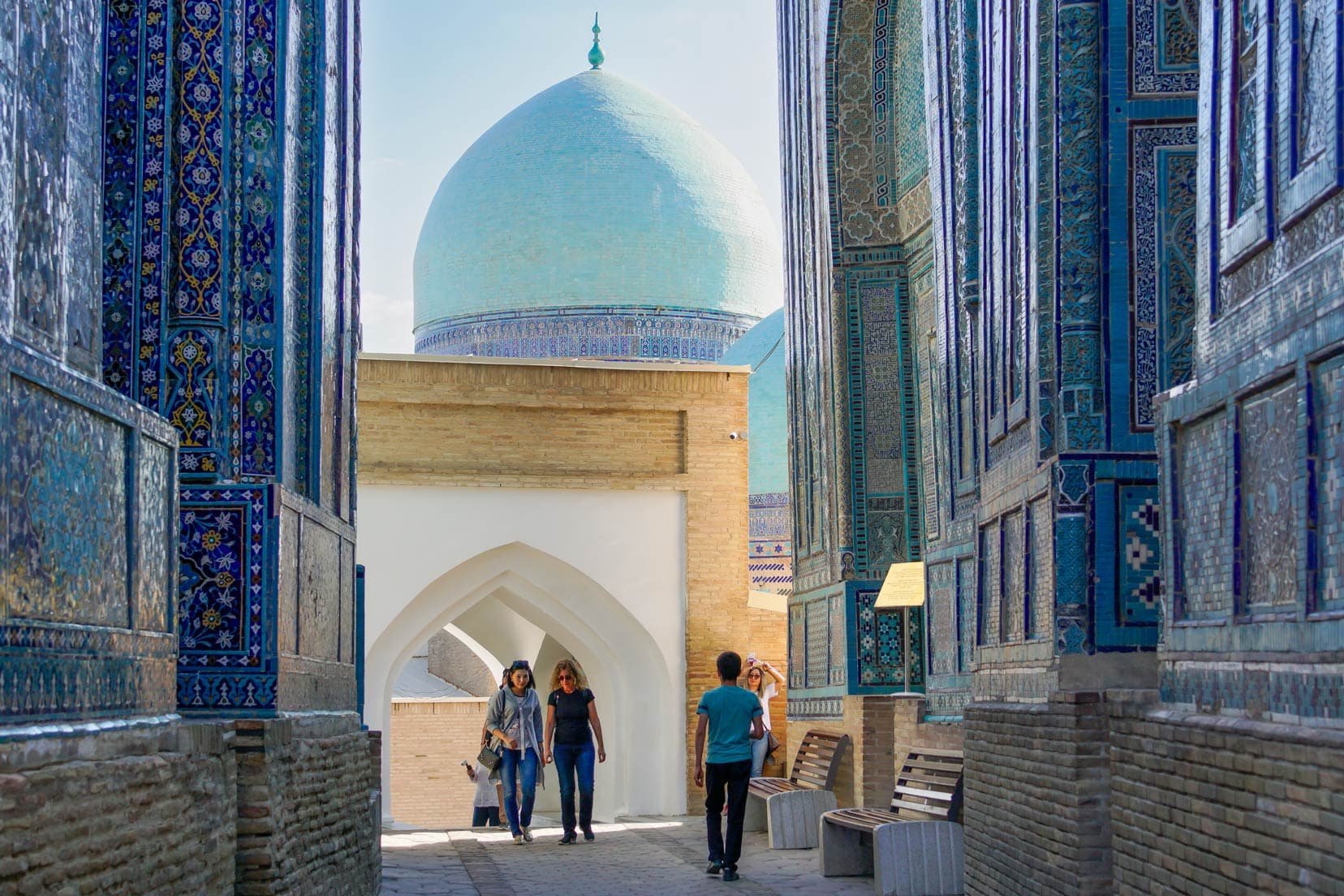 In 2005, under heavy controversy, many of the tombs in Shah-I-Zinda underwent heavy restoration, altering forever the originality of the tiles and mosaics. Regardless, it still remains a must-see attraction in Samarkand.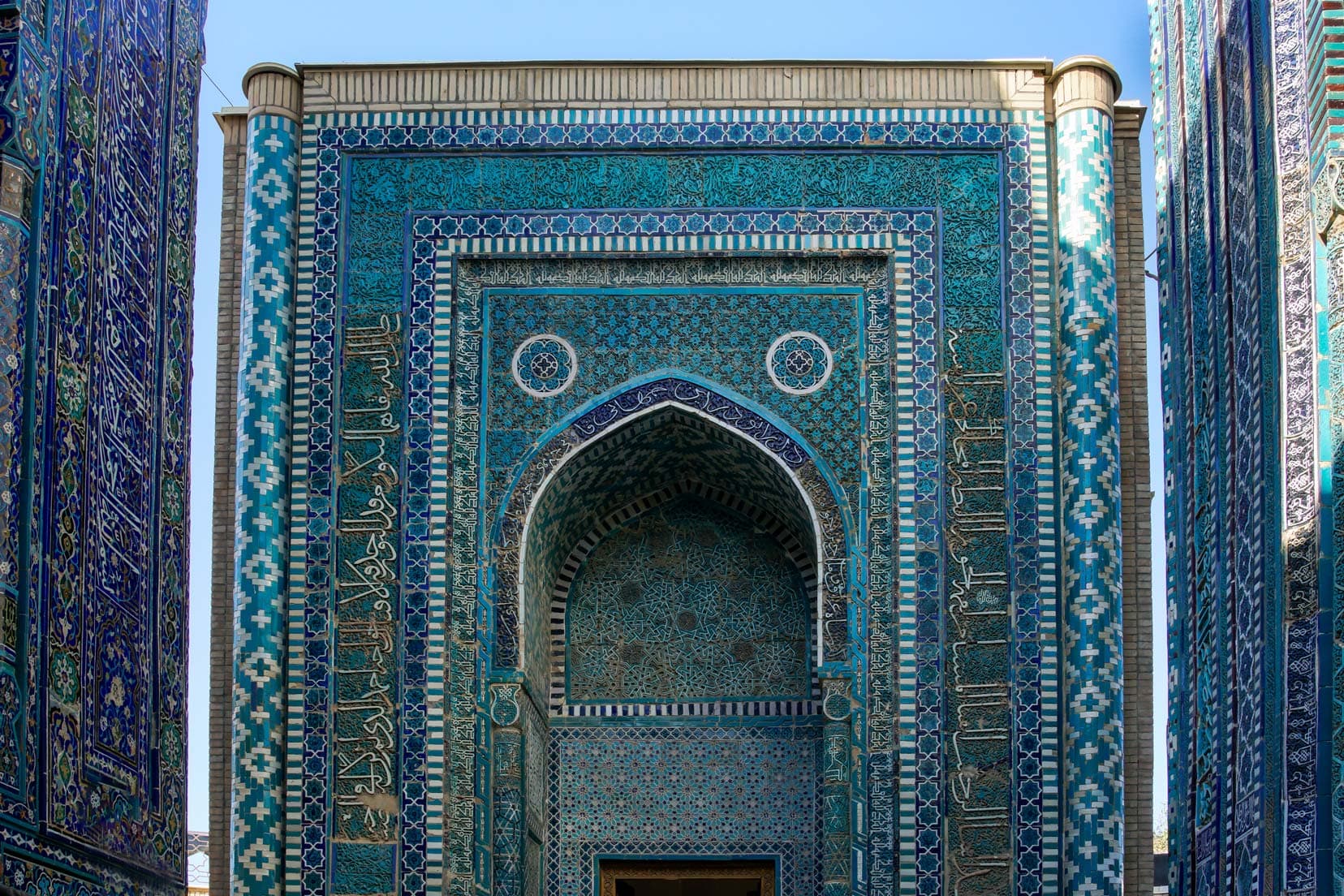 Entry into the Shah-I-Zinda necropolis will cost SOM 15,000 per person (USD $1.20) plus an extra SOM 10,000 to take photographs.
Shah-I-Zinda's opening times are between 7 am and 7 pm.
Note that strict rules must be observed when entering this reverent place. The below image is posted at the entrance to the necropolis.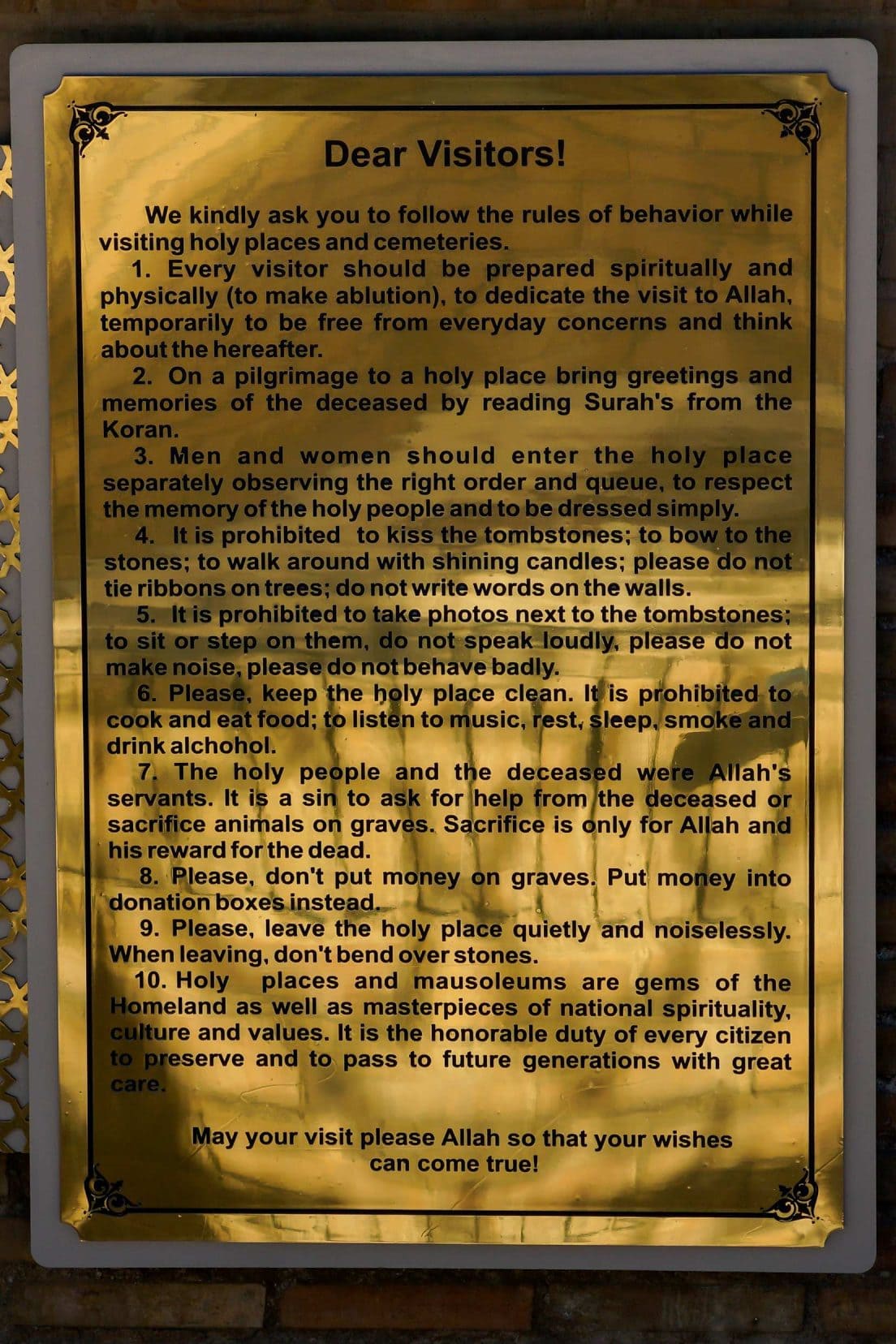 9. Amir Temur Mausoleum Gur-i Amir Complex
About 1-kilometre southwest of Registan Square lies Amir Temur Mausoleum Gur-i Amir Complex. This is the burial place of Amir Timur (died 1405 A.D.), the revered conqueror of central Asia. Also buried here are his two sons, two grandsons, and Amir's spiritual mentor.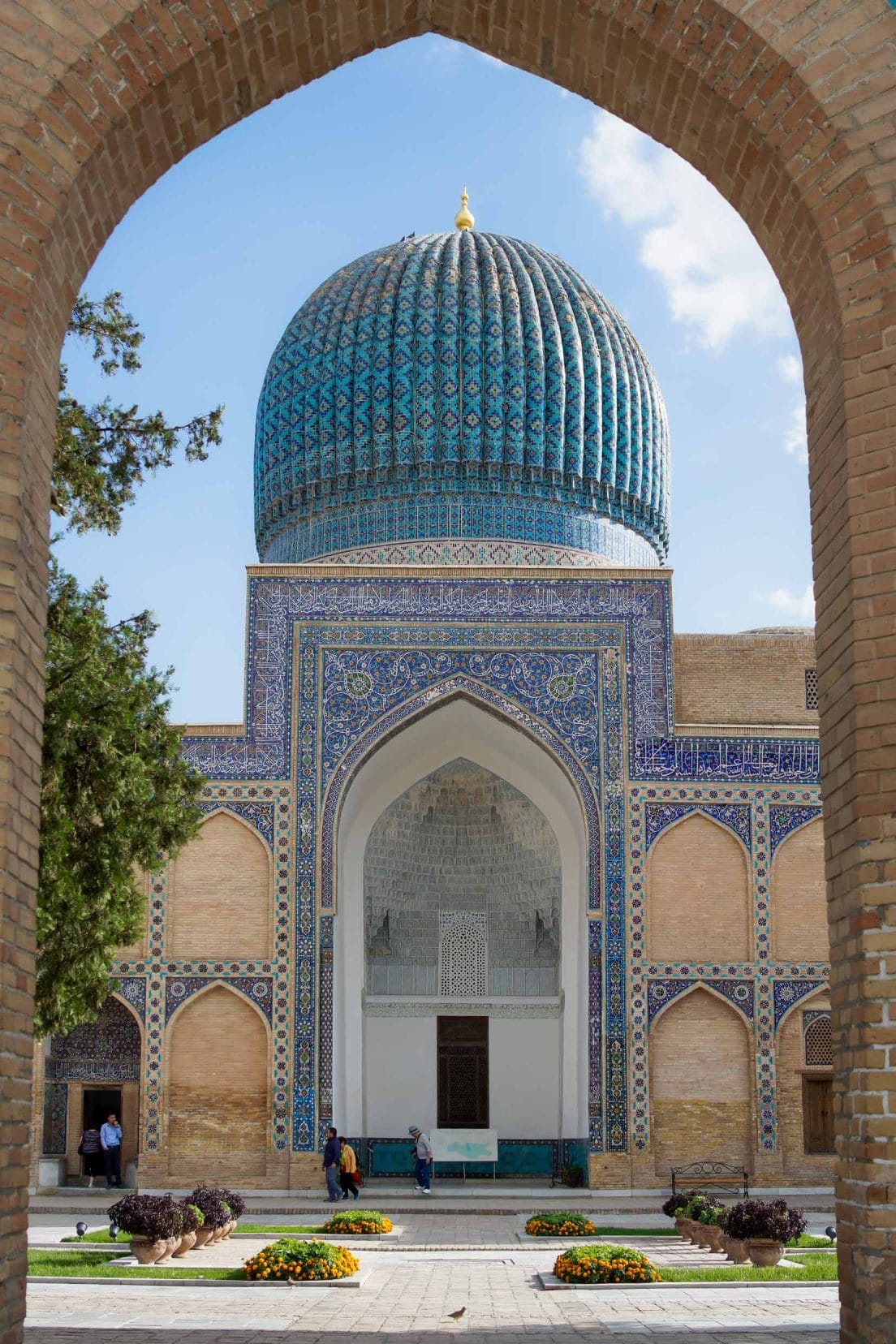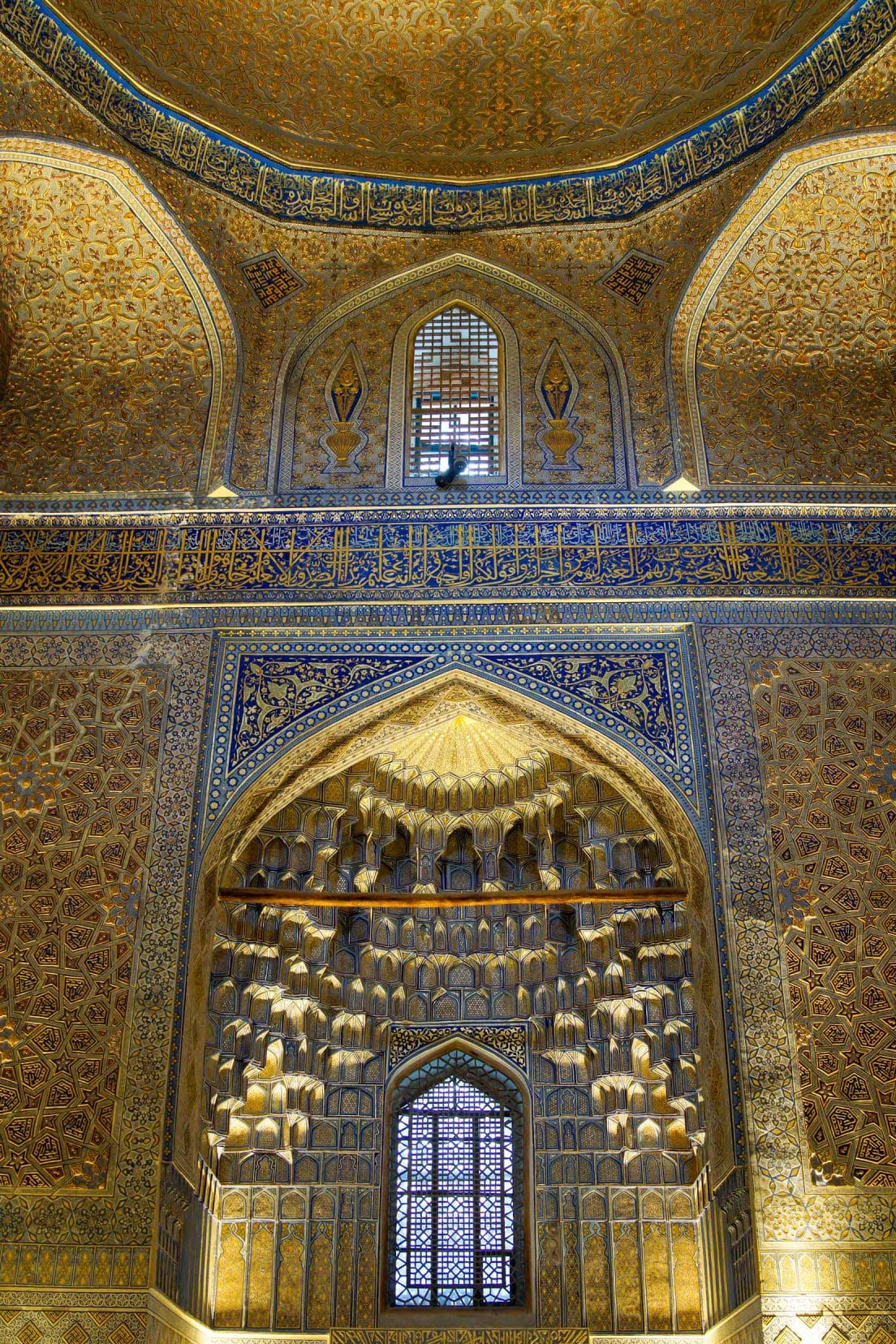 Amir Temur's coffin is unique in that it has a covering of a single piece of black jade.
History states that Amir wanted to be buried at Shahrisabz (85 kilometres from Samarkand), where he already had a waiting tomb. Instead, he was buried in Samarkand as the mountain passes between the two would not allow passage in winter.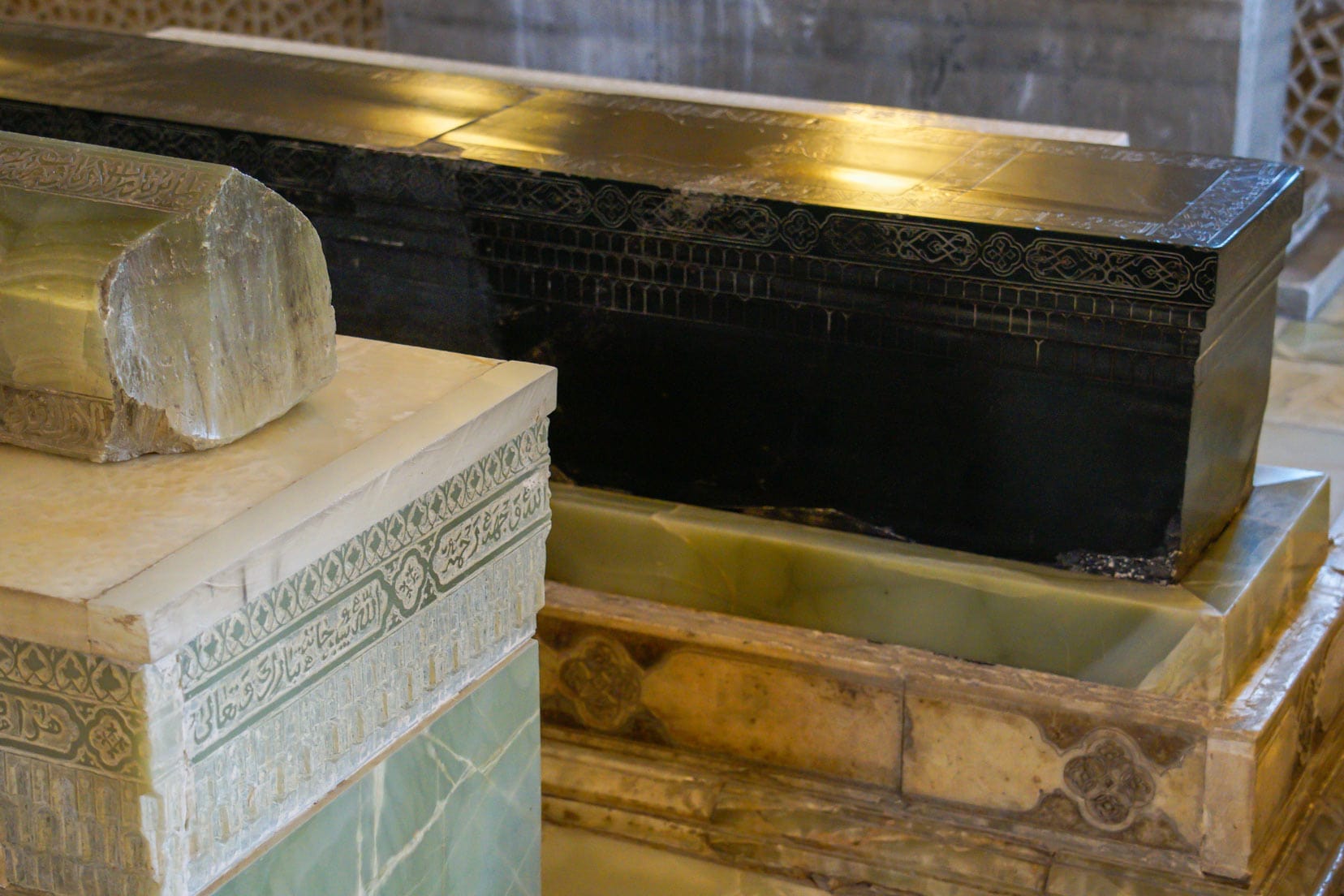 A little bit of trivia:
In June of 1941, Russian scientists made the decision to open the grave of Timur against the wishes of the Uzbek people, who warned that only ill would come of it. As fate would have it, two days later, Germany began the invasion of Russia.
10. Amir Temur Statue
Crossing into University Boulevard, a few hundred metres away, is the giant-sized statue of Amir Temur.
It's a busy roundabout, but you can cross over with the traffic lights if you time it right.
Due to the statue's sheer size, we found the best vantage point for photos was right opposite the statue in Hamid Alimjan Park.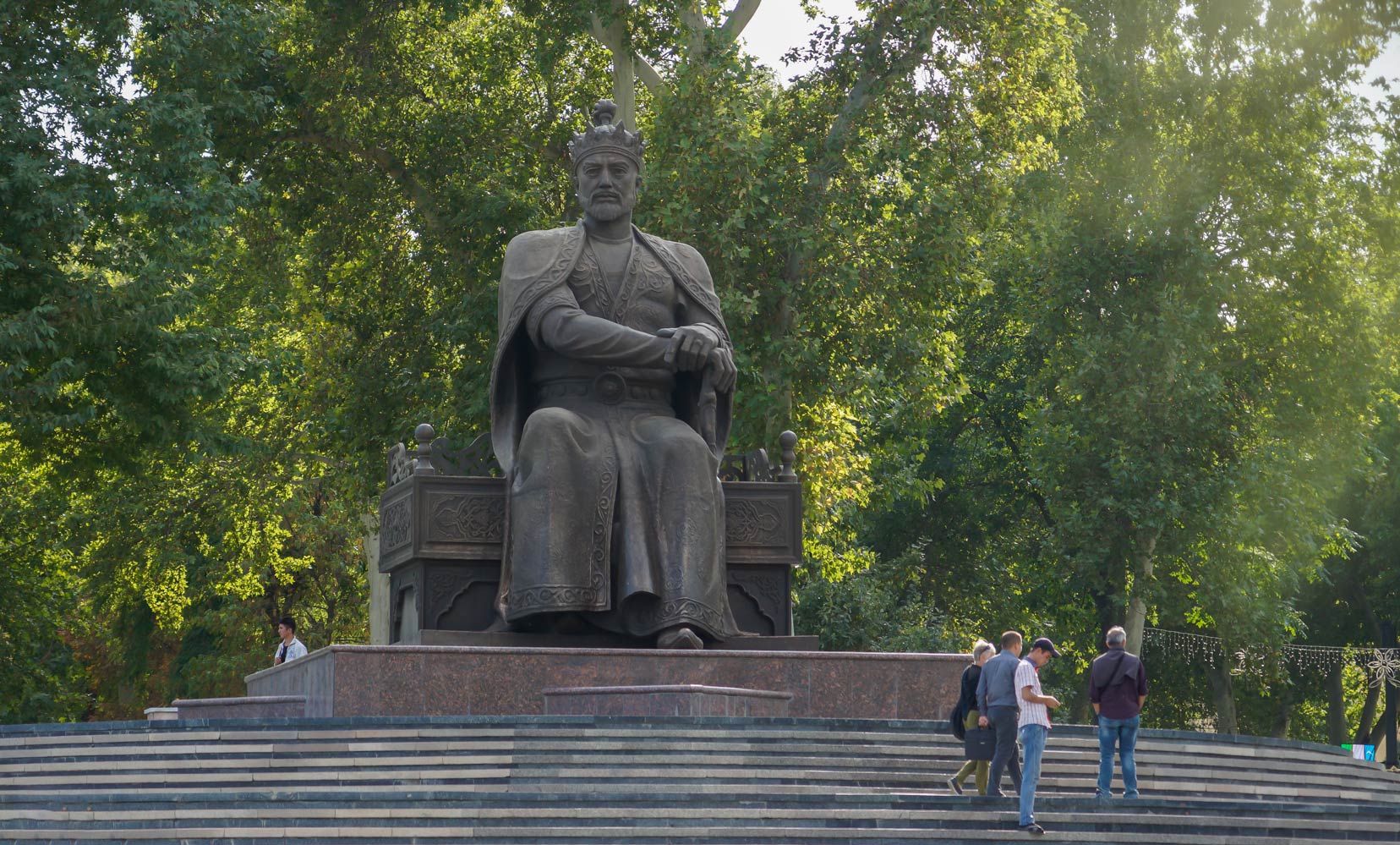 11. Hazrati Hizr Mosque
The Hazrati Hizr Mosque was built between 1854 and 1919 on the foundations of an existing structure and measures 16m x 30m. It is known to have been built to an outstanding architectural standard. Close by is a separate minaret.
Just be aware that you are not allowed to take photos inside this mosque. We did not enter ourselves but chose instead to enjoy the street views.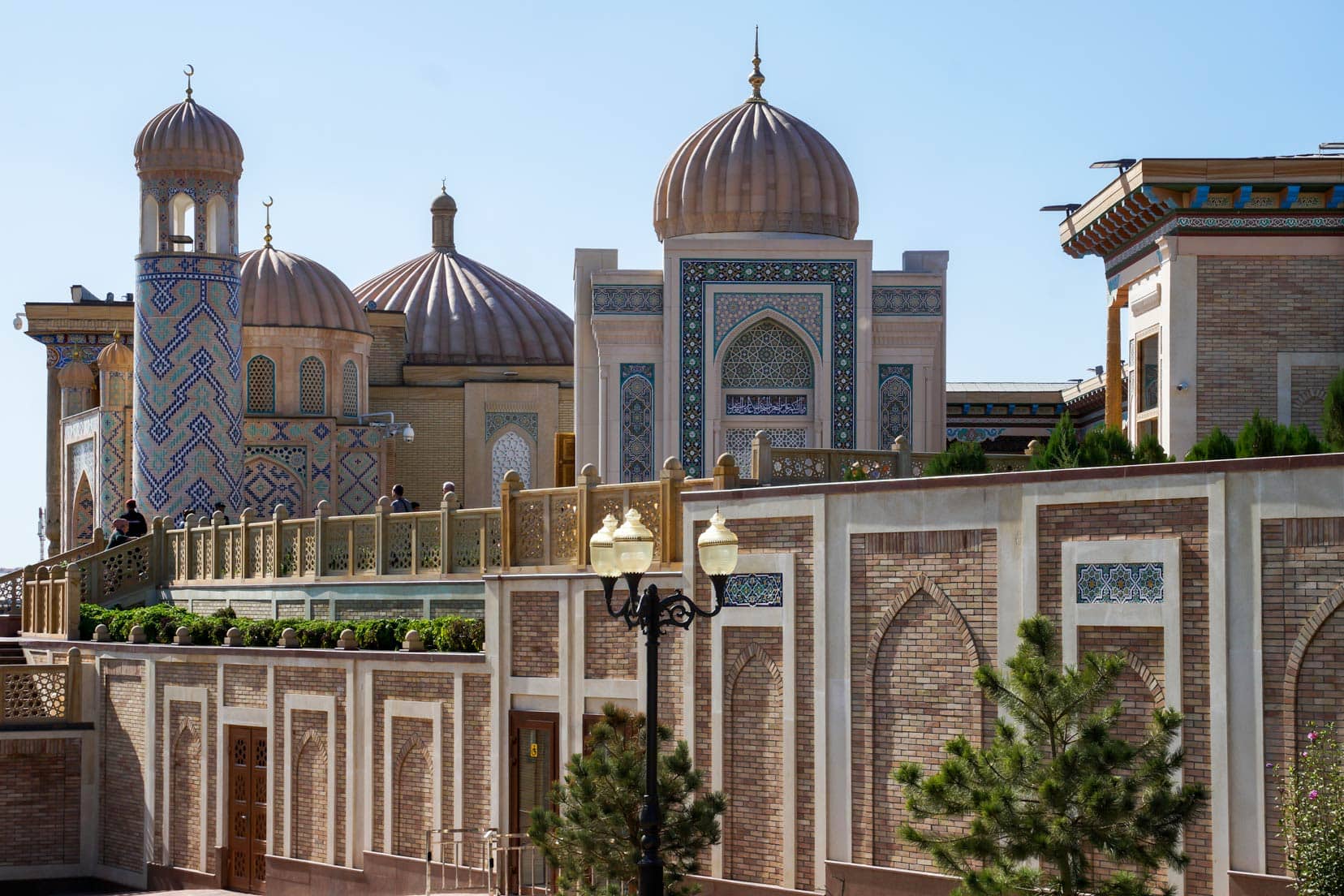 12. Islam Karimov Memorial
A mere 350m from Registan Square is the bronze statue of Islam Karimov, Uzbekistan's first president, who reigned from 1991 to 2016 following the country's return to independence.
The statue was formally opened on August 31, 2017, by the current president, Shavkat Mirziyoyev.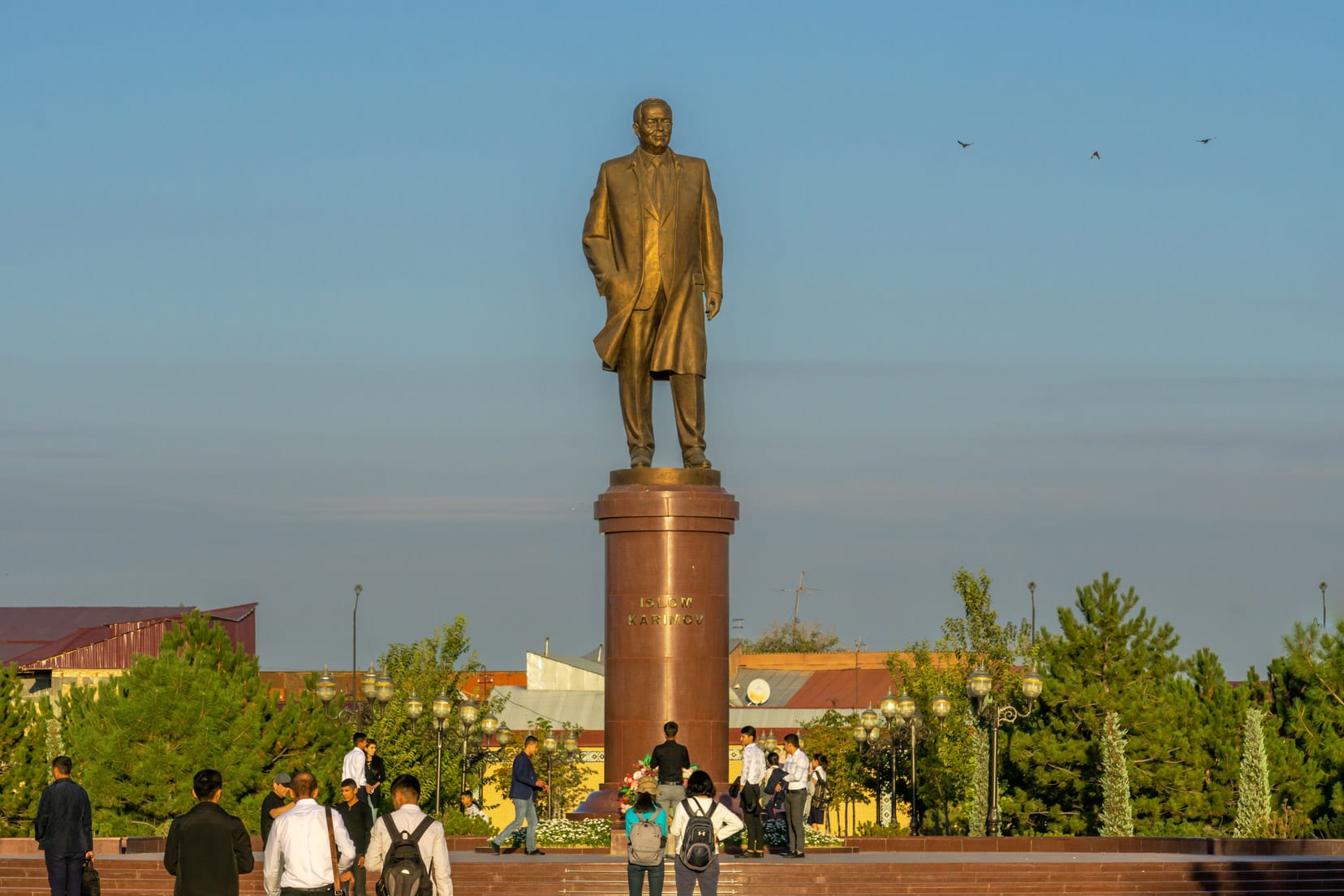 13. Visit the Ulugh Beg Observatory
The remnants of Ulugh Beg observatory, built in the early 15th century, were only discovered in the early 20th century. The Ulugh Beg Observatory was built by the grandson of emperor Timur, Ulugh Beg.
The building originally housed a huge sextant of a 40m radius, carved from the surrounding rock and used as a meridian arc and is now called the Fakhrī sextant. Astronomers used the rock to measure the angle of elevation of bright celestial objects and azimuths to generate a star catalogue of over 1,000 stars, pinpointing their locations in the night sky.
This Observatory has been given Ubekistans's highest level of cultural protection. It is approximately 4.5 kilometres to the northeast of Registan Square in the foothills of Chupan-ata mountain.
14. Samarkand Street Art
Close to Registan Square, a long wall of street art, stylised in a similar fashion to that of the historical artisans, can be seen. This wall of sequined tiles has been tastefully constructed and blends well into Samarkand's background.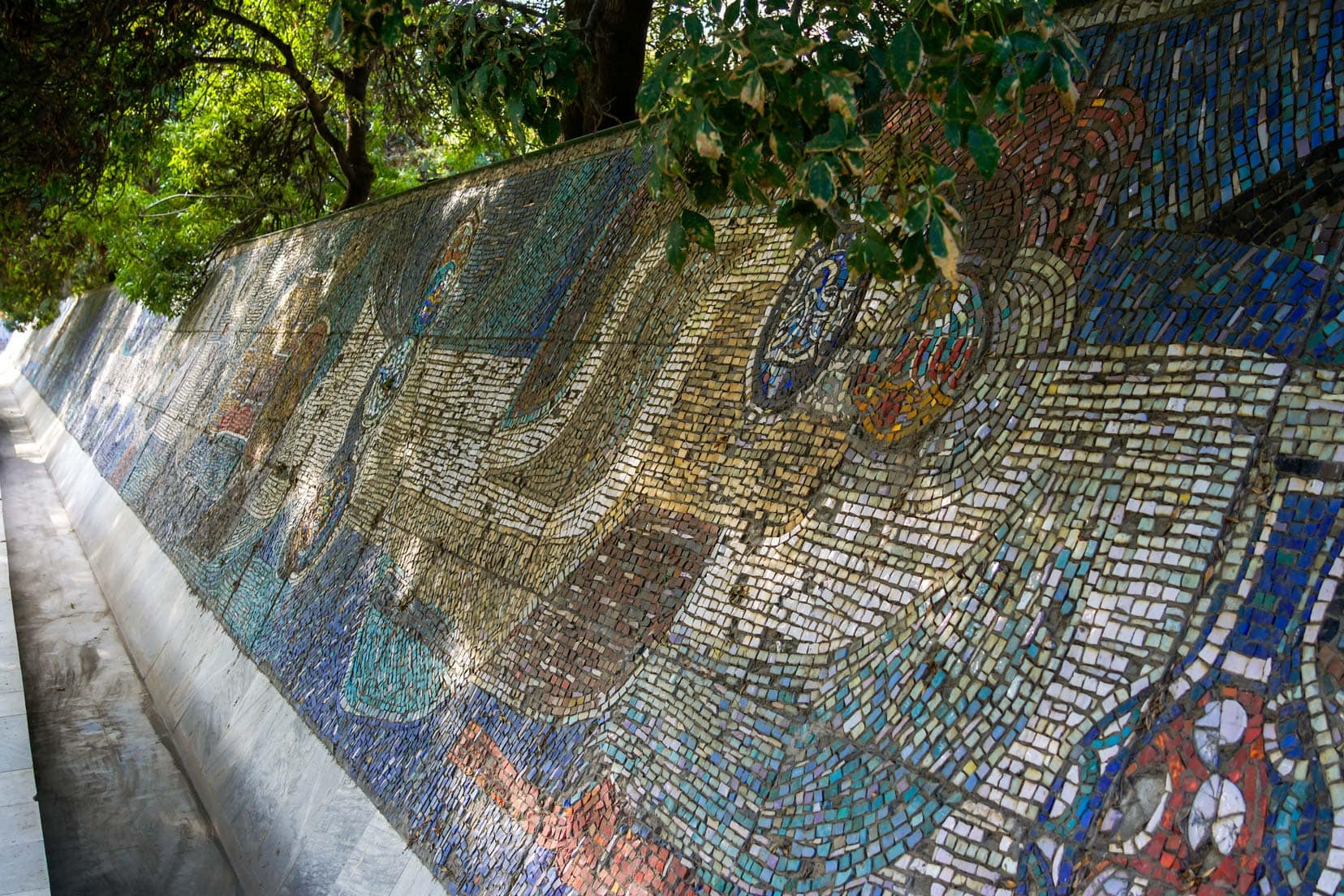 15. Samarkand Statues Depicting Life of Old
Dotted in locations around Registan Square are real-life bronze statues depicting characters from life now past. It makes for some nice photographic opportunities and makes for a natural fit into historical Samarkand.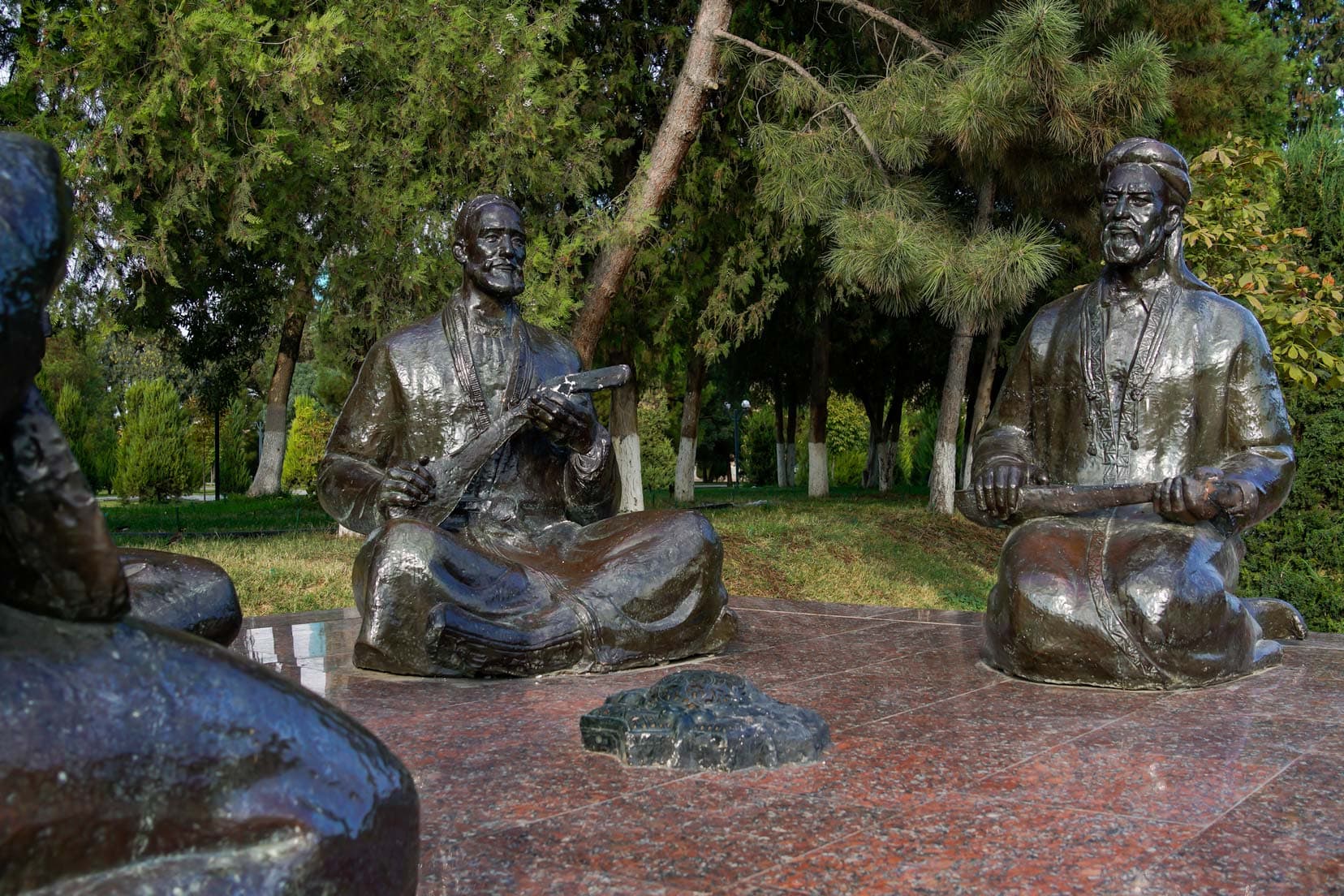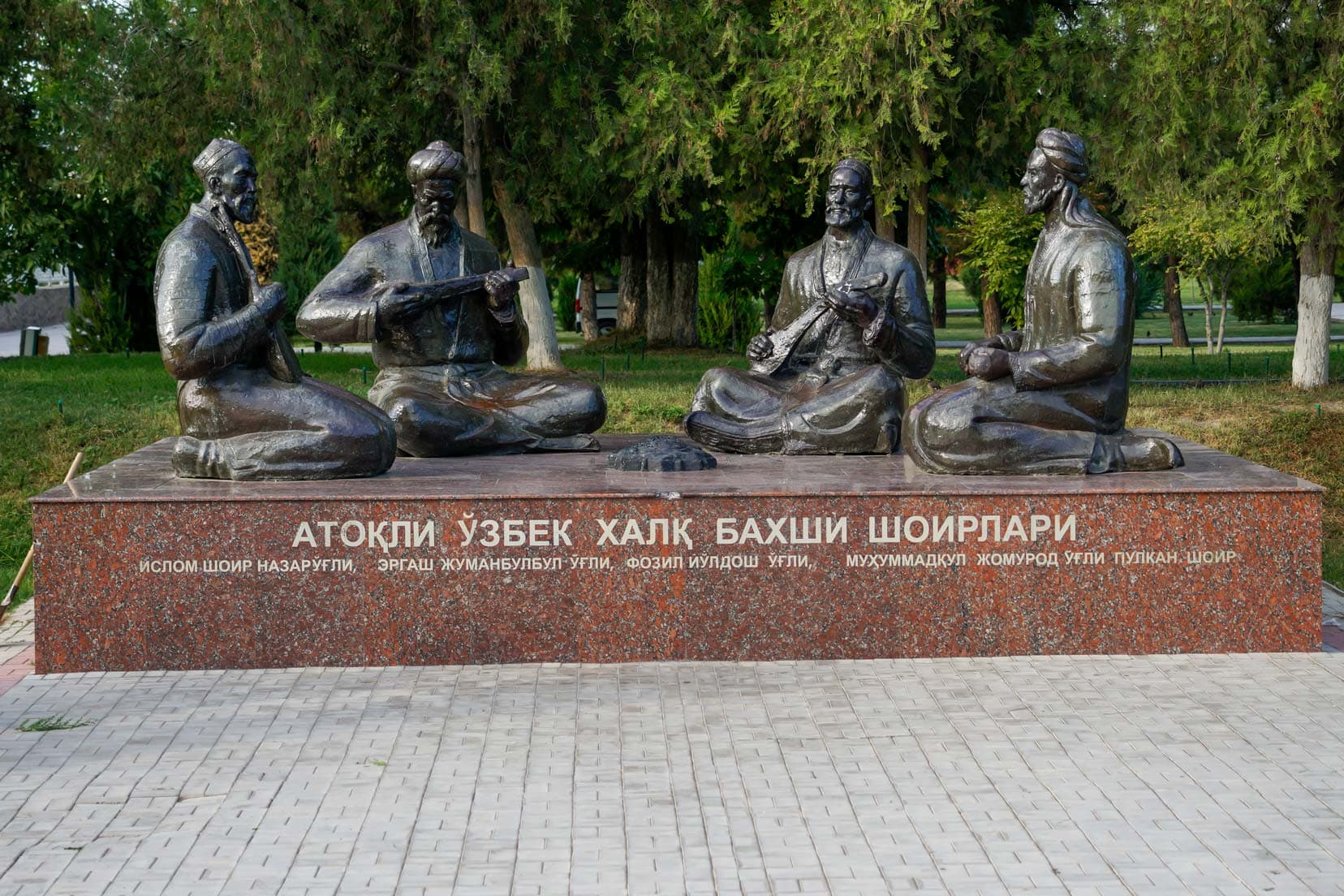 16. Take a Samarkand Tour
If you're keen to dive deep into the rich tapestry of Samarkand but are short on time or simply prefer a guided experience, taking a tour is a fantastic option.
With a knowledgeable guide, you'll get insider access to hidden gems and historical anecdotes that you might miss on your own. Plus, it's a stress-free way to navigate the city and cultural nuances.
Getting to Samarkand – Train Travel
Likely, you are already in Uzbekistan and looking to travel onwards from either Tashkent or Bukhara to Samarkand.
Train travel is a great and safe option in Uzbekistan. It's cheap, stress-free and really a pleasurable way to travel the country. The train system is known to operate on time.
You can use Uzbekistan Railways to order your e-ticket. (Change the language to English)
Alternatively, you can buy train tickets at a train station on the day, but if you're on a fixed schedule, you'll want to guarantee a seat, so booking in advance is the way to go.
When arriving at the train station, present your passport and ticket for inspection, have your bags x-rayed, and then you're given directions to your departure platform. Easy peasy.
The one thing that may confuse you, as it did us, is the Cyrillic numbering system used for the different train platforms. The trick here is to ask one of the friendly Uzbek people.
Where to Eat in Samarkand
Here are a couple of great restaurant options that we can personally vouch for:
Sharq Shirinliklari: this restaurant is situated about 300m from Registan Square and serves traditional Uzbek cuisine. The food wasn't the cheapest, but it certainly was tasty.
Bobur Shashlik: Tucked away behind Bibi Khanym is a local restaurant serving all types of barbequed meat kebabs. It's the cheaper option of these two. It's a simple process of telling the cook what meat you want and how many pieces, and it's barbequed right where you can see it, Uzbek style.
The food was so good that we ate dinner here twice.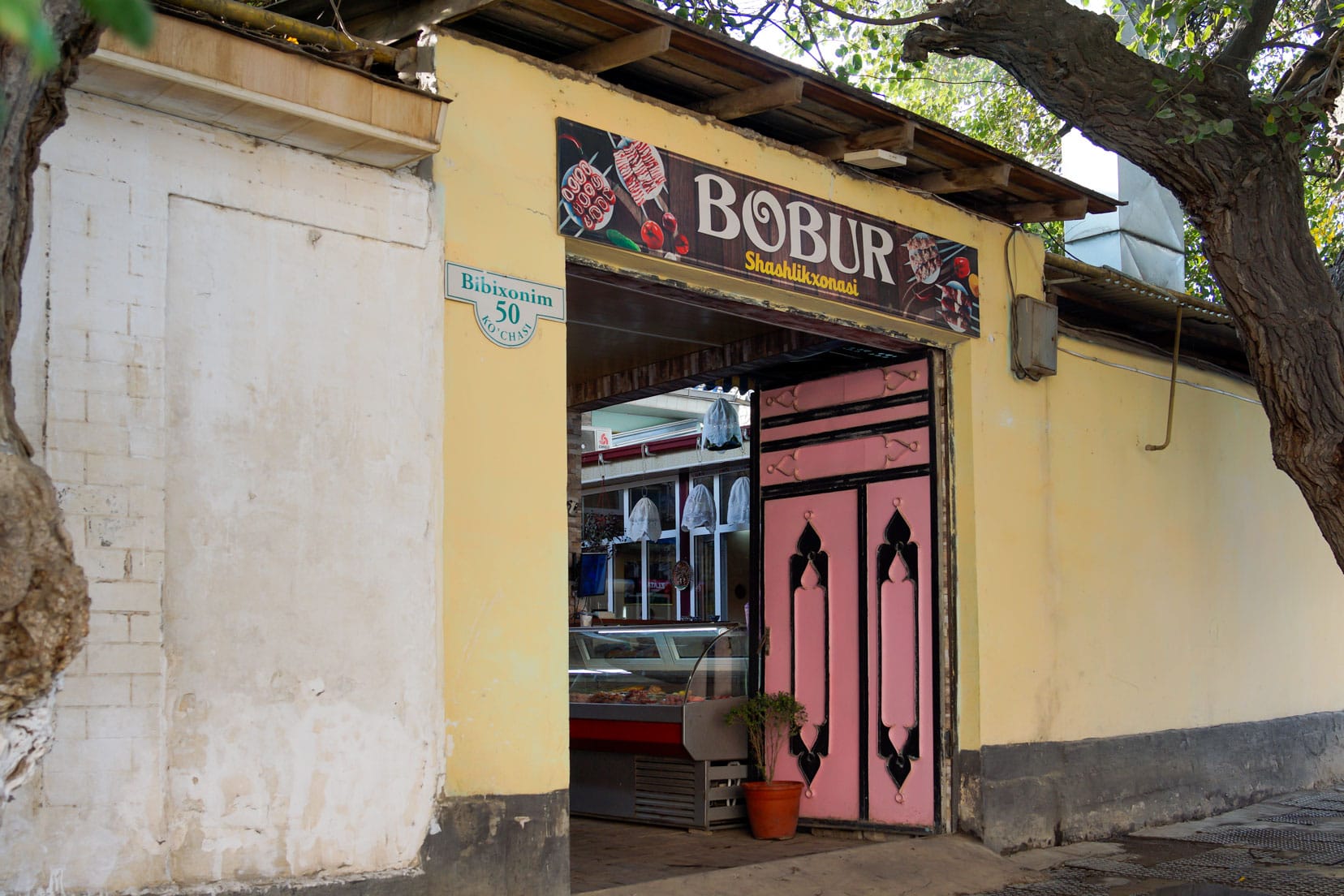 Where to Stay in Samarkand
We would recommend booking a hotel within a kilometre of Registan Square, so you can easily wander around. We've picked out the best-reviewed and those where you have free cancellation (within time limits) in case your plans change.
We actually booked a hotel out of town – which has since closed, which is good news because it was awful! We met another couple while we were strolling around, and they were staying near Registan Square, which was ideal.
Finding these and reading the reviews makes me want to go back again. If you aren't necessarily travelling on a budget, this first option, the Silk Road Empire Hotel, with all 10-star reviews, sounds awesome.
Its price is still less than hotels in Australia, though!

✔️ Breakfast included
✔️ Free airport shuttle
✔️ 350 m from centre

✔️ Budget-friendly
✔️ Free airport shuttle
✔️ 1.8km from centre

✔️Free breakfast
✔️ Soundproof rooms
✔️ 2 km from centre
More accommodation options for Samarkand can be found here.
Samarkand's Soviet History
Arriving in Samarkand, we had an interesting discussion with one of the shop owners. Although the 20th-century Russian occupation of many other countries has been associated with negative impacts, it was largely welcomed here in Uzbekistan.
The Soviets allowed the Uzbek people more equality than their old ways had allowed under Islamic rule. A good example is that the Soviets encouraged and made it possible for girls to attend school.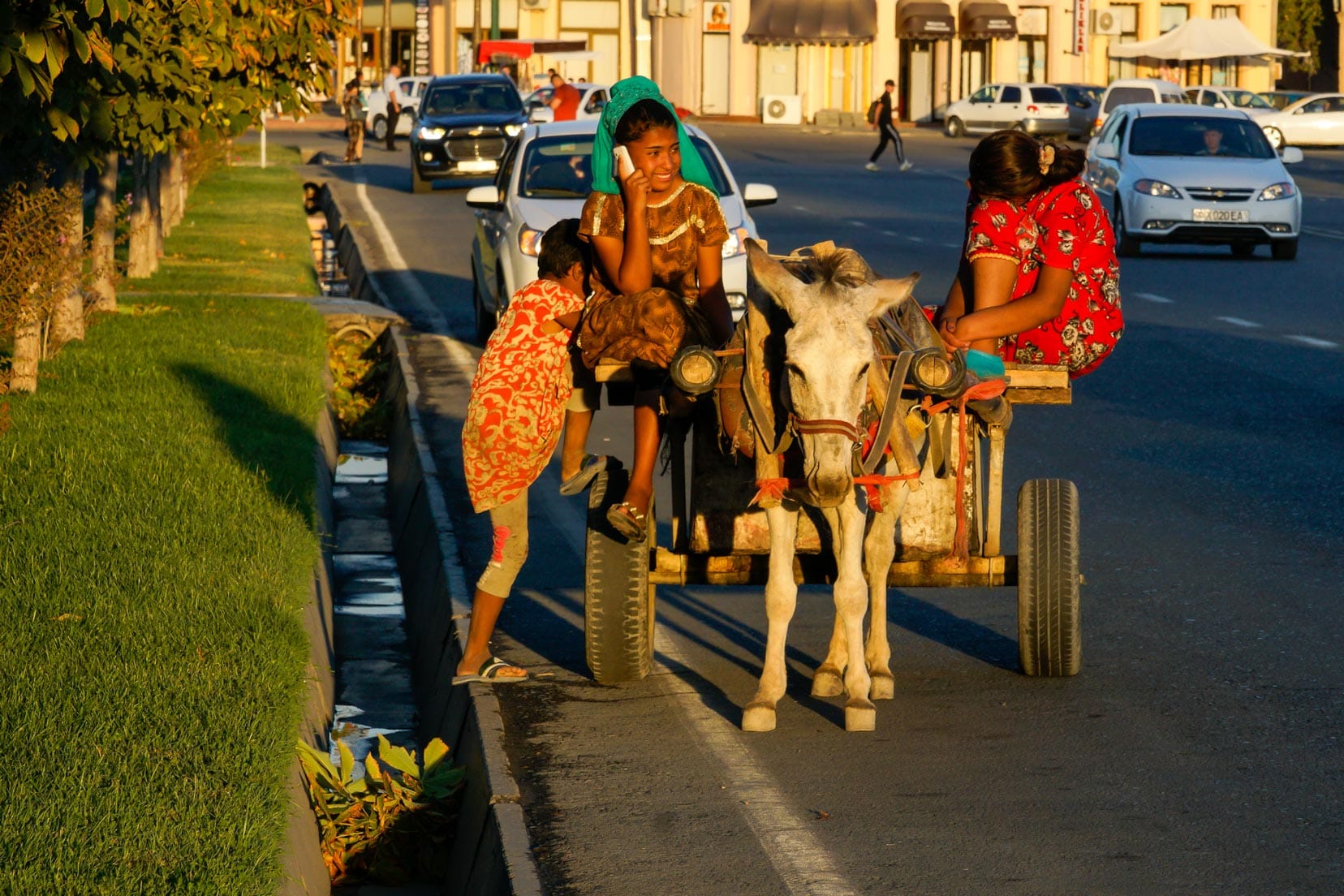 Another very important task that the Soviets undertook was the much-needed restoration of many of the ancient buildings, returning them to a state close to that of their former glory.
The disrepair over the many centuries caused by earthquakes and harsh weather had taken its toll on the beautiful facades of these grand structures. This prompted a rise in tourism, injecting much-needed capital into the economy.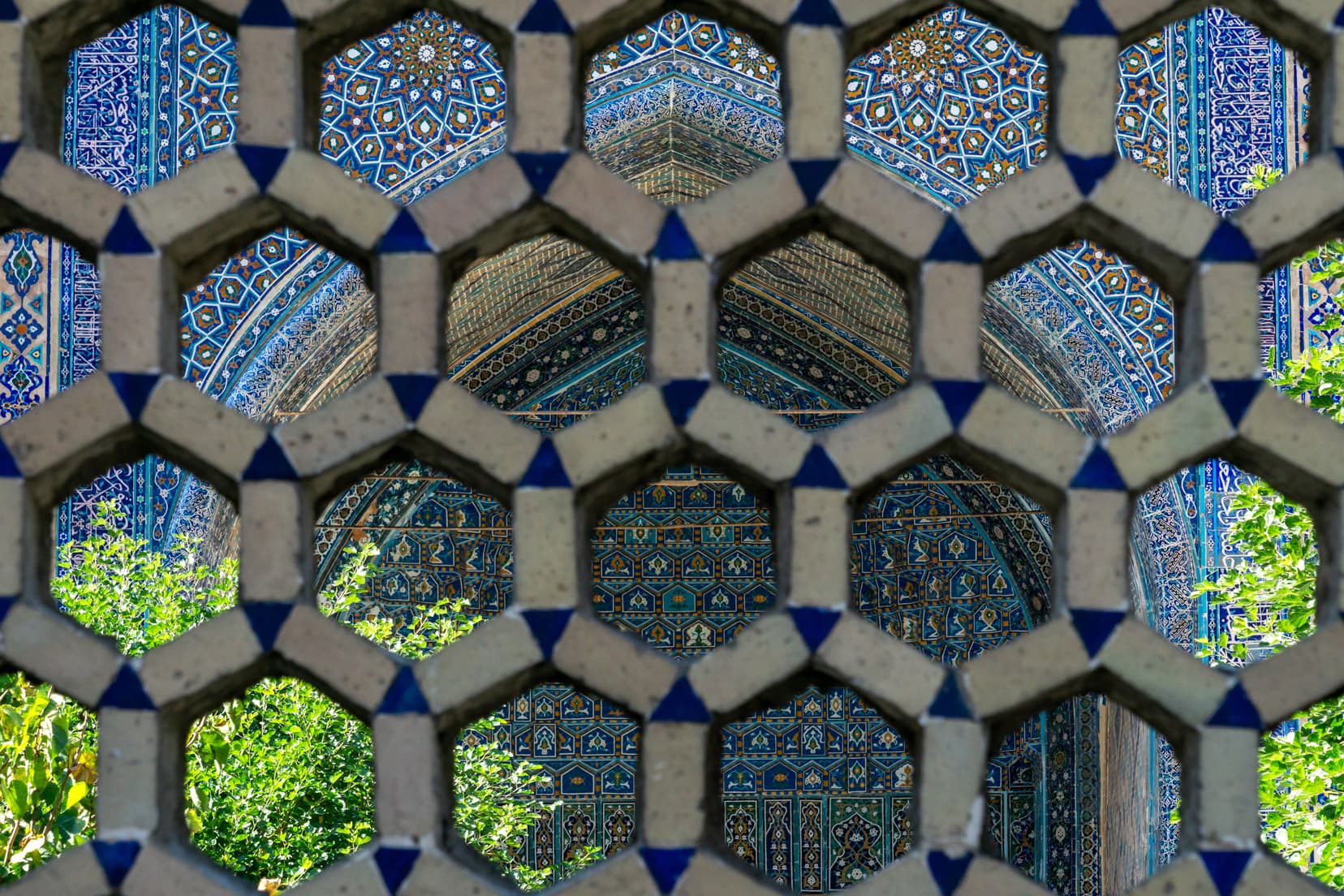 Things To Do in Samarkand… That's a Wrap
Samarkand is a captivating destination offering a mix of history, culture, and local experiences. From the beauty of the iconic Registan Square to the wondrous necropolis of Shah-i-Zinda, Samarkand's architecture, history, and local culture will leave you in awe.
You May Also be interested in reading:
Save and Pin for Later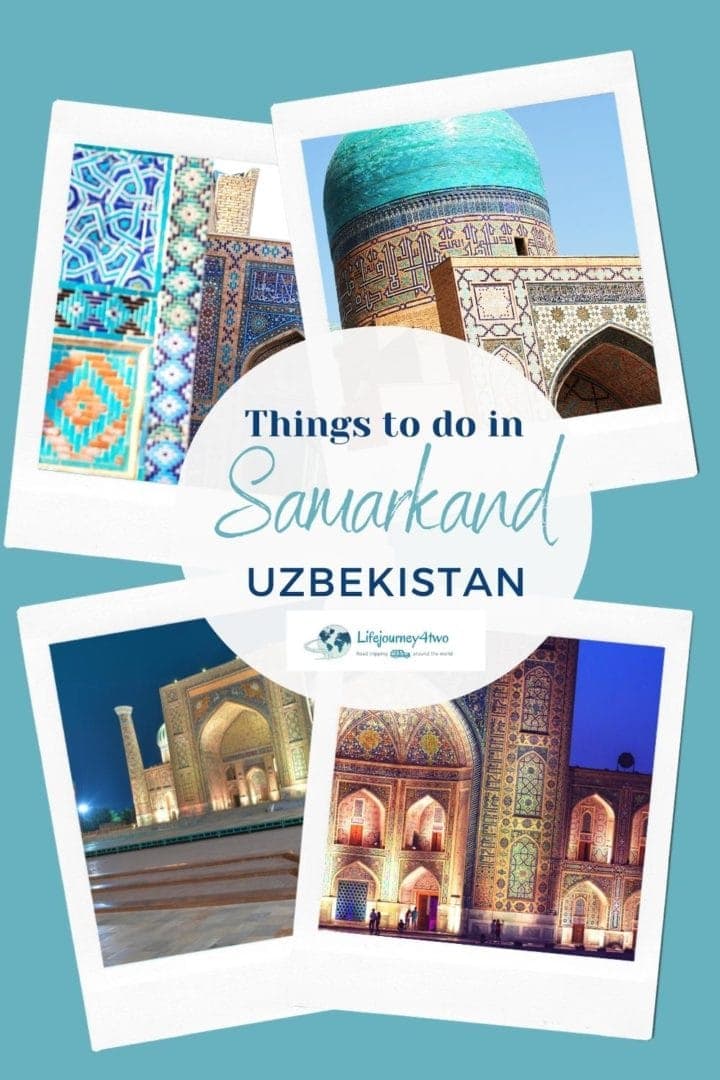 PLANNING YOUR TRAVELS?
These are some of the travel resources we use when planning our trips.
For a more thorough list visit our Travel Resources page here.