Visiting Orkney: All you need to Know
"I guess you're not visiting Orkney for its weather", laughed our host Ian, as we arrived wind-blown and bedraggled at our accommodation for our time on Orkney mainland.
But although a guarantee of fine weather may be off the table, the wild splendour of Orkney more than makes up for it. And, in October 2022, Orkney took the top spot as the happiest place to live in Scotland.
What's in this Visiting Orkney Travel Guide?
Interactive Visiting Orkney Map

Reasons to visit Orkney

and Places to Visit
Interesting facts about Orkney
The Best Time of Year to Visit Orkney
Orkney Weather
What to pack for a trip to Orkney
How to get to Orkney
Where to Stay in Orkney
Orkney is a visual treat.
The colours of nature saturate the island. Lush greens are a given and, depending on the time of year you visit, colourful wildflowers grace the landscape, seabirds flock to its shores and spring bulbs and wildflowers brighten the roadside verges.
Orkney's coastline lays claim to sandy beaches, rocky crags, and spectacular ocean stacks that endure amidst the blue-green hues of a swirling ocean and dramatic waves.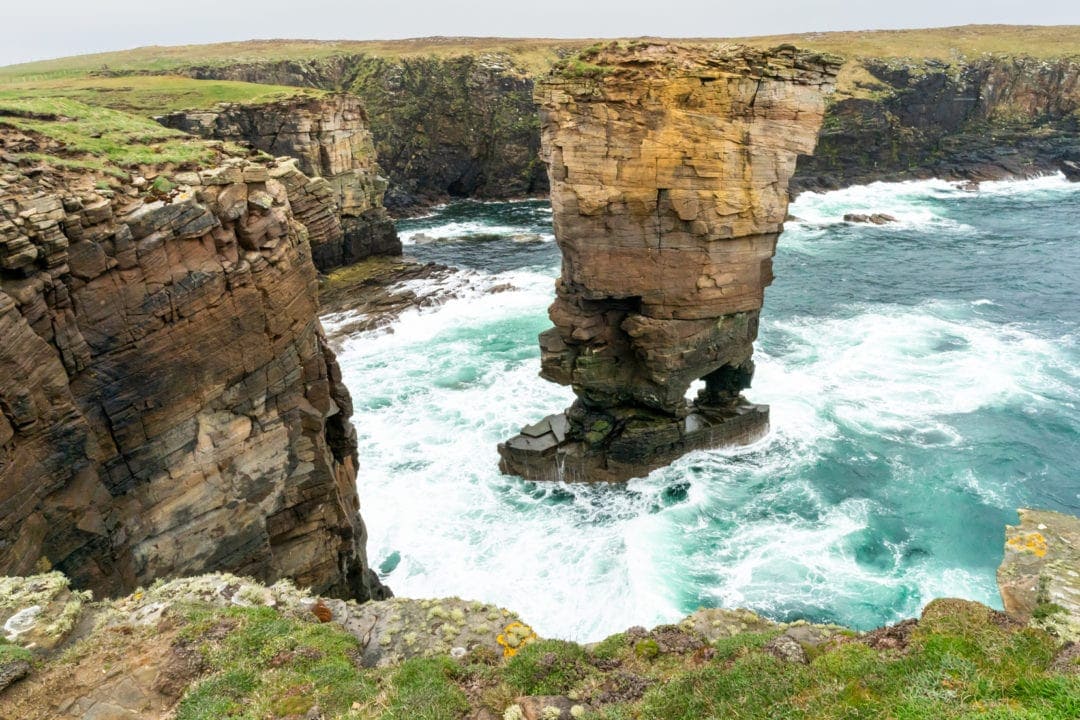 Planning a Trip to the U.K.?
Visiting Orkney Map
The key for the map is as follows:
Orkney Wildlife Locations: Purple
Food and Drink: Yellow
Orkney Hikes and Walks: Orange
Historical Locations: Brown
Orkney Crafts: Turquoise
Reasons to Visit Orkney & Places to Visit
If you are a lover of nature, wildlife, photography, history and the ocean then visiting Orkney will satisfy all of these passions.
We've gathered together a few reasons to visit Orkney and places to visit to get your fix on what you love:
Whether you are a foodie and love to try the local fare, a passionate wildlife photographer, a bird lover, a hiker, a history buff or just simply seeking solitude and the wildness of Orkney, this Visiting Orkney Guide will help you focus your trip towards what you love.
We've listed the main reasons to visit Orkney and categorised places to visit on our map above.
READ MORE: For a full Orkney Itinerary check out our 3-day Orkney Road Trip Here
1. Orkney's Wildlife
We love photographing birds and could have spent hours on the cliffs capturing the hundreds of breeding birds preparing for their new family additions when we visited Orkney in May.
But whatever time of year you visit Orkney, the RSPB has 12 Nature Reserves, totalling over 30 square miles for you to explore. There aren't any foxes or badgers on the island so without these predators, it is a haven for ground-nesting birds.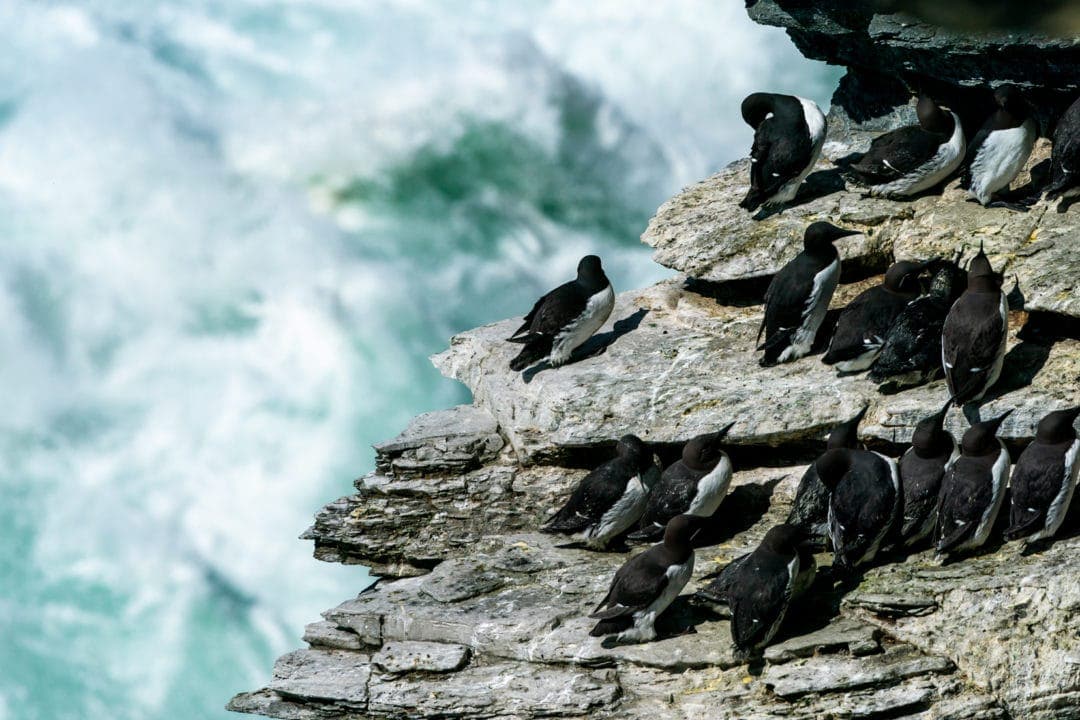 However, within the last few years, an invasive species of stoat has been threatening this ecosystem. As a result, you may stumble upon some wooden stoat traps strategically placed around the island.
Some of the birds we saw while visiting Orkney were: fulmars, kittiwakes, guillemots, black guillemots, skuas, cormorants, gannets, razorbills, and the ever-cute clowns of the sea, puffins, (known locally as Tammie Norries).
READ MORE: While in the Northern end of Scotland, you may like to visit Handa Island, a haven for seabirds, particularly guillemots, just off the Sutherland coast, northwest Scotland. Puffins also nest there in the summer months.
The seas around the Orkney coast boast plenty of seals. Orcas, minke whales, walruses and dolphins are also occasionally spotted.
For more on Orkney's wildlife pop over to the Orkney Native Wildlife site.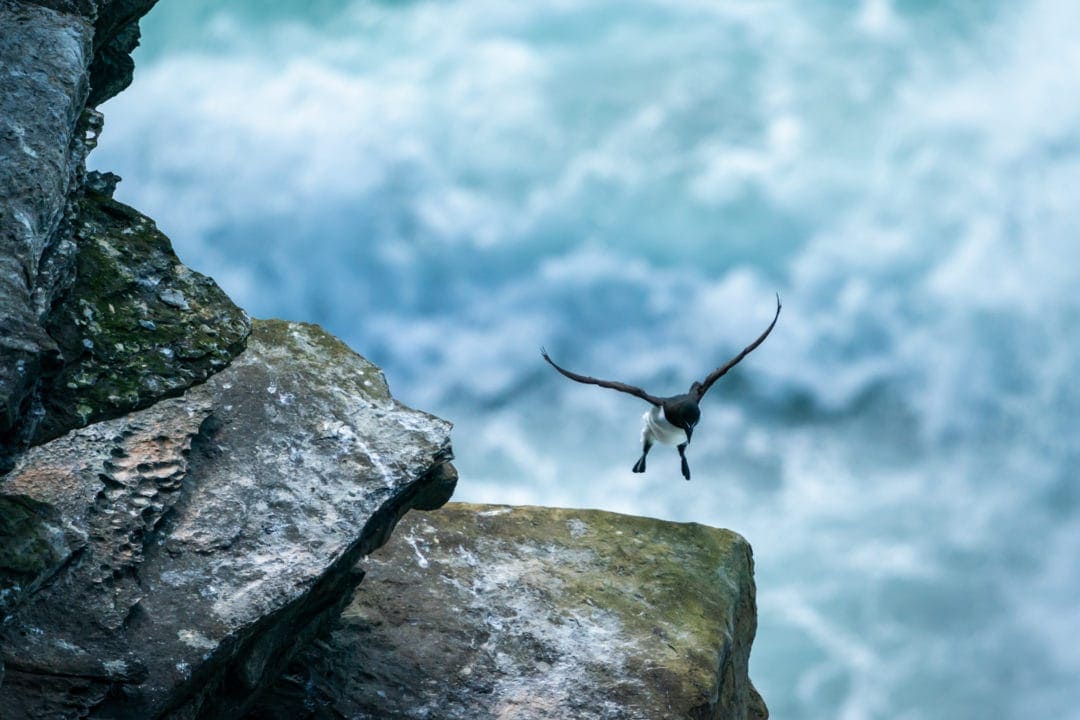 Places to Visit in Orkney for Wildlife
The Loons RSPB Site
Marwick Head Cliffs
Yesnaby Cliffs
Birsay Moors
RSPB Brodgar (By Loch Harray and Stenness)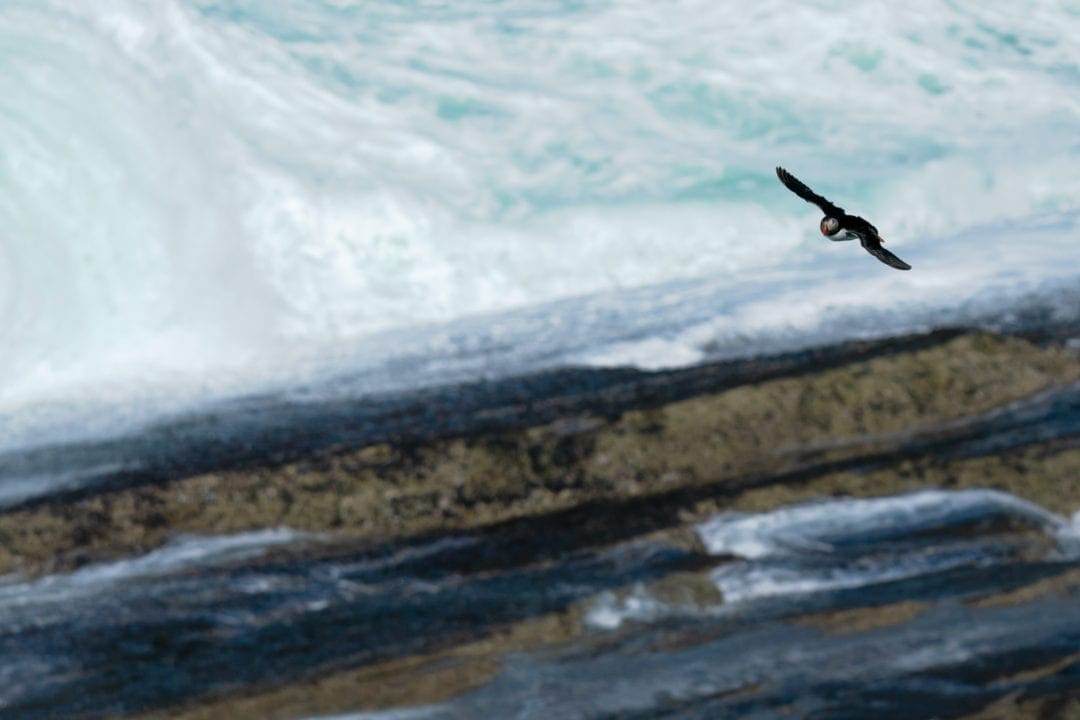 2. Orkney Food and Drink
It's hardly surprising that fish and seafood are popular in Orkney, and as with mainland Scotland, you'll also find classic whisky distilleries.
If whisky isn't your thing, there are also a few craft breweries and craft gin distilleries.
Whisky Distilleries in Orkney
Craft Gin Distilleries in Orkney
Deerness Distillery: Gin distillery, hand-distilled vodka and a popular coffee liqueur called Orcadian Moon
The Orkney Distillery and Visitor Centre: Multi-award-winning gins drawing inspiration from the Norse heritage
Orkney Gin Company: A range of Orcadian gins (no visitor centre). They were winners of the 2022 Orkney Food and Drink Award – coming first in the Best Drink Product category for their Rhubarb Old Tom Gin.
Orkney Breweries
Places to Eat in Orkney
The Storehouse: Orkney local produce
The Murray Arms: Known for its fresh fish and seafood dishes
Eviedale Bakehouse: Sourdough pizza (and drive-through)
The Kirk Gallery and Cafe: Unique Orcadian dishes and homemade cakes
Archive Coffee: In the old Kirkwall Library and won the Best Cafe or Tearoom category in the 2022 Orkney Food and Drink Awards
The Merkister Hotel: If you are looking for a great pub meal, the Merkister won the category for Best Bar Meal in the 2022 Orkney Food and Drink awards
Leigh's Snack Van: If you are looking for a takeaway – Leigh's won the 2022 Orkney Food and Drink Award for the Best Takeaway.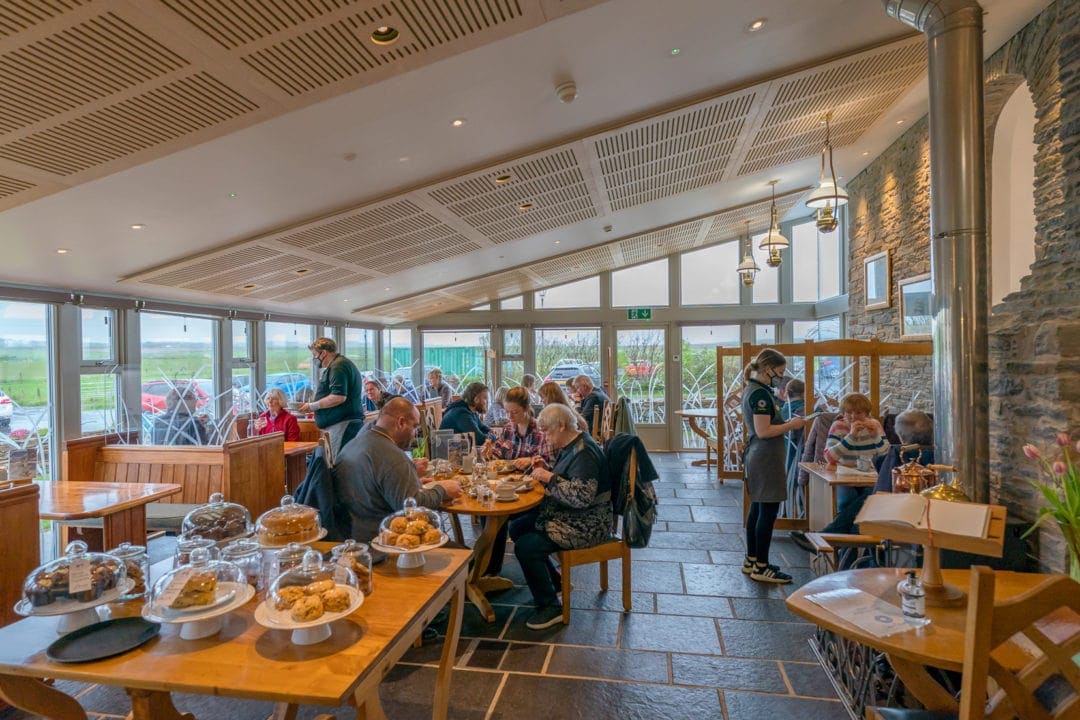 3. Orkney Walking and Hiking
We could have spent days walking all the cliff-top trails, beaches and grassland hills but as visitors, we only had a limited amount of time. You too will likely be time-constrained, so we've picked out the best locations to walk throughout the island below.
Always remember, when out walking in Orkney, that the weather can change in an instant. So always be prepared for rain and wind and wear waterproof walking shoes/boots because the paths and trails become wet and muddy.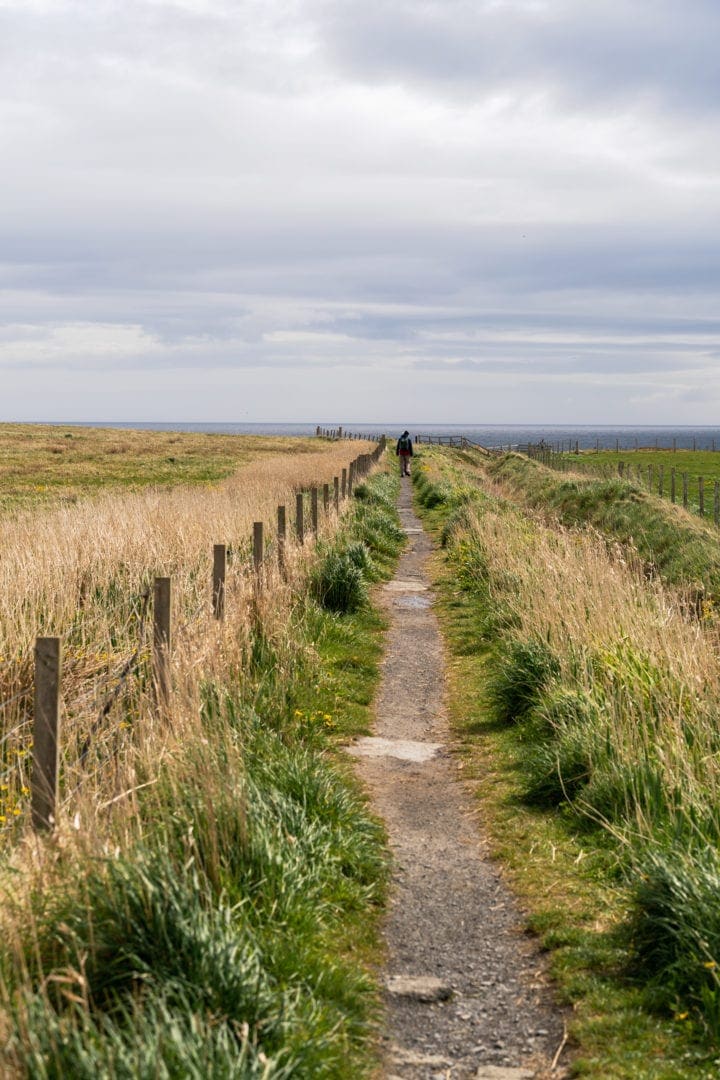 Places to Visit in Orkney for Walking and Hiking (see Map)
Yesnaby Coastal Walk
Marwick Head Coastal Walk
Mull Head Coastal Trail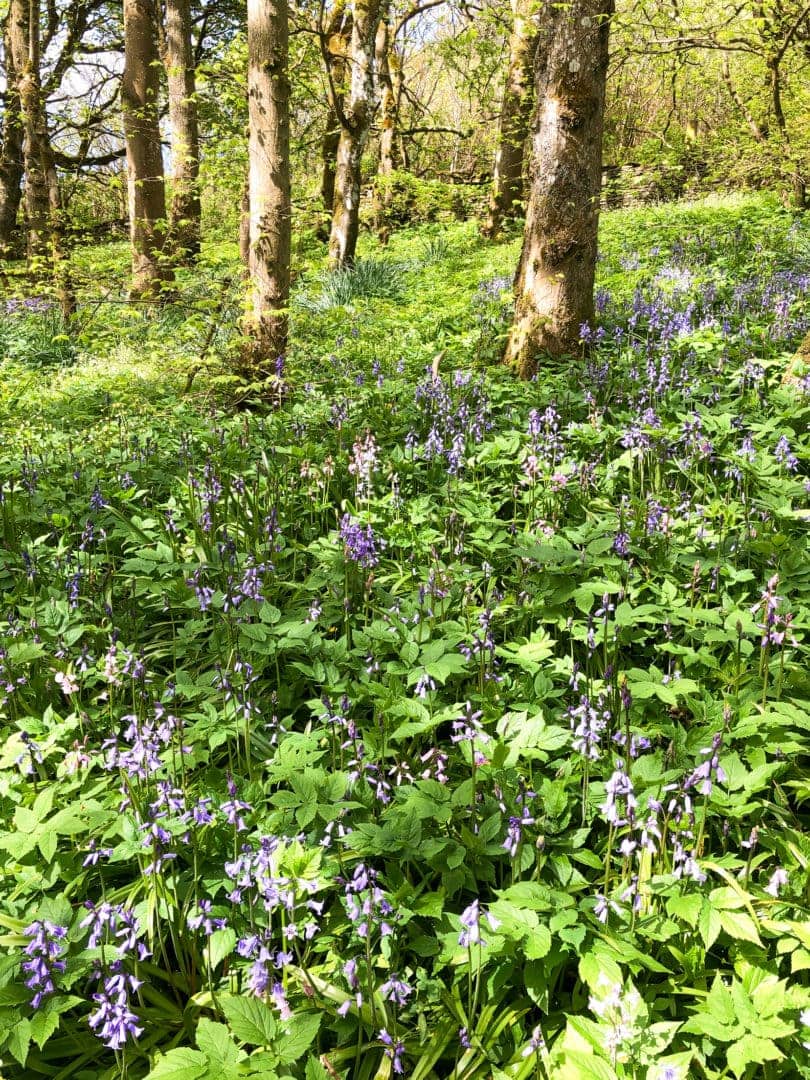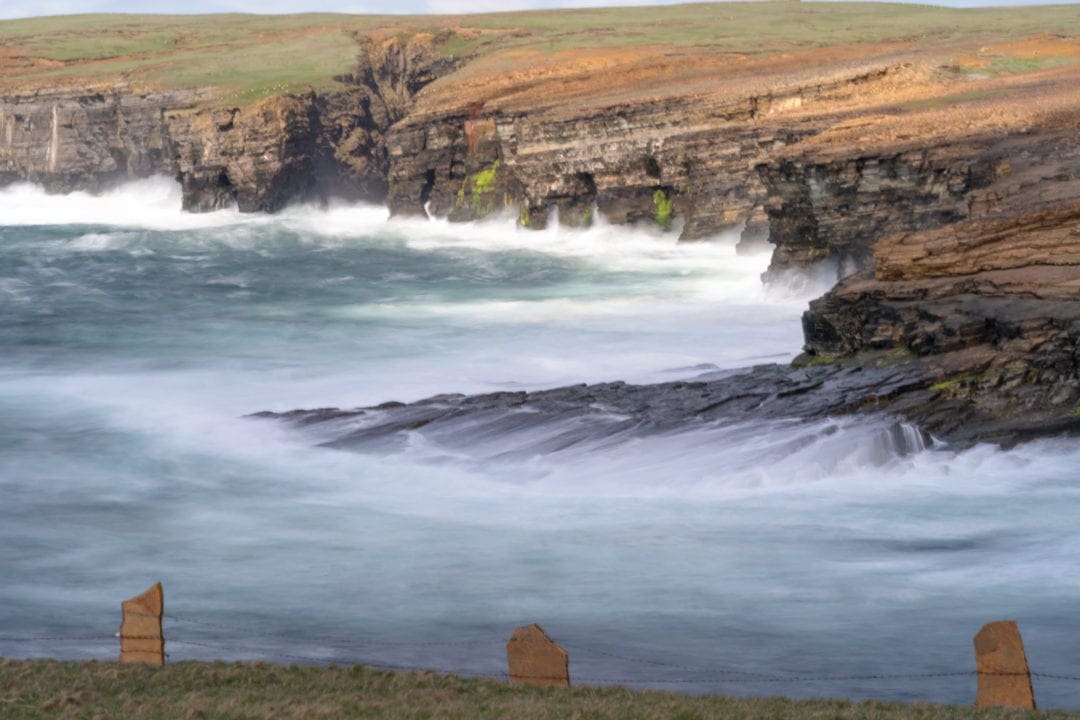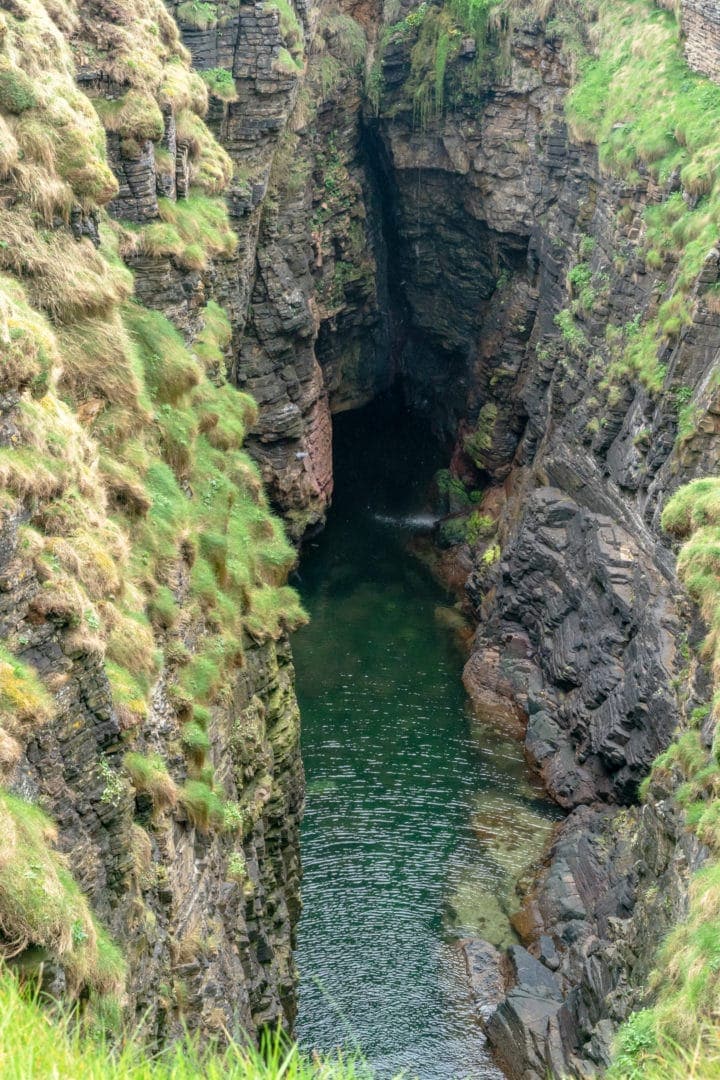 4. Orkney History
Visiting Orkney means that you can encounter some of the oldest prehistoric remains in Europe.
Orkney's UNESCO-listed sites, which represent the heart of Neolithic Orkney dating back 5000 or so years, are:
Skara Brae (A group of eight stone age houses)
Maeshowe (A burial mound)
Stones of Stenness (Standing stones)
Ring of Brodgar (Standing stones)
For more information, you may like to check out the BBC documentary, Britain's Ancient Capital: Secrets of Orkney.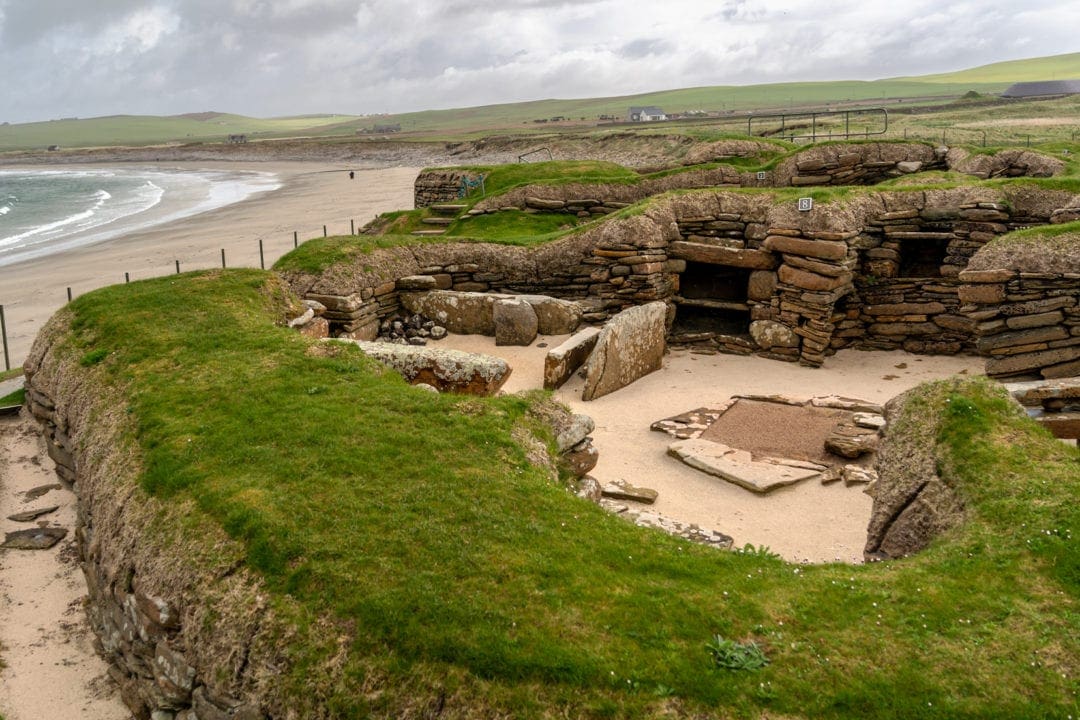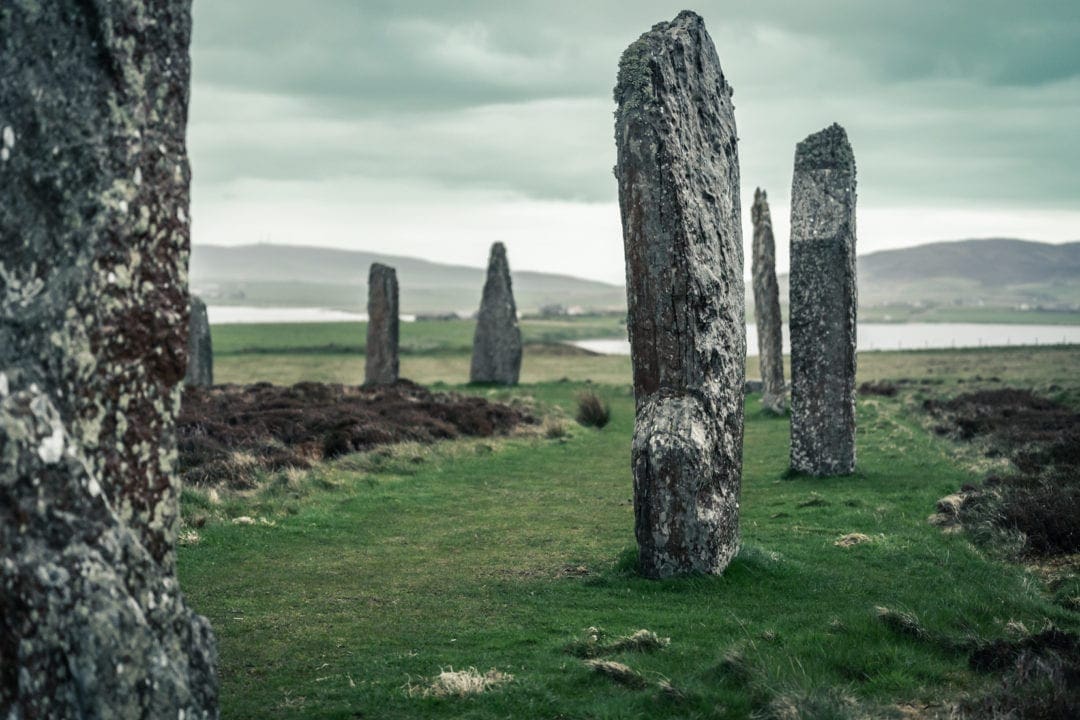 Along with these impressive sites, Orkney has many historical remnants and memorials dotted around the island, dating from the old stone age, bronze age, and Viking settlements to the first and second world wars.
A few you may wish to visit include:
The Brough of Deerness (Remains of a Viking age Settlement)
Skaill House (Manor house depicting 1950s life and dating back to the 1600s)
Ness of Brodgar (Archeology site)
Kitchener Memorial ( WWI memorial)
Churchill Barriers (Built-in WWII)
Italian Chapel (WWII chapel built from two Nissan huts by Italian prisoners of war)
Brough of Birsay (Pictish and Viking settlements)
Birsay Earl's Palace (Ruins of the palace of the First Earl of Orkney dating back to the 1500s)
St Magnus Cathedral in Kirkwall ( Magnificent cathedral dating back to 1137)
The Bishop's and Earl's Palace
[Note: These historical locations are all marked in brown on our Visiting Orkney map]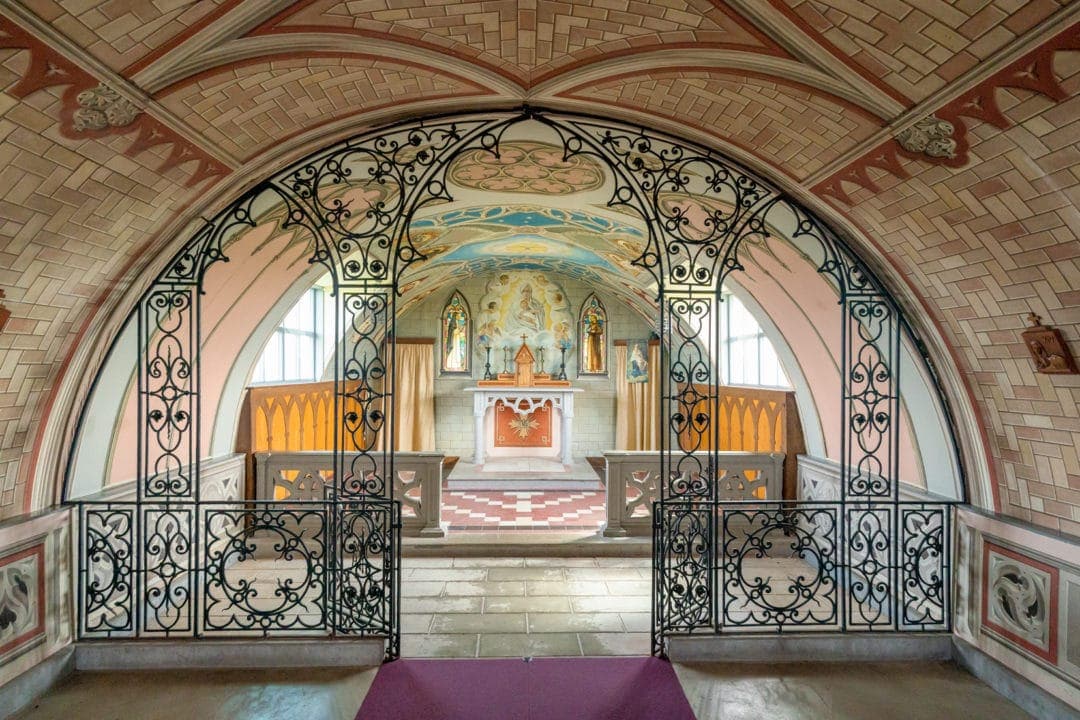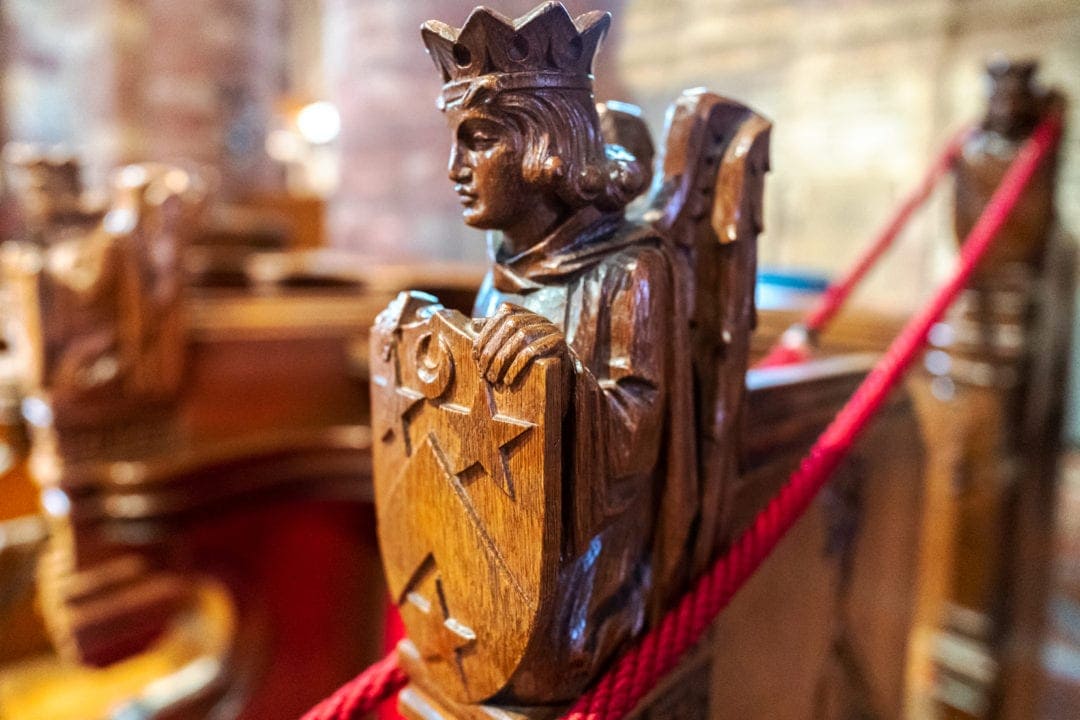 5. Orkney Craftsmanship
Orkney undoubtedly inspires creativity and there is no shortage of Orcadian artisans and crafters of all kinds on the island.
Jewellery, knitwear, furniture, tapestries, pottery, and art are all part of Creative Orkney. You can pick up an Orkney Creative Trail Booklet at the Kirkwall iCentre (tourist office) or you can download a copy here.
The trail leads you to workshops of artisans, where you can get an insight into how their products are made and discuss any bespoke items that you may like.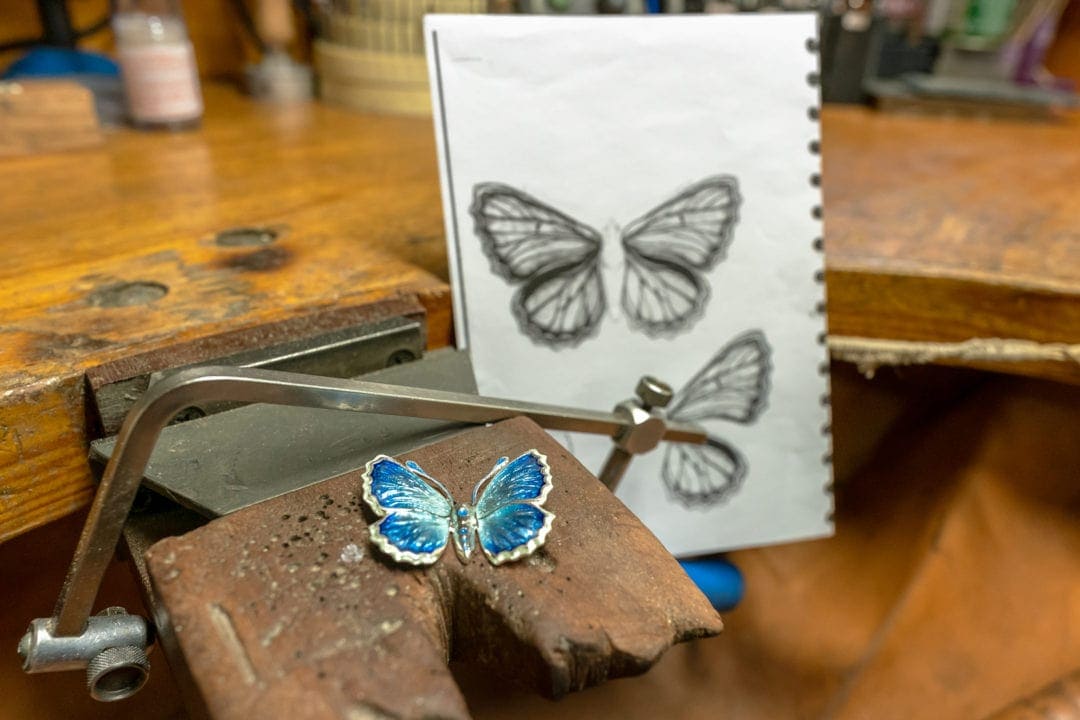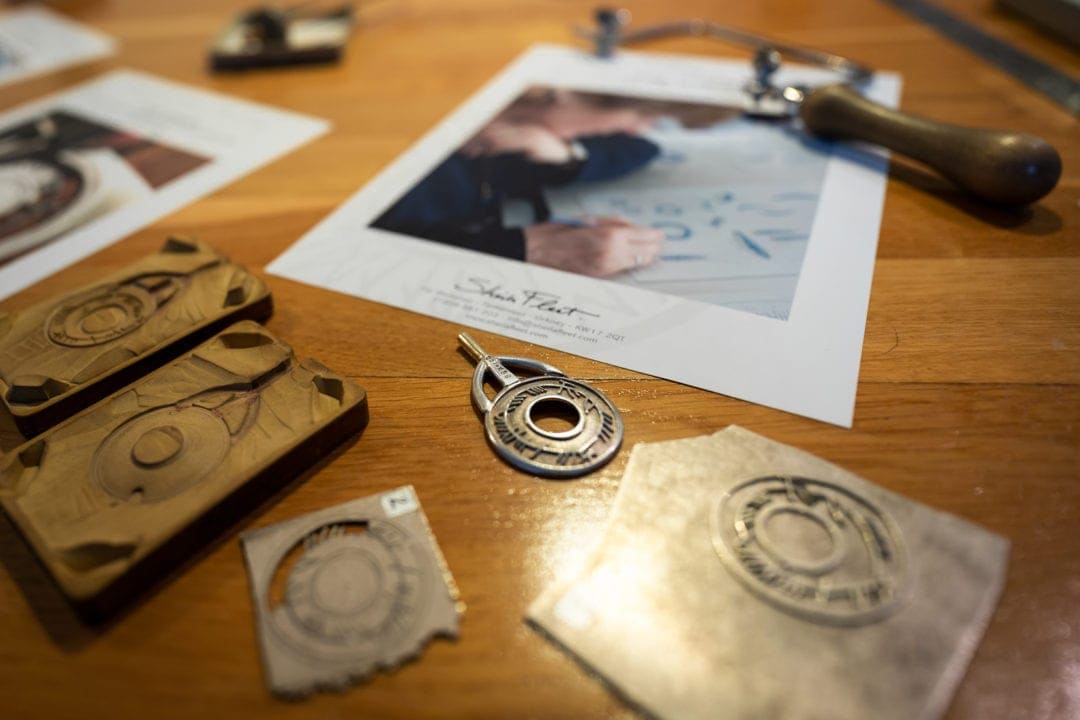 You will likely come across several 'Honesty boxes' on your travels around Orkney. These are small cupboards placed near the road where you can buy all manner of goods; fresh eggs, homemade cakes, and handcrafted items.
Tip: Have cash handy so you can make the most of these goodies.
Whether you are looking for inspired Orkney jewellery, tapestries, or art, a few places you may wish to visit include: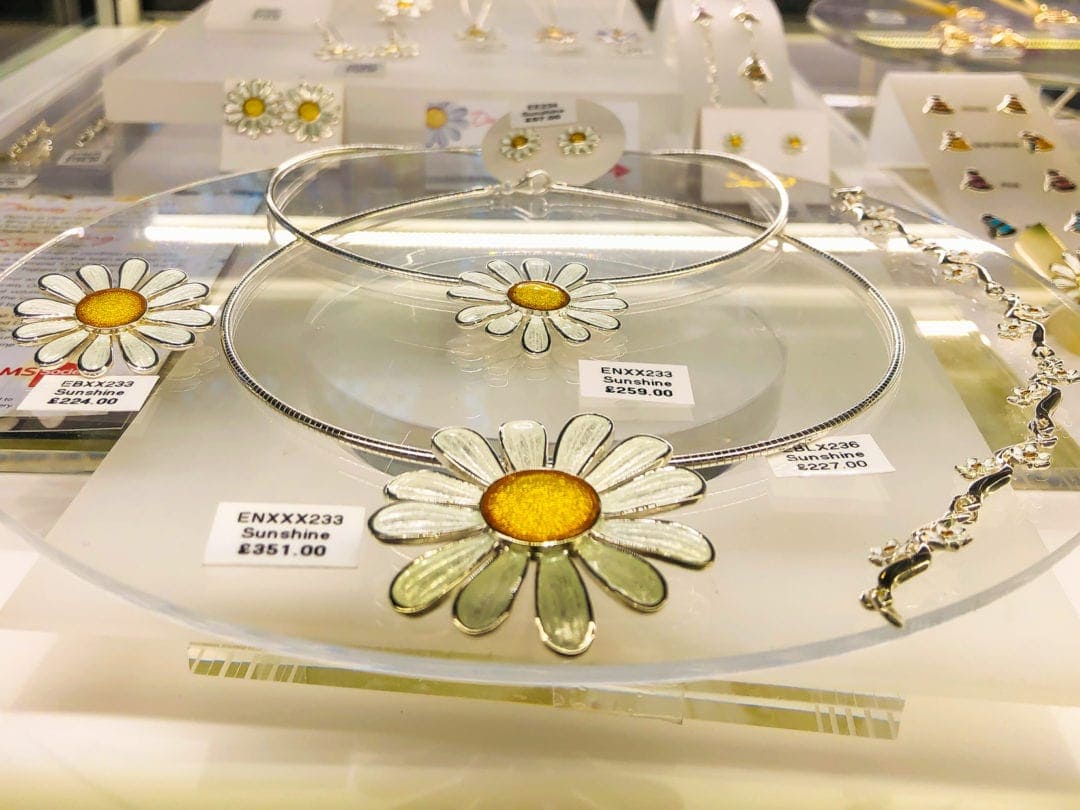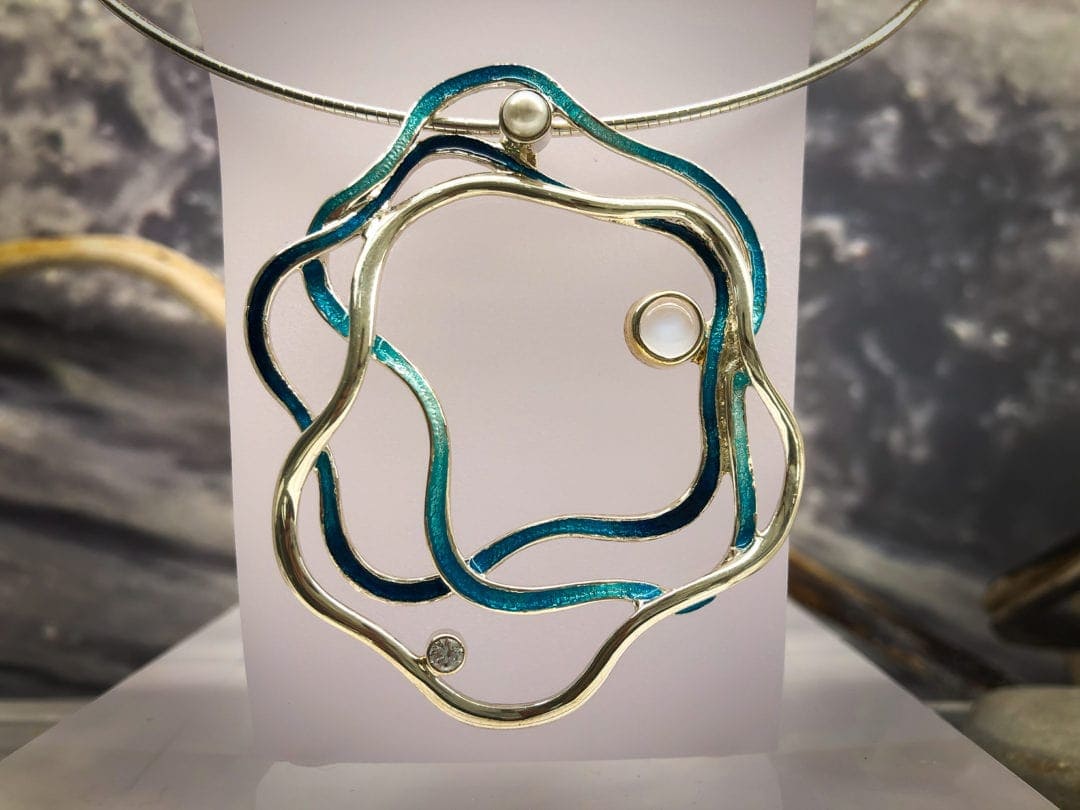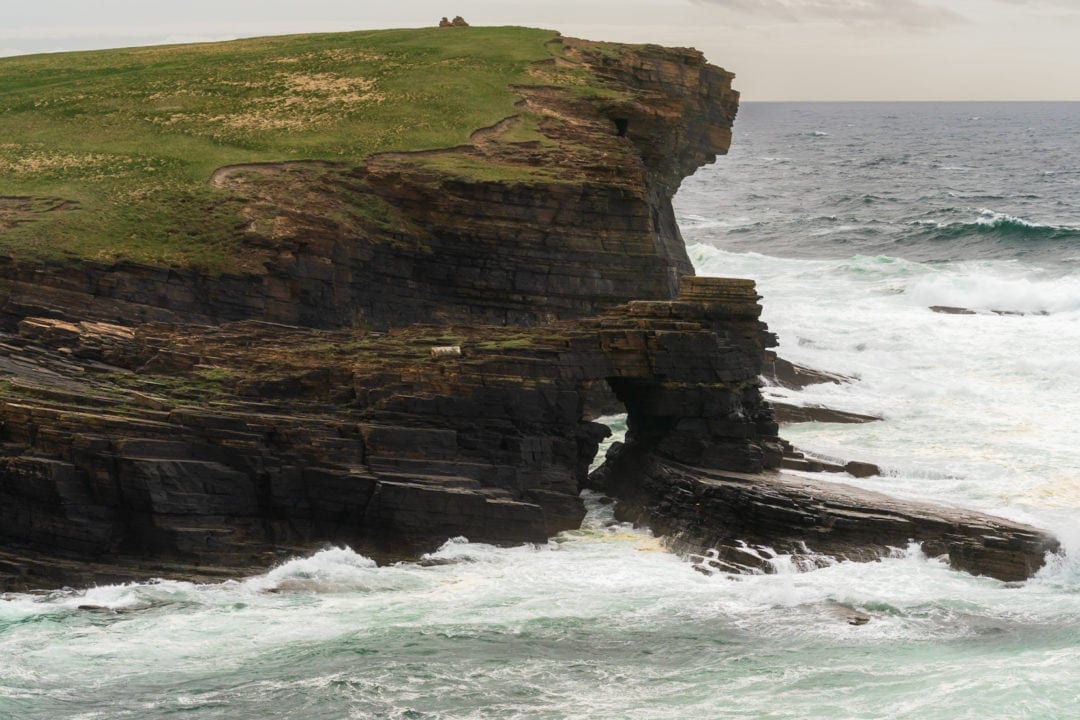 The Best Orkney Tours
If you want to relax and have a tour guide take you to all the main sights of Orkney then book this tour. Get picked up from your hotel or accommodation address and hop aboard for a day of visiting all the top historical and natural sights of the island.
This tour with no hidden costs includes visits to:
Scapa Flow (ticket inc.)
Unstan Chambered Cairn
Standing Stones of Stenness
Ring of Brodgar
Skara Brae (ticket inc.)
Skaill House (ticket inc)
The Italian Chapel (ticket inc)
🚌 Book this 5-star reviewed Orkney Island tour here | ⏰ 7 Hours | ⭐️ 5/5 Star Reviews
From our research, this is the best value tour for exploring Orkney and some of the reviews include the following comments:
⭐️⭐️⭐️⭐️⭐️The Real Orkney Tour — Warren_L, Oct 2022
⭐️⭐️⭐️⭐️⭐️ Orkney is one of the best places I have visited in my years of travel! — PennyH, Aug 2022
⭐️⭐️⭐️⭐️⭐️ Great day in a great place, with a great guide!— Rachel_G, Jul 2022
If you are short on time, then this tour covers the following (note that tickets are not included for the Italian Chapel or Skara Brae).
Skara Brae
Standing Stones of Stenness
Ring of Brodgar
The Italian Chapel
Saint Magnus Cathedral
This is another tour with five-star reviews with comments the following comments:
⭐️⭐️⭐️⭐️⭐️ Best experience of ancient history — Nicola_S, Aug 2022
⭐️⭐️⭐️⭐️⭐️ Excellent tour — Susan_J, Jul 2022
⭐️⭐️⭐️⭐️⭐️Worthwhile Experience — David_R, May 2022
🚌 Book this Mini Orkney Island tour here | ⏰ 5 Hours | ⭐️ 5/5 Star Reviews
For a real humdinger of a tour, treat yourself to this 5-day small group tour with one of Scotland's most renowned tour guides — Rabbies.
Their guides blend stories with destinations, and the local driver guides immerse you in Scotland's history, folklore, music and culture.
You'll travel in a 16 seater Mercedes mini-coach and spend four nights in en-suite accommodation in either a B&B or 3-star hotel with breakfast included. Travel through the Scottish Highlands with stops at Culloden Moor and Inverness on the way.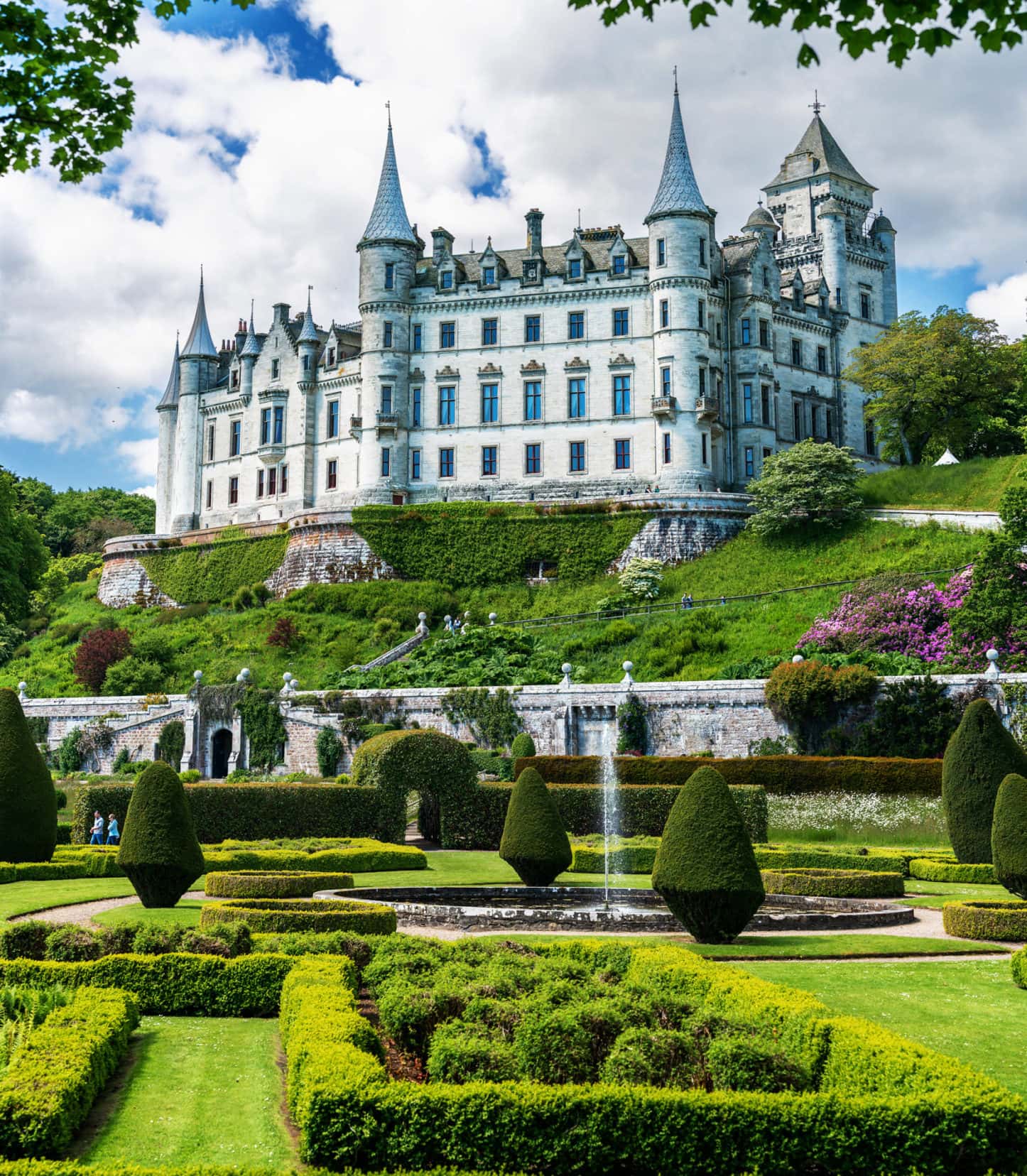 Other travellers who took this tour have given it rave reviews:
⭐️⭐️⭐️⭐️⭐️ Highly recommended — This tour was run by Rabbie's Tours and the attention to detail was fantastic. Our driver … brought the countryside and places alive with his stories, historical information, humour and consideration. — kav19r, Oct 2019
⭐️⭐️⭐️⭐️⭐️ All the Prehistory was fascinating! — Fabulous tour; food, guide, lodging, company, comfortable seating — cdwilkinson, Jun 2022
⭐️⭐️⭐️⭐️⭐️ We had an outstanding trip to Orkney and Northern Scotland with Robbie Tours — Our guide and driver, … had an excellent knowledge of the area and a more than thorough understanding of Scottish history. She kept us informed and entertained with stories and legends as well as injecting much humour along the way. … We highly recommend this tour. — Gloria_P, Oct 2021
🚌 Find out more here or Book this Awesome Rabbies, Orkney and Northern Scotland Tour | ⏰ 5 DAYS | ⭐️ 5/5 Reviews
Facts About Orkney
Orkney (do not call it the Orkneys … that's a real faux pas), sits about 16 km off the north coast of the Scottish mainland; across the stretch of water known as the Pentland Firth.
The name, Orkney comes from the old Norse word Orkneyjar, which means 'Seal Islands'. There are a total of 70 islands that make up the archipelago of Orkney but only 20 of those are inhabited.
The largest of the Orkney Islands is known as the mainland, where you will also find Orkney's capital, Kirkwall.
Famed for its UNESCO-listed Neolithic settlements and standing stones, Orkney has been home to man for many thousands of years.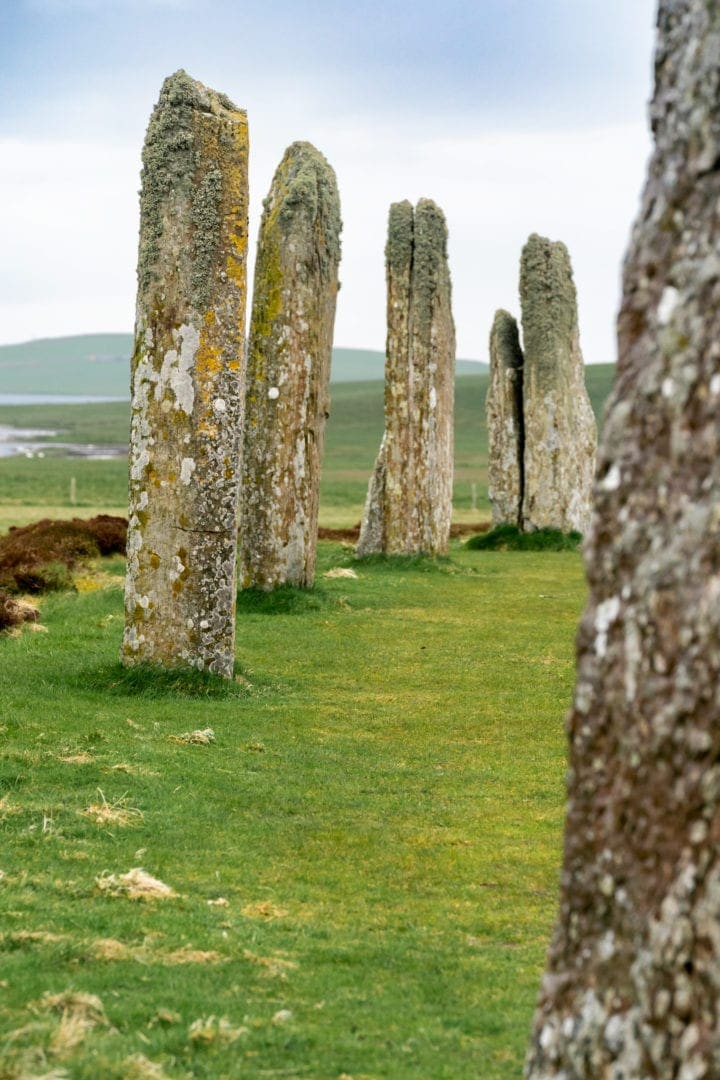 Orkney Timeline
8500 years ago: Stoneage settlements
297 AD: Pictish Settlements
875 AD Norse invaders arrived and then Norse settlers colonised the island and both Norway and Denmark ruled
1472 AD: Orkney passed to Scottish rule (as a dowry for the Danish Queen of the Scottish King James III)
The Local Orkney Accent
You may be surprised to learn that Orkney has a strong Scandinavian connection which is apparent in its flag, place names and local dialect.
One local told us that Orcadians, (the people of Orkney) feel more aligned with Scandinavia than with Scotland. And this rings true because Orcadians don't speak Gaelic and you don't come across Scotland's iconic tartan colours and talk of clans which is so prominent on the mainland of Scotland, and other Scottish Isles.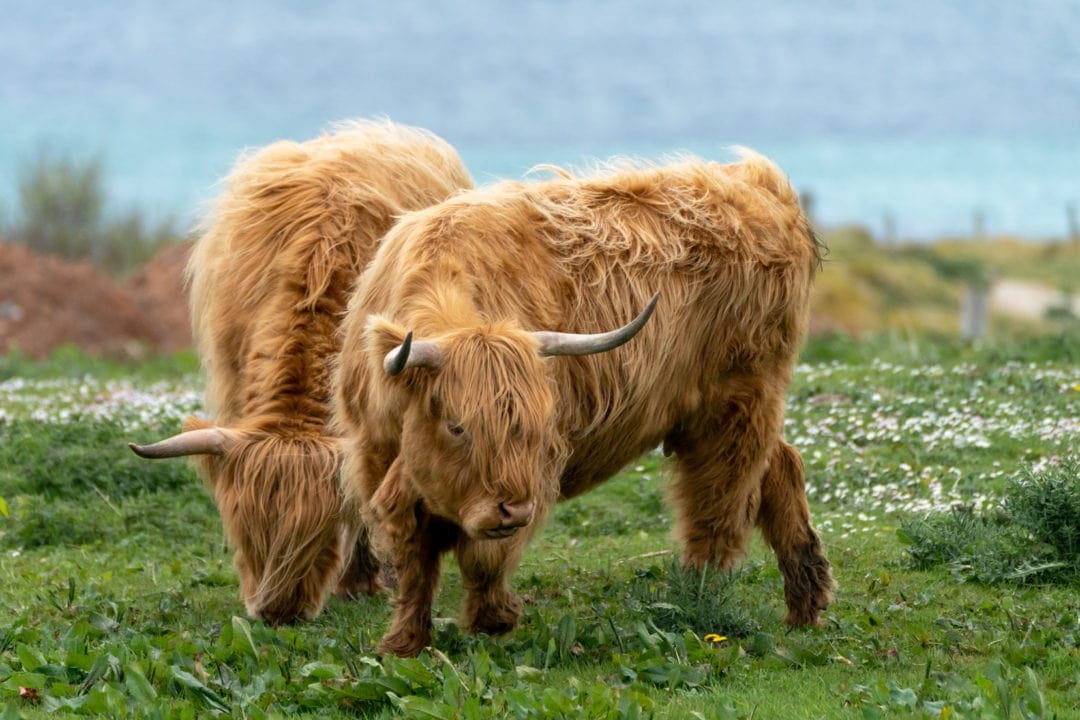 Orkney Lingo
Interestingly the Orcadian accent was one of the first things we noticed when we arrived in Orkney.
We have lived in Scotland for almost a year now and have adjusted to the Scottish accent, which can sometimes be challenging to understand. We've also lived in Norway and are very familiar with the Scandinavian English accent.
Hearing an Orcadian accent wasn't like a Scottish accent — it had a predominantly Scandinavian touch to it. Locals told us that when they are travelling their accent is mistaken as Welsh.
Accent aside, here are some words that may help you understand a local in Orkney:
Blether: to chat, chatterbox
Cairn: a pile of stones
Moppie: child's word for a rabbit
Muckle: big
Peedie: small
Selkie: grey seal
Stane: stone
Swadge: rest and relax after a meal
Unkan: strange, unknown
The Orkney Flag
The flag was redesigned in 2007 when a competition was held and the Orcadian public voted on their preferred design.
The red and yellow cross designates the red and yellow in both the Scottish and Norwegian Royal Coat of Arms and the blue is taken from the Scottish flag.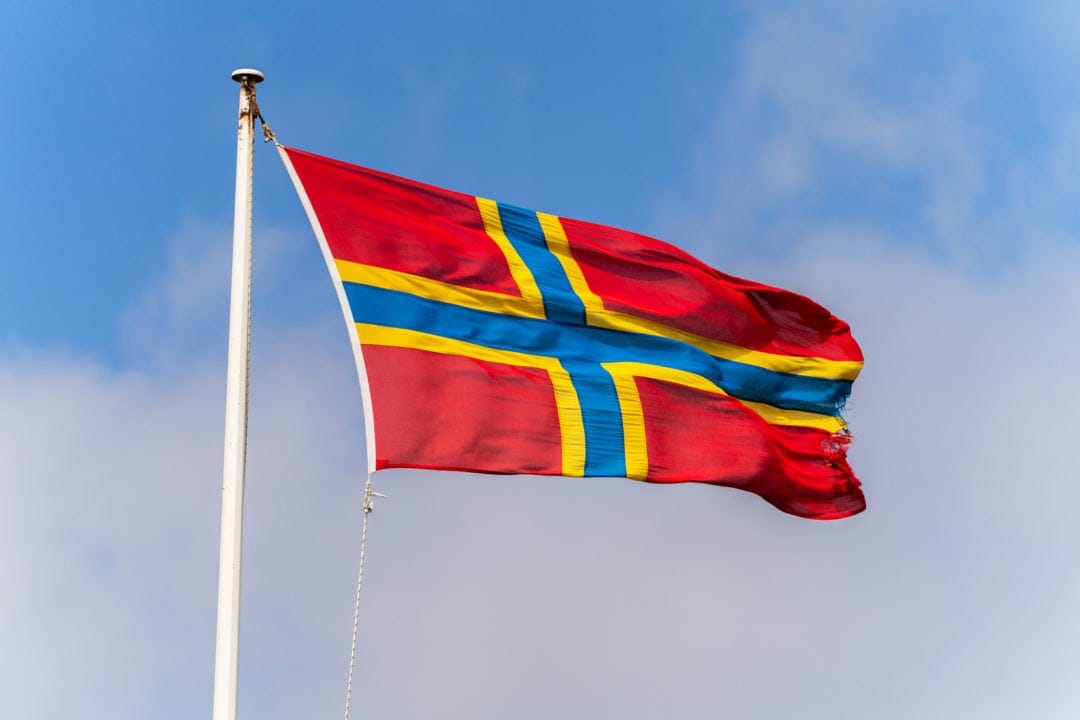 What is the Best Time of Year to Visit Orkney?
We visited Orkney in mid-May and, in our opinion, would suggest that it is the best time of year to visit Orkney. May is usually the sunniest month and historically has the least rainfall.
It really depends, however, on what you are looking to do and what you would like to experience in Orkney.
As nature lovers, we enjoyed the copious amount of spring flowers on the road verges and watching Orkney come to life with baby lambs scattered throughout the mainland.
This, combined with the arrival of migratory seabirds to Orkney's clifftops, made it a very special time to visit.
However, you may be chasing the winter Northern lights, love the colours of the heather across the moors in late Summer, or want to catch a glimpse of Orkney's seal pups in Autumn
Whichever season you decide to visit Orkney, there will always be something to wonder at.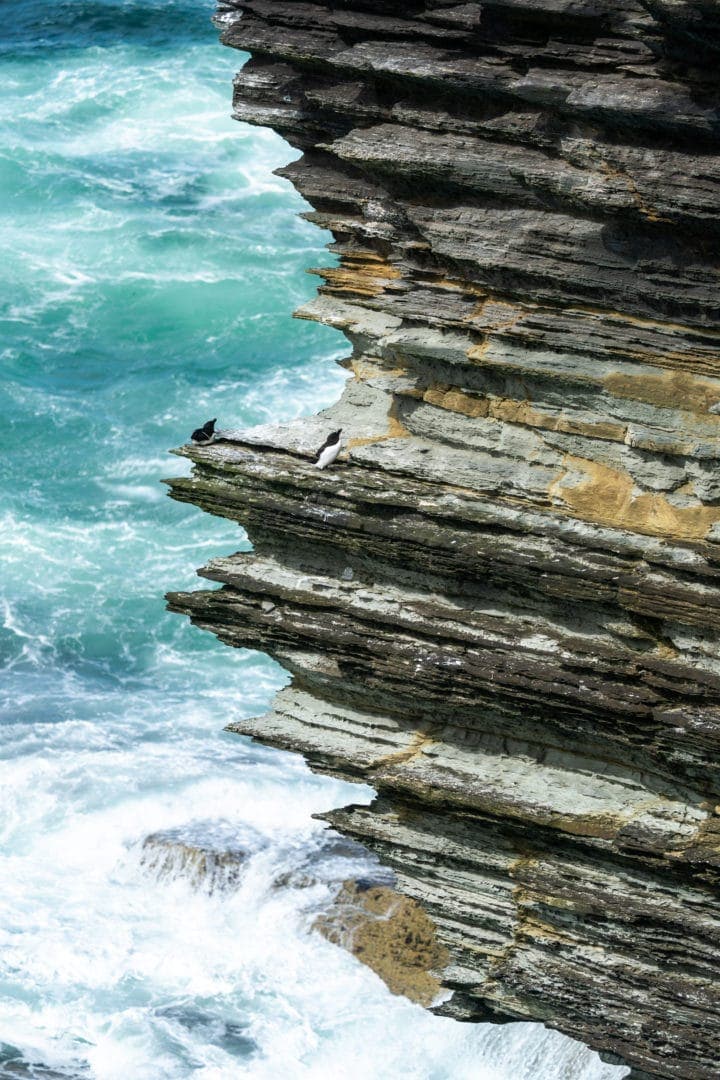 Orkney Weather
You certainly don't visit Orkney for its beautiful weather. It is pretty much cloudy and windy most of the year, but spring and summer do see less rainfall and warmer conditions. Even in summer, temperatures don't get very high, with averages between 11°C and 16°C.
Winter is wet, rainy and very windy. However, temperatures rarely go below freezing.
If you are looking for the warmest weather then the best time of year to visit Orkney is summer, but it will also be at its most crowded then too.
Orkney Average Rainfall
Orkney Average Temperatures
Orkney Through the Seasons
Below we've set out information on Orkney through the seasons. This guide will help you decide the best time for you to visit and what to expect.
Jump to the season here or browse below: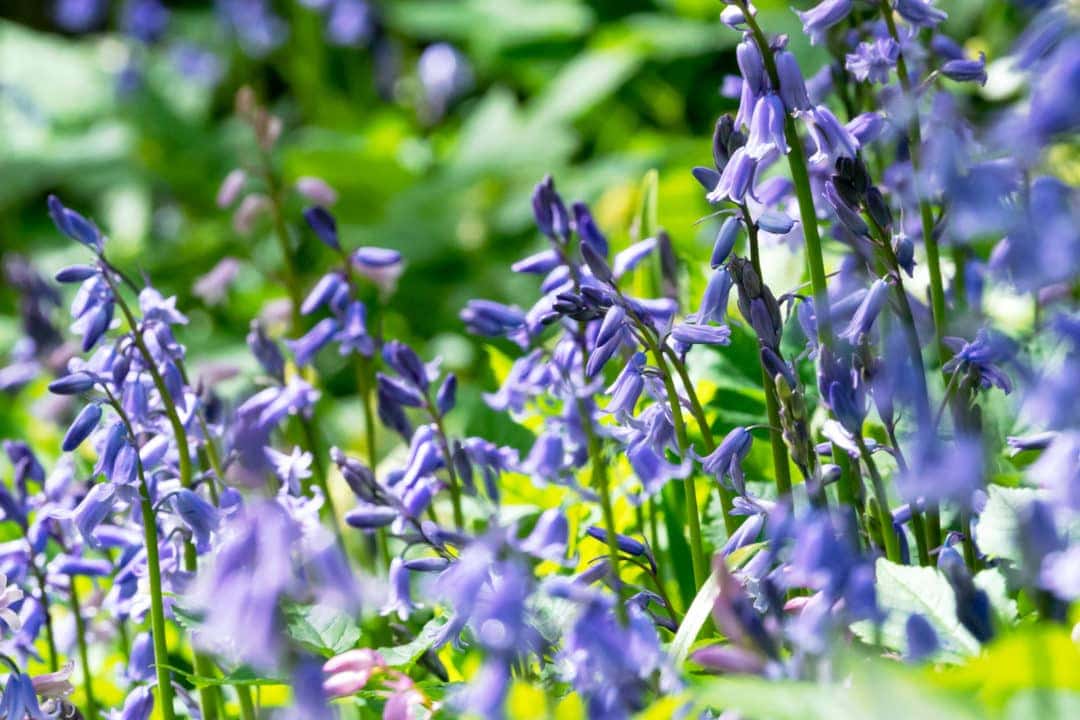 Orkney in Spring
In April and May, spring starts to bring life to the islands. Daffodils and bluebells pop up along verges, and who can resist hundreds of lambs jumping around in the lush Orkney fields?
The weather also starts to warm in spring, though temperatures can never be guaranteed. Days become longer with the sun setting past 9 pm.
We visited in mid-May and even found a bluebell wood. A spectacular feat on the island renowned for being rather light on in the tree department.
If you are lucky you may also find the rare Scottish Primrose, Primula Scotica. It only blooms in May and once again in July. This tiny little purple flower is found only in Orkney and in far north Scotland.
We searched, but luck wasn't on our side.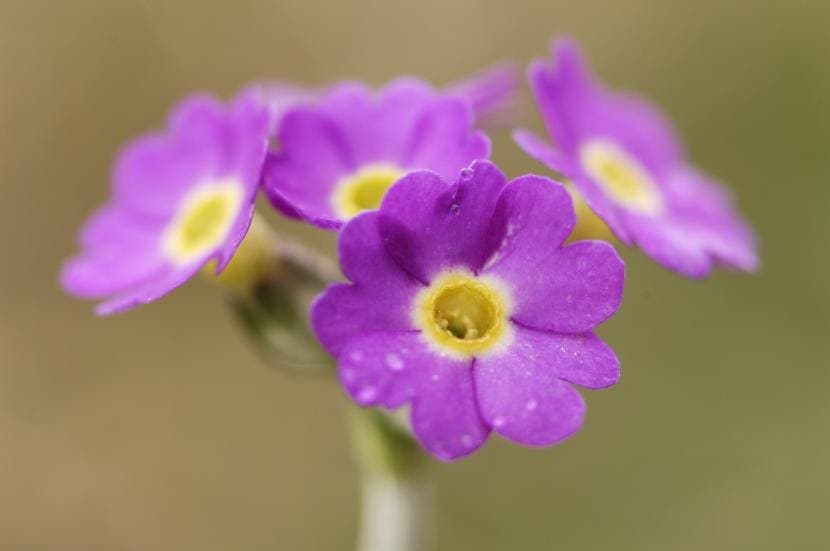 Spring is also the perfect time for spotting seabirds. Marwick Head RSPB Reserve is the largest seabird colony in Orkney.
Many migratory birds return for the breeding season and Orkney's clifftops, crags and stacks are filled with nesting fulmars, guillemots, razorbills and the ever-colourful characters, puffins.
Puffins (known locally as Tammie Norries meaning 'Bashful men'), start to arrive in late April or early May and can be spotted in many clifftop areas, including the cliffs of the tidal island, Brough of Birsay.
Other birds to look out for include the hen harriers and short-eared owls over the Birsay Moors. If you are a bird lover, then also check out the waders at the largest wetland on Orkney, The Loons.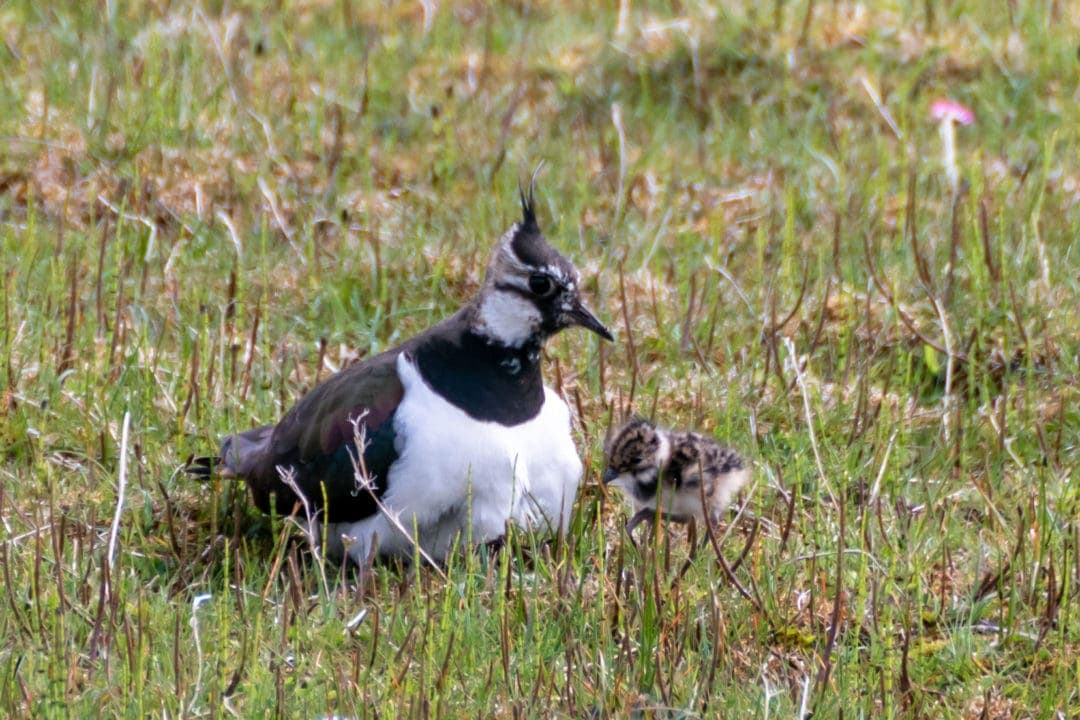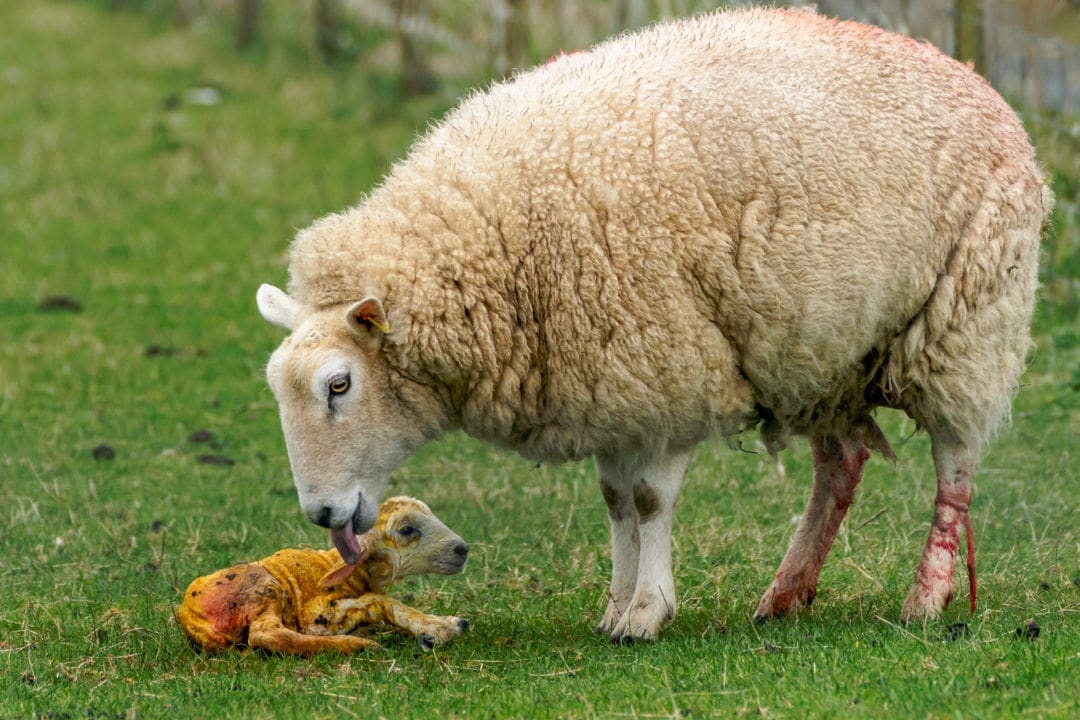 Orkney Festivals in Spring
Orkney Festivals held in May include:
On 17th May Orkney celebrates Norway Constitution Day due to its close ties to Norway. Norse Earls ruled Orkney for over 500 years before it became part of Scotland in 1468.
Orkney in Summer
The warmest temperatures in Orkney are generally from mid-July to late August, with maximum average temperatures reaching 16˚C in August. You also have long daylight hours, with a peak of 18 hours at the summer solstice on the 21st of June. The Orcadians call the long summer days, summer din.
Orkney's cliffs are still full of seabirds in summer, but some begin to leave for warmer climes in August.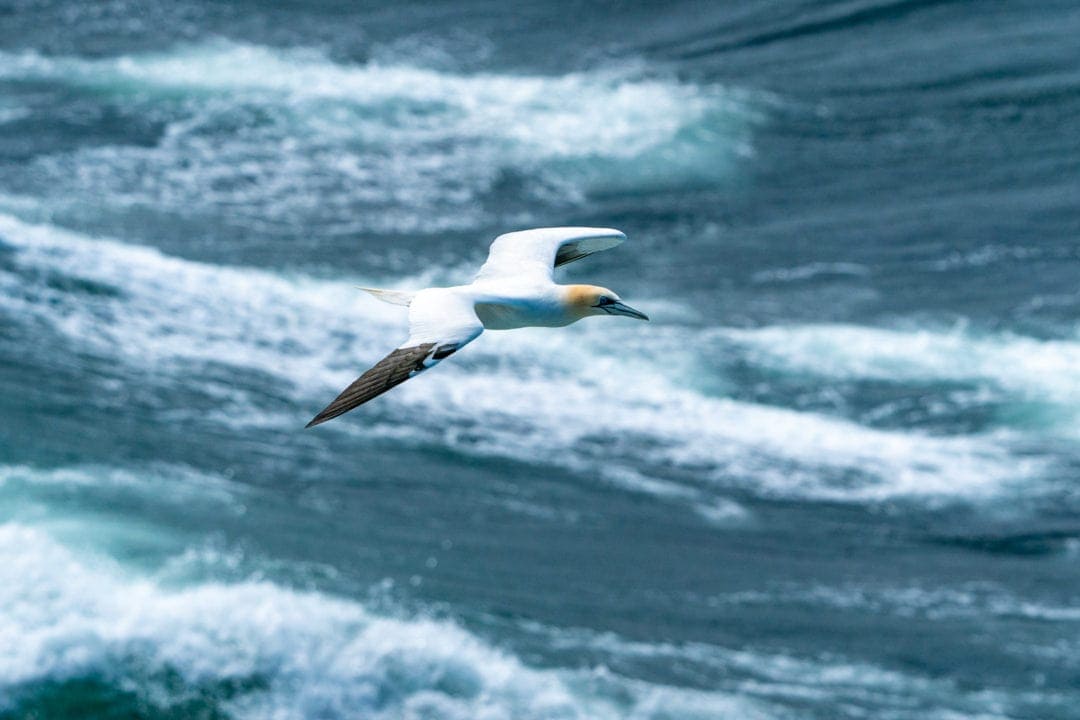 Look out for the rare Scottish primrose. Its second flowering time occurs in July and the flowering heather on the moors in late July and August.
Cruise ship visits will be at their peak in summer. Therefore, you will likely encounter many tourists in Orkney's main attractions, such as Skara Brae, the Standing stones and the Italian Chapel.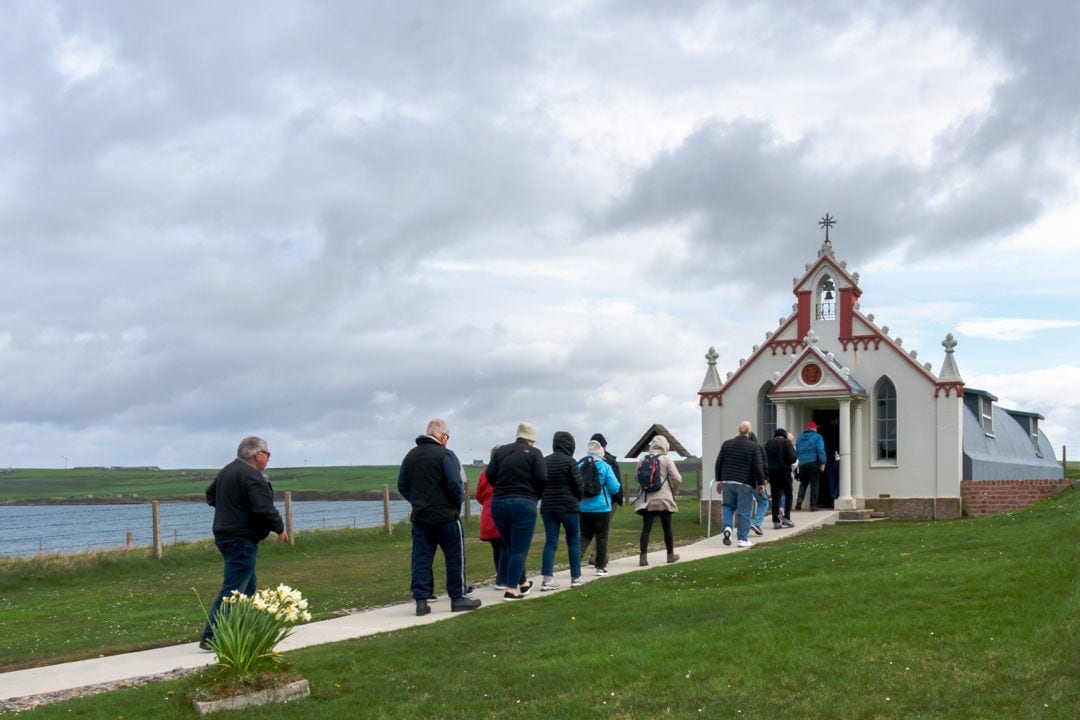 Another pest that will be more likely in August is the midges in Orkney. Midges are small biting insects that swarm in warm weather but don't like strong breezes.
It's often windy in Orkney, but do be prepared with insect repellent if you are caught in a midgie swarm.
Orkney Festivals in Summer
St. Magnus International Festival — An annual cultural festival with a variety of events including music, theatre, arts, dance, literature, cabaret and folk music, alongside community projects, during Orkney's magical midsummer.
Summer Solstice 21st June — What could be more spiritual than celebrating the Summer Solstice at the site of the neolithic monuments? On the Summer Solstice, the sun rises at around 4 am, and sets again at around 10.30 pm; a healthy 18 hours of daylight.

Orkney in Autumn
From September, the chance of seeing the Northern Lights (Aurora Borealis) increases. Additionally, grey seal pups can be seen around the shores in October and November.
The wind starts to pick up and stormy weather creates dramatic scenes around the islands. Moody atmospheres surround the many neolithic monuments and storms create spectacular wave action around the many sea stacks in Orkney.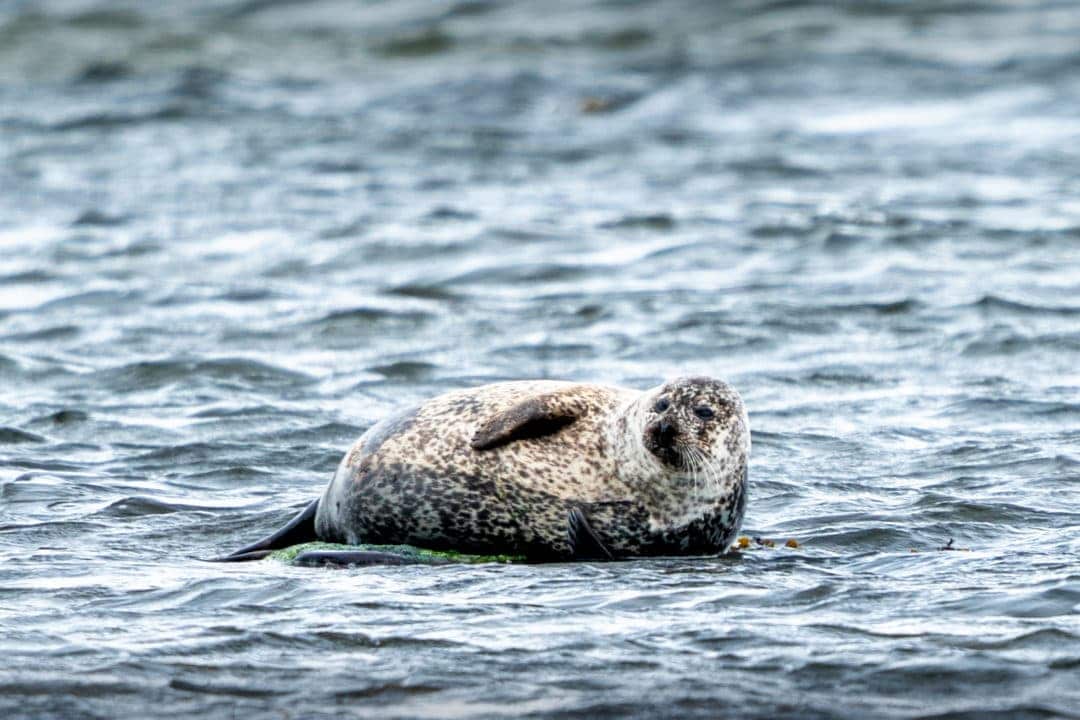 Orkney Festivals in Autumn
Orkney in Winter
Some of Orkney's tourist sites close during the winter months, so it is worth checking online whether they are open. Luckily, this time of year sees accommodation prices drop, and you're likely to have the sights of Orkney pretty much to yourself.
The winter weather in Orkney can be very cold and extremely windy. However, from September onwards your chances of catching a glimpse of the Northern lights (or merry dancers as they are called on Orkney), are much higher.
If you enjoy photography, then the dramatic storms and waves around the coast in winter make for fantastic photography.
If visiting Orkney in winter, keep an eye out for wading birds such as turnstones, purple sandpipers and ringed plovers which roost and feed around the shores of Marwick Head.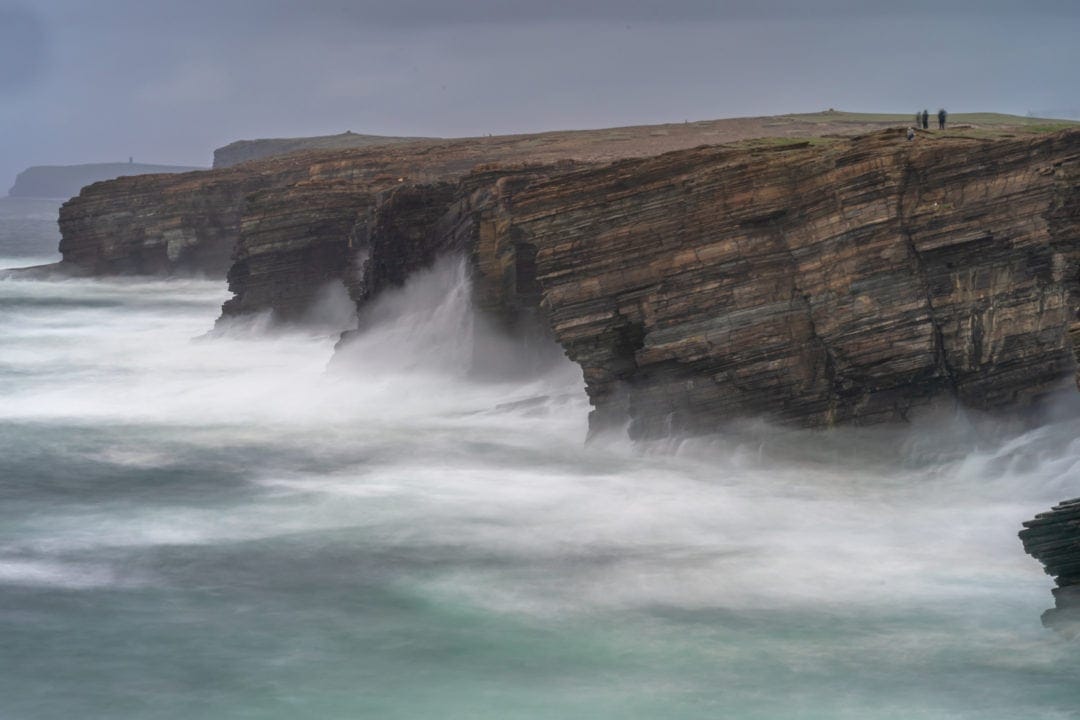 Orkney Festivals in Winter
New Year's Day Ba

Ba' is a local Orkney tradition that occurs on both Christmas day and the 1st of January. It is a traditional football game that was once called the 'Up the gates, down the gates' and has been played in Kirkwall since at least 1897.

The town divides into two teams, the Uppies and the Doonies, with each having to get the ball to the northern or southern boundary of the town respectively. The ball is made of leather and weighs about 3 pounds (1.3 kg). It is about the size of a round melon.

The teams form a sort of scrum with up to 350 men playing. In 1945 and 1946 women played the game too but it was abandoned in subsequent years as the public felt it was unladylike!
Stromness Yule Log

The Stromness Yule Log tug of war was originally a game played on Christmas eve but was banned in 1933. The game was revived in 2017 and played on Hogmanay (New Year's Eve) instead.
Burns Night Celebrations

January 25th is Burns Night when the Scots celebrate the great Poet Robbie Burns. Look out for special events on the island where a Burns supper of haggis, neeps and tatties (turnip and potatoes) topped off with a dram of whisky is often on the menu.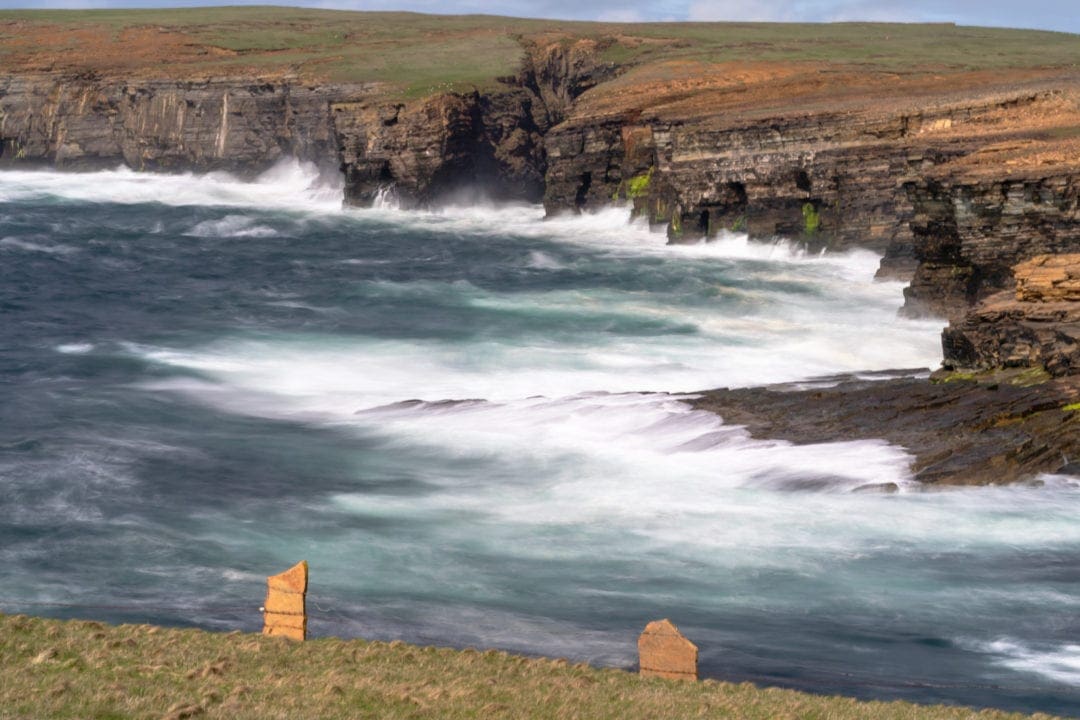 So there you have it. There is something to experience whatever time you visit Orkney and the best time for you depends on your interests, budget and weather preferences.
Having said that, if you want to experience a touch of everything, Orkney's ancient history, and wildlife and to have the best chance of 'ok' weather then we would recommend May.
What to Pack for Orkney
Whatever time of year you visit Orkney, there is no guarantee about the type of weather you'll encounter. Generally, it should be warmer in summer but even then temperatures rarely top 16 ℃, but the wind chill can bring that down significantly.
The weather can change in a few minutes from sunshine to horizontal rain and gusts strong enough to knock you off the edge of a cliff. Therefore having the right clothes is of paramount importance when visiting Orkney.
Layering up is the only way to go.
Here is a suggested packing list:
Tshirt
Long-sleeve top
Fleece
Waterproof trousers
Waterproof/windproof jacket
Waterproof walking boots (the ground can be wet, boggy and muddy)
Waterproof backpack
Don't worry about taking an umbrella — It's normally way too windy, (our's ended up inside out, broken and in the bin!)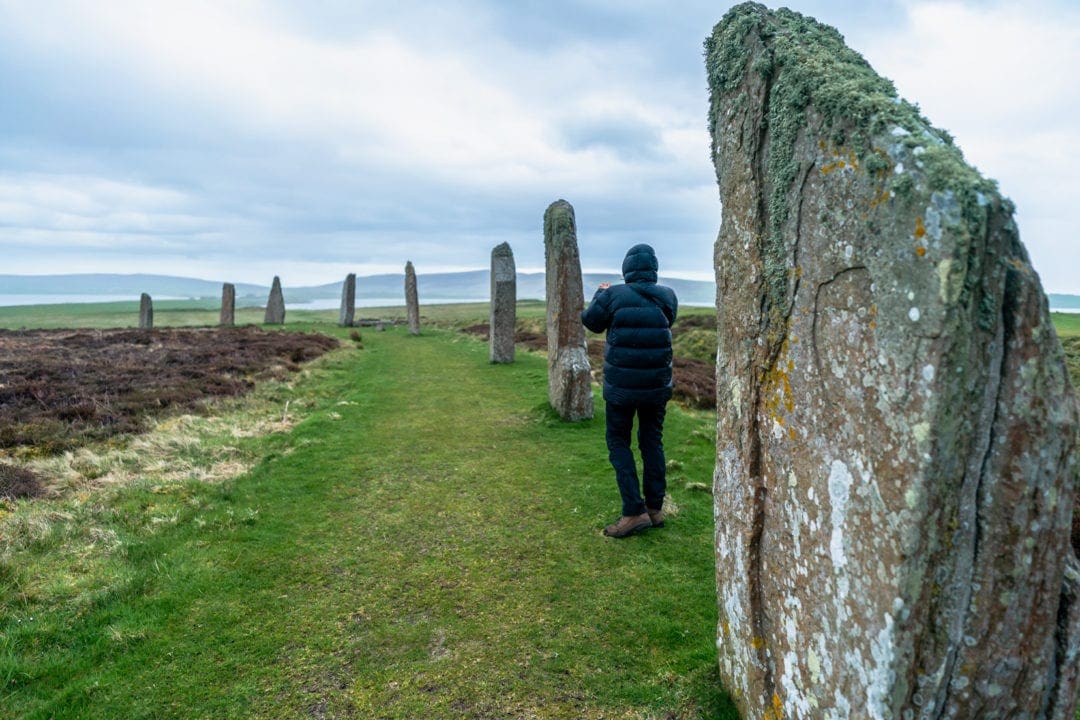 How to Get to Orkney
Car Ferry to Orkney Mainland
There are three car ferry routes to Orkney.
We took the Northlink car ferry from Scrabster (near Thurso) on the north coast of Scotland to Stromness, on the west coast of Orkney. (See Map)
Northlink also runs a ferry from Aberdeen to Kirkwall. Check Times and prices at Northlink here.
The third option is to take the Pentland ferry from Gill's Bay, just west of John'O Groats, to St Margaret's Hope, Orkney
Flying to Orkney Mainland
Logan air runs flights to Kirkwall, Orkney, from Aberdeen, Edinburgh, Glasgow and Inverness.
Where to Stay in Orkney
We based ourselves in Kirkwall, as it was easy to reach both the west and east mainland of Orkney from there. We were also within walking distance of the town centre.
We stayed in a hosted room on Airbnb by Superhosts Ian and Fiona. We had everything we needed and a Breakfast bar is also included in the price. Gorgeous hosts and would thoroughly recommend a stay here if they have availability.
There are plenty of locally run rooms and cottages available to book—
🛏 Check out the Booking.com ⭐️ DEALS available in Kirkwall here
Visiting Orkney … That's a Wrap
This article, along with our detailed Orkney Itinerary, gives you a thorough guide to visiting mainland Orkney.
The weather may not play fair in Orkney, but its many attractions and the wonderfully warm welcome of Orcadians will more than make up for the chill in the air and the need to pack for all seasons regardless of the time of year you are visiting Orkney.
If you enjoyed this post you might be interested in signing up for our monthly travel updates and these FREE Resources:
FREE 23-page Travel Planner, including menu planner, journal pages and budgeting)
FREE Travel Guides (many countries)
FREE Phone Wallpapers
FREE Photo Ebooks
Monthly Travel News
Pin and Save for Later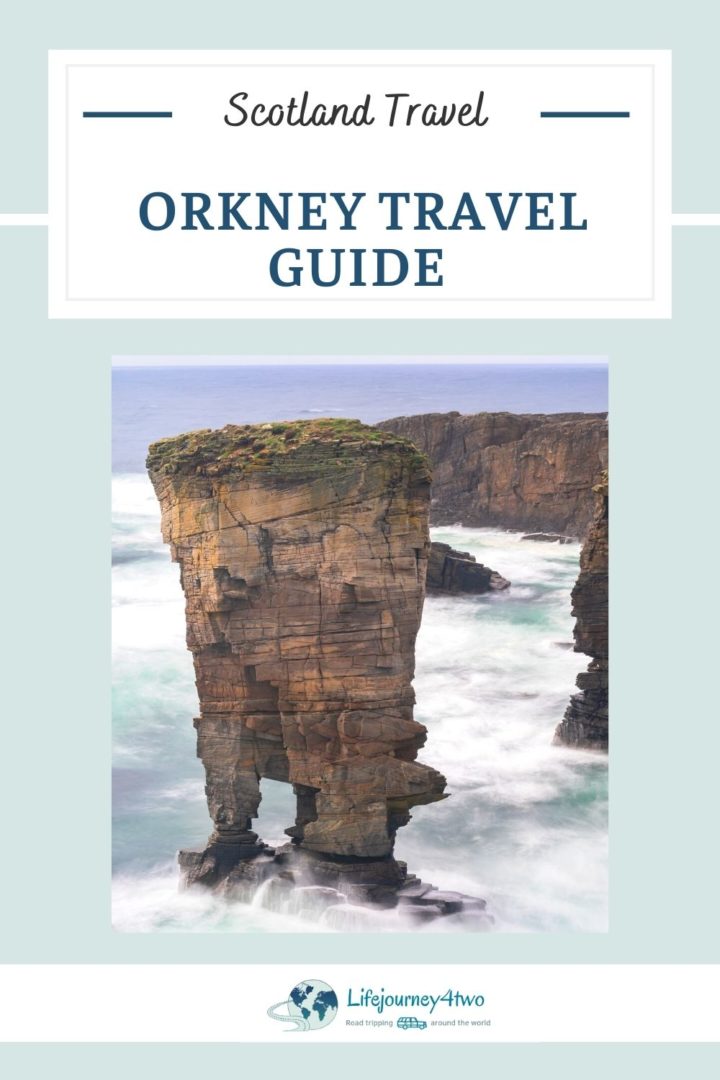 Read More:
PLANNING YOUR TRAVELS?
These are some of the travel resources we use when planning our trips.
For a more thorough list visit our Travel Resources page here.