Scotland has over a thousand castles, so how do you choose which ones to visit?
Living in Scotland for over a year, we visited many of these incredible castles.
To help you decide, we've gathered all the information on the best castle tours in Scotland — both bookable Scotland Castle guided tours and information to help you plan your own self-drive Scotland castle tour.
Packed with lots of photos and useful tips, this post will guide you in the right direction.
Best Castle Tours in Scotland
As well as visiting castles, most of the guided tours include classic Scottish landscapes and attractions, so you can combine your love of castles with many of Scotland's other famous gems.
Whisky distilleries, Outlander and historic locations, spectacular scenery and sparkling lochs all play their part in Scotland's rich tapestry of culture and its stories through the ages.
QUICK PICK CASTLE TOURS: Our Top 3 NOT to be Missed, Scotland Castles
These are our top three Scotland castles, but there are plenty more to read about further on …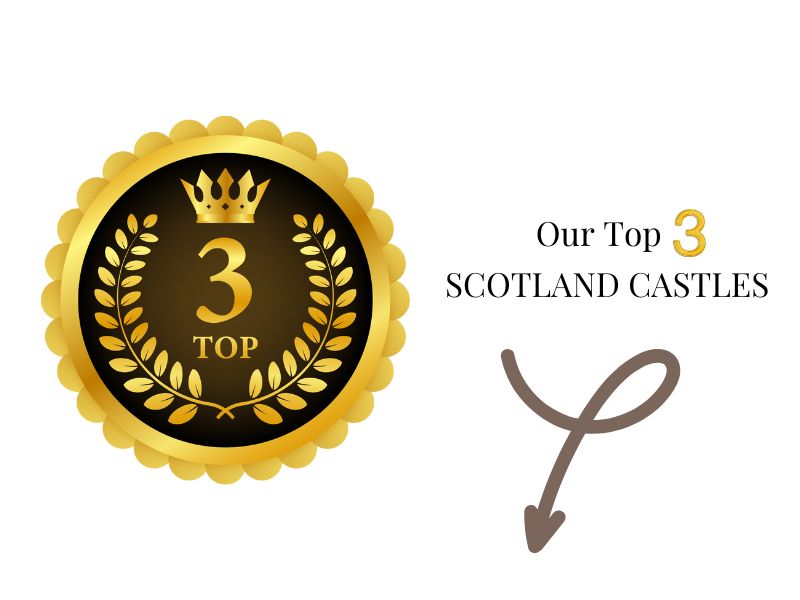 💛 1. Kilchurn Castle: Our favourite Scotland Castle for Photography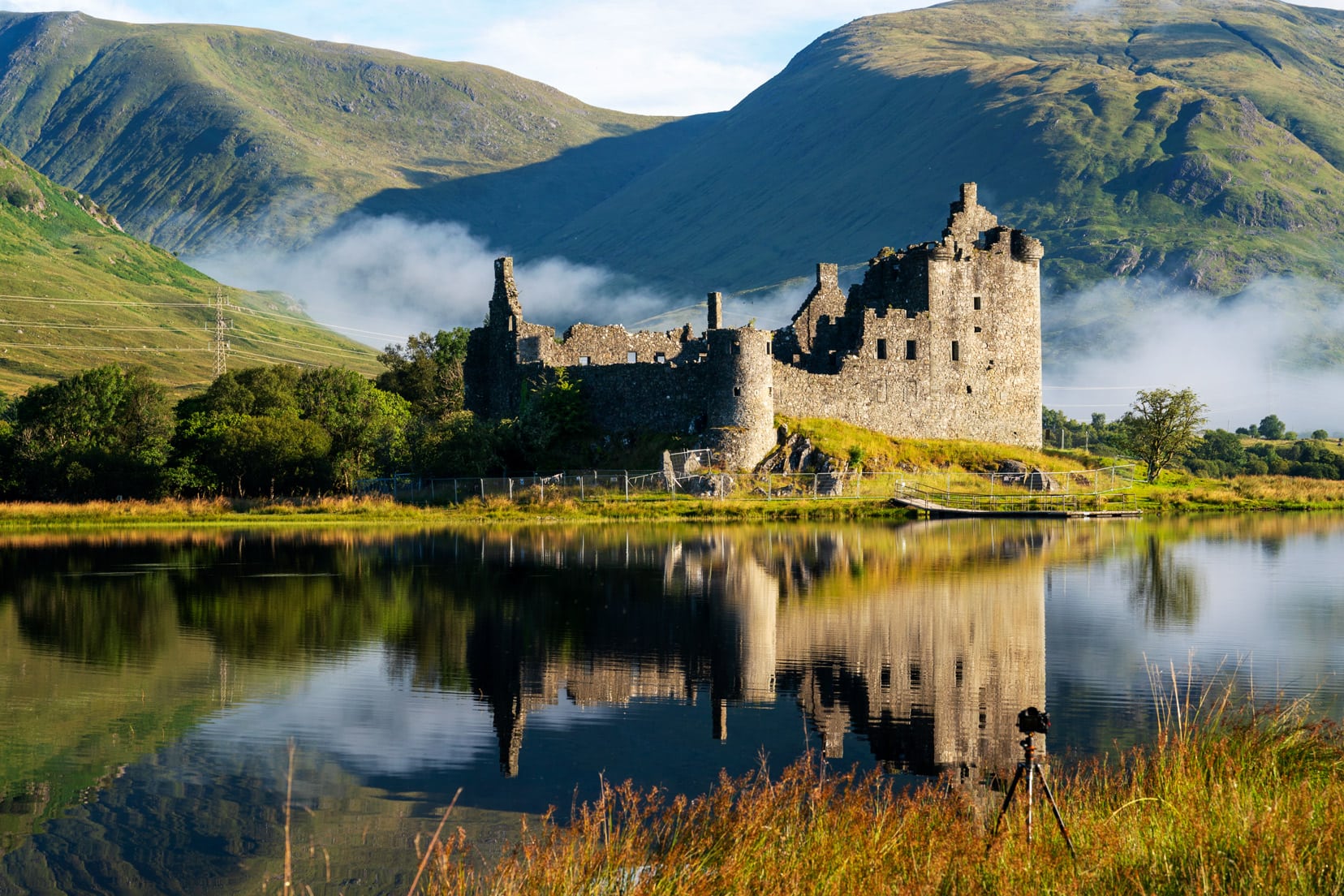 Kilchurn Castle, perched on the edge of Lake Awe, surrounded by classic Scottish scenery, is a must-see if you love castles and photography. There are so many different angles and composition choices, and the surrounding beauty creeps into your soul.
When we arrived, just after dawn, a couple of campers were emerging from their tent. A still, serene landscape greeted them.
⭐️⭐️⭐️ Check out this incredible full-day private tour from Oban. It includes a trip to Kilchurn Castle, Dunstaffnage Castle, Dunollie Castle, Castle Stalker, and many iconic parts of Glencoe and the West Highlands.
💛 2. Dunnottar Castle: Our favourite Coastal Scotland Castle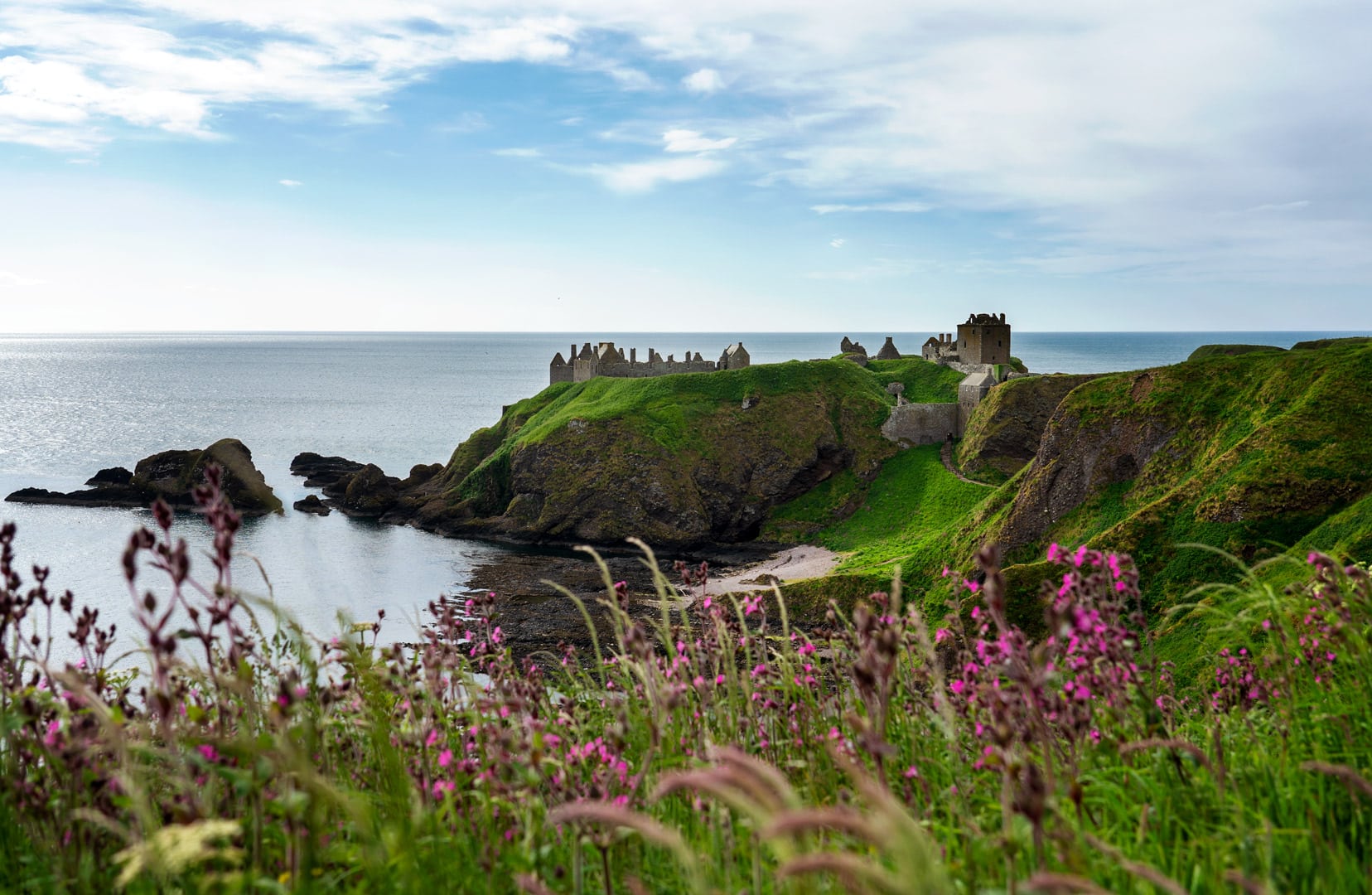 Dunnottar Castle is one of our favourites, not only because it is so dramatic and perched on a rocky peninsula but because the coastal walk from the castle to the nearby fishing village of Shorehaven is spectacular.
⭐️⭐️⭐️ Have a look at this Dunnottar Castle Tour, which includes a visit to the Falls of Feugh, where salmon leap, lunch in Braemar, a royal-connected village in the Cairngorms National Park and the Muir of Dinnet Nature Reserve.
💛 3. Dunrobin Castle: Our favourite Fairytale Scotland Castle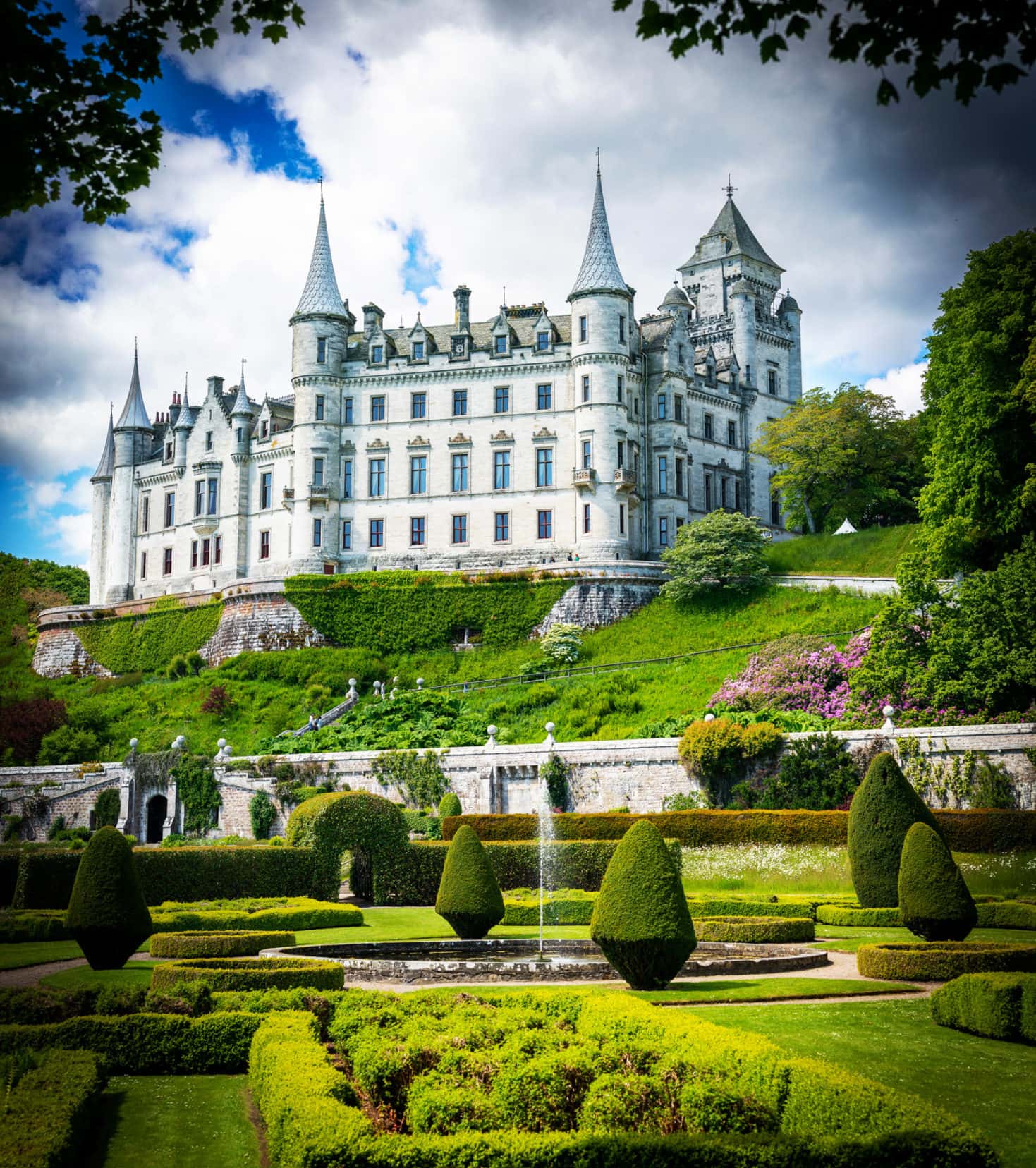 Scotland's Dunrobin Castle's romantic, picturesque style is reminiscent of the French Chateaux in the Loire Valley.
Overlooking the Moray Firth, this fairytale Castle, its manicured gardens and its on-site falconry display is simply stunning.
⭐️⭐️⭐️ Check out this Dunrobin Castle tour here, combined with a visit to the famous Glenmorangie Whisky Distillery.
How to Use This Scotland Castle Tour Guide
To make things easier for you, we've organised the post around guided Scottish Castle Tours departing from the main cities.
That way, you can find the best castles to visit in the area on a self-drive or can choose the specific castle tours that depart from that city.
Below, you can use the links to jump ahead to a specific Scottish city, or simply browse the post to see which castles take your fancy.
Each section includes both guided tours and self-drive suggestions.
Planning a Trip to Scotland?
Scotland Castle Tours Map
We've colour-coded the castles on the map depending on the city they are nearest to make your planning easier.
Scotland Castle Tours from Edinburgh
If you are based in Edinburgh, there are many options for day trips that include visits to Scotland's castles. Read on for both self-drive options and recommended guided tours from Edinburgh.
Self-Drive Castle Tour from Edinburgh
The best Scottish castles to visit from Edinburgh are included in this self-drive option. We would recommend doing this trip over two days for a more relaxed schedule.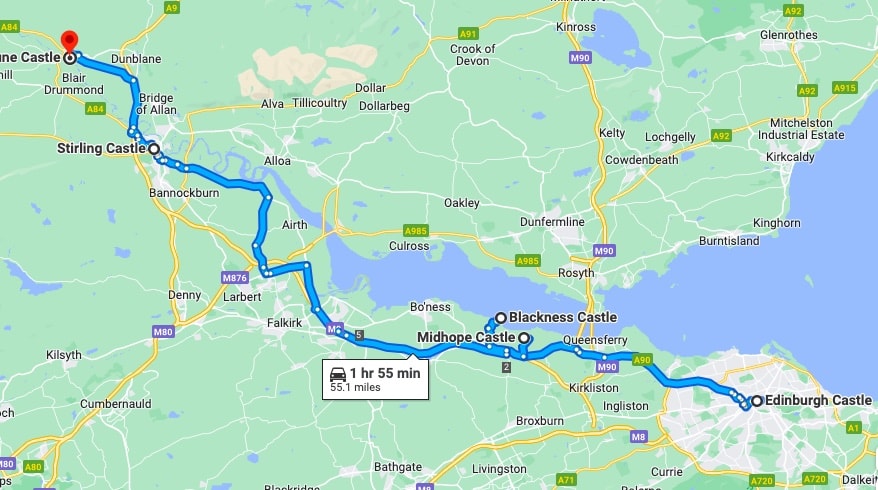 🏰 Edinburgh Castle
Book in advance with a guided tour to make the most of your visit ( see more on Edinburgh Castle below)
🏰 Midhope Castle
The castle is located in the Hopetoun Estate Grounds and has varying opening times, so be sure to check out their website for times and to buy tickets online.

The castle is great for photographic opportunities and Outlander fans (it is the fictional Lallybroch, home of Jamie Fraser). Note that this 15th-century castle has a derelict interior therefore you cannot go inside.
🏰 Blackness Castle
Again, Outlander fans will love this castle. Fort William scenes from series one were filmed here, where Jamie Fraser was tortured.
This ship-like shaped fortress sits on the shore of the Firth and Forth, with enviable views. Built for the powerful Chrichtons as a noble residence, Blackness Castle was also a defensive stronghold.

Historic Scotland cares for this castle.
🏰 Stirling Castle
Tickets can be bought from Historic Scotland. See more on Stirling Castle below.
🏰 Doune Castle
This 14th-century castle has featured Outlander (Castle Leoch), Monthy Python and the Holy Grail in the pilot episode of Game of Thrones. As such, it is another popular castle to visit.
This castle is the only one on the list that we didn't visit (we ran out of time).
Sam Heughan (James Fraser in Outlander) and Terry Jones (comedian in Monty Python) narrate the audio guide for Doune Castle.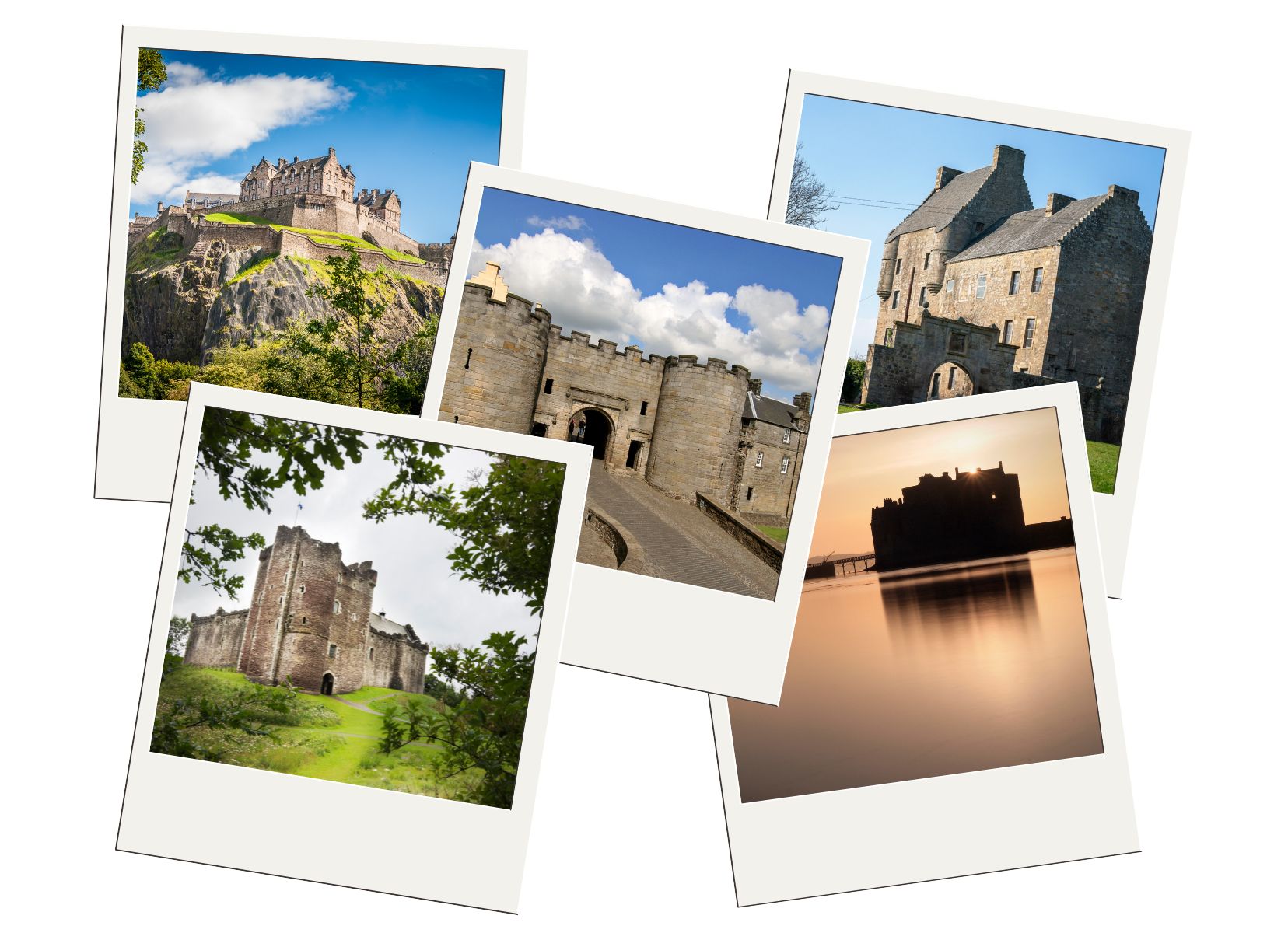 Edinburgh Castle: Guided Tour
Of course, Edinburgh Castle, one of Scotland's most visited castles, is right on hand, in the heart of the city. You can't miss it because it sits at the top of Castlehill, on the edge of a steep rock face overlooking Edinburgh.
Edinburgh Castle changed hands many times in its history and it comes as no surprise that it is the most besieged place in Britain.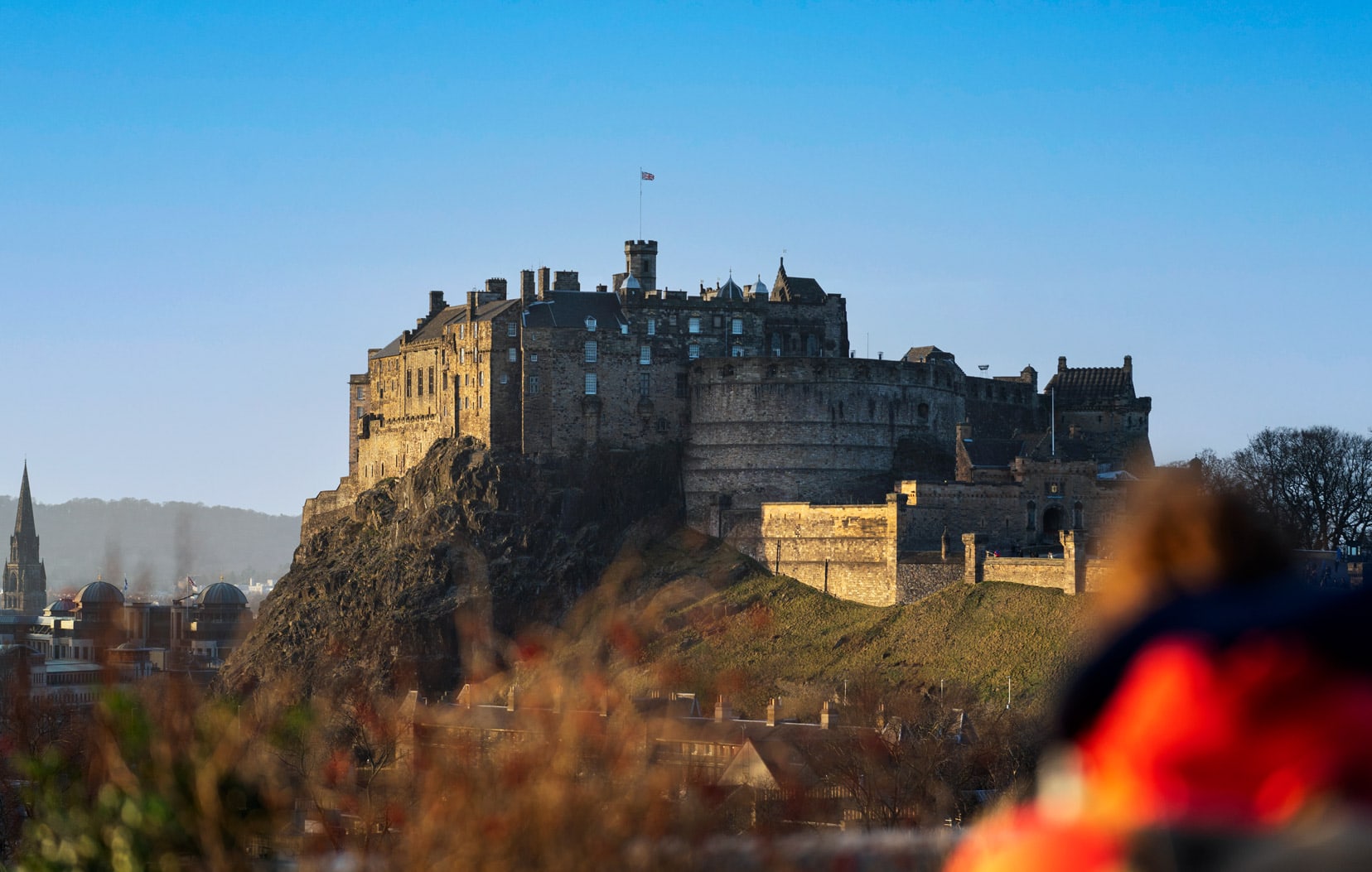 In its time, the castle has been home to Royals, was a military garrison, a prison and a fortress.
Edinburgh Castle witnessed the death of Queen Mary in 1013, the building of the Great Hall for King James IV in 1511, (did I mention he was my 16th Great-Grandfather?), Mary Queen of Scots giving birth to King James VI at the castle in 1566, and the king then uniting the crowns of Scotland and England in 1603.
And that's just the royal chapter of Edinburgh Castle's history. Later came troops, prisoners and patients.
At Christmas time, the castle puts on a special light show, and great views can be had of it from Calton Hill.
We were housesitting in Edinburgh for a couple of weeks over this time and spent several evenings sitting atop the hill, above the hustle and bustle, watching the free light show.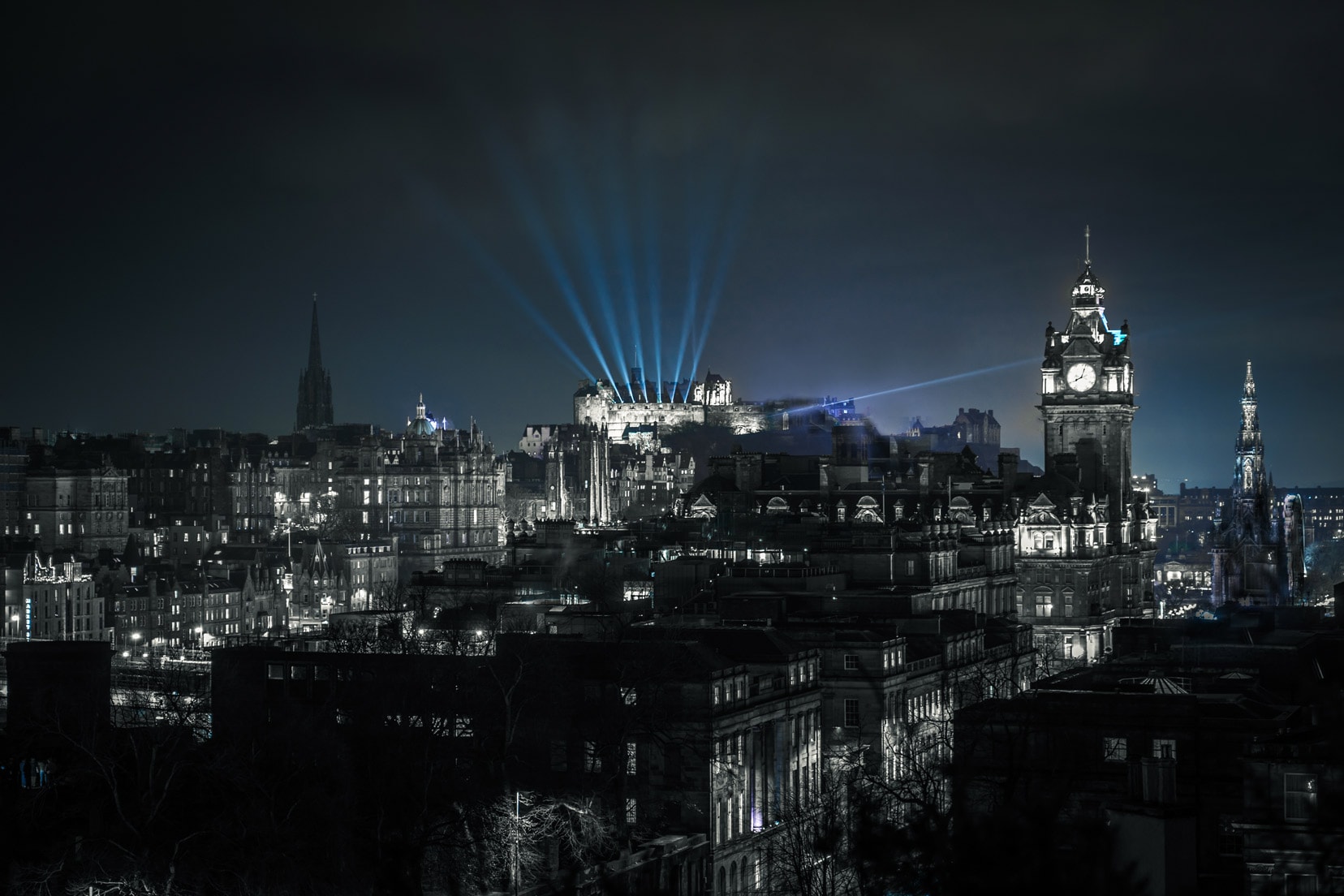 Tickets often sell out in advance, so make sure you plan your visit ahead.
🏰 Tickets can be bought online, but you may want to book a guided tour and skip the line with this five-star rated Edinburgh Castle Tour ⭐️ 5/5 Star Rating | ⏰ 1.5 hours
Stirling Castle Guided Tour from Edinburgh
Stirling Castle is rich in history and stories and also offers fantastic views over Stirling.
Particularly impressive is Stirling Castle's Great Hall. Built for James IV in 1503, it is said to be the grandest of its kind ever built in Scotland and was used for feasts, dances and pageants. The exterior wall is yellow, rendered in Royal Gold harling, a symbol of the wealth and importance of the Stewarts.
The Queen Anne Garden is beautiful, and along the side, you'll find buildings housing exhibitions about the castle and its Royal occupants through the ages. Looking at King James IV's portraits, I searched for any family resemblance.
I wondered whether it was perhaps good that my ancestral line to King James IV was on the illegitimate side. I'm not sure I'd like the responsibility and media attention of being a 'Royal'.
If you ever meet me, though, please feel free to hand me flowers … but don't feel any pressure to curtsey or bow;)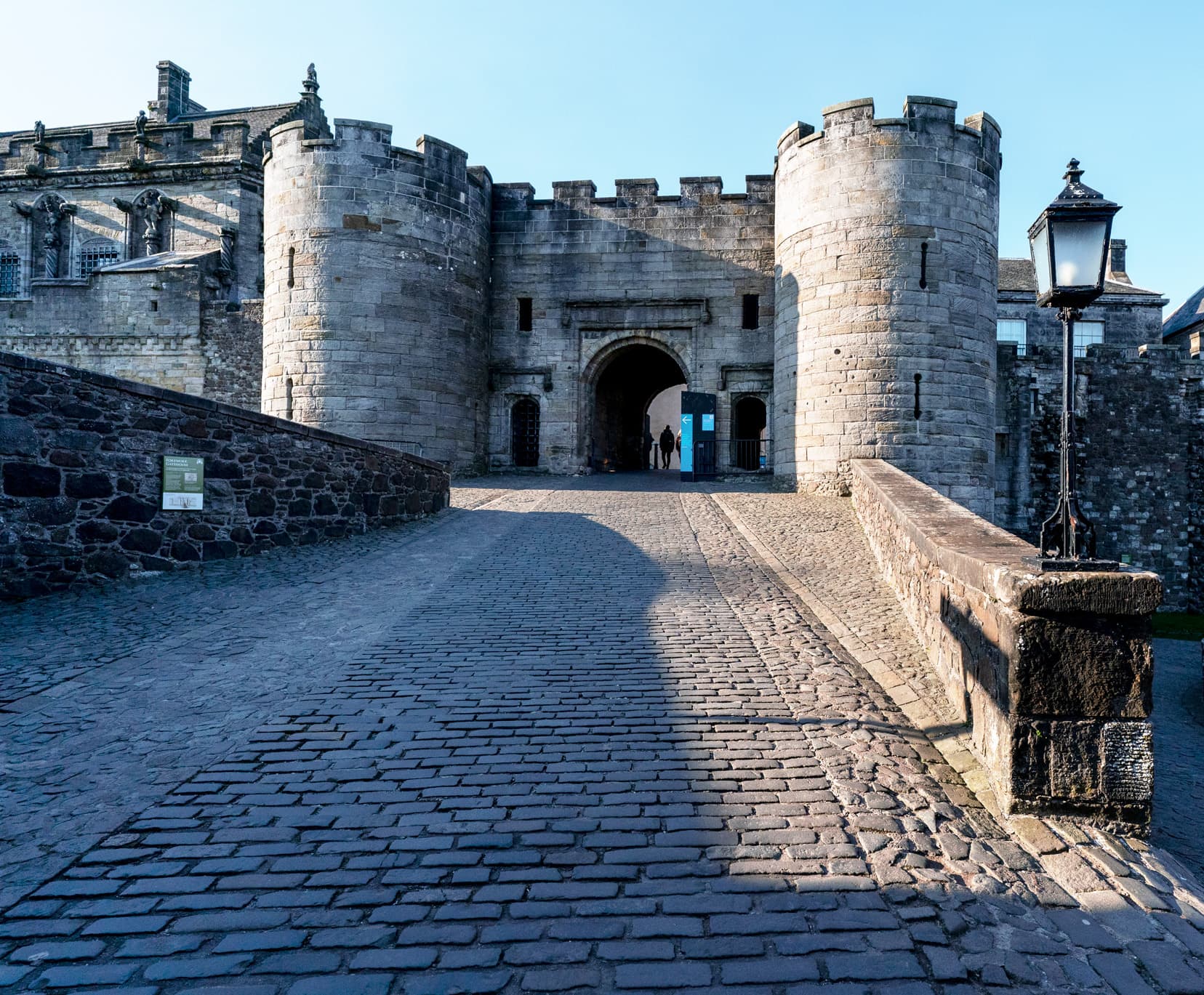 You can buy an audio guide at the castle or, as we did, join a free guided tour by one of the stewards.
There are so many interesting stories connected with the castle that we recommend one of these options to make your visit to Stirling Castle more enjoyable.
Stirling Castle is a popular tourist destination, so it is worth booking your visit in advance if you are planning a self-drive tour of Scotland's castles.
Take a guided tour of Stirling Castle, explore the beautiful Loch Lomond and a photo stop at the enormous famous Kelpies — Book here and find out more information. ⭐️ 4.5/5 | ⏰ 9.5 hours
Scotland Castles Featured in Outlander Guided Tour from Edinburgh:
If you are an Outlander fan, this Scotland Castle Outlander Tour is definitely the tour for you.
Starting in Edinburgh, you'll visit:
Doune Castle (Castle Leoch),
Culross Palace (the fictional Cranesmuir),
Blackness Castle (Fort William),
Midhope Castle (Jamie's home), and
Linlithgow Palace.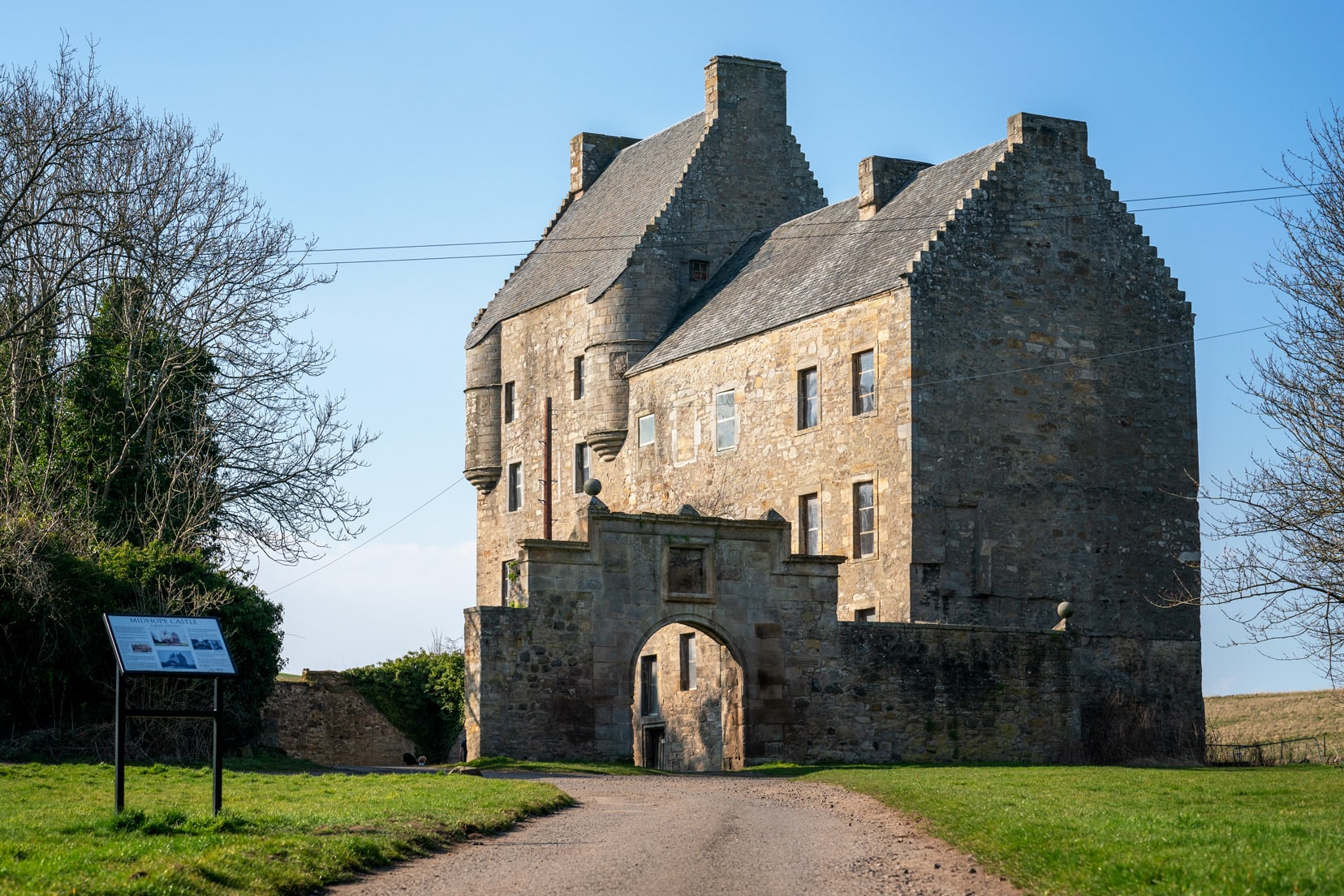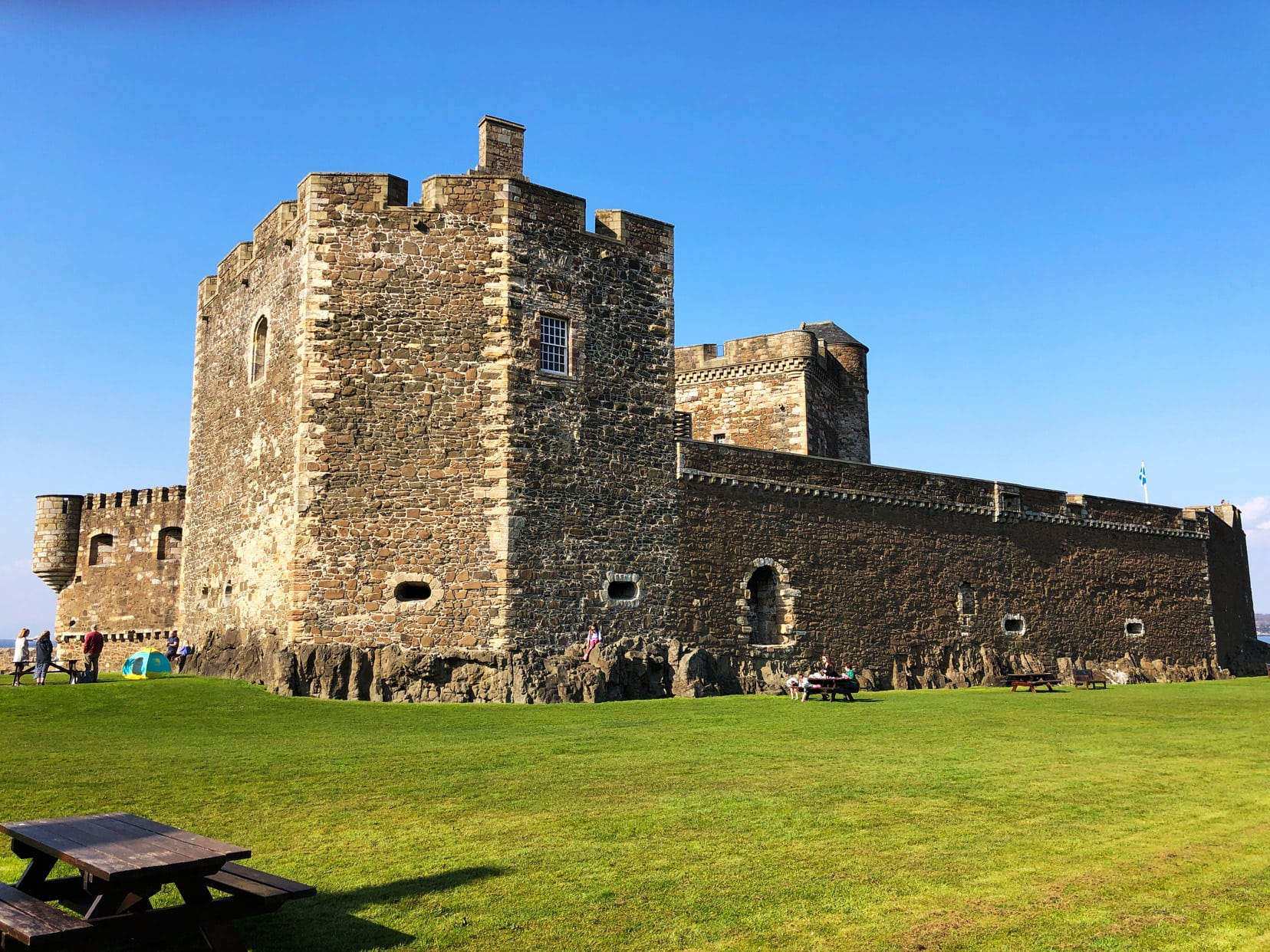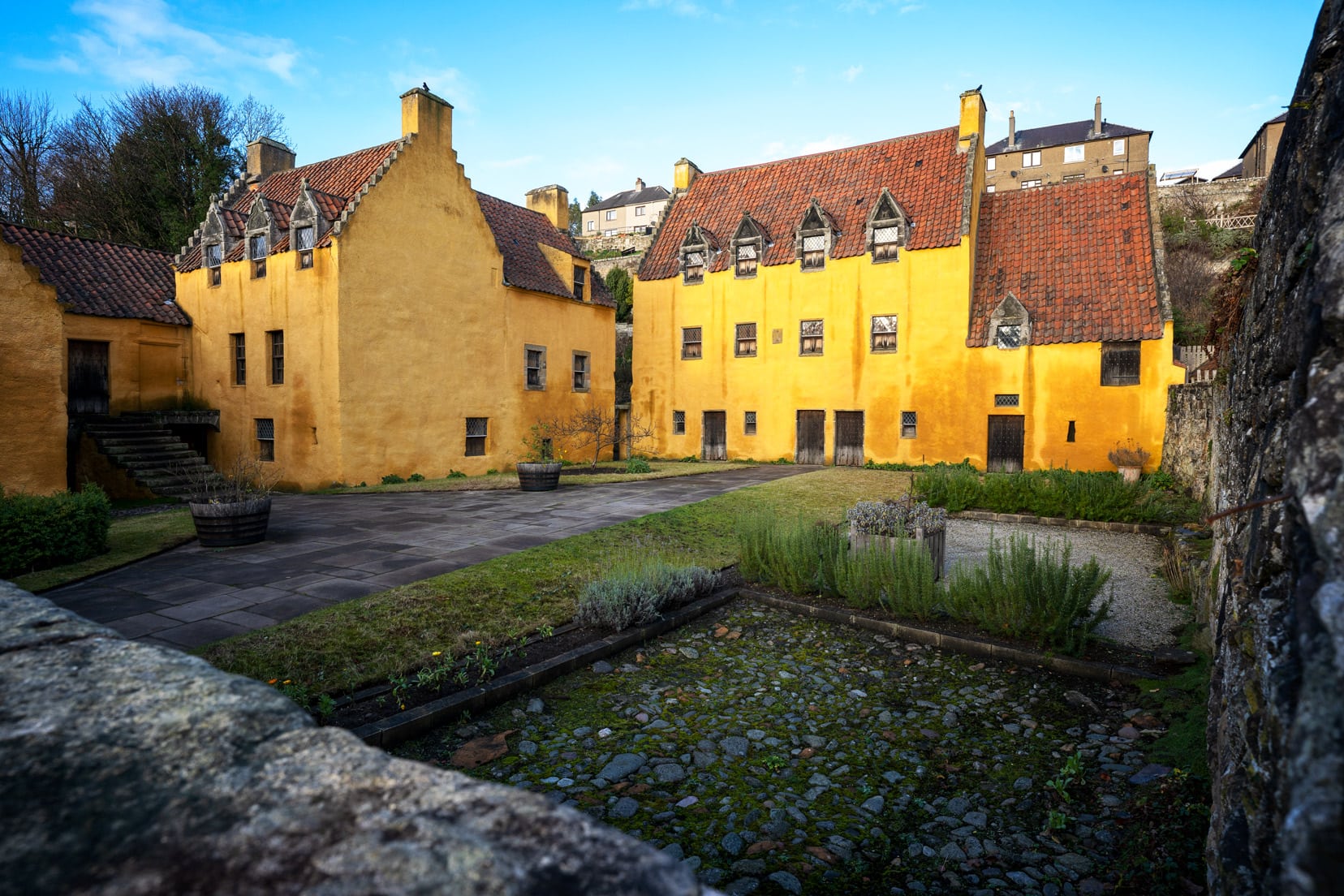 If you are an Outlander fan, you'll love this tour. Book this Outlander Castle Tour to be transported back to the 1700s and relive the poignant moments of the series | ⭐️ 5/5 | ⏰ 9.5 hours
If you are short on time, are staying in Edinburgh and want to explore the highlands, Scotland's awesome scenery, Urquhart Castle and Loch Ness, then this guided tour is perfect.
The tour is a long day, but it covers some of Scotland's most famous landmarks and scenic views.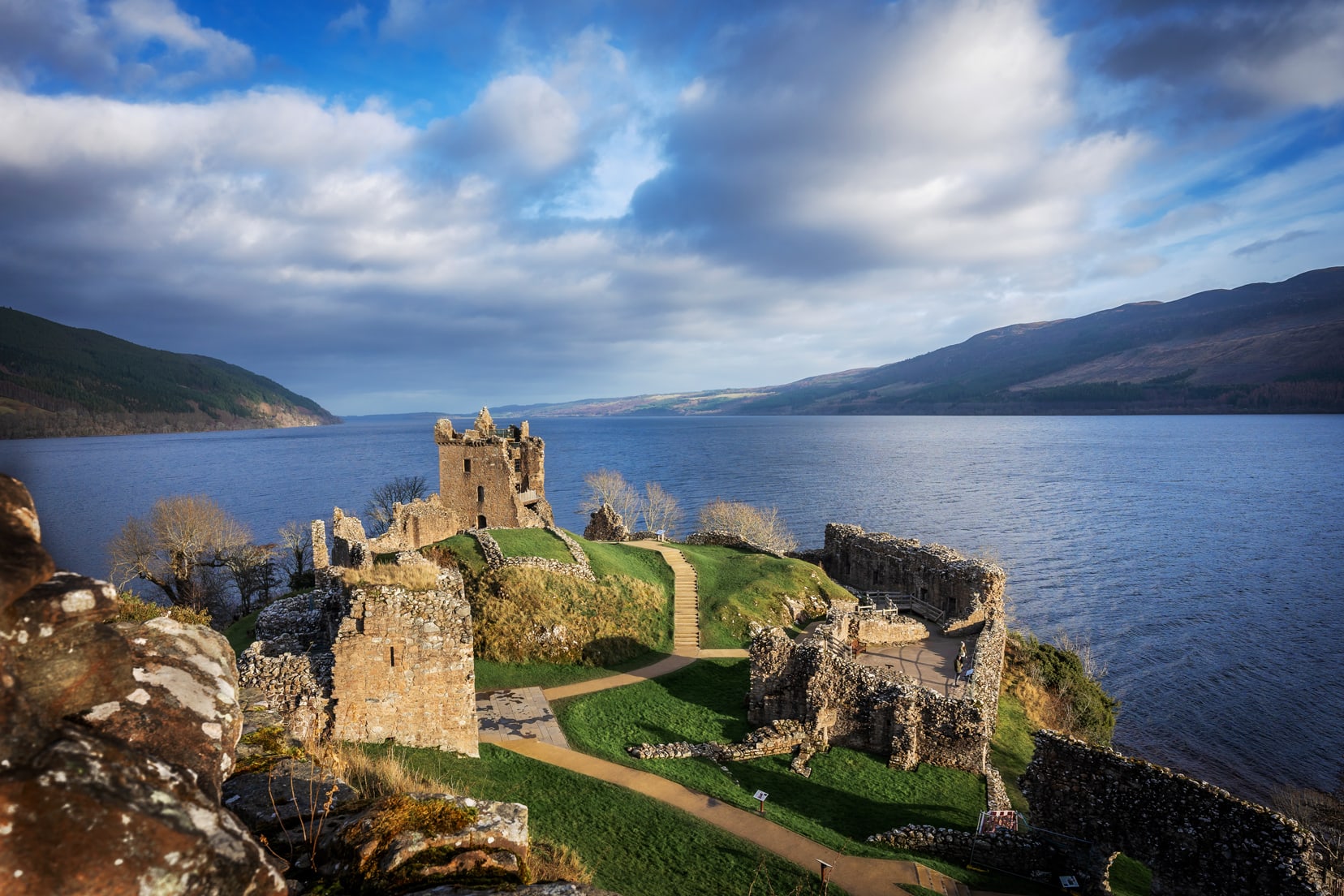 Once in the Highlands, you can explore Urquhart Castle (entrance fee payable) — we would recommend this, as there are awesome views of Loch Ness from the ruins.
Urquhart Castle was once one of the largest in Scotland and is now under the care of Historic Environment Scotland. The fee includes an audio guide to listen to on your phone (you need an internet connection).
The castle regularly passed back between the English and Scots, with power struggles continuing over much of its history.
During the Jacobite Risings, the government troops that were garrisoned there blew up the castle when they left, but that doesn't stop today's visitors from gaining a glimpse into life in medieval times at the castle.
Click here to book and find out more on this day trip, which includes a visit to the iconic Urquhart Castle on the shores of the mystical Loch Ness | ⭐️ 4.5/5 | ⏰ 12 hours
A Combo of Castles and Scottish Highlights
This three-day tour with two nights' accommodation takes you on a tour of the Isle of Skye and the Highlands and the famous Eilean Donan Castle where Highlander was filmed.
Listen to your knowledgeable guide bring the histories alive as you visit Fairy Glens, waterfalls and two Scottish Castles, one the home of the Macleod Clan, and so much more.
Castles and Scottish Highlights included are:
Isle of Skye
Loch Ness
Glencoe
Eilean Donan Castle
Picturesque Portree
Dunvegan Castle
⭐️⭐️⭐️ An all-round best of Scotland Experience – Click here to book or find out more | ⭐️ 4.5/5 star rating | ⏰ 3 days
Scotland Castle Tours From Glasgow
Glasgow is the nearest city to the best castles on Scotland's western coast. However, remember that Glasgow is just over an hour's drive from Edinburgh.
Therefore, all of the castles in the Edinburgh vicinity are also easy enough to reach from Glasgow.
Scotland Castles Self-Drive from Glasgow
Castles, other than those also easily reached around Edinburgh, to include on a self-drive from Glasgow include:
Inveraray Castle (64 miles/103 km, 1.5 hours)
Kilchurn Castle (75 miles/120km, 1 hour 50 mins)
Dunstaffnage Castle (95 miles/153 km, 2 hours 20 mins)
Castle Stalker (107 miles/173km, 2 hours 30 mins)
See notes below on these Scotland Castles.
Dunstaffnage Castle
Dunstaffnage Castle was built around 1240 and is one of Scotland's oldest stone castles.
Originally, it was home to the MacDougall Clan until it was captured by Robert the Bruce in 1308. Later, in the 15th century, King James III gave the castle to Clan Campbell.
Government troops used Dunstaffnage Castle during the Jacobite rebellions of 1715 and 1745. It was also here that the famous Flora MacDonald was held captive before being taken to the Tower of London.
She was imprisoned for helping Bonnie Prince Charlie escape after the failed uprising and slaughter of the Jacobite army at the battle at Culloden.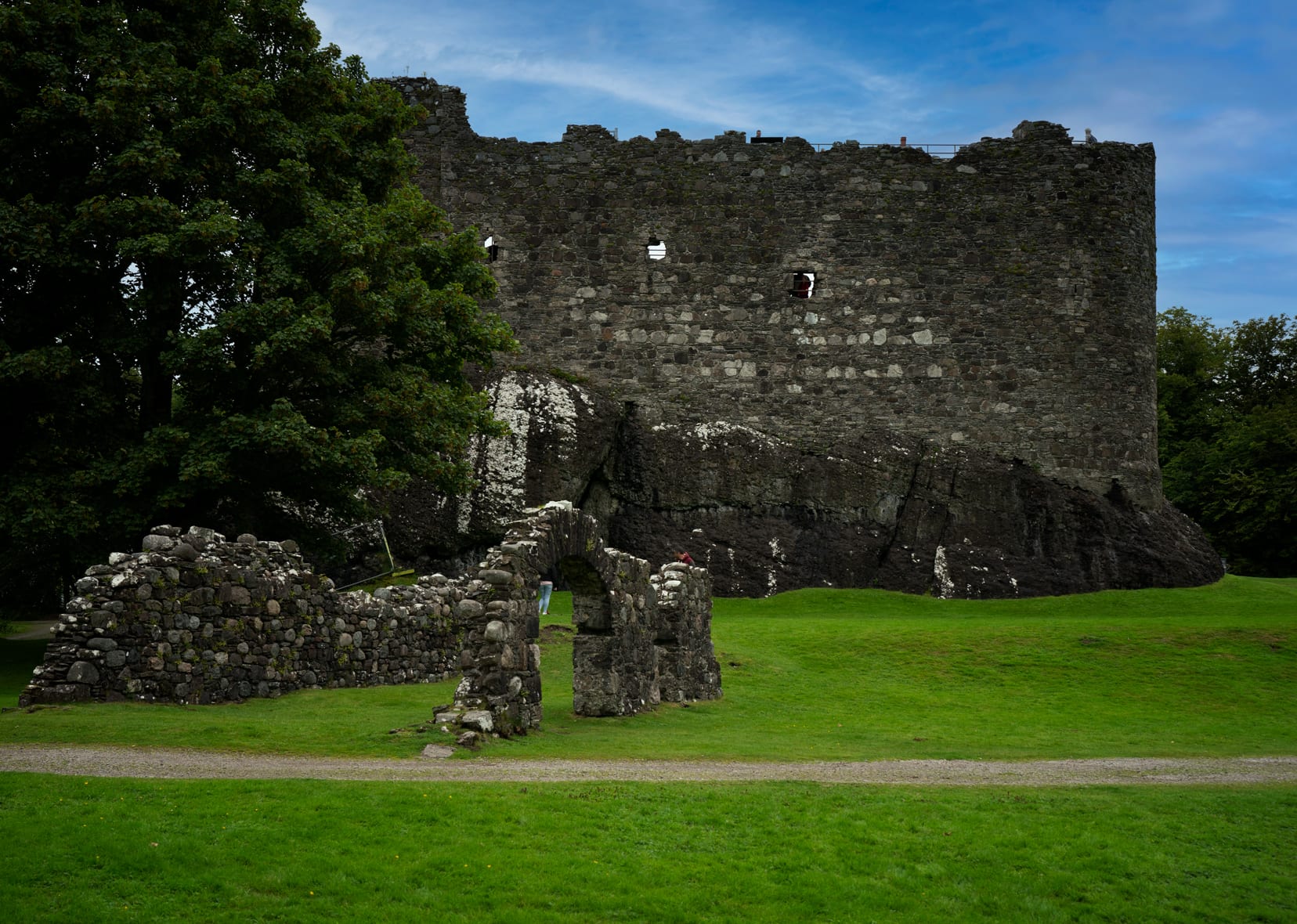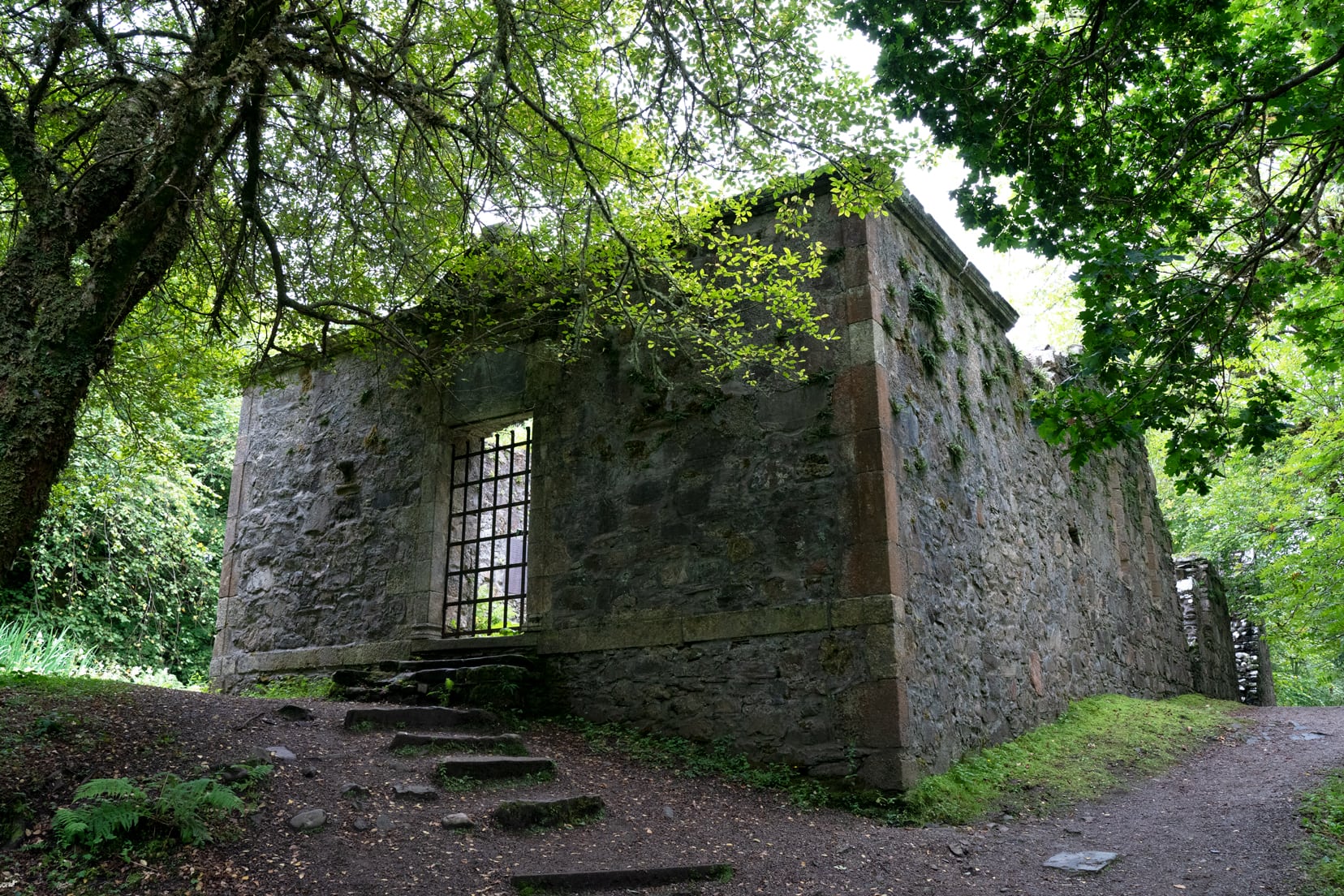 Kilchurn Castle
Kilchurn Castle is under the care of Historic Scotland. At the time of our visit, it was closed for conservation works, but its true glory and spectacular setting were easy enough to see from the shore of Loch Awe.
We arrived on a misty morning, parked in the layby on the A819, and walked to the shoreline. The mist was so thick that we had no idea where the castle was.
Waiting patiently, with sheep grazing around us, we could gradually make out the shape of a castle not far ahead of us, on the opposite side of the loch.
As the mist lifted, Kilchurn Castle's rugged silhouette revealed itself, made all the more impressive by its incredible scenic backdrop.
We could see why Kilchurn is one of Scotland's most photographed castles.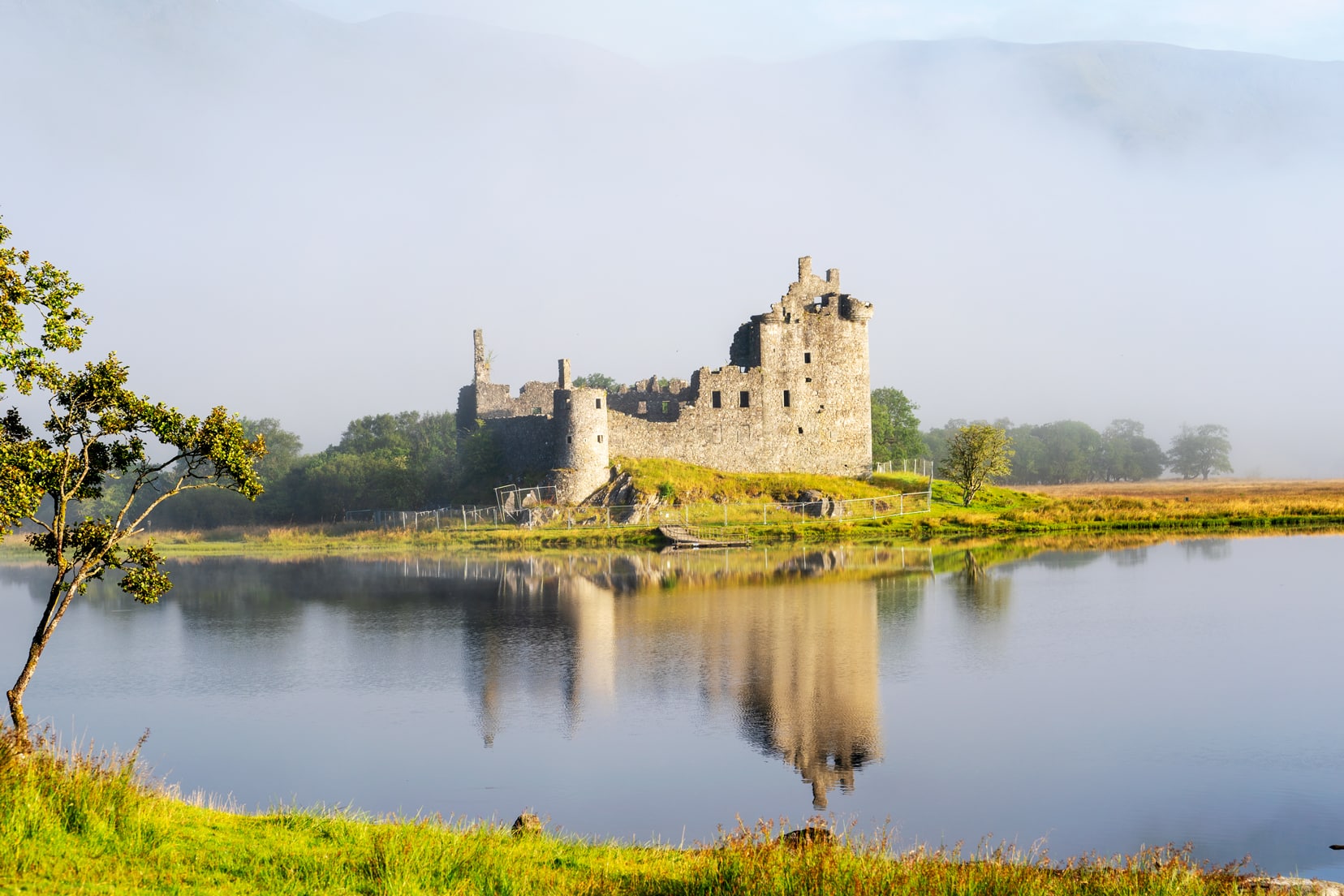 To reveal Kilchurn Castle's magnificent backdrop, watch this time-lapse video showing it as it emerges from the mist.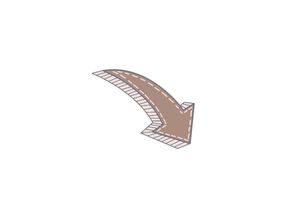 Kilchurn Castle was built in the mid-1400s and was the home of the Campbells of Glenorchy for 150 years. After the first Jacobite Rising of 1689, it was converted into a garrison. However, since the 1700s, it has been abandoned.
Castle Stalker
Castle Stalker, surrounded by Loch Linnhe, has a rich history of feuding between the MacDougalls, Stewarts and Campbells.
King James IV — my 16th great grandfather (unfortunately, my ancestry line comes from his illegitimate offspring) — who was a cousin of the Stewarts, often stayed at the castle on his hunting trips around the end of the 15th Century.
You can view the castle by walking down to the shoreline from the Castle Stalker View cafe/takeaway.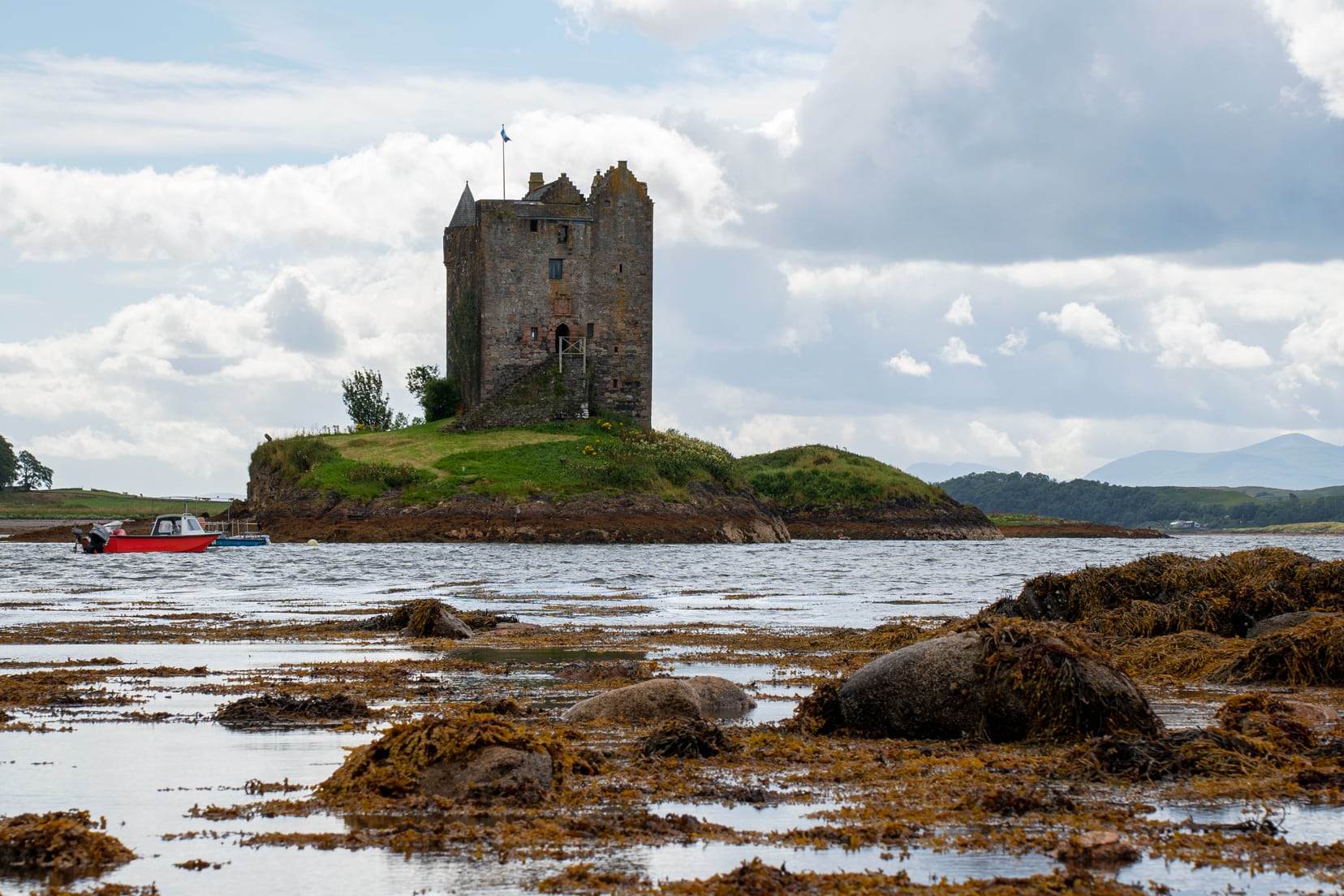 You can take a virtual tour of Castle Stalker here.
Inveraray Castle
Inveraray Castle is the fairytale home of the Duke and Duchess of Argyll and the seat of the Clan Campbell. The castle is still a family home but open to the public.
If you want to take a virtual visit, this video on the Smithsonian Channel on YouTube will take you on a journey around the castle, into its past and Scottish life in the area.
You can buy tickets for both the castle and the gardens or just the gardens. The sixteen acres of castle gardens include around two acres of formal lawns and flowerbeds, with the remainder being park and woodland.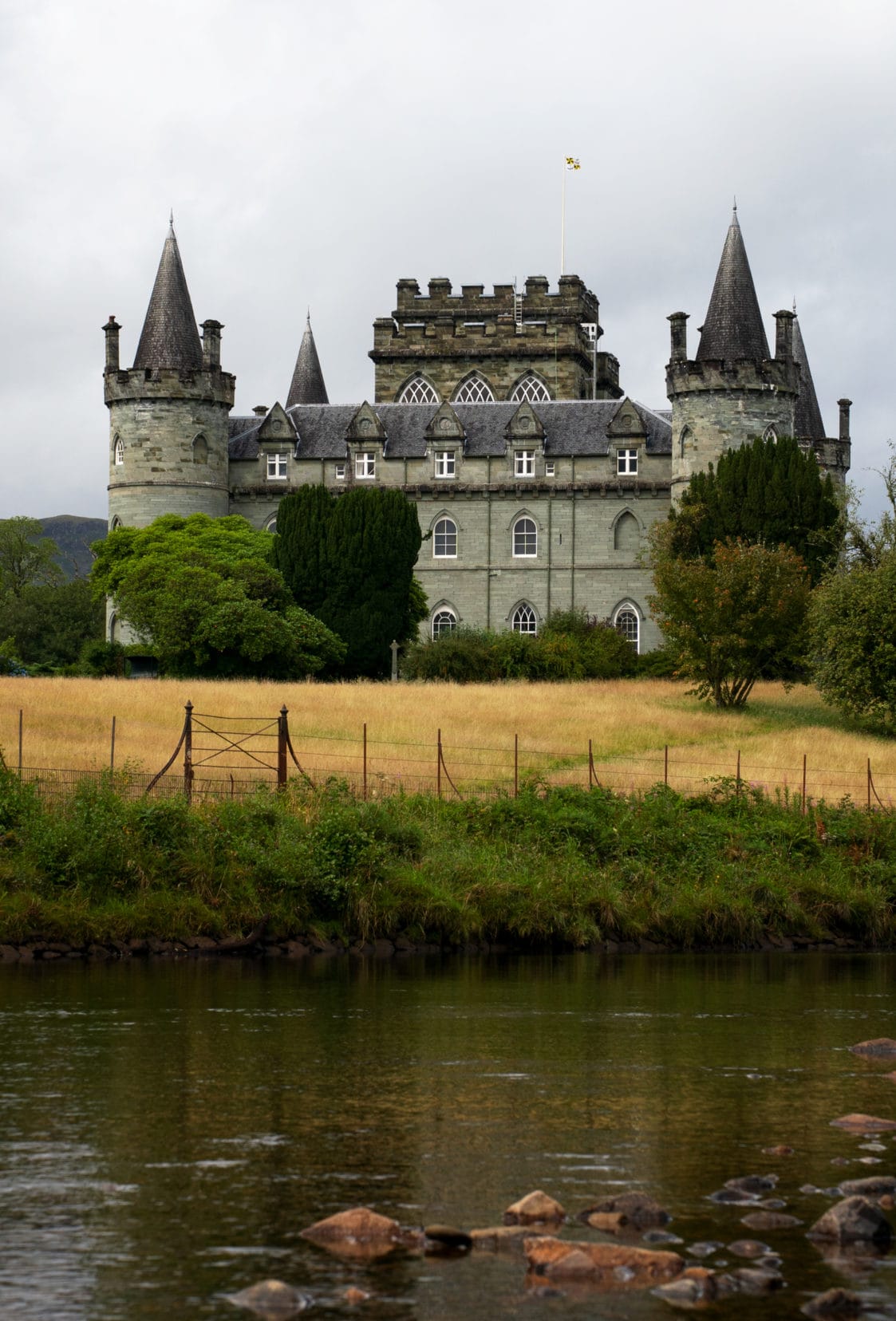 Tarbert Castle
Tarbert is a pretty fishing village at the northern end of the Kintyre Peninsula and worth a stop in its own right. On the hill, though, overlooking the harbour and Loch Fyne, and as an added bonus, you'll find the ruins of the Royal Tarbert Castle.
The castle ruins are within the Heritage Park, including a historical interpretation area, a community woodland, a sculpture walk, and an orchard. The ruins and the park are always open and free to visit.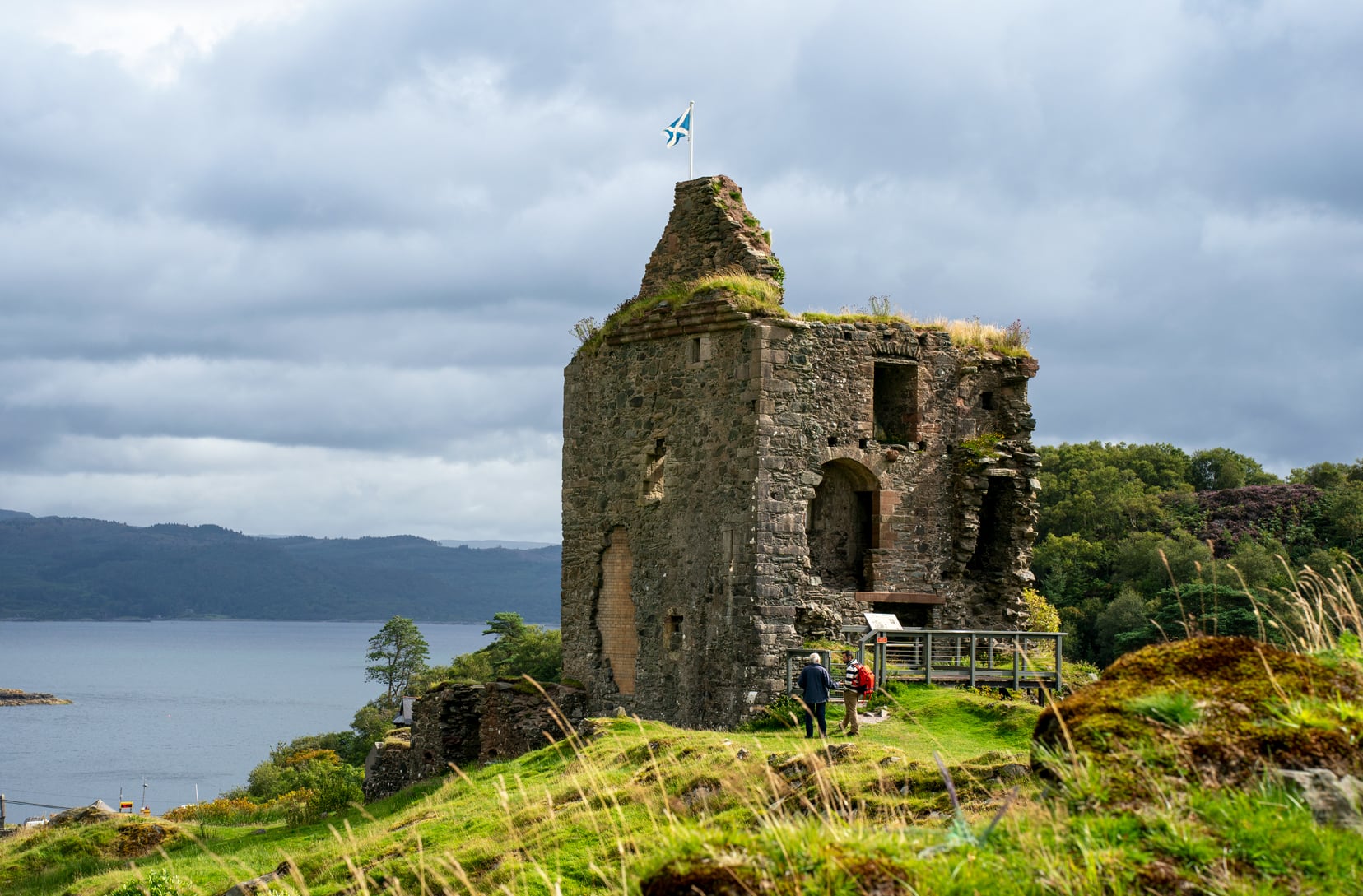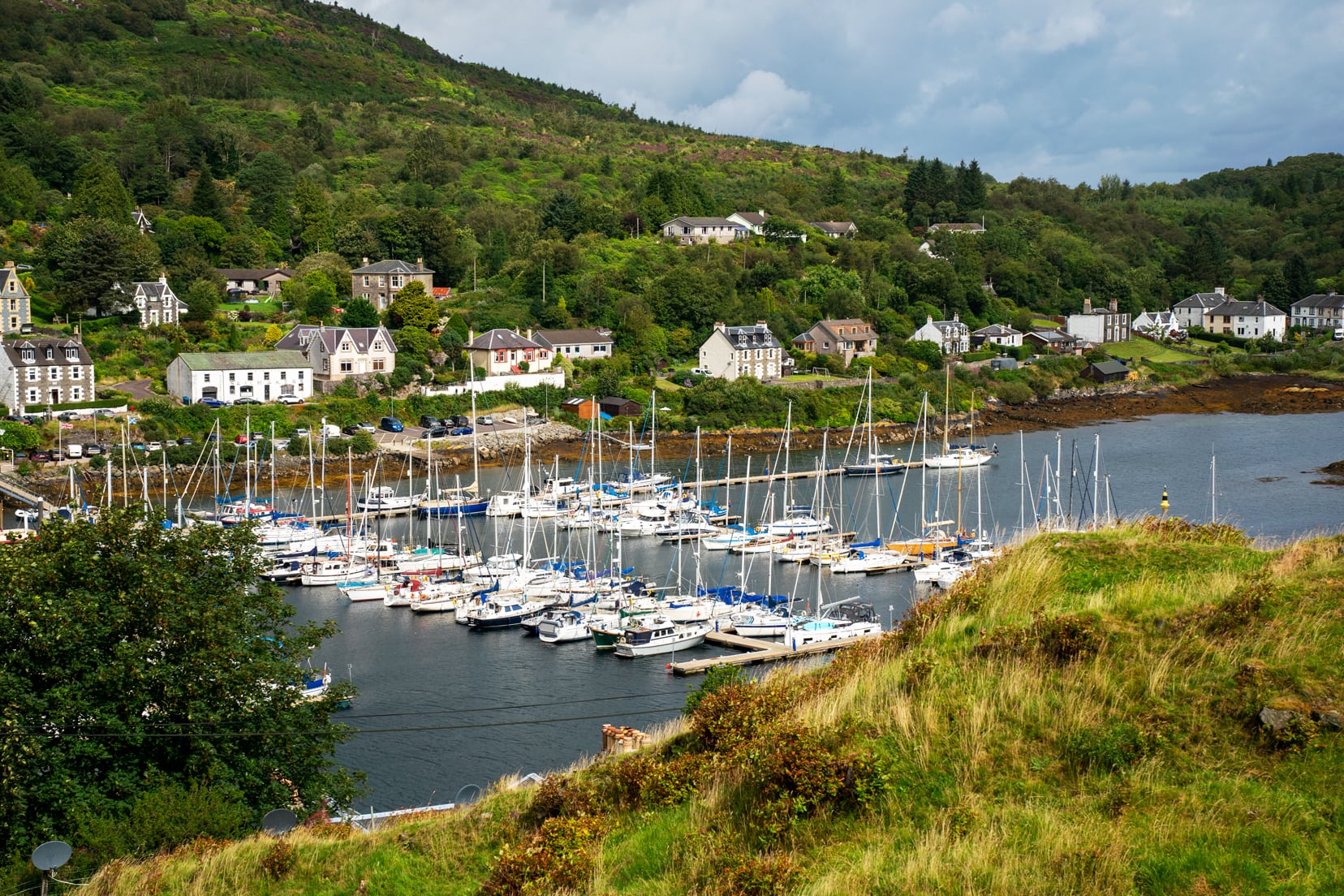 GUIDED TOUR from Glasgow: Oban, Glencoe, Highlands Lochs & Castles Small Group Day Tour
This small group guided tour ( maximum 16 people) includes:
Kilchurn Castle,
Glencoe Mountain,
The city of Oban,
Castle Stalker,
Town of Inveraray and
Inveraray Castle and the
Loch Lomond Visitor Centre.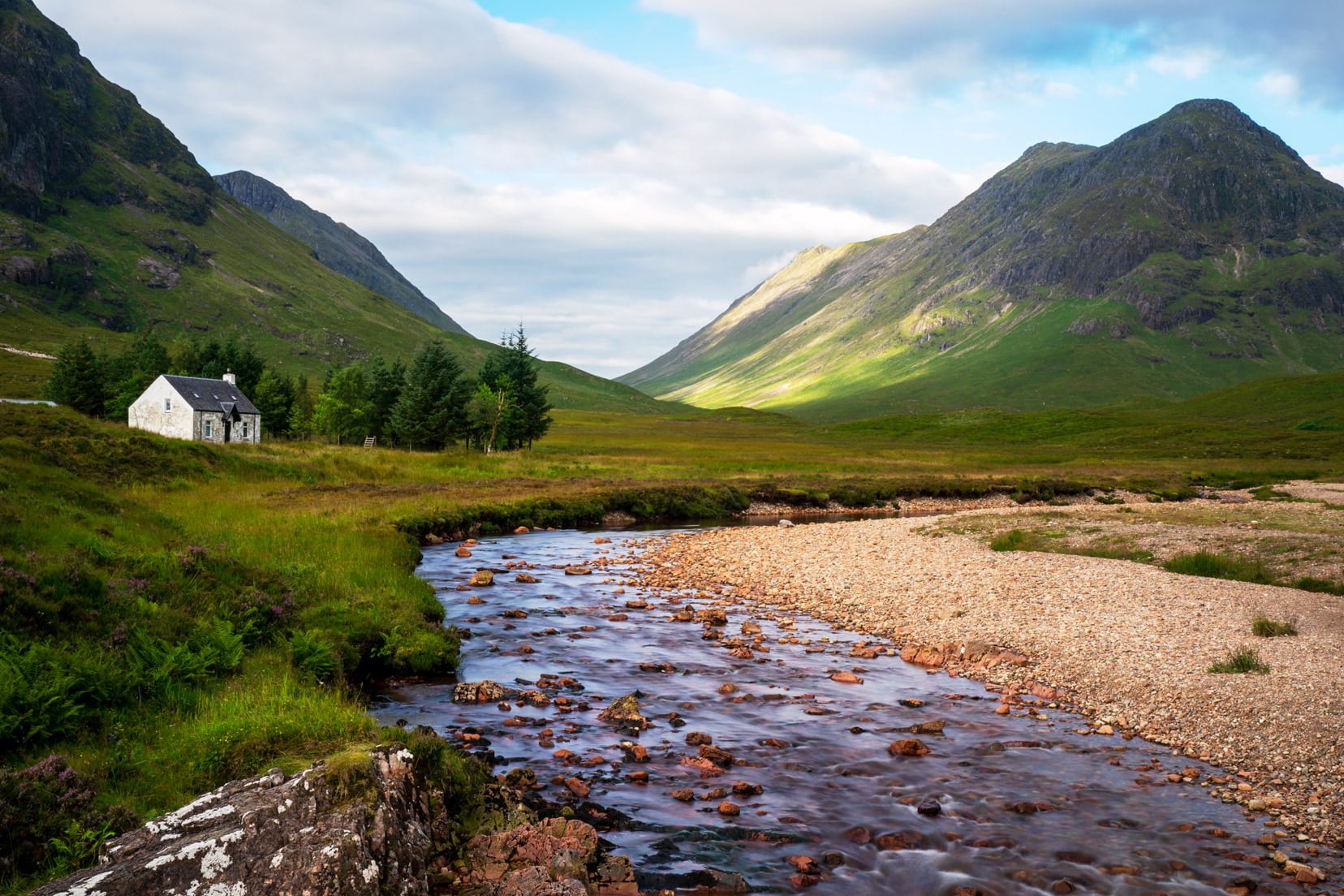 This is another tour that captures the very essence of Scotland with all the main attractions included, within a mix of historical castles, interesting towns and stunning Scottish scenery.
This quintessential tour not only includes visits to x 3 castles but also beautiful Glencoe and Loch Lomond — Discover more about this five-star rated tour here | ⭐️ 5/5 | ⏰ 10 hours
GUIDED TOUR From Glasgow: Stirling Castle, Loch Lomond and Whisky Trail Small Group Day Tour
This small group tour is run by the local Scottish Rabbies Tours. The tour guides you through the Scottish Highlands to Stirling Castle, once home to Mary, Queen of Scots.
Learn about the legendary battles at Stirling Castle before continuing through classic Scottish scenery to Doune Castle and Trossachs National Park. Stroll around Loch Lomond and take an optional whisky tour of Glengoyne Distillery.
Scotland Castle Tours From Inverness
Inverness is the largest city in the Scottish Highlands, known as the Gateway to the Highlands. Therefore, Inverness is a great place to base yourself if you want to explore Scotland's castles in the Highlands and Northern Scotland.
Self-Drive Castle Tour from Inverness
The main castles to visit in the north, near Inverness, are:
Urquhart Castle (18 miles/28.5 km — 30 mins from Inverness )
Dunrobin Castle (54 miles/86 km — 1hr 10mins from Inverness )
Eilean Donan Castle (70 miles/114 km — 1 hr 45 mins from Inverness )
Ardvreck Castle: (82 miles/132 km — 1 hr 50 mins from Inverness

See details about these castles in the Guided Tours section below.

Additionally, some of the Aberdeenshire castles are also within a reasonable distance from Inverness, such as:

Huntly Castle (66 miles/106 km, 1.5 hours)
Kildrummy Castle (82 miles/131 km, 2 hours)
Craigievar Castle (82 miles/131 km, 2 hours)
Fyvie Castle (97 miles/156 km, 2 .5 hours)
This first tour from Inverness includes a spectacular list of some of our favourite places in Scotland. It's jam-packed with Scottish gems and experiences not to be missed.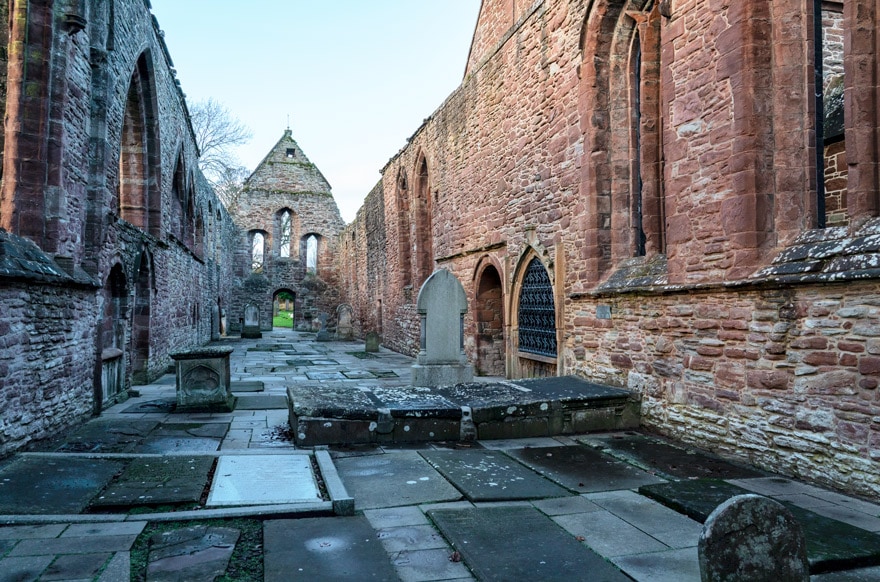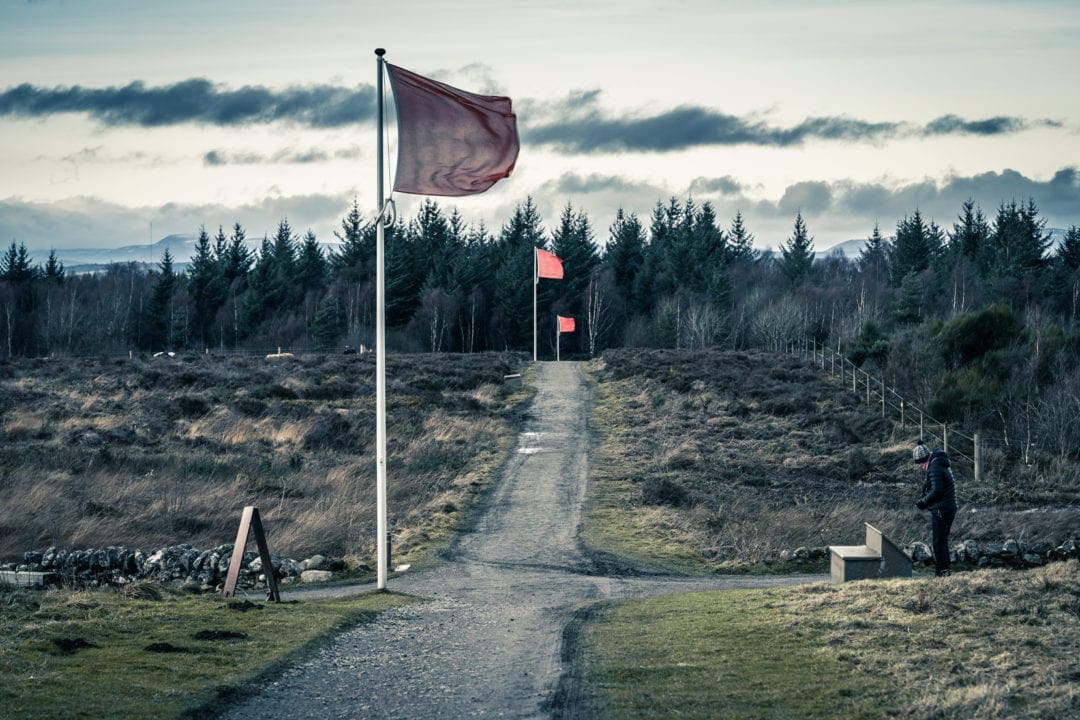 All the Scottish highlights included in this tour:
Urquhart Castle,
An hour boat ride on Loch Ness,
Culloden Battlefield (Read more about the drastic defeat of the Jacobites in our Culloden and Clava Cairns post here.)
Clava Cairns — bronze age cairns and ancient standing stones
Beauly Priory — a historic priory founded around 1230 (used in the TV series Outlander)
An ancient pine forest with waterfalls
Highland whisky distillery – Here you can join an optional tour to learn about whisky production and sample a wee dram
💚 Find out more and Book this awesome Loch Ness Cruise, Outlander & Whisky Tour here | ⭐️ 4.7/5 | ⏰ 9hrs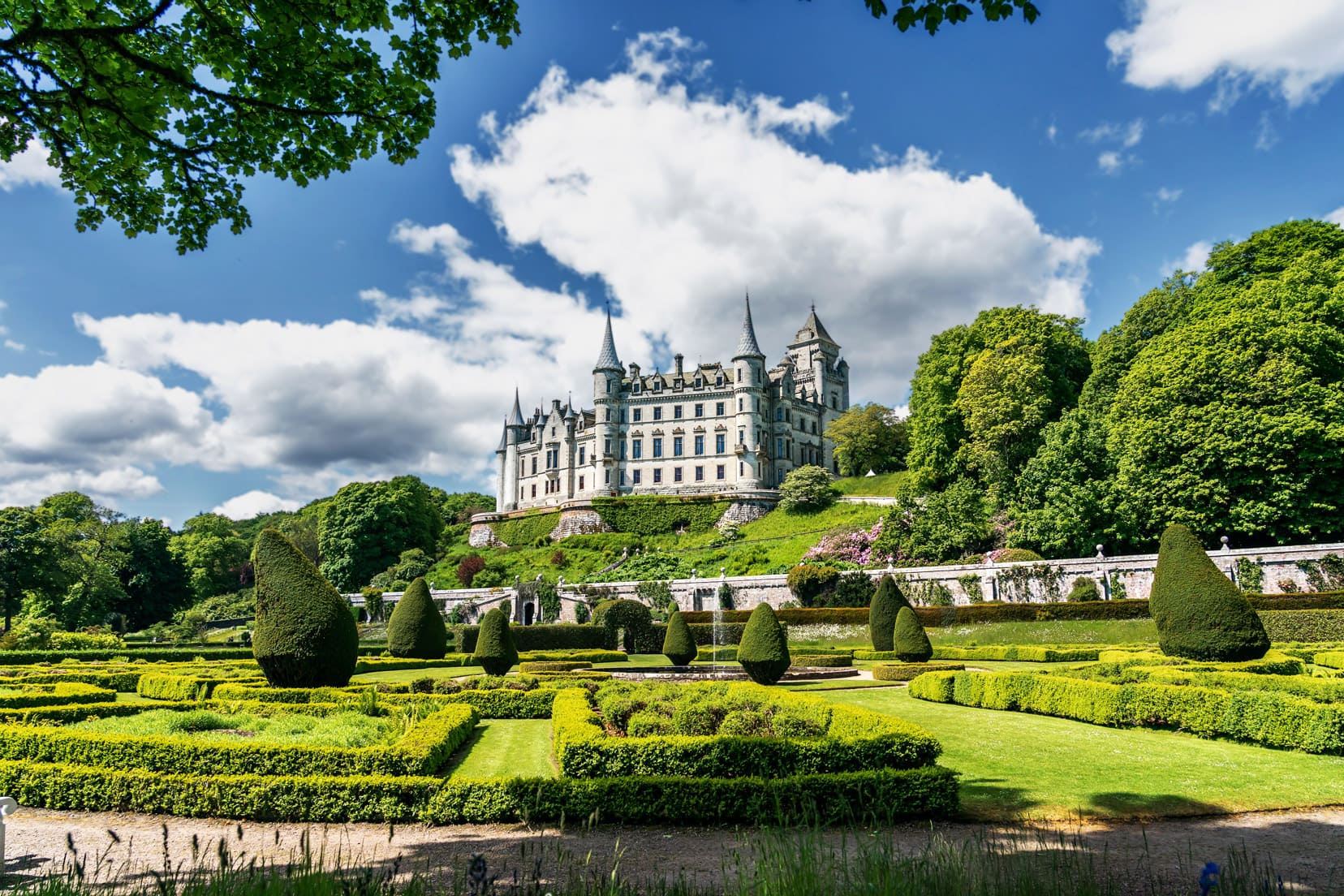 Dunrobin Castle was one of our favourite castles to visit. It looks like it is fresh out of a fairytale book, the gardens are stunning and you also have the chance to watch an incredible falconry display.
It has been home to Clan Sutherland since the early 1300s and is one of Britain's oldest continuously lived-in houses.
Roam the castle's grand rooms and take in the magnificent views across the Moray Firth.
Afterwards, stop for a bite to eat in the cafe before heading outside to visit the Victorian-styled museum containing the family's private collection of animal trophies from safaris, archaeological relics and Pictish stones.
We were lucky to visit on a sensational day in the summer and loved it so much that we stayed for both the morning and afternoon falconry displays.
💚 Click here to find out more and book a trip to Dunrobin Castle, and the far north of Scotland on this highly-rated guided tour |⭐️ 4.7/5 | ⏰ 11 hrs
GUIDED TOUR From Inverness: Day Trip to Eilean Doonan Castle and Isle of Skye
Eilean Donan is another of Scotland's most visited castles and is one of the most photogenic. Although the castle has been rebuilt, it is believed the first fortified building was built here in the early 14th century.
The castle was destroyed in a Jacobite uprising in 1719, and for about 200 years, it was left to the elements. In 1911, Lieutenant Colonel John MacRae-Gilstrap bought the island and restored it with Eilean Donan Castle re-opening in all its glory in 1932.
💚 Book the Isle of Syke and Eilean Donan Castle Day Tour here to view one of the most photographed castles in Scotland | ⭐️ 4.8/5 | ⏰ 12 hours
GUIDED TOUR From Inverness: Northwest Private Tour with Hike and Castle Ardvreck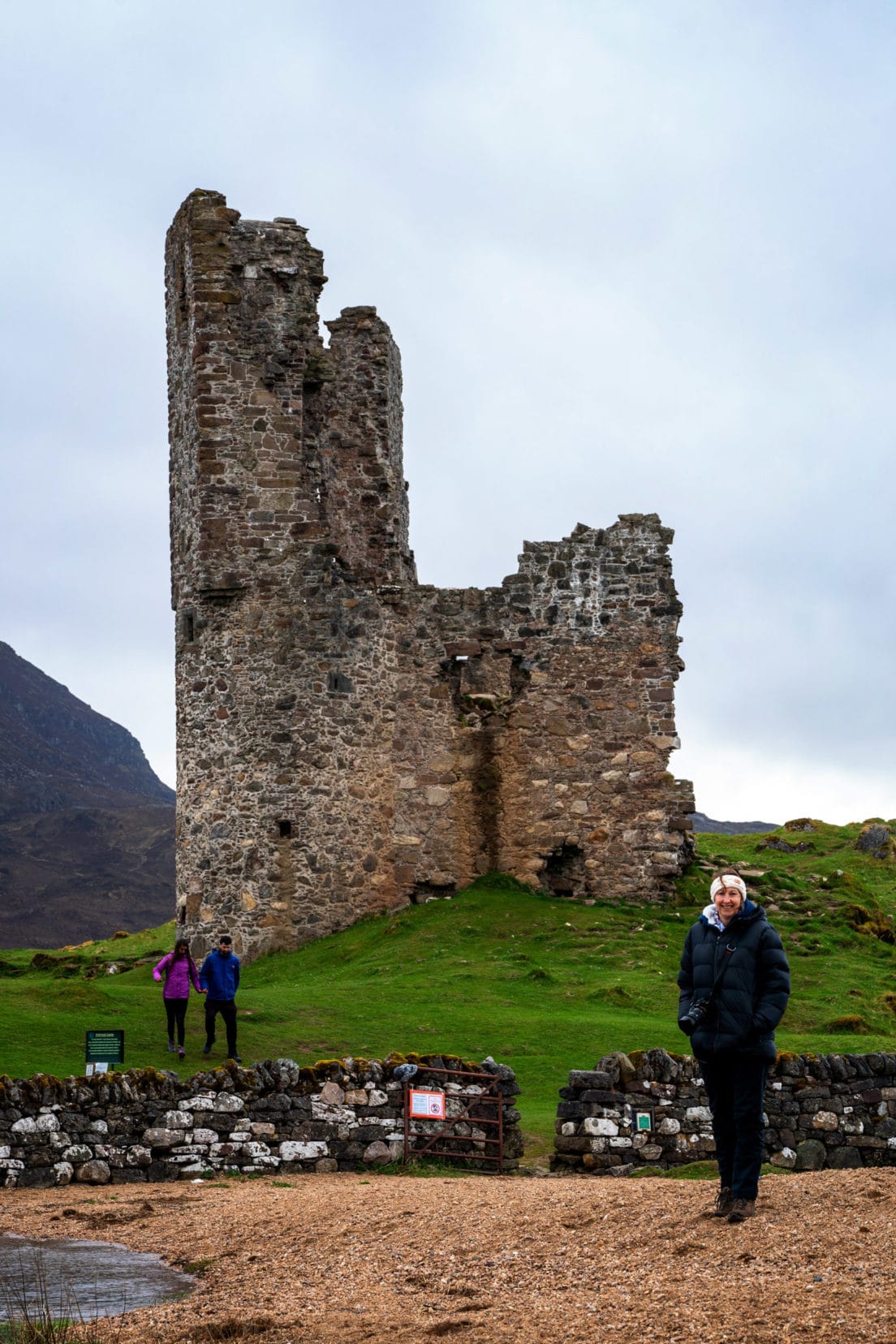 Visiting Ardvreck Castle ruins really instilled a sense of wildness and rugged beauty. The ruins seem so much a part of the landscape as they hauntingly sit encompassed by the beautiful Loch Assynt.
Once home to the Macleods of Assynt, the castle dates back to 1490.
💚 You can enjoy Ardvreck Castle on this Northwest Highlands: Private Tour with Hike, as well as huge glacial "corries," ancient ice age caves, dark ravines, and iconic mountains.
Scotland Castle Tours from Aberdeen
As we lived in Aberdeenshire, we visited almost all of the castles in the area. Below, we've included the main castles we'd recommend visiting.
For more information, jump over to our Guide about Aberdeenshire Castles.
Self-Drive Castle Tour from Aberdeen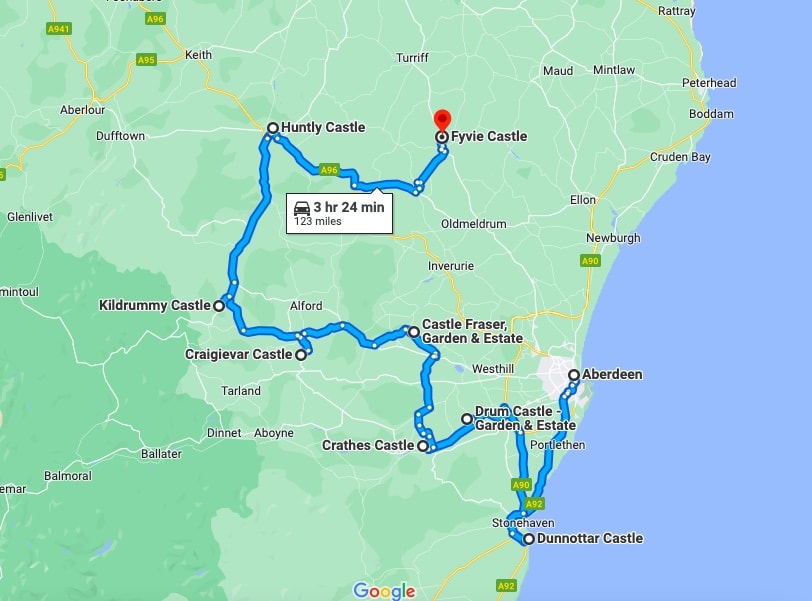 Dunnottar Castle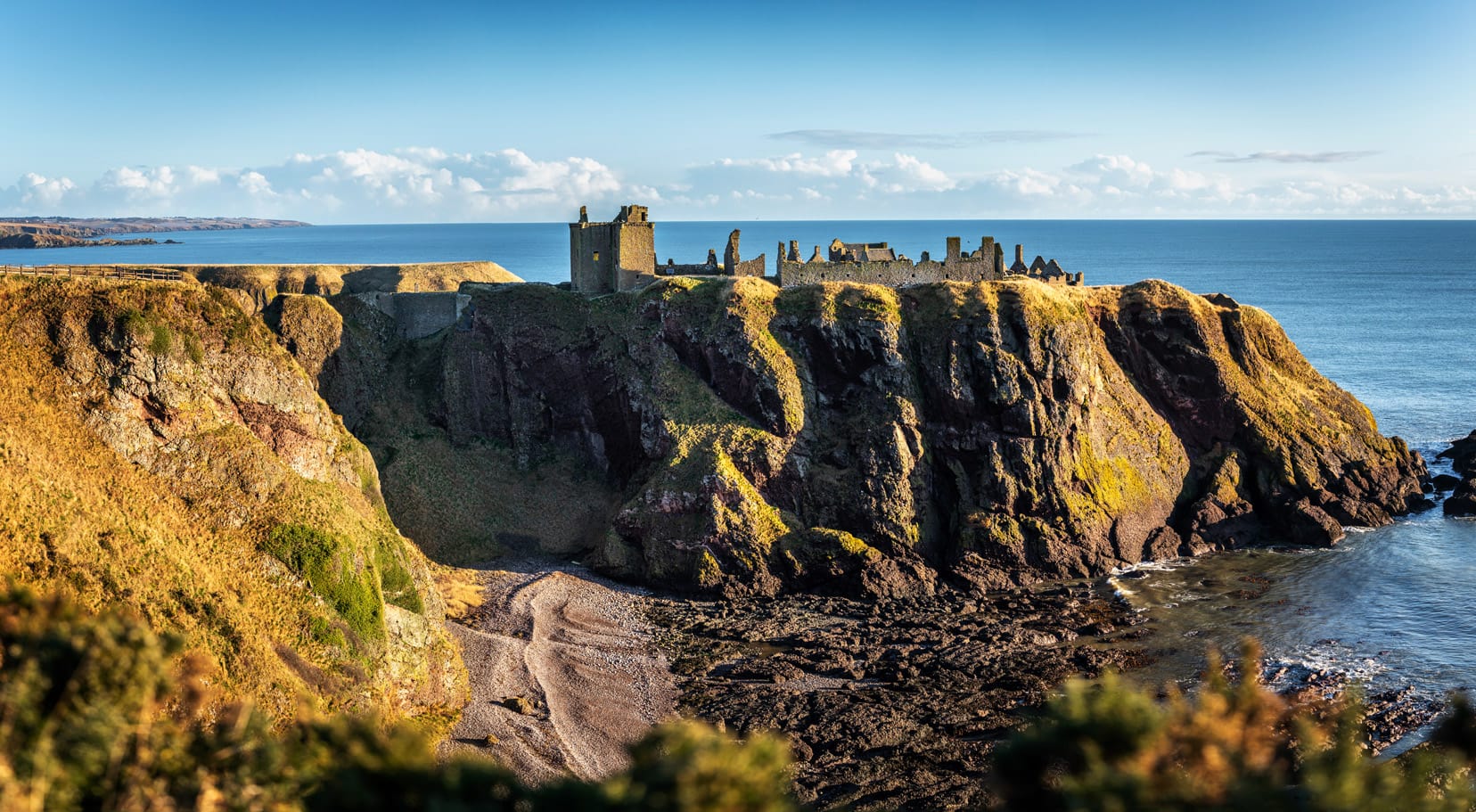 Dunnottar Castle (one of our top three favourite castles) is a medieval fortress with a colourful past. Its most famous encounter was the part it played in saving the Scottish Crown Jewels, the 'Honours of Scotland', from destruction during an eight-month attack by Cromwell's army.
Once home to the Earls of Marischal, a powerful Scottish family, it welcomed William Wallace, Mary Queen of Scots, the Marquis of Montrose and the present King Charles II.
Dunnottar is only about a 20-minute drive south of Aberdeen and a great to include when looking at all the things to do in Aberdeen.
🏰 Experience this clifftop gem on the Dunnottar Castle and Royal Deeside Small-Group Tour from Aberdeen. | ⭐️ 5/5 | ⏰ 9 hours
Drum Castle
The delightful Drum Castle is interesting to tour around, and if you visit in summer, make sure to enjoy the castle's historic rose garden. If you visit in Autumn, a stunning Japanese Maple drips over the castle's pond, creating the perfect autumnal scene.
Drum Castle was originally The Tower of Drum, built as a hunting lodge by Alexander III around 1280. It later became home to 24 generations of the Irvines.
This Aberdeenshire and Royal Deeside Private Half-day Castle Tour includes Drum Castle, Dunnottar and Crathes Castles. |⭐️ 4/5 | ⏰ 3.5 hours
Crathes Castle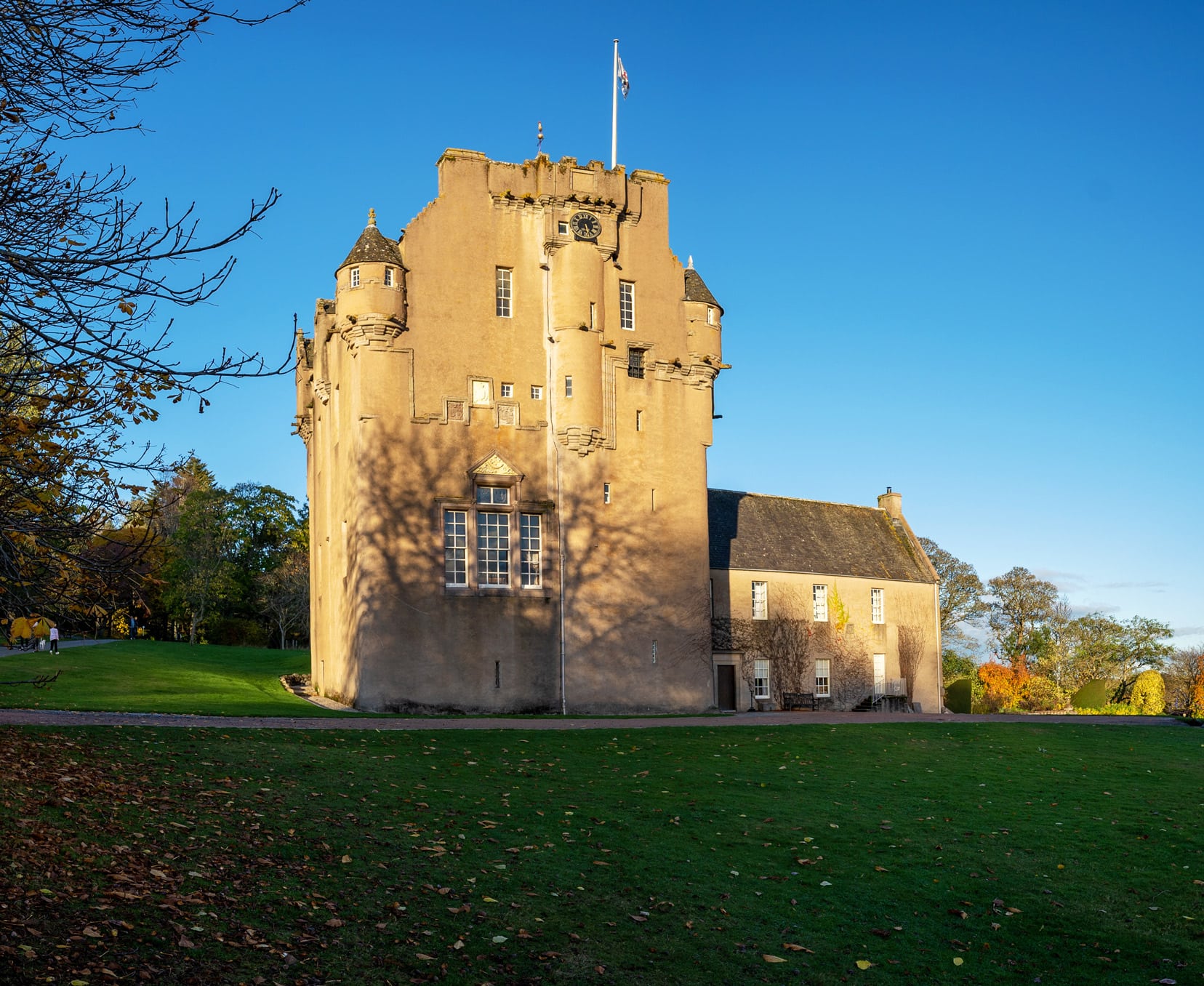 Crathes 16th century castle has a historic walled garden with yew hedges dating back to 1702. Inside the castle are incredible painted ceilings, and you'll also find the Horn of Leys, given to the Burnett family by Robert the Bruce in the 14th century.
🏰🐮🥃 This Aberdeenshire Castles Cows and Whisky Private Day Trip includes a visit to both Dunnottar and Crathes Castle, as well as learning about Scottish Highland cows, succulent Highland Beef lunch and a tasting tour around the Royal Lochnagar distillery | ⏰ 8/9 hours |
Castle Fraser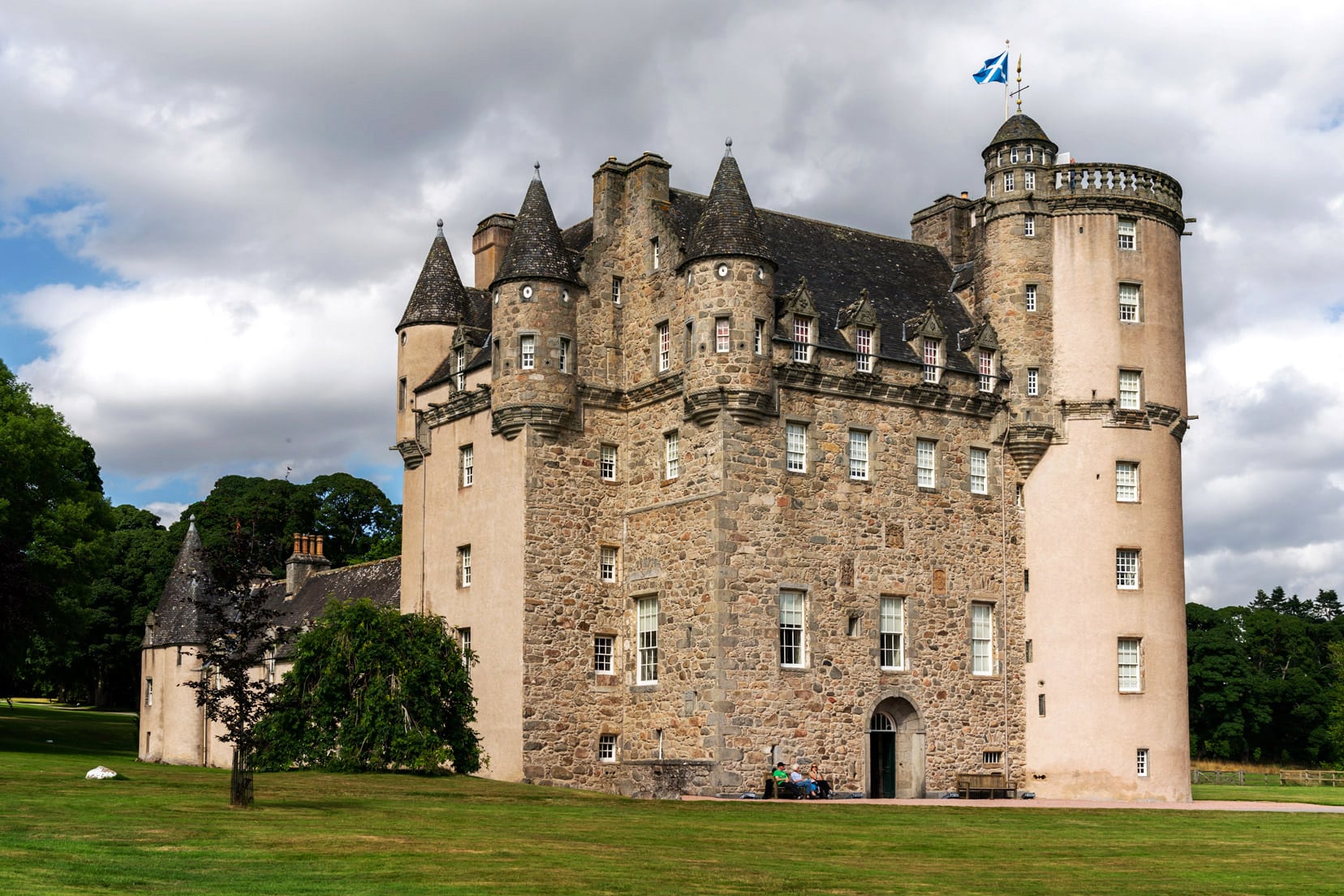 Fifteenth-century Castle Fraser was once the seat of the Fraser clan. Some of the original parts of the castle remain, along with renovations and additions from the 18th and 19th centuries. Visitors can admire family portraits, antique furniture, carpets, and mementos throughout the castle.
There are two marked trails and pathways on the castle grounds through woodland and farmland, a pond, and lovely walled gardens with flowers, fruits and vegetables.
Craigievar Castle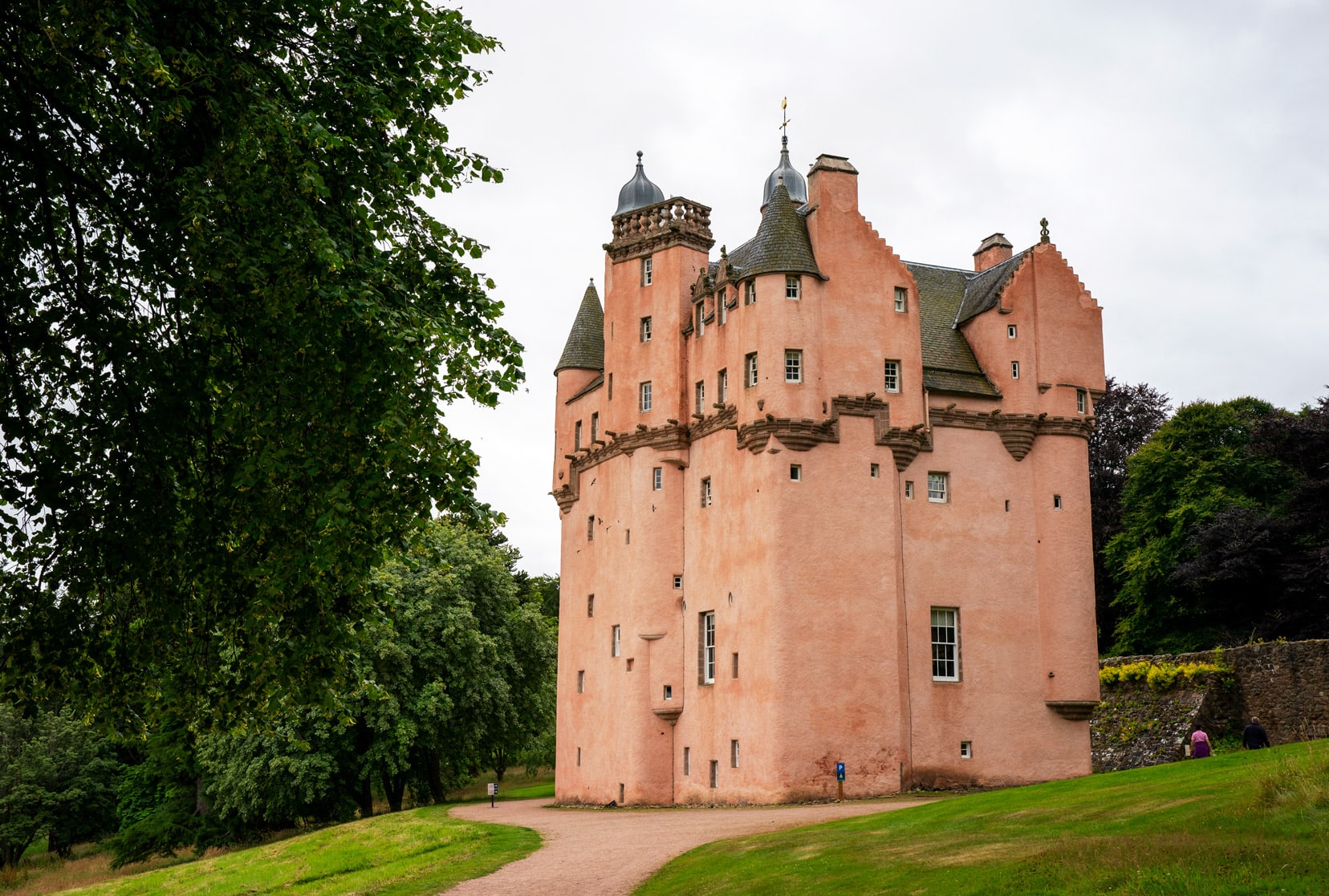 Craigievar Castle is a compact, pink-hued tower set atop a picturesque hillside. If ever there was a castle that looks like it should have fairytale characters running around it, it's this one.
In fact, Craigievar is one of the castles said to have inspired Walt Disney's Cinderella Castle. The exterior remains pretty much as it was when William Forbes completed it in around 1626.
The castle remained a family home until the 1960s and now contains an extensive collection of historic artefacts and art.
One particular piece that caught my attention was a card table that had a carved arch shape on one side which was to accommodate large stomachs!
Guided tours run every half hour at Craigievar Castle.
Huntly Castle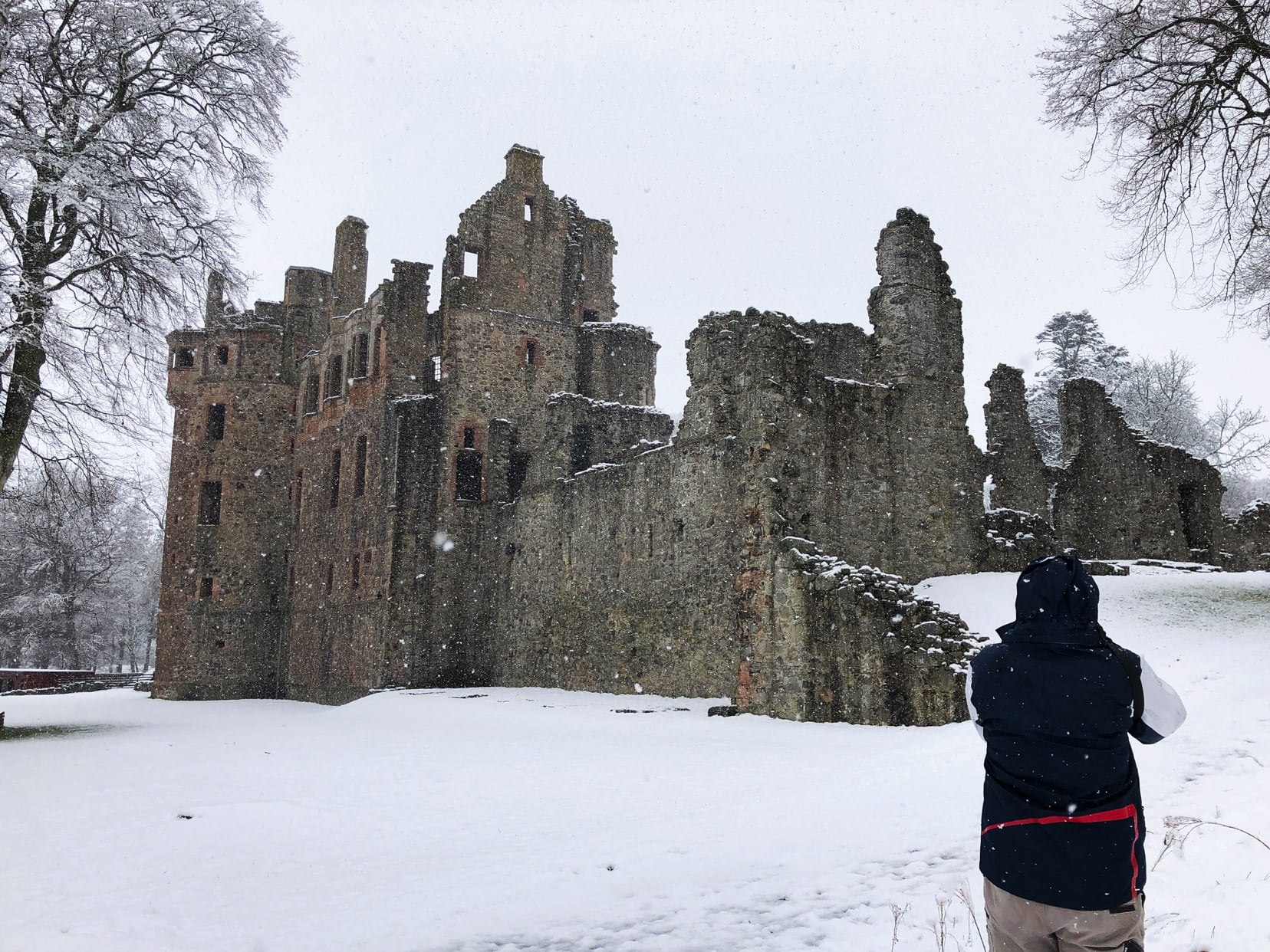 We explored Huntly Castle in the spring — in the snow. We thought it was odd for it to be snowing at the beginning of April, but this is what the Scots call lambing snow, snow that arrives as the new baby lambs are being born. And apparently quite a common occurrence.
The snow enhanced the romanticism of the Huntly Castle ruins. Scenes from Games of Thrones played in my mind, and it was easy to imagine how hard life must have been back in the days when the castle buzzed with life.
Information plaques are strategically placed, giving you an insight into the varying rooms and their uses.
Tickets can be bought at the visitor centre on-site or online through Historic Environment Scotland.
Kildrummy Castle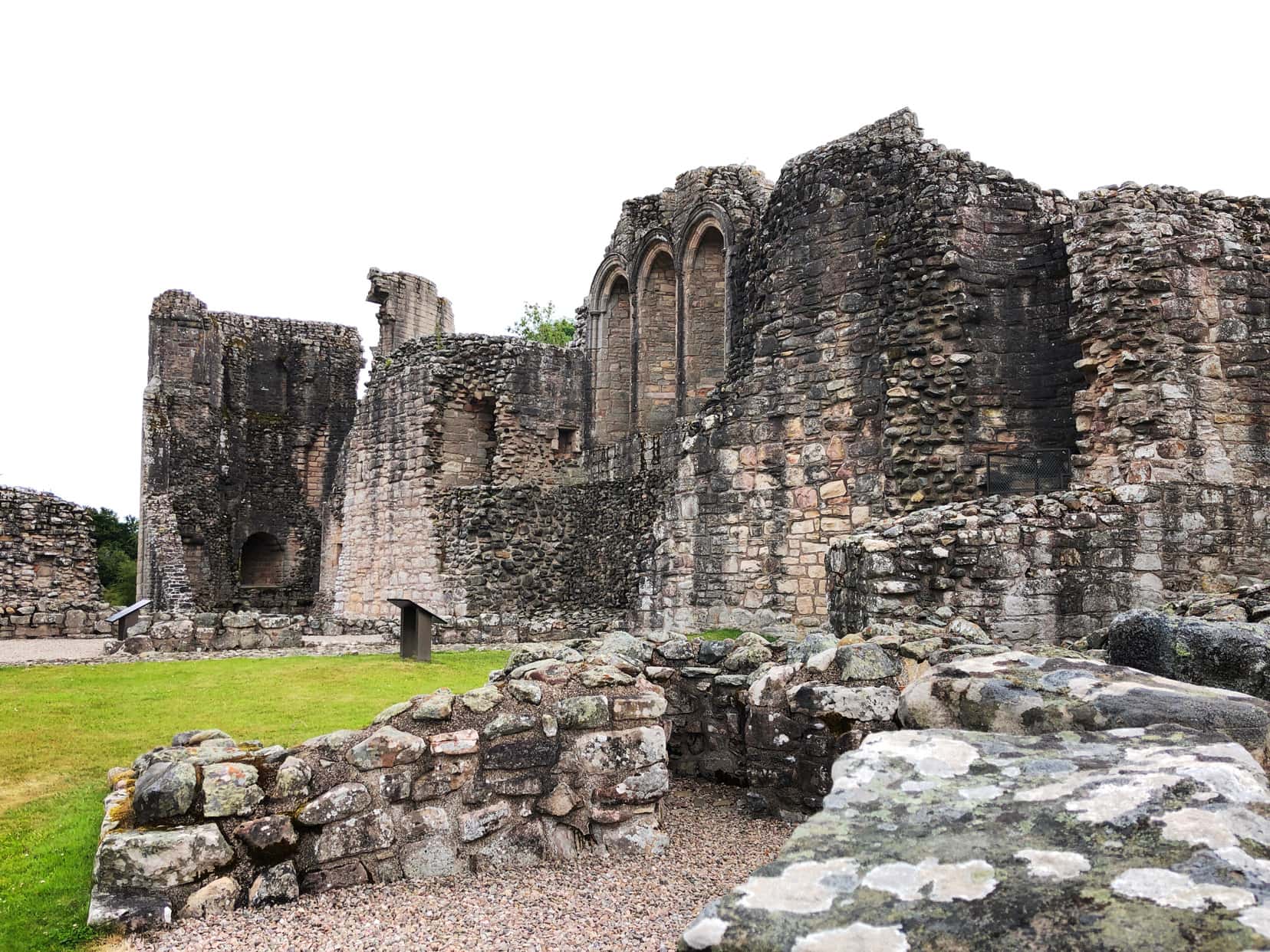 Kildrummy Castle sits at the top of a deep ravine, called the Black Den.
It was once the seat of the Earls of Mar, and the castle has been assaulted by many sieges throughout its history, as well as playing a prominent role in the 14th-century Wars of Independence and the Jacobite Rising of 1715.
When wandering through castle ruins like these, I like to touch my hand to the wall, and I wonder who else has touched the same spot and what kind of life they lived.
Fyvie Castle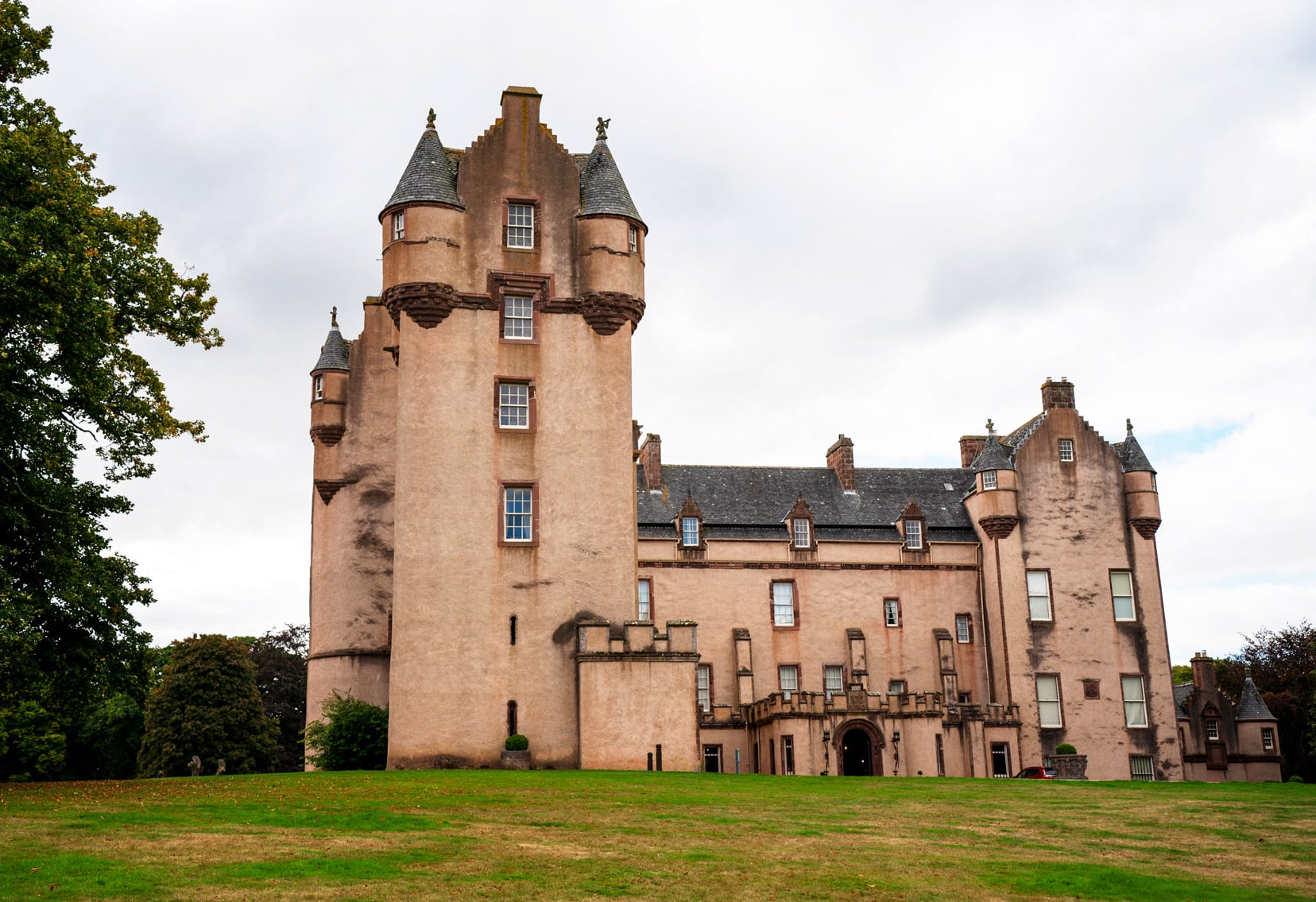 One of the most interesting and unique facets of Fyvie Castle is what is considered one of the finest stone-wheel staircases in Scotland. Built by the First Earl of Dunfermline, it is ten feet wide. If you look carefully, you can see pits in the stairs where horses have been ridden up the stairs to the great hall.
The castle has an impressive portrait collection, including works by Raeburn, a Scottish artist who painted portraits of the rich, famous and important people of his day. He was knighted in 1822 when the King visited Edinburgh.
Fyvie also boasts a gorgeous lake and a flower, fruit, and vegetable-walled garden.
Guided tours are included with the ticket price (National Trust of Scotland) and occur every 45 minutes.
How to Save Money Visiting Scotland's Castles
As we were in Scotland for over a year, we bought memberships of Historic Scotland and the National Trust of Scotland for just over a year. Many of the castles in Scotland are under the care of one of these organisations.
With membership, entry to the castles is free.
If you are only in Scotland for a short period and plan to visit a few castles, the Historic Scotland Explorer Pass may be worth considering, which is valid for seven days and gives you free entry to all castles under their care.
Castle Tours of Scotland… That's a Wrap
Choosing which castles to visit as you explore Scotland can be difficult. But this guide should have given you a fair idea of your options.
Of course, there are many more castles across Scotland, and we'd recommend checking Google Maps for others in the vicinity if you are setting off on a self-drive Scotland castles tour. There are over a thousand, after all, and if you are passing by anyway, you may as well stop for a peek.
Drop us a line about any of your favourite castles in Scotland or favourite Scottish tours and why you love them… that might just be the start of another article… Readers favourite!
Happy Castle…ing!
Pin and Save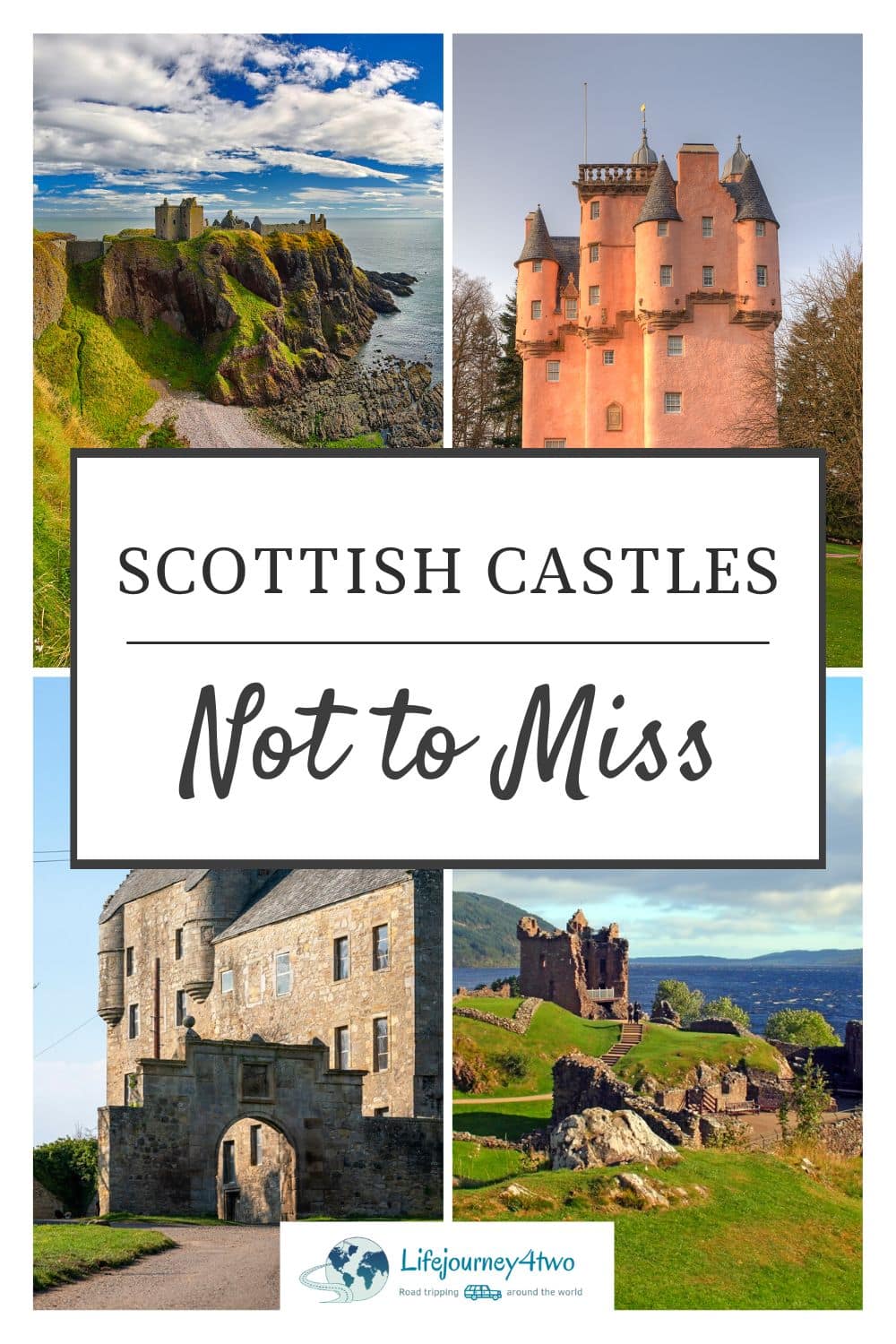 You may also Like to Read:
PLANNING YOUR TRAVELS?
These are some of the travel resources we use when planning our trips.
For a more thorough list visit our Travel Resources page here.