Some posts on this site contain affiliate links, meaning if you book or buy something through one of these links then we may earn a small commission. Read our Disclosure Policy here.
Things to do in Pembrokeshire — A Weekend Itinerary
Our weekend itinerary in Pembrokeshire, West Wales was filled with adorable puffins, rock stacks overflowing with guillemots and razorbills, spectacular coastal scenery, lily ponds, dragonflies, and a chapel in the rocks.
There were plenty of photo opportunities and we even stumbled across a Tellytubby house.
And it all began with an exuberant rendition of 'We are the champions' at the Bed & Breakfast that we'd booked for our weekend break. (You'll find a video of this a little further on)
If you are looking for things to do in Pembrokeshire, or a weekend in Wales, and love all things about nature, then the southwest coast of Wales won't disappoint.
We were there for three magical days. However, at a push, you could likely cram it all into two days if needed.
WEEKEND IN PEMBROKESHIRE – MAP OF ATTRACTIONS
WHEN IS THE BEST TIME FOR YOUR PEMBROKESHIRE WEEKEND BREAK?
The ideal time to escape to the Pembrokeshire southwestern coast and countryside in West Wales is between early April and the end of July. This is because tens of thousands of seabirds migrate to this area of Wales in early summer.
However, all of the places we visited in Pembrokeshire were incredibly scenic.
Therefore, whatever time of year you decide to take a mini-break or holiday to Wales, you are sure to be impressed with the spectacular views all along the beautiful Pembrokeshire coastline.
On top of that, Wales is quite accessible and a centrally located area of the United Kingdom, meaning there are not huge distances to travel.
PLACES TO VISIT IN PEMBROKESHIRE
---
SKOMER ISLAND
We had planned to visit Skomer Island on the first day of our weekend break. However, the Welsh weather wasn't playing the game.
In fact, it was so bad that the ferries to Skomer Island weren't even running.
Fortunately, the next day, although strong winds had been forecast, the ferries were running and we were lucky enough to get a ticket to get on the boat and go and see the Skomer Island Puffins.
Skomer Island is one of the most important wildlife sites in northwest Europe.
At this time of year, it is home to over 25,000 breeding Puffins, as well as thousands of other seabirds.
But the Puffins were certainly the main attraction, and these cute little characters can be spotted all over the island. Moreover, in some spots, they seemed quite fearless, to-ing and fro-ing across the path right in front of us.
Skomer Island is also home to numerous other seabirds, such as Guillemots, Razorbills and the elusive Shearwater Manx.
Seeing the puffins on Skomer Island was the highlight of our weekend in Pembrokeshire
READ MORE: ALL ABOUT THE SKOMER ISLAND PUFFINS AND A FUN PUFFIN VIDEO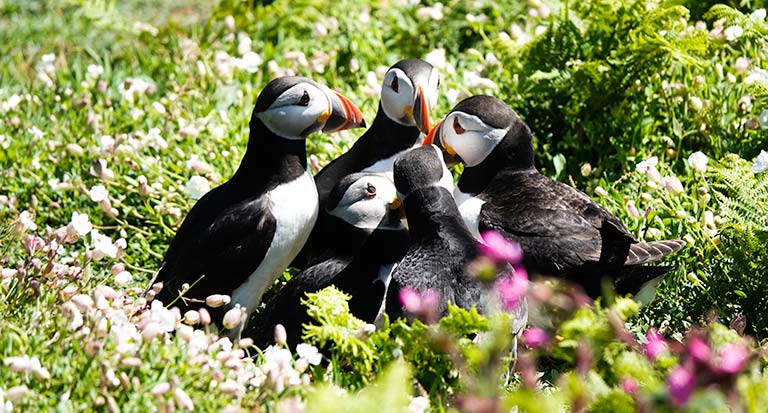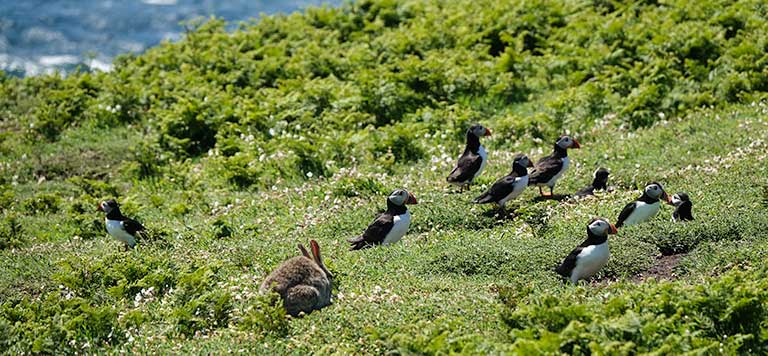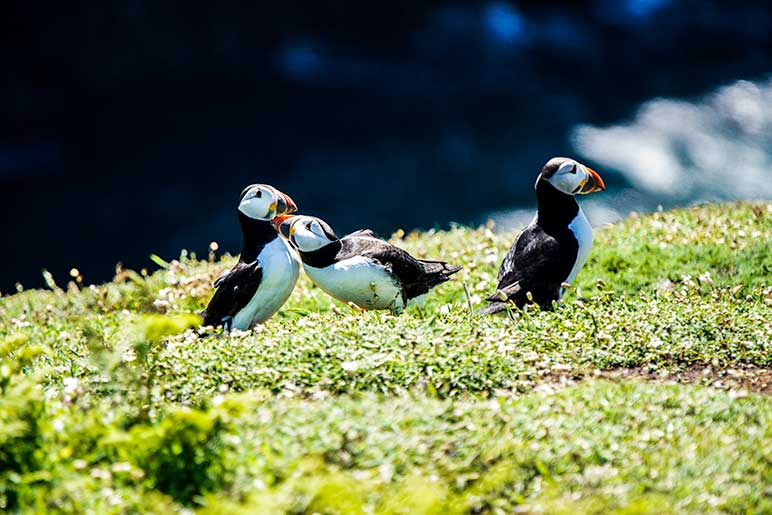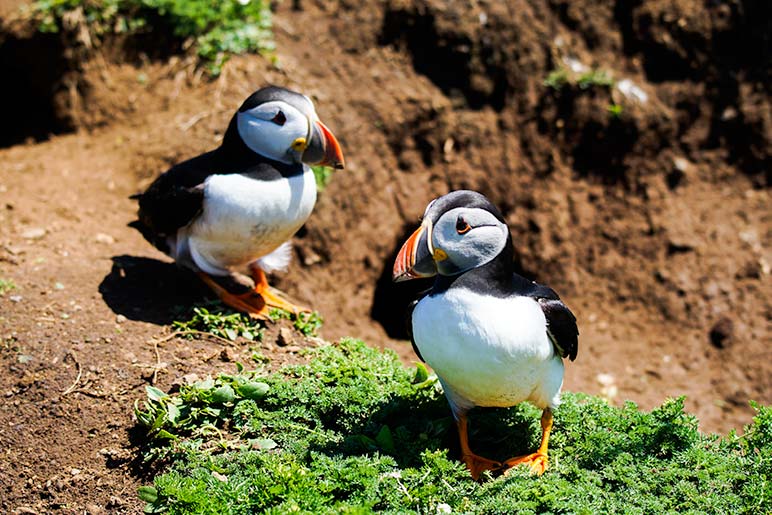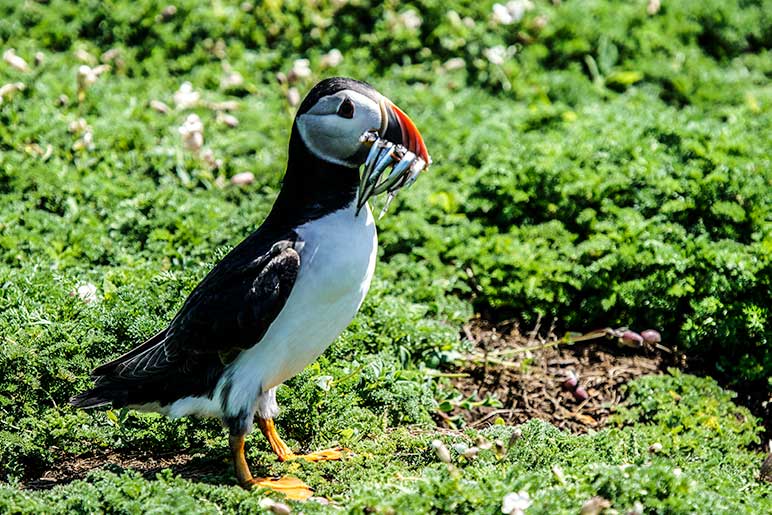 Puffins on Skomer Island
TICKETS FOR SKOMER ISLAND:
Tickets cannot be pre-booked, and can only be bought at Lockley Lodge at Martin's Haven near the tip of Marloes Peninsula.
It is advised to arrive early (at about 7 am), to ensure you get a ferry ticket when the lodge opens at 8.30 am.
Ferries run from 1st April to 30th September at 10 am, 11 am and 12 pm.
Sometimes the ferries will run extra trips depending on the weather and the demand.
The island is closed on Mondays (except Spring Bank Holiday).
The cost is £11 per person landing fee ( paid at the lodge) and £11 per person for the ferry (paid on the boat)
Landing tickets are strictly limited to 250 per day.
Check https://twitter.com/skomer_boatinfo at about 7.40 am to see if ferries are running that day
EXPLORE THE SOUTHWESTERN PEMBROKESHIRE COUNTRY LANES
Hoping to find breaks in the downpour, we set off into the Welsh countryside to explore. Within a few streets, we were on country lanes lined with wildflower-filled hedgerows.
Pinks, purples, whites and yellows mingled with the lush green grasses and ferns. The odd honeysuckle plant appeared atop as if a crown, adorning the seemingly never-ending maze of tiny roads.
Every now and then you get a glimpse of what lays beyond and then you sweep around a corner and incredible ocean views lay before you.
You'll pass numerous walking path signs which lead you onto the Pembrokeshire coastal path, which has been rated by National Geographic as one of the best coastal walks in the world.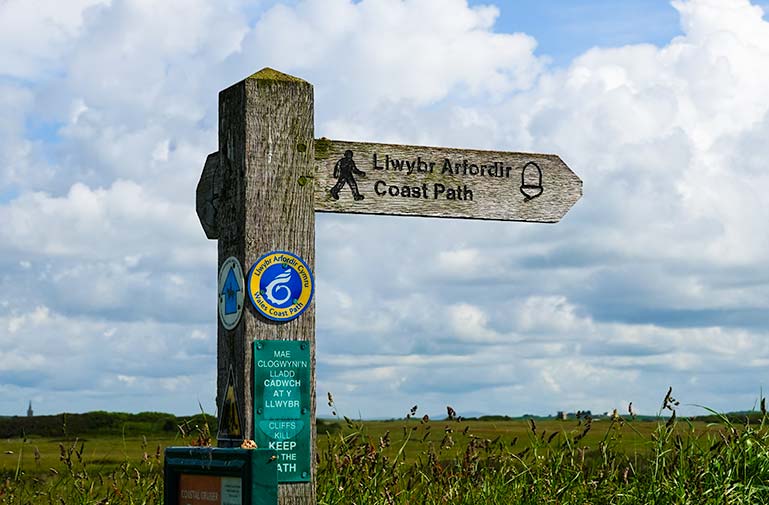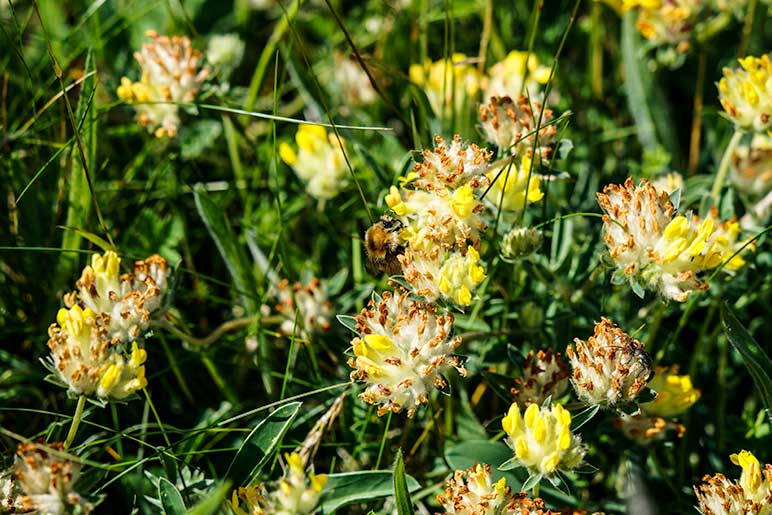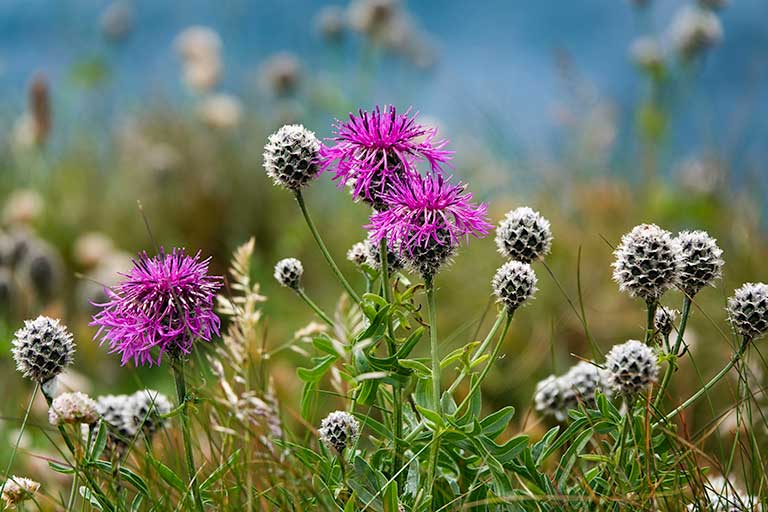 For some reason, churches and their graveyards often evoke emotion. Perhaps it is the symbolic reminder of our impermanence or the glimpse of life gone by. Whatever the reason, we often find ourselves in amongst the gravestones — cameras in hand.
There is at once a beauty, a sadness and a celebration all interspersed between the tombstones and the nature that invades the spaces in between.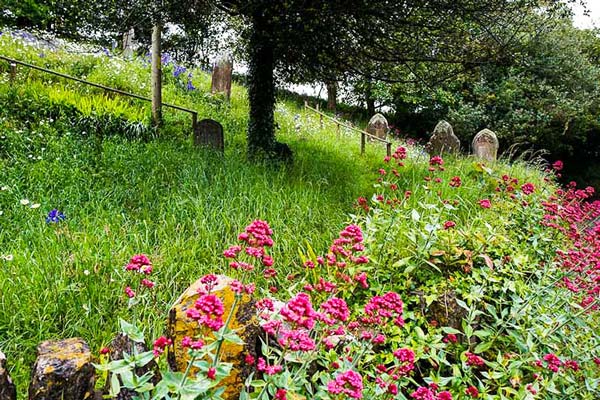 Every bend you take in the windy road of Pembrokeshire is a brand new experience.
We passed through the town of Herbrandston and were intrigued by the sign which read, 'A Doubly Thankful Village'.
We found out later that this means the village is one of sixteen throughout the UK, which saw everyone return safely from both the first and second World Wars.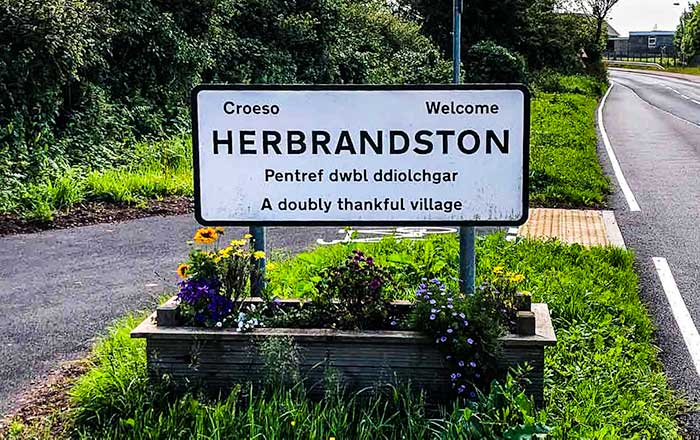 ST, BRIDES HAVEN BEACH
An incredible phenomenon occurs at St.Brides Haven bay, Pembrokeshire, in late August.
Spider crabs arrive in their tens of thousands for a 'coming of age' moulting. The adolescent spider crabs lose their hard shells as they increase in size by about thirty per cent.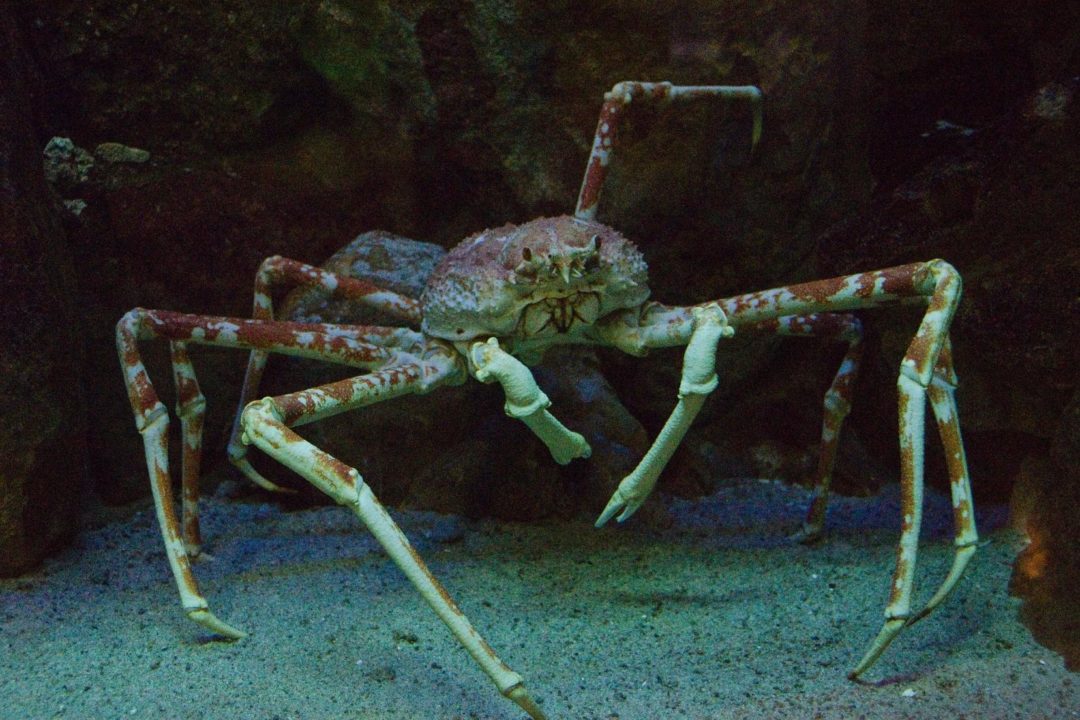 Click here for a BBC video on this spectacle in St. Brides Bay, that captures this incredible spectacle.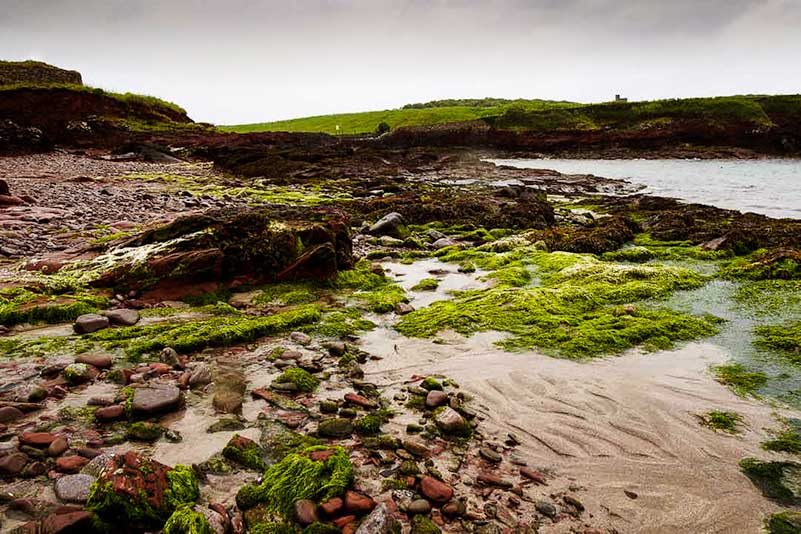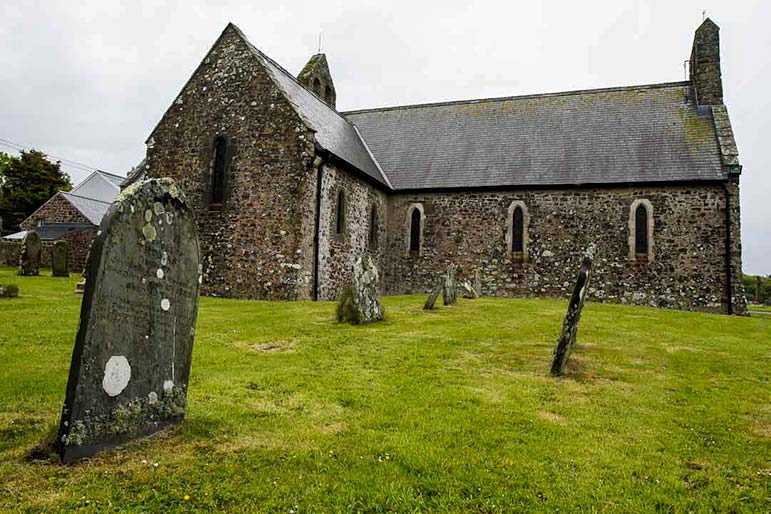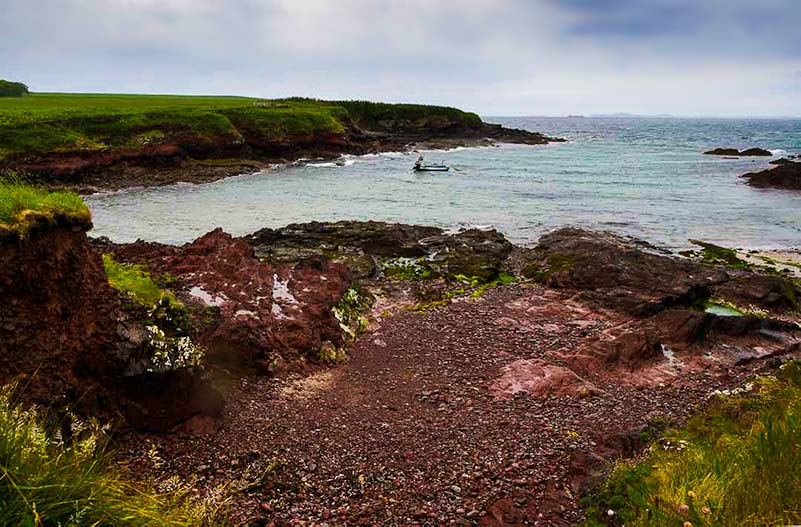 This beautiful bay in St. Brides is also used to train divers and is recommended as one of the best tranquil dives in the area.
In addition, overlooking the Bay is a small chapel, St Brides Church, and the scene, especially in the rain, is like a film backdrop for a wild coastal romance.
ST. GOVAN'S CHAPEL
Tucked in between the surrounding craggy rocks, secreted away on Pembrokeshire Coast you'll find this tiny chapel, St Govan's.
It is believed to be the resting place of a 6th-century hermit, who first took refuge in the rocks to escape pirates.
There are a few versions of the history of St.Govan's Chapel. However, one legend that seems to have stood the test of time is that if you count the steps down the steep cliff to the chapel, when you count them on the way back up the number will always be different.
Have a go and see what happens.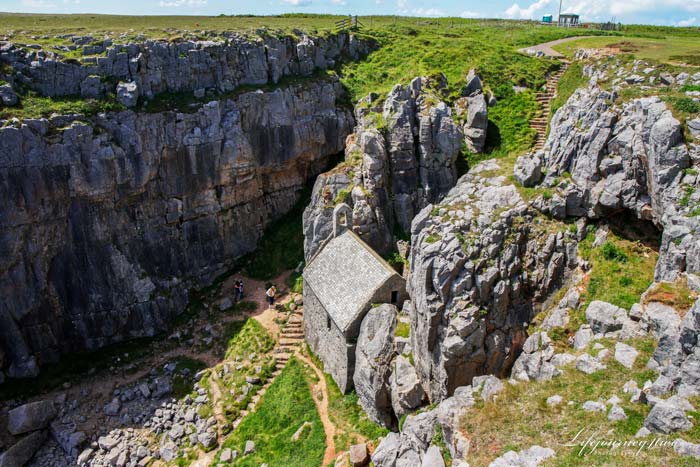 STACK ROCKS (ELEGUG STACKS) AND THE GREEN BRIDGE OF WALES
Another surprise awaited us when we headed towards the coast, where the dramatic rock formations of Stack Rocks and the Green Bridge of Wales stand.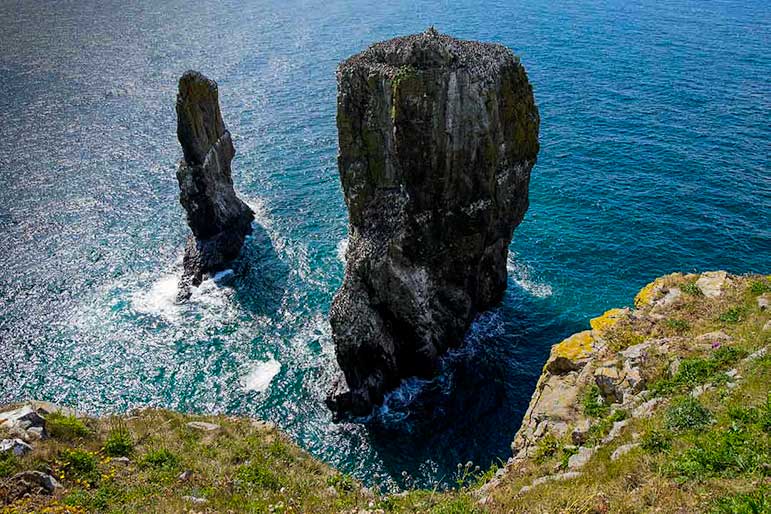 On the top of the stacks, were thousands of guillemots and razorbills all jostling for space and nesting on their eggs.
These seabirds come in from the Atlantic Ocean for nesting during the summer and leave again at the end of July.
We later found out that Elegug is Welsh for guillemot, hence the alternative name for Stack Rocks.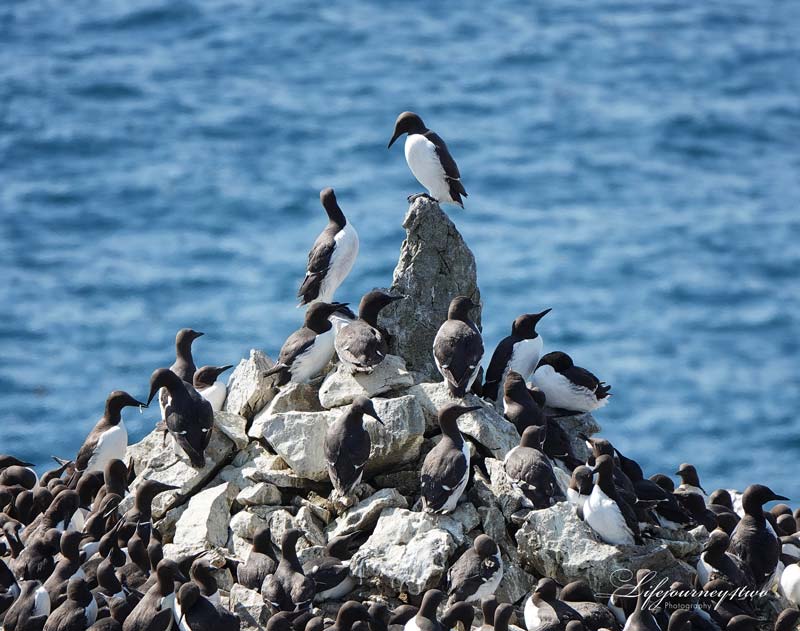 The Green Bridge of Wales and the Elegug Stacks reminded us of our road trip from Perth to Melbourne, which included the Great Ocean Road with the Twelve Apostles and other landmark rock formations.
Though on a lesser scale, these were just as impressive due to the fact that they were jam-packed with birdlife.
Undulating coastal paths parallel the coast giving you spectacular views. A photographer's dream.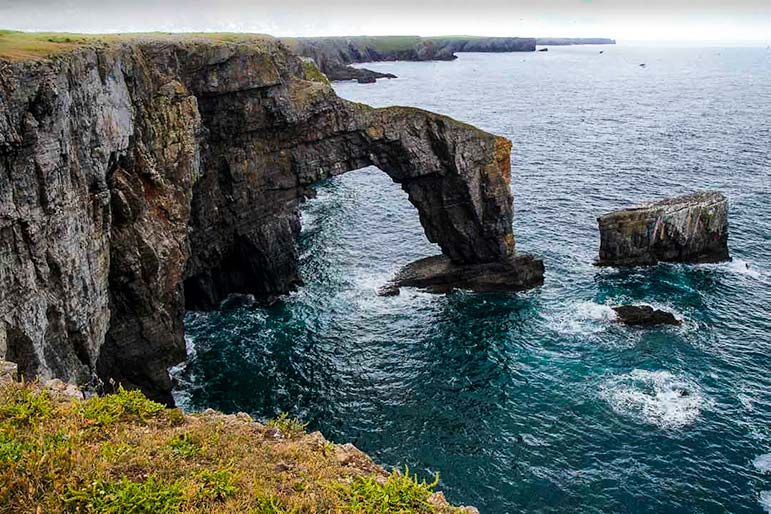 These incredible rock formations are on an army tank range, so access can sometimes be restricted.
(To check that you can get access, call the Pembrokeshire Visitor Centre— 01437 776499)
BOSHERSTON LAKES (LILY PONDS)
Bosherston Lakes, otherwise known as the Lily Ponds due to the number of lily pads spread over the lakes, is part of the National Trust Nature Reserve on the Stackpole Estate.
The lakes were created between 1780 and 1860 as a scenic backdrop for the grand Stackpole Court Estate Manor. The manor no longer exists, but these lovely lakes remain and are home to otters, water birds and dragonflies.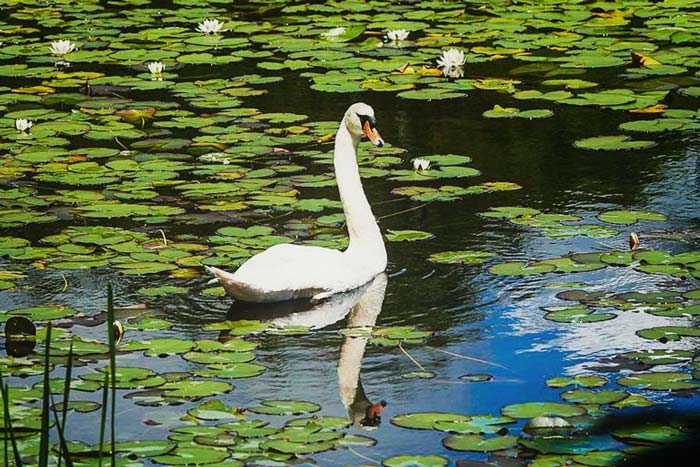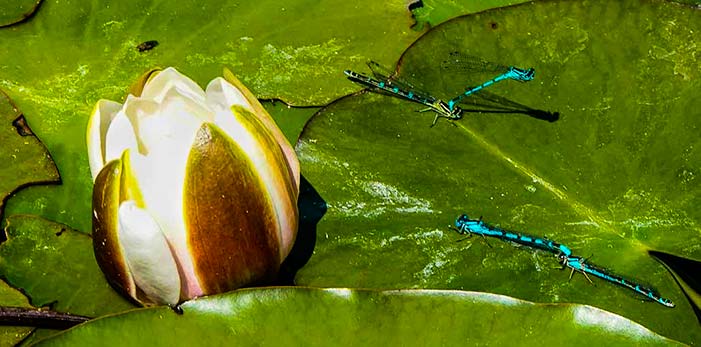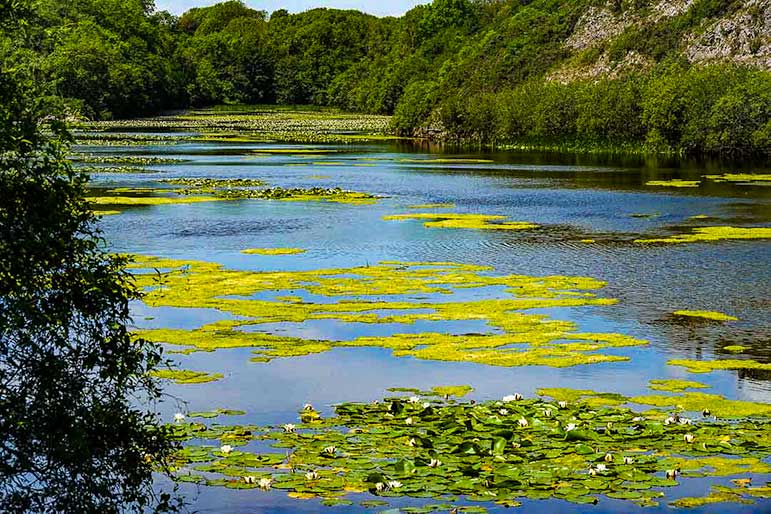 The Lily Ponds is a popular place to come for a Sunday afternoon walk or picnic. There are several routes that you can take, depending on how far you'd like to walk and your time constraints. Overall, there are over 30km of trails to explore.
Apparently, the best times to spot the otters are early morning. The worst time is Sunday afternoon when everyone and his dog are wandering around the lakes. Unfortunately, we were there in the latter timeframe.
Access to the Lily Ponds is free and parking only costs £3.00. There is also a free map available and detailed walking guides for purchase.
BROADHAVEN SOUTH BEACH
At the foot of Bosherton Lakes, you'll find this spectacular sandy beach, surrounded by the fabulous coastline of the area. If the weather is good this is the perfect place for a cool dip in the sea.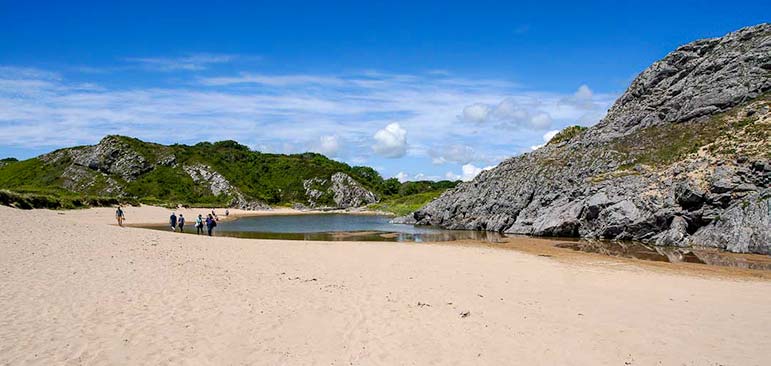 THE 'TELLYTUBBY HOUSE' IN WALES
While on this Pembrokeshire road trip, we decided to look for some geocaches and one clue took us to a very interesting sight that you could very easily miss if driving along the road.
It led us to this futuristic house built into the ground.
This incredible house is built of steel and glass with a turf roof and resembles the earthhouse of the children's TV show, the 'Teletubbies'. It has therefore been nicknamed the 'Tellytubby House'. 
You won't find Tinky Winky or Dipsy here, but you will find a fantastic view over the bay, which can best be seen on the coastal path in front of the house.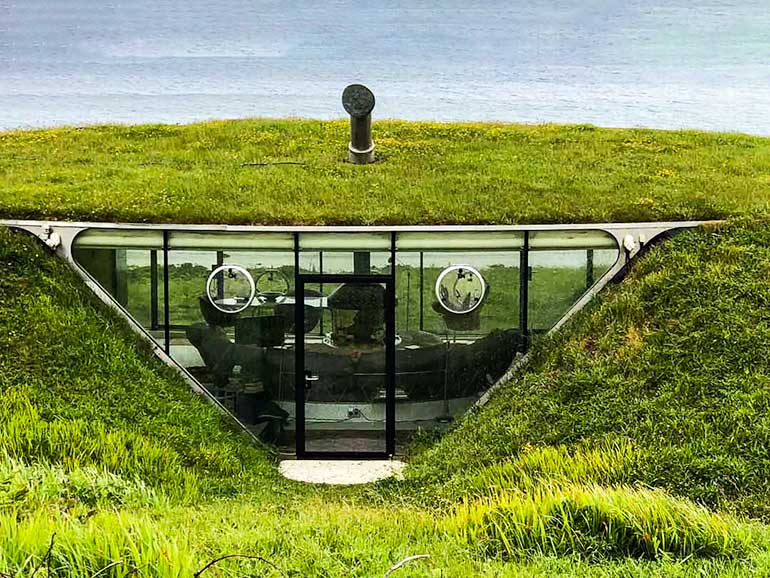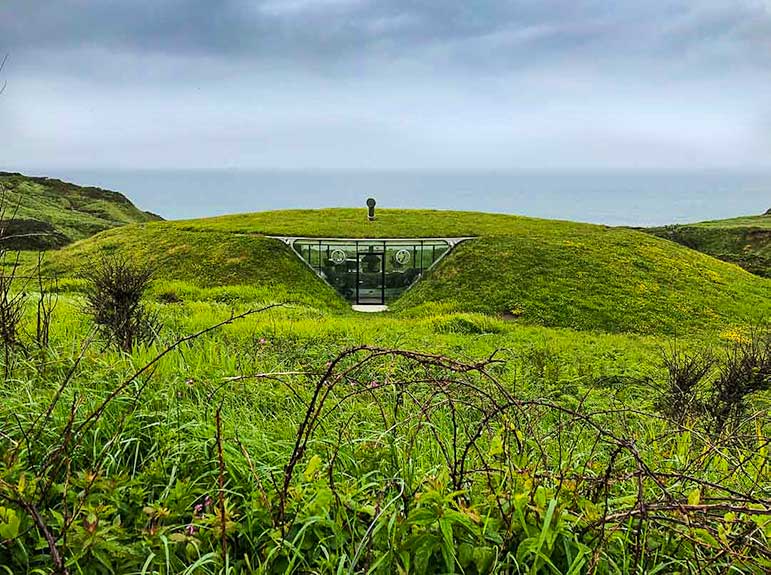 Tellytubby House in Wales
WHERE TO STAY DURING YOUR WEEKEND IN PEMBROKESHIRE, WALES
Springfield Bed and Breakfast was one of the many highlights of the weekend's break to Wales. Shortly after arriving, the owner, Ron gave us a private performance, playing the guitar and singing a rendition of 70s and 80s songs. He was as enthusiastic about his music as he was about ensuring that everything about our stay was perfect.
UPDATE: Unfortunately Springfield B&B is no longer operating. For accommodation options in Pembrokeshire, check Booking.com
MORE THINGS TO DO ON YOUR PEMBROKESHIRE WEEKEND BREAK
For nature lovers, this area of the Pembrokeshire coast in Wales has to be one of the finest places to visit for a weekend or a short break away.
There are plenty more things to do, and places to visit in the area, so you may want to plan a few weekends in Pembrokeshire to make the most of this spectacularly scenic area.
Some of the things we didn't get to do but are all in the area are:
Weekend in Pembrokeshire … That's a Wrap
Drop us a comment below if you've been here, and have any other recommendations for our readers who may be thinking of a short break to Wales.
Did you know that we sell many of our best photos as digital downloads on our ETSY store? Check out our Etsy Store Here
Pin and save for later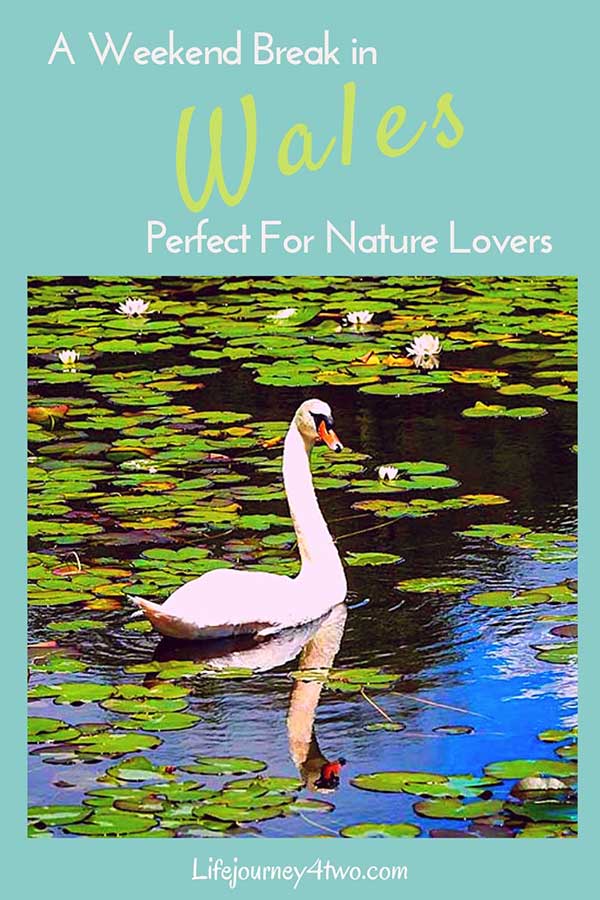 YOU MAY ALSO ENJOY READING
---
PLANNING YOUR TRAVELS?
These are some of the travel resources we use when planning our trips.
For a more thorough list visit our Travel Resources page here.