Perth To Melbourne Drive – 10-day road trip across Australia
This was it. Months of planning, saving, selling off all of our belongings and saying goodbyes. Hitting the road with everything we owned in that one little trailer. Driving from Perth to Melbourne and then onto Brisbane. The plan was to leave the trailer in Brisbane with a friend while we set off on our five-month campervan trip across Europe. That 5-months changed to 12-months, which gradually morphed into us road tripping around the world.
This Perth to Melbourne drive was just part of our full road trip to Brisbane. However, for the purposes of this post, we are focusing on the Perth to Melbourne part. There are so many scenic parts of Australia that you can explore on this road trip, including the wild plains of the Nullabor and the stunning coastal Great Ocean Road.
We chose to start the drive from Perth to Melbourne via Kalgoorlie. Another route that you may consider is detailed below. As we had visited the south of Western Australia (WA) several times we chose to take the quicker route through Kalgoorlie.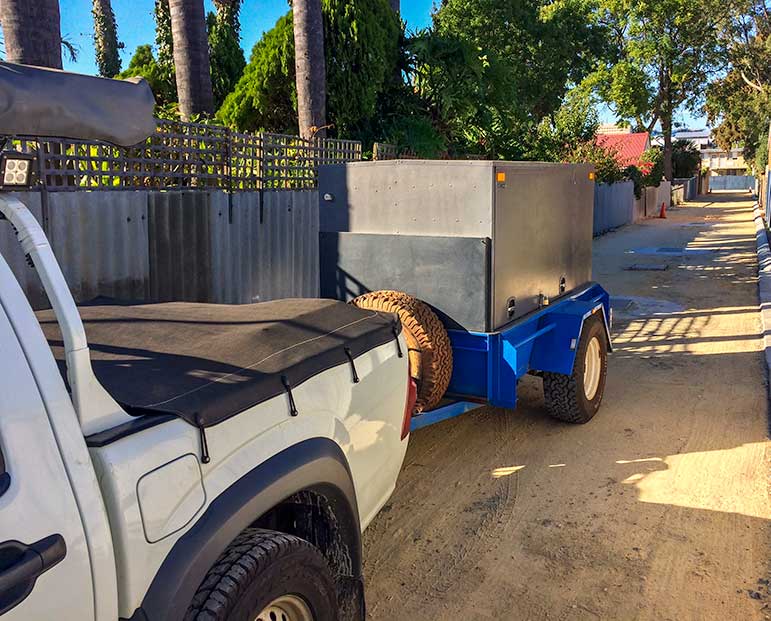 Ute and trailer packed for our Perth to Melbourne Drive
Perth to Melbourne Drive: Summary of 10-Day Itinerary
Perth to Melbourne Drive
10 Day Summary
Perth, WA to Kalgoorlie, WA: 

593km

6hr 30min

(Visit Kalgoorlie Mines and one of the oldest working brothels)
Kalgoorlie, WA to Fraser Range, WA: 

265km

2hr 50min 

(At Norseman you hit the Eyre highway which links Perth to Adelaide and takes you across the Nullarbor Plain and the world's longest straight road)
Fraser Range, WA to Madura, WA: 

449km

 

4hr 35min

(On this part of the Nullarbor, you drive the 90-mile straight road… and it really is straight!) 

Madura, WA to Bookabie SA: 

583km

6hr

(Pass Border village, leaving WA [Western Australia] and entering SA [South Australia] and you'll have great views of the Great Australian Bight)
Bookabie, SA to Kyankutta, SA: 

334km

3hr 30min

(You'll pass SA's Quarantine Border and come to the end of the Nullarbor at Ceduna)

Kyankutta, SA to Middle Beach, SA: 

498km

5hr 10min 

Middle Beach, SA to Tintinara, SA: 

238km

2hr 45mins

(You can stop in Adelaide on the way)
Tintinara, SA to Port Fairy, VIC: 

398km

4hr 15min

(Go by Mount Gambier to see its ultra Blue Lake)
Port Fairy, VIC to Apollo Bay, VIC: 190km

2hr 40min

(A little way past Port Fairy, you'll come to the iconic Great Ocean Road, with the Twelve Apostles, beautiful beaches and lush rainforests)
Apollo Bay, VIC to Melbourne, VIC: 197km

2hr 30

(Stunning beaches, Erskine Waterfall and the end of the Great Ocean Road)
    Total Kilometres: 3745km     
    Total Driving Time: 34 hrs, 15mins  
Perth to Melbourne Drive: Interactive Map
This interactive map shows the following  information for your drive from Perth to Melbourne:
Driving route from Perth to Melbourne
Our overnight camp stops (free and paid)
Accommodation (camp and motels) on Nullarbor
Gas Stations along the Nullarbor
Places of interest on the drive Perth to Melbourne
Perth to Melbourne Drive – 10-Day Itinerary
Day 1: Perth to Kalgoorlie, WA
593km / 6hr 30min
On our first day, pumped with adrenaline and eager to get on our way, we did one of our longer drives, stopping for the night in a motel in Kalgoorlie. We knew we were doing a long first drive and it would likely be dark on arrival, so we had pre-booked accommodation for the first night rather than pitching the tent.
Day 2: Kalgoorlie to Fraser Range, WA 
265km / 2hr 50min 
That was our last night in a proper bed until we reached Melbourne, (tenting the rest of the way). We started the day exploring a little of this famed gold digger's outback town, Kalgoorlie.  
Kalgoorlie Boulder or 'Kal' as it is affectionately termed by locals, is in the Goldfields region of WA. It grew up around the great gold rush of the 1880s and to this day gold is still being mined from 'them there hills'.
In Kalgoorlie, you'll find one of the largest open cut mines in the world and the biggest goldmine in Australia. The super pit in Kalgoorlie is 3.5km long and 1.5 km wide. You can see the haul trucks, which look tiny, at the bottom of the pit in this photo.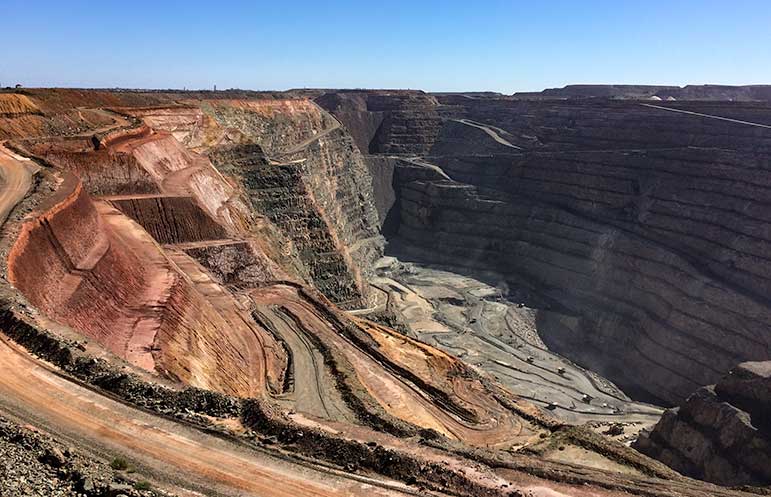 Among the old colonial buildings, there is a rather flat looking pink building. This is Casa Questa, the "Pink House", one of the worlds' oldest working brothels run by a madame in her eighties.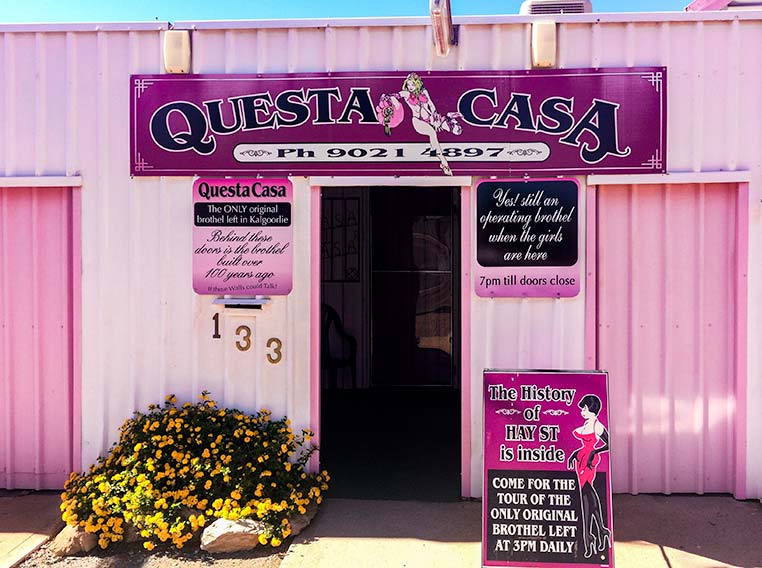 For more information on what to see and do in Kalgoorlie head over to the West Australian Tourist Board.
About 188km and a two-hour drive out from Kalgoorlie, you'll come to the small town of Norseman. It is here that you turn on to the Eyre Highway, one of Australia's longest roads. The Eyre Highway links Norseman to Port Augusta in South Australia (SA) and entails 1675 kilometres of driving. It crosses the Nullarbor Plain and driving this route is known as 'crossing the Nullarbor'.  
There's no doubt about it, the Nullarbor road trip is an iconic Australian outback adventure that has to be done at least once.
For a large part, the Nullarbor borders the Great Australian Bight, one of the largest continuous coastlines in the southern hemisphere. With magnificent cliff faces, epic wide open spaces and chance encounters with kangaroos, emus, wombats and camels, this is an authentic Australian journey not to be missed.
Here the stars are brighter and the air pure. Here, you experience the essence of Australia.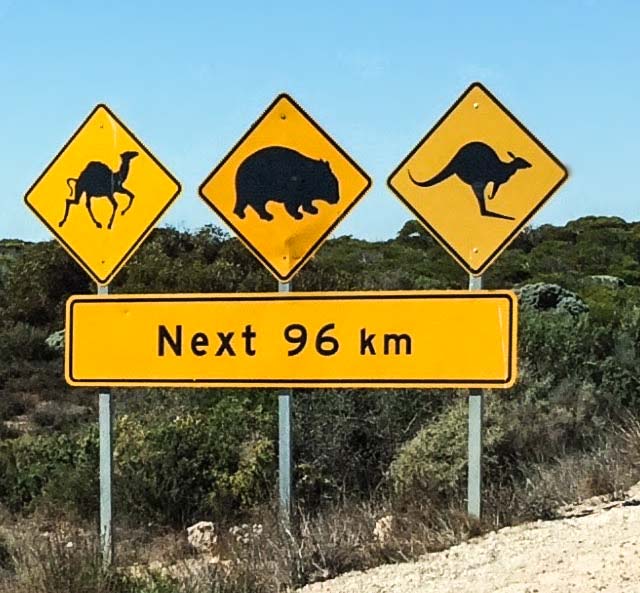 How Long Does it take to drive across the Nullarbor?
From Norseman to Ceduna, the total amount of driving hours without stops is approximately 12.5 hours with a total distance of about 1200km. We did it in about three and a half days, camping at three spots along the way.
Driving the Nullarbor: Road Conditions
The Nullarbor road is a sealed highway but if you drive off-road to camp then most are dirt tracks.
Petrol prices can be high along the Nullabor but there are enough to ensure you don't run out of fuel between gas stations. See the Perth to Melbourne Drive map at the beginning of the post for marked pins showing gas station locations on the Nullarbor. There is a free app called Petrol spy which gives you the latest prices at petrol stations. This may help you better budget your petrol costs.
Fuel Stops along the Nullarbor
The fuel stops are marked on the map at the beginning of the post and are also listed below with the distance in km between them:
Norseman ⇒ 190 km
Balladonia ⇒ 181km
Caiguna ⇒ 65.5km
Cocklebiddy ⇒ 91km
Madura ⇒116km
Mundrabilla ⇒66km
Eucla ⇒12km
Border Village ⇒ 184km
Nullarbor Road House ⇒144km
Nundroo ⇒ 81.5km
Penong ⇒ 71.5km
Ceduna
Driving the Nullarbor: Road Safety
Driving in the remote areas of the outback of Australia requires you to take extra precautions. The reasons for this is that if you break down, or have an accident, help may not be easily accessible. You also need to pay heed to wildlife and the monster road trains which can also make driving conditions more precarious.
Road trains can have up to four trailers,  and you need to give them ample space. You may see wild camels, kangaroos, emus and wombats on your trip across the Nullarbor which is great, but for a safer journey choose to drive in the daylight hours. Kangaroos tend to stay close to the roads at night and can suddenly appear out of nowhere. 
Precautions to Take Driving the Nullarbor:
Check your vehicle and ensure any servicing is done before you start the journey
Carry extra water and food supplies
Carry spare fuel in approved containers
Ensure your vehicle has a spare tyre and it's pumped up
Have a signal device with you as network signal is intermittent. For example, an EPIRB
Consider driving in daylight hours only
Give road trains plenty of space check out this list of further points to take into account when coming across a Roadtrain.
Where to Stay When Crossing the Nullarbor
If you are camping or driving an RV, you can stop in the points marked on our itinerary or you can find a spot using a camping app such as WikiCamps,  which is what we used when looking for free camping in Australia.
If you are looking for accommodation then these are some of the main hotels/motels/roadhouses along the Nullarbor:
Nullarbor Road House: Near to the Great Australian Bight this hotel's reviews say it is comfortable, clean and has great food.
Eucla Motor Hotel: This hotel is rated the best value in Eucla and has an outdoor swimming pool and restaurant.
Border Village Roadhouse:  Border Village Roadhouse offers pet-friendly accommodation, an outdoor pool, restaurant, bar and game room.
For more accommodation options use the interactive map at the top of this post where all options have yellow pins.  
Wild Camping on the Perth to Melbourne Drive
After about 120 km of driving the Nullarbor, we found a pull off on the side of the road and set up our tent. Refer to the 'Perth to Melbourne Drive Map' at the beginning of the post to get exact coordinates and details.
When wild camping, remember to always leave the place as you found it. We always have a shovel to dig a toilet hole in the bush area away from the main tent pitching area.  We used the Wikicamps Australia app to find our free campsites in Australia.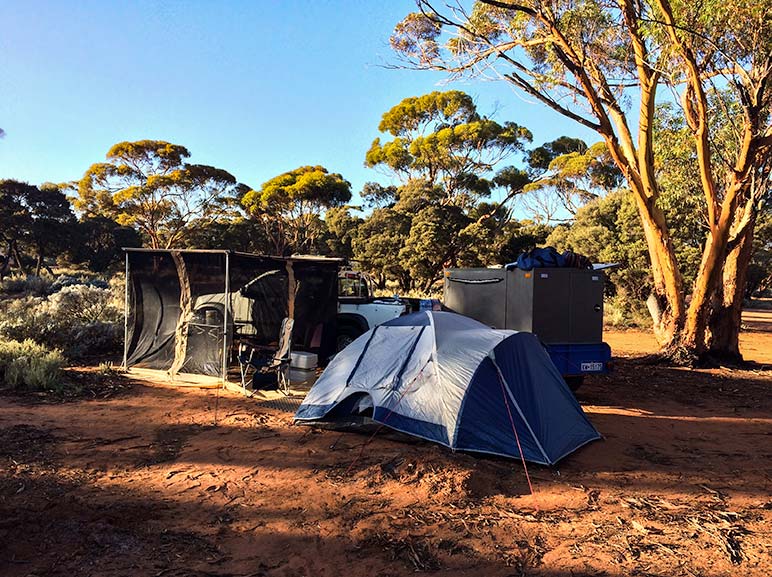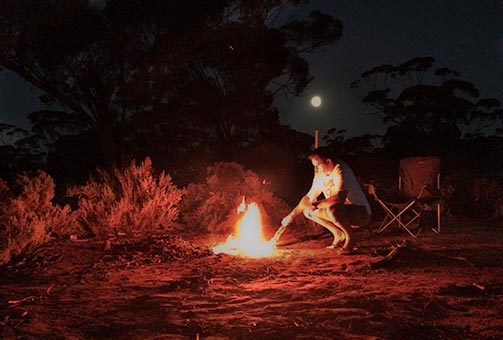 If you are camping while driving from Perth to Melbourne, you may want to consider the following to make life a little more comfortable.
Deet protection against flies and mosquitoes (even if not camping)
A fly screen canopy  (we had one so we could  sit outside without getting bitten and bothered by the pesky mozzies and flies)
Remember to stomp into the bushes when you go to the toilet to scare off any snakes.
Day 3: Fraser Range to Madura, WA 
 449km / 4hr 35min 
This leg of the Perth to Melbourne drive takes you further along the Nullarbor and on to the '90 Mile Straight'. This length of road is one of the straightest in the world with no bends for the whole 90 miles.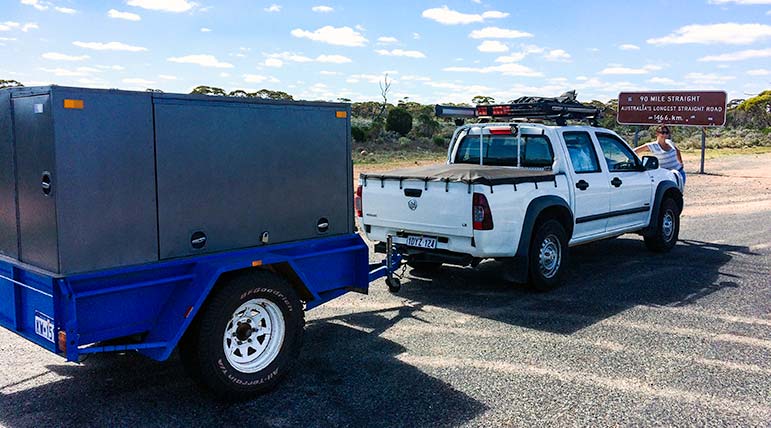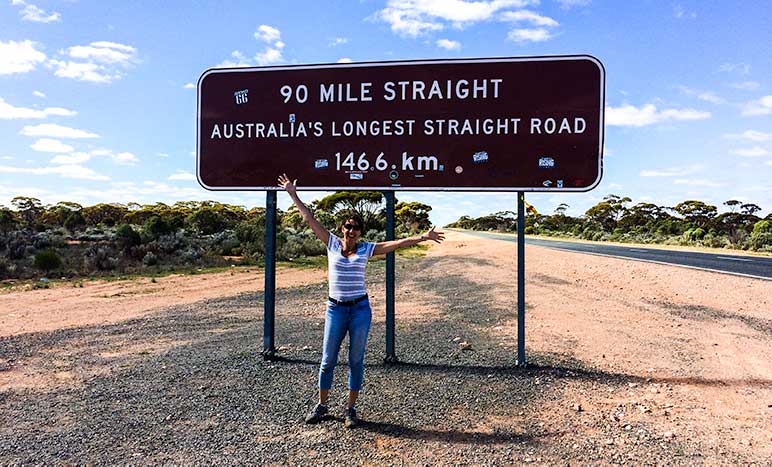 We stopped the night at the Madura Roadhouse which had good showers and a basic restaurant.
Day 4: Madura, WA to Bookabie, SA
 583km / 6hr  
Leaving Western Australia, your Perth to Melbourne road trip will  take you past Border Village just before entering South Australia. From here you will pass plenty of lookout areas to stop and take in the views of the Bunda Cliffs overlooking the Great Australian Bight.
With it being April, we were too early to spot any whales, but if you are travelling in the months of June to October it is possible to spot hundreds of whales and their young off the coast here.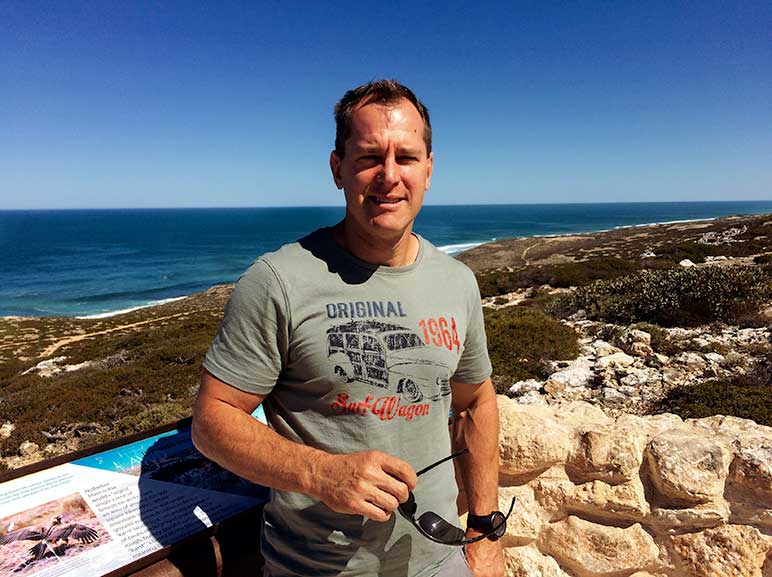 Bunda Cliffs overlooking the Great Australian Bight.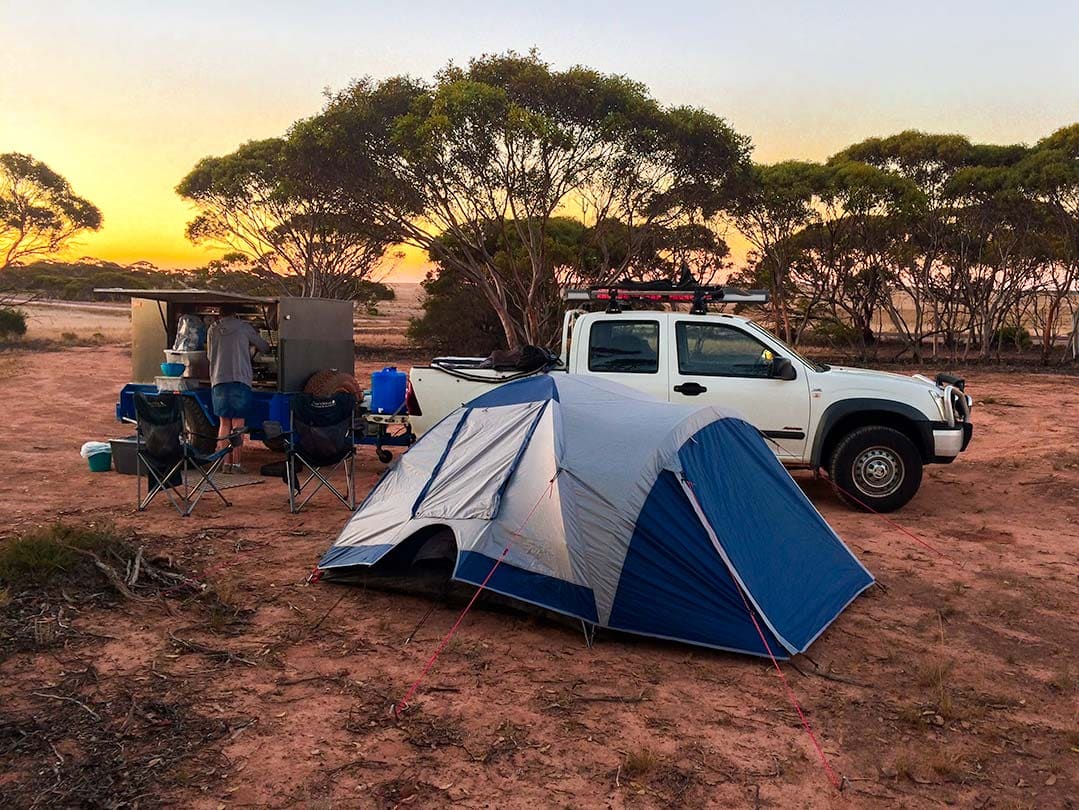 Free Camp near Bookabie, SA
Day 5: Bookabie to Kyankutta, SA 
334km / 3hr 30min
You drive the last stretch of the Nullarbor on this part of the Perth to Melbourne Drive, which ends at the town of Ceduna.
Just before you reach Ceduna you will need to stop at the Quarantine Station. You cannot take any fruit, vegetables or plant material into South Australia, a rule which is in place to prevent fruit flies. If you breach these regulations you risk possible fines of up to $100,000.  Therefore get rid of any fruit and veg in the bins provided before passing the quarantine station. 
Once we arrived in Ceduna, we stocked up on supplies and had a picnic on the foreshore overlooking Murat bay.
On the next part of the drive, we found something else to keep us entertained;)
Fun on the Road
There is no doubt about it, the drive from Perth to Melbourne is a long one. Driving long distances can sometimes be a little tedious, but we managed to keep ourselves occupied with some car karaoke! Please feel free to share your own videos if you feel inclined to do the same thing.
VIDEO: Enjoy our embarrassing example of how to stop the boredom setting in on a long drive.
At the end of the day, we pulled off the road at a free spot near Kyankutta. It looked like a lovely place to camp. However, just after we finished setting up the tent, whether it was the season, environment, or just bad luck, we were ambushed by one of the most ferocious beasts known to campers in Australia. The horsefly.
The female, with her scissor-like jaws, relentlessly attacks, painfully extracting your blood. She can easily penetrate through clothes and even DEET insect protection doesn't seem to deter her vampire desires. This one occasion was so bad we had to forgo cooking dinner and hastily dive into the tent for cover.
We love wildlife but these guys were just a tad too wild for us.
Day 6: Kyankutta, SA to Middle Beach, SA
 498km / 5hr 10min 
Luckily in the morning, the flies weren't too bad, but we didn't hang around to wait for them to amass their army.
We didn't stop today, apart for a lunch break, and drove straight to our next paid campsite, Middle Beach. The site is set on the Sapphire Coast and is surrounded by mangroves.

View near the campsite at Middle Beach, SA
Day 7: Middle Beach to Tintinara, SA
238km / 2hr 45mins 
An hours drive from Middle Beach, you'll reach South Australia's capital city, Adelaide. We spent a good part of the day looking around the city before heading to our next free campsite at Tintinara, SA
Day 8: Tintinara to Port Fairy
 398km / 4hr 15min  
On this Perth to Melbourne leg of the drive, make sure to stop off at Mount Gambier to see the beautiful Blue Lake which sits in a crater of an extinct volcano. Just after Mount Gambier, you enter the state of Victoria.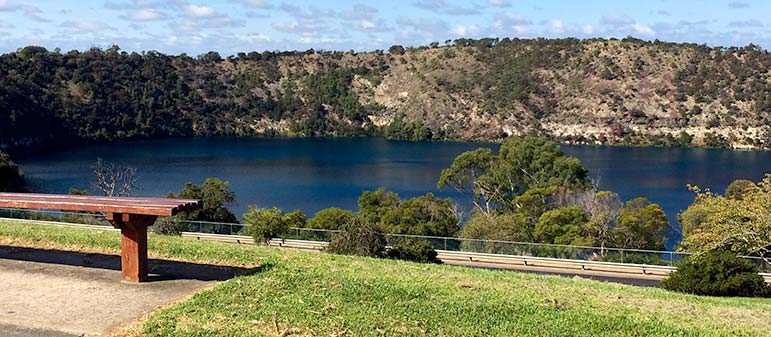 Blue Lake at Mount Gambier, SA
We spent the night at Catalina Caravan park at Port Fairy – they have a small restaurant there and the fish and chips were delicious.
For more accommodation options for Port Fairy click here.
Day 9: Port Fairy to Apollo Bay
190km 2hr 40min
Just after Port Fairy, at Allansford, you'll turn on to the famed Great Ocean Road.
The Great Ocean Road
The Great Ocean Road is one of the world's most scenic coastal drives. It has amazing surf beaches, stunning rainforests, wineries, breweries and arts and cultural events galore. There is plenty to see and do on this 244 km stretch of ocean road.
Some of the most famous natural landmarks on the Great Ocean Road are the dramatic rock stacks, the Twelve Apostles. Funnily enough, they used to be called the Sow and Piglets but the Tourism Board changed the name to The Apostles. This name then morphed into the Twelve Apostles, even though at the time there were only nine stacks. Today there are eight rock stacks with some up to 50 metres high. They remain a huge drawcard for tourists and locals alike and gazing at their powerful presence you can certainly see why.
The 'Twelve Apostles' however are just one group of the rock formations and all along the coast, there are incredible formations with various names and stories behind them. For example, the 'Tom and Eva' rocks were named after the only two passengers that survived the shipwreck in 1878 of the clipper 'Lord Ard'.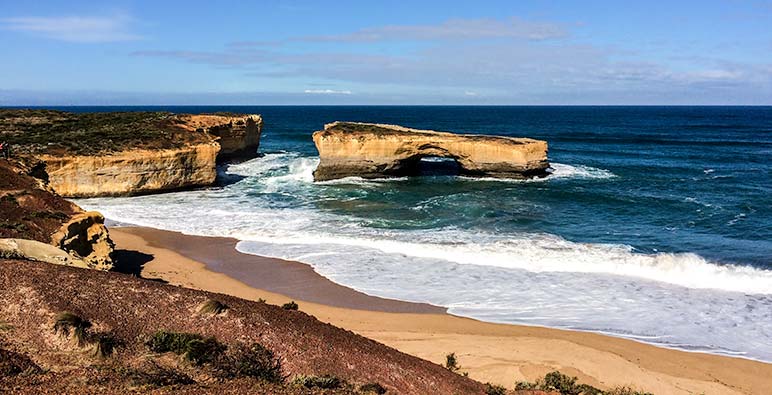 The London Arch along the Great Ocean Road
You will pass many lookouts and viewing points for these stunning spectacles. The main ones are:
The Bay of Islands
The Grotto
The Arch
The London Bridge
The Lord Ard Gorge
The island Lookout
Tom and Eva Lookout
The Twelve Apostles
Gibsons Steps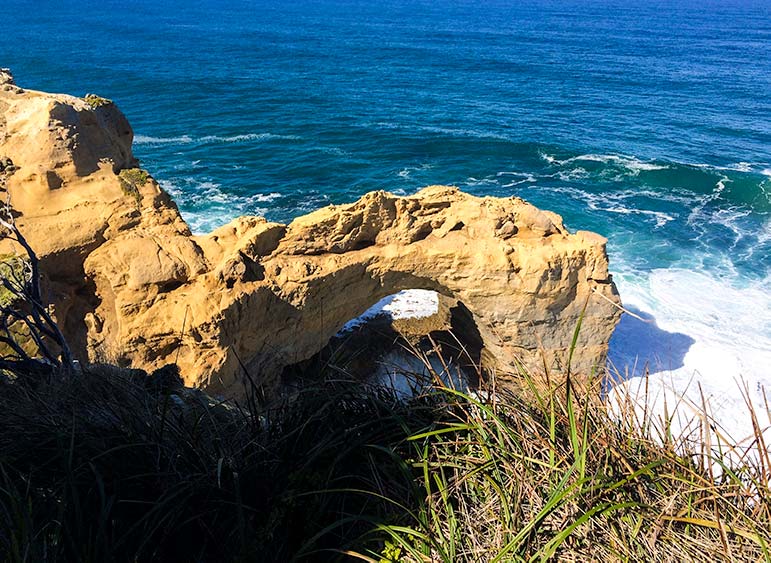 The 'Arch' on the Great Ocean Road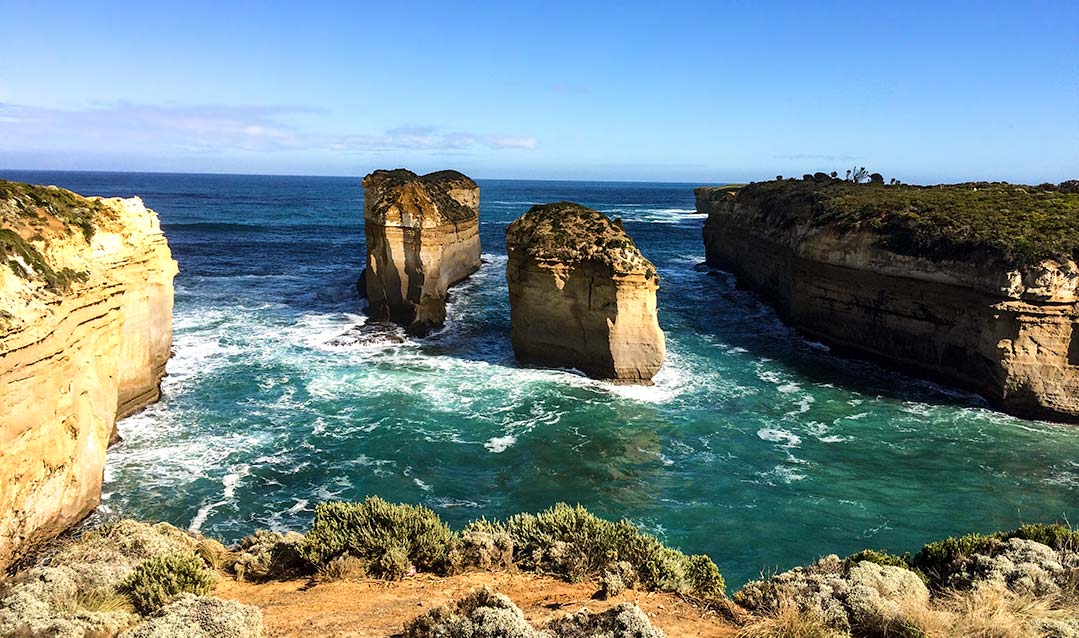 Tom and Eva, on the Great Ocean Road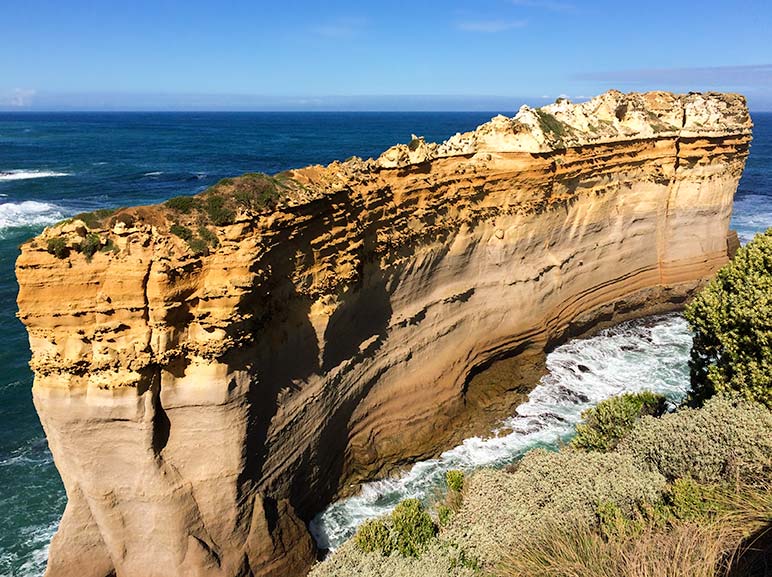 The Island Arch, Great Ocean Road
Day 10: Apollo Bay to Melbourne
197km / 2hr 30 
There are just so many places you could stop along the Great Ocean Road, but we were on a time schedule so we couldn't indulge ourselves too much. On a positive note – there are still plenty of sights for us to see on a return trip.
On our final day, before arriving in Melbourne, we walked along Apollo Bay in the morning and then headed off along the coast to Lorne.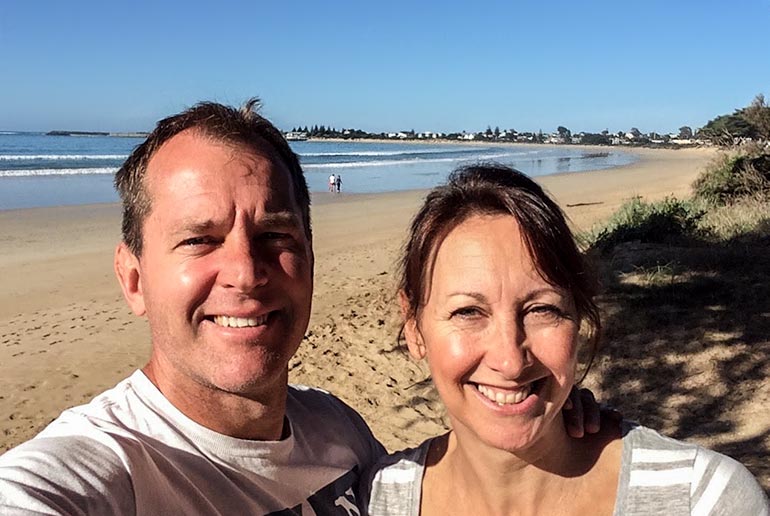 Apollo Bay, along the Great Ocean Road
After coffee and cake in lovely Lorne, we headed up to the lush Erskine Falls. The Falls are one of the most popular in the Otway National Park and are only a 9 km drive from Lorne.
There is a lookout over the Erskine Falls just a five-minute walk from the carpark, but if you want to get to the base of this 30-metre waterfall you have 240 steps to climb down. Coming back up is great exercise;)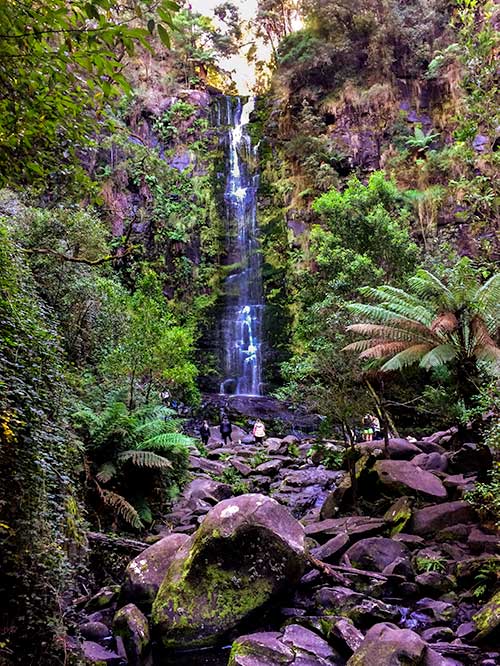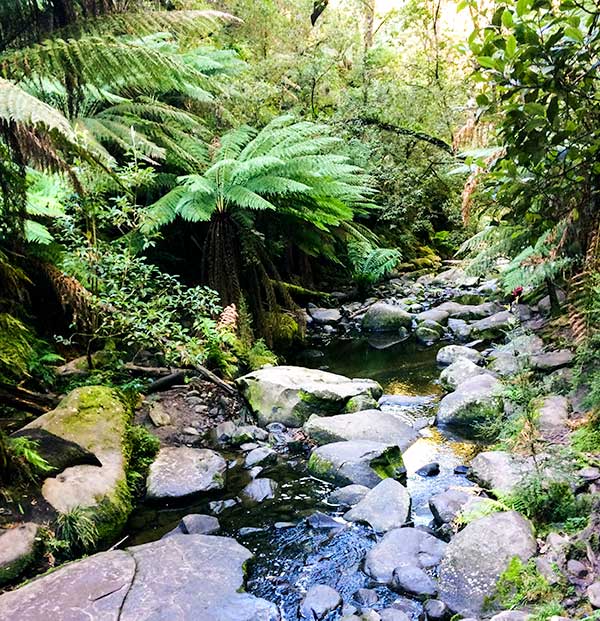 The Great Ocean Road ends just past Torquay and from there you conclude the long drive from Perth and reach Melbourne in about another 100km.
Melbourne
Your road trip from Perth finally brings you to Melbourne, one of the most hip cities in Australia. Full of laneways of art, rooftop bars and cafes Melbourne is the capital of the state of  Victoria.  For the many fun things to do in Melbourne, check out this link below: 
Melbourne Accommodation
If you are looking for accommodation in Melbourne, you can check out the best deals on Booking.com here.
An alternative route for the Perth to Melbourne Drive
When driving from Perth to Melbourne you have to get onto the Eyre Highway (Nullarbor) at the town of Norseman. However, to reach Norseman you have a choice of driving via Kalgoorlie or driving south from Perth along the southwestern coast of WA and then northwards to Norseman.
If time is not an issue for you and you are looking for the more scenic route, an alternative would be to head south from Perth to Margaret River, Albany and Esperance. This is an absolutely beautiful part of the South West of Western Australia.
Your drive from Perth to Melbourne would then entail an extra 500 km and there is so much to explore that you would need at least a week or more to add to your itinerary.  From Esperance, you would then drive north to Norseman and there join the Eyre Highway, the only road across the south to Adelaide, Victoria.
Perth To Melbourne Road Trip – That's a Wrap
We hope this Perth to Melbourne Drive post has been useful. Please feel free to ask us anything you think we might be able to help you with. 
We'd also love to hear from you if you've driven this route and if you have any extra tidbits of knowledge you could share with our readers. Just leave a comment below:)
This post may contain affiliate links. This means that we may earn a small commission from purchases you make through our links, at no extra cost to you. Thank you for supporting us. For more info, read our Disclosure Policy.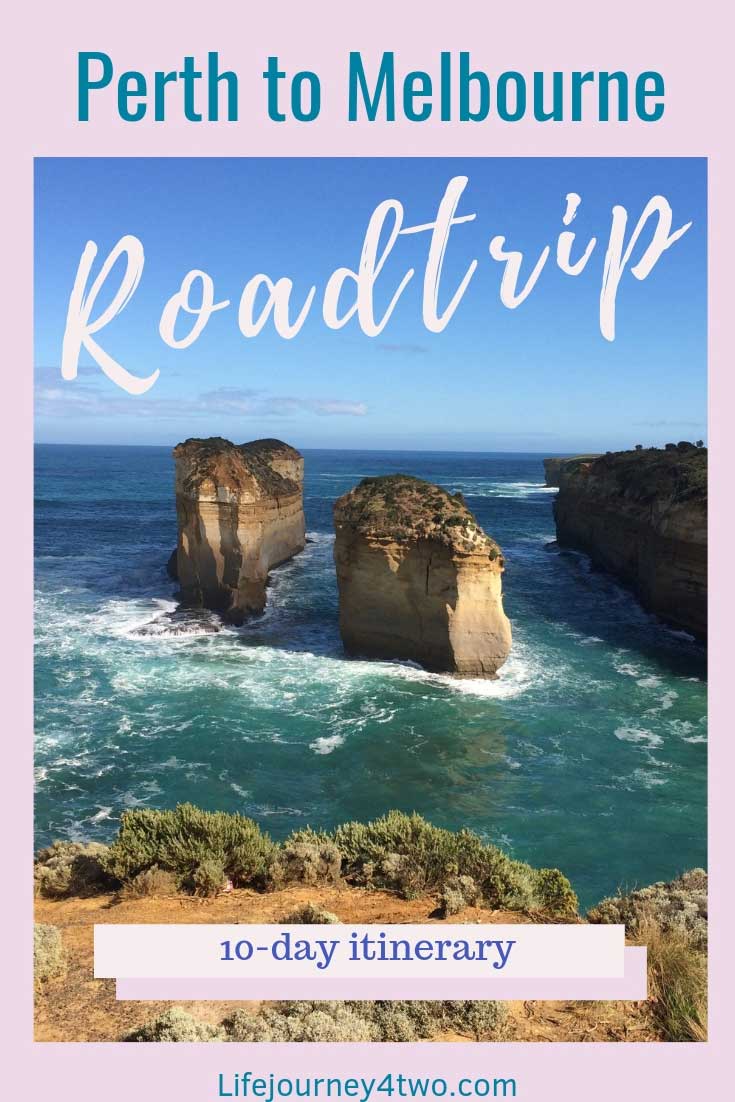 You May Also be Interested in Reading:
If you enjoyed this article, you may like these FREE RESOURCES:
FREE Travel Guides (many countries)
FREE 23-page Travel Planner, including menu planner, journal pages and budgeting)
FREE Phone Wallpapers
FREE Photo Ebooks
Monthly Travel News 
Arrange Your Travel Insurance
Get a quote from World Nomads - one of the best options for travellers. Find out why here.
Book Your Accommodation
We use Booking.com and Tripadvisor to find accommodation that suits our budget and to get a great overview of available specials and deals. 
Travel Gear and Accessories
We've been on the road since 2017 and have added items we've found useful to our Lifejourney4two page on Amazon  
Car Hire
We use  Rentalcars.com to find the best car rental deals.
Motorhome/Van Rentals
If you are looking for a motorhome or van rental - we highly recommend the Motorhome Republic who can find the best deals worldwide.
Finding Activities to do
We use Get Your Guide and Viator to get ideas of what to do in a place - sometimes it's best to get tickets online and jump the queues.
Flexible Accommodation Options/ Or Finding someone to look after your pets
We often use house/petsitting as it really makes our travels much more affordable - as accommodation is FREE
Get 25% off  Trusted House Sitters by using our link here: Join Trusted House Sitters either as a house sitter or if you want to find a house sitter.
Photography Prints and Products
Shop our ETSY store for digital downloads of our best photos and our unique photographic designs.