Some posts on this site contain affiliate links, meaning if you book or buy something through one of these links then we may earn a small commission. Read our Disclosure Policy here.
Newburgh Seal Beach, Scotland
Who can resist the huge round eyes of a lolloping seal?
As nature lovers, we are always keen to spot wildlife when we're out and about. So, when we were told there was a good chance of seeing seals at Newburgh Seal Beach, we knew it had to be high on our hit list of things to do in Aberdeenshire.
Newburgh Seal Beach is just 20 minutes north of Aberdeen by car, about 13 miles (approximately 20 kilometres for those of us in metric mindsets.)
Newburgh Beach is in the northeast of Scotland, in the county of Aberdeenshire. It's an ideal stop on any road trip along the Aberdeenshire coast.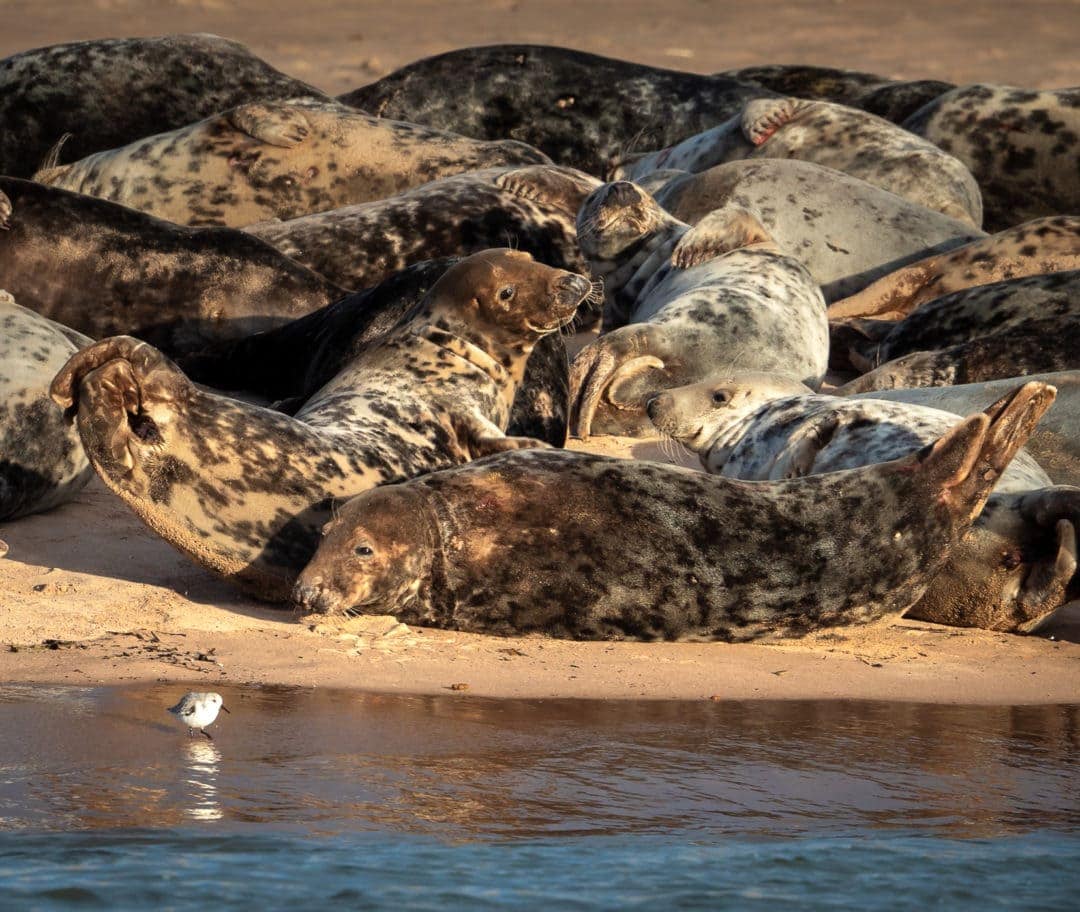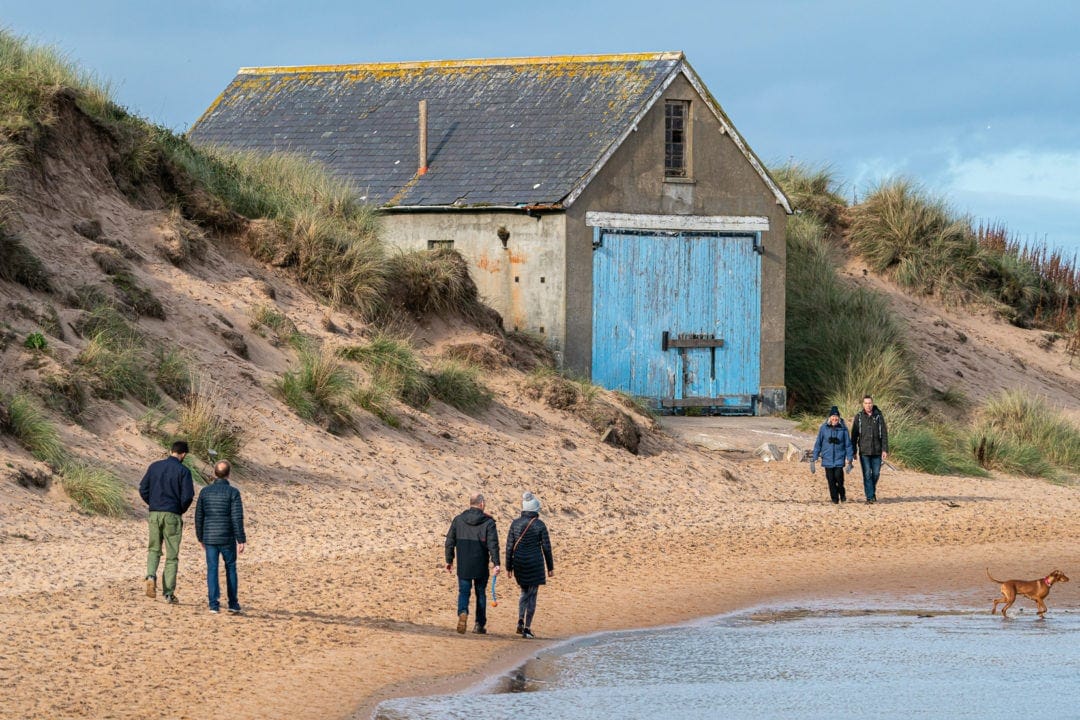 Wildlife sightings can be unpredictable. So we tend to take a pragmatic approach and not get our hopes up too high. As photographers, we can always find something to shoot, even if the wildlife decides to elude us. However, we were excited about the possibility of watching some seals. We'd been taking landscape shots most of the day, so we were keen to photograph some wildlife.
Earlier in the day, at Rattray Head Lighthouse further north along the coast, fellow photographers had eagerly mentioned they'd spotted a few seals. We'd scoured the rocks with our zoom lenses but were out of luck.

So we were particularly keen now we'd arrived at Seal Beach…
Would the seals put in an appearance for our impromptu photo shoot?
Would Newburgh Seal Beach live up to its name?
And, was Lady Luck going to reward us?
How to use the Newburgh Beach Map
To enlarge the map, click the square on the right-hand side. Once open, you will find a key on the left detailing the marked locations. The purple markers relate to Newburgh Seal Beach, and the blue markers are other points of interest in the local area.
Newburgh Seal Beach Experience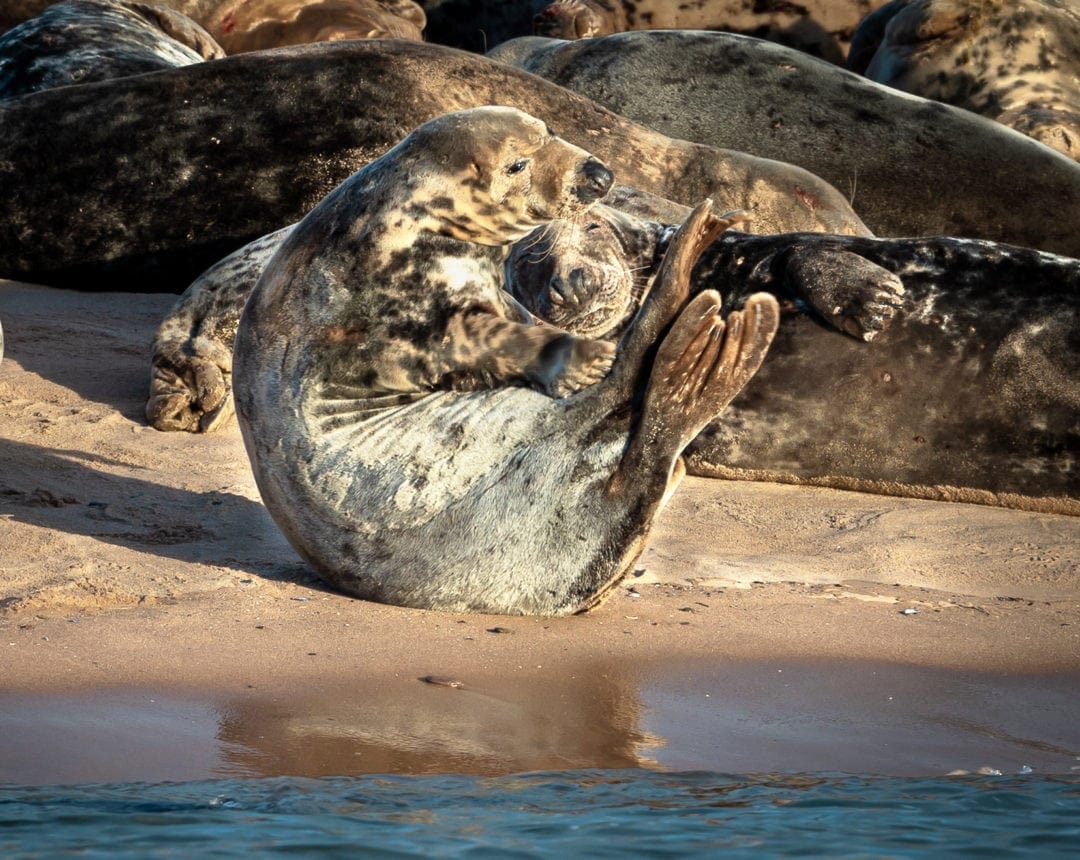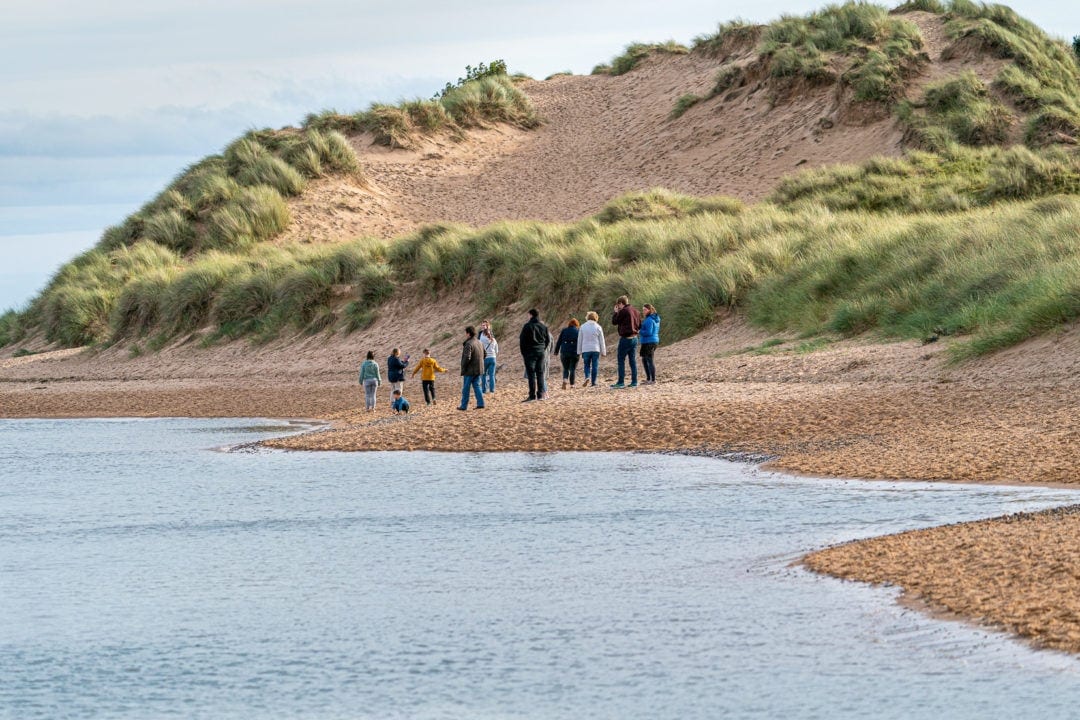 It was a chilly Autumn Sunday afternoon when we arrived at the crowded Newburgh Seal Beach carpark. Heading out of the carpark, dogs of all shapes and sizes were taking their humans for a leisurely stroll along Newburgh's curved, sandy bay.
Impressive sand dunes shelter the beach, and it is here that the River Ythan meets the North Sea. The shoreline includes the mudflats of the Ythan Estuary and changes its look as the tide draws in and out between the sandbanks on either side. However, you get the best view from this southern side.
The sign on the way to the beach showed a picture of a colony of seals basking on the sand. They actually haul out, (the term used for seals being out of the water) on the opposite sandy beach, on the north side of the estuary, in a protected area of the Forvie National Nature Reserve.
At first, we thought we were out of luck, but then we spotted some bobbing, black shapes randomly popping up here and there. It took us a few moments to realise that these were seals. They were playing in the slipstream of the estuary, between us and the opposite sandbank.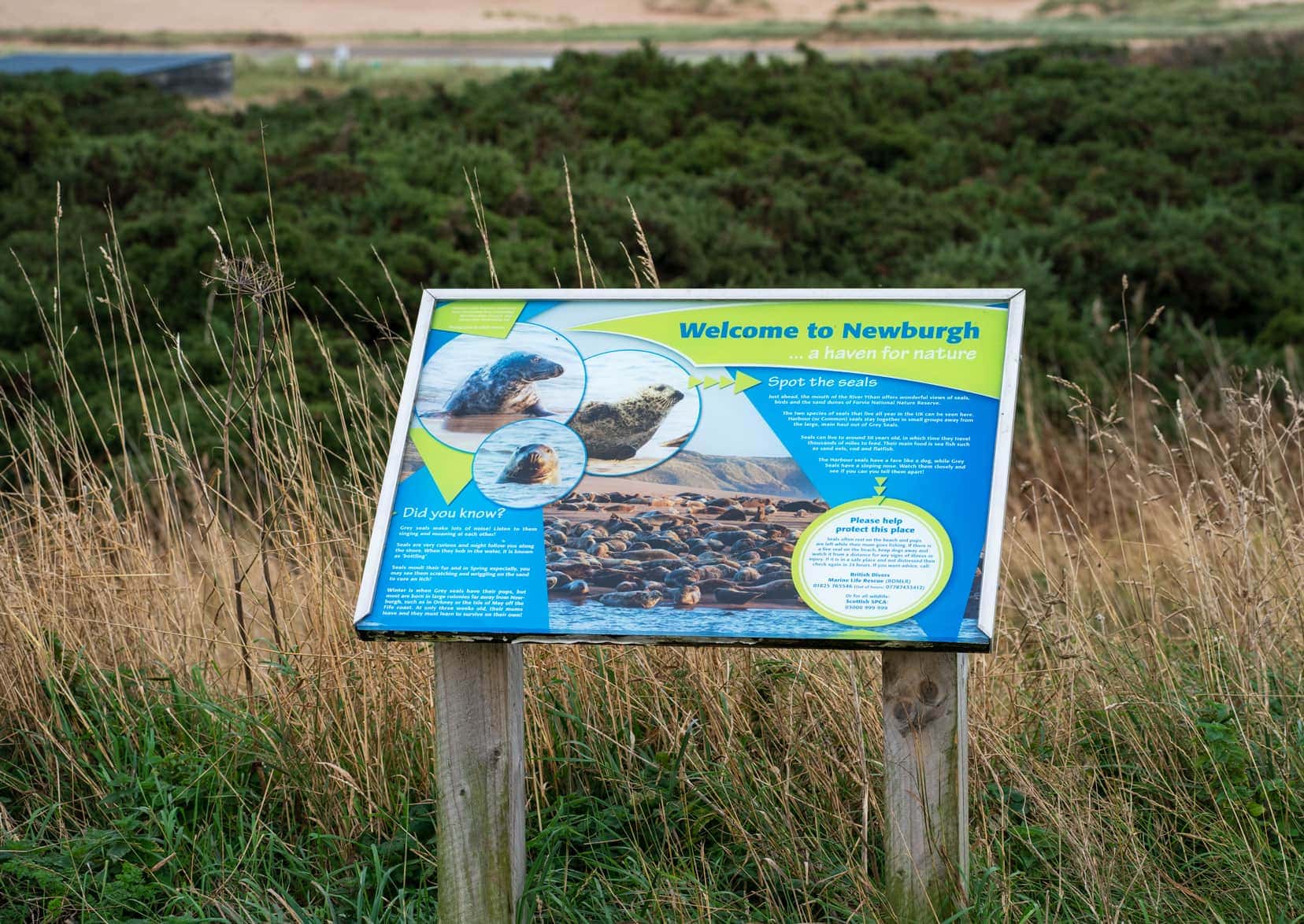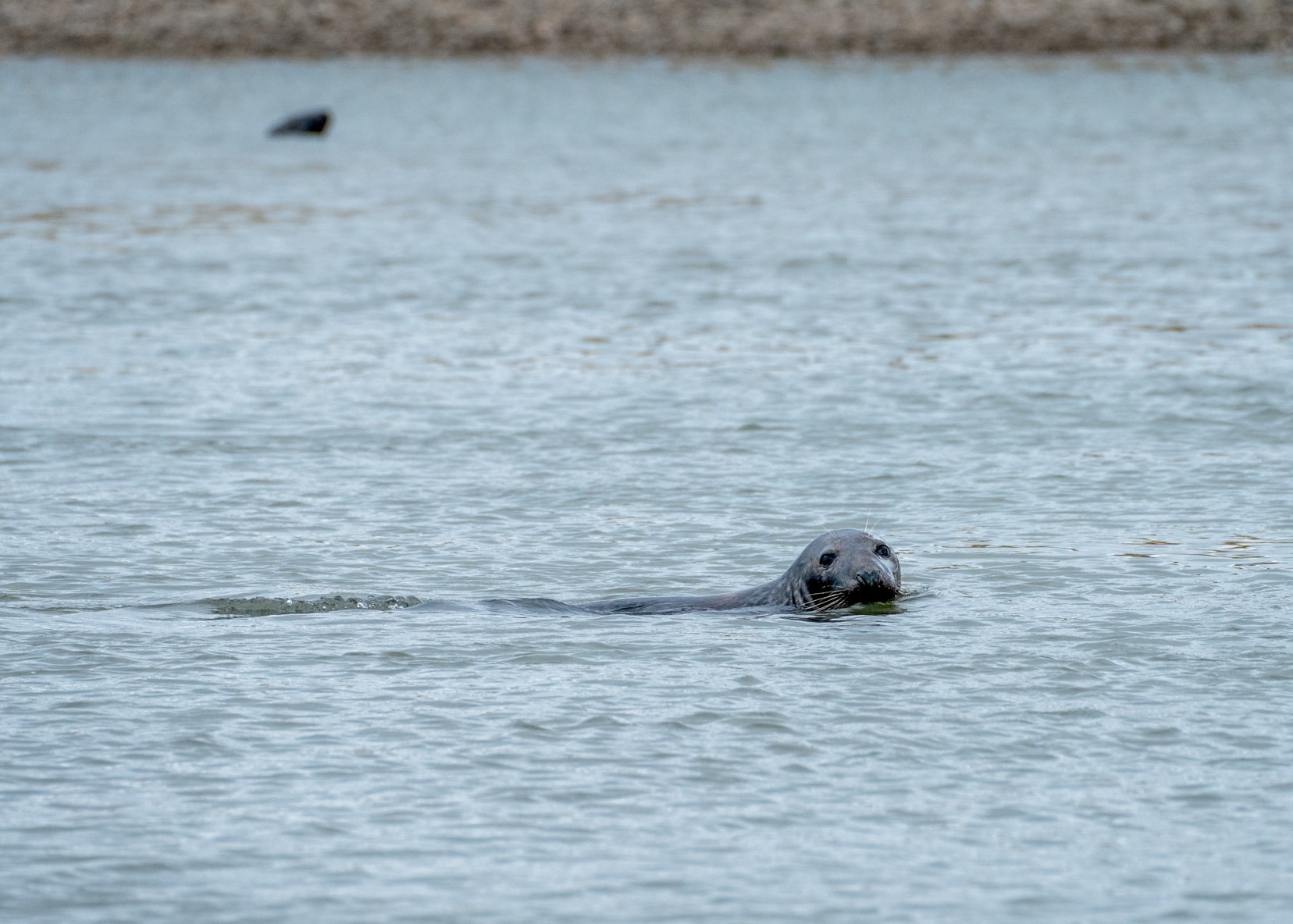 The seals seemed non-plussed by the gathering Sunday strollers. In fact, at times, they seemed more intent on watching the passers-by, than the passers-by were watching them. We readied with our cameras and played 'Now you see me, now you don't', as the seals teased us with their disappearing acts.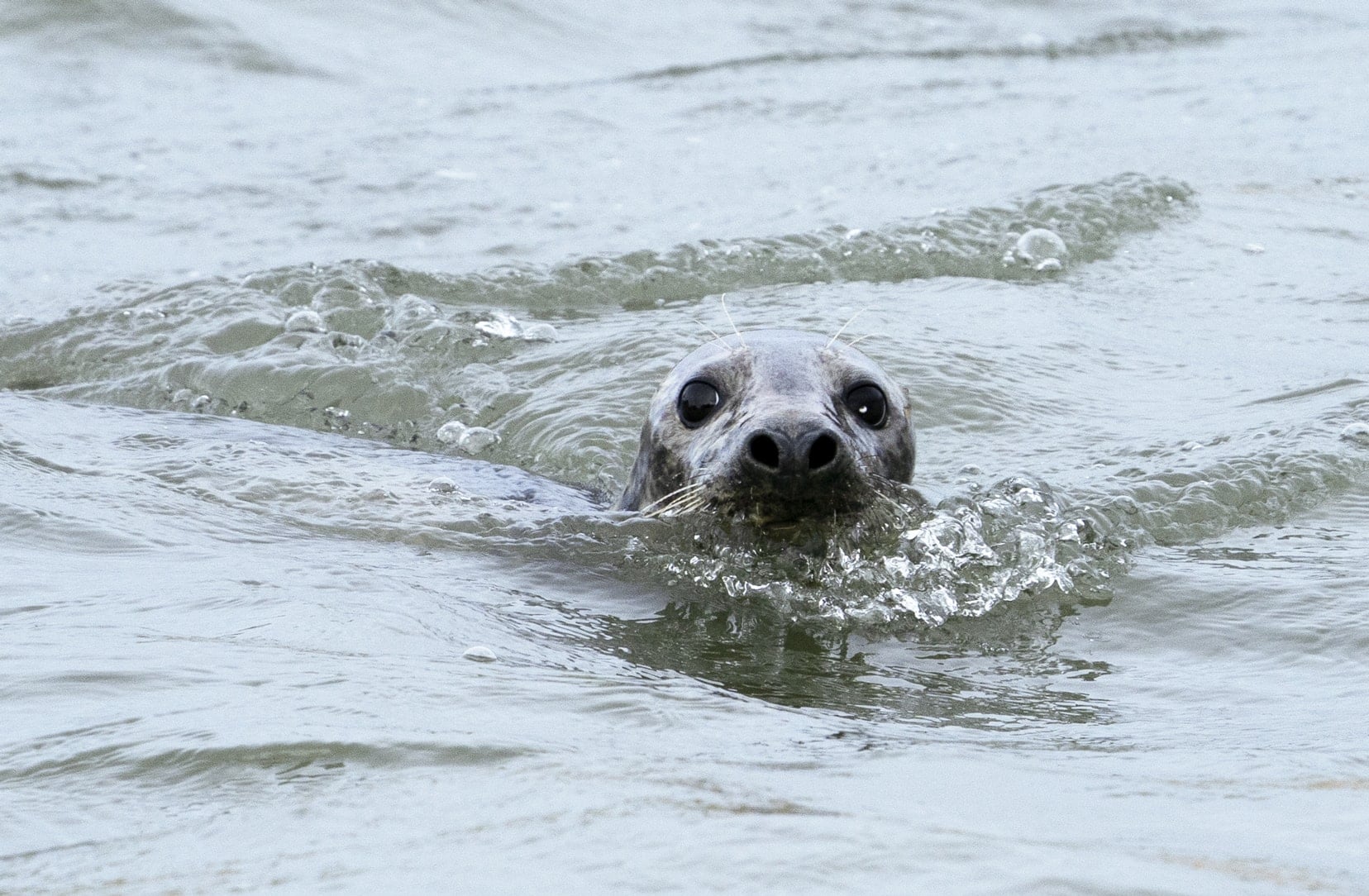 Further out, we could see seals playing in the surf, but it was those in the fast-moving slipstream of the estuary that seemed to be having the most fun.
You know that feeling when you relax with your feet up on the couch, tilt your head back on a pillow, and your body lets out a relaxing sigh? That's what the seals were doing, only they weren't on the couch. They were letting the water flow move them along. The seals might as well have been floating on an inflated sunlounger with a pina colada in hand, they looked that content.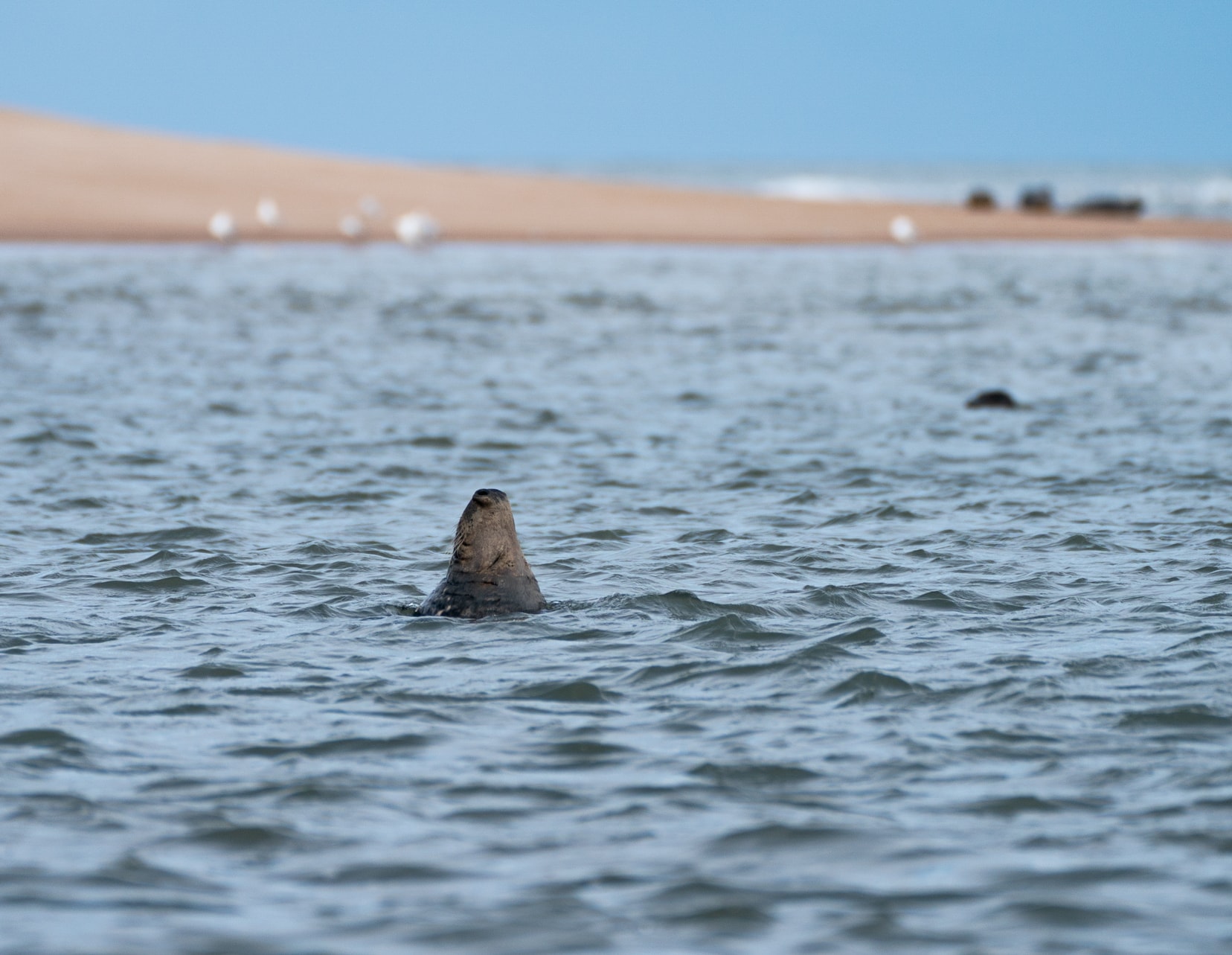 About the Newburgh Beach Seals
There are about 400 seals in the Newburgh Beach colony. Therefore you would be very unlucky to not spot at least a few if you visit the area. To see a haul-out is less common, but your chances are increased if you visit at low tide. (See our update on a later visit below)
The main colony of seals at Newburgh is the rarer grey seals, but there are also many harbour seals (common seal). The grey seal has a longer nose, a flatter head and nostrils that form a 'W' shape. In comparison, the harbour seal's nose is more like a dog, its head is rounder and its nostrils form a 'V' shape.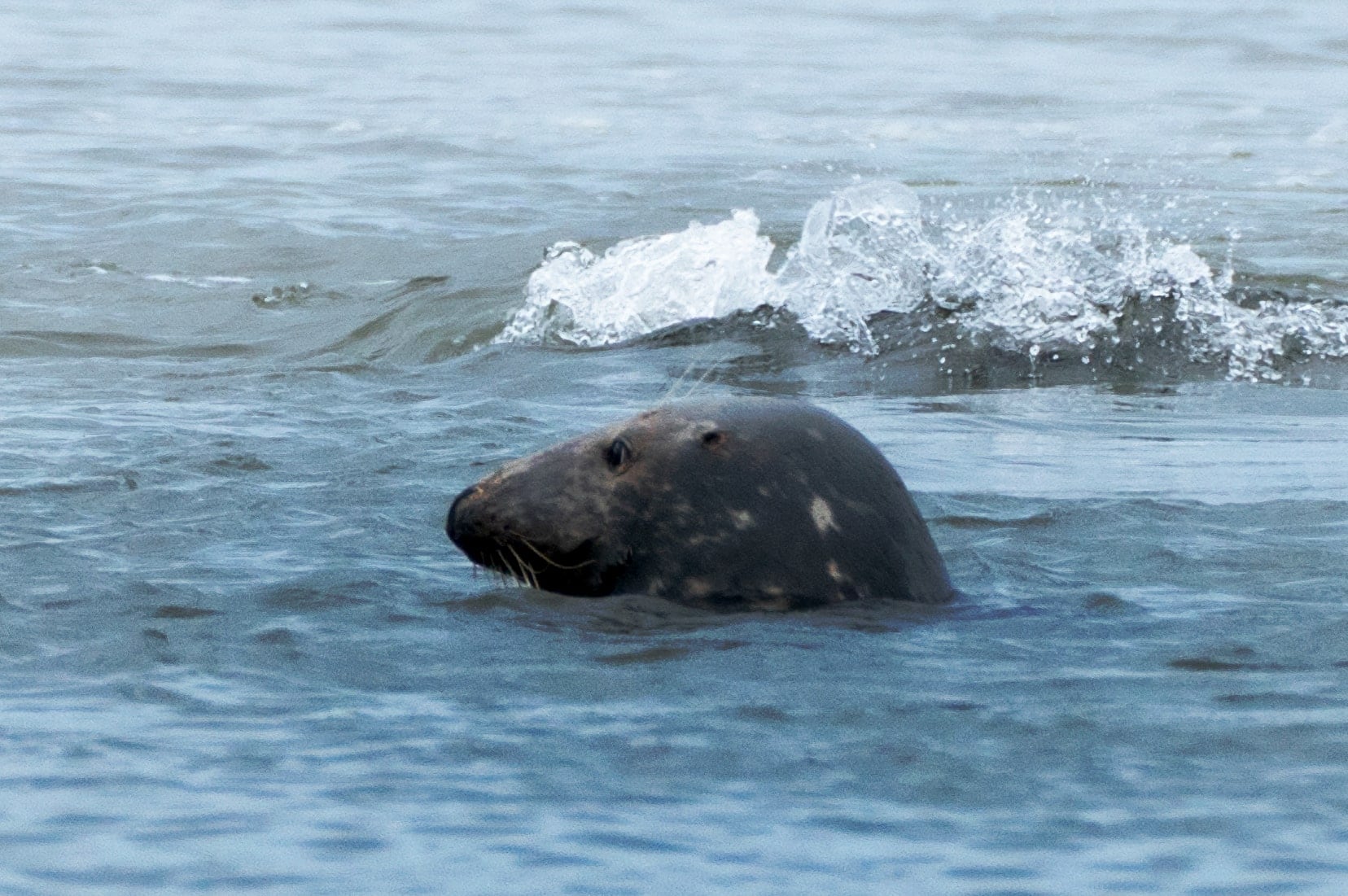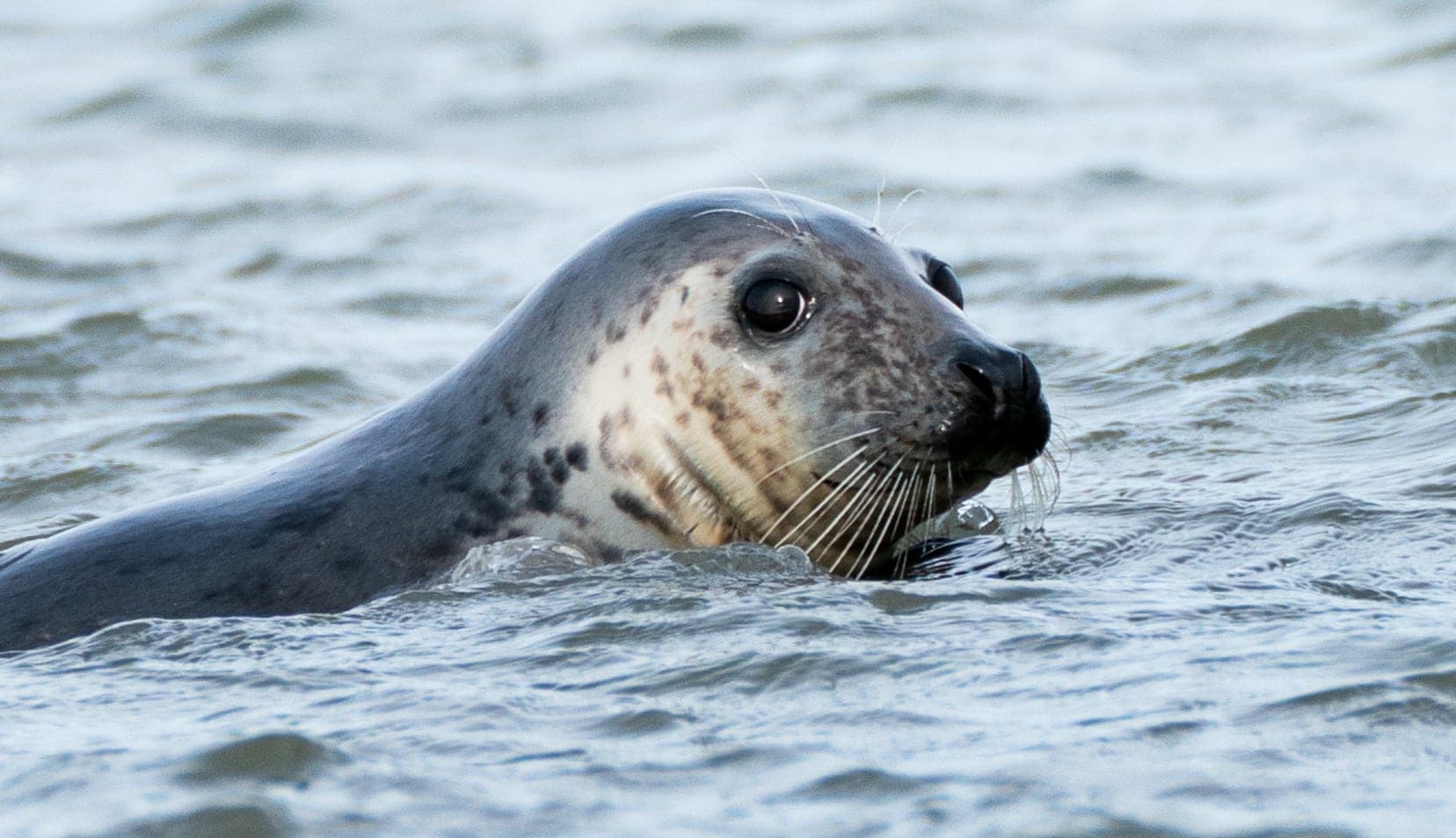 The commons seal tends to hang around in groups of 20- 30 and they don't like laying too close to each other — they like their own space. Their pups are born in the summer months, in June and July. While still in the uterus, the pups shed their white fur and are born with brown skin ready to swim and dive hours after their birth.
In contrast, the grey seals congregate in groups of 100 and more and have their pups in the late autumn or winter. In Scotland, the grey seal pups are normally born in November and December. The newborn pups are less independent than the harbour seals' pups because they are born with a white non-waterproof coat and require suckling for three weeks.
After they have shed their coat and the three-week milk bar has dried up, the grey seal pup is abandoned by their mother and left to fend for themselves. Unfortunately, only two-thirds make it to their first birthday, but their odds of survival after that are much higher.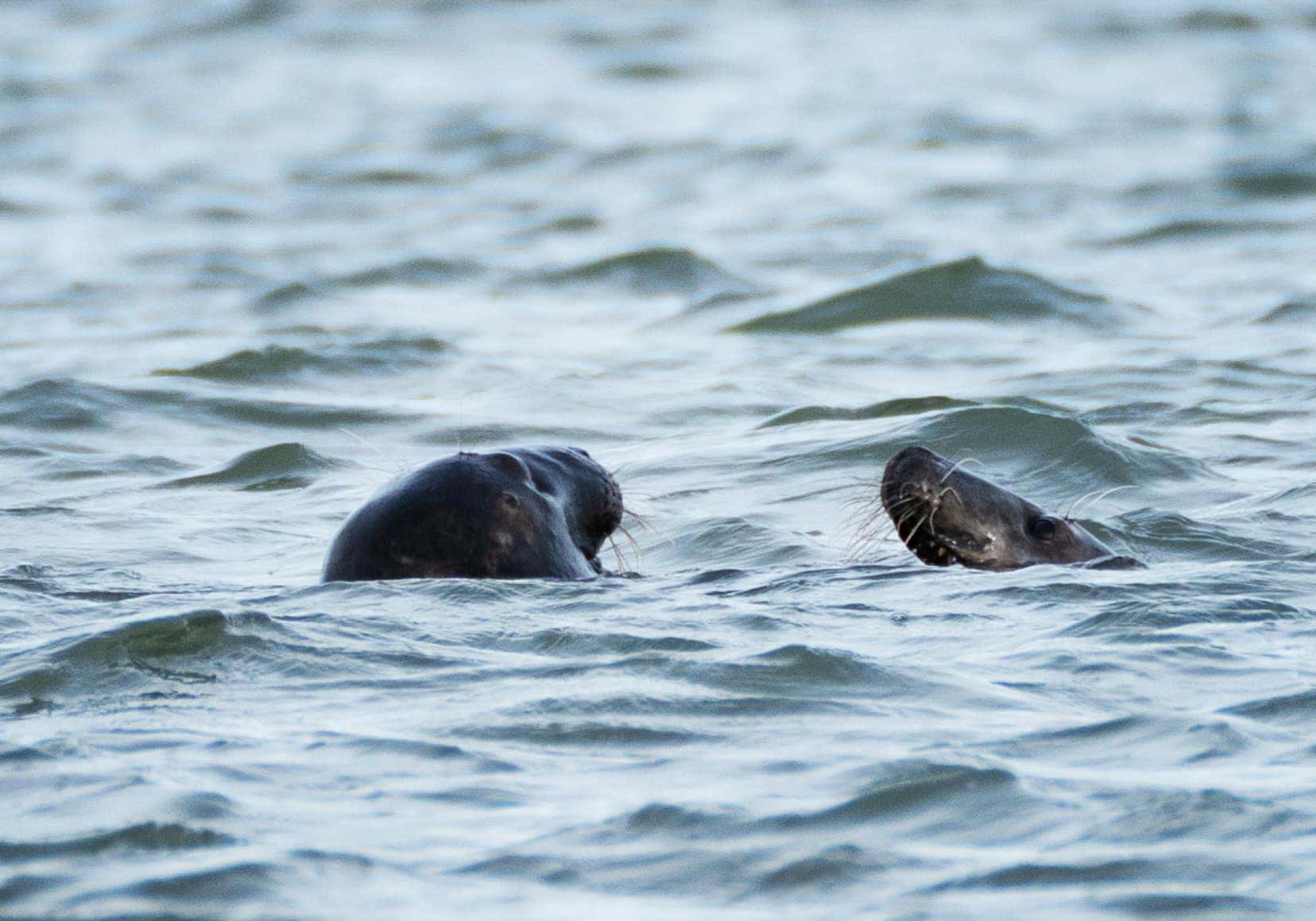 How to View the Newburgh Seals Responsibly
It is very important that you keep a responsible distance away from the Newburgh seals in order not to disturb them. We use zoom lenses across the water to get our shots, so we don't need to get too close. You should not use a drone around the animals under any circumstances because it scares the animals and can cause a stampede.
Some key rules to follow as advised by BBC Wildlife:
Don't get closer to a seal than 20m
Never get between a seal and her pup, or between a seal and the sea
Noise should be kept to a minimum
Dogs need to be kept on short leads and under control
More information on recommendations on how to behave around wild animals can be found in the Scottish Marine Wildlife Watching Code.
Seal harassment on a Marine Scotland designated Seal haul-out like the one on Forvie NNR is a wildlife crime and carries a fine of up to £5000 or six months in prison.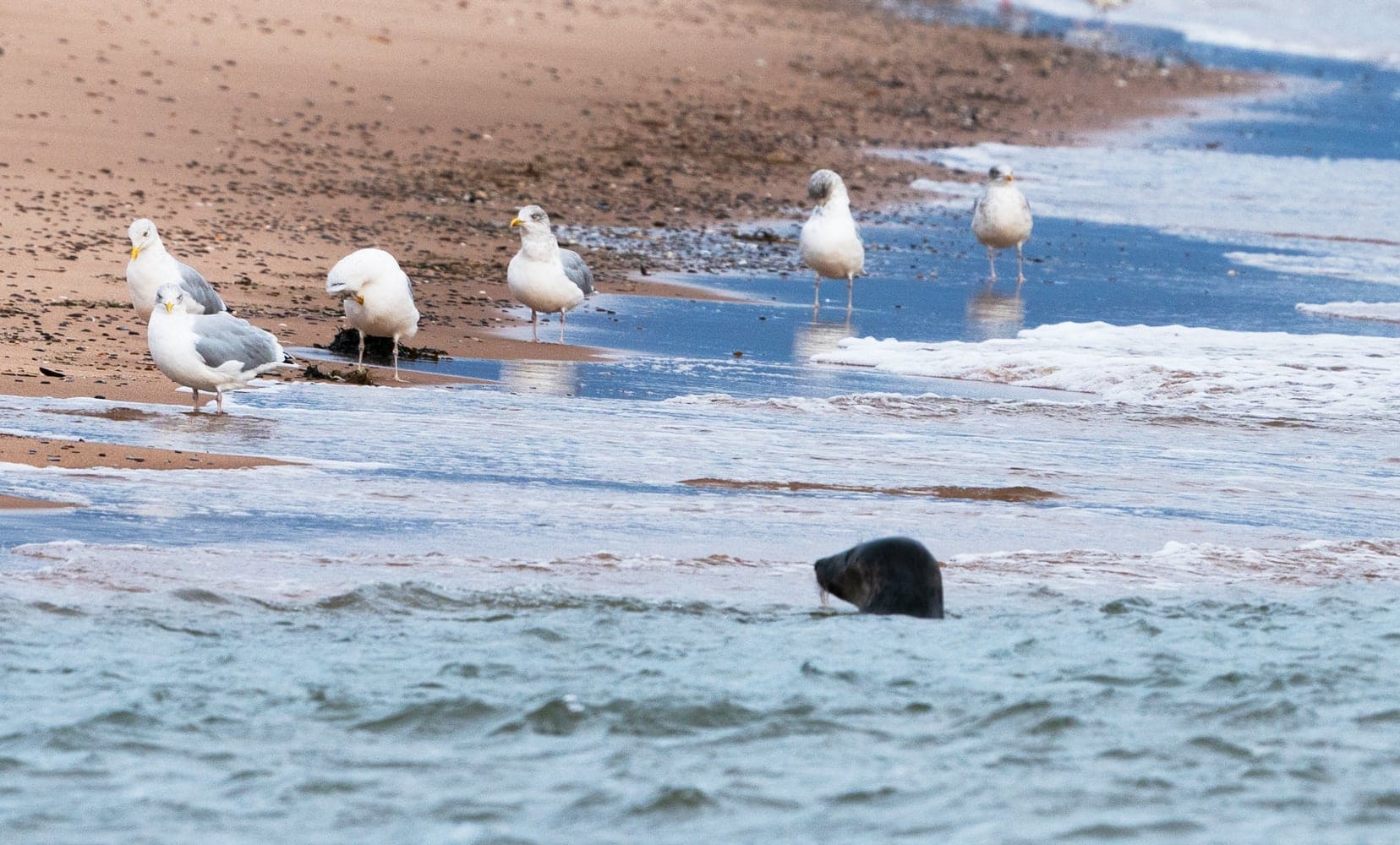 More Than Seals at Newburgh Beach
Seals aren't the only attraction at Newburgh Beach. A raft of seabirds is also attracted to the area. On the opposite bank, there was a brigade of oystercatchers, all lined up in an orderly fashion. If you didn't catch a slight movement every now and again, you'd be mistaken for thinking they were an interesting art installation.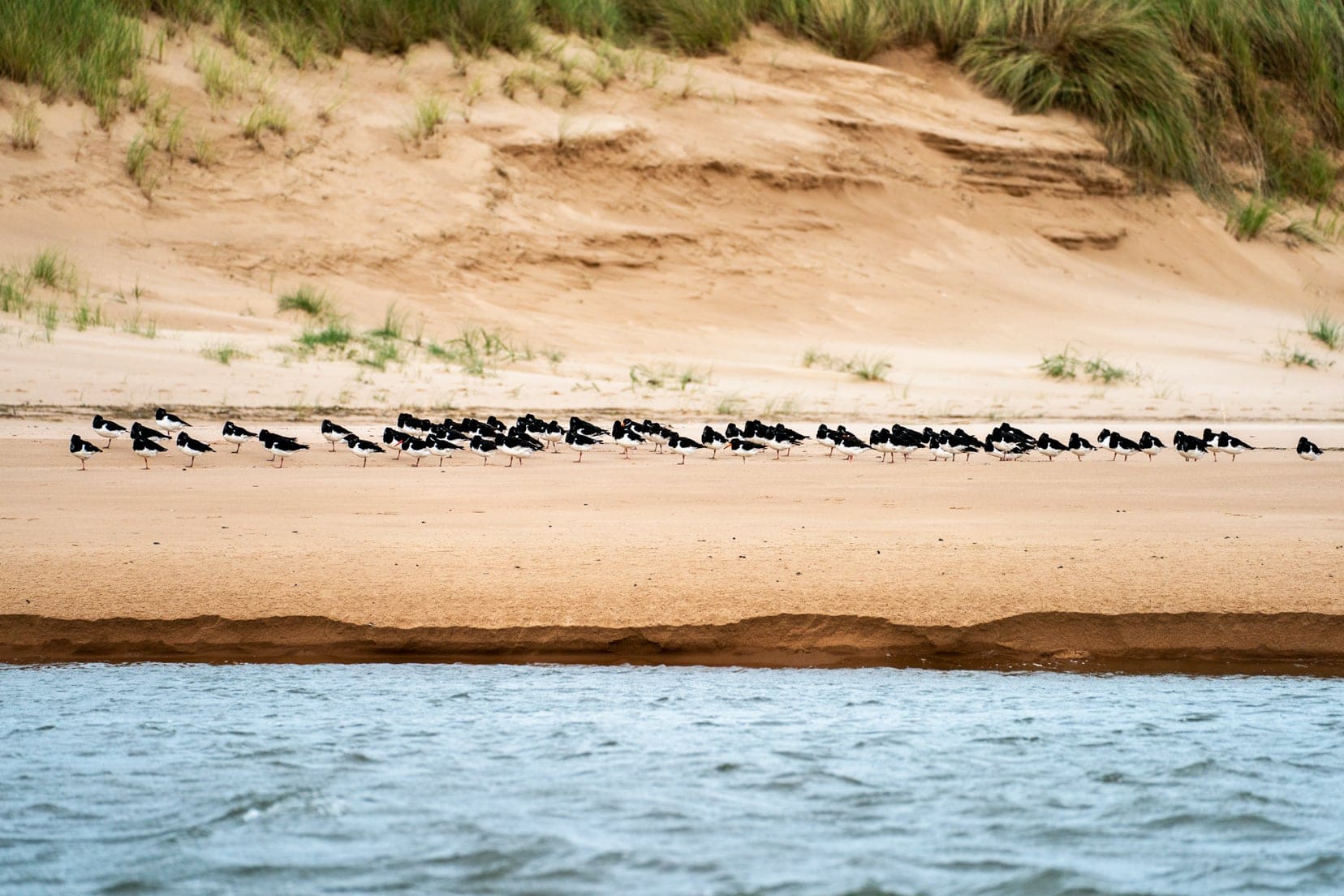 A number of ducks, gulls and waders can be spotted here, along with other bird species at various times of the year. The opposite bank, as mentioned, is part of the Forvie Nature Reserve, and consists of 1,000 hectares of sand dunes and dune heath between the North Sea and the estuary of the River Ythan. It is renowned for its variety of birds, including a large colony of Eider ducks.
Check out this Scottish Bird website for detailed information on the birds found at the Ythan Estuary,
But again, it's not only the Newburgh Beach wildlife that adds to the beach's appeal. The blue-wooden doored hut that looks over the estuary and an old upturned wooden hull in the river mouth, all add to Newburgh Beach's appeal.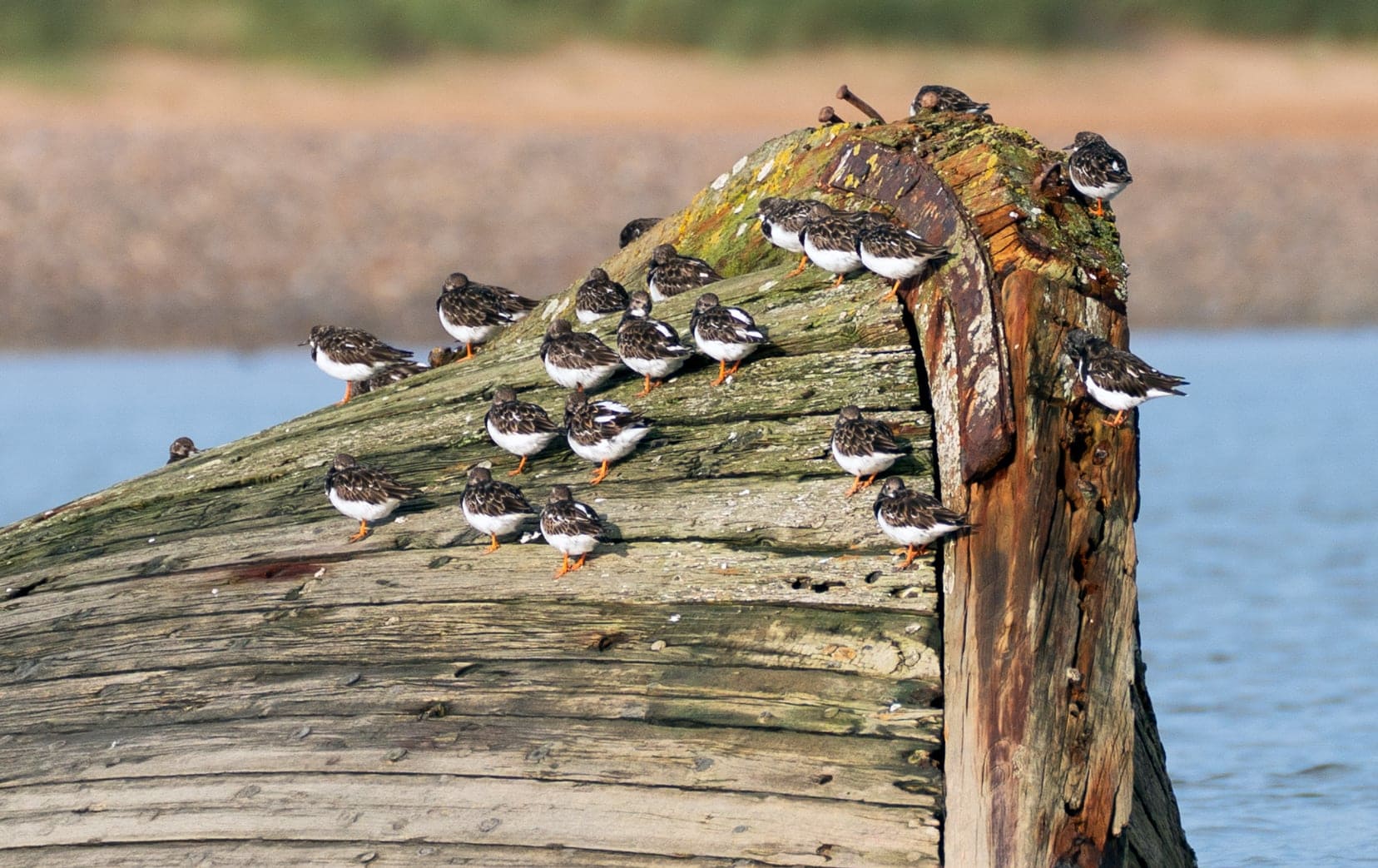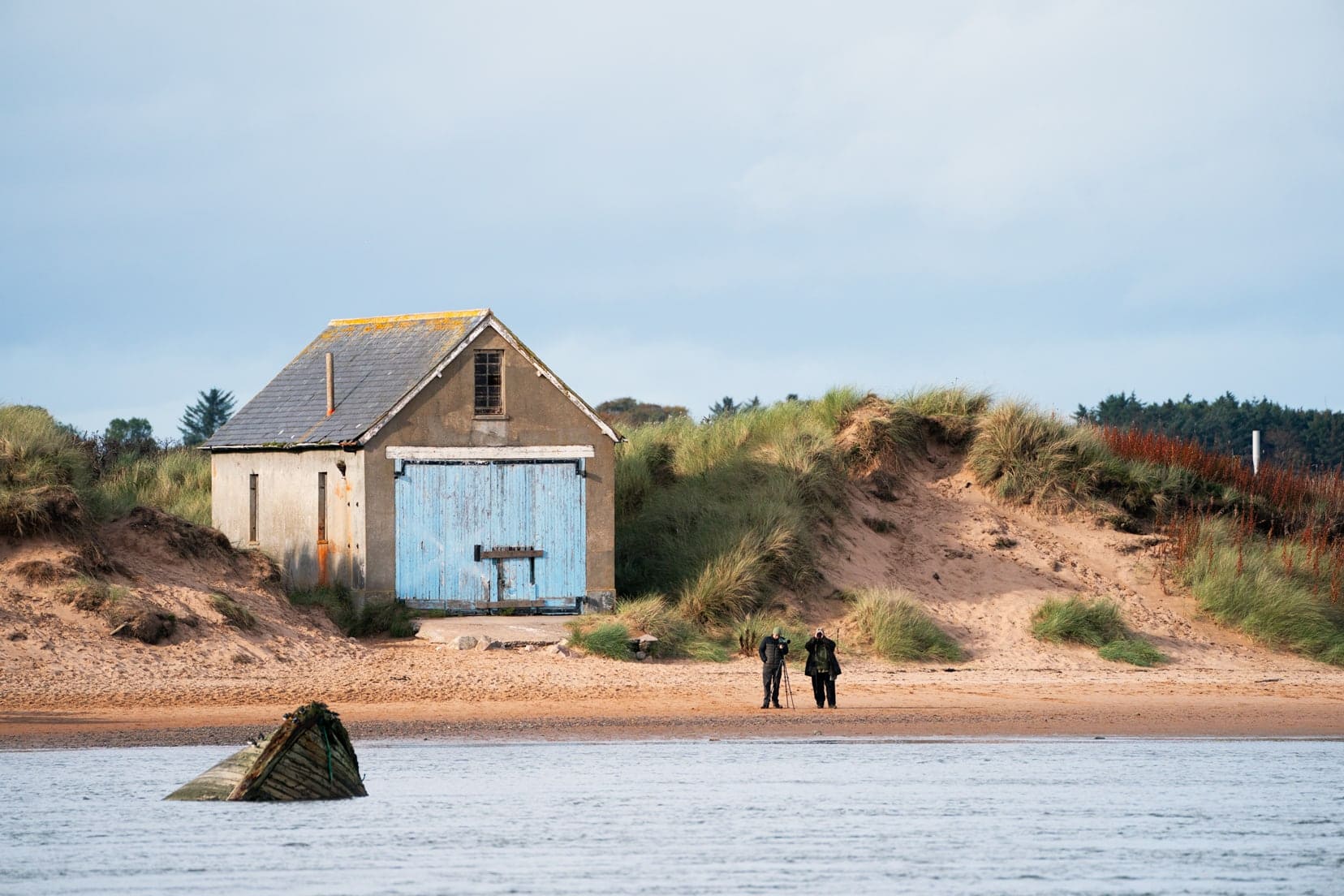 Updated: Newburgh Seal Beach Visit in late December
We took another visit to Newburgh Beach on Christmas Eve afternoon and we were gifted with a view of hundreds of the seals on a haul-out on the opposite shore. Many of the seal pups had lost their white fluffy coats and had put on much-needed weight in order to survive the cold North Sea.
Seeing so many along the beach and watching them bouncing along on the sand was indeed a special treat. The noise coming from across the shore sounded like a howling wind but it was the dulcet tones of the seals, a deep moaning sound with the occasional bark.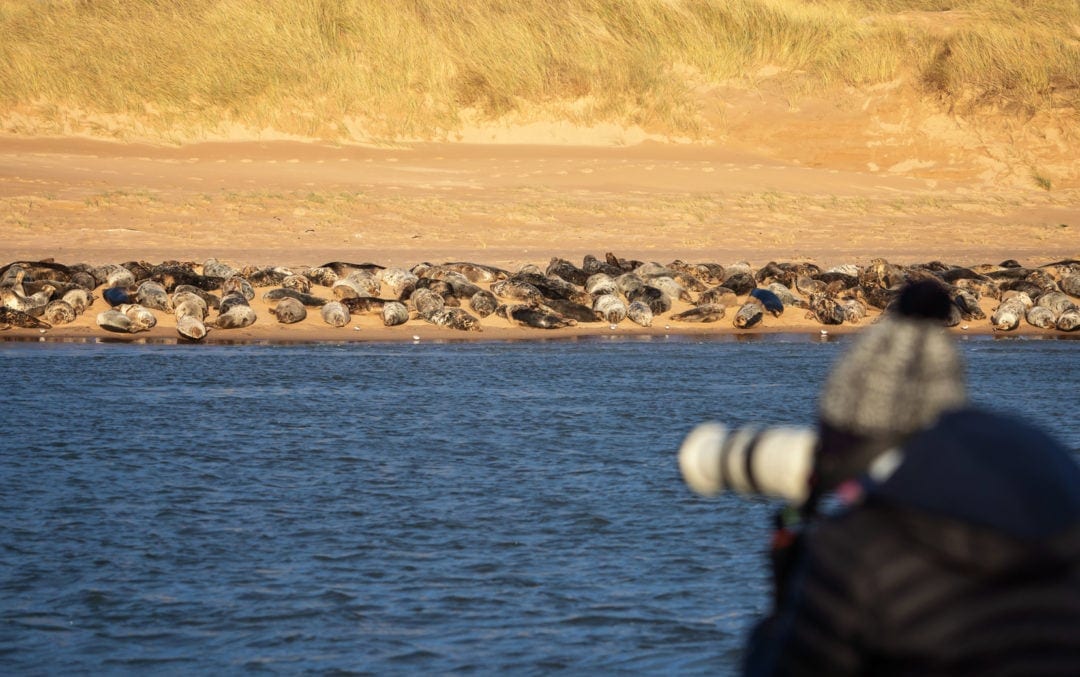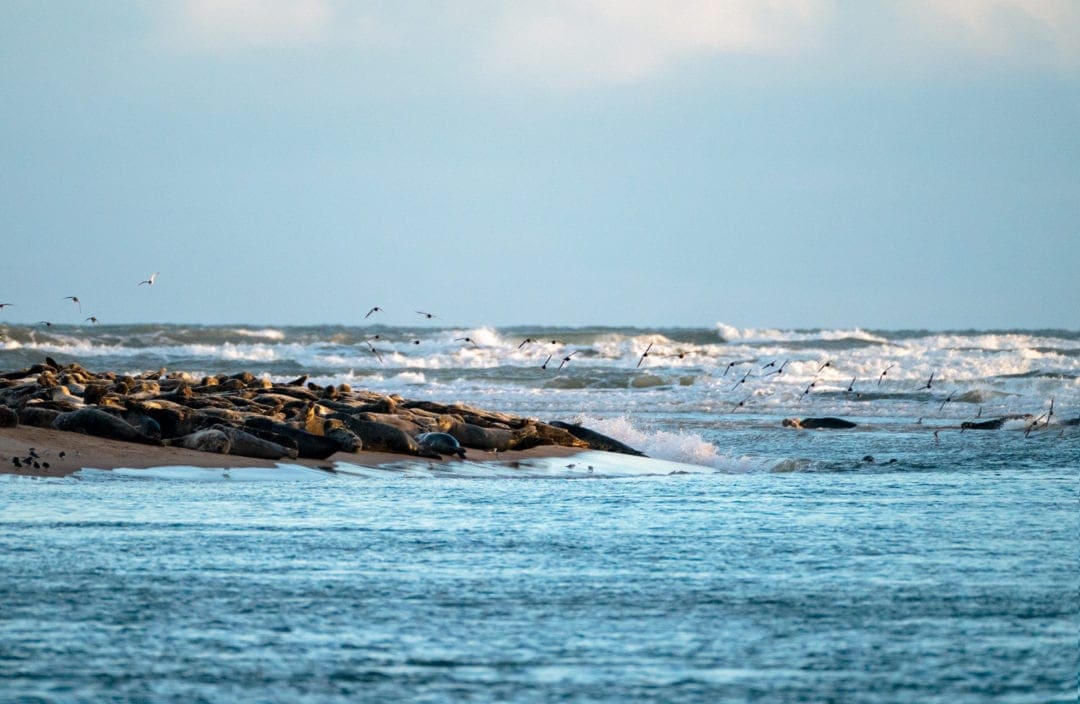 Newburgh Seal Beach Practicalities
Below you'll find details of how to get to Newburgh beach, the parking available and local facilities.
Newburgh Seal Beach Address:
Newburgh Beach, Newburgh, Ellon, Aberdeenshire, AB41 6BY, Scotland
Getting to Newburgh Seal Beach from Aberdeen
The easiest and quickest way to get to Newburgh Seal Beach from Aberdeen is by car.
Take the A92 out of Aberdeen, which joins up to the A90. Take the A975 off the A90 and then turn right onto Beach Road to the Ythan Estuary Beach Carpark. See Map above.
Note that there is a height and width restriction to enter the carpark, but parking is free.
You can catch a bus from Aberdeen to Newburgh, which takes about 35 minutes. Use this website to plan your journey and find the correct bus for you.: Stagecoach Buses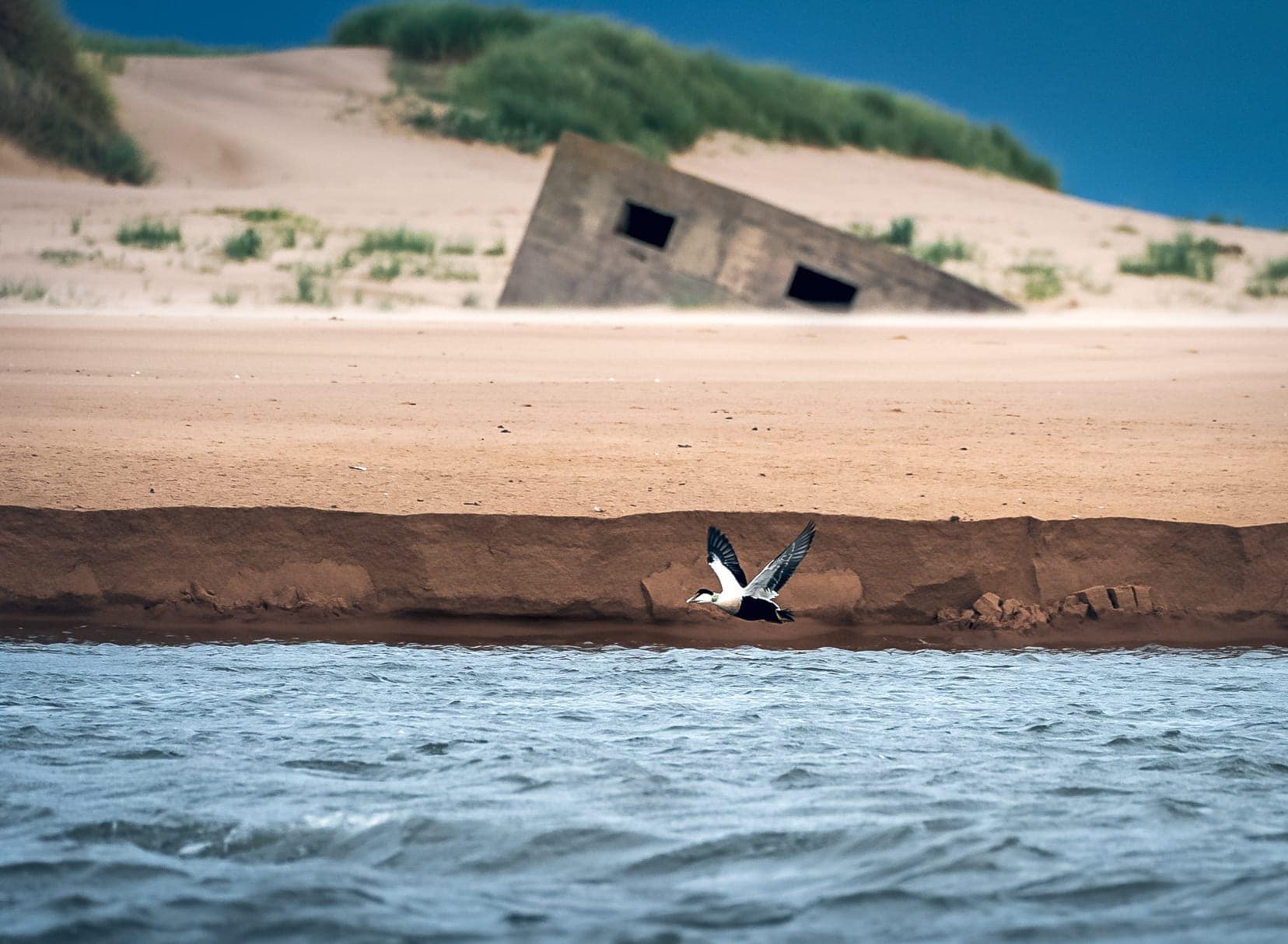 Newburgh Beach Local Facilities
There are two restaurants within a short walking distance from the beach. The Golf Club View restaurant is just up the hill from the car park and the Newburgh Inn is a short walk on the corner of Beach Road and Main Street. (See map above)
Newburgh Accommodation
Just a five-minute walk from the beach, the Newburgh Inn gets rave reviews from its guests.
Check prices and reviews here.
Newburgh Beach Tidal Times
To check the tidal times for your visit refer to the latest on BBC Weather for Newburgh Tides.
Seal Spotting in Aberdeen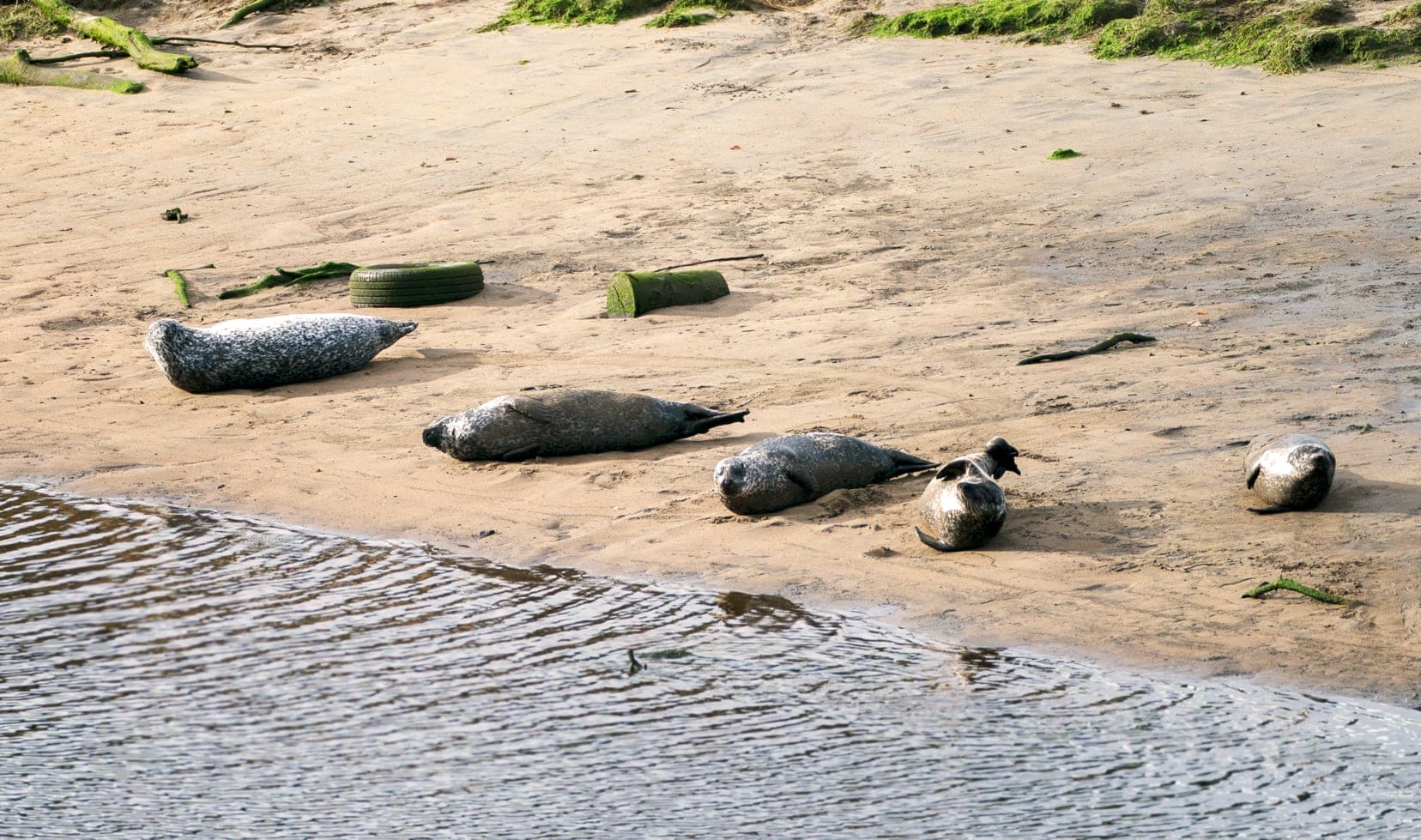 Since visiting Newburgh Beach, we've also found a spot in Aberdeen itself where you can do a spot of seal watching. At the mouth of the River Don, in the Donmouth Local Nature Reserve, you can sometimes see harbour seals hauled out on the sands and a local tells us that if you're lucky, you can also spot otters frolicking in the river. Apparently, early morning is the best time to catch a glimpse.
On the western side of the Bridge of Don, as you head towards the ancient Bridge of Balgownie, there is a small island. Seals also often haul up here. Luckily, they were sunning themselves one afternoon as we took a stroll along the river. (See Map for locations)
Newburgh Seal Beach … That's a Wrap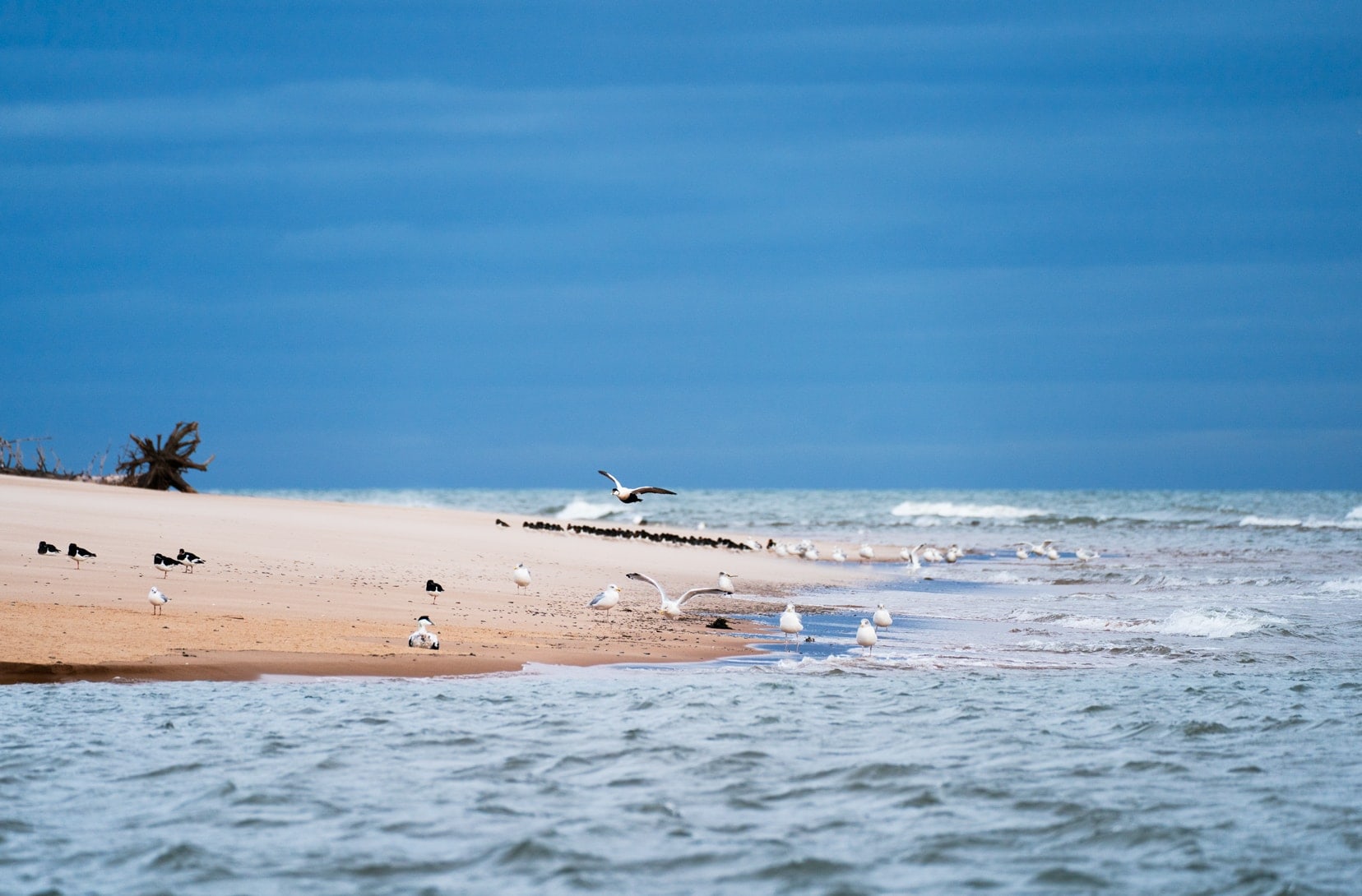 If you are a photographer, you enjoy wildlife, appreciate the aesthetic, or simply like beach walking, then Newburgh Seals Beach is the perfect place to visit if you are in Aberdeenshire.
If you enjoyed this article, you may like these FREE RESOURCES:
Sign up for FREE Resources here
Pin and Save for later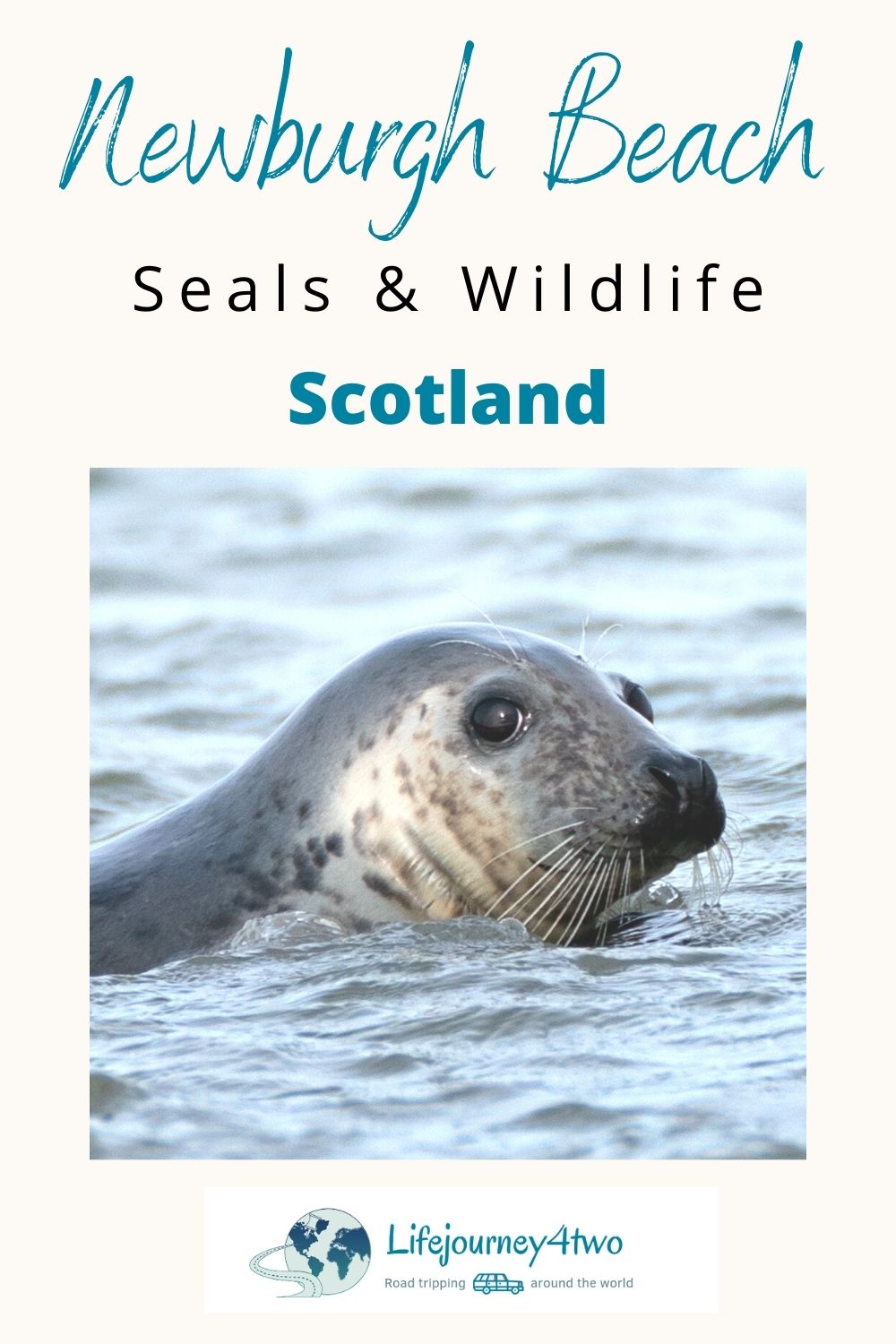 You may also be Interested in Reading our Scotland Travel Guide or:
PLANNING YOUR TRAVELS?
These are some of the travel resources we use when planning our trips.
For a more thorough list visit our Travel Resources page here.