Who can resist the allure of a seal's big, soulful eyes?
We couldn't, and that's why Newburgh Seal Beach became a regular stop for us. Just 20 minutes north of Aberdeen, Newburgh Beach is perfect for nature lovers and wildlife enthusiasts.
Having lived in Aberdeen for over a year, we visited Newburgh multiple times to marvel at the seals there. It often seemed a two-way street—while we watched the seals, they seemed just as keen to swim by and check us out.
The sound of their calls and their playful antics in the water made each visit special and was high on our list of places to see in Aberdeenshire.
Whether you're a local or a visitor to Scotland, this guide will help you plan your memorable seal-watching experience.
So, whether you're planning a day trip or just curious about these charming creatures, read on to discover how to make the most of your visit to Newburgh Beach, Scotland.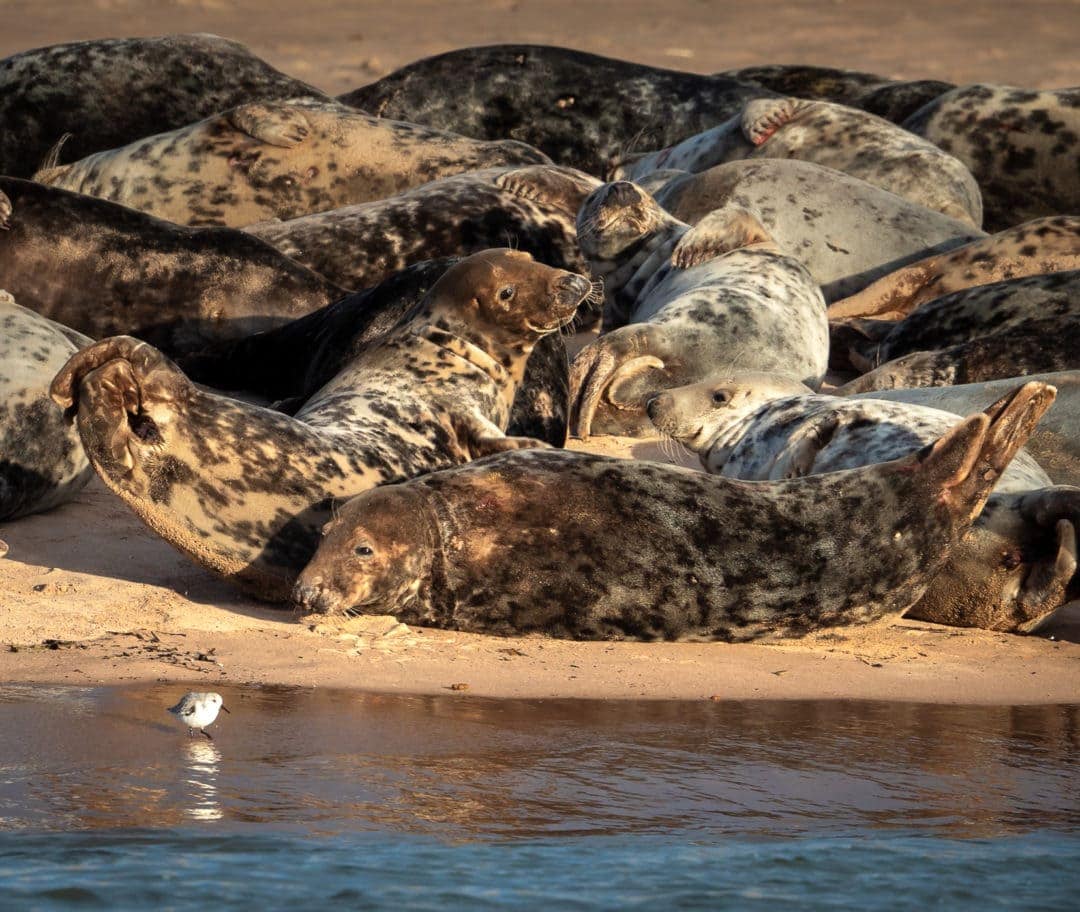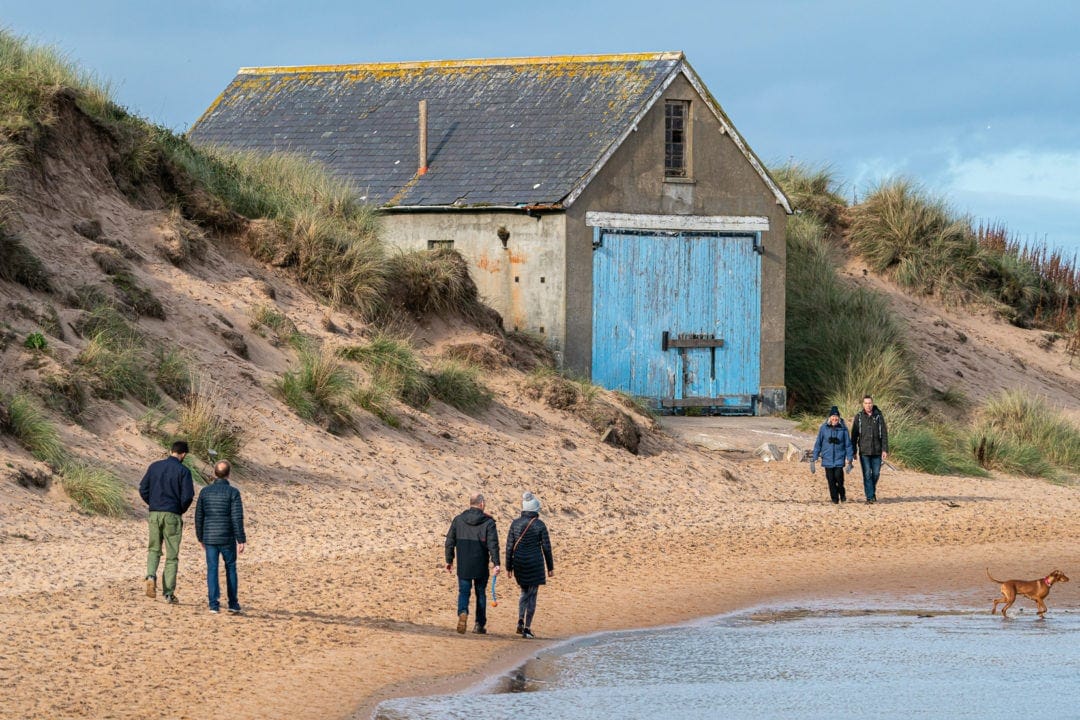 Newburgh Seal Beach Practicalities
Below, you'll find all the nitty-gritty details you need for a hassle-free visit to Newburgh Seal Beach—from getting there to parking and local amenities.
How to Get to Newburgh Seal Beach from Aberdeen
Newburgh Beach is in the northeast of Scotland, nestled in Aberdeenshire. It's an ideal pit stop on any Aberdeenshire coast road trip.
By Car: The quickest way to reach Newburgh Seal Beach from Aberdeen is by car. It's just a 20-minute drive north, covering about 13 miles (or 20 kilometres). Take the A92 out of Aberdeen, which links to the A90. From there, take the A975 and turn right onto Beach Road, leading you straight to the Ythan Estuary Beach Carpark. (See the Map above. )
By Bus: If you're not driving, you can catch a Stagecoach Bus from Aberdeen to Newburgh, which takes about 35 minutes. You can catch a bus from Aberdeen to Newburgh, which takes about 35 minutes.
Newburgh Seal Beach Parking
Parking at Newburgh Seal Beach is free, but be aware of height and width restrictions at the car park entrance. You couldn't park a camper or motorhome in the carpark.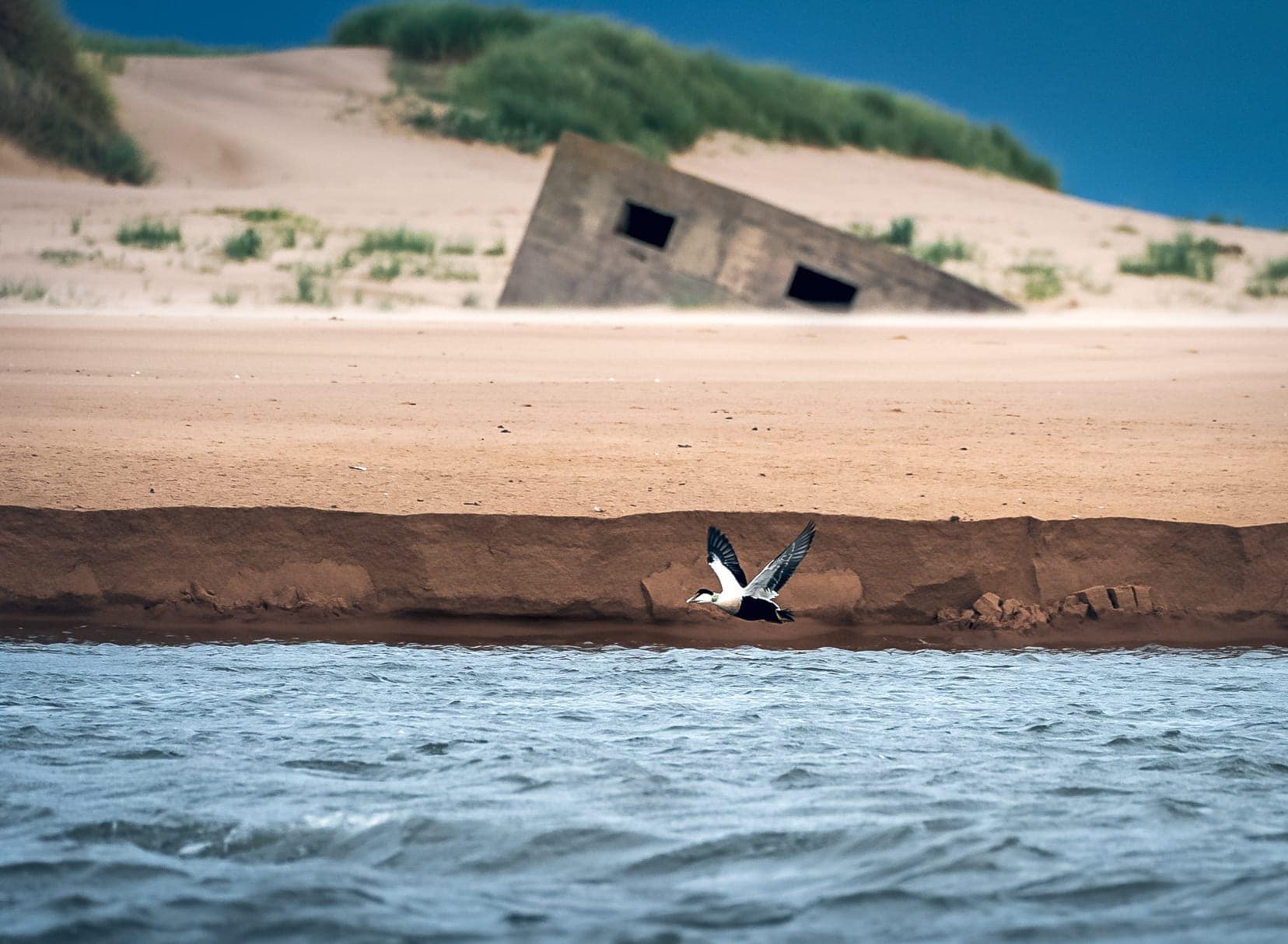 Local Facilities Near Newburgh Beach
Two restaurants are within a short walk from the beach. The Golf Club View Restaurant is just up the hill, and the Newburgh Inn is conveniently located at the corner of Beach Road and Main Street. There are two restaurants within a short walking distance from the beach. (See map above)
Newburgh Accommodation
Looking for a place to stay? The Newburgh Inn is just a five-minute walk from the beach and receives high praise from guests.
👉 Check availability, prices and reviews here.
Newburgh Seal Beach Tide Times
To check the Newburgh Seal Beach tide times, refer to the latest on BBC Weather for Newburgh Tides.
Newburgh Seal Beach Address:
Newburgh Beach, Newburgh, Ellon, Aberdeenshire, AB41 6BY, Scotland
Planning a Trip to Scotland?
Newburgh Seal Beach Map
How to use the Newburgh Beach Map
To enlarge the map, click the square on the right-hand side. Once open, you will find a key on the left detailing the marked locations. The purple markers relate to Newburgh Seal Beach, and the blue markers are other points of interest in the local area.
Newburgh Seals Video
Here's a front-row seat to the seals' daily lives at Newburgh Beach. You'll see them gliding through the river and lounging on their favourite haul-out spot.
It's a different way to experience the beauty of Newburgh Seal Beach, and we're thrilled to share it with you.
So, sit back and enjoy the show! It's only a minute long, so we won't keep you too long;)
Best Time to See Seals at Newburgh Beach
If you're eager to see seals, Newburgh Beach won't disappoint. You're almost certain to spot some with a colony of nearly 400 seals, regardless of when you visit.
While seals are present year-round, the Scottish weather can be a bit unpredictable. Aim for the summer months if you're after some sunshine during your visit. But keep in mind, the east coast of Scotland is known for its brisk winds, come rain or shine.
Now, timing and luck play a part if you're looking to catch a haul-out— where numerous seals congregate on the beach. Low tide is your golden window for this. We had a memorable experience in mid-December, spotting not just seals but also their adorable pups.
Speaking of pups, November is a special time at Newburgh Beach. That's when the grey seal pups are most visible, as it's their pupping season. Just a heads-up, though, it's best to give the new mums and their pups some space, especially during the first six weeks after birth. It's all about enjoying the wildlife while respecting their natural habitat.
So, whether you're planning a summer trip or a winter visit, Newburgh Beach offers a seal-watching experience you won't forget.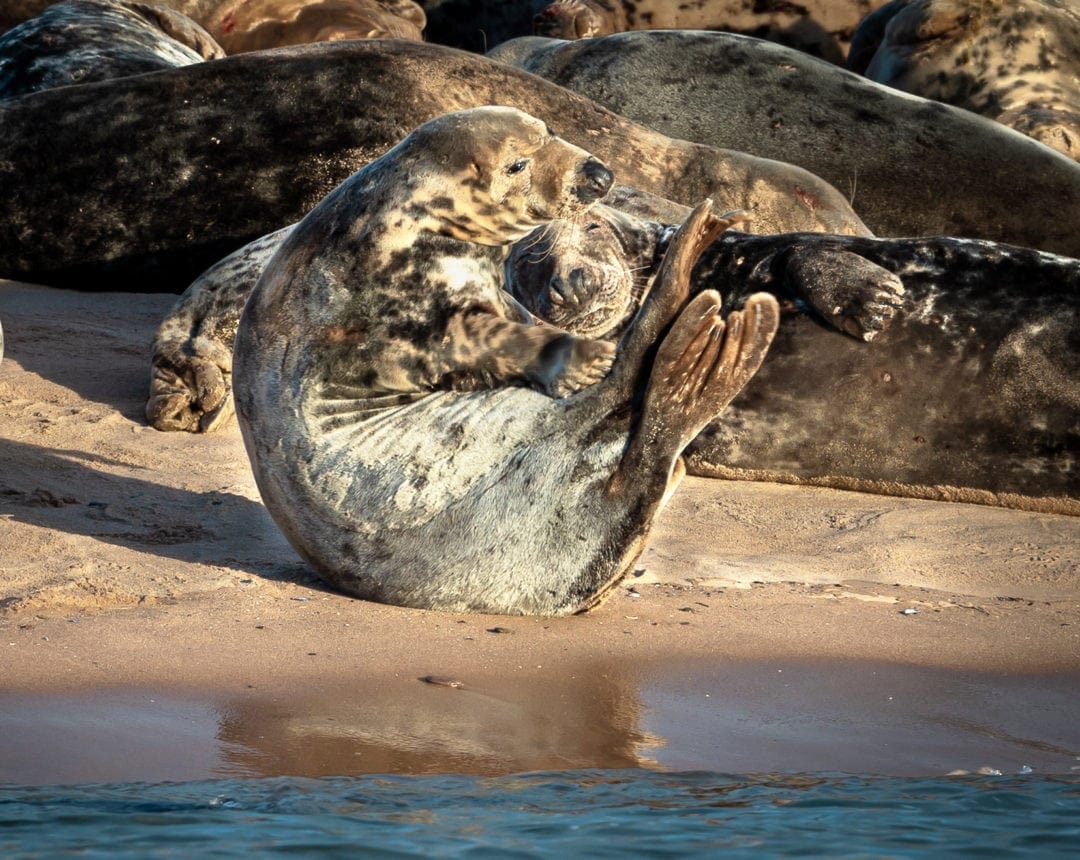 About the Newburgh Beach Seals
Newburgh's main colony of seals is the rarer grey seals, but there are also many harbour seals (common seals).
The grey seal has a longer nose, flat head, and nostrils forming a 'W' shape. The harbour seal's nose is more like a dog's; its head is rounder, and its nostrils form a 'V' shape.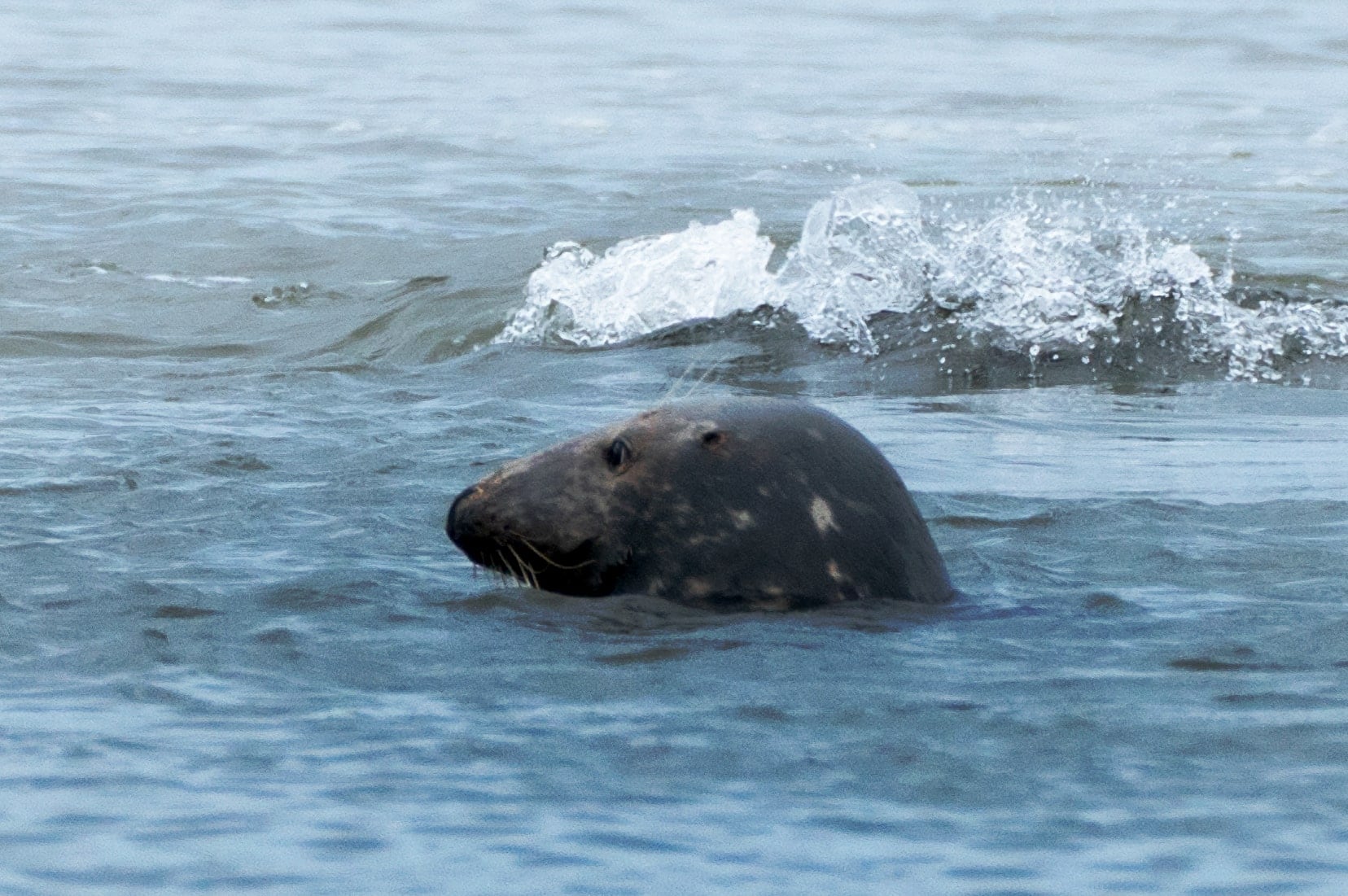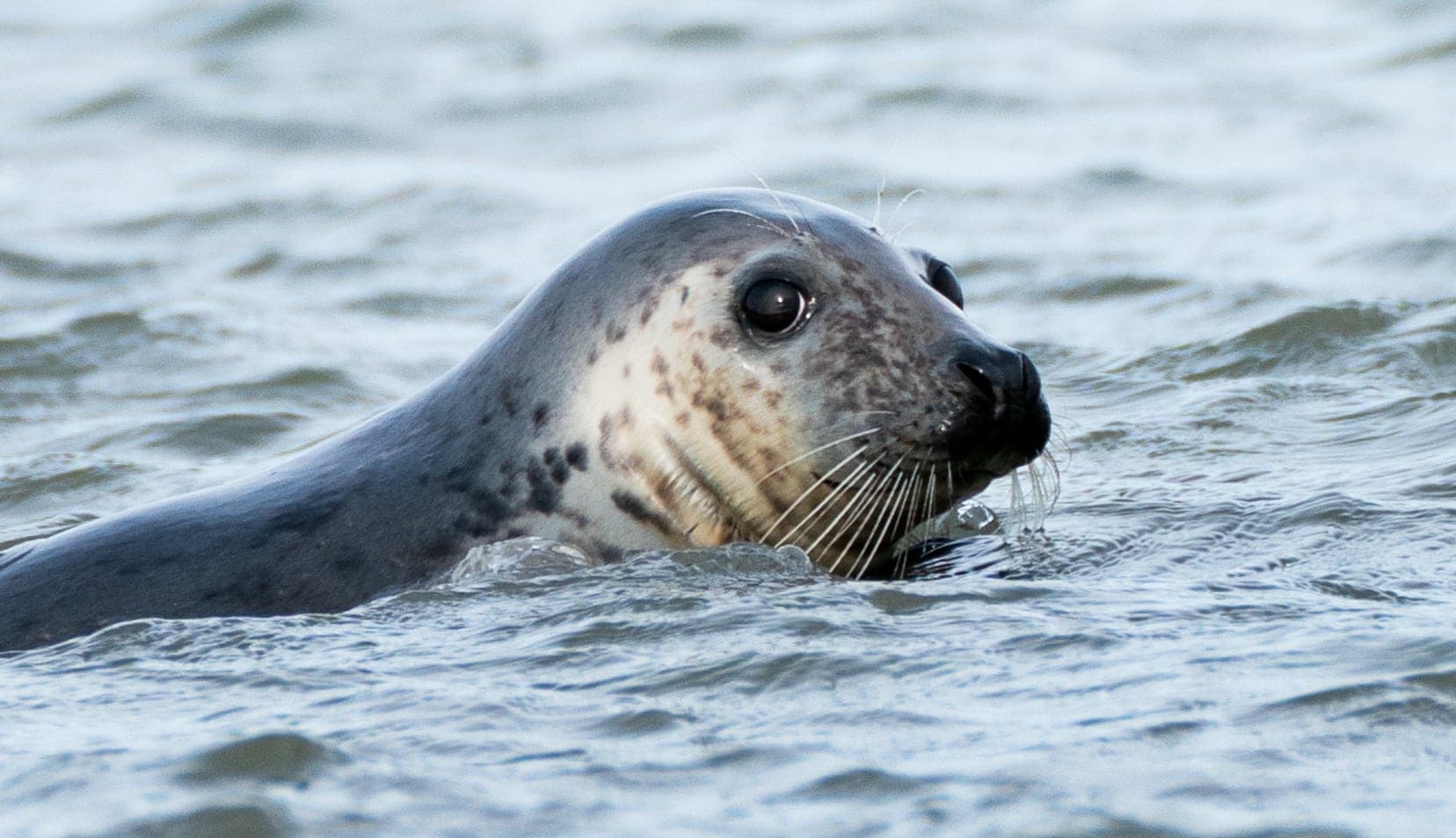 The commons seal tends to hang around in groups of 20- 30, and they don't like laying too close to each other — they like their own space. Their pups are born in the summer months, in June and July.
While still in the uterus, the pups shed their white fur and are born with brown skin ready to swim and dive hours after their birth.
In contrast, the grey seals congregate in groups of 100 or more and have their pups in the late autumn or winter. The grey seal pups in Scotland are normally born in November and December.
The newborn pups are less independent than the harbour seals' pups because they are born with a white, non-waterproof coat and require suckling for three weeks.
After they have shed their coat and the three-week milk bar has dried up, the grey seal pup is abandoned by their mother and left to fend for themselves.
Unfortunately, only two-thirds make it to their first birthday, but their odds of survival after that are much higher.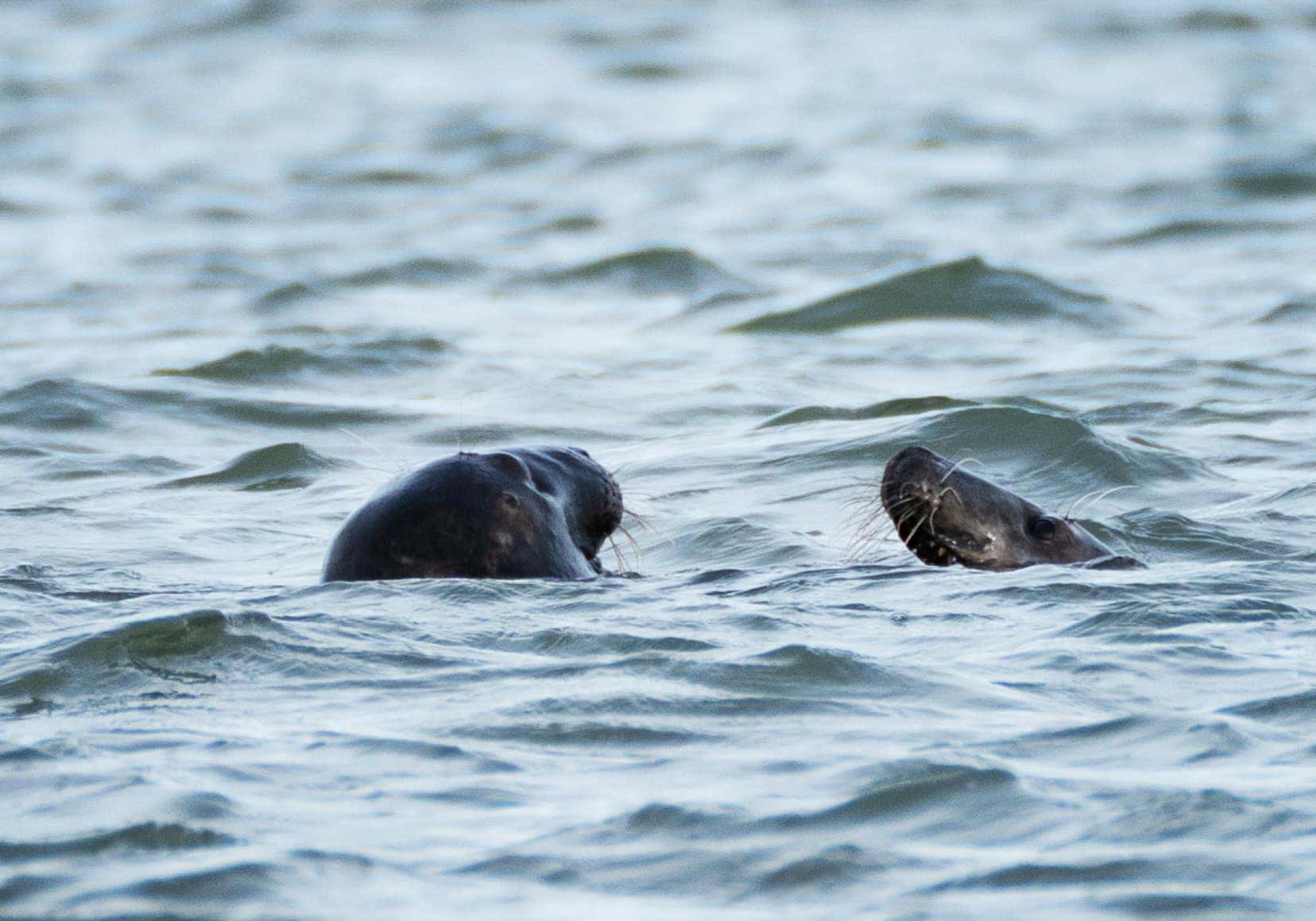 How to View the Newburgh Seals Responsibly
It is very important that you keep a safe distance away from the Newburgh seals in order not to disturb them.
We use zoom lenses across the water to get our shots, so we don't need to get too close. You should not use a drone around the animals because it scares them and can cause a stampede.
Some key rules to follow as advised by BBC Wildlife:
Don't get closer to a seal than 20m
Never get between a seal and her pup or between a seal and the sea
Noise should be kept to a minimum
Dogs need to be kept on short leads and under control
More information on recommendations on how to behave around wild animals can be found in the Scottish Marine Wildlife Watching Code.
Seal harassment on a Marine Scotland designated Seal haul-out like the one on Forvie NNR is a wildlife crime and carries a fine of up to £ 5,000 or six months in prison.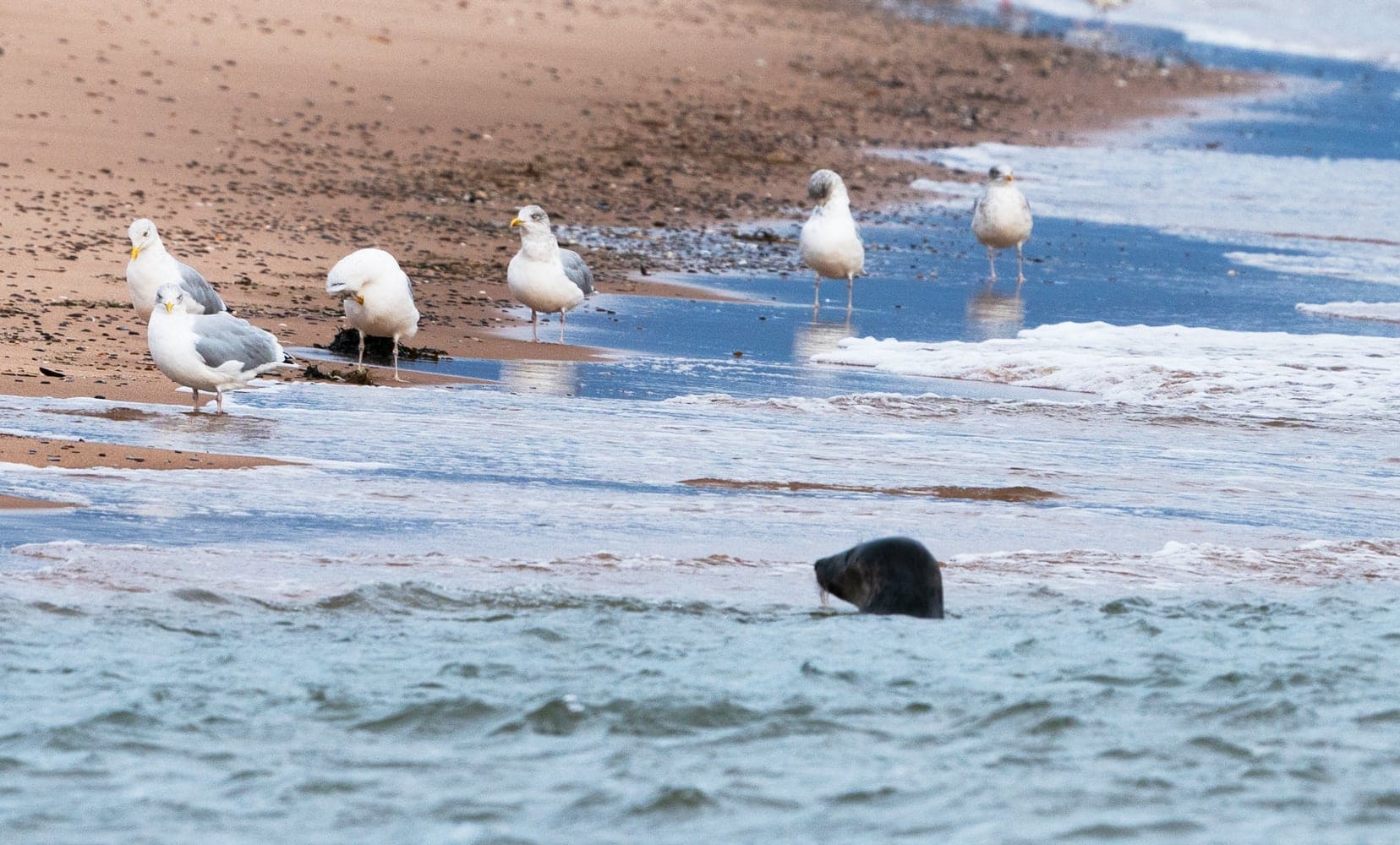 Our Newburgh Seal Beach Experience
The Photographer's Dilemma
Wildlife can be elusive, and we've learned to manage our expectations. As avid photographers, we know there's always something worth capturing, even if the main attraction decides to play hide and seek.
Earlier in the day, we'd been at Rattray Head Lighthouse, where fellow shutterbugs mentioned spotting seals. Despite our best efforts and zoom lenses, we had no such luck.
So, arriving at Newburgh Seal Beach, the anticipation was palpable.
Would the seals grace us with their presence?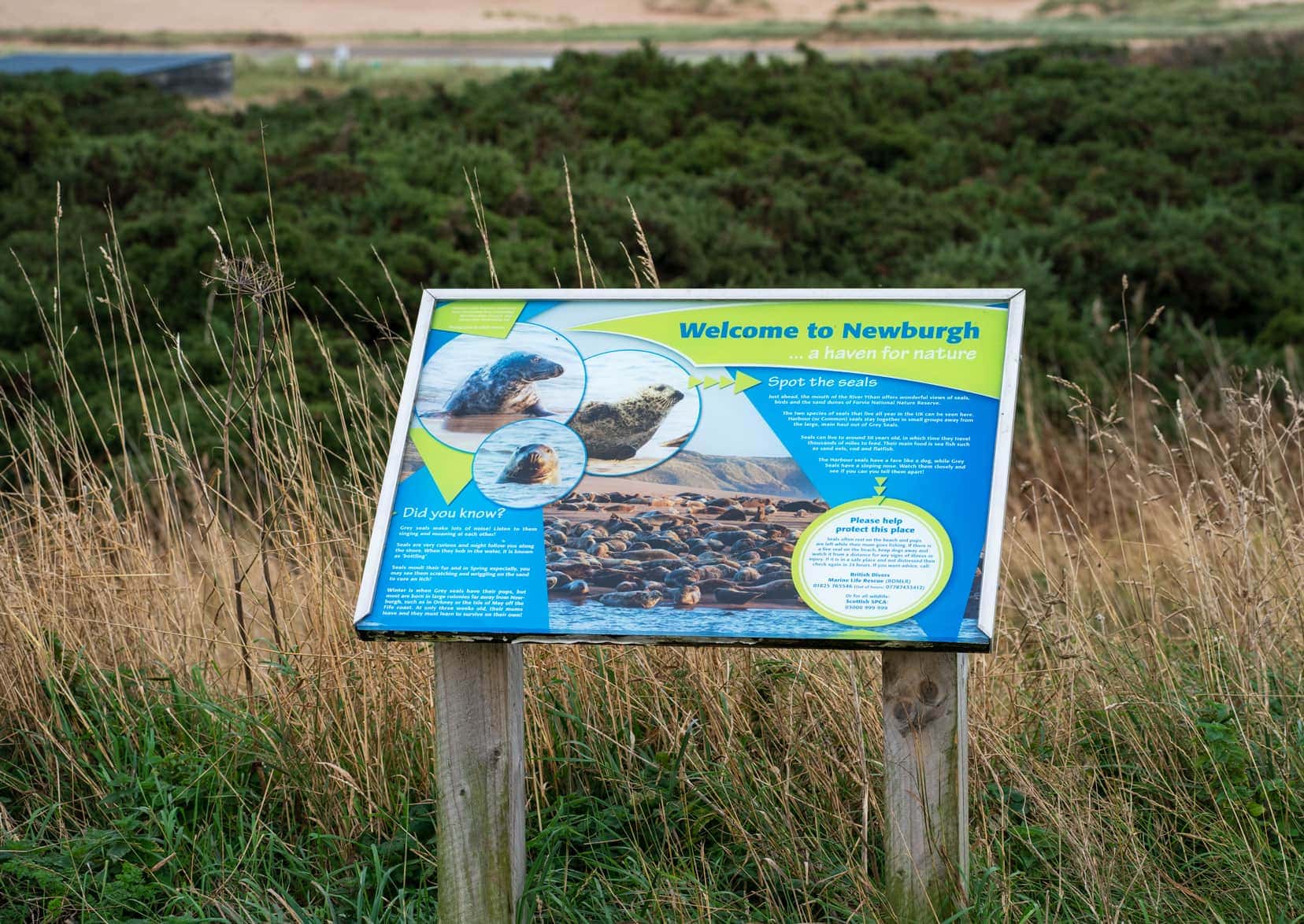 First Impressions: The Setting and Atmosphere
We pulled into a bustling car park on a crisp Autumn afternoon. Dogs of all sizes were leading their humans along the sandy bay, framed by impressive sand dunes. The River Ythan meets the North Sea here, creating a dynamic landscape that changes with the tides.
The shoreline includes the mudflats of the Ythan Estuary and changes its look as the tide draws in and out between the sandbanks on either side. However, you get the best view from this southern side.
A sign on the way to the beach hinted at what we might see: seals lounging on the opposite shore, part of the protected Forvie National Nature Reserve.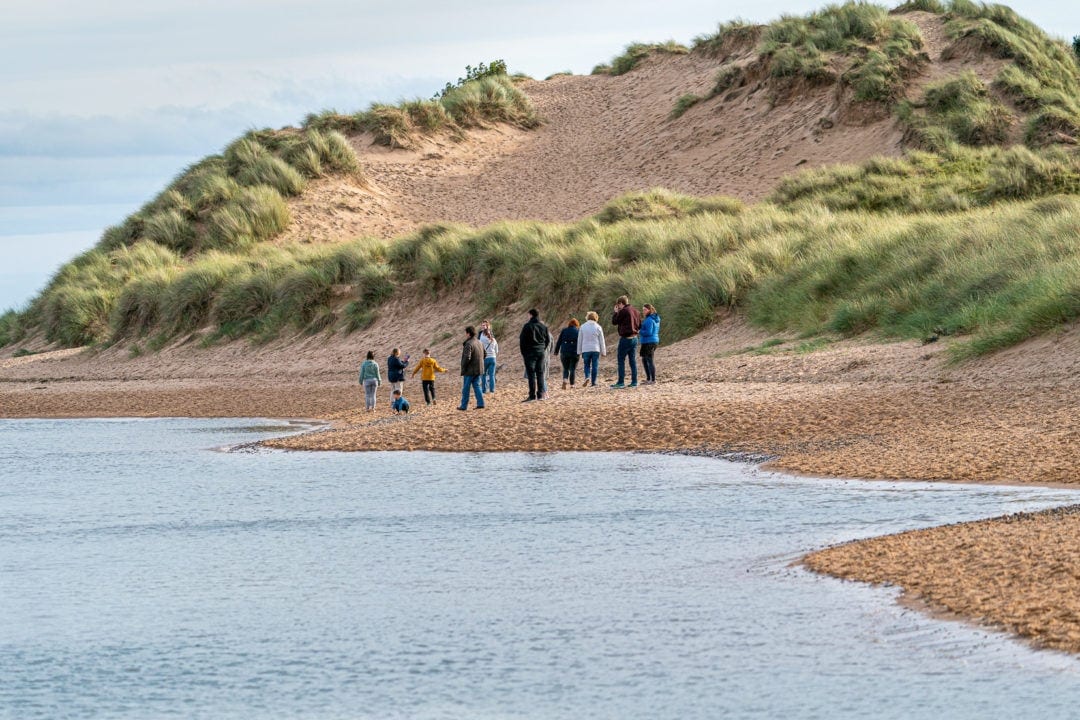 The Seals Make Their Entrance
At first, it seemed like we'd drawn another blank. But then, black shapes began to bob in and out of the water. It took a moment to realize these were seals playing in the estuary's currents.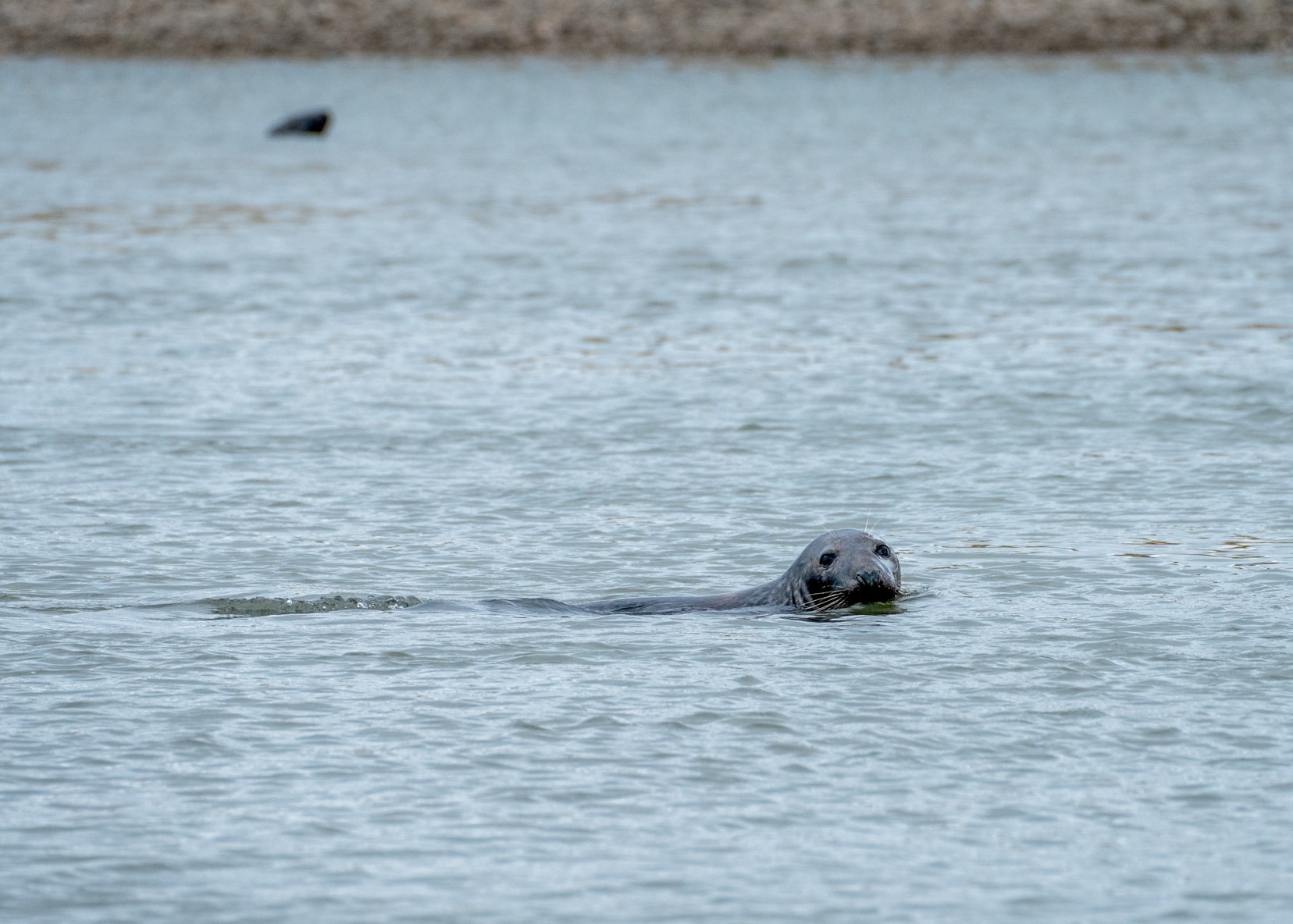 A Game of Peekaboo
The seals seemed as curious about us as we were about them. Cameras at the ready, we played a game of "Now you see me, now you don't" as the seals teased us with their aquatic antics and disappearing acts.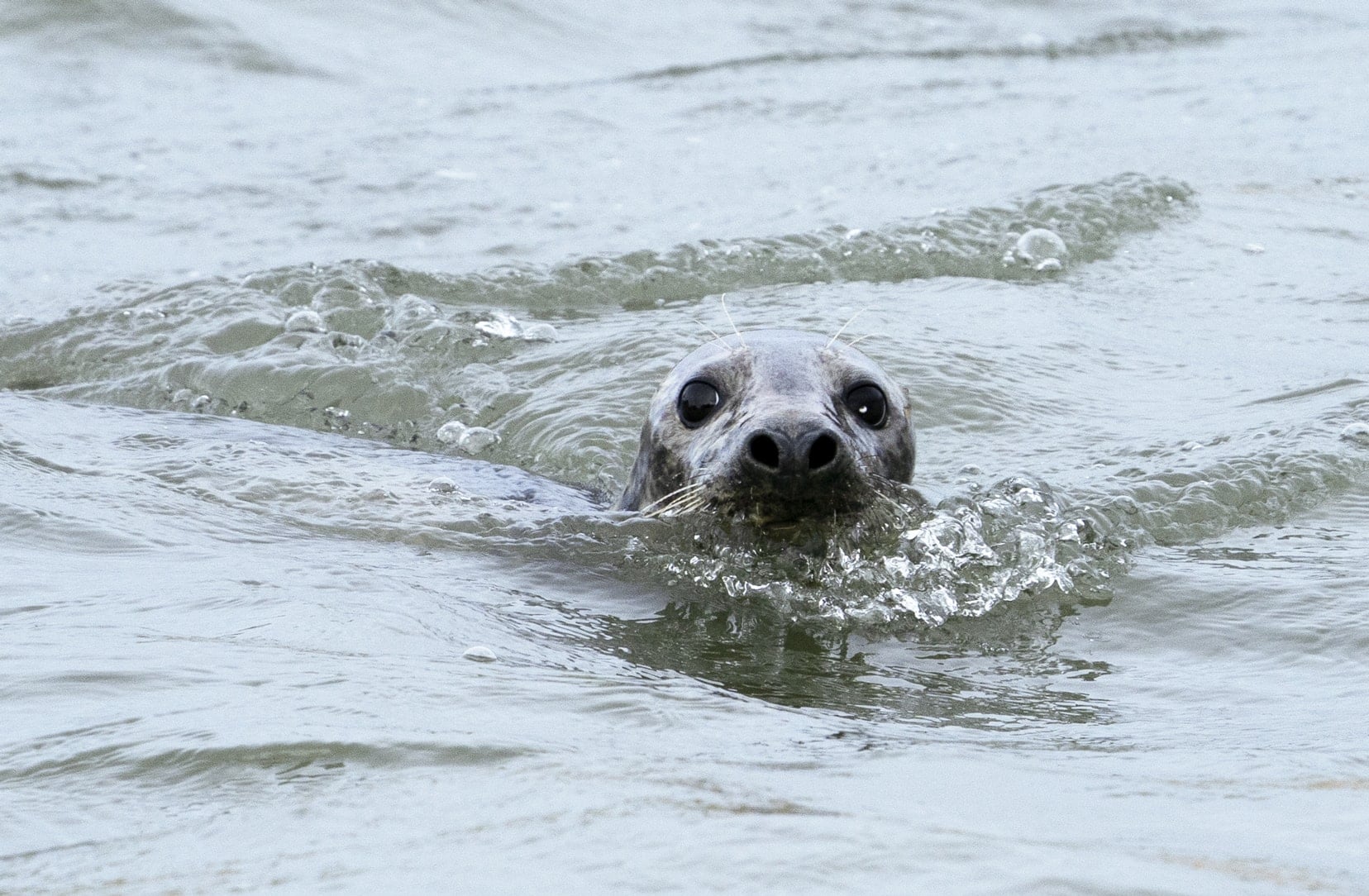 Seals Just Wanna Have Fun
Further out, some seals frolicked in the surf, but the ones in the estuary's fast currents seemed to be having a blast. They looked very chilled and relaxed!
The seals might as well have been floating on an inflated sunlounger with a pina colada in hand…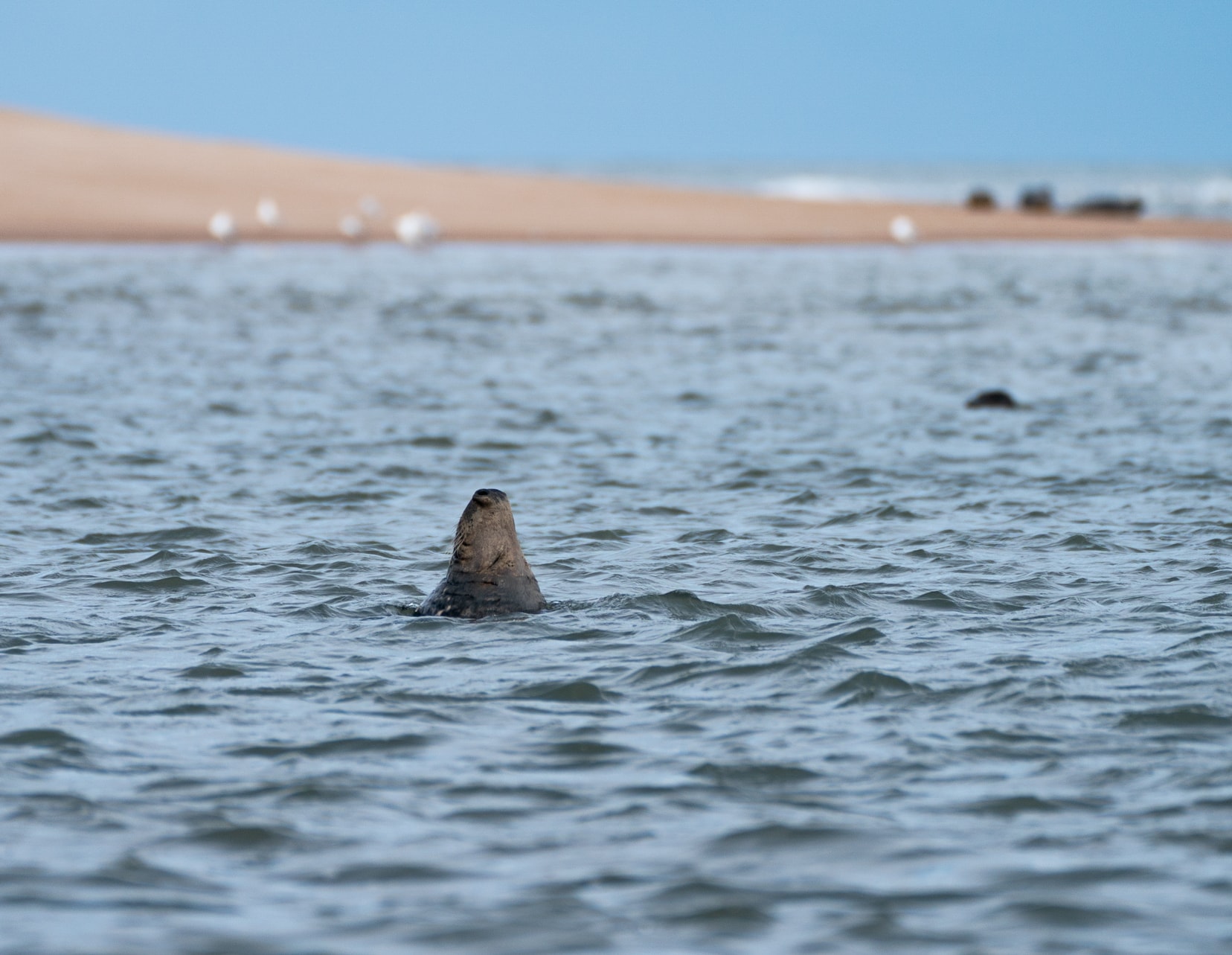 A Christmas Eve Surprise
We returned to Newburgh Beach on Christmas Eve afternoon, and what a gift we received! Hundreds of seals were hauled out on the opposite shore. Many of the pups had shed their fluffy white coats and bulked up to brave the chilly North Sea.
A Symphony of Seals
The beach was alive with the sound of seals. What we first mistook for the howling wind was the seals' deep, moaning calls, punctuated by the occasional bark. It was like a natural orchestra playing just for us.
Capturing the Moment
We had a blast photographing the seals across the Ythan Estuary. It's a photographer's dream, especially if you're into wildlife photography.
Where the Ocean Meets the Estuary
This spot, where the ocean kisses the estuary, seems to be a favourite chill-out zone for the seals. They looked as relaxed as we felt watching them.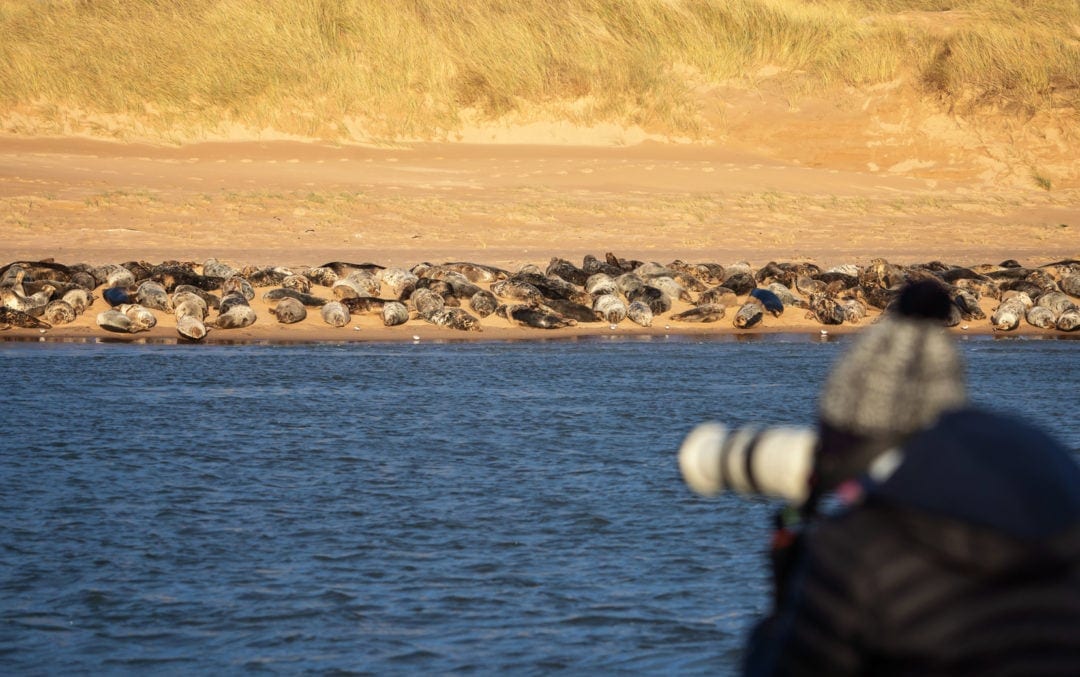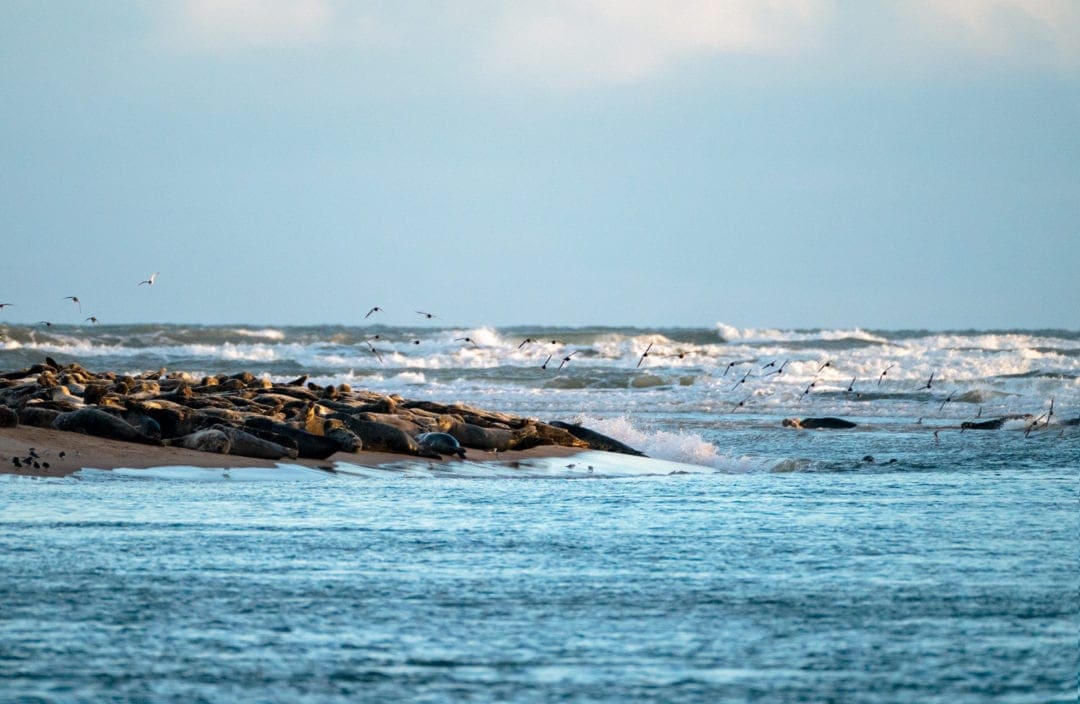 Seal of Approval
So, if you're wondering whether Seal Beach Newburgh is worth a visit, let us assure you—it absolutely is. And with a bit of luck, you might catch the seals on a day when they're up for some show and tell.
More Than Just Seals: The Diverse Wildlife of Newburgh Beach
While Newburgh seals steal the spotlight, the beach is also a haven for seabirds. We found an organised brigade of oystercatchers across the Ythan Estuary on the Forvie Nature Reserve side.
They stood so still they almost looked like a unique art installation—until one of them moved.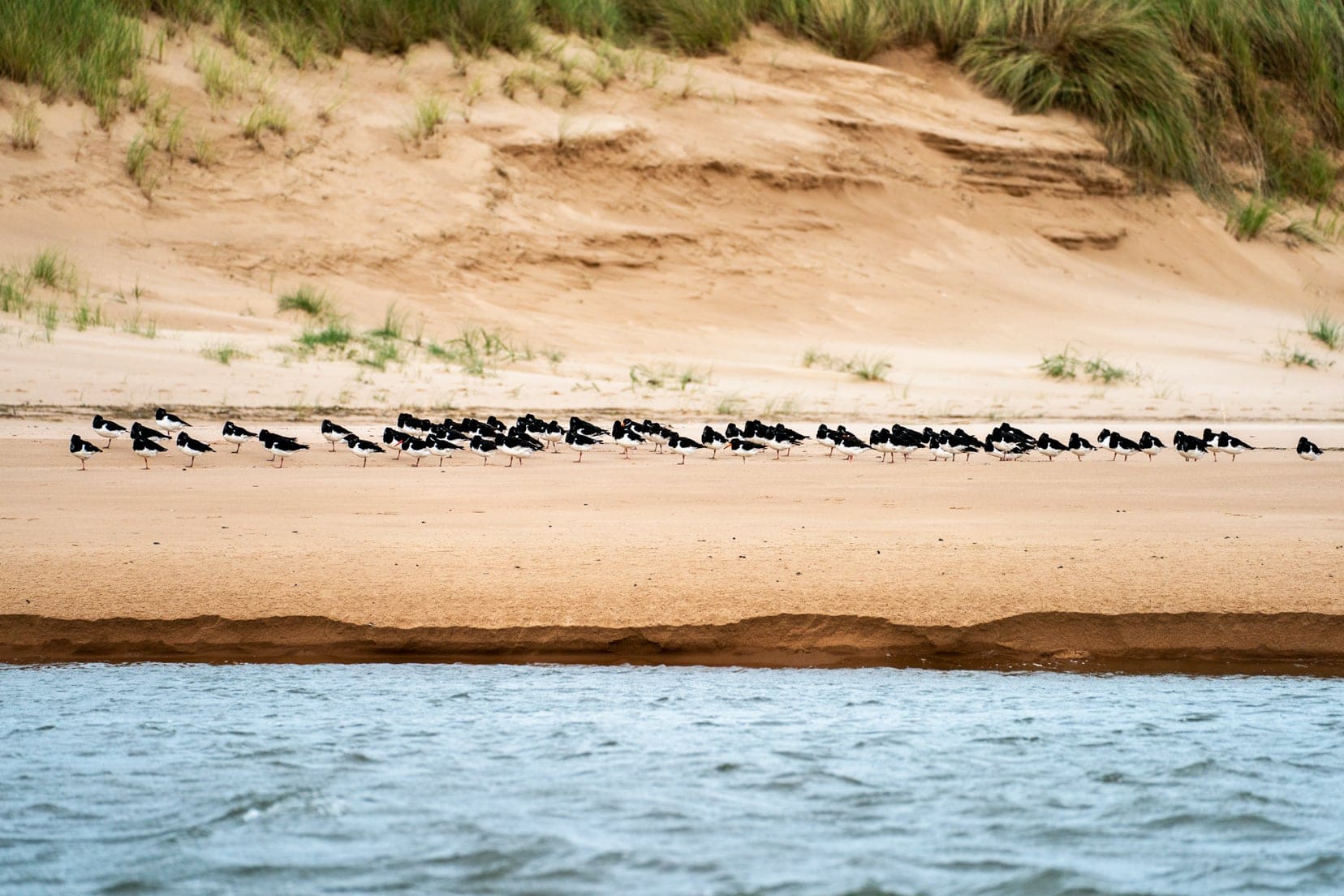 A Birdwatcher's Paradise
The beach is a hotspot for various bird species throughout the year. Ducks, gulls, and waders frequent the area, offering plenty of opportunities for avid birdwatchers.
The opposite bank is part of the expansive Forvie Nature Reserve, boasting 1,000 hectares of sand dunes and dune heath. It's a sanctuary for diverse birds, including a large colony of Eider ducks.
Want to Know More?
For a deep dive into the bird species, you can spot here, check out this Scottish Bird website for detailed information on the Ythan Estuary's avian residents.
If you're into birdwatching, our Troup Head Gannets post will also pique your interest.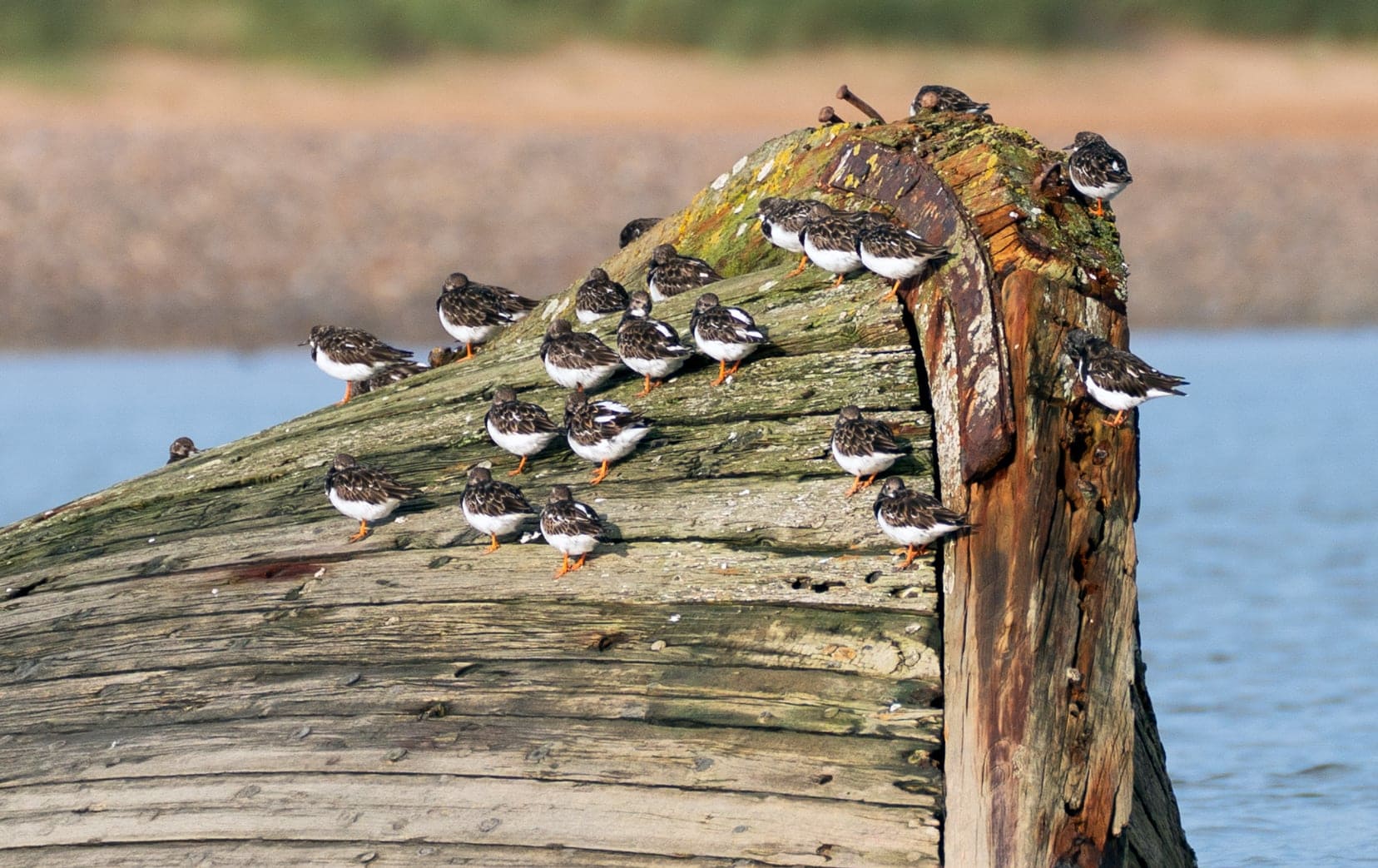 More Than Nature's Beauty
But the allure of Newburgh Beach isn't limited to its wildlife. The setting itself adds to the experience. A quaint blue-doored hut overlooks the estuary, offering a picture-perfect moment for photographers.
And let's not forget the vintage wooden hull resting at the river's mouth, adding a touch of history and mystery to the landscape.
So, from its diverse wildlife to its charming scenery, Newburgh Beach truly offers a little something for everyone. You won't be disappointed if you're there for photography, birdwatching, or simply to soak in the natural beauty.
Capturing the perfect shot at Newburgh Seal Beach is an art. Check out our Road Trip Photography guide for more tips on getting those great shots.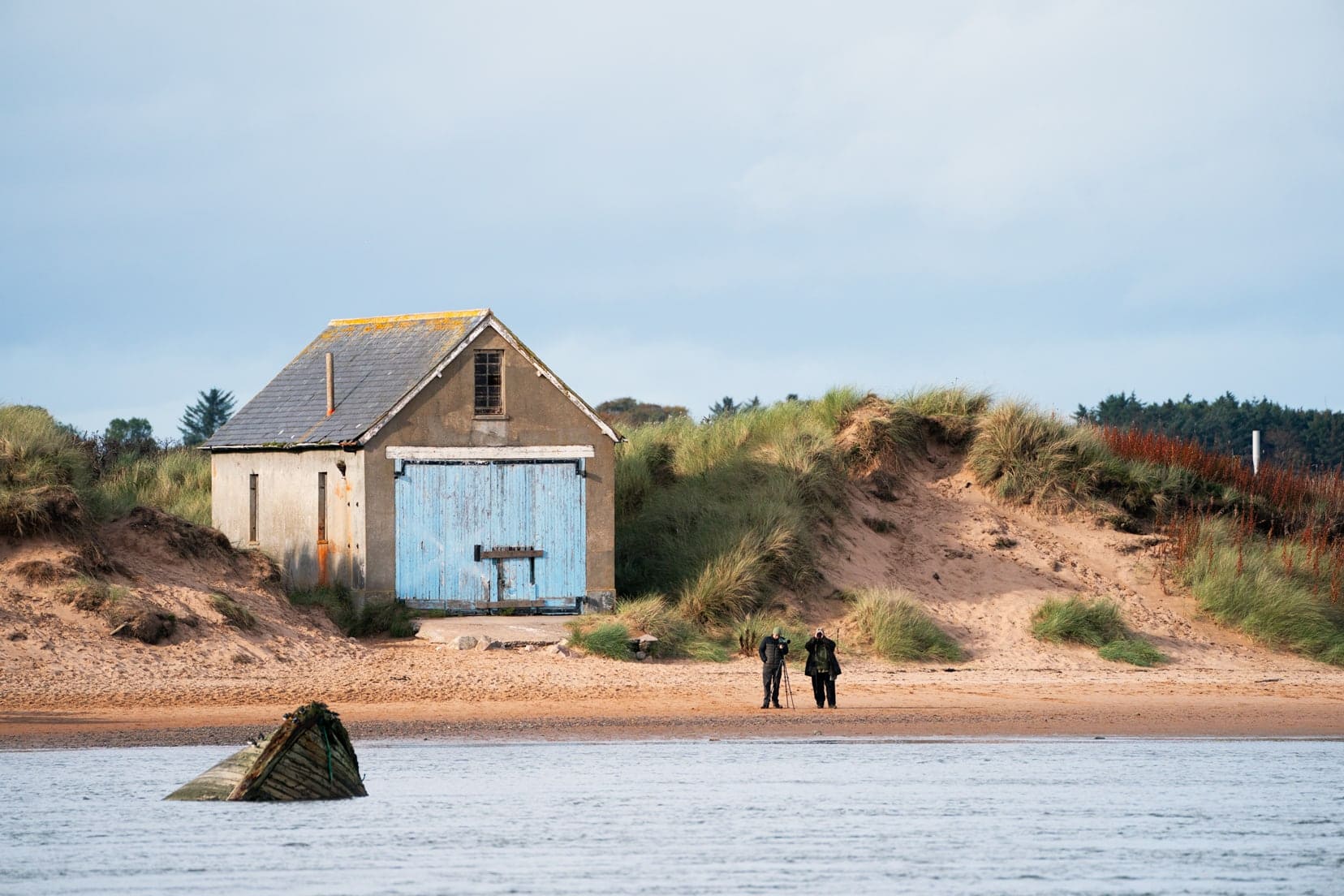 Nearby Attractions
After your visit to Newburgh, why not explore the surrounding area? The Brig o' Balgownie is a historical gem, and Aberdeenshire Castles, such as Drum Castle, offer a peek into Scotland's rich history.
Seal Spotting in Aberdeen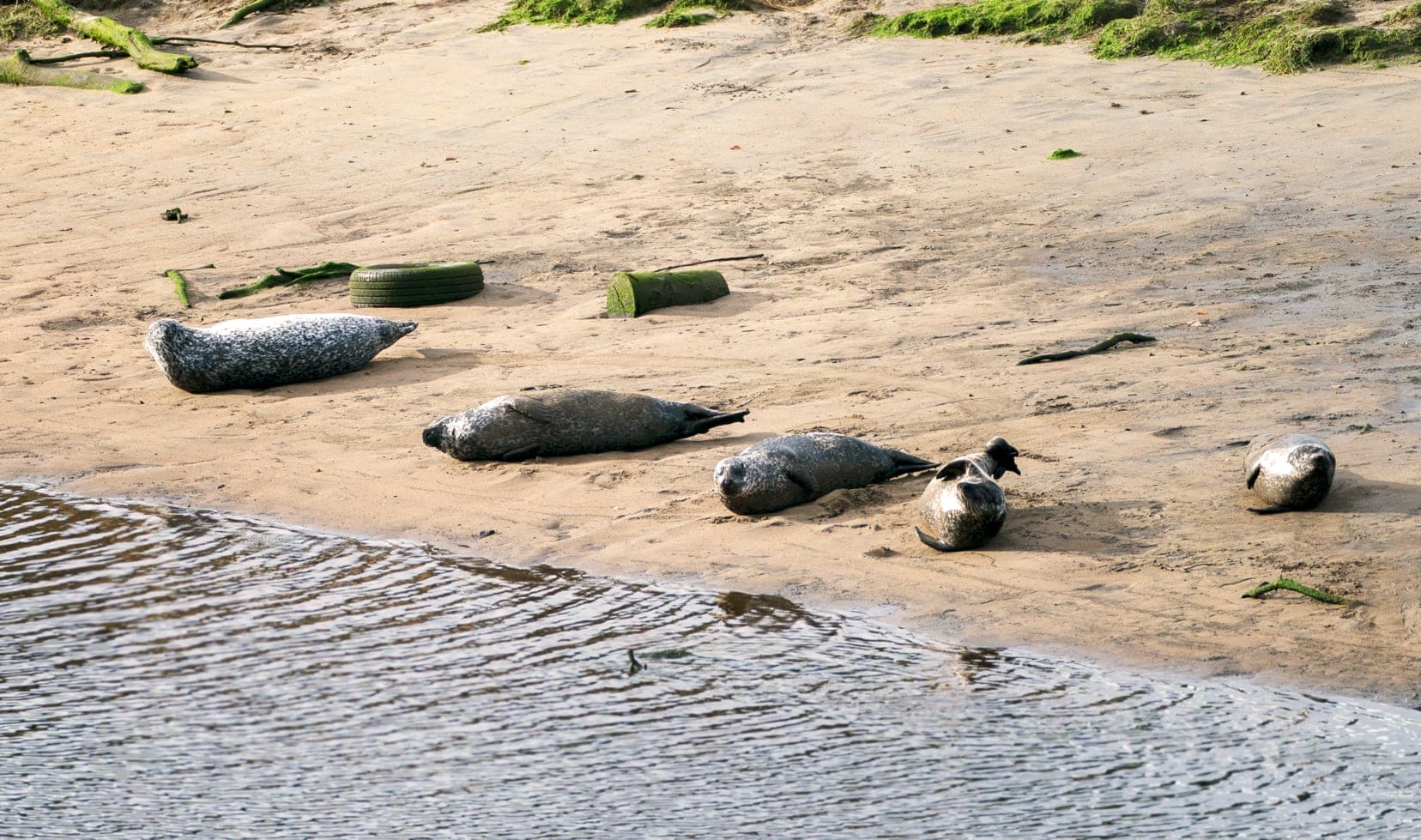 Since visiting Newburgh Beach, we've also found a spot to find seals in Aberdeen itself. At the mouth of the River Don, in the Donmouth Local Nature Reserve, you can sometimes see harbour seals hauled out on the sands.
And a local tells us that if you're lucky, you can also spot otters frolicking in the river. Apparently, early morning is the best time to catch a glimpse.
On the western side of the Bridge of Don, as you head towards the ancient Bridge of Balgownie, there is a small island. Aberdeen seals also often haul up here. Luckily, they were sunning themselves one afternoon as we took a stroll along the river. (See Map for locations)
Newburgh Seal Beach … That's a Wrap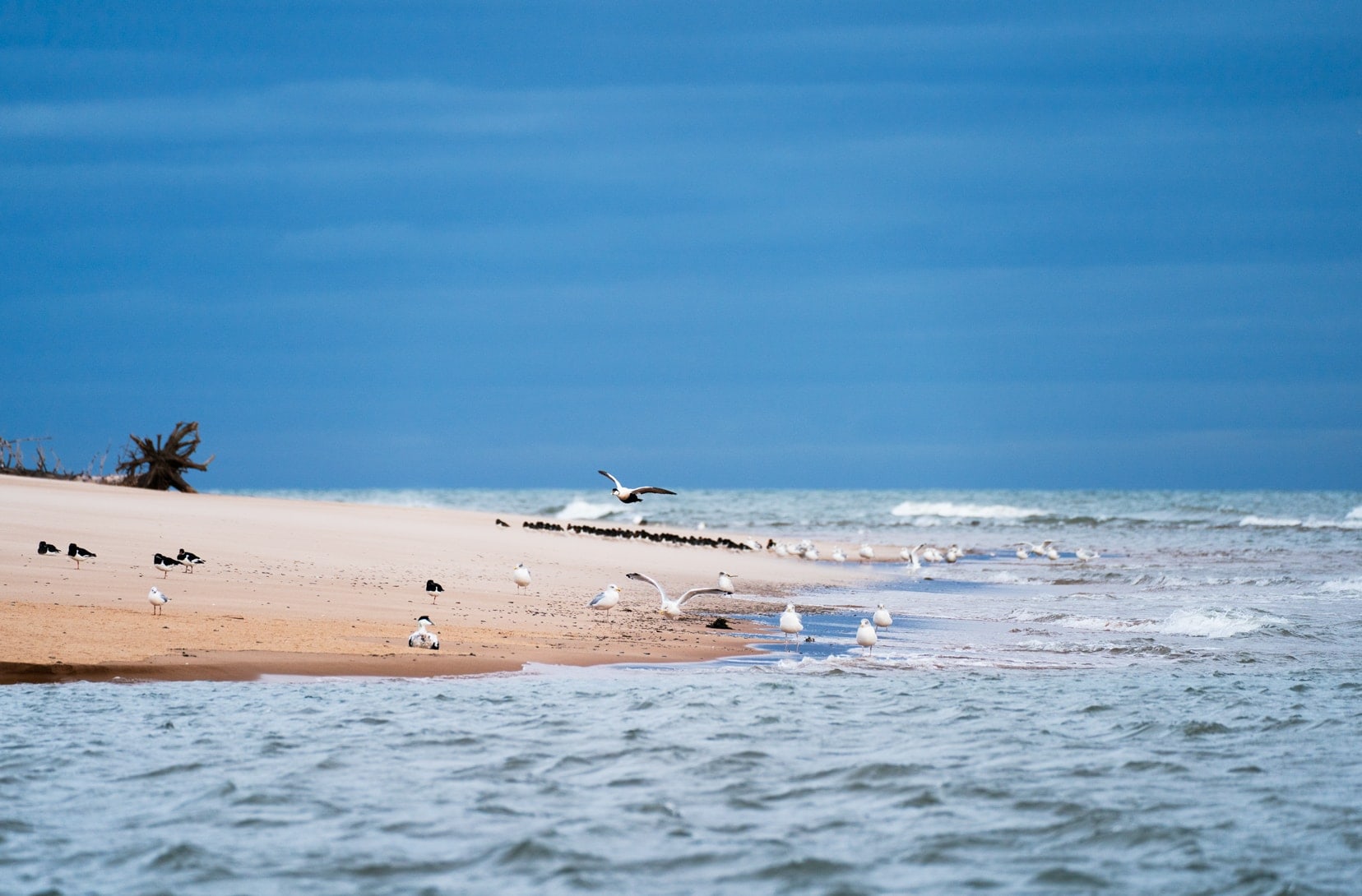 Newburgh Seal Beach Adventure … That's Wrap
So, you've made it to the end of our comprehensive guide to Newburgh Seal Beach. We've covered everything from how to get there, what to expect, and even how to be a responsible wildlife observer.
Newburgh Seal Beach isn't just a destination; it's an experience. Whether you're a wildlife enthusiast, a budding photographer, or someone who simply loves the great outdoors, this place is a great place to visit.
Next Steps
Ready to explore more of Scotland's hidden gems? We've got plenty more stories, tips, and guides to help you plan your next adventure.
So dive into our other Scotland posts and keep fuelling that Scottish wanderlust.
If you enjoyed this article, you may like these FREE RESOURCES:
Pin and Save for later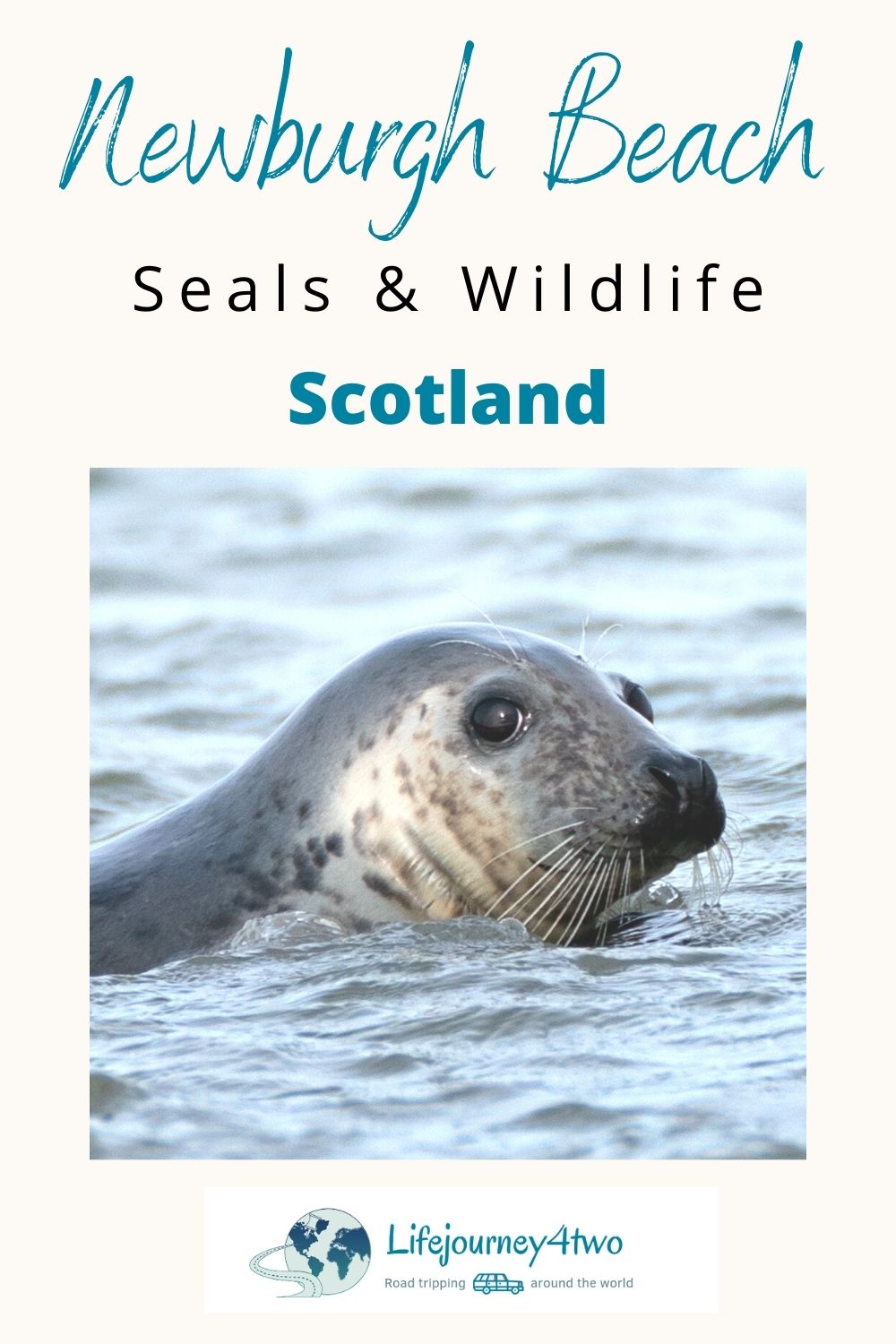 PLANNING YOUR TRAVELS?
These are some of the travel resources we use when planning our trips.
For a more thorough list, visit our Travel Resources page here.