THE DRONNINGRUTA HIKE
On the Vesterålen Archipelago, located just north of the Lofoten archipelago in Northern Norway, lies the famed Dronningruta or The Queen's Route. This looped 15-kilometre mountain hike follows a route between the fishing villages of the once-abandoned village of Nyksund and the village of Stø.
Nyksund was a fishing village with a typical population of around 100 people however the winter fishing drew others and the population swelled to around 800 persons.
Fishing remained a constant for Nyksund between the years of 1875 and 1960 however the shallow harbour could not accommodate the modern age vessels and so this fishing hub moved to nearby Myre, 13 kilometres south of Nyksund. By 1970, Nyksund was totally abandoned.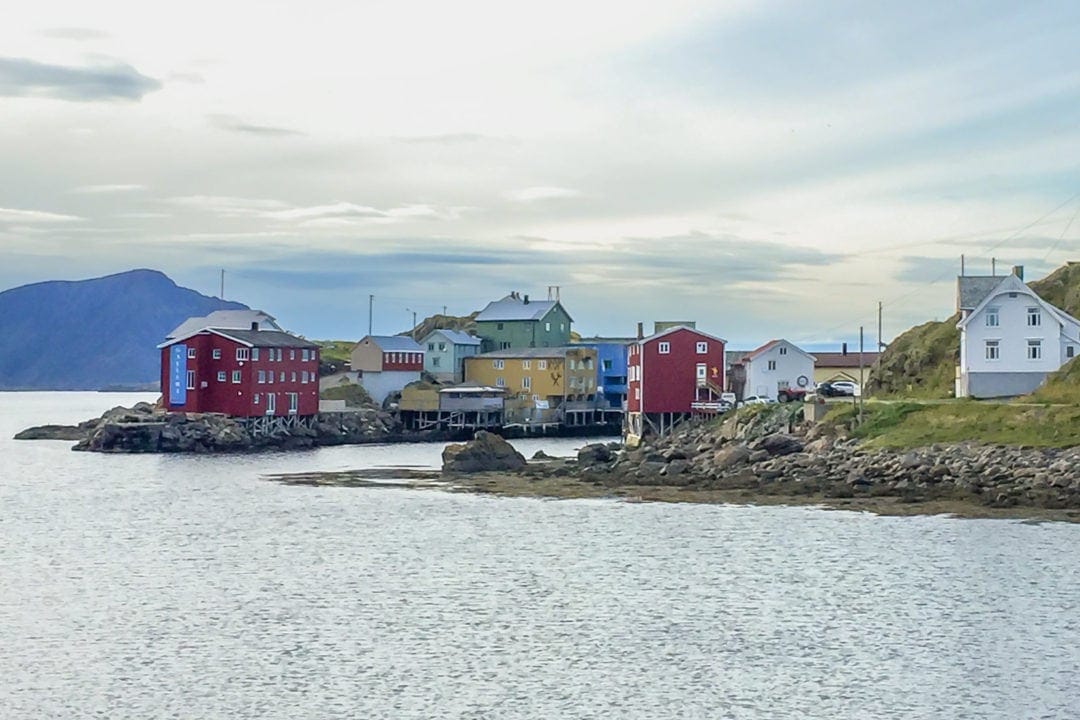 In the 1980s, Nyksund was revived by a German. This intervention has brought new life back to Nyksund with the village now hosting hotels and restaurants. And what a location it is with the nearby rugged Vesterålen mountains offering panoramic views of both the Atlantic Ocean and nearby archipelagos.
Queen Sonya of Norway completed this trek back in 1994 and following this, the trail was graced with the name 'Dronningruta' or 'Queen's Route'. The Queen is an avid hiker, having completed many of the beautiful Norwegian trails.
Another particularly memorable trek that both the Queen and I completed (ok, we didn't do it together), is Dronningstien or The Queen's Trail in Hardangerfjord (near to our Preikestolen hike), but let's get back to Dronningruta.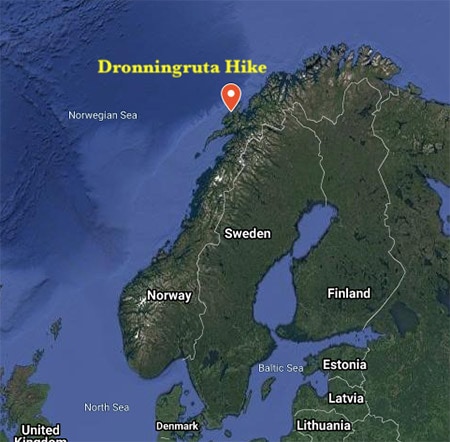 QUICK FACTS – DRONNINGRUTA HIKE (THE QUEENS' ROUTE)
Total hike length: 15 kilometres (10-kilometre mountain route plus the 5-kilometre coastal route)
Elevation gain: 448 meters (high plateau named 'Fingghameia')
Hike difficulty rating (Norwegian grading): Red (demanding – see the comparison below)
Ropes: There are a few steep and risky sections that have hand ropes installed to grab for stability
Hiking Season: May to September
Where to Park for the hike: Nyksund Parking or Stø Parking
Motorhome Parking: Motorhome parking at Stø or Motorhome parking at Nyksund
Wildcamping: No problem in Norway. If you don't know the rules then check out this wild camping information from VisitNorway.
Handy Free Phone Apps: Maps.me: off-line maps showing hiking trails; Outtt: a Norwegian hiking app (option for the English language); Yr.no: a Norwegian weather app (option for the English language)
Emergency Phone Numbers: Police: 112; Ambulance: 113
Transport Options between Nyksund and Stø: In Summer only, a water taxi runs between Stø and Nyksund. You can check out the prices on Seasafari Øksnes.
The Norwegian Mountain Code: If you've just arrived in Norway to hike then the Norwegian Trekking Association has outlined The Norwegian Mountain Code that you should make yourself aware of
Trail Marking: The Dronningruta trail is well marked with red 'T's on rocks
Trail Signposts: at the Nyksund and Stø end of the trail at the car park, you'll find trail signposts explaining the route.
(Do you need more accommodation and eating options in Nyksund or Stø then click here to find our information at the end of this article)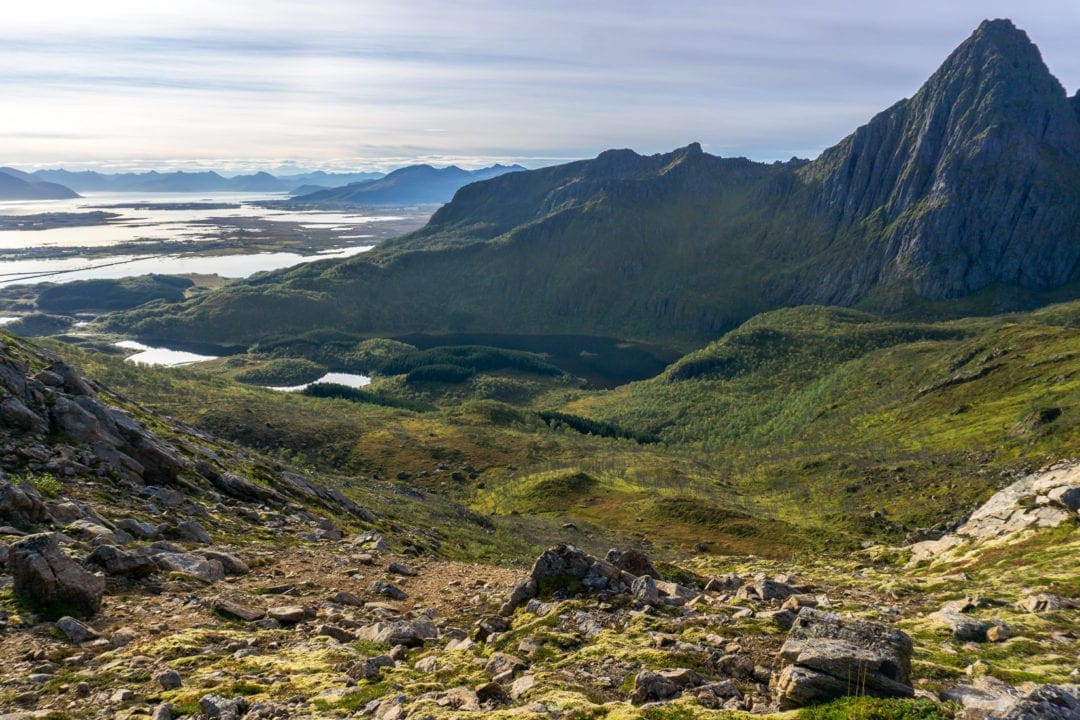 DRONNINGRUTA HIKE MAP
DRONNINGRUTA HIKE PREPARATION
Bring plenty of drinking water: there is no water available whilst crossing the mountains (only in the villages of Nyksund and Stø). If you have a drink bottle with a filter then there is access to natural water catchments.
Strongly recommend proper hiking kit: shoes/boots, walking poles, water-proof and cold weather clothing, backpack. This is a long-ish walk.
Check the forecasted weather
If travelling alone, then inform someone of your intended route and expected time of return
Although the route is well marked, referring to an offline map is super handy. Maps.me offers a free app and is one that I use. Simply pre-load the area map and the walking trails for Dronningruta are shown on this map.
THE DRONNINGRUTA HIKE
The start and endpoint for my hike was the village of Nyksund because we were overnighting at Holmen Brygge accommodation (however you may choose to do the hike in reverse – staying in Stø and making this your start/endpoint).
You can also request a guided hike leaving from Nyksund and in Summer taking a water taxi back from Stø to Nyksund – for more details make contact with Holmen Brygge.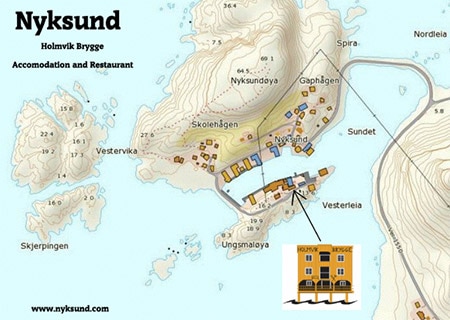 Whether starting the Dronningruta hike from Nyksund or Stø, you can opt to tackle either the mountain route or the flat shoreline route first.
The hike is rated as red (challenging) by the Norwegian Hiking Association, so you need to be relatively fit with an expected hike duration of 5 to 8 hours. I chose to start with the mountain route and completed the circular hiking loop in 5 hours including stops for lunch, photos and the search for some geocaches.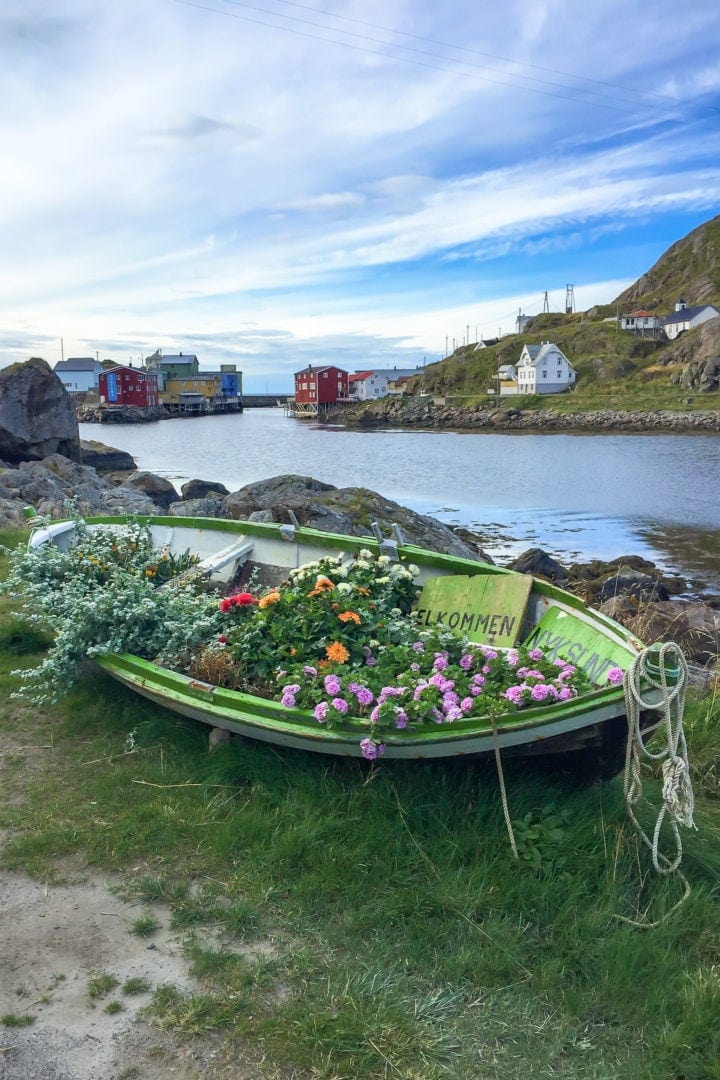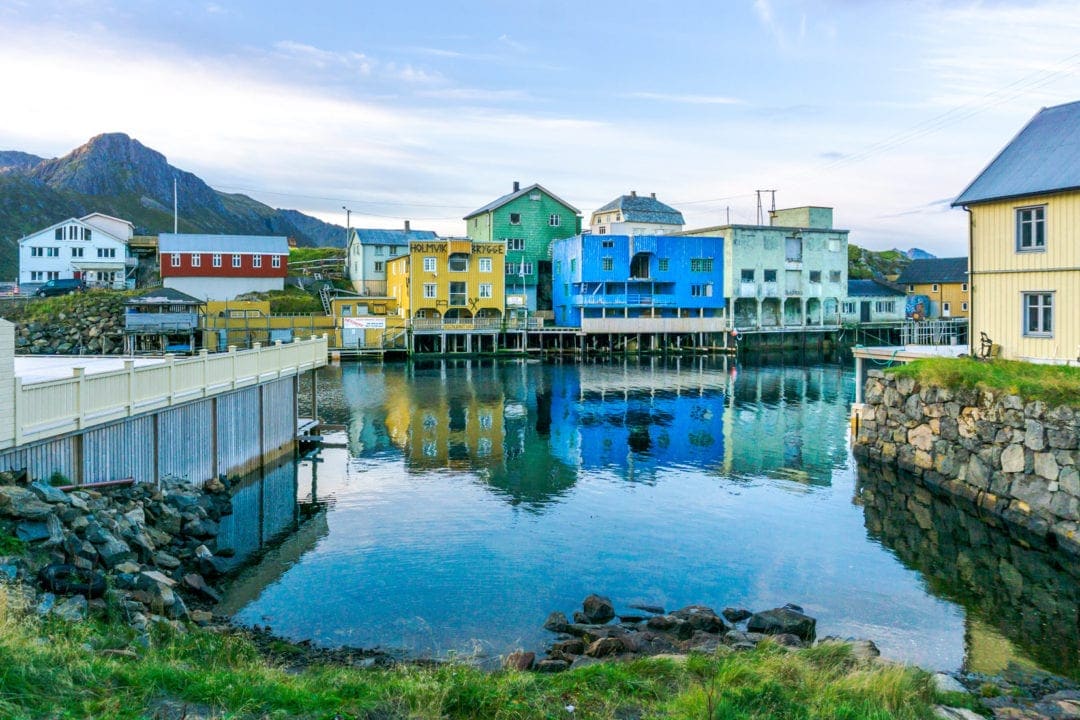 STARTING THE DRONNINGRUTA HIKE (NYKSUND)
My starting point was a short walk of approximately 500m back along the dirt road from Nyksund to a dedicated parking spot.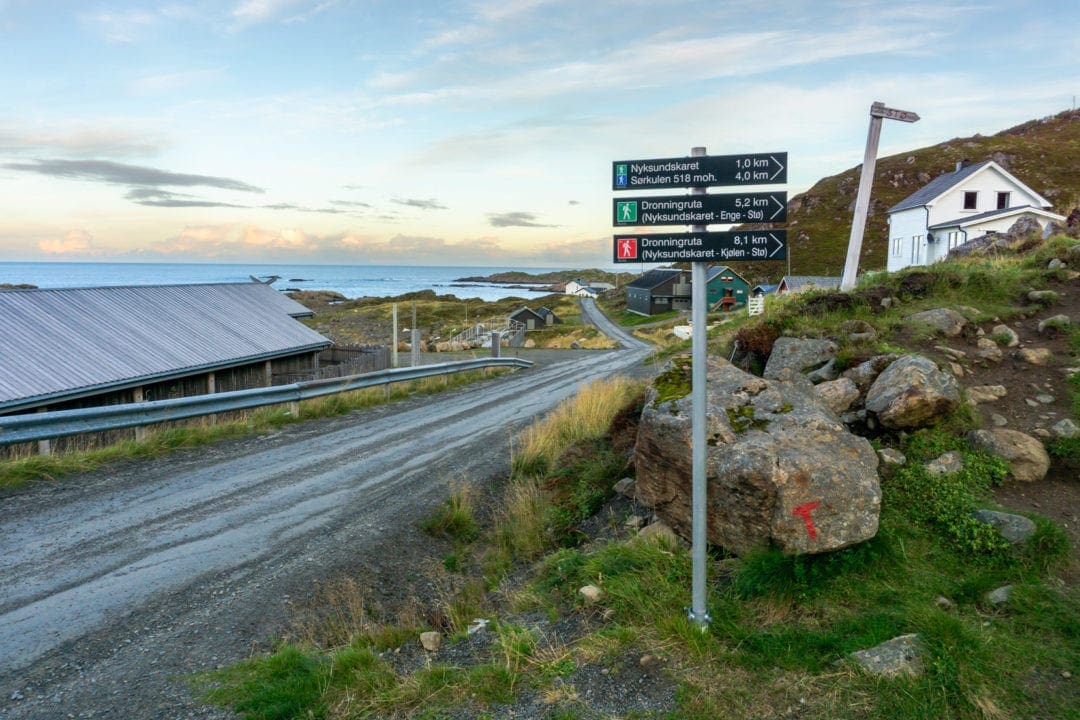 The initial part of the trail has a gentle incline which steadily increases until the first junction point is reached.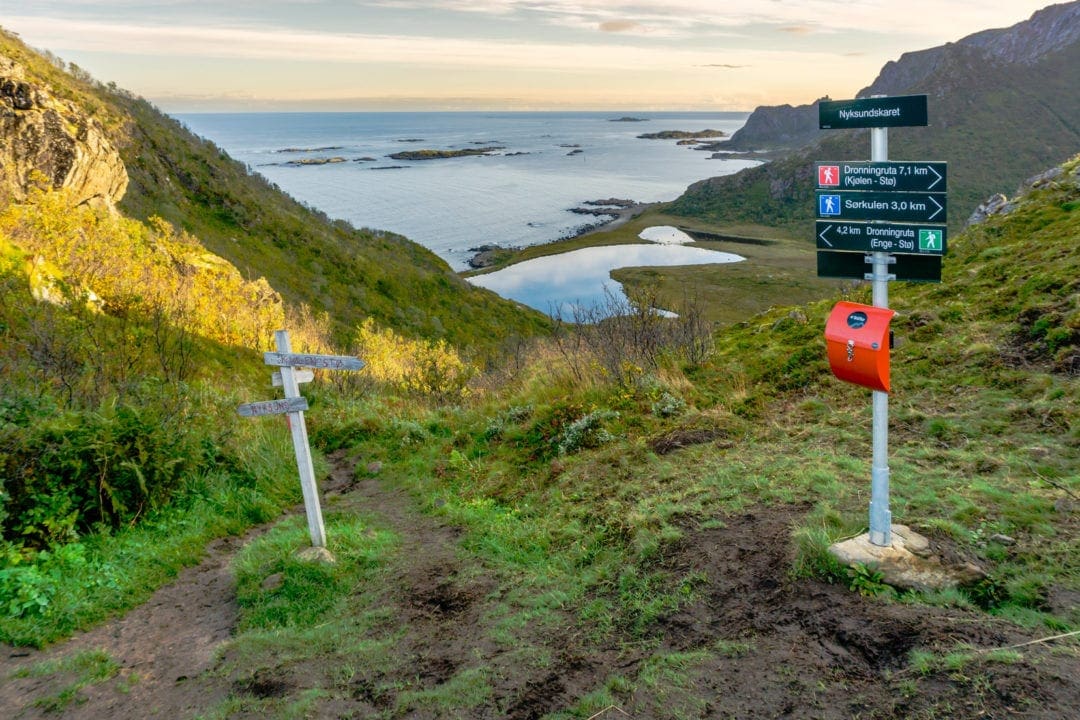 Here you can decide whether to opt for the downhill to then walk the coastal route to Stø before climbing the mountains to return to Nyksund; or, to tackle the mountain route first to Stø, then follow the coastal route. I decided on the second option.
(Note: The trail is marked by the red 'T' which has been painted on stones for the entire route.)
From here the spine of the mountain is followed until Finngamheia peak is reached topping the climb out at a maximum of 448masl. Some parts of this section of the trail have rope handrails to assist you due to the muddy footings and sheer drops.
Slowing the pace down and carefully finding your way you should find you past these tricky sections without too much worry. Don't forget to keep that camera handy, the views are nothing short of spectacular.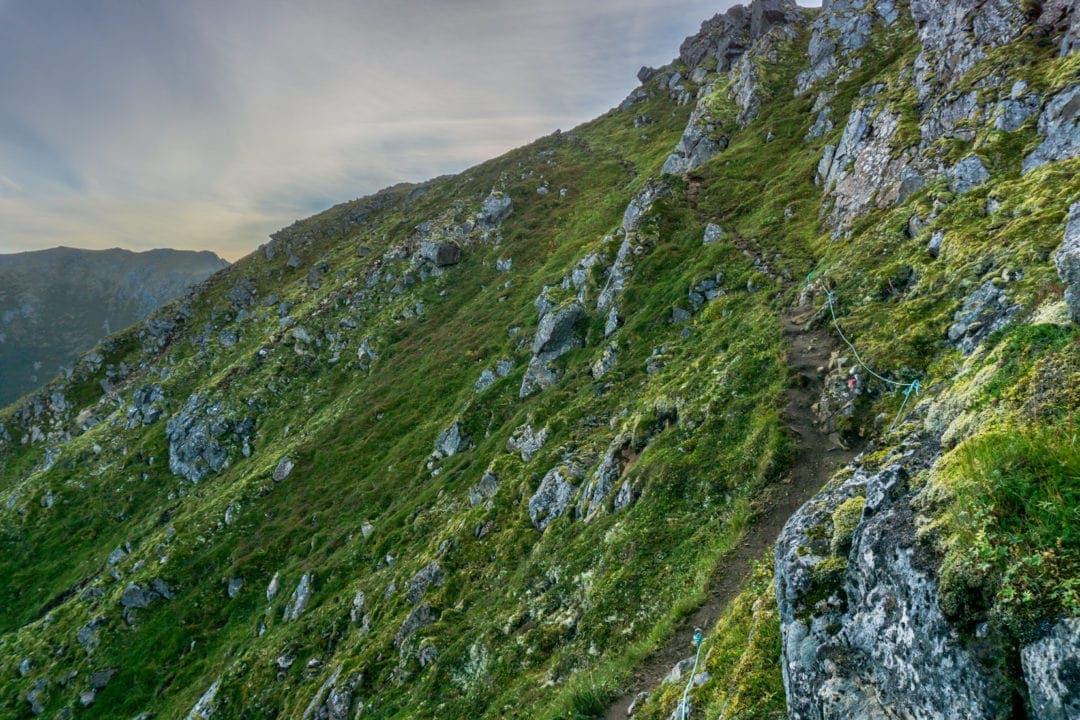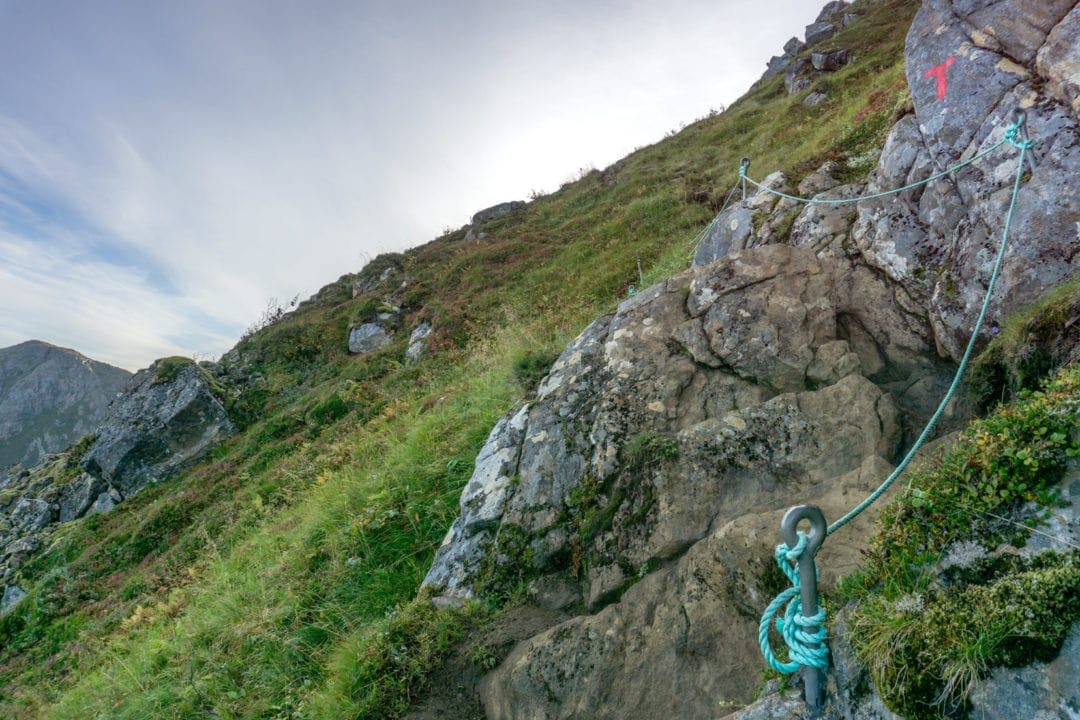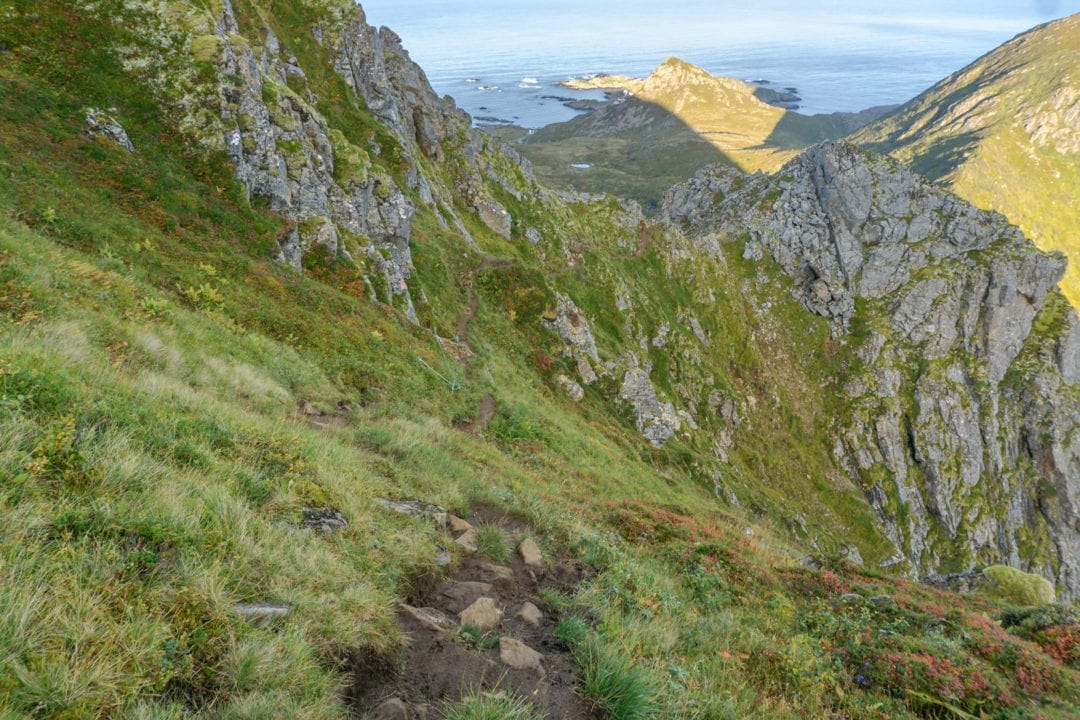 DRONNINGRUTA'S SUPERB LANDSCAPE VIEWS 
The path then winds its way around the western side of the mountain of Sorkulen. Here you have some amazing views of the nearby islands and the Atlantic Ocean. It's a relatively flat and narrow goat trail along this section of the hike.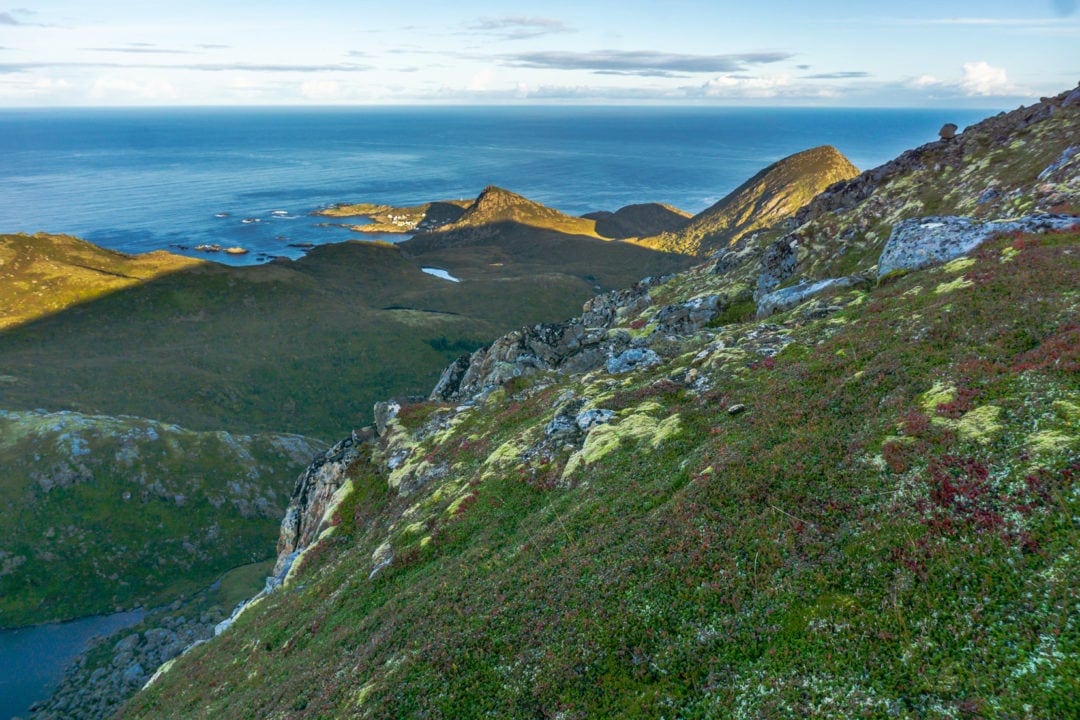 Before long you reach a gently rising plateau of Fingghameia with its mossy ground cover. Here, if you look carefully in the distance, you can just glimpse Nyksund.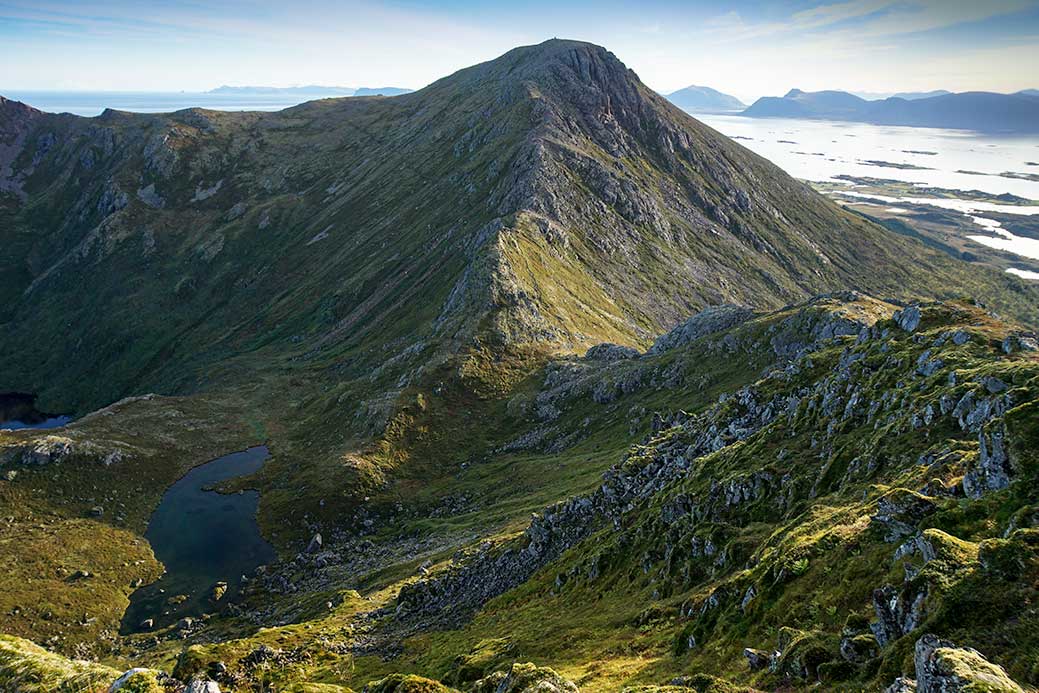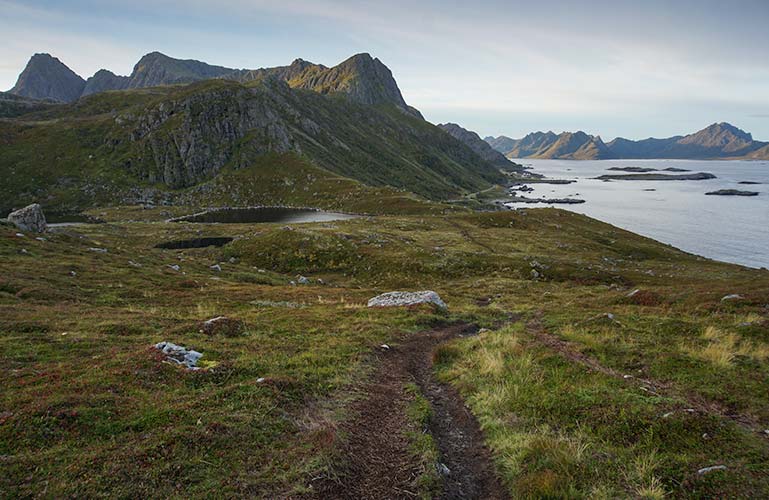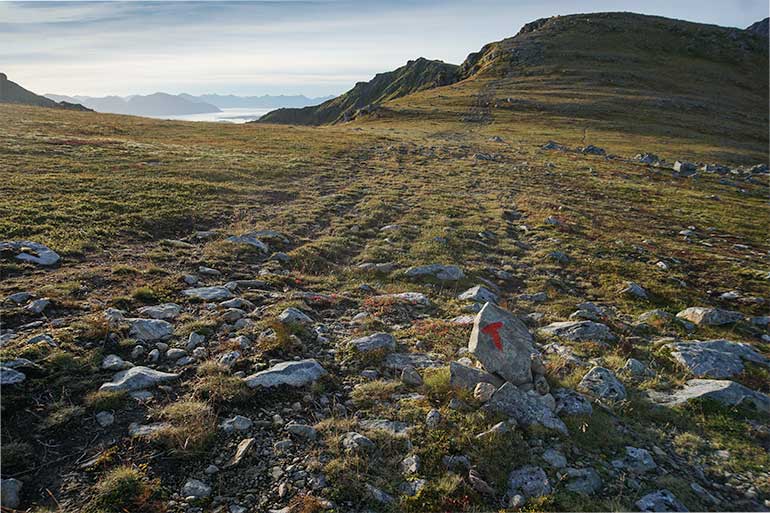 Continuing a little way further on will treat you to spectacular views both east over Andoya, (also a part of the Vesterålen islands), and wide, sweeping landscape views to the west.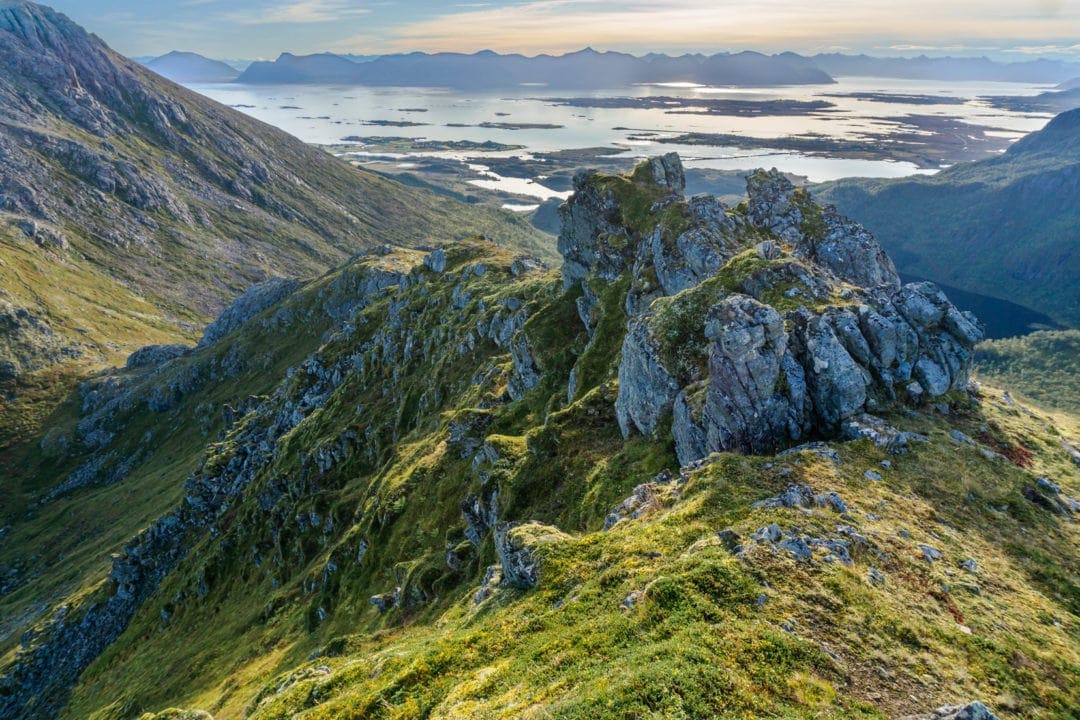 The trail points towards a large mountain peak but the trail snakes its way around this rocky obstacle. You can safely say that you've now passed the halfway point of the total hike.  The terrain is now more of a gentle, undulating trail before the descent to Stø.
HELLO STØ
Quite suddenly you reach a mountain crest and there below lies the little fishing village of Stø, clinging to Langøya's northernmost tip. Maybe it's the clear Norwegian air but things seem to appear closer than they really are. It's still another hour of steady walking before you reach the car park close to Stø.
Around this location, looking to the west reveals the horse-shoe-shaped coastline which is actually your return route to Nyksund. A nice stretch of coastline trekking to look forward to.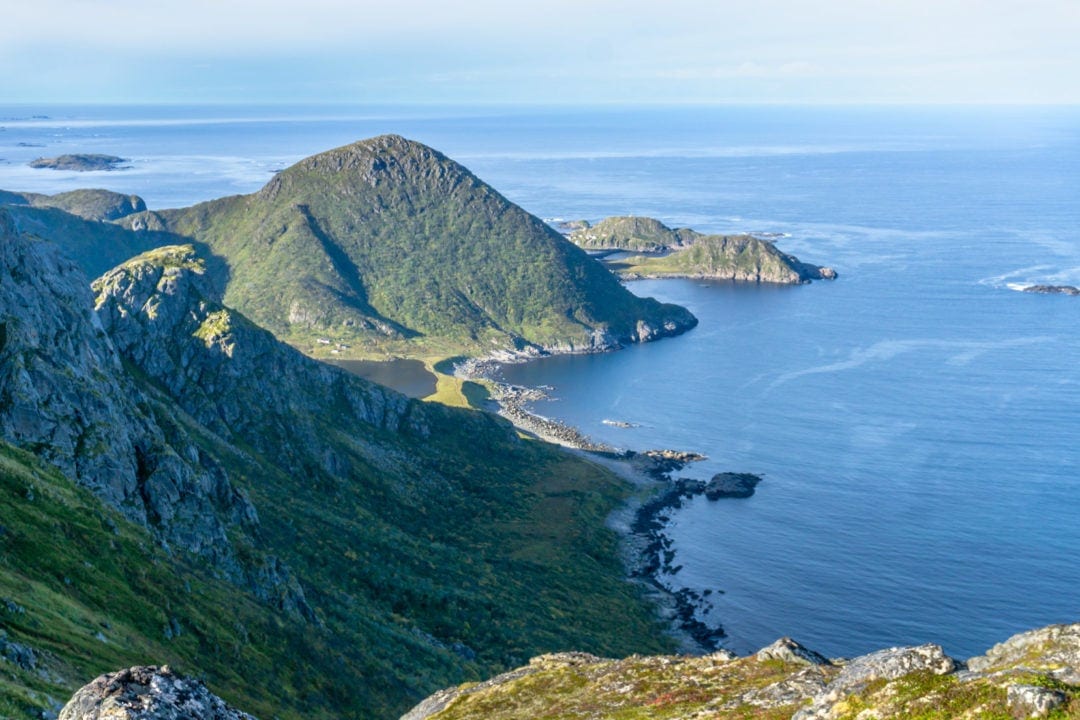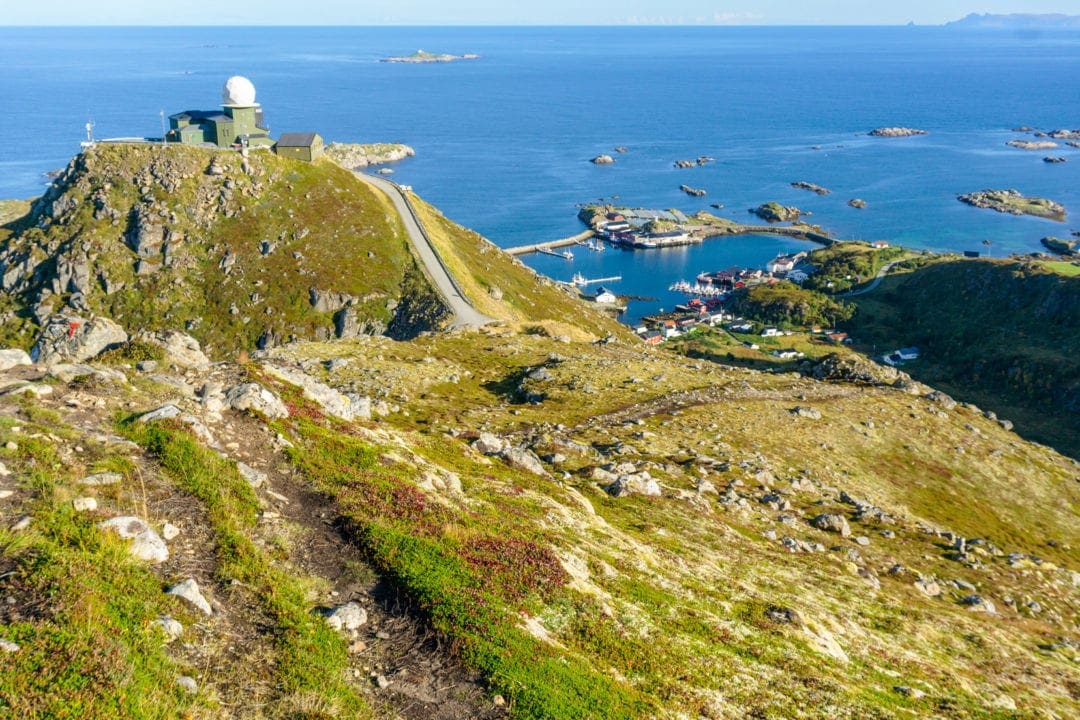 On the descent to Stø, the trail takes you past an interesting-looking radar station.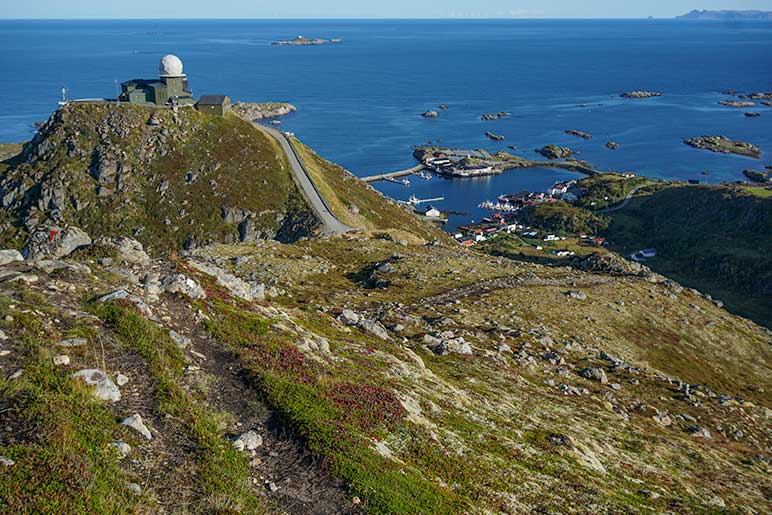 The last part of the descent snakes down the hillside to a car park.
To continue the hike, you swing left and follow the road down to the coastline. Otherwise, turning right and walking a few hundred metres will take you into Stø.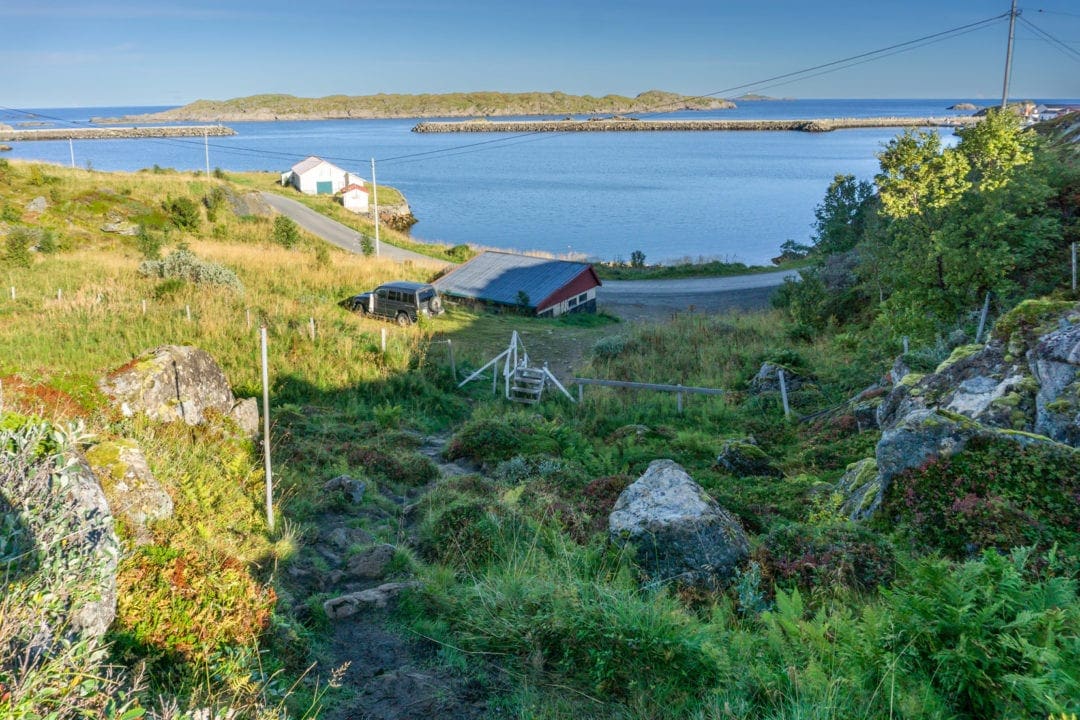 As mentioned, turning left allows you to continue the trail. Just off the road and near the campsite are some interesting artwork and arrangements of driftwood art. This would be a good place to take a break and re-charge the batteries before continuing.
Consider yourself at the two/thirds completion point of the Dronningruta hike.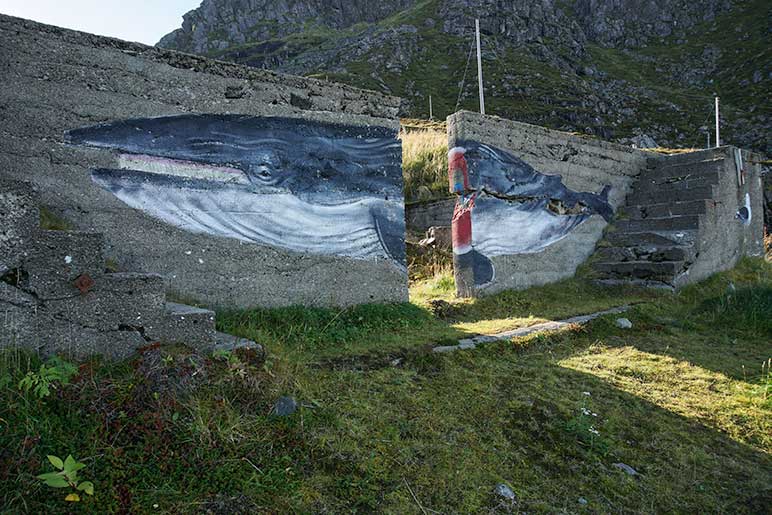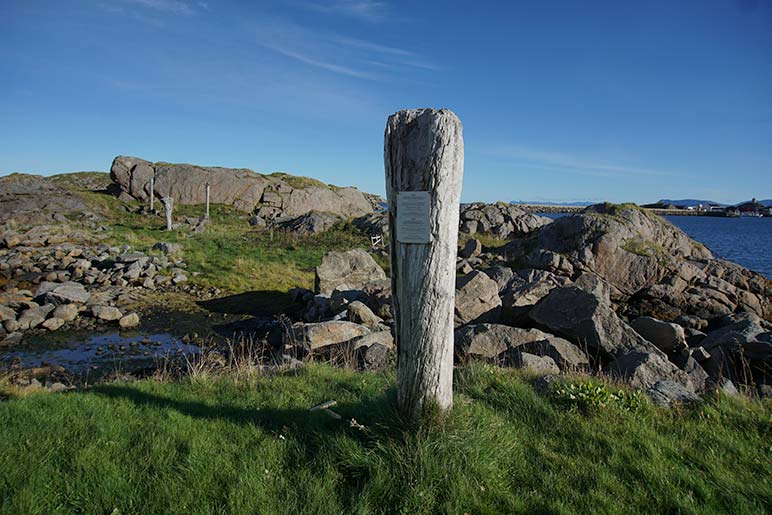 HOMEWARD BOUND
The Dronningruta trail sticks to the base of the mountain following the shoreline back towards Nyksund and at least for the next few kilometres. It is pretty much a flat trail at this point. The ground is somewhat boggy in parts but don't be deterred because planks of timber have been placed in most waterlogged places to keep you out of trouble.
The coastline scenery changes with each passing of the many little coves. Each cove has its own individual style, one named Skipssand with a particularly inviting sandy beach.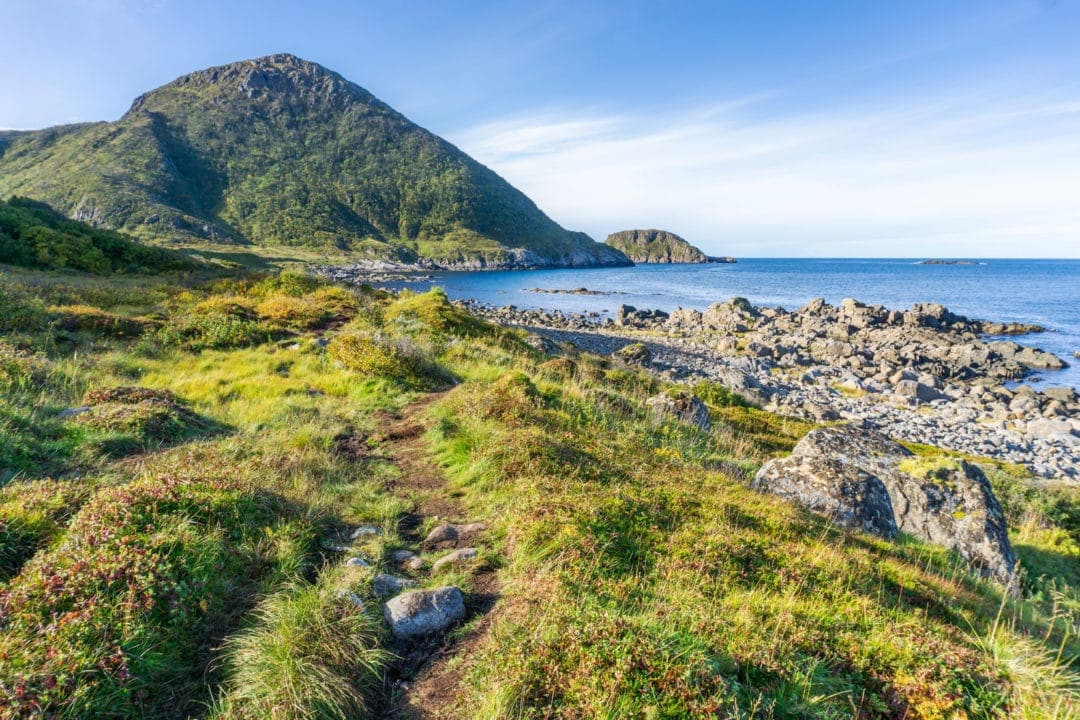 Halfway along this coastal stretch is Enge, an old settlement site that is thought to date back to the Viking age. Here you'll find a modern shelter with a barbecue pit offering the weary hiker the opportunity to rest and escape the weather.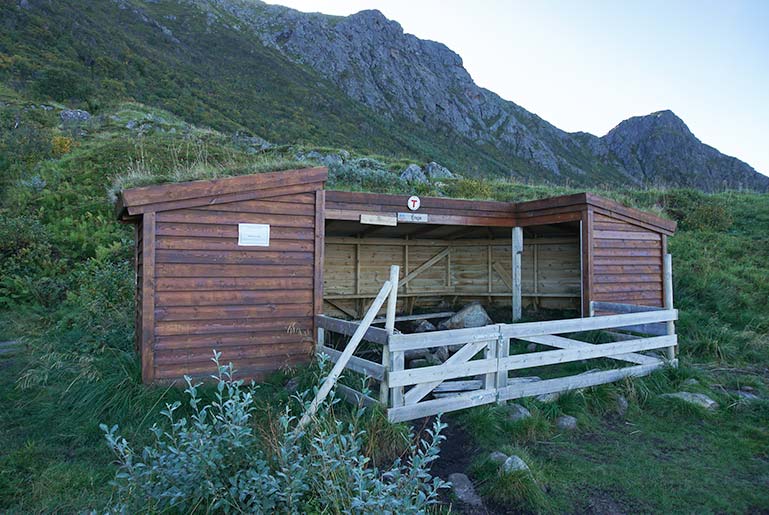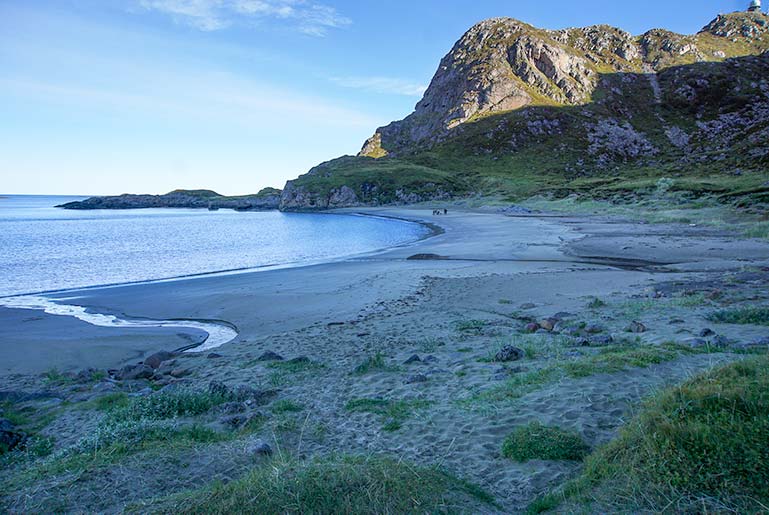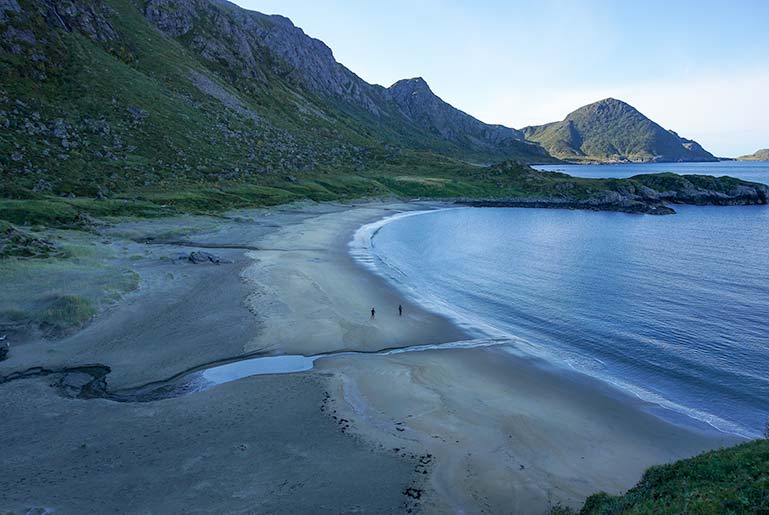 DRONNINGRUTA HIKE HOME STRAIGHT
Now, you might be thinking that the trail simply follows the coastline taking you around the mountain following the shoreline. Nope, that is not the case. Lying ahead is an ascent of the opposite side of the first mountain that you tackled at the start of the climb from Nyksund.
This trail is flat and takes you past some open sections. Crossing a small stream with stepping stones brings the trail close to some small homes.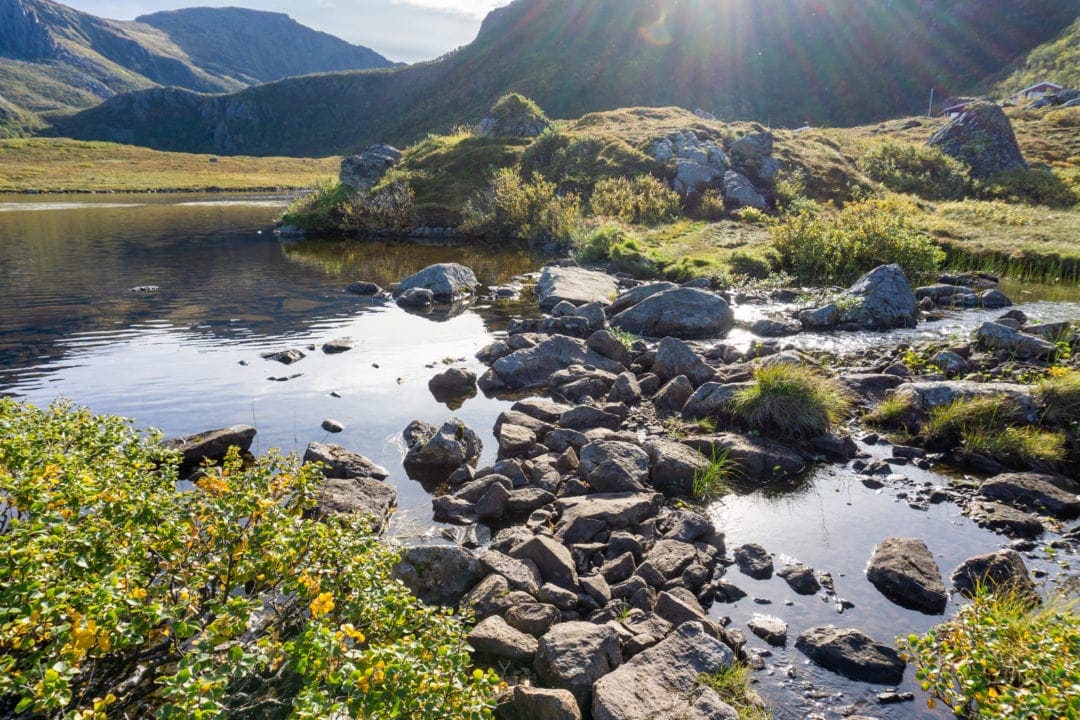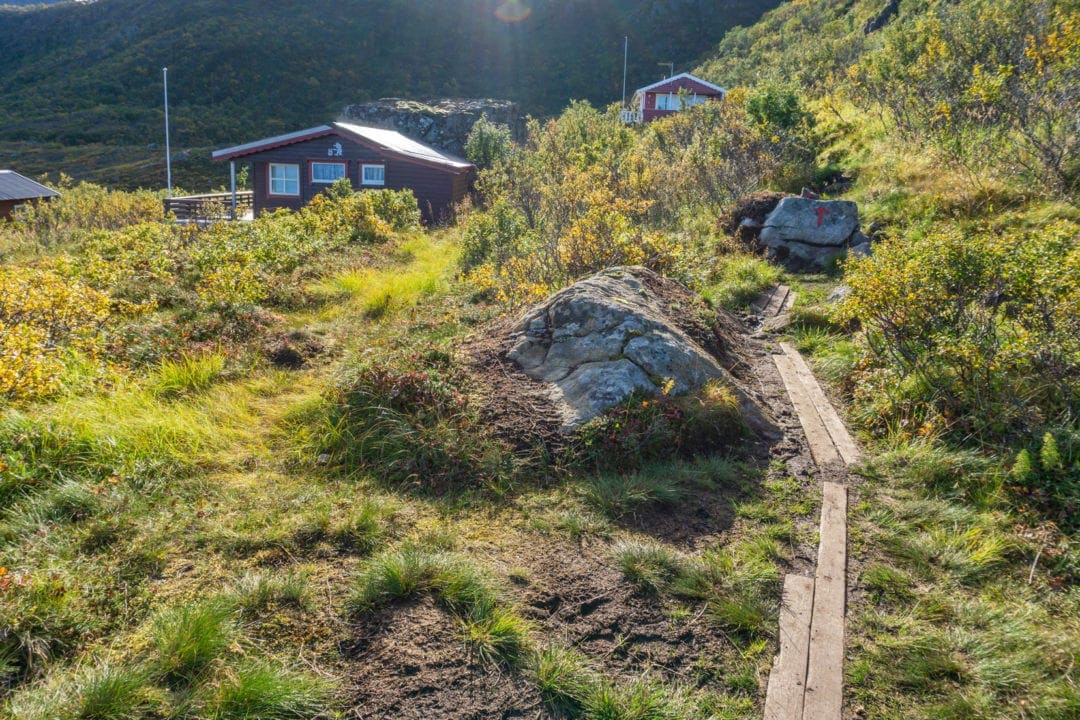 Here begins the final ascent. On the other side of the mountain, Nyksund awaits. This last blast up the mountain is steep, rough and, in parts, slippery. I didn't use hiking poles but if you have them, then this is the perfect time to put them to use. I consider this to be the most testing part of the whole Dronningruta hike. It will put the average person to the test.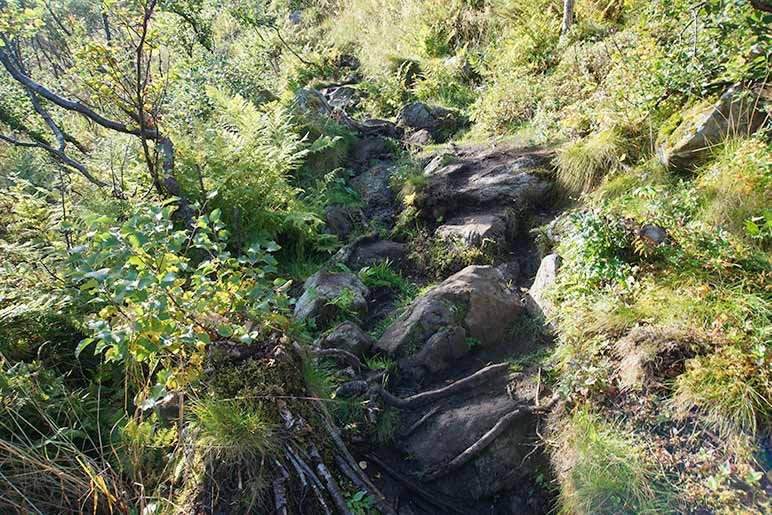 NYKSUND IS FINALLY IN SIGHT
Eventually, this steep ascent flattens out slightly and you recognise the same sign you passed earlier in the day. Follow this same trail back towards Nyksund and you'll arrive at the car park where it all started. 
You've done it!
You can now add the Dronningruta hike to your list of accomplishments. Well done!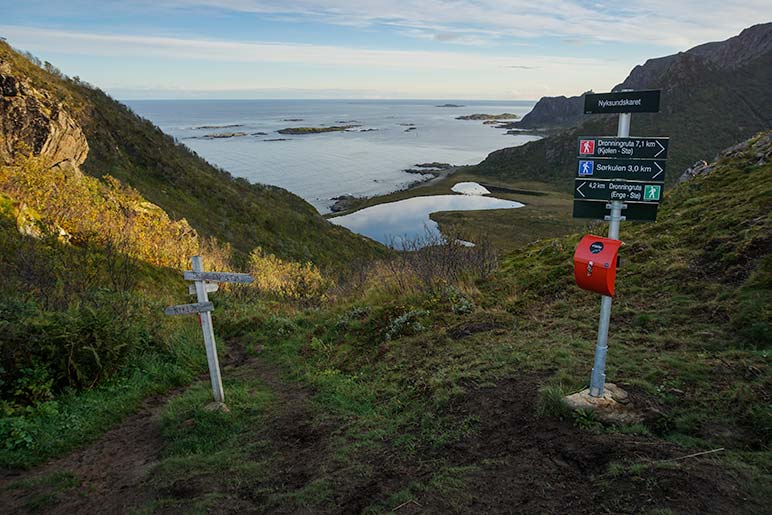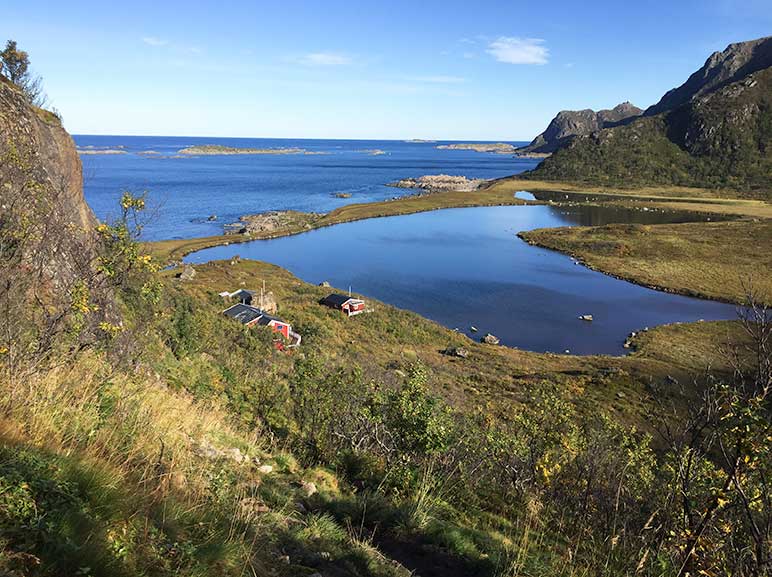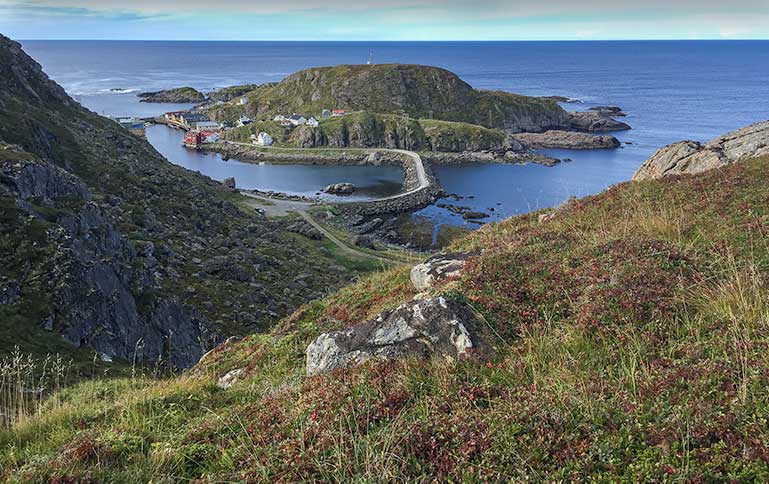 WHY I LOVED THE DRONNINGRUTA HIKE (INCL. POST-HIKE TIPS)
This Dronningruta hike is not one of the well-known or super popular hikes in Norway meaning you'll likely have the trail to yourself. This was the case for the majority of my hike.
I started the hike before sunrise and managed some amazing sunrise and landscape photos. The landscape is different from that of other parts of Norway and that makes for an interesting trek. 
My suggestion for an easier route of the Dronningruta hike would be to start at Stø, tackle the mountainous section whilst the legs are fresh and loop around the shoreline path back to Stø.
If you want to see Nyksund you'll have to leave the trail, descend to the car park, and walk the few hundred metres into Nyksund. There's a cafe in the town so you have somewhere to stop and refresh. 
For those that like a bit more of a challenge then feel free to follow my route starting from Nyksund.
The Dronningruta Hike sure rates as one of my most enlightening hikes in so many ways. You'll understand what I mean if you're a solitary hiker.
Enjoy this beautiful part of Norway and let me know if the Dronningruta Hike lived up to your expectations.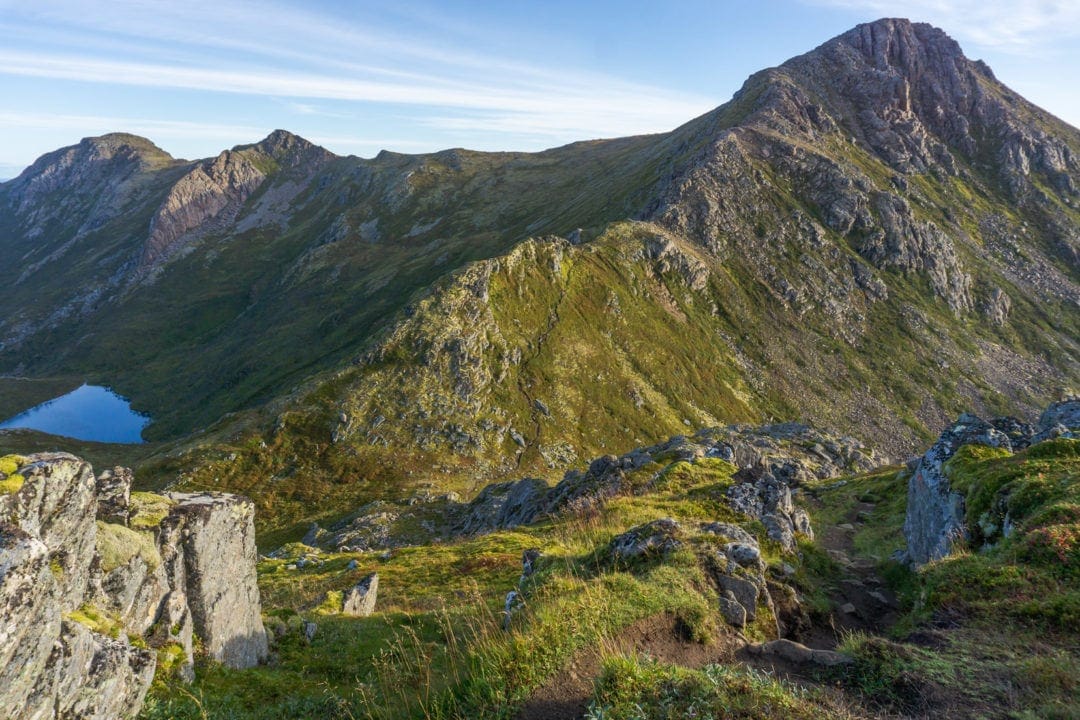 WHAT MADE THIS DRONNINGRUTA HIKE DIFFERENT FROM OTHERS?
Each one of our hikes in Norway has given us a different experience.
With Preikestolen and Kjeragbolten, it was the heart-stopping fear at the closeness of a thousand-plus metre drop. While Dronningstien, Bondusdalen, Ryten and Himakana, offered up stunning ever-changing vistas. Kongevegen and Utsira with their gentle winding paths beckoned us to explore what was around that next corner. Torghatten with its unique magnificence and finally, Dronningruta, aptly sitting apart from the rest.
It left me with a sense of how you can feel solitude. Not so much isolation or loneliness, but a chance to be so insignificant in all this magnificence around you. Definitely, a soul revitalisation.
Even the Dalai Lama advocates that every person should spend some time alone each day.
This was my time!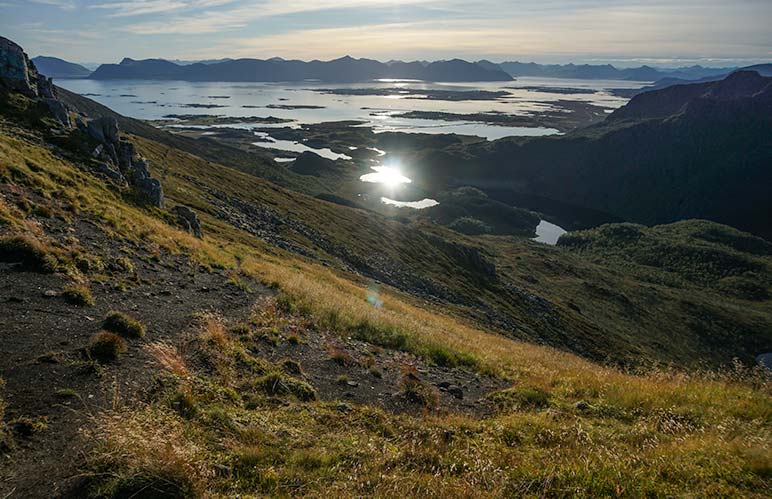 LEVELS OF HIKING IN NORWAY
Norway classifies its walks and hikes depending on the difficulty as follows:
Easy (Green) – Novice Hikers/ No experience necessary
Medium (Blue) – Intermediate with some hiking experience /average fitness level
Demanding (Red) – Experienced walkers/high fitness level well equipped with good hiking boots/ basic navigation skills /map and compass.
Expert (Black) – Longer and more technical hikes /Experienced hikers/ high fitness level well equipped with good hiking boots/ basic navigation skills/map and compass
CAN'T HIKE? JOIN A CRUISE
The 'Hurtigruten' is a Norwegian public coastal route passenger shipping company offering cruises to many parts of the world including Vesterålen. Find more information on cruises here.
WANT MORE TO DO IN THE NYKSUND AREA?
Arctic whale tours from Stø: As part of your planning it's good to note that as a general rule of thumb, Pilot and Sperm whales visit in summer whilst Humpbacks and Orcas visit in the winter.
Nordland Sculptures: there is actually one right in the heart of Nyksund! This series of sculptures consist of 35 different types of artwork from international artists which depict the artist's interpretation of nature and culture. We found many in Nordland and they really are stunning pieces of work.
Geocaching: an app that you can download for free or you can purchase extra caches that involve a global treasure hunt. Locals often place a 'cache' at a spot that is extra-special. It may be a fantastic view, have historical importance or just at a fun location but it's a lot of fun for the whole family.
NYKSUND: WHERE TO STAY AND EAT  
For accommodation options check out booking.com here. We stayed at Holmik Brygge Nyksund and ate at the local restaurant Ekspedisjonen Nyksund . Both were great.
Closest Supermarket: Myre (13 kilometres from Nyksund)
Closest Fuel Stop: Myre (13 kilometres from Nyksund)
STØ: WHERE TO STAY AND EAT  
For accommodation options check out booking.com here.
There is Valen Restaurant within the Bobilcamp campsite located close by Stø.
Closest Supermarket: Myre (13 kilometres from Nyksund)
Closest Fuel Stop: Myre (13 kilometres from Nyksund)
(Click here to return to the 'Quick Facts' Section at the top of this article)
Dronningruta Hike …That's a Wrap
I hope this post will help you plan your own Dronningruta hike and please drop me a message if you've conquered this hike and what you thought about the whole experience.
If you enjoyed this article, you may like these FREE RESOURCES:
FREE Travel Guides (many countries)
FREE 23-page Travel Planner, including menu planner, journal pages and budgeting)
FREE Phone Wallpapers
FREE Photo Ebooks
Monthly Travel News 
This post may contain affiliate links. This means that we may earn a small commission from purchases you make through our links, at no extra cost to you. Thank you for supporting us. For more info, read our Disclosure Policy.
Why not Pin and Save it for later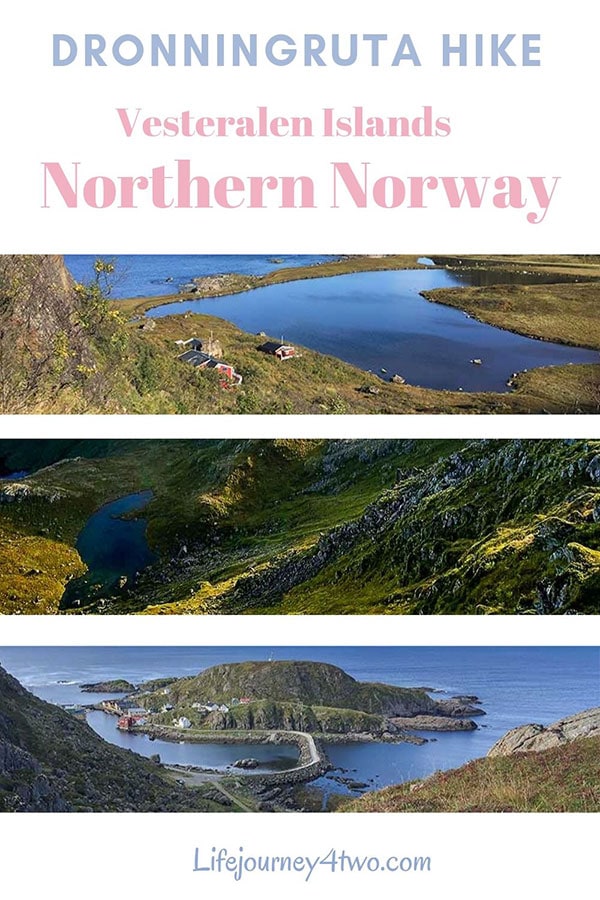 YOU ALSO MAY ENJOY READING:
PLANNING YOUR TRAVELS?
These are some of the travel resources we use when planning our trip and can recommend:
For a more thorough list visit our Travel Resources page here.