Some posts on this site contain affiliate links, meaning if you book or buy something through one of these links then we may earn a small commission. Read our Disclosure Policy here.
LOFOTEN ROAD TRIP (INCLUDING VESTERÅLEN)
If I was asked to describe our Lofoten road trip using just one word, then dramatic would be it. That first sight of those roughly chiselled Moskenesøya mountains surging skywards brought to mind the Viking spearheads and visions of conquests past.
This a reminder that wherever you are in Norway, the Viking spirits pervade into the present.
This Lofoten road trip was to be the last stretch of our epic Norway road trip that had started in Stavanger and would end here in the mythical islands of Lofoten and Vesterålen.
Lofoten Road Trip: 7 DAY ITINERARY + ROUTE OVERVIEW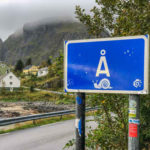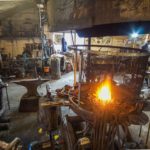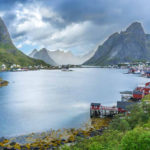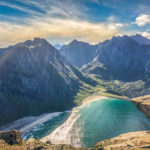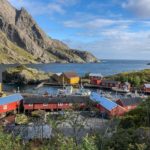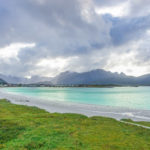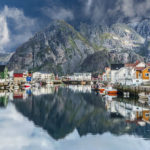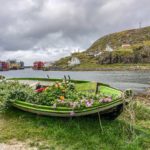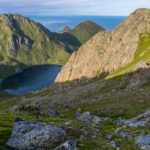 We've spent over 12 months living and travelling through this fairytale country over both the summer and autumn seasons.
Our base in the historic village of Skudeneshavn was the perfect launch point for our Norwegian adventures which never failed to amaze us.
We'd gradually made our way up from Western Norway taking two weeks from Stavanger to Bergen, nine days from Bergen to Trondheim and taking one week to travel from Trondheim to Bodo, before casting our eyes west towards the Lofoten islands.
With the 3.5-hour ferry crossing between Bodø (on the mainland) and Moskenes, a village on Moskenesøya, a western isle of Lofoten, now behind us, we were itching to get started on this Lofoten road trip.
This Lofoten Road Trip Includes:
Northern Lights photography locations
Exhilarating mountain hikes
Picturesque traditional Norsk fishing villages
Internationally inspired sculptures by Skulpturlandskap Nordland
Driving the Norwegian Scenic Route Lofoten
The best attractions and landscape views on the magical Lofoten and Vesterålen Islands.
VIDEO: Taster of this Lofoten Road Trip
A 3 ½ minute video showcasing the magic of the Lofoten Islands.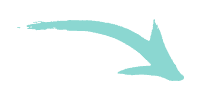 WHERE ARE THE LOFOTEN ISLANDS?
You'll find the Lofoten Islands in the Northwest of Norway, north of the Arctic Circle in the county of Nordland.
The Lofoten and Vesterålen island chains are clustered together but actually form different archipelagos.
The Lofoten archipelago, the more famous of the two and shown by the solid oval below, consists of the main islands of:
Røst (Reached by ferry from Moskenes)
Værøy, (Reached by ferry from Moskenes)
Moskenesøy,
Flakstadøy,
Vestvågøy
Austvågøy
Gimsøya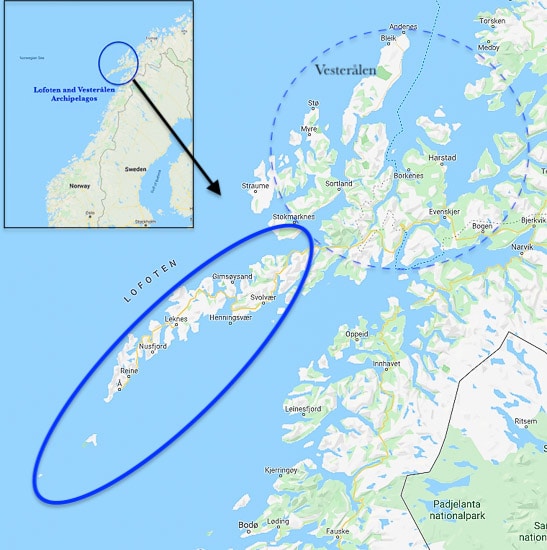 The Vesterålen archipelago is shown by the dashed oval and includes the main islands of:
Langøya,
Hinnøya,
Andøya and
Hadseløya.
Lofoten Road Trip Route Overview: (LOFOTEN AND VESTERÅLEN ARCHIPELAGOS)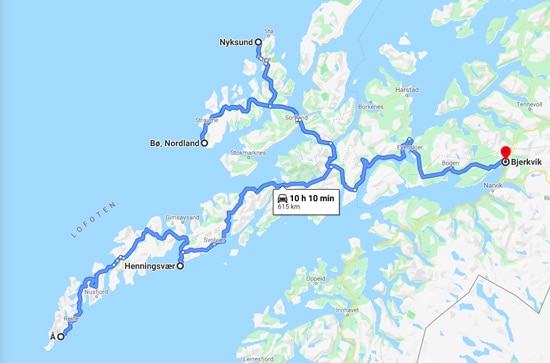 PLANNING YOUR LOFOTEN ROAD TRIP
---
WHEN IS THE BEST TIME TO VISIT LOFOTEN?
The most frequently asked question we get is: When is the best time to visit Lofoten?
There is no best time, but different times of the year offer different opportunities and it will depend on what you want to see and do.
Lofoten in Summer
June to August is the summer period which offers the best opportunity for good weather, long daylight hours, and the midnight sun. The downside is that it also coincides with the busy tourist season and the roads can be jam-packed.
The summer is also the drying time for the fish and there will be racks upon racks of drying fish so if you are sensitive to smells, this might not be the best time of year to visit.
Lofoten in Winter
Generally speaking, November is notorious for wet weather. December offers little improvement. If you want to visit Lofoten with the best chance of snow, then January to March is your best bet, but there are no guarantees.
Winter is the main fishing season in Lofoten and also a fantastic season for photographers with arctic light and postcard-perfect scenery.
The Polar Nights in Lofoten last from the beginning of December until early January and there is always a chance of seeing the Northern Lights.
If the Northern Lights are on your agenda, then you'll need to visit between September and April but September/October and March/April are the most promising months.
Many places will be closed so bear this in mind if you want to plan your road trip to Lofoten in winter.
Our travel tip is to plan an off-season visit, in late September, to avoid the throngs of tourists, enjoy a good amount of daylight, hopefully, see the Northern Lights, and pay less than the peak season rates. It worked for us.
But what we didn't know was that museums and other public attractions often close their doors outside of the Summer months (June to August) so this may impact your itinerary.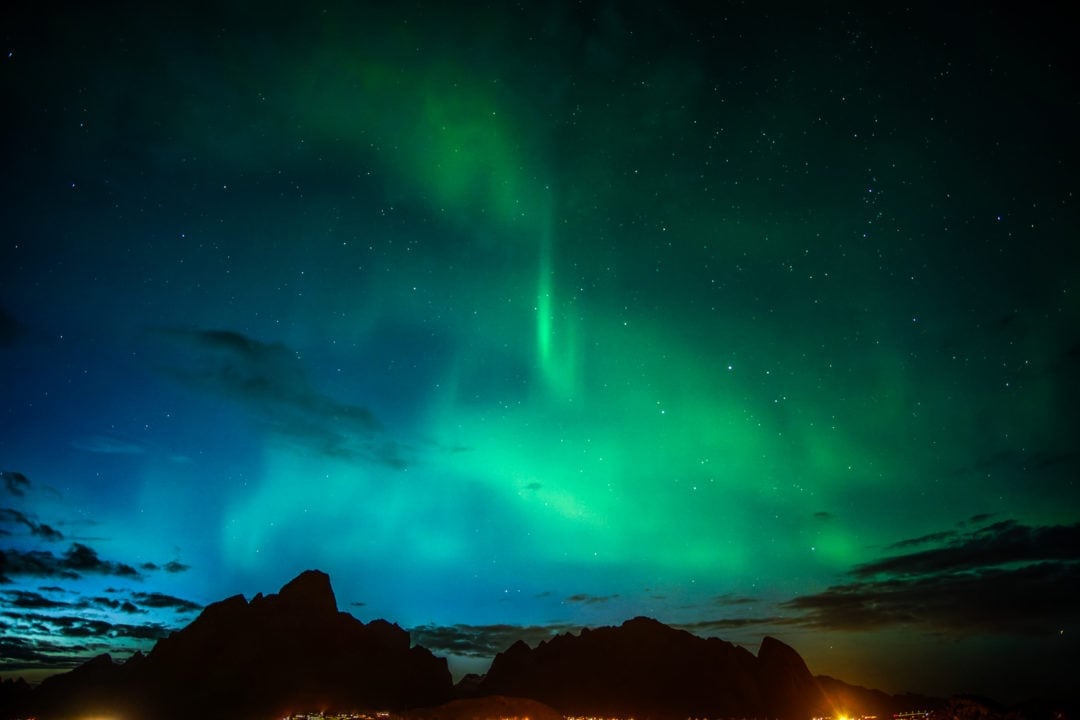 LOFOTEN EVENT CALENDAR
Popular Lofoten Activities
Lofoten Map: Scenic Routes and Attractions
To use this map, expand it using the square symbol on the top right-hand side and then look to the key on the left-hand side. By clicking each location you will find the corresponding position on the map.
Blue Line marks the Norway Scenic Route Lofoten;
Blue circles with a star denote an attraction;
Home logo marks where we stayed overnight
Yellow circles denote alternative options.
LOFOTEN ROAD TRIP 7-DAY ITINERARY
---
We begin this road trip in Lofoten at the most south-western village, Mosekenesøya, and zig-zag our way eastwards through the Lofoten Islands before then heading north to the Vesterålen Islands.
Booking ahead and allocating a 2-night minimum stay at each of our accommodations worked well as it avoided that feeling of being constantly on the move and it also gave us a 'home base' while we explored the area.
We chose our Lofoten accommodation based on the location being more-or-less central to the areas that we wanted to explore:
Reine (Moskenesøya), Lofoten
Henningsvær (Austvågøya), Lofoten
Nyksund (Langøya), Vesterålen.
Lofoten Road Trip: Day 1 (MOSKENSØYA/FLAKSTADØYA ISLANDS, LOFOTEN)
The first day only encompasses a total of 56km of driving. We spent many hours admiring and photographing the spectacular landscape along the way. It was a whole day of stop-start but so worth it.
Å
Å is the last letter of the Norwegian alphabet but is also the name of the town on our first stop on this Lofoten road trip. The tiny village of Å is at the very southwestern end of the island of Moskenesøya and literally at the end of the road going southwest. You can drive no further.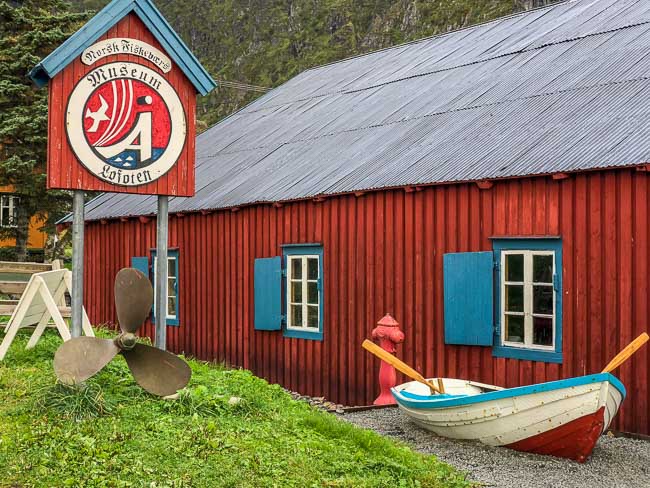 Originally, fishing was the main economic source of this village but Lofoten's popularity has risen, in part due to the success of the children's movie, Frozen, and the area has seen a massive rise in tourism — with the knock-on effect of the increasing tourism industry.
LOFOTEN FISHING VILLAGE MUSEUM AND NORWEGIAN STOCKFISH MUSEUM
The main attractions in Å are the Lofoten Fishing Village Museum and the Norwegian Stockfish Museum which unfortunately were closed during our September visit.
However, there are many interesting late 18th-century buildings to admire and it's hard to miss the beautiful surroundings.
HIKE TO AGVATNET
We took a rather slushy walk to Ågvatnet, a lake close by Å to hunt for some geocaches.
It was on this hike that we encountered our first smell of dried fish. We then sniffed our way to the source and found heaps of cod heads stacked in a shed behind wooden cod-drying trellises.
Why these dried heads are kept, remains a mystery to us. The smell was quite pungent and clung to the nostrils for some time afterwards.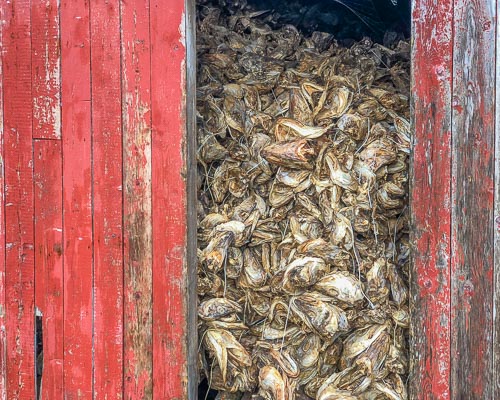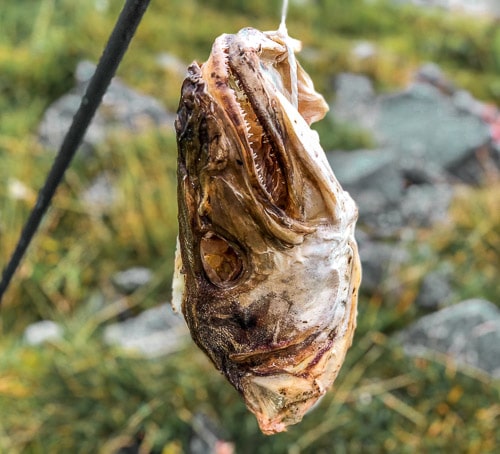 Want t experience quintessential Lofoten?
Walk towards the town's small harbour where you'll find captivating yellow and red coloured homes built opposite the chiselled mountain slopes.
If you can, pop into the village 'corner store' which is worth a wander just to see some of the local souvenirs and cod displays.
SUND – HISTORIC BLACKSMITH WORKSHOP
Next, we ventured to the village of Sund on Flakstadøya island to pay a visit to a renowned blacksmith, Tor Vegard Mørkved, who owns and operates the blacksmith's workshop and the Sund Fisheries Museum.
Tor Vegard gave us a talk on his past and the history of the workshop then brought his furnace to life to fashion a steel cormorant, swearing by his old but reliable machinery that dated back to the start of the 20th century.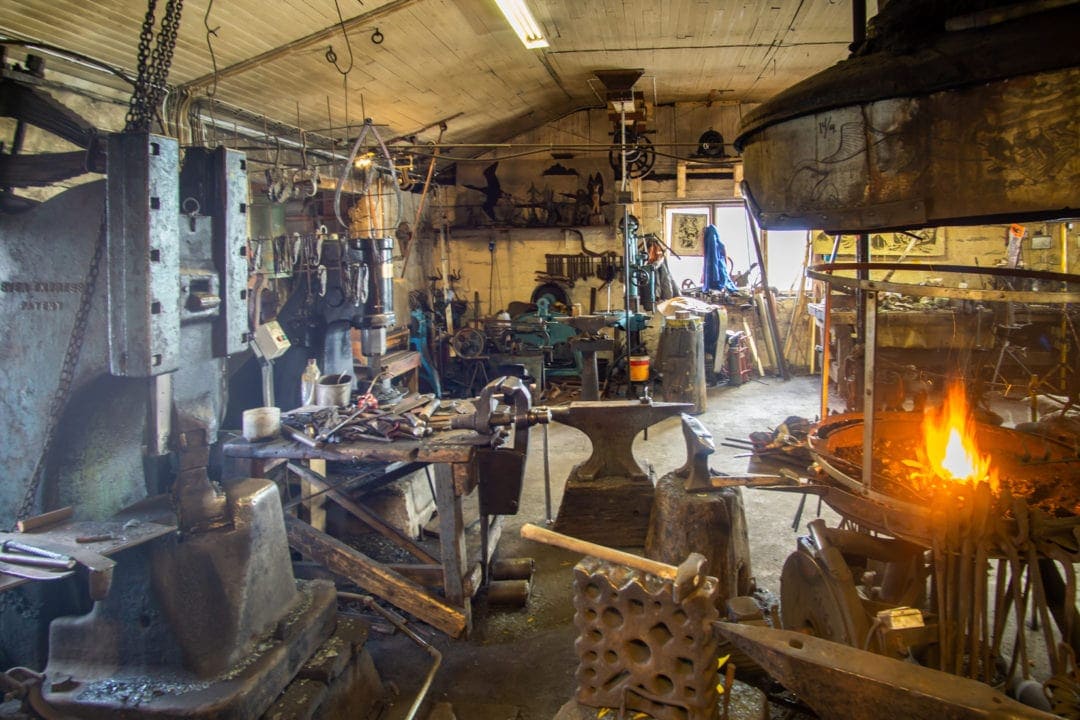 We asked him why he makes cormorants and not some other bird. He said it was because the cormorants roost on the rocky outcrops here and to him, they represent the spirit of Lofoten … plus he really likes their look.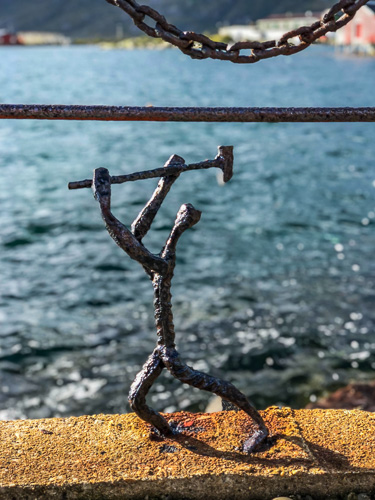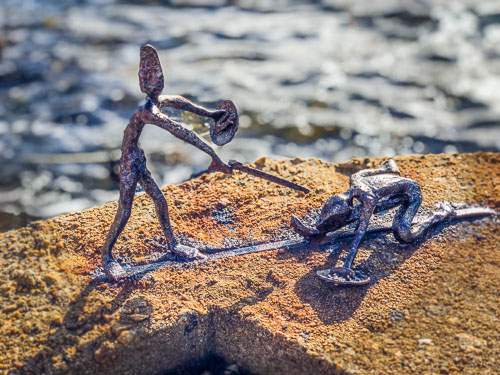 Near the water, you can find many different and interesting examples of Tor Vegard's handiwork lining the rails.
Wander the museum grounds to see the fishing boats of old and the motors that later on use to power them.
Tor Vegard told us that he wants to retire and would like to train an apprentice to take his place but as yet, no one has stepped forward. Have a look below at this master craftsman in his element.
VIDEO OF TOR VEGARD AT WORK IN LOFOTEN'S HISTORIC BLACKSMITH PREMISES.
REINE – CAPTURE THE NORTHERN LIGHTS
On the drive back to Reine, we were casing locations to photograph the Northern Lights. With a favourable prediction for the lights to appear, we wanted a spot with a great backdrop.
It turned out that just outside of Reine we found such a place that offered both elevation and the mountainous backdrop we were seeking.
We've written a separate article on Unveiling the Northern Lights in Lofoten but know that the gods did favour us and we witnessed the dancing and shimmering lights that we so longed to see.
What a start to this Lofoten road trip.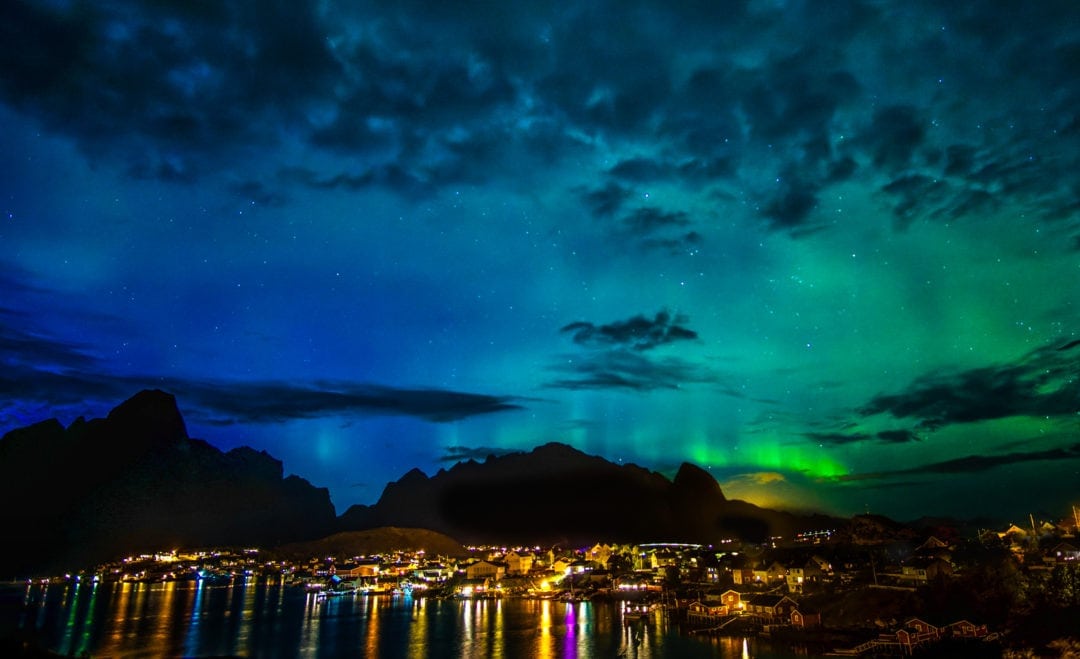 Lofoten Road Trip: Day 2 – MOSKENSØYA ISLAND, LOFOTEN
RYTEN HIKE WITH VIEWS OVER KVALVIKA BEACH
Have a good breakfast as it's time to pump those legs on the hike up Ryten mountain to overlook the secluded white sands of Kvalvika Beach.
The car park marks the beginning of the hike and is just 26 km from Reine. To be fair, on this hike give yourself about 5 hours from start to finish if you're in average physical condition – there are many photo opportunities.
Beautiful views await you on every part of this challenging trail. We've written a separate article on this hike, Ryten Lofoten – Incredible Hike Above Kvalvika Beach, which includes photos, the hike, parking and extra handy information.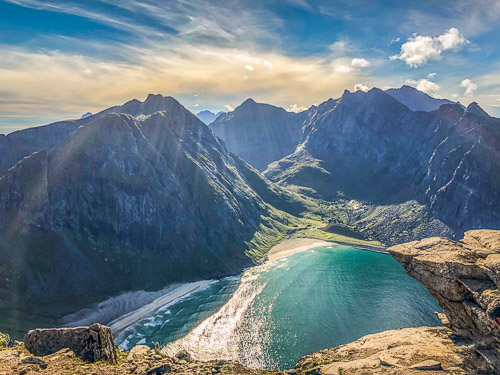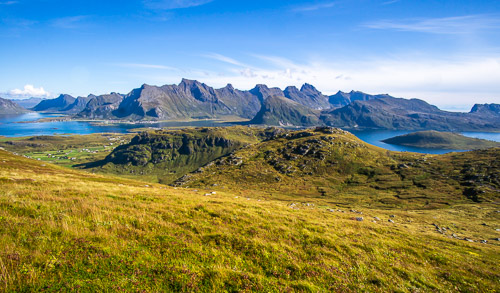 Lofoten Road Trip: Day 3 –FLAKSTADØYA/AUSTVÅGØYA ISLANDS, LOFOTEN
Nusfjord,
Ramberg Beach,
Eggum,
Henningsvær (Accommodation)
NUSFJORD
This beautiful, picturesque little village lies on the southern shore of Flakstadøya island and claims the title of one of the oldest traditional fishing villages in Norway. In fact, signs of human existence have been traced way back to 425 BC.
This secluded harbour is home to but a handful of renovated buildings including rorbu or old cabins used by fishermen that are often transformed into cosy accommodation spaces.
Here in Nusfjord, you get to step back in time and experience the Lofoten of old.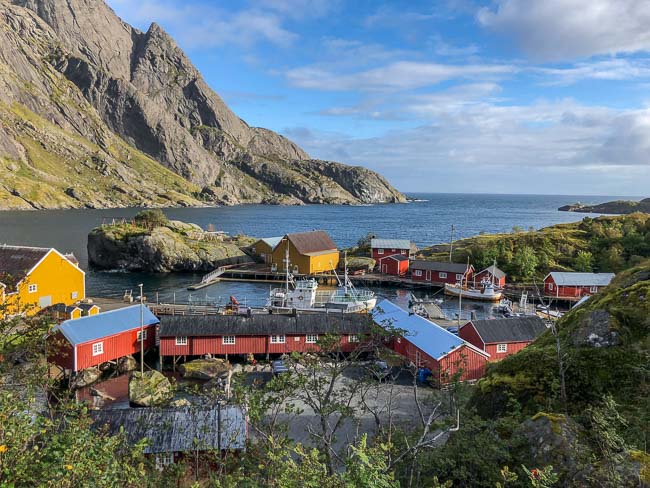 RAMBERG BEACH
Quite the surprise, Ramberg Beach, found just north of Ramberg, is a scene from a Caribbean island. The long, stretch of pristine white sand gently curves around a bay of bright blue-green water.
It's hard to believe that you're actually inside the Arctic Circle.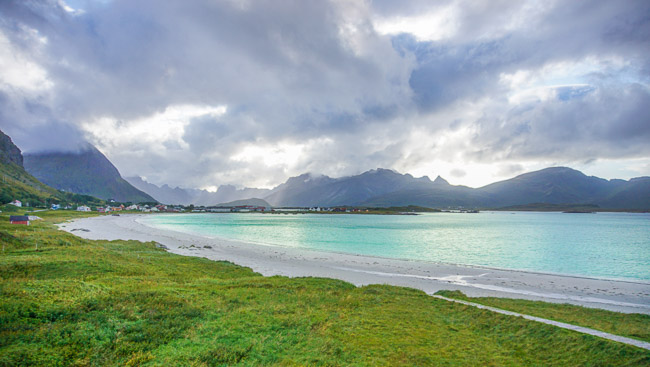 EGGUM
Ready for something different? Our search for one of the works of art by Skulpturlandskap Nordland, and our first find in Lofoten, is found just outside of the village of Eggum, on the island of Vestvågøy.
Follow the road Eggumsveien until it ends at a car park. From here you take to foot and walk a path that divides a pristine lake bounded by mountains and a wild, rocky shoreline.
The work of art named 'Head', is of granite and iron construction. Viewing the sculpture from a different angle shifts the perspective from upward facing to down.
'Head' is representative of the varying colours and surfaces of the water and landscape in the area. It is a thought-provoking piece of work.
If you want to escape civilisation, this is definitely the place to head for.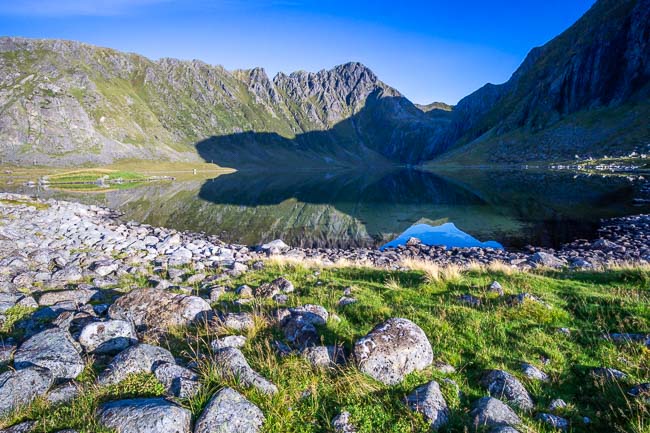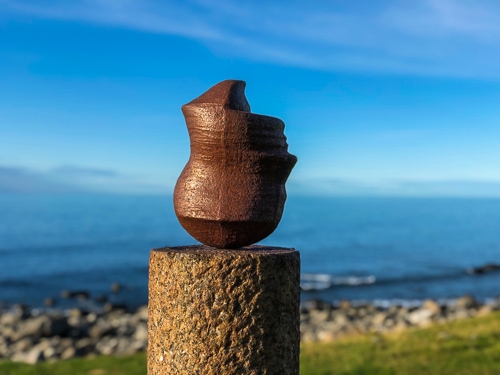 Leaving Vestågøy for Austvågøya island on the way to Henningsvær, another sculpture, 'Uten Tittel' is worth a stop.
Consisting of two huge concave mirrors (2.5m x 3.0m), it reflects the surrounding water and mountains beautifully. Another example of great creativity.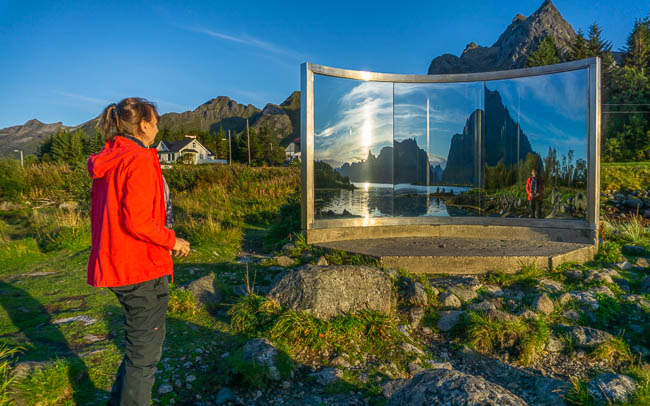 Lofoten Road Trip: Day 4 – AUSTVÅGØYA ISLAND, LOFOTEN
HENNINGSVÆR
The picturesque traditional village of Henningsvær is spread over several islands, adding to its charm. We spent two nights here and used a whole day to just wander and enjoy its vibe.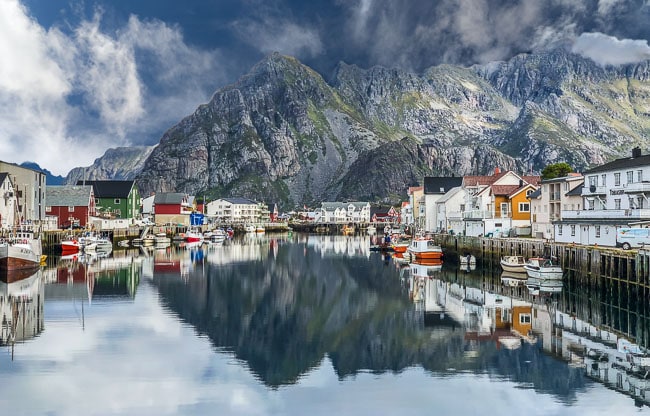 The shops and cafes are beautifully presented, the people are friendly and there are lots to see during your wanderings. We can personally vouch for Kafé Lysstøperiet, the pastries are exquisite.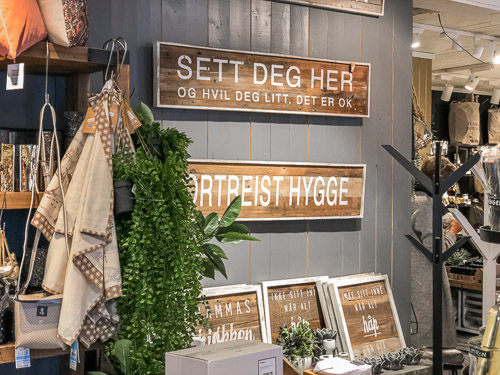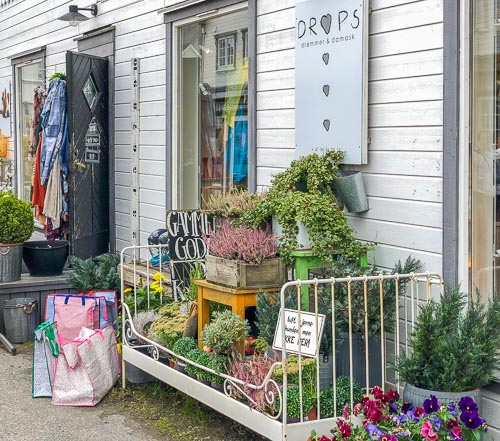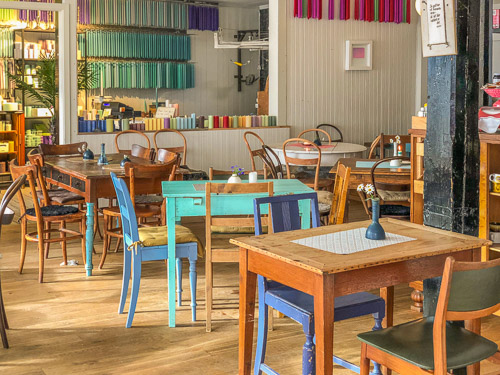 We fired up our Geocache app which also led to us some amazing locations within easy walking distance in and around Henninsvær.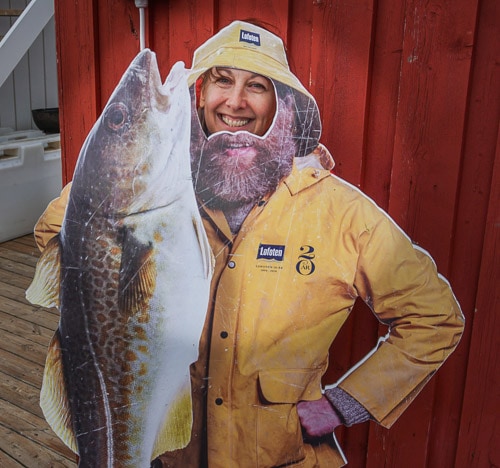 Henningsvær
Henningsvaer Accommodation
We booked our 2-night stay at the beautifully kept BnB Lysvoldbrygga, right in the heart of Henninsvær.
This BnB was excellent value, with a wonderfully warm local host and as a bonus… had a verandah with a northerly aspect and an uninterrupted view of the nearby mountains. This meant, that with the right weather conditions, we could shoot the Northern Lights from there.
With the setting of the sun, the Norsk Gods proved again to be in fine spirits by allowing the Northern Lights to dance and play across the skies for us.
It was mesmerising.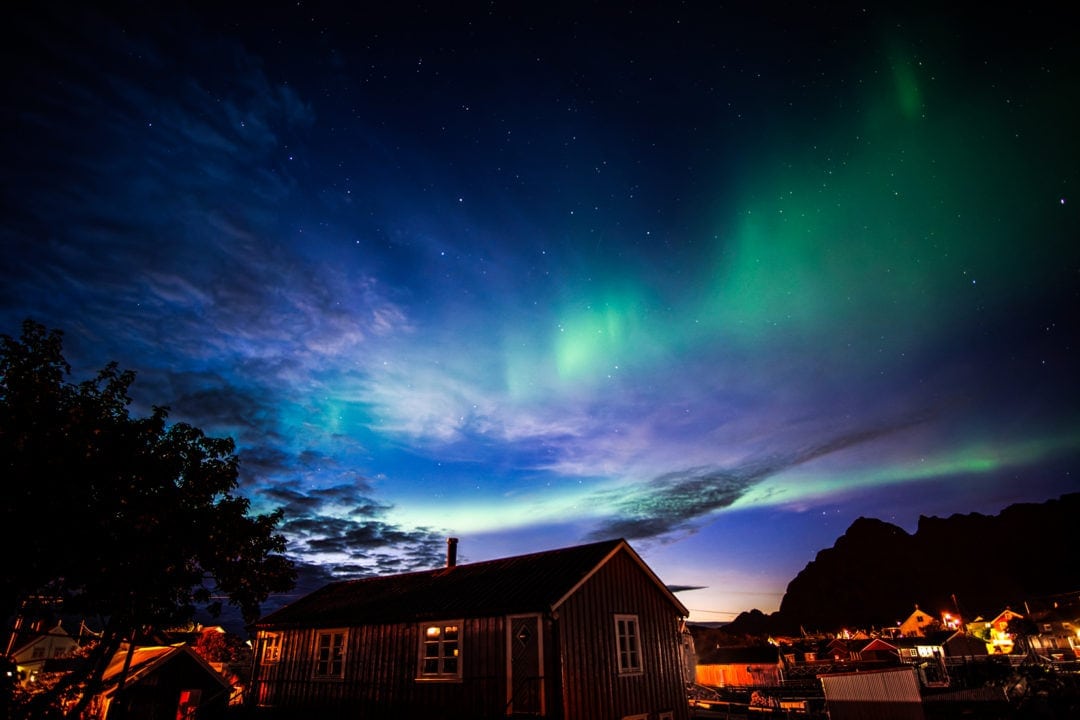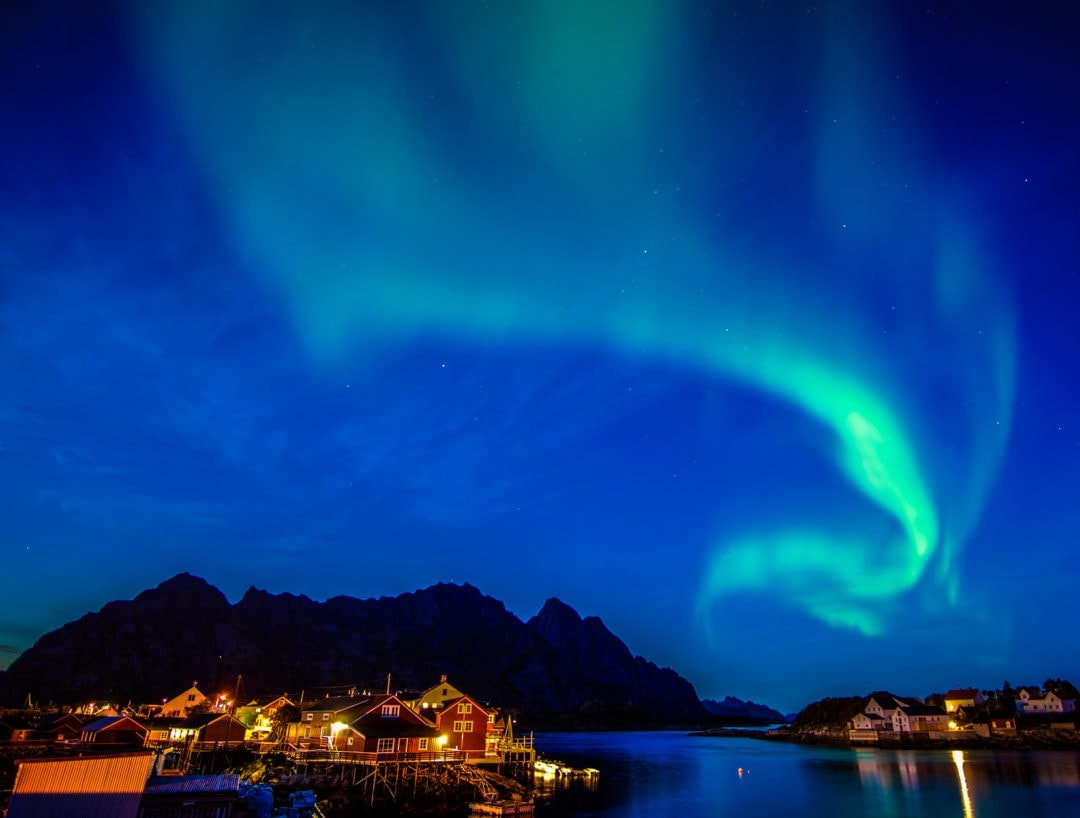 Lofoten Road Trip: Day 5 – AUSTVÅGØYA ISLAND, LOFOTEN AND VESTERÅLEN
Vågan Church, Købelvag
Svolvær
Bø
Nyksund
VÅGAN CHURCH
Also known as the Lofoten Cathedral, this late 19th-century church is the largest in northern Norway, seating 1200 people and is sited in Lofoten's ancient capital, Købelvag.
A church has always claimed this position, dating way back to the 12th century and was sought by visiting fishermen for blessings prior to undertaking the winter's fishing.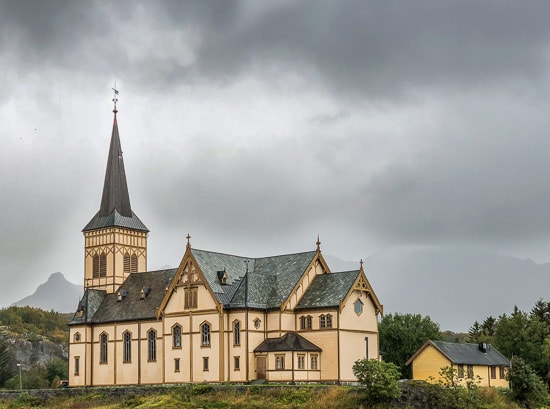 SVOLVÆR
This large, well-serviced town forms the administrative centre for the region with shops catering to any needs.
Svolvær is the closest town to the famous Svolværgeita or Svolvær Goat, where you can jump from one granite mountain top to another. Resembling goat horns, they are hard to miss even when viewed from the town itself.
This wasn't something that particularly interested us but if you are thinking it might be for you, then have a look at this footage first.
BØ
Leaving the Lofoten islands behind and coinciding with the end of the Scenic Route Lofoten, turning north brings you to the fabled and much less frequented Vesterålen islands.
The far west coast is home to the town of Bø and another of Skulpturalandskap Nordland's famous works of art – The Man from the Sea.
This thought-provoking piece is wrought from cast iron and crystal representing a man who has left the sea to now walk on land, holding a crystal offering. At 4.3m in height, it is definitely an imposing sight.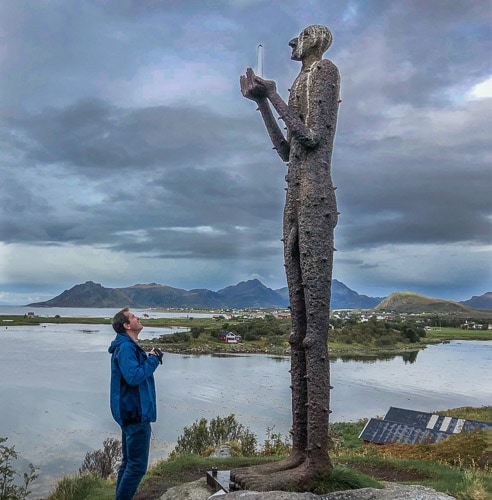 Lofoten Road Trip: Day 6 – AUSTVÅGØYA ISLAND, LOFOTEN AND VESTERÅLEN
Nyksund
Dronningruta Hike
NYKSUND
Driving north from Bø we arrived at our base for the next two nights, Nyksund, the once-abandoned fishing village that has found a new lease on life.
Tourism is contributing to its revival with many interesting activities on offer both on land and at sea.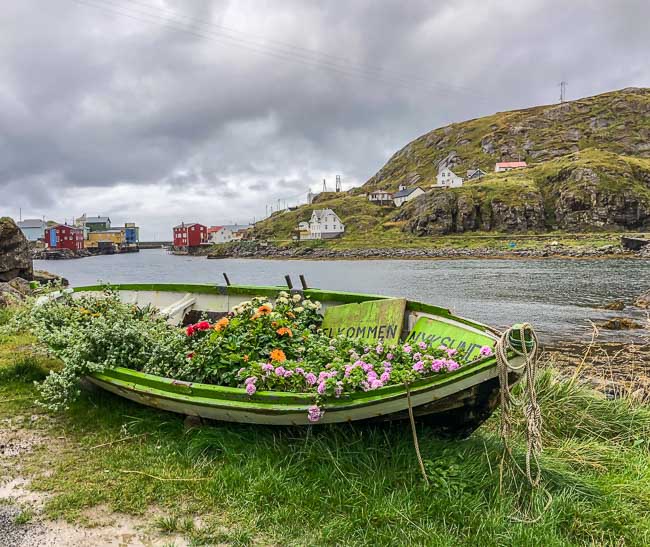 It is also a perfect place to launch an assault on the Dronningruta hike or The Queen's Route.
This is a demanding 15-kilometer hike over all types of mountainous terrain with the typical majestic panoramas you can expect from a famous Norwegian hike.
We've written a comprehensive article on the hike here, so you will know what to expect: Dronningruta Hike – The Queen's Route.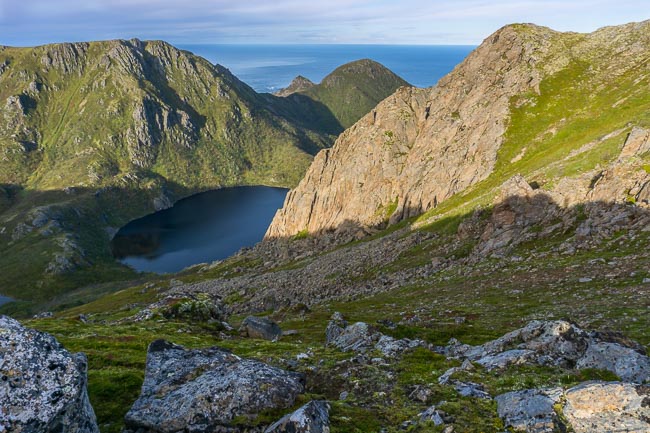 Whilst in Nyksund, look carefully in the town area and you'll see the last sculpture that we found on this road trip. A spoiler photo is below – it's hard to tell from the photo but there is a face in this lamp.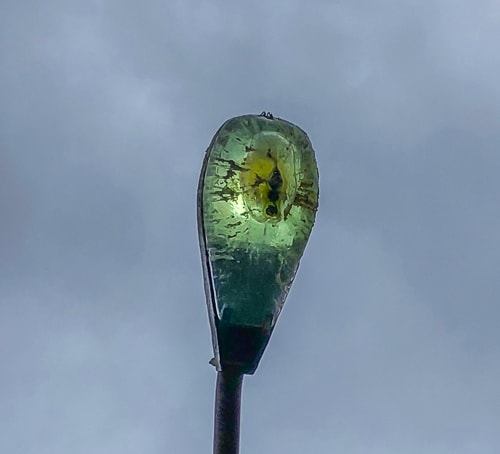 We ended our road trip here in Nyksund having thoroughly enjoyed the best from both the Lofoten and Vesterålen islands. From Nyksund, we drove eastwards into Norway and then Sweden to stay in the Icehotel at Jukkasjärvi and visited the reindeer at Nutti Sami Siida.
TRANSPORT FOR YOUR LOFOTEN ROAD TRIP
Self-drive is definitely the way to go for your Lofoten road trip. You have the freedom to go where you want when you want. We motorhomed around Europe for a year and it was not only great fun but the best way to travel.
Public transport does service some of these places but honestly, a rental car or campervan hire will get you mobile and allow you to pick the perfect travel routes for you that suit your plans.
CAR AND MOTORHOME RENTAL
Discovercars.com gave us the best car rental deals in Europe.
Motorhome Republic found us the best hire deals for campervan hire for our year-long road trip around Europe. They found better pricing than we could find going direct ourselves, therefore, making the process so much easier.
READ MORE: For your Ultimate Guide on Hiring a Motorhome or Campervan
DRIVING IN LOFOTEN
Most of Norway has a maximum 80km/hr speed limit on open roads. Speed and trip (average speed between locations) cameras are in abundance, so driver beware.
Norway's traffic rules can be found on the Norwegian Public Roads Administration site vegvesen.no or you can make direct contact with Traffic and Road Information at +47 815 48 991.
To check to see if any of the Lofoten Scenic Route is closed, follow this link to the Norwegian Scenic Routes site.
HANDY PHONE APPS AND EMERGENCY PHONE NUMBERS
yr app (as in the 2 letters y and r) This is an accurate Norway weather app for both IOS and Android devices
outtt app provides detailed trail maps for Norway for both IOS and Android devices
maps.me app is an off-line map for both IOS and Android devices
Smart Parking app is available for both IOS and Android phones and allows you to pay for parking online and not have to worry about carrying around coins or credit cards
Emergency Phone Numbers – Fire: 110; Police: 112; Ambulance: 113
WHAT TO PACK FOR YOUR LOFOTEN ROAD TRIP
Even in Summer, there is a fair bit of variability in temperatures and the weather can change quickly. It can be quite cold and wet in the morning but turn into a blistering hot day. Layering your clothing is the best option and having a waterproof top and bottom means you won't have to hike in wet clothes.
We strongly recommend waterproof hiking shoes/boots
If you have weak or sore knees then consider using walking poles to prevent shock loading on your joints. Some of these hiking downhill descents are quite steep and can cause jarring which is not pleasant
A backpack with a waterproof cover is super handy to carry water, food and any camera accessories
We've been on the road since 2017 now and have added some useful travel items to our Lifejourney4two page on UK Amazon, or our USA Amazon store here
WHERE TO STAY on Your LOFOTEN Road Trip
---
REINE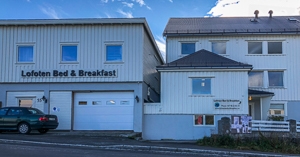 Clean, economical and great location in Reine. Free wifi and good breakfast.
Rating: Very Good Reviews 8.4
---
HENNINGSVÆR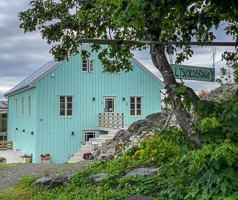 Situated in Henningsvær, 25 km from Svolvær, Lysvoldbrygga has a shared lounge and free WiFi. Guests at the bed and breakfast can enjoy a delicious continental breakfast.
Rating: Exceptional Reviews 9.6
Search for other accommodations in Henningsvær here
---
NYKSUND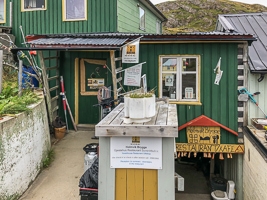 Situated at Nyksund Harbour, this family-owned, eco-certified guesthouse offers a restaurant and rooms and apartments with free Wi-Fi access.
Rating: Very Good Reviews 8.1
Note: When booking accommodation, some of the cheaper places do not include sheets and pillowcases as part of the standard booking and need to be added at an extra charge. Make sure to check the booking details carefully.
We use Booking.com as we can find a variety of cheap and budget accommodations such as local guesthouses and cheap hotels.
Pin and Save for Later
LOFOTEN ROAD TRIP … That's a Wrap
The Vesterälen islands are quite beautiful in their own right but the Lofoten islands are a major drawcard, and it's easy to see why.
Those steep mountains that plunge into the sea right by your feet, the Rorbu (old fisherman huts), the dramatic and contrasting scenery, and the shimmering Northern Lights all tell the story of why Lofoten has endeared itself to admirers worldwide.
A visit to this part of the world is guaranteed to enthral.
If you enjoyed this article, you may like these FREE RESOURCES:
FREE Travel Guides (many countries)
FREE 23-page Travel Planner, including menu planner, journal pages and budgeting)
FREE Phone Wallpapers
FREE Photo Ebooks
Monthly Travel News
READ MORE:
PLANNING YOUR TRAVELS?
These are some of the travel resources we use when planning our trips.
For a more thorough list visit our Travel Resources page here.