We wandered through apple orchards and forests with the sapphire blue fjords shimmering below us. As the houses below appeared smaller, our breathing became heavier. The Dronningsstien hike is challenging. You climb steeply for about the first 3 hours, but the beauty and the ever-changing landscape keeps you motivated to keep heading upwards, towards the summit.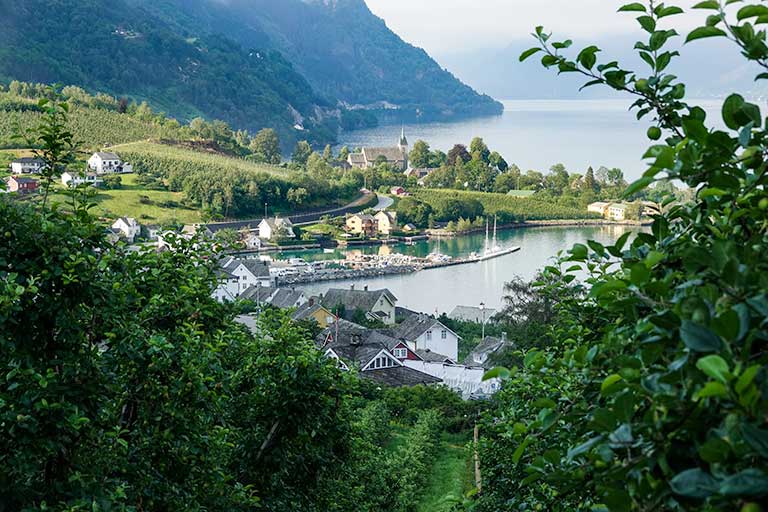 Dronningstien – The Queen's Trail
The Dronningstien trail is named after the current queen of Norway, Queen Sonja. 'Dronning' in Norwegian means queen. Apparently, the trail is one of her favourites. The official name for Dronningstien is HM Queen Sonja's panoramic hiking trail. This is not to be confused with Dronningruta Hike – The Queen's Route, which is another hike we completed in the Vesterålen islands close by Lofoten islands.
Although one of the most scenic and beautiful hikes we have done, Dronningstien isn't well advertised, such as the likes of Preikestolen and Kjeragbolten.
For information on more hikes in Norway you may be interested in our post:  Hiking Norway.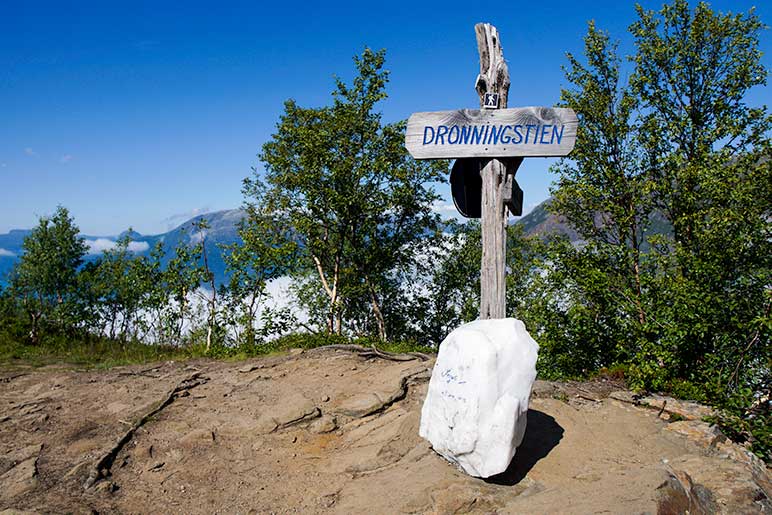 Rock signed by Queen Sonja on the Dronningstien Hiking Trail
Dronningstien Hiking Details
The Dronningstien trail is located between Kinsarvik and Lofthus in the municipality of Ullensvang, Hardanger region of the county of Hordaland, Norway.
The hiking path is well marked with signs directing you to the trail, then across the Hardangervidda mountain plateau blue 'D's guide your way. 
Distance: 16km from Røte to Lofthus (Note: Add another 2.5 km, if you walk from or to Kinsarvik to Røte.)
Time: Røte to Lofthus – 8/9 hours
Elevation: 1100 metres
Difficulty: Demanding
Terrain: The trail consists of a variety of paths, some of the track is quite rocky and at the Kinsarvik end you cross several boggy areas
Equipment/Clothing: Waterproof hiking boots,  plenty of water and snacks, walking sticks for the descent (handy to have), clothing layers (weather conditions can quickly change in the mountains)
Season: Mid-June to October – depending on snow conditions
Starting Point: You can either start at the Kinsarvik/Røte end or at the opposite end at Lofthus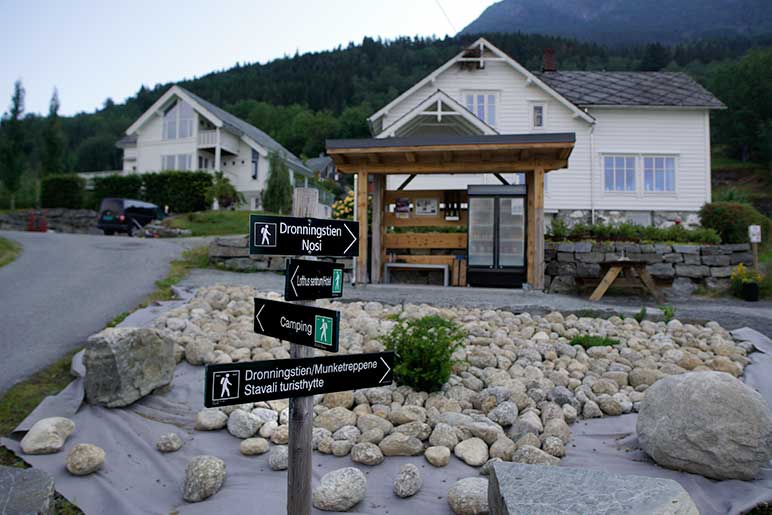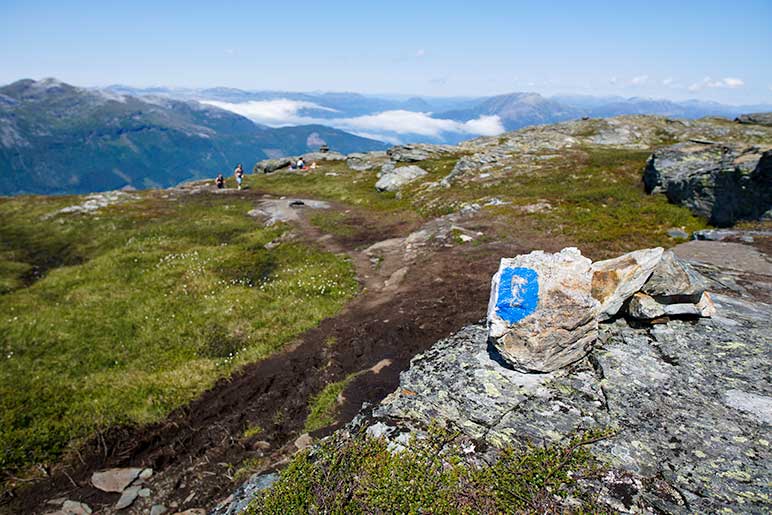 Dronningstien Video Inspiration
Dronningstien Hiking Options
You can tackle the Dronningstien hike from either direction. The majority of hikers begin the hike from Røte (at the Kinsarvik end ) but it is also possible to start at the Lofthus end.
We decided to start from the Lofthus end as we were staying at the Hardanger Hostel in Lofthus.
Starting Dronningstien from Kinsarvik/Røte
Starting at Kinsarvik – walk to Røte carpark – hike Donningstien – walk to Lofthus Bus stop (at the harbour) to catch the bus back to Kinsarvik (NOK 38/pp) (Total walking: 18km)
Drive to Røte carpark (Parking: NOK 100)- hike Dronningstien – walk to Lofthus Centre to catch bus to Kinsarvik (NOK 38/pp)– walk to Røte carpark. (Total walking: 18km)
Get Shuttlebus to Røte from Lofthus (NOK 135) – Hike Dronningstien back to Lofthus (Total walking: 16km)
Starting Dronningstien from Lofthus
Park car at Lofthus harbour – Follow signs to Nosi and Dronningstien – Hike Dronningstien – From Røte Carpark take a short cut (Find the sign marked  Kongbergsvegen in the carpark) and walk to Kinsarvik Bus Stop at the Ferry terminal – catch the bus back to Lofthus (NOK 38/pp) (Total walking: 18km)
Hiking Dronningstien
The day began with a carb-loaded breakfast at Hardanger Hostel, before the 3-minute drive to the carpark at Lofthus. We could have walked, but the hostel is on a hill and at the end of the day we reckoned that a walk up another hill wouldn't be too welcome after an 18km hike. 
The beginning of the trail took us past rows of luscious cherry and apple orchards. The Ullensvang Church and Lofthus harbour grew smaller below us as we began the long ascent.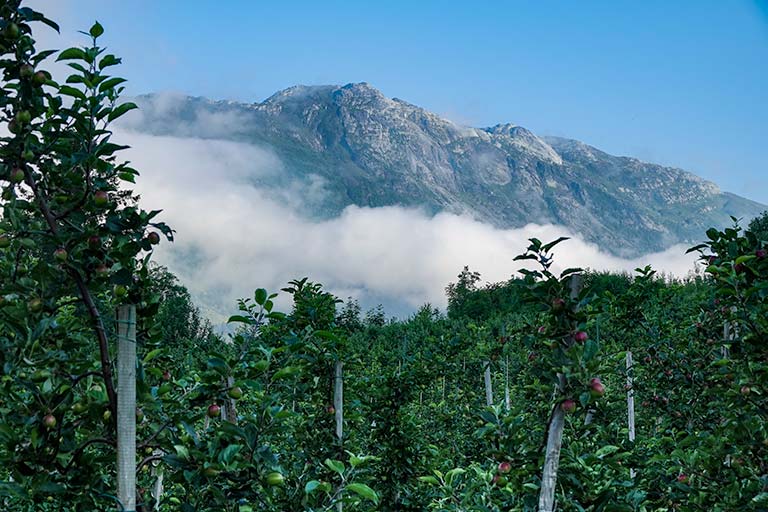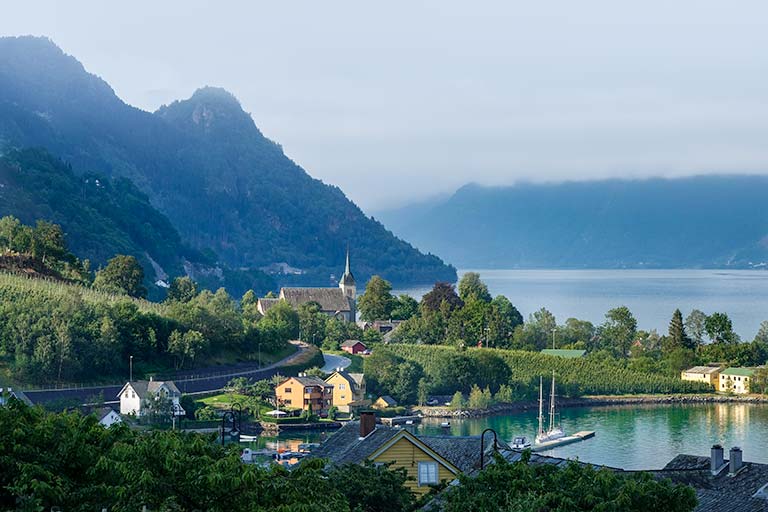 Monk Steps
Birds twittered and flittered on the edge of the forest path as we began to climb the ancient steps laid by monks long ago. A crowd of pink, yellow and blue wildflowers laid out our path ahead, cheering us on each step of the way.
Local monks in the area began building the 616 Munkatreppene or Monk Steps in 1210 and finished them around 1537.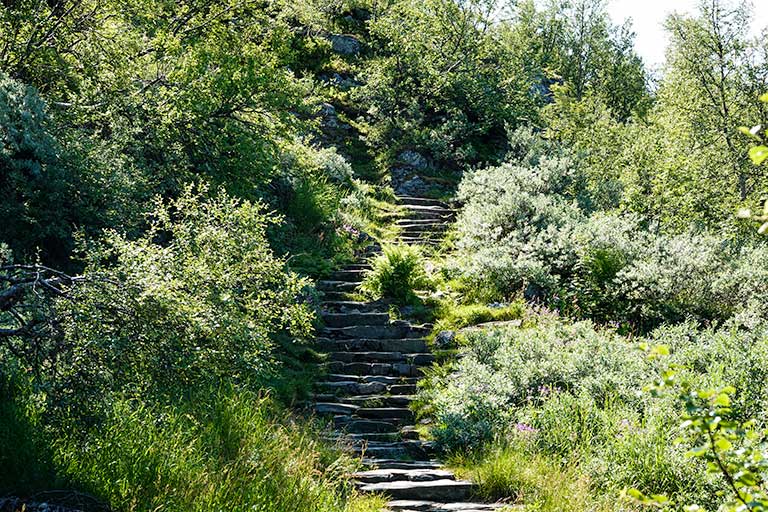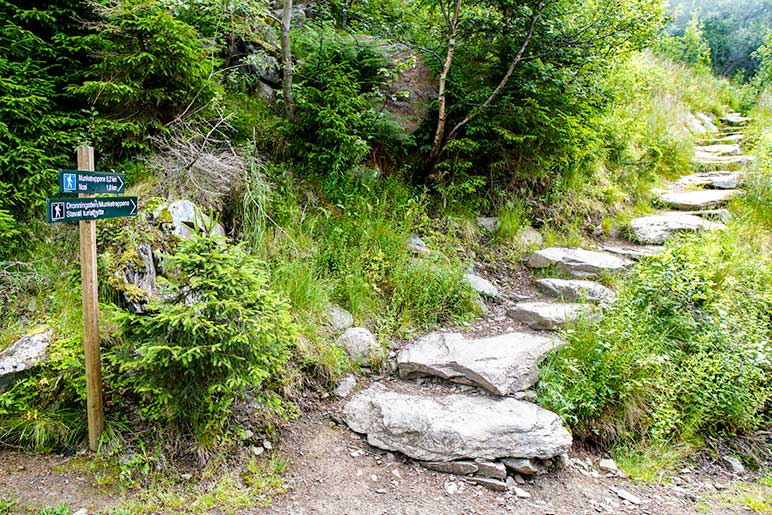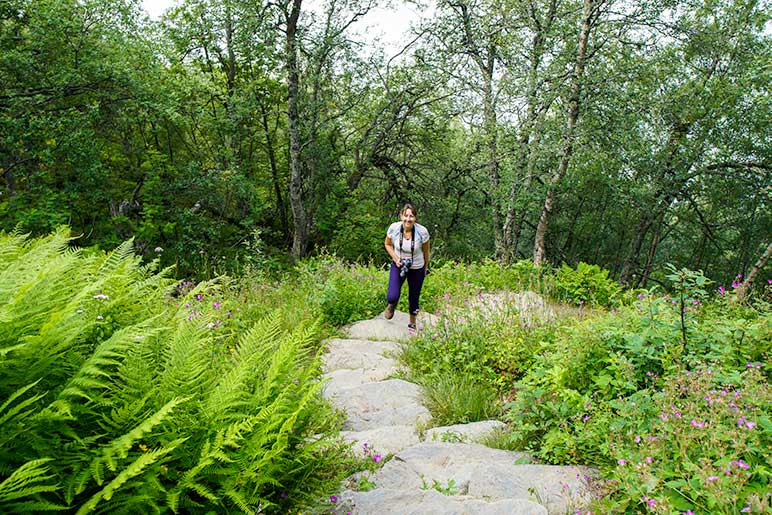 As we ascended, the clouds enveloped us after a few more twists and turns, suddenly we were above them. The glistening fjord was now veiled under a white blanket of fluff. Now that the fjord was hidden, the snow-crested mountains opposite us were the stars of our journey. No longer vying for attention or in competition with the fjords, these mountains stole the show.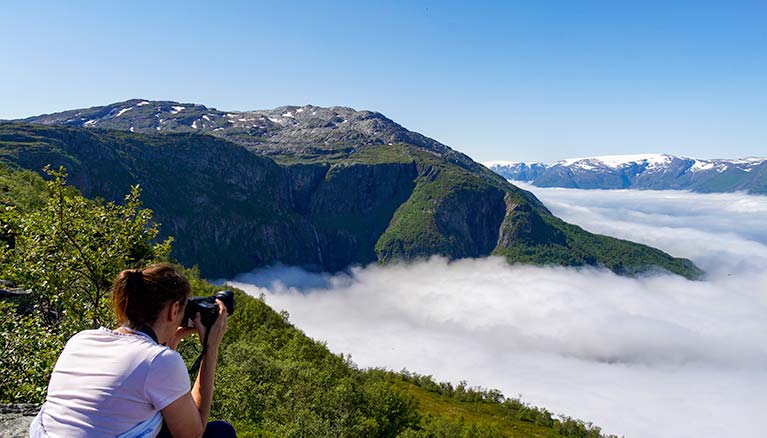 Once on top, you have resplendent views across the Sørfjorden, and around you a landscape of rivers, lakes and lagoons welcomes you. The clouds started to clear as we reached the top, giving us spectacular views down to Sørfjorden.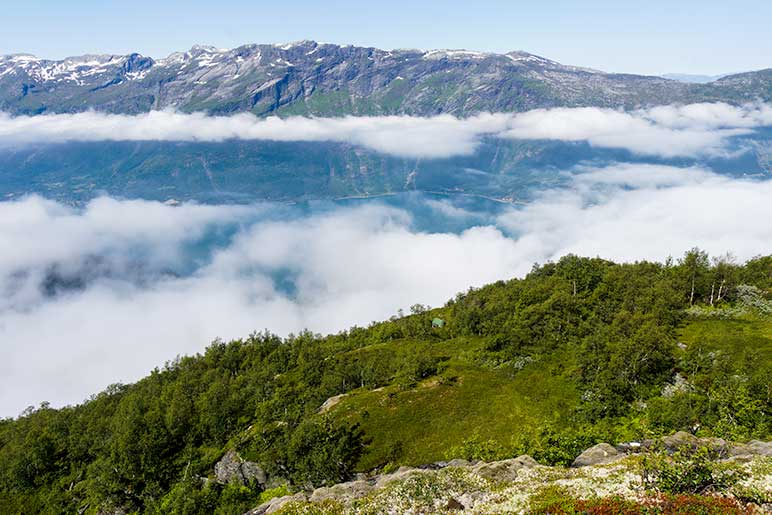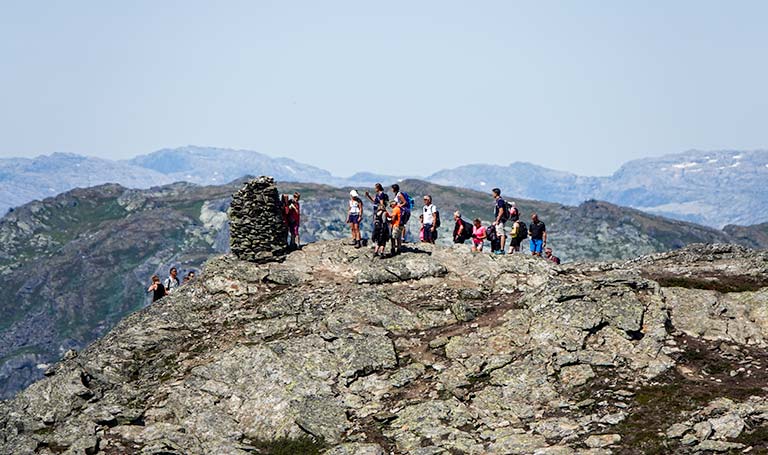 As you approach the Kinsarvik end of the Dronningstien hike you also have fabulous views down to the Hardangerfjord and Eidfjord. Your downwards path now takes you over boggy ground and also has you scrambling over rocks for a little way. You'll then spot the carpark beneath and know you are on the homeward stretch.
The hike is classified as challenging and we would agree with that, but don't let that put you off because it is a wonderful hike. We saw people of all ages along the way hike so just set your own pace and enjoy.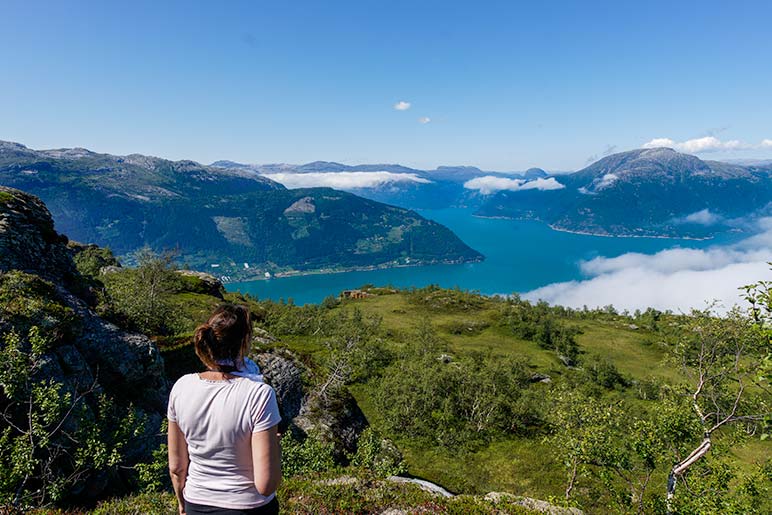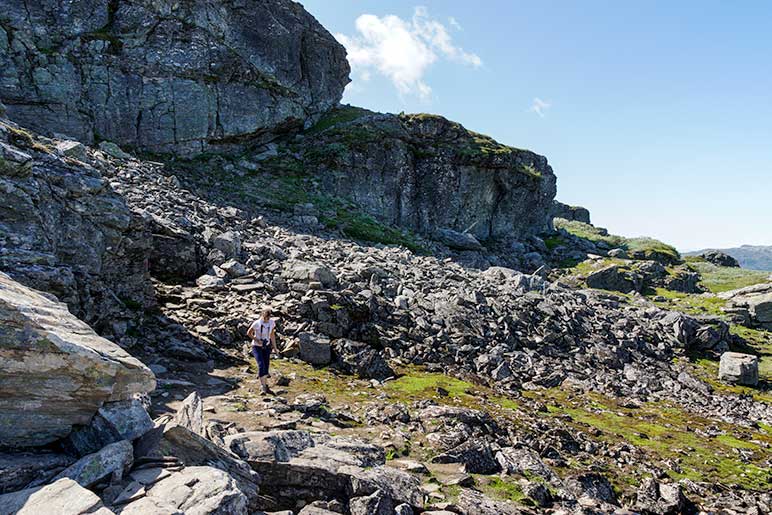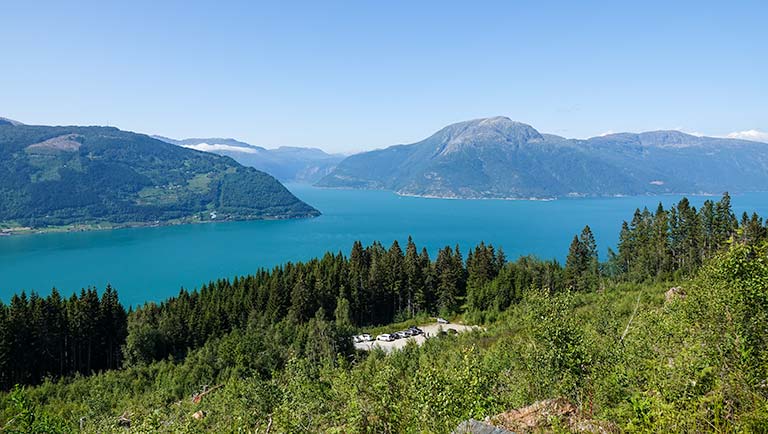 How to get to the Dronningstien Hiking Trail
Transport to Dronningstien
By Car
If driving to Kinsarvik then the starting point is at Røte: Leave Route 13 in Kinsarvik near the Esso Gas Station and follow the road up to Røte Carpark.
Røte Parking fee is NOK 100.
If starting the hike at the Lofthus end, you can park at the carpark for free by the Bunnpris Grocery Store and harbour (see Map)
By Bus (Lofthus or Kinsarvik)
There is a bus that travels between Lofthus and Kinsarvik – check the timetable here. The bus journey between Lofthus and Kinsarvik is about 15/20 minutes and costs 38 NOK pp.
You can also use the Norway Bus Site to work out how to arrive at Lofthus or Kinsavik from other places in Norway.
By Ferry
There is a ferry running between Utne and Kinsarvik. You can check times here.
By Shuttlebus
There is a shuttle bus that runs from Lofthus to the beginning of the Dronningstien Hike at Røte. The bus stops at various accommodation in Lofthus area and the trip takes about 30 mins. 
Shuttlebus Season: Mid May to end of October
Departure Times: 8am, 9am, 10am
Price: NOK 135 pp  (For more details see Shuttlebus Website)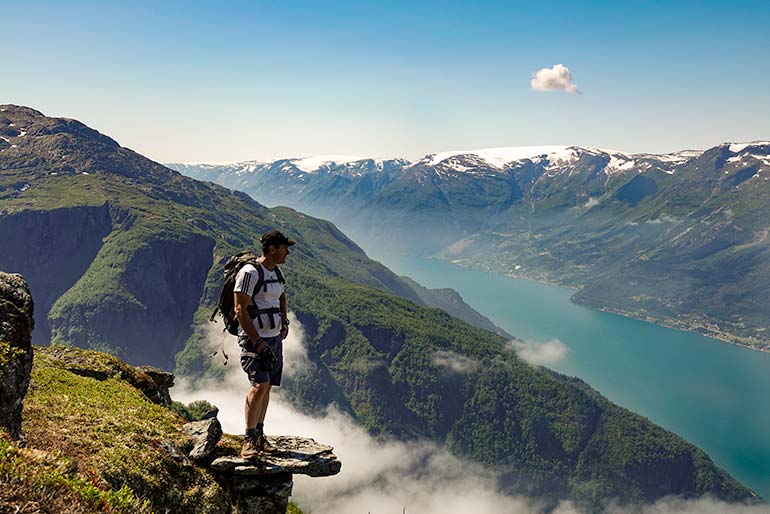 Where to Stay when Hiking Dronningstien
We stayed at Lofthus, on the eastern shore of Sørfjorden.
Lofthus is the municipality of Ullensvang, in the Hardanger region of the county of Hordaland, Norway.
We chose to stay at the Hardanger Hostel B&B and the breakfast was included in the price.
Hardanger Hostel, Lofthus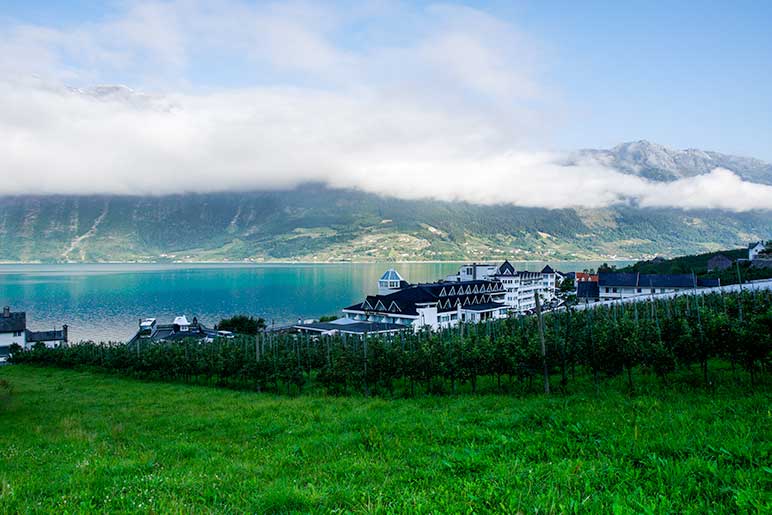 Hotel Ullensvang, Lofthus
More Accommodation Deals for the Hordaland Region, Norway
Good to Know
Easier Hikes
You can just hike to Heng from Røte which is 850 masl. (about 2-hour climb) and look at views from the Hardangervidda mountain plateau and then return back down to Røte.
There is also a 6km Fruit Trail in Ullensvang (Lofthus area) which takes you around the orchards. This would be particularly gorgeous in May when the fruit trees are in blossom. The elevation only reaches 100m and the round trip takes about 2 hours. For more information click here.
Other attractions
You may like to visit the churches at either end of the hike. Kinsarvik Church is one of the oldest stone churches in Norway, built around 1150. Ullensvang Church, also made of stone, was built around 1250 and looks over the gleaming Sørfjorden.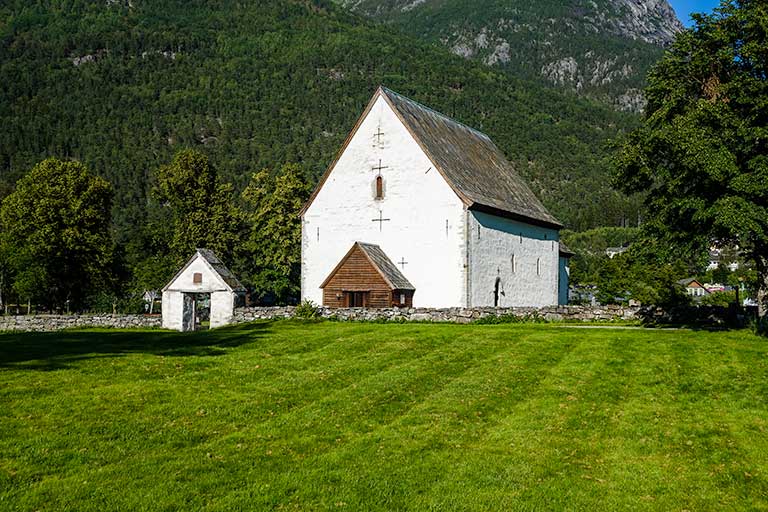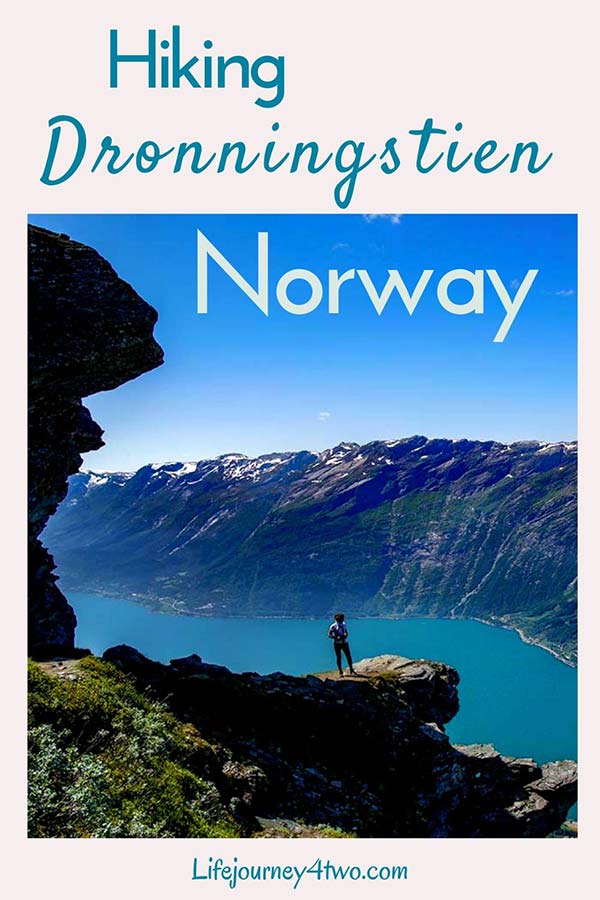 You may also be interested in reading our other posts on Norway here.
Other Norway hikes you may be interested in:
This post may contain affiliate links. This means that we may earn a small commission from purchases you make through our links, at no extra cost to you. Thank you for supporting us. For more info, read our Disclosure Policy.
Arrange Your Travel Insurance
Get a quote from World Nomads - one of the best options for travellers. Find out why here.
Book Your Accommodation
We use Booking.com and Tripadvisor to find accommodation that suits our budget and to get a great overview of available specials and deals. 
Travel Gear and Accessories
We've been on the road since 2017 and have added items we've found useful to our Lifejourney4two page on Amazon  
Car Hire
We use  Rentalcars.com to find the best car rental deals.
Motorhome/Van Rentals
If you are looking for a motorhome or van rental - we highly recommend the Motorhome Republic who can find the best deals worldwide.
Finding Activities to do
We use Get Your Guide and Viator to get ideas of what to do in a place - sometimes it's best to get tickets online and jump the queues.
Flexible Accommodation Options/ Or Finding someone to look after your pets
We often use house/petsitting as it really makes our travels much more affordable - as accommodation is FREE
Get 25% off  Trusted House Sitters by using our link here: Join Trusted House Sitters either as a house sitter or if you want to find a house sitter.
Photography Prints and Products
Shop our ETSY store for digital downloads of our best photos and our unique photographic designs.