Some posts on this site contain affiliate links, meaning if you book or buy something through one of these links then we may earn a small commission. Read our Disclosure Policy here.
VOLUNTEERING WITH MONKEYS IN SOUTH AFRICA
Even before we set off on our overlanding Africa adventure, volunteering with monkeys in South Africa was on our wish list.
Having spent the last few months in a wildlife reserve amongst South African wildlife we were even keener for more of a hands-on approach in helping to make a difference in African wildlife conservation.
Wildlife volunteering gives you an opportunity to give back to nature and to play a part in the much-needed conservation efforts within South Africa. Much of the wildlife in South Africa is endangered due to poaching, habitat loss, illegal hunting and other illegal activities.
"Volunteering with monkeys means … Copious cuddles and cuteness along with plenty of poop and pee."
To be part of a wildlife volunteer program, it is important to have an interest in hands-on work with animals, be a team player and not be precious about getting your hands dirty.
Here is our volunteering with monkeys in South Africa experience in 60 seconds:

HOW TO FIND A PROGRAM TO VOLUNTEER WITH ANIMALS IN SOUTH AFRICA
It is important to make sure that the organisation you choose is credible and operates an ethical program.
Unfortunately, among the many opportunities to volunteer with animals in South Africa, there are those where resident wildlife is exploited. Many volunteers are unaware that they are contributing their valuable time to organisations involved in unethical breeding, petting or canned hunting.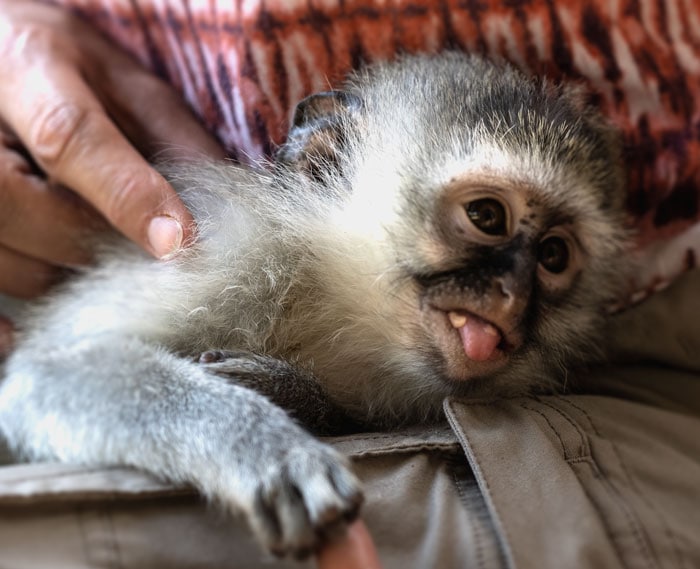 With so many opportunities to choose from, it can be difficult to know whether projects are truly rehabilitation, release and conservation-oriented.
We recommend checking out the actual organisation online as a start. There are organisations that act as agents for volunteer programs too, but it is sometimes not clear as to the actual volunteer program that you will be working for. Ask the agent for the details of the exact program and check out the program yourself.
A really useful resource to use in this regard is the list produced by Volunteers Beware. They list all the Good, Bad and Ugly organisations that provide opportunities to volunteer with Animals in South Africa. If you can't find the organisation on their list, contact them and ask for their opinion. It is much better to get this feedback from an independent source such as this. One that is on the ground in South Africa.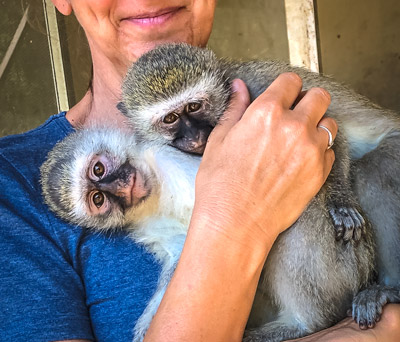 TYPES OF VOLUNTEERING AVAILABLE WITH ANIMALS IN SOUTH AFRICA
Here are a few types of animal volunteer activities that can be found in South Africa:
Providing care and enrichment for wildlife, including feeding, cleaning areas and general help
Assist in research by collecting data to guide best practices for wildlife management
Community wildlife educational and environmental programs
Helping to conserve the environment, e.g. erosion control fence building, checking water points
Use your skills to assist in managing the project, for example, media, technology, and administration skills
Furthering a career choice, eg veterinary skills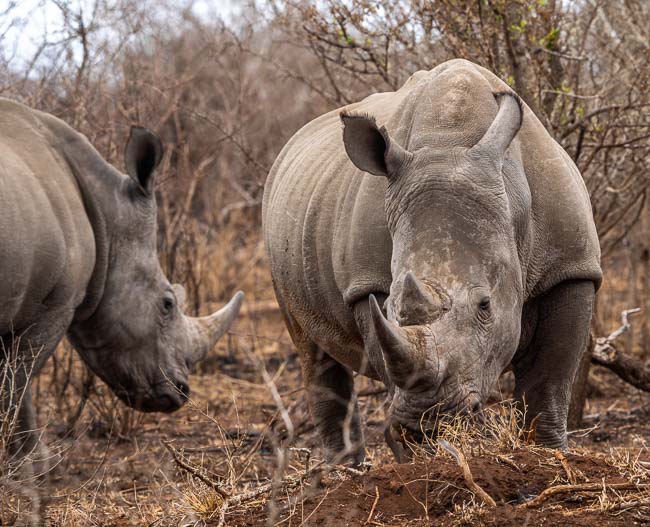 FACTORS TO CONSIDER WHEN CHOOSING A WILDLIFE VOLUNTEER PROGRAM
What type of animals are involved?
Are you comfortable working in that environment?
Is there evidence of breeding? If so, what happens to the new animals? (Sadly, in South Africa, there are organisations that breed animals for canned hunting and unethical practices.)
If a sanctuary – are the animals being used as a tourist attraction with funds put towards conservation or are they going into the owner's pockets?
If a rehabilitation centre, are the animals only handled when necessary or are they used as a money-making drawcard? (As a general rule, animals that are being rehabilitated for release to the wild should have minimal human contact as necessary. So, although playing with leopard or lion cubs may seem enticing – it's not in their best long-term interests.)
Does the organisation support education projects?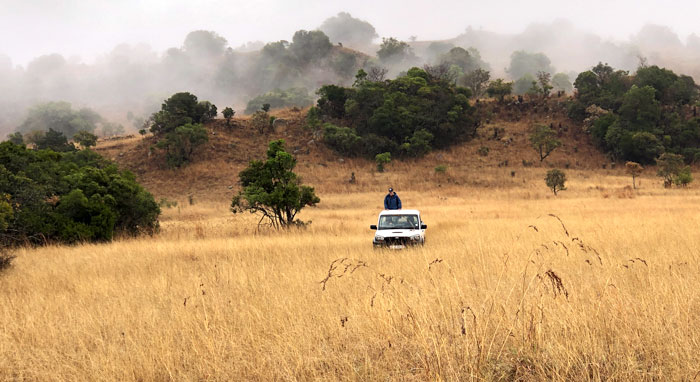 What percentage of your volunteer fee goes towards accommodation, food and helping the wildlife?
Does the organisation encourage tourist interaction with the animals? If so, are the animal's best interests at heart?
No organisation should allow lion cub petting.
Many of the wildlife centres in South Africa no longer allow the 'petting' of their lion and leopard cubs. This trend was eventuated after much pressure from wildlife welfare groups. Therefore if you find an organisation that allows petting this is a big RED FLAG.
Many of the animals suffered in their development due to the excessive disruption to their day (it's not only domestic cats that sleep a lot – big cats do too). Worse than that though, once they were no longer cute and cuddly the cubs were either destroyed or sold to game reserves for hunting.
WHY VOLUNTEER WITH ANIMALS IN SOUTH AFRICA?
South Africa is a country with stunning landscapes and a wealth of wildlife that leaves you in awe.
It is also a country still recovering from the atrocities of apartheid and suffering extensive poverty. This can be confronting for western first-time visitors.
The world wants the iconic African wildlife conserved, but the capacity of the South African Government to contribute to this project is severely limited. Millions of South Africans live in poverty and there are no spare funds to allocate to wildlife conservation.
Therefore the onus lies with individual organisations raising money themselves and using donations and volunteers to help run the conservation projects.
READ MORE: The Amazing Kruger National Park Self-drive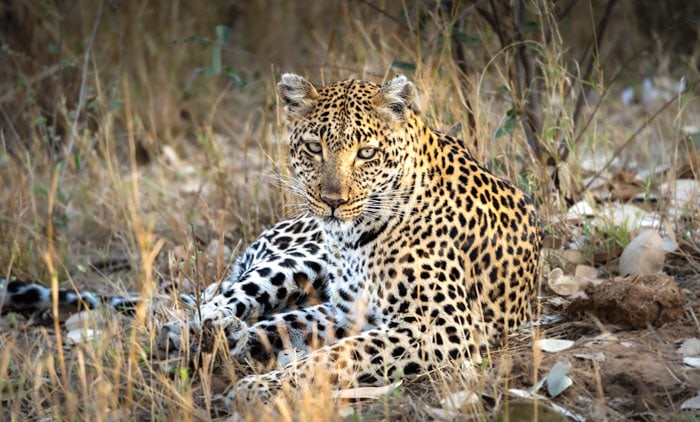 VOLUNTEERING WITH MONKEYS IN SOUTH AFRICA
We volunteered at a wildlife rehabilitation centre, originally called DIY Wild, now Helping Hands Wildlife where most of the animals were orphaned, injured or rescued pets.
As you can probably tell from our photos, many of the animals at the centre were vervet monkeys. It was the perfect place to volunteer in South Africa for someone who loves monkeys … err yes, that would be me, Shelley.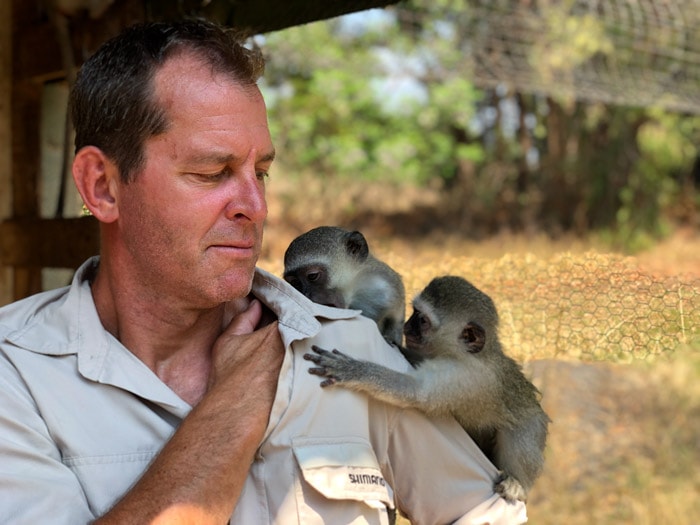 Unfortunately, the rehabilitation centre where we volunteered struggled with a lack of funding during the Covid-19 pandemic. Many wildlife organisations rely on international volunteers and donations and with travel coming to an abrupt halt, many organisations have struggled to survive.
Other than volunteering with Helping Hands Wildlife, if you are interested in volunteering with primates in South Africa then the following organisations are reputable and operate ethically.
1. VERVET MONKEY FOUNDATION
The Vervet Monkey Foundation rehabilitates and provides sanctuary to over 500 primates. These include monkeys who have been orphaned, injured, abused, rescued from laboratories or unwanted pets.
Watch this video to find out more about the Vervet Monkey Foundation.
For details on the Vervet Monkey Foundation, volunteering program click here.
Location: Hoedspruit, Limpopo, South Africa
2. C.A.R.E. THE CENTRE FOR ANIMAL REHABILITATION AND EDUCATION
The centre works towards caring for and conserving South Africa's wildlife. They specialise in the rehabilitation and release of baboons. The centre is close to Kruger and as there are no fences separating the two, wildlife can freely roam.
Watch this tour of C.A.R.E and find out all about its baboon program.
For volunteer information click here.
Location: Balule Nature Reserve, Greater Kruger, Limpopo
3. MONKEYLAND, PLETTENBERG BAY
Monkeyland in the Western Cape was the first free-roaming multi-species primate sanctuary. We didn't volunteer at Monkeyland but visited and were really impressed with the facilities and the program.
READ ABOUT Monkeyland, Plettenberg Bay here
…. And watch our video here

For details about volunteering at Monkeyland KZN, click here.
Location: Near Plettenberg Bay, South Africa
4. MONKEYLAND, KZN
Monkeyland in KwaZulu-Natal (KZN) is the sister sanctuary to Monkeyland in Plettenberg.
Location: Near Ballito, KwaZulu-Natal
For details about volunteering at Monkeyland KZN, click here.
5. DAKTARI BUSH SCHOOL AND WILDLIFE ORPHANAGE
Daktari Bush School and Wildlife Orphanage teaches the local children about the environment and also cares for injured and abandoned animals. Volunteers can be involved with teaching the children and playing a part in educating the next generation as to the importance of wildlife conservation.
Although not necessarily primate-focused, you are likely to get hands-on experience in caring for orphaned animals who cannot be rehabilitated back to the wild.
We heard good things about this organisation while in South Africa, and as it is located near Kruger it's another option to consider if you also want to visit Kruger National Park.
For details about volunteering at Daktari, click here or watch this video about them:
Related Primate/ African Wildlife Articles You May Like to Read:
Along with the vervet monkeys, there were also banded mongoose, barn owls and African servals (bush cats) being rehabilitated at the centre.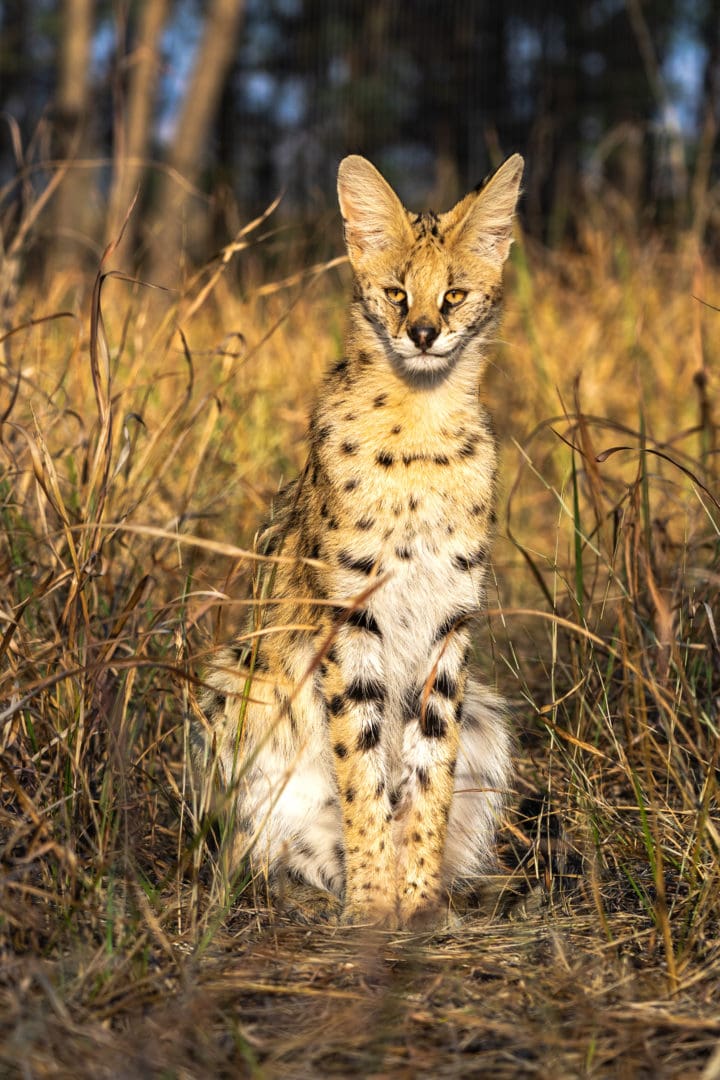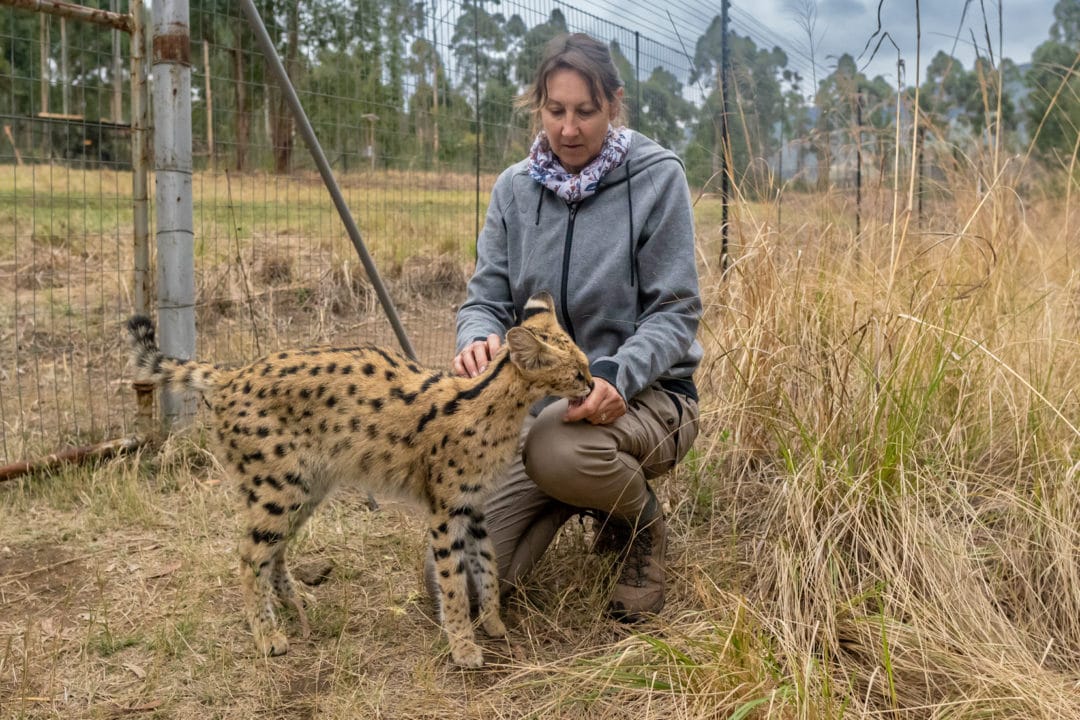 MAP OF THESE MONKEY VOLUNTEERING OPTIONS IN SOUTH AFRICA
A DAY IN THE LIFE OF A MONKEY REHABILITATION/SANCTUARY VOLUNTEER
Your volunteering day will be filled with various jobs depending on the needs of the centre/project and the wildlife at the time. Here's a snippet of one of our days as a volunteer at Helping Hands Wildlife rehabilitation centre.
7 am: Chop and prepare food for all of the resident wildlife.
This included chopping the donated fruit and vegetables – the vervet monkeys normally had a choice of three different foods and their platters often looked so good that we wanted to tuck in too.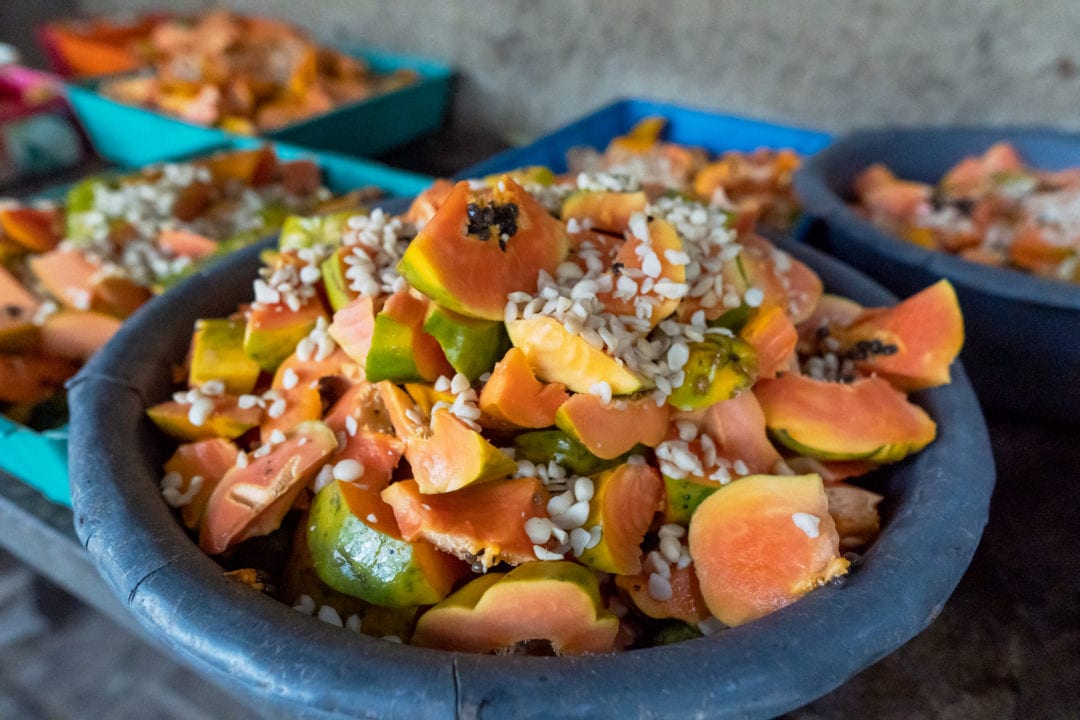 Local donations of food are extremely useful as feeding costs alone take a huge portion of funds. Foods donated to the centre that we volunteered at included cucumbers, papaya, broccoli, cauliflower, tomatoes, and macadamia nuts.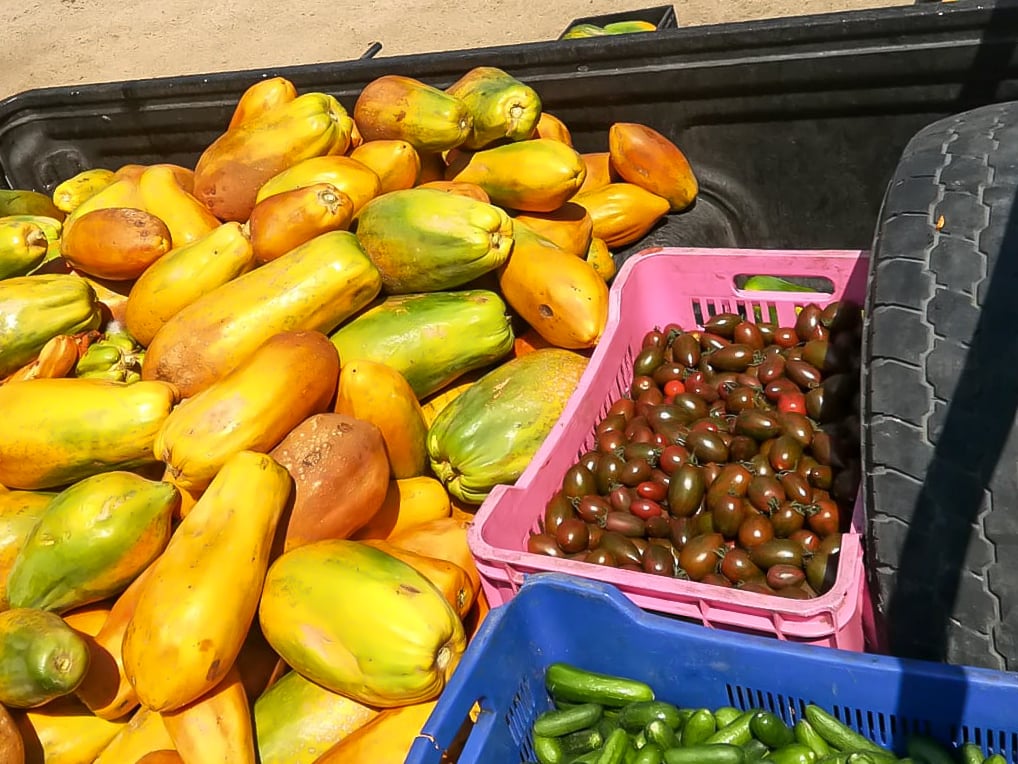 7.30 am: Deliver food to the animals and assist with cleaning the cages.
The volunteers who weren't chopping food would be cleaning the monkey's cages.
Cleaning the cages involved sweeping up any leaf debris, and leftover food and hosing down the area to remove poop and pee – of which there was always plenty. You can't be too squeamish when volunteering with animals and must be prepared to muck in.
If you are volunteering with primates and particularly if you are involved in rearing the babies, you will likely get monkey pee or poop on you – but hey, that's all part of the fun!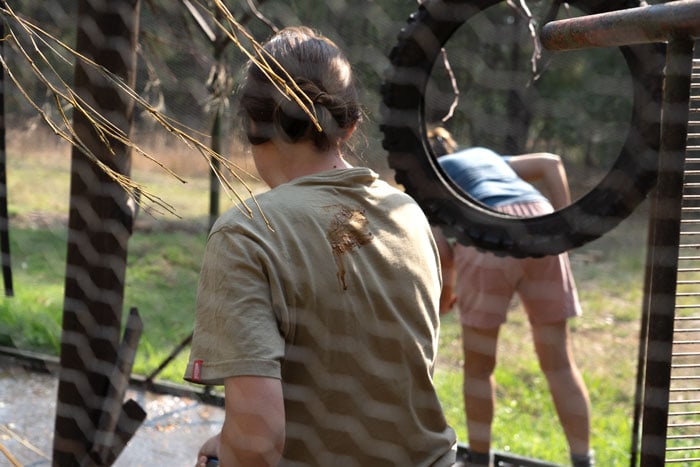 9 am: Have Breakfast
We were staying in our 4×4 bush camper and provided our own food but normally volunteers are provided with accommodation and meals as part of their volunteer fees.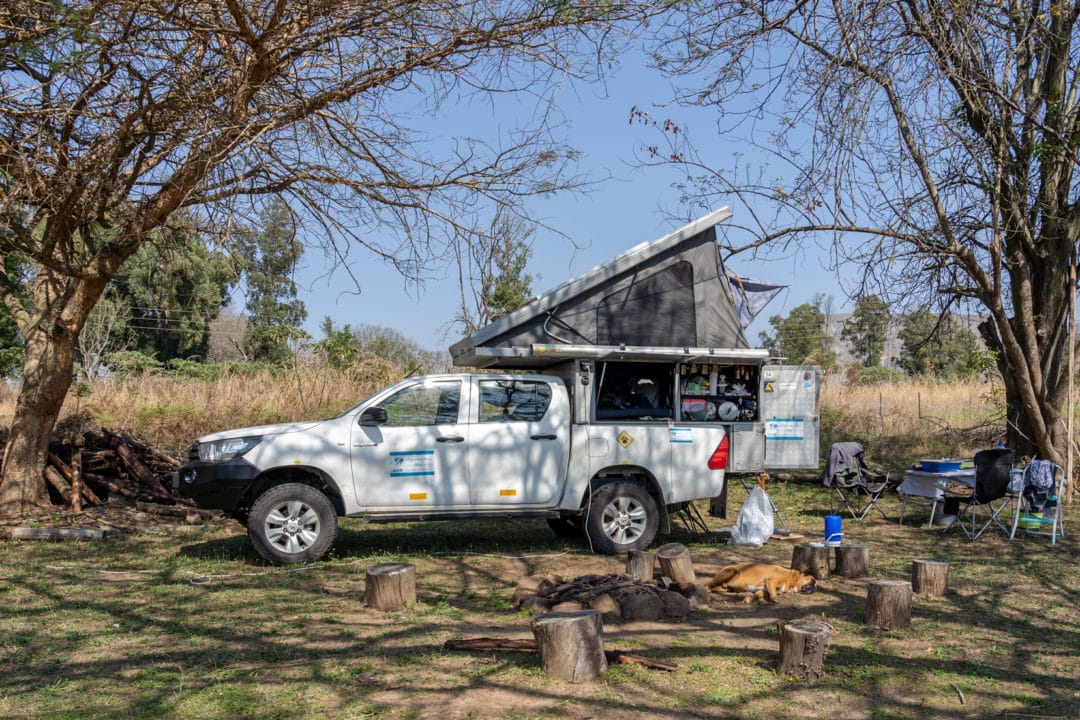 9.30 am: Miscellaneous Jobs
After breakfast the jobs can include any of the following:
Clearing cages of old foliage and placing fresh branches, logs etc. inside
Extra cleaning of cages/wildlife areas
Offloading and cold-storage of fruit sourced via donations
Chopping trees for animal enrichment
Creating/making animal enrichment (things to interest the animals and to keep them entertained)
Cleaning the storage areas and fridges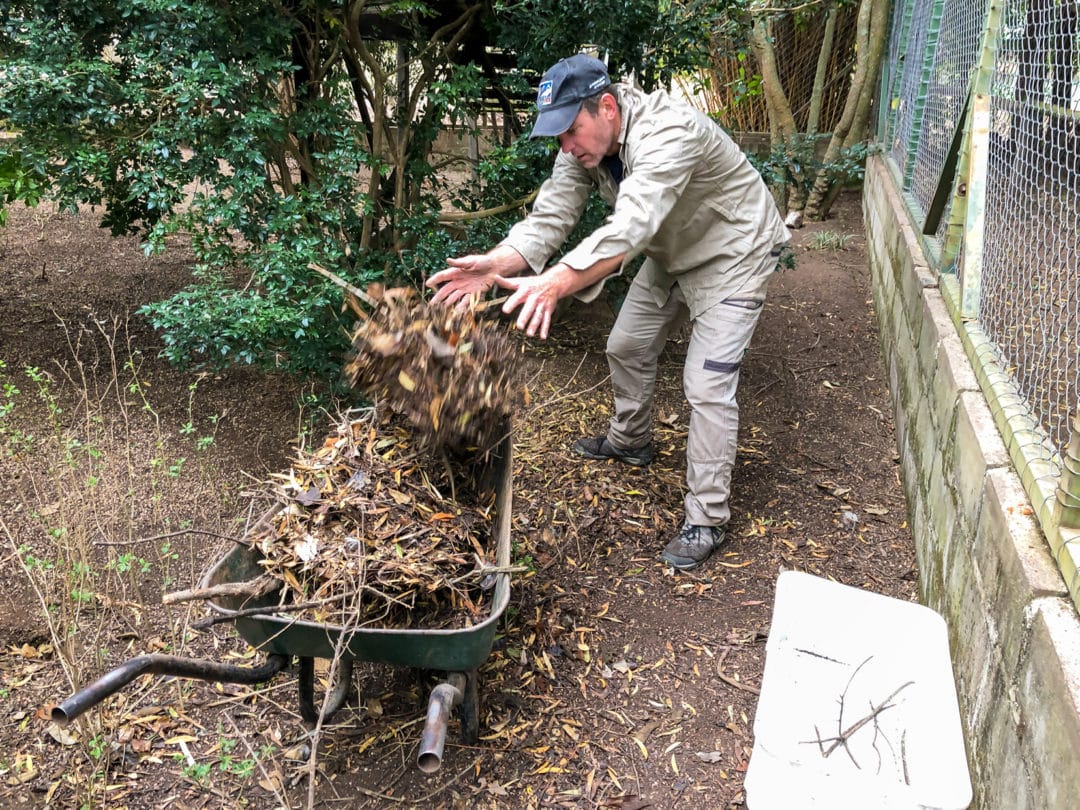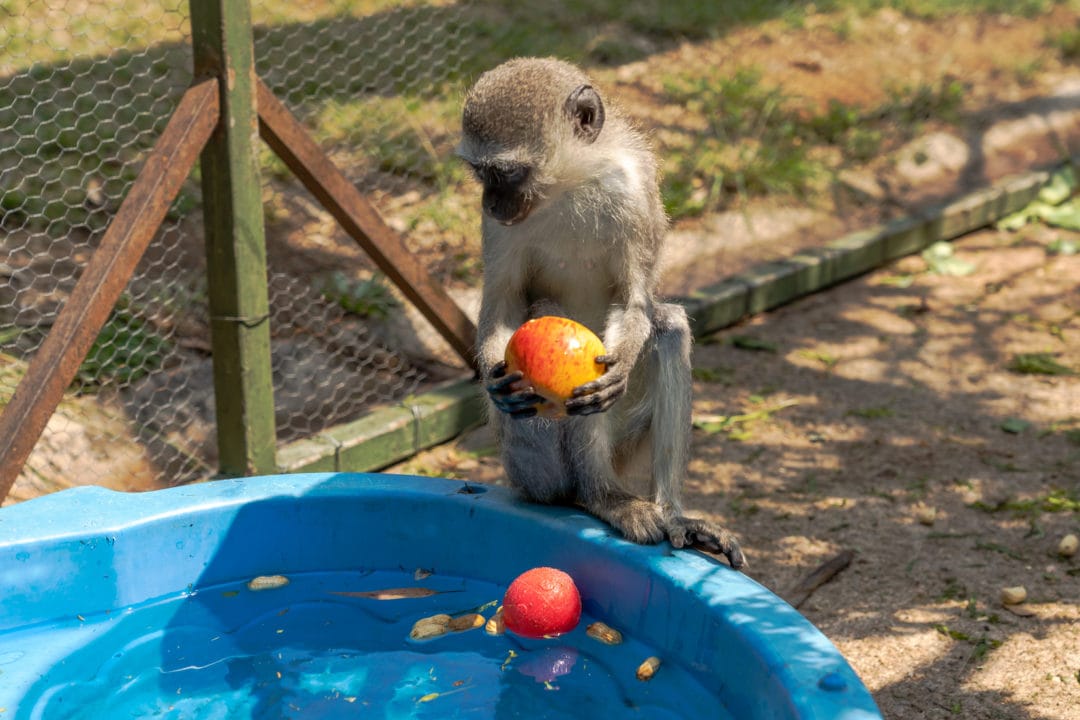 12.00 pm: Lunch
2.00 pm: Miscellaneous Jobs as above
3.00 pm: Chop and prepare food for all of the resident wildlife.
The monkeys were fed fruit and vegetables again, but the predators, such as the servals, mongoose and barn owls were fed dead chicks in the afternoon.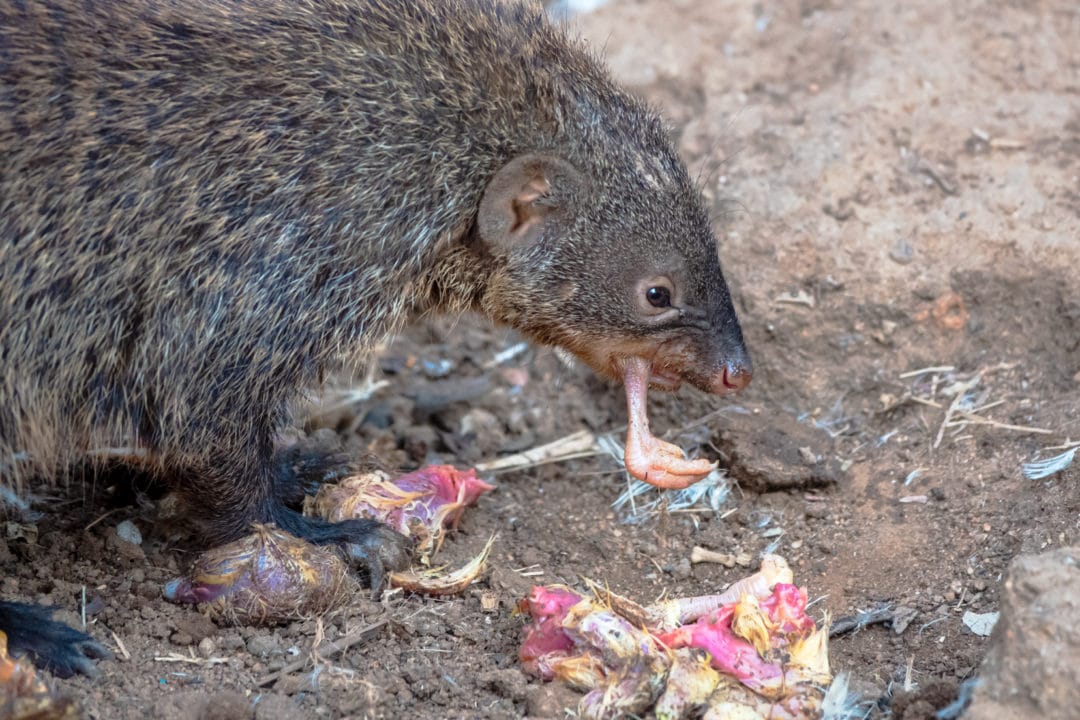 5.00 pm: Make porridge for the baby monkeys
If there are baby animals they often require an additional amount of attention. The baby Vervets needed extra milk and porridge supplements during the day.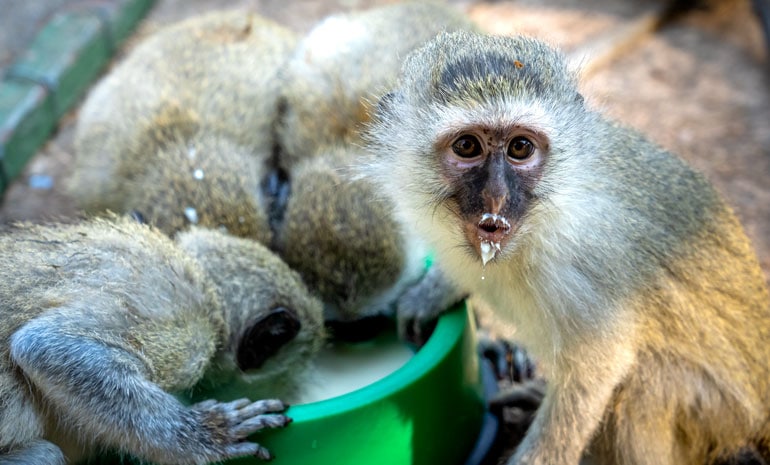 6.00 pm: Dinner and socialise with other volunteers
Part of the volunteering experience is getting the chance to spend time with like-minded people and share your stories.
VOLUNTEERING WITH THE BABY MONKEYS
Our volunteering stint involved helping out with seventeen baby monkeys. These were the last year's baby monkeys who were now socialising with each other along with three older surrogate parent monkeys.
Most of the babies were orphaned due to their mothers being shot by farmers or rescued from being kept as a pet.
In the baby monkey season, November to February, volunteers will be needed for 24-hour care of these tiny little animals. It's always a particularly busy time for the primate centres with the need to hand raise, bottle feed, and supervise the babies to ensure they get the correct mix of sleep, feed and play.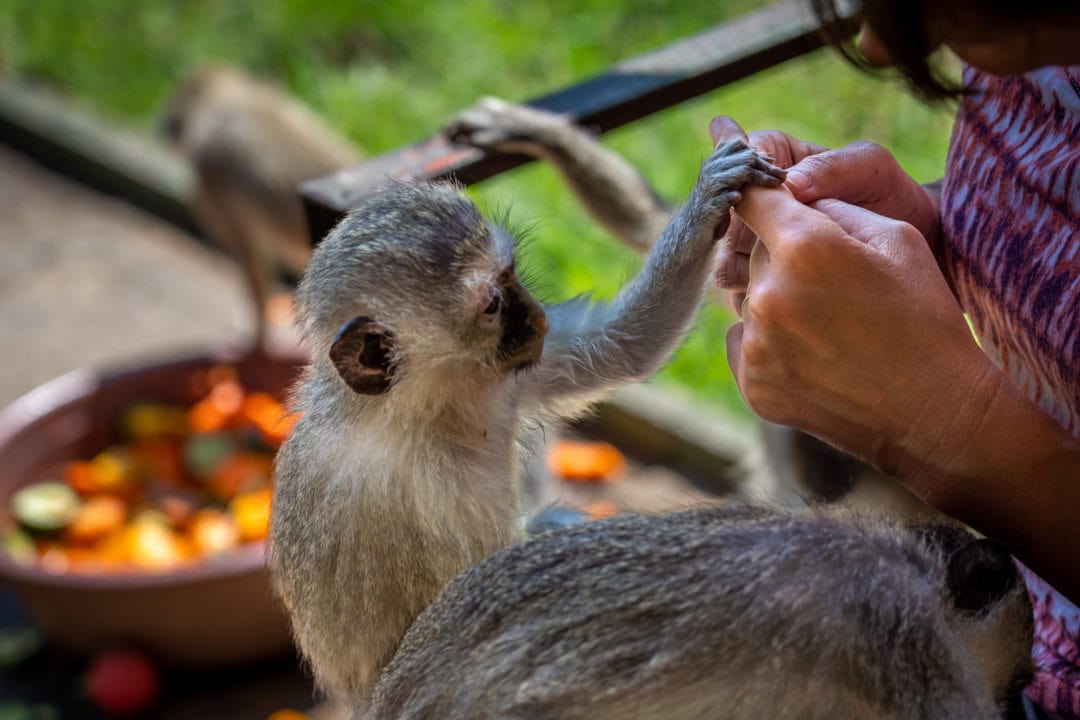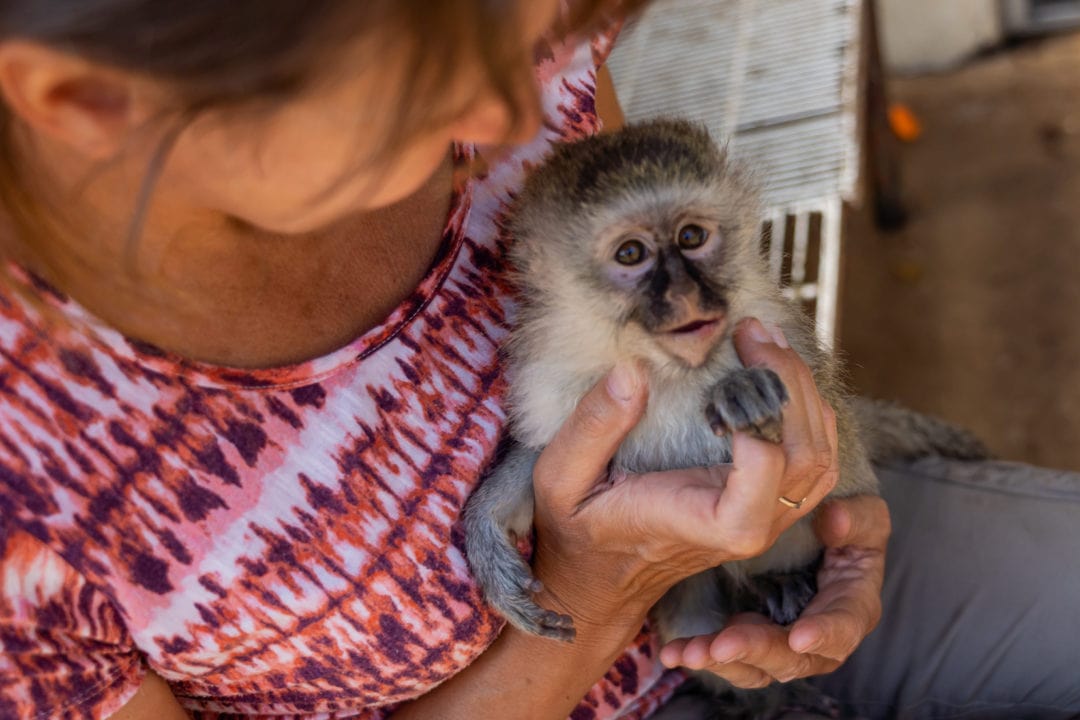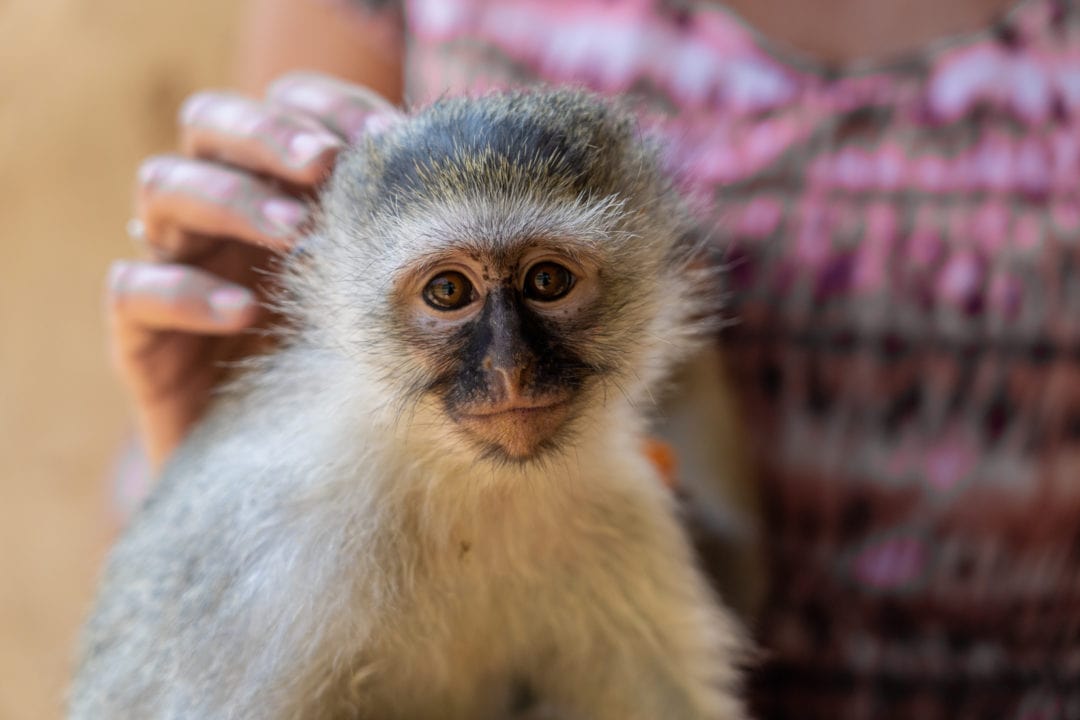 FUNDING FOR WILDLIFE CONSERVATION PROJECTS
Most South African wildlife conservation programs do not get any government support and as non-profit organisations, rely heavily on donations and volunteers to continue their work.
Your volunteer donations go towards your accommodation and food costs as well as providing a means to continue South African wildlife conservation efforts.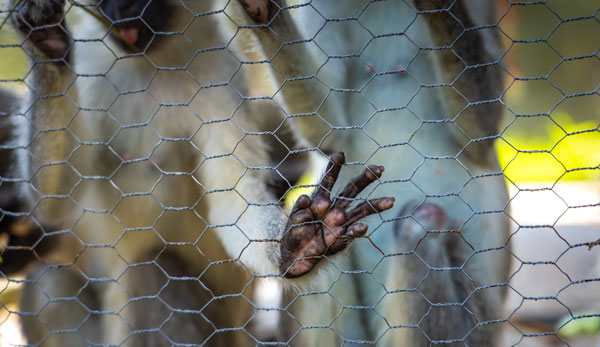 Additionally, many organisations have donation pages, so even if you can't physically volunteer in South Africa and would like to help there are options.
So if you would like to offer your time or simply give a small donation – you will be helping to give a better life for South Africa's precious wild animals either living in sanctuaries, being rehabilitated or contributing to the efforts of conservation.
VOLUNTEERING WITH MONKEYS IN SOUTH AFRICA EXPERIENCE … That's a Wrap
We absolutely loved the experience of volunteering with animals in South Africa and also working alongside other volunteers and those who dedicate so much to wildlife conservation projects.
Have you volunteered with animals in South Africa? We'd love to hear about your experiences – drop us a line or leave a comment below.
As always – happy to answer any questions you have 🙂
Save and Pin for Later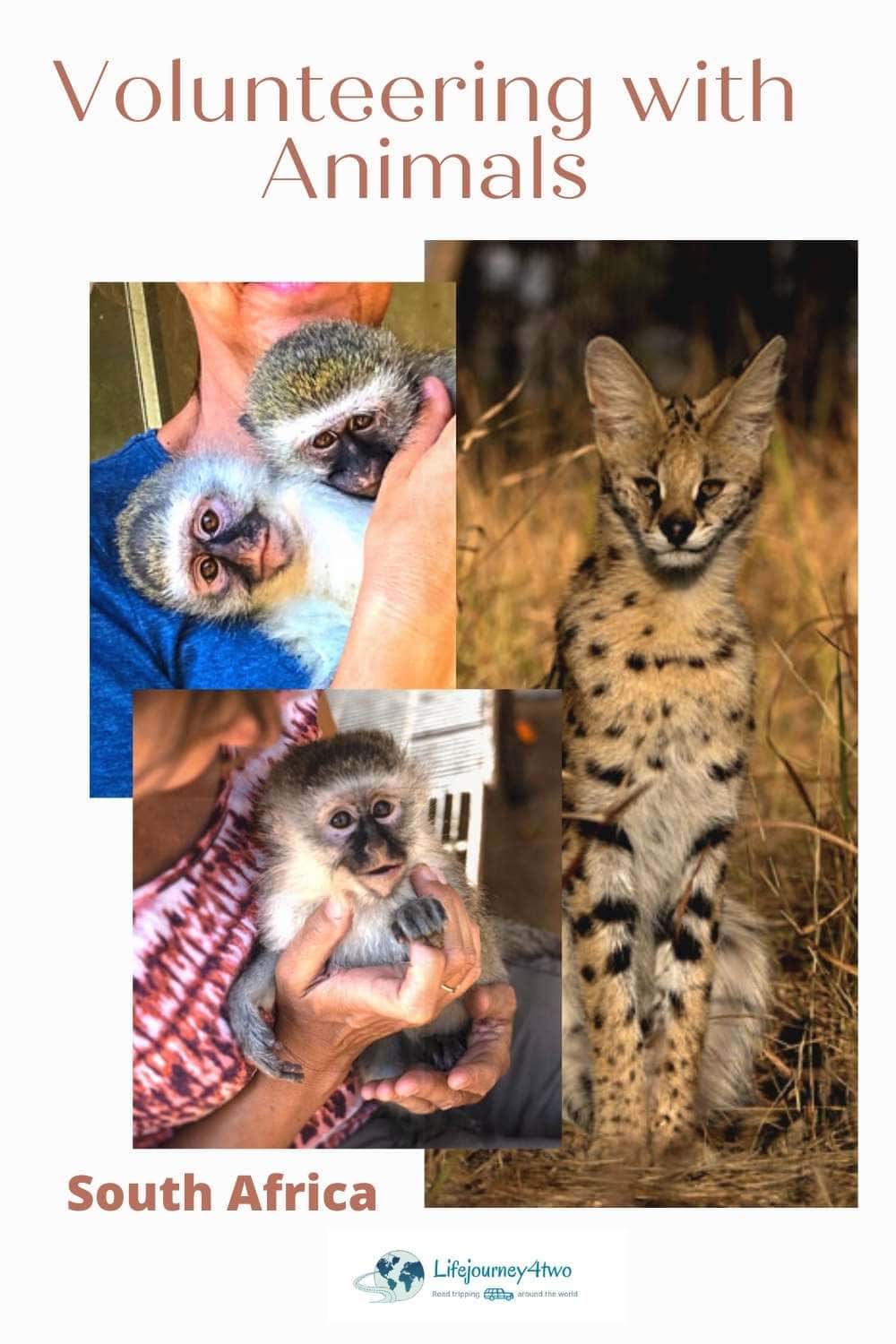 YOU MAY ALSO BE INTERESTED IN READING:
PLANNING YOUR TRAVELS?
These are some of the travel resources we use when planning our trips.
For a more thorough list visit our Travel Resources page here.