Some posts on this site contain affiliate links meaning if you book or buy something through one of these links, we may earn a small commission. Read our Disclosure Policy here.
HIMAKANA
Himakana (written as Himakånå in Norwegian ) is also known as Mini Trolltunga or Trolltunga's little sister. Trolltunga is a demanding hike, a little further north in the Hardanger region of Norway. 
Both Himakana and Trolltunga are incredible rock formations with precipices that overhang the fjords far below. However, the Himakana hike is roughly a 2-hour round trip compared to Trolltunga's demanding 9-12 hour trek. 
This makes it a very family-friendly hike for all ages.
It has plenty of the wow factor throughout the hike and you spend just a fraction of the time and effort required for either of the popular hikes Trolltunga, Preikestolen or Kjeragbolten.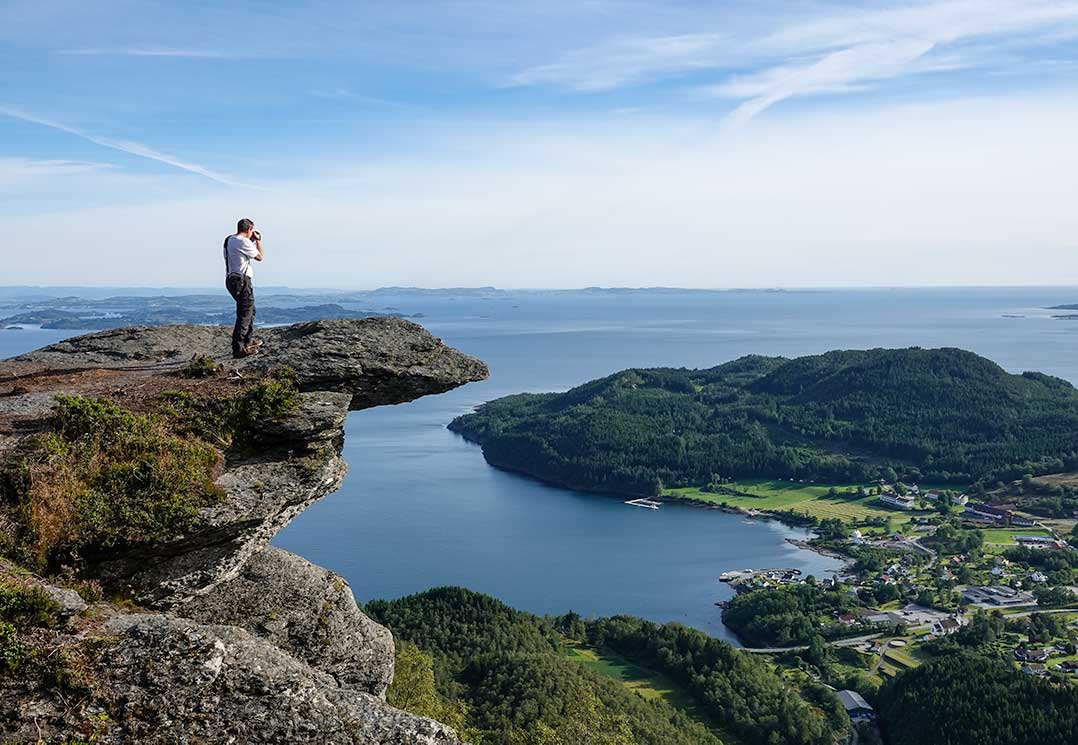 Another particular attraction of Himakana is that it is off the usual tourist route. The beauty of this place is magnified not only by its fabulous nature and views but by the fact that it does not yet share the busyness of its nearby big brothers and remains relatively unknown among tourist circles.
Himakana is situated in the Tysvaer Municipality of Rogland and is the perfect afternoon hike. 
The hike rewards the visitor with changing landscapes, a well-trodden marked walking path and absolutely stupendous views from the top of the surrounding fjords.
It is also a perfect stop if you are on a Norway road trip.
>>> READ MORE: Stavanger to Bergen 2-week road trip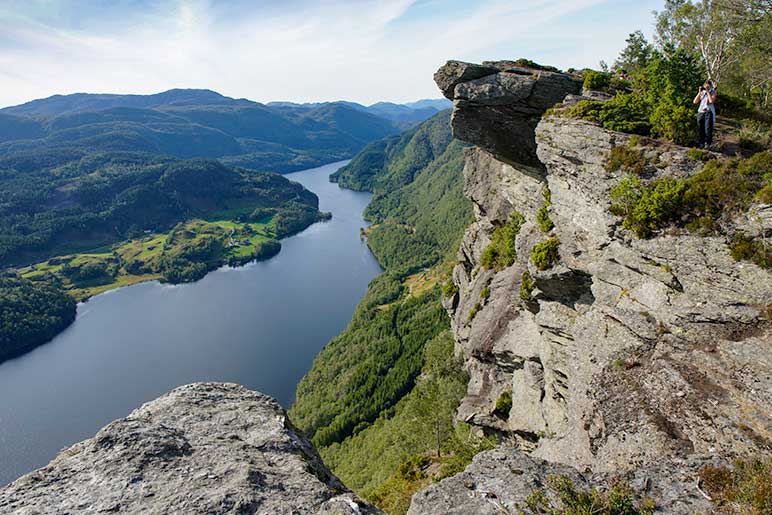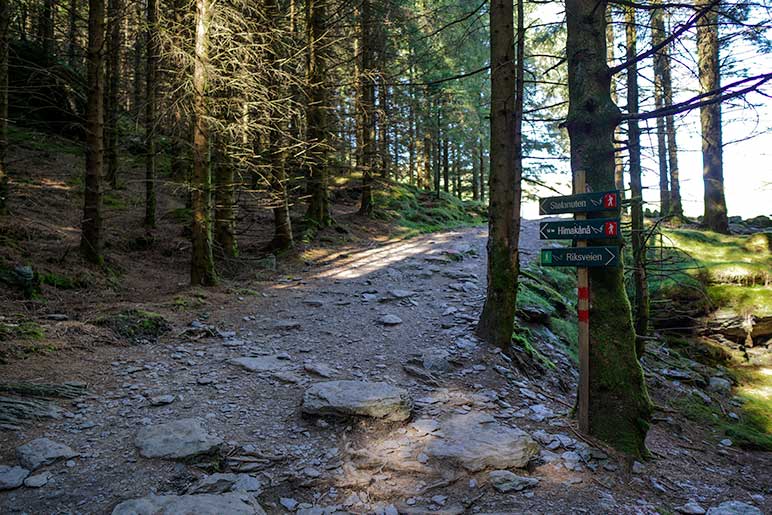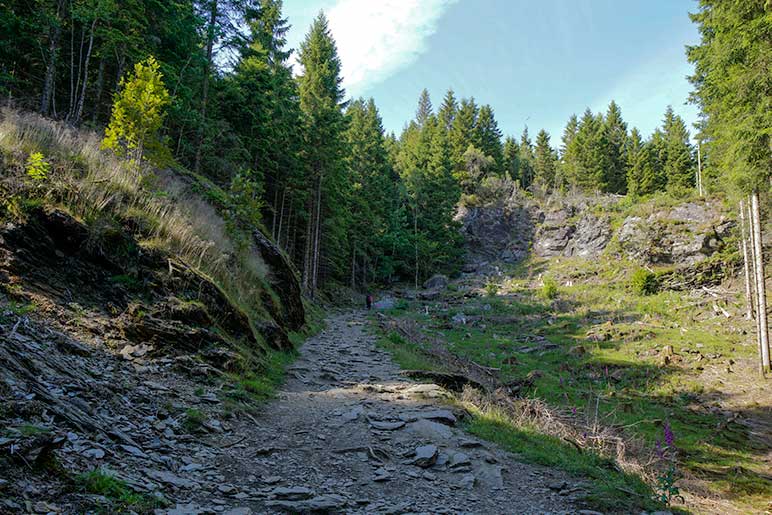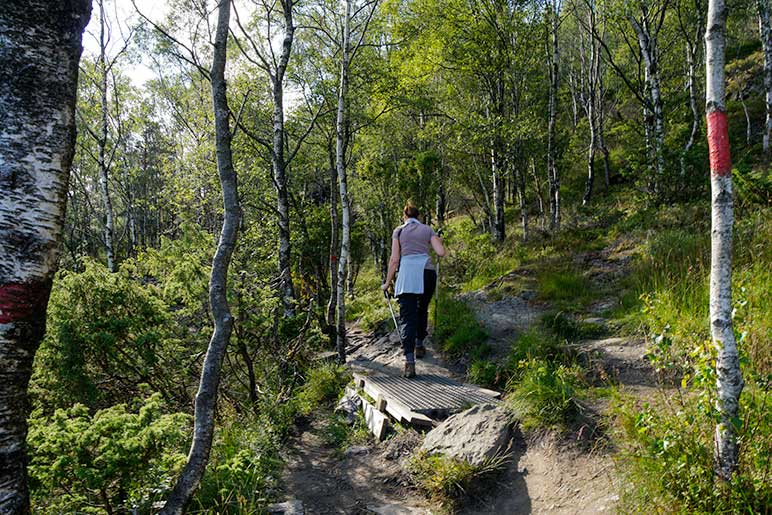 HIMAKANA INTERACTIVE MAP
HIMAKANA HIKE DETAILS
Himikana Level: Blue/medium: (medium' meaning moderate incline with possible steep sections)
Himakana Hike time:  2 hours return trip (We took 3.5 hours with plenty of stops for photos)
Himakana Elevation: 357m above sea level
HIMAKANA VIDEO – VIEW FROM THE TOP
The climb follows both dirt roads and grass tracks passing over fences. There are some short rather steep sections but generally, it's a nice, even ascent. 
The early part of the climb has you picking a path through a forest where the twisted, tree roots are reminiscent of a scene from a Harry Potter movie.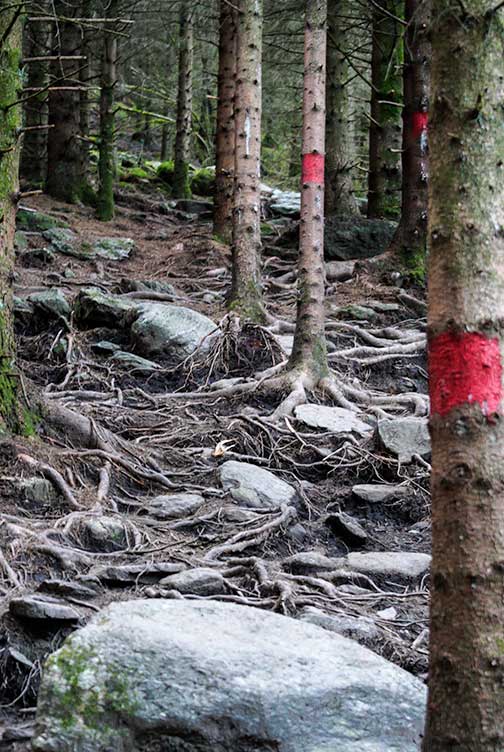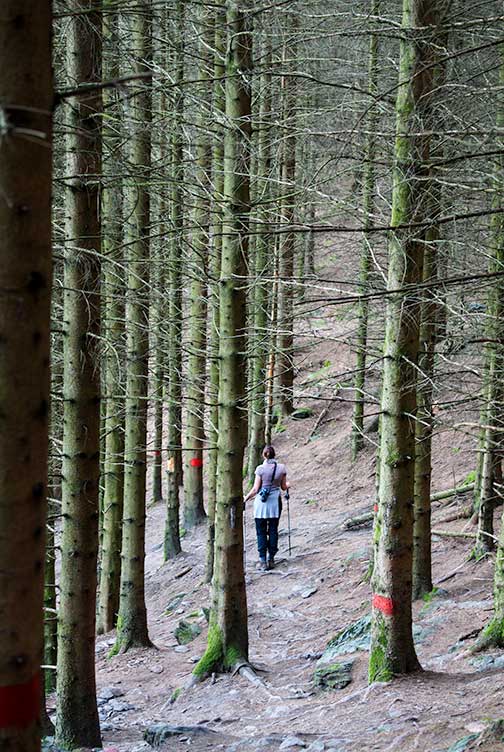 Exiting the forest, the path opens to views of the majestic Boknafjord with its many islands.
Ferries were plying their route across the fjord, fishing boats dotting the landscape and the many red cabins tucked into the shoreline made for a picturesque scene.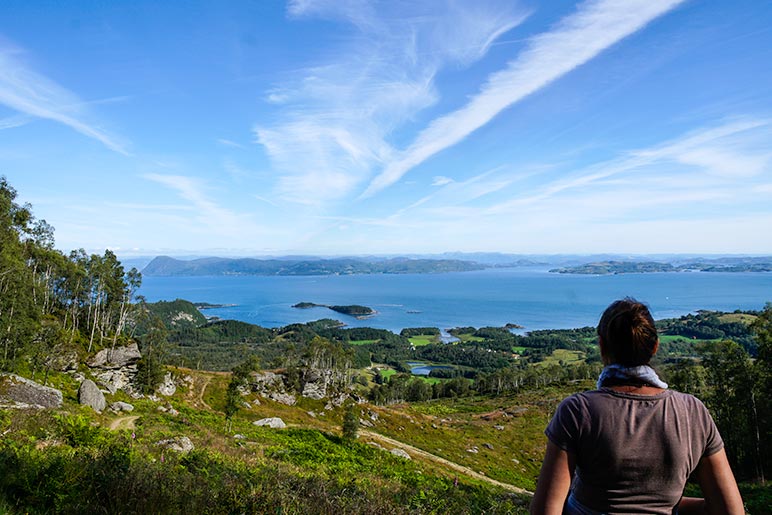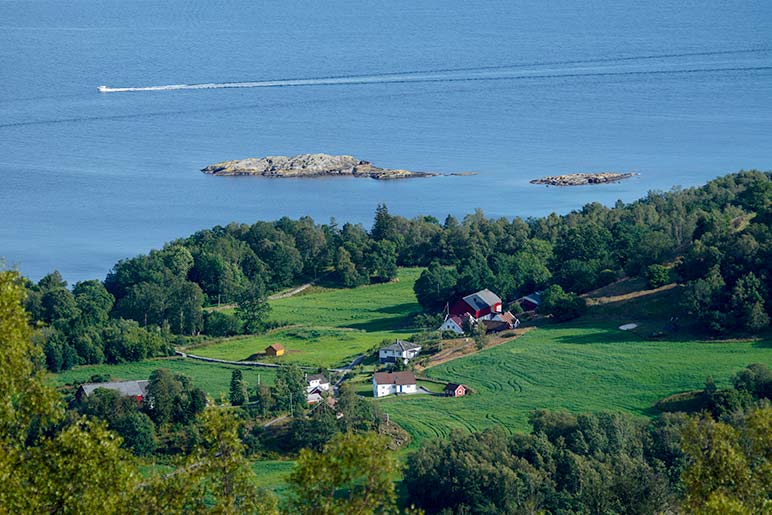 With a final, steepish section of path conquered, a gentle rise through scrubland brought us out onto Himakana. You then realise that it's not just a single rock projecting out into the fjord but a series of closely grouped craggy outcrops.
This gives you some different options when choosing to capture some landscape photos.
And yes, you are spoilt with 180-degree views covering both Lysevatnet (the fjord at your feet) and the grander Boknafjord (to your left).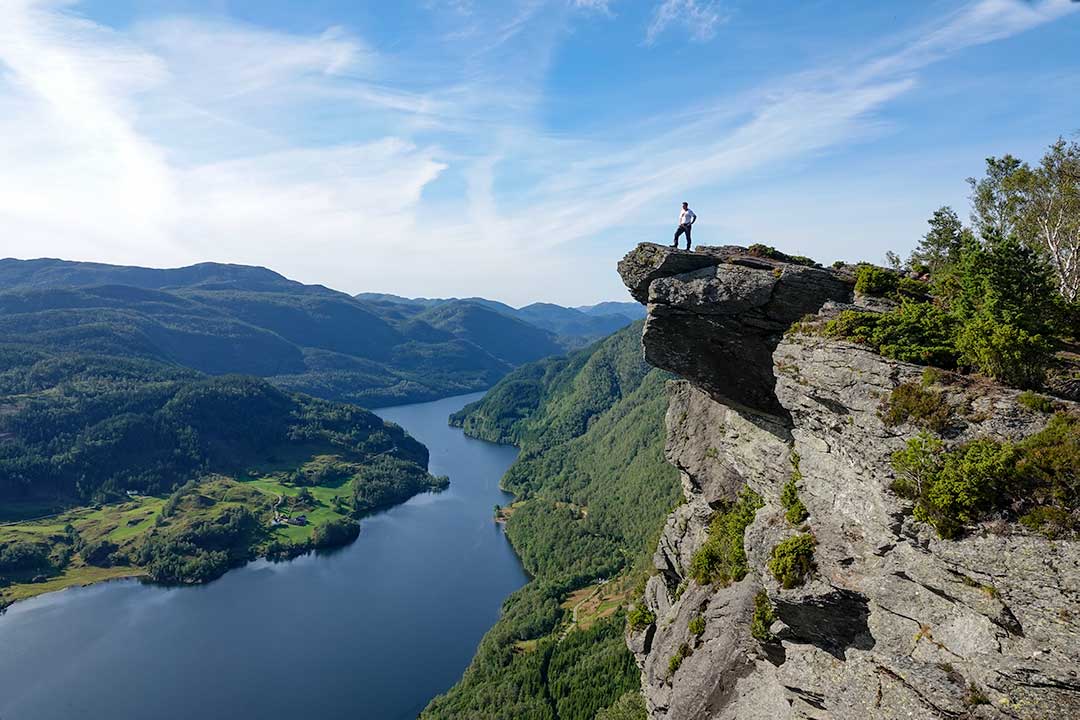 You have the opportunity to sign the visitor's register at the top, which we did, and took some time to discover a geocache. 
THE TALE OF HIMAKANA
Like many Norwegian places, Himakana is steeped in legend. The rock face at the top is said to resemble the face of Himakana, a female troll, who was said to have lived nearby.
The legend tells us that the local people were poor and asked the rich Himakana for money to buy church bells. She agreed, but only on the condition that the bells were not rung whilst she was alive.
For many, many years this was the case, until one day, the daughter of the priest died. Ignoring the agreement, he rang the bells, with beautiful sounds echoing throughout the valleys.
Himakana was greatly angered, but on her way down the mountain to the church, the chimes turned her to stone. The craggy, distinctive rocks at the summit are said to be her angry face, forever immortalised in stone.
Himakana hike was a rewarding hike in many ways and we definitely felt that Himakana, in some mysterious way, had worked her magic on us.
>>> READ MORE: Our Best Hikes in Norway … So Far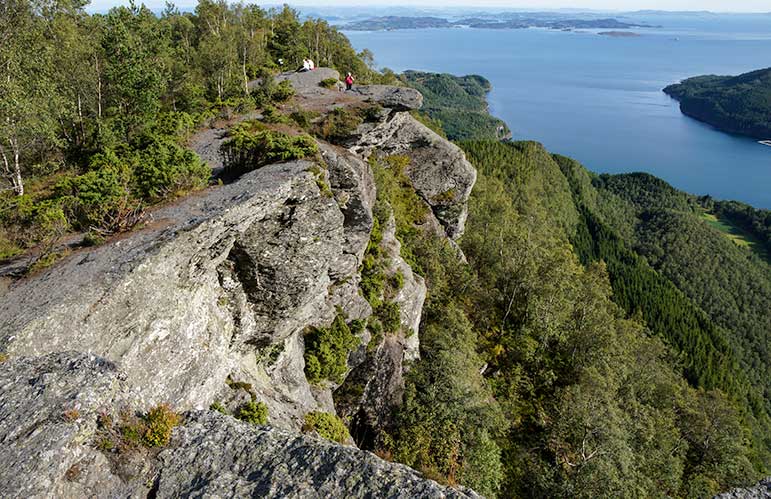 HIMAKÅNÅ – That's a Wrap
This lovely hike ticks all the boxes. It's family-friendly, has a low degree of difficulty, has majestic views and is very accessible. You could easily hike it all in the space of a morning or an afternoon and why not plan for a picnic at the top.
Himakana should definitely be on your list of Norway hikes.
Have you visited Himakana before and what was your impression? Can you recommend similar hikes? We'd love to hear about your adventures.
HOW TO GET TO HIMAKANA, NEDSTRAND
DRIVING TO HIMAKANA (ONE-WAY):
From Skudeneshavn = 1.5 hours
From Stavanger = 2.25 hours
From Bergen = 3.5 hours
PARKING/ACCESS 
Access to the start of the hike is from a point 750m from the Joker store in Nedstrand. You'll need to park here, not in the church grounds. Just keep your eye out for the big, white Nedstrand church off road 515 with the Joker carpark just opposite.
You may need to pay a small parking fee (100 Nok); the proceeds of which go towards maintaining the hike.
From the carpark, follow the 'Himakana' signs that start at the church footpath.
OTHER TRANSPORT
Bus: 246 Haugesund – Nedstrand
High-speed ferry: Stavanger – Ryfylke
Ferry: Fogn – Judaberg – Nedstrand – Jelsa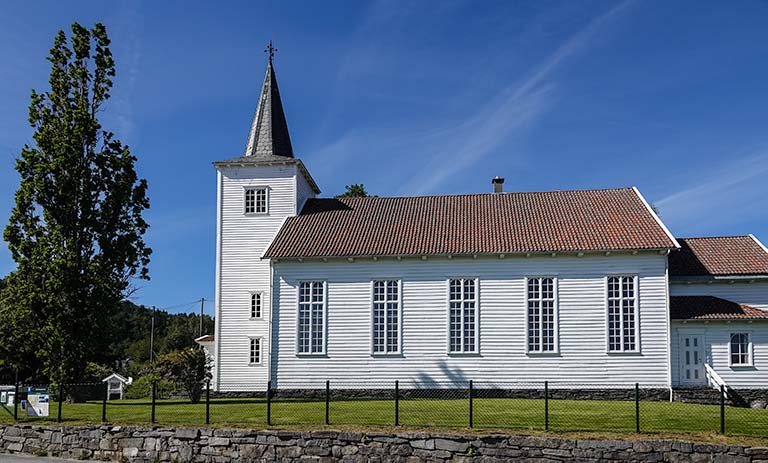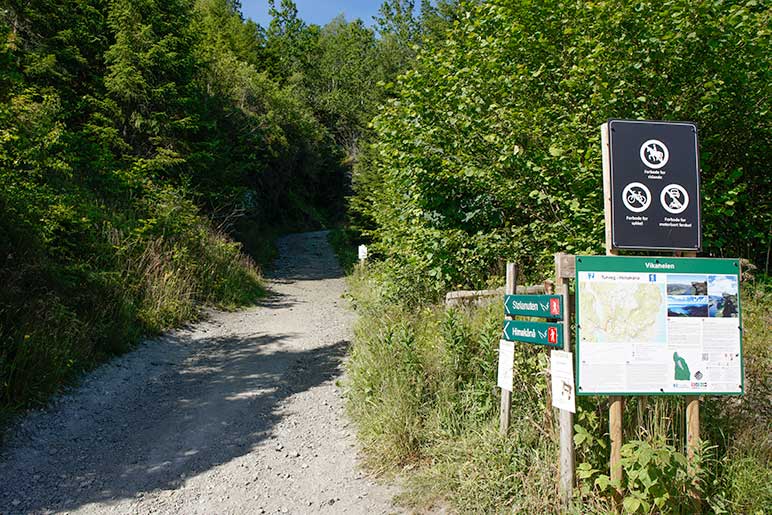 HIMAKANA: GOOD TO KNOW
LEVELS OF HIKING IN NORWAY
Norway classifies its walks and hikes depending on the degree of difficulty, as follows:
Easy (Green) – Novice Hikers/ No experience necessary
Medium (Blue) – Intermediate with some hiking experience /average fitness level
Demanding (Red) – Experienced walkers/high fitness level well equipped with good hiking boots/ basic navigation skills /map and compass.
Expert (Black) – Longer and more technical hikes /Experienced hikers/ high fitness level well equipped with good hiking boots/ basic navigation skills/map and compass
Himakana Hike … That's a Wrap
If you enjoyed this article, you may like these FREE RESOURCES plus PDF of this article:
FREE Travel Guides (many countries)
FREE 23-page Travel Planner, including menu planner, journal pages and budgeting)
FREE Phone Wallpapers
FREE Photo Ebooks
Monthly Travel News 
Pin and Save for Later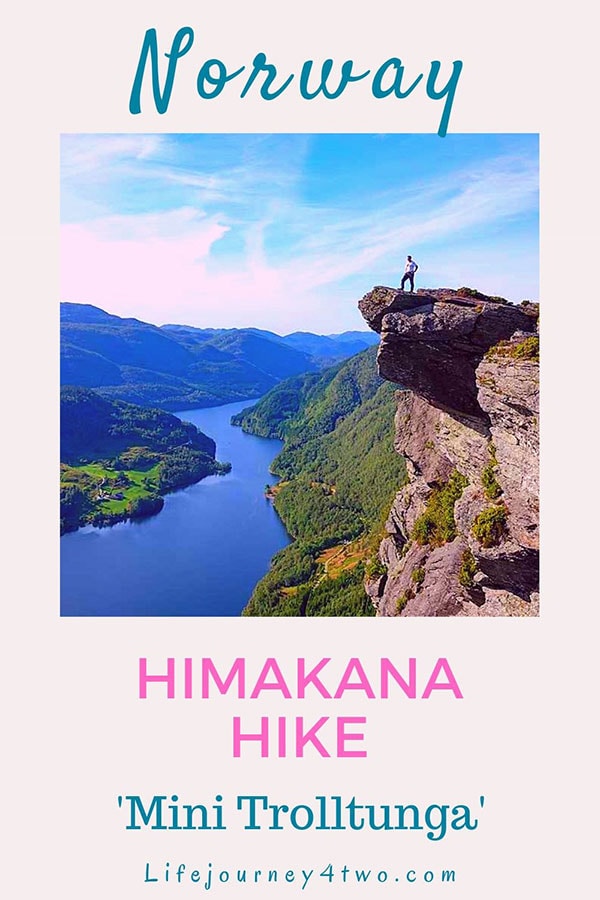 READ MORE:
PLANNING YOUR TRAVELS?
These are some of the travel resources we use when planning our trip and can recommend:
For a more thorough list visit our Travel Resources page here.