ICELAND 2 WEEK ITINERARY
This Iceland 2-week itinerary follows the famous Iceland Ring Road on a fantastic self-drive adventure.
If exploding geysers, boiling mud plains, sweeping glaciers, beached icebergs, thundering waterfalls, architectural masterpieces and friendly Icelandic horses, feature on your wish list itinerary, then you've come to the right place.
Oh, and let's not forget the icing on the cake … a mesmerising show of the Northern Lights.
This two-week Iceland Itinerary takes you across this island of fire and ice in search of Iceland's famous sights as well as its off-the-beaten-track locations.
Zig-zagging in and around fjords and detouring to remote spots, we track down the best breathtaking Icelandic landscapes and experiences.
Planning a Trip to Iceland?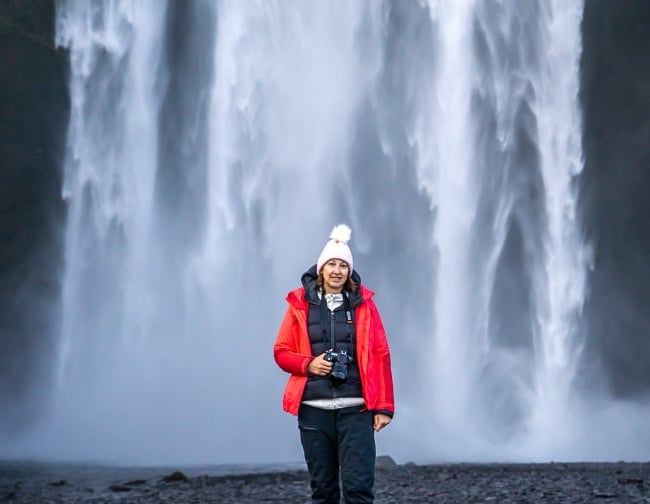 CAR HIRE in Iceland
🚘 Discovercars.com: We use DiscoverCars.com to source the best deals
This Iceland road trip guide includes:
Good-to-know and handy travel tips for your 2 weeks in Iceland
Iceland Interactive map of where to find the best attractions
Iceland's popular events
Iceland's Northern Lights and great locations to photograph them from
Overnight stops for the 2 week Iceland itinerary
Our 2 weeks in Iceland travel costs
Options for only 4 Days in Iceland
The rumours are true, Iceland remains the rugged and untamed wild west of Europe. Its beauty is touched with a rawness that makes you realise Mother Nature is definitely calling the shots here.
For such a small island, roughly 490 km x 412 km, it sure packs a salivating mix of diverse and captivating landscapes.
Iceland is a treasure trove of exciting adventures, so let's go explore!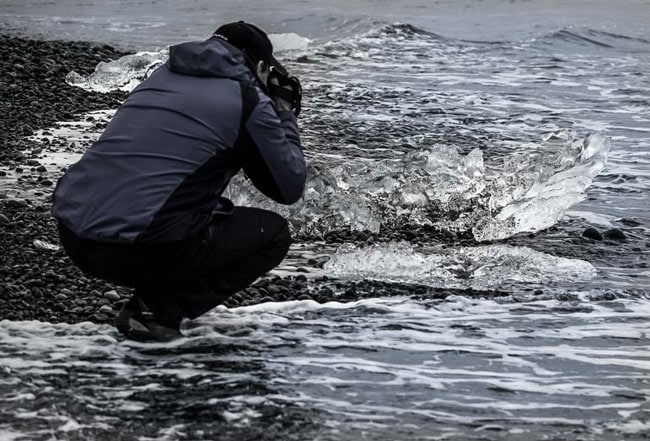 ICELAND 2 WEEK ITINERARY: QUICK OVERVIEW
Day 1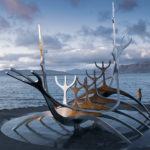 Reykjavik: Sun Voyager,
Hallgrimskirkja,
Monument to the Unknown Bureaucrat,
Tjörnin Lake,
Harbourside Old Fisherman Huts and
Chase the Northern Lights.
Day 2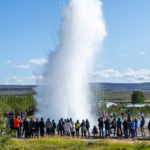 Golden Circle route:
Reykjavik to Þingvellir (Thingvellir) National Park
Kerið Crater,
Geysir field including 'Strokker',
Gullfoss Waterfall and
Seljalandsfoss Waterfall.
Day 3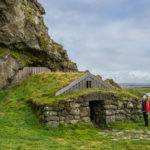 Seljalandsfoss waterfall,
Rutshellir Caves,
Drangurinn í Drangshlíð 2 (ancient rock dwellings),
Skógafoss waterfall and
Kvernufoss waterfall.
Day 4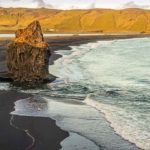 Solheimasandur Plane Wreck,
Dyrhólaey (rock arch in the sea),
Reynisfjara Beach (black volcanic sand) and Basalt sea stacks are situated under the mountain Reynisfjall.
Day 5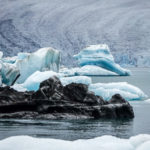 Hofskirkja,
Svartifoss /Magnúsarfoss /Hundafoss (x3) waterfalls,
Jökulsárlón Glacier Lagoon
Diamond Beach.
Day 6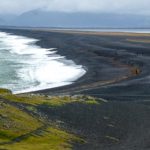 Hvalnes Nature Reserve Beach and Lighthouse,
Eggin í Gledivik – egg sculptures, viewpoints and
Hafnarnes Lighthouse
Day 7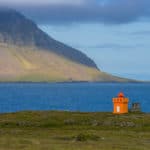 Egilsstaðir – Vinland Camping Pods,
Seyðisfjörður (Seydisfjordur)
Geirastadakirkja.
Day 8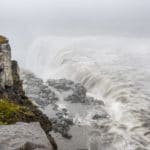 Detifoss, Selfoss and GoðafossWaterfalls
Asbyrgi Canyon,
Husavik Church,
Hverir lava fields and Grjótagjá Cave
Myvatn Lake
Day 9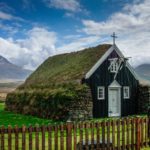 Akureyri church,
Akureyri Botanical Gardens and
Saurbæjarkirkja church.
Day 10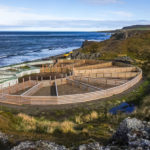 Víðimýrarkirkja (turf church),
Vatnsdalsholar Hillocks,
Hvitsekur rock arch
Hamarsrétt sheep corral
Day 11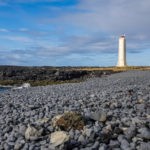 Snaefellsnes Peninsula – Ingjaldshóll Church,
Skarðsvík Beach (site of Viking burial)
Hike within Snæfellsjökull National Park.
Day 12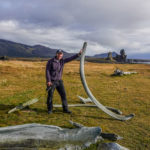 Djúpalónssandur Beach
Malarrif Lighthouse and Saltus
Londrangar rock pinnacles,
Saxhólar Crater,
Bárðar Saga Snæfellsáss
Gatklettur stone arch of Anarstapi.
Day 13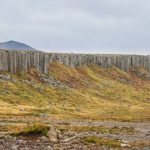 Snaefellsnes Peninsula – Búðakirkja church,
Ytri Tunga seal watching,
Gerðuberg basalt columns,
Ölkelduvatn Mineral Spring.
Day 14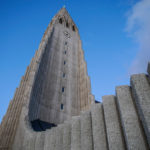 VIDEO: ICELAND IN 2 MINUTES
Here's a taster of two weeks in Iceland … in 2 minutes.
MAP: ICELAND ROADTRIP ITINERARY WITH ATTRACTIONS
To use this map, expand it using the square symbol on the top right-hand side and then look to the key on the left-hand side. By clicking each location you will find the corresponding position on the map.
Blue circles with a star denote an attraction;
Dark Green circles denote overnight accommodation;
Black circles denote churches;
Yellow circles denote viewpoints;
Brown circles denote alternative routes to the toll road;
Orange denotes the DC3 plane wreck;
A Light Green circle denotes an alternative option.
2 WEEK ICELAND ROAD TRIP ROUTE
Following the Ring Road in Iceland takes you close to most of the great attractions that Iceland is renowned for. The Ring Road is 1332 km (or 828 miles long), making it the longest road in Iceland.
You can choose to drive it clockwise or as we did, anti-clockwise.
The Ring Road closely follows the coastline for much of its route avoiding the inland mountainous terrain.
ROUTE OVERVIEW (ICELAND'S RING ROAD)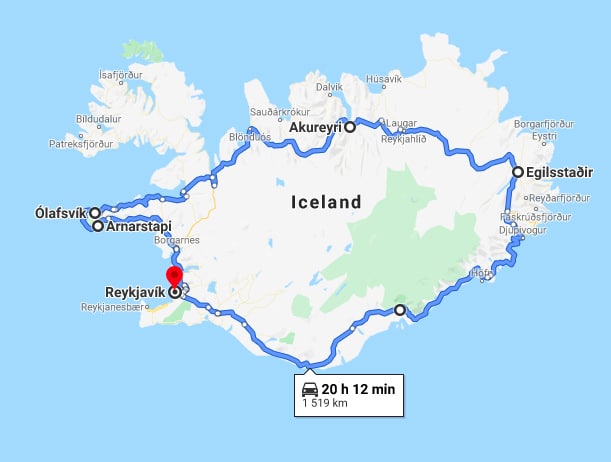 ICELAND 2-WEEK ITINERARY
Two weeks of driving on Iceland's Ring Road will allow enough time to visit most of the famous landmarks in Iceland.
There is a bit of driving on this itinerary across Iceland, but each day has its share of interesting places to stop at. This breaks up the kilometres into manageable chunks.
DAY 1: ICELAND 2-WEEK ITINERARY
REYKJAVIK
Sun Voyager,
Hallgrimskirkja,
Monument to the Unknown Bureaucrat,
Tjörnin Lake,
Harbourside Old Fisherman Huts and
Chase the Northern Lights.
Depending on your arrival and departure time into and from Reykjavik, you can use your first, last or both days to explore the capital city's attractions.
SUN VOYAGER
This sculpture of a large steel ship's skeleton is sited right by the sea and is the artist's impression of the 'promise of undiscovered territory, a dream of hope, progress and freedom'.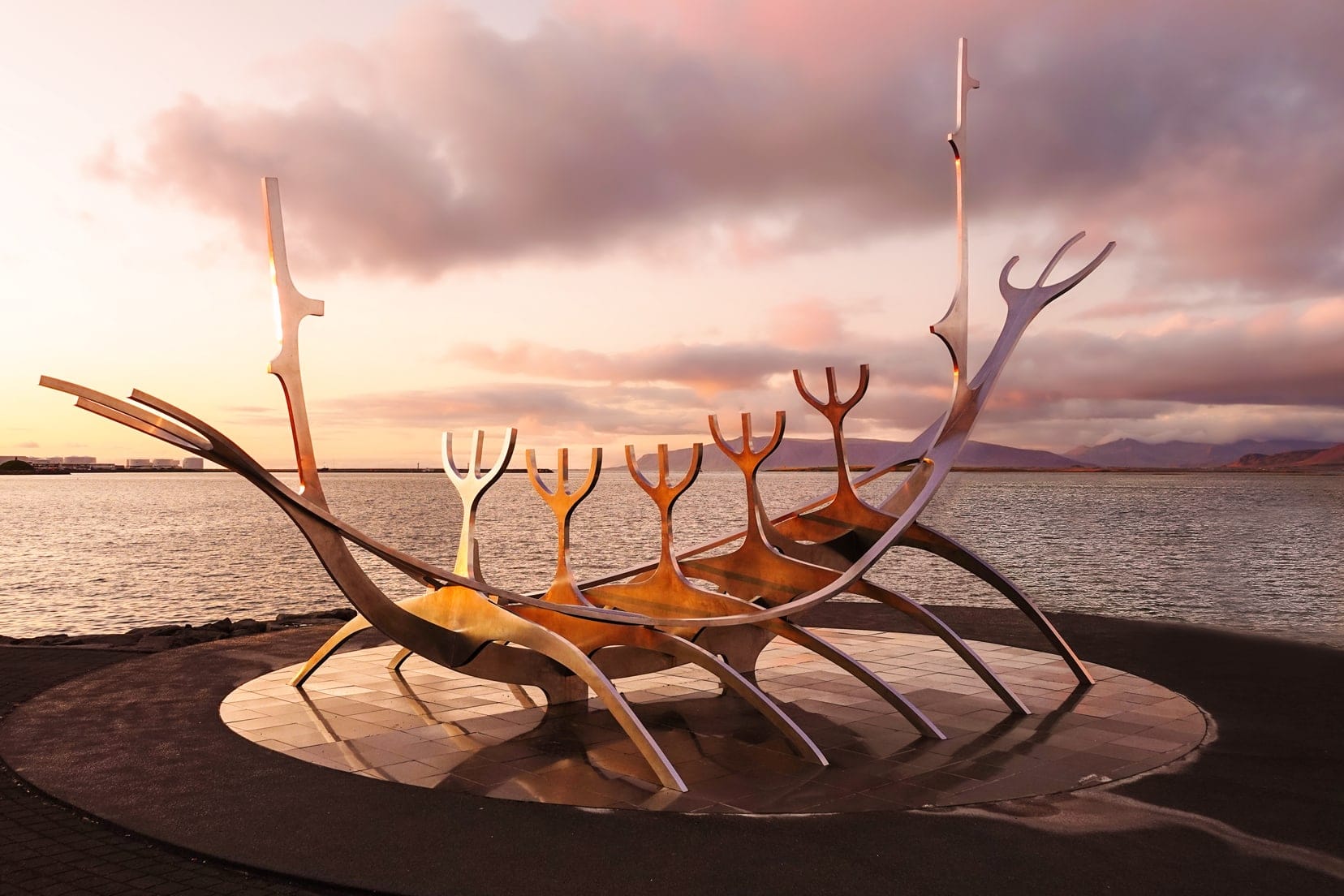 HALLGRIMSKIRKJA
A hard-to-miss landmark on the skyline within central Reykjavik is the 74m high Lutheran church of Hallgrimskirkja. It is on a hilly rise which helps to accentuate the size of this impressive structure.
Above the bell tower is an open-air observation deck that can be accessed via an elevator.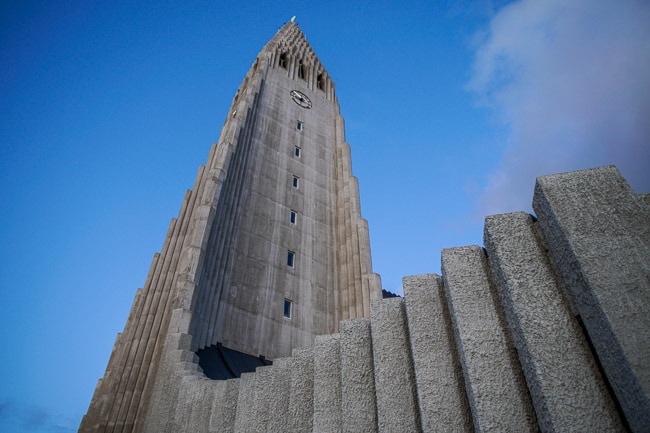 MONUMENT TO THE UNKNOWN BUREAUCRAT
This 1994 sculpture of a faceless man holding a suitcase with a block of stone for both his head and upper body, represents the thankless, anonymous job of the bureaucrat.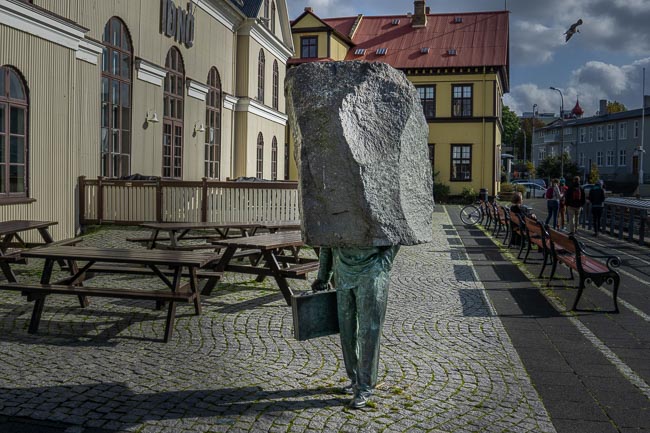 TJÖRNIN LAKE
This small lake is really a shallow pond and is found in central Reykjavik. It is popular for its walkways, trees and many sculptures and works of art.
Tjornin Lake is home to many different bird types, which in turn attracts many bird photographers to its shores.
A bridge crosses over the lake offering a great view back to Reykjavik City Hall.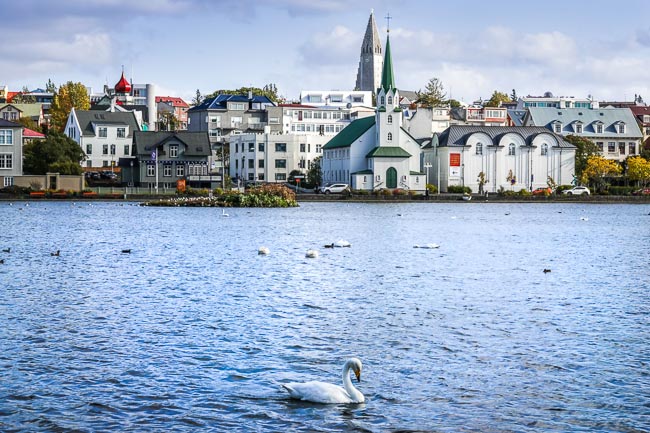 HARBOURSIDE OLD FISHERMAN HUTS
Here you can find a few of the old fisherman huts that have been expertly renovated into restaurants.
Look for a large information board (below) that can give you bearings on the 'what's what' in the area.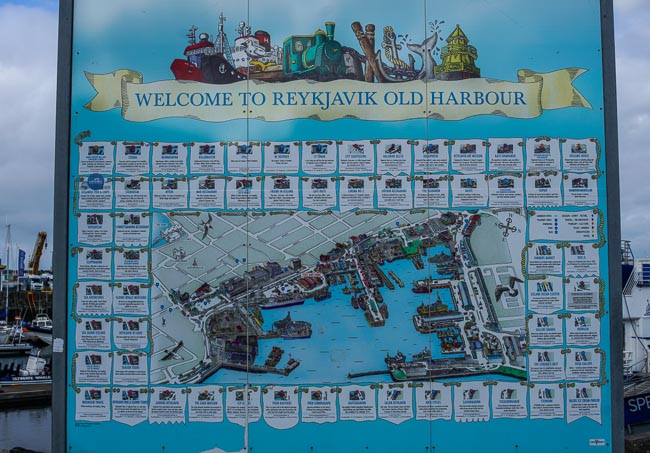 NORTHERN LIGHTS OF ICELAND
From Reykjavik, we headed south to Lake Kleifarvatn which gave us fantastic views over the water.
We drove 45 minutes south of Reykjavik, over the mountains, to Kleifarvatn Lake and further south again to Grænavatn Lake which offered great views over the water (for the locations, check out the yellow markers on our Iceland Road Trip and Attractions map above).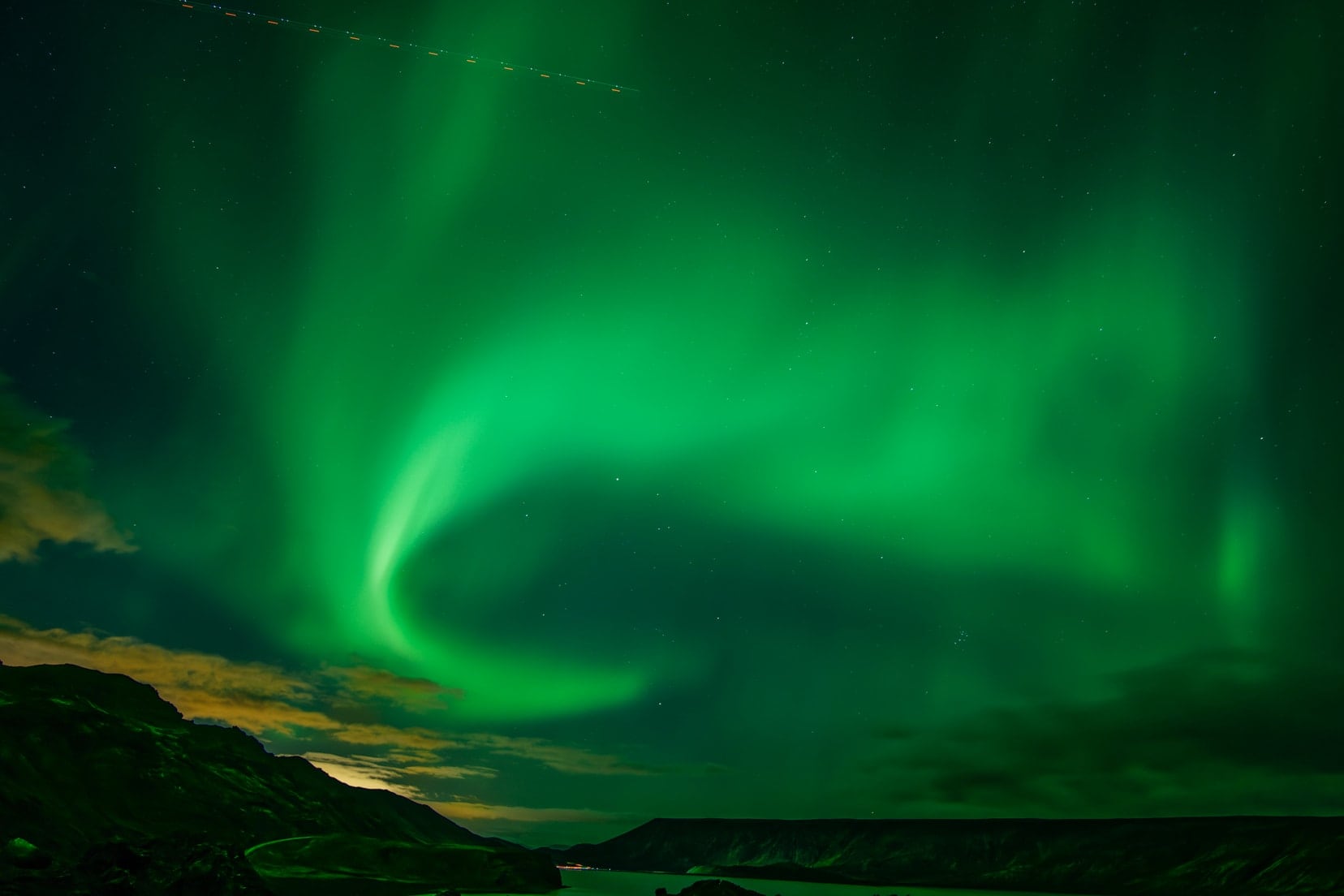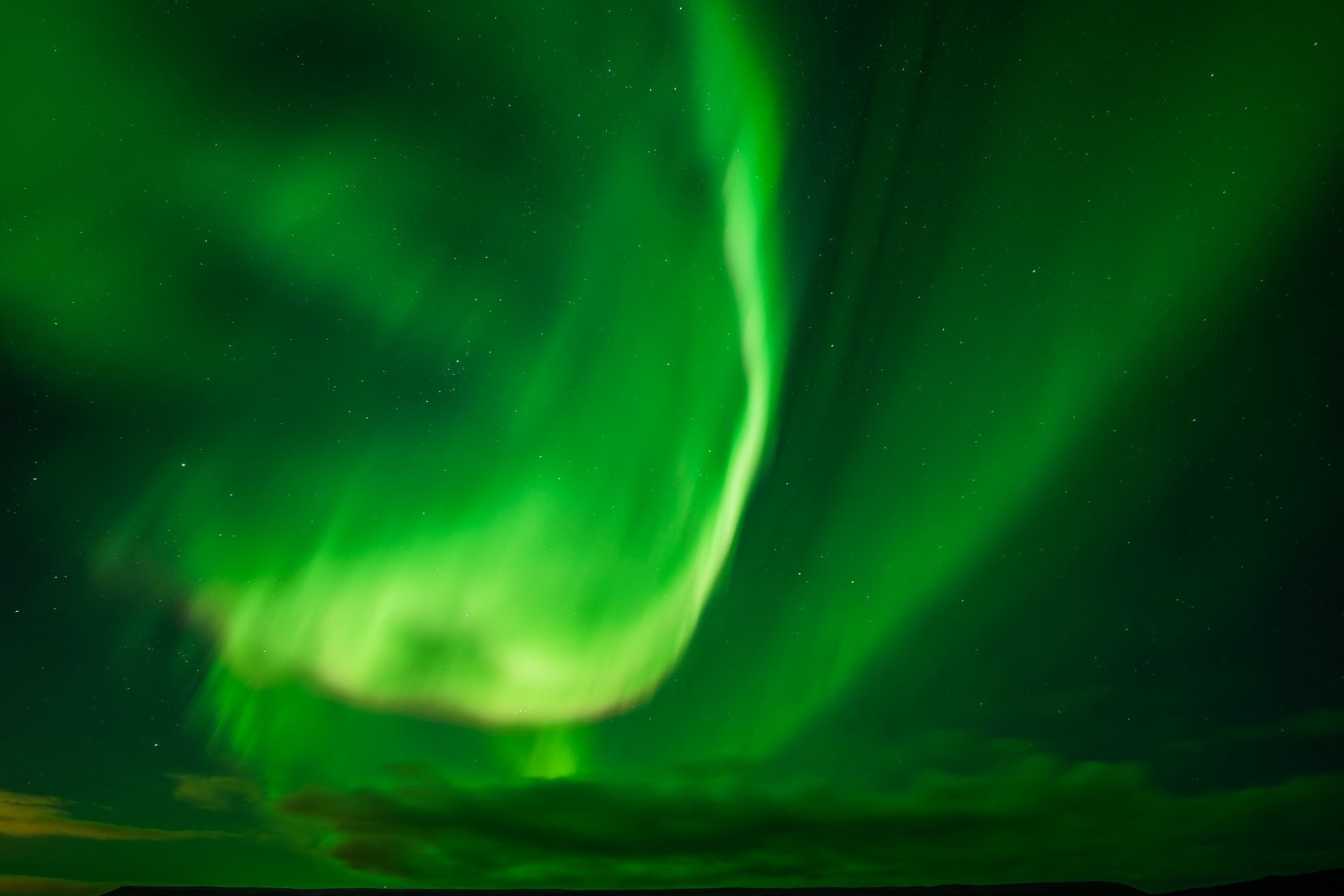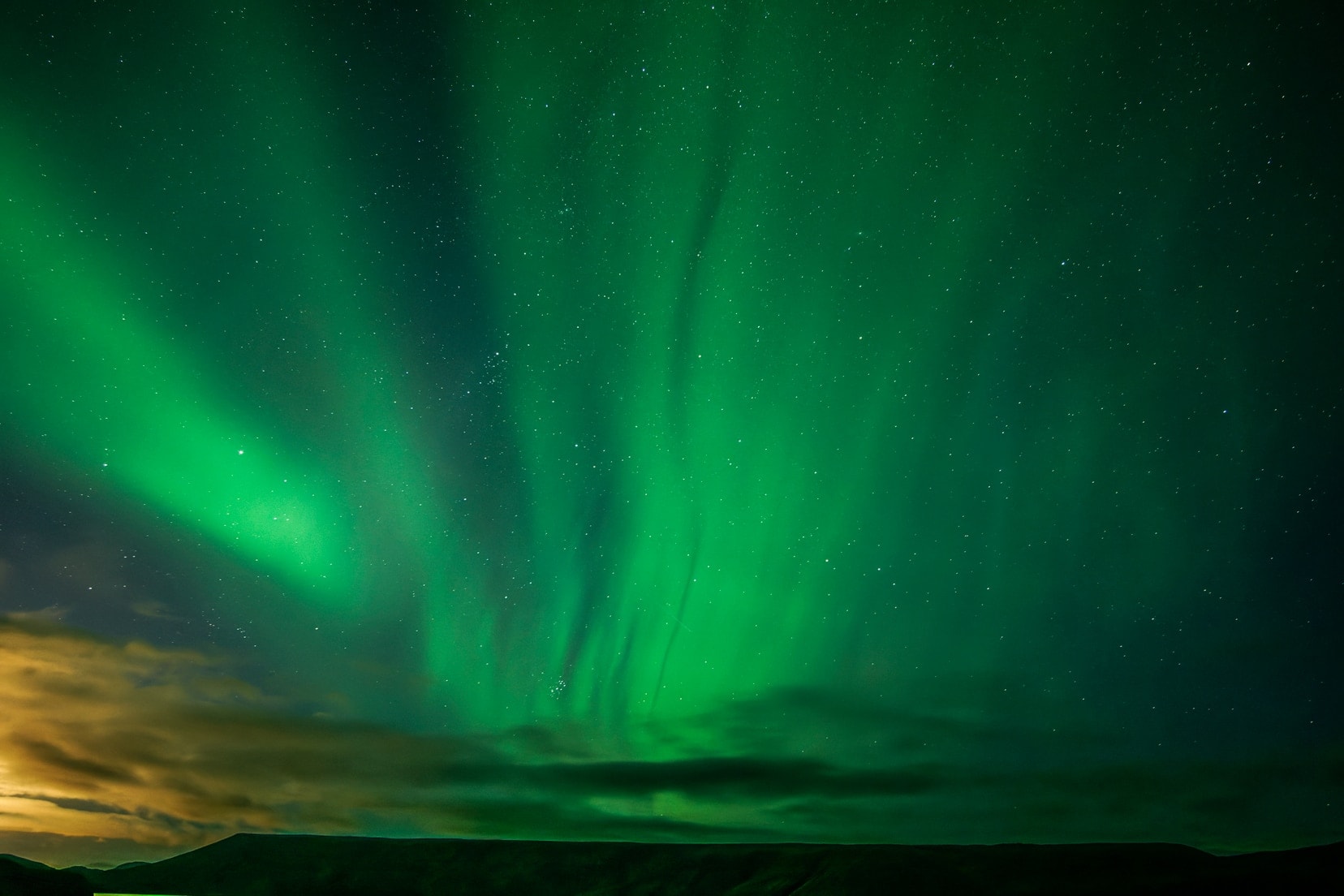 Unfortunately, there is no guarantee you're going to see the Northern Lights on any given day.
Even with promising Northern Light forecasts, your hopes may be dashed by cloud cover, an artificially lit night sky or just Mother Nature deciding that she isn't in the mood to let her lights out to play.
You can't compete with Mother Nature but you can tip the odds in your favour by:
Planning a visit between September and April when the night sky will be dark enough to view the lights
Monitoring weather conditions. The Icelandic Met Office (vedur.is) forecasts the KP index for the Aurora Borealis along with cloud cover, precipitation and wind.
The KP Index is a number from 1 to 9 indicating geomagnetic activity with a higher number representative of a greater probability of the Northern Lights being visible
Seeking a viewing location away from any city or town that is a source of light pollution
READ MORE: For Northern Lights inspiration – Northern Light experience in Lofoten, Norway
DAY 2: ICELAND 2 WEEK ITINERARY
Golden Circle route
Reykjavik to Þingvellir National Park / Thingvellir National Park,
Kerið Crater,
Geysir field including 'Strokker',
Gullfoss Waterfall and
Seljalandsfoss Waterfall.
ICELANDIC HORSES
Before we continue this Icelandic road trip, here is something you can do on any given day of the itinerary. Make friends with the Icelandic horses.
You'll find them all over Iceland, enclosed in paddocks and close to the ring road.
Icelandic horses are surprisingly different from other types of horses, in that they seem to really enjoy human company. When we walked the fence line, the horses would follow and jostle each other for a pat.
It's a lovely opportunity not to be passed up.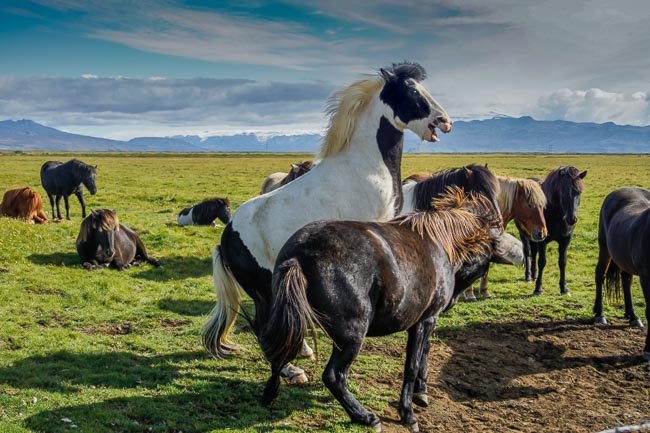 ÞINGVELLIR (THINGVELLIR) NATIONAL PARK
This first leg of the day is 50km from Reykjavik.
This location sets the scene for the rest of your Iceland visit.
Wander the trails to enjoy the lava fields, ravines and meltwater lakes of this World Heritage-listed site.
There are plenty of trails to choose from with many abandoned farms in the area (Vatnskot, Hrauntún and Skógarkot).
A visitor centre is open from 09:00 am to 07:00 pm with a souvenir shop, cafeteria and an exhibition you need to pay for.
Þingvellir (Thingvellir) National Park offers this free hiking map for download.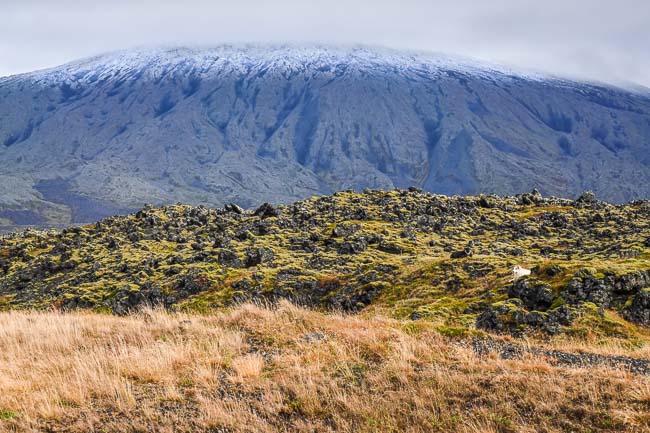 KERIÐ CRATER
It is called a crater lake but it is widely agreed that this used to exist as a volcano but collapsed in on itself forming the crater you see now at 170m in diameter and 55m in height.
The beautiful green-blue coloured water cupped at its base is groundwater that has seeped through the rock and can vary in depth from 7m to 14m.
There is an entrance fee but it won't break the bank at a very reasonable price of ISK200 (approximately 2 Euros).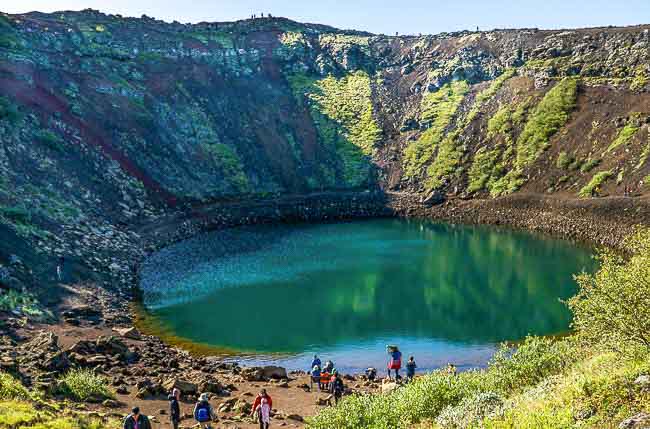 GEYSER FIELD
Geyser is Iceland's famous geyser in the Haukadalur Valley.
However, it stopped erupting some time ago but don't worry, you won't miss out; Strokkur, a nearby geyser, promises an impressive eruption anywhere between 4 and 10-minute marks.
The telltale sign of an eruption is to spot the large bubble of steam rising from the water depths which is the precursor for the eruption. You'll only have a split second to fire the camera shutter button.
Park at the Geyser Centre which is on the opposite side of the road to the geysers and also happens to be free.
The geysers and hot springs are roped-off areas.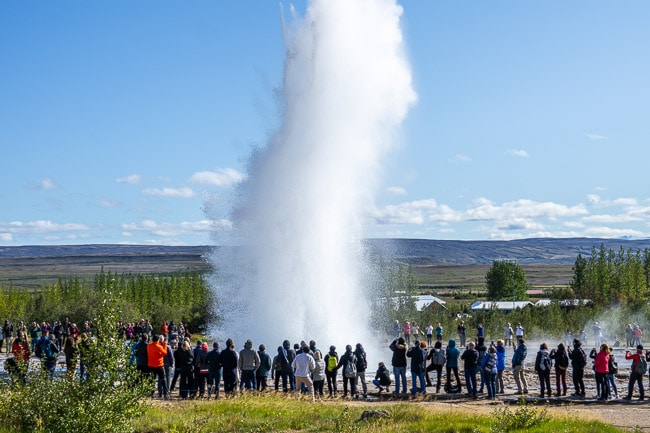 GULLFOSS WATERFALL
Located in the Hvítá River canyon, is a magnificent twin-tiered waterfall that pushes the surging water through at a rate of 140 cubic metres (459 cubic feet) a second, before disappearing down into the canyon.
However, in spring, the volume can be 20x more, topping out at a whopping 2000 cubic metres per second!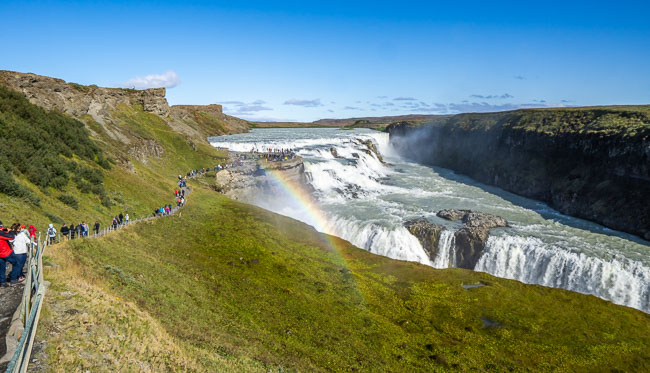 DAY 3: ICELAND 2 WEEK ITINERARY
Seljalandsfoss waterfall,
Rutshellir Caves,
Drangurinn í Drangshlíð 2 (ancient rock dwellings),
Skógafoss waterfall and
Kvernufoss waterfall.
SELJALANDSFOSS WATERFALL
Visible from the ring road, this impressive waterfall plunges 65m to its base. It is one of Iceland's most popular landmarks. But it offers something more…
You can walk behind the waterfall via a path.
Our recommendation is to wear your waterproof clothing when tackling this one.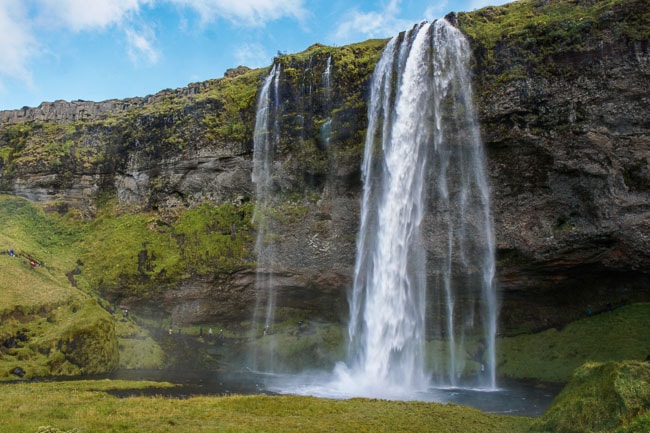 RUTSHELLIR CAVES
These ancient man-made caves, just off the main Ring Road, are thought to be the oldest place of habitation in Iceland. The wooden outer structures are very much a 20th-century addition.
You are able to enter the barn and walk a little way into the cave system. It's free to visit and has a small parking place between the main road and the entrance gate.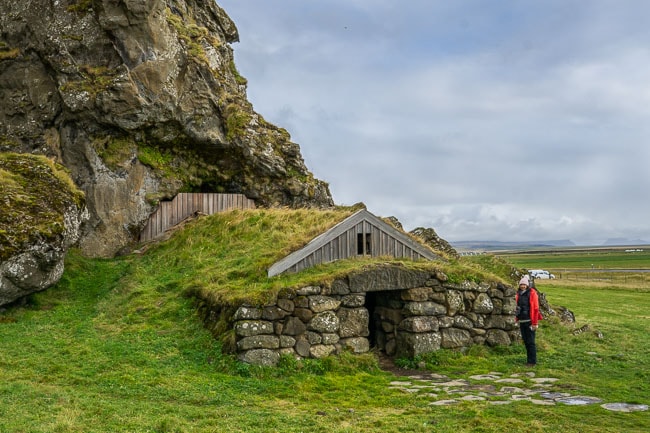 DRANGURINN Í DRANGSHLÍÐ 2
Sometimes referred to as 'elf rock', this is a large solitary rock situated below the beautiful Eyjafjöll mountains.
Dranggurinn has many caves inside it in which farmers store hay and other farming implements.
The caves have man-made sheds that seem a part of the rock itself.
As with many of these Icelandic cave structures, a fable that this cave was also home to elves makes for a much more intriguing story.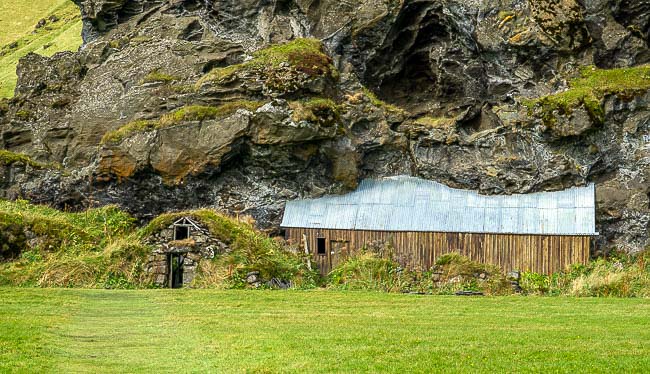 SKÓGAFOSS WATERFALL
With a width of 20m and a fall of 60m, this beautiful waterfall cascades right at your feet. Yes, I really do mean right at your feet! Walking the stony river bed will bring you face to face with a wall of Icelandic mountain ice water.
After getting up close and personal, climb the path to the viewing platform at the top.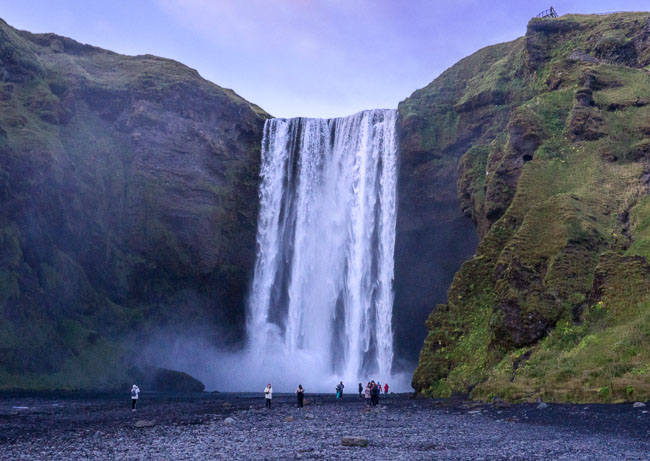 KVERNUFOSS WATERFALL
This hidden treasure is close to, but not visible from, the main ring road. A short hike between the hills, following the river, soon brings this waterfall and its private setting into view.
Pick your way over the wet rocks and follow the gravel path leading up behind the waterfall. Here you can watch the waters cascade 30m.
A real hidden gem.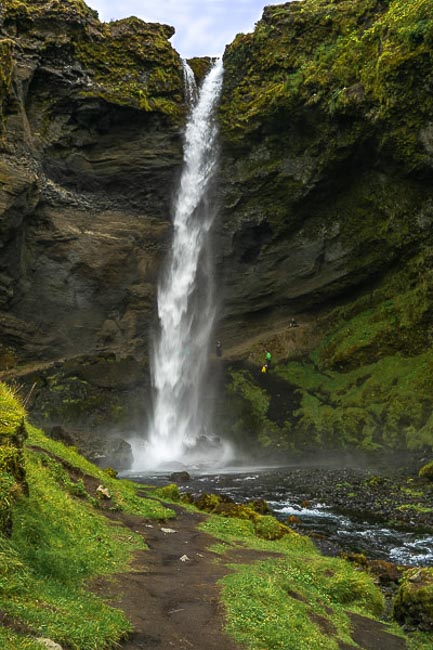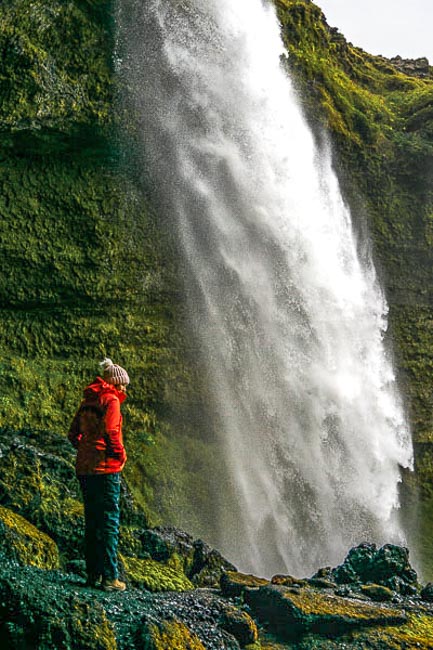 DAY 4: ICELAND 2 WEEK ITINERARY
Solheimasandur Plane Wreck,
Dyrhólaey (rock arch in the sea),
Reynisfjara Beach (black volcanic sand) and
Basalt sea stacks under the mountain Reynisfjall.
SOLHEIMASANDUR PLANE WRECK
On the black, lava plains, not dissimilar to a moonscape, lies the wreck of a US Navy DC3 plane that crashed in 1973.
Luckily, all persons survived.
The walk across this deserted landscape took us about 45 minutes each way.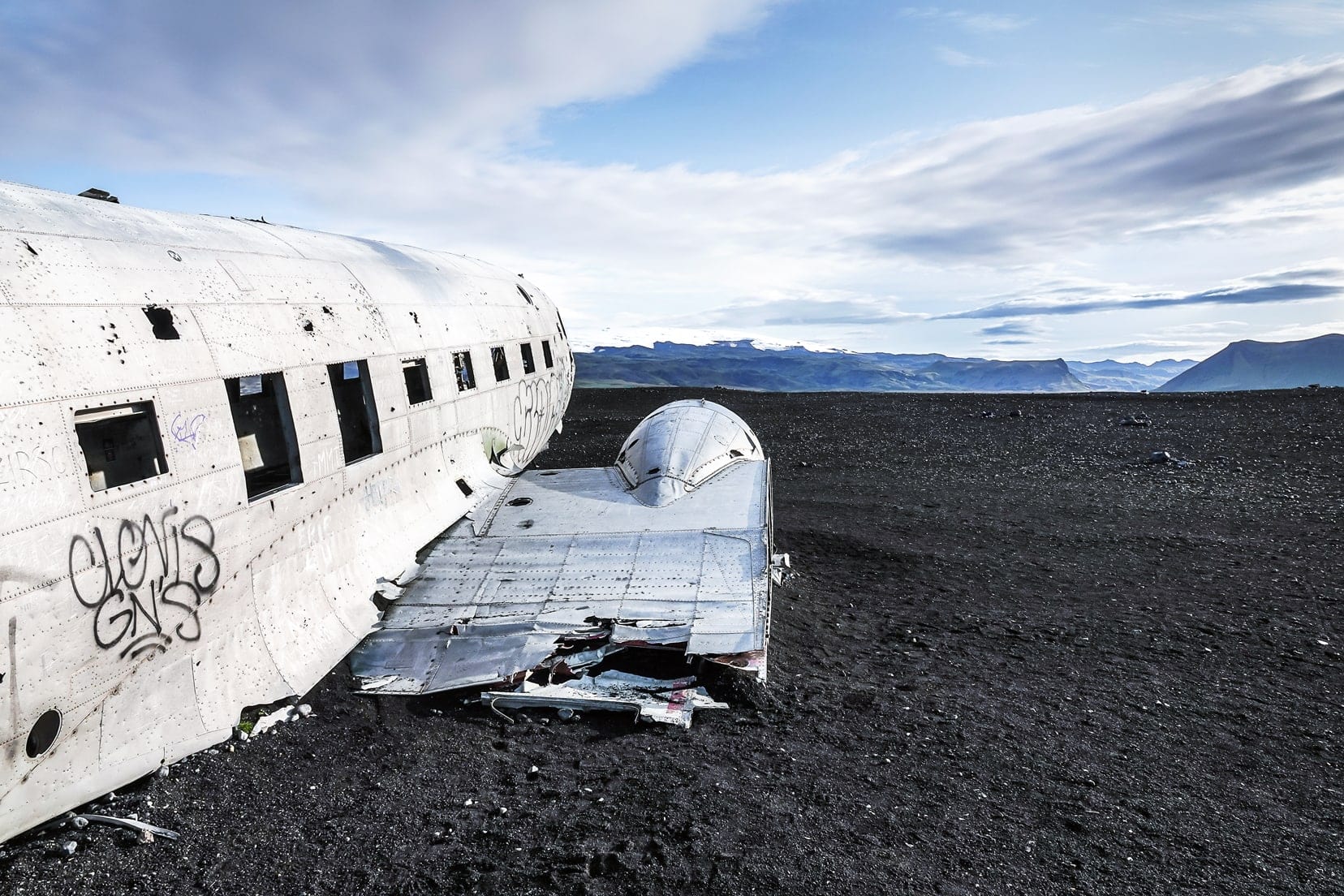 If you don't fancy the walk over the rocky volcanic plain, part with ISK 2000 and let the shuttle bus drive you down. It's an old Russian missile carrier and begins its journey from the car park at around 10 am.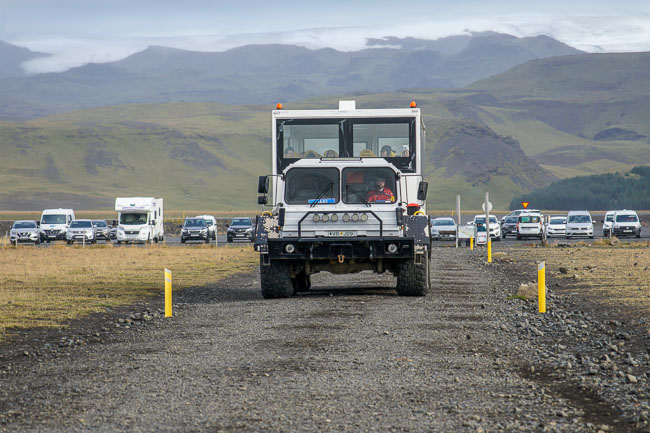 DYRHÓLAEY
This translates to 'door hole' and is a fitting description of the 120m high rock arch that forms a part of a small promontory in this southernmost part of Iceland. When the weather is calm, small boats can pass through the opening.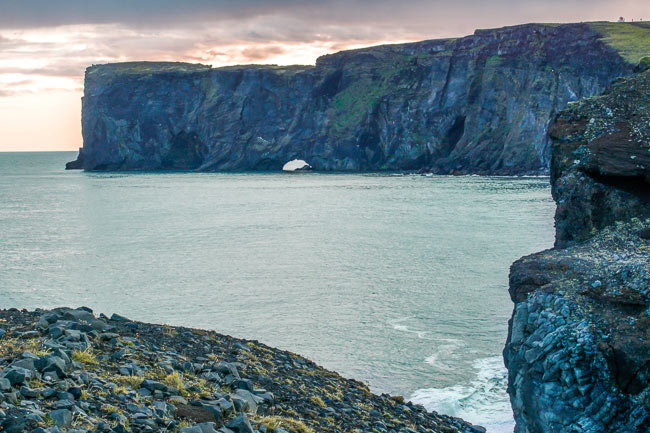 REYNISFJARA BEACH
Known for its stunning volcanic black sand beach, Reynisfjara Beach has been listed as one of the top ten non-tropical beaches in the world.
It is also renowned for its spectacular basalt columns, which regrettably, we didn't get to see as the accessway to the beach was closed off due to the heavy seas.
Game of Thrones fans will likely recognise the scene as Eastwatch in Season 7.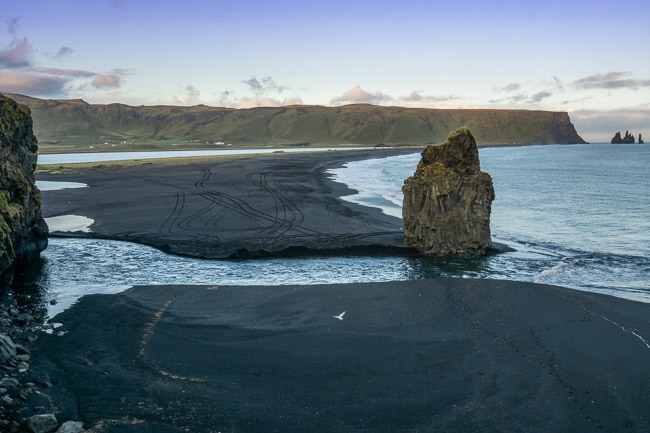 DAY 5: ICELAND 2 WEEK ITINERARY
Hofskirkja,
Svartifoss /Magnúsarfoss /Hundafoss (x3) waterfalls,
Jökulsárlón Glacier Lagoon / Jokusarlon Glacier Lagoon and
Diamond Beach.
HOFSKIRKJA
Hofskirkja is the last of the six turf churches built in the late 19th century, in this traditional style.
Norway has its famous Stave Churches, and Iceland has its turf churches.
The church has both walls and a roof of stone and turf covering. It's a beautiful, quaint-looking church.
The grass mounds on the church grounds are old burial mounds.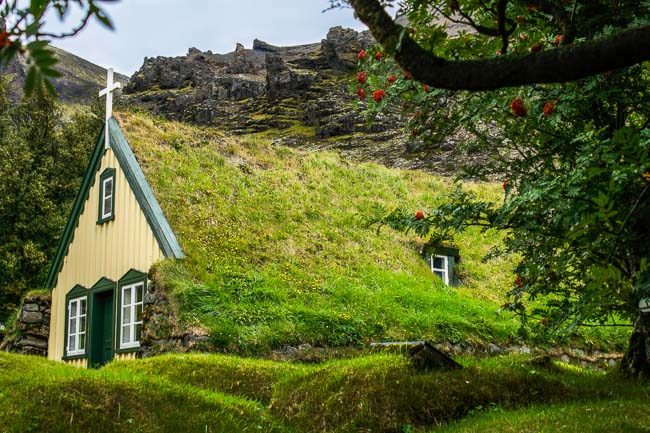 SVARTIFOSS /MAGNÚSARFOSS /HUNDAFOSS WATERFALLS
These three waterfalls are located within close proximity of each other in Vatnajökull National Park.
Svartifoss definitely attracts the most attention with its hexagonal basalt columns that have formed around the fringe of the canyon walls.
When walking from the car park, Hundafoss (with its 30m fall) is encountered first, then Magnúsarfoss (with a 10 m fall) and finally Svartifoss (20m fall).
The round-trip distance between the car park and Svartifoss is around 3 km with a couple of hill climbs thrown in.
There is a visitor centre near the car park.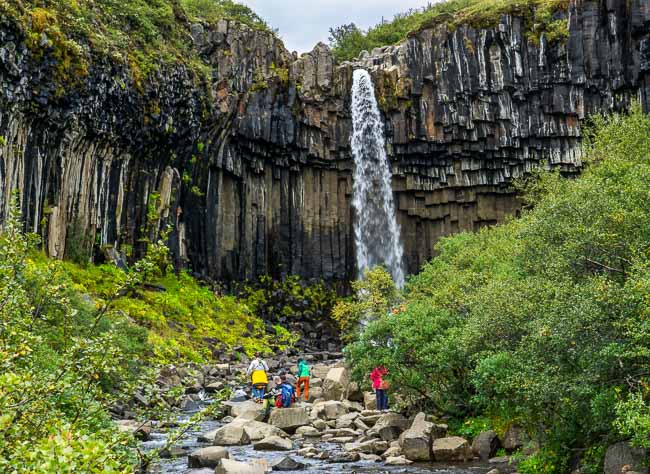 JÖKULSÁRLÓN GLACIER LAGOON
This large glacial lake located in south-eastern Iceland forms part of Vatnajökull National Park, Iceland.
In our opinion, it's one of the most beautiful sights in all of Iceland.
Large multi-coloured icebergs from the tongue of the Breiðamerkurjökull glacier float and drift slowly towards the sea. Iceland.
Dress warmly as the temperature really drops here.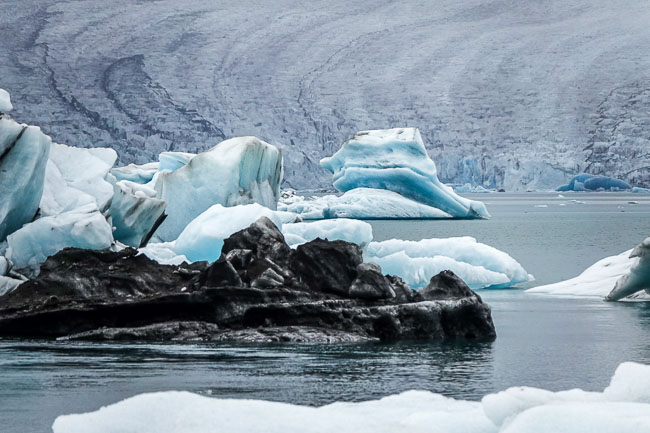 DIAMOND BEACH
The icebergs melt as they drift closer to the sea with some of the smaller ones washing up onto the black, lava beaches on either side of the outlet.
It's the most beautiful sight.
You can spend hours here just watching the icebergs float down to the sea and you'll likely find seals watching you from the icy water.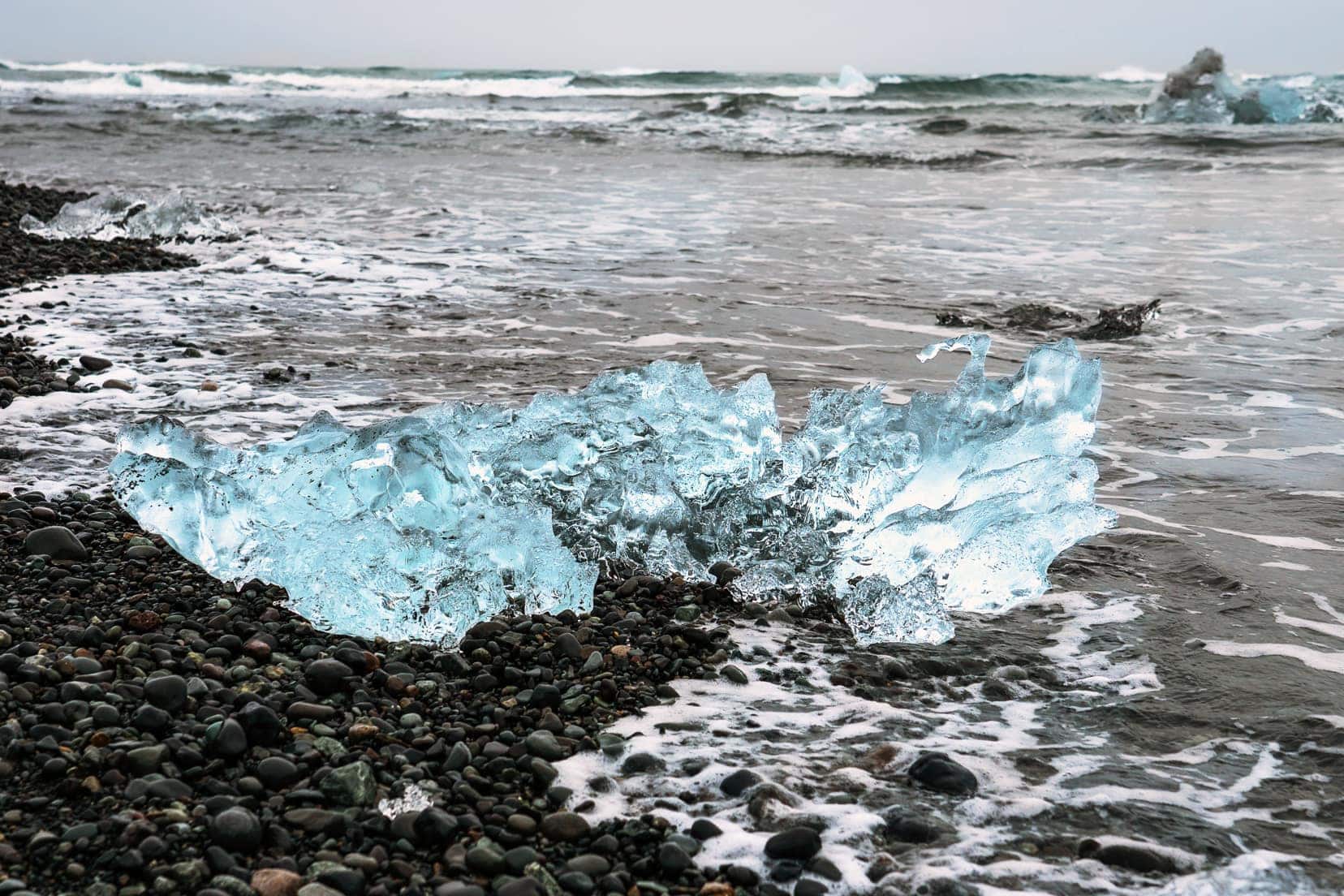 DAY 6: ICELAND 2 WEEK ITINERARY
Hvalnes Nature Reserve Beach and Lighthouse,
Eggin í Gledivik – egg sculptures,
Various viewpoints and
Hafnarnes Lighthouse
HVALNES NATURE RESERVE BEACH
This beautiful black rock beach disappears into the distance and is best admired from the Hvalnes lighthouse.
Walk along the beach and dodge the waves that pound this solitary place.
Don't forget to take a look at the nearby jagged hills that overlook this lonely beach, they are quite spectacular.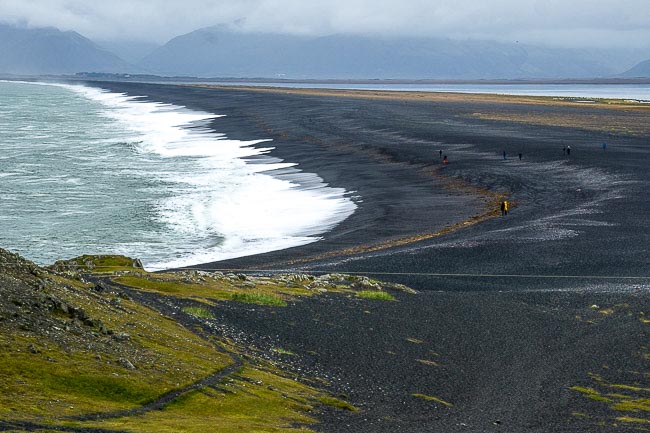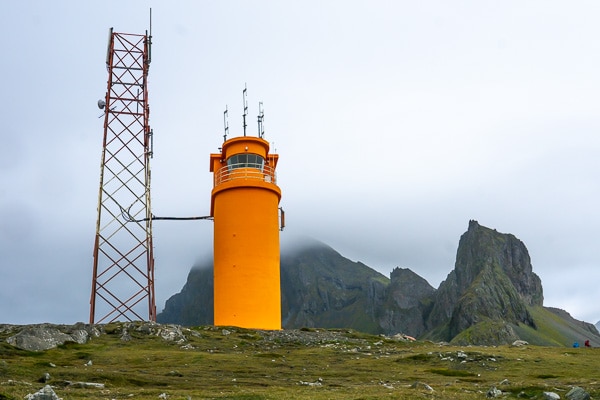 HVALNES LIGHTHOUSE
Built in 1954, this lighthouse is a relatively recent building. Although the lighthouse itself is not a particularly attractive structure, it provides the perfect vantage point over Hvalnes Nature Reserve Beach.
EGGIN Í GLEDIVIK, 'THE EGGS AT HAPPY BAY'
Situated a kilometre outside of Egillstadir, are 34 granite 'eggs' perched on small pedestals fringing a quiet harbour.
The eggs represent the 34 bird species that nest in the area and were installed in 2009.
It's an awesome work of art as each of these eggs is about a metre in length.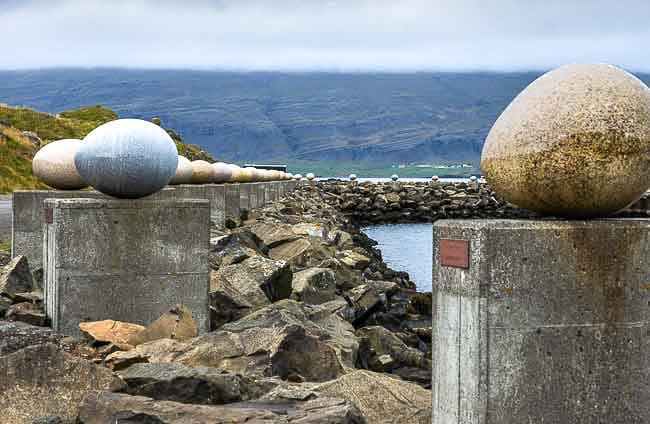 HAFNARNES LIGHTHOUSE
Located close to the cliffs and on the south side of Reyðarfjörður, this quaint lighthouse is painted the typical orange, as are many lighthouses in Iceland.
Hafnarnes lighthouse was built in 1952 replacing the lighthouse of 1912 which lies in ruins beside it.
You'll need to park your car near the road by some abandoned buildings and walk the 150m down to the lighthouse.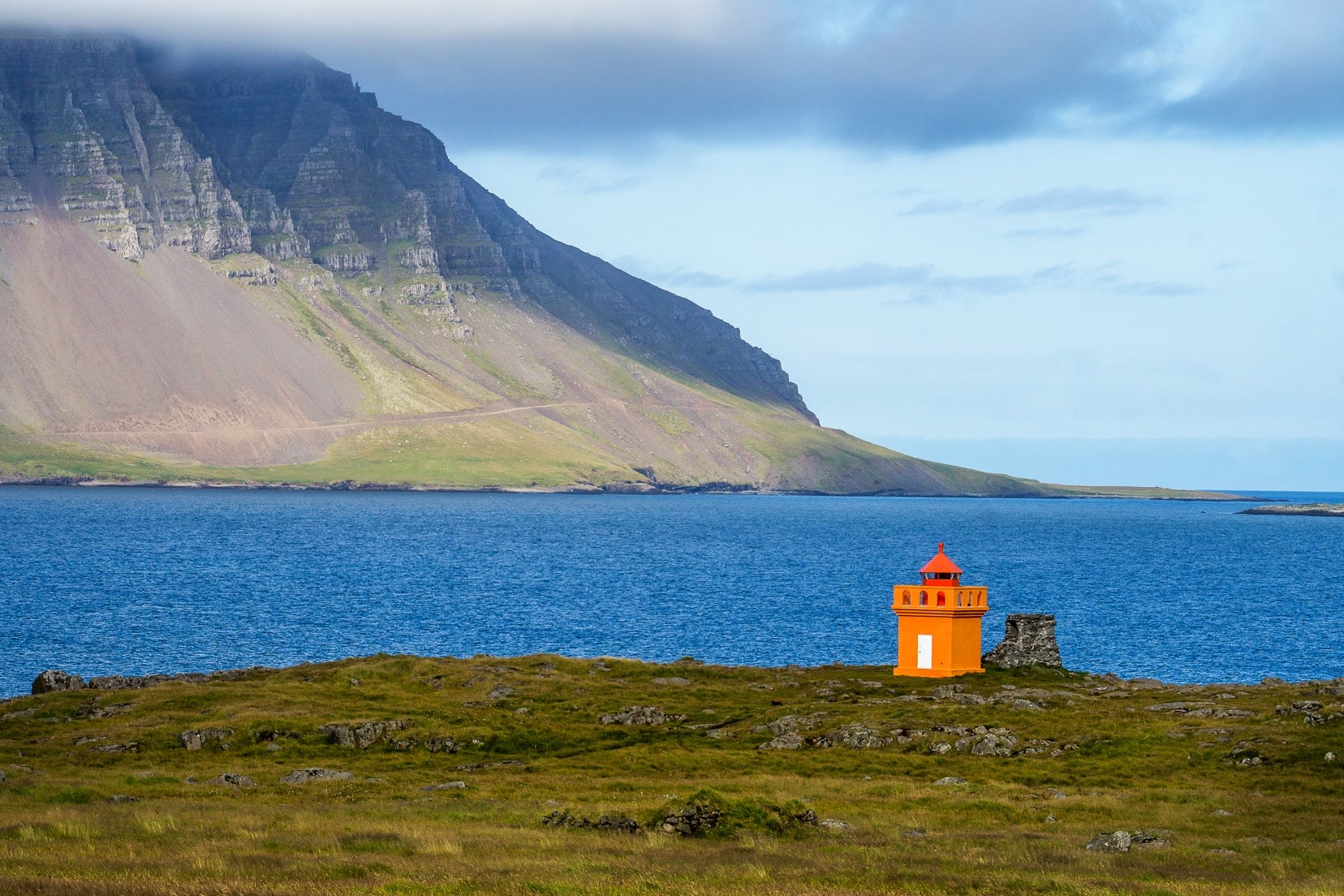 DAY 7: ICELAND IN 2 WEEKS ITINERARY
Egilsstaðir – Vinland Camping Pods,
Seyðisfjörður (Seydisfjordur) and
Geirastadakirkja.
EGILSSTAÐIR (VINLAND CAMPING PODS)
This is not a natural attraction but worth a mention as it's something different on the accommodation front. We broke away from choosing the usual 4 walled-affair and opted for a camping pod.
Basically, this is a large wooden barrel laid on its side with an inside partition separating the double bed from a small desk and bench.
The toilet and shower complex is close by but you'll need to transit the 100m to a separate building beside the owner's home for cooking facilities and wifi.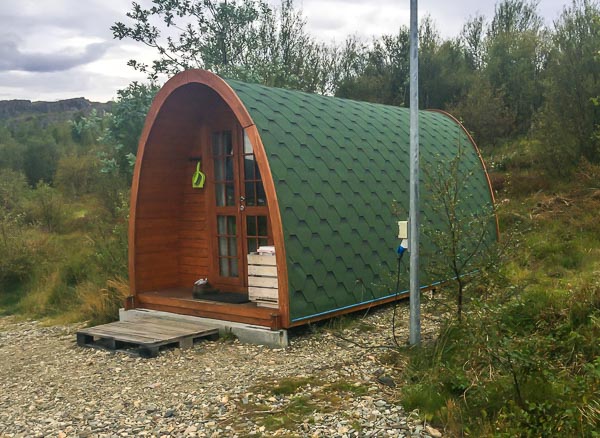 SEYÐISFJÖRÐUR
Ready for a splash of colour and some funky artistry?
This pretty east coast town sure is a treat.
The road from Egilsstadir to Seydisfjordur crosses a rather large mountain range and it's only on the descent, that you can sight Seyðisfjörður, hidden away in the fjord. It has a private, cosy little location tucked between the surrounding mountains.
The shores of the fjord are lined with colourful buildings and you get the feeling that you can expect something special here.
Seyðisfjörður, a fishing town, also serves as the ferry port both to and from Scandinavia.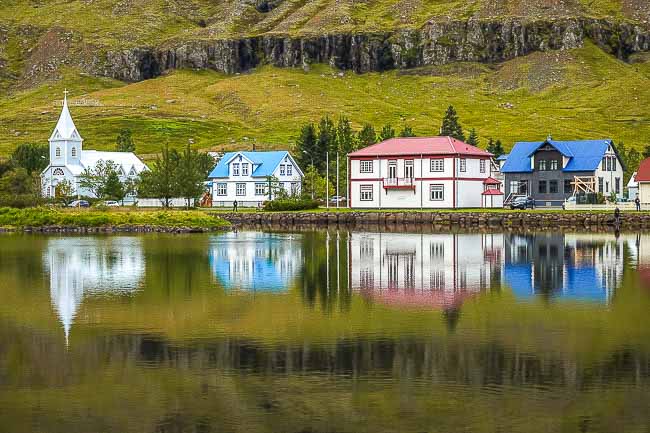 THE BLUE CHURCH IN SEYÐISFJÖRÐUR
This distinctive blue and white landmark has had a challenging journey. Having been moved, blown over and re-built, it now finds a safe haven close by the protected shores of Seyðisfjörður.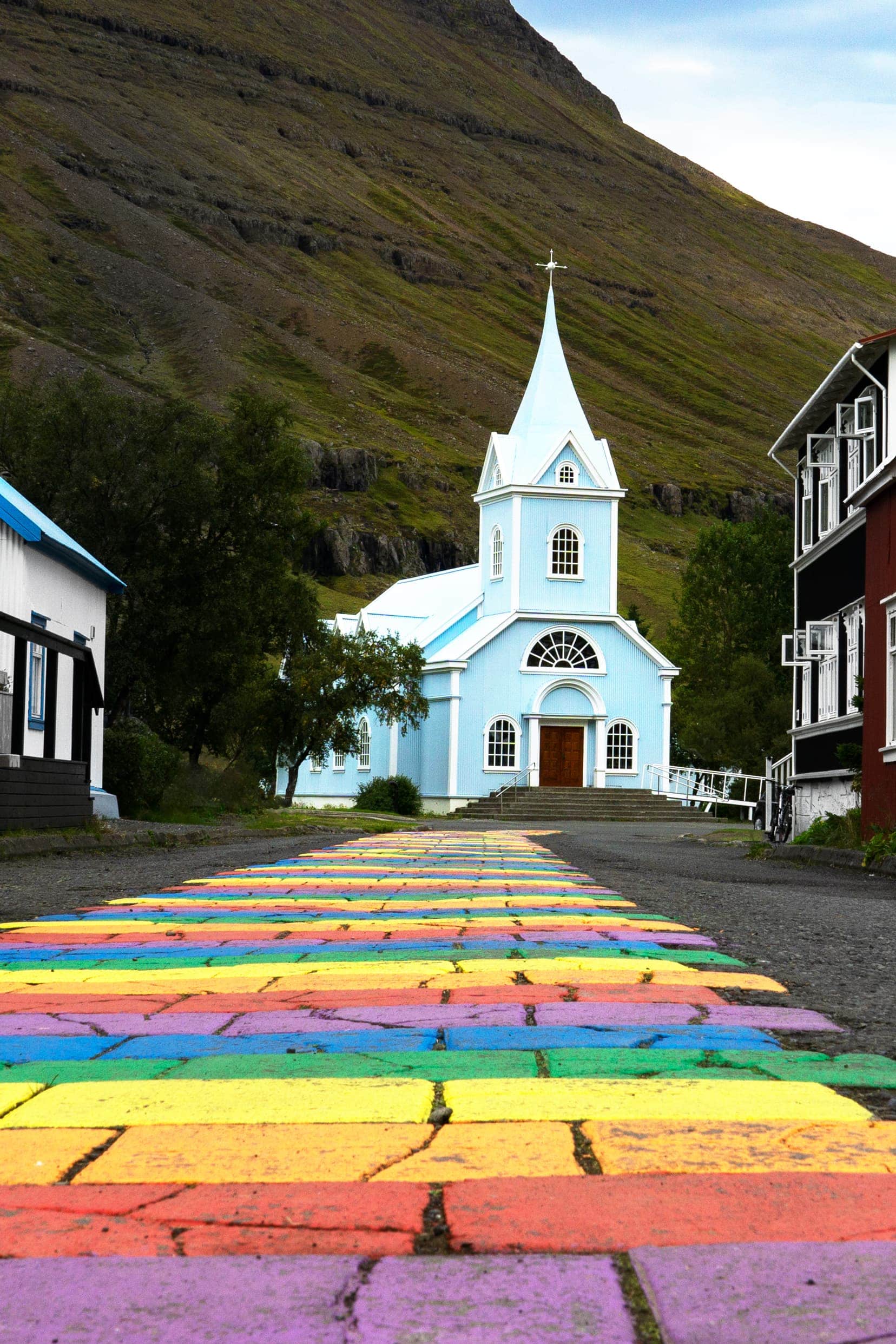 SEYÐISFJÖRÐUR'S RAINBOW ROAD
This rainbow-hued brick road through the centre of Seyðisfjörður was the result of the town's residents throwing support behind its LGBTQ locals.
On either side of the rainbow-coloured path are buildings covered with all sorts of interesting and colourful wall art. One end of the road starts at the picturesque blue church.
SEYÐISFJÖRÐUR NEON SIGN
Above and overlooking the town on a nearby hill, is the neon sign 'Seyðisfjörður'.
We visited during the day so didn't have the chance to see it light the night skies. It's a pleasant walk up the hill and you get a lovely view of the village and fjord below.
GEIRASTADAKIRKJA
Although not an original turf church, this recent structure has been modelled on one of the turf churches that was unearthed in the area. It sits on private land with a public road running beside it and can be accessed using the dedicated gate.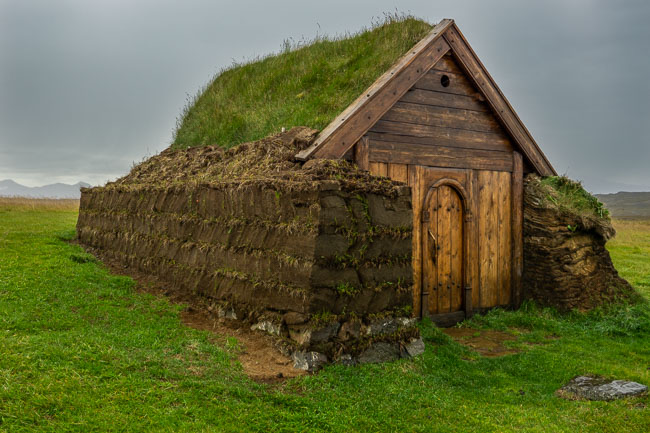 DAY 8: ICELAND IN 2 WEEKS ITINERARY
Detifoss waterfall,
Selfoss waterfall,
Asbyrgi Canyon,
Husavik Church,
Hverir lava fields,
Grjótagjá Cave,
Myvatn Lake and
Goðafoss waterfall
DETIFOSS WATERFALL
Parking at Detifoss Parking West, this waterfall is closer than Selfoss although they both share the river Jökulsá á Fjöllum.
Detifoss spans a mighty 100m with a fall of 44m and is Europe's second most powerful waterfall.
The thundering applause from Detifoss' frenzied waters can be heard from hundreds of metres away.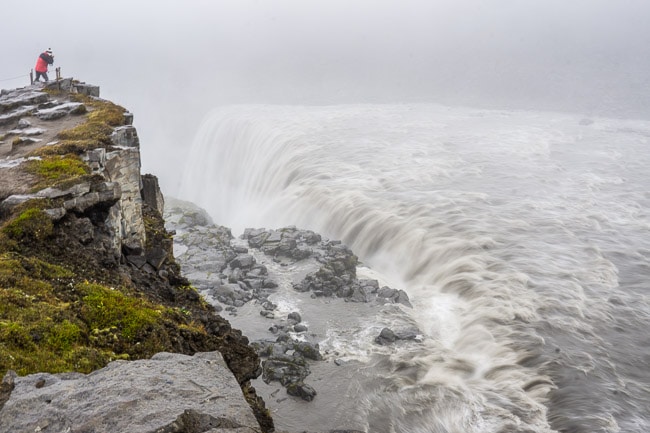 SELFOSS WATERFALL
Selfoss, the more famous of the falls with its series of beautiful plunging waters is a captivating scene that could be taken from a mythical Amazonian paradise.
The water gently falls from a number of different places along the rim of the canyon creating a breathtaking effect!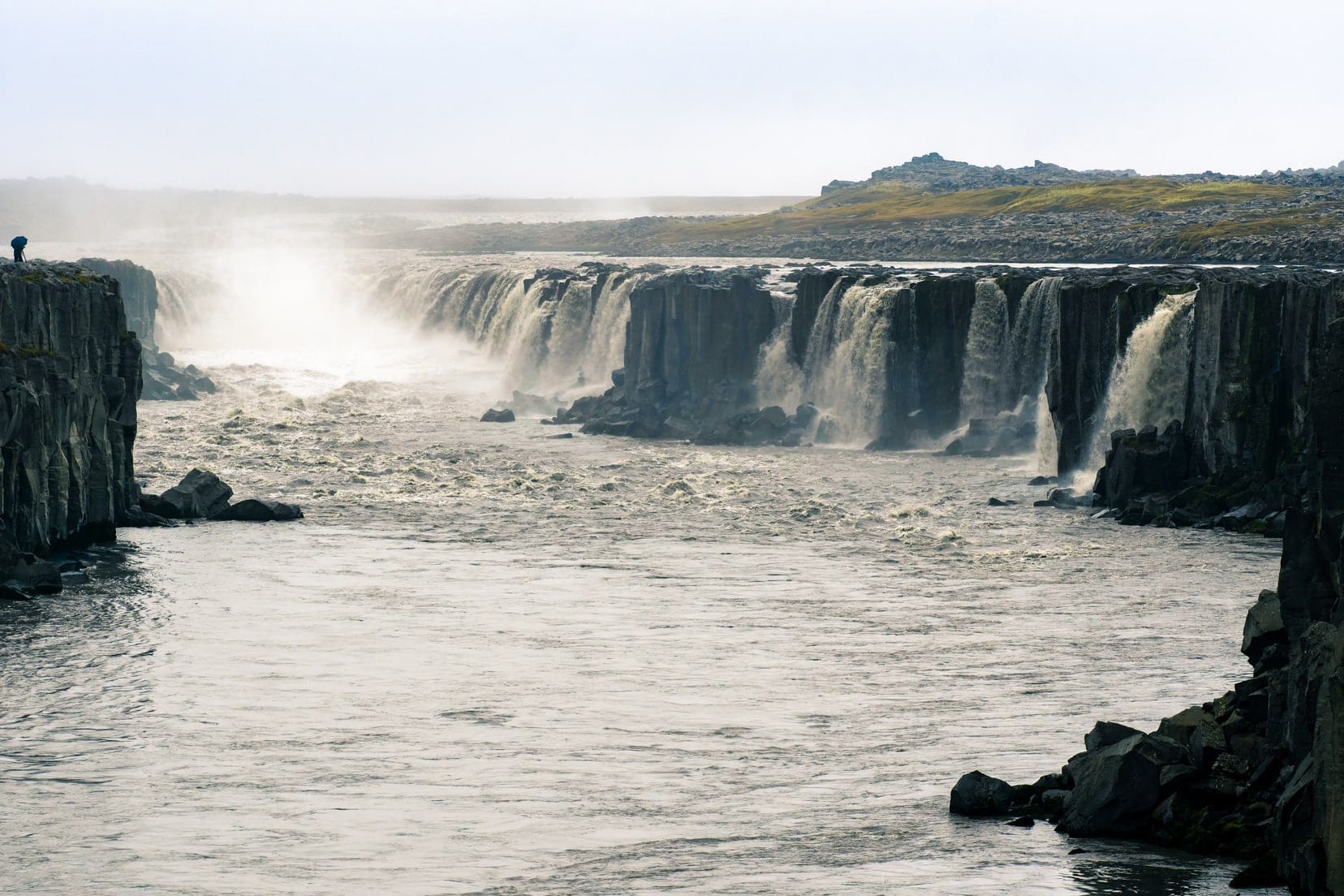 ÁSBYRGI CANYON
Driving 35km north of Detifoss will place you at the doorway to the Asbyrgi Canyon.
This horseshoe-shaped depression, 3.5km x 1.1km, is an old glacial canyon and home to a thriving woodland.
A small lake, Botnstjörn, lies in the depths of the canyon with many accessible hikes both in the canyon and around its rim.
A distinctive 25m high rock formation divides Ásbyrgi for almost half its length.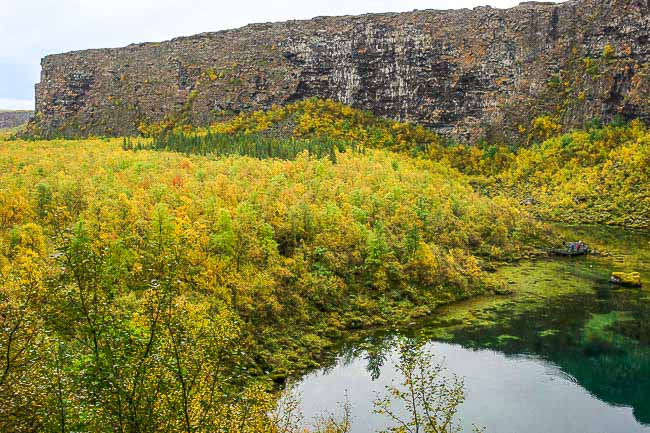 HUSAVIK CHURCH (HÚSAVÍKURKIRKJA)
The town of Húsavík not only draws tourists for its reputation as the whale-watching centre for Iceland, (book your whale-watching tour here) but also to admire this wooden church that can be found in the middle of town.
The church was built in 1907 and interestingly, the wood was imported from Norway.
HVERIR
Hverir is a site of volcanic activity with oodles of boiling/bubbling mud and clouds of sulphuric gas. It creates an other-worldly scene.
The pedestrian area covers roughly 400 square metres with the real danger spots fringed with rope barriers. Here you are above the convergence of 2 tectonic plates: the North American and Eurasian plates.
A really interesting place that is unlike anywhere we'd ever visited before.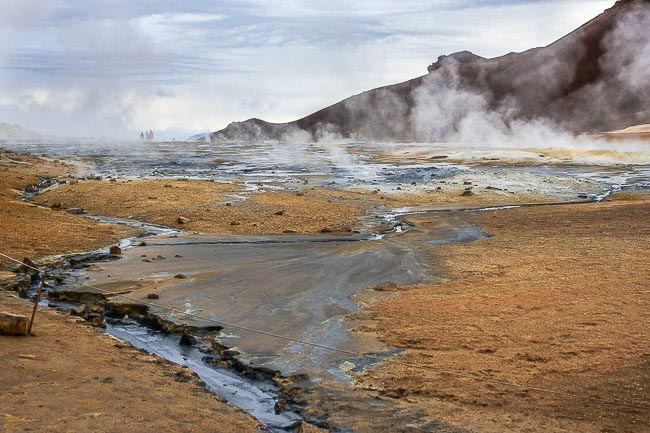 GRJÓTAGJÁ CAVE
This underground, small lava cave is close to Hverir and hides a thermal spring.
The spring water takes on an enticing bright blue hue however the site is not open for bathing.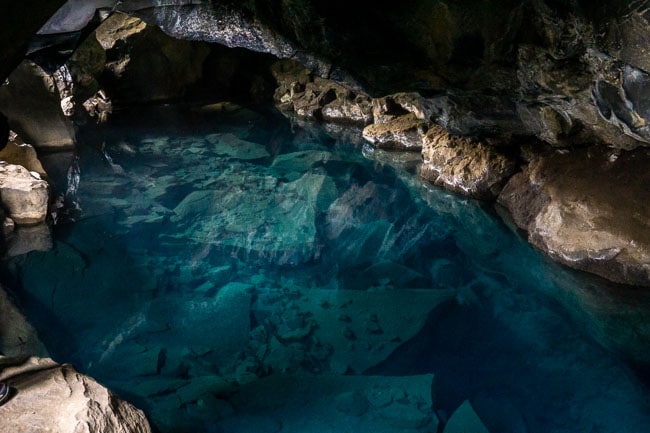 MYVATN LAKE
This large, shallow lake is home to many birds, especially ducks. The marker on our map highlights a great place to photograph the lake with a captivating view of the mighty Hverfjall crater in the background.
This crater is one kilometre in diameter and can be hiked.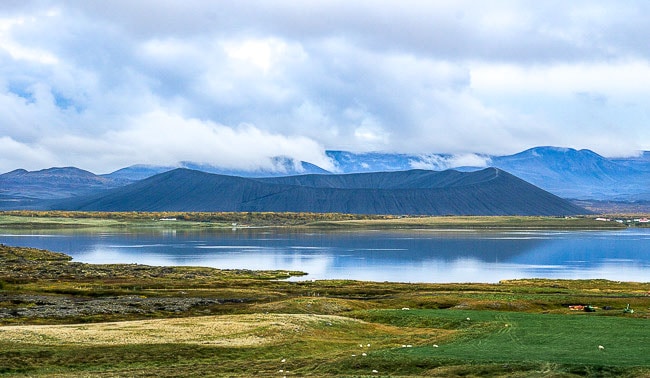 GOÐAFOSS
Located close by the ring road, Goðafoss waterfall is fed by the river Skjálfandafljót and falls from a horse-shoe-shaped rock from a height of 12 meters over its 30 meters breadth.
Goðafoss is nick-named the 'Waterfall of the Gods' due to its god-like beauty.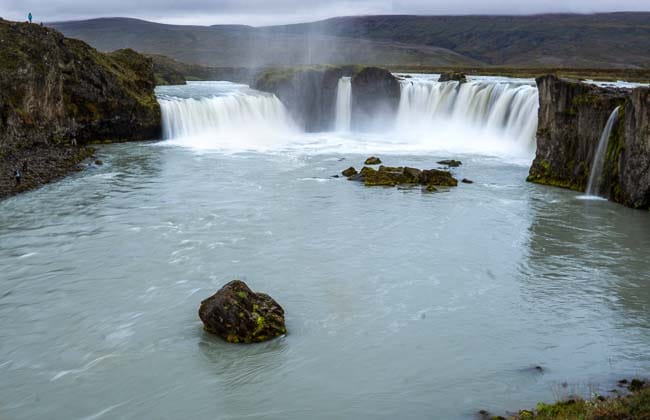 DAY 9: ICELAND IN 2 WEEKS ITINERARY
Akureyri church,
Akureyri Botanical Gardens and
Saurbæjarkirkja church.
AKUREYRI CHURCH
Built-in 1940, this rather modern-looking church is a prominent landmark on the old, Icelandic landscape.
It takes pride of place on an elevated position overlooking the town of Akureyri.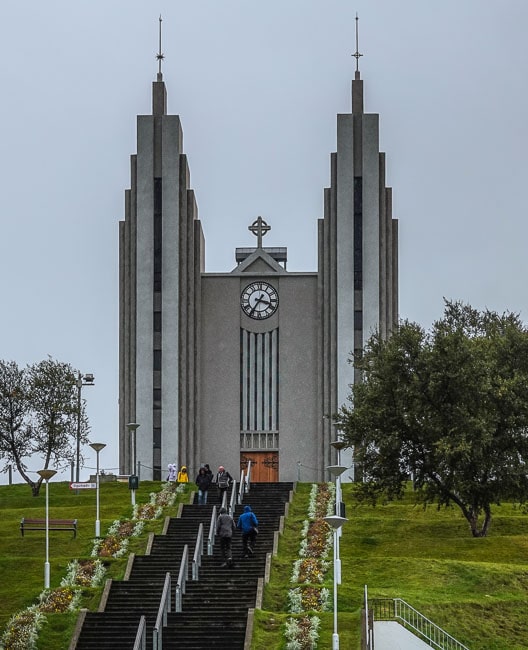 AKUREYRI BOTANICAL GARDENS (LYSTIGARÐURINN)
Established in 1957 and with over 7000 species of plant, this botanical garden is the northernmost in the world.
Visiting Iceland in September, allowed us to enjoy the departing summer colours and the vibrant hues of autumn.
The gardens are free to enter.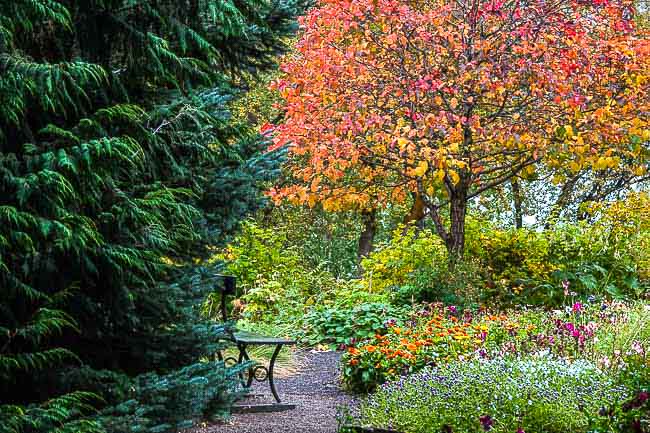 SAURBÆJARKIRKJA
Built in 1858, this is another great example of Iceland's stone and turf-covered churches.
It is the largest of the six remaining turf churches in Iceland.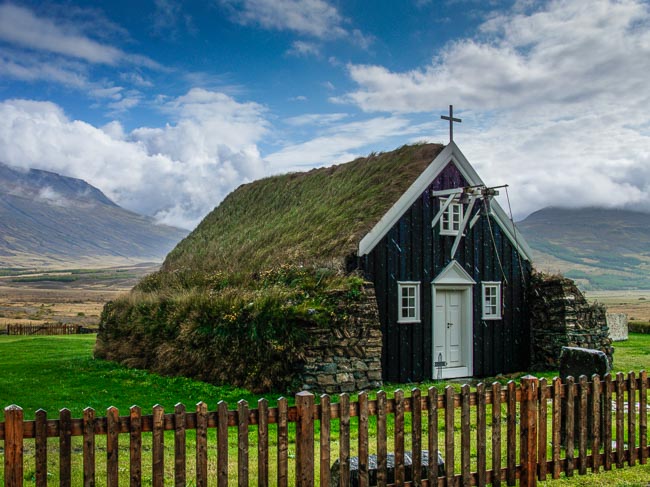 DAY 10: ICELAND 2-WEEK ITINERARY
Víðimýrarkirkja (turf church),
Vatnsdalsholar hillocks,
Hvitsekur rock arch and
Hamarsrétt sheep corral
VÍÐIMÝRARKIRKJA
Built-in 1834, this turf church is a beautiful example of this old style of architecture. The front gates date back to 1936. The green and black colours of the church make for a striking combination.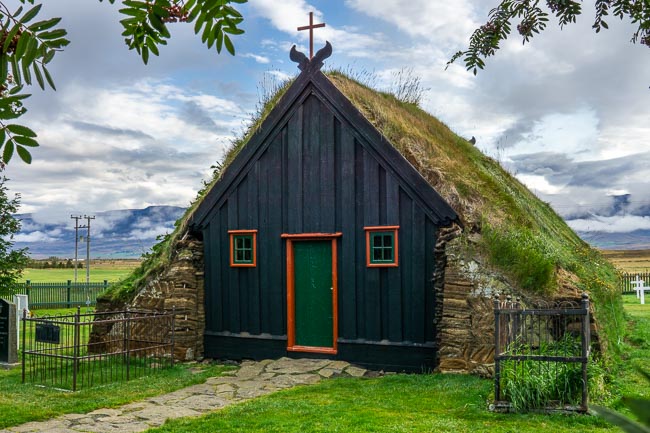 VATNSDALSHOLAR
These strangely shaped hillocks, which from a distance look like ant hills, are actually the result of a landslide. The area of these mounds covers roughly 5 square kilometres.
Yet another interesting example of Iceland's diverse landscapes.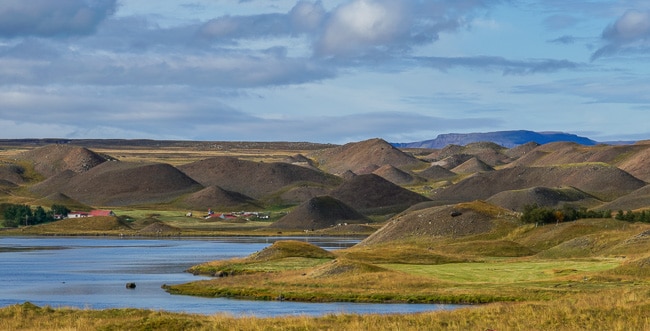 HVITSERKUR
Reaching a height of 15m, this basalt rock formation with its two arches, takes the shape of a dragon bending down to drink.
If you think something looks a bit odd it's because concrete has been added to support the base of the structure as it was in danger of collapsing.
Time the tides right, and you can actually walk out to the rock.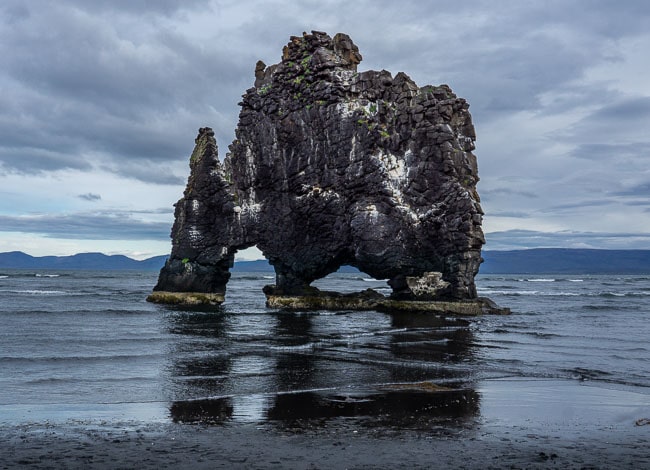 HAMARSRÉTT
Hamarsrett is the only coastal sheep corral in Iceland and you can find it in a natural clearing amongst the rocky hillocks.
The sheep are herded from the nearby hills into the round, central hub. Here, owners claim their animals and steer them to the holding pens formed by the 'spokes of the wheel'.
This interesting corral is right by the road.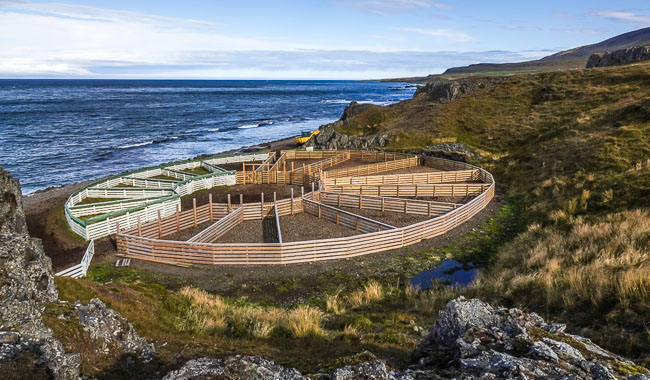 DAY 11: ICELAND 2 WEEK ITINERARY
Snaefellsnes Peninsula
Ingjaldshóll church,
Skarðsvík Beach (site of Viking burial) and
Snæfellsjökull National Park.
INGJALDSHÓLL CHURCH
This early 20th-century church sits under the watchful eye of Snæfellsjokull Glacier.
The church is a distinctive feature of its remarkable setting.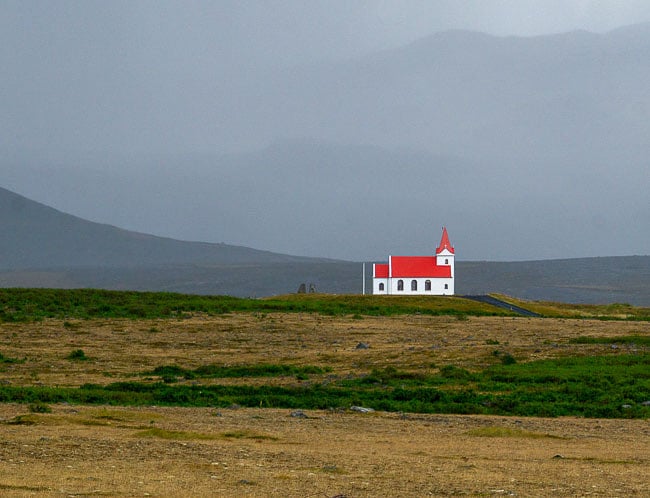 SKARÐSVÍK BEACH
This secluded beach is in stark contrast to others in Iceland in that it has yellow sand.
It might feel somewhat tropical if it wasn't for the icy winds blowing around us.
Surrounded by readily identifiable black lava rocks, it makes for a great getaway location.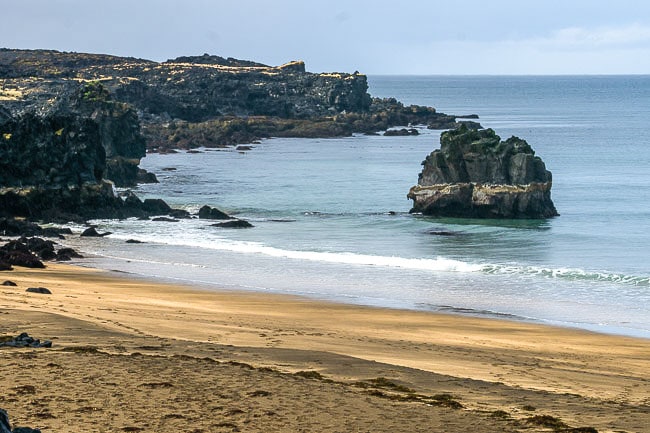 HIKE IN SNÆFELLSJÖKULL NATIONAL PARK
There are many hikes through Snæfellsjökull National Park.
An easy hike that most will be able to complete, and one that gives a taste of true Iceland, is the 2km long Rauðhóll hike.
Find further hiking details here from Alltrails.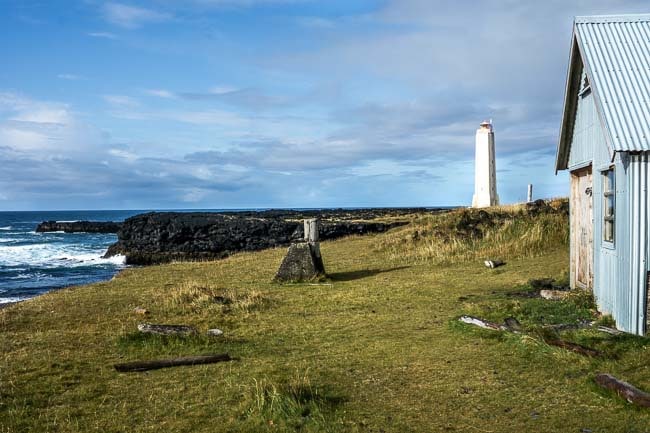 DAY 12: ICELAND 2-WEEK ITINERARY
Snaefellsnes Peninsula
Shipwrecked fishing trawler near Djúpalónssandur beach,
Lifting stones on Djúpalónssandur beach,
Malarrif Lighthouse,
Salthus Museum,
Londrangar rock pinnacles,
Saxhólar Crater,
Bárðar Saga Snæfellsáss statue and
Gatklettur stone arch of Anarstapi.
SHIPWRECKED FISHING TRAWLER NEAR DJÚPALÓNSSANDUR BEACH
The Epine GY7, a British trawler, was wrecked close by on the night of 13th March 1948.
The remains of the ship have washed up onto Djúpalónssandur beach and are spread over a large area. Its metal remains are protected.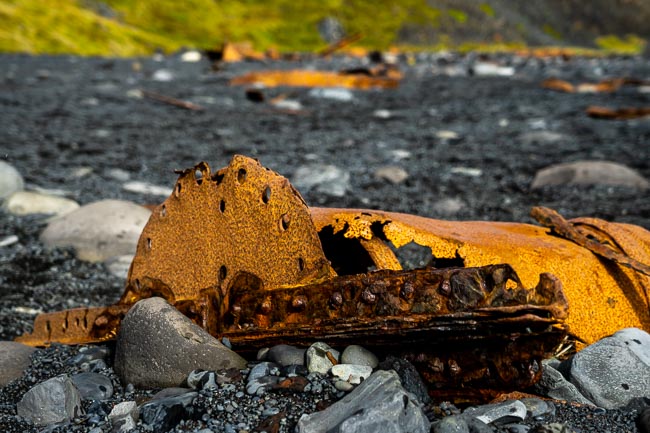 LIFTING STONES ON DJÚPALÓNSSANDUR BEACH
Walking onto the start of the beach from the car park will have you passing four different-sized round stones lying on the sand.
These are lifting stones and in the past, they were used as tests of strength by workers at the fishing stations.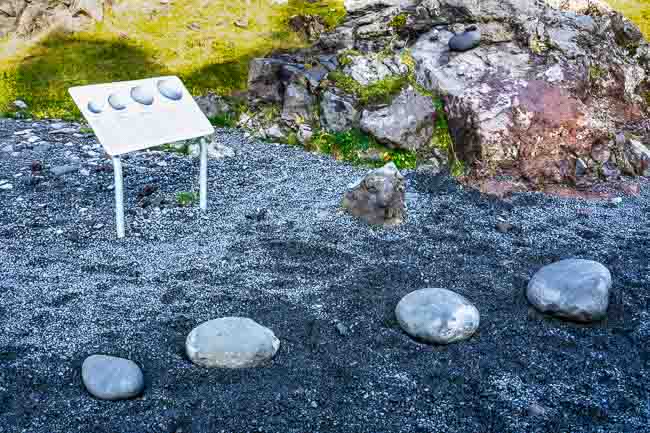 MALARRIF LIGHTHOUSE
This 20m high lighthouse was built in 1917 and is a protected building.
It sits on the southernmost point of the Snæfellsnes Peninsula and makes for a great photo right by the beach.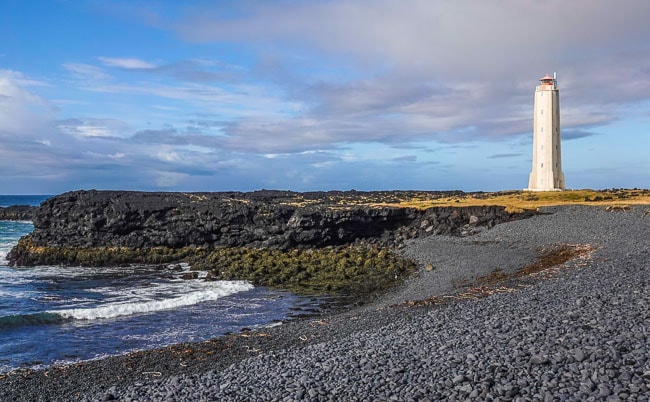 SALTHUS MUSEUM
Close by the Malariff Lighthouse is a small building on the edge of the beach named 'Salthus' or Salthouse. This building was originally used by fishermen to dry their cod.
It has now been restored and acts as a museum hosting some local interesting pieces of work from nearby schools. It's a great exhibition for both adults and kids and there's no charge to enter.
The Snæfellsnes Information Center is the building located right beside Malarrif Lighthouse and is open from the 1st of May to the 15th of September daily from 11:00 am to 18:00 pm.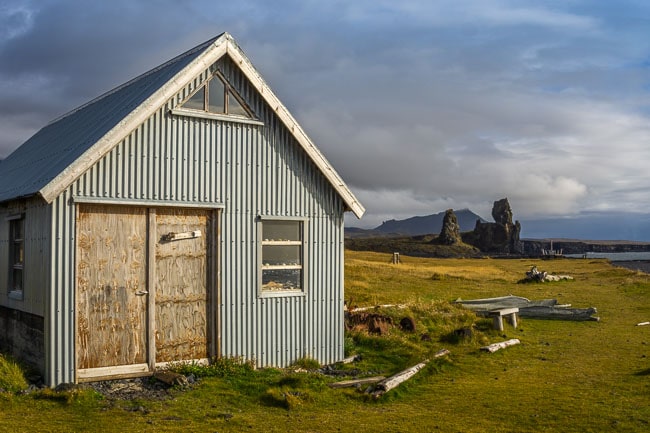 LONDRANGAR ROCK PINNACLES
These two magnificent volcanic plugs are 75m and 61m in height and are the homes of puffins and other birds in summer. You can walk here from either the Malariff Lighthouse or from the nearby car park.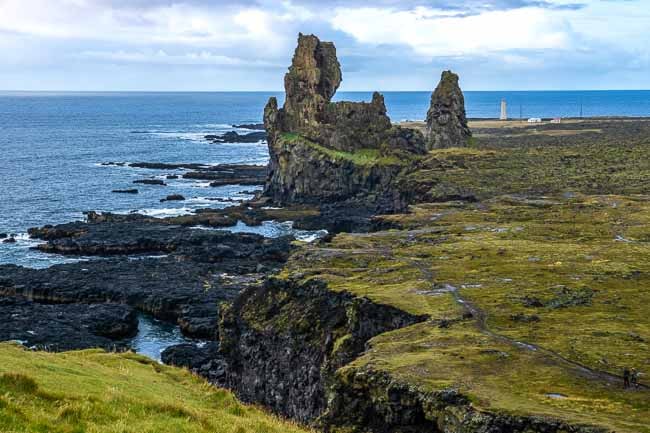 SAXHÓLAR CRATER
This 100m high crater has man-made steps up and down each side making it easy to access for most.
Basically, it's a lookout, with expansive views over the Atlantic Ocean and the dried lava fields of the Snæfellsnes Peninsula offer a real taste of both Iceland's sea and landscapes.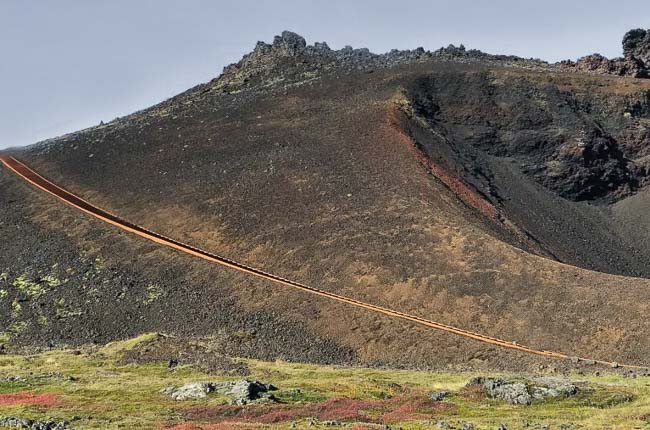 BÁRÐAR SAGA SNÆFELLSÁSS
This huge 10m tall sculpture, designed in 1972, is famous all across Iceland.
It depicts the mythical giant half-man half-troll character that lived in the area around the Snæfellsjökull glacier.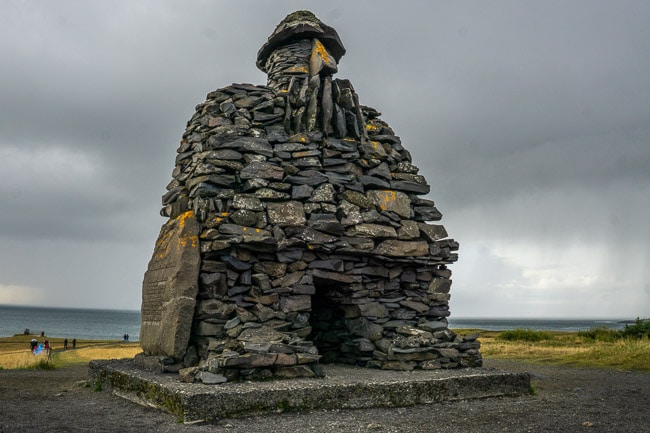 GATKLETTUR
Gatklettur is a naturally formed stone arch that has been carved out by the sea. The sea breaks between the arches making for some compelling photography opportunities.
It's another popular location for visitors to the Snæfellsnes Peninsula.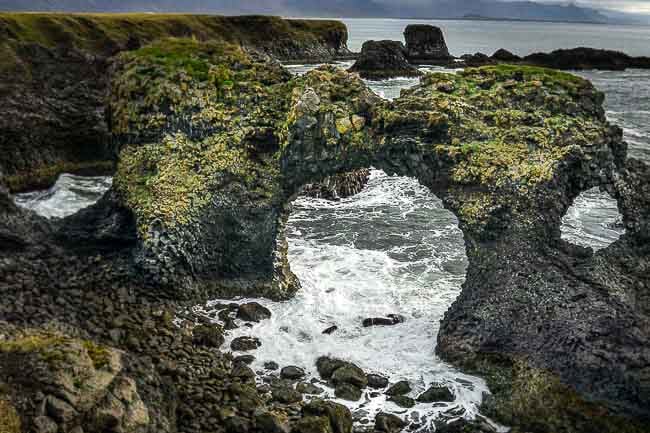 DAY 13: ICELAND 2 WEEK ITINERARY
Snaefellsnes Peninsula
Búðakirkja church,
Ytri Tunga seal watching,
Gerðuberg basalt columns,
Ölkelduvatn Mineral Spring.
BÚÐAKIRKJA BLACK CHURCH
The church you see here now was re-constructed in 1987, in the same design as the original church which was erected back in 1703 and taken down in 1806.
The church is quite distinguishable as it is on a rise above a barren stretch of land amid the lava fields and is a favourite for photographers, given its location.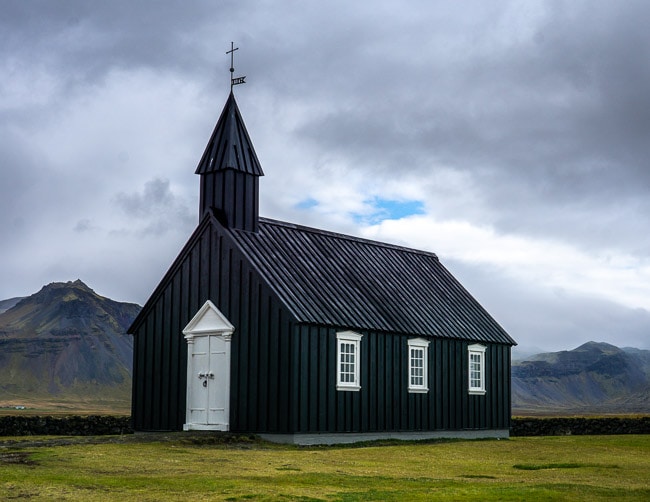 YTRI TUNGA SEAL WATCHING
The large, scattered rocks just off the sandy beach of Ytri Tunga, make the perfect haven for a seal colony.
You can observe seals at a distance where they happily laze about.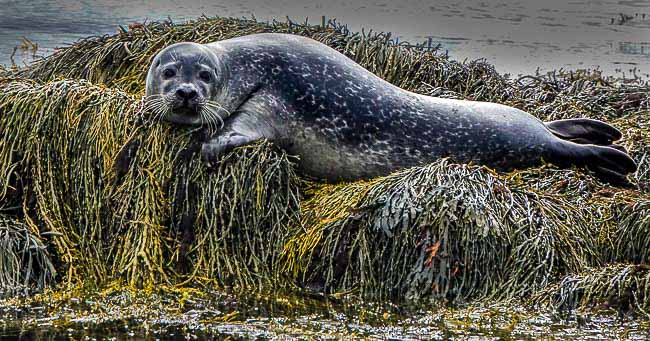 GERÐUBERG BASALT CLIFFS
These wonders of nature stretch over a length of 1 km with rows of vertical hexagonal columns.
A road follows the base of the structure from start to finish.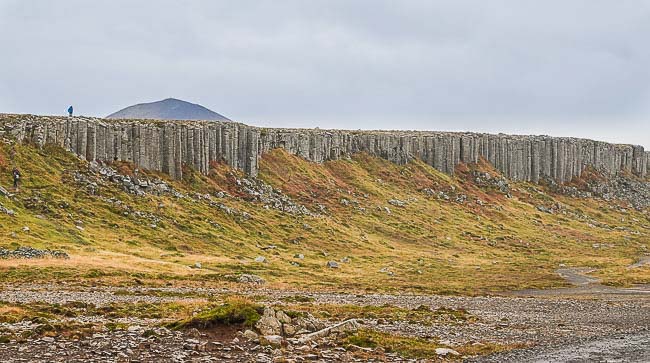 ÖLKELDUVATN MINERAL SPRING
This small natural spring gently bubbles to the surface.
Don't expect clear, pristine-looking water.
There's so much iron in the water that it runs red, even staining the stones about its little stream bed.
However, the water is perfectly acceptable to drink, verified by a sign close by the spring showing the mineral contents falling within the acceptable limits. It tastes a little fizzy but it is apparently very good for you.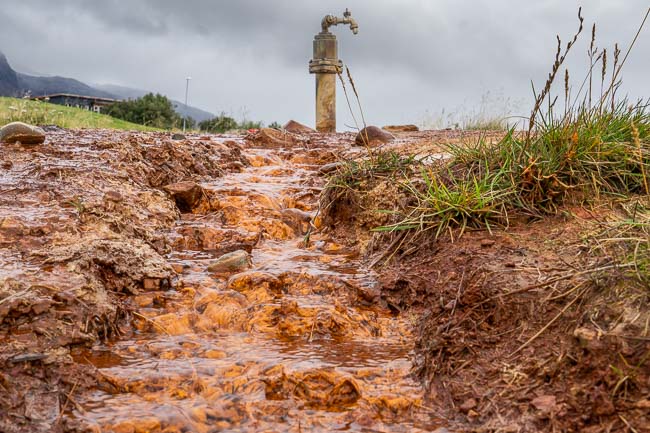 DAY 14: ICELAND 2-WEEK ITINERARY
Reykjavik – Depart Iceland.
If you have time, you can explore more of Reykjavik or see the sights you may not have had time to see on day one of your two-week Iceland itinerary.
PLANNING YOUR ICELAND 2 WEEK ITINERARY
---
Included in this Planning Section: (Click a heading to jump to that section)
WHAT'S THE BEST TIME OF YEAR TO TRAVEL TO ICELAND?
The best time for you will depend on what you want to see and what activities you'd like to do.
The weather is variable – see seasonal averages below:
Choosing which season to travel in will drive what activities you can do. Factors you'll need to account for are temperature, rainfall, wind, ice/snow on the roads and the amount of sunlight.
Iceland Weather
Summer
(June to August)
Temp: 7 to 13 DegC
Rainfall: 4 to 6cm
Sunlight: 22 to 16 hrs
Autumn
(Mar to May)
Temp: -2 to 10 DegC
Rainfall: 8 to 4cm
Sunlight: 11 to 20 hrs
Winter
(Dec to Feb)
Temp: -3 to 3 DegC
Rainfall: 7 to 8cm
Sunlight: 4 to 9 hrs
Spring
(Sept to Nov)
Temp: -1 to 10 DegC
Rainfall: 6 to 8cm
Sunlight: 12 to 5 hrs
With a name like Iceland, you'd expect to see temperatures falling way past zero, however, Iceland's average minimum temperature hovers around the -3C mark.
This was a surprise for me and also explains why there are no Icehotels in Iceland.
The summer months (June to August) offer extended daylight hours whereas, in mid-winter (December), you can expect 4 to 5 hours of light.
Summer weather will allow better access to other parts of Iceland such as the inland routes which won't be snowed in. However, in summer, don't expect to see the Northern Lights.
We travelled in September which was perfect; out of the tourist season, no icy roads to contend with and we had our best-ever show of the Northern Lights.
This was our second viewing of the Northern Lights, having seen them in the Lofoten Islands.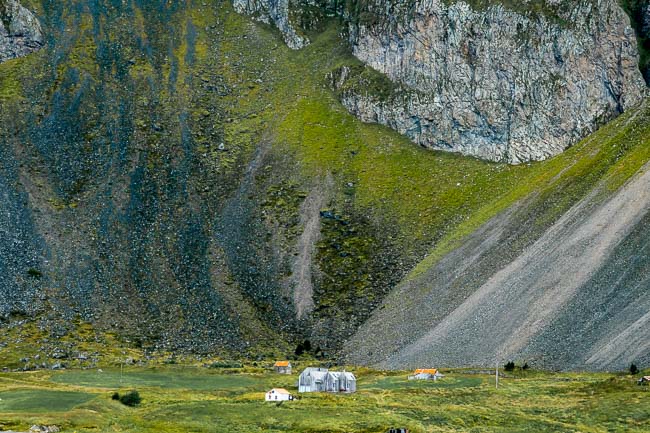 ICELAND EVENT CALENDAR
Regardless of the season, Iceland offers many different festivals and events that will add extra flavour to your visit.
Some standout options are:
Reykjavik Art Festival during the month of May showcases not only Icelandic culture but draws artists and performers from around the globe.
Iceland's Independence day falls on June 17th which coincides with the birthday of the man who led the movement for Iceland to become a sovereign state, Jón Sigurðsson.
The summer solstice occurs on June 21st, when Icelanders and visitors alike gather for an age-old pagan tradition to celebrate the year's longest day.
Icelandic Horse Competition – 'Landsmót' falls in early July, and is a national event in Iceland held every second year (2022, 2024 etc), where all the best horses are gathered and participate in several competitions and shows. This event is for Icelandic-born horses that have never departed the country as Iceland bans the import of all horses.
Réttir – the annual sheep round-up occurs in September each year and involves the mustering of all the sheep that have been roaming free in the hills. They are herded into a wooden pen and then separated out and handed to their rightful owners where they will be corralled for the winter. You are able to join the muster on horseback, through the company, Riding Iceland, if you're horseback skills are up to the task.
Reykjavik Literary Festival occurs in September joined by Icelandic and international authors all over Reykjavik and hosted in English.
Iceland Airwaves Music Festival in October / November is big on the international music scene with artists from all around the globe joining to make this one of Iceland's premium festivals.
WHERE TO STAY ON YOUR ICELAND 2 WEEK ITINERARY
As much as possible, we booked a stay of 2 nights at each stopover giving us time to see what we wanted without the need to rush.
We chose mostly B&Bs and were often granted an earlier check-in which was just brilliant as we could dump our bags, re-group and head out for the day.
Another reason to stay at least a couple of nights at the same place is that packing up and moving on to different accommodations each night gets kind of tiring over 2 weeks.
Below is the list of our overnight stops which are also reflected on our map of attractions (as green markers):
OVERNIGHT STOPS FOR THE ICELAND RING ROAD ITINERARY
We relied on Booking.com and Airbnb to source our accommodation. When choosing the right place we factored in price, inclusive breakfast and free parking.
Every place we chose included super-fast and reliable wifi.
VEHICLE HIRE (CAR, CAMPERVAN or MOTORHOME)
NOTE: The Ring Road is open all year, but in the winter, expect the roads to be subject to snow and ice. This will then drive the need to hire a 4×4 to safely navigate the roadways.
Not leaving anything to chance, we had all bookings confirmed 6 months in advance.
CAR HIRE in Iceland
🚘 Discovercars.com: We use DiscoverCars.com to source the best vehicle deals and hired from Iceland Car Rental. The guys at the car rental agency ran through the paperwork, vehicle and some handy pointers with us. The whole process was fuss-free.
MOTORHOME or CAMPER HIRE
Motorhome Republic: How much fun would it be to motorhome around Iceland? We used the Motorhome Republic to source the best deals for campervan/motorhome hire when we campervanned around Europe for a year. They were just brilliant.
There's a shortage of campers worldwide and they get booked out quickly – don't miss out …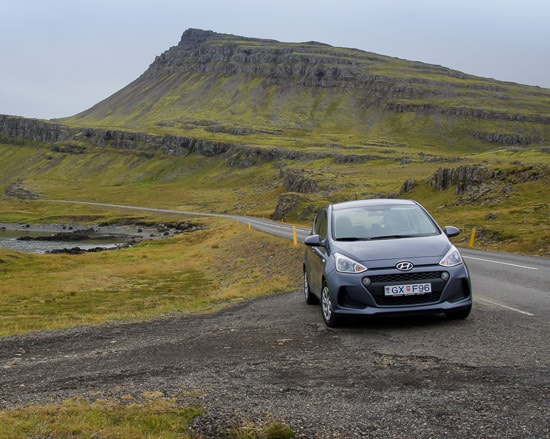 PICKING UP YOUR RENTAL AT KEFLAVIK AIRPORT, ICELAND
Most international flights will land at Keflavik airport, the main international airport in Iceland and 50 km from Reykjavik, Iceland's capital.
t makes perfect sense to hire a car here from a location close to the airport.
There are quite a few hire car companies to choose from, so it's a matter of checking one against the other for the best pricing and insurance coverage.
A free shuttle bus departs from the airport car park (about a 100m walk) and circles the nearby area passing most of the main car rental companies.
Booking your vehicle ahead of time does not only guarantee you better pricing but also that you won't needlessly pay for a more expensive option because it's all they have left.
DRIVING IN ICELAND
Certain roads, called 'F' roads in Iceland, can only be driven with a 4wd.
However, these roads are predominantly inland within the mountainous areas so unless you are planning on going 4-wheel driving, a normal two-wheel drive will be fine.
We've written in detail about the different road classifications, road signs, insurances and the type of vehicle allowed on those roads and show where they actually are in our Iceland in September article.
BUDGETING FOR YOUR ICELAND ROAD TRIP
Is Iceland Expensive?
It sure is.
When we travelled through Switzerland, we thought it was expensive there, but Iceland took it to an even higher level.
As full-time travellers, we are very budget-conscious and always looking for the best deals.
As we had our eyes set on a trip to Iceland for some time, we were able to secure the dates for our hire car and accommodation 6 months in advance to not only guarantee our choice but also get the best deals.
We chose B&Bs so that we could eat a big breakfast (normally consisting of a choice of coffee, tea, jam, ham, cheese and bread) and then make ham/cheese sandwiches for the road.
It worked out just fine but boy, after 14 days of that, we sure looked forward to a change in diet.

We did buy extra food of course and always kept an eye out for the budget supermarket chain Bónus, which is found all over Iceland.
They stock the necessities and you know it's a good place to shop when you're shoulder-to-shoulder with the locals.
Another supermarket, Netto, is also a budget supermarket chain that will do the trick.
COSTS INVOLVED IN OUR ICELAND 2-WEEK ITINERARY
To help understand vehicle costs below, we decided on hiring a 'small size' 4-door two-wheel drive car. We have not included flight costs in the figures below.
Accommodation
13 nights total = €1170 (Average -€90/night) or USD$1330 (USD$102/night)
Hire Car
13 days car hire total = €608 (€47/day) or USD$691 (USD$53/day).
This included: collision waiver damage, personal accident insurance, third-party liability insurance, 24-hour breakdown service, fuel discount card and unlimited mileage.
Note that we already had our travel insurance in place.
Petrol
Petrol costs for 13 days of driving = €164 (€12/day) or USD$186 (USD$14/day)
Food
We did not eat out at restaurants and bought our own food in supermarkets.
Food total cost = €142 (€11/day) or USD$162 (USD$12/day)
We were going to have a takeaway fish and chips but at €15 per serving, we gave it a miss.
Miscellaneous Prices
For approximate conversion purposes: ISK 100 = EUR 0.60 = USD $0.71
Milk ISK 169,
half loaf bread ISK 469,
mixed nuts ISK 998,
1 tin of Heinz baked beans ISK 97,
Cooked chicken (300g) ISK 1089,
Bananas ISK 245/kg,
Weetbix (48 biscuits) ISK 549,
Pink Lady apples (4 apples) ISK 498.
GETTING A TOURIST VISA FOR YOUR 14-DAY ROAD TRIP IN ICELAND
Iceland is one of 26 Schengen Area countries. Nationals of particular countries can arrive in Iceland and receive a visa on arrival which allows for a stay of up to 90 days within any of the Schengen countries for a period of 180 days whilst others will need to apply and be granted a tourist visa prior to arrival.
You can find Iceland's visa requirements here.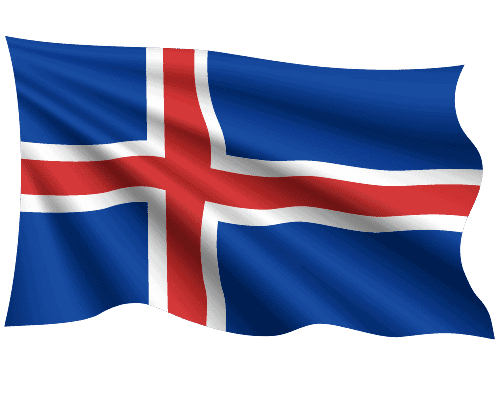 WHAT TO PACK FOR YOUR TWO WEEKS IN ICELAND
Waterproof outer clothing – definitely pack both a waterproof jacket with hood and waterproof pants. I would classify this as an essential item
Waterproof hiking shoes/boots – give serious thought to waterproof footwear as wearing wet boots and wet socks is just not fun.
Woollen socks – wool keeps you warm even if it is wet.
Woollen gloves – same as above.
Beanie or similar – you'll need to keep that head warm and the beanie can handle a bit of wet weather
Swimmers – If you plan on visiting a spa then you'll need to pack these
Flip-flops – what's to say, these are handy wherever you go
Sunglasses – glare from the sun or reflections from the snow can dazzle so pack a pair of sunglasses, ideally polarised.
TRAVEL GEAR AND ACCESSORIES
We've been on the road continuously for over three years now and have narrowed down our list of preferred travel gear and accessories which you can find on our Lifejourney4two page on UK Amazon or USA Amazon
DO I NEED A LOCAL SIM CARD IN ICELAND AND WHAT PHONE NETWORKS SHOULD I CONSIDER?
You may wish to buy an Icelandic SIM card if you need to have constant connectivity but we found that we could do without it when we travelled in September.
We relied on the super-fast internet in the B&Bs, where we uploaded all of the day's photos and updated our offline maps for the next day.
However, when we travelled, there was no ice or snow on the roads meaning that all roads were open for travel.
Fast forward to winter or late autumn, with the potential for unpredictable weather and road closures, then we'd recommend that you consider purchasing a local SIM card.
Some of the bigger Icelandic phone network companies that offer SIM cards are Síminn, Vodafone and Nova.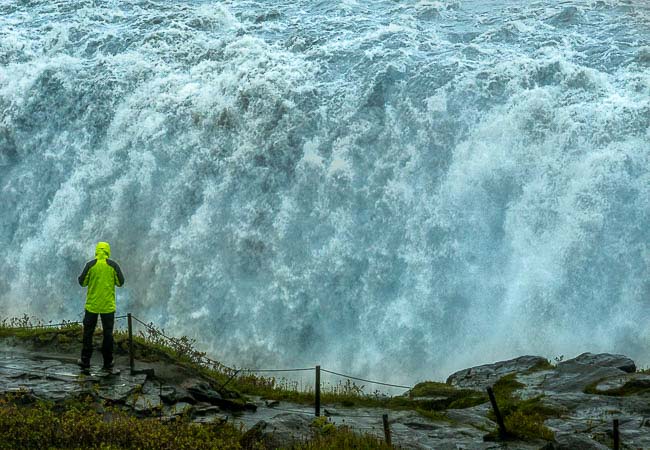 ICELAND 2 WEEK ITINERARY … THAT'S A WRAP
Iceland sure is a land of captivating extremes. Glacial lakes, boiling mud pools, foamy thundering waterfalls, exploding geysers, shimmering Northern Lights and a never-ending choice of stunning landscapes.
This is what you can expect from an Iceland road trip — an adventurer's paradise.
Pin and Save for Later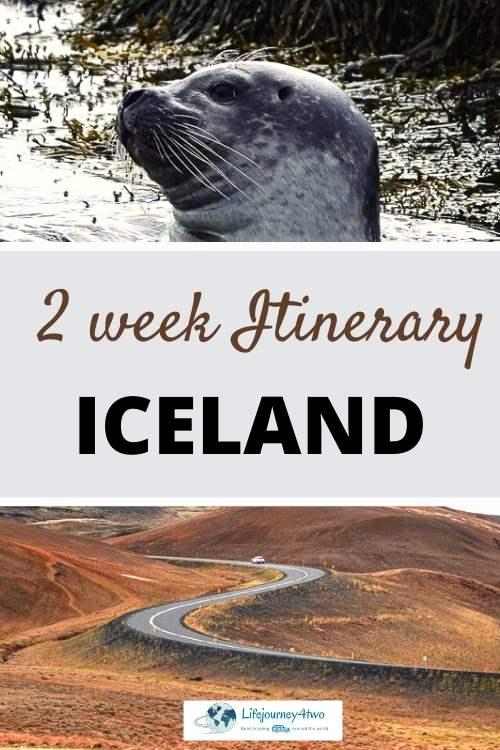 READ MORE:
PLANNING YOUR TRAVELS TO ICELAND?
These are some of the travel resources we use when planning our trips.
For a more thorough list visit our Travel Resources page here.