Iceland in September – Land of Fire and Ice
For such a small country, Iceland's scenery sure packs a big punch. It's nailed the winning combination. Floating icebergs, cute seals, erupting geysers, bubbling mud, friendly Icelandic horses, thrashing waterfalls, black volcanic sandy beaches, grass-roofed churches all set amid a wild and untamed landscape. Yes, this is a place where Mother Nature reigns supreme.
Not sure about how long you might want to stay in Iceland? We've written about some great 4-day options from Reykjavik included with the 2-week Iceland itinerary which follows Iceland's famous ring road.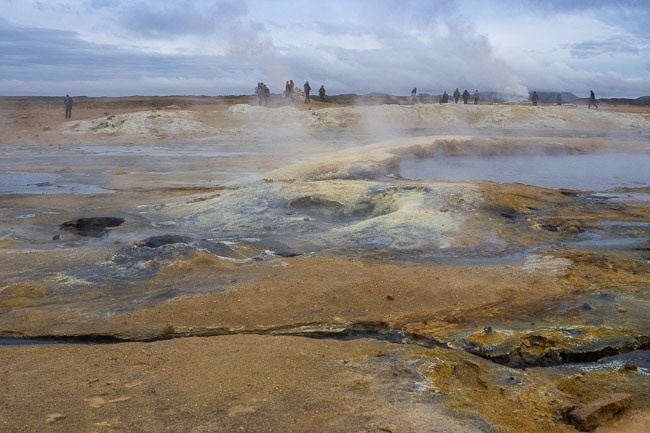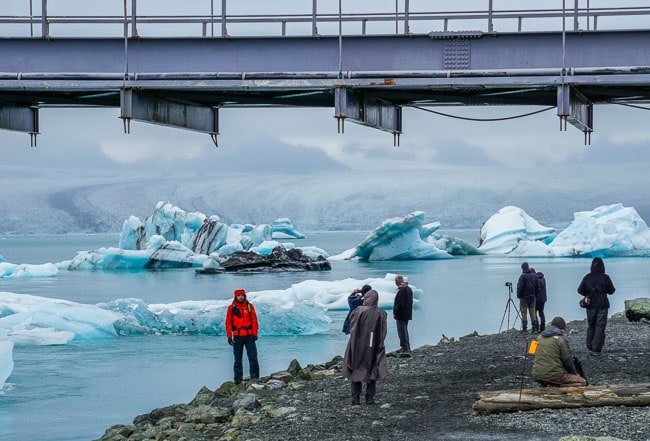 Why Visiting Iceland in September is a Good Decision
There are always pros and cons of travelling in any season. However, choosing to visit Iceland in September has many great points going for it. Let's take a look.
You can still expect pretty reasonable weather with temperatures ranging between 5 and 10°C with 50 to 150mm of rain on average across Iceland.

View the Northern Lights. Cloud cover will be an issue but like us, you just need to check the weather forecasts and keep watching the sky for breaks in the clouds. Being at the right location at night when the clouds do open up is also pretty important.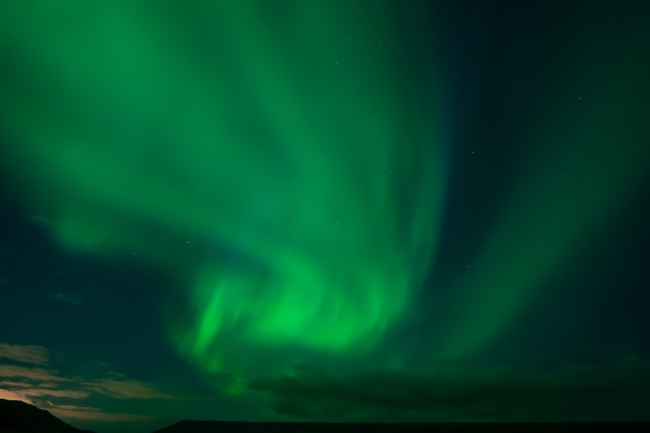 Northern Lights seen in Iceland in September
The ground is not snow-covered but the mountain tops may have a sprinkle. Hiking trails are accessible, and you won't need to worry about driving on ice/snow-covered roads.
With the changing season, the autumn colours will add a lovely warm touch to your Iceland photos.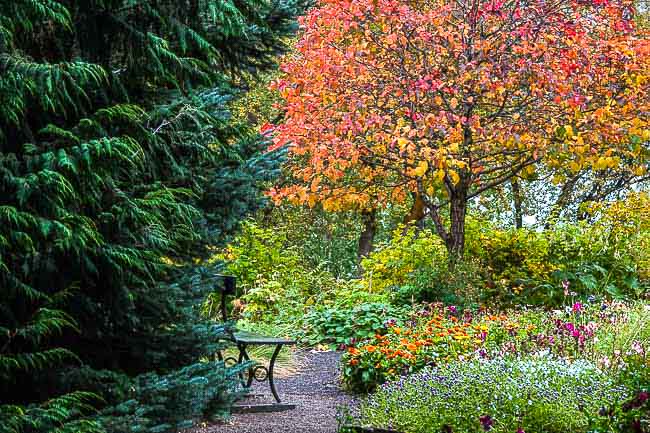 Autumn colours of Akureyri's Lystigardur Botanic gardens
Visiting Iceland in September also means an off-season visit, which offers better options and pricing for accommodation and fewer tourists to rub shoulders with at the places you want to visit.
You'll still have plenty of daylight hours to wander about. Iceland in September has between 11.5 and 14.5 hours of daylight.
It's worth mentioning that some businesses are closed outside of the June-August summer period so it's worth checking ahead of time. We packed a home-made lunch each day.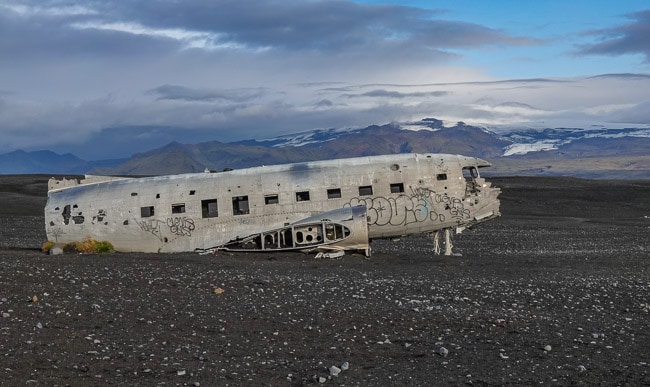 DC3 plane wreck on Sólheimasandur, Iceland
Things to Do in Iceland in September – It's Not Just About the Scenery
 Festivals in Iceland in September
The Night of Lights, Reykjanes, is a festival held on the 1st Saturday in September over 4 days where visitors get to enjoy some local culture, theatre and music, culminating in a fabulous fireworks display. The venue is within a kilometre of Keflavik airport and is close by the water at these coordinates (N64° 0′ 21.853″ W22° 33′ 28.902″). You can find up to date information from the official site here.
Reykjavik International Film Festival (RIFF) runs the viewing of hundreds of films over 11 days from more than 40 different countries in Iceland's capital city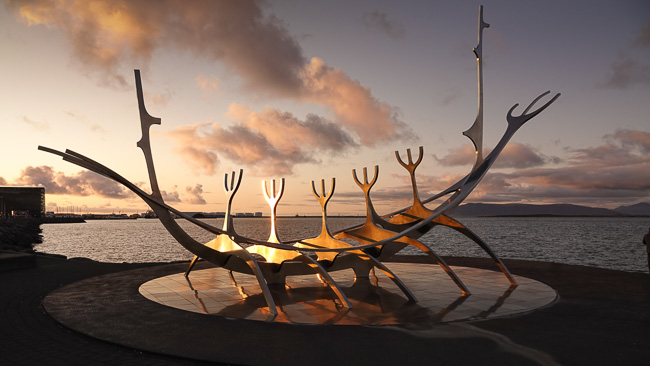 The Sun Voyager sculpture in Reykjavik
Cultural Events in Iceland in September
Berjamó is a tradition where families leave the cities and venture into the country-side to pick berries which grow all over Iceland. Some local varieties that you may not have heard of are crowberries and bilberries.
Réttir (Sheep and Horse Round-Up) has family members herding the sheep and horses down off the plateaus, where they have been grazing freely since May, into a spoke-patterned pen where they are sorted to their rightful owners. This occurs throughout September with different areas having differing dates for the round-up. The farming magazine site bbl.is publishes the dates for each area but these may vary so it's best to check.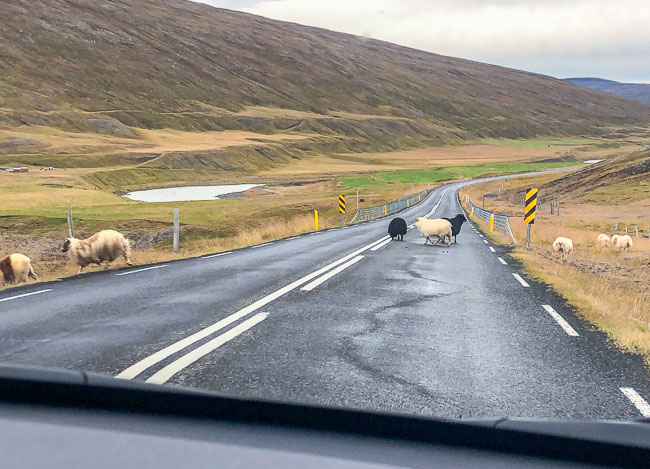 Don't try herding sheep with a car … it doesn't work!
Iceland Wildlife Viewing in September
What You Can Expect to See in September
Seals – The two seal species that live permanently on Iceland's shores are the harbour seal and the grey seal.  However, it's not uncommon to have visits from the ringed, hooded, bearded, harp seals and the occasional walrus. They can be spotted around all around the Iceland coast but the Westfjords, Jökulsárlón glacier lagoon, Snæfellsnes Peninsula and Vatnsnes Peninsula will give you the best options for seal spotting. We saw seals at all of these locations.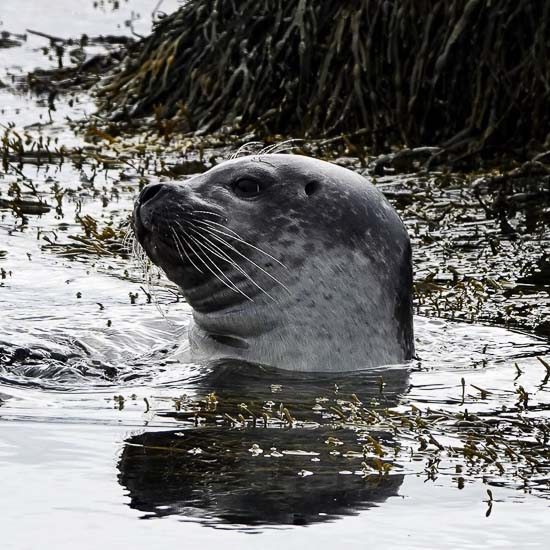 Cheerful looking seal at Ytri Tunga
Arctic Foxes – They are the only native land mammal of Iceland and are found all over Iceland. Their main habitat is in the remote northern Hornstrandir Reserve. T

here two types of Icelandic Arctic Fox: the blue and the white.  

Whales – April to September is a great time to watch the migrating whales. Husavik, a town on the northern coast, is where you want to be. For Whale Watching Tours available click here.
Icelandic Horses – What took us by surprise was the friendliness of the Icelandic horses. Not only are they inquisitive but they seem to enjoy human company. There are plenty of opportunities to stop by the side of the road and walk up to the fence to pat these friendly equines.Icelandic horses are quite small in stature (around 1.4m tall) but are well-suited to the conditions in which they live. A strict policy is in place in Iceland to prevent the import of diseases stating that once an Icelandic horse is taken abroad, it can never return.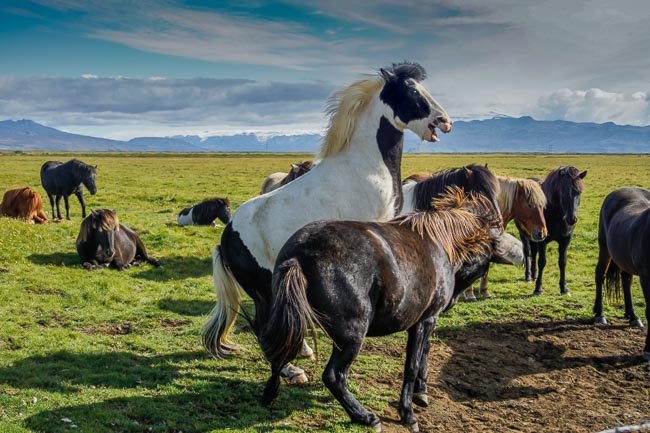 Giving us visitors a bit of a show!
We didn't mount up but there are plenty of opportunities to do so, and you may even consider joining the annual sheep and horse muster throughout September.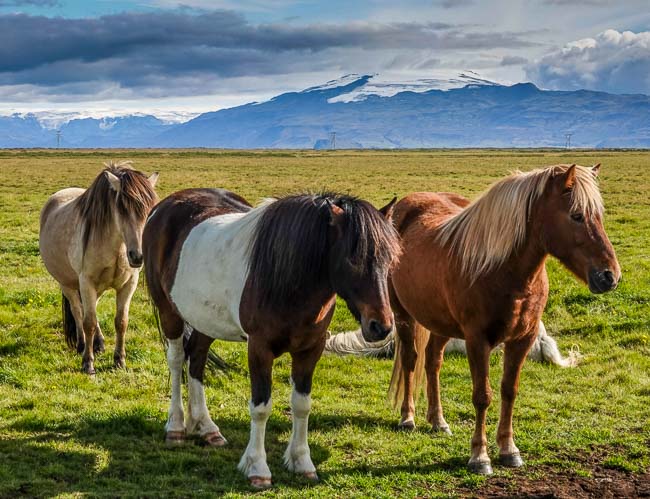 These Icelandic horses really seem to enjoy human company
Now for something you might not like to hear. Eating horse meat has long been a tradition in Iceland and continues to this day. It's not uncommon to find it on menus. We didn't try horse meat but at least you know where to find it if it's your thing.
Reindeer – The main concentration of reindeer is in eastern Iceland with numbers topping 3,000. It is common to find them about Snæfell. The herds' numbers are carefully controlled so that over-grazing is avoided ensuring that Iceland's sheep population have adequate grazing.
Ravens – This black bird has mystical ties to Iceland's old beliefs and can be found all over the country. Many other bird types also exist on the island such as Arctic Terns, Seaeagles, duck, geese and swans.
Fulmars – If you visit Iceland in September you are extremely likely to encounter these birds – most likely dead on the roadside or maybe helplessly flapping around on the ground. Fulmars look a little like seagulls and are renowned for eating too much as chicks. As a result, they then become too heavy to fly and either flap around on the ground or float on water until they lose weight and can fly or perish. Over the two weeks, we were in Iceland in September we saw hundreds of either dead or floundering fulmars. Fulmars are a source of food in the Faroe Islands, with annual harvesting of the helpless overweight birds in late August and September.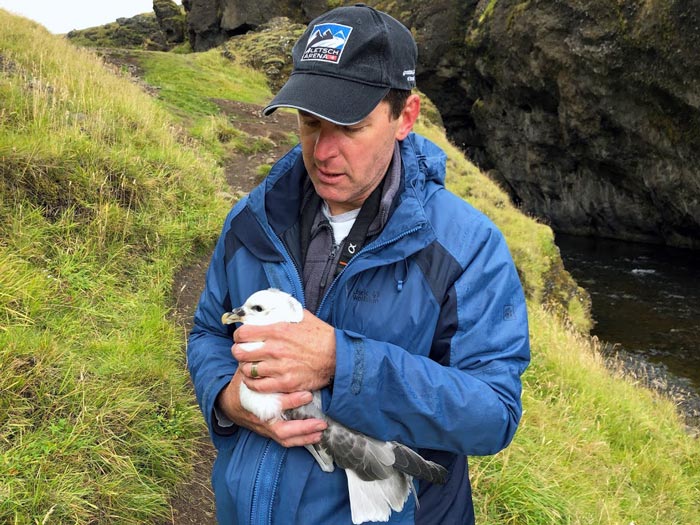 'Rescuing' a fulmar before we found out that obesity is a common problem among fulmars! 
Whilst on a hike we came across this fulmar who we thought was injured as it couldn't fly. We were going to take it to the local museum to see if they knew of somewhere we could take it for help – until we came across four more birds in a similar situation and realised that we couldn't save them all! We later found out that this is a common problem and the fulmar chicks are just overweight and too fat to fly.
What You Likely Won't See in Iceland in September
Puffins -We visited a thriving puffin colony in Wales and these attractive and distinctive coloured birds are a joy to watch. However, the puffins arrive in April/May and depart after the summer in August. The island of Akurey, approximately 1.6km from Reykjavík's Old Harbour, is where thousands of puffins temporarily call home.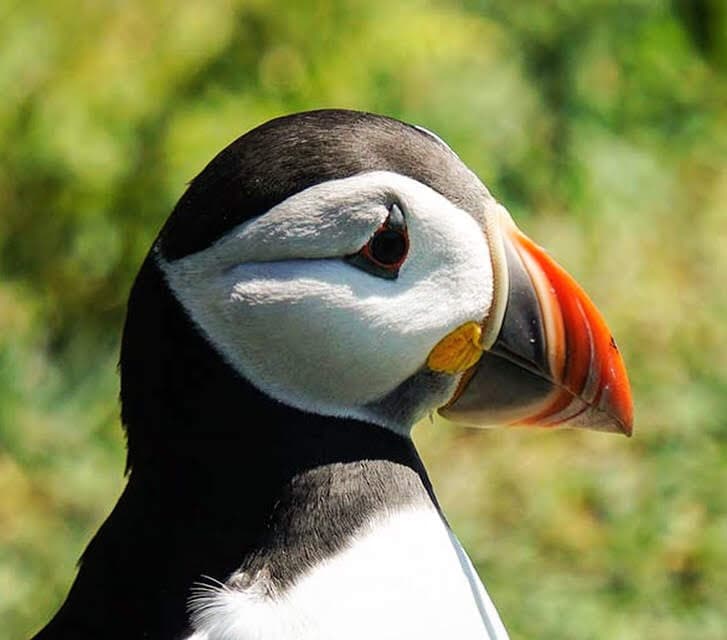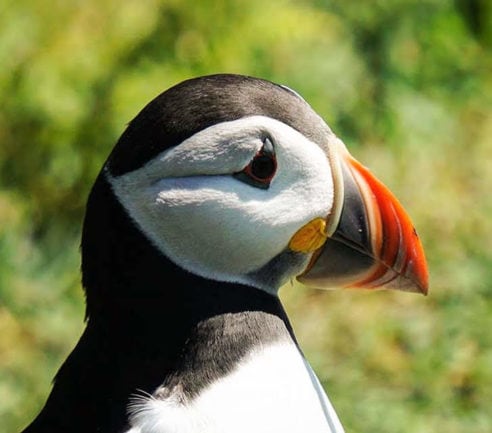 Who doesn't like the cute face of a puffin!
Polar Bears – very occasionally they arrive from Greenland but are quickly shot due to their aggressiveness towards humans.
Popular Iceland Driving Routes
The popular routes that 99% of the people will travel are:
The Golden Circle,

The South Coast and

The Ring Road.
We've written an Iceland 2 Week Itinerary that covers all these routes including the best attractions and what to keep an eye out for.
Other Paid Activity Options You May Like to do on Your September Iceland Trip
You might want to consider these additional activities and attractions:
Iceland in September 14 Day Itinerary Overview
This is a quick summary of all the amazing and the most typical attractions we saw on our 14 Day Iceland Itinerary. If you want to read about these in detail then head over to our Iceland 2 Week Itinerary.
Day 1: Explore Reykjavik, the capital of Iceland – Sun Voyager sculpture, Tómas Gudmundsson sculpture, Monument to the Unknown Bureaucrat and chase the Northern Lights in the hills not far from Reykjavik
Day 2: Explore Skógar: Kerid crate, Geysir and Gullfoss waterfall
Day 3: Selfoss waterfall, Seljalandsfoss waterfall, 

Reynisfjara black sand beach, Dyrhólaey Cape with it's natural formed bridge and Skogafoss waterfall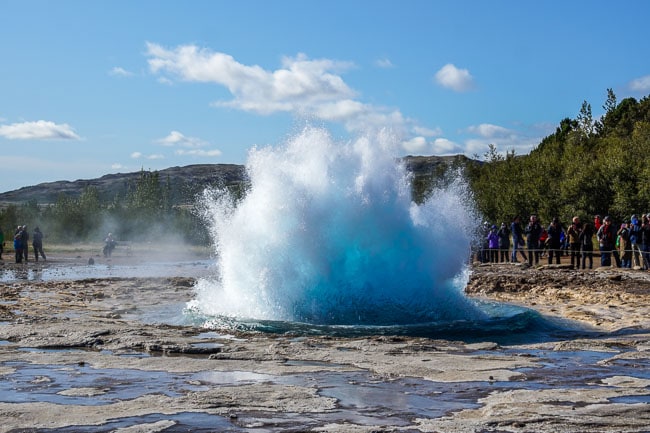 Strokkur Geysir, Western Iceland
Day 4: Explore Höfn: Sólheimasandur DC3 plane wreck, Rutshellir caves and Kvernifoss waterfall
Day 5: Explore Hofskirkja church, Jokulsarion Glacier Lagoon and Diamond Beach
Day 6: Explore Egilsstadir: Egg sculptures, Hvalnes Nature Reserve and Lighthouse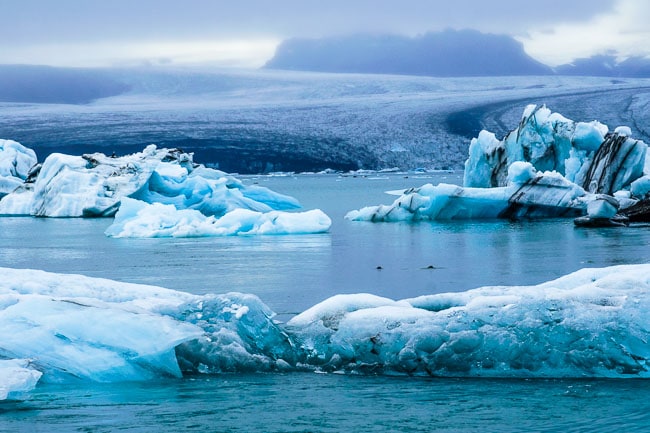 Jökulsárlón Glacier Lagoon, Eastern Iceland
Day 7: Explore 

Seydisfjordur with the blue church and rainbow path and

 Geirastadakirkja
Day 8: Explore Akuyeryi, Detisofss waterfall, Selfoss waterfall, Asbyrgi Canon, Husavik Church, 

Hverir Lava fields plus boiling mud holes, Grjótagjá Cave and Godafoss waterfall

Day 9: Explore Akureyri Church, Akureyri Botanical Gardens and 

Saurbæjarkirkja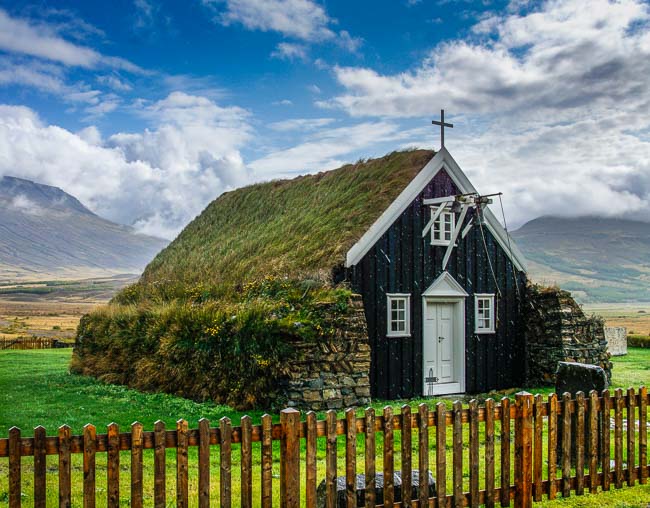 Saurbæjarkirkja, Northern Iceland
Day 10: Explore Hvítserkur, 

Víðimýrarkirkja, Vatnsdalsholar hillocks, Hamarsrétt Sheep Corral and Hvitserkur rock formation

Day 11: Explore Ólafsvik, 

Gerðuberg Cliffs, Ölkelduvatn Mineral Spring, Ytri Tunga seal watching, Búðakirkja and Búða Beach

Day 12: Explore 

Snæfellsjökull National Park, 

Gatkletter Rock Arch, Longrangar Basalt Cliffs, Malarrif Lighthouse and Skarðsvík Beach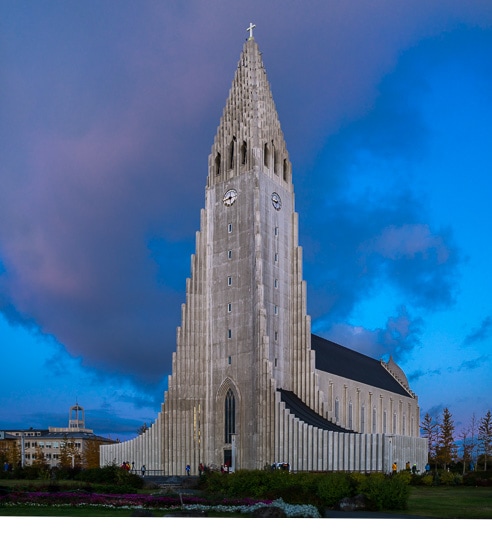 Hallgrímskirkja, Unmistakable on a Reykjavik Skyline
Day 13: Explore Hallgrímskirkja, the traditional fisherman huts at the old harbour and a final chase of the Northern Lights
Day 14: Depart Iceland
Map – Iceland in September Attractions 
Click on the map to have a better view of the listed attractions with their names. These locations are all indexed on the left side of the map above and also described below:
Blue: attraction
Orange: plane wreck
Green: overnight accommodation
Black: church
Yellow: viewpoint
Brown: alternate route avoiding toll on National Road 1
Video – What to Expect on the Road when Driving in Iceland 
For the driver, it's always nice to know what you can expect on the roads whether it's road signs, one-way bridges, road conditions etc. We've included some short clips to help familiarise you with driving Iceland in September.
Iceland in September: Good to Know 
Iceland Emergency Phone Numbers
The emergency number in Iceland is 112. You can call this number from the highlands of Iceland without a mobile connection. This is the one number that covers assistance for 

accidents, 

fire

, crime, search and rescue and natural disasters on land/sea/air.  
Handy Phone Apps for Iceland
ve∂ur: Weather app for both Apple and Android phones generated by the Icelandic Met Office which gives temperature, rain and wind with a 5-day look-ahead.
maps.me: Off-line maps app for both Apple and Android phones that does not require an active network connection when in use and you can add places of interest.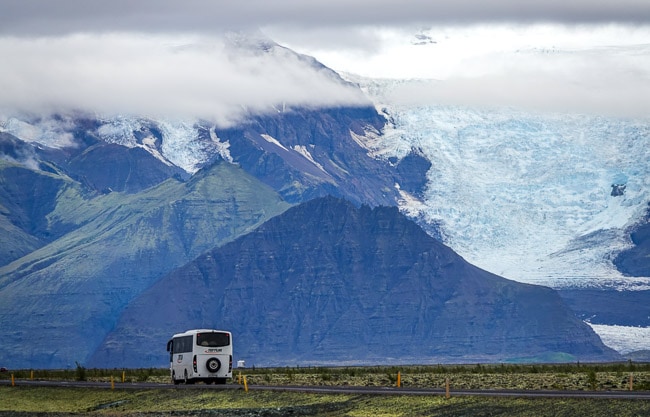 Going to a remote location? – let someone know of your movements
Handy Websites for your Iceland Trip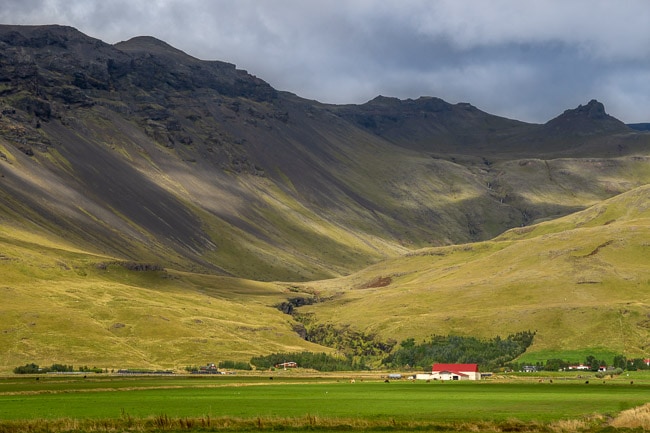 Sun together with showers is not uncommon in Iceland in September
Driving Iceland in September
Driving in Iceland
Here are some important points to be aware of when driving in Iceland:
In September, the roads will be snow and ice-free so drivers won't need particular snow driving experience
Driving on the right-hand side of the road is the norm
It is not allowed to make a right turn at a red traffic light
Vehicles must have headlights on at all times when being driven.

The general speed limit is 50 km/h in urban areas, 80 km/h on gravel roads in rural areas and 90 km/h on hard-surfaced roads

Some bridges are only one lane in width. Specific road signs warn of the upcoming one-lane bridge a few hundred metres beforehand. This road sign plus specific lane markings is the place to stop your vehicle and await all traffic on the bridge to pass. Courtesy dictates, although this is not a hard and fast rule, that the first vehicle to arrive at the single-lane bridge sign, has the right of way.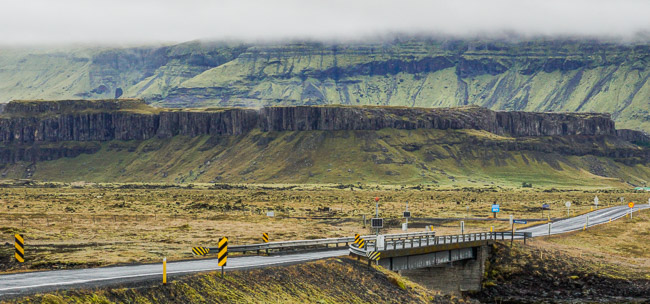 Icelandic one-lane bridge .. don't be distracted by the scenery!
Check road conditions before you start your journey by calling 1777 or checking www.road.is.
Be familiar with the Icelandic road signs. Here are a few that you mightn't have seen before: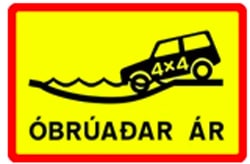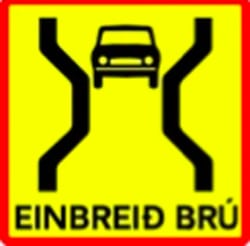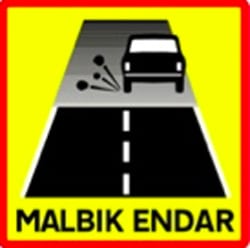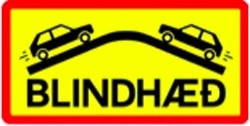 Drive slowly on gravel roads to avoid kicking up stones that may chip the rental car

Off-roading is strictly forbidden in Iceland. Driving on an F-Road is not off-road driving.

Strong gusts of wind can take a hold on car doors causing damage which may not be covered by your particular car insurance.
Iceland's Road Categories + 'F' Roads
There are 5 different road categories in Iceland: Primary, Primary highland, Secondary, Local Access and Highland. But instead of describing each one, the important point is that you are aware of what are termed 'F' roads.
The map below shows both the paved (in black) and gravel (in yellow) roads which can help you plan where to drive when you have hired either a car or a 4×4. If you hire a normal car (non-4×4 vehicle) then you'll want to stick to the paved roads and don't worry, you won't miss out. You'll still be able to access all of the best attractions that Iceland is renowned for (we include our extensive 14-day itinerary further down in this article). We hired a normal non-4×4 car and saw everything we planned to see.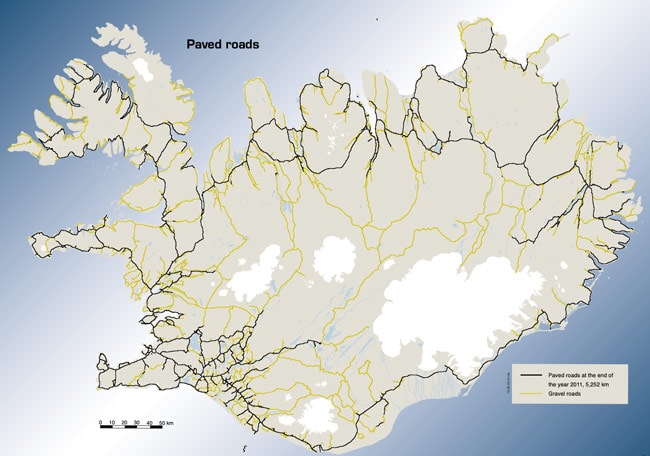 'F' Roads
These 'F' roads are often narrow, rough, gravel roads crossing mountains requiring vehicles to drive through the unbridged rivers. 'F' roads can only be travelled with a 4×4 vehicle. Most of the 'F' roads are located in the wild highlands or the central area of Iceland. Looking at a map, the road will be annotated with an 'F' in front of the road number. Most of the roads that give access to the majority of the natural attractions are not 'F' roads meaning you can just hire a normal 2 wheel drive car. Which is what we did.
'F' roads are only open during the summer with the opening date of each road determined when the snow clears. Find the opening dates for the different roads here at road.is.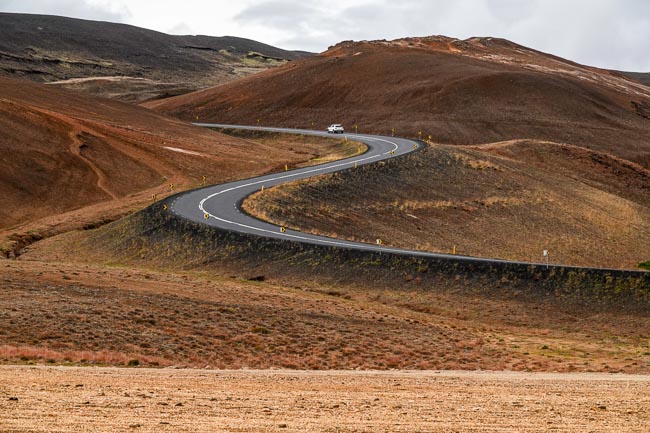 Iceland Toll Roads
There are generally no toll roads in Iceland, however the 10.5 km Vadlaheidargong Tunnel, in the north of the country, extracts a fee of ISK1000 or roughly €6.50. You can avoid the toll on Road 1 and take the alternative route, Road 83/84, and enjoy the 26 km scenic views over the mountains and above the Eyjafjörður fjord.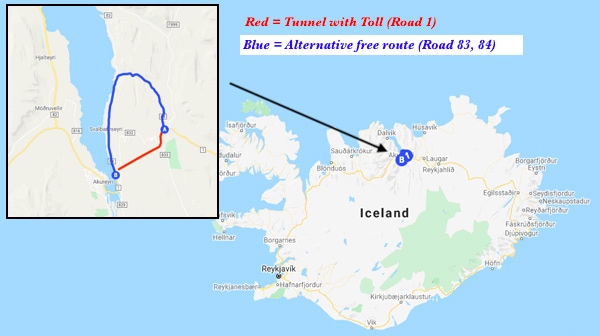 Vehicle Rental in Iceland
Car Rental and Safety
Some points to keep in mind when renting your vehicle:
Planning to drive any of the F- roads? You must choose a 4×4 vehicle; this is not optional.
Rental agencies in Iceland

 don't insure for damage to the undercarriage of the vehicle or for water damage caused by crossing rivers. 

According to Icelandic law, everyone must wear a seatbelt regardless of where seated in the car and children must use safety equipment appropriate to their weight.

Blood alcohol limit is 0.02% but it's widely agreed that you if you have an alcoholic drink, you just don't drive.
TIP: ↓ Don't drive on the volcanic sand beaches without a 4wd ↓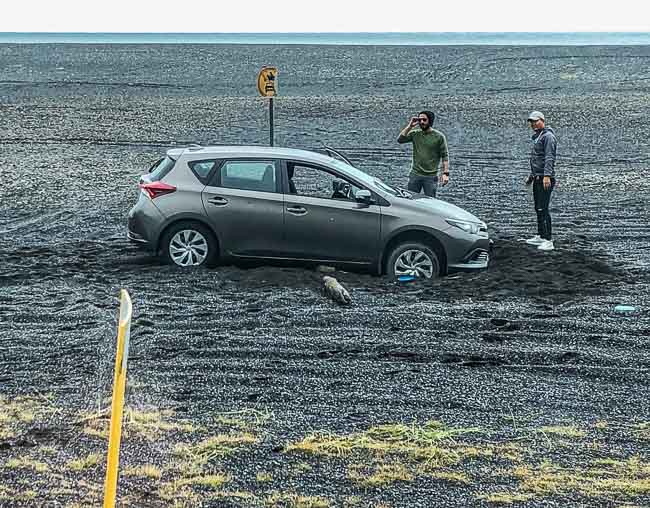 You'll want to avoid doing this!
Book Your Car or Motorhome
We hired a car through Rentalcars.com and selected a package that included Personal Accident and Third Party insurance, breakdown assistance, airport shuttle to the nearby hire depot and fuel discount card. Our plan to drive the sealed Primary roads over the next 14 days while circling Iceland would not include any of the Highland roads. We made a good choice!
♦ You can choose to search for the best car rental deals through Rentalcars.com.
or
♦ Looking for a motorhome or campervan rental? We highly recommend Motorhome Republic as they search for the best deals. We know first hand as they facilitated the hire of our campervan when we Campervanned through Europe for a year.
Booking Your Accommodation in Iceland in September
Accommodation prices in Iceland are much better in September compared with the peak summer months.
We used a combination of Booking.com and Airbnb to find the best bang for bucks with the cheapest deals that included breakfast. We used the breakfast food to also make our lunch for the day which helped with the savings. 
When you use our Airbnb link you can receive up to €34 credit for your first Airbnb stay. 
Our bookings for the car and accommodation were all in place 6 months before our intended travel which gave us better pricing and also more choice.
What to Wear in Iceland in September
Waterproof Backpack
Another option to consider is a waterproof backpack or a backpack that at least comes with a waterproof cover. This will keep your important items such as passports etc nice and dry.