In this Kolmasnkop Ghost Town Guide, discover the eerie charm of Kolmanskop, Namibia's deserted diamond town.
This is one of Namibia's unique experiences. In this guide, you'll find intriguing details about this once-flourishing mining community and practical advice on how to visit this hauntingly beautiful ghost town.
Our Kolmanskop visit was part of an immersive two months road-tripping in Namibia, which, in turn, was part of our larger Africa adventures. For fellow travelling couples, we've compiled some useful road trip tips here.
From organising permits to capturing the perfect sunrise over the advancing desert sands, we uncover the secrets of Kolmanskop, its role in the diamond industry and its unique place in African history.
Prepare to be captivated by the shifting sands of time in this fascinating corner of Namibia.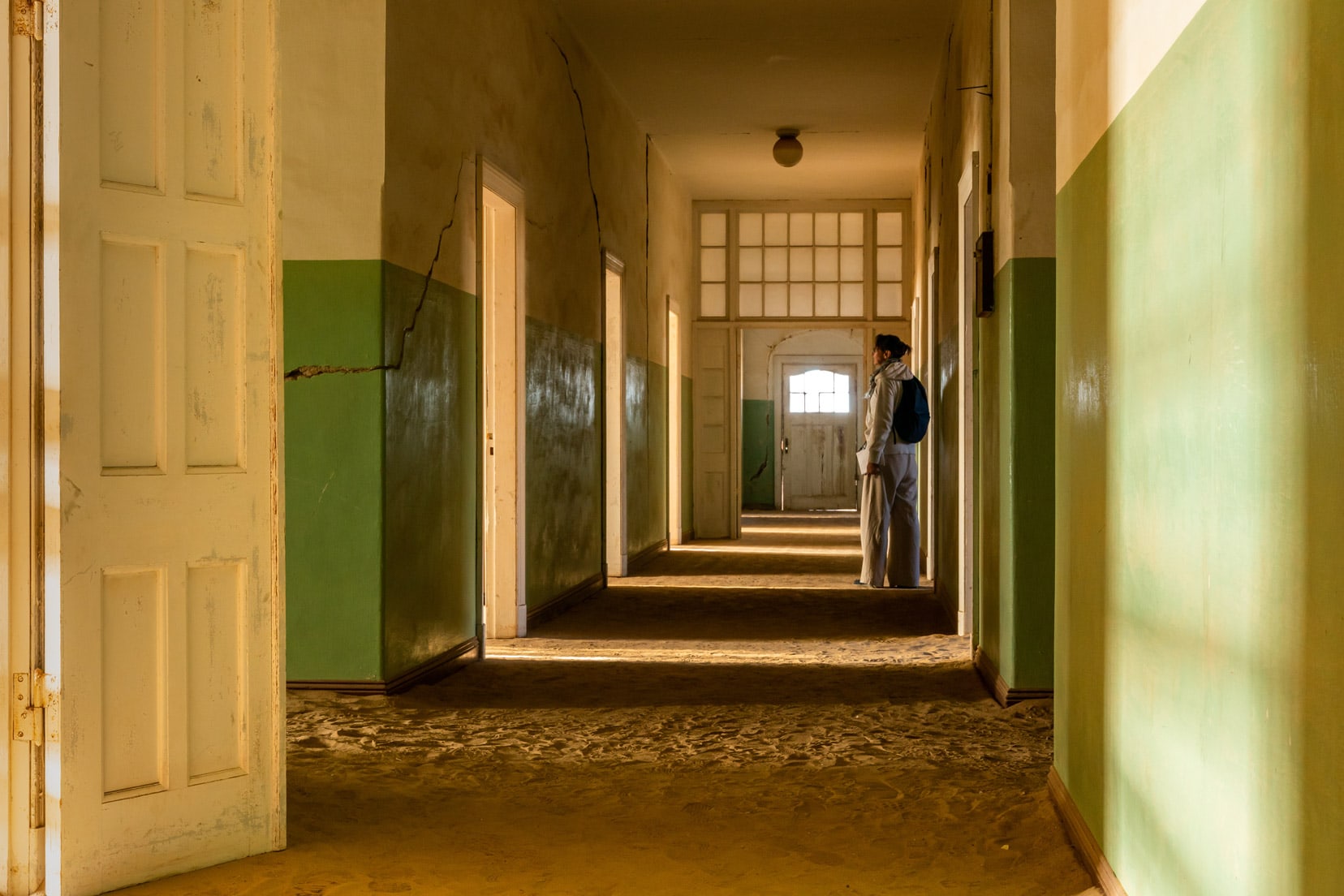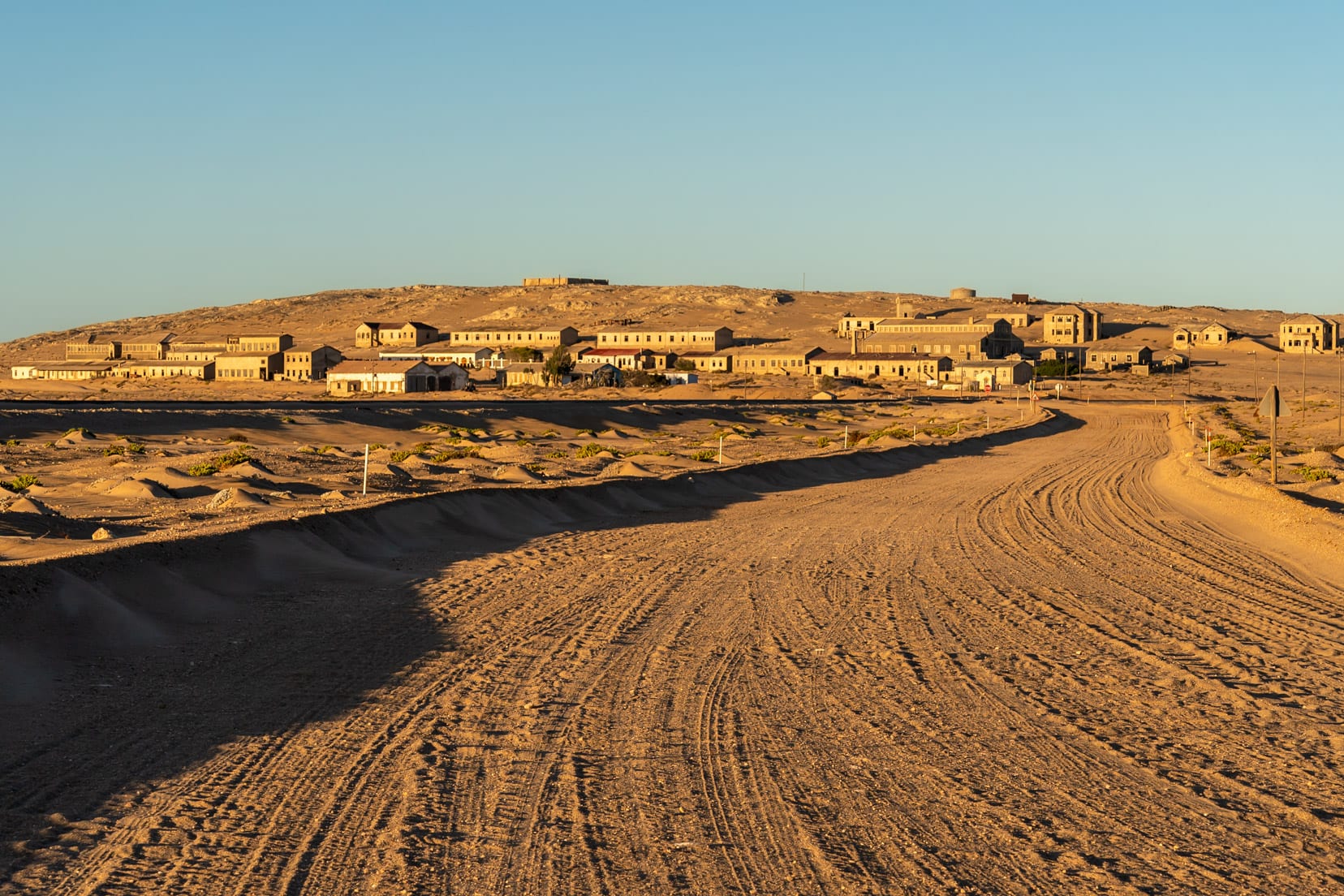 Visiting Kolmanskop: Essential Info at a Glance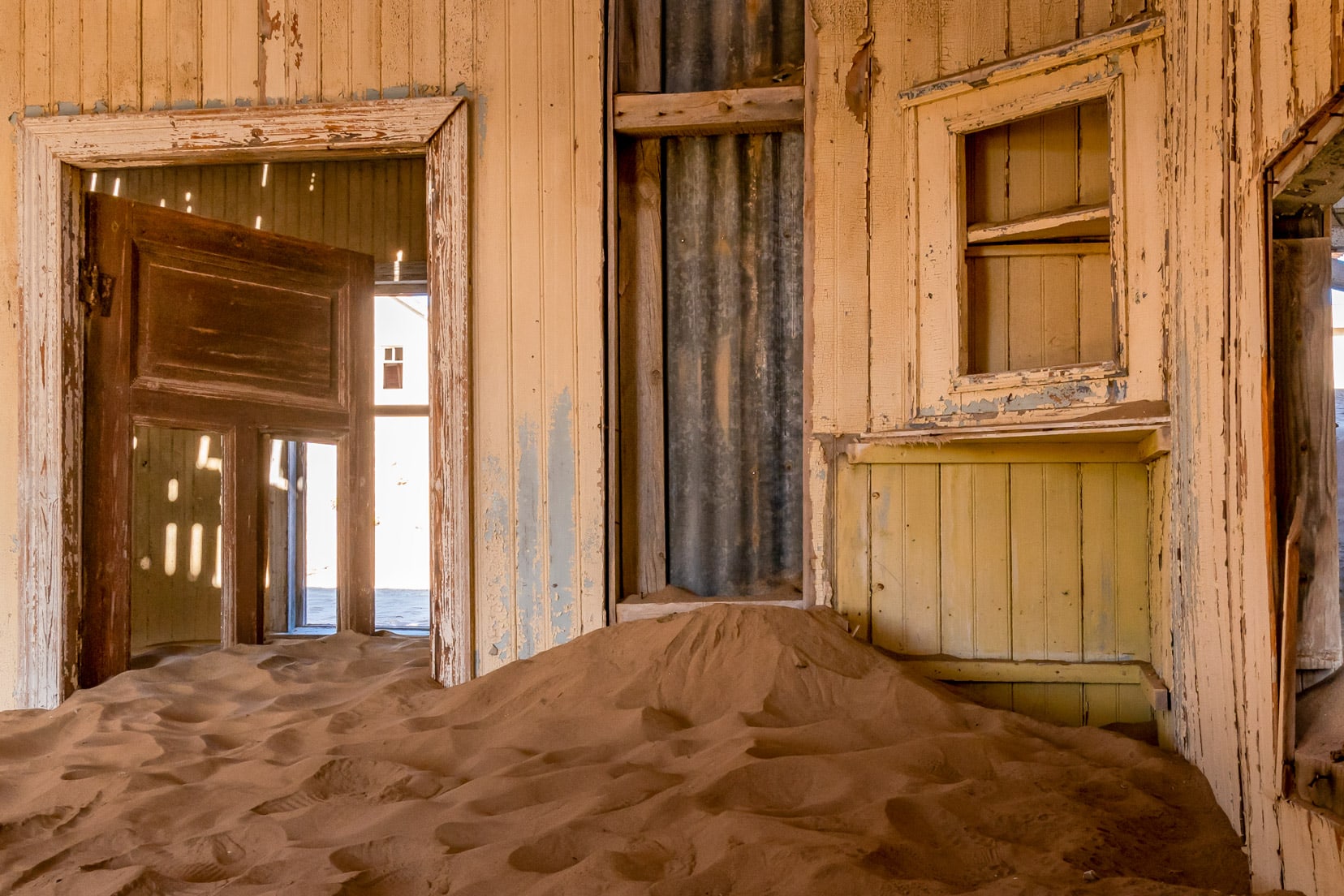 Kolmanskop Opening Times
Kolmanskop opening times are daily from 8 am to 1 pm.
Kolmanskop Entrance Fee
Standard ticket: 8 am – 1 pm – N$130
All-day ticket: This Kolmanskop photo permit includes access for sunrise and sunset – N$330
You can buy Kolmanskop tickets (also known as a Kolmanskop permit) at the Gate or at the Luderitz Travel Information Centre (on the main street in Luderitz at Bismarck Street).
 If you are buying your Kolmanskop photography permit for access before sunrise, you will need to buy it the day before.
📸 Enhance your road trip photography with our tips and recommended photography gear.
Kolmanskop Guided Tours
Your Kolmanskop ticket price (both standard and all-day) includes the cost of the guided tour.
Monday to Saturday: 9.30 am and 11.00 am
Sundays: 10.00 am
Jump Ahead
In a hurry? Jump ahead by clicking the links below for the information you're looking for:
VIDEO: Kolmanskop Ghost Town, Namibia
Planning a Trip to Namibia?
🤑 For tips on travelling more affordably, check out our guide to travelling on a budget.
Kolmanskop Namibia Map
Our Kolmanskop Experience
Kolmanskop was only a short 15-minute away as we were staying in Luderitz. We arrived at the gate just before eight, a few seconds before the gate attendant arrived.
Signs everywhere reminded us that it was prohibited to enter without a permit.
Kolmanskop Ghost Town is within the Sperrgebiet National Park, most of which remains private land. And, even though the area isn't mined any more, it's still illegal to set foot on the sand dunes without a permit.
This gets me thinking that there might just be a chance of finding diamonds there still 😉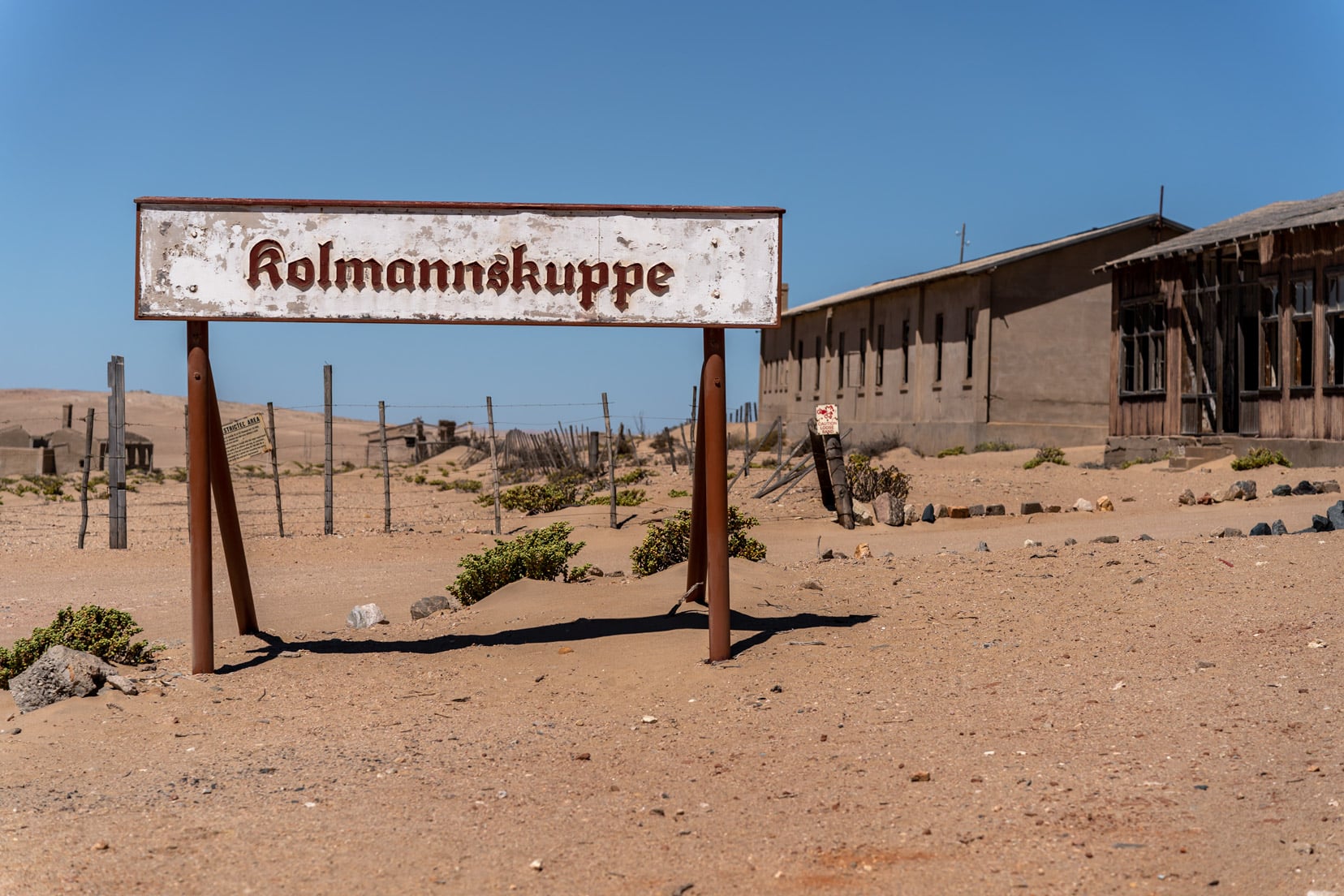 Sunrise was at 7.15 am, so Lars was itching to get going while the light was softer.
If we weren't on a budget, the sunrise/sunset all-day ticket, compared to the standard ticket, would have been better for us. But we didn't know then that we would spend a whole five hours at Kolmanskop.
Overwhelmed by the number of buildings that needed to be explored, we found a tour guide near the restaurant and asked where might be the best place to start our exploration. 
The hospital recommendation (Krankenhaus) was a great option. (See our guide below to the best buildings to visit).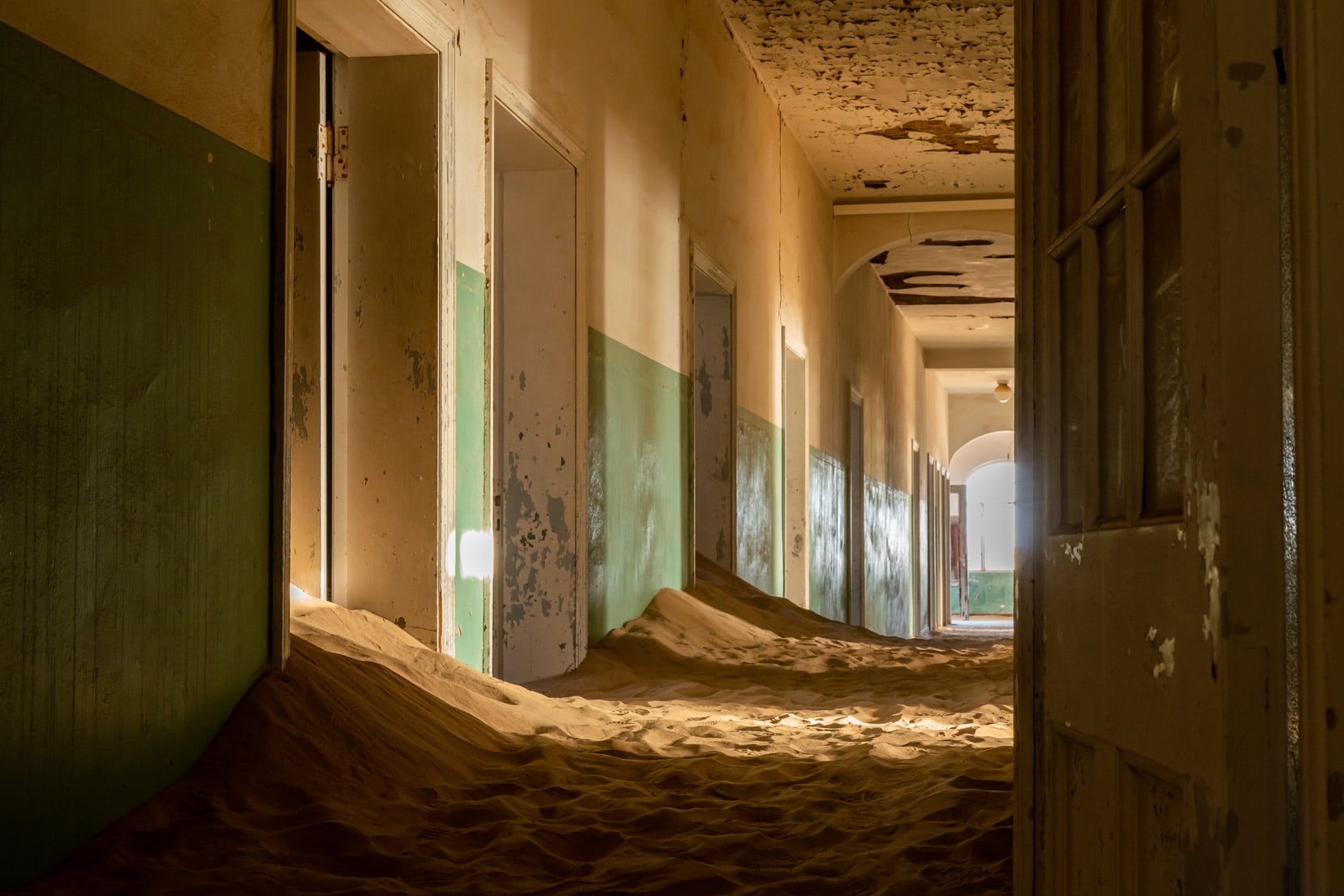 The Drifting Sands of the Krankenhaus
We were wowed from the minute we stepped inside the hospital halls. The sand already filling some of its rooms.
In the long corridor, you could almost hear the echo of doctors and nurses pacing the passageway.
The only footsteps through Kolmanskop today, though, are those of tourists. But, if you look carefully among the sneaker and sandal shoe imprints, you'll see tiny lizard and gecko tracks. And you might even spot the paw prints of the local brown hyenas.
Much like modern-day hospitals, the calming hues of blue and green grace the walls. Colours frozen in time, preserved by the dry desert air.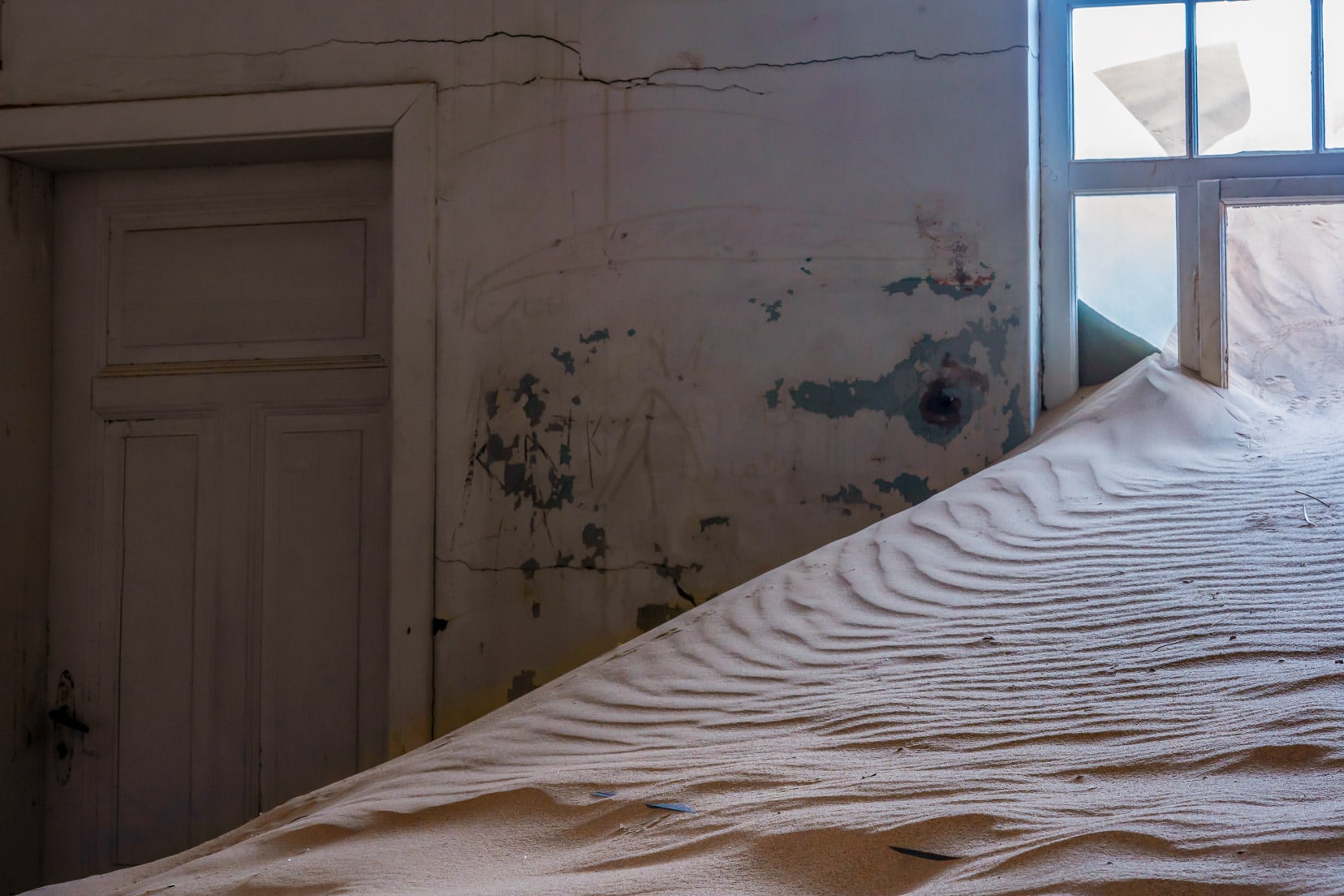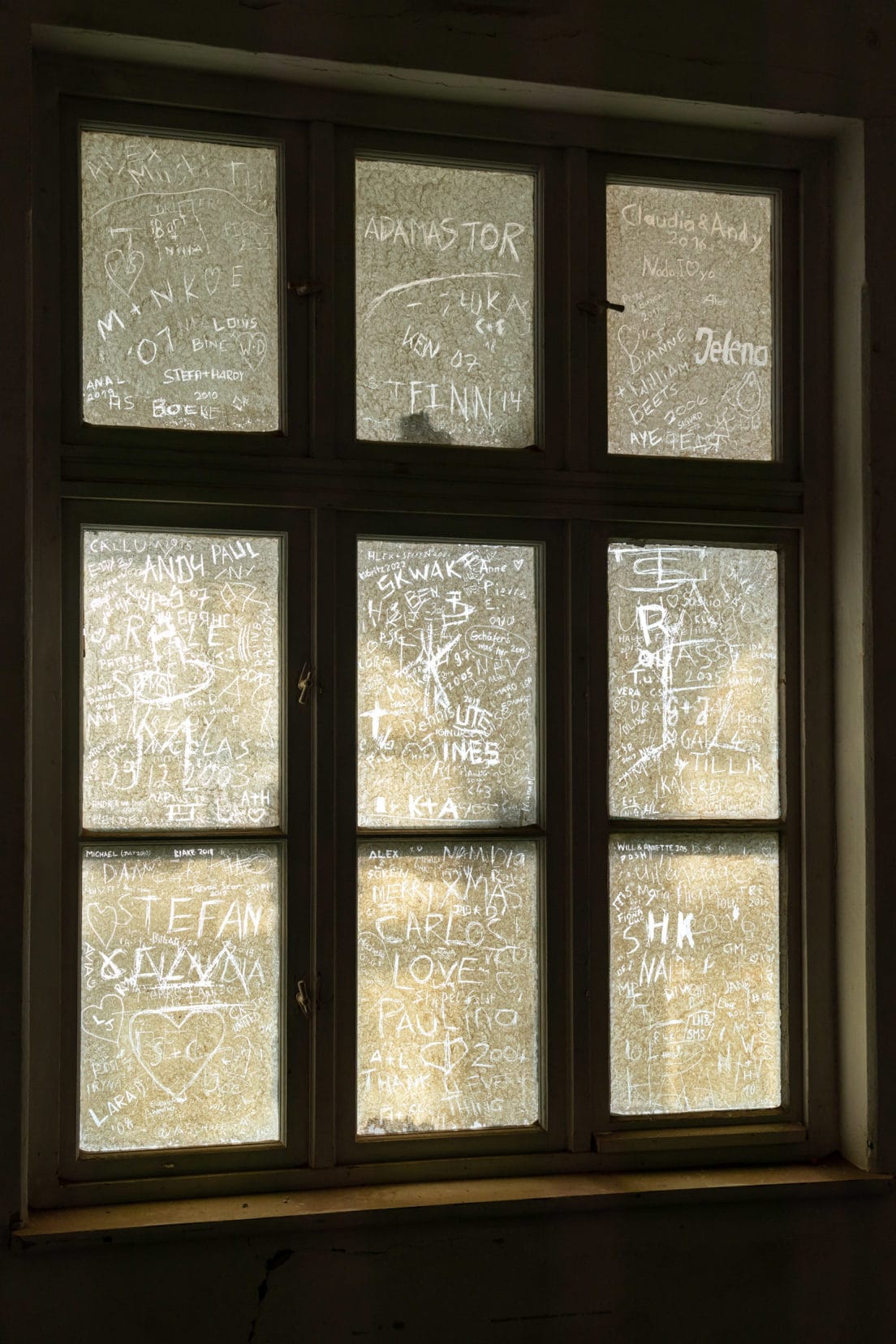 Names of people worldwide were scratched into the sand-blown dirt on the windows and plastered over the panes. What is it that compels them to mark their presence? Perhaps to feel they matter?
Regardless, the sands of time are uninterested.
They will one day be no more, just as Kolmanskop will one day be no more.
The impermanence of a place is never more obvious than here.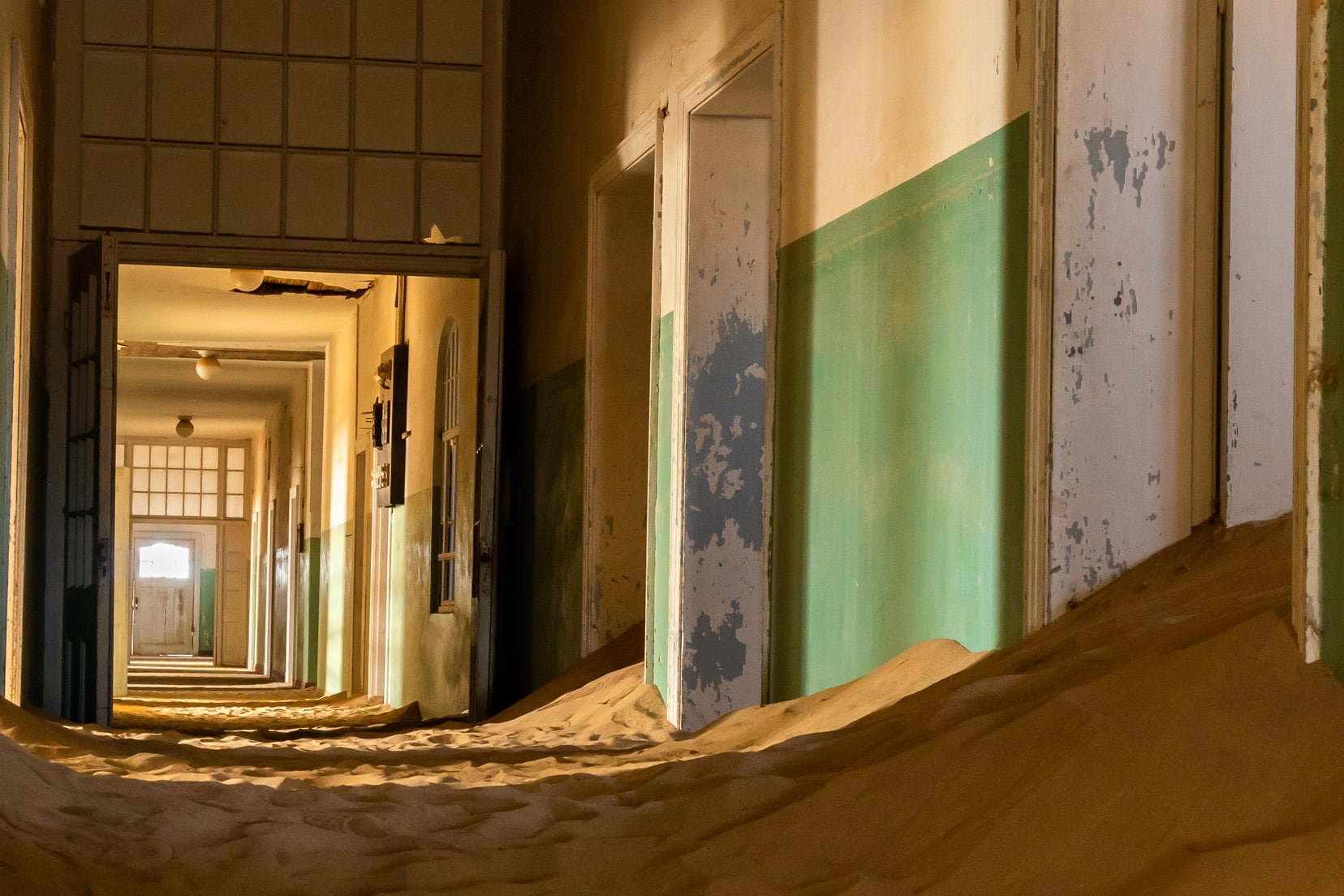 9.30 Mayhem
We'd barely finished taking photos of the hospital when it was time for the 9.30 guided tour to start.  Arriving back at the parking area, we were astounded by the sudden influx of two huge tour buses and the arrival of at least six more cars.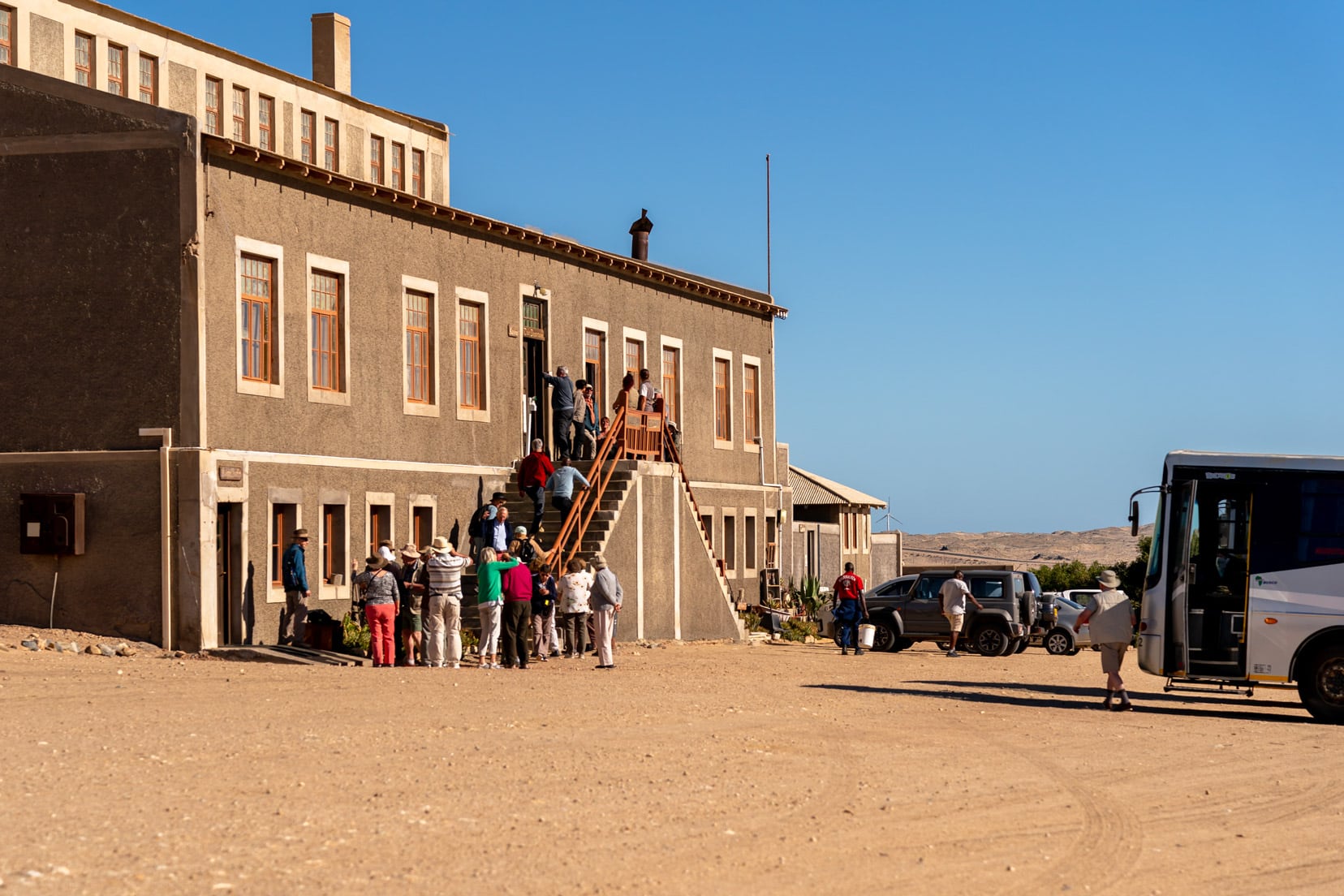 Checking that the 11 am tour would likely be less busy, we sauntered off again to explore more of this incredibly interesting town.
A weathered picket fence, a dead bougainvillea trunk, an iron bath; all lifeless reminders of a once thriving community.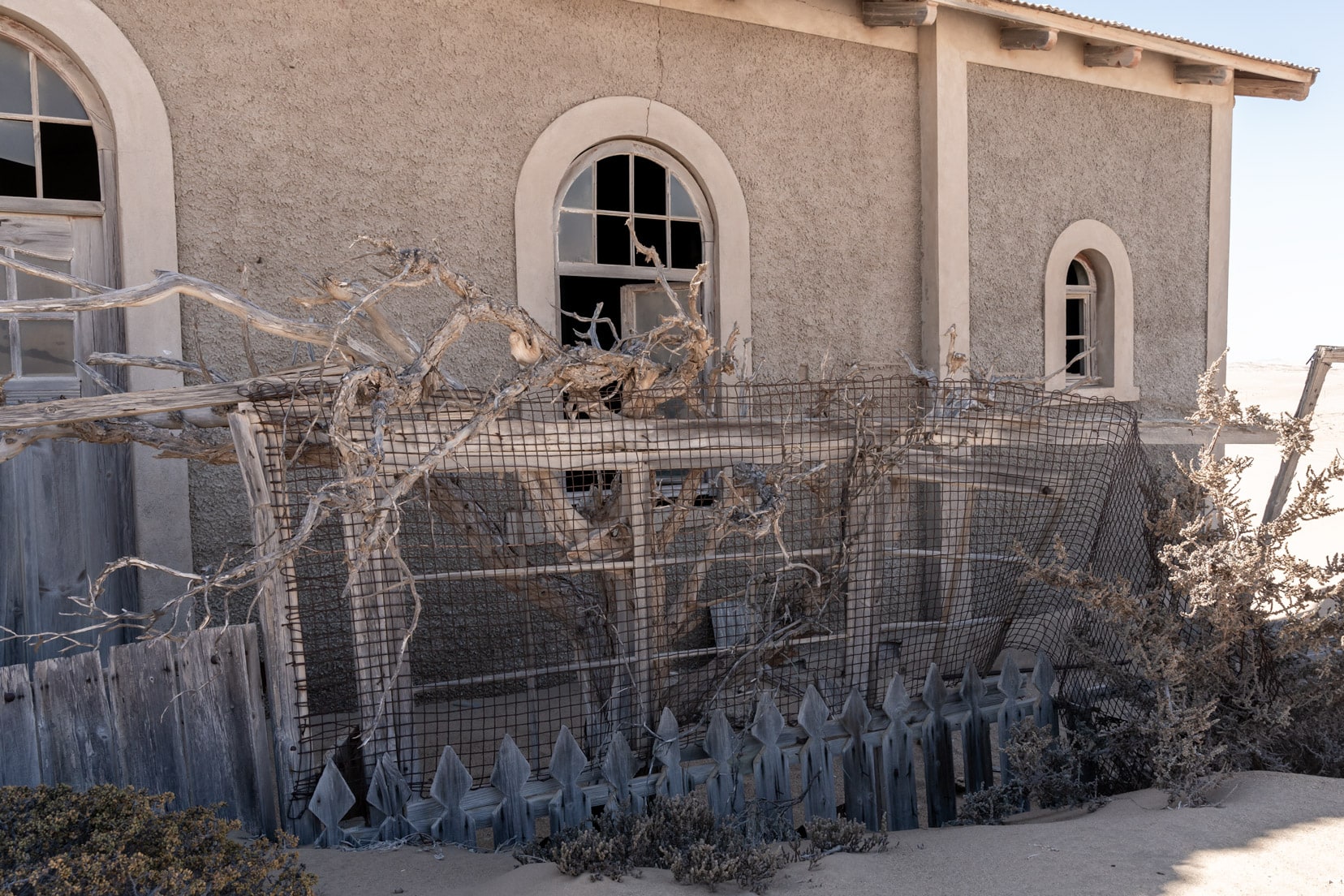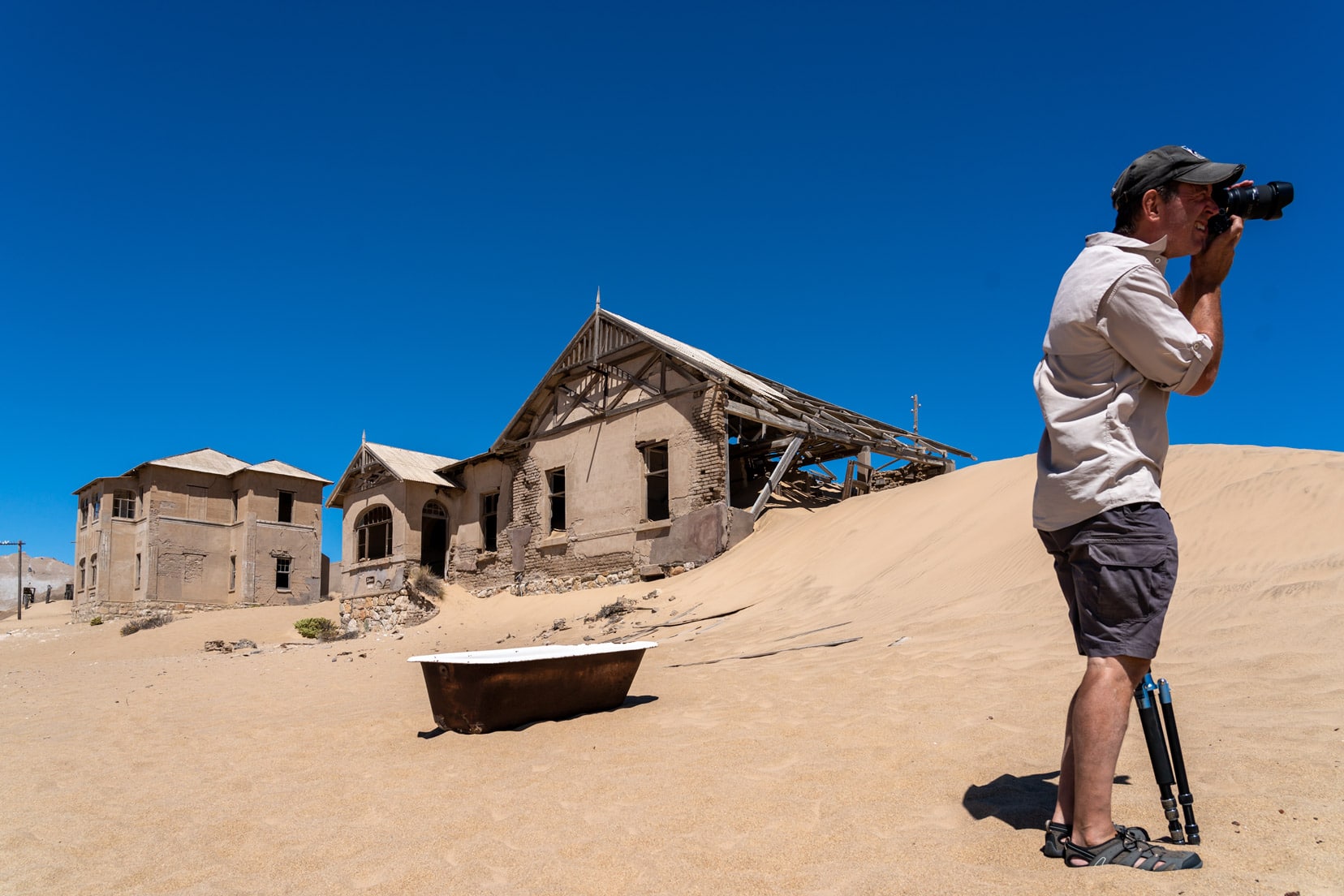 11.00 Guided Tour – A Must-Do
With the number of tourists drastically reduced, we had nine on our 11 o'clock tour, including us and our guide, Mike.
Now, if you have ever watched the popular TV series Ghosts (the UK version), picture the Captain, and you will have a pretty accurate vision of Mike. Right down to the stick under the arm. 
Mike gave us a low down on the history of Kolmanskop, beginning the tour in the historical area (behind the gym, which is behind the cafe and curios shop) with old photos and history boards.
We then moved through various rooms and buildings, learning more about the town and the Kolmanskop community.
According to Mike, there could still be diamonds at Kolmanskop just waiting to be unearthed. So we kept a keen eye out in case anything sparkly caught our eye.
He also recommended that if we did so happen to find a diamond, to stand on it, surreptitiously scrape sand over it, and come back for it later;)
Despite the fact I closely examined the bucket loads of sand I seemed to be perpetually pouring from my shoes, there were, unfortunately, no diamonds on the soles of my feet.
Though, to be honest, I'd be foolhardy to tell you if there was!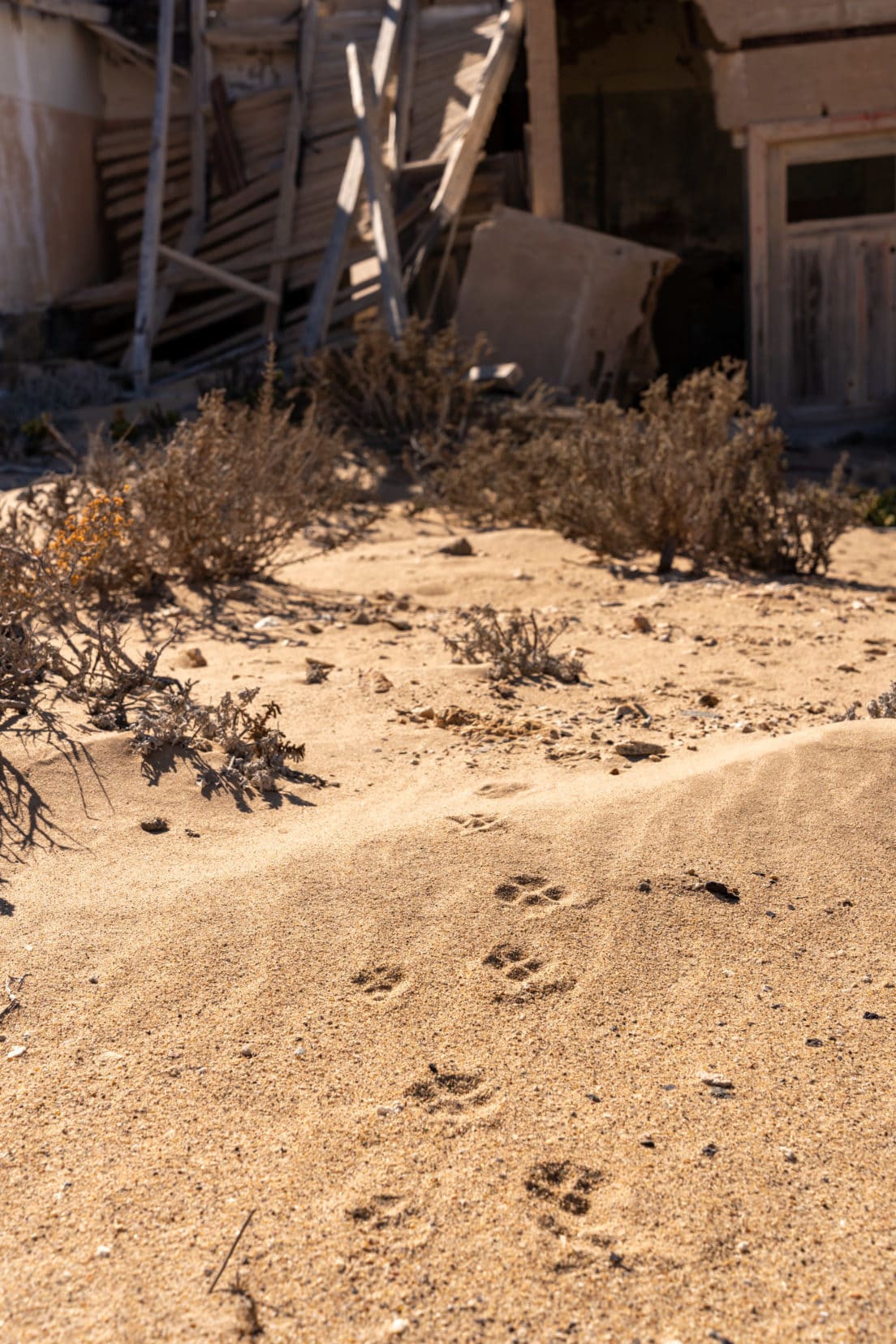 Kolmanskop History – In Short
In its heyday, in the early 1900s, Kolmanskop, a diamond-mining town, was one of the wealthiest towns around. No expense was spared on many of its German architectural homes and top-class facilities.
Kolmanskop got its name from a transport driver, John Coleman, who had to abandon his wagons in a sandstorm in 1905. The wagons became a reference point for local navigation, with locals calling it Coleman's Hill — hence the name Kolmanskop (Kop means hill). 
In 1908, Zacharias Lewala, a railway track worker, handed a shiny stone to his boss, August Stauch. The German railway manager immediately suspected that it was a diamond. And his hunch was right.
Once the German colonists, in what was then known as German South West Africa (now Namibia) discovered the potential for finding diamonds, so began the interest in diamond mining at Kolmanskop and the development of one of the wealthiest towns of its time.
Between 1908 and 1914, around five million carats of diamonds were mined at Kolmanskop.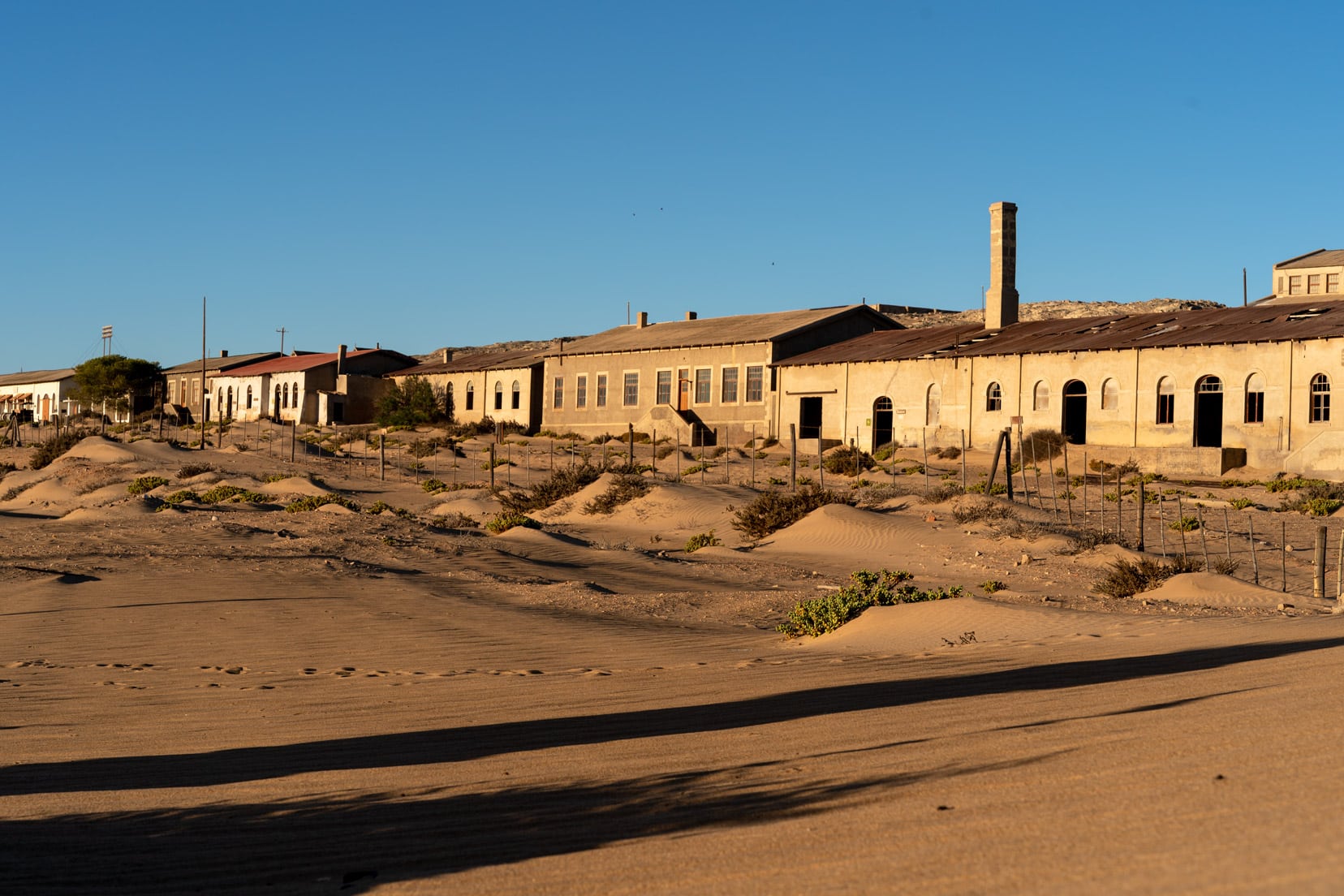 By the end of the First World War, however, the diamond reserves had dwindled, and more profitable diamond sites were found further south. The mining efforts at Kolmanskop were therefore abandoned.
The community gradually declined, and the last resident left Kolmanskop in 1954.
Today, the desert sands inch their way into the town, consuming it one doorway at a time.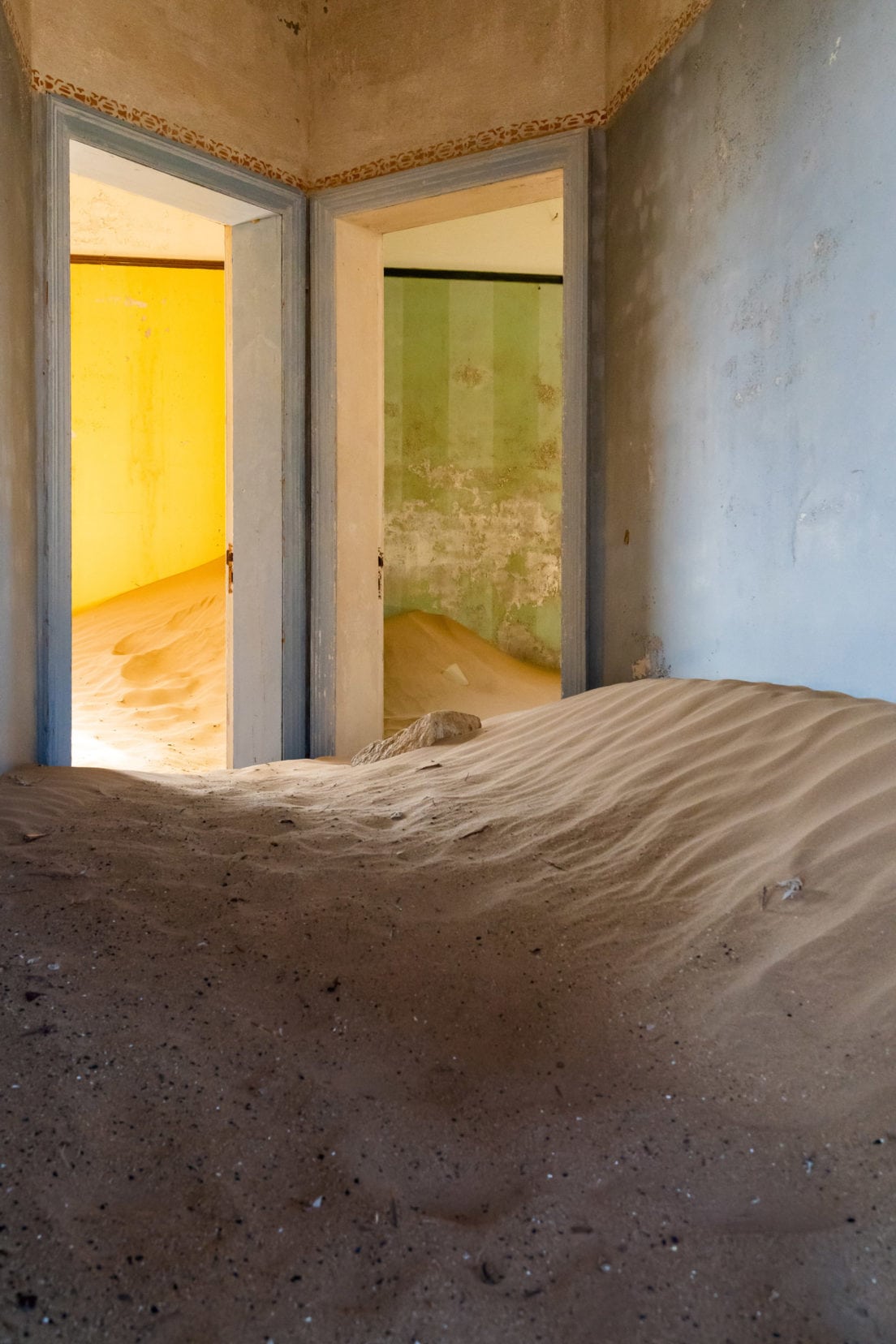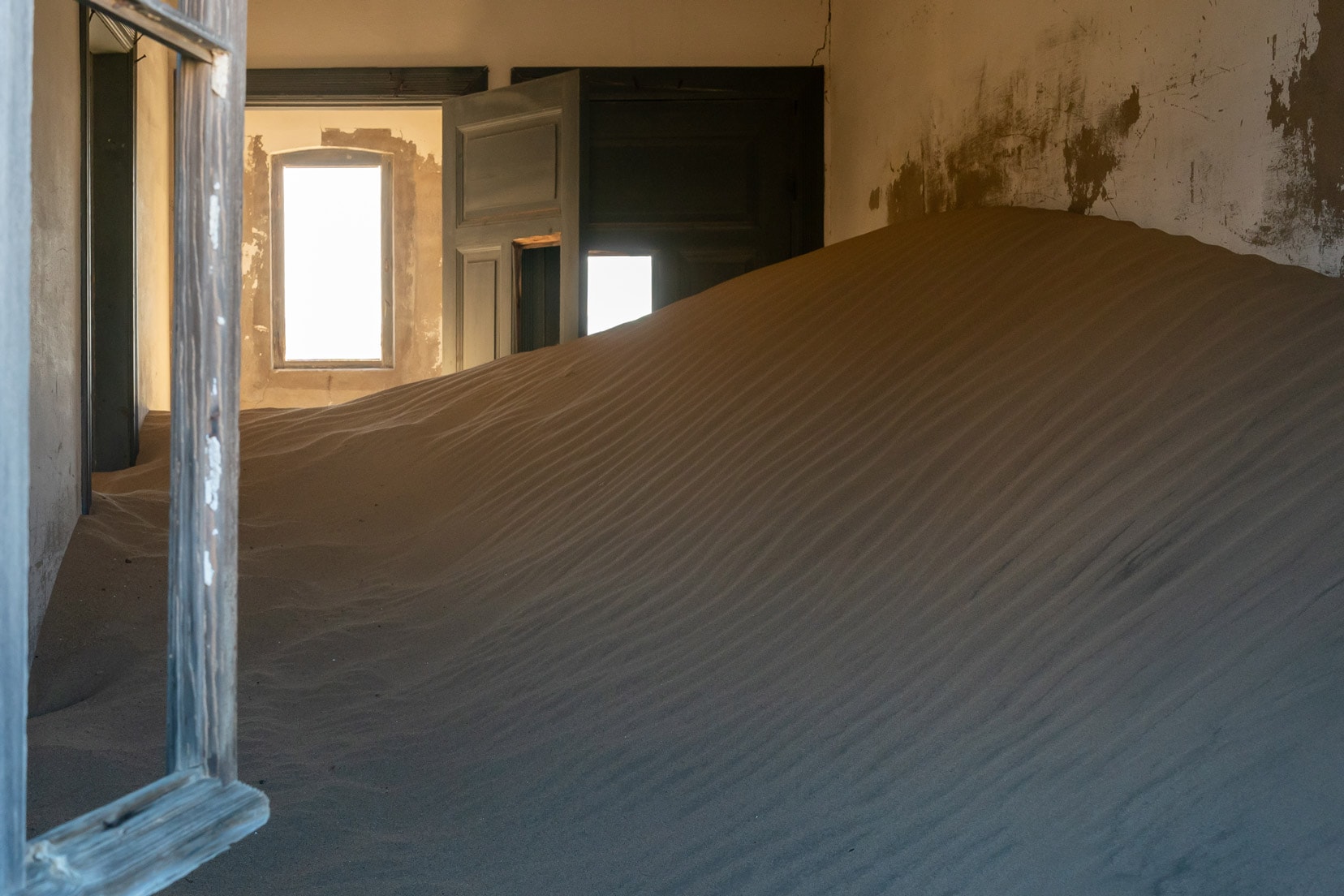 How to Visit Kolmanskop
Kolmanskop is a short 15-minute drive from Luderitz and is easy to get to along the main B4 tarred road.
Tickets can be bought at the Kolmanskop entrance gate or in Luderitz at Luderitz Tours/Information Centre.
Once you arrive, you drive from the main entrance up to the car park in the old town, in front of the cafe (see map).
The Best Buildings to Visit in Kolmanskop
Arriving in Kolmanskop can be overwhelming because there are so many buildings to explore, so deciding where to start is difficult.
We've therefore put together a list of the places not to miss and a suggested order to make the most of your time at Kolmanskop Ghost Town.
1. Krankenhaus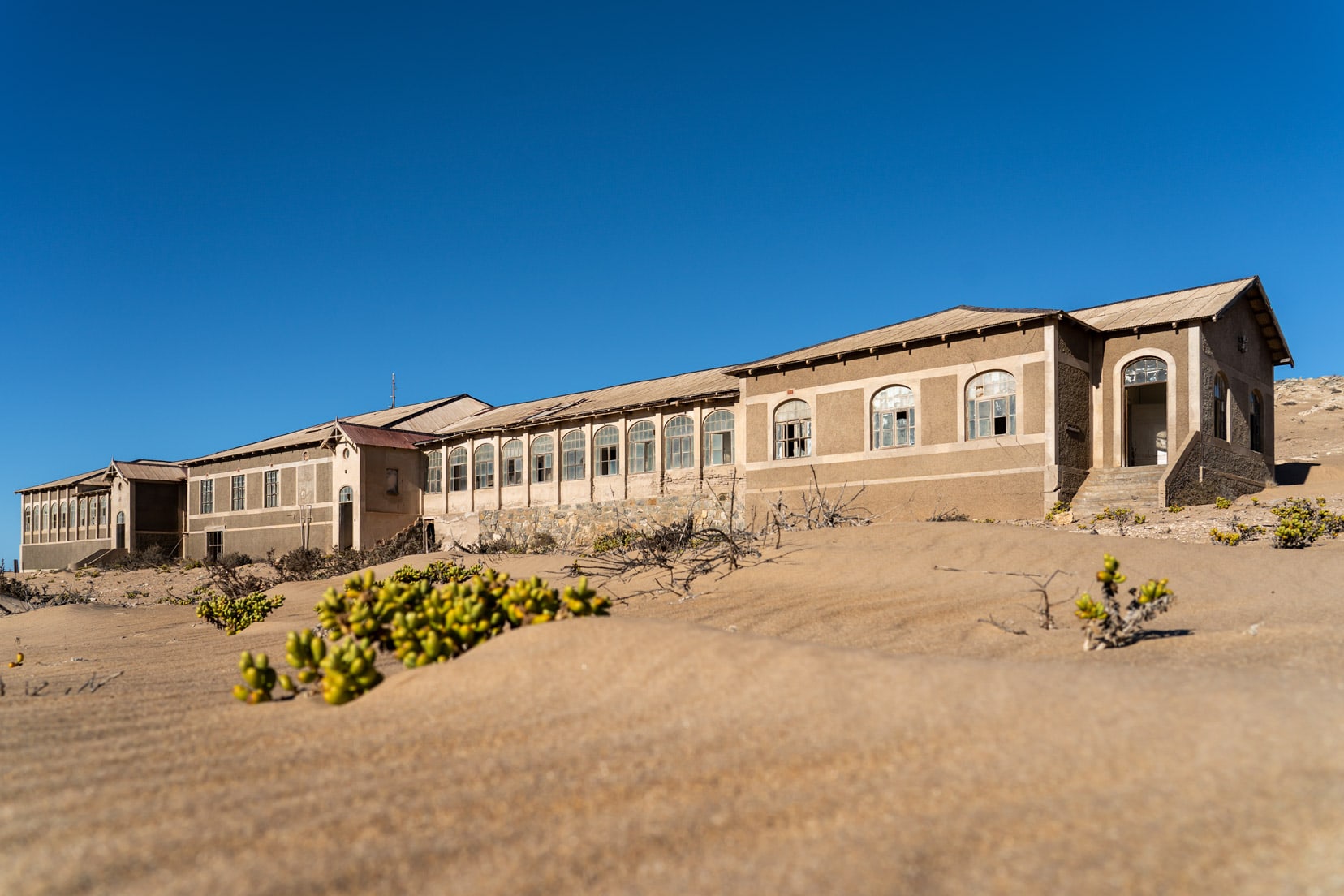 We found the Krankenhaus (the hospital) to be one of the most interesting buildings at Kolmanskop.
The sand is mainly encroaching on one side, and the long corridors reveal the advancing sands in an impressive way.
This is particularly so if you are an avid photographer.
The early morning light, piercing the hospital's splintered windows, makes for some great moody shots.
The sand is so deep in places that doors are almost obscured, and rooms are engulfed.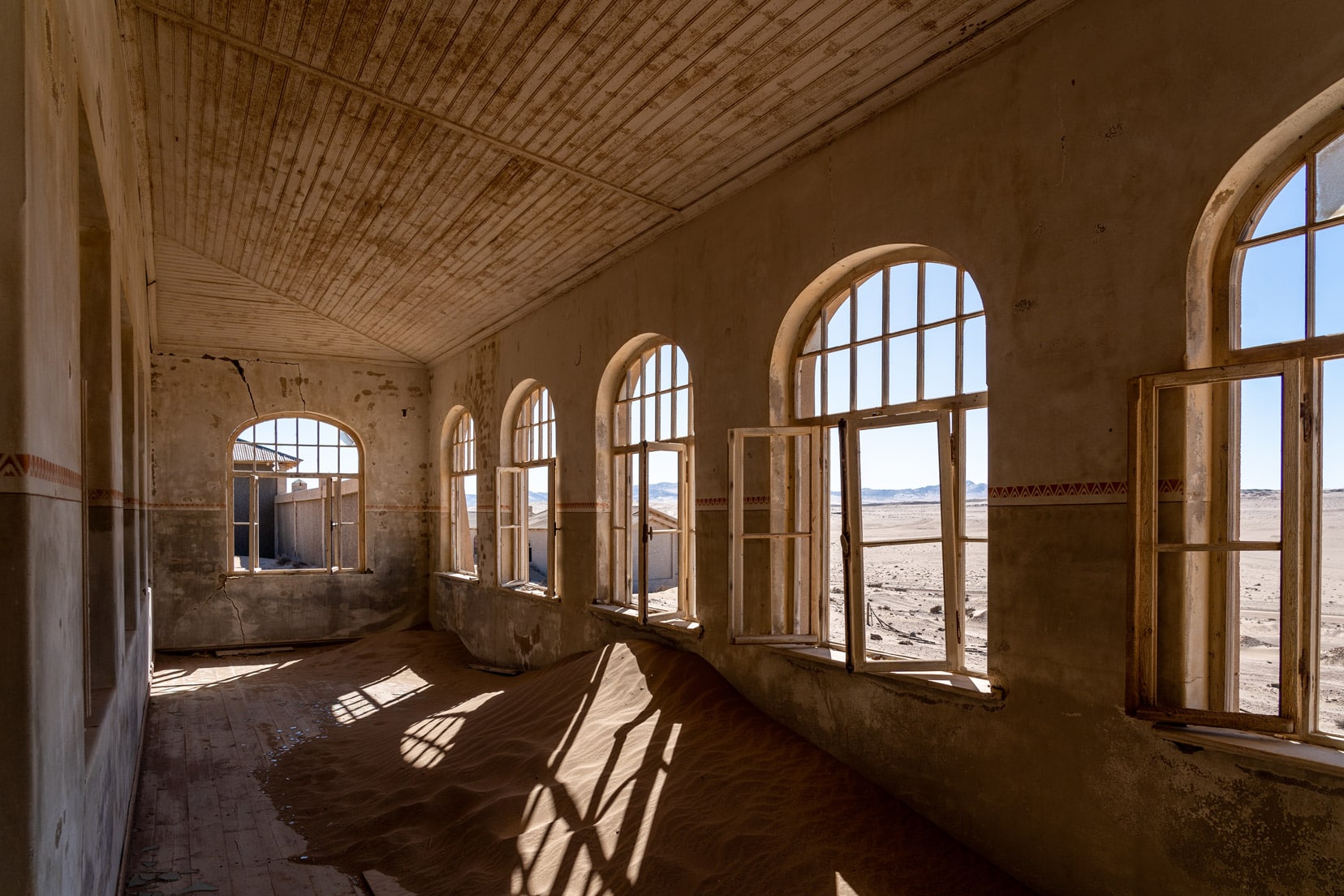 Interestingly, Kolmanskop was the first place in Africa to have an X-ray machine. However, this impressive piece of machinery's primary use wasn't to assess an array of broken bones or diagnose illnesses.
But to check for swallowed diamonds.
Workers were x-rayed before they went on leave to check that they weren't trying to steal any of the diamonds. Consequently, workers could only go on leave once a month because any shorter period would expose them to dangerous radiation levels.
Mike, our guide, told us of a few inventive attempts to smuggle diamonds without being caught by the X-ray machine. The use of carrier pigeons being one.
But on one occasion, the pigeon stopped for a rest (its load was obviously too heavy), and security guards found it. They followed the pigeon, inevitably leading them to the diamond smugglers.
After that, it was illegal to own carrier pigeons in the area.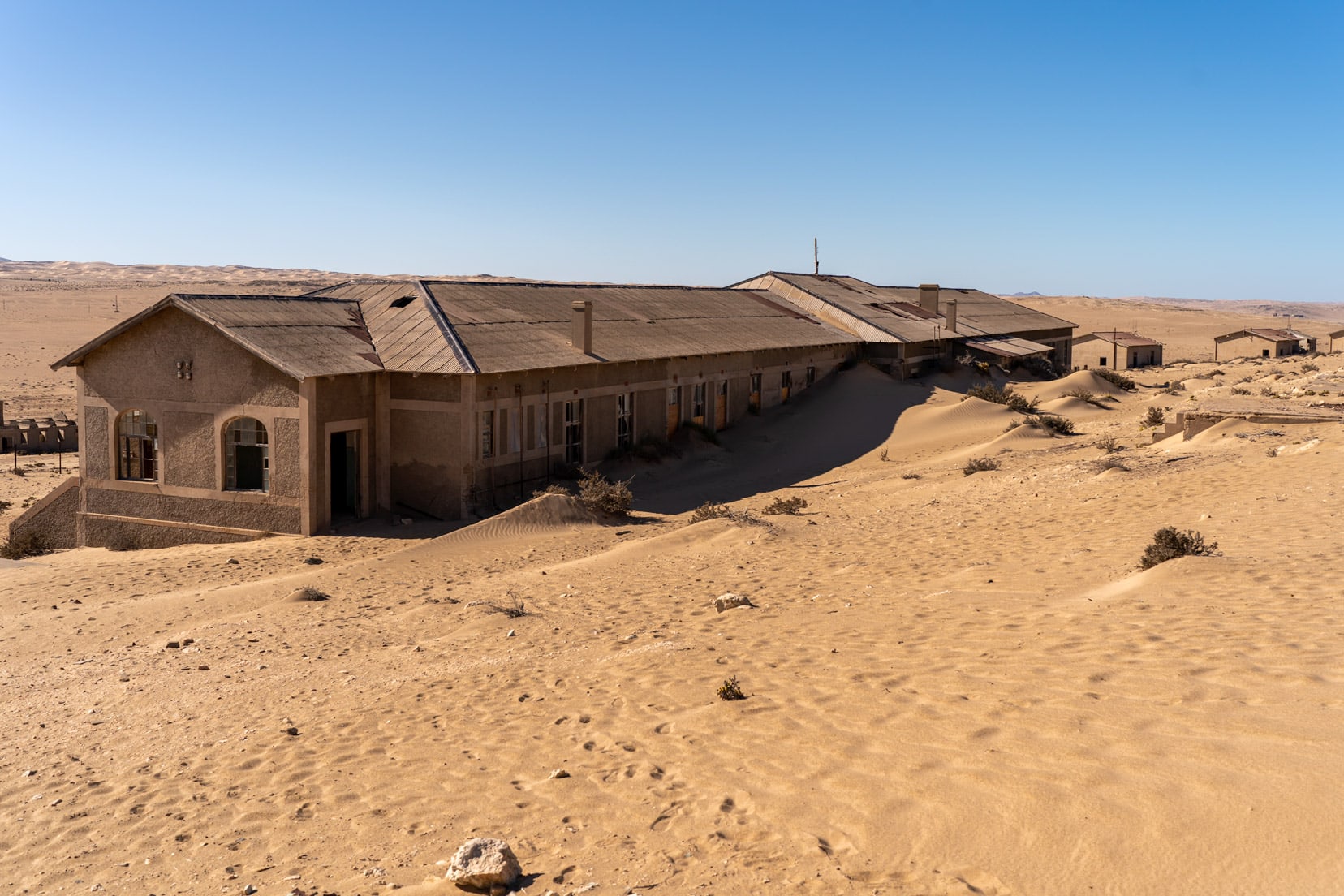 2. Schule (School)
The primary school is A little further from the hospital, at the end of this jilted town. The four, now barren, sizable classrooms were used to teach around 40 of the town's children.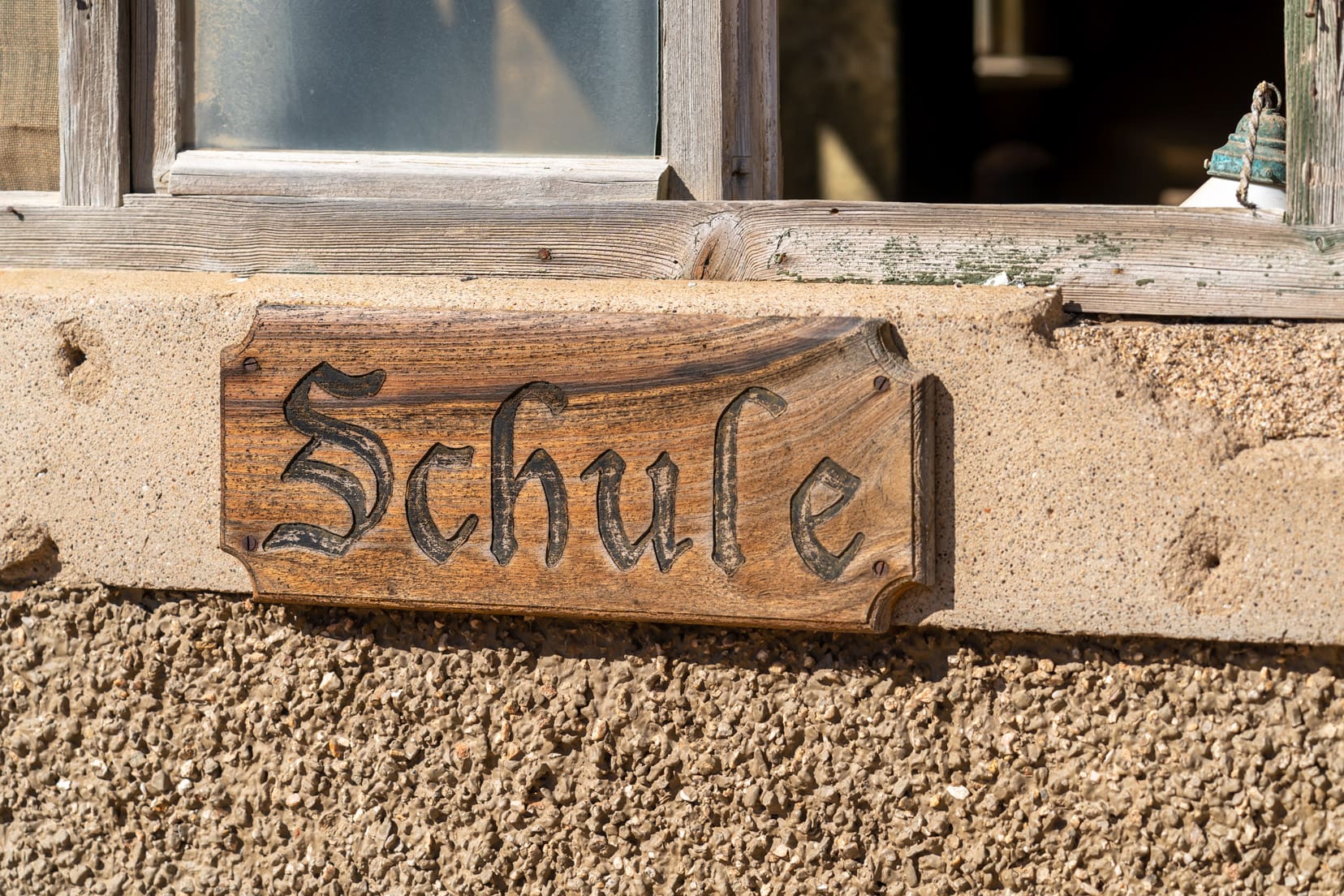 3. The Posh End of Town
At the opposite end of the town from the school, with panoramic views, you'll find the most luxurious of all the buildings in Kolmanskop.
You can't miss the double-storey houses of the diamond mine manager, the architect and the teacher's house. In fact, the teacher's house is almost completely engulfed by sand already.
Right on the end, the manager's house still has the original bath in the black and white tiled bathroom upstairs. This décor was all the rage back in Europe, and the tiles were imported at great expense.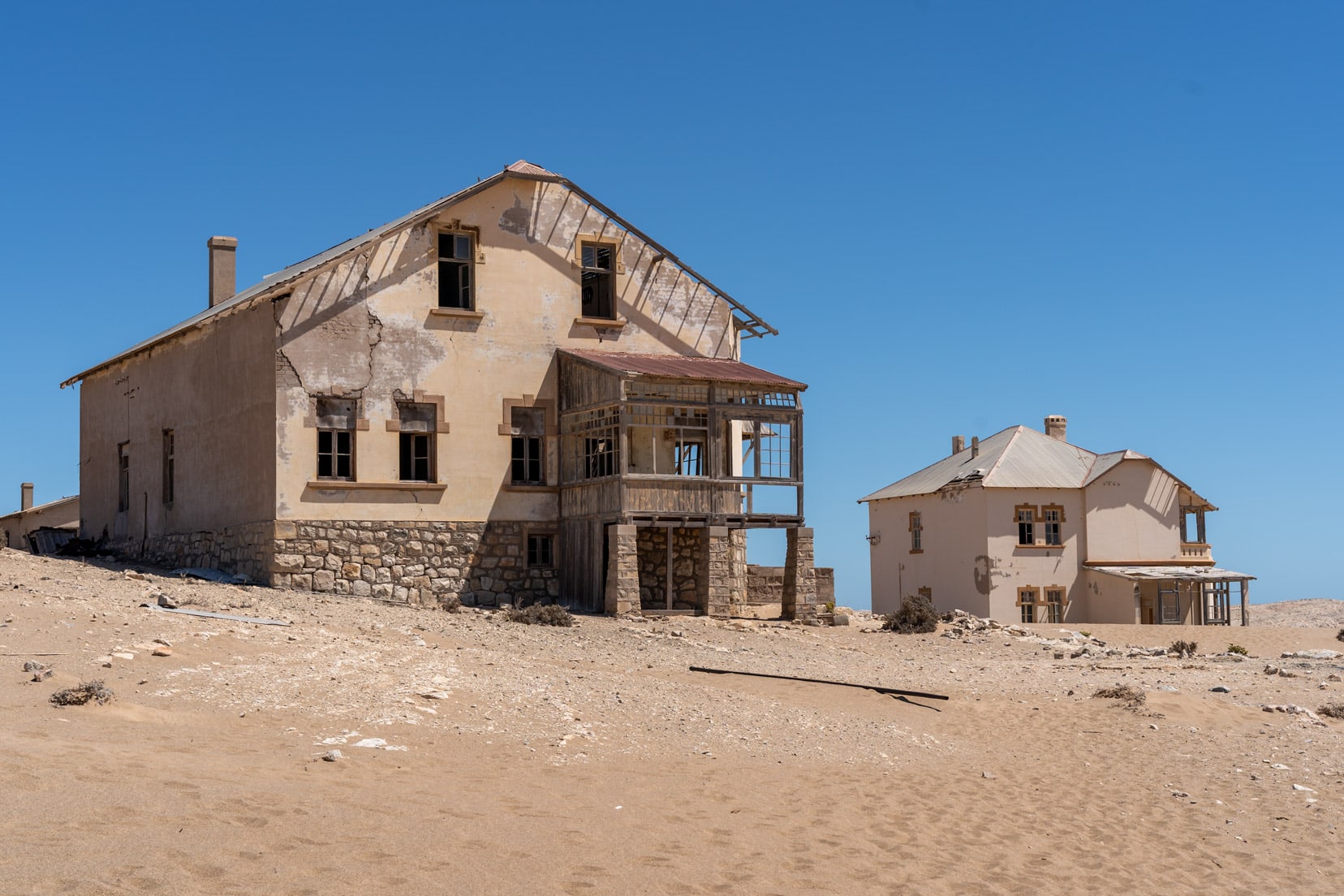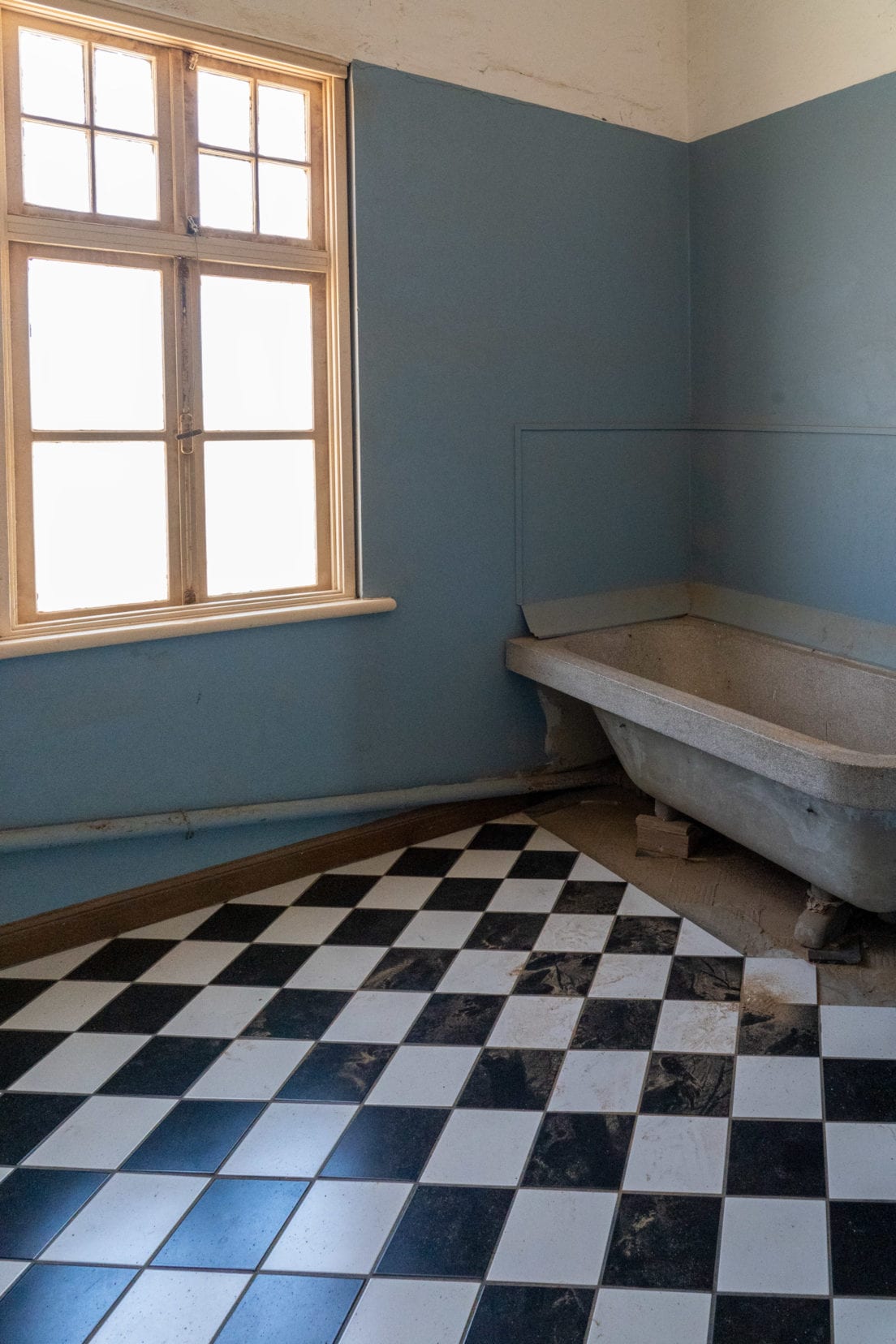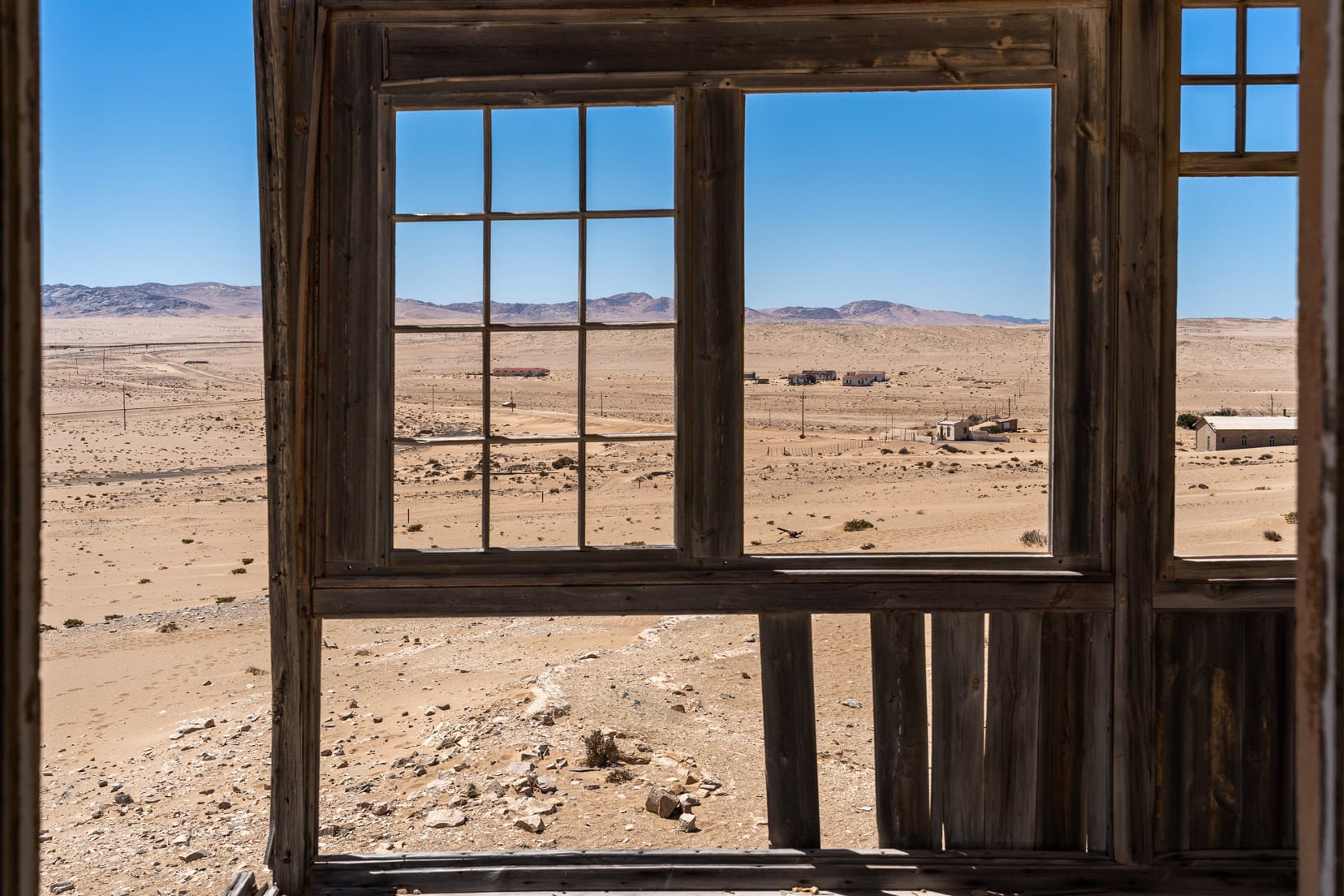 4. The Gym … and More
You'll find the gym just past the restaurant and gift shop, towards the back.
This room wasn't just the gym, though, it was also the recreation room, entertainment room, theatre (you'll see a stage) and cinema where silent movies were played.
This room was also used for opera.  I'm sure you'll be just as surprised as we were to learn that the hall was equipped with the highest quality acoustics of the day.  This was so European opera stars could be brought to Kolmanskop for grand performances.  
5. The Bowling Alley
A favourite sport of the Germans was ten-pin bowling, so it was inevitable that there would be a dedicated alley – the Kegelclub. The bowling alley was so well built that it is still in working order today.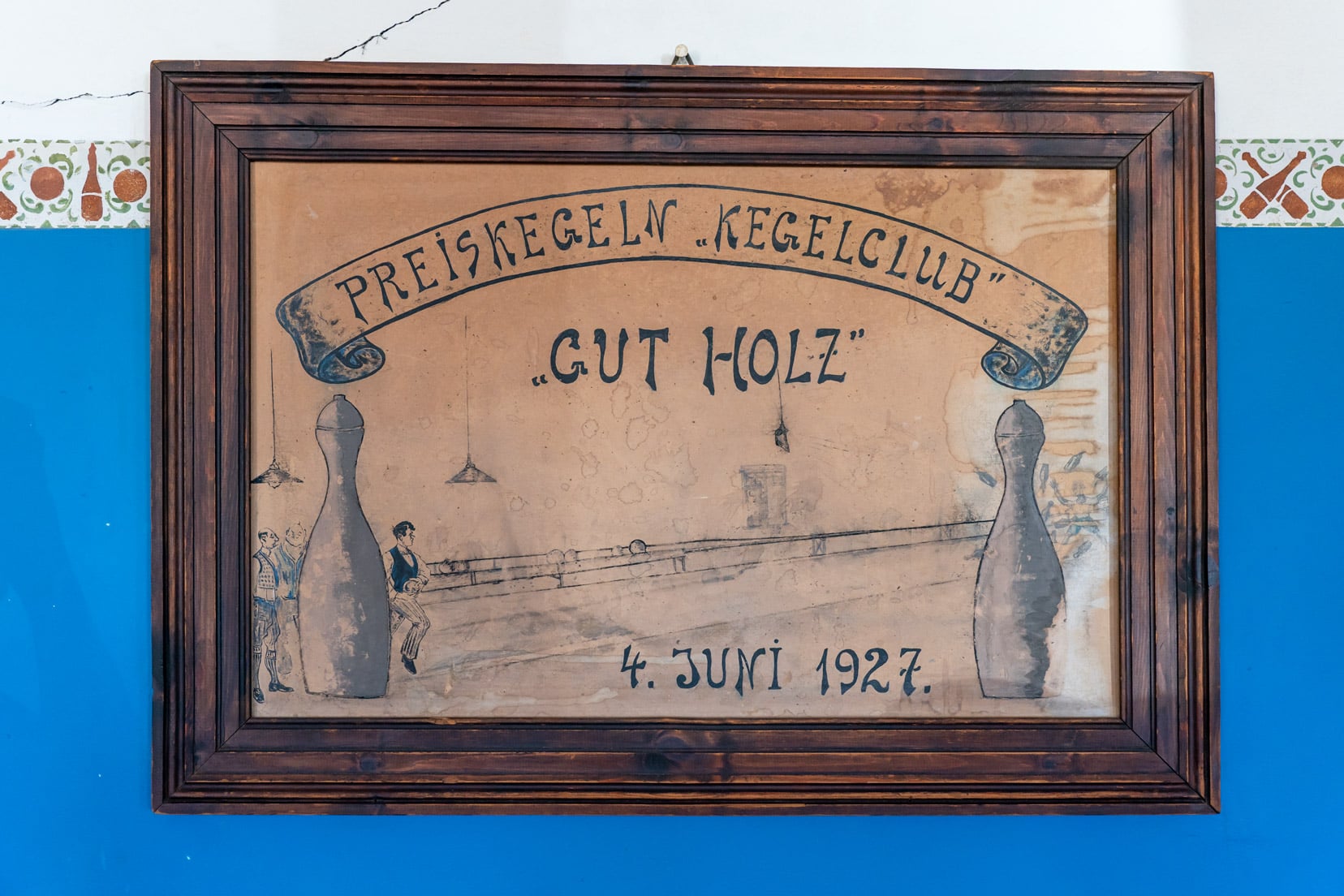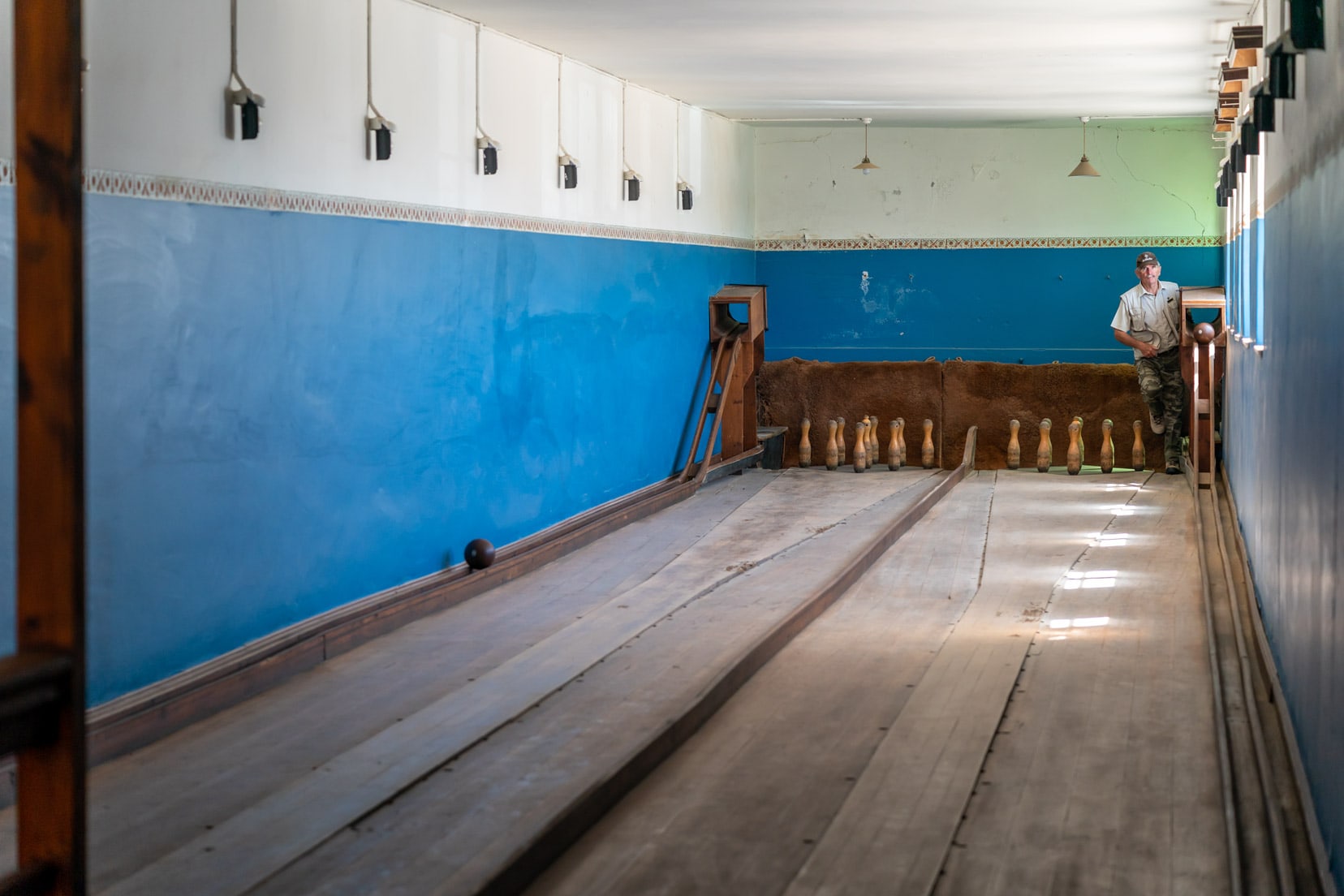 6. The Ice Factory
Obviously, being in the desert meant water was scarce. Kolmanskop's water was brought into the town and frozen in the ice factory, with each family being allocated a 20-litre ice block each day to keep their fridges cool.  
On the Kolmanskop tour, you will learn how the blocks of ice were made without electricity and how the cooling system was extended to the butchery next door.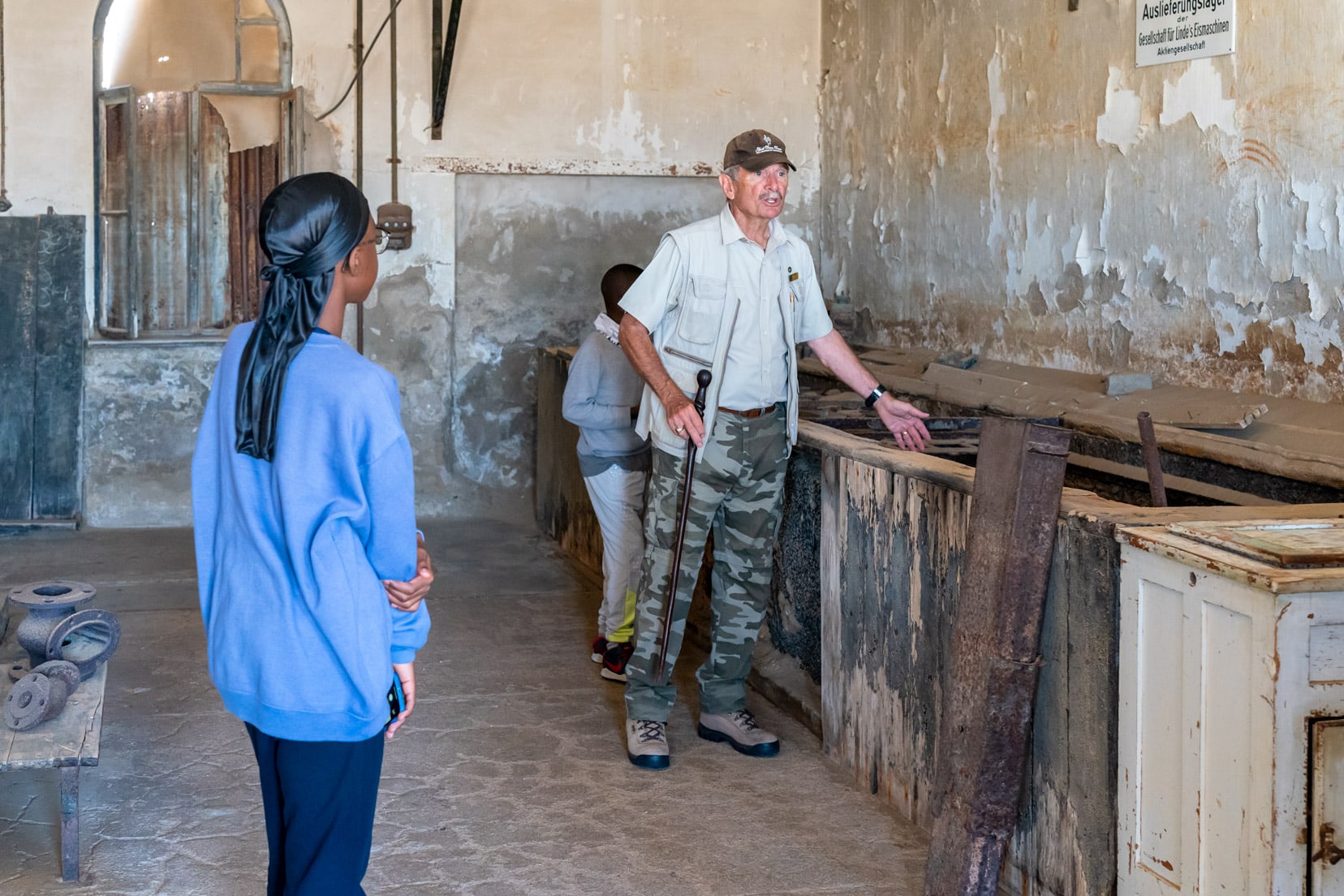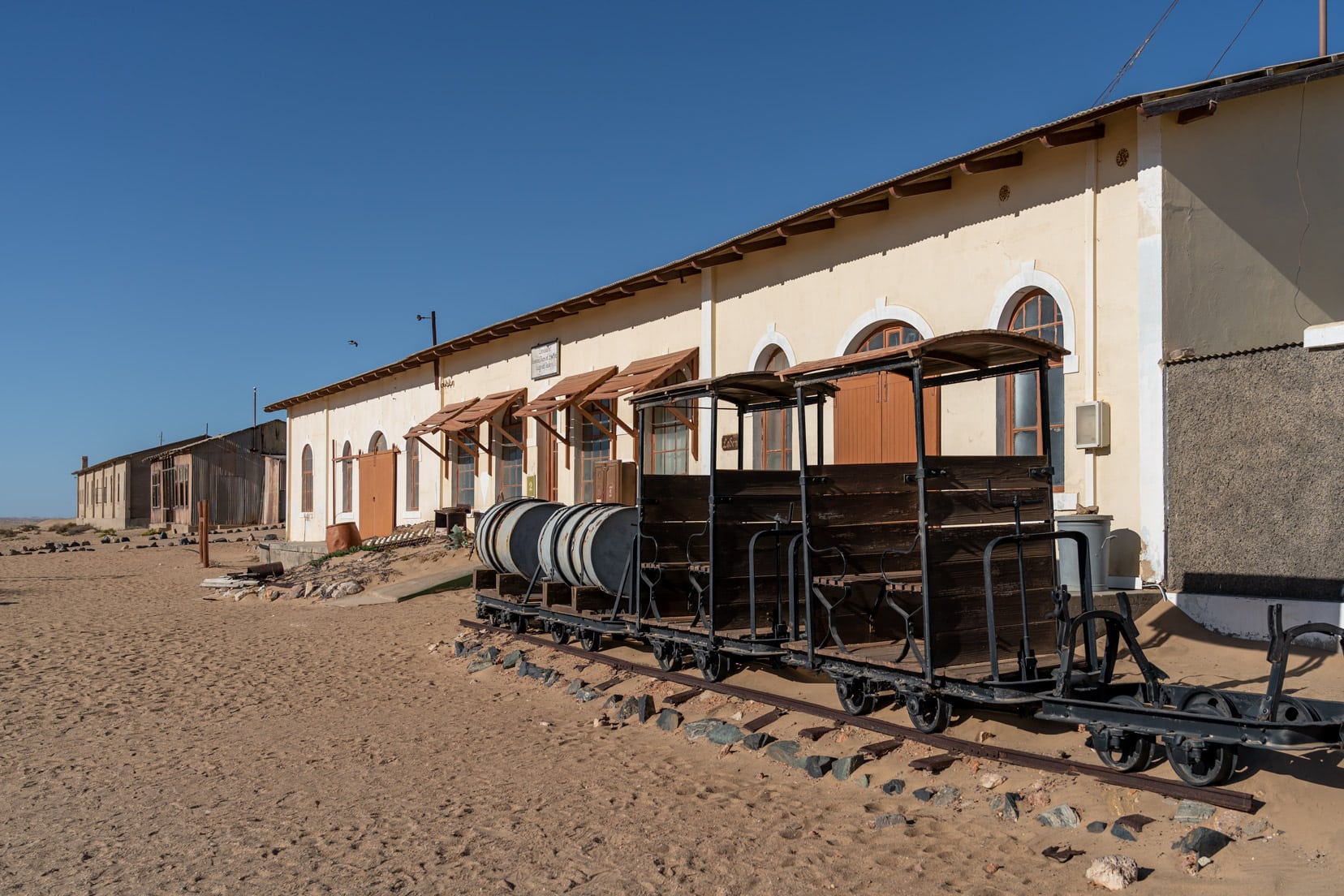 NOTE: You will see the gym (come theatre, come cinema, come opera hall), bowling alley, the ice factory, the butchery, and the post office as part of the tour.
Kolmanskop Guided Tour
Duration: The tour lasts between 45 to 60 minutes.
Content: Covers the history of the once-thriving diamond mine community.
Highlights: Includes a tour of buildings like the butchery, bowling alley, post office, ice factory, and the town's entertainment area.
Languages: Tours conducted in German, English, or Afrikaans. (3 different tours)
Tour Times:

Monday to Saturday: 9.30 am and 11.00 am.
Sundays and Public Holidays: 10.00 am.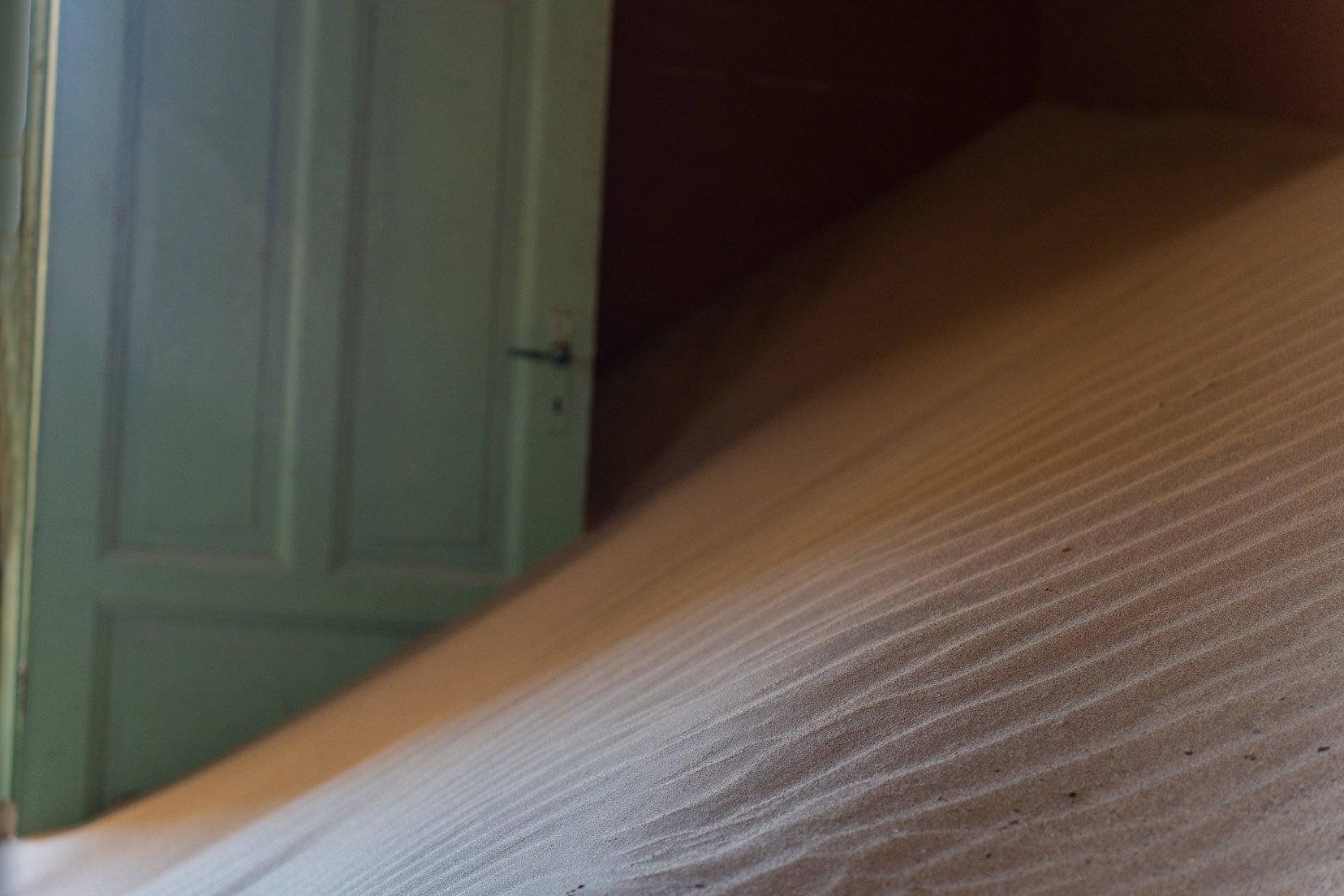 🚐 Thinking of Hiring a Camper in Namibia?
We recommend using Motorhome Republic to find you the best deal – they search all the local reputable African rental companies, including the most popular (we've seen them everywhere here), Avis and Britz
They do all the hard work for you and have a PRICE BEAT GUARANTEE
Tips for Visiting Kolmanskop Ghost Town
Wear Sturdy Shoes: Essential due to broken glass in the sand. Expect sand in your shoes.
Arrival Time: With a standard ticket, arrive at 8 am for a quieter experience; we had the place to ourselves until the tour group arrived at about 9.20 am.
Tour Groups: They generally stay near the main building, leaving areas like the hospital and school at the far end of Kolmanskop less crowded.
Take the Tour: It's informative and included in your ticket.
Tour Timing: If the 9.30 am tour is crowded, opt for the 11.00 am tour for a quieter experience.
Eating at Kolmanskop: Try the restaurant for a late breakfast. The 'Little Digger' and apple cake are recommended.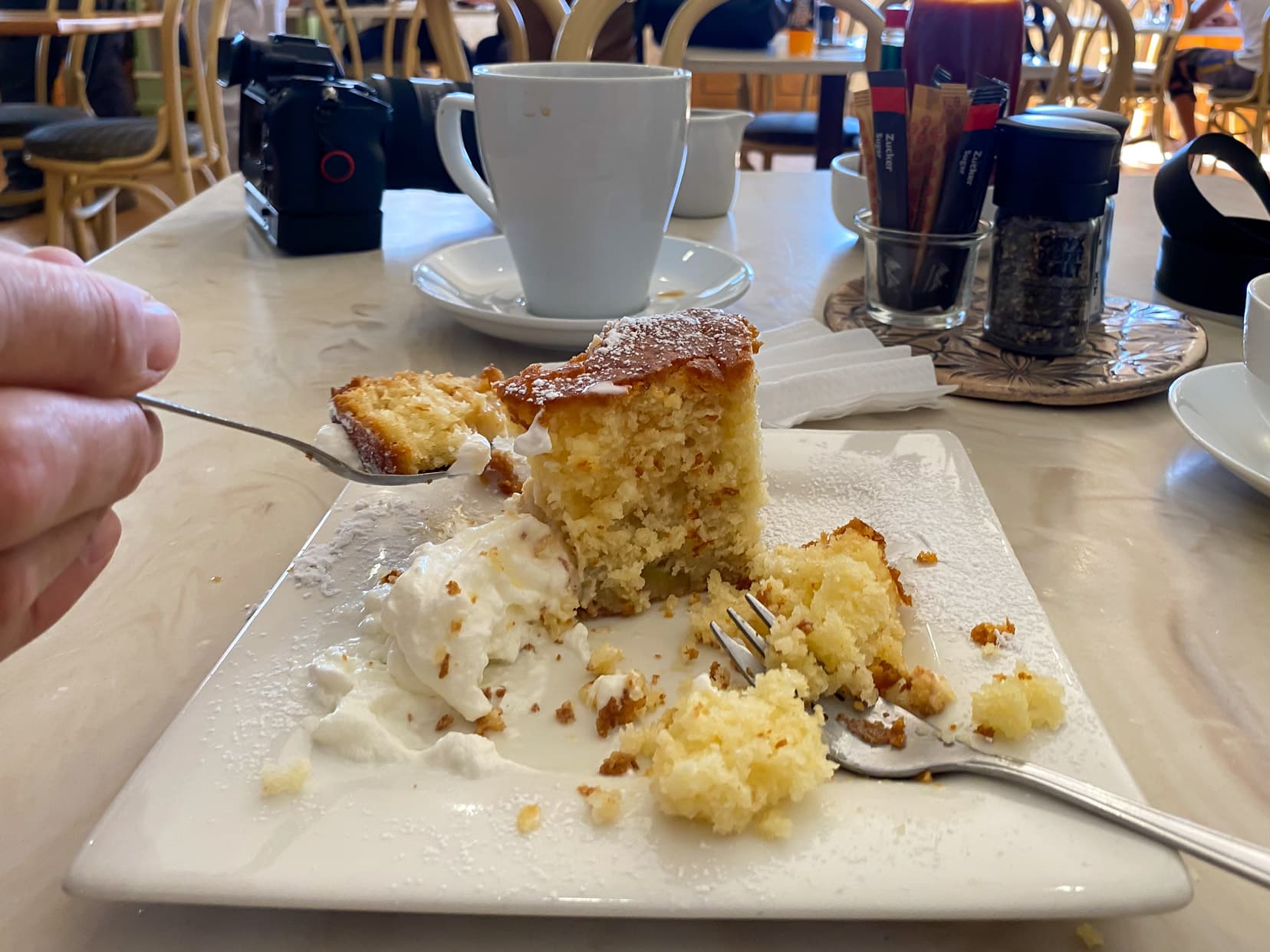 Kolmanskop FAQS
What is Kolmanskop known for?
Kolmanskop was once a wealthy diamond mining town. By 1954, however, it was abandoned and is now a tourist attraction and photographer's delight, as the Namib Desert sands are reclaiming it.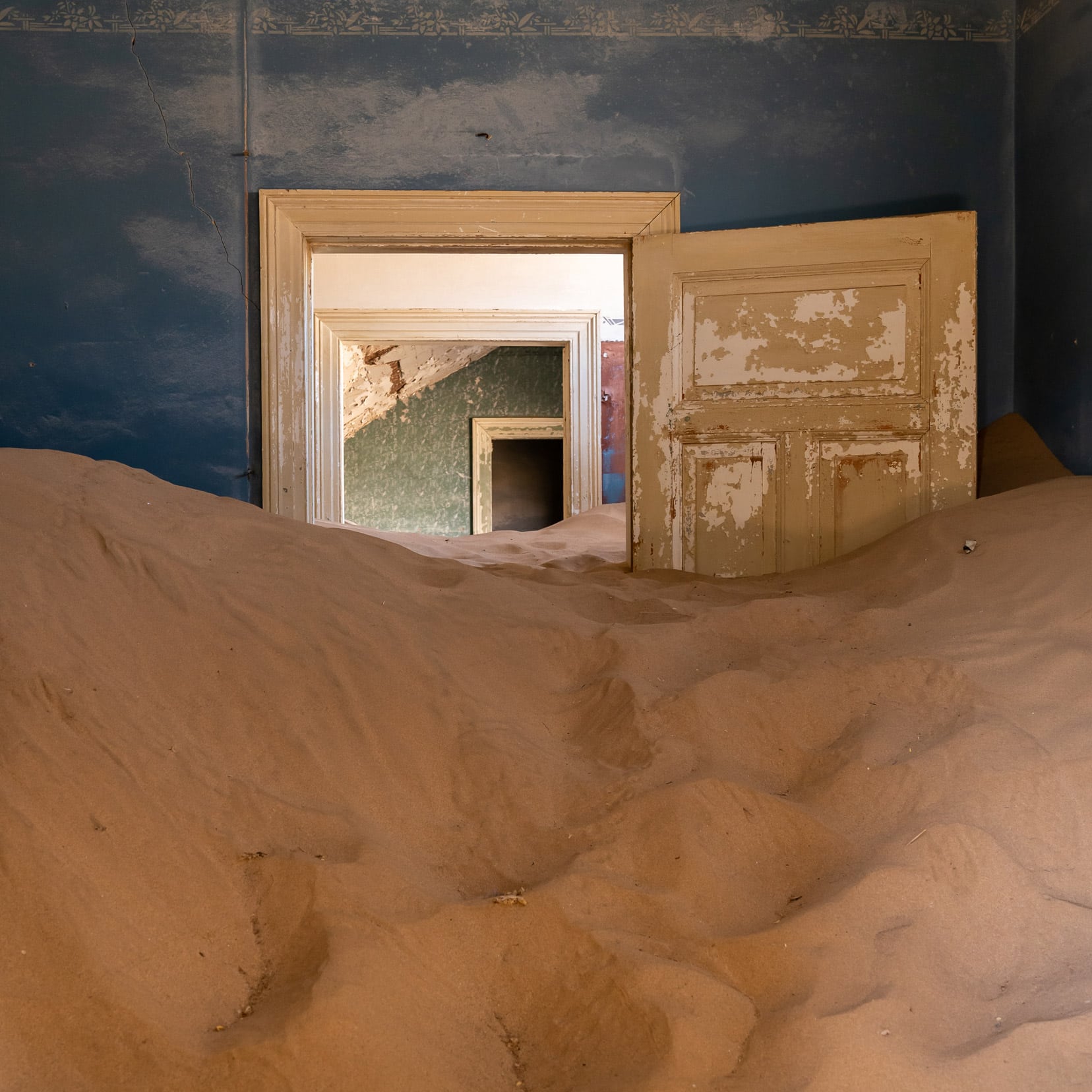 How much is entry to Kolmanskop?
N$130 Namibian dollars for a standard entry from 8 am to 1 pm or N$330 Namibian dollars for an all-day ticket, including sunrise and sunset.
How do I book Kolmanskop?
You can buy a ticket (which is your permit) to enter at the gate at Kolmanskop at 8 am or from the tourist information/ Luderitz Tours in the centre of Luderitz. If you want a sunrise-to-sunset permit, you must buy it the day before.
Why was Kolmanskop abandoned?
The old diamond mining town of Kolmanskop was completely abandoned by 1954 because diamond supplies were dwindling and more profitable mines were found further south.
Kolmanskop Ghost Town, Namibia…That's a Wrap
Kolmanskop ghost town was one of our favourite places to visit in Namibia – and if you are a photographer, this eerie abandoned town is one that shouldn't be left off your bucket list while travelling in Namibia.
Our journey through the mysterious Kolmanskop was a captivating prelude to another of Namibia's desert marvels, Sossusvlei. To experience the contrast and beauty of these unique environments, check out our visit to Sossusvlei, where towering dunes and vibrant wildlife create an entirely different yet equally mesmerizing experience.
If you have any questions about how to visit the town or what to expect, please drop us a line.
Planning a Namibia Road Trip? Make sure you grab our free Road Trip Planner to make everything that much easier.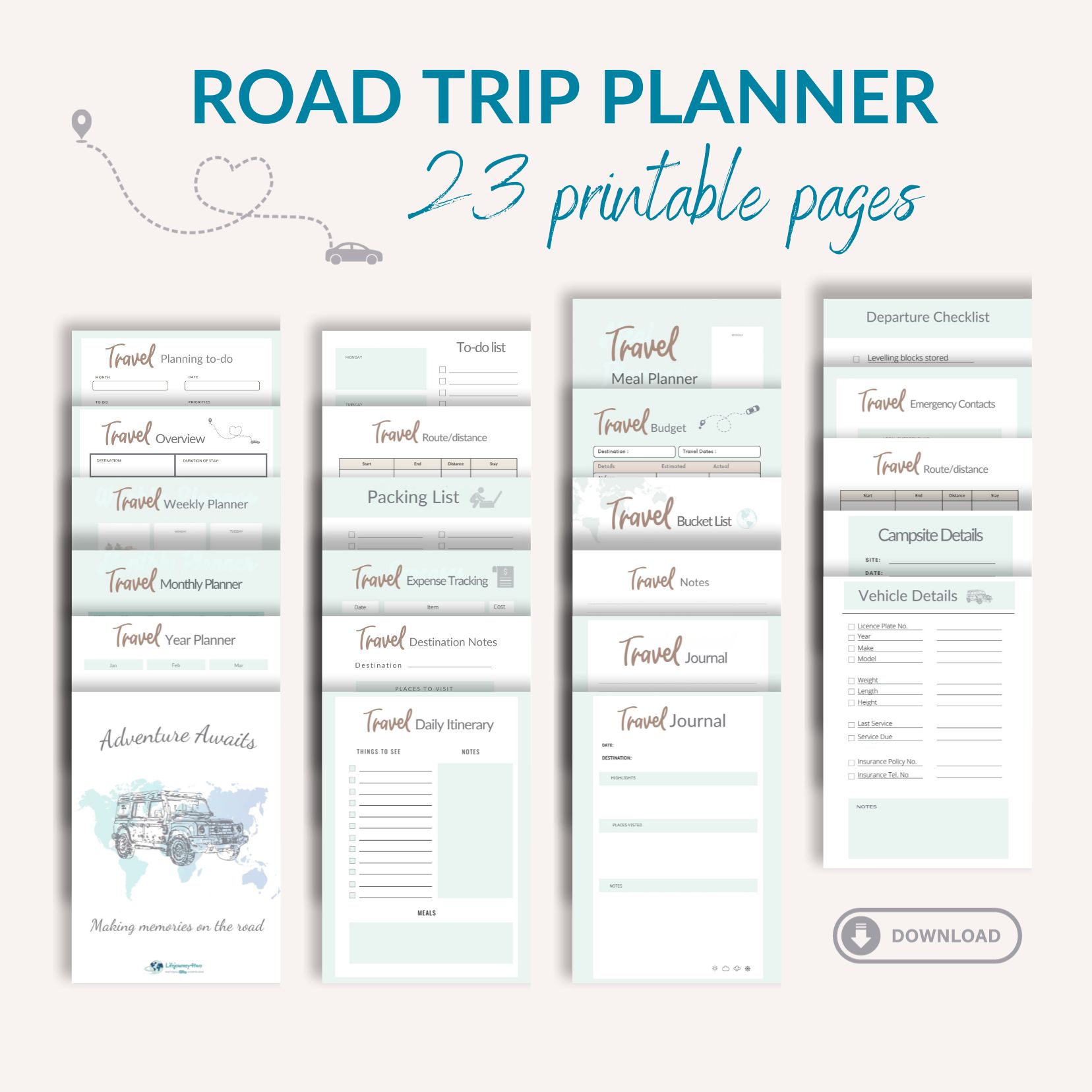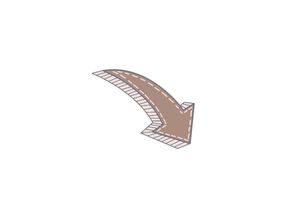 Pin and save for later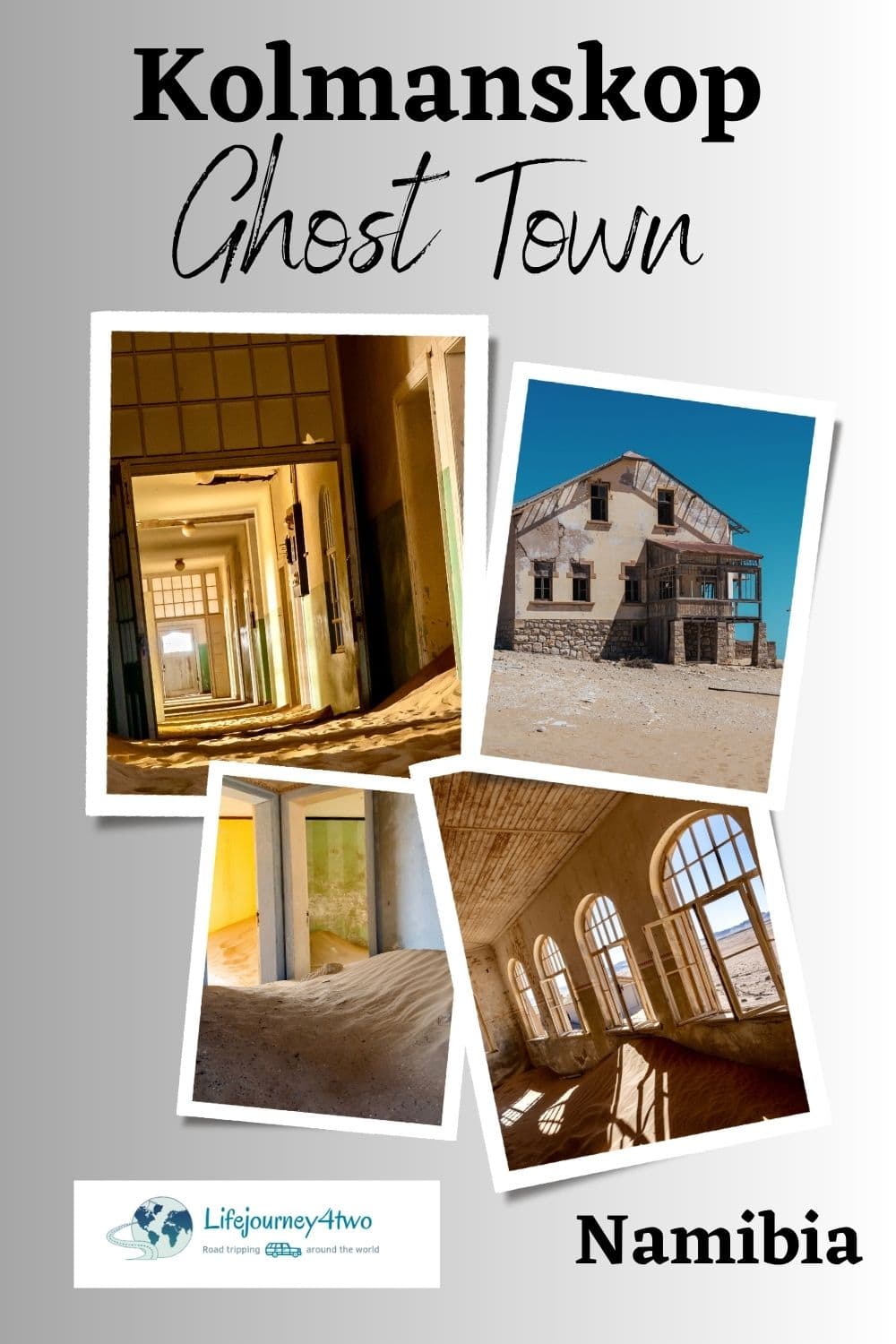 PLANNING YOUR TRAVELS?
These are the travel resources we recommend and use when planning our trips.
For a more thorough list visit our Travel Resources page here.