Khama Rhino Sanctuary Camp, Botswana
What you will find in this article on the Khama Rhino Sanctuary:
Wildlife Photography from our visit (throughout the article)
Use the List of Contents above to jump ahead to skip to any section.
"Bleary-eyed, we trundled out of camp at 6 am in our faithful Bucky. We were no more than 5 minutes along the deep sand track, rounding a corner when we had to brake suddenly. Blocking the way, also bleary-eyed, was a three-tonne rhinoceros."
And this was just one of our awesome rhino encounters at Karma Rhino Sanctuary that we visited at the start of our overlanding Botswana road trip.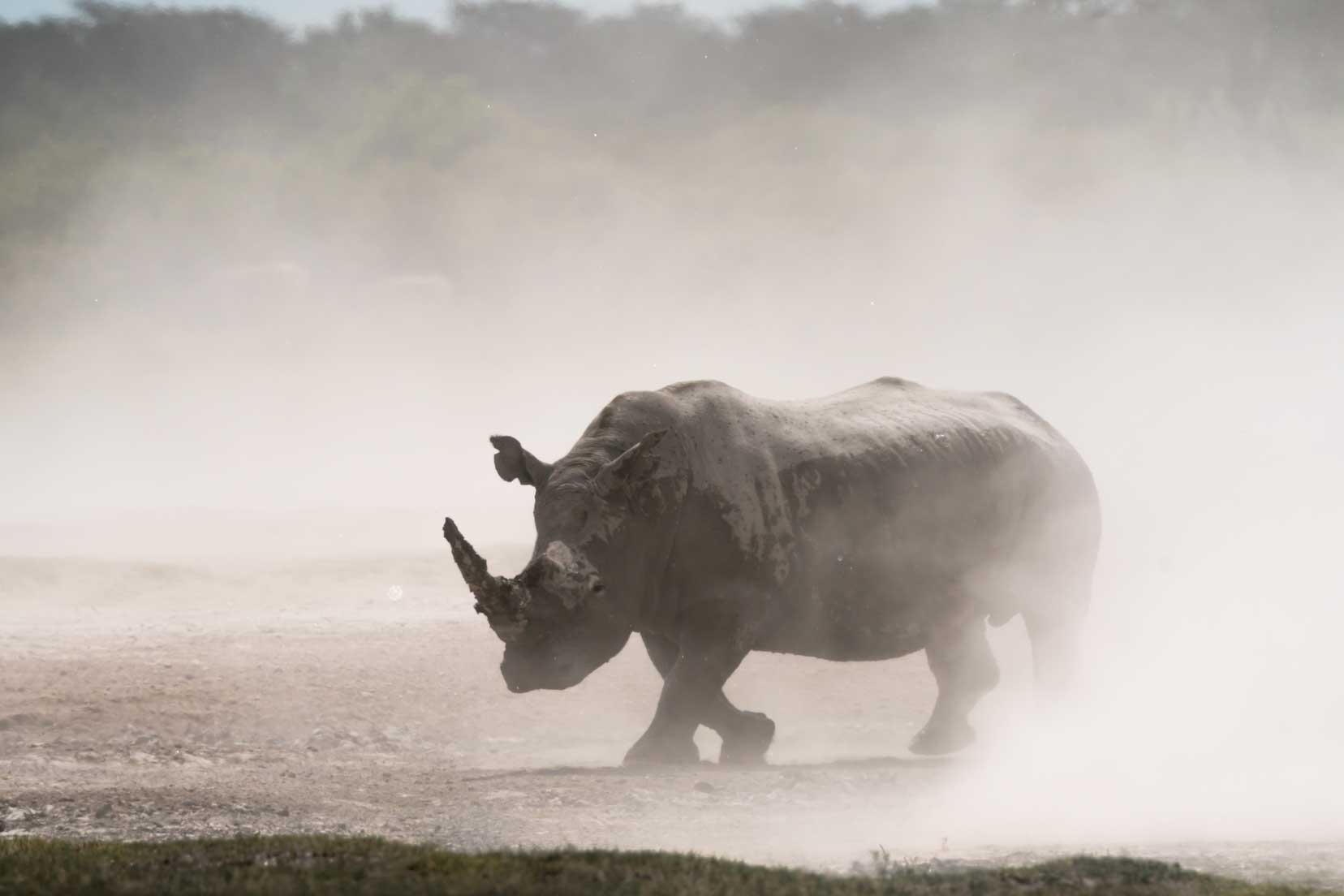 Planning a Trip to Botswana?
Khama Rhino Wildlife Sanctuary Video Highlights
Khama Rhino Sanctuary Map
Camping at Khama Rhino Sanctuary
We arrived at Khama Rhino early on in our Botswana camping adventure, and it certainly lived up to expectations. We have never before, or since, been treated to such wonderful sightings of these incredible creatures.
Having spent a lot of time in Klaserie Private Reserve, Greater Kruger, South Africa, where the rhinos are dehorned as a poaching deterrent, it was incredible to see the rhinos with their magnificent horns still intact at Khama.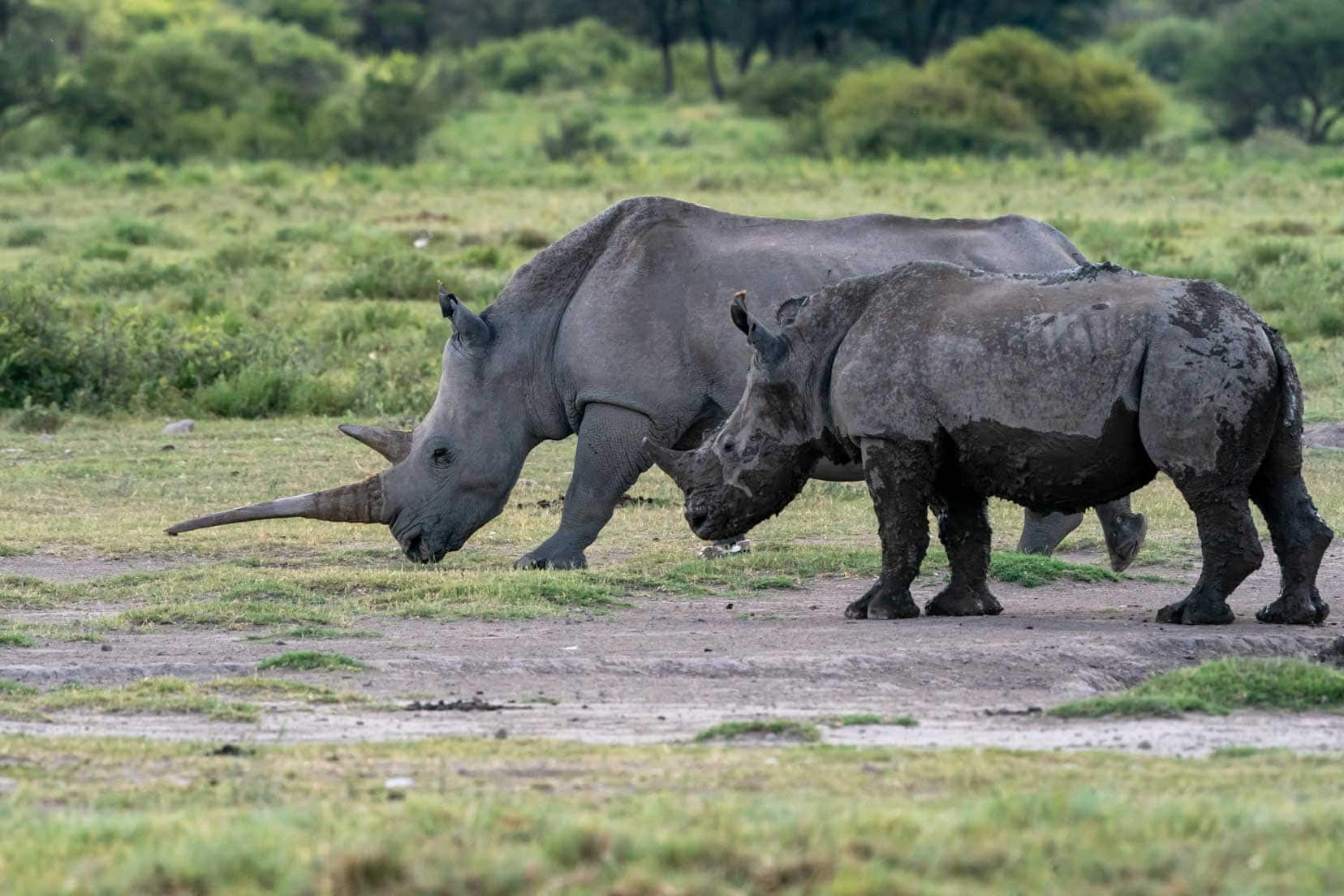 There are a few excellent viewpoints within the reserve that give you great views across the pans, where the game and rhino congregate at certain times of the day.
The bird hide is also a nifty little place, situated by a waterhole, to sit quietly and observe any birdlife as well as passing wildlife. There are over 230 bird species found at Khama – so have your binoculars ready.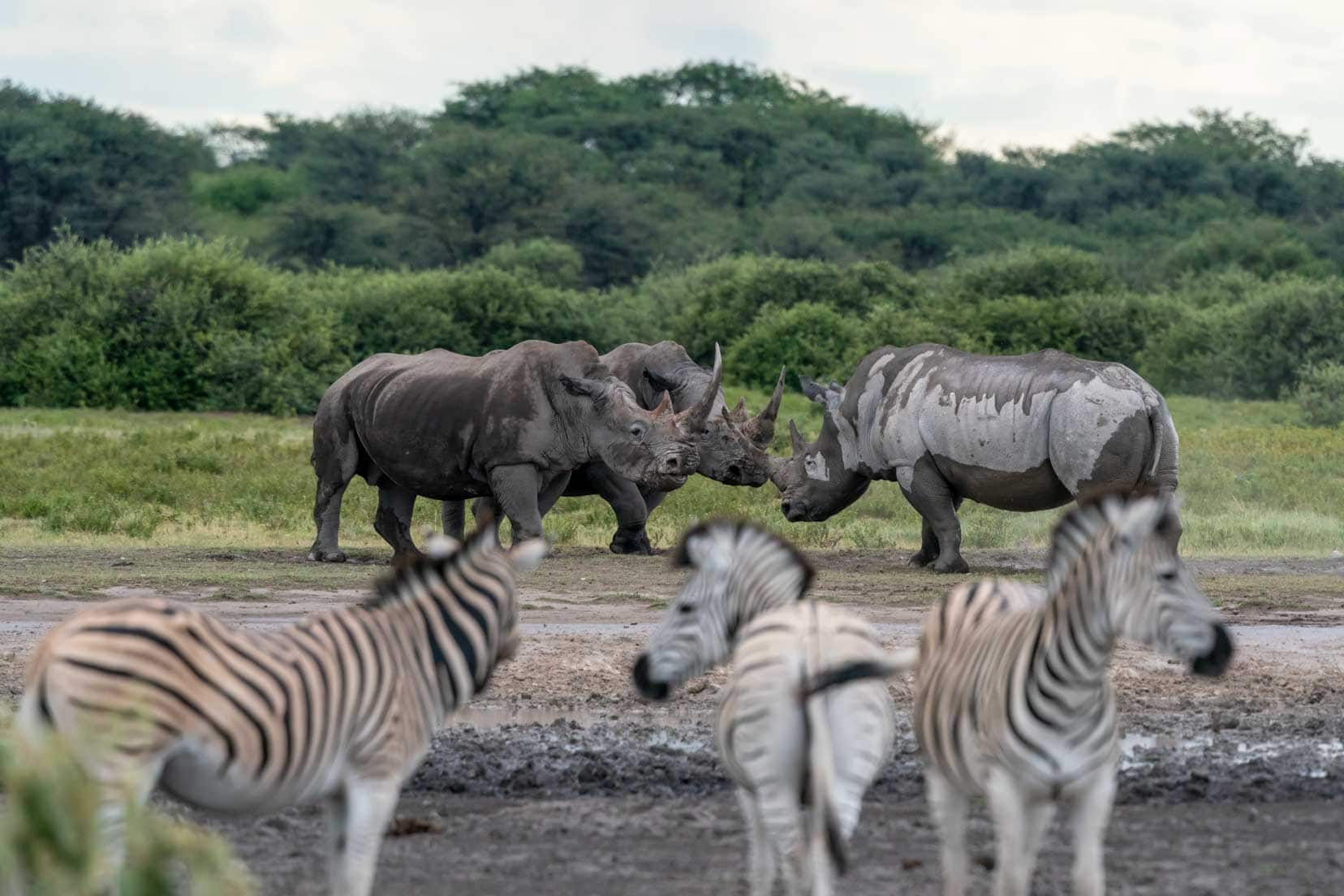 Plenty of tracks meander throughout the park, and you can do your own game drives or book a 2-hour game drive with qualified rangers.
We visited in the off-season and we only came across two cars out on our drives, on the two days we were there.
The camp is run by locals and is a community wildlife project, so visiting the sanctuary means that you are also supporting the local community.
Khama Rhino Sanctuary Camp
The campsites at Khama Rhino Sanctuary Camp have plenty of space, and all have a large Mokongwa tree providing shade. Each site also has a firepit, grilled braii, (BBQ) and a water tap, but no power.
Khama Rhino Sanctuary Campsite Fees
Price: International travellers pay about 120 pula per person per night for camping but you also need to pay park fees per person per day (P96.85 per adult per day) and Vehicle Park Fees per day (P119.20 )
Khama Rhino Camping 2023 rates can be found here.
You can contact Khama Rhino Sanctuary at [email protected]
It can be difficult to book campsites from abroad – many of the sites we stayed at in Botswana only had telephone numbers so we used Ultimate Routes to suggest an itinerary and to book our sites – which saved us a lot of hassle. The price was really reasonable and they were extremely professional and always quick with responses.
There aren't any fences separating the campsites from the reserve, so do keep a lookout while walking to the ablutions.
See our close encounter experience one morning, on the track just out of camp, further on.
The ablutions were quite tired and were also open to the outside. I'm not great with lots of bugs and in each shower, spiders clambered over the walls and moths and mozzies buzzed around frantically. Although they had hot water, after the first night I had a tub wash in the camper instead.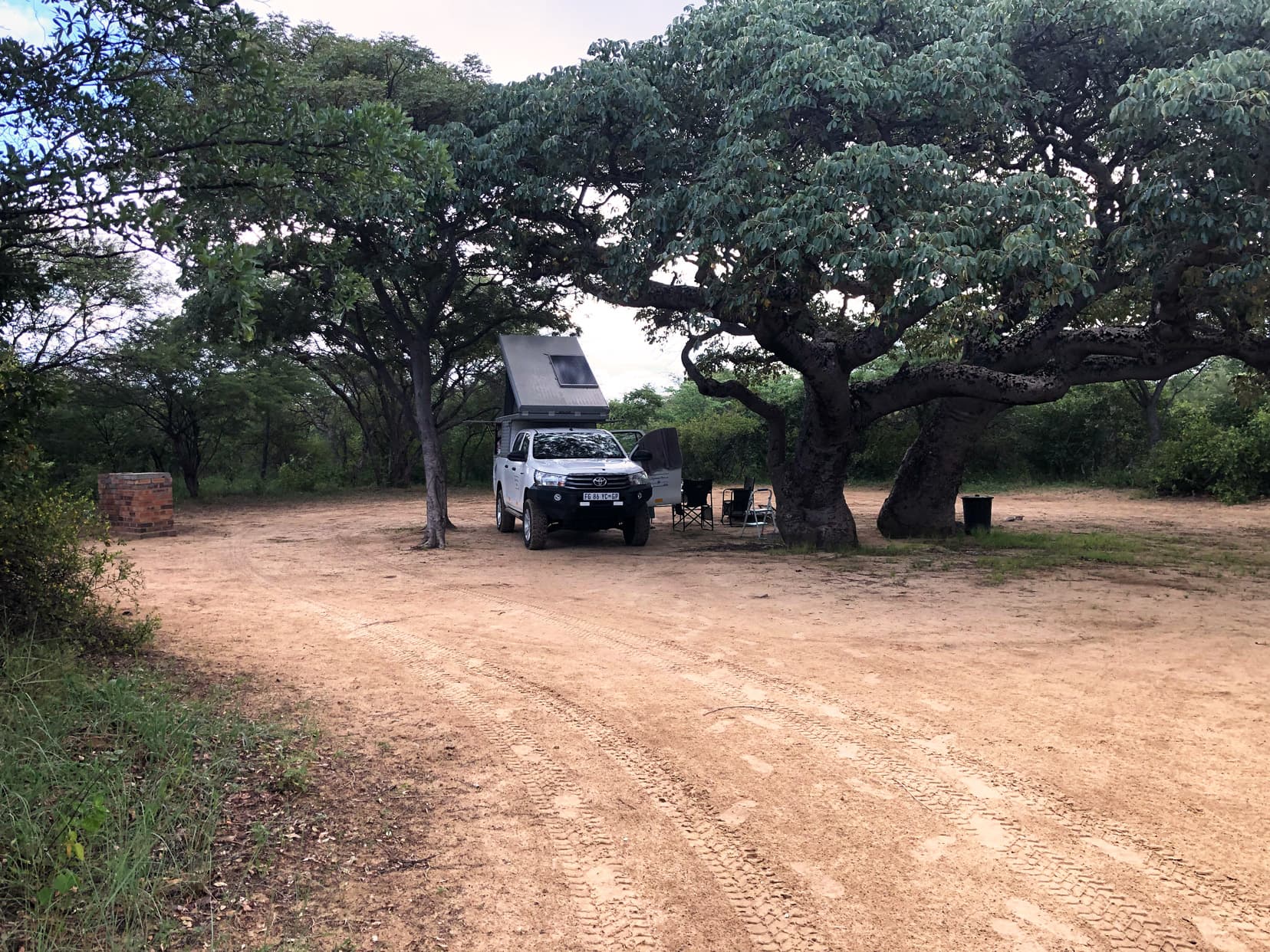 Khama Rhino Sanctuary – Organised Tour
If you would prefer to book a guided tour and accommodation in one, then this tour includes chalet accommodation, dinner, breakfast, a nature walk, a game drive and rhino tracking over two days. The pick-up is in Gaberone.
🦏 ⭐️ Find out more about this two-day Khama Rhino Sanctuary Tour or book on Viator here | ⏰ 2 days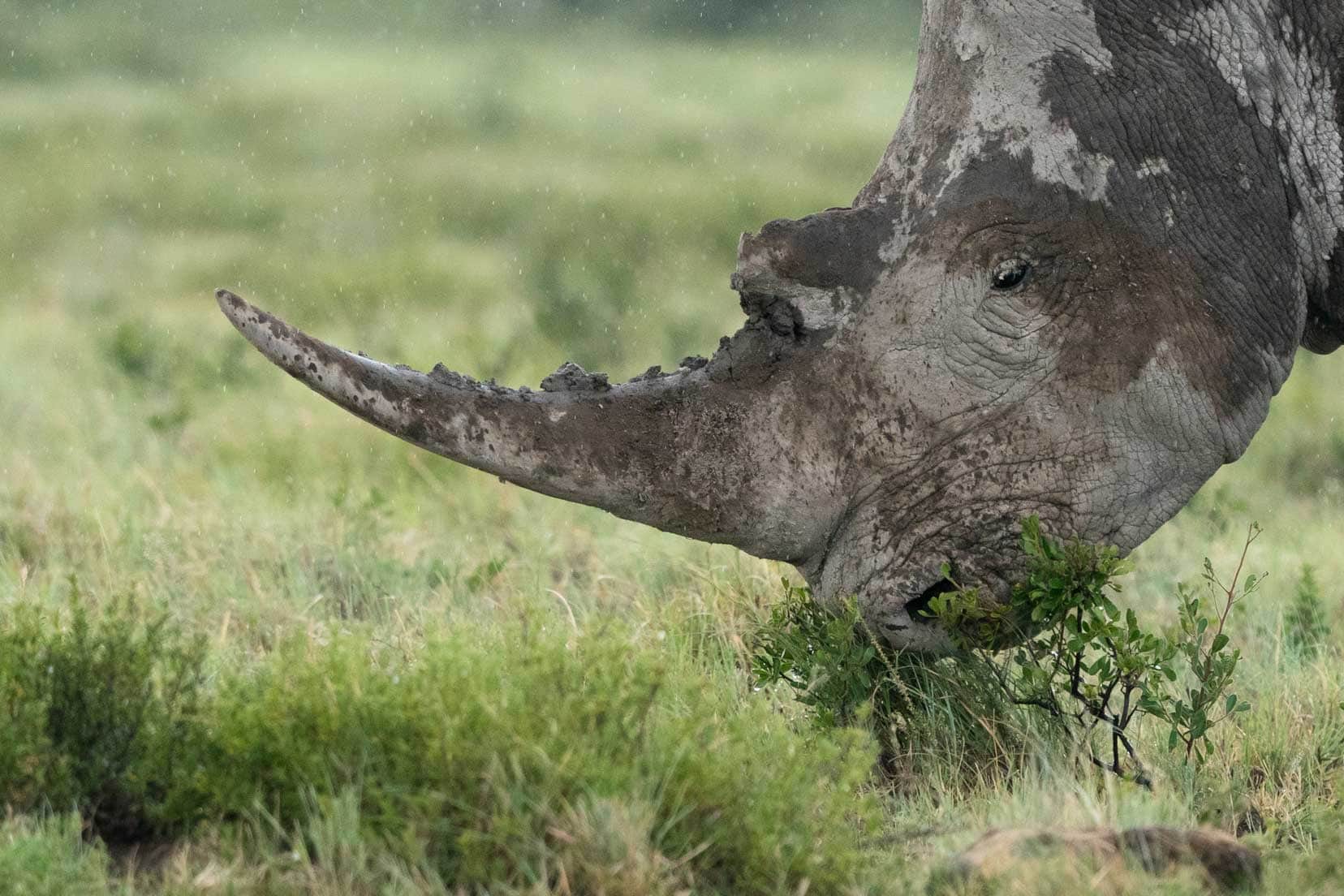 Khama Rhino Sanctuary History
Khama Rhino Sanctuary is today managed by local village residents as a community tourism project, but it was actually born out of concern for the dwindling rhino populations.
Rhino poaching had escalated in Botswana in the early 80s, with both white and black rhinos on the brink of extinction.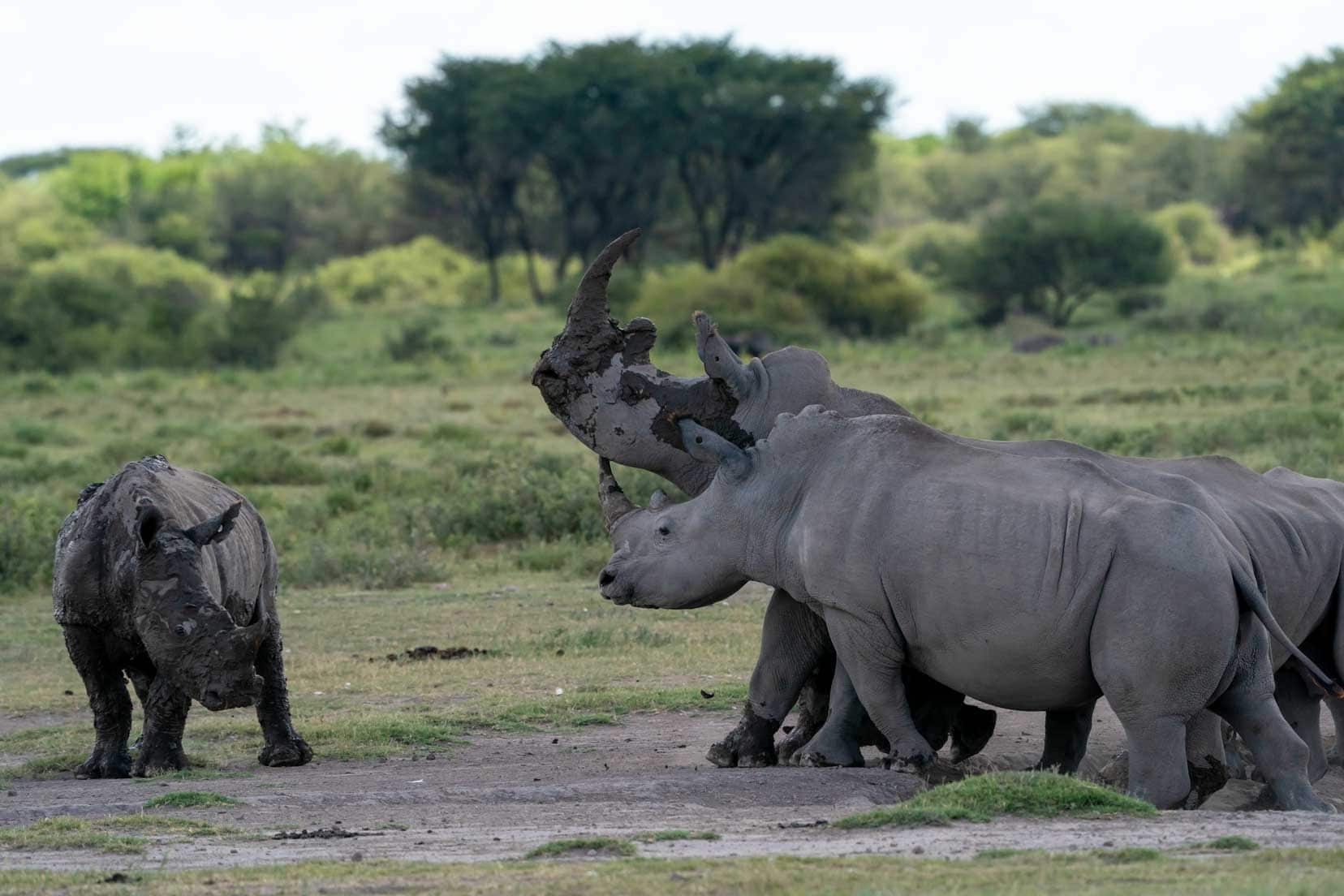 In 1989, Seretse Khama Ian Khama (who later became the 4th President of Botswana in 2008), and the local community created the Khama Rhino Sanctuary to protect both species. He discusses the formation of the Rhino Sanctuary in a video on his Facebook page here.
The Khama Rhino Sanctuary, covering over 8.5 hectares of the Kalahari Sandveld, has been a success and the rhinos are thriving. Many have been relocated into the wild, in other National Parks in Botswana.
They are protected at the sanctuary, by the Botswana Defence Force which constantly patrols to prevent any poaching attempts.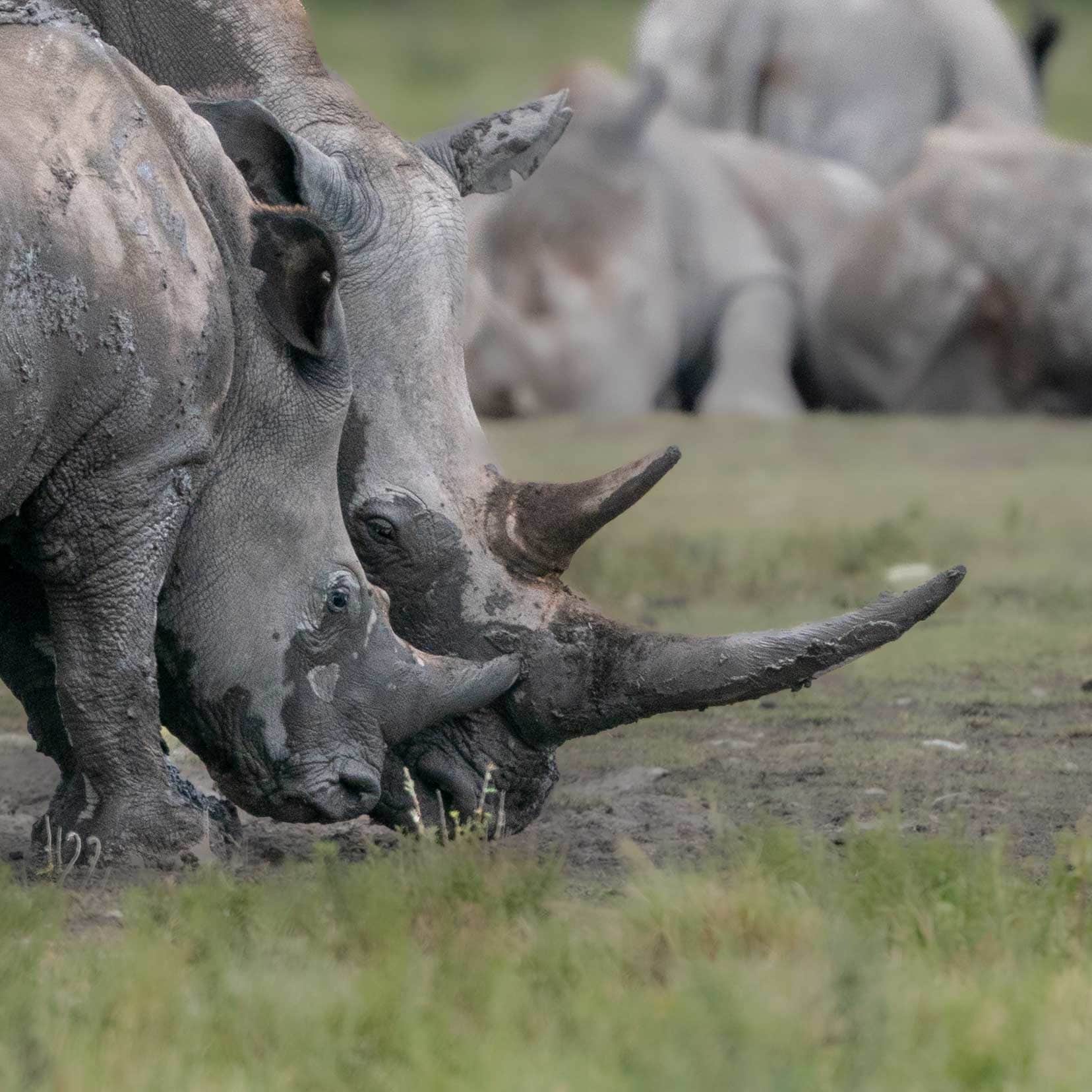 Our Experiences at Khama Sanctuary
As with any wildlife experience, no two experiences are going to be the same. Nonetheless, it is often useful to read others' experiences to get an idea of what your trip may be like.
We saw heaps of rhinos on the two days we were there but we also read reviews from others that they didn't see any! We would recommend afternoon game drives for the best chance to see them as they seem to like their 'lay-ins' and we only saw them accidentally in the mornings.
You'll see what I mean by that below.
A Morning Surprise
Bleary-eyed, we trundled out of camp at 6 am in our faithful Bucky, for a morning game drive.
We were no more than 5 minutes along the deep sand track, rounding a corner when we had to brake suddenly.
Blocking the way, also bleary-eyed, was a three-tonne rhinoceros.
A massive indent in the sand suggested we had rudely disturbed him from his slumber.
As we backed up slowly, he stared at us, seemingly struggling with the scenario, like when you're woken up mid-dream and need a few moments to get your bearings.
Finally deciding we weren't worth worrying about, he sauntered into the bushes.
We were now fully awake.
As we enthusiastically recounted the chances of such a scenario, and our heart rates began to subside, we bumped into our friend again.
This time, he was mid-poo.
Unbeknown to us he had taken a shortcut through the bushes to his midden (that's a rhino toilet for the uninitiated), to perform his morning business.
It just so happened that his midden was to the side of the track, and his enormous form was again blocking our way.
With a few scrapes of his feet to finish the job, he briskly trotted off with a loud snort. I guess he wasn't too impressed.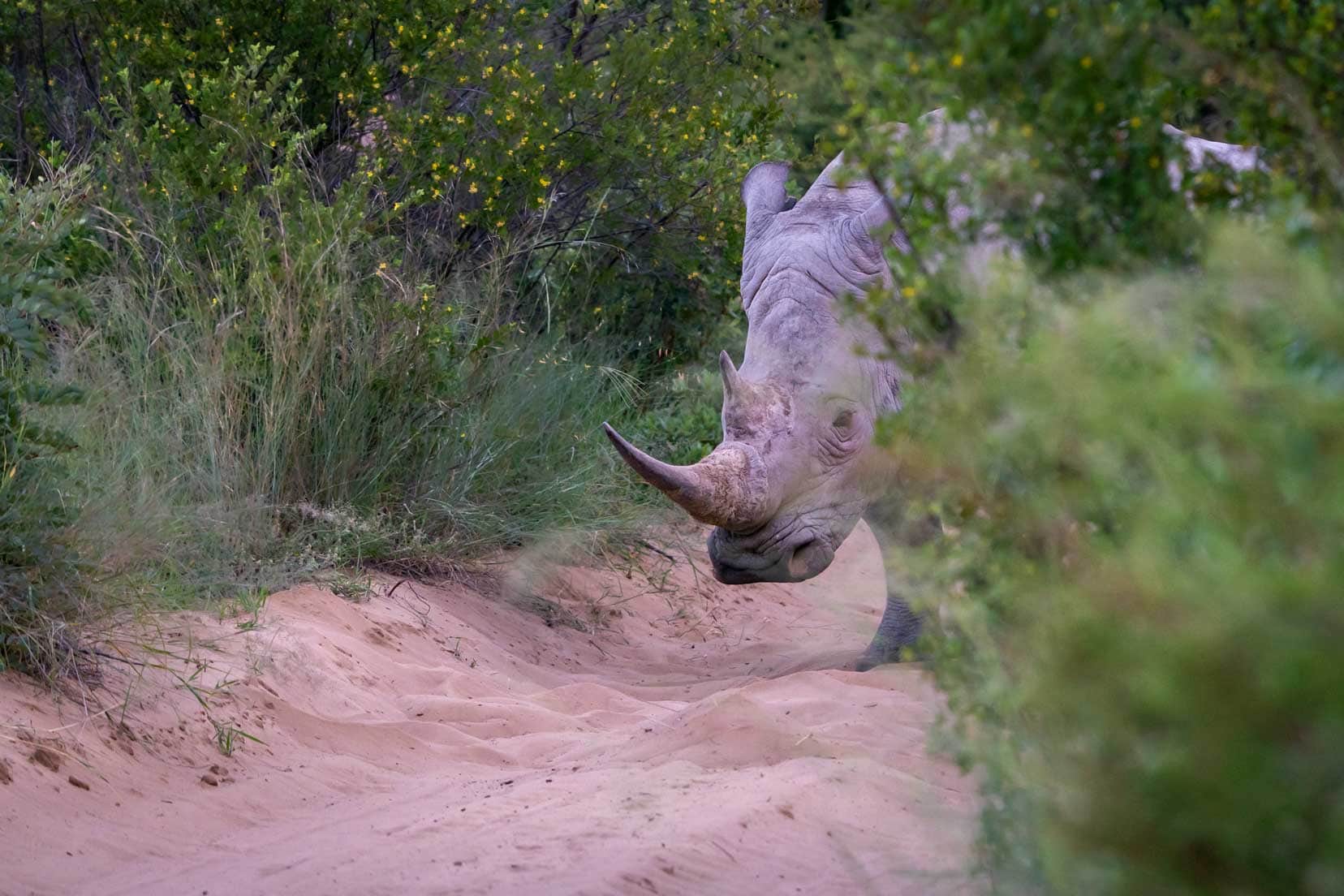 The Wildlife We Encountered at Khama Rhino Sanctuary
We were lucky enough to find one of the sanctuary's elusive black rhinos strolling along the western side of the park, he stopped and looked at us for a moment before continuing deeper into the bush.
There were about five black rhinos in the park when we visited but they are much more elusive than the white rhinos.
Apart from the many white rhinos we also saw impala, zebra, wildebeest, giraffe, eland, black-backed jackals and warthogs.
Other sightings that you might have, include the African rock python (apparently a friendly snake – according to the sanctuary's website), ostrich and steenbok.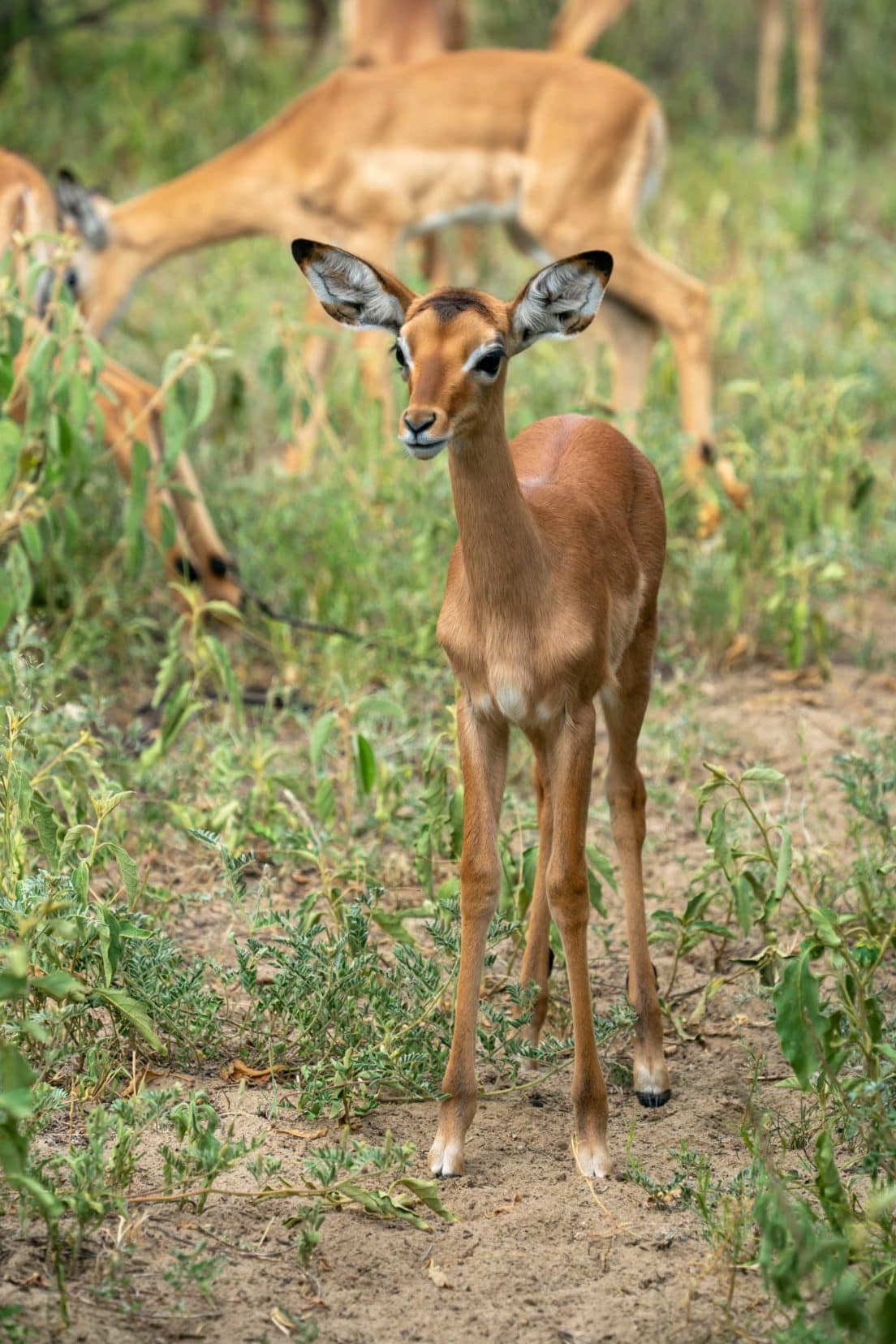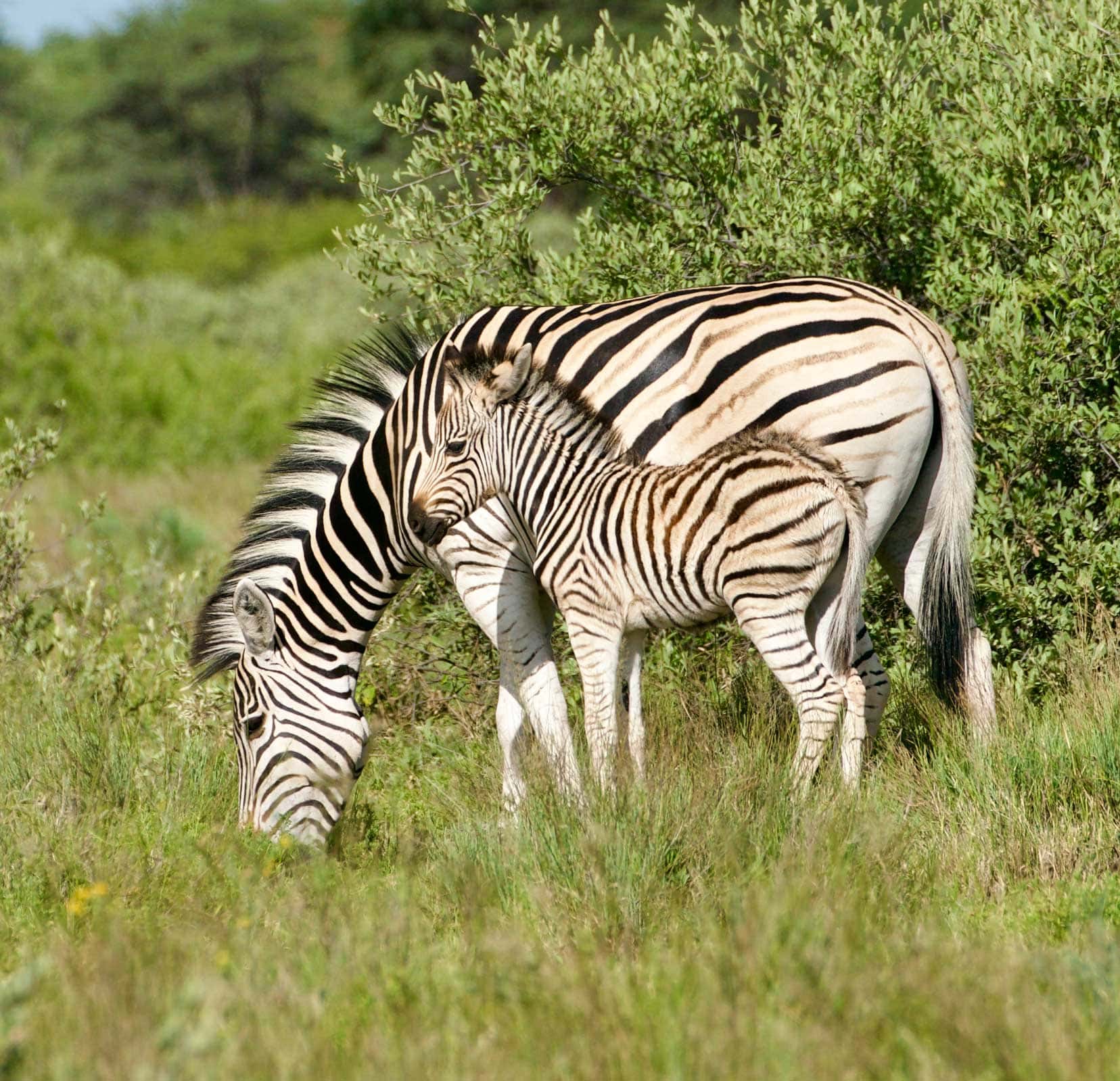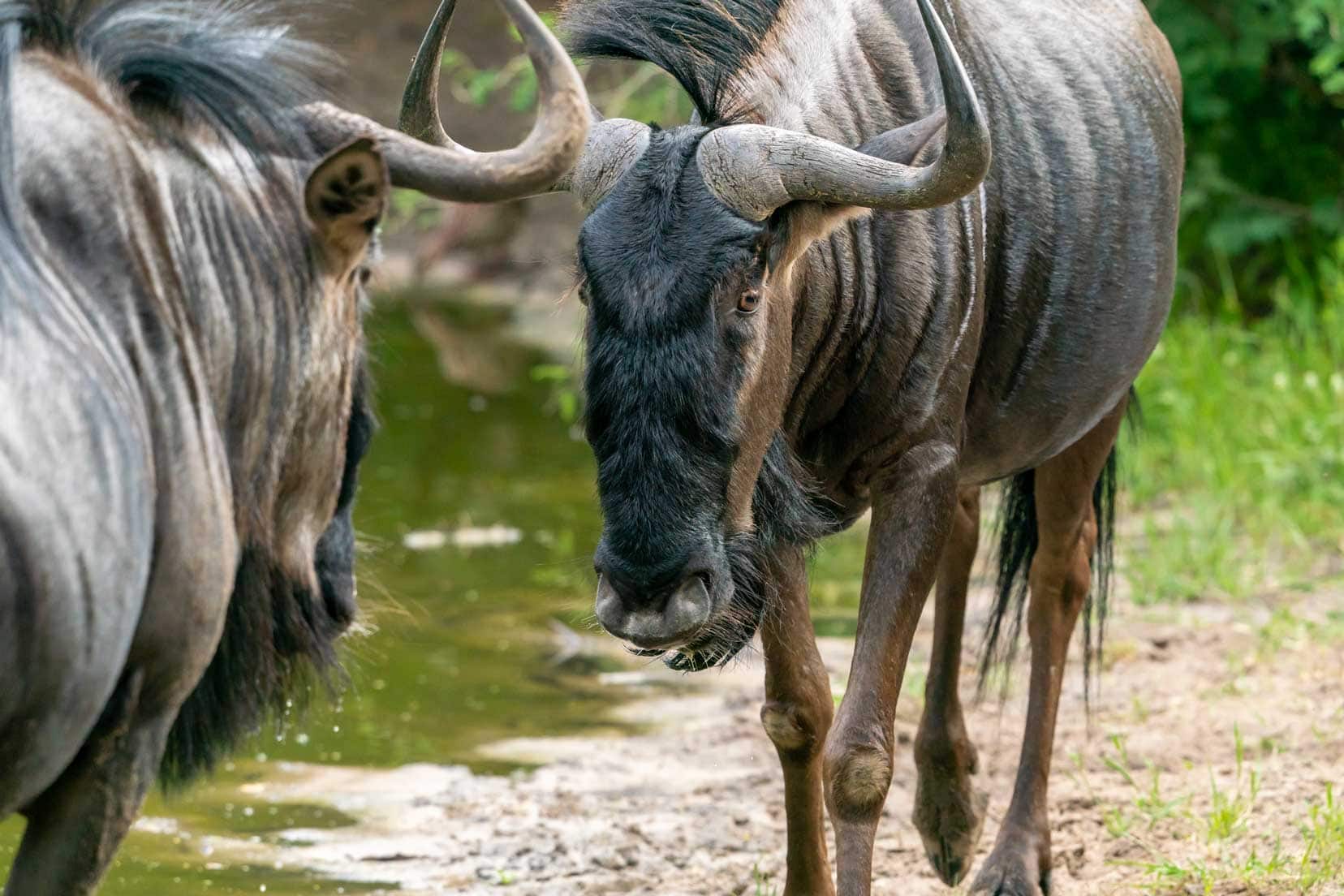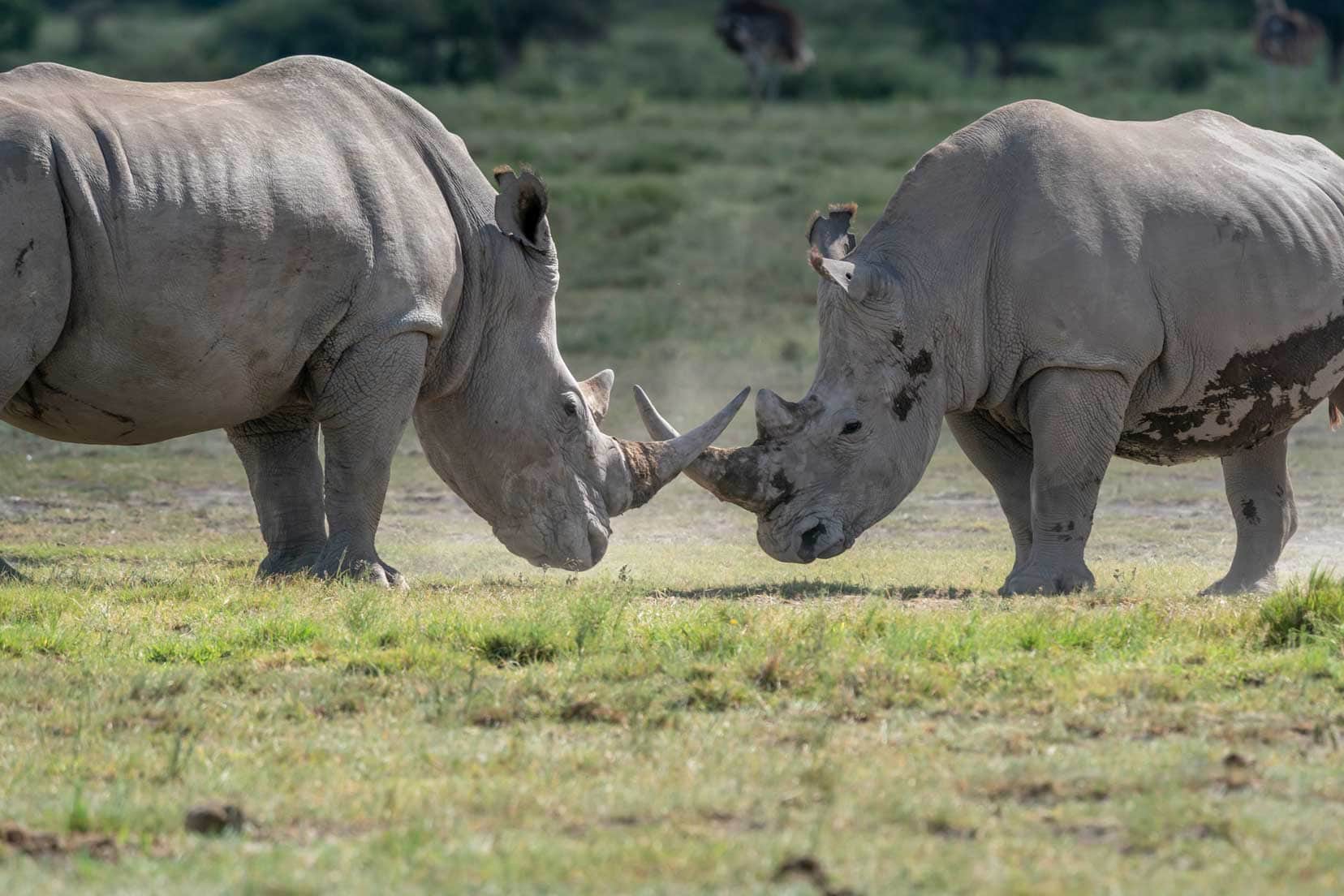 Great Spots for Wildlife Viewing at Khama Rhino Sanctuary
The late afternoon was a great time to see the rhino. The morning? Not so much. Unless they were sleeping on the road and then you were certainly up a little too close and personal.
Khama Sanctuary Bird Hide
We stopped at the bird hide a couple of times, and our experiences there, are a perfect example of how wildlife is unpredictable. And that's part of the thrill.
Our first time, we saw flocks of doves drinking from the waterhole, a couple of shaft-tailed whydahs, franklins and helmeted guinea fowl. While we watched the birds, whizzing in from scene left came two blue wildebeest.
They rolled in the mud, spun around in circles and entertained us for ten minutes until they galloped off as quickly as they'd arrived.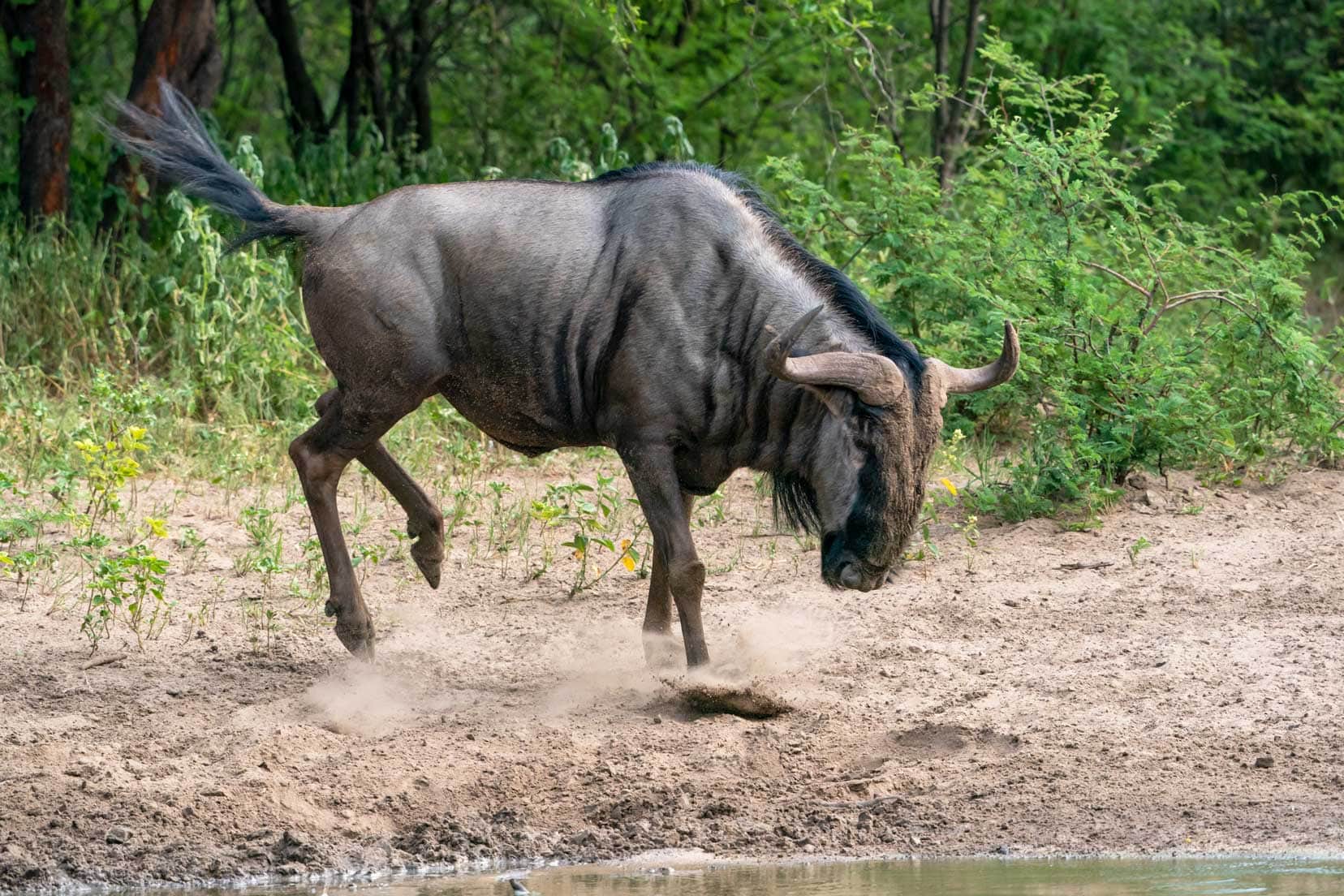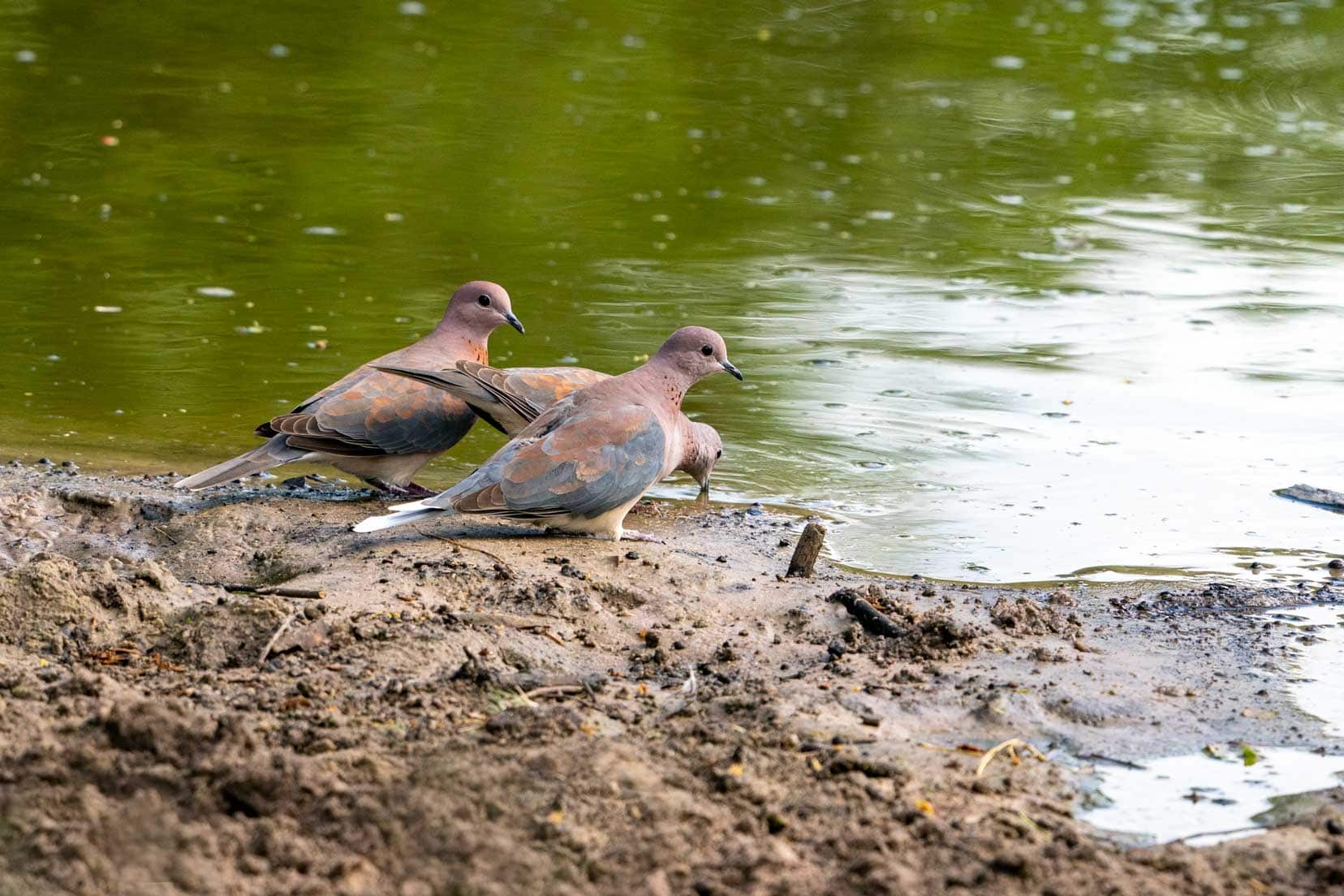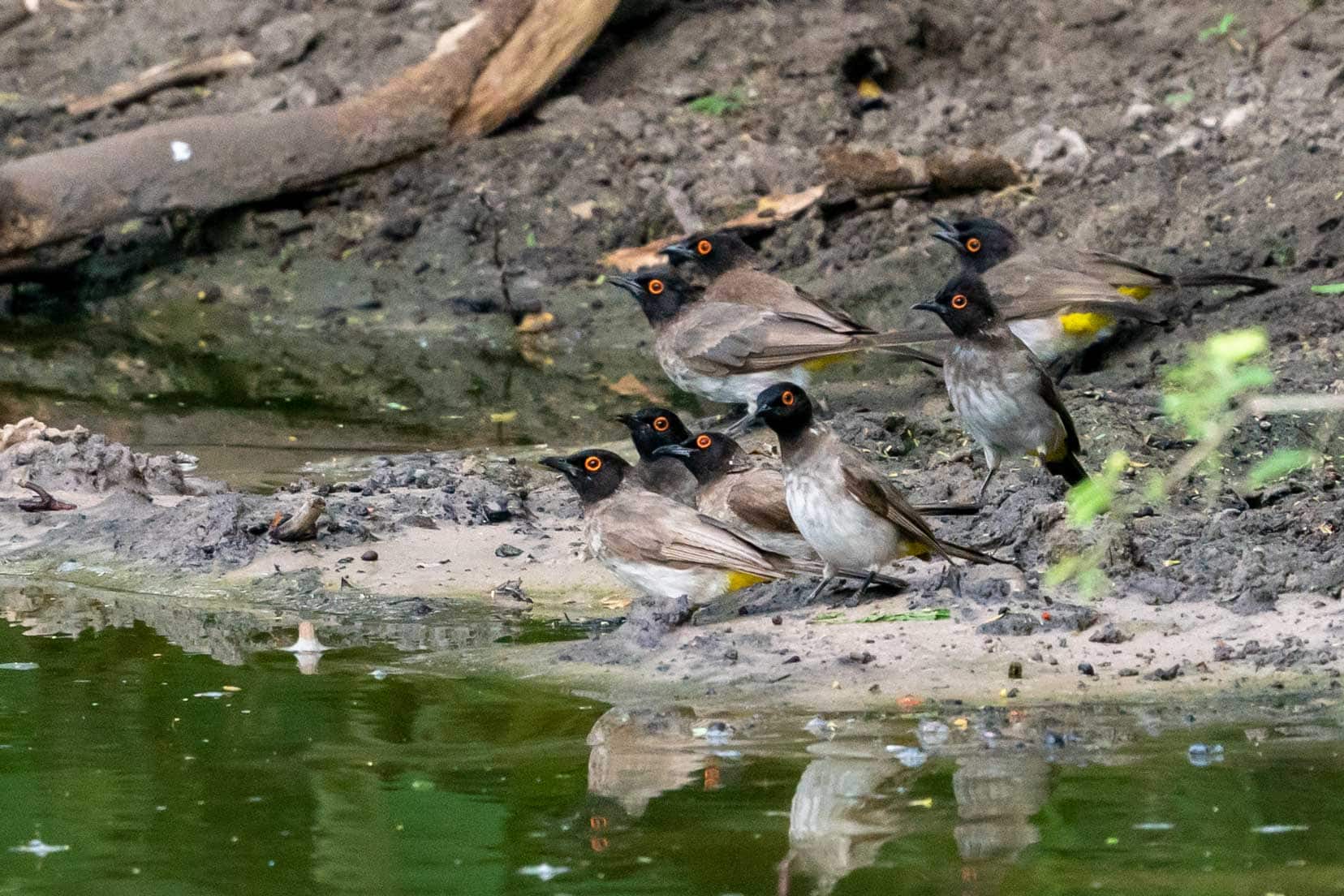 Our second visit wasn't so interesting. It was very quiet and we only saw a few birds. But that is the safari experience. Some days you can have incredible sightings and others nature is telling you to just enjoy the moment.
Malumba Pan
Malumba Pan was our first stop on our game drive. And what a stop it was.
We were thrilled to arrive and see a family of three rhinos sniffing around in the mud. Mum, Dad and Bub.
As we excitedly captured them on our cameras, the skies turned black. Heavy raindrops began falling and the rhinos began running.
It seems rhinos don't like the rain either.
The moody scene was just the perfect background to capture our first rhino encounter at Khama Rhino Sanctuary.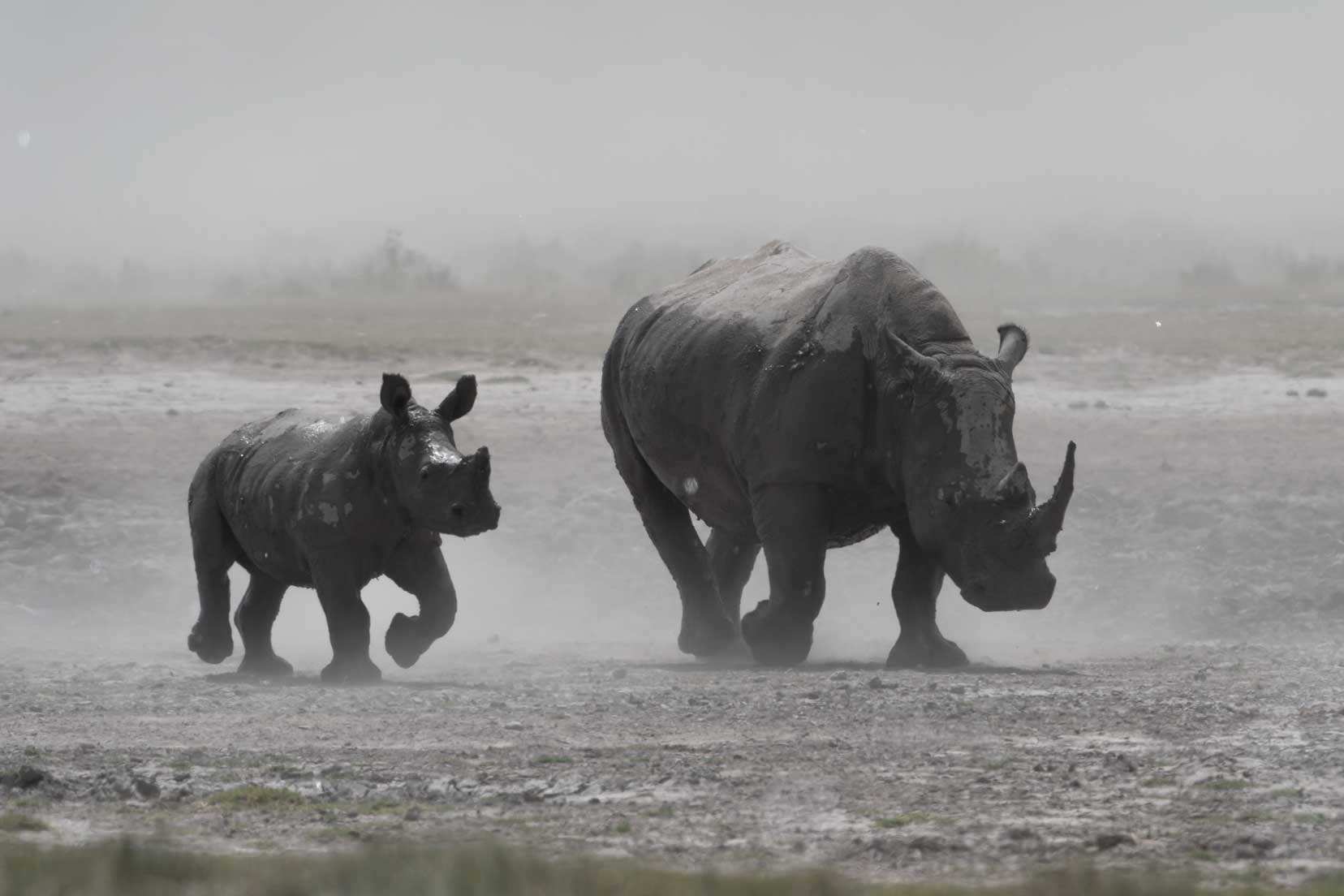 Serwe Pan
Serwe Pan is the most northern pan viewpoint and we found it best to visit in the mid to late afternoon. There, we saw many white rhinos, as well as zebra and impala.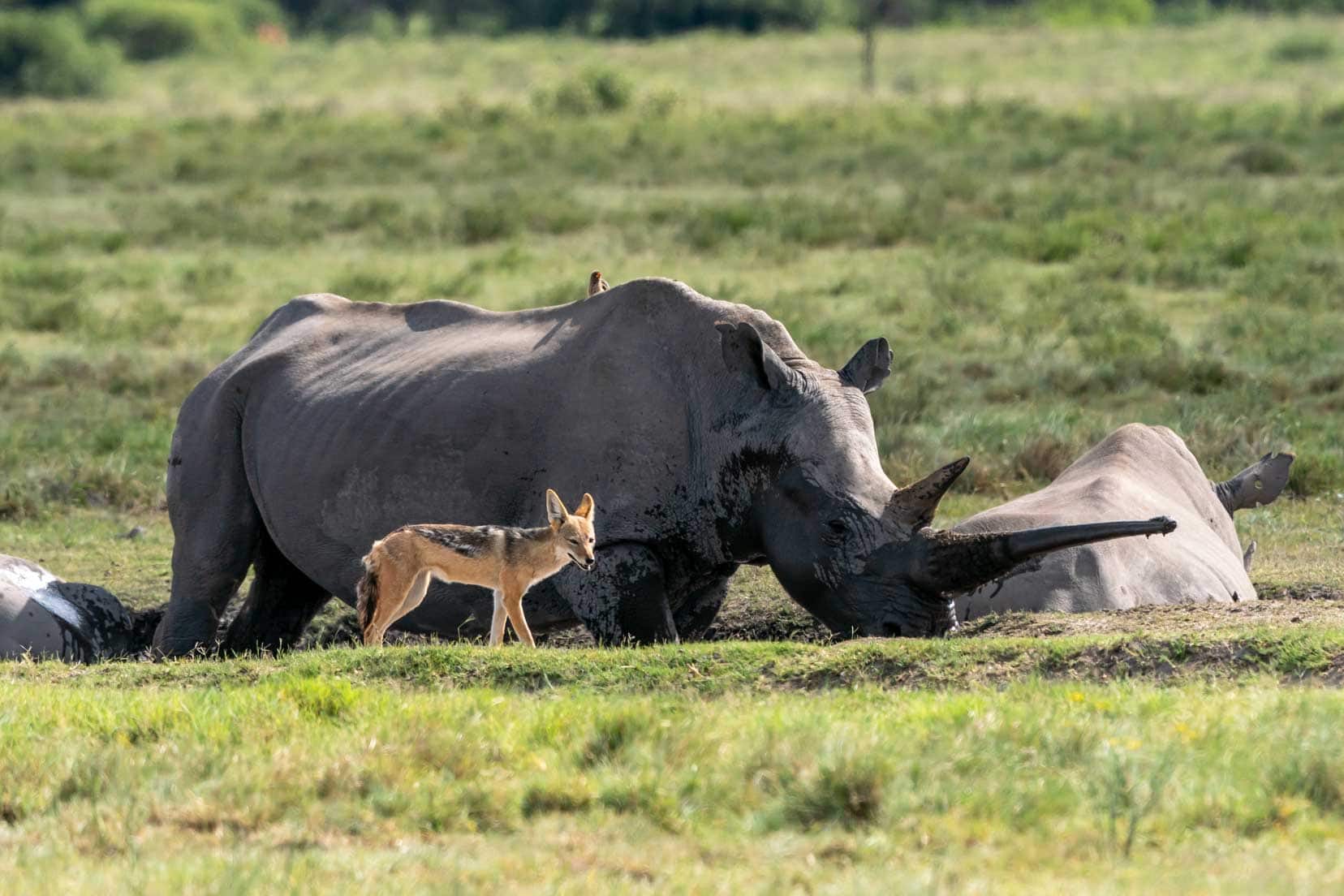 Driving in Khama Rhino Sanctuary
We would recommend a 4×4, even though the Khama website says you can use a two-wheel drive. There are areas of deep sand that can make the going tough.
The tracks are all single-lane. When we were there in summer, at times some of the bush was overgrowing the track making it challenging for an oncoming vehicle to pass by with very limited space to pull off the track.
We generally stuck to a 15 to 20km/hour speed limit as it was difficult to see any animals near the tracks, especially after our early morning close encounter.
Thinking of Hiring a Camper in Botswana?
We recommend using Motorhome Republic to find you the best deal – they search all the local reputable African rental companies, for example, the two main African camper companies Avis Safari and Britz
They do all the hard work for you and are available 24/7 to help you.
We used them when renting for 12 months in Europe and not only was the customer service excellent but they were able to find us better offers than when we approached the companies ourselves.
💡Note: Since Covid, there has been a worldwide shortage of campers and limited availability, so do book early to make sure you can rent the vehicle that suits you best.
Facilities at Khama Rhino Sanctuary
There is a swimming pool and a large restaurant at the Khama Rhino Sanctuary. But when we were there the pool wasn't particularly enticing. I expect, and hope, it's kept cleaner in the busier winter season.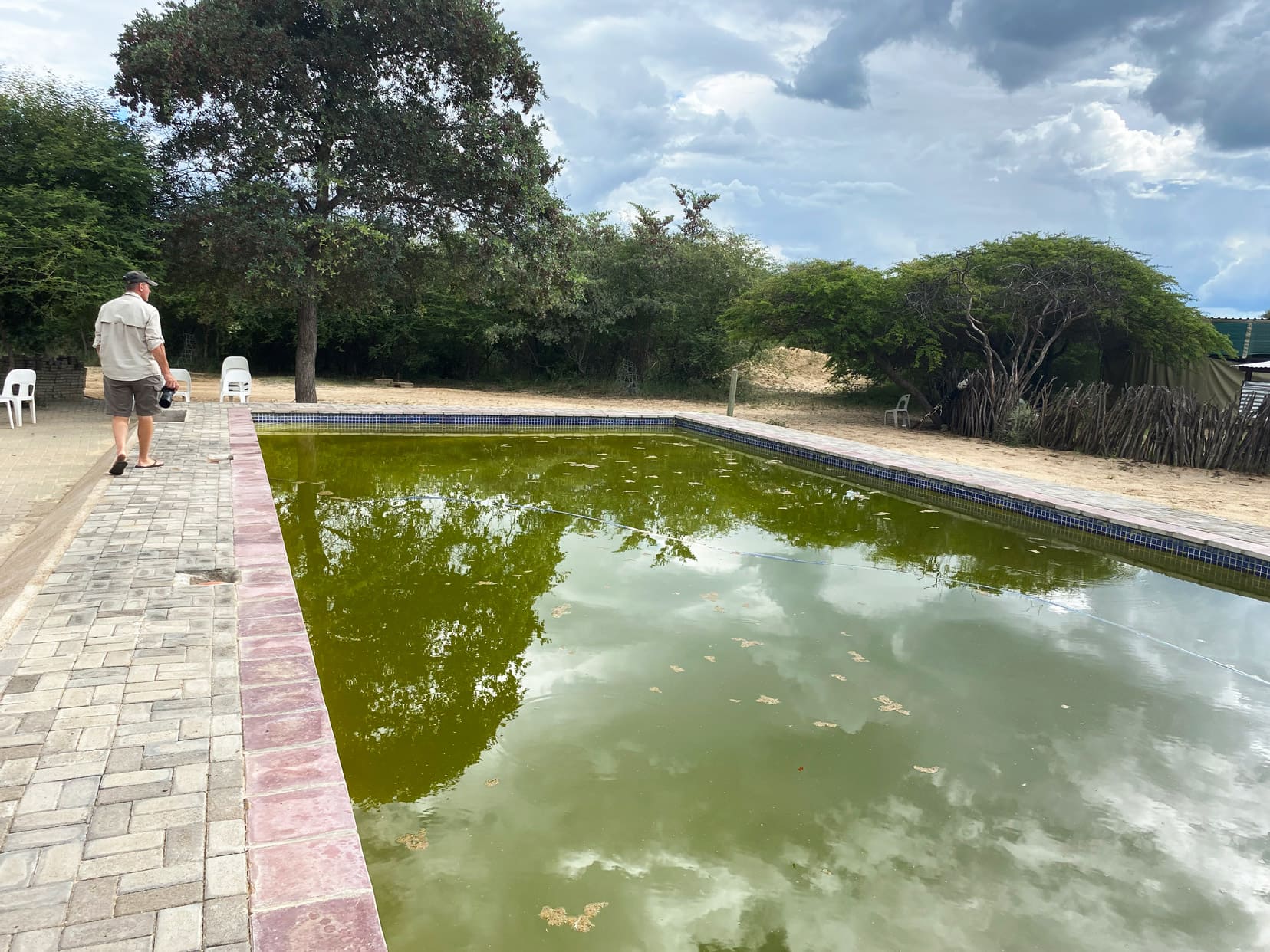 We read on their website that a black rhino visited the restaurant area in the afternoons but when we asked we were told this doesn't happen any more.
There are also chalets available and the sanctuary has an education centre.
Khama Rhino Sanctuary Camping and Self-Drive… That's a Wrap
If you love rhinos then an overnight stay or two is definitely worth it. We'd recommend staying at least two nights though, to fully enjoy the experience and maximise your viewing opportunities.
Although the facilities are tired, the opportunity to see these incredible creatures up close and so many of them is a real treat.
Looking for incredible experiences in Botswana? Check out these top-rated tours on Get Your Guide below:
Related Articles: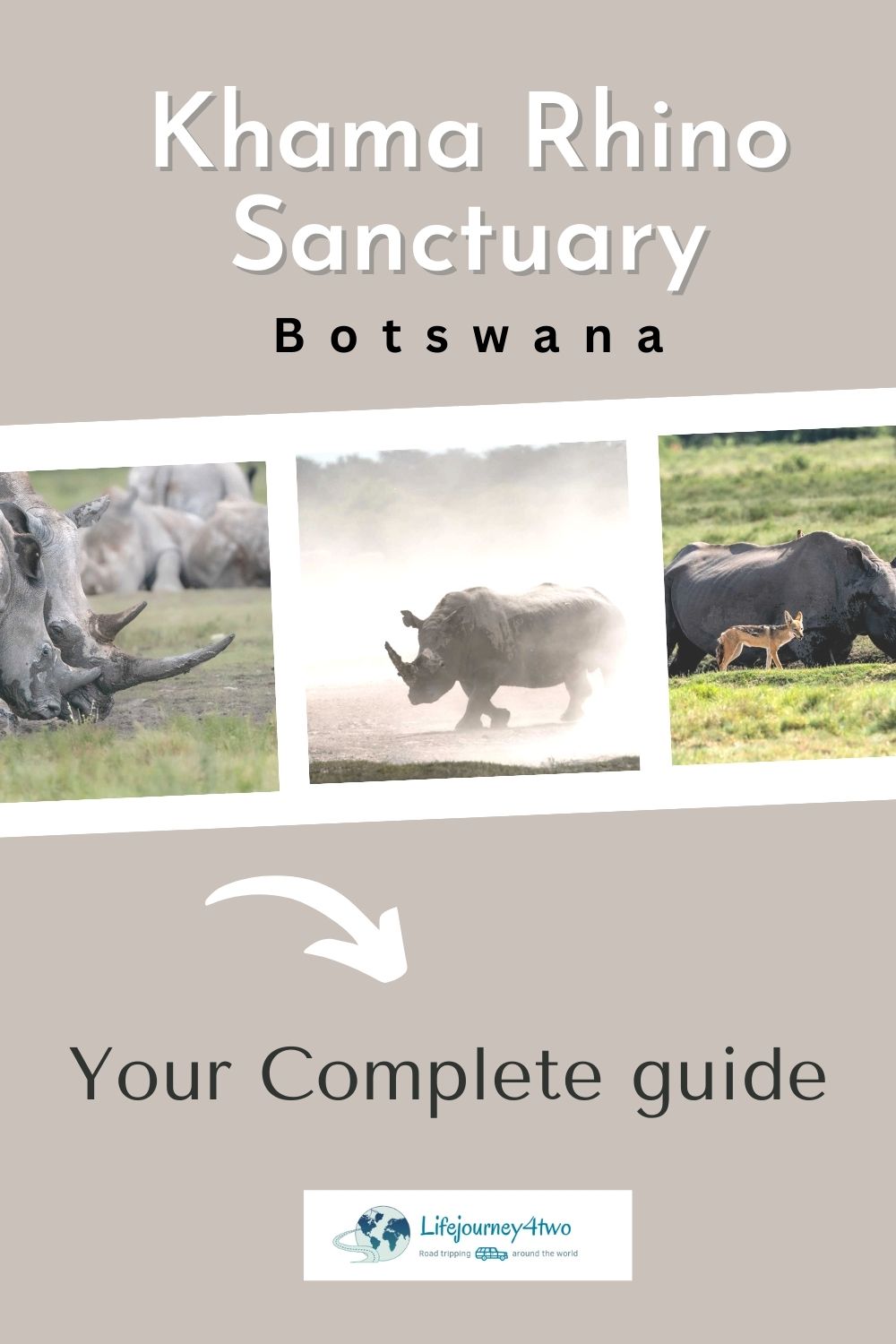 PLANNING YOUR TRAVELS?
These are some of the travel resources we use when planning our trips.
For a more thorough list visit our Travel Resources page here.