Kgalagadi Camping

The first day of our Kgalagadi camping was lacklustre, to say the least. But nature is unpredictable, and little did we know, the next few days were to bring extraordinary, spine-tingling encounters.
Yes, we had a lion in camp TWICE!
As it turned out, camping in the Kgalagadi Transfrontier Park turned out to be one of our favourite experiences as we travelled throughout Botswana and South Africa.
This complete guide will provide you with all the information needed to make your Kgalagadi camping that much easier.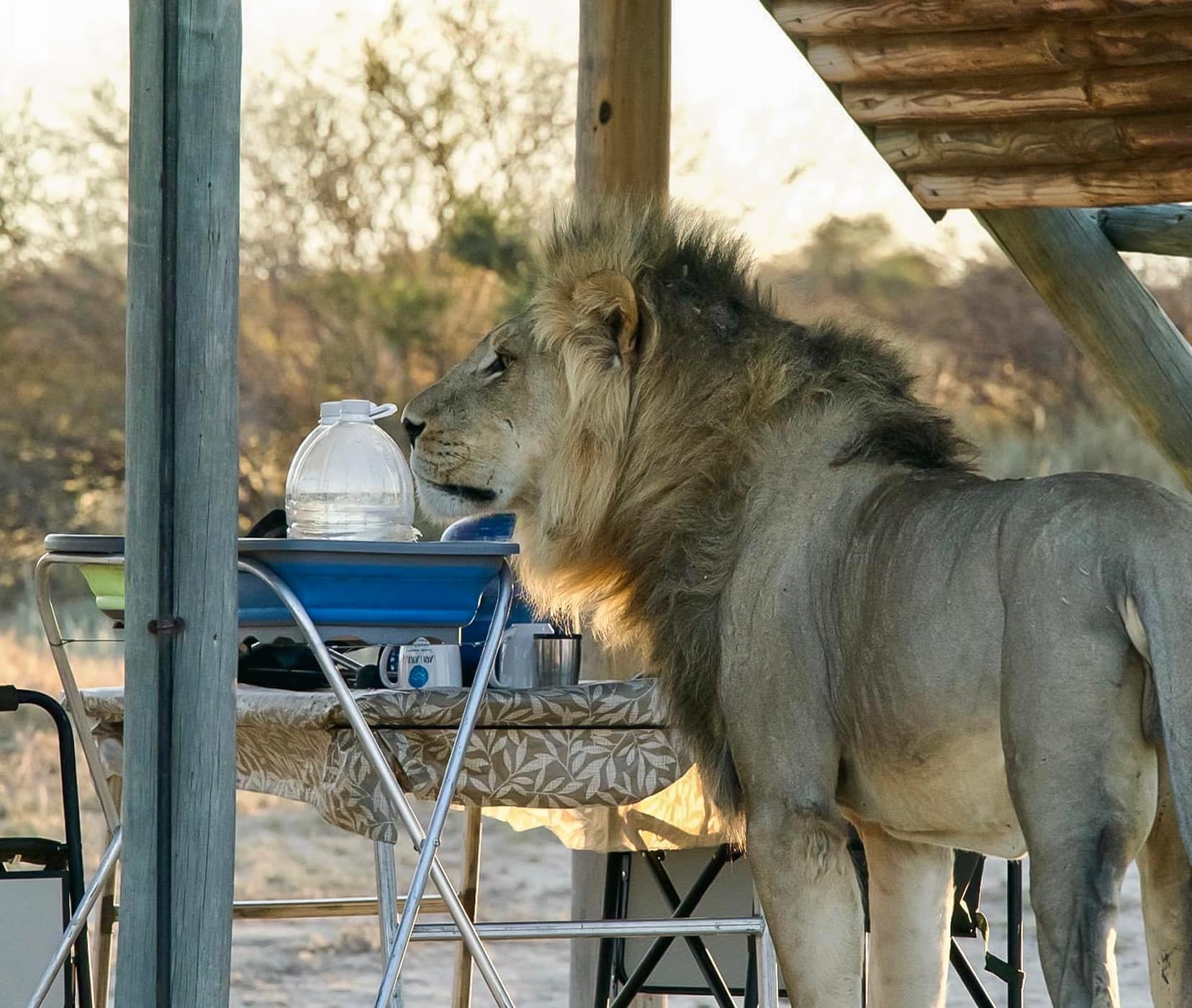 Planning a Trip to Botswana?
Essential Guide to Camping in the Kgalagadi National Park
What you'll find in this Kgalagadi Transfrontier Park (KTP) Article
Interactive Kgalagadi Map
Basic information about the Kgalahadi National Park
Information on Camping in the Kgalagadi Park
Information about Kgalagadi Campsites
Specific information on Mabuasehube (Mabua) and Mpayathutlwa (Mpaya) Camps and Pans
Kgalagadi Sightings
Kgalagadi Self-drive Safari information
Stunning photos from our visit
A highlights video from our trip through the Kgalagadi
Kgalagdai Camping Tips, driving information, border control info etc.
Kgalagadi Camping Map
The camps we stayed in, over the week of camping in the Kgalagadi, are marked in red. And our route across from the Mabuasehube area in Botswana, to Twee Riverien in South Africa, is marked in blue.
Click here to download a PDF of the Kgalgadi Transfrontier Park map. It includes gate times, types of tracks, driving times between campsites and other essential park info all in one place.
NOTE: The northeastern area of the Kgalagadi, in Botswana, used to be the Mabuasehube Game Reserve. Which is why the area is known as Mabuasehube. But, there are also the Mabuasehube Pan and Mabuasehube camps so things can become confusing. I have referred to the camps and pan with the shortened version of Mabua below to try and make things clearer.
Kgalagadi Camping and Self-Drive Video Highlights
Kgalagadi Camping: One Week Itinerary
East Gate Camp (x 1 night)
Mpayathutlwa (Mpaya) Camp no.1 (x 2 nights)
Mabuasehube (Mabua) Camp No.2 (x 3 nights)
Matopi No.2 (x 1 night)
Twee Rivieren (x 1 night )
This Kgalagadi itinerary is a recommendation based on our own self-drive itinerary which was part of our camping safari in Botswana. As it turned out, it was a great one for spending a week to spend in the park.
If you have more time in the Kgalagadi we would recommend a night or two at Nossob and Mata Mata as well. That way you will experience the range of landscapes and sightings across the Park.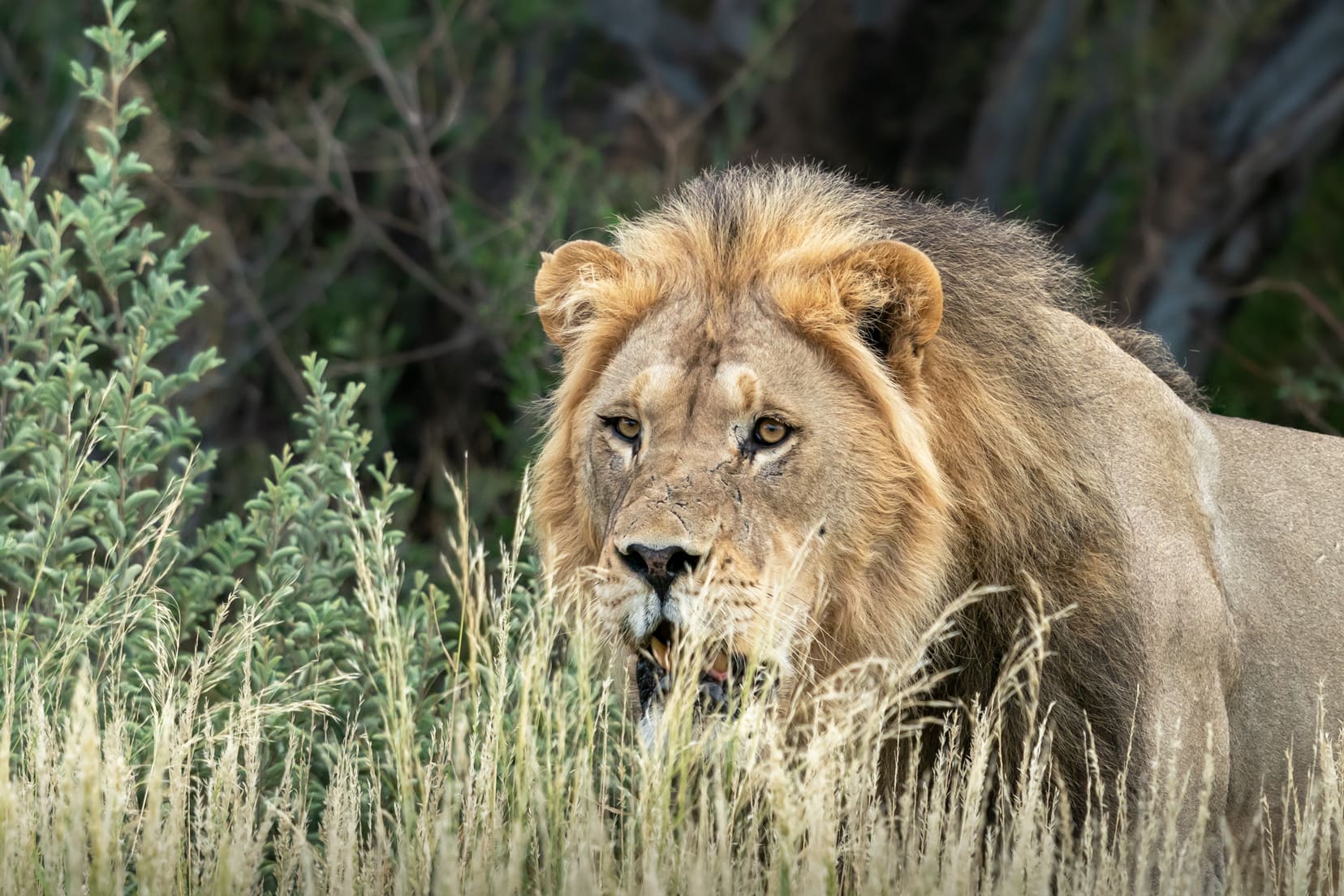 Kgalagadi Camping Costs
To give you an idea of camping costs, I have included the breakdown of our one-week camping in the Kgalagadi. The conversions are approx – we paid in USD but also had an invoice in Pula and not everything matched up exactly, but this will give you a rough idea.
One Week Kgalagadi Camping Costs
Mabua Camp (3 nights) : $35 USD per person per night (465 pula)
Mpaya Camp (2 nights): $35 USD per person per night (465 pula)
Matopi Camp (1 night): $3 USD per person per night (30 pula)
Botswana Kgalagadi Park fees (6 days): $2 USD per person per day (28 pula)
Botswana Vehicle Entry to Park: $2 USD (28 pula)
---
Sub Total (6 days): $382 USD
---
Twee Riverien Rest Camp (1 night): $17 USD (R 304 ) per camp
South Africa Kgalagadi Park fees (1 day) : $24 USD (R 440) per person per day (international Visitors)
---
Sub Total (1 day): $65 USD
---
(Check the latest SANpark tariffs for Kgalagadi Park here) – if you are going to be spending more time on the South African side it may be worth buying a Wild Card.
---
💰 Total Cost for two people (7-nights): $447 USD
---
About Kgalagadi Transfrontier Park
Kgalagadi means "place of thirst" and when you camp in this Transfrontier Park, you understand why. Even in summer, in the rainy season, there is a distinct lack of water, with many dry waterholes at the pans.
The Kgalagadi is just one of the reserves in the vast Kalahari Desert, the largest continuous area of sand on the planet. In fact, the Kalahari Desert covers 84% of Botswana's land area and encroaches on another eight African countries.
The Kgalagadi Transfrontier Park (KTP) is in the southwestern part of Botswana, with the more southern parts falling in South Africa. It is a jointly run venture, being Africa's first Transfrontier peace park.
Established in May 2002, the KTP was a merger of three parks: South Africa's Kalahari Gemsbok National Park, Botswana's Gemsbok National Park, and the Mabuasehube Game Reserve.
The resulting 37,000 square kilometres, about twice the size of Kruger National Park, is unfenced, allowing wildlife to roam freely between the two countries.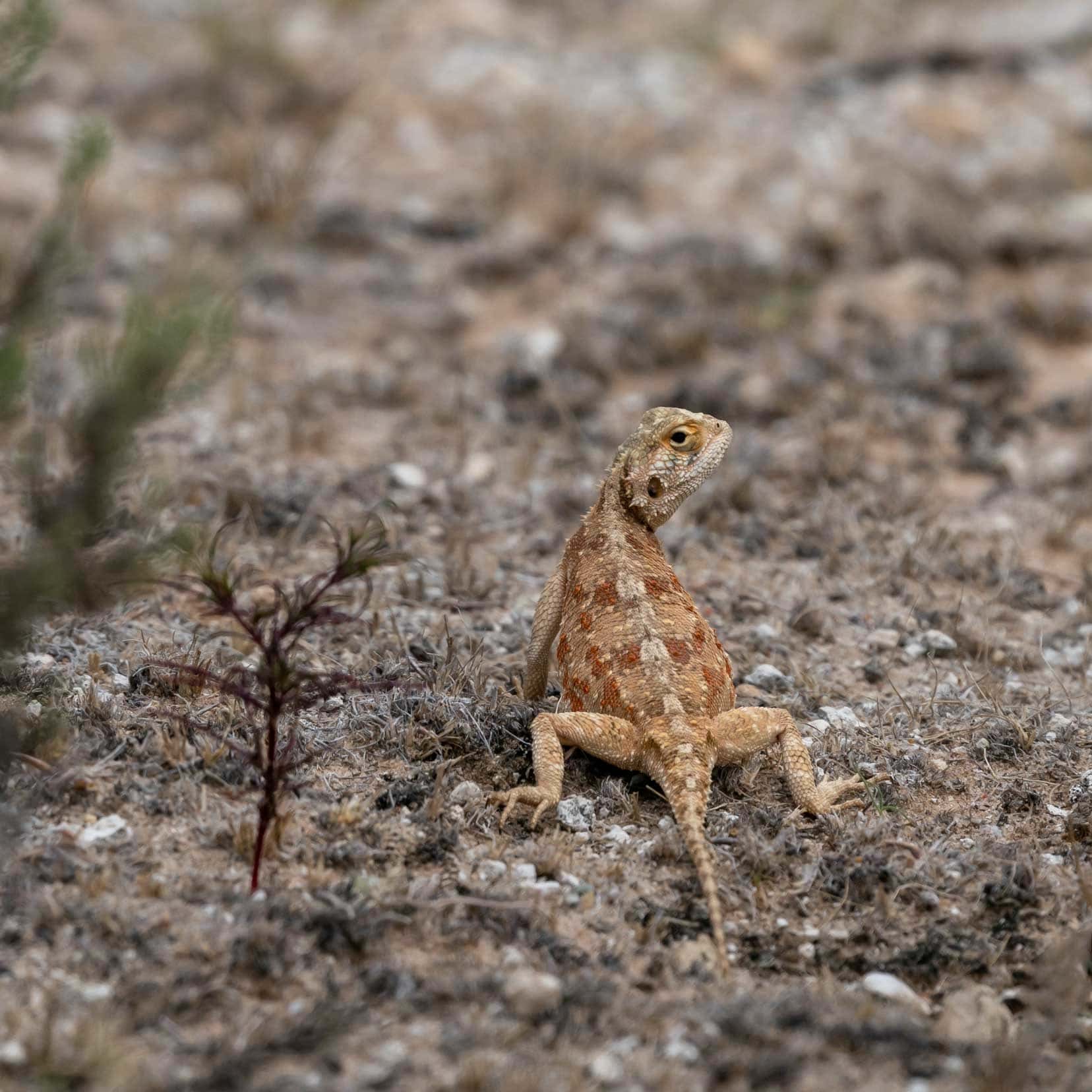 🚐 Bush Camper Hire in Botswana
We recommend using Motorhome Republic to find you the best deal – they search reputable African rental companies, including, Avis Safari, Britz and Caprivi Car Hire.
They do all the hard work for you and are available 24/7.
Kgalagadi Transfrontier Park Camping Information
The Three Main Areas in Kgalagadi Transfrontier Park
The northeastern area around Mabuasehube Gate (This area used to be the Mabuasehube Game Reserve before it became part of the Botswana'a Gemsbok National Park, and then subsequently, The Kgalagadi Transfrontier Park)
Wilderness Trails in the central Botswana side
Nossob River Valley along the South Africa/ Botswana Border
For ease of this article's navigation, we've separated the Botswana and South Africa camping information into two different sections. This is because there are different procedures for booking campsites in each country.
Botswana KTP Camping Information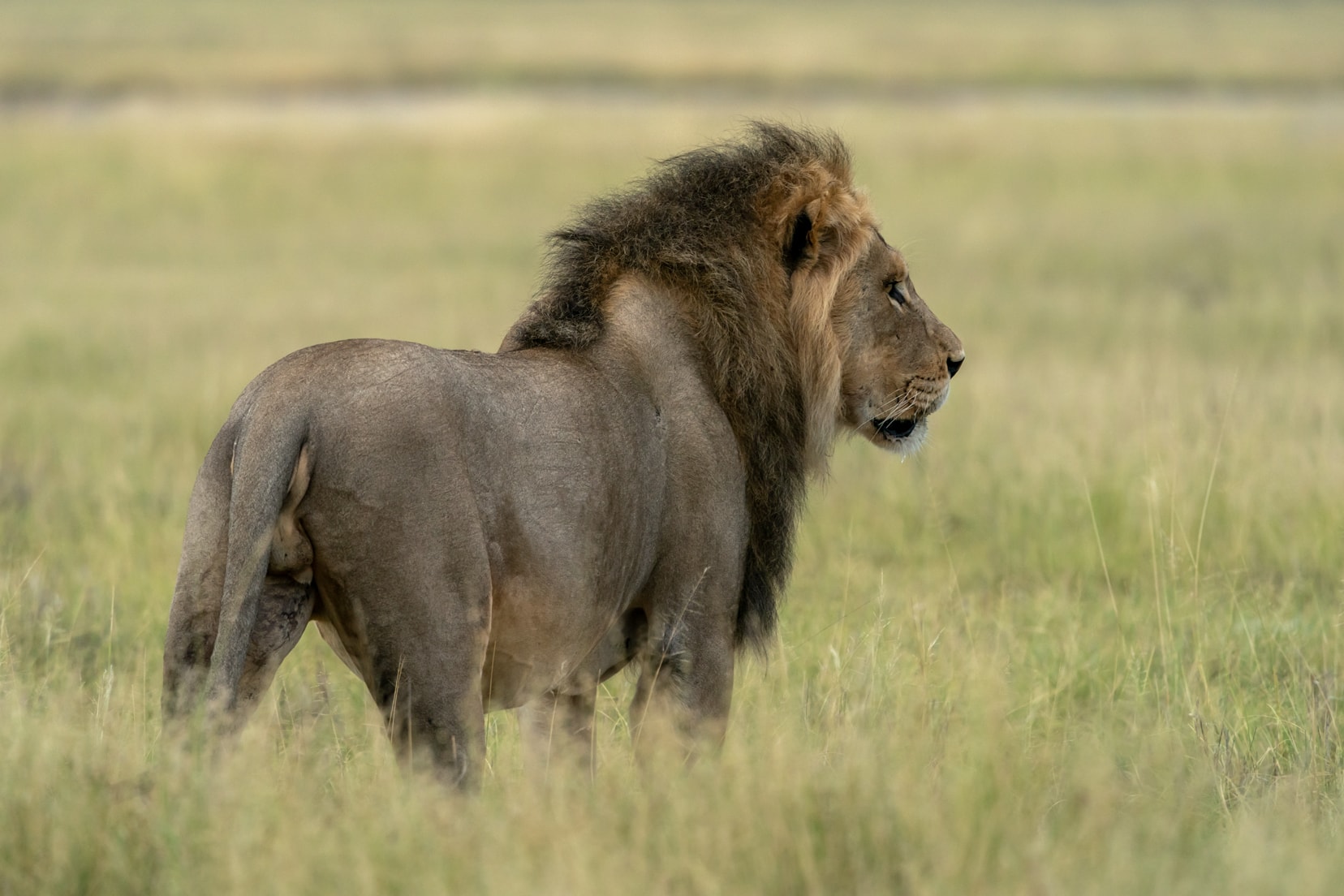 Botswana Kgalagadi Park Fees
The Kgalagadi Park fees are payable in addition to any campsite charges in the park.
Once you arrive at one of the entrance gates into the Kgalagadi, you will need to show your campsite booking voucher and if you haven't already, you'll need to pay your daily game reserve entrance charges.
If you are paying the park fees at any Botswana gate, you need to pay in pula. Alternatively, you can pay the fees ahead of time through Botswana's Department of Wildlife and National Parks (DWNP) in Maun, Gaborone or Ghanzi with a credit card.
If you book Mabua or Mpaya Campsites, which are run via the private operator Inter Tourism, then the DWNP park fees can be paid along with your camp booking fees.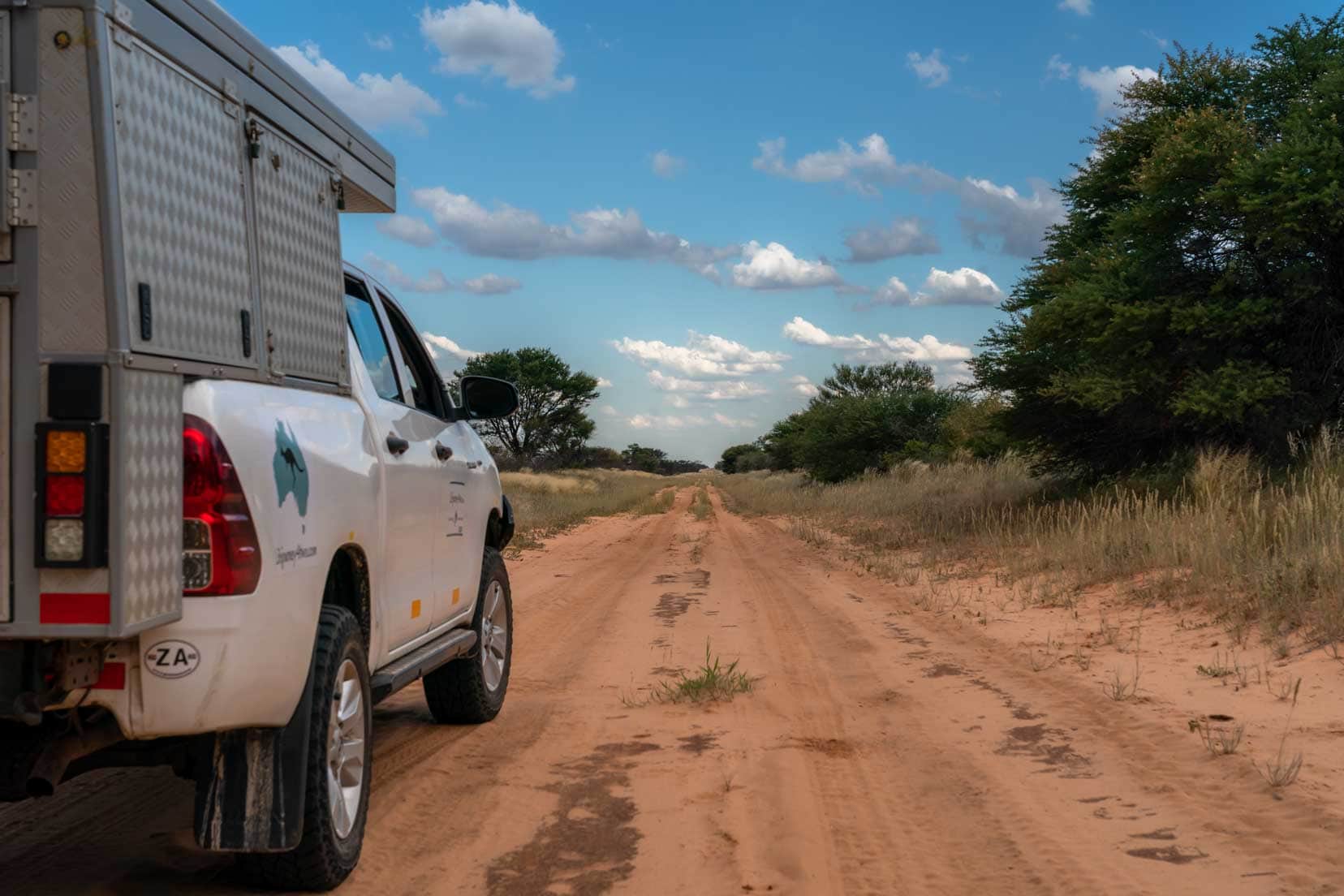 Booking Botswana Campsites
The campsites on the Botswana side of the Kgalagadi are run by both private operators and DWNP (Department of Wildlife and National Parks – Botswana), so booking your Kgalagadi camping trip isn't necessarily a straightforward procedure.
We've included the contact details for each campsite in the Mabuasehube area below.
The north-western side of the park (Botswana) includes the following camps around the Pans. Each Pan has between one and four camping spots dotted around it.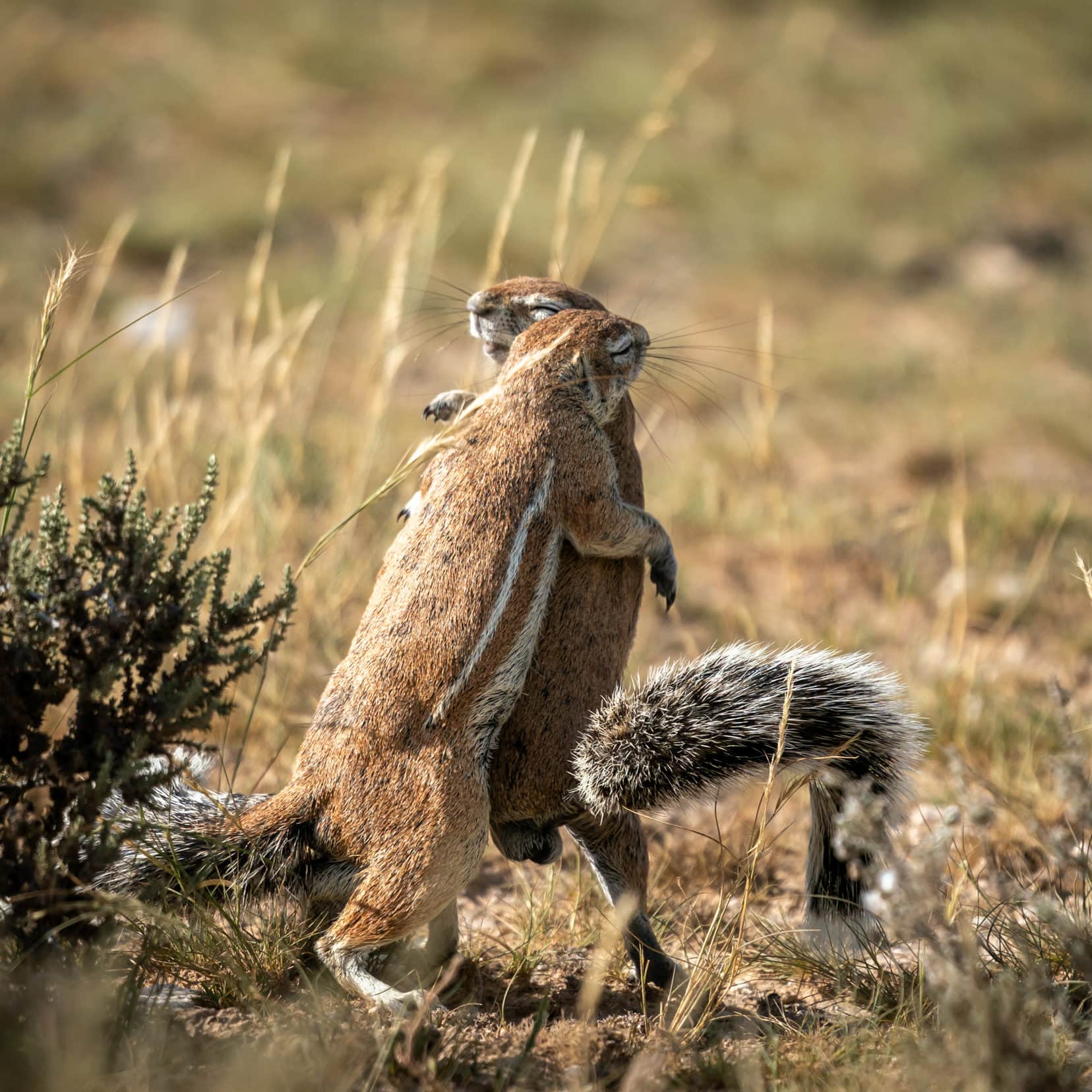 About the Campsites in Mabuasehube Area
Most (not all), of the campsites in the Mabuasehube area, have a wooden A-frame shaded area. This is particularly welcome in summer with temperatures reaching the high 30s/40s.
💡 TIP: The most popular campsites in the Mabuasehube area are at two of the largest pans, Mpaythutlwa (Mpaya) and Mabuasehube (Mabua).
Along with the A-frame shade, the campsites also have a firepit and braai grill (BBQ grill). You need to supply your own firewood, and don't take for granted that there will be water at any of the campsites — always be self-sufficient in case the facilities aren't working.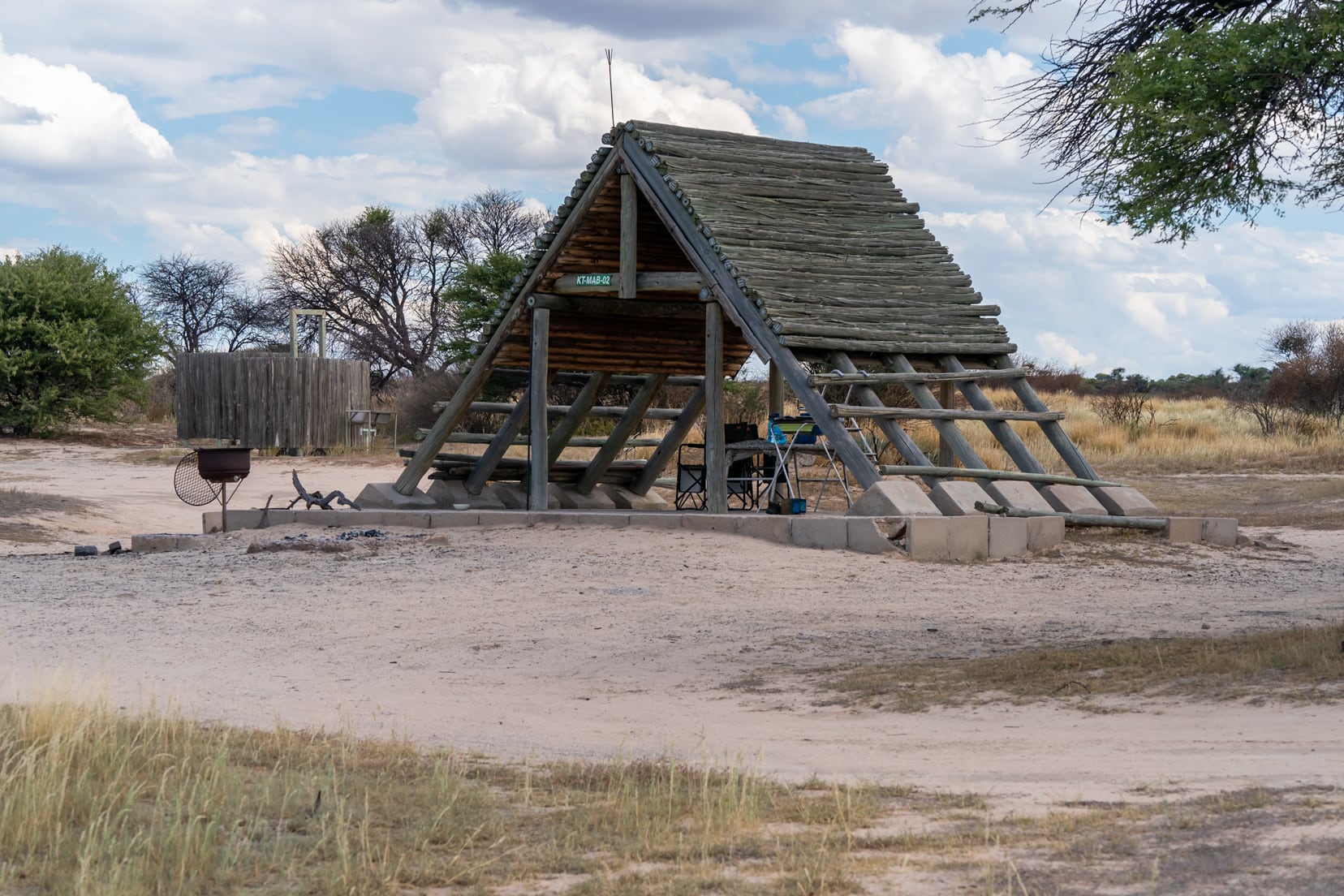 Many of the campsites have a shared drop toilet, and to our surprise, at Mpaya campsite no.1, there was a shower hut with running cold water — a real treat.
The landscape in the area is a mixture of shrub savannah, thorn trees, grassland savannah and of course the pans.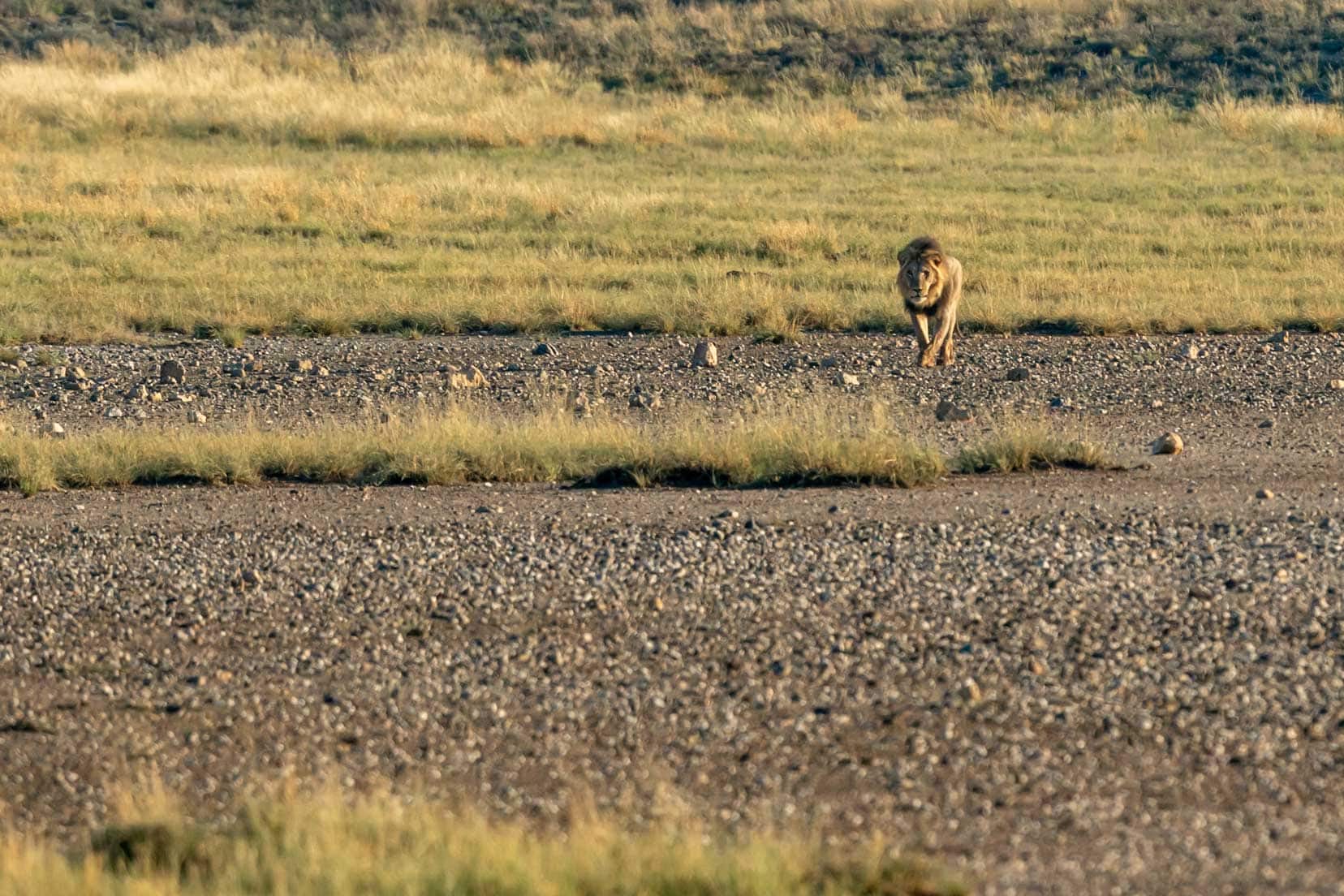 Camping in the Mabuasehube Area (Botswana)
This section includes practical details about the campsites included in our Kgalagadi itinerary in the Mabuasehube area, as well as our personal experiences at Mpaya, Mabua and Matopi campsites.
Arriving at Mabusehube Gate
Mpaya Camp Details
Mpaya Camp Personal Experience including lion in camp
Mabua Camp Details
Mabua Camp Personal Experience including lion in camp (That's not a typo! It happened again!)
Arriving at Mabuasehube Gate
We had read on Google that others had camped outside the Mabuasehube Gate the night before entering the park. This seemed a good idea because the drive from the turn-off (at Lokgwabe – see map above), onto the track to Mabuasehube Gate to the actual gate is 120 kilometres.
The track to the Mabuasehube Gate alternates between rutted sand, to rutted gravel, to deep sand – and trust me, you will be praying for deep sand in order to give your battered body a break from the bumping.
Driving at approx 30 km per hour, this 120 km section of road took us roughly 4 hours.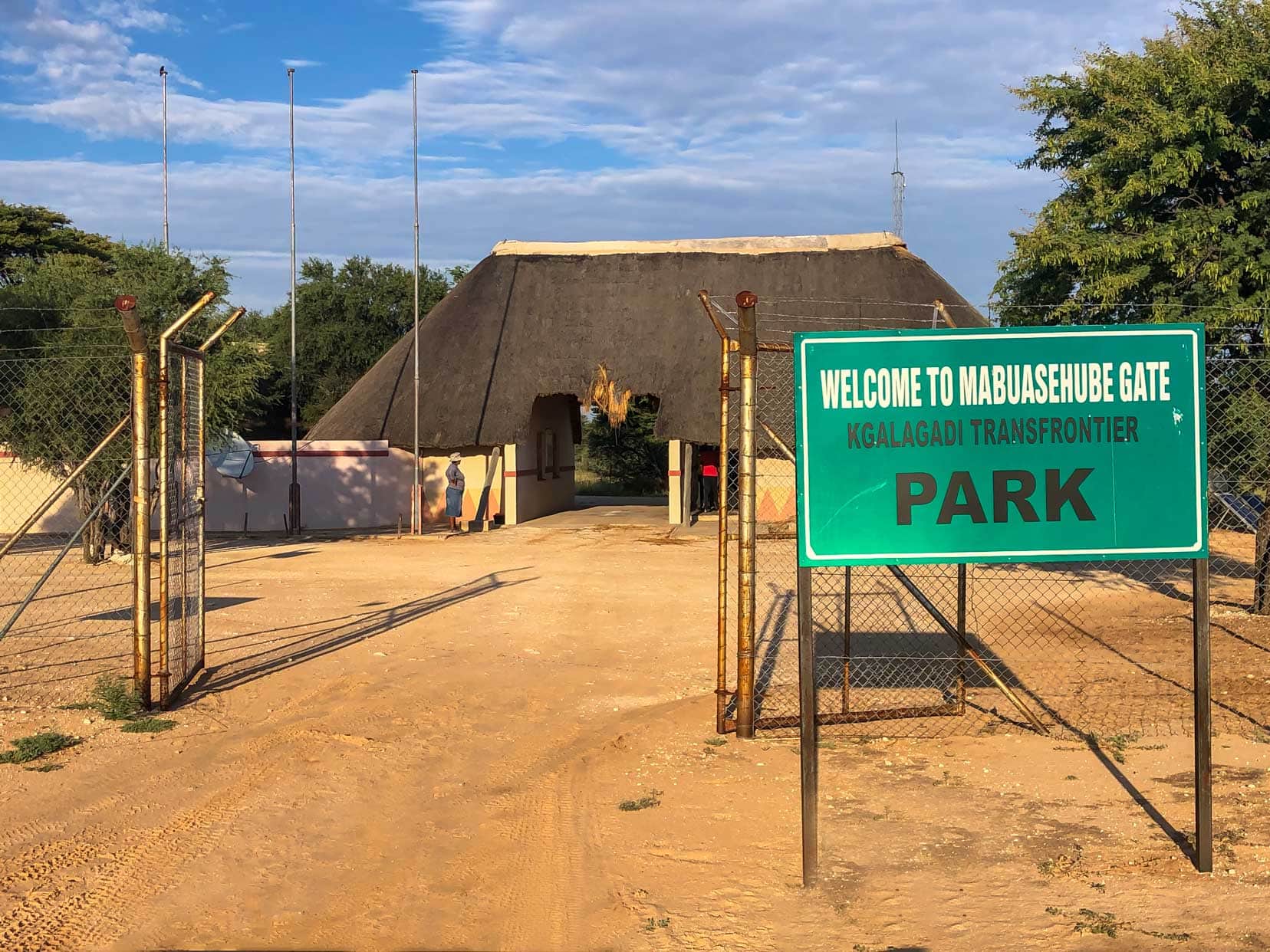 Unfortunately, the information about parking outside the gate is no longer accurate. The DWNP employee at the gate told us that it was no longer possible to park at, or just outside the gate, due to the area not being gazetted by the Botswana government.
Luckily, he was understanding and offered us a DWNP site at East Gate Camp, about 200 metres from the gate. It cost $10 AUD (100 pula) for the night.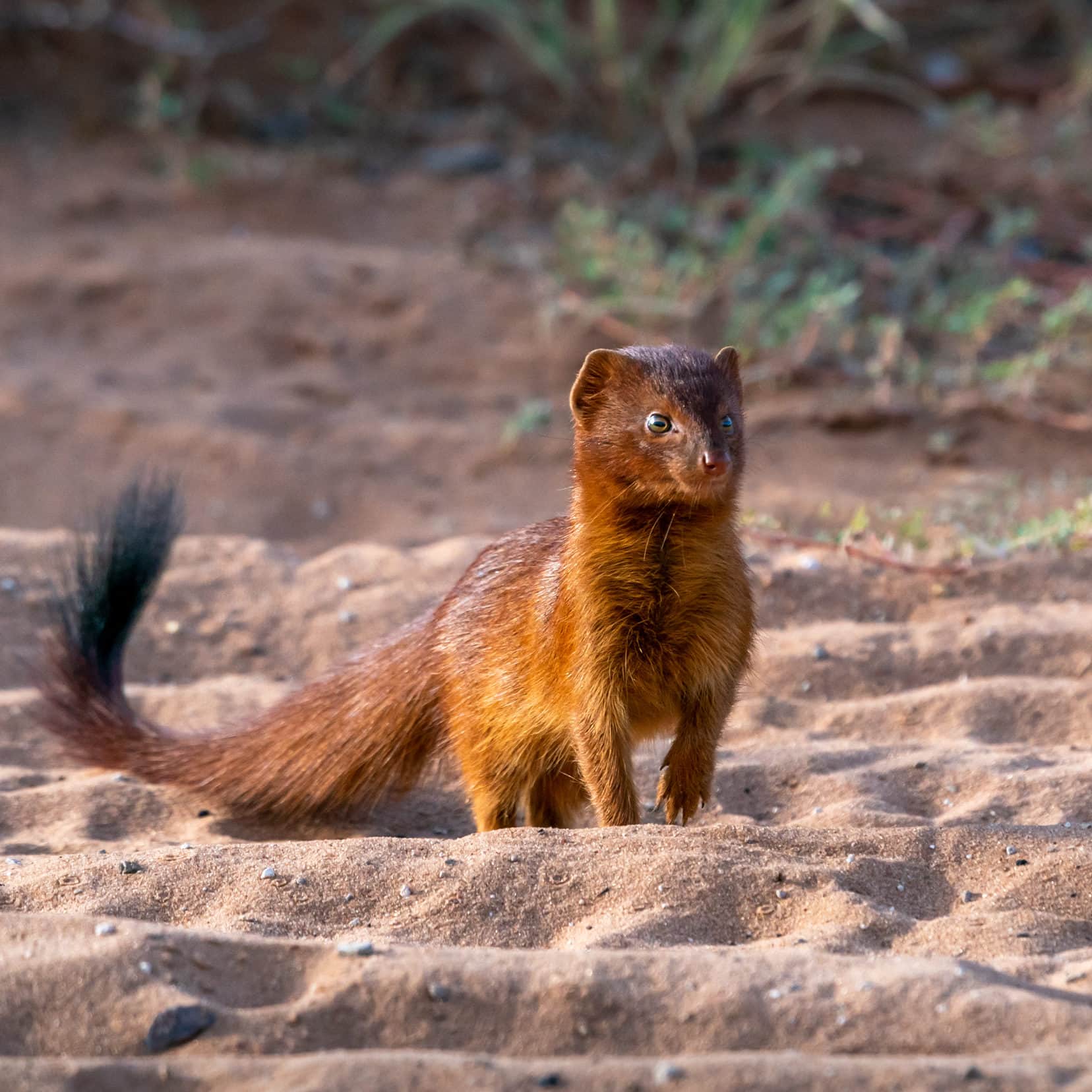 Mpayathutlwa (Mpaya) Campsites
The Campsites at Mpayathultwa Pan are:
Mpaya Campsite 1 (KTMPA01) is the only one with a cold shower, drop toilet and two sinks. It has a view over the pan. (We stayed here)
Lefika Campsite is on a peninsula with lots of shade and has a great view over the pan. It's situated between Mpaya Camp 1 and Camp 2.
Mpaya Campsite 2 (KTMPA02) is further south with views of the southern section of the pan. There was a working water tap on site, but the views weren't as nice as Camp 1 or Lefika Camp.
Mpaya Overflow Site is further back in the bush, with no views of the pan.
All the campsites at Mpaya have a good distance between them, so, other than other campers driving by, they are relatively private.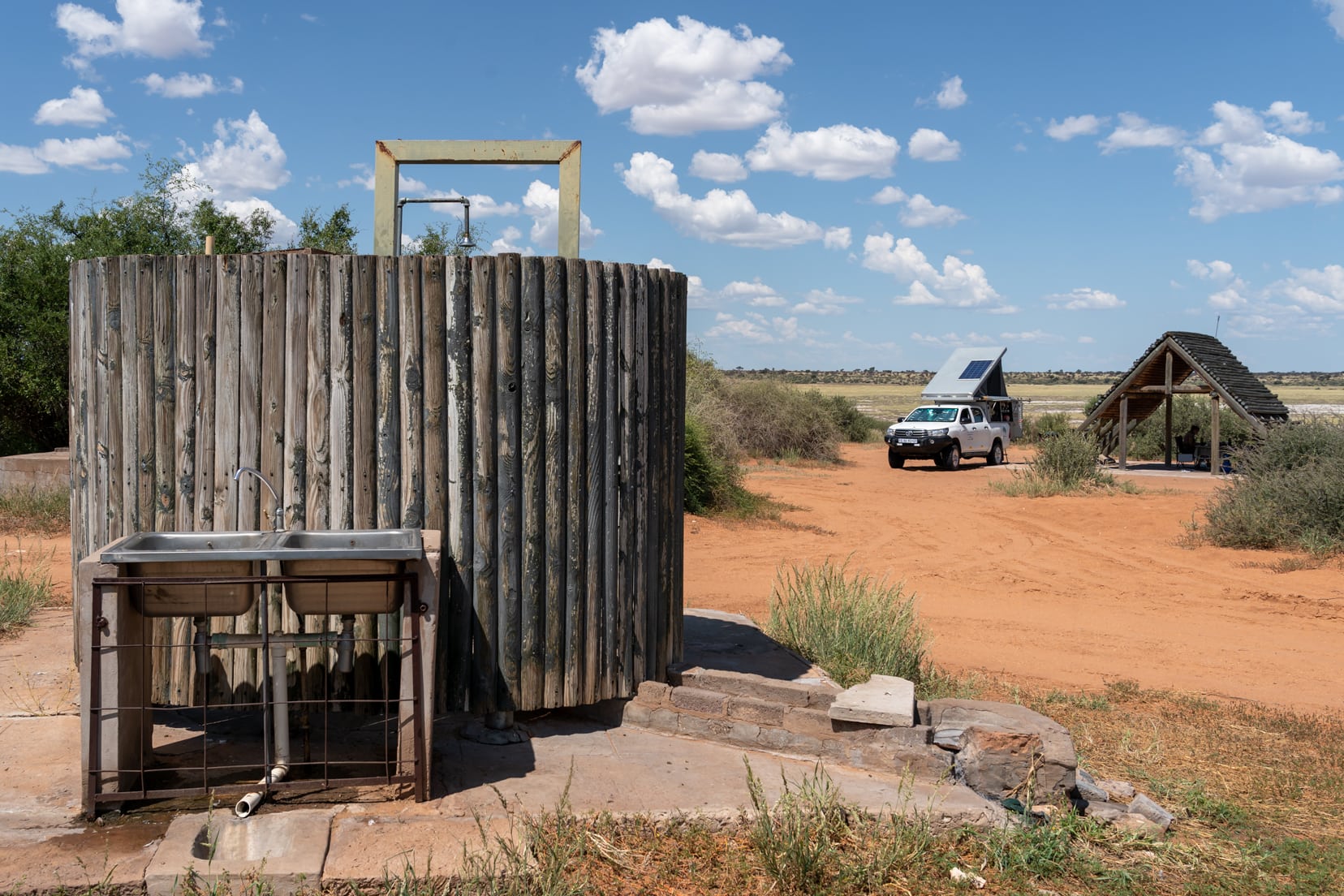 Mpaya Campsite Experience
We stayed at Mpaya No.1 Campsite which overlooked the pan and was close to the shared ablutions.
Because it was the only campsite with water and a working shower, other campers regularly stopped by to top up their water or to take a shower. The bonus with this was that we could ask anyone who stopped by what wildlife they'd seen and where — valuable bush intel in such a sparsely populated area.
At Mpaya camp, we had lots of visits from a slender mongoose who hung around and relaxed in the shade under the camper. The trusty yellow-billed hornbills kept watch over us and in the early morning and evening, the helmeted guinea fowl pecked around camp.
Because there was collected runoff from the shower, many birds and little critters came to drink at the drain and this was a favourite spot for this little mongoose to grab a drink.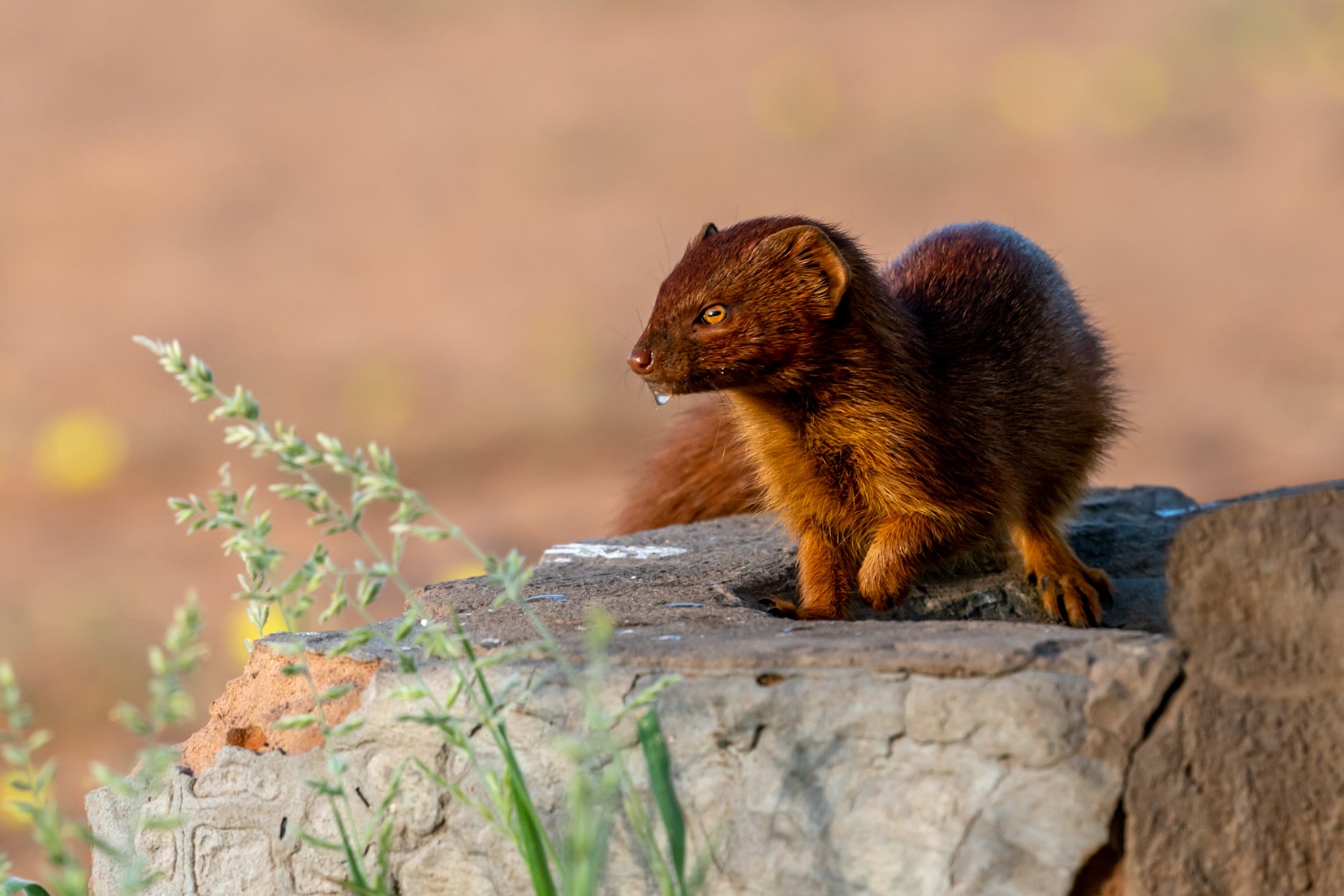 On the first morning, just as we were getting up, at around 6.30, we heard a lion roaring across the other side of the pan. Lars, (AKA tracker extraordinaire), diligently spotted it through the binoculars and accurately assessed it was heading for the waterhole.
We popped down the rooftop tent and made a beeline for the waterhole.
Of course, the tracker was smugly accurate.
Lapping away at the waterhole, was a rather gormless looking and extremely full-looking, black-maned lion.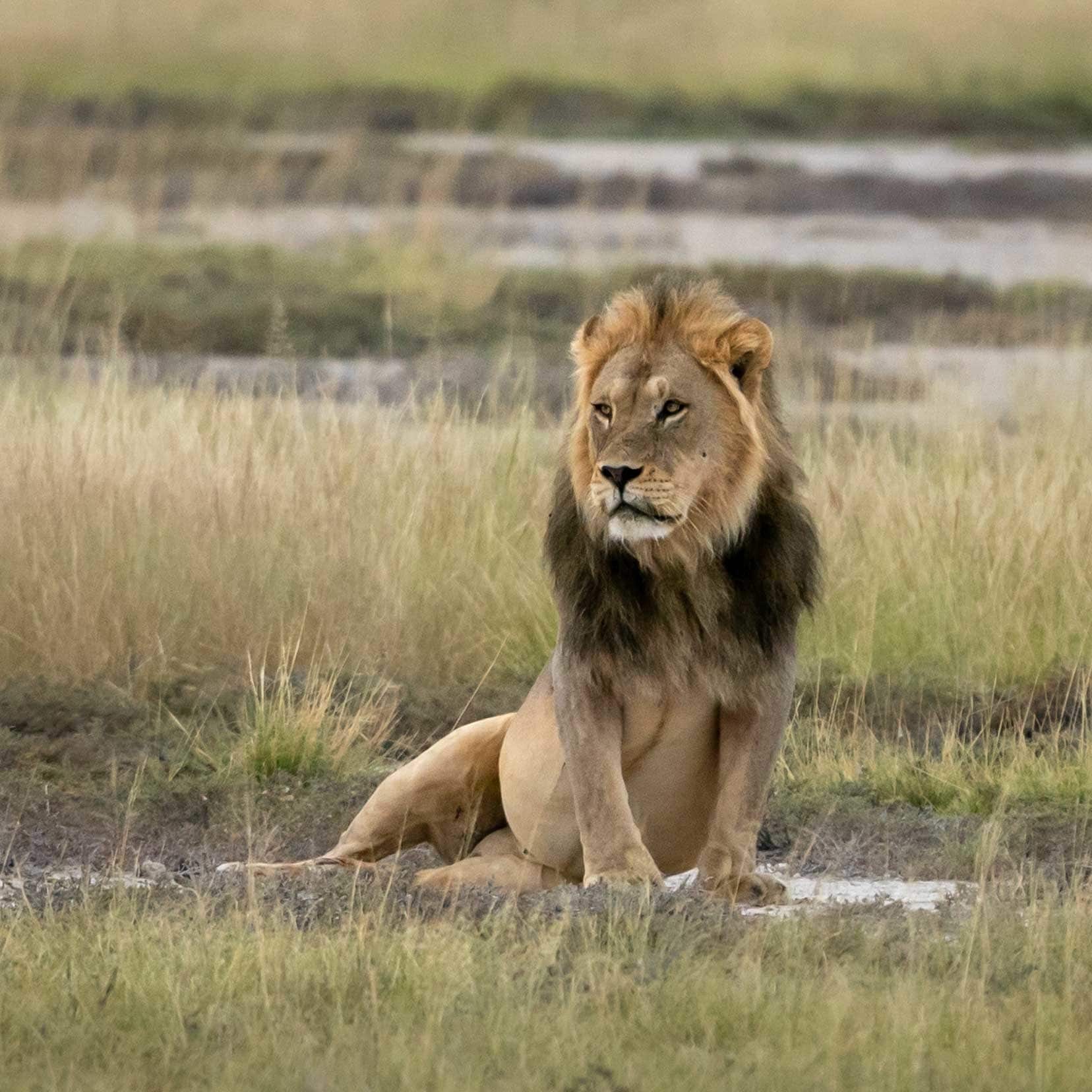 The early morning light fell on his mane, making for some great shots as he wandered along the track right back to our camp. He sniffed around the shower and continued on his merry way.
We'd heard that lions sometimes came into camps in the Kgalagadi but didn't really expect it to happen. So, we couldn't believe it when we followed him back right into our camp.
We were certainly glad that we were actually following him in, rather than being sat in the camp when he arrived.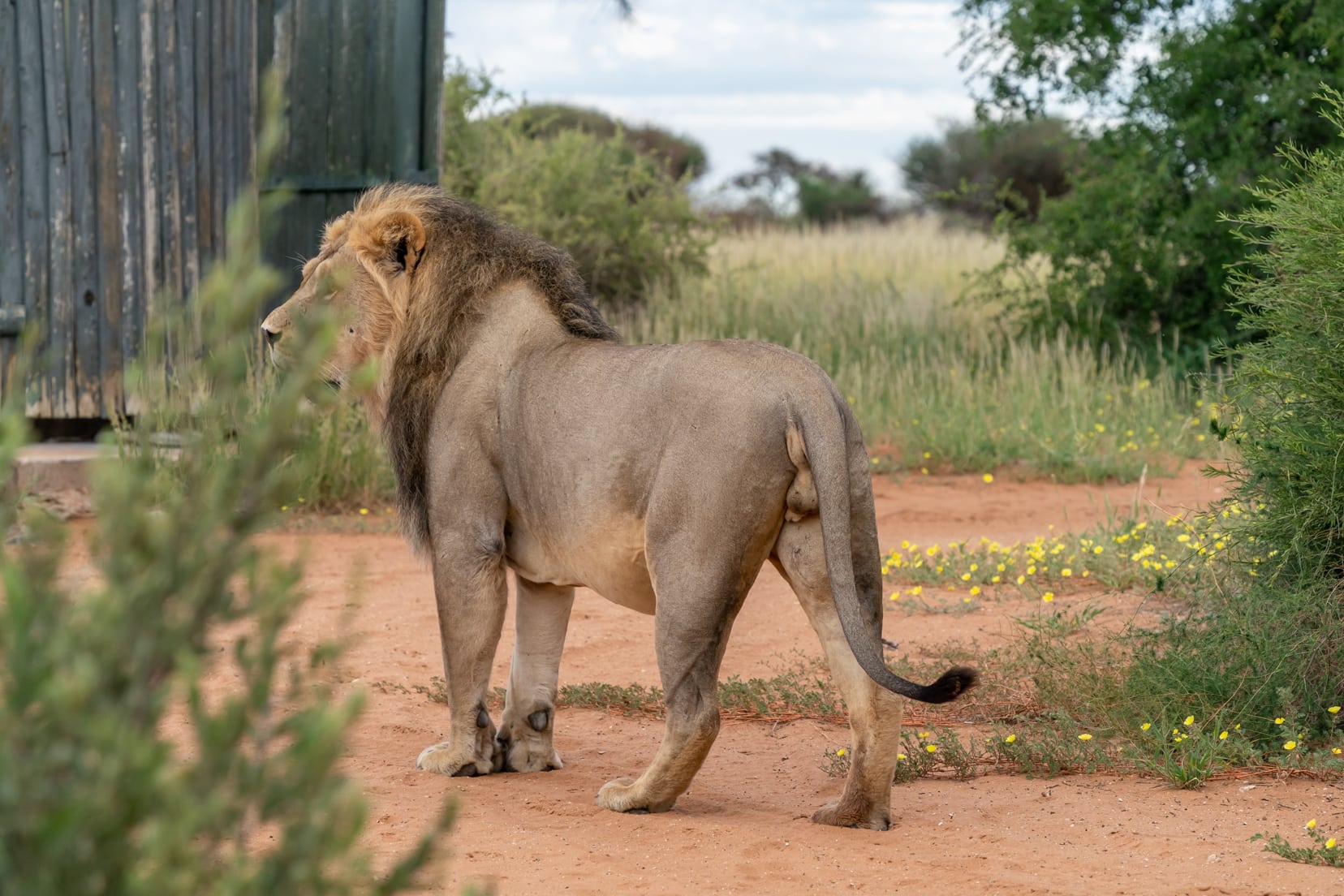 Funnily enough, a few days later, when we'd moved on to our next site at Mabua Camp, another couple, who'd been staying at Mpaya, told us that later that night the lion had come back through camp.
This time though, someone had been in the shower and had the fright of their life.
Unbeknown to us at the time – we too were in for a surprise visit.
Mabuasehube (Mabua) Campsite
The Campsites at Mabuasehube Pan are:
Mabua 1 doesn't have any facilities but it does have a great view over the pan and the dried-up waterhole. If the waterhole gets fixed so that the bore water begins pumping into it again, this would be a lovely wilderness spot.
Mabua 2 also has a great view over the pan but not the waterhole. There are shared drop toilet and a shower cubicle but no water. (We camped here)
Mabua 3 also has good views over the pan but is close to Mabua 2, so you don't have as much privacy as in most of the other campsites in the Mabuasehube area. Luckily, when we were at No 2, no one had booked no 3.
Mabua 4 is further away from the other pans and has a good view too. It also had a shower cubicle and closed-door drop toilet rather than the normal timber open-plan circular frames. No water was running at that site though.
Mabuasehube (Mabua) Campsite Experience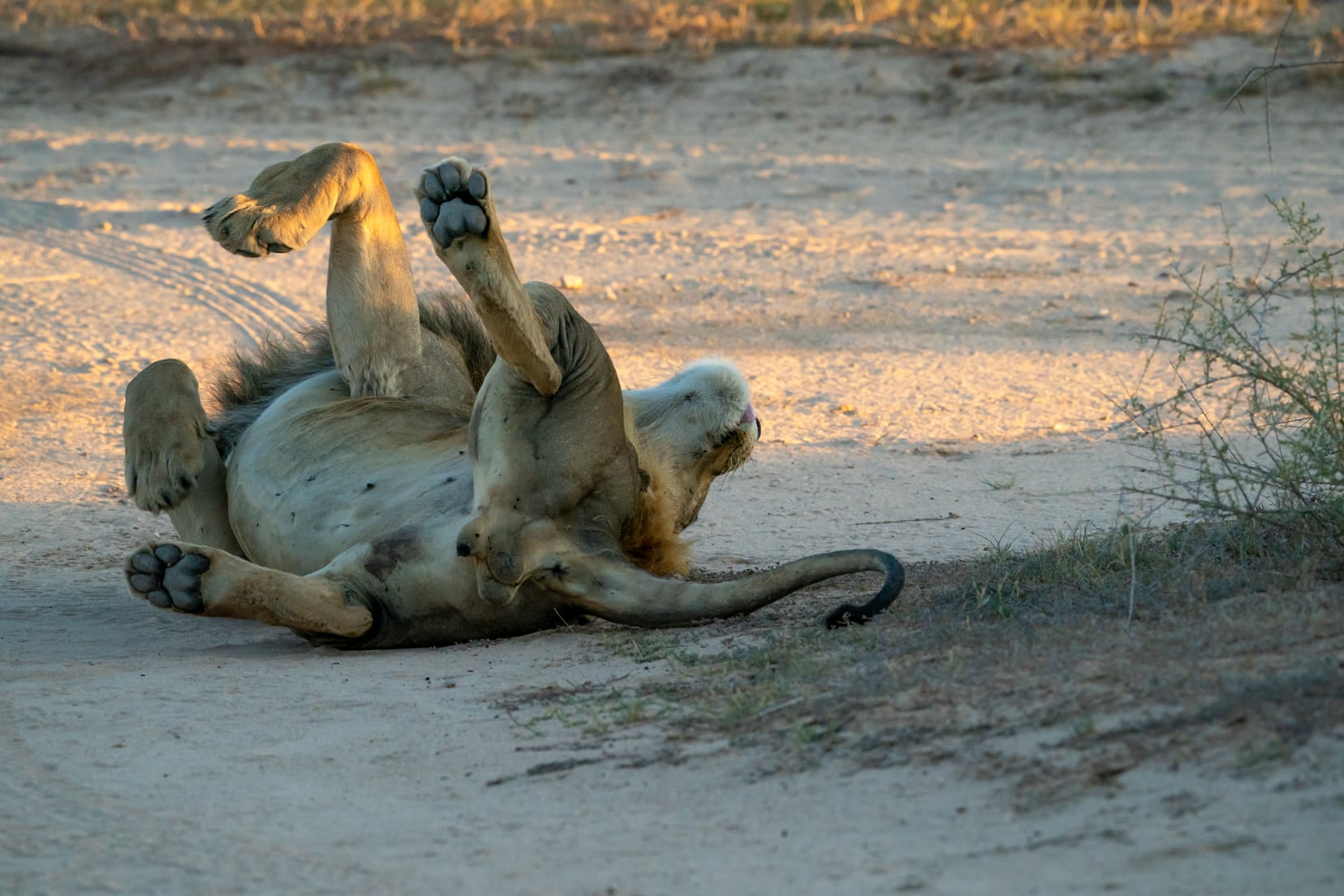 We camped at Mabua Campsite No.2, with views across the bare clay pan. Very different to Mpaya Pan.
Although the Mabuasehube Pan doesn't attract masses of wildlife, we saw a few gemsbok, springbok and wildebeest licking the ground which is rich in minerals.
The Mabua waterhole was empty, which was a shame and therefore made this pan less attractive to the wildlife.
Around camp, ground squirrels busied themselves, digging in the sand and nibbling away on whatever they found. It is amazing how they stand like statues when they think they're being watched – they'd be outright winners in a game of red light/green light!
At Mpaya we'd had the pleasure of the slender mongoose keeping us company, and at Mabua, two yellow mongooses hung out with us. They loved stretching out and sleeping in the shade under the camper.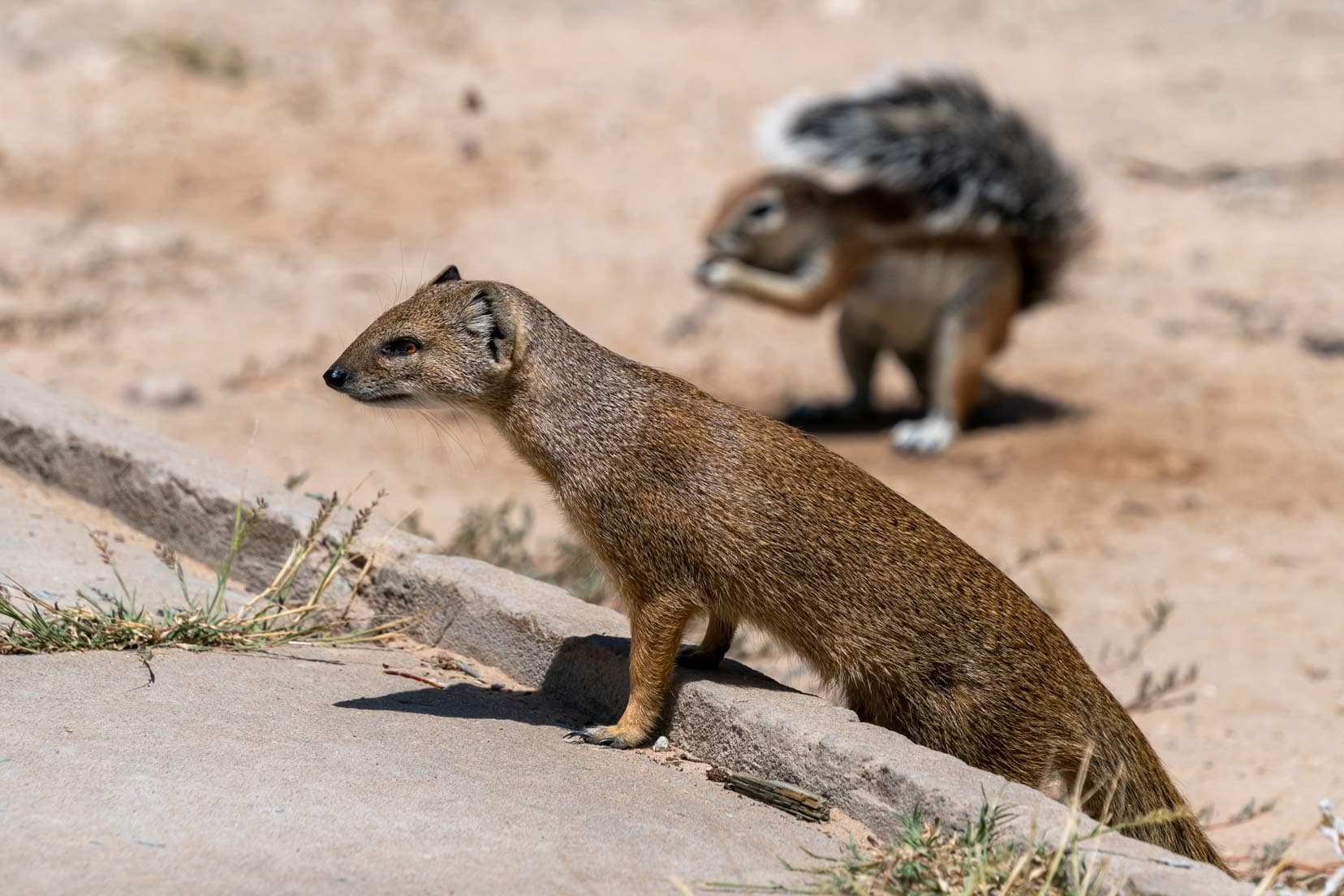 In the trees around us, blue iridescent starlings sang, along with the cape turtle dove, a few sparrows and the seemingly ever-present yellow-billed hornbills.
Our days were punctuated at each end, with visits from spurfowl and guinea fowl.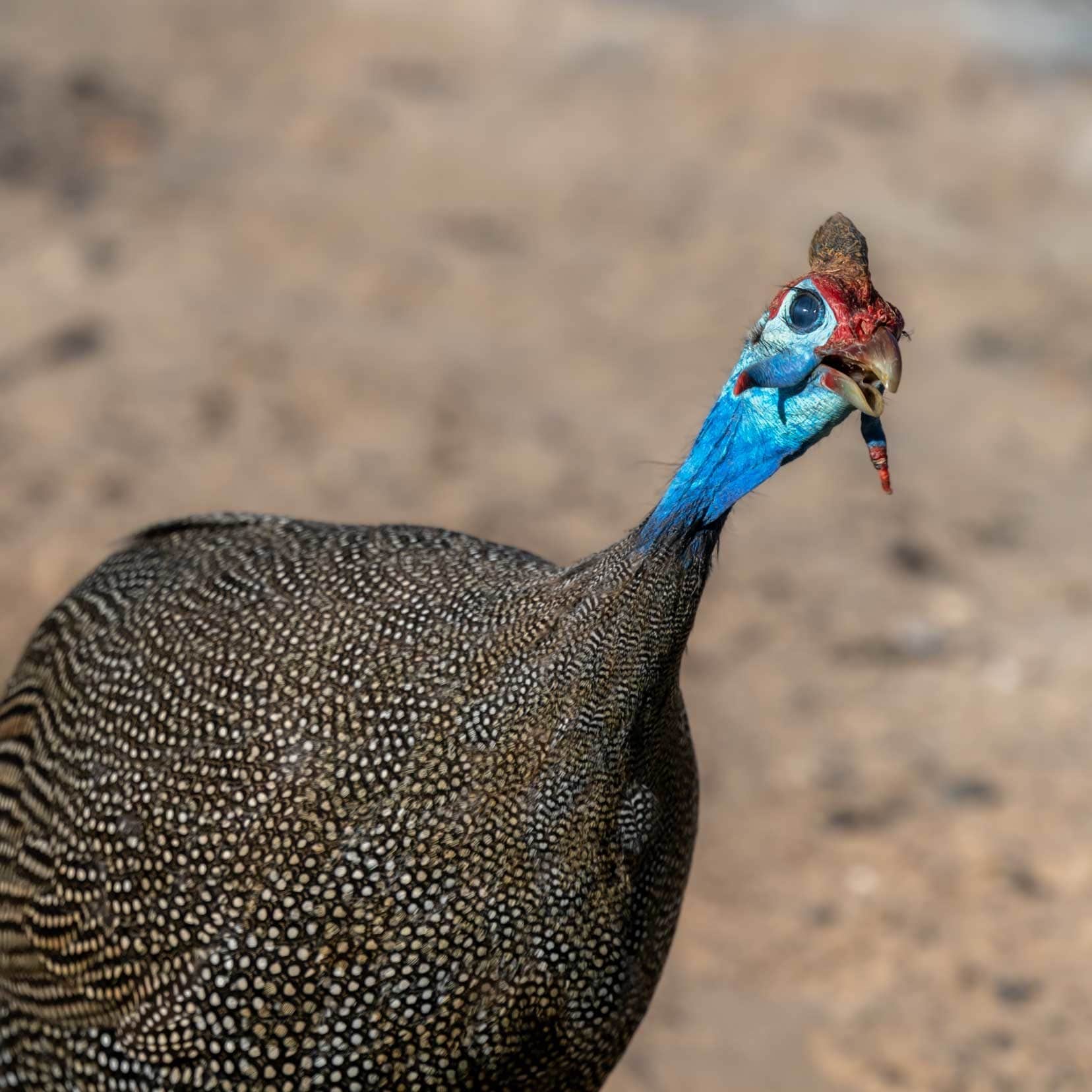 We were excited to spot one little bird that we've been wanting to see but hadn't been lucky enough to find on our Southern Africa travels so far – the violet-eared waxbill. One flew right onto a branch near us and Lars – in true stealth mode— managed to locate both the male and female in a nearby bush.
Nature has a way of surprising you when you least expect it.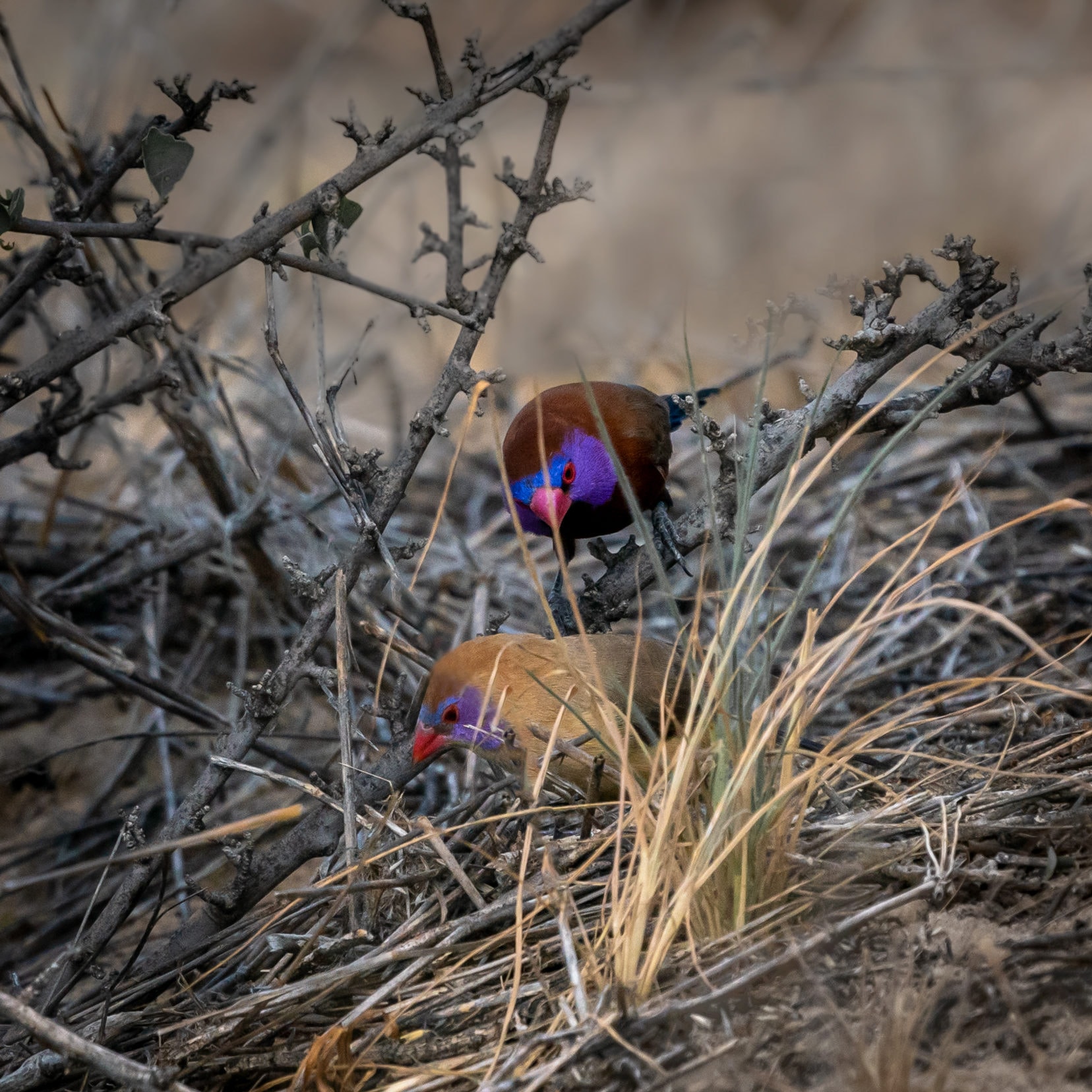 At some points during the day though, silence penetrated camp. It was then that you appreciated just how isolated and desolate the Kgalagadi was.
Groundhog Day at Mabua
The next morning at Mabua was Groundhog Day.
For the second day in a row, we awoke to a lion roaring across the pan.
A different Pan.
A different lion.
But the same beginning.
Again, we set off in the car to meet him as he crossed to our side of the pan.
He meandered beside the dry waterhole. And, as if in response to his dashed hopes of a morning cuppa, his next roar reverberated across the pan.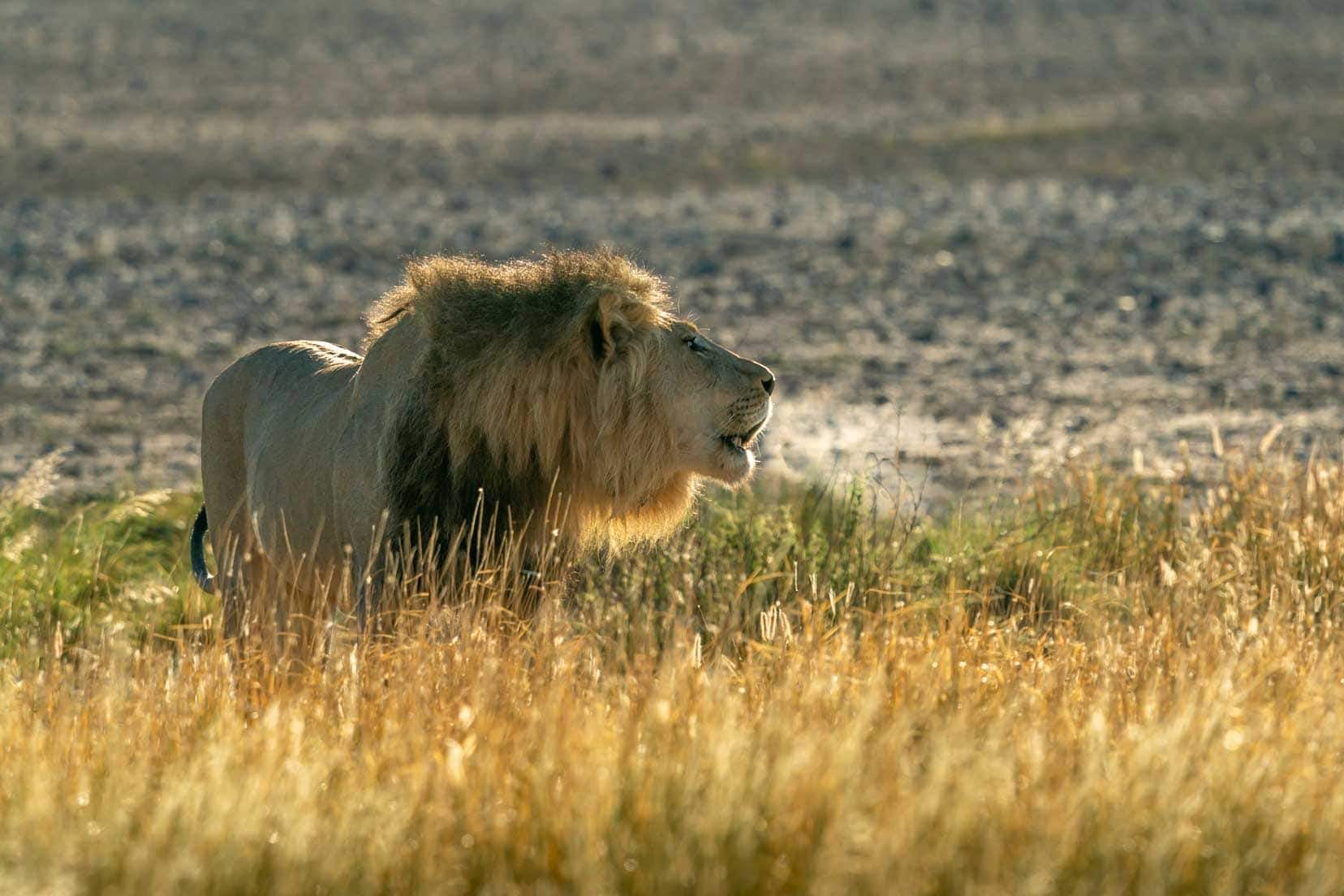 The light was falling just right behind him, his breath visible as he called again to any of his pride that might be listening.
We followed him along the edge of Mabua pan before he crossed the track in front of us and lay down behind a bush just 100 metres from our camp.
Enraptured by this second lion sighting, we returned to camp – keeping a keen eye out during the day— just in case. Lions sleep on average 18-20 hours a day, so we weren't expecting much action.
Later that day, we saw him heading further into the bushes and assumed he'd be heading south towards Mpaya Pan where he could get some water.
---
Later that day, in the early evening, as we were having a strip wash, we heard a bellowing roar. Judging its owner to be quite close and grabbing our clothes, we hurried to the camper.
A few moments later, guess who came strolling in?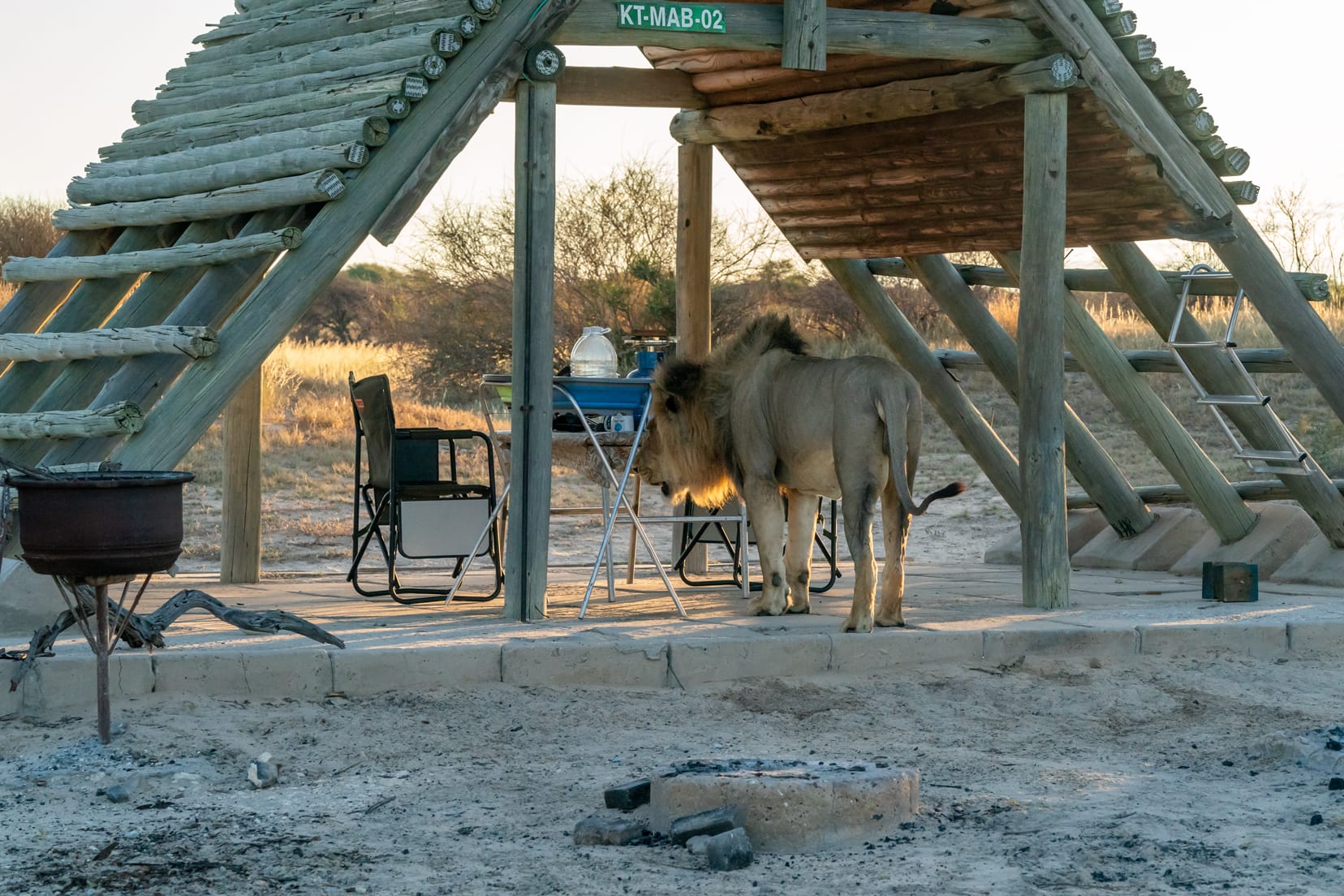 Thank goodness he'd roared.
If he'd come waltzing in unannounced five minutes earlier, he'd have found us stark naked.
He had a good sniff around camp, found our step ladder particularly enticing, (perhaps the scent of our sweaty feet was appreciated), and then he stepped up into our shelter.
After a quick nosey around, and seemingly not finding anything of interest; its recent occupants having hastily departed (and thanking their lucky stars that they were watching from the safety of the car), he then proceeded to let out another thunderous roar and flop down a few metres from us for a nap.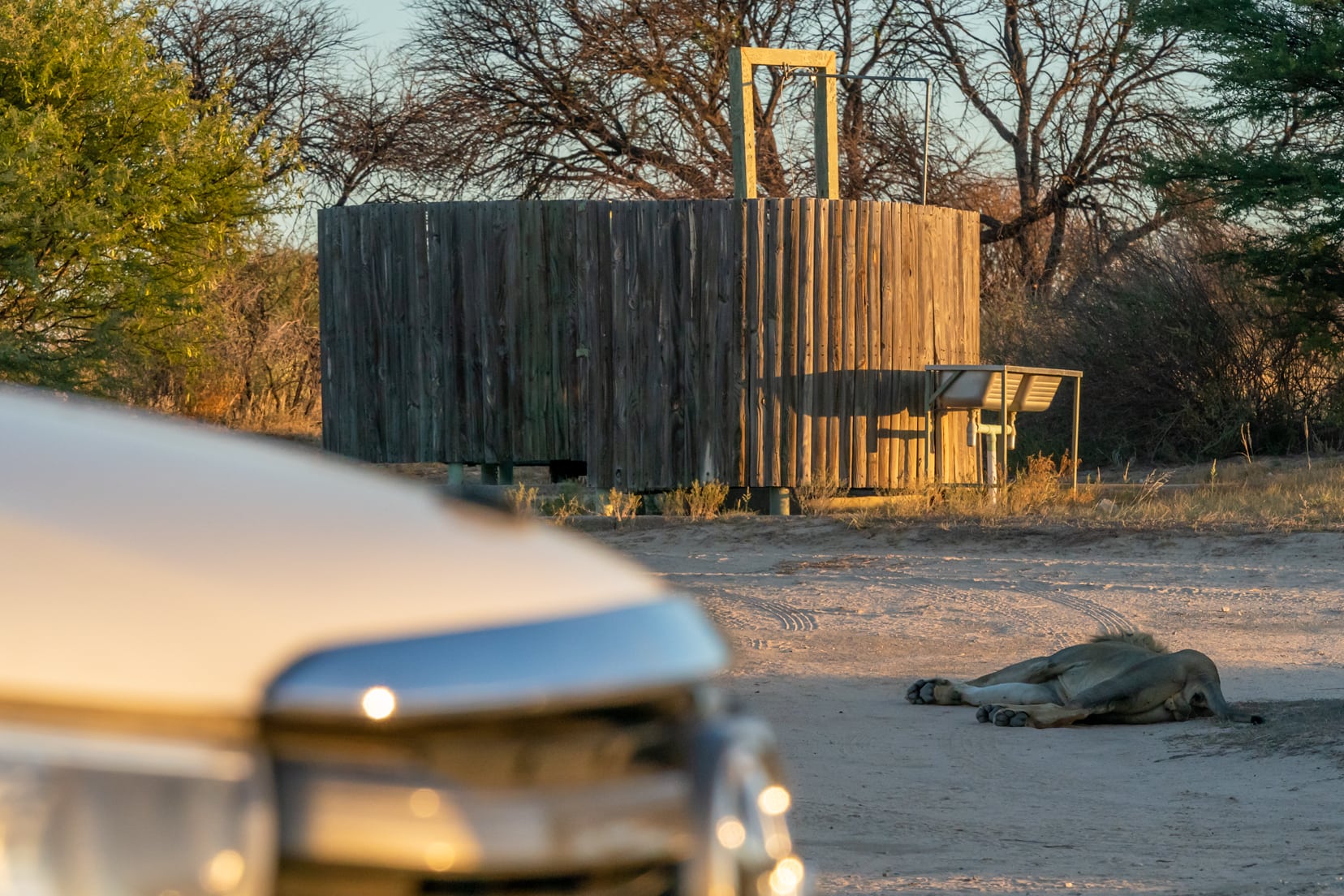 After a quick 10-minute nanna nap and a few rolls around on the ground like a playful cat, he let out another booming bellow, left us to regain composure and sauntered out of camp.
By this time the sun was setting, and golden hour was upon us. And as we trailed him for a little while — he took the main road (sandy track) from Mabua south to Mpaya— he stopped for a moment.
With his profile perfectly illuminated, we took the shot.
A breathtaking moment forever captured.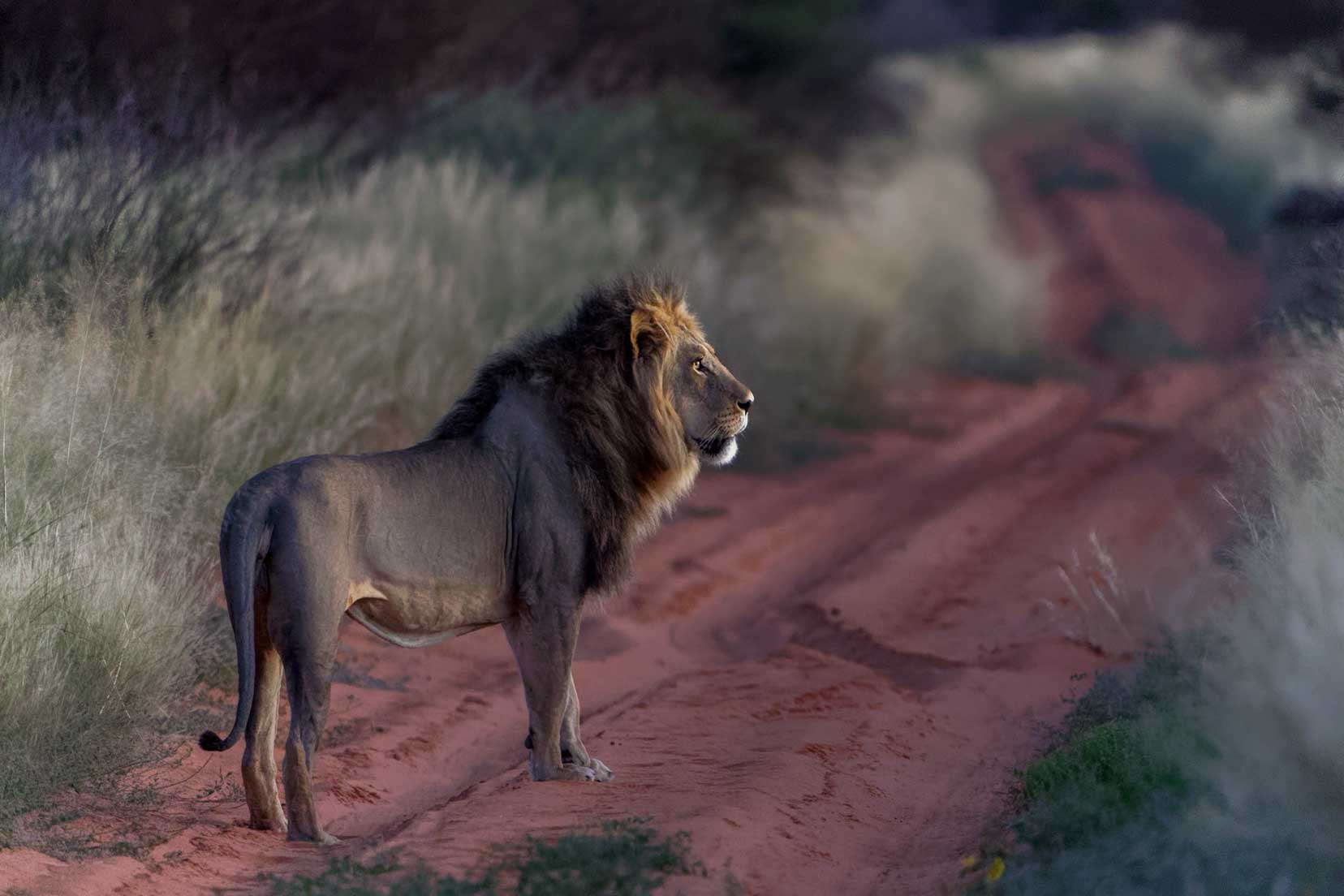 If you love this shot – why not buy an instant high-resolution image from our ETSY Store? It is an immediate download for you to print.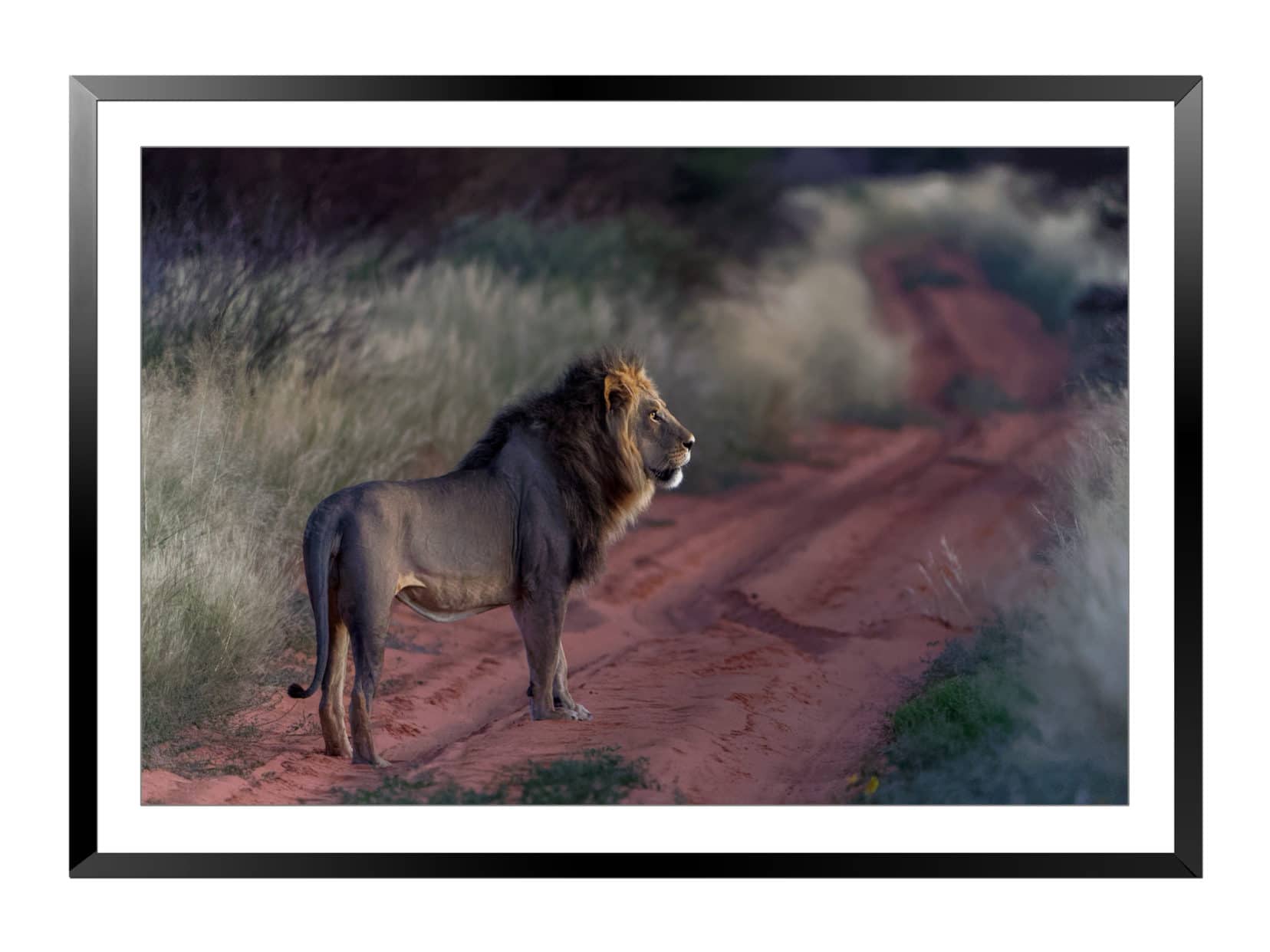 Matopi Campsites
Matopi Campsites are situated along the route from Bosobogolo Pan to Nossob (see map above. They are ideal stopovers to break up the journey across, but other than not aren't anything to write home about.
We stayed in Motopi 1, the closest campsite to Nossob, along the route. The camp is off the road but didn't have a huge amount of shade.
Neither camps have water but do have a drop toilet.
South Africa KTP Camping Information
The next stops on our self-drive safari were Nossob and Twee Riverien, both managed by South Africa.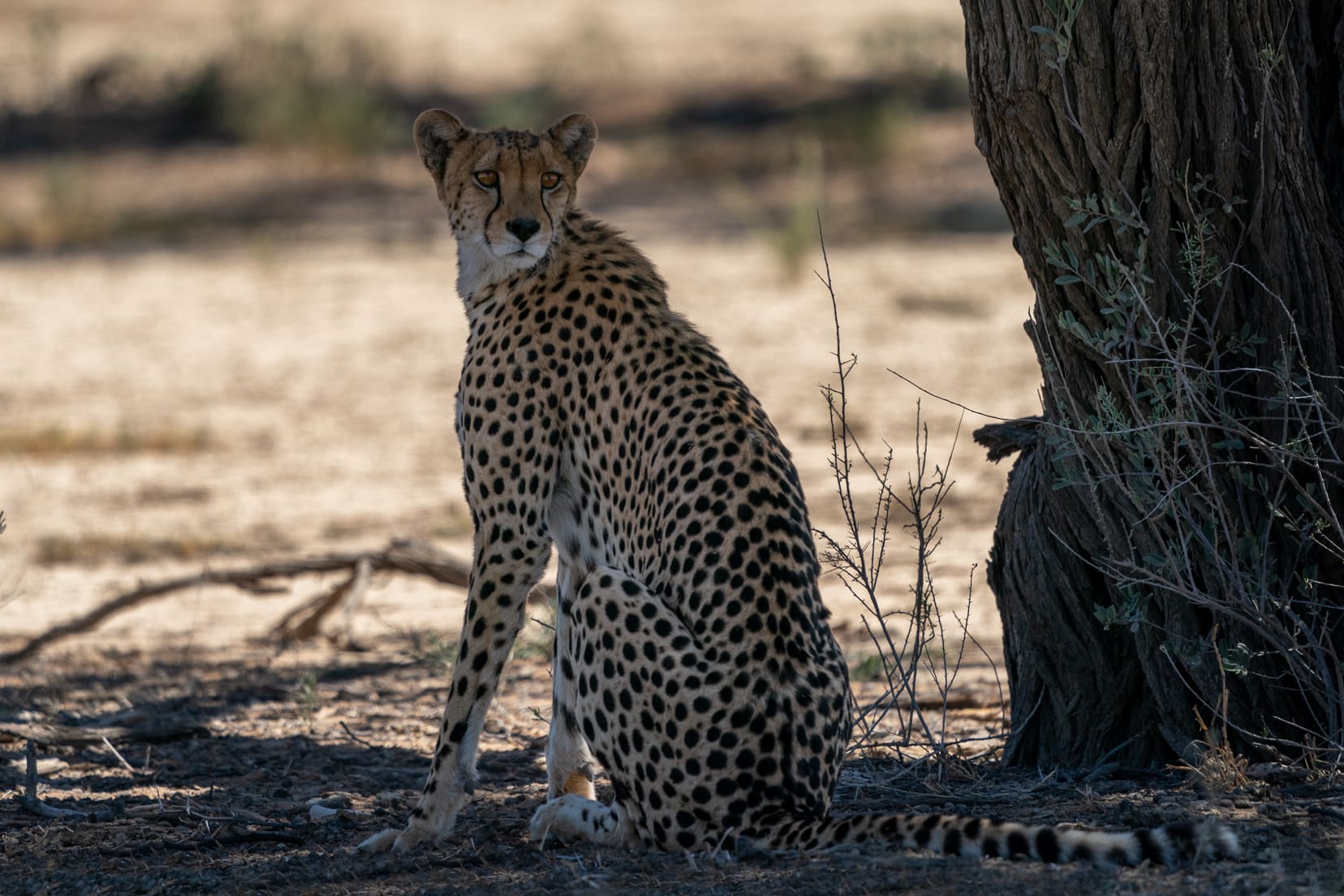 South Africa Kgalagadi Park Fees
The conservation fees for each day in the park are payable to SANParks and can be paid online at the same time you pay for the campsites.
Booking the Transfrontier South African Campsites
The campsites on the South African side are easier to book as they are operated by SANParks (South African National Parks) and can be booked online via the SANParks website. The South Africa campsites have more facilities and aren't as rustic and wild as those on the Botswana side.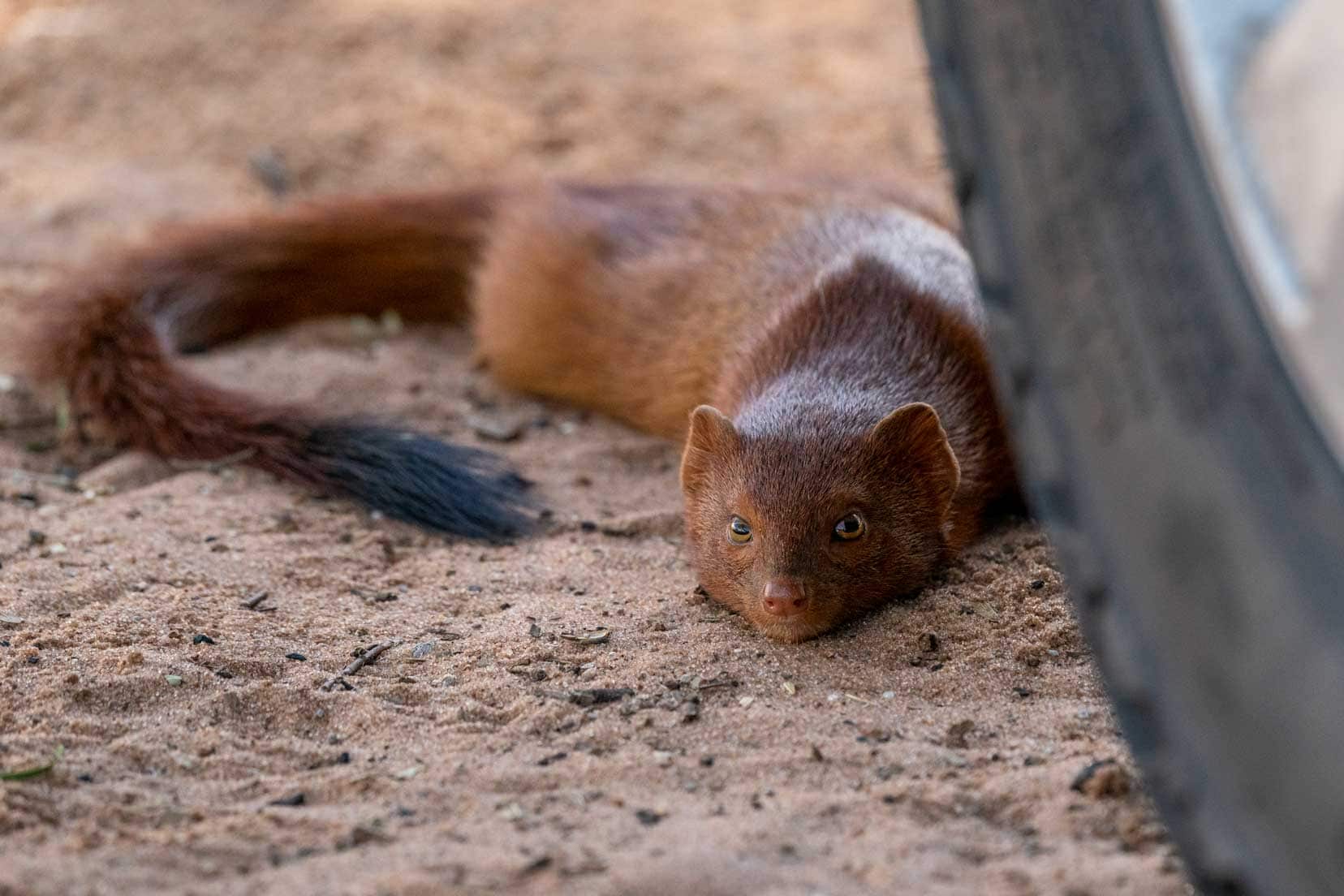 About the Campsites in the KTP South African Side
The three main rest camps on the South African side of the Kgalagadi are:
Twee Rivieren Rest Camp
Nossob Rest Camp
Mata Mata Rest Camp
All have fuel, water and shop with basic supplies. All of these camps are fenced, unlike the Botswana side and the six Kgalagadi wilderness camps in South Africa.
These South African Wilderness Camps (which are more pricey than the rest camps and are tents/rooms) are unfenced. They include:
Gharagab Wilderness Camp (4×4 access only)
Bitterpan Wilderness Camp (4×4 access only)
Kieliekrankie Wilderness Camp
Kalahari Tented Camp
Grootkolk Wilderness Camp
Urikarus Wilderness Camp
Twee Rivieren Camp
We camped at Twee Riverien, which has a well-stocked shop, restaurant and swimming pool.
The campsites are right next to each other, so after camping on the Botswana side this felt a little claustrophobic and noisy.
The sites are both powered and non-powered and there are also self-catering chalets available.
The Border control for South Africa, Botswana and the Twee Rivieren reception are all in the same building, next to the border control gate.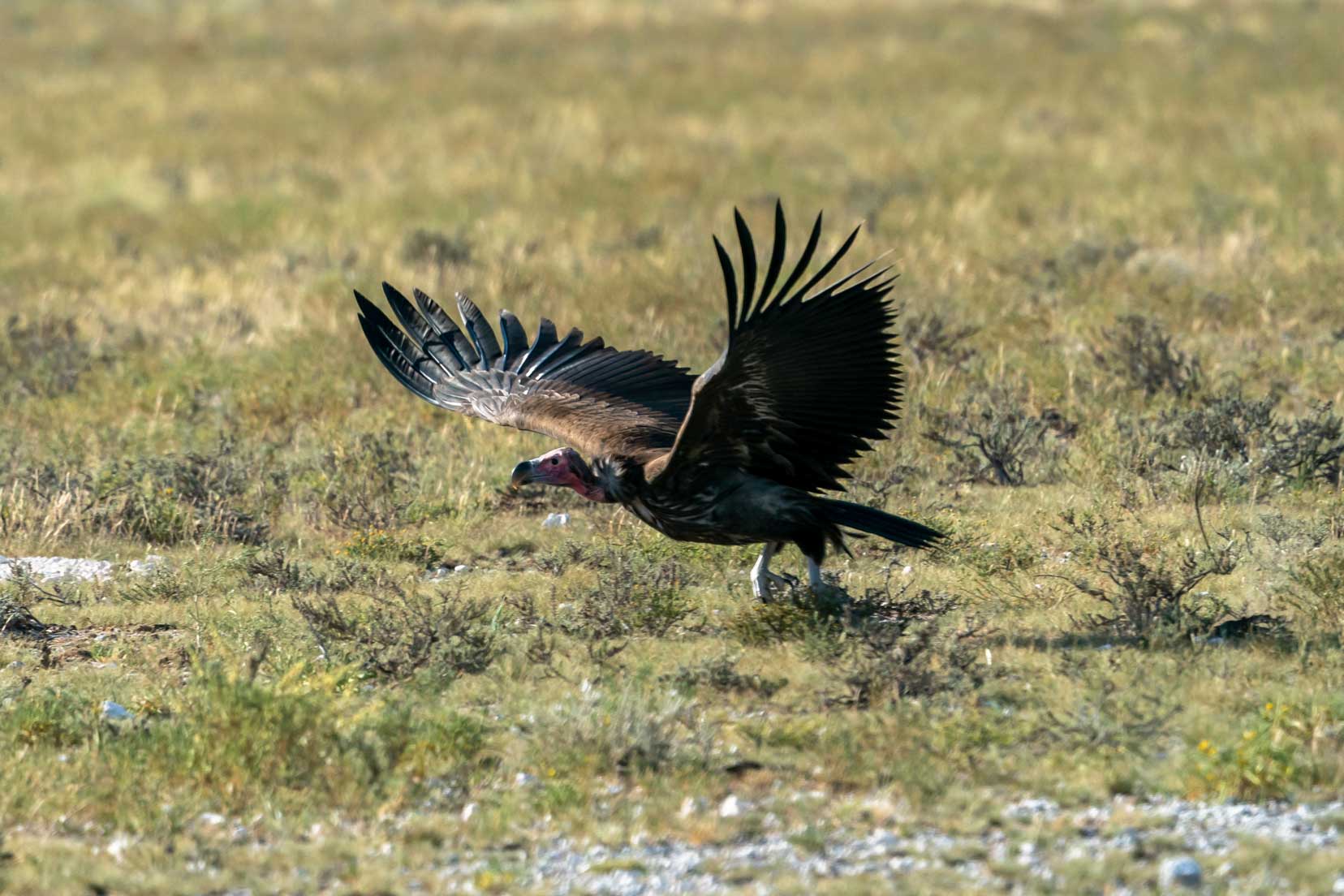 Travelling between Botswana and Namibia in Kgalagadi Transfrontier Park
The Kgalagadi Transfrontier Park is bordered by Namibia to the west, but unfortunately, there isn't a Botswana/ Namibia border post within the park.
Therefore, if you enter the park in Botswana, and want to go to Namibia you will need to head to the Twee Rivieren Border Gate in the south. You can then head to Mata Mata to enter Namibia.
NOTE: You need to stay in the Park for at least two nights to be checked out of South Africa at Twee Rivieren, before driving to Mata Mata.
At Twee Rivieren, you check out of Botswana …and into South Africa. The immigration offices for both are in the same building.
You can then head north again to the border crossing between South Africa and Namibia at Mata Mata.
Additionally, if you are not South African, and have come from the Botswana side, as you travel through Nossob (South Africa) en route to Twee Rivieren you will need to stop at the shop and get a permit to travel through the next section of the South African part of the park.
This doesn't cost anything, it's just a matter of filling out some forms. But you will need these forms once you arrive at Twee Rivieren.
Kgalagadi Camping Tips
Tips included below:
Tips to being self-sufficient
Use Tracks4Africa Maps
Book Campsites early
Driving Tips
Malaria Risks
1. Being Self-Sufficient on Your Kgalagadi Camping Trip
The biggest concern when camping in the Kgalagadi, on the Botswana side, is that you have enough drinking water.
The campsites are remote, there is no cell phone signal, and depending on the season that you visit, you may not see another vehicle passing you for days.
Having enough water, not only for your planned time in the Kgalagadi wilderness camps but extra in case of emergency is therefore vital.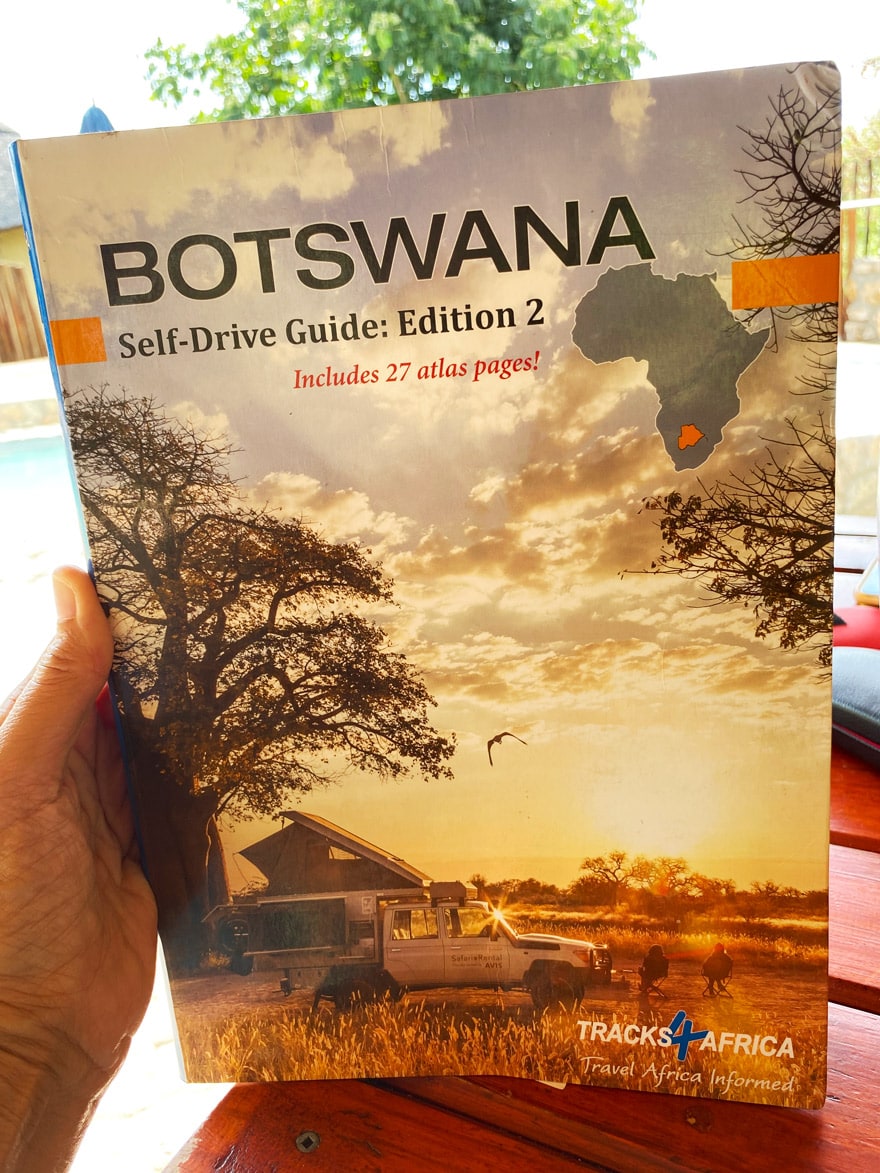 Along with enough water, you will need to make sure you have enough food and fuel.
(We stocked up on fuel in Kang before heading to the Kgalagadi, and had stocked up on food in Maun)
💡TIP: When visiting the Kgalagadi make sure you have:
Enough Water, food and fuel for your trip
First Aid Kit
Good off-road tyres
Vehicle recovery equipment
Satellite phone or Garmin Satellite communicator in case of emergency (That's what we have)
If you are camping on the South African side of the park, being self-sufficient is much less of a problem. At the three main campsites, Nossob, Twee Rivieren and Mata Mata, there are fully equipped ablutions and shops where you can buy water.
2. We recommend using Tracks4Africa Maps
While we are on the subject of Tracks4Africa, we have found that these are by far the best maps for travelling in Southern Africa. They include all the 4×4 tracks, and we have found them to be the most reliable and easy to use – they are one of our essential safari resources.
💡TIP: We use paper maps for planning our route and working out travel times and then the Tracks4Africa app en route. The GPS marker tracks our position, so as chief navigator, this makes my job so much easier.
An inside joke amongst overlanders is that you aren't a serious overlander or African road tripper unless you have the Tracks4Africa maps and app. It lends a certain respect among the crowd;)
The Travellers Atlas also gives the average times between points which is so useful, because sometimes, what may be a short distance can take a long time due to the driving conditions.
We have also tried many map apps and by far the best is the Tracks 4 Africa app, which works offline — a lifesaver when so many places in Southern Africa don't have phone or internet signals.
👉 Take a look at the range of maps and GPS apps they offer here or Check out their products on 🗺 Amazon here
3. Book Campsites Early
The Kgalahadi Transfrontier is a popular park for South Africans as it is easy to reach from the Northern Cape, via Twee Rivieren, so is particularly busy during the School holidays.
There are strict limits to the number of visitors to the park, so booking well in advance is advised.
Visitors to the camps at Kgalagadi are mainly self-drive campers, but there are some mobile safari operators.
4. Driving Tips for the Kgalagadi
To tackle the tracks in the park on the Botswana side of the park, you need a 4×4 vehicle. However, you can use a 2×4 vehicle on the South African side between Nossob and Twee Rivieren.
Remember to deflate your tyres to about 1.6 bar (as recommended at the South African Camps) to manage the sandy conditions in the park – particularly on the Botswana side.
5. Malaria Risk at KTP
As luck would have it, we came across a group of researchers, trying to capture malaria mosquitos and over the course of a few nights, they had so far not been able to find any.
This gave us the confidence to stop taking our prophylactic and to just use bug spray and long sleeves and pants in the dusk period.
However, I did manage to get three mosquito bites while there – so maybe I should hire myself out as a mosquito attracter for research!
💡 TIP: Book well ahead to ensure you can get the campsite you want – especially if you will be travelling in the peak season and then try to book at least a year ahead.
What Wildlife Will you see in the Kgaladadi Transfrontier Park?
The park is most renowned for its rare black-maned Kalahari lions, but you will also find other desert animals here.
In the main, these include springbok, gemsbok (oryx), and eland.
They are well-adapted to the semi-arid conditions of the Kalahari and can survive without water. They do drink the water though if it's available.
Other wildlife found in the Kgalagadi Park are wildebeest, zebra, kudu, red hartebeest, eland, steenbok, duiker, wild dogs, leopard, cheetah, wild cats, spotted hyena and, the rarer, brown hyena.
TIP: Not all of these animals are across the whole park, and you will not necessarily see those that are normally found there — nature is a fickle thing.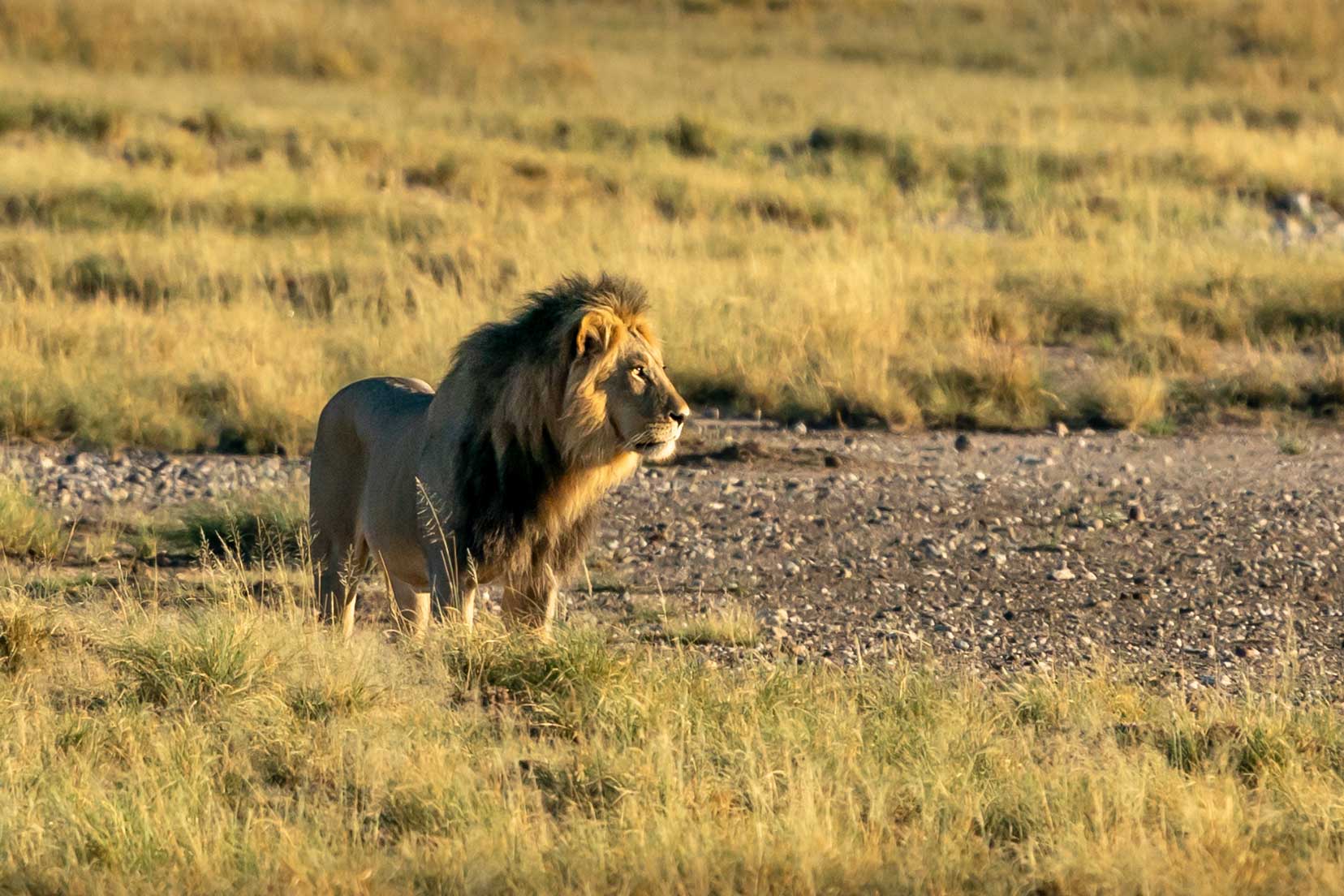 The following list is based both on our own experience and on our research of Kgalagadi sightings. We've sorted them into Likely, if you're lucky, and if you're really lucky, to give you a realistic perspective of what you might encounter on your trip to the Kgalagadi.
As with all wildlife sightings, there is never a guarantee. But if you are in the park for a few days, driving around the pans and tracks, or visiting any of the waterholes, then your chances of these Kgalagadi sightings will obviously be increased.
We've marked the Kgalagadi animals that we saw with a tick.
Likely to see
Lion ✅
Springbok ✅
Gemsbok ✅
Wildebeest ✅
Steenbok ✅
Black-backed jackals ✅
Kori Bustard ✅
Secretary bird ✅
Northern black korhaan ✅
Ostrich ✅
Cape ground squirrels ✅
Yellow Mongoose ✅
Helmeted Guinea Fowl✅
Red-billed spurfowl✅
Spotted hyena✅
If You're Lucky
Giraffe ✅
Bat-eared foxes ✅
Red hartebeest
Eland ✅
Zebra
Kudu✅
Red hartebeest✅
Lappet-faced Vulture✅
Slender Mongoose✅
If You're Really Lucky
Cheetah✅
Leopard
Wild dogs
Wild cats
Honey badger
Brown hyena
And last of all … If you're unlucky (you only want to see these from a distance – or, if you're like me, you might rather not see them at all)
Cape cobra
Mole Snake
Puff Adder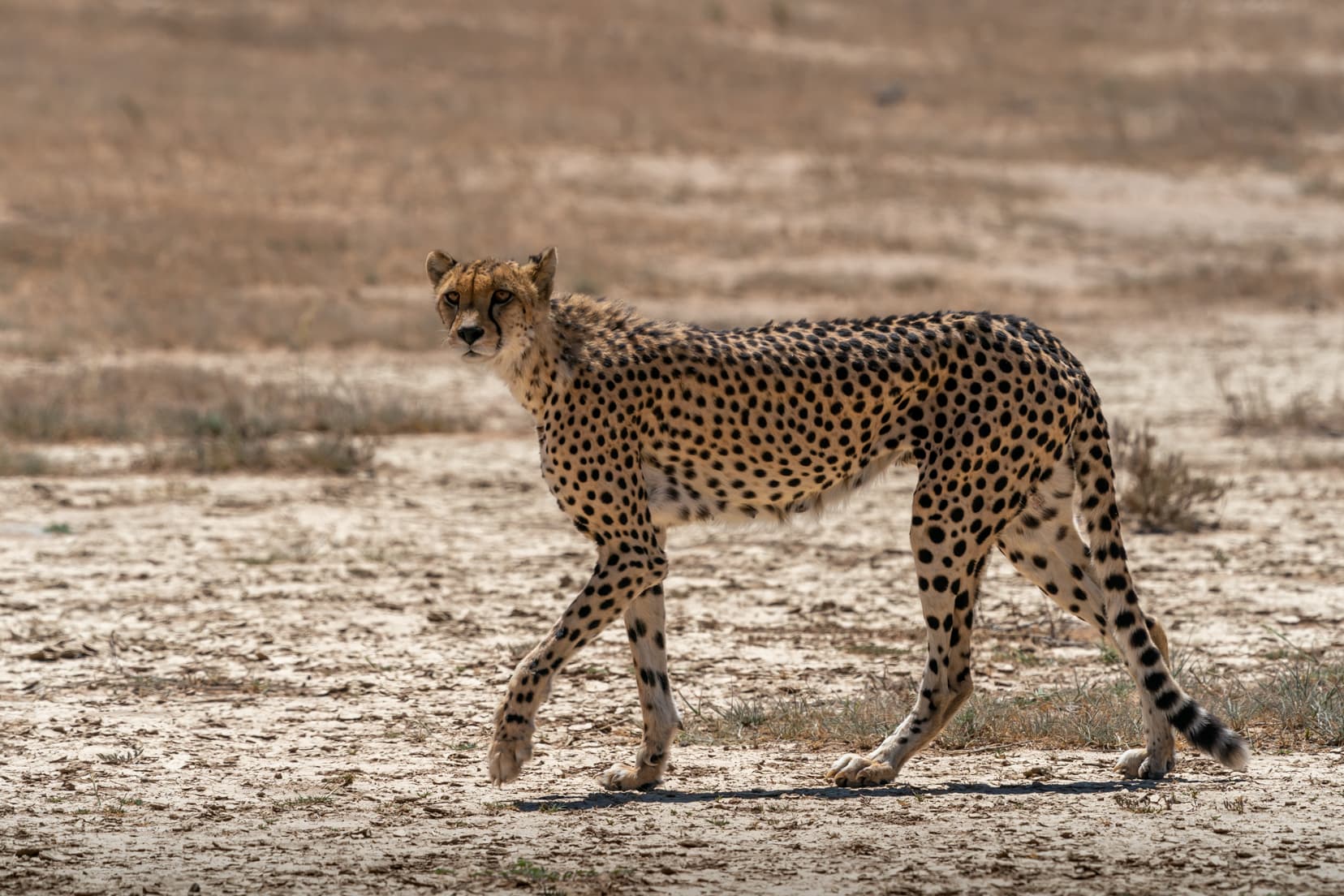 Self-Drive Safari in Kgalagadi Transfrontier Park
Part of any camping trip in Botswana is the excitement of your safari drives — so it would be remiss not to include information about this for your Kgalagadi camping trip.
Driving Distances in the Kgalagadi
For an idea about distances involved on your self-drive safaris between the Botswana camps in the Mabuasehube area — it was about half an hour's drive between Mpaya Campsite and Mabua Campsite.
The distance from Bosobogolo Pan (Botswana) to Nossob Rest Camp (South Africa) is 170km, on a sandy track which, as you near Nossob, becomes quite soft and deep. This route is 4×4 only and takes about 6 hours. We camped along that track at Motopi 2 campsite.
From Nossob to Twee Rivieren Rest Camp, about 160 km, the going is much easier because it's a gravel road suitable for 2×4 vehicles. This journey takes about three and a half hours — if you don't blow a tyre in the middle of the day, as we did.
First Impressions of our Self-drive Safaris in Kgalagadi
Our first impression on our self-drive safari in the Kgalagadi Transfrontier Park, had us reminiscing about our time in the Central Kalahari Game Reserve. The landscape was similar, but unlike the flat pan landscape there, many of the pans in the Kgalagadi are surrounded by rocky ridges.
These, in turn, offer fantastic viewpoints across the vast pans, many of which are filled with low scrub and grassland. Come winter, this landscape transforms. Then, the grass and shrubs disappear, and the white salt pans dominate this bleak terrain.
The sandy tracks in the Kgalagadi are interesting because one minute you're driving on red sand, the next white, and then you hit the occasional rocky patches.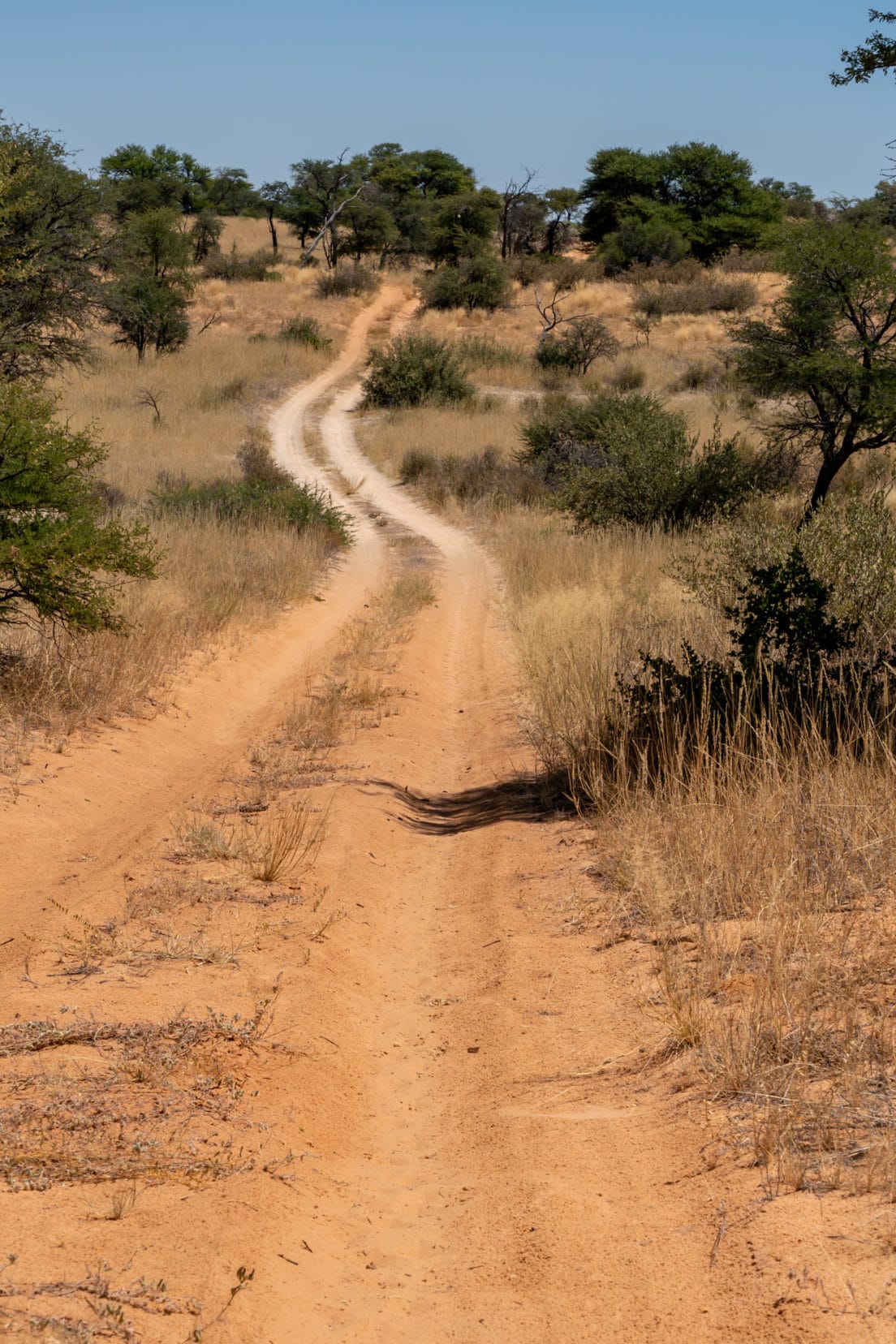 Having just driven south from Chobe and the Okavango Delta, we'd been used to seeing lots of elephants, zebras, giraffes, buffalo, and impalas. The Kgalagadi, however, is a different type of safari adventure altogether.
Self-Drive Safari Routes in the Mabuasehube Area, Botswana
Due to the harsh landscape, particularly around the Mabuasehube area, you are lucky to see even springbok on your game drives.
We did find a large herd of springbok grazing on the edges of Mpaya Pan —one of the few pans with a waterhole. But other than that, we only saw a few wildebeest and a few lonesome gemsboks.
What does make the Kgalagadi worth visiting though, is its stark and desolate landscape, and the possibility of chance encounters with one of its most famous residents, the black-maned Kalahari lions.
And it just so happened, they decided to pay us a visit.
Not once but twice, they graced us with their presence, right inside our camp no less.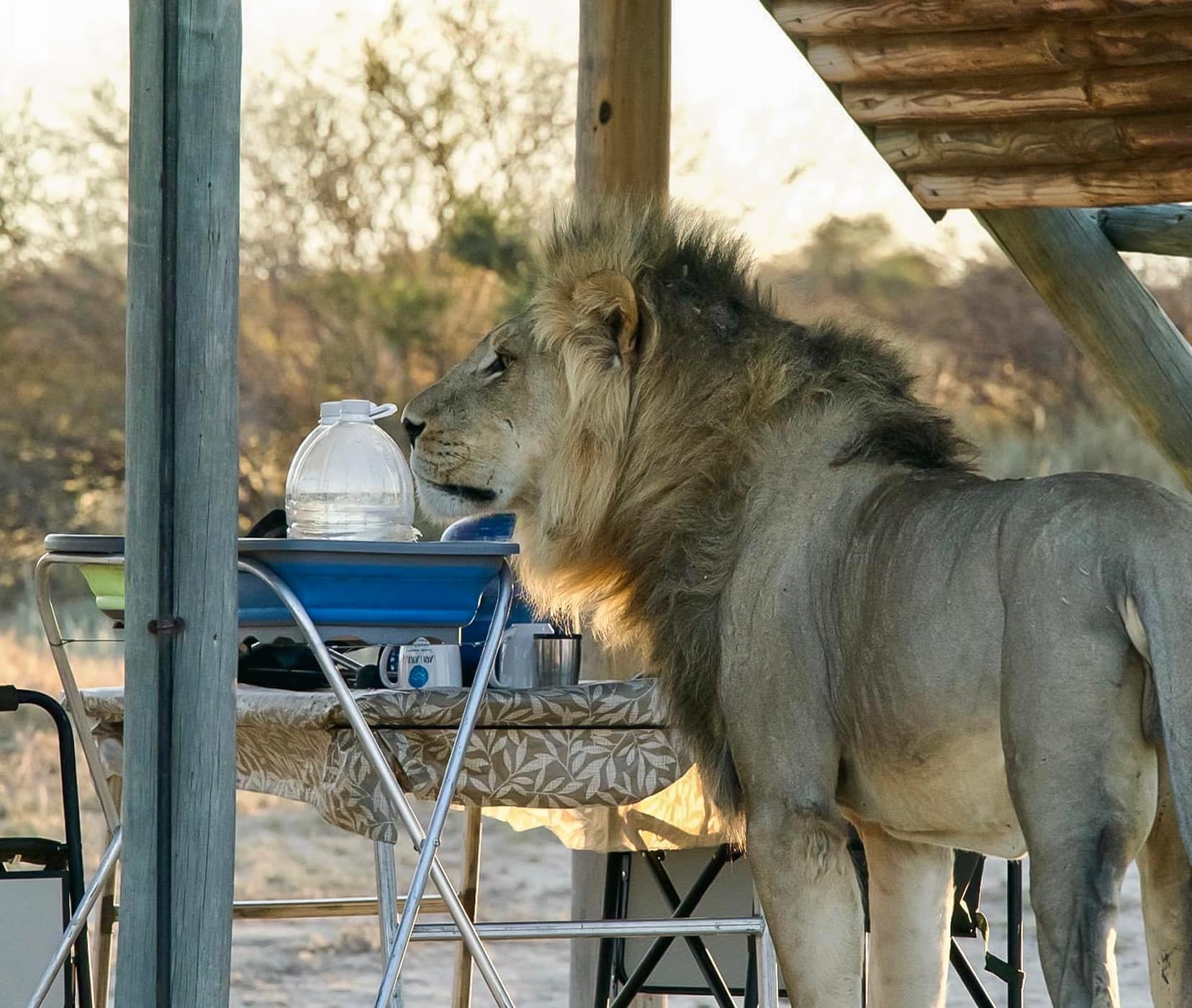 Safari Drive Around Monamodi Pan
If you come into the park at Mabuasehube Gate, the nearest pan is Monamodi, a short distance northwest of the gate. There are three pans at Monamodi, the first has a looped track, on the second, you drive through the pan and on the third, you pass it on the east side.
The first pan has a small artificial waterhole, and it was near where we watched three bat-eared foxes trotting in the long grass with a black-backed jackal and lappet-faced vulture looking on.
Each time we drove by the Monamodi waterhole there was different wildlife enjoying this scarce Kgalagadi resource. Springbok, doves, a tortoise and jackals.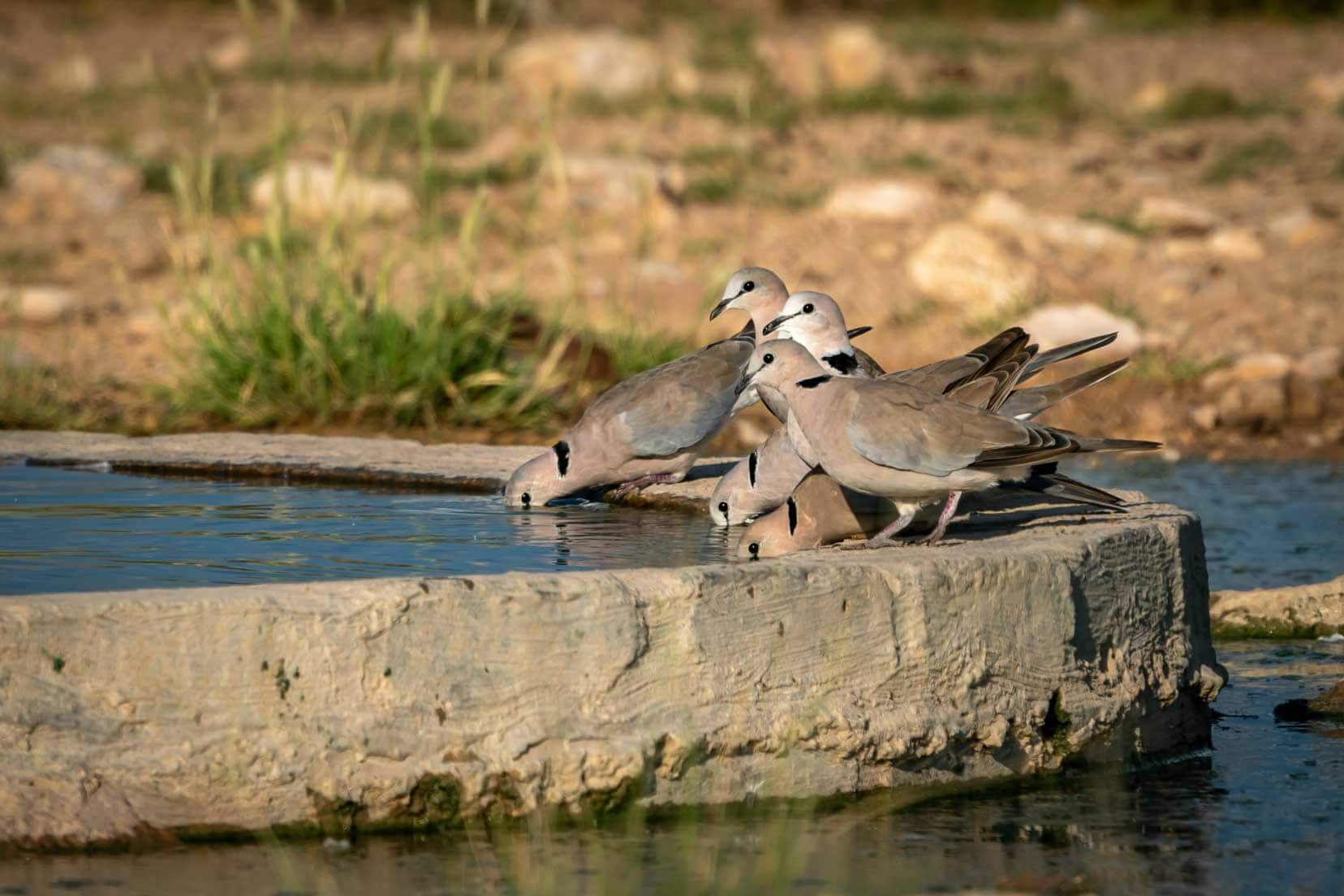 Safari Drive Around Mpaya Pan
On the western tracks around Mpaya Pan, most of the tracks are sandy, but on the eastern side, the ground is rocky. At the time of visiting, in early March, the waterhole bore pump was working so there was water available for the wildlife.
We saw a herd of springboks, two gemsboks and a few wildebeest on the pan over the two days we camped there.
One morning (you can see this in our video) we watched as hundreds of doves gathered to drink at the Mpaya waterhole —with a black-backed jackal succeeding in catching one for breakfast.
Also swooping among them were two eagles but we didn't see them take any of them.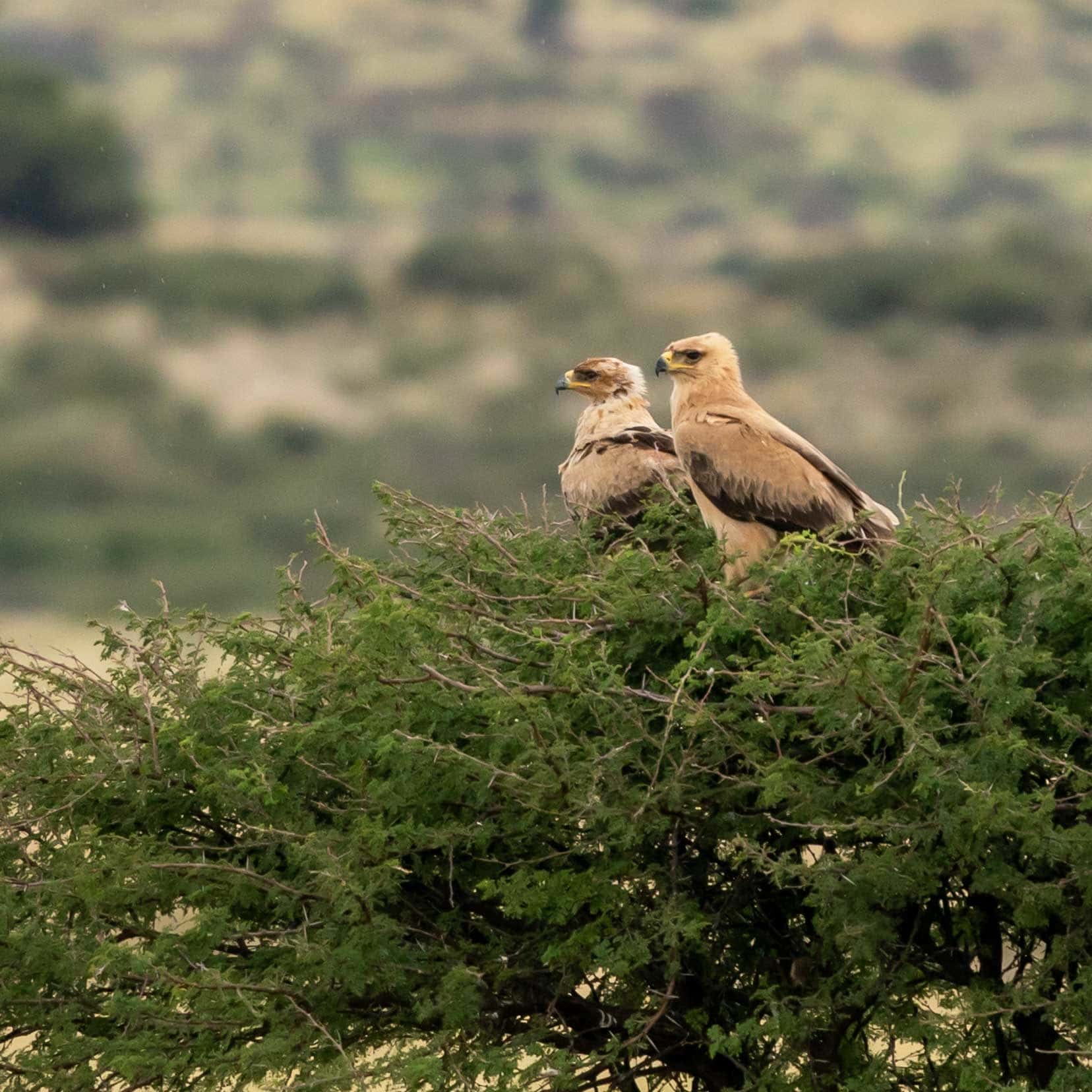 Safari Drive Around Mabua Pan
We only saw a few animals on the Mabua Pan, but when they were there, the sight was quite impressive. Seeing a lone springbok on that vast expanse of the pan with a heat shimmer distorting its image was quite something.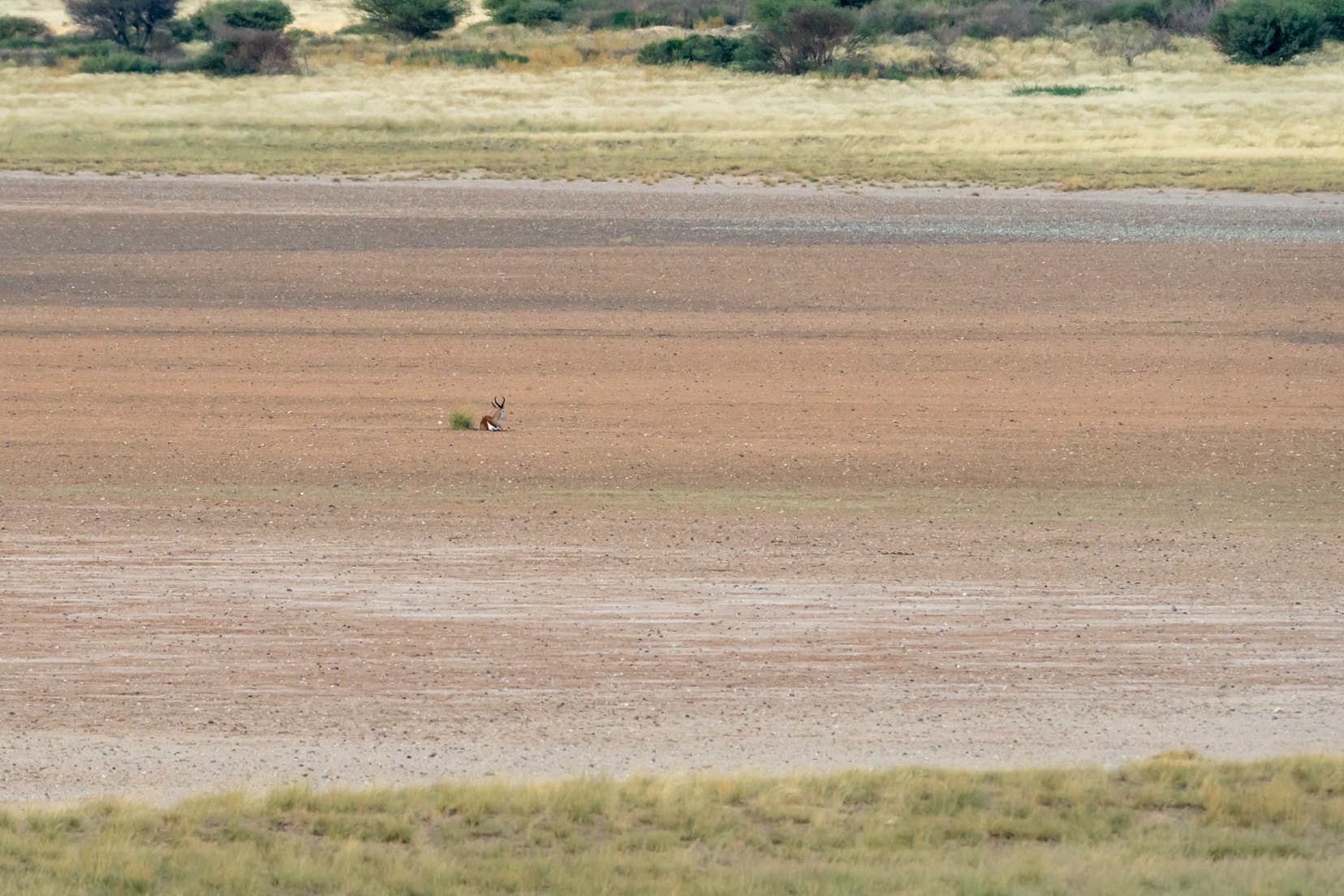 Other Mabuasehube Pans to visit on a Self-drive Safari
Along with the above pans, the others to visit in Mabuasehube are: Bosobogolo Pan, Khiting Pan, Lesholoago Pan (see map)
💡 DRIVING TIP As you drive around Kgalagadi Park, keep an eye out for tortoises, snakes and sand grouse on the tracks. The sand grouse can leave it to the very last moment to take off from their cosy spot in the sand and some of the tortoises we saw were half the size of our hands.
Safari drive from Nossob to Twee Rivieren, South Africa
We are so used to driving along single-lane sandy tracks on our game drives, that the drive to Twee Rivieren, didn't seem like a game drive at all. Passing neat 2×4 sedans felt odd in comparison to the rugged 4×4 crew we normally come across.
We stopped at most of the waterholes along the way and were mainly greeted by gemsbok and the odd jackal lurking around in the background.
About an hour out from Twee Riverien though, just before the Rooiputs camp, we had a lovely sighting of a female cheetah.
Luckily, a couple who had been studying the cheetahs in the park stopped nearby and told us she was one of the two oldest cheetahs in the park and her three cubs had recently set off on their own.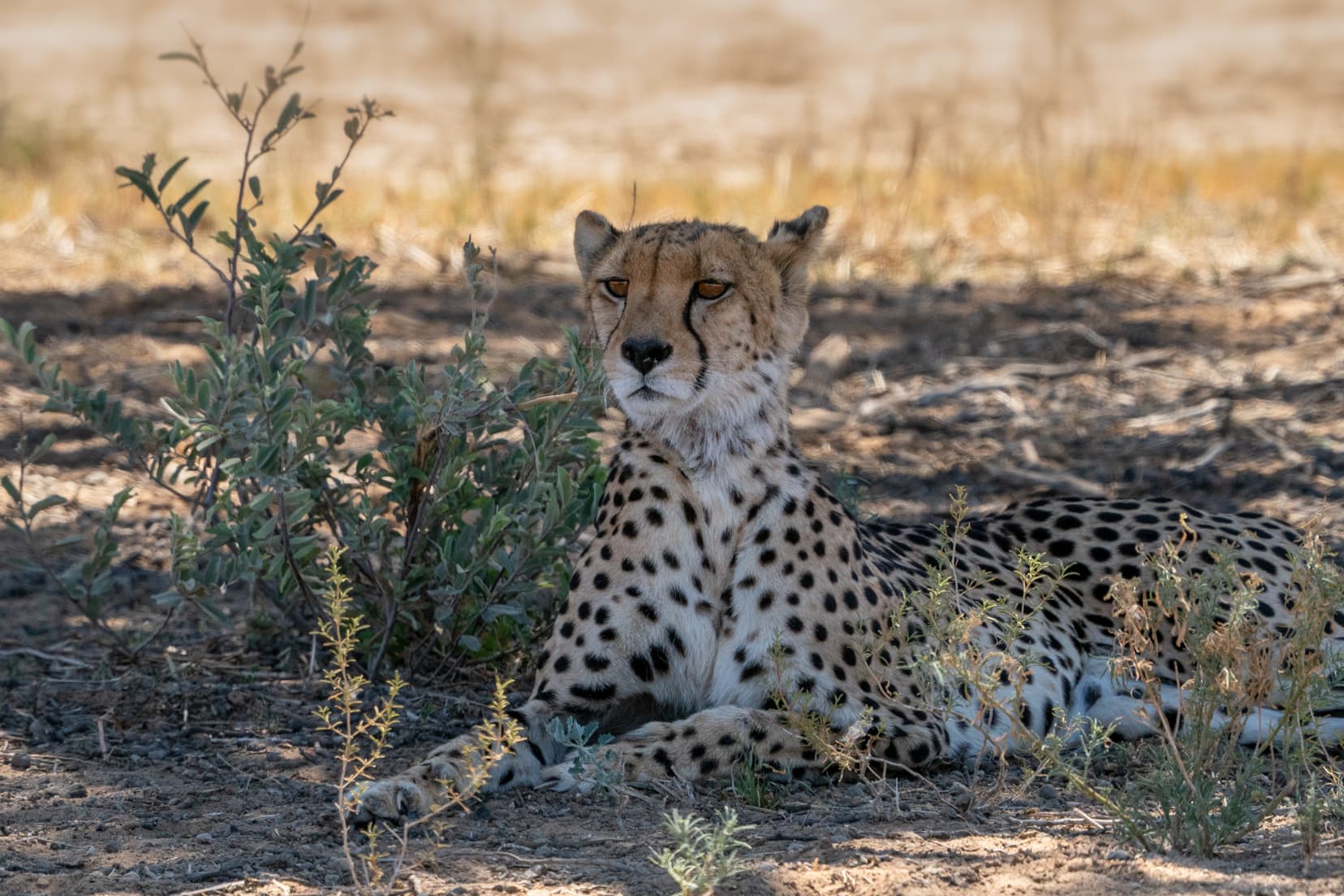 Hiring a 4×4 Camper for Your Kgalagadi Camping Trip
We used Motorhome Republic for our 12-month camper hire in Europe, and not only was the customer service excellent but they were able to find us better offers than when we approached the individual rental companies ourselves.
🚐 Thinking of Hiring a Camper in Botswana?
We recommend using Motorhome Republic to find you the best deal – they search all the local reputable African rental companies, including, Avis Safari, Britz and Caprivi Car Hire.
They do all the hard work for you and have a PRICE BEAT GUARANTEE
💡TIP: Since Covid, there has been a worldwide shortage of campers and limited availability, so do book early to make sure you can rent the vehicle that suits you best.
The Best Time to Visit the Kgalagadi Transfrontier Park
Our research suggests that the best time to visit the Kgalagadi is in May, just after the rainy season but before it gets too cold in the night and early mornings.
October to April is the rainy season, and the Kgalagadi starts to look green in some places. Dramatic thunderstorms are regular occurrences but tend to clear up quickly and temperatures soar again.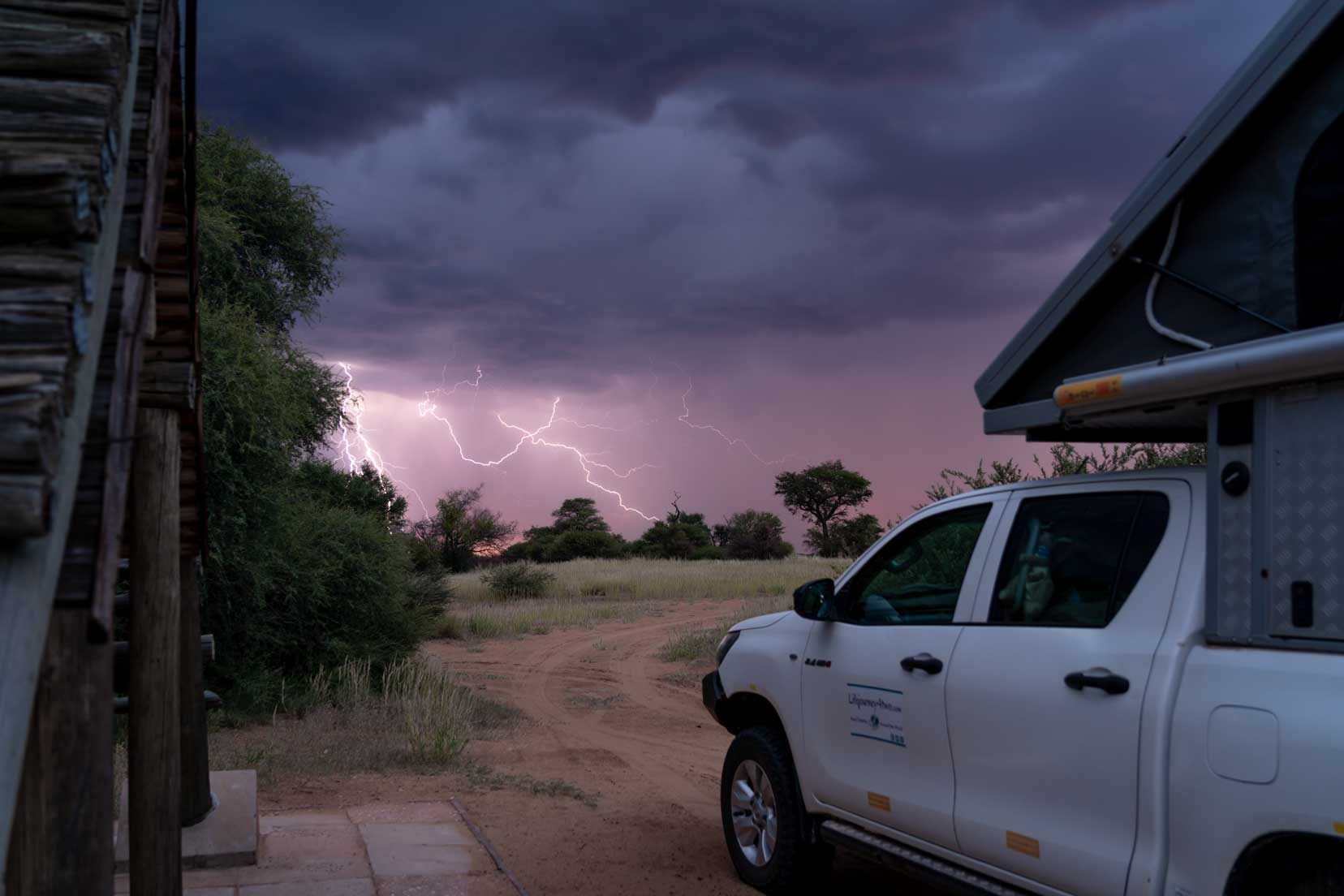 The temperatures are high, generally reaching the high 40s and nighttime sees little relief. We were there in early March and the temperature was in the high 30s and we had several thunderstorms and impressive lightning streaks.
This is an excellent time for birding as many migrant birds visit the Kgalagadi.
Among some of the common non-migratory birds that you'll see are the crimson-breasted shrike, and pale chanting goshawk and you'll see the impressive nests of the sociable weaver.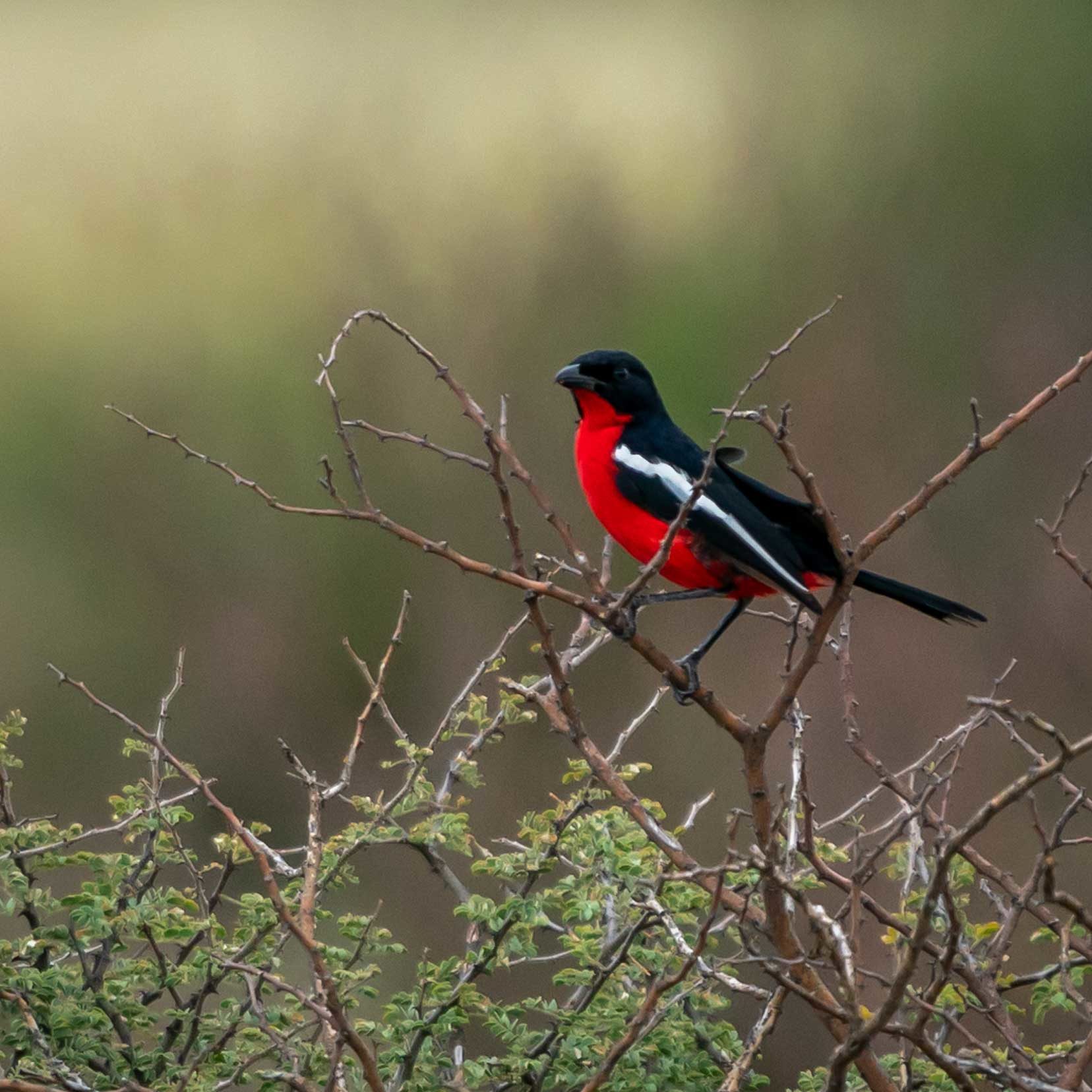 May to October is the dry season in the Kgalagadi. There is less vegetation so sightings of predators can be easier. The temperatures in the day are still warm, but nighttime temperatures can drop drastically, oftentimes, below freezing.
Any time you choose to camp in the Kgalagadi will be a special experience – but in short, if you don't like the cold, visit in the warmer months and if you don't like the heat, visit in the cooler months.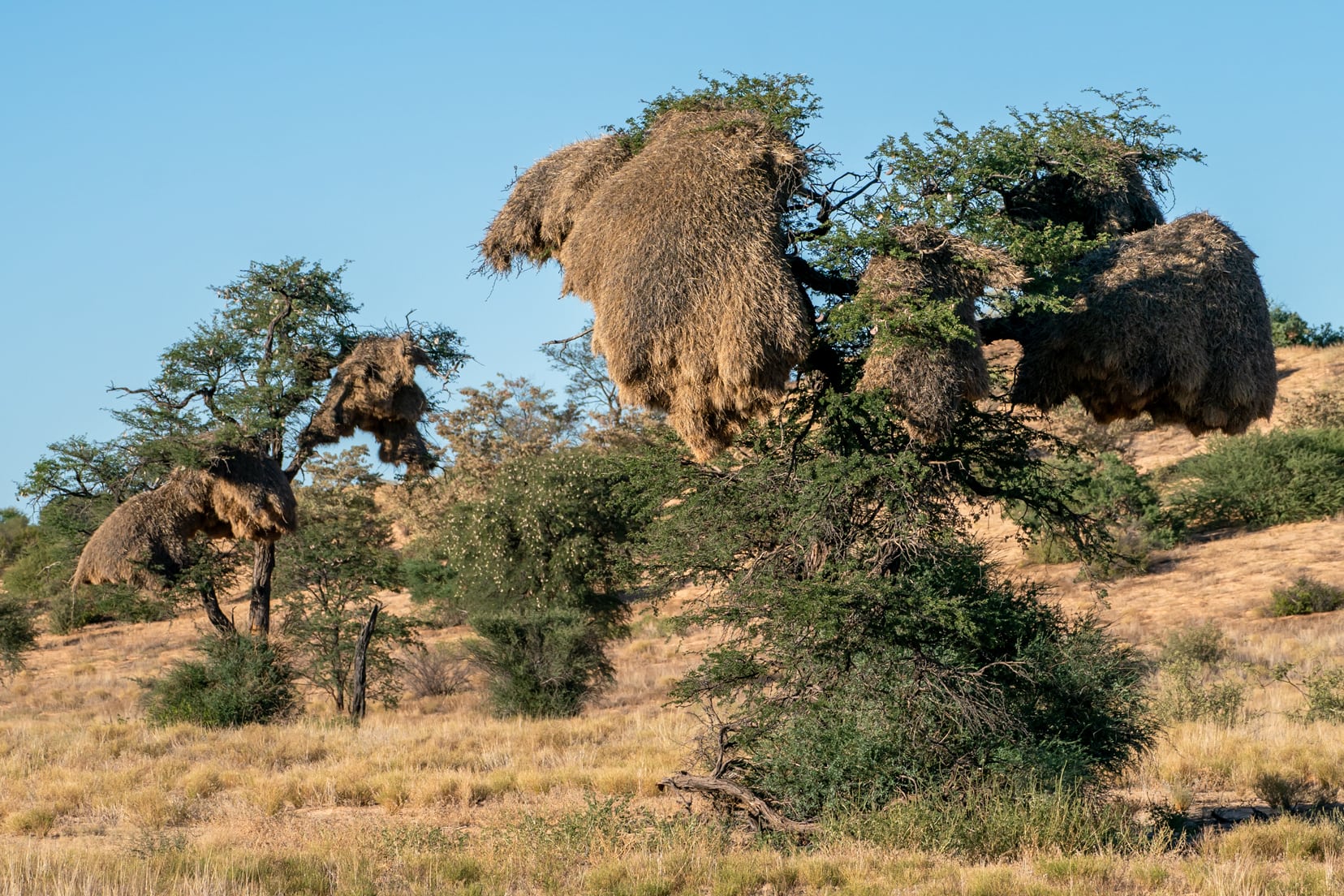 Where to stay near Kgalagadi
After leaving Maun, where we stayed at Sitatunga Camp, on our way to the Mabuasehube entrance gate, in Botswana, we camped at Kalahari Rest Camp along the Trans Kalahari road, 26km/20min NW of Kang.
Each site had power and water tap, with shared clean ablutions.
The Kalahari rest camp also has chalets, a restaurant and a swimming pool.
Leaving the Kgalagadi, we exited via Twee Rivieren and stayed in the nearest large town which is Upington (250km).
We needed to put our '4×4 Buckie' in for repairs and new tyres, so we stayed at a lovely guesthouse in the centre of Upington, the Island View.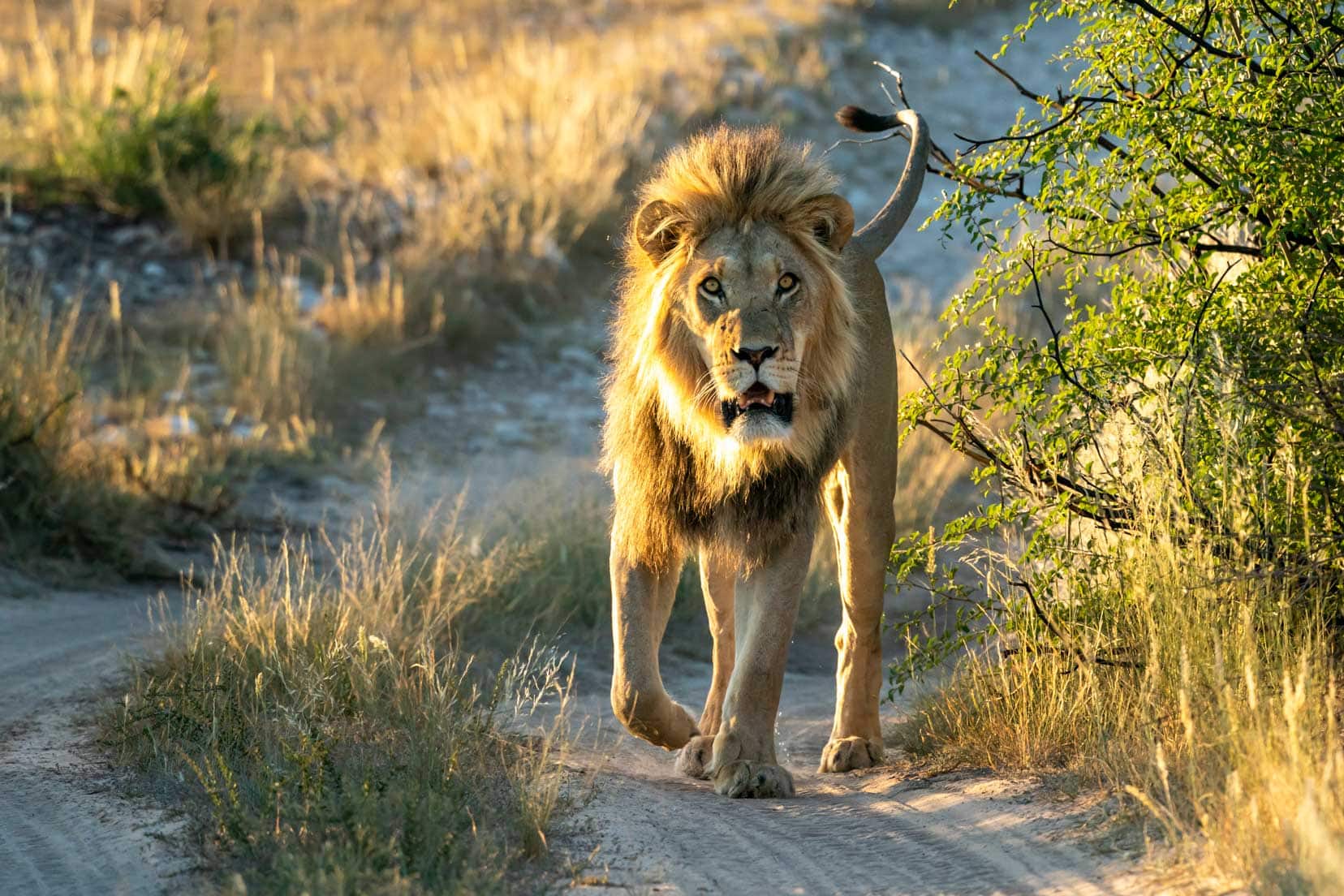 Kgaglagadi Camping … That's a Wrap
Our experience of camping in Kgalaghadi Transfrontier Park was completely different to our visits to all the other National parks or reserves in Botswana. Normally, if we don't spot any big cats, we still find zebra, giraffes, elephants, baboons and the like to enjoy.
If you are looking for a safari with teeming wildlife and plentiful sightings, then the Kgalgadi may not be your best option. Of course, there are a few springboks, gemsbok, and wildebeest but based on our experience, they are very few and far between.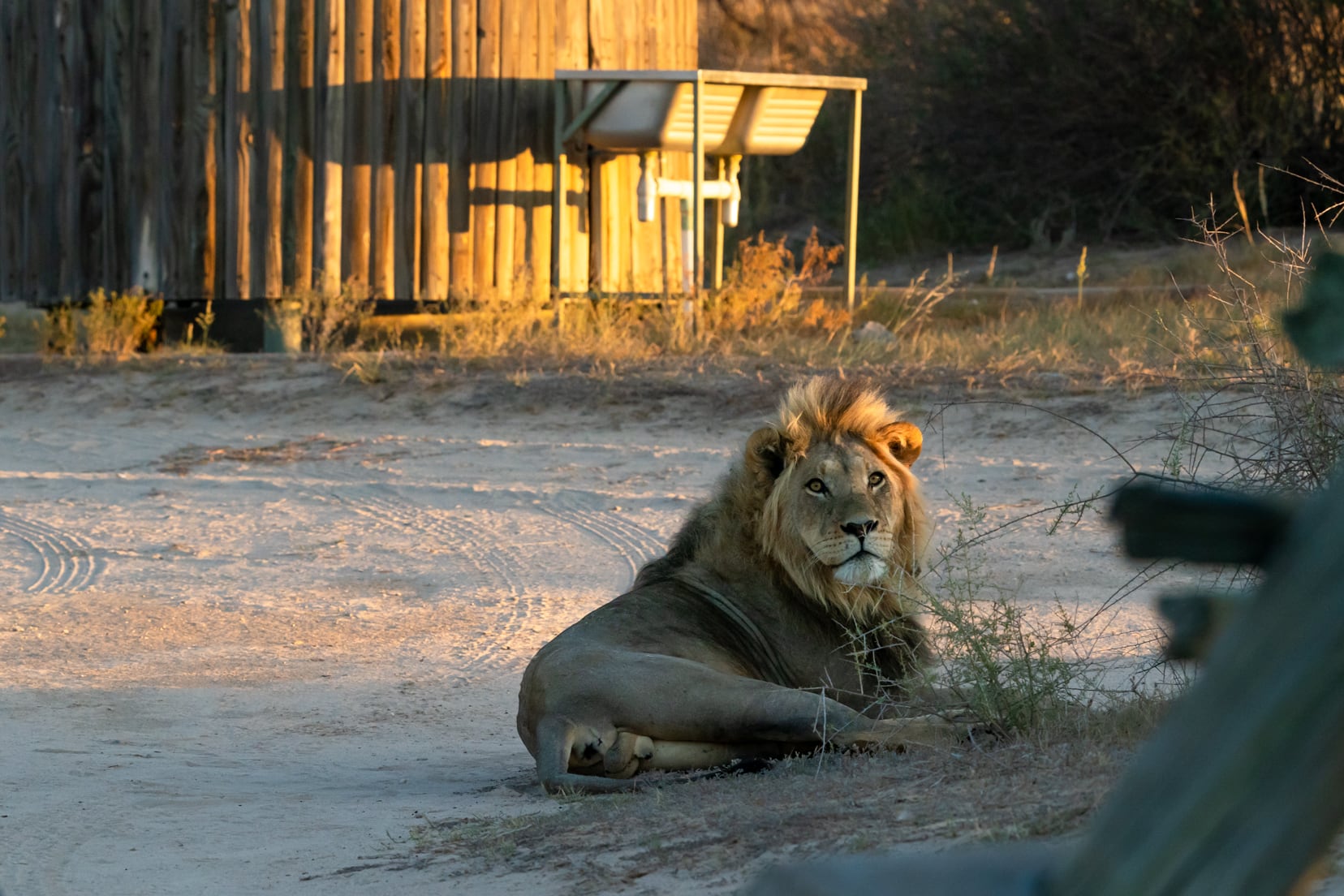 If you are looking to experience the desolate landscape of the Kgalaghadi, then this place needs to be on your itinerary. And, of course, if you are a keen lion hunter — I'm talking the photographic kind here — you'll enjoy the challenge of tracking them down and if you are lucky, you might have a personal visit by one of these majestic creatures.
You will most likely come across many of the little critters that are able to thrive in these dry arid conditions. We enjoyed the yellow mongooses, slender mongoose, ground squirrels and yellow-billed hornbills keeping us company around camp.
In the Kgalagadi, it is much harder to find any wildlife – but the rewards are then greater when you are awoken by a roaring lion … or are a mid-strip wash when one of them decides to stroll into camp.
Are you a Travel Lover?
Are you interested in travel, road trips, camper life and hitting the road for adventures? Then join us on this journey, for inspiration, detailed trip info and beautiful photography from around the world.
As a subscriber, you will also have access to our free resources, such as a travel planner, discount codes and more.
Why wait for our one day? Let's explore this incredible world together today.
We'd love for you to connect with us on Facebook or Instagram where we share our photography and travels on this lifejourney4two.
RELATED ARTICLES:
Pin on or Share on Pinterest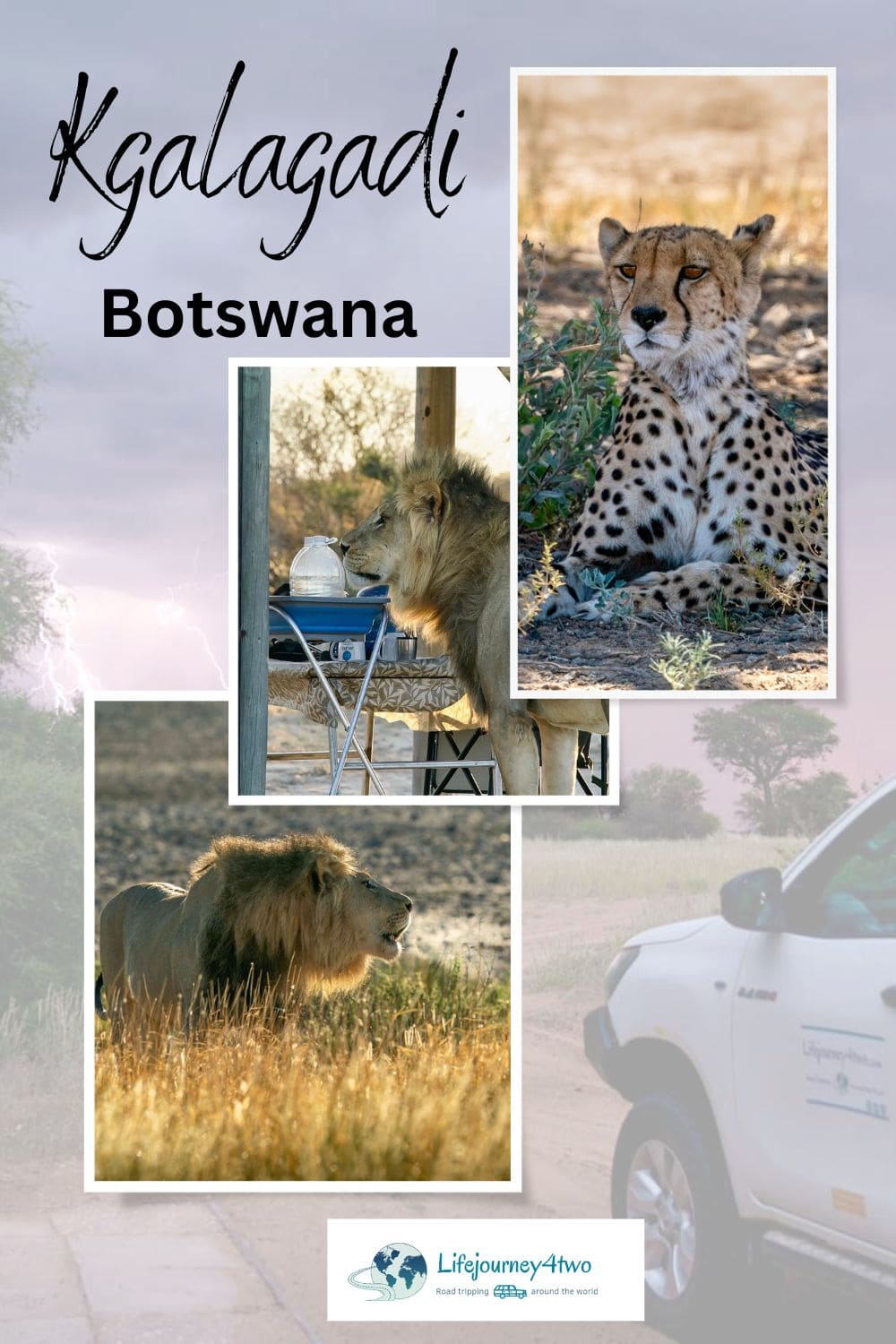 PLANNING YOUR TRAVELS?
These are some of the travel resources we use when planning our trips.
For a more thorough list visit our Travel Resources page here.