Guide to Camping in the Okavango Delta in Botswana
On our latest six-month camping and safari experience in Southern Africa, we spent two months travelling through Botswana in our 4×4 Hilux with a rooftop tent.
Part of that trip was camping and self-drive safaris in the world-famous Okavango Delta, a UNESCO World Heritage site, in Botswana.
We have compiled these essential tips to help you plan an unforgettable camping trip in the Okavango Delta.
Whether that trip is wholly self-drive with your own camping equipment, or you are looking for the best Okavango camps, you'll find help here.
From trip preparation to camping set-up, these pointers will ensure a safe, enjoyable, and unforgettable camping trip in the Okavango Delta.
▶︎ Have you got your International Drivers Licence for Botswana organised yet? Apply Easily online here.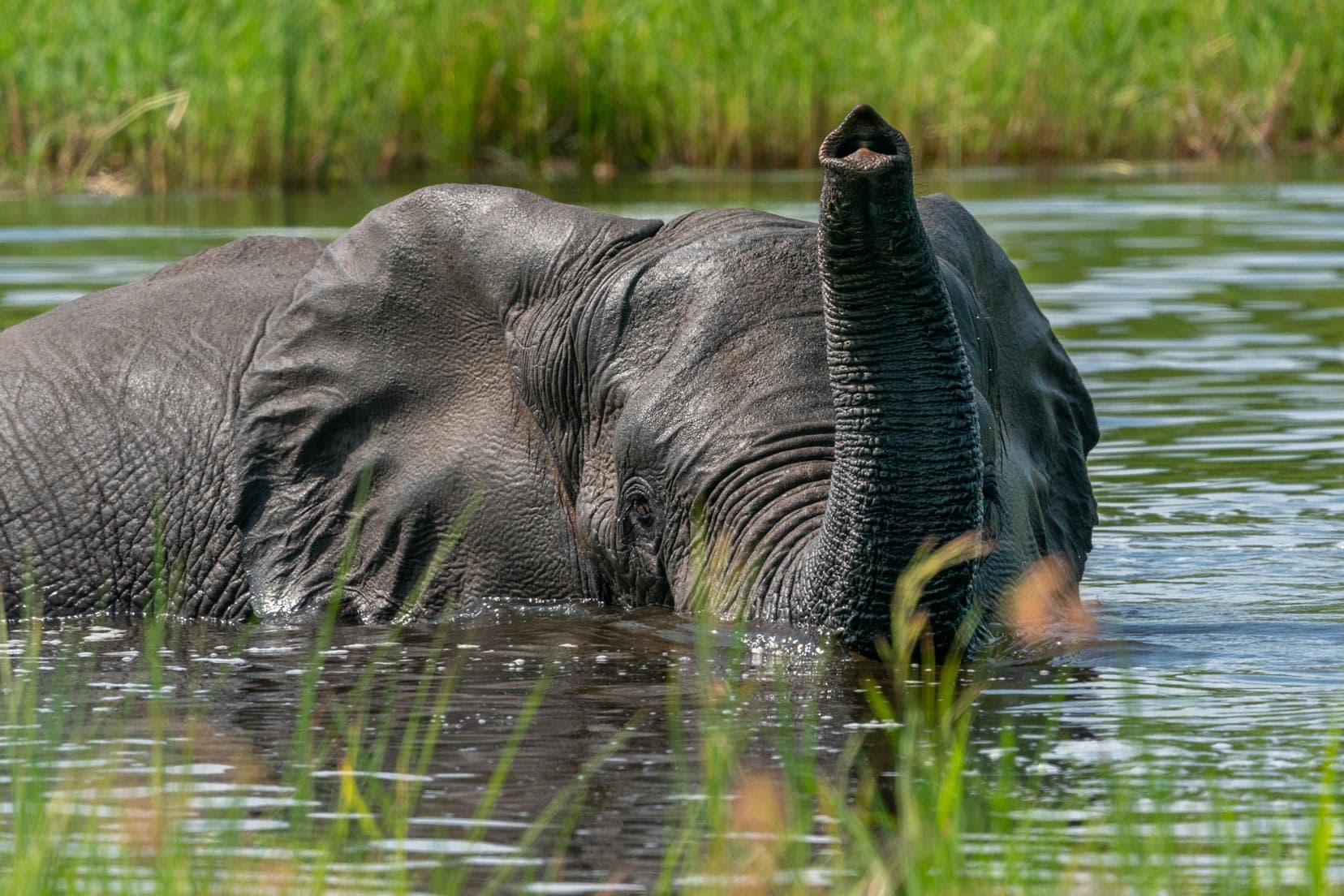 Planning a Trip to Botswana?
Brief Overview of the Okavango Delta
The Okavango is one of the world's largest inland deltas in Botswana, Southern Africa. It is formed by the Okavango River, which originates in the highlands of Angola and then flows southeast into Botswana.
Its network of channels, lagoons, islands, and floodplains, supports a diverse ecosystem and it is particularly well-known for its populations of elephants, lions, leopards, cheetahs, hyenas, hippos, crocodiles, and various antelope species.
The Okavango region also serves as a vital refuge for endangered species like the African wild dog and the sitatunga antelope.
Camping in the Okavango Map
Essential Tips for Camping in the Okavango Delta
These essential tips for camping in the Okavango include: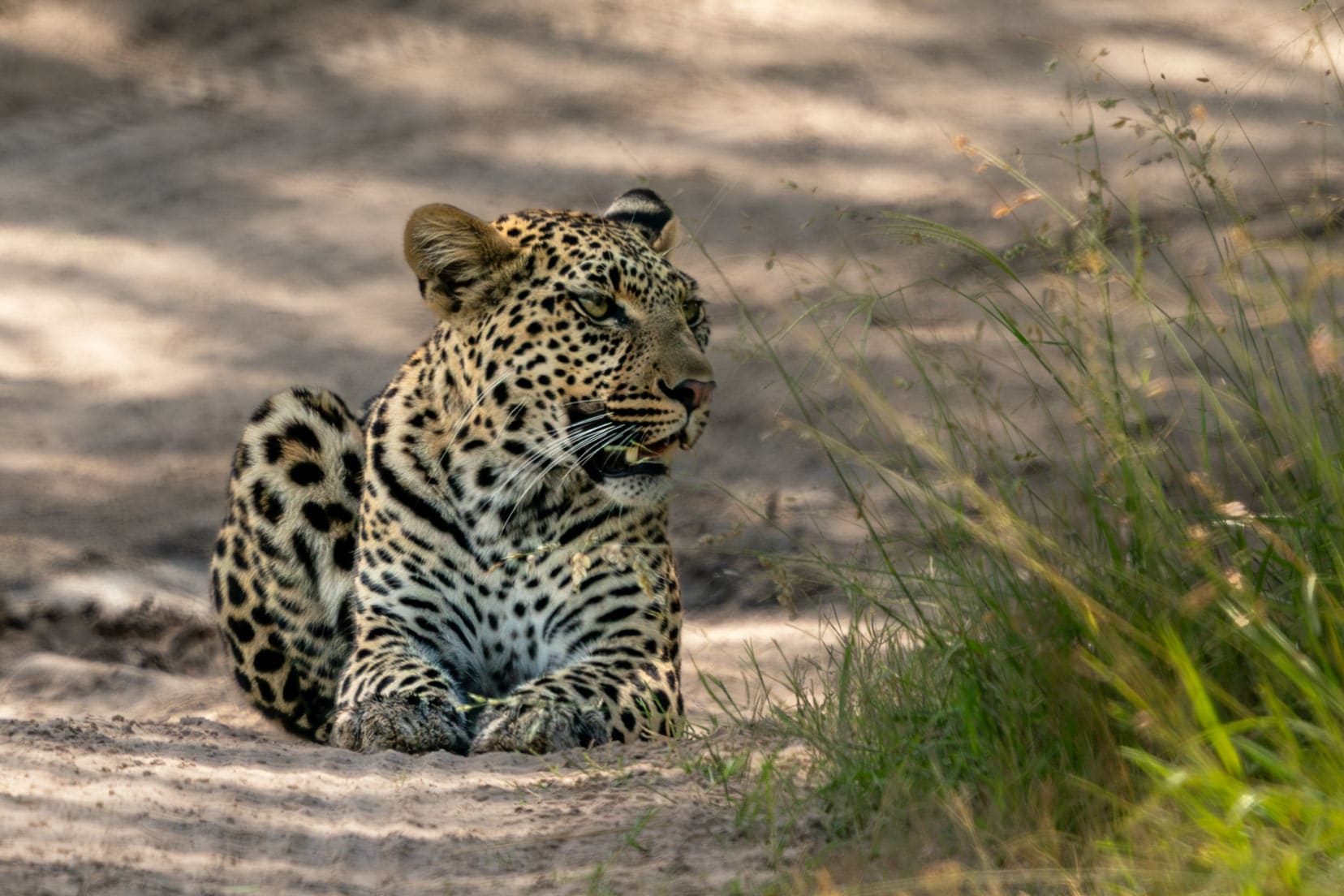 1. Camping Options in the Okavango Delta
There are several options for camping in the Okavango.
Okavango Delta Camping Tours
There are a range of safari tours that involve camping in the Okavango with a duration of a couple of days to around eight days.
Here are our top three picks that we've based on the places that you visit and the time in each place.
Top Three Picks: Okavango Camping Safaris
#1 Top Pick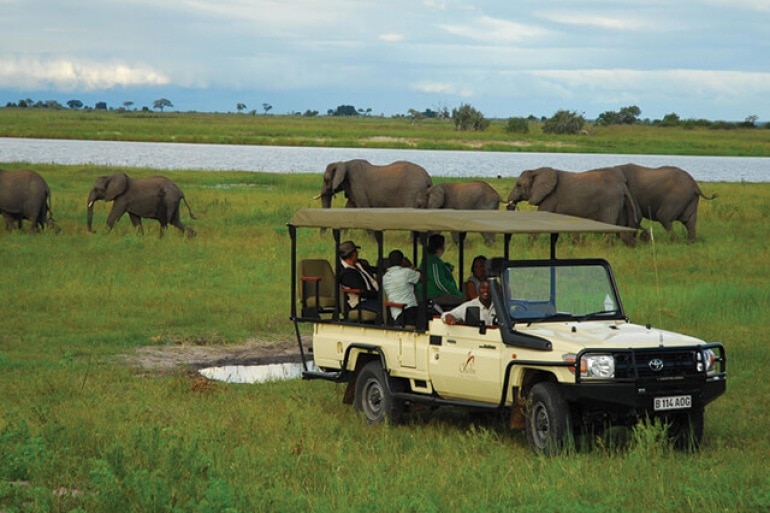 ⭐️⭐️⭐️⭐️⭐️
7-Day Private Island in Okavango Delta and Chobe, Botswana
✔️ Private Tour
✔️ 5⭐️ Luxury camps
#2 Top Pick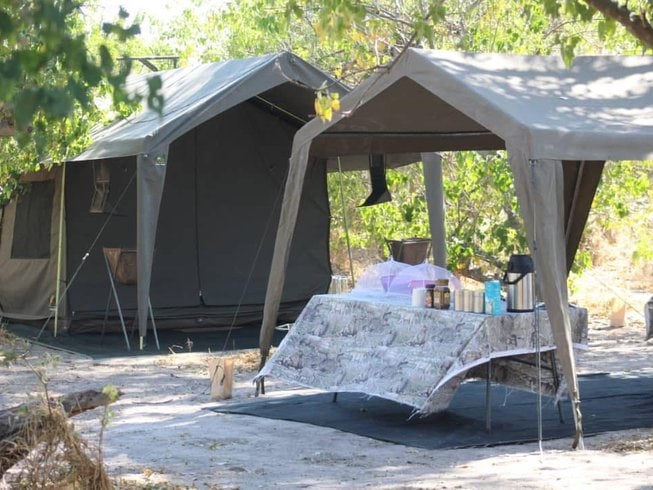 ⭐️⭐️⭐️⭐️⭐️
10-Day Mobile Safari
✔️ Mokoro Trip
✔️ Okavango, Kwhai, Savuti, and Chobe National Park
✔️ Mobile Meru Style Tents
#3 Top Pick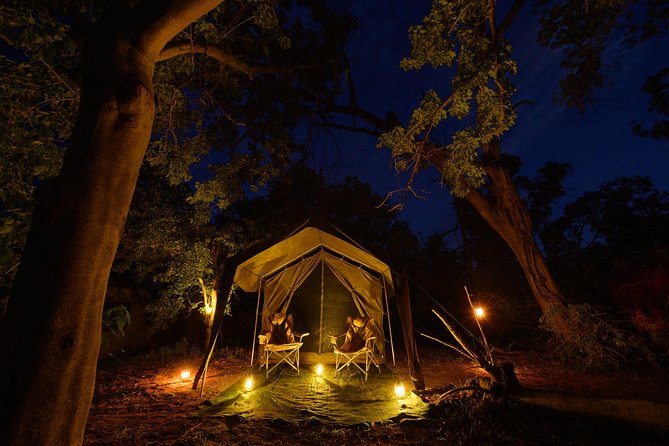 3-Day Okavango Mobile Safari
✔️ Spot hippos on a mokoro
✔️ All-inclusive camping
Luxury Camps in The Okavango Delta
There are a variety of luxury camps in the Okavango, with many only accessible by air.
One of the most popular and sought-after Okavango camps is the exclusive Chiefs Camp, on the largest island in the delta.
A few of the most highly rated are listed below, or you can find more Okavango camps and lodges by clicking this link.
Camping in your Own Tent
If you have decided to embark on a camping trip in Botswana, then this is the section that will give you all the info you'll need for camping in the Delta.
The main National Park in the Okavango Delta, run by the Department of Wildlife and National Parks (DWNP), is Moremi Game Reserve.
It has four main public rest camps:
South Gate Camp
Third Bridge Camp
Xakanaxa Camp
North Gate (Khwai) Camp
You need to book these campsites ahead of time, as you will be asked to show your camping voucher at the Gate to the reserve.
Each camp only has 10 campsites, so they can get booked out quickly in the peak season. Therefore, if you are travelling in the winter months you should book well in advance.
It can be difficult coordinating your campsite bookings because they are managed by different companies. Therefore, we used Ultimate Routes to book all of our Botswana campsites which took a lot of the hassle out of trying to contact different camps from overseas.
(Mention us and I'm sure they will look after you )
💡 TIP: Book well ahead to ensure you can get the campsite you want – especially if you will be travelling in the peak season and then try to book at least a year ahead.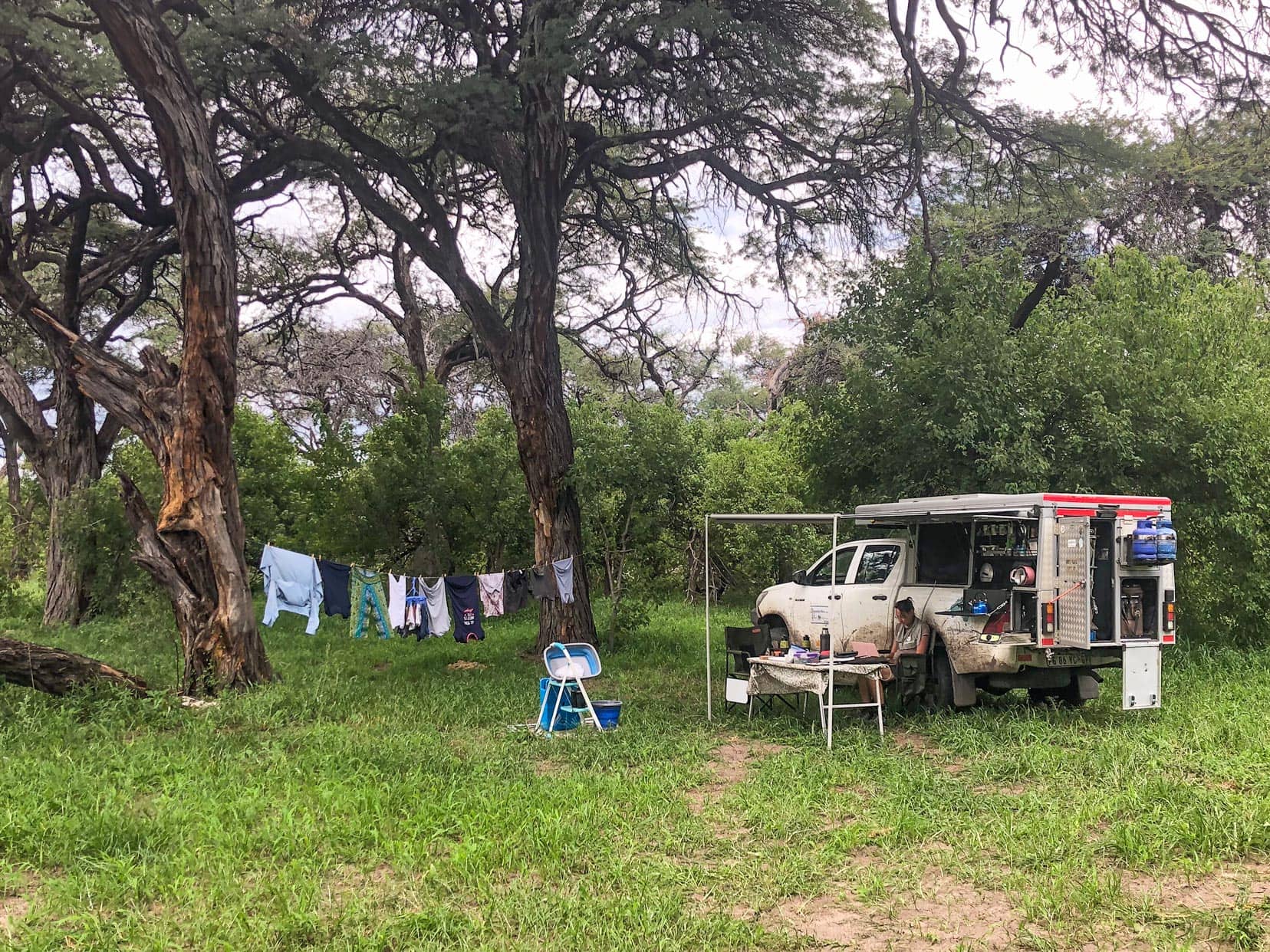 Maun is the Nearest Main Town to the Okavango
The main base of the Okavango is Maun. You will therefore likely need to stay there for at least a night.
We have overnighted in Maun several times and tried many different accommodation options. Here's a summary of your best options:
Quick Overview of Best Accommodation in Maun
2. What are the Best Camping Spots in the Okavango Delta?
What are the best camping spots in the Okavango Delta? This is a popular question we're often asked, and it really depends on your budget and preferences for your own camping or via a luxury camping lodge.
We've gathered together our thoughts based on our own wilderness experience throughout the delta and suggestions we've heard from other travellers.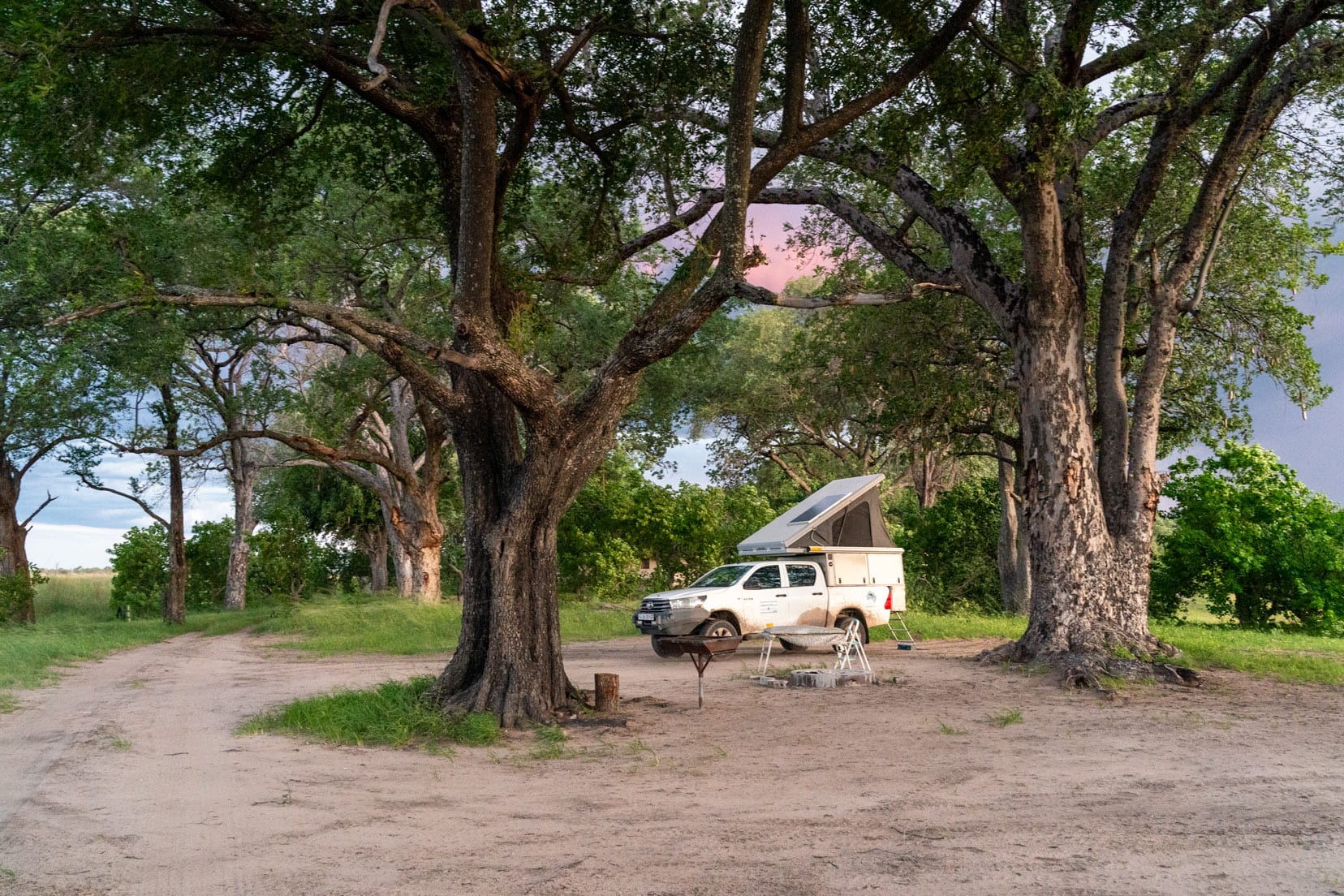 3. When is the Best Time to Go Camping in the Okavango Delta?
The Okavango Delta experiences two main seasons, the dry season (May to October) and the wet Season (November to April).
Each has its benefits and drawbacks.
Dry Season in the Okavango Delta
The dry season is considered the best time to visit the Okavango Delta for camping.
From May to October, the weather is dry with little to no rainfall. The vegetation thins out, making it easier to spot wildlife as they gather around the water sources.
The daytime temperatures are mild but the night and early morning temperatures can be pretty chilly. Make sure to have warm clothes with you if you camp in the winter months.
The delta's water levels are generally high during this time, providing excellent opportunities for activities like mokoro (traditional canoe) trips and motorized boat safaris.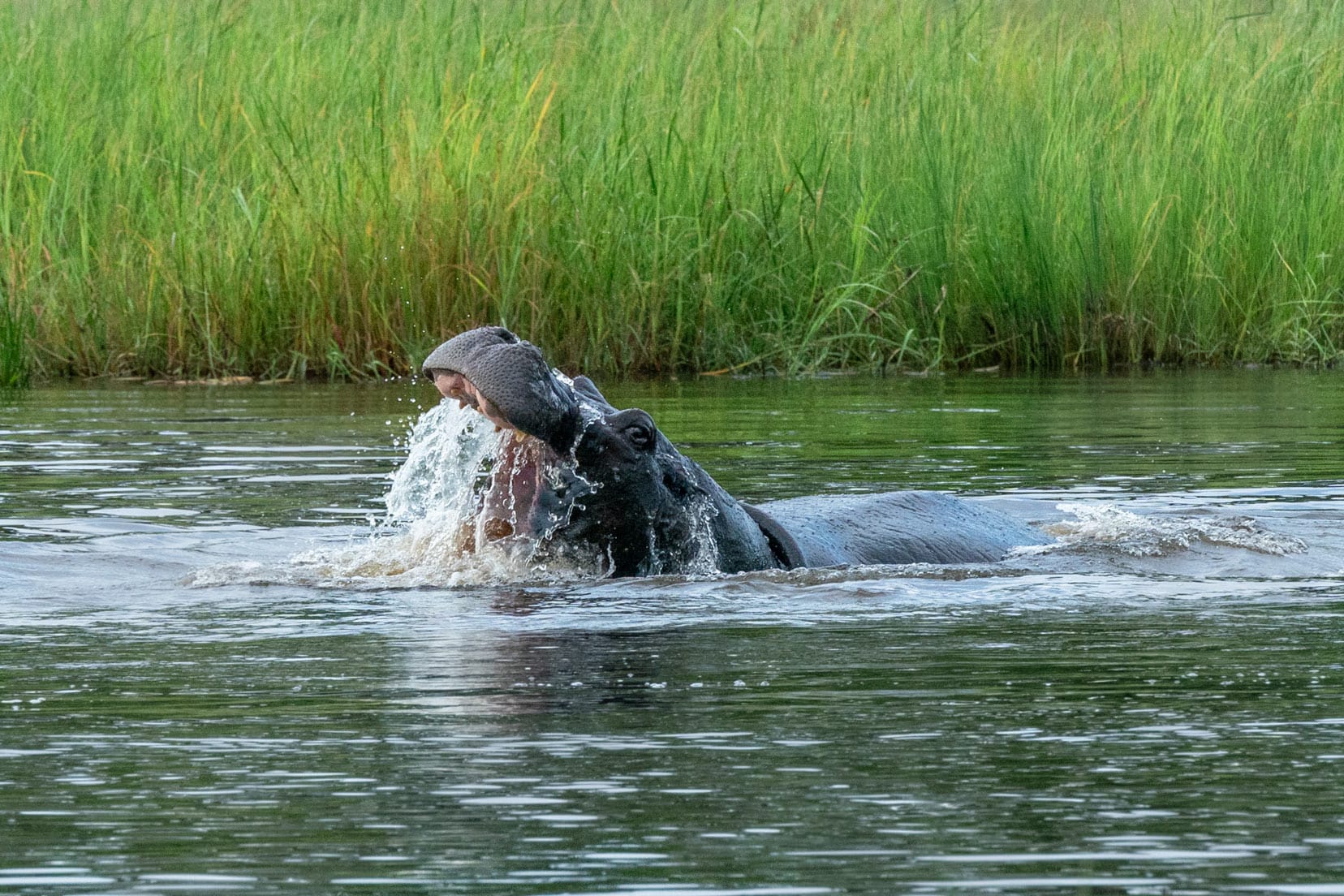 Wet Season in the Okavango Delta
The wet season in the Okavango Delta brings the rains, and the delta transforms into a lush, green landscape.
Expect temperatures in the high 30s and occasional afternoon thunderstorms. Birdwatching enthusiasts will find this the best season to visit because many migratory bird species visit the delta.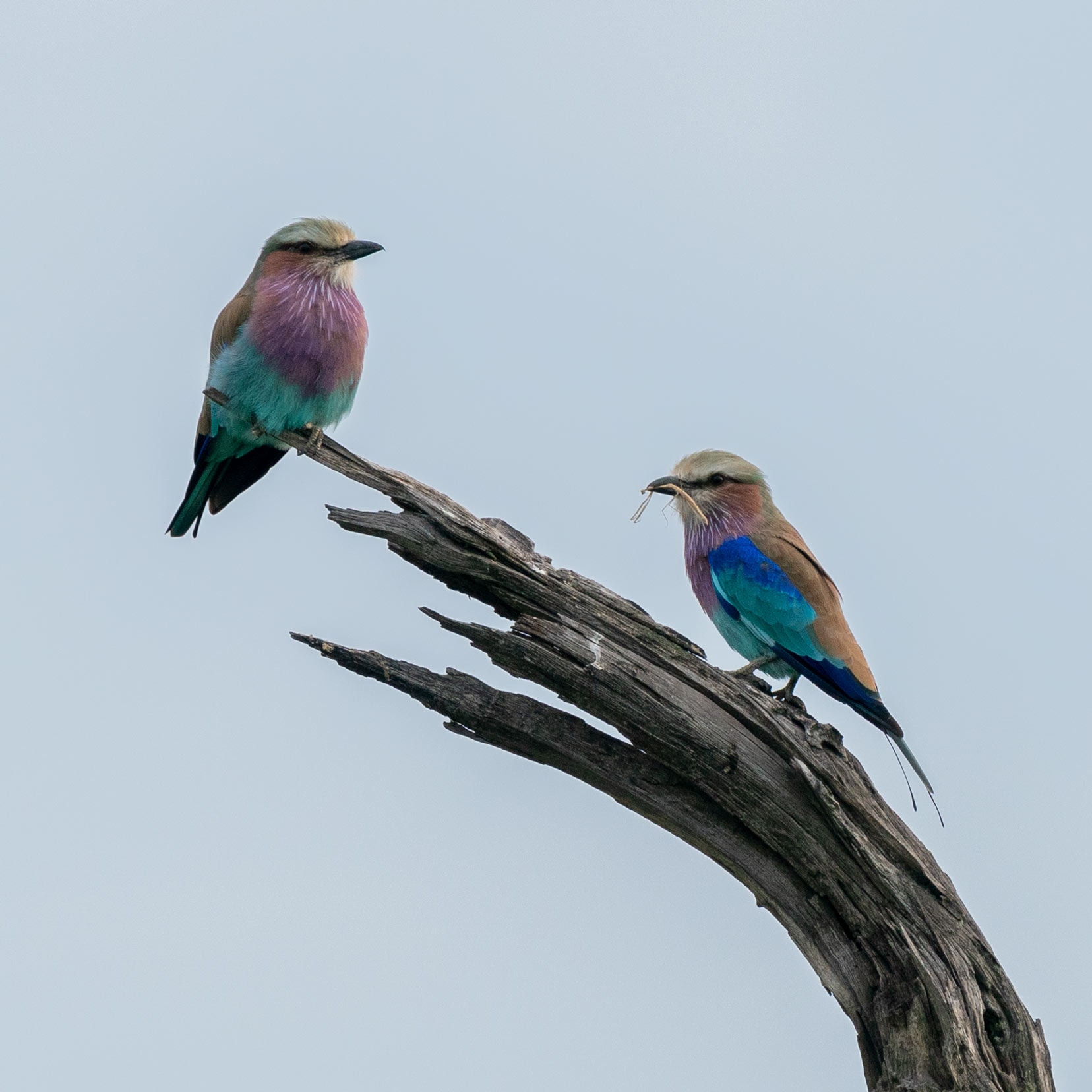 Best Time to Visit?
Ultimately, the choice of when to go camping in the Okavango Delta depends on your preferences. If you want to maximize wildlife sightings and water-based activities, then the dry season is the best.
However, if you like lush vegetation, birdwatching, and fewer crowds, the wet season might be best for you. The wet season can be more challenging if you are self-driving and camping in public campsites.
We camped in the Okavango in the summer and enjoyed the warm weather and lush scenery, but the road conditions were pretty boggy.
So, next time we'll be visiting in the dry season.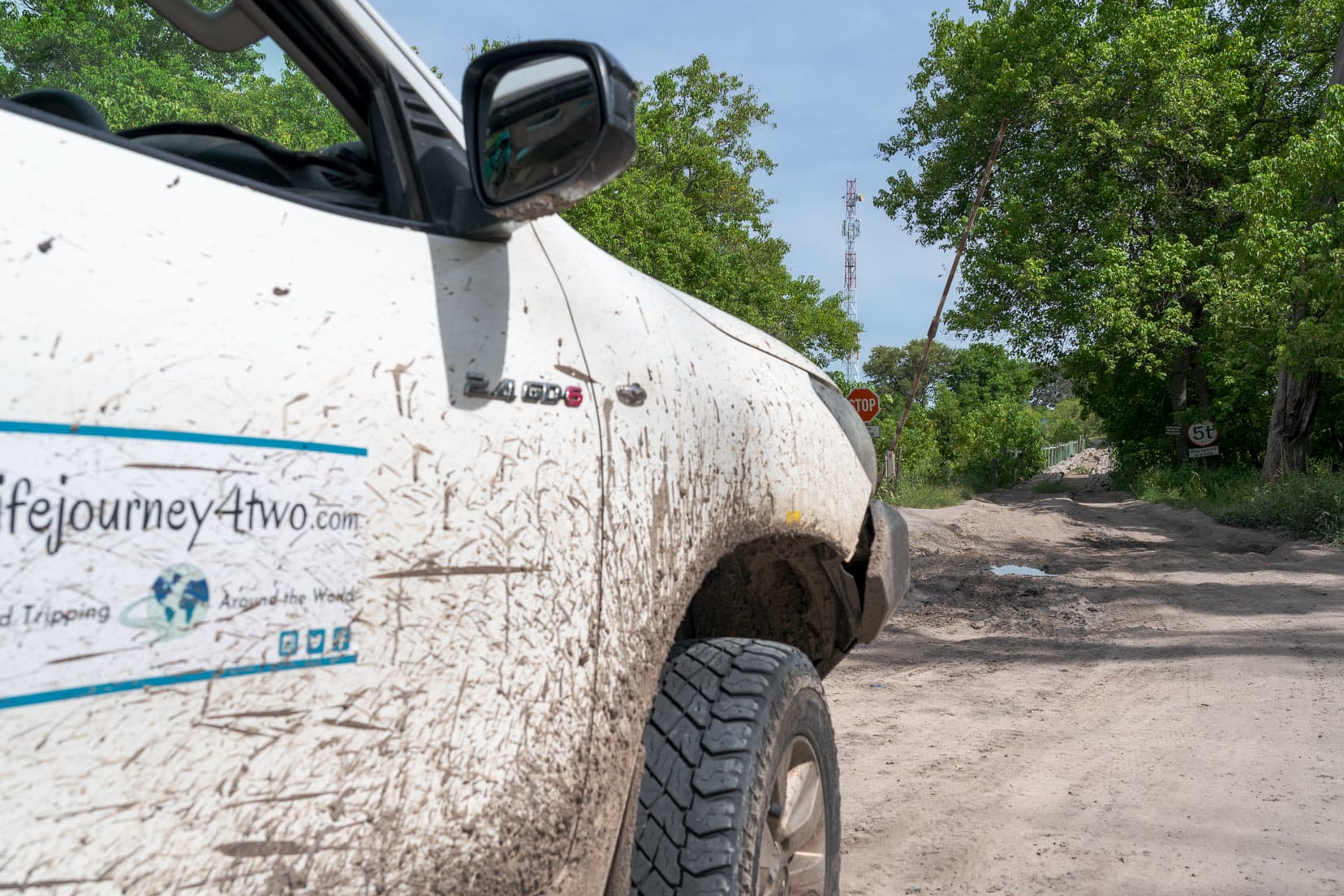 The Changing Okavango
As a visitor, it's important to understand that the circumstances may not always align with your expectations of the Okavango.
There are certain years when droughts occur and the Okavango experiences minimal flooding. Additionally, the images or videos portraying the "perfect" Okavango, with abundant wildlife and floodwaters, may not accurately depict the actual situation during your visit.
However, what you can be certain of is that during your time there, you will be witnessing a distinctive and ever-evolving environment, regardless of when you go.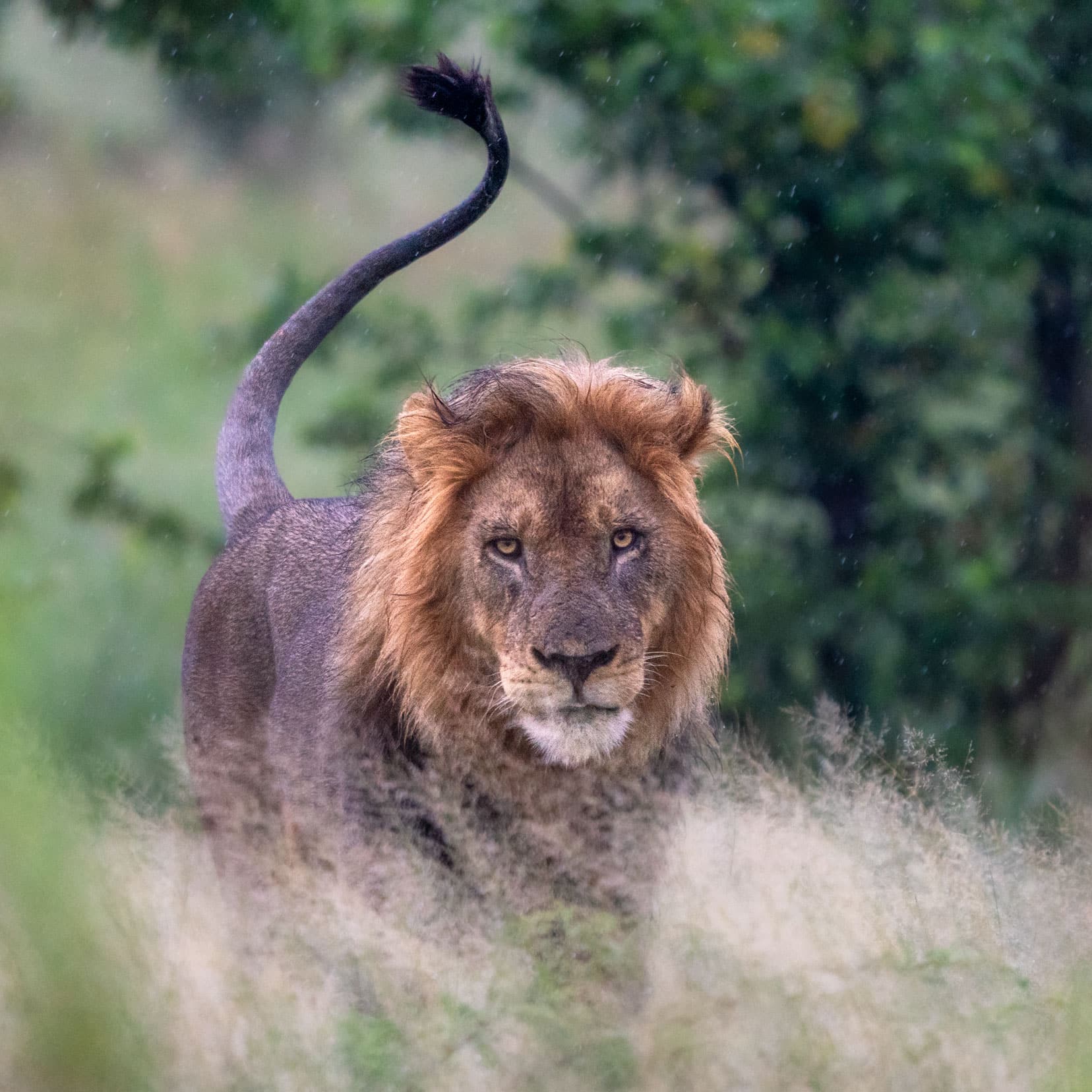 4. Camping Trip Preparation Tips
Pack Light
Whether you are packing your own vehicle, your hired vehicle, or flying into an organised Okavango Delta safari, you are going to want to pack light.
We are always looking at ways to reduce the weight in our 4×4 because this saves on diesel consumption (and we are always looking for ways to save money while we travel). It also makes maneuvering our car in boggy situations a little easier — every little bit counts.
If you are on a safari tour, the less baggage you have to lug around the better. Light aircraft have strict luggage weight allowances ranging from 10 – 20 kg per person, so check ahead to make sure your luggage won't be overweight for any air transfers.
Have or Hire a Well-Equipped Vehicle
When arranging your self-drive camping trip to the Okavango, it's crucial to have or hire a fully equipped vehicle that suits the demands of the environment.
Opting for a 4×4 vehicle with high ground clearance, robust suspension, and reliable off-road capabilities is highly recommended.
The Okavango's terrain can be challenging at times, featuring sandy tracks, river crossings, and uneven surfaces. A well-equipped vehicle will provide you with the necessary reliability and safety to conquer these obstacles.
We have our own 4×4 with a pop-up tent on top, which is the best kind to have, but they're the most expensive. Most campers opt for a rooftop tent though, rather than a ground tent, because it's more convenient and safer.
The national parks and reserves in Botswana aren't fenced so wild animals are likely to be wandering around your tent, particularly at night.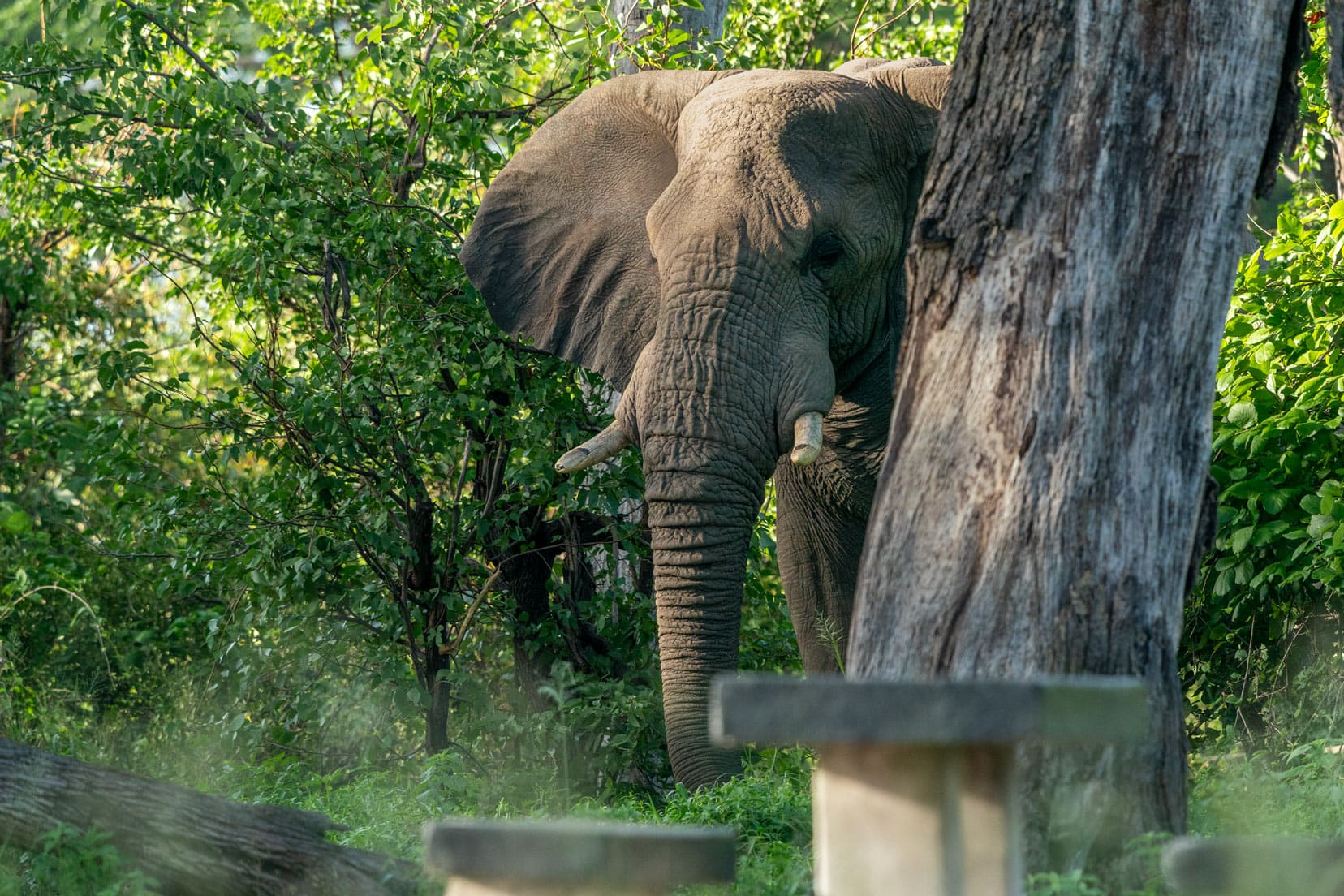 Furthermore, the vehicle should be fitted with essential camping equipment and amenities. This includes bedding, cooking facilities, storage space, and sufficient water.
Make sure the vehicle has long-range full tanks because you won't be able to fill your tank in the delta.
We would also recommend having a comprehensive first-aid kit, GPS navigation system, recovery equipment, and a reliable communication device to stay connected and prepared for any unforeseen circumstances.
Being adequately prepared with the right equipment and tools will provide peace of mind and allow you to focus on the beauty of the Okavango and the incredible wildlife encounters that await you.
🚐 Thinking of Hiring a 4×4 Camper in Botswana?
We recommend using Motorhome Republic to find you the best deal – they search all the local reputable African rental companies, including, Avis Safari, Britz and Caprivi Car Hire.
They do all the hard work for you and they have a PRICE BEAT GUARANTEE
Pay Park Fees in Advance
Entry into Moremi Nature Reserve requires a permit and you can either pay this at the Reserve entry gate in Botswana Pula — cash only. Or, you can pay beforehand at the Department of Wildlife and National Parks (DWNP) in Maun, Kasane or Gabarone.
Contact Details for DWNP Offices in Botswana
The general email address is: [email protected]
DWNP Maun: Wildlife Department, Maun, Botswana, Kubu Street (2C8J+82 Maun, Botswana) +267 686 1265
DWNP Kasane: 54CP+MM7, Kasane, Botswana, +267 625 2486
DWNP Gaberone: Moedi House Fairgrounds Gaborone, Botswana, +267 397 1405
5. Camping Gear and Supplies
Check Your Equipment
Before setting out on your Okavango adventure, check that all your camping and essential equipment is working and that you know how to use everything.
If you are hiring a vehicle with a tent on top, check that you know how to set it up and that it is in good repair.
It might be a good idea to stay near the hire rental place for the first night, so you can return if anything needs fixing before you head out on your Okavango safari.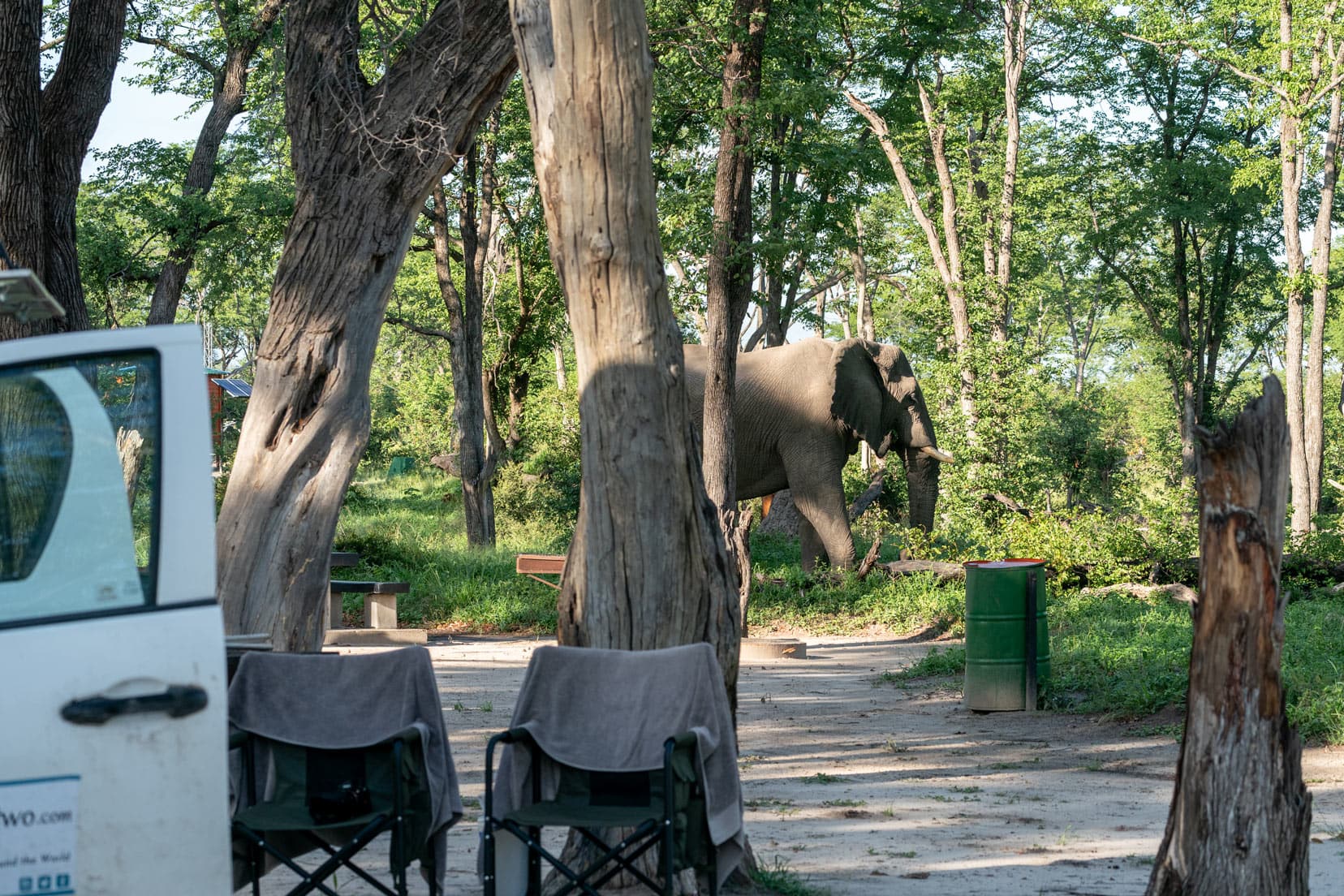 Essential Gear for Camping in the Okavango Delta
We've been travelling on safaris through Southern Africa, on and off, since 2020, so know a thing or two about necessary safari accessories.
This list isn't exhaustive but has most of the important essentials to have with you for a camping trip in the delta.
Protection Against Mosquitoes: Bring insect repellent, long-sleeved light-coloured clothing, and mosquito nets to protect against mosquito bites, especially during the wet season.
We use Tarbard or Peaceful Sleep brands of mosquito repellent in Africa.


Carry an adequate supply of water and invest in a water purification system to stay hydrated throughout your camping trip. We used Water-to-Go drink bottles and also have a 25-litre LifeSaver Jerrycan which has been invaluable.


Medications and First Aid: Pack essential medications, a comprehensive first aid kit, and any necessary prescriptions for your camping trip.


Sun Protection: Wear sunscreen, a wide-brimmed hat, and sunglasses to protect yourself from the African sun.


You might want to consider bringing earplugs and a sleep mask to ensure a peaceful sleep amid the wilderness sounds and potential bright moonlit nights.

We used to have the tent sides open most nights, and there is something very special about drifting off to sleep under a sky full of stars and the sound of barking geckos, hippos grunting and a reed frog chorus that sounds like wooden chime bells.

If you are a light sleeper though, you might like to block out the sounds every now and again to get a solid night's sleep.


Bring a headlamp or flashlight for navigating the campsite during the night.


We recommend having a wee bucket inside the tent so that you don't have to make trips to the toilet in the middle of the night. We just use a leakproof container big enough to hold a couple of wees each.

I also use a Freshette to make taking a wee in the camper that much easier. It's also great to use in the bush when the last thing you want to do is squat for a wee in the grass where goodness knows what is crawling around.


Make sure you have a comfortable camping chair and a collapsible table for convenience at the campsite.


Bring a small, portable solar charger to keep your electronic devices powered up or have an inverter that operates off the second battery.


Always carry a reliable means of communication, such as a satellite phone or radio, in case of emergencies. We use a Garmin Mini Inreach.

💡 TIP: Store Food Securely: Keep all food, trash, and scented items securely stored in lockable containers or vehicles to prevent animal encounters. Don't have any citrus fruit stored in your car, elephants will find them!
6. Safety Tips to Keep in Mind
How can you prepare for camping in the Okavango Delta in terms of safety?
Keep all your belongings covered when they can be seen through the vehicle's window.

Keep a safe distance from wildlife and never feed or approach them for your safety and theirs.

Familiarize yourself with the procedures for emergencies, such as snake bites or animal attacks. Make sure to have a first aid kit and an emergency communication device, such as a satellite phone or a GPS tracker, in case of emergencies.

Properly store food and trash: To avoid attracting wildlife, ensure that all food and trash are stored properly in sealed containers that are out of reach of animals. Don't keep any citrus fruit in your car as this will attract elephants and they have been known to smash windows to get the delectable fruit.

Get vaccinated: Make sure you are up to date with all necessary vaccinations, including those for yellow fever and hepatitis A and B.

Have the necessary vehicle recovery equipment.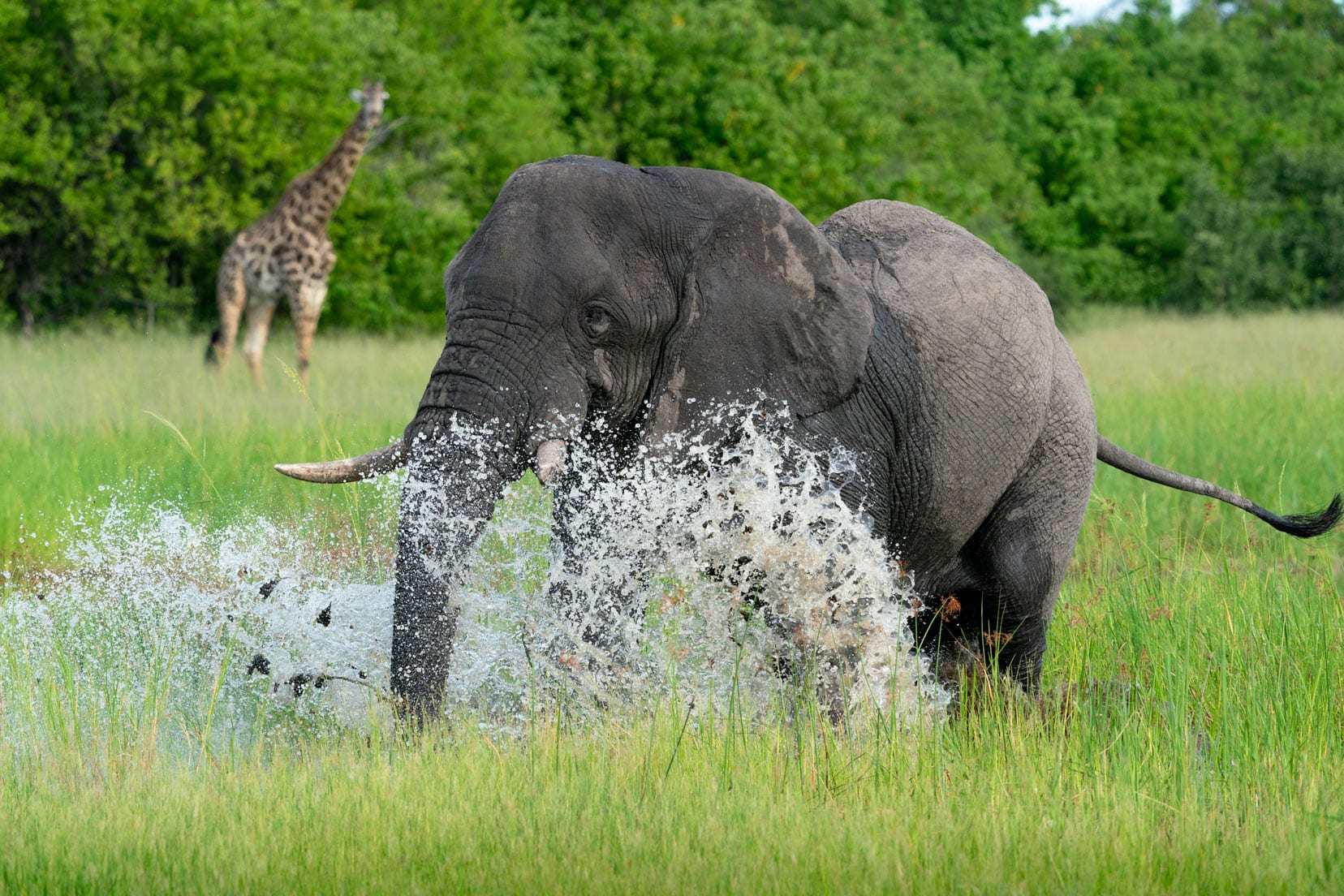 7. What Wildlife Can You Expect to See While Camping in the Okavango Delta?
The dynamic ecosystem of the Okavango Delta impacts both the landscape and wildlife of the Moremi Game Reserve.
Annual and seasonal floods occur in the delta, leading to a constantly changing environment that results in the remarkable variety of wildlife found in the area.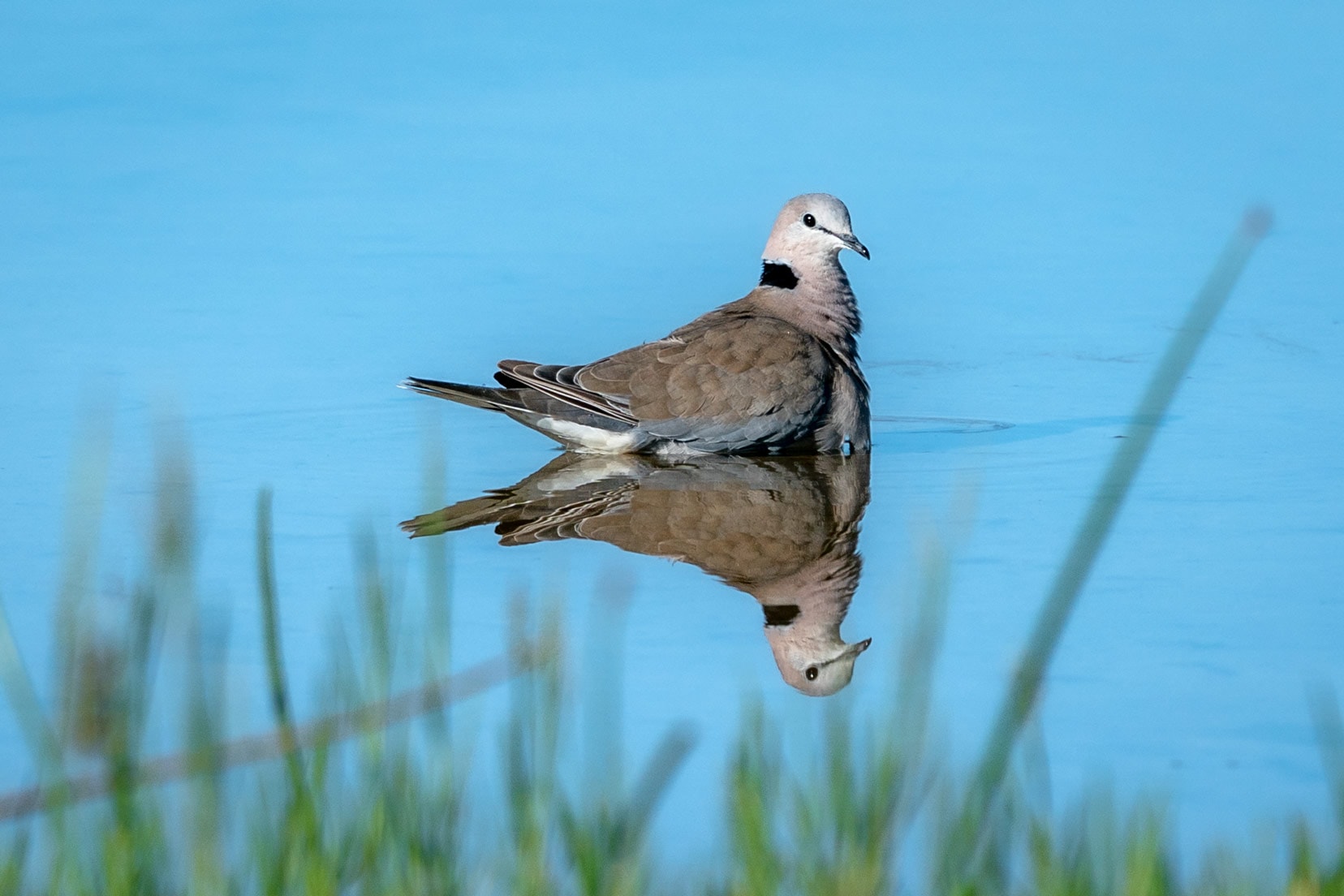 Moremi Game Reserve is known for its abundant wildlife, including elephants, lions, leopards, hyenas, and many species of antelopes. It is also said to have one of the largest concentrations of African wild dogs in Botswana.
The Khwai area is famous for its wild dog population, and although we weren't lucky enough to see any while we were in Moremi, we did see wild dogs (or painted wolves as they are also called), several times while camping in the community-run Magotho Campsite, in the Khwai Concession, adjacent to Moremi.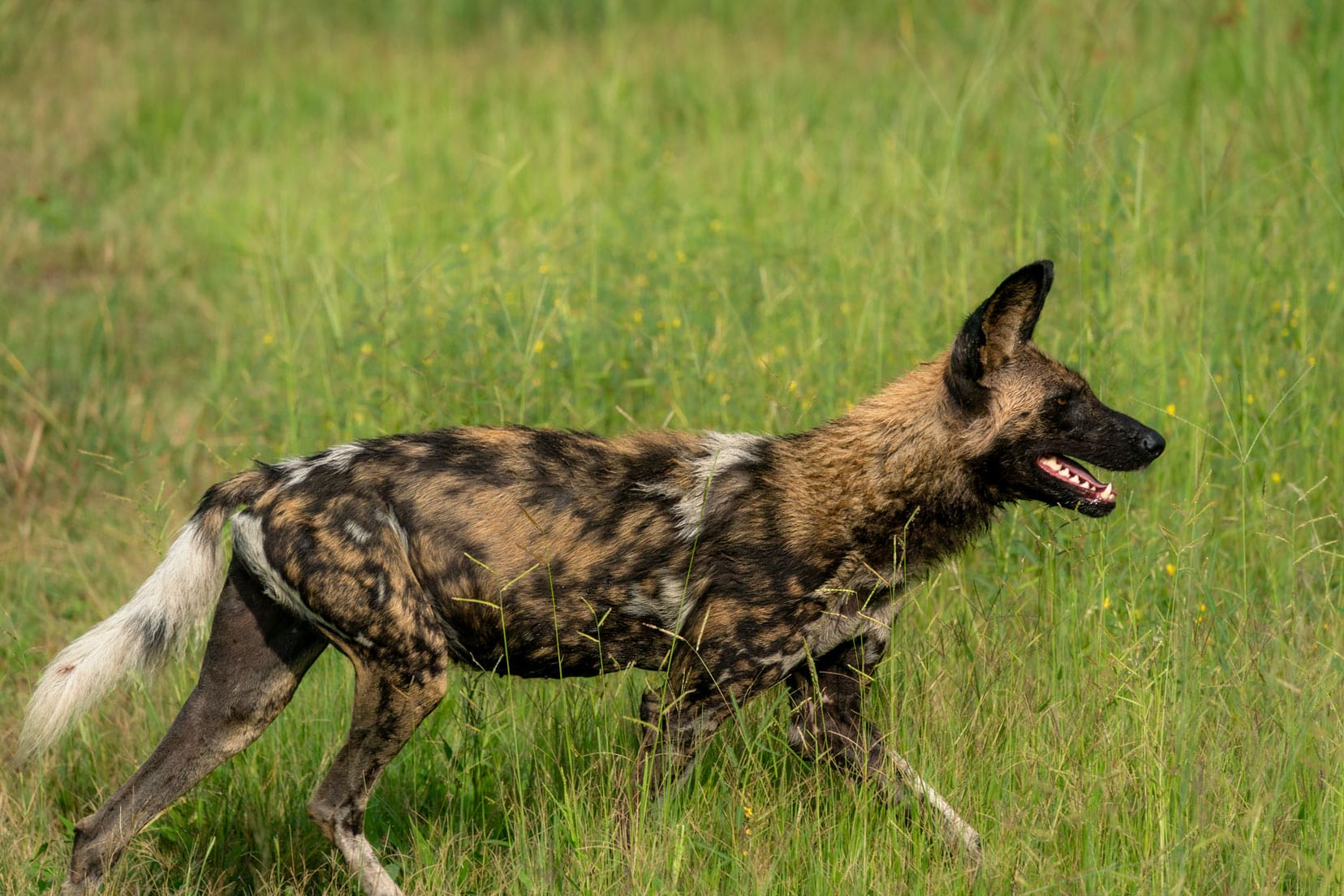 Possible Wildlife Sightings in the Okavango
This list is based on our own experience in the Okavango and also reading about the area. We've separated it into Likely, and If you're lucky, to give you a realistic perspective of what you might encounter in and around the delta.
As with all wildlife sightings, there is never a guarantee, but the more you drive around, the more chances you'll have.
We've marked the wildlife that we saw with a tick.
Likely to see
Red Lechwe ✅
Impala ✅
Baboon ✅
Vervet Monkey ✅
Steenbok ✅
Kudu ✅
Waterbuck ✅
Giraffe ✅
Zebra ✅
Elephant ✅
Hippos ✅
Black-backed jackal ✅
Buffalo ✅
Blue wildebeest ✅
Warthog ✅
Red hartebeest ✅
Mongoose ✅
Crocodile ✅
Kori Bustard ✅
Secretary bird ✅
If You're Lucky
Cheetah ✅
Leopard ✅
Lion ✅
African Wild Dogs ✅
Black rhino
White Rhino
Honey Badger
Spotted hyena
Side striped jackal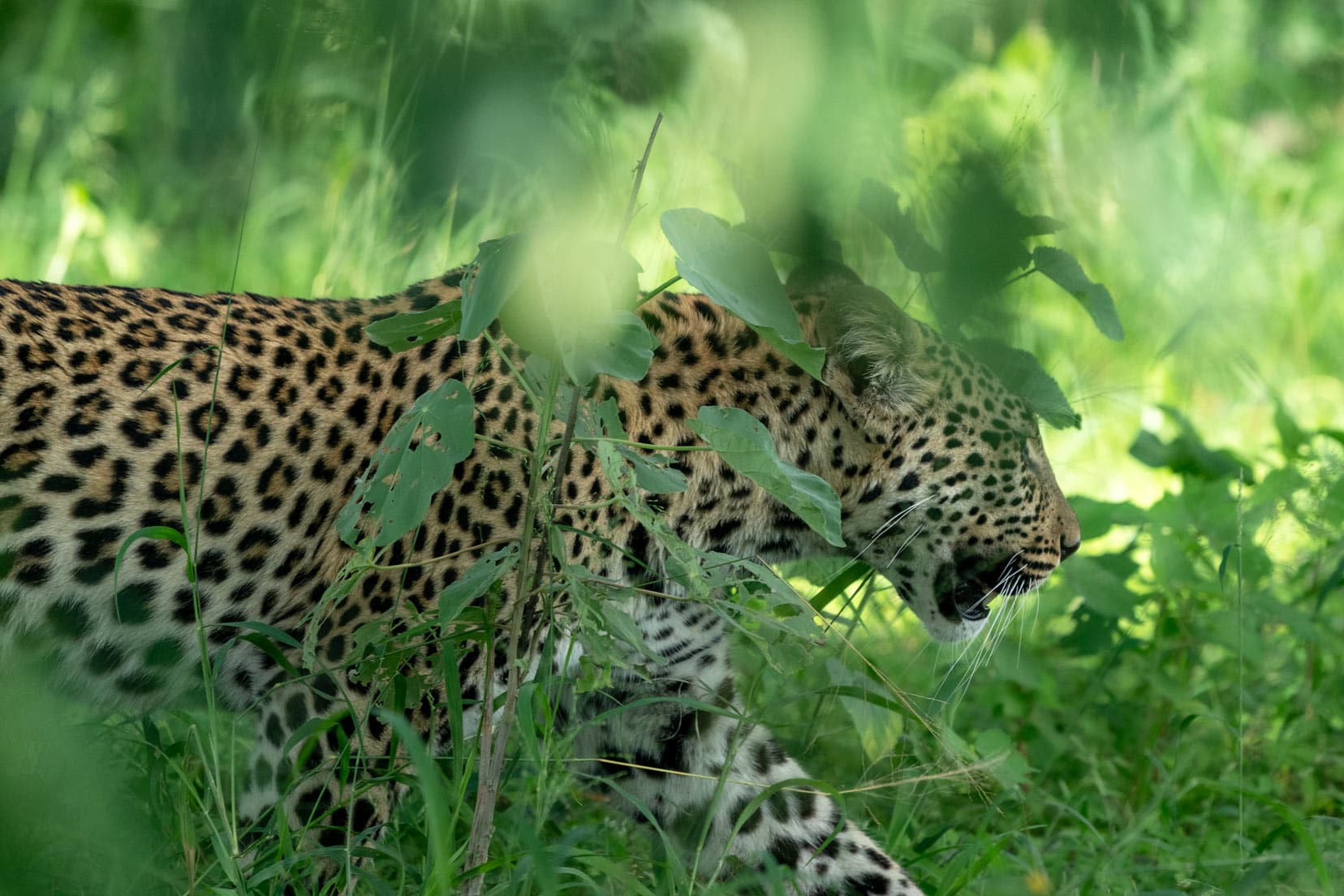 8. How to Get to the Okavango Delta
To get to the Okavango Delta, you have several options depending on your starting location and budget.
Here are some common ways to reach the Okavango Delta:

Fly to Maun

Maun is the main gateway to the Okavango Delta. You can catch a flight to Maun from major cities in Botswana or neighbouring countries like South Africa. Once in Maun, you can travel to the Okavango Delta by road or by air.
There are great accommodation options in Maun – ranging from campsites to B&Bs and hotels. Our favourite pick is Maun Studios – a beautiful family-run B&B on the river.
Many of the lodges and camps in the Okavango can arrange a fly-in safari which involves taking a chartered flight from Maun directly to your lodge or campsite. Some lodges have their own airstrips, allowing for easy access.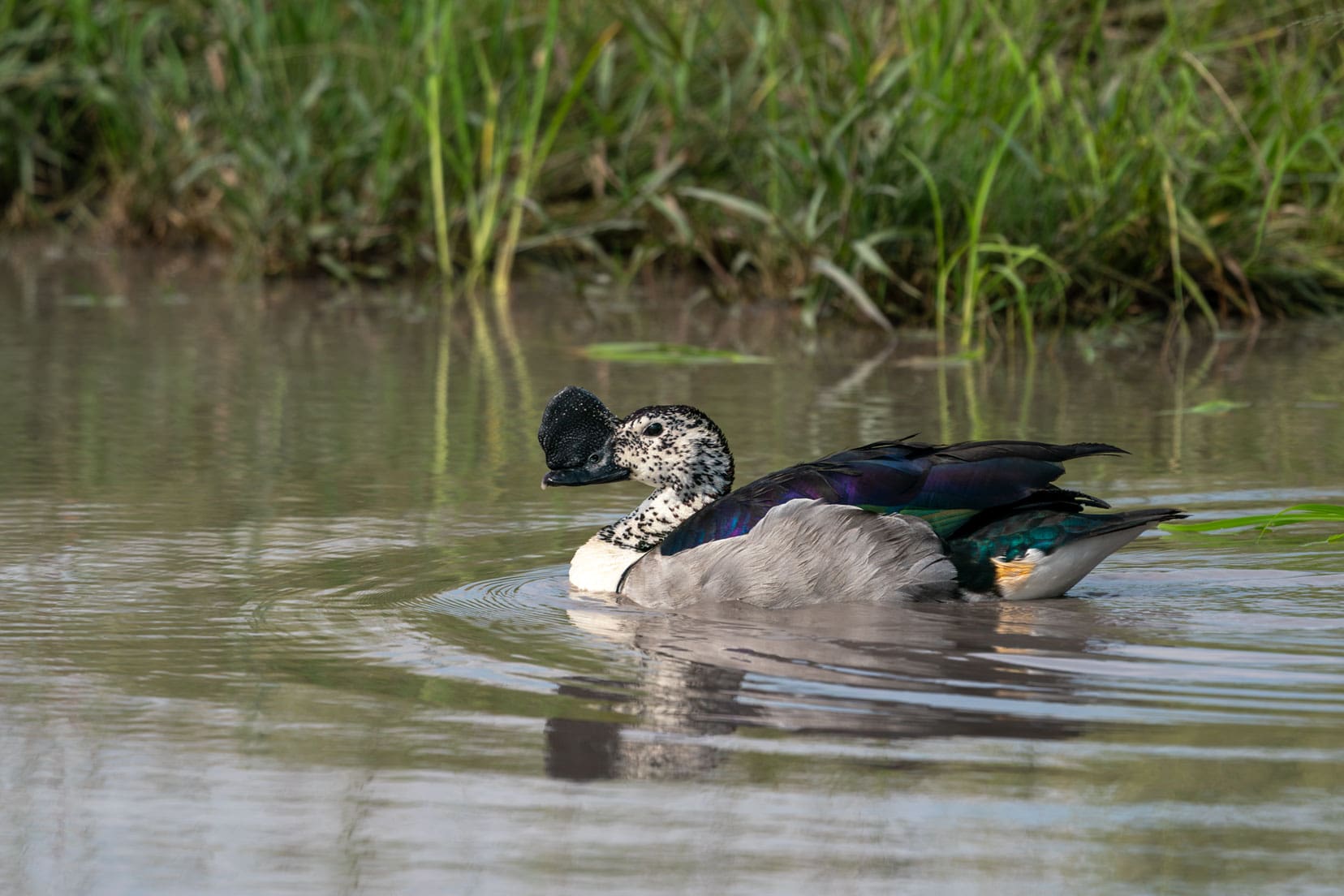 Okavango By Road
If you are already in Botswana or nearby regions, you can travel to the delta by road.
Maun is the main gateway to the Okavango Delta and a common starting point for travellers to the Okavango. Ensure your vehicle is in good condition and has enough fuel for the journey.
Leaving Maun you need to take the A3 road heading north. This road is well-maintained and is the main route to Francistown. Stay on the A3 road for approximately 62 kilometres (38 miles) until you reach the village of Shorobe. Here, you'll see a signpost indicating the direction to the Okavango Delta (Moremi Game Reserve. Turn left onto the gravel road.
Remember to check road conditions, weather forecasts, and travel advisories before embarking on your journey.
It's also essential to carry enough water, food, fuel and supplies, as services can be limited in remote areas.
Finally, respect the wildlife and follow any instructions or regulations given by local authorities or park rangers.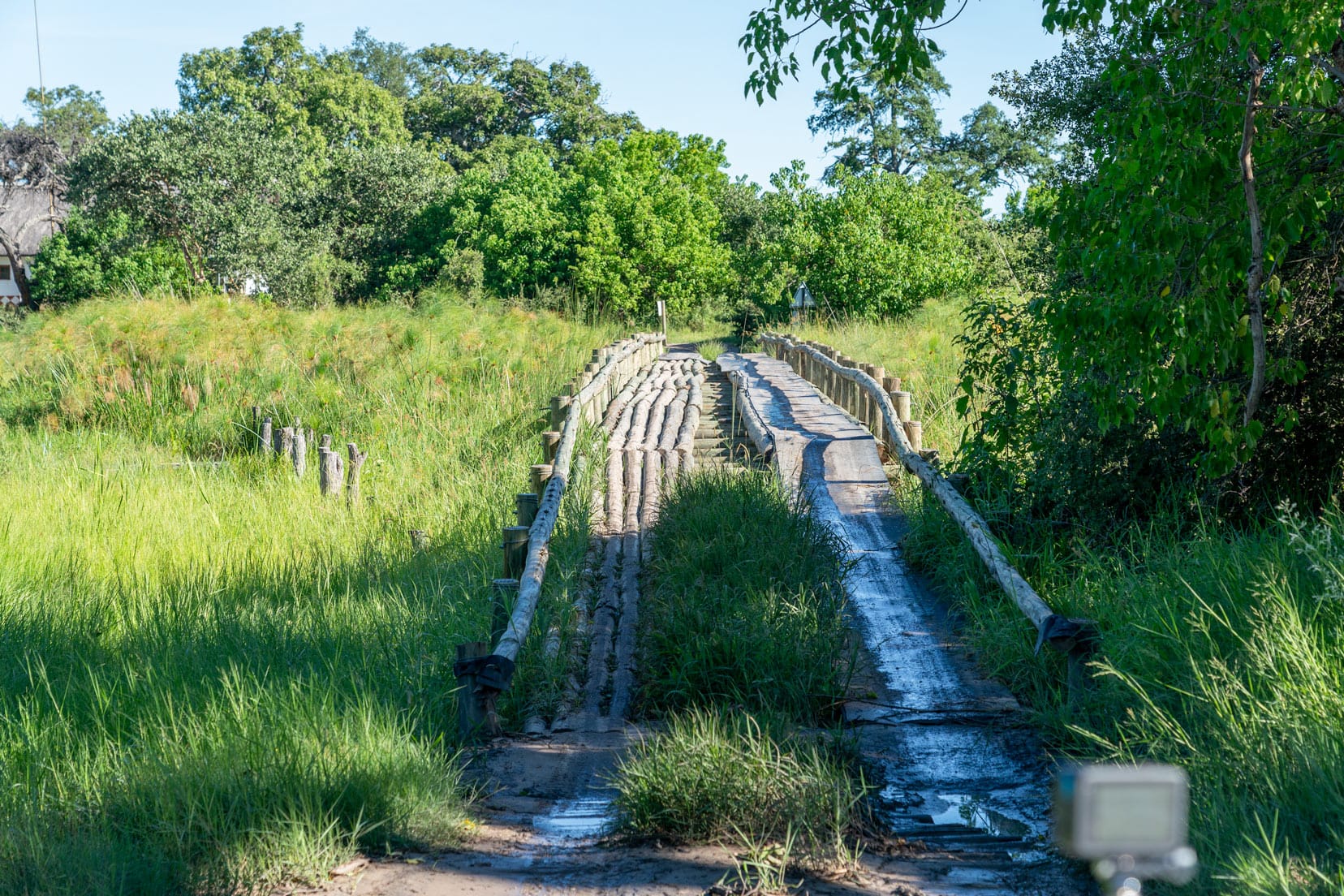 9. Navigating the Okavango Delta
When you are travelling in the Okavango, make sure you have good maps. You cannot depend on basic map apps when driving through the Okavango Delta because these are remote areas and it's easy to get lost.
Tracks4Africa Maps
We use Tracks4africa Maps and their gps app, to navigate our way around the Okavango. The maps include all the off-road tracks and we have found them to be the most reliable and easy to use.
The maps also give the average drive times between locations which is really useful. Because sometimes, what may be a short distance can take a long time due to the driving conditions.
We use paper maps for planning our route and then the Tracks4Africa app en route. The GPS marker (in the app) indicates our current position, so as chief navigator, this makes my job much easier.
👉 Take a look at the range of maps and GPS apps they offer here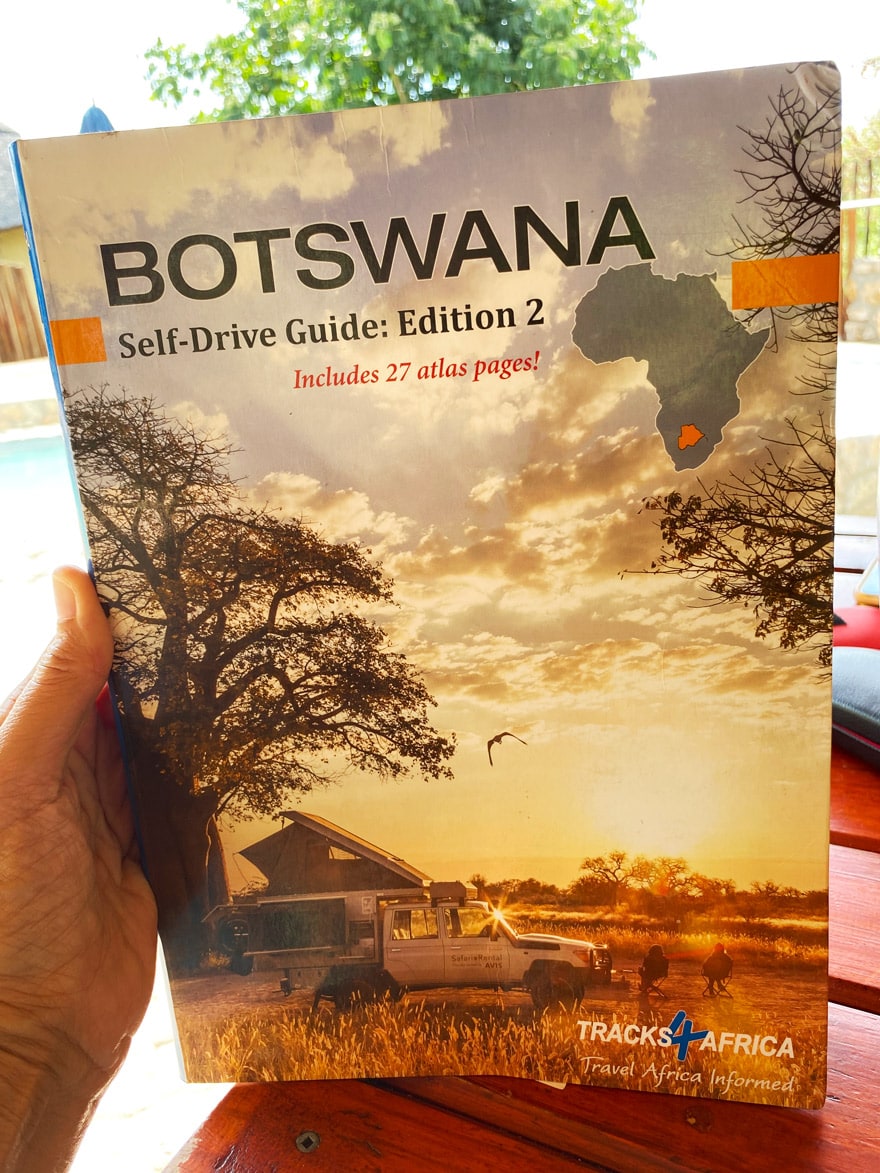 10. Photography Tips While Camping in the Okavango Delta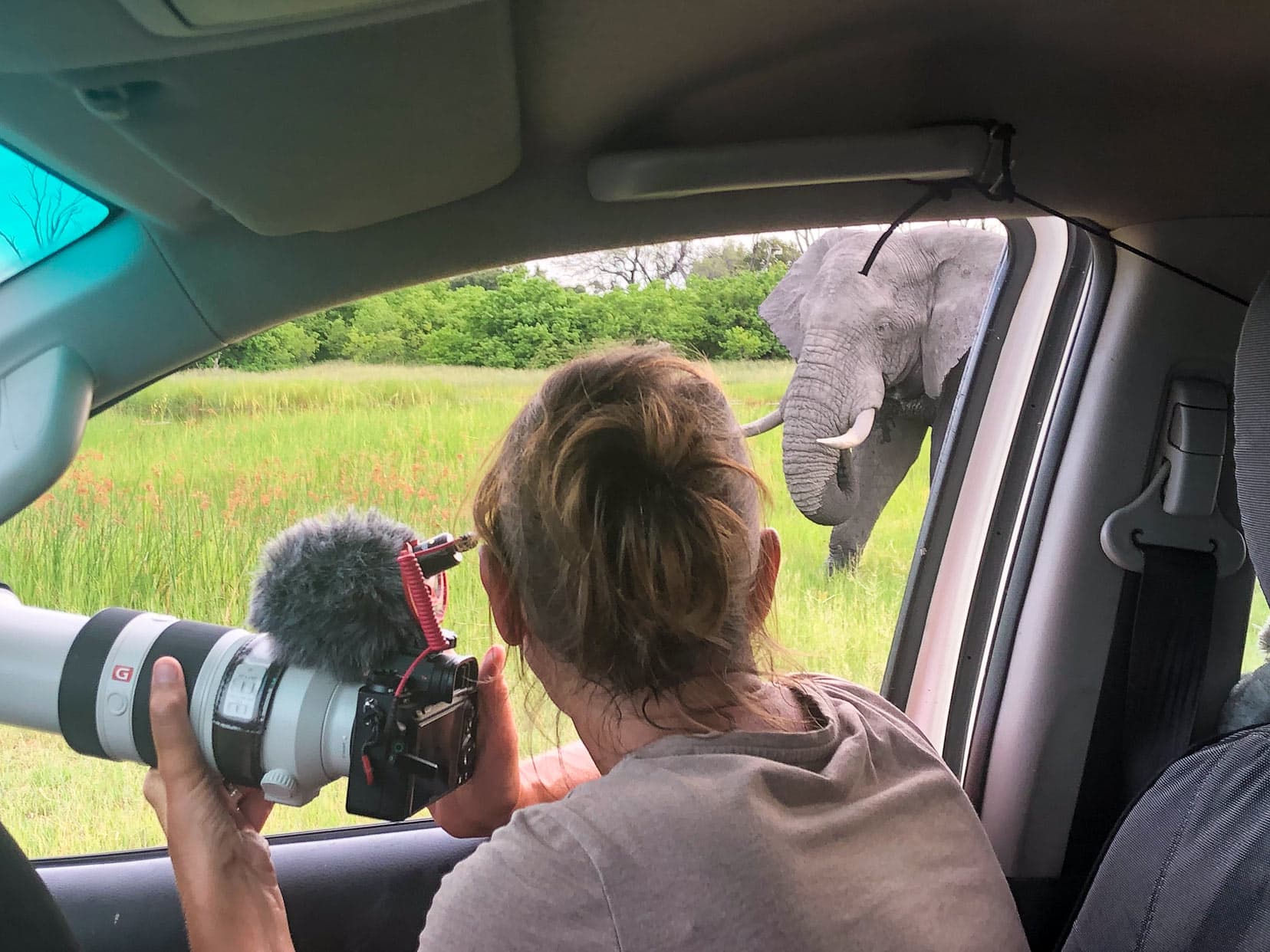 Pack your gear wisely: Since camping in the Okavango Delta involves carrying your equipment with you, it's important to choose the right gear. Consider a lightweight camera body, versatile lenses, a sturdy tripod, filters, spare batteries and memory cards.


Capture the magic hours: Take advantage of the early morning and late afternoon when the light is soft and golden. This is when you can capture stunning landscapes and impressive wildlife shots.


Wildlife photography often requires patience and observation. Spend time observing animal behaviour, anticipating actions, and waiting for the perfect shot.


Respect wildlife and local communities: When photographing wildlife, always prioritize their well-being. Maintain a safe distance and avoid disturbing their natural behaviour. Additionally, be respectful when photographing local communities and seek permission when necessary.


Enjoy the experience: Lastly, remember to immerse yourself in the beauty and serenity of the Okavango Delta. Take time to appreciate the stunning surroundings and connect with nature.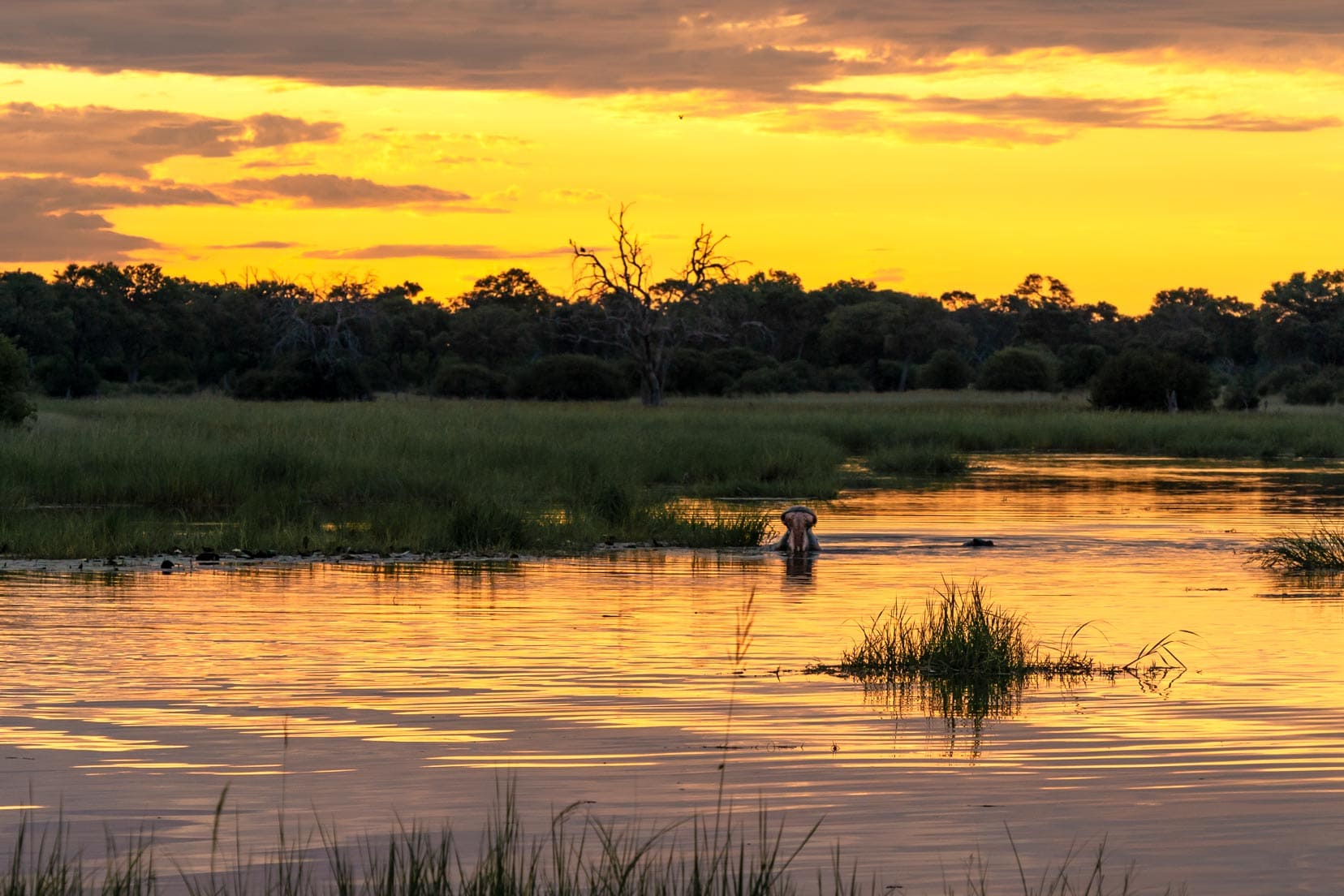 11. The Okavango Delta Sustainability & Ecotourism
Whether you choose to self-drive or visit a luxury camp when visiting the Okavango, you will be contributing to vital eco-tourism — one of the main ways that the protection of this unique wetland area can be preserved.
National Geographic undertook the Okavango Wilderness Project with the aim to secure sustainable protection of the entire Okavango Basin. A huge part of the answer to conserving the area is to ensure that locals have a vested interest in its preservation.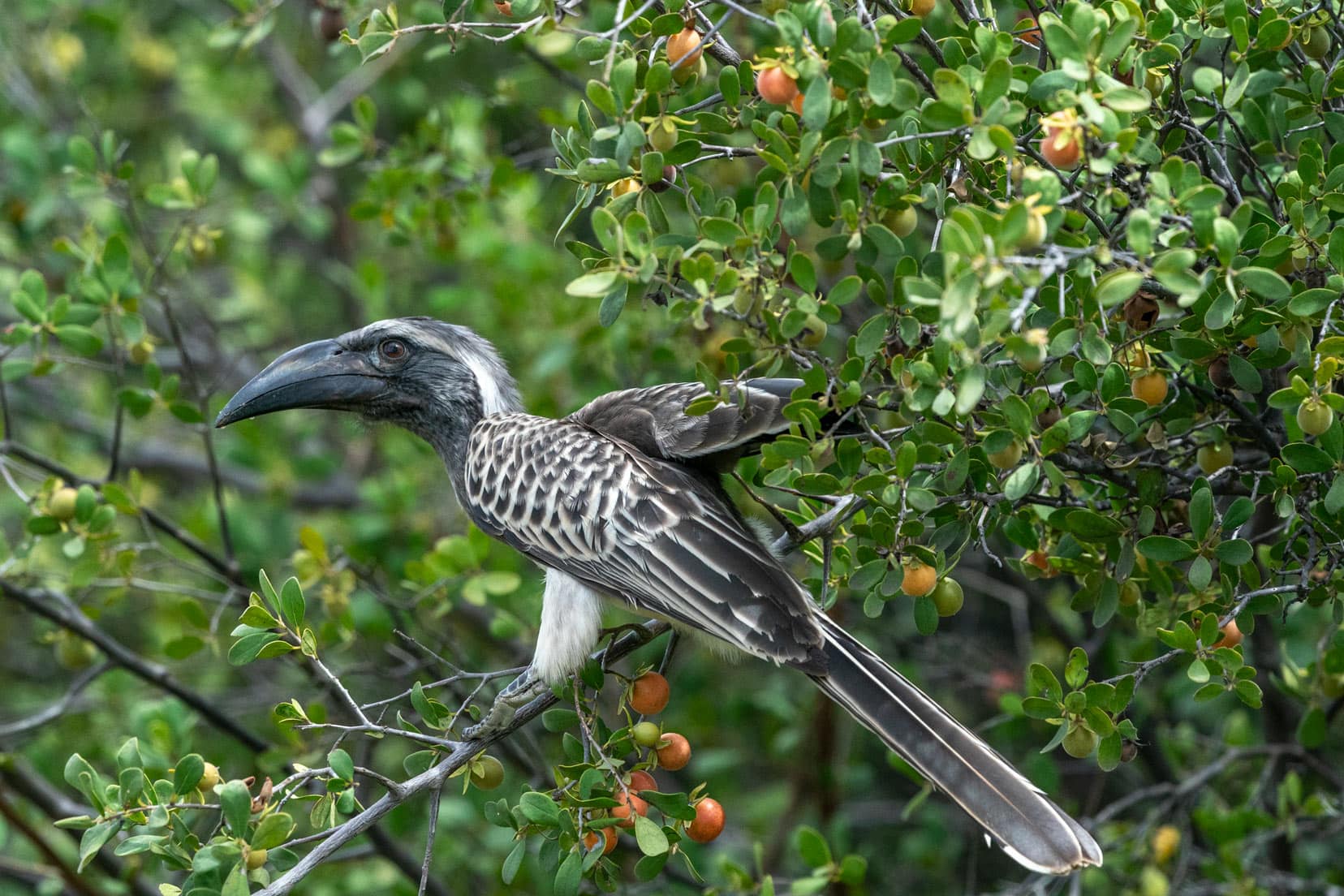 Eco-tourism with its benefits feeding back into the local communities plays a vital part in this. Therefore, by visiting the Okavango you are playing your part in helping to conserve this pristine gem.
How you visit will depend on your budget and time constraints, but camping in the Okavango is something so special you will want to add it to any travel bucket list.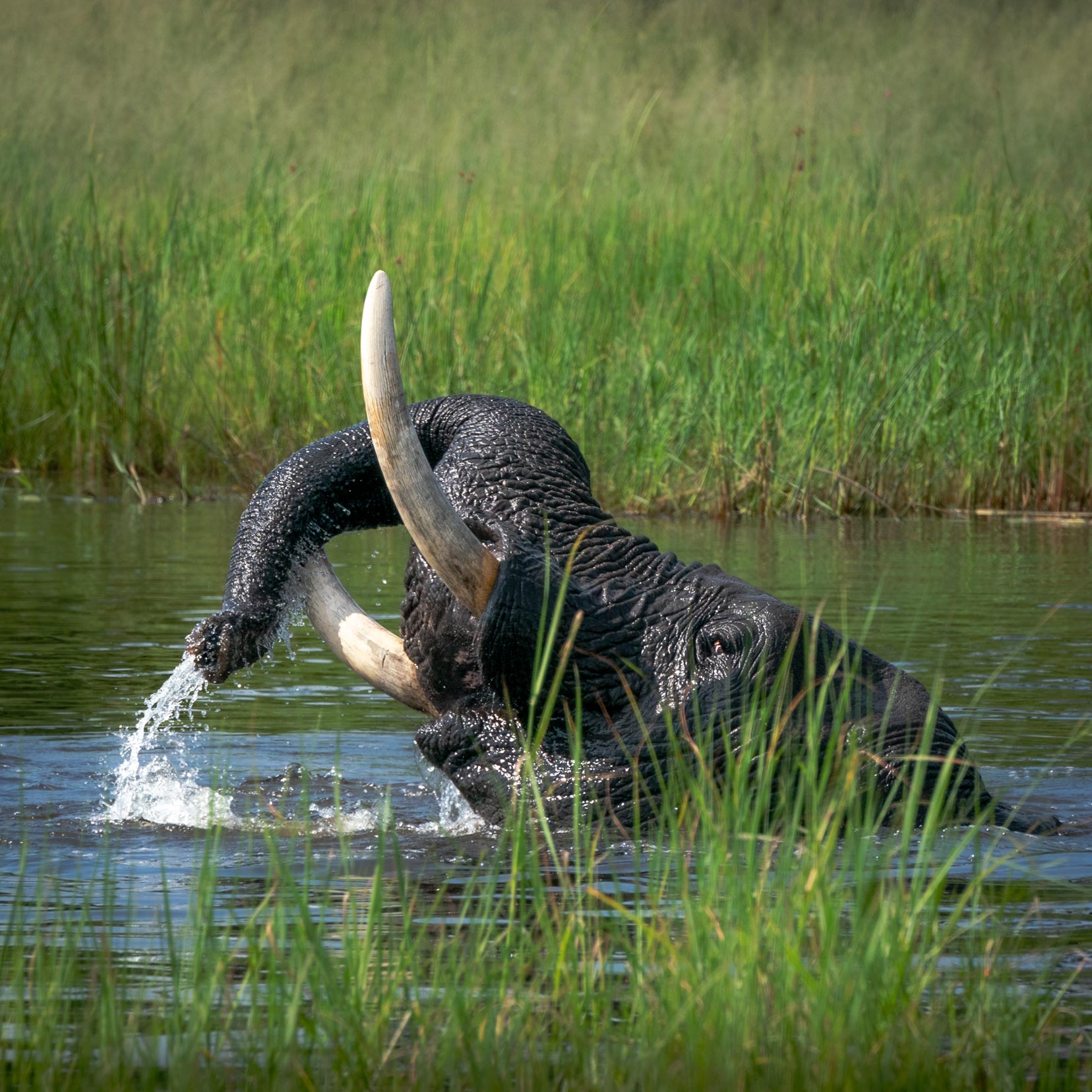 PLANNING YOUR TRAVELS?
These are some of the travel resources we use when planning our trips.
For a more thorough list visit our Travel Resources page here.
Camping in The Okavango Delta … That's a Wrap
Okavango Delta is one of those places that every traveller camping in Botswana should visit.
It is an unforgettable experience that immerses you in the heart of nature.
These essential tips can help you make the most of your camping adventure while staying safe.
So, gear up, pack your essentials, and embark on a remarkable journey into the untamed wilderness of the Okavango Delta.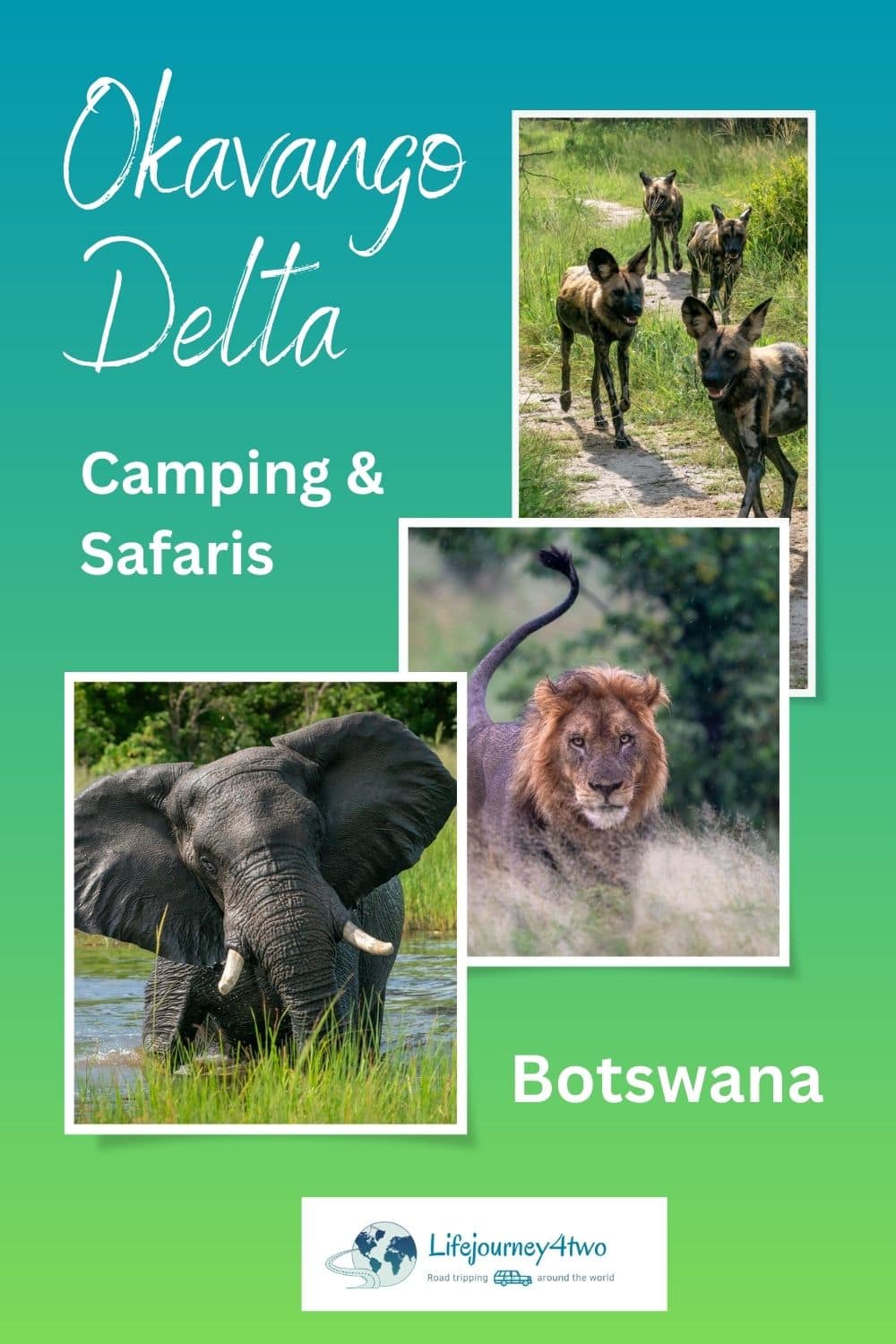 You May Also Like to Read: