This article on the Khwai Concession in Botswana, not only contains practical information about camping and self-drive safaris in Khwai but is also interspersed with our own stories, experiences and photos from our time there as part of our overlanding Botswana camping safari.
Driving back to camp, alongside the river in Kwai Concession, four spritely African wild dogs trotted towards us. Caring less about our presence, they continued on, their noses all pointed in the same direction. Dried blood smeared the neck of the leader.
They continued sniffing the air, stopping every now again to smell the grass or attend to nature's call. We followed them for a good 700 metres before these marbled beauties finally eluded us. Four white tails and eight rounded ears bobbed away until the tall savannah grasses swallowed them up.
This was just one of our treasured moments in the Khwai Concession at the Magotho Community-run campsite.
Our camping adventure on the edge of the Okavango Delta was one of the best, and we are already planning to return in winter a winter season.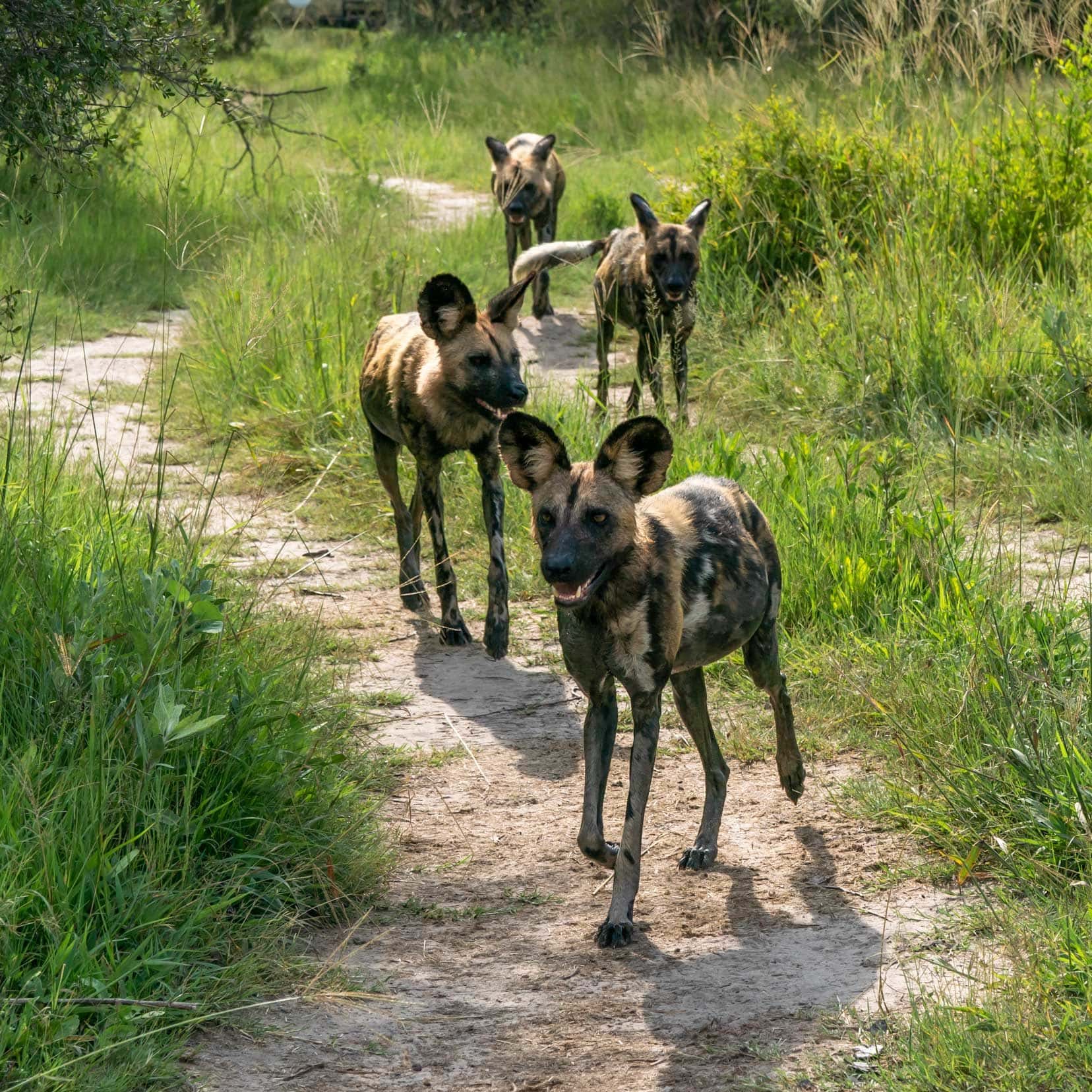 Planning a Trip to Botswana?
About the Khwai Concession
The Khwai Concession is on the eastern edge of the Okavango Delta, sitting pretty between two of Botswana's more well-known national parks, Moremi Game Reserve and Chobe National Park.
The Khwai Concession is run by the Khwai Development Trust, a community-run eco-tourism venture. The area used to be a hunting ground for the locals, but the Khwai Village community agreed to stop hunting in order to develop tourism, the profits of which now go directly back to the community.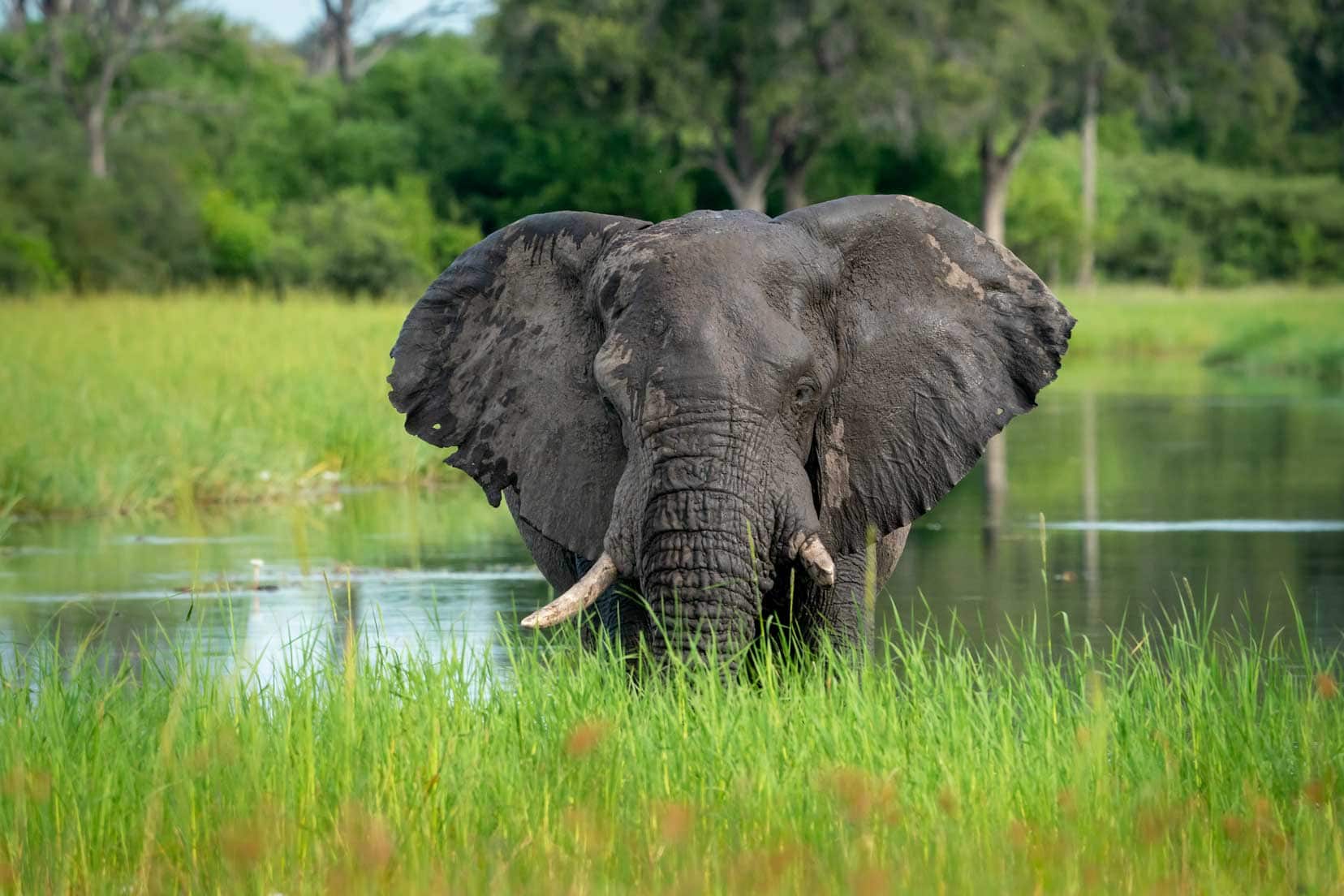 There are two distinct areas within the Khwai Concession:
Khwai Private Reserve (200,000 hectares) — this can only be accessed when staying at one of the luxury lodges there.
Khwai Community Concession (180,000 hectares )— open to everyone
The main focus of this article is the Khwai Community Concession because our Botswana Itinerary is based on 4×4 camping and self-drive safaris.
Map of Khwai Concession
VIDEO: Khwai Concession: Camping in Mogotho Camp Highlights
Camping in Khwai
If you want to camp in Khwai, there are several options, including tented camps (glamping options), and mobile safari operators that include the Khwai Concession in their safari packages.
But if you are looking for campsites for a 4×4 camper and want to do your own self-drive safaris, you have two main options: Khwai Camp and Mogotho Camp.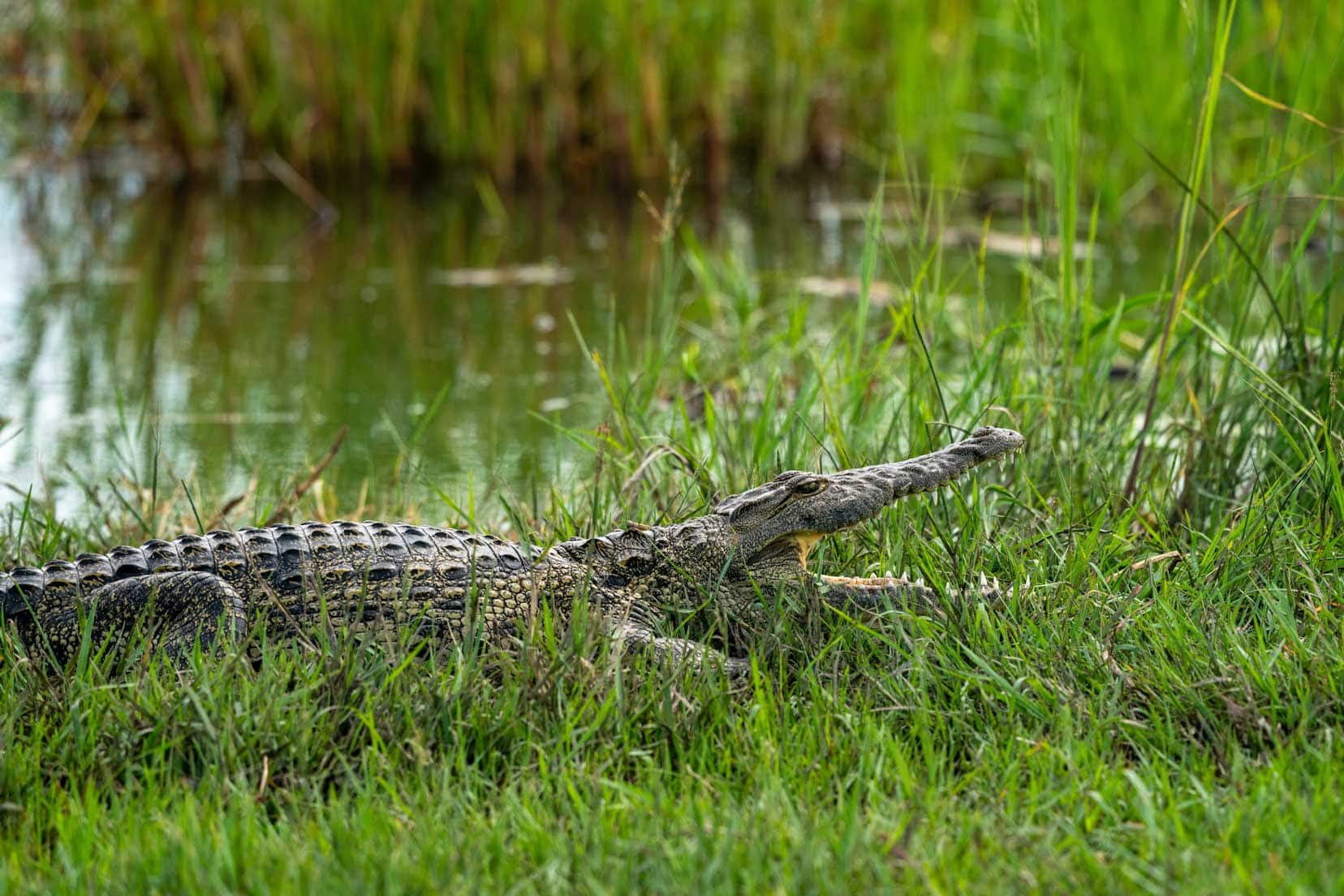 Self-drive 4×4 camper Campsite Options
Khwai Camp, at North Gate, which is part of Moremi Reserve (the heart of the Okavango Delta).

Khwai Camp, just east of North Gate in Moremi, has ten campsites and is operated by SKL (Savuti Khwai Linyanti).
Travellers we met on our trip told us this camp was nice to stay at, with clean ablutions, including showers and flush toilets.

You can book Khwai Camp by sending them an email –

[email protected]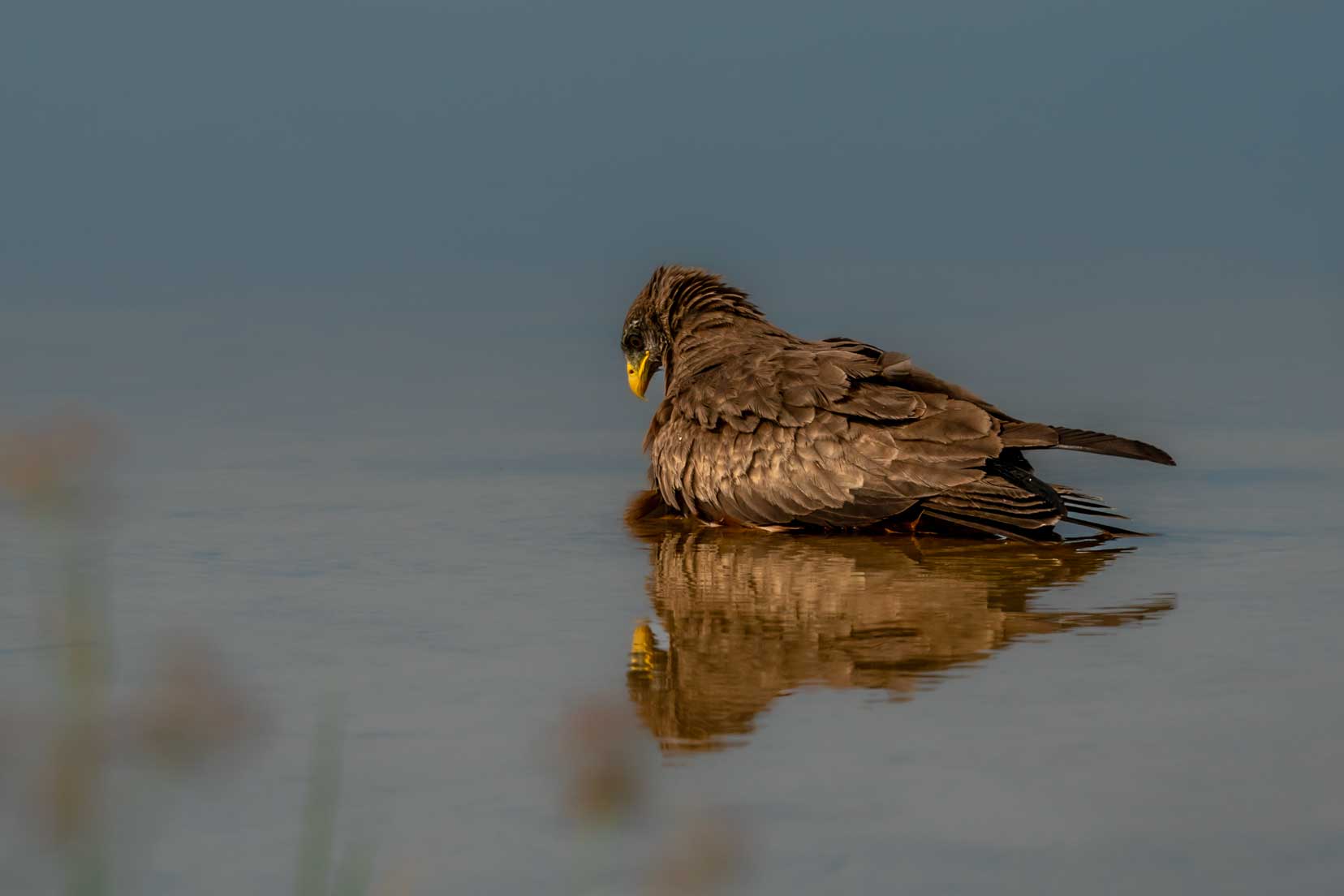 Magotho Camp in the Kwai Concession.

Magotho Camp is a Kwai Community Campsite run by locals, and it was here that we stayed for three nights. We delve into the camp and our experiences in more detail below.

If you have time, and particularly if you have been staying in Moremi National Park, you may want to experience both camps.

There are a few reasons why it is good to choose the Khwai Community concession camp though.
Firstly, your camp fees go directly into helping the local Khwai community. Secondly, the rules are more relaxed at Magotho Camp. For example, there aren't any strict times you need to be in camp.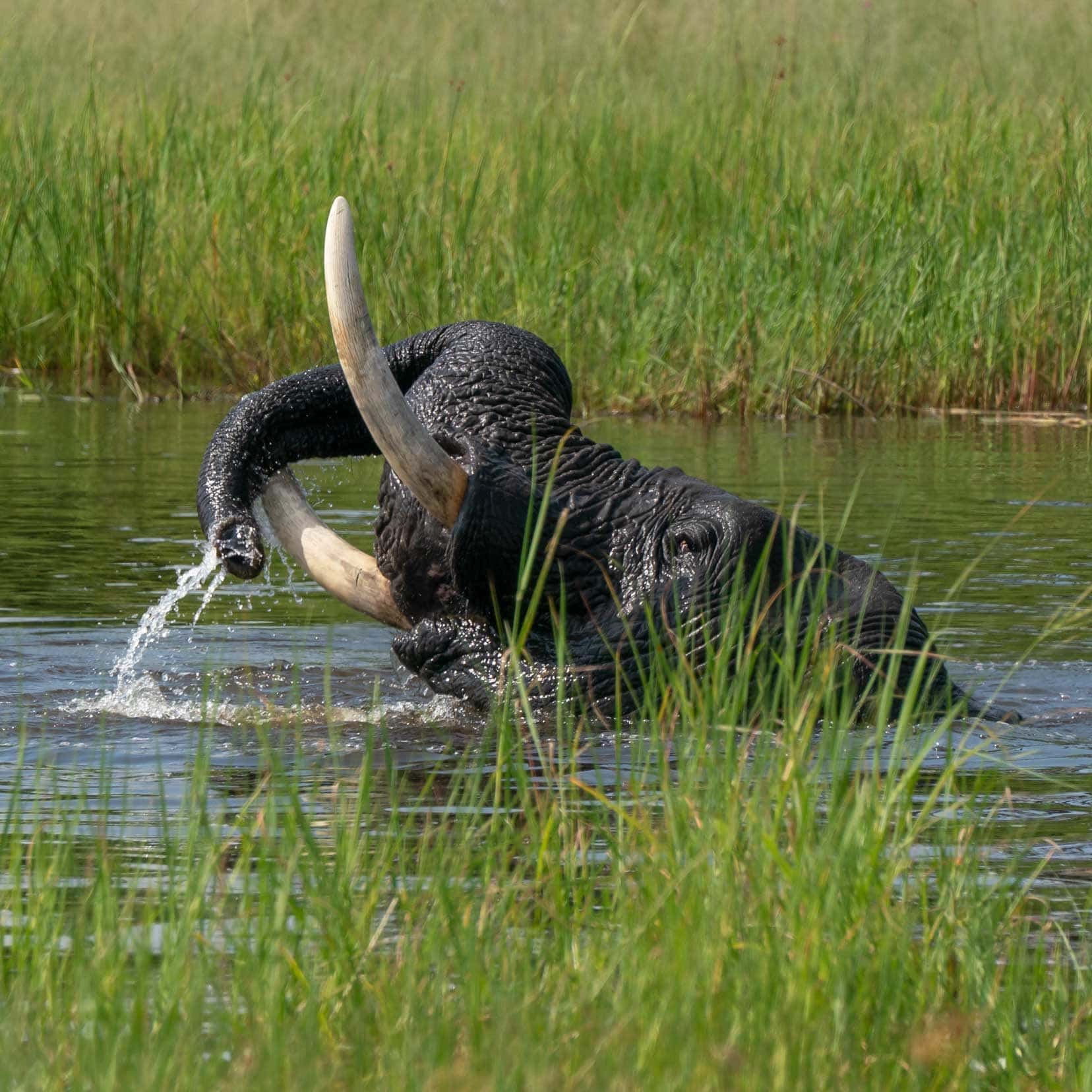 ⭐️Download this FREE printable road trip planner to take the hassle out of planning and keeping useful info in one place.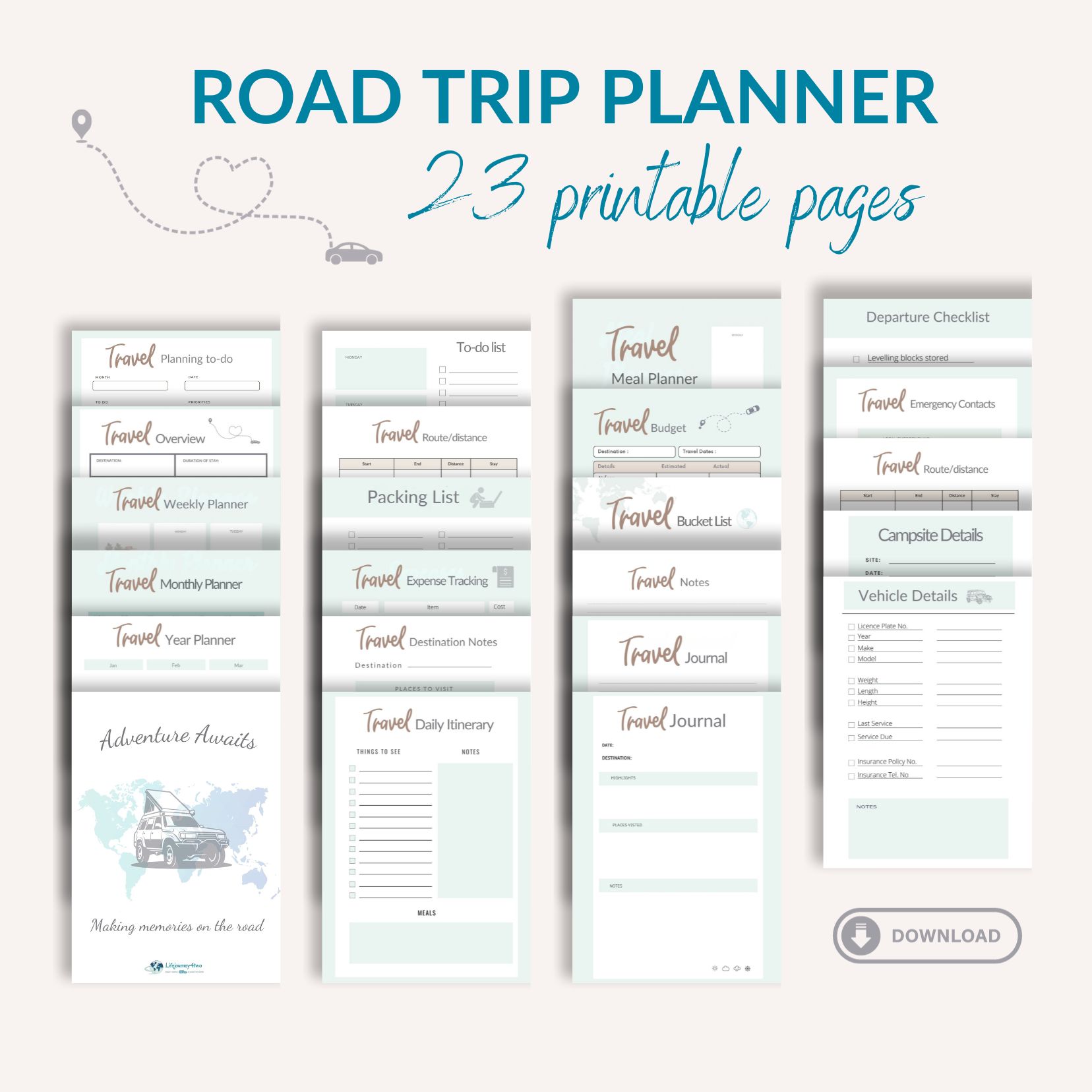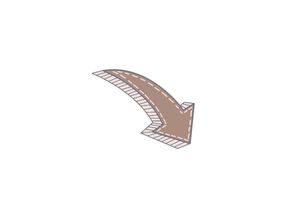 Tented Camp Options In Khwai
These Tented Camps are in the Khwai Community Concession:
These are luxury camps in the Khwai Private Reserve: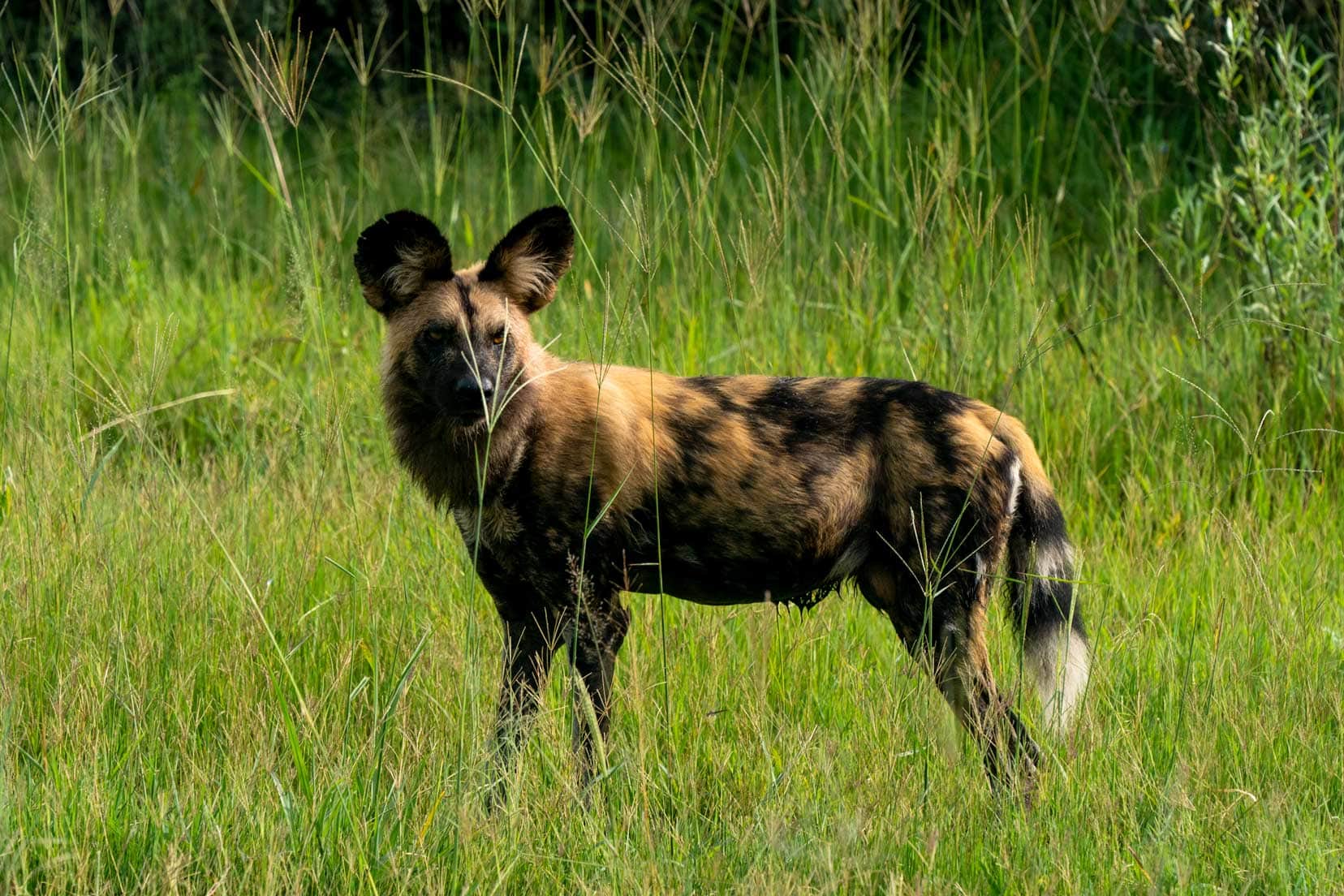 Safari Camp Tour Options
Go2Africa run a 7-day camping safari, which includes Khwai Community Concession, as well as the Linyanti Marshes in the Chobe Enclave.
Highlights include plenty of game drives, intimate camps, a water-based safari by boat and mokoro, as well as a helicopter trip.
🐾🐘🐆 Click here to find out more info and for prices of this 7-Day Khwai River and Linyati Camping Safari | ⭐️4.9/5 | ⏰ 7 Days
Tips for Camping in Khwai
💡 The nearest towns where it is best to stock up on food and fuel are Maun (best if you are coming from the south), and Kasane (if coming from the northeast).


💡 If you are hiring a vehicle don't do anything until you have secured your booking. There is currently a worldwide shortage of campers and limited availability, so do book early to make sure you can rent the vehicle that suits you best.

We used Motorhome Republic for our 12-month camper hire in Europe, and not only was the customer service excellent but they were able to find us better offers than when we approached the individual rental companies ourselves.
🚐 Thinking of Hiring a 4×4 Camper in Botswana?
We recommend using Motorhome Republic to find you the best deal – they search all the local reputable African rental companies, including, Avis Safari, Britz and Caprivi Car Hire.
They do all the hard work for you and they have a PRICE BEAT GUARANTEE
💡 Of all the maps we've tried out, by far the best are Tracks4Africa.

They include all the 4×4 tracks, and we have found them to be the most reliable and easy to use. The app works offline which is a lifesaver when so many places in Southern Africa are without a network signal.
Of all our overlanding Botswana tips, this one is important and will be one of the most helpful solutions for navigating your way around the country.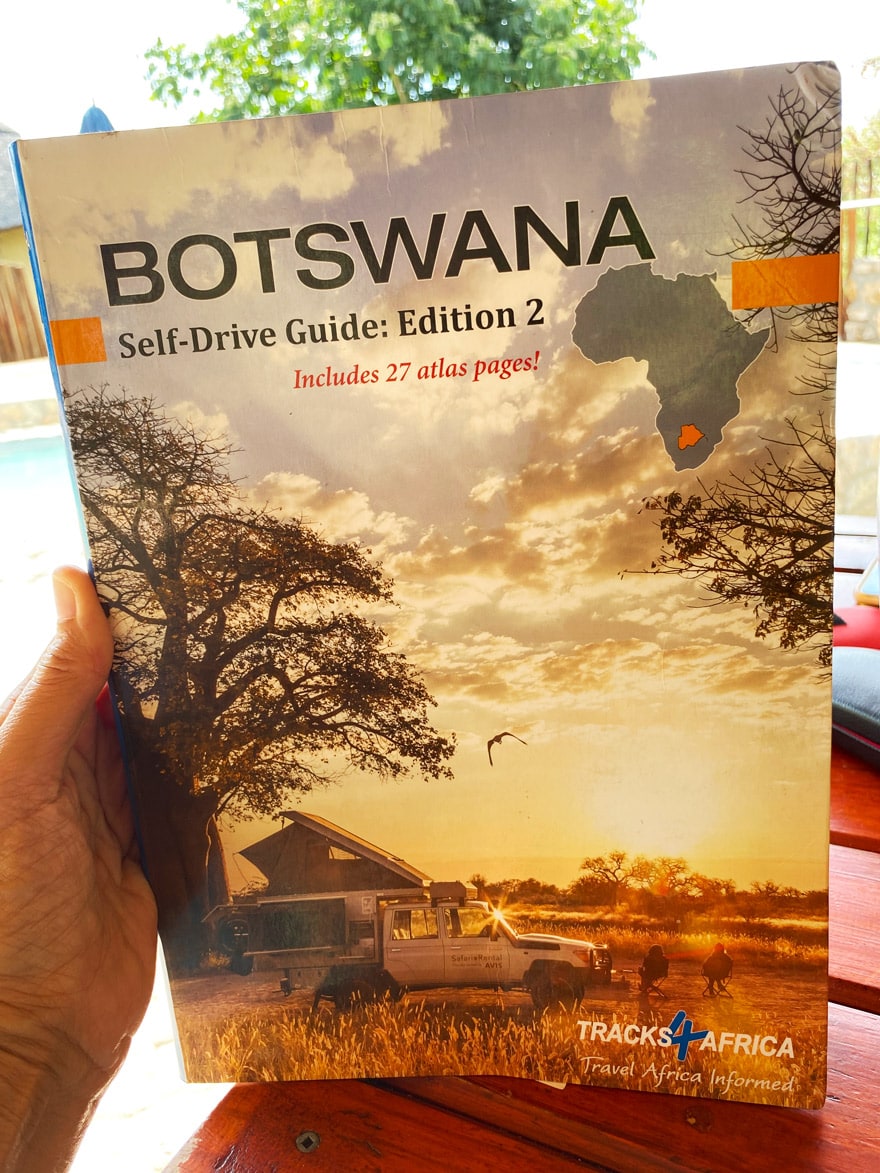 We use paper maps for planning our route and working out travel times and then the Tracks4Africa app en route. The GPS marker tracks our position, so as chief navigator, this makes my job so much easier.
The Travellers Atlas gives average times between points which is useful, because sometimes, what may be a short distance can take a long time due to the driving conditions.
👉 Take a look at the range of maps and GPS apps they offer here or Check out their products on 🗺 Amazon here
Wildlife in Khwai Concession
I know we say this often, but nature is fickle and safari viewing, unlike many of our purchases nowadays, doesn't come with any guarantee. Though even with guarantees, invariably when something goes wrong, you can bet it'll be in that annoying Exclusions section.
Some days when on our safaris, it feels like the animals are relying on those exclusions clauses.
The first afternoon of our Khwai Concession self-drive around Magotho Camp felt a little like this. But in the end, Mother Nature came out all guns blazing.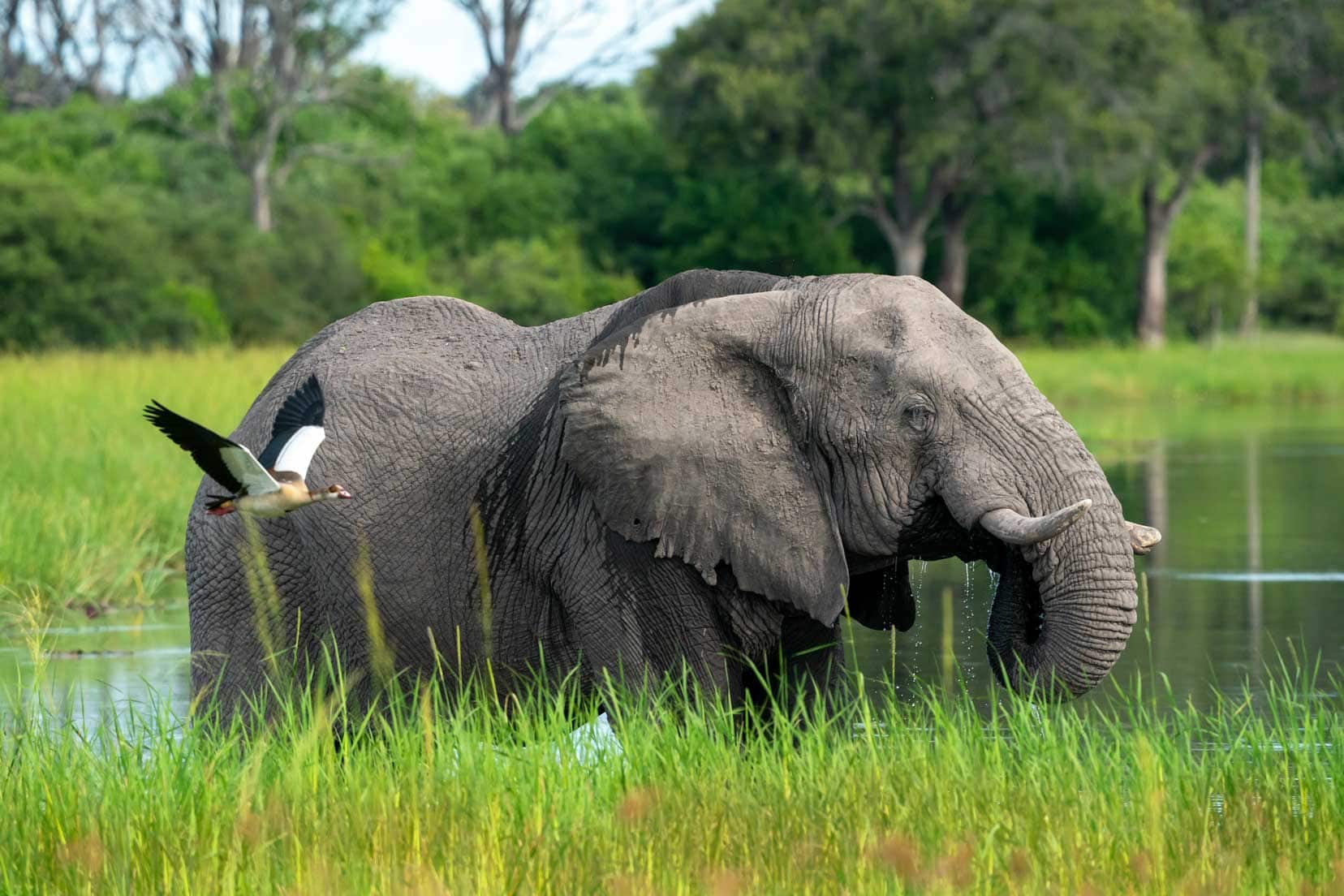 Wildlife Experiences in the Khwai Concession
We've marked the animals we saw in Khwai Concession with a green tick below. We've also broken the different animals into sections sorted by the likelihood of you spotting them.
This is just to give you an idea – you may very well see a cheetah and not an impala — no guarantees and this is why safaris are so exciting.
Likely to see
Hippo ✅
Elephant ✅
Red Lechwe ✅
Waterbuck ✅
Crocodiles ✅
Impala ✅
Kudu✅
Zebra ✅
Giraffe ✅
Kori Bustard ✅
Secretary bird ✅
You'll find more of our Safari experience in the Khwai Community Concession further below.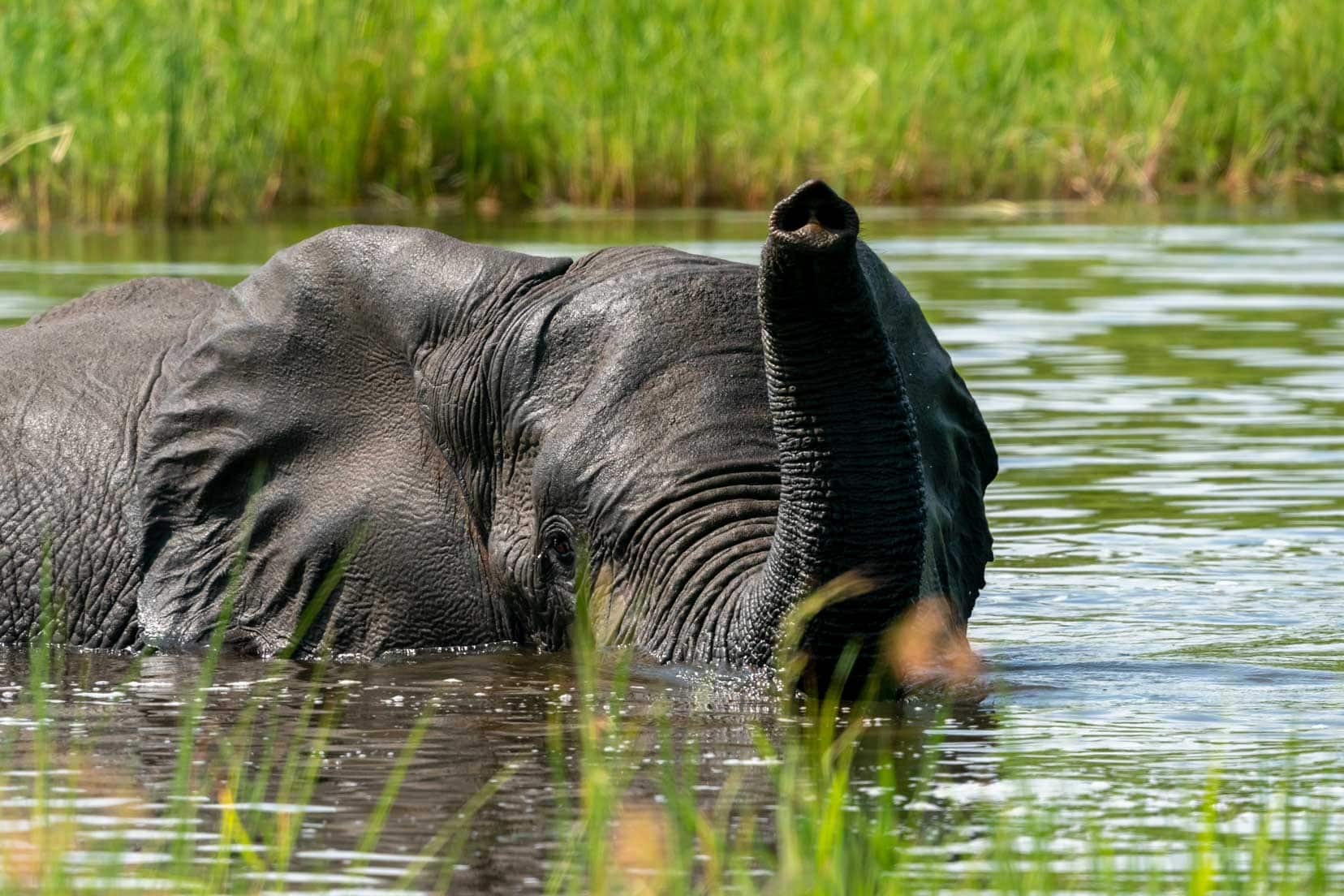 Magotho Community Camp
Magotho Camp is the Khwai community camp run by the Khwai Development Trust.
The Magotho campsite reception is at the southern tip of the camp. It consists of a few ground tents and huts similar looking to the ablutions and is run by the local villagers.
The reception is signposted once you are almost there, but it's not easy to find- head towards the river in the south and you should happen upon it.
When you arrive you need to check in here and will then be directed to your campsite.
Magotho Camp Map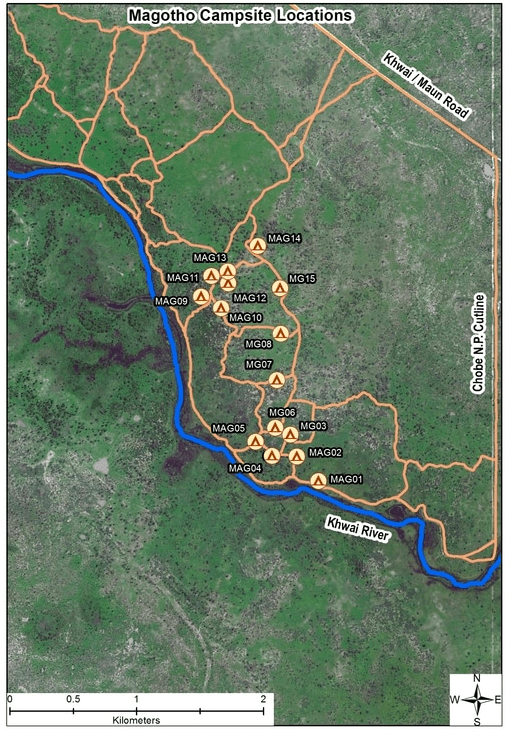 Magotho Campsites
There are fifteen campsites at Magotho Camp which are well spread out and mainly private.
Unlike most campsites in Botswana, the camping sites weren't cleared, meaning we had long grass to contend with. Not the best in the middle of summer when snakes and scorpions are around — but maybe that's meant to be part of the wilderness experience.
Each campsite has a fire pit and access to shared ablutions with a solar-powered shower and flush toilet.
There are a few ablution blocks dotted around, so if one isn't working too well you can try another. One set of ablution blocks we tried had only hot water, and another had no water at all, so you might need to drive around or ask the reception as to which ones are operating.
Depending on the distance of your site from the ablutions block, you might feel more comfortable driving to them as they can be too far to walk safely. (We drove each time.)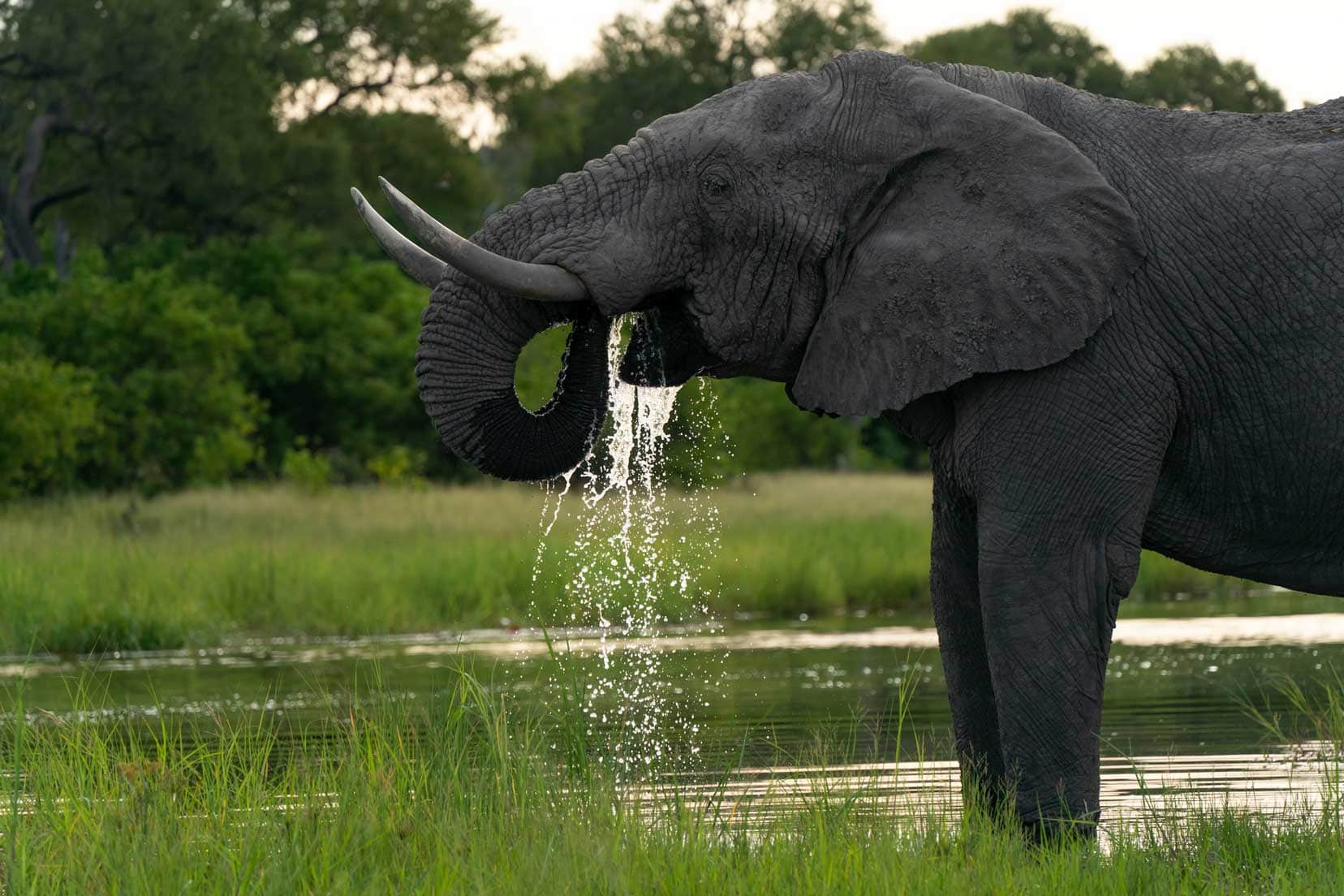 Which Magotho Campsite to Choose?
We were in Campsite 1 (MAG 1) at first, near the river, but it had limited shade. So, with the temperatures in the high 30s, we asked to move to another, (MAG 9), a shadier spot, back from the main tracks, further north.
This campsite was one of the shadiest in the camp, and from there, we could hear hippos grunting in the river. Each day we had elephants passing through camp.
On the whole, those who trundled through were pretty chilled – but we were always on guard and watching for any signs of bull elephants, (males) in Musth. Signs of an elephant in musth include urine trickling on the back legs and a streak of fluid flowing from their temples.
An elephant in musth has an extraordinary amount of testosterone raging around their body, which makes him irritable and prone to temper tantrums. Those of you who've lived with teenagers will understand the concept perfectly.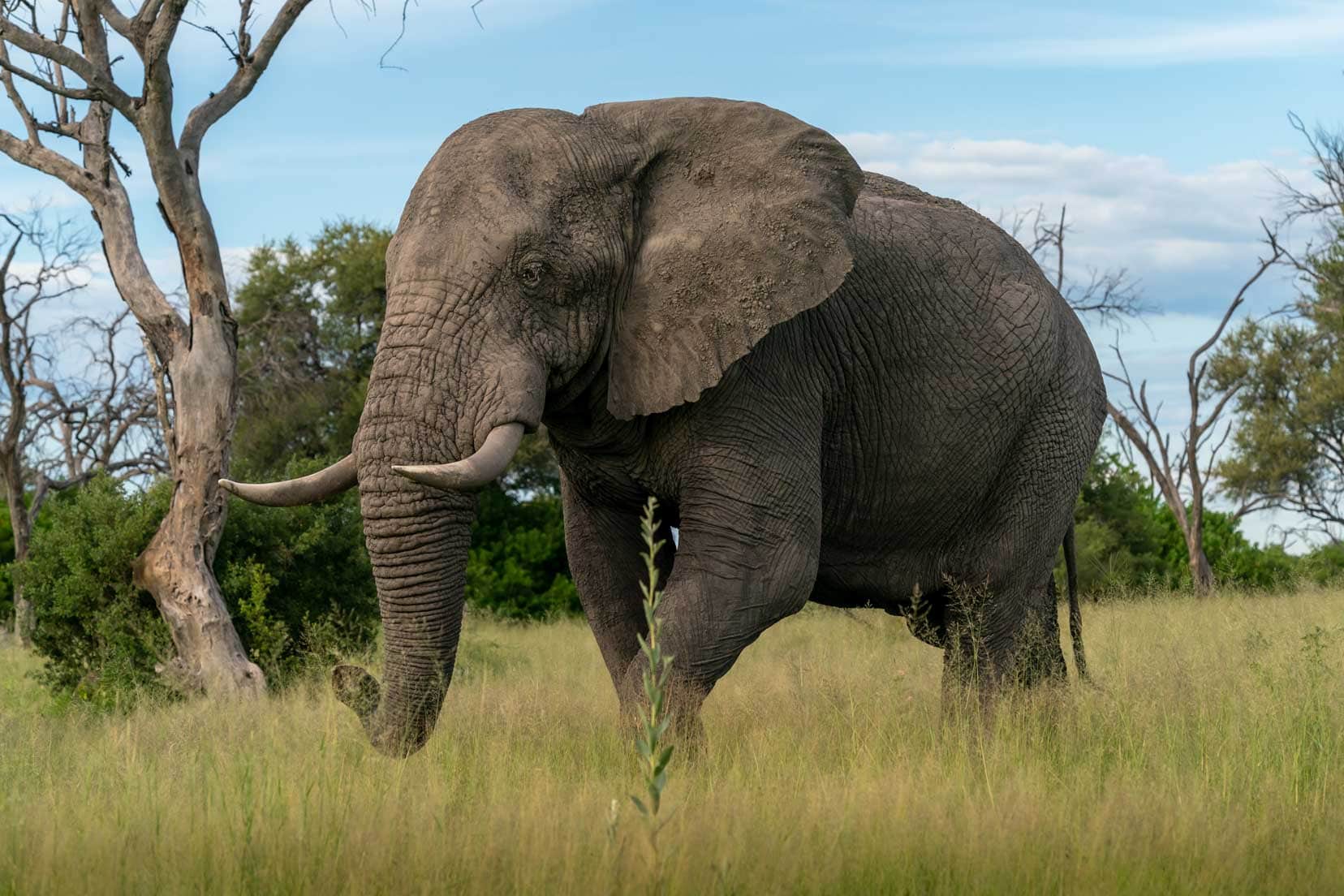 Magotho Self-drive Safaris
Because the Magotho Camp area is part of the Khwai Concession, and park fees aren't charged, you will most likely see other game-drive vehicles in the area, as well as any campers staying at Magotho Camp.
In the summer, mid-February, (rainy season) we saw only a few commercial game drive safaris. One of the safari drivers we got chatting with, however, told us that in winter, the area can get quite crowded.
It was easy to drive all the tracks and loops around the Khwai community camp in half a day.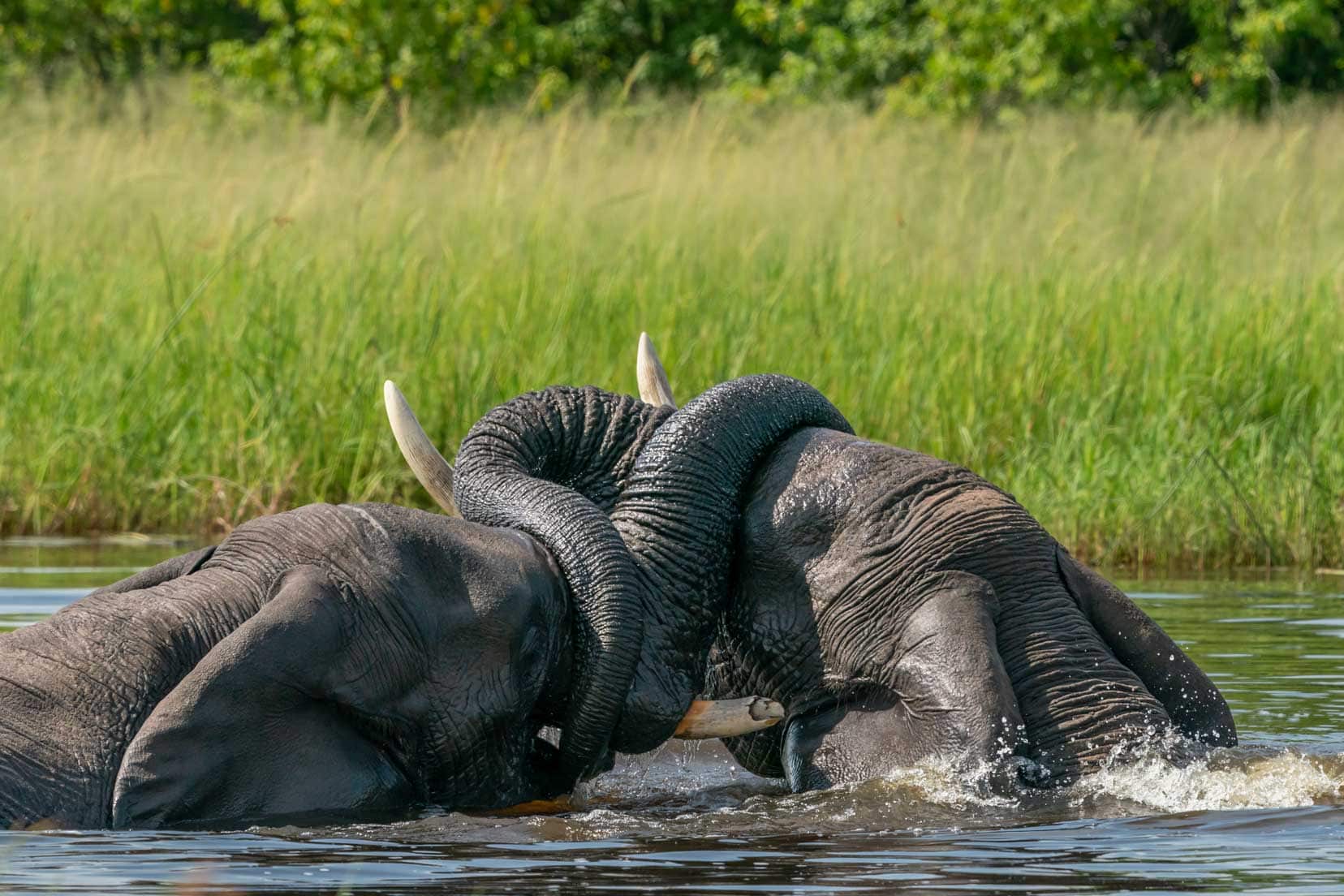 Magotho Camp Activities
There are several activities that you can book through the Khwai Development Trust, to include on your visit there. These include:
Mokoro Trips and Motor Boat Tours
Bush Walks
Night Drives
Cultural Tours
Magotho Camp Contact Details
Magotho Camp Contact Details: Managed by Khwai Development Trust. Email [email protected]
Best Time to Visit Khwai Concession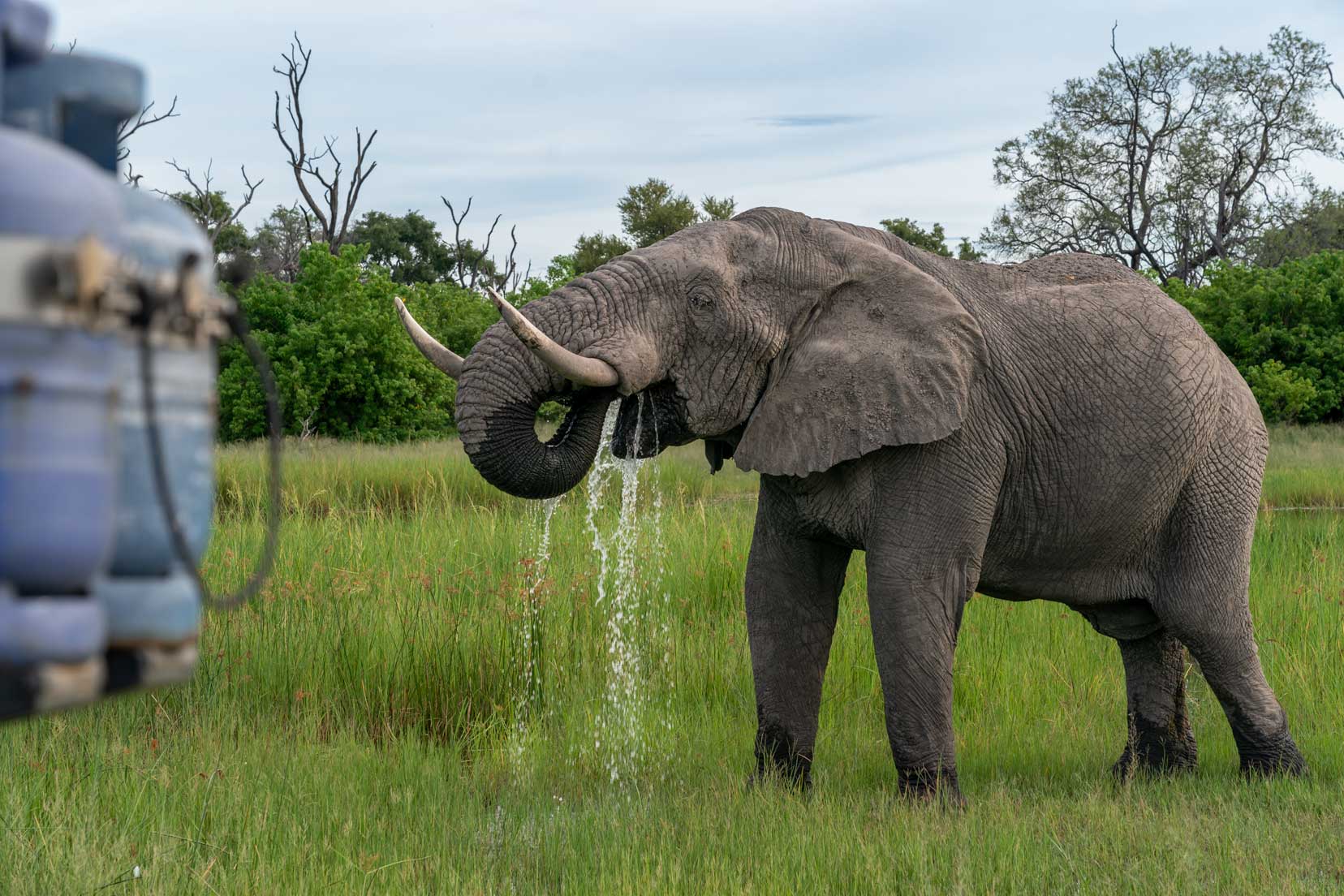 Khwai Concession in Winter (Dry Season)
The most popular, and therefore the busiest time of year to visit the Khwai Concession, is mid-winter, specifically in August. The Okavango begins to flood the River Khwai, normally from about June (depending on the rains in the highlands of Angola).
In August, you also have a higher chance of seeing wild dog pups which will likely be up and about with the adults then. The water attracts the game, and therefore the predators, which will also be easier to spot due to sparser vegetation.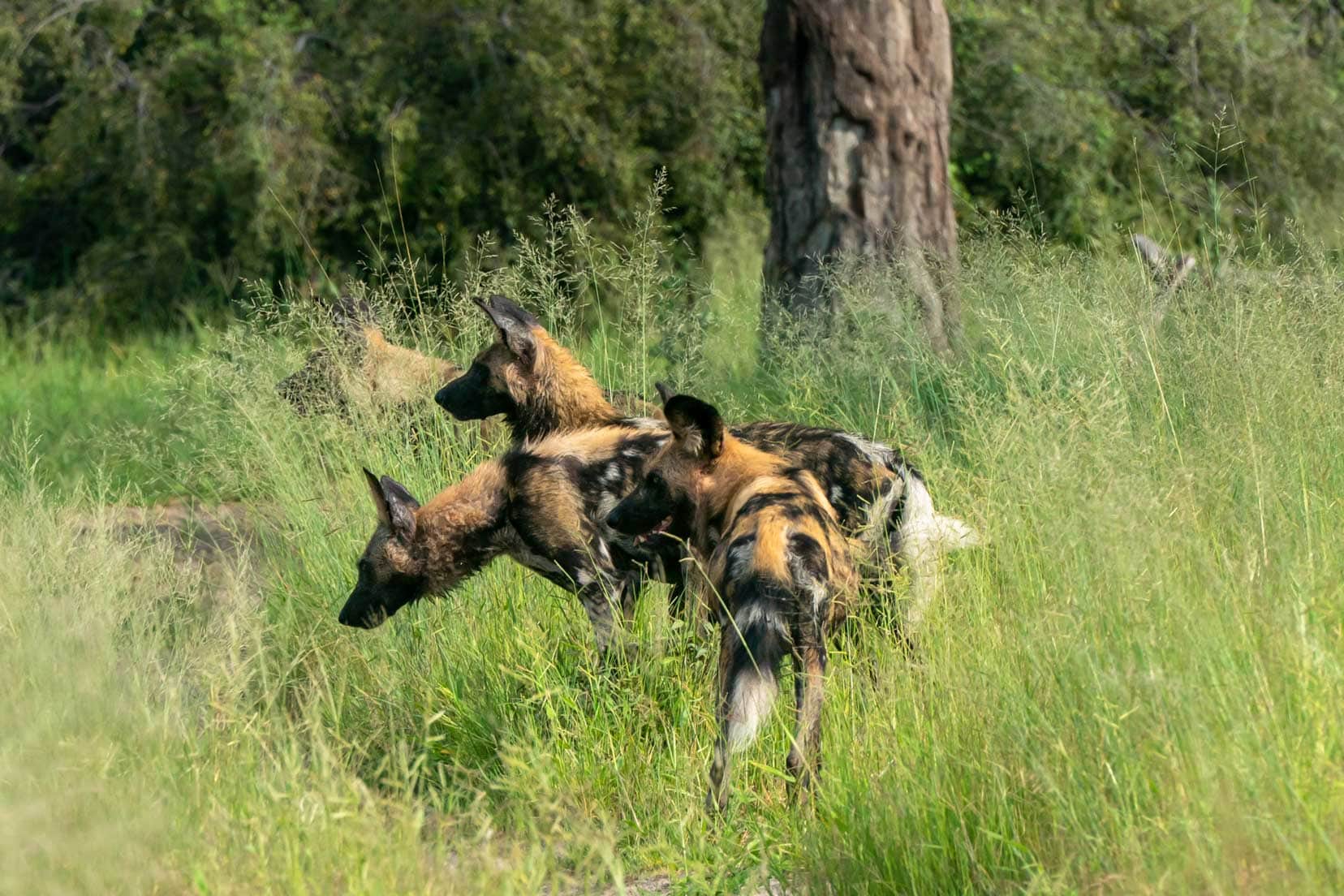 Khwai Concession in Summer (Rainy Season)
We travelled through the Khwai Concession in the summer, in mid-February, and the roads were much easier compared to the ones we'd just left in Moremi. Game Reserve. Some of the tracks right beside the river were boggy but there was always an easier option to take.
In summer, it's more difficult to spot the predators because it's easier for them to hide. The Khwai concession springs into life in the summer, as the rains rejuvenate the grasslands. Migrant birds arrive, making it the perfect time for birders to visit.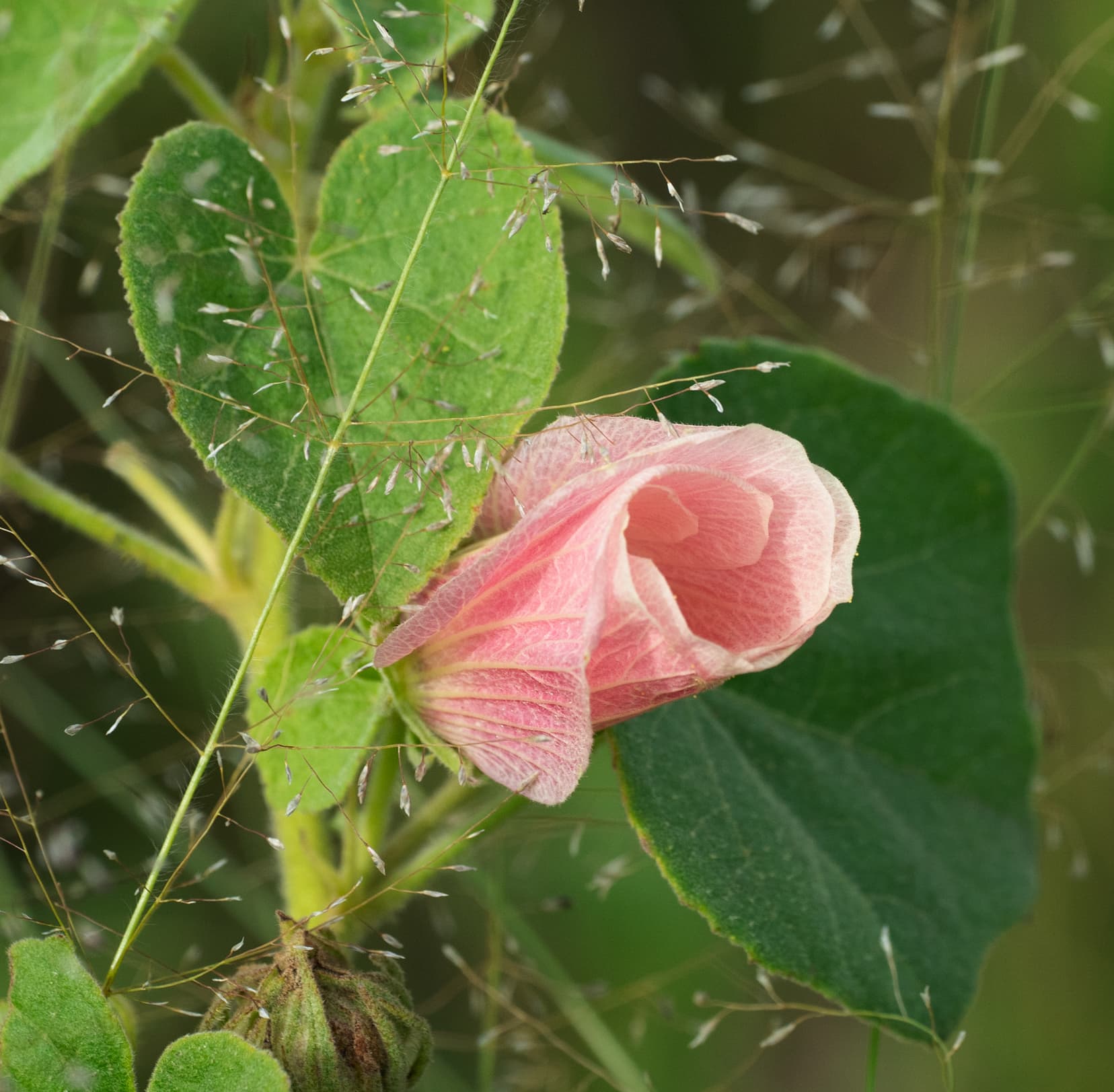 Our Khwai Concession and Magotho Camp Experiences
Arriving in Kwai
Just after leaving Moremi Reserve, through North Gate (Khwai), we crossed the Khwai Bridge just a few metres, further on.
The guy at North Gate warned us to be careful due to logs that had shifted out of place.
As if weighing up the risk, after imparting this information, he mumbled, "You should be ok.",
Not a particularly reassuring response, but we set to it anyway.
The phrase … "but this is AAAfrica" has been tossed between the two of us a lot in Botswana. And I can tell you it was definitely thrown out a few times as we crossed the Khwai bridge.
Luckily, Lars has become an expert at navigating his way over tricky obstacles, so we didn't come a cropper.
Safety, we've learnt isn't a highly regulated concept out here.
But I guess when you live with lions, leopards, elephants, and hippos on a daily basis, what are a few logs out of place on a bridge?
What's the worse that can happen?
The bridge collapses and you end up in the river.
No big deal.
Unless the hippos and crocs decide to join in the fun!
I'm not sure why someone hadn't put the logs back in place.
… But again, this is Aaafrica.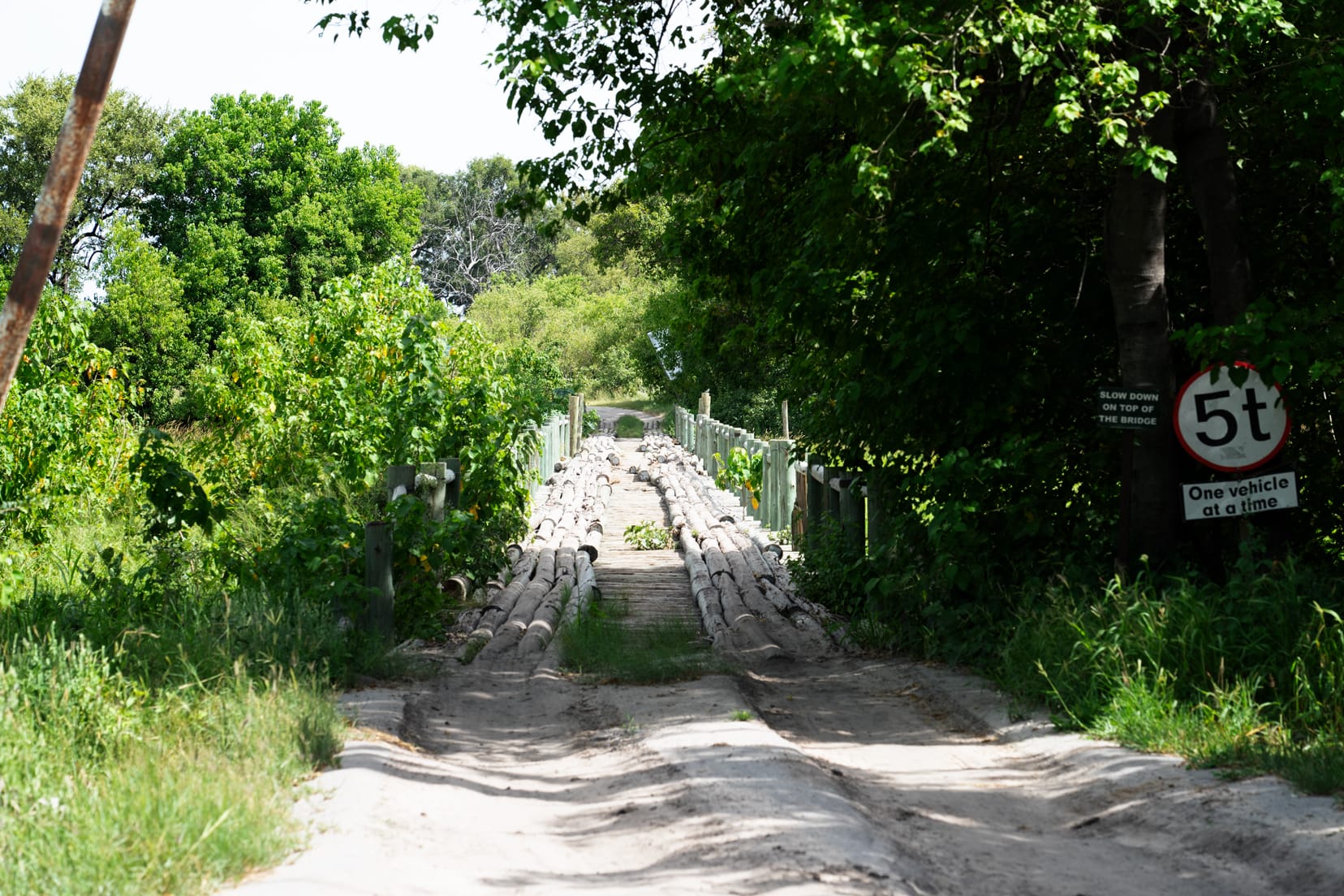 Arriving at Khwai Village
Beyond the rickety bridge is Kwai Village; a mismatch of huts, some concrete, some tin, some thatch.
It's difficult to tell, as a tourist from the western world, which are houses, shops or workshops, or which are just plain derelict.
The luxuries we take for granted, like flushable indoor toilets, well-stocked shops, and having enough money for food, are as foreign to many of the villagers here as a trip to the moon.
It is humbling indeed.
---
A Flowering Oasis in Khwai
Driving through Khwai village, little hands wave to us. White faces account for only 2% of the population in Botswana, so pasty faces generally mean tourists.
We stopped at the "Shop" for a couple of cold drinks and to see if we could get some pula. The sign on the outside made all sorts of promises, one of them being that we could take cash out. But, just because the sign says so, doesn't mean it is so.
"The machine isn't working'" is the Botswana equivalent of "the dog ate it", so we settled for cold drinks and were directed to a green building further on, which might be able to help.
Edging through the village, with every man, child and goat watching us, we arrived at a luminescent lime-green building. Outside, stood an enormous plastic yellow bear.
But it wasn't the colour of the building, or surprisingly the giant grinning bear, that captured our attention. But an explosion of colourful flowers and trees.
In the middle of Kwai village, amongst tin huts (that I can only assume must fry the occupants alive) you'll find Afro Ville. A shop, outdoor café and welcoming refuge from the merciless Botswana sun.
This little oasis, in the middle of a dust-ridden Khwai village, is lovingly cared for by its Batswana owner, Mike.
As we pulled up outside, Mike was busy watering his little piece of Paradise — with water he pumped 700 metres from the nearby Khwai River. He'd laid the pipes, used a solar battery to work the pump and voila.
I'm not sure, between us, who was the most surprised to come face to face again.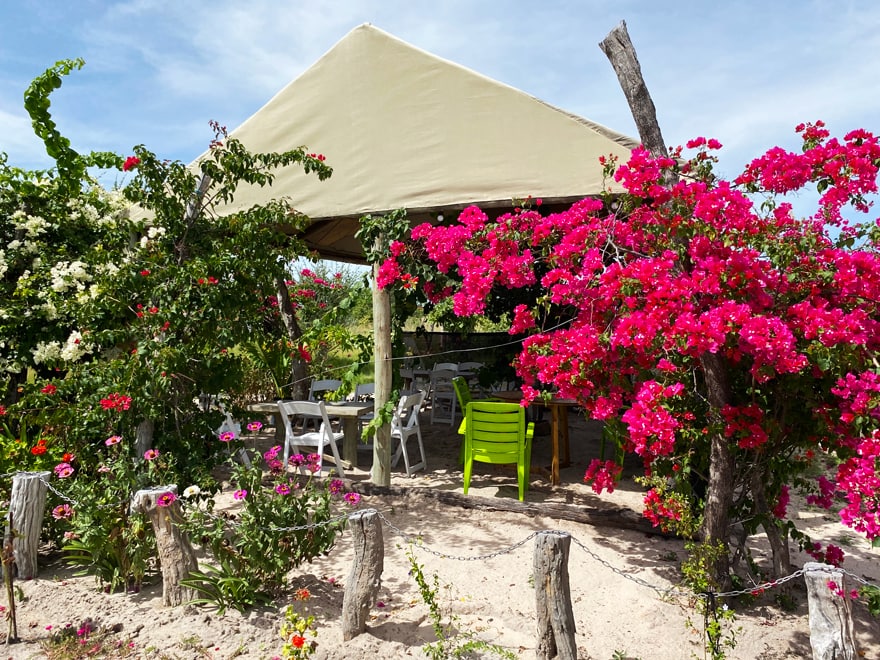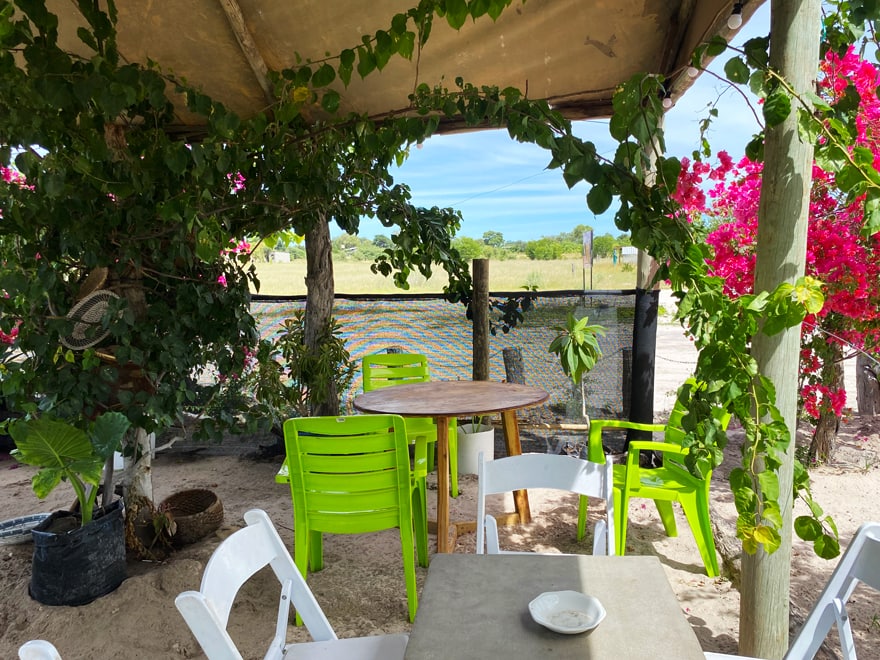 And so we meet again…
Just a few days earlier, after car troubles on our self-drive safari in Moremi Game Reserve, Mike, along with his sidekick Patrick, had arrived to fix 'Bucky', our 4×4 camper.
You'd think getting mechanics to come and fix your car in the middle of a huge national park, would be difficult. But these two did their magic, allayed our fears of having to be towed to Maun, and had us on the road again before you could say, the machine's not working!
We waved our goodbyes and left them with their beers stretched out on the sand at camp. Hoping we didn't have to see them again … in the nicest possible way.
So you can understand our surprise to find that Mike the mechanic, is also, Mike the gardener, Mike the cafe owner and Mike the witch doctor … but that's another story for another day.
One quick snippet though… he allowed us to touch his spirit-charmed necklace and it seems we are now protected from any wild animal attacks.
What a relief.
So, if you are passing through Kwai Village – do stop at Mike's, you really can't miss it. Cool down under his floral pergola, and grab something to eat.
But do make sure to have cash, just in case the machines not working.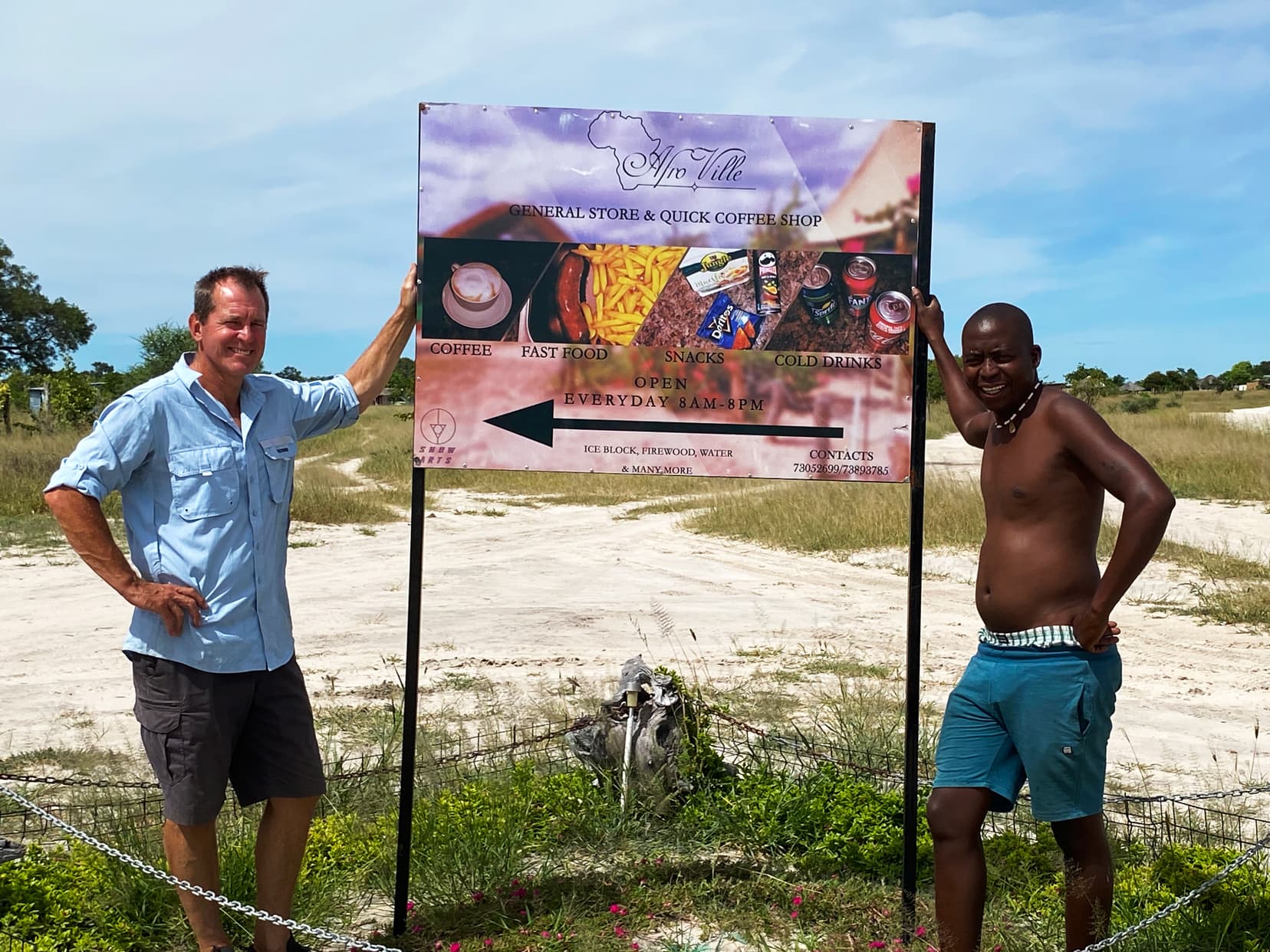 Our Self-drive Safaris in Khwai Concession
On our first afternoon at Magotho Campsite; we drove around for a couple of hours without seeing anything.
Not even the ubiquitous impala.
To be fair, it was around 3 pm, the hottest part of the day, when everything was probably hidden in the shade. Regardless, we were sweltering in camp, so the car's air-conditioning was a welcome relief.
After two hours of spotting absolutely nothing other than a few geese, we were wondering what on earth the predators were feeding on if we couldn't even spot an impala.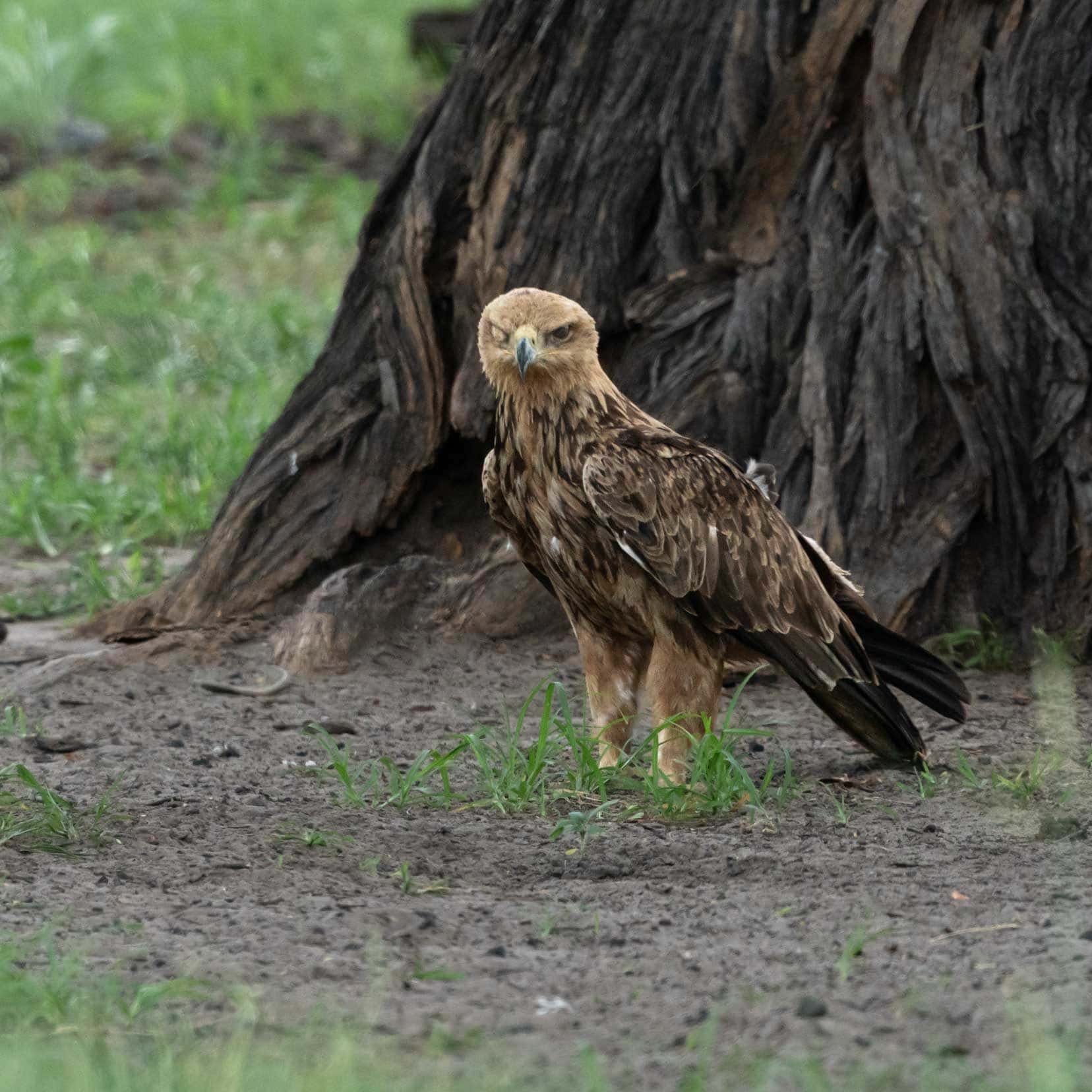 Happy at Hippo Pools
Parking up near the river, we immediately heard the sound that we had become so familiar with in the Okavango Delta, grunting hippos.
Checking our map, we thought it amusing to find ourselves at Hippo Pools.
Unlike many of the named places on our safari drives, for example, Hyena Pan, Lion Valley, and Leopard Loop, all semantically pleasing but none delivering on their promise, — this one was living up to its name.
If only we'd headed straight there.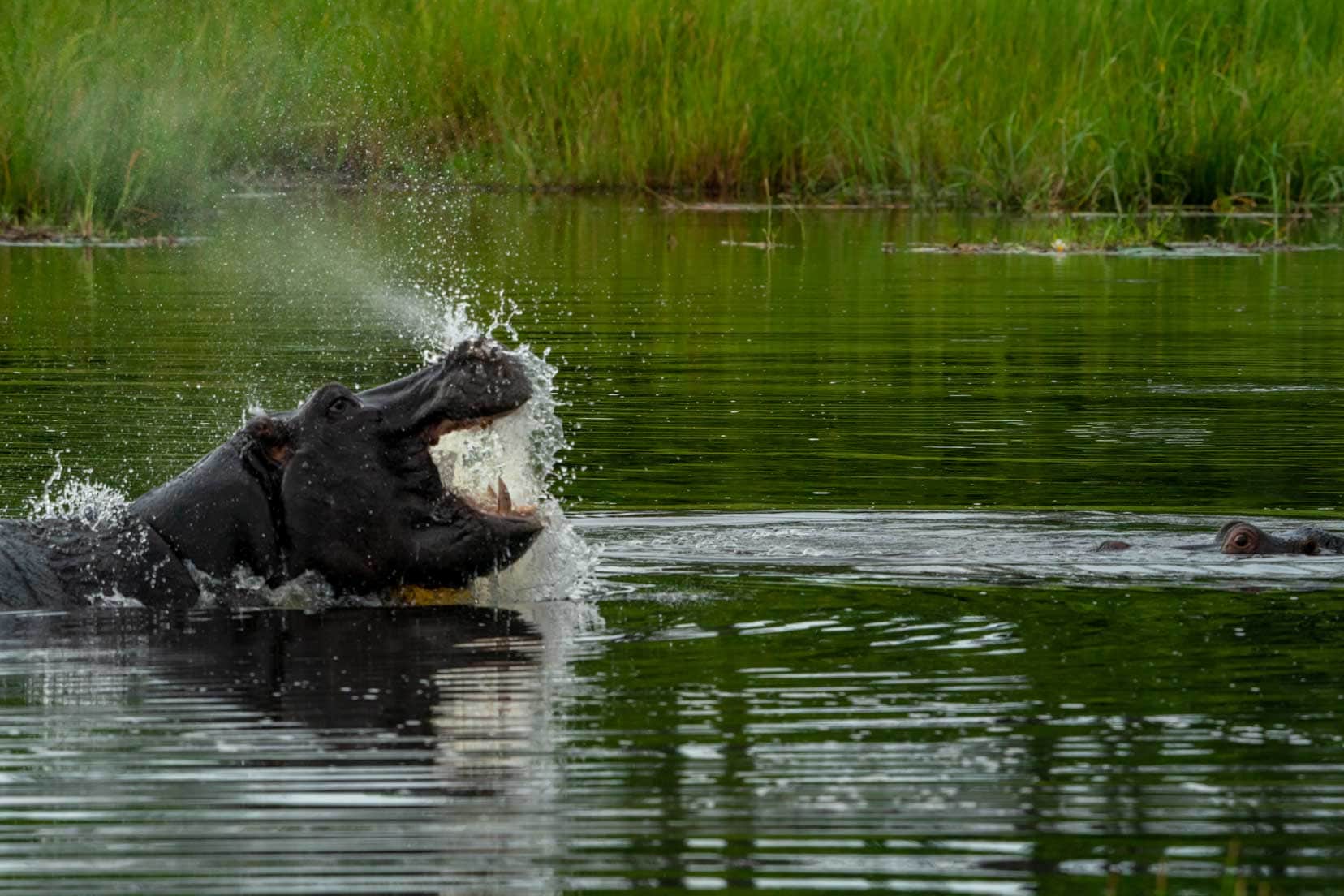 Now in the perfect place to eat dinner, we tucked into what has also become familiar on our trip. Cheese, and crackers with a dab of sweet chilli sauce.
Within minutes, an elephant came trundling down to the river, followed by a giraffe, followed by another elephant.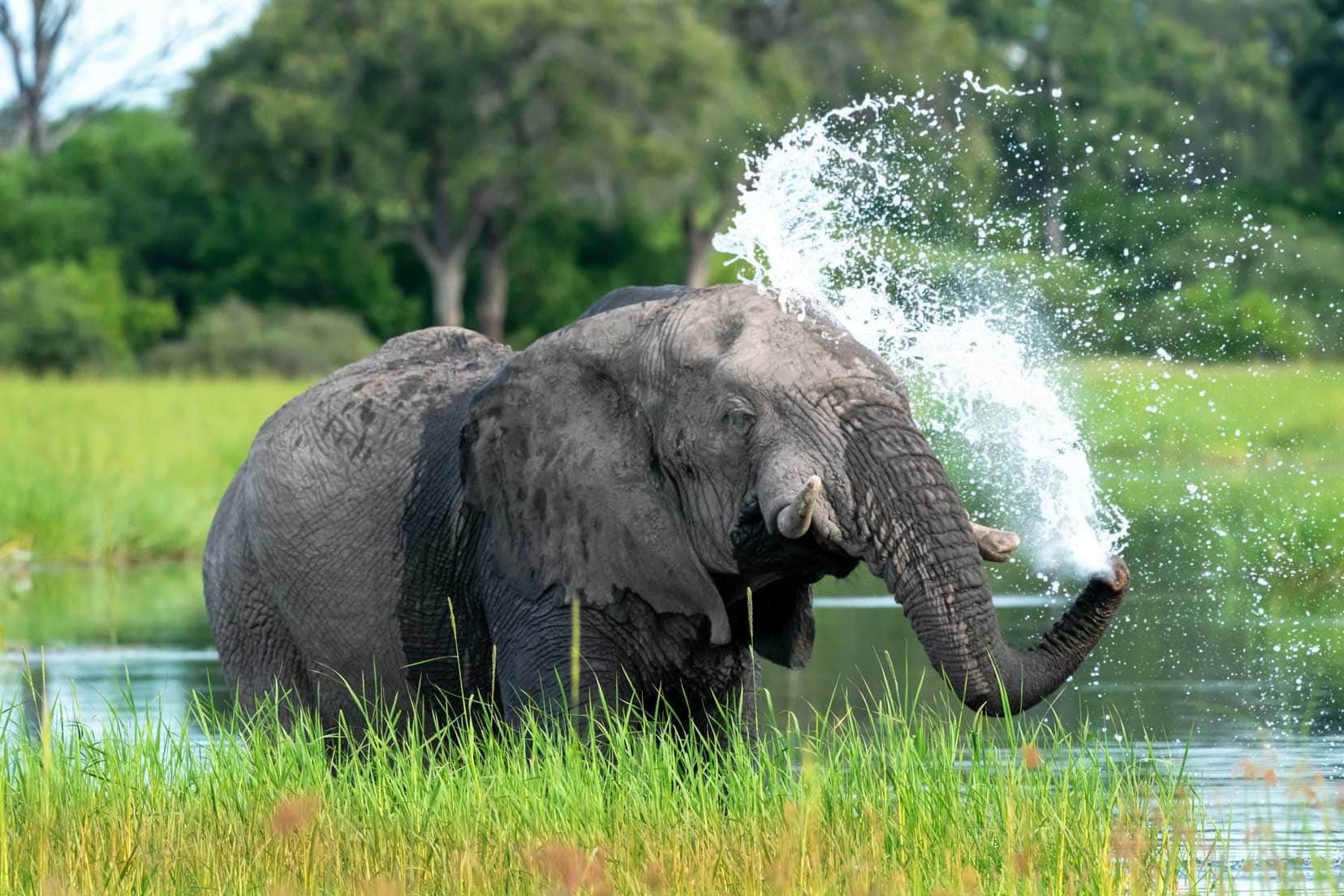 Quickly finishing our delectable meal, we grabbed our cameras and started shooting.
Whilst clicking away, Mother Nature came in all guns blazing. Trotting down the track behind us, came four wild dogs.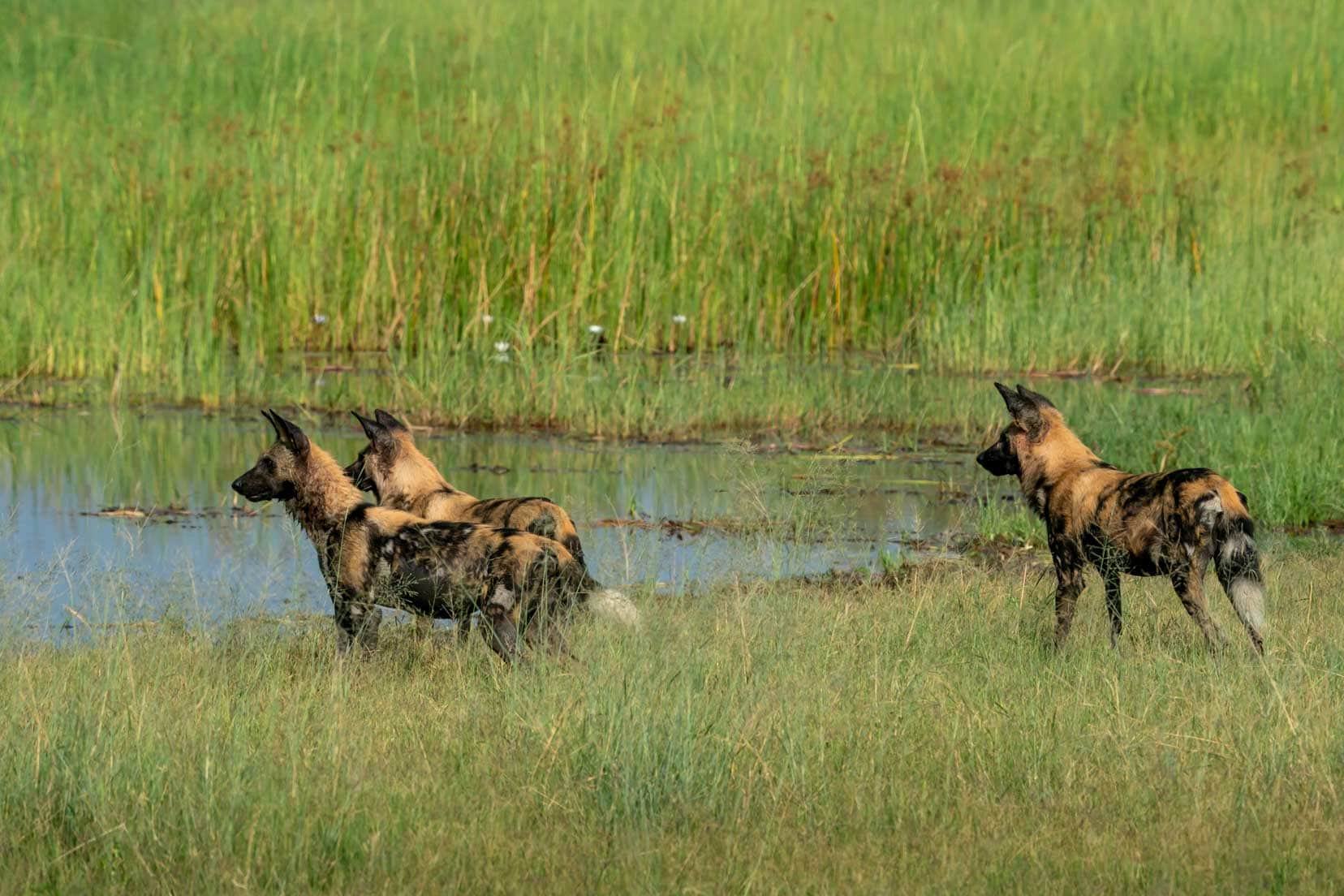 Unsurprisingly, Hippo Pools became our favourite spot over the next couple of days. We saw a hippo family play fighting, two male elephants diving in the river, and giraffes, waterbuck, crocodile, and wild dogs, all in that section of the river.
On our safari drive the next morning, we saw loads of impala, zebra, kudu, and even more elephants.
We now knew the predators weren't going hungry.
Another game drive vehicle that we passed, had seen lions, but although we heard distant roars at night, we weren't lucky enough to spot any on our game drives around the Kwai Concession. They were using the exclusion clause.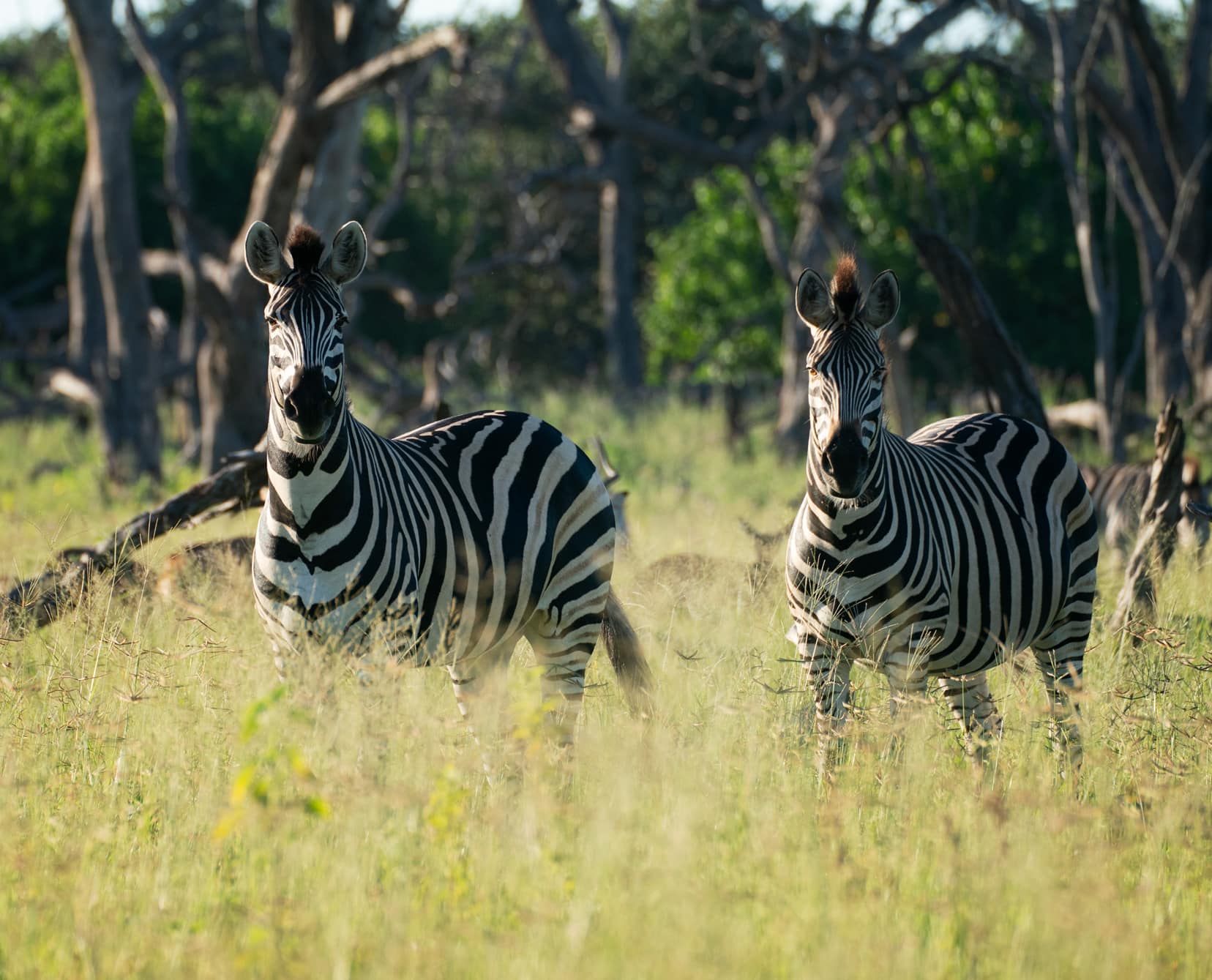 Elephant Temper Tantrum
Dealing with a 6000-kilogram temper tantrum is a little disconcerting, to say the least.
But that is what stomped towards us one afternoon as we sat enjoying the action at Hippo Pools.
We watched this elephant grow from a tiny speck in the distance to an, "Oh look at this mighty mammoth coming this way," to a, "Why isn't it veering off?".
As he got even closer still, we could see the strip of fluid leaking from his temple and urine trickling between his back legs.
Then the smell hit.
If you have never smelt an elephant in musth – trust me — you don't want to.
It can't be pleasant being flooded with testosterone, but neither is dealing with a temper tantrum. And, just as there is no reasoning with a screaming toddler, in the middle of a supermarket, with everyone staring and tutting, it's no mean feat facing down a 6-tonne elly having one either.
We decided it wasn't the time to teach it that it was just downright right rude to behave this way.
If he hadn't been in musth, we would have stayed where we were. It had come into our space, when we were minding our own business, rather than us into its.
However, in this instance, it was better to back right up – this elly was unlikely to listen to reason.
You can see this scary moment in our video above – you might notice the moment I become a little unfocused on filming!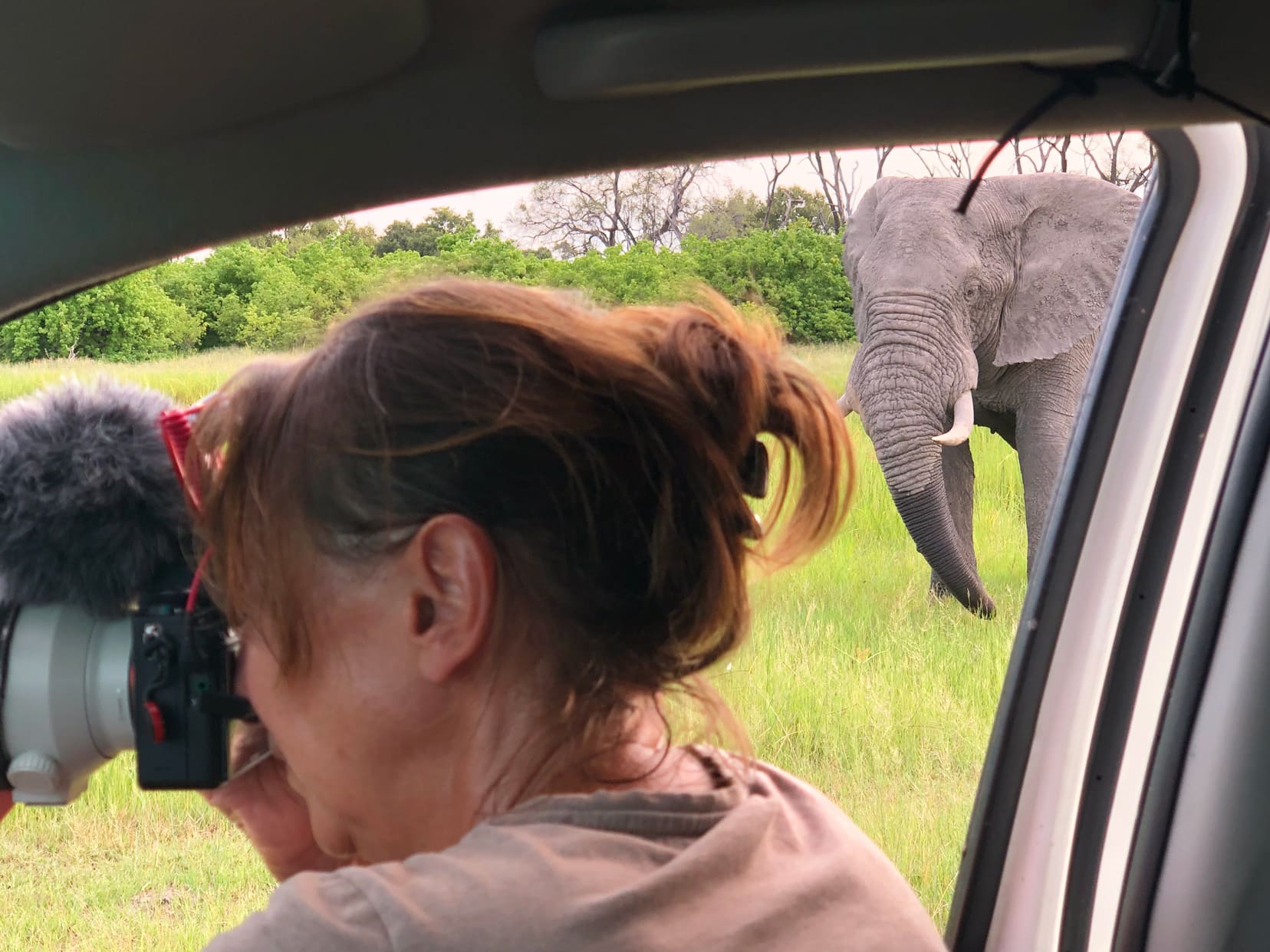 Khwai Concession … That's a Wrap
Whether you visit in the dry or the rainy season, Khwai is a special place. It is often disregarded in favour of the popular Moremi and Chobe reserves, but you'd be missing out if you didn't include this as part of your Botswana itinerary.
After Khwai we headed into Chobe National Park and stayed at Savuti Campsite overlooking the dry Savute Channel and then on to Ihaha Camp in northern Chobe.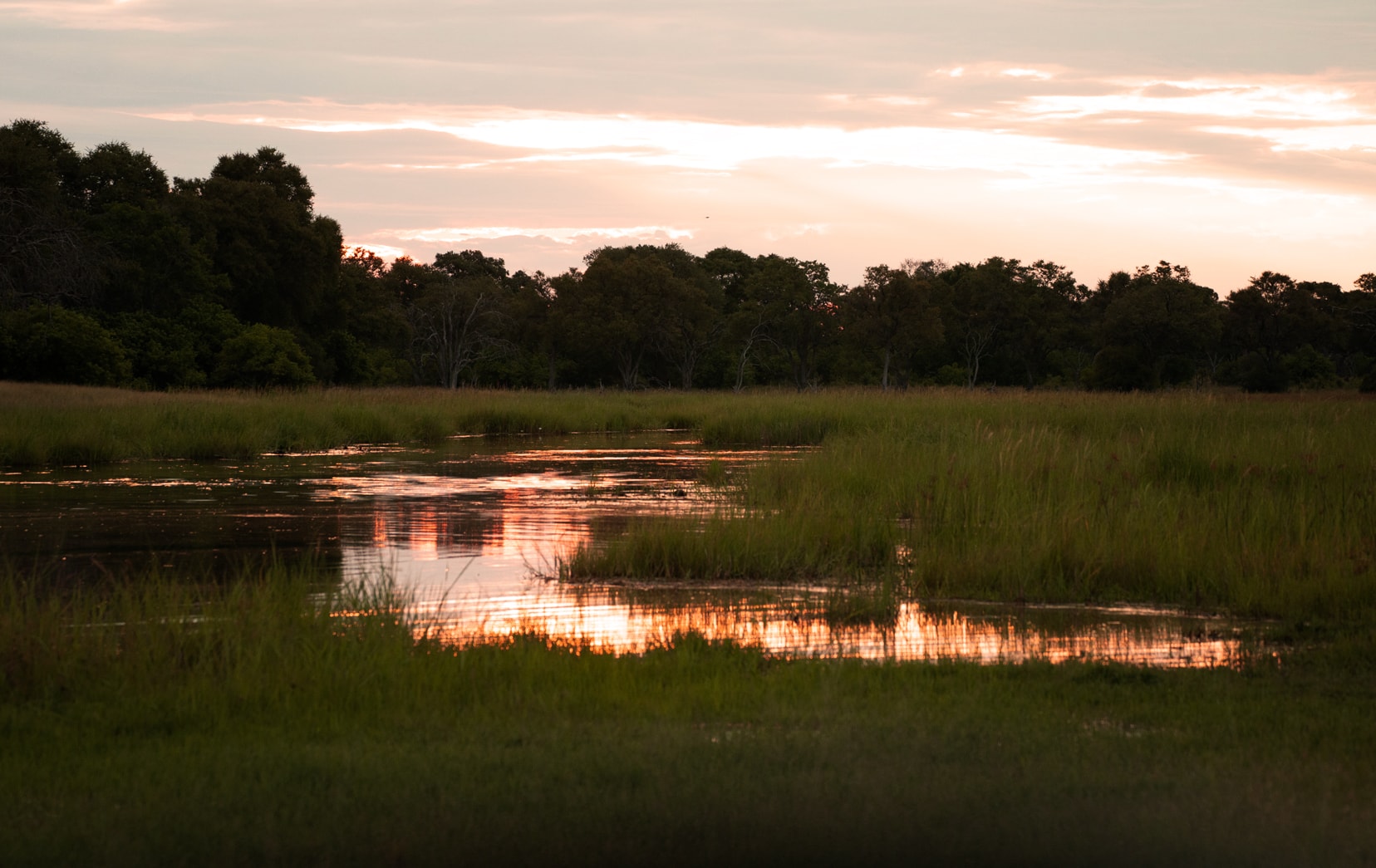 We'd love for you to connect with us on Facebook or Instagram where we share our photography and travels on this lifejourney4two.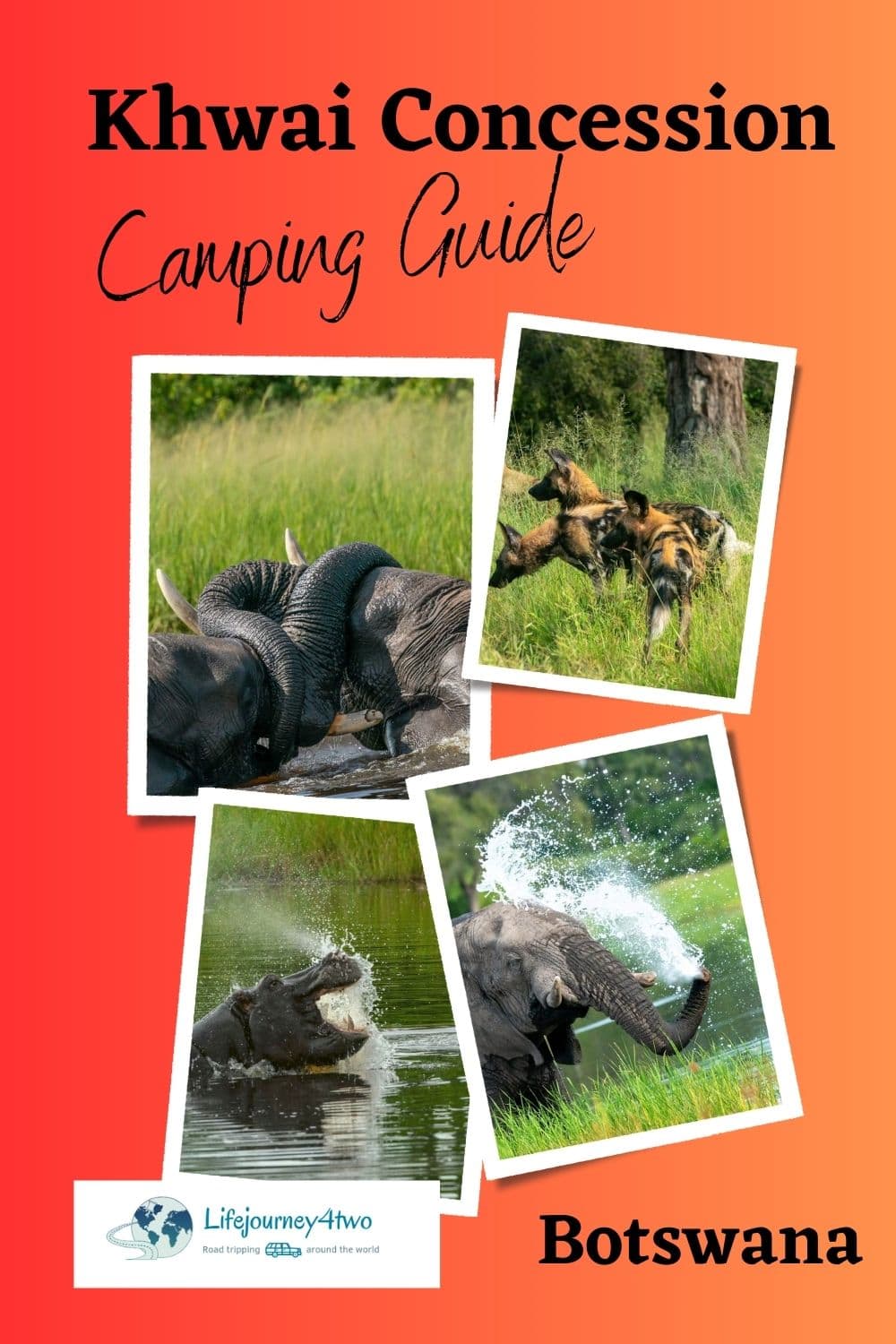 Related Articles
PLANNING YOUR TRAVELS?
These are some of the travel resources we use when planning our trips.
For a more thorough list visit our Travel Resources page here.