Guide to Savuti Campsite and Self-Drive Safaris
If you are looking for information about Savuti Campsite and self-drive safari routes around Savuti Marsh and Savuti Plains, then you've arrived at exactly the right place.
This guide not only includes lots of practical information but also our own experiences while camping in Savuti, within Chobe National Park.
So far, in total, we have spent over a year travelling in Southern Africa, two months of which was our Botswana self-drive safari, so you are in good hands here.
You'll also find lots of photos to whet your appetite for your Botswana camping adventure in Savuti, along with a video of snippets from our trip and our special wildlife experience at Savuti Marsh.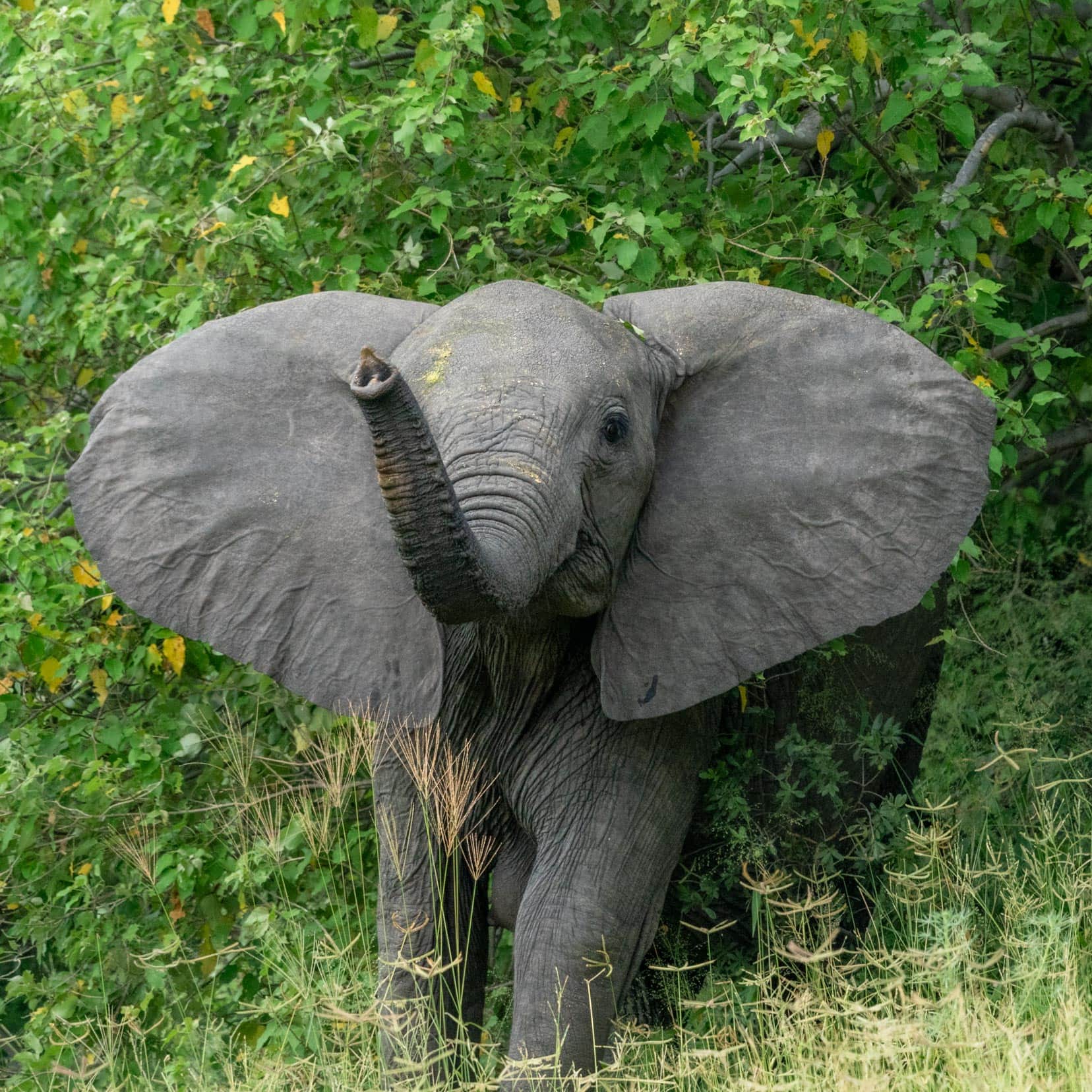 Planning a Trip to Botswana?
A visit to Savuti Campsite, the only public campsite in the Savuti region, offers a great wilderness self-drive safari experience in the heart of Botswana's Chobe National Park.
Situated on the outskirts of the world-famous Okavango Delta, Savuti is full of a diverse range of wildlife and an important conservation area for the African wild dog.
In fact, it was in Savuti that we had one of the most unexpected and amazing wildlife experiences of our whole overlanding Botswana trip.
Video of Savuti and Our Special Experience
About Savuti, Botswana
Savuti, in the southwestern area of Chobe National Park, is one of the four main regions of the park, along with Chobe Riverfront, Linyanti and Nogatsaa.
It's particularly known for its large herds of elephants and lion numbers, along with plenty of other wildlife.
The Savuti area is popular in the dry, winter months when game viewing is normally at its most productive. This is also the time when zebras return from their annual migration south (they leave Chobe for Nxai Pan and Makgadikgadi at the beginning of the rainy season).
Wildebeest and buffalo also flock to the Savuti area.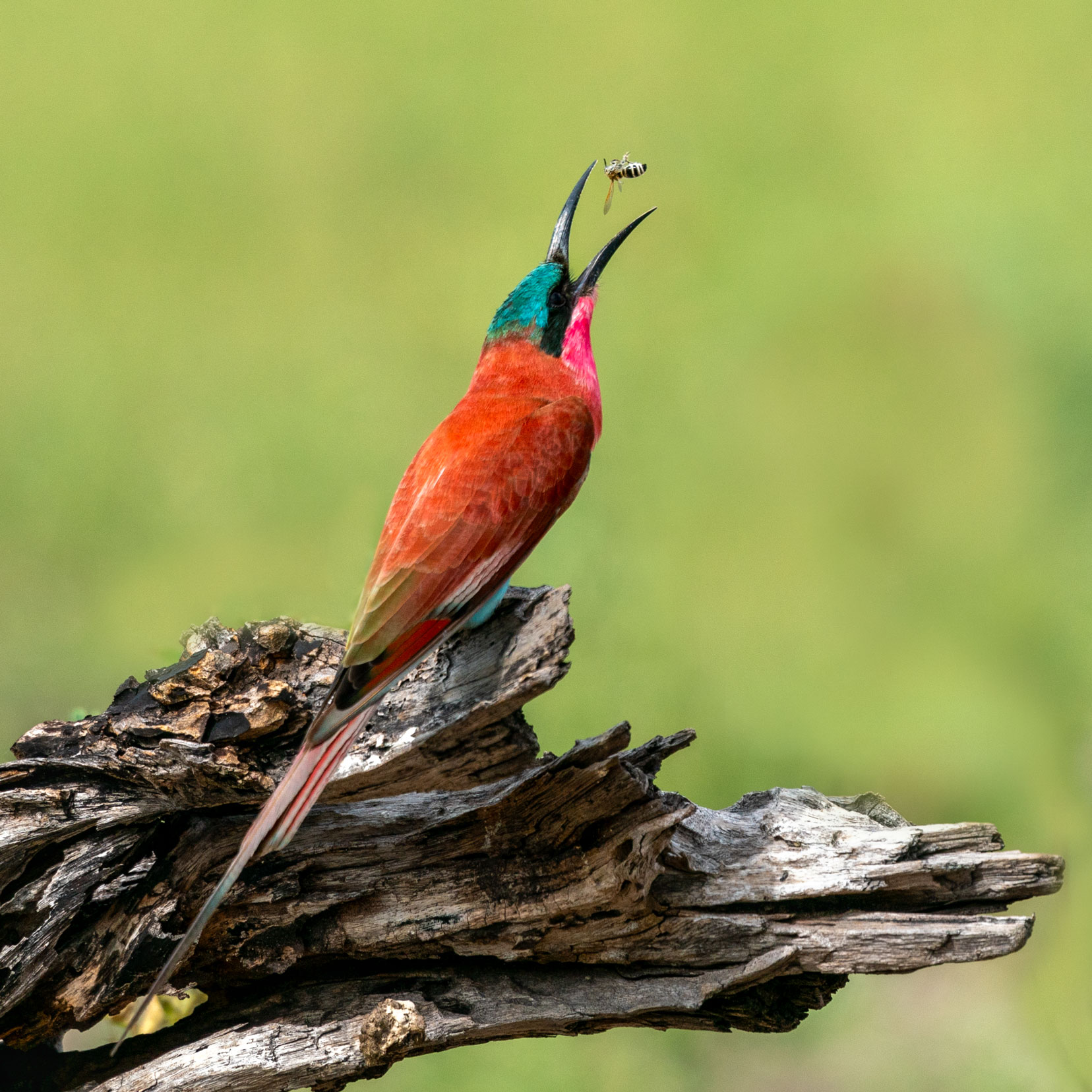 Savuti is the perfect camp for overlanders making their way from Kasane or Maun and is usually combined with camping in Moremi Game Reserve and other parts of Chobe.
Tip: We stayed in Maun several times, in various camps, B&B and hotels so check out out post on the best places to stay in Maun here.
We camped in Suvuti for two nights, between camping at Khwai Concession and Ihaha Camp in the north of Chobe National Park.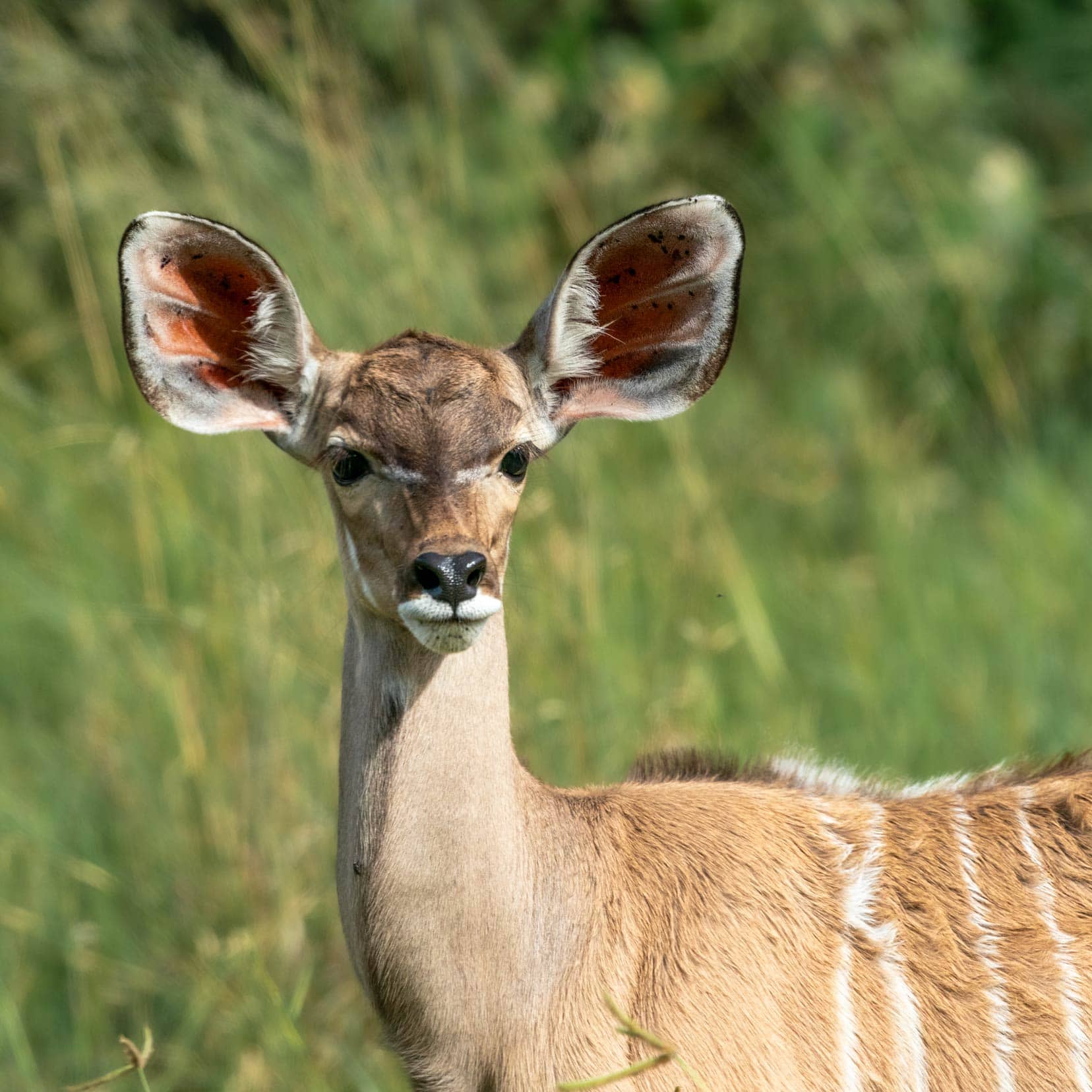 Savuti Camp
Just before you reach Savuti Campsite, you arrive at Savuti Gate. You need to register here and show your camping voucher.
A little further on from Savuti Gate, you'll see a sign for Camp Savuti – Private.
This is where you turn in – whether you are using Savuti public campsite or staying at the tented camp, Camp Savuti.
We were so used to avoiding anywhere that says Private, we almost didn't turn in — thinking the area was for staff only.
Savuti Campsite Pricing
Campsite prices are per person per night.
Camping Fees
Citizen
Resident
SADC – citizens
International
Adults (18 up)
BWP 100
BWP 150
ZAR 250
US$ 50
Children (8 – 17)
BWP 50
BWP 80
ZAR 125
US$ 25
Children Under 8 (7 –5 )
BWP 20
BWP 40
ZAR 60
US$ 10
Children Under 5
FREE
FREE
FREE
FREE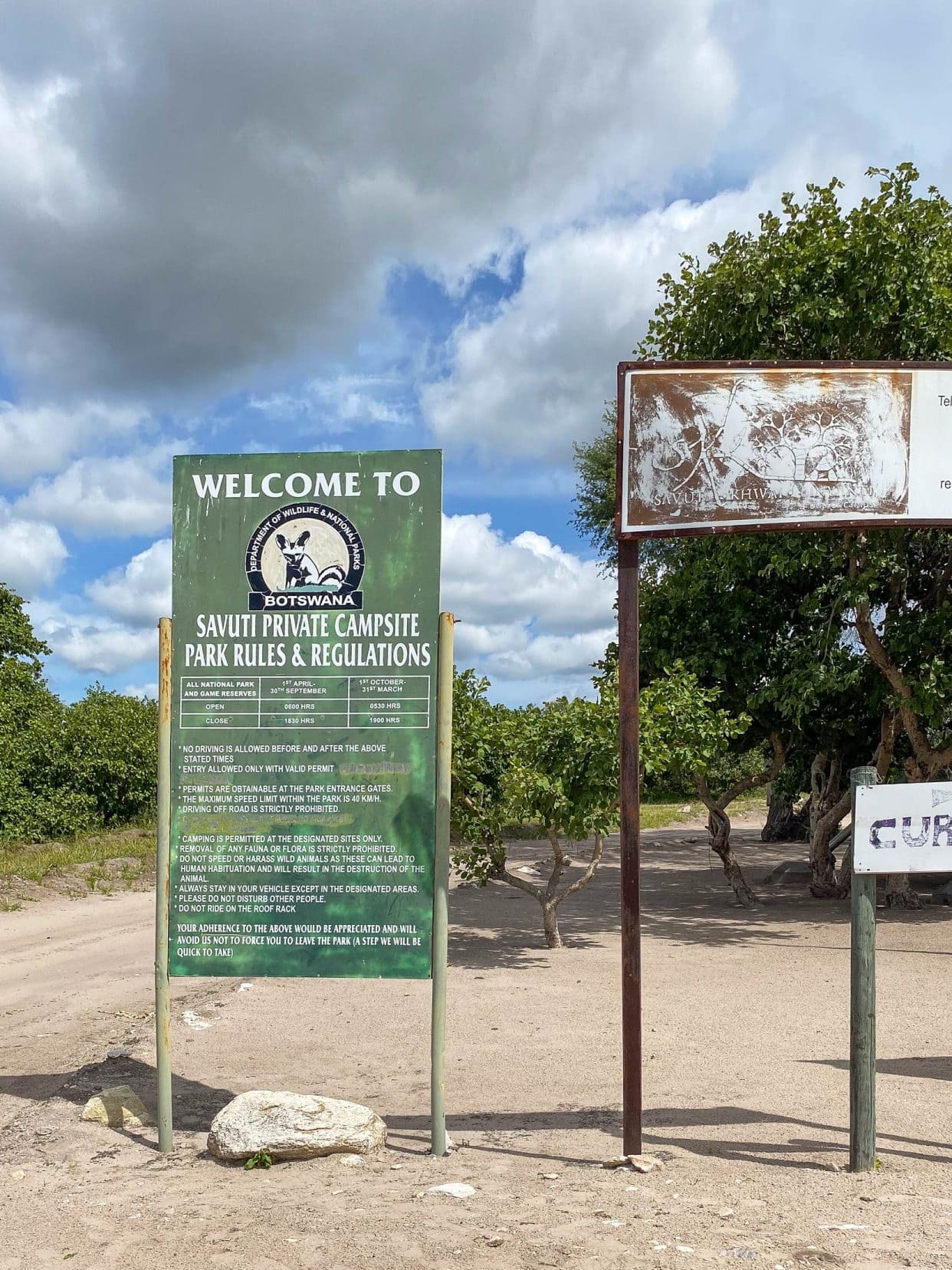 The Savuti Gate opening times are:
6.00 am – 6.30 pm from April to September and
5.30 am to 7.00 pm from October to March.

From our experience, however, you can't rely on these gate times being adhered to. We went on an early morning game drive at about 6.30 am in mid-Feb and no one was at the gate. Luckily we were able to exit at the entrance side instead.

Contact Details for Savuti
Both Camp Savuti and Savuti Campsite are run by SKL Camps:
You'll then come to the SKL Camp office, where you register again, and need to sign an indemnity form. So, if you are eaten by lions —you can't blame the camp!
On your left, as you enter Savuti Camp, you'll see the Tuck Shop. The shelves were sparse when we visited in mid-February. Though, if we had wanted wine, biscuits or a cold drink, we'd have been ok. Perhaps they have more stock in peak season.
To be on the safe side, however, make sure you are stocked up with supplies.
The public Savuti Campsite isn't to be confused with Camp Savuti which is a private tented camp at Savuti Camp.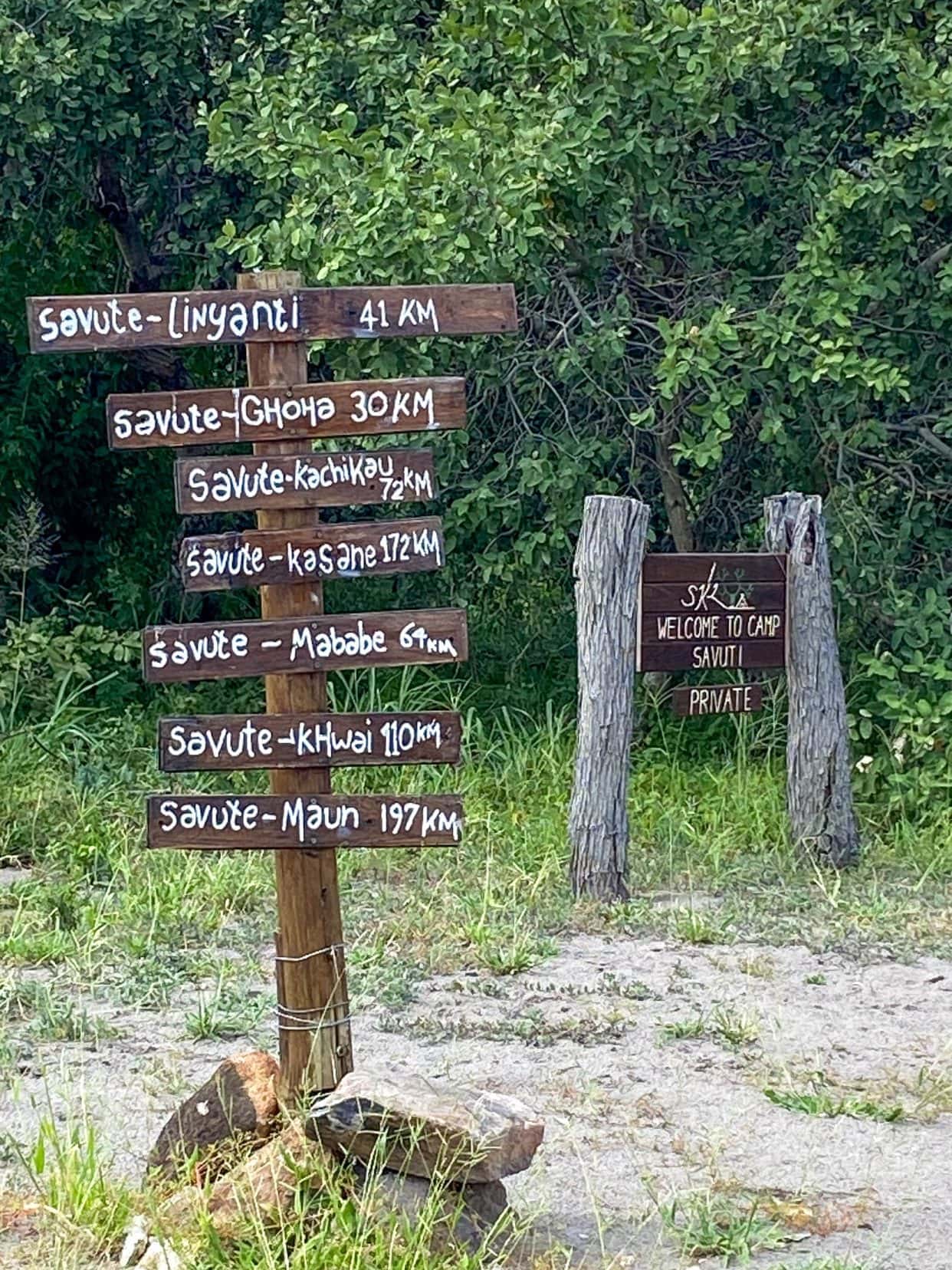 Camp Savuti Accommodation
If you want a break from camping, you might like to treat yourself to a night or two at Camp Savuti.
Camp Savuti, accommodation consists of five Safari Tents with en-suite facilities, built on wooden platforms.
If you book a stay here, all meals are included, as well as soft drinks, local beer and wine. The price also includes two guided game drives per day.
Guests fly into the nearby Savuti Airstrip from either Maun or Kasane, (both about a 40-minute flight away ), and are then collected and transported to the Savuti Camp by game drive vehicle.
The drive to Camp Savuti is through the National Park so you could very well spot some game on the way.
👉 Find out more about Savuti Camp or Book Here
You might also like to consider: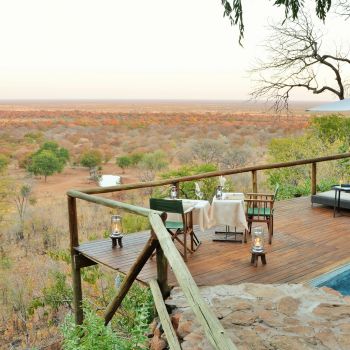 Or, Savuti Safari Lodge, which won the Tripadvisor Travellers Choice award for 2023
Savuti Campsite
While staying at Savuti Campsite, we camped in Paradise Camp, one of the camping pitches overlooking the dry Savuti Channel, (sometimes called Savuti Canal or Savute Channel).
It's considered one of the best camping spots in the Savuti Campsite, due to its outlook, relative privacy and good shade.
Camping sites 1-4 also have a view of the Savuti Channel, which has been dry since 2016. The Channel occasionally floods but has long periods where it is dry.
Each of the 14 campsites at Savuti has a concrete firepit, a braai, a rubbish bin and a water tap.
It took us a while to realise the water tap was located in the concrete block on the side of the campsite — another elephant-proof measure. Just be careful to check what's in the hole before you put your hand in the pipe to turn on the tap!
Savuti Campsite has one main ablution block which is surrounded by concrete blocks to keep elephants out. It has clean showers (water heated by solar) and flushing toilets.
🚐 Thinking of Hiring a Camper in Botswana?
We recommend using Motorhome Republic to find you the best deal – they search all the local reputable African rental companies, including the most popular (we've seen them everywhere here), Avis and Britz
They do all the hard work for you and have a PRICE BEAT GUARANTEE
Wildlife in Savuti Camp
When we arrived at our camping spot, we checked for recent animal prints. It looked like a lion and hyena had recently been through camp. Elephants are also known to regularly trundle through the Savuti campsites.
As had happened throughout our overlanding travels, several feathered friends welcomed us to camp. A handful of red-billed spurfowl and helmeted guineafowl, and a couple of yellow-billed and red-billed hornbills, all vied for our attention …or our leftovers, more likely.
The Savuti campsites, like most of the wilderness campsites in Botswana are unfenced, so wild animals can wander through your campsite at any time.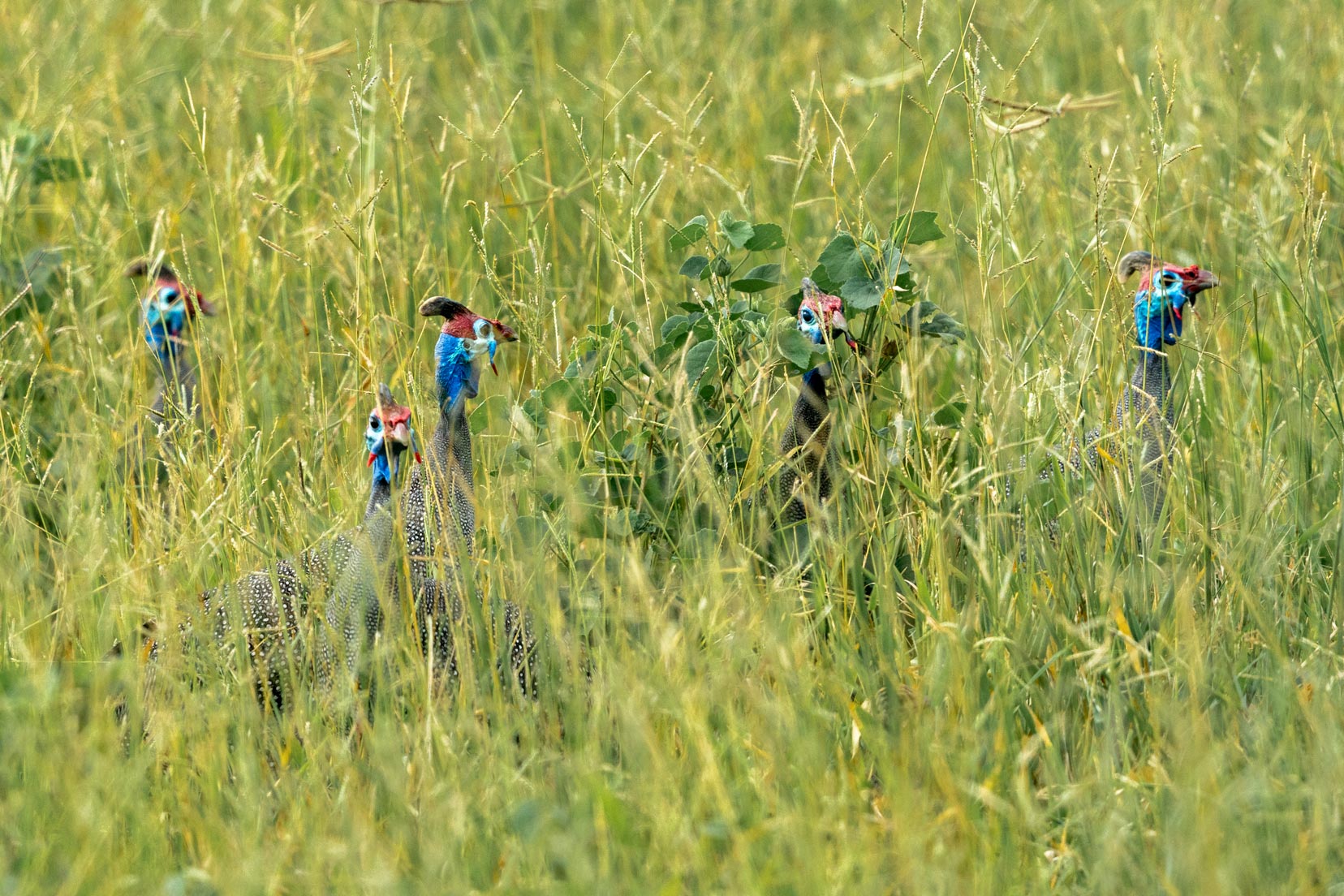 Wildlife in Savuti Region
The Savuti region in Chobe is home to large herds of elephants, and lions roam the area in significant numbers.
Other wildlife species that can be spotted in Savuti, include zebras, wildebeests, buffaloes, wild dogs, hyenas, leopards, cheetahs, jackals, giraffes, kudus, waterbucks, and impalas.
With the plains, marshes, and dry Savuti channel, Savuti makes for an excellent area to self-drive and explore.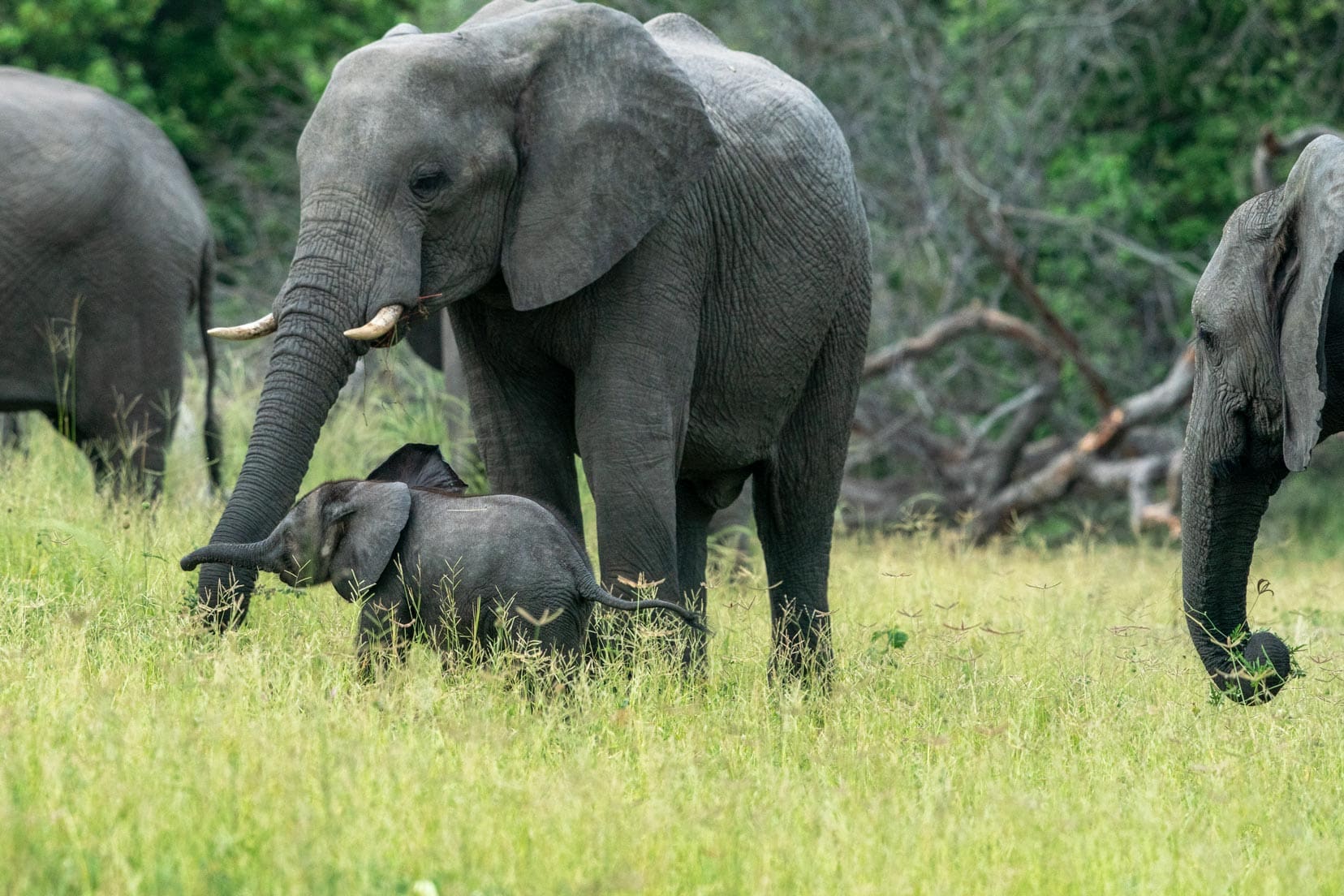 Wildlife in Savuti in Winter (Dry Season)
In the winter months, during the dry season, the Okavango Delta Region rivers are full (as long as there hasn't been a drought).
This is contrary to what you might expect.
Before arriving in Botswana, we thought that the rivers would be full in summer's rainy season. The rainwater that floods the Okavango Delta, however, originates from Angola and takes months to make its way through the rivers in the north to fill those of the Delta.
The wildlife, therefore, is attracted to Savuti in the winter, when the rivers are full, rather than in the summer.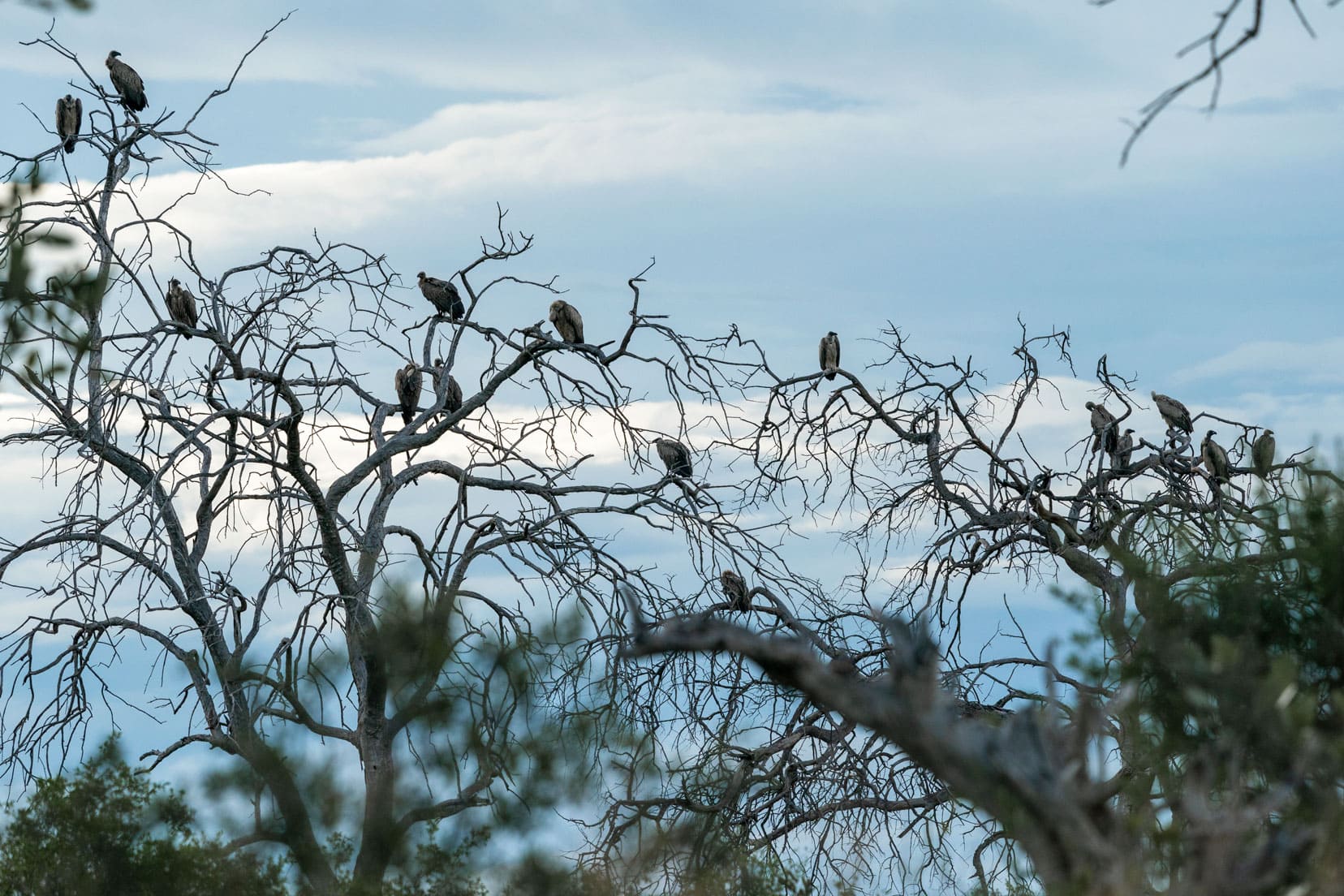 Savuti is home to many lions who prey on a multitude of the game arriving back into the area after their migration south.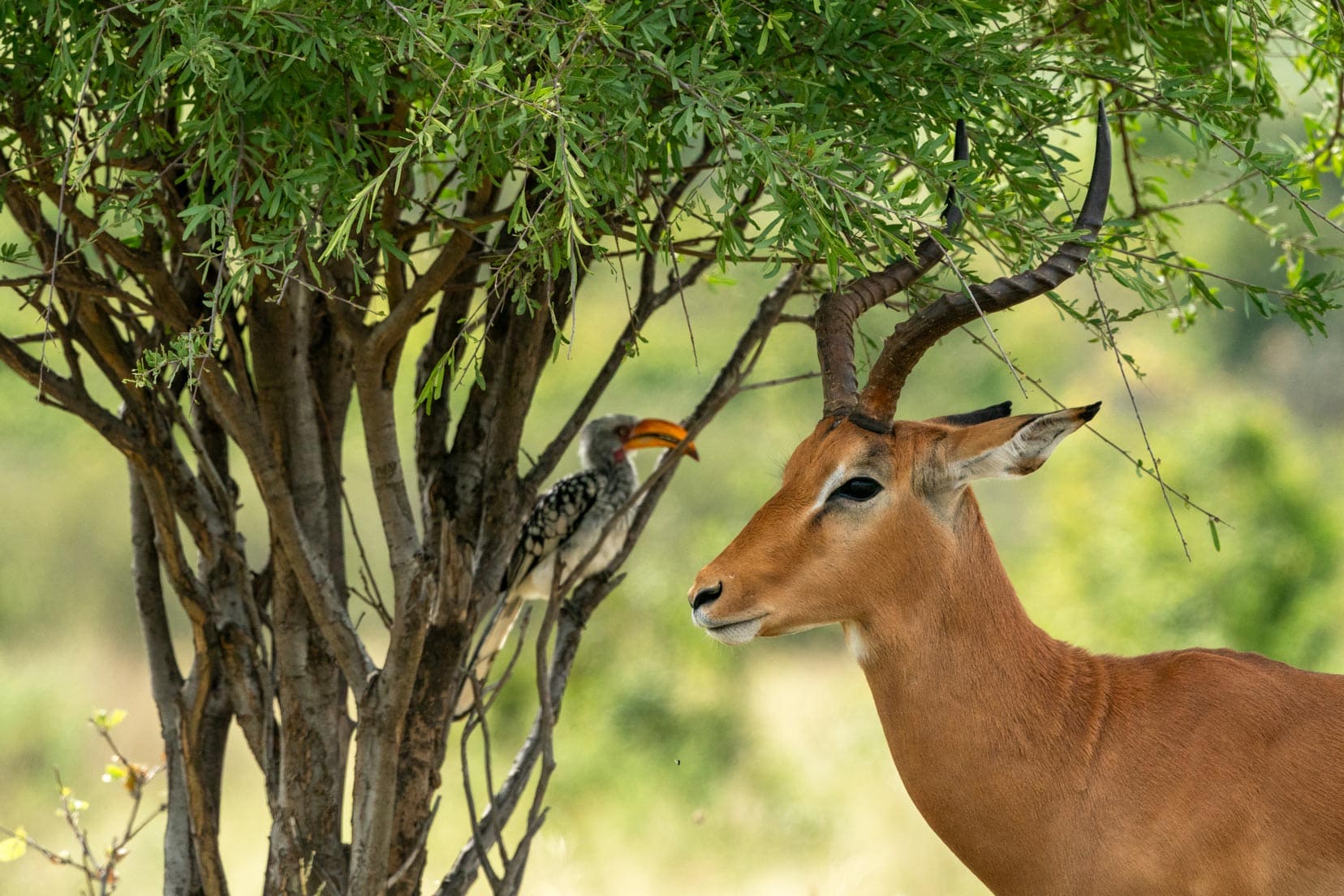 Wildlife in Savuti in Summer (Wet Season)
In the summer months, during the wet season, it is harder to see wildlife because the vegetation is high and there is less game. You will still easily find plenty of impalas but spotting the predators is much more difficult.
We visited Savuti Camp in the rainy season, in mid-February and the game was sparse. We were expecting to see lots of elephants but in the two days that we camped at Savuti Campsite, we only saw a handful.
We did come across plenty of impalas though, and a few kudus around Kudu Hill, funnily enough. We saw lots of hartebeest and wildebeest on the Savuti Plains, north of camp.
While on a game drive through Savuti Marsh, we had the most magnificent experience that could only be had in summer.
Read on to find out about this special encounter, which we also managed to capture on video.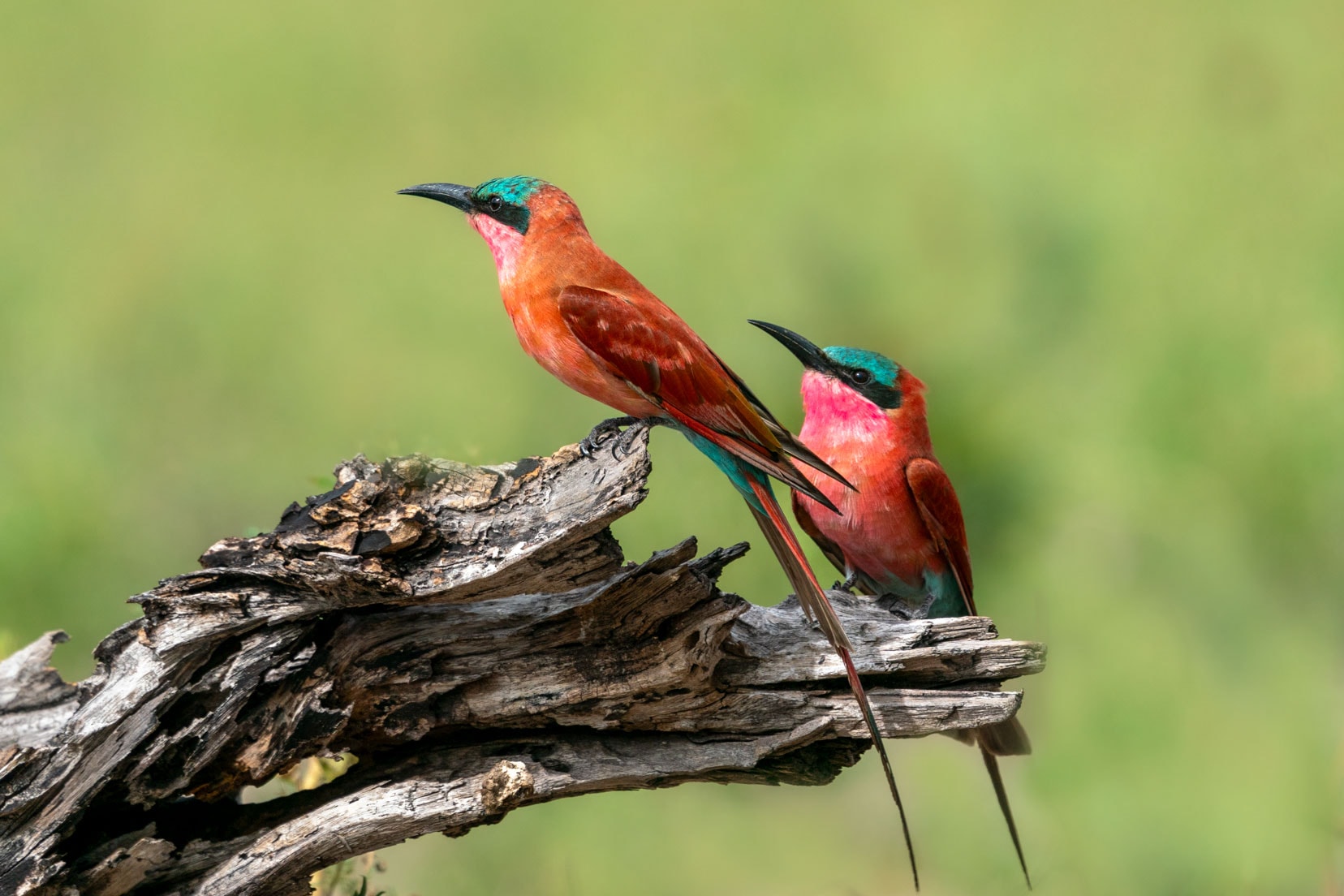 Experience of a Lifetime at Savuti in Summer (Rainy Season)
The rainy season, in Botswana's summer, isn't the best time to visit Savuti Camp – purely on the basis that the wildlife sightings aren't nearly as exciting as in winter. The road conditions can also tend to be pretty wet and boggy.
But, you are likely to have the camp almost to yourself and the tracks around Savuti Camp will be void of other game drivers. You'll also have the chance to see summer migratory birds, such as the Southern Carmine bee-eater.
And boy, did that little bird come through with an extraordinary show for us … but more on that in a moment.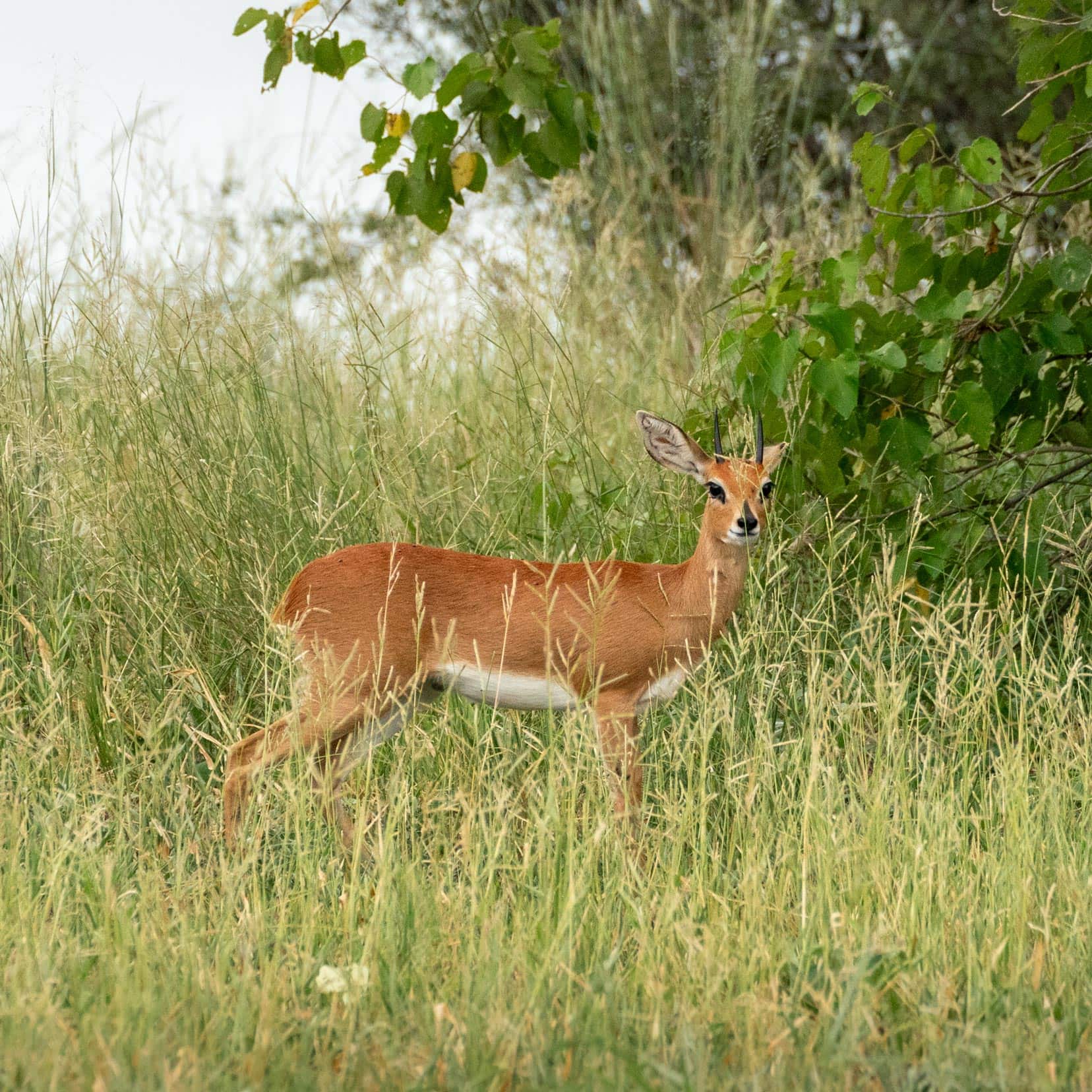 Arriving at Savuti Camp in Summer
We encountered many elephants on the road, during the drive to Savuti Camp from Khwai, but didn't see many in the Savuti region. Our expectations had been high because, from what we had read, huge numbers of elephants frequented the area.
We assumed that this must be the case in winter rather than summer.
The Paradise camping site we had booked, looked out over the dry Savuti Channel, and although we kept a keen eye on the valley, we only saw a few impala and kudu wandering by.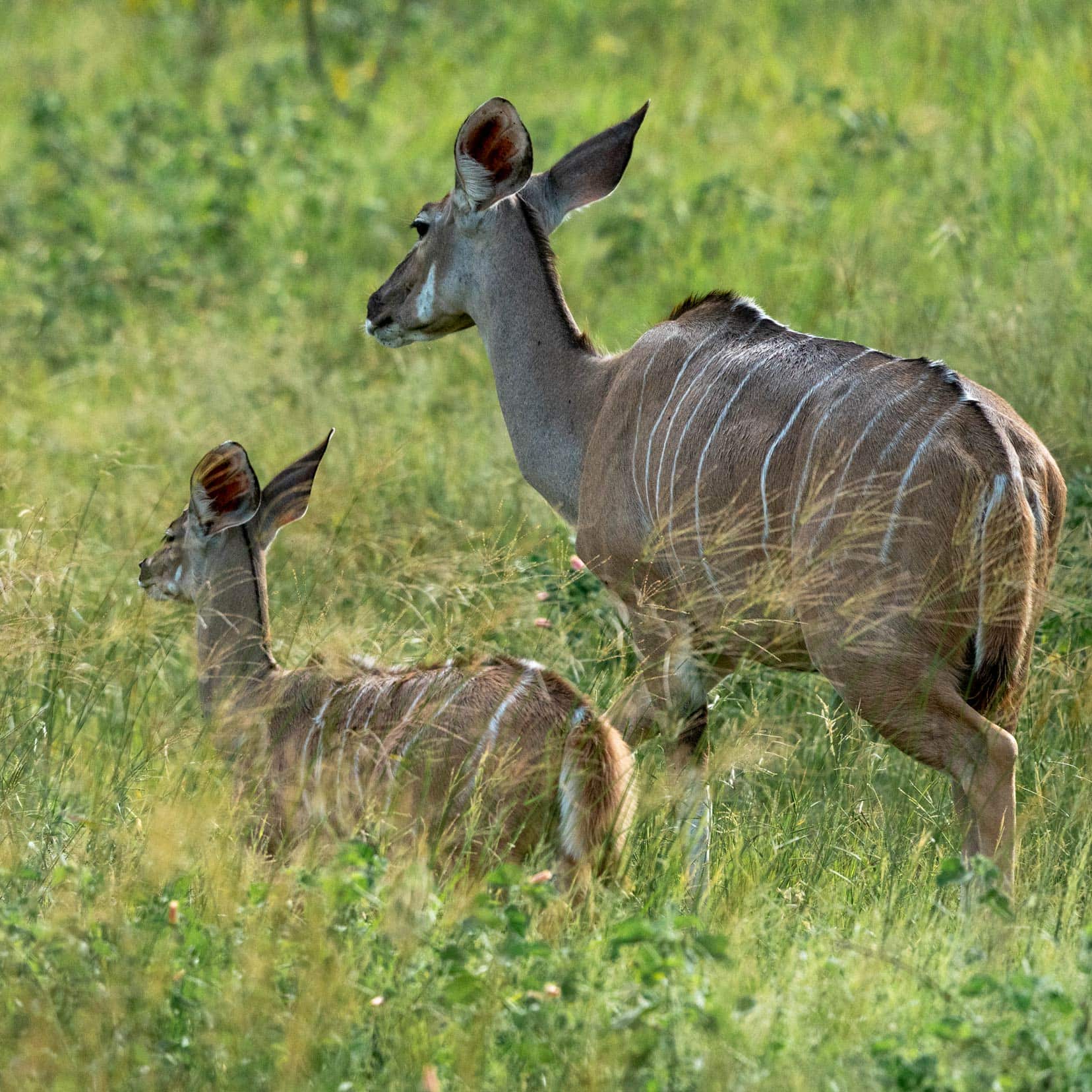 As mentioned, the hornbills were on point, noting our arrival and making sure we knew they were there to finish off any scraps.
But it wasn't only the birds keeping us company in camp.
Tiny brown noses poked out from under a broken concrete slab, checking out their new neighbours. Getting more comfortable with us, on day two, the dwarf mongoose family of six were lounging around beside us and scurrying to and fro between our legs.
One even plonked itself beside us, and with a big yawn, head slowly dropping, grabbed a quick nanna nap, before the local blue starling squawked an alarm call.
Jumping up, the mongoose went scurrying off to see what the fuss was about.
It must be so exhausting always having to watch your back — but I guess that's part of life in the African bush.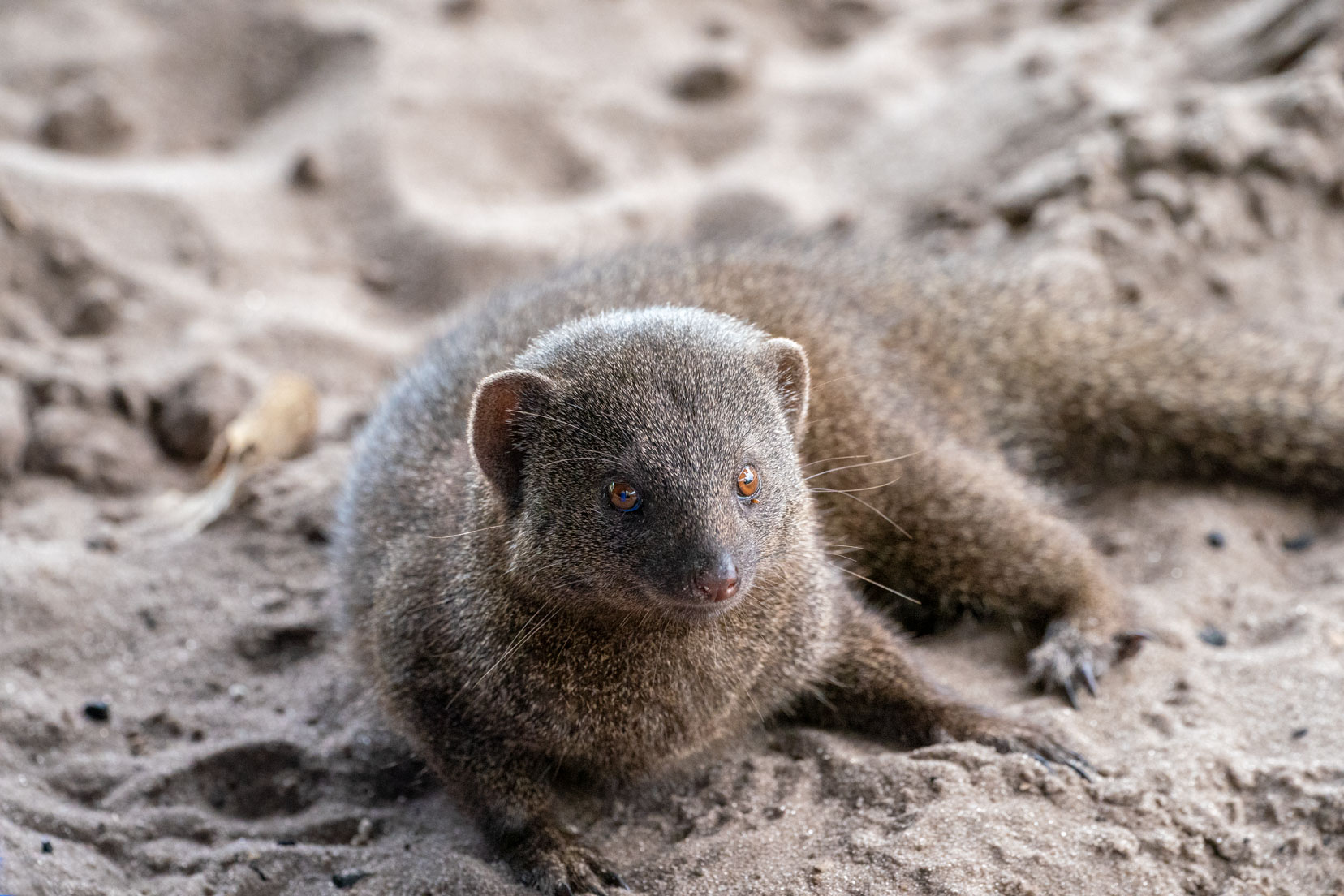 Game Drives around Savuti Camp (Self-Drive)
There are lots of meandering tracks to take on a self-drive safari around Savuti. To the northeast of Savuti Campsite, are the Savuti Plains, with waterholes and sandy tracks.
We drove to the plains in the early morning and saw red hartebeest, blue wildebeest, and impala.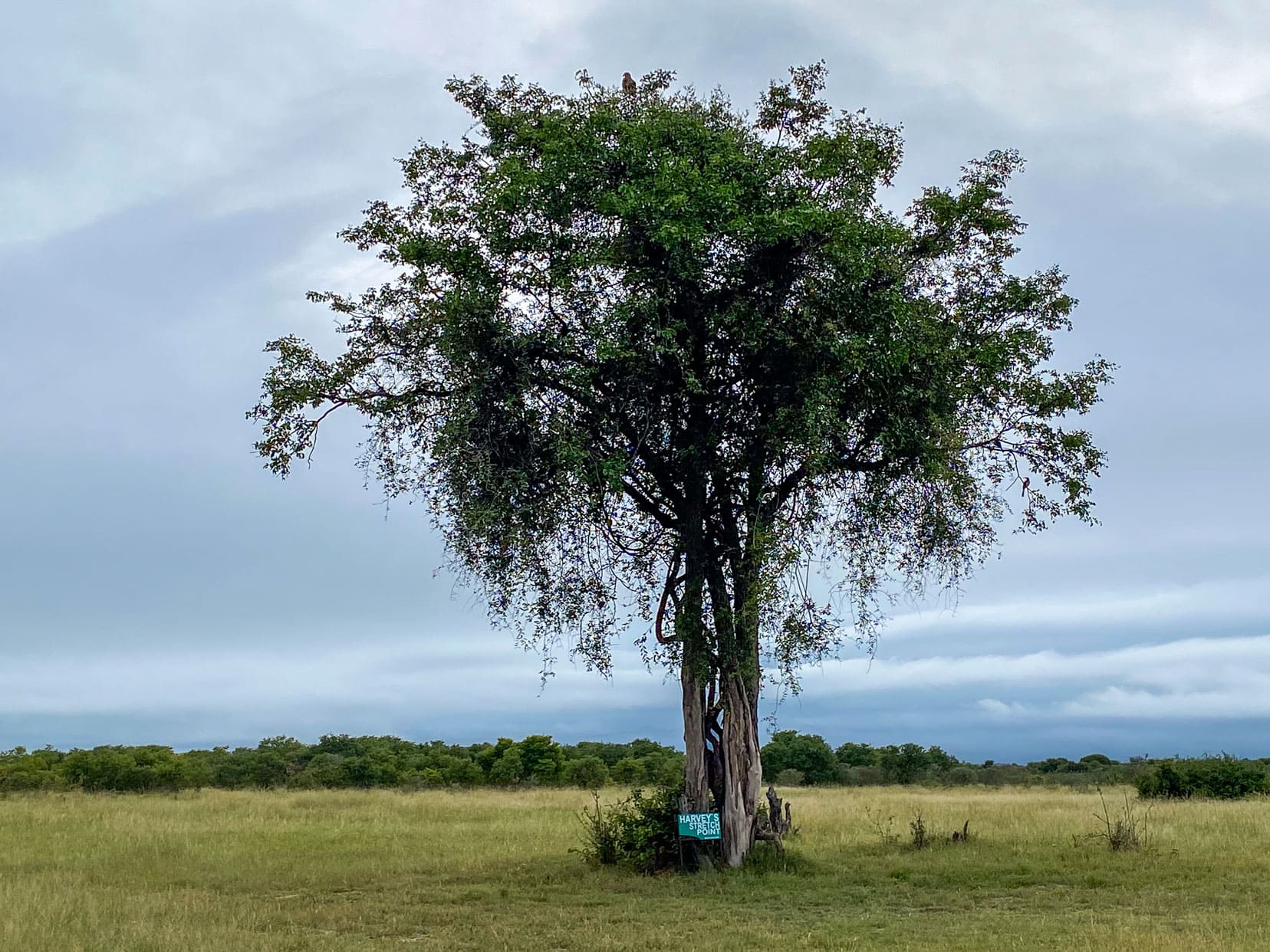 Heading southeast from the Plains you come to Quarry Hill, with a Baobab picnic stop.
Back towards Savuti Camp and turning south, there is a selection of routes, many of which take you around rocky outcrops, such as:
Cave Hill,
Kudu Hills,
Sable Hill, and
Bushman Hill (where you'll also find rock paintings — if you are brave enough to walk through the long grass between bushes — we weren't!). There is a sign on the road but there was lots of vegetation, where goodness knows what could be hiding, so we decided to pass on that experience.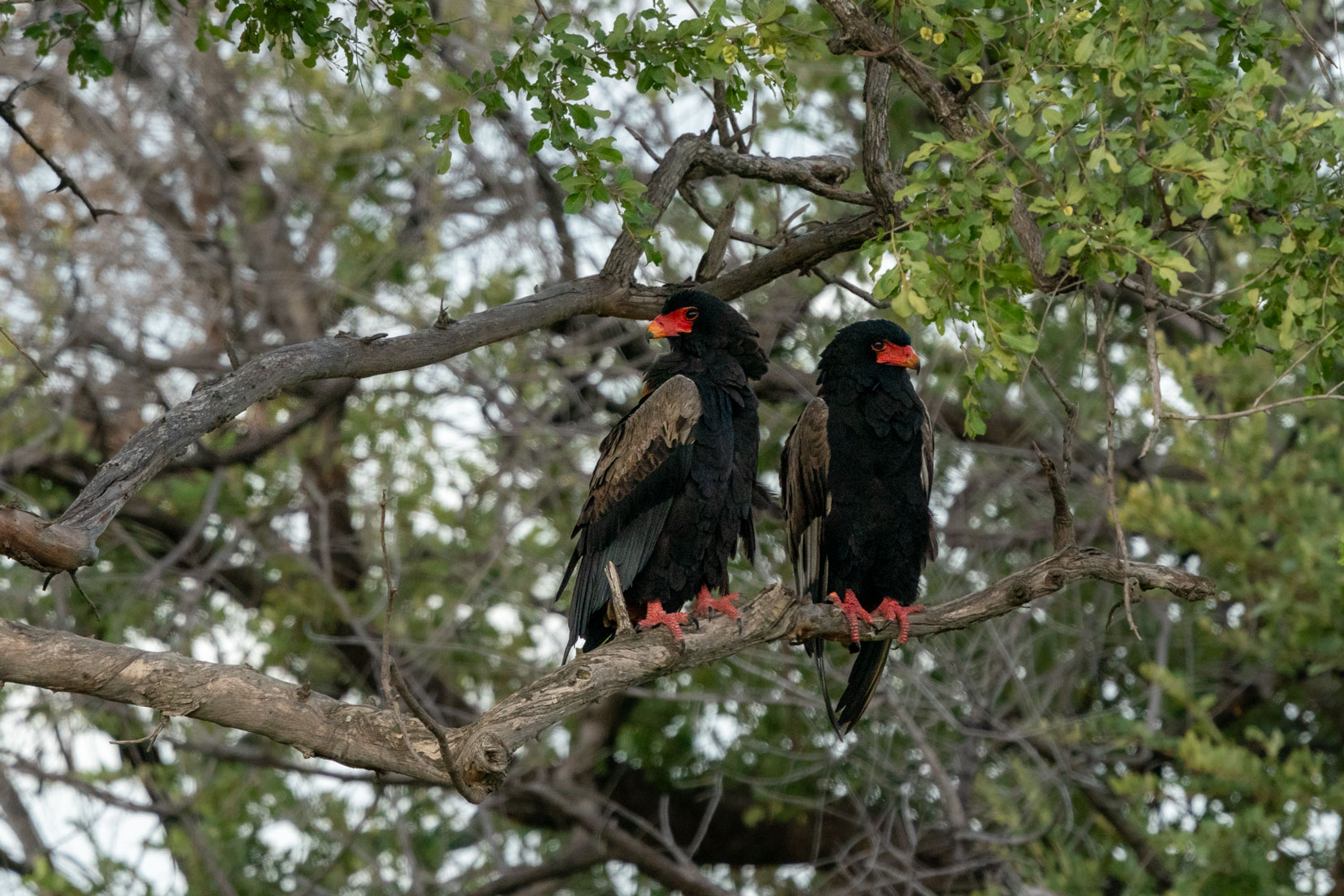 Meandering further south, you can pass through Wild Dog Swamp, Twin Hills and Kwando Pan before taking a loop around Leopard Rock.
And as long as the Savuti Channel is still dry, you can drive along the riverbed. It was here that we saw a few elephants. One little one had no trunk. It was either born that way or had it ripped off by a predator. Either way, it was already facing a huge hardship in this unforgiving environment.
From there to the southeast, you reach Savuti Waterhole (or Rhinovlei Waterhole) and then head along the track that passes Motsibi Island. See the map above to get your bearings.
It is along this very track that the carmine bee-eaters came into their own.
A Summer-only Savuti Game Drive Experience
We had looped and wound our way around Savuti's many tracks, with only a trickle of sightings, and after stopping for a cuppa at Savuti Waterhole, we took the track through long, wavy grass past Motsibi Island.
All of a sudden, I noticed a southern carmine bee eater coasting alongside us at door level.
Then two.
Then three.
Eventually, there were about eight southern carmine bee-eaters flying alongside us. We couldn't believe our eyes.
Our red and blue escorts chaperoned us almost the whole length of the track, for about 500 metres.
It wasn't easy to capture them but with a combination of my iPhone and Lars's brilliant photography (all captured while he was driving), we managed to put together enough footage to give you an idea of what we saw.
Although we've included some footage in the above video, here's footage of just the carmine bee-eaters.
Video of the Southern Carmine Bee Eaters Entourage at Savuti
Road Conditions Around Savuti Camp
We camped at Savuti camp in mid-February – in the rainy season, when road conditions can get pretty hairy.
We'd already had a few hectic touch-and-go moments in the mud and deep-water tracks in Moremi Reserve, but luckily for us the roads around Savuti camp weren't too wet. We were mainly dealing with deep sand and a few muddy puddles here and there.
In heavy rain, it would have been very different.
Some of the tracks are black cotton soil, which can become particularly boggy and treacherous in wet conditions.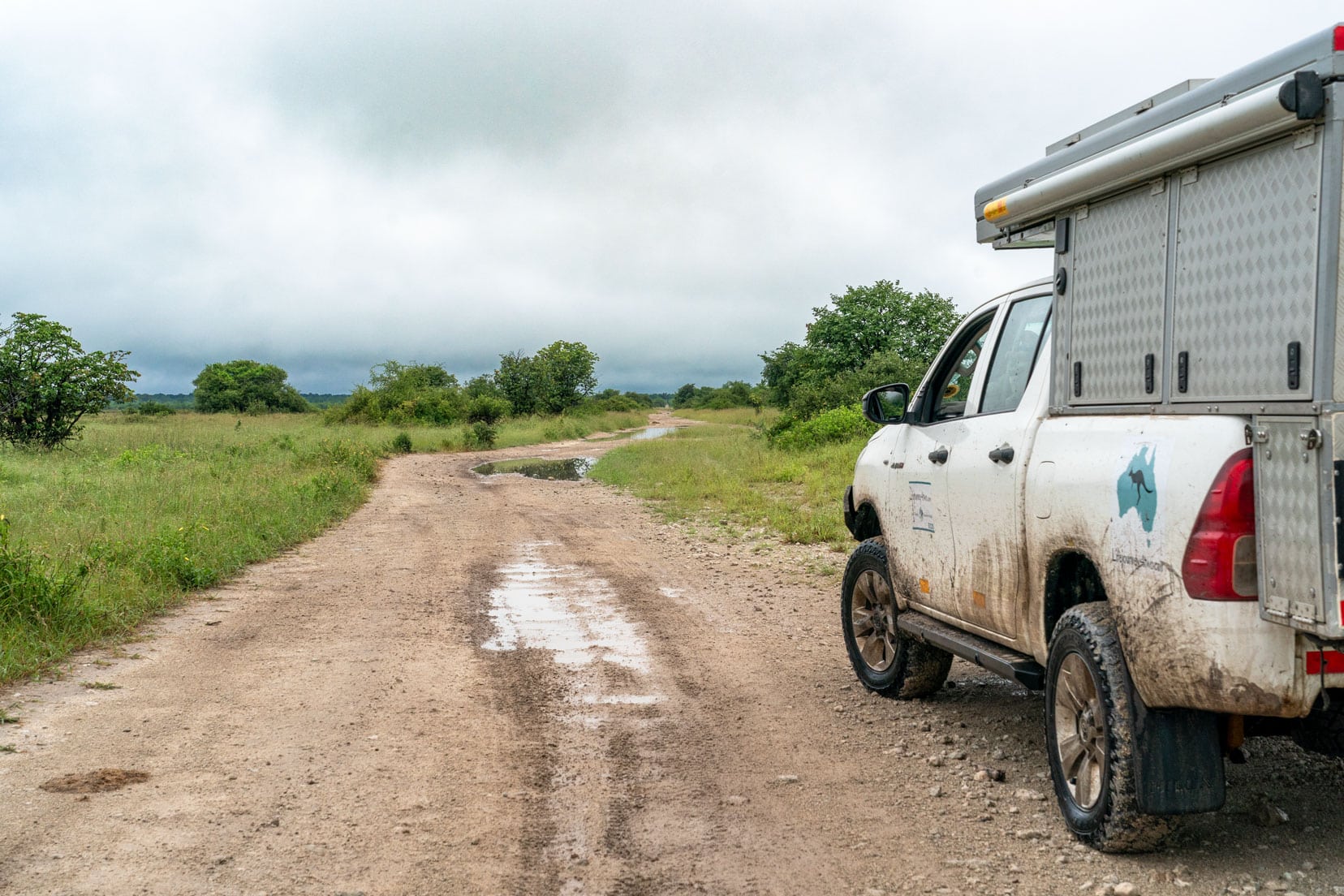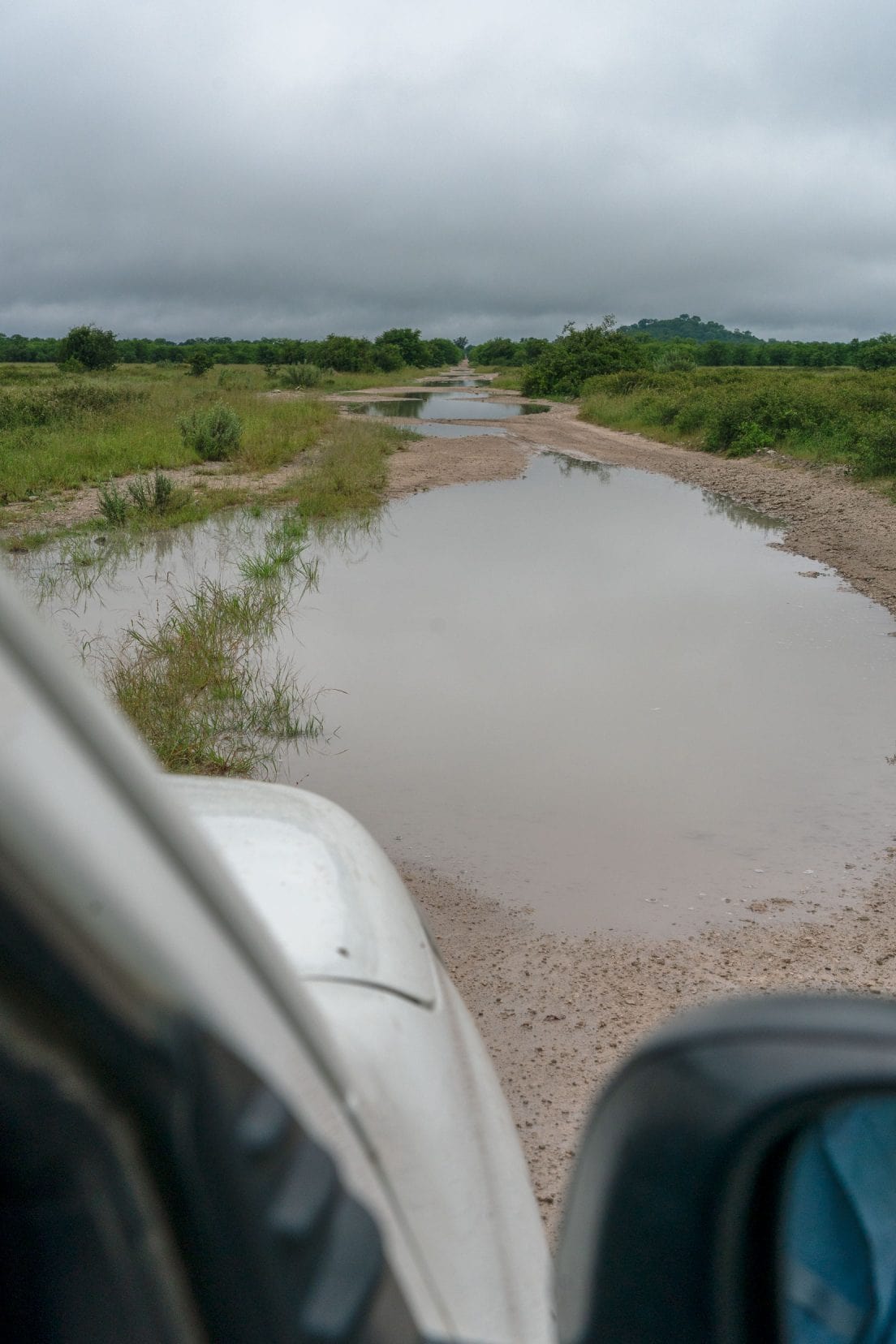 Tips for Camping at Savuti
These extra tips for camping at Savuti will make your camping trip easier and safer.
1. Use the Tracks4Africa app and maps.
The Tracks4Africa app and maps are the best maps for travelling in Southern Africa. They include all the 4×4 tracks, and we found them to be the most reliable and easy to use.
💡TIP: We use paper maps for planning our route and working out travel times and then the Tracks4Africa app en route. The GPS marker tracks our position, so as chief navigator, this makes my job so much easier.
An inside joke amongst overlanders is that you aren't a serious overlander or African road tripper unless you have the Tracks4Africa maps and app.

It lends a certain respect amongst the crowd;)
The Travellers Atlas also gives the average times between points which is so useful, because sometimes, what may be a short distance can take a long time due to the driving conditions.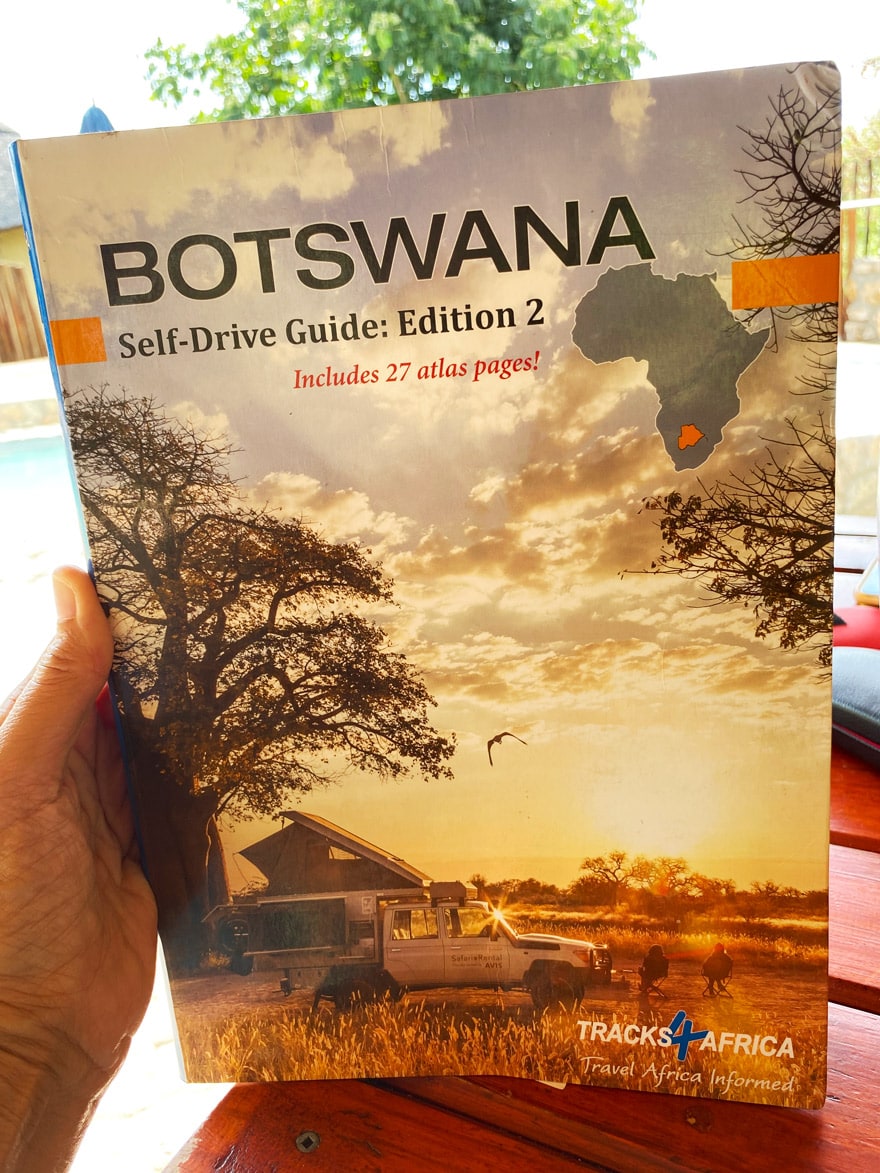 2. Take Malaria Precautions
Chobe National Park is a malaria area, so consult your doctor in regard to anti-malarial medication. (We use doxycycline as a prophylactic and also carry malaria test kits and also have treatment drugs in case we contract it).
We were travelling for 6 months though, so I wouldn't suggest you'd need all these if you are only travelling for a short period.
Use mosquito nets and mosquito spray, and wear light long-sleeve clothing in the early morning and evening. I found, one of the worst places for mosquitoes was in the shower blocks, so you might consider spraying the shower cubicle with bug spray a few minutes before you enter.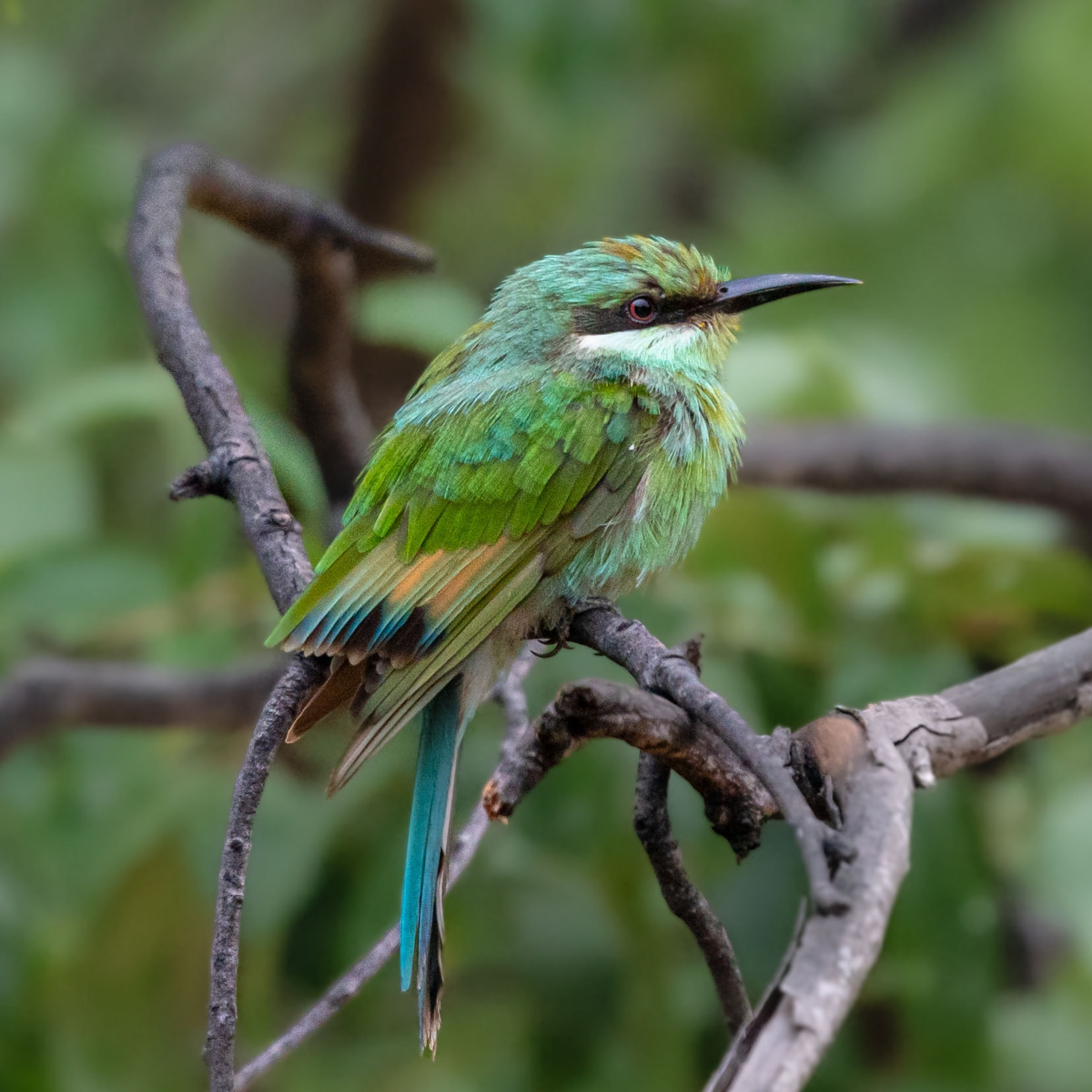 3. You Need a 4×4 Vehicle
Driving in Chobe National Park requires a 4×4 vehicle because there are areas of deep sand and boggy driving conditions.
Driving through the park can be challenging, so make sure you have vehicle recovery equipment, such as tow straps, and a satellite phone or Garmin InReach Mini satellite communicator (that's the one we have).
Make sure to plan your road trip thoroughly so that you have all the necessary information on distances, where to get fuel and groceries and prior knowledge of conditions that you may face.
The nearest shops and fuel stations on either side of Chobe National Park are at Maun and Kasane.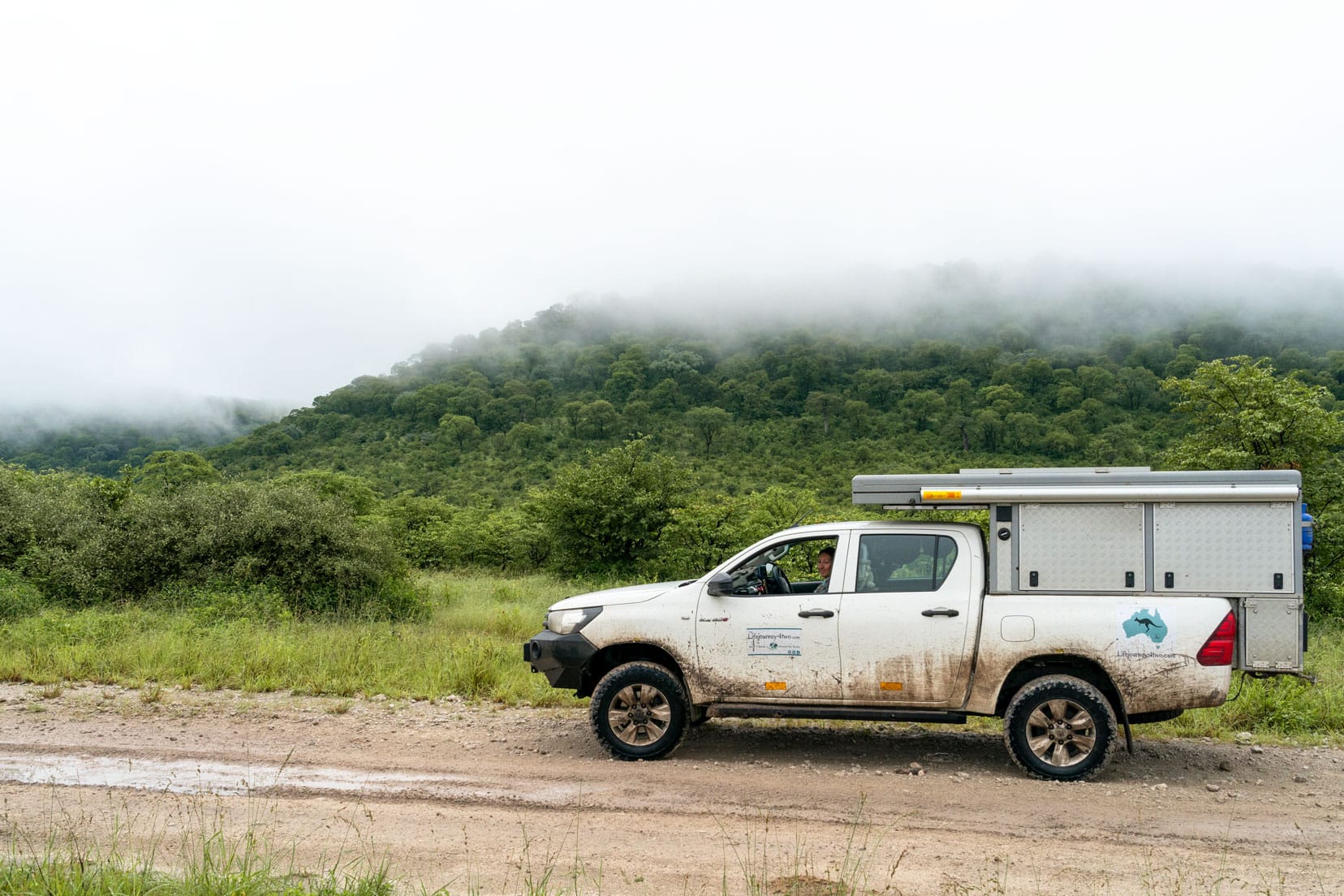 4. Book Savuti Campsite Ahead of Time
When you enter Chobe National Park you will need to show your campsite booking voucher. And if you are planning on visiting in the winter, book well ahead as campsites fill fast.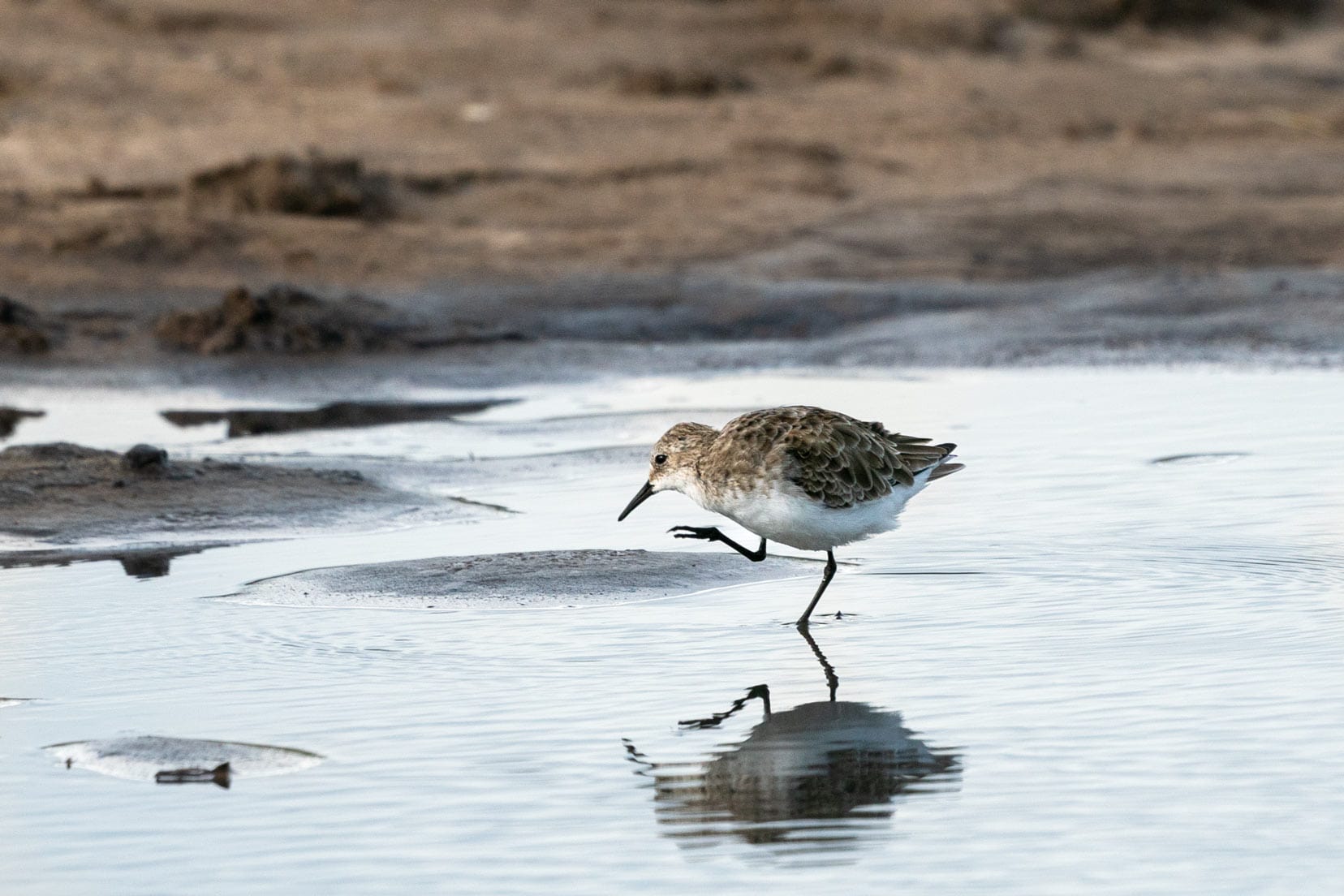 5. Chobe National Park Fees
You will need to pay the Chobe National Park fees either at the gate in cash (Botswana Pula) or you can pay ahead of time at the Department of Wildlife and National Parks (DWNP) in Maun, Gaborone or Kasane.
The park fees are paid in addition to your camping fees.
Contact Details for DWNP: Email – [email protected]
The following Chobe National Park Fees were correct as of January 2023:
| | |
| --- | --- |
| Citizen | BWP 30 per person per day |
| Resident/SADC National | 205 BWP per person per day |
| Non-resident | 270 BWP per person per day |
| Vehicle | 75 BWP per day |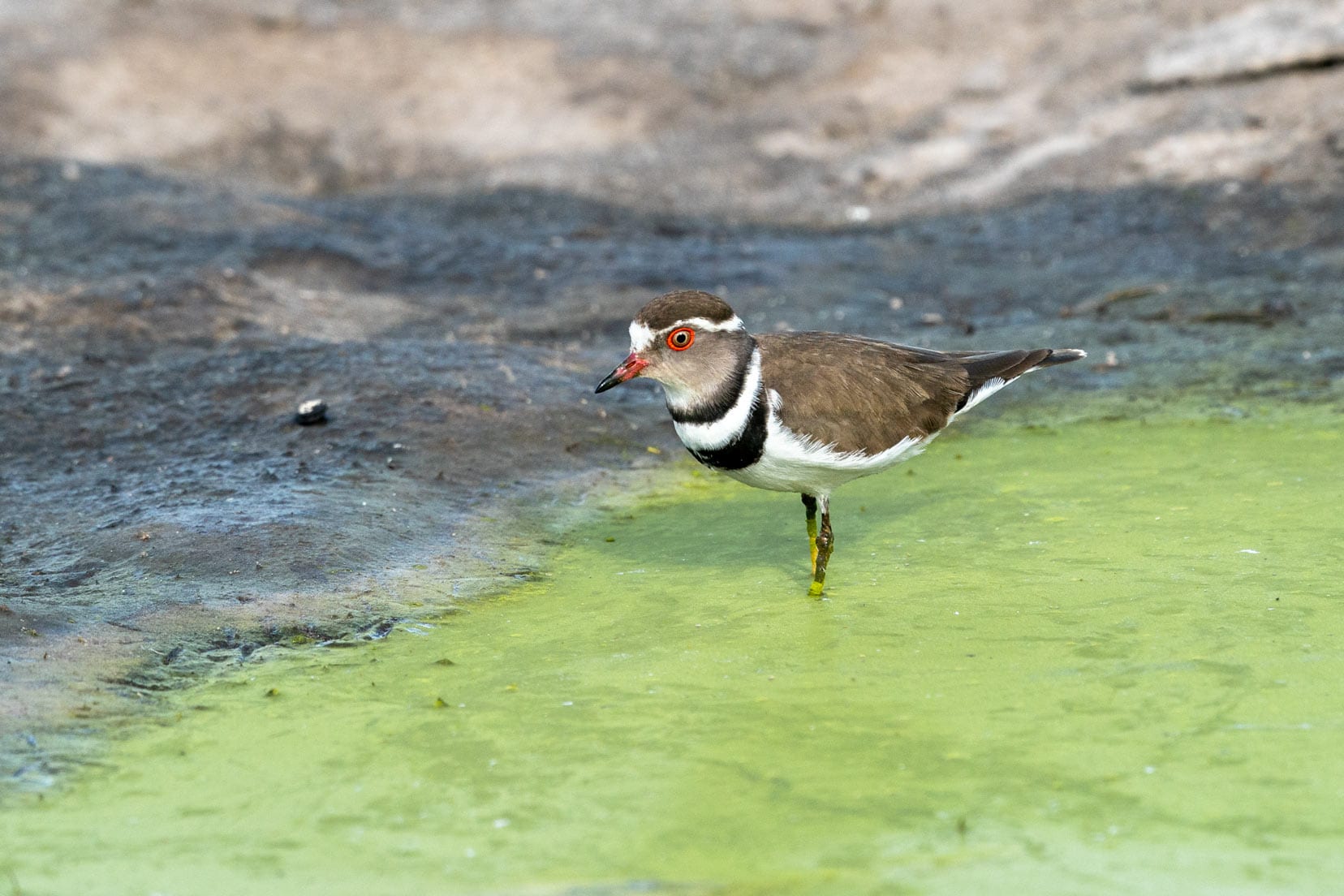 Getting to Savuti Camp
Savuti Camp is in Chobe National Park, in the Okavango Delta region in northern Botswana.
It's 197 km from Maun in the south and 172 km (approx. 3.5 hours) from Kasane, in the north.
The last major towns to get fuel and to stock up on groceries and supplies are Maun and Kasane. There are a few village shops along the way, in Kwai Village, for example, but these only have minimal supplies and no fuel.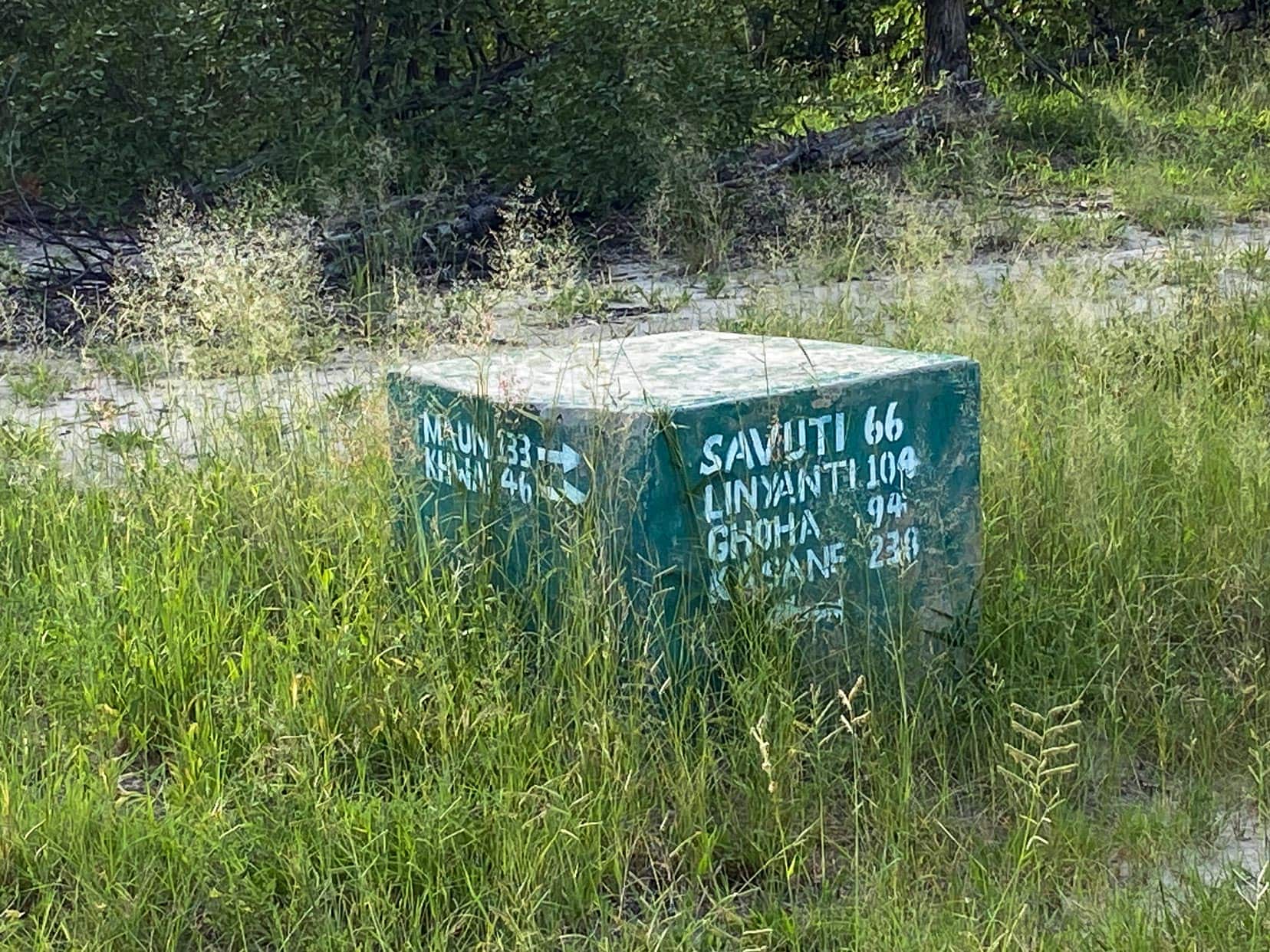 Savuti Camp from Maun
There is a tar road from Maun for about 60km and then the road turns to gravel and sand. You need to head to Mababe Entrance Gate to Chobe National Park and then take Sandridge Road to Savuti Camp.
Savuti Camp from Kasane
The road from Kasane is tar until Kachekau (see map) and then thick sand to Ghoha Gate. After the gate, there is a good sandy road to Savuti Camp.
Savuti Campsite and Self-Drive Safari … That's a Wrap
And that's that.
Despite being popular during the dry winter months when game viewing is at its peak, our own adventure during the summer rainy season proved to be a unique and special encounter.
This was the highlight of our Savuti safari, which just goes to show it's not all about finding the Big Five.
Our captivating encounter with that flock of southern carmine bee-eaters, as they showcased their spectacular colours was mesmerising.
While wildlife sightings may be less abundant during the wet season, the tranquillity and exclusivity of the campsite make it a worthwhile visit. The unfenced nature of the campsite allows for the possibility of close encounters with Savuti wildlife, such as elephants and various bird species.
Whether you choose to camp at the public campsite or indulge in the comforts of a luxury-tented camp, a visit to this remarkable destination promises an extraordinary and memorable safari experience in the heart of Botswana's untamed beauty.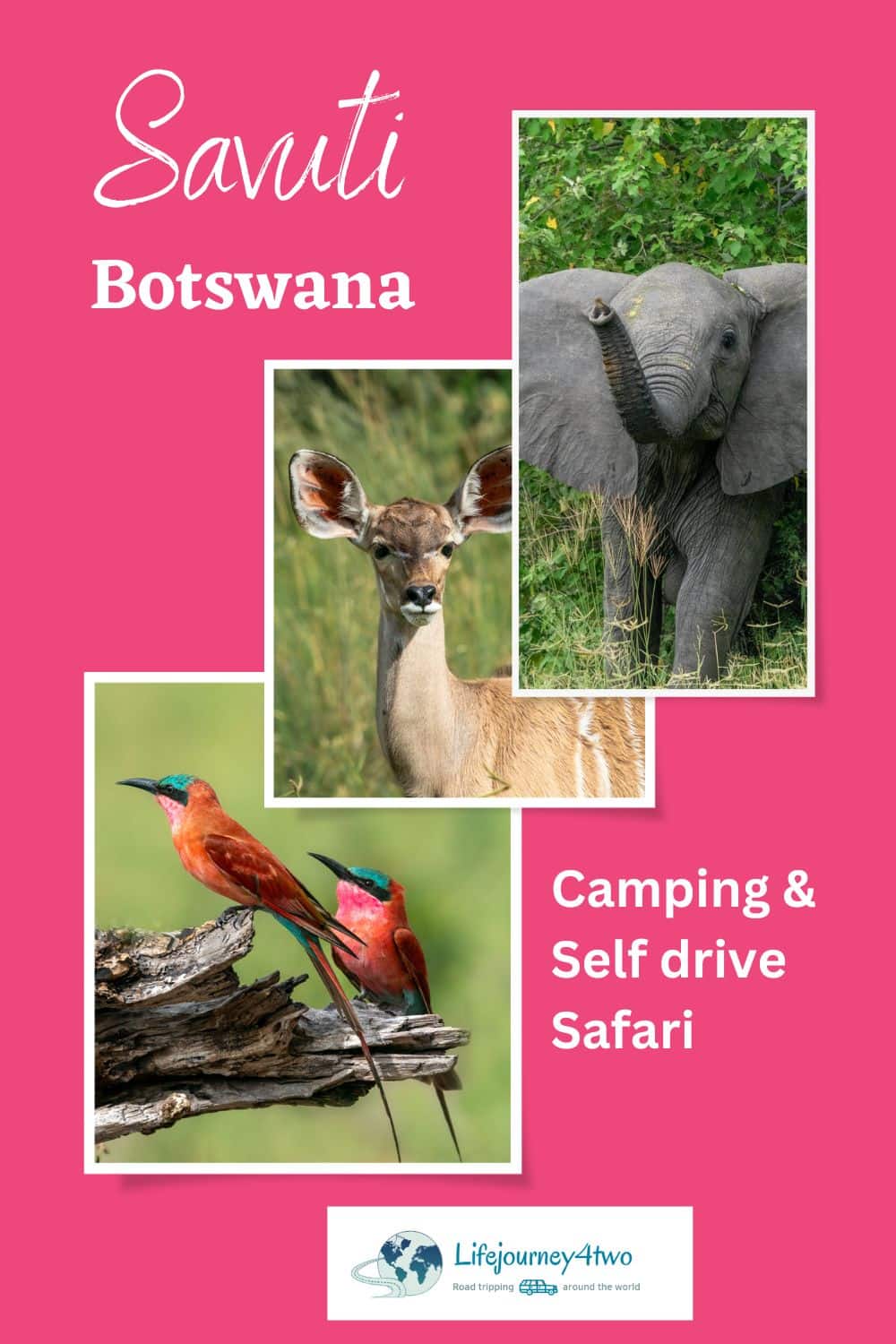 You Might Also Like to Read:
PLANNING YOUR TRAVELS?
These are some of the travel resources we use when planning our trips.
For a more thorough list visit our Travel Resources page here.