THE PALERMO CATACOMBS IN SICILY, ITALY
Tourists have replaced loved ones, just as corpses have replaced the living souls that line the stone corridors of the Palermo Catacombs.
It is a strange experience to look upon the thousands of slowly decaying corpses that endeavour to cling to their existence in this world. Yet, this experience brings thousands of tourists to the underground crypt of the Capuchin Monastery in Sicily's capital, Palermo.
Within the most unassuming entrance, in a small, square in Palermo, you'll find the Capuchin Catacombs, also known as the Catacombe dei Cappuccini.
You'll find them just a short distance from the hustle and bustle of the old town of Palermo, the final stop on our Sicily Road Trip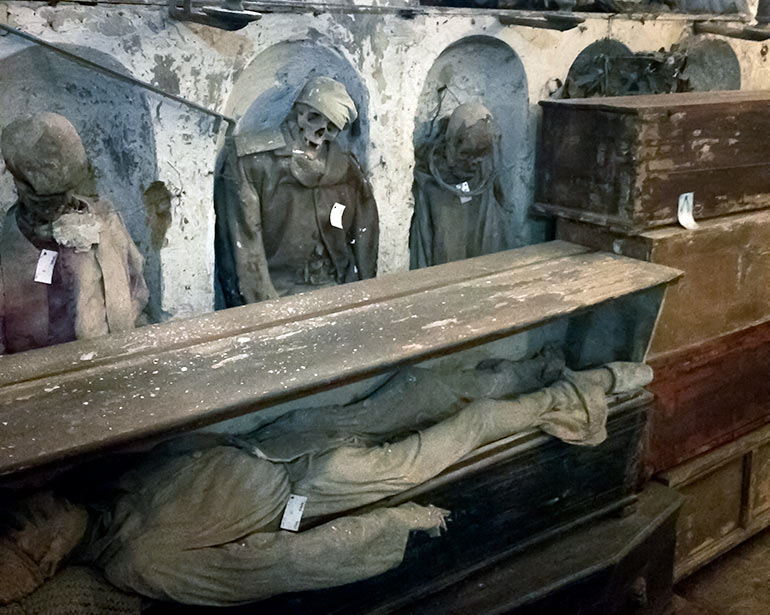 Planning a Trip to Italy?
WHAT IS IT LIKE WITHIN THE CAPUCHIN CATACOMBS OF SICILY?
As you enter the narrow hallways of the Palermo catacombs there is a coolness to the air.
The colours are muted as if seen through a sepia filter.
The once bright colours have faded long ago, along with the lives of those we now look upon.
Bodies line the walls, many propped in individual stone cubicles, and others lie in glass caskets. Their eyes are closed and some still have intact hair.
It is a little eerie, to say the least.
The Palermo catacombs contain around 1200 mummies, with the first internment dating back to 1599 AD. The Capuchin monks had run out of room in their cemetery and they created this underground catacomb to house their own, Brother Silvestro of Gubbio.
The catacombs were then used to preserve other members of the brotherhood and the monks seemingly did such a good job that in the 18th and 19th centuries it also became a popular resting place for the wealthy Europeans and Sicily's elite.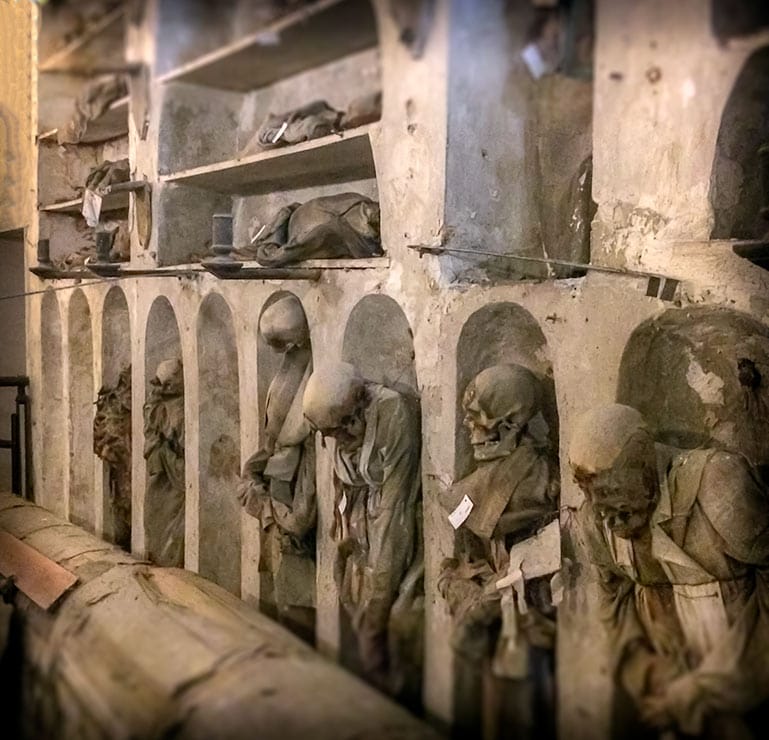 The catacombs are full of clergy and high-ranking professionals. The sombre corridors of corpses are sorted according to their profession and gender. There are the corridors of the clergy, men, and women, and a special area for virgins and children.
Mummification was considered a way to maintain your status and dignity in death. Therefore, priests rest here adorned in their clerical regalia and wealthy merchants in rich attire.
Even in death, their status seems to have meaning.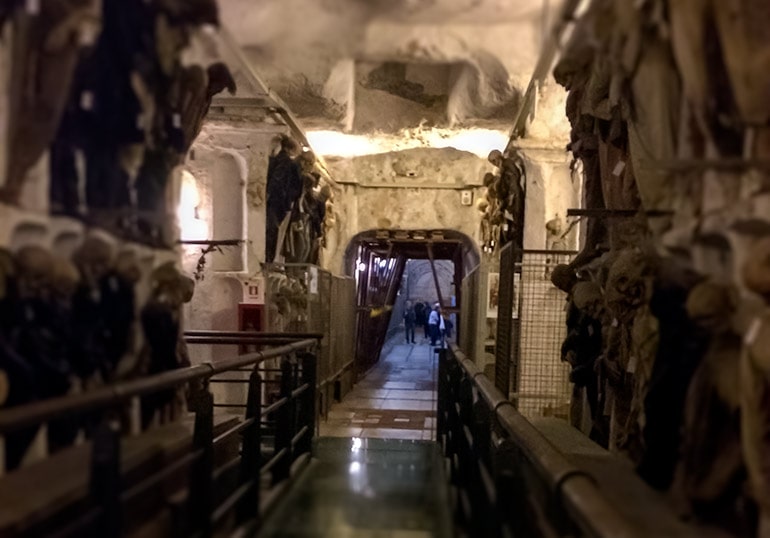 THE SLEEPING BEAUTY OF PALERMO
Not all of the bodies in the Palermo Catacombs are those of adults. One section of the catacombs, the 'Chapel of Children', displays the tiny bodies of lives never fulfilled.
One of the last catacomb burials occurred in the 1920s and was of two-year-old Rosalia Lombardo. She is known as the 'Sleeping Beauty of Palermo'. Rosalio came from a noble family and her father, stricken with grief when she died of pneumonia, asked the taxidermist, Alfredo Salafia, to make her live forever.
As such, her tiny body is enshrined here in a glass cabinet. She is in such a remarkably intact state that it looks like she is simply sleeping. Due to her excellent preservation, she is considered the world's most beautiful mummy.
ARE THE CAPUCHIN CATACOMBS MEANINGFUL OR MACABRE?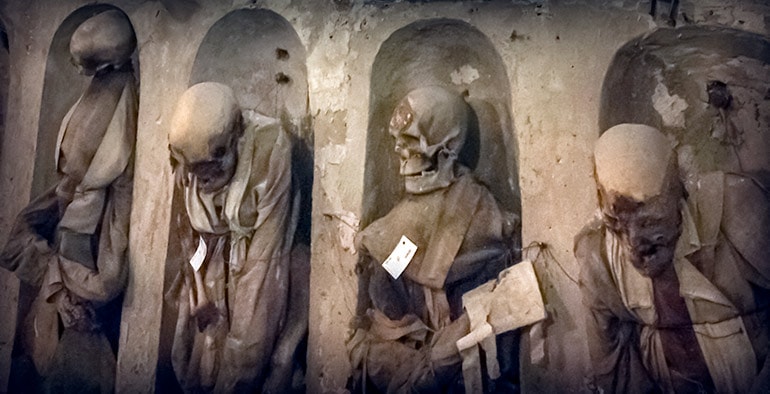 When the wealthy paid for their bodies to be preserved in the Palermo Catacombs, their loved ones and family members could visit them and even hold their hands in prayer.
Some were fitted out with new clothes by the family. It is reported that if the family stopped paying for the upkeep of the bodies the corpse was then moved to a shelf, rather than being on prominent display.
These bodies, now faded and decaying, once gave meaning to their loved ones.
But what meaning do they have now?
The family members have now been replaced by tourists alone. So are these Sicily Catacombs just a gruesome gathering of corpses that attract those looking for a macabre experience?
An invitation to gaze upon the dead isn't an experience we come by frequently.
Is it simply curiosity that draws us in here?
Whatever our motivations for visiting the catacombs of Palermo, we are participating in what is now being termed 'Dark tourism'.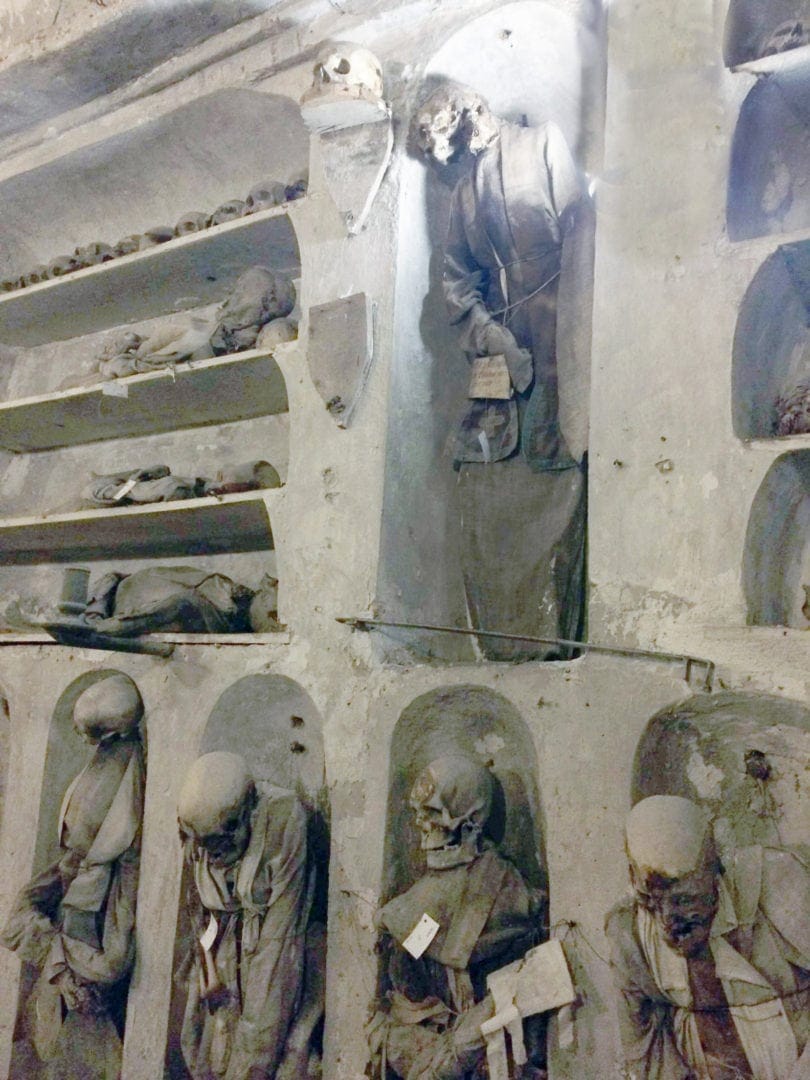 One could argue that these dead souls are giving meaning in new ways.
Anthropologist, Dario Piombino – Mascali, who heads up the Sicily Mummy Project and with the use of X-rays and CT Scans, historical social evidence is being discovered.
It has been found that the wealthy, as expected, ate a balanced diet but their rich diets also led to diseases such as gout and skeletal disease.
In 2022, Kirsty Squires of Staffordshire University, UK and Dario from the Sicily Mummy Project, began a study of the 163 mummies of the children in the Palermo Catacombs.
They are using non-invasive x-ray techniques to find out more about the lives of these children, as well as address the ethical considerations of both the display and analysis of these preserved mummies.
So whether meaningful or macabre the dead of yesterday are still very much a part of life in the 21st century.
THE CAPUCHIN MONKS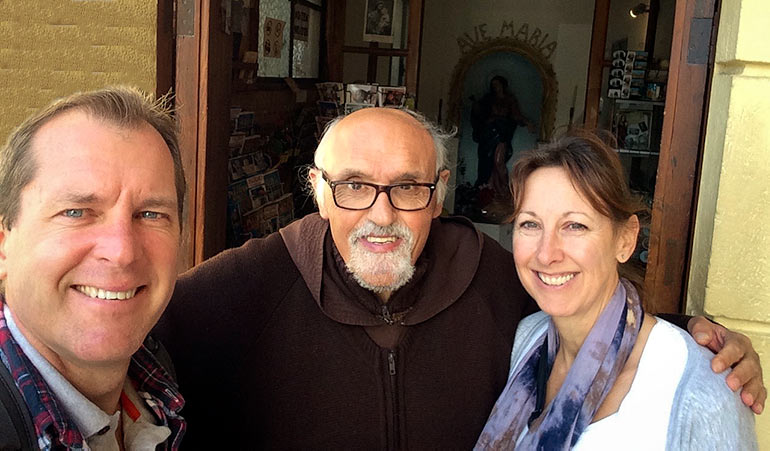 The Capuchin monks are a Catholic religious Order of priests and brothers inspired by St Francis of Assisi which formed in the 16th century.
They wear simple, plain, dark brown robes, and it is said that the term cappuccino came about because the colour resembled that of the Capuchin monks' robes.
Not only that but it is also suggested that the Capuchin monkey lends its name to these monks too, resembling the monks with their hoods down.
HOW TO GET TO THE PALERMO CATACOMBS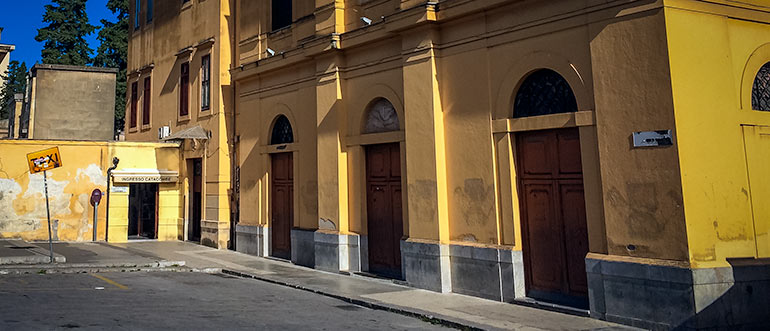 BY BUS
Bus 109 or 318 from Central Station up to Piazza Indipendenza.(See map below)
From Piazza Indipendenza, take bus 327 or walk along Via Cappuccini (15 minutes). At the first intersection, turn right on Via Pindemonte and straight on up to Piazza Cappuccini.
BY TRAIN
Get off at Palazzo Reale-Orleans. (See map below) Walk to the Norman Palace (or Royal Palace) and cross Independence Square. Walk along via Cappuccini and take the first right, Corso Calatafimi. Carry on up to Piazza Cappuccini.
BY CAR
If you are driving, the square outside of the Palermo catacombs is also a parking lot.
PALERMO CATACOMBS MAP, SICILY
CATACOMBS OF PALERMO DETAILS
Opening times: 9 am – 1 pm / 3 pm -6 pm every day (Inc Holidays, Except Sundays from late October to late March)
Price: 3 Euros
Rules: There are signs requesting that you do not take photos, and if you are caught doing so, the monk will request you to stop via loudspeaker. Use quiet voices and do not touch the bodies.
Palermo Catacombs … That's a Wrap
We'd love to hear your own thoughts on the Palermo Catacombs and your impression as a visitor or why you might like to visit here.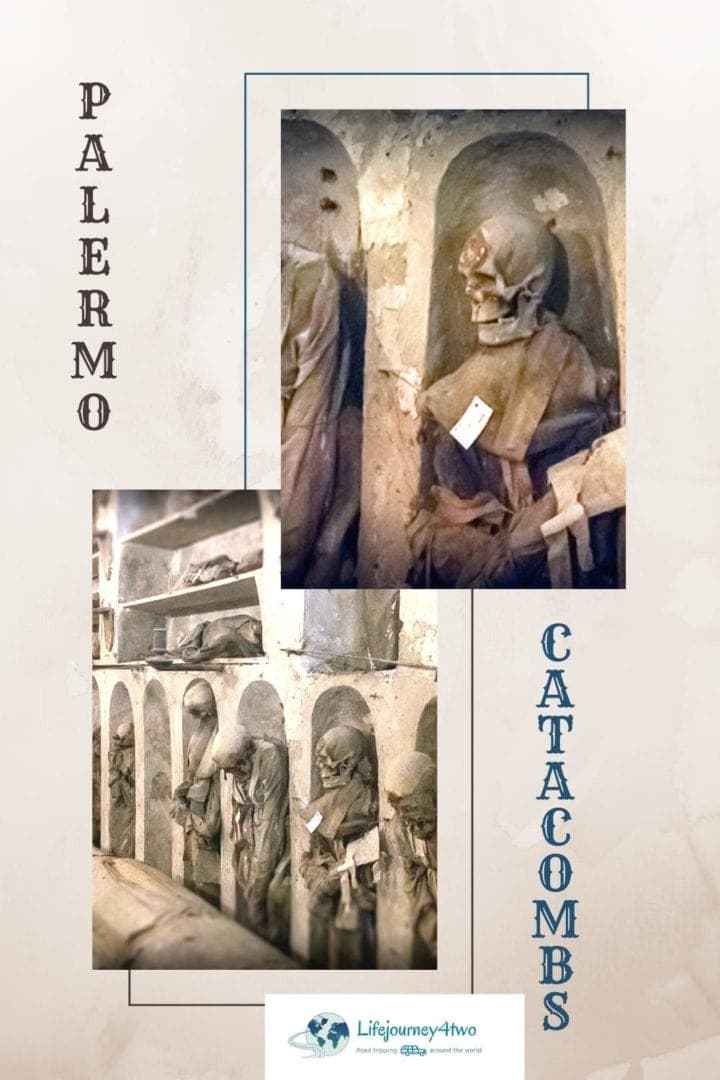 YOU MAY ALSO BE INTERESTED IN READING
PLANNING YOUR TRAVELS?
These are some of the travel resources we use when planning our trips.
For a more thorough list visit our Travel Resources page here.