BRITTANY ROAD TRIP
What amazed us most on our Brittany road trip, a region in the northwest of France were the absolute jaw-dropping panoramas that we came across. From the raw coastal stretches to the medieval towns, there was such amazing diversity on display.
If you are motorhoming in France, this Brittany road trip offers a great taste of a little bit of everything.
VIDEO PHOTO INSPIRATION FOR A BRITTANY ROAD TRIP
BRITTANY ROAD TRIP MAP
Click on the square icon in the top right hand to expand the Brittany map and the left square to see the key highlighting the places we parked the campervan overnight and the places we recommend visiting on your road trip through Brittany.
VISIT BRITTANY
Brittany is the westernmost peninsula region of France bordered by the regions of Basse-Normandy to the north and Pays de la Loire to the east.
With just a four-hour drive from Paris, it is popular as a weekend getaway rather than just a day trip. With 2800 kilometres of stunning coastline, you're going to need the time.
PLACES TO VISIT ON YOUR BRITTANY ROAD TRIP
---
1. KERHINET, BRITTANY
Continuing our France road trips, we came to the gorgeous historic village of Kerhinet, which is just outside the border of Brittany. Kerhinet is a restored hamlet consisting of eighteen thatched cottages.
This tiny hamlet is pedestrian access only and entry is free. You'll also find a tourist information centre here with interactive displays.
Walking through these beautiful, flower-adorned cottages gives you a feel of life in bygone times. You expect a character from a Jane Austen novel to step out of the cottages at any moment.
It feels very much like being in an English Cotswolds village rather than a French Hamlet.
2. MESQUER, BRITTANY
Mesquer is a popular seaside summer destination with many of the homes remaining unoccupied over the colder months. We visited in early spring and found things to be pretty quiet.
However, we were told by Nils Dessale, a local and renowned full-time professional photographer, that this is definitely not the case come summer.
Nils hosts his own photography website, displays his amazing photos locally (at the restaurant 'Le Belem') and will gladly guide visitors to the best photography spots in the area. We can personally vouch for Nils and he certainly did a great job helping us.
3. SARZEAU, BRITTANY
Sarzeau boasts not only beautiful contrasting views of its coastline but also a long five-kilometre beach of pristine sand. You can understand why people descend here in droves over the summer to enjoy this little patch of paradise.
Visit the Suscinio Plage (beach) and also wander around Suscinio Castle. The castle was built in the 14th century and was once the hunting lodge of the Dukes of Brittany. It is free to walk around its grounds and it is open to visitors for guided tours in the summer.
Find more info and Suscinio Castle opening times on this website.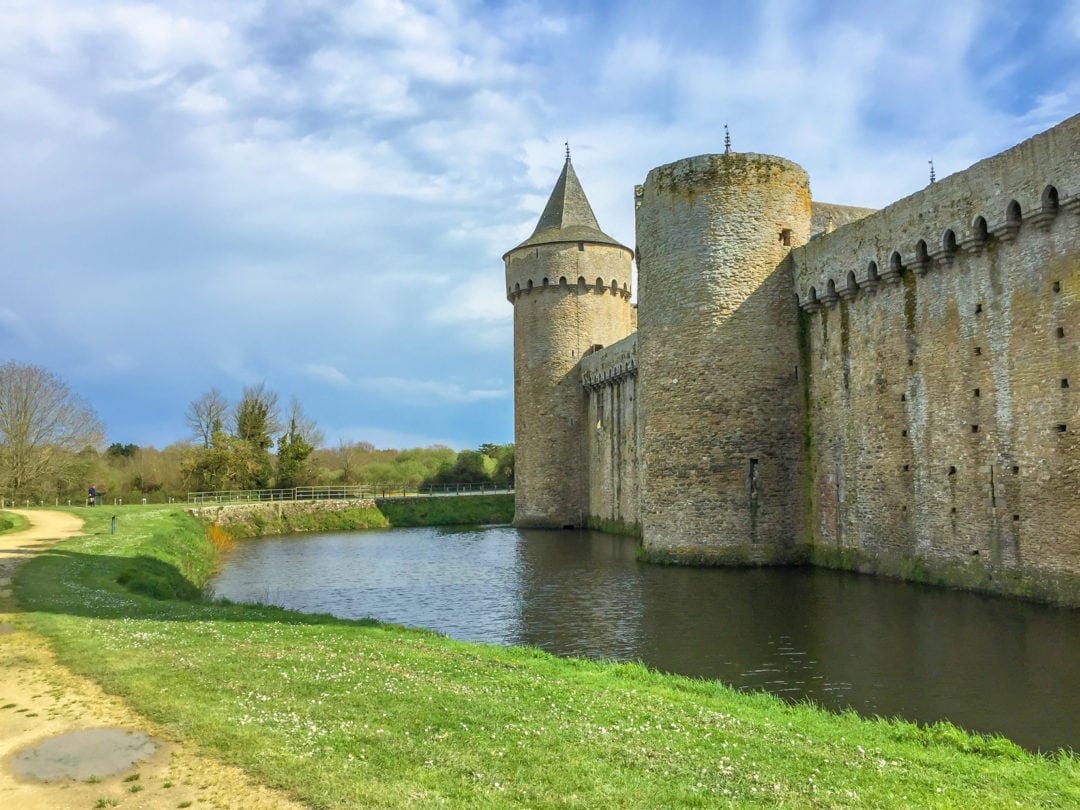 4. QUIBERON, BRITTANY
This is just such a dramatic and interesting coastline. The 14-kilometre-long Quiberon Peninsula juts out from the Morbihan coast in southern Brittany and it is just 23m wide at its narrowest point.
This was the busiest overnight campervan spot that we stayed at on our road trip through Brittany. However, the cliff walks weren't busy and it in no way felt crowded.
Interestingly, swimming here is forbidden due to the rough seas. It is those very rough seas that have helped form the dramatic rock formations along the coast.
The many coastal walkways give you unforgettable views of this wild coastline. Make sure you don't miss the majestic Arche de Port Blanc (White Port Arch), close by the town of Saint-Pierre-Quiberon, (See map above).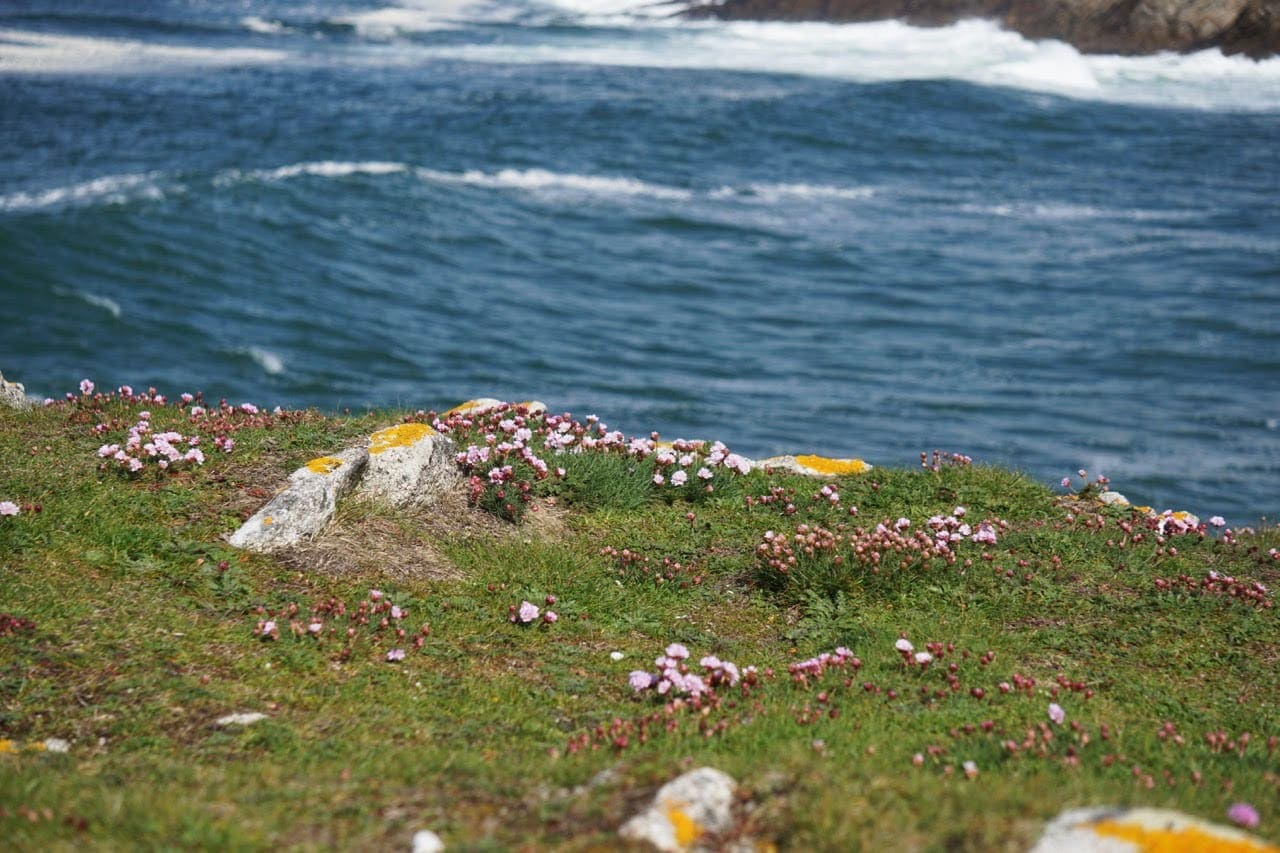 5. PERROS-GUIREC, BRITTANY
Perros- Guirec was our next stop on the Brittany Road trip. It's famous for its pink granite rocks carved out by the sea. The coastal town of Perros-Guirec lies on the Côte de Granit Rose, (Pink Granite Coast).
The day we were there, the fog rolled in from the sea, enveloped the hill and crept down the beach – it created an eerie but mesmerising landscape.
To be honest, we were expecting more 'pink' hues to be visible but maybe the light wasn't right for us.
6. PLOUGRESCANT, BRITTANY
This was one of our favourite sights on our Brittany road trip. Standing at the very northern peninsula tip and still within the Cotes d'Armor district of Brittany, is a spectacle you don't see too often.
Nestled between two towering boulders, sits Castel Meur or La Maison des Gouffre ('House between the Rocks').
The surroundings here are just spectacular. The combination of the deep blue of the sea and the wilderness and vast rocky formations create a raw but surreal type of serenity. It's a perfect getaway location for those seeking solace.
7. DINAN, BRITTANY
The well-preserved medieval town of Dinan, with its cobbled stone streets and timbered houses, also lies in Cote d'Armor.
Dinan has the oldest ramparts in Brittany and the streets ooze that olde world feeling. The old timbered houses are much like those you'd find in the fairytale-like villages in Alsace, in the northeast of France.
8. LEHON, BRITTANY
Lehon merged into the commune of Dinan in Jan 2018. It is home to the quaint Abbey Saint Magloire de Lehon. It has both Romanesque and Gothic architecture dating back to the 9th century which gives it a distinctive character.
The gardens of the Abbey were open to wander and are framed by huge stone arches.
ROUTE OF OUR BRITTANY ROAD TRIP
SUGGESTED 4-DAY BRITTANY ROAD TRIP ITINERARY
---
BRITTANY ROAD TRIP DAY 1
Total Driving: 11 km
Explore Kerhinet Historic Village (11km from Mesquer)
Check out the seaside resort of Mesquer for walks and cycling
Camperstop/Accommodation in Mesquer or surrounds
BRITTANY ROAD TRIP DAY 2
Total driving: 125 km
Drive from Mesquer to Chateau de Suscinio in Sarzeau (55km)
Whilst in Sarzeau explore the cove and views at Plage Suscinio
Drive from Suscinio to Quiberon (70km)
Walk along the fabulous coastline on the Quiberon Peninsula and view the White Port Arch
Camperstop/Accommodation in Quiberon or surrounds
BRITTANY ROAD TRIP DAY 3
Total driving: 211 km
Drive from Quiberon to Perros-Guirec (200km)
Explore Perros-Guirec and the Pink Granite Coast (Côte de Granit Rose)
Drive to the camperstop overnight stop at Trevou -Treguignec (11km) – or find accommodation that suits you for the next day at Plougrescant.
BRITTANY ROAD TRIP DAY 4
Total driving: 144.6 km
Drive to Plougrescant (18.6km) and visit the 'House between two Rocks' and the incredible black rocks on the coast.
Drive to Dinan/Lehon (126km) – either park up (if in a camper) at the Camperstop in Lehon or drive to booked accommodation in Dinan.
Explore the medieval town of Dinan and the small village of Lehon.
WHERE TO STAY ON YOUR BRITTANY ROAD TRIP
---
BRITTANY MOTORHOME/ CAMPER STOPS
If you are travelling through Brittany with a motorhome or camper then we can recommend these stops which we stayed at. They are great for making your travels cheaper because they are either free or low-priced.
BRITTANY ROAD TRIP ACCOMMODATION
If you are travelling by car then you can check out Booking.com here to find the best deals for the areas you would like to stay in:
BRITTANY ROAD TRIP TRANSPORT
---
MOTORHOME/CAMPERVAN RENTAL
We had hired a campervan through 'Motorhome Republic' who find the best deal for you in whatever region you need to hire a van.
For more information on motorhome tips for driving in Europe you may be interested in reading the following posts;
CAR RENTAL
If you are planning on renting a car for your Brittany Road Trip then check out Discover Cars to find the best deal.
DRIVING IN BRITTANY: WHAT YOU NEED TO KNOW
In France, you drive on the right.
You will need to have the following documents:

Drivers licence (An international driver's licence isn't required)
Vehicle insurance
Vehicle registration document
Passport

You are also required to have the following in your vehicle:
Driving in France requires adjusting the beam pattern to suit driving on the right so that the dipped beam doesn't dazzle oncoming drivers. You can cheaply purchase beam deflectors to adjust the beam.
Many of the motorways have tolls. To avoid them you can program your navigator to avoid tolls and you can also use www.autoroutes.fr to plan your trip and find out the costs of tolls etc.
Speed Limits are as follows unless otherwise signposted and on dry roads

130 km/h (80 mph) on toll motorways
110 km/h (68 mph) on dual carriageways and motorways without tolls
80 km/h (50 mph) on other roads
50 km/h (31 mph) in towns. The town name starts with the limit, a bar through the town name is the de-restriction sign
BRITTANY ROAD TRIP TIPS
1. LIFEJOURNEY4TWO'S TOP 3 BRITTANY ROAD TRIP PLACES
If we had to choose the top 3 places not to miss on your road trip across Brittany they would be:
The house between the rocks at Plougrescant
Quiberon Peninsula
Kerhinet
2. MUST-TRY FOODS ON YOUR BRITTANY ROAD TRIP
Galettes – a type of pancake that can be filled with cheese, onion and ham with an egg and sour cream on top.
Crépes – typical Breton Food
Breton Cake – this is lush and is a cross between cake and shortbread -it has plenty of butter and loads of egg yolks – all healthy ingredients 😉
Brittany Road Trip … That's a Wrap
We departed Brittany, with not only amazing photos but beautiful memories. Our next stop was Mont Saint Michel, the first stop on our Normandy Road Trip.
Did we miss any of your favourite towns in Brittany? Drop us a line.
Save and Pin
READ MORE …
---