Motorhome Tips for Beginners
The first time driving and using a motorhome can be a little unnerving if you aren't sure of the ropes. We've included some essential motorhome tips for beginners that may just make the start of your very first motorhome trip a whole lot less stressful.
Whether you are looking for motorhome basics, campervan tips for beginners, are hiring or you own a new motorhome, these motorhome travel tips will make your first trip a whole lot less stressful.  
Why You Need a Few Motorhome Tips Before Your RV/ Motorhome Trip
Knowing a few tips and tricks before you embark on your motorhome journey might just save you from a few calamities. This scene from Robin Williams film, 'RV', comes to mind;)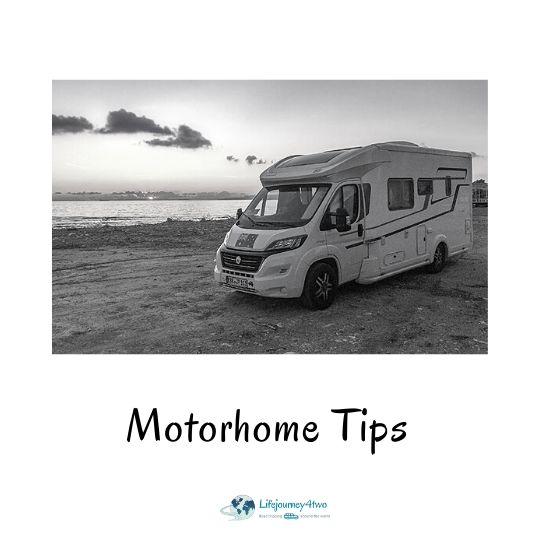 Beginner Motorhomers
We had just arrived in Germany, travelling from Australia, and were feeling slightly jet-lagged, to say the least.
We had about a ten-minute induction to our motorhome that we were hiring, were given no motorhome tips from the provider, and then we set off on our new adventure.
READ MORE: Everything you need to Know When Hiring a Motorhome
Our new Europe adventure, in a nearly 8-metre long beast, driving on the wrong side of the road (for us), not understanding any of the German road signs and feeling like we hadn't slept for a week, had finally begun.  Learning to drive a motorhome was going to be done on the fly.
But we were excited. We were pumped. Until our first wrong turn…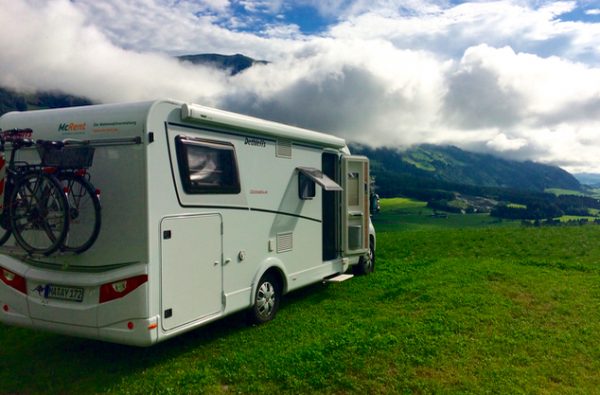 Our Motorhome parked up high in the mountains of Austria – bliss!
We learnt many things in that year to follow. This motorhome advice includes driving and motorhome tips and tricks that fall into the 'that would have been good to know' category. It will be a great help to those of you embarking on your first RV, campervan or motorhome road trip.  
Top Motorhome Tips for Beginners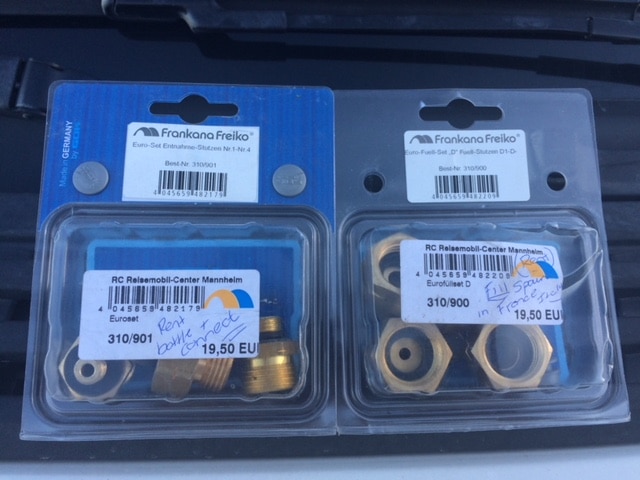 Multiple sized gas fittings for re-filling portable LPG bottles in different countries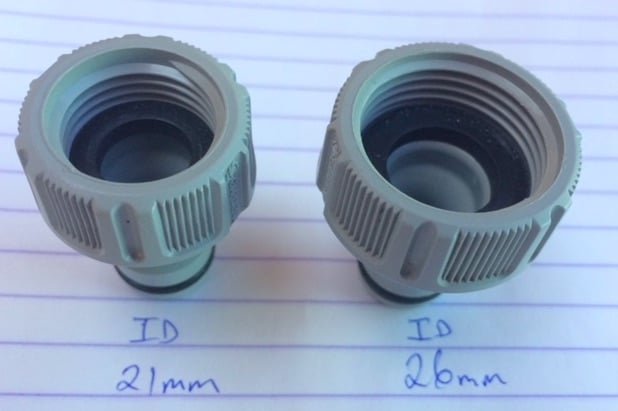 Two different sized plastic click-on water tap adaptors
11. Gas Bottles
It is best to travel with two gas bottles so that once one bottle empties, you use the spare and then find somewhere to refill the empty gas bottle. I would say that it was a challenge finding countries that would re-fill our 11kg German LPG bottles as many countries would refuse on the grounds that the bottles weren't manufactured from their own country. I did explain that I had the adaptors for the gas fittings and only a few times would they agree. Here is a link to LPG stations in Europe which is a good starting point.
More motorhome tips: if renting, ask at the depot if it is possible to loan a third gas bottle. The extra gas bottle will need to be stored safely in an upright position in the motorhome. Although it's not normal practice to be allowed to do so; we asked and received.
12. Know the Country's Road Rules
Does it have tolls?
Do you need to register for electronic tolls? (Eg, some tolls in Portugal are electronic only)
Do you need a vignette?
Where can you purchase a vignette?
What are the Speed Regulations?
What documents are you required to have in the vehicle?
What other equipment should you have?
We hadn't paid much thought to road rules other than the speeds we should be travelling at, but it's important to know what you are required to have in the vehicle and also details about the country's toll system.
Another of our top motorhome tips: Check out the EU requirements here before you arrive.
There is a wide variety of tolls and vignettes required throughout Europe. Find the various prices and rules here.
Some country vignettes can be bought close by toll gates (road signs will indicate where the place is) otherwise, you may need to buy in a gas station shop, and some countries require you to register online.
(Pay careful attention to this – we had to do a detour which took us very briefly into Austria (10 minutes) and we were stopped by the police and issued a 120 euro fine for not having a vignette. Similarly, in Hungary, we hadn't realised we needed a vignette and faced another 120 euro fine waiting for us when we dropped the motorhome back to the rental depot in Germany. This is one of those motorhome driving tips I would have loved to know about beforehand.)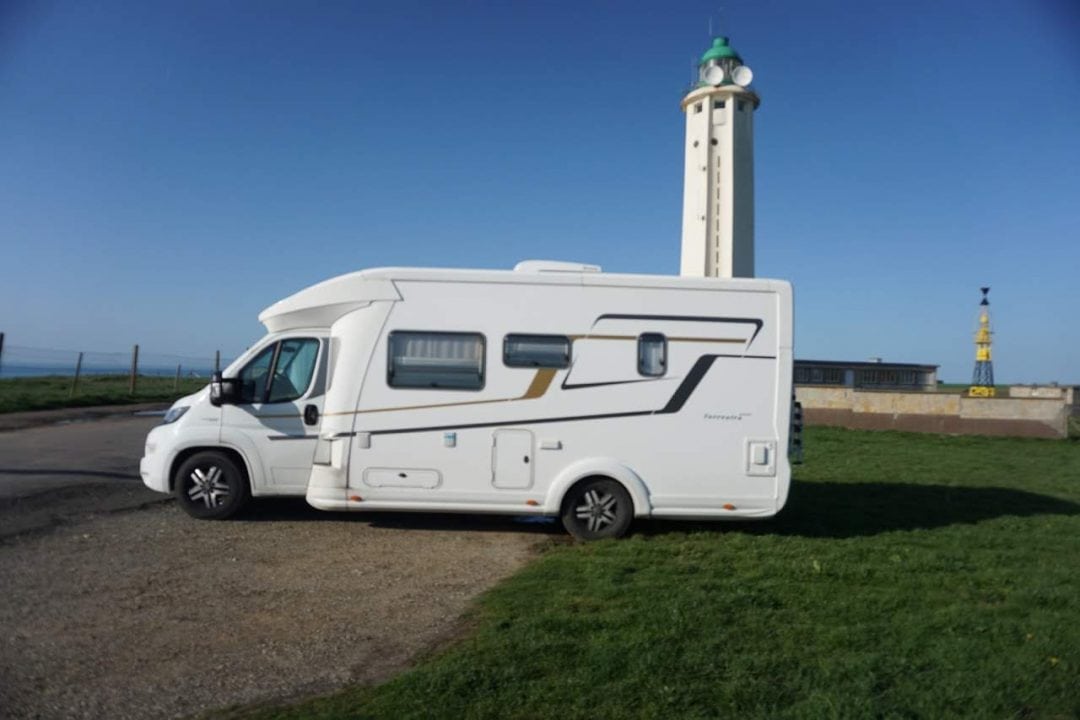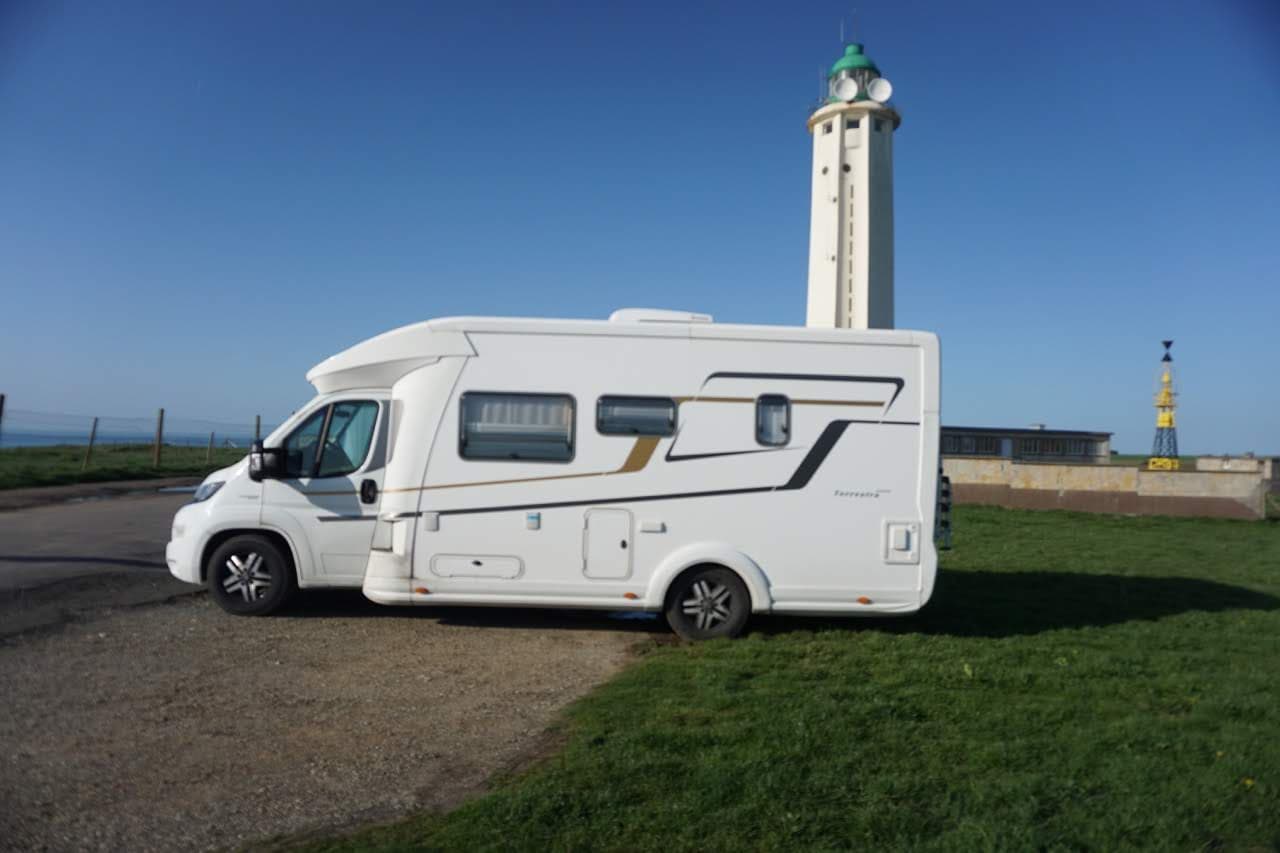 13. Have Important Documents at Hand
Have all your motorhome papers at hand, such as insurance, emergency contact details and Green Card (a green piece of paper showing registration details).
The last thing you need in case of an accident is to be searching high and low to find the numbers/papers that you need. One to add to the motorhome tips list is to take photocopies of these documents and keep them in an accessible location.
14. Encrypt your Internet Connections
Consider installing a VPN on your internet devices to encrypt your Internet connection which ensures the connection is secure and your privacy guaranteed. This is especially important if you use online banking and if you like to piggy-back off free wifi in public places such as cafe's or libraries.
There are many VPN providers with different options to choose from. Something to look for is how many portable devices your choice of membership will cover. We are signed up with NordVPN, a reputable company and we've never had any security issues whilst using them.
15. Grey Water Smells
The greywater is the wastewater from the shower and sinks. Pour a nice smelling detergent into your greywater tank via the sink plug holes just before driving off.
This will pretty much eliminate any bad odours caused by the movement of water in the greywater tank when you are driving which tend to rise up the wastewater pipes and into the van.
16. Black Water (Pee and Poop)
Many motorhomers we came across didn't use their toilet for 'number twos' as they didn't want to have to clean the waste cassette but we weren't bothered – that's why it's there!
Make sure to use portable toilet disinfecting sachets to both reduce smell and at the same time disinfect the cassette.
Toilet Emptying Process:
Remove toilet canister from the campervan (Make sure no one uses the toilet during this process!!).
Pour out the poop and pee into the designated black water drain that you'll find at the campsites. (We sometimes had to resort to emptying the cassette in a public toilet if there were no proper facilities available).
Rinse #1: rinse out the toilet cassette with just water (There is normally a hose for this purpose on a site or have a few bottles of water set aside for this purpose).
Rinse #2: Half-fill the cassette with water and add a capful of disinfectant. Shake vigorously and discharge the contents.
Add a little water to the cassette then drop in the disinfecting sachet.
Replace cassette and make sure it is locked into place properly.
17. Consider Parking up on the Outskirts of Cities
Driving the motorhome for the first time can be a bit stressful, but driving in busy foreign cities is definitely not something we'd call fun.
Consider finding camper stops on the outskirts of the city or in smaller towns that have transport options to the city. We often used trains, buses or rode our bikes into the central parts of the larger cities. Another helpful tip is to buy heavy-duty bike locks that can't be easily cut when thieves are intending on stealing your wheels.
We have first-hand knowledge: our bikes were stolen in Rotterdam, The Netherlands, even though we had locked them to a bike rack and both together. We had to report the theft to the police so we could claim the cost of the bikes back from our travel insurance. When we bought our next bikes, we also bought two heavy linked security chains and locks and fortunately, that kept them safe.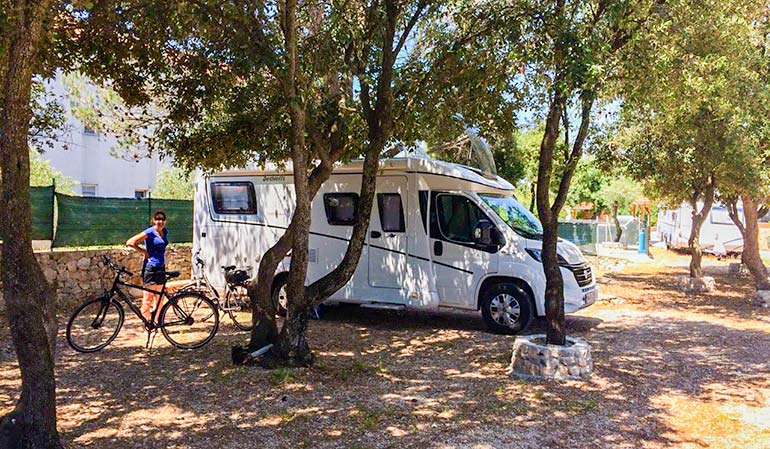 18. Know your Motorhome Dimensions
Know the height, width and length of your motorhome. You don't want to get stuck under any bridges and you'll need to know your length because some campsites can only take certain length vans. In some European countries, when road works are carried out and temporary lanes are used, the width of the lanes is displayed on signs beside the road.
Another of our handy motorhome tips: The slow lane is normally wider, as it has to accommodate wide trucks/lorries. This is a good lane for motorhomes given the extra width you have to contend with. Additionally, if you take a ferry, you will need to state the length of your motorhome when applying for a ticket.
19. Motorhome Weight Limits
If your motorhome is under 3.5 tonnes gross weight then normal motorhome highway tolls apply and can be paid by cash and/or card at toll booths. Alternatively, the country may require you to purchase a vignette which is a sticker placed on the windscreen. The vignette will be valid for a certain period of time which you decide when making the purchase. It's easy to forget the expiry date so set a reminder on your phone as we did.
If your motorhome is over 3.5 tonnes (this weight limit applies to most of the EU countries), then you expect to sign up for an electronic tag or box which is kept in the vehicle. For specific country toll information check out this link.
20. Travel Insurance and Securing Your Valuables
We always have travel insurance. Choosing the right travel insurer isn't a quick process and the guidelines are strict as to what the insurer will accept as adequate security for your personal items. In our case, personal items had to be under lock and key whilst being locked in the vehicle. Not an easy thing to achieve when you may be renting a motorhome or reluctant to modify your vehicle.
Our workaround?
We packed up our computer laptops and iPads, Satnav and stored them in an anti-theft Pacsafe backpack. This backpack has an integrated steel lanyard and lock, which we secured to the seat brackets in the motorhome. Also, the Pacsafe bag comes with an integrated slash-proof mesh. Our motorhome wasn't broken into so the solution was only tested in theory, but we felt that this was a practical solution to ensure our valuables remained safe and insured whilst stored in the motorhome.
21. What? There's No Spare Tyre?
In new vehicles, it was usual to find a proper full-sized spare tyre. Then, to save weight and cost, this idea was ditched, and the 'space saver' wheel introduced – a smaller and lighter 'limp home' tyre that you could fit yourself. Nowadays, don't be surprised to find that there is no spare tyre whatsoever.
What you do sometimes get is a hand-held can of 'tyre repair kit'. If you have a flat tyre then you just squirt the repair solution into the tyre via the normal tyre valve and re-inflate the tyre using whatever equipment is supplied by the manufacturer, (normally a compressor). After this is completed, the vehicle is driven at a decent speed to allow the distribution of foam inside the tyre which acts as a sealant to plug the hole. If you have sidewall tears or rips then this won't help you out, you need a new tyre. Also, follow the specific instructions that come with the tyre repair kit.
This repair is a temporary fix, so you'll need to get a replacement tyre sorted. Here's a Youtube video by Toyota Uk, that explains everything in simple terms.
22. When your Yawning, Check Your Awning
When you are shutting up camp for the night and getting ready to sleep, most of the time it's a good idea to check the weather forecast for wind or rain. Both can damage your awning.
If we know it may rain we lower the angle of the awning so the rain drips off rather than pooling on top and weighing the awning down. If strong winds are forecast retract it. If in doubt always retract – better to be safe than sorry.
23. Motorhome Reverse Parking Tips
If your passenger is helping you reverse into a motorhome parking spot, it is sometimes difficult to see them or hear them. If you both have phones – put yours on load speaker while they guide you in. You could also use walkie talkies. It saves a lot of shouting and banging on the campervan!
24. Enjoy Your Road Trip
Finally, enjoy your trip. Don't plan too much or you risk becoming frazzled and everywhere that you visit becomes a blur. Take your time and soak in the fabulous freedom van life offers. Maybe take a few campervan games to play at the end of the day to unwind and have a laugh. Above all have fun and enjoy your motorhome and camping experience. 
Motorhome Tips For Beginners – That's A Wrap
Our start-up would have been just that much easier if we knew about these motorhome tips beforehand. But hey, that's also the fun part of learning and overcoming the challenges of a road trip adventure.
I hope this 'Motorhome tips for Beginners' article provided you with some handy advice. Let me know if you have any other motorhome tips or handy workarounds that we can all learn from by leaving a comment below.
Happy travels and safe driving!
READ MORE:
This post may contain affiliate links. This means that we may earn a small commission from purchases you make through our links, at no extra cost to you. Thank you for supporting us. For more info, read our Disclosure Policy.
Download a free PDF of this Post here →
If you enjoyed this article, you may like these FREE RESOURCES:
FREE Travel Guides (many countries)
FREE 23-page Travel Planner, including menu planner, journal pages and budgeting)
FREE Phone Wallpapers
FREE Photo Ebooks
Monthly Travel News 
Arrange Your Travel Insurance
Get a quote from World Nomads - one of the best options for travellers. Find out why here.
Book Your Accommodation
We use Booking.com and Tripadvisor to find accommodation that suits our budget and to get a great overview of available specials and deals. 
Travel Gear and Accessories
We've been on the road since 2017 and have added items we've found useful to our Lifejourney4two page on Amazon  
Car Hire
We use  Rentalcars.com to find the best car rental deals.
Motorhome/Van Rentals
If you are looking for a motorhome or van rental - we highly recommend the Motorhome Republic who can find the best deals worldwide.
Finding Activities to do
We use Get Your Guide and Viator to get ideas of what to do in a place - sometimes it's best to get tickets online and jump the queues.
Flexible Accommodation Options/ Or Finding someone to look after your pets
We often use house/petsitting as it really makes our travels much more affordable - as accommodation is FREE
Get 25% off  Trusted House Sitters by using our link here: Join Trusted House Sitters either as a house sitter or if you want to find a house sitter.
Photography Prints and Products
Shop our ETSY store for digital downloads of our best photos and our unique photographic designs.