PARIS 2 DAY ITINERARY – FREE THINGS TO DO
You can understand why people fall in love with Paris. Cobblestoned streets, exquisitely styled buildings, a romantic history, picturesque tree-lined boulevards and chic coffee shops, all accentuated by the evocative Seine River.
Discovering Paris is an absolute joy. This Paris 2-day itinerary takes you to some of the renowned Parisienne attractions as well as some really interesting off-the-beaten-track locations that are not saturated with tourists.
We purchased a 48-hour Paris Travel Pass for use on all the public transport networks (metro, tramway, bus, RER and SNCF) because we were staying on the outskirts of Paris.
Paris is well served with an excellent public transport network so it's definitely worth considering, especially if you're on a budget like us. It was great as it saved us the hassle of purchasing new tickets each time we needed to go from A to B via C and D.
The only attraction we paid for in this two-day Paris itinerary was entry into the Louvre Museum.
All the other sights we cover here were free — unless you decide to go inside and explore, for example, the Eiffel Tower.
We were full of anticipation, after having spent a previous couple of weeks road tripping through the Loire Valley, Brittany and Normandy.
Arriving in Paris, we wanted to see the best that the city had to offer and Paris certainly delivered.
Planning a Trip to France?
Paris 2 Day Itinerary Map
Day 1 Paris attractions are marked in PURPLE.
Day 2 Paris attractions are marked in BLACK.
Optional Paris attractions are marked in ORANGE.
PARIS IN 2 DAYS ITINERARY: SUMMARY
PARIS: DAY 1
Bastille
Notre Dame (see rebuilding progress here)
Basilica du Sacre Coeur
Montmartre Cemetery
Arc de Triomphe / Tomb of the Unknown Soldier
PARIS: DAY 2
Tuileries Gardens
Place de la Concorde
Parc Floral de Vincennes (this botanical garden and public park is 10 kilometres from the city centre)
The only attraction we booked online tickets for was the Louvre Palace as we wanted an early start to beat the crowds.
PARIS PASS/ MUSEUM PASS / ATTRACTIONS PASS
If you do want to include paid activities, then you may wish to consider the all-in 'Paris Pass' which includes attractions and transport/tour. Or you might like the 'Museum Pass'.
The Paris Museum pass, Attractions pass and Paris pass all cover a minimum of 2 days but you can choose 3 days, 4 days or longer. Also, if you need to extend, then you can easily add the extra days to your existing pass.
DAY 1: PARIS 2 DAY ITINERARY
---
BASTILLE
Formerly a fortress and later a prison, the Bastille has long been a symbol of the revolutionary movement in France. Unfortunately, it was burnt to the ground in 1789.
Therefore, what we see today, which was built in 1793, is a tribute statue and fountain to the revolution, called the Place de la Bastille.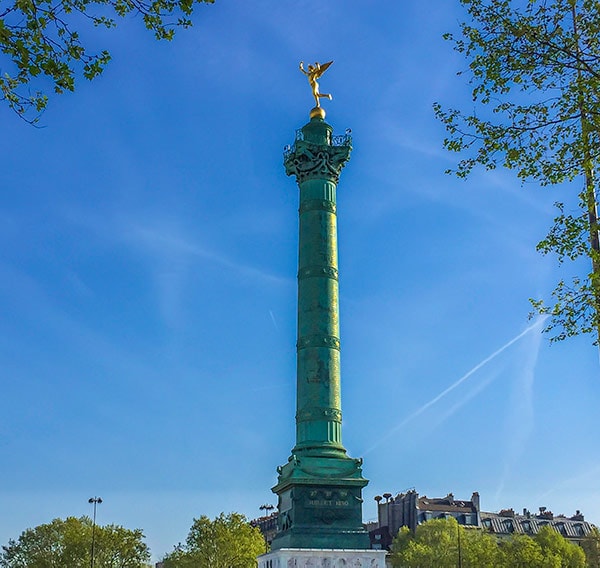 NOTRE DAME
[Sadly, this Parisian icon is currently closed due to a damaging fire on 15/4/2019. Restoration is expected to be completed in time for the 2024 Summer Olympics in Paris. Interestingly, the restoration process has unearthed archeological treasures, such as a lead sarcophagus. Find out more about this and the restoration progress here.]
The Notre Dame Cathedral was completed in 1345 and is one of the best examples of French Gothic architecture. Taking nearly 300 years to build, its gargoyles, spire and stained glass windows are much admired.
It has an idyllic location on the Ile de la Cite, right in the heart of Paris.
Standing on the street Parvis Notre-Dame Place Jean-Paul II will give you some great views.
From Notre Dame, looking south will give views of the Latin Quarter, the oldest district in Paris.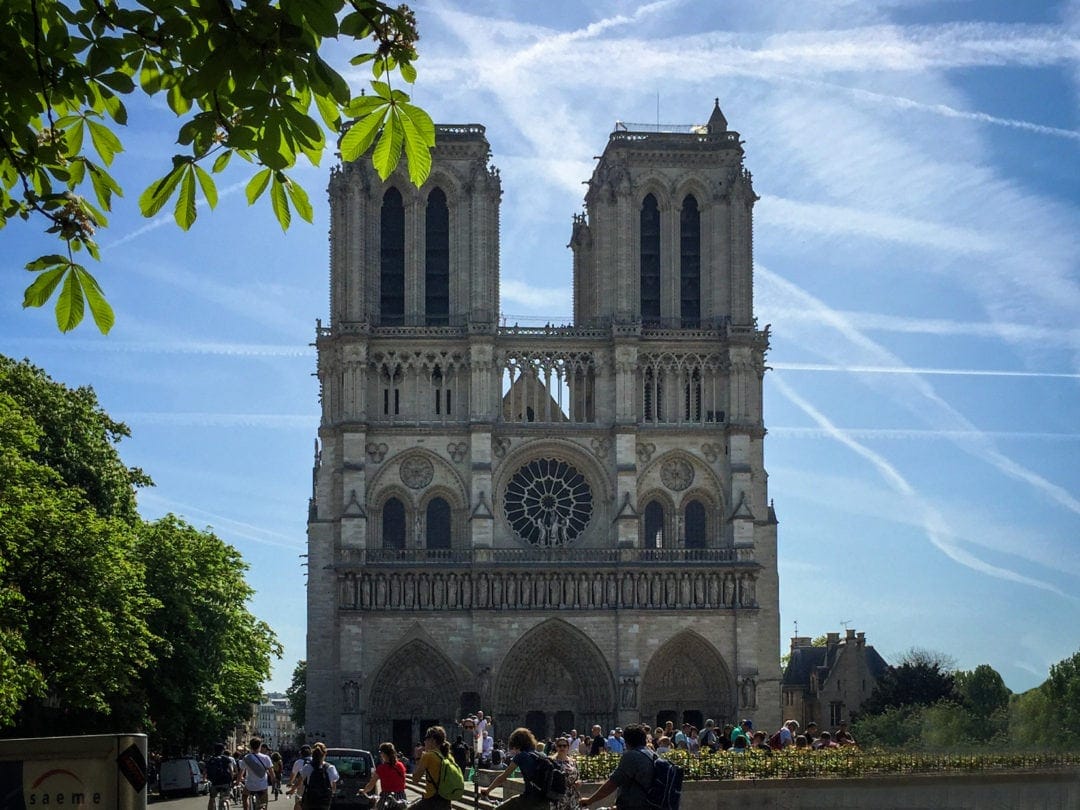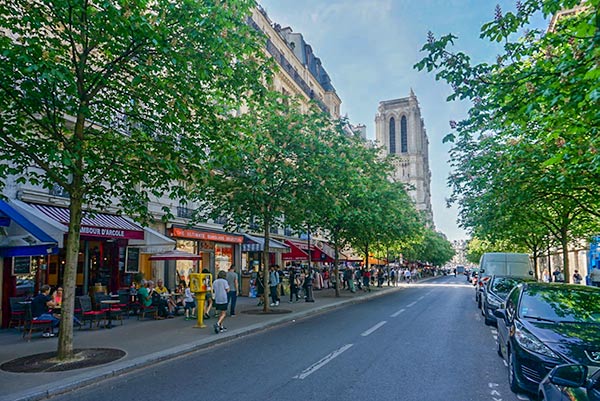 MONTMARTRE CEMETERY
You wouldn't normally expect a cemetery to be listed as an attraction, but what makes this a place of interest is not only the ornate 19th-century graves but the 40-plus cats that call this hallowed place home.
During our visit, we talked to a Parisian woman who fed these felines each day. She warned us that most of the cats were particularly cautious of humans. Perhaps this was the spirits at work?
There is one entry/exit point to the cemetery, which is down a flight of stairs off Rue Caulaincourt.
Entry is free.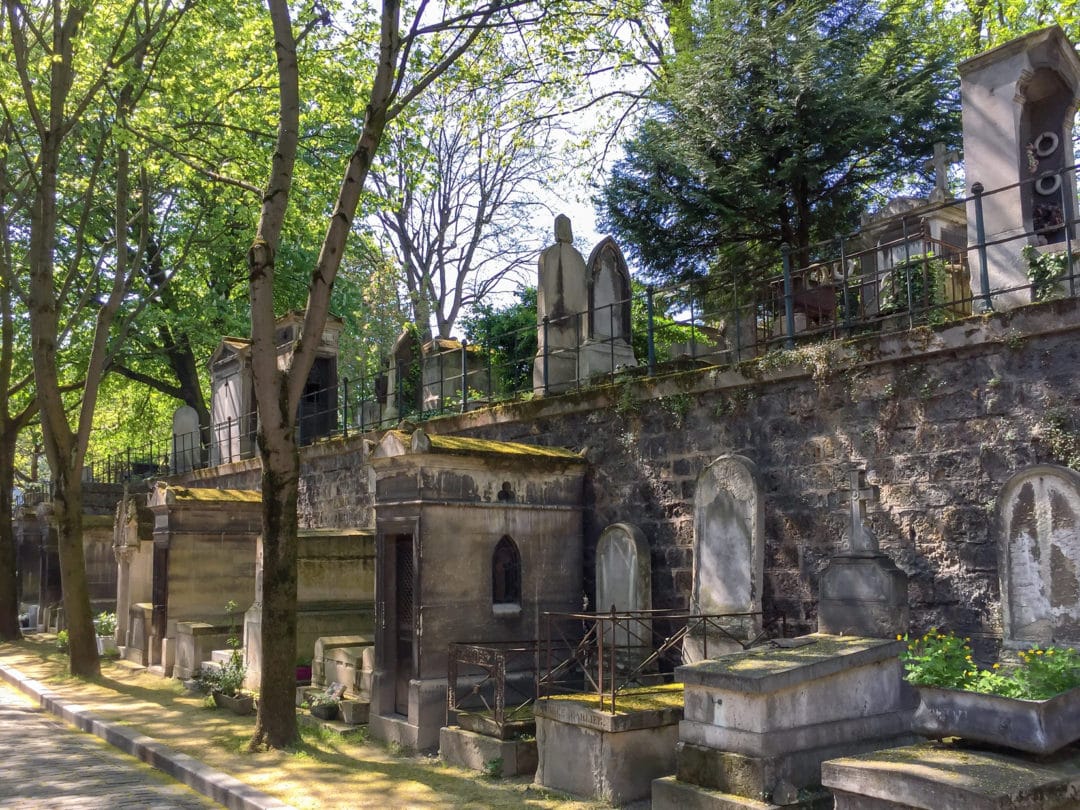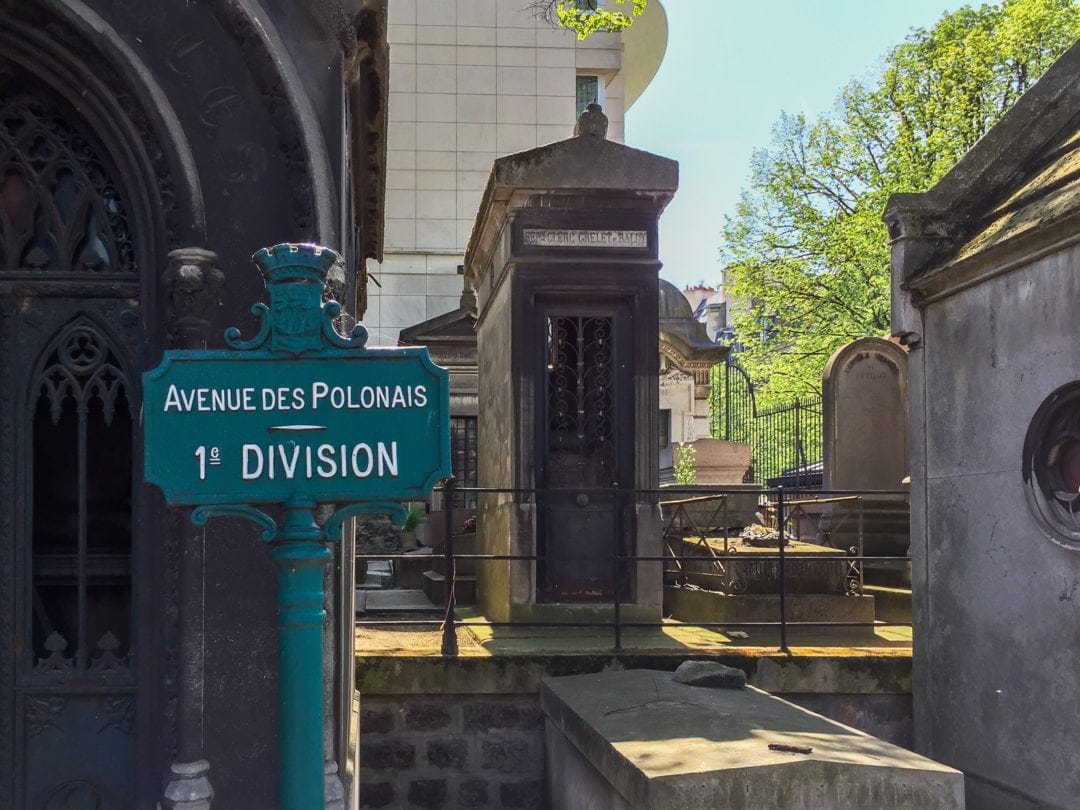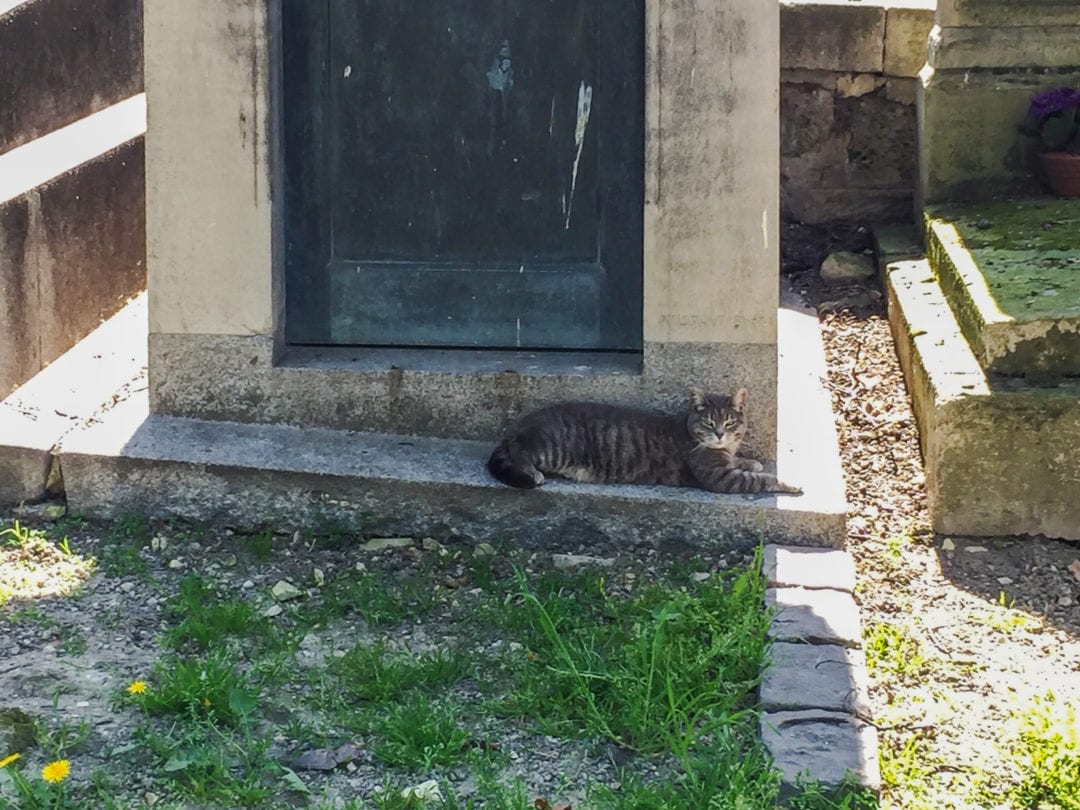 BASILICA DU SACRE COEUR
Montmartre has been a place of worship since the time of Druids in ancient Gaul.
The Basilica of the Sacré-Cœur began construction in 1875 and was completed in 1914.
This limestone Basilica houses one of the world's heaviest bells, weighing in at 19 tonnes.
The best views are from the leafy 'Square Louise Michel' which lies at the foot of the Basilica grounds with steps on both sides leading up to this church.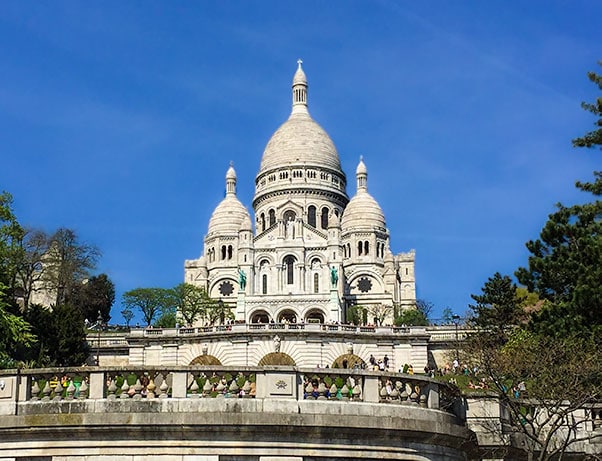 ARC DE TRIOMPHE / TOMB OF THE UNKNOWN SOLDIER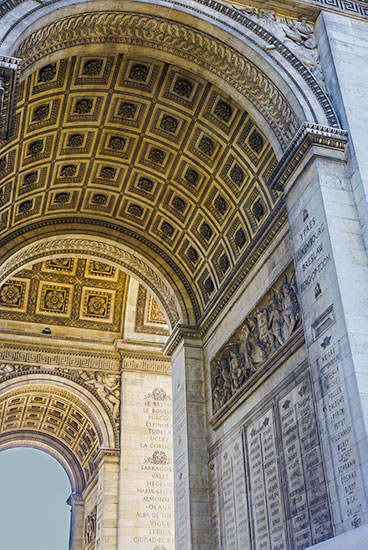 This colossal national monument was inaugurated in 1836 by the King of France and dedicated to the armies of the Revolution and the French Empire.
Beneath the Arch lays the Tomb of the Unknown Soldier. Within it are the remains of a soldier killed in World War One. The 'eternal flame' is re-lit every evening at 6:30 pm in remembrance of those who lost their lives.
Access to the Arc de Triomphe is best via the subways so you can avoid risking 'life and limb' dodging the circular road traffic. Look for the underground tunnel on the Avenue de la Grande Armee side of the circle. Halfway along the subway, you reach steps that rise towards the Arc.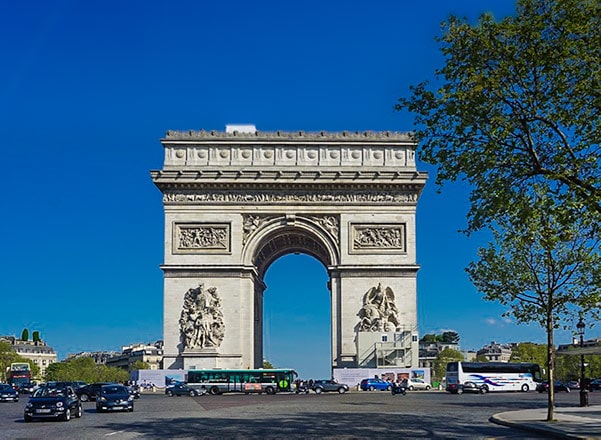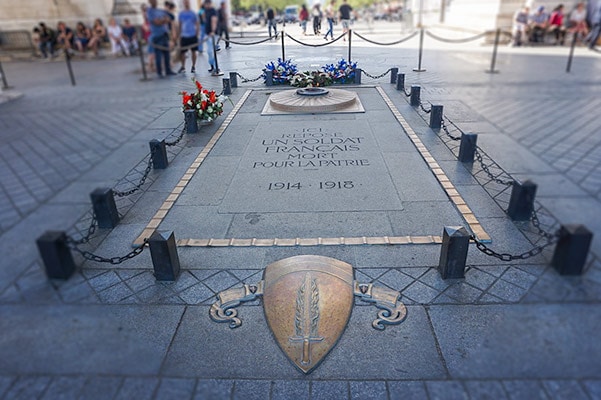 Normally you pay a fee (€12 ticket) to climb the 284 steps to the viewing platform inside the Arc but it's worth noting that it is free on the 1st Sunday of the month between 1 November and 31 March.
EIFFEL TOWER
Famous the world over, the Eiffel Tower is a result of a humble, architectural design competition.
Paris was to host an International Expo to celebrate the Centenary of the French Revolution and wanted a monument to be built in its honour. The Eiffel Tower was the winning design. As such it became the entrance to the 1889 Paris International Expo.
Standing at a height of 324 metres, which is about the same height as an 81-storey building, it is the tallest structure in Paris. Would you believe that it was meant to be a temporary structure? The plan was to demolish the structure in 1909 but it was saved because it was re-designated as a giant radio antenna!
Who would have known that this tower would become the iconic symbol of Paris globally?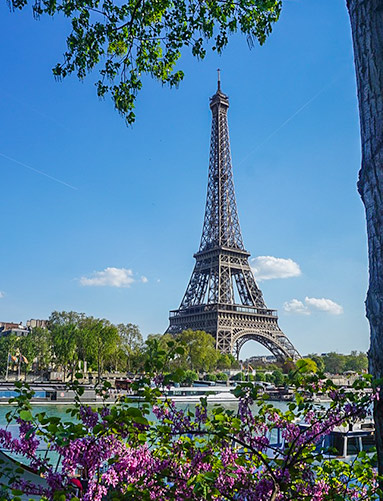 DAY 2: PARIS 2 DAY ITINERARY
---
LOUVRE PALACE
The Louvre Museum is actually housed inside the palace. To secure an early start we booked online tickets.
The early start certainly paid off as we were presented with an uninterrupted view of Leonardo Da Vinci's masterpiece, the 'Mona Lisa'.
The various collections of art, sculptures, paintings and drawings from past civilizations around the globe could keep you enthralled for hours. It's very interesting.
Even the eye-catching Glass Pyramid which heralds the entrance to the museum captures your intrigue.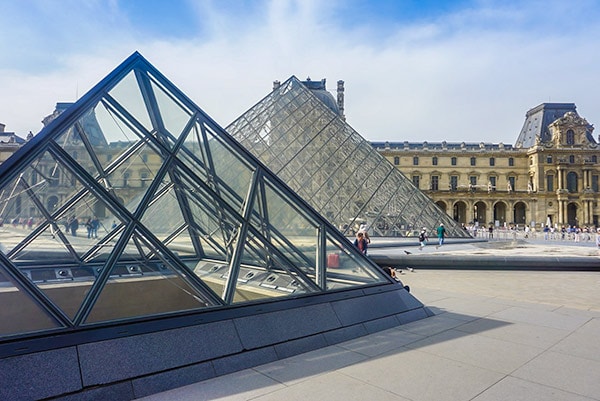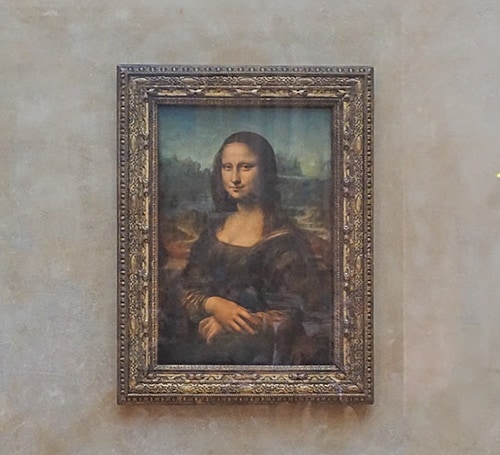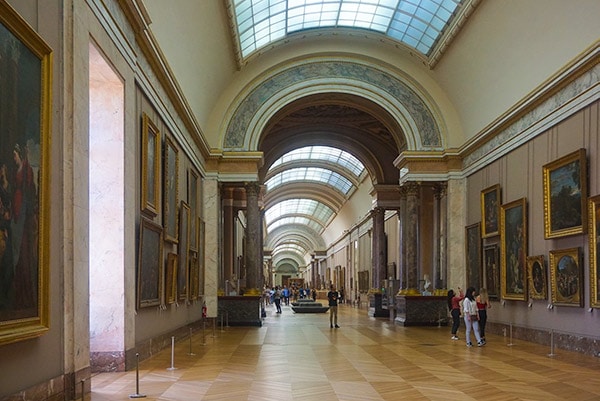 TUILERIES GARDENS
Separating the Louvre and the Place de la Concorde is the French formal Tuileries Gardens.
With carefully tended gardens, backdrops of some of Paris's most famed attractions and walkways winding past fields of attractions, it is no wonder that people flock here.
Best of all it's free and found right in the heart of Paris.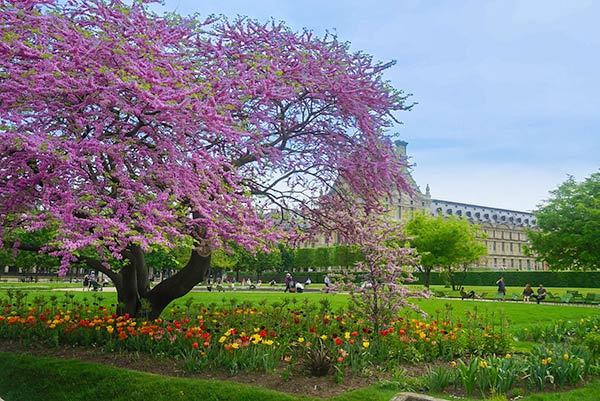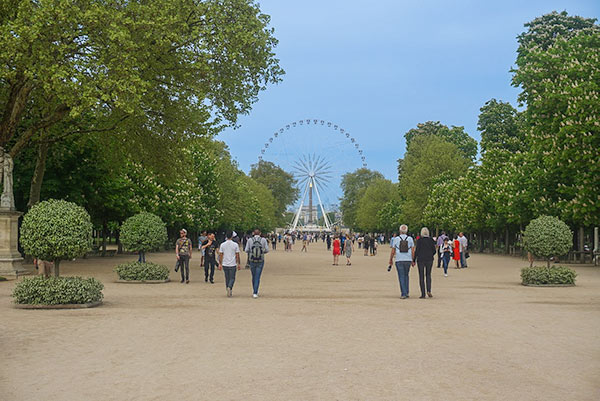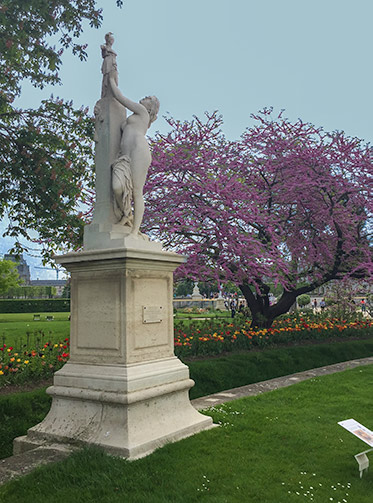 PLACE DE LA CONCORDE
Statues and fountains decorate this busy, large public area bordering the Tuileries Gardens. On each corner of the octagonal square stands a statue that represents a French city.
In the heart of the square, erected here in the early 19th century, stands the eye-catching 3200-year-old obelisk from the Temple of Ramses II, Thebes, Egypt. I
n fact, during the Revolution, a guillotine was installed here and used to behead, among others, King Louis XVI and Marie Antoinette.
Fancy a bird's eye view?
Then treat yourself to views from the 'Roue de Paris' Ferris wheel right beside you in the square.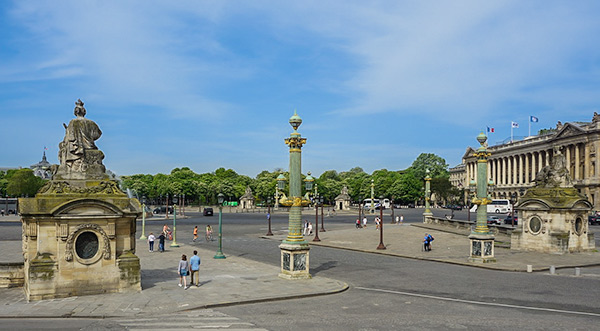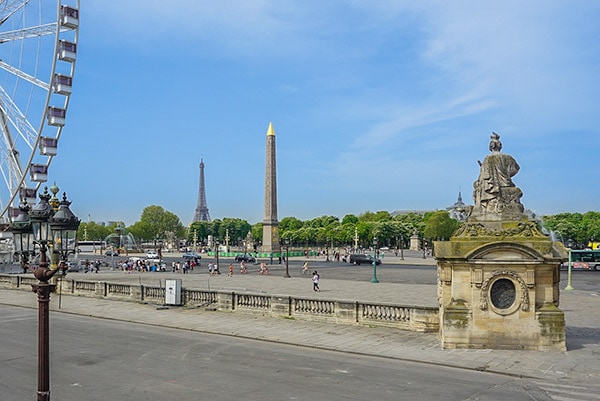 PARC FLORAL DE PARIS
Feel like escaping city life for a while? Situated just 10 kilometres east of the heart of Paris, lying on 34 hectares, is this beautiful botanical park. Bring your picnic basket and maybe you'll get to see a concert or exhibition.
Additionally, the Park also offers a mini-golf course for those inclined to swing a club! Bus stops are close to the entrance which makes getting there very easy. From May 1st to October 31st, expect to part with just a couple of euros for entry.
We are always drawn to the gardens of a city, and if you are in Europe in springtime and love flowers then Keukenhof in Holland is a must for your bucket list. It is just magnificent and was a highlight of our Europe trip.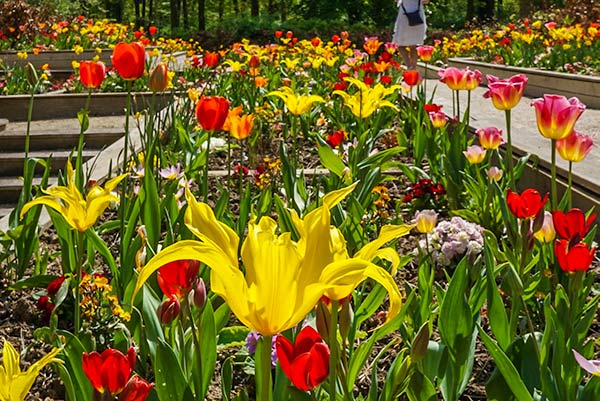 EXTRA ATTRACTIONS FOR YOUR 2 DAYS IN PARIS
CHAMPS ÉLYSÉES
Wander this famous 1.9-kilometre road stretching from the lower part, Place de la Concorde, to the upper part, the Arc de Triomphe. The Champs Elysees is considered one of the world's most famous commercial streets.
SAINTE CHAPELLE
Sainte Chapelle is a royal chapel with over 1000 dazzling stained glass windows recounting the history of the world. It used to be the residence of the Kings of France up until the 14th century.
Price: €15 per adult.
Opening Times: 02 January to 31 March – 09:00 to 17:00 hrs each day / 01 April to 30 September 09:00 to 19:00 hrs each day / 01 October to 31 December 09:00 to 17:00 hrs each day.
MOULIN ROUGE
The Moulin Rouge is a famous cabaret show that has 3 different evening showtimes which can also include dinner depending on your preference. It is strictly forbidden to take photos or movies of the theatre or the cabaret show.
Price: Start at €100 per Adult.
Show Times: a) 'Dinner Show' – arrival between 18:45 and 19:30 hrs with exit at 23:00hrs b) '9 pm Review' – arrival between 20:30 and 20:45 hrs with exit at 23:00hrs c) '11 pm Review' – arrival between 22:30 and 23:00 hrs with exit at 01:00 hr.
FREE WALKING TOUR
If you still can't decide, then join a free walking tour. There is no fixed price. At the end of the tour, you basically tip the guide for what you feel the tour was worth. Here are some free Paris walking tours to get you started.
SEINE RIVER CRUISE
Get a different perspective of Paris by joining a romantic river cruise along the Seine.
Paris With Kids
If you are visiting Paris with your children, most of these places will be of interest to them but also check out this post for more things to do in Paris with kids.
PARIS ACCOMMODATION
---
PARIS MOTORHOME CAMPSITE
We booked a campervan site via a third-party booking site. It wasn't cheap at €43 a night, but sometimes it's justified. Our decision was based on its reasonably central location to Paris (about 15 kilometres distance) so that getting into the city by public transport wasn't too difficult.
HOTELS/GUESTHOUSES/LODGES
When we're not in a camping van or house sitting we use Booking.com to find the best deals on accommodation. Click here to find deals available in Paris
PARIS 2-DAY ITINERARY … THAT'S A WRAP
Central Paris is just amazing. You can feel the history here and the diverse amount of attractions are mostly within walking distance of each other. It sure isn't typical of a city centre full of skyscrapers.
Paris has achieved a lovely mix of historical sights amongst a setting of lush, open green parks with an abundance of cafés on a perfect river setting.
It's true when they say Paris captures your heart. It certainly was the case for us.
Do you have a love affair with Paris? What's your favourite attraction or activity in Paris?
For current special deals on Paris Tours, tickets and activities click here.
Like this article? Why not Pin it?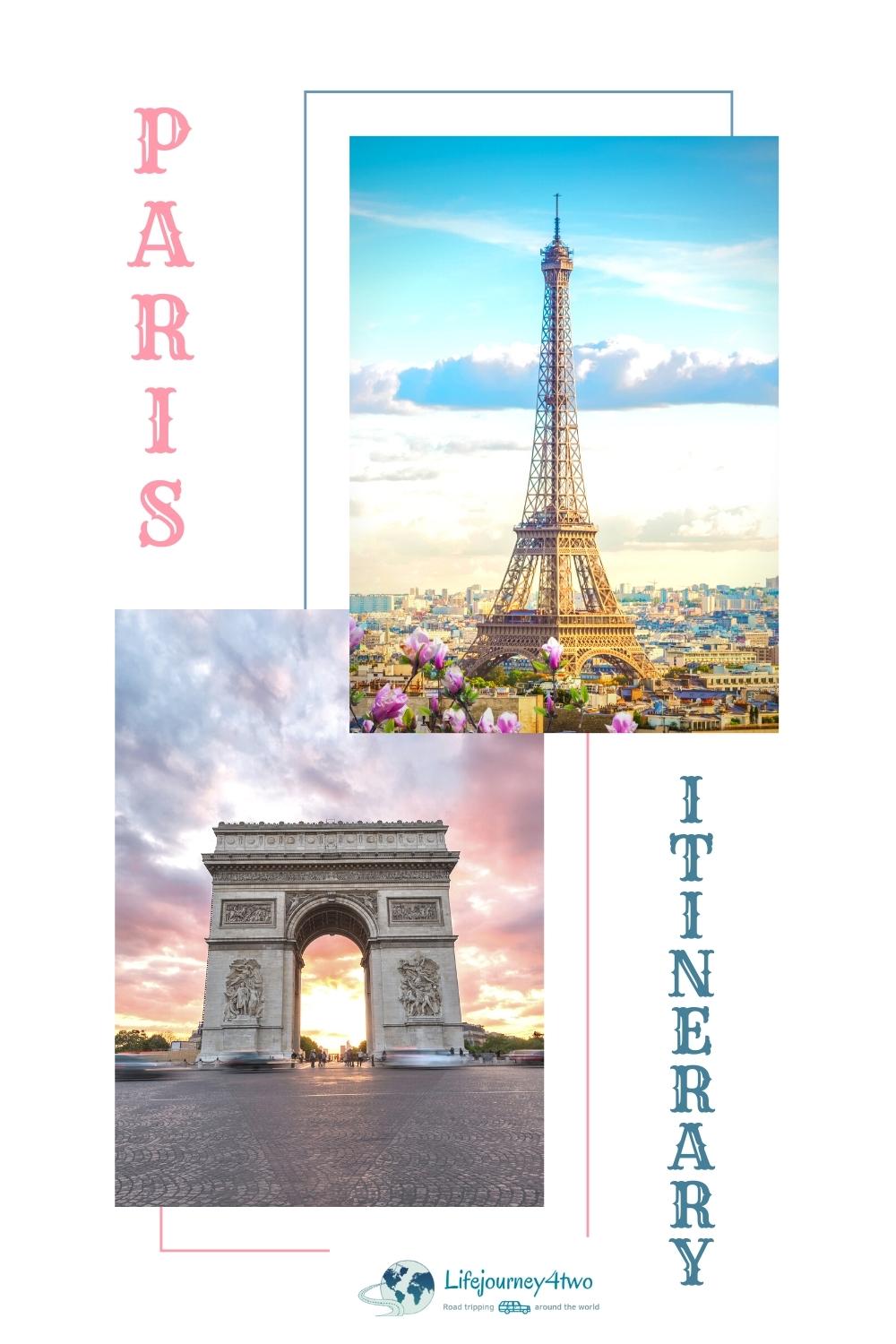 YOU MAY ALSO ENJOY READING
Or any other of our articles on places in France
PLANNING YOUR TRAVELS?
These are some of the travel resources we use when planning our trips.
For a more thorough list visit our Travel Resources page here.