NORMANDY ROAD TRIP
This Normandy road trip itinerary captures the rugged beauty of the Normandy coast in France. The sweeping coastline of white, limestone cliffs extends for a length of 130 kilometres, overlooking the English Channel. It is interspersed with mostly inaccessible, pebbly beaches and breath-taking seascapes that have long inspired painters, composers and poets.
Rich in history and beauty, Normandy is frequently remembered for Omaha Beach and other important locations of the WWII D-Day Landings, the largest seaborne invasion in history.  However, there are many feathers in Normandy's hat. The province also claims recognition for being at the heart of the Impressionistic movement. Famous artists and writers such as Claude Monet, Eugène Boudin, Georges Braque, Guy de Maupassant and Maurice Leblanc, have all called Normandy home.
Nature itself was the inspiration of many of these famous works and we understand why. This majestic Alabaster Coast of Normandy held us in awe because we were rewarded time and again with its sheer grandness, utter beauty and complete tranquillity.
Leaving Brittany, in western France, and continuing on our motorhome travels in France, we headed further north to begin our Normandy road trip. And what better place to start, than at the isle of Mont-Saint-Michel.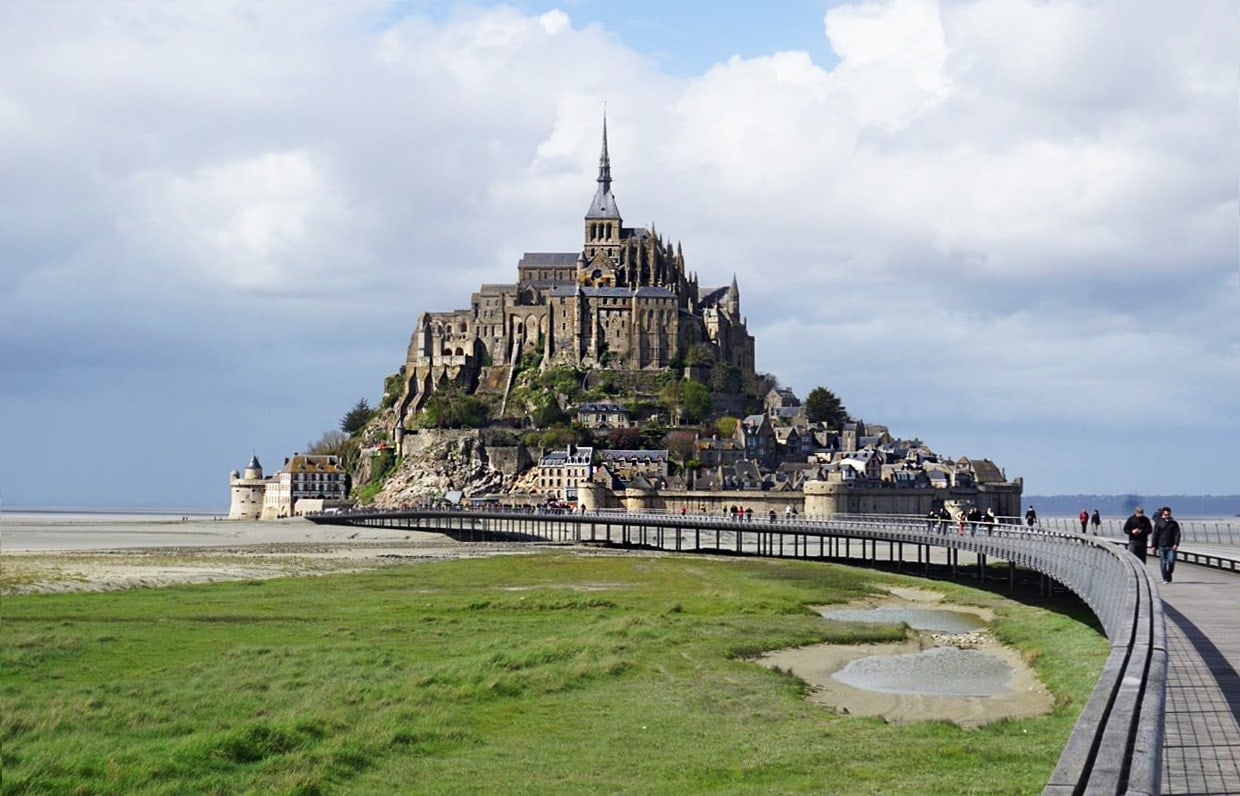 NORMANDY ROAD TRIP MAP
FIVE DAY NORMANDY ROAD TRIP
---
NORMANDY ROAD TRIP DAY 1: LE MONT-SAINT-MICHEL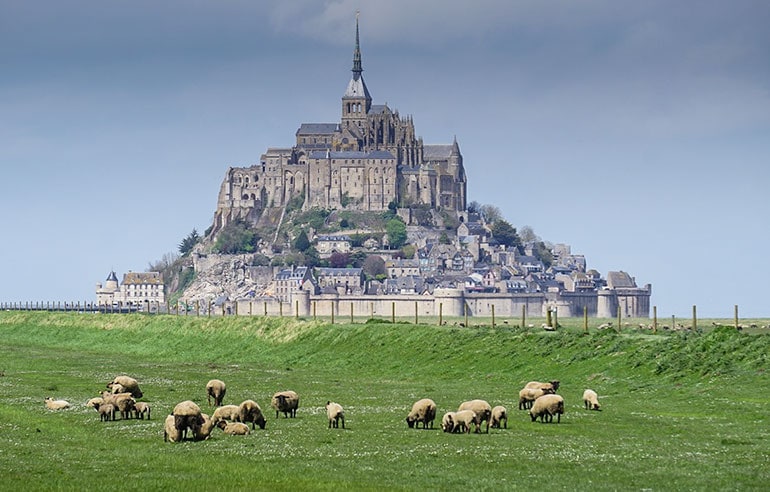 Le Mont-Saint-Michel, dominated by its imposing medieval monastery, has long been a place of pilgrimage. With roots back to the 8th Century, Le Mont-Saint-Michel is most recognisable by its magnificent Benedictine abbey occupying the highest ground on this tiny island. Other grand buildings surround the abbey, all vying for space on this tiny, tidal island.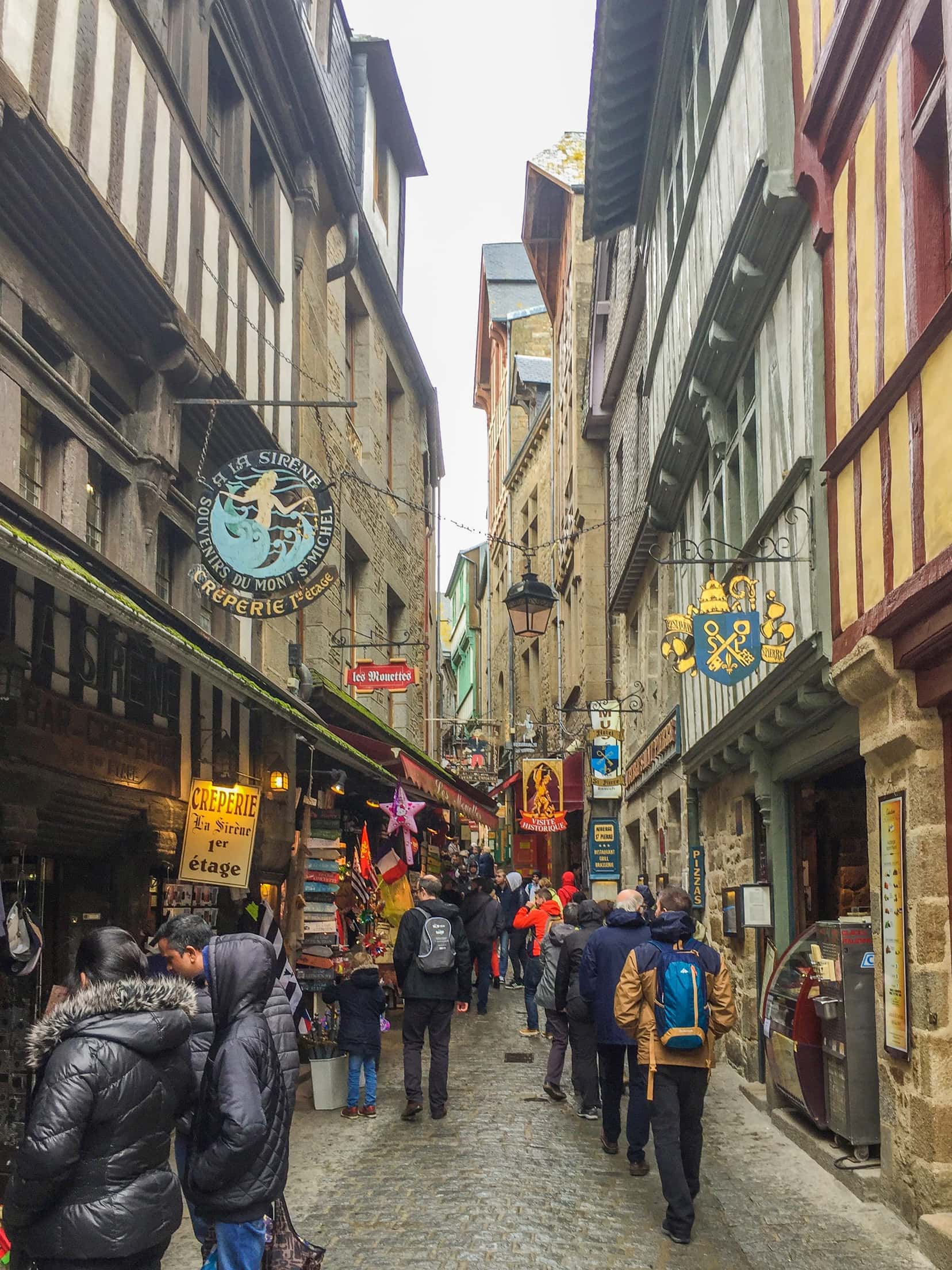 Lying about one kilometre off the French mainland, at the mouth of the Couesnon River, access to the island as only at low tide via the surrounding mud-flats. Luckily, a long bridge extends to the island which allows year-round access.
You also have the option to hire a travel guide for this walking tour of the mud-flats to provide expert advice in avoiding stepping into the soft sand. When the tide comes in, it does so quickly and can have a maximum tidal shift of up to fifteen metres.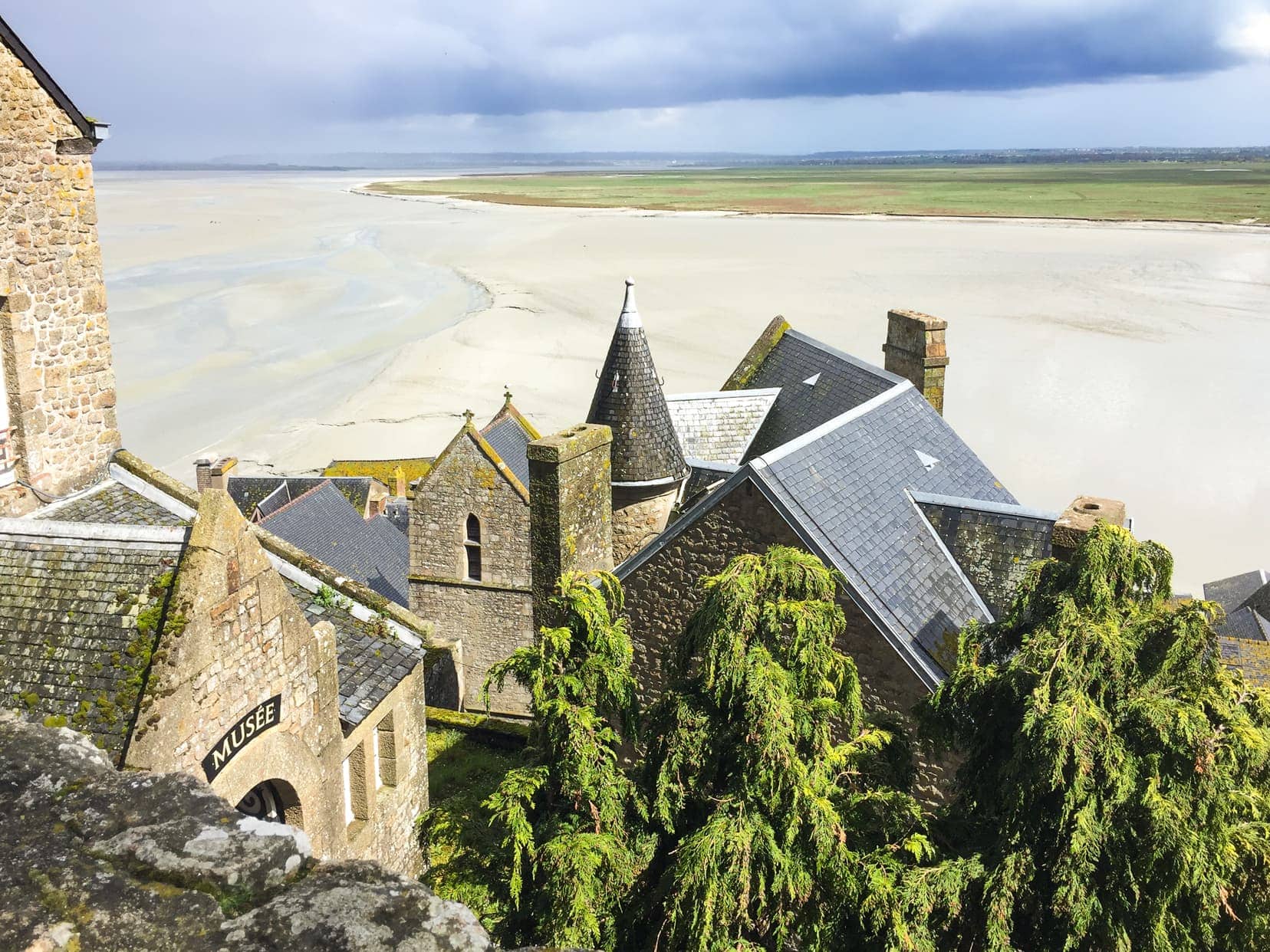 Le Mont St Michel Video Snippets
You can get a better idea of this amazing place by taking a look at this short clip below.
The Mont-Saint-Michel website offers information on tides, walking tours and opening times.
Once you reach the island, the entrance is through the huge iron portico and is free.  However, you do need to pay an entrance fee if you want to enter the Benedictine Abbey. You may just choose to spend the time wandering the boutiques, museums and medieval houses and gaze out to admire the grand views offered from the many different places around the island.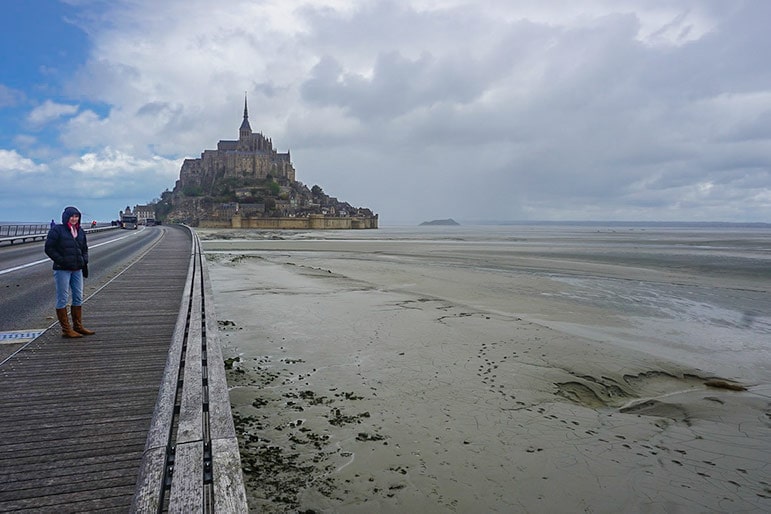 NORMANDY ROAD TRIP DAY 2: SAINT-FRAIMBAULT
The floral village of Saint-Fraimbault consistently wins the award of 'four flowers' in the annual,  'Village Fleuri' ('Villages in Bloom') in which towns throughout France are awarded from one to four flowers, with four being the highest accolade. It was a worthwhile detour (before continuing our Normandy road trip north) to a village that is a consistent high achiever with the Villages in Bloom award since 1965.
We visited in Spring and were greeted with an abundance of daffodils and cherry blossoms. For more information on this pretty part of Normandy, have a look at the Normandy Tourist information site.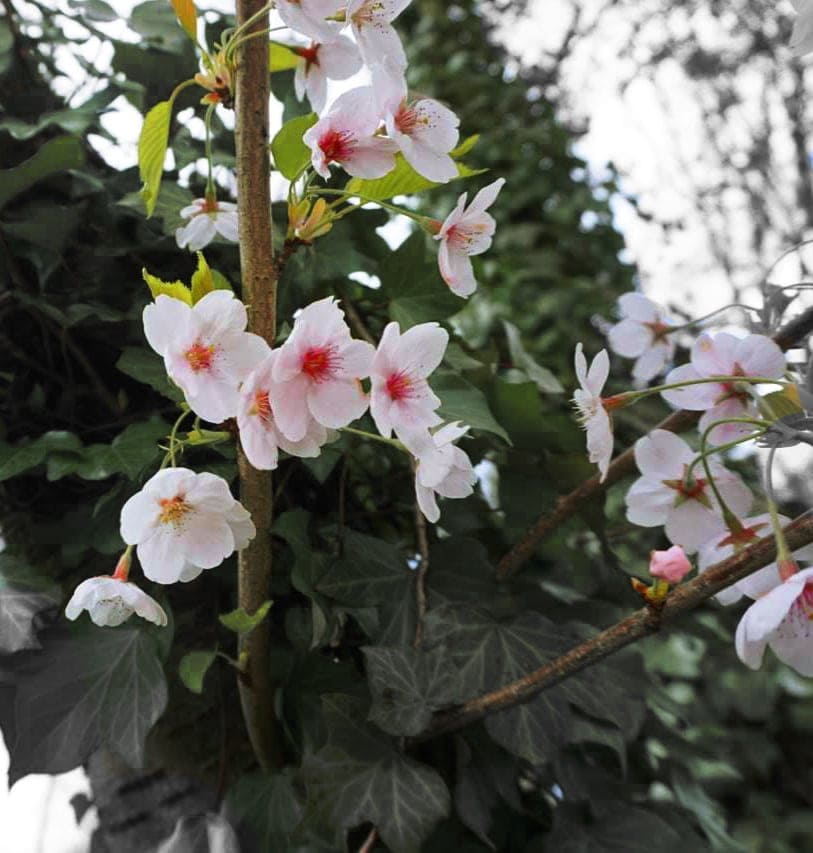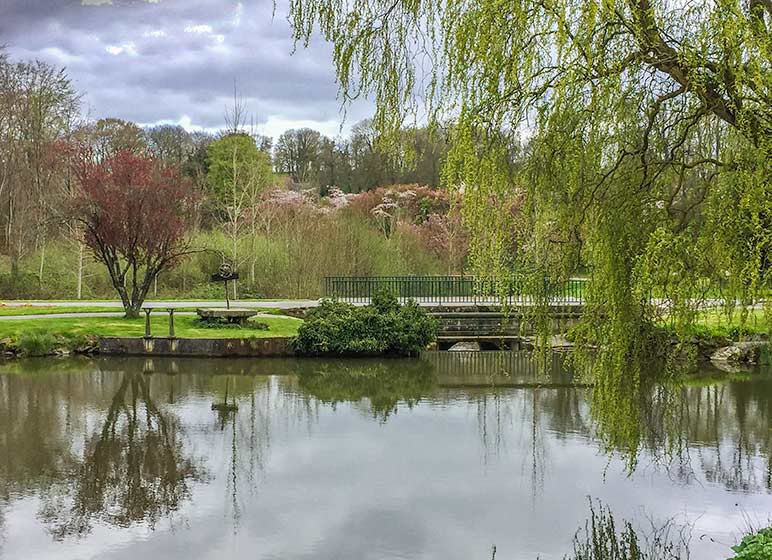 When you are all flowered out, you can enjoy the village 3-hectare lake which has leisure activities, such as paddle boats, fishing and picnic areas. Wherever you are on the walk, you can hear the sweet sounds of the cascading stream which eventually draws you to its cheery tunes.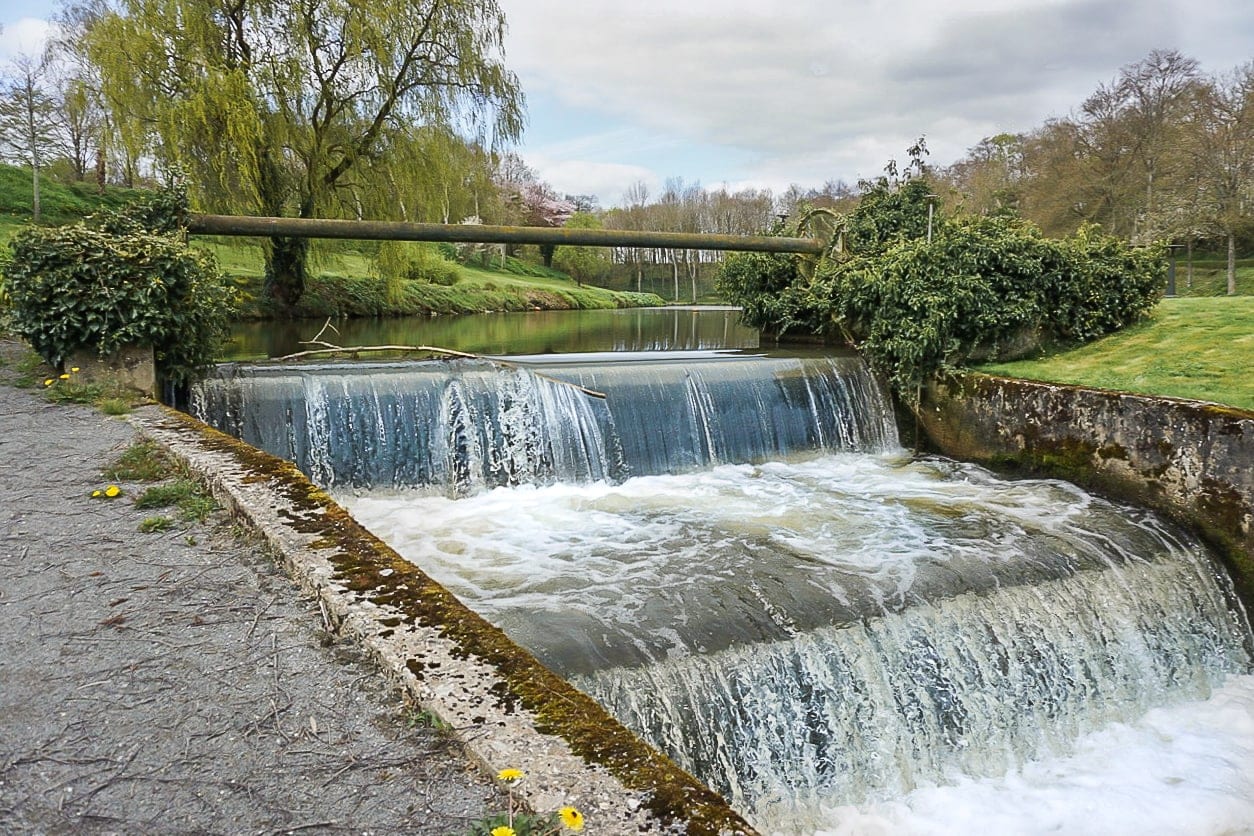 NORMANDY ROAD TRIP DAY 3: CAP D'ANTIFER
Our first real taste of the beauty of a Normandy coastline was overnighting at Cap d'Antifer. With a lone lighthouse and stunning sheer, white limestone cliffs, Cap d'Antifer is nothing short of spectacular.
Grassy paths follow the clifftops and lead you past old war-time bunkers. Here, it is definitely an even mix of beauty and serenity. Front row seats at the cliff tops give you the perfect vantage point to watch the setting sun.
A distinctive landmark is the 38m high bright, white coloured, octagonal-shaped Cap d'Antifer lighthouse. Originally built in 1894, it was bombed in 1944 then re-built in 1949. A free campsite is located right outside the gates of the lighthouse.
Close to sunset, the automated lighthouse starts its own light show, casting its light to sea as it has done for so many years before. This is where you want to be at sunset, looking west to capture the fading rays.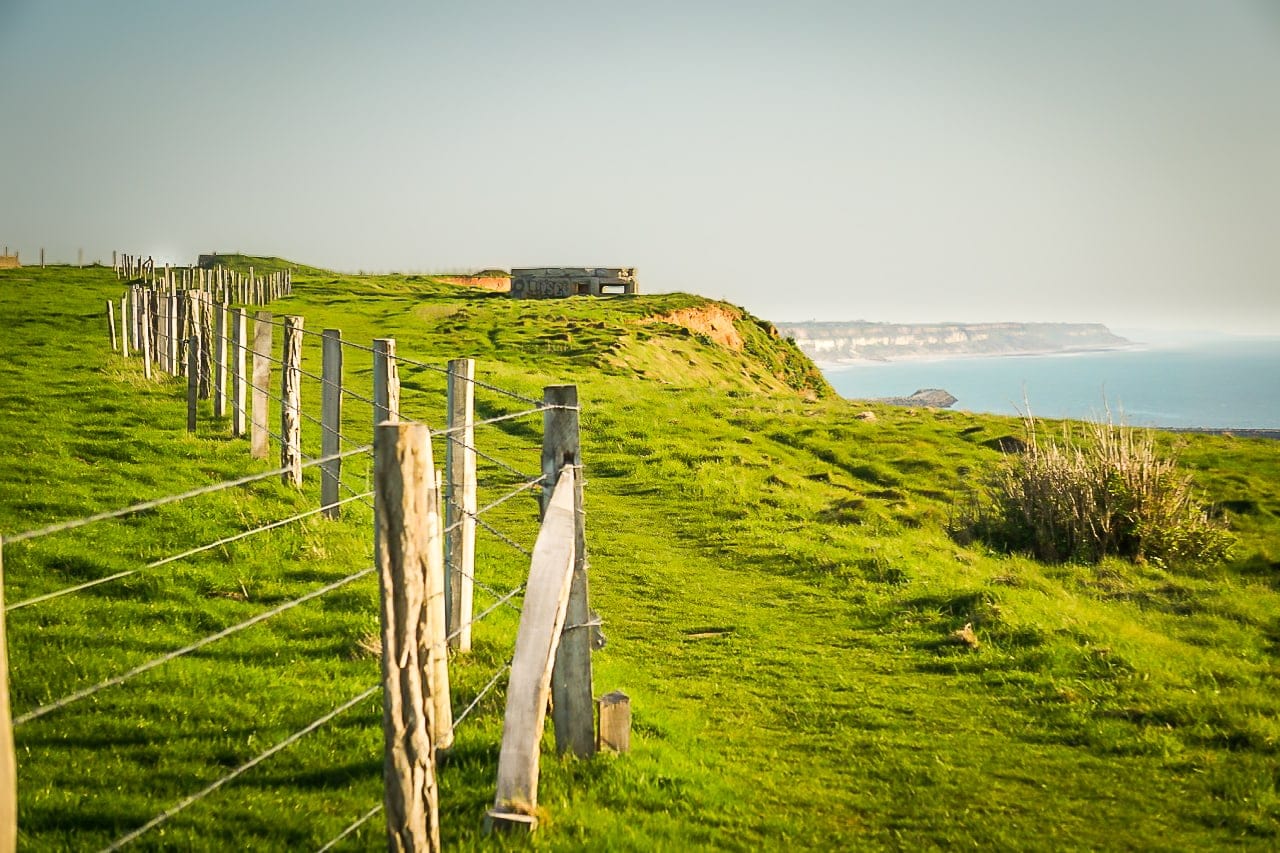 NORMANDY ROAD TRIP DAY 4: ÉTRETAT
Famous for its limestone arches and the 'Needle', or Aiguille, this particular part of the Normandy coastline abounds with spectacular scenery. If you look closely at the needle you may see what many claim to see – the head of an elephant dipping its trunk into the waves.
A great location to capture some photos of the needle are to the east of the town, near the Notre-Dame de la Garde chapel. There's plenty of parking here.
Below is a video showcasing the best of Éretat's coastline – you can easily make out the 'Needle'.
Close by the carpark is the 'White Bird' memorial, a tribute to two French aviators who disappeared in 1927 whilst attempting the first aerial crossing of the North Atlantic from Paris to New York.
You may like to read this interesting article on that last flight.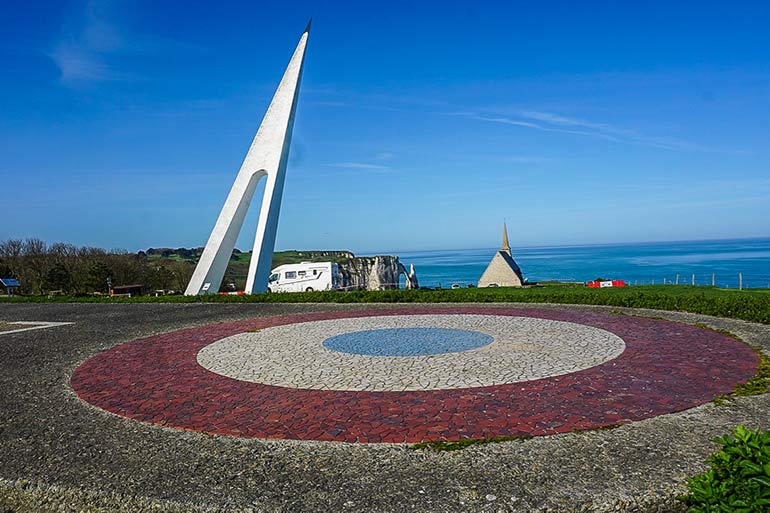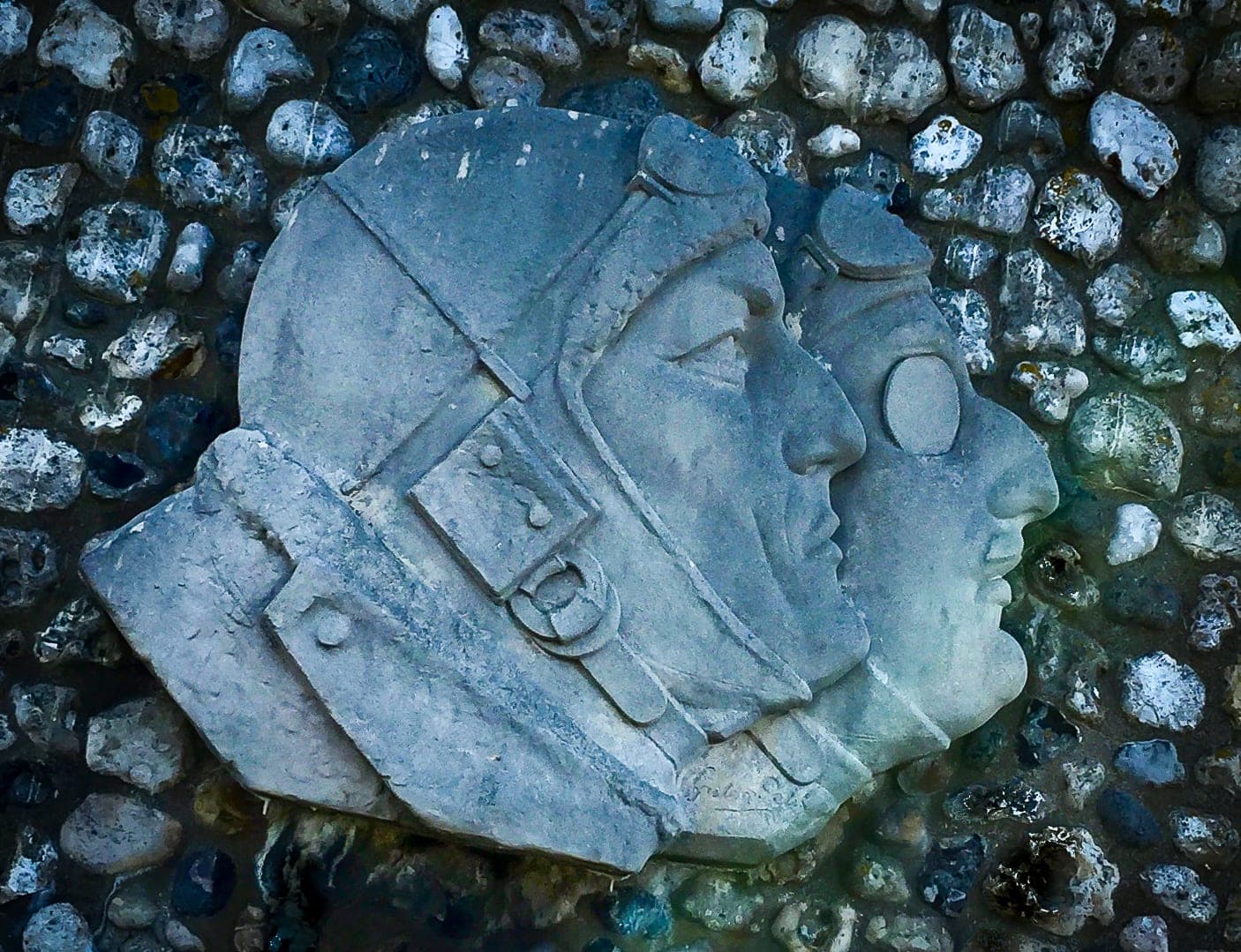 NORMANDY ROAD TRIP DAY 5: SOTTEVILLE-SUR-MER
The white chalk cliffs continue along this poetic coastline but here, near the charming farming village of  Sotteville-sur-Mer, you can access the beach via a concrete stairway carved between the cliffs.  231 steps lead you down to the small pebbly beach that is relentlessly pounded by the Atlantic Ocean.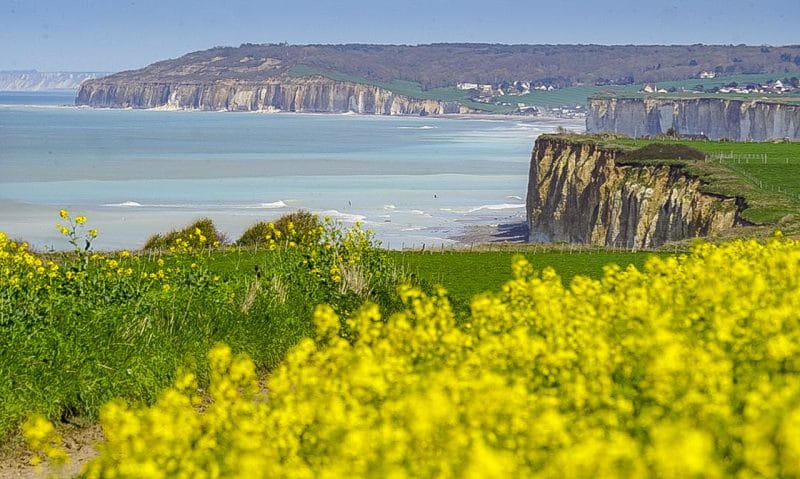 Views from Sotteville-sur-Merhttps://www.youtube.com/embed/DmubcMFfw-k?feature=oembed&wmode=opaque
The steps were used to transport pebbles from the beach up to the Sotteville-sur-Mer so they could be crushed into emery powder. The fishermen used the steps to access their huts along the beach which were carved out of the rock.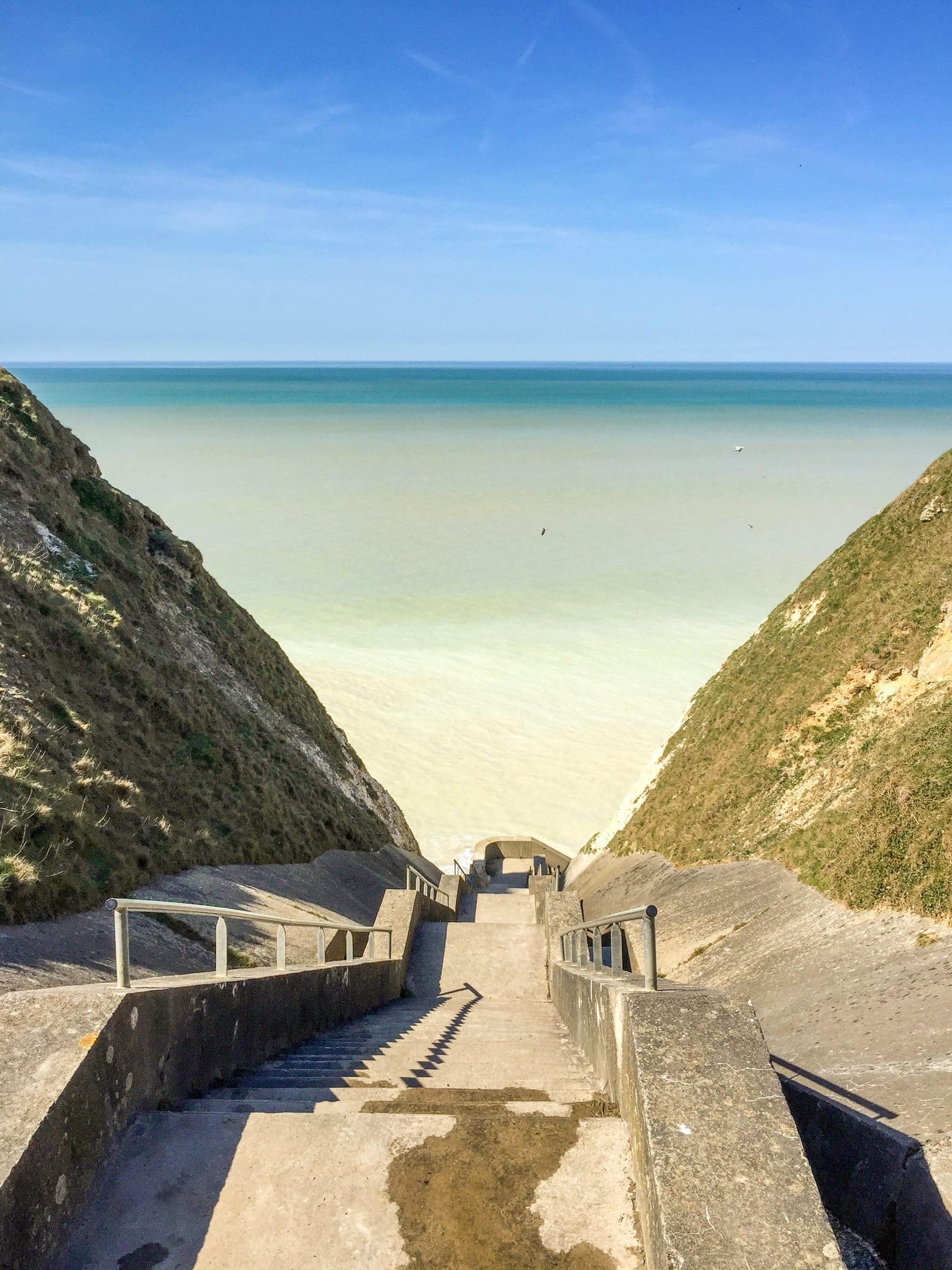 What a fitting way to end our Normandy road trip of this extraordinary coastline with this spectacular sky burst of reds and yellows. Normandy's farewell to us.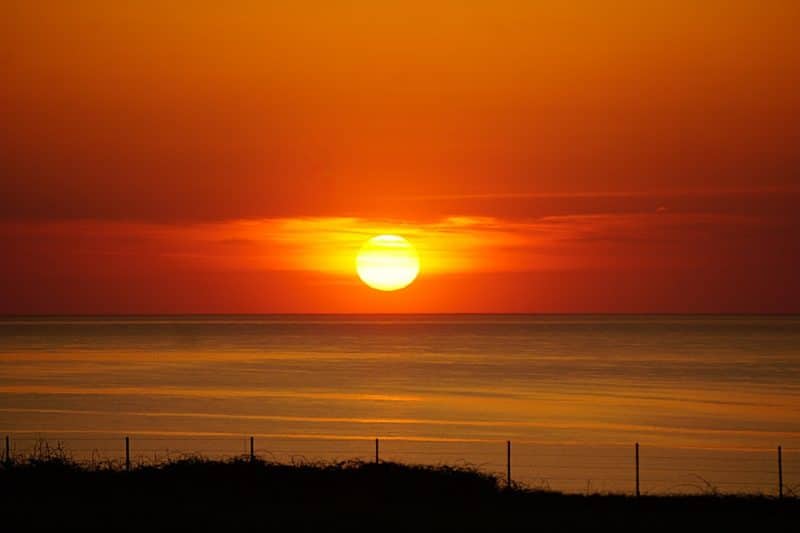 A fitting end to our Normandy road trip with this sunset at Sotteville-sur-Mer
PARIS TO NORMANDY – TRAVEL OPTIONS
---
1. PARIS TO NORMANDY BY CAR
An approximate 2.5 hours drive from Paris' Charles de Gaulle airport or Orly airport will have you in Normandy. However, the distance and time depend on where you are headed in the Normandy region. To begin your road trip at Mont-Saint-Michel the trip from Paris will take approx 4 hours. 
See Rental Cars Connect for great car hire options.
2.  PARIS TO NORMANDY BY TRAIN
The speedy TGV trains leave from Paris' Gare Saint Lazare several times a day to many towns and cities in Normandy, (taking between 1-2 hours). However, to get to many of the more rural towns it is best to have a car as bus connections are not as regular. 
You can book both train and bus tickets through SNCF (France's National Rail network provider).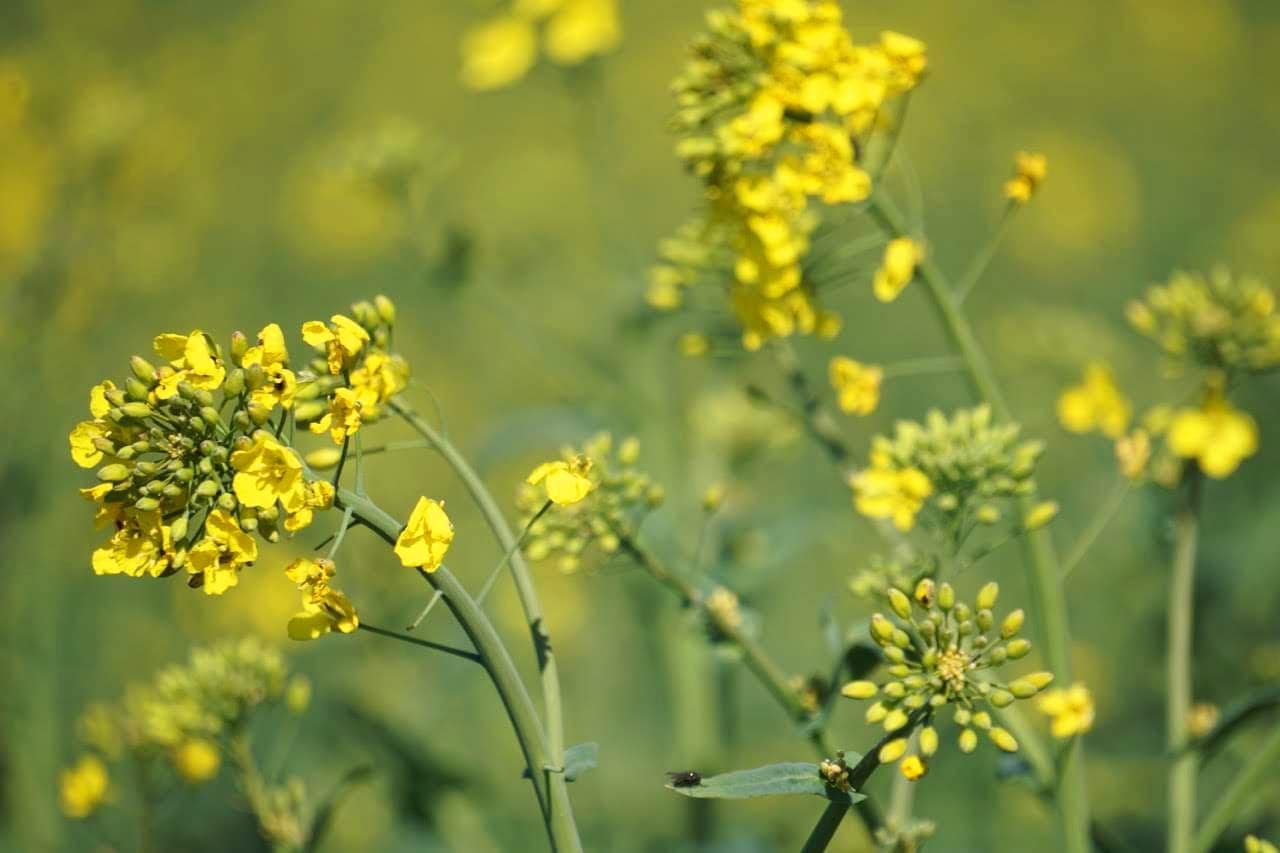 WHERE TO STAY ON YOUR NORMANDY ROAD TRIP
---
NORMANDY MOTORHOME/ CAMPER STOPS
NORMANDY ROAD TRIP ACCOMMODATION if TRAVELLING BY CAR
NORMANDY ROAD TRIP OPTIONS
MOTORHOME/CAMPERVAN RENTAL FOR ROAD TRIPPING NORMANDY
We had hired a campervan through Motorhome Republic who find the best deal for you in whatever country or region you need to hire a van and they have great customer service. So if you are thinking of renting a motorhome, then it's definitely worth the time to get an online quote here and it's free.
READ MORE: Everything you Need to Know About Hiring a Motorhome
Here are a few comprehensive articles on motorhome tips for driving in Europe that will certainly help:
CAR RENTAL FOR YOUR NORMANDY ROAD TRIP
If you are planning on renting a car for your Normandy Trip then you check out Rental Cars Connect to find the best deal.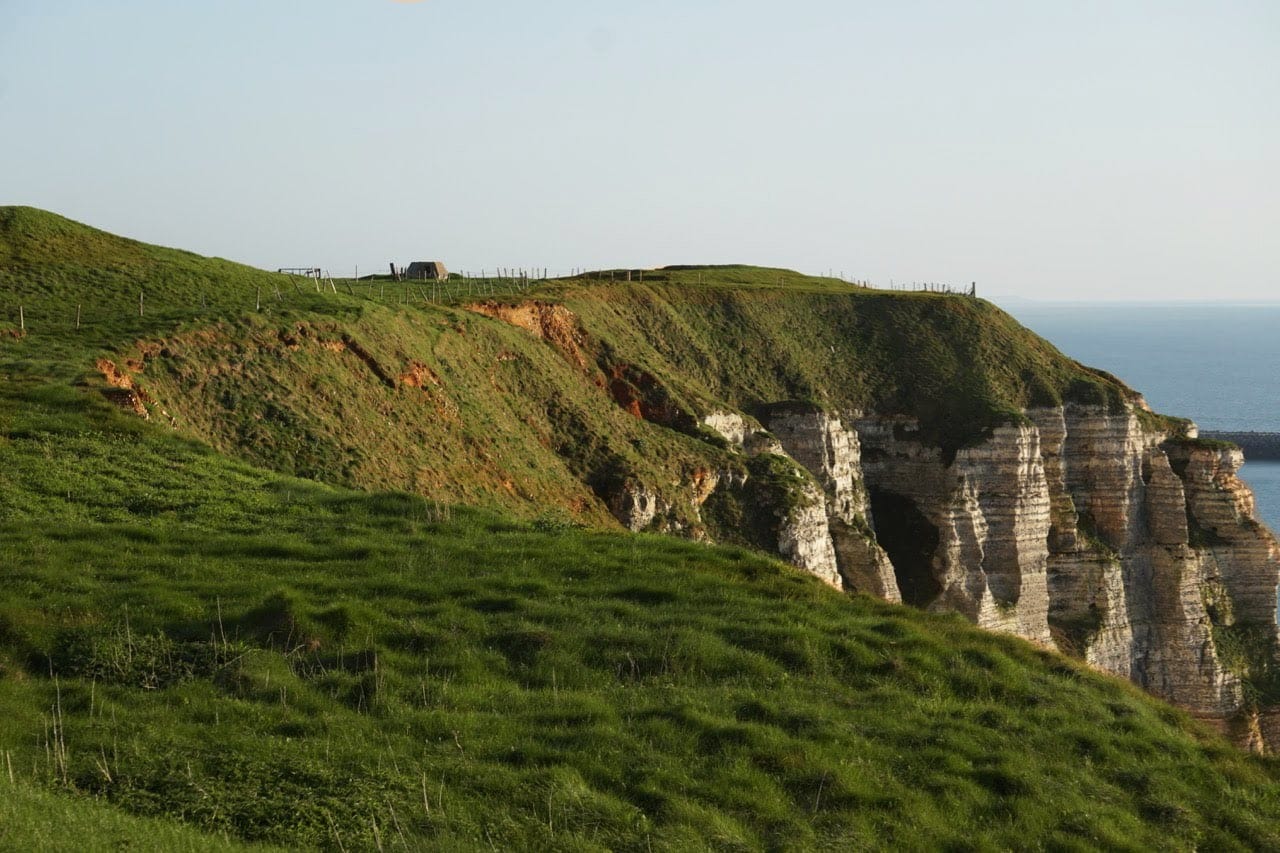 NORMANDY ROAD TRIP : WHAT YOU NEED TO KNOW ABOUT DRIVING IN FRANCE
In France, you drive on the right-hand side of the road.
You will need to have the following documents:

Drivers licence (An international driver's licence isn't required)
Vehicle insurance
Vehicle registration document
Passport

You are also required to have the following in your vehicle:
If driving in France with a vehicle that has a steering wheel on the right-hand side, then it is likely that the driving lights will require a beam adjustment so that the dipped beam doesn't dazzle oncoming drivers. The easy way around this is to purchase a set of cheap beam deflectors for the front beams which are stickers that block the light.
Many of the motorways have tolls. To avoid them you can program your navigator to avoid tolls and you can also use www.autoroutes.fr to plan your trip and to find out the costs of tolls etc.
Speed Limits in France are as follows unless otherwise signposted and on dry roads

130 km/h (80 mph) on toll motorways
110 km/h (68 mph) on dual carriageways and motorways without tolls
80 km/h (50 mph) or 90km/h (55 mph) for single and dual carriageway country roads (it is at the discretion of the local provincial government as to which speed it adopted)
50 km/h (31 mph) in towns. The sign with the town name indicates the start of the speed the limit and when departing, the name has been struck through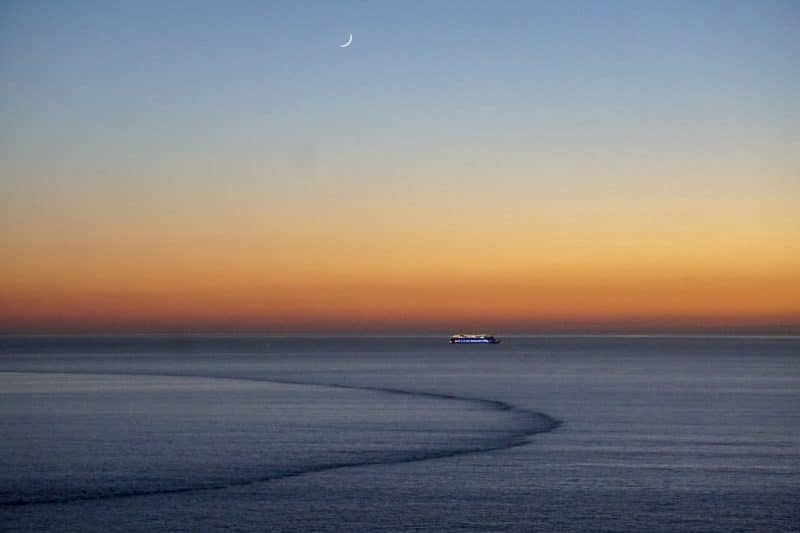 OTHER PLACES TO VISIT ON YOUR NORMANDY ROAD TRIP
Obviously, there are hundreds of other villages and towns you could visit on your road trip through Normandy.
Popular towns and attractions include:
This post may contain affiliate links. This means that we may earn a small commission from purchases you make through our links, at no extra cost to you. Thank you for supporting us. For more info, read our Disclosure Policy.
Pin and Save for Later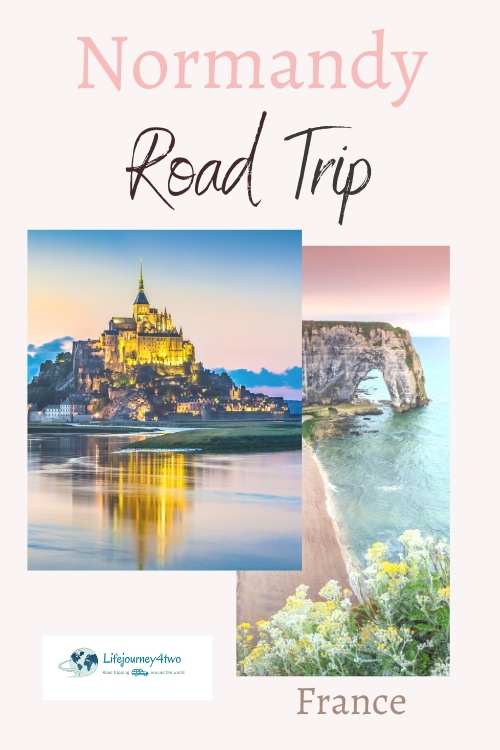 Normandy Road Trip … That's a Wrap
What are your favourite places to visit in Normandy?
Which spots would you recommend to our readers? Please leave a comment below.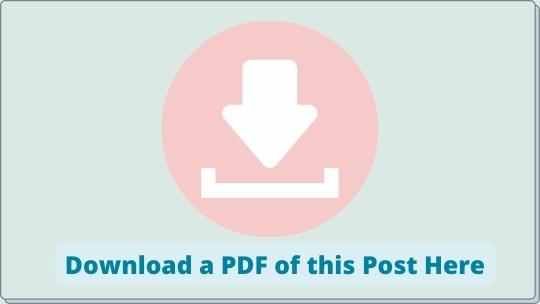 READ MORE ON FRANCE:
READ MORE ON ROAD TRIPS IN EUROPE
---
PLANNING YOUR TRAVELS?
These are travel resources we use when planning our trip and can recommend: