Sesimbra – Portugal's Favourite Seaside Haven
Basking quietly on Portugal's coast is the sleepy seaside fishing village of Sesimbra. A mere 40 kilometres from the capital city Lisbon, Sesimbra is easily accessed by road. The village still exudes that laid back seaside vibe you would hope for, offering a perfect escape from city life. For a day trip or longer, it truly is a haven.
Sesimbra has much to offer, whether it's lazing on the sandy beaches, paddling in the crystal waters or wandering the village sand soaking in its character, there is something for everyone here. And let's not forget, that just 16 kilometres away, lies the wild and untamed coastline of Cabo Espichel. Where do we start?
Sesimbra including Cabo Espichel: Map
Getting to Sesimbra from Lisbon
Hire Car
The best option is to hire a car from Lisbon as it gives you the flexibility to move around and visit the many different attractions mentioned in this article. Find the best hire car options below.
Public Transport – Bus
The bus is the only means of public transport from Lisbon to Sesimbra. In Lisbon, the arrival and departure bus terminals are at the same location: Praça de Espanha. You can choose either bus #207 or #260 which take different routes but both arrive at Sesimbra bus station. The cost per person is approximately €4 for the 1-hour journey. The buses are operated by TST (Transportes Sul do Tejo) and you can find their timetables here – Bus 207, Bus 260.
Sesimbra – Things to Do and See
1) Praia de California  (California Beach) – Sounds fabulous? Well, it is. Walk, laze, swim or do nothing at all as you enjoy this beautiful, sandy stretch of sand right in the heart of town. Spend as much or as little time as you want. Its perfect central location allows you to wander and discover this traditional Portuguese village.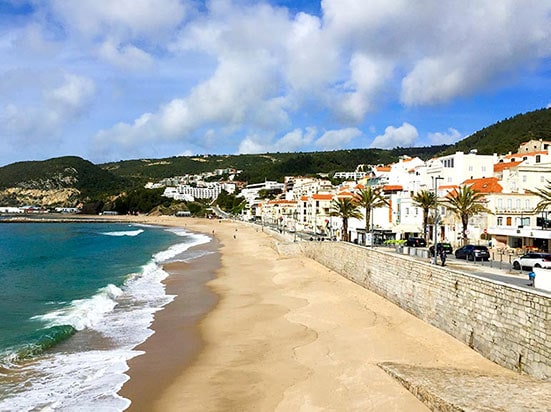 Praia de California in Sesimbra 
2) Sesimbra Street Art – wander the streets to see fantastically detailed murals depicting the typical Portuguese fishing life. Actually, you'll also see this by the roadside on the walk to the Marina. Check out some of the brilliant Sesimbra street art in the video below.
Paragliding onto Praia de California, Sesimbra
3) Wander the Streets of Sesimbra
Absorb Sesimbra's vibe by discovering this traditional fishing village on foot. Old buildings, paved roads and quaint shops all add to Sesimbra's flavour.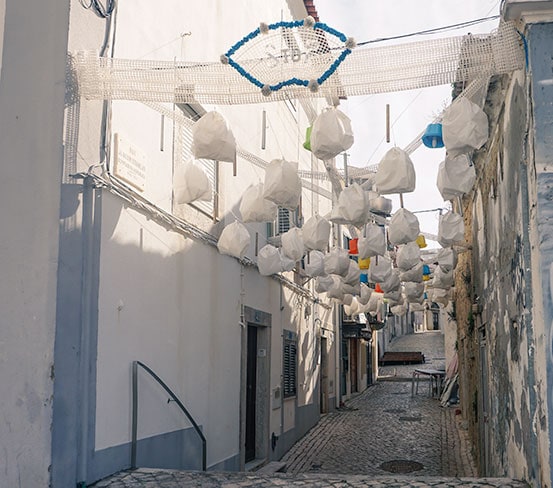 Sesimbra pretty side street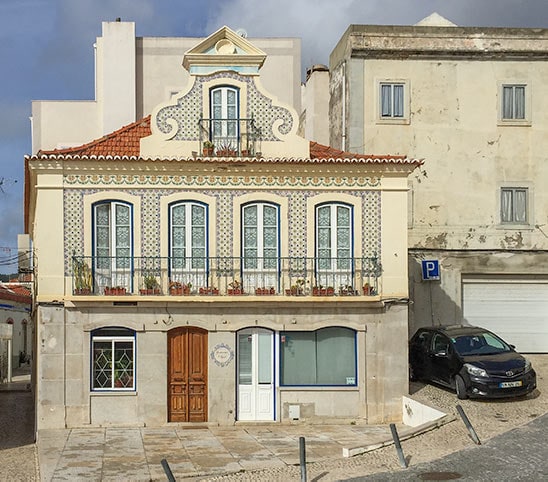 Sesimbra Portuguese styled old home
4)
Castelo de Sesimbra
– this medieval castle stands high on the hill behind Sesimbra overlooking the town. Roam the ramparts while gazing out at the seemingly endless exquisite coastline. Inside the castle lies the Igreja Santa Maria do Castelo
 church, which you may enter. More information can be found here.
5) Fortaleza de Santiago – this 17th-century castle in central Sesimbra once hosted Portuguese kings using this residence as their summer home. It is open for visits. Here you can find out opening times, costs etc.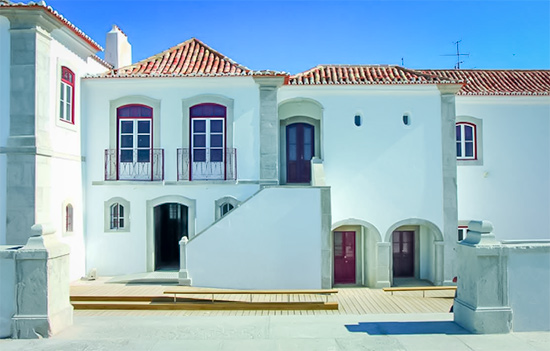 Fortaleza de Santiago, Sesimbra
6) Sesimbra Marina – Walk the Praia de California west then join the footpath and follow this around to the Sesimbra Marina. Here you see the traditional multi-coloured small, wooden fishing boats. Seagulls vie for the scraps left on the quays by the fisherman tending their nets. Here the pace of life is methodical and unhurried. Perfect for unwinding!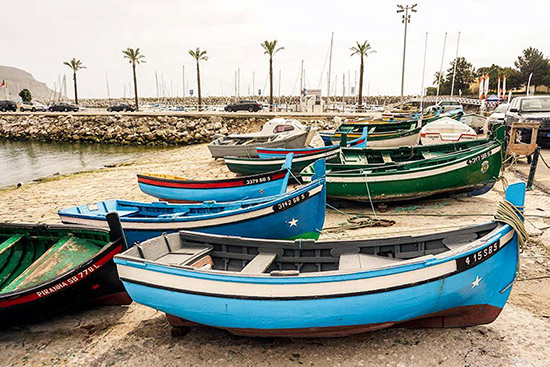 Sesimbra's bright coloured fishing boats 
7) Paragliding onto Praia de California
Fancy a birds-eye view of Sesimbra and its beautiful surrounds? How does a landing onto Praia de California sound?  Paragliding might be the answer you are looking for. Contact Sesimbra tourist information for details or visit the Fortaleza de Santiago in Sesimbra which houses the tourist office.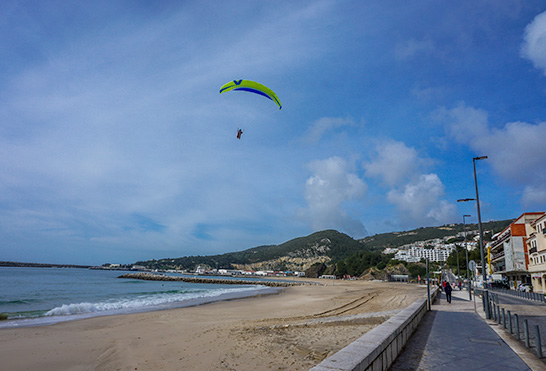 If you're still not convinced how fabulous this village is, then take a look at this short video showcasing Sesimbra that the Portugal Tourism put together.
Sesimbra Restaurants
All that sightseeing sure works up a good appetite and if you're a fan of seafood then Sesimbra is renowned for its seafood. The local fishermen supply local restaurants with a variety of seafood so you can be sure that you're eating the catch of the day. A popular local dish served in a clay pot is Arroz de Marisco, an amazing fish stew consisting of crabs, shellfish and rice. These restaurants are highly rated and in the heart of the village (see the above map for locations):
Marisqueira Modesto: serves lunch and dinner with the following cuisine: seafood, Portuguese and Mediterranean.
Taberna Isaias: serves lunch and dinner with local cuisine of seafood, Mediterranean, Portuguese including gluten-free options.
Great Spots to Visit Close By Sesimbra
Parque Natural da Arrábida 
Just to the north-east of Sesimbra and south-west of the city of Setúbol, this nature reserve boasts indigenous vegetation, magnificent tall, white cliffs, fine sandy beaches and sparkling blue seas. Definitely, a hidden gem to explore and it's only a 30-minute drive from Sesimbra to the main beach of Porto do Portinho da Arrábida.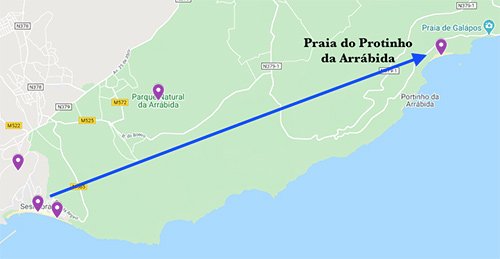 Cabo Espichel 
Driving a mere 15 kilometres west of Sesimbra finds brings you to the doorstep of Cabo Espichel and all its wild beauty, on the tip of the Setubal Peninsula. Here a landscape of ancient buildings, rolling hills, majestic cliffs, pounding seas and gusting winds awaits you. If you love the wildness of nature, then this is the place for you.
Parking is not a problem with a huge area right by the church and within easy walking distance of other sights at Cabo Espichel. The buildings have an interesting history and worth the time to visit as well as exploring the spectacular surrounding landscape.
Here are what we consider the best things to see and do in Cabo Espichel:
Nossa Senhora do Cabo Espichel
The Santuario de Nossa Senhora do Cabo Espichel is also known as the Sanctuary of Our Lady of Cape Espichel, or Nossa Senhora da Pedra Mua.
This 'Sanctuary of our Lady', built in the early 1700s in the name of Our Lady of the Cape Espichel hosted many religious pilgrim's journeys. The pilgrims lodged in the long accommodation wings either side of the church.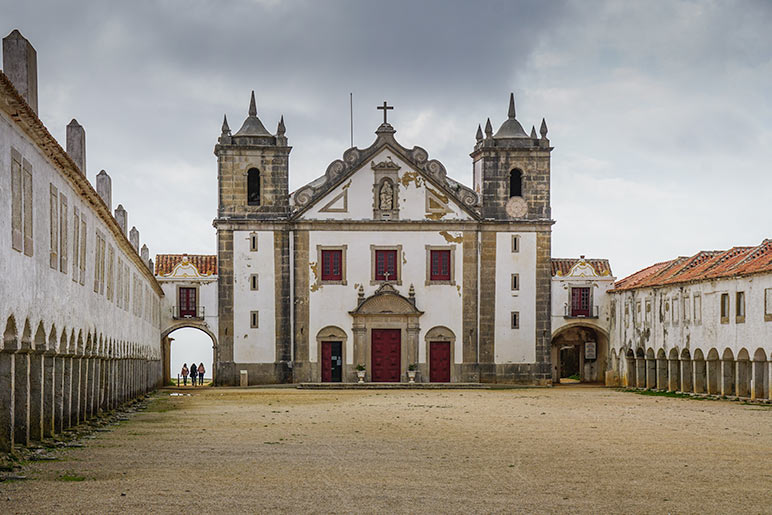 Santuario de Nossa Senhora do Cabo Espichel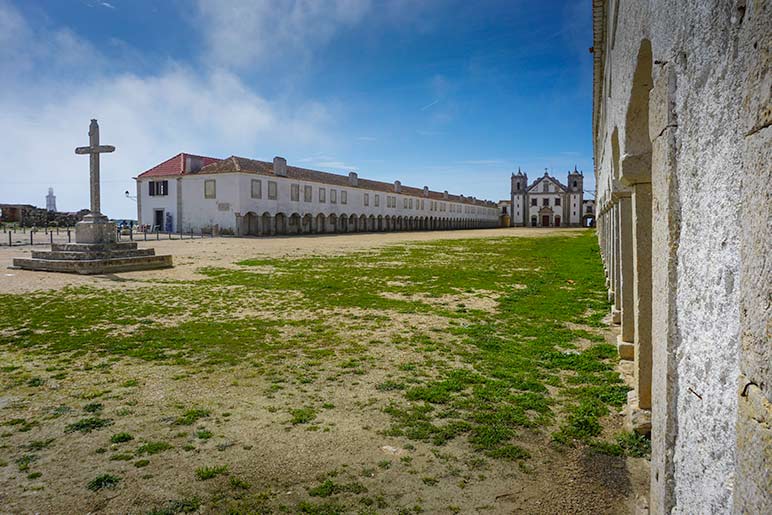 Santuario de Nossa Senhora do Cabo Espichel showing the two wings of traveller/pilgrim accommodation
Ermida da Memória Chapel
Behind the church, on the precipice of the cliff, you will find the 'Ermida da Memória' chapel. This was built in the 15th century, and it marks the site where the image of 'Our Lady' (the Virgin Mary), is believed to have been sighted. The legend tells us that an apparition of the Virgin Mary appeared riding a giant donkey up the steep Cabo Espichel cliffs from the ocean. On reaching the top of the cliffs,  Mary apparently vanished, leaving just the footprints of the giant donkey. A traditional azulejo (blue and white) tiled representation of this vision, being the oldest ever known, is found within this Chapel.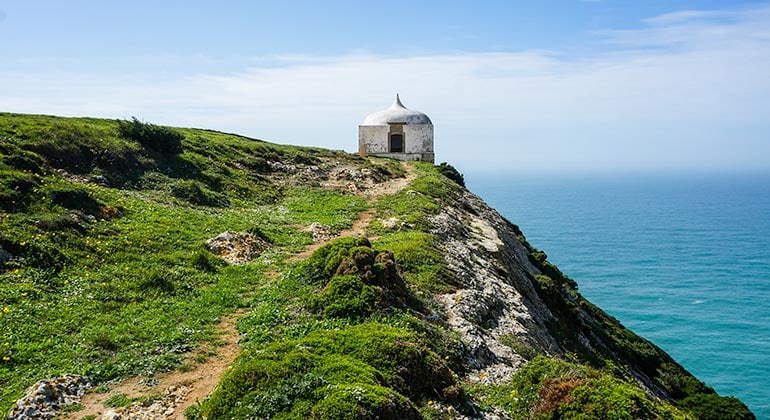 View of the Ermida Chapel at Cabo Espichel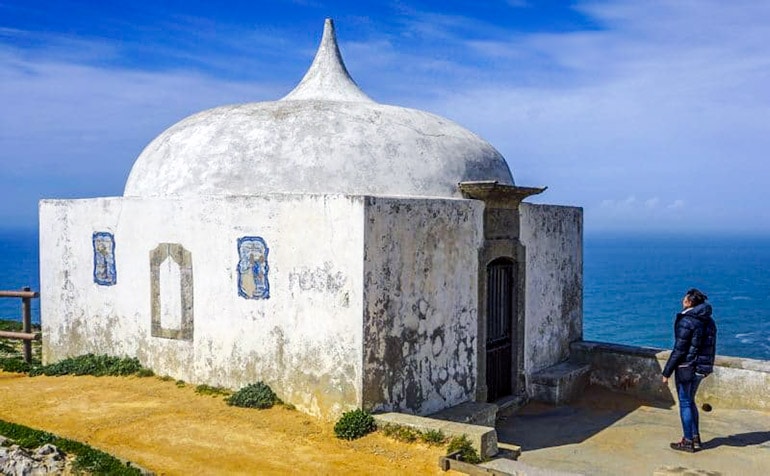 Ermida da memoria Chapel at Cabo Espichel

A traditional azulejo (blue and white) tiled representation of the vision of the Virgin Mary coming to the Cabo Espichel cliff.
Farol do Cabo Espichel (Lighthouse)
An easy fifteen minutes walk from the church will have you gazing up at the majestic 32 metres high, Farol Do Cabo Espichel (Cabo Espichel Lighthouse). It really is a lone sentinel on this wild coast. The lighthouse entered service in 1790 and is still functional to this day. Of course, it has had few technological tweaks since construction.
It is now automated but Cabo Espichel Lighthouse is part of a scheme to promote the importance of Portugal's lighthouses and is open to the public on Wednesday afternoons. 
For more information on the Lighthouse click here.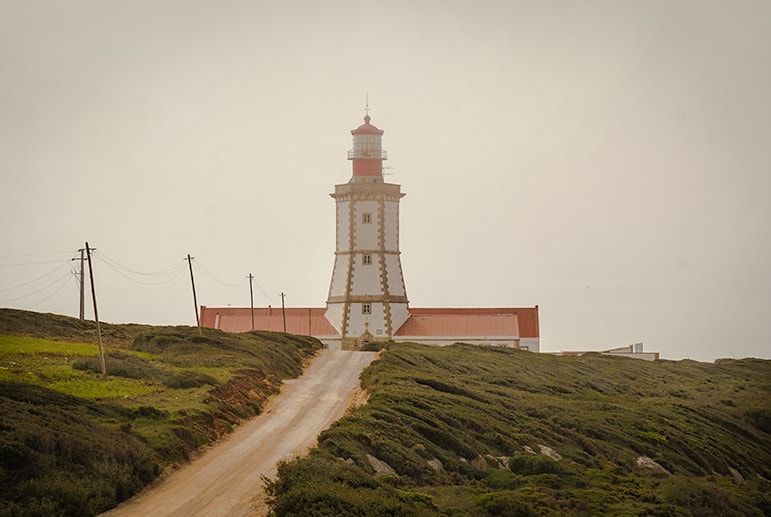 Dinosaur Footprints 
Not only do you have religious relics, wild landscape and the Cabo Espichel lighthouse to explore, there are also dinosaur footprints nearby. On the Cabo Espichel cliffs, you'll find what is believed to be marks embedded in the rocks made by dinosaurs. There are two sets, the Pedra da Mua dinosaur tracks and the Lagosteiros dinosaur footprints.
The Pedra da Mua tracks are located on the side of the grey cliffs below the chapel and are difficult to see. The Lagosteiros dinosaur footprints are easier to reach and see and are only a twenty-minute walk from the church. Follow the signs showing you where to go so you don't miss these monster markings in the ground.
Cabo Espichel Coastal Walks
You might also want to consider taking one of the many well-trodden walking paths in the area. Whether it be along the cliffs or inland, the landscapes are wonderful. We hiked across quite a few of the paths during our quest to log the many Geocaches in the area. Haven't heard of geocaching? It lets you discover the out of the way places that you often don't find on Google. If you're interested then you can read more about it here.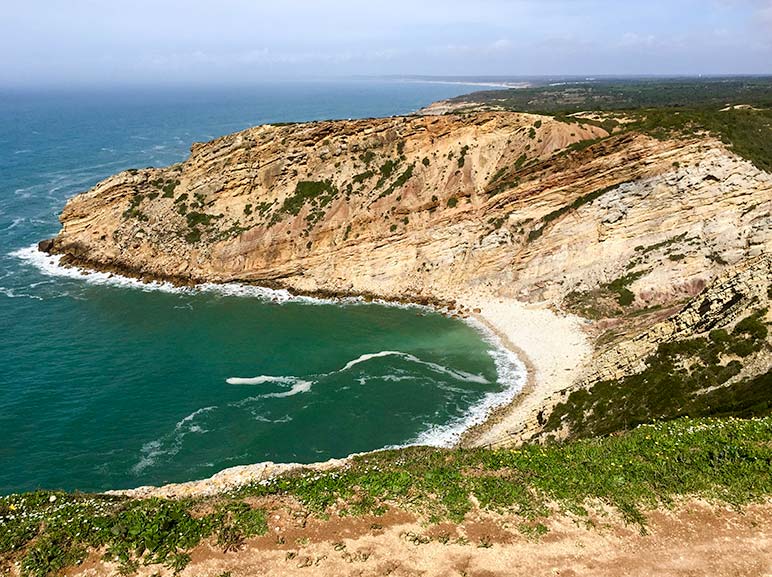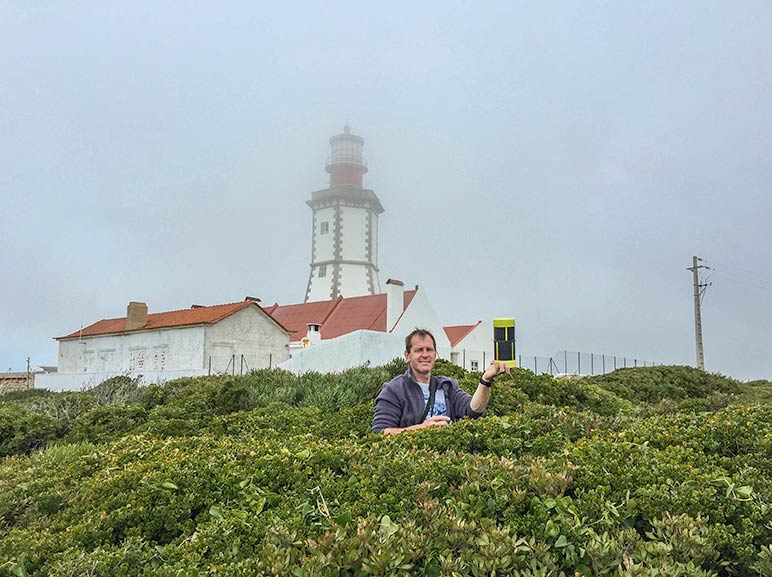 Geocaching along the coastal walks of Cabo Espichel
Hikes in the Area
There are several hikes in the area, including the 5km circular route, Maravilhas do Cabo and the trail along the coast from Cabo Espichel to the Praia das Bicas. 
Alternatively, you may prefer to undertake a 5-hour Hiking Tour around Cabo Espichel including a visit to the dinosaur footprints. Pick up included from your accommodation. For more details click here. 
Accommodation Options Sesimbra and Cabo Espichel
Accommodation in Sesimbra
We were in the campervan and parked in the carpark at Sesimbra for one night and in the car park at Cabo Espichel for one night.
If you are travelling by car then you may like to check out the following options available on booking.com.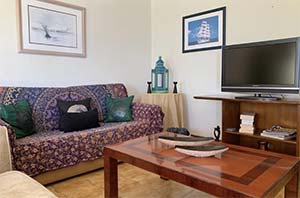 Apartment My Home: Located just a minute walk from the beach, Apartment offers pet-friendly accommodation in Sesimbra. Very good Reviews.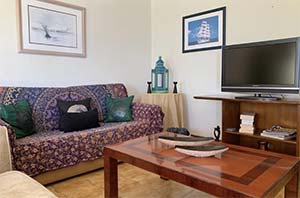 Casa Vista Azul   – Situated in the best-rated area in Sesimbra, this property has an excellent location score of 9.9
Sesimbra Hotel and Spa: This beachfront hotel offers luxurious rooms with Atlantic Ocean views. Facilities include an outdoor infinity pool and a spa.
Accommodation Cabo Espichel
Alojamento Espigas – guests love the continental breakfast and this accommodation has a 8.1 review rating. 
Casal do Frade – Rated as exceptional, this eco-lodge is set in the Arrábida Nature Reserve. There is a salt-water pool, tennis court and holistic spa.
Sesimbra and Cabo Espichel Round-Up
Overall, we spent two days visiting  Sesimbra and Cabo Espichel. If you have time restraints, however, then a few hours at both spots would give you a good feel for the areas and you could always plan a return visit.
Are there other wild coastal get-away places that leave you feeling in awe? We would love to hear about them.
If you enjoyed this post why not Pin it or share on Social Media – Sharing is caring 🙂
This post may contain affiliate links. This means that we may earn a small commission from purchases you make through our links, at no extra cost to you. Thank you for supporting us. For more info, read our Disclosure Policy.
You May also be Interested in Reading