ONE DAY IN PORTO
Porto, sometimes known as the 'city of bridges',  in northern Portugal, is steeped in history, full of charm and has an upbeat, modern vibe set in a Dickensian backdrop. If you have just one day in Porto, or even more time on your hands, this article will help you discover the best of what this city has to offer.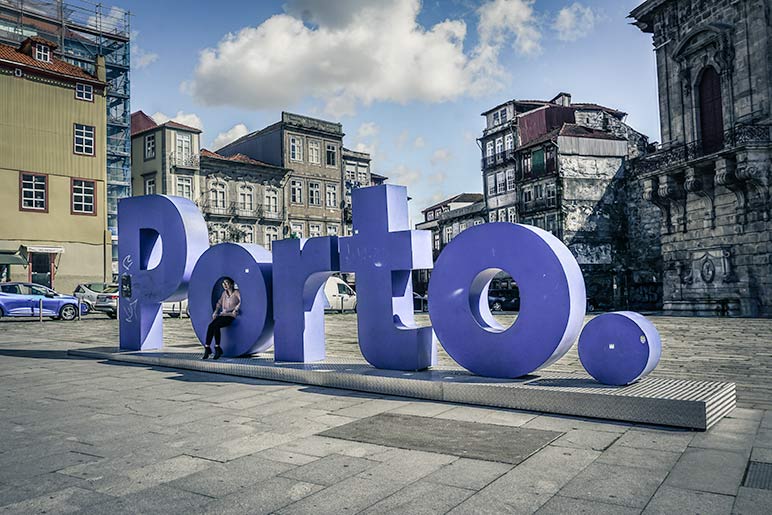 ONE DAY IN PORTO – A BRIEF STEP BACK IN TIME
Although human settlement in the Porto area dates way back to 4BC, it wasn't until the 13th century that the production of its largest export, port wine, began to take root. By the early 18th century, the Douro wine region was formally recognised.
In 1996, UNESCO declared Porto a World Heritage Site, reinforcing the city's unique and distinctive charm.
Present-day Porto (or Oporto in Portuguese), has not stopped to catch its breath and is now Portugal's second-largest city. It is a mere four hours drive from Portugal's capital of Lisbon and in all accounts a more pleasant city to visit.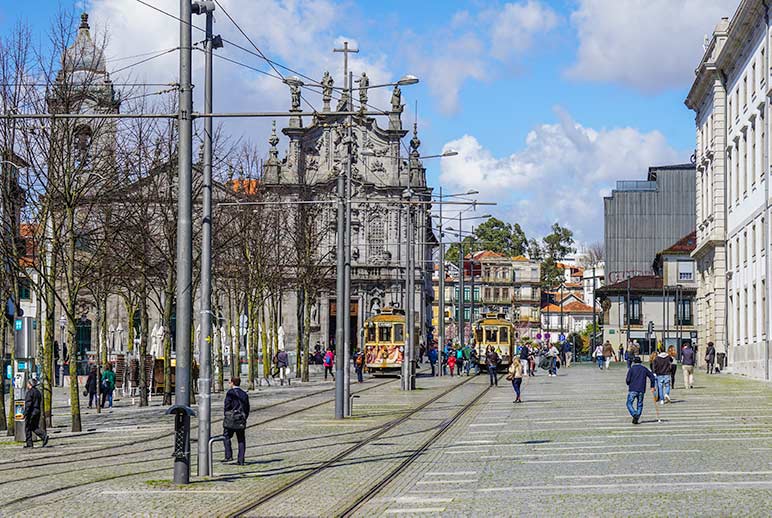 ONE DAY IN PORTO – MAP OF ATTRACTIONS
To use this map, expand it using the square symbol on the top right-hand side and you will find the key on the left-hand side.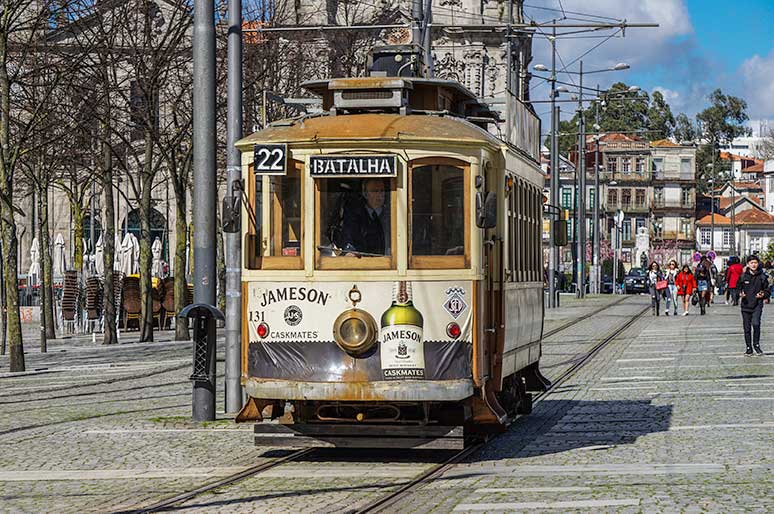 ONE DAY IN PORTO: BEST THINGS TO DO
---
The list of places we visited below was perfect for our one-day Porto itinerary, without having to cram too much into the day. As with most popular attractions, arriving early is the best approach to avoid being overwhelmed by the flood of tourists that Porto attracts.
This was true for our first stop at the historic bookstore of Livraria Lello & Irmao, which can see over 5000 visitors a day.
1. LIVRARIA LELLO & IRMAO HISTORIC BOOK STORE
The exquisitely designed and decorated bookstore, Livraria Lello, is one of the oldest bookshops in Portugal and has been internationally recognised as one of the most beautiful bookshops in the world.
Rumour has it, that JK Rowling, who lived in Porto from 1991 to 93, was inspired by the bookstore while drafting the Harry Potter series.  True or not, the library brings to mind Flourish and Botts, the bookshop on Diagon Alley where Harry Potter buys his school books for Hogwarts. Kitsch mini plaster heads adorn some of the bookshelves, adding a touch of mystery and intrigue.
Two local brothers bought Livraria Lello as an existing bookstore and by 1906 had transformed the interior into what we see today. The interior is complemented with an eight-metre long ornate stained-glass ceiling with the Latin script, 'vecus in labore' meaning 'dignity in work'.
Entrance tickets aren't bought at the book shop itself but at a store a couple of doors away, Armazéns do Castelo, at a cost of €5 per person. Backpacks and other bulky items must be stored in secure lockers located close to the ticket counter. If you do buy a book in the shop, then your entrance fee is redeemed.
You can also buy your ticket online from their website here.
Here is a short clip of the inside of this famed bookstore.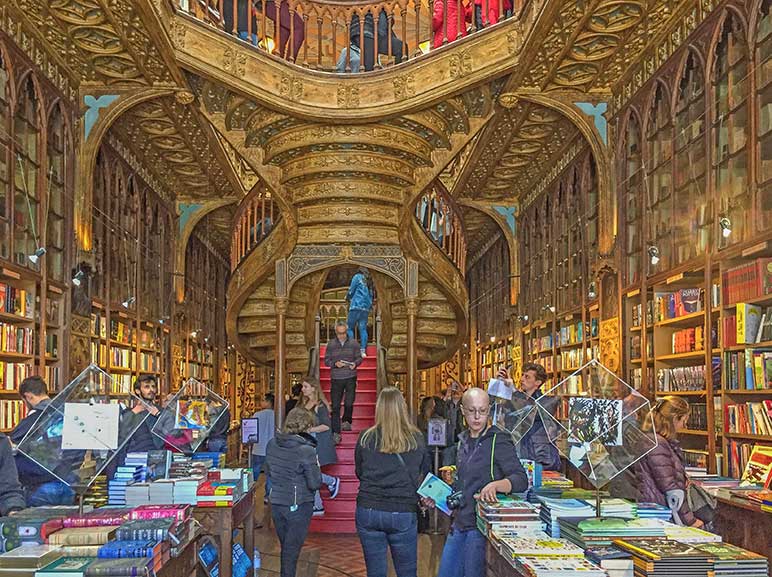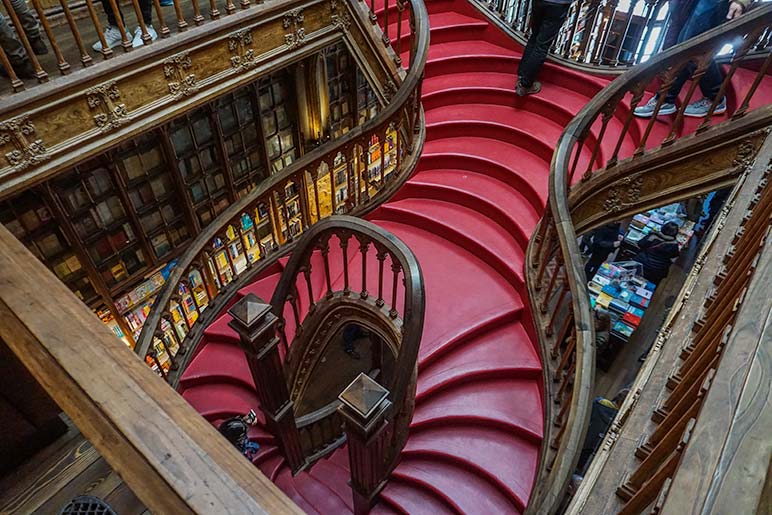 2. ARMAZÉNS DO CASTELO (LIVRARIA LELLO CURIOSITY SHOP)
It is at Armazéns do Castelo where you buy the tickets to the Livraria Lello & Irmao Historic Book Store. Its basement floor is a lovely little curiosity shop. It has an eclectic mix of Harry Potter paraphernalia along with other interesting displays of artwork and Portuguese products. A place where creativity seems to come alive.
Cost: Free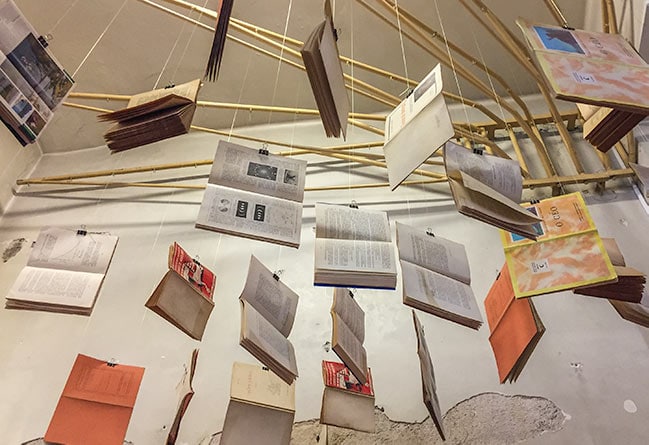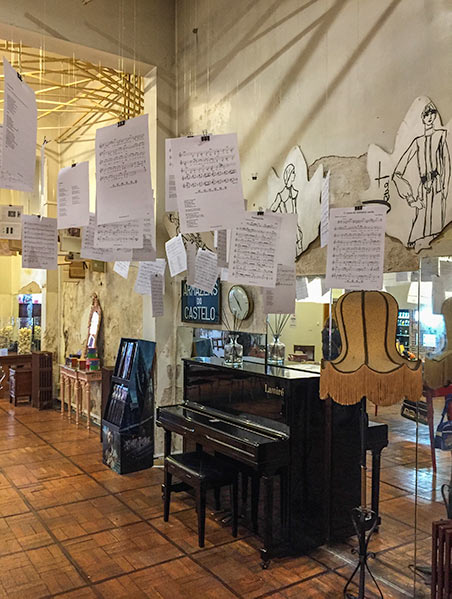 3. CLERIGOS CHURCH AND CLERIC TOWER
The baroque-style Clerigos church is a distinctive landmark visible from many areas of Porto city. Finished in 1750, it wasn't until 1763 that the accompanying 'Clerics Tower', at a height of 75m, was rendered complete. Climb the 200 steps past the 49 tower bells for great views from above. Trams run right by both the church and the nearby businesses.
Click here for a virtual 360 tour of Clerigos.
Cost: Church entry is free; Tower entry is €5.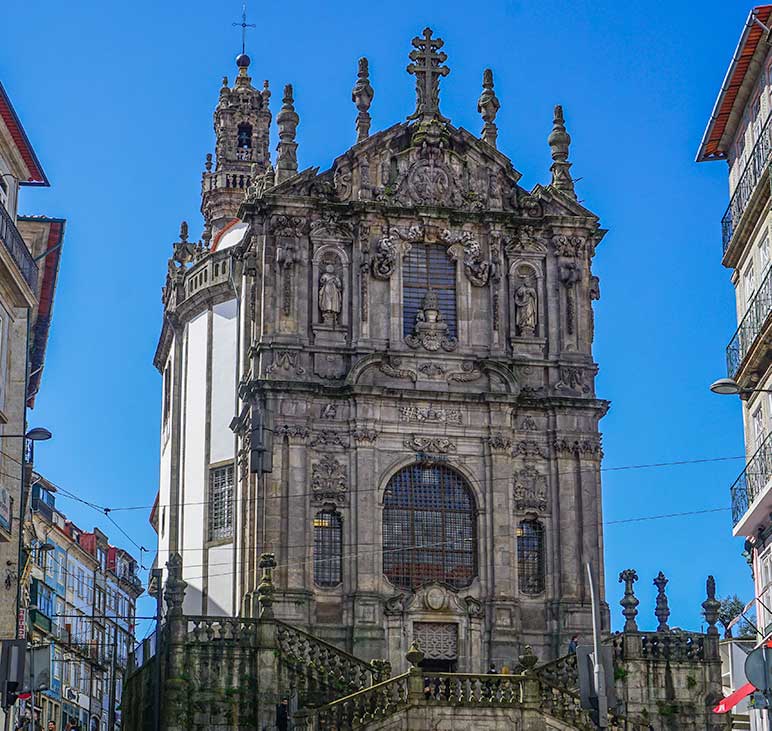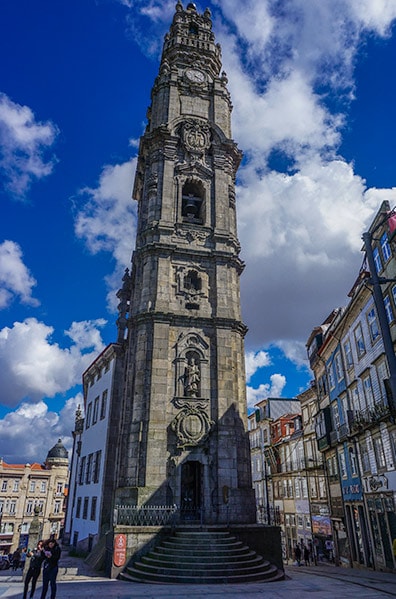 4. PRAÇA DA LIBERDADE (LIBERTY SQUARE)
Liberty Square, bounded by old 18th-century buildings, was once the economic, political and social centre of Porto. It is a popular boulevard for tourists and those workers spilling out from their offices at lunchtime.
Here you can admire the statue of King Pedro IV riding a horse and holding the constitution he fought to protect. The attractive Porto City Hall (Câmara Municipal do Porto), and its 70m high clock tower is an impressive bookend to Liberty Square and the popular architectural Avenida dos Aliados (or the Avenue of the Allies).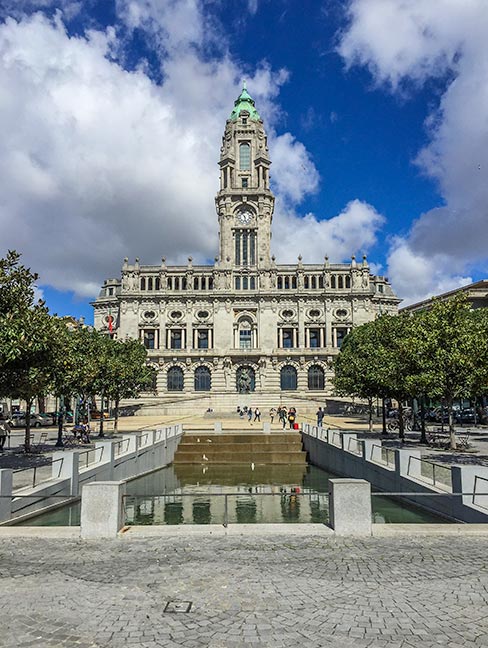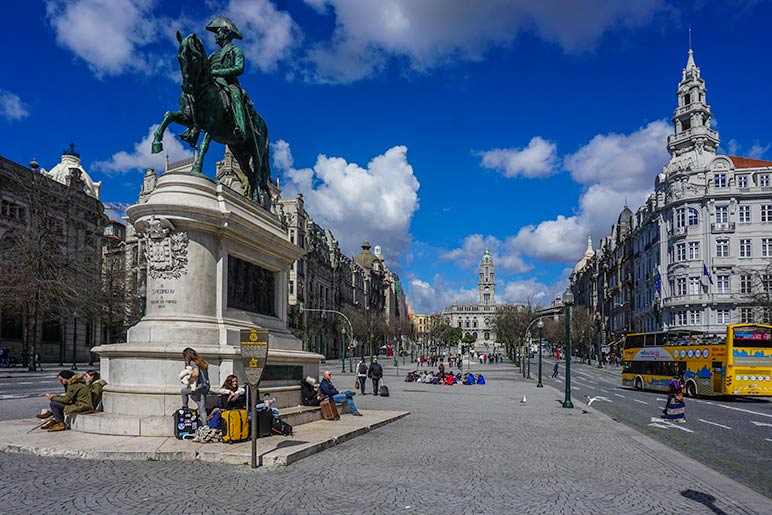 5. MCDONALDS … DID I READ THAT RIGHT?
Yes. It has been touted by visitors that Porto has the most beautiful McDonalds in the world. Now that's pretty high acclaim indeed.
Well, of course, we checked it out.
And what did we think?
Well, it was definitely unique with its individually sequined glass murals.
Is it the world's best though?
You'll need to make your own minds up on that one, but it's worth poking your head in to have a look.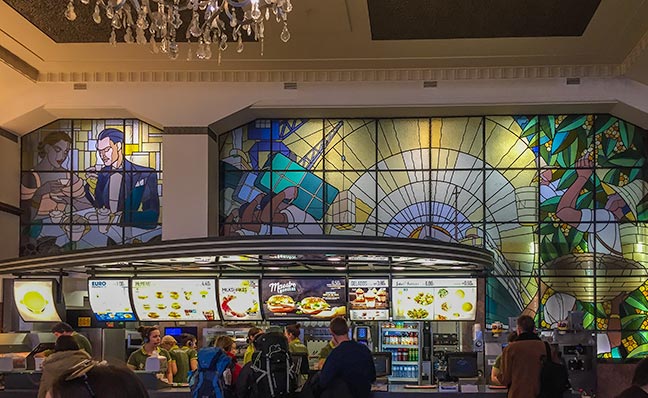 6. IGREJA DO CARMO
Igreja do Carmo, a Baroque-themed church, built in the mid-18th century for the Carmelite order, displays a fantastic side façade of a typical azulejo (blue and white tiles).
Portugal is full of buildings with this type of façade and even has a National Tile Museum in Lisbon (see a virtual tour on Youtube here)
Beside the Igreja do Carmo, separated by a one-metre house is another church, Igreja dos Carmelitas. It is said that the house was built to prevent the churches from sharing a common wall and thus preventing any naughty business between the monks in Igreja do Carmo and the nuns of Igreja dos Carmelitas. 
Cost: Free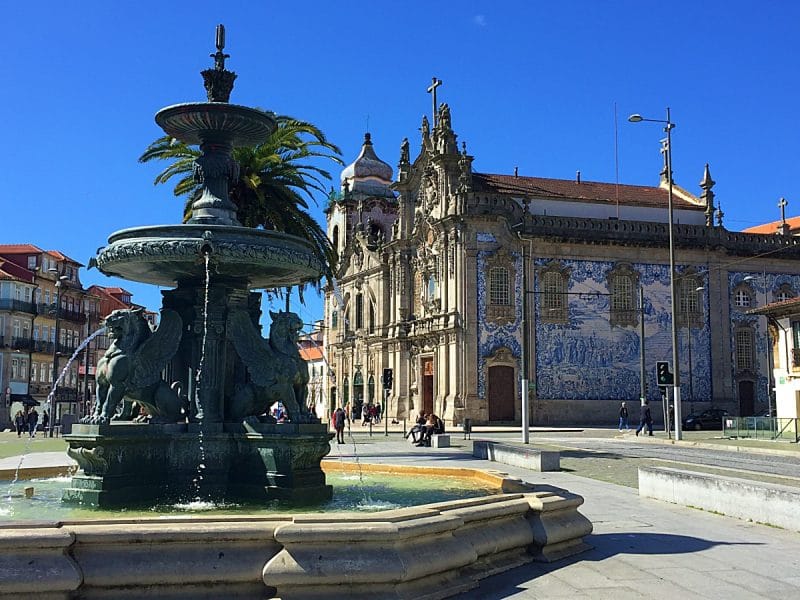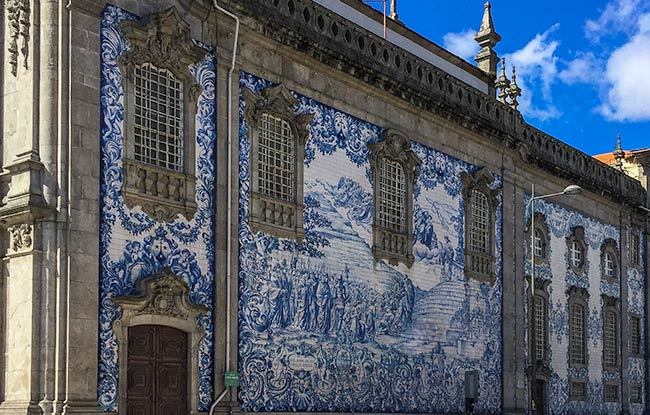 7. IGREJA DE SANTA CLARA
This Porto cathedral dates back to the early 12th century and was built in Romanesque style. It is now classified as a National monument.
In the church's grounds stands a statue of Count Vimara Peres, the first Count of Portugal. The edge of the church grounds give great views overlooking the Duoro River and over the surrounding city dwellings. However, it is the inside that is impressive – much of the interior is gilded in gold.
Cost: a few Euros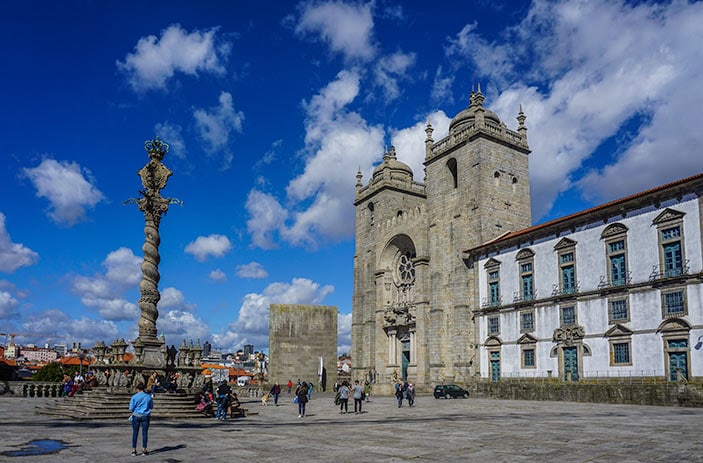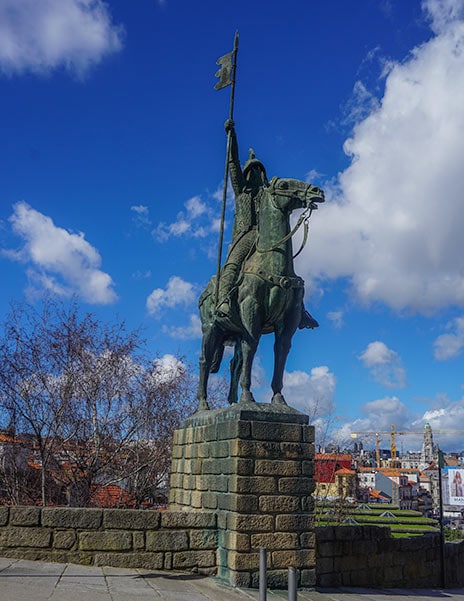 8. JARDIM DA CORDOARIA
This park, close to the Clerics Church, is located on Rua Doutor Antonio Sousa Macedo. It gives you the opportunity to get amongst some greenery and is within a short walk of all the Porto sights.
From here, you can watch the vintage trams slowly rattle by and grab some unrushed photos. It's a great place to watch the world go by surrounded by the local birdlife, a small lake and interesting statues.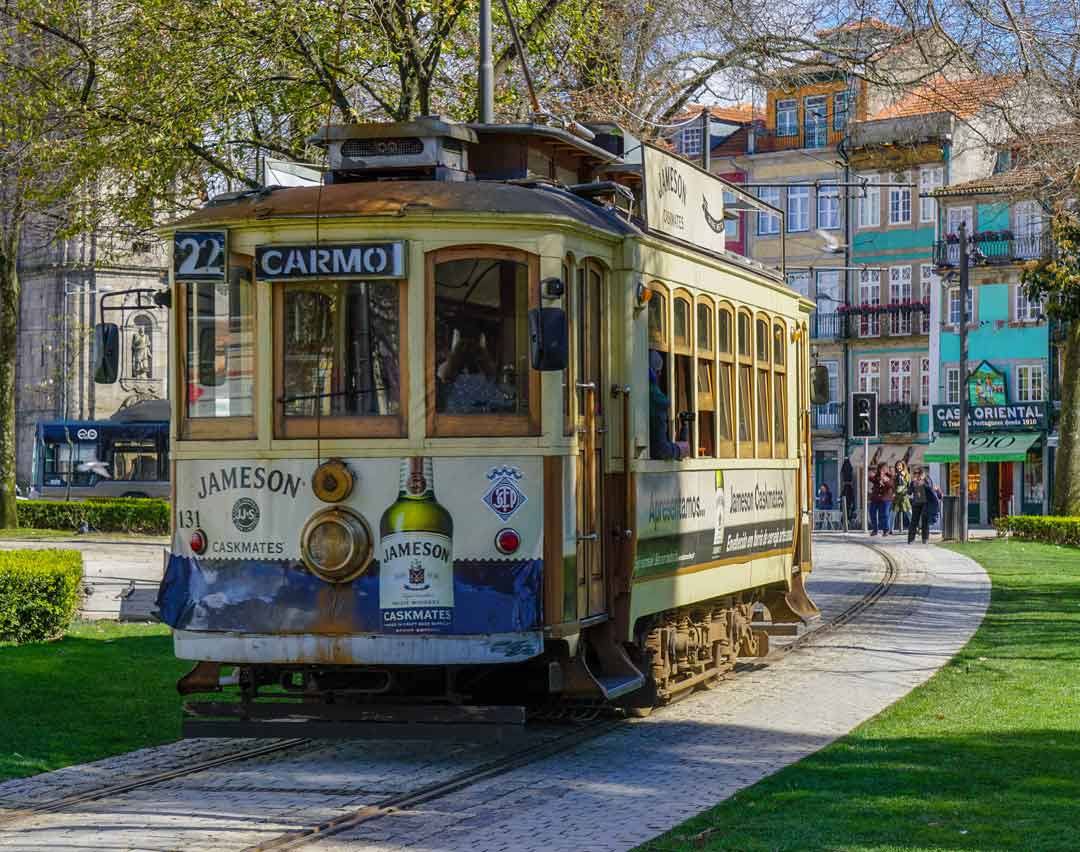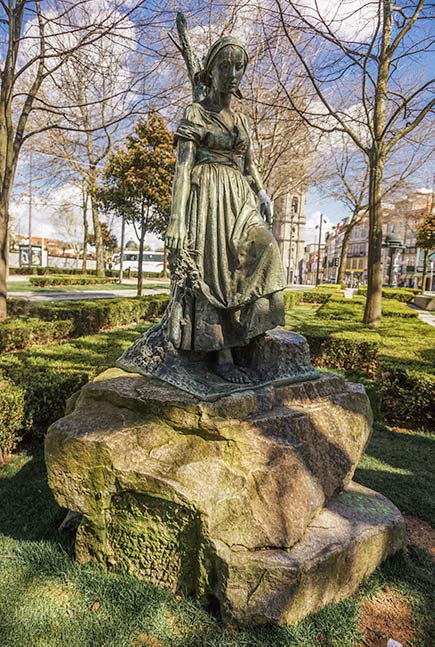 9. CAPELA DAS ALMAS (CHAPEL OF SOULS)
With an area of 360 square metres, this amazing azulejo facade depicts scenes of the death of Saint Francis of Assisi and the martyrdom of Saint Catherine. Re-tiled in 1929, approximately 16,000 tiles were used to bring this mosaic back to life.
Also of interest is the captivating stained glass window at the front of the building which represents 'das almas' or 'the souls'.
Cost: Free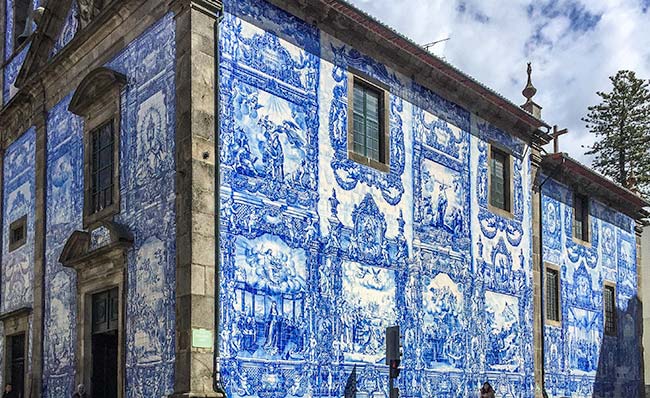 10. IGREJA DO SANTO ILDEFONSO CHURCH
This 18th-century Baroque-style granite twin-towered church shows off its typical azulejo facades on the building and bell towers. The 11,000 tiles used in the mosaic depict the life of Saint Ildefonso.
The church is just off the Praca da Batalha.
Cost: Free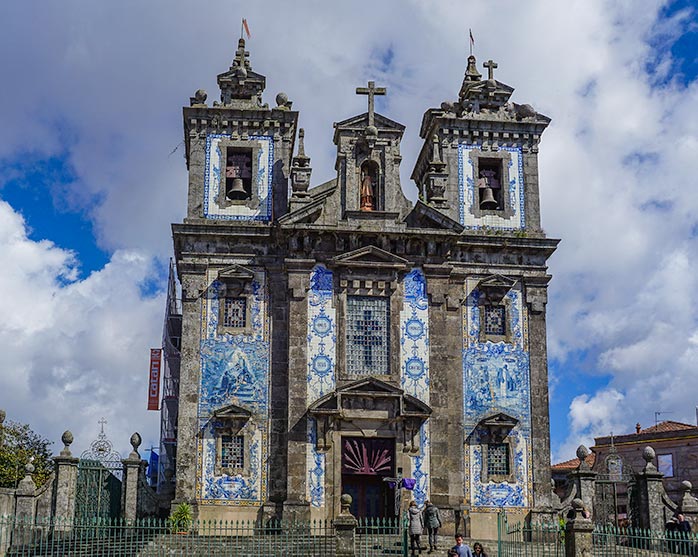 11. SAO BENTO RAILWAY STATION
Sao Bento railway station is Porto's main station but it is more than a train station. Its walls, adorned with azulejo tiles, portray moments in Portugal's history, making it one of Porto's tourist attractions.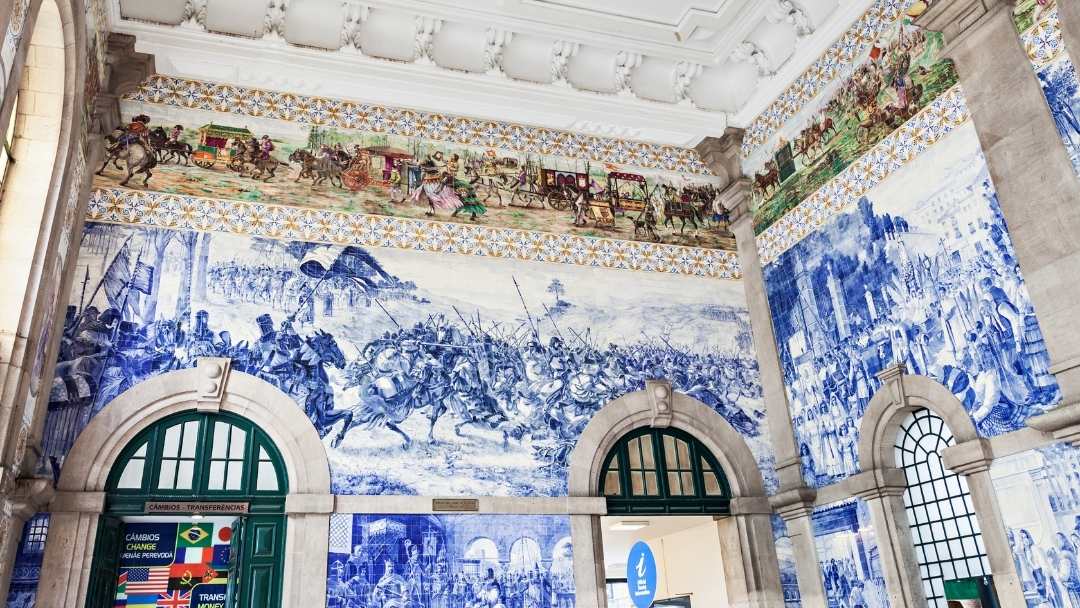 12. STROLL THE RIBEIRA
Ribeira means riverside, and this part of old Porto, overlooking the Duoro river is full of restaurants, bars and charming terraced houses worth wandering around.
Because Porto is so popular with tourists, many restaurants can be quite expensive. However, the Ribeira District in Porto old town offers a myriad number of eating choices including traditional Portuguese food and afterwards you can slip away to one of the many small bars in the area.
If you are careful with your money, as we are, then this article by Timeout lists the Best Cheap Restaurants in Porto, which may help you find somewhere reasonably priced if you want to eat out in Porto.
Local delicacies in Porto include Tripe – Porto style, (not sure I'd be trying that one),  Francesinha, a meat sandwich covered in a cheese and beer sauce, and plenty of bacalhau, salted codfish.
Click here for 5 foods to try in Porto.
13. WALK THE LUIS I BRIDGE
If this bridge brings to mind the Eiffel Tower in Paris, then it won't be a surprise that a colleague of Gustave Eiffel, Théophile Seyrig, designed this iron wrought bridge which opened in 1886.
The bridge has two levels, one for traffic and the other for trains, with both having access for pedestrians.
The bridge connects the Ribeira area of Porto to Vila Nova de Gaia on the opposite bank of the Duoro.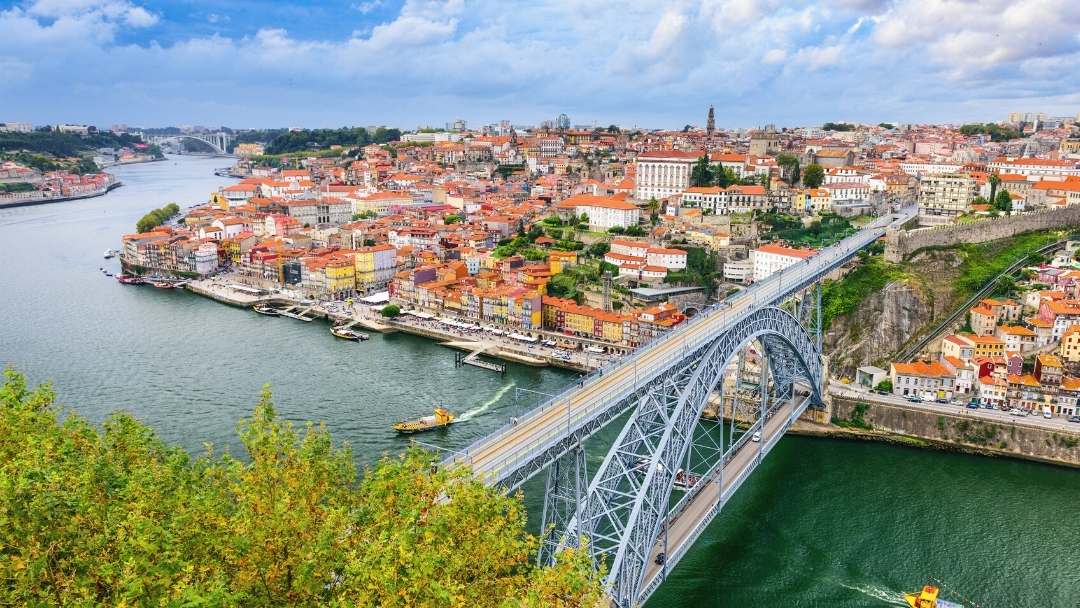 14. VISIT A PORT WINE CELLAR IN PORTO
Along the southern side of the Douro River, in Vila Nova de Gaia, a short 10-minute walk across the Dom Luis I bridge, you'll find a trove of port wine cellars. Choosing one won't be easy.
An example includes Caves Ferreira. This traditional cellar dates back to 1751 and is proud to proclaim that it has remained a Portuguese brand in all its 250 years. The cellar offers wine tasting and a talk on the history of wine and cheese platters.
TRIPS FROM PORTO
---
VISIT THE BIOLOGICAL PARK IN PORTO
About 10km from the centre of Porto, a 15-minute drive. 
Opening Times: April to October – 10 am to 7 pm; November to March – 10 am to 5 pm
Cost: €3.00 for adults; €1.00 for kids and seniors (Current prices here)
Parque Biologico de Gaia – we give this park a 10 out of 10. This wonderful park has 35 hectares of fantastic flora and fauna. You can wander at your own pace and if you have kids, then they will be enthralled. You could spend easily one day here.
Actually, we loved it so much that we visited it two days in a row and even wrote this article on Parque Biologico de Gaia.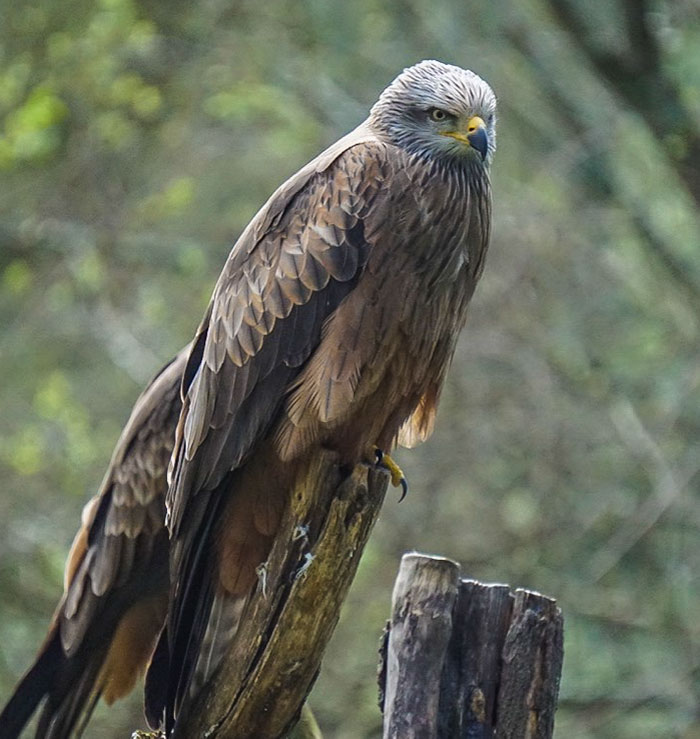 EXPLORE THE AROUCA GEOPARK
Just an hour and 2o minutes south-east of Porto is the UNESCO-listed Arouca Geopark. Within the park is the world's longest pedestrian suspension bridge, 516 Arouca. It opened in May 2021 and spans 516 metres across the Paiva Gorge. At a height of 175 metres and a see-through metal grid to the gorge below, it is not for those afraid of heights!
The park also houses the Paiva Walkways, an 8-kilometre route along the bank of the River Paiva.
For details of tickets go here.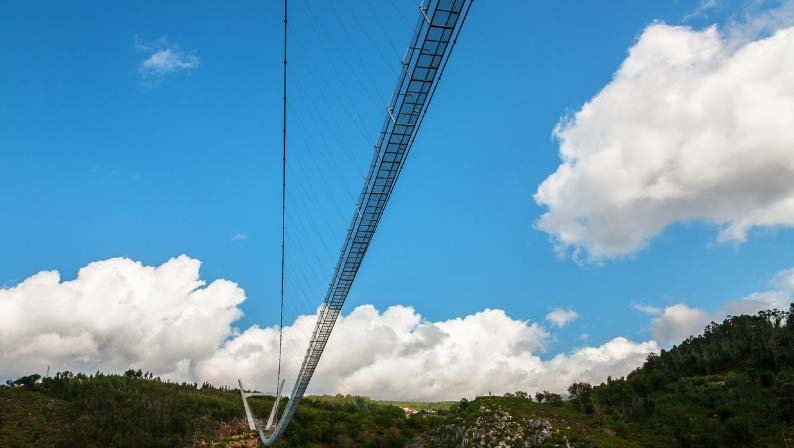 VISIT THE DUORO VALLEY
If your itinerary allows, then taking a  tour of the Douro Valley to discover the beauty of the area and to learn more about its history, as well as the opportunity to try various port wines and local Portuguese cuisine, would be a perfect complement to top off your one day in Porto.
PORTO: GOOD TO KNOW
---
ONE DAY IN PORTO: OPTIONS TO GET ABOUT THE CITY
Do you Need a 'Porto Card' for Sightseeing?
If you want to see all there is on offer in Porto then it's well worth checking out the Porto Card. It offers free and discounted pricing for the city's attractions and transport. There are different options for the number of days you need so you get to choose exactly what you need.
Porto by Foot
Exploring by foot is easily the best way to experience Porto. It's mainly flat going with a couple of steep hills thrown in but most things to see in Porto are all within walking distance.
Porto by Tram 
There are three tram lines running different routes in Porto that are not part of the public transport system and are dedicated to tourists.
The best tram to catch is Linha 22  which gets you close to most of the attractions in the old town.  To give you an idea of the cost, a single ride is about  €3.50, but if you are looking for a day pass or something else then check out Porto's tram guide here. 
Porto by Hop On Hop Off Bus
If the weather is good, then this is a super-easy way to see all the attractions on your hit list. For pricing and specific information, you'll find the bus details here. Pricing starts from €16.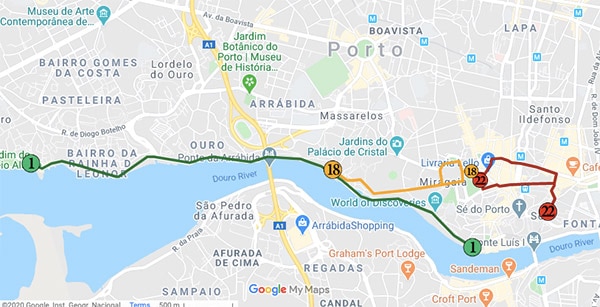 GETTING TO PORTO FROM LISBON
1) By car: the roads are in good condition and well signposted so driving a car to Porto should not pose any major problems. As mentioned before it is a 4-hour drive from Lisbon and if you need to hire a vehicle then check out your hire options here.
We were in our motorhome and campervanning through Portugal from the south to the north, after arriving from Spain.
2) By bus: although we had our own wheels, this website will get you started when you need to book a bus online.
3) By train: there are many daily trains and you have numerous to pick the departure time by using Portugal's official train booking site.
The main train station in Lisbon is 'Estação do Oriente' (Google location) where you can start your journey to Porto.
Disembark at the São Bento Train Station in the old central part of Porto as you'll be able to start your sightseeing by gazing upon the many murals on the station walls depicting Portugal's history.
CAMPERVAN PARKING IN PORTO
We parked our motorhome at a fantastic site beside the biological park, Parque Biologico de Gaia at Motorhome Parking Avintes.
Located on the bus route, we were in the heart of Porto in about 30 minutes. It was fuss-free travel. A word of warning, the buses are notorious for their late arrival times so don't be too fixed on the bus scheduled times.
ACCOMMODATION IN PORTO
If you are looking for accommodation in Porto, there are plenty of choices. Find the best deals and book a Porto hotel here.
Porto in One Day … That's a Wrap
Fancy a visit to Porto? Have you already visited Portugal? Do you have any more recommendations on some 'not to be missed' places? We would love to hear from you – leave a comment below. 
If you enjoyed this article, you may like these FREE RESOURCES:
FREE 23-page Travel Planner, including menu planner, journal pages and budgeting)
FREE Travel Guides (many countries)
FREE Phone Wallpapers
FREE Photo Ebooks
Monthly Travel News 
Sign up for FREE resources here
This post may contain affiliate links. This means that we may earn a small commission from purchases you make through our links, at no extra cost to you. Thank you for supporting us. For more info, read our Disclosure Policy.
Pin and Save For Later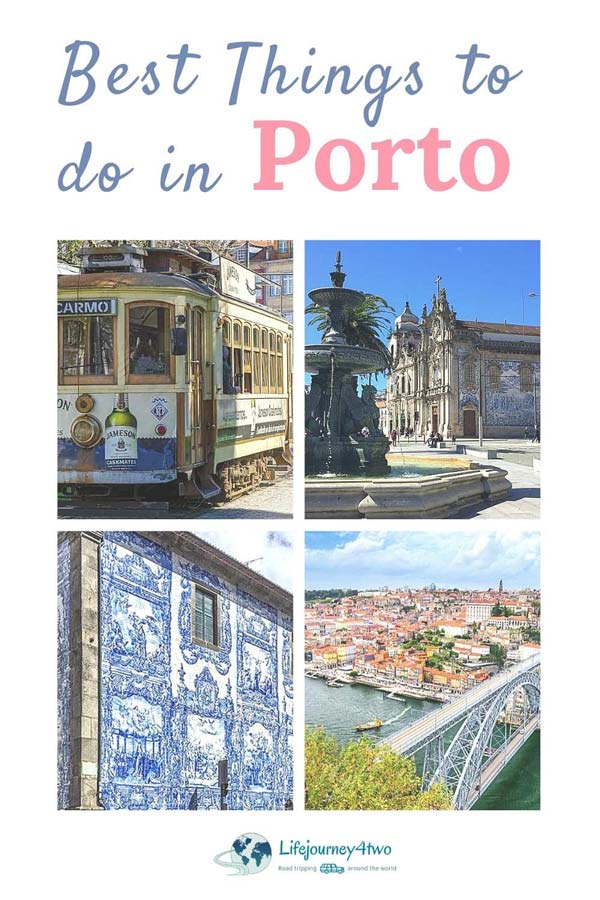 YOU MAY ALSO BE INTERESTED IN READING:
PLANNING YOUR TRAVELS?
These are some of the travel resources we use when planning our trip and can recommend:
For a more thorough list visit our Travel Resources page here.