CAMPERVANNING IN PORTUGAL: EVERYTHING YOU NEED TO KNOW
[Updated 2023]
Portugal, the country that gave birth to Vasco de Gama and Christiano Ronaldo, is full of varied experiences that offer the intrepid traveller a mix of landscapes and activities to indulge in on a motorhoming or campervanning in Portugal trip.
As you tour Portugal in a motorhome or camper, you will be welcomed with amazing azulejo tiled architecture, dried salted codfish (bacalhau), grilled sardines, (caught fresh from the Atlantic Ocean) and Portugal's main export, sweet port wine made from the vines of the delightful Douro Valley.
Its other main exports are tomato paste. And did you know that Portugal is the leading producer of cork?
With the many varieties of sweet port wine to sample (there are over 52 varieties of port wine grapes), touring Portugal in a motorhome may see you getting through quite a few corks yourself;)

Planning a Trip to Portugal?
Portugal stretches along the western edge of the Iberian Peninsula on the Atlantic coast. It has 800 kilometres of coastline, the popular Algarve coast, the Estrela Mountains and the Douro Valley, so you can take your pick of Portuguese landscapes to explore when campervanning in Portugal.
To Help Plan Your Portugal Road Trip
To help you plan your Portugal campervan trip we have included:
Interactive map
Places to visit as you campervan in Portugal
Campervan/motorhome campsites
Information about motorhome rules and options for overnight stops
Campervan and motorhome driving tips for Portugal
Motorhome and campervan rental information
READ MORE: If you are new to campervanning check out these articles:
OVERVIEW: PLACES TO VISIT WHILE TOURING PORTUGAL IN A MOTORHOME:
Summary of places to visit while campervanning in Portugal, (we cover these in more detail with extra recommendations in the post – click on a place to find it in the post)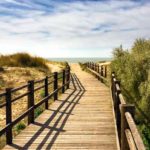 Monte Gordo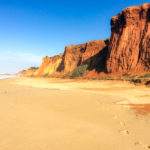 2. Falesia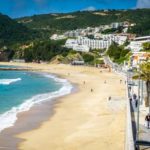 3. Sesimbra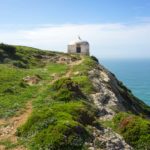 4. Cabo Espichel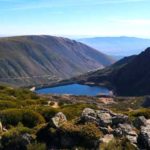 5. Serra da Estrela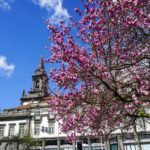 6. Porto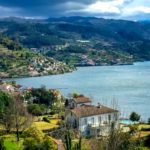 7. Douro Valley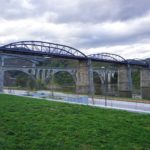 8. Peso da Regua
PLANNING YOUR CAMPERVANNING IN PORTUGAL ROUTE
We motorhomed through Portugal in about two weeks; it's not a huge country, about 220km wide and 560km in length.
As you plan your route, remember to allow for spontaneous plans – that's half the fun of being your own boss in your campervan. Sometimes, locals suggest places that are less well known, so having your motorhome means you can take advantage of these treasured snippets of information.
READ MORE: 15 Fantastic Couple Road Trip Tips
Things to also consider when planning your Portugal campervanning trip:
The high season in Portugal is in July and August (as is most of Europe), so expect the main cities, Lisbon and Porto and the Algarve region to be very busy in those months.

In June there are several holy festivals, and many other events held throughout the year. For information on what is coming up, or those times you might like to avoid, check out Portugal's events here.
VIDEO: TOURING PORTUGAL IN A MOTORHOME – TWO WEEKS IN THREE MINUTES
CAMPERVANNING IN PORTUGAL ROAD TRIP MAP
HOW TO USE THIS CAMPERVANNING IN PORTUGAL MAP
To use this map, expand it using the square symbol on the top right-hand side and you will find the key on the left-hand side. By clicking each location you will find extra information.
For example, each campervan/ motorhome/RV overnight park on the Map has the web link to Camper Contact where you can see the facilities available, price, opening times, and useful user reviews on each campsite.
The motorhome overnight stops we used are marked with a brown circle and a motorhome icon and the places we visited are marked with purple icons.
The yellow icons are the Paiva Walkways in Arouca and the new longest suspension Bridge in the world – 516 Arouca opened to the public in May 2021.
READ MORE: Click Here for Campervanning and Motorhoming Tips and Tricks
WHERE CAN YOU CAMP WHEN CAMPERVANNING IN PORTUGAL?
We used the Camper Contact app (about 6 euros/year) when travelling through Portugal to find our campervan overnight spots. They have about 690 campervan parking and motorhome service areas listed throughout Portugal.
Portugal also has motorhome service areas throughout the country, many of which allow a maximum of a 72-hour stay. Some also have electricity but most just have basic motorhome services.
You can find a list and a search tool at Camping-car Portugal here. Note that it is expected that you do not set up your awning or use chairs outside of your campervan in this type of service area.
Another option for overnight campervan stays is to use Portugal's relatively new scheme, Portugal Easy Camp.
This is how it works:
It is a three-step system; you choose your host, buy the welcome package, and then stay overnight (24-hour stay only).
You need to arrive within office hours and must always have reserved your spot beforehand.
Most hosts only have about two camp spots available.
The welcome packages consist of artisanal products such as wine, olive oil, cheeses and honey. Eg, two bottles of wine for 18 euros.
CAN YOU WILD CAMP IN PORTUGAL?
Wild camping in Portugal isn't allowed. The law states that overnight stays (2100 – 0700 hours) are not allowed outside of dedicated spaces for campervans/motorhomes and are subject to a fine of between 60 and 600 euros.
To help with your planning – we've included all our overnight stops for our campervanning in Portugal trip on the above map.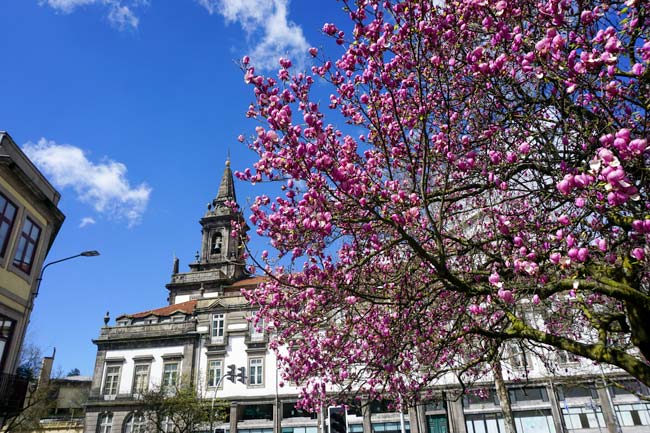 MOTORHOME AND CAMPERVAN RENTAL IN PORTUGAL
If you don't have your own motorhome and are looking to rent a campervan, then we thoroughly recommend the Motorhome Republic because they can search for the best deals for you and have various pick-up locations throughout Europe.
When we used them they were incredibly helpful and we saved more money going directly to them rather than to individual rental companies.
READ MORE: For more information and details of how and why we hired a Campervan for our Travels in Europe, check out our Everything You Need to Know About Hiring a Motorhome article.
PLACES TO INCLUDE ON YOUR PORTUGAL CAMPERVANNING ROAD TRIP
---
1. MONTE GORDO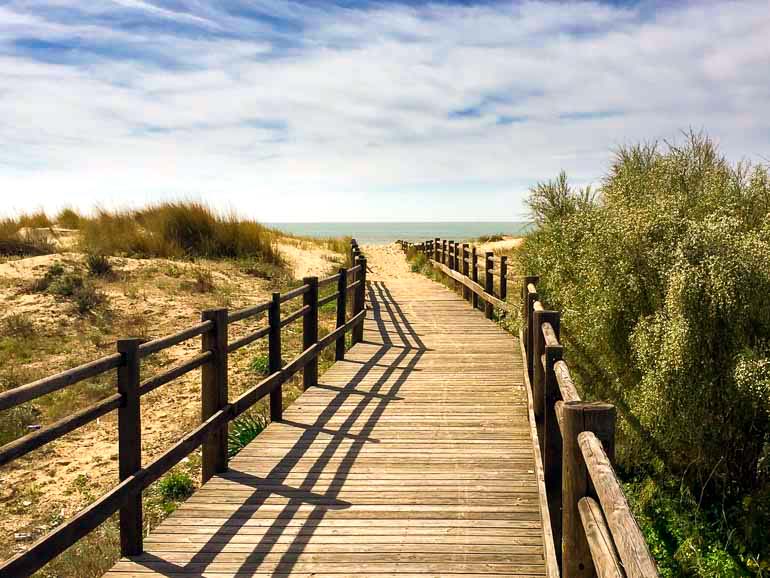 Our first stop motorhome stop in Portugal was at a large (100+) campsite, in Monte Gordo. Many of the camp's residents looked like they had been parked up for a while and the facilities were quite basic.
However, the location was great. It was a few minutes walk to one of the longest stretches of sandy beach on the Algarve.
What was even better though, in our opinion, was the 440-hectare pine forest (Mata Nacional das Dunas Litorais) behind the camp.
Mata Nacional das Dunas Litorais is the largest forest in the Algarve and is the perfect place to take a stroll or bike ride to enjoy a good dose of 'forest bathing'. It also contains quite a few interesting geocaches; we found one concealed in a trick pine cone and another in a sneaky birdbox.
We were there in early March, so the beach wasn't full of locals or tourists. Though I doubt you'd see the same empty beach vista in the summer.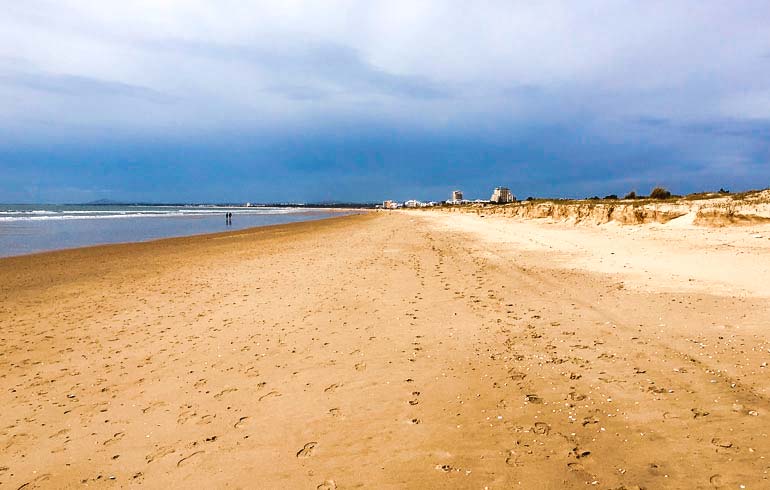 If you stay at this campsite on your motorhome trip make sure you check the ground carefully before parking up — we became bogged!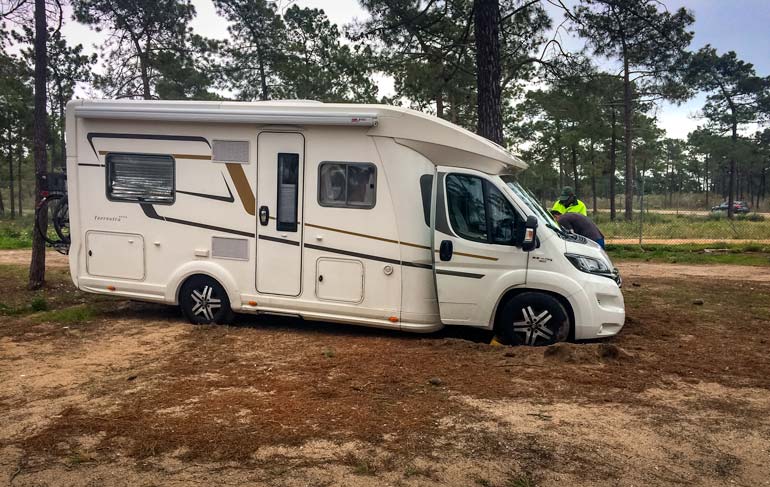 Between Monte Gordo and our next stop, Falesia, are the traditional towns of Tavira and Fuseta, smaller and more traditional than many of the Algarve towns, that you may like to pop in and visit.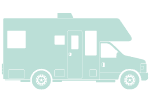 2. FALESIA
Falesia, sitting between Vilamoura and Albufeira, is referred to as the 'Beach Town' by the locals. The Praia da Falesia (Falesia Beach), is a 6-kilometre stretch of yellow sand punctuated by magnificent golden cliffs.
The small town of Falesia has a few restaurants and shops which are an easy walk from the campsite.
The town itself is not particularly quaint, but the beach, one of the longest in Portugal, makes up for the lack of traditional charm.
The nearby town of Vilamoura is an upmarket tourist destination with a harbour sporting million-dollar yachts and Albufeira, once a traditional fishing village is now the largest resort town in the Algarve.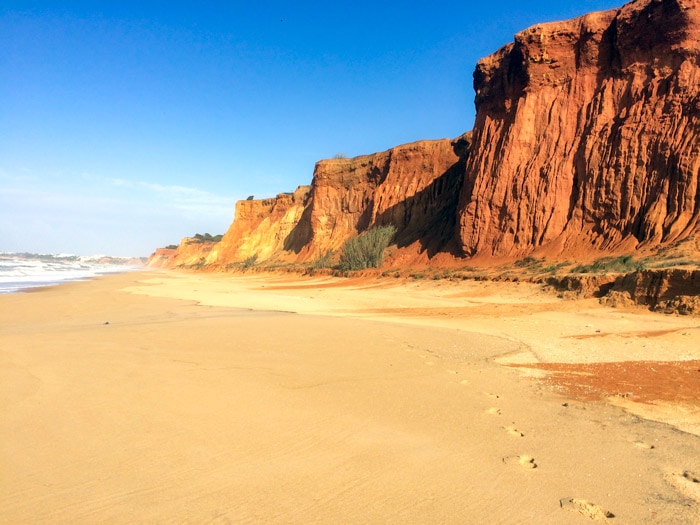 As we were there in March, the end of the winter season, the restaurants weren't particularly busy.
Because our motorhome travel is always on a budget, we rarely eat out.
However, we do treat ourselves to a takeaway cooked chicken every now and again. So that was what we were looking for on this particular evening in Falesia.
Many of the restaurants and cafes offered takeaway, so we asked one if they by any chance sold takeaway cooked chickens. To our surprise they did. Perfect. They asked us to take a seat while we waited … and waited … and waited.
Realising that they must be cooking the thing from scratch, we offered to come back later but they assured us it was almost ready.
Another half-hour had passed when, with our mouths drooling with anticipation, we were presented with a tiny bag. Not sure what could possibly be contained within, our eyes searched the counter for the chicken.
But the 'chicken' was in the bag.
It must have been the tiniest chicken on record – smaller even than a pigeon.
So, if you happen to fancy waiting for over an hour for the world's tiniest cooked chook, you might just be in luck. We can't remember which cafe it was, so you'll have to ask around 😉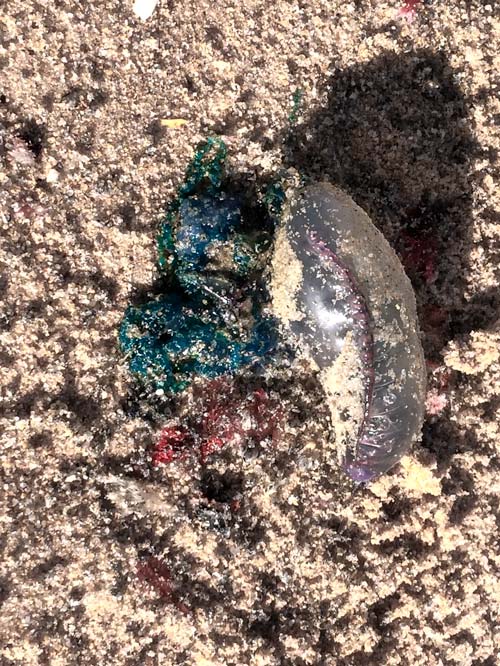 It seemed rather fitting that while in Portugal, we stumbled upon a Portuguese Man O' War. Lucky for us it was washed up on the beach and we weren't getting up close and personal with it in the ocean.
Although rarely deadly, these pretty puff bags with beautiful blue tentacles, pack an excruciating painful punch. Widely touted as a jellyfish, it is actually a siphonophore, meaning it is a colony of organisms rather than one.
Regardless of what you call it, you really want to keep a good socially accepted distance from this one.
We assumed from the name that they were indigenous to Portugal, but we assumed wrongly.
They are named as such because the 'Puffy sac' resembles the sails of the battleships developed by the Portuguese in the 15th century, which were known as a Man of war.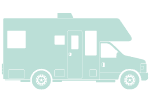 3. SESIMBRA

There is no doubt, when wandering the streets of Sesimbra, that this town has grown up around the fishing industry.
Street art abounds on Sesimbra's walls and even many of the town's doors and windows reflect the fishy nature of the town.
The curved bay of Sesimbra is protected by the surrounding hills of the Parque Natural da Arrábida, a mountainous area covered in thick shrubs and pine forest with a few hidden sandy coves known mainly by locals.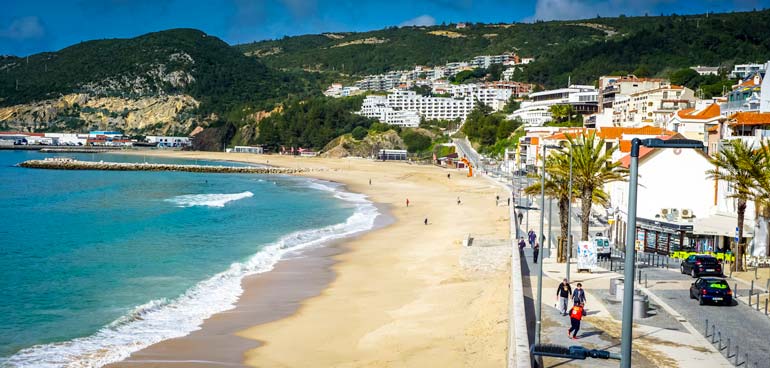 Take a walk to the fishing jetty at the end of the beach and watch the hustle and bustle of fishermen and their brightly coloured fishing boats.
The seagulls do a good clean-up job, making neat work of the discarded heads and tails.
From the jetty, if you look towards the bay, high on the distant hills on the left, you'll spot Sesimbra Castle, a national monument since 1910.
The entrance to the castle is free, but it is a steep 230m climb to the top.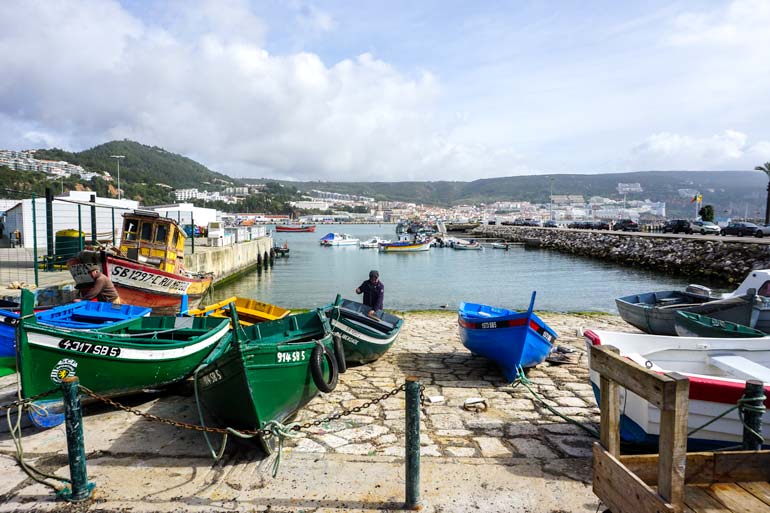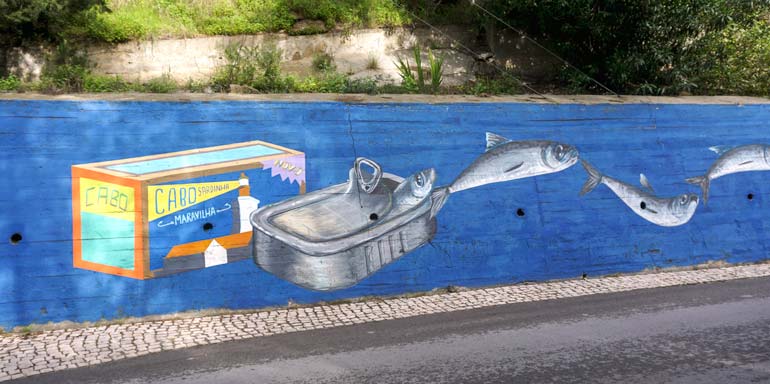 With fish coming fresh from the sea – what better place to have an all-you-can-eat sushi lunch – surprisingly made by a lovely Chinese couple who had immigrated to Portugal.
Sesimbra also has a special traditional sweet, the 'Farinha Torrada'. A traditional sweet made for the fishermen to take out to sea as an energy bar, made of flour, chocolate, lemon and cinnamon.
>>> READ MORE: 12 Things to Do in Sesimbra, Portugal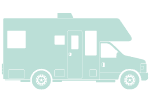 4. CABO ESPICHEL
About ten kilometres west of Sesimbra you'll find the peninsula of Cabo Espichel. A stunning wild landscape of plummeting cliffs, roaring waves, a moody lighthouse, a pilgrim's sanctuary and even the giant footprints of Sauropod dinosaurs.
Cabo Espichel seems to have something for everyone.
It also has free motorhome parking for the night, so it's an ideal place to stop on your Portugal motorhome tour.
The Sanctuary of Our Lady of Cape Espichel, also known as Nossa Senhora do Cabo Espichel, was where pilgrims gathered in such numbers, that extra accommodation wings had to be built to accommodate them all.
They were coming to visit the place where the Virgin Mary had been seen in a vision riding a giant white mule along the cliffs of Cabo Espichel.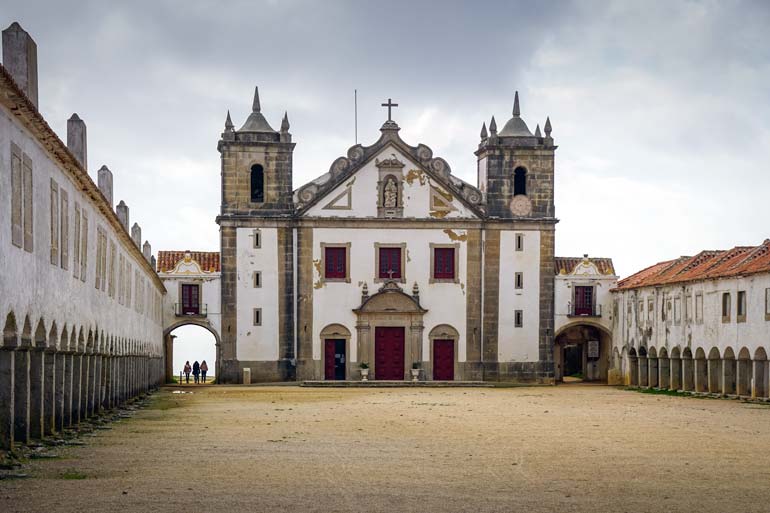 The Memory Chapel, (Ermidade Memoria) is a tiny chapel perched on the edge of the Cabo Espichel cliffs.
As legend has it, two visionaries saw the Virgin Mary riding a white mule up the steep cliffs and the chapel is a memorial to this. Azulejo tiles line the walls inside, depicting the miraculous story.
On the cliff face below the Memory Chapel are a set of large footprints. Back in the day, locals and pilgrims assumed these were 'giant mule' prints from the visitation of the Virgin Mary, but alas they are actually dinosaur footprints.
You can see them, with binoculars, from the cliff across the way.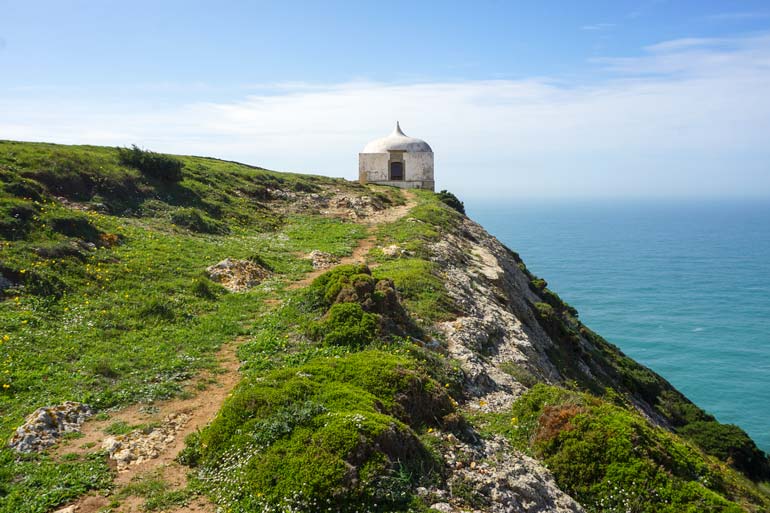 If the weather is good the cliffs are perfect for blowing the cobwebs away and for a brisk walk along the coast. Clear blue skies greeted us at first, but as the afternoon moved on, the clouds and sea mist moved in, creating an eerie atmosphere on this historical clifftop.
We snapped the Cabo Espichel lighthouse photo (below), a few moments before it was swallowed by the encroaching fog.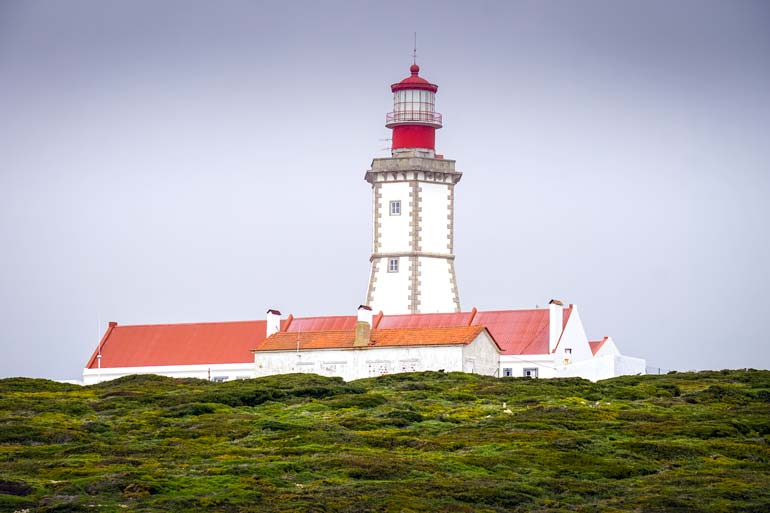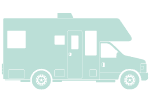 5. SAO JOAO DE AREIAS (BETWEEN COIMBRA AND SERRA DA ESTRELA)
Terra d'Iguana campervan stop, in Sao Joao de Areias, is a wonderfully welcoming place to overnight – or even stay for a few days on your Portugal campervanning trip.
The owners, Gerrit and Elly make sure that everything is just right. The price of 10 Euros is all inclusive of electricity, WIFI, use of the swimming pool and BBQ and they even deliver fresh bread to you each morning.
Gerrit is a bit of character, he loves photography, Star Wars, baking, and iguanas (he has one in the house) and he never drinks water – only coke, consuming on average, 10 cans a day.
The tiny village of Sao Joao de Areias is positioned between Coimbra, (the city famed for its UNESCO world heritage university), and the Serra da Estrela National Park, in Central Portugal. There is a forest walk near the site and the area is great for geocaching.
Not only does Coimbra house the oldest university in Portugal, and indeed one of the oldest in Europe dating back to the 13th century, but here you can also visit historic monasteries, the Sé Velha cathedral, the botanical gardens and a mini version of Portugal's most famous monuments and places at Portugal dos Pequenitos.
Serra da Estrela Natural Park, over 100 thousand hectares, is the largest protected area in Portugal. It is here that you'll find Portugal's highest peak, Torres at 1993m. With rivers, glacial valleys and sheep shepherded by the hardy Serra Estrella dogs, this is an expansive place to roam and escape into nature.
There are also 12 historical villages dotted around central Portugal with many boasting medieval castles. So there is plenty to explore as you campervan in the area.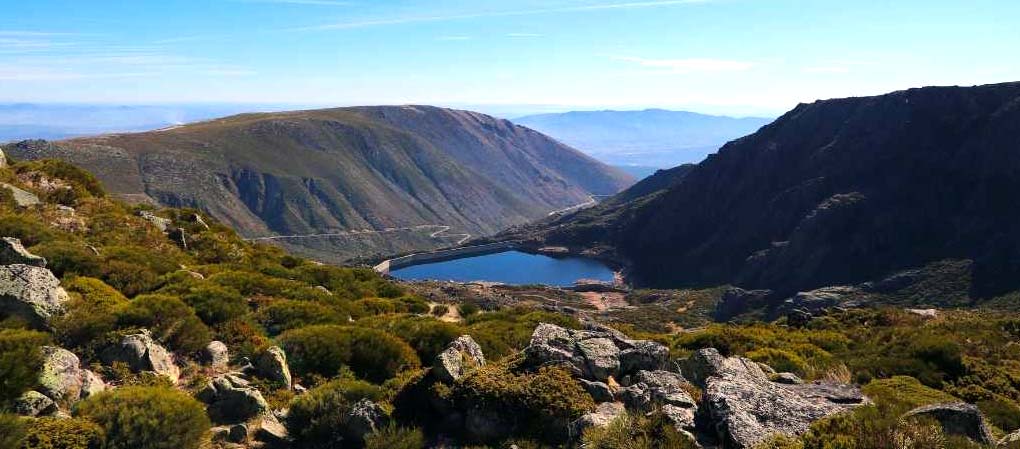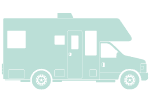 AROUCA UNESCO GEOPARK
Another UNESCO attraction in the area is the Arouca Geopark, 378 square kilometres of preserved geological history.
It is here that you'll find the Paiva Walkways, an 8km walk just crying out to nature lovers.
The walk takes you along the bank of the Paiva River and has many wooden walkways and steps snaking along the curves and bends of this protected landscape.
The difficulty level of the walk is considered high and takes about two and a half hours.
The newest addition to the area is the World's longest pedestrian suspension bridge, the 516 Arouca. It opened to the public in May 2021 and stretches for 516 metres over the Paiva Gorge 175 metres below.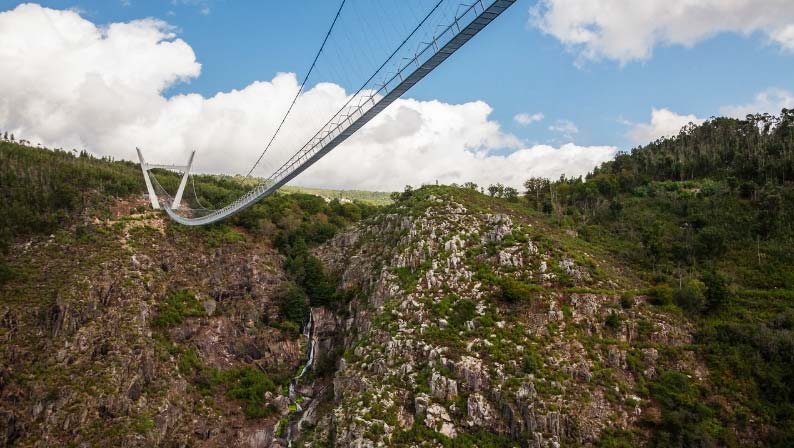 6. PORTO
Porto is the second-largest city in Portugal, (with Lisbon, Portugal's capital, being the first), and is at the mouth of the river that meanders through the Douro Valley.
It's a popular tourist destination and therefore we were lucky to be visiting offseason, though the city was still quite busy.
The many churches of Porto, walls, buildings and even the inside of the main train station, sport azulejo tiled facades and interiors.
It is here that you will also find one of the most beautiful bookshops in the world, the Livraria Lello.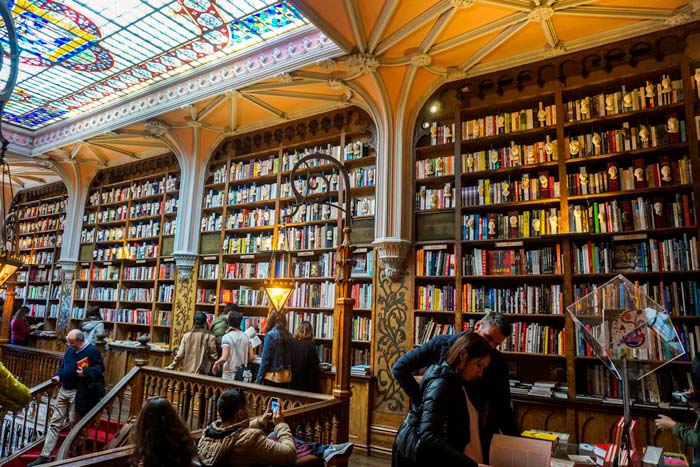 Porto's old town, the Ribeira district, is lined with strips of terraced houses, bars and restaurants amongst old cobbled streets. Trams trundle by and you can imagine a simpler time in days gone by.
On the opposite bank, across the most famous of Porto's six bridges, the Dom Luis I, Vila Nova de Gaia shoreline is filled with a succession of Port cellars filled with casks and bottles of the sweet liquid produced in the Douro Valley since Roman times.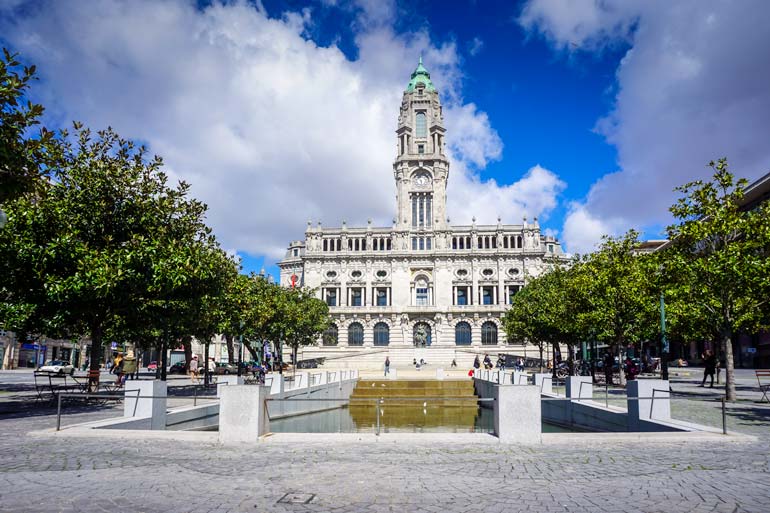 >>> Read More: One Day in Porto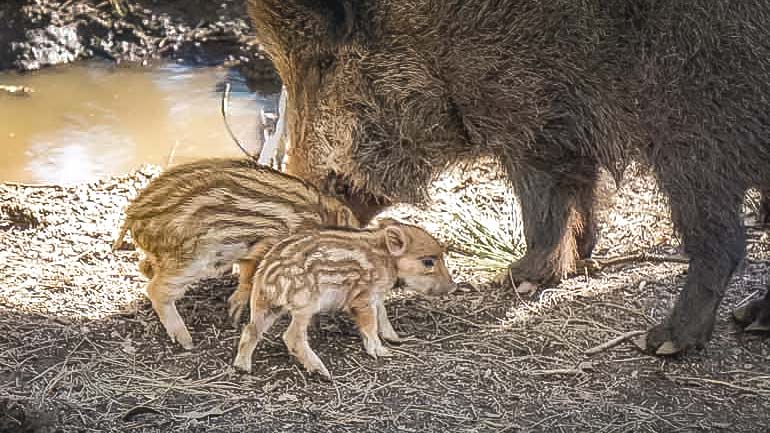 We camped and parked the motorhome at Parque Biologico de Gaia – a fabulous wildlife reserve – and then caught a bus into Porto. You get free entry to the reserve included in the campsite cost and it is a lovely place to stroll through.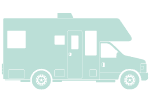 7. DOURO VALLEY
Designated by UNESCO as a World Heritage Site, the Douro Valley has about 200 Quintas (wine estates) along its banks.
A trip along the windy roads of this region is a journey filled with verdant terraced hills perched above the glistening Douro River below.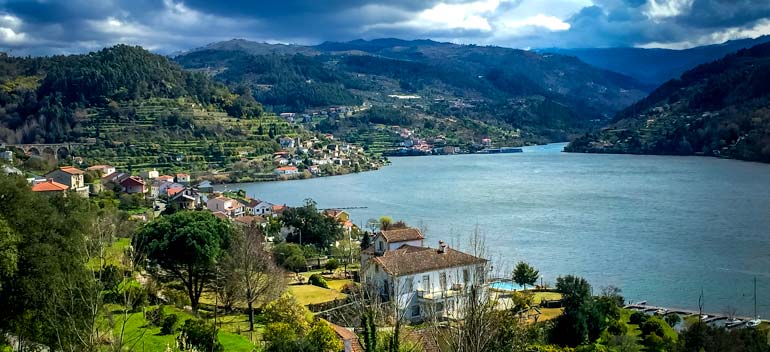 8. PESO DA RÉGUA
We continued our campervanning in Portugal trip through the Douro Valley and parked our motorhome for the night on the banks of the River Douro, underneath Peso da Régua's three bridges. The city was recognized as the International City of Vineyards and Wine in 1988.
It was from Peso da Regua that special boats, called barcos rabelos, transported wine barrels down the Douro River to Vila Nova de Gaia.
This is also where you will find the Douro Museum where you can learn more about the history of the Douro Valley. The museum also houses a shop where you can buy plenty of artisanal products.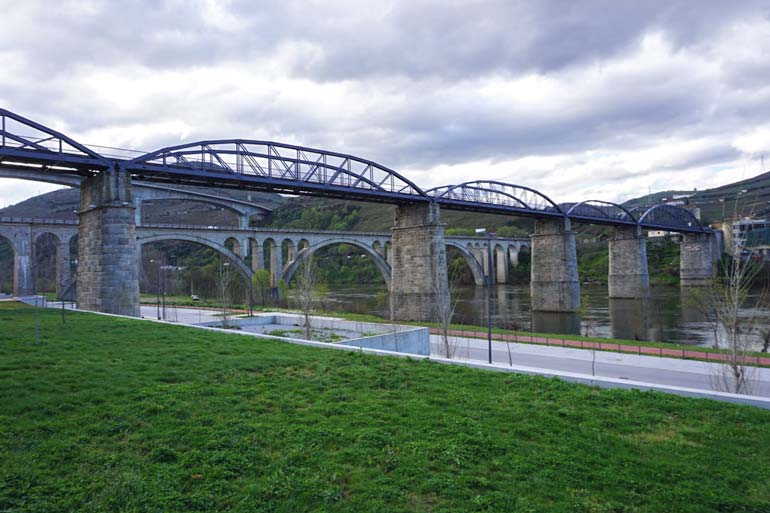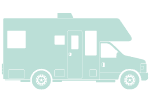 DRIVING TO PORTUGAL IN A MOTORHOME
If you are driving to Portugal in a motorhome/campervan/RV you will be arriving from Spain, as there are no direct ferry routes to Portugal itself.
If starting your campervanning trip in the UK, then you have a choice of options, but all obviously include crossing the Channel first.
Brittany Ferries run a route from Plymouth to Santander (20 hours) and from Portsmouth to Santander or Bilbao (24 hours).
Alternatively, you could get a ferry or use the Euro tunnel to France and drive through France and Spain to get to Portugal.
You can get a quote from Ferries Direct here.
We began our campervanning in Portugal — driving to the Algarve from Southern Spain.
We had picked up our hired motorhome in Germany at the start of our European year in the van.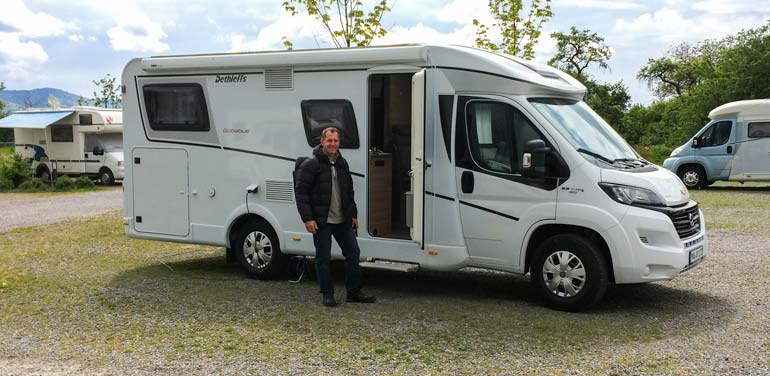 DRIVING TIPS FOR YOUR PORTUGAL MOTORHOME TRIP
These driving in Portugal tips will help make your campervanning trip less stressful and make touring Portugal in a motorhome easier and aid in your planning – eg how to handle tolls.
In Portugal, you drive on the right and overtake on the left
Seatbelts are compulsory
Have the following documents to hand:

Driver's licence (An international driver's licence isn't required if you hold a driver's licence issued by an EU Member State)
Vehicle insurance
Vehicle registration document
Passport

You are also required to have the following in your vehicle:

Reflective Vest – to be used when getting out of the car in an event of an accident or breakdown on any road.
Headlamp beam deflectors (or adjust your beams manually if possible)
Do not use or have a dashcam in your vehicle as it is illegal in Portugal.

Speed Limits are as follows unless otherwise signposted

120 km/h on motorways
90 km/h – 100 km/h outside built-up areas
50 km/h in urban areas.
Campervans and cars with caravans are not allowed to exceed 18.75 metres in length, 4 metres in height and 2.55 metres in width.
Dipped headlights must be used in tunnels
Buses, trams and trains have right of way.
The main motorways have tolls. To avoid them you can program your navigator to avoid tolls. Portugal has a mixture of tolls but some are electronic tolls only so you cannot pay by card or cash at the toll. Getting an EasyToll pass is probably the best way to go – unless you are going to be in Portugal for a long time and then you may consider a Via Verde device – find detailed info on Portugal's toll roads here.
Emergency Number: 112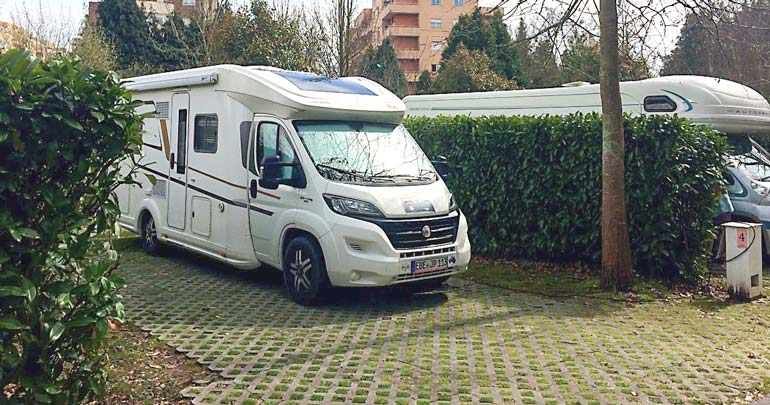 MOTORHOME AND CAMPERVANNING IN PORTUGAL … THAT'S A WRAP
This article will be a useful guide to help you plan your motorhome trip to Portugal. Please reach out to us if you have any questions or any further suggestions for our readers touring Portugal in a motorhome.
Do you have a favourite destination in Portugal? We'd love to hear your thoughts and experiences in the comments below or drop us an email.
Pin and save for Later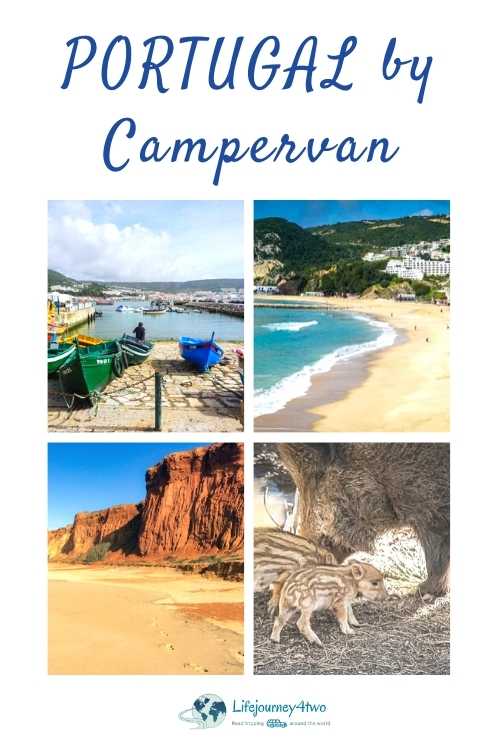 READ MORE:
---
PLANNING YOUR TRAVELS?
These are some of the travel resources we use when planning our trips.
For a more thorough list visit our Travel Resources page here.