Motorhoming in Slovenia
Motorhoming in Slovenia will have you driving past incredible mountain vistas, beautiful Alpine meadows and crystal-clear green-blue lakes and rivers.
Not only will you see every hue of the colour green, but Slovenia's capital, Ljubljana, has been ranked as one of the top European Green Capitals.
Slovenia is serious about sustainability and is one of the cleanest countries that we visited on our year-long road trip through Europe.
It is a relatively small country, with a population of just over 2 million. If you drive from east to west, the distance is only 248 kilometres and from north to south, 163 kilometres. So, you don't have to travel too far between all of Slovenia's beautiful places.
We began our Slovenia road trip in the south, at Postojnska Jama (Postojna Cave), as we had just left Plitvice Lakes on our motorhome trip through Croatia.
We also took a detour to Venice, Italy, when we were in western Slovenia because it was so close.
The country shares borders with Italy to the west, Austria to the north, Croatia to the south and Hungary to the east.
Its position is therefore, handy if you want to extend your Slovenia road trip itinerary to include surrounding countries or take a detour out for a day or two. It's pretty easy to take a day trip to Vienna, Budapest or Bratislava for example.
💡 Before you leave home, make sure you have travel insurance for your trip, so you can relax on your trip knowing you're covered if anything goes wrong.
Planning a Trip to Slovenia?
What's in This Slovenia Road Trip Article?
To help you in your road trip planning for your Slovenia Road Trip, we've included:
Slovenia Road Trip Interactive map
Places to visit in Slovenia
Driving tips for a Slovenia road trip
Information about motorhome rules and options for overnight stops
Campervan/motorhome campsites in Slovenia
Slovenia motorhome and campervan rental information
Your Passport to Stress-Free Travel Planning
To make your Slovenia Road Trip Planning and trip that extra bit smoother – download our free Printable Road Trip Planner by clicking the download button below.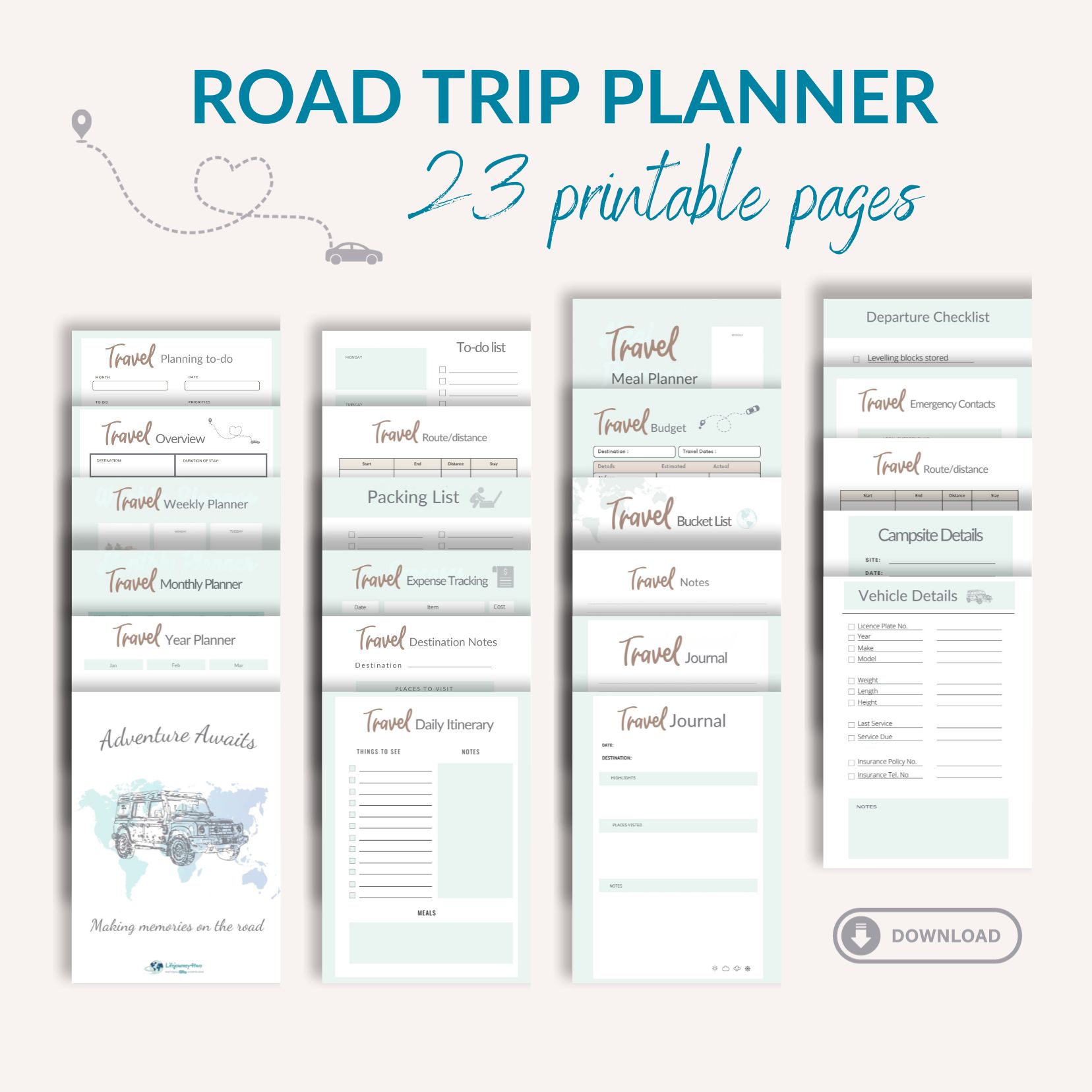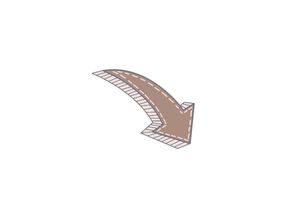 Slovenia Road Trip Interactive Map
How to Use This Slovenia Road Trip Map
To use this map, expand it using the square symbol on the top right-hand side and you will find the key on the left-hand side. By clicking each location you will find extra information.
For example, each campervan/motorhome overnight park on the Map has the web link to Camper Contact where you can see the facilities available, price, opening times, and useful user reviews on each campsite.
The motorhome overnight stops we used are marked with a dark purple motorhome icon and the places we visited are marked with purple icons.
Video Taster of Slovenia
Places to Visit on a Slovenia Road Trip
There are so many gorgeous places to visit in Slovenia and we've included our favourites along our route.
A summary of these are: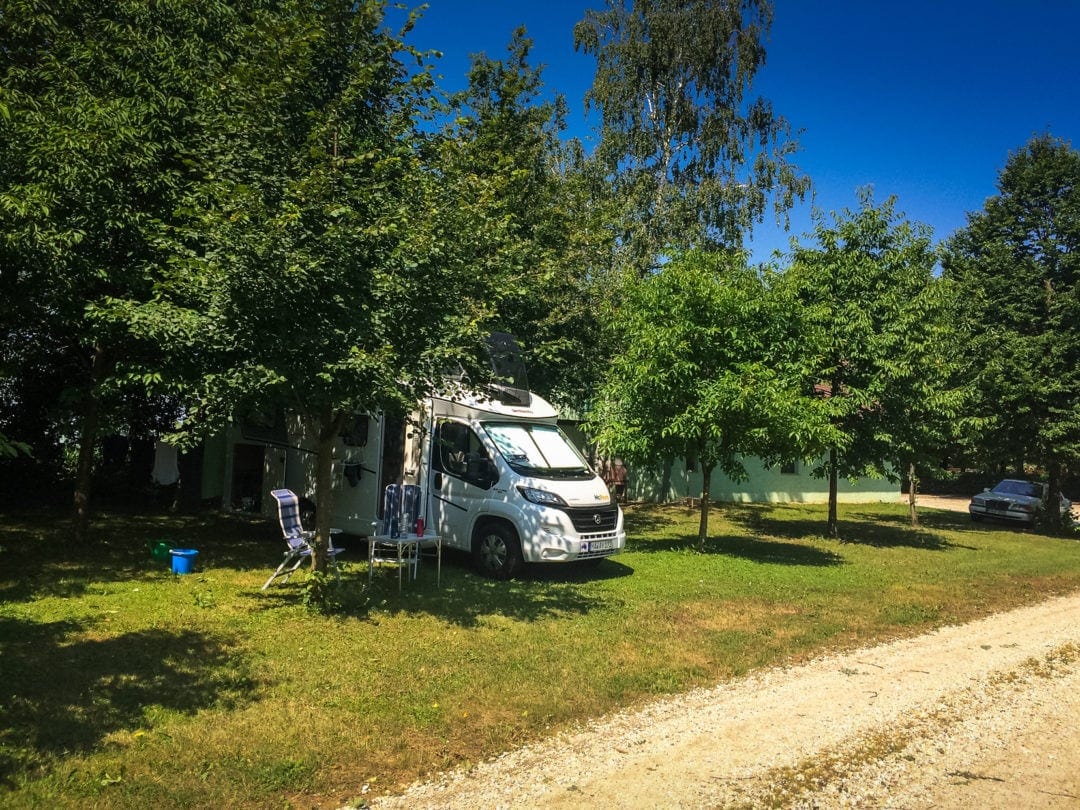 1. Postojna Caves
A natural wonder, underground in the southwest of Slovenia, and our first stop on our Slovenia road trip, was the popular Postojna Caves (Postojnska Jama).
Over five kilometres of tunnels and passageways are found here, and the formations that occur in this subterranean world are incredible. Especially, when you imagine that it takes 100 years for 1cm of a stalactite to form.
Formed over 3 million years ago, these captivating caves are also home to 'baby dragons'. When locals first saw these unusual creatures, they believed them to be baby dragons and therefore were afraid to enter the caves, believing that the rather larger parents must be close by.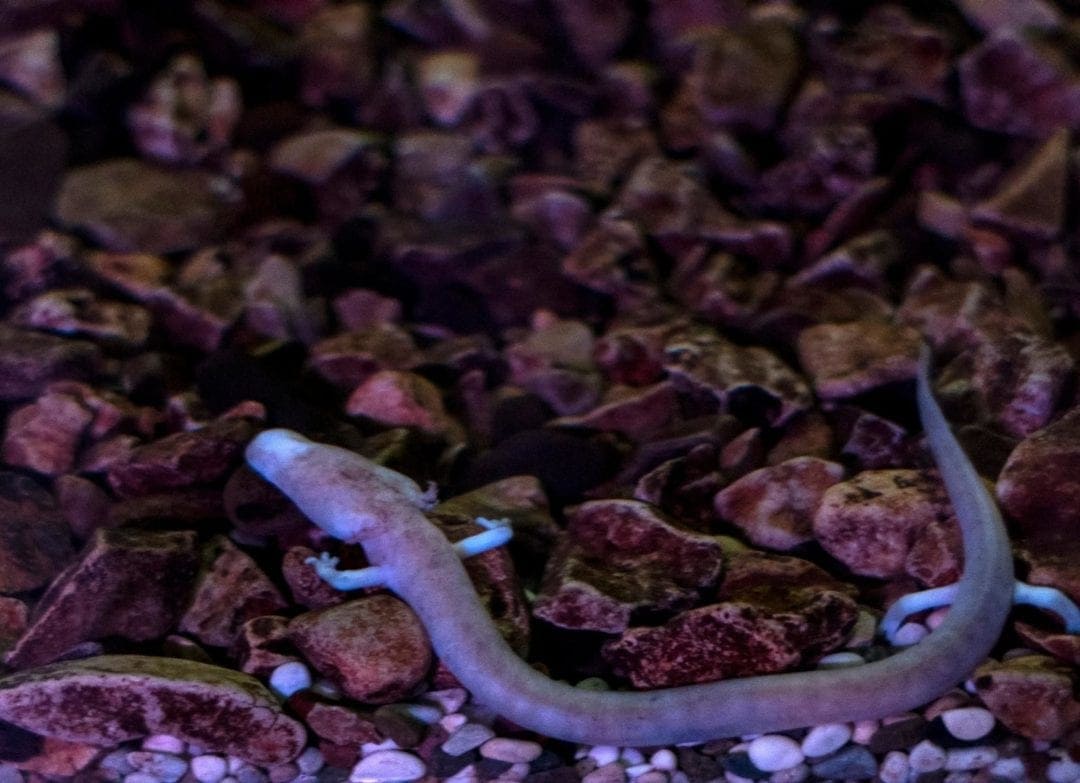 However, these snake-like creatures, olms, are not baby dragons, but white/pink lizard-like creatures that live exclusively in dark, underground caves.
Surprisingly, these blind little fellows can live for up to 100 years and go without food for 12 years.
The ticket to Postojna Caves includes a 2 km train ride which takes you through the tunnels to the 'Great Mountain'. Here, you continue on foot and the guide leads you over the 'Russian Bridge' to the Beautiful Caves and to the star attraction, the Brilliant.
The Brilliant is a white stalagmite formation that sits next to another incredible formation, known as 'Baroque'. In total the visit is one and a half hours.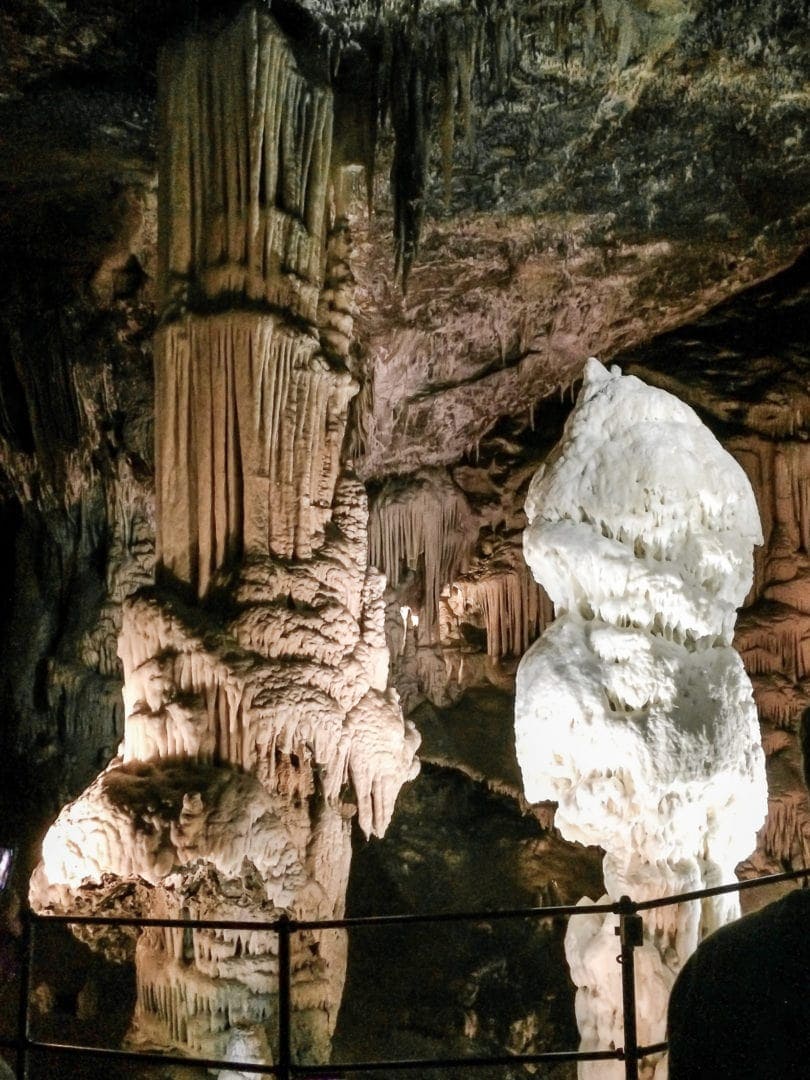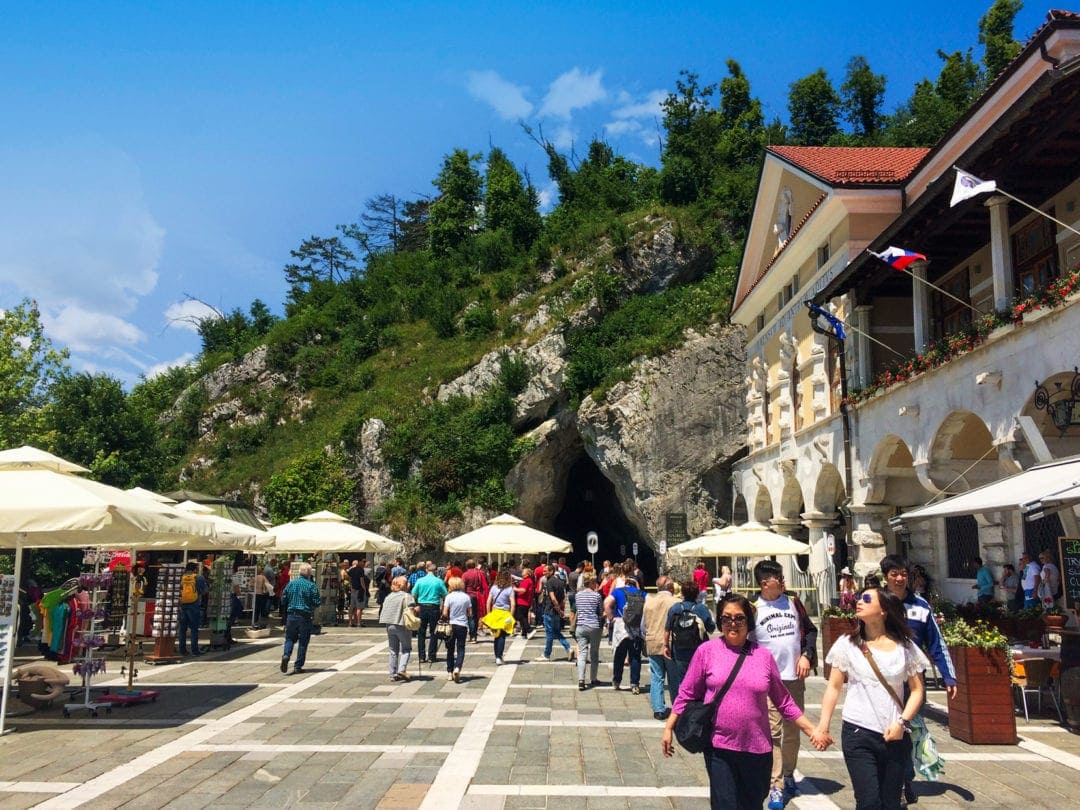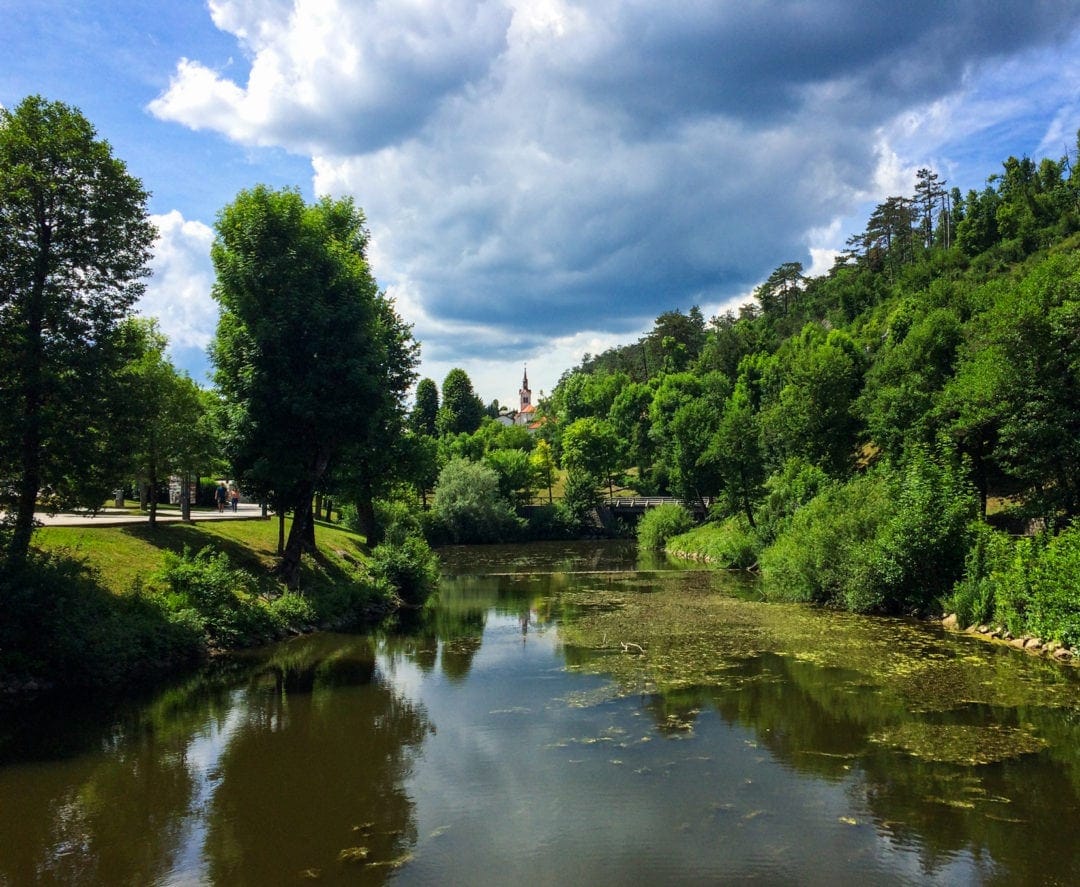 2. Predjama Castle
Only nine kilometres from the Postojna Caves, nestled into the opening of a cave in a 123-metre steep rock face, sits the only cave castle in the world, Predjama Castle.
This medieval castle, positioned here for more than 800 years, has a series of secret underground tunnels.
According to legend, the knight Erazem of Predjama used these secret tunnels to escape from the castle and carry out plundering expeditions. He apparently managed to protect himself in the castle against a siege for a whole year.
The tale has an unfortunate ending though because it tells us Erazum was betrayed by a confidante and was shot by a cannon blast whilst on the toilet.
A combination ticket can be purchased to visit both Predjama Castle and Postojna Caves.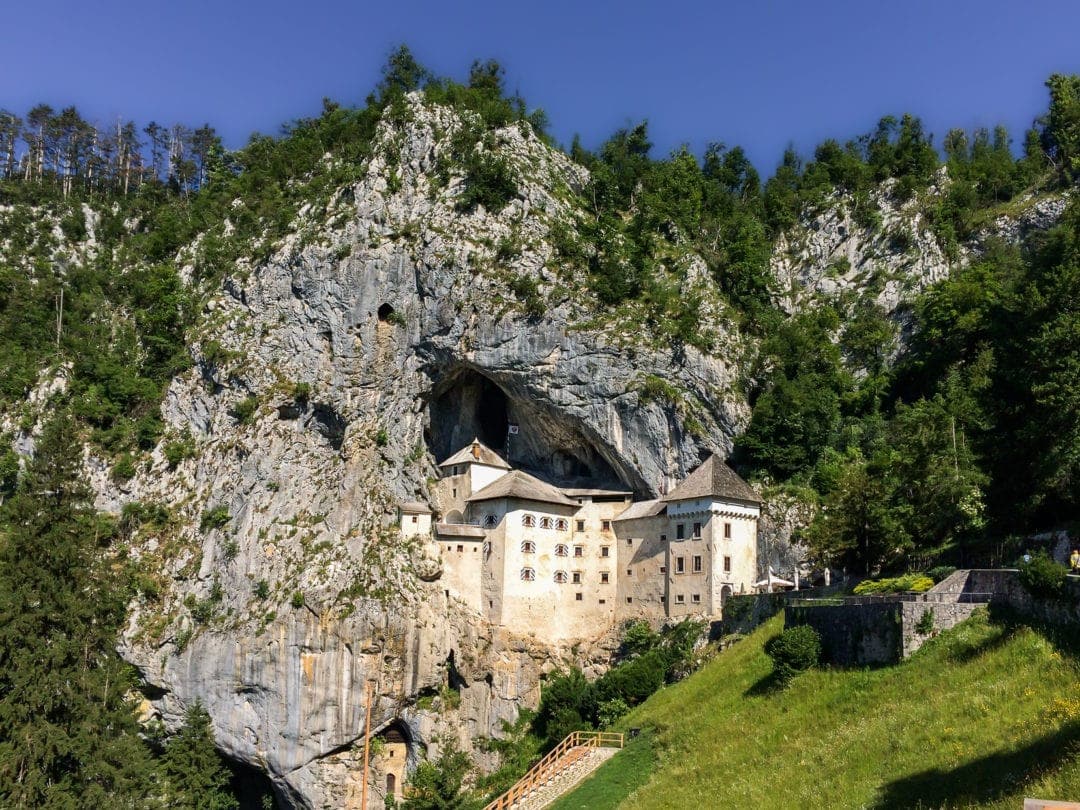 Camperstop in Postojna
We stayed in the camperstop carpark just a few metres from the entrance to the Postojna Caves > Postojna Parking
3. Julian Alps
The Julian Alps, in the northwest of Slovenia, and the Triglav National Park, are areas full of Alpine meadows, farms, forests, and turquoise lakes and streams. It's an ideal area to cycle, hike and appreciate nature, in all its glory.
The fairytale image of the tiny island and the Pilgrimage Church of the Assumption of Mary (Bled Island Church), is the one most people are likely familiar with.
However, this is just one of the sights to see… and the busiest. Another lake in the area, just as beautiful, is Lake Bohinj.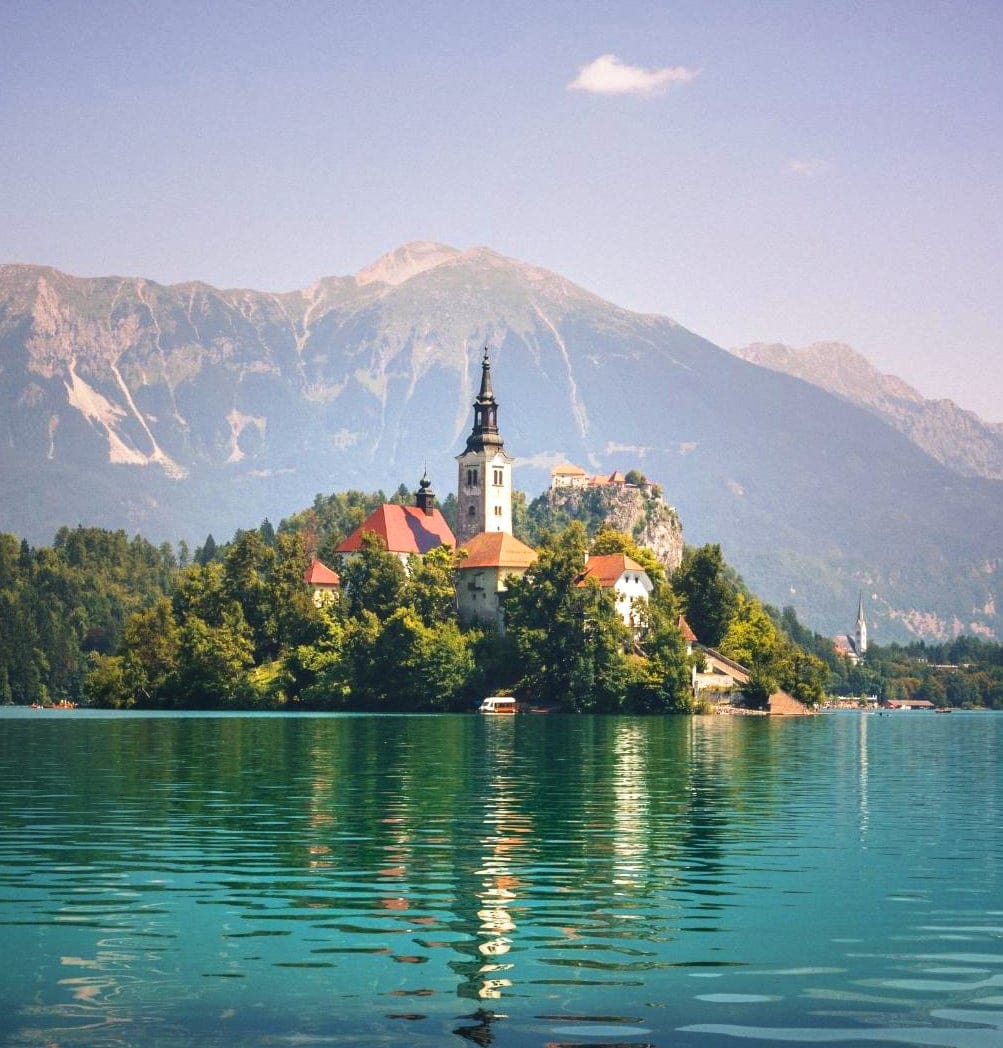 4. Lake Bohinj
Heading north from Postojna, our next beautiful destination on this Slovenia road trip was Lake Bohinj. We parked the motorhome at Bohinjska Bistrica Station and cycled along a stunning cycle route to the lake.
The cycle path runs alongside the Sava Bohinjka River and the scenery is stunning. Lake Bohinj also has a cycle path, but you are not allowed to cycle on the northern side of the lake.
As it was June, the weather was warm, so we dipped our toes in the crystal clear waters and watched as the fish nibbled at our toes in the shallows.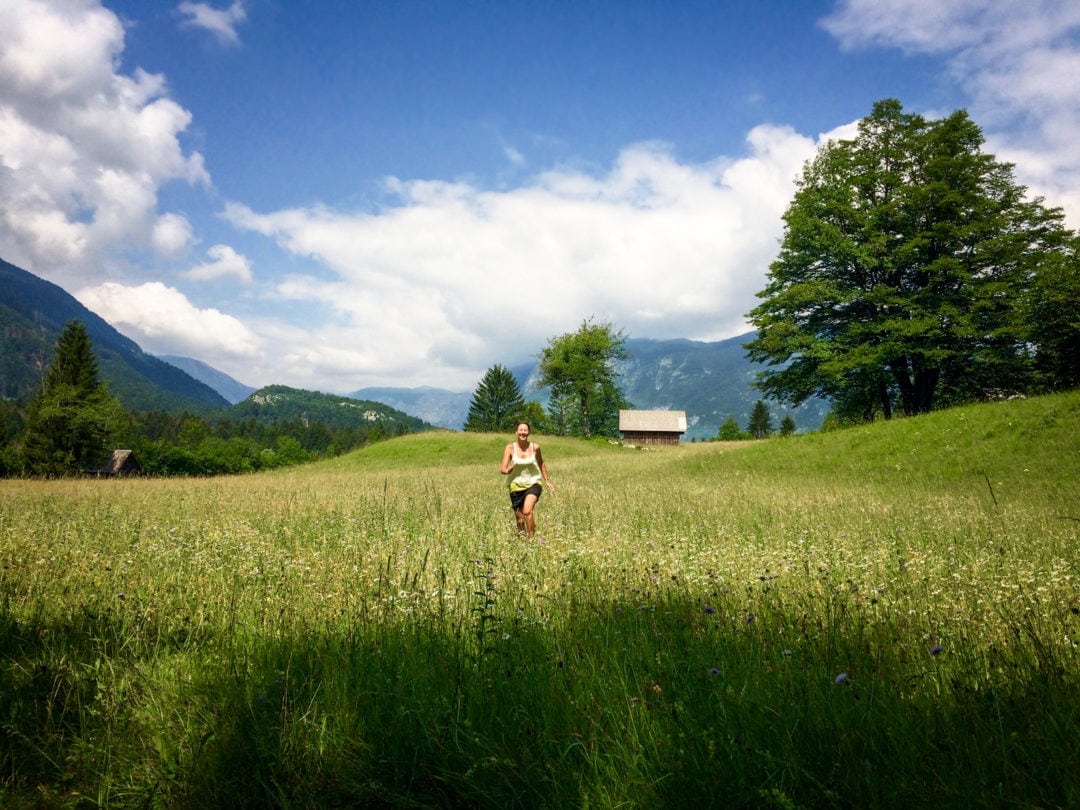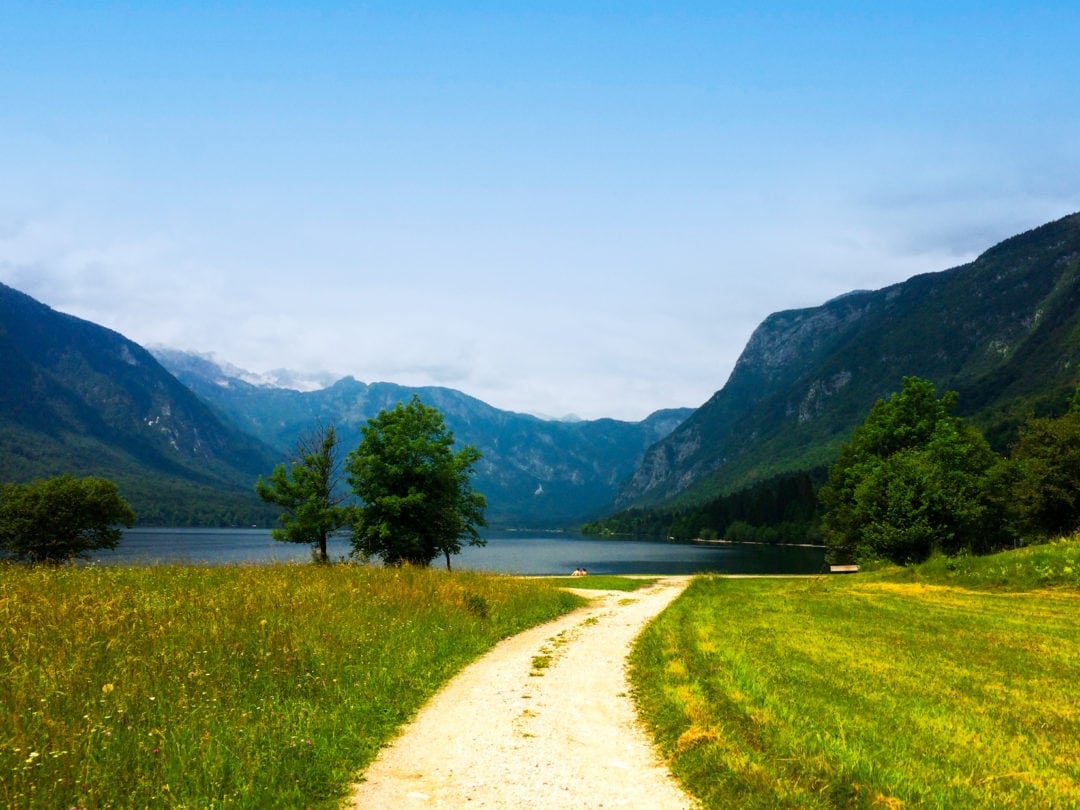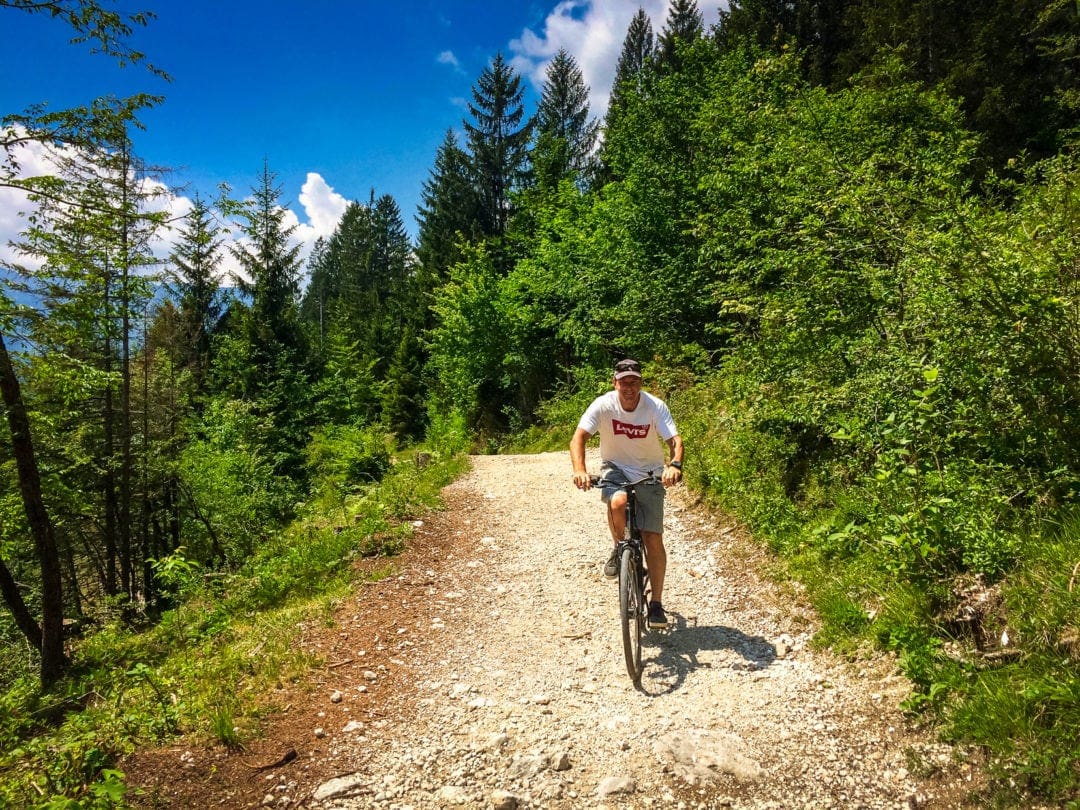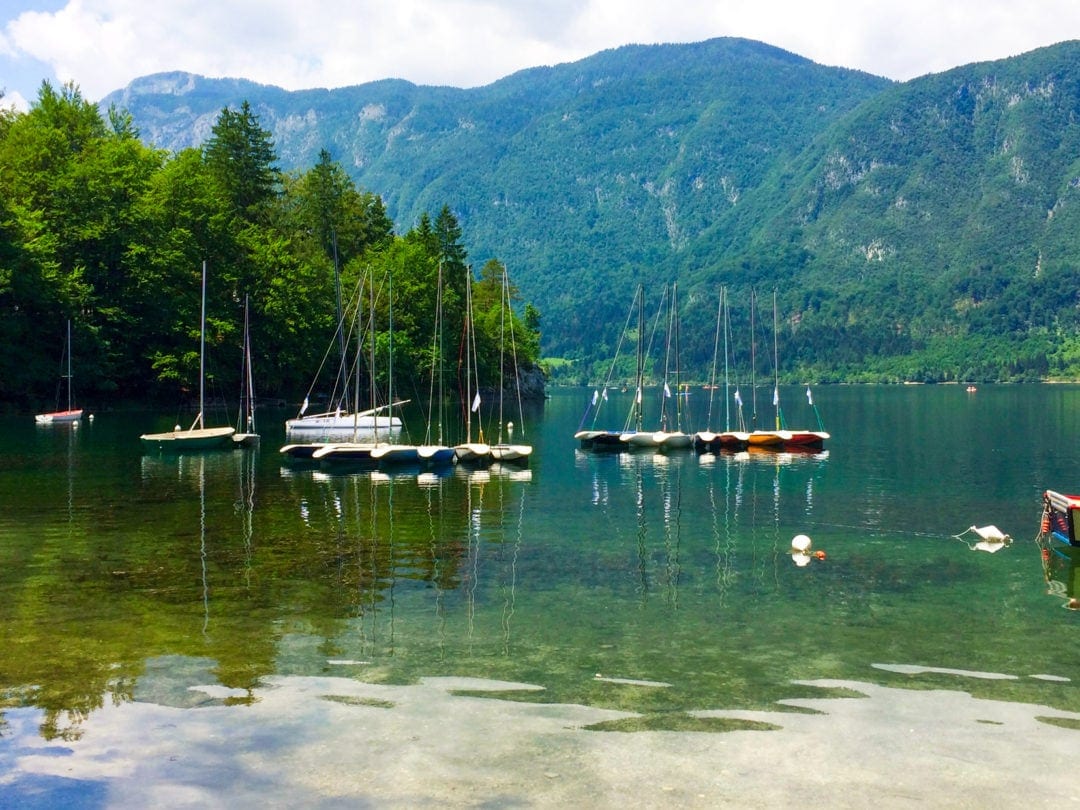 Motorhome Stop in Bohinj
We parked the motorhome at Bohinjska Bistrica Station. If you were staying in the area for a little while you might prefer the more expensive campsite, Camp Danica on the river. That site was very popular, so if visiting in summer, it's probably a good idea to book ahead.
5. Lake Bled
We definitely preferred Lake Bohinj to Lake Bled because it was less commercialised and had fewer tourists. However, Lake Bled is famous for a reason. You can take a trip out to the island, at the centre of Lake Bled, on a traditional shaded wooden boat called a pletna.
Pilgrimage Church of the Assumption of Mary dates from the 12th century and is a renowned pilgrimage centre. It plays host to thousands of tourists each year.
What was most exciting for me was the idea of the Bled Cream Cake, (Kremna rezina). Mention the word cream and I'm all in. We travel on a budget, so eating out is a luxury. However, we just had to sample this symbol of Bled cuisine. For the whole walk around the lake, all 6km of it, all I could think about was biting into this creamy deliciousness.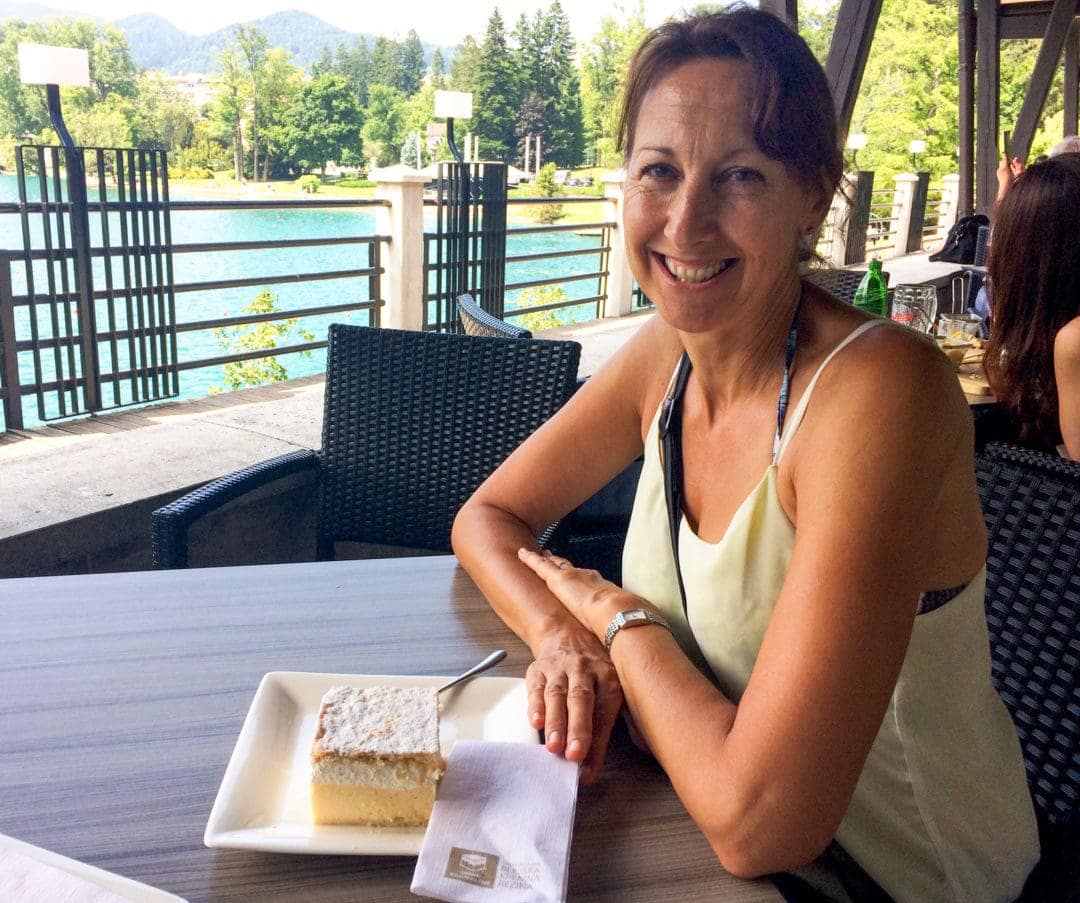 At first bite, I knew it was a disaster.
I was about four years old when it first happened.
I was standing outside a bakery and had spent ages waiting for Mum to finish chatting with a friend she'd just bumped into. To keep me quiet, she'd said I could choose a cake in the bakery window. Oh, my little heart poured, for what seemed like hours, over which one to choose. I'd never had a cake from a bakery before. This was a real treat.
Eventually, amidst this mind-boggling dilemma, I opted for the custard tart. I liked the custard Mum made at home and this looked so creamy and yummy.
And that was the first time it happened. The involuntary gag at first bite.
There must be a fine line between 'normal' custard and 'egg custard'. And I don't know how, or where, that 'eggy' line is, but my tastebuds and stomach certainly do. Any custard crossing that line causes me to gag. I just can't do it.
Now, most cream cakes in bakeries have what I call 'normal' custard, unless they are egg custard tarts, of course. Unfortunately, Bled Cake has 'eggy' custard.
I felt like that bitterly disappointed 4-year-old. Eager anticipation so rudely punctuated with a dry retch.
However, all was not lost. Lars took one for the team and polished off two Lake Bled cream cakes.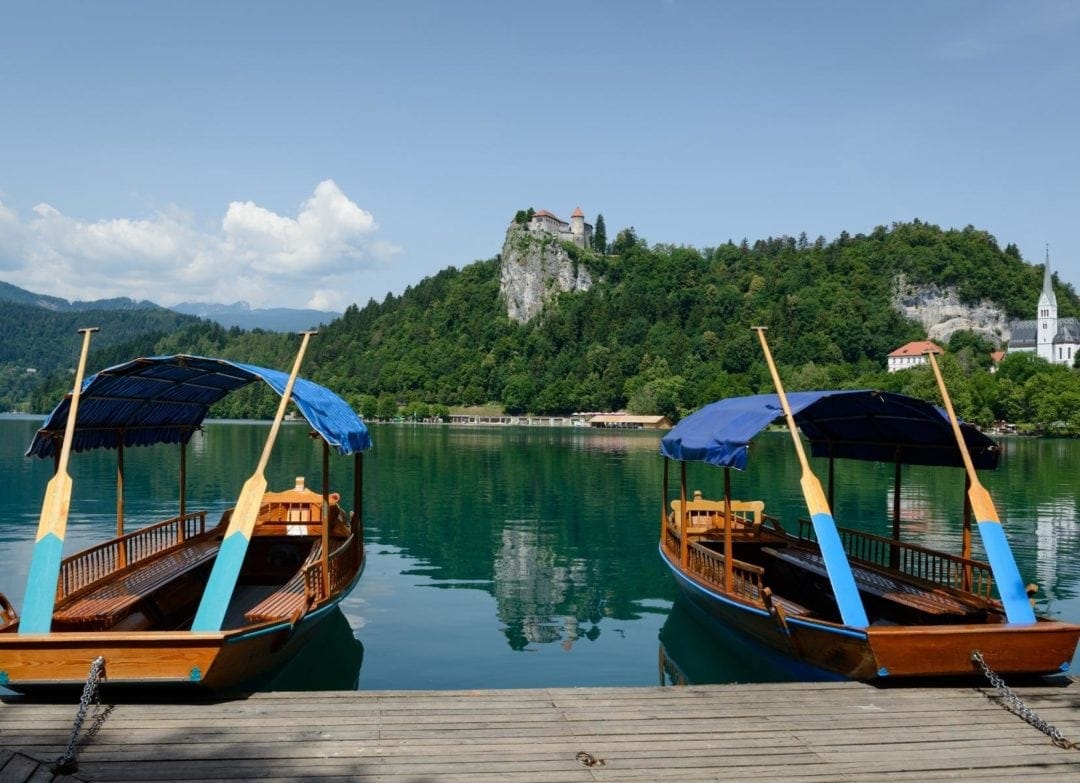 Camperstop in Lake Bled
We camped at Kamperstop Bled, with a short walk down to the lake. A basic overnight stop.
6. Jzersko Valley
So much of Slovenia was a surprise to me.
I knew very little about the country, but each place on our road trip in Slovenia was just stunning.
No less so, the Jzersko Valley. Our next stop, as we motorhomed through Slovenia on this ever-verdant scenery, was Zgorne Jezesko.
We were welcomed by more alpine meadows, alpine-style chalets and tree-covered mountains.
Jezersko Valley is another perfect area for outdoor activities, such as cycling and hiking. After setting up camp at a local campsite, we set off on a cycle and hike to Ceska Koca.
If you decide to hike to the mountain hut and restaurant at the top of Ceska Koca, then expect a steep climb, rocky edges, a few stepladders and even a plank of wood across a 1000-metre cliff face. The views from the top were certainly worth the climb though.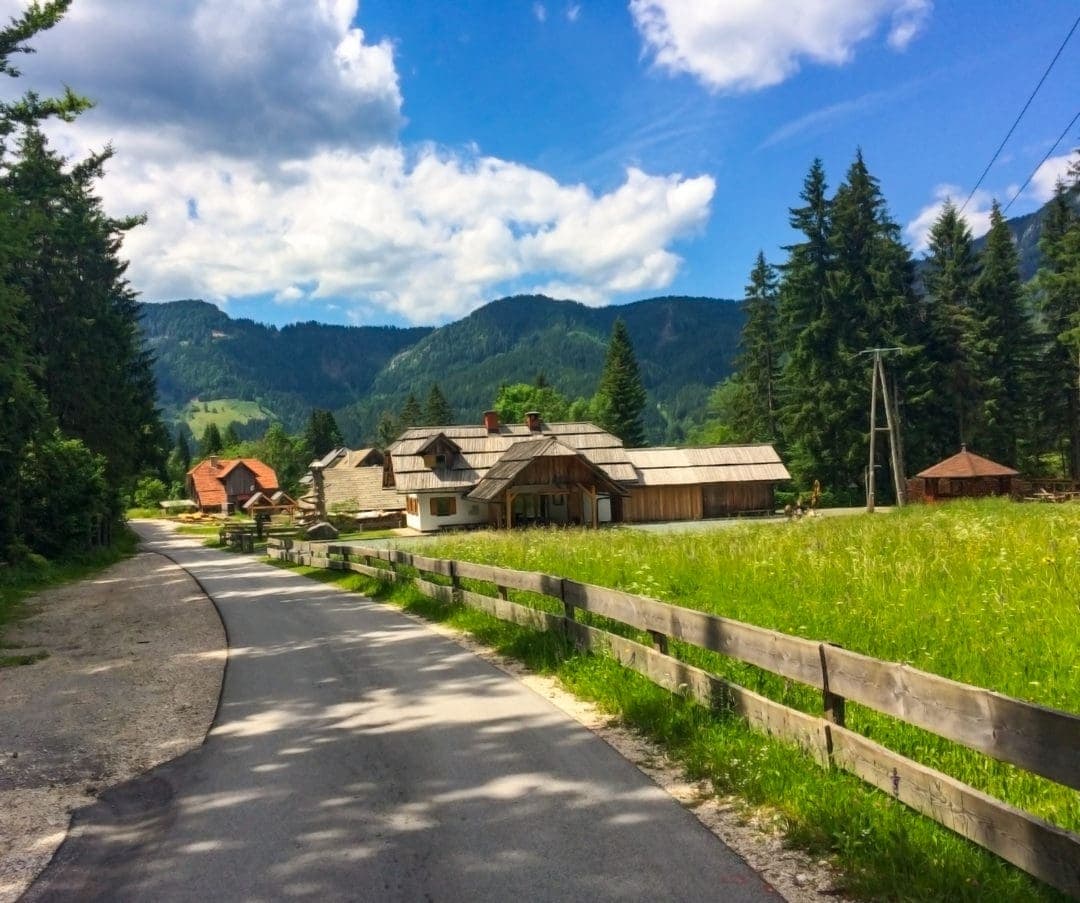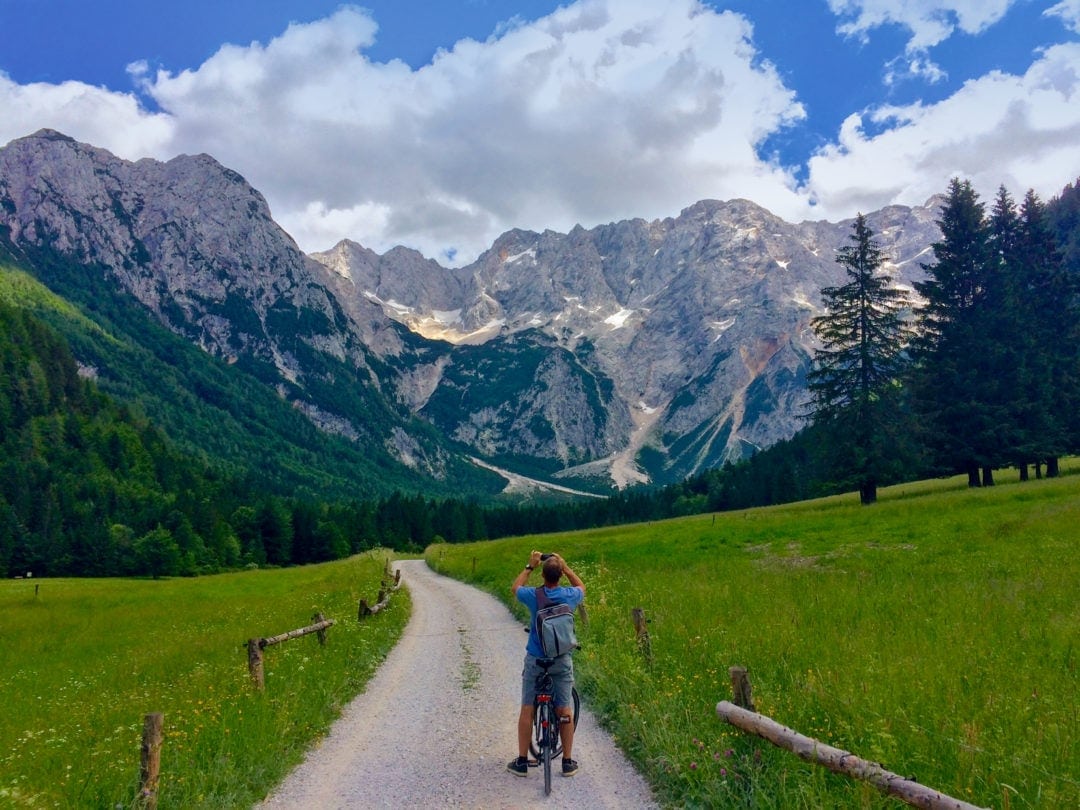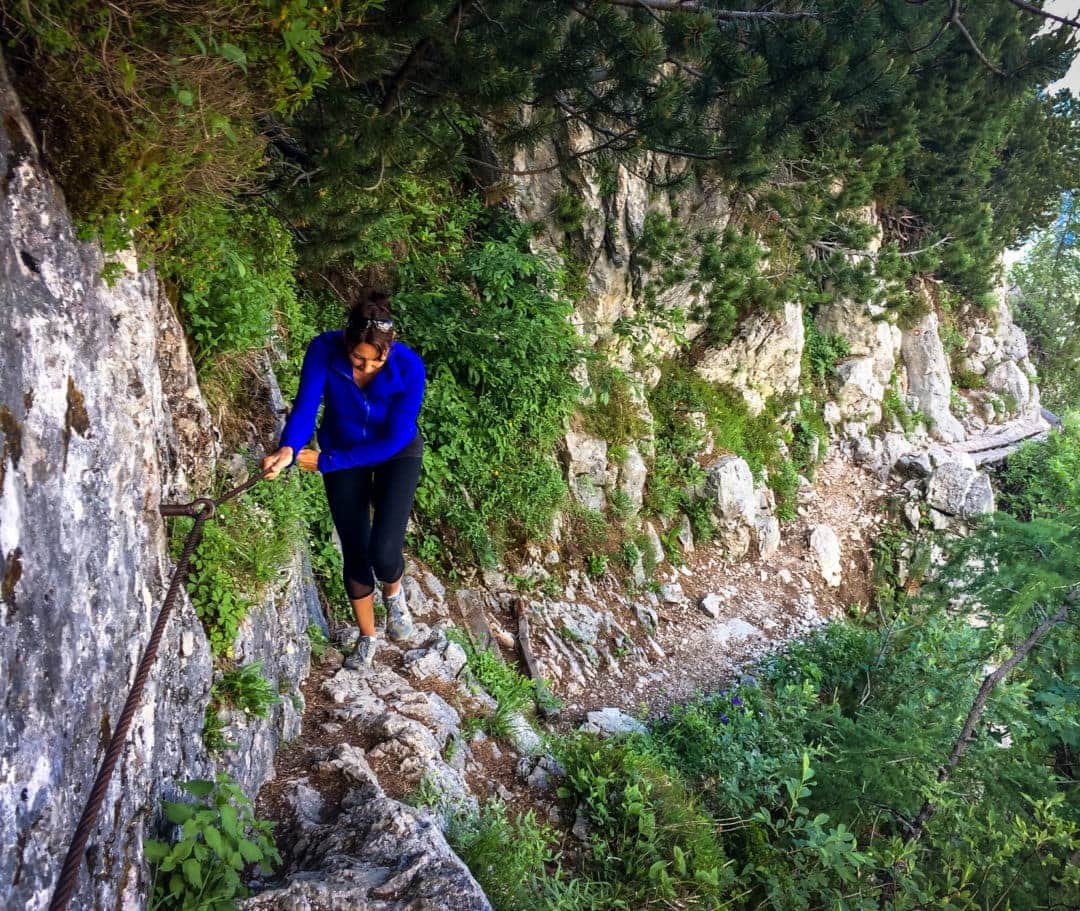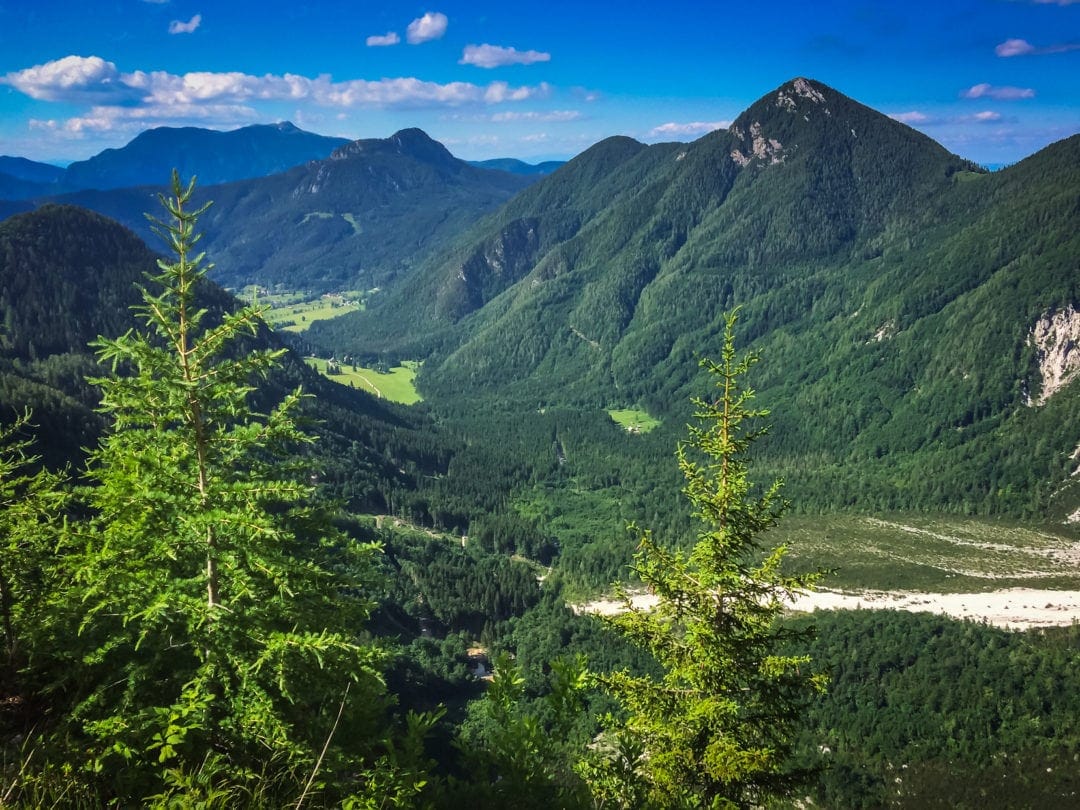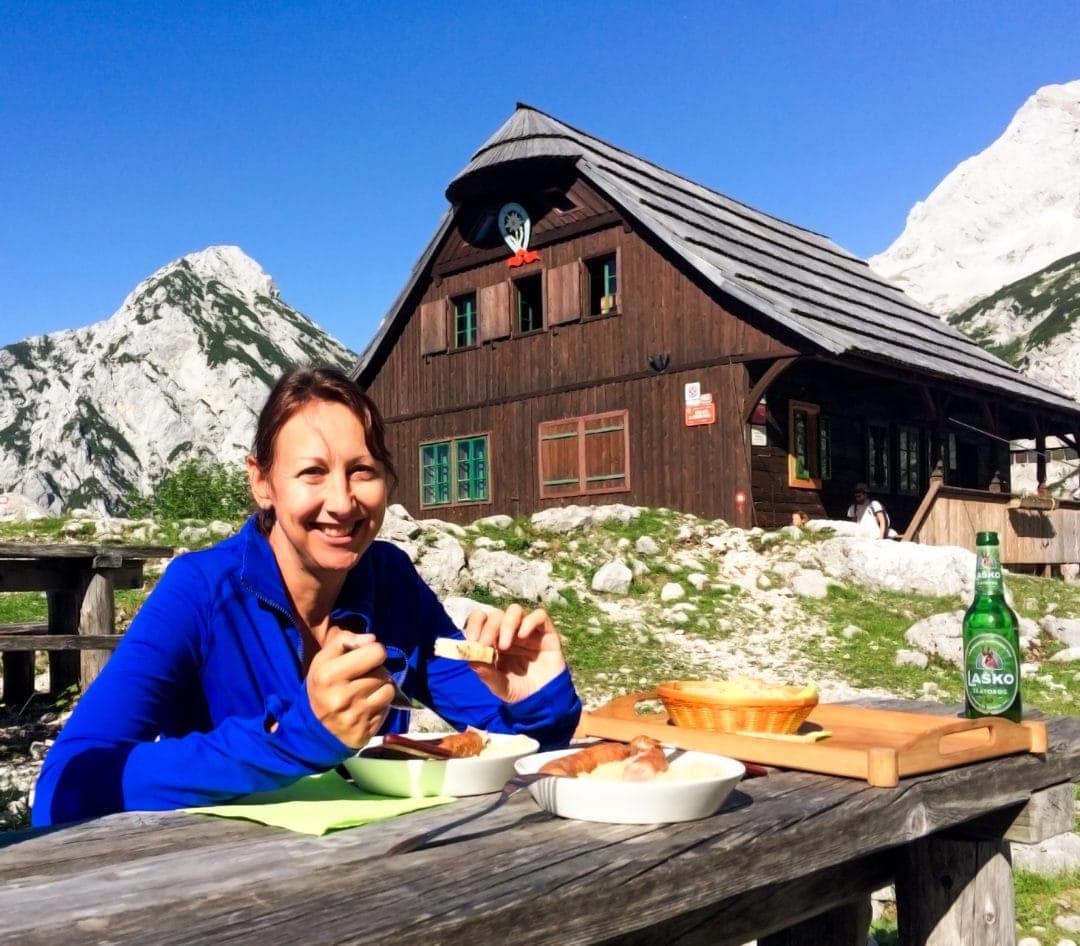 Camperstop in Zgorne Jezersko
We camped at Camp Jezersko — a lovely spot at the foot of the mountains.
7. Kamniksa Bistrica Valley
Yet another superb spot to stop, as you motorhome through Slovenia, is Kamniska Bistrica Valley. We stayed in the Stahovica area, at a beautiful campervan spot, the International Picnic Centre. It's beside a local restaurant, Pri Jurju and is nestled under the Kamnik-Savinja Alps.
This spot was undoubtedly one of the prettiest sites we stayed in throughout Europe. There are many walking and hiking trails in the area and we would recommend at least doing the easy loop shown on our map.
On a longer hike or fast racking via cable car, you can visit the high mountain plateau of Velika Planina. Here you'll find magnificent views and a traditional herder's settlement.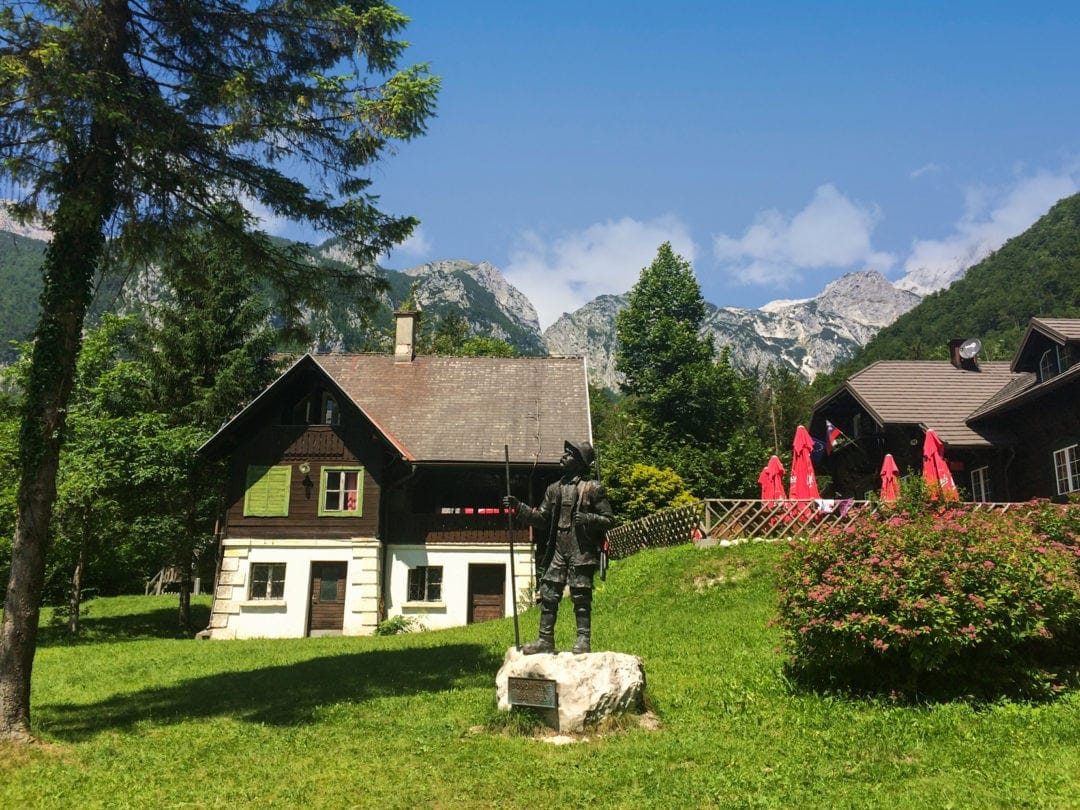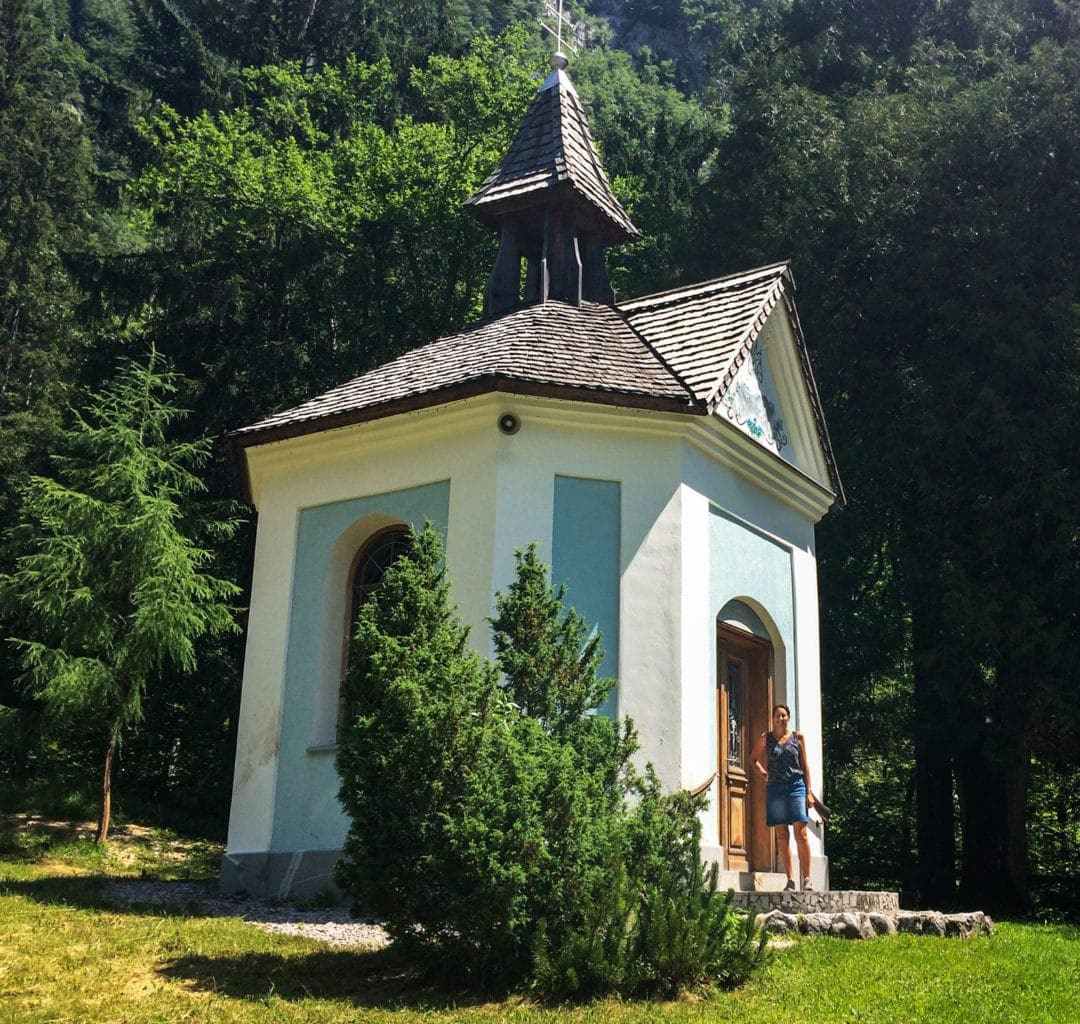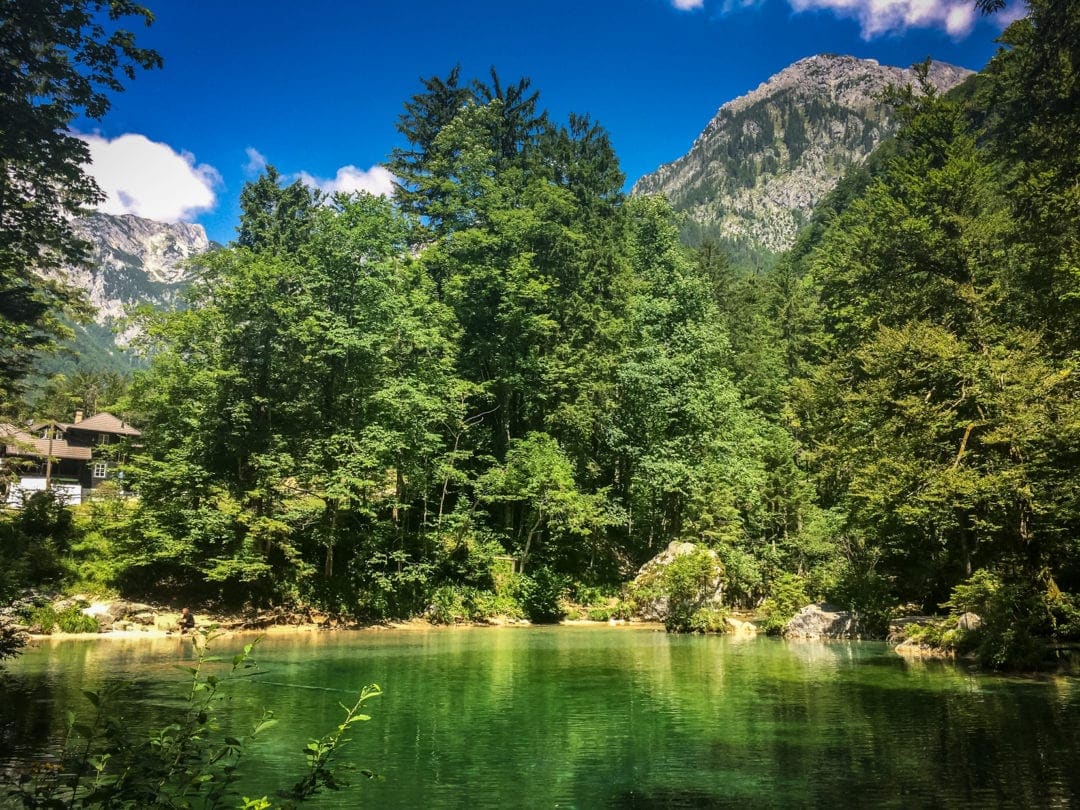 Motorhome stop at Kamniska Bistrica
A beautiful camper spot at Pri Jurju in Stahovica. Just near the campsite is a hunting lodge built in 1933 for King Alexander.
8. Ljubljana
I'm not a lover of cities, but Ljubljana is one that remains one of my favourites. It is a small city with the Ljubljanica River winding through it. Attractive bridges crisscross the river with outdoor cafes and shops lining it.
Just a few steps from the city centre, you can immerse yourself in nature at Tivoli Park. The park is filled with ornamental flower beds, trees, statues and fountains.
Much of the city is pedestrianised and if you look closely you will likely see dragons in many places. You can't miss the dragons on either end of Dragon Bridge, and you'll also find them on Slovenia's coat of arms. The symbolism of the dragon is seen as the protector of the city, embodying power, courage and wisdom.
Overlooking the city, on Castle Hill is Ljubljana Castle, offering various experiences and views across the city.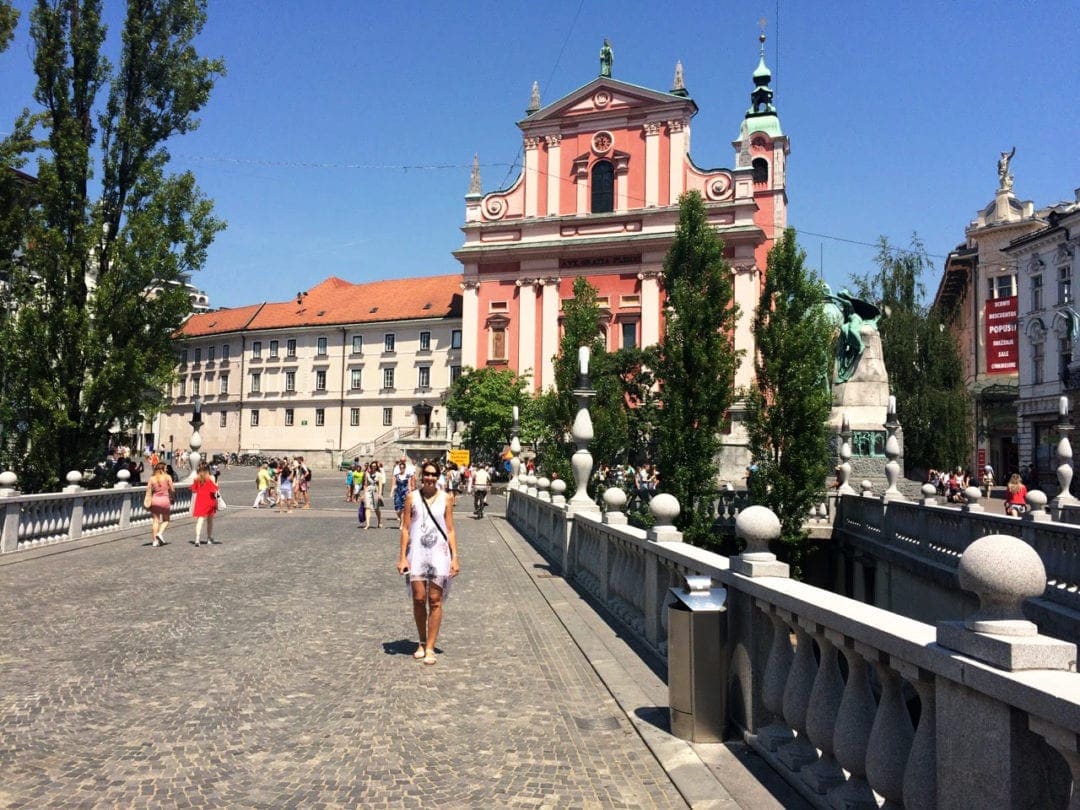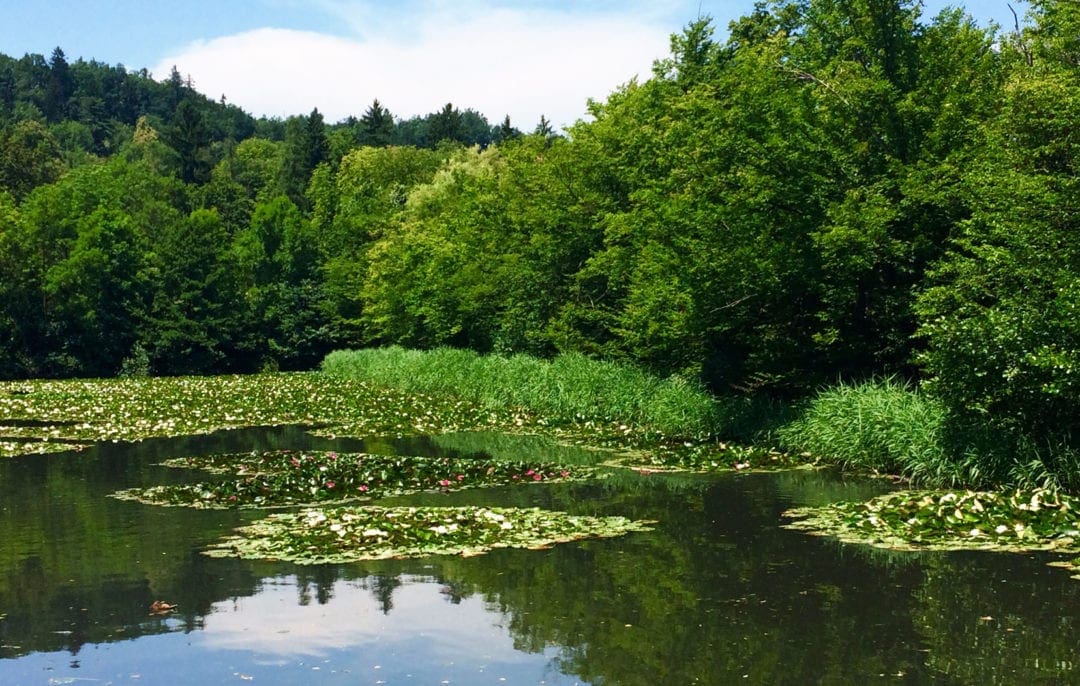 Campervan Stop in Ljubljana
We actually stayed at this site in Ljubljana twice and it was the perfect location to park up and catch a bus into the city. The bus stopped right beside the campsite and only took about 20 minutes to the centre of Ljubljana.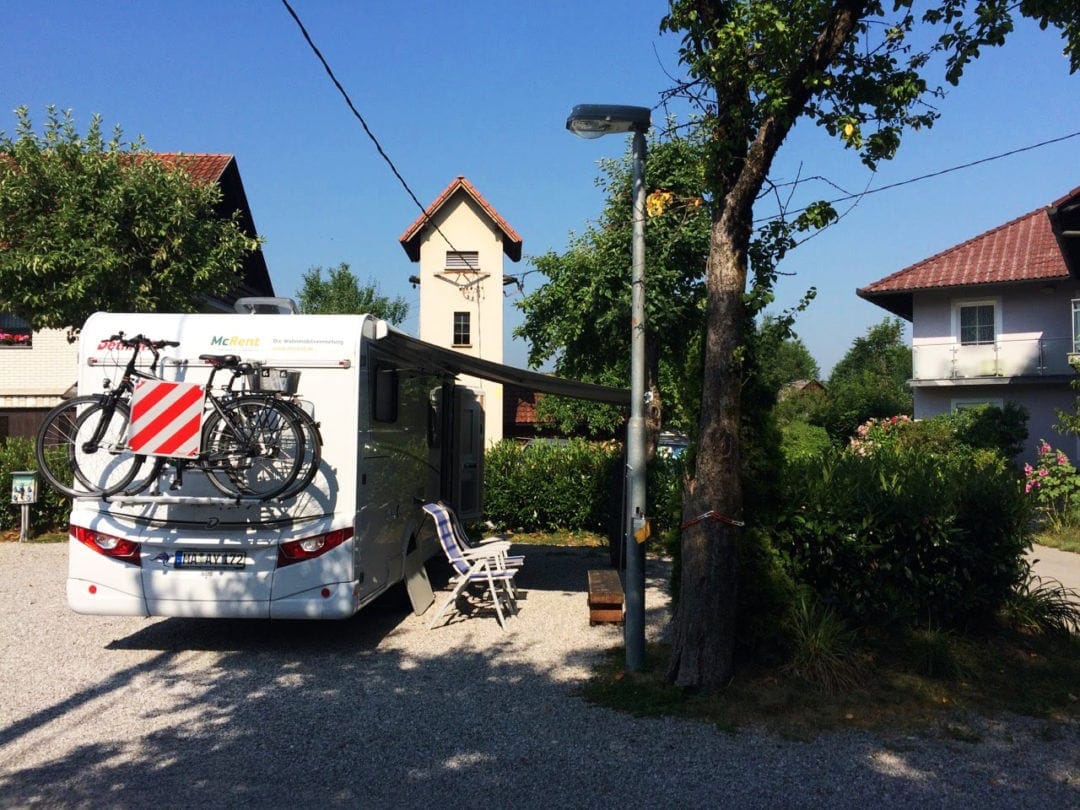 9. Trojane
When we were in Croatia, locals told us that whatever we do in Slovenia, we should not miss the doughnuts of Trojane.
The award-winning doughnuts are made with one part jam to five parts dough and they are huge. First created back in 1961, about ten doughnuts were then sold each day.
Now, Trojane sells between 2000 and 5000 doughnuts per day.
We were heading east as we left Slovenia, so it was a great place to tickle the tastebuds.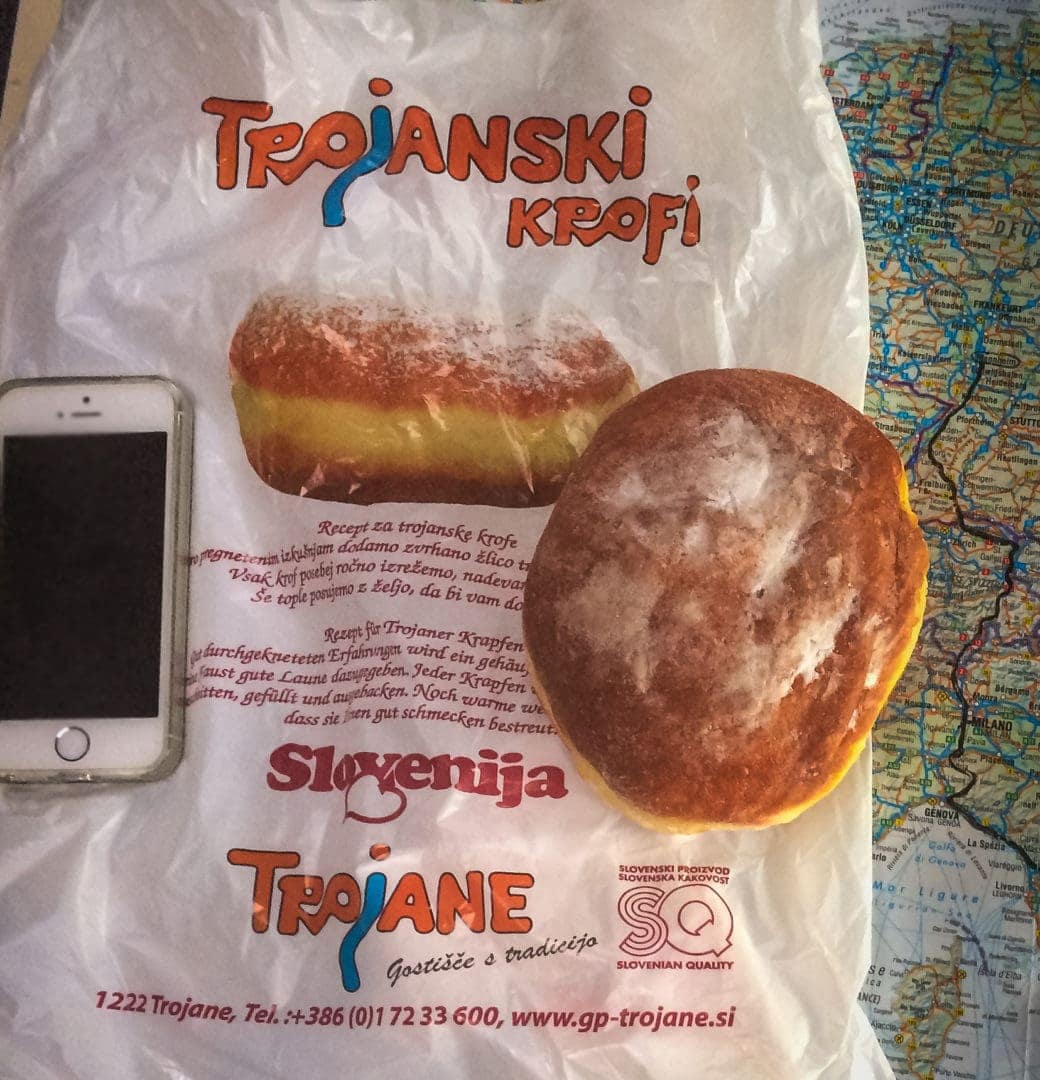 Planning a Slovenia Road Trip
Your Slovenia Travel Itinerary will depend partly on how many days you have for your road trip. Below, we set out a couple of suggestions for the most common road trip time frames spent in Slovenia.
Slovenia Road Trip: 5 Days
Day 1: Postojna and Predjama
Day 2: Bohinj Lake
Day 3: Lake Bled
Day 4: Kamniska Bistrica
Day 5: Ljubljana
Slovenia Road Trip: 7 Days
Day 1: Postojna and Predjama
Day 2: Bohinj Lake
Day 3: Lake Bled
Day 4: Jezersko Valley
Day 5: Kamniska Bistrica
Day 6: Kamniska Bistrica – Velika Planina
Day 7: Ljubljana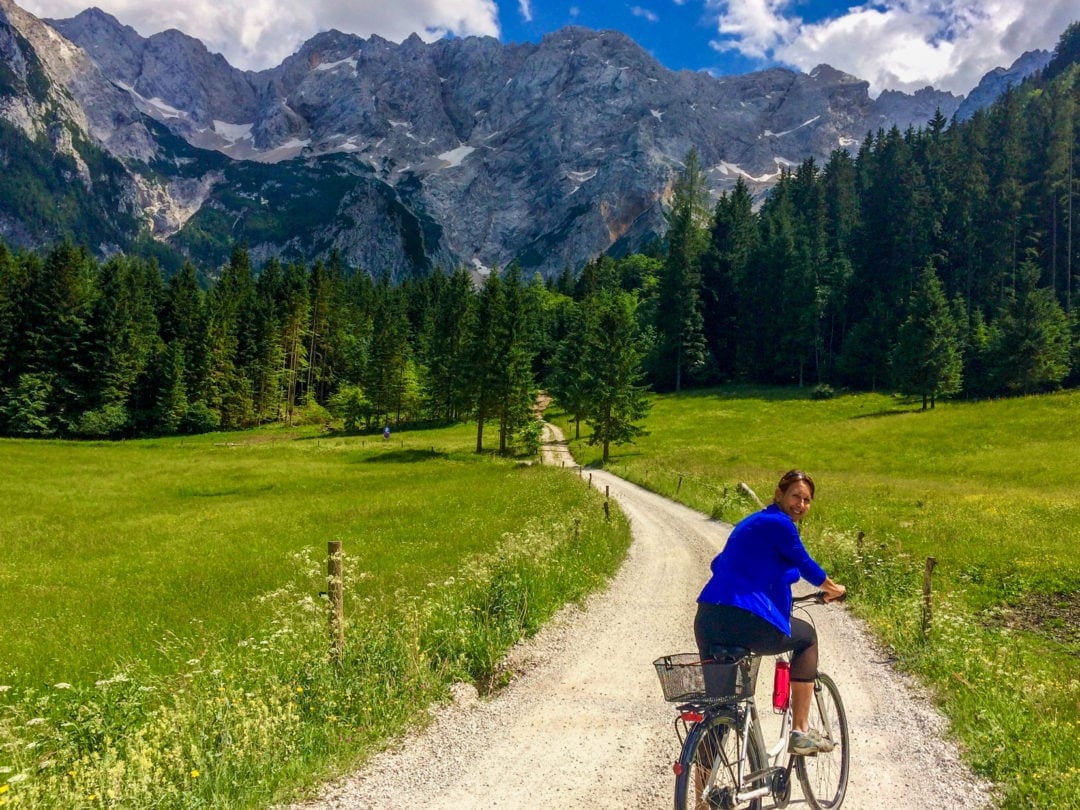 Driving in Slovenia
Many of the Slovenian roads in rural areas were in poor condition, but the major routes were fine.
In Slovenia, you drive on the right
Seatbelts are compulsory
You will need to have the following documents:

Drivers licence (An international driver's licence isn't required)
Vehicle insurance
Vehicle registration document
Passport
Note: Since August 2021 you no longer need an insurance Green Card for driving in Slovenia

You are also required to have the following in your vehicle:
You must not indicate when entering a roundabout but you need to when leaving one
To use Slovenian motorways, you'll need to display a vignette on your windscreen as proof of payment or buy an e-vignette.
If you're involved in an accident, you must notify the police and get an accident report for insurance purposes
Driving in Slovenia requires adjusting the beam pattern to suit driving on the right so that the dipped beam doesn't dazzle oncoming drivers. You can purchase inexpensive beam deflectors to adjust the beam.
Speed Limits in Slovenia are as follows unless otherwise signposted and on dry roads

130 km/h (80 mph) on motorways
90-100km/h (50mph) on open roads
50 km/h (30 mph) in towns and cities.

Emergency Number: 112
Note: You cannot take meat, meat products, milk or dairy products into Slovenia. And you can only take in fresh fruit or plant products if it's already been inspected and you have a phytosanitary certificate.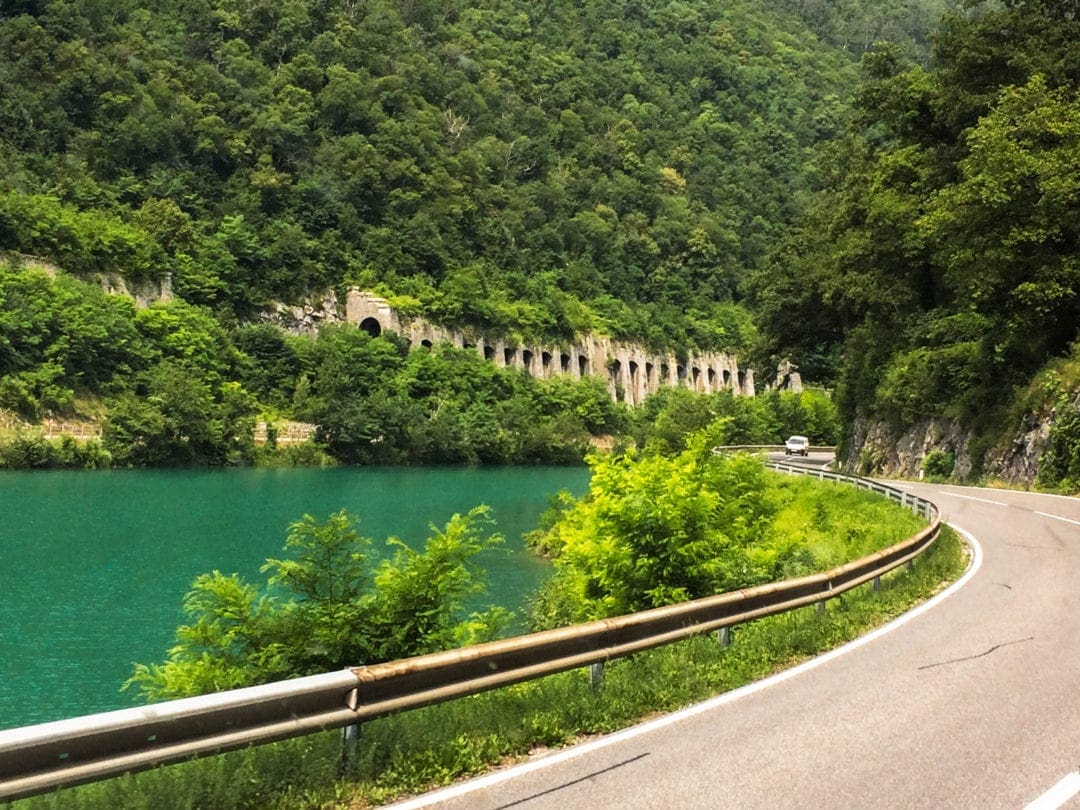 Campervanning and Motorhoming in Slovenia
Slovenia Campervan and Motorhome Rental
On our travels through Europe, we found that the Motorhome Republic was able to negotiate a much better deal than we could get when we tried going to the motorhome rental companies ourselves. In addition, they did all the hard work!
We are now affiliated with them because we were so impressed with them.
We wrote a thorough article about the things that you need to consider when hiring a motorhome, which will give you a great idea about things to consider f you are hiring a motorhome.
But get a quote from the Motorhome Republic and compare it to other rental companies, — they have an excellent ranking on Trustpilot and when we used them their customer service was outstanding.

✍️ Get an Instant quote from Motorhome Republic today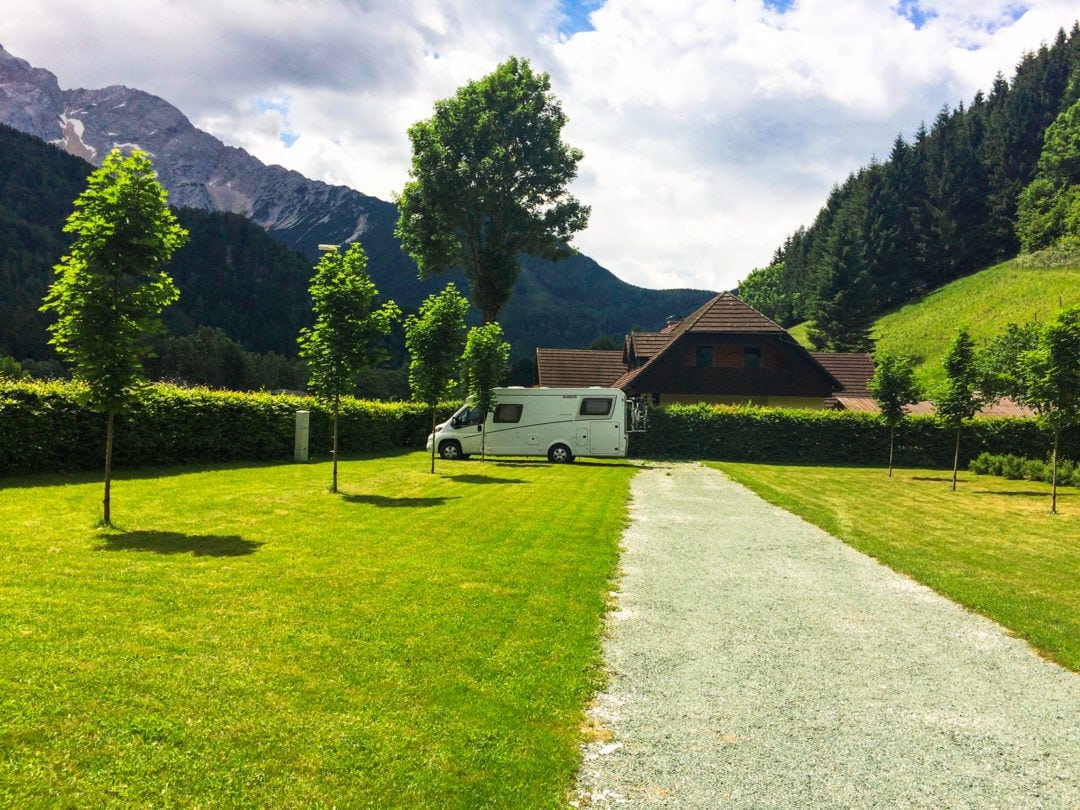 Handy Information for Road Tripping in Slovenia
Currency: Euro
Handy Slovenian Words:

Thank you = Hvala (HVAH-lah)
Good day, hello = Dobar dan
Goodbye = Nasvidenje (Nas-vee-den-yeah)
Yes = Da
No = Ne (Nay)
Motorhoming in Slovenia … That's a Wrap
A Slovenia road trip in a camper or motorhome offers captivating and spectacular views, time and again. It may be a small country, but Slovenia packs a huge punch, with its glittering green, blue and turquoise rivers and lakes, emerald forests, Alpine pastures and dramatic mountain ranges.
As always, thank you for stopping by our road-tripping site and happy travels x
Are you a Travel Lover?
Are you interested in travel, road trips, camper life and hitting the road for adventures? Then sign up for our newsletter so you don't miss any of our future posts.
As a subscriber, you will also have access to our free resources, such as a travel planner, discount codes and more.
Why wait for our one day? Let's explore this incredible world together … today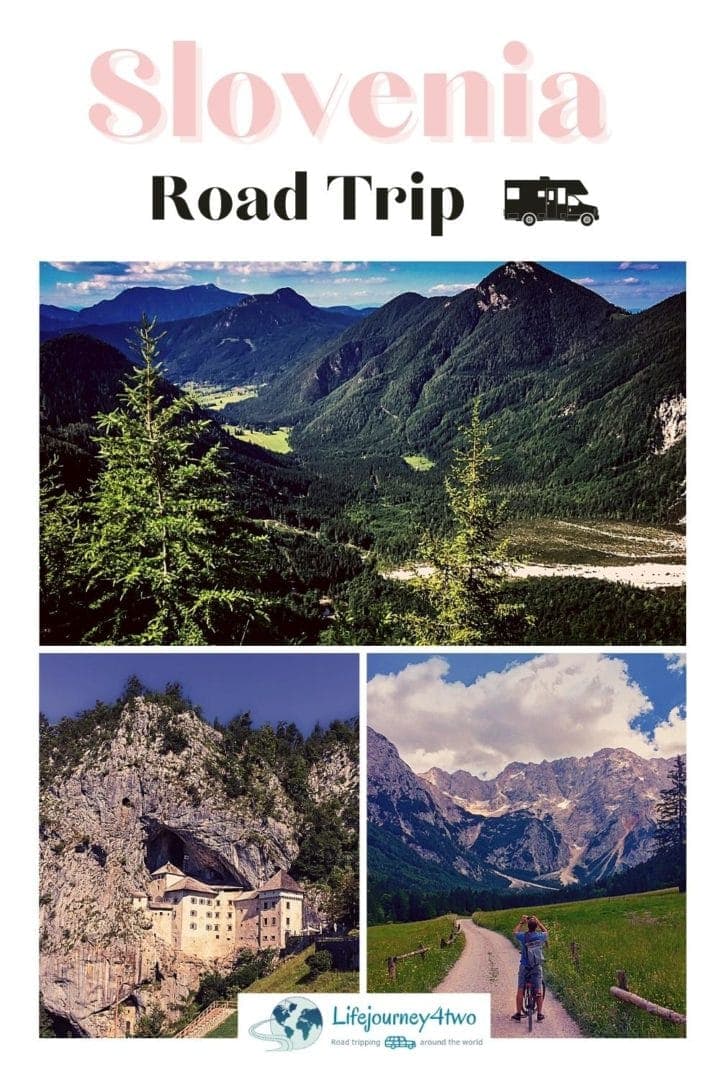 ---
PLANNING YOUR TRAVELS?
These are some of the travel resources we use when planning our trips.
For a more thorough list visit our Travel Resources page here.