MOTORHOMING IN CROATIA
While motorhoming in Croatia, we drove down roads that were goat tracks, swam in spectacular waterfalls, ate jet-black squid risotto and met some of the friendliest people that we had come across on our year-long European Campervan Trip.
WHAT YOU'LL FIND IN THIS Motorhome CROATIA POST:
Overview of Croatia
Interactive Croatia road trip map
Croatian places to visit on your Motorhome road trip
How to plan your Croatia road trip
Croatia Motorhome campsites
Suggested Croatia 10-day itinerary
Driving in Croatia Tips … and more
Planning a Trip to Croatia?
CROATIA Motorhome ROAD TRIP OVERVIEW
We embarked on this Croatia road trip in early June and the weather was already warm. The kind of warmth that warrants having a dip in the ocean to cool down.
Luckily Croatia has a beautiful coastline, so the sparkling ocean is never too far away.
Along with its beaches, Croatia also boasts several UNESCO World Heritage-listed sites, such as the old city of Dubrovnik, the historic city of Trogir and the Palace of Diocletian complex in Split.
Plitvice Lakes National Park, one of our favourite destinations in Croatia and the oldest and largest National Park in Croatia, is also World Heritage-listed.
Even though the Croatian War of Independence (1991-95) ended over twenty years ago, its ramifications still linger within the hearts of its people. Locals recounted their memories to us – some with anger and bitterness, some with solemn sadness.
The places we visited on our Croatian motorhome road trip were often buzzing with normal everyday life, but as we drove through the country, remnants of abandoned houses and shell damage were still clearly visible across the countryside.
Your road trip through Croatia will likely involve a mix of high-rises and rural roads. Tourist havens and desolate villages. Wide smiles and sad memories.
Motorhome CROATIA ROAD TRIP MAP
For details of each place marked on our Motorhome Road Trip Map, you can click on the button at the top left-hand corner to view the Key.
To expand the map click on the top right-hand icon.
The pins marked with a P show where we stayed with the campervan
The numbered pins are the places we visited in Croatia
The orange pins are in Bosnia-Herzegovina
Motorhoming in Croatia VIDEO
Get a feel for Croatia in this 2-minute video of all the most beautiful places to visit – including Split, Trogir, Krka National Park, Starigrad-Paklenica, Plitvice Lakes National Park and Dubrovnik.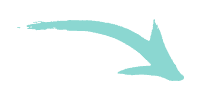 PLANNING YOUR MOTORHOME CROATIA ROAD TRIP
We've organised this road trip across Croatia in the most logical way we could think of in order to help you plan your Croatia itinerary.
However, travel isn't always logical, especially when you are going with the flow and have a motorhome or campervan. Our own motorhome Croatia road trip itinerary was done in a different order due to our ad hoc decision-making and insurance restrictions with our first rental van.
Hindsight and knowledge are both wonderful things and hopefully, you can benefit from ours. Therefore this itinerary is more practical, time-saving and economical than our original one.
We initially arrived in Split, Croatia, by ferry from Italy. Also, the first time we were in Croatia, we had a rented motorhome of which the insurance wouldn't allow us to enter Bosnia Herzegovina.
Therefore at that time, we couldn't drive down to Dubrovnik from Split as you need to pass through Bosnia.
So it was in the second half of our 'Year in the Van', that we drove our second hired motorhome (with the insurance that did let us enter Bosnia) back down through Bosnia (popping back into Croatia to visit Dubrovnik), and Albania as we made our way down to Greece.
WHAT TO TAKE INTO ACCOUNT WHEN PLANNING YOUR CROATIA ROAD TRIP
So, in planning your own Croatia road trip, it really depends on: where you will be arriving from, the length of time you have to travel through the country and whether your travel insurance covers you for the relevant country.
Use the information in this post to suit your own timeframes and logistics.
Important things to consider:
The time you have in Croatia
Where you arrive from
Car/motorhome/van insurance
Visas required

WHAT IS THE BEST TIME OF YEAR TO VISIT CROATIA?
The best time to visit Croatia is in the shoulder-season months of May / June and September/ October. We were there in early June and the weather was warm and perfect for swimming in the sea.
The crowds had just begun to swell but it wasn't too busy.
In contrast, the peak seasons of July and August see the coastal resorts packed with tourists. The temperatures increase, along with accommodation prices.
In the low season, November to April, many hotels and attractions along the coast close down for winter. The weather is then more unpredictable and colder.
However, this is the perfect time to avoid crowds and to get great deals on flights and accommodation. We chose the offseason to visit the Greek Island, Santorini in winter, and it was amazing to have this tourist haven almost to ourselves.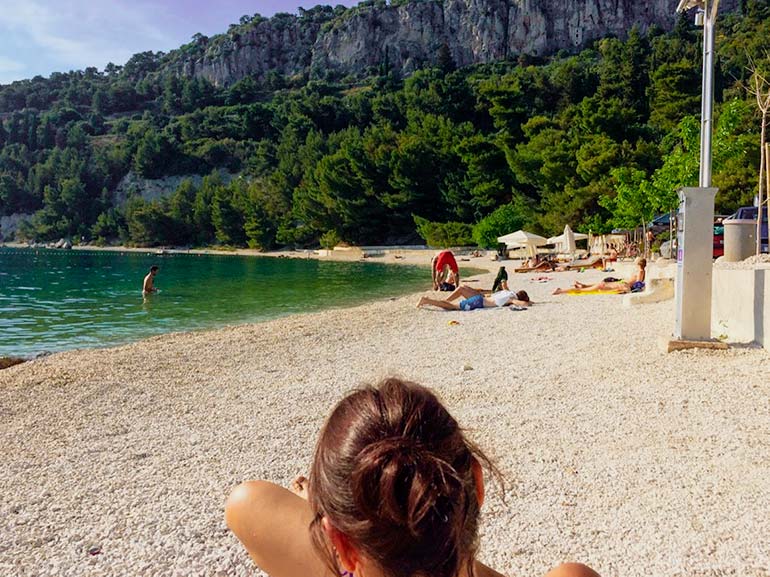 CROATIA ROAD TRIP ITINERARY
We visited a variety of locations as we drove through Croatia. Some places were crowd magnets and some were more off the beaten path. Our Croatia road trip took about ten days.
We also suggest a detour into nearby Bosnia and Herzegovina if you have extra time.
If you do consider the detour, make sure that your travel insurance and vehicle insurance cover Bosnia. Additionally, be sure to have all your travel documents, such as passports and all vehicle documentation handy when you cross the borders.
Note: Croatia is divided in two in the south by Bosnia-Herzegovina, so you will need to pass through passport control if you travel from Split to Dubrovnik.
Our motorhome Croatia Road Trip included the following places – with added details of our motorhome campsites.
(We used the Campercontact App which we found the best due to its ease of use, ability to be used offline and because there were plenty of reviews, so we could avoid those sites with a bad rap.)
PLACES TO VISIT ON YOUR 10-DAY CROATIA ROAD TRIP
As with any road trip route, your itinerary is led by the type of activities you enjoy. We love getting out and about in nature – hence our favourite picks to visit in Croatia would be Krka National Park and Plitvice Lakes.
We also tend to lean away from the bigger cities, but you may want to include the capital Zagreb on your road trip. Additionally, if you have time you may also like to include a detour to Mostar in Bosnia Herzegovina.
CAMPERVANNING IN CROATIA ITINERARY
CROATIA ROAD TRIP: PLITVICE LAKES
We parked our motorhome at Bear Campsite in Plitvice. It was a great campervan stop and the owner ran a shuttle to Plitvice Lakes every morning.
The campsite owners were super friendly and you could help yourself to the cherries growing on the trees.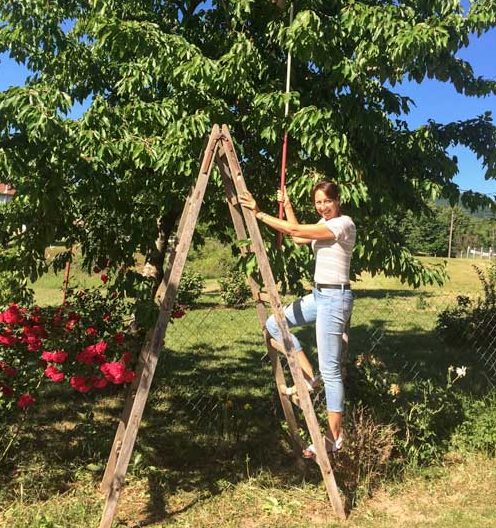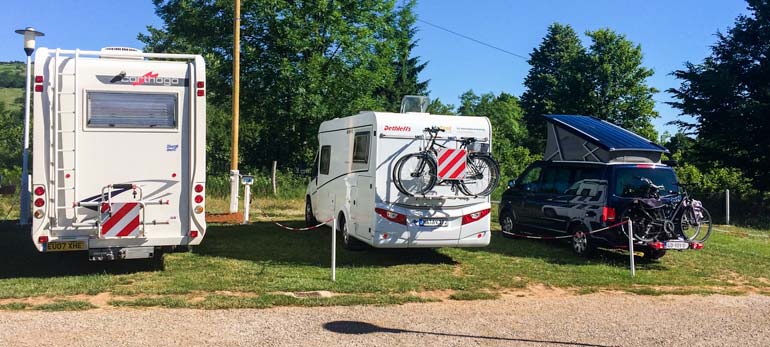 If you are looking for accommodation near Plitvice Lakes, check out the places with the best reviews here on Booking.com here.
Plitvice Lakes are Unesco World Heritage-listed and are incredibly beautiful, with about 16 lakes all cascading into each other.
Plitvice National Park has several hiking trails which take you through the forest and around the lakes. There are also shorter walking routes among the lakes and your entry ticket includes a trip on an electric boat.
We spent the day hiking around the lake – which actually took us longer than we thought. Check with the information centre about the time it might take to do certain hikes.
Unfortunately, you are not able to swim in the lakes, unlike at Krka National Park.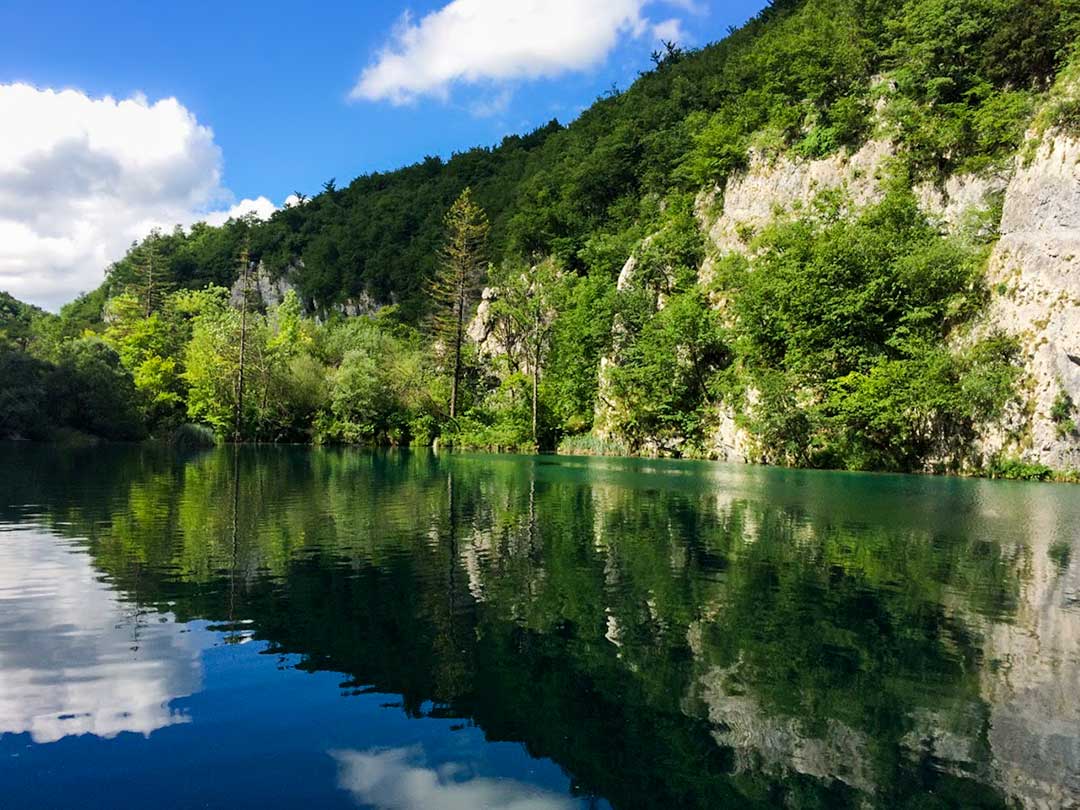 For Prices and Opening Times visit the Plitvice Lakes Website
CROATIA ROAD TRIP: STARIGRAD-PAKLENICA
The next stop on our Croatian motorhome road trip was at Vila Popo Campsite in Starigrad, (not to be confused with Stari Grad which is a historical old town on the island of Hvar, Croatia).
This campsite is really close to the Paklenica National Park, the second oldest National Park in Croatia.
Starigrad-Paklenica stretches for 20 km along the Adriatic Coast and is at the foot of the Velebit Mountains in Paklenica National Park. The park is an ideal location for hiking, cycling and rock climbing.
There is an entrance fee to the National Park, but once inside you can discover its magnificent canyons, black pine and beech forests, the Manita Peć cave and underground bunkers (tunnels), built by the Yugoslav army amid tensions with USSR in the 1950s.
We cycled to Večka Kula beach and had a refreshing dip in the ocean.
Here you'll find Večka Kula, an old ruin of a fortification. You will also be surrounded by beautiful scenery, a small pebble beach and the magnificent Velebit Mountain in the background.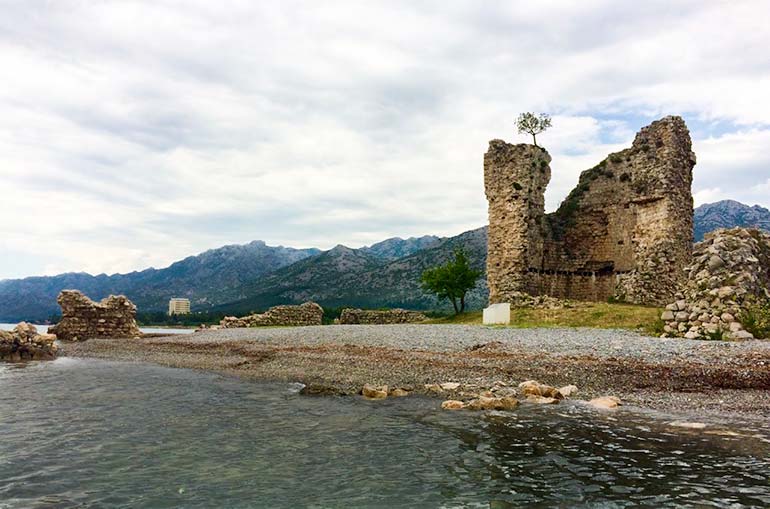 ROAD TRIP IN CROATIA: KRKA NATIONAL PARK
The numerous cascades on the Krka River intertwine amongst every shade of green you can imagine. Nature embraces you here, and you can do little but be caught up in its soothing embrace.
Krka National Park was our favourite destination in Croatia.
When we were there, in early June, hundreds of dazzling dragonflies flitted to and fro around the reeds and water weeds. Their luminescent greens and blues add to the magical beauty of Krka National Park.
I'd seen the gorgeous photos of the Skradinski Buk Falls of Krka in magazines and Instagram and wondered if they really were as stunning in reality … they are.
As I sat there in the warm sunshine, gazing into the crystal clear water below, I felt a surge of gratitude and an intense appreciation of our decision to travel.
The images in those magazines couldn't ever capture the real essence of the place. For that, you need to be there in the flesh.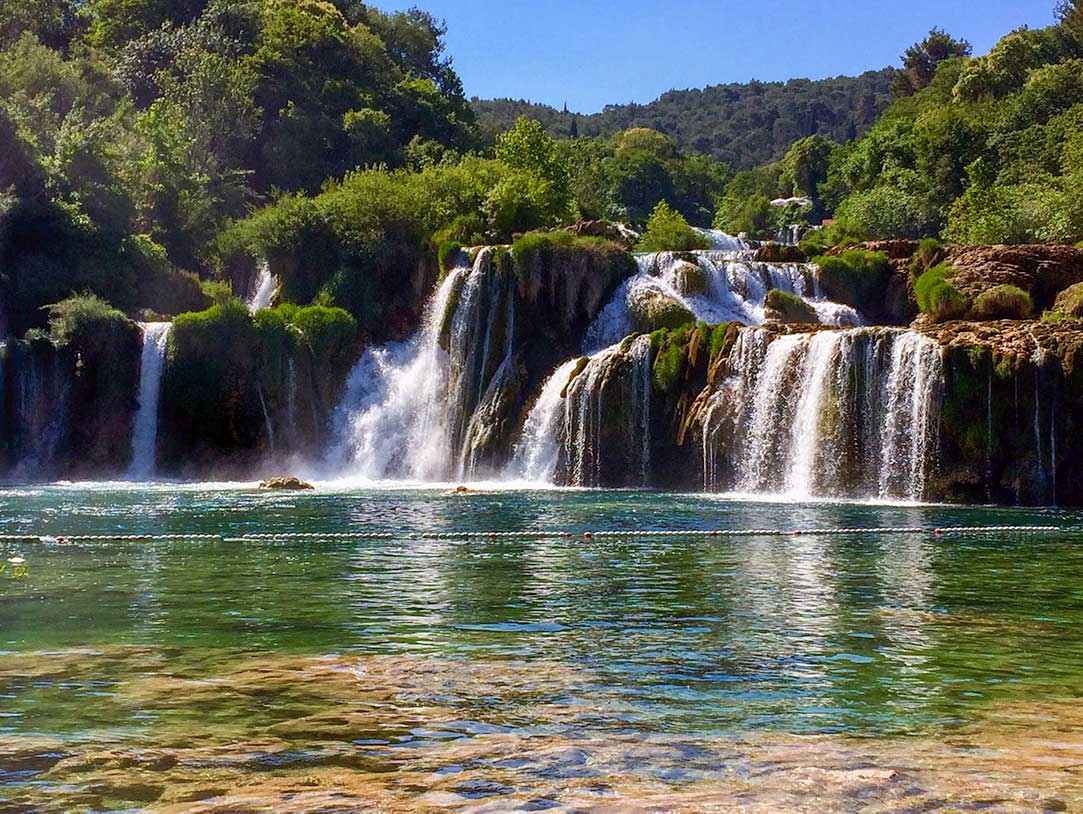 HOW TO GET TO KRKA NATIONAL PARK
From Starigrad, the trip is about an hour. If you are driving from Split, the journey takes about one and a half hours.
Finding out which entrance to arrive at in Krka can be a little confusing. The easiest way seems to be the route we took coming off the main road from Split to the Lozovac main entrance. (See map) .
This is where the tour buses park and there is free parking for visitors.
It is the closest entrance to the main Skradinski Buk Falls and as this is the main attraction, it's best to get there first to avoid the crowds.
For details on the four other entrances check out the Krka National Park Website, which also gives schedules for ferry times between different parts of the park.
KRKA NATIONAL PARK TICKETS
We would recommend buying your tickets online to ensure you can get entry, as many of the ticket allocations can be taken up by arranged tours.
MAIN PLACES TO VISIT AT KRKA NATIONAL PARK
SKRADINSKI BUK WATERFALL
The main attraction is the Skradinski Buk Waterfall.
From the Lozovac main entrance, there is a short walk to the wooden walkway that leads you into the park taking you past small waterfalls, and little inlets which are home to turtles, frogs and, did I mention the dragonflies?
You finally arrive at the big kahuna, Skradinski Buk Waterfall.
We were lucky enough to be one of the first arrivals and had the falls to ourselves for a while. You can swim here and a dip in the freezing cold water is quite refreshing.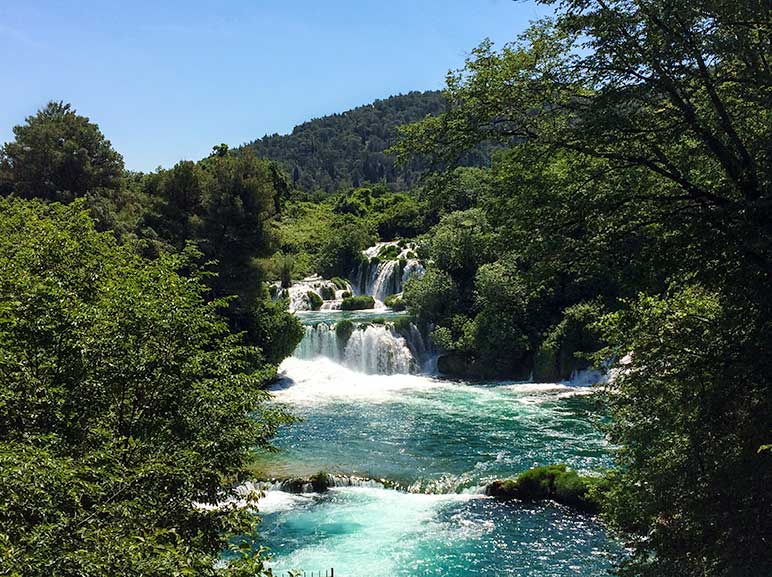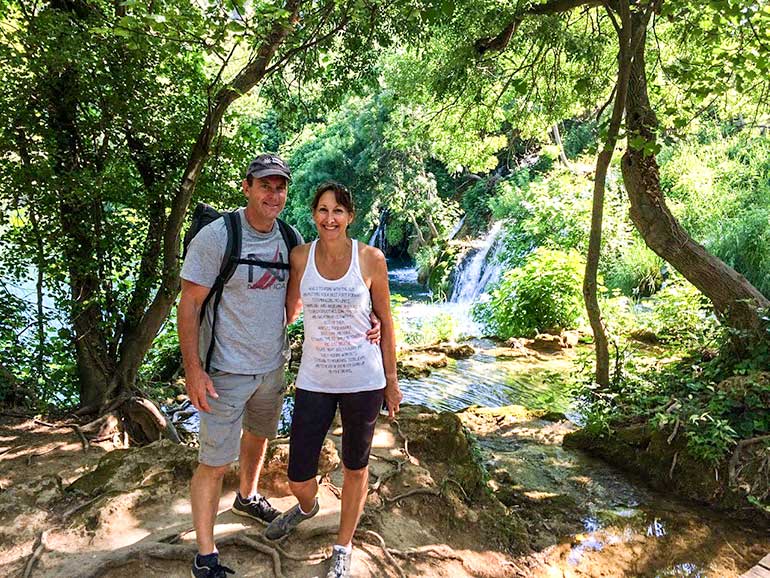 VISOVAC LAKE
The next stop we made, was at Visovac Lake. Here, we looked out towards the tiny island upon which sits a Franciscan Monastery dating back to the 14th century. There are boat trips to the island.
However, we preferred driving to this great viewing point and looking out onto the lake and seeing the island from afar. Not quite as iconic as the island in the middle of Lake Bled, Slovenia, but we thought it was just as eye-catching.
Visovac Lake is the largest expansion of the Krka River and is situated between Roski Slap to the north, and Skradinski Falls to the south.
This vast lake is one of the last Mediterranean habitats for otters. We searched for any sign of them but they were hiding too well.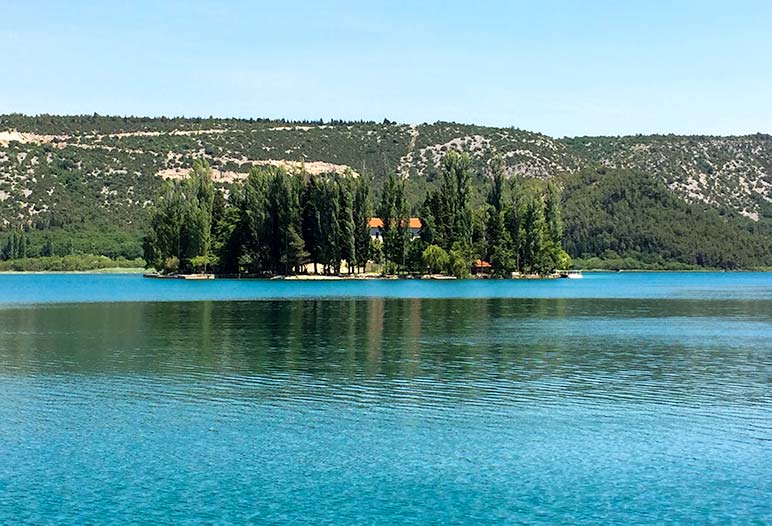 ROSKI SLAP
Our final visit for the day was to Roski Slap or Roski Falls. Not quite as impressive as the Skradinski Falls but beautiful in its own way.
Here, you find the main waterfall, about 15 metres high, and then a series of small cascades that the locals call the 'necklace'.
Dragonflies flitted about in the hundreds here too and I could have stayed the day just watching them and trying to capture a photo … if they would just stay still long enough.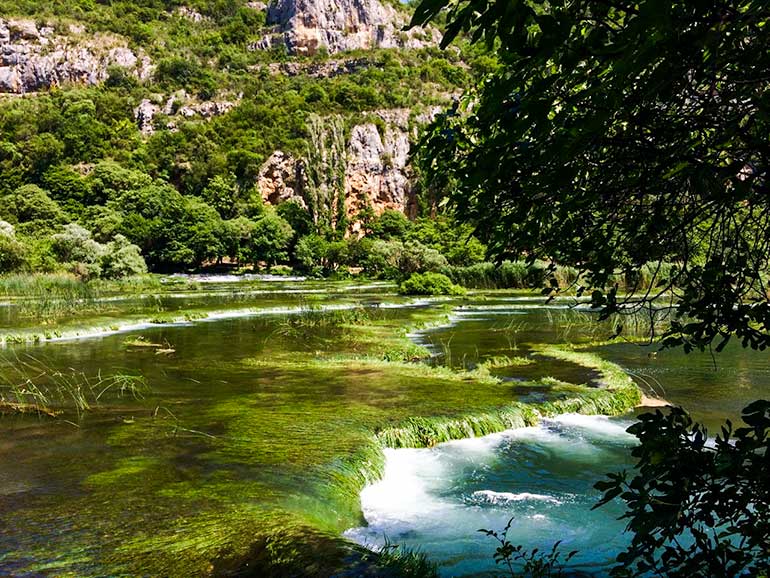 ACCOMMODATION NEAR KRKA NATIONAL PARK
We drove up for the day from Split, but if you are looking for campsites near the Krka National Park, here are a couple of options:
Alternatively, if your Croatia road trip is by car, check out nearby accommodation deals at Booking.com here.
There are several tours run from Split to Krka National Park as well.
CROATIA ROAD TRIP: BRODARICA AND SIBENIK
We parked our motorhome at a shady campsite at Brodarica, just about 7 km from Sibenik. Brodarica is a peaceful area with rocky beaches and shorelines.
There is a lovely walk along the water's edge and you can also cycle from here to Sibenik. Just be careful of the prolific spiky sea urchins in the ocean.
We cycled into Sibenik, as many of the locals told us that it was magnificent. However, the outskirts were quite shabby and we hadn't researched it before we went so we didn't get to see the two UNESCO sites that it is famed for.
One is the Cathedral of St. James, built entirely of stone, with a frieze of 71 sculptured faces. The second is the Fortress of St. Nicholas, a triangular-shaped fortress that was used to guard the city.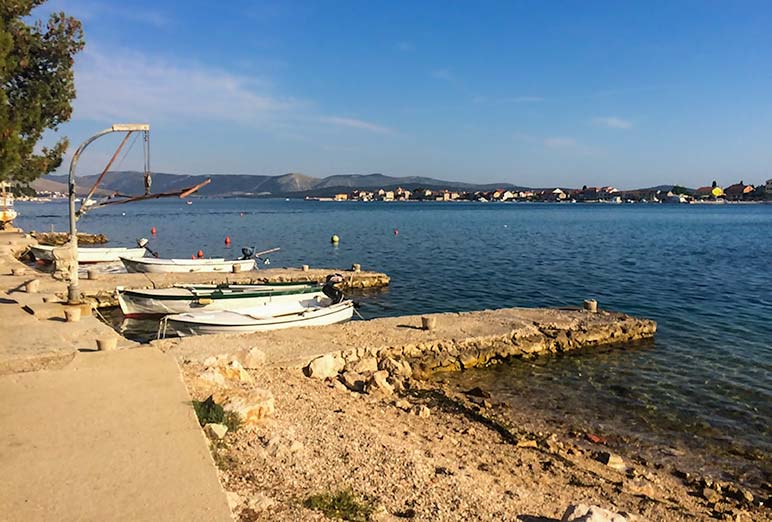 CROATIA ROAD TRIP: TROGIR
Trogir is only about a half-hour drive from Split. The UNESCO old town is on a small island accessed by a bridge and includes Romanesque churches and Renaissance and Baroque architecture.
The most visited sight in Trogir is the Cathedral of St.Lawrence, which was completed in 1250. The Cathedral's bell tower (47 metres tall) offers great views from the top.
On the southern side of the city, there are remnants of the old city walls built in the 14th century and the city gate built in 1593.
Walking around the town, the medieval buildings take you back in time and then as you step back onto the mainland, you are gently pulled back to the present day.
Take a relaxing stroll along the palm-lined promenade with a gelato in hand and soak in the charm that is Trogir.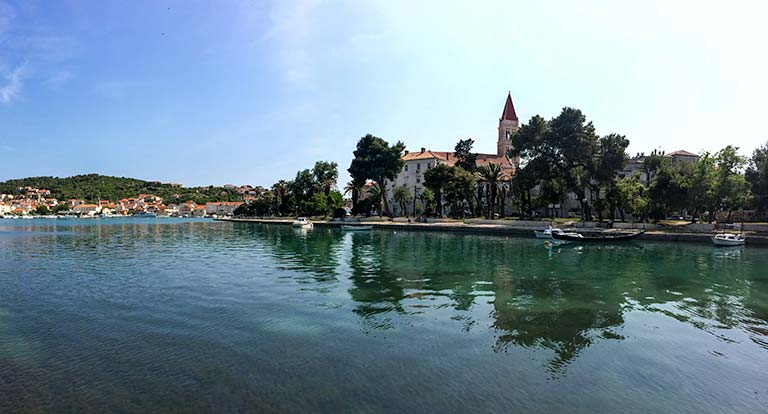 Trogir, Croatia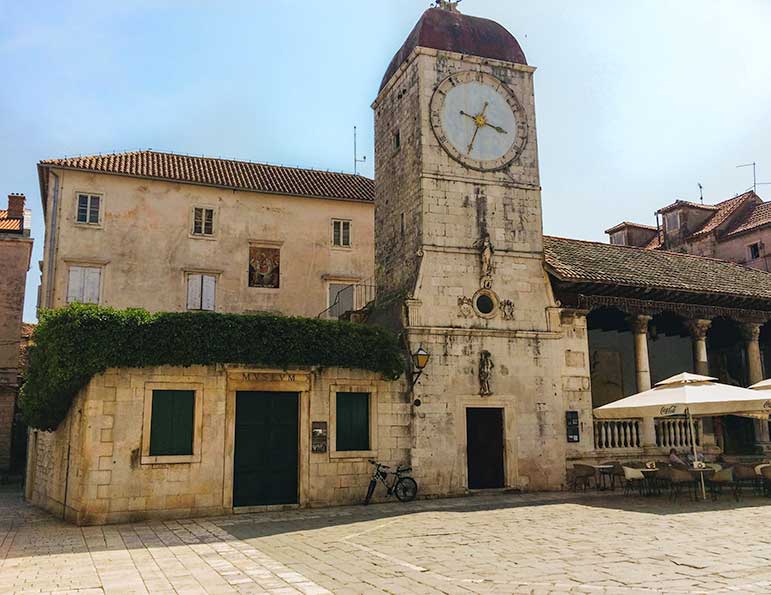 The Clock Tower in Trogir, beside the 'Loggia'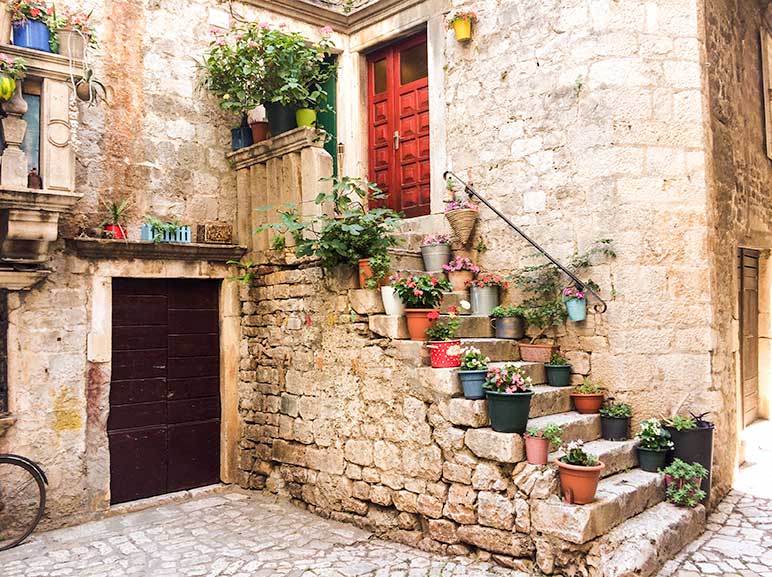 Trogir's cobbled streets and medieval stone houses take you back in time
→ Find Trogir Accommodation here ←
CROATIA ROAD TRIP: SPLIT
Split was a complete surprise to us. Arriving in our motorhome by ferry from Italy, this was our first visit to Croatia and Split was absolutely nothing like we had envisioned.
High-rise apartments and an old town bustling with tourists were not an image we had conjured up of this once war-torn country.
There is plenty to see and do here depending on your budget. As low-budget travellers, we wandered the old town among the labyrinth of passageways, overshadowed by the impressive UNESCO Diocletian's Palace around which much of the city's life is centred.
Shops, cafes, bars and homes all create the modern hive of activity alongside the walls of this historical Roman site.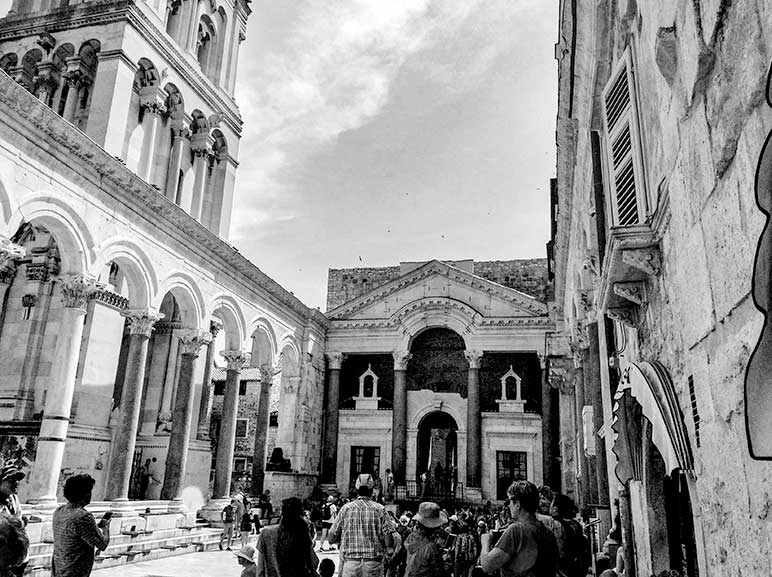 You could wander these narrow streets, peruse the markets and watch the world go by in the numerous cafes … or just a short stroll away, you can escape into nature.
On the western side of the city, there are numerous trails and walks in the Marjan Forest Nature Reserve. Here, with a walk through pine forests, a climb up numerous steps and you are treated to fantastic views across Split.
Around Marjan Park, which hugs the shoreline, there are several little coves where you can swim in the clear pristine waters.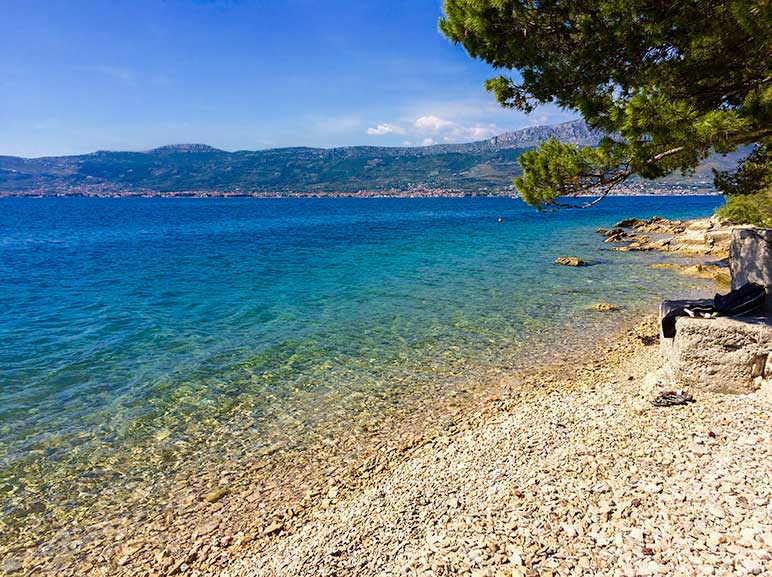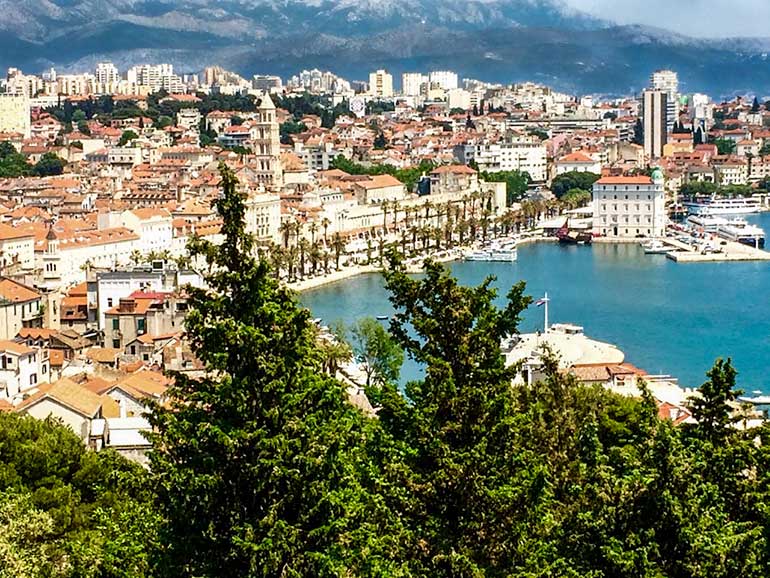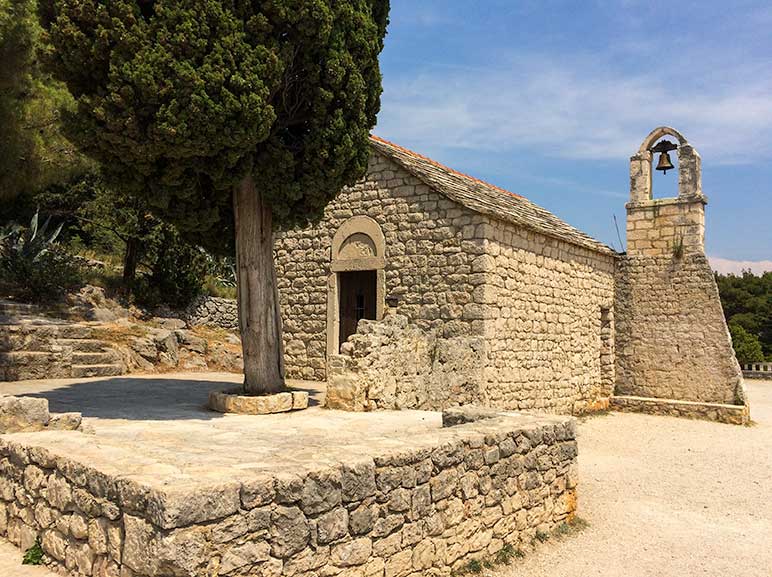 TICKETS AND TOURS IN SPLIT
There are Split walking tours, Game of Thrones tours and plenty more to choose from.
For more things to do, tickets, tours and day trips check out Viator here or Trip Advisor here.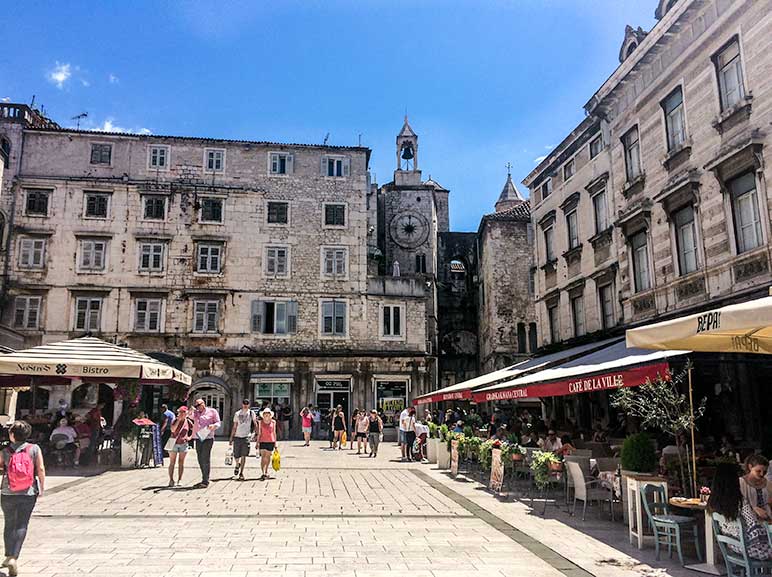 ACCOMMODATION IN SPLIT
If you are looking for accommodation in Split check out the available deals here.
CROATIA ROAD TRIP: DUBROVNIK
We caught a boat from our motorhome campsite at Matovica, and arrive at the old port of Dubrovnik. It seemed somehow appropriate to arrive in Dubrovnik by sea.
Yes, we are Game of Thrones fans, so landing at the fictional fortified city of 'King's landing' did give us a slight thrill.
The old city walls and glimpses of familiar scenes from Game of Thrones are certainly big attractions of this well-visited city.
Unfortunately, we weren't able to arrive early (as we normally like to do when we visit high tourist areas) and so were caught up in a huge wave of tourists.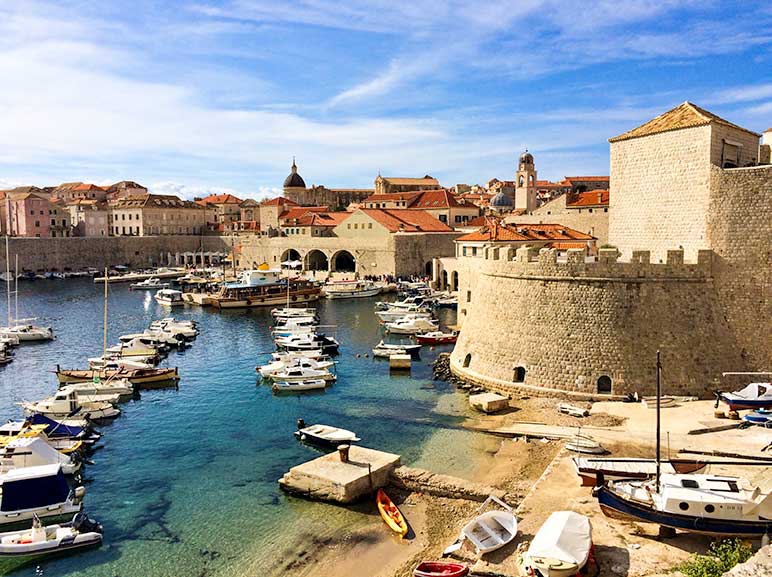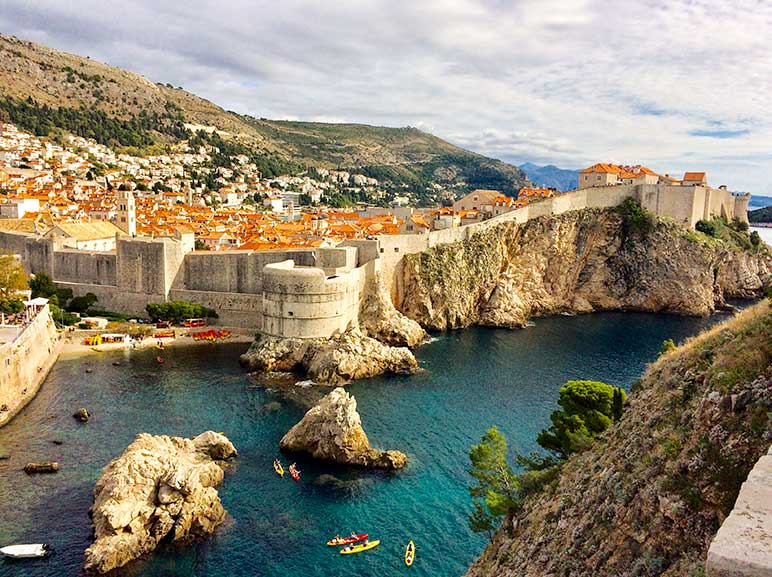 Wandering around an ancient city never seems quite so enthralling when you are shoulder to shoulder with an unfamiliar crowd. I like to have some quiet contemplation and imagine what life was like back when these ancient ramparts were buzzing with life.
Not so easy to do with a throng of eager visitors all vying for the perfect selfie pose. Nevertheless, the old town of Dubrovnik was intriguing.
One of the most popular attractions is to walk the city walls and this will take about an hour. We recommend doing this activity either early morning or late afternoon rather than in the heat of the day.
Noon is the best time to listen to the ancient bell of the clock tower – you'll hear the chimes being played by the two bronze bell strikers, known locally as Maro and Baro.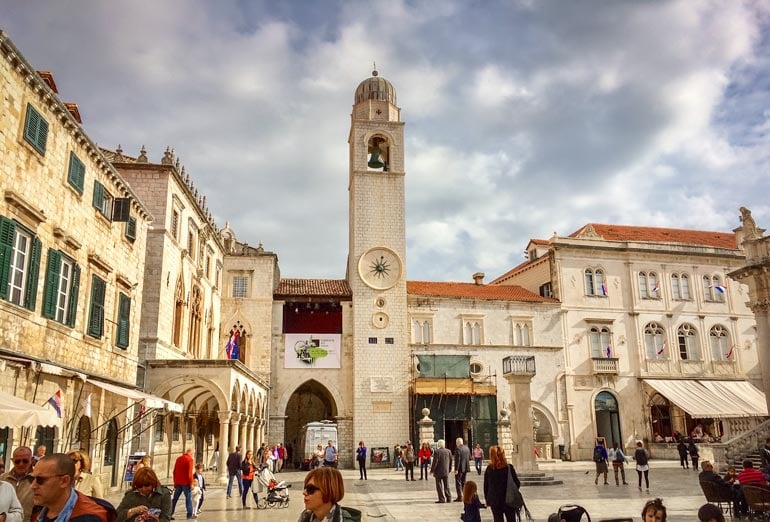 DUBROVNIK TICKETS AND TOURS
A popular day trip by bus from Dubrovnik is to Kotor in neighbouring Montenegro. If you take this bus from Dubrovnik, the best views are on the right, according to travel blogger Cassie who outlines what to expect on the Kotor to Dubrovnik bus.
—> Check out the many tours and ticket deals for Dubrovnik here.
CROATIA ROAD TRIP: DETOUR TO MOSTAR, BOSNIA-HERZEGOVINA
Only about two and a half hours from Split, lies Mostar, in Bosnia-Herzegovina. It is the perfect detour on your Croatia road trip.
We stayed at a great campsite with a particularly friendly owner who will drive you to Mostar and also pick you up when you are ready.
Mostar's main attraction is the photographic Stari Most, the UNESCO old bridge that spans the Neretva River. Divers will tout for money whilst standing on the bridge for you to see them jump into the depths below.
The old town has narrow cobblestone streets lined with cafes and gift shops. Further out from the old town, you will find derelict, bullet-ridden buildings standing as stark reminders of the Bosnia War (1991-95).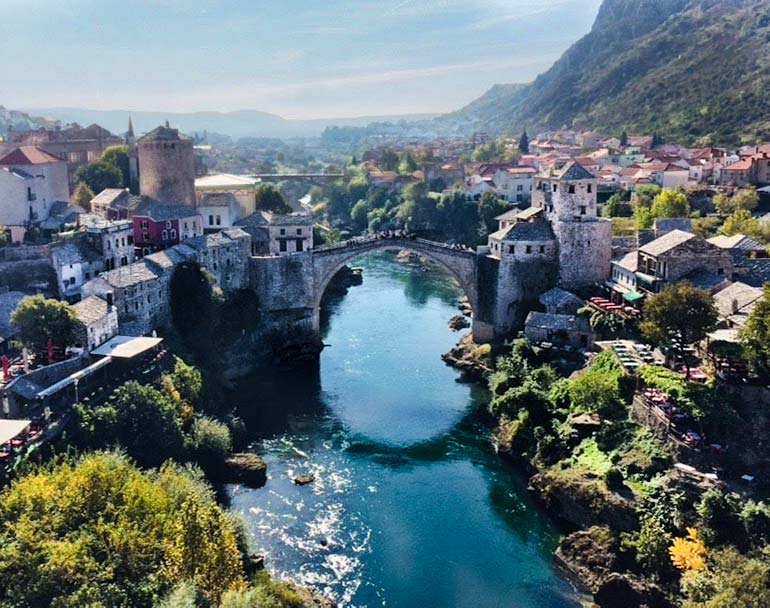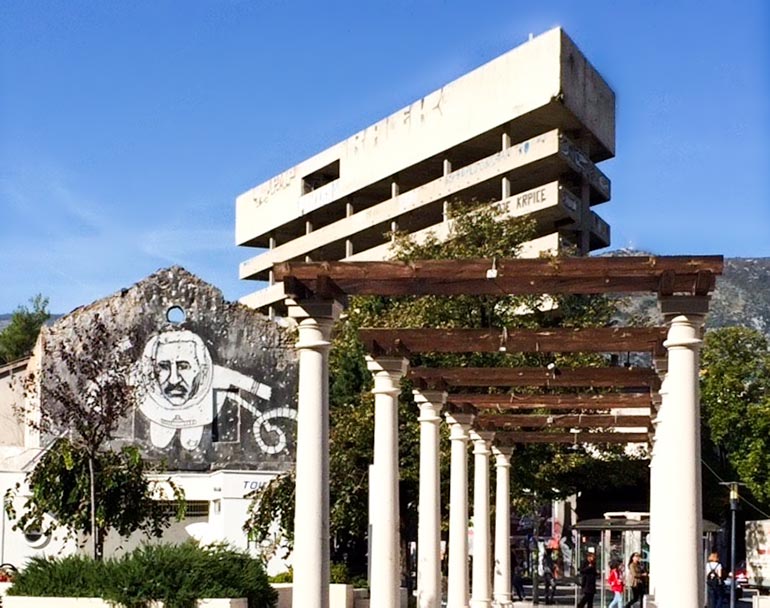 DRIVING TIPS FOR YOUR CROATIA ROAD TRIP
In Croatia, you drive on the right.
Seatbelts are compulsory
Have the following documents to hand:

Drivers licence (An international driver's licence isn't required)
Vehicle insurance
Vehicle registration document
Passport

You are also required to have the following in your vehicle:

First Aid Kit
Headlamp beam deflectors for left-hand car vehicles (Depending on your car, you will either need deflector stickers or have to adjust the beam manually)
Lights – Vehicles must have their passing lights (dipped headlights) on at night and in case of bad visibility. These lights must also be switched on during the day in winter, from the last Sunday in October to the last Sunday in March.
It is compulsory to carry spare bulbs for the vehicle; this does not apply if the vehicle is fitted with xenon, neon, LED or similar lights.

The main motorways have tolls. To avoid them you can program your navigator to avoid tolls.
Speed Limits are as follows unless otherwise signposted

130 km/h (80 mph) on motorways
90 km/h (50 mph) on National roads
50 km/h (31 mph) in urban areas.

You can download an app onto your smartphone for Croatia Traffic info and you can also find out about the traffic conditions/ road works etc. at this website
Download a brochure about safe driving in Croatia.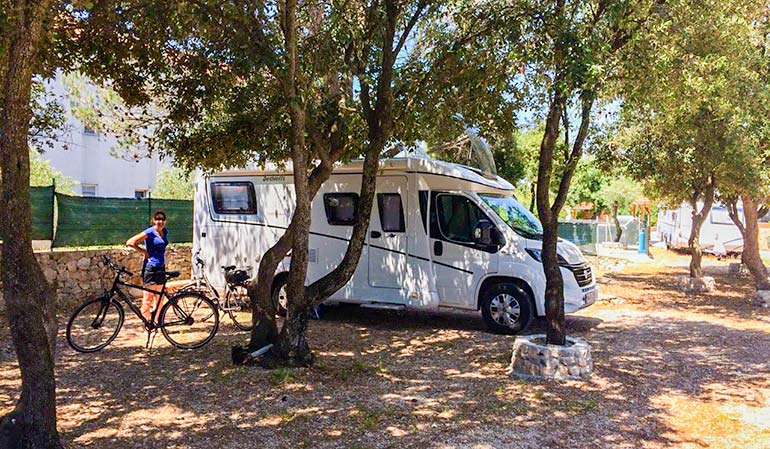 ADVICE FOR CAMPERVANNING AND MOTORHOMING IN CROATIA
There are over 300 motorhome and campervan stops around Croatia, many of which are on the Adriatic coast and a short distance from the beach.
We recommend Camper Contact for finding suitable stops for your motorhome tour of Croatia or you can visit this Croatian camping site.
The standard of sites that we stayed at was good and many are privately run so they want good feedback. If you are motorhoming in summer, we recommend finding campsites sites with plenty of shade.
CAN YOU WILD CAMP IN CROATIA?
Wild camping and overnight parking in your motorhome or campervan in Croatia are strictly forbidden, and you can be fined around 400 euro if you overnight outside of a specified campsite.
Motorhoming Croatia: GOOD TO KNOW
1. OUR TOP 3 PICKS NOT TO MISS ON YOUR CROATIA ROAD TRIP
Krka National Park
Plitvice National Park
Split
2. MISCELLANEOUS USEFUL TIPS FOR CROATIA
The currency used in Croatia is Kuna.
The emergency number is 112
Basic words: Dober dan (Good day), Hvala (Thank you), Da (Yes) Ne (No)
3. CROATIA ROADTRIP MOTORHOME / CAMPERVAN RENTAL
For motorhome/ campervan rental we recommend the Motorhome Republic as they were so helpful to us and find the best deal in the country you require your campervan or motorhome. Check out this post on everything you need to know about hiring a motorhome.
If you are driving a motorhome for the first time check out our post, Motorhome Tips for Beginners
4. CROATIA ROAD TRIP RENTAL CAR
For car rentals check out the best prices here.
MORE IDEAS FOR Campervanning IN EUROPE
This Croatia road trip was just a small part of our 12-month campervan road trip through Europe. See our Europe in a Campervan post for campervan travel tips, more of our route through Europe (interactive map included), our campervan campsites and the attractions we visited.
If you enjoyed this post Pin, Save and Share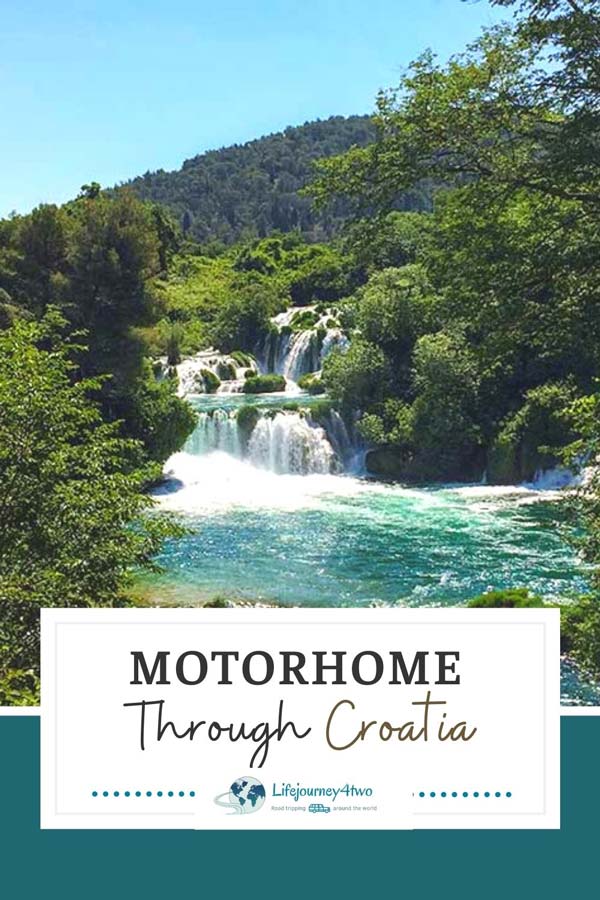 YOU MAY ALSO BE INTERESTED IN:
PLANNING YOUR TRAVELS?
These are some of the travel resources we use when planning our trips.
For a more thorough list visit our Travel Resources page here.