Motorhoming in Austria: An Ultimate Guide
Who hasn't wanted to visit Austria after watching the Sound of Music? Where Alpine meadows meet stunning Baroque (an opulent style of building) architecture.
A combination of both natural and manmade beauty.
Mozart, Strauss, strudel, schnitzel, and Alpine-style houses with blooming window boxes and picture-perfect landscapes, are all ready to greet you while motorhoming in Austria.
Our Austria Motorhome road trip began in its capital city, Vienna.
We'd just finished our Slovenia road trip, had a whistlestop visit to Bratislava, (neighbouring Slovakia's capital), and arrived enthused and excited for the next leg of our European Road Trip.
If you are new to motorhoming and campervanning check out these articles: MOTORHOME TIPS FOR BEGINNERS and ESSENTIAL CAMPERVAN ACCESSORIES
Planning a Trip to Austria?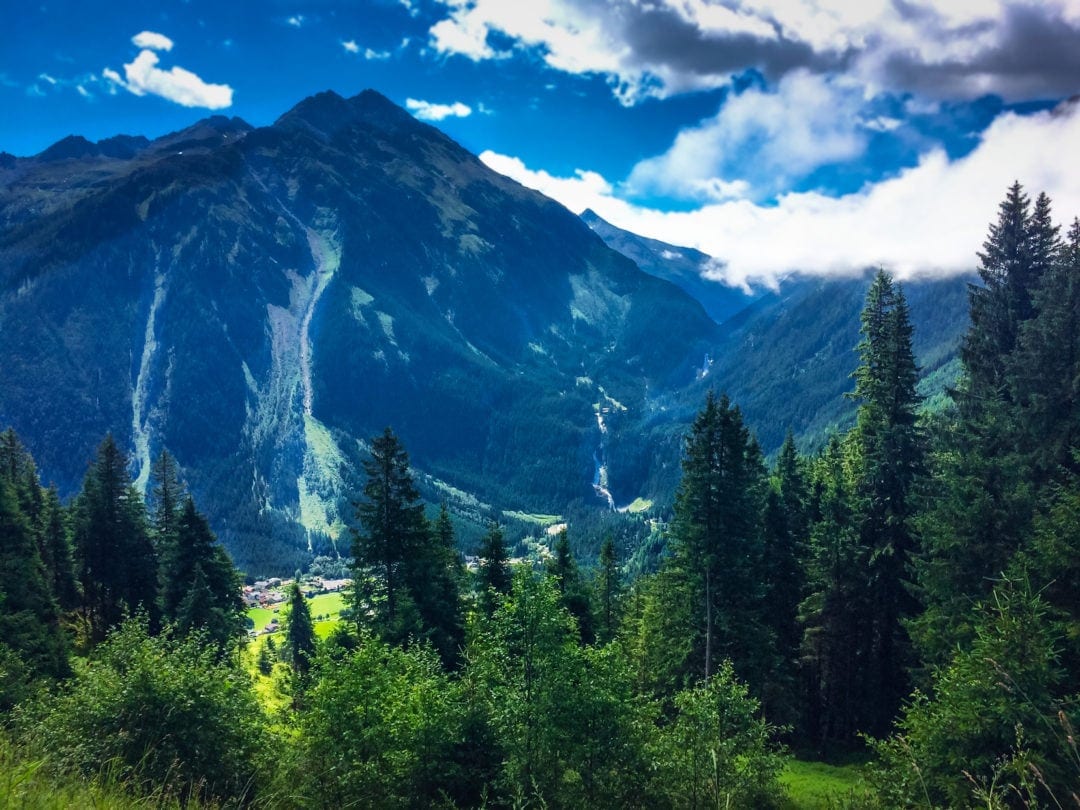 How This Motorhoming in Austria Article Will Help You:
♥ Suggested Motorhome routes and road trips in Austria
♥ We include our stopovers and motorhome sites in Austria
♥ Details on motorhome or campervan rental in Austria
♥ Advice in relation to driving a motorhome in Austria
♥ An interactive map with motorhome overnight spots and places to visit in Austria
♥ Handy tips to make your motorhome tour of Austria as stress-free as possible
Motorhoming in Austria Interactive Map
How to Use This Interactive Map
To use this map, expand it using the square symbol on the top right-hand side and you will find the key on the left-hand side. By clicking each location you will find extra information.
For example, each campervan and motorhome overnight park on the Austria Map has a web link to Camper Contact, so you can see the facilities available, price, opening times, and useful reviews on each campsite.
Motorhome overnight stops > Orange circle and a motorhome icon
Places to visit > Purple and yellow location icons.
Overview of Places to Visit on Your Austria Road Trip
Summary of places to visit on your motorhome or campervan trip through Austria, (we cover these in more detail with extra recommendations in the post – click on a place name to find it in the post)

Austria Road Trip Video
A small taster of this Austria road trip
Where Can You Camp When Motorhoming in Austria?
Throughout Austria, there are many stellplatz – places where you can stay overnight in your motorhome or campervan.
We used the Camper Contact app (about 6 euros/year) to find our motorhome overnight spots when we were on our Austria Road Trip. They have over 600 motorhome parking and service areas listed throughout Austria.
Some motorhomers also use Park4night — our preference for Europe is Camper Contact but it's good to know you have a backup option.
To help with your planning, we've included our motorhome overnight stops on the above map.
Can You Wildcamp in Austria?
No, you can't wild camp in Austria, it is prohibited. You can park on private land, but only with the permission of the owner.
Also, the authorities are likely to issue you with a fine on the spot, rather than just ask you to move on.
Motorhome Hire in Austria
If you are going to be hiring a campervan or motorhome, then German motorhome rental is one of the cheaper European countries to rent from.
It was for this reason that our European year in a motorhome journey began with our first road trip through Germany.
Germany shares a border with Austria so it may be more economical to start your Austria road trip in Germany. However, compare prices and see what is best for you.
🚐 Thinking of Hiring a Camper in Austria?
We recommend using Motorhome Republic to find you the best deal
They do all the hard work for you and have a PRICE BEAT GUARANTEE
For a full breakdown and a thorough guide on how to hire a motorhome, check out this post for everything you need to know about hiring a motorhome.
The first motorhome we hired was from McRent and the second was from DRM. Being newbies, we organised our McRent motorhome ourselves, but when we wanted to extend our trip and change our motorhome, we went through Motorhome Republic.
They were able to negotiate a much better deal than we could get when we tried going to the motorhome rental companies ourselves. And, they did all the hard work! We are now affiliated with them because we were so impressed.
Also, remember to check as to what campervan accessories and gadgets come with the motorhome and whether the price includes them.
Planning Your Motorhome Route Through Austria
We have included all of our motorhome stops we stayed at in Austria — with most having links to the camper contact site where you can see reviews and available services.
We've included our approximate distances and time frames for this Motorhome route in Austria below, to help you plan your own route.
READ MORE: How to Plan A road Trip — Your Ultimate Guide
Distances and time frames on This Motorhome Austria Route
Vienna > Ottenschlagg (115km, 1.5 hours)
Ottenschlagg > Ardagger (65km, 1 hour)
Ardagger > Attersee (130km, 1.5 hours)
Attersee > Salzburg (70km, 1 hour)
Salzburg > Halstatt (80km, 1.5 hours)
Halstatt > Gosau (15km, 20 mins)
Gosau > Grossglockner (90km, 1.5 hours)
Grossglockner > Heiligenblut (48km, 2 hours or more depending on stops)
Heiligenblut > Obervellach (53km, 45 minutes)
Obervellach > Ferlach (110km, 1.5 hours)
READ MORE: If you are travelling as a couple, this post: 15 Fantastic Road Trip Tips for Couples will be super helpful.
Places to visit on your Austrian Motorhome Road Trip Route
---
Vienna (Wien)
We bought a 48-hour train ticket to use on the Austrian subway which was easy to use and handy to get around various parts of Vienna.
Along with this easy transport system, the subway was only about 200 metres from the campsite.
We wandered around the Hofburg (the Burg), which was once the Imperial Palace for the Habsburgs (part of the German dynasty, once a prominent Royal House of Europe).
It's surrounded by gardens, statues and ornate buildings. Nowadays, it's the residence of the Austrian president.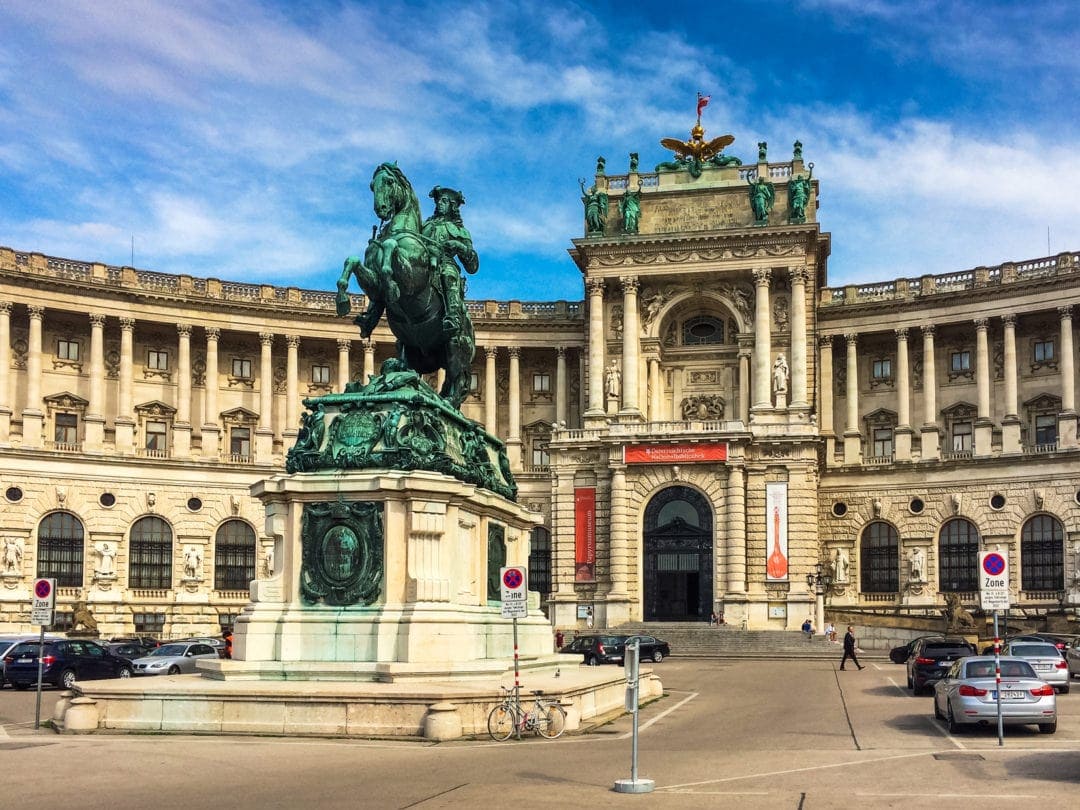 Trotting through the streets of Vienna are many Viennese fiakers ( horse-drawn four-wheeled carriages) that take tourists on a tour of this decadent city.
Just as ostentatious as the Burg, are the Parliament buildings, a mere 500 metres away.
Across the road from the Parliament Buildings, is a beautiful rose garden (Rosengarten) with what seemed to have every type of rose known to man.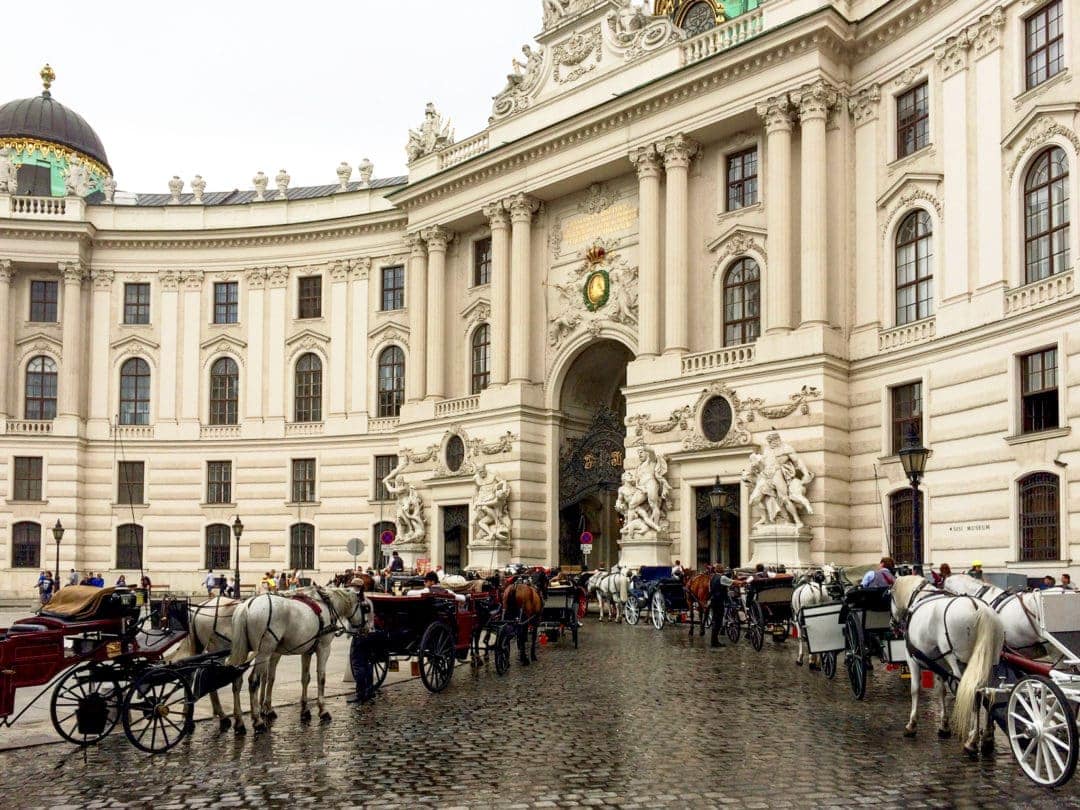 We passed the famous Musikverein, and as it was Lars's birthday, we decided to book a concert for the evening, Mozart and Strauss, played by the Vienna (Weiner) Mozart Orchestra.
Lars loves that type of music, but I am somewhat of a philistine and can't see the appeal.
But I do dearly love my husband, so I sat through what most would find moving and melodic.
The orchestra was dressed in historical period costumes, creating a unique atmosphere in one of Vienna's largest and most famous concert halls.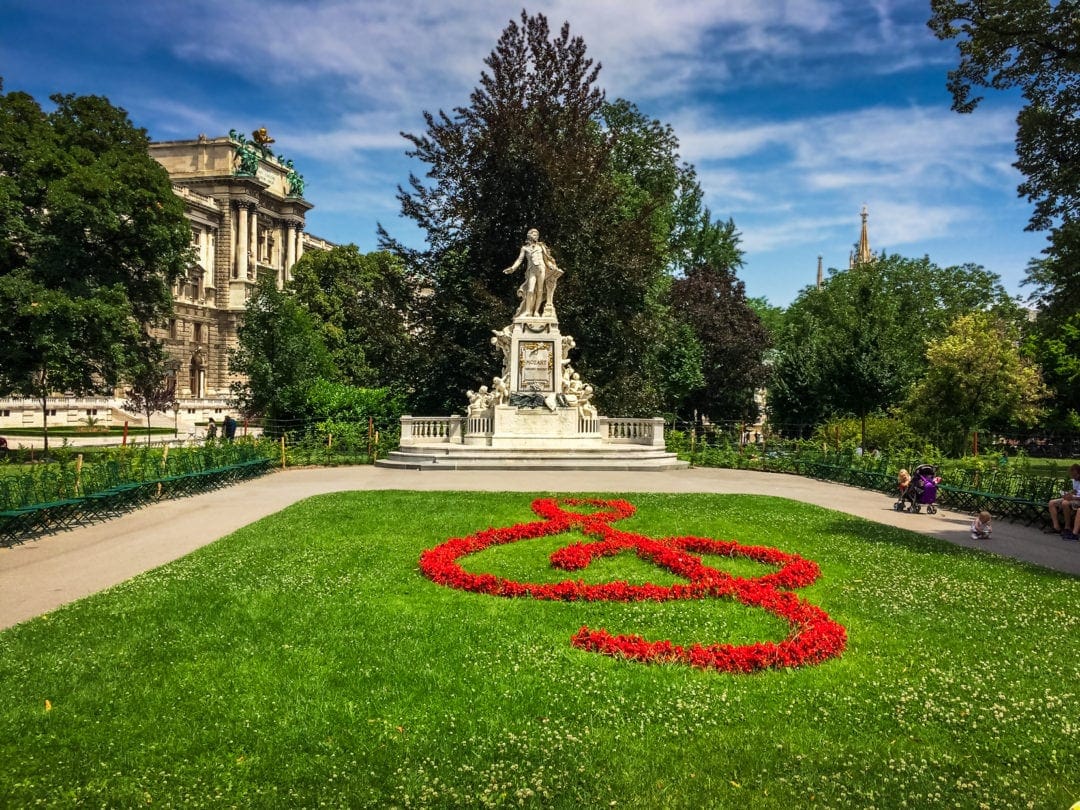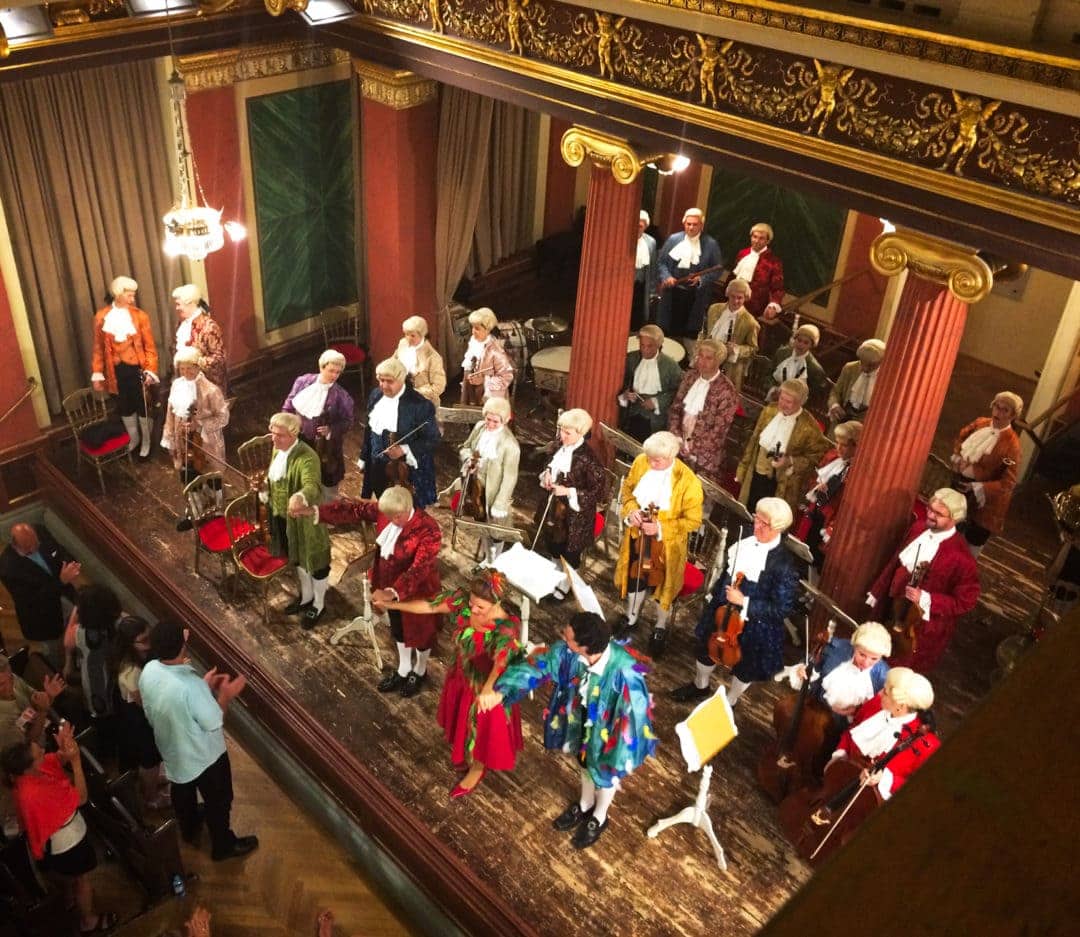 While in Vienna, head to the fabulous Schonbrunn Palace, a short distance via the underground system. It was once the main summer residence of the Habsburg rulers.
The grounds are vast and ooze with beautiful gardens and flower displays. For a good overview of the palace and its amazing grounds, you can access a virtual tour here.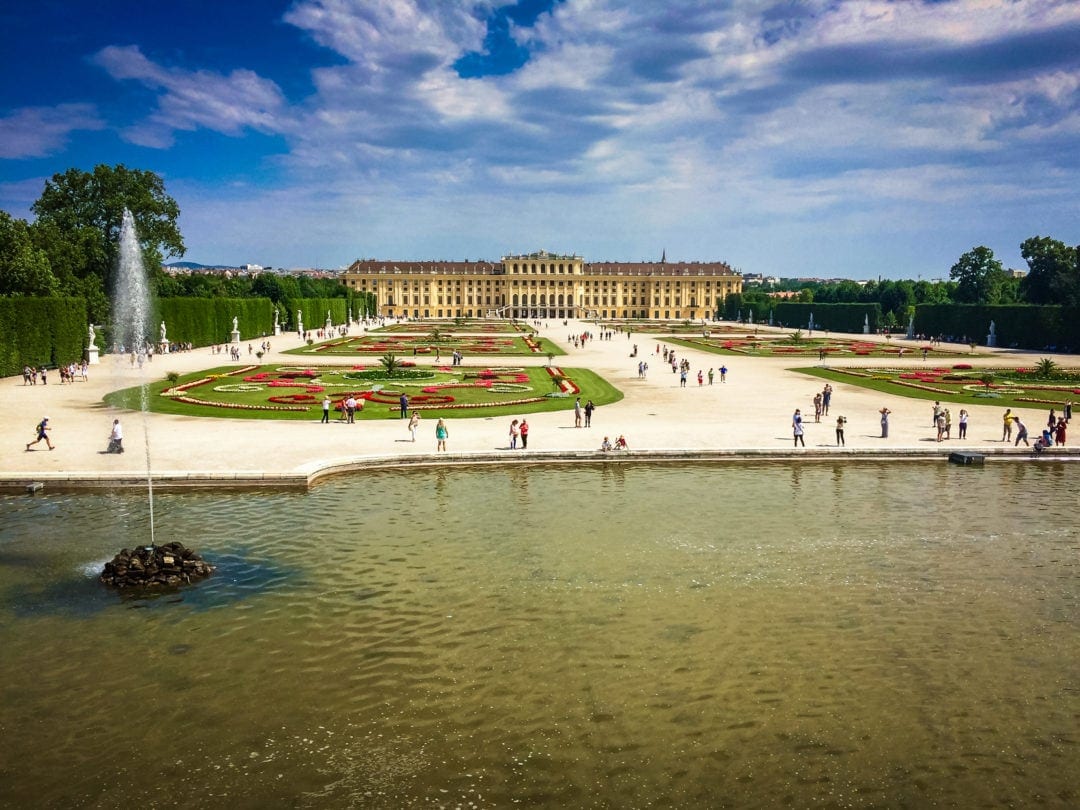 If you want to have a break from driving the motorhome and explore some of the best places in Austria with a private tour – this one covers some of Austria's favourites:

Private tour of Melk, Hallstatt and Salzburg from Vienna
It includes a visit to:
Melk Abbey, a Benedictine abbey overlooking the Danube River,
Hallstatt, Austria's oldest and possibly most photographed village and
Salzburg, Mozart's hometown, explore its UNESCO-protected Old Town, and "The Sound of Music" filming location.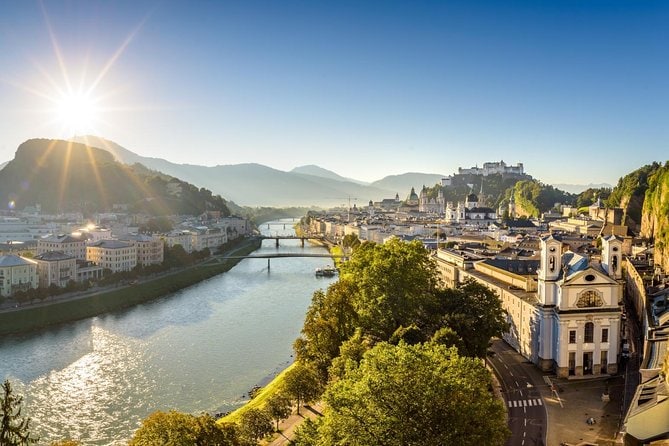 Ottenschlag, Waldviertel
The next stop on our Austria motorhome road trip was Ottenschlag. Fields of pink and red poppies blanketed the fields.
The camperstop was on a great site beside an adjacent forest where we picked wild strawberries and blueberries. We even saw our first wild deer since beginning our motorhoming in Europe.
Ottenschlagg is famous for its locally produced grey poppy seed.
In earlier times this local poppy seed was even traded on the stock exchange. The poppy strudel is popular here, and as the poppy seed is known for its healthy unsaturated fatty acids, this has to be a healthy snack option.
More than 200 hectares of poppy fields can be found in the Waldviertel area.
Just 3 kilometres from Ottenschlagg, is a small family-run poppy farm and museum, Mohnhof Gressl. Here, you can buy several poppy-related products, such as soaps, pesto, liqueur and a variety of other products.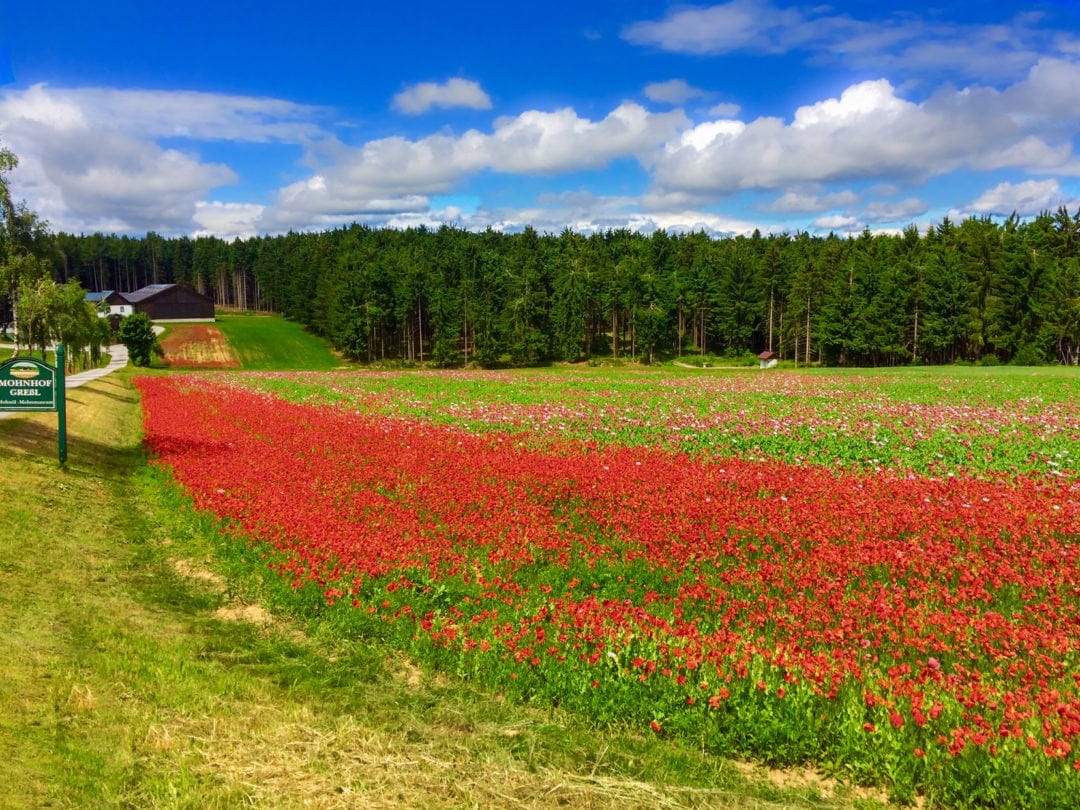 Other nearby attractions include the world-famous Benedictine Abbey, Melk Abbey and the city of Melk, a UNESCO World Cultural Heritage site.
Back at camp, we headed into the forest with our bikes. And, not for the first time on our travels, Lars found a shortcut.
I now know better and my ears prick up like an anxious animal when I hear him suggest a short cut;) Back then though, I still believed he must have memorised the map and knew what he was talking about.
I wasn't ecstatic when dragging my bike through head-high grasses but luckily we have our alter-egos to revert to and can find the funny side in most of our road-tripping misadventures.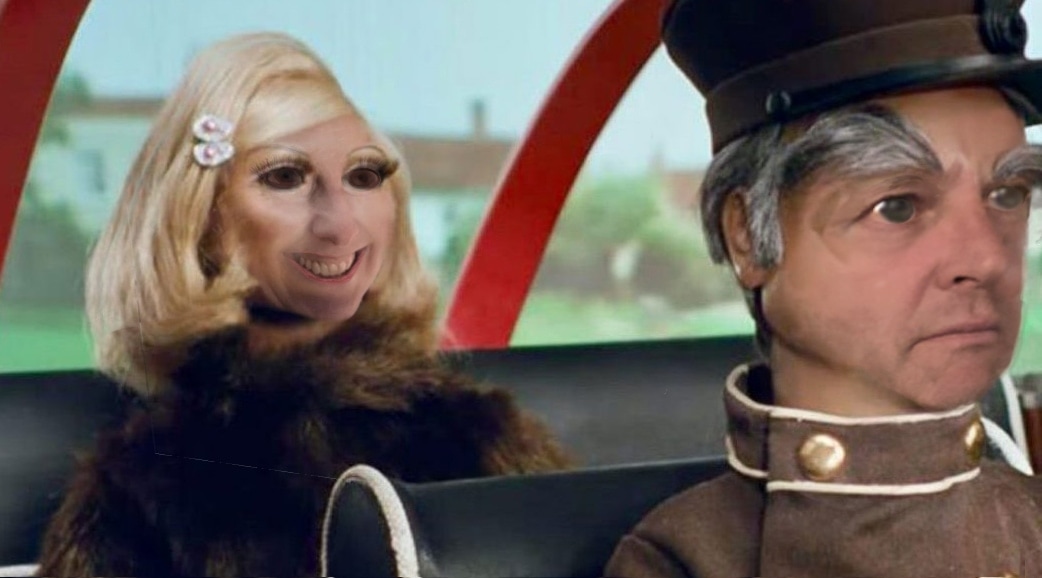 READ MORE: Becoming Lady Penelope and Parker
When we eventually arrived back at camp, we were welcomed with a poppy cake bought by the lovely couple in the motorhome next to us, Fred and Rica.
This amazing couple from Vienna, set out on their electric bikes each day, went hiking and were full of the joie de vivre, even though they were 80 and 81 years old.
Health concerns kept them motorhoming in Austria, their home country, now, but had previously travelled far and wide in their motorhome. They were truly inspiring.
Ardagger
This is the perfect stop on your Austria road trip to cycle or take walks along the Danube Cycle Path (Donauradweg). Naturbadeteiche Hößgang is a beautiful small reserve on the cycle path, where you can stop for a swim or just admire the scenery and enjoy the peace and quiet.
The Danube cycle path is mainly flat and we cycled for more than 25km alongside the beautiful, albeit khaki-coloured Danube River.
It was at the Ardagger campsite that we met a Dutch couple and were amazed by the guy, who wore his wooden clogs all the time. He even wore them when going for a walk and riding his bike.
I was so interested in this that he suggested I try them to see how comfy they were. They felt exactly like they were — wooden shoes. I don't think I'll be swapping out my snug Skechers any day soon.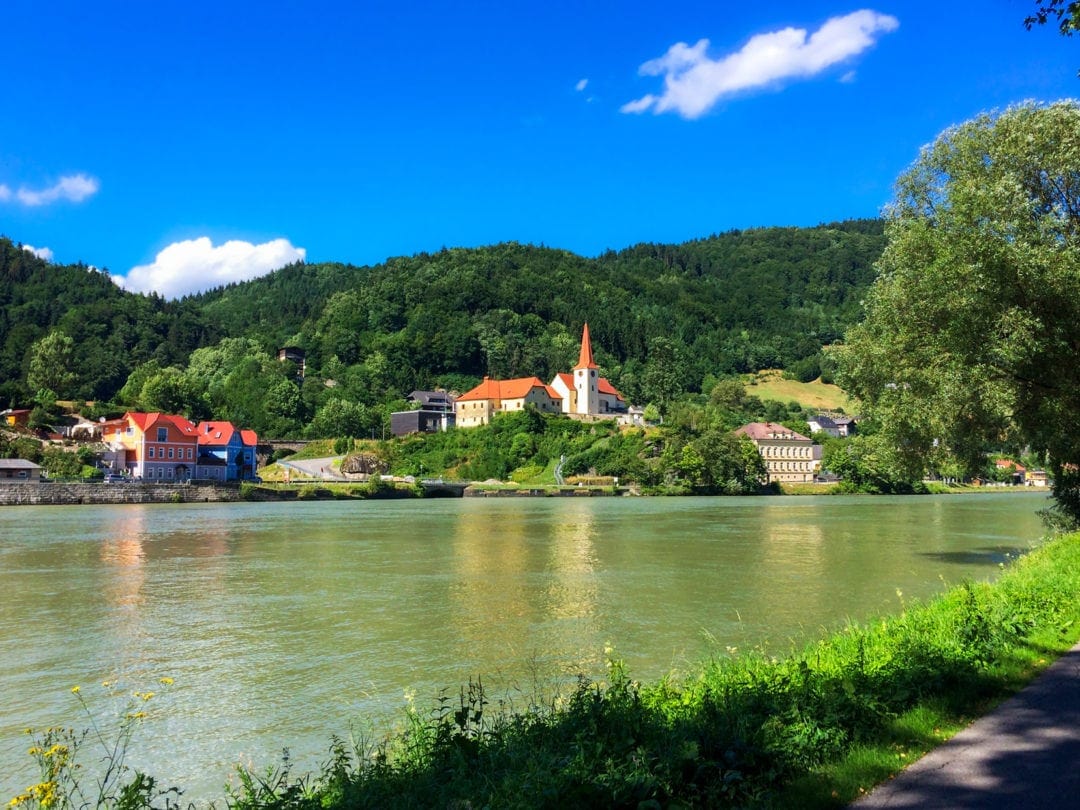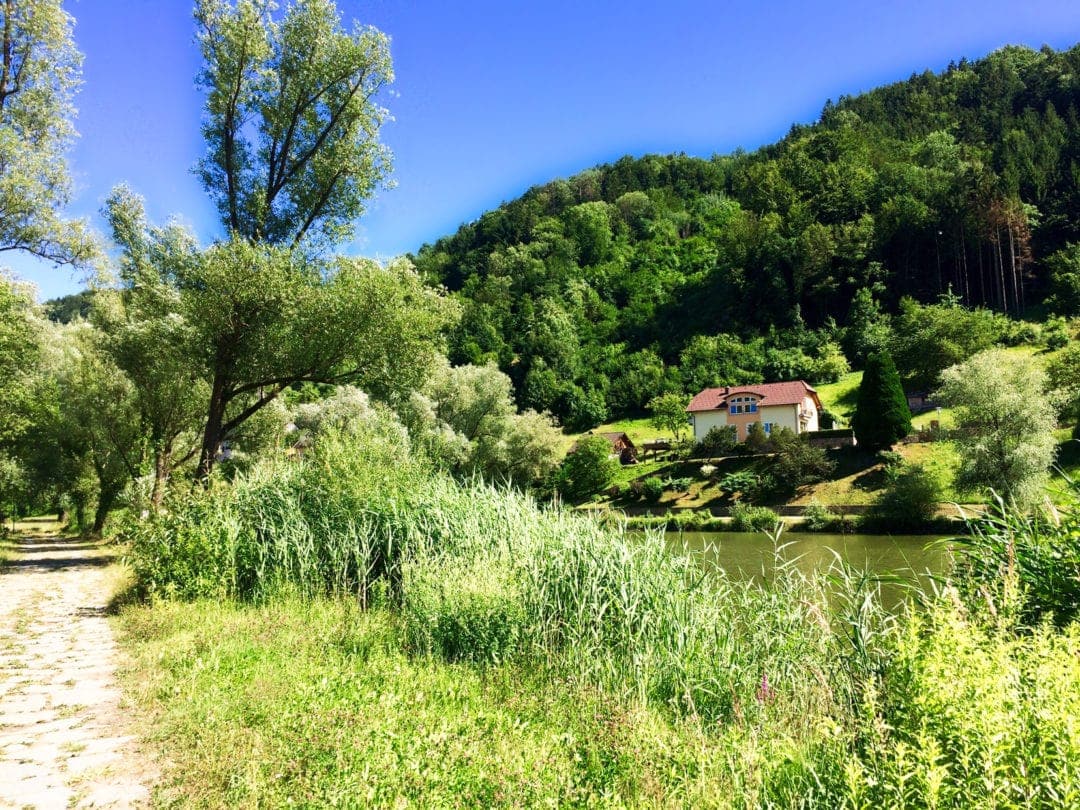 Attersee
Our next stop, as we continued our Austria motorhome trip, was in what is known as the Lake District of Austria. Indeed, it is here that you'll find Austria's largest lake, Lake Attersee.
We drove around the lake, stopping at various points to take in what was by then, the all too familiar amazing Alpine views. If you are in a large motorhome or camper, be mindful that the road is pretty narrow in places.
Overnight parking around the lake was expensive, so we found a more reasonably priced camper stop just a few kilometres away at Rosslwirt Stellplatz.
There is space for ten motorhomes and if you eat at the restaurant you can stay for free.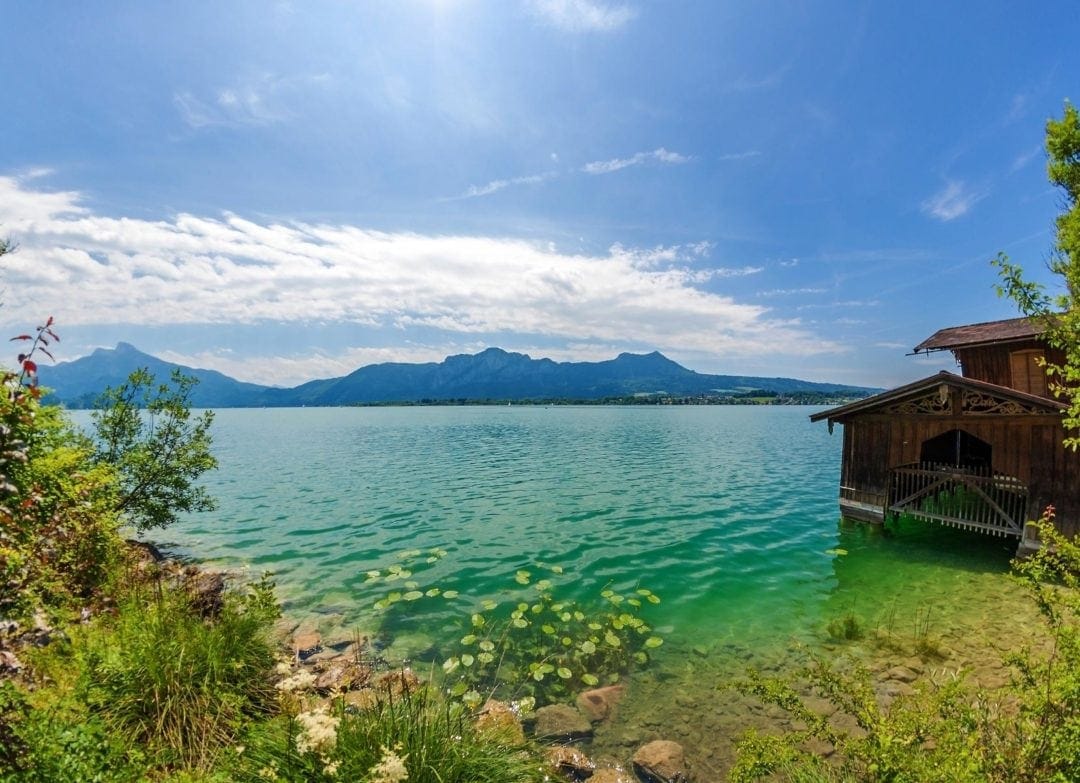 Salzburg
The next stop on this Austrian road trip is Salzburg. If you didn't know that Mozart was born in Salzburg, you'll soon discover that the city is very proud of that fact, with reminders everywhere you look.
And of course, some of the renowned Sound of Music scenes were filmed here.
But Salzburg is more than Mozart and a Holywood movie set. Since 1997, the old town part of the city has been on the UNESCO World Heritage List as a city of "outstanding value to humanity".
We wandered around the old town taking in the numerous sights in the old town and visited the intriguing St Peter's Abbey.
Its cemetery has ancient catacombs and rock caves carved into Mönchsberg (the surrounding rock).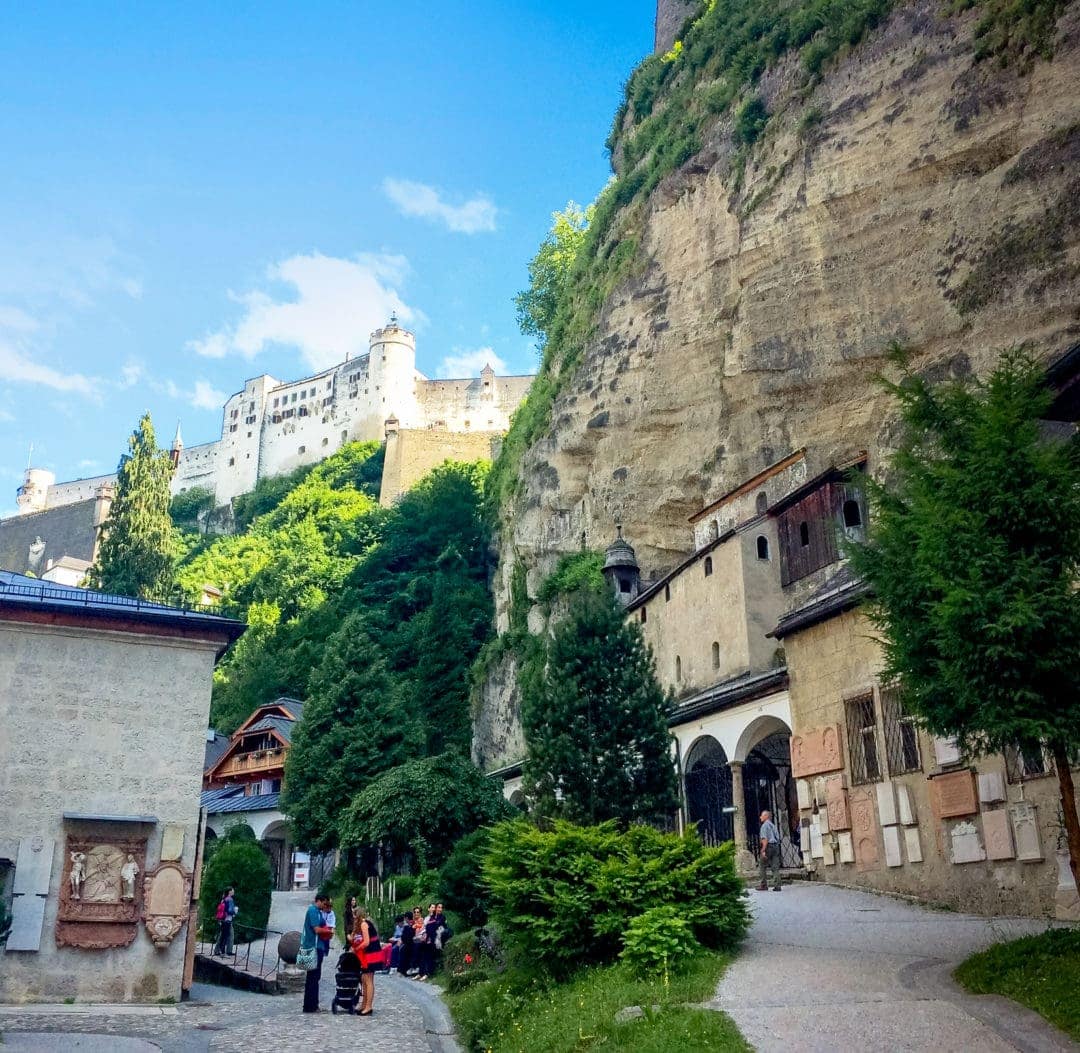 We recommend the 4km walk through the UNESCO and historical sights of Salzberg, detailed in their tourism route map below.
The Mirabel Palace and its breathtaking Baroque gardens, were for me, the highlight of Salzburg. I could picture myself singing "Do-re-mi with the Von Trapp children around the Pegasus fountain in front of the palace.
In hindsight, I wish I'd planned to take the Sound of Music tour, I think it would have been just up my street.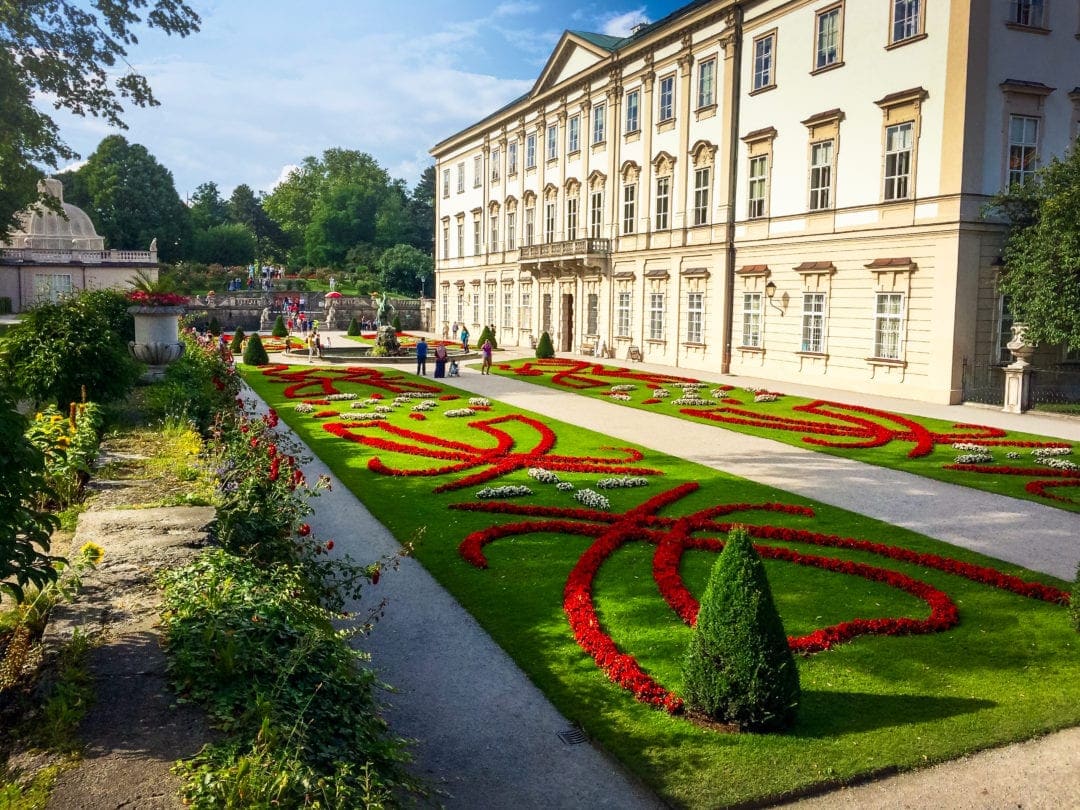 We cycled 5km into Salzburg old town from the Campsite but there is also a bus route from the motorhome parking.
Salzburg is just a hop and a skip from southern Germany.
Therefore, if you have time we would thoroughly recommend popping into Germany (if your passport and insurance allow) and exploring its beautiful southwest corner of Bavaria. Lake Konigssee is spectacular, as is the surrounding area.
Hallstatt
Our stop in Hallstatt was one I was really looking forward to on our Austria camping trip. I'd seen so many amazing photos of Hallstatt. After all, it is one of the most well-known photogenic villages in Austria.
And I must admit that the landscape is beautiful and the setting of this small town is breathtaking. It looks like it is straight out of a fairytale picture book.
The only downside though, is that Hallstatt can be extremely busy with tourists and is very commercialised. It really is no wonder that locals undertook a protest in August 2023, to complain about Hallstatt's mass tourism. There are only about 700 residents, but the village can see up to 10,000 visitors in the summer months.
Therefore, if you do want to visit this village we recommend arriving early in the morning to avoid the peak crowds and to visit in the shoulder, or off-peak seasons.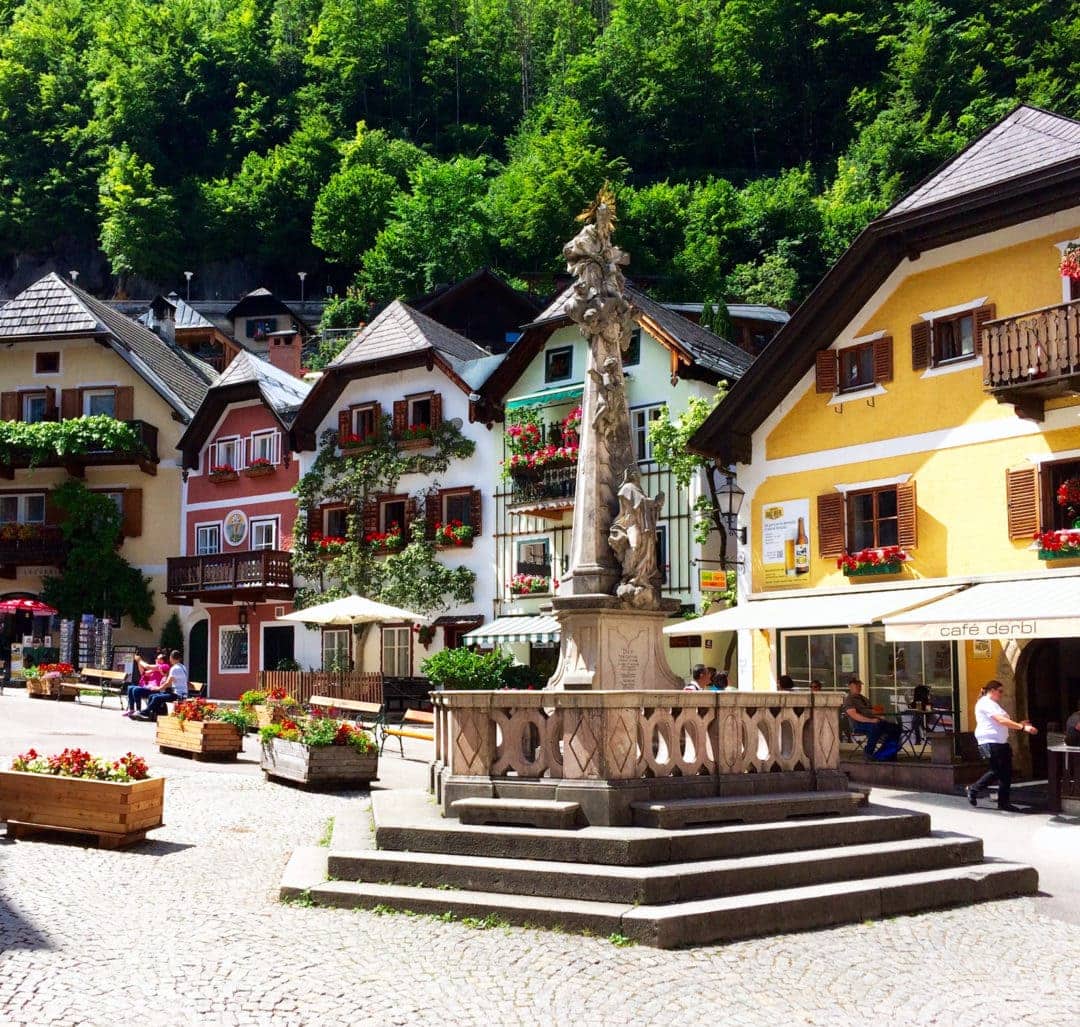 If like us, you are interested in photography, you may enjoy a 🌅 sunrise photography tour where you enjoy unbelievable views from the World Heritage Skywalk in Hallstatt
⭐️ 5/5 Star Reviews | ⏰ 1.5 hours | Book Here
OR
Not only is Halstatt surrounded by magnificent landscapes, and traditional Alpine houses festooned with floral window boxes, but it is also home to the world's oldest operating salt mine.
Saltzwelton is Halstatt's UNESCO mine dating back to prehistoric times. In fact, the wealth from the salt mine is what led to the development of the town.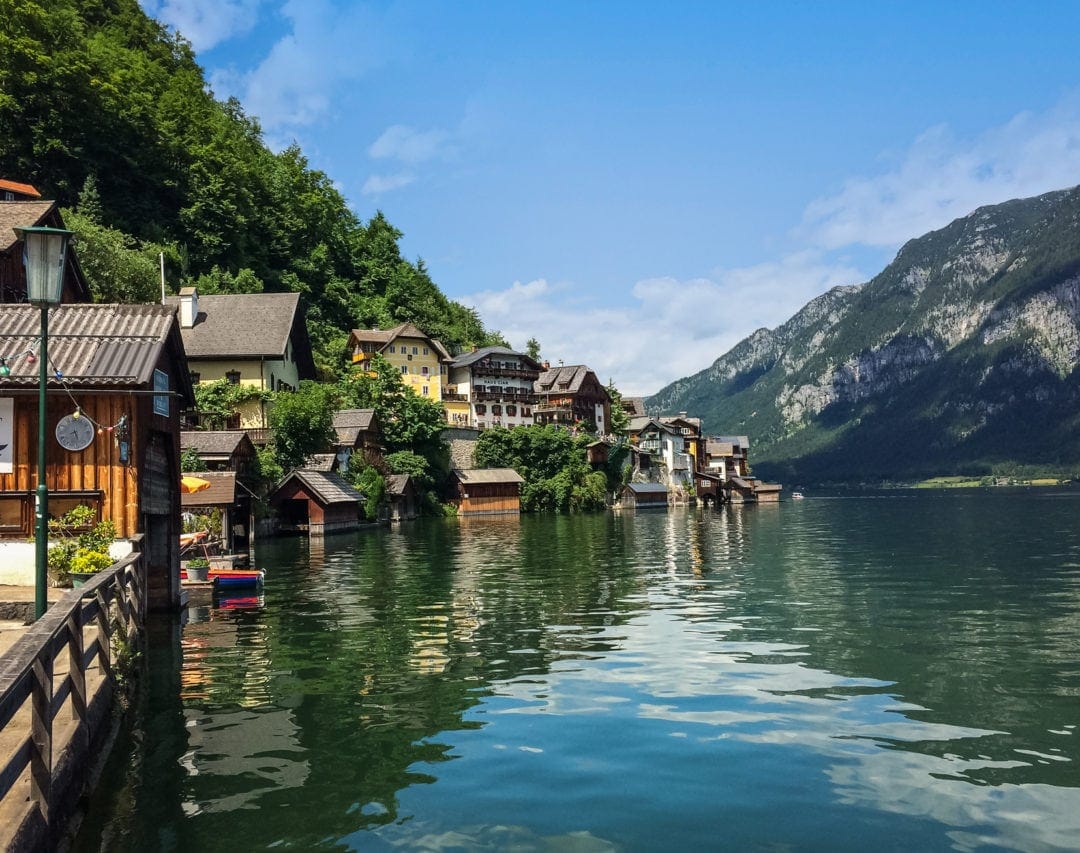 An unusual attraction in this idyllic town is the Charnel Chapel (Bone House), where over 600 skulls have been painted. This mainly occurred in the 18th century when an existing grave needed to be reused, the skull was cleaned and painted and transferred to the ossuary.
You can only access Hallstatt on foot, so you will need to park in the designated car parks and walk or cycle into the town. (See Map above for motorhome parking)
Gosau
Heading away from Hallstatt and looking for our next campervan overnight stop in Austria, we found Gosau.
Gosau is a small Alpine Village in Upper Austria, near its stunning Lake, Gosausee. The Dachstein Mountain backdrop makes for spectacular scenic views. Gosau's Alpine forests and sparkling lakes seem to be widely bypassed by the throngs of tourists that head to Hallstatt.
The motorhome stop we stayed at in Gosau was absolutely awesome. Even though we were in Austria at the end of June, the camperstop was empty and a lovely retreat after the nearby crowded Hallstatt.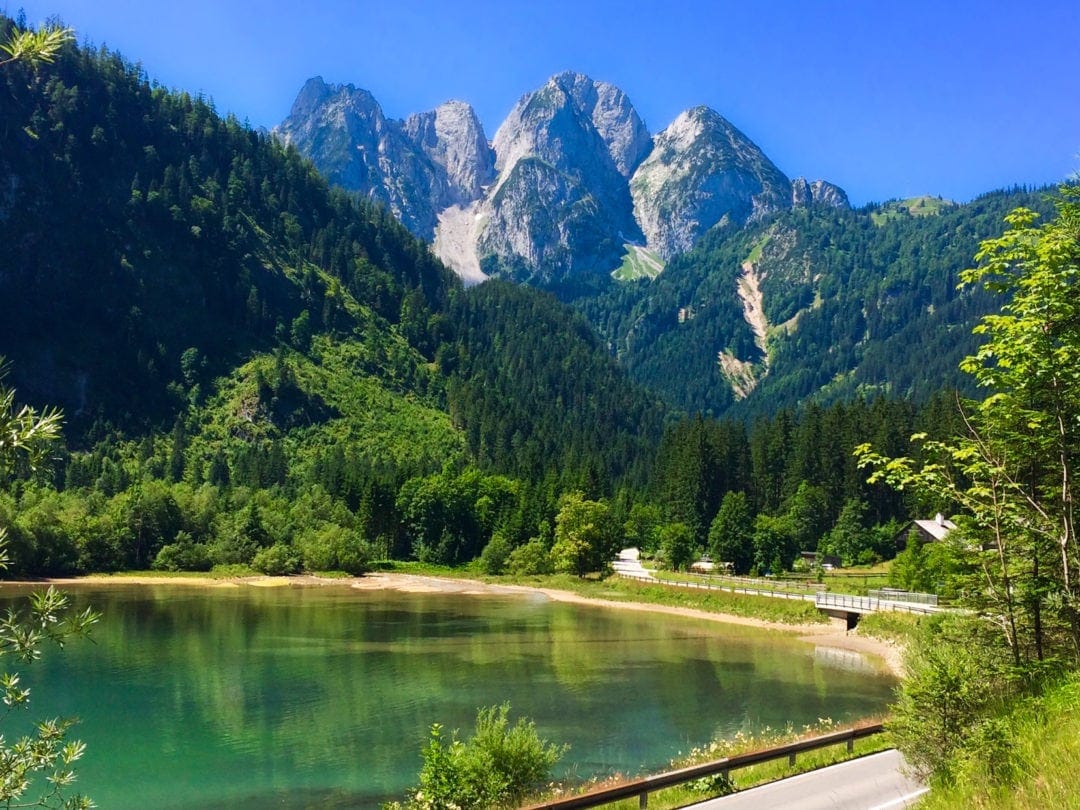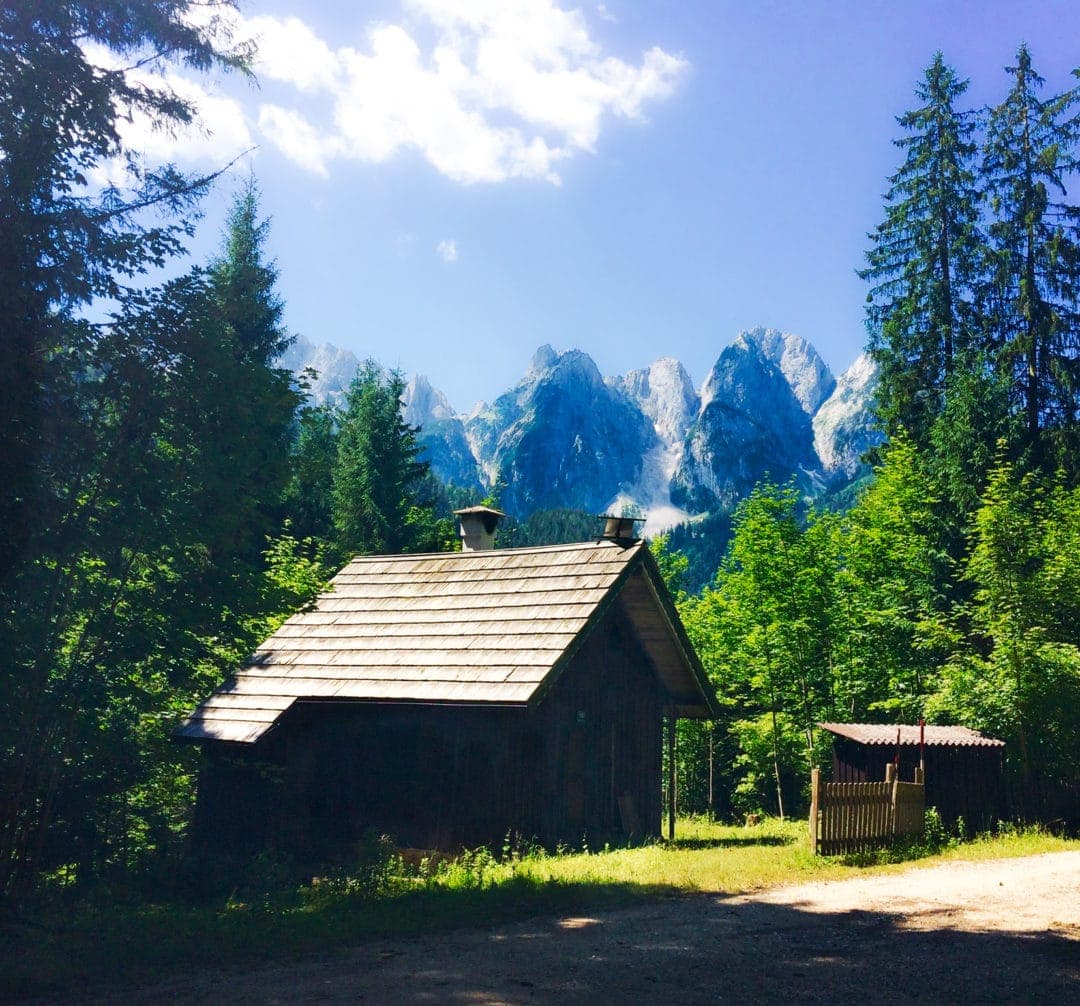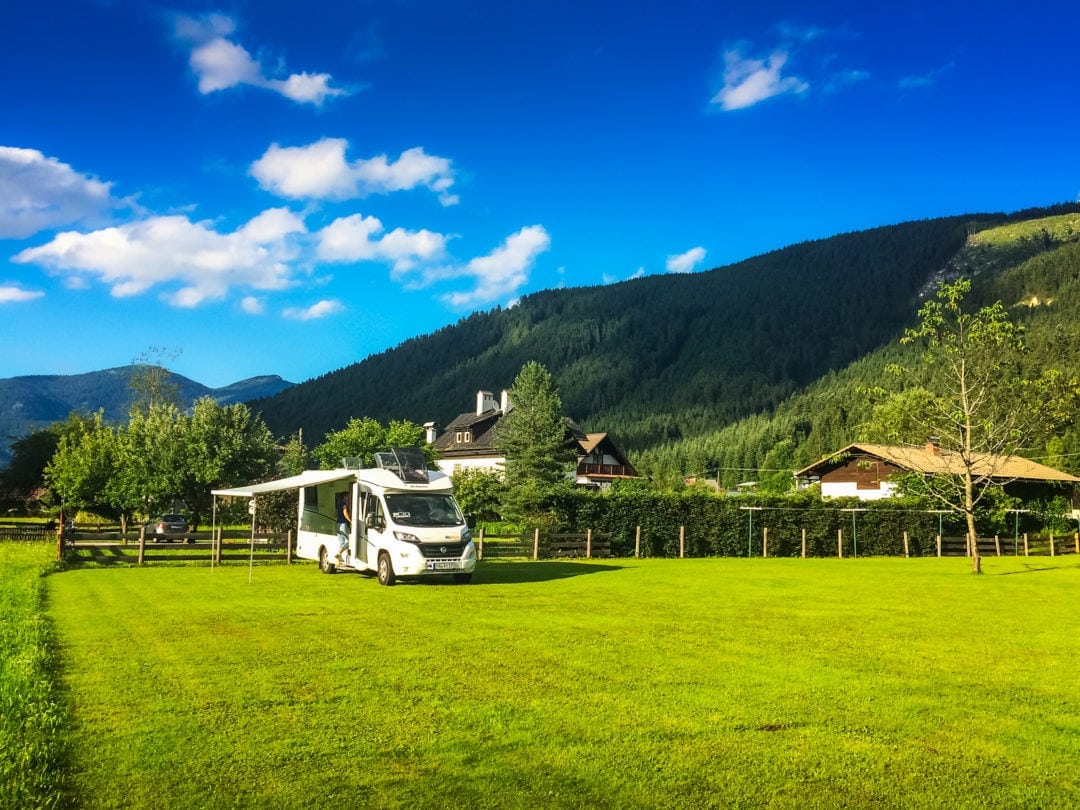 Großglockner High Alpine Pass
We recommend leaving Gossau early in the morning, because the next road on this motorhoming in Austria trip, will be an adventure and a half.
The Grossglockner can get busy in peak season, so leave plenty of time to explore it. You can take an alternative route and avoid it if you prefer, or if you are travelling in the months that the pass is closed.
It will take about an hour and a half to get to the start of the Großglockner and another two or so hours to drive its 48km winding road with 36 hairpin bends.
The Großglockner is the highest surfaced mountain pass in Austria and takes you through the snowy peaks of the Hohe Tauern National Park.
Grossglockner Video
This video takes you along on some of the journeys on this spectacular drive.
Almost a million visitors drive this road, and it's considered Austria's most scenic route.
There are plenty of designated stops along the way and if you're lucky, you might spot vultures, ibex, or marmots. If you don't see the marmots you will likely hear their chirps which can be mistaken for birds.
The Großglockner opens from May to October. The cost for a car or motorhome up to 3500kg is 38 Euros.
A motorhome over 3500kg is classed as a Truck and costs 48 Euros. For more details check out the Großglockner website.
Großglockner Opening times:
May: 6am – 8pm
June/July/Aug: 5.30 am – 9.00 pm
Sept/Oct: 6 am-7.30 pm
Heiligenblut am Großglockner
Heiligenblut am Großglockner is another fairytale, picture-postcard village in Austria. Not surprisingly, its picturesque Alpine mountain landscape is a magnet for hikers.
Its attractive gem of a church, St Vincents, appears in many Heilingenblut photos. But, not only is the church set amongst the jaw-dropping background of Grossglockner but it is said to be home to a special vial of Christ's holy blood.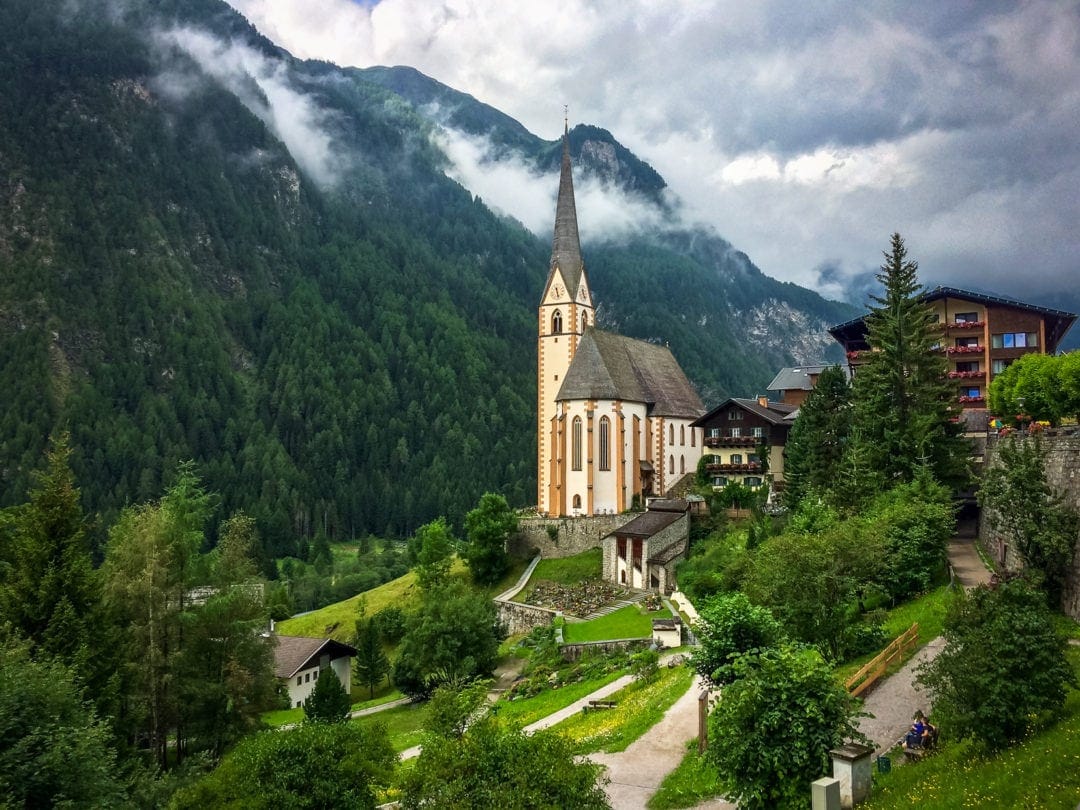 The Legend of Briccius, tells us that a Danish knight, Briccius obtained a vial of the holy blood of Christ in 914 AD in Constantinople. However, while crossing the Alps on his return home an avalanche buried him.
Facing death, he placed the vial into a large cut in his leg. When the snow cleared, locals found him at the point where three shoots of wheat poked through the ground.
Due to this miraculous find, a church was built on the site, 'Heiligen Bluet' – the holy blood'. Documents reference the first pilgrimage to the church in 1273.
Following this, in 1491 the church was officially consecrated. Inside the church, there are a series of paintings that depict the story of Briccius. Moreover, the town's coat of arms includes three ears of wheat, representing those found where Briccius lay dead.
In the church graveyard, you'll find an interesting metal book with the names of those who have died in the Grossglockner Nature Reserve.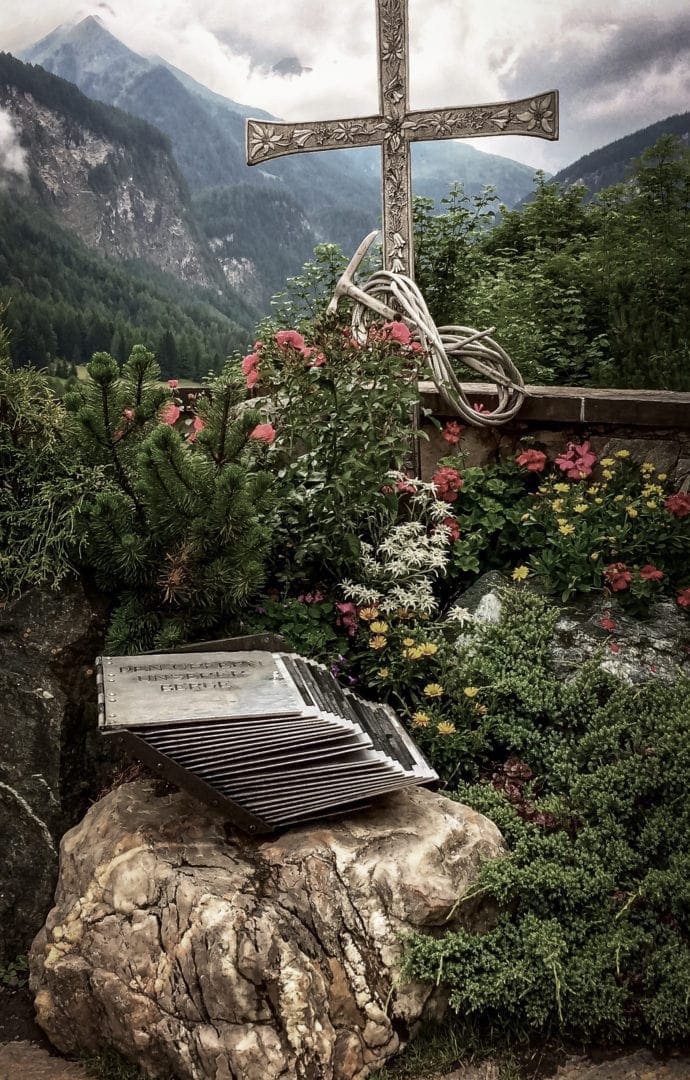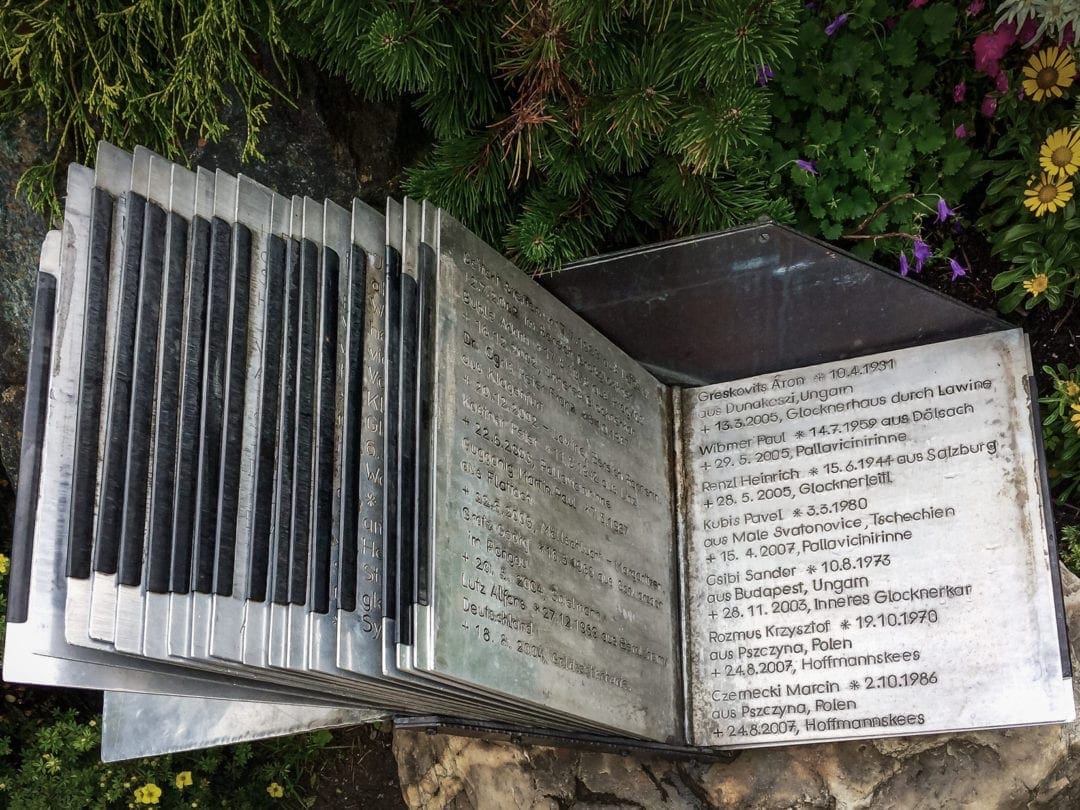 Obervallach
Our next stop was the best camperstop on our Motorhome trip through Austria. If you want an intimate site, spectacular views and the friendliest of hosts, then you must stop in the impressive Obervallach Valley.
Gaby and Henk Struik run this superb campervan stop and are just the loveliest of people.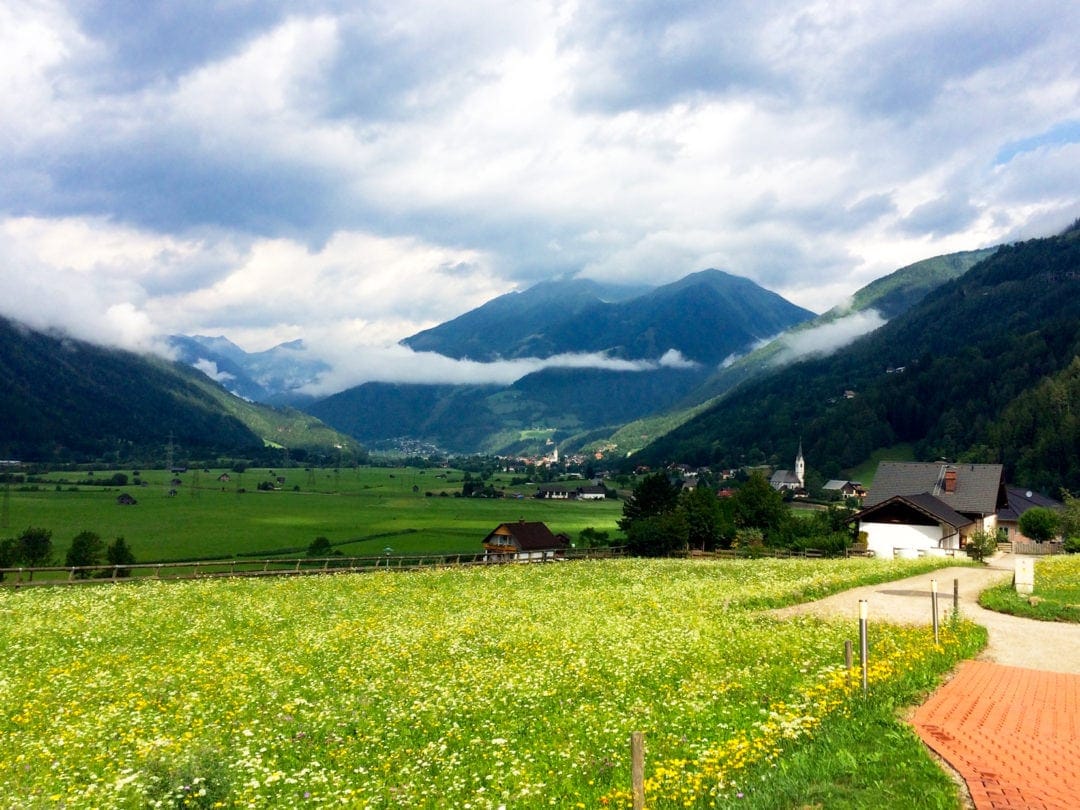 The perfect place to relax and enjoy the view. Just a short walk from the site is Falkenstein Castle, with the Falkenstein railway bridge just behind it.
About 5 km along the road towards Heilegunblut, are the Groppenstein waterfalls. A steep but gorgeous climb up the side of the gorge beside the waterfall.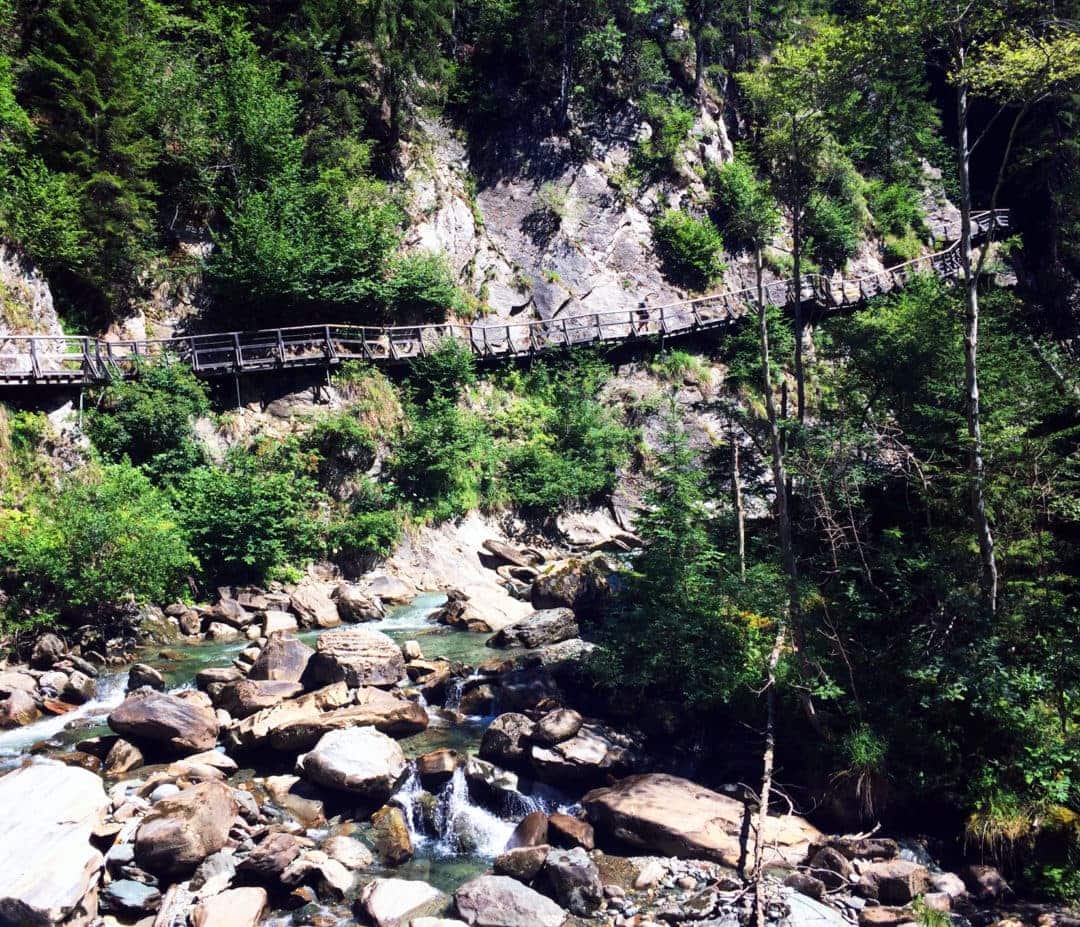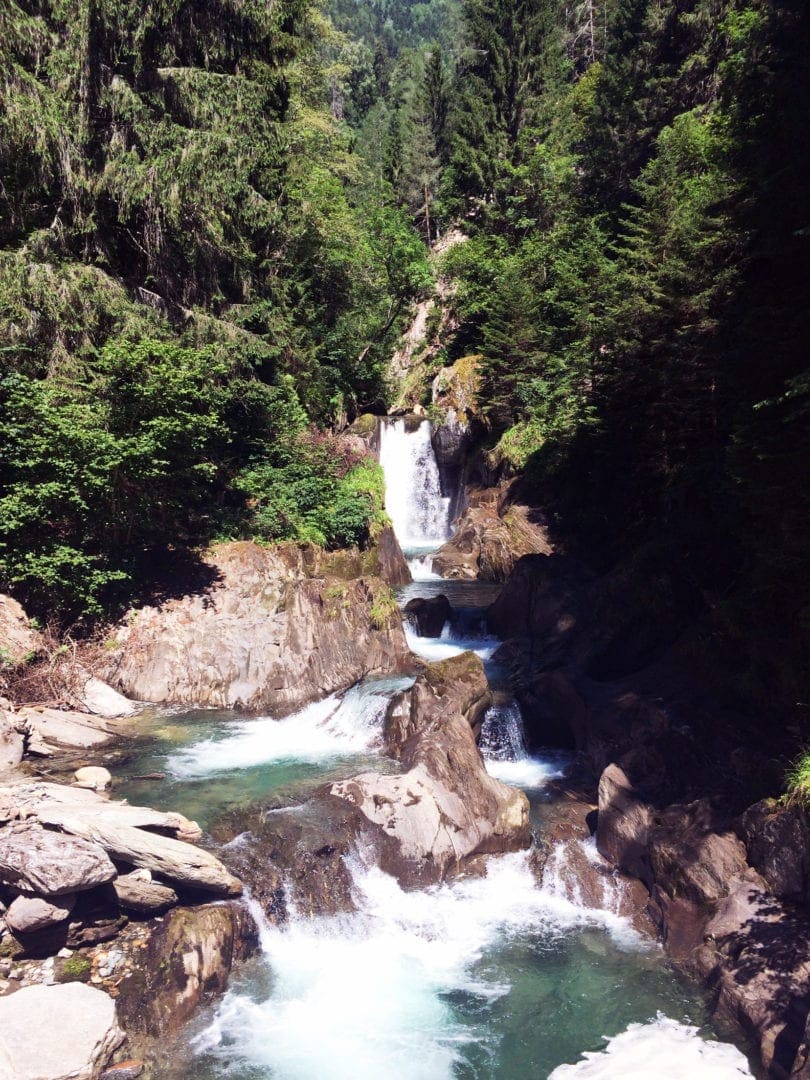 Motorhome Camperstop Obervellach: Gaby and Henk's Camperstop
Ferlach
Our final stop on this Austrian road trip is Ferlach. It has many hiking routes in the area, including the Tscheppa Gorge a popular hiking trail with numerous waterfalls.
We stayed at a great site right beside a small stream which is great for a quick dip in hot weather. It was only late June but the temperature was reaching the 30s (Celcius).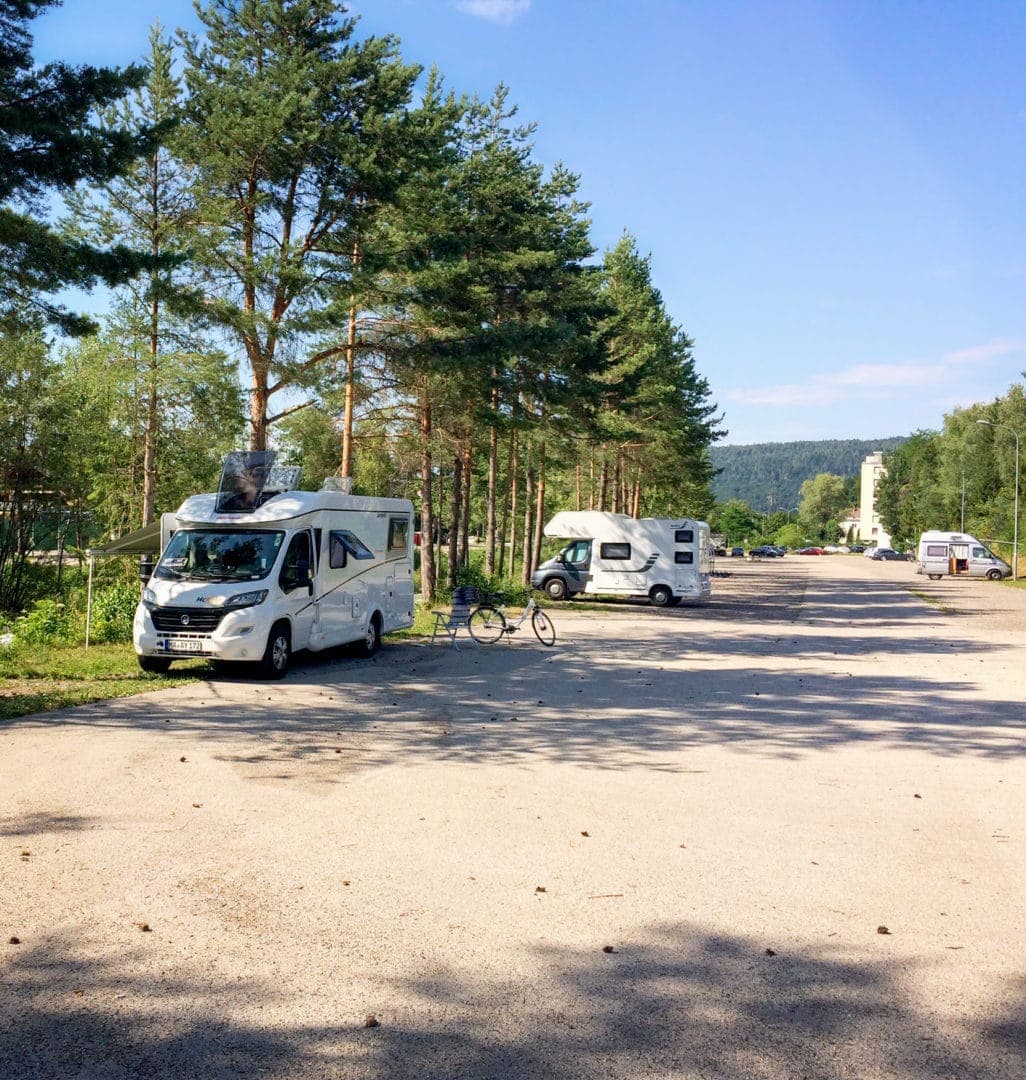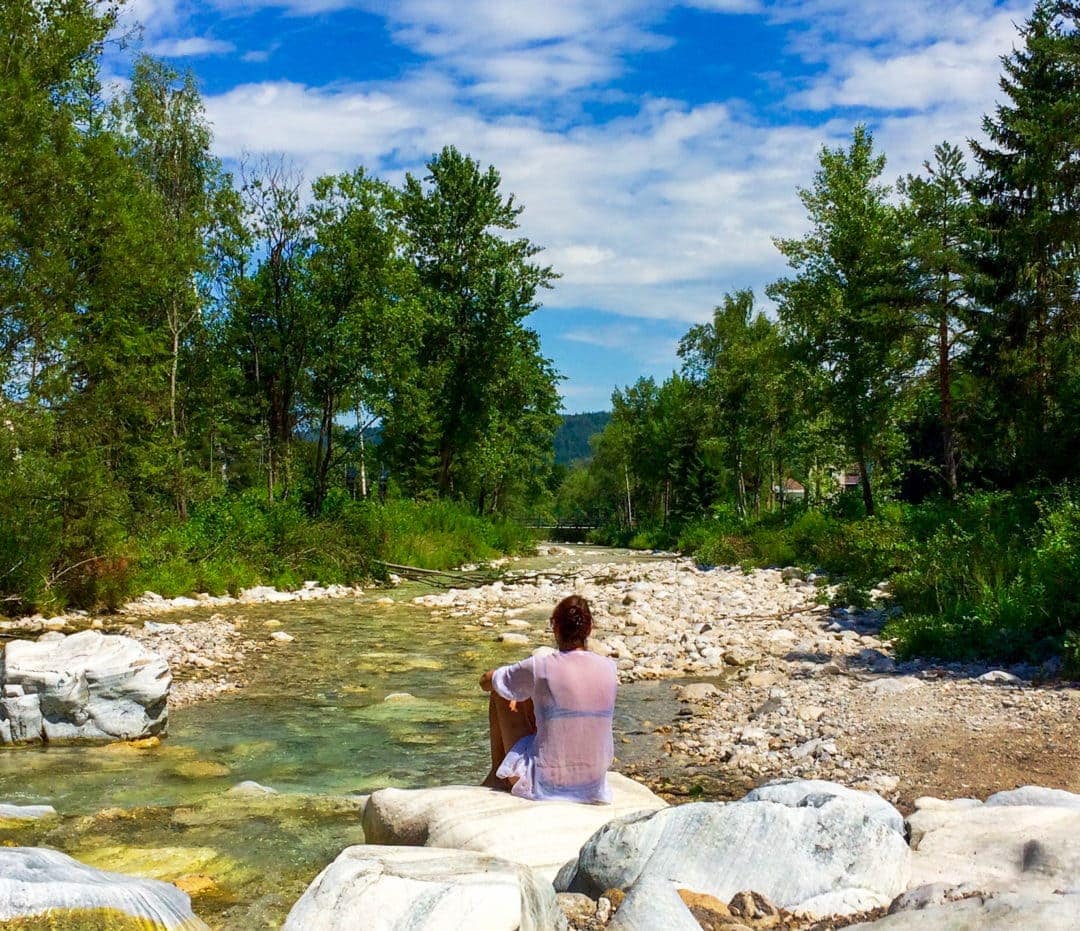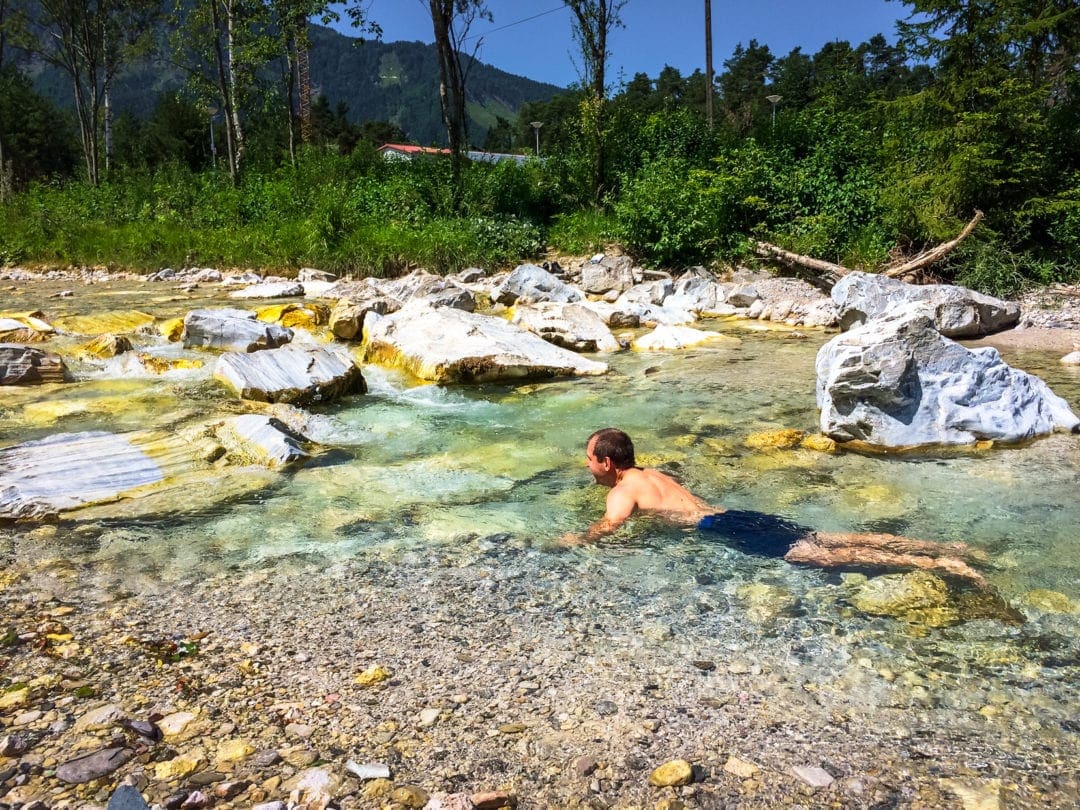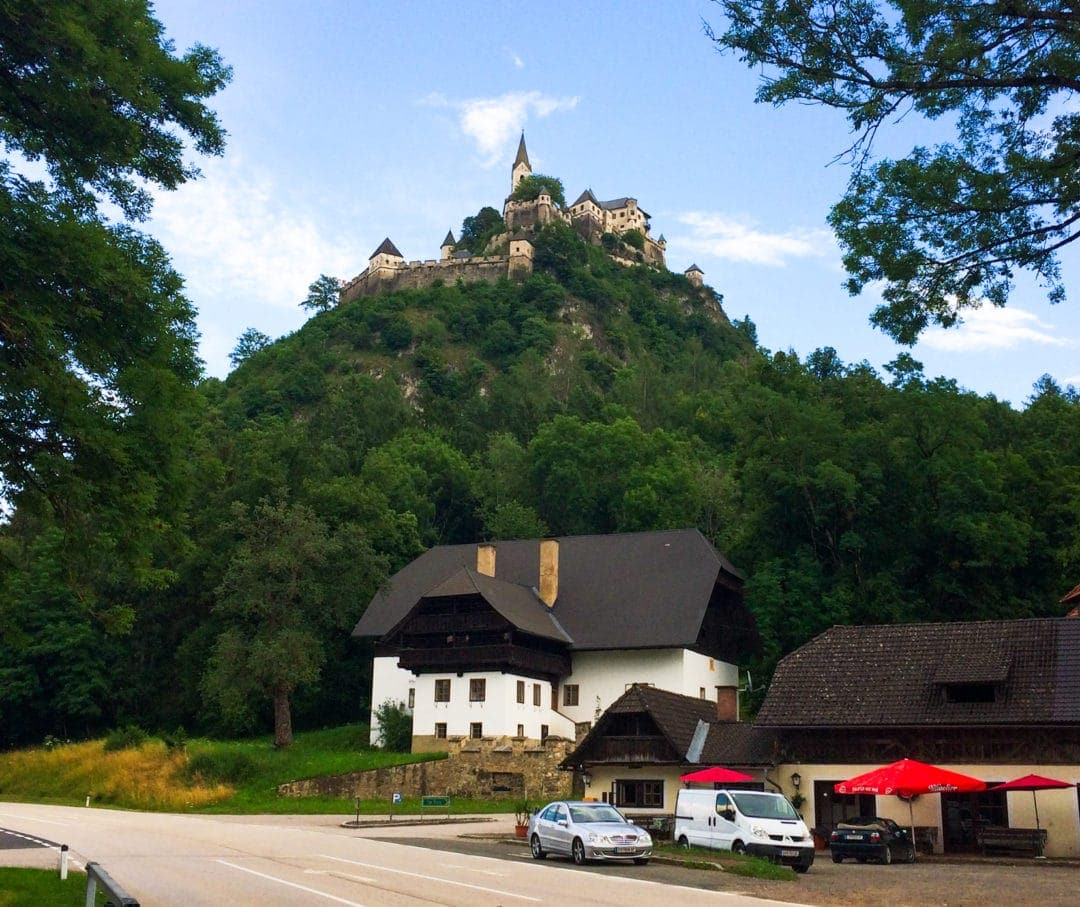 How to Continue Your Motorhoming Austria Trip
If you were only doing an Austrian road trip, then this would be a good point to circle back to Vienna, perhaps visiting Graz, the second-largest city after Vienna, on the way.
Alternatively, you could travel south into Slovenia. Its capital Ljubljana is only 70km (an hour's drive) from Ferlach.
Additionally, Slovenia's Lake Bled, Bohinj Lake and the beautiful Jezesko Valley are all within one to two hours away. from Ferlach.
However, we were off to motorhome in Switzerland, so backtracked and headed to Switzerland via the Tyrol area of Austria.
Driving Tips for Your Austria Motorhome Trip
In Austria, you drive on the right and overtake on the left
Seatbelts are compulsory
Always have the following documents to hand:

Driver's licence (An international driver's licence isn't required if you hold a driver's licence issued by an EU Member State) See more here
Vehicle insurance (including a green card)
Vehicle registration document
Passport

The following equipment is compulsory:

Reflective Vest – to be used when getting out of the car in an event of an accident or breakdown on any road.
Warning triangle in case of an accident

You need a vignette displayed on your windscreen or a digital vignette These can be bought at the border, post offices and petrol stations. Get more details here.
Speed Limits on Austrian roads are as follows unless otherwise signposted:

130 km/h (80mph) on motorways (Autobahns)
100 km/h (60mph) on expressways and outside towns
50 km/h (30mph) in built-up areas.
Winter Tyres: Between 1 November and 15 April, drivers must be suitably equipped for winter conditions. This means that drivers using the roads in wintry conditions during this period must have winter tyres fitted.
Austria Road signs – find a comprehensive guide here
Emergency Number: 112
Motorhomes over 3.5 tonnes may have some different rules – check the Austrian Road Rules here.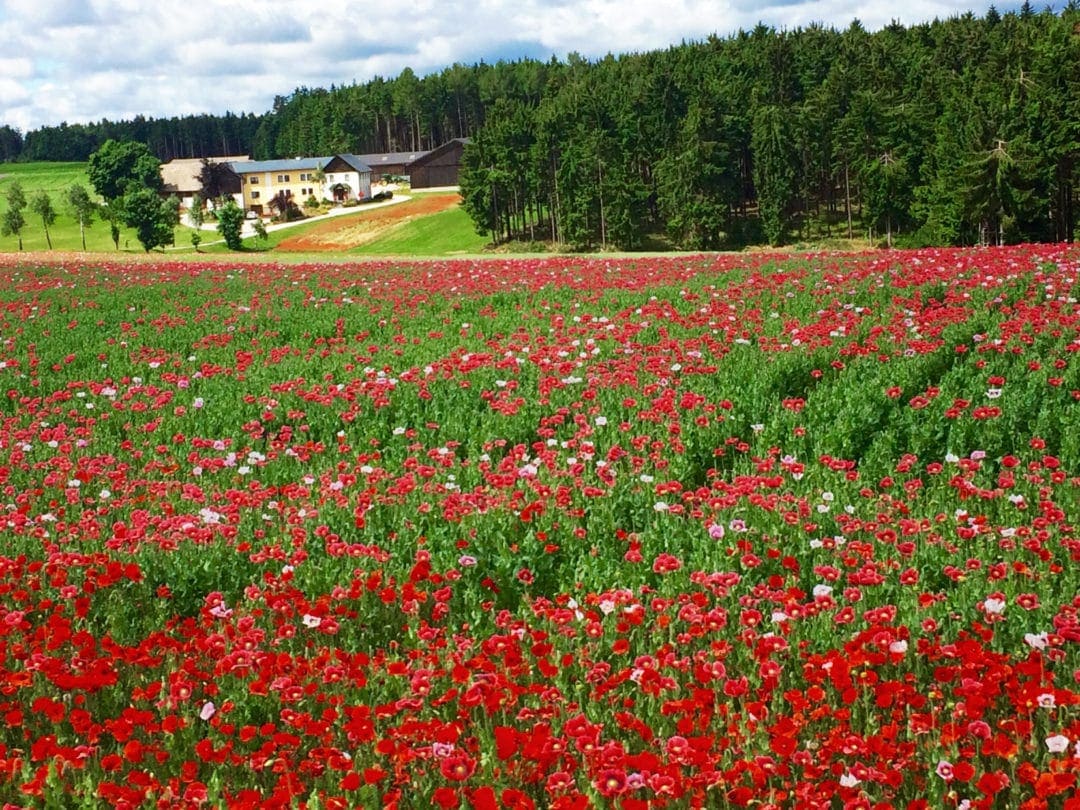 Handy Tips for Motorhoming In Austria
Currency: Euro
Language: German
Shopping: Most Shops close on Sunday
'ß' represents the double 's' (ss) in German
Handy Words for Motorhoming in Austria
The main language in Austria is German. Some people also speak English but knowing a few of the words relevant to your motorhoming Austria road trip will help on occasion.
Motorhome → Wohnmobile
Motorway → Autobahn
Motorhome overnight stop → Stellplatz or Wohnmobilstellplatz or Reisemobilstellplatz
Pay and Display → Nur mit Parkschein
Exit /Entrance→ Ausfarht/einfarht
Petrol Station → Tankstelle
Petrol → Benzine
Handy Phrases
A common greeting used as a hello/hi is: Gruß Gott (Groos got)
Please: Bitte (bit-a)
Many thanks: Vielen Dank (vee- len-dank)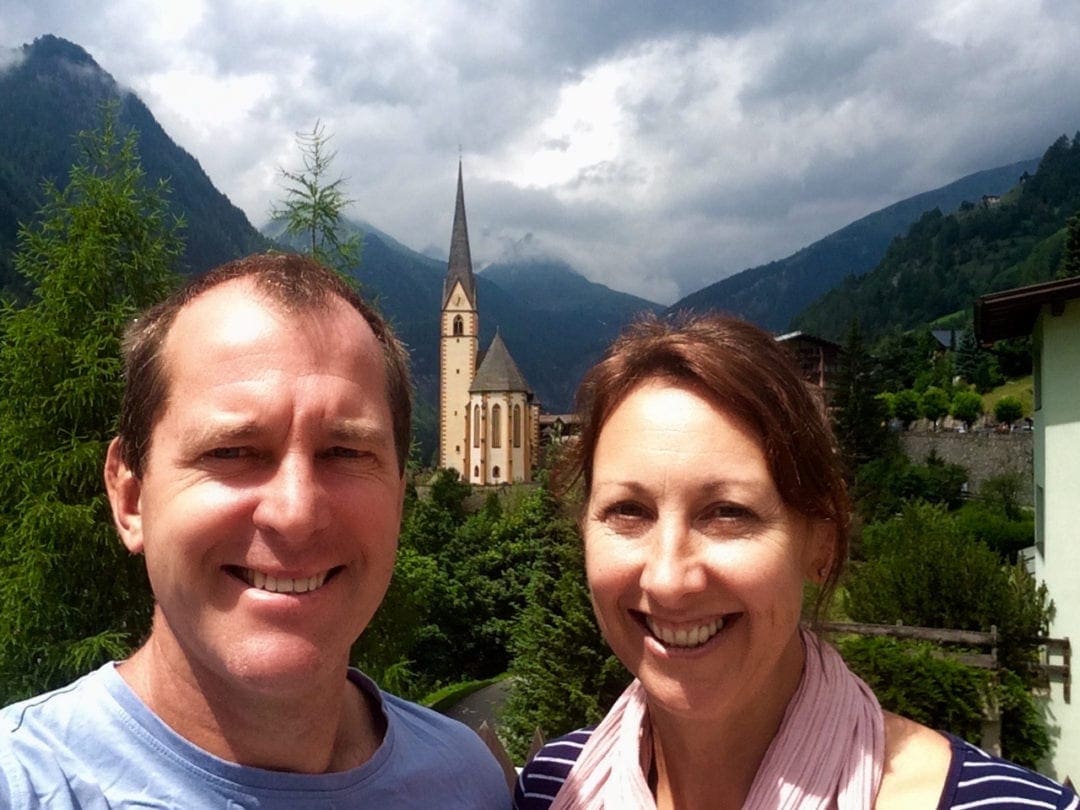 Motorhoming in Austria … That's a Wrap
This article will be a useful guide to help you plan your motorhome trip to Austria. Please reach out to us if you have any questions or any further suggestions for our readers taking a campervan or motorhome trip through Austria.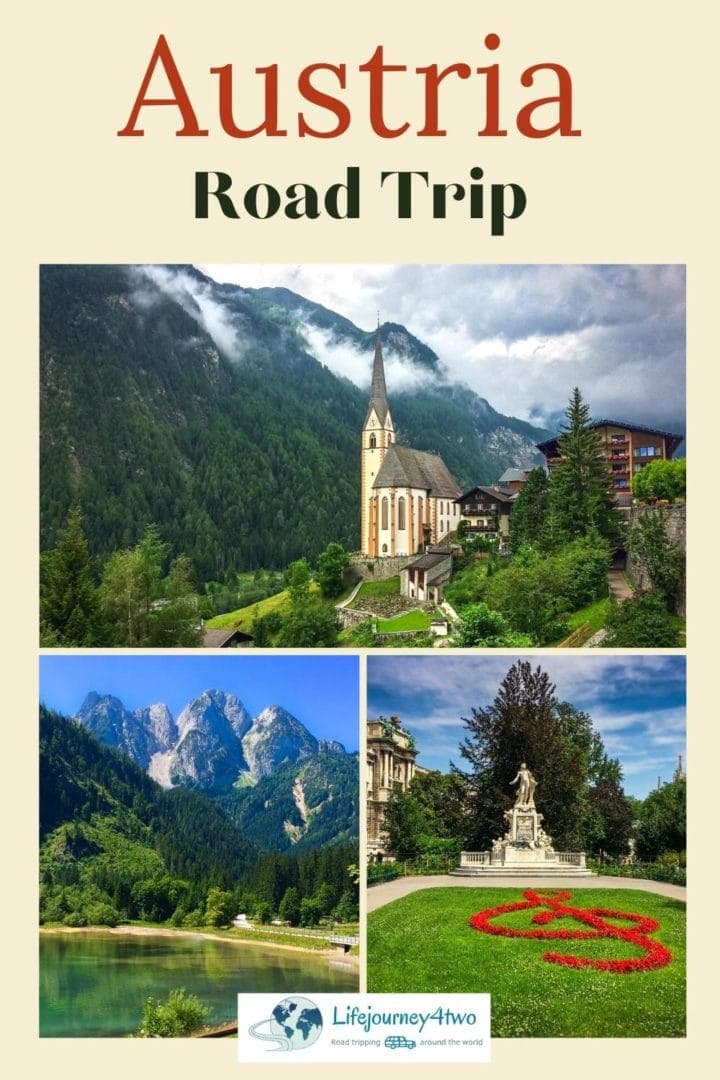 You may also be Interested in Reading:
PLANNING YOUR TRAVELS?
These are some of the travel resources we use when planning our trips.
For a more thorough list visit our Travel Resources page here.