CAMPERVANNING IN SWITZERLAND
Are you thinking of campervanning in Switzerland? If so, magnificent mountains, perfect Alpine pastures and over 1500 sparkling lakes lay in wait for you.
Reading Johanna Spyri's Heidi, when I was young, and watching the movie (several times), meant that I had a fair idea of the stunning scenery that awaited me.
I was not disappointed.
We spent a year travelling through Europe in a campervan, (a hired Class B motorhome) and Switzerland was so enticing, we visited twice — both in summer and winter.
This article includes heaps of information to help you plan a motorhome and campervan trip in Switzerland. You'll find tips for driving through Switzerland, places to visit and information on amazing Swiss experiences to be had.
So join us and find out how we found the elusive Swiss edelweiss, stumbled upon the only lighthouse in the Swiss Alps and what it's like to visit a village above the clouds.
All intermingled with great practical advice for your Swiss road trip itinerary.
HOW THIS CAMPERVANNING IN SWITZERLAND ARTICLE WILL HELP YOU:
♥ Suggested Motorhome routes and road trips in Switzerland
♥ An interactive map with campervan overnight spots and places to visit
♥ Advice in relation to driving a campervan and motorhome rules in Switzerland
♥ Handy tips to make your campervan tour of Switzerland as stress-free as possible
♥ Experiences from our Campervanning trip in Switzerland and ideas of places to visit
Planning a Trip to Switzerland?
For those of you that are new to campervanning, you may want to read our Motorhoming tips for beginners which will give you useful pointers to help make your trip much easier and stress-free.
We also highlight many of the campervan gadgets and accessories we find useful which you may wish to browse or go to our All Things Motorhome Lifejourney4two Amazon Shop.
Before your trip, also make sure that you have travel insurance, for peace of mind for medical emergencies and basic travel disruption, we have used SafetyWings Travel Insurance and World Nomads.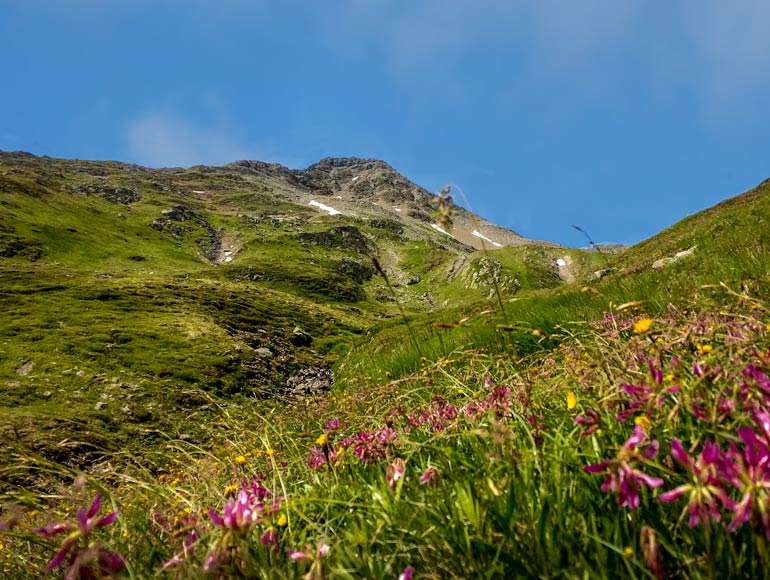 CAMPERVANNING IN SWITZERLAND INTERACTIVE MAP
HOW TO USE THIS SWITZERLAND MAP
To use this map, expand it using the square symbol on the top right-hand side and you will find the key on the left-hand side. By clicking each location you will find extra information.
The motorhome overnight stops are marked with an orange circle with a parking icon and the places we visited are marked with Purple location icons.
The red location icons are locations on the Alpine Circle and the blue ones are other popular places to visit on your campervanning trip in Switzerland.
OUR CAMPERVANNING JOURNEY THROUGH SWITZERLAND
We arrived in Switzerland in early July, having just finished motorhoming in Austria. This was the perfect time to enjoy the verdant Alpine Mountain scenery and endless quantities of healthy Swiss fresh air.
The same fresh air that gets bottled up and sold for $32 a pop. Dumbfounded, I did some research and Swiss air isn't the only breath of fresh air on the market. I recently read that you can buy a bottle of Devonshire coastal air in the UK for £75. Perhaps that's what you buy the person who has everything – a bottle filled with absolutely nothing. As my grandfather used to say, 'There's nowt so queer as folk'
But I digress, where were we?
Oh yes, breathing in copious amounts of Switzerland's delightful Alpine air — free of charge.
Below, I highlight the places we visited, where we overnighted in the motorhome and a list of other places you might like to add to your Swiss road trip itinerary. (You can skip ahead to the places to visit in Switzerland here)
Firstly though, let's get practical…
MOTORHOME AND CAMPERVAN CAMPING IN SWITZERLAND
A motorhome tour is the best way to travel around Switzerland in the summer. This is because it is much more economical and budget-friendly than paying for accommodation, which tends to be relatively expensive in Switzerland.
Switzerland has its fair share of luxury campsites for those who like to splash out a little and plenty of cheap or free options for those on a budget. We travel on a budget, so our itineraries normally reflect cheap or free motorhome camping options.
In recent times, camping, campervanning and motorhoming in Switzerland have become even more popular. So, we'd recommended booking a campsite well ahead of time, especially if you are travelling in the peak summer holiday season (July – September).
SWITZERLAND MOTORHOME CAMPSITES AND SERVICES – APPS TO USE
We have included all of our motorhome overnight stops in Switzerland on the map above — with most having links to the camper contact site where you can see reviews and available services.
We used the Camper Contact app the most when motorhoming through Switzerland. Another app you might find useful is Park4Night, which many motorhomers also use.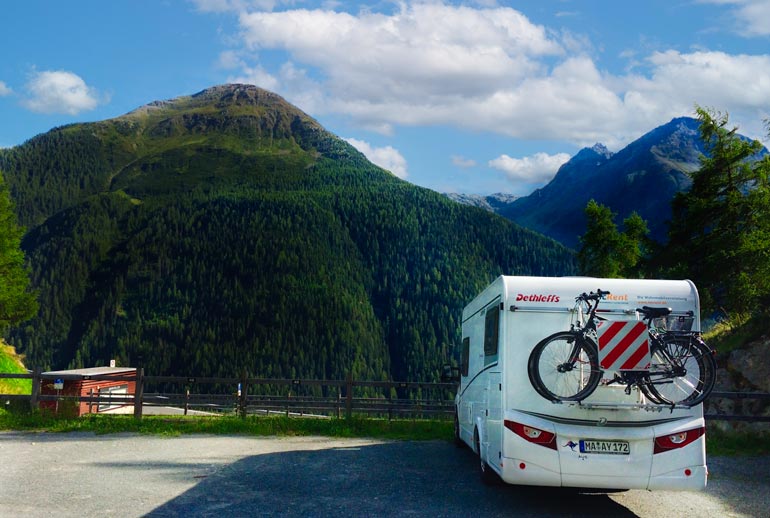 WILD CAMPING IN SWITZERLAND
Wild camping in Switzerland is allowed in some regions but not all. Each municipality has its own rules, so pay careful attention to signage.
Some car parks allow for overnight rest only — which means that you should not set up camp by using your outside table and chairs and should move on the very next day. Your campervan or motorhome must be parked in a designated spot.
Remember these important points:
Be respectful of nature and the environment – Leave no trace
Do not put out chairs, tables or awnings
No wild camping in nature reserves, national parks, hunting areas and quiet zones for wildlife
Pay attention to any "no camping" signs
Do not drive on grassland/meadows without permission
It is recommended to inquire on-site with the respective municipality or the local police if you want to spend the night outside of official campsites or parking spaces.
WHEN TO GO CAMPERVANNING IN SWITZERLAND
If you want to avoid snow-ridden mountain passes but still want to enjoy all the beauty of Switzerland's Alpine wonders then the best months to travel by camper are May to October.
Easter holidays and the school summer holidays will be particularly busy — as will the most popular tourist locations. However, we travelled in early July and, as we prefer many of the off-the-beaten-track places, we didn't find anywhere overwhelmed with tourists.
As you'll read below, we didn't fancy motorhoming in Switzerland in winter. Many of the Alpine roads are closed in winter or during bad weather. Snow tyres and snow chains are required and it's recommended to have experience driving in snowy and icy conditions.
If you are confident driving a large vehicle in winter conditions or have a small campervan, then this may be an option for you.
The Swiss Alps are one of the best places to ski, and as such, the ski resorts are busy over the winter period. If you are going to Switzerland for the skiing season then book early because campsites can fill quickly.
The winter season in Switzerland can start as early as November and snows on the high ground, can last into April.
One benefit of the winter season though, is that if you are there from late November, you can visit the multitude of Christmas Markets in Switzerland, something that the Swiss do extremely well.
We did come back to Switzerland in the winter, but we left our campervan in Greece — where we were enjoying the warmer winter weather. We then flew from Athens to Zurich, experienced the festive Zurich Christmas markets and then enjoyed a magical Christmas skiing in Bettmeralp.
For us, the Swiss Alps were a marvel in both summer and winter but the summer months were the best time for travelling through the country in a motorhome.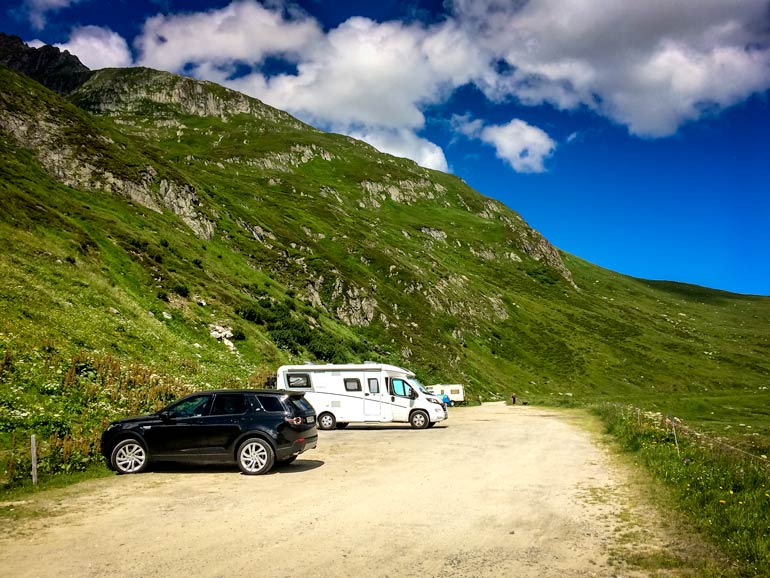 THE FLEXIBILITY OF MOTORHOMING AND CAMPERVANNING IN SWITZERLAND
Motorhoming through Switzerland means that you are totally flexible, and you can either have a fixed plan with your route all mapped out or you can travel along and decide where to go on a whim.
When we travel, we end up with a happy medium of both. We basically know where we are headed, but try not to lock anything in so we have options to stay longer in certain places that we like.
MOTORHOME HIRE IN SWITZERLAND
If you aren't travelling in your own motorhome and you need to hire a motorhome then we thoroughly recommend the Motorhome Republic.
They search for the best deals for you with a wide variety of campervan rental companies with various pick-up points in Switzerland.
We used them and they were incredibly helpful. We also saved more money through them rather than directly to individual rental companies.
⭐️ To save calling around to individual companies and to find a great deal, we recommend requesting a quote from Motorhome Republic
FREE ROAD TRIP PLANNER
To help you plan your Swiss road trip we've put together this free planner for you.
Grab this FREE 23-Page Travel Planner available for INSTANT DOWNLOAD.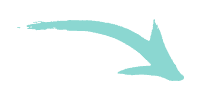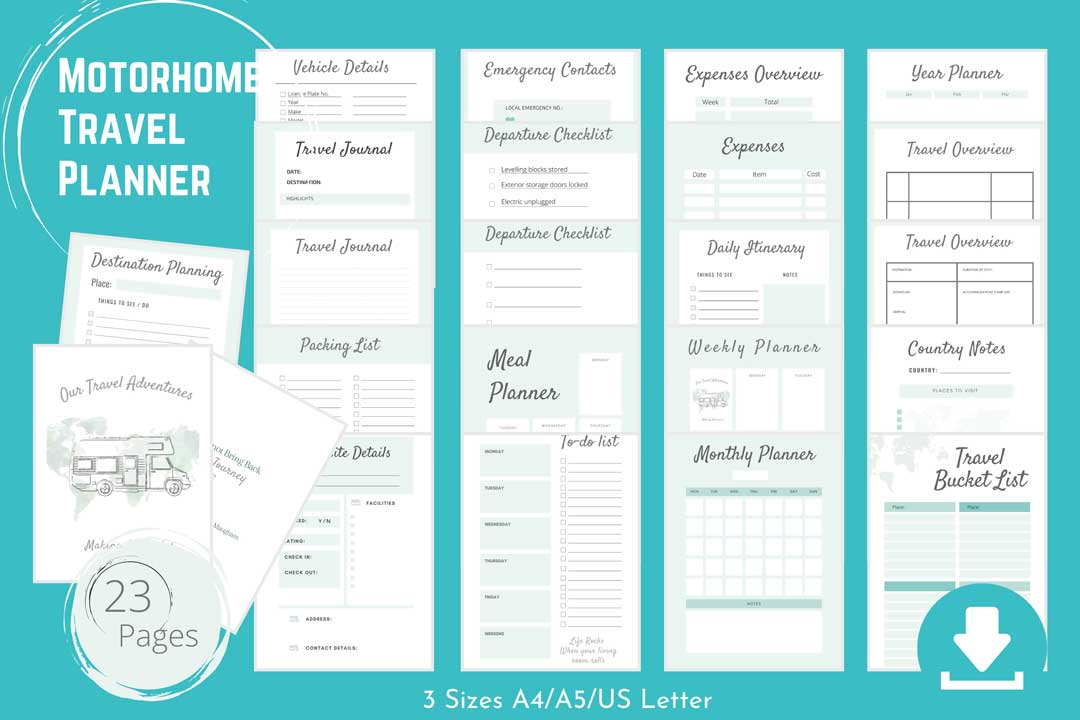 MOTORHOME AND CAMPERVAN DRIVING IN SWITZERLAND
These are the main pointers that you will need to pay attention to for your road trip through Switzerland:
In Switzerland, you drive on the right.
You will need to have the following documents:

Drivers licence
Vehicle insurance
Vehicle registration document
Passport
You are also required to have the following in your vehicle:
Headlights: It is compulsory to drive with your lights on during the day. If you are driving with a right-hand vehicle camper van you will need to adjust the beam to suit driving on the right (so that the dipped beam doesn't dazzle oncoming drivers). You can cheaply purchase beam deflectors to adjust the beam.
Tolls. You need to buy a vignette which can be bought at the border, post offices, and petrol stations. It is expected that in 2023 an e-vignette will be available.
Speed Limits are as follows unless otherwise signposted and on dry roads

120 km/h on motorways
110 km/h on expressways
80 km/h outside built-up areas
50 km/h in built-up areas
Emergencies: Drivers must create a corridor in the middle of the motorway without encroaching on the emergency lane to allow access to emergency vehicles. This means that on a motorway with three lanes, vehicles in the centre lane must move across into the lane to the left or right. Hazard warning lights must also be turned on.
Mountain Roads: When driving on Switzerland's steep mountain roads, the uphill driver has priority and the downhill driver is expected to reverse. On narrow roads, if you cannot see around a bend it is useful to sound your horn to alert any potential oncoming traffic.
Braking on Steep Roads: Do not brake excessively on steep roads as this can cause brakes to overheat and stop working. If you smell the brakes and overheating tyres, pull in and turn the car engine off for a few minutes to give the brakes time to cool down.
Winter Driving: Drivers must use snow chains and winter tyres where appropriate.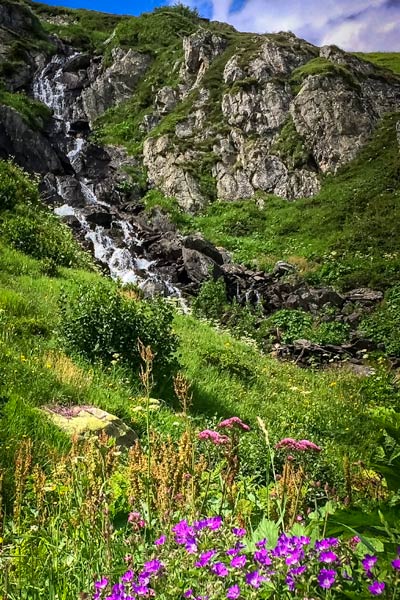 PLACES TO VISIT WHEN CAMPERVANNING IN SWITZERLAND
Whether you're an adventure seeker, a history buff, or a connoisseur of fine chocolate and cheese, Switzerland offers a plethora of enchanting places to explore.
We've included our stops so you can plan your own Switzerland campervan itinerary. But wherever you choose to visit, this picturesque country promises an unforgettable journey filled with awe-inspiring landscapes and unforgettable experiences.
SHOPPERS DELIGHT IN SAMNAUN
The first Swiss town we stopped at in Switzerland, arriving from Austria, was the high-altitude border town of Samnaun.
It was an 11km detour off the main route and involved many winding roads. Not a particularly pleasant experience in a large motorhome. Nonetheless, we arrived not too frazzled, found a parking space and went for a stroll.
If you are an avid shopper and love high-end brands then Samnaun is for you. There are over 40 shops in this high Alpine town, and they are all duty-free. Samnaun is the only duty-free zone in Switzerland and has been since 1892.
At that time, there wasn't any direct road access via Switzerland and the town relied on goods from Austria. The cost of setting up a customs office would have outweighed the taxes paid, so it was decreed a customs-free zone and remains so today.
In winter, Samnaun is one of the largest ski areas in the eastern Alps. In summer, it is the starting place for bike tours and numerous hiking routes. The area has over 250km of marked hiking trails and several themed trails, such as the Fairy-tale Trail, Sayings and Quotes trail, Mountain Forest Trail and a Plant trail.
If you are a fan of cheese, take a visit to the local Samnaun dairy with fresh products made on-site from the milk of the valley's cows.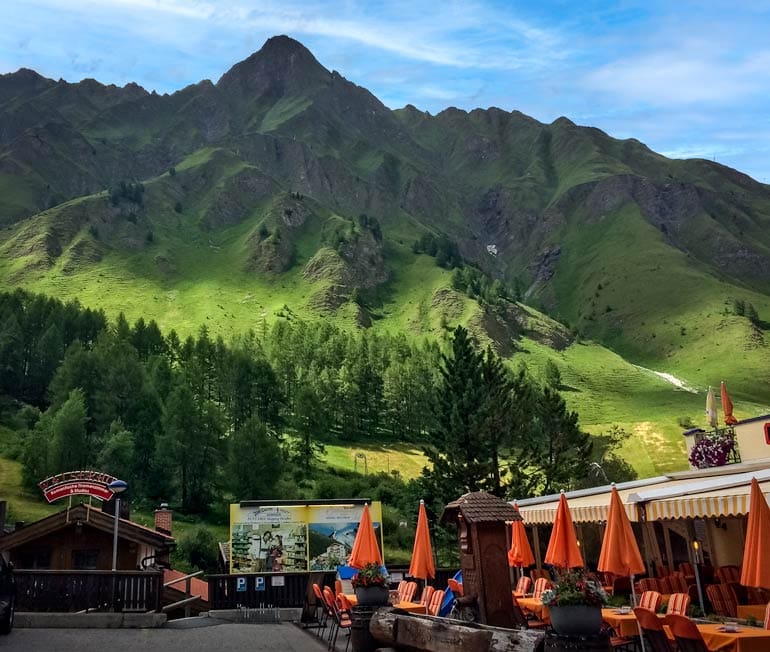 GUARDA
Our first motorhome overnight spot in Switzerland was in fact our very first 'wild camp' on our European Campervanning journey. It was in a car park with a tremendous vista overlooking the mountains, that we'd found after pulling off the main road into the village of Guarda.
It was in this tiny village that we stumbled upon its beautiful facades that date back to the mid-17th century.
Guarda is in the Engadine region of the Swiss canton, Graubunden. It was awarded the Wakker Prize in 1975 in recognition of the care and preservation of the village and its architecture.
We didn't know it at the time, but the village also has an app that you can download on your phone which gives you information about many of Guarda's buildings and their history.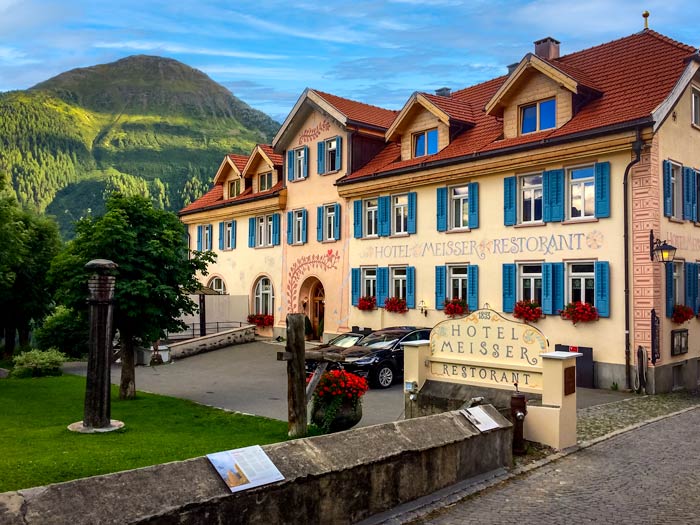 Did you know that if you eat a meal with heavy cutlery you enjoy it more?
I recently heard this interesting snippet of information on the BBC program, QI. And, would you know it, if you eat in the star chef Andreas Caminada's restaurant, Casa Caminada, in Guarda, you will use the weighty cutlery made by the local blacksmith, Thomas Lampert.
In September 2021, the blacksmith opened a new forge offering visitors an insight into the old trade with blacksmithing demonstrations and a cafeteria. Thomas Lampert also hosts regular workshops where you can make your own knife.
Along with the beautiful architecture of the village, there are many hikes in the area taking you through the valley of the River Inn.
In March, the village boys carry out the ancient tradition of the Chalandamarz. The boys bang 'plumpas' which are large cowbells, chasing the winter away and singing songs to greet the new springtime.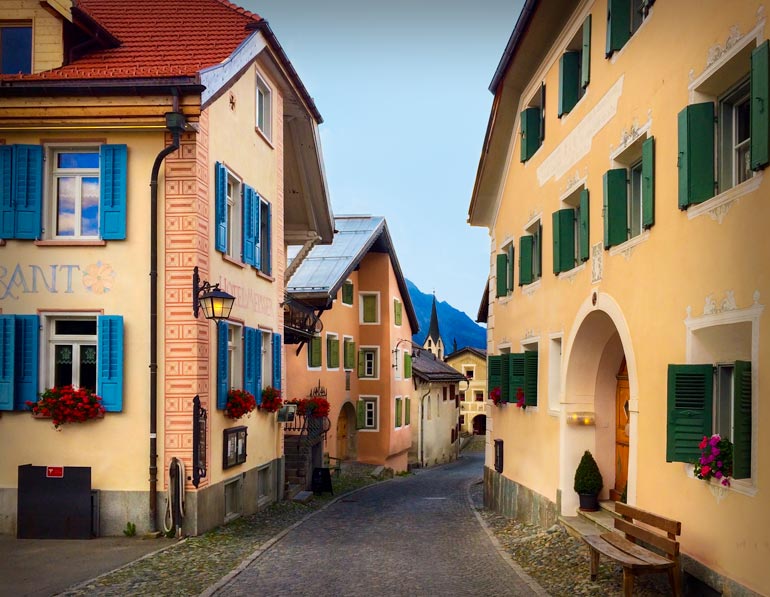 THE ALPINE CIRCLE
You may have heard of the Golden Circle in Iceland, the Garden Route in South Africa and the North Coast 500 in Scotland, but have you heard of the Alpine Circle in Switzerland? It is the new circular road trip in the Graubunden area of Switzerland.
The four main highlights of the route include the Swiss national park, the Diavolezza Glacier World, the Landwasser Viaduct of the Rhaetian Railway, (a UNESCO World Heritage structure since 2008), and the Rhine Gorge, also known as the Swiss Grand Canyon. (see map)
We didn't take the Alpine Circle but it's definitely on our list for when we return.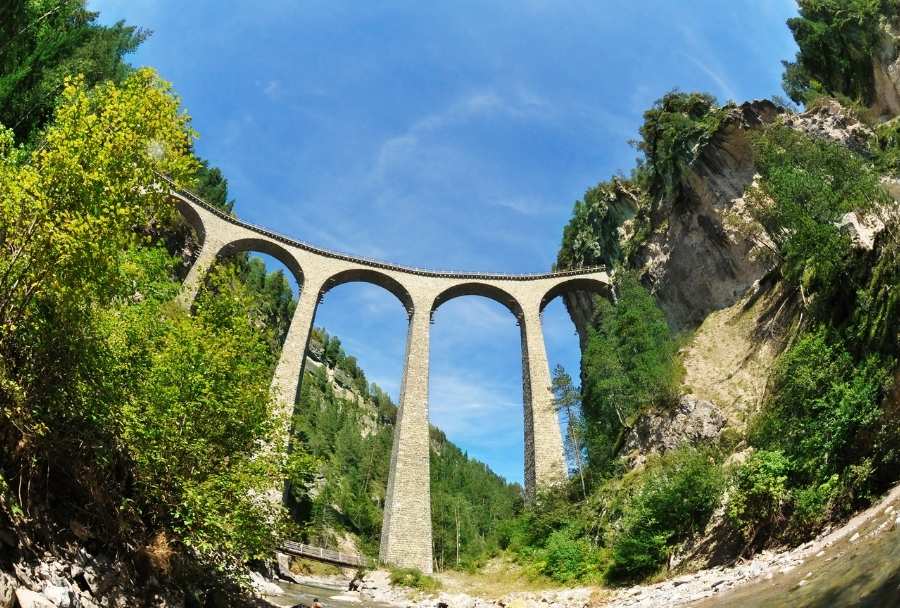 CHUR
If you love street art then you may like to detour off the Alpine Circle into Chur. Chur is the hometown of Bane, of Bane&Pest, an internationally renowned street art duo.
Bane holds the Swiss record for creating the largest mural painting in Switzerland. It is on the edge of Chur, is 800 square metres and depicts two hands holding a crystal.
Bane also launched the annual Chur Street Art Festival in 2018.
For dates and artists click here.
FUN ON THE SWISS MOUNTAIN ROADS
Leaving Guarda, we hit the zigzagging and winding Alpine roads towards Oberalpsee.
It was somewhere along this road, on a right-angled bend with a good 50-metre drop or so to one side and a steep craggy mountain on the other, that we encountered a full-size bus.
We spent a good twenty brow-sweating minutes edging inch by inch past this monster. The whole time it looked like it might topple off the edge of the road, as we gently grazed the encroaching cliff face thanking our lucky stars, or whoever may be listening, that we were on the inside of the bend.
Not an incident we wanted to repeat. The bus drivers who frequent these Alpine roads must have nerves of steel. The memory of this incident was at the forefront of our minds when we decided to return to experience Switzerland in the winter.
Winter in Switzerland offers a white wonderland of beauty, but campervan travel — on the snowy winding roads — wasn't something that appealed to us. Also, many of the Alpine passes are closed in winter so your choices of where to drive are limited.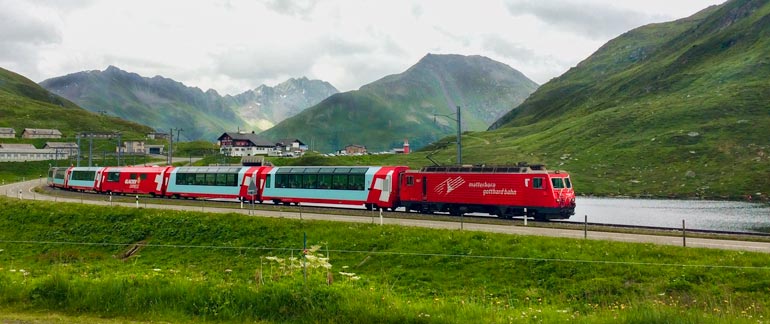 OBERALPSEE
The Oberalp Pass weaves along 23.5 km from Tujetsch to Andermatt. Partway along, you will arrive at Oberalpsee.
Stop here if you'd like to find out more about the highest lighthouse in the world (and the only one in the Swiss Alps), hike to the source of the Rhine at Lake Tamo, or buy artisanal products from locals from small pop-up vans in the nearby carpark.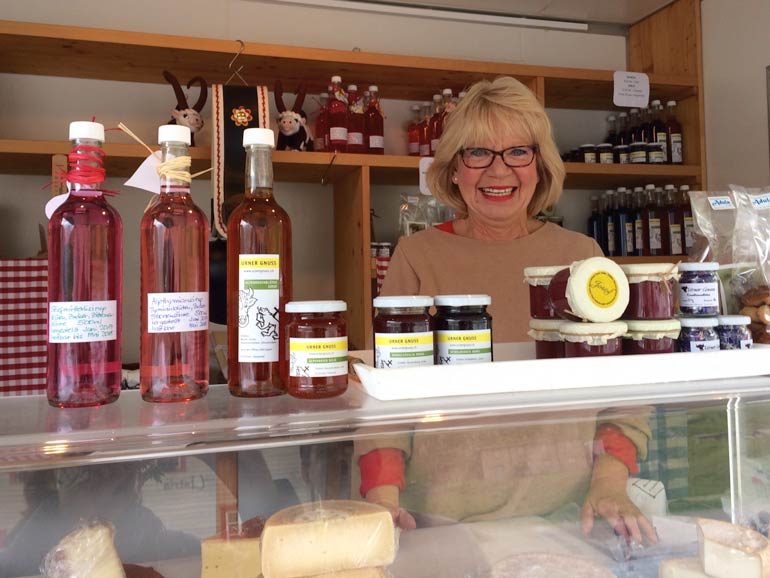 It was here that we got chatting with this lovely local who was selling cheese, honey and wines. As we debated over the best cheeses to choose and how the honey bees had collected the pollen of Alpine flowers, we also lamented our lack of success in finding any edelweiss in the Alpine meadows.
"Oh, I have plenty growing in my garden – I will bring you some tomorrow. "
And the very next day we laid eyes upon our first authentic edelweiss.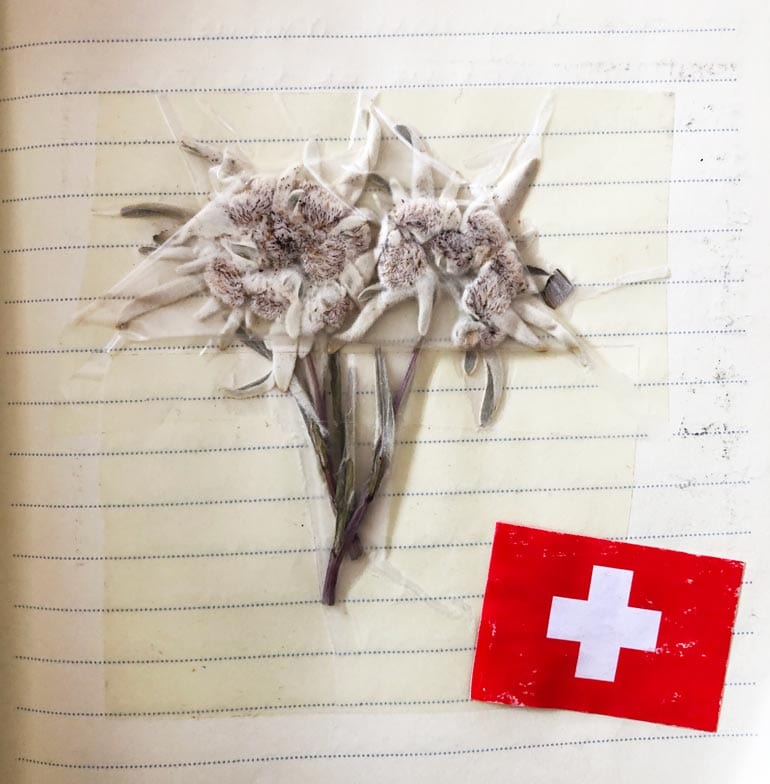 I must admit my first impression was one of surprise. The Edelweiss isn't a natural beauty. It isn't a flower you would immediately notice in a crowd. But it is a resilient little thing, surviving extreme weather and blustery winds.
Over the next few days, as I planned how to preserve this floral representation of Switzerland and studied its off-white, woolly appearance, I grew rather fond of this little flower.
I believe the author, Mark Twain's comments about the edelweiss being an "ugly Swiss favourite", are a little too harsh and I congratulate the Swiss for choosing heart and substance over physical appearance, as their national iconic bloom.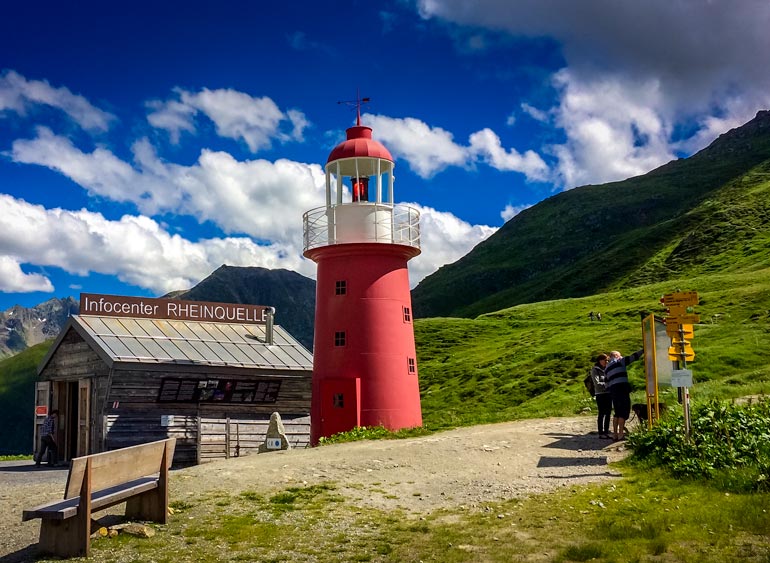 We found this great video on YouTube by Road Trip Through the Lens, which takes you along the Oberalp Pass. We drove it in the opposite direction but you can see the motorhome stop at Oberalpsee on the left of the screen at 9.09 minutes in, with Oberalpsee on the right.
FURKA PASS
We set off early in the morning to drive the Furka Pass, about an hour and a half drive from Andermatt to Gletsch along Route 19. It is one of the highest roads in Europe at 2429 metres with craggy mountains and forests your companion along its unnerving route.
The James Bond movie, Goldfinger, was filmed on location here. Be prepared for endless winding roads and dramatic scenery as you weave your way through the ancient ice-carved valley.
The Rhone Glacier can be seen just before you reach Gletsch and it is possible to step inside this massive glacier into its Ice Grotto.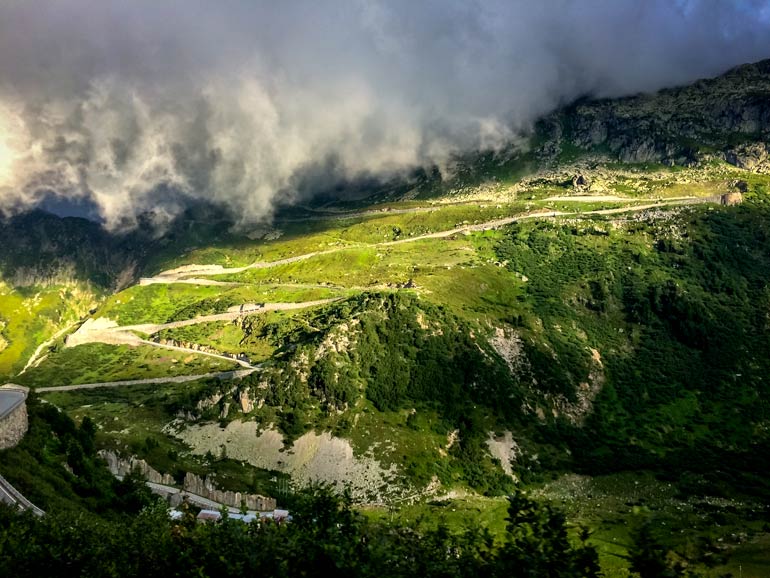 On the drive, we were lucky enough to have an early morning sighting of a marmot — the only one we saw on the whole trip through Switzerland. It was happily going about its business amongst the wildflowers.
Though we only saw that one, we had heard them on several occasions. Initially, we made the mistake of thinking the whistles and chirps we heard were birds. However, not seeing any evidence of any feathered friends, we realised it was the marmots calling from their burrows.
Marmots make their tweeting noises when alarmed so they were obviously voicing their dislike of hikers rambling through their domain.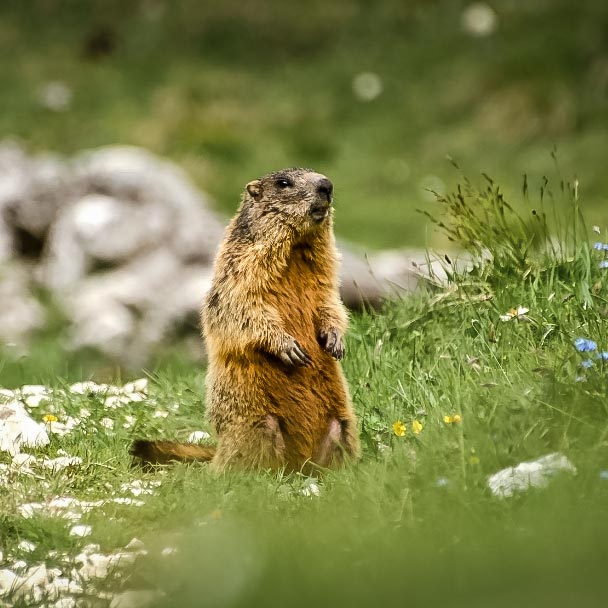 BETTMERALP
Oh, Bettmeralp.
This has to be the most undiscovered summer paradise in the Swiss Alps. This traditional Swiss Alpine village sits above the clouds in the Valais region. It is car-free and can only be reached by cable car.
If you have ever read Enid Blyton's, The Magic Faraway Tree, visiting Bettmeralp is like climbing to the top of the Faraway Tree and going on an adventure with Silky, Moonface and Saucepan Man.
It is just as magical in summer as in winter, when Bettmeralp turns into a bustling ski resort. In summer, it is mainly the locals, and marmots, (who as we mentioned, you are more likely to hear than see) that you will be sharing the emerald-green Alpine meadows with.
The hiking opportunities here are spectacular and you can also take a guided tour of the largest glacier in the Alps, the Aletsch Glacier.
On a clear day, you can see across the famous Matterhorn which overlooks the popular town of Zermatt.
Bettmeralp also has its very own lake, Bettmersee, a fantastic high ropes park, an indoor swimming pool, mini-golf and more.
There is plenty of parking beside the Betten Talstation station in the valley, where you can catch the cable car up to Bettmeralp.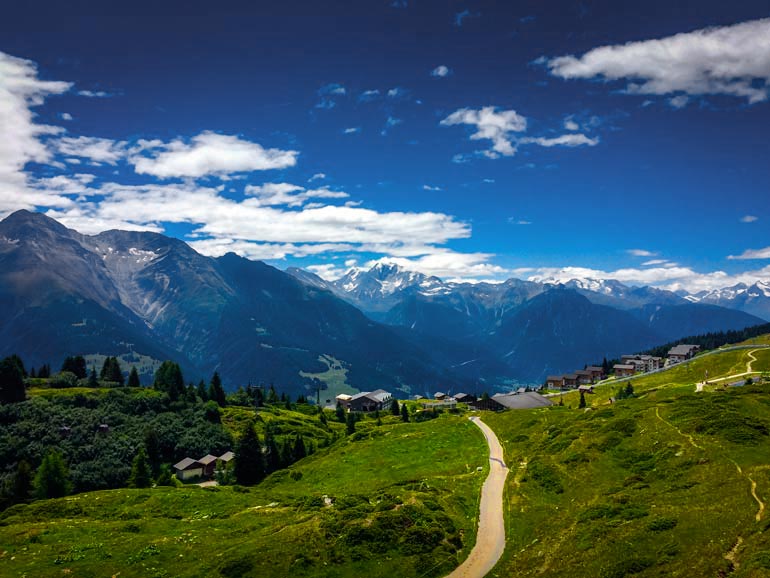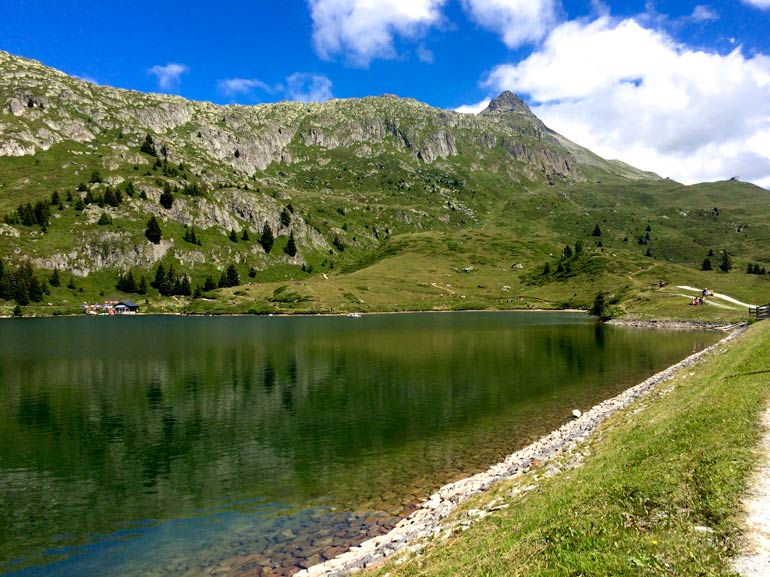 MORLON PLAGE – LAC DE LA GRUYERE
Our final campervan stop in Switzerland was at Morlon Beach, a small pebble beach cove, at Lac de la Gruyere.
This was a gorgeous place for a swim in the tranquil waters of the lake with mountain views and grassy banks to rest on afterwards.
Surprisingly again, this wasn't busy and highlighted the fact that many tourists visit the well-trodden and most popular places in Switzerland and many of its other beauty spots are often missed.
Geneva
If you have made it this far with us and followed the same route, it would make sense to visit Geneva next.
We aren't city people, so at the time we headed north to road trip in the Alsace region, but there are actually several great tours that you can take from Geneva.
If we had our time again in Switzerland, we would invest in a few more day tours. Often, the idea of lugging the motorhome through more windy lanes and mountain passes seemed too stressful.
We also were watching the pennies on our Europe road trip, but some of these tours would have really added to our whole Swiss experience.
Next time we're in Switzerland, these tours will be on our agenda:)
OTHER PLACES TO VISIT ON YOUR SWITZERLAND ROAD TRIP
There are plenty of really popular places to visit in Switzerland though and with reason, but we hope our motorhome trip, to some of Switzerland's just as beautiful but less-visited spots, will inspire you to include the path less travelled as you road trip Switzerland.
Popular tourist spots include:
Lucerne
Bern
Zurich – On another trip we spent a day exploring the amazing Zurich Christmas Markets
Lake Logano
Zermatt
Jungfraujoch
Grindelwald
POPULAR DAY TOURS IN SWITZERLAND
These are a few of the best-reviewed Switzerland tours we've found for you:
Swiss Alps Day Trip from Lucerne: Jungfraujoch and Bernese Oberland
This full-day excursion to the Swiss Alps departs from Lucerne. Visit Interlaken, ascend the UNESCO-listed Jungfraujoch mountain pass and arrive at the 'Top of Europe'.
Explore the frozen witchery of an Ice Palace and take in incredible panoramas of the alpine wonderland from the Sphinx Observatory.
⭐️ "Excellent in every way, … great guide and the whole trip was a once-in-a-lifetime experience from beginning to end." Michael_F, Apr 2022
⭐️ Find out more or book this sensational Swiss Alps trip here | ⭐️ 4.5/5 | ⏰ 10 hours
OTHER USEFUL INFORMATION FOR YOUR SWITZERLAND ROAD TRIP
Emergency Number: 144
Currency: Swiss Franc (CHF)
Languages: German, French, Italian, and Romansh are spoken here … many can also speak English
Switzerland Authorities: For more rules, regulations and information the Swiss Authorities website is: https://www.ch.ch/en/
Capital city: Bern (…not Zurich which is the largest city in Switzerland)
Guide Books: If you like having a paper copy with routes and information about Switzerland we recommend the following books:
---
---
CAMPERVANNING IN SWITZERLAND … THAT'S A WRAP
Although we've now swapped out a motorhome for a 4×4 bush camper (more practical for Overlanding Africa), a motorhome is a perfect way to explore Switzerland and the rest of Europe.
There is so much to visually entice you through this beautiful country and, along with mountains, marmots, swiss cheeses, waterfalls, lakes, and of course swiss chocolate, your road-tripping in Switzerland is set to be a delight for all of your senses.
… And the fresh Swiss air will be free!
If you enjoyed this article, you may like these FREE RESOURCES:
Pin and Save for Later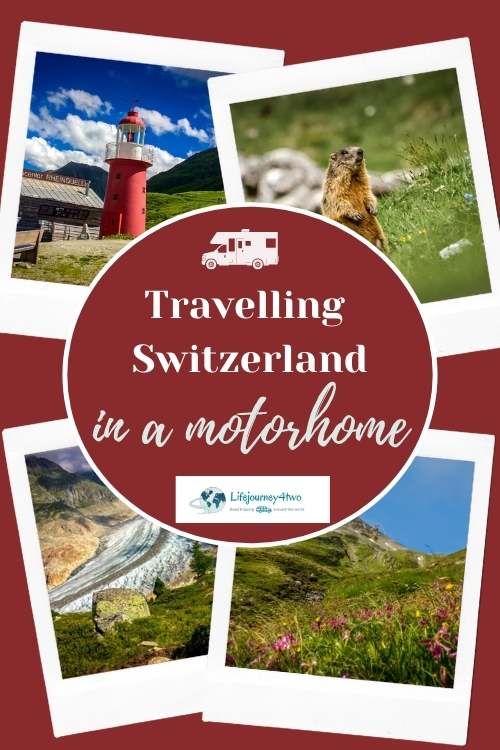 READ MORE:
PLANNING YOUR TRAVELS?
These are some of the travel resources we use when planning our trips.
For a more thorough list visit our Travel Resources page here.