THE MATERA ALBEROBELLO EFFECT
The Matera Alberobello effect is the impression that is left with you when you visit these two fascinating towns in the Puglia area of Italy.
We discovered Matera and Alberobello as part of our Italy road trip and became equally intrigued with them both.
The Matera Sassi and the Alberobello Trulli are the main attractions that underpin the ambience of each town.
Both Matera and Alberobello are fascinating, but they evoke completely different feelings.
Both are rich in history. However, in Matera, you get the impression of struggle amongst a vast wilderness, whilst Alberobello brings magic and enchantment to mind.
With each conjuring up their own unique atmosphere, you take with you two contrasting emotions that remain long after you have left.
That is the Matera Alberobello effect.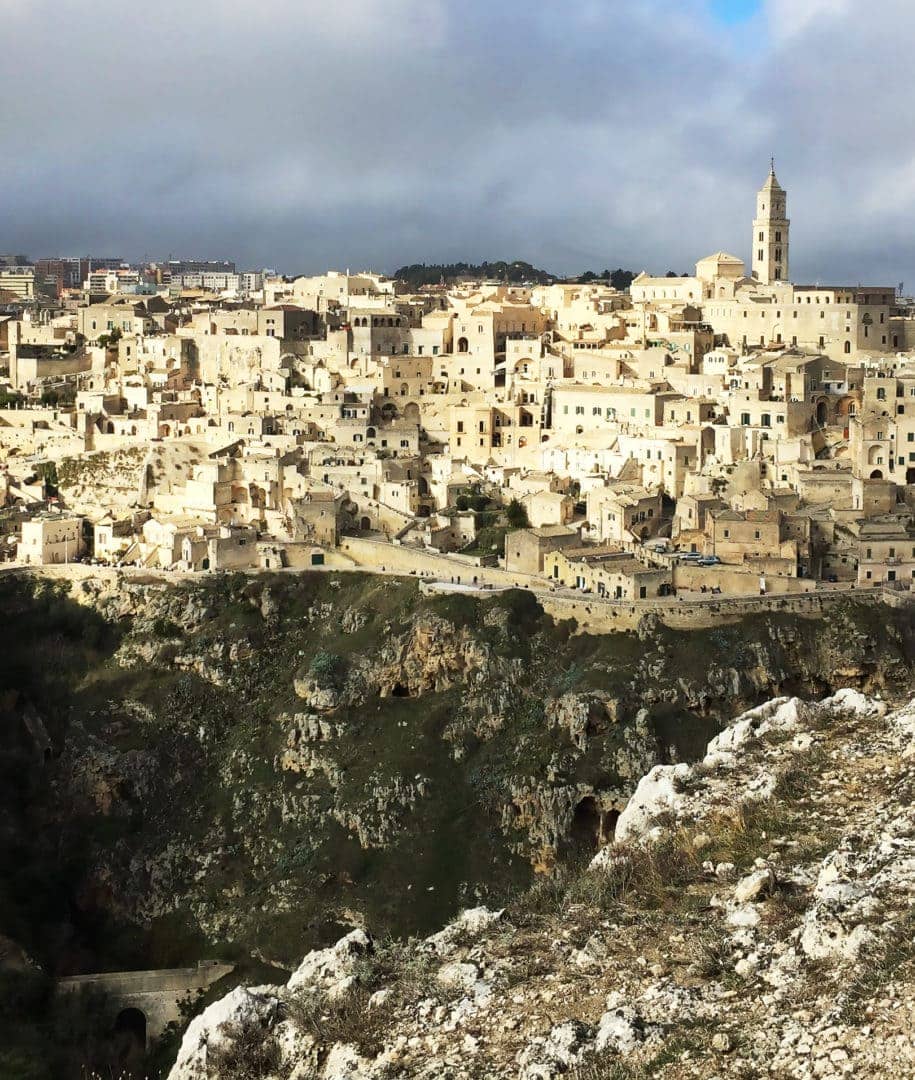 Planning a Trip to Italy?
HOW TO EXPERIENCE THE MATERA ALBEROBELLO EFFECT
---
GETTING TO MATERA
The closest airport to Matera is at Bari, on Italy's eastern coast.
We arrived by ferry at Bari, and Matera is about an hour's drive away.
The easiest way to get to Matera is by travelling in your own vehicle as taking public transport to the town is not particularly easy and can be time-consuming.
🚘 If you are looking to hire a car then we recommend DiscoverCars.
WHY?
They were winners of the World's Best Car Rental Booking Website 2022.
They find the best deal around from over 500 rental companies
They have a Price Match Guarantee.
4.5 Rating on Trustpilot
Excellent Customer Service
Free Cancellation
If you are thinking of renting a motorhome we found the Motorhome Republic to be excellent and they found the best deals for us.
READ MORE: Everything You Need to Know When Hiring a Motorhome
GETTING FROM MATERA TO ALBEROBELLO
Again, it's not easy to get public transport from Matera to Alberobello, so driving your own vehicle or hiring a car is the most convenient way to take this trip.
The fastest route is about 70km and takes just over an hour, via the SS7. The alternative routes are via the SP106 or the SS99.
However, there is a shuttle service that runs between Matera and Alberobello and you can get details of shuttle costs here.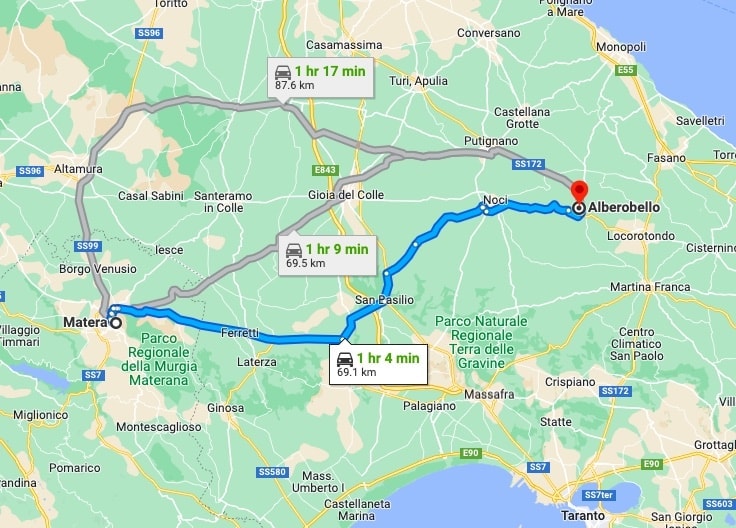 MATERA TO ALBEROBELLO MAP
To enlarge the map click on the square in the right-hand corner at the top.
Matera, Basilicata
Matera is in the Basilicata region of Southern Italy. Hundreds of cave dwellings have been carved into the mountainside, known as the Sassi di Matera. In 2019, Matera was the European Cultural Capital and is a UNESCO World Heritage Site
The city of Matera sits above the limestone ravine of Gravina of Matera and the surrounding landscape harbours ancient rock-hewn churches.
In fact, it was the discovery of these churches that sparked a turn of events in Matera's decline. Matera was reinvigorated with a desire to preserve its ancient story, after becoming known in the 1950s as the Shame of Italy.
To find out more about Matera and its intriguing Sassi, read our post about its history and all the best things to do in Matera.
Similarly with Alberobello, about an hour's drive from Matera, you'll discover this enchanting town and its unique Alberobello Trulli -which were unlike anything we had seen on our European Travels.
READ MORE: Find out more about Matera and its incredible ancient cave dwellings here
Alberobello, Puglia
Alberobello's magnet is its hundreds of whitewashed Trulli, with their uniquely styled cone-shaped roofs. The Trulli dwellings are an interesting contrast to the crumbling derelict caves (Sassi) of Matera.
There are two main Trulli districts, Rione Monti and Rione Aia Piccola, with the latter being more commercialised with small shops and cafes.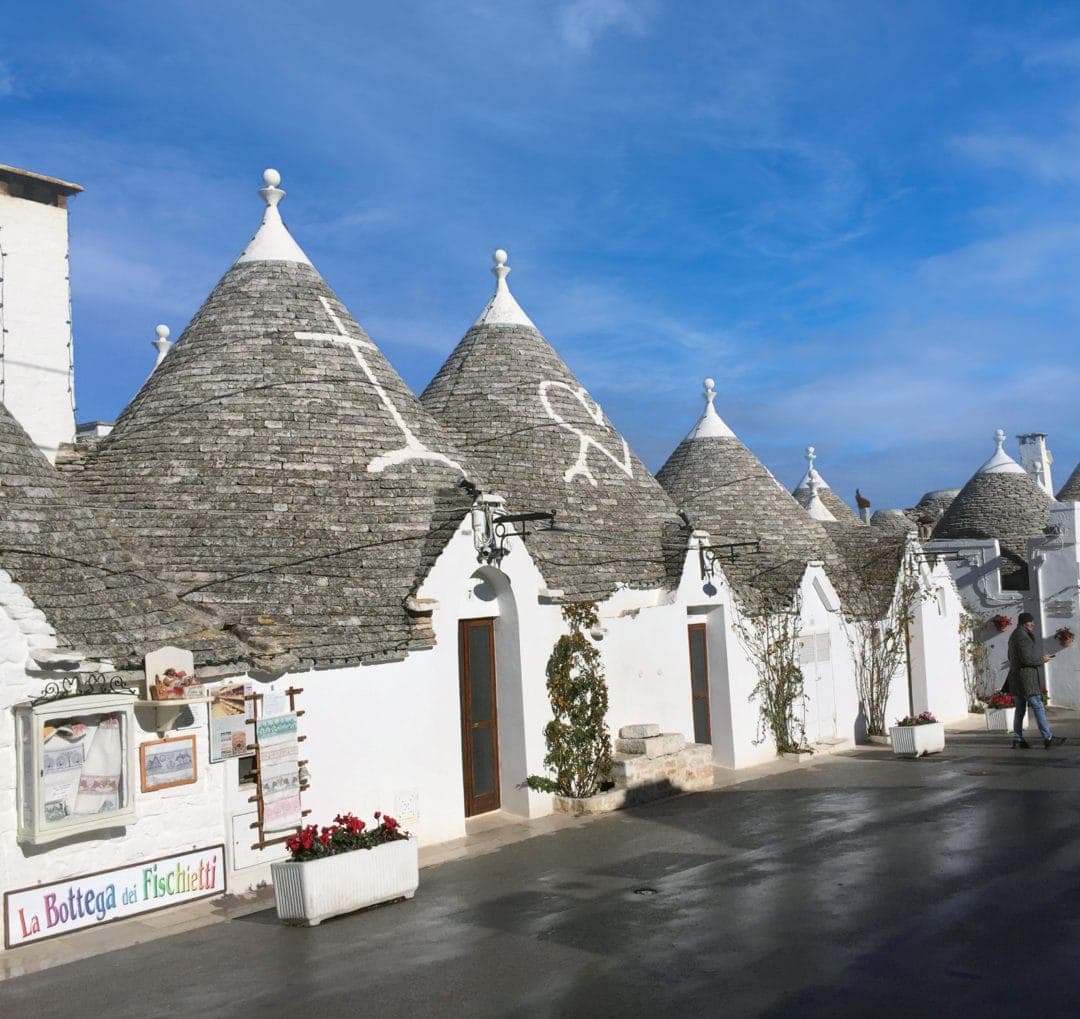 The Rione Monti area of Alberobello contains over 1,000 trulli. Its pretty streets wind this way and that, leading you through an enchanting scene made all the more magical by the strange symbols painted on the grey stone conical roofs.
There is no doubt that Alberobello is a tourist attraction, so it is best to arrive early in the day or to visit off-season.
Opposite Rione Monti, is the Rione Aia Piccola district of Albeerobello, with about 500 trulli . From here, there are great views across the Alberobello rooftops that make this town such a fascinating place to visit. Less commercialised, this is where many locals live.
READ MORE: Find out all about Alberobello and its amazing trulli here
BEST THINGS TO DO ON YOUR MATERA ALBEROBELLO EXPERIENCE:
MATERA
Visit Casa Noha
Explore the Ancient Sassi di Matera
Visit the Cave Dwelling of Vico Solitario
Church of Saint Mary of Idris
Wander the old Matera City
Hike in Murgia National Park
View Matera from the viewpoint at Murgia Timone
Visit some of Matera's Rock Churches
Visit Alberobello
ALBEROBELLO
Explore the Rione Monti
Explore the less commercial Rione Aia Piccola
Visit the Chiesa Di Sant Antonia (Church of Saint Antonio)
Visit Trullo Sevrano
Visit Museo del Territorio
---
THE MATERA ALBEROBELLO EXPERIENCE… That's a Wrap
Visiting both of these intriguing towns will give you a fantastic insight into some of Italy's interesting past. We'd love to hear your thoughts on these two towns and whether you enjoyed the Matera Alberobello experience.
Pin and Save for Later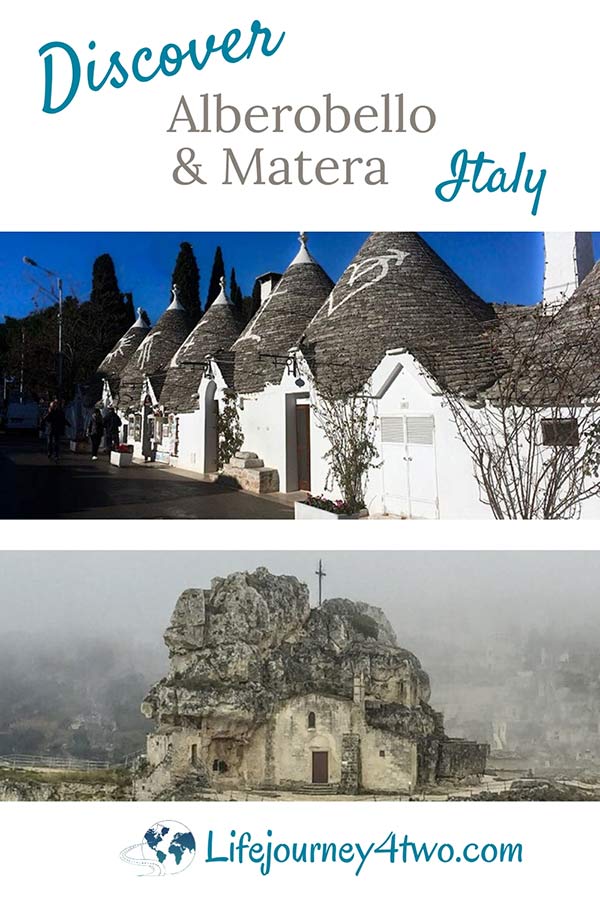 FOR MORE ON ITALY, YOU MAY ALSO LIKE TO READ:
---
PLANNING YOUR TRAVELS?
These are some of the travel resources we use when planning our trips.
For a more thorough list visit our Travel Resources page here.