The Matera Alberobello Effect
The Matera Alberobello effect is the impression that is left with you when you visit these two fascinating towns in the Puglia area of Italy. We discovered Matera and Alberobello as part of our Italy road trip and became equally intrigued with them both.
The Matera Sassi and the Alberobello Trulli are the main attractions that underpin the ambience of each town. Both Matera and Alberobello fascinate, but they evoke completely different feelings. Both are rich in history. However, in Matera, you get the impression of struggle amongst a vast wilderness whilst Alberobello brings to mind magic and enchantment.
With each conjuring up their own unique atmosphere, you take with you two contrasting emotions that remain long after you have left.
That is the Matera Alberobello effect.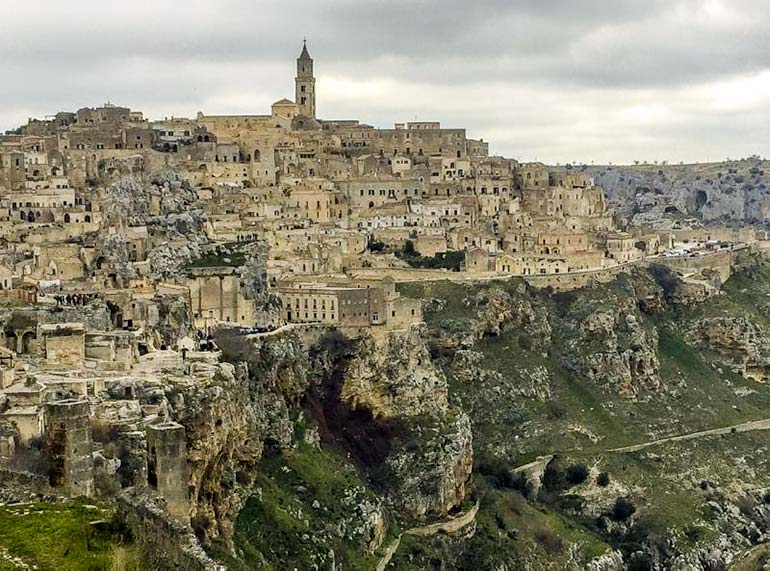 Matera on the edge of the Gravina Ravine
In this article, you'll find out about Matera, what you can see and do there and also get a glimpse into the interesting history that has seen the city of Matera rise and fall over the centuries.
Similarly with Alberobello, about an hour's drive from Matera, you'll discover this enchanting town and its unique Alberobello Trulli -which were unlike anything we had seen on our European Travels.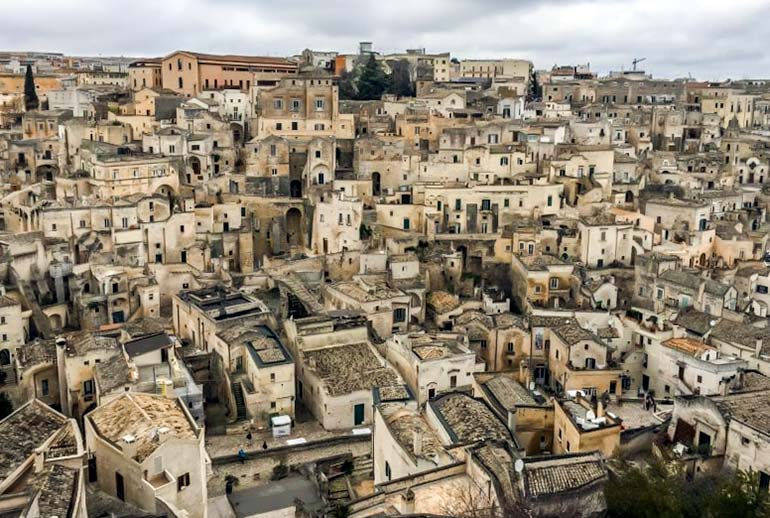 View across the rooftops of Matera
How to Experience to the Matera Alberobello Effect
Getting to Matera 
If you arrive by ferry at Bari, Italy  then Matera is about an hours drive away. The closest airport to Matera is also at Bari. The easiest way to get to Matera is by travelling in your own vehicle as taking public transport to the town is not particularly easy and can be time-consuming. 
Check out Rental Car Prices here: Rental Cars
Getting From Matera to Alberobello
Again – it's not easy to get public transport, so driving your own vehicle or hiring a car is the most convenient way to get from Matera. However, there is a shuttle service that runs between Matera and Alberobello and you can get details of shuttle costs here. 
Matera to Alberobello Map
To enlarge the map click on the square in the right-hand corner at the top. 
Quick Look: Best things to do to for your Matera Alberobello experience: 
MATERA
ALBEROBELLO
Part One of Your Matera Alberobello Experience:
Matera Italy
As we wandered around Matera, the mist-filled the ravine. Its stray wisps followed us around the winding, narrow alleyways and stairways of this eerily haunting place. The crumbling facades and cramped cave dwellings conveyed a deep melancholy, enhanced further by the faded, monochromatic colours. Matera seeped into our soul.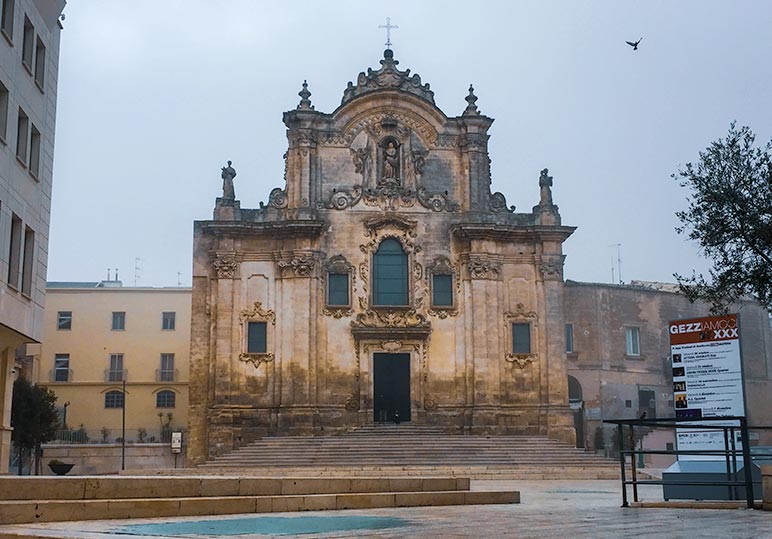 St.Francis Assissi Church, Matera Italy
Matera Italy Map
This map also highlights the places to visit in Matera and other relevant places that we mention in this Matera Blog Post. Click on the right-hand side square box to expand, and the left box to see the Matera Map key.
Where is Matera Italy?
The ancient Matera city lies in the region of Basilicata, in Southern Italy.  It is built on a rocky outcrop above the vast limestone ravine known as the 'Gravina of Matera'.
Matera was once the proud, prosperous capital of the region. However, it suffered greatly from the changing world and began a steep decline. In fact, the demise was so great that Matera became known as the 'Shame of Italy'.
However, this once destitute city has been reborn. It has risen from the depths of poverty, desperation and misery and continues to rise. So much so, the European Union awarded Matera Italy, the coveted title of European Cultural Capital of 2019. Matera, a Unesco World Heritage site,  is known for the hundreds of cave dwellings in its mountainside (Sassi di Matera) and the city is set in amongst a wild landscape with a myriad of ancient rock churches. 
This video by the Travel and Discover Channel gives a brief overview of Matera  
Matera – 'The Shame of Italy'
We were unprepared for the effect that Matera would have on us. Death, disease, and horrific deprivation had brought this once fine-tuned, prosperous city to the depths of despair. But, its history was also its saviour, and it is rising once again. 
In the 17th century, Matera had evolved into a well-balanced, insular and self-sufficient town. It was in harmony with the environment. However, in the 18th-century things changed. Trading increased and many new immigrants arrived.  As a result, Matera became overpopulated and thus began the breakdown of its sustainability.
By the 1940s, thousands were living in atrocious conditions in the Sassi. Harrowing footage at Casa Noha,  showed families cramped together with their animals. Disease was rife due to the lack of running water and heating. The infant mortality rate was a heartbreaking fifty per cent.
Fortunately, in the early 1950s, Matera's plight became public. This was largely due to the influential writings of author Carlo Levi. He had visited the Sassi di Matera and was horrified at the living conditions. This sparked a reaction within the media and Matera became known as 'The Shame of Italy'. Politicians finally began to take an interest in the plight of the Sassi di Matera.
In 1952, the government ordered that the Sassi homes were unfit for human habitation. They moved about 15,000 of the population to new quarters, located in the more modern part of Matera.
The abandonment of the area lead to further degradation of the Sassi.  In the 1980s,  a group of young people lobbied for the restoration of the Sassi. They had found abandoned archaeological treasures, including the ancient rock churches and believed that the city of Matera should not become forgotten. Eventually, their determination and persistence won through and people started to return to the Sassi.
Matera was reborn.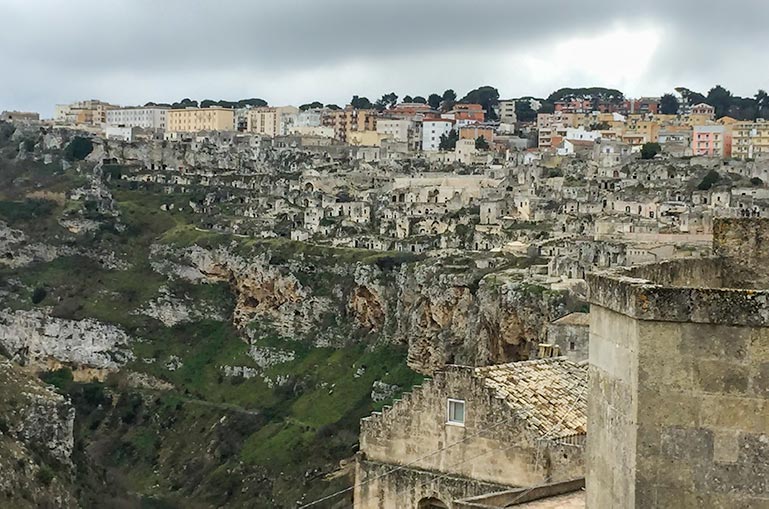 Modern Matera in the background, overlooking the old Sassi di Matera in the foreground
1. Visit Casa Noha
We would recommend a visit to 'Casa Noha' to absorb a real historical sense of Matera. It's a great place to start your visit and gives more meaning to your stroll through this ancient city. Films are displayed on the walls of this old home and you are taken through the extraordinary journey of Matera's history. 
2. Explore the Ancient Sassi di Matera
The old quarters of the town consist of a labyrinth of cave dwellings (Sassi) built into the soft limestone rock. The roofs of many of the Sassi are the foundations for the next. It is hard to imagine that some of the holes in the rocks were once entrances to a home.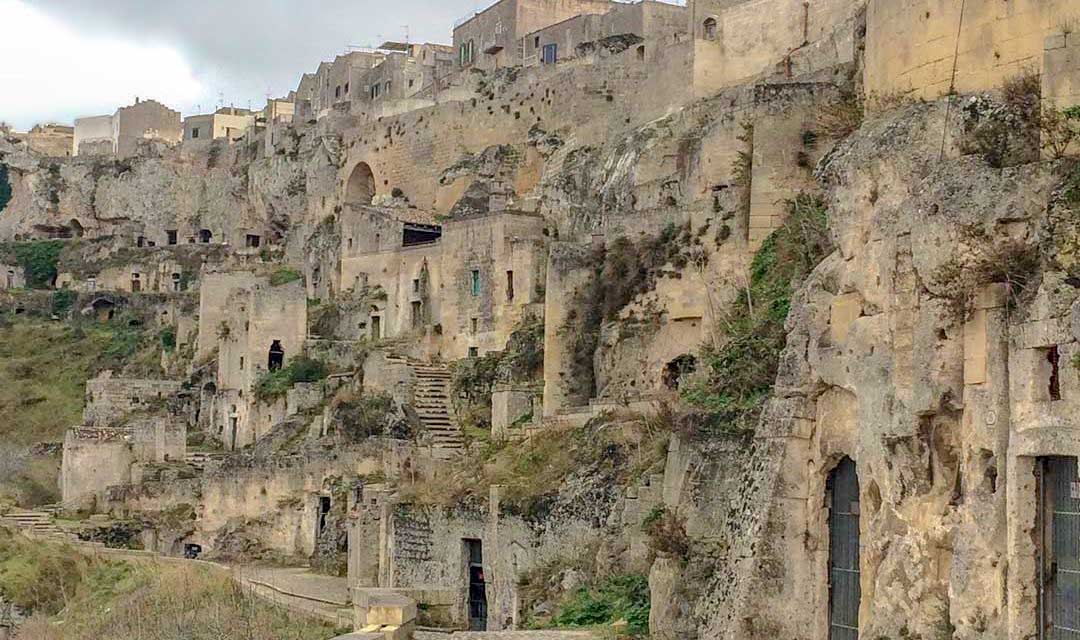 Once a cave home in Matera
3. Visit the Cave Dwelling of Vico Solitario
The Cave Dwelling of Vico Solitario is a museum within one of the caves. It displays typical period furnishings and artisan tools and provides an interesting insight into the peasant way of life within these dark, cramped caves. 
In a typical cave-dwelling, a family, with on-average six children, lived with their animals. In a small alcove of the cave would be the animal stall. This often contained a mule, pigs, chickens and other farm animals. There were no toilet facilities, only a 'cantero',  a terracotta pot with a wooden lid kept by the bed.
Entrance Fee: About €3.00 For more details visit the Cave Museum webpage.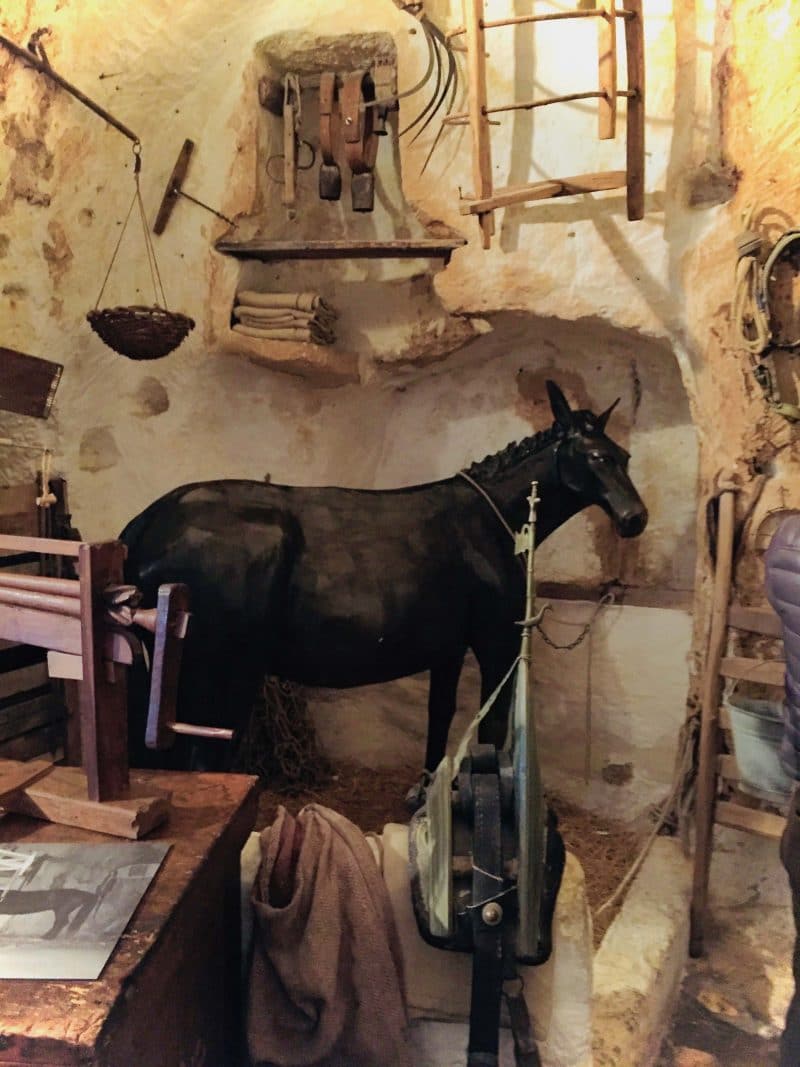 Inside the Matera Sassi Cave Dwelling, which shows the animal stall area within the family's living area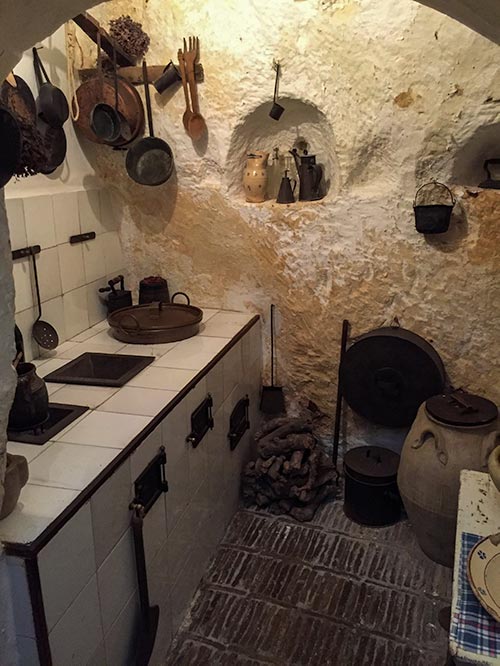 4. Visit the Church of Saint Mary of Idris
This spectacular church, Church of Saint Mary of Idris,  is carved into the rock and takes pride of place above the old city of Matera. The church dates back to the fifteenth century and has a small bell tower. From in front of the church, you can get amazing views of Matera.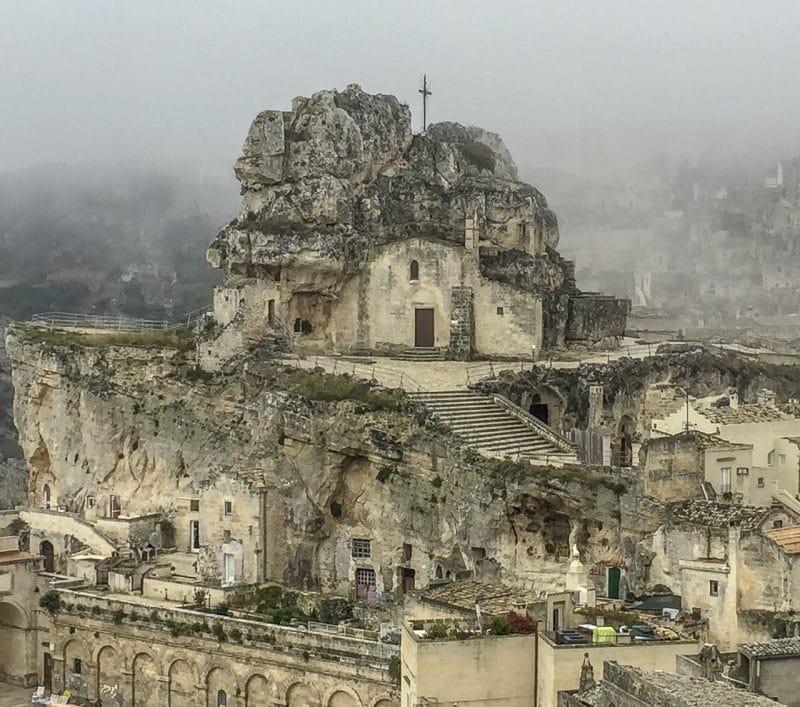 Church of Saint Mary of Idris in Matera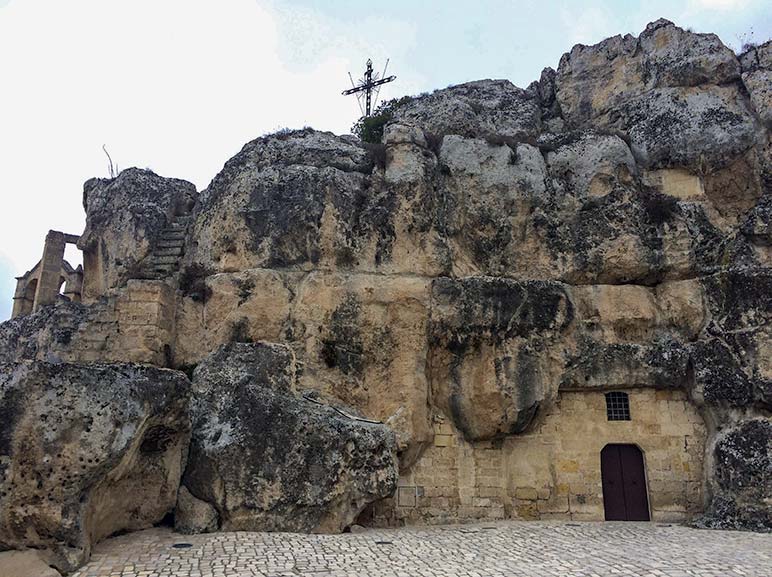 Church of Saint Mary of Idris in Matera
5. Wander the old Matera City
Just wandering around these narrow winding paths and getting lost in the maze of steps and alleyways will keep you busy. The variety of architecture, churches, and Matera's ancient aura was just captivating.
There are also guided tours available if you would like a more structured and informative walk through Matera. Check out this 2 hour Guided walk through Matera,  and many other available tours and activities here.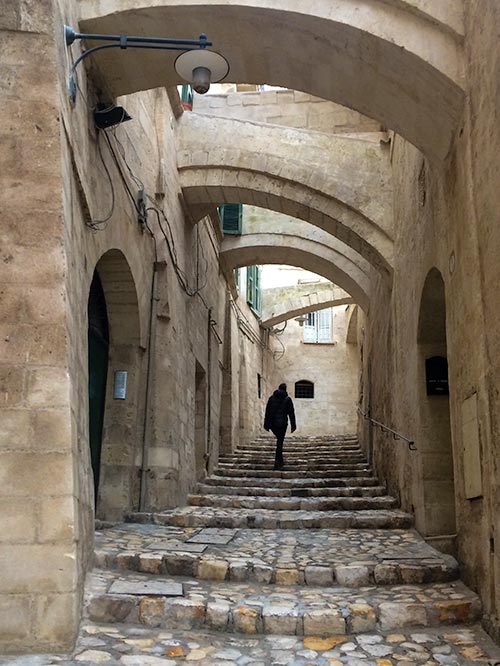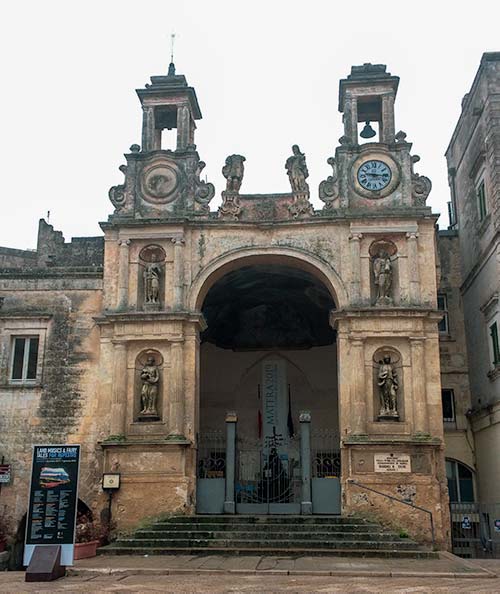 6. Hike in Murgia National Park
The landscape around Matera, in the Murgia National Park, is characterised by deep ravines and vast highland plateaus. Hidden within the nooks and crannies of this wild landscape are ancient caves, rock churches, fortified farmhouses and shepherd tracks.
These all provide rich evidence of the traditional human settlement that evolved alongside the natural environment. Walking across this rugged landscape with a view across to the pale, sepia buildings evoked a biblical feel. It is hardly surprising that this was the background used in the filming of the controversial movie, 'The Passion of Christ'. 
From the Jazzo Gattini Visitor and Environmental Education Centre  (see map) in Matera, you can get maps and details of the many trails in the area. The trails offer panoramic views across the ravines and lead you to explore the rock churches and pre-historic villages. There is also a small museum there and the possibility to watch short films about Matera and the Rupestrian Churches.
7. View Matera from the viewpoint at Murgia Timone
Take a trip to this viewpoint on the opposite side of Matera (see Map or coordinates: 40.6641, 16.61767). From here you have a marvellous view of Matera City the Gravina de Matera and the Sassi di Matera.

View of Matera from the viewpoint
8. Visit some of Matera's Rock Churches
Within the Murgia National Park, is the Park of the Rupestrian Churches.  Here there are over 150 ancient rock churches, with origins mainly from the Middle Ages. Throughout the centuries some of the churches have also been used as homes or animal shelters.
In 1993, UNESCO added both the Sassi di Matera and the Park of the Rupestrian Churches to the World Heritage List. We came across this tiny Matera rock church, Chiesa Rupestre di Madonna delle Tre Porte, and its peeling frescoes just near the Murgia Timone observation point (above).
Also, nearby you'll find the ruins of Chiesa Rupestre di San Falcione. (see map)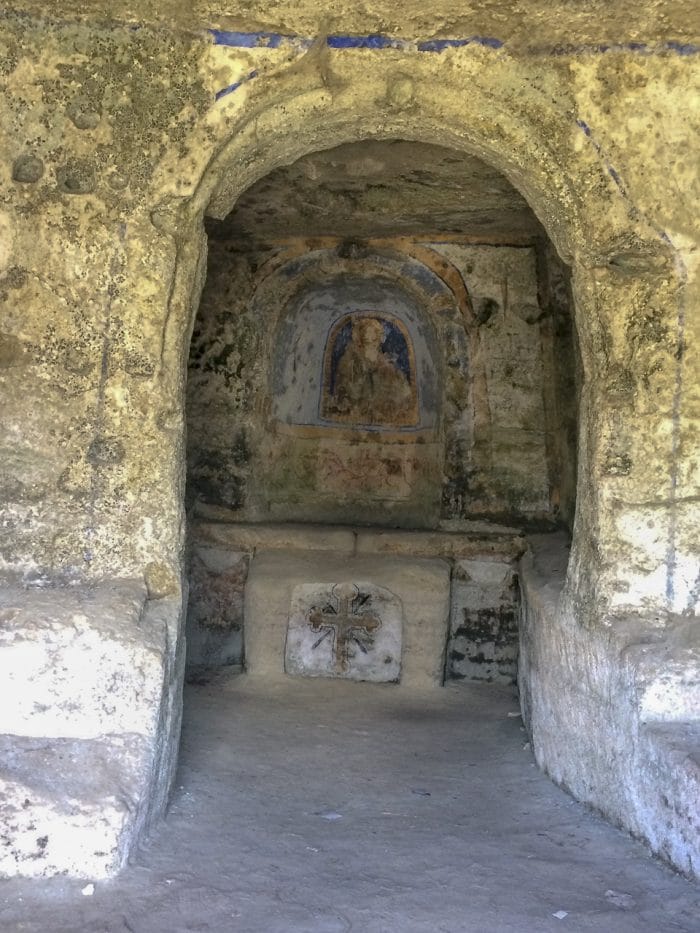 Chiesa Rupestre di Madonna delle Tre Porte, Matera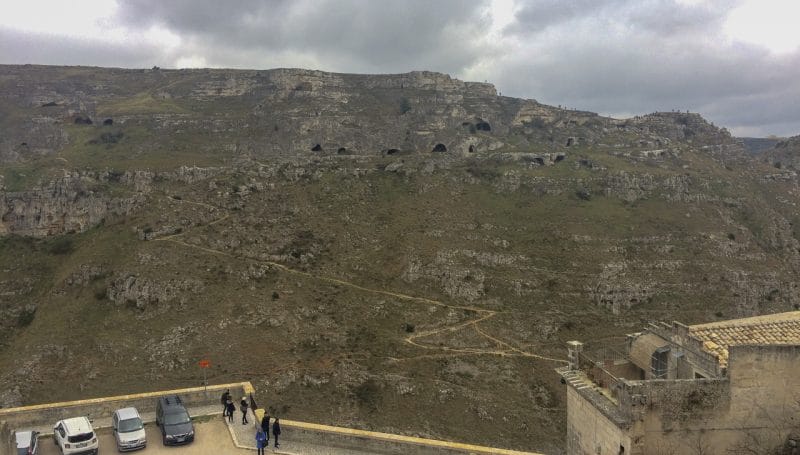 The opposite side of the ravine as seen here from Matera, is the Murgia National Park, with its many rock churches and ancient trails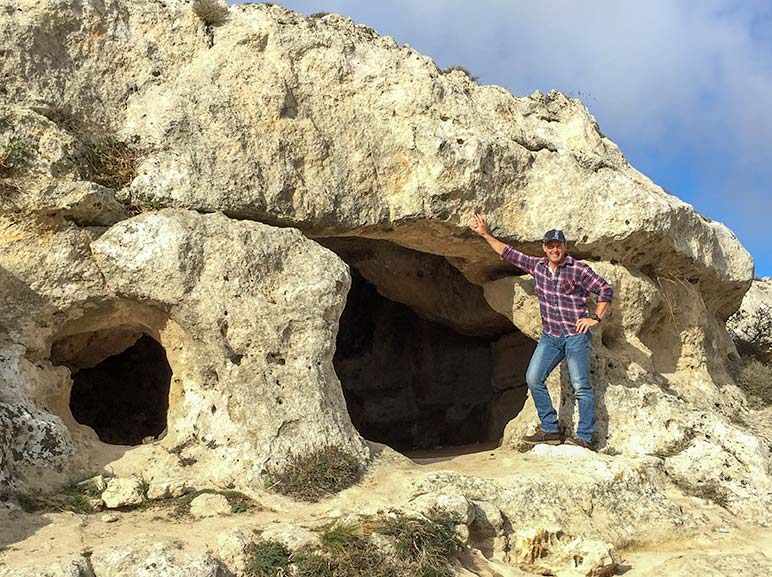 Just one of the many caves in the hillside opposite Matera.
For a 3 hour guided tour in the area, including visits to the rock churches checkout this trip on TripAdvisor or Viator.
9. Visit the Filming Locations of the James Bond Movie, No Time to Die. 
Matera features heavily in the new upcoming James Bond Movie, 'No Time to Die', (due to be released in November 2020). Therefore its popularity will no doubt get an even bigger boost then. Here is a trailer which features the narrow alleyways and streets of Matera.
 10. Take a Day Trip to Alberobello
Take a trip from Matera to the nearby town of Alberobello to visit the unique Alberobello Trulli. Alberobello is only about an hour and a quarter drive from Matera so this heritage-listed site is an easy visit and a must-see while in the area. Your Matera Alberobello experience will be well worth it!
Where to Stay in Matera, Italy
Our camper site, at Masseria Radogna, was in the Murgia National park. This is also where the Visitor and Environmental Education Centre was located.
As the roads in Matera are extremely narrow, and our van wasn't, it was very fortunate that the manager, also offers a shuttle from the campsite to Matera.
Matera Campsite in Murgia National Park
 The best deals in Matera often get booked out quickly so you may want to think about booking well in advance if you are travelling in high season. There are also plenty of renovated Sassi (caves) that you can stay in for added novel appeal. Again, these can get booked out early.
Check out the best Matera accommodation deals here:
Part Two of your Matera Alberobello Experience:
Alberobello Italy
Alberobello's magnet is its hundreds of whitewashed Trulli, with their unique styled cone-shaped roofs. The Trulli dwellings are an interesting contrast to the crumbling derelict caves (Sassi) of Matera.
Alberobello Map
There are two main Trulli districts, Rione Monti and Rione Aia Piccola.
Things to do In Alberobello
1. Explore Rione Monti, Alberobello
Rione Monti is the more commercialised area of Alberobello and here you'll find many shops and small bars in the Trulli, as well as some residential Trulli.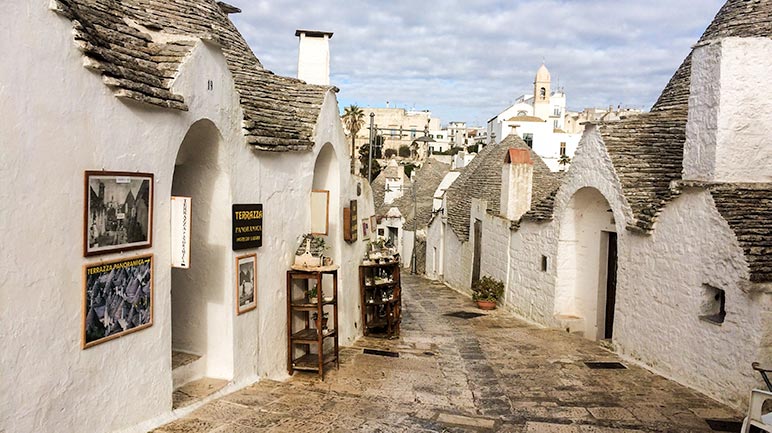 Quaint streets of Rione Monti with the Trulli shops and bars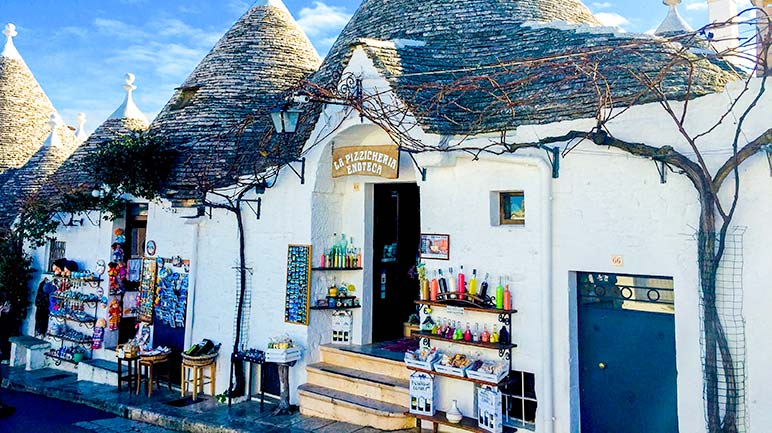 The more commercial side of Alberobello with the Trulli converted to shops.
2. Visit the Chiesa di San Antonio
At the top of the hill in Rione Monti, is the Church of St. Antonio (Chiesa di Sant Antonio). It was built in 1926 and the dome is shaped like a trullo.  It is apparently the only church like it. The church is impressive, but there was also a beautiful quaint building to the right that may have been linked to the church, which was equally enthralling. Just opposite the church is a shady park, Villa Donnaloja, which makes for a lovely spot to sit. 
Saint Antonio Church in Alberobello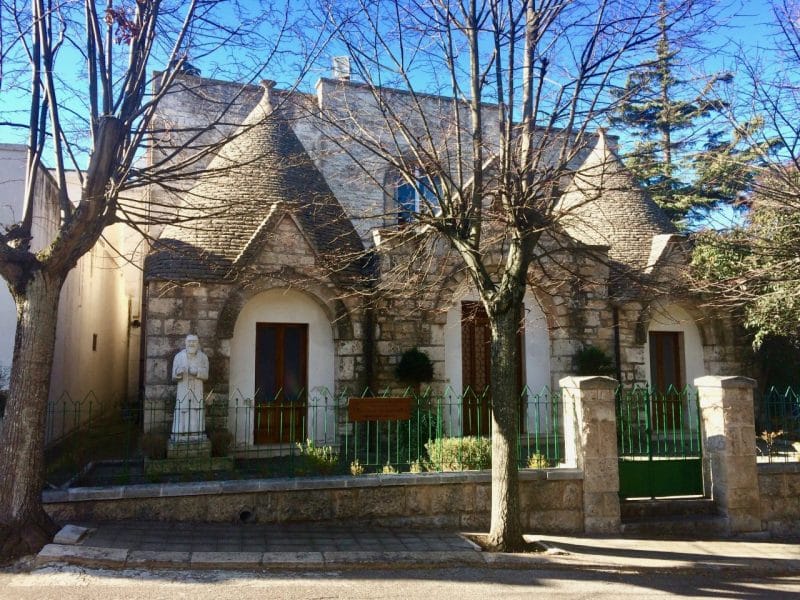 Trulli building beside the Saint Antonio Church
3. Visit Rione Aia Piccola, Alberobello 
Wandering in the tiny streets of this ancient part of town, there are people still live in the Trulli, you really get an idea of a 'compact home'. Perhaps minimalism isn't such a new idea after all and it is just a return to the way things used to be.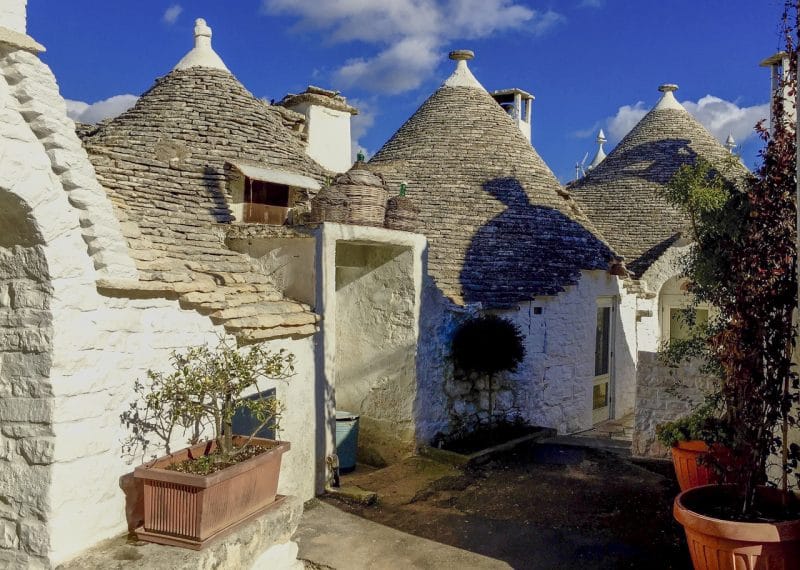 Residential Trulli in Rione Aia Piccola
4. Visit the Trullo Sovrano
The Trullo Sovrano is a trullo with two storeys. It was built in the mid-18th century and is now a museum. In the late 19th century a family lived there and the furnishings on display are all authentic from that time.
To find out more, and for opening times go to their website here.
5. Visit Museo del Territorio
This educational history museum consists of interconnecting Trulli that used to be home to a doctor, Giacomo Pezzolla. He was the personal doctor of the local count Giulio Antonio Acquaviva di Aragona, hence the name of the complex is 'Casa Pezzolla'.  
Where to Stay in Alberobello, Italy
Alberobello Italy Campsite

We had luckily researched ahead and knew that parking the campervan would be difficult in the centre of town. We found a Campercontact stop in the town which we could also overnight. It had electric and rubbish disposal but no other facilities. However, it was very convenient to Alberobello, which was only a five-minute walk away.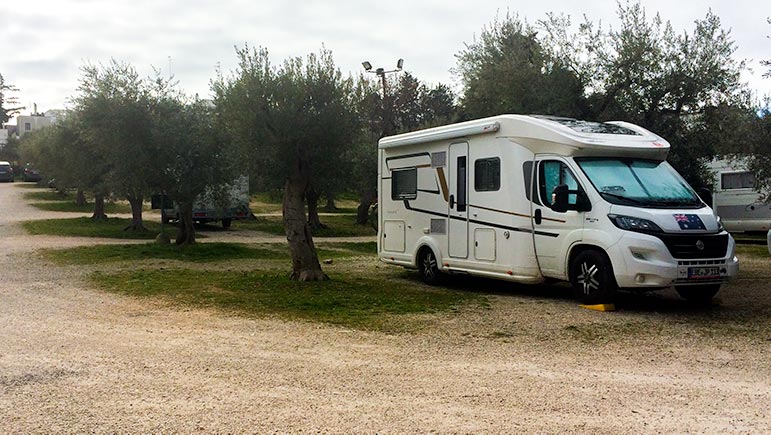 Alberobello Accommodation

For Alberobello Trulli, apartments, B&B and hotels check out reviews and availability here on Booking.com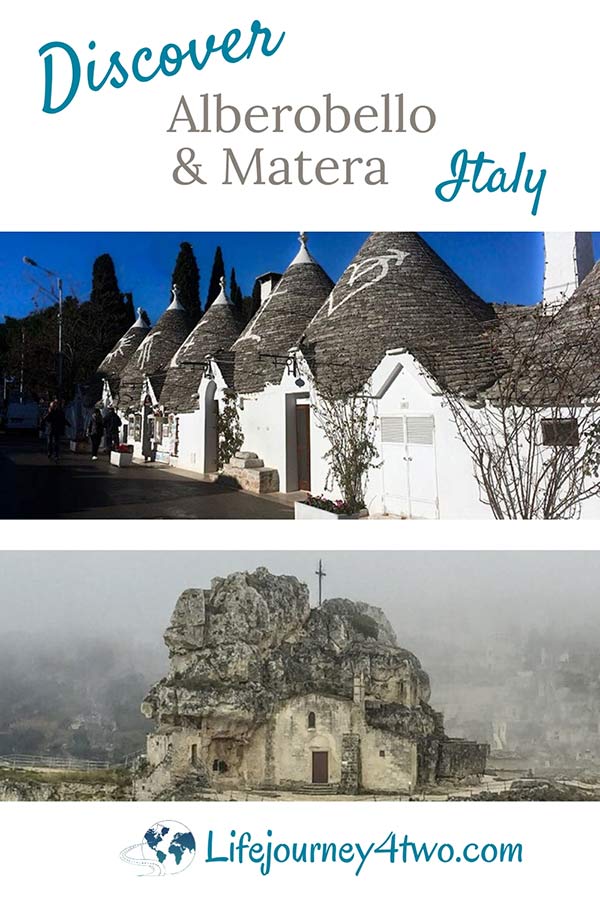 The Matera Alberobello Experience
Visiting both of these intriguing towns will give you a fantastic insight into some of Italy's interesting past. We'd love to hear your thoughts on these two towns and whether you enjoyed the Matera Alberobello experience.  
This post may contain affiliate links. This means that we may earn a small commission from purchases you make through our links, at no extra cost to you. Thank you for supporting us. For more info, read our Disclosure Policy.
For More on Italy, You may also like to read:
If you enjoyed this article, you may like these FREE RESOURCES:
FREE Travel Guides (many countries)
FREE 23-page Travel Planner, including menu planner, journal pages and budgeting)
FREE Phone Wallpapers
FREE Photo Ebooks
Monthly Travel News 
Arrange Your Travel Insurance
Get a quote from World Nomads - one of the best options for travellers. Find out why here.
Book Your Accommodation
We use Booking.com and Tripadvisor to find accommodation that suits our budget and to get a great overview of available specials and deals. 
Travel Gear and Accessories
We've been on the road since 2017 and have added items we've found useful to our Lifejourney4two page on Amazon  
Car Hire
We use  Rentalcars.com to find the best car rental deals.
Motorhome/Van Rentals
If you are looking for a motorhome or van rental - we highly recommend the Motorhome Republic who can find the best deals worldwide.
Finding Activities to do
We use Get Your Guide and Viator to get ideas of what to do in a place - sometimes it's best to get tickets online and jump the queues.
Flexible Accommodation Options/ Or Finding someone to look after your pets
We often use house/petsitting as it really makes our travels much more affordable - as accommodation is FREE
Get 25% off  Trusted House Sitters by using our link here: Join Trusted House Sitters either as a house sitter or if you want to find a house sitter.
Photography Prints and Products
Shop our ETSY store for digital downloads of our best photos and our unique photographic designs.