CAMPERVAN SICILY AND EXPLORE ITS BEAUTY
Sicily is an area of stunningly diverse scenery and our campervan Sicily road trip, part of our campervanning in Italy, was a roller coaster ride of surprises.
From incredible canyons and creepy catacombs to mountain towns and beautiful beaches. This Sicily seven day itinerary has a mixture of experiences that can all be fitted into a week's road trip through the country.
CAMPERVANNING SICILY ROAD TRIP MAP
This interactive map shows all of the places we visited on our campervanning trip through Sicily. Click the square symbol in the top right corner to expand the map and you will see a key on the right-hand side.
Each town is highlighted in a different colour with the main attractions added to the map as well. All of our campervan/motorhome stops are marked up with links to any relevant camperstop reviews and information.
BEST TIME TO ROAD TRIP SICILY
With only one week in Sicily, it's difficult to decide where to spend your time. It will likely depend on the season in which you visit and how well you tolerate crowded places.
In the summer months, Sicily can become very crowded, especially along the coast. Schools have their holidays and the temperatures can soar, along with accommodation rates. 
The shoulder seasons of May/June and September/October will have fewer tourists but the weather is still warm.
In winter months, the temperatures are cool, there are far fewer crowds and room rates go down along with the sea temperature.
Our Sicily road trip took place in mid-January, Sicily's winter. We are crowd averse, so being able to enjoy many of Sicily's sights without hordes of other tourists meant it was the perfect time to visit.
Bear this in mind when planning your own Sicily campervan trip,  because what may seem an idyllic beach setting in our photos could very well be a jammed packed throng in the summer months.
We were campervanning in Sicily but this itinerary is just as suitable for a car and you can use a site like Booking.com to find your accommodation.
BEST PLACES TO SEE ON A ONE WEEK SICILY ROAD TRIP
---
TAORMINA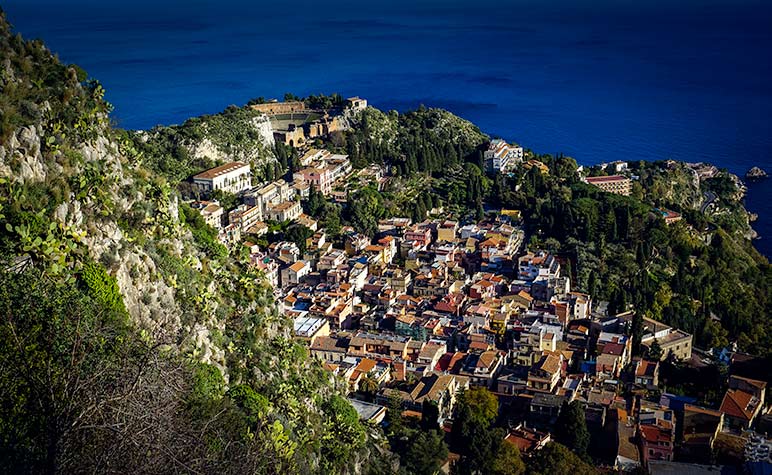 Taormina, a city on the eastern Sicilian coast, lies on a terrace against a backdrop of orchards and rolling hills. In the distance lies the towering Mt Etna, the highest active volcano in Europe.
Inhabited for more than 2500 years, Taormina has been called home by the Arabs, Greeks and Italians. It has a rich history, but in more recent times, it has become a popular tourist destination because of its blue grottos, beaches, water activities and historical sites.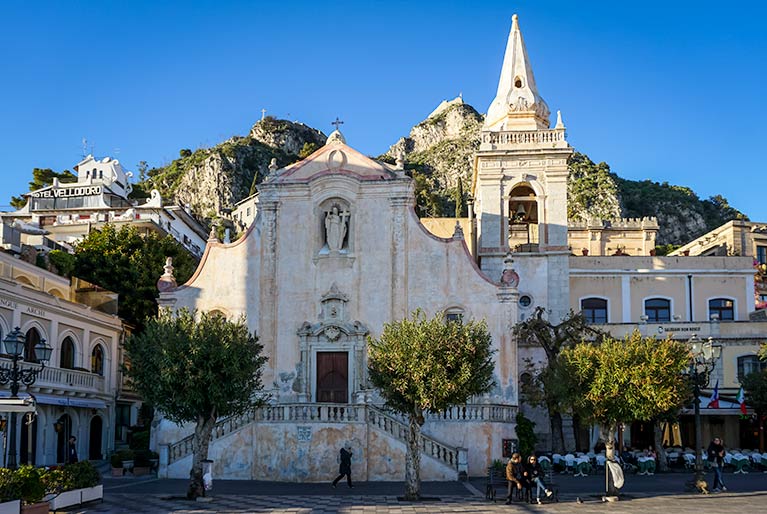 If you enter the old town from the north you'll enter by the Messina Gates and then follow a pedestrian-only walkway through craft and antique shops, small streets and multicoloured alleys. 
Further along, by a large square, Piazza IX Aprile, you'll come across the Chiesa di San Guiseppe. This historical baroque church is the centrepiece of the Piazza. The double flight staircase of the church leads to an intricate portal constructed of different types of Taormina marble.
While at the Piazza, don't miss the beautiful views across the ocean from the square's observation point.
One of the main attractions of Taormina is its Ancient Greek Theatre. It sits high on the hills, overlooking Taormina with views of Mount Etna in the distance. Built in the 3rd century BC, it is the second-largest Greek Theatre in Sicily (after Syracuse). In summer, it's used to stage concerts and festival events. 
Here's a video snippet of Taormina's ancient Greek theatre. 
ISOLA BELLA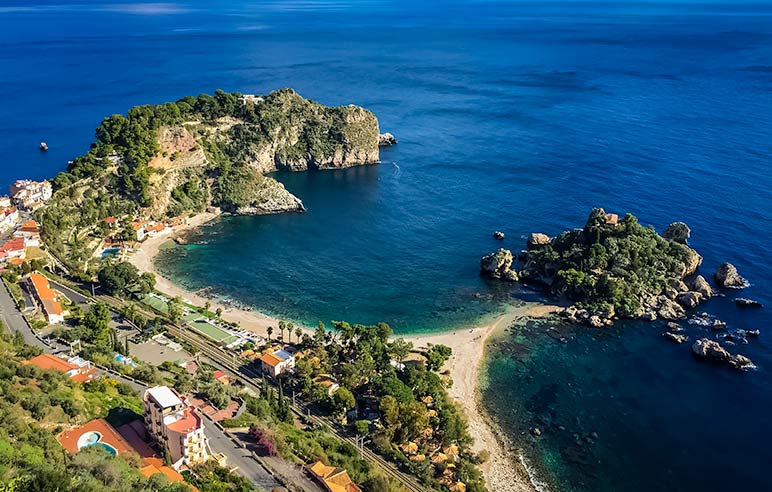 Under the watchful eye of Taormina town, you'll find the beautiful 'Pearl of the Ionian Sea', Isola Bella. This is a small island and nature reserve connected to the mainland by a narrow sandbar. 
Privately owned until the 1990s, the island is now under the administration of the World Wide Fund for Nature. Depending on the tide, you may be able to get onto the island from the small sand strip connecting it to the bay.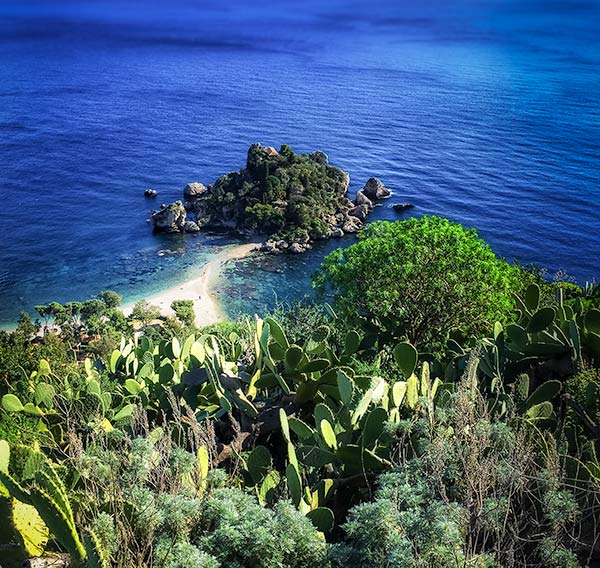 Whilst near the island, a local boat owner offered us a trip to visit the Blue Grotto at the nearby island of Capri for €25 each, with a promise of about 45 minutes of boat sightseeing time. 
The Blue Grotto is a sea cave, which has sunlight that passes through an underwater cavity. This creates a brilliant blue reflection that illuminates the water and cavern. It was a very pretty sight but what we really enjoyed was the view across the bay to Mount Etna.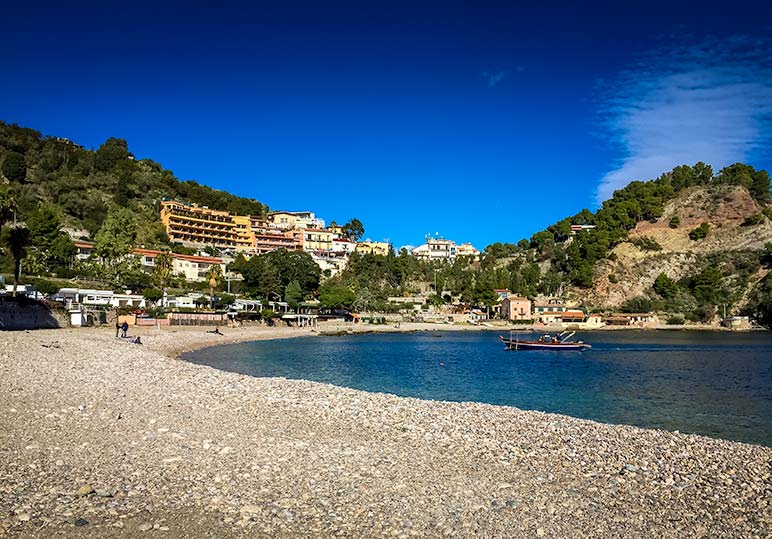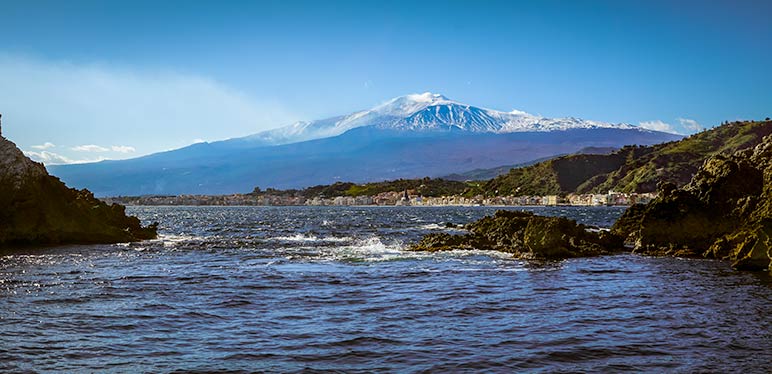 CASTELMOLA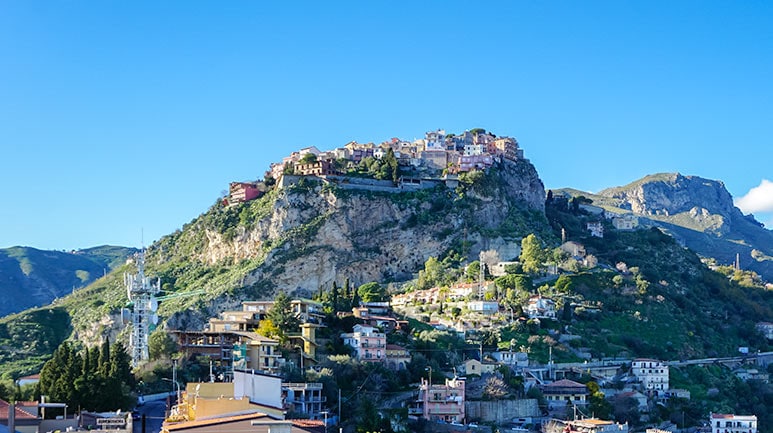 Sitting over Taormina's shoulder lies the mountain town of Castelmola.
There was only one way to go to get to Castelmola from the beach — and that was up.
Having made it about halfway, one of the earlier boat tour guides drove past and offered us a free ride to Castelmola. We weren't about to say no. David, a chatty Sicilian who also ran the local stand up paddleboard /windsurf/kiteboard school, gave us a brief history of Castelmola and recommended we visit the old church on our way back down. 
The views from the summit of Castelmola were absolutely fantastic; Mt Etna seemed only an arm's length away.
This small village above Taormina is a natural terrace that has been built around the ruins of a Norman castle, with the walls being all that remain of the fortress.
After exploring Castelmora and taking in the magnificent views, take the downhill pathway leading towards Taormina and visit the Santuario Madonna della Rocca church. Carved into the rock in 1640, this church overlooks Taormina.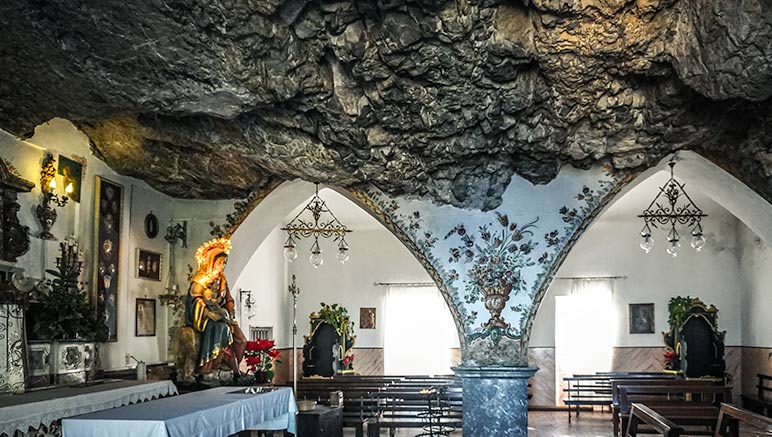 The steep descent from the church into Taormina treated us to magical views of the coast and nearby islands, including the Ancient Greek theatre of Taormina.
For more ideas on more things to see and do in Taormina, Isola Bella and Castelmola, click here. 
CAVAGRANDE DEL CASSIBILE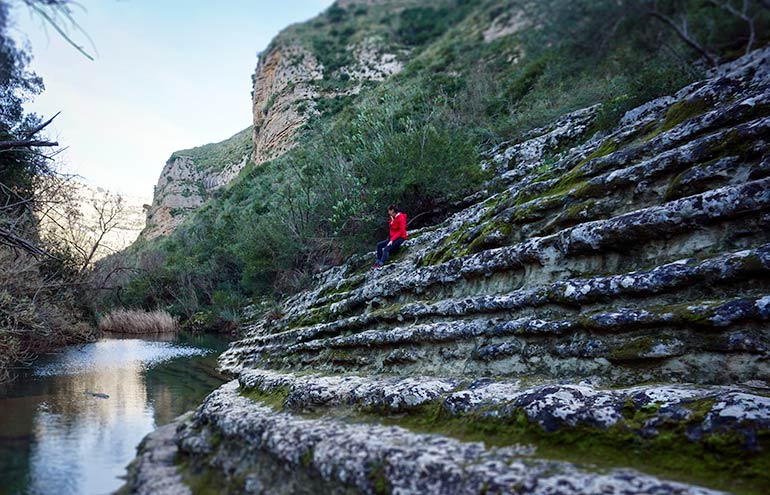 The next stop on this Sicily road trip was Cavagrande del Cassibile. If you enjoy a hike and dramatic scenery, then taking the trail down through the Cavagrande Canyon to the Cassibile River is something that you should add to your Sicily trip itinerary.
At the bottom of the Cavagrande, beside the river,  the rocks have weathered away to form natural steps/seating and the river cascades over several small waterfalls. 
READ MORE: Hike to Cavagrande del Cassibile Canyon
Add Syracuse to Your Sicily Itinerary
On your travels, you may wish to add the historic city of Syracuse to your Sicily itinerary. Syracuse is famous for its archeological park and is the largest Greek Amphitheatre in Sicily.
It's just over an hour's drive from Cavagrande Nature Reserve and you could include it on your campervan Sicily route from Taormina. We chose to skip it due to time restraints, but Syracuse is a popular destination included on many Sicily road trip routes.
MODICA
A 'must' town on our Sicily road trip itinerary was Modica.
The reason?
I wanted to discover the secret surrounding one of my particular passions… Chocolate.
Modica is part of the Val di Noto area, it was destroyed by an earthquake in 1693 and rebuilt in the Sicilian Baroque style.  Since 2002 it has been recognised as part of the UNESCO World Heritage.
However, it wasn't so much the Baroque architecture that was drawing us in. I was in search of Modica's Aztec inspired chocolate —and not just one bar. I'd heard there were several flavours to sample.
Whilst road tripping, the next bend in the road can often reveal a pandora's box of treasures but it can sometimes result in traffic mayhem, narrow streets, stress and screams of, "Get me out of here".
Modica was the latter.
Having left Cavagrande Cassabile Canyon behind us, we were headed towards southern Sicily with visions of chocolate shops and tantalising tastings.
We'd been travelling through Europe in our motorhome for over 6 months by this time and tended to avoid driving into the major cities due to the amount of traffic, the size of our campervan and the added stress of navigation when there are five lanes of traffic to contend with.
The little town of Modica would be a breeze … or so we thought.
It wasn't.
It was hectic.
Even though it was winter, there was lots of traffic and oodles of narrow streets. But not only narrow; parked cars lined up along them, making it almost impossible to get our campervan past. 
We were forced to drive on the pavement, got lost, reversed up for oncoming traffic numerous times and got lost again,
Do you know those days that don't quite go to plan?
This was one.
Surprisingly, the lure of Aztec chocolate wasn't enough to outweigh the desire to extricate ourselves from the neverending warren of twisting alleyways. So we beat a hasty retreat out of town.
Take note, life on the road isn't always rainbows and butterflies, but Sicily was going to make it up to us later on our campervan road trip.
ENNA
We decided that our next Sicily campervan stop for the night would be in Enna, an ancient city situated on the summit of a very large hill surrounded by cliffs. It is about as central as you can get in Sicily and as such, Enna is known as the navel of Sicily.
After the mayhem in Modica, this time we studied the paper map, the GPS navigator and google maps to ensure we found a viable way into Enna and knew exactly where we were going to park. We had our hearts set on a free campervan carpark right by the Castello di Lombardia in the old part of town.
You can never be quite sure about what type of motorhome parking you will be arriving at, especially when the overnight stops are free. Moreover, if there aren't any reviews for that campsite it's difficult to judge whether the site is a good choice. At some sites, we just took one look at kept on driving.
That's what we thought we'd have to do arriving in Enna, as all the double campervan parks were taken.
However, Lady Luck was on our side because just around the corner, we found a space for our 7.5m long motorhome. This park was still within the 'zoned parking' area so we were set for the night.
We set off to walk the Lombardia Castle perimeter and followed the signs to the view-point at the Rocca di Cerere.
[Note: The parking may not be available now as Camper Contact is no longer listing it – if not then this campsite is an alternative: Camping Agrituristica Paparanza]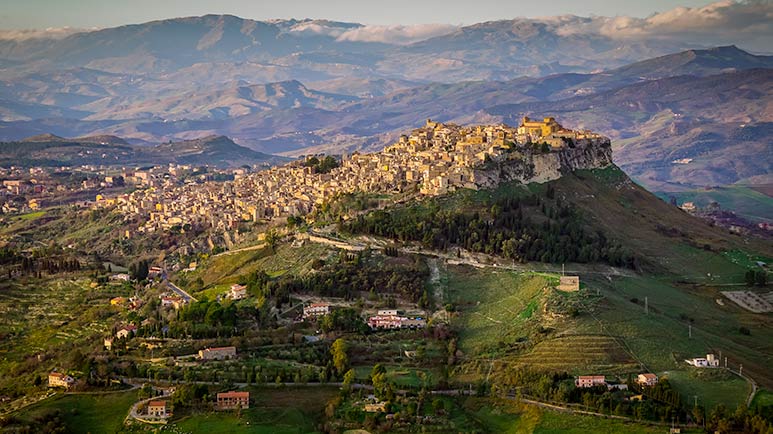 Near the Castello di Lombardia is a small pathway to Rocca di Cerere, the site of the foundations of the Temple of Demeter. Although not much remains, it is a lovely spot to admire the magnificent views from this centrepiece of Sicily.
ENNA IN THE MIST
We awoke the next day to the persistent patter of rain on the roof. Luckily, this soon abated into intermittent showers. In our books, this falls under marginal but 'still good enough' conditions for sightseeing.
Fog shrouded the cobblestoned streets and it was surprisingly quiet for a Sunday morning.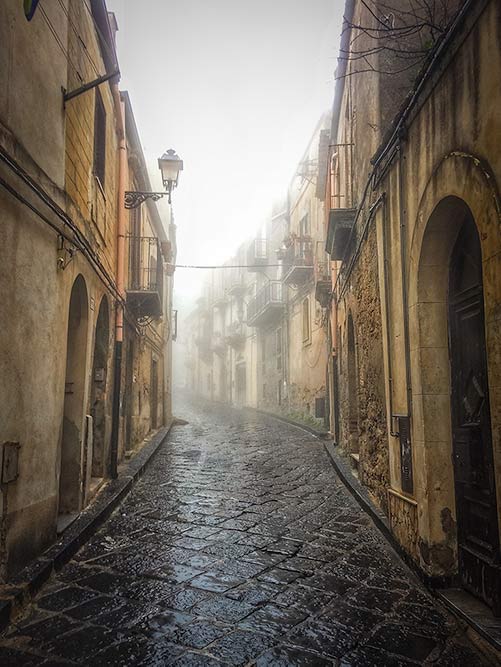 The first point of interest we had on our list of things to see was the 14th-century Cathedral of Enna, in the centre of the old town.
A sole, local parishioner, Giovanni, introduced himself when he realised we were tourists and proceeded to proudly show us around. He was keen to show us the back area of the church, the Alessi Museum and tell us about hidden treasure.
Who doesn't get excited when they hear the word treasure?
This ornately decorated room held the treasures of the cathedral in another locked room which included a gold crown embedded with diamonds, thousands of ancient coins and other collections. 
With the weather deteriorating, we left Enna and drove north on the A19, drawing ever closer to Palermo, the capital of Sicily and the final stop on this Sicily road trip.
STARLING MURMURATION IN SICILY
If you've been paying attention, you might remember that I mentioned Sicily making it up to us in terms of it, not being all rainbows and butterflies?
Well … we were on our way to Palermo and saw what looked to be spiralling smoke in the distance. However the smoke moved in a strange way and driving a few kilometres closer, we excitedly realised it wasn't smoke after all but a large murmuration of starlings.
Their choreography was so complex, producing amazing synchronised patterns in the sky; we were absolutely enthralled.
The finale, captured on video, had the starlings flying away from us, then turning around and flying directly overhead with the sun as a backdrop. We videoed them as best we could on our iPhone, and please excuse the dirty windscreen, but this video gives you an idea of what we saw.
STARLING MURMURATION VIDEO
PALERMO, THE CAPITAL OF SICILY
Not to be missed when road tripping through Sicily is Palermo, the vibrant capital of Sicily, full of history, culture and diversity. With the infamous Mafia Wars now behind it, Palermo is becoming the pearl of Sicily.
Originally founded in the 8th century, the city of Palermo has had many rulers. These include the Greeks, Romans and Arabs. However, the most recent 'power' to lose its hold over Palermo, was the infamous Mafiosa. In 1992, the Mafia Wars came to a head but since then, Palermo has gradually regenerated and reclaimed its heritage. Community and cultural spaces now dominate what was once no-go, derelict areas of the city.
Palermo was named the Italian Culture Capital 2018 and UNESCO recommended that its historical centre be declared a world heritage site.
WHAT TO SEE IN PALERMO
---
PALERMO CATACOMBS
This was an interesting start to our Palermo visit. The Capuchin Catacombs house over 2000 mummies in the dark underground corridors of the Capuchin Monastery.
It is an eerie feeling walking among the dead, some propped up and hanging along the walls while others lay limply on shelves.  The experience evoked mixed emotions, but the children's chapel area brought with it an intense sadness.
There, in pride of place, lays one of the last bodies to be mummified and displayed in the catacombs here. It is the tiny body of two-year-old Rosario Lombardo, known as Sicily's 'Sleeping Beauty' as she is preserved so well.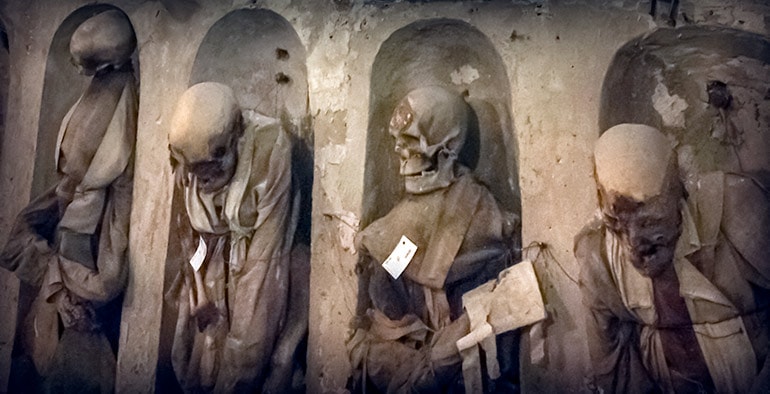 READ MORE: Palermo Catacombs: The Mysterious and Macabre
OLD TOWN PALERMO
Stepping out of the catacombs and back into the land of the living, we walked to the street of Corso Vittorio Emanuele. This is the main road that runs through the old part of Palermo.
The street led us to the impressive Porta Nuova, the entryway to the old part of the city. This majestic archway with the two figures on either side of the gate represents the defeat of Tunis by Charles V in the 1500s.
If you love food you may like to take the three-hour street food and history tour in Palermo or a private walking tour with lunch.
PALERMO CATHEDRAL
Walking further east along Corso Vittorio Emanuele, it is impossible not to miss the spectacular Palermo Cathedral. Built in 1185, its attributes feature different architecture and styling due to the renovations completed over many centuries.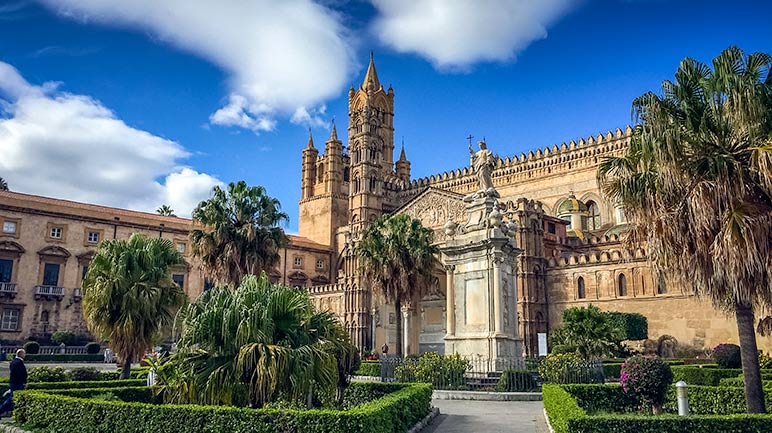 SQUARE OF SHAME
In the heart of the historic centre, you'll find the Praetorian Fountain. Here, twelve ancient Olympians, mythical animals and the rivers of Palermo adorn the ornate fountain.
Between the 18th and 19th centuries, the fountain was considered a depiction of the corrupt municipality of Palermo. For this reason and also because of the nudity of the statues, the square became known as 'Piazza della Vergogna"' (or Square of Shame).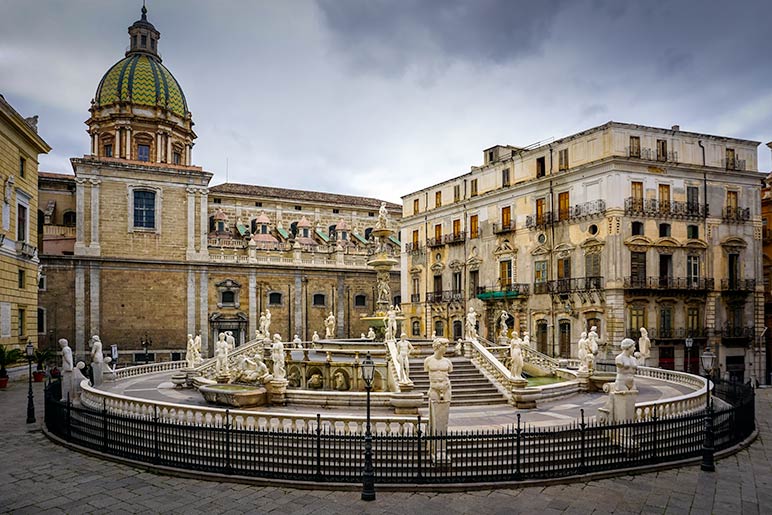 THE FOUR SEASONS
Next, we came to the octagonal Piazza Vigliena of Quattro Canti. Here, four streets lead into the piazza, separated by four Baroque buildings. Each of these buildings has a near-identical façade. They all have a fountain on each, with a statue representing one of the four seasons.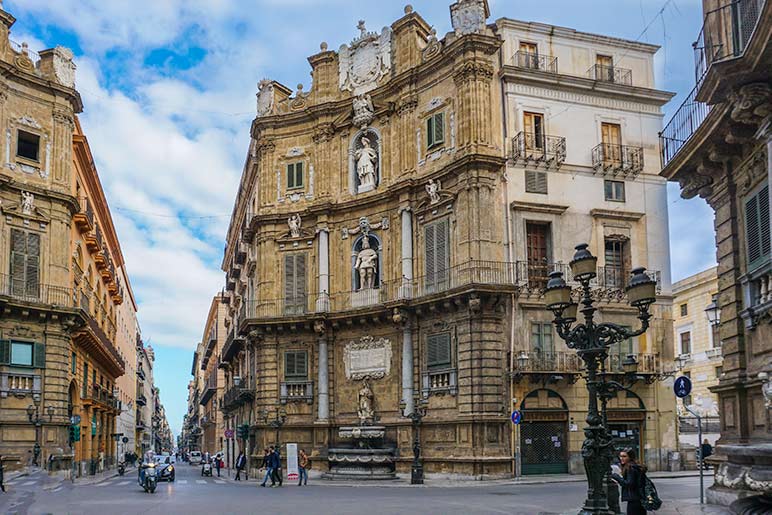 GIARDINO GARIBALDI PARK
A short walk away, heading east from the Piazza, sits the shady Giardino Garibaldi Park. Not only was this the place where the first police murder by the mafia took place, but on a brighter note, it is also home to Palermo's oldest tree, a venerable 25m high, 150-year-old Moreton Bay Fig tree.
The Moreton Bay Fig, otherwise known as the Australian Banyan, is native to the east coast of Australia. Therefore we felt right at home standing beside this beauty.
LA CALA, PALERMO'S YACHT HARBOUR AND MARINA
Finally, we came to Palermo's award-winning regeneration scheme, La Cala, Palermo's yacht harbour and marina. It's difficult to believe that before 2005 this was a dangerous, derelict area. Nowadays though, due to the city's regeneration program, you will find luxurious yachts rocking and swaying in the sparkling turquoise waters.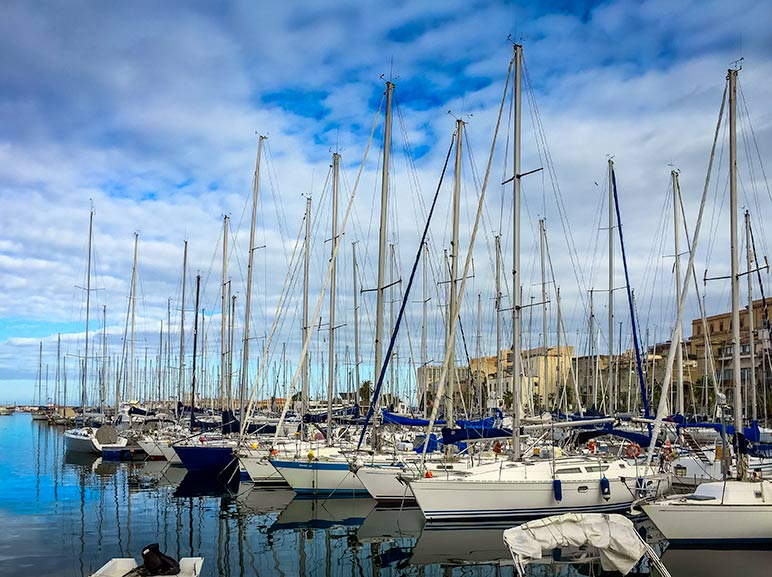 DRIVING IN SICILY
In Sicily you drive on the right.
Seatbelts are compulsory
Have the following documents to hand:

Drivers licence (An international driver's licence isn't required if you hold a driver's licence issued by an EU Member State )
Vehicle insurance
Vehicle registration document
Passport

You are also required to have the following in your vehicle:

Reflective Vest – to be used when getting out of the car at an event of an accident or breakdown on any road.
Warning triangle – to be used at the event of an accident or breakdown to warn following traffic.

Speed Limits are as follows unless otherwise signposted

130 km/h (80 mph) on motorways
90 km/h (50 mph) on minor out of town roads
110km/hr (30mph) on major out of town roads
50 km/h (31 mph) in urban areas.
In the event of rain on snow, the limit is lowered to 110 k/h on motorways and 90 k/h on trunk roads.
Cars with trailers or caravans: in urban areas, the speed limit is 50 km/h (31 mph); on minor out-of-town roads 70 km/h (44 mph); on major out-of-town roads 70 km/h (44 mph); on motorways 80 km/h (50 mph). 
Camper vans weighing over 3.5 tonnes and under 12 tonnes: in urban areas, the speed limit is 50 km/h (31 mph); on minor out-of-town roads 80 km/h (50 mph); on major out-of-town roads 80 km/h (50 mph); on motorways 100 km/h (62 mph). 

Toll Roads: Most of the roads in Sicily are toll free, but the A18 and the A20 do have Toll booths. Toll prices depend on the distance you travel,  so on entering a toll motorway you collect a ticket from an automated machine, and the ticket must then be presented at the toll gate upon exit. Tolls can be paid by cash, credit card, prepaid card or by electronic tags.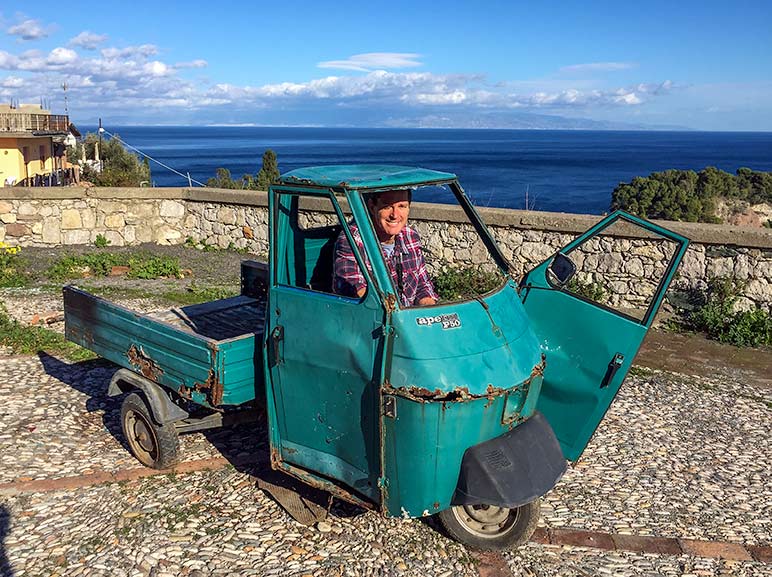 This little 'Ape' car has certainly seen better days, but this type of car is found everywhere in Sicily. Perfect for the tiny roads… Lars definitely wished he was driving one of these instead of our 7.5-metre long motorhome on our Sicily road trip.
Don't let this put you off renting or driving a campervan in Sicily though. Just be wary of driving in the busy towns. Sometimes staying on the outskirts is easier and catching public transport into the cities is the better way to go.  
READ MORE: The Best Motorhome Tips for Beginners
Having your own transport is the easiest way to explore Sicily, but you need to stay sharp and be very aware of what other drivers are doing at all times.
Do not assume drivers in Sicily will follow the road rules – be ready for anything.
MORE POINTS TO NOTE ABOUT DRIVING IN SICILY:
Some signage can be confusing or absent
Know the towns you are going through, the number of the road may not be on the directional signs
Drivers can be very erratic, too fast, too slow, aggressive
Forget everything you know about 'give way' rules at roundabouts in Sicily
Roads can be extremely narrow
Be careful on blind bends — drivers can come around them like Speedy Gonzales
Your GPS may not be accurate in some spots — ours sent us around in circles in Modica!
GETTING TO SICILY
BY AIR
There are two main airports in Sicily: Catania and Palermo.
CAR FERRY
As we were travelling through Europe in a motorhome, we caught the car ferry from Villa San Giovanni, in southwest Italy to Messini, Sicily.
Time:  30 minutes
Cost: 56 Euro
Thinking of hiring a motorhome or RV? Then check out this article: Everything you need to know about hiring a motorhome 
SICILY CAMPERVAN STOPOVERS
Giardini Naxos: Paid campervan campsite near Taormina with a view of Mount Etna in the distance. This campsite was very close to the local bus stop of Racenta, where you can catch a bus to Taormina for 3 euro return. 
Cavagrande del Cassabile – Free campervan car park beside the trail down to the Cassibile River. No facilities. 
Enna – Free parking for campervan on the street, no facilities
Palermo – Paid Campervan Campsite, Freesbee Motorhome Park, quiet with facilities (inc electricity)  and within easy reach of public transport to Palermo city centre. You can buy an all-day bus ticket at the office here (for about 3 euro) and the bus stops right outside the campsite. The bus takes about 20 minutes to get into the centre of Palermo. You can buy an all-day bus ticket here – €3 per person. The bus stop is right outside the campsite. The bus trip from the campsite to the centre took 20 minutes.
Accommodation in Sicily
If you are looking for accommodation in Sicily then we recommend finding the best deals on Booking.com — especially those that can be cancelled free of charge if you have a change of plans.
Campervanning in Sicily … That's a Wrap
This Sicily 7-day itinerary has a mixture of experiences that can all be fitted into a week's road trip through the country. You can hike in Cassibile Canyon, climb the hill to Castelmola, visit the creepy catacombs in Palermo, stroll along its beautiful beaches and sample the Sicilian fare.
We'd love to hear about your Sicily road trip and your favourite places. Just drop us a line or leave a comment below.
This post may contain affiliate links. This means that we may earn a small commission from purchases you make through our links, at no extra cost to you. Thank you for supporting us. For more info, read our Disclosure Policy.
Pin and Save for later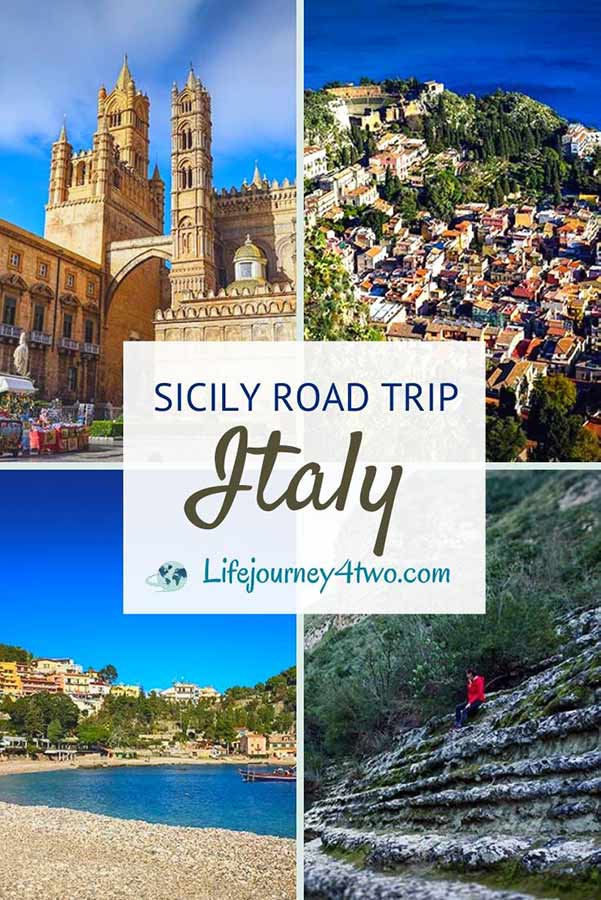 YOU MAY ALSO BE INTERESTED IN READING
MORE ARTICLES ON ITALY:
OTHER EUROPE ROAD TRIPS
PLANNING YOUR TRAVELS?
These are travel resources we use when planning our trip and can recommend: