If you're looking for a tranquil slumber with the occasional lion roar, grunting hippo, and trumpeting elephants, Ndhovu Safari Lodge Divundu is the ultimate place to stay. 
After spending more than 60 days camping across Namibia, this was our favourite camping spot by far. In fact, we loved it so much that we stayed there for a spectacular ten days.
Not only did we camp there, but also stayed a couple of nights in both a chalet and a luxurious River Suite.   
If you are looking to visit Bwabwata National Park Mahango Core Area or Buffalo Core Area Namibia, then this is the perfect place to choose.
Ndhuvo Safari Lodge Namibia Review
What will you find in this Ndhovu Lodge Namibia review: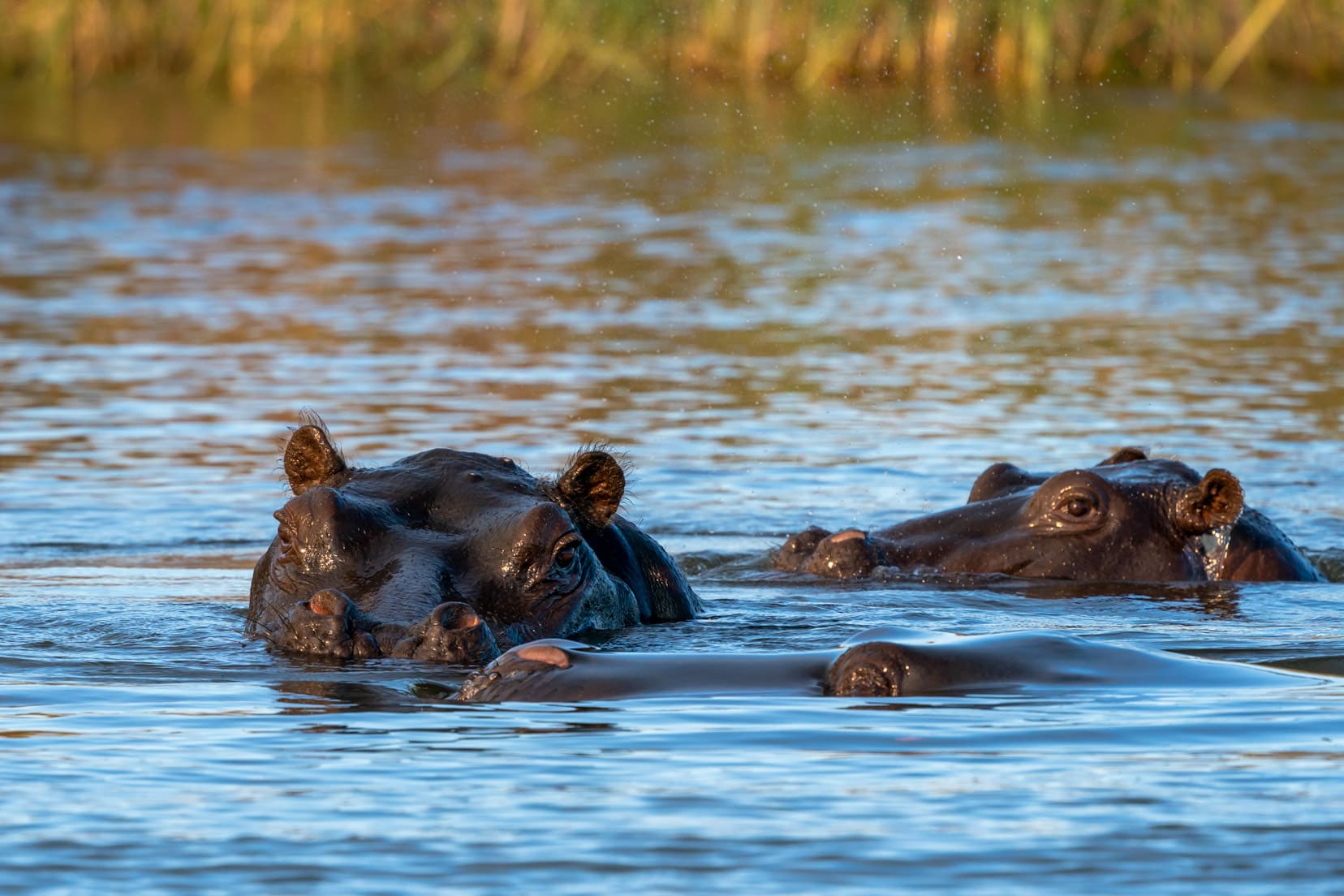 Ndhovu Safari Lodge Namibia
The lodge sits on the lush Okavango River in the East Kavango area, overlooking the Caprivi Strip (now renamed the Zambezi Region – but still referred to as the Caprivi Strip by many).
The ambience is chilled, and nothing is too much trouble for the owner, Ralf, the lodge manager, Danny, and the staff.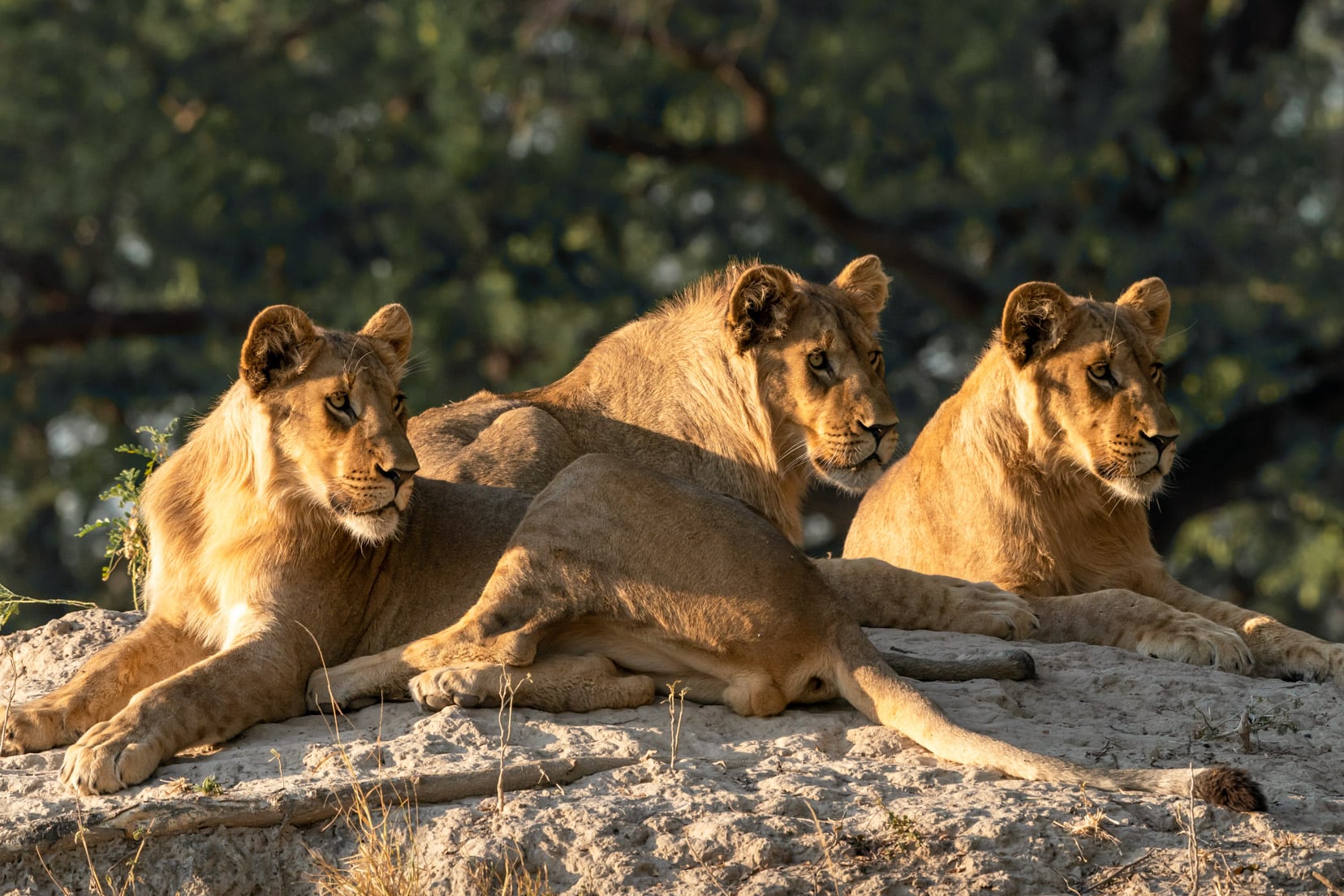 Planning a Trip to Namibia?
Only 200 metres away, on the opposite river bank, is the Buffalo Core area of the Bwabwata National Park.
You can watch magnificent wildlife from the lodge, like sable, impala, lechwe, hippos, and majestic elephants strolling along the riverbank.
If you're lucky, you may even spot a lion or leopard stalking its prey. It's like having your very own safari documentary playing out right before you.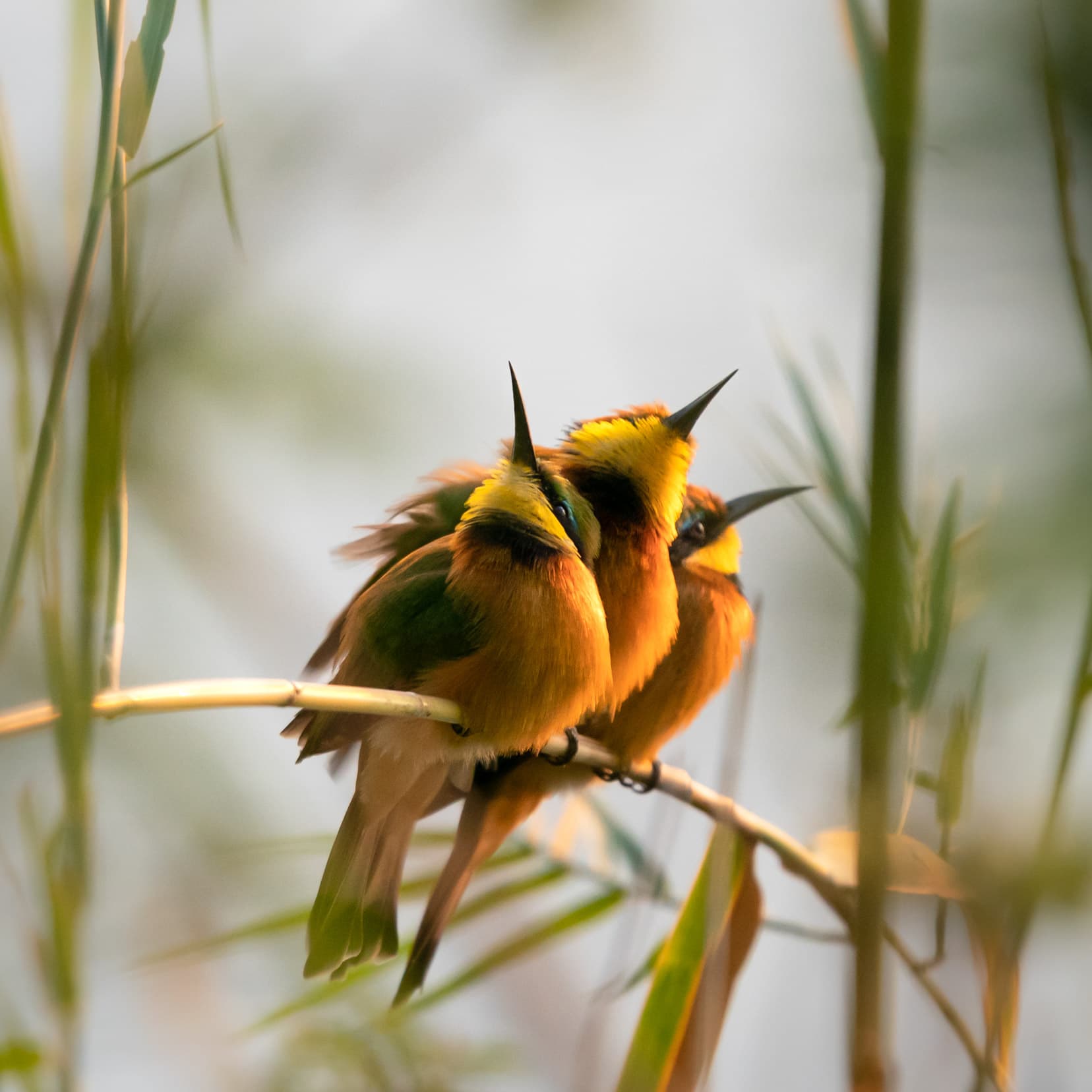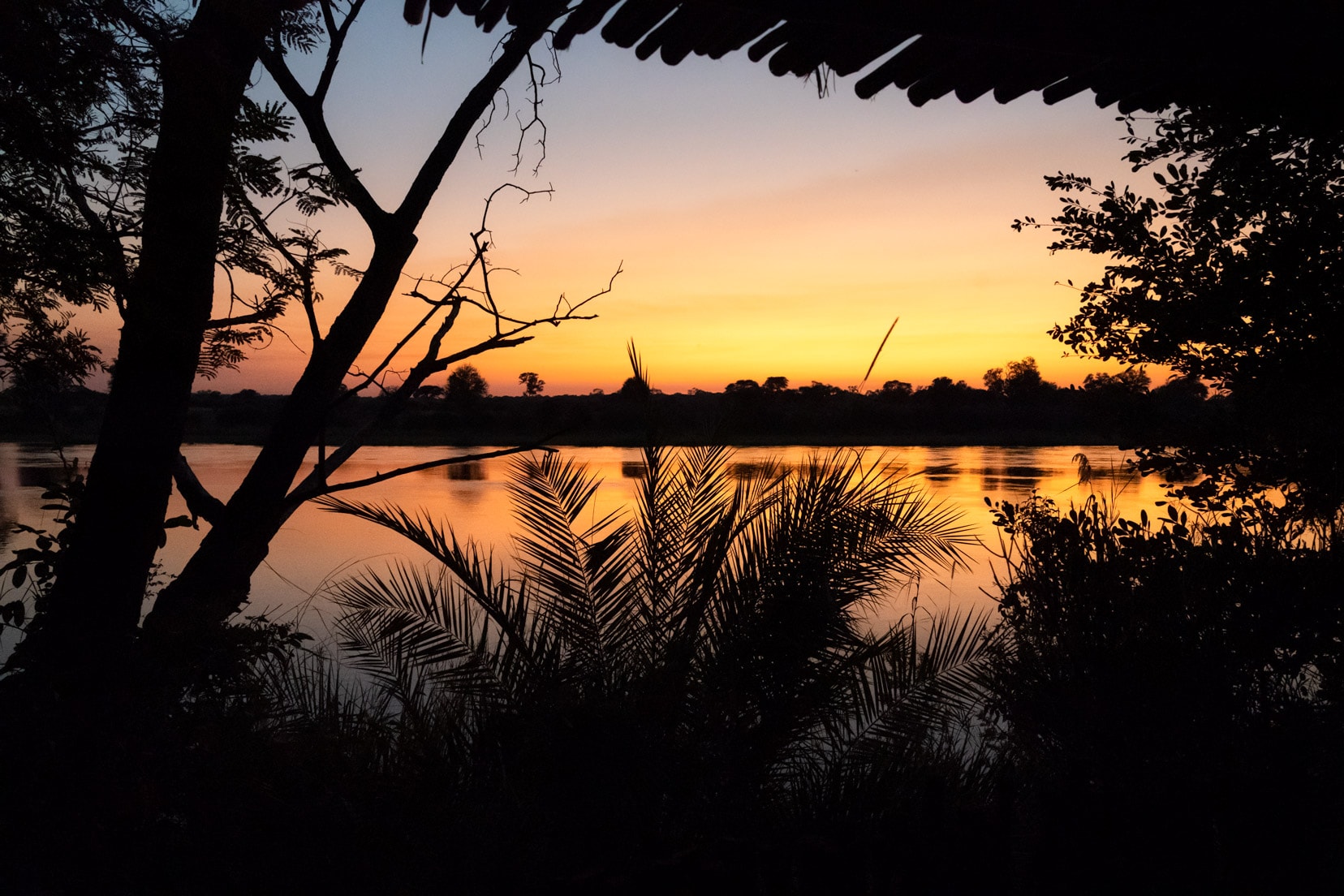 About the Lodge
Ndhovu Safari Lodge has a leafy, tropical feel, with rustic African-themed décor and a spectacular outlook across the Okavango River.
It's the type of place that reminds you to breathe and let go.
Interesting Fact: The Okavango River flows into the Okavango Delta. The river begins in Angola, where it is called the Cubango River, then flows through Namibia along the edge of the Caprivi Strip, where it is referred to as the Kavango River by locals, and then into Botswana, where it is known as the Okavango River.
The lodge has a restaurant, bar, swimming pool and a curio shop selling exquisite hand-painted pottery from Zimbabwe.
Ndhovu means elephant in the local Hambukushu Tribe's language — an ideal name for this tropical Eden, where elephants often appear on the opposite river bank.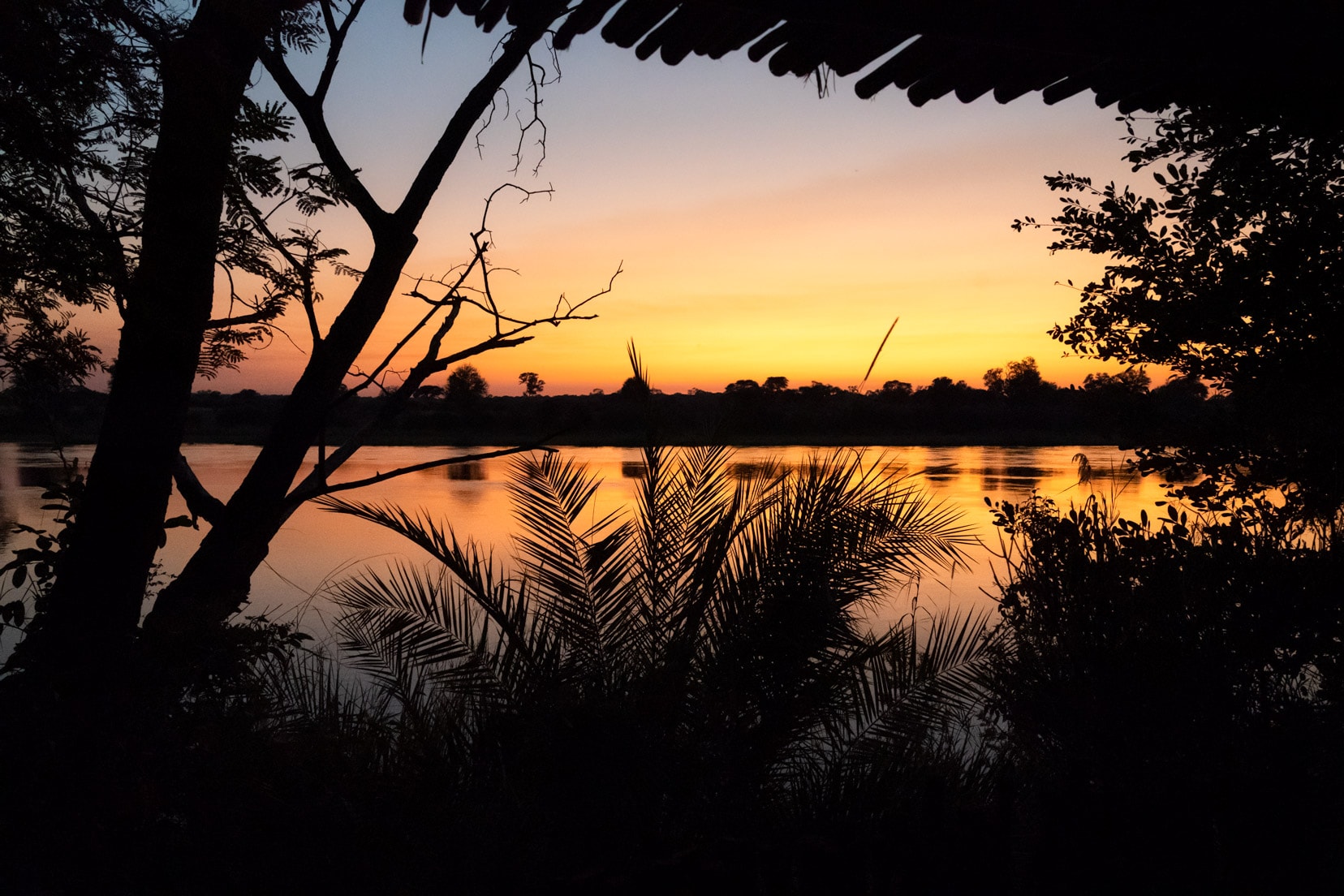 ⭐️⭐️⭐️⭐️⭐️
Ndhovu Safari Lodge
✔️ Fantastic Location
✔️ Wildlife on the doorstep
The lodge is opposite the Buffalo Core Area of Bwabwata National Park and a short drive away from the Mahango Core Area of Bwabwata.
Quick Video Snippet of the Ndhovu Safari Lodge Experience
Accommodation at Ndhovu Safari Lodge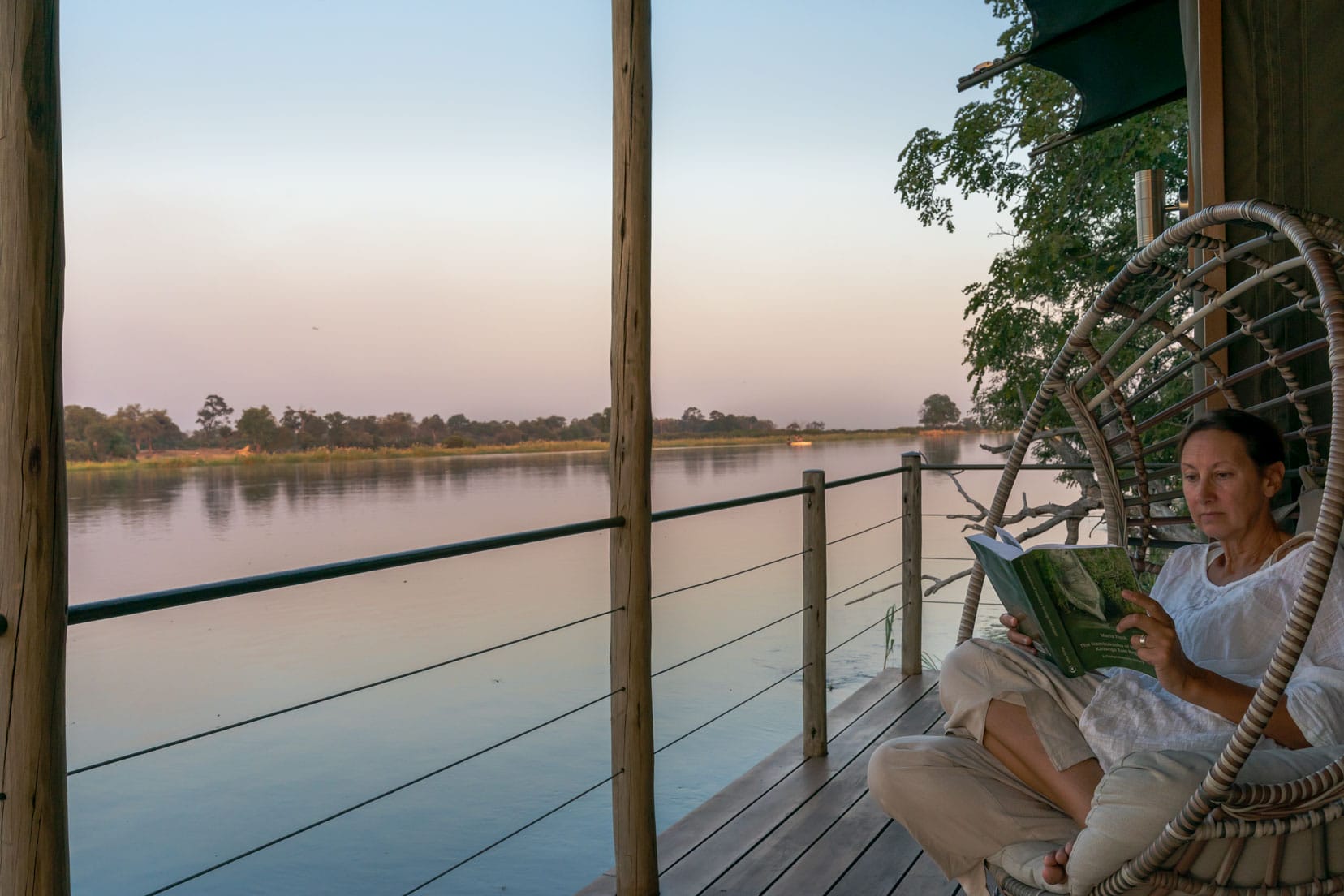 At Ndhovu Safari Lodge, there are various accommodation options:
Luxury River Suites (x 2) – floating suites right on the river
Buffalo and Elephant Suites (x 2) – two premium recently renovated suites with river views
Luxury Safari Tents (x10)
Self-catering Chalet (x1)
Campsites (x2)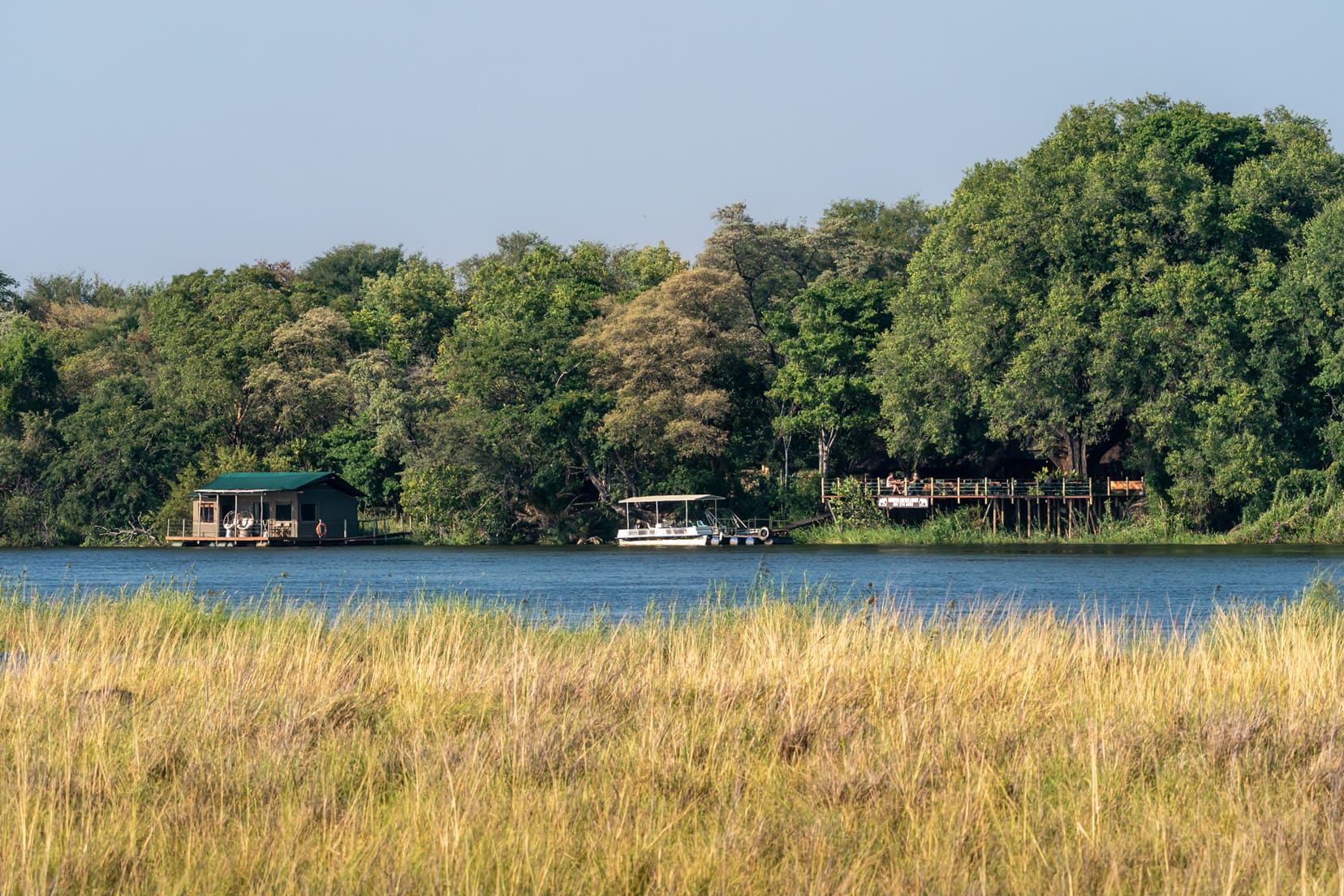 Luxury River Suites
The river suites at Nhovu Safari Lodge are the ultimate luxury. Many are booked as honeymoon suites, and you can see why when you step inside these beautifully appointed rooms that are literally floating on the Okavango River.
Not only do you have a king-size bed with an ensuite shower, but there is also a bathtub with views of the river and a delightful deck to sit on and watch the sunrise over Buffalo Park (Buffalo Core Area).
We stayed in the floating river suite for two nights, and it was a wonderful treat. We had hippos swimming around the deck — a real immersion in nature.
Both of the river suites are hidden from the lodge's main deck by huge shady trees, so are very private.
They are perfect for a honeymoon or a special occasion.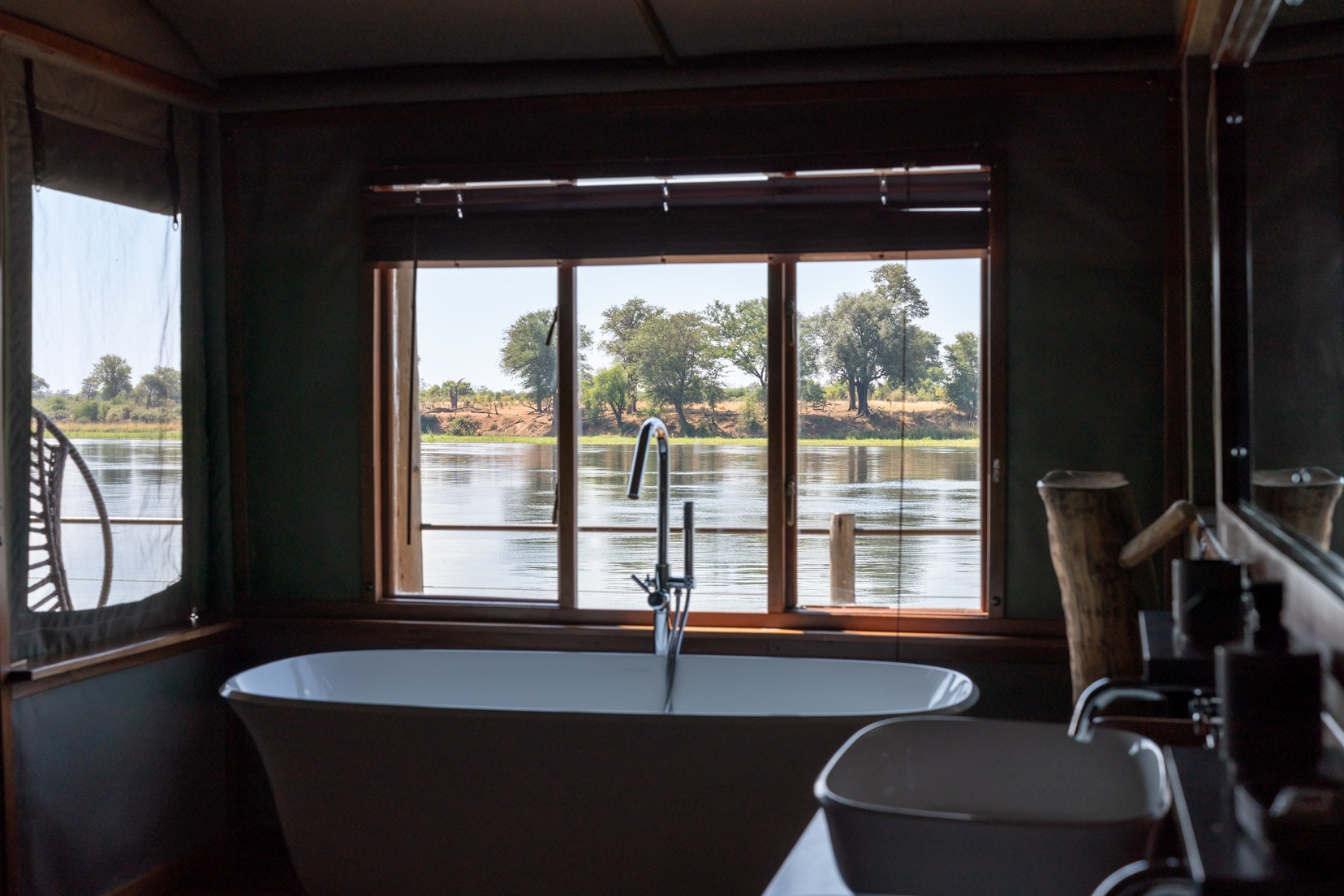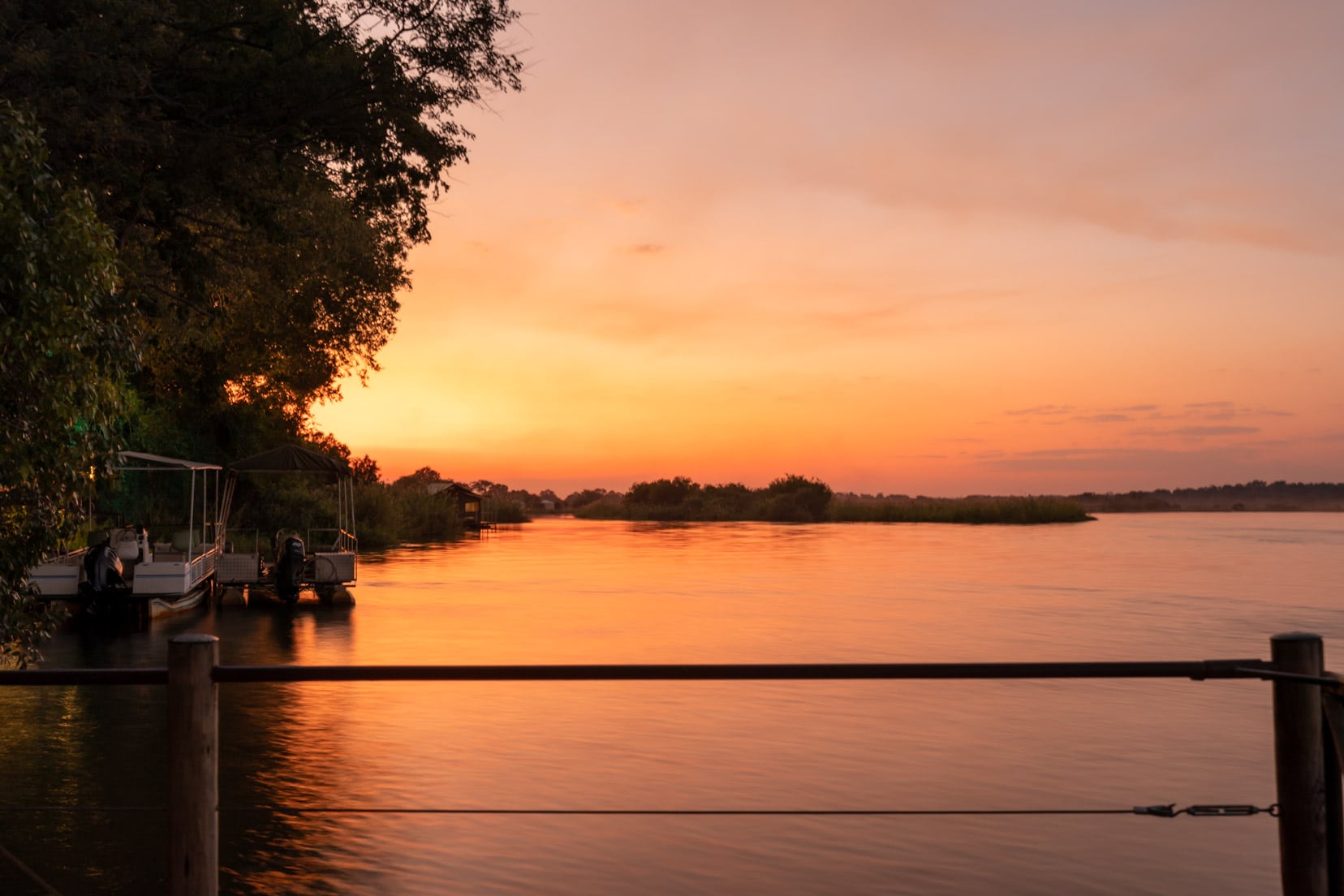 Premium Suites
The absolutely stunning Elephant and Buffalo Suites have recently been refurbished and renovated.
(They are available to be booked from 1st July 2023 at the same price as the River Suites).
An incredible hanging day bed and an open-air bathtub are on your spectacular wooden deck, overhanging the Okavango River.
Here, you can wile away the hours watching the wildlife opposite and soak in the tub listening to the sounds of the African Bush.
These suites are private and designed for both ultimate comfort and relaxation.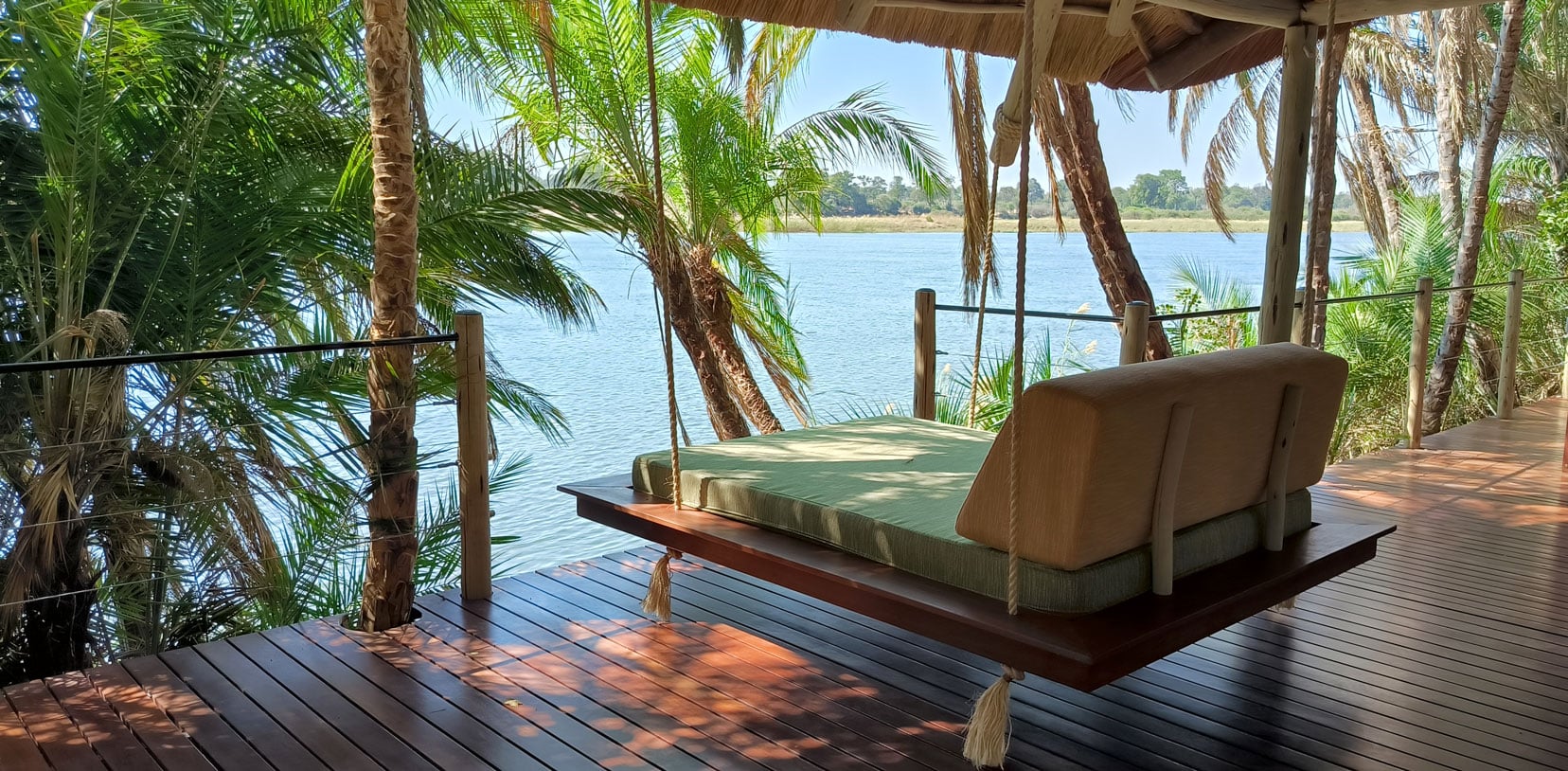 Luxurious Tents
The luxurious safari tents can be booked for two or three people and have rustic-themed ensuite toilets and showers. They open out onto a wooden deck overlooking the river.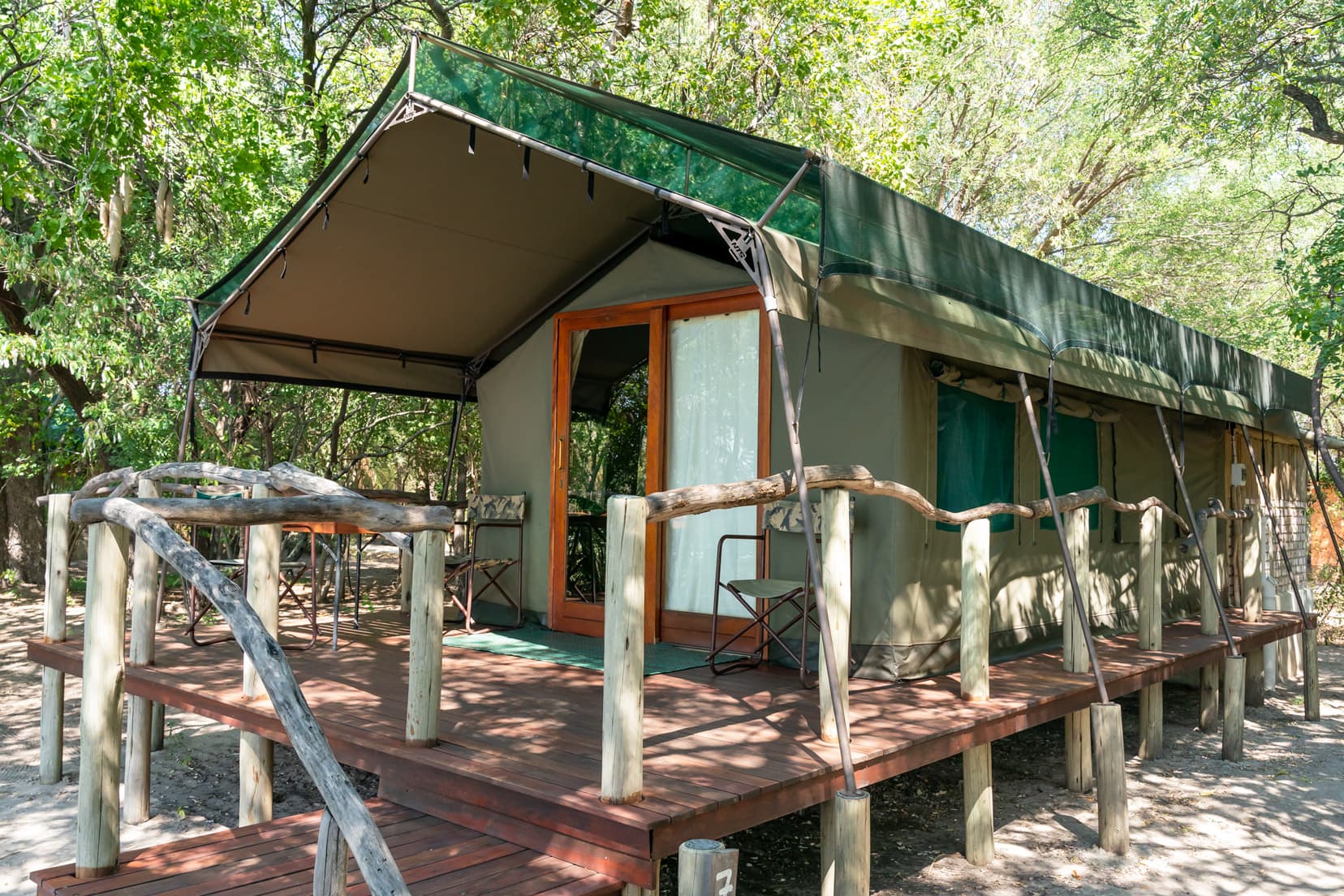 Self-catering Chalet
The lodge has one self-catering chalet that includes a small kitchenette and a large fridge freezer. Again, it has a verandah with views over the river and the park.
When we stayed in the chalet, there were two African wood owls nesting in the nearby trees, and we were visited by a gorgeous giant kingfisher in the evening.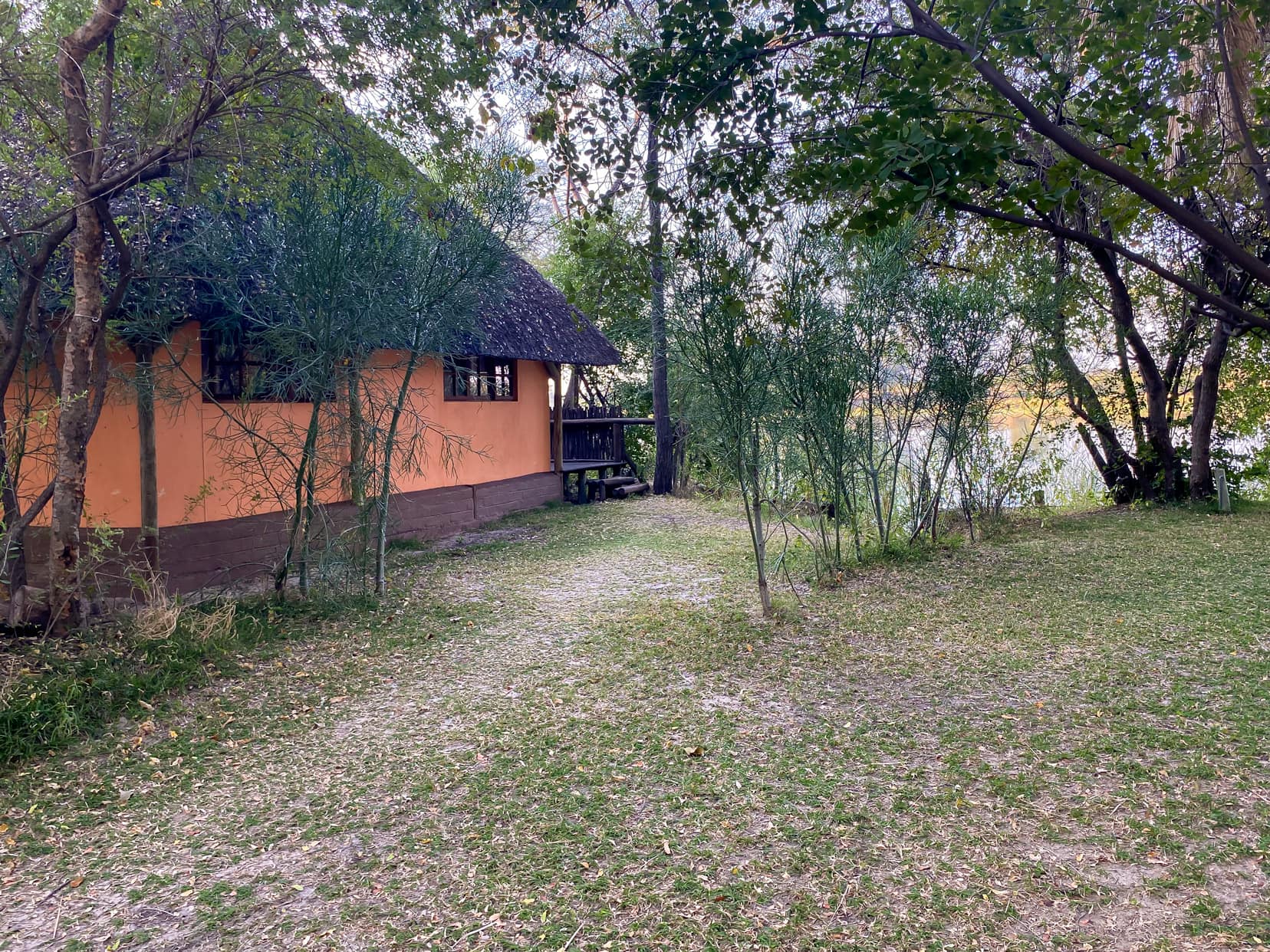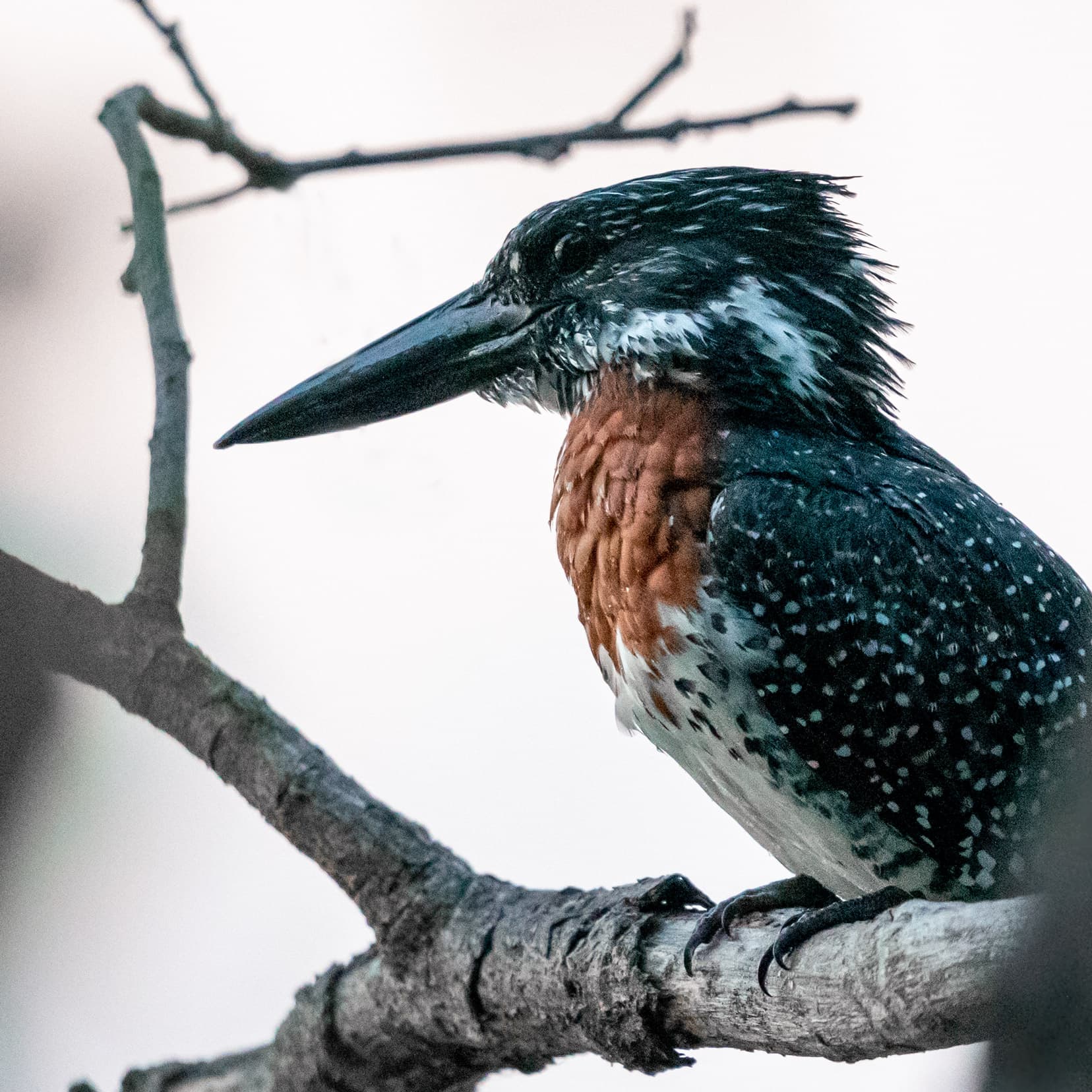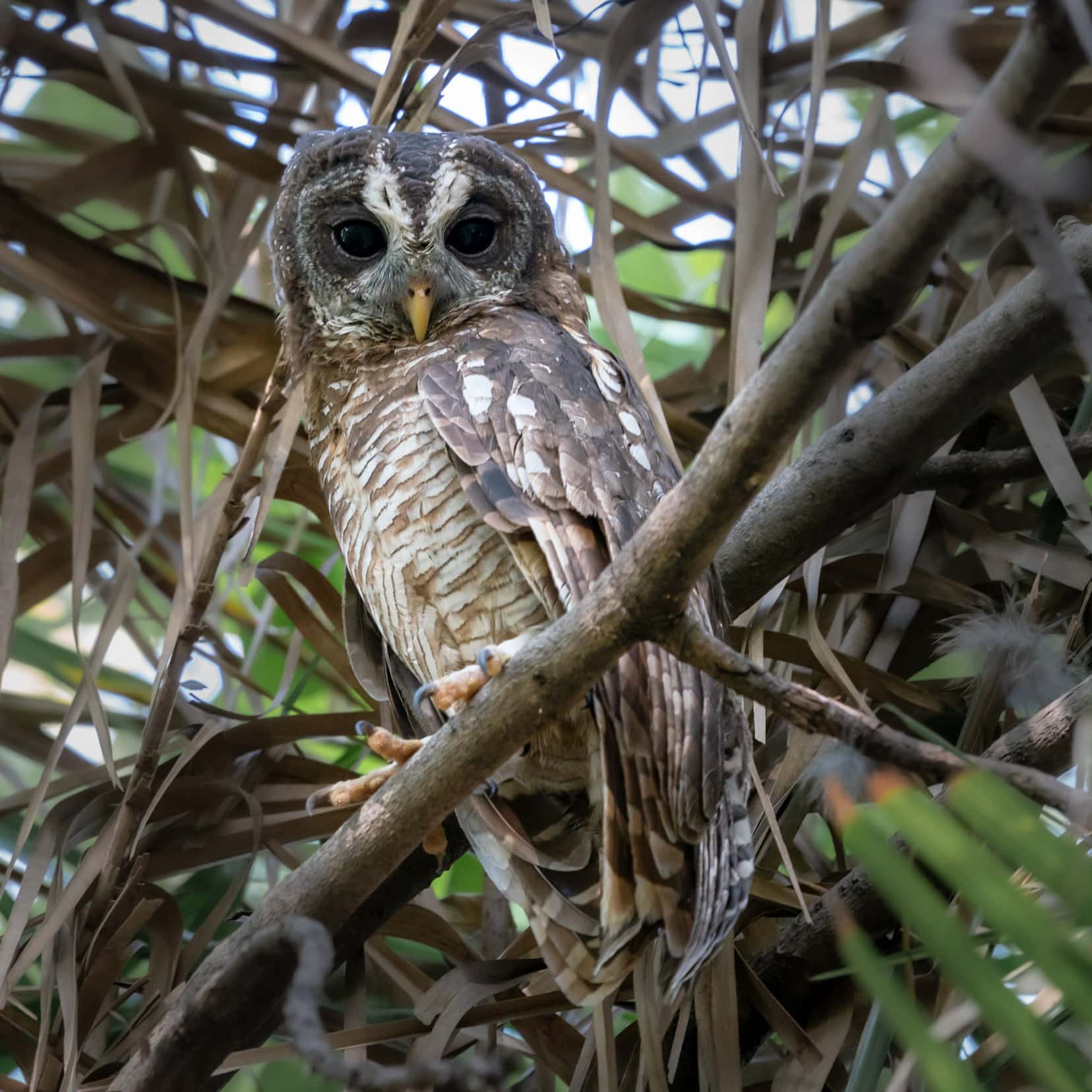 Ndhovu Lodge Campsites
There are two main campsites at Ndhovu Lodge. Campsite One faces the river, and Campsite Two is situated just back from the river.
Both are surrounded by large, shady trees and have a water tap and electricity. There are separate toilets and showers with hot water and a shaded kitchen/laundry area.
Campsite One can accommodate up to 20 people, and Campsite Two, four people.
If you have the choice, book Campsite One, with its beautiful views across the river to the National Park.
Of the ten nights we stayed at Ndhovu, we were able to camp for two nights on Campsite One, and it was awesome.
On one of our nights at Campsite Two, we woke in the early morning to a chomping/ripping sound. When we shone the torch beside the camper, there was an enormous hippo happily munching away on the grass.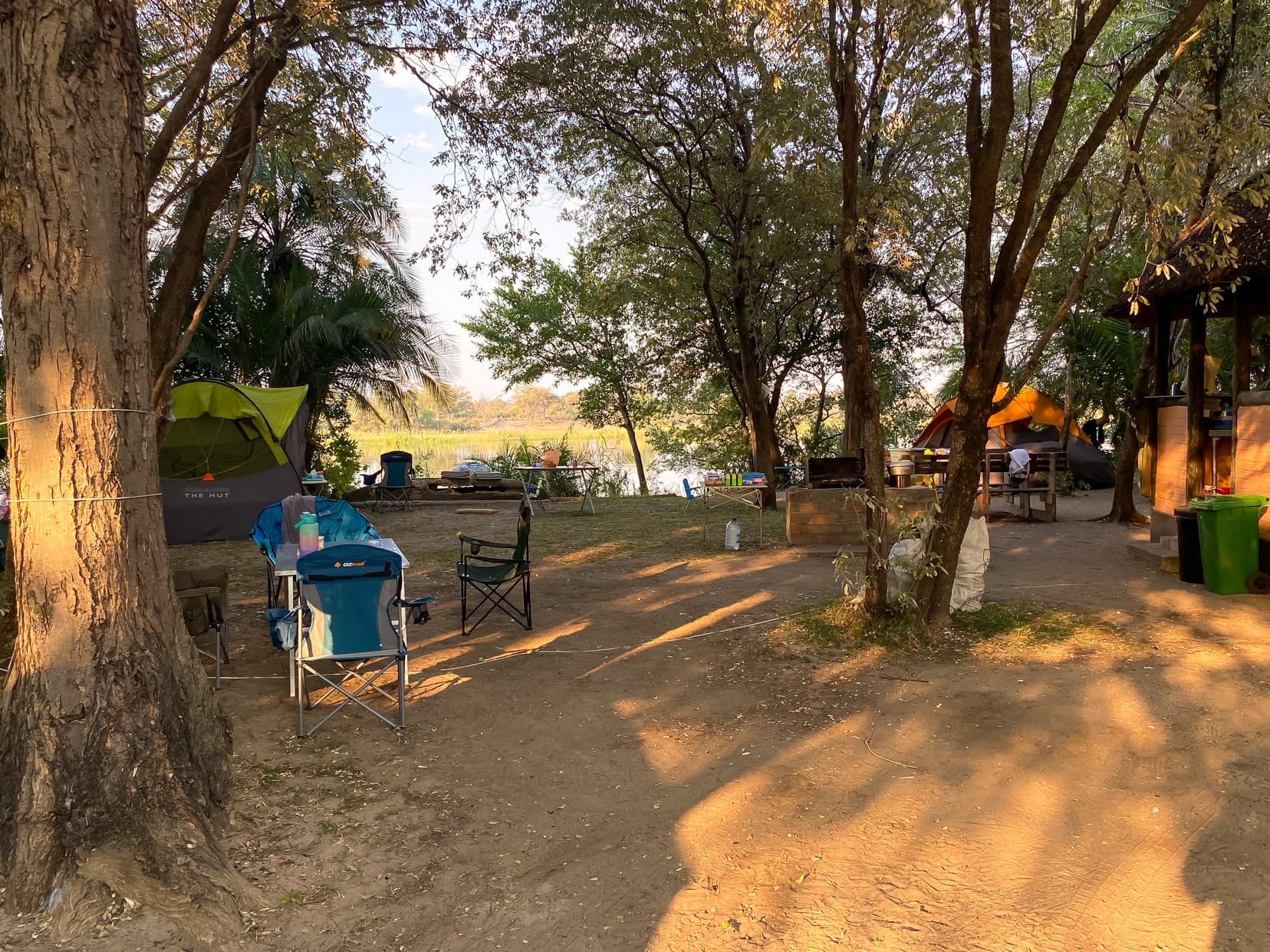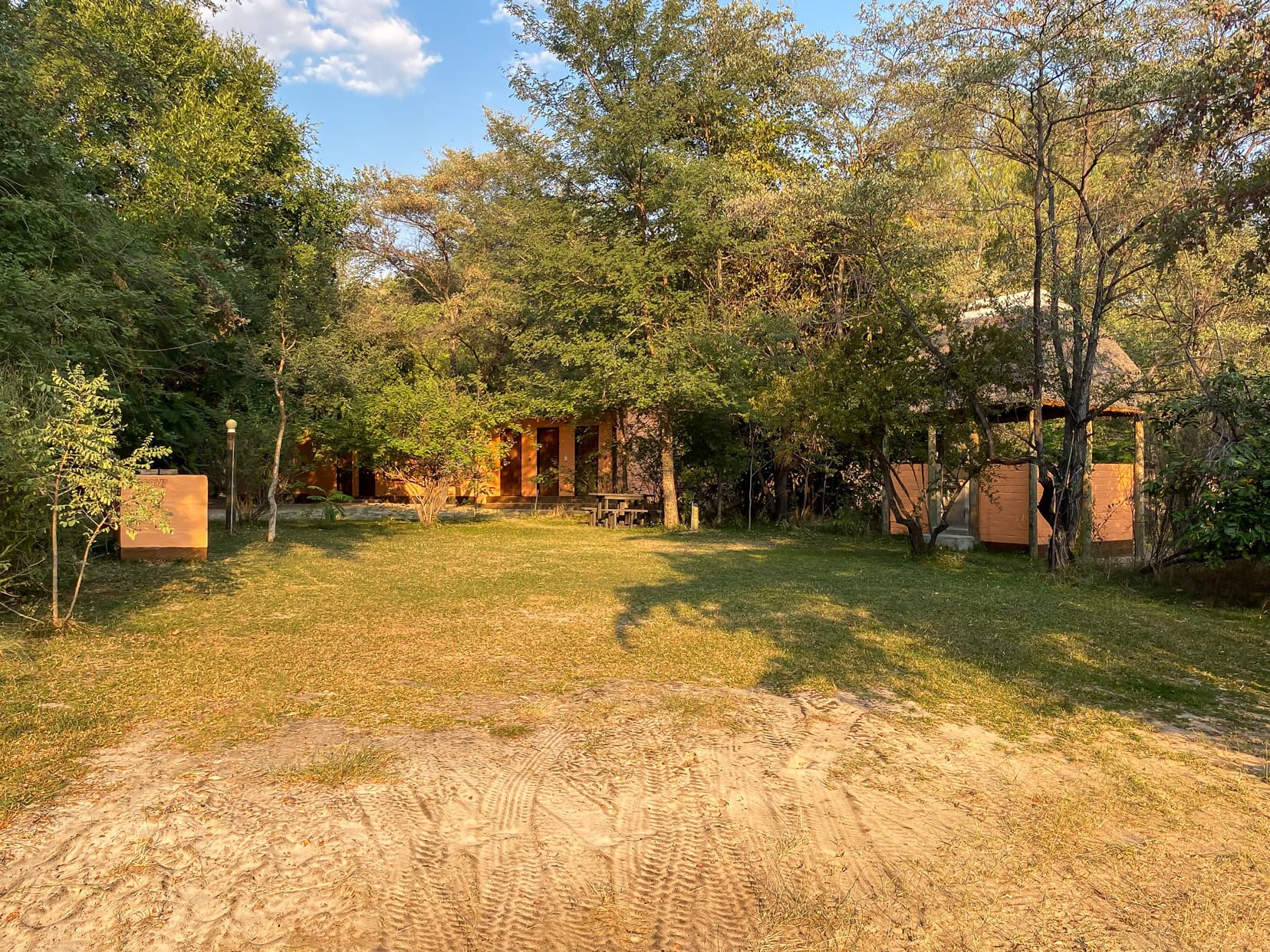 Rooms with Breakfast and Dinner at Ndhovu
All of the room rates include breakfast and dinner (drinks are separate), and as a camper, you can give prior notice and book the set menu for dinner.
The breakfast buffet includes a cooked breakfast, cereals, fresh fruit salad, yogurt, and a selection of ham, cucumbers and tomatoes.
Lunch can also be ordered, with a choice of chicken schnitzel and salad or toasted sandwiches.
Dinner is a three-course meal served with delicious homemade bread and salad. The meal is introduced by the chef, and the menu is then translated into the local Himbukushu language.
The menu is set, but if you have special dietary requirements, these can be catered for.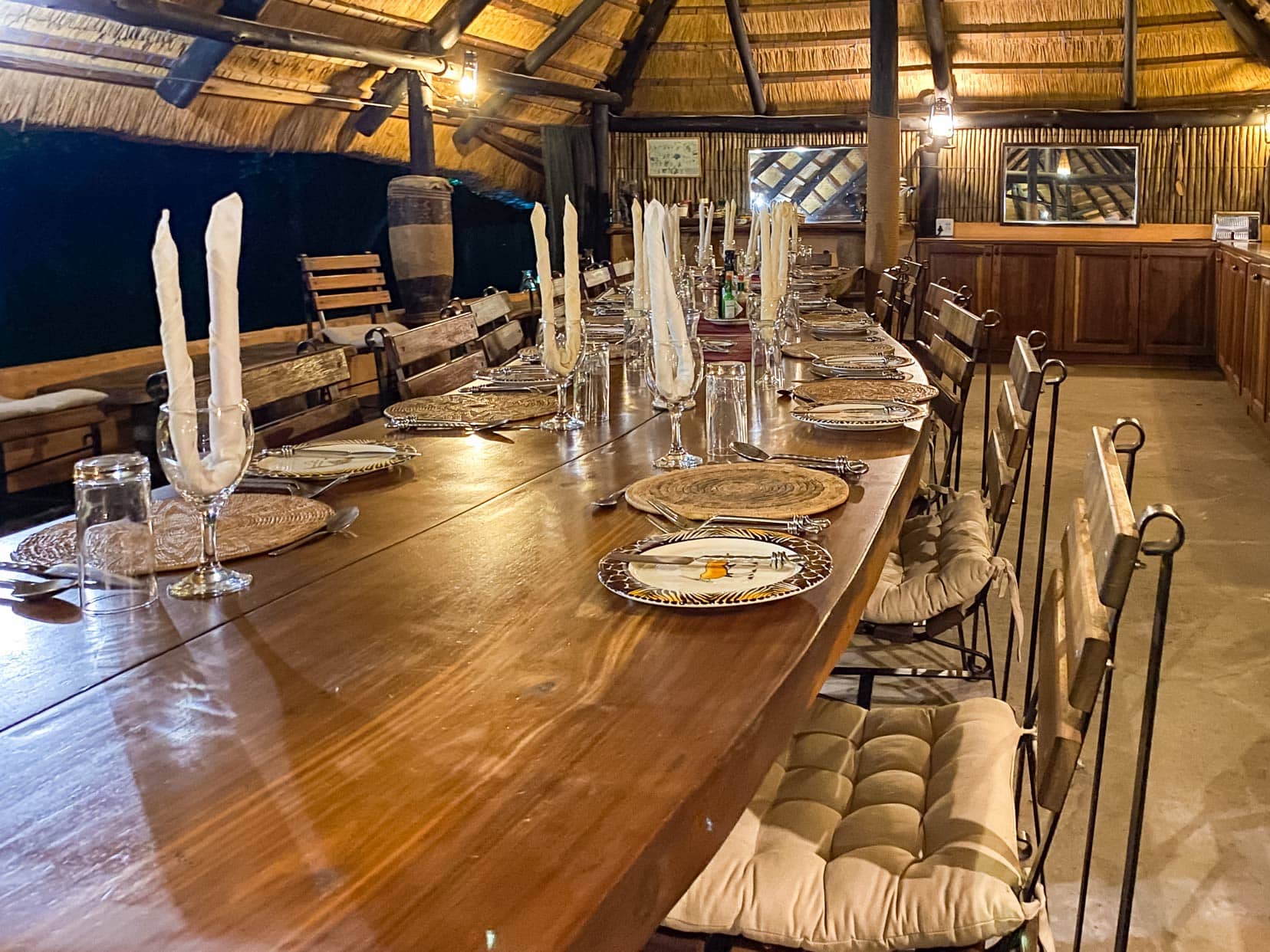 Activities Available at Ndhovu
The following list includes the tours available at Ndhovu:
Game Drive to Buffalo Park or Mahango Park (about 3.5 hours): N$720 pp
River Cruise: (2 hours): N$380 pp
Hambukushu Tribe Village Walk – Available during term time and includes a trip to the local school and kindergarten (built by Ndhovu Safari Lodge), and a tour around the village. The guide, who lives in the village, also takes you to his home to show how locals live: N$250 pp
Fishing Trip: N$600 pp (max three people)
Popa Falls – Trip to the nearby Popa Falls with a lunch pack included: N$1100 pp
Tsodillo Hills – A full-day trip to this World Heritage site in Botswana (Needs to be pre-booked)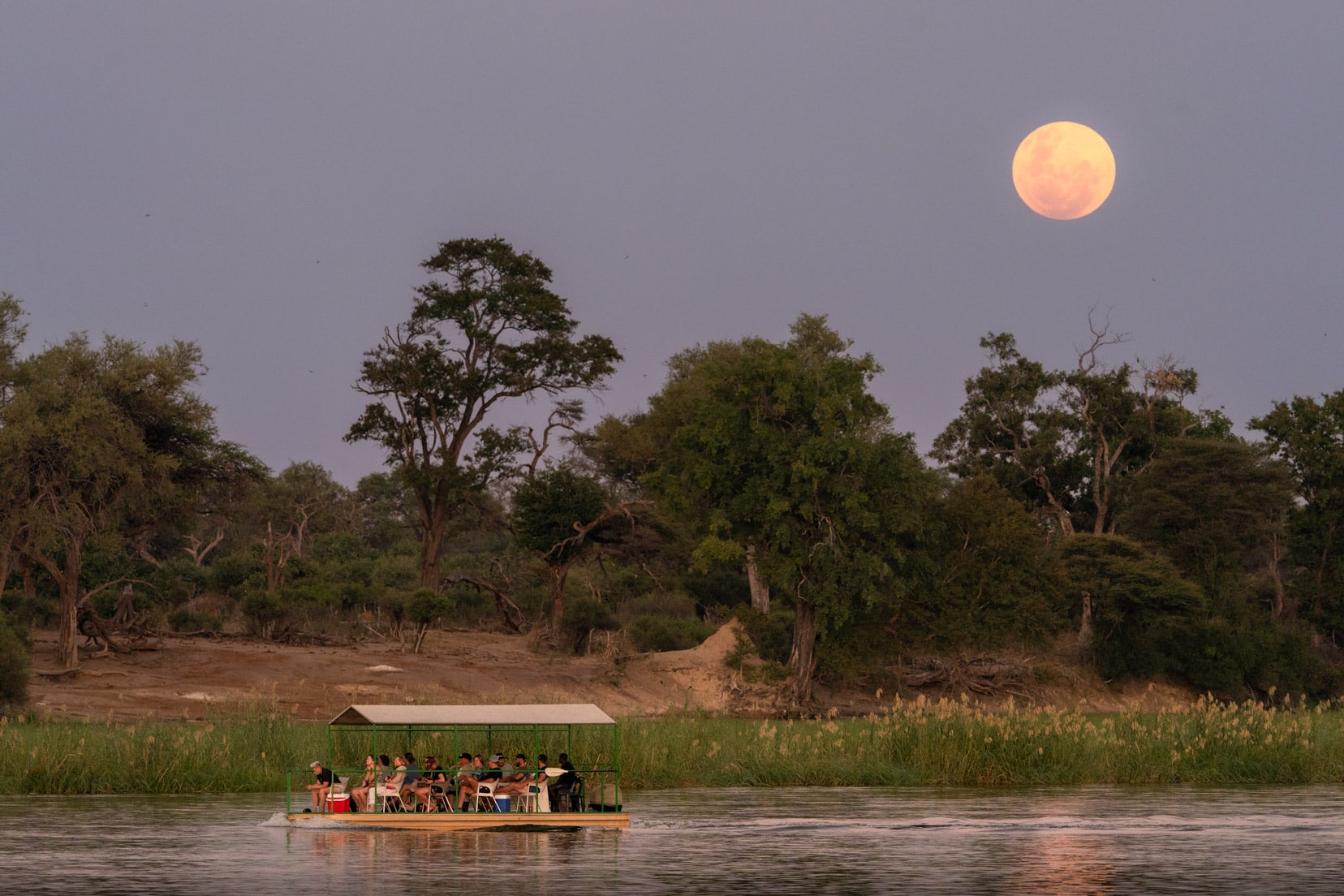 Our Ndhovu River Cruise Experience
While views from the river bank are wonderful, there's no better way to experience the Okavango than actually being on the river.
With hippos swimming and grunting alongside and all sorts of wildlife wandering along the banks of the Okavango River, this is an experience not to be missed.
We met many travellers on our travels through Namibia, and the one thing they consistently told us not to miss was a boat cruise on the Okavango River.
And they were right.
You get a different perspective while on the river as you slowly drift past wildlife in the reeds and the shoreline.
One of our favourite sightings, which can't be had on land, was watching the white-fronted bee-eaters zipping in and out of their burrows on the side of the riverbank. We also lay in wait, hoping to see the lion that was roaring over the hill.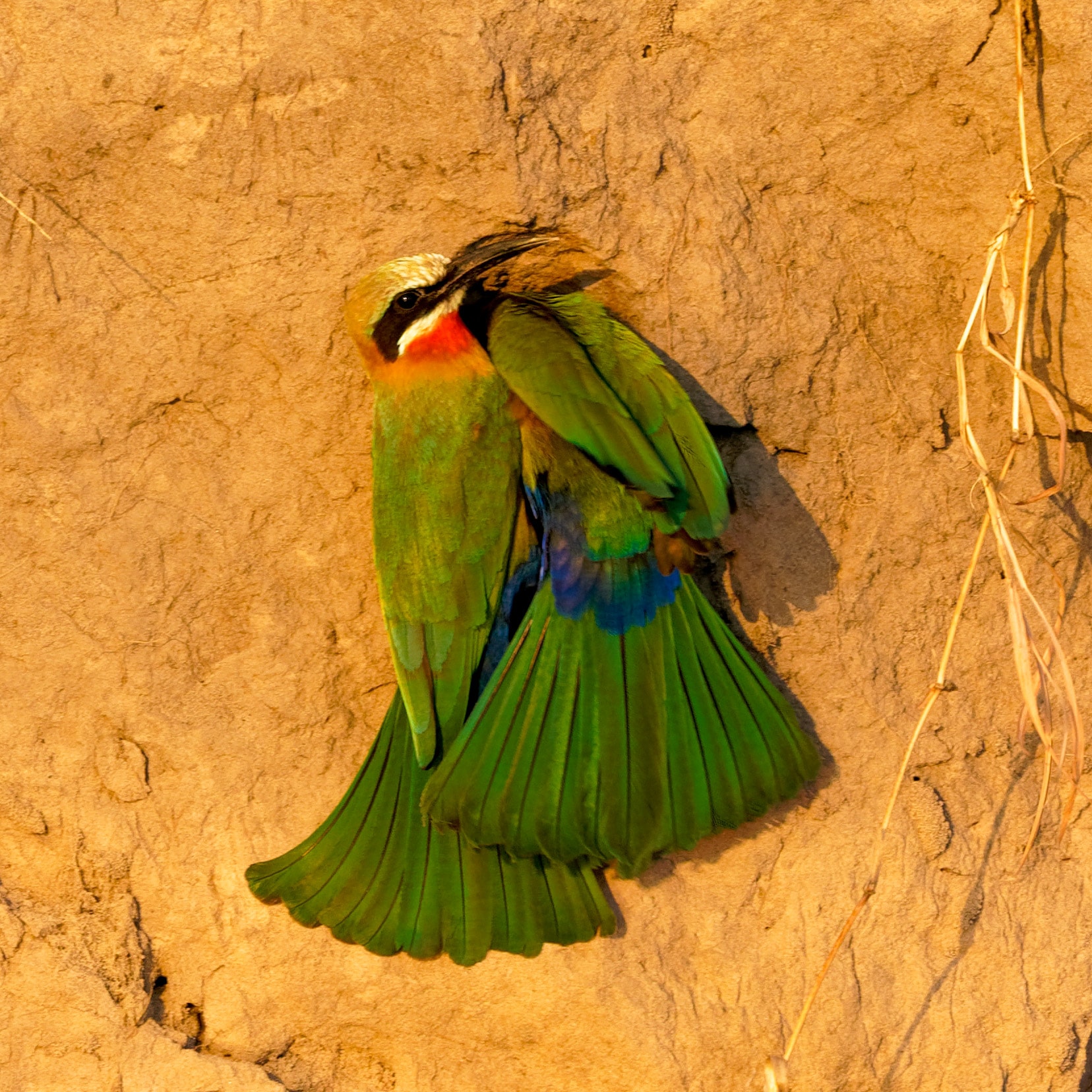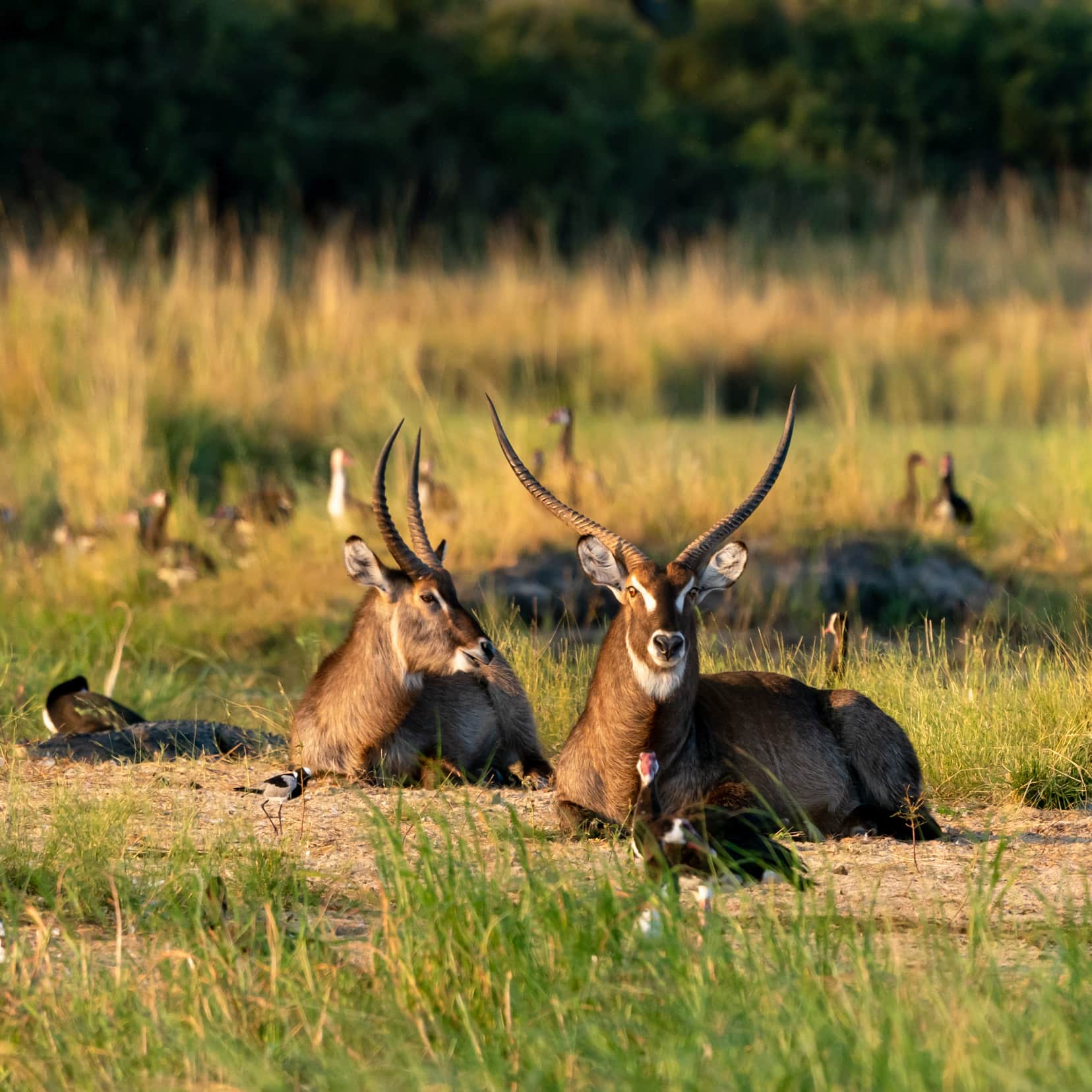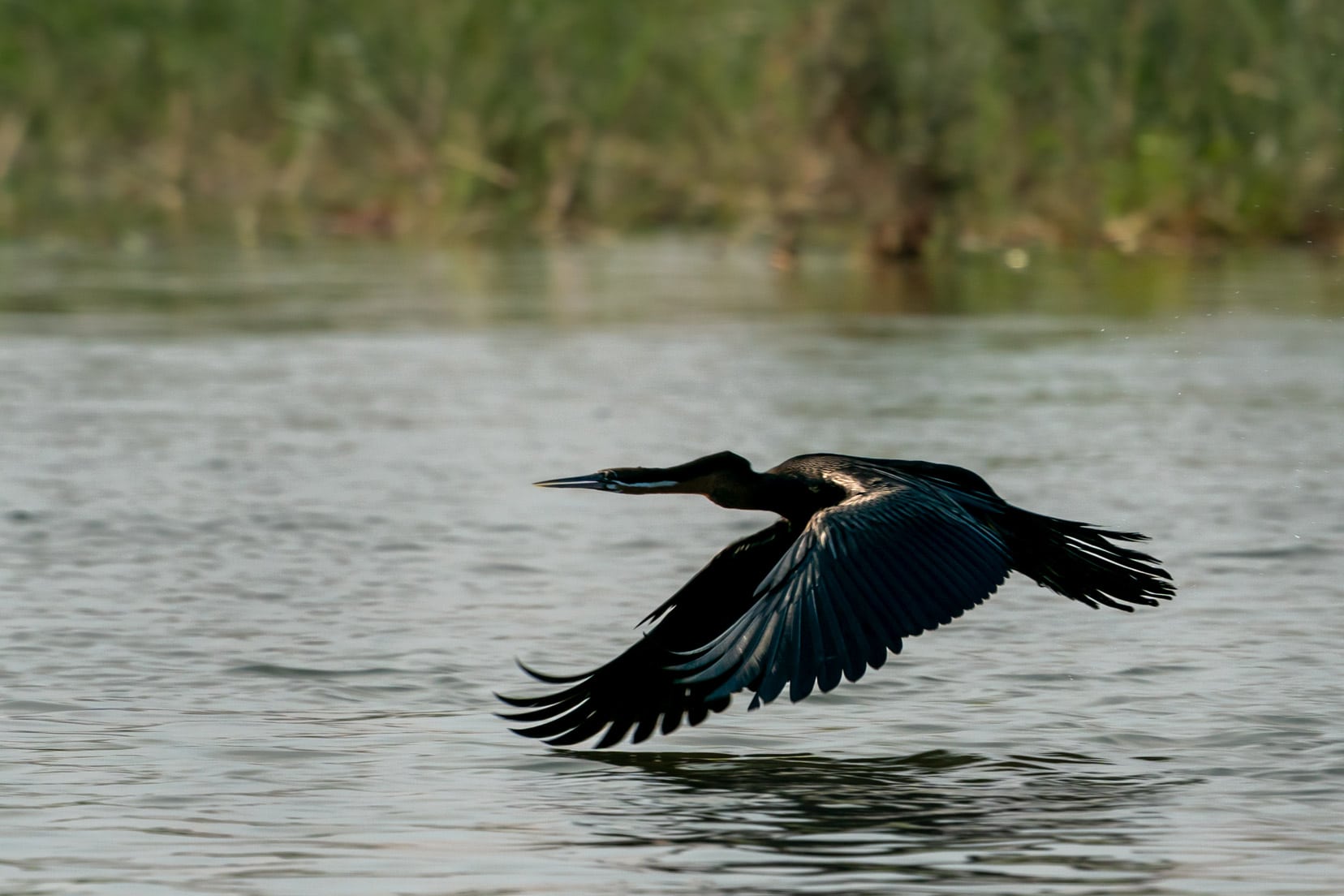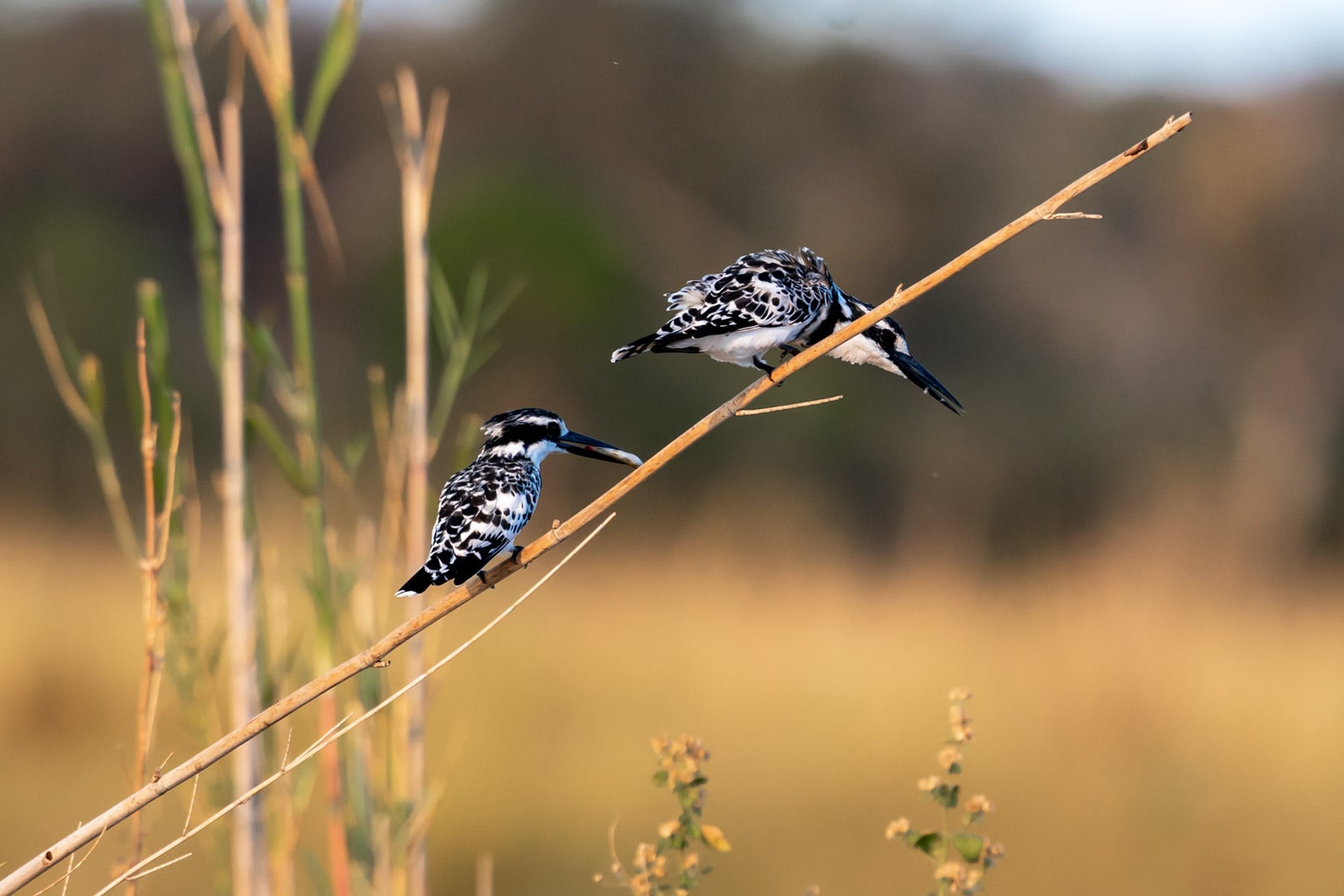 Our Buffalo Park Safari Tour Experience
One of the most popular tours that the lodge organises is the Safari Game Drive to Buffalo Park, the Buffalo Core Area of Bwabwata National Park.
Buffalo Park is normally around a 40-minute drive away, but the beauty of taking a tour with Ndhovu is that you are taken across the river by boat to the National Park, where you are then met by your guide and game drive vehicle.
So, not only do you save precious time, but your experienced safari guide is also able to find the best wildlife sightings for you.
We do many of our own self-drive safaris, but when we went on the Ndhovu Game Drive, we saw so much more than would have been possible had we been driving around the park ourselves.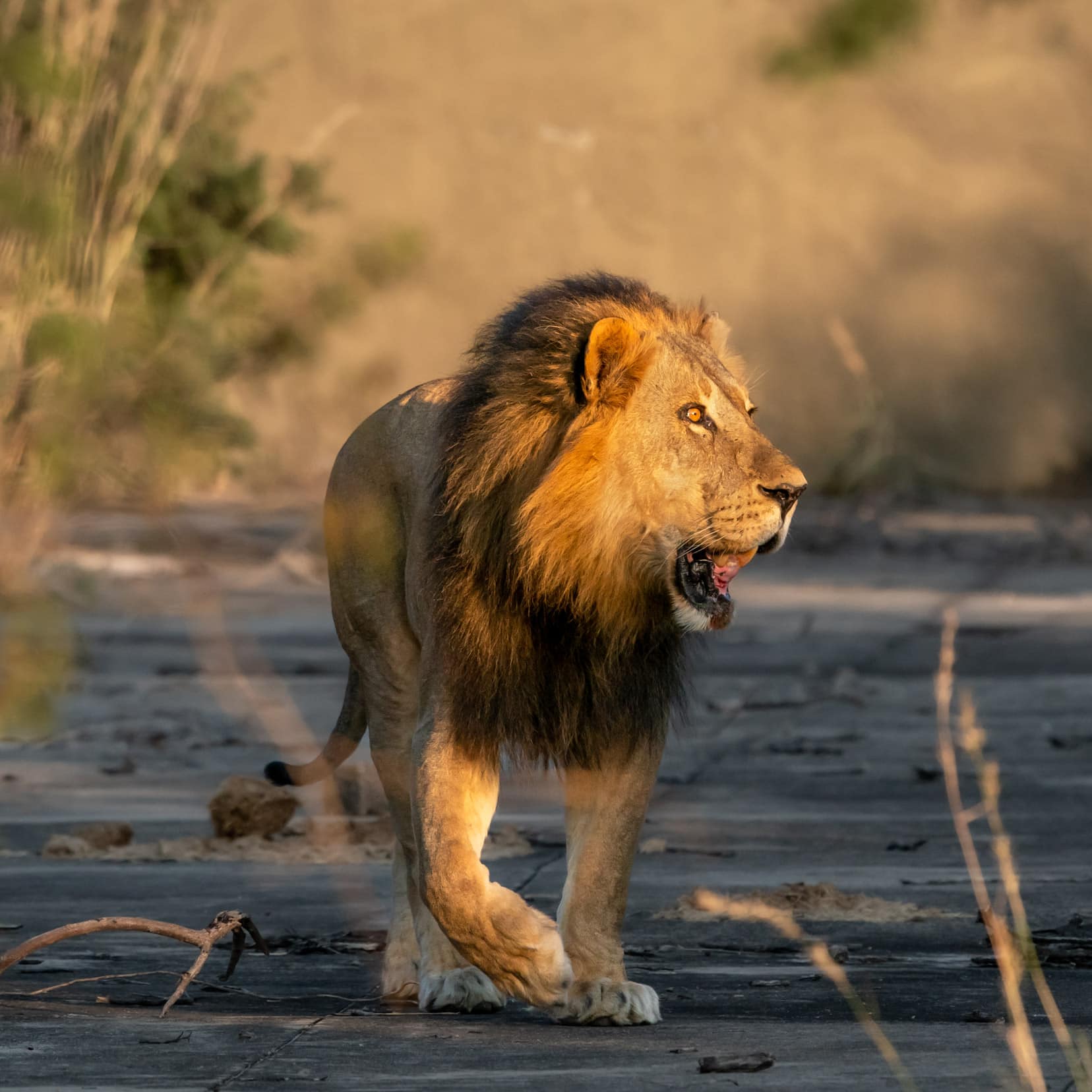 Nothing can quite beat being with an experienced tracker. Also, the game drive vehicles are able to go off road and follow the wildlife into areas that the general public isn't able to drive.
Our Ndhovu guide, Boniface, managed to track down the pride of lions in Buffalo Park, and we spent a good amount of time watching some young male lions and the older lionesses of the pride stalk sable and then buffalo.
Apart from the eight lions, we also spotted impala, kudu, bushbuck, waterbuck, warthog, fish eagles, juvenile bateleur eagles, a sparrowhawk, lots of bee-eaters, vervet monkeys and plenty of elephants.
The tour began at 2.30, and we returned to the lodge at about 6.30 p.m.
It is also possible to book a guided safari tour for the Mahango Core Area, but as it is so close and easy to drive around with a 2×4, we recommend doing that one yourself.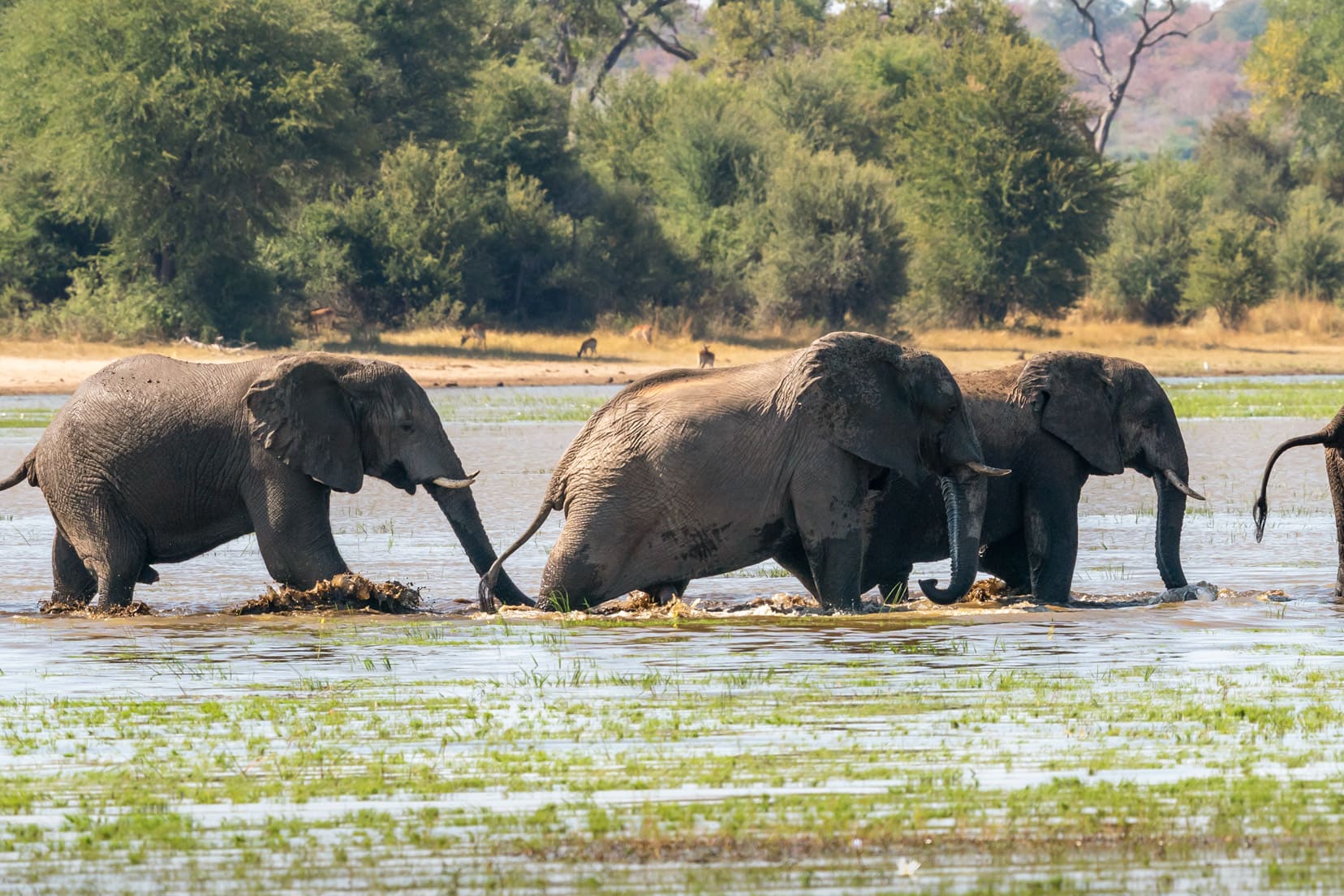 How to Get to Ndhovu Safari Lodge
The Ndhovu Safari Lodge is situated on the banks of the Kavango River in the Divindu area of Northern Namibia, along the Caprivi Strip.
From Divundi (along the B8), you take the C48/D3403 road south for about 20 km, and you will turn left at the Ndhovu Safari Lodge sign.
Follow the signs for about 2 km to the lodge.
Summary of Our Review
We absolutely loved our time at Ndhovu. Whether you stay in the campsite, chalet or one of the luxurious suites, all are wonderful.
The location of the lodge is amazing, and as mentioned, this was by far our favourite camping spot throughout Namibia.
Watching elephants on the river banks and listening to roaring lions, hippo grunts, and birds singing around us was a special experience.
But I don't want you just to take our word for how great a stay at Ndhovu is.
Other guests are just as impressed, and it was no surprise that Ndhovu Lodge has excellent guest ratings on Booking.com and Tripadvisor.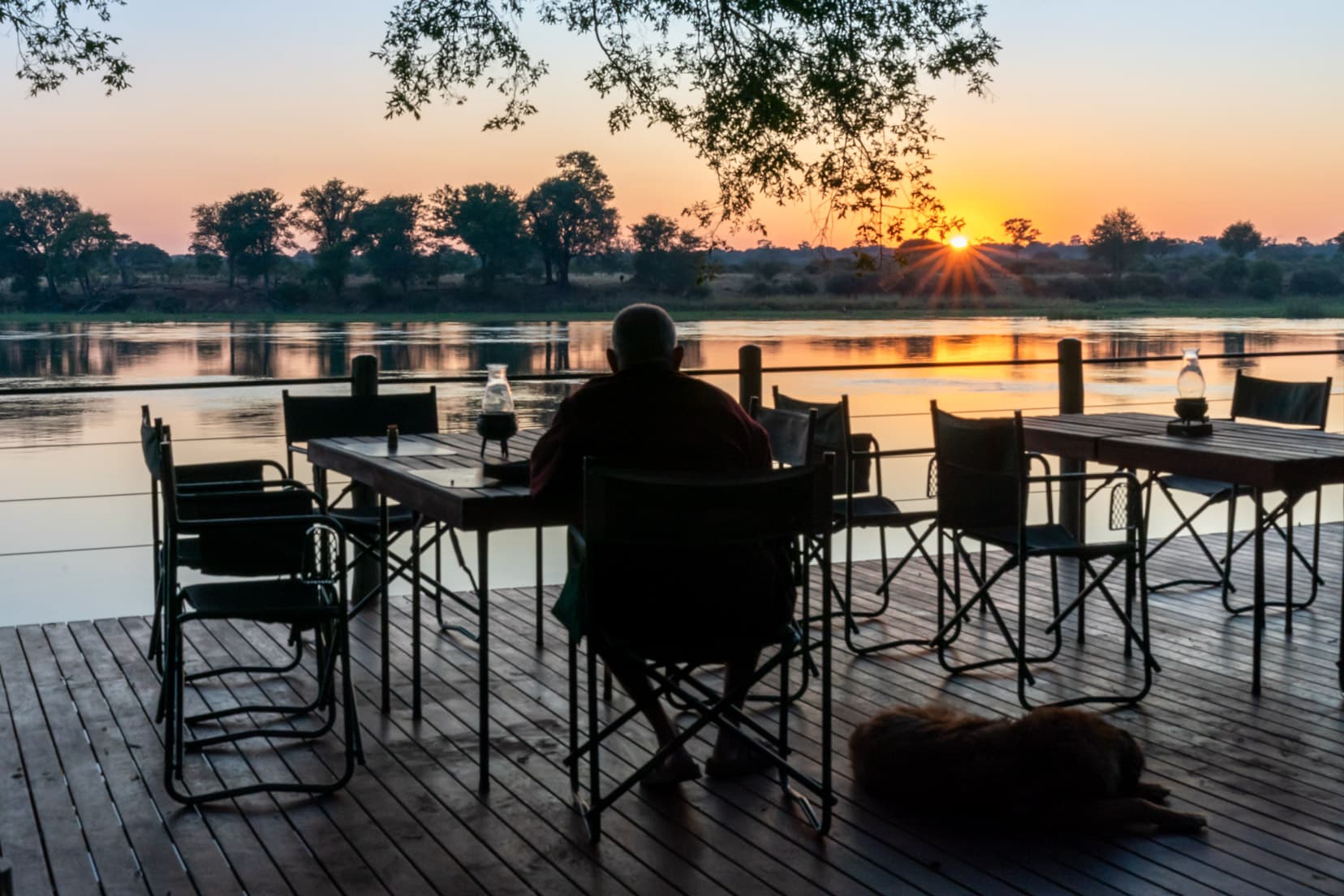 Other Guest Reviews
I've gathered together a selection of recent comments from guests that captured what most had to say about their stay at Ndhovu Safari (with their nationalities and dates, inc. ):
Everything was fantastic – South African, April 23
The river cruise was amazing – South African, Nov 2022
All staff were extremely friendly – German, Jan 2023
The food was prepared excellently with a lot of love – German, April 2023
Just incredibly beautiful – German, January 2023
Birdlife was superb – German, April 2023
The river suite was absolutely incredible – Australian, April 2023
Check out more reviews for yourself here.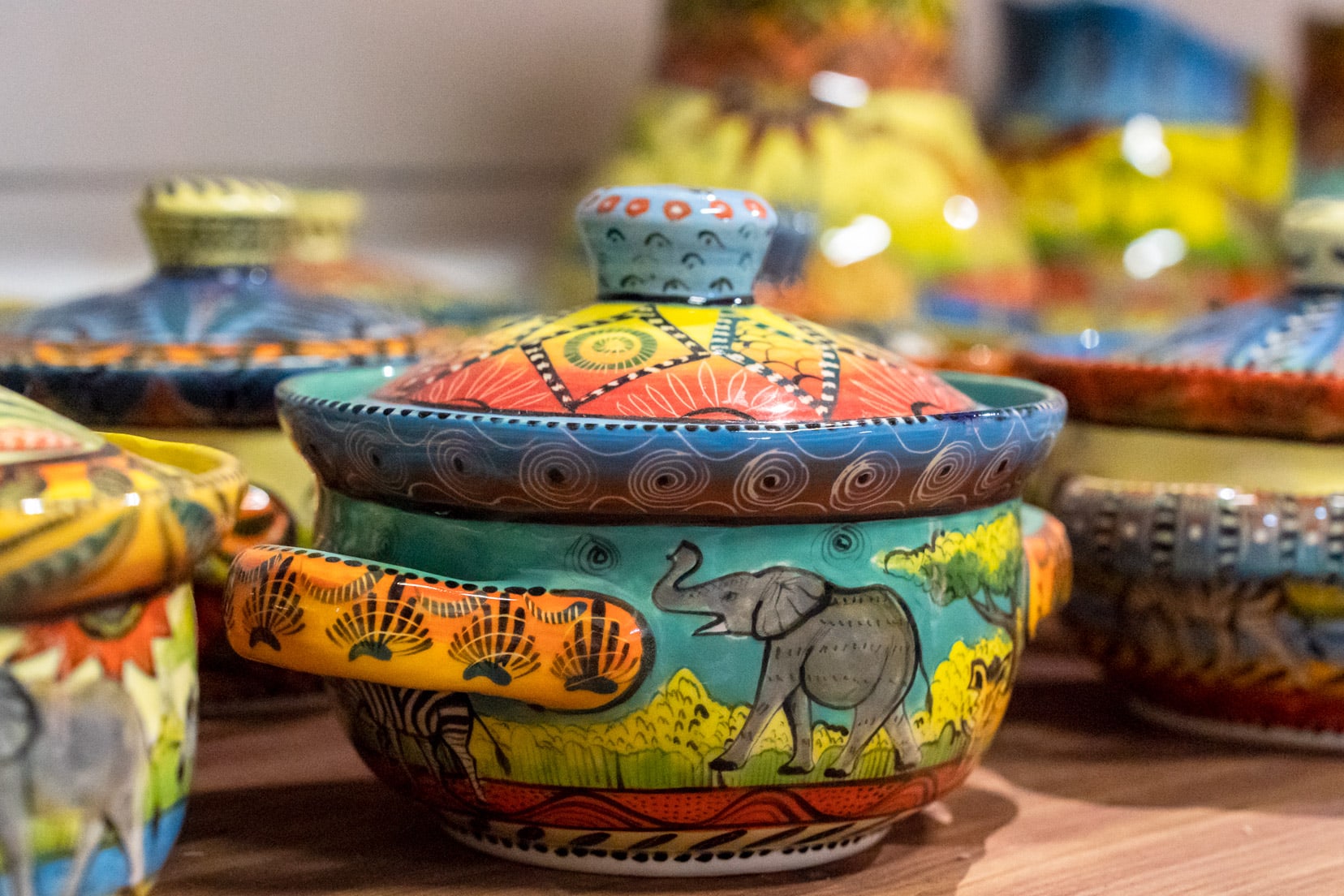 Ndhovu Lodge Namibia FAQS
What type of accommodations are available at Ndhovu Safari Lodge?
Ndhovu Safari Lodge offers Luxury river suites, glamping tents, a self-catering chalet, premium chalets and campsites.
What is Ndhovu Safari Lodge?
Ndhovu Safari Lodge is a safari lodge with a range of different accommodation options situated on the banks of the Okavango River in Namibia's Caprivi region (otherwise known as the Zambezi region).
How can I make a booking at Ndhovu Safari Lodge?
You can make a booking at Ndhovu Safari Lodge HERE or on their website or by contacting their reservations office via email or phone: [email protected] or +264 61 22 4 712
What wildlife can be seen at Ndhovu Safari Lodge?
Ndhovu Safari Lodge is situated on the river bank opposite part of Namibia's Bwabwata National Park, home to a variety of wildlife, including hippos, lions, buffalo, elephants and much more.
What activities are available at Ndhovu Safari Lodge?
The activities at Ndhovu Safari Lodge include safari game drives, river cruises, fishing trips, a local village visit, an excursion to nearby Popa Falls and a visit to the UNESCO-listed Tsodilo Hills in Botswana.
At the lodge, guests can use the swimming pool and relax on the terrace with fantastic views of the National Park and its wildlife on the opposite river bank.
Where is Ndhovu Safari Lodge situated?
Ndhovu Safari Lodge is situated on the banks of the Okavango River in Divundu, Namibia, in what was known as the Caprivi Strip but has been renamed the Zambezi region.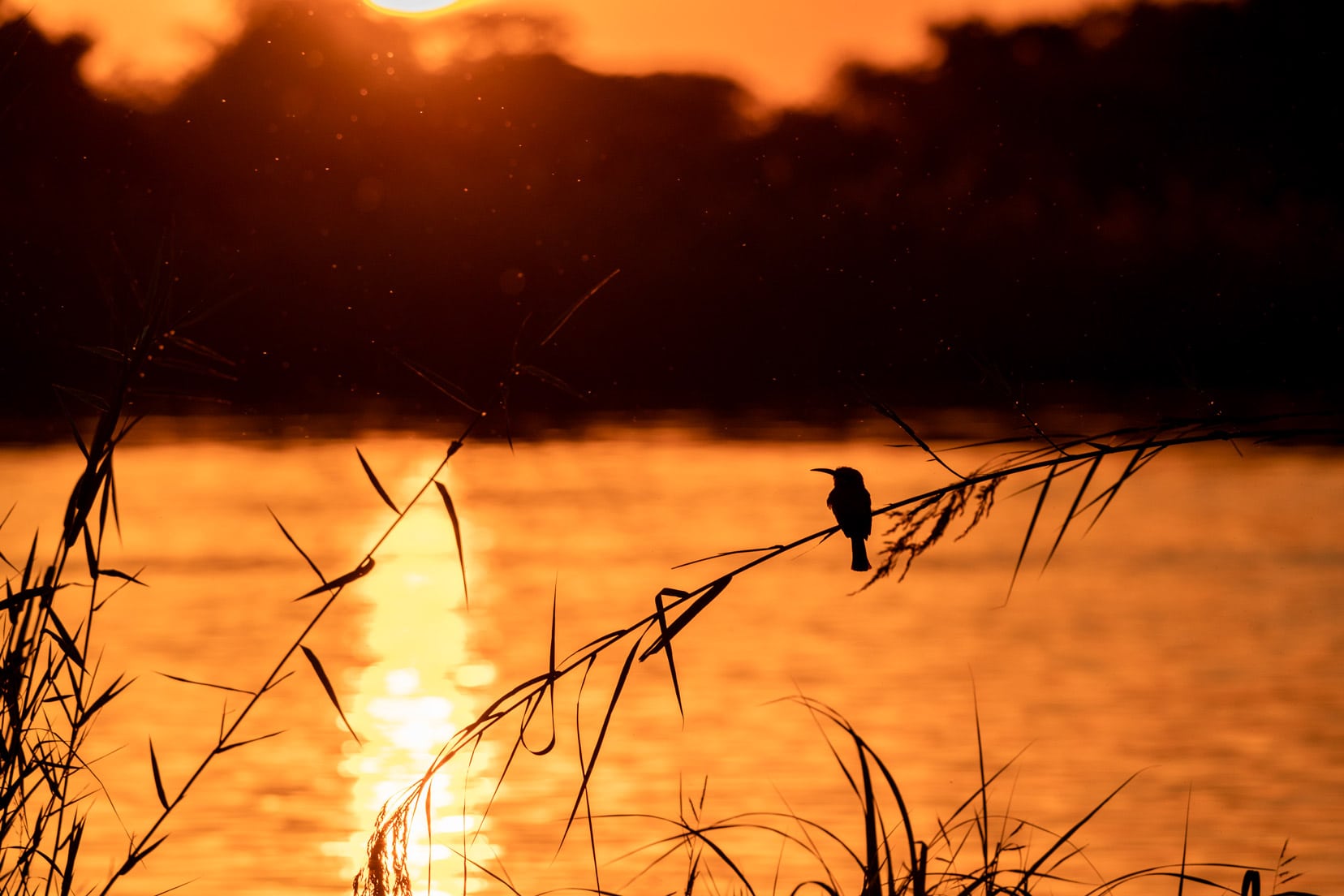 Ndhovu Safari Lodge Review … That's a Wrap
If you are travelling in the Caprivi Strip (or Zambezi Region), we cannot recommend this lodge enough.
Whether you want to camp, stay in a glamping tent or go for even more luxury by choosing a floating river suite or newly designed luxury suite overlooking the river, this place comes up trumps in our books.
We have such treasured memories of our stay, particularly our lion encounters. Listening to their calls echoing across the river at night is thrilling and a sound we could never tire of hearing.
The sounds of Africa embrace you here, and you will leave with a little part of Ndhovu and its African charm with you for years to come.
👉 Check out the room rates and reviews on Booking.com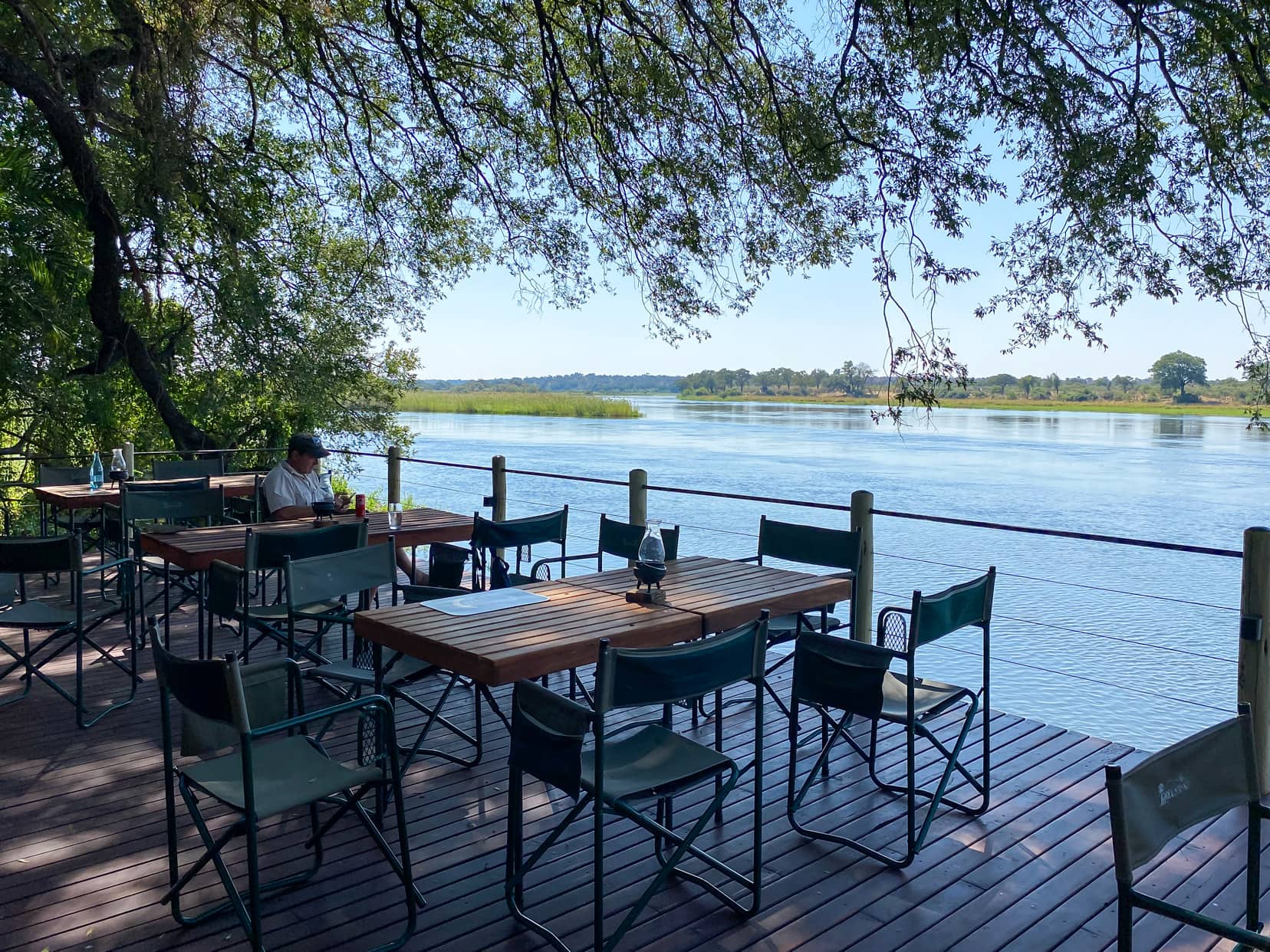 You May Also Like to Read:
PLANNING YOUR TRAVELS?
These are some of the travel resources we use when planning our trips.
For a more thorough list, visit our Travel Resources page here.