WHY YOU WON'T FIND AN ICELAND ICE HOTEL
What you'll find In this article:
What it's like to sleep in an Ice Hotel
Why you won't find an Iceland Ice Hotel
Where you will find an Ice Hotel and
Where you'll find an Ice Hotel that is open all year round.
We were going to visit Iceland in the future and I wanted to visit an Ice Hotel while we were there.
However, even though 'Iceland Ice Hotel' comes up as well-searched in Google, when you try to find one, your search will be fruitless.
Surprised?
We certainly were.
Although Iceland's name suggests it is the land of ice, an actual Iceland Ice Hotel does not exist.
The clue is in the well-known phrase — Iceland is the land of fire and ice.
Note the word 'fire'…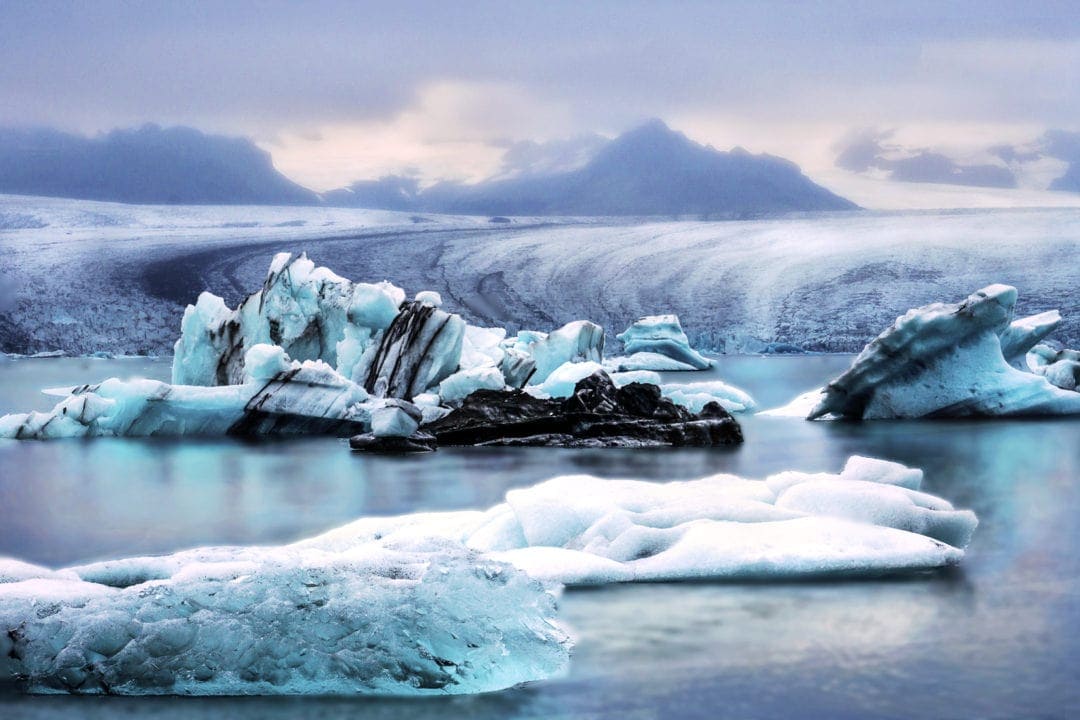 Why There is no Ice Hotel in Iceland
There are a few reasons why you won't find an Ice hotel in Iceland:
Iceland does not have an accessible large amount of ice from which to build an ice hotel. The parts of Iceland that are frozen are inaccessible.
In addition, the main tourist areas are in the 'Golden Circle' area of Iceland, known for its hot springs and geysers. These are not the ideal conditions for an Iceland Ice Hotel.
Furthermore, around 64% of Iceland's population lives near the country's capital city, Reykjavik, in the southwest of Iceland. Therefore, building an ice hotel in Iceland would neither be practical nor profitable.
WHICH COUNTRIES DO HAVE ICE HOTELS?
Although you won't find an Iceland ice hotel, you will find ice hotels in these countries: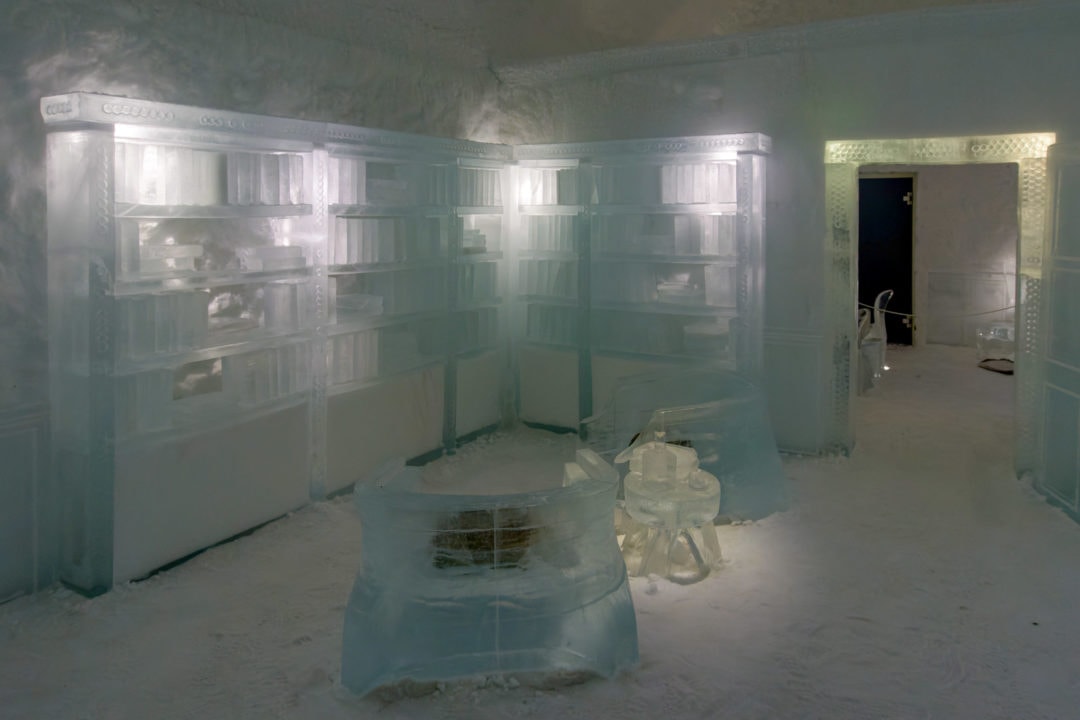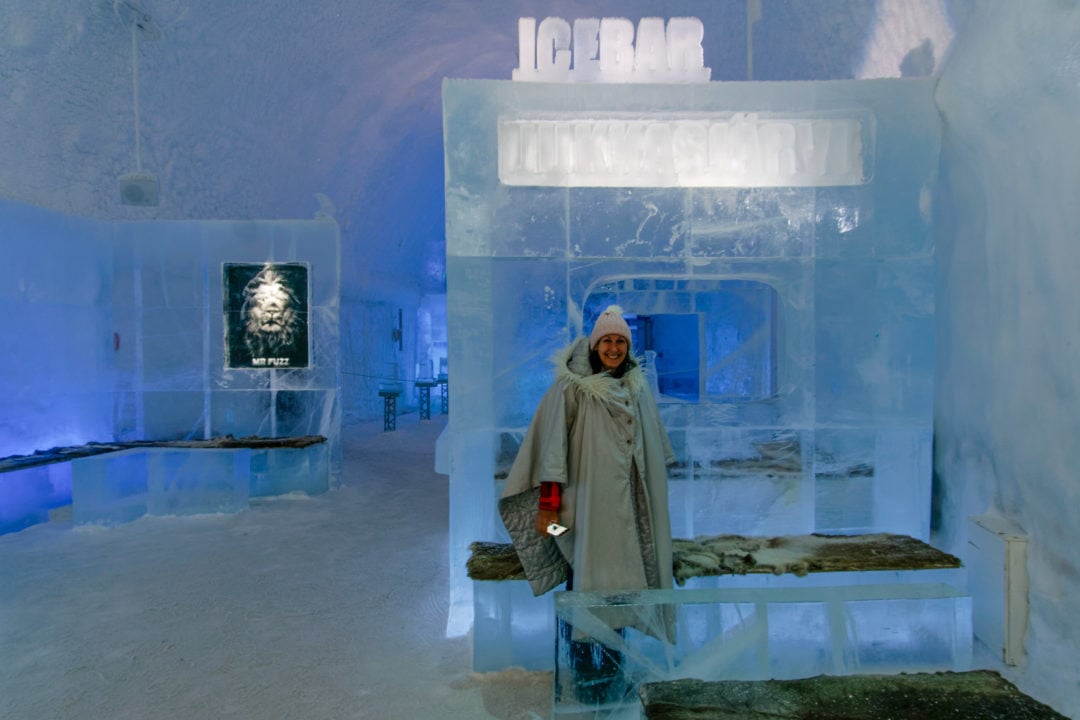 VISITING AN ICE HOTEL
Ever since watching Joanna Lumley documenting her Ice Hotel experience back in 2009, sleeping in an ice hotel had been high on my bucket list.
The experience looked exciting, adventurous and magical and one that was up there on the list along with finding the Northern lights.
Take a peek at her documentary that inspired my dream — it's quite hilarious.
(Skip to 4 minutes 53 seconds for the Ice hotel part of the documentary).
THE ICE HOTEL SWEDEN
So, with our hopes of visiting an Iceland Ice Hotel dashed, we began researching other options.
We then discovered the 365 Ice Hotel in Sweden.
We were going to be driving through Sweden on our journey to France from Norway. And although it wasn't winter, that didn't matter, because the 365 Ice Hotel is open all year round.
The 365 Ice Hotel is kept at -5 degrees year-round, so whatever time you visit Sweden, you can tick off an 'Ice Hotel stay' from your bucket list.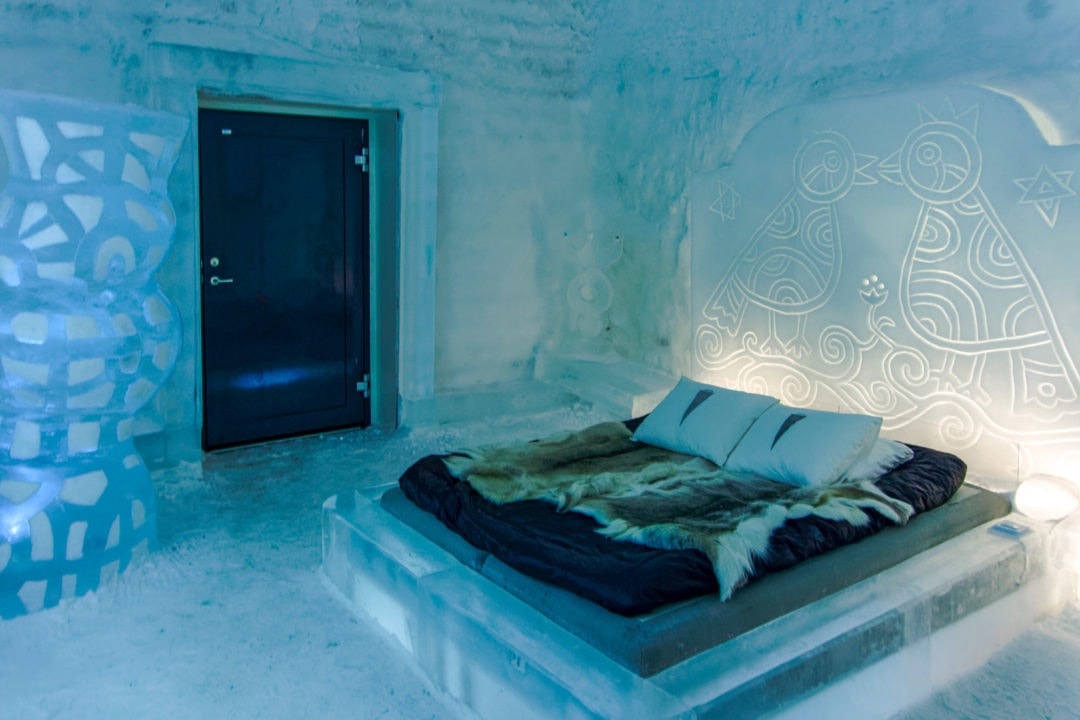 WHERE IS THE ICE HOTEL SWEDEN?
ICEHOTEL Address: Marknadsvägen 63, 981 91 Jukkasjärvi, SWEDEN
WORLD FIRST 365 ICE HOTEL
The Swedish Ice Hotel sits 200 kilometres north of the Arctic Circle, in the small village of Jukkasjärvi. It originally opened in 1989 as a seasonal hotel that is solely built for the winter season and then melts in spring.
However, in 2017, it also opened the new 365 Ice Hotel. It is the first permanent ice hotel in the world.
Therefore, if you visit from December to March, you will have a choice to stay in either the Seasonal or the 365 Ice Hotel.
So, if you are disappointed that there is no ice hotel in Iceland, then you can instead rejoice that there is an ice hotel in Scandinavia that you can visit at any time of the year.
And what an experience it is.
It will satisfy any Ice Hotel experience cravings you may have … and more.
So read on and step through into another world.
A world that is immediately enchanting, captivating and magical.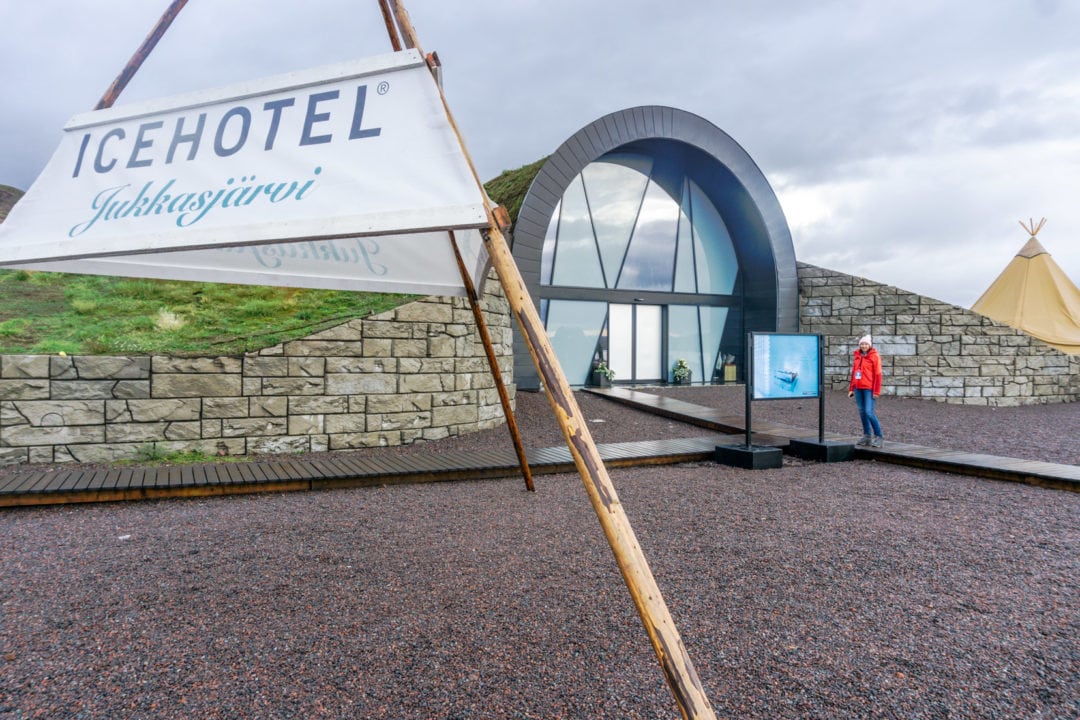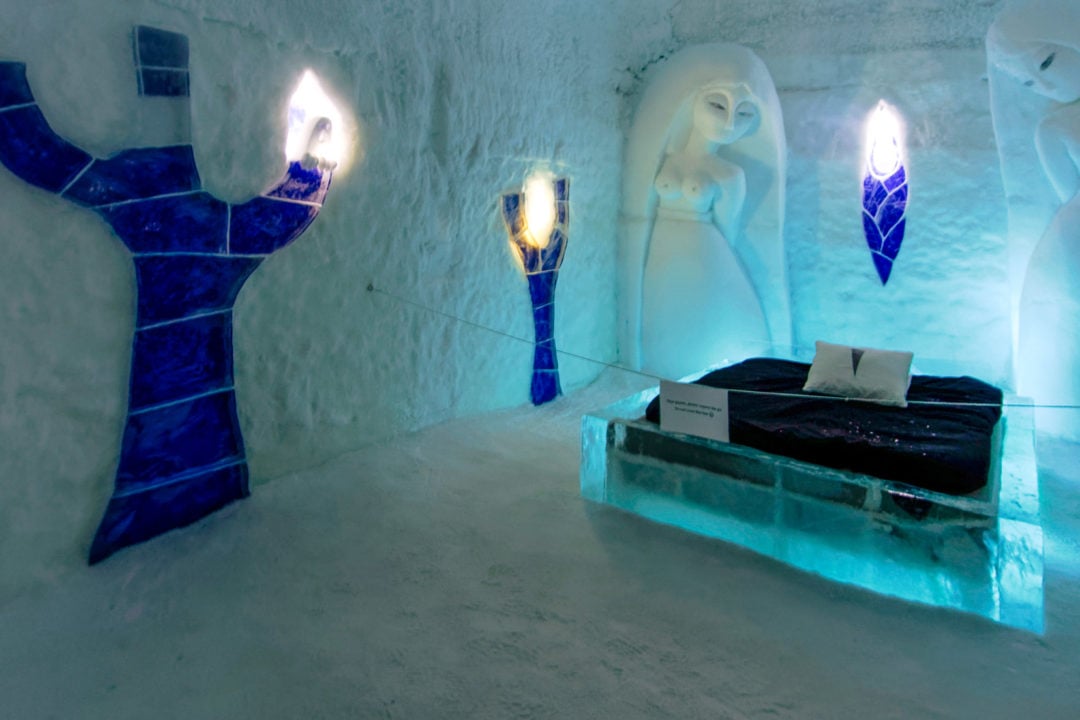 THE SEASONAL ICE HOTEL
The Seasonal Hotel is crafted from 1000 tons of ice, harvested from the adjacent Torne River.
Artists come from all around the world to create their chosen designs for that year's hotel.
Come spring, the hotel melts, flowing back into the river from which it came.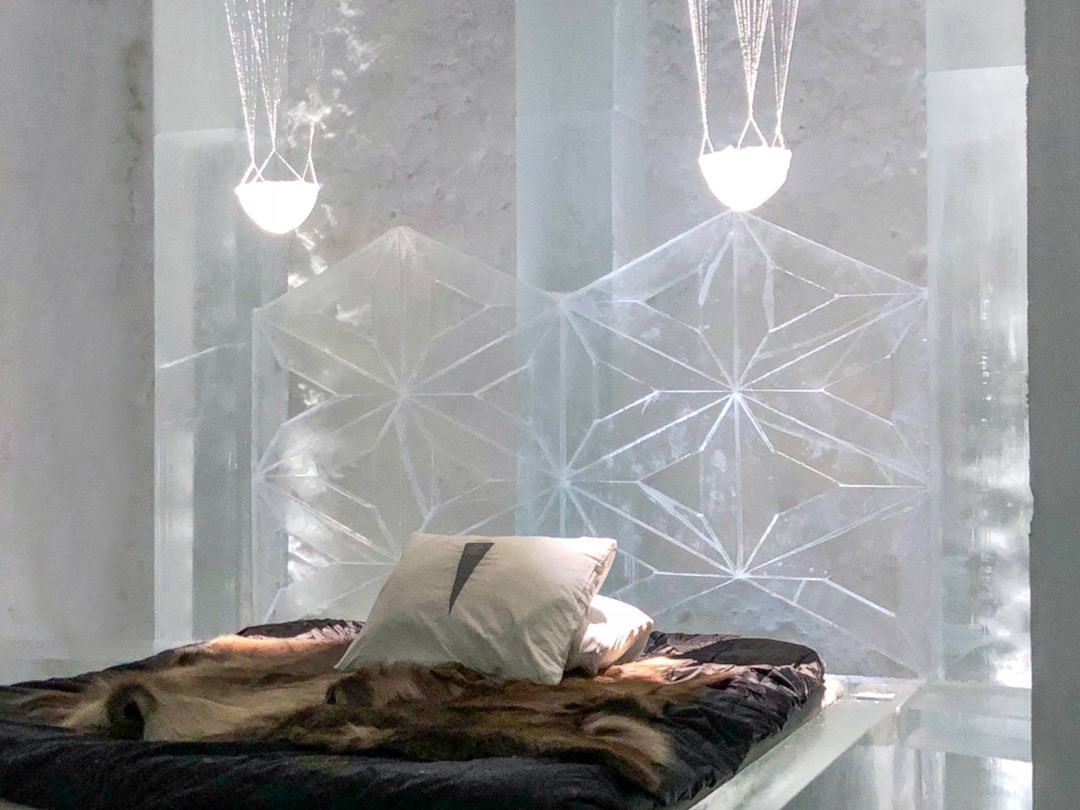 THE 365 ICE HOTEL
As we visited in late September, we were staying in the permanent 365 Ice Hotel. The temperature of about -5°C/21°F is maintained throughout the year by utilising solar panels, the perfect eco power source for the land of the midnight sun, where, in the height of the summer, the sun never sets.
The 365 Ice Hotel has twenty rooms, with a combination of Art Suites and Deluxe Suites.
Each room has its unique theme, showcasing different artists' creative designs.
The Deluxe Suites have a 'warm room' connected to them with a bed, private showers and toilet.
WARM ROOM CABINS AT THE ICE HOTEL
Separate to the Ice Hotel, there are self-contained 'normal' cabins available all year which you can choose to stay at if you are not ice-friendly. Most people only choose to stay in the Ice Hotel for one night and then move to a cabin for the rest of their stay.
ENCHANTED WORLD OF THE 365 ICE HOTEL
After check-in, we were keen to explore the Ice Hotel itself. At the entrance, you are given a long, thick cape before you then step into the main ice hall.
Here, you find yourself in another world. An immediately enchanting world. As your eyes move around the entrance hall, they are captivated at every glance.
The combination of the icy cold, the snow-muffled silence, and being surrounded by amazingly intricate ice designs makes for a moving and surreal experience.
It was more than we ever expected.
Simply beautiful.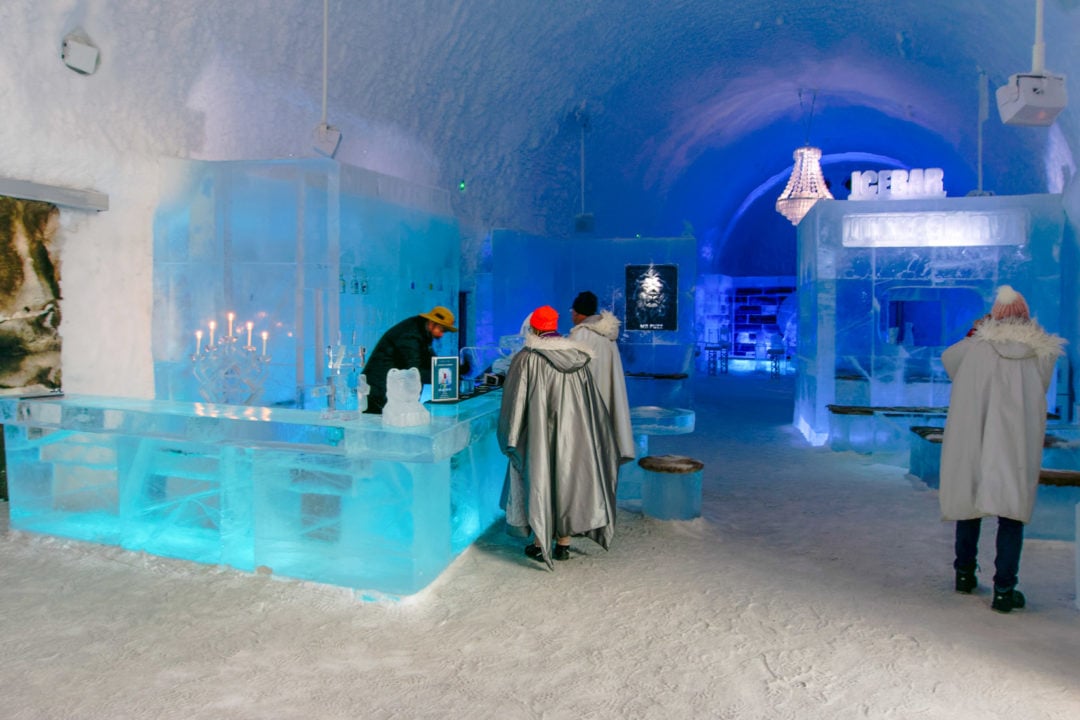 Within the main hall, incredible chandeliers were hanging from the ceiling. We imagined that they could not be made of ice, but each one is made from hundreds of hand-cut ice crystals.
Here, there is also an Ice Bar, where you can order an ice-themed cocktail if you'd like to add an extra chill to your experience.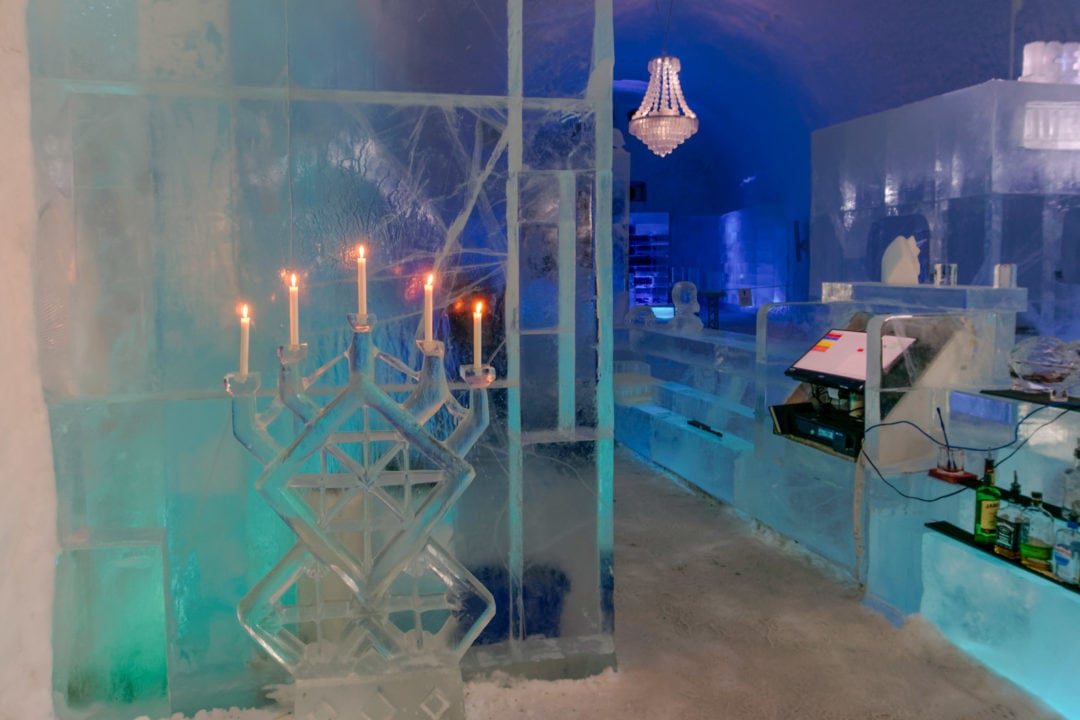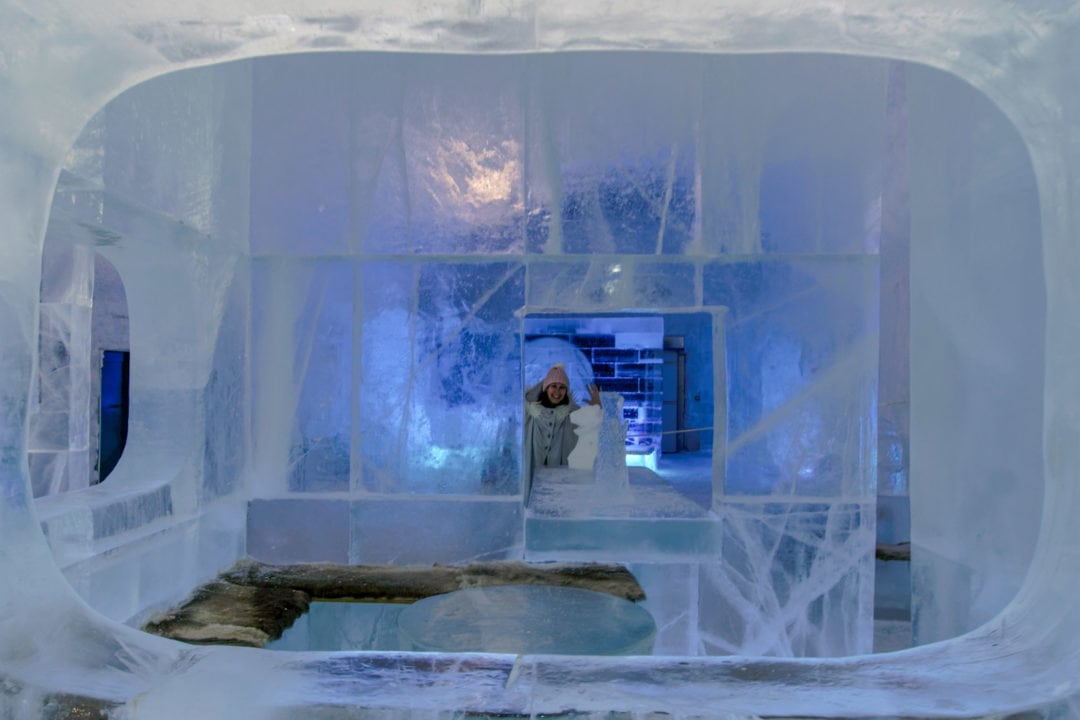 ICE AND SNOW CREATIVITY ABOUNDS
Still reeling in the wonder of our fairytale surroundings, we went through the reindeer-covered door into the corridor which held the ice rooms.
Here the magic continued.
We felt like we had entered some kind of portal into the realm of Narnia.
Each room held its delight, with breathtaking designs. From winding ice staircases and giant deer, fireplaces and bookcases, giant statues and ice angels, they all thrilled their onlookers with their distinctive splendour.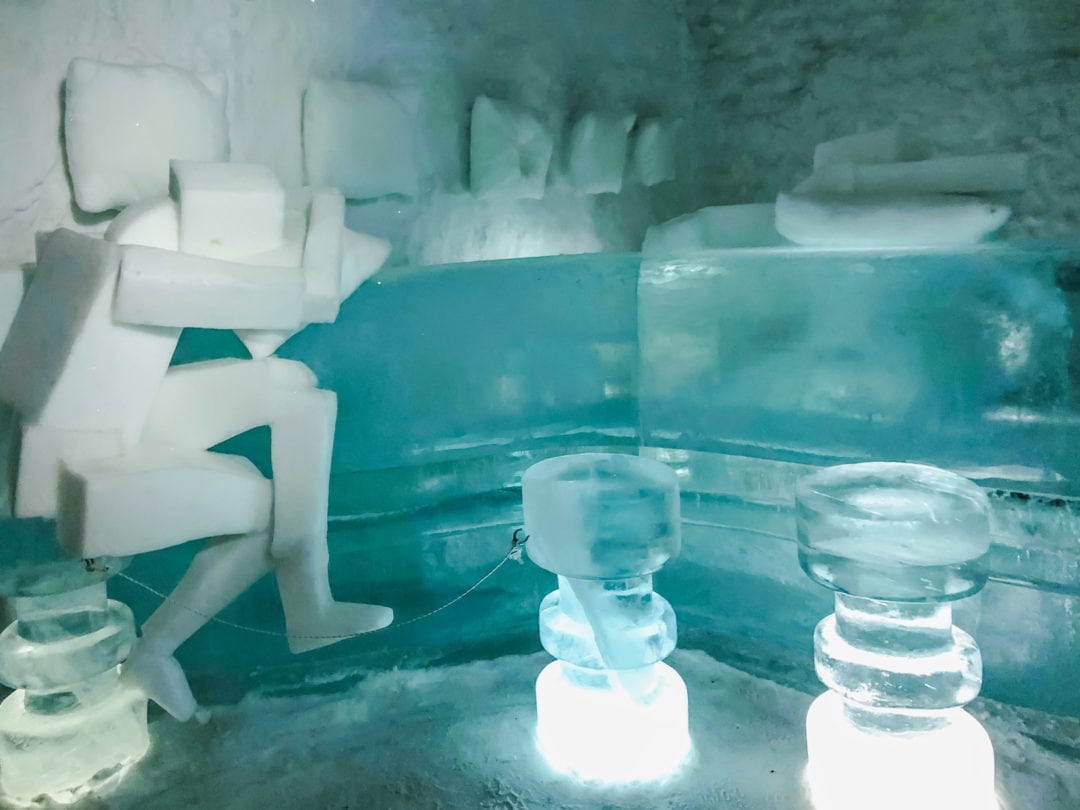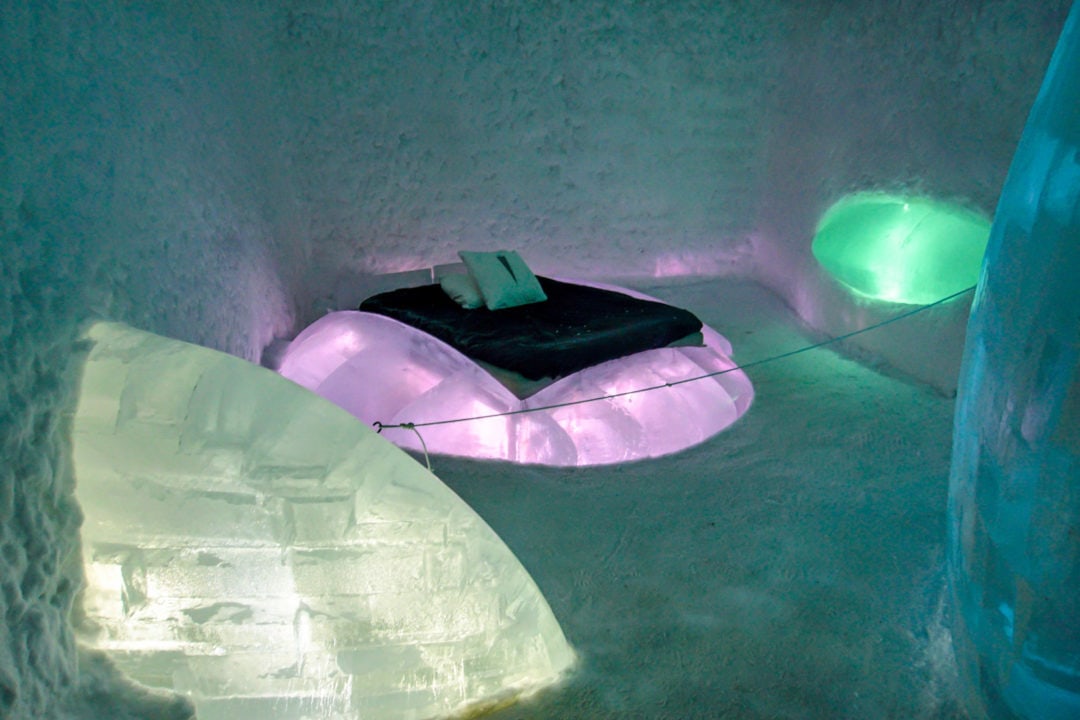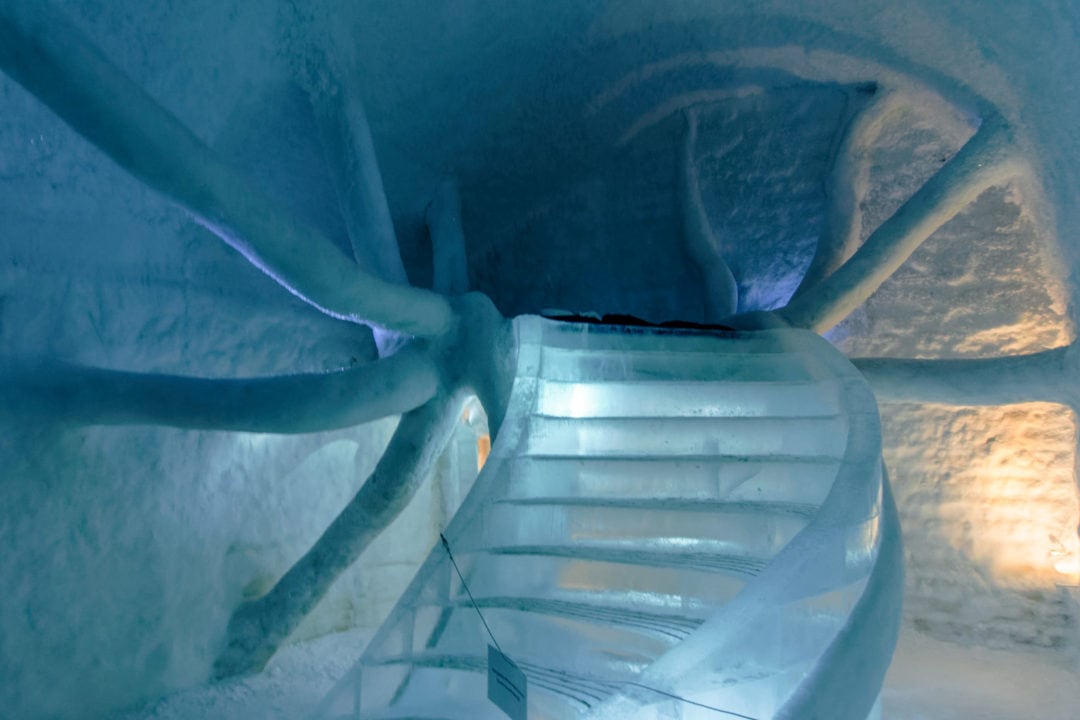 Our cameras clicked away until our fingers barely worked, the cold desperately nipping at them. We managed about fifteen minutes before our exposed body parts screamed for us to leave.
It was at this point that we both wondered how on earth we could sleep there. Moreover, why would anyone in their right mind want to sleep in something akin to a 'fridge' overnight?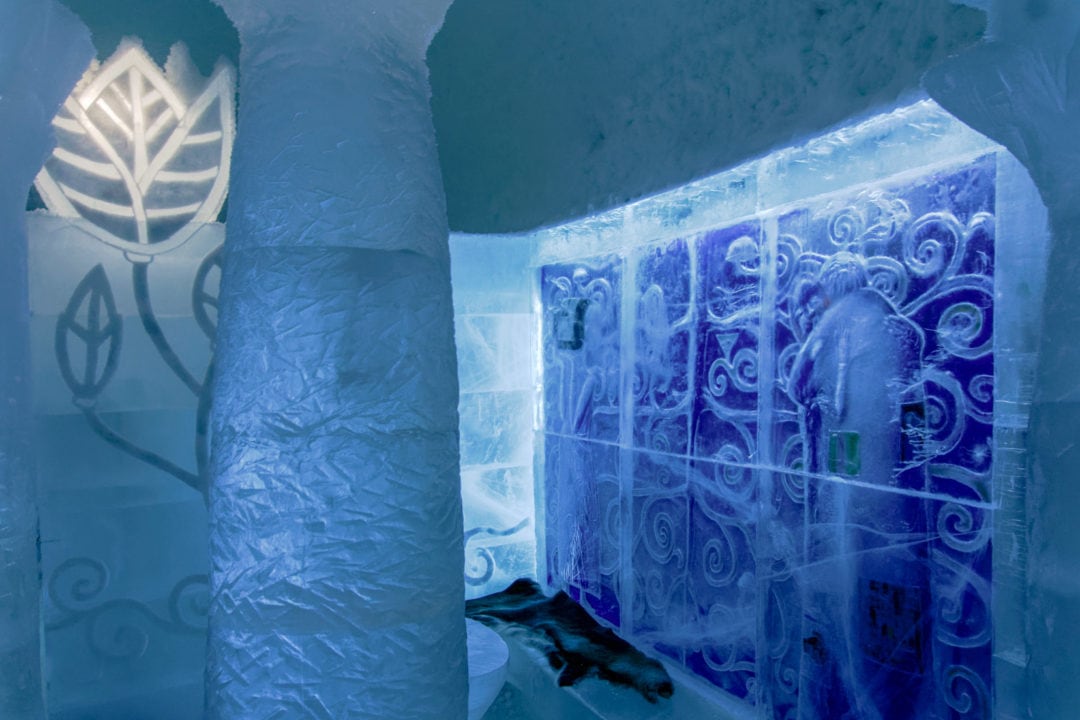 ICE HOTEL INDUCTION
An induction session is held for all Ice Hotel guests at 5.30 pm, before being given access to your room.
You also receive; a thermal sleeping bag, balaclava and snow boots.
It is recommended that you sleep in thermal woollen leggings and top.
Other things to take note of are:
Do not have a hot shower or sauna straight before going to bed
Keep fluids to a minimum near bedtime. You will not want to get out of bed to find the toilets.
Keep all of your belongings in your locker or warm room.
You should place any items that you take into the ice room (eg. phone, camera) inside your sleeping bag to prevent them from freezing.
During our stay, the reception was closed from 11 pm. As such, a complimentary 'warm room' (separate cabin) was available for our use from the time of our arrival at 4. pm until 11 am the next day. This meant that if we couldn't handle the cold in the Ice Hotel, then we had somewhere cosy to go to get a good night's sleep.
Though we both knew that wimping out wasn't an option.
This was a fantastic deal, and the warm room was a great place to store our things and relax in, before venturing into our ice room for the night.
This was a lifetime experience, and no matter how it went, it was an experience we would see through.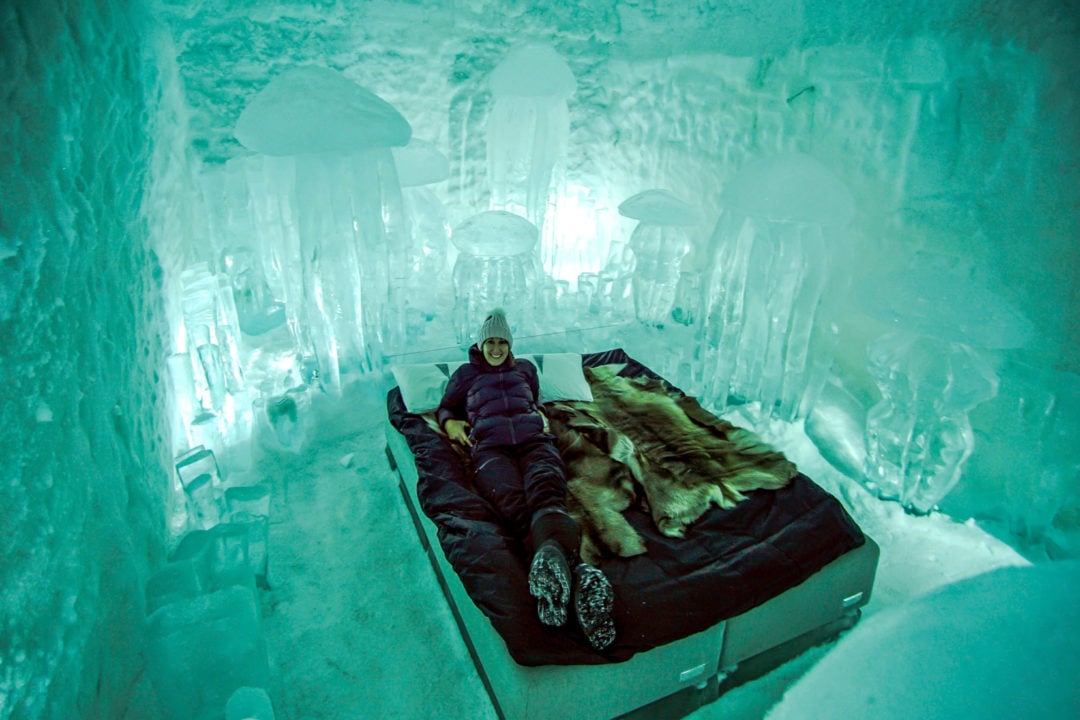 WHAT'S IT LIKE TO SLEEP IN AN ICE HOTEL?
'In the morning, I emerged, not so much like a butterfly, but a dishevelled icy pole. I emerged nonetheless.'
Find out more in this short video below:
With nature's wonders all around us, we excitedly made our way to our frozen chamber. Reindeer pelts cover the mattress, which tricks your mind into thinking that this is a cosy experience.
As we lay huddled in our sleeping bags we gazed at the magical bloom of ice jellyfish encircling us. Who could fail to fall asleep and dream beautiful dreams while under the influence of this unique underwater ambience?
However, beautiful dreams there were not.
In fact, there wasn't so much dreaming going on during the night as there was me trying to work out where the hell the head opening to my sleeping bag was.
I had buried myself so deeply in the attempt to stay warm, that I had completely lost my bearings. Moments of panic ensued, like a caterpillar constrained in its much too snug cocoon, I struggled and wriggled until I felt a brisk arctic chill invade my nostrils.
A few seconds of welcome relief, knowing there was an escape route if needed before I plunged my exposed nose back into the depths, trying to find slumber.
It was the kind of sleep where you feel you have been awake the whole time but too many hours have passed, so you must have unwittingly dropped off at some point.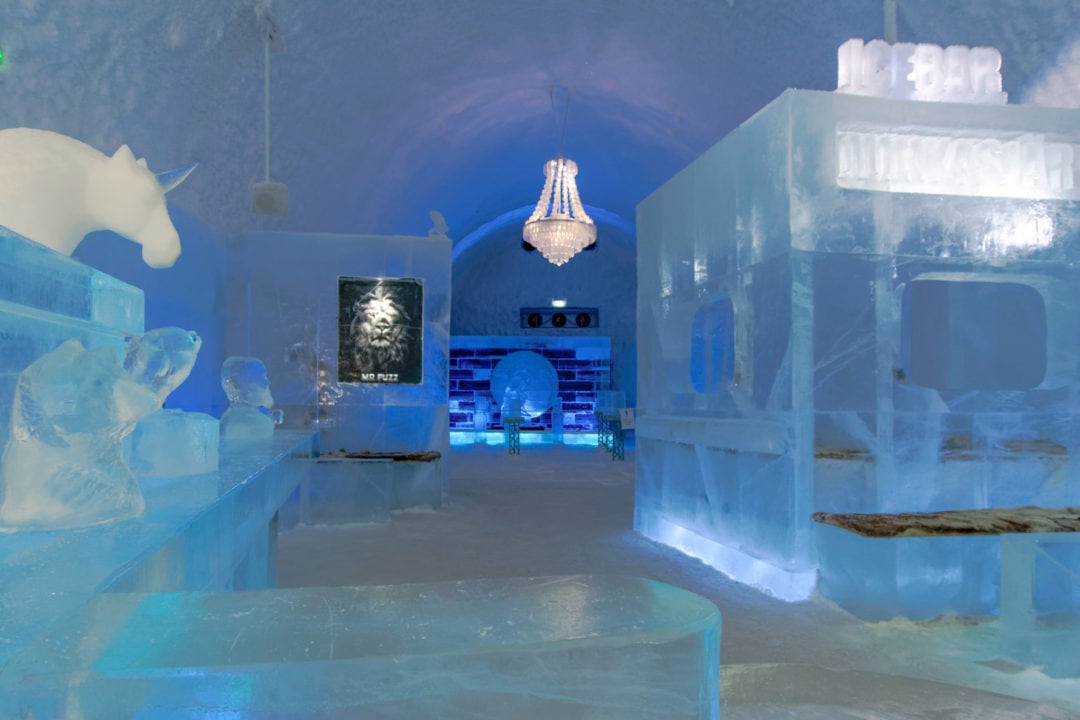 In the morning, I emerged, not so much like a butterfly, but a dishevelled icy pole.
I emerged nonetheless.
Happy to have survived the night and not quite as frozen as the room's bespoke art.
Lars had also slept in fits and starts, and although not as cold as me, uncomfortable enough to prevent deep sleep.
There seemed to be a mixed reaction from the other guests, so it's not completely impossible to get a good night's sleep.
The joy is in the experience rather than achieving a great night's sleep.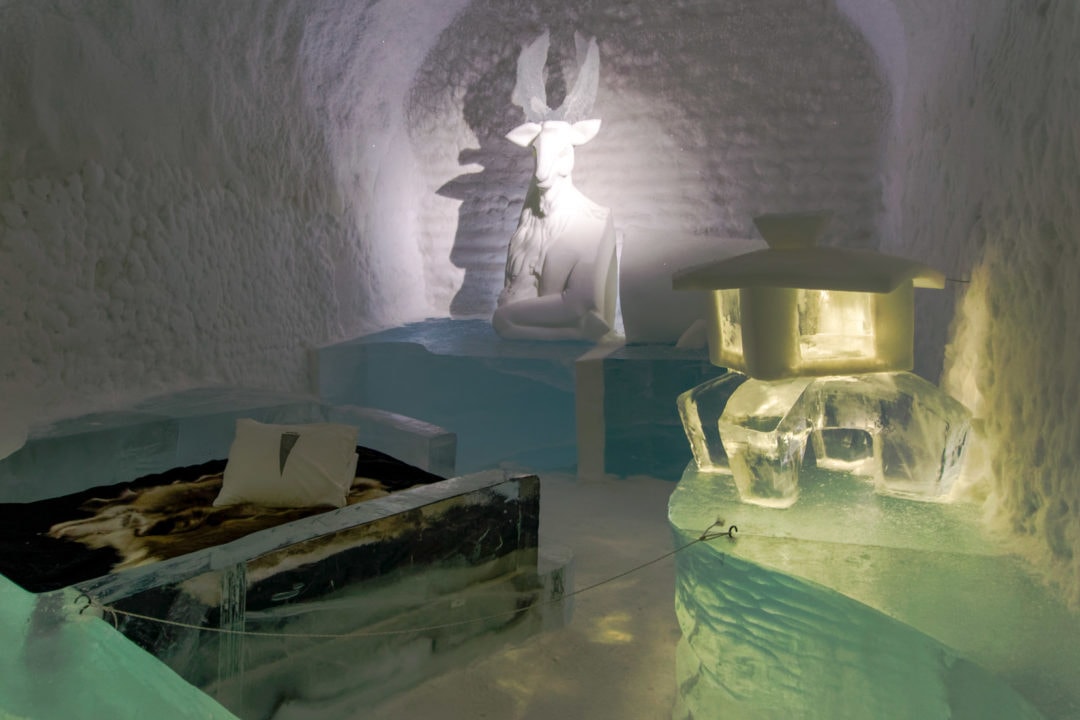 DEFROSTING AT THE ICE HOTEL
The wake-up call, with a cup of hot lingonberry juice, was at 8.00 am.
We peeled ourselves out of our sleeping bags, slid into the snow boots and trudged our way to the reception.
The temperature outside was a welcome balmy 2°C. We passed on the option of a sauna, downed our welcome, 'you survived the night' juice and retired to our 'warm room' for the immediate gratification of a hot shower.
We were still contemplating whether we had 'enjoyed' the whole experience, as we tucked into the delicious full buffet breakfast at the restaurant.
Eggs, bacon, the works. Pancakes on top? Why not?
We'd just survived a night in Arctic conditions for goodness sake — we were practically arctic pioneers.
Time Magazine listed the Ice Hotel, as one of the top 100 places to visit in the world in 2018. We would have to say, that we agree.
The experience far outweighed our expectations. It was worth doing and an unforgettable experience.
Worth doing once … and perhaps only once.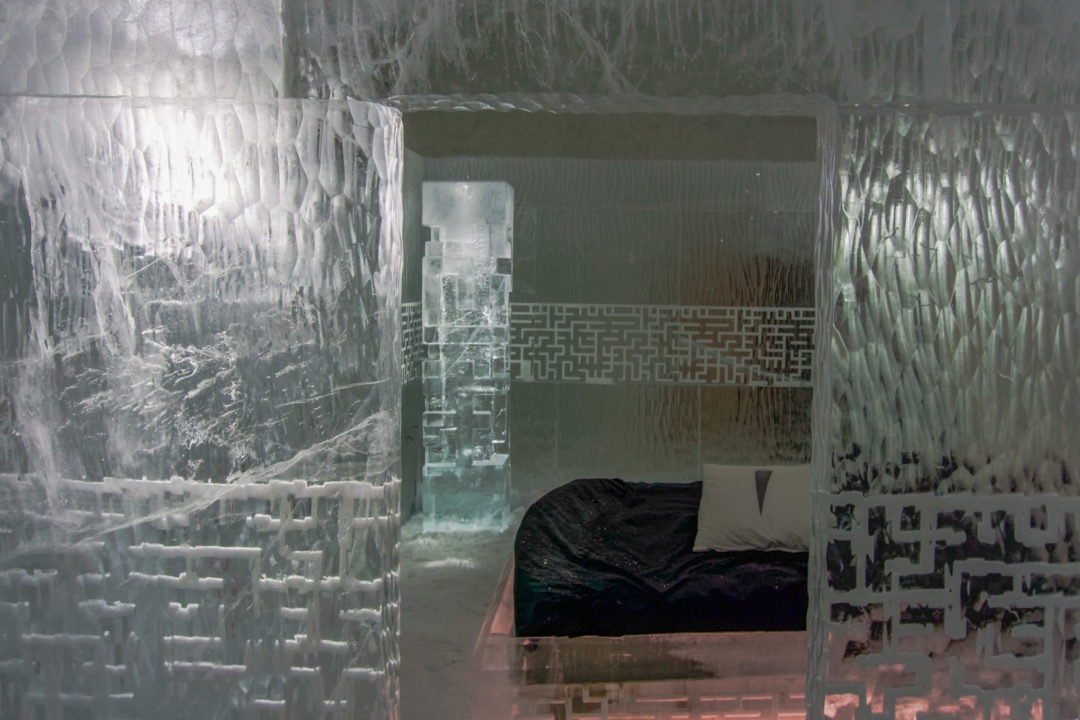 NORTHERN LIGHTS AT THE ICE HOTEL
Amazingly, the Northern Lights appeared as we made our way to the Ice Hotel from our cabin, (warm room).
They danced and swirled and mesmerised us with their luminous colour.
HOW MUCH DOES IT COST TO STAY AT THE ICE HOTEL?
We stayed for one night in an Art Suite of the 365 Ice Hotel — Check prices here.
The price included a night in the Ice Hotel and a full buffet breakfast.
(We also had a complimentary warm room offered on arrival – but would advise checking with the hotel as to whether this will be offered.)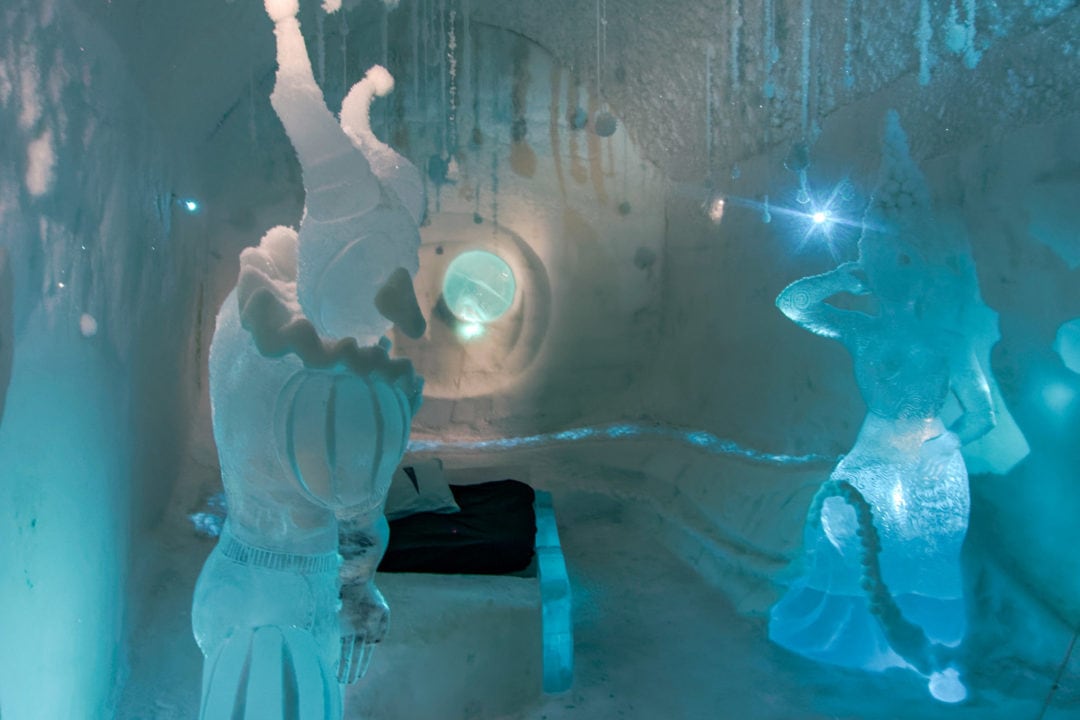 BOOK A ROOM AT THE ICE HOTEL
Book a room at the Ice Hotel here
Guests do not have access to their ice rooms until after 6.00 pm as, before this, visitors to the hotel and other guests can take a tour around and admire the unique ice designs in each room.
Guided Tours around the hotel take place in English at 12 pm and 4 pm daily, (Free for guests).
WHAT TO VISIT AND DO NEAR THE ICE HOTEL
The Nutti Sami Siida Resort
Nutti Sami Resort (900 metres from the Ice Hotel)
Nutti Sami is a reconstructed Sami Camp.
There are reindeer that you can feed by hand,
An interactive cultural display and a
Café with Sami cultural foods.
Nutti Sami Deer Encounters
We didn't get to meet Rudolph or even Dasher, Dancer, Prancer or Vixen, but our encounter with the lesser-known crew at Nutti Sami Siida was no less endearing.
Being up close and personal with these reindeer, you can't help but get a sense of their differing personalities.
Either that, or we've watched far too many movies such as Bambi, Rudolph the Red-Nosed Reindeer and Frozen – where 'Sven', the reindeer, steals all of our hearts.
NUTTI SAMI SIIDA EXPERIENCE
The line between fantasy and reality becomes blurred with the Nutti Sami Siida reindeer nuzzling beside you. You almost expect one to start up a conversation. Mmm … perhaps too many movies.
Being only 900 metres from the 365 Ice Hotel, it's so easy to visit.
We knew very little about the Sami indigenous culture, and because we love experiencing wildlife encounters around the world, it had to be on our road trip itinerary.
Nutti Sami Siida is a reconstructed Sámi Camp in Jukkasjärvi, Sweden. The town itself was an old Sámi Market and assembly place.
In the camp, there are various outdoor displays that teach you about the traditional lifestyle of the Sámi people.
The Sámi people lived a nomadic lifestyle in Northern Europe for thousands of years. Herding reindeer, animals well-suited to Arctic conditions, were, and to a lesser degree still are, an integral part of that culture, with the reindeer being a source of food, milk, clothing and transport.
REINDEER LOVE AT NUTTI SAMI SIIDA
However, the show's main stars for us were the reindeer themselves. We were surprised that they were so friendly, but as we were told later, 'they are very keen on food'. 
As we had a bag of reindeer food pellets, the reindeer were keen on us, too. They 'clicked' their way around us and nuzzled for the food.
The clicking noise is created by their knees and occurs so that when vision is poor, such as in a blizzard, the herd can stay together.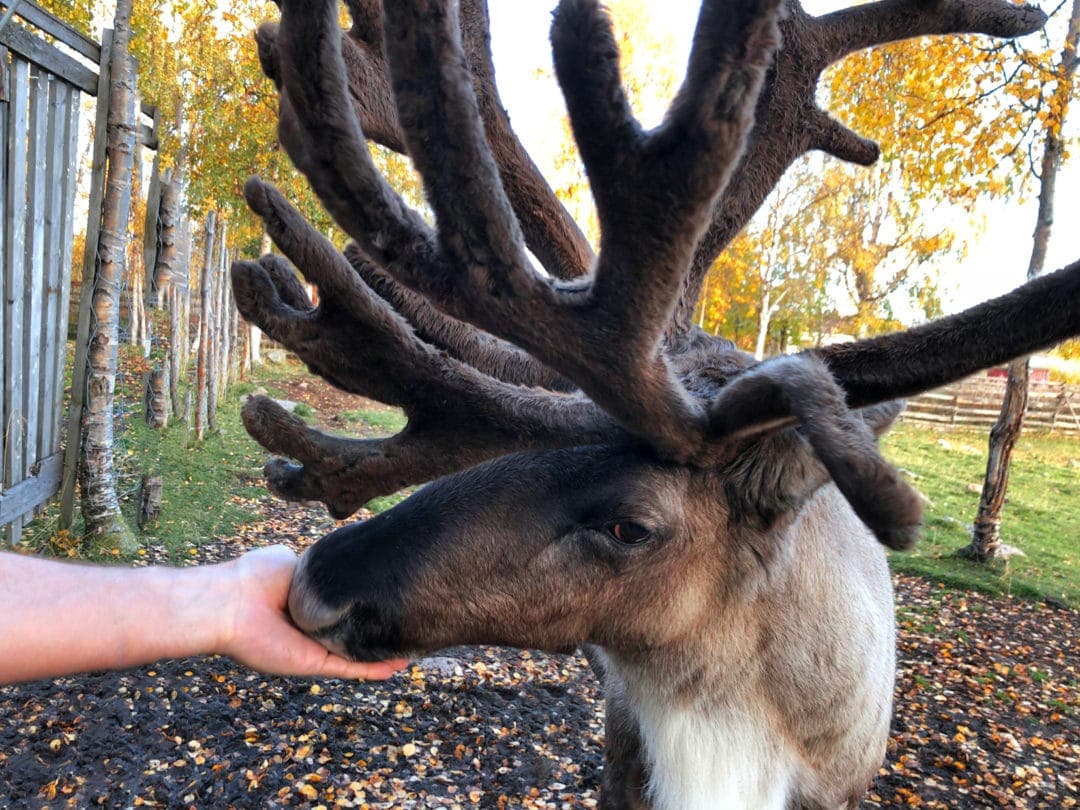 THE REINDEER-SHEDDING PHASE
Getting so close to these incredible animals was a treat, but seeing them in their 'shedding phase' was even more interesting.
In fact, we didn't know that this was even a thing, and we were luckily warned not to be alarmed by the bloody antlers by reception beforehand.
The 'shedding', is the antler 'velvet' coming off. It occurs in Autumn, and although it can look exceptionally gruesome, it's just like a snake shedding its skin. It happens in preparation for the rutting season, where the males go head to head for domination and to win over the females. The male's antlers then fall off around November and grow again in spring.
The 'shedding saga' that was playing out on a few of the reindeer looked more like a scene straight out of a horror movie or the 'Walking Dead'.
In reality, though, this is nothing more than nature showing us once again that she is the queen of creativity and wonder.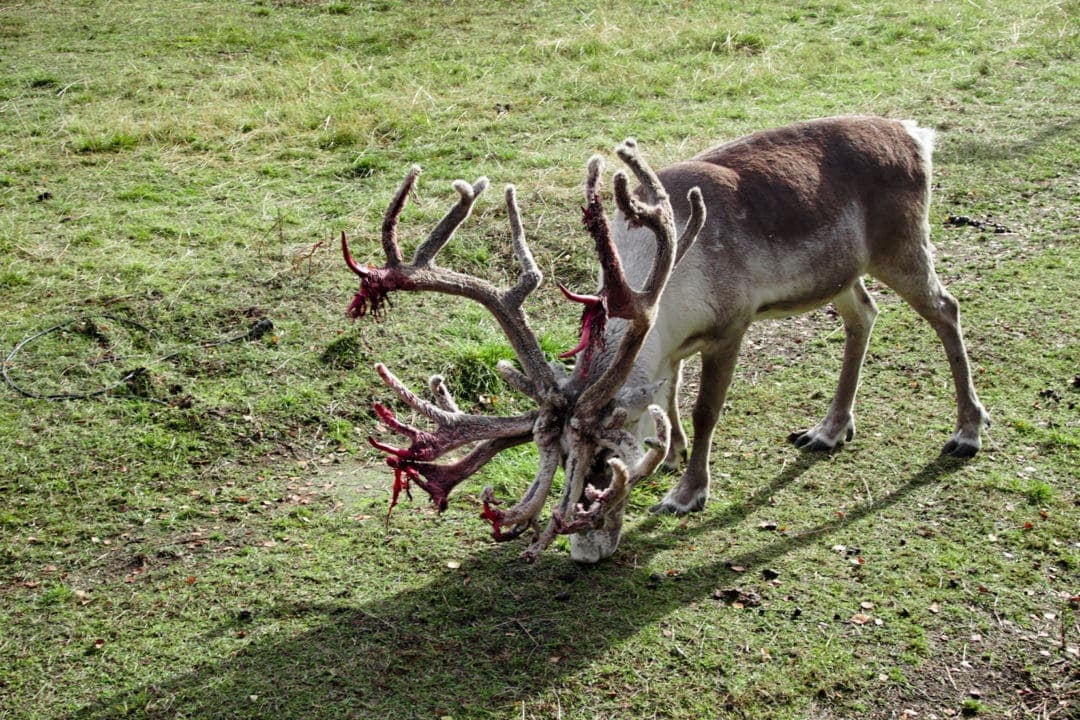 In the wild, they often scrape their shedding antlers on trees and such to clean and buff them up to attract the females. The reindeer here at Nutti Sámi Siida are all male, domesticated (and therefore castrated).
With no females around to impress, they were kind of letting themselves go. A little like settling for 'middle age spread'; no one to impress, so not too much of a worry. A strip of blood-soaked hanging skin here and there wasn't going to bother them in the slightest.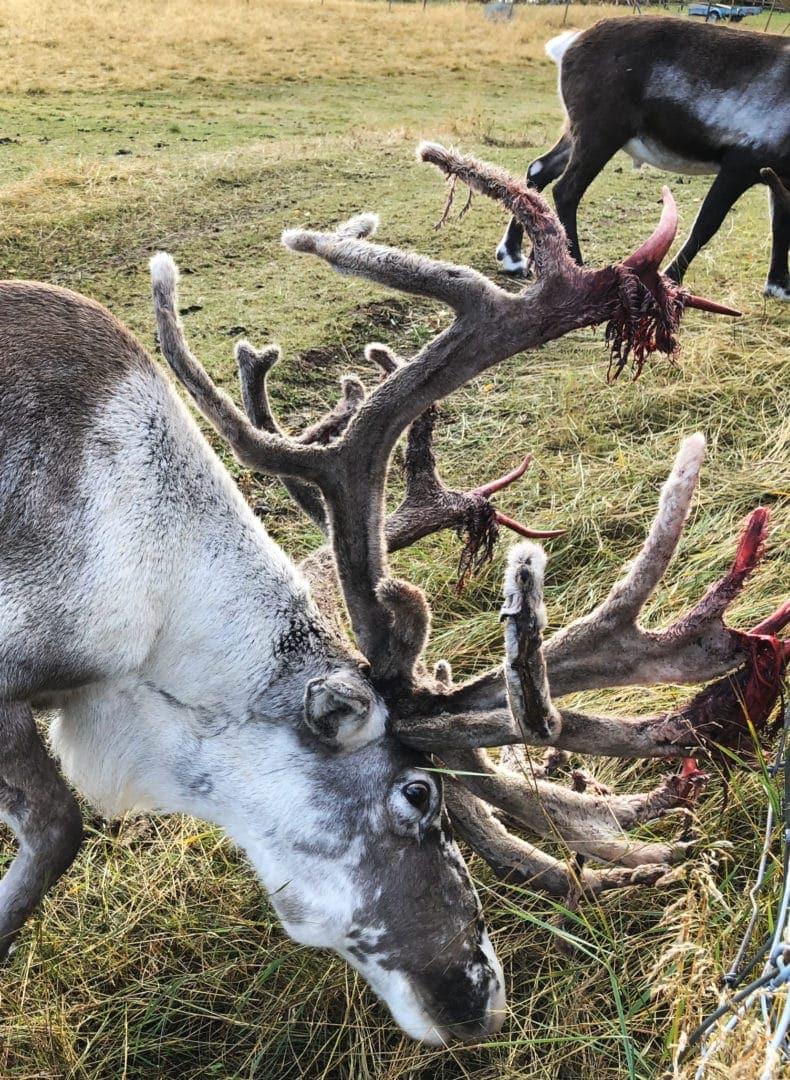 NUTTI SAMI SIIDA – VIDEO
NUTTI SAMI SIIDA: REINDEER FOOD
The camp here at Nutti Sami Siida started as a way to raise money to help feed the reindeer population. With increased deforestation and climate change, the reindeer were finding it harder to find food in the wild.
Until recently, the camp was only open in winter, the busiest tourism months here in the Swedish Lapland. However, it is now open in summer and autumn, too.
NUTTI SAMI SIIDA: CAFE
As well as the outdoor displays highlighting aspects of Sami Culture, reindeer interaction, and some interactive children's activities, there is also a café and a small shop selling Sámi handicrafts.
As expected, there are traditional Sámi foods available.
For lunch, we ordered Reindeer Suova. This is a Sámi flatbread filled with finely sliced smoked reindeer, lingonberry cream and salad. The meat was cooked on the open fire in the middle of the restaurant. Lars tucked in and found it delicious. I was not so keen on the taste (or the idea of eating reindeer, especially when we had just been feeding them!). I do eat meat, but…Bambi?
Lars also had a Sami coffee, which was cooked in a pot over the fire. It had a lighter taste than Turkish coffee, and he found it palatable and worth trying. However, he won't be giving up the Nescafe Classic Blend anytime soon.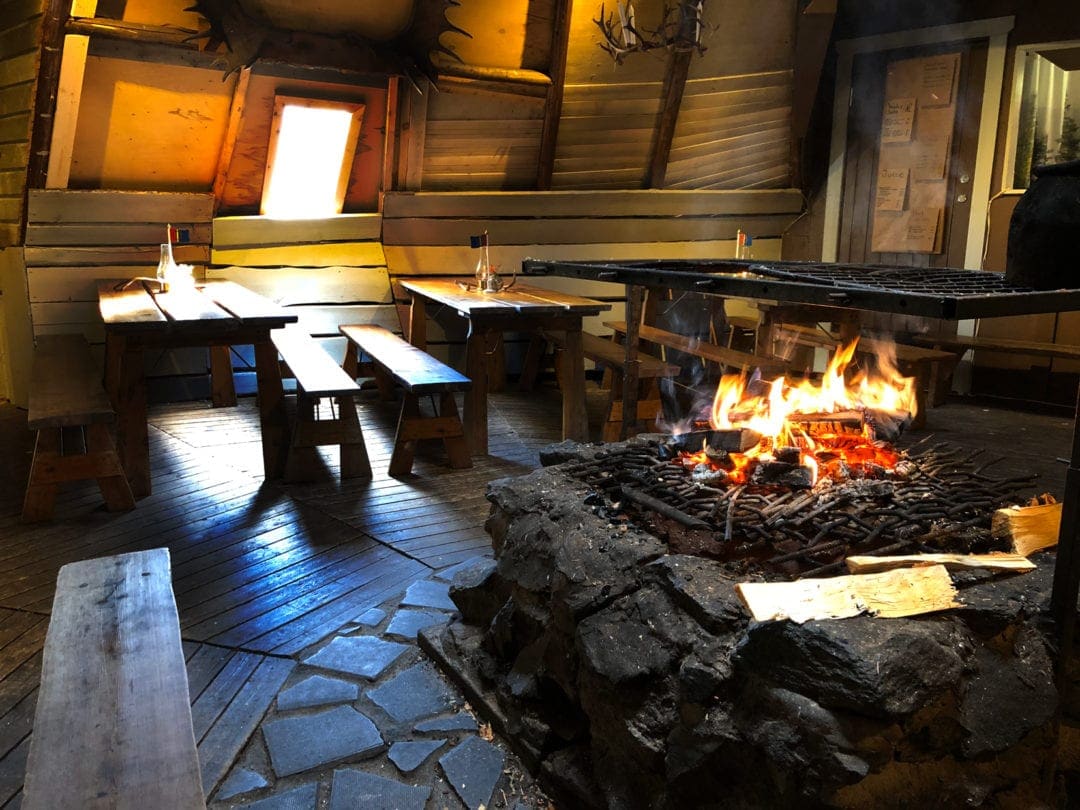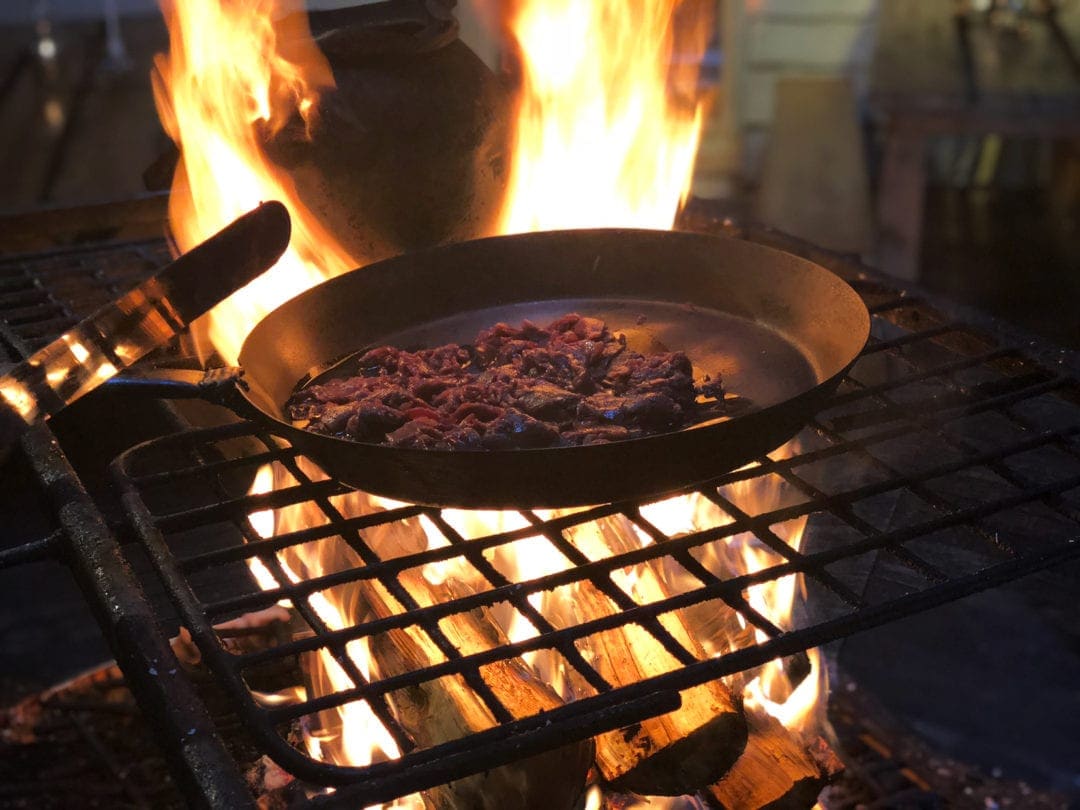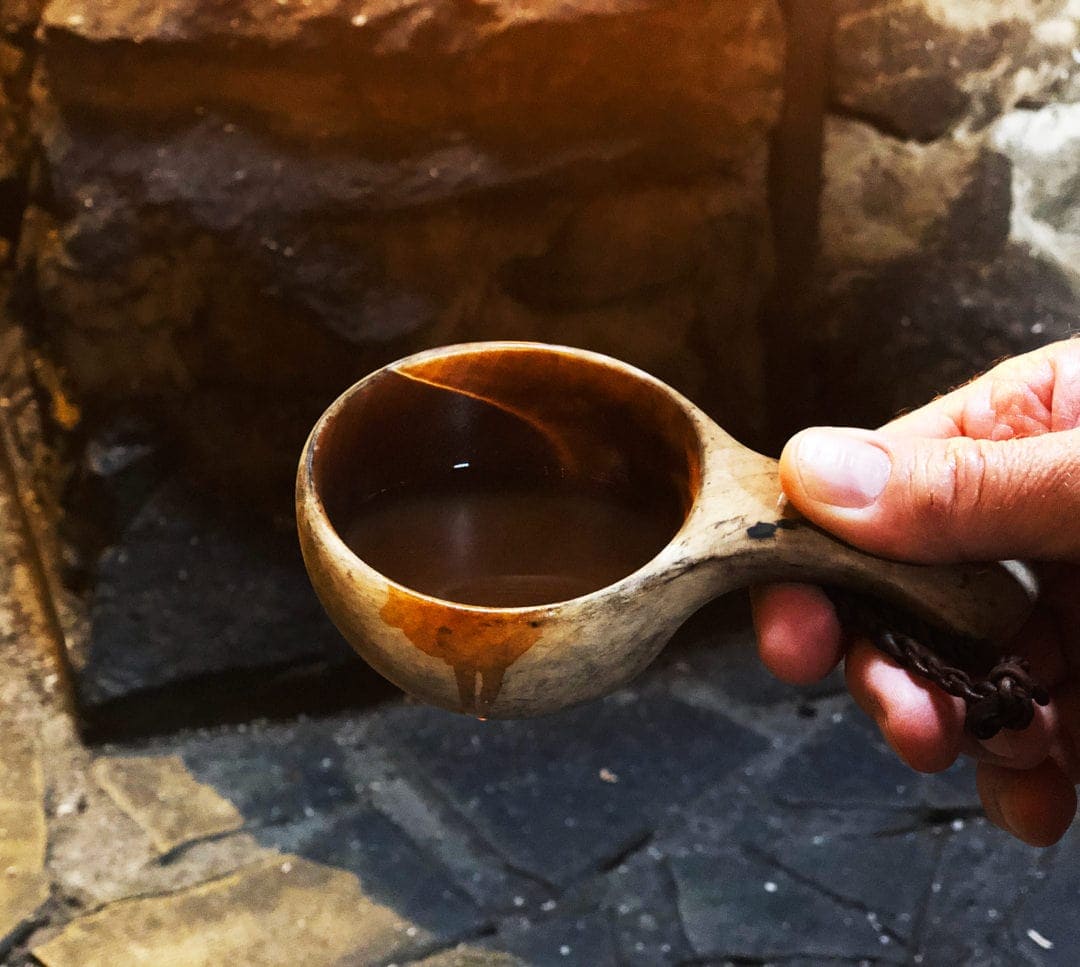 The café, with the centrepiece fireplace, made for an ideal spot to share stories. As our meals and coffee were being prepared, we chatted to the staff, who shared a few tales about the reindeer.
REINDEER NAMES
The reindeer here at Nutti Sami Siida all have names based on what they look like, the names being the Sámi translation. For example, white hooves, antlers pointing forward, antlers pointing back, spotty face, etc.
With reindeer being such a huge part of the Sámi culture, the language has developed around this too. The Sámi have specific and precise words related to reindeer description. So much so that in a herd of several thousand deer, only one will fit a particular description of fur, antlers, sex and age.
FANCY CASTRATING A REINDEER WITH YOUR TEETH?
Working reindeer are traditionally castrated because they then become more docile. It is said that the Sámi used to castrate the reindeer themselves by biting into their testicles.
I can't even begin to imagine how that worked, but thankfully, there are rules in place today to prevent any such practice – just in case you ever get the feeling that you'd like to chomp down on a pair of reindeer's testicles.
I found Matthew Ingro's video on YouTube if you'd like to see this type of castration in action.
EVER HEARD OF A REINDEER PULLING A SICKIE?
Our initial feeling that the reindeer had distinctly different personalities wasn't so off the mark. Apparently, the group is a mixed bag here at Nutti Sami Siida. Some are really keen, others lazy, and a couple of them are just plain stubborn.
One of the reindeer is so sneaky that he has faked a limp for three years in a row at some point during the winter season. However, once he is pulling the sleigh, he is totally fine. He doesn't want to be chosen.
I bet we can all relate to that feeling.
WINTER TIME AT NUTTI SAMI SIIDA
We visited in autumn, but we imagine the winter season, although busier, would be just as interesting. Having a sleigh ride through the winter landscape with Rudolph's friends pulling you along in front must be an absolute delight.
In fact, did you know that the 'red-nosed reindeer' isn't just a creative invention? Again, nature beat us to it. Reindeer noses have a dense network of blood vessels, essential for regulating their internal body temperature.
So, although they can't fly, reindeer are very much like Rudolph after all.
WHERE IS NUTTI SAMI SIIDA?
To use this map, expand it using the square symbol on the top right-hand side and you will find the key on the left-hand side.
No Iceland Ice Hotel … That's a Wrap
Were you surprised as us that there isn't an Iceland Ice Hotel?
Is an Ice Hotel stay on your bucket list?
We'd love to hear your thoughts or hear about any similar experiences.
Please feel free, as always, to ask us any questions.
Pin and Save for Later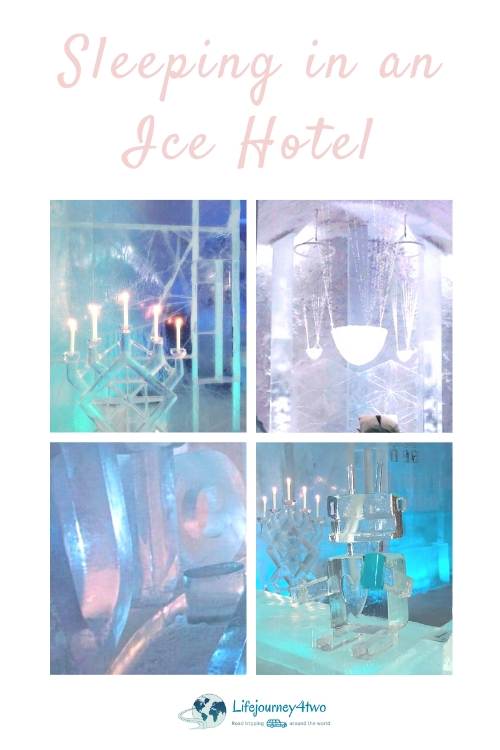 YOU MAY ALSO BE INTERESTED IN READING:
PLANNING YOUR TRAVELS?
These are some of the travel resources we use when planning our trips.
For a more thorough list visit our Travel Resources page here.