The Alberobello Trulli
The unique and unusual Alberobello Trulli were a sight to behold. Wandering around these remarkably unconventional dwellings, one can only be curious as to how they came about. What did the strange symbols on their roofs mean? Why were the white pinnacles on the top different shapes? We were certainly taking a step back into history in this extraordinary town.
Where are the Alberobello Trulli?
You'll find the amazing Alberobello Trulli in the heart of Alberobello in the district of Bari, Puglia, Southern Italy.
To expand the map click on the top right-hand square symbol. You will find the maps key on the left-hand side which details the various areas in which you will find the Alberobello Trulli. 
The History of the Alberobello Trulli 
The Alberobello Trulli originate from around the 15th Century. They are made of dry-stone walls consisting of corbelled limestone slabs. This would have been the material of choice as it was is abundant in the region.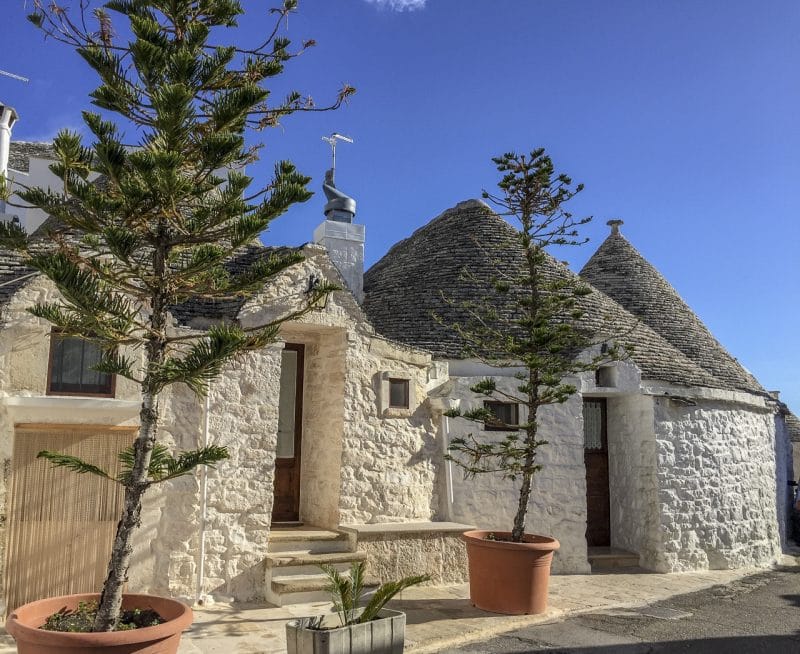 Trulli along an Alberobello Street
Originally, the Alberobello Trulli were built 'a secco', meaning 'without mortar'. This made them easy to demolish and knockdown quickly. An unusual requirement of a home it would seem, but there was a method to this madness.
The resident Count in the area wanted to avoid paying settlement/housing taxes to the King of Naples. Therefore he ordered the houses to be built only with dry stones and to be demolished if there was a royal inspection. Thus avoiding the taxes.
In 1797, the town gained independence. From then on, mortar was used and the Trulli became permanent fixtures in the area.
The Alberobello Trulli Conical Roofs
The name 'trullo' originates from the Greek word, 'Tholos' meaning 'dome'. A Trullo consists mainly of one main room under the domed roof, with sometimes two alcoves either side of that room.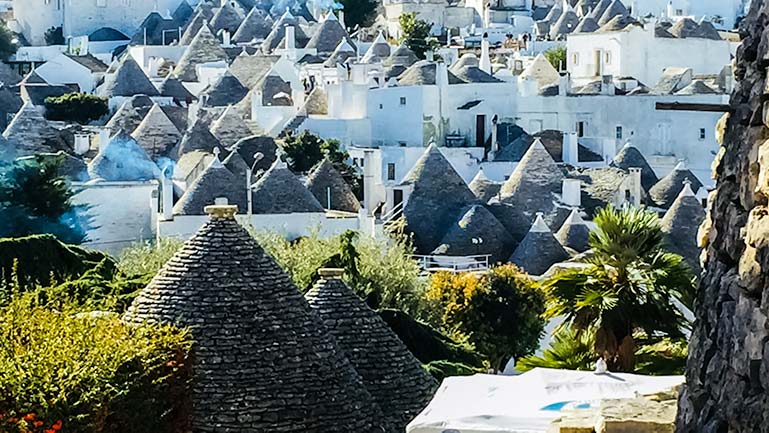 The famous Alberobello Trulli conical roofs 
In addition, on the top of the Trullo's cone-shaped roof is a decorative handmade, sandstone pinnacle. They come in different designs and represent the trademarks of the stonemason who built that particular Trullo. Some of the pinnacles are disc-like with a sphere above and others just have a larger flat disc-like shape.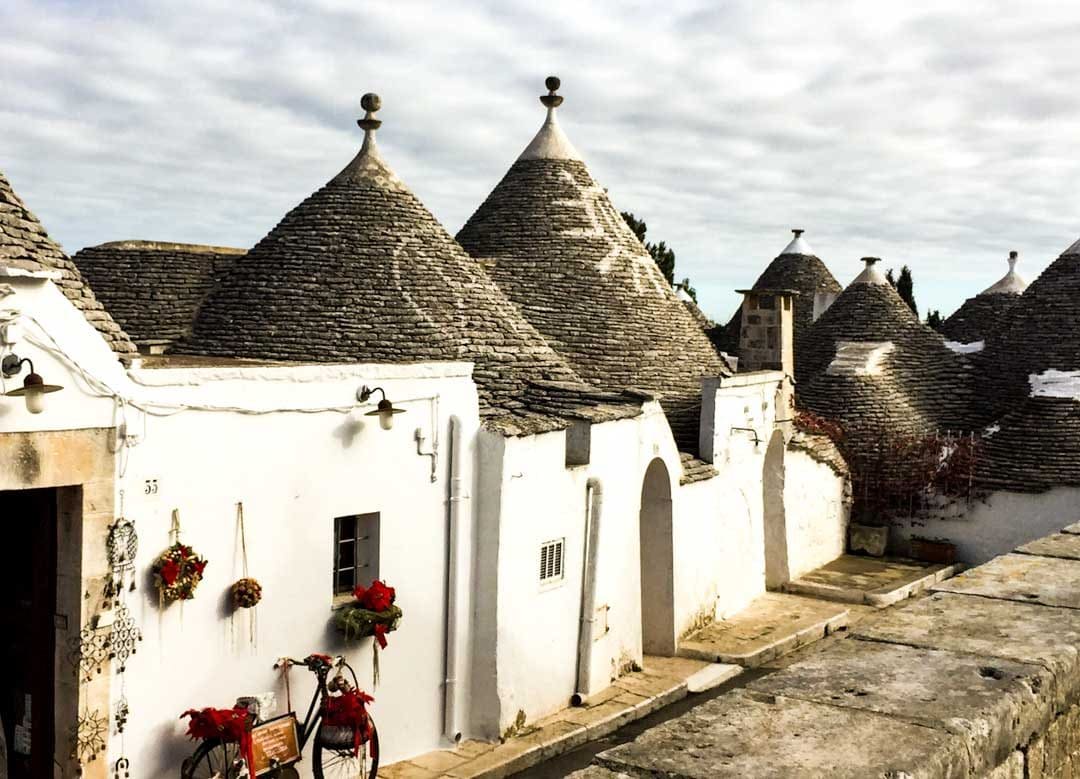 Notice the pinnacles on the top of each Trullo
The whitewashed walls at the front of the tiny Alberobello Trulli seemed reminiscent of the Cyclades bright, white buildings we experienced in Santorini, Greece. There, the bright blue domes paired with the white walls alluded to a crisp, more modern feel. However, the grey stone conical roofs of the Alberobello Trulli, exude an ancient and mysterious air about them.
 The Alberobello Trulli Symbols
The white Trulli symbols painted on many of the Trulli roofs add to the mystical appearance of these tiny dwellings. There are varying designs, including a sun, moon, love hearts and other pagan-like symbols.
It is believed that some of these were of religious significance, whilst others had an astrological meaning. The purpose of the Trulli symbols was to ward off demons and to bring good luck to the inhabitants.
Lime painted symbols on the Alberobello Trulli conical roofs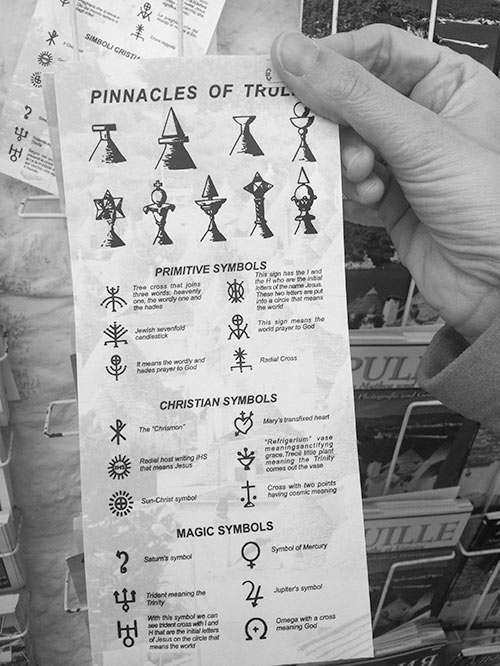 Symbols of Alberobello Trulli
Rione Monti and Rione Aia Piccola, Alberobello
There are two main districts of Alberobello where you'll find Trulli. Rione Monti is the more commercialised area where many of the Trulli have been converted into souvenir shops and small bars.
Some Trulli here are used as residential homes, but not as many as in the Rione Aia Piccola area. There you'll find about 8 streets with about 400 Trulli currently used as residential dwellings.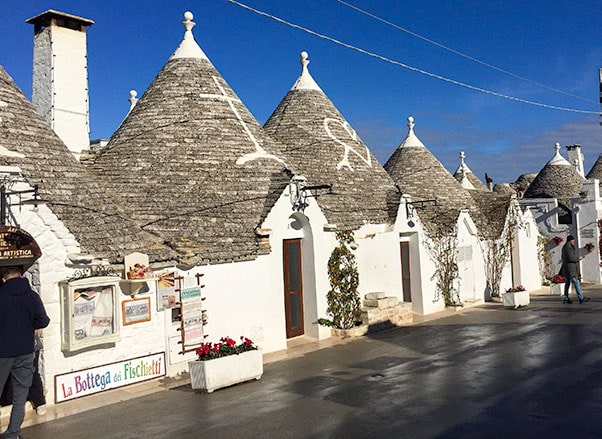 Rione Monti district of Alberobello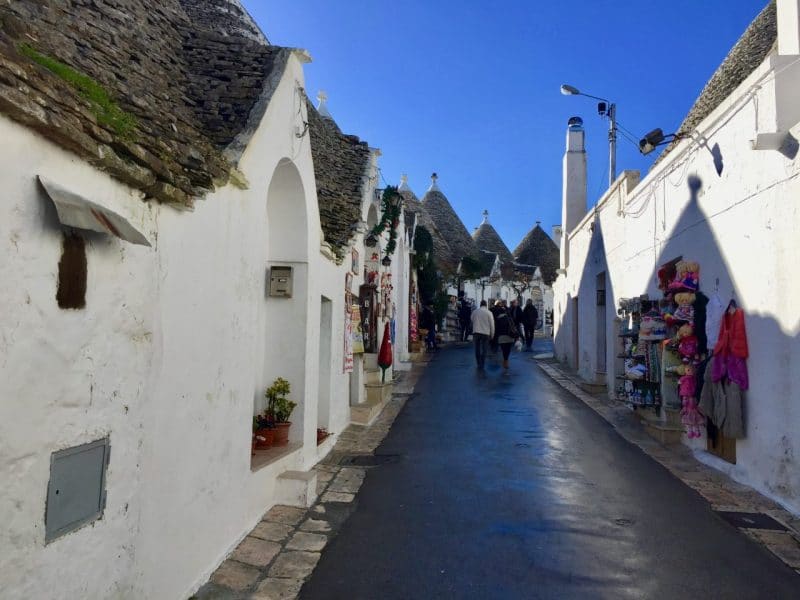 Rione Monti district of Alberobello
The tiny Alberobello Trulli houses in the Aio Piccola district 
Alberobello Trulli Variants
Although most of the Alberobello Trulli are tiny homes, shops or bars, there are a few architectural examples that are variants of the main original design.
For example, at the top of the hill in Rione Monti, you'll find Chiesa di Sant Antonio. This church has Trello like domes and a Trello inspired bell tower. It just seems to fits in so well with the Alberobello Trulli theme.
Furthermore, there are two museums that are examples of two-storey Trulli, Trullo Sovrano and Museo del Territorio.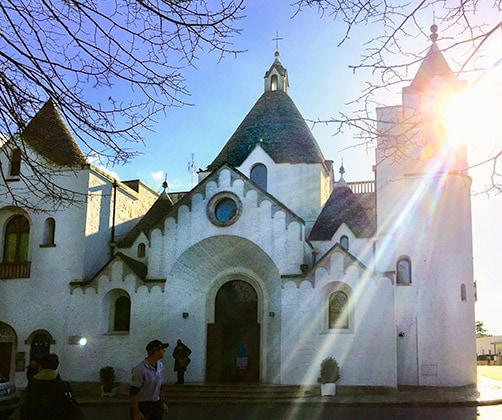 Chiesa di Sant'Antonio, Alberobello
Although Alberobello is the main town with Trulli homes,  you will also find many dotted around the Valle d'Itria area. 
Alberobello Trulli Accommodation
Many of the Trulli in Alberobello have been renovated and converted into tourist accommodation.
Here are some of the best Trulli highly, rated by their guests.
Le Alcove – Luxury Hotel also has a series of Trulli huts luxuriously renovated with all modern amenities. In your Trullo, you can expect to find free Wi-Fi, satellite TV and L'Occitane toiletries. Some have a spa bath.
Rated 9.2  Click here for more info.
Romantic Trulli B&B – Situated in Alberobello, Romantic Trulli offers air-conditioned apartments set in typical Trulli stone buildings. A sweet and savoury breakfast is provided daily.
Rated 9.6 Click Here for More Info.
Arrange Your Travel Insurance
Get a quote from World Nomads - one of the best options for travellers. Find out why here.
Book Your Accommodation
We use Booking.com and Tripadvisor to find accommodation that suits our budget and to get a great overview of available specials and deals. 
Travel Gear and Accessories
We've been on the road since 2017 and have added items we've found useful to our Lifejourney4two page on Amazon  
Car Hire
We use  Rentalcars.com to find the best car rental deals.
Motorhome/Van Rentals
If you are looking for a motorhome or van rental - we highly recommend the Motorhome Republic who can find the best deals worldwide.
Finding Activities to do
We use Get Your Guide and Viator to get ideas of what to do in a place - sometimes it's best to get tickets online and jump the queues.
Flexible Accommodation Options/ Or Finding someone to look after your pets
We often use house/petsitting as it really makes our travels much more affordable - as accommodation is FREE
Get 25% off  Trusted House Sitters by using our link here: Join Trusted House Sitters either as a house sitter or if you want to find a house sitter.
Photography Prints and Products
Shop our ETSY store for digital downloads of our best photos and our unique photographic designs.