TORGHATTEN: HIKING NORWAY'S 'HOLE IN THE MOUNTAIN'
Torghatten is Norway's very own mystical 'Hole in the Mountain', which of course, comes with its very own legend.
Norway is renowned for its postcard scenery.
The pristine landscapes of fjords and snow-crested mountains, its white traditional houses and the shimmering Northern Lights, all draw admirers from around the globe. Add in a sprinkle of Viking mythology and you have the perfect ingredients for a fairytale story.
And yet it doesn't stop there.
Torghatten is part of the splendour of Norway and holds its own mysterious tales of how it appeared.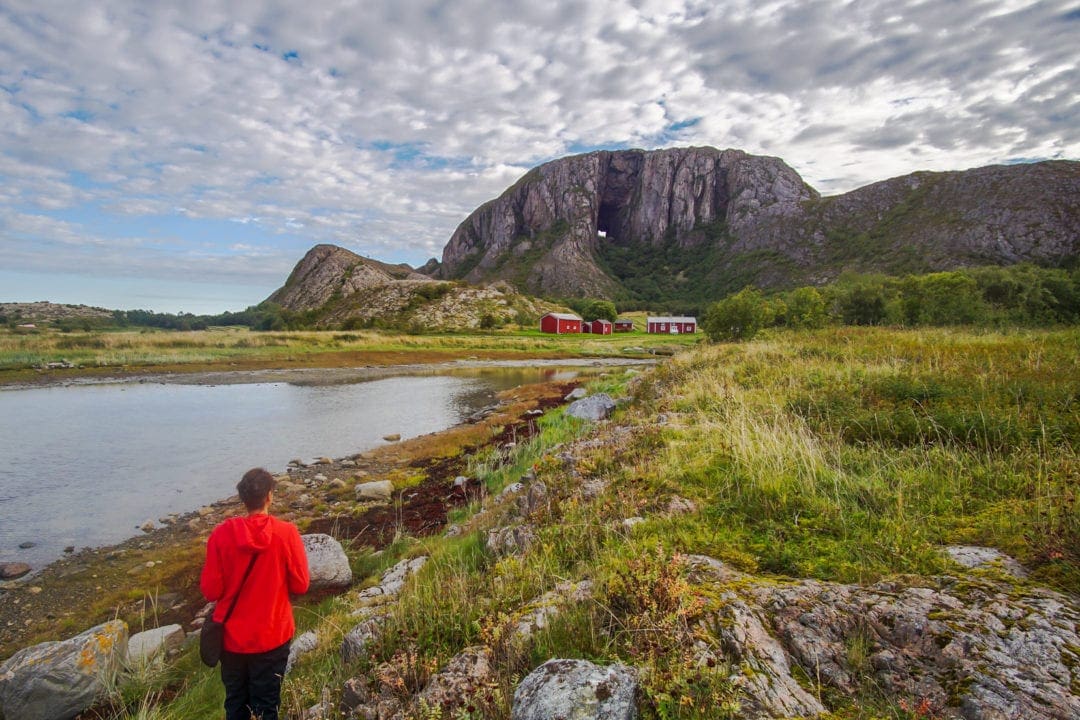 Planning a Trip to Norway?
THE LEGEND OF TORGHATTEN
And so the story goes …
When the troll, Hestmannen, laid eyes upon the beautiful Lekamøya, he decided that he would steal her away at night. Hestmannen mounted his horse and rode in pursuit of the one he wanted, but Lekamøya fled, thwarting his attempt.
All the while, the troll-king of Sømna was watching from not far away.
As night turned to morning, the disappointed and rejected Hestmannen notched an arrow to his bow, aimed it at the desperate Lekamøya and let it fly.
However, the troll-king of Sømna flung his hat in the path of the arrow causing it to be holed but it was enough to save Lekamøya from certain death.
The hat fell to the ground and at that moment, the sun pierced the horizon turning everything to stone.
And so, the Torghatten or 'hole in the mountain' legend was borne.
Literally translated, Torghatten means 'square hat'.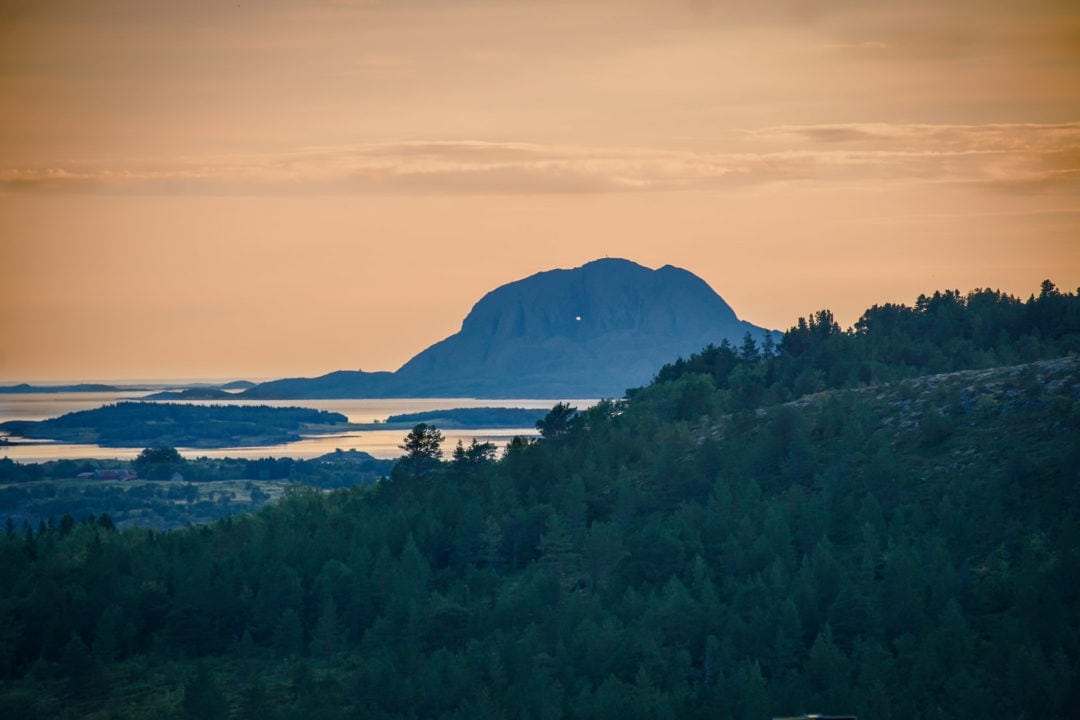 THE OTHER STORY ABOUT TORGHATTEN
Torghatten, or the 'hole in the mountain,' is older than the Vikings themselves. Actually, much much older. If you follow science, during the ice age, the continued weathering of the granite mountain opened up the hole that we can see today.
The hole may look tiny from a distance, but it is roughly 160 metres long (525 ft) by 20 metres wide (66 ft) and 35 metres high (115 ft).
The Norse legend of how Torghatten came to be, is much more enthralling … We'll leave it up to you as to which story you'd like to choose.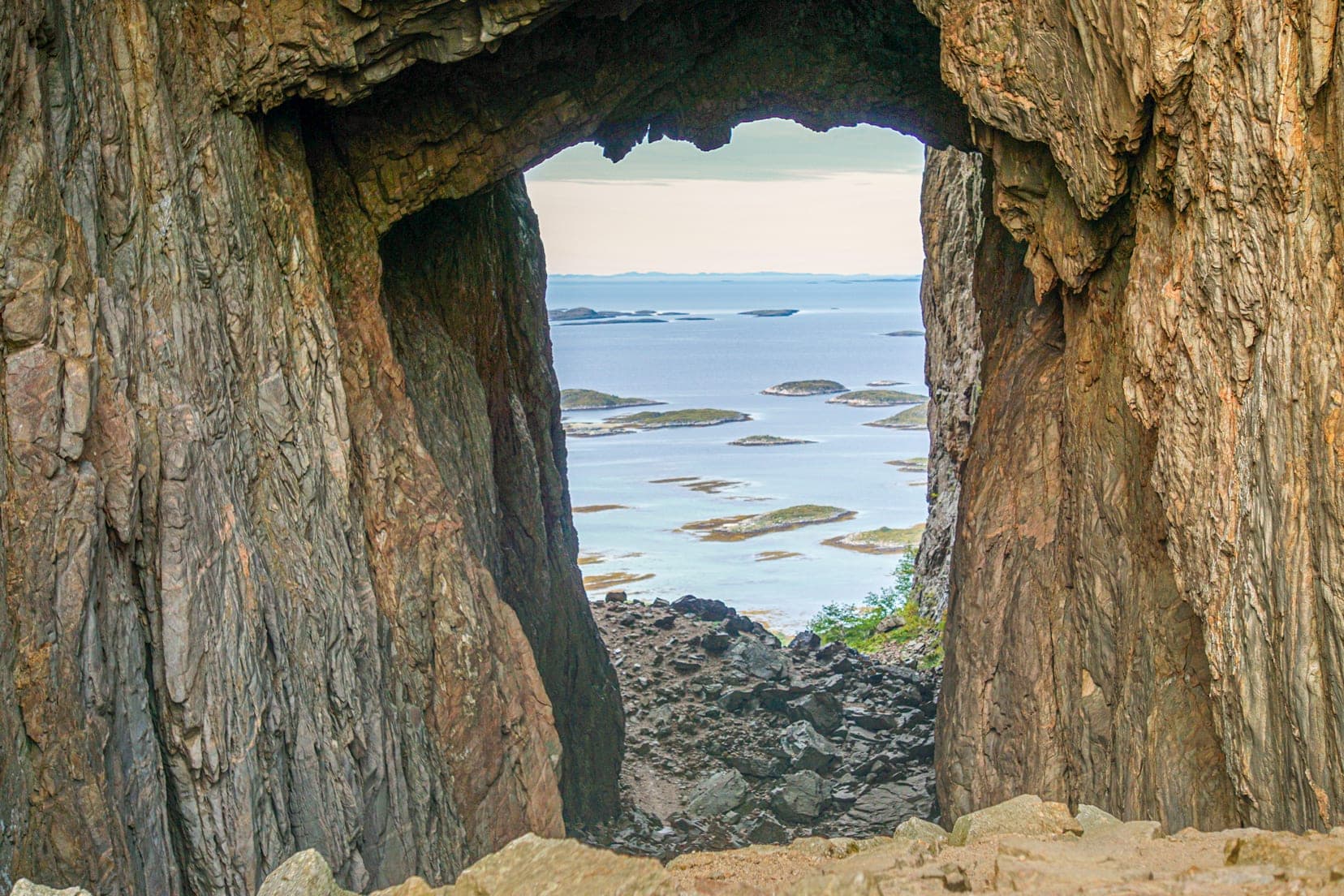 Where is The Mountain With a Hole in it?
Torghatten is found on the western coast of central Norway, on the island of Torget in Brønnøy Municipality of Nordland County. It is just 15 km from Brønnøysund, the main administrative centre of Brønnøy Municipality.
We visited Torghatten as part of our road trip north including as many of Norway's best hikes as we could.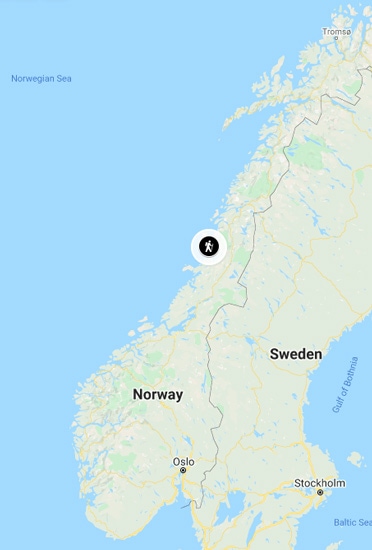 What Caused the Hole in Torghatten?
It is widely thought that the hole in Torghatten was once two sea caves, one on either side of the granite dome and roughly 470 million years old.
Over subsequent millions of years, the combination of seawater, salt and frost forced its way into the fissures of granite thus creating a foothold for ongoing erosion. Very gradually the granite was worn down and over time the sea caves became one.
Torghatten was born.
VIDEO: TORGHATTEN HIKE (SNEAK PREVIEW)
Take a sneak peek at our Torghatten hike.
MAP: TORGHATTEN AND BRØNNØYSUND
To use this map, expand it using the square symbol on the top right-hand side and you will find the key on the left-hand side.
HIKING TORGHATTEN
Access to Torghatten is about as easy as it gets. Just 30 minutes of light hiking from the car park will have you at the 'hole' entrance.
With a low degree of hiking difficulty, minimal hiking time and something the kids would find really interesting, it certainly ticks all the boxes for a fun, family outing.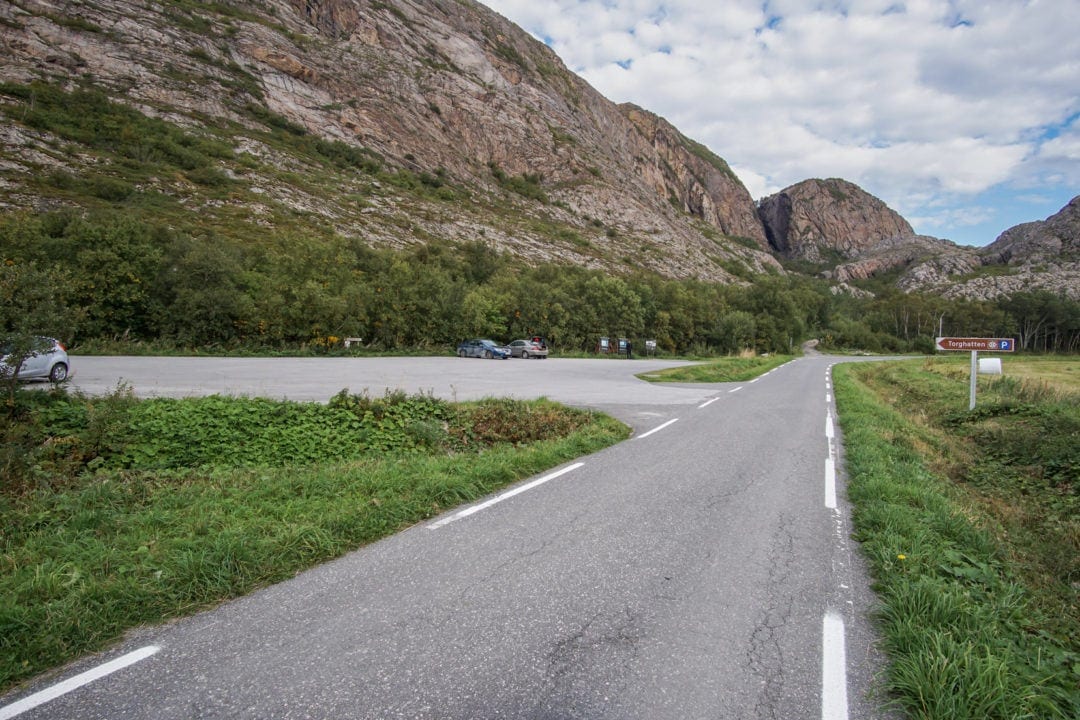 A well-maintained and pretty flat trail winds through some scrubby vegetation before reaching the base of Torghatten. From here, the next 10 minutes involve a short steep walk up the stone steps, picking your way over the rocks before reaching the hole in the mountain.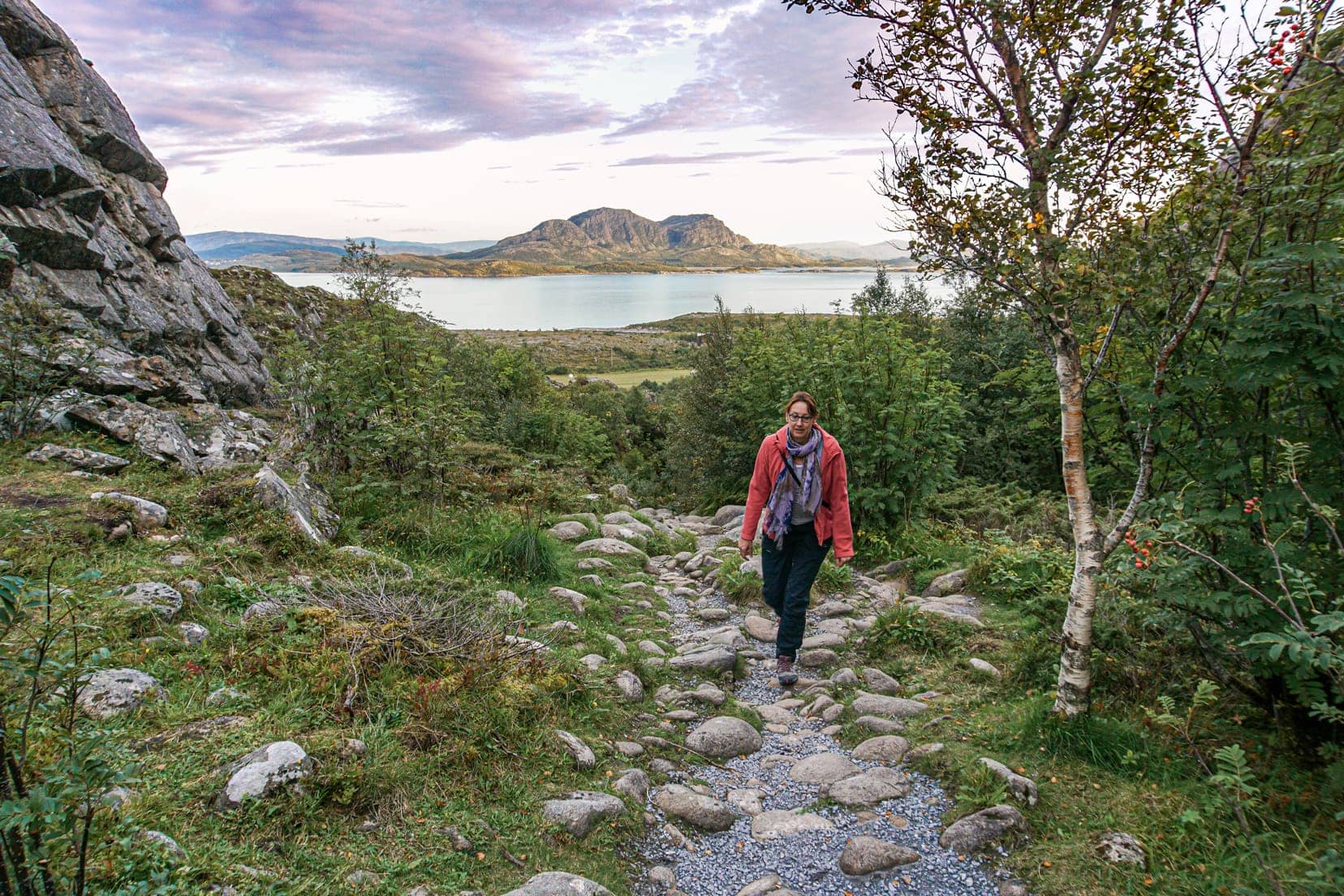 Potholes of Torghatten
The climb up from the car park provides the opportunity to see the different levels of pebbles indicating the various old shorelines that used to exist.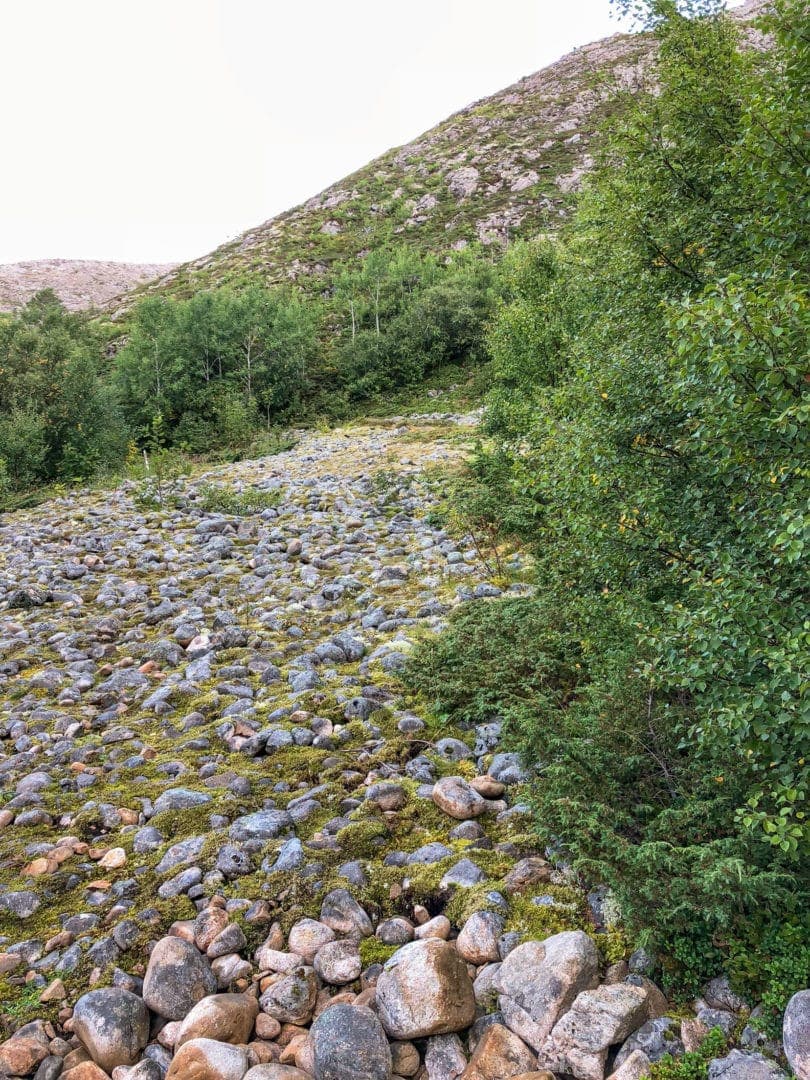 Potholes are also found close by the path and were formed by the swirling waters of a river that long ago ran underneath a glacier that has long since melted.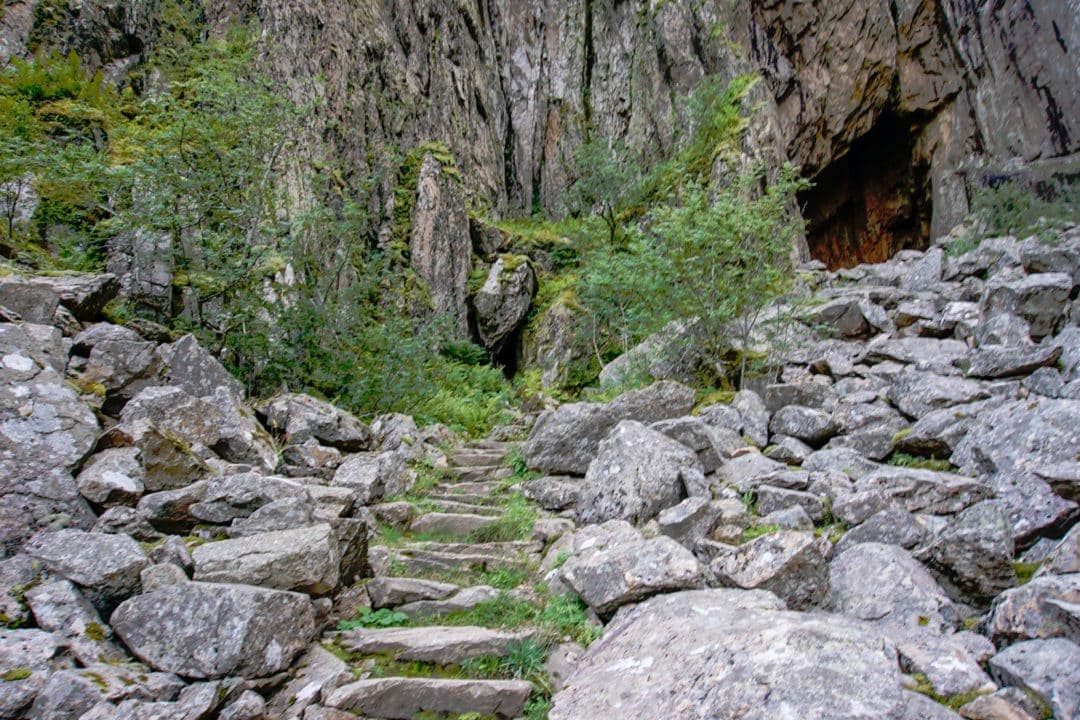 At the entrance to Torghatten's hole, looking back behind you gives impressive and uninterrupted views back to Brønnøysund.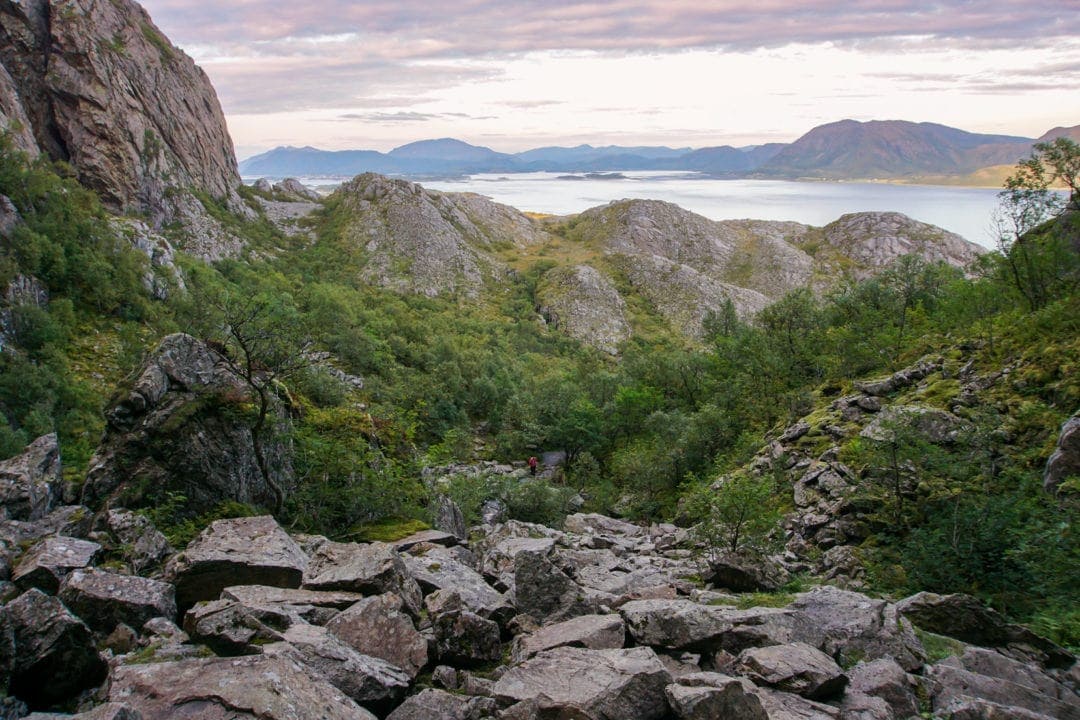 Looking down into the hole, you now realise just how big it is. This 160-metre long, 20 metres wide and 35-metre high cavern, is enormous. From the cavern opening, rocks have piled to form a steep drop to the cavern floor.
Now you understand why a wooden stairwell has been installed against one of the cavern walls. It's the only way to gain access to the cavern floor.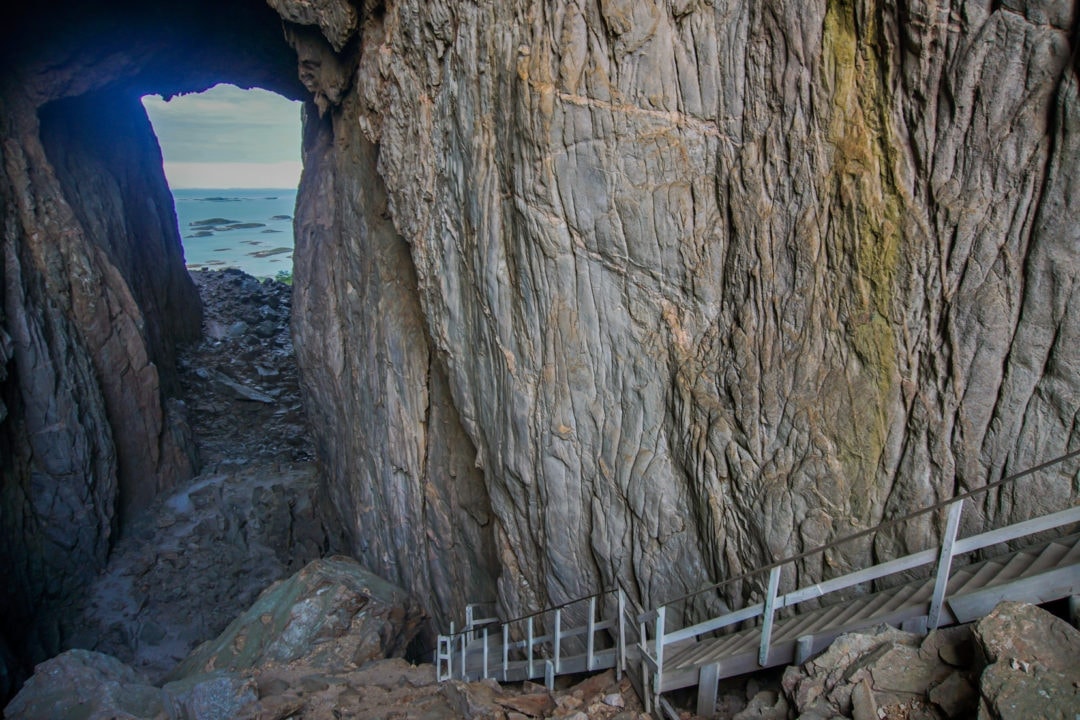 Although we didn't count the number of steps, we estimate that there are around 120 steps from top to bottom. The cavern floor is littered with good-sized rocks that require a bit of careful navigation. Torghatten's cavern floor is actually an incline, rising all the way from the wooden stairway to the opposite western end of the cavern.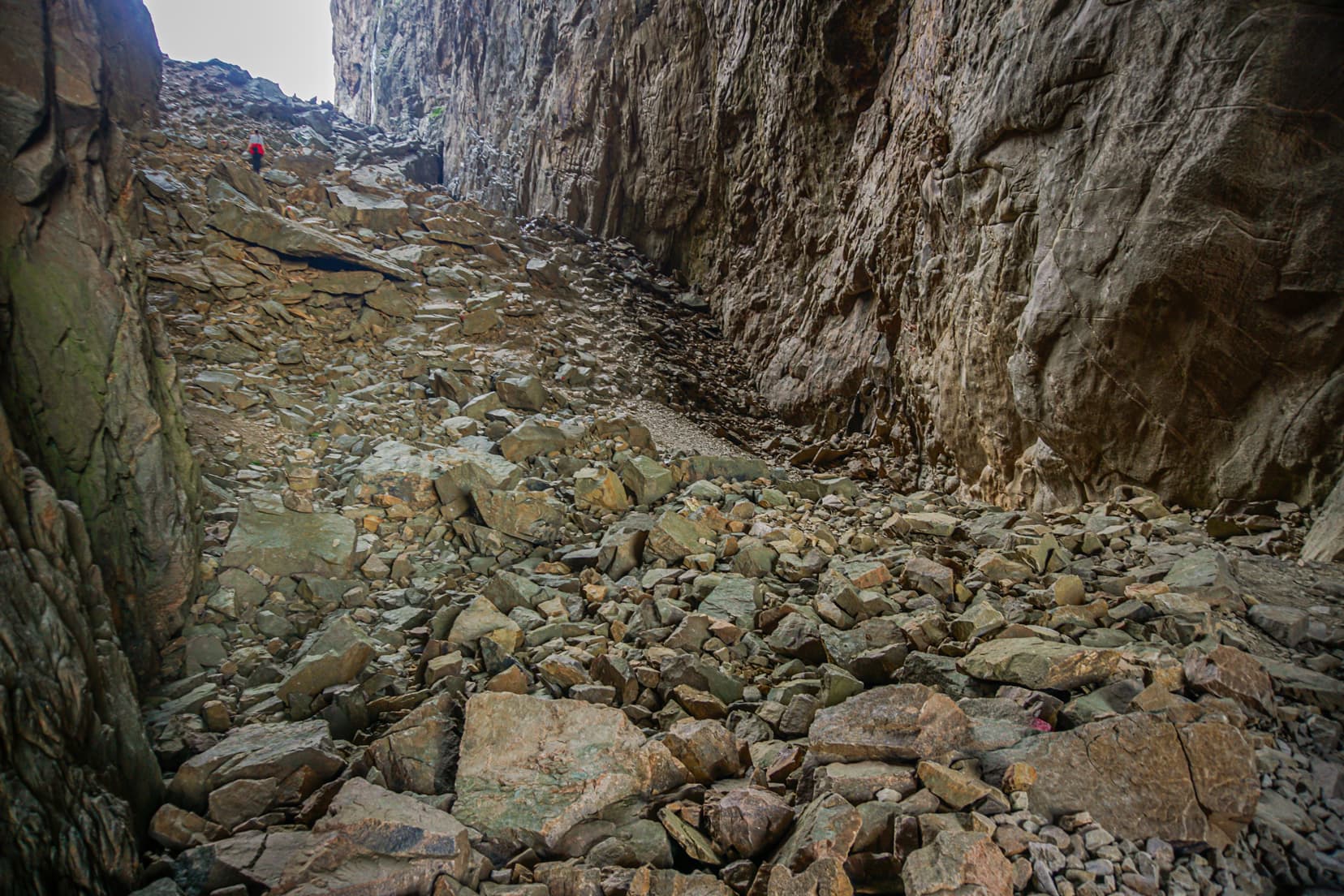 Torghatten is quite the mecca for geocaches. There are quite a few to be found and we added our name to quite a few.
Gazing out the western side of Torghatten's hole in the mountain reveals a beautiful post-card landscape. The isolated red farmhouses stand amid the green Summer fields with a backdrop of a hundred small islands.
At this point, you may choose to backtrack and return to the car park or continue to hike roughly a kilometre to the seashore nearby the red farmhouses and then another 1.8 kilometres around Torghatten's base to reach the car park.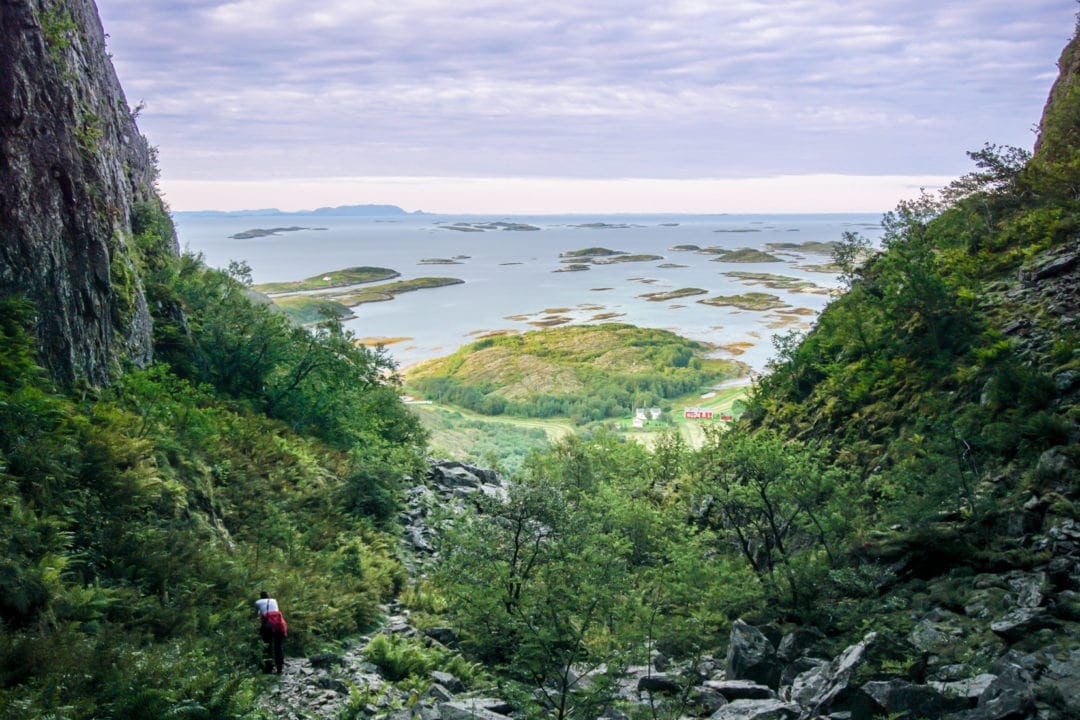 Signatures of Kings
Although I only found out about this after our Torghatten visit, on the southwest wall at the western end of the hole, you will find King Oscar's signature on the rock wall made during his visit in 1873. You can find King Olav V's signature (1963 visit) and King Harald V's signature (1963 visit) on the left side of the north entrance.
HIKE AROUND TORGHATTEN
Pick your way down the trail from Torghatten which winds through small trees and rocky ground. Glimpses of the ocean with the beautiful island archipelagos are caught on the descent.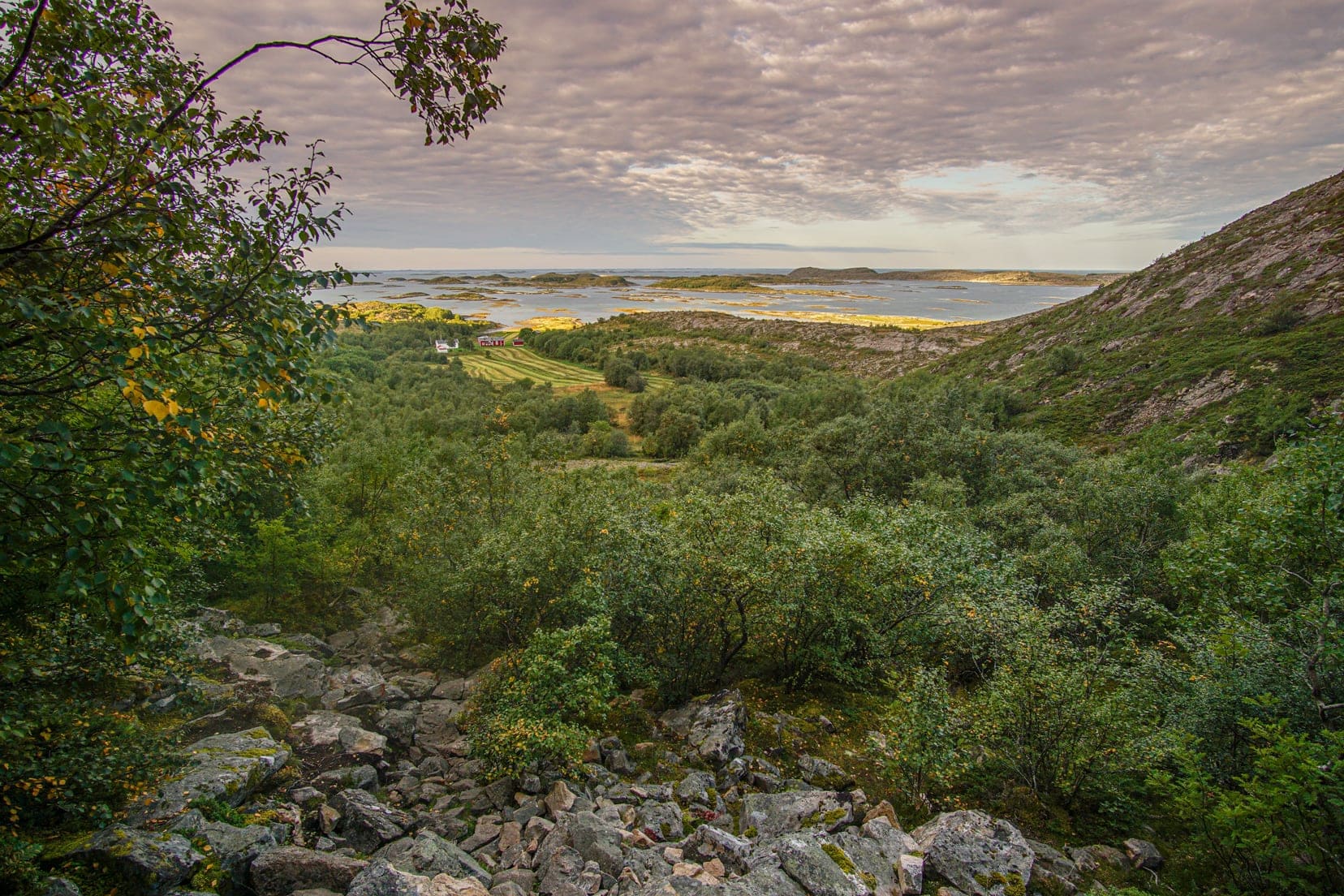 This trail opens out into the farmer's field and sort of disappears. From here, just keep walking across the field and the trail can be picked up close by the red and white farmhouses.
Keep to the path leading towards the sea and follow this down to the shoreline.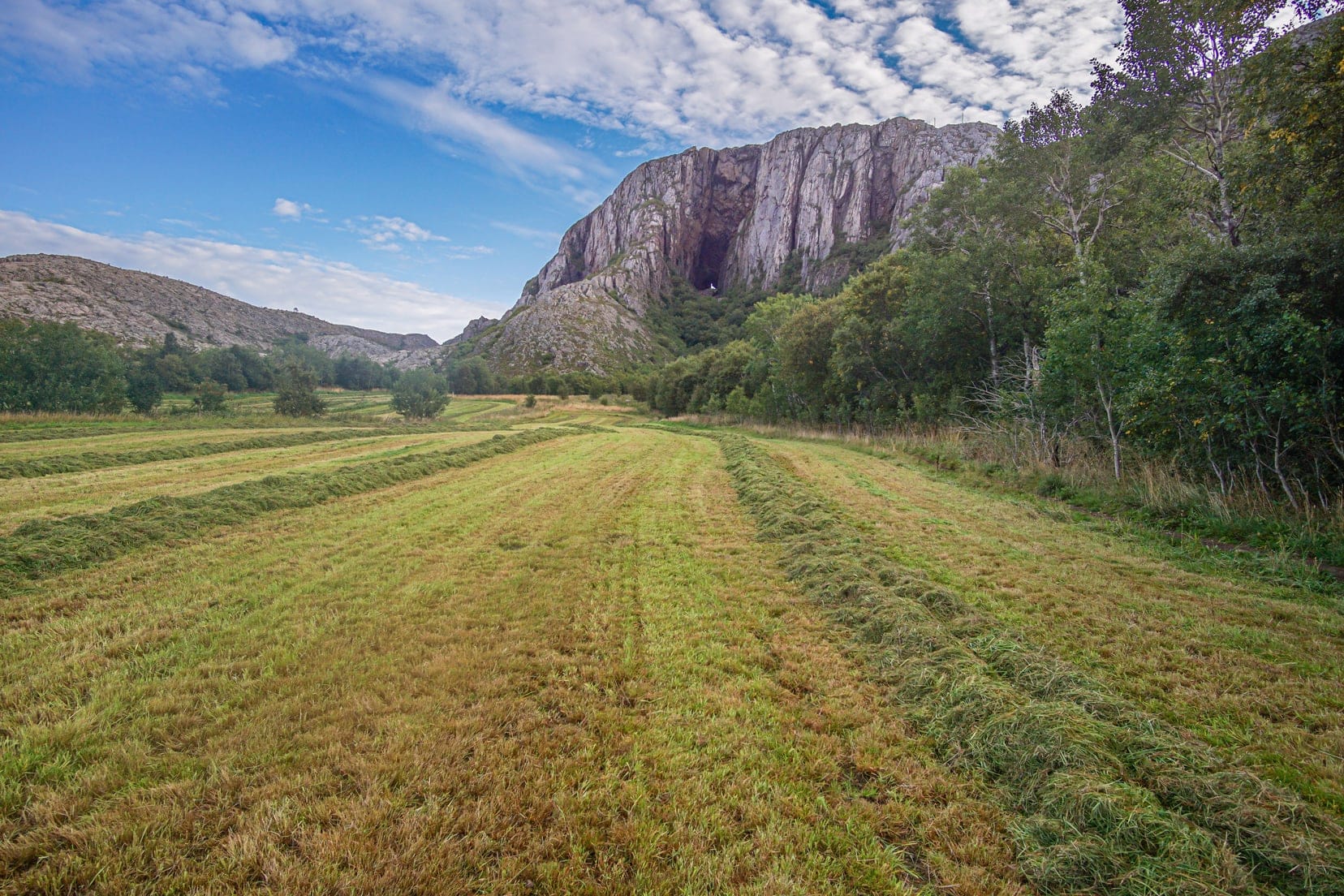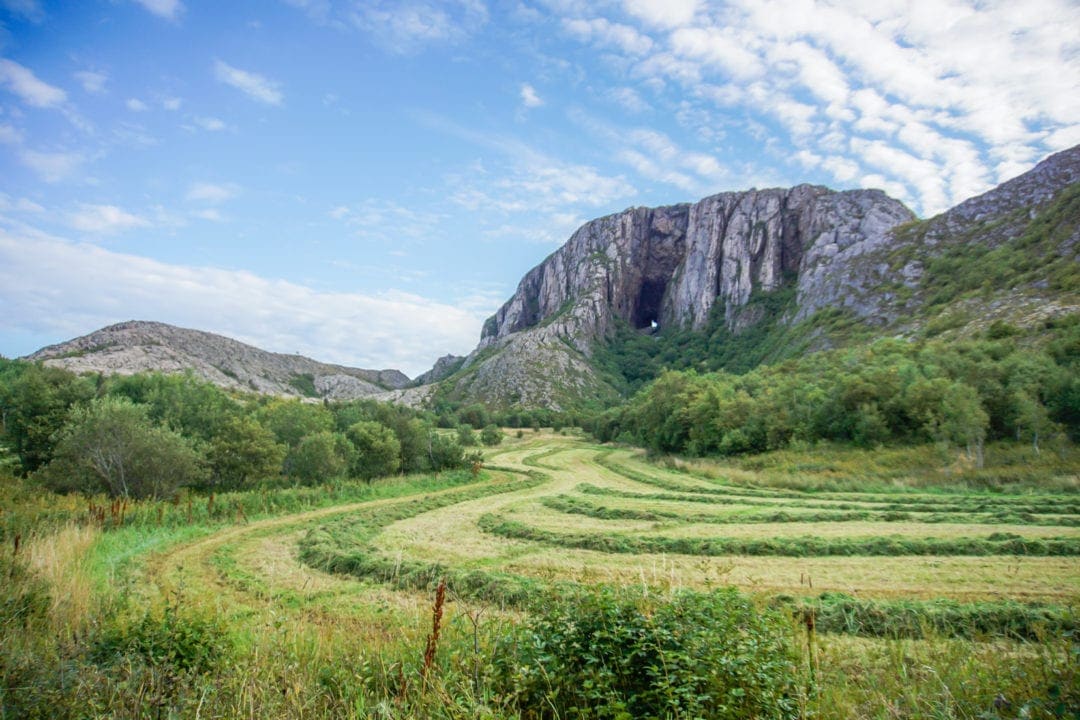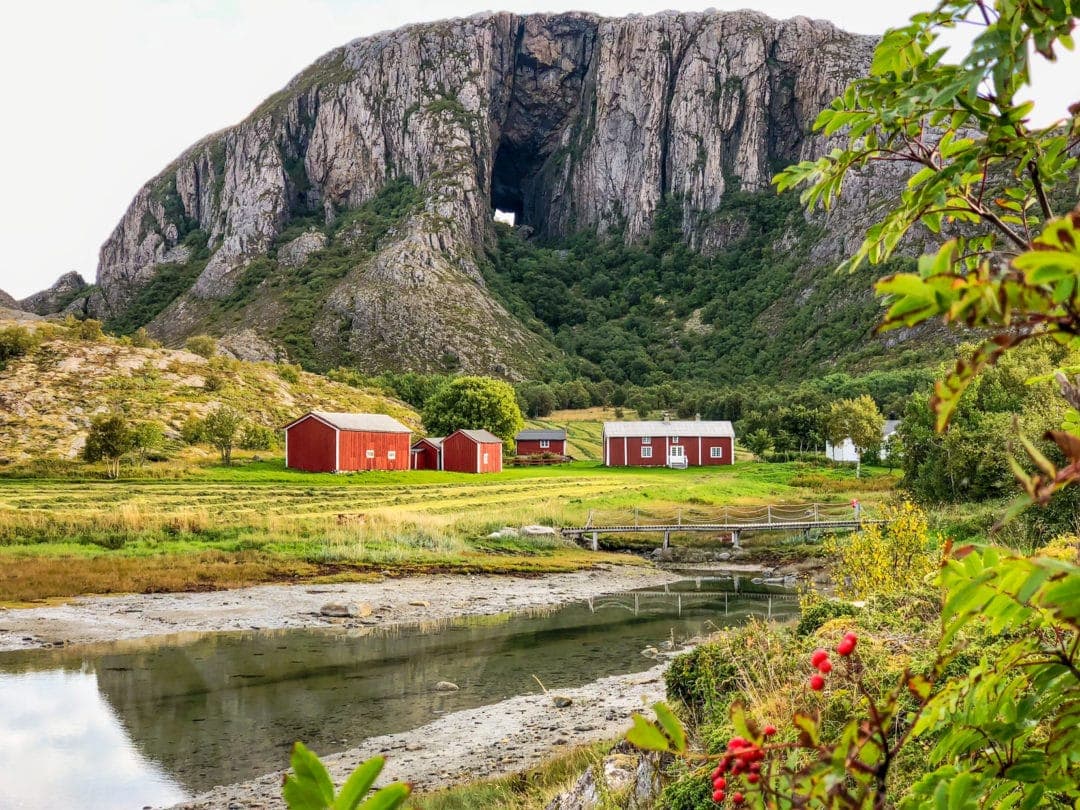 Now looking back towards Torghatten will give you the opportunity to capture some fantastic views and maybe even some 'hero' photos. From here you'll be able to see right through the hole!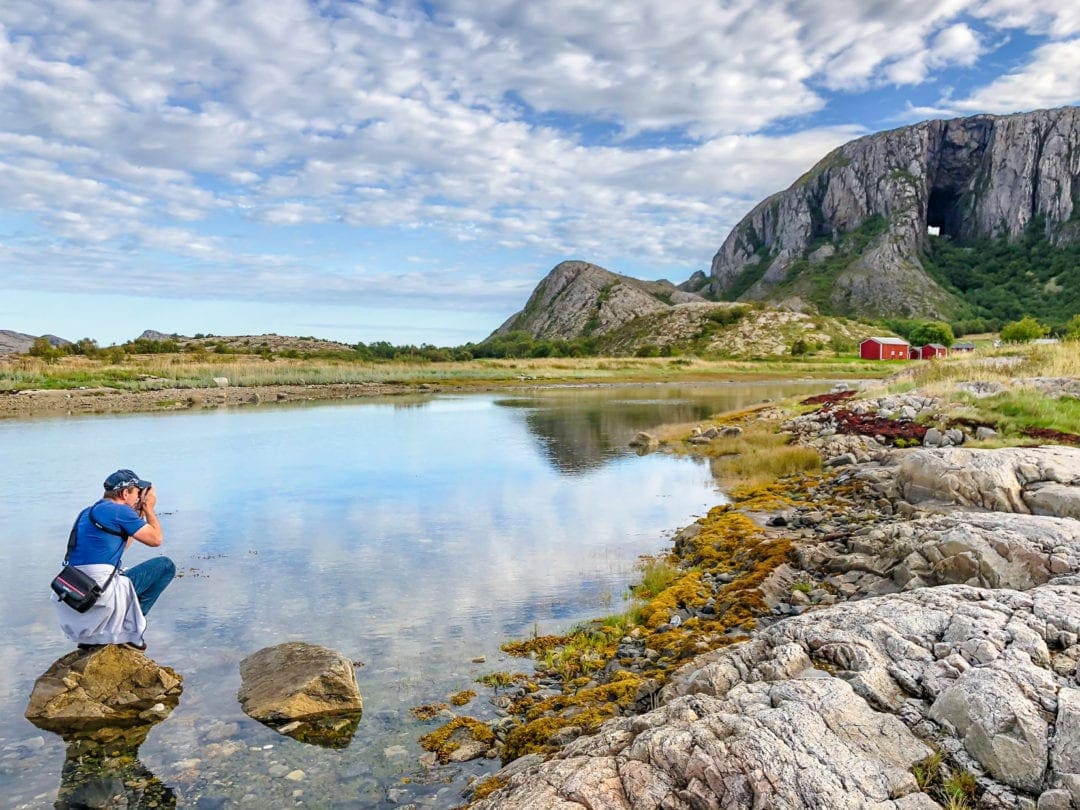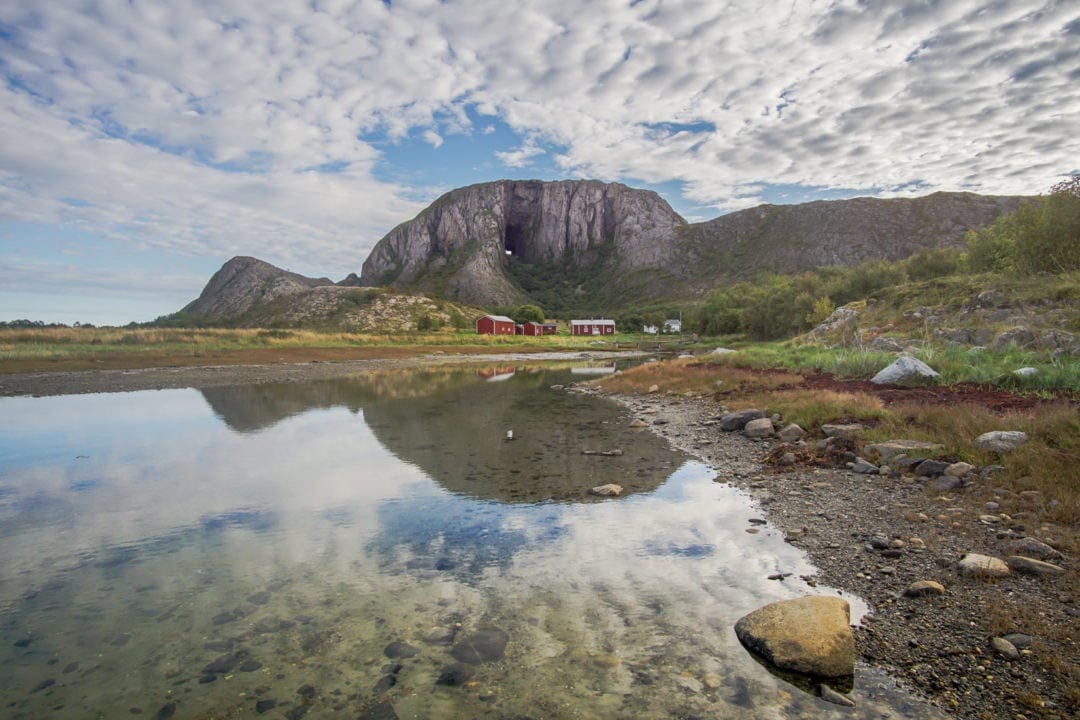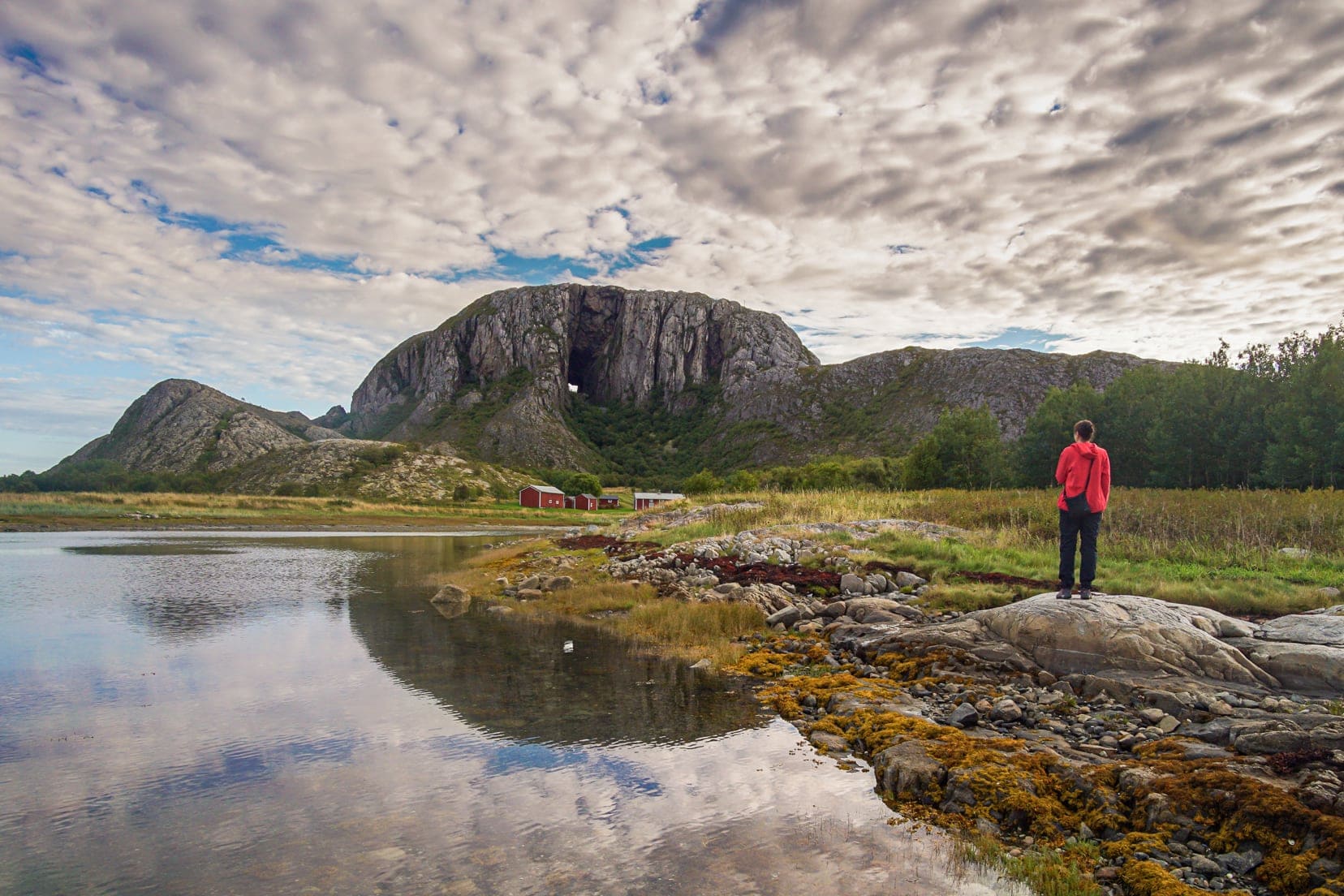 HIKE BACK TO THE CAR PARK WITH AN OPTIONAL HIKE UP TORGHATTEN PEAK
Hiking back to the car park is easy as you can just follow the gravel road which skirts the mountain base. It's a nice flat bit of walking covering about 1.8km and is not too strenuous.
As mentioned before, if you're a geocacher, then there's plenty to keep you busy on the return walk.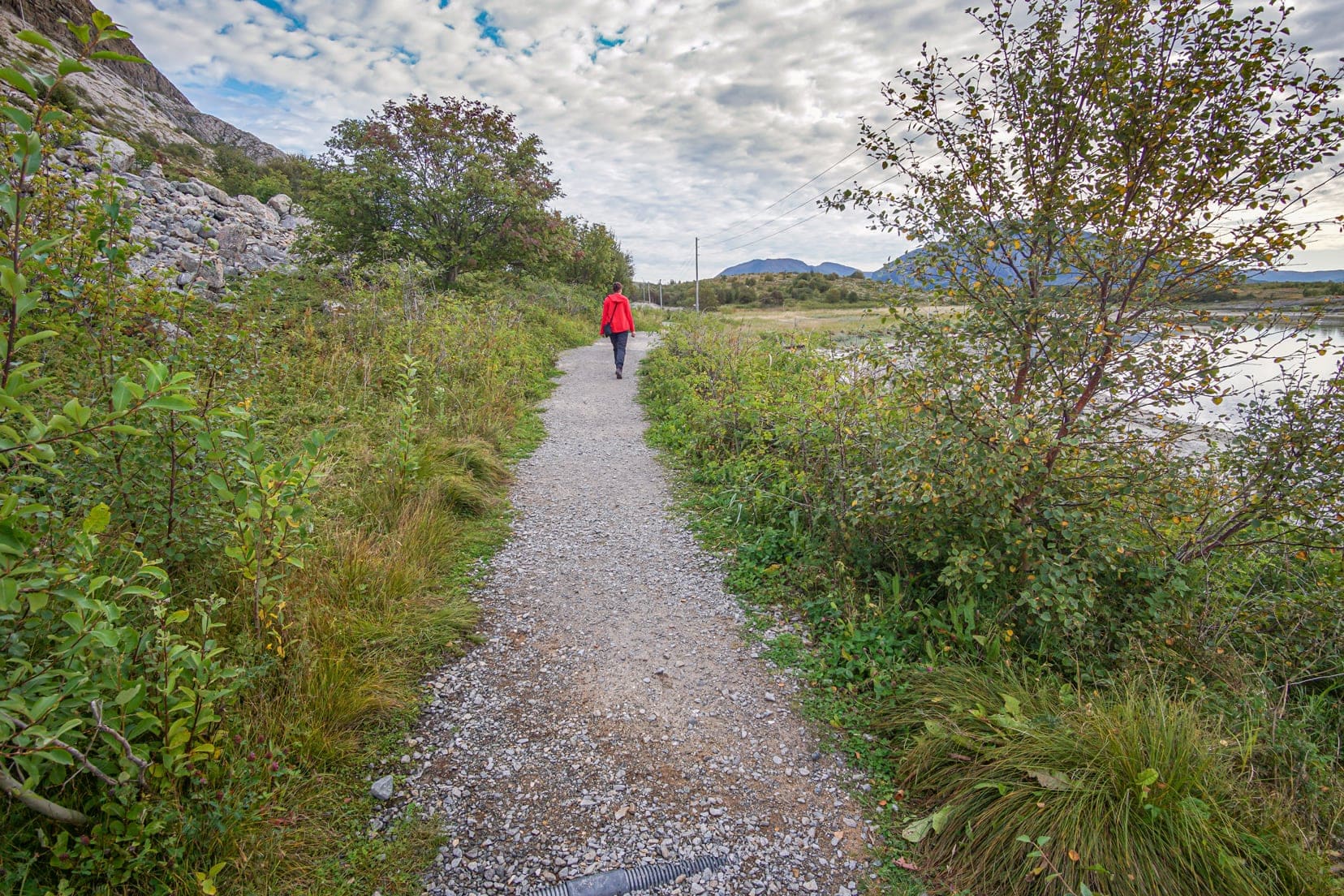 Around the halfway point on this return walk, is a red-arrow sign indicating the direction of the hike up to Torghatten Peak. The ascent of 1.6km to the mountain has a couple of steep ridges along the way but hand-rails are in place to assist with the climb.
The views at the top of the surrounding landscape are said to be fantastic. Unfortunately, we didn't do this climb.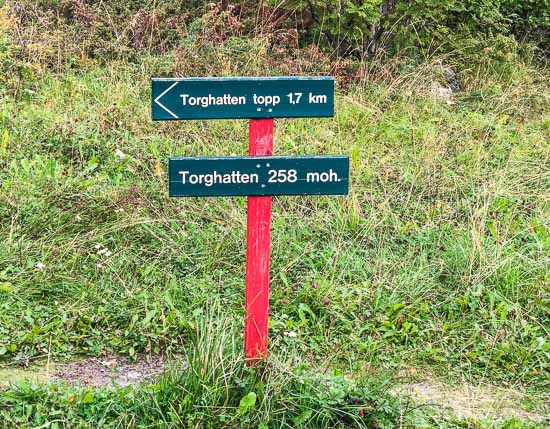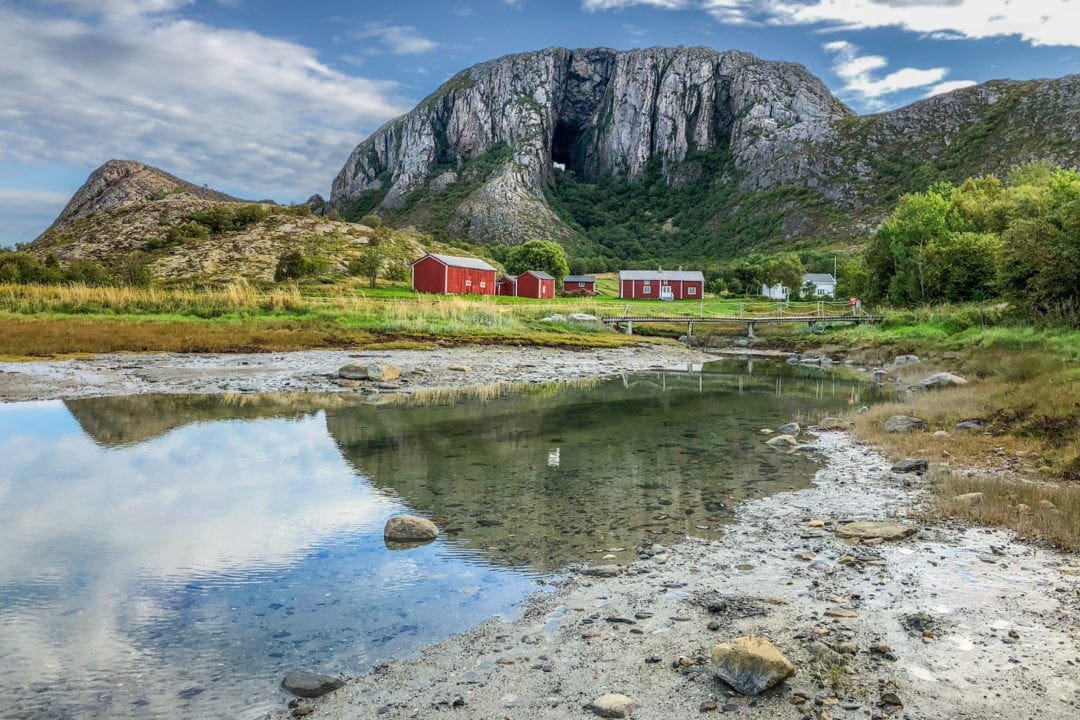 Geocaching at Torghatten
Geocaching is a global outdoor recreational activity, where GPS (usually via a mobile phone) is used to find, "geocaches" or "caches", at specific locations marked by coordinates all over the world.
There are a few to be found at and around Torghatten. I'll not give too much more away but the image below gives you a clue about one of the finds.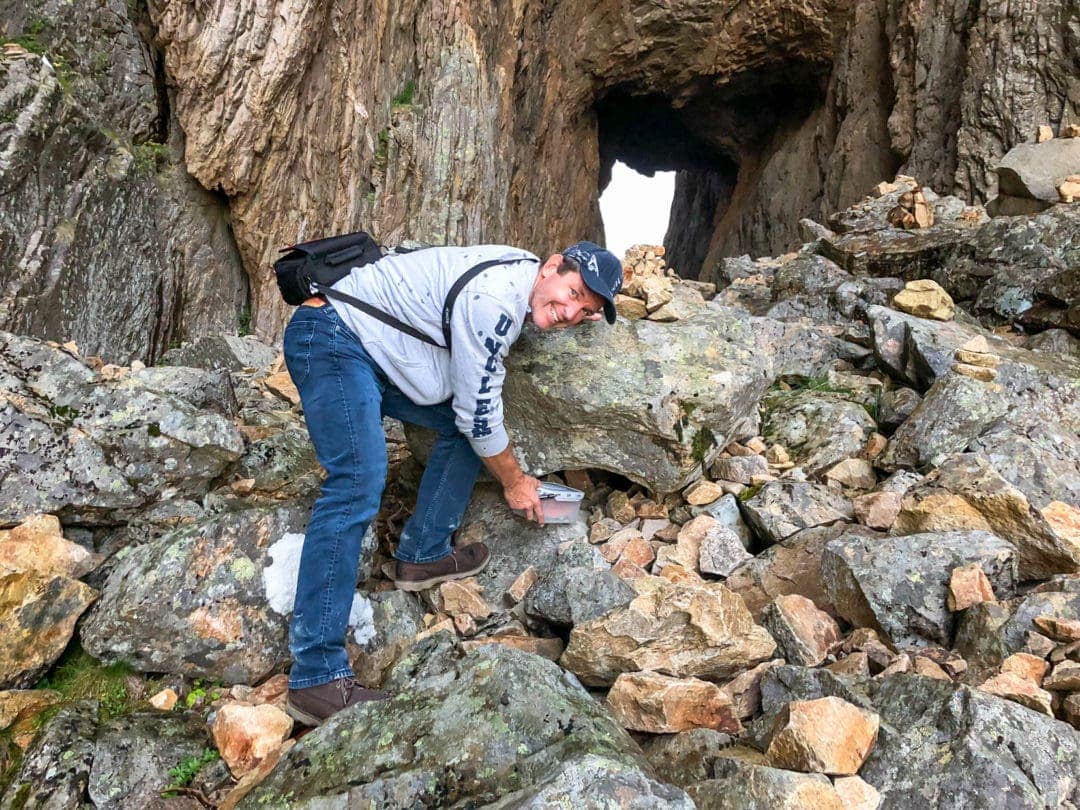 ESSENTIAL TORGHATTEN HIKING INFORMATION
There are different walking routes around Torghatten, each with different degrees of difficulty and specific colour coding as assessed in Norway.
The optimal season to visit Torghatten is between May and September. There is a dedicated car park as shown on the map which also marks the start of the trail.
TOP TIPS FOR HIKING NORWAY
Wear sturdy/waterproof hiking boots
Wear wind and waterproof hiking clothing with layers for a change of weather (The weather can change quickly, especially in the Norwegian mountains, so be prepared.)
Bring water to prevent dehydration
Ensure you have enough snacks and food for energy
Norway Emergency Telephone numbers: #110 Fire; #112 Police; #113 Ambulance
Make sure you are in a suitable physical condition depending on the difficulty level of the hike
If hiking alone – inform someone where you're going and your planned return time
If using a mobile, you can download a handy free weather app called Yr
Need to navigate with an offline mobile map, download the free Maps.Me
3 TORGHATTEN HIKING ROUTE OPTIONS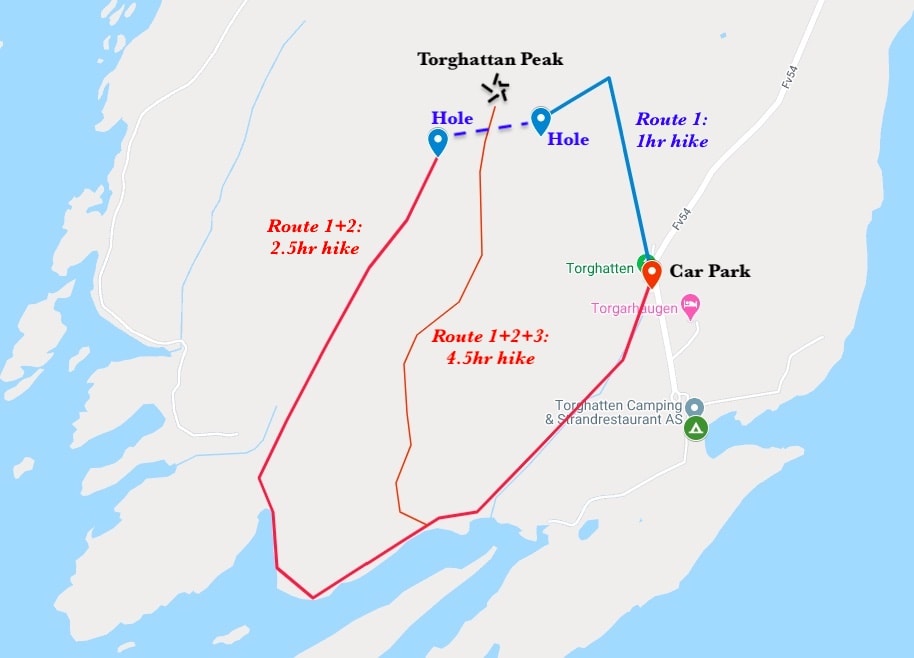 TRAIL DIFFICULTY LEVELS WHEN HIKING NORWAY
Norway classifies its walks and hikes depending on the difficulty as follows:
Easy (Green) – Novice Hikers/ No experience necessary
Medium (Blue) – Intermediate with some hiking experience /average fitness level
Demanding (red) – Experienced walkers/high fitness level well equipped with good hiking boots/ basic navigation skills /map and compass.
Expert (Black) – Longer and more technical hikes /Experienced hikers/ high fitness level well equipped with good hiking boots/ basic navigation skills/map and compass
ROUTE 1 – CAR PARK TO TORGHATTEN HOLE (RETURN)
Hike Difficulty: Medium (Blue) (requires some hiking experience and an average fitness level)
Hike Duration: 1-hour duration
Elevation Gain: 100m
ROUTE 2 – CAR PARK TO AND THROUGH TORGHATTEN HOLE, DOWN TO THE SEA AND BACK AROUND THE MOUNTAIN TO THE CAR PARK
Hike Difficulty: Demanding (Red) (for experienced walkers with a high fitness level)
Hike Duration: 2.5 hours
Elevation Gain: 100m
ROUTE 3 – CAR PARK TO AND THROUGH TORGHATTEN HOLE, DOWN TO THE SEA, BACK AROUND THE MOUNTAIN, UP TO TORGHATTEN PEAK AND BACK TO THE CAR PARK
Hike Difficulty: Demanding (Red) (for experienced walkers/high fitness level)
Hike Duration: 4.5 hours
Elevation Gain: 250m
GETTING TO TORGHATTEN
---
FLY / DRIVE COMBO
Brønnøysund hosts a regional airport with flights to the main Norwegian centres; Oslo, Trondheim, Bødo and Bergen. If you are flying in, then hire cars are available from the airport.
DRIVING
If driving the main route E6 south, then the turnoff towards Brønnøysund / Torghatten is 7.5km south of the village of Strendene. If travelling north on the E6, the turnoff is 27km north of Majavatn.
From this turnoff, it's 97 km to Brønnøysund plus an extra 15km to make it to Torghatten.
🚘 If you are looking to hire a car then we recommend DiscoverCars.
They are winners of the World's Best Car Rental Booking Website
They have a Price Match Guarantee.
4.5 Rating on Trustpilot
Free Cancellation
FERRY
Norway's coastal ferry, a combined passenger and freight service, has a total of 11 ships – 7 operated by 'Hurtigruten' and 4 by 'Havila Shipping'.
Brønnøysund is just one port stop of a total of 34, starting in Bergen and travelling north to Kirkenes, visiting remote coastal towns.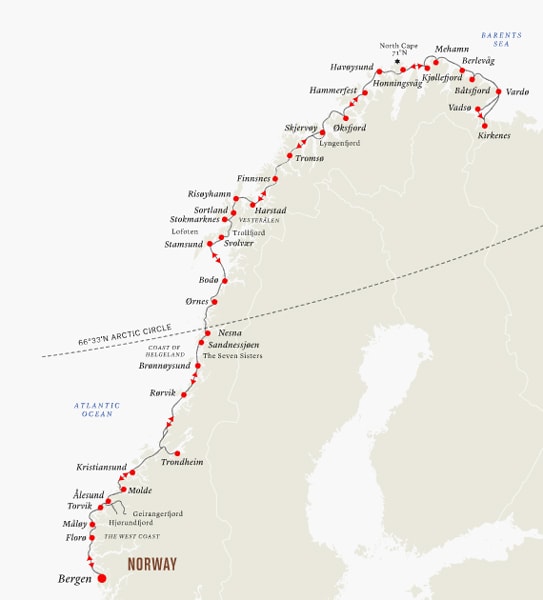 WHERE TO STAY NEAR TORGHATTEN
HOTEL
We stayed in Brønnøysund at the Corner Hotell and can recommend this hotel which includes a fabulous breakfast and free wifi.
If you're looking for other hotel options then you can find Brønnøysund options here on booking.com.
CAMPING
We've included the closest 3 camp-sites to Torghatten on the map above which are:
Mosheim Camping Anna Jensen, Mosheim 43, 8908 Brønnøysund, Norway. Tel: +47 75 02 20 12
Skogmo Family Camping, Skomo 64, 8908 Brønnøysund, Norway. Tel: +47 90 95 75 21
Kjellsand Camping, Kjellsand, 8908 Brønnøysund, Norway
TORGHATTEN HIKE … That's a Wrap
There's no doubt about it, being able to see and walk through mighty Torghatten, the 'hole in the mountain', was a fantastic and unique experience in Norway.
There are many fjords, waterfalls and quaint towns in Norway but there's only one Torghatten. There are many different and fantastic photographic opportunities depending on the time of day and what landscape setting you which to capture.
We really do recommend that you give some serious thought to including Torghatten in your itinerary. Whether a feat of Mother Nature or a Troll-King legacy, this mountain is sure impressionable.
If you enjoyed this article, you may like these FREE RESOURCES:
FREE Travel Guides (many countries)
FREE 23-page Travel Planner, including menu planner, journal pages and budgeting)
FREE Phone Wallpapers
FREE Photo Ebooks
Monthly Travel News
👉 Sign up for your FREE resources here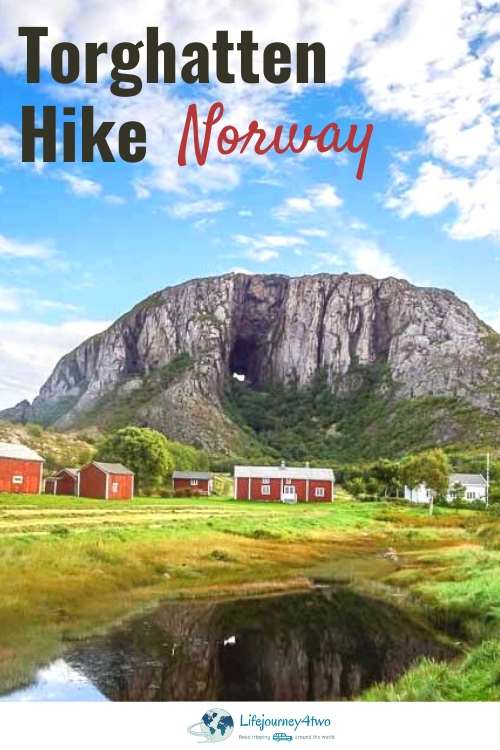 READ MORE:
PLANNING YOUR TRAVELS?
These are some of the travel resources we use when planning our trips.
For a more thorough list visit our Travel Resources page here.