Walking Arthur's Seat, Edinburgh
Edinburgh is a vibrant city with an eclectic mix of attractions. But It is not common for a city to have its own ancient volcanic mound. And even more unusual, that once climbed, it offers up a 360-degree view of the city. Walking Arthur's Seat gives you both glimpses into its past and amazing panoramic present-day views across Scotland's capital city.
Come along with us on a walk to Arthur's Seat:
Find the best viewpoint from which to see Edinburgh
Discover snippets of Arthur's Seat history, archeology and geology
Work out the best route for you to walk to Arthur's Seat
Enjoy all the photographs we snapped along the way
The name, Arthur's Seat, conjures up visions of the legendary King Arthur and his Knights of the Round Table. Leading us to imagine this famed landmark, standing guard over Edinburgh, was once caught up in the mythical mystery of medieval times. Some believe this mystical place was King Arthur's Camelot, or at least that he and his knights fought fierce battles here.
Alas, there is no such evidence. Although tales of such have been scattered around throughout the ages, scholars doubt there is any connection. The historian, William Maitland, suggested in his book, History of Edinburgh of 1753, that the Gaelic name, 'Àrd-na-saighead ', which means 'height of arrows' has gradually been changed to Arthur's Seat.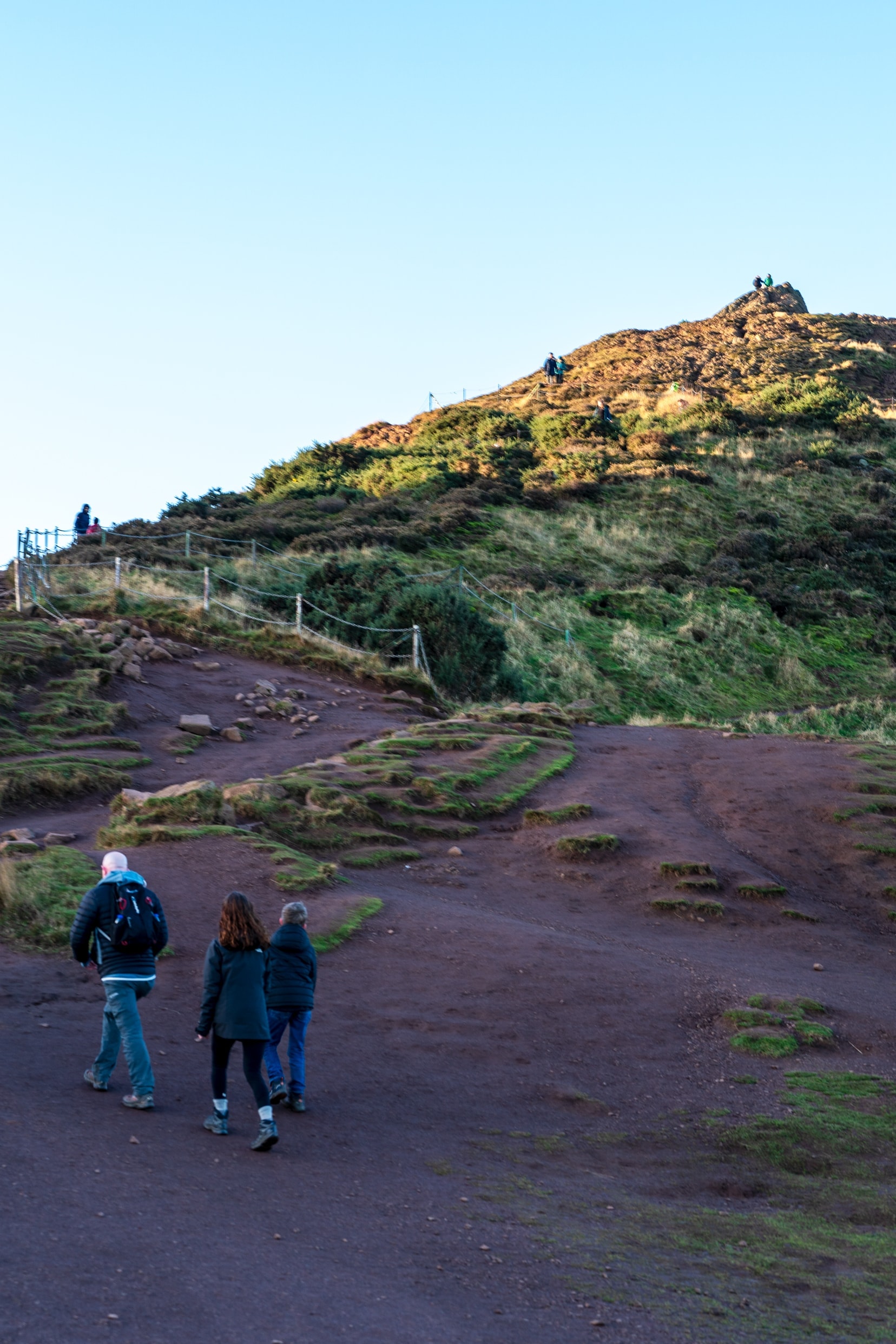 Nonetheless, Arthurs Seat has enough mystery, myth and millennia of historic comings and goings without King Arthur's blessing. Regardless, tales will no doubt continue. Imaginations will run wild and enthusiastic storytellers will enjoy lavishing Arthur's Seat with bewitching legends of the past.
Arthur's Seat Map
This map includes all the main landmarks we discuss in this article. It also provides an overview of the various walking routes you can take to Arthur's Seat. We've also highlighted the best places to park for walking Arthur's Seat.
You can save this map to your own google maps and use it for your Arthur's Seat walk. Another map you may find handy is the Holyrood Park Map and Guide which you can download a PDF here.
Where to Start Walking Arthur's Seat
There are several routes up to the summit of Arthur's Seat. The map above shows the paths quite clearly and we also show you our recommended route. The one we took was a medium level climb and one of the most popular scenic routes.
For an easier walk, stick to the paths marked green on our map. If you are looking for a more challenging route to Arthur's Seat summit, try the purple route. Another route that you can take if short on time and have a car, is from Dunsapie Loch car park. To walk up to the summit from the car park there should only take about 25 minutes.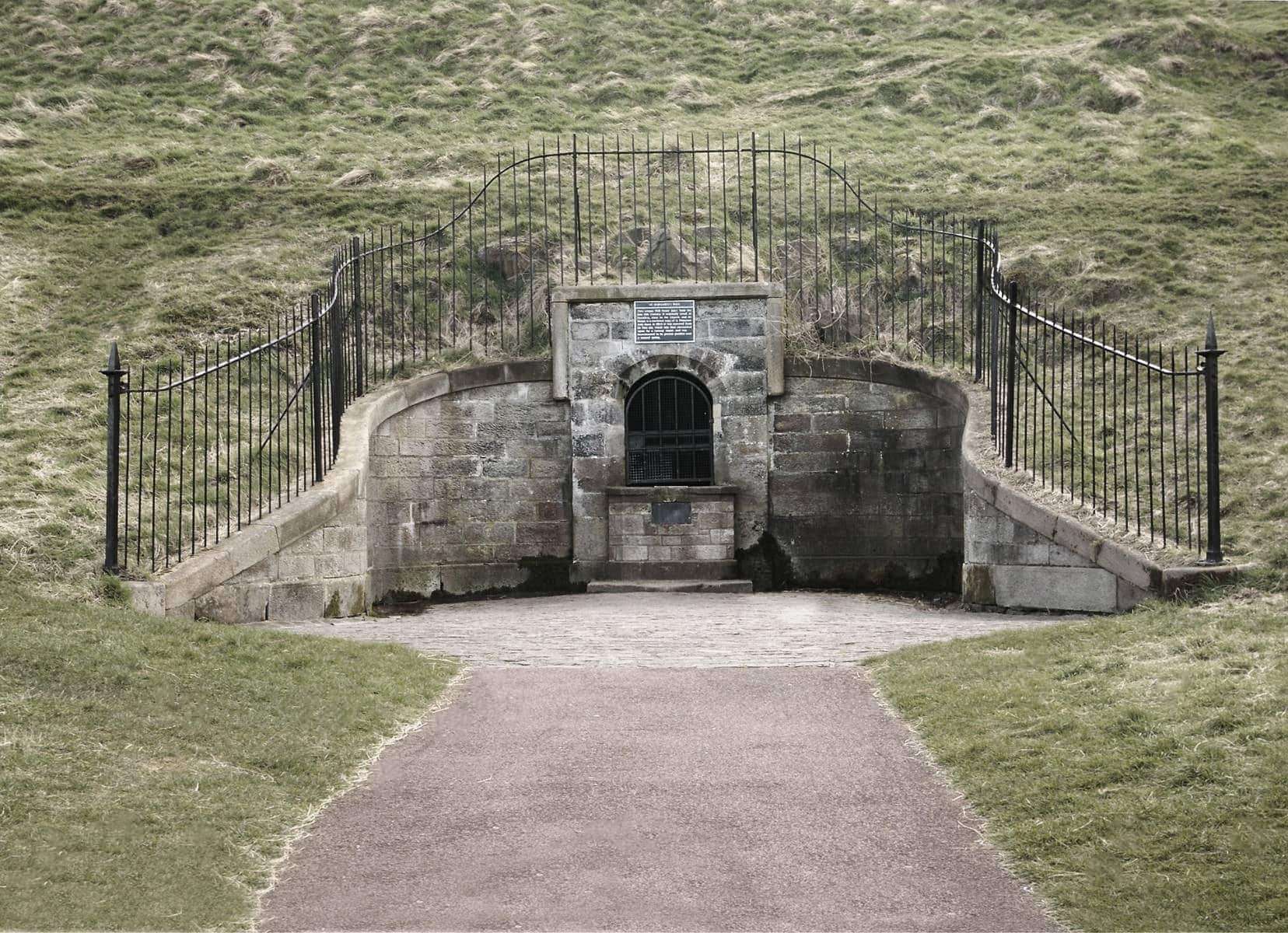 Our route began near Edinburgh's Holyrood Palace (at the end of Edinburgh's well known Royal Mile). We then began our climb on the pathway near St Margaret's Well by taking the path leading to the left. A little further along we took a left fork towards the ancient ruins of St Anthony's Chapel. After having a peek at the ruins and appreciating the view from there and down to St Margaret's Loch, we retraced our steps back to the main path. From there, we followed the rocky and slightly muddy path upwards towards Arthur's Seat summit.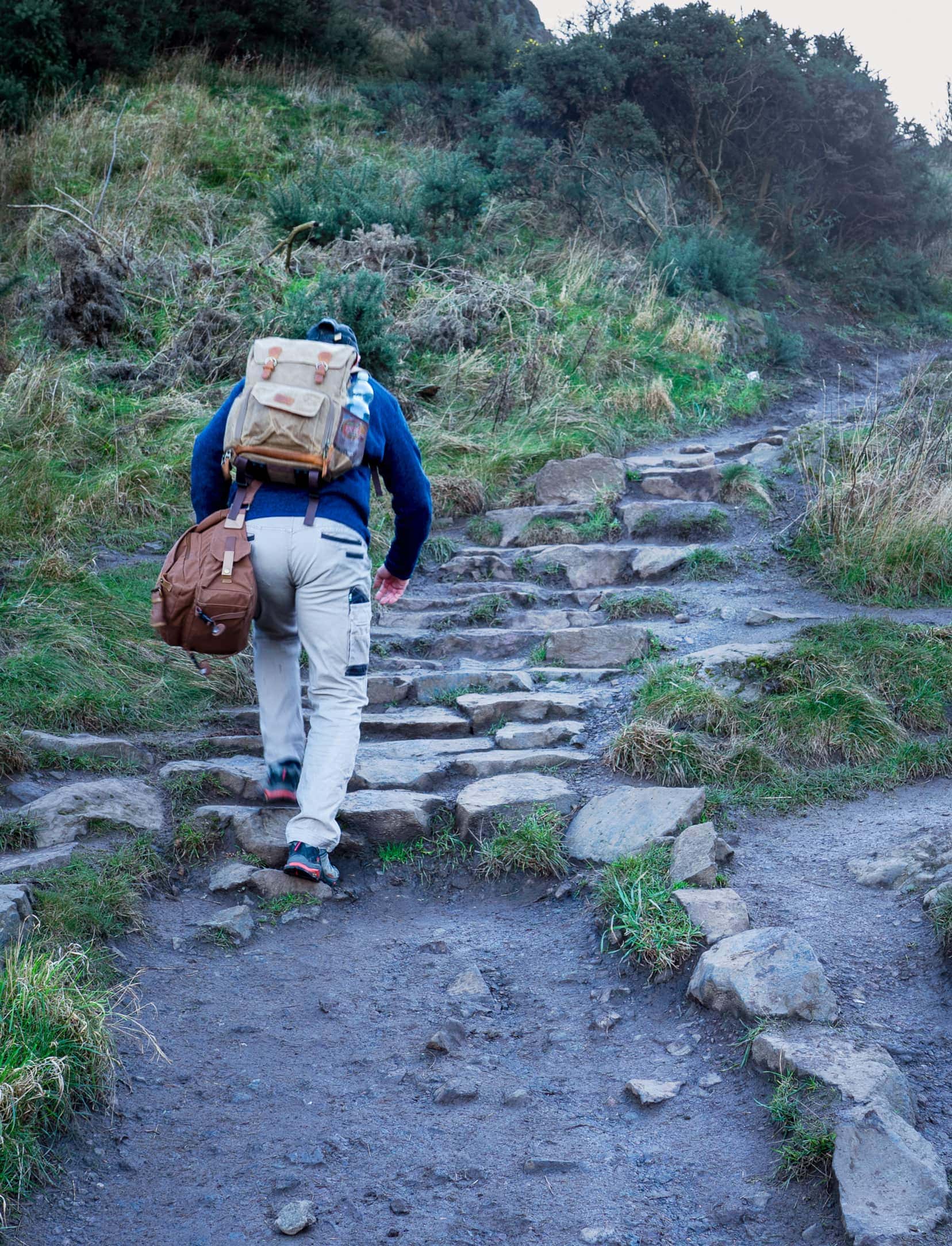 We descended on the other side of the hill and headed off to discover the delightful old village of Duddingston, nestled on the southern side of Arthur's Seat.
If you have time after walking Arthur's Seat, take a visit to Duddingston Village. Here, you'll find Duddingston Loch Wildlife Reserve, Edinburgh's Secret Garden and Scotland's oldest pub. >>> You can read our Post on Duddingston Village here. <<<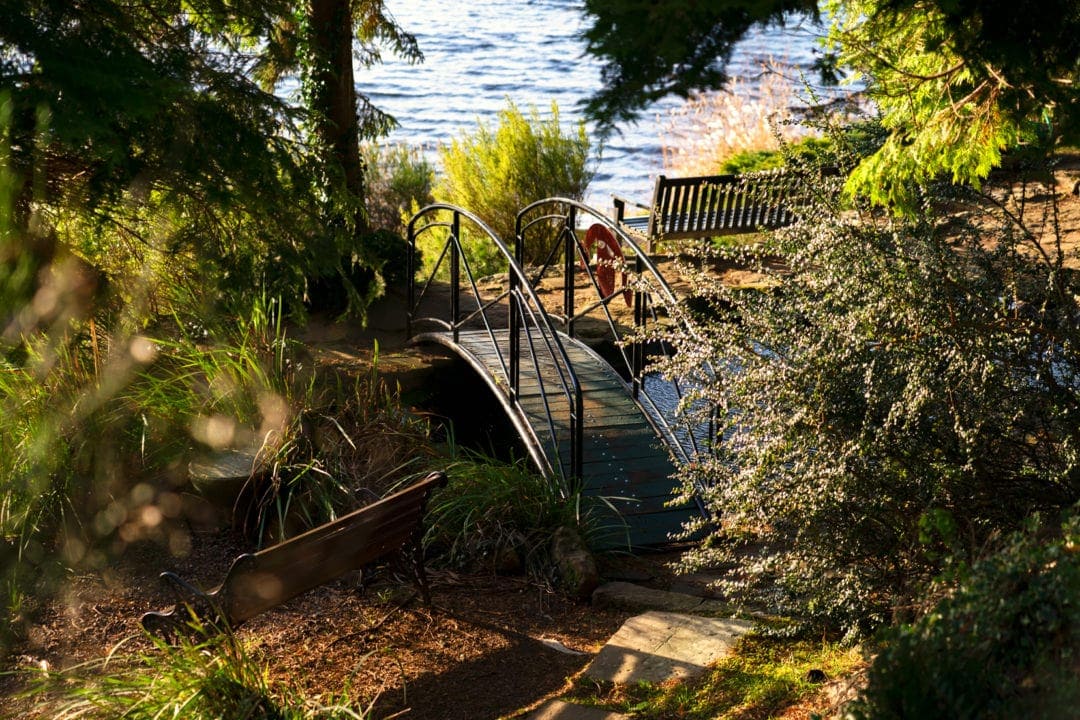 What is Arthur's Seat?
Arthur's Seat has formed over millions of years, beginning life as a volcano over 340 million years ago. Over the centuries, ice age glaciers and continued erosion have shaped the remains of the ancient volcano and its lava flows. It is difficult to imagine the world into which it was born.
Wrapped in several layers with beanies pulled snuggly down over our ears, we walk to its summit, keen to conquer this iconic extinct volcano and to gain a birdseye perspective of the city that has formed around it.
On the side of Arthur's Seat, you'll notice steep drops. These are the Salisbury Crags, formed from cooling lava and carved out by glaciers over millennia. In fact, it was these very crags that led the scientist, James Hutton, to introduce the idea of 'deep time'. He developed the idea that the world was actually millions of years old, rather than 6000 years old as was believed back in 1785.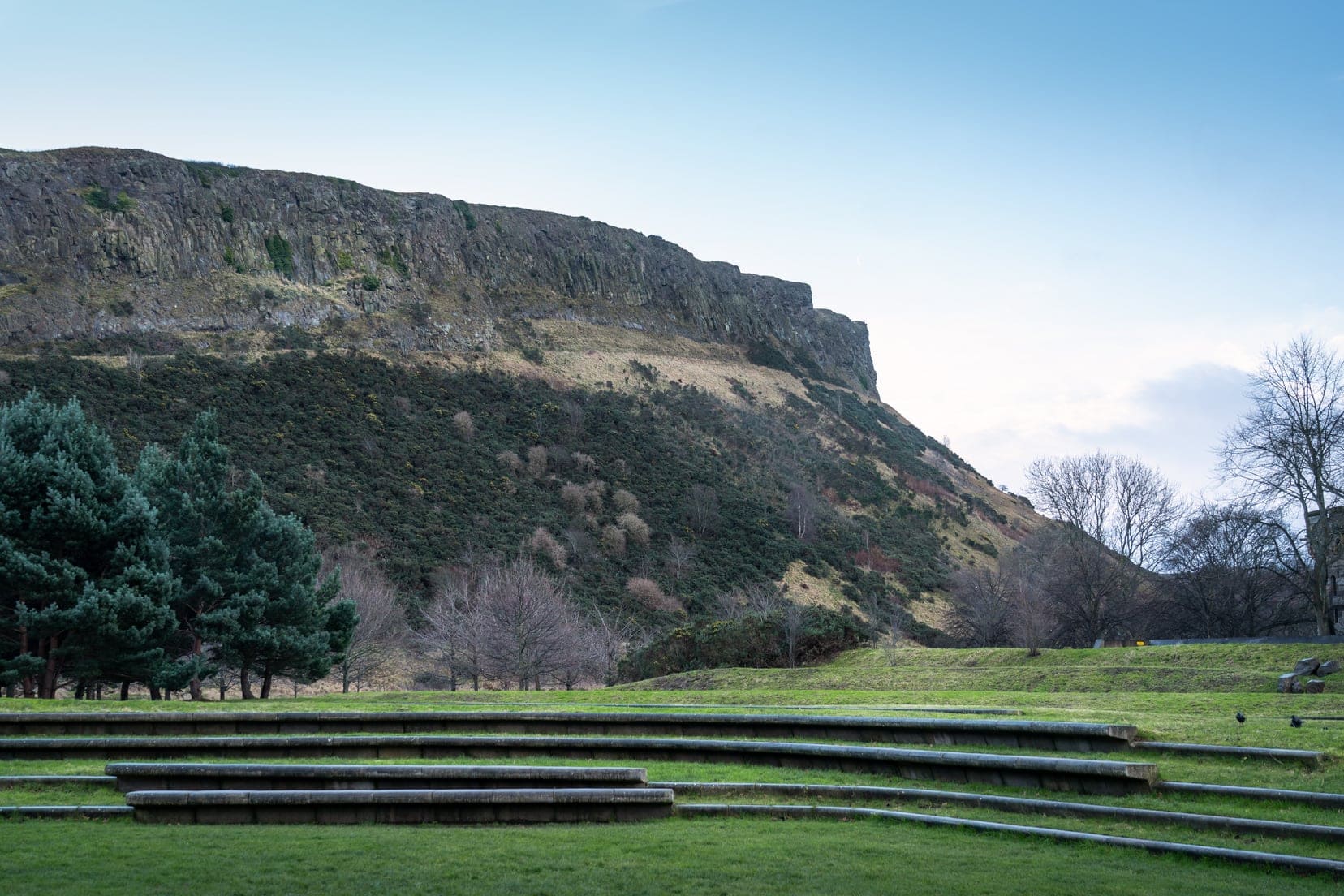 Arthur's Seat is part of Edinburgh's 640 acre Royal Park, Holyrood Park. The park was once part of the grounds of Holyrood Palace, built by James IV in 1503. Mary Queen of Scots held elaborate parties in the private royal park in the 16th century, but in 1856, Prince Albert, husband of Queen Victoria, formally opened the park to the public.
He created St Margaret's and Dunslapie Lochs and built Queen's Drive, now a path that circles the foot of Arthur's Seat. Holyrood Park is a Scheduled Ancient Monument and Site of Scientific Interest.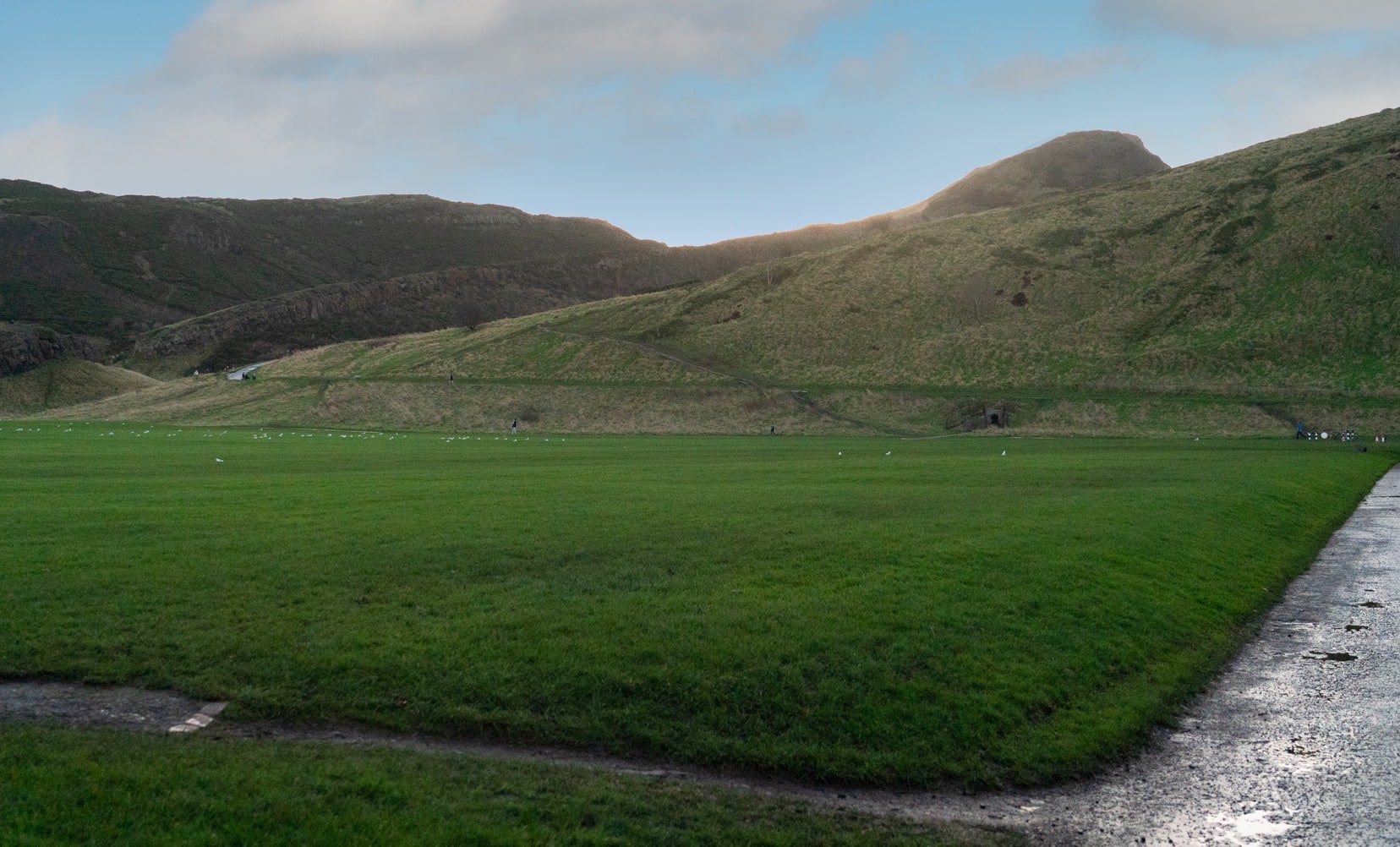 Good to Know for Walking Arthurs Seat
Best Time to Climb Arthurs Seat
Arthur's Seat attracts thousands of tourists, so if you want to avoid the crowds, visit in the off-season, and during the week rather than at weekends.
We'd also recommend starting off on your walk early if you don't want too many others at the top. It can get a little congested at the summit with limited space and everyone wanting a selfie at the peak.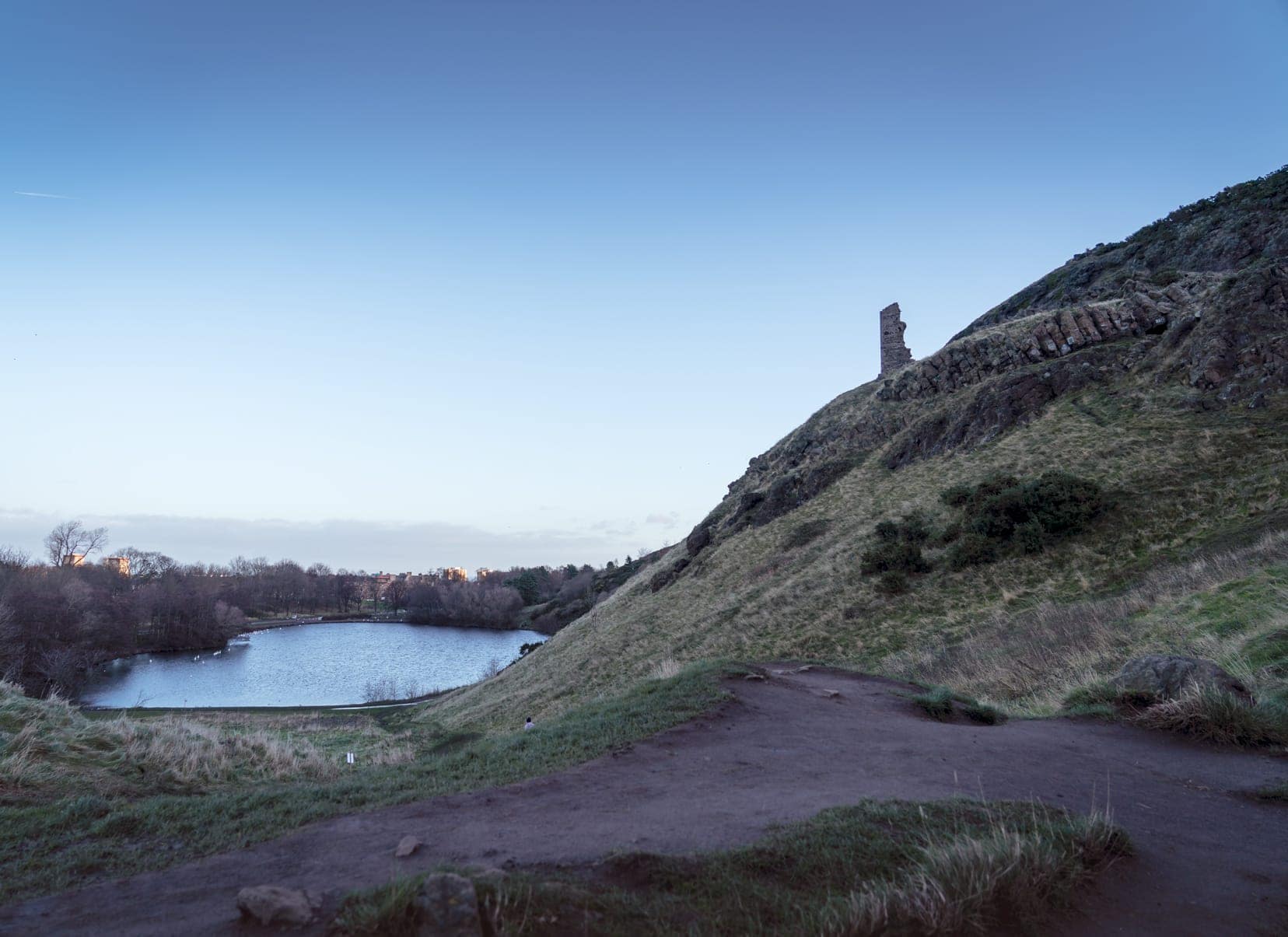 The weather in Edinburgh, as much of Scotland, is unpredictable, but in the main, it has a relatively mild climate. Winters aren't generally freezing and summers aren't generally hot. The wind chill can often take visitors by surprise and when walking Arthur's Seat you need to take this into account, along with the fact that it is often extremely windy at its summit.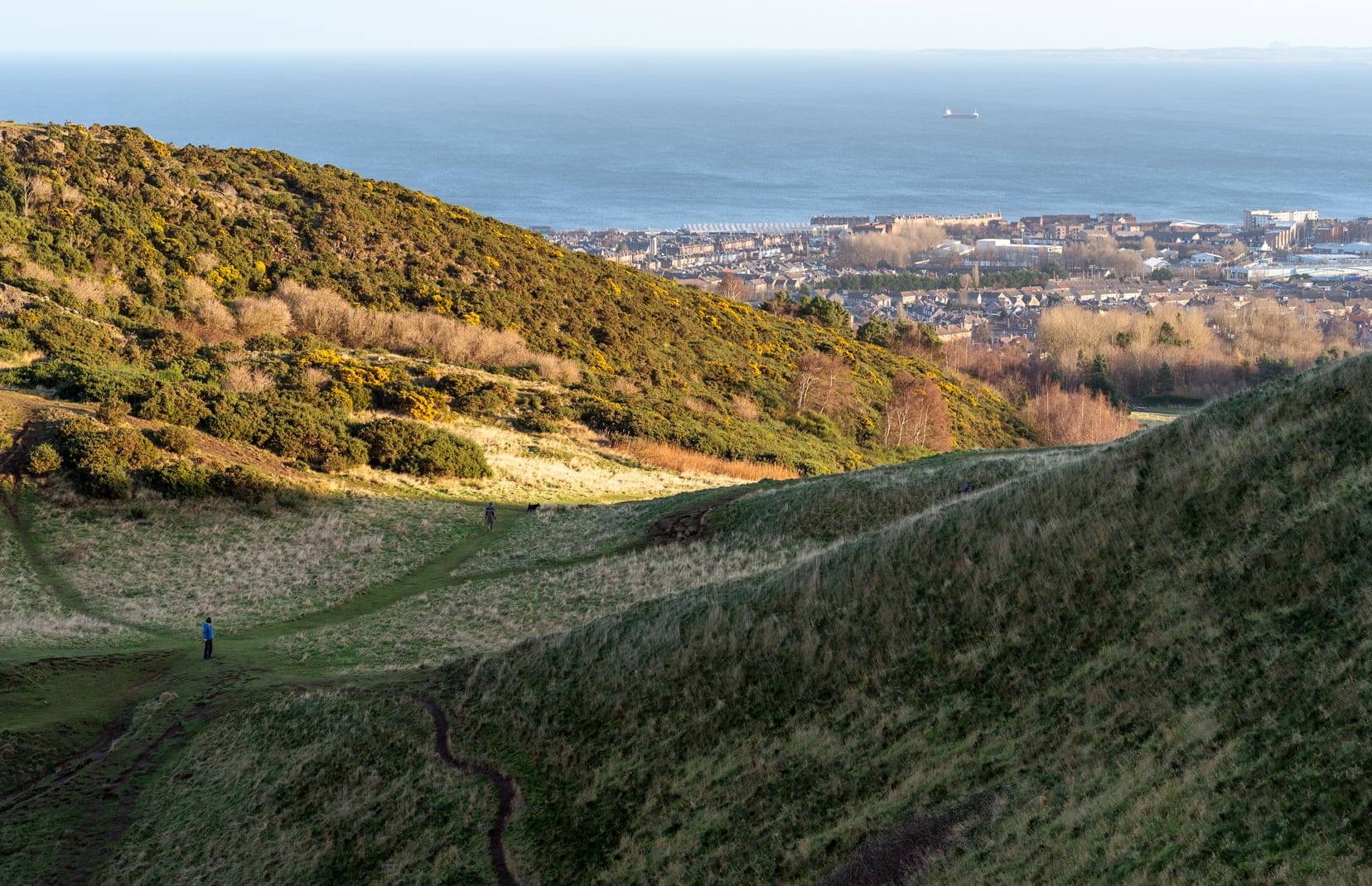 On checking the stats, the chance of rain is an even bet for any part of the year and can strike at any time. Therefore, whatever time of year you visit Holyrood Park and plan on walking up Arthur's Seat, be prepared for a chilly breeze and chance of rain.
Therefore, the best time of year for walking Arthur's Seat doesn't depend too much on the season, but more on the weather on the day. Obviously, it is better to walk to the summit of Arthur's Seat on a clear day so you can appreciate the panoramic views from the top. Additionally, parts of the walk can be slippery if wet, so it would be best to choose a dry, clear day.
If you visit in the months of June to August, keep an eye out for the rare Maidenpink flower re-introduced to the slopes in recent years.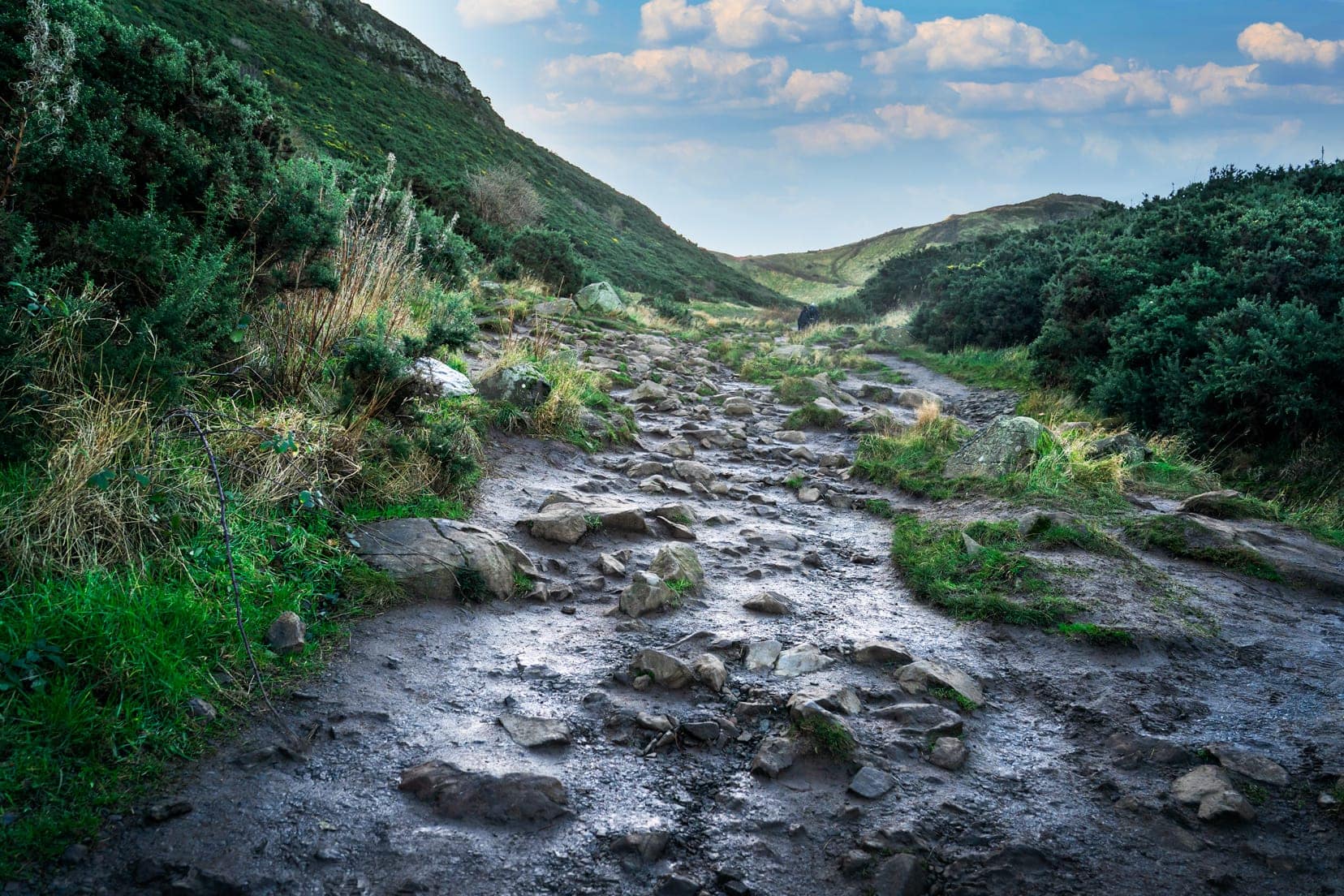 Arthur's Seat Walking Time
The time to walk to the summit of Arthur's Seat varies depending on the route you take, your fitness and how many times you stop to take photos. However, generally, the walk up and back takes about 1-2 hours.
Arthur's Seat Height
Arthur's seat has an elevation of 253 metres (823ft).
Parking
There are several parking options. Look at our map above and you'll see car parks near St. Margarets Loch, on Queens Drive, near Duddingston Loch and at Dunsapie Loch car Park.
Arthur's Seat Opening Times
Arthur's Seat is always accessible and free to visit.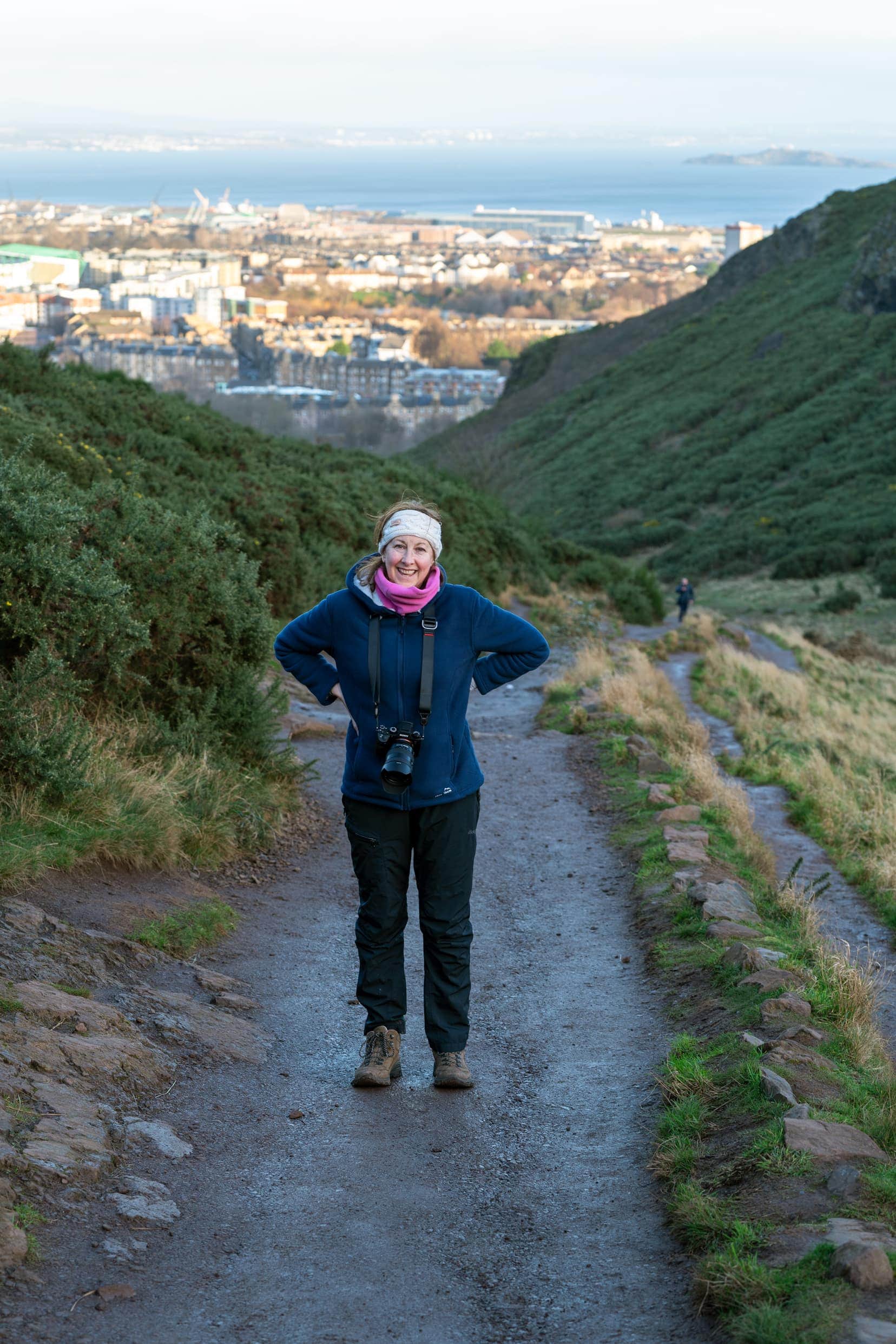 Arthur's Seat Hike
If you follow the same route we took, you'll come to St. Margarets Well first. This well was moved from a local village and preserved because of its historical significance as a holy well.
Just a short walk up the hill, towards Arthur's Seat, will bring you to the ancient ruins of St Anthony's Chapel. No one is sure about when it was built, but a letter was sent to the pope in 1426 asking for money for its repairs. The Geotourist Audio Guide of Holyrood park tells you that it was a pilgrimage church and the nearby well was considered to contain healing water.
Even from this point of the walk to Arthur's Seat, the view is pretty amazing, with both Edinburgh Castle crowning Castle Rock, and the Parthenon lookalike monument atop of Calton Hill can easily be seen from here.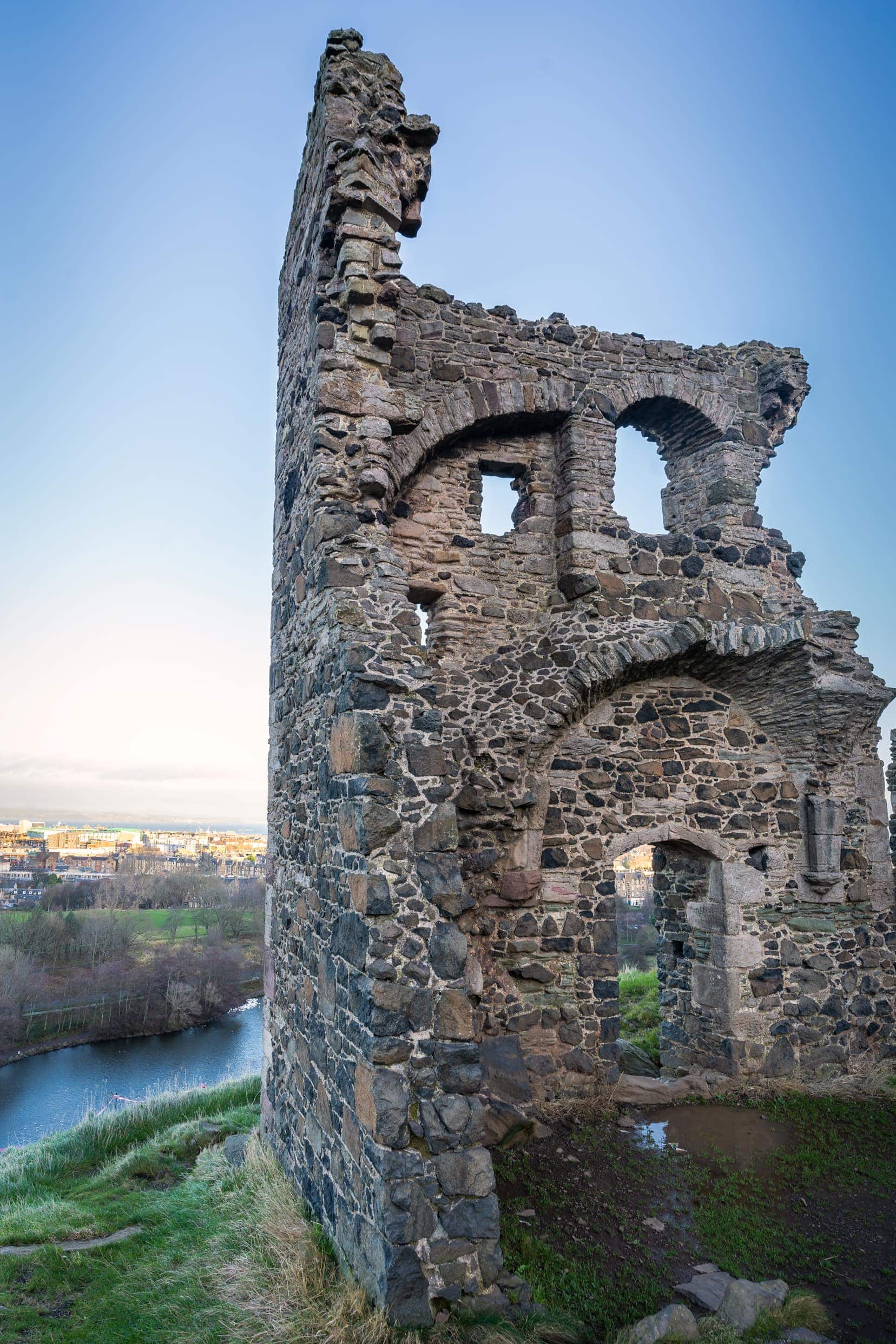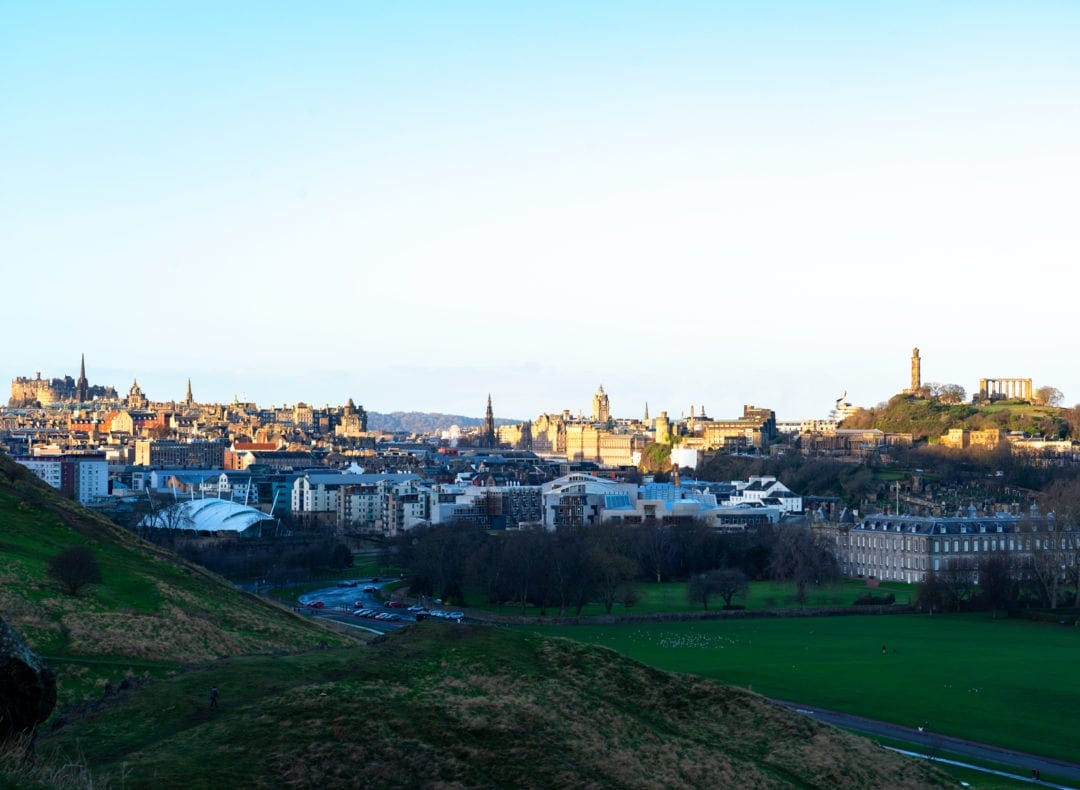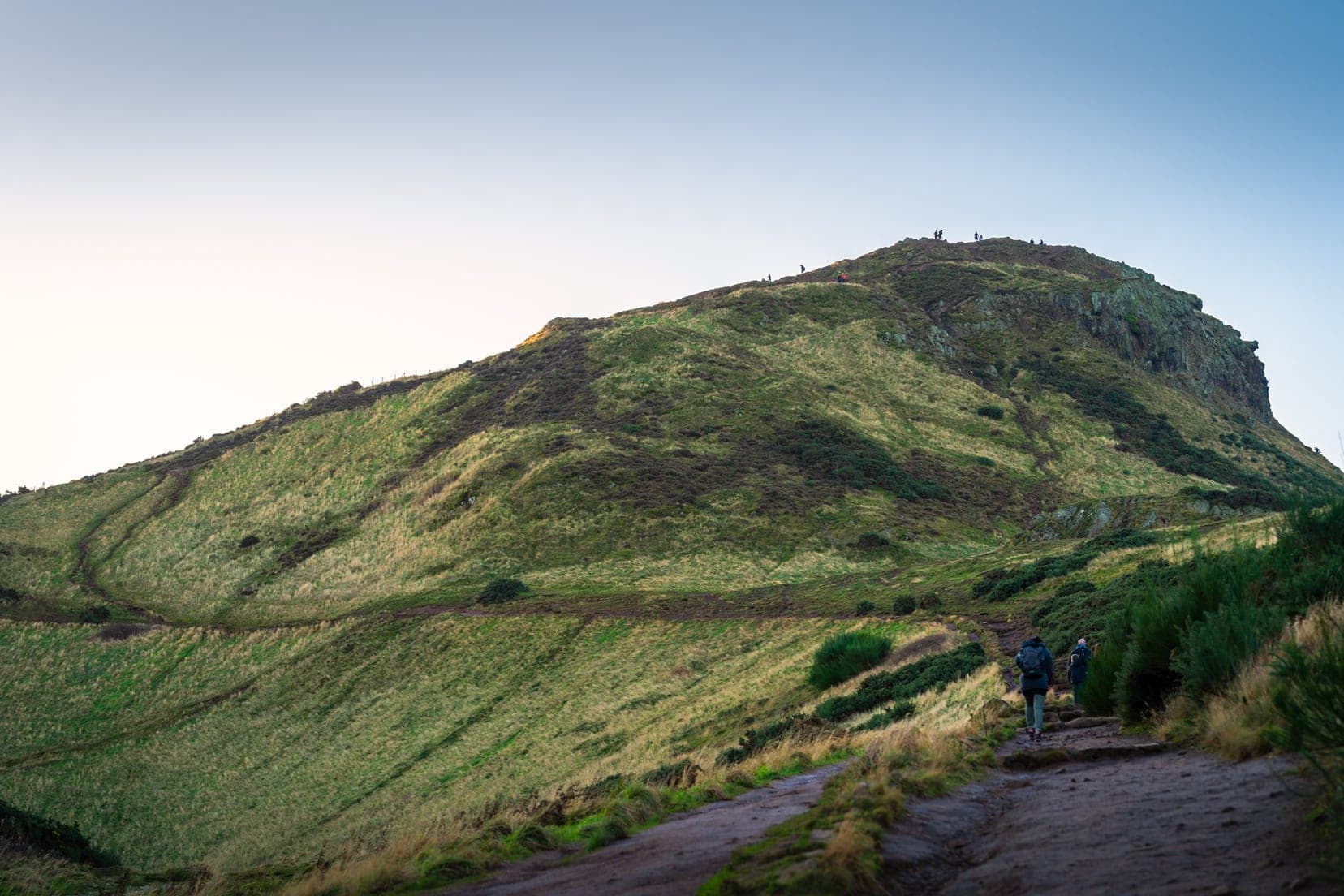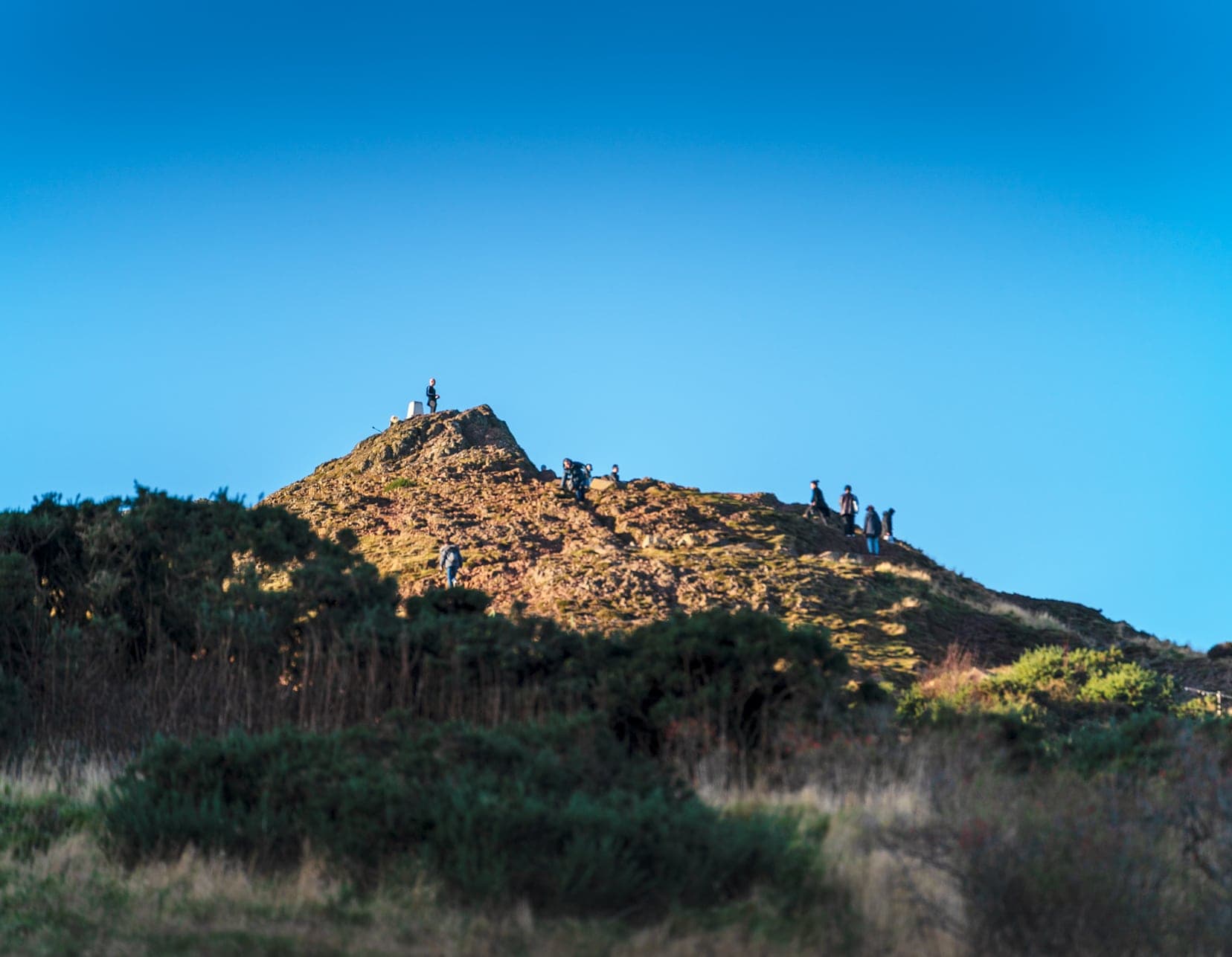 View From Arthur's Seat
From the top of Arthur's Seat, you are rewarded with 360-degree panoramic views of Edinburgh. On a clear day can see the Firth of Forth.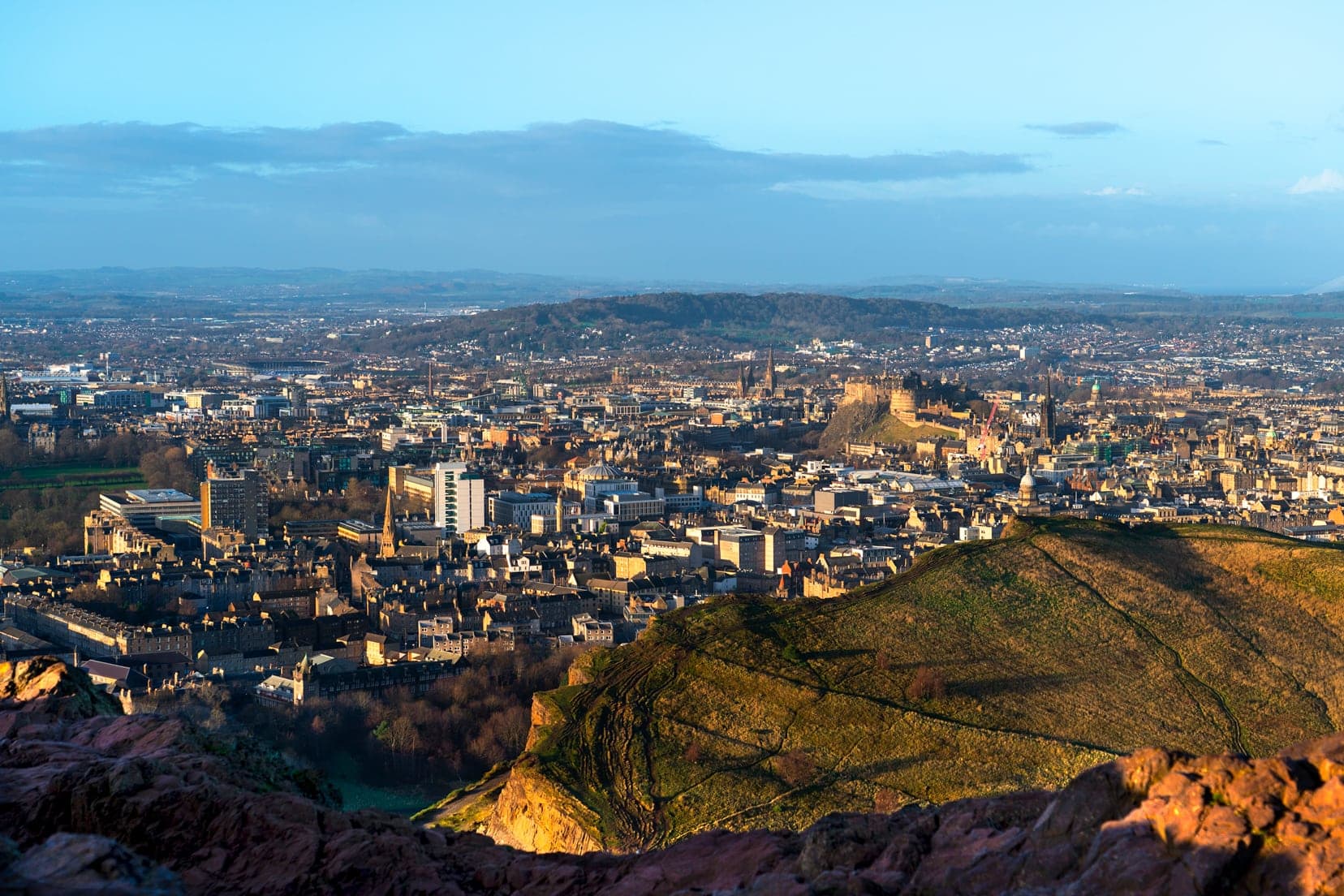 Depending on the time of year and the time of day, you may also be at the top with many others trying to appreciate the view. The notorious wind that buffets this rocky area means that you are unlikely to stay up there for too long so enjoy the view as much as you can before beginning your descent.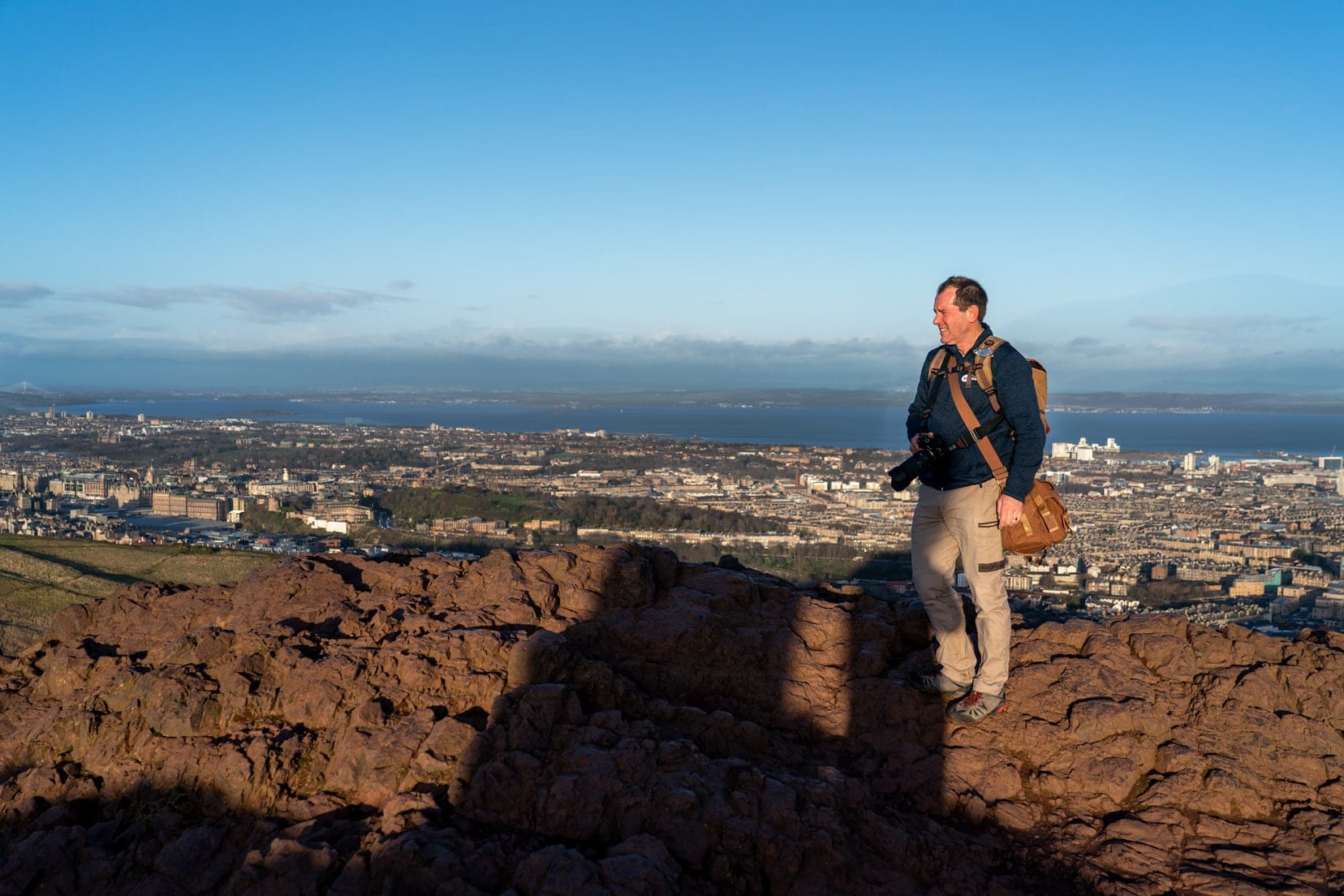 While slightly warm from the walk up, the wind and chill factor soon meant that after about 5 minutes I was already keen to head back down. Lars, always more adventurous and looking for great shots, climbed the Trig point as I stood with legs apart, counterbalancing myself against the strong gusts as I tried to keep the camera steady to capture a shot of him at the summit.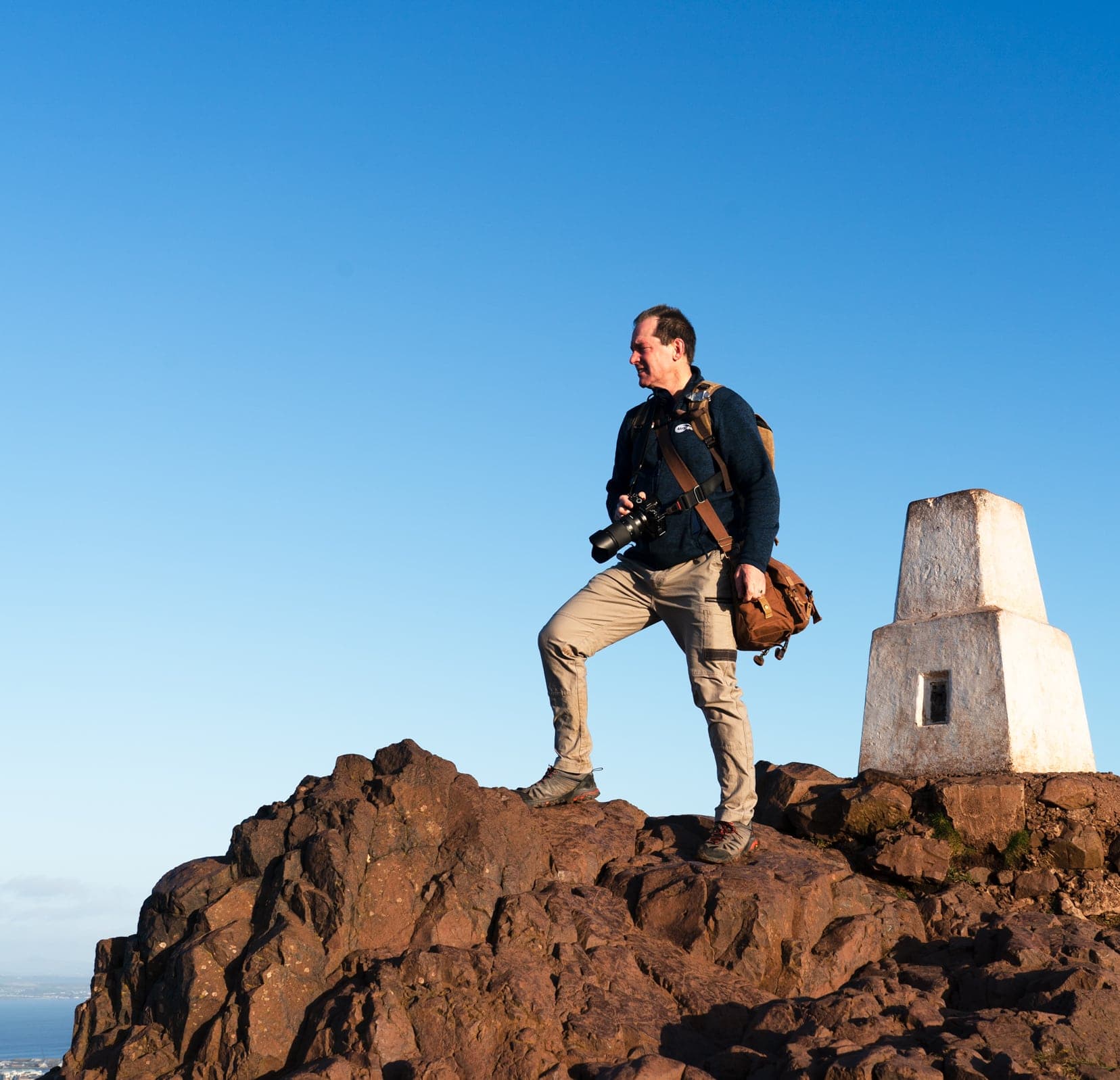 At the summit of Arthur's Seat, there are two concrete blocks. One is a creamy colour and tiered. This is a Trig point, or more formally known as a triangulation pillar. They used to be valuable tools in creating maps. Nowadays though, they are 'bagged' or collected by walkers and hikers, much like 'bagging' Munros (mountains).
The other concrete cairn has a metal plate on the top and I believe it used to have compass lines attached. Now, it provides a backrest or small windbreak for climbers resting a while by its side.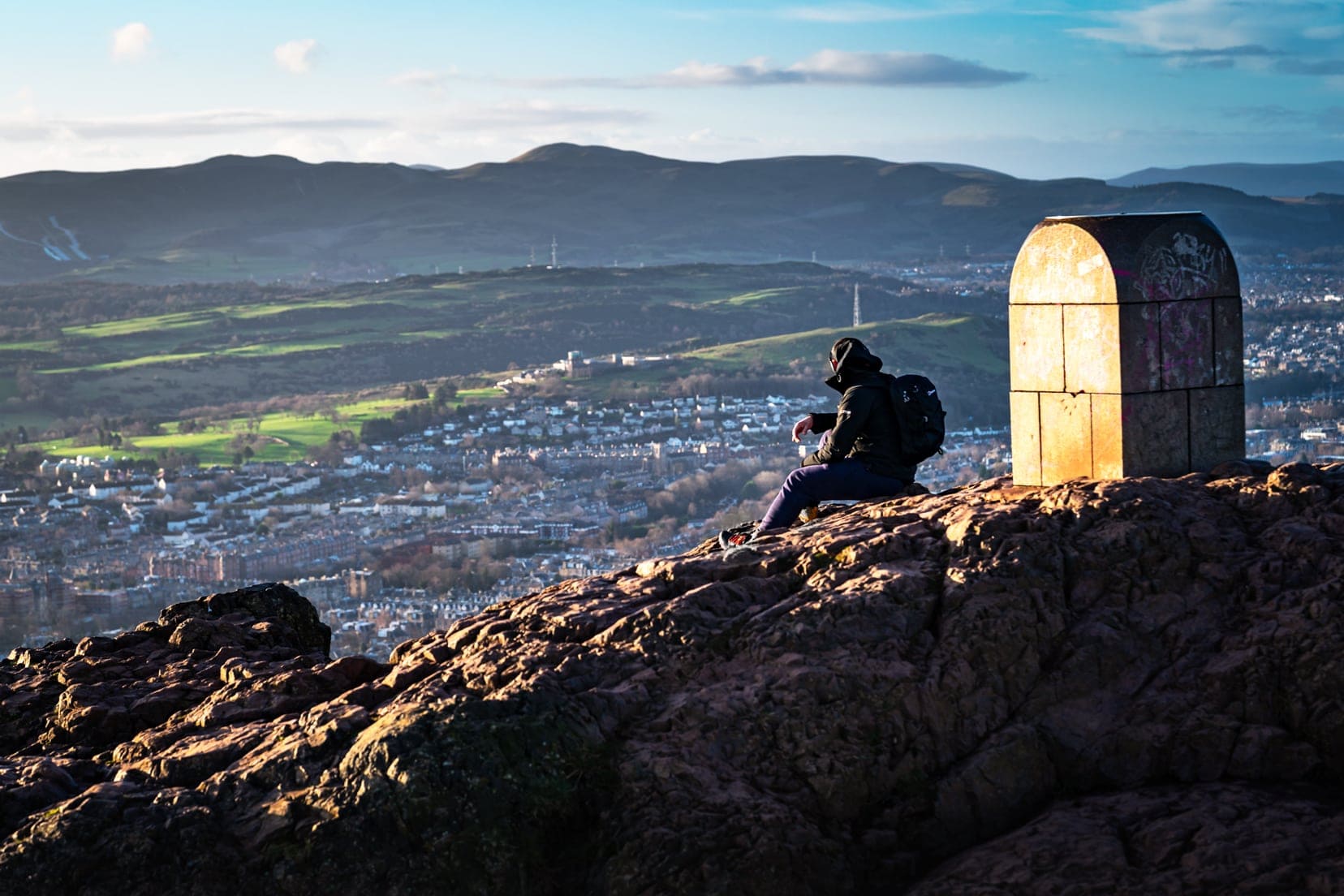 Surprisingly, there were quite a few runners catching their breath at the top, and then after only a few minutes, headed back down jogging across the slippy crags. I wondered how they didn't come a cropper on the slippery rocks, as I carefully picked my way through the maze of mud and scraggy boulders.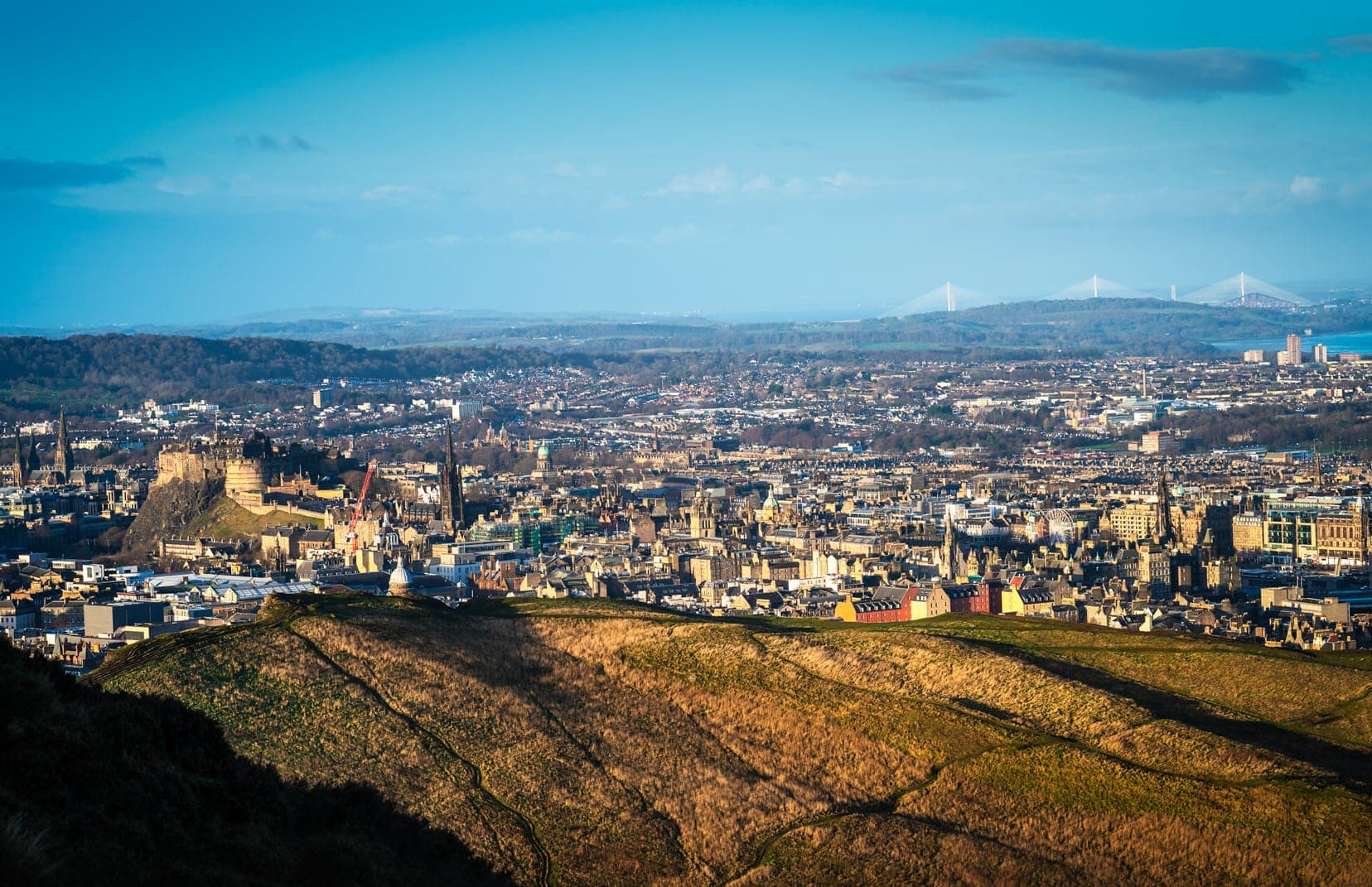 Tales and Weird Stories About Arthur's Seat
There are many tales and legends linked to Arthur's Seat, which makes the experience all that much richer. You can imagine some of the sights you may have encountered if you could step into a time portal on these volcanic slopes. Go back 2000 years and you'd find yourself in an Iron Age village here, with protective forts scattered across the landscape.
Spooky Coffins
In 1836, 17 miniature wooden coffins were found hidden in a buried cave in the craggy rocks of Arthur's Seat. A few schoolboys were out looking for rabbits to kill when they stumbled upon the cave and uncovered the tiny coffins, about 10 cm in length. Inside each one lay a tiny clothed doll. Imagine how spooky that must have been.
Some say it was part of some kind of black magic ritual. Others believe the figures each represented murder victims of the notorious Burke and Hare gang. In 1827-1828, Burke and Hare profited from the shortage of cadavers for medical research by murdering their victims and selling their bodies to the local university.
We may never know the reason why these creepy dolls were hidden at Arthur's Seat. But for now, they lay in rest just a short distance from where they were discovered, at the National Museum of Scotland in the city.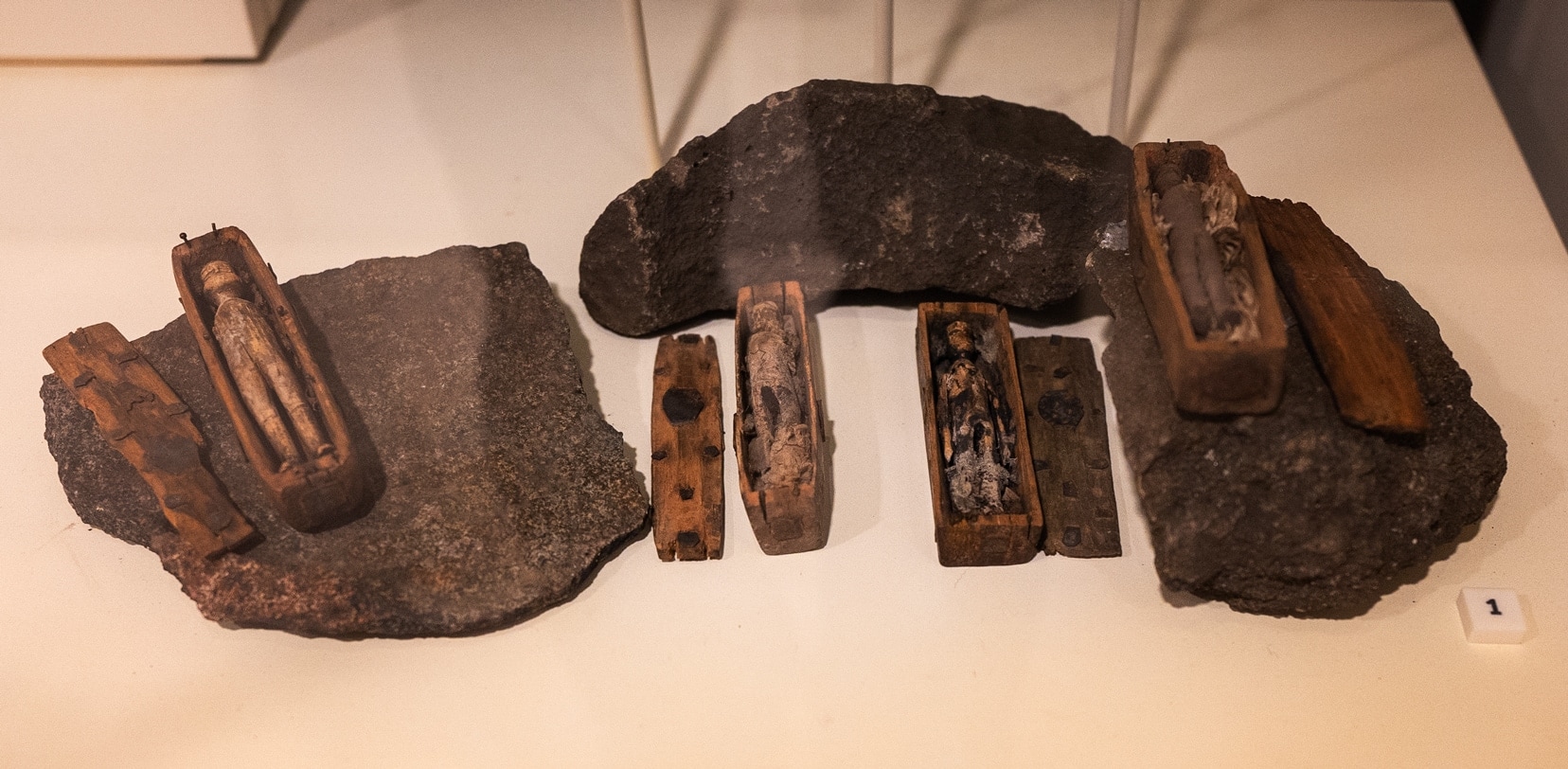 May Day Dew Magic
On the first of May each year, on May Day, young women would climb Arthur's Seat and wash their faces in the morning dew. Legend has it that the dew improved their beauty.
Robert Ferguson's 1773 poem makes alludes to this ritual.
On May-day, in a fairy ring,
We've seen them round St Anthon's spring,
Frae grass the cauler dew draps wring
To weet their een,
And water clear as crystal spring
To synd them clean

Prince in Hiding
In 1745, Bonnie Prince Charlie is said to have hidden his Jacobite army on the southern side of Arthur's seat, near Dunsapie Loch, protecting them from the artillery sights of Edinburgh Castle. Although he then captured the city of Edinburgh, he was unable to take control of the castle. Unfortunately for him, his goal of reinstating the Stuarts back on the throne eventually failed as a result of the devasting defeat at Culloden.
Divine Intervention
On the foothills of Arthur's Seat, King David I lay, gouged in his thigh by a mighty stag and about to face certain death. The story tells us that King David held out his hands in an attempt to prevent the stag from striking its final blow. As his hand touched the stag's antlers, a crucifix appeared between its horns. The stag immediately retreated. King David I is said to have been so overwhelmed and thankful for his life, that he built Holyrood Abbey in 1128, as a thank you to God. The ruins of the Abbey are adjacent to Holyrood Palace. Rood, in Scots, means crucifix.
Walking Arthur's Seat … That's a Wrap
Walking up to Arthur's Seat and the view at the top is a treat in itself. But I hope that knowing a little of its history and the stories surrounding it will make your experience of this iconic landmark more interesting and intriguing. No one seems quite sure of the origin's of its name, but Arthur's Seat has given rise to plenty of folklore.
And who really knows?
Maybe King Arthur did rule Camelot from here.
Only by walking Arthur's Seat yourself will you know whether you yourself will become mesmerised by its mythical aura.
Enjoy.
READ MORE on Scotland: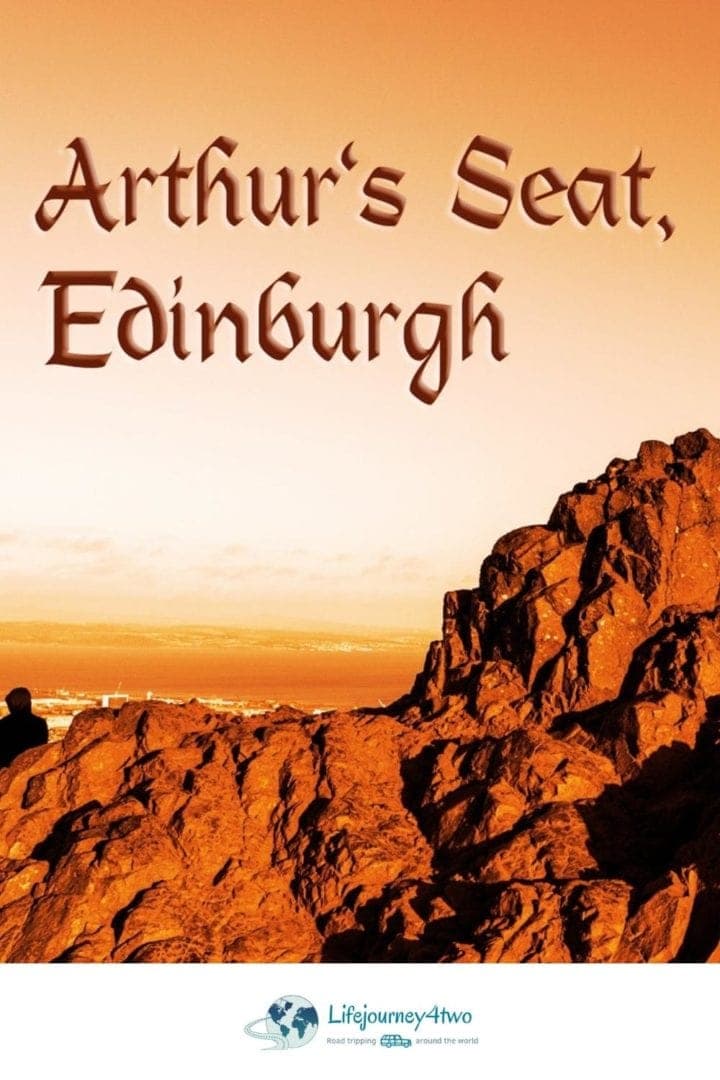 PLANNING YOUR TRAVELS?
These are travel resources we use when planning our trip and can recommend: