Drum Castle Scotland
This article includes a mixture of information:
Drum Castle's history,
Interesting snippets about the Castle,
What it's like to visit Drum Castle,
Tour options for visiting Drum Castle
This castle was just one of the many Scottish castles we enjoyed while living in Aberdeenshire.
For a wealth of information about the many other castles in Scotland, hop over to our Castle Tours in Scotland article.
It was a blustery, wet day when we drove along the impressive driveway leading to Drum Castle. Black clouds darkened the skies.
Just the type of day you might expect to hear haunting laughter echoing through the ancient halls or catch a glimpse of a fading vision roaming the castle corridors — unearthly beings trying to tell their stories.
Signs for woodland walks and walled gardens beckoned, but we wasted no time in heading straight to the castle entrance, stepping inside its weathered, worn walls just as the heavens opened.
The raging wild weather seemed somewhat fitting for our exploration of the 700-year-old Drum Castle. The wind howled and rain pelted the castle's windows.
It reminded me of the bleak highland heaths and the torrent of bloody battles that have been fought across Scotland over the centuries.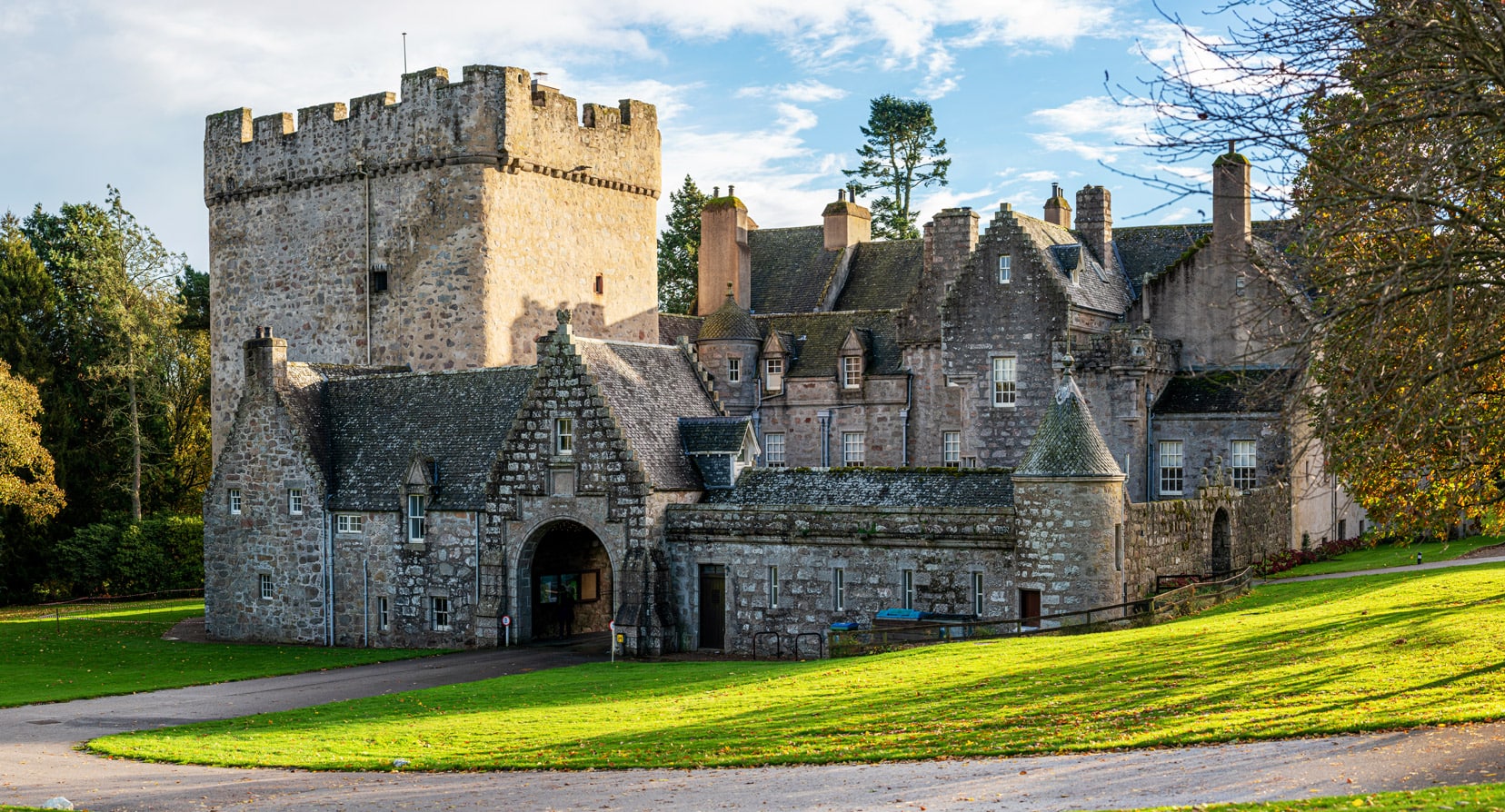 Planning a Trip to the U.K.?
Drum Castle Ghosts
Several tales tell of a vision of a little boy running on the castle grounds, laughing and playing. Those who believe in the paranormal, suggest it is the 6-year-old son of the 20th Laird of Drum Castle, Alexander Irvine, who died in 1865.
Others have heard footsteps, noted moved items in one of Castle Drum's bedrooms and seen the vision of a woman resembling that of the late Anna Forbes Irvine (1828-1900). Anna was Alexander's mother and wife to the 20th Laird, also called Alexander.
The tradition of naming children the same name as the father gets awfully difficult when researching genealogy and trying to explain relationships when so many generations carry the same names.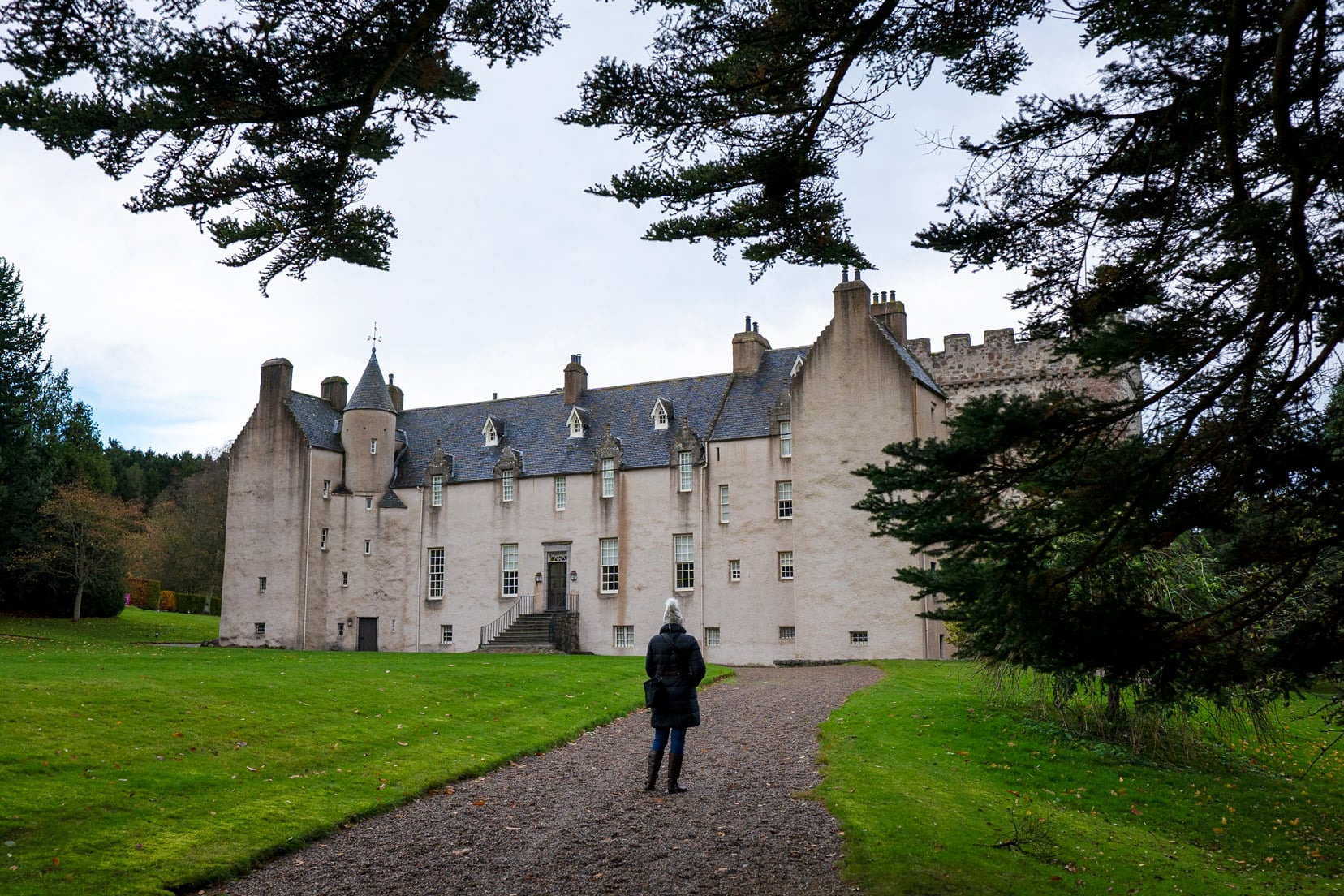 Unlike Dunnottar Castle, also in Aberdeenshire, which sits as ruins atop a craggy rock, the Drum Castle has been preserved. Therefore, visitors don't have to try too hard to visualise what life was once like here.
Drum Castle harbours a vast Scottish history and a wander through both its original and extended quarters, revealing a myriad of stories. You learn about the lives that stood on the very spot you stand today.
Gazing out of the window from the Grand Hall, I see not only my own reflection but imagine all those that once called Drum Castle their home.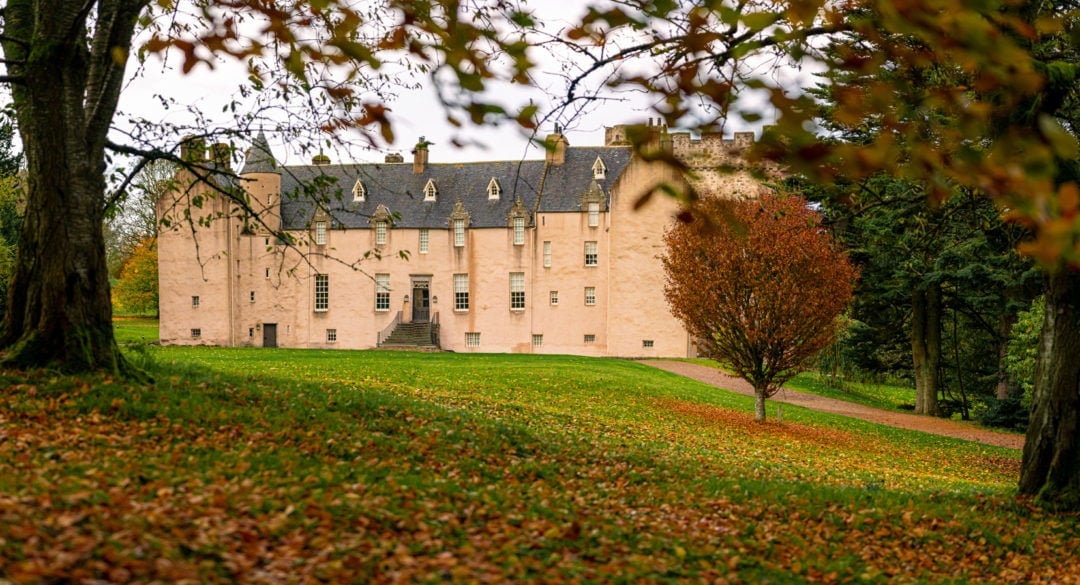 Drum Castle Scotland — Home to the Irvine Clan
Robert the Bruce (the famed Scottish king who won back Scotland's independence from English rule in 1328), gave his long-time confidant and secretary, William de Irwin, the Drum Castle Tower in 1323.
The square-shaped Castle tower, one of Scotland's oldest tower houses today, then remained home to the Irvine clan until 1975 when it was bequeathed, by the 24th and last Laird of Drum Castle, Henry Quentin Forbes Irvine, to the National Trust of Scotland.
What is the 'National Trust for Scotland'?
The National Trust for Scotland is a charity that is involved in protecting many of Scotland's historic places and landscapes — the many jewels that visitors to Scotland treasure and hold dear in their memories long after they leave Scottish shores.
The National Trust is the custodian of the places that tell Scotland's story. An army of thousands of volunteers tends to the 88 properties, 300,000 artefacts and more than 76,000 hectares of countryside and gardens.
If you plan on visiting many of the trust's treasures, then it will be worthwhile buying a pass, which gives you free entry and parking at all sites. We bought an annual pass and are looking forward to making the most of it throughout Scotland.
The Drum's tower house was built in1298 and many believe it was designed by the same architect who designed the Brig O Balgownie, due to its similar style and construction.
The mansion connected to the tower house was built in the Jacobean period, in 1619, and further extensions were added in the Victorian era of the 1800s. One of those extensions involved converting the lower hall in the Tower House into a library. The resplendent library now holds an impressive 4000 books.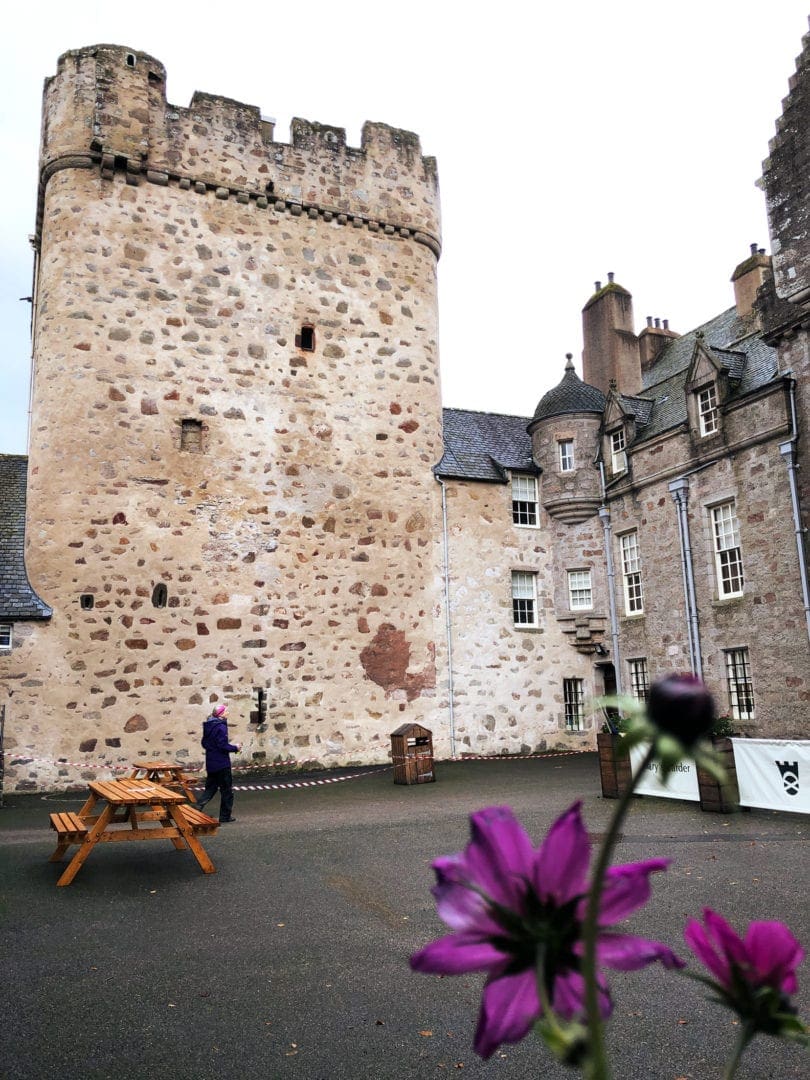 The Selfie above the Mantel
Taking pride in place above the mantel in Drum Castle's Tower House library is the equivalent of a modern-day selfie. A self-portrait of the Laird of Drum, Hugh Irvine, dominates one of the walls.
At first glance, you may mistakenly think it is a painting of the archangel Gabriel. And you would be right… sort of. Remember this is a self-portrait that Hugh Irvine painted and indicative of how this egotistical Laird saw himself.
I suppose it isn't very different to many social media influencers of today. Not the fact that they see themselves as godly, but the images they portray are often a far cry from reality. Light flowery dresses being worn on snow-covered mountains spring to mind.
While hiking in Iceland, in sub-zero temperatures, I saw one girl posing in front of a waterfall wearing nothing but shorts, a flimsy shirt and a bobble hat. She looked adorable. Five minutes later, she was back in her winter warmers and blending in nicely with the rest of us, all layered up and looking much like walking cocoons.
The nonsensical expectations are then liked and shared for others to unrealistically aspire to.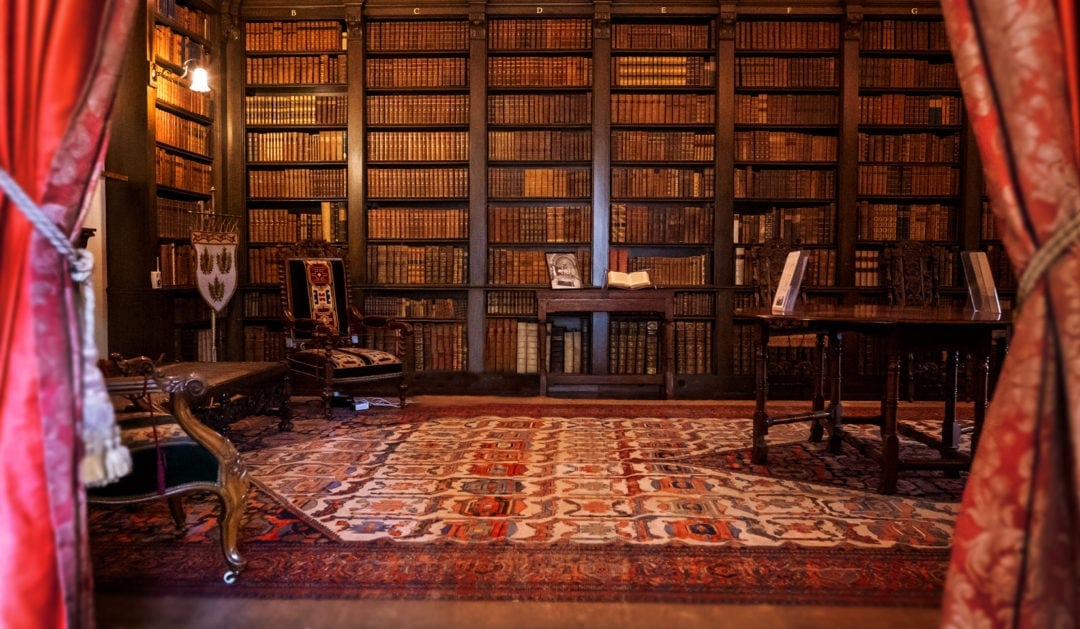 But I digress … Back to Hugh Irvine and his Godly aspirations.
This view that the Royals were God-like and their powers divine, wasn't just an idea held by the Irvines; many held this 'Royalist' belief. In contrast, there were those who felt that God, rather than the royals, held the greater power. These were the 'Covenanters'.
As with much of Scotland's history, the ideas and differences between the opposing rivals are much more complicated than can be explained here. But, put simply, their difference in religious and political ideologies led to a civil war with unrest and rebellions.
Needless to say, the Covenanters attacked the royalist Irvine's Drum Castle several times. However, the castle recovered and luckily wasn't destroyed in the process.
Castle Drum's Grand Hall
The main hall of the Castle was where we found our extremely knowledgeable National Trust guide and volunteer, John. The information he imparted brought the histories of the Irvines and Drum Castle to life.
You can wander through the castle alone, but we recommend finding some time to chat with a guide to more deeply connect to the history of the place.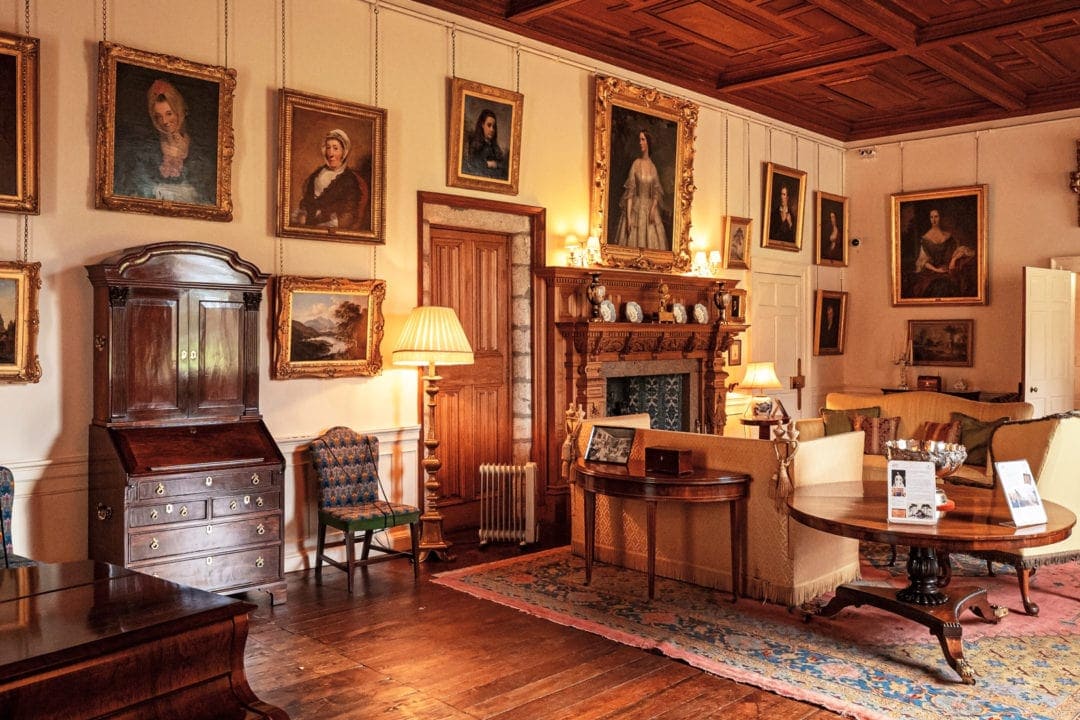 The Drum's 17th Laird fought alongside Prince Charles Edward Stuart (Bonnie Prince Charlie) at the Battle of Culloden in 1745 and it is believed that Mary Irvine, whose portrait as a young girl can be found in the main hall, hid her brother in a secret chamber of the castle for three years after he escaped the battle.
It would have been a difficult task because the victors of Culloden, the English government troops, were garrisoned at the castle.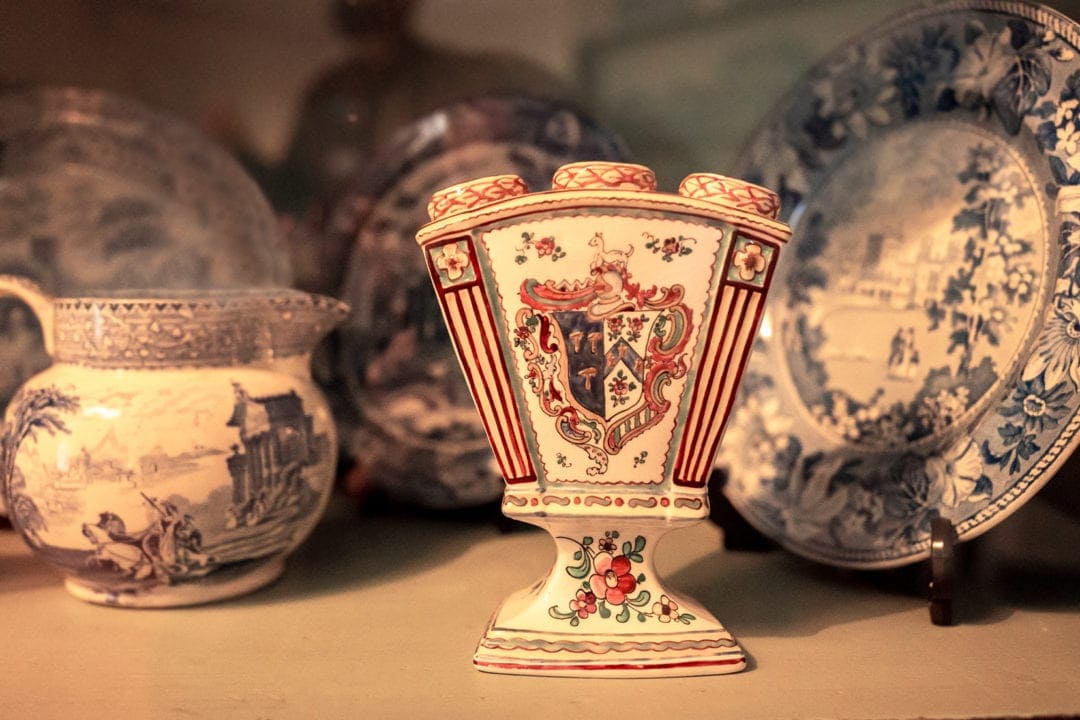 The display cabinets show off many porcelain pieces and at first glance, the central piece in the image above looks much like a candle holder. However, the slanted angle of the holes suggests otherwise. This was in fact, a tulip holder.
A tulip vase was a display of wealth because in the 1630s 'Tulip Mania' struck and the value of a tulip bulb was so high it could buy you a ship.
The main hall has large windows looking out onto the castle's arboretum, but for many centuries, there were minimal windows in the castle.
Up to the late 1800s, a window tax was payable on any property with more than six windows. Interestingly, this may be where the saying, 'Daylight robbery' came from.
Drum Castle Dining Hall
The Grand Hall leads you through to the equally grand dining hall. Many of the items on display gave an insight into how very different life once was at Drum castle.
Some interesting facts we discovered in the Dining at Drum Castle:
A lockable knife box was commonplace in the dining room. After dinner, the butler would take all knives from the table and lock them away. This was to prevent access to dangerous items due to regular arguments and fights breaking out among the gentlemen after dinner.
The tea caddy was also lockable because tea was expensive and sugar was considered an ultimate luxury. Hard for us to imagine in the modern day where a cup of tea is such a basic staple.
Functions can be booked in the Dining Hall and it is often used on Burns Night, the 31st of January, in celebration of Robert Burns (who wrote the poem, Birks of Aberfeldy) with haggis suppers.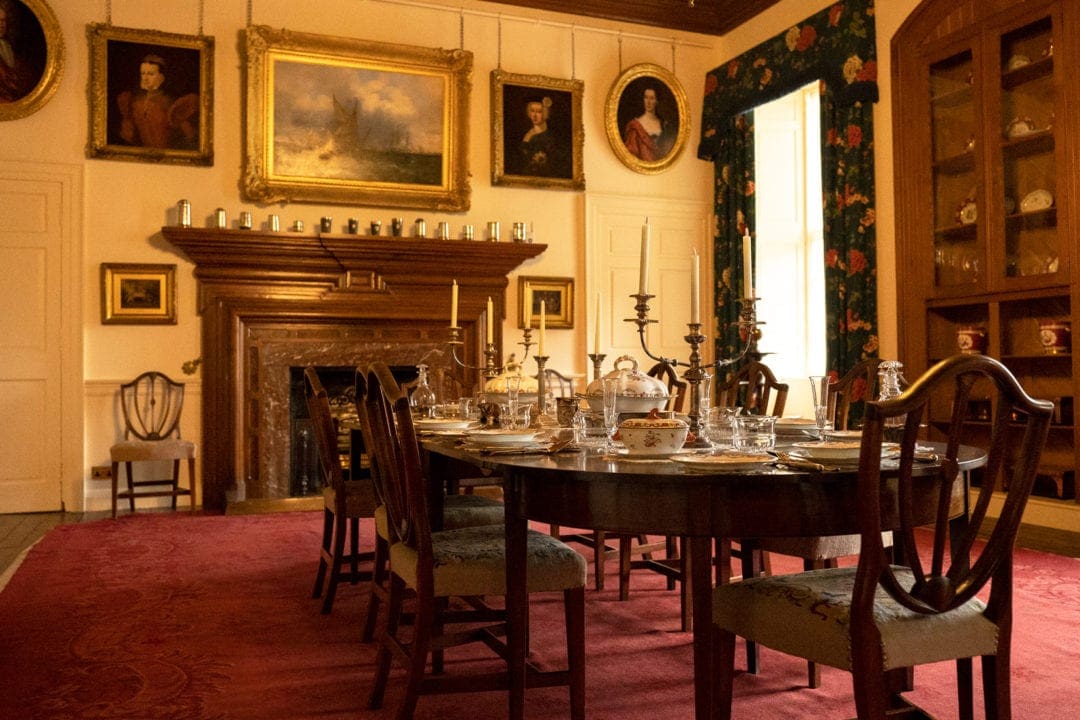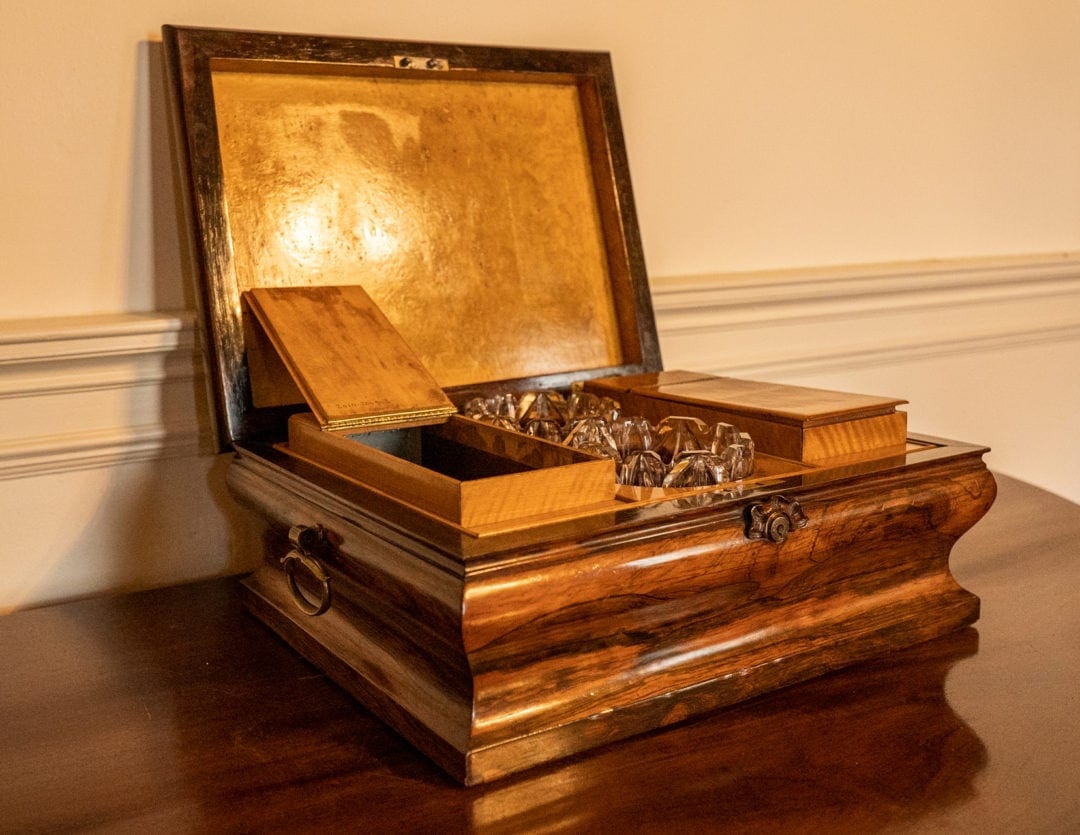 Drum Castle Timeline
1298: Tower House built
1323: Gifted to the Irvines by Robert the Bruce
1500: Drum Castle Chapel built
1619: Jacobean mansion added (Jacobean – King James rule— Jacobus is Latin for James)
1800s: Victorian extensions and lower hall of tower converted to a library.
1975: Irvine family gave Drum Castle to Scottish National Trust
Drum Castle Walks
Farms and woodland surround Drum Castle. The most impressive wood is the Old Wood of Drum, which was once the royal hunting forest. This old forest dates to the 12th century and some of its oak trees still standing have been here since the 1700s.
Back in its heyday, the Wood of Drum supplied many ships and buildings with its fine oak, but today its ancient woodland is home to red squirrels, red kites, badgers, and roe deer. Additionally, it is designated as a Site of Special Scientific Interest (SSSI).
There are three main walks at Drum Castle:
Woodland Walk: 1.5km/1mile
Drumhill Trail: 1.5km/1mile
Farmland Walk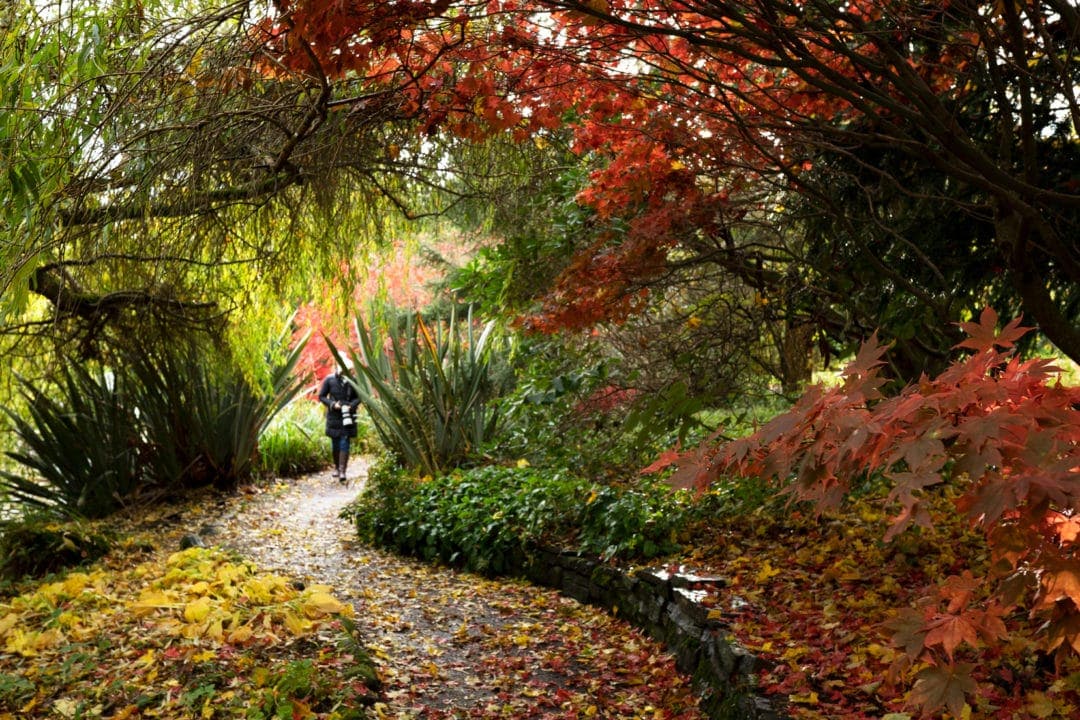 Drum Castle Gardens
There are several gardens to wander at Drum Castle. We would suggest that the summer season is the best time to visit both the walled and wildlife garden. However, the pond garden looked spectacular with its autumn colours.
Walled Garden of Historic Roses
The best time to view the Historic Rose Garden is in June and July when the collection of rare and exotic roses blossom and send their scintillating scent through the air. We were first there in the late Autumn, so the walled garden was holding its secrets and no longer open.
We returned the following September September, missed it in all its glory, but still were able to appreciate the garden.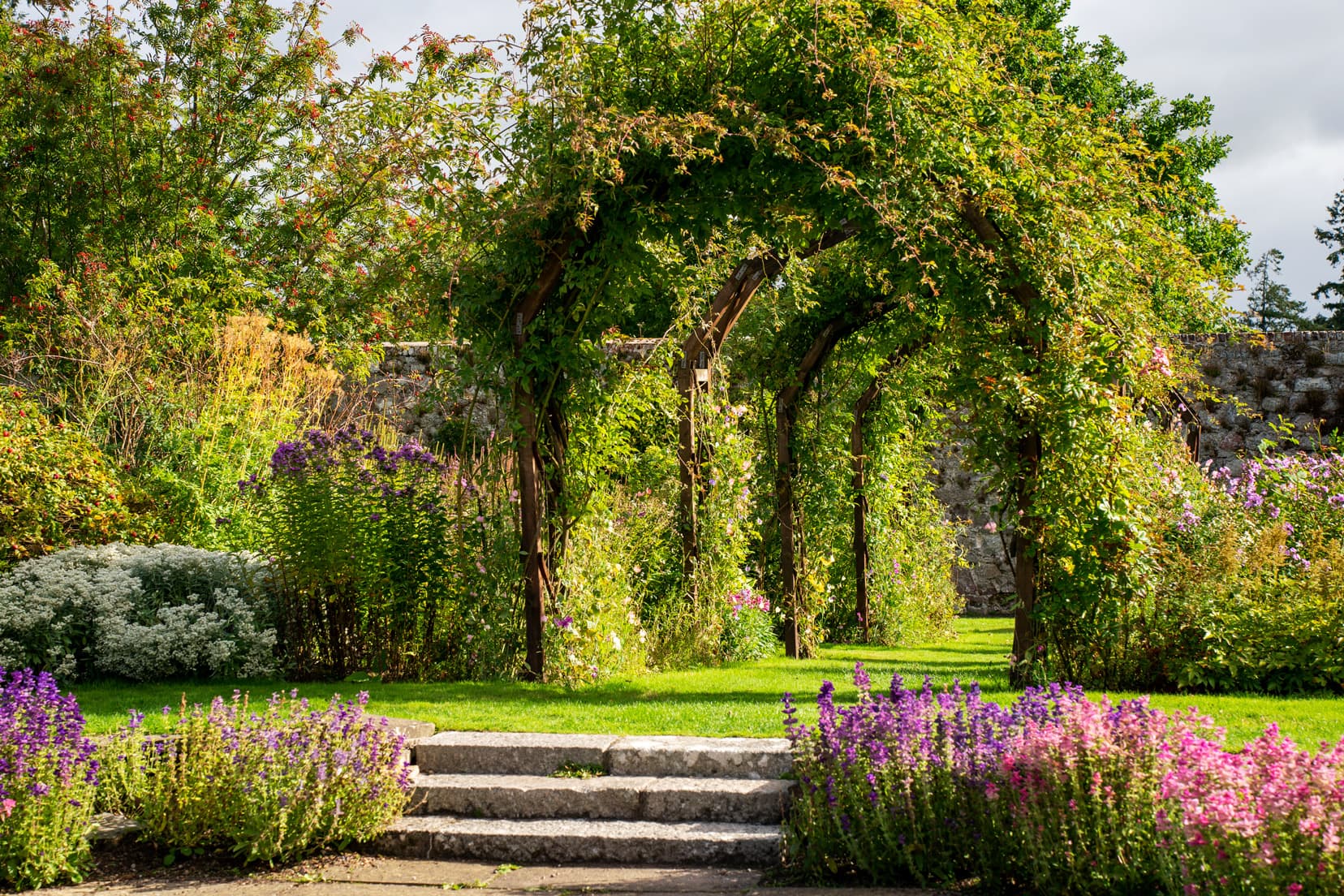 There are four quadrants that display the varying rose garden displays from the formal-styled 17th-century designs through to the more informal of the 20th century. I look forward to sharing the experience with you next year and filling this part of the post with beautiful blooms.
This video shows the historic rose garden in summer and highlights what the volunteers who work there think of this tranquil place.
Pond Garden
Just a short stroll down from the castle you'll come across the Pond Garden. A tranquil place that had a vibrant red Japanese Maple in peak form when we were first there in early November.
On a later visit, in late summer, the Maple wasn't vibrant red but the area was no less serene and tranquil.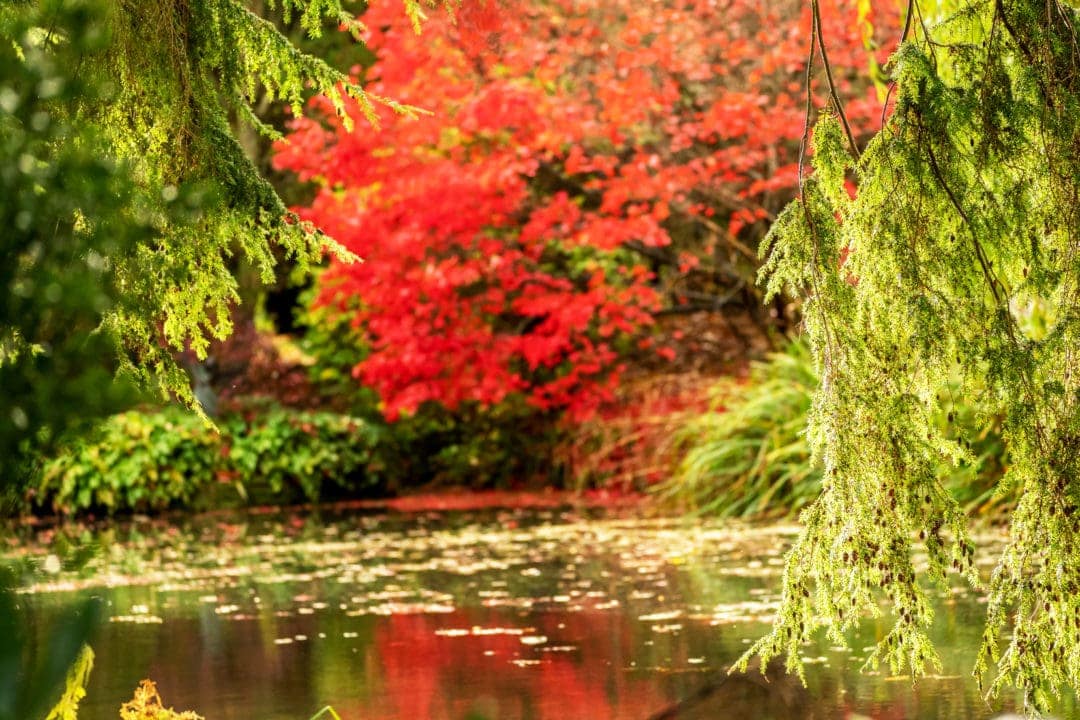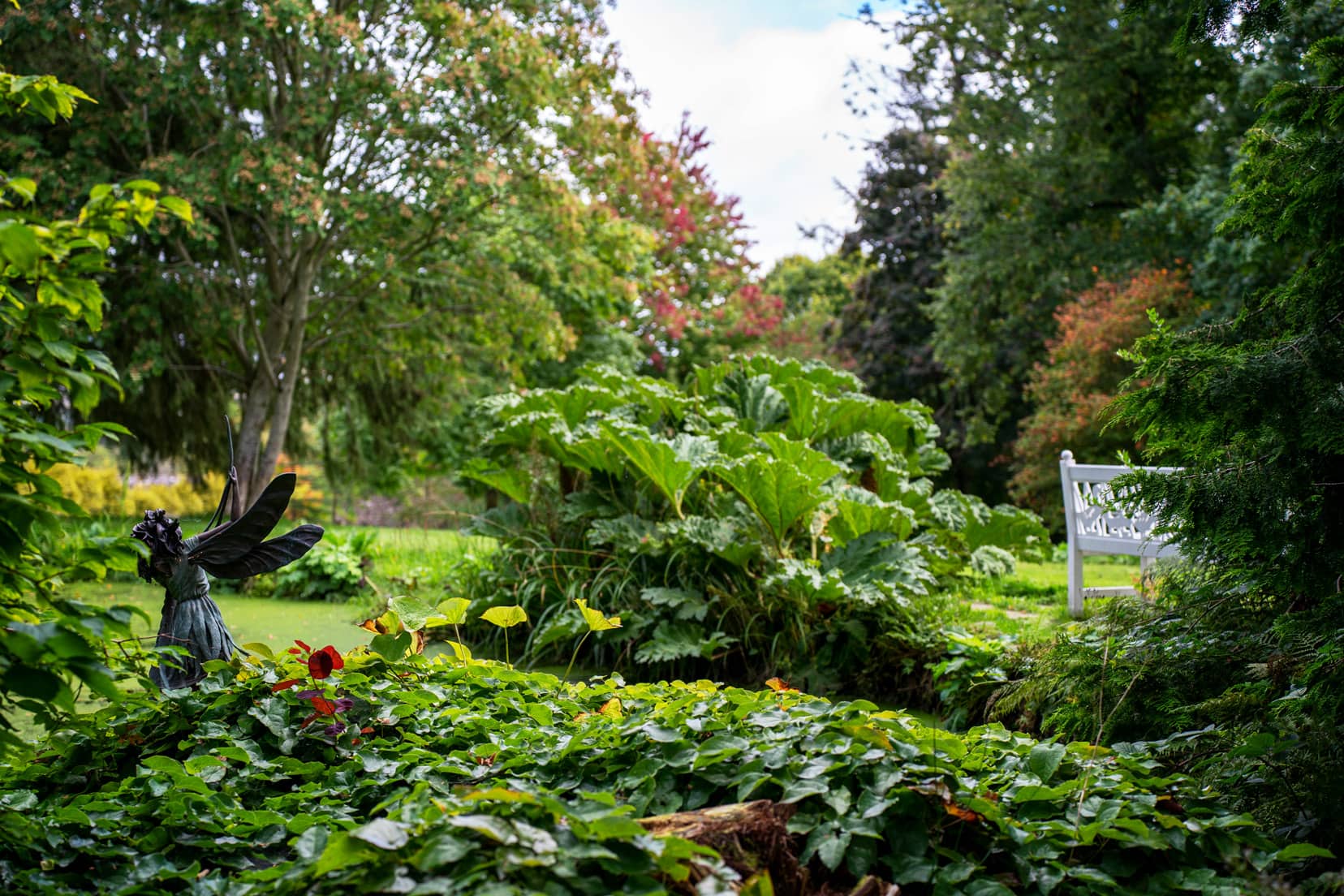 Wildlife Garden
In autumn there wasn't much happening here, but in summer I would imagine it is buzzing with life. The perfect place to stop and appreciate nature's wildlife.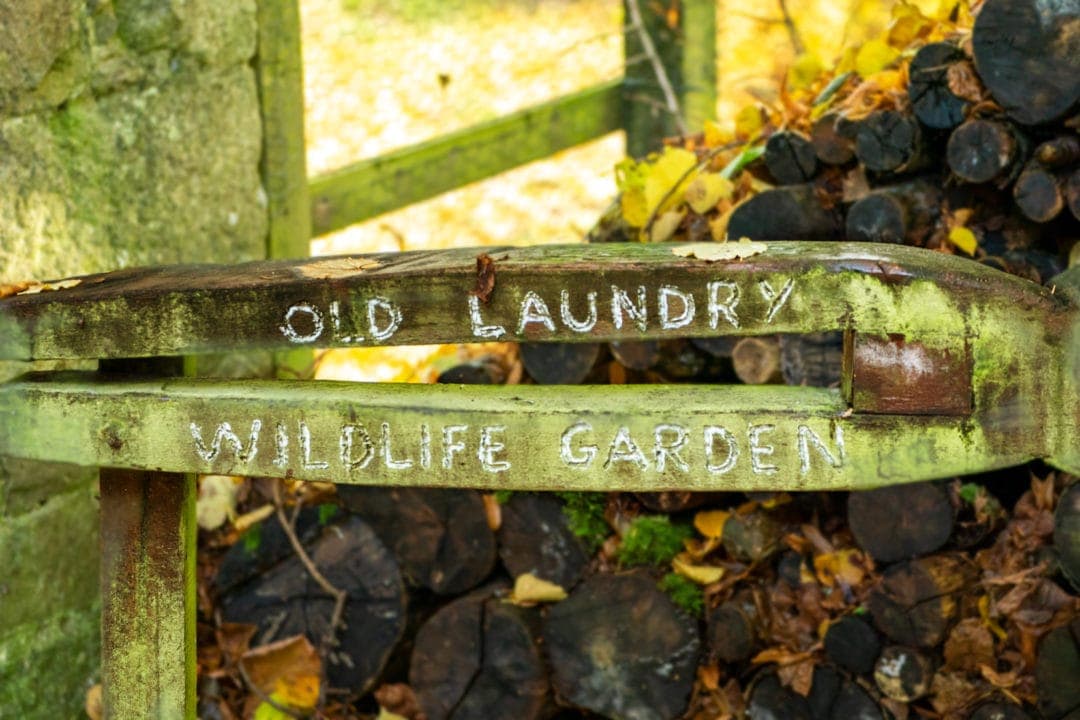 Castle Drum's Arboretum and Chapel
Behind the castle, you'll find the arboretum and pinetum, dating from the 18th and 19th centuries. Here you'll find a mix of Monterey pines, giant redwoods, umbrella pines, Japanese cedars and silver firs.
Leading off from the Arboretum you will also find the Castle's Chapel, built in 1500, nestled between the trees.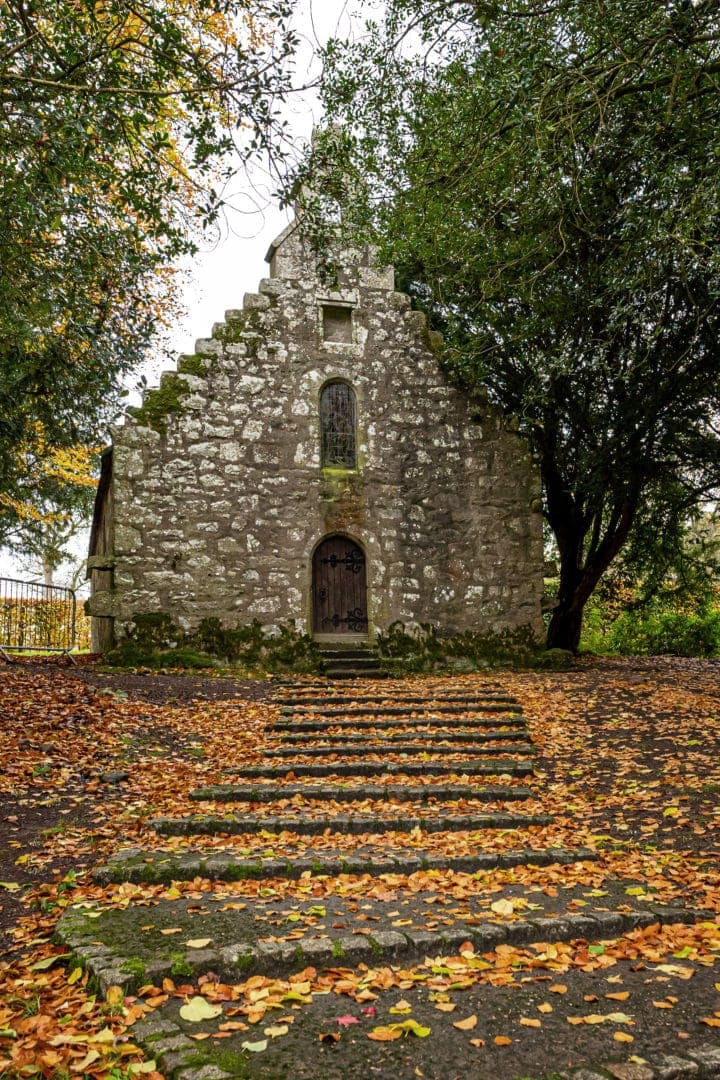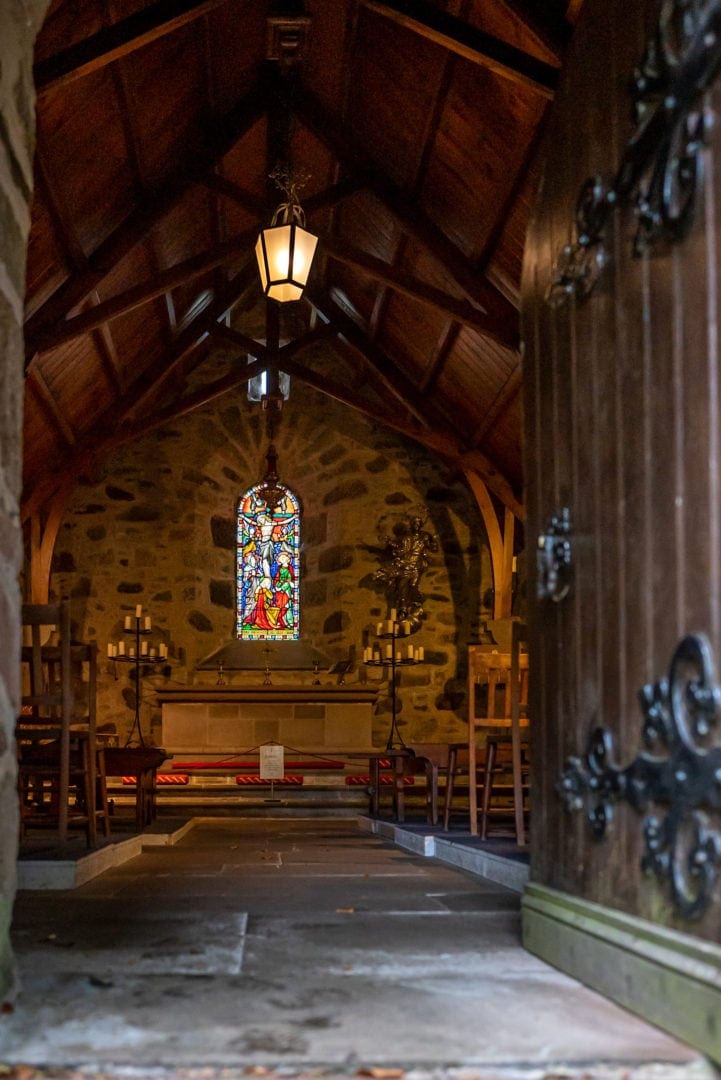 Tours that include visits to Drum Castle
If you haven't got your own transport, it can be tricky getting around to Aberdeenshire's castles.
🚘 You may want to look at hiring a car — we recommend Discover Cars because they provide free cancellation and search for the best rates.
An alternative is to book a guided tour, where you can sit back and relax while your experienced local guide enthrals you with all the stories and history of the local area and historic buildings.
Aberdeenshire Private Half-Day Castle & Historic Building Tour
This private four-hour tour includes a visit to old Aberdeen and three of the county's most adored castles, Dunnottar, Drum and Crathes Castles.
Dunnottar Castle ruins dominate the outcrop of rock off Aberdeenshire's coast and is featured in many photos highlighting the rugged romanticism of Scotland's castles.
Crathes Castle dates from the 16th Century and has ancient, great yew hedges and walled gardens set in beautiful surroundings.
🏰 Book this Half-Day Castle tour or find out more info here | ⏰ 4 hrs | ⭐️ 5/5
Other Tours to Consider
To save money on Activities in Northeast Scotland, a Northern pass will give you 50% off many destinations.
Visiting Drum Castle
Not only do you have the castle, chapel, walks and gardens to explore, but Drum Castle also has a tea room and a cute little shop with classic Scottish mementoes to buy.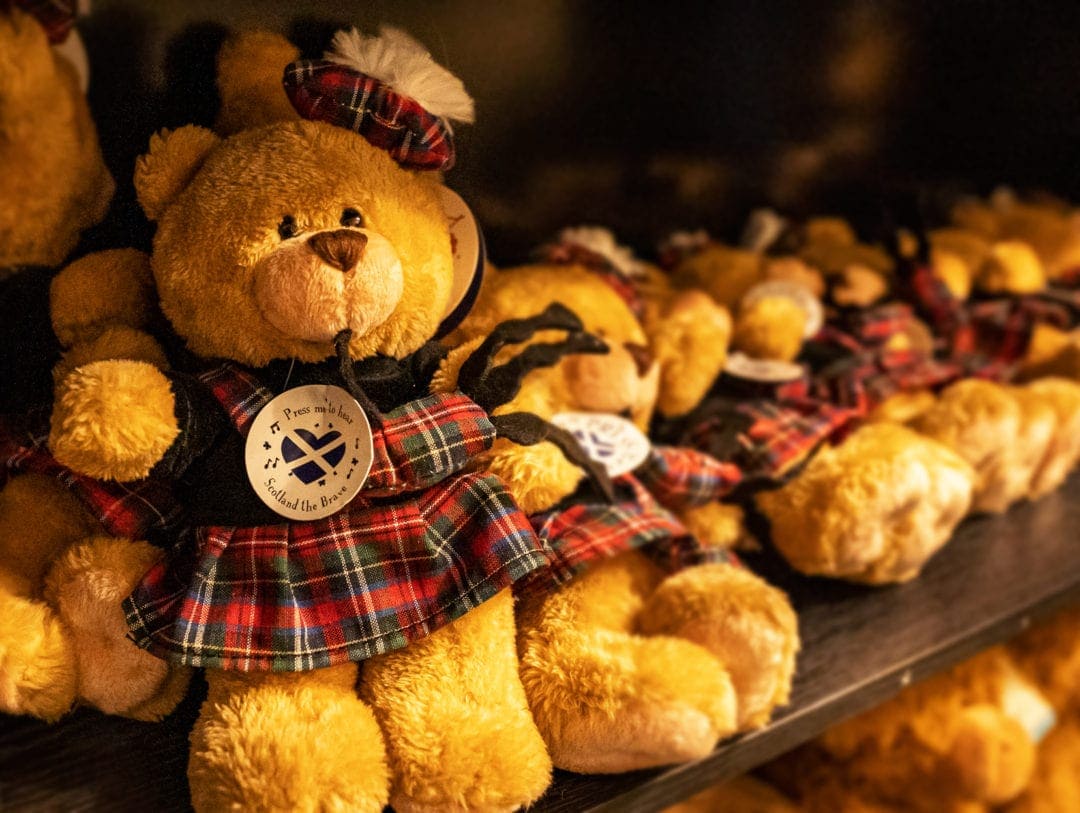 ---
---
Where is Drum Castle?
Drum Castle is in Aberdeenshire Scotland and is about a 30-minute drive from Aberdeen.
Address: Drum Castle, Drumoak by Banchory, Aberdeenshire, AB31 5EY
Map of Drum Castle
Drum Castle Opening Times
The grounds of Drum castle are always open, but you will need to check the opening times of the castle, its tearoom, Mary's Larder, and the Walled Rose Garden as they change according to the time of year.
8 Jan–31 Mar, Sat & Sun, 10.30–15.00
1 Apr–31 May, Thu–Mon, 10.30–16.00
1 Jun–31 Aug, daily, 10.30–16.00
1 Sep–30 Oct, Thu–Mon, 10.30–16.00
31 Oct–31 Dec, Sat-Sun, 10.30–16.00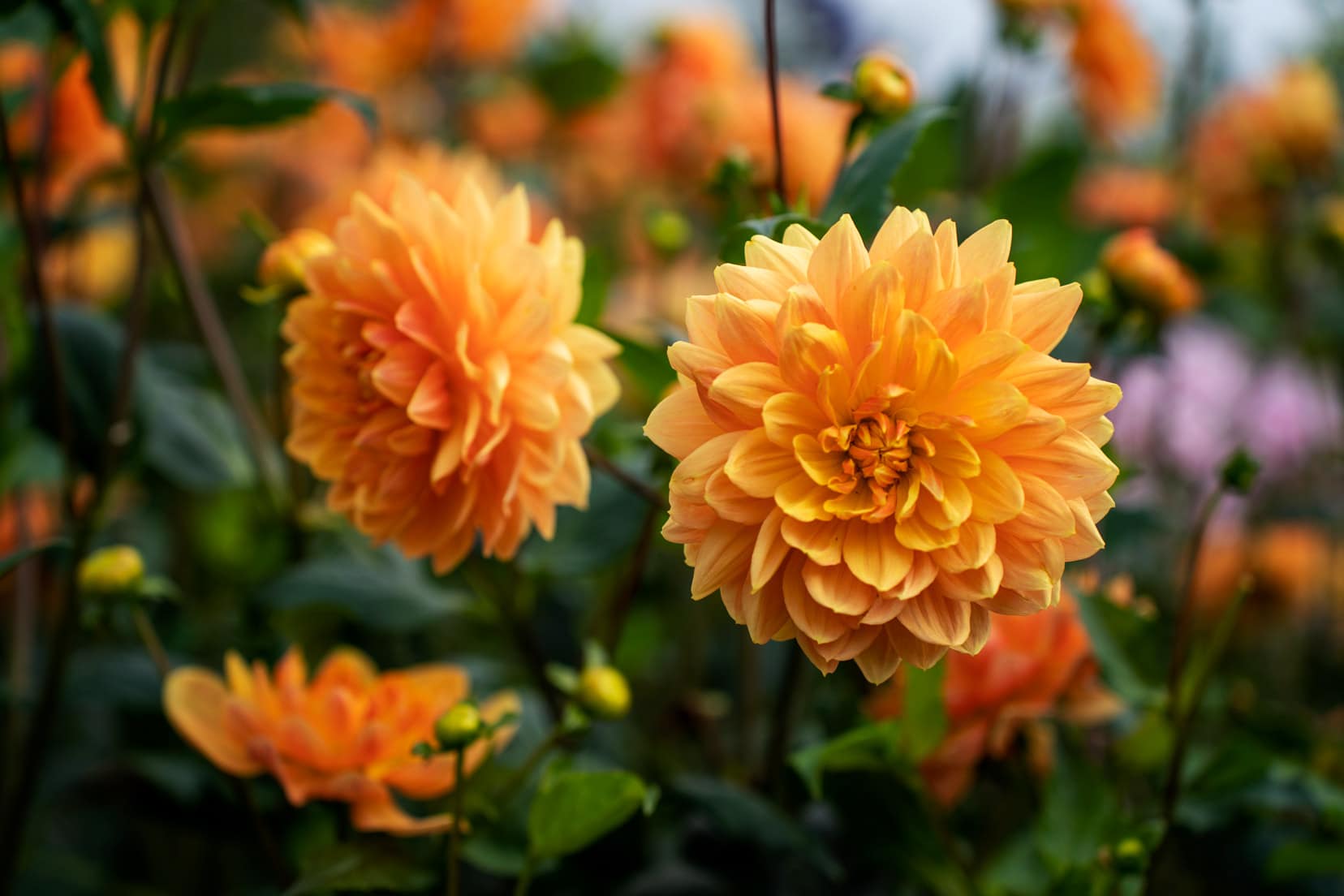 Drum Castle Walled garden Opening Times
1 Jan–31 Mar, closed
1 Apr–31 Oct, daily, 10.00–16.00
1 Nov–31 Dec, closed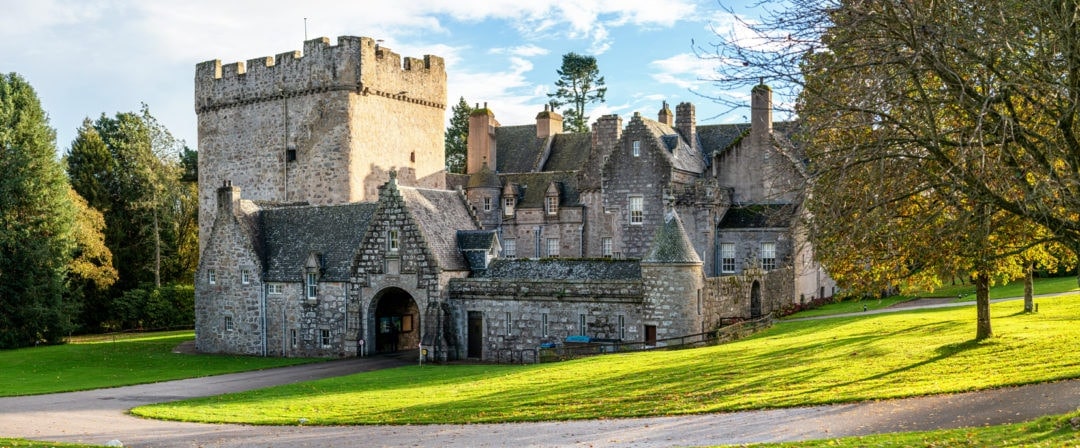 Drum Castle … That's a Wrap
As we were leaving Castle Drum, there was a break in the weather and the tower's battlements were bathed in sunlight.
For all the heartache and joys that would have graced its walls, Drum Castle lives on and will be protected for future generations to hear its stories, and if they listen carefully … maybe they too, will hear the chuckles of young Alexander or the footsteps of his mother as she roams the rooms of her 700-year-old castle.
With every step into Scotland's past, my intrigue and quest to learn about its history become increasingly intense. Scotland calls for me to hear its stories, to breathe its highland air and absorb it into my very soul.
We had over a year to explore Aberdeen and its surroundings.
---
Are you following us? For more photos and everyday travels come along on our journey and join us on:
Facebook, Instagram or Pinterest
As always thank you for your support — we really appreciate it.
---
Pin and Save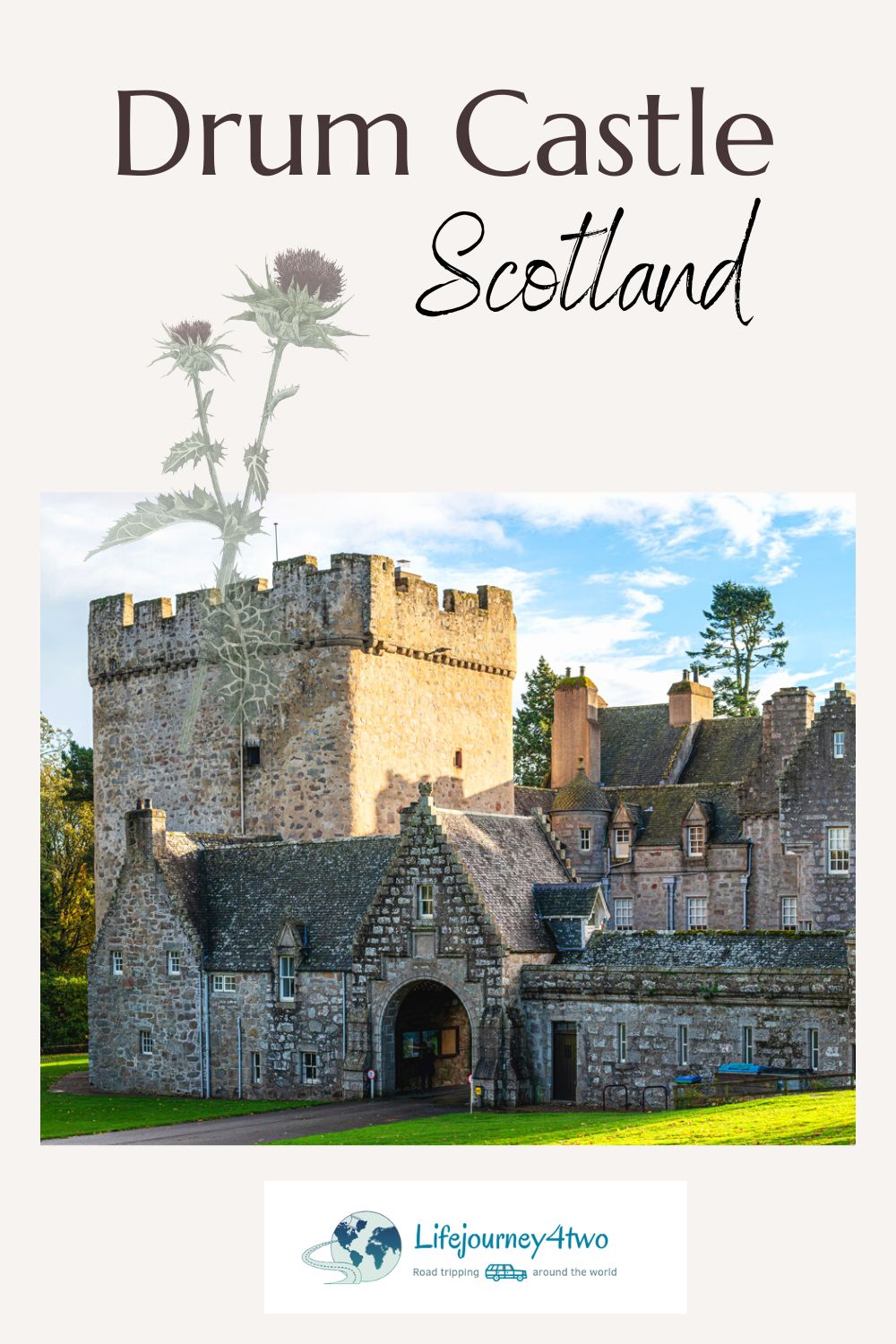 You may also Like to Read
PLANNING YOUR TRAVELS?
These are some of the travel resources we use when planning our trips.
For a more thorough list visit our Travel Resources page here.