Some posts on this site contain affiliate links, meaning if you book or buy something through one of these links then we may earn a small commission. Read our Disclosure Policy here.
What Is Cullen Skink?
We had just moved to Aberdeen, and the first time I saw mention of Scotland's Cullen Skink I thought what a bonus it would be to get a shot of it for our travel blog.
I had visions of us scrambling over rocks and peering through thick bushes. Cameras at the ready, waiting patiently for the little creature to sneak its snout out from behind a stone or emerge tentatively from its burrow.
I thought it was perhaps some type of weasel. But, whatever it was, I guessed it was an important part of Scotland's identity because I was regularly seeing mention of it.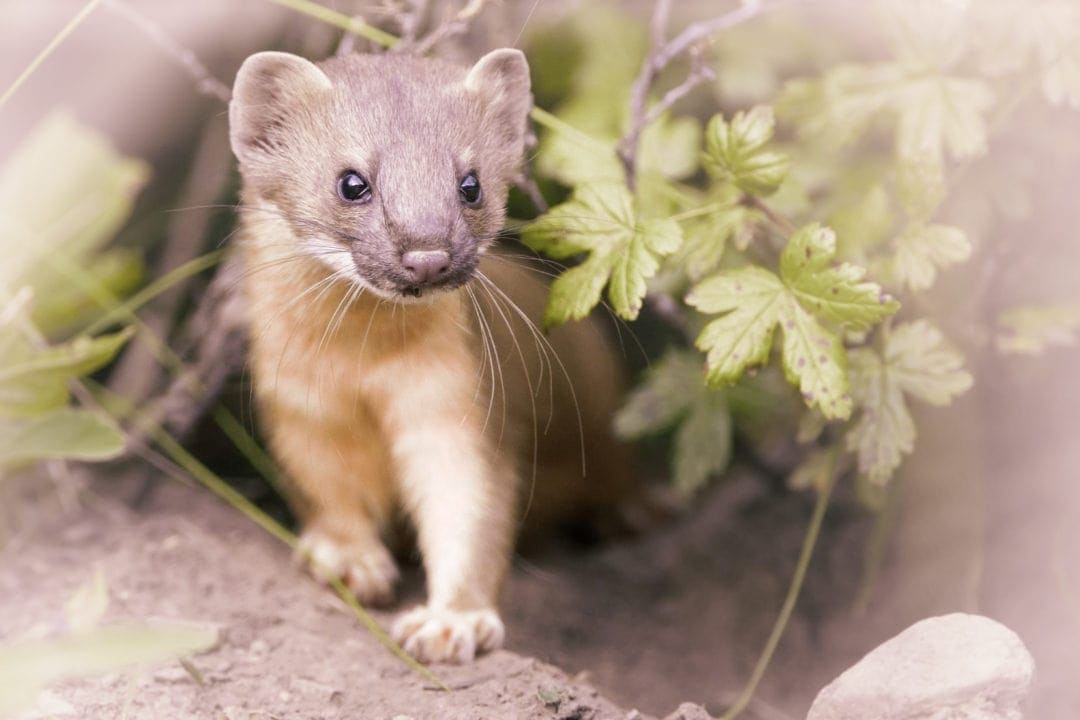 The next time I saw Cullen Skink, was on a billboard menu while we were wandering around the charming harbour village in Stonehaven. Now, I know the Scots adore their haggis, but a little weasel-type creature in the cooking pot?
Not for me, thank you.
As a nation whose national dish is haggis, I guess I wasn't too surprised to discover an unusual culinary wildlife dish.
Haggis … a type of pudding composed of the liver, heart, and lungs of a sheep (or another animal), minced and mixed with beef or mutton suet and oatmeal and seasoned with onion, cayenne pepper, and other spices. The mixture is packed into a sheep's stomach and boiled. 

Encyclopaedia Britannica
I was guessing that Cullen Skink had a connection with Cullen, a harbour town on the north coast of Aberdeenshire, in Scotland. Well actually, Cullen is just across the county border, in Moray, but close enough to be on our radar when looking for places to visit in Aberdeenshire.
If this was the place where the Cullen Skink originated, it was only about an hour or so north, so an easy day trip to try and find one we could capture on camera. And, as an added bonus, it would be in its native habitat
All that was left for me to do was to research the best places we were likely to spot one and to find out what time of day the Cullen Skink would likely be out and about.
As It turns out, the best time to snap one is from midday onwards and as for where they hang out?
Well, believe it or not, a Cullen Skink wasn't something we would find roaming the Scottish highlands or find peeping out behind a rocky crevice. In fact, Cullen Skink isn't part of Scotland's vast array of wildlife.
It is instead, one of Scotland's famous savoury dishes, and you'll be happy to know there are no weasels harmed in the making of this culinary treasure.
Cullen Skink Soup
Cullen Skink is a hearty type of soup made from smoked haddock, potatoes, onions and milk. There are various recipes online and restaurants and cafes across Scotland serve up this renowned local treat.
Cullen Skink is so revered in Scotland, that the Cullen Skink World Championships are held here annually. The soup's consistency, colour, flavour, texture, aroma and presentation are all taken into account when deciding the ultimate winner. Entrants can also choose to enter a 'Cullen Skink with a twist' for those who want to be creative with this traditional Scottish fare.
Cullen Skink is also no longer limited to Scottish shores, Jamie Oliver has a recipe for Cullen Skink fish cakes and Rick Stein has his own special method for cooking Cullen Skink.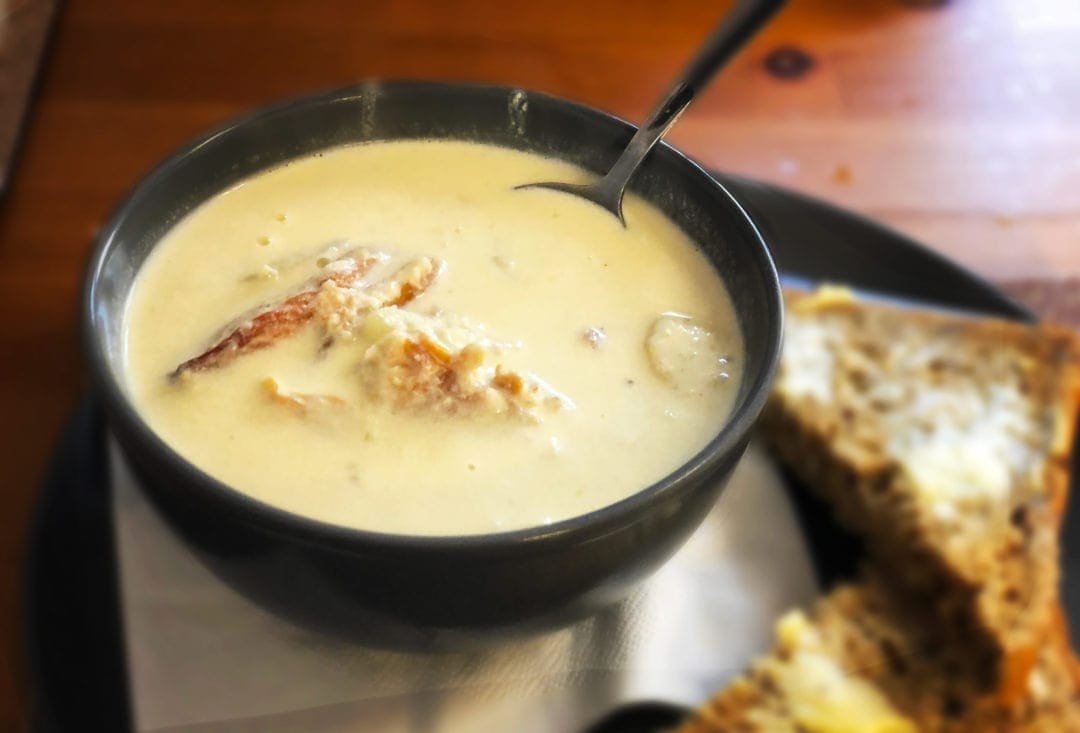 Cullen Skink Meaning
According to Discover Cullen, the soup was originally made from scrapings of beef but in the 1890s, beef was expensive and as the town specialised in the production and export of smoked haddock, locals began to make their own smoked haddock version.
There are several references as to why the soup is named Skink. One article said skink, is of Gaelic origin, meaning 'essence'. Another said it is a Scottish term for a shin of beef. I've also found out that Skink, in the animal kingdom, is a type of lizard. So, whatever the meaning, I'm just happy the name Cullen Skink didn't originate as lizard soup.
Aberdeen to Cullen: The quest for an Original Cullen Skink
Living in Aberdeen and being so close to Cullen, we decided that the best place to lose our Cullen Skink virginity should be in Cullen, where it was originally created.
On the day we chose to take a road trip along the Aberdeenshire coastal route up to Cullen, it was blowing a hooley. The North Sea often delivers a strong wind, but its force can be surprising.
When I stepped out of the car on the clifftop just above Pennan, to look over and catch a glimpse of its tiny harbour and a single row of houses below, the gusts were so strong I was buffeted backwards, almost off my feet. I decided it wasn't a good day to go peering over cliffs.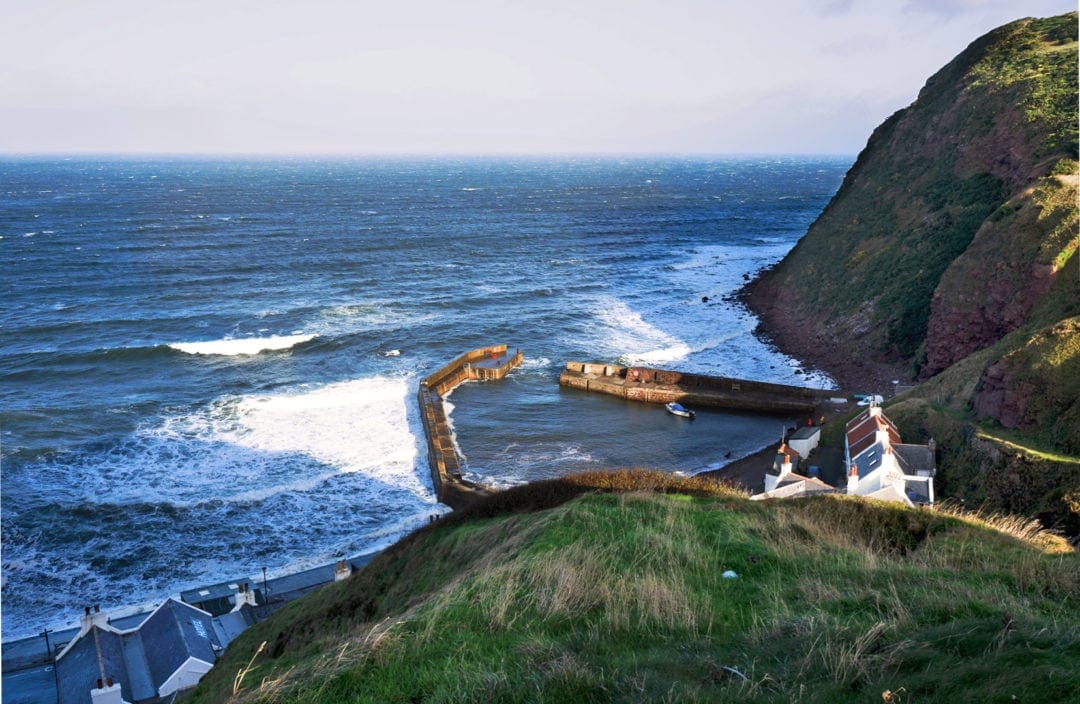 A little bit further on, we stopped to take a small walk down to the ruins of Findlater Castle. Lars really enjoys exploring ruins and finding interesting angles for his photography. I was reluctant to follow him down the steep, muddy path which lead to the lofty castle remnants clinging gingerly to the cliff face.
I contented myself by taking shots from afar, taking shelter beside the bright yellow gorse bushes and trying to work out how to take a wee out of sight and avoid any windy splashback.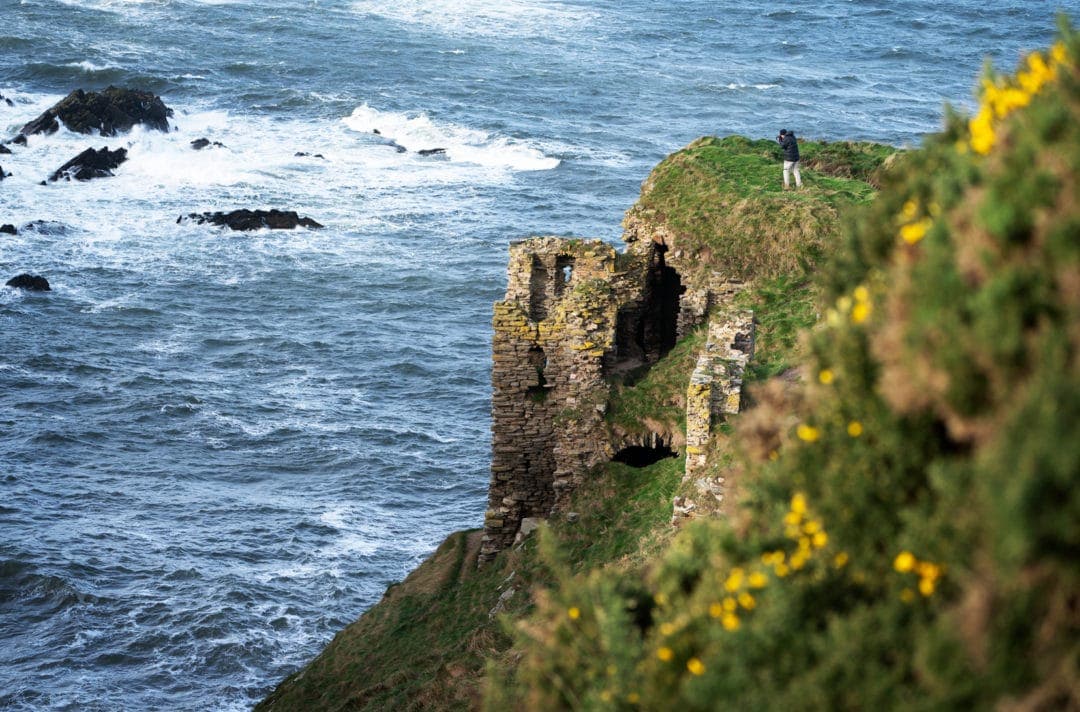 Such a windy day was just perfect for tucking into a hearty bowl of soup. We weren't sure what to expect from the Cullen Skink … I don't have an overly amorous love affair with fishy dishes and positively dislike finding fish bones in my food. I absolutely draw the line at raw salted herrings (a particular favourite of Lars' ). However, I do love good 'ole fish and chips, sushi and what I consider 'normal' flavours of filleted fish.
After a strenuous morning — limbs galvanizing against the robust gusts of wind — my stomach groaned for food and my hands stung from the biting chill. I was hoping Cullen Skin wasn't going to be a disappointment. The downer seems so much worse when your anticipation has been teetering on the pinnacle and you are then rudely pushed off instead.
I have a memory, I was around 5 or 6 years old, of a time I was so looking forward to biting into a delicious treat. Mum had bumped into an old friend while we were out shopping, and as old friends do, began chatting for what seemed forever.
Completely uninterested in their conversation, I became bored and was probably a little annoying. We were standing in front of a bakery shop window, so to stop me from pestering her, mum offered me a bribe.
In exchange for my patience (as in silence — children should be seen but not heard), she would buy me one of the bakery treats in the window once she'd finished chatting. Such a treat was rare, so I had an enormous decision to make. Chocolate eclairs, sugared doughnuts, pink and white slices and apple puffs oozing with cream all cried out to me.
By the time mum was ready to buy me my treat, I had finally settled on a frilly pastry tart filled with custard. I eagerly pulled the scrummy-looking tart from its white paper bag and I was beside myself as I bit into its creamy texture. My face instinctively reacted as fast as my taste buds rejected whatever I had just inflicted upon them.
I can still feel the crushing disappointment of that moment. From that day forward, I have never been able to stomach egg custard, creme brulee or even Slovenia's famous Lake Bled Cream Cake. Lake Bled itself was the only sweet memory I was able to take away.
So, with my anticipation rising, after a morning of battling cyclonic-like winds, icy temperatures and rain showers, as we attempted to take photos along Aberdeenshire's north coast, I was hoping that Cullen Skink was all it was cracked up to be and I wasn't going to be pushed off the pinnacle.
Cullen's Cullen Skink
As we drove into Cullen, I kept a keen eye out for a cafe that looked likely to satisfy our quest of sampling Cullen Skink in the town of Cullen itself. I immediately noticed a sign reading, Lily's Kitchen Cafe, on the right and then another cafe, a little further on, on the corner of the main square (where we parked) called Rockpool Cafe.
Lily's Kitchen looked like a place locals would pop in and out, whereas Rockpool Cafe looked a little more geared towards tourists. So, we decided to take a peek into Lily's Kitchen. And a good thing we did. Lily's Kitchen is a small cafe and takeaway, that gets rave reviews on Trip Advisor, especially for its Cullen Skink.
What is even more impressive, is that its owner, Lynne Watson, was the winner of the coveted Cullen Skink World Championships in 2018, and runner-up in 2020. Lily's Kitchen is a family-run business and the award-winning Cullen Skink recipe has been passed down through the family.
We placed our order and didn't have to wait long until the steaming bowl made its way to our table. From the very first mouthful, I was an avid fan. It was like being enveloped in a warm hug. A bowl full of love passed down from mother to daughter, generation after generation. A true comfort food; filling you with nostalgia, and memories of family and imparting the feeling of being 'home' no matter your whereabouts.
Chock full of tasty smoked haddock and chunks of potato, this creamy soup was the perfect lunch after being buffeted by the November north coast winds. I was not disappointed.
We didn't ask Lynne to disclose her secret recipe, that's a Cullen magic that needs to stay with her clan. But if you're interested in cooking this dish yourself, a plethora of Cullen Skink recipes can be found online and you can no doubt have fun tweaking them to create your own homely heirloom to pass on.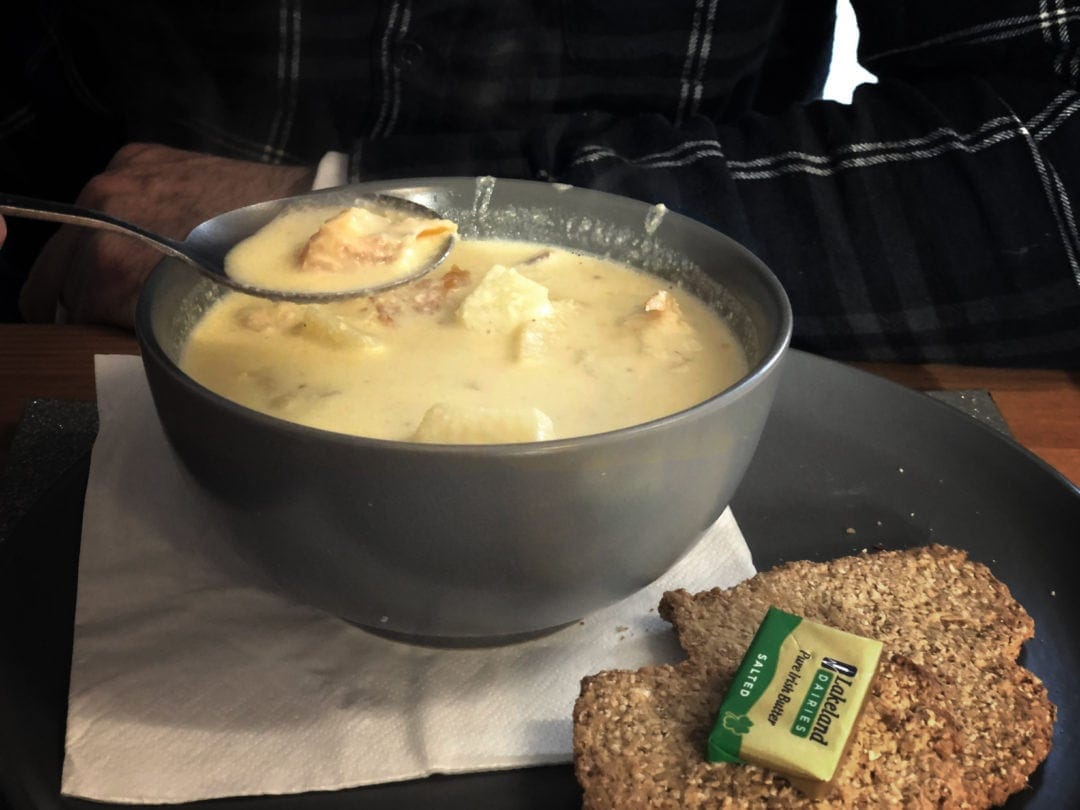 Cullen Skink Recipe
It seems quite apt to include this recipe; it won Mary Addison the title of 'Cullen Skink Queen', at the very first competition held in Cullen which was filmed by the BBC in 1999.
---
Ingredients
4 fillets of smoked haddock (cut into small pieces)
Half a small onion (diced)
3 pints of milk
4 tablespoons of single cream
1 oz margarine
2 teaspoons cornflour (mixed with a tablespoon of milk)
4 medium potatoes (part boiled and diced)
 
Method
Melt the margarine in a large saucepan, add the onion and smoked haddock and simmer for 2 minutes. Add the part boiled potatoes and milk, and bring to the boil. Add the cornflour mixed with a tablespoon of milk. Cook for 2 minutes and then add the cream prior to serving.
[Source: Discover Cullen's website]
---
Final Thoughts on Scotland's Cullen Skink
If you previously didn't know what Cullen Skink was, at least now you won't be mistaken (like me) and believe that you might find it wandering around the Scottish Highlands. Cullen Skink is something that should be very much on your list of things to savour when visiting Scotland.
We'd love to hear your thoughts on Cullen Skink. Have you tried it? Do you make it? Where have you tasted the best version?
---
Read More:
PLANNING YOUR TRAVELS?
These are some of the travel resources we use when planning our trips.
For a more thorough list visit our Travel Resources page here.