What is Cullen Skink?
Is it a creature lurking in the Scottish Highlands or a local legend?
If you're like me, you're intrigued and a little puzzled.
That's why I dived into the origins, preparation, and taste of Cullen Skink—a dish as fascinating as its name.
We spent a lot of time in Scotland, soaking up its culture and cuisine. So, whether you're a food enthusiast or just curious about Scottish culture, your questions will be answered here.
So, let's start this culinary adventure. You might just discover your new go-to comfort food in Cullen Skink.
Cullen Skink in Scotland
We had just moved to Aberdeen, and the first time I saw Cullen Skink mentioned, I thought it'd make a great photo for our travel blog.
As you can guess, I was clueless about what Cullen Skink actually was.
I imagined us scrambling over rocks, cameras ready, waiting for this elusive creature to appear.
Turns out Cullen Skink isn't a creature at all.
It's a special Scottish dish.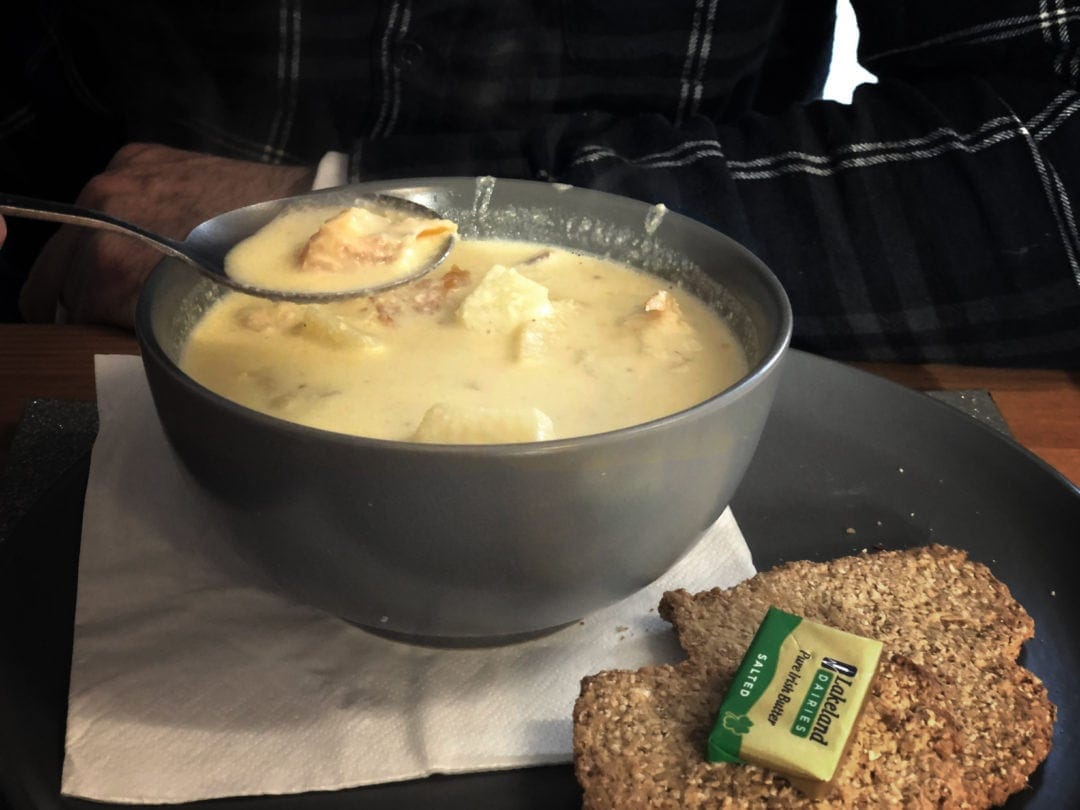 So, we set off one wintery November day on a road trip along the Aberdeenshire coast to where it all began, Cullen, hoping to find the most authentic bowl of this creamy, fishy delight.
This is NOT CULLEN SKINK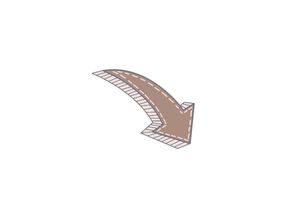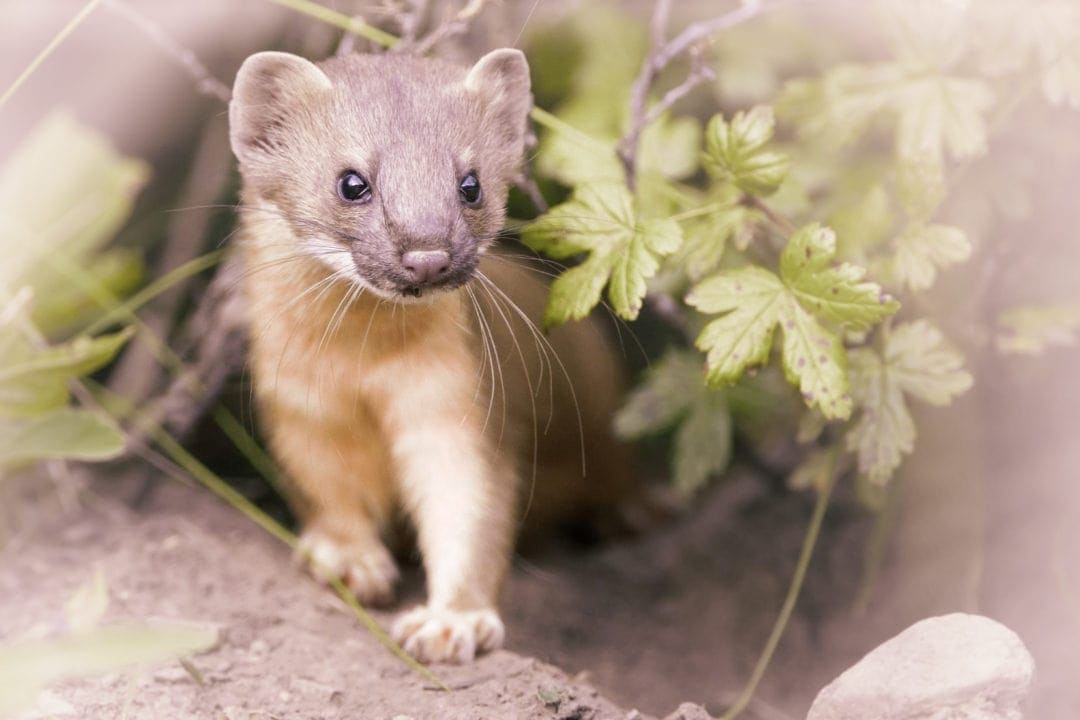 Discovering Cullen Skink
After seeing Cullen Skink on a menu in the charming harbour village of Stonehaven, I realized this was a local delicacy.
Now, I knew about haggis, but a weasel-like creature in a pot?
Not for me, thanks.
Haggis … a type of pudding composed of the liver, heart, and lungs of a sheep (or another animal), minced and mixed with beef or mutton suet and oatmeal and seasoned with onion, cayenne pepper, and other spices. The mixture is packed into a sheep's stomach and boiled.

Encyclopaedia Britannica
As it turns out, Cullen Skink is a dish, not a creature.
And it's a dish you'll find in local cafés and restaurants, not in the wild.
What is Cullen Skink?
Cullen Skink is a hearty soup made from smoked haddock, potatoes, onions, and milk. You'll find various recipes online, and it's a local favourite in Scottish cafes and restaurants.
Believe it or not, Cullen even hosts an annual Cullen Skink World Championships. The soup's consistency, colour, flavour, texture, aroma and presentation are all taken into account when deciding the ultimate winner.
There's a 'Cullen Skink with a twist' category for those who like to experiment. And it's not just a Scottish phenomenon. Celebrity chefs like Jamie Oliver and Rick Stein have their own takes on this classic dish.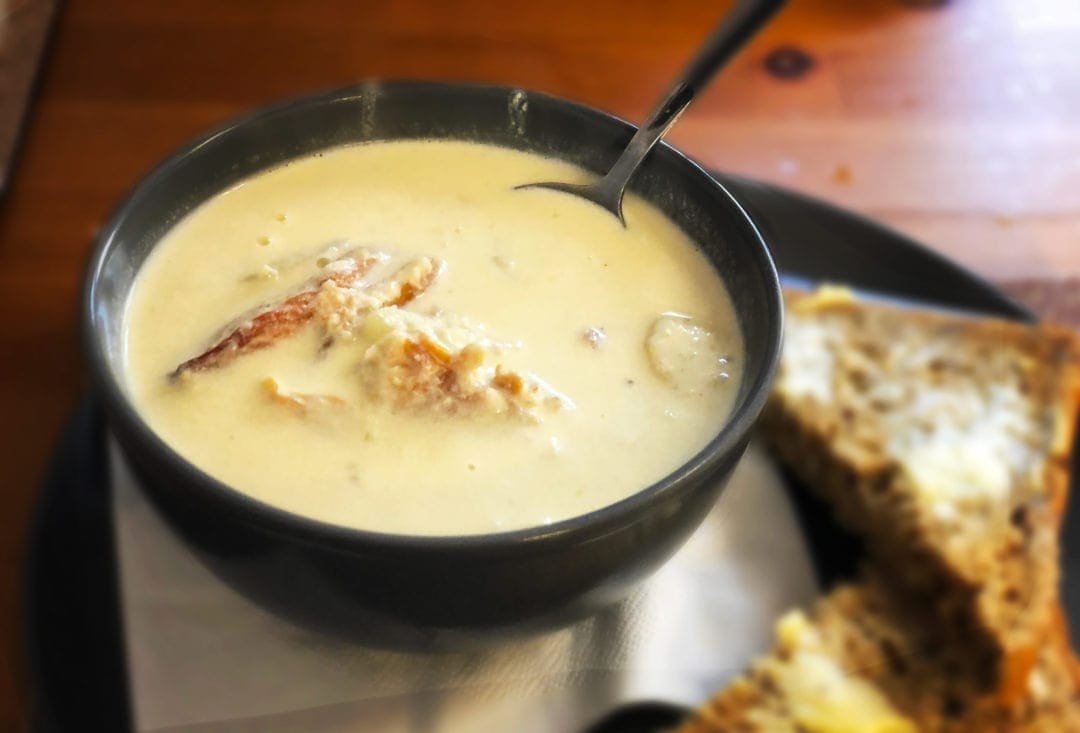 Planning a Trip to Scotland?
Where to Find Cullen Skink
Cullen, a charming town on Scotland's northeast coast, is the birthplace of this hearty soup. It's the perfect stopover for any foodie looking to experience authentic Scottish cuisine.
While travelling in the area, don't miss out on the many other things to do in Aberdeenshire.
Best Cullen Skink in Cullen, Scotland
If you're after the most authentic Cullen Skink, head straight to Cullen. The town has a few options, but Lily's Kitchen Cafe stands out. Its numerous awards make it a top contender for the best Cullen Skink in Scotland.
Lily's Kitchen: A Family Legacy in a Bowl
Lily's Kitchen is a family affair. Their award-winning Cullen Skink recipe has been passed down through generations. The moment the steaming bowl arrived at our table, I was hooked. It felt like a warm hug.
This soup is a family treasure. It's comfort food that evokes a sense of 'home,' no matter where you are. And it's not just me who thinks so. Lynne Watson, the owner, won the Cullen Skink World Championships in 2018 and was a runner-up in 2020 and 2023.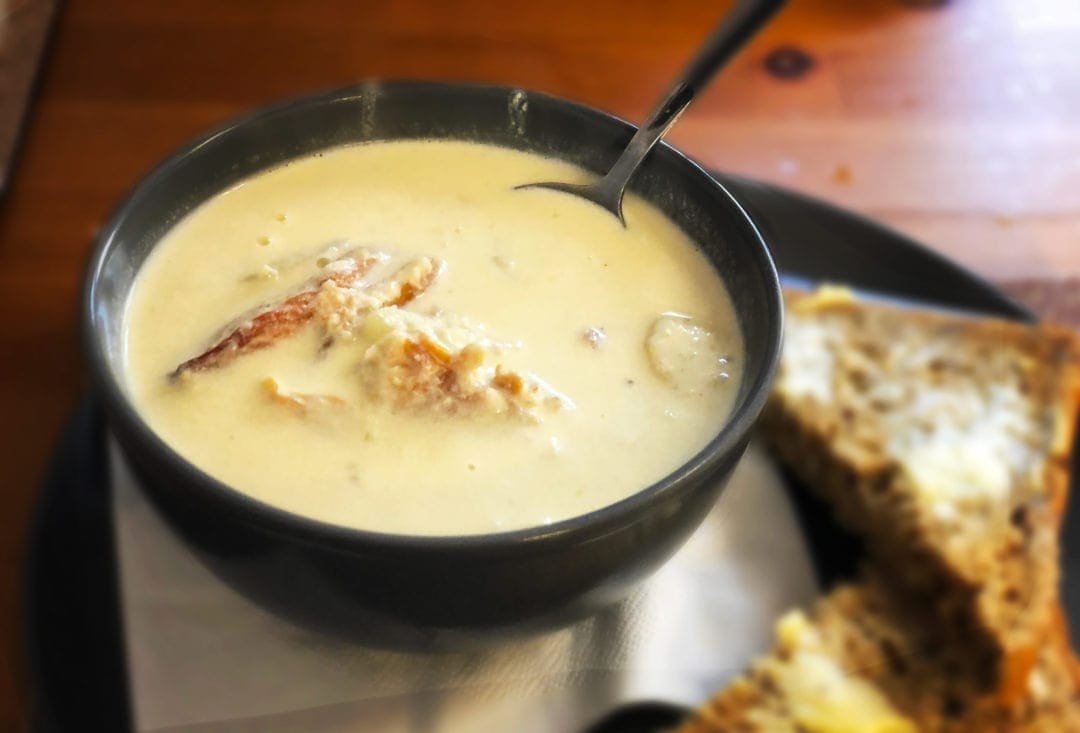 Cullen Hotel: Another Local Favourite
While Lily's Kitchen offers a homey atmosphere, the Cullen Hotel provides a more upscale dining experience. Their version of Cullen Skink is delicious, with an added ocean view.
So, whether you're a local or a visitor, Cullen offers you the best of both worlds when it comes to Cullen Skink.
From the family-friendly Lily's Kitchen to the more refined Cullen Bay Hotel, you're in for a treat.
Reader Tip: If you're visiting Cullen, why not make it a Cullen Skink tasting day? Start with lunch at Lily's Kitchen and end with dinner at the Cullen Hotel. Compare notes and find your favourite!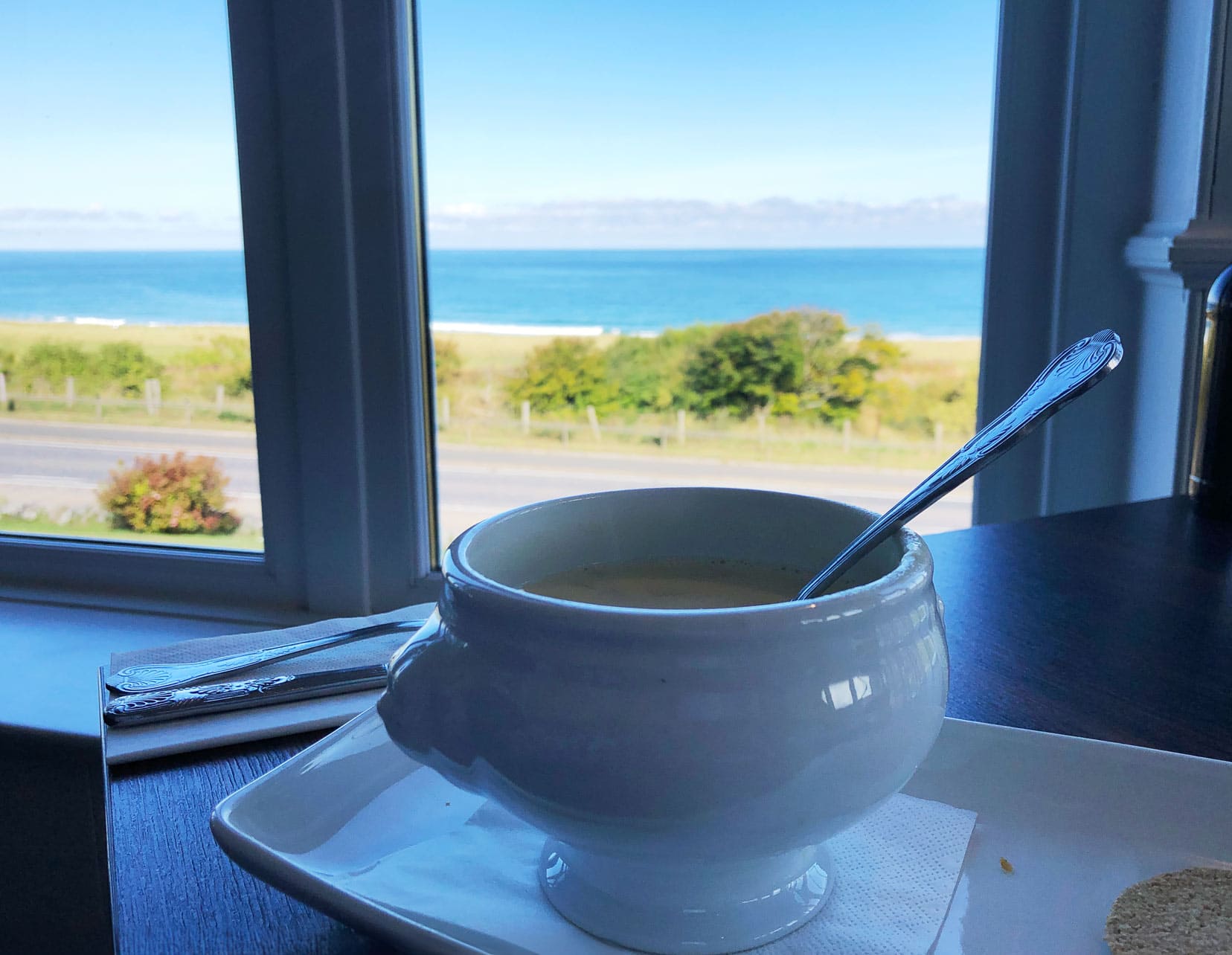 Other Places You Can Find Cullen Skink in Cullen
Other places that serve Cullen Skink in Cullen include:
The Royal Oak Hotel,
Linda's Fish & Chips,
The Rockpool Cafe,
The Seafield Arms Hotel
Cullen Skink History
Cullen Skink is more than just a dish; it's a culinary emblem of Scottish heritage. This hearty soup has been warming souls for generations, becoming an integral part of Scotland's food culture.
Its evolution over time reflects the changing landscape and economy of its birthplace, Cullen, making it a dish that tells a story—a story of tradition, adaptation, and community spirit.
Where Did Cullen Skink Originate?
The dish has its roots in Cullen, a harbour town on the north coast of Aberdeenshire in Scotland. Originally, the soup was made from scrapings of beef. However, in the 1890s, as beef became expensive and the town specialised in smoked haddock, locals began making their own version.
Why is it Called Cullen Skink?
The term "Skink" in Cullen Skink might initially throw you off.
While the word "skink" has various meanings, including a type of lizard, in the context of this Scottish dish, it's believed to be of Gaelic origin, meaning 'essence.'
Another interpretation suggests it's a Scottish term for a shin of beef. So, no, it's not a lizard soup!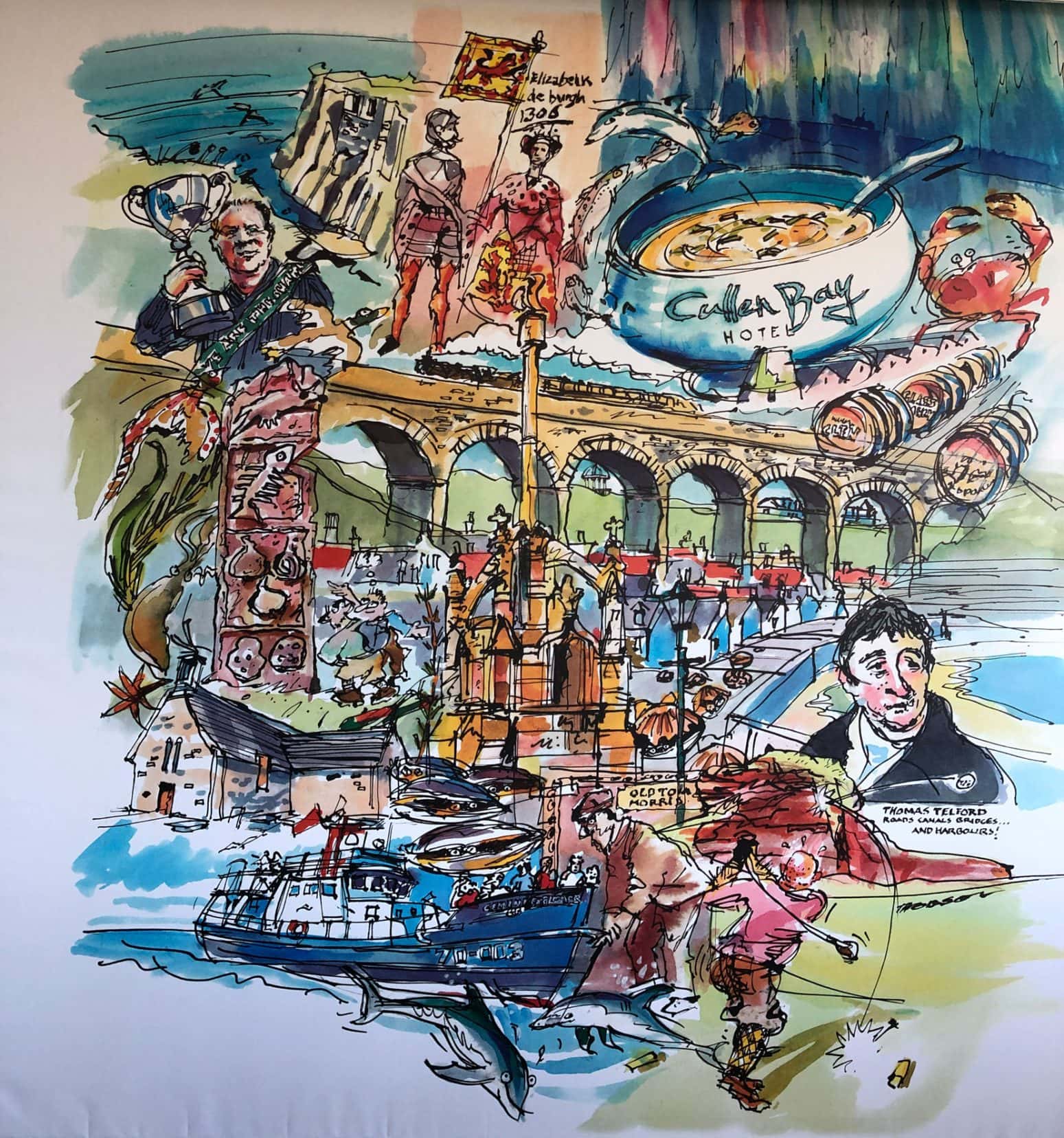 Aberdeen to Cullen: The Quest for an Original Cullen Skink
Living in Aberdeen, we knew the best place to try Cullen Skink for the first time had to be its birthplace—Cullen.
It was blowing a hooley on the day we chose to take a road trip up to Cullen along the Aberdeenshire coastal route. The North Sea often delivers a strong wind, but its force can be surprising.
Pit Stops: Pennan Harbour and Findlater Castle
Stepping out of the car above Pennan to catch a glimpse of its tiny harbour and a single row of houses below, the wind was so fierce it nearly knocked me off my feet.
I decided it wasn't a good day to go peering over cliffs.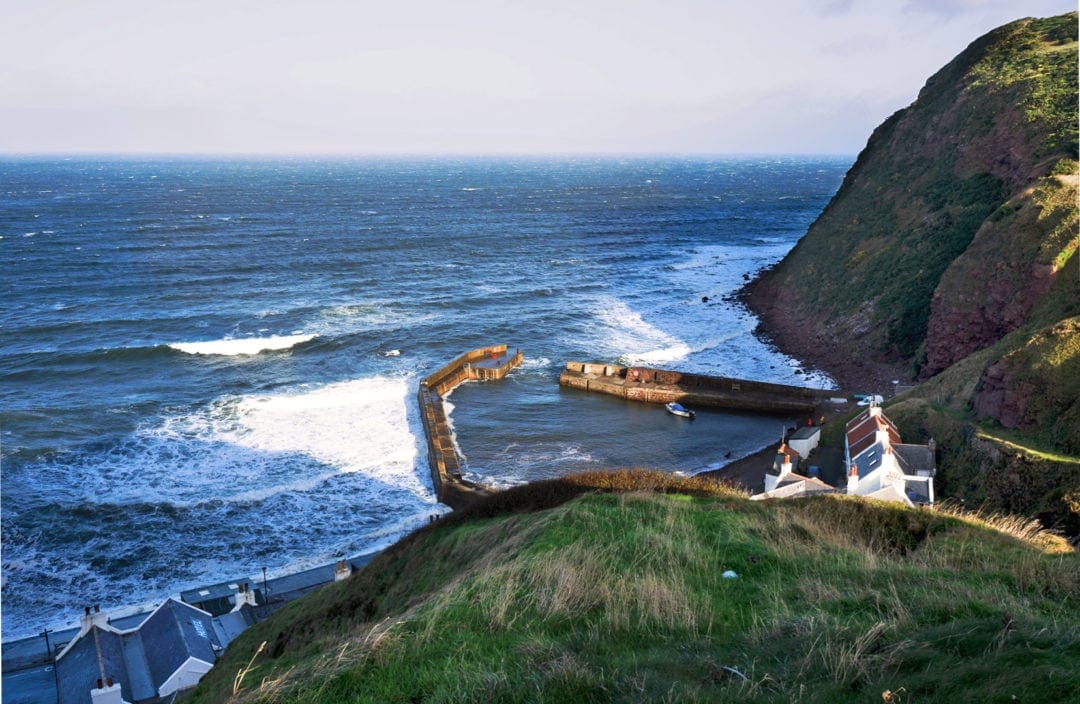 A little bit further on, we stopped to take a small walk down to the ruins of Findlater Castle. Lars really enjoys exploring ruins and finding interesting angles for his photography. I was reluctant to follow him down the steep, muddy path that led to the lofty castle remnants clinging gingerly to the cliff face.
I contented myself by taking shots from afar, taking shelter beside the bright yellow gorse bushes and trying to work out how to take a wee out of sight and avoid any windy splashback.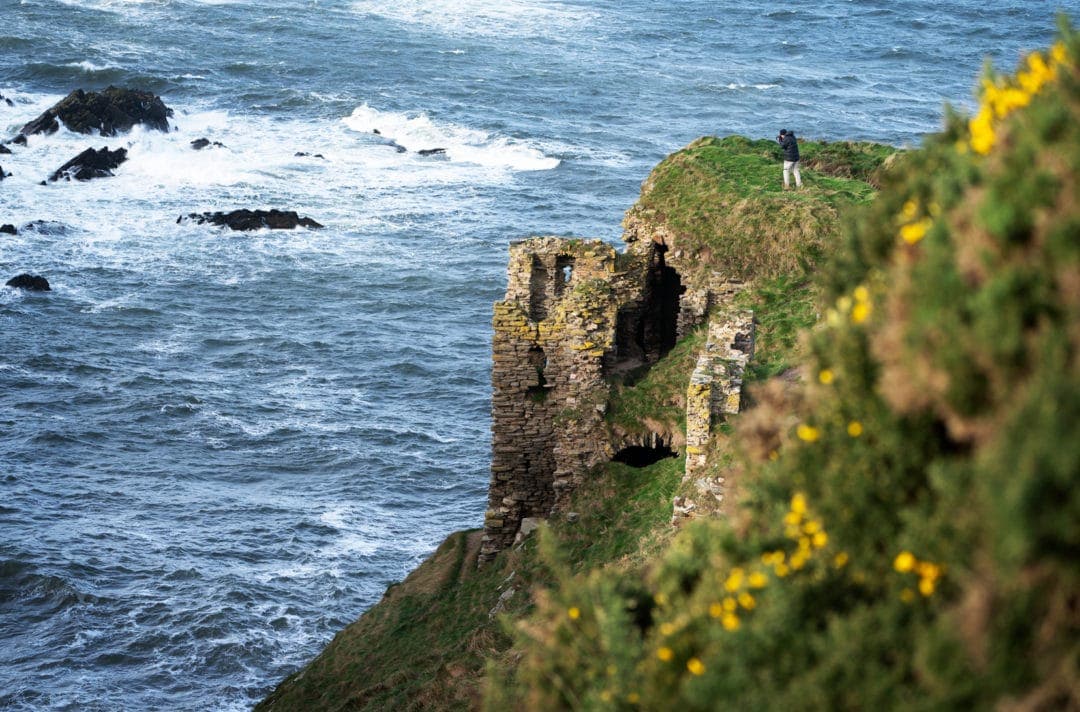 The Anticipation Builds: A Love-Hate Relationship with Fish
Such a windy day was just perfect for tucking into a hearty bowl of soup. We weren't sure what to expect from the Cullen Skink … I don't have an overly amorous love affair with fishy dishes and positively dislike finding fish bones in my food.
I absolutely draw the line at raw salted herrings (a particular favourite of Lars' ). However, I do love good 'ole fish and chips, sushi and what I consider 'normal' flavours of filleted fish.
After a strenuous morning — limbs galvanizing against the robust gusts of wind — my stomach groaned for food, and my hands stung from the biting chill.
I was hoping Cullen Skin wasn't going to be a disappointment.
So, with my anticipation rising after a morning of battling cyclonic-like winds, icy temperatures and rain showers as we attempted to take photos along Aberdeenshire's north coast, I was hoping that Cullen Skink was all it was cracked up to be.
The Moment of Truth: Finding Cullen Skink in Cullen
As we drove into Cullen, I kept a keen eye out for a cafe that looked likely to satisfy our quest of sampling Cullen Skink in the town of Cullen itself.
I immediately noticed a sign reading Lily's Kitchen Cafe on the right and then another cafe, a little further on, on the corner of the main square (where we parked) called Rockpool Cafe.
Lily's Kitchen looked like a place locals would pop in and out, whereas Rockpool Cafe looked a little more geared towards tourists.
So, we decided to take a peek into Lily's Kitchen.
And a good thing we did.
Lily's Kitchen is a small cafe and takeaway that gets rave reviews on Trip Advisor, especially for its Cullen Skink. And, as you'll already know if you've been paying attention, has an award-winning Cullen skink.
On another of our Aberdeenshire road trips, we stopped to try another Cullen Skink at the Cullen Bay Hotel. Ignore the egg-shaped bump on my head – I'd had an argument with the dungeon entrance into Slaine's Castle Ruins earlier in the morning!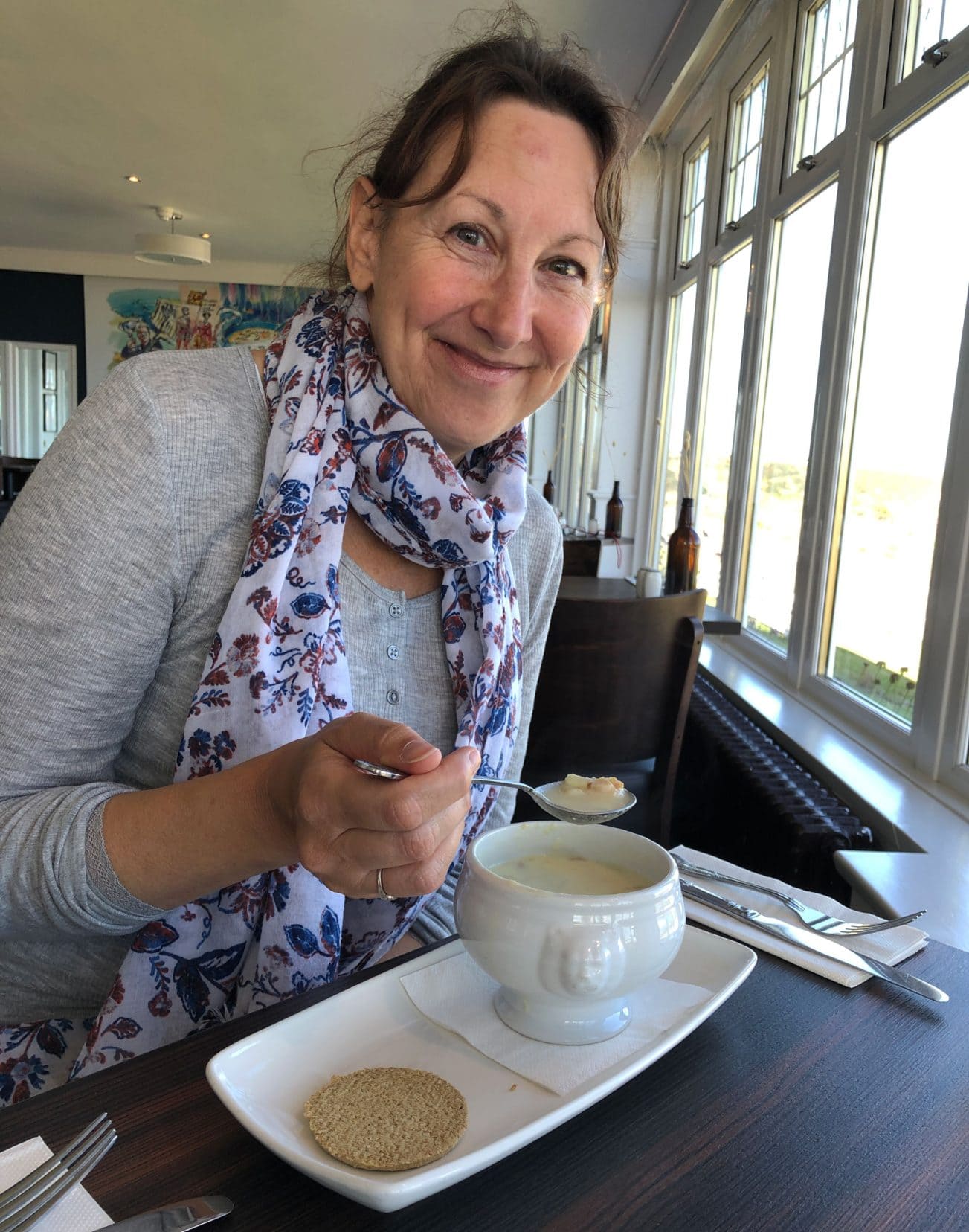 Creating Your Own Cullen Skink Legacy
If you're keen to whip up your own Cullen Skink, there's no shortage of recipes online to help you craft your own version.
Cullen Skink Recipe
It seems fitting to share this recipe; it won Mary Addison the title of 'Cullen Skink Queen' at the first competition held in Cullen, filmed by the BBC in 1999.
---
Ingredients
4 fillets of smoked haddock (cut into small pieces)
Half a small onion (diced)
3 pints of milk
4 tablespoons of single cream
1 oz margarine
2 teaspoons cornflour (mixed with a tablespoon of milk)
4 medium potatoes (part boiled and diced)

Method
Melt the margarine in a large saucepan, add the onion and smoked haddock and simmer for 2 minutes. Add the part boiled potatoes and milk and bring to a boil. Add the cornflour mixed with a tablespoon of milk. Cook for 2 minutes, and then add the cream prior to serving.
[Source: Discover Cullen's website]
Finding Scotland's Cullen Skink… That's a Wrap
You can rest easy if you were in the dark about Cullen Skink. It's not some mythical creature roaming the Scottish Highlands.
Reader Tips:
Tip 1: Always check the weather forecast before heading out on a road trip along the Aberdeenshire coastal route. The winds can be surprisingly strong.
Tip 2: If you're not a fan of fishy dishes, give Cullen Skink a try anyway. Its hearty and rich flavours might win you over.
Tip 3: Don't just opt for touristy spots in Cullen. Local cafes like Lily's Kitchen offer an authentic experience.
We'd love to hear your thoughts on Cullen Skink. Have you tried it? Do you make it? Where have you tasted the best version? Drop us a line.
🏰If you're as captivated by Scotland as we are, you might also enjoy our post on castle tours in Scotland
PLANNING YOUR TRAVELS?
These are some of the travel resources we use when planning our trips.
For a more thorough list, visit our Travel Resources page here.