Things to do in Stonehaven, Scotland
Whether you enjoy coastal hikes, sea-bound adventures, historical villages, woodland walks, or just like to take a slow wander by the sea and enjoy a coffee, beer or ice cream, then there are plenty of things to do in Stonehaven to suit all preferences.
Stonehaven is about a 20-minute drive south of Aberdeen in Scotland. Its nautical nuances are immediately evident as you drive towards its harbour.
Once a small fishing village, the town has since expanded and Stonehaven is now a popular destination for both locals and tourists. In fact, Stonehaven was ranked among the top seaside destinations to visit in Scotland.
A visit to this charming harbour town makes for an ideal day trip from Aberdeen or an interesting stop while road-tripping in Aberdeenshire or the northeast of Scotland.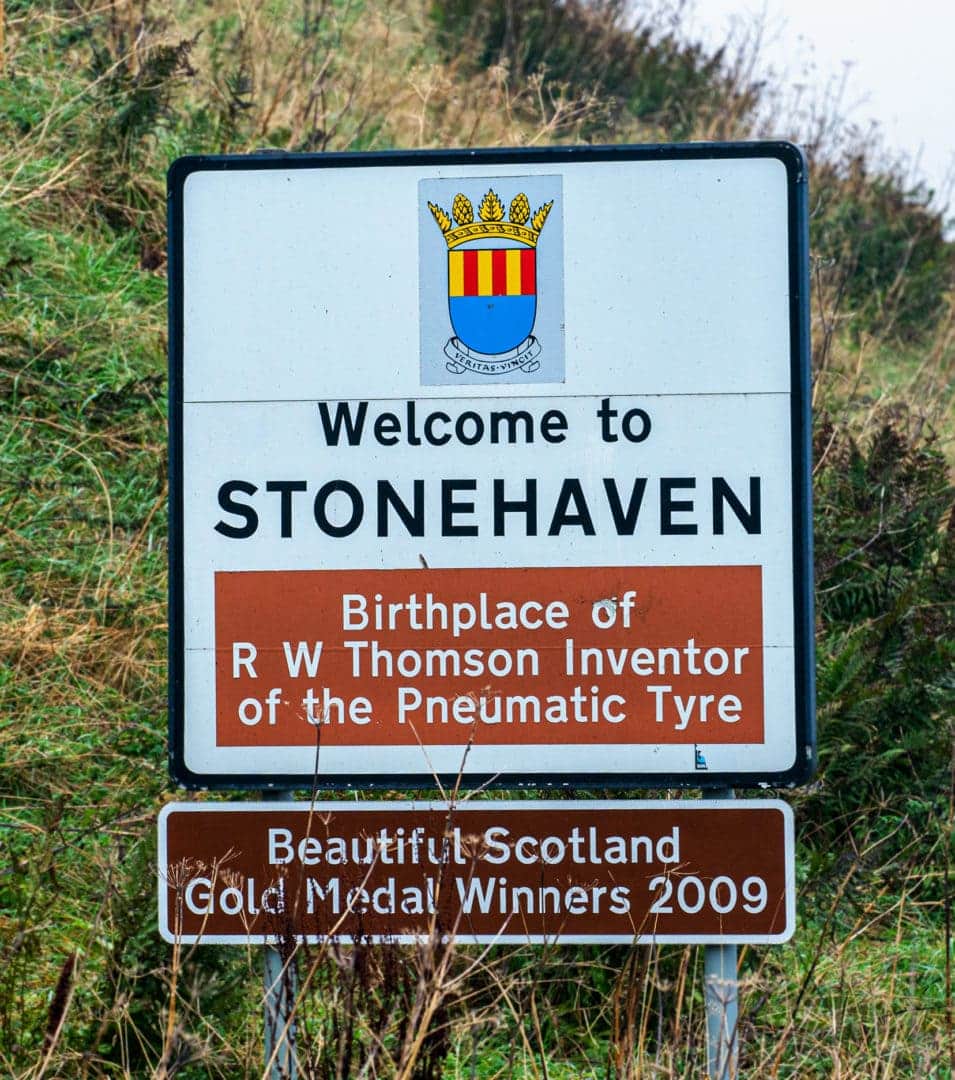 Planning a Trip to the U.K.?
Map of things to do in Stonehaven
What to do in Stonehaven
---
1. Grab a snack at Stonehaven's Seafood Bothy
As we parked up in Stonehaven's harbour carpark, we noticed the busy "Seafood Bothy" parked on the water's edge offering delectable seafood platters.
If you are a regular reader, you'll know that we travel on a budget, but that didn't stop us from trying out their £4.00 crab quiche — and it tasted as fresh as promised.
You'll find the seafood Bothy at the end of the pier. See the map above.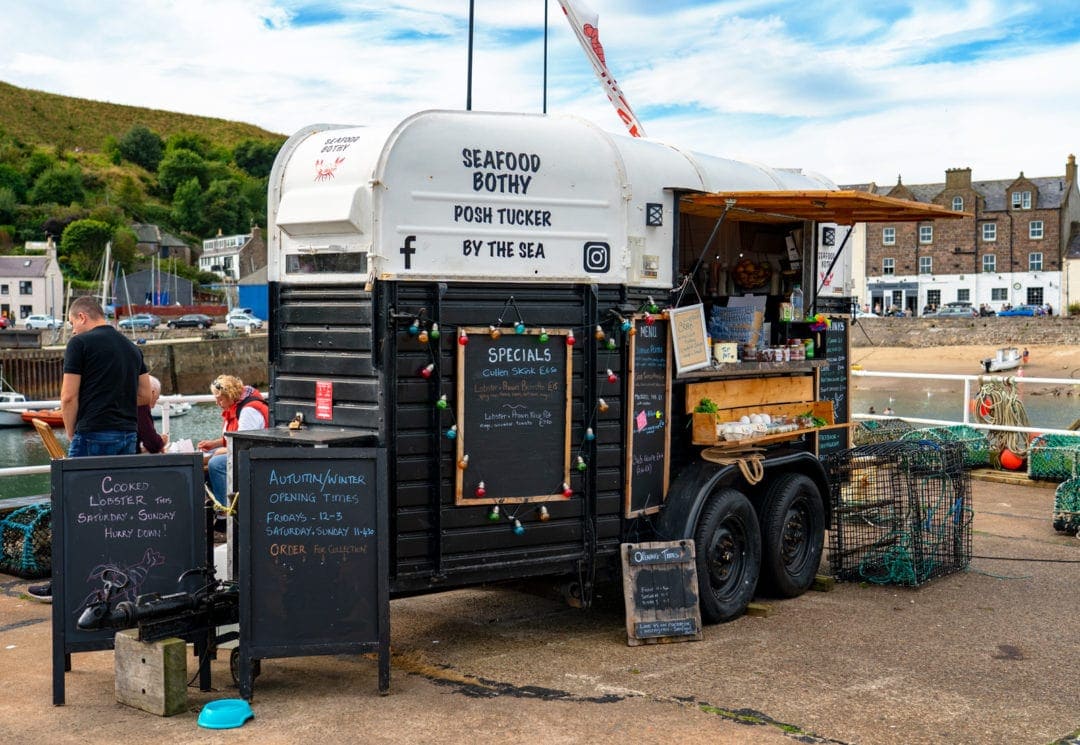 2. Step back in time at the Tollbooth Museum
Stonehaven's Tollbooth Museum was once a storeroom, built at the end of the 16th century. Later, in 1600, it became a courthouse and jail. But today, its ground floor is a museum and upstairs a restaurant.
Stonehaven's Tollbooth Museum tells the history of the town and includes information on its prodigal son, Robert William Thomson, (1822 – 1873) the inventor of the pneumatic tyre.
Opposite the Tollbooth Museum, you'll find an old stone sundial dated 1710.
Admission is free and keen volunteers are happy to answer your questions and tell you tales from the past.
Opening Times: Winter Weekends 12.30 – 3.30 pm, Summer 12.30 – 4.30 pm
Address: Stonehaven Tolbooth Association, Old Pier, Stonehaven Harbour, Aberdeenshire, AB39 2JU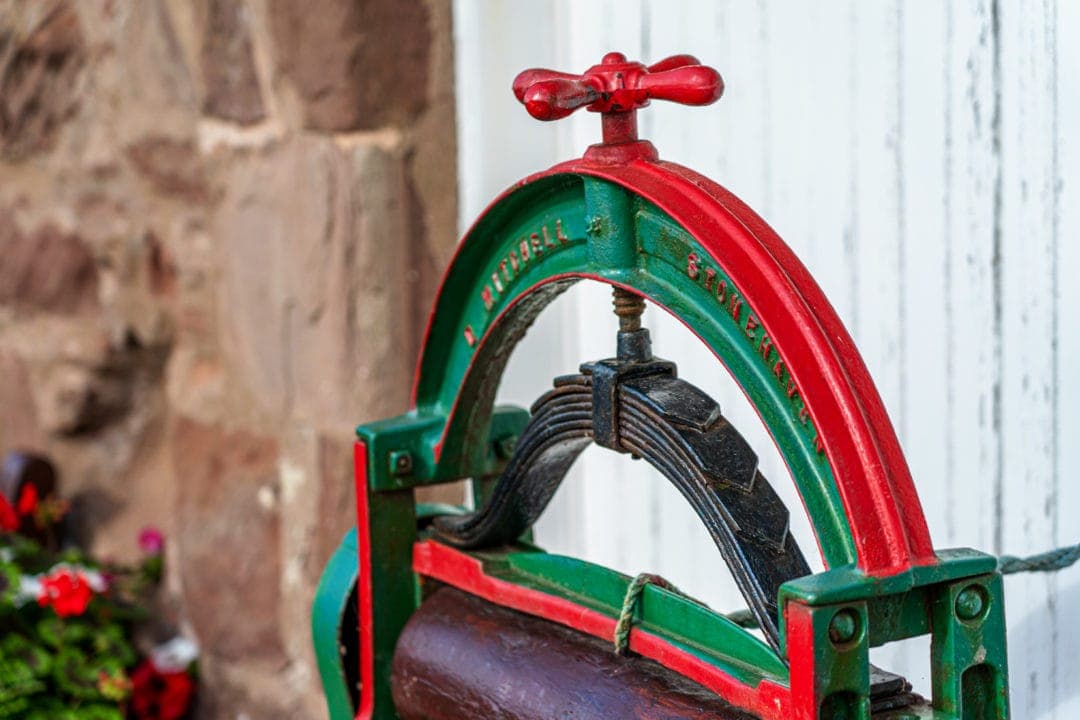 3. Stroll Around Stonehaven's Harbour
Stonehaven's first harbour was built in 1688 but since its early days as a small fishing village, Stonehaven has expanded quite a bit. Nowadays, the harbour is filled with small sailing yachts and mainly recreational fishing boats.
Even though it was the beginning of Autumn when we first visited, and a chilly breeze bounced in the air, children splashed around on the water's edge while onlookers perched on the harbour wall enjoying ice-creams and coffees from the nearby Old Pier Café.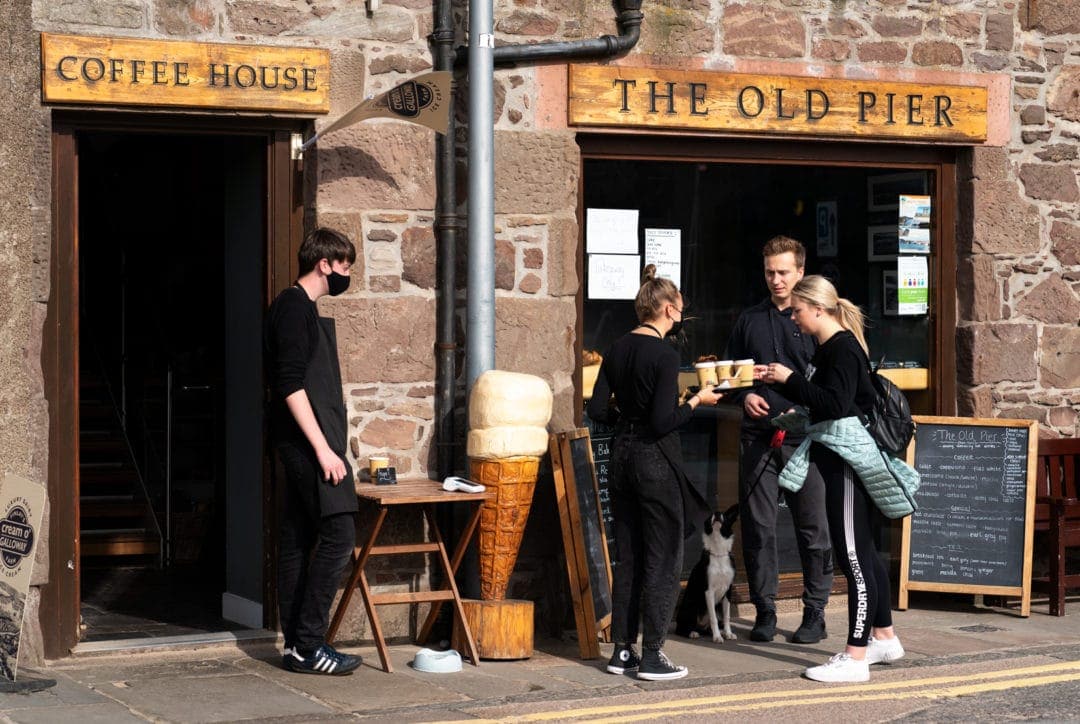 4. Have a Bevvy at one of the Local Inns
Stroll along to the south of the harbour and you'll pass the Ship Inn (dating from 1771) and the Marine Hotel (1890). Both offer cosy rooms overlooking the harbour and menus serving locally sourced produce.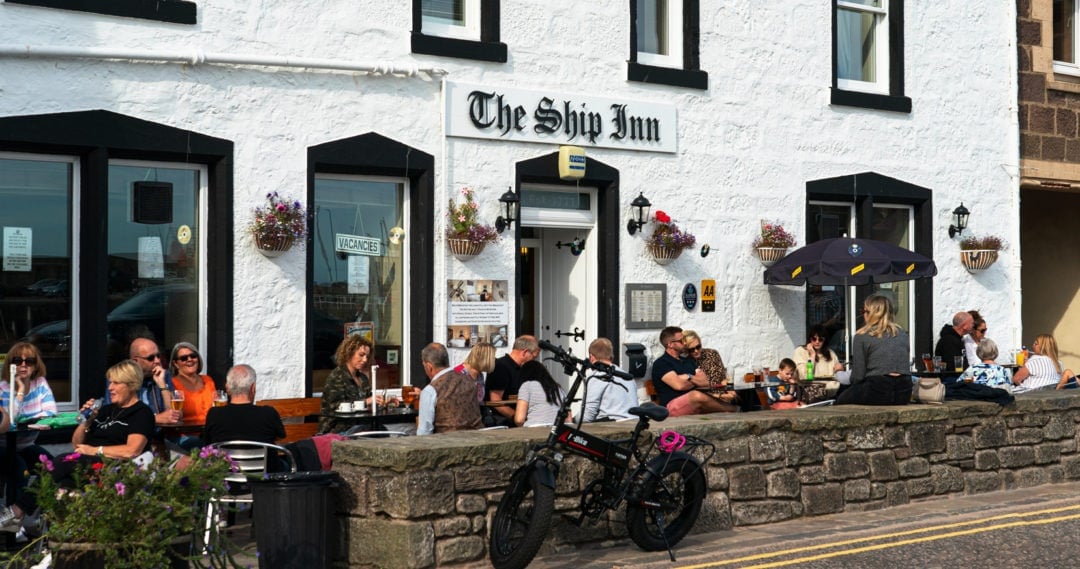 5. Brave the waves at Stonehaven Paddleboarding
Around the corner from the harbour, following the sea wall to the end, you'll reach Stonehaven paddleboarding. Here you can arrange tours, and lessons and also hire all the equipment you'd need.
We haven't tried this yet, but each time we've been to Stonehaven there have been many braving the cold seas and having fun on the water. On Tripadvisor, this locally run company gets 5-star reviews and many comments from happy customers.
Opening Times: All year round from sunrise to sunset.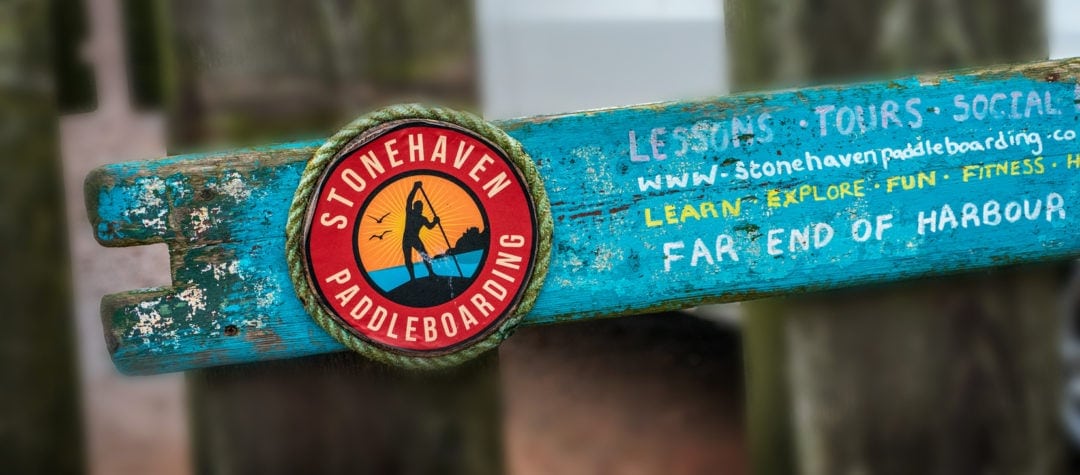 6. Take an Amble along the Boardwalk
Stonehaven Broadwalk runs along the crescent-shaped bay. Take a stroll along here and you'll come upon artworks by 'Stonehaven's Banksy'.
The metal sculptures include a miniature lighthouse, a Viking ship, a dolphin and many more nautically themed creations.
They began appearing in 2006 but it wasn't until 2019 that sleuths tracked down the actual artist and the BBC then ran an article on Jim Malcolm, Stonehaven's secret sculptor. Jim says in the article;
However, I think many would disagree with Jim's self-assessment, as we would, and think his works are indeed artistic and they bring a much loved and admired element to the walk along the boardwalk at Stonehaven.
Here's the BBC Scotland video of Jim talking about his creations: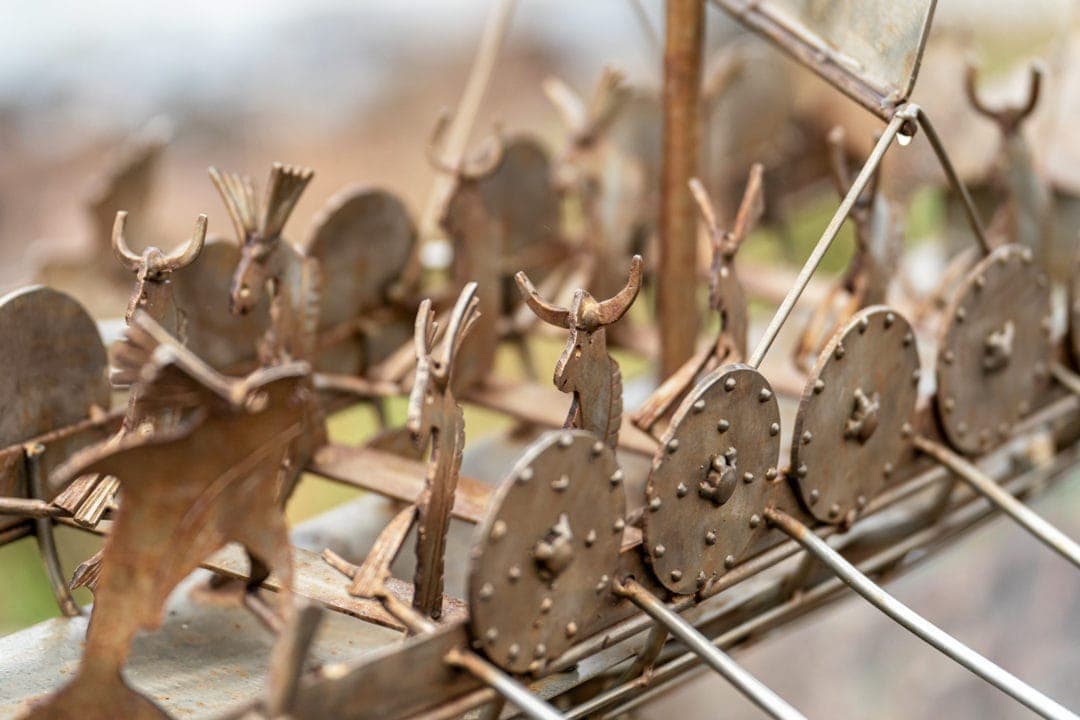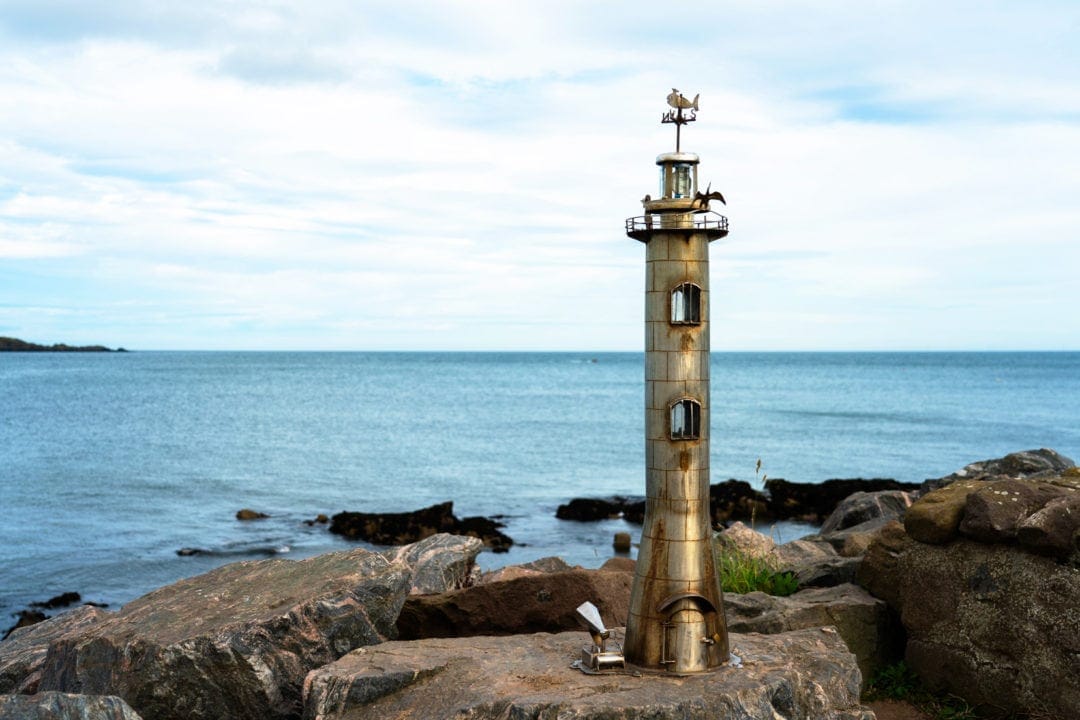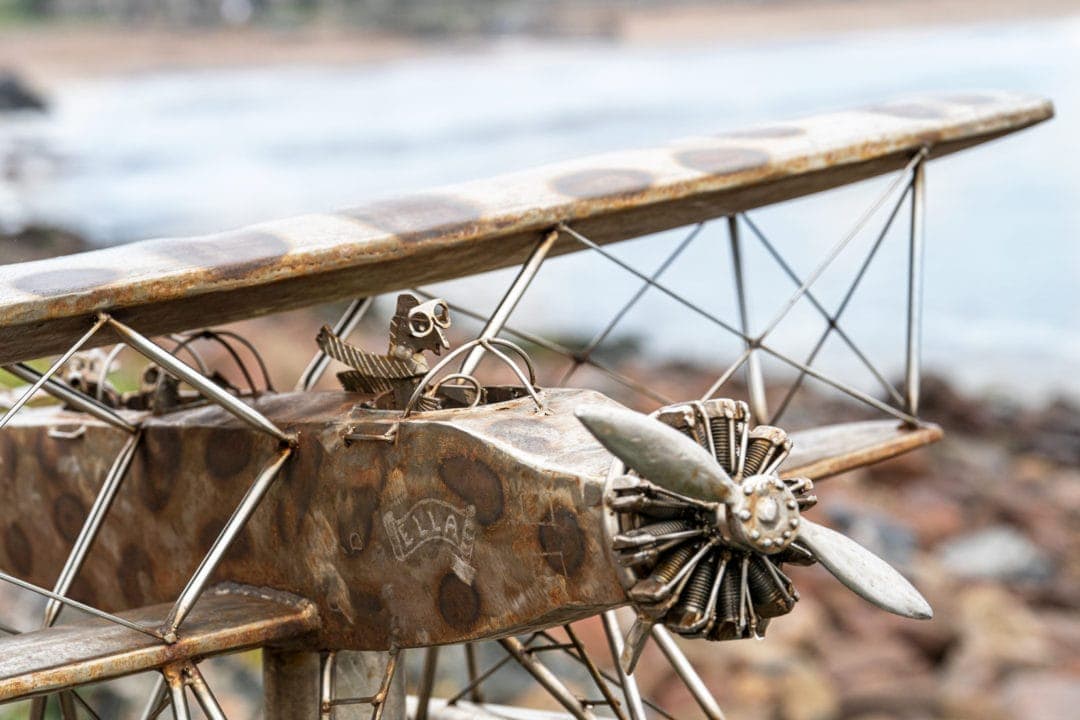 As well as these intriguing pieces of art, at various intervals along the path, you'll come across signs telling you about Stonehaven's history and points of interest in the town.
7. Make a Splash at Stonehaven's Open Air Pool
Stonehaven's open-air Olympic size swimming pool is open from May through to September. The seawater-filled pool is heated to a lovely 29°C (84°F) and holds varying events over the season, including night swims with disco music.
8. Walk along the Cliffs to Dunnottar Castle
The Dunnottar Castle walk begins at Stonehaven Harbour and leads you along the coastal path with dramatic cliff views, culminating at the striking Dunnottar Castle. The 15th and 16th-century Dunnottar Castle ruins sit atop a craggy cliff as a punctuation mark highlighting this beautiful part of Aberdeenshire's coast.
The 1.7 miles (2.7 km) walk takes about 40 minutes one way. Along the path, you will also pass the Stonehaven War Memorial.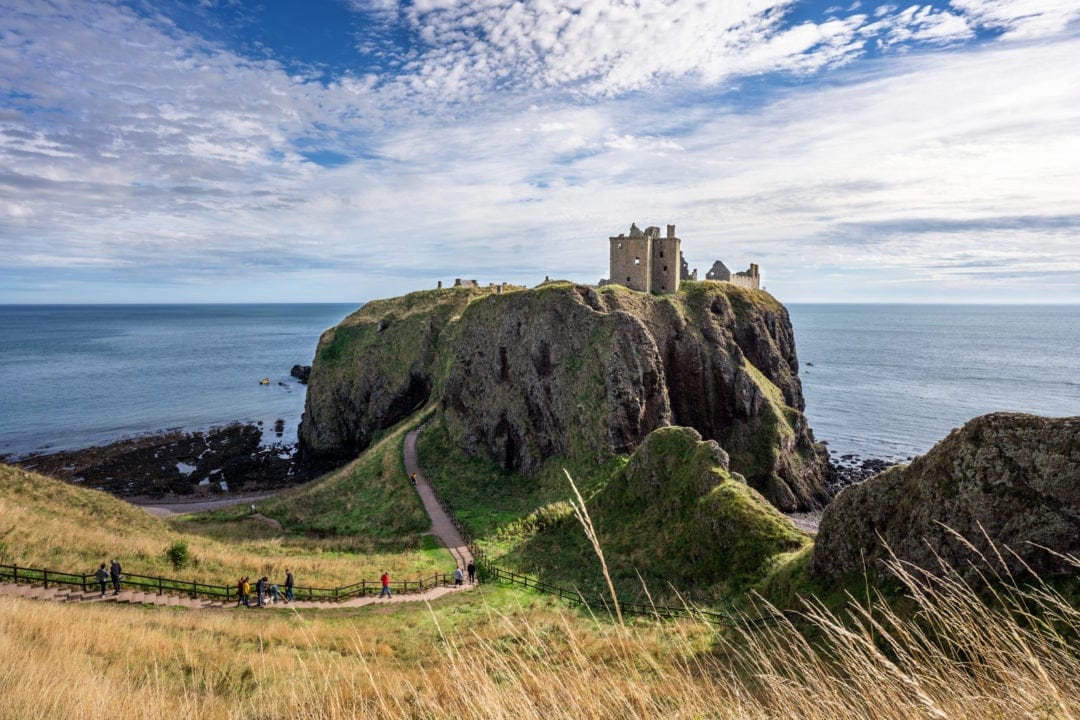 9. Take a walk up to the Stonehaven War Memorial
If you don't want to walk all the way to Dunnottar Castle, then you can just go as far as the Stonehaven War Memorial which is just a 15-minute walk from Stonehaven. This Grecian-like monument, which was built in 1923, sits like a crown on the top of Black Hill and overlooks the sea.
It was specifically designed as a Roman ruin — a metaphor to represent those who lost their lives in the First World War. Further additions were made to commemorate those who lost their lives in WWII.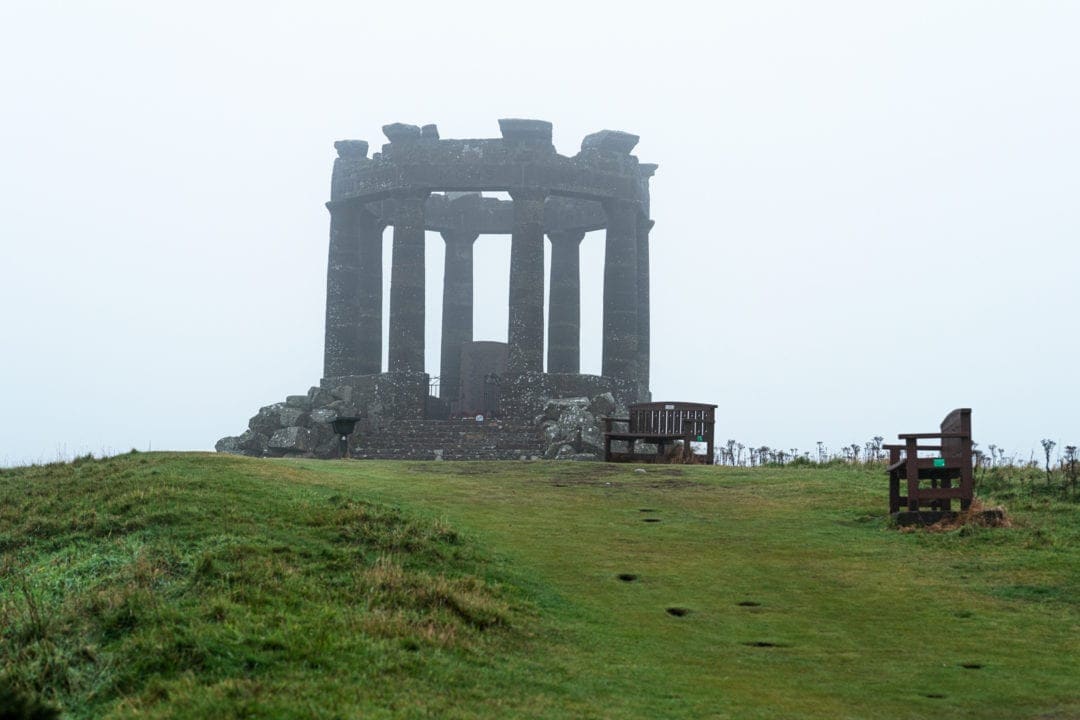 10. Discover Dunnotar Wood
Dunnottar Wood is a short walk from Stonehaven and full of little quirky nooks to investigate. Pathways and footbridges meander through the wood and along the main route, keep your eye out for Lady Kennedy's bath and the little dome shell house with its internal walls lined with shells.
When you find the shell house, keep an eye out for all the magical tiny fairy doors scattered around on the nearby logs. The high old garden wall is also near here.
You can drive to the Dunnottar woods and if you park in the car park just off the A92 (See map), you'll find a nut feeder and if you're lucky, you'll see a red squirrel pop down for a snack.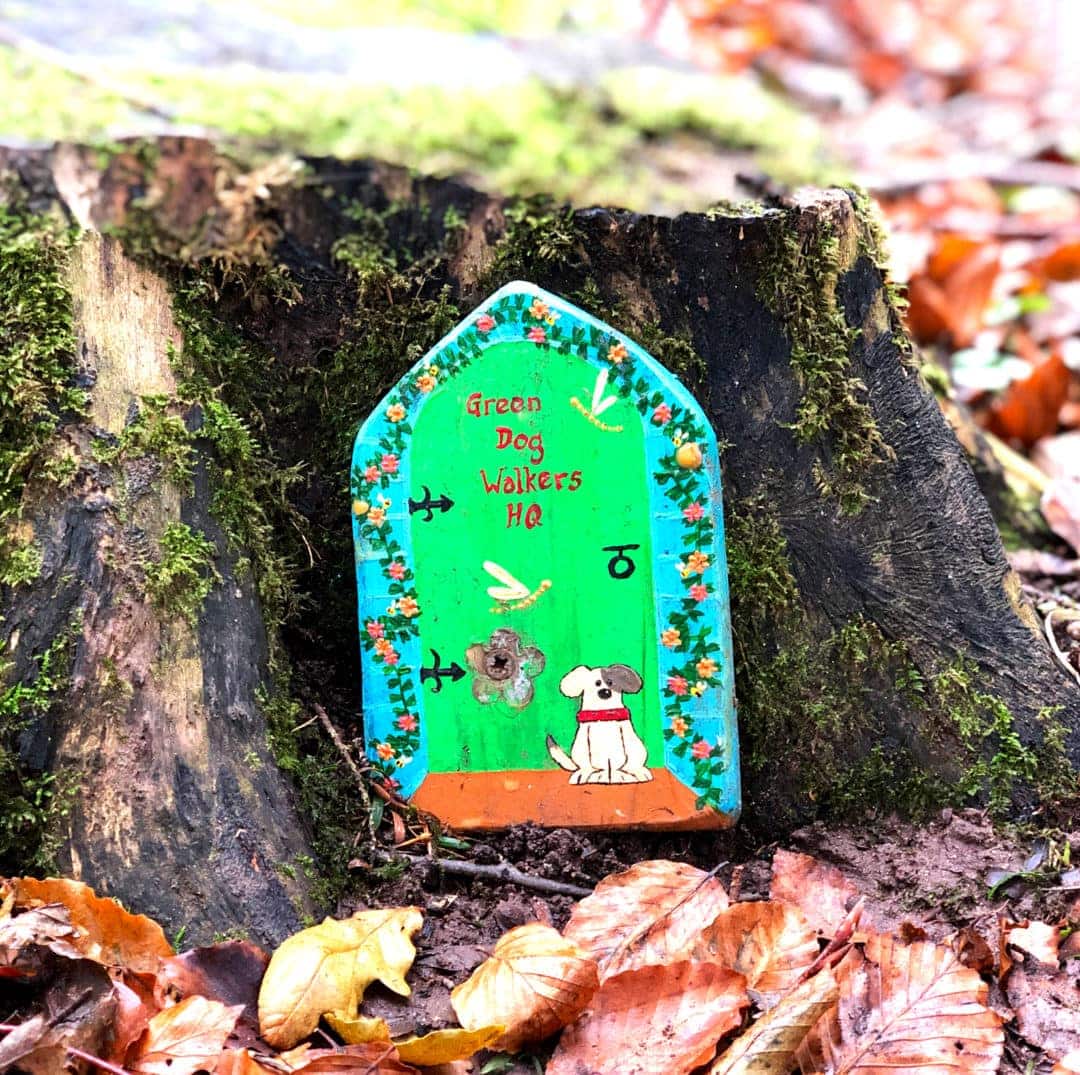 Keep an eye out for lots of fairy doors dotted around on the logs near the Shell House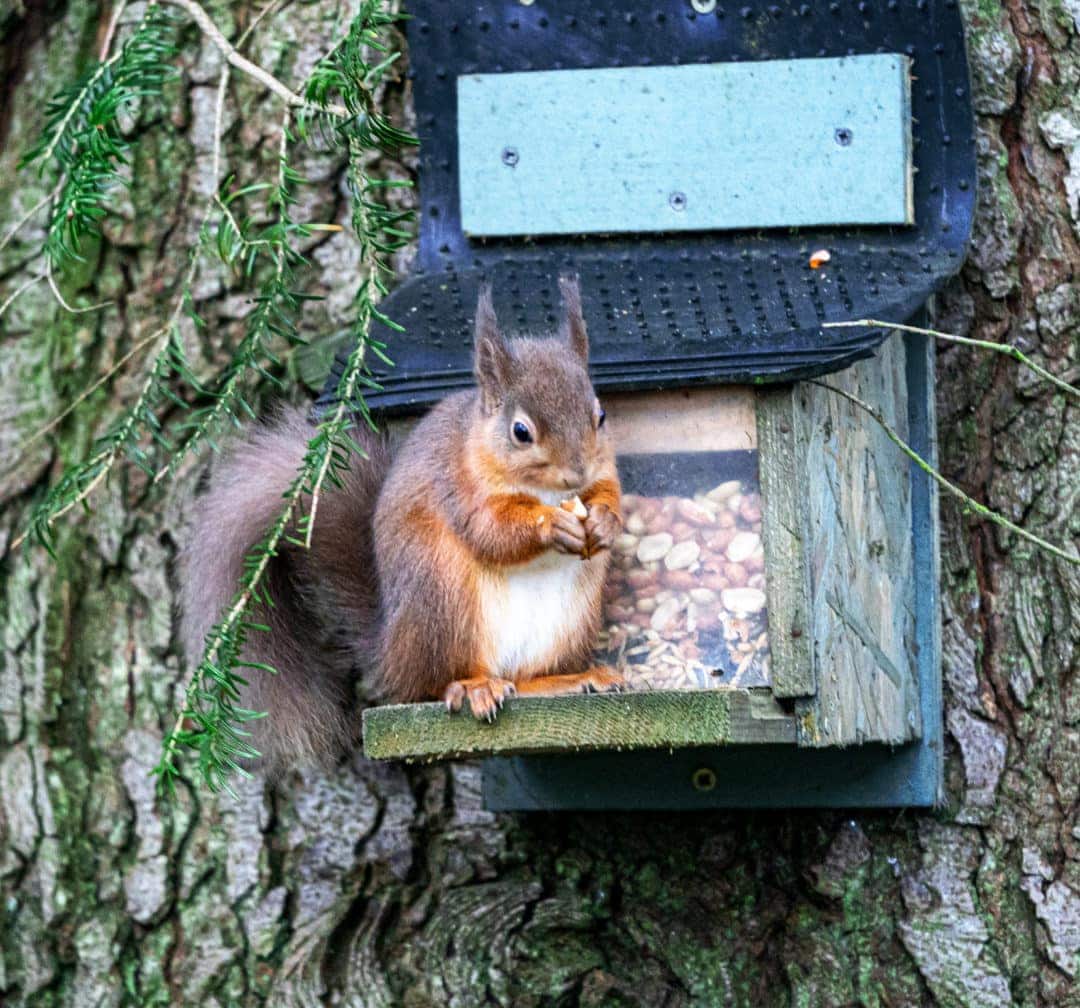 Red squirrel having brekkie in Dunnottar Woods
11. Wander Through The Old Town of Stonehaven
Known locally as the Auld Toon, wander through here and you'll find plaques on the town's walls and above doorways telling you more of Stonehaven's history.
The Old Clocktower, built-in 1790, has an interesting barometer set above its door, dating from 1852, which gave notice of weather conditions to the fishermen of the once-thriving local fishing industry.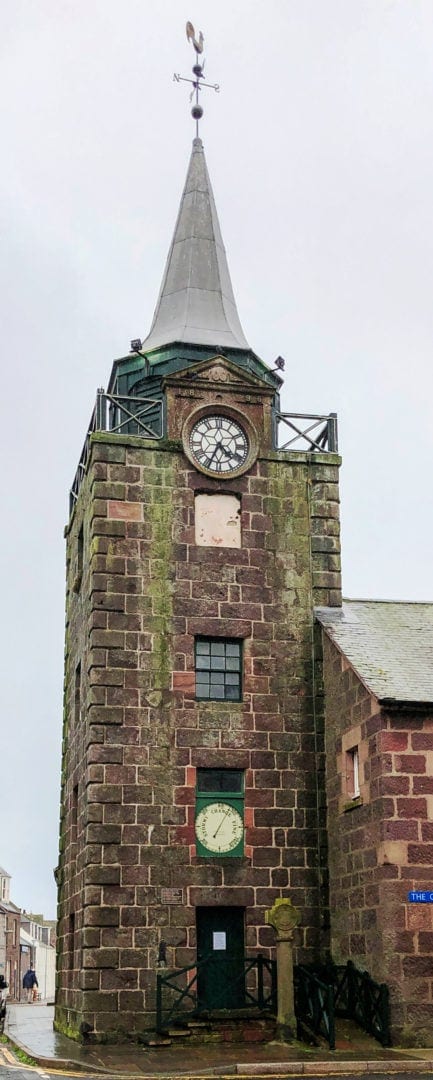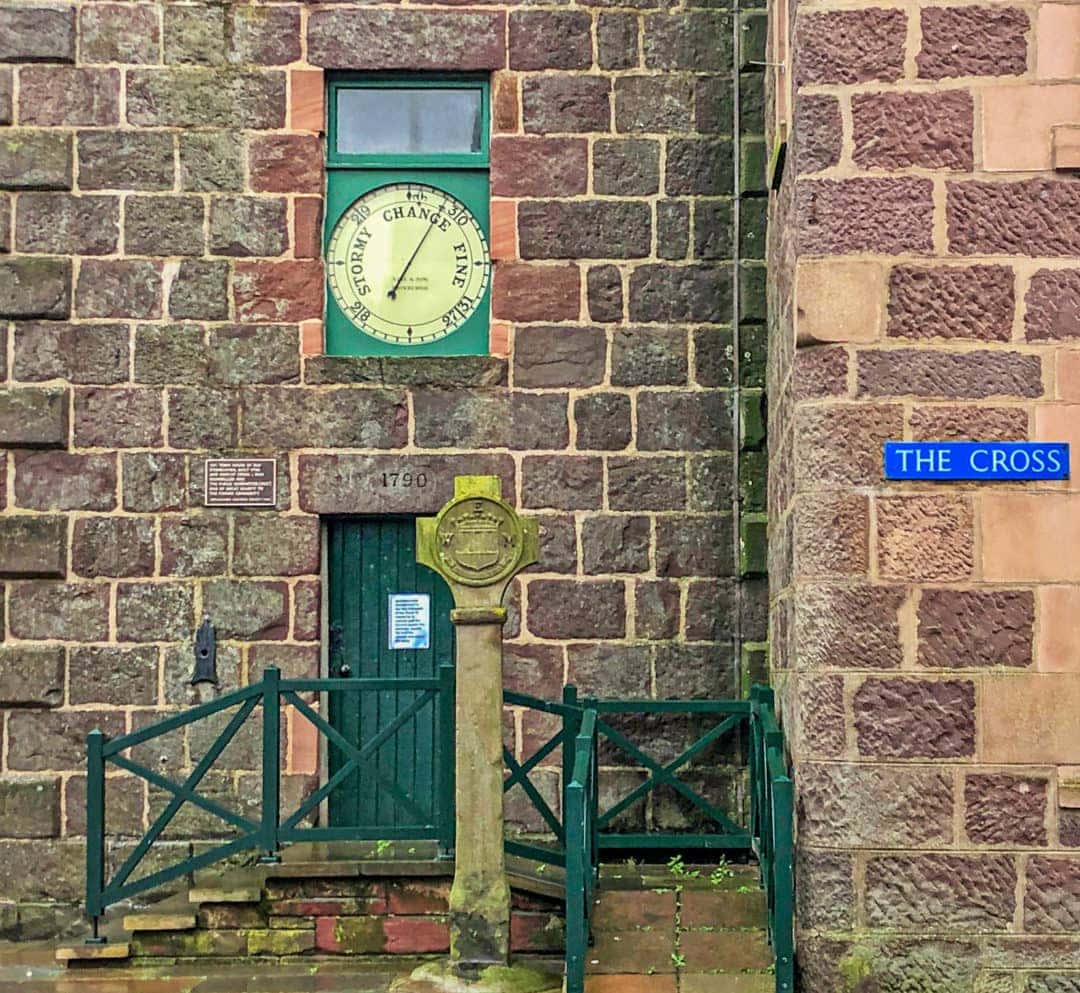 Stonehaven's listed clocktower with its once useful weather barometer.
12. Sample Stonehaven's Culinary Fare
There are plenty of options when it comes to sampling the renowned local fare at Stonehaven. Whether you fancy a seafood platter, a simple crab quiche or more traditional comfort food like fish and chips and ice cream.
Locals recommended that we try the Fish and Chips at the award-winning The Bay Fish & Chips and grab an ice cream from Aunty Bettys, next door. Both were excellent suggestions.
Bay Fish and Chips serve more than an incredible 180,000 serves of fish and chips a year. The shop has won more than 82 awards and was named the number one fish and chip shop in the UK by Lonely Planet in 2018.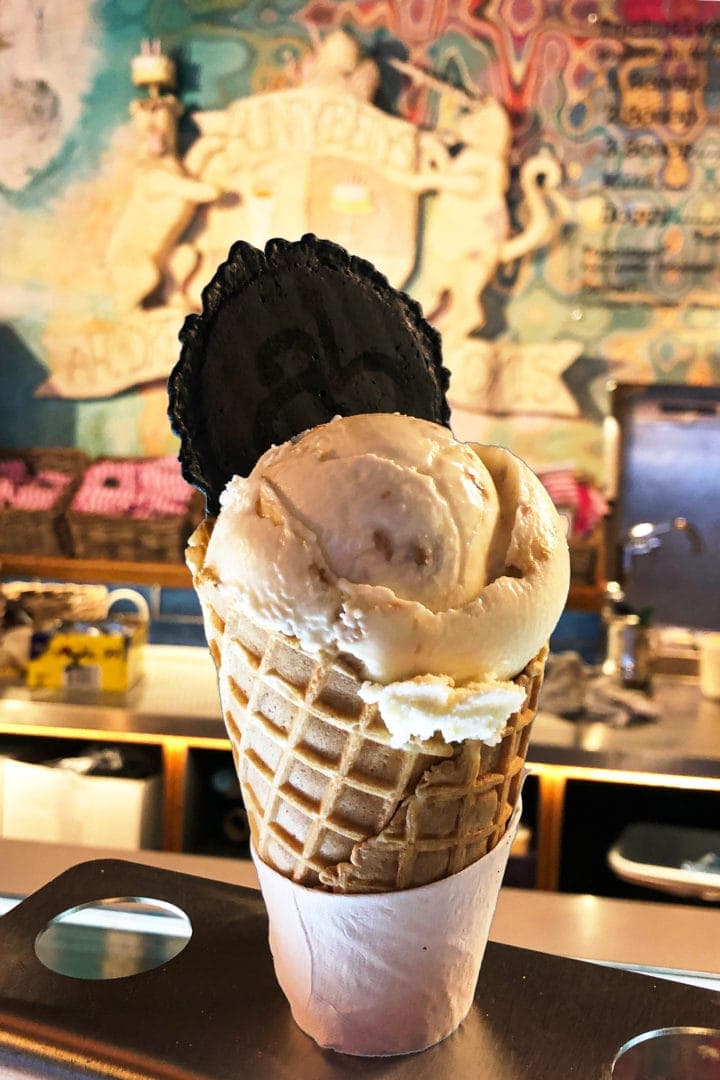 Aunt Betty's ice cream
13. Take a Stonehaven Boat Trip
We're lovers of safaris, as you'll know if you followed the start of our overlanding Africa trip in our 4×4 bush camper and our 3-month stint in Kruger National Park, South Africa. We also love photographing seabirds and simply adore puffins.
As of yet, we haven't been on a sea-bound safari, but this option, available at Stonehaven, looks like just the ticket for exploring the wildlife around this part of the Aberdeenshire coast or taking a fishing trip around these shores.
Stonehaven Shellfish and Boat Trips are run by a local part-time fisherman. The sea adventures include scenic tours of the Stonehaven coastline, including Dunnottar Castle, hidden caves, stunning cascading waterfalls, and the wildlife that is around at the time.
14. Try Scotland's Famed Deep Fried Mars Bar
The Carron Fish Bar in Stonehaven is the birthplace of the famed deep-fried Mars Bar. So, of course, we had to sample this local delicacy. Watch this video to see what we thought of this strange combo of batter, nougat and caramel.
15. Wildlife Spotting at RSPB Fowlsheugh
Just a short distance south along the coast, about a 10-minute drive south, is Fowlsheugh Nature Reserve. In the spring and summer, over 130,000 breeding seabirds nest on the surrounding cliffs.
You will see guillemots, razorbills, kittiwakes and may spot puffins and fulmars. In the seas below the cliffs, you may also catch glimpses of grey seals and dolphins.
If you are a seal lover, I recommend a trip further up the coast to Newburgh Seal Beach (20 minutes drive north of Aberdeen), where a colony of over 4000 grey seals bob about in the Ythan Estuary and sunbake on the shore.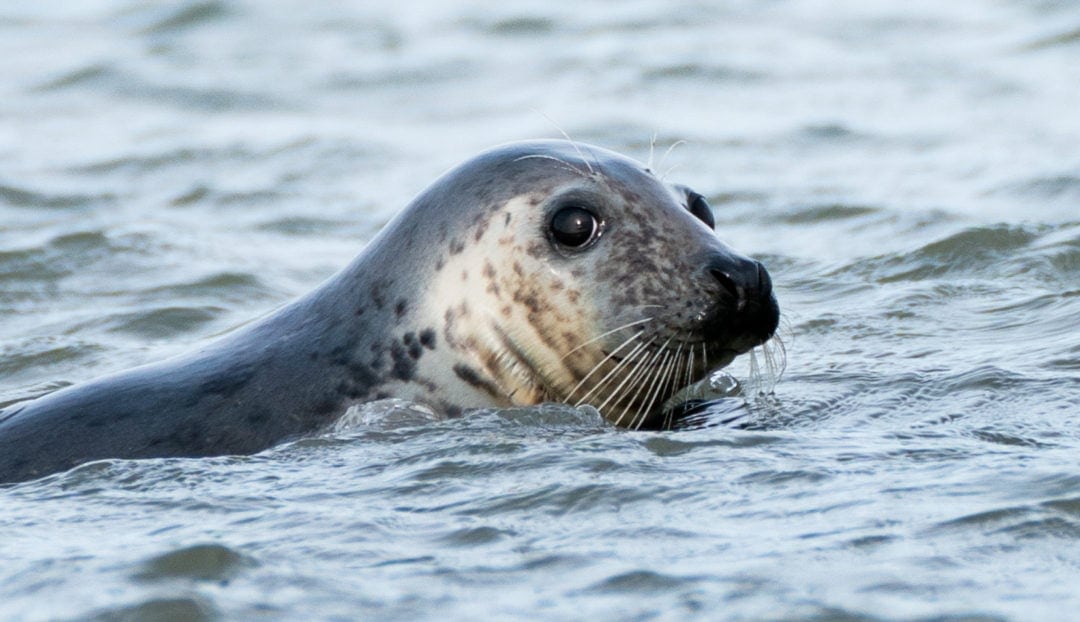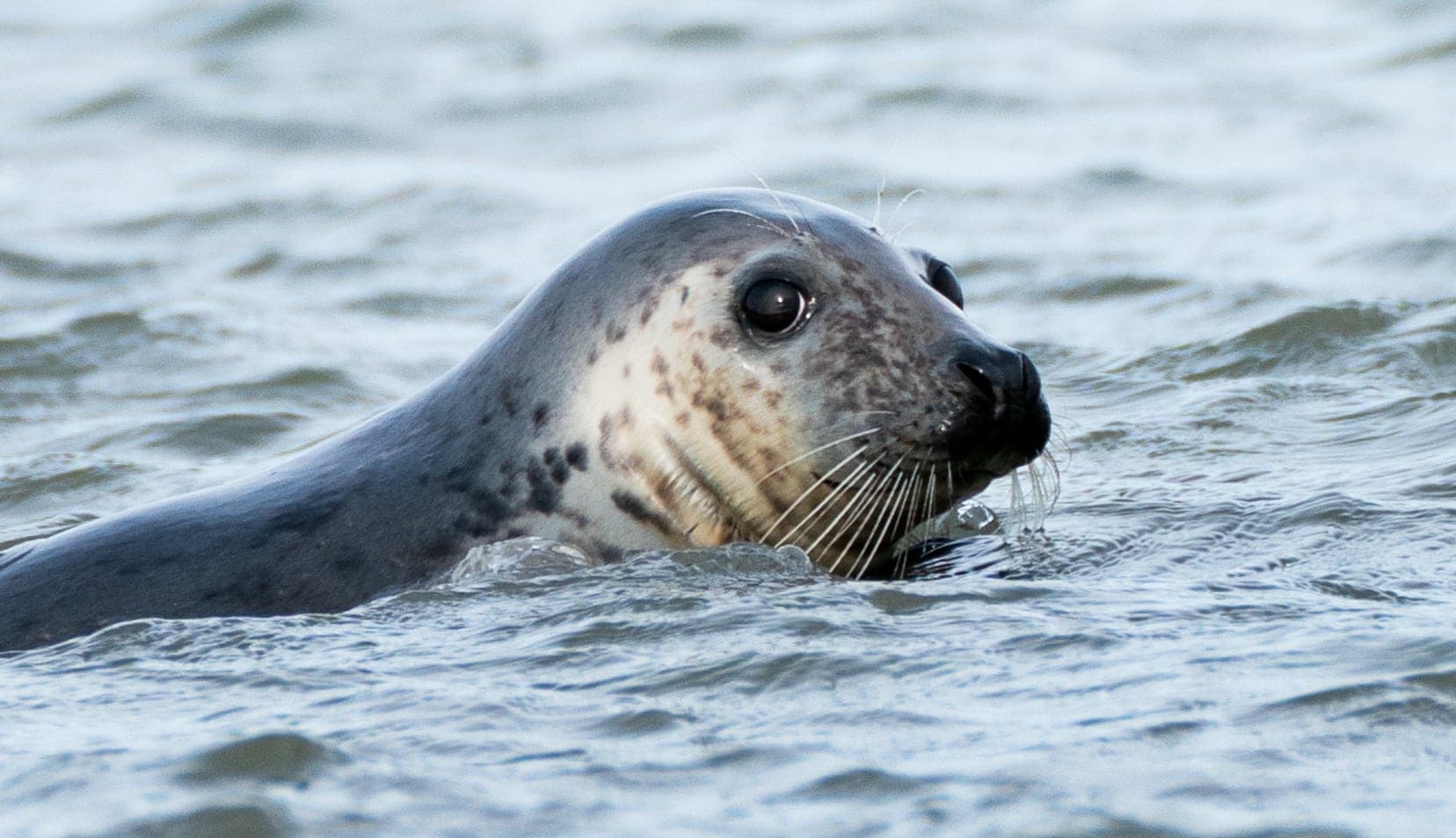 16. Stonehaven Fireballs
Stonehaven has a unique way of welcoming the New Year, or Hogmanay as it's known in Scotland. Forty or so locals swing fireballs in a parade down the High Street at midnight on 31st December, with thousands of onlookers joining in the frivolity.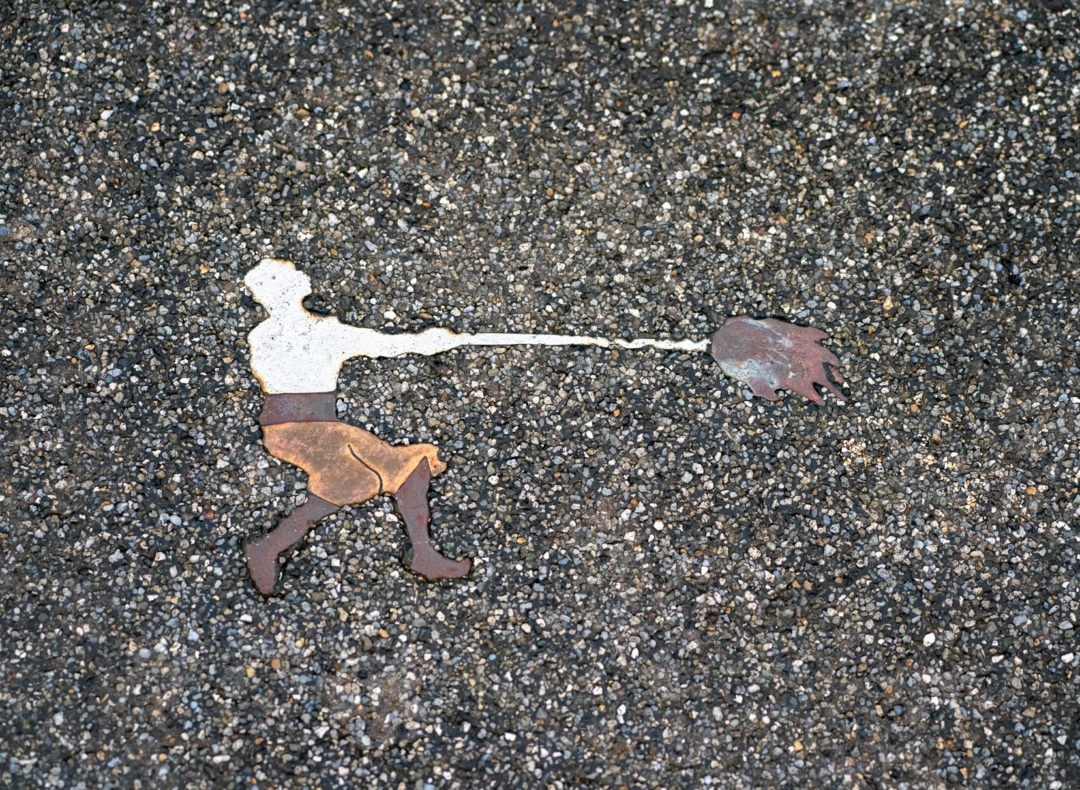 Most people gather in the streets from about 10 pm with street entertainment beginning around 11 pm. After the procession, a fireworks display tops off the New Year celebrations.
If you are planning on seeing this sensational spectacle, make sure to get to Stonehaven early as parking can be an issue. The high street is blocked off to spectators once a certain number of spectators are reached, normally around 11 pm.
Admission: FREE
Steve Marsh, a Scottish vlogger, captured the Stonehaven Fireball Ceremony, welcoming in 2023, brilliantly – have a look at his video below:
Stonehaven: Good to Know
---
Where to Stay in Stonehaven
There are plenty of accommodation choices in Stonehaven, and if you are in a motorhome or camper then you have a campsite right at the end of Stonehaven's beach.
For hotels and B&Bs in and near Stonehaven check out the deals available on Booking.com
Getting to Stonehaven
By Train: Stonehaven has its own railway station which is about a 15-minute walk to the town centre. Therefore it is easy to get to by train if you don't have your own transport. The journey is about 2.5 hours from both Edinburgh and Glasgow and 20 minutes from Aberdeen.
By Car: Aberdeen to Stonehaven — about 30 minutes on the A92; 2.5 hours from Edinburgh (M90 and A90) and Glasgow (A90).
Stonehaven Tours and Day Trips
There are numerous day trips and tours in the Stonehaven area to suit all budgets and time frames.
Have a peek at a few here on Tripadvisor and I've chosen a few here from Get Your Guide:
Things to do in Stonehaven … And That's a Wrap
Stonehaven has plenty to keep you busy for a couple of days or an afternoon, depending on your time frame and interests. This historical harbour town quickly envelops you in its sea-loving community offering a mix of adventure, history and relaxation.
If you found this post useful you may also wish to read other articles on places to visit in Aberdeenshire, such as:
---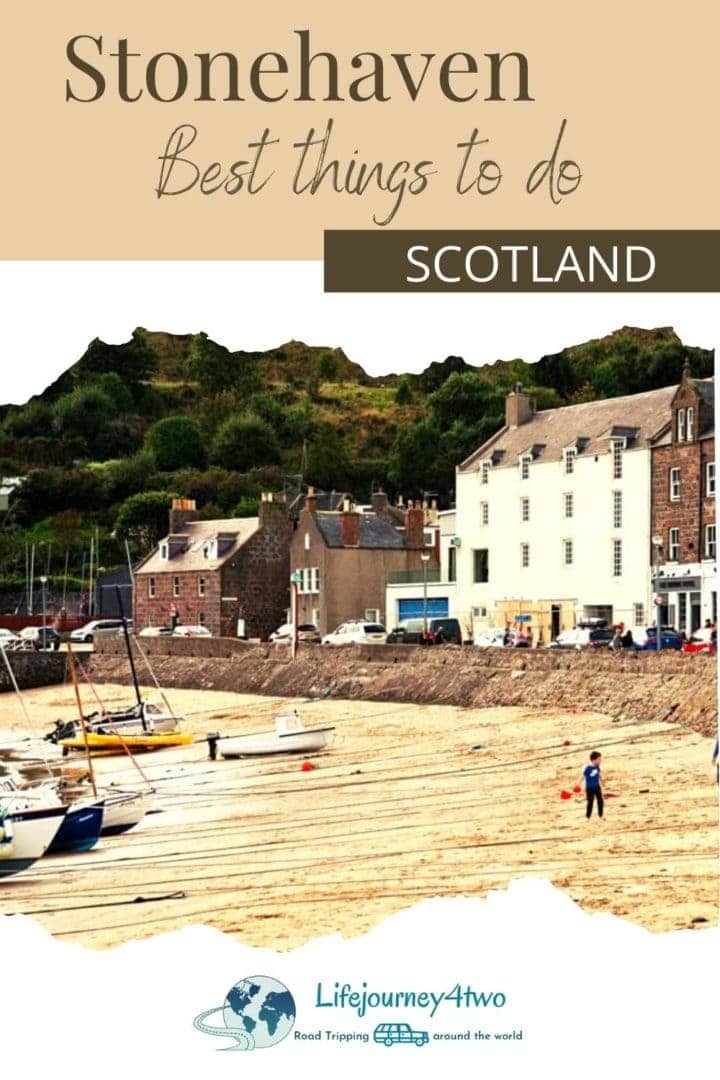 ---
PLANNING YOUR TRAVELS?
These are some of the travel resources we use when planning our trips.
For a more thorough list visit our Travel Resources page here.