Wondering what to do in Aberdeenshire?
Look no further – we've done all the hard work for you.
Having lived in Aberdeen for more than a year, we planned heaps of road trips, exploring every nook and cranny of the county. So, as locals, we know a thing or two about the best things to do in Aberdeenshire.
And did you know that Aberdeenshire was Goodhousekeeping's best holiday destination in the UK for 2023? Impressive hey!
Aberdeenshire is primarily known for its many castles, but its coastline is jam-packed with fantastic viewpoints and is a haven for many seabirds. There are gardens galore, historical locations and buildings and enough to see and do to keep you busy for weeks.
With its beautiful landscapes, exciting outdoor activities and rich cultural offerings, Aberdeenshire is an ideal destination for either a weekend away or a week or two holiday.
To make things easier to plan, we've listed everything to do in Aberdeenshire in the order you find them as you travel through the county.
Things to do in Aberdeenshire Map
This interactive map includes all the places and things to do in Aberdeenshire that we mention in this article.
Planning a Trip to the U.K.?
1. Portsoy
Portsoy is one of the oldest harbours in Europe, and it also hosts the annual Scottish Traditional Boat Festival in the summer. It's an idyllic place to escape the hustle of city life and enjoy its colourful harbour and coastal views.
While wandering the picturesque 17th-century harbour, why not grab homemade artisanal ice cream at Portsoy Ice Cream on Seafield Street?
The next Portsoy Traditional Fishing Boat Festival is from Saturday 22nd and Sunday 23rd June 2024. 
2. Crovie
Crovie is a conservation village, much like Pennan, though most of its houses are now used as holiday homes due to the violent storms that batter the houses in winter.
A single row of houses faces the sea with only a narrow stretch of land between the two. You can't drive down to the village unless you are staying there, but there is a car park on the hill just above the village.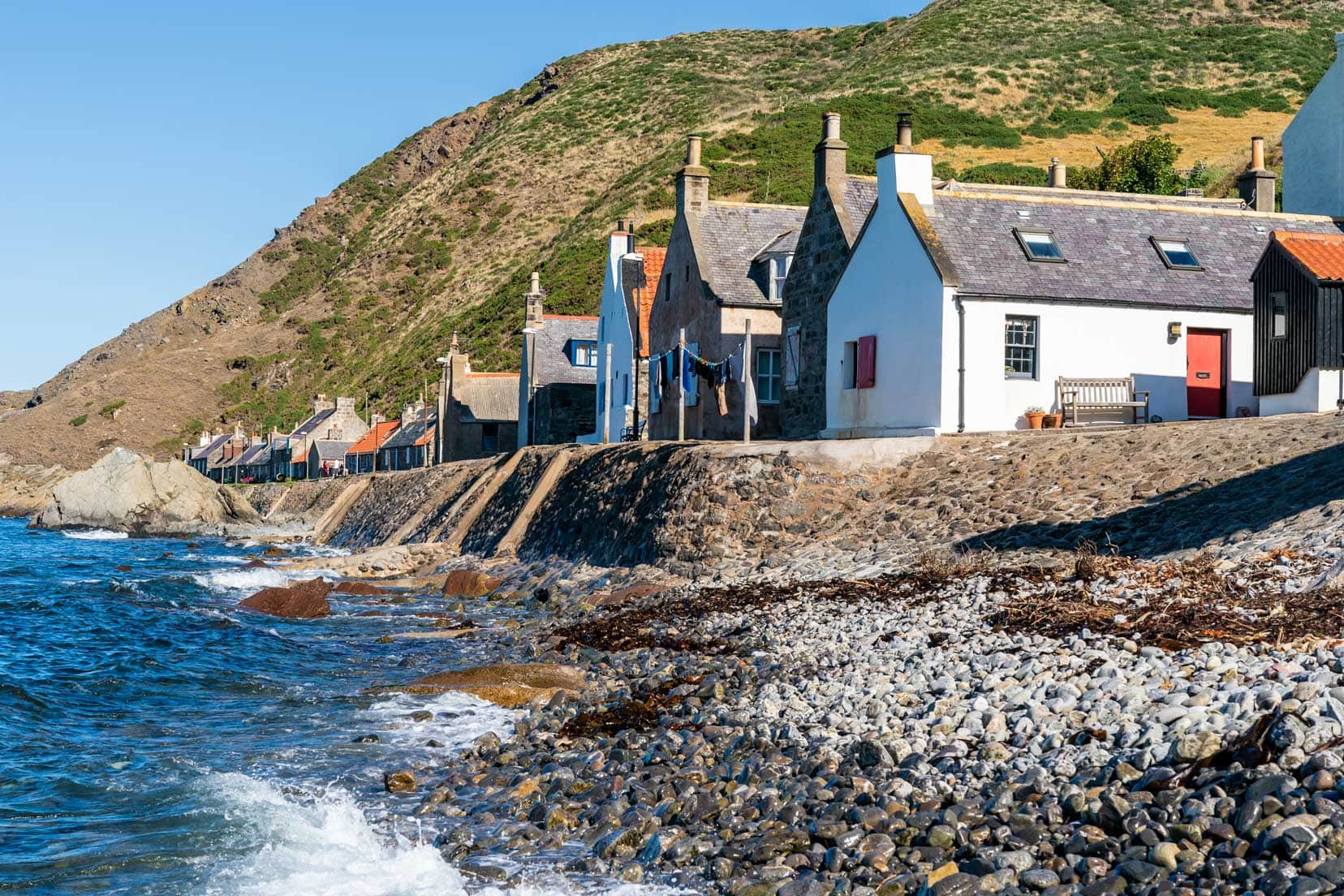 3. Troup Head
Take a visit to Aberdeenshire's Troup Head on the northeast coast and watch thousands of gannets nesting and breeding in spring and summer.
Troup Head on the northeast coast of Aberdeenshire is an absolute must-visit. With its breathtaking views over the Moray Firth and incredible wildlife, it's no wonder why this spot has been designated as a Special Protection Area.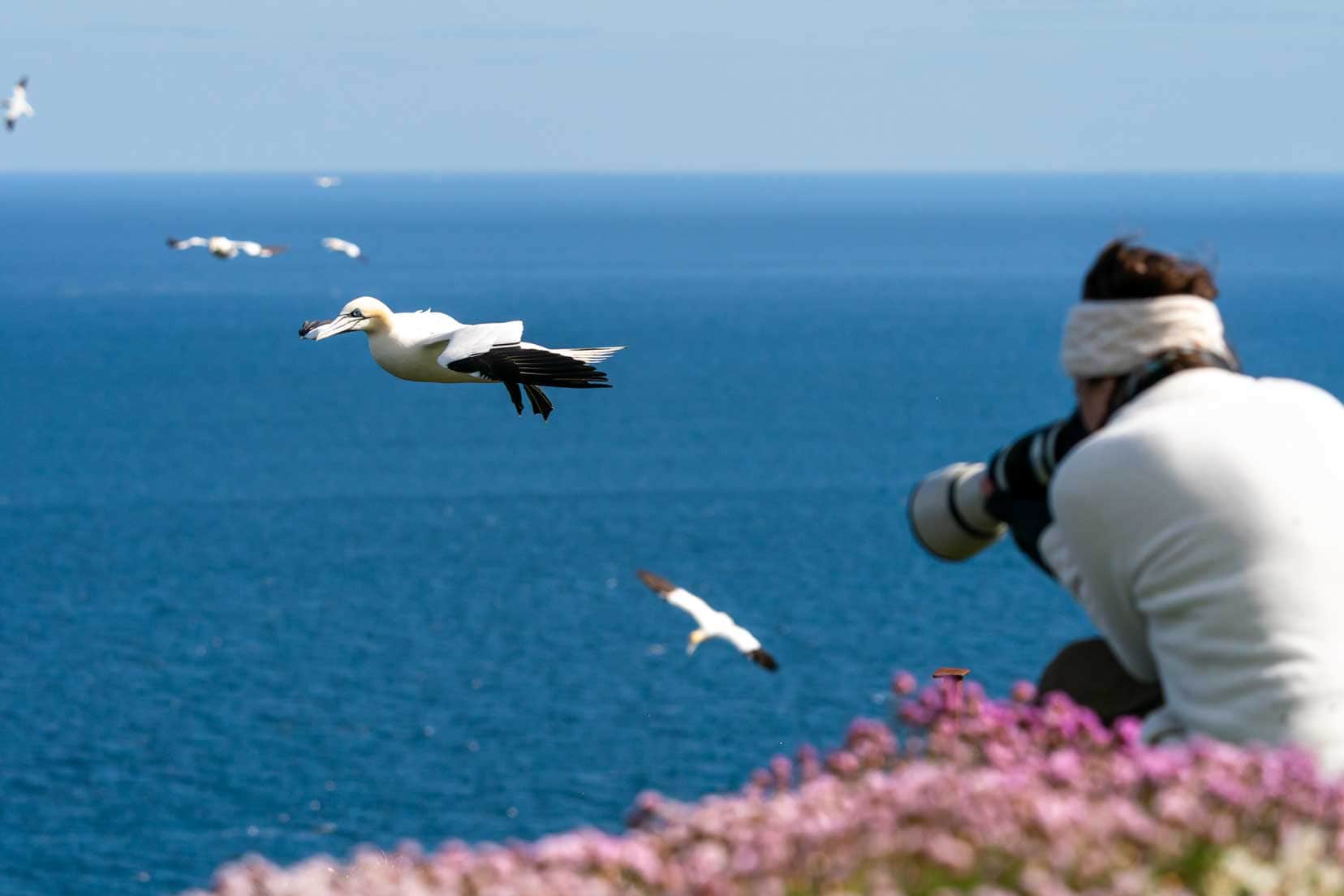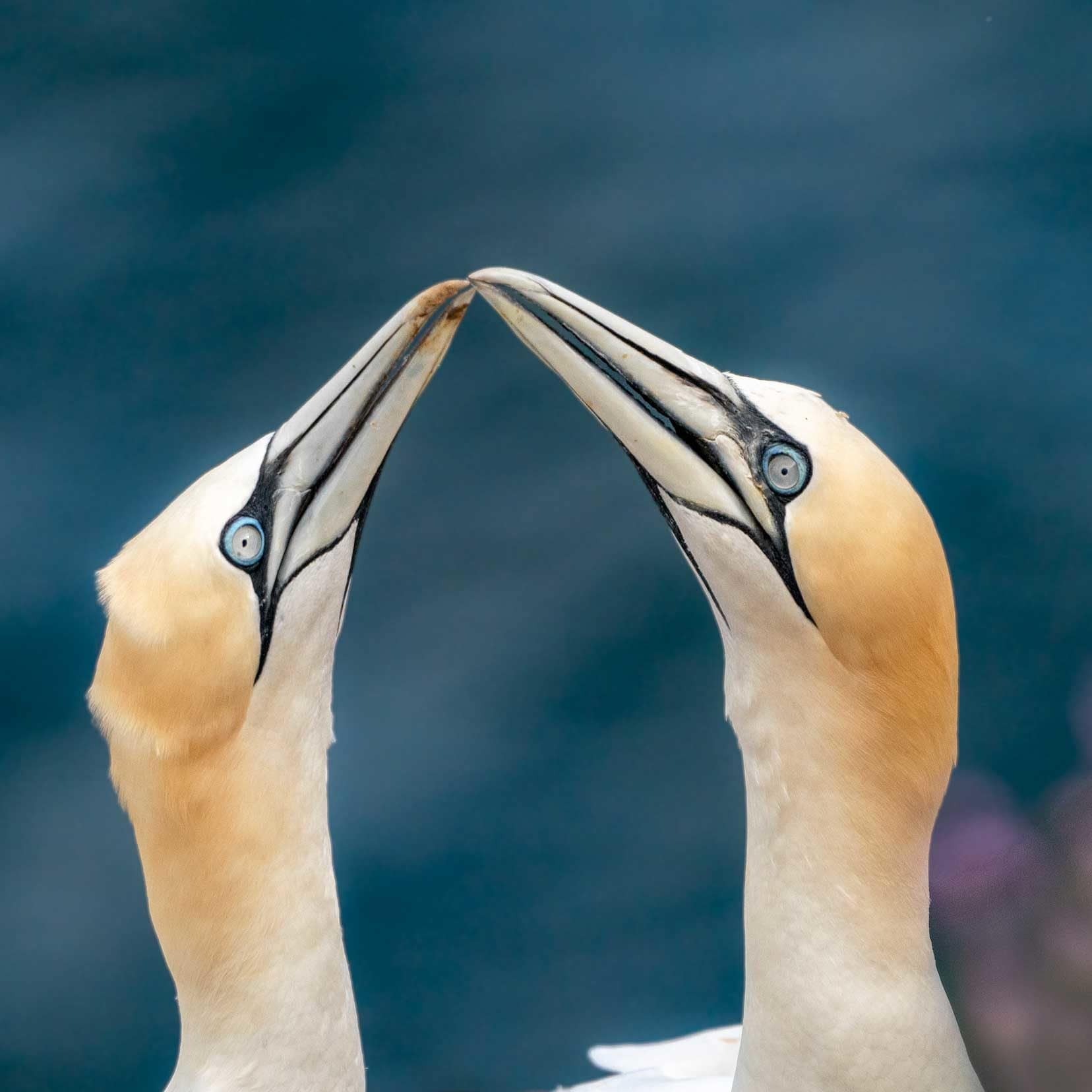 If you're lucky enough to be at Troup Head during springtime, you might spot migrating whales from the top of Troup Head's cliffs. But the highlight of our trip to Troup Head was its gannet colony — a memorable and rare sight. Hundreds of gannets nested on the cliffs, filling the air with their calls; a very special experience.
Whether you're just out for a leisurely stroll or want to try your hand at some birdwatching, Troup Head will leave you with lasting memories.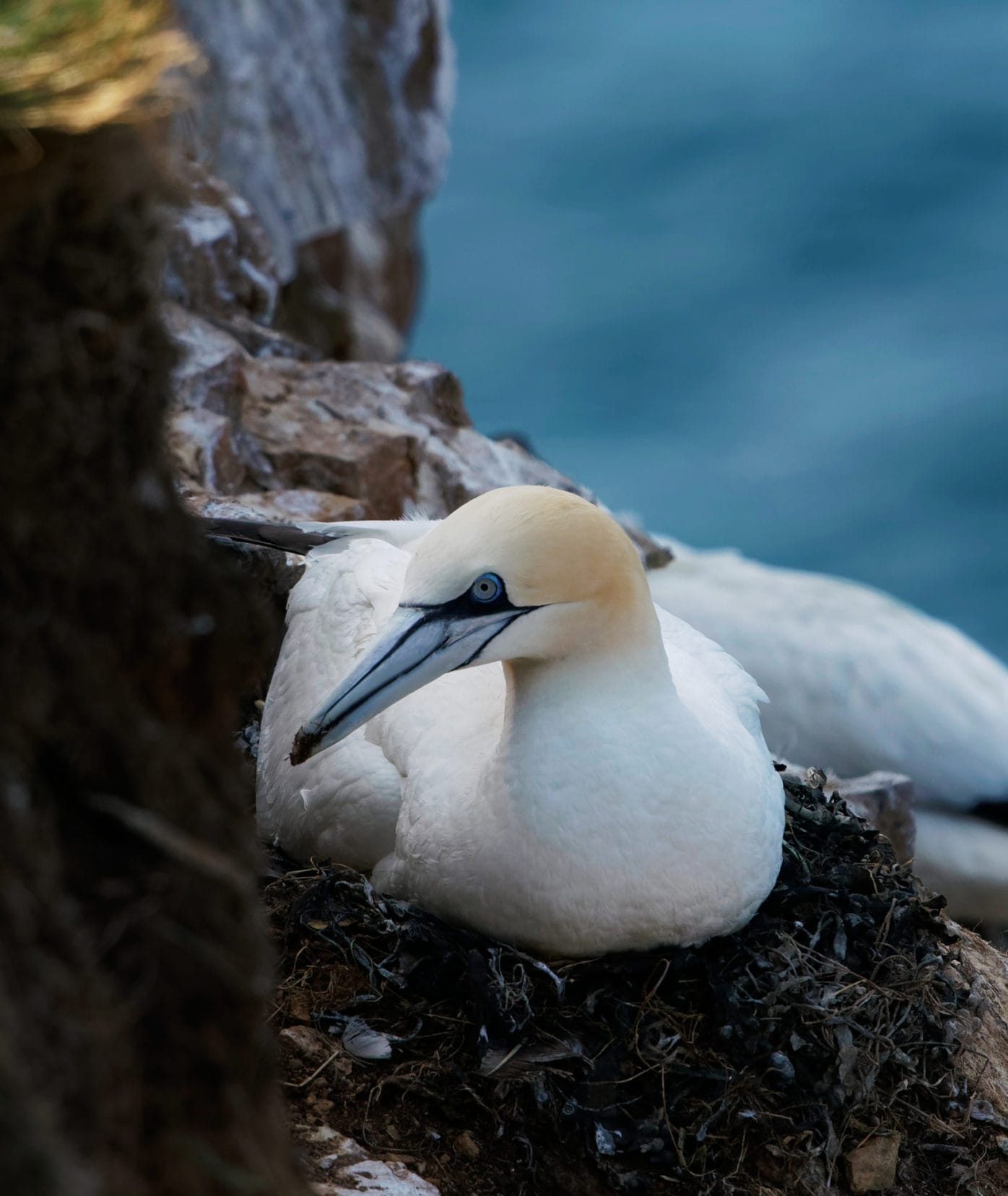 4. Pennan
The tiny village of Pennan is famous because it was here that the blockbuster film Local Hero was filmed in 1983.
The main character makes several phone calls from the fictional Scottish village to the US from the red phone box still in the village. Therefore, many tourists like to take selfies in the box – and we were no exception.
You can't miss the red box, Pennan is pretty much one street with the harbour on one side and the houses on the other. All the houses sit at the bottom of the north-facing cliffs. There is just enough space for a single row of dwellings. Many placed gable ends onto the sea as protection from the elements.
Access to Pennan is down a narrow and steep road that emerges onto the village's single street at a junction beside the Pennan Inn. Turn left at the junction to park in a small car park at the western end of Pennan.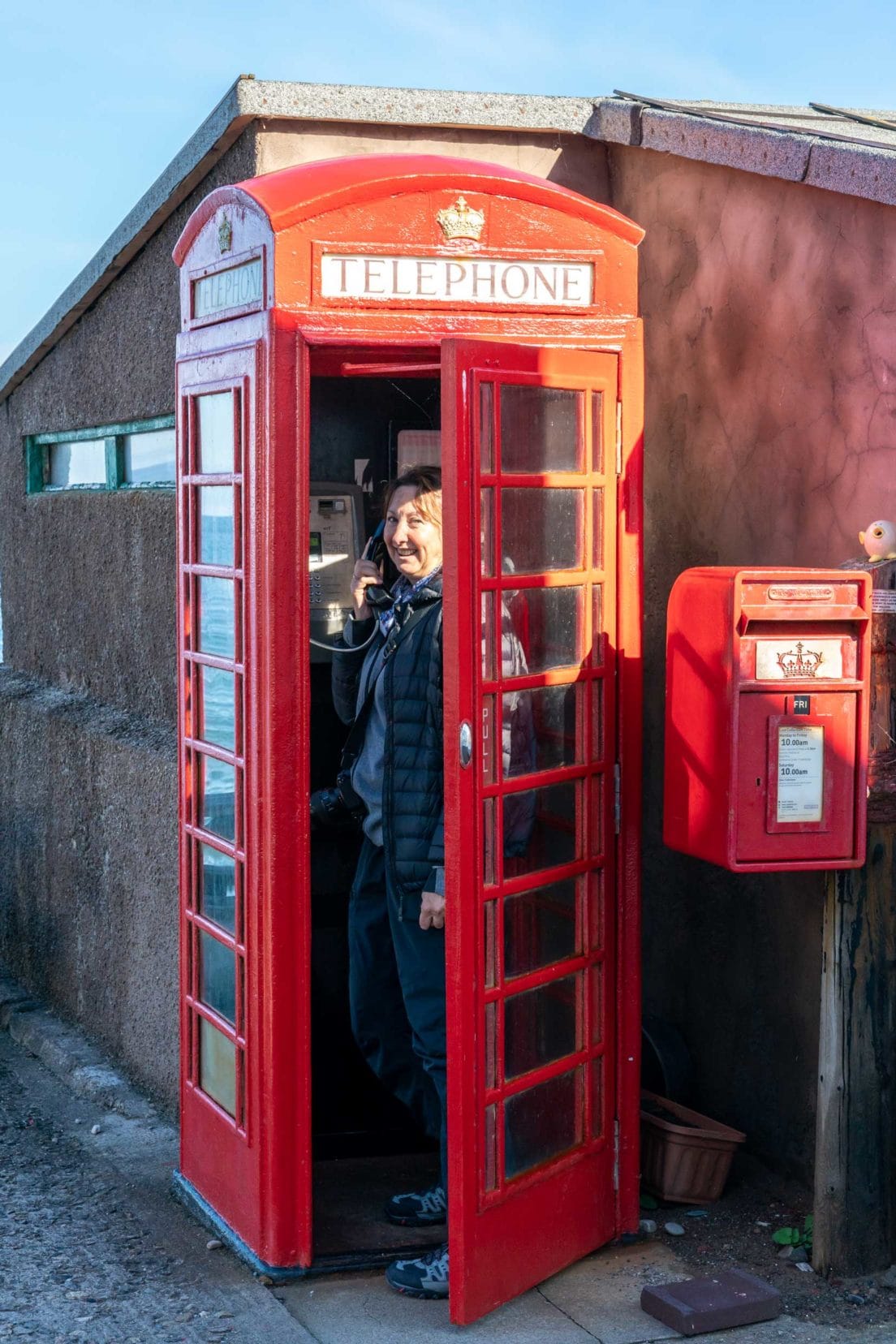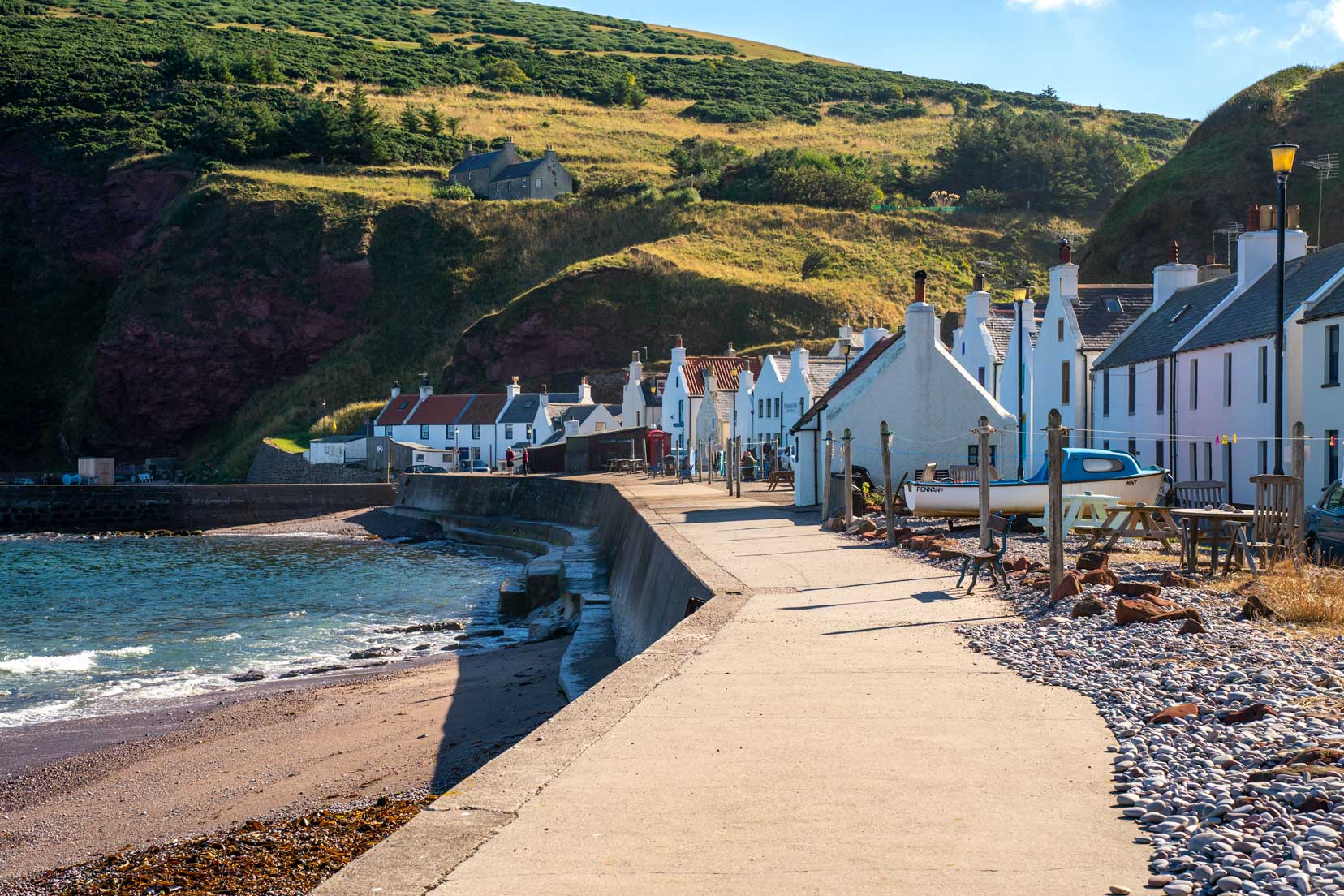 ⭐️ Why not Book a tour from Aberdeen to explore Aberdeenshire's coastal villages, including Pennan, Crovie, Fraserburgh and Slains Castle at Cruden Bay? Learn about its maritime past and hear stories of smugglers and intrigue. |⏰ 8 hours | ⭐️ 4.9/5 Star Reviews
5. Visit Fraserburgh
There are plenty of things to do in and around Fraserburgh, Aberdeenshire's major fishing port.
If you are a water sports enthusiast, Fraserburgh Beach is a surfing and windsurfing hotspot, and if you're lucky, you may spot dolphins swimming along the coast.
One of the main attractions is the Kinnaird Head Lighthouse – a lighthouse that was built in the middle of a 16th-century castle. The Museum of Scottish Lighthouses, where you can learn about Scotland's lighthouse history, is right beside it.
Volunteers run Fraserburgh's Heritage Centre, which documents some of the town's fishing, railway and wartime history. (Note that as of December 2023, the centre was still fundraising for restoration costs. The building suffered extensive damage caused by the storms in November 2021)
Don't forget to bring your camera along to capture some wonderful shots of this rugged coastline. It can be particularly dramatic on windy days. These strong winds are regular visitors to the Aberdeenshire coast.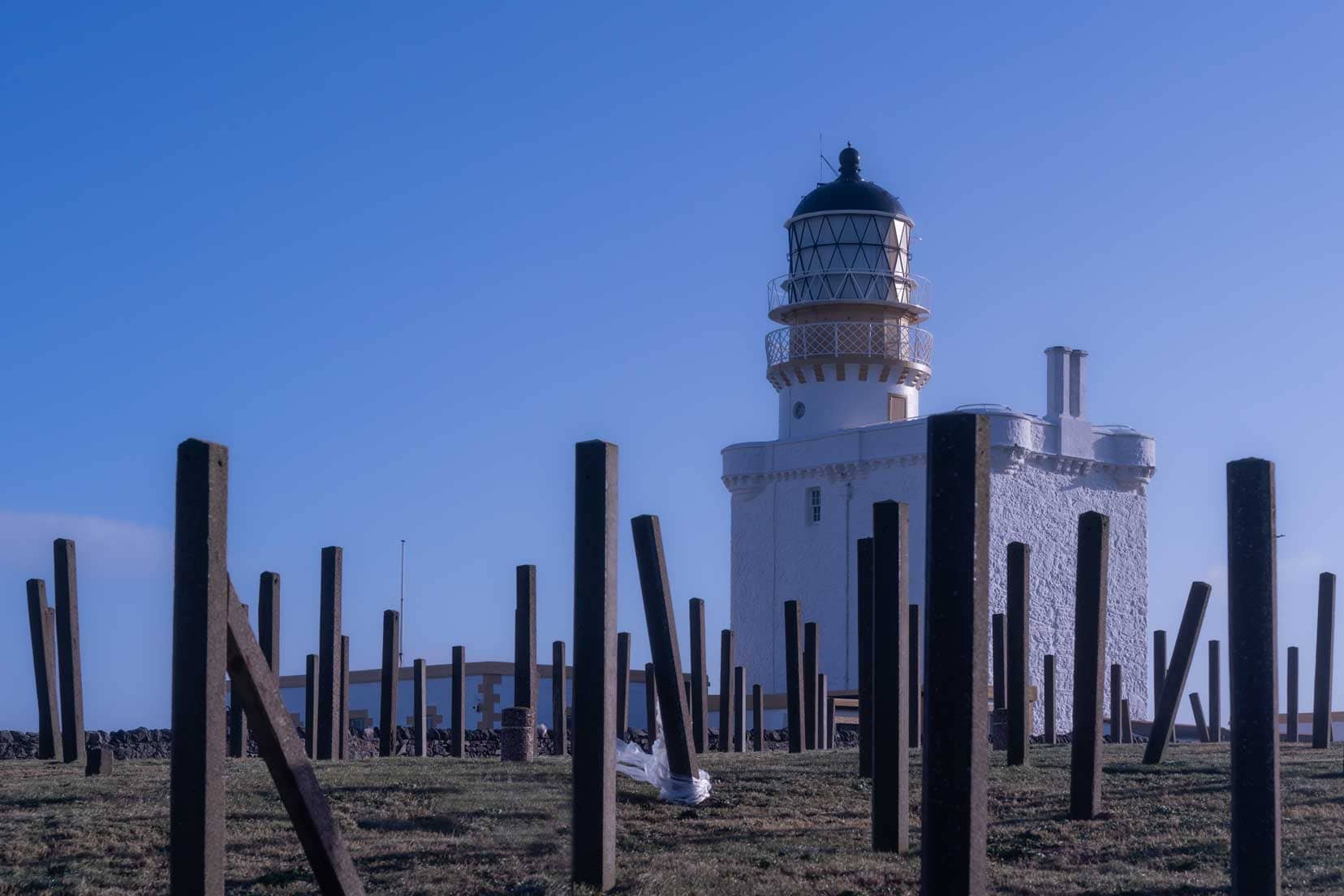 If you are a water sports enthusiast, Fraserburgh Beach is a surfing and windsurfing hotspot and if you're lucky, you may spot dolphins swimming along the coast.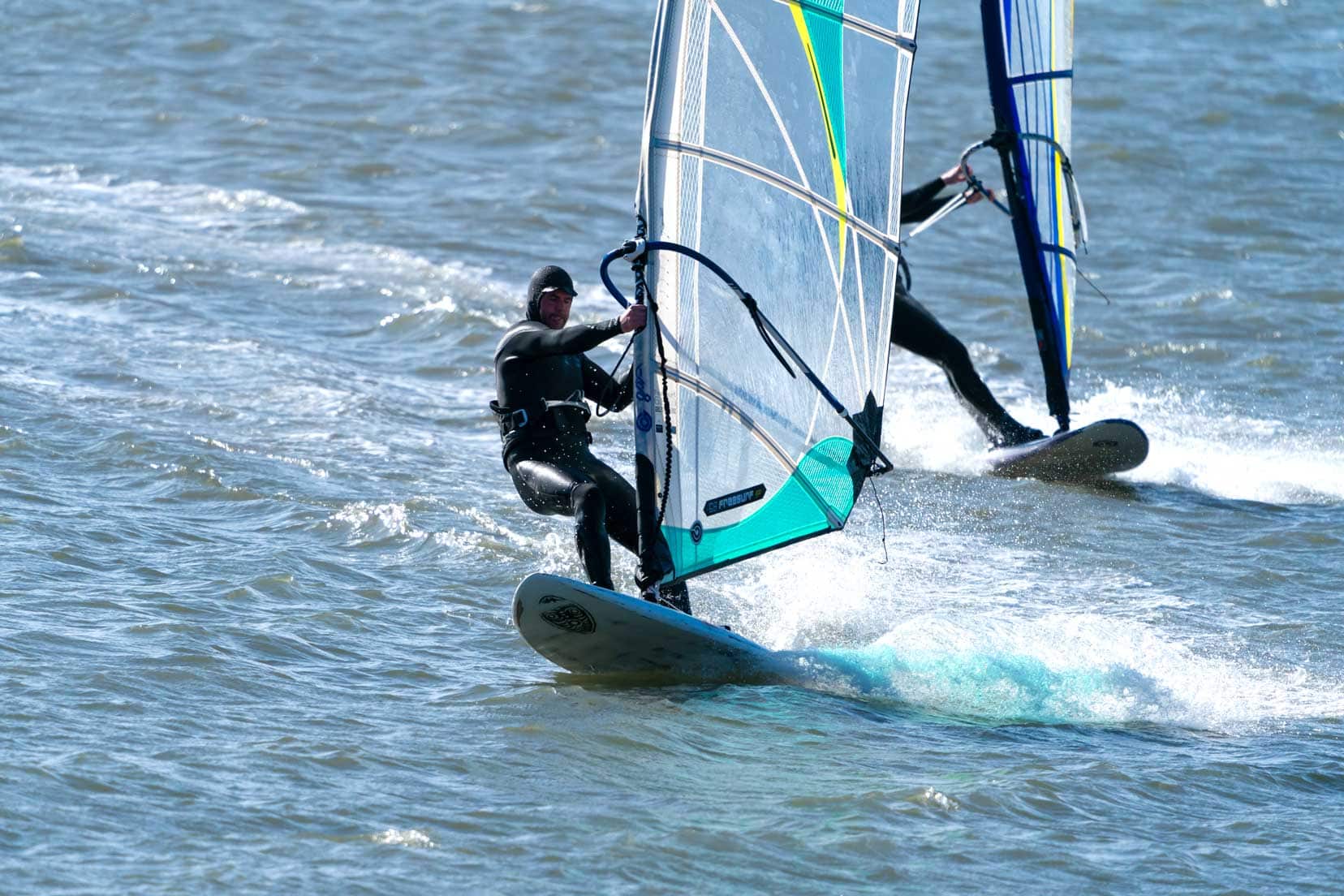 6. Loch of Strathbeg
Loch of Strathbeg Nature Reserve is a wonderful wetland teeming with wildlife. Owned by the RSPB (Royal Society for the Protection of Birds), it is the largest dune loch in Great Britain. With over 560 species of wildlife, a walk along many of the reserve's walking trails will likely introduce you to several of the community's birdlife.
It is touted as one of the best birdwatching sites in Scotland. In fact, while we were there, there was palpable excitement among the birdwatchers as a rarely seen greater yellow leg was spotted several times in the Reserve.
Some of the Strathbeg birding trails are only open in summer (Fen and Bay Hides Trail), but in winter, you can still walk to Tower Pool Hide and watch the geese that migrate here from the Arctic.
Popular visitors in winter are the pink-footed geese that begin to arrive in autumn from Greenland and Iceland.
The wetland also includes five miles of beach along the coast.
Keep an eye out for the Konik ponies in the wetlands here. They are a hardy breed of pony originating in Poland and are used to assist conservation methods in areas such as lowland wetlands.
They are semi-wild horses that graze on dense vegetation, and their grazing then encourages a rich diversity of habitats and encourages wildflower growth.
Opening Times: The nature reserve and hides are open at all times (free of charge)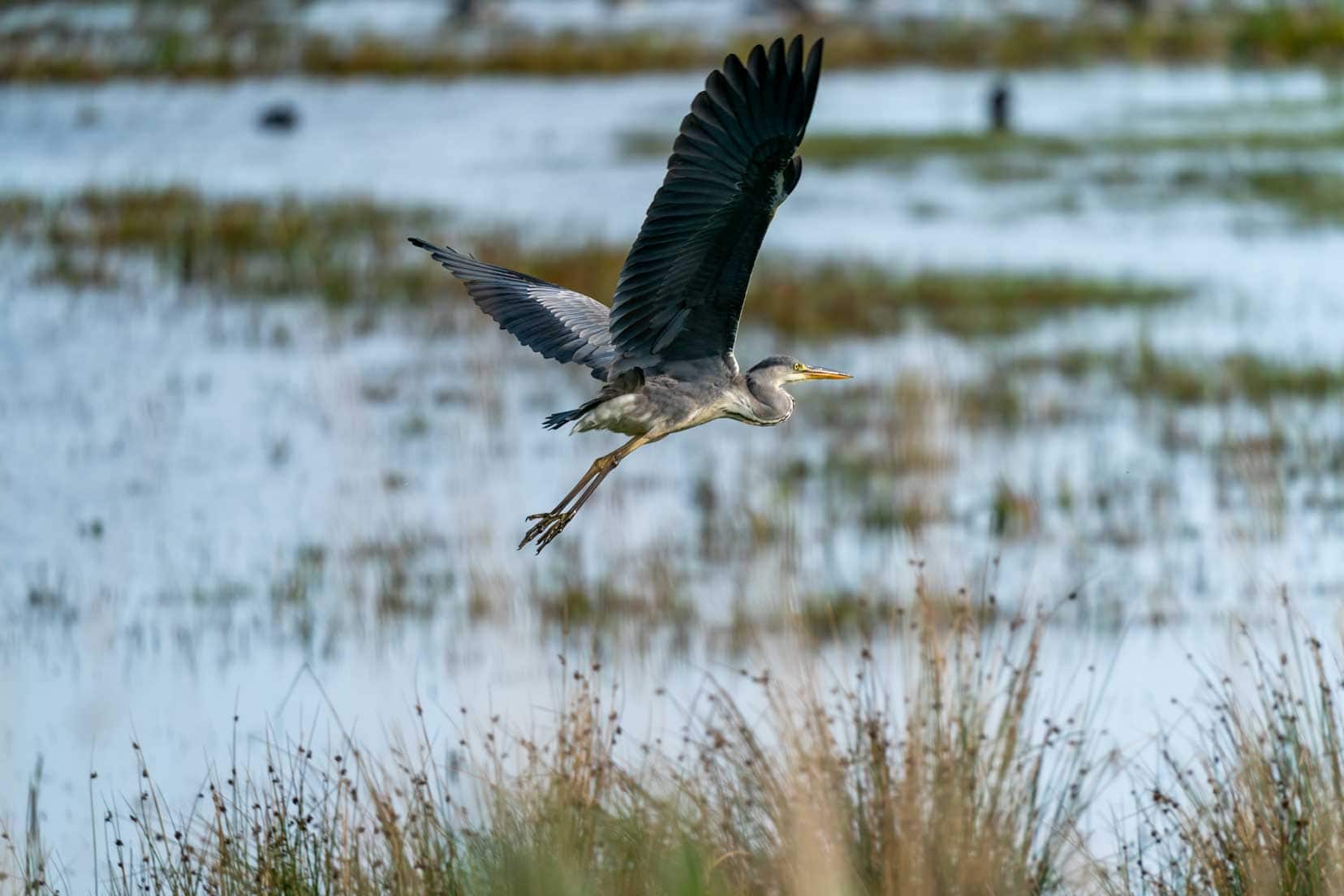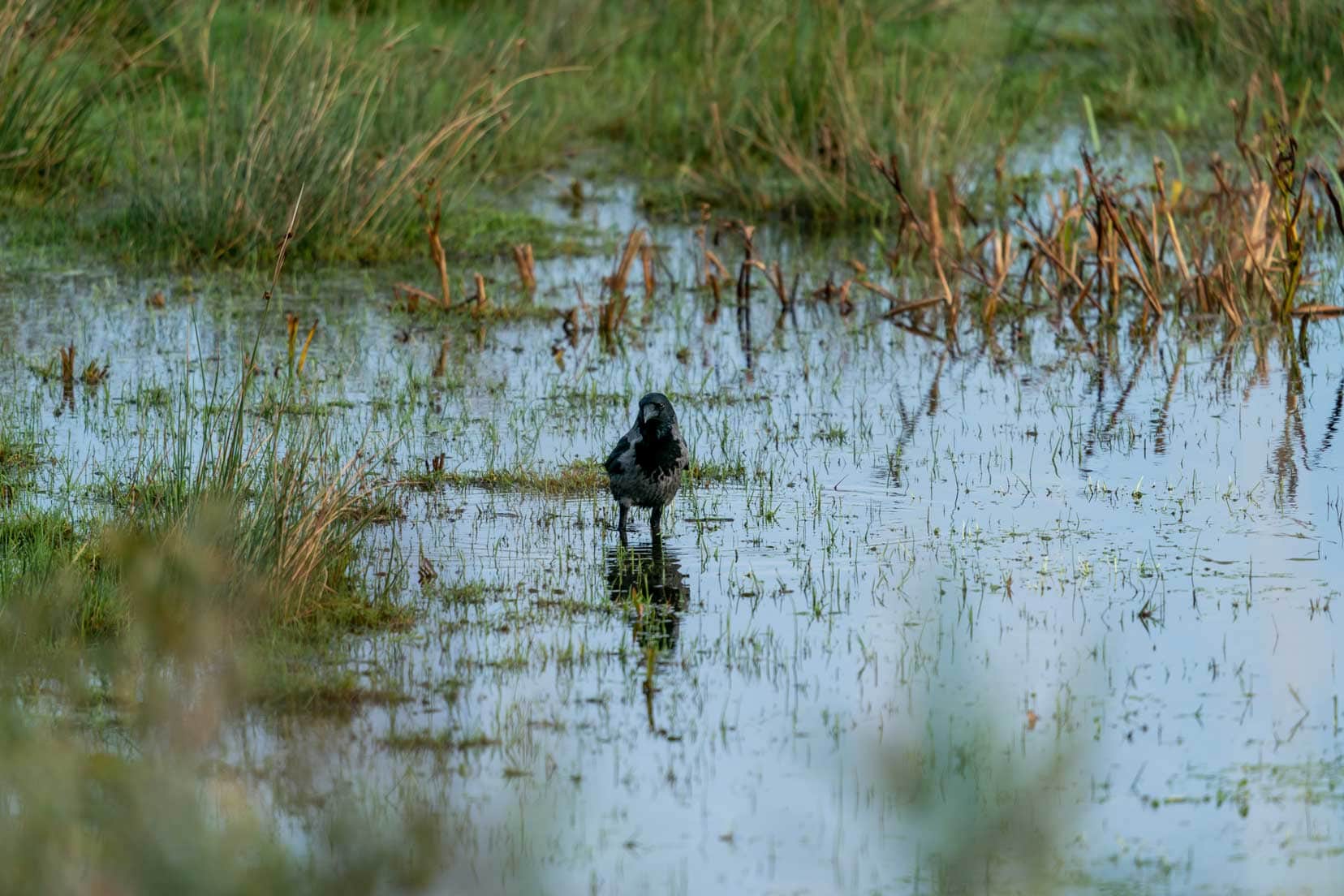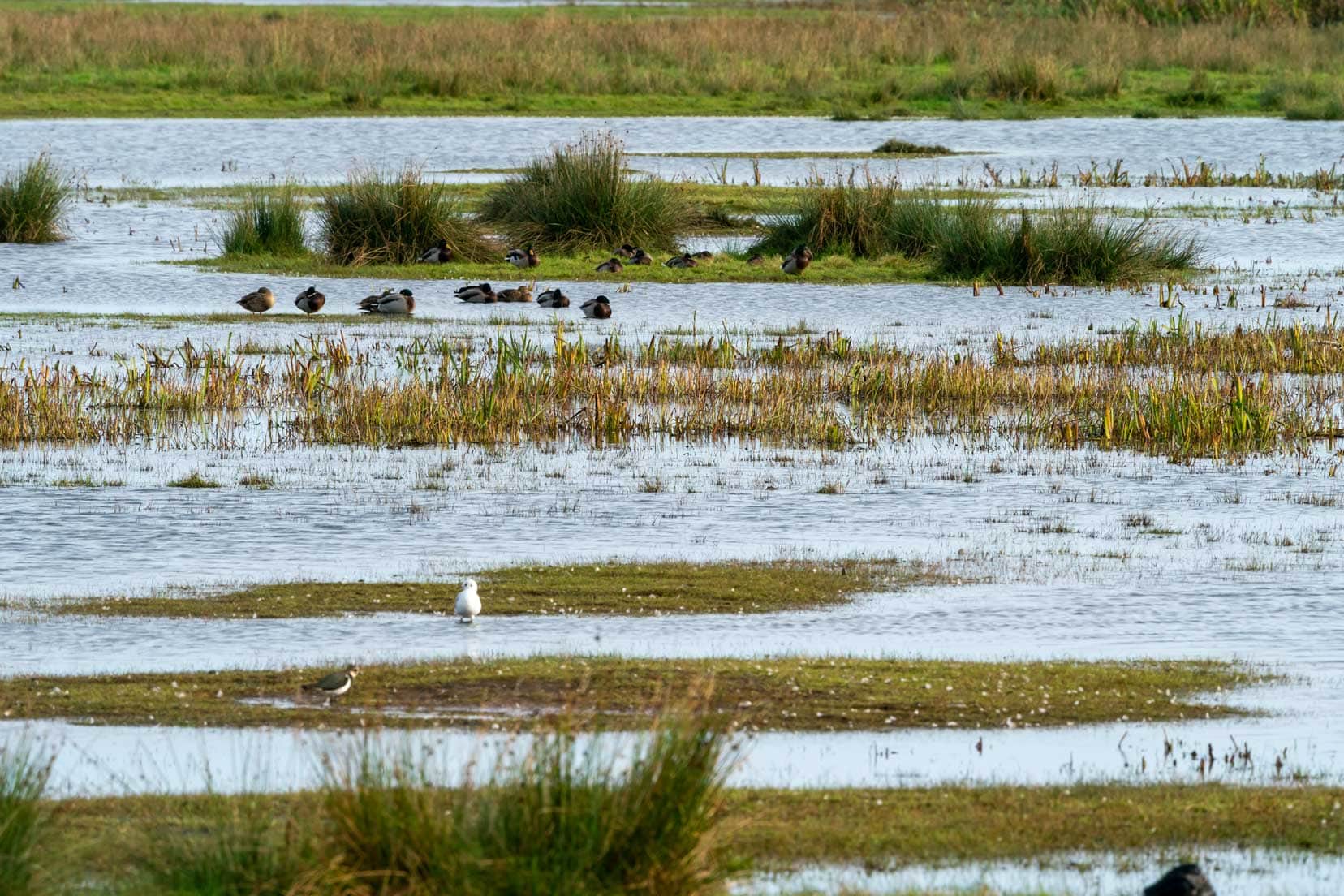 7. Rattray Head Lighthouse
In recent years, Rattray Head Lighthouse has become an iconic symbol of the area and remains an important part of Aberdeenshire's maritime heritage. It was built in 1787 to warn seafarers of the treacherous rocks off the northeast coast.
Photographers have been drawn to the area due to its unique location and breathtaking views. Photos of the sun rising behind the lighthouse can be stunning.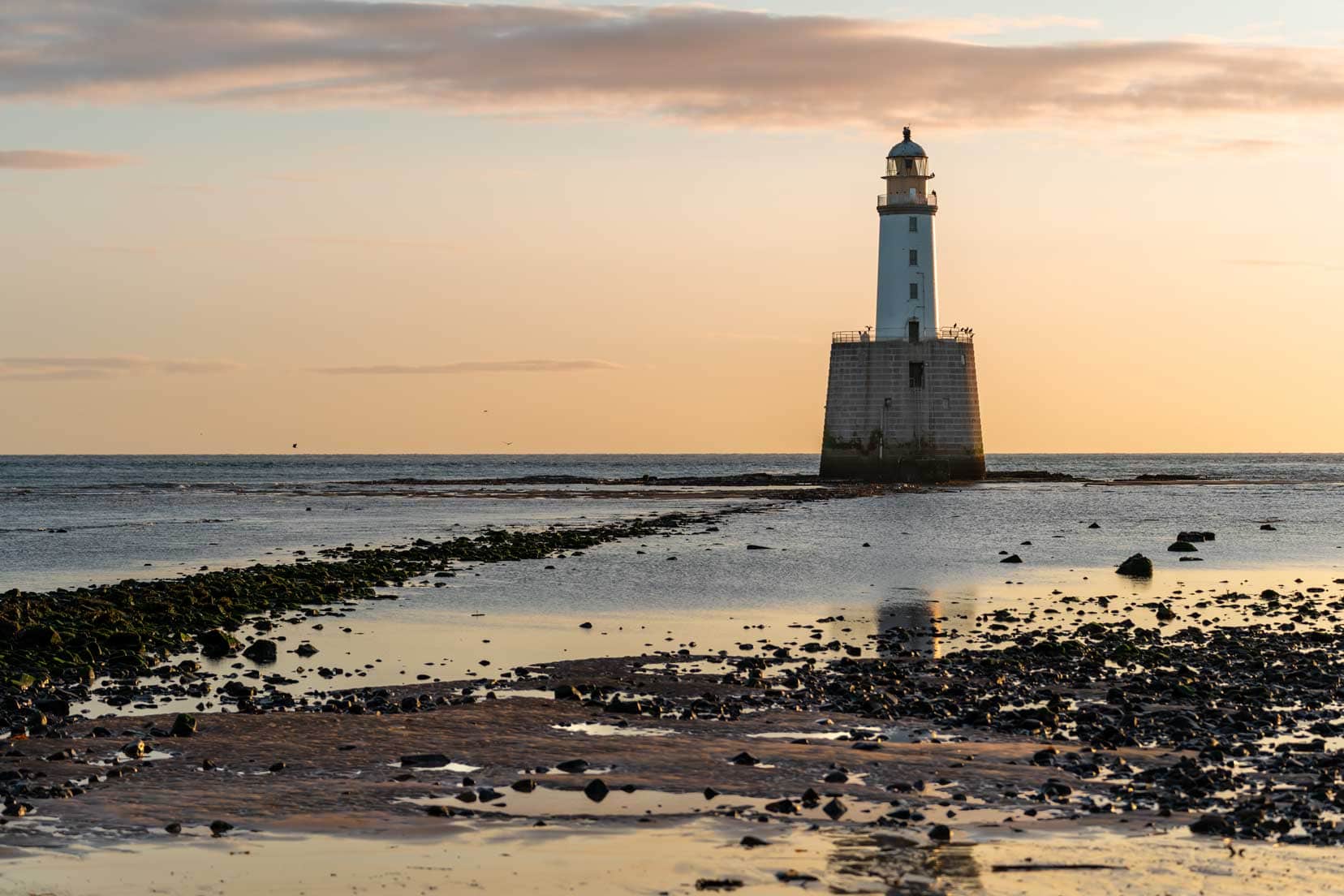 8. Peterhead Prison Museum
A visit to Peterhead Prison Museum gives you an interesting insight into what life was like for both inmates and prison guards in Scotland's first convict prison.
An audio guide brings stories and information to life as you follow the guiding arrows through the prison.
The most memorable story, and assault to the nose, was the prison cell coated in poo, showing how prisoners had rebelled in the 1987 prison riots.
Another prison cell was splattered with blood (pictured below). Somehow, Lars missed the room with the poo, and as he was the one taking photos that day, we didn't have a photo. I've no idea where he thought the smell was coming from!
Opening Times: Apr-Oct daily
While in the area, you may like to wander along the two miles of Cruden Bay's coastline or play a round of golf at its golf course.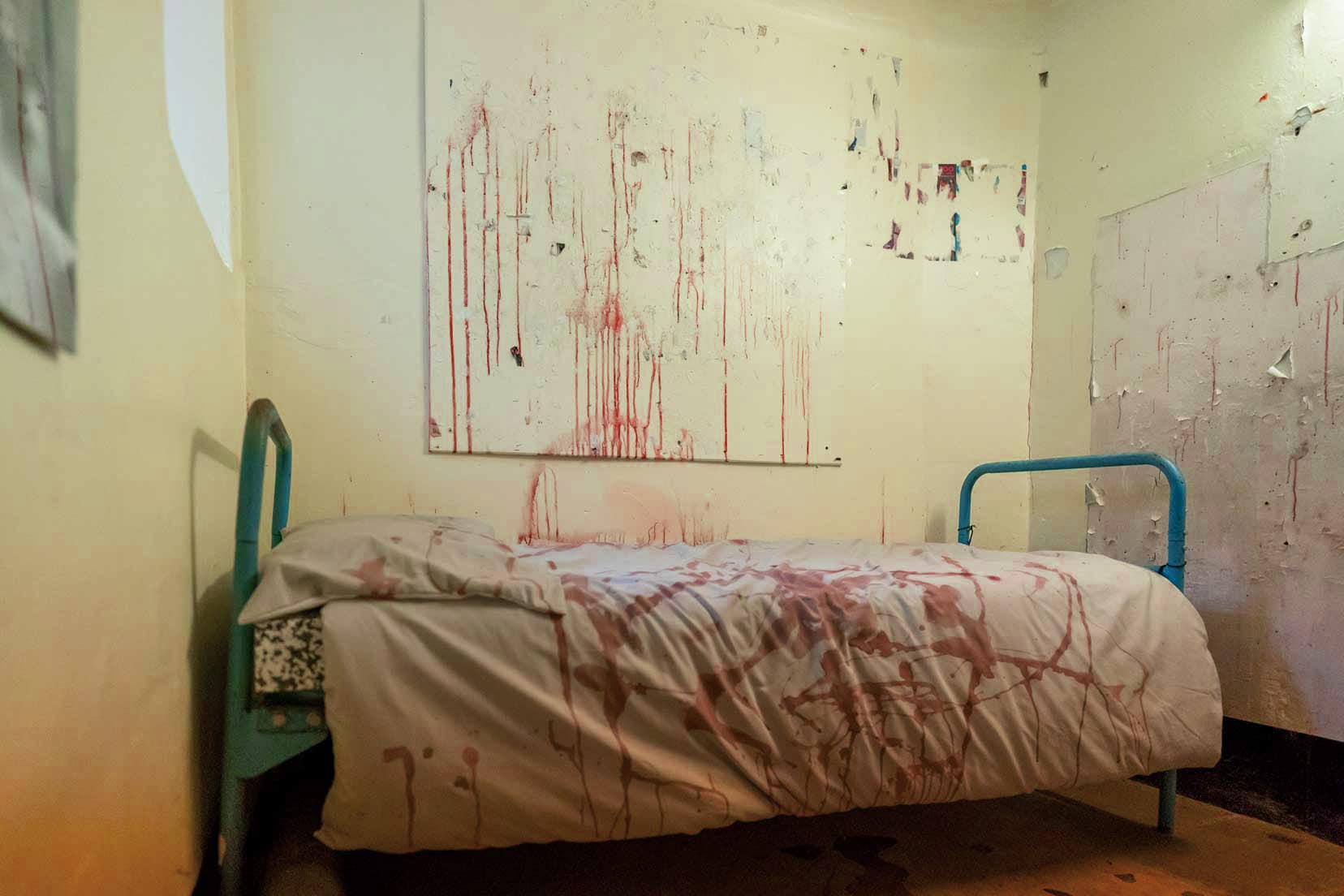 9. Bullers of Buchan
Bullers of Buchan is a haven for seabirds, and if you visit in late spring and summer, you may be lucky enough to spot nesting puffins.
Here, you find a collapsed sea cave which has resulted in a 30-metre-deep chasm and scenic views out to the North Sea.
The area also offers some fantastic walking trails, and on a clear day, you may even spy dolphins playing in the waves below or seals sunning themselves on the rocks.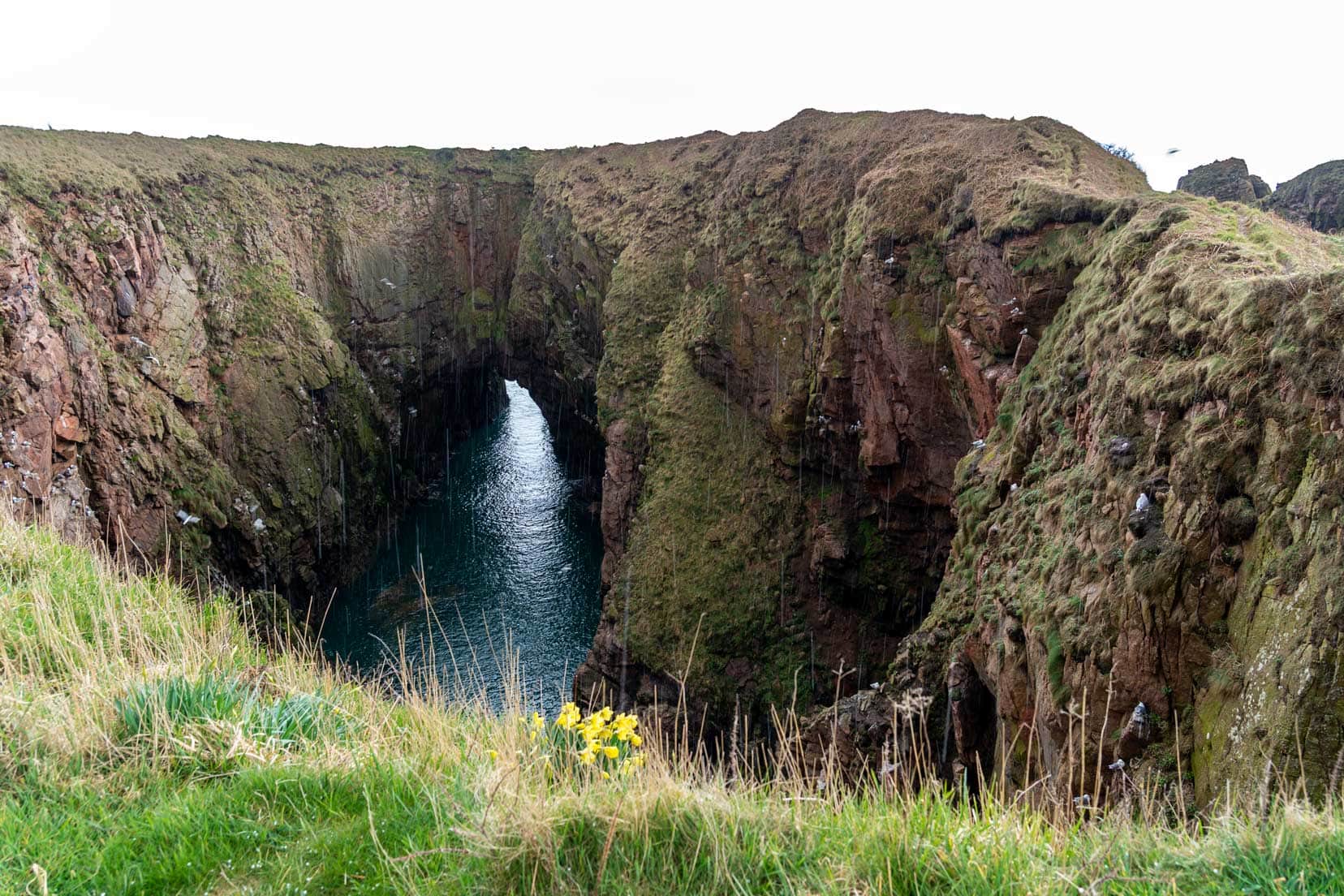 Enjoy a small group tour around the northeast coast — including exploring Aberdeenshire's coastal delights of Bullers of Buchan, Slains Castle, historic Portsoy Harbour, and Cullen Skink in Cullen |⏰ 9 hours | ⭐️ 4.5/5 Star Reviews
10. Slains Castle and Cruden Bay
Slains Castle and Cruden Bay, located on the Aberdeenshire coast, are shrouded in mystery and beauty.
Bram Stoker, the author of Dracula, used to spend his holidays at Cruden Bay, and it is believed that Slain's Castle was the inspiration for his novel.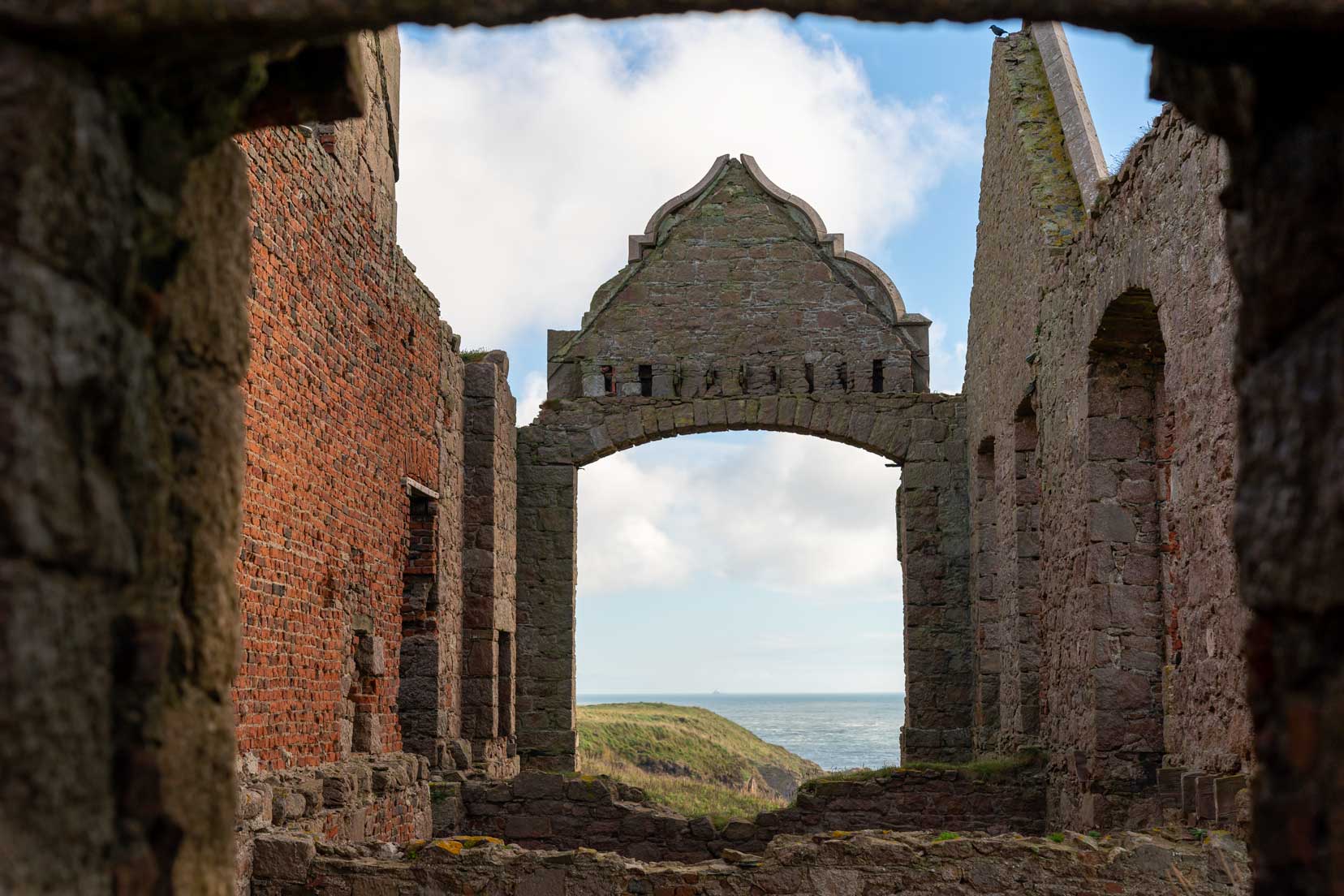 The castle has a long and rich history and has sat on the headland since 1597 when the 9th Earl of Erroll built it. Its gothic architecture adds to its unique charm and mysteriousness. However, some more recent renovations don't do it justice and detract from the charm.
💡 Our Tip: Take a good torch if you go exploring inside the basement of the castle. And be warned, the entranceway is low, so be careful you don't wallop your head on the stone arch.
And if you're wondering. Yes, I did.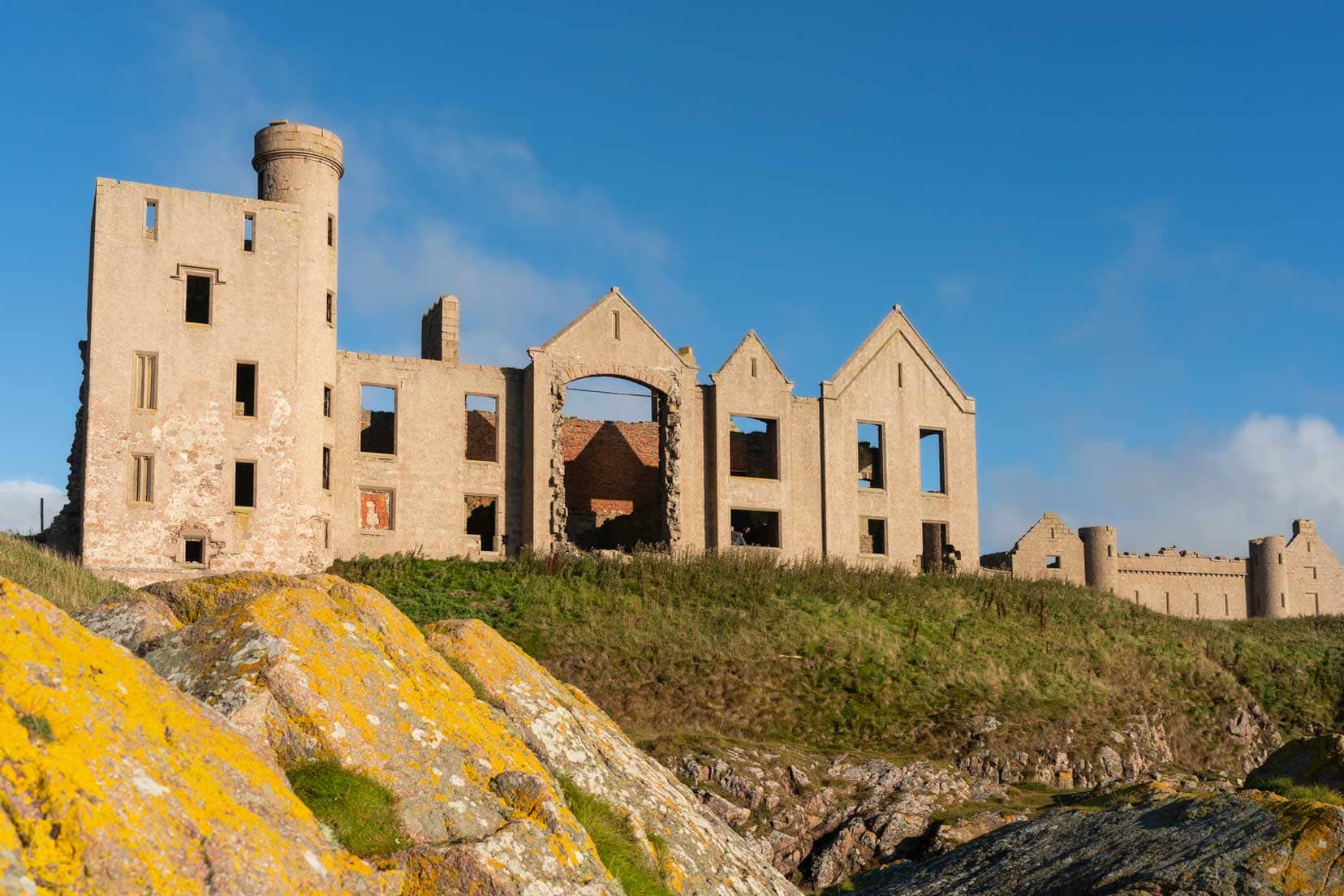 11. Huntly Castle
We visited Huntly Castle in early May, and the spring snow, known locally as Lambing snow, was falling. It gave the castle a raw feeling, and it was easy to imagine the castle in its heyday. I think watching Game of Thrones scenes in the snow might have helped the imagination along;)
For over six centuries, there has been a castle in the area — a prominent position at the joining of two rivers, the Deveron and the Bogie. In the castle, the courtyard is the partial remains of a brewhouse and bakehouse, and you can see where the beer was stirred and bread baked — the lifeblood of the residents of the castle.
The 1st Marquis of Huntly added a heraldic frontispiece to the castle in 1602, and this French-inspired architecture remains today, front and centre.
Historic Environment Scotland manages Huntly Castle, and a fee is charged for entry.
While in the area of Huntly Castle, you may also want to include a visit to Leith Hall or watch Deans of Huntly Shortbread being made.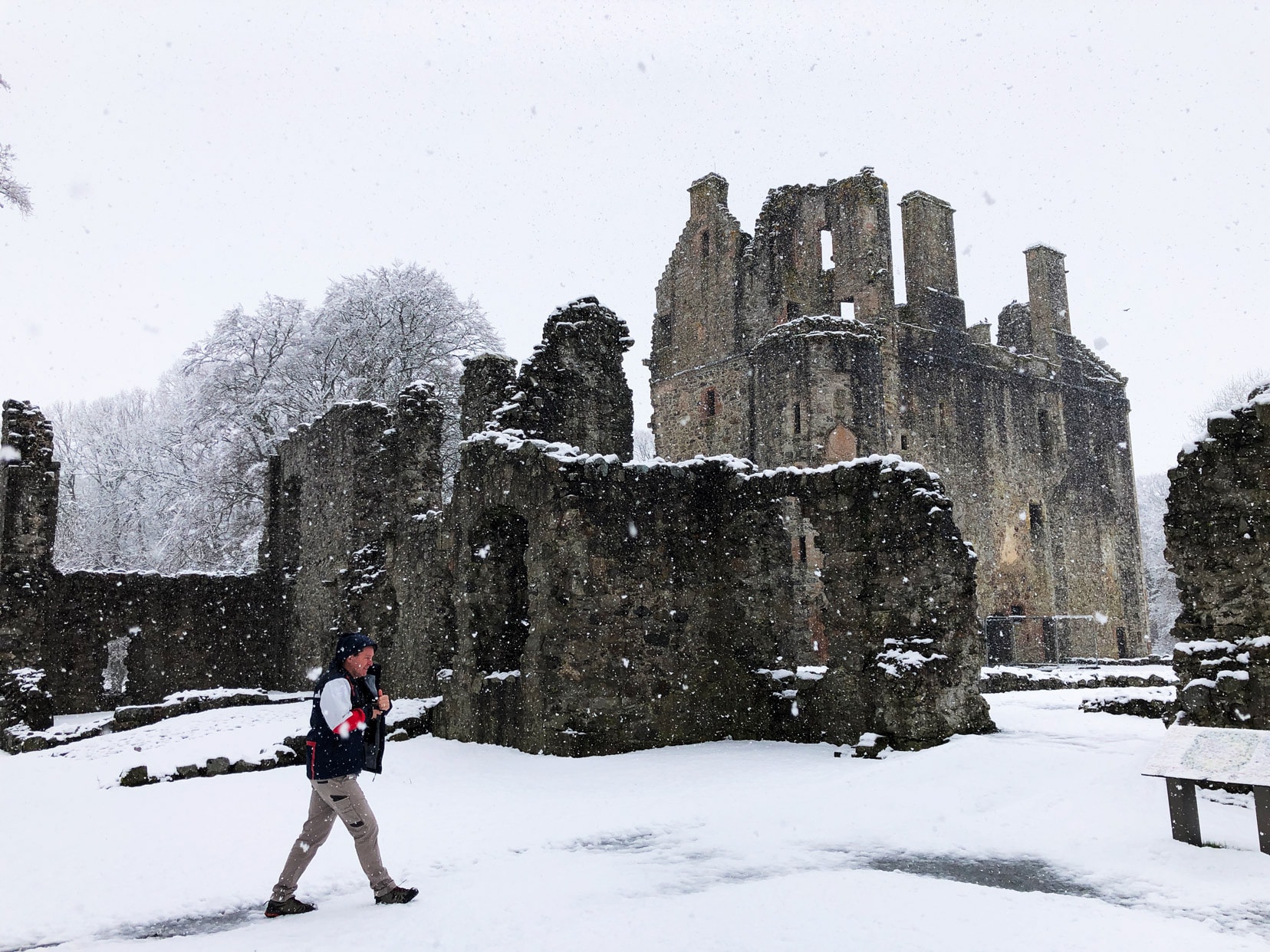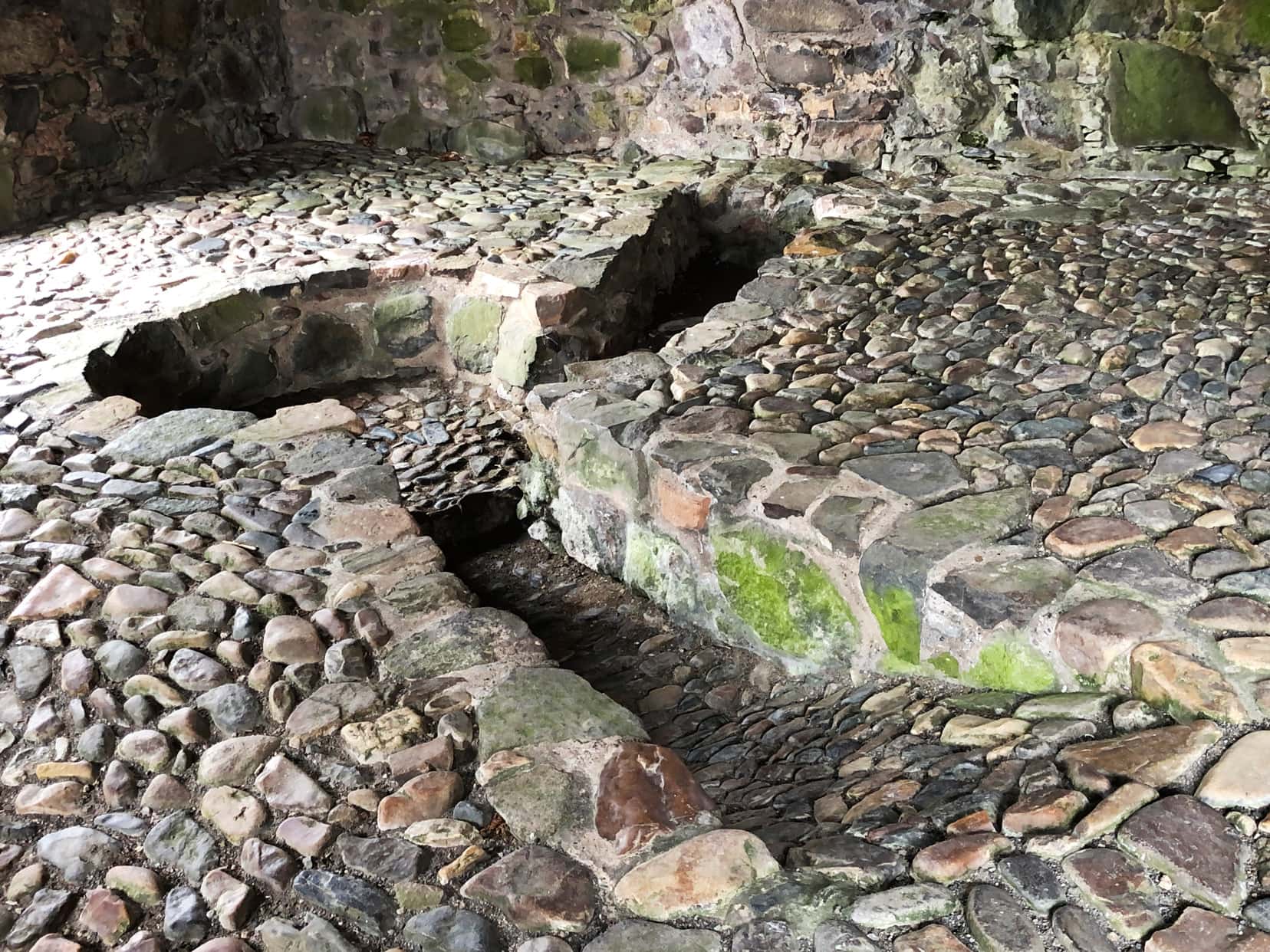 12. Fyvie Castle
The National Trust of Scotland runs Fyvie Castle, so a fee is charged for entrance.
This 800-year-old castle is known for its impressive collection of portraits by famous artists such as Raeburn and Gainsborough. Also, in the library is a death mask of a hanged murderer. As with many of Scotland's Castles, there are several ghost stories and gruesome tales attached to the castle that the guides are happy to entertain you with.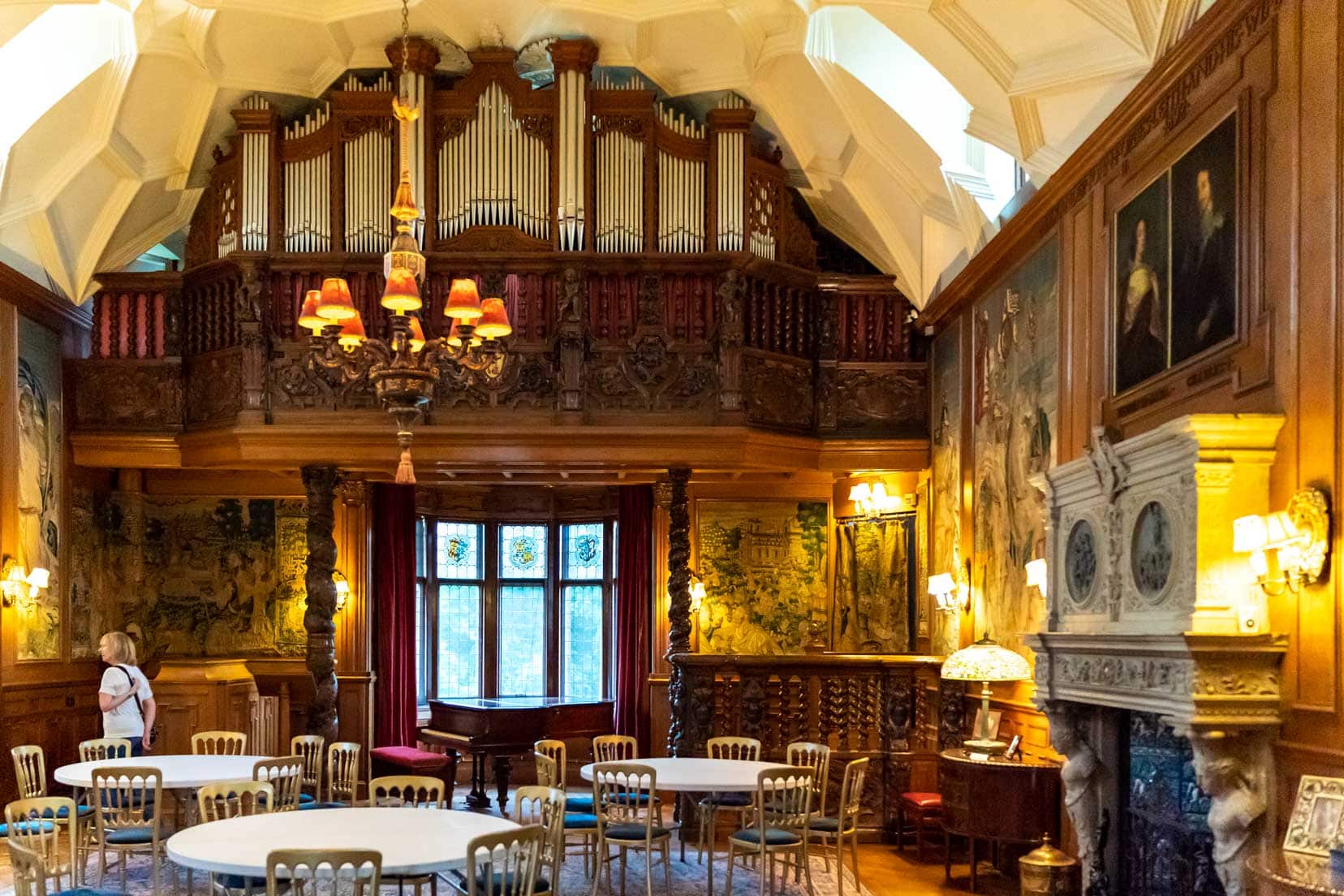 13. Visit Haddo House
Located near Ellon, this house was once owned by the Earls of Aberdeen and features Gothic architecture as well as beautiful gardens that are perfect for a stroll. This stately home was home to the Gordon family for over 400 years.
In WWII, the home was used as a maternity hospital, with over 1,200 babies born there.
14. Glen Garioch Distillery
It would seem wrong to not try a whisky in Scotland, and one of the oldest distilleries in Scotland is in Aberdeenshire. Glen Garioch Distillery (Garioch pronounced Geery in the Doric dialect) has been producing whisky in Oldmeldrum for over 200 years, since 1797.
To indulge in the whisky tasting to its full extent, why not book a tour so you don't have to worry about driving?
15. Forvie National Nature Reserve
Forvie Nature Reserve, with its towering sand dunes and open heathland, provides a dramatic backdrop to this part of Aberdeenshire's coast. In fact, Forvie has one of Scotland's largest and most natural dune systems.
There are four main trails that you can walk around at Forvie.
Sand Loch Trail (easy trail, 1 mile/1.7km)
Heath Trail (strenuous, 2.1 miles/3.4km)
Dune Trail (strenuous, 3.5mile/5.7km)
Cliff Trail (strenuous, 1mile/1.7km)
If you are interested in history, take the Dune Trail because it passes by the ruins of Forvie Kirk and the site of a village covered by a nine-day sandstorm in the 1400s.
You can get more information at the Forvie Centre (see map)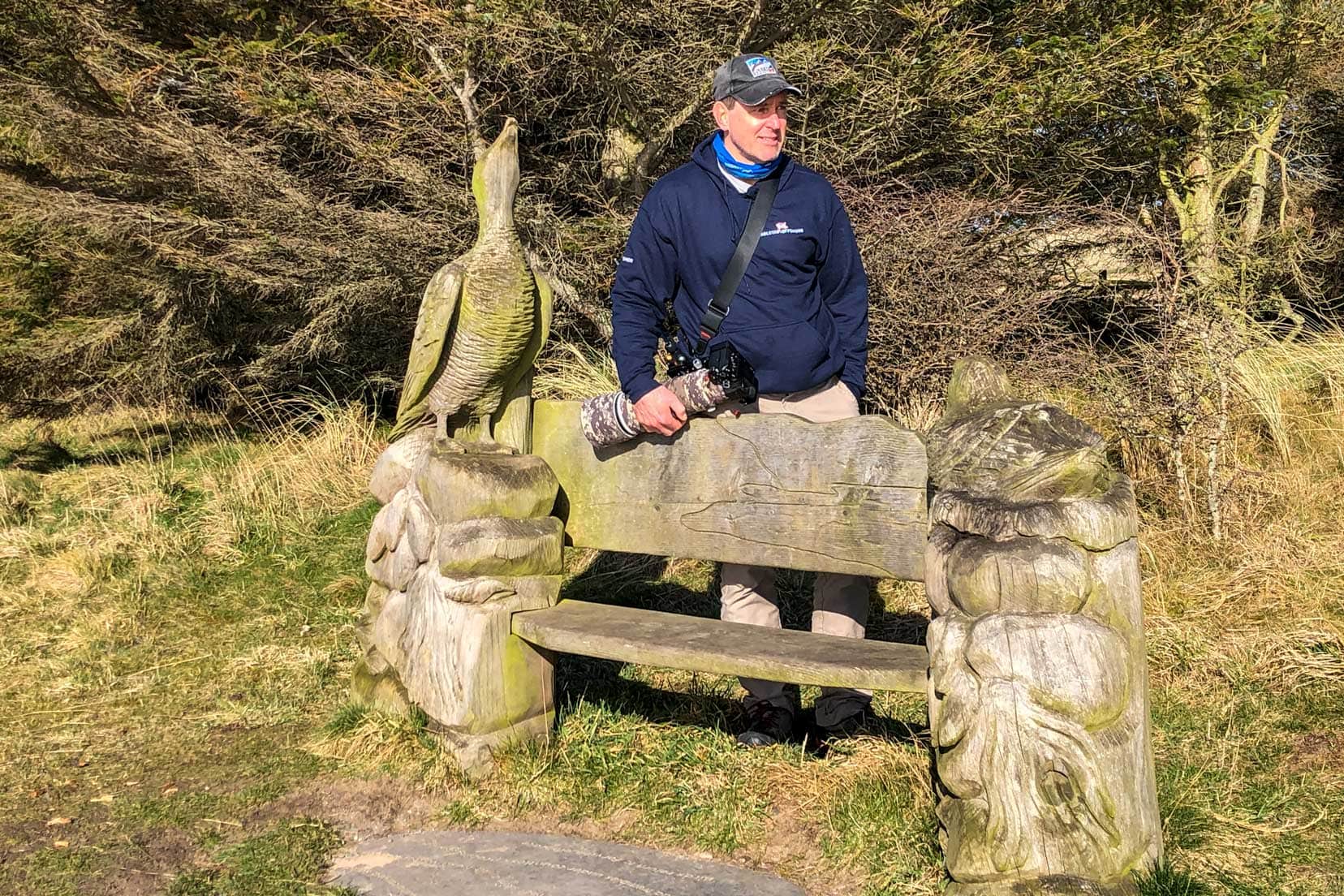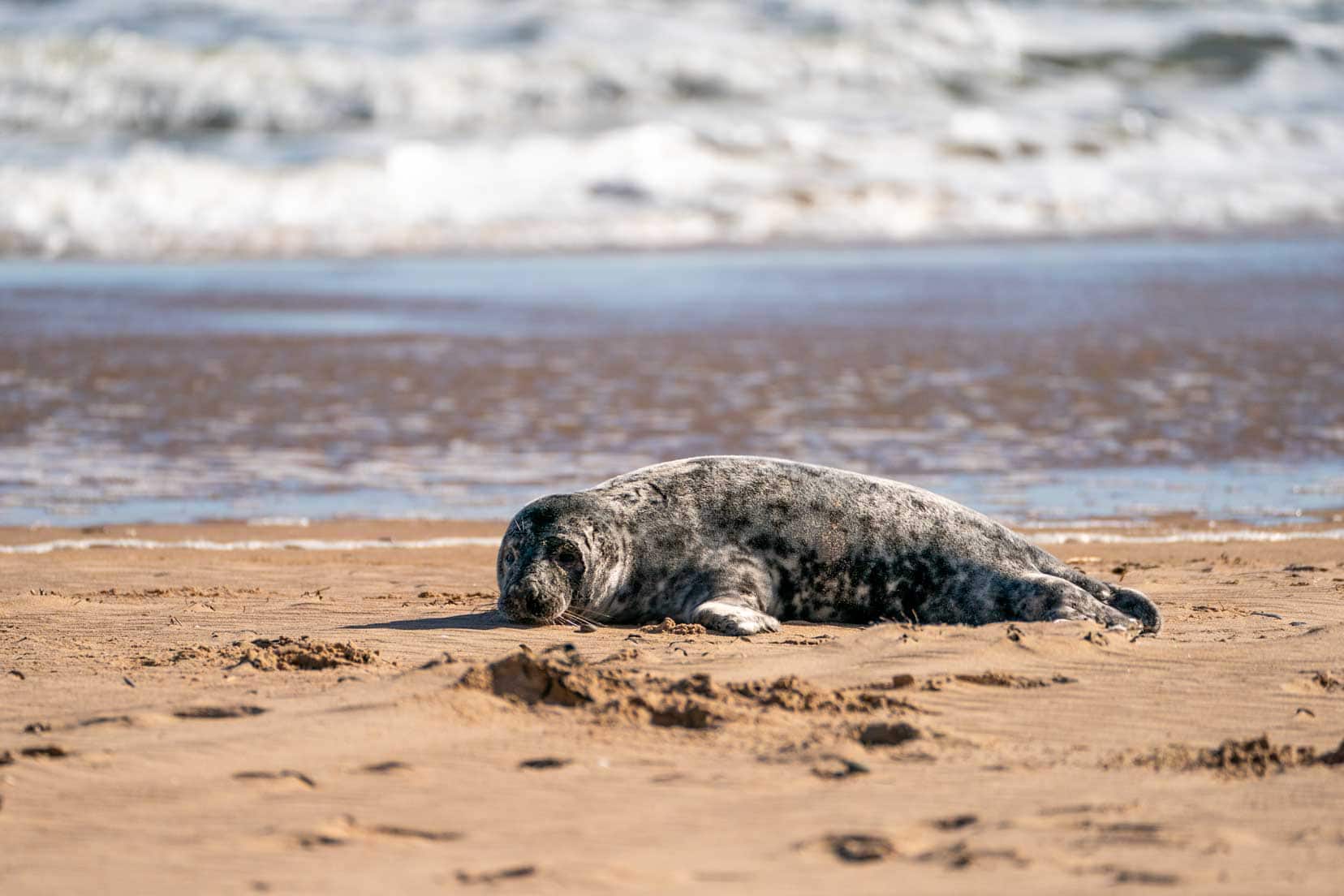 16. Newburgh Seal Beach
Just south of Forvie Nature Reserve is Newburgh Seal Beach, another fantastic place to take a stroll and watch the resident grey and harbour seals play in the Ythan Estuary.
Take in everything from sea views to rolling hills, and make sure you bring your camera. With plenty of wildlife around, there's no shortage of photo opportunities – the seals can be quite the performers.
The beach is part of the wider Aberdeenshire Coastal Trail, so if you are feeling energetic, you can walk the 12 miles (19.3 km) along the coast from Newburgh Beach to Aberdeen's River Don. You could cross the Bridge of Don and continue into Aberdeen city from there.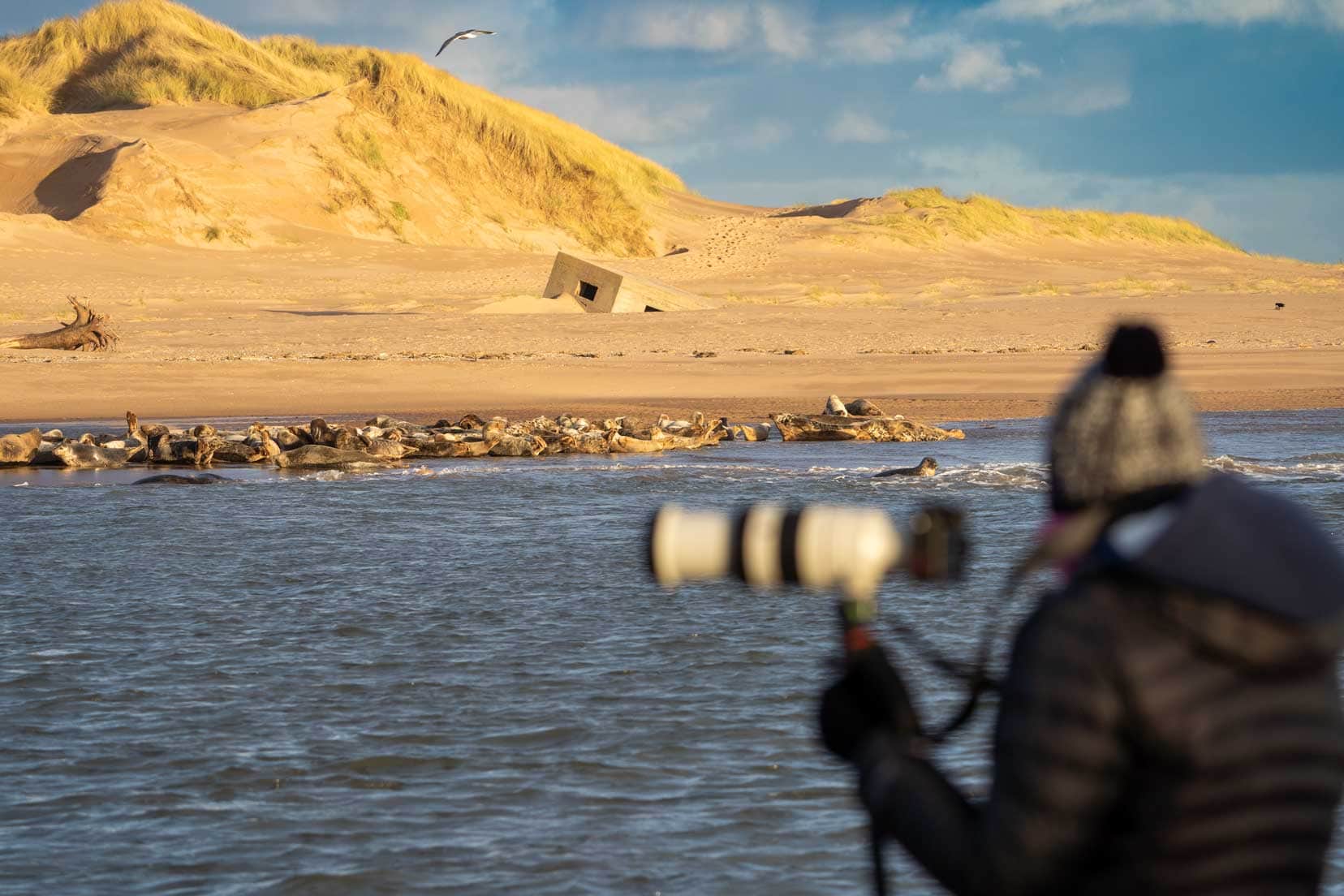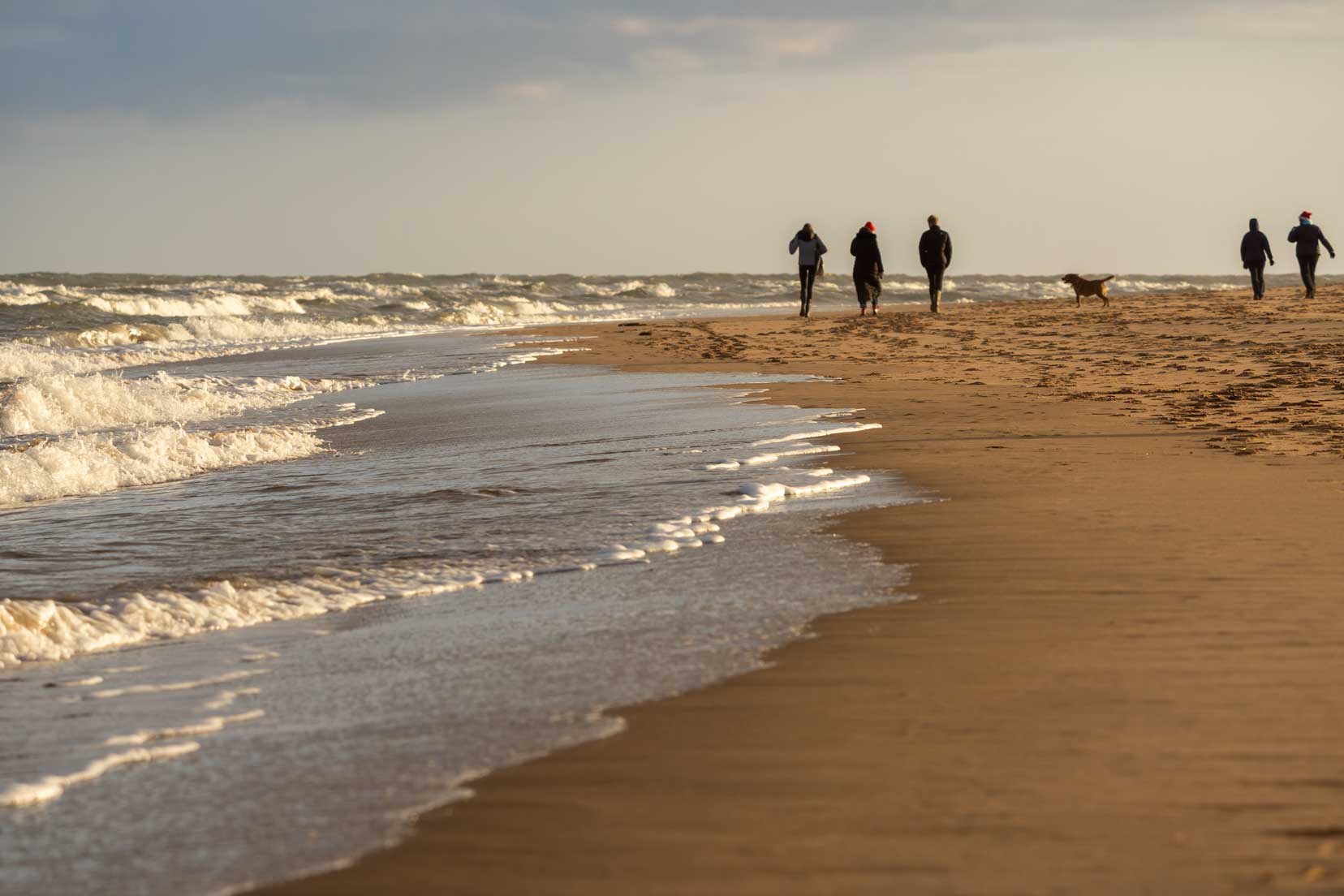 17. Aberdeenshire Golfing
Scotland is the home of golf, and Aberdeenshire hosts some of the country's best courses. Take your pick from some of the world-famous courses — including Royal Aberdeen, Cruden Bay and Trump International Golf Links.
18. Visit Balmedie Beach
Spend a day at the long, sandy Balmedie Beach. The sand dunes of Balmedie Country Park form part of a 15-mile dune system, stretching from the Donmouth Local Nature Reserve at Aberdeen to the Forvie National Nature Reserve at Newburgh.
19. Fraser Castle
Fraser Castle was the seat of Clan Fraser, now one of the most impressive Tower Houses in Scotland. Some of the original parts of the castle remain, along with renovations and additions from the 18th and 19th centuries.
Visitors can admire family portraits, antique furniture, carpets and mementos throughout the castle.
There are two marked trails and pathways on the castle grounds through woodland and farmland, a pond, and lovely walled gardens with flowers, fruits and vegetables.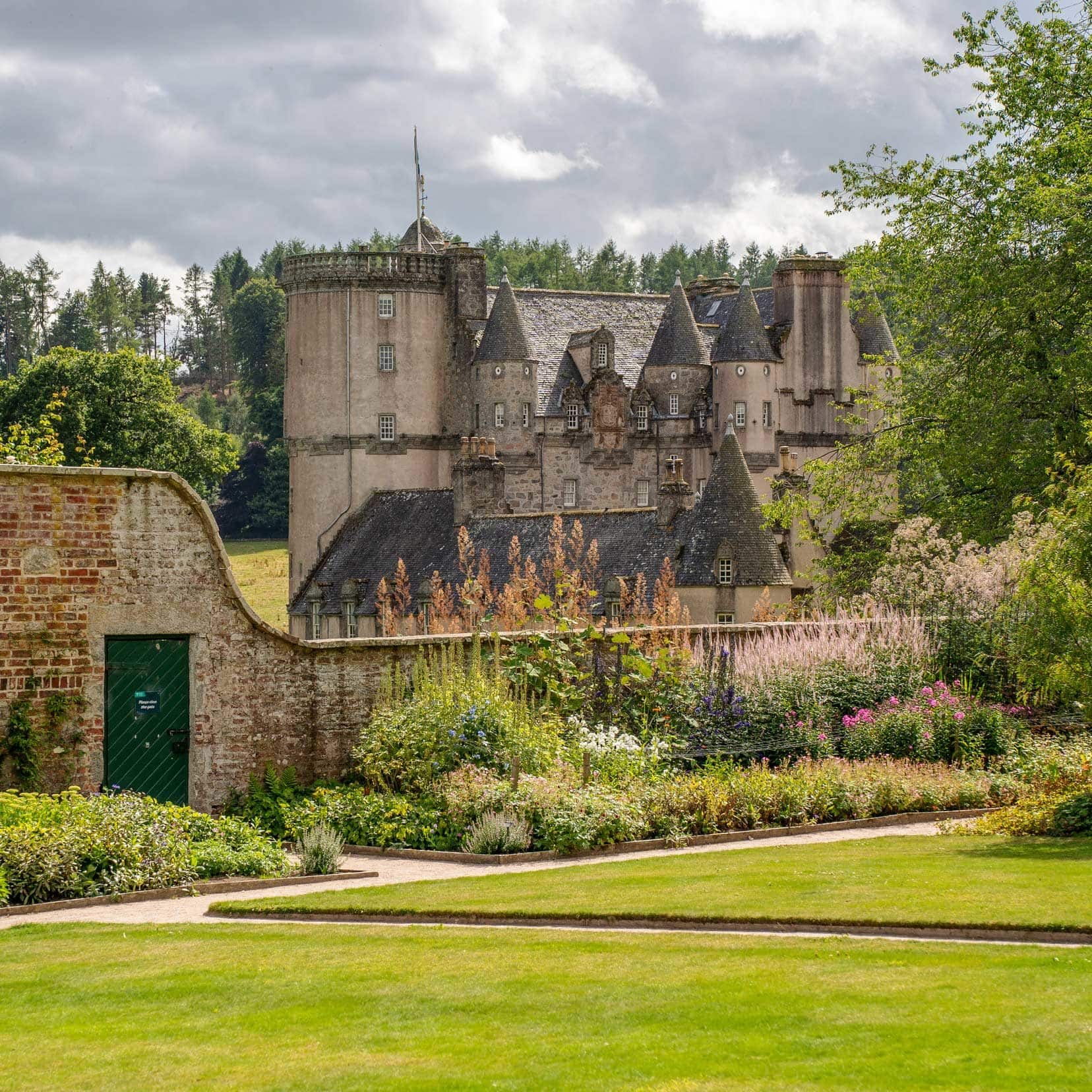 20. Craigievar Castle
The Mortimers of Craigievar built Craigievar Castle in the mid-1500s. Its Disneyesque turrets and towers were added about 50 years later.
It isn't a large castle and felt quite small in comparison to others we'd visited. Craigievar Castle was repaired and restored when it was made into a home for the Forbes family in 1823. The castle has remained much the same since then and is a classic example of Scottish baronial architecture.
The National Trust of Scotland now owns Craigievar Castle. Regular guided tours take place at the castle, giving an insight into the castle's past 400 years.
There are also two walking trails at the castle:
The Woodland Trail: ¾ mile (1.2 km)
The Hill Trail: 2 miles (3.2km)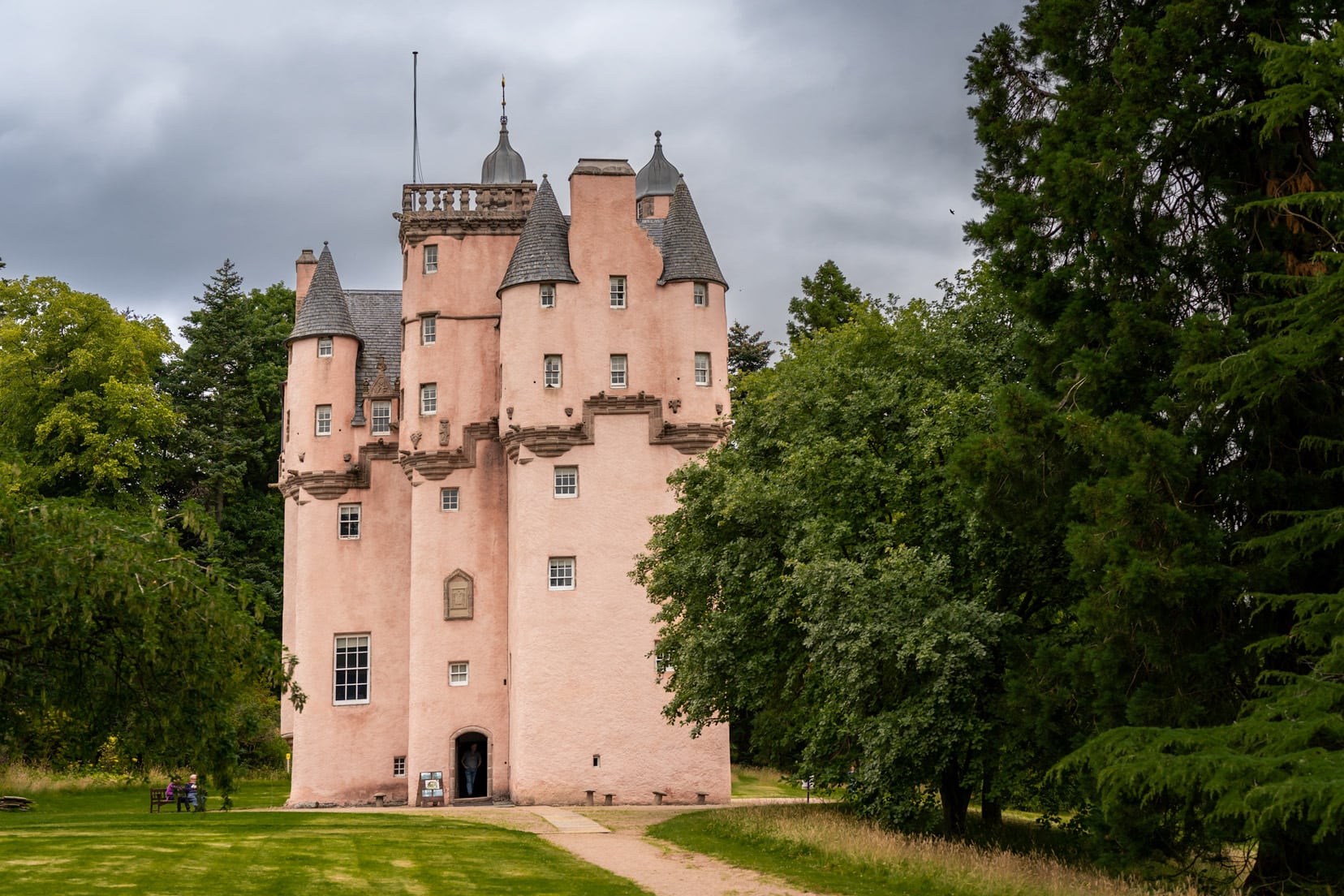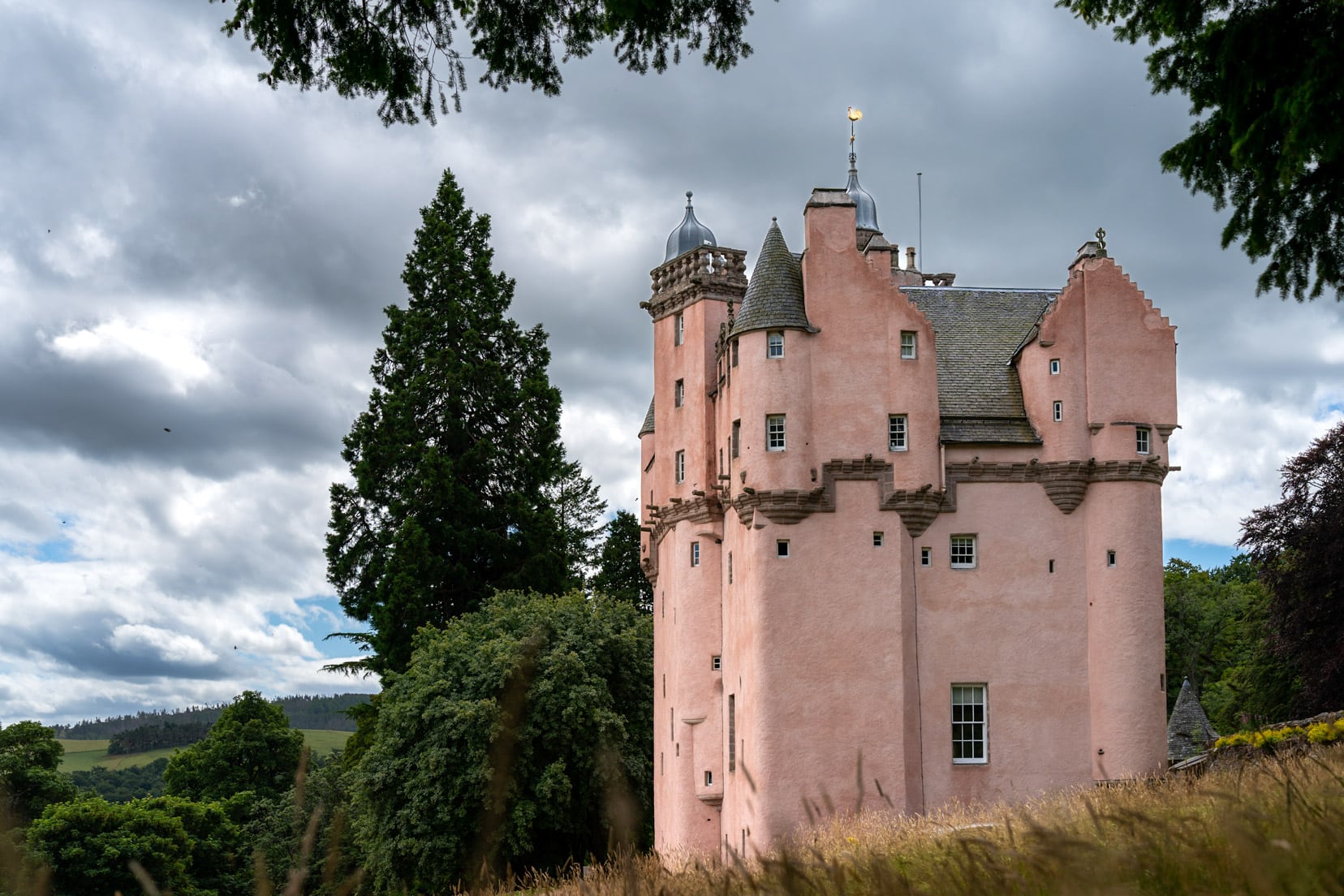 21. Explore Aberdeen
While finding things to do in Aberdeenshire, it's likely you'll want to make a stop in the city of Aberdeen. Although, technically, it's not Aberdeenshire … It has its own council area — Aberdeen city.
But let's not let semantics get in the way. For all intents and purposes, it is within the Aberdeenshire area and the main city in the area.
There are plenty of gardens and parks to discover, free museums, and take time to visit the old Footdee village on the coast. And did you know Aberdeen has a sandy beach stretching for miles?
For a fantastic list of all the places to visit, jump over to our post on where we discuss all the reasons why Aberdeen is worth visiting.
22. Drum Castle & Gardens
Drum Castle dates back to the 13th century and is the oldest castle in the care of the Scottish National Trust that isn't a ruin. Once the home to Clan Irvine, Drum Castle sits impressively beside its old Oak forest where deer, red kites, red squirrels and badgers are known to hang out.
A tiny chapel on the grounds, with stained glass windows, dates back to the 16th century. It's slightly hidden behind the trees, so don't miss it.
Enjoy some peaceful woodland walks or explore the Historic Rose Garden, planted with roses from the 17th to the 20th century.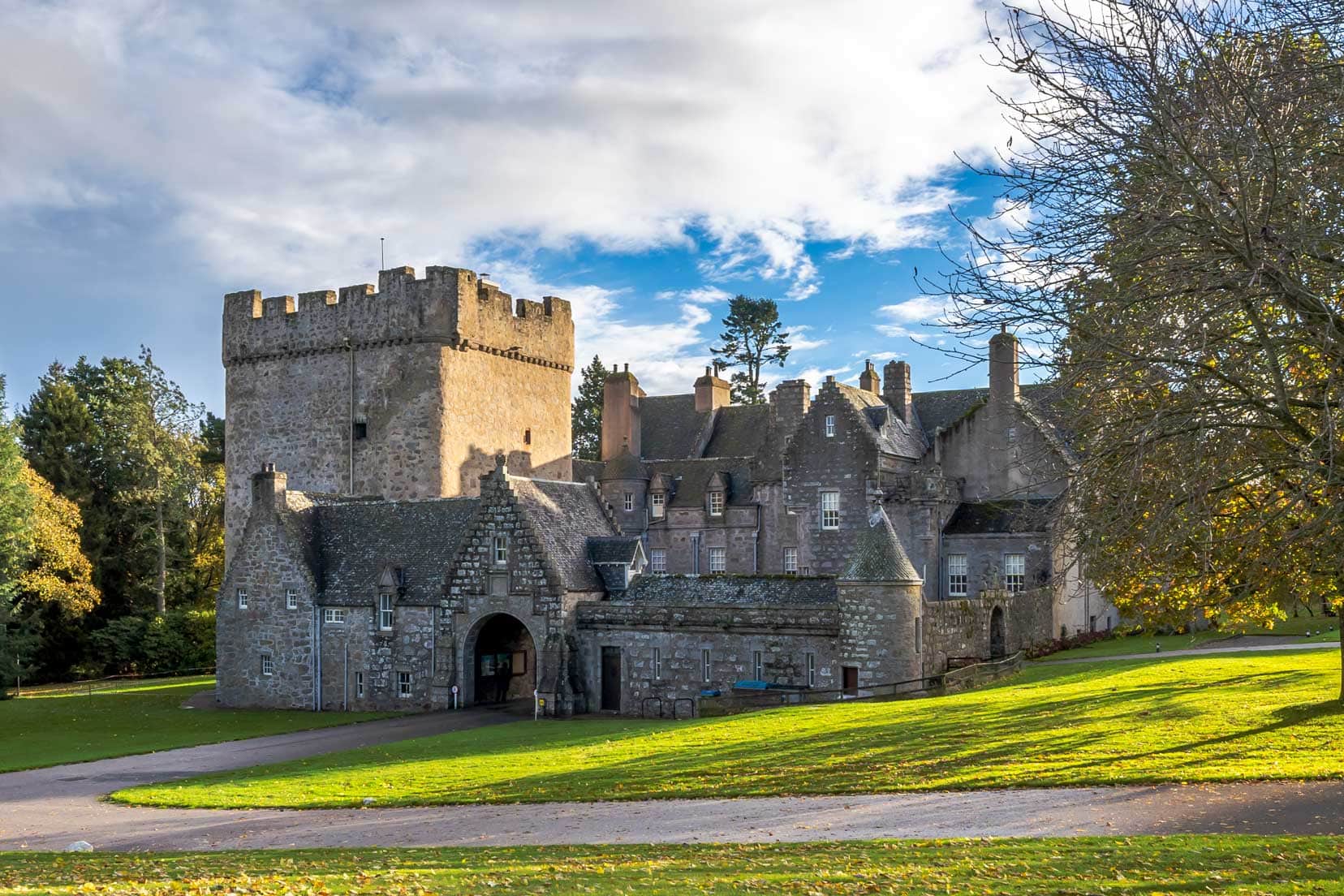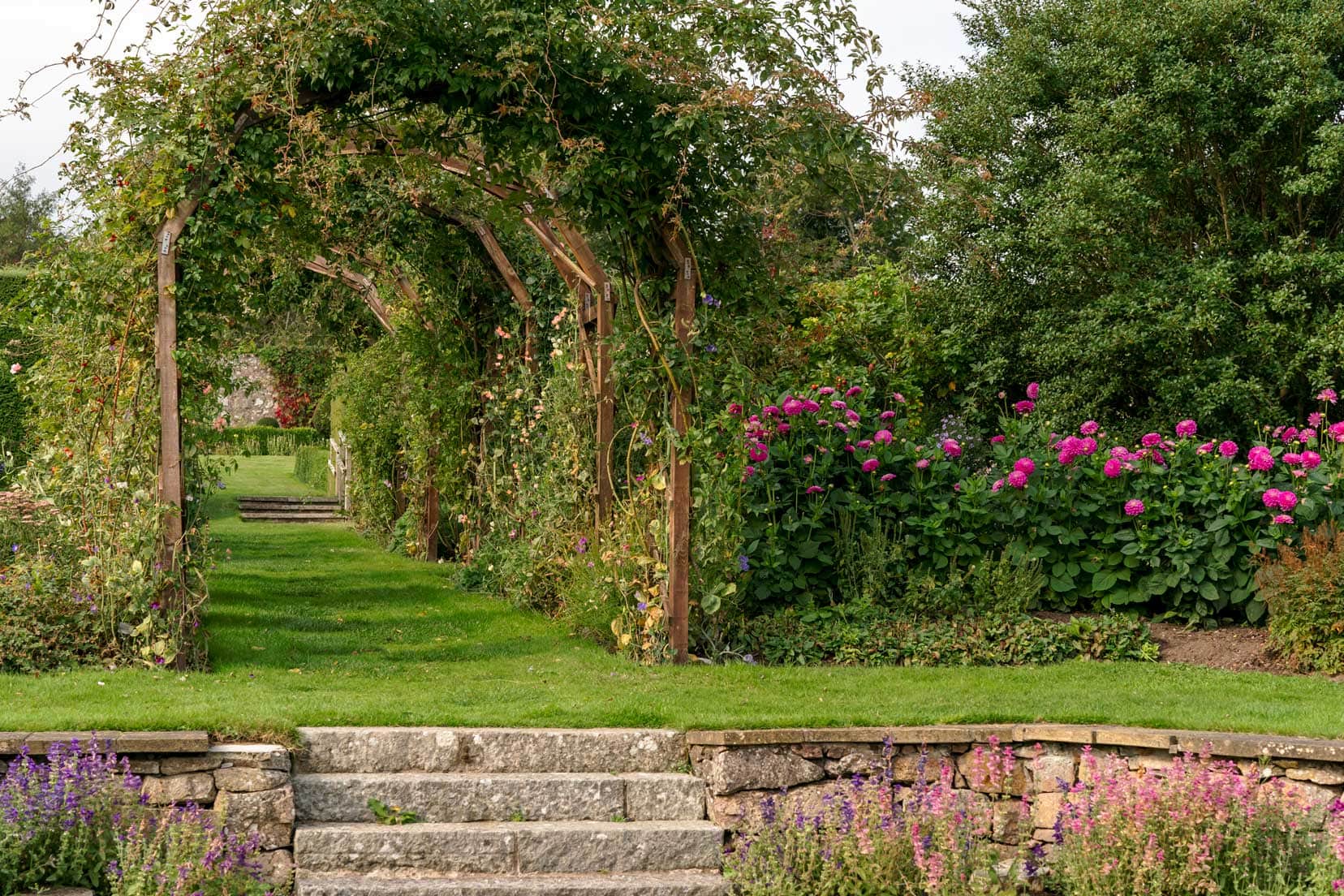 23. Visit Crathes Castle
Explore one of Aberdeenshire's most well-preserved castles with its grand architecture, ancient walled garden and sculptured hedges. Some of its oldest yew trees date from the early 1700s. The gardens are divided into eight themed gardens within almost four acres.
Crathes Estate is also home to several woodland Walks. The six walks vary in length from the shortest, the Viewpoint Trail of 400 metres (1/4 of a mile), to the Ley Way, 6.5 km (4 miles).
If you are adventurous, pop in to Go Ape – a treetop adventure course beside the castle, to get your adrenaline pumping.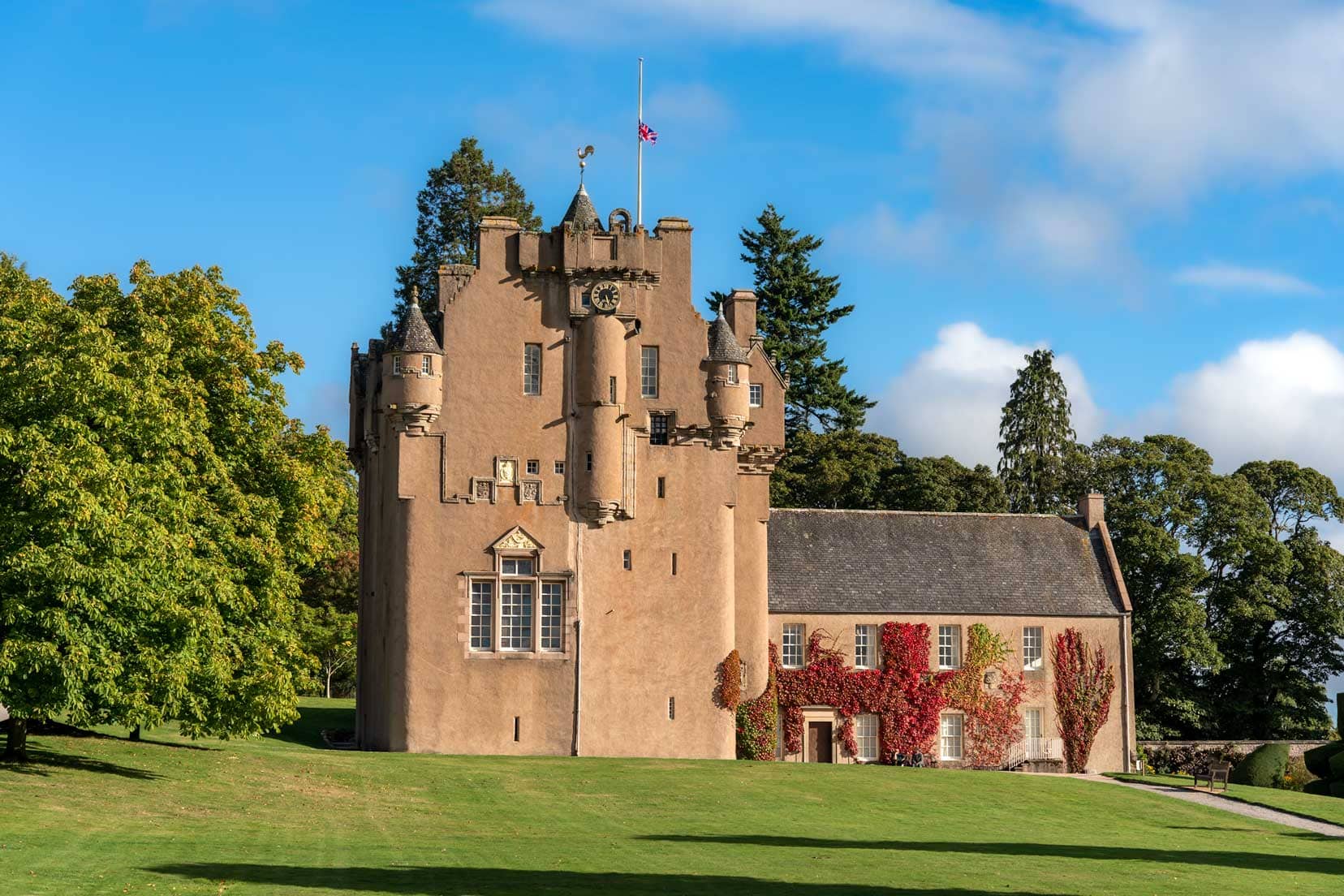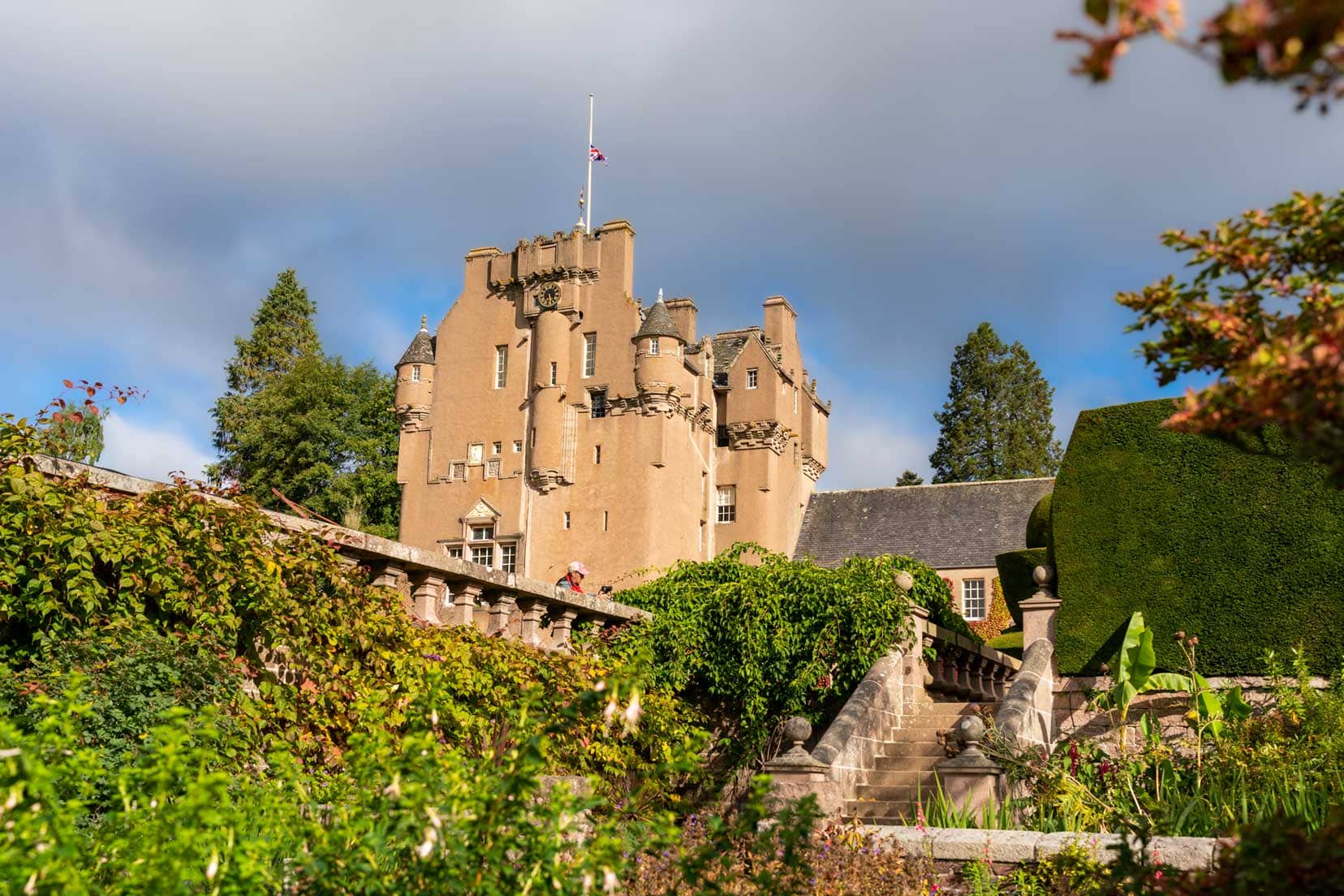 24. Muir of Dinnett Nature Reserve
At the Muir of Dinnet Nature Reserve, there are four marked trails that you can choose from— all start at the visitor centre.
One of the most popular, with a distance of just under a mile, takes you to the Burn O Vat. Here, you'll find a giant pothole. You enter through a rocky archway and are immediately surrounded on all sides by mossy rocks dripping water, with a small waterfall taking centre stage.
Along the other trails, watch for Iron-Age hut circles, the Crannog Island and the 1200-year-old Pictish stone.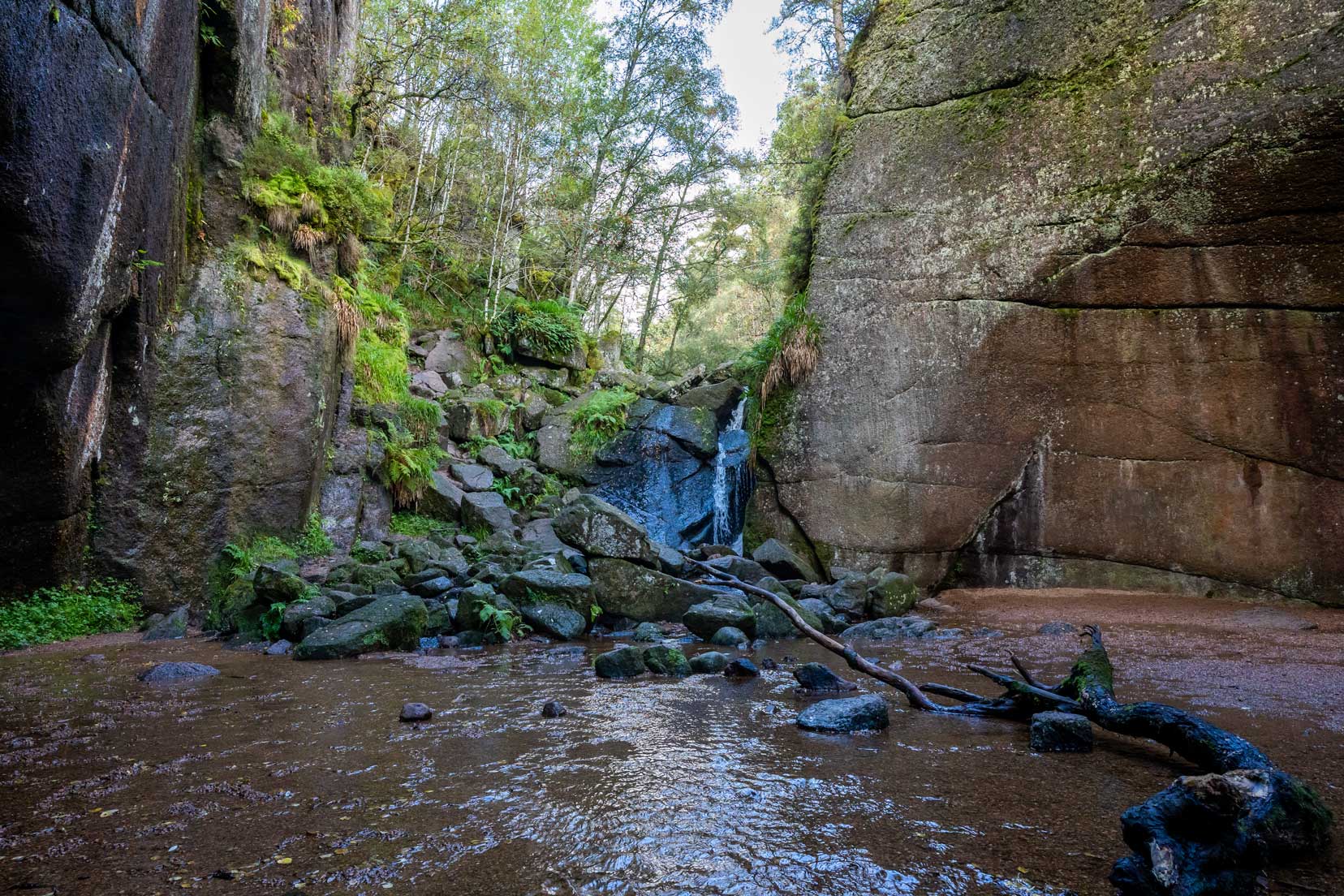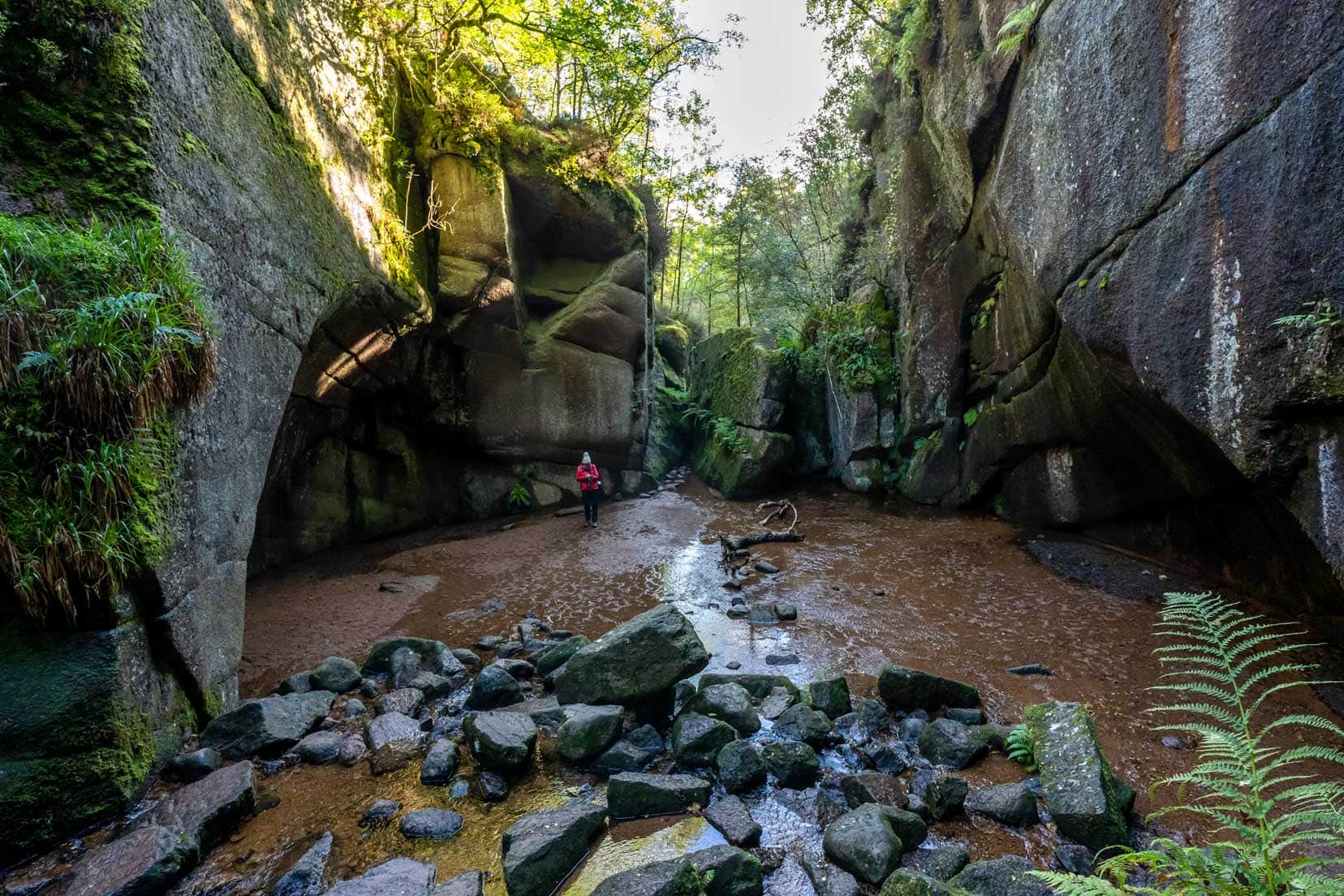 ⭐️ If you are looking for a tour that includes a visit to the Muir of Dinnet, then this Dunnottar & Deeside Castle & Distillery Private one-day Tour & Photo Workshop fits the bill.
25. Visit Balmoral Castle
It's possible to visit Balmoral Castle, which was the official residence of the late Queen and where she died peacefully on 8th September 2022. Balmoral Castle has been the home of British Royalty since 1852 and offers visitors the chance to explore its lavish gardens, visit the ballroom and shop at the gift store.
Aberdeenshire's most well-known loch is Loch Muick on the Balmoral Estate. As well as the famous Balmoral Castle – the summer residence of the royals —nearby, you can also find the Glas-allt Shiel, the hunting lodge built in 1868 for Queen Victoria.
If you are a whisky drinker, you may like to include a visit to the Royal Lochnagar distillery, established in 1845, near Balmoral Castle.
Book a day tour to explore Balmoral Castle and the fringes of the Cairngorms, with stops including Ballater and the Queen's View. | ⏰ 7.5 hours |⭐️ 4.9/5 Star Reviews
26. Braemar
Braemar is on the fringe of the Cairngorms Nationa Park. There are many events throughout the year celebrating the rich cultural heritage of Aberdeenshire — but one of the most prominent is the Braemar Highland Games. Traditionally, it is attended by the Royal Family each September.
Braemar is famous for hosting the Highland Games and has the highest golf course in Scotland, at 1200ft above.
27. Ballater
Ballater is a picturesque Victorian village that dates back over two hundred years. Here, by the central village green, you'll find Glenmuick Kirk, which held its first service in 1800. There are plenty of specialty shops and cafes to try local treats and stop for a coffee while planning your things to do in Aberdeenshire.
Ballater houses the former royal train station, now a restaurant and tearoom. The station closed in 1966 but was previously used by the royals travelling from London to Balmoral Castle.
Nearby, you can take a train ride on the Royal Deeside Railway.
From Ballater, you can walk the 12.75 km Cambus O May walking circuit. This delightful 3-4 hour walk takes you across the Victorian Cambus o'May suspension bridge and along the route of the old Deeside railway line.
28. Visit Cairngorms National Park
The magnificent Cairngorms National Park covers some of the western sides of Aberdeenshire and provides visitors with plenty of opportunity to explore the stunning Scottish countryside. This area is a true paradise with stunning mountains, picturesque lochs and enchanting glens.
We were lucky enough to do a couple of housesits there and had plenty of time to explore this incredible area.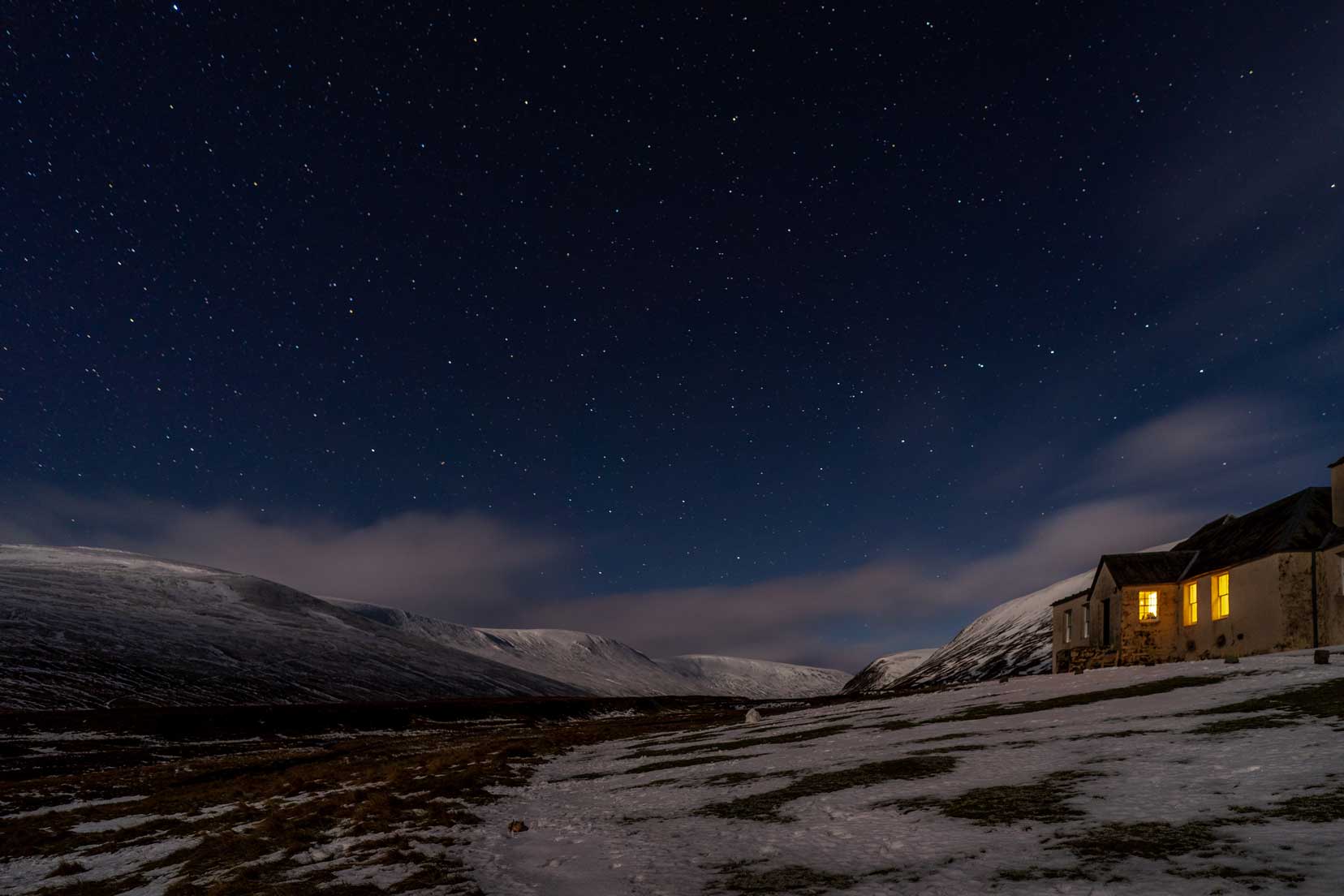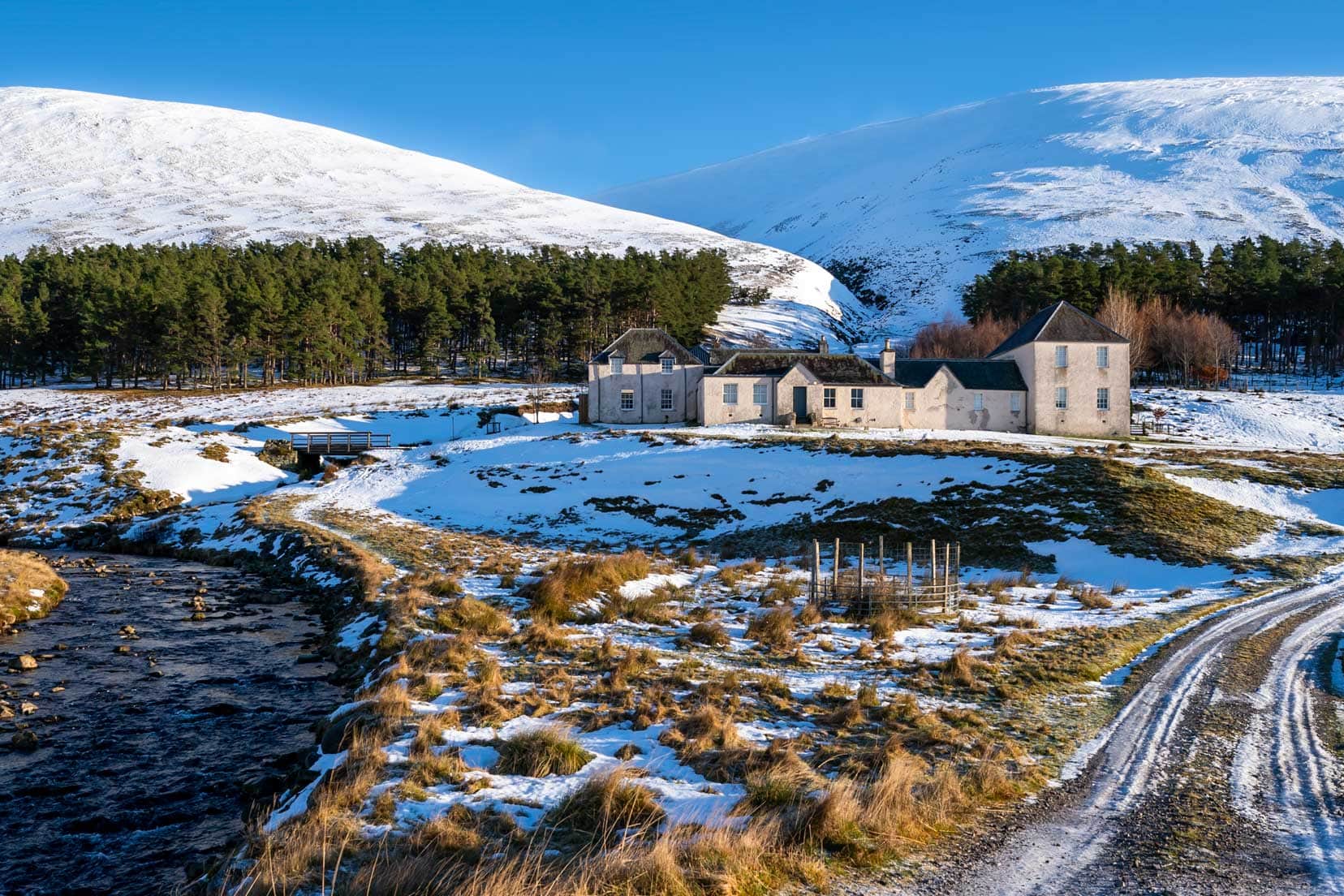 29. Stonehaven
Just south of Aberdeen, and just before you arrive at the impressive Dunnottar Castle, sits the old fishing village of Stonehaven. Home to harbour-side pubs, beautiful beaches and plenty of places to eat, this coastal town is worth exploring.
Take a stroll along the beach and the promenade, where you'll find interesting pieces of art made out of metal by a local nicknamed Shorehaven's Banksy because, for a while, it was unknown who was creating these intricate nautical pieces.
You'll find the locally recommended Bay Fish and Chips and Aunt Betty's ice cream shop on the beachfront. We tried both and can highly recommend them.
For a wonderful coastal walk with spectacular views, take the coastal path from Stonehaven and walk to Dunnottar Castle along the cliff tops.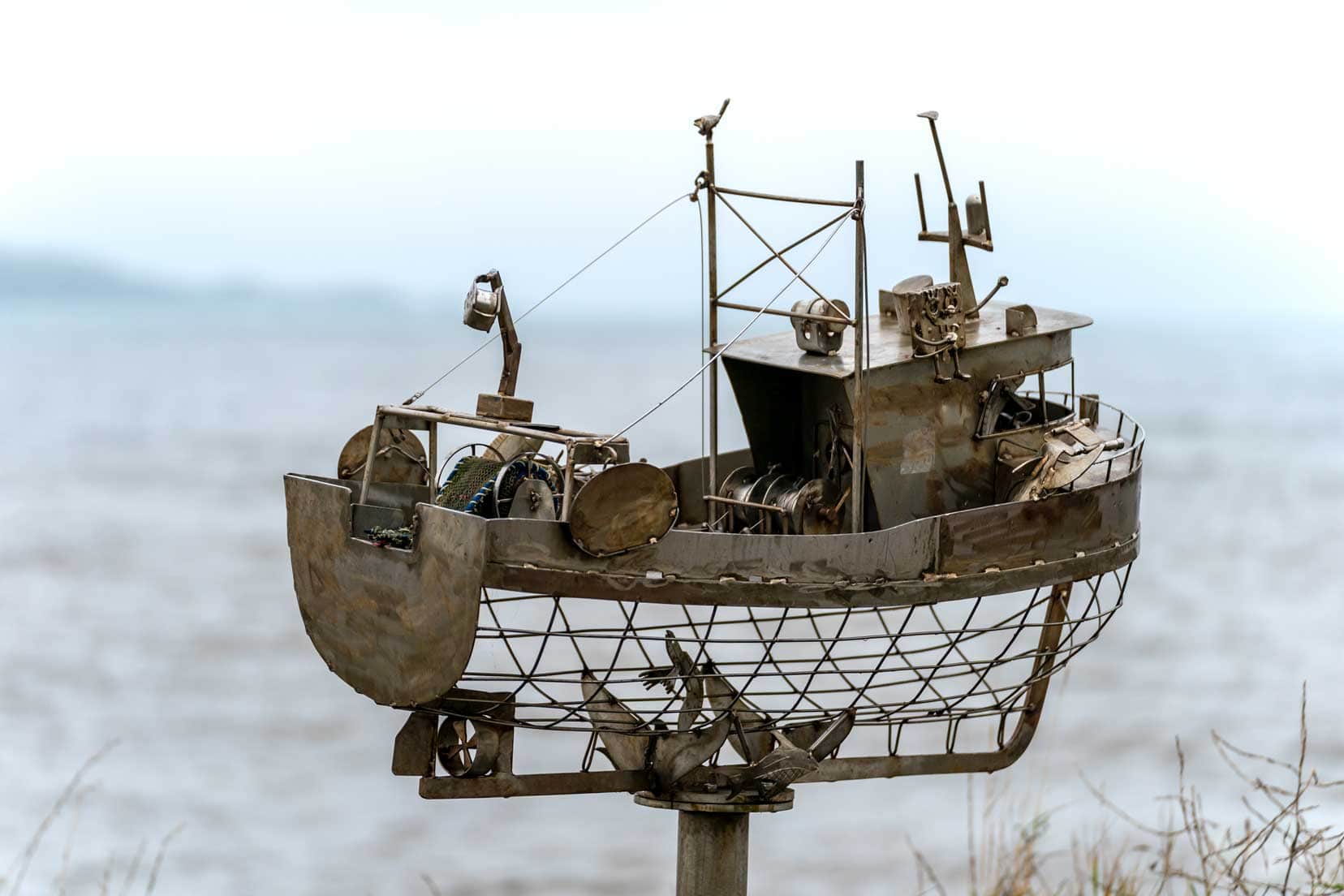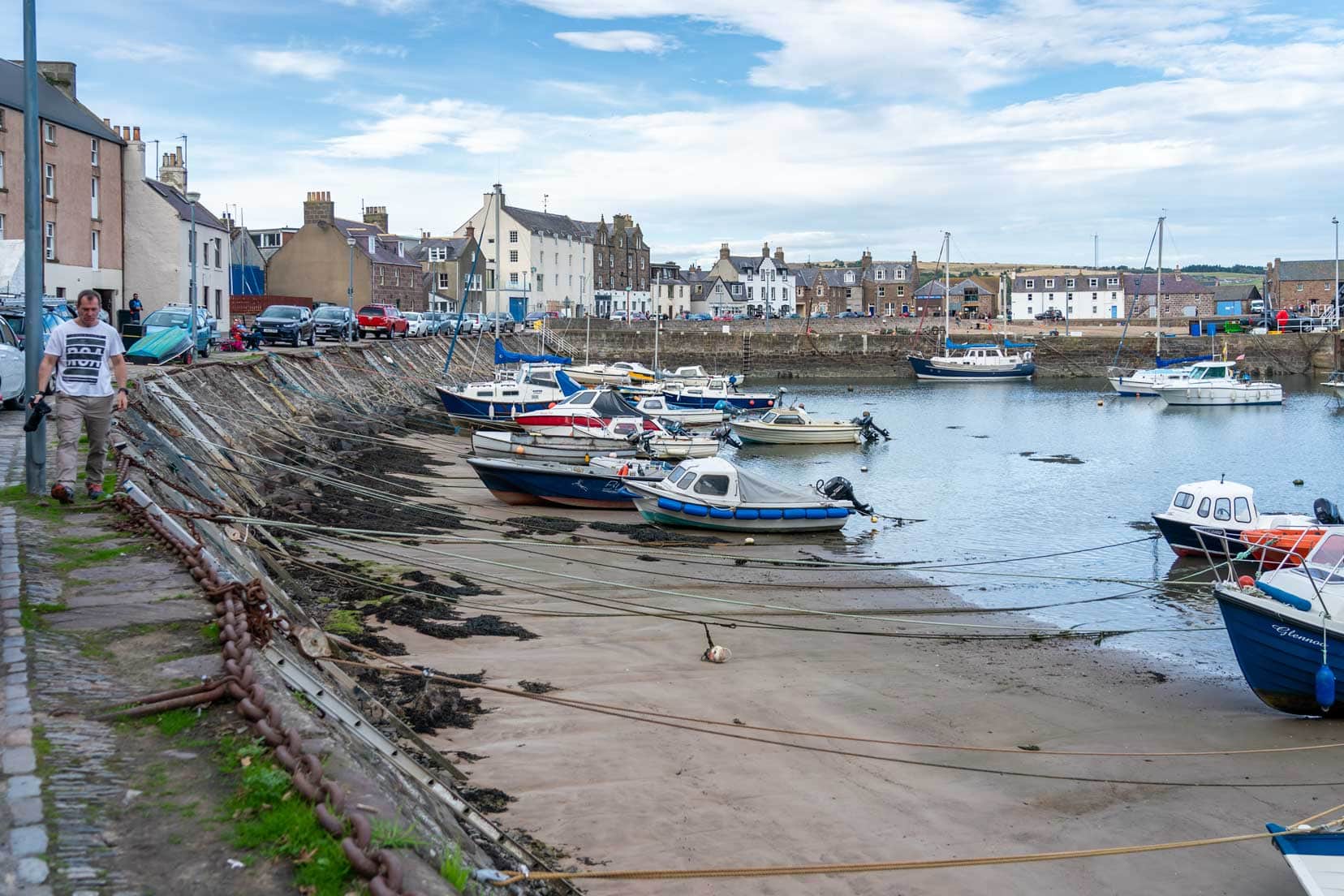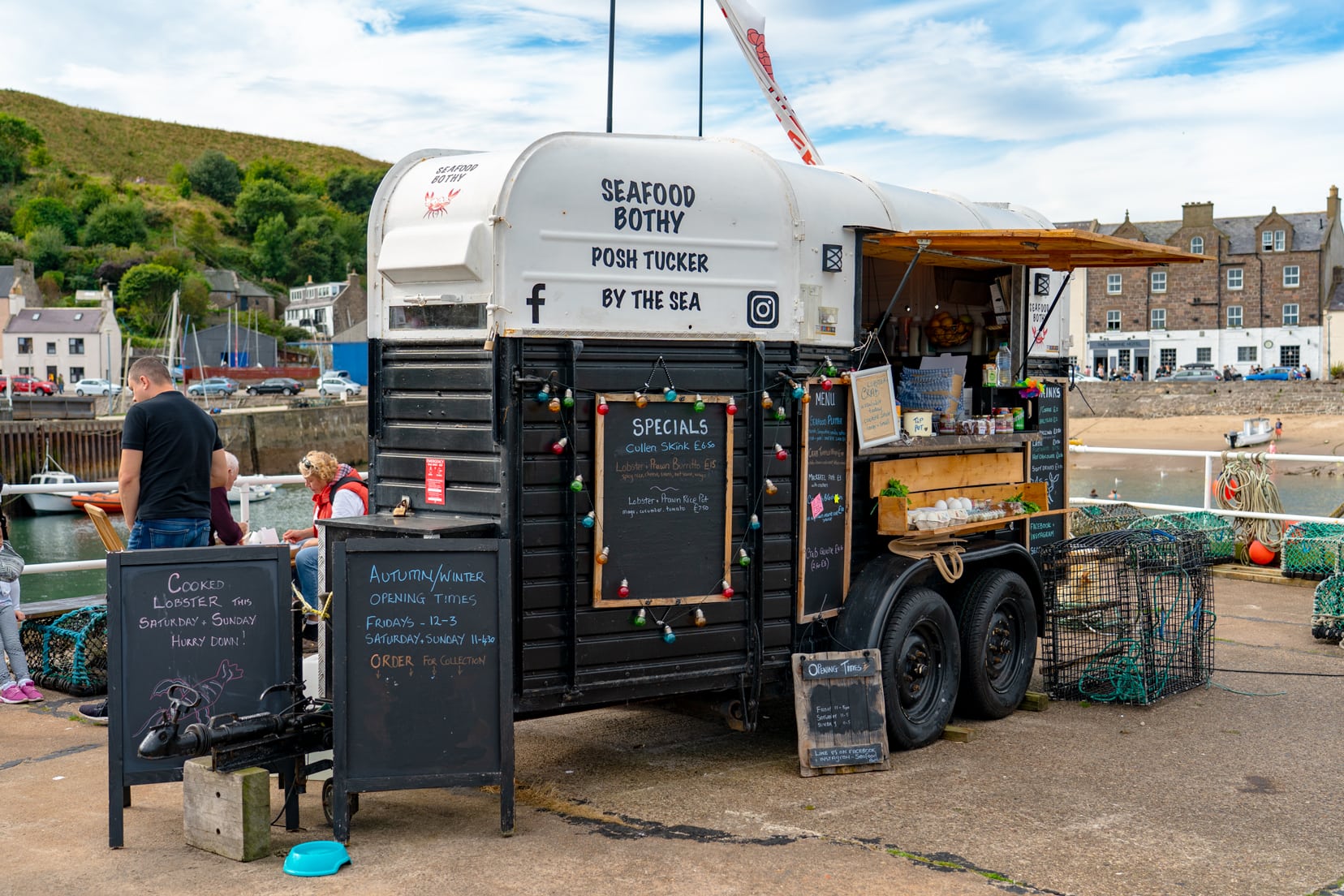 30. Visit Dunnottar Castle
Just 20 minutes south of Aberdeen are the ruins of Dunnottar Castle. You need to pay to enter the castle, but it is free to park and wander the cliff tops, taking in the view of the castle from multiple viewpoints. 
This stunning 13th-century castle is located on a rocky outcrop overlooking the North Sea and is a must-see for any visitor to Aberdeenshire.
The ruins of Dunnottar are dramatic and striking and make for a stunning backdrop for photos. I lost count of how many times we visited and the landscape seemed different each time.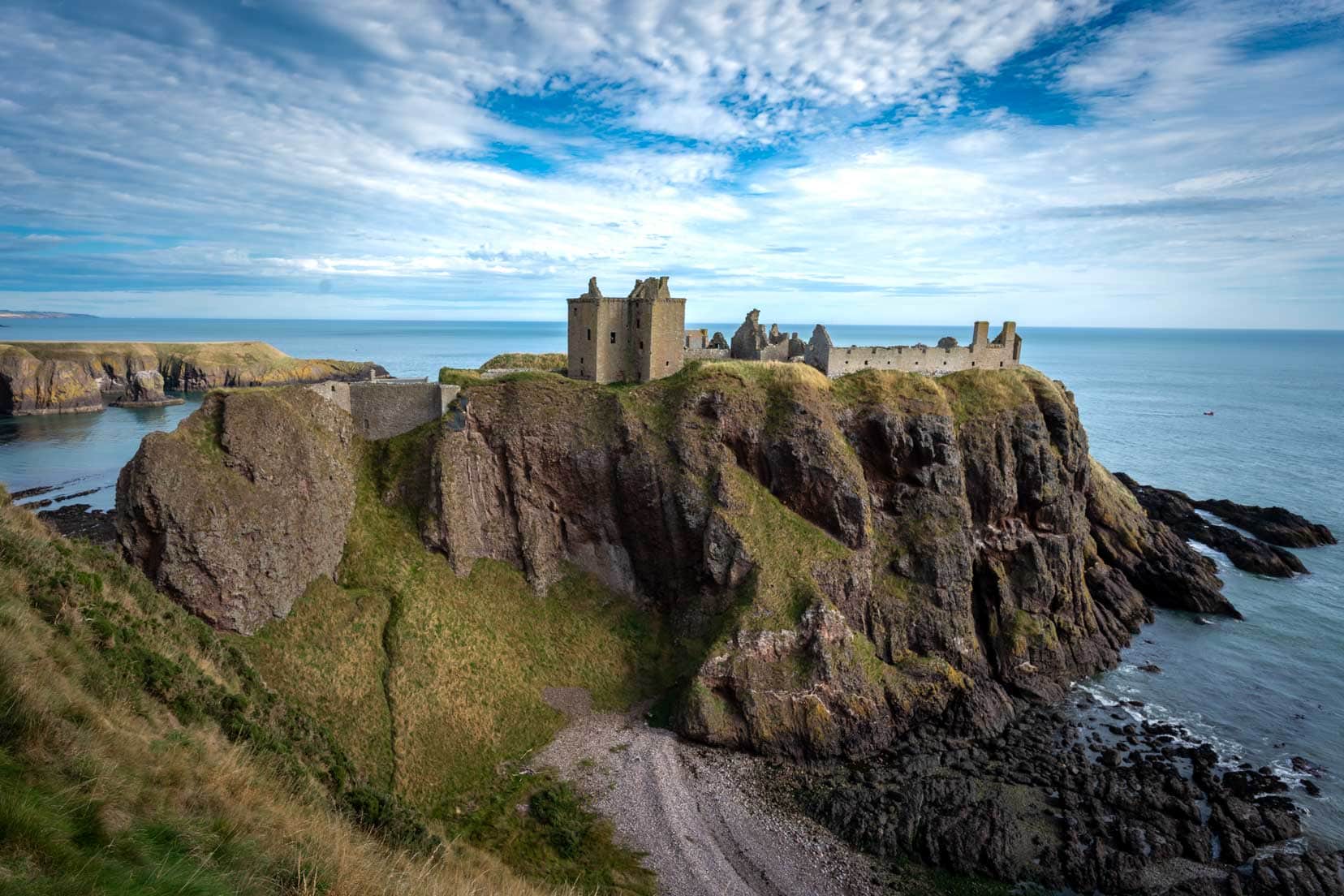 👉 If you are short on time – book a private half-day guided tour to Dunnottar Castle, Drum Castle and Crathes Castle | ⏰ 4 hours | ⭐️ 5/5 Star Reviews
31. RSPB Scotland Fowlsheugh– Puffins and Coastal walk
This is another place we spent a lot of time while we lived in Aberdeen. Whether spotting seabirds, puffins, or just watching rabbits jumping along in front of us, this coastal trail blows the cobwebs away and invigorates the soul.
If you visit in the spring and summer over 100,000 birds nest here. So you'll likely see guillemots, razorbills, kittiwakes, some puffins and fulmars.
Towards the end of the trail, a small shelter looks out to sea. Just before the shelter, we saw some puffins on the cliffs below in the summer months. So if you visit, be eagled-eyed around here — or should I say puffin-eyed?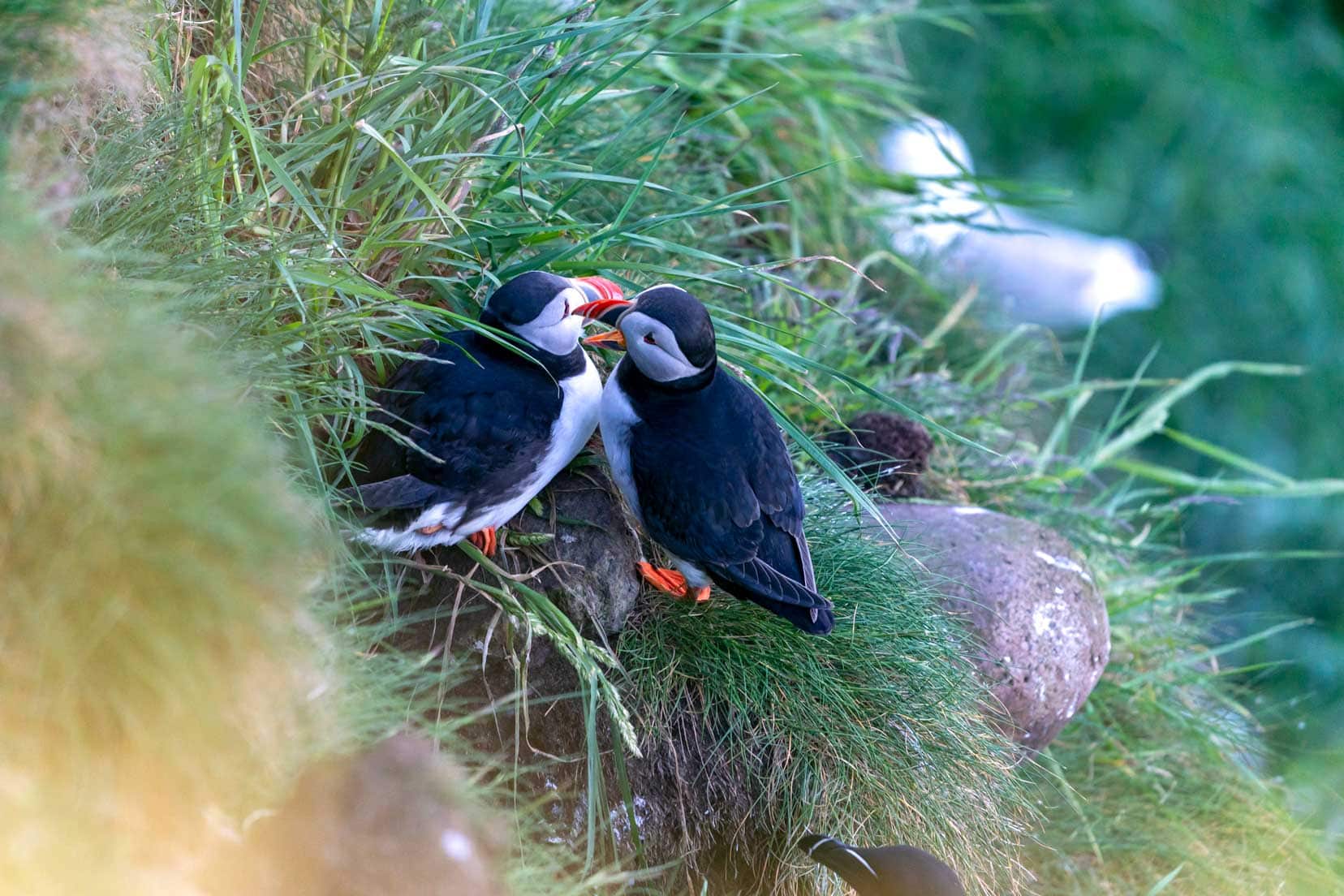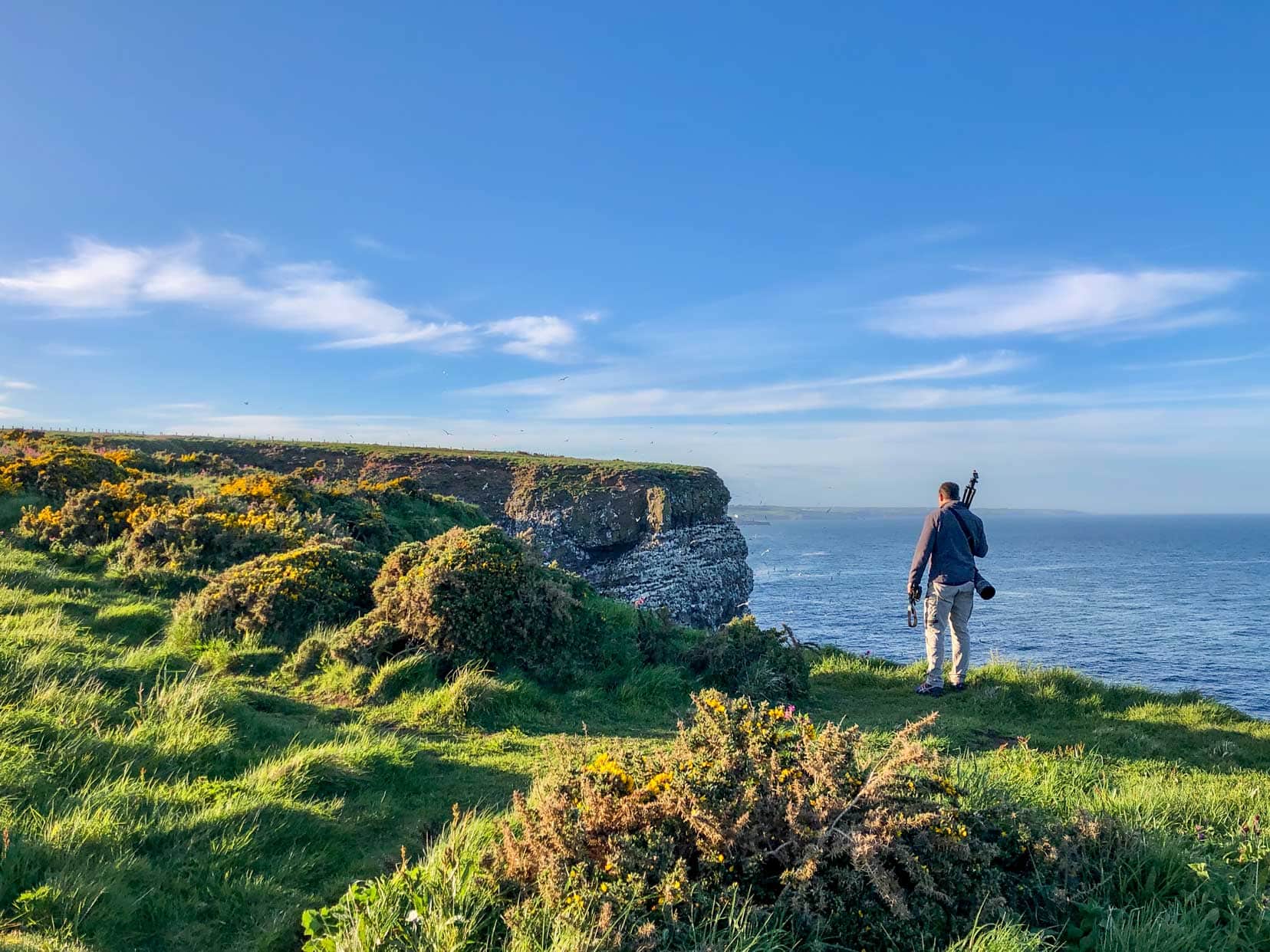 32. St Cyrus Beach
St Cyrus Bay is lined by a mile of golden sands. Protected by south-facing cliffs, which help to increase the temperature in the area, resulting in plants not normally found in Scotland thriving here. The area is a National Nature Reserve with grasslands and sand dunes.
Keep your eyes out for peregrine falcons soaring above. Otherwise, just enjoy the wildness of the coast and a walk along the scenic beach.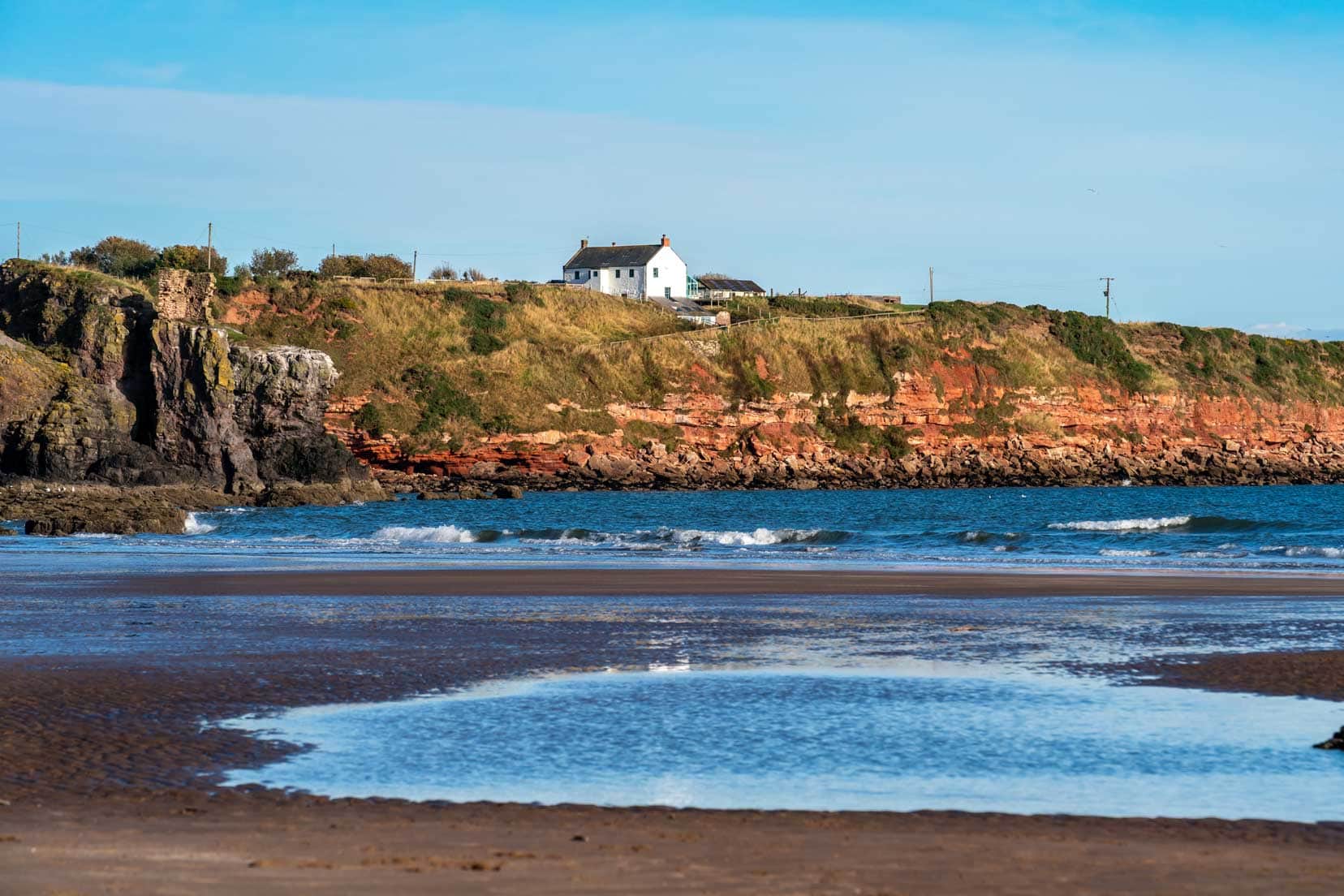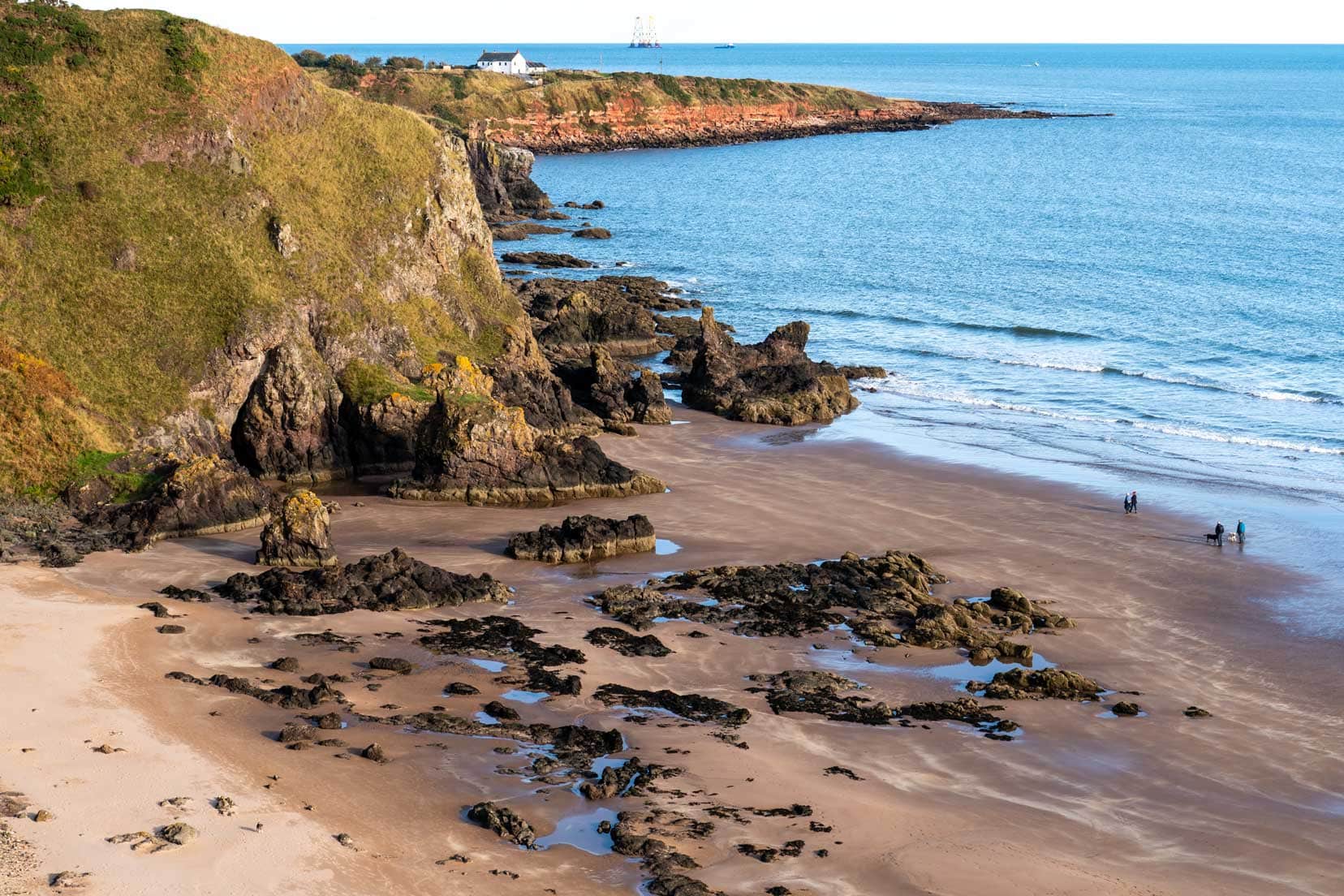 33. Try Aberdeenshire's Local Fare
The rich culture in Aberdeenshire isn't exclusive to historical sites. The region also offers plenty of opportunities to enjoy traditional music, dance, and food. A variety of pubs and restaurants offer traditional Scottish fare, such as haggis and local seafood dishes, like Cullen Skink.
Try some of Aberdeenshire's renowned whisky and gin, or enjoy a traditional afternoon tea at one of the county's many tea houses.
Here's a list of Aberdeenshire Foods to try:
Aberdeen Angus Beef: Famous for its tenderness and taste
Cullen Skink: A hearty cod and potato soup
Fresh local seafood: Fish from Fraserburgh and Peterhead often make it to restaurants on the same day as it's caught
The Aberdeen Rowie or Buttery: A savoury Scottish bread roll – often toasted and served with jam or butter
Haggis and Neeps: Not particular to Aberdeen – but you can't miss a taste of Scotland's classic – 'neeps' are turnips.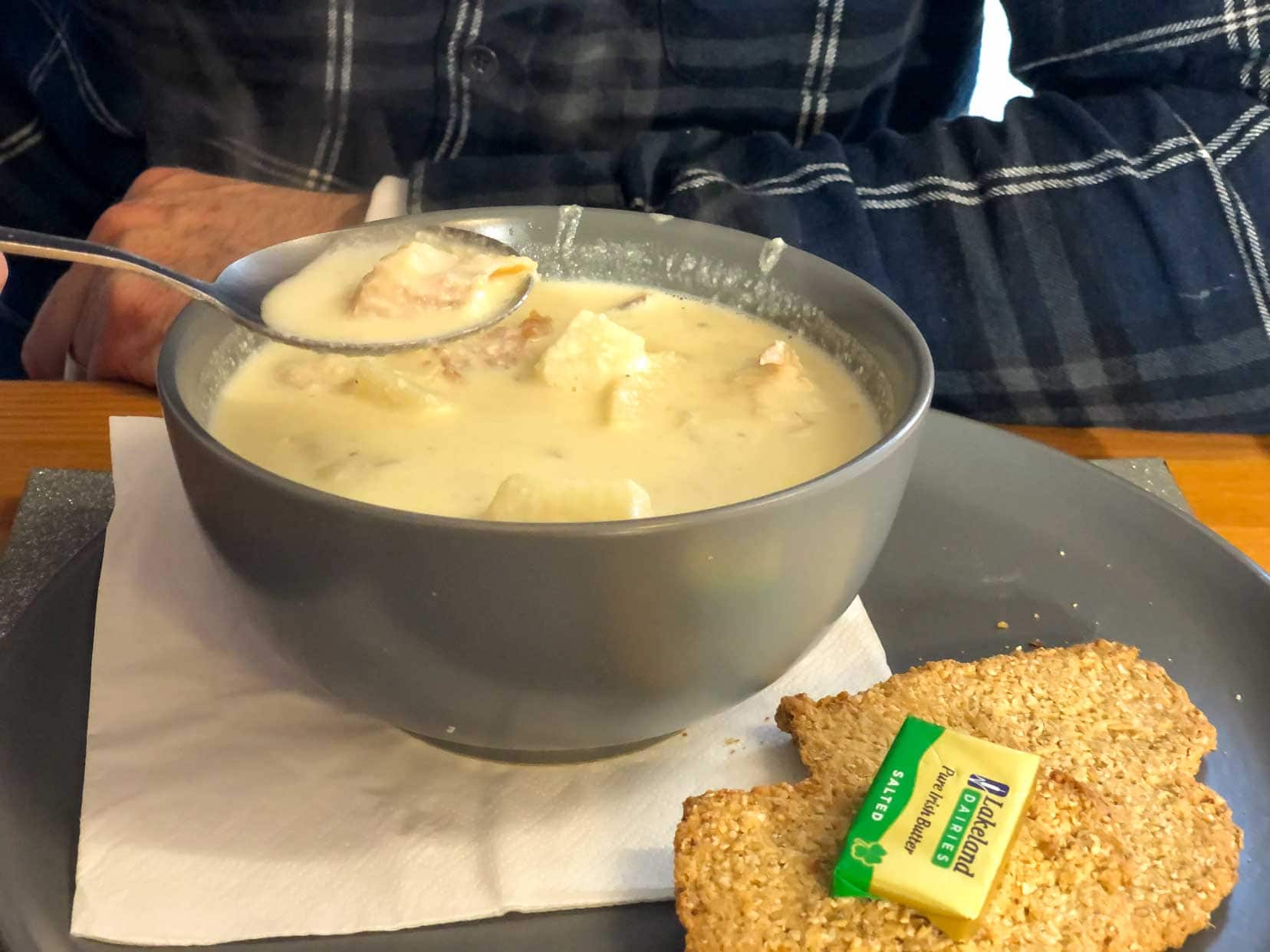 Driving in Aberdeenshire
The easiest way to explore Aberdeenshire and all it has to offer is by car. There are many public transport routes, but if you want to make the most of your time and explore all the interesting nooks and crannies, then a car is the best option.
🚘 If you are hiring a car, we recommend Discover cars with free cancellations and great competitive prices.
If you are driving from Aberdeen to Inverness, you may want to take a look at our post on driving from Aberdeen to Inverness, highlighting the various routes and what to see along each one.
Aberdeenshire has a few well-known driving routes that guide you through some of its most scenic and interesting waypoints (many of these places are included above).
These are the Driving Routes you may be interested in following in Aberdeenshire:
Aberdeenshire's Coastal Trail
Aberdeenshire has a dramatic coastline, and if you follow the Coastal Trail, you can visit harbours, lighthouses, nature reserves and coastal villages. The Coastal Trail signs are brown and white with a blue anchor logo.
The Castle Trail
You can also follow the Castle Trail, brown and white signs with a castle logo, to explore 19 of Aberdeenshire's castles, either stately homes or ruins dotted around the county. If castles are your thing, then you'll also want to read our Ultimate Guide on Aberdeenshire Castles.
The North East 250
Not only are there themed trails throughout Aberdeenshire, but you could also choose to tour the North East 250, which combines a mix of countryside and coastal experiences.
It is a 250-mile-long circular route that takes in the delights of:
Speyside, known for its distilleries
Royal Deeside, where you'll find grand castles
Aberdeen, the capital of the area
The Cairngorms and its scenic mountain passes
Moray Firth Coast – otherwise known as the Dolphin Coast
You can download printable maps and sign up for a North East Coast passport, enabling you to collect stamps along the route. Once complete, you can download a NE250 certificate. 
Snow Road Scenic Route
The Snow Road is a 90-mile route taking you through the scenic eastern Cairngorm mountains. The whole route can be done in a day and is steeped with picture postcard vistas. Along the route are several sculptures that are purposely built to merge into the landscape.
The Watchers is one that includes seating, inviting you to absorb the landscape and tranquillity of the area.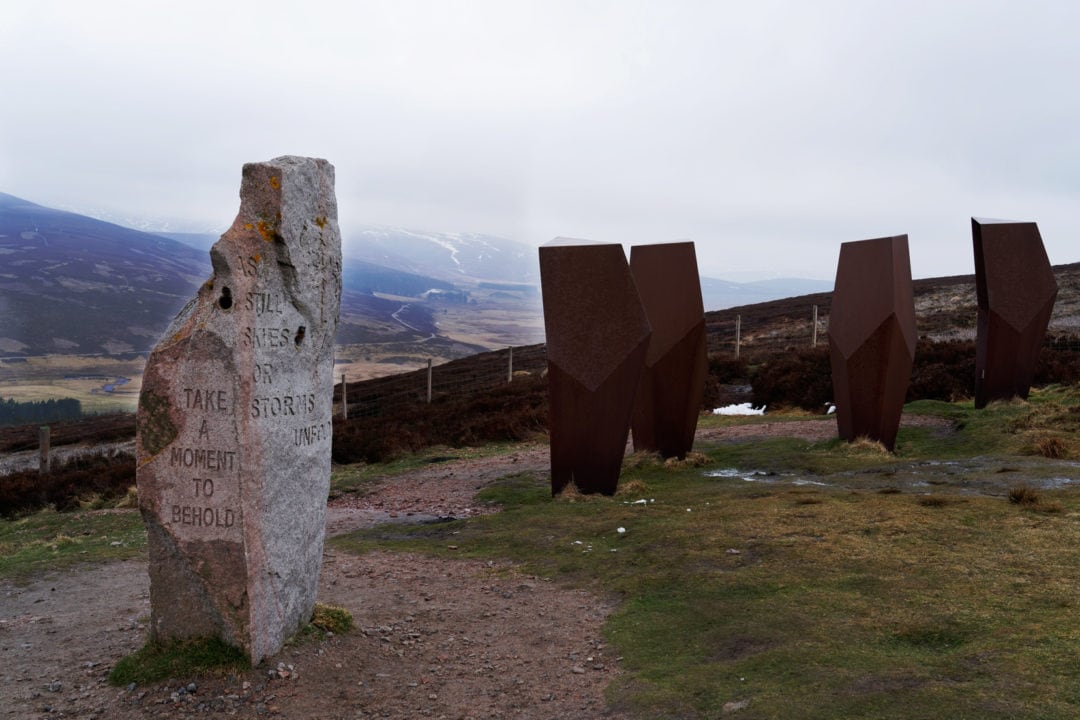 Things to do In Aberdeenshire … That's a Wrap
To give a quick summary of things to do in Aberdeenshire:
If you love wildlife:
🦭 Don't miss the Grey seal colony at Newburgh Seal Beach
🐦 Visit Troup Head to watch thousands of breeding gannets
🐦 Visit the Strathbeg Wetlands for birding opportunities
If you love castles:
🏰 Dunnottar Castle, just along the coast from the town of Stonehaven, is our favourite castle in Aberdeenshire. Its silhouette on the edge of the steep cliffs is a stunning and dramatic sight.
🏰 Craigievar Castle is a pink-hued fairytale-style castle with incredible painted ceilings.
🏰 Drum Castle has a bit of everything: forest walks, a tiny chapel, a pond garden, a historic rose garden and a castle that has changed through the ages.
If You Love Photography:
📸 Rattray Head Lighthouse at sunrise
📸 Troup Head for great gannet shots
📸 Muir of Dinnet for spectacular scenery
Follow us on our lifejourney4two on Facebook or Instagram for more photography, stories and travel tips.
Pin and Save for Later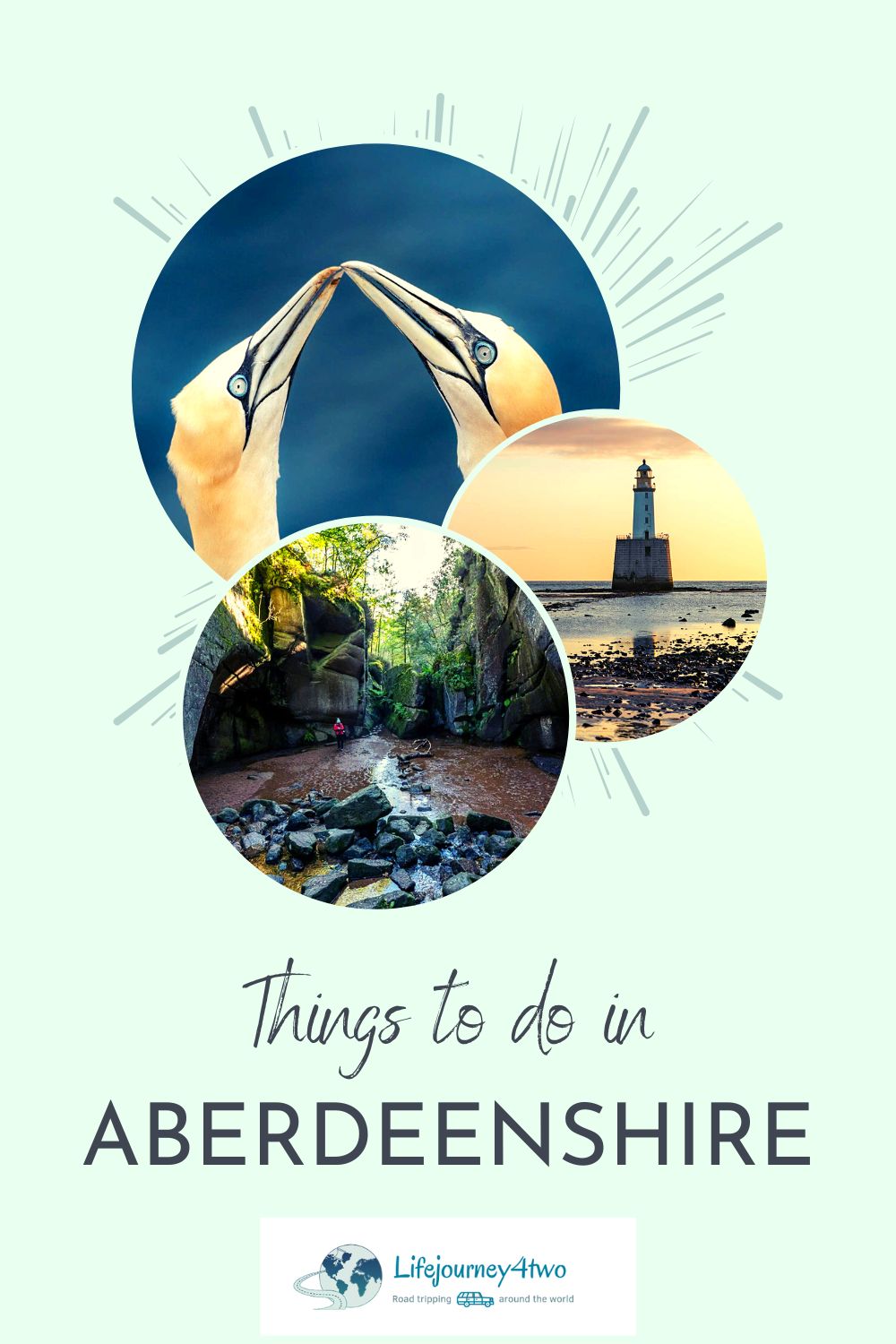 Read More:
---
PLANNING YOUR TRAVELS?
These are some of the travel resources we use when planning our trips.
For a more thorough list visit our Travel Resources page here.