Inverness to Aberdeen Road Trip
What's in this Inverness to Aberdeen Road Trip Article?
The best places to stop on an Inverness to Aberdeen drive
Suggestions of various road trip routes, with distances and travel times
Lots of photos and information to help you decide where you might like to stop on your drive between these two Scottish cities.
We've driven all of these Inverness to Aberdeen (and Aberdeen to Inverness) road trip routes we suggest here several times over during the year we lived in Scotland.
If you are looking for things to do around Inverness, then pop over to our post, where we highlight why Inverness is worth visiting and all the day trips and road trips you can embark on from there.
What is there to do on a Drive Between Inverness and Aberdeen?
There is plenty to do between Inverness and Aberdeen, and we've seen and done all of these we've listed below.
The route map below shows the location of all stops and is colour-coded depending on the road trip route taken.
Summary of all the stops included in this Inverness to Aberdeen Road Trip Post
Culloden
Clava Cairns
Fort George
Cawdor Castle
Brodie Castle
Findhorn Beach
Elgin Cathedral
Bowfiddle Rock
Cullen
Findlater
Crovie
Troup Head
Pennan
Loch of Strathbeg
Rattray Lighthouse
Peterhead Prison
Bullers of Buchan
Newburgh Seal Beach
Dulnain Bridge
Grantown-on-Spey
Cairngorms Snow Road
"Still" Sculpture
Keith Old Bridge
Huntly Castle
The Watcher's
Kildrummy Castle
Castle Fraser
Inverness to Aberdeen Map: Routes and Places to Visit in Between
Planning a Trip to Scotland?
Inverness to Aberdeen Distance
So, how long will it take you to drive from Inverness to Aberdeen? The distance, and therefore the time it takes you, will vary depending on your route, how many stops you make and how many detours you take off the main route.
That said, we've included three possible Inverness to Aberdeen road trip options, with approximate distances and travel times, below:
Inverness to Aberdeen Coastal Route

Distance: 152 miles / 245km
Travel Time: 3 hours 30 mins

Inverness to Aberdeen Fastest Route

Distance: 104 miles / 167km
Travel time: 2 hours 20 mins
You can jump to the detailed information for each route by clicking one of the options above or browse all of them by reading on …
Inverness to Aberdeen Drive — Coastal Route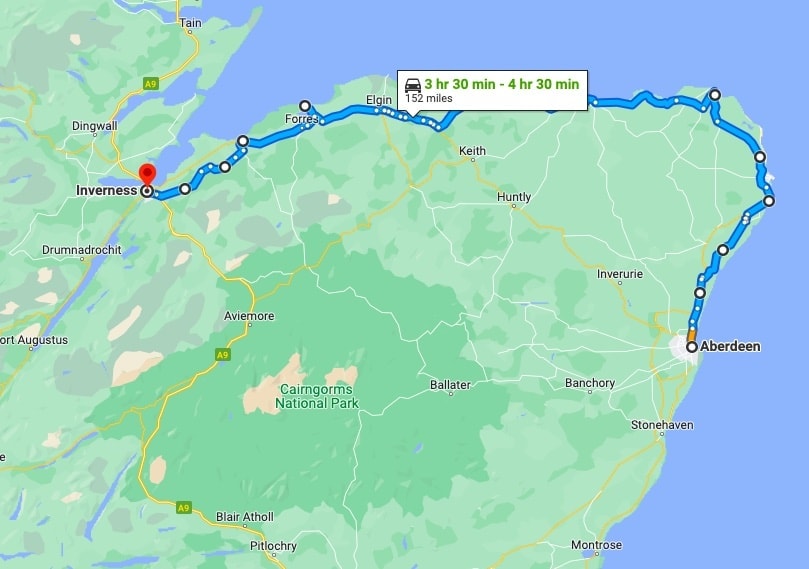 The Coastal route from Inverness to Aberdeen has the most to see out of the three options and is also the longest route.
Summary of Stops on the Inverness to Aberdeen Drive via Coastal Route
Culloden Castle and Visitor Centre
Clava Cairns
Fort George and Highlanders Museum
Cawdor Castle
Brodie Castle
Findhorn Beach
Elgin Cathedral
Bowfiddle Rock
Cullen
Findlater
Crovie
Troup Head
Pennan
Loch of Strathbeg
Rattray Lighthouse
Peterhead Prison and Museum
Bullers of Buchan
Newburgh Seal Beach
Culloden Battlefield and Visitor Centre
If you are a history lover or Outlander Fan, Culloden Battlefield and Visitor Centre must be on your Inverness to Aberdeen itinerary.
For me, it was a deeply moving experience. Not only because I am an Outlander fan and knew the history behind the battle but also because so many of my ancestors were from Scotland.
The modern Visitor Centre at Culloden walks you through the long history of events that eventually led to the 1746 Battle of Culloden, where the Jacobite army was slaughtered and crushed by the English Government army.
Culloden Battlefield is free to enter, but the Visitor Centre charges an entrance fee — unless you are a member of the Scottish National Trust, as we were.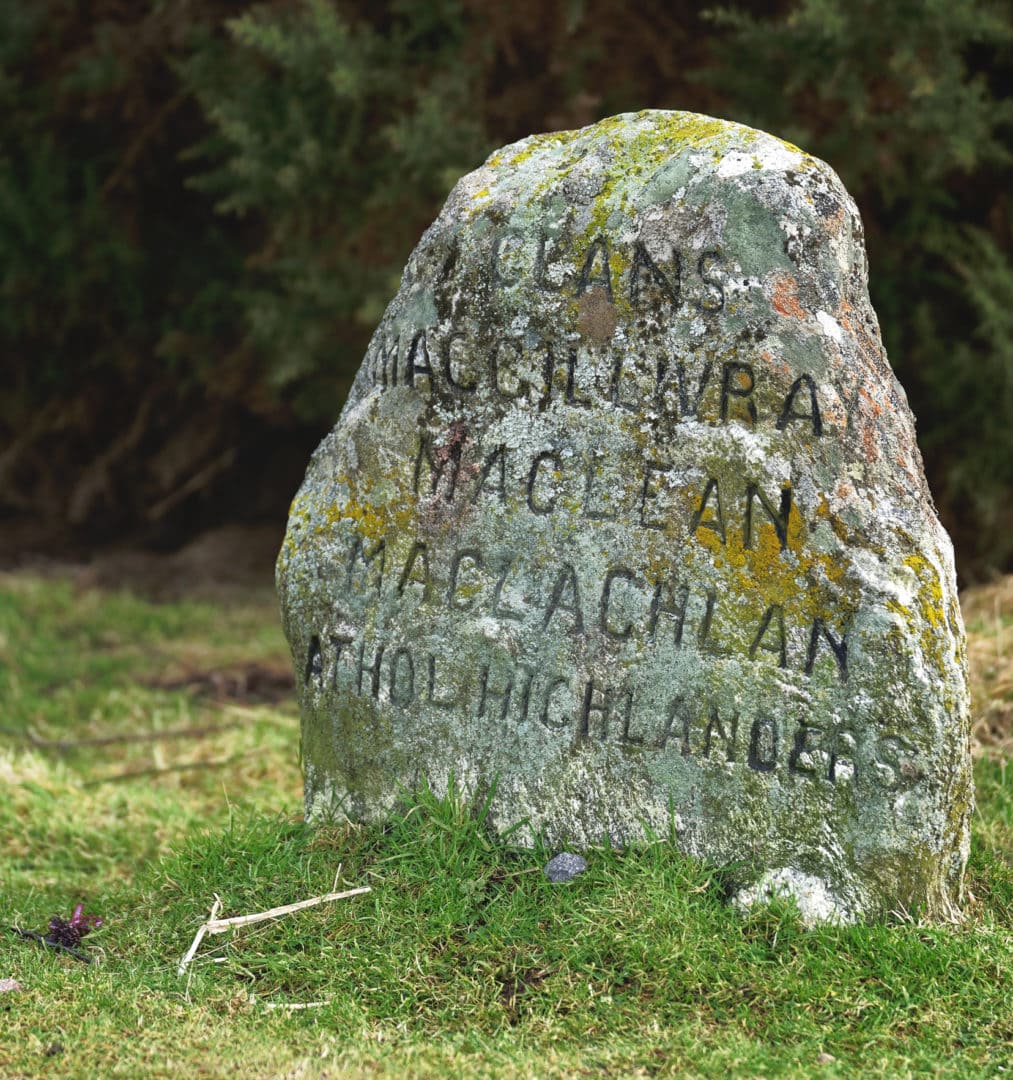 Clava Cairns
Just five minutes from Culloden Battlefield are the 4000-year-old Clava Cairns.
This ancient sacred site contains prehistoric burial monuments and standing stones. There are a few information boards here, but other than that, you are surrounded only by the cairns and nature.
The peace and surrounding nature make this little enclave a pleasure to visit. Allow yourself ample time to contemplate what life may have been like here thousands of years ago.
One of the main cairns was built so that the summer solstice sun setting strikes the entrance.
Clava Cairns is open year-round and free to enter.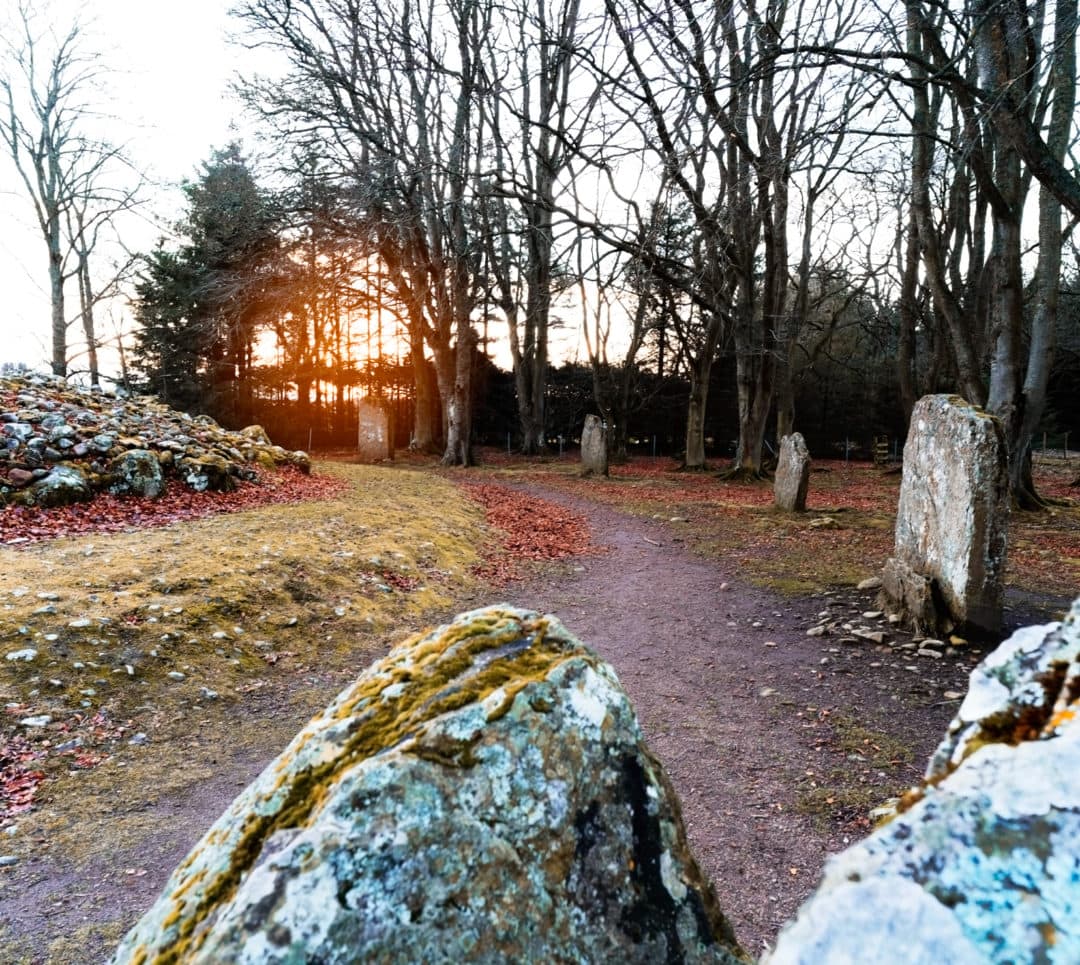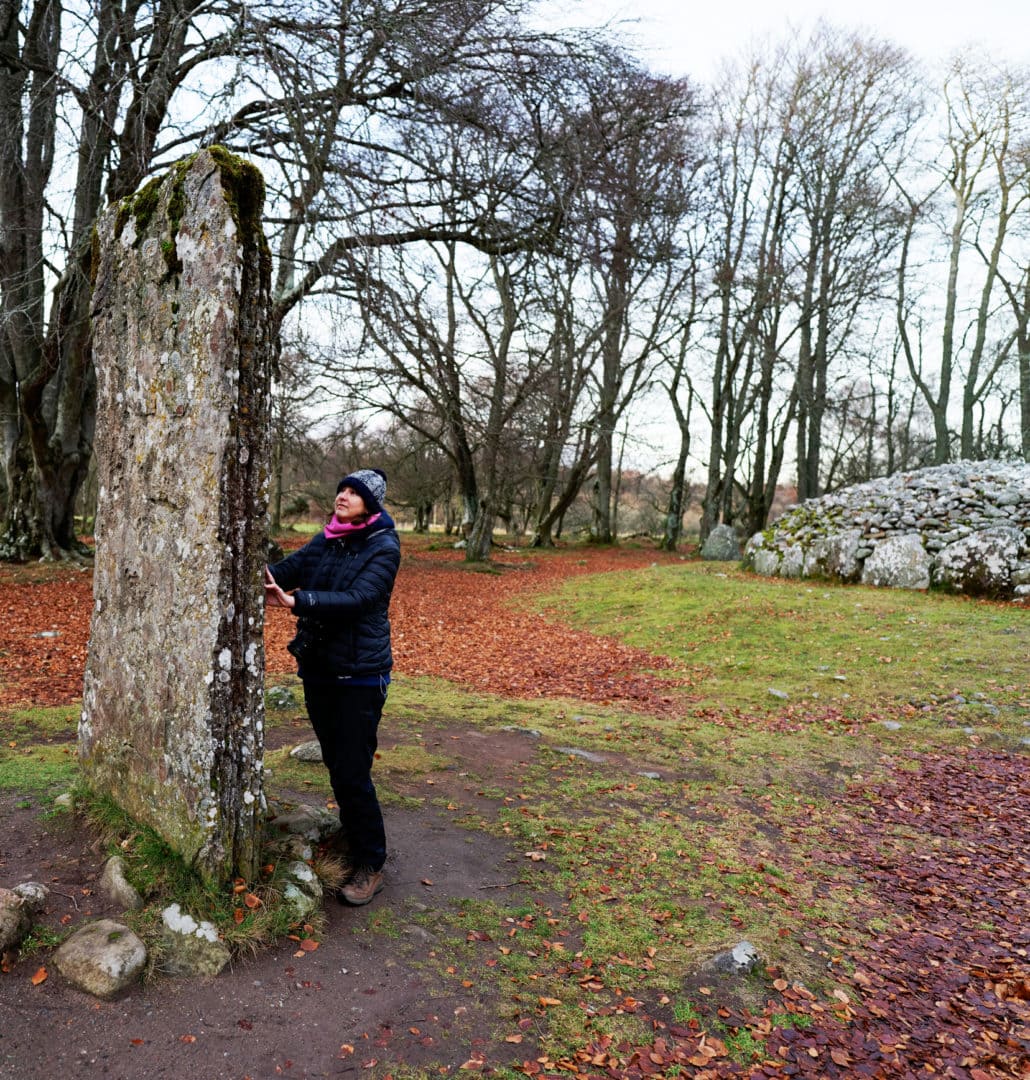 Fort George
Fort George was built in the aftermath of the Battle of Culloden to protect Scotland from any future Jacobite rebellion. It took, however, 20 years to complete, by which time the Jacobite threat no longer existed. This huge fortification was used by the British Army for 250 years.
If you are interested in military history, then Fort George is worth a stop because it also houses Scotland's second-largest regimental museum (Edinburgh's museum is the largest).
Cawdor Castle
Cawdor Castle has been in the Cawdor family since the 14th century, with 23 generations calling this place home. The petrified holly tree in its centre makes this castle interesting and its accompanying stories interesting.
The castle sits amongst the Big Wood, where you'll find nature trails of varying lengths, and it has three gardens. Prices vary depending on whether you want to visit the castle and gardens or just the castle itself.
Brodie Castle
The National Trust runs Brodie Castle, and it is particularly spectacular in spring when the grounds are awash with swathes of golden daffodils — with over 100 varieties, no less.
It was home to the Brodie clan for over 400 years and is surrounded by a quirky 'Playful Garden' where you'll find a giant 6.5-metre white rabbit, unicorns that create spray rainbows, spinning chairs, mirror totem poles and all sorts of other quirky installations.
Findhorn Beach
Findhorn is known for its long white sandy beach and its spiritual, sustainable ecovillage run by the Findhorn Foundation.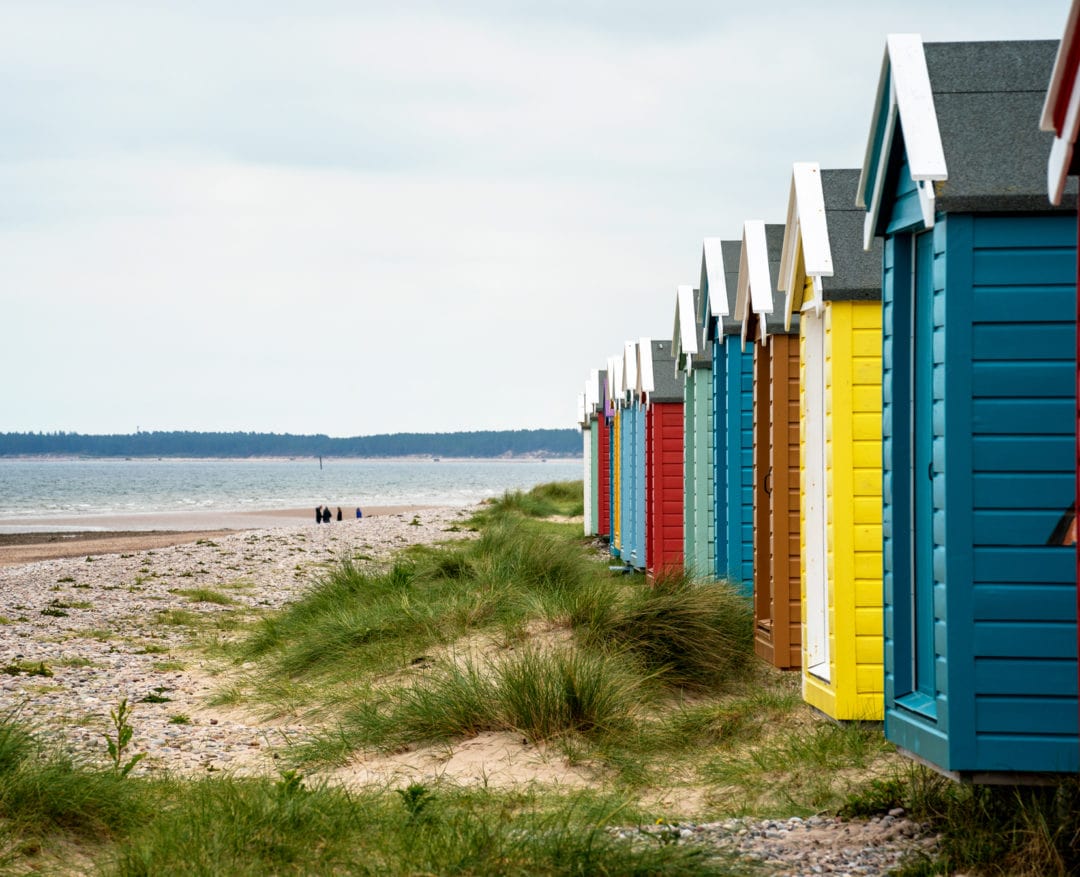 Elgin Cathedral
Elgin Cathedral, known as the Lantern of the North, is definitely worth a stop en route, whether heading south to Aberdeen or north to Inverness. It is run by Historic Environment Scotland and if a member, you have free entry.
Although a ruin, Elgin Cathedral has plenty to offer visitors. We were pleasantly surprised at the number of artifacts still intact, providing a peep into what the 'Lantern of the North' once looked like and the symbolism and stories from the past dotted around the cathedral and its graveyard.
The cathedral is said to have been one of the finest pieces of architecture in Scotland, and the Chapter house, still almost intact from the 1500s, has an amazing vaulted ceiling, which was once coated with gold paint.
Climb the northwest tower for giddying views over the grounds and to find out more about the various sculptures, including faces and dog heads, in the architecture of the cathedral. Make sure to look down as you climb the winding stone staircase because the steps are made of recycled gravestones.
There are a few quizzes you might like to do while there, too: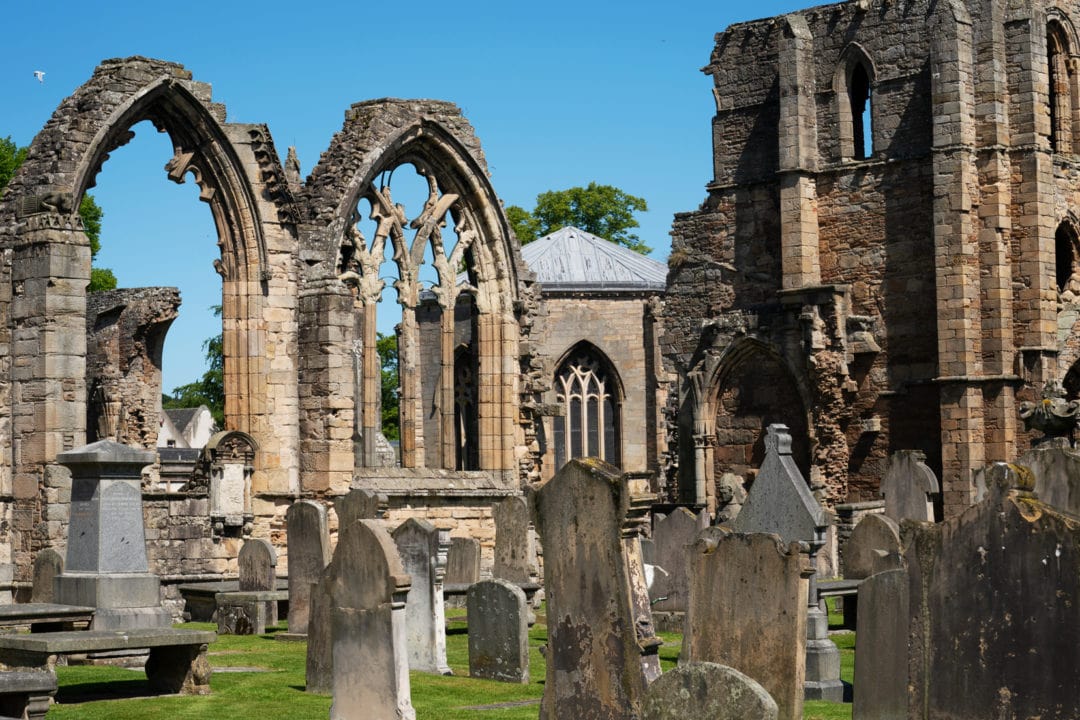 Bow Fiddle Rock
We both love the scenery, but Lars, particularly, is drawn to sea stacks and photogenic rock arches formed over millennia by the endless pounding of the waves.
Needless to say, Bow Fiddle Rock had him enraptured. He was there for quite some time, taking photos from all angles, waiting for the waves to crash and the sun to peek out from behind the clouds to light up his subject just right.
Sometimes, on our road trips, as in the case with Bow Fiddle Rock, we don't want to spend the same amount of time at each stop. Therefore, as on any couple's road trip, compromises or sacrifices need to be made.
So, when we come across sea stacks and the like, I know Lars will spend a reasonable amount of time there. I always make sure I have a book to read or podcast to listen to so I'm not getting bored waiting for him… or I take a sneaky half-hour cat nap.
However, many people are attracted to this naturally formed, million-year-old rock arch. It's called Bow Fiddle Rock because it's shaped like the tip of a fiddle bow.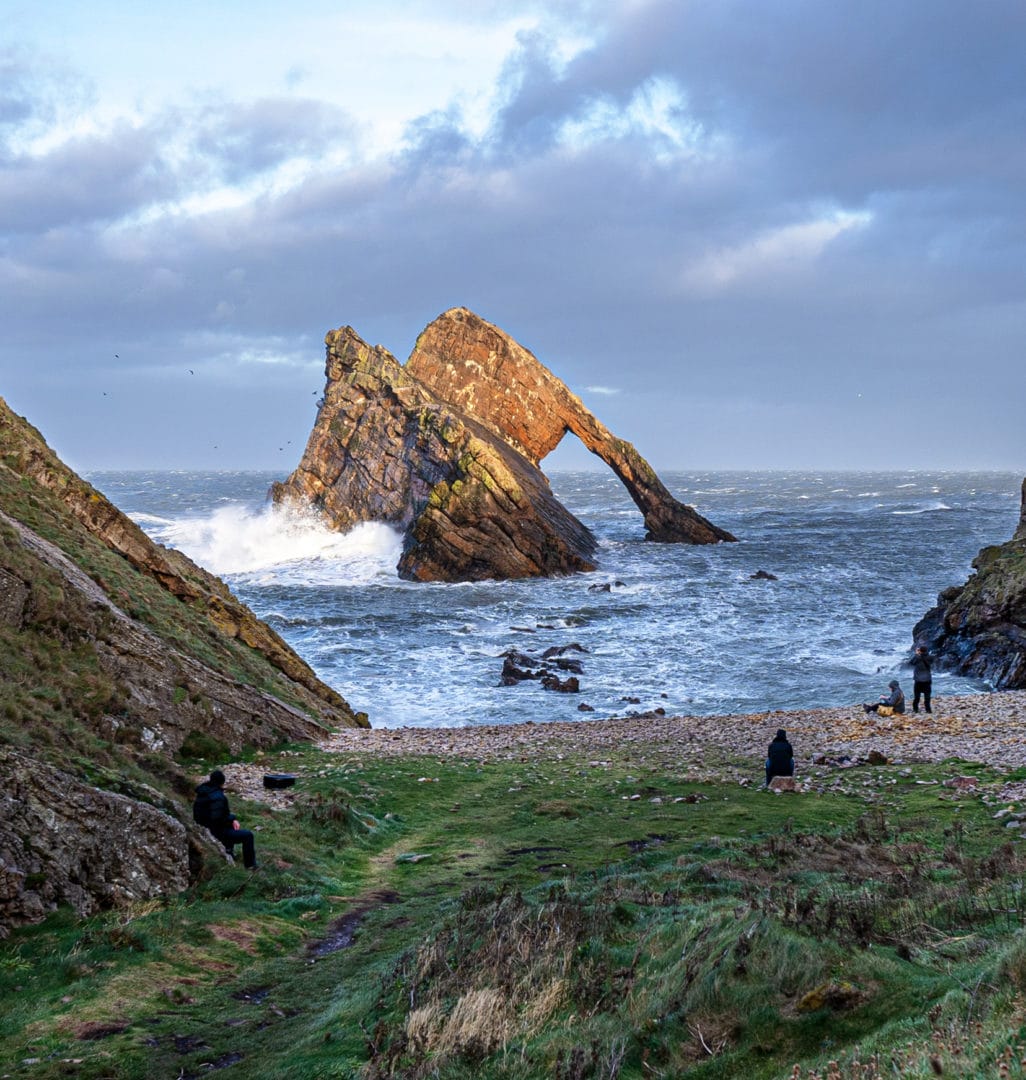 Cullen
When we first arrived in Scotland, we kept noticing Cullen Skink on menus and wondered what kind of animal this was. Cullen Skink, however, is the Scottish speciality soup made from smoked haddock, potatoes, onions and milk.
What better place to try out this local dish than in the very town from which it originated, the seaside town of Cullen? A few local restaurants are serving this hearty soup, but we recommend grabbing a homemade steaming bowl at Lily's Kitchen.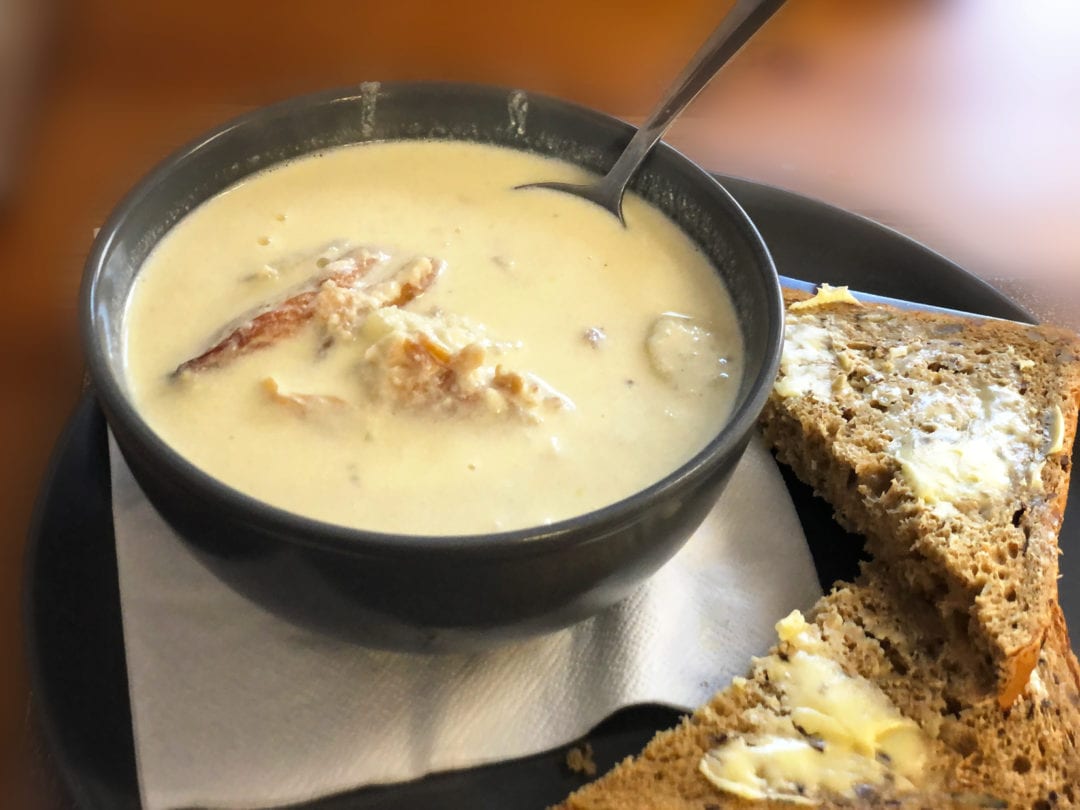 Findlater Castle
Findlater Castle ruins seem to be balanced precariously on a rocky peninsula, and it looks like they may crumble into the ocean at any moment. It was built in the 1450s by the Ogilvy family and lays claim to being besieged by Mary Queen of Scots.
The ruins can be reached by either parking in a small carpark about a 10 to 15-minute walk away or along a two-mile coastal route from Cullen.
There is a viewpoint and info board overlooking the promontory with a path leading towards the castle ruins. However, the path is steep and can be muddy going down to the castle and slippery if it's wet — so take care.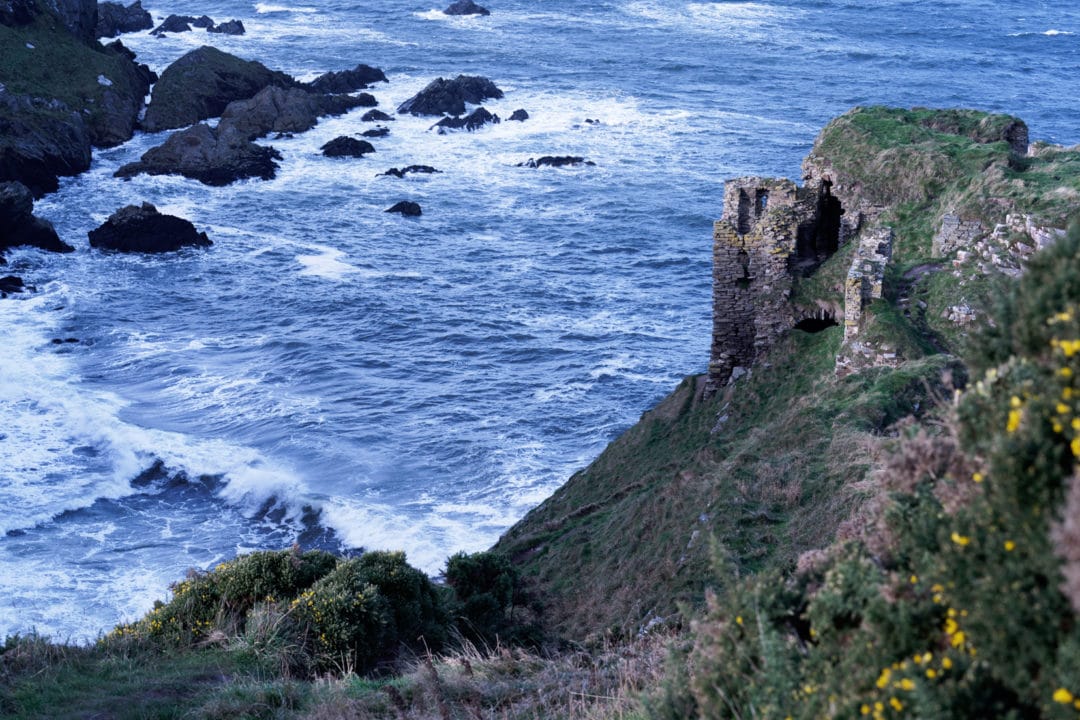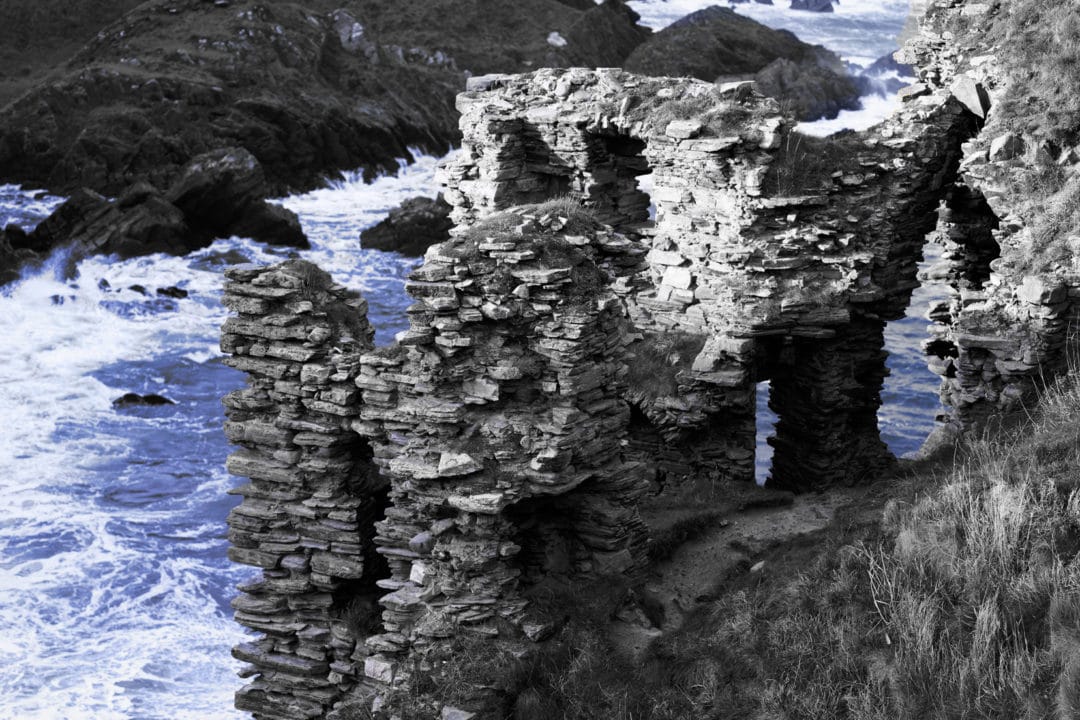 READ MORE: The Ultimate Guide to Aberdeenshire Castles
Crovie
Crovie is a unique village that is squeezed in between the coast and the cliffs behind. It's the best-preserved fishing village in Europe, and as can be seen in the photo, it has the narrowest space between the shore and cliffs of any Scottish village.
A viewing point and car park are at the top of the cliffs.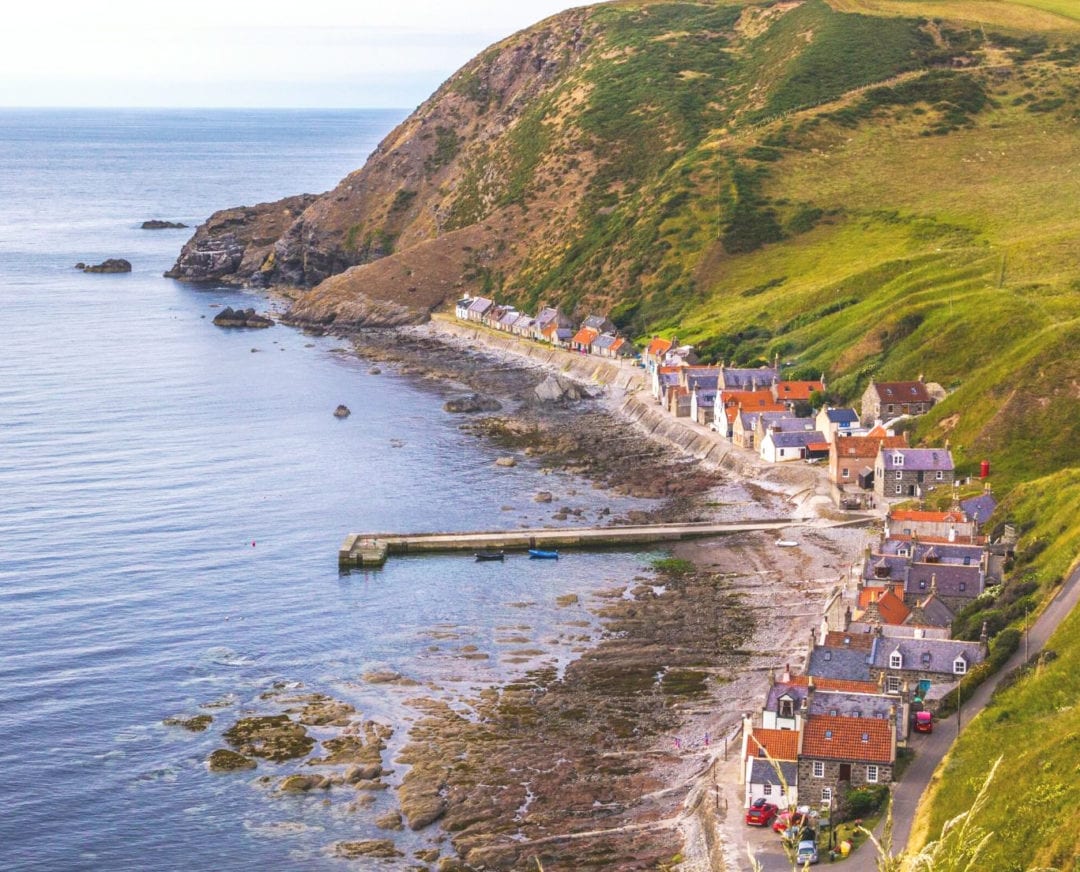 Troup Head
Troup Head has to be one of my favourite places to visit when we have a day trip from Aberdeen. Thousands of gannets arrive on the cliffs from spring for the breeding season. I really could spend hours watching their ungracious landings, noisy squabbles, and amorous beak knocking.
In summer, their chicks hatch, and by September, they've all left, returning to the open seas until the following year when nature repeats itself, and the cycle continues.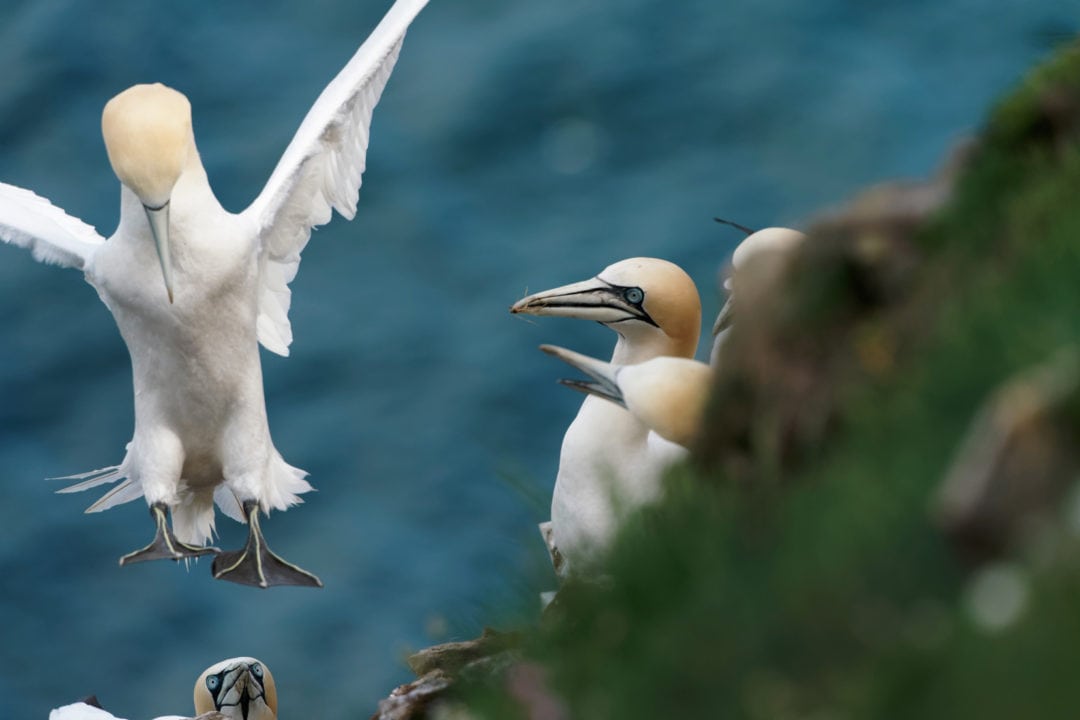 Pennan
Pennan is another village perched on the edge of the coast and is nestled by the surrounding cliffs. It is famous for being the backdrop to the 1986 Warner Bros film Local Hero, starring Burt Lancaster.
The telephone box used in the film is still there, and tourists, like us, like to pose for a picture in homage to the film.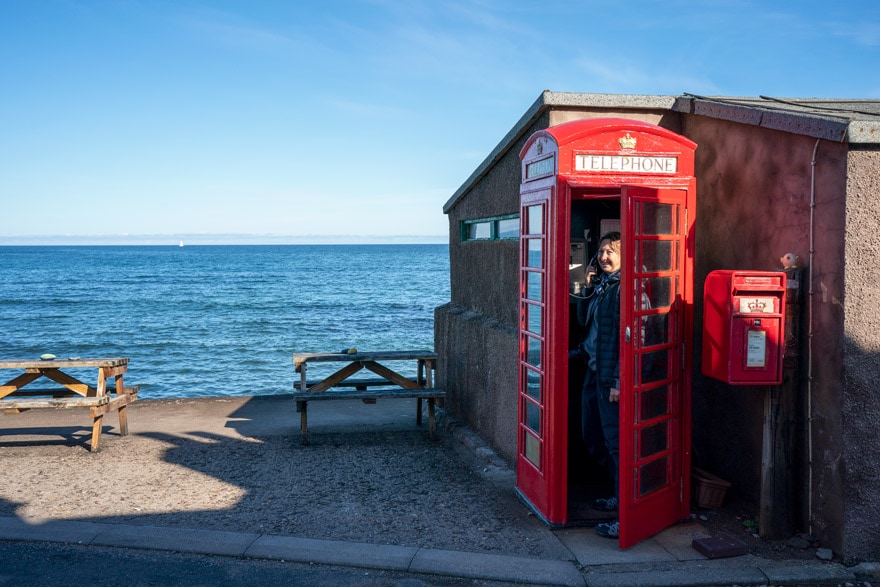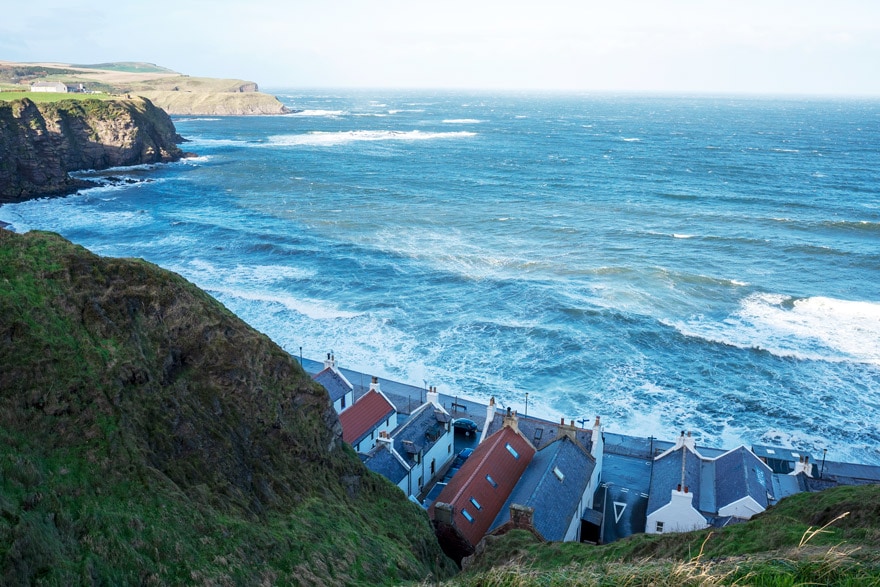 Also, some of the scenes of the 2013 remake of Whisky Galore, based on the true story of a 1941 shipwreck, were shot in Pennan. The SS Politician ship ran aground near the Hebridean island of Eriskay and a group of local islanders raided its cargo of 24,000 cases of whisky.
If you are looking for a tour From Aberdeen, the North East of Scotland Coastal Tour includes the town of Pennan, Duff House and Kinnaird Lighthouse Museum | ⭐️ 4.9/5 | ⏰ 8 hours |
Loch of Strathbeg
Loch of Strathberg Nature Reserve is a wonderful wetland teeming with wildlife. Owned by the RSPB (Royal Society for the Protection of Birds), it is the largest dune loch in Great Britain. With over 560 species of wildlife, a walk along many of the reserve's walking trails will likely introduce you to several of the community's birdlife.
Loch of Strathbeg is touted as one of the best birdwatching sites in Scotland. In fact, while we were there, there was palpable excitement among the birdwatchers as a rarely seen greater yellow leg had been spotted several times in the Loch.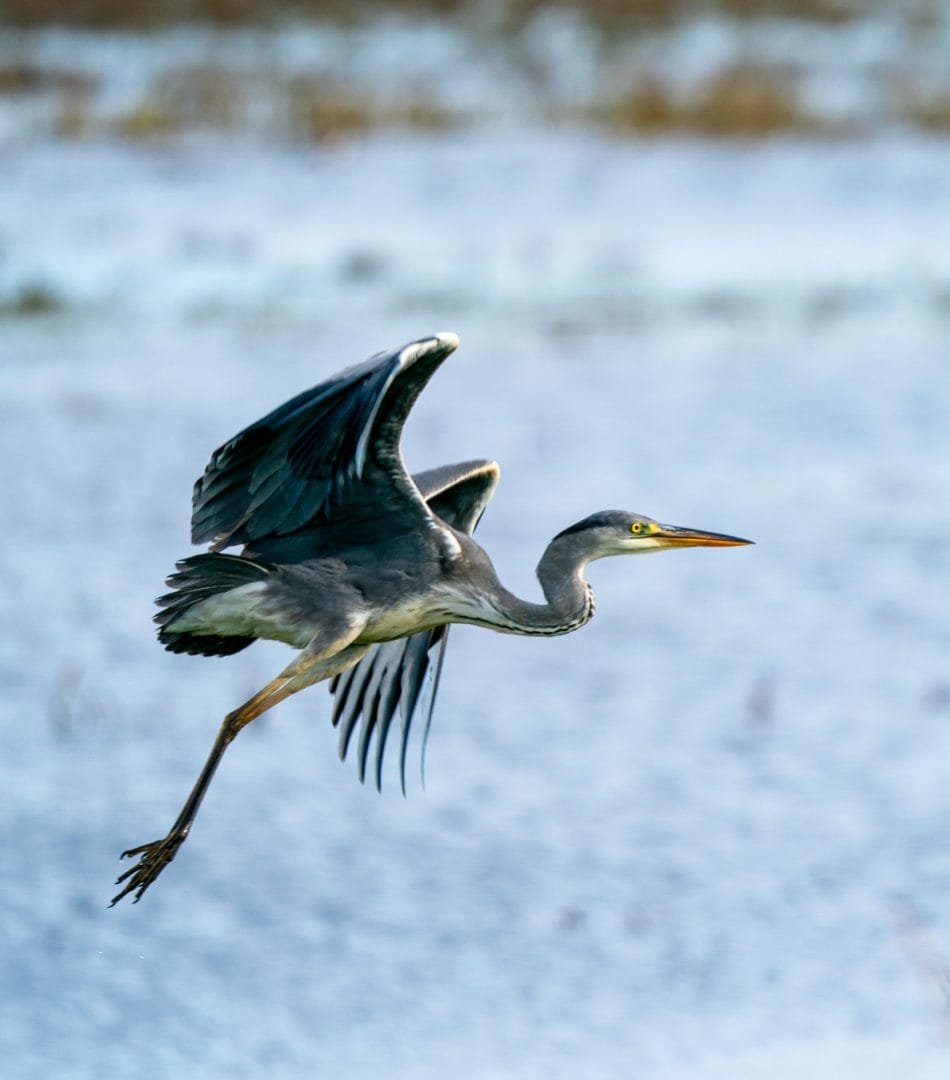 Some of the trails are only open in summer (Fen and Bay Hides Trail), but in winter you can still walk to Tower Pool Hide and watch the geese that migrate here from the Arctic.
Popular visitors are the pink-footed geese that begin to arrive in autumn, from Greenland and Iceland. In fact, about one-fifth of the world's population of pink-footed geese stop here between September and March.
The wetland also includes five miles of beach along the coast.
Keep an eye out for the Konik ponies in the wetlands here. They are a hardy breed of pony, originating in Poland, and are used to assist conservation methods in areas such as lowland wetlands. They are semi-wild horses that graze on dense vegetation. This, in turn, encourages a rich diversity of habitats and encourages wildflower growth.
Opening Times: The nature reserve and hides are open at all times (free of charge)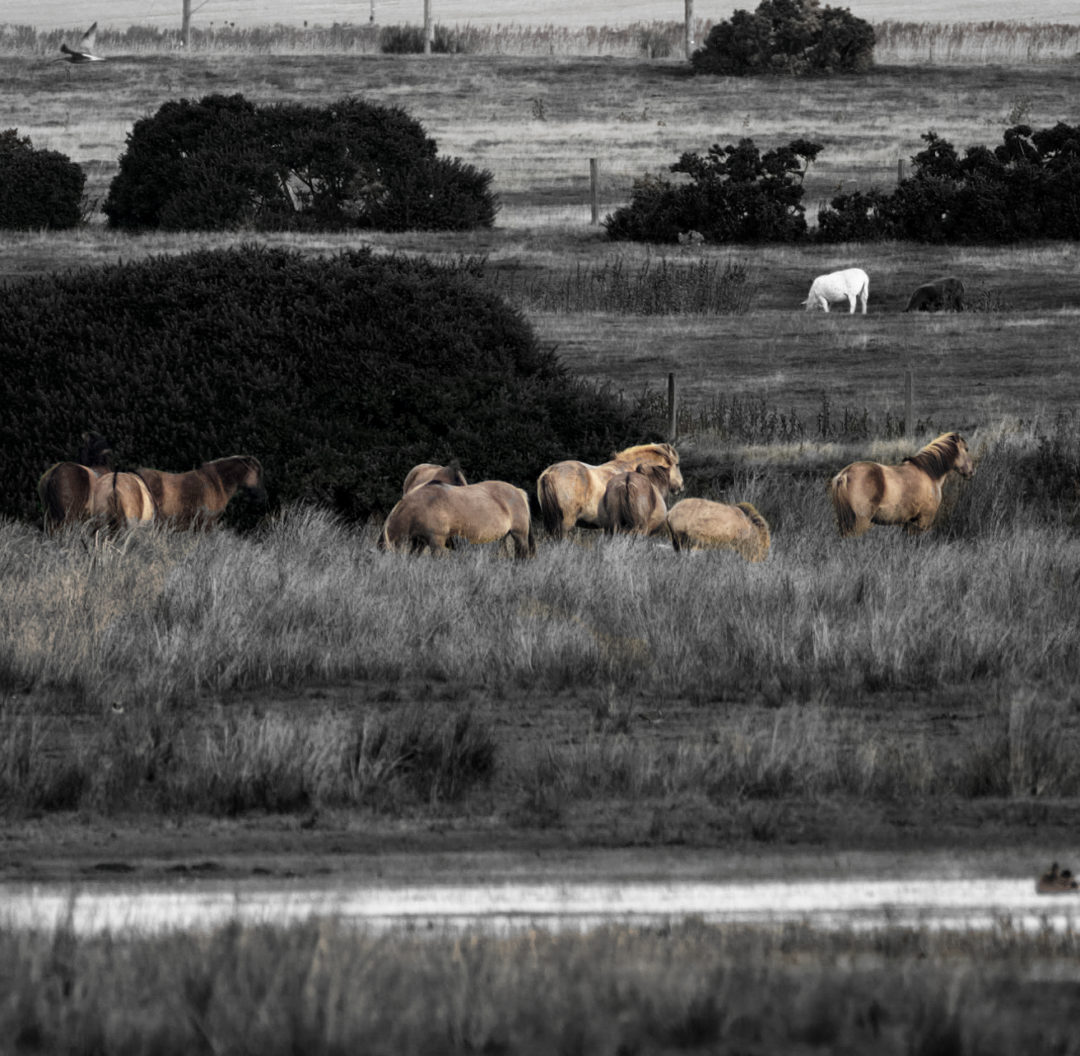 Rattray Lighthouse
Why are so many of us attracted to lighthouses? Some are architecturally attractive. Many are on dramatic coastlines, standing up to relentless weathering as their beacons warn ocean goers of perils close by.
Perhaps it's the symbolism of hope and comfort, or the romanticism of the past when the lone lighthouse keeper suffered solitude and kept the beacon lit to ensure others were safe.
For us, it's a mixture of all of these, and as photographers, there is something special about capturing the magic of a lighthouse at sunrise and sunset.
Rattray Head Lighthouse is just off the coast and can be reached at low tide by a quick walk through the sand dunes.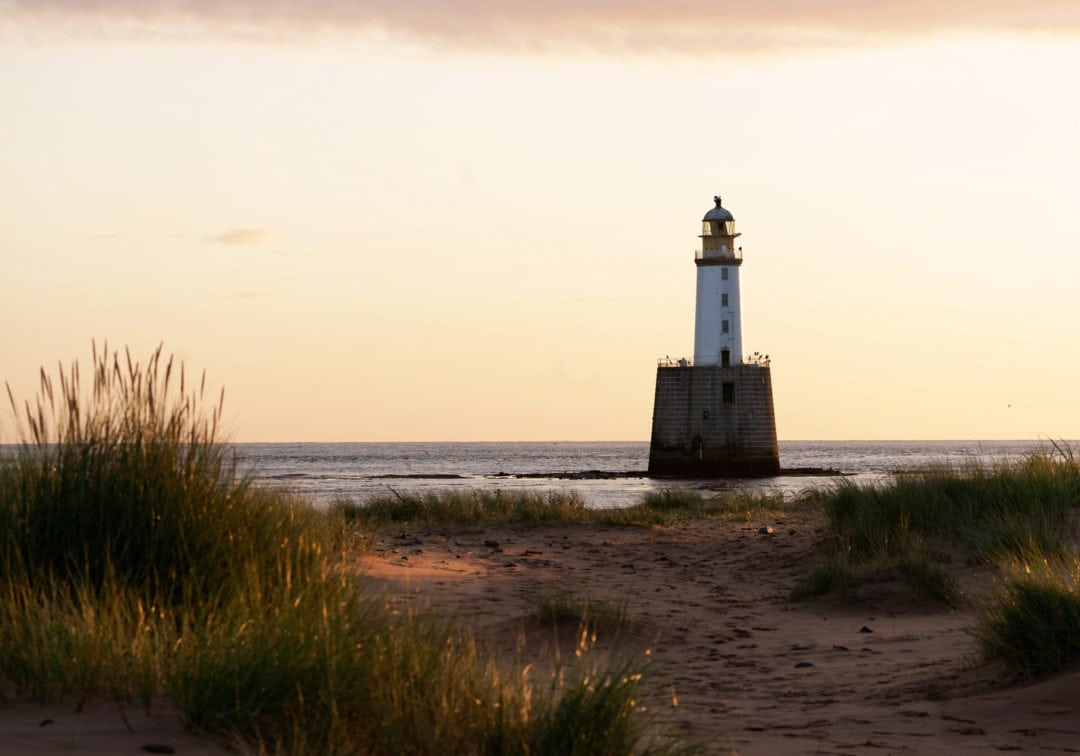 Peterhead Prison Museum
Peterhead Prison was the only convict prison in Scotland and operated between the years, 1888 and 2013.
When you visit you are given an audio headset which then guides you around the prison corridors, cells, halls, laundry, hospital wing, laundry, shower blocks punishment block. The tour takes about 1.5 -2 hours
For more information and short videos have a look at their website here.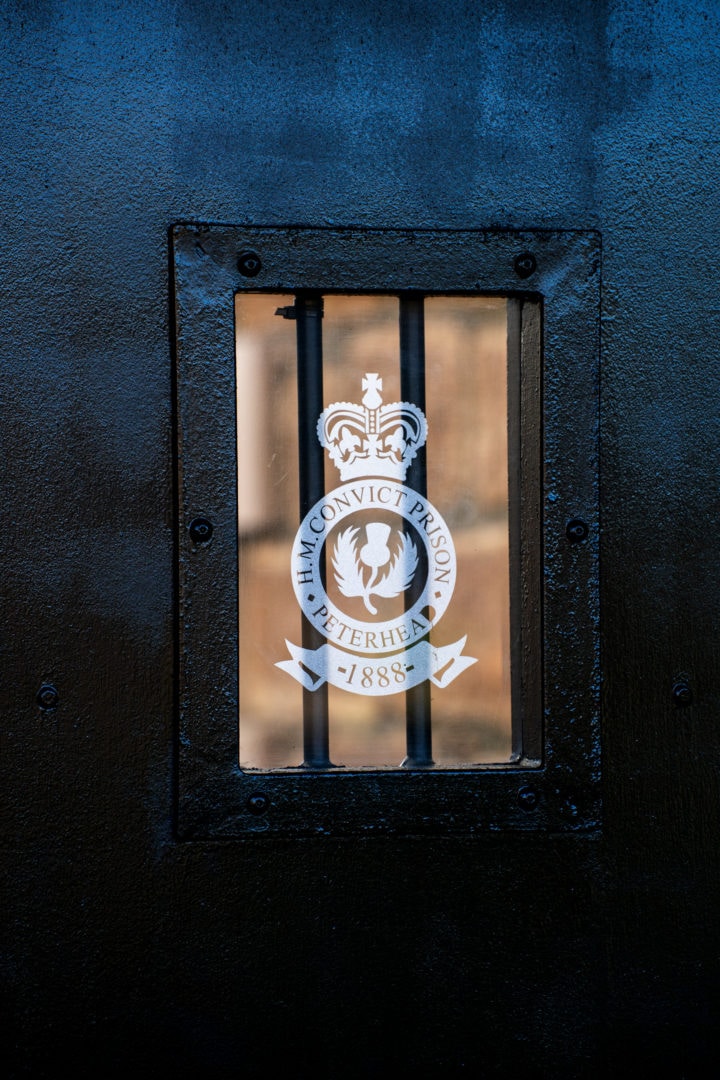 Bullers of Buchan
At Bullers of Buchan, you'll find a collapsed sea cave and rugged cliffs that are the nesting sites for colonies of seabirds, such as guillemots, razorbills, puffins, fulmars, and kittiwakes. You might also see grey seals and dolphins offshore.
The sea cave is 30-metre deep and is known as 'the pot'. Bullers of Buchan is a fantastic spot for coastal views.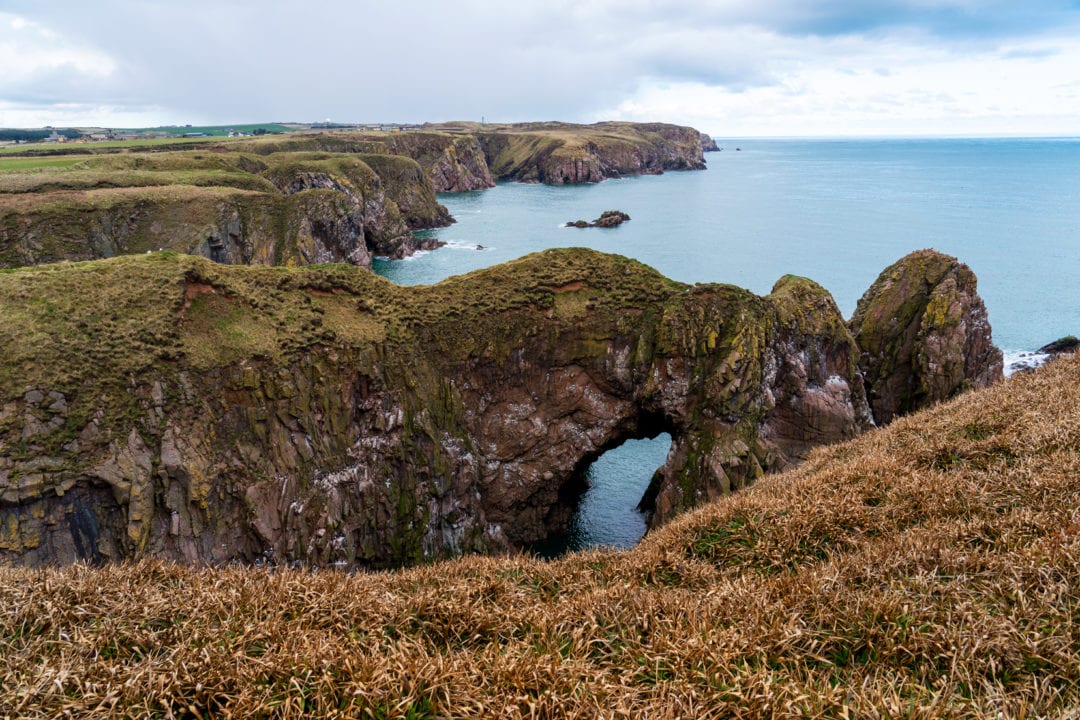 Newburgh Seal Beach
Newburgh seal beach is another of our favourite spots and is only a 20-minute drive from Aberdeen.
For more information and lots of photos of the grey seal colony at Newburgh Beach, read our post: Newburgh Seal Beach at Forvie Nature Reserve.
The seals haul themselves out on the banks of the Ythan River and can be seen swimming up and down the river. They are quite inquisitive things and are often just as interested in you as you are in them. This area is part of the Forvie Nature Reserve, surrounded by golden sand dunes and attracts plenty of wildlife.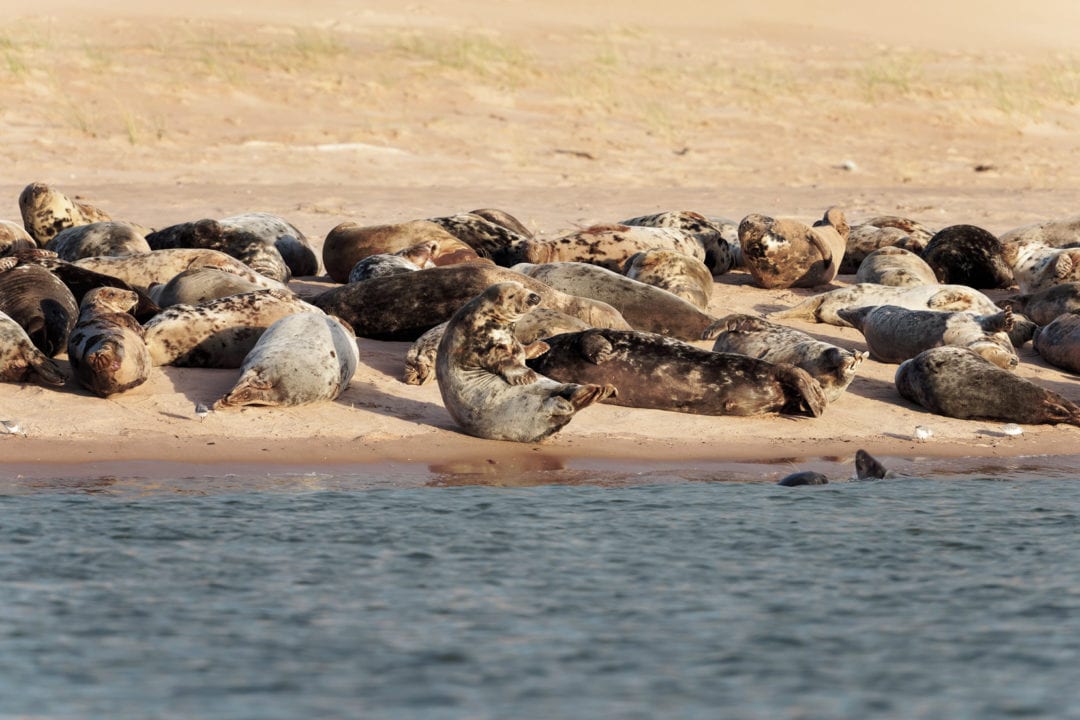 Fastest Route from Inverness to Aberdeen
This Inverness to Aberdeen road trip route starts the same way as the Coastal Route until Elgin but after that, you would continue to Aberdeen along the A96. The route differs, in that you will pass Keith Old Bridge and Huntly Castle.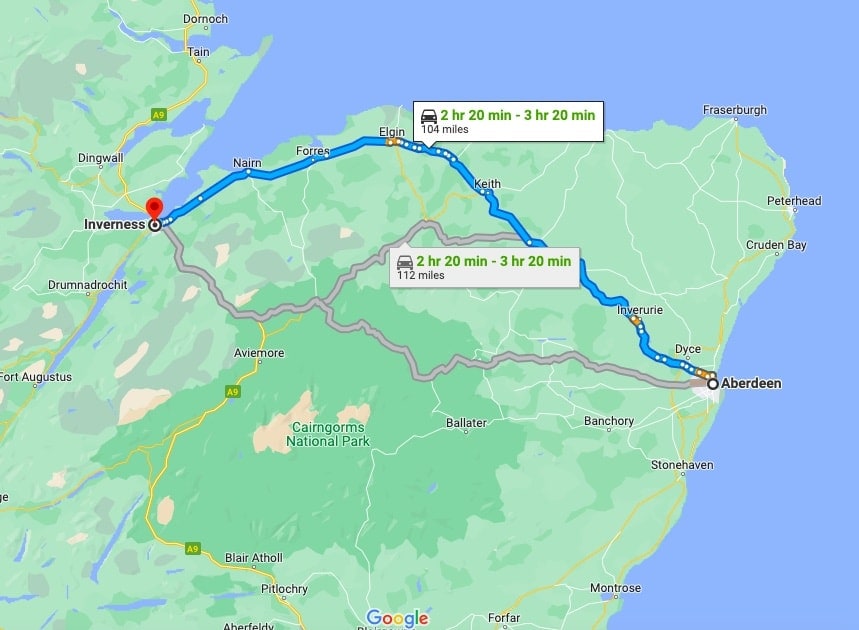 Summary of Best Stops on the Inverness to Aberdeen Road Trip Fastest Route
Culloden Castle and Visitor Centre
Clava Cairns
Fort George and Highlanders Museum
Cawdor Castle
Brodie Castle
Findhorn Beach
Elgin Cathedral
Keith Old Bridge
Huntly Castle
Keith Old Bridge
The listed Old Bridge of Keith is also known as the Bridge of Grange and Keith Auld Brig. This picturesque bridge arches its way over the River Isla and is the oldest bridge in the county of Moray.
It was built in 1609 as a packhorse crossing by a couple who lived nearby, Thomas Moray and his wife, Janet Lindsay. They built the bridge at their own expense because they were concerned about the dangers of crossing the ford. On the eastern side, you can see a worn carving of their coat of arms.
In 1706, Daniel Defoe, author of Robinson Crusoe, apparently crossed the bridge and, admiring it, declared it to be a 'fine bridge'.
Also along the banks of the River Isla, you'll find Strathisla Distillery, the oldest continually operating distillery on The Malt Whisky Trail in Speyside, and considered one of the most picturesque.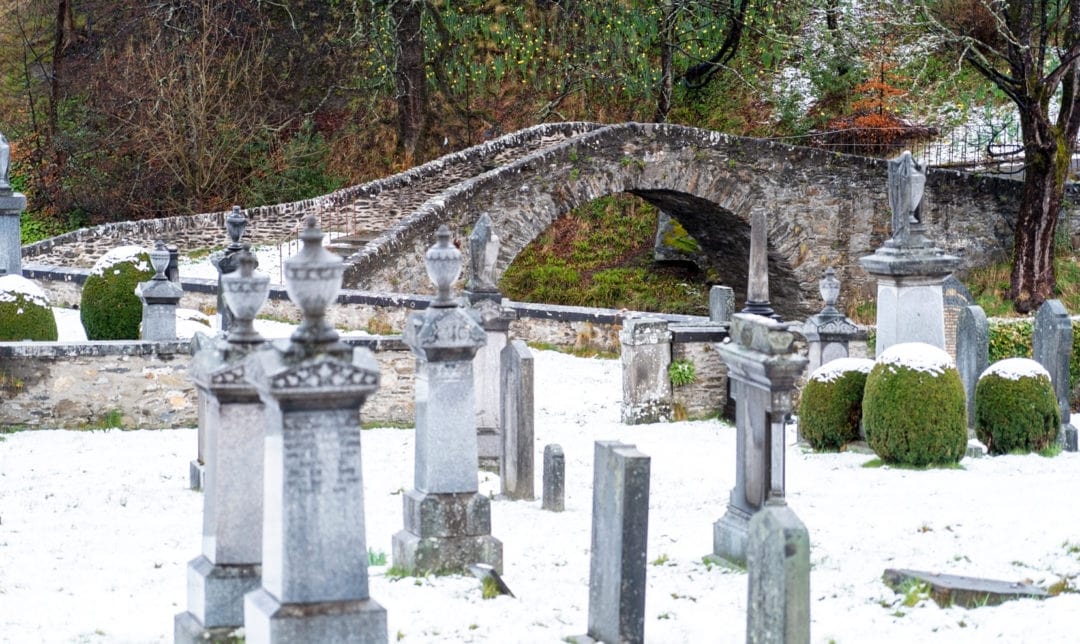 Huntly Castle
As you'll see from the photos, we visited Huntly Castle in the snow. You might be forgiven for thinking this was in the depths of winter, but we were heading to a house sit in Grantown-on-Spey, near Inverness, and it was mid-April.
We had planned to take the snow road route from Aberdeen to Inverness but due to heavy snow, the road was closed.
We were surprised to see snow at this time of year, but the lady in the visitor centre told us this was quite common and it was known as lambing snow — snow that comes just as the lambs are being born.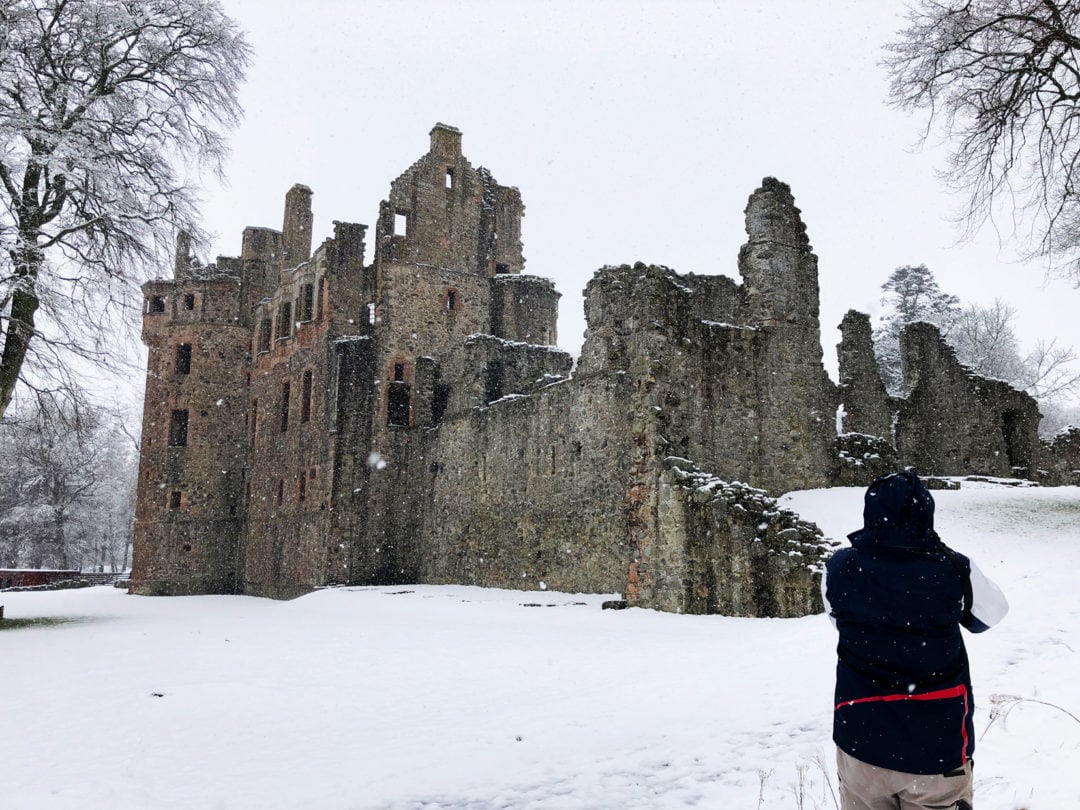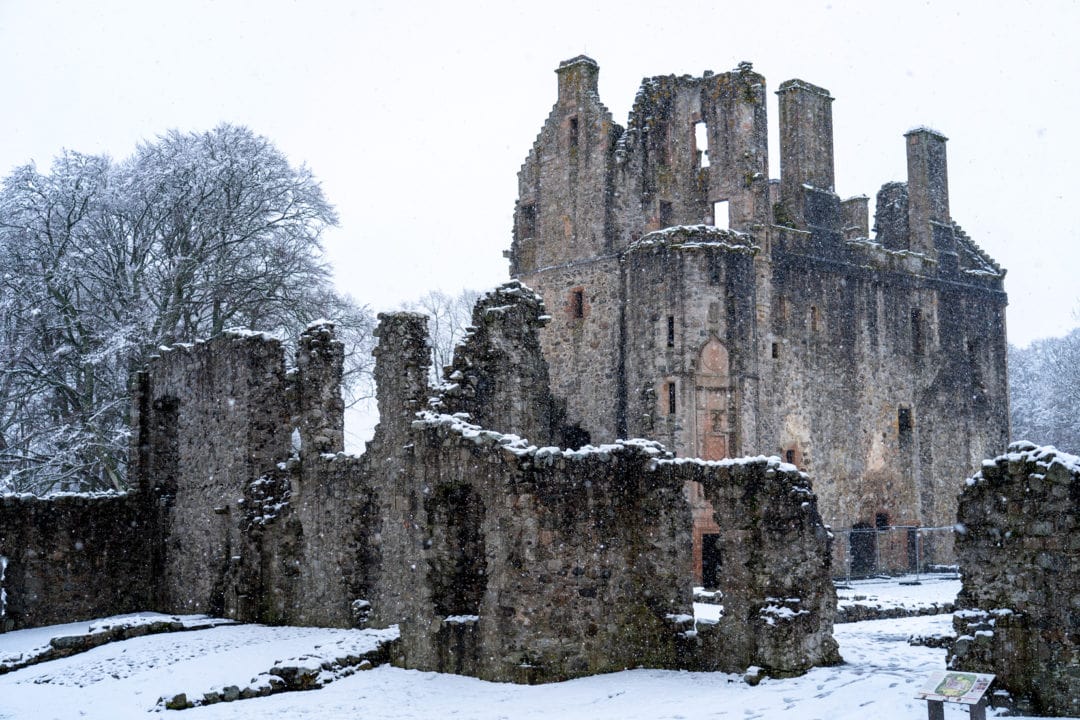 Huntly Castle in the snow
Scotland's ruined castles have a romantic air around them, but the appeal of Huntly Castle seemed even more intense as we explored it amidst snow flurries, taking shelter within its ancient walls.
The original castle was built around 1190 by the earls of Fife, and later, in the 1300s, the Gordon Clan made it their home. Over the years it was renovated and added to, but it wasn't until 1599 that it was transformed into the magnificent palace that we see as ruins today.
The 6th Earl of Huntly became the first Marquis of Huntly and celebrated his new title by adding special features to the castle, such as an inscription on the roofline to show the Gordons' ownership of the castle, double height windows, a great round tower and a heraldic 'frontispiece' over the main door.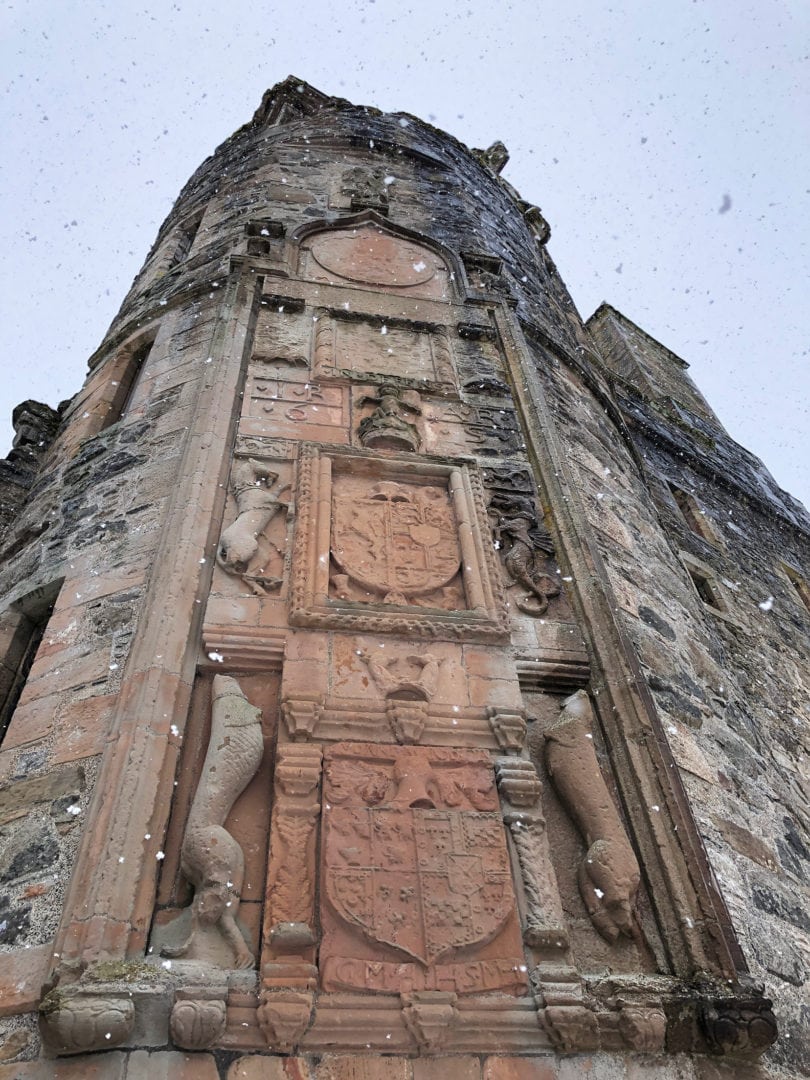 Inverness to Aberdeen Road Trip via the Cairngorms
NOTE: If you are driving outside of the summer season, please check the weather conditions at Traffic Scotland, on the Snow road section of this route because it may be closed.
If you are interested in history or an Outlander fan, I'd recommend a quick detour at the start of your trip to Culloden Battlefield, Visitor Centre and Clava Cairns. These attractions are only a 15-minute drive from the centre of Inverness and you can easily detour back to the A9 via the B851.
Once back on the A9, you will be heading towards the town of Grantown-on-Spey and the scenic snow road route in the Cairngorms. The Snow Road has blind summits, single-lane roads, steep hills and spectacular Highland scenery.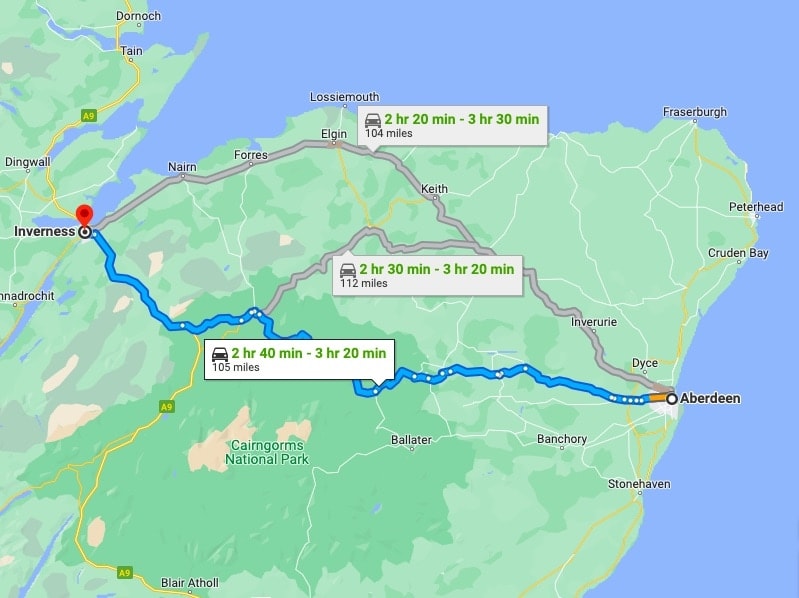 Summary of Best stops on the Inverness to Aberdeen Road Trip via the Cairngorms
Culloden (recommended)
Dulnain Old Packhorse Bridge
Granton-on-Spey
Snow Road
"Still" Art Sculpture
The Watcher's Sculpture
KIldrummy Castle
Castle Fraser
Dulnain Old Packhorse Bridge
The Dulnain Bridge, also known as the Carrbridge Bridge, was built in 1717. This is because, when the river was full and fast flowing, it was impossible to cross. Burials at the local church were delayed. Therefore, the Parish paid for the bridge to be built so that the funeral processions could continue. It is also sometimes referred to as the Funeral, or Coffin Bridge.
This bridge is an iconic image for the Cairngorms and is a short walk from the town carpark.
Grantown-on-Spey
The hIghland town of Grantown-on-Spey is on the edge of the Cairngorms and is also the start of the Snow Road Route. The town itself is small but is an ideal base if you decide to stop here for a few days and explore the surrounding area.
Attractions in the area that we really liked include, RSPB Loch Garten, Nethy Bridge, the Strathspey Railway, and the Highland Wildlife Centre.
The town is also surrounded by wildlife-rich woodlands, where you might spot red squirrels, deer and golden eagles.
Still Art Sculpture
The scenery along the Snow road route is spectacular, with rolling hills and classic Scottish Highland views but also along the route are a few scenic road installations. The first one you'll come across if you take this road trip route from Inverness to Aberdeen is 'Still' at Tomintoul.
The mirrored, box-like structure was designed by a couple of Glasgow architects to enhance the highland scenery by reflecting the view from each end of the sculpture.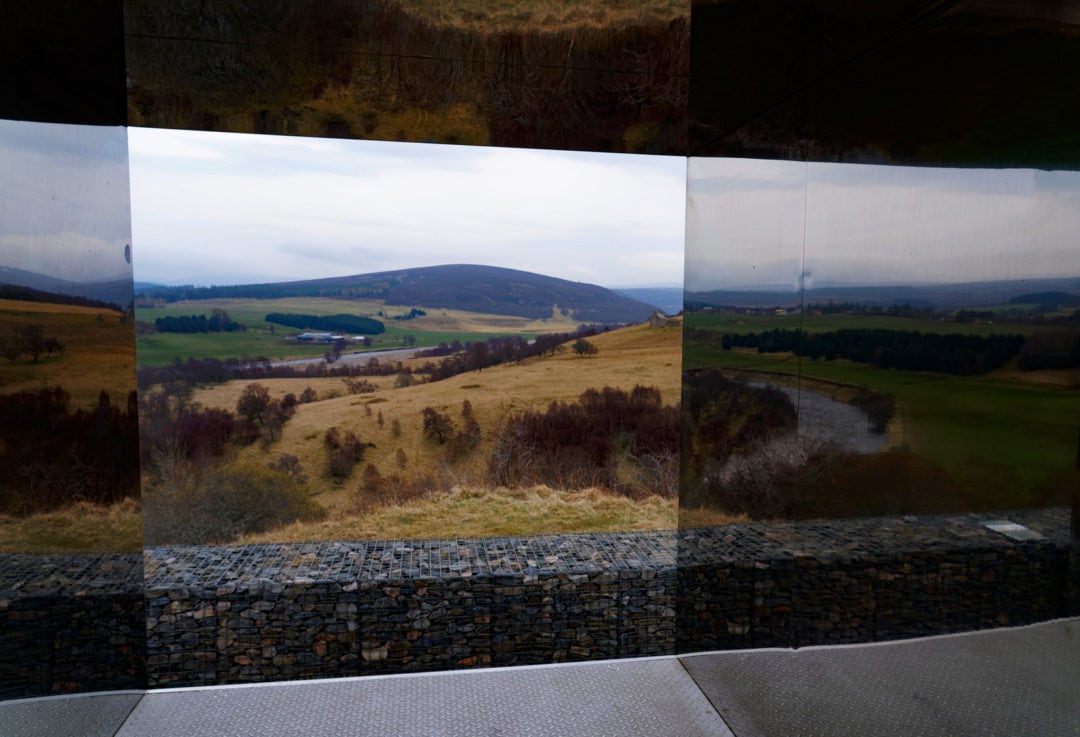 The Watchers and Moment in Time Sculptures
Standing together, these two sculptures complement each other. The engraved standing stone, designed by Louise Gardiner, was created to frame views of the Corgarff Castle in the distance. The Watcher's, the brown cowls, in the photo below, each have a seat embedded in them and can be interpreted how you like.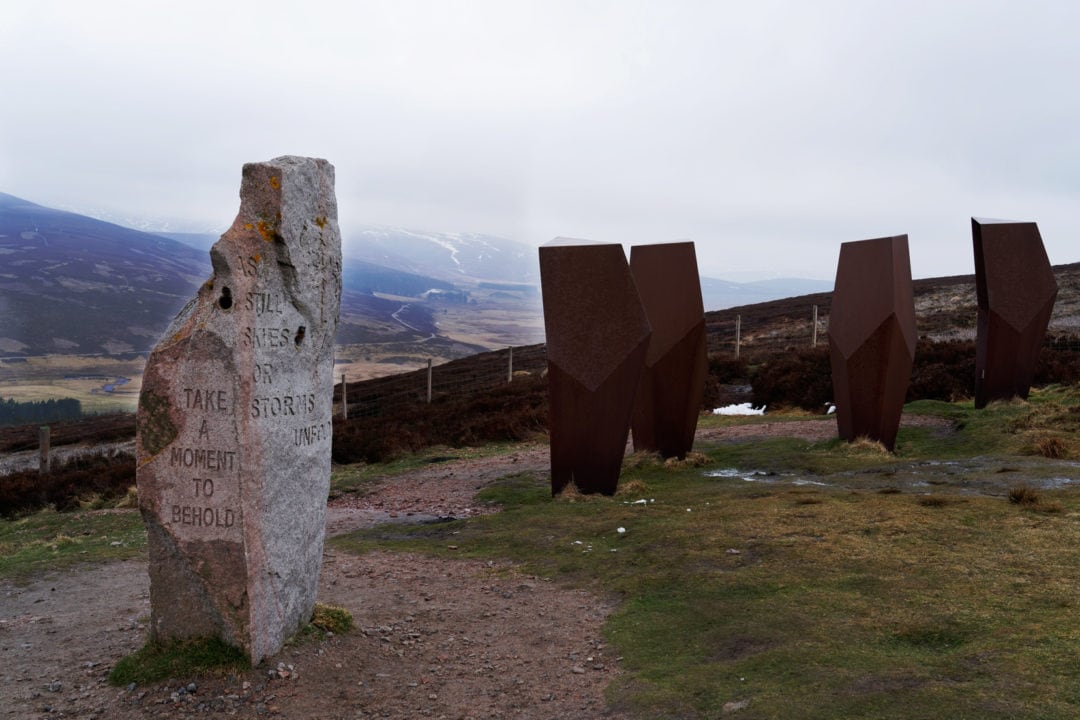 Kildrummy Castle
Kildrummy Castle was built in the mid-1200s and the main seat for the Earls of Mar. Today, although only its ruins remain, it is one of the most complete examples of a Scottish castle of its time.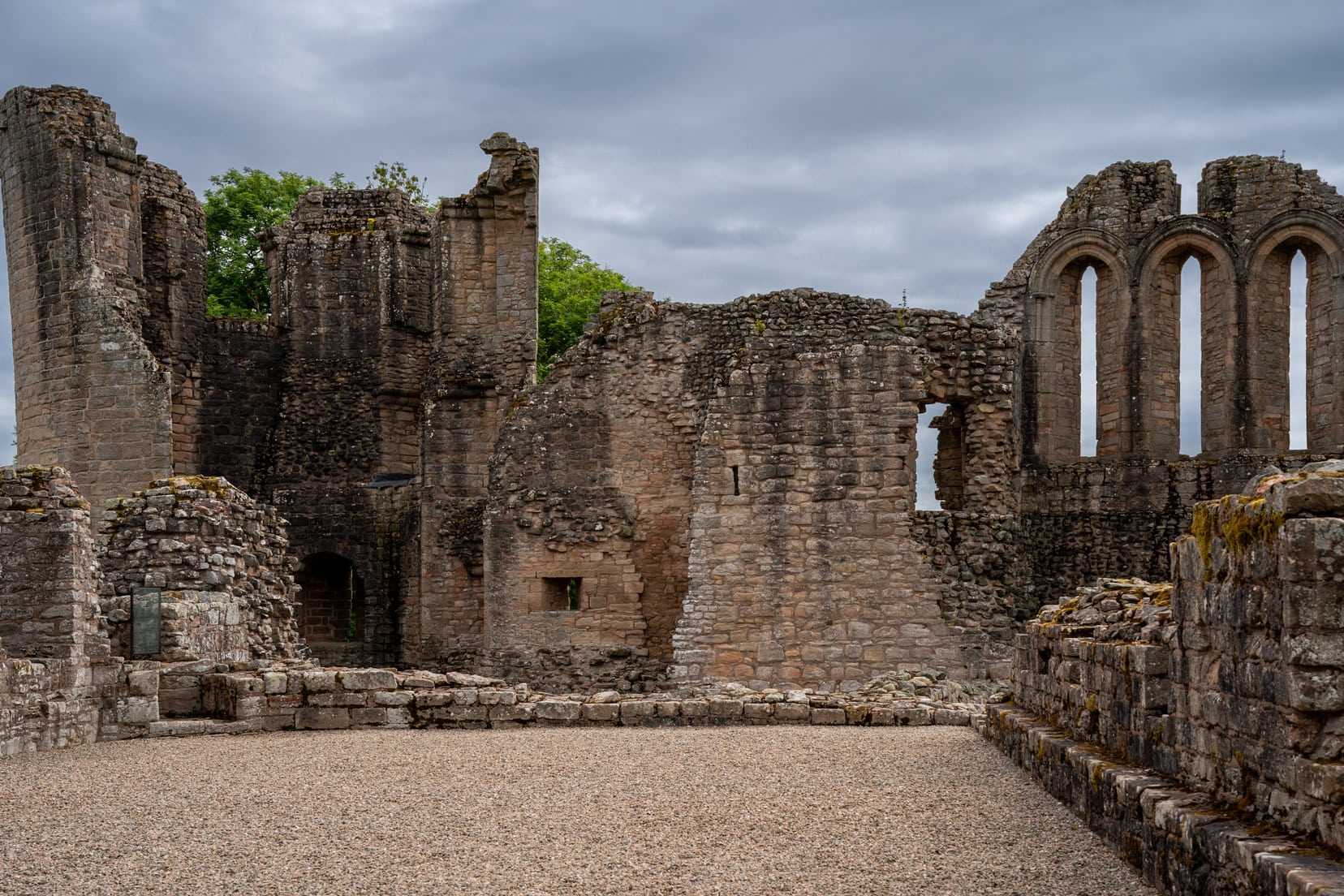 Kildrummy Castle would have a few stories to tell if its crumbling walls could talk. It was involved in the 14th-century Wars of Independence and the early Jacobite Rising of 1715.
Castle Fraser
Castle Fraser is looked after by the National Trust for Scotland and is one of the largest tower houses in Scotland. It dates from the 15th century and was home to the Fraser family for over 400 years.
There are numerous portraits in the castle along with plenty of stories and tales related to exhibits on display.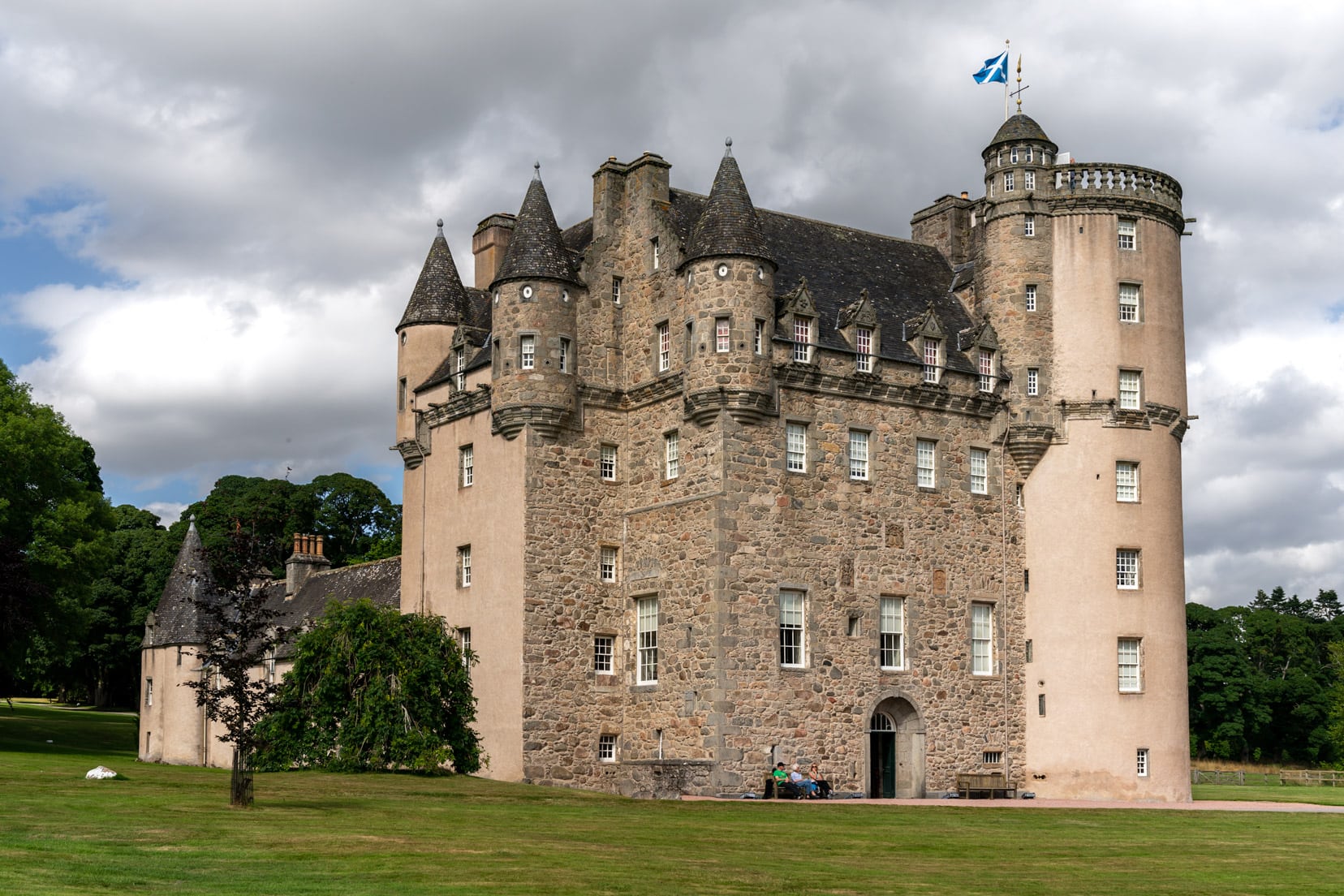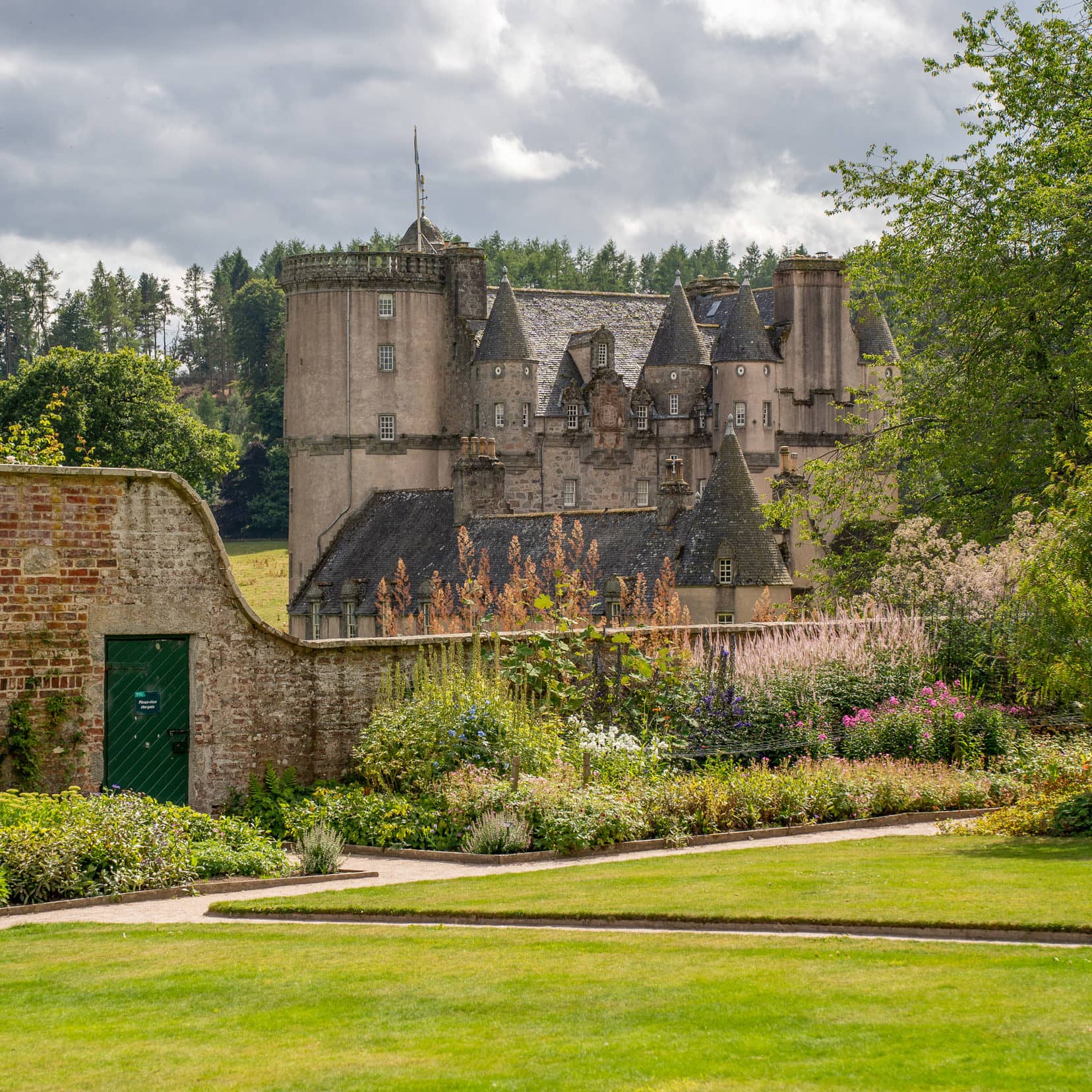 Driving in Scotland
Drive on the left
Seatbelts are compulsory
Slow down for cyclists — you must leave 1.5 meters between your vehicle and the cyclist while passing
Slow down if you see farm animals either on or beside the road
Do not park in passing places and always use the left passing place to stop for oncoming traffic — never the right
Speed Limits are as follows unless otherwise signposted

Motorways and Dual Carriageways: 70 mph (112 km/h) for cars, Motorhomes under 3.05 tonnes or 60 mph (96 km/h) for cars towing caravans or trailers.

Built-up Areas: 30 mph (48 km/h) or signposted 20 mph (32 km/h)
Outside Built-up Areas: 60 mph (96 km/h) for cars or 50 mph (80 km/h) for cars towing caravans or trailers.
For all regulations and road safety in the Uk visit the Government website here.
Inverness to Aberdeen Road Trip … That's a Wrap
Whichever road trip route you choose, and whether you are travelling from Inverness to Aberdeen or Aberdeen to Inverness, this post will have given you plenty of ideas on what to see and do on the route.
You may be taking a day trip, or intend to spend a few days exploring the area. Either way, you are spoilt for choice with historic castles, wildlife and scenic towns and villages along the way.
To help you plan your road trip, why not download our free printable Road Trip Planner?
As one of our subscribed readers, you will have access to these FREE RESOURCES:
FREE 23-page Road Trip / Travel Planner, including menu planner, journal pages and budgeting)
FREE Travel Guides (many countries)
FREE Phone Wallpapers
FREE Photo Ebooks
Monthly Travel News
Sign up for FREE Resources here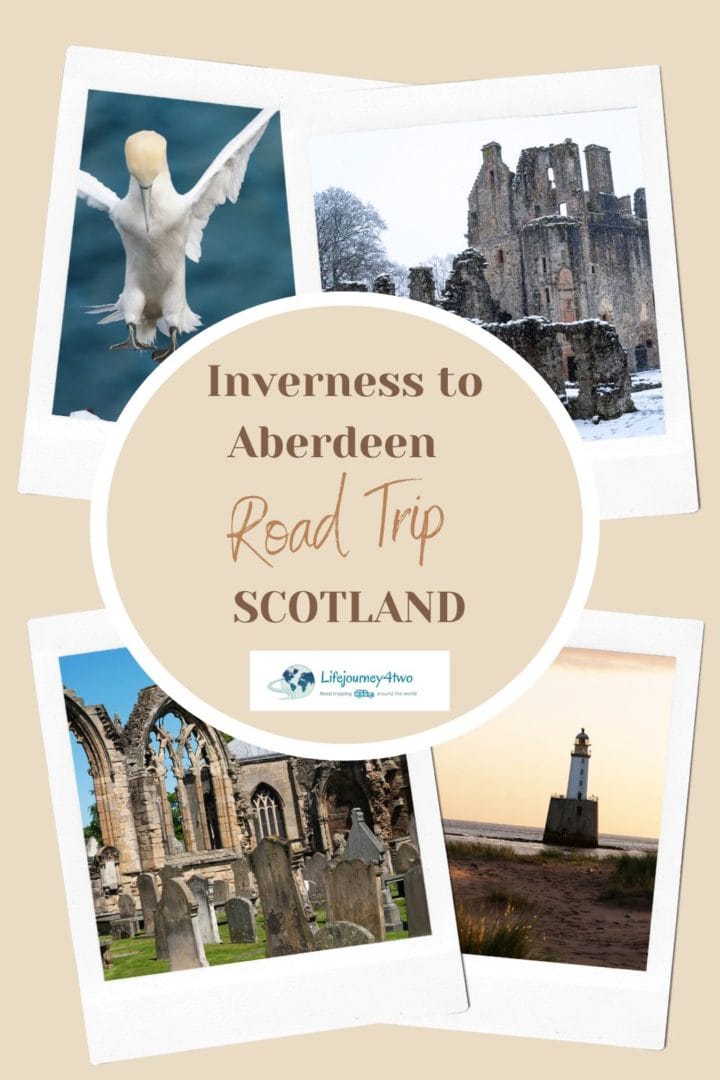 Read More:
PLANNING YOUR TRAVELS?
These are some of the travel resources we use when planning our trips.
For a more thorough list visit our Travel Resources page here.