Is Inverness worth visiting?
Inverness is certainly worth visiting. Not only for the town itself, which has plenty of nooks and crannies to explore, but the fact that Inverness is the gateway to the highlands, an area of wildlife encounters, scenic wonders, and historical attractions.
Based on our numerous road trips around Inverness while we were living in Scotland, we want to share why the answer to whether Inverness is worth visiting is a resounding yes.
We have navigated its scenic routes, hiked its mountains, photographed its spectacular scenery and delved deep into its historical stories.
Join us as we guide you through all the things to do in Inverness, including our local favourites, so your time and money spent in Inverness is well worth it.
We also share practical tips and personal insights that will make your trip to Inverness memorable.
As an added bonus, we have listed four Inverness road trip suggestions, including many of these highlights and other attractions we have visited.
🚗 If you are on a road trip, you may want to check out our Inverness to Aberdeen road trip options. It includes several options, including the coastal route from Inverness, the Snow Roads Scenic Route through the Cairngorms and other routes that you may prefer, depending on your allotted time and what you want to see and experience. Living in Aberdeen, we did these routes several times.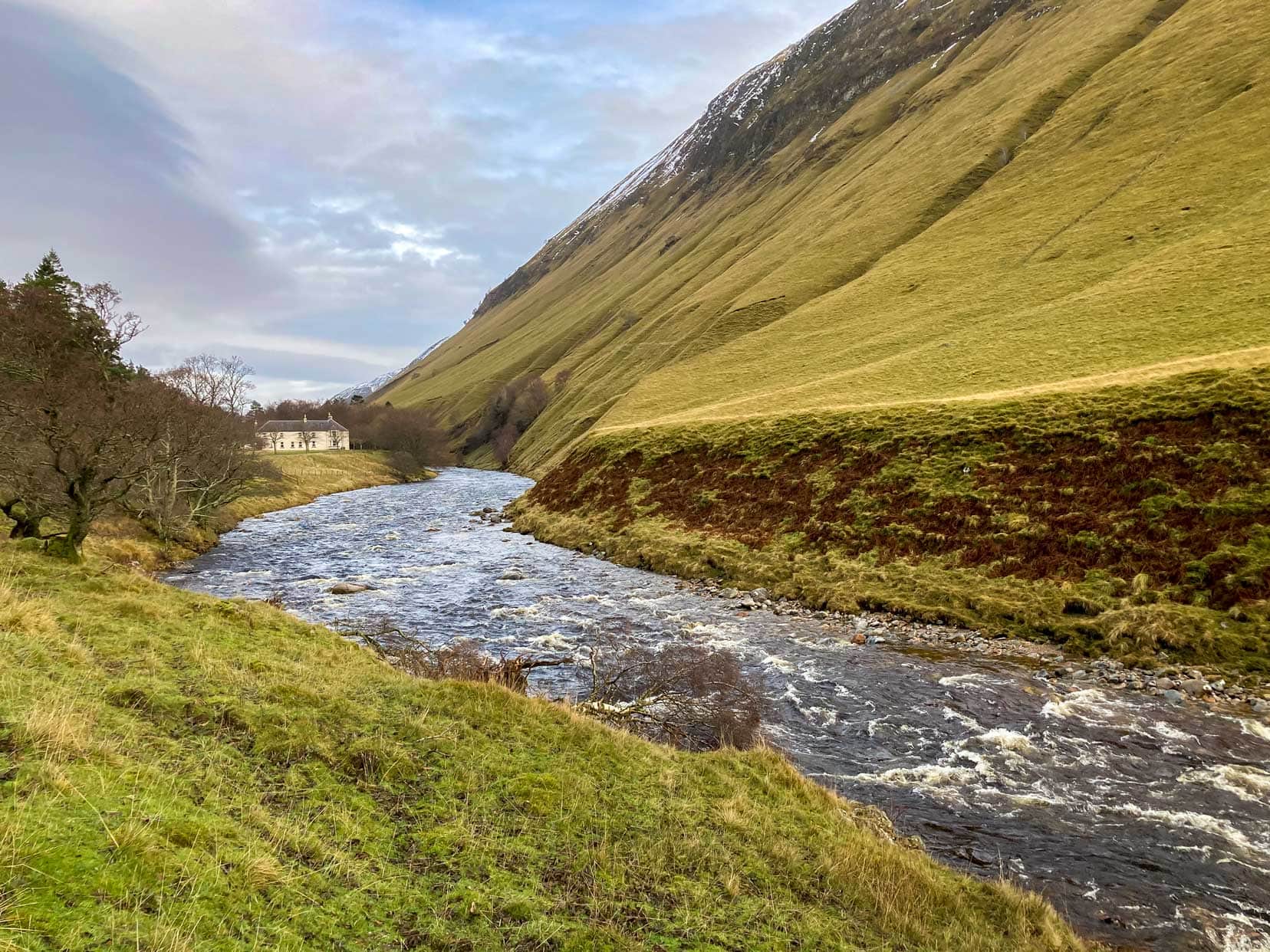 🥜 18 Reasons to Visit Inverness in a Nutshell 🥜
The main reason to visit Inverness is the fact that it is central to so many of the amazing things to see and do in the area. In our opinion, it's one of the best cities to visit in Scotland.
All of these Inverness sights can be reached easily from the city. So you'll find what to do in Inverness whether you're planning a day trip or just want to pop out for a morning or afternoon.
Here's a summary of all the places we've visited at least once and can recommend to you. You'll find detailed information and visitor tips further on in this article.
Historical Places to Visit in Inverness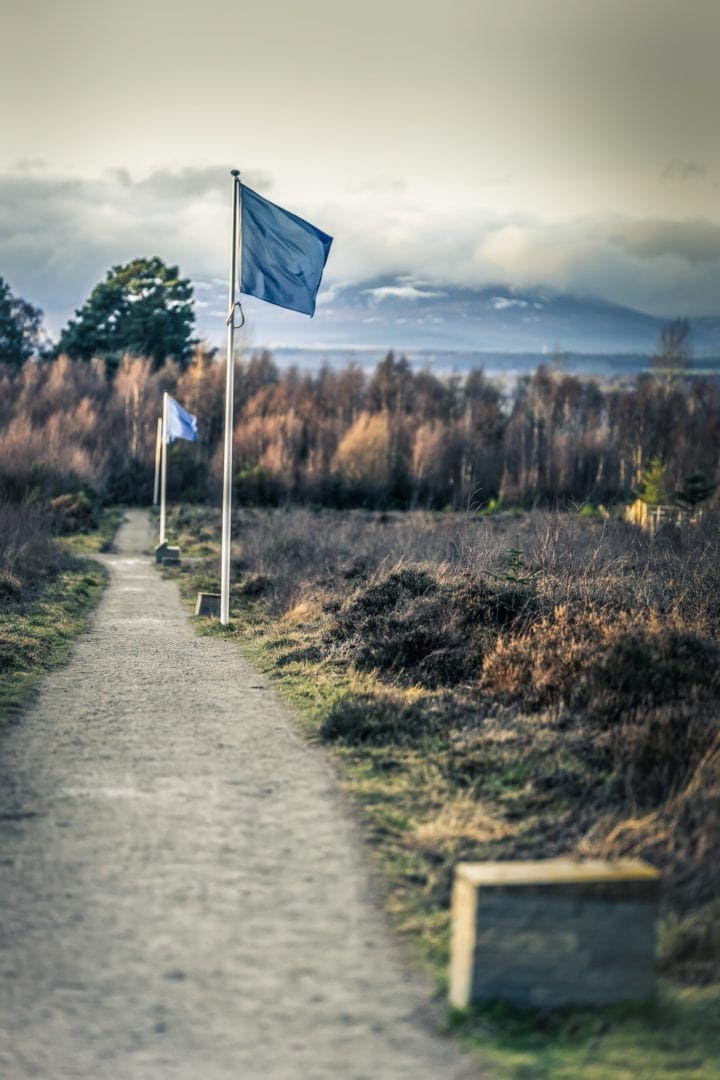 For Wildlife Lovers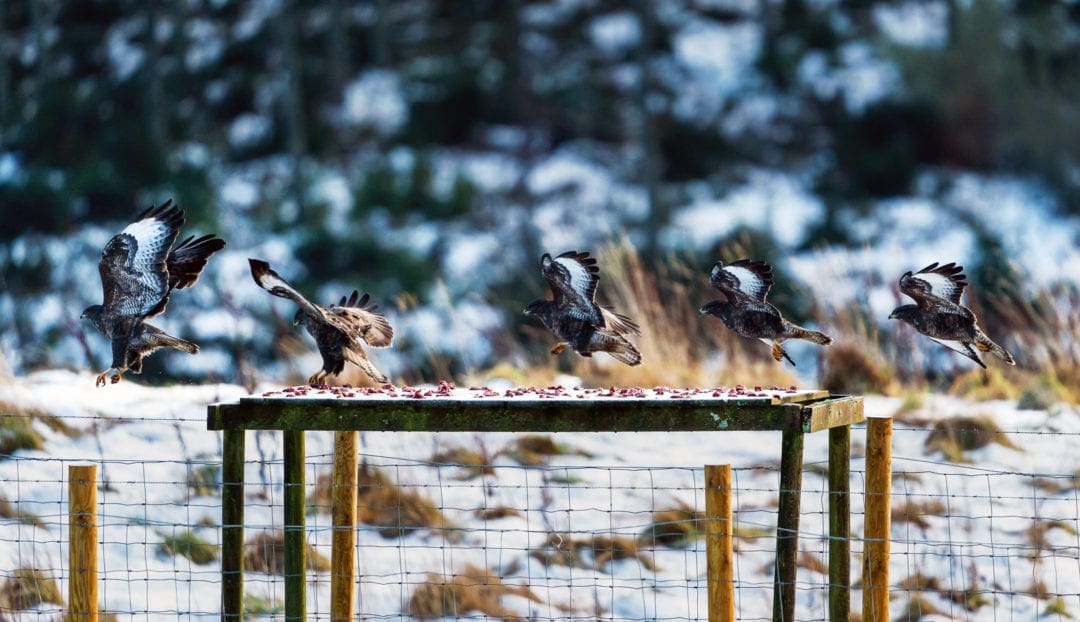 Natural Attractions & Scenic Views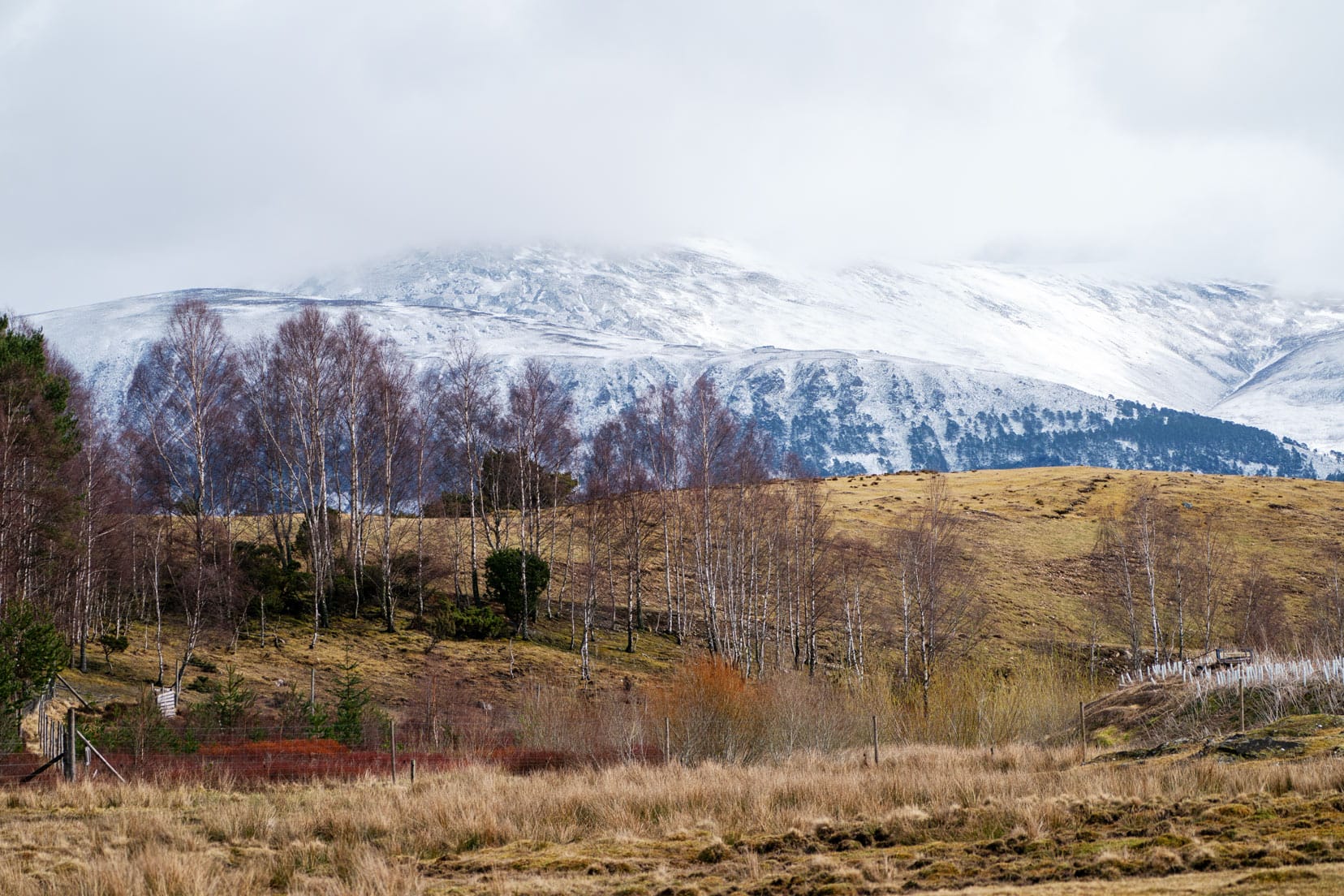 Map of Attractions In and Around Inverness
This interactive map includes the locations we've mentioned in the post and as you can see there is plenty to see in Inverness.
These include coastal spots, parts of the North East 250 and North Coast 500, historical sites, ancient mystical standing stones, wildlife locations, castles and areas with incredible Scottish scenic landscapes.
Top Attractions Near Inverness
Inverness, situated in the heart of Scotland, offers such an array of attractions that you're sure to find plenty to fill your Scotland itinerary with unforgettable moments.
Here, you'll find detailed information on all the best things to do around Inverness as well as visitor tips for all of these places we've visited. Find out here why Inverness is a place worth visiting.
Jump ahead or browse through.
Historical Sites
1. Wander the Ruins of Urquhart Castle
Distance from Inverness: 18 miles | 35 mins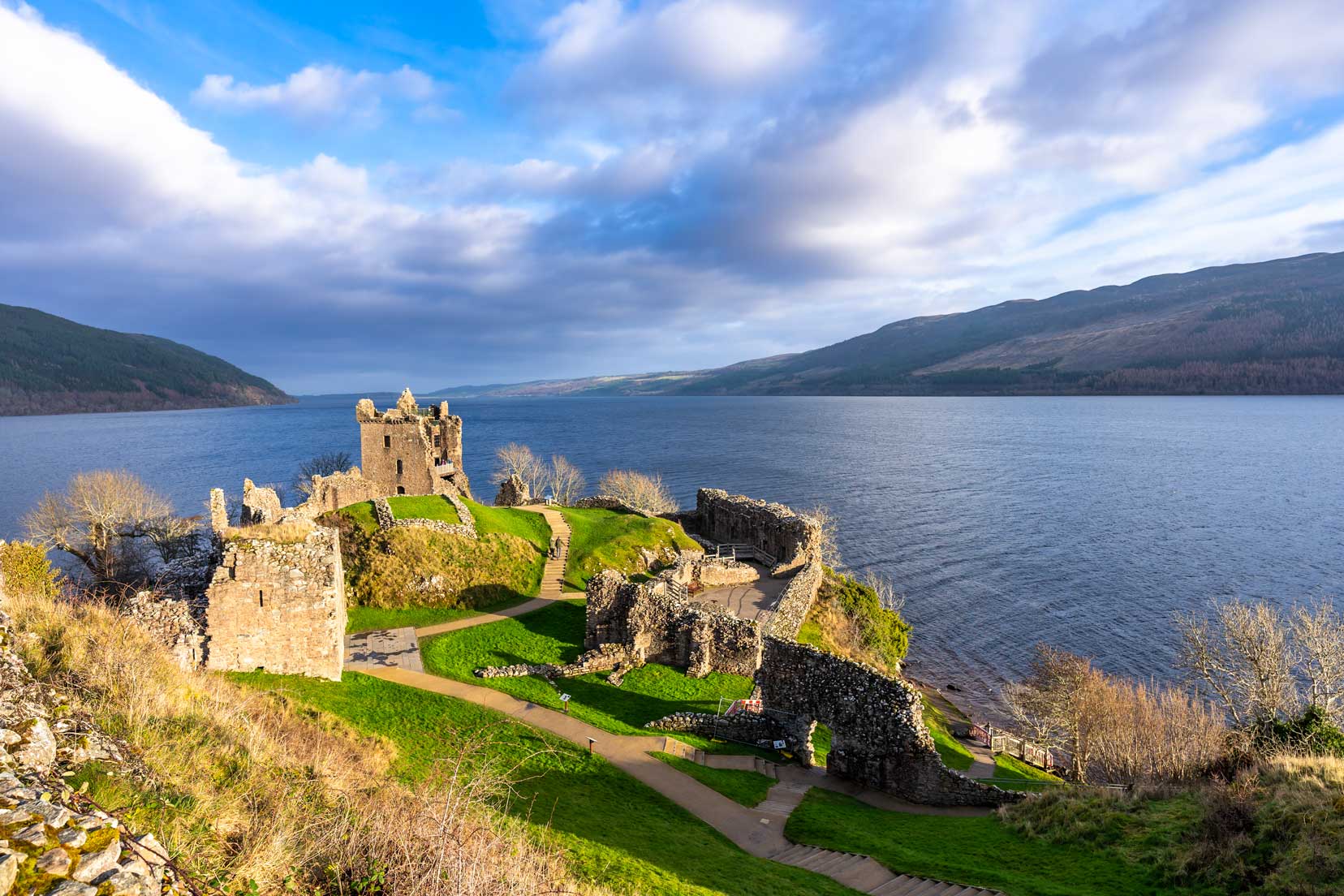 Sitting proudly on the headland that juts out into Loch Ness is Urquhart Castle, one of Scotland's largest castles.
You are able to take a self-guided tour around the ruins of the castle, and numerous information boards tell you about the history and what life was once like in this picturesque spot.
Urquhart Castle was most likely home to high-status Picts. A brooch dating back to around the early 800s was found at the castle. However, some of the castle walls can only be dated back to the 13th century.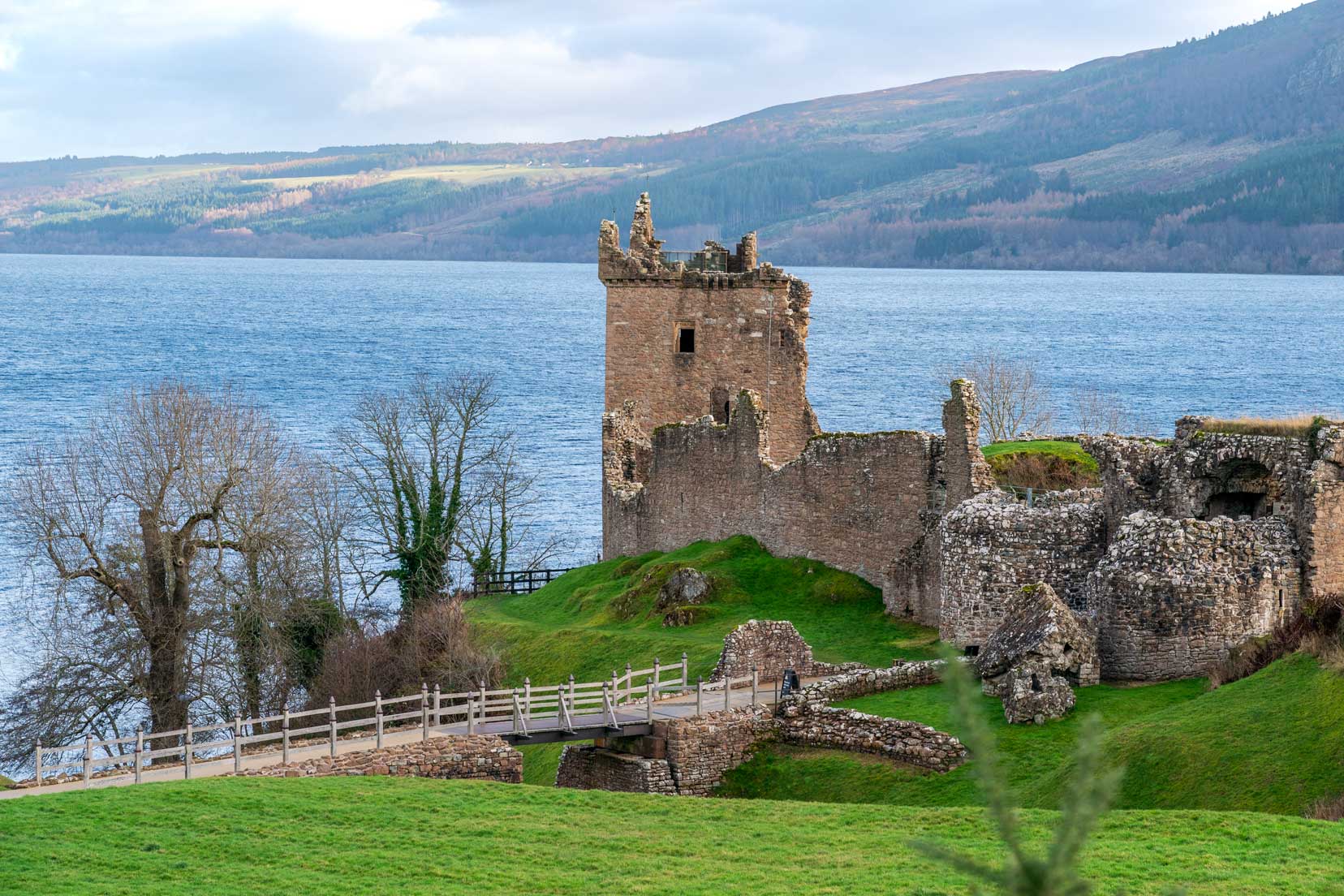 On a clear day, you have beautiful views of Loch Ness and the best chance to spot the infamous Nessie.
In August 2023, one of the biggest hunts for the Loch Ness Monster took place, with over a hundred volunteers recording both natural and unusual sightings on the loch from various viewpoints. But no Nessie sightings were recorded.
On a personal note, I couldn't help but keep a keen eye on the tranquil waters of Loch Ness during our visit, half-expecting to catch a glimpse of the elusive Nessie.
While we weren't fortunate enough to witness any mystical ripples on the water, the experience did sort of feel magical.
And who knows, perhaps you'll be lucky to spot Nessie during your visit! If you do, drop us a line with your photos!
Visitor Tips for Urquhart Castle and Loch Ness
Timing Your Visit: Early morning or late afternoon visits can help avoid the crowds.
Photography: Capture stunning views of Loch Ness from the Grant Tower.
Footwear: Wear sturdy footwear for uneven grounds.
Facilities: The site features a visitor centre with an exhibition, café, and shop.
Tickets: Book your tickets for Urquhart Castle online in advance during the tourist season.
Loch Ness Visitor Center: In the village of Drumnadrochit, on the banks of Loch Ness, you'll find the Loch Ness Centre and Exhibition and just beside it, Nessieland.
Loch Ness 360 Trail: If you're feeling energetic, a new Loch Ness 360 Trail loops around the whole of the Loch. It is divided into six sections; each can be walked in a day or cycled in half a day. Choose to do just one if you are short on time.
Consider this Loch Ness Day Trip from Inverness | ⭐️ 4.8/5 | ⏳ 9 hours | ♻️Eco-certified
2. Explore the Jacobite History at Culloden Battlefield
Distance from Inverness: 5.6 miles | 14 mins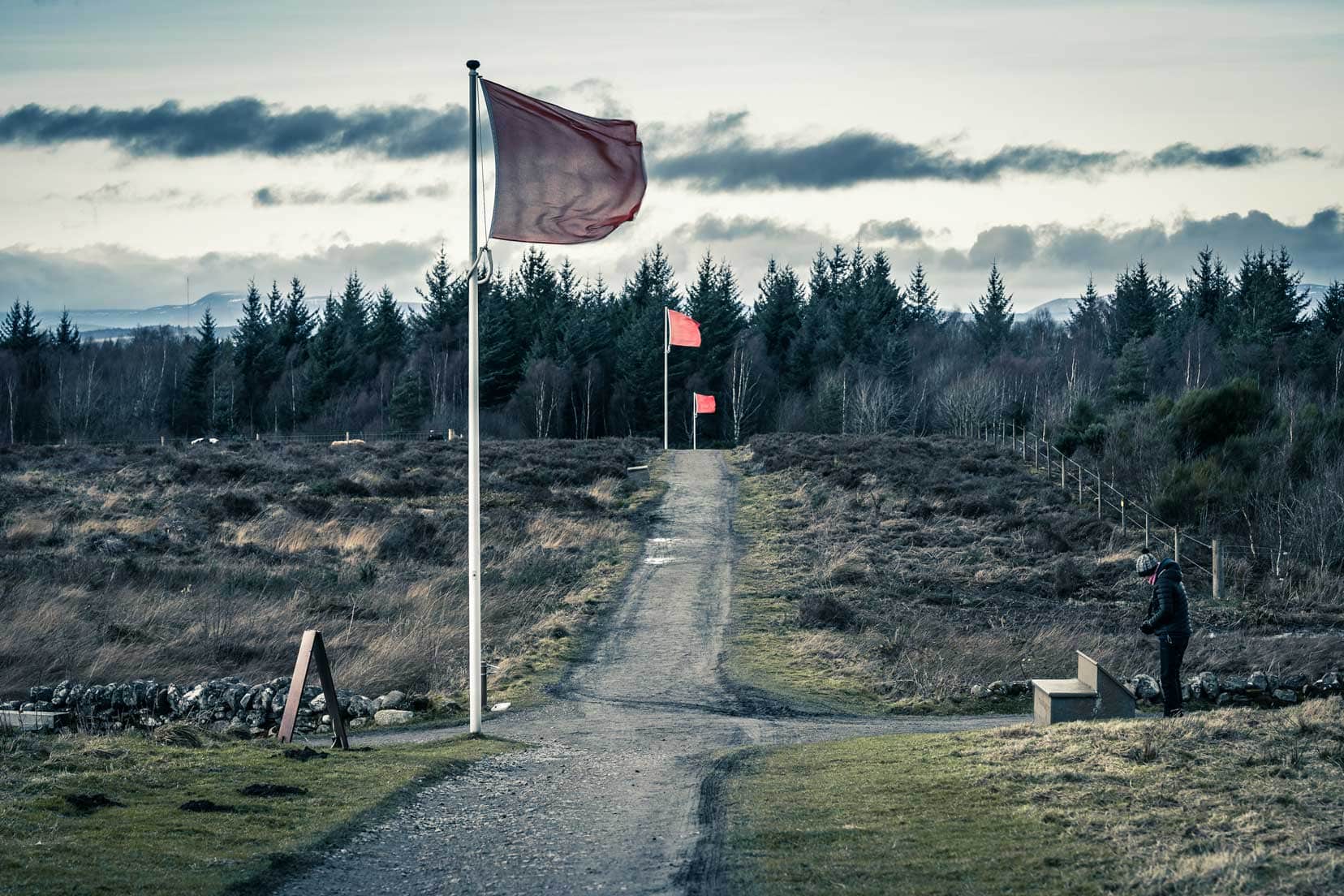 Visiting Culloden Battlefield, on Drumossie Moor, was one of the most moving places I visited on our Scotland road Trip.
On Wednesday, 16th April 1746, the Battle of Culloden took place here. It was the last to take place on British soil and was one that changed the culture of the highlanders forever.
This site, steeped in history, became even more poignant for me, having watched the popular series "Outlander". Based on Diana Gabaldon's books, the series intertwines with the events that unfolded here, adding a layer of narrative richness to our visit.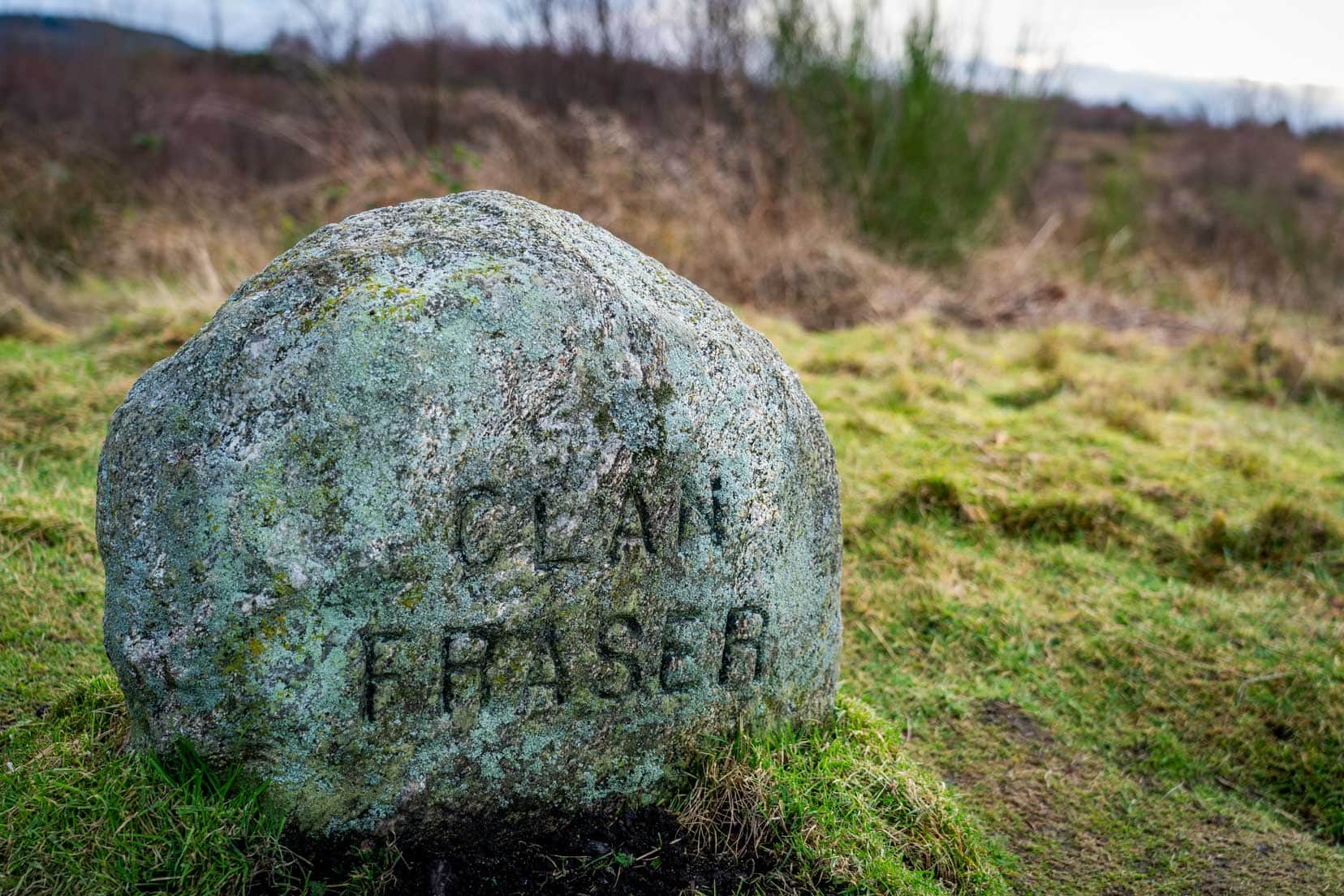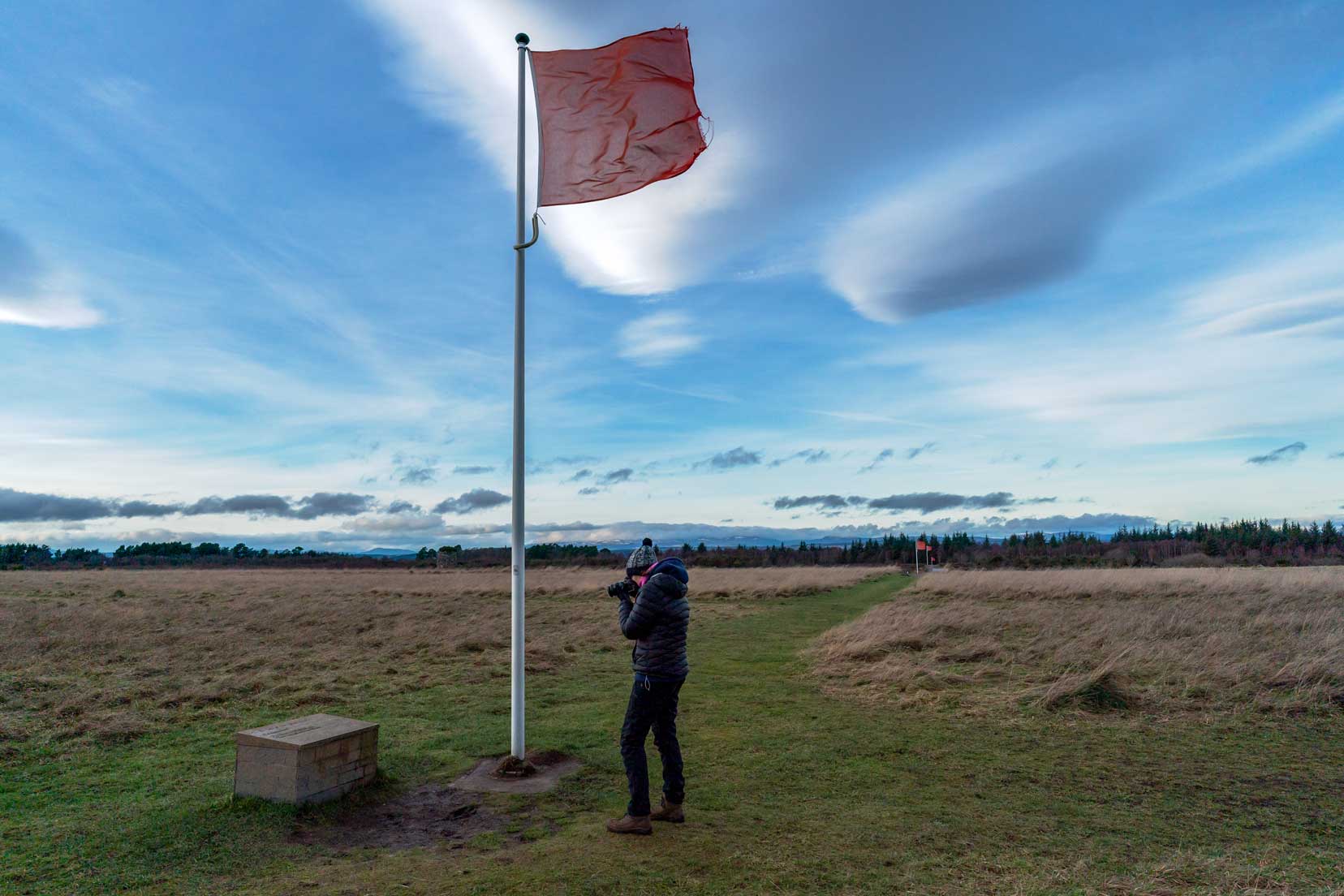 Take some time to walk along the Culloden Battlefield Trail, where you'll come across many interpretive plaques and benches.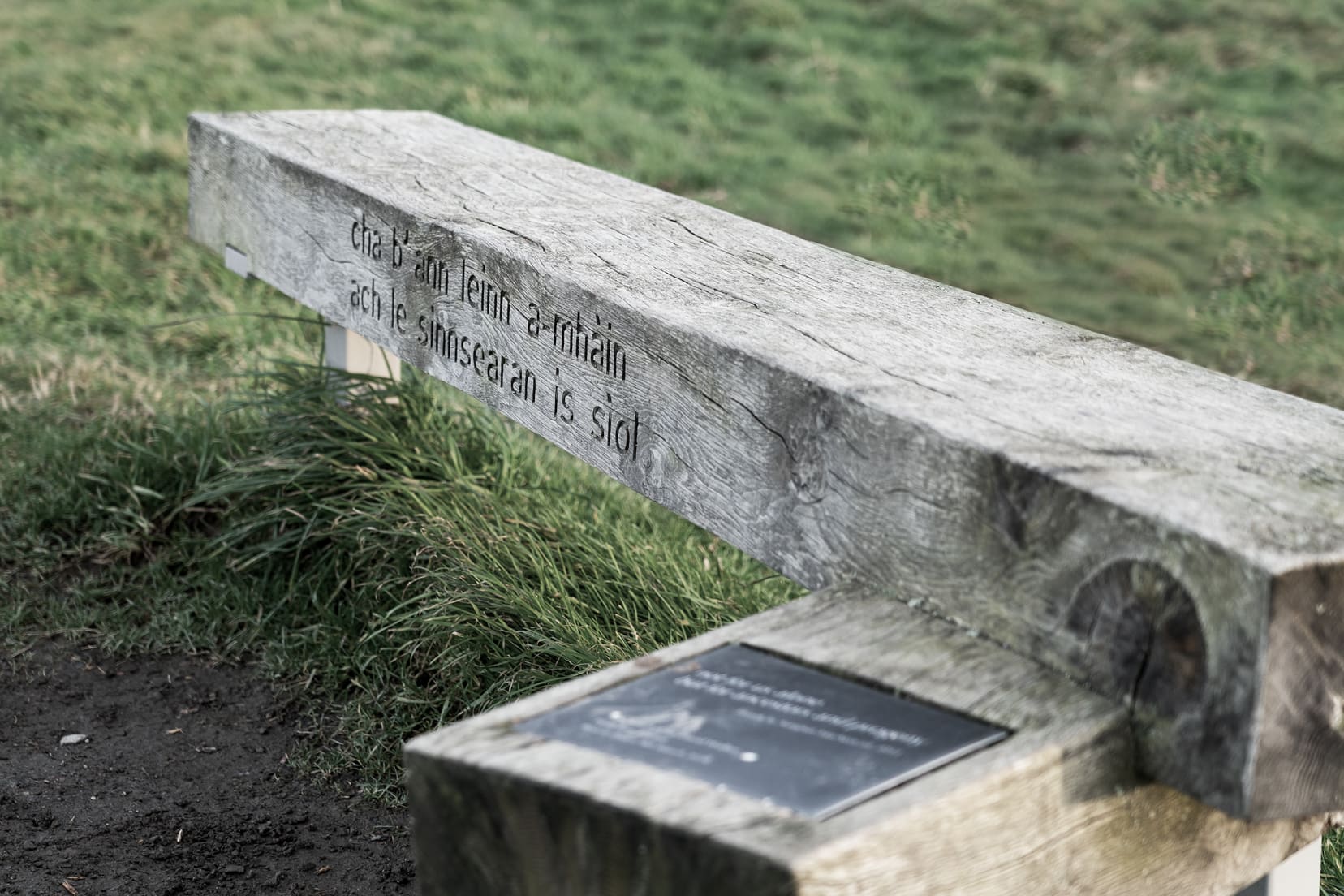 If you have time more time, continue along the 9km circular trail, which links to Culloden Woods Trail, where you'll find the famous Prisoner's Stone and St Mary's Well.
The Prisoner's Stone is said to have been the spot where 17 Jacobite prisoners were shot dead the day after the battle — with some stories stating that a prisoner named Fraser somehow escaped.
Dipping a rag (a cloot) into St.Mary's Well and tying it to a tree is said to bring you good luck. It is an old traditional clootie well.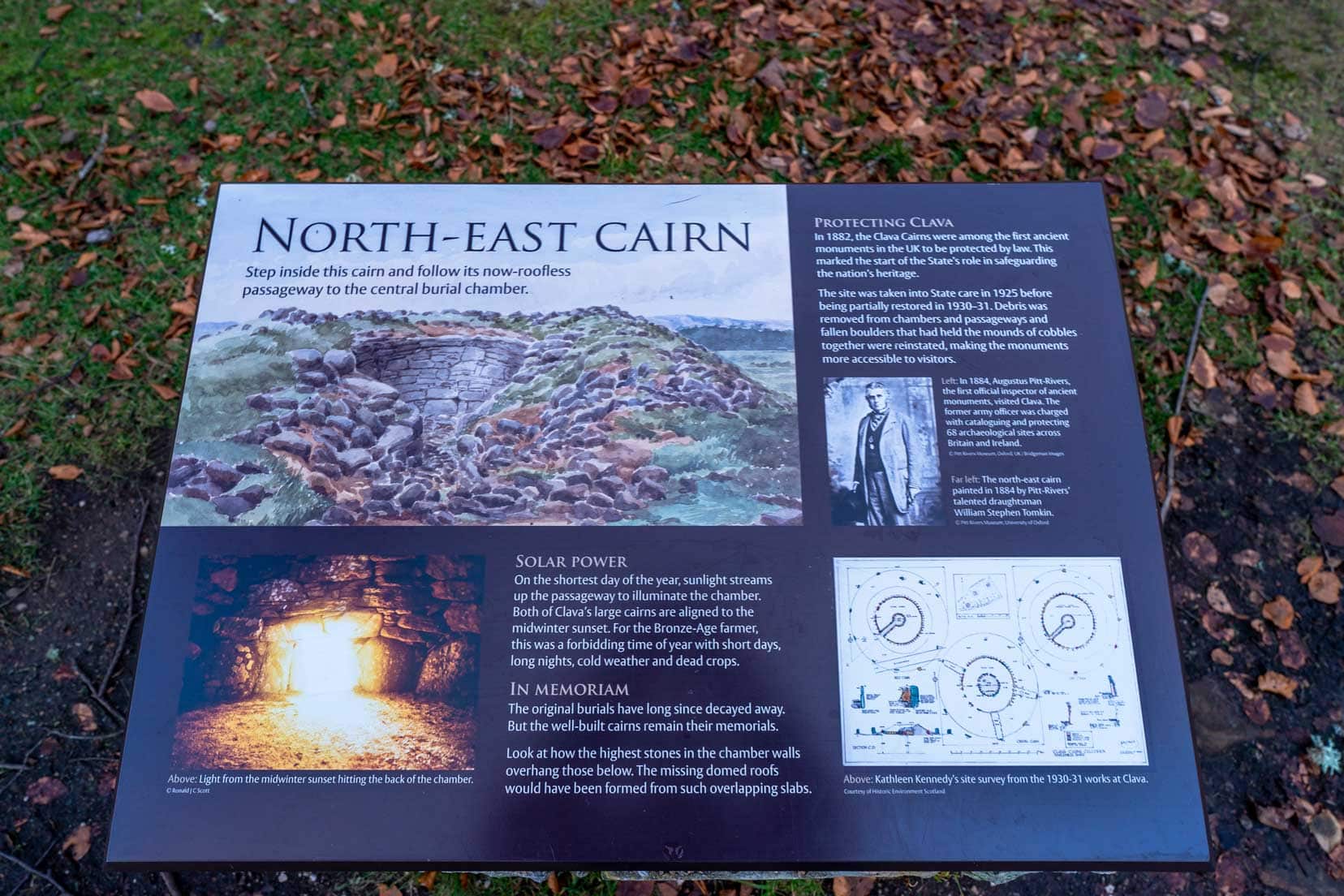 Visitor Tips
Personal Connection: Enhance your visit by watching the TV series or reading the Outlander books to get a dramatic perspective of the events that unfolded here.
Visitor Centre: Before stepping onto the battlefield, make a stop at the visitor centre. It offers a wealth of information and interactive exhibits that provide a comprehensive background on the events leading up to the battle.
Walking Trails: Explore the Battlefield Trail and, if time permits, extend your walk to the Culloden Woods Trail to discover historical landmarks like the Prisoner's Stone and St Mary's Well.
Interactive Experience: Engage with the interpretative plaques along the trail to better understand the battle's significance.
Photography: Capture the solemn beauty of the moorlands
Cultural Tradition: Participate in the St. Mary's Well tradition by tying a 'cloot' for good luck.
3. Fort George
Distance from Inverness: 12 miles | 25 mins
Nestled on a promontory jutting into the Moray Firth, Fort George stands as a testament to 18th-century military ingenuity. Built in the aftermath of the Battle of Culloden, it serves as a vivid reminder of a turbulent time in Scotland's history.
Today, it stands as one of Europe's most well-preserved military monuments, offering visitors a glimpse into the life of a soldier in the 18th century.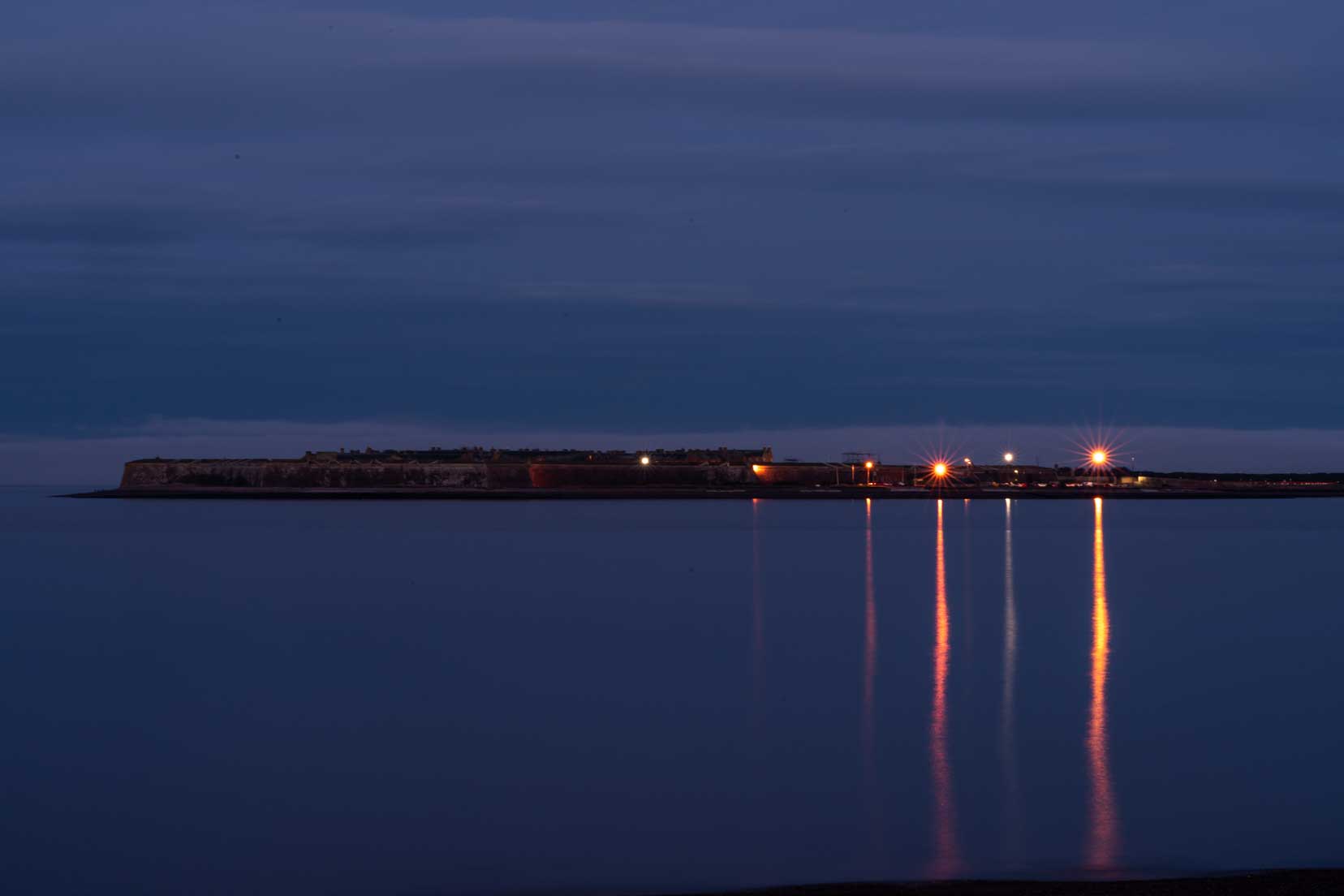 The fort houses the Highlanders' Museum, home to the Queen's Own Highlanders Collection, offering insights into three centuries of conflict and the fort's history.
Visitor Tips
Entrance: Make sure to book tickets online to ensure entry.
Footwear: The fort covers a large area, so wear comfortable footwear to make the most of your visit.
Wildlife Spotting: The fort's coastal location makes it a good spot for seeing dolphins. According to the Moray Firth Dolphin Space Programme, Fort George is one of the land-based dolphin-watching sites.
Photography: Don't forget your camera to capture the fort's stunning views and intricate architectural details.
Picnic Areas: Bring along a picnic to enjoy in the designated picnic areas, complemented by panoramic views of the Moray Firth.
Gift Shop: Before you leave, stop by the gift shop to pick up a souvenir or two to remember your visit.
4. Visit the Ancient Calva Cairns
Distance from Inverness: 7 miles | 20 mins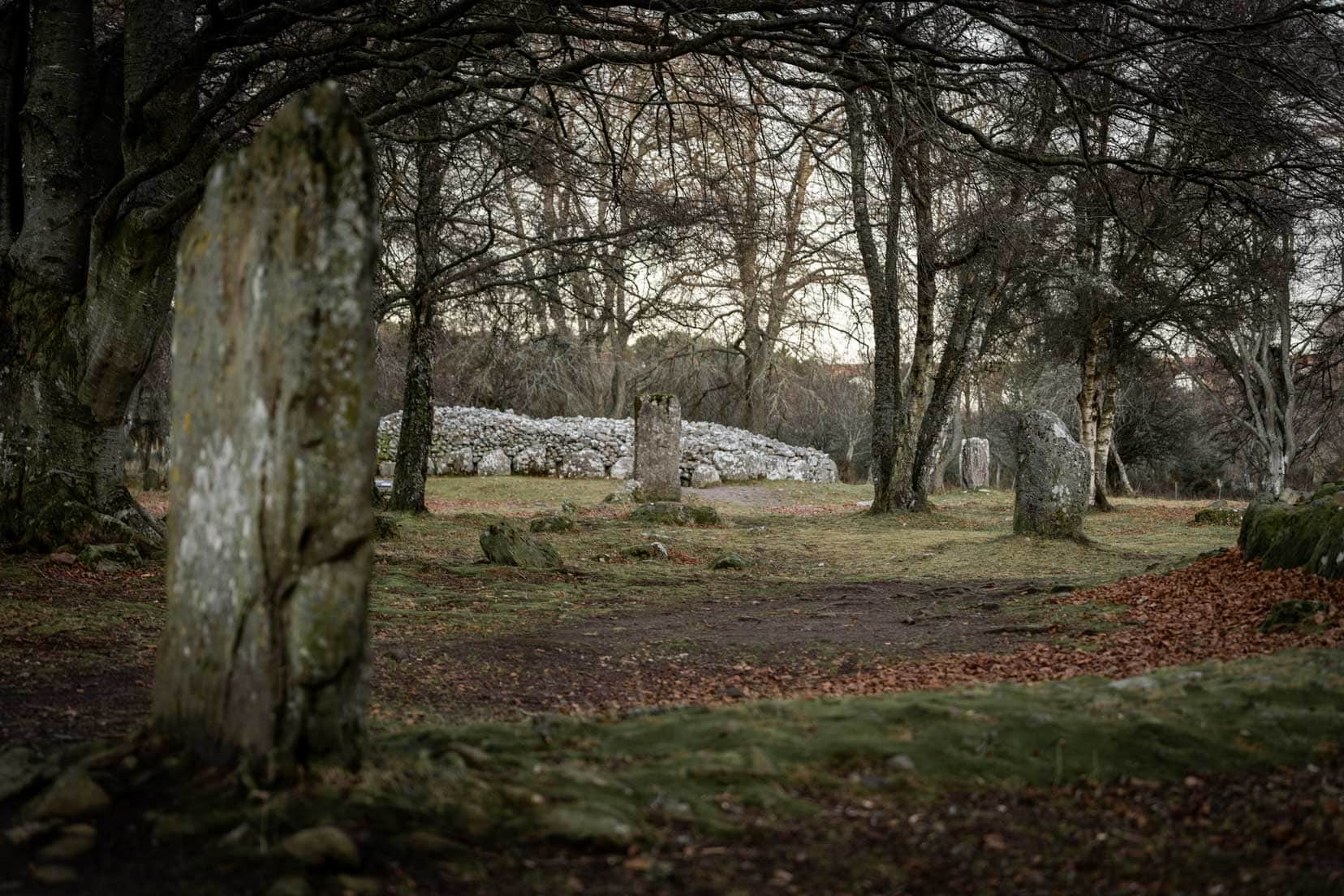 Embark on a journey back in time with a visit to Clava Cairns, a prehistoric burial ground that dates back around 4,000 years. This Bronze Age site offers a rich glimpse into ancient Scotland, where you'll find fascinating structures such as:
Standing Stones: These towering stones create a mystical atmosphere, inviting visitors to ponder the beliefs and rituals of those who erected them.
Burial Cairns: These stone chambers served as burial sites, showcasing the intricate burial practices of the time.
Kistvaens (Stone-lined Graves): Discover these ancient graves, which give insights into the burial customs and beliefs surrounding death in that era.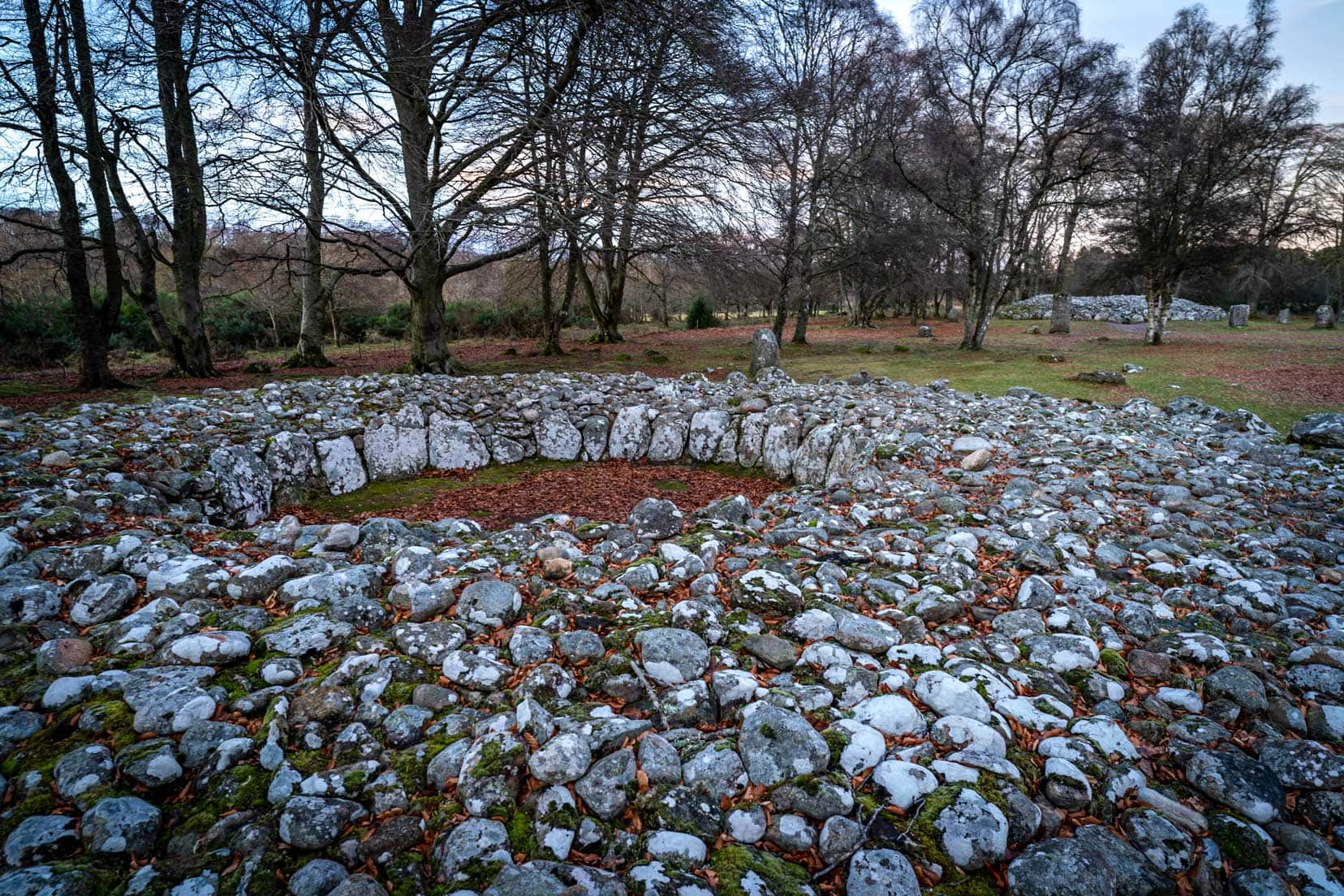 If you are a fan of the popular series Outlander, you might find a striking resemblance between the standing stones depicted in the show and the ones present at Clava Cairns.
While the stones used in Outlander were fabricated, the ones here are authentic, standing as silent witnesses to thousands of years of history, instilling a deep sense of awe and wonder in those who visit.
Visitor Tips
Photography: Don't forget your camera to capture the mystical beauty of the site.
Guided Tours: Consider booking a guided tour to gain deeper insights into the history and significance of the site.
Time of Visit: Try to visit during the early morning or late afternoon to avoid crowds and to have a serene experience.
Footwear: Wear comfortable footwear, as the site involves some walking on uneven ground.
From Inverness: Glen Affric, Culloden and Clava Cairns Tour | ⭐️5/5 | ⏳ 9 hours
5. Soak in the Historical Atmosphere of Beauly Priory
Distance from Inverness: 13 miles | 25 mins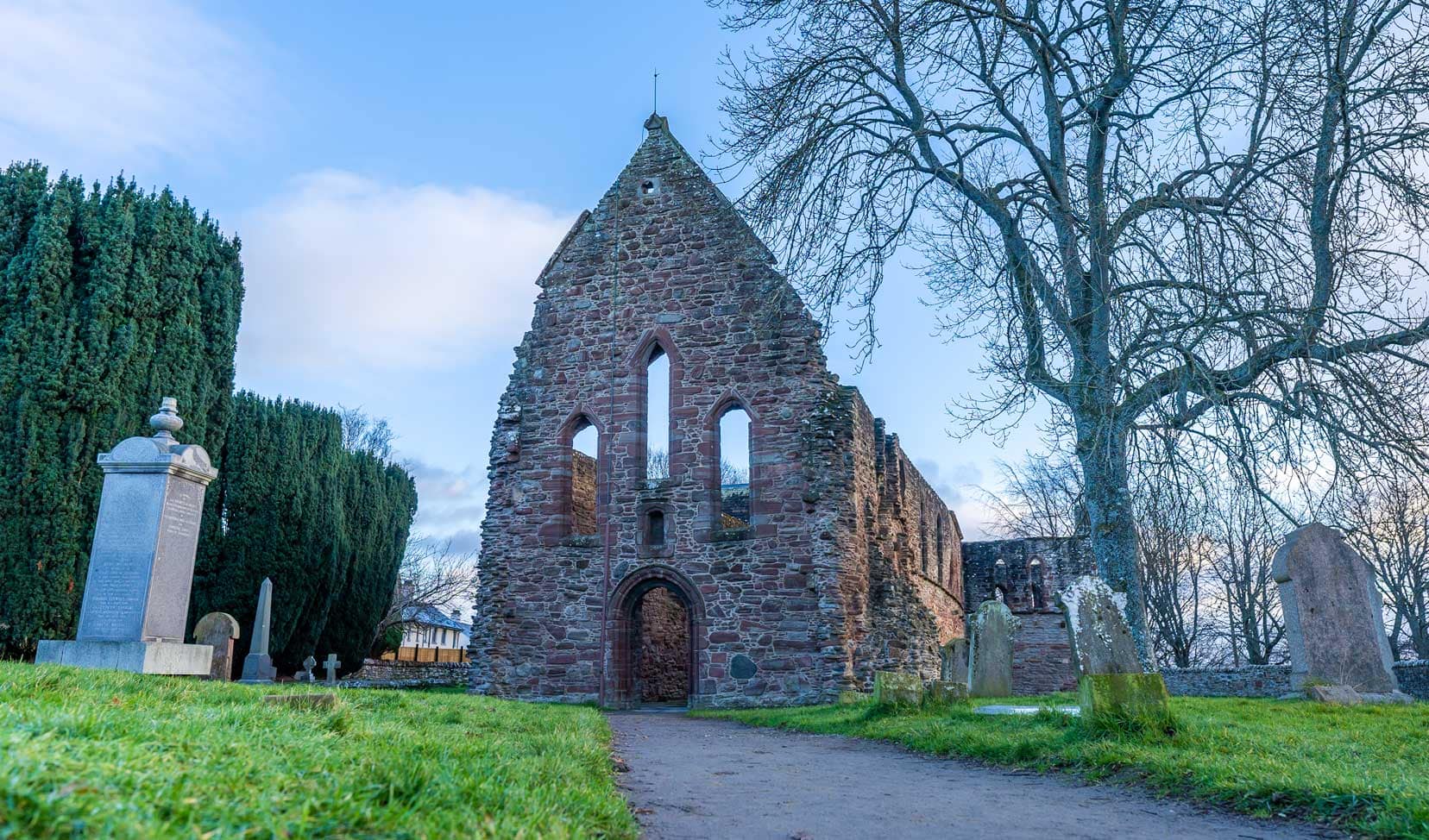 Beauly Priory, founded by monks in 1230, stands as a testament to the region's rich history. This 14th-century priory offers a tranquil and picturesque setting that invites you to step back in time.
Beauly Priory has a rich history closely intertwined with significant figures and ancient relics. The priory's tranquillity captivated Mary Queen of Scots during her 1564 visit.
As you explore, take a moment to appreciate the ancient yew tree, which predates the priory itself, standing for around 800-1000 years.
This site also serves as the final resting place for the Mackenzie clan, a prominent family in the 16th and 17th centuries.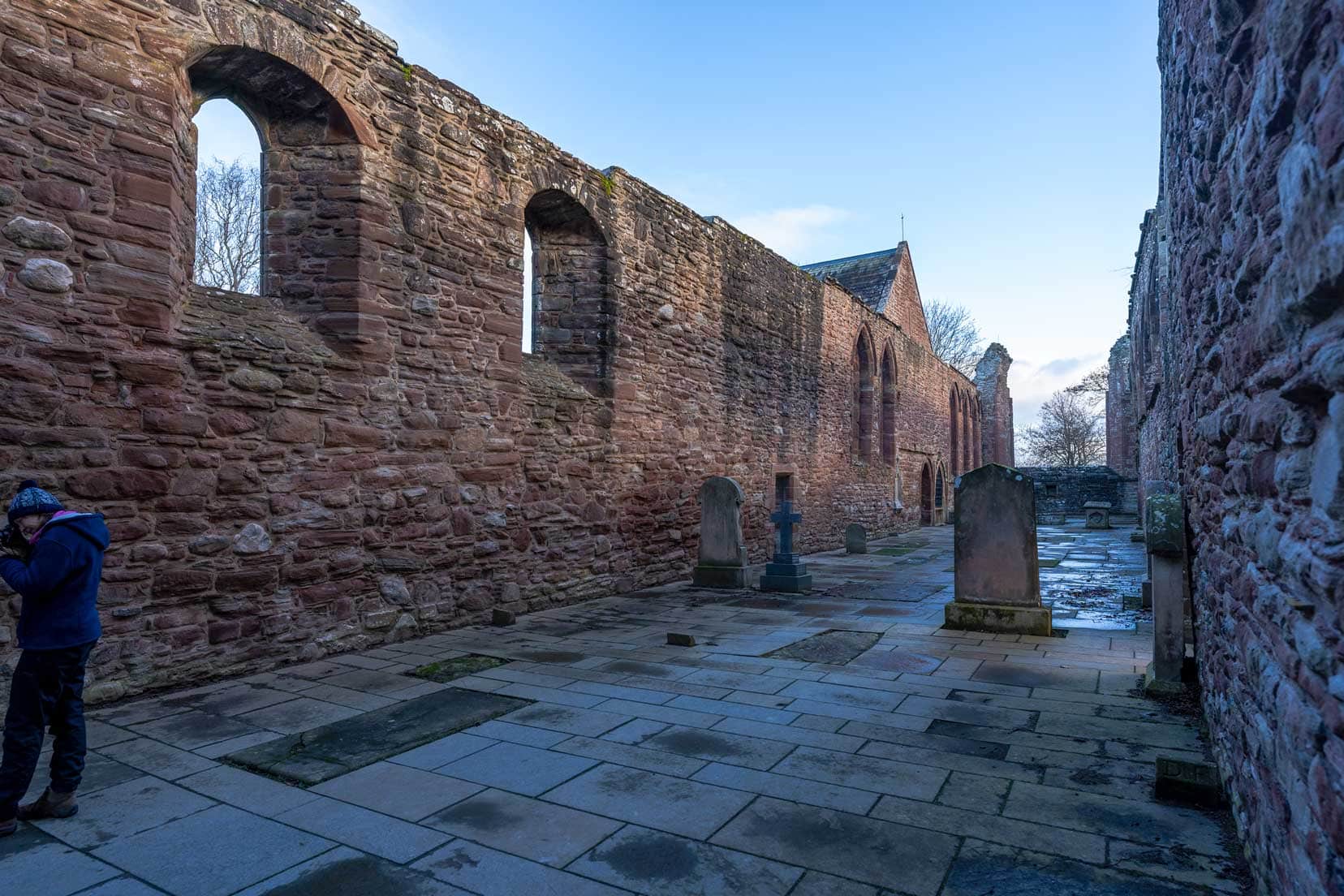 Visitor Tips
Historical Context: Before your visit, read up on the history of the priory to enrich your experience.
Photography: Capture the intricate details of the ruins and gravestones, making great photography subjects.
Quiet Reflection: Find a quiet spot to sit and soak in the atmosphere.
Local Beauly Cafes: After your visit, consider stopping by one of the local cafes in Beauly for coffee and cake.
Guided Tours: A visit to Beauly Prior is included in this day tour from Inverness.
Footwear: Wear comfortable shoes as you'll be walking on uneven ground.
Inverness: Glen Affric, Culloden and Clava Cairns Tour | ⭐️ 4.9/5 star reviews | ⏳ 9 hours
6. Highland Folk Museum
Distance from Inverness: 45 miles / 1 hour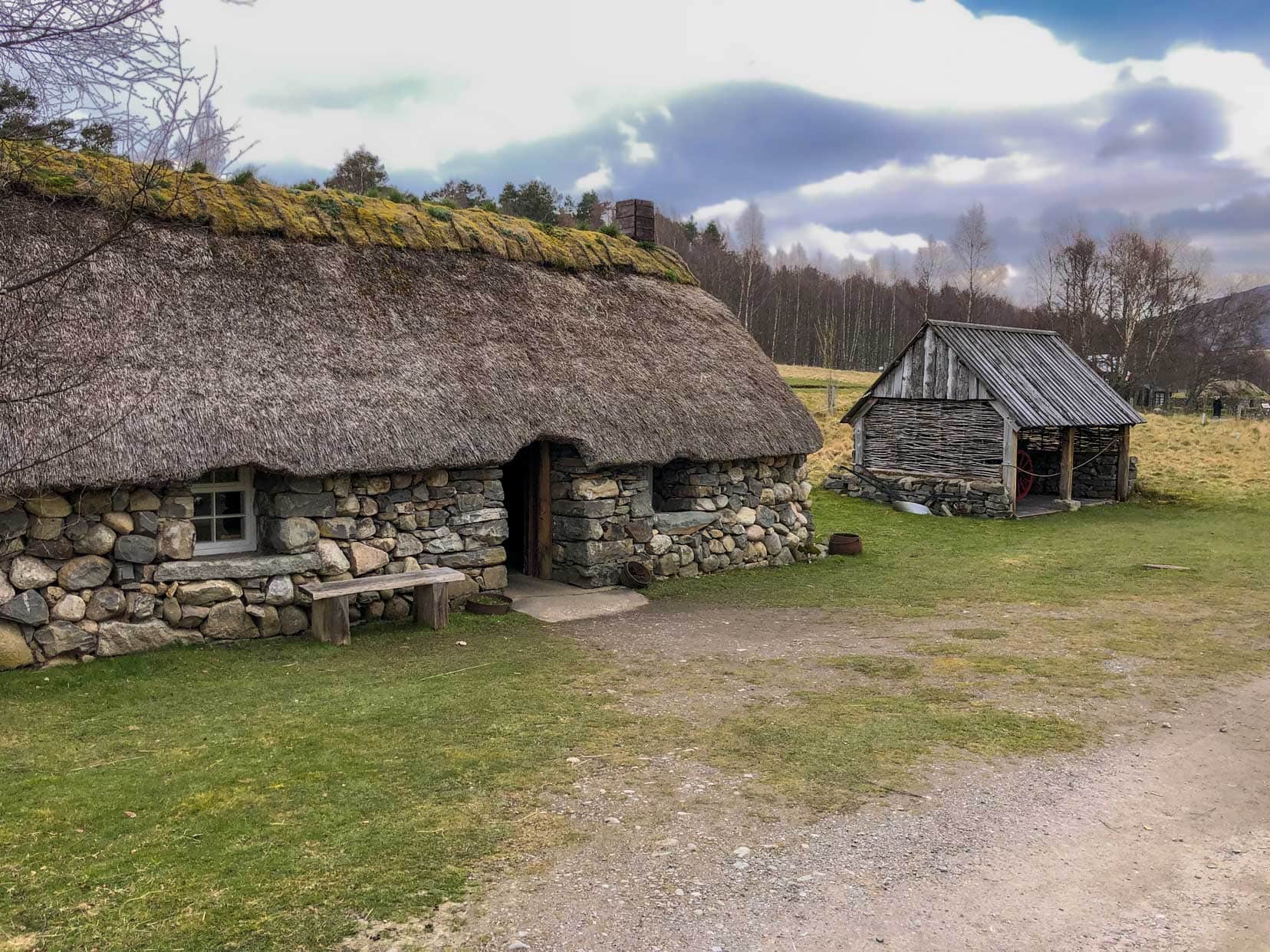 Embark on a nostalgic journey at the Highland Folk Museum, where you can experience the rustic charm of highland life from the 1700s. This open-air museum vividly portrays the domestic and farm life of the past, offering a rich tapestry of history through its exhibits. Here's what awaits you:
Domestic Life: Wander through authentically reconstructed buildings that showcase the simplicity and ingenuity of domestic life during the 1700s.
Farm Life: Get a glimpse of the daily grind and the agricultural practices that were the backbone of highland communities.
Crafts and Sports: Discover the crafts that were prevalent during the time and the sports that were the heartbeat of the community.
A Treat for Outlander Fans
For the hit series Outlander fans, this place holds a special charm. Recognise the backdrop from Season 1, Episode 5? That's right, Claire and Jamie ventured here, accompanied by Dougal and his men on a mission to collect taxes for the Mackenzie Clan.
You can also relive the moments when Claire assists the village women in dyeing cloth with urine and the bustling scenes set in the blacksmith's shop.
Visitor Tips
Entry: Entry is by donation, and no need to book. We didn't pay an entrance fee but bought the guide.
Opening Times: Open from April to October – check times here.
Car Park: A large visitor car park costs £2.00 per day for cars.
Photography: Capture the picturesque settings and the buildings that transport you back in time.
Guided Tours: Consider opting for a guided tour to delve deeper into the stories and history that the museum encapsulates.
Time of Visit: Plan your visit during weekdays to avoid the weekend rush.
Footwear: Equip yourself with comfortable footwear.
This 4-Day Outlander Trail From Edinburgh tour includes a visit to the Highland Museum, covering the trail of the best-known film locations featured in the Outlander TV Series | ⭐️5/5 | ⏳ 4 days
7. Elgin Cathedral
Distance from Inverness: 38 miles | 1 hour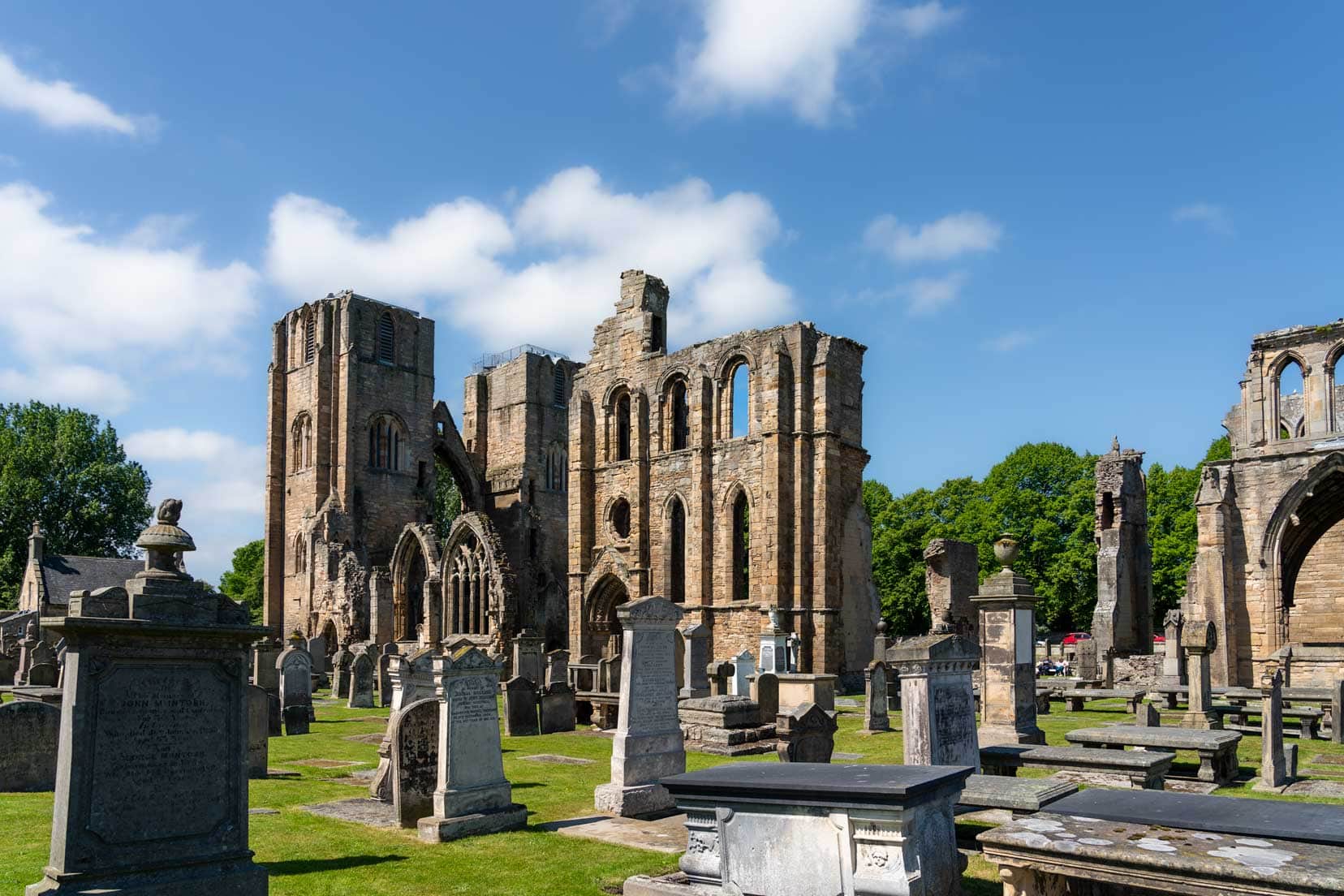 A Walk Through History
Elgin Cathedral, often referred to as the 'Lantern of the North', stands as a testament to Scotland's rich history. Despite being in ruins, the cathedral still emanates a grandeur that captures the imagination of its visitors. Here's what you can expect:
Architectural Marvel: Admire the intricate stone carvings and majestic architecture showcasing the bygone era's craftsmanship.
Picturesque Surroundings: The cathedral is nestled amidst lush greenery, offering a tranquil setting for a leisurely walk.
Historical Significance: Learn about the cathedral's storied past and its significance in Scotland's history.
A Personal Connection
During our visit, I embarked on a personal journey. As I wandered through the hallowed grounds, I was on the lookout for a very special grave – that of one of my ancestors.
Despite my best efforts, I couldn't locate the grave, but the experience added a layer of personal connection and intrigue to our visit. It was a poignant reminder of the deep roots and personal histories that places like these hold.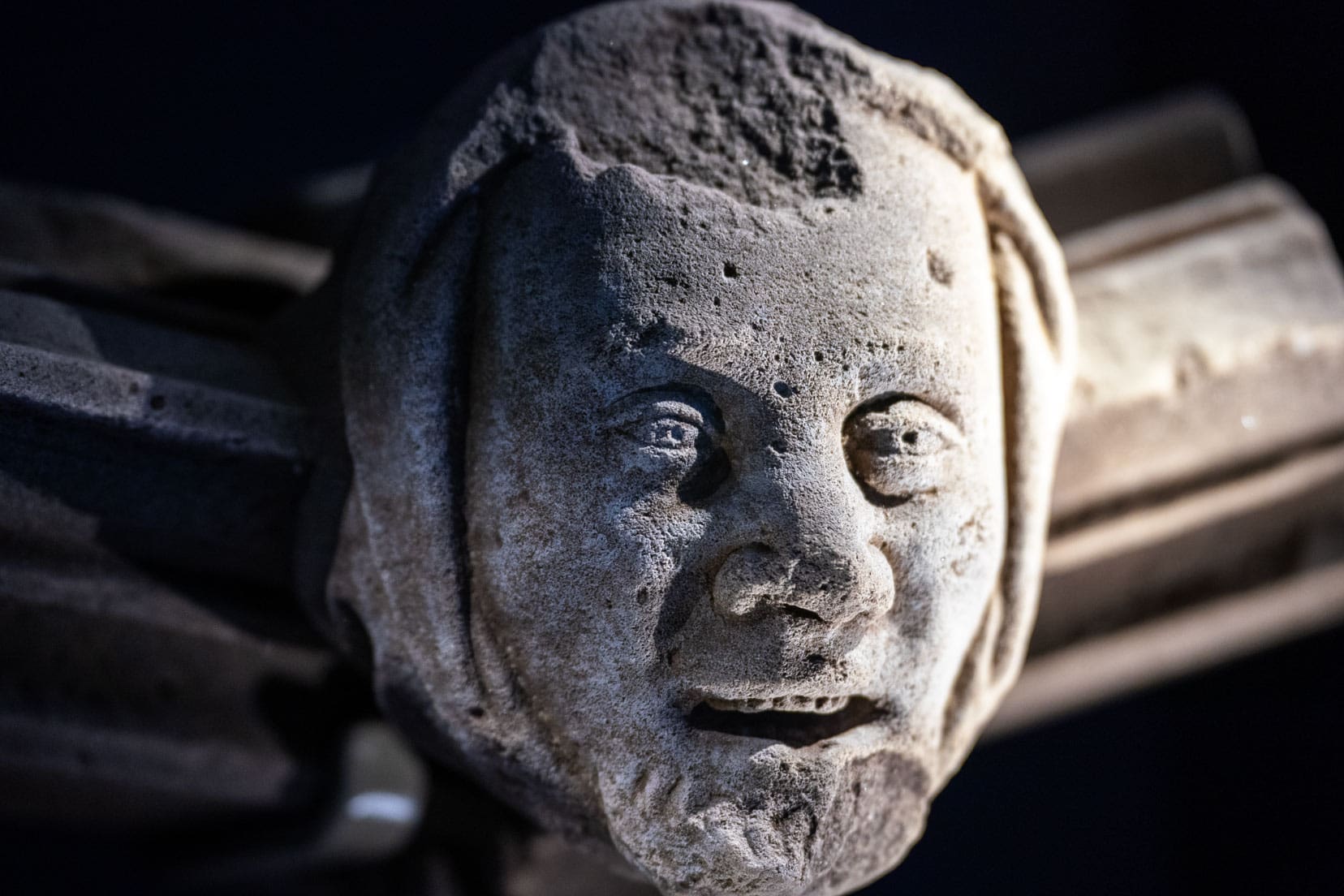 Visitor Tips
Guided Tours: To fully appreciate the history and architecture, consider joining a guided tour.
Photography: Don't forget your camera to capture the beautiful ruins and the serene surroundings.
Genealogy Research: If you have Scottish roots, doing a bit of genealogy research before your visit might add a personal touch to your journey. Mine all started after buying this DNA kit, and I realised I was 40% Scottish!
⛪︎ This Speyside Whisky Tour from Inverness takes you to explore Elgin's cathedral, and you also visit both Glen Moray and Tomatin Whisky Distilleries | ⭐️ 4.8/5 | ⏳ 9.5 hours
8. Ruthven Barracks – A Glimpse into Jacobite History
Distance from Inverness: 43 miles | 1 hour

Ruthven Barracks stands as a silent witness to the turbulent times of the Jacobite uprisings. Erected by the British Government after the 1715 uprising, its primary purpose was to maintain peace and order in the region.
The barracks withstood the first 1745 Jacobite attack but were later taken by a further attack in 1746. The Jacobites set fire to the barracks, leaving what you see today.
Just after the devasting defeat of the Jacobites at Culloden, some of the remaining Jacobites met at Ruthven Barracks to determine their next move, but they received a message from Prince Charles Stuart, their leader, to "Let every man seek his own safety in the best way he can".
As we explored the ruins, we imagined the hurried discussions and the sense of despair that must have engulfed the Jacobite forces as they received the disheartening message from Prince Charles Stuart to fend for themselves.
Visitor Tips
Photography: Capture the historic ruins against the backdrop of the picturesque Scottish landscape.
Accessibility: The barracks are easily visible from the main road on the hilly mound just off the A9 in Badenoch, Scotland. Making it a convenient stop during your road trip.
For Wildlife Lovers
9. Spot the Dolphins at Chanonry Point
Distance from Inverness: 16 miles | 30 mins
Nestled along the Moray Firth, Chanonry Point is a haven for dolphin enthusiasts. Home to the UK's largest resident colony of bottle-nose dolphins, it offers a golden opportunity to witness these magnificent creatures in their natural habitat.
We were lucky enough to witness the dolphins jumping close to shore during our visit.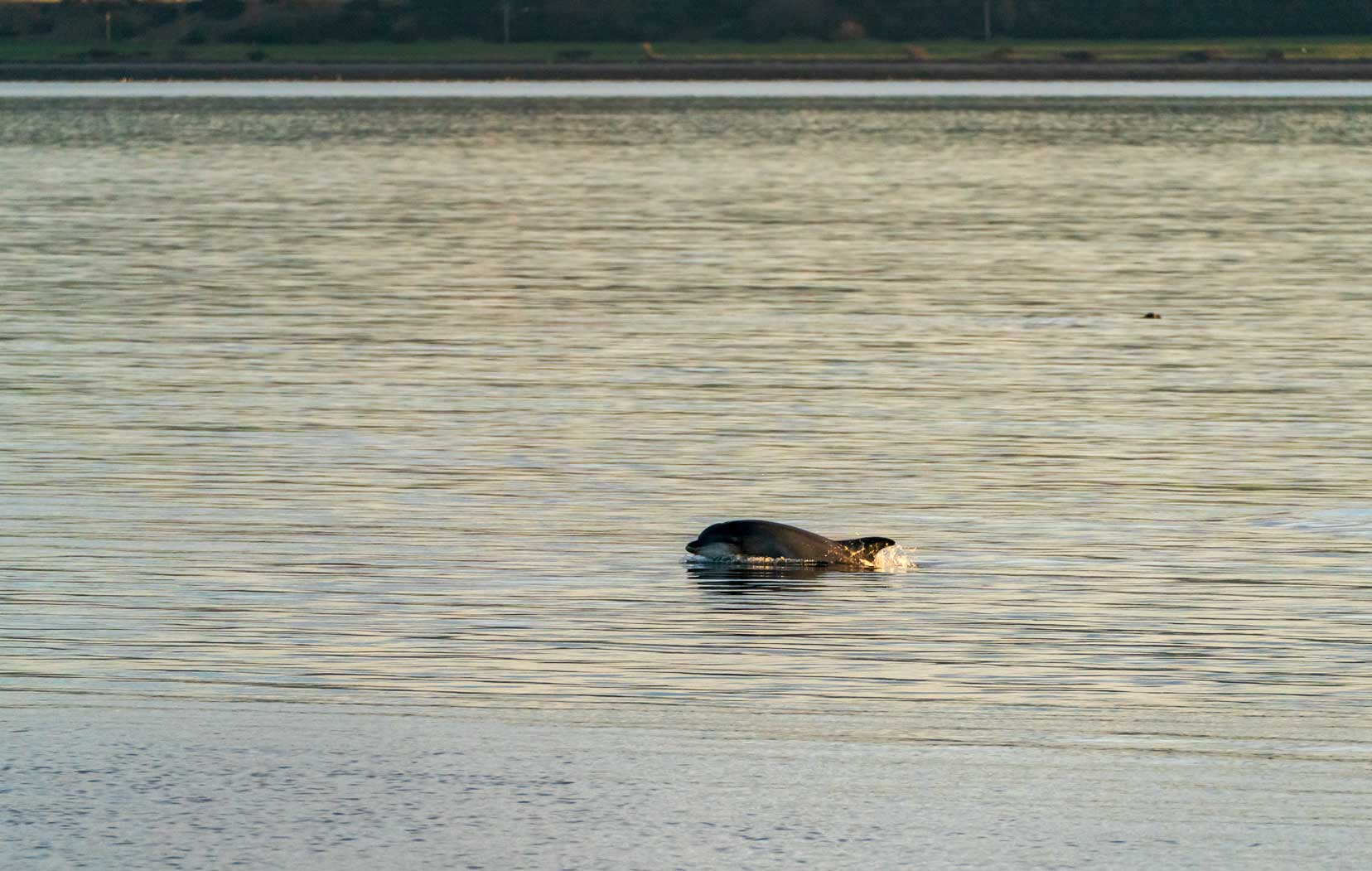 Here's what awaits you:
Dolphin Sightings: Stand at the shore and keep your eyes peeled for the dolphins, often seen feeding close to the shore.
Photographer's Mecca: With its breathtaking views of the Moray Firth, it's a hotspot for photographers. Capture the dolphins' playful antics against a stunning backdrop.
Scottish Dolphin Centre: Extend your dolphin adventure by visiting the Scottish Dolphin Centre in Spey Bay. It's a treasure trove of information about these fascinating marine creatures.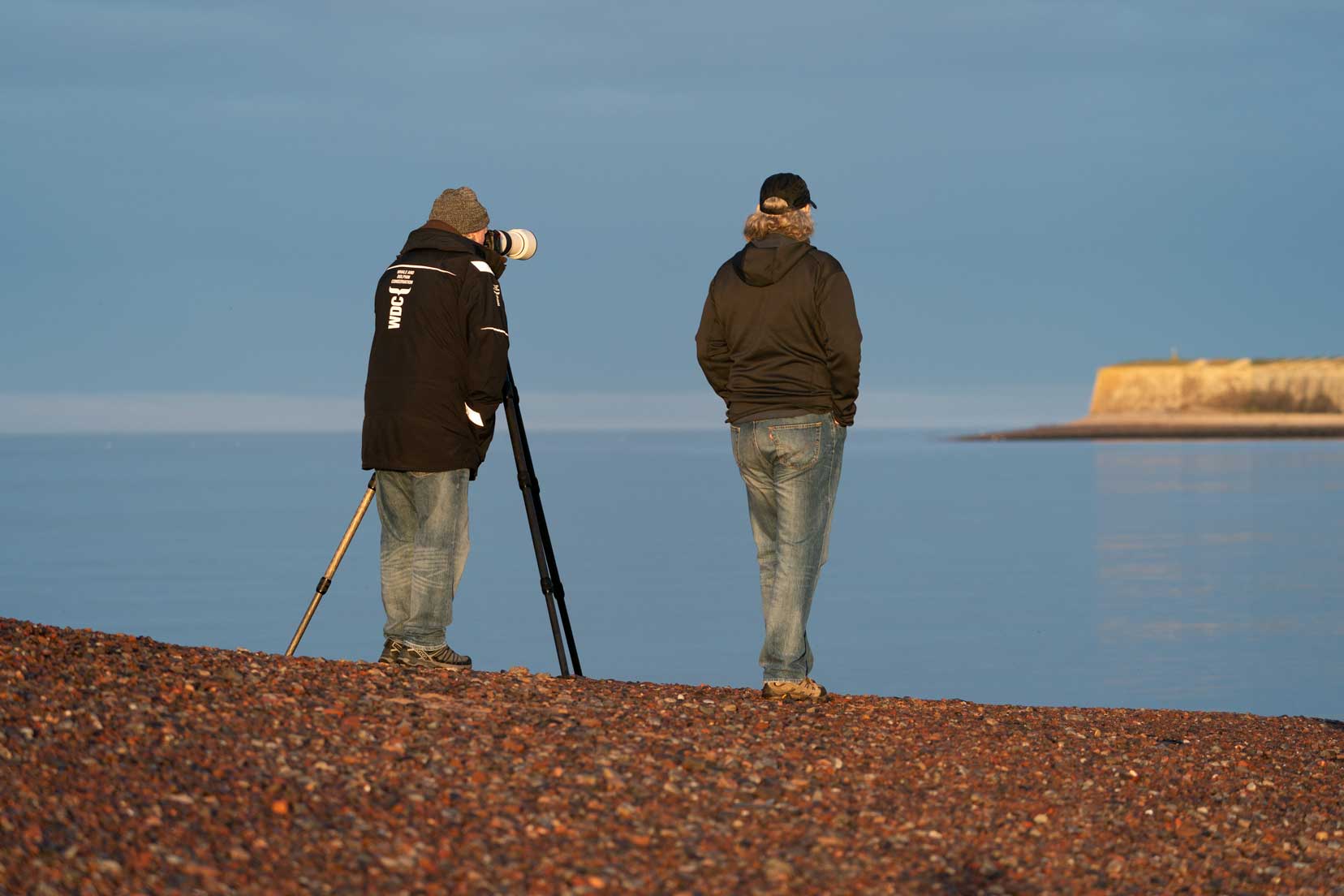 Visitor Tips
Best Time to Visit: The best time for dolphin spotting is during a rising tide. Check the tide times to increase your chances of seeing the dolphins.
Amenities: A few amenities are nearby, including public toilets and a small car park.
Patience is Key: Dolphin spotting can sometimes be a waiting game. Bring a pair of binoculars and settle in for a potentially rewarding experience.
10. Discover the Wonders of Highland Wildlife Park, Kincraig
Distance from Inverness: 45 miles | Approx. 1 hour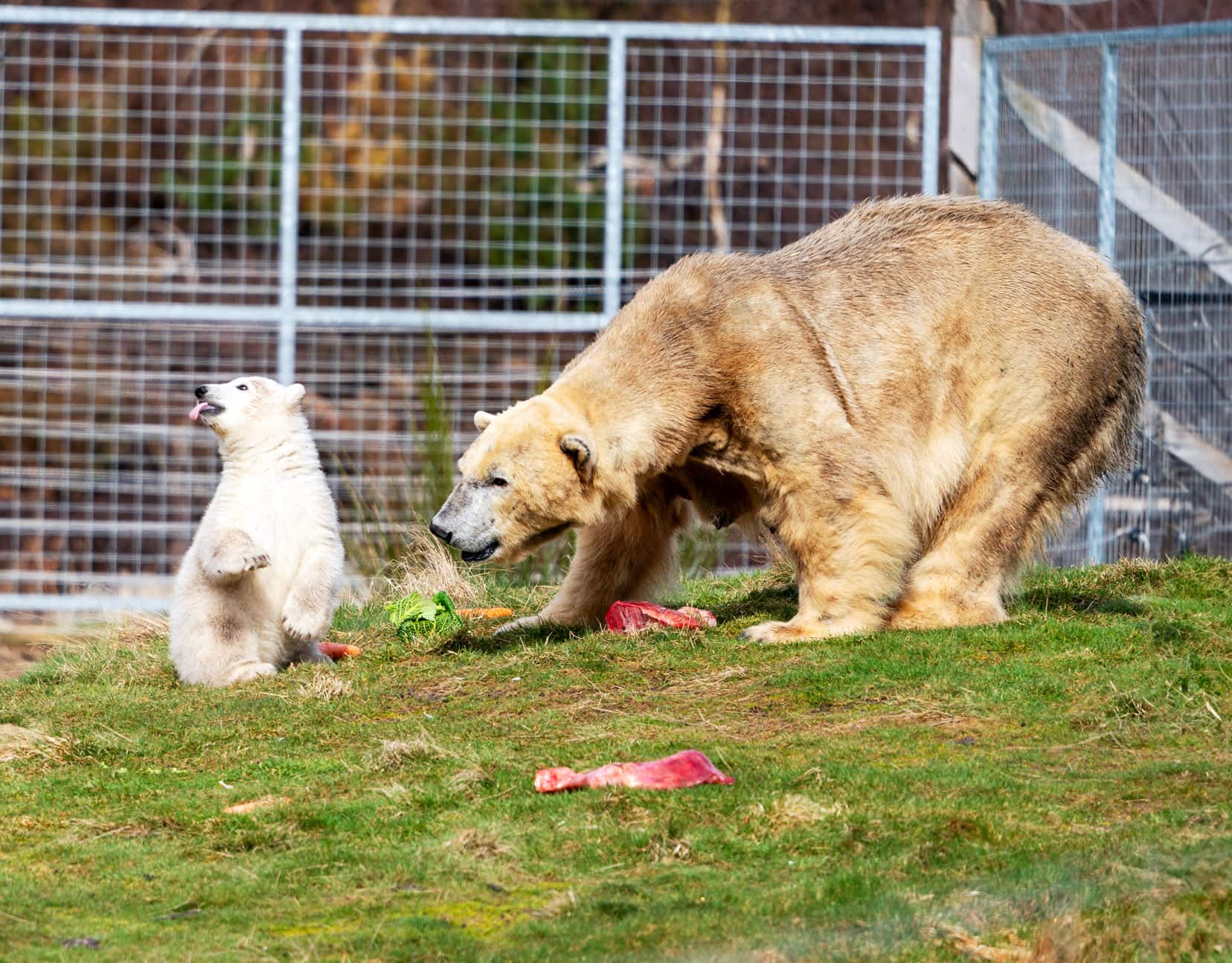 Nestled amidst the picturesque landscapes of the Scottish Highlands, the Highland Wildlife Park in Kincraig promises an unforgettable adventure for nature enthusiasts.
Here's a glimpse of our enjoyable visit to the park and some tips to help you make the most of your experience.
A Day Filled with Animal Antics
During our visit, we loved watching the antics of the snow monkeys, also known as the Japanese Macaque. The highlight, though, had to be watching the polar bear cub, Brodie, enjoying some playful moments with his mum.
The best chance of seeing them is when they are fed, but there isn't a set time for this. We were hanging around at around 1 p.m. and were lucky to be at the right spot at the right time.
We also spent time watching the Amur tiger cubs frolicking with their toys, a sight that brought smiles to our faces.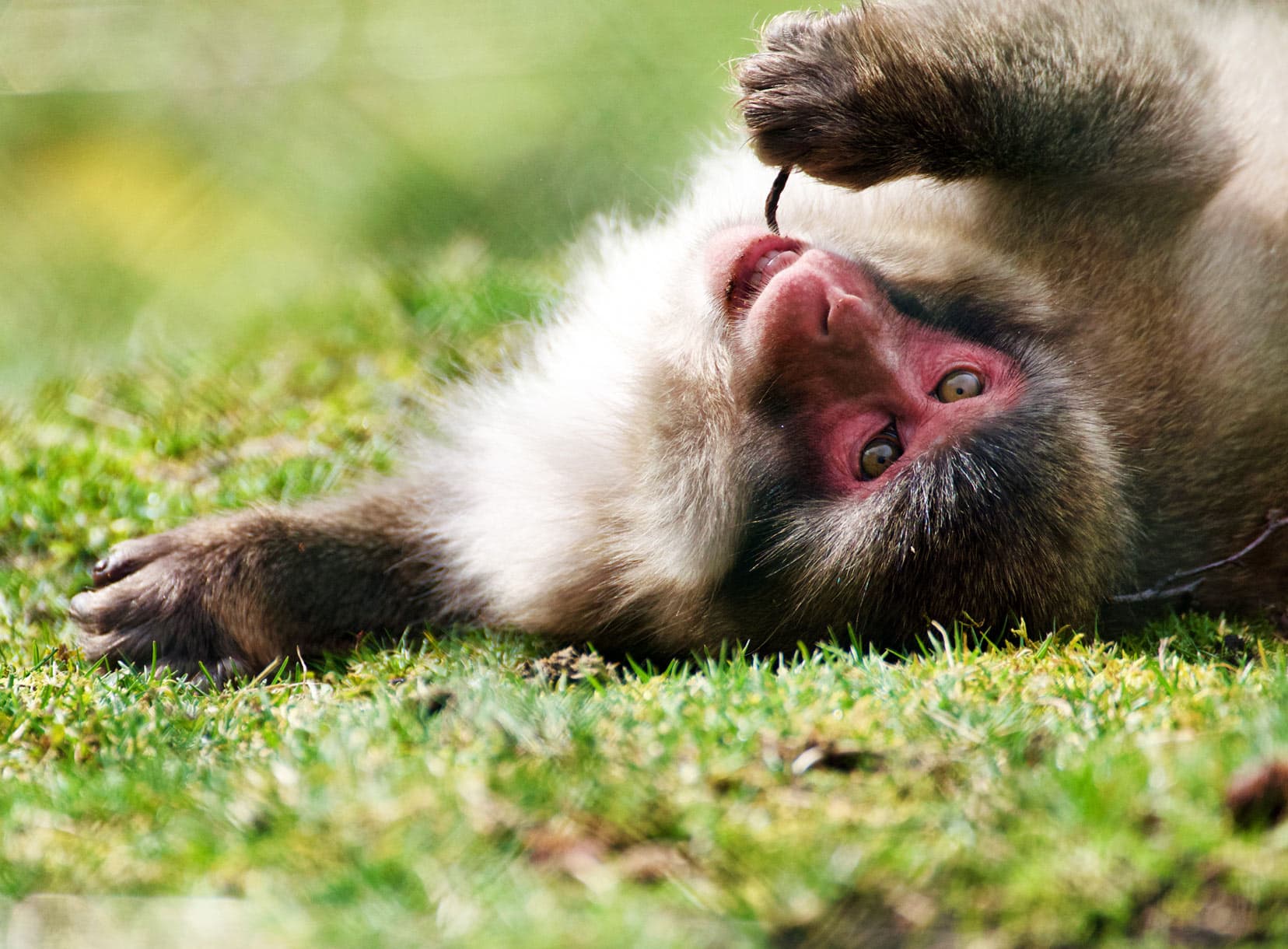 Drive-Through Adventure
The park offers a unique drive-through experience where you can explore the main reserve in your own vehicle. You can also go around as many times as you like.
This area is home to a variety of animals, including European bison, Bukhara and red deer, European elk, and Przewalski's horse. In 2023, the park welcomed a small Vicuna herd that look a little like alpacas, and they roam the open space, too.
A wide range of birdlife have taken up residence in the park, too, including lapwings and oystercatchers.
Best Time to Visit
Although we visited in winter, summer is the best time to visit the Highland Wildlife Park. The season brings long, sunny days, and you'll also have the best chance of spotting baby animals, such as arctic fox cubs and wildcat kittens.
Visitor Tips
Tickets: Visitor numbers are capped, so plan your visit and buy your tickets here to avoid missing out.
Early Visit: We recommend visiting early in the day as the park tends to get busy as the day progresses.
Bird Watching: Keep an eye out for the various birds that have made the park their home.
11. Discover the Wonders of Abernethy National Reserve
Distance from Inverness: 34 miles | 45 minutes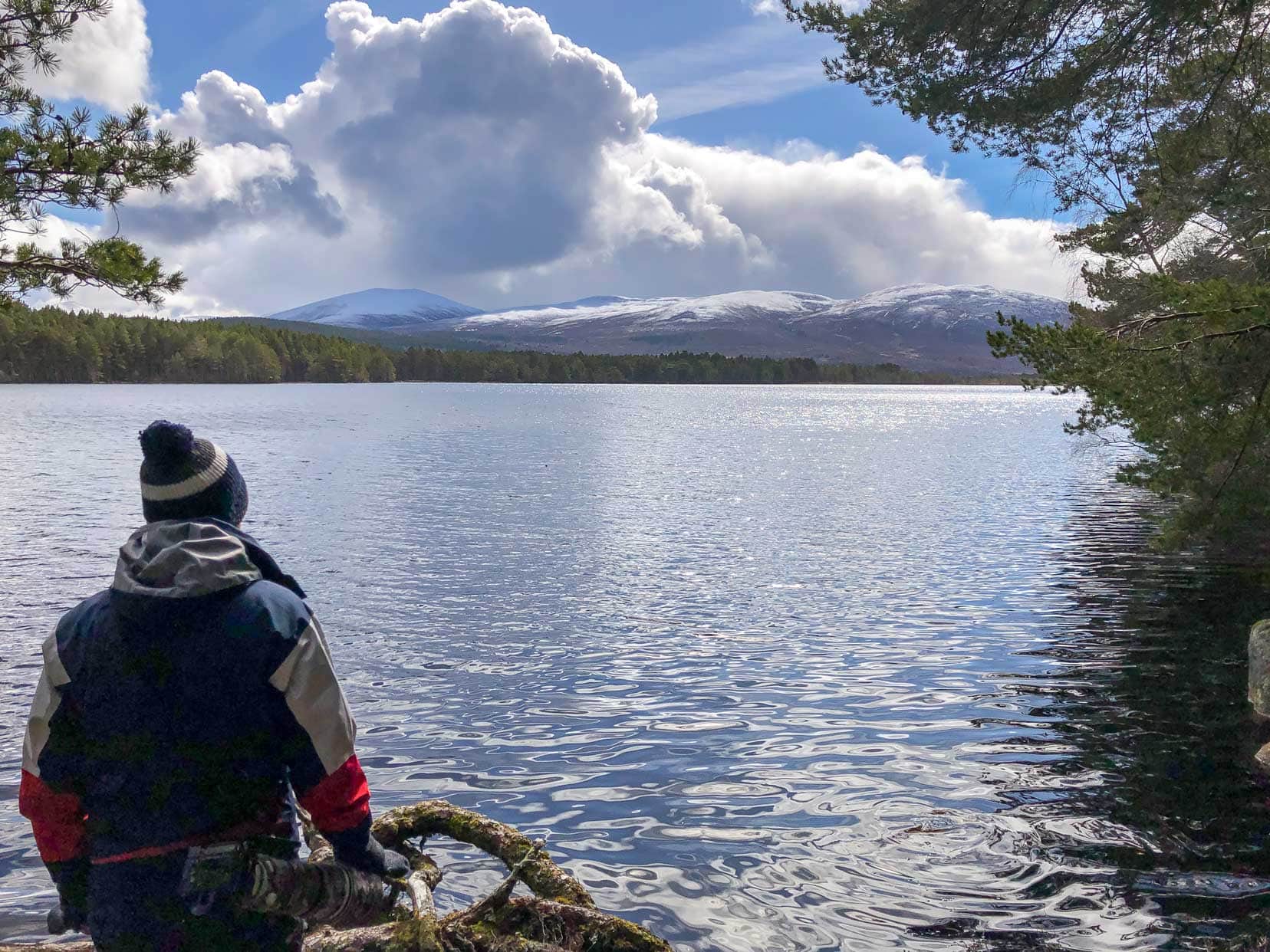 Nestled within the majestic Cairngorms, the Abernethy National Reserve is full of lush Caledonian pinewood forests that attract a wide range of wildlife.
Birdwatching at Loch Garten
Between April and August, the RSPB Osprey Centre at Loch Garten becomes a hotspot for bird lovers. Witness the magnificent ospreys in their natural habitat through a live webcam feed at the visitor centre.
During our visit, we were captivated by the live footage of the resident osprey pair nurturing their young at their secret nesting site. It's a rare and beautiful sight, especially if you're fortunate enough to witness an egg hatching.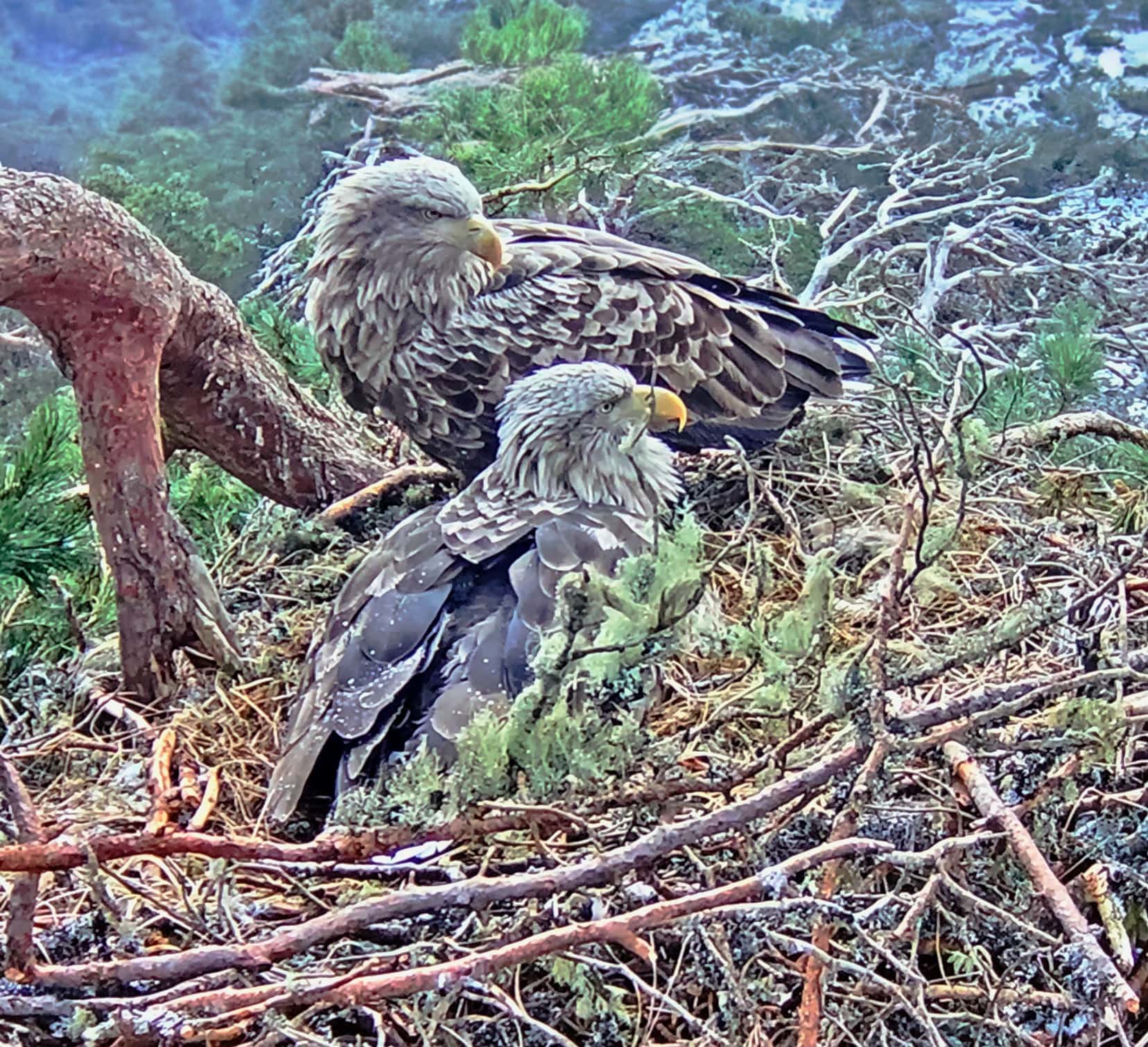 Abernethy Ancient Forests & Nethy Bridge
You'll find the small Abernethy Visitor Centre on the scenic banks of the River Nethy. From there, you can grab a map of the area and take a walk in the ancient Abernethy Forests behind the centre. We headed into Dell Woods, where we spotted several red squirrels.
You might also want to take a leisurely stroll along the picturesque River Nethy. We were able to do both in the afternoon. The forest has plenty of paths, so you can choose shorter or longer routes.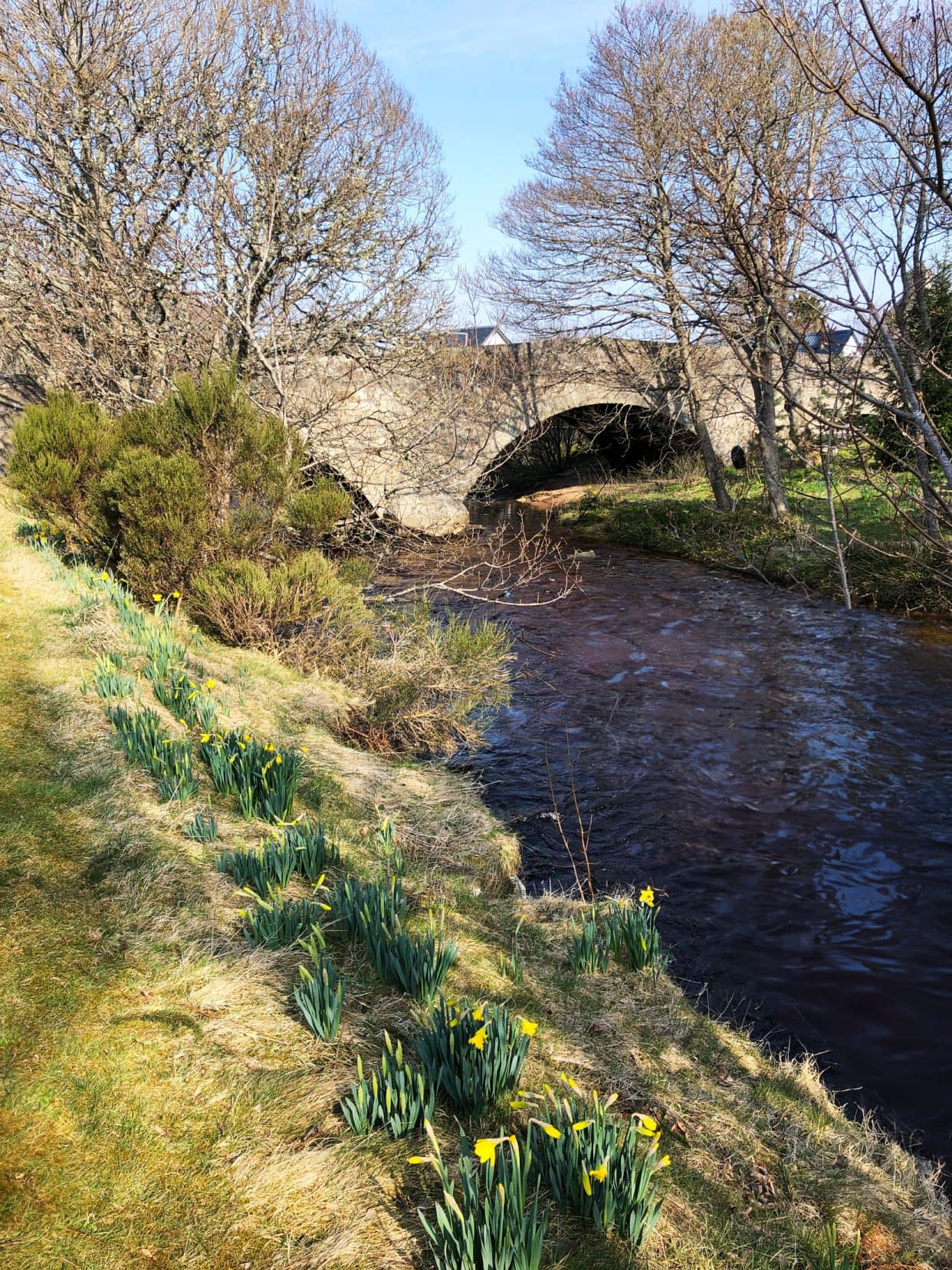 Visitor Tips
Osprey Centre Opening Times: Open from April to August, 10 am – 6 pm. Don't miss the chance to witness the ospreys during their nesting season.
Abernethy Visitors Centre Opening Times: Open from Easter to October, Saturday to Wednesday, 12 pm – 4.30 pm.
Abernethy Reserve: The reserve is open year-round.
Remember to check the opening hours and plan your visit accordingly to make the most of your time at the reserve.
12. Wander through Brahan Dell and Arboretum
Distance from Inverness: 16 miles | 25 mins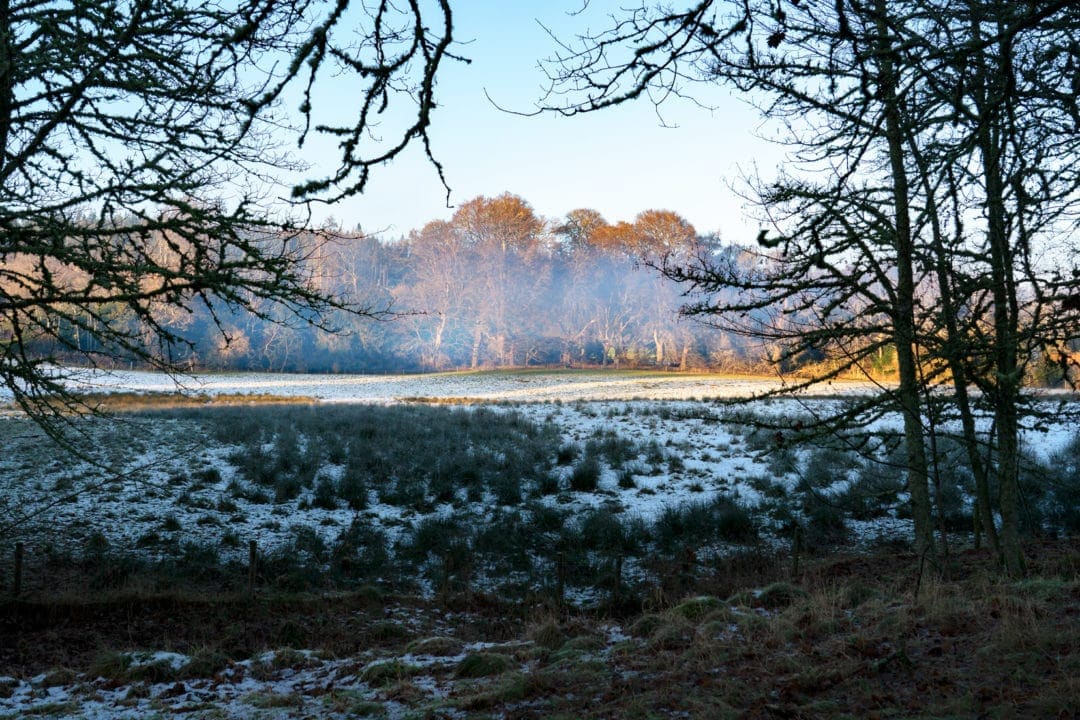 A short drive south from the reserve takes you to the entrance of the Brahan Estate Dell, a haven for nature enthusiasts.
What to do at Brahan Dell and Arboretum?
Enjoy a walk amidst ancient trees and the Ross-shire countryside. (There is a small car park just by the entrance gate.)
Spot red kites soaring in the sky.
Delve into the history of the Brahan Estate, once home to the Jacobite chiefs of Clan McKenzie.

The Dell is an NTSC (National Tree Collections of Scotland) site and part of the Brahan Estate, once home to the famous Jacobite chiefs of Clan McKenzie. The former owners of the Brahan Estate were the Seaforths (Chiefs of Clan McKenzie).
But what has made the estate even more interesting is one of the Seaforth estate workers of the 17th century, known as the Brahan seer.

Uncover the tales of the Brahan seer, a worker who made several predictions about the Seaforth estate.

Apparently, the seer, Kenneth McKenzie, predicted many events that were to happen to the Seaforths, including the death of Lady Caroline Seaforth McKenzie at the hands of her sister.
19th Century Dog Cemetery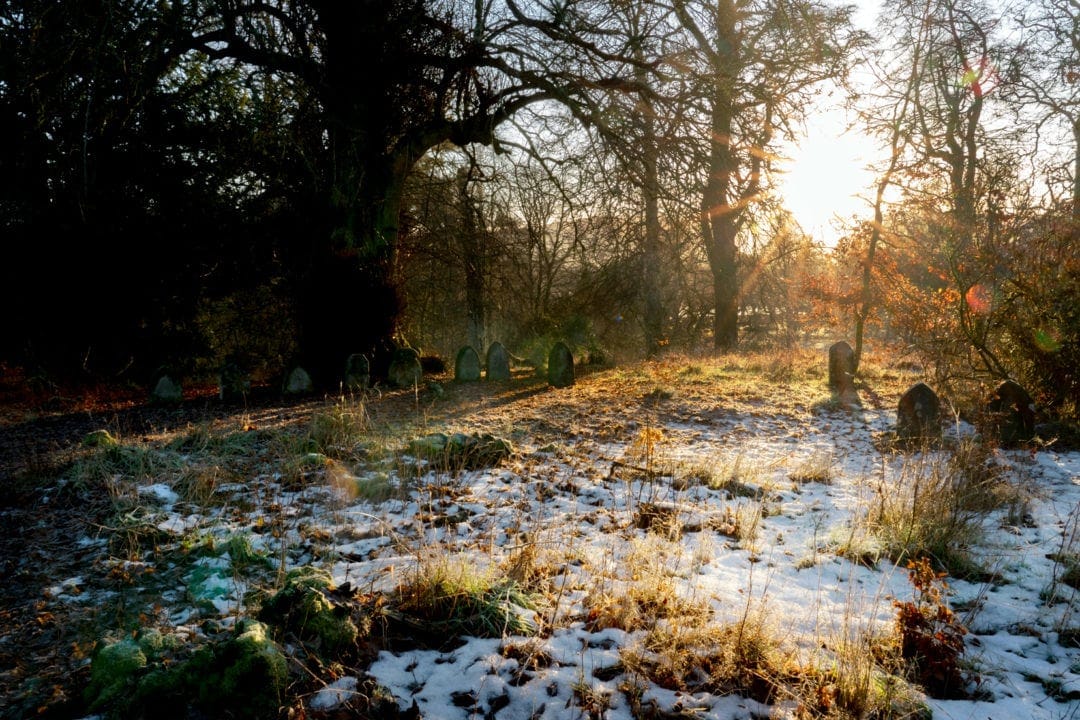 Also, at the Brahan Dell, you will find a 19th-century dog cemetery.
The gravestones, including one with a sculptured dog lying across the top, date from the late 19th and early 20th centuries.
One that we happened upon had the following inscription:
"In memory of Cruiser. For 15 years, the faithful friend and companion of Colonel Stewart Mackenzie of Seaforth. He accompanied the 9th Lancers throughout the Afghan Campaigns 1878-79-80, including the march from Kabul to Kandahar. Born 1878, Died 1893."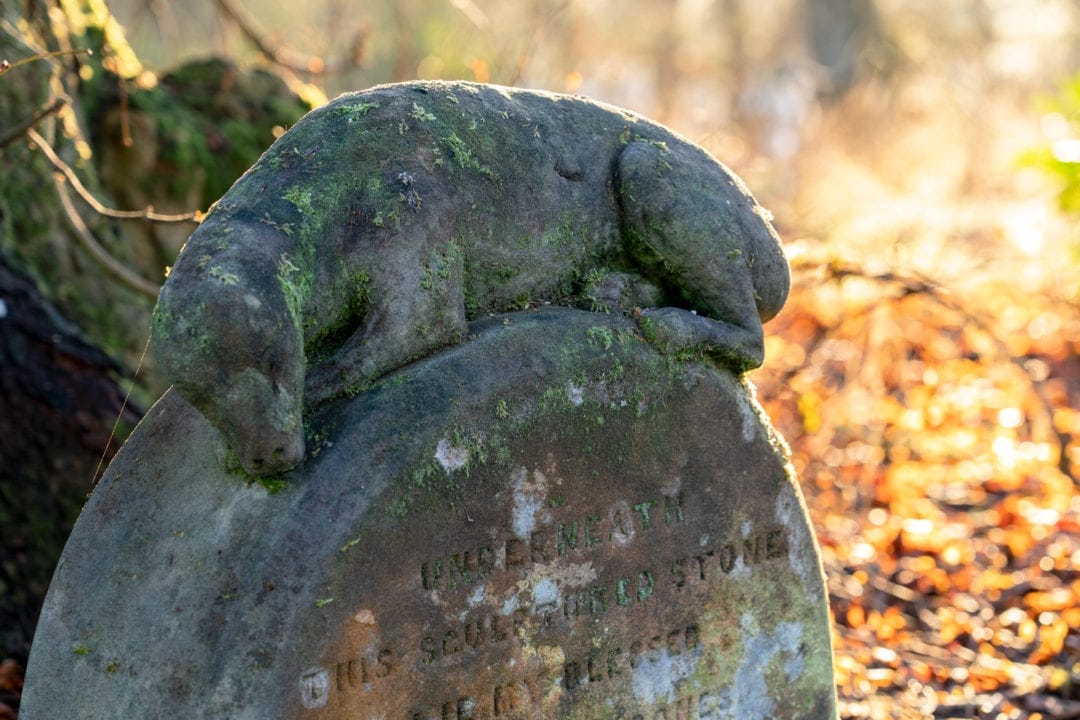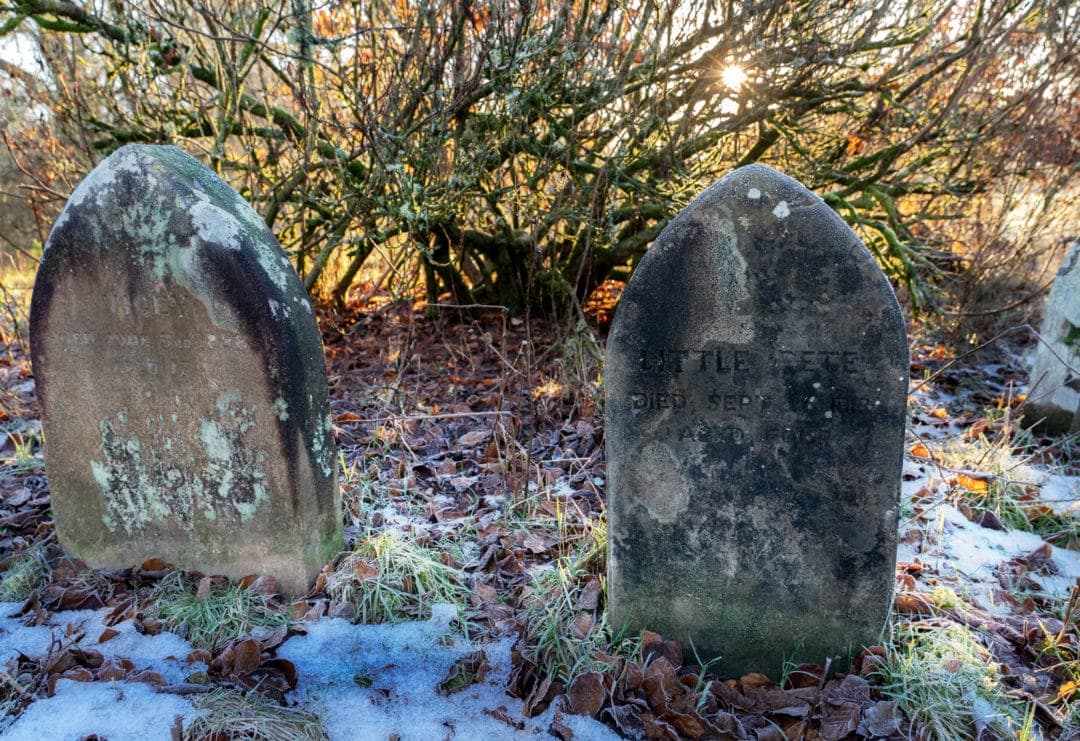 When we were in the area, the Tollie Red Kite Centre was still open, so we were able to watch these majestic birds up close. The RSPB run centre is now closed, in part due to the rampant spread of bird flu in Scotland but also so that the Red Kites don't come to rely on a specific food source.
However, the red kites are obviously around, and we saw plenty soaring around the skies around Dingwall and surrounds.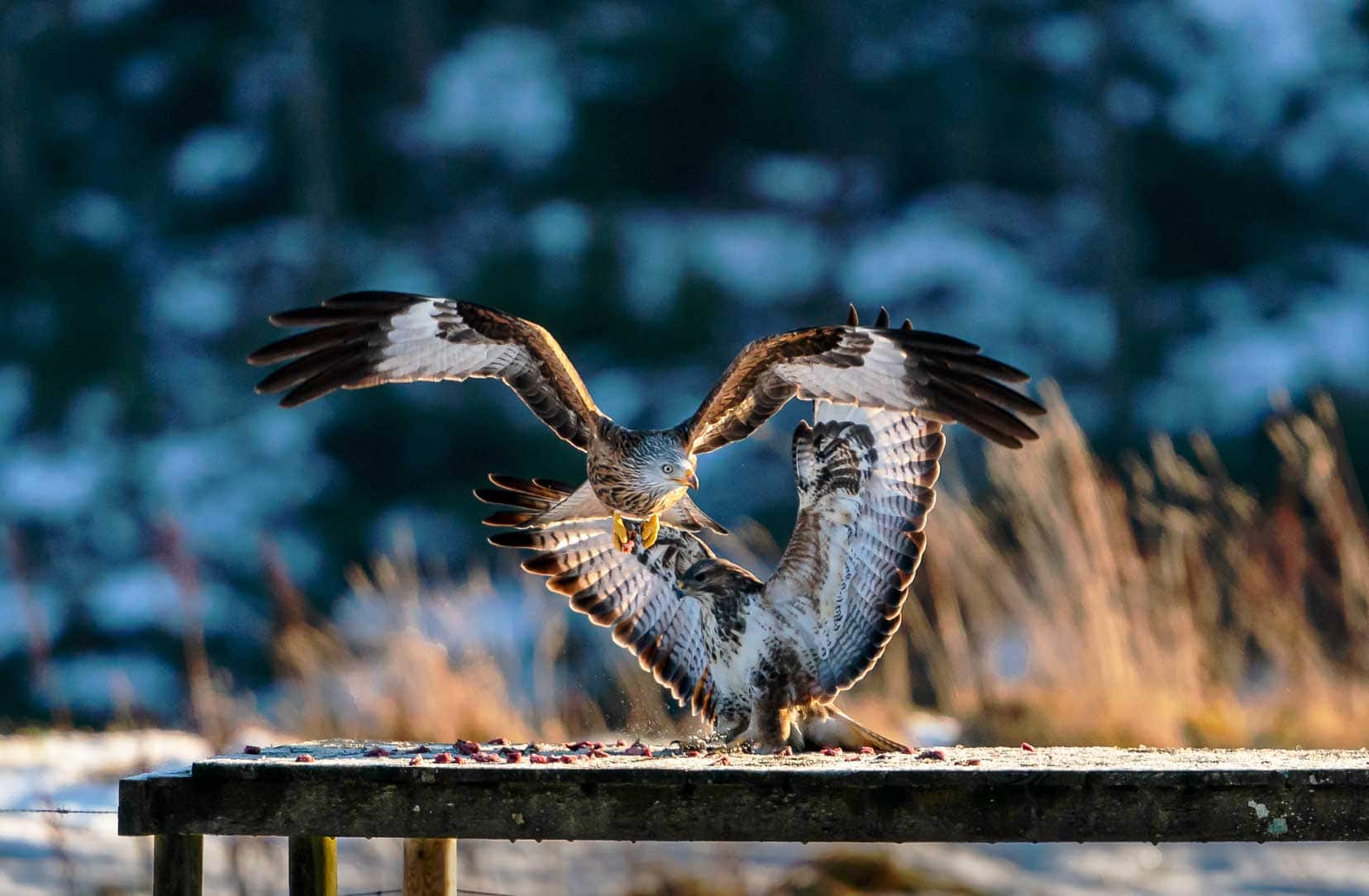 Visitor Tips
Nature Walks: Apart from bird watching, the area offers serene nature walks where you can soak in the beauty of the Scottish highlands.
Birdwatching: Bring your camera along to capture the majestic flight of the red kites and all the other feathered friends you might spot.
Getting There: The Brahan Dell & Arboretum is easily accessible from Inverness, making it a convenient day trip for nature and wildlife enthusiasts.
Nearby Attraction: If you have time, take a visit to the nearby Loch Ussie.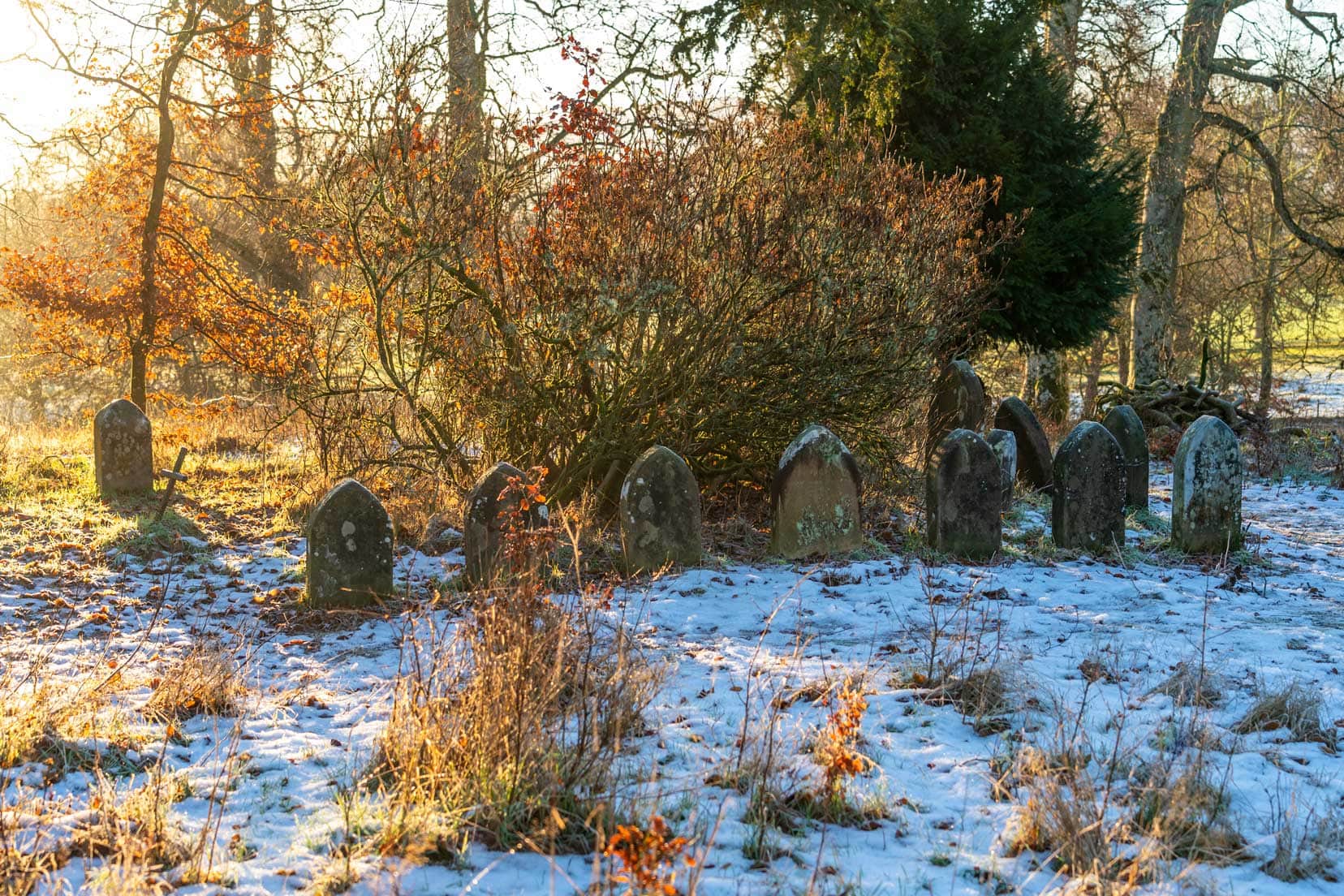 13. Loch Ussie: A Hidden Gem in the Highlands
The Loch Ussie area, nestled in the Highlands of Scotland, is a haven for nature enthusiasts and adventurers alike.
Despite the car park being a bit slippery due to snow and black ice, the trail leading to the loch was covered mainly in snow and offered a firm grip for a leisurely walk.
As we set off on the trail, several red kites soared gracefully above us. A little further along, we came across a grazing deer, adding to the natural charm of the place.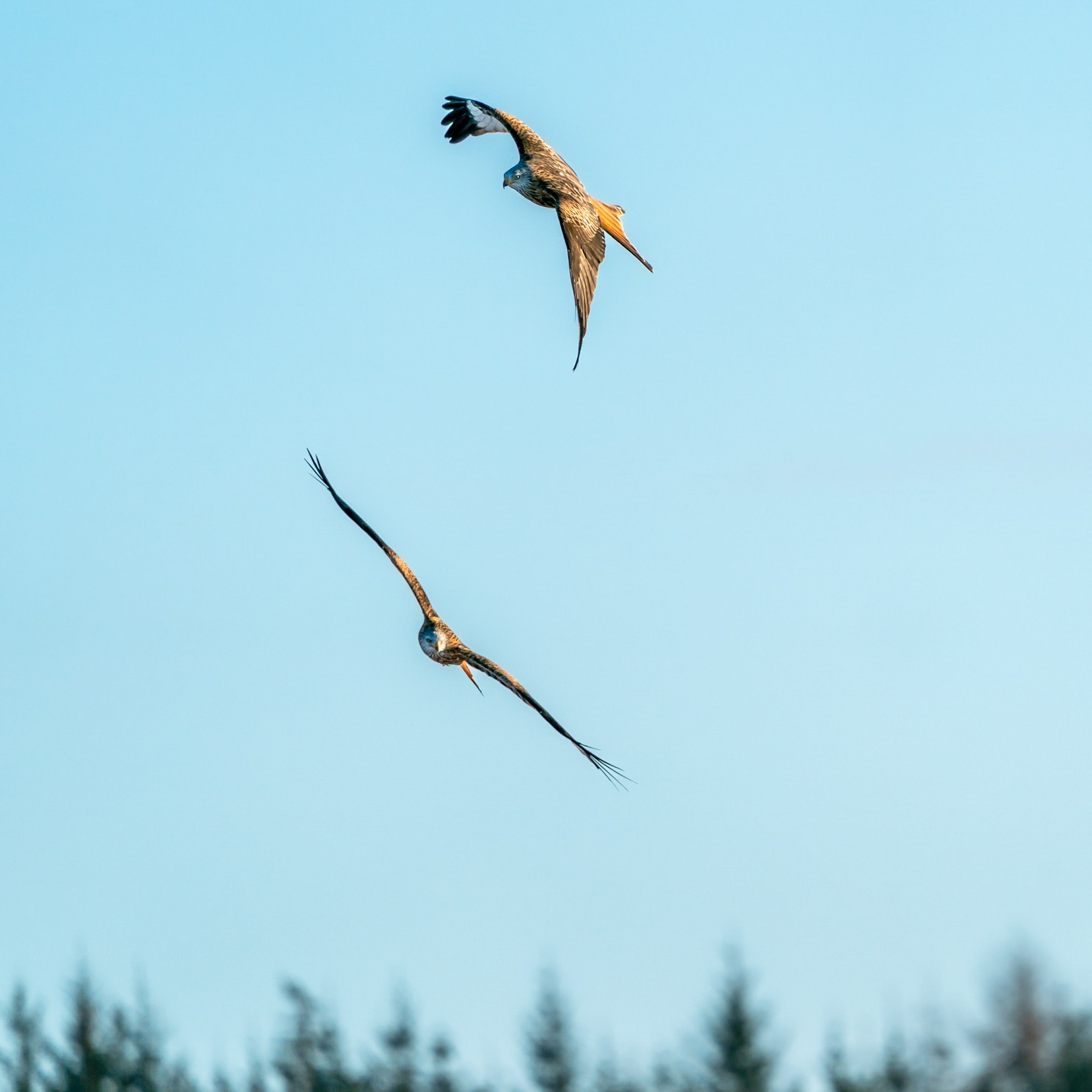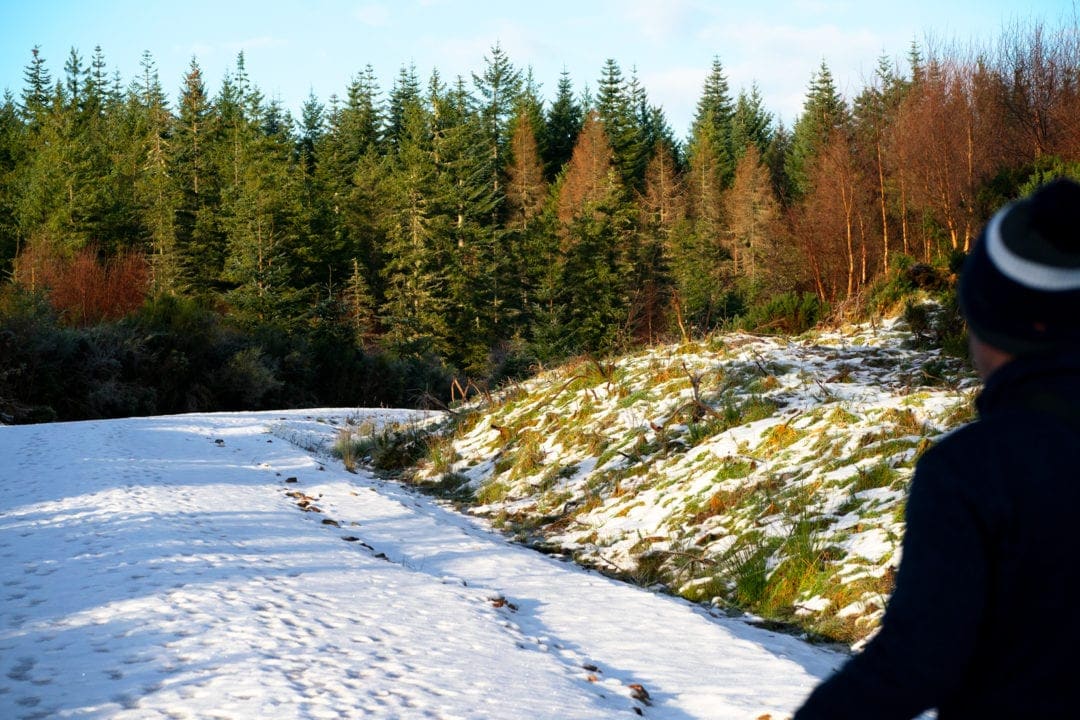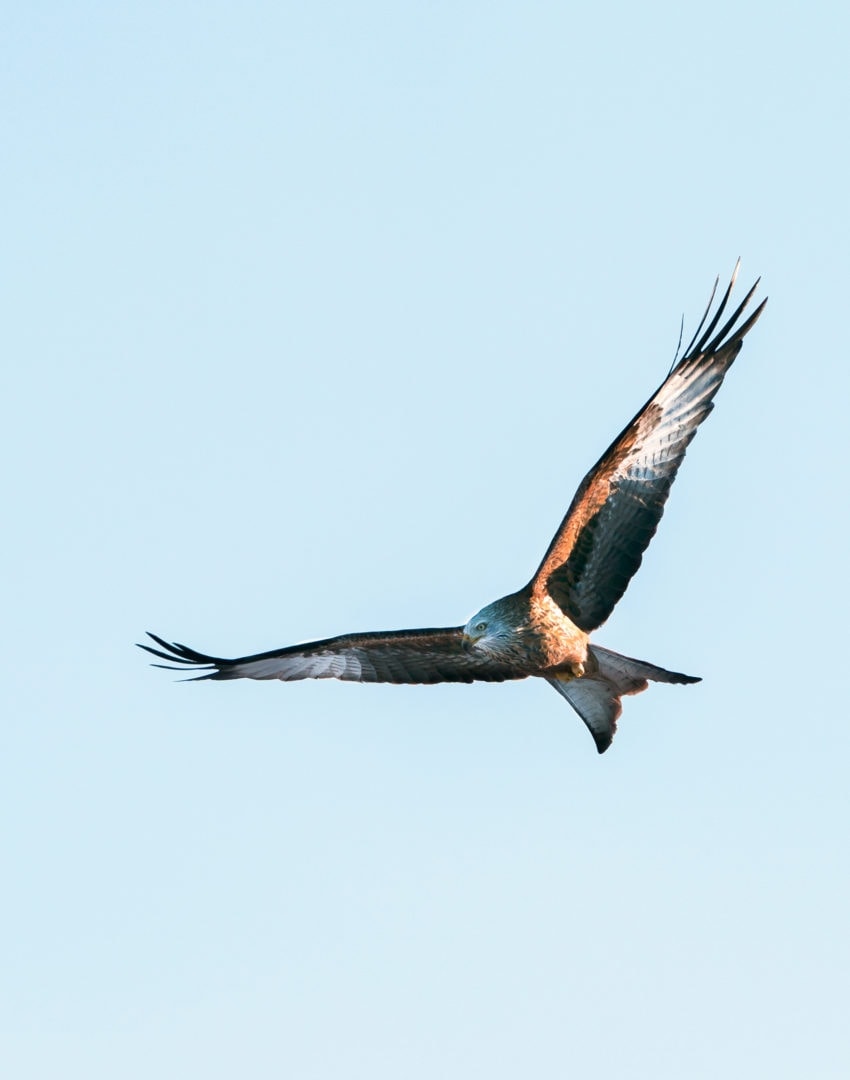 Visitor Tips
Routes for Everyone: Whether you're into walking, running, or cycling, Loch Ussie has routes to cater to all levels of difficulty. Popular choices include the scenic Loch Ussie & Loch Kinellan walking route and the challenging Contin Loop cycling path.
We were only wanting a short walk, so parking at the nearby car park and walking to the lake and back again was perfect.
Map Your Journey: To explore the area in depth, consider getting a detailed map from the GetOutside Ordnance Survey Map, which features footpaths, bridleways, and cycle tracks.
Photography Opportunities: Don't forget your camera. The paths offer splendid views, perfect for capturing the serene beauty of Loch Ussie and its surroundings.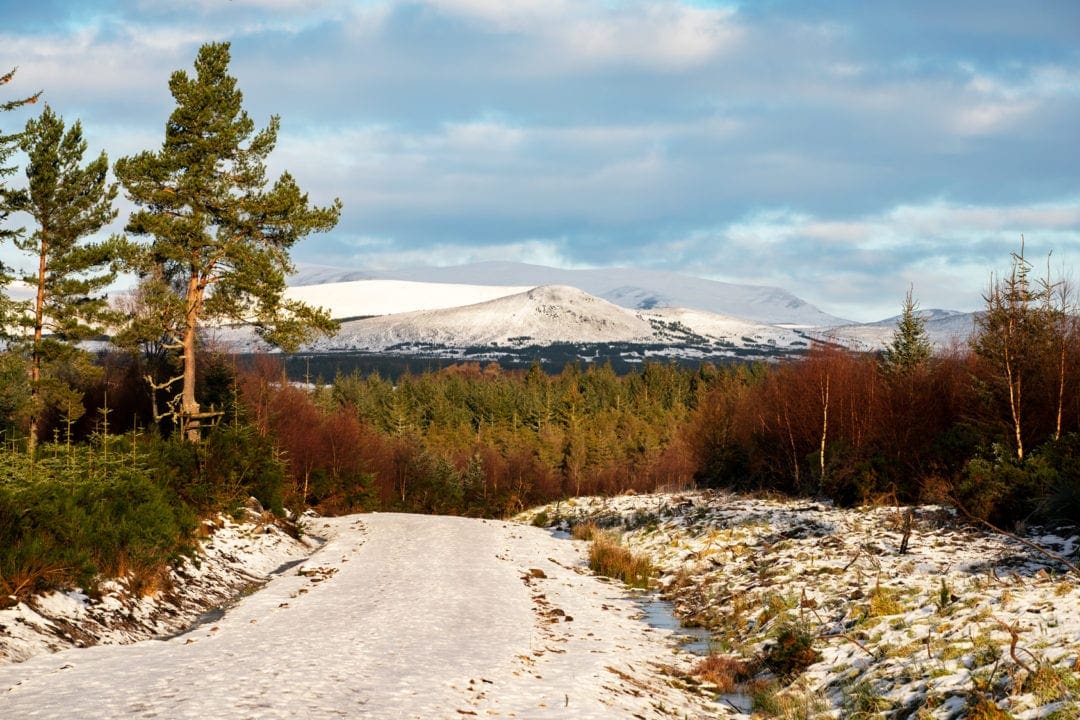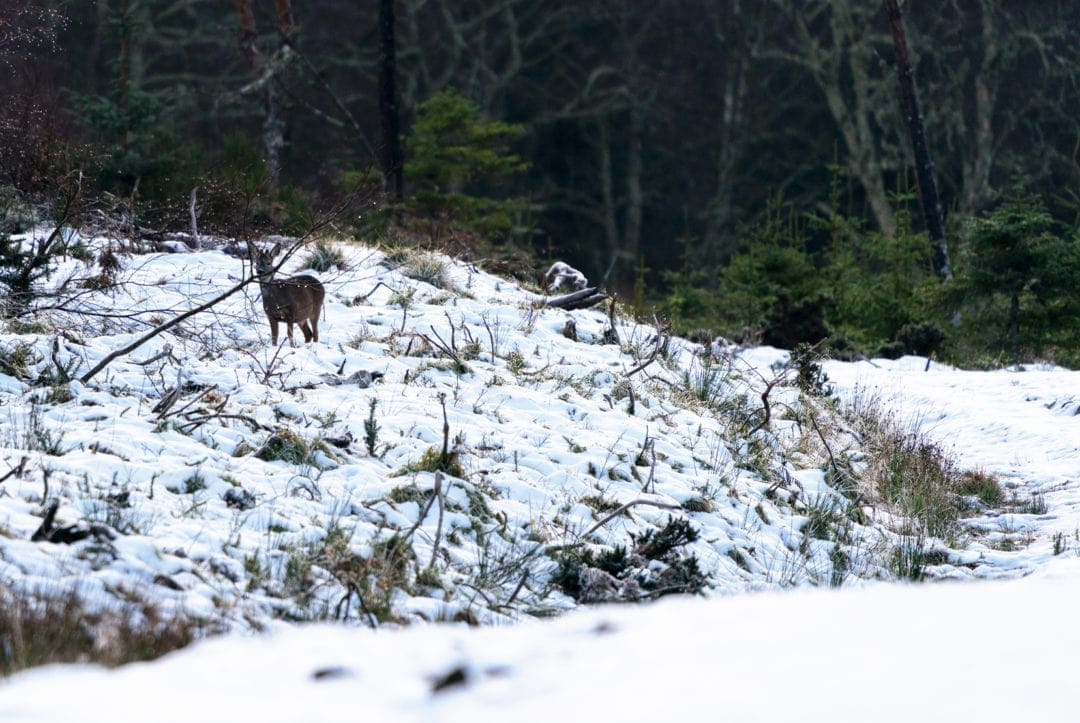 Natural Attractions & Scenic Views
14. Take a Day Trip to Glen Affric
Distance from Inverness: 33 miles | 1 hour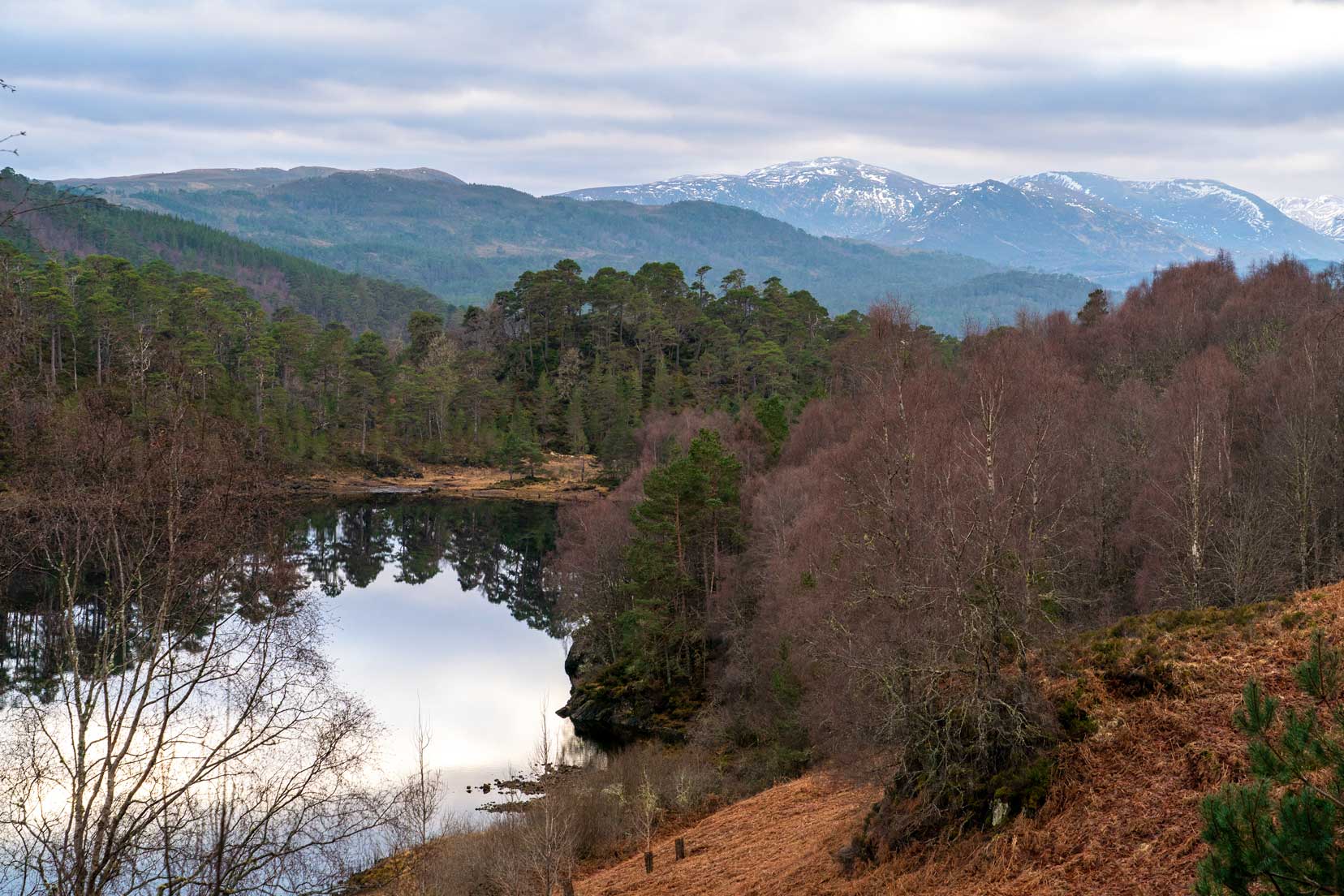 Glen Affric is a stunning Nature Reserve, a sanctuary of ancient Caledonian pinewood forests intertwined with rivers, lochs, bogs, mountains, and moorlands.
This landscape, formed about 9000 years ago during the last ice age, is a quiet place to connect with nature.
We couldn't help but wish we had allocated an entire day to explore the Glen during our visit. The area is dotted with picturesque spots perfect for a picnic, and the myriad of walking trails invite you to immerse yourself in this incredible scenic landscape.
Next time, a picnic is definitely on the cards!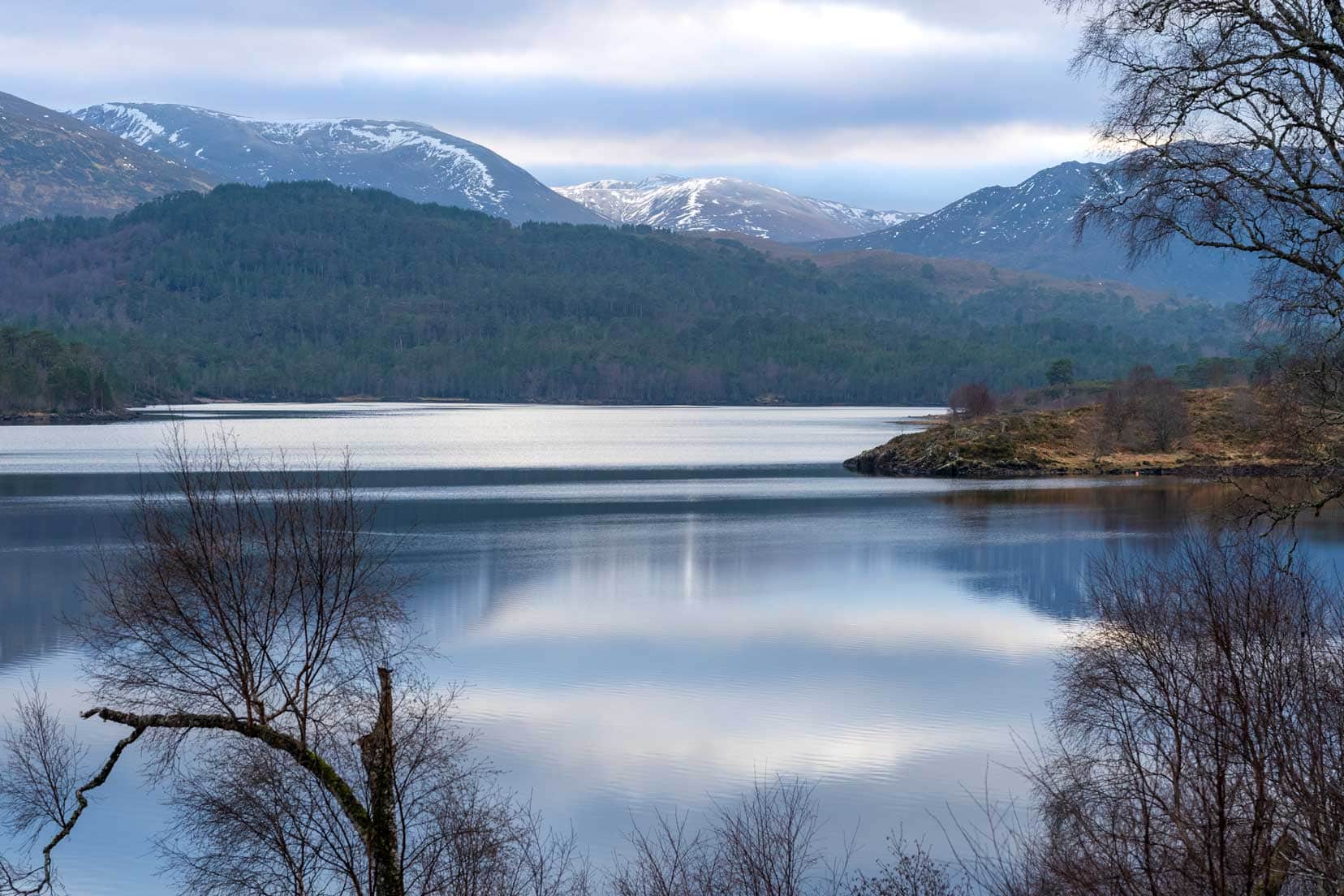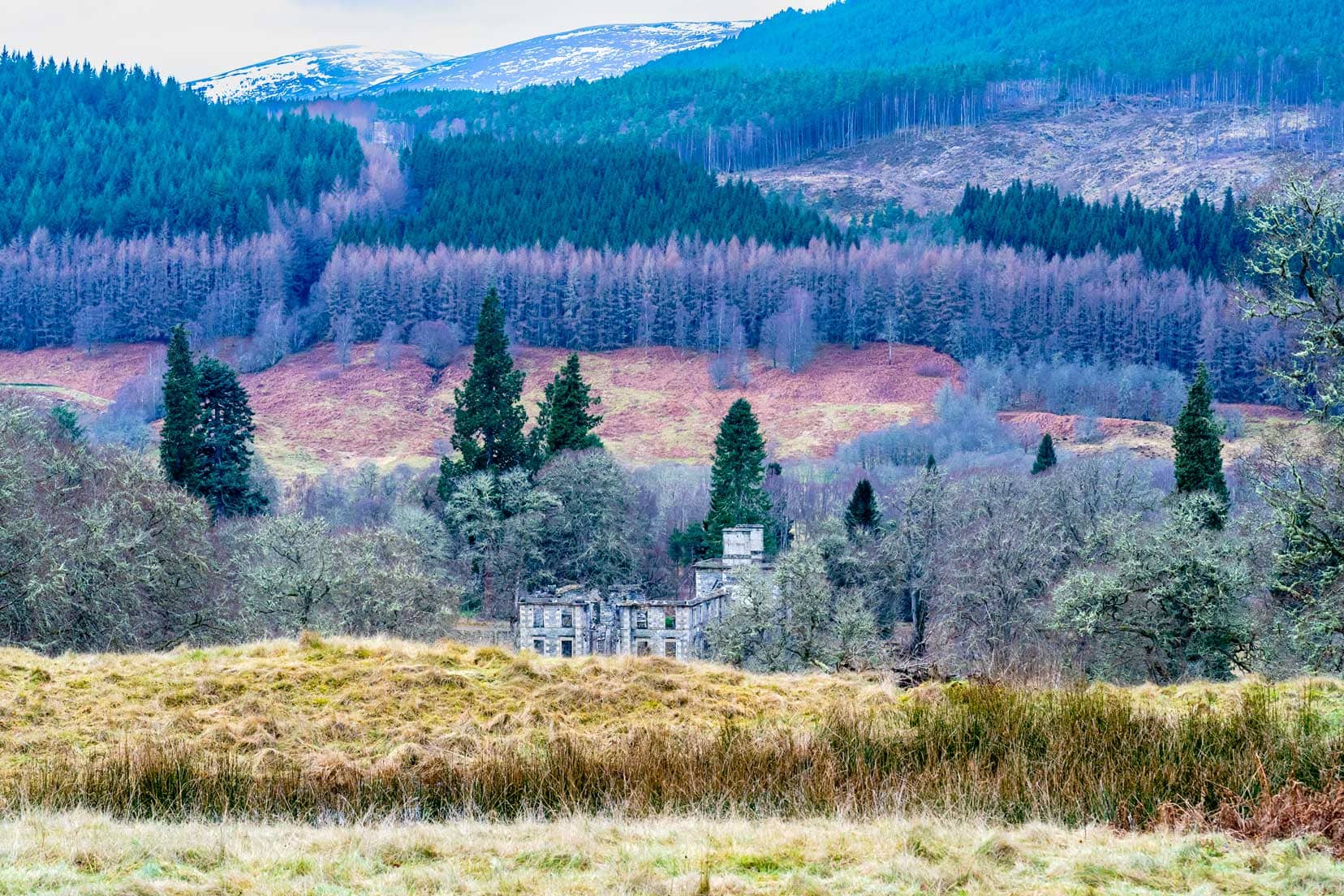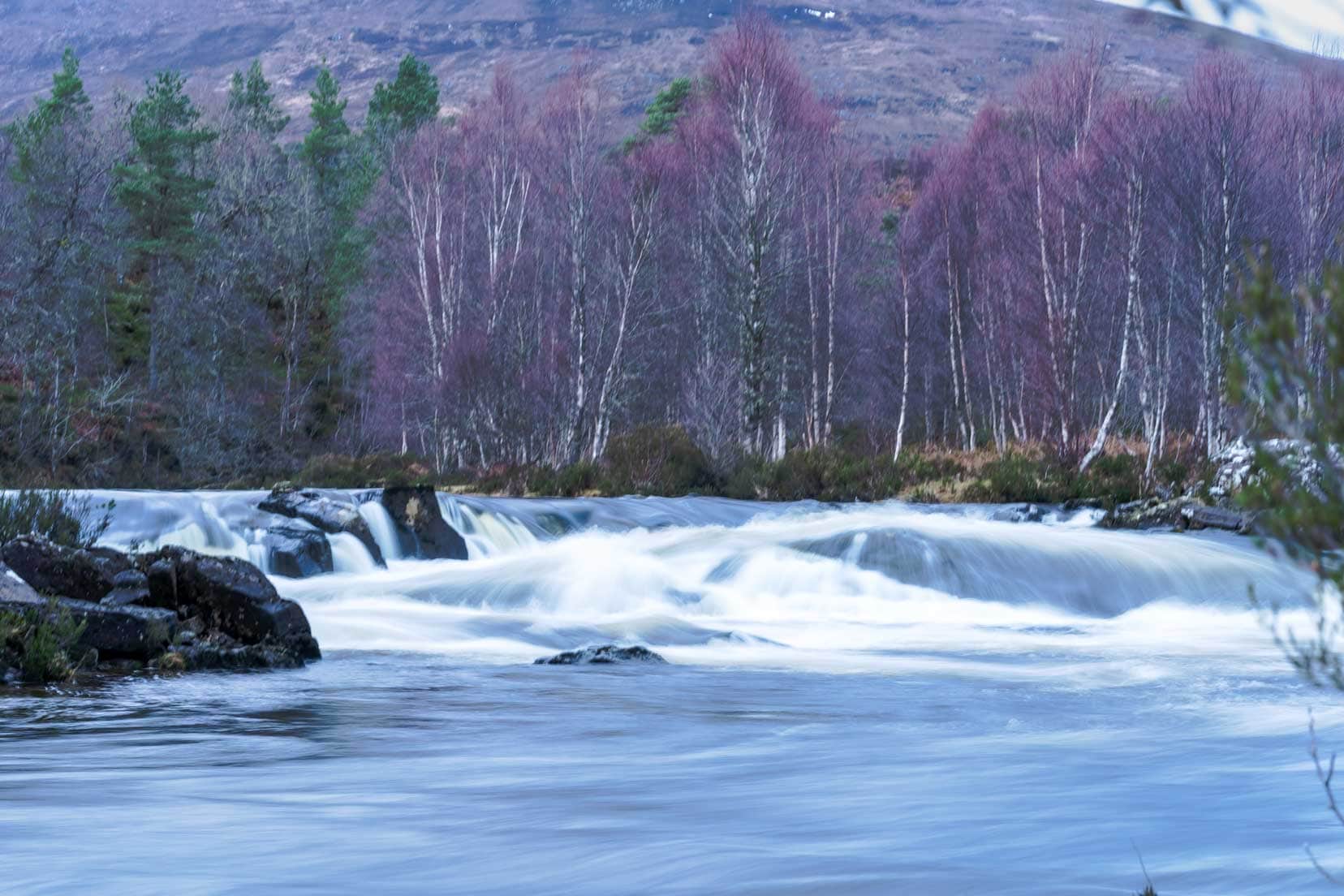 As you drive through the Glen, make sure to stop and wander the many woodland trails.
We highly recommend stopping at Plodda Falls and Dog Falls, although you'll find enticing walks and trails all along the route. Plodda Falls stands as one of the UK's highest waterfalls, cascading from a height of 40 meters.
To help you navigate the glen, you'll find brochures at various stopping points and car parks along the route.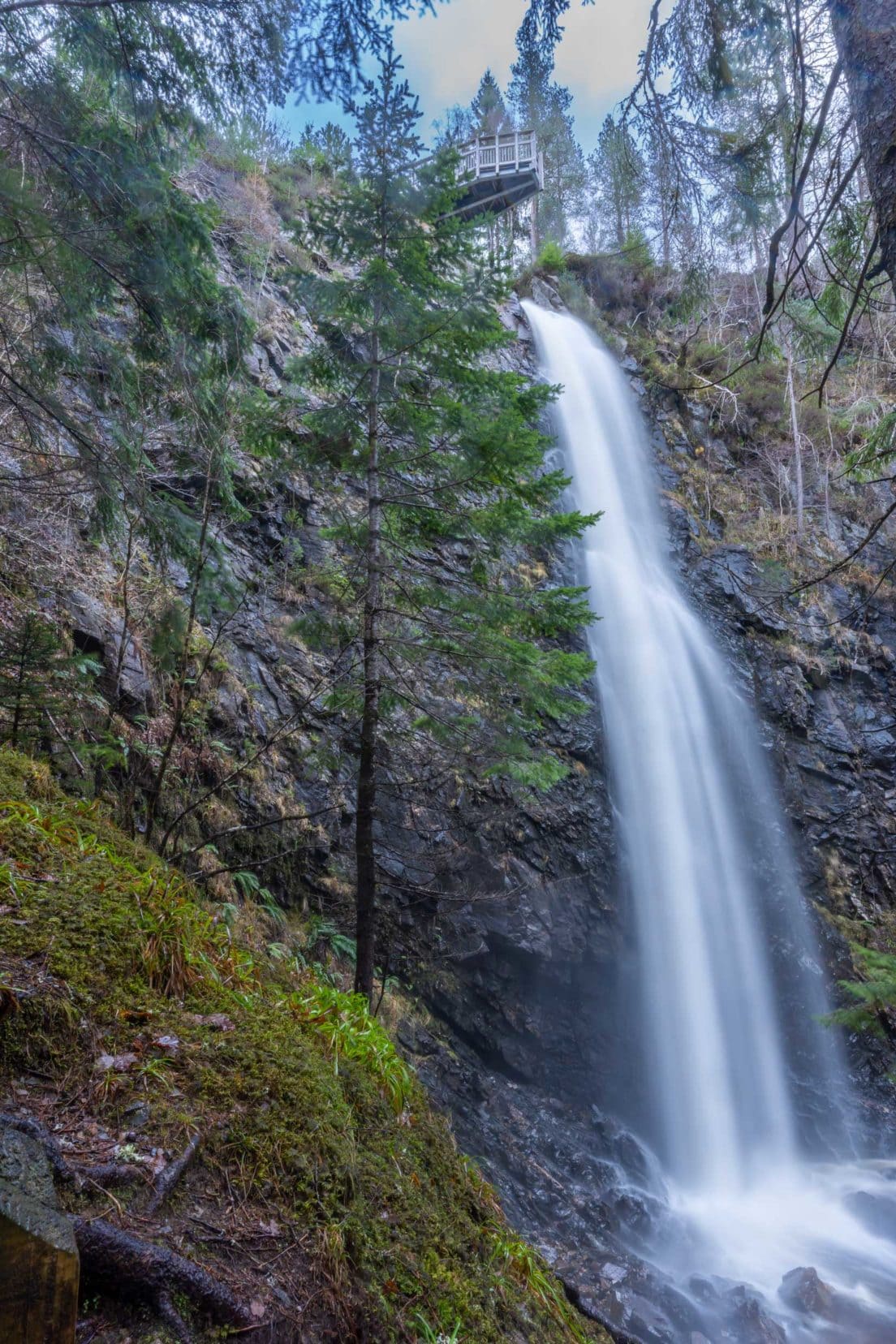 History of Glen Affric
The Glen has a rich history, being owned by the Chisholm Clan from the 15th century. It witnessed the notorious highland clearances in the early 1800s, where the clan cleared their farming tenants.
Initially a hunting estate, it housed a dam on Loch Beinn, a Mheadhain that powered a hydroelectric facility. Today, the Glen stands protected by Forestry and Land Scotland, preserving its natural beauty for generations to come.
Visitor Tips
Parking Spots: Identify the various parking spots available along the route to plan your stops effectively.
Walking Trails: Before you start, grab a brochure at the stopping points or car parks to help navigate the walking trails.
Picnic Spots: There are numerous picturesque spots perfect for a picnic. Consider packing a lunch to enjoy amidst the natural beauty.
Footwear: Wear comfortable footwear suitable for walking on uneven trails.
Photography: Don't forget your camera to capture the stunning landscapes and perhaps some wildlife shots.
Time Management: Allocate a whole day to explore and appreciate what Glen Affric offers fully.
15. Bow Fiddle Rock
Distance from Inverness: 60 miles | 1.5 hours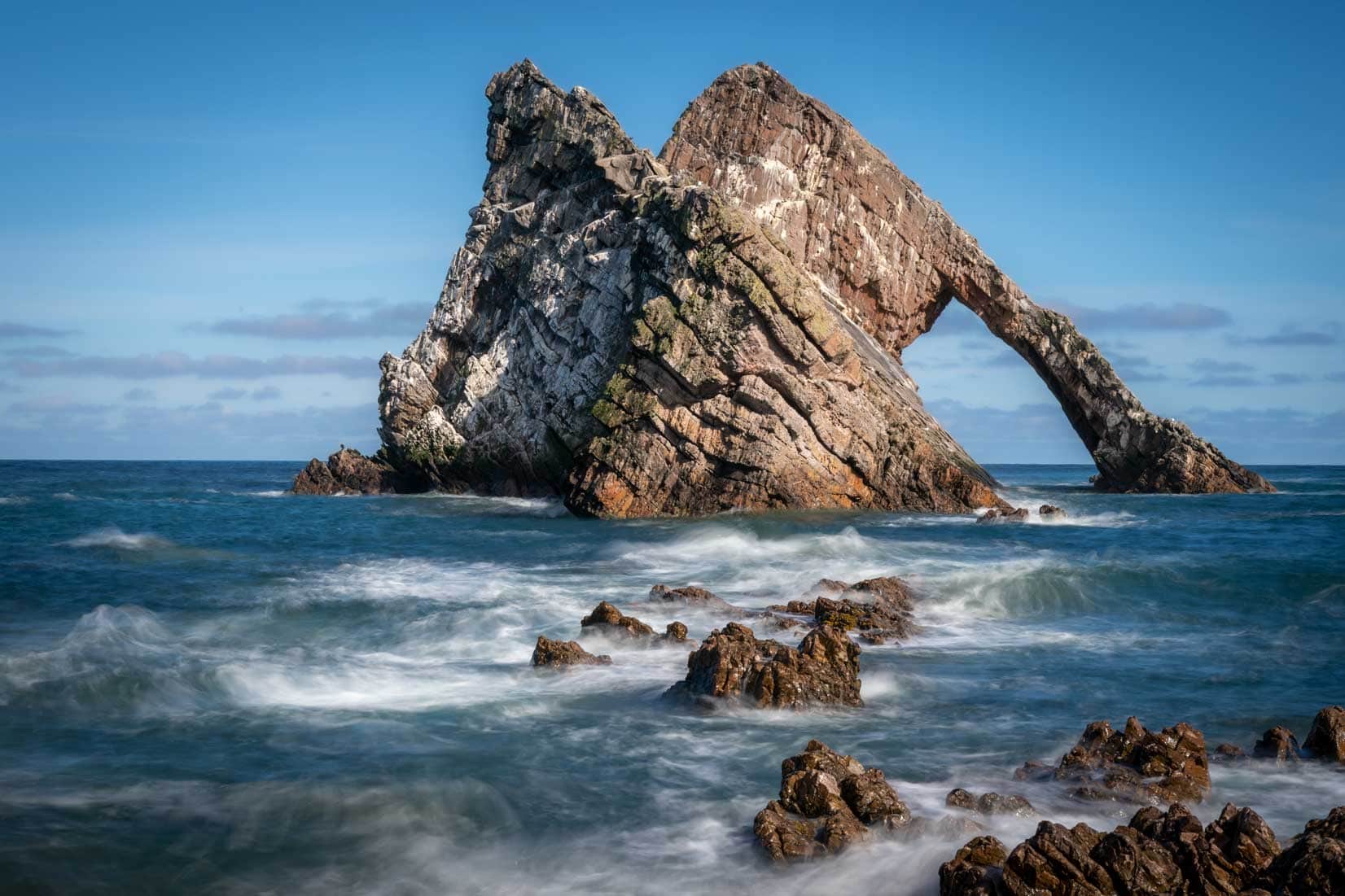 Just a short drive from Inverness, you'll stumble upon a natural wonder that graces the Moray Coast —the Bow Fiddle Rock.
This remarkable sea arch, resembling the tip of a fiddle's bow, is a testament to nature's artistic strokes. This unique formation is a great sight and a prime spot for photography enthusiasts.
With its unique structure and the surrounding scenic beauty, it's a photographer's dream. Lars spent many hours here capturing the rock from various angles and during different times of the day to get the perfect shot.
The Portknockie Coastal path offers a chance to stretch your legs and enjoy a refreshing walk with stunning views of the coastline.
During our visits, we found that early mornings or late afternoons were ideal, mainly to avoid the parking hustle — there's only a small carpark.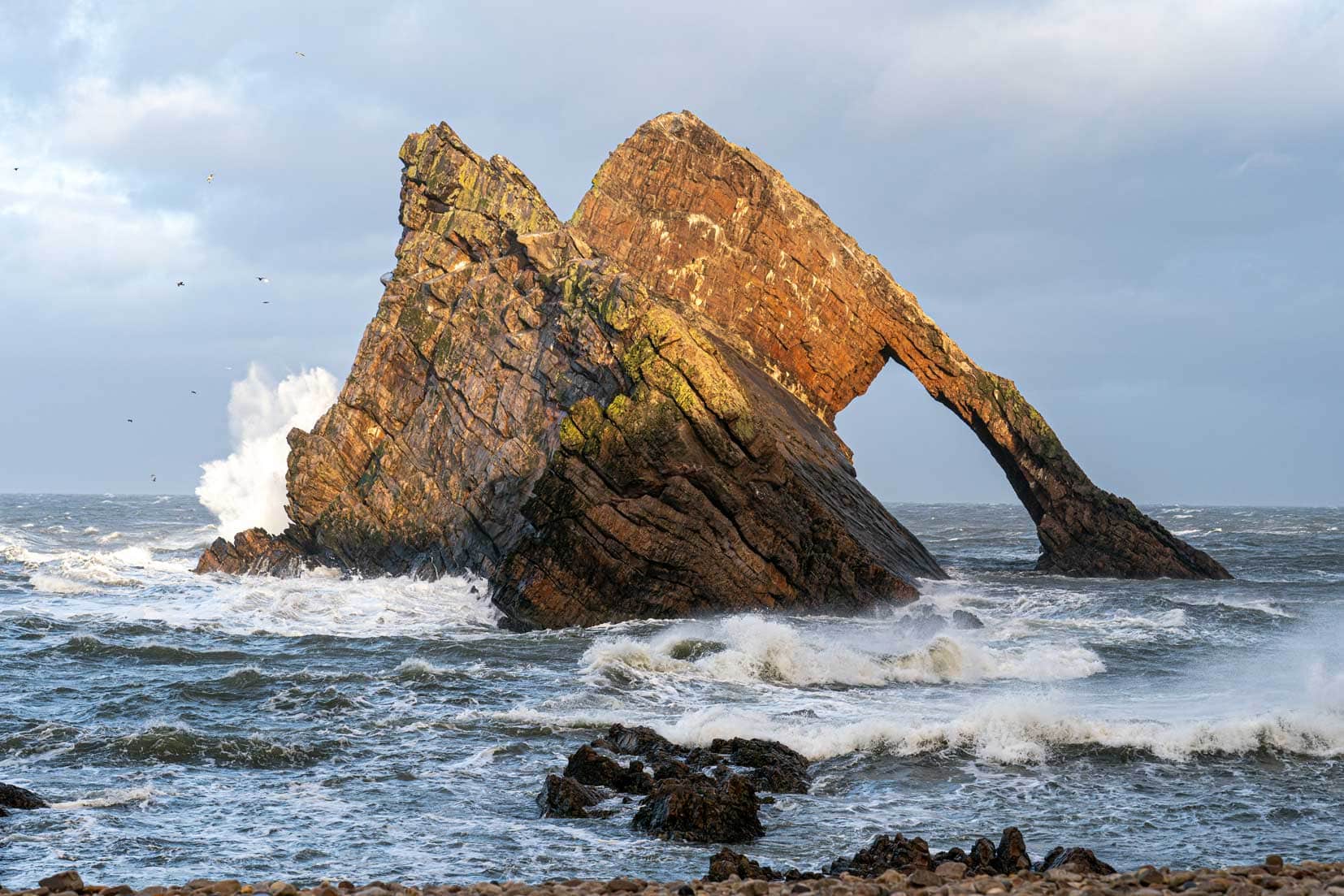 Visitor Tips
Timing Your Visit: To avoid the crowd and find a good parking spot, consider visiting early in the morning or later in the afternoon.
Walking Path: Don't miss the opportunity to walk along the coastal cliff-top path. It offers a different perspective of the Bow Fiddle Rock and the surrounding area.
Safety: While getting close to the edge for the perfect shot is tempting, always prioritize your safety.
Getting There: The journey to Bow Fiddle Rock also offers some breathtaking views of the Scottish highlands.
16. Cullen Village
Distance from Inverness: 60 miles | 1.5 hours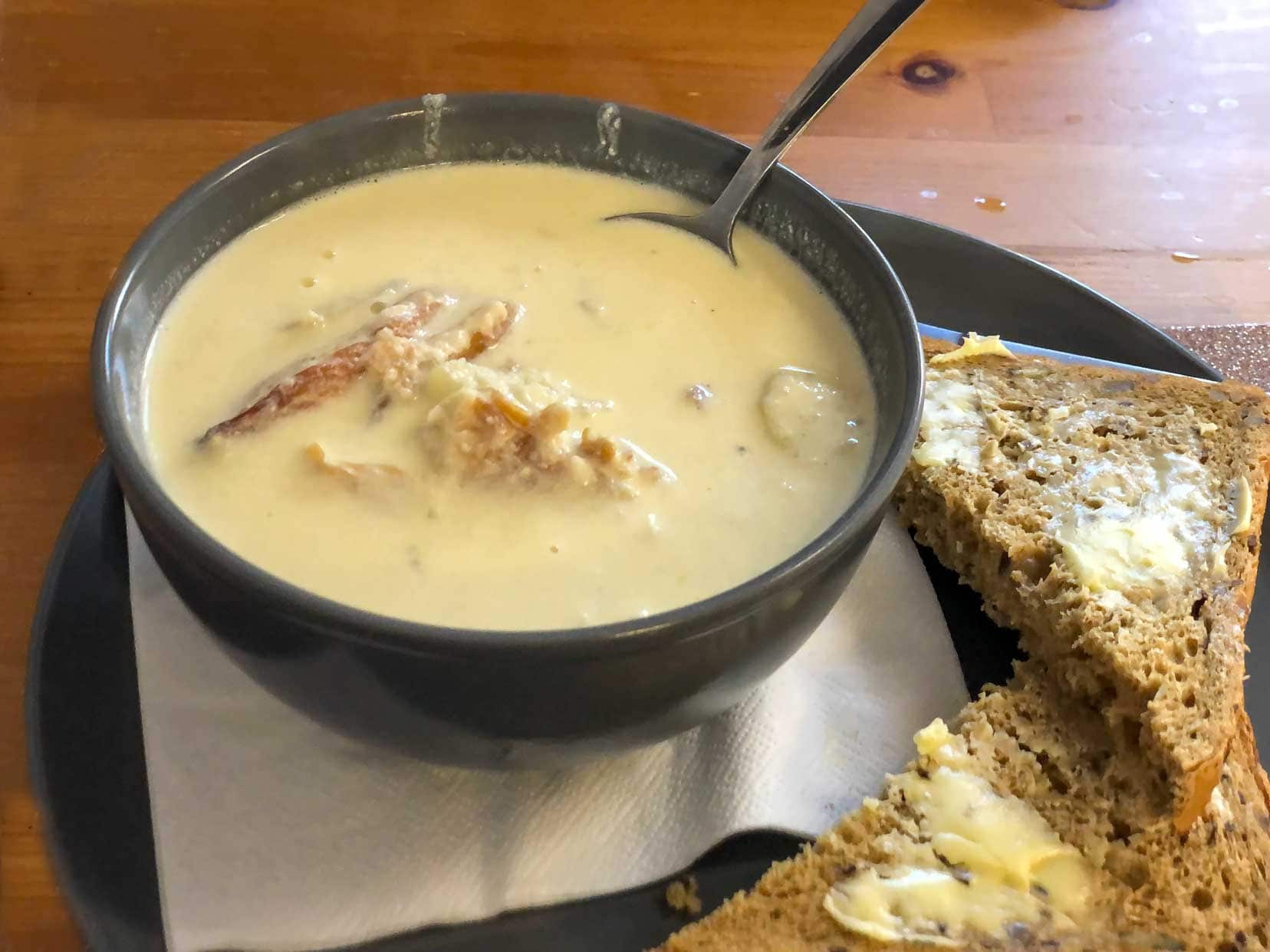 Just a stone's throw away from Portknockie, you'll stumble upon the picturesque fishing village of Cullen. This place is renowned for being the birthplace of Scotland's famous Cullen Skink. It's a must-visit for a hearty bowl of this traditional smoked haddock and potato soup.
As you approach Cullen, the grandeur of its towering viaduct is hard to miss, adding a historic touch to the scenic drive.
During our Scottish adventure, we had the pleasure of tasting Cullen Skink at two popular spots: Lilly's Cafe on Cullen's High Street and the Cullen Bay Hotel. Each place offered a unique take on the dish, winning our taste buds over with their award-winning recipes.
For a dining experience complemented by a breathtaking ocean view, make your way to the hotel. However, Lilly's Kitchen Cafe is your go-to if you're in the mood for a cosy, homely atmosphere. We found the soup here to be the standout, especially when paired with a generous serving of fresh bread.
Head further east of Cullen, and you venture into Aberdeenshire, another Scottish county full of things to do and see and known as Scotland's Castle County.
17. Findhorn
Distance from Inverness: 31 miles | 50 mins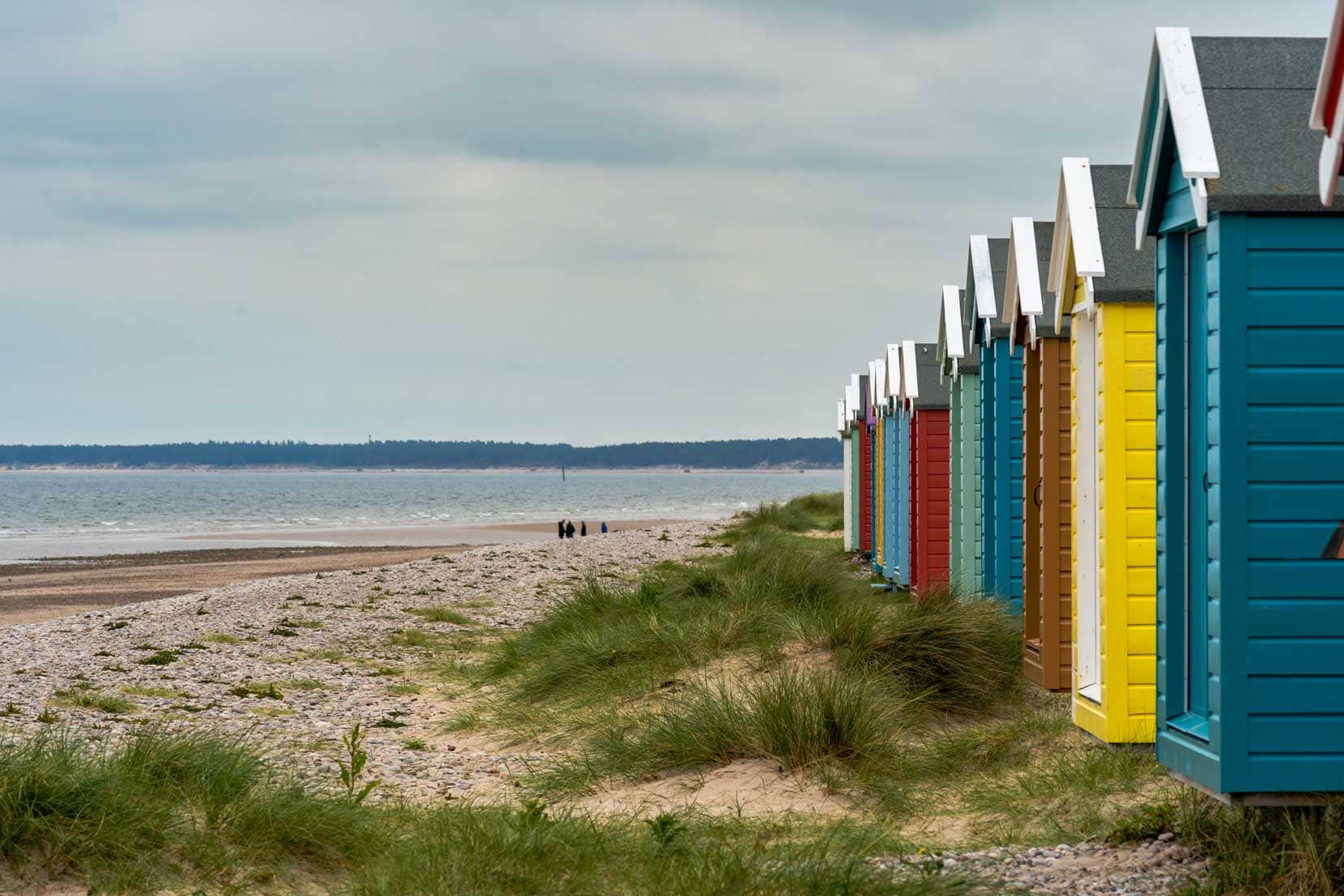 Findhorn Beach is your next stop for those drawn to the sea's allure. Picture a tranquil stroll with the backdrop of vibrant beach huts painting a nautical canvas.
Just a stone's throw away is the Findhorn Foundation, a haven of sustainability and eco-friendliness. Don't forget to pop into their shop to find a range of organic products and gifts.
Planning a September visit? Keep an eye out for the Findhorn Festival, a celebration that brings together music, theatre, culture, and community.
Beyond the beach, the River Findhorn beckons. This river is renowned as one of the most picturesque in Scotland. is great for fishing, canoeing, or simply enjoying the views from the water's edge.
Visitor Tips
Photography: Don't forget your camera! The vibrant beach huts and serene river landscapes offer perfect photo opportunities to capture your memories.
Local Cuisine: If you're spending the day, try the local eateries for a taste of Scotland's fresh seafood and other delicacies.
Water Activities: For those interested in water activities at River Findhorn, it's recommended to check the weather forecast and tide times to ensure a safe and enjoyable experience.
18. The Quaint Village of Cromarty
Distance from Inverness: 24 miles | 40 mins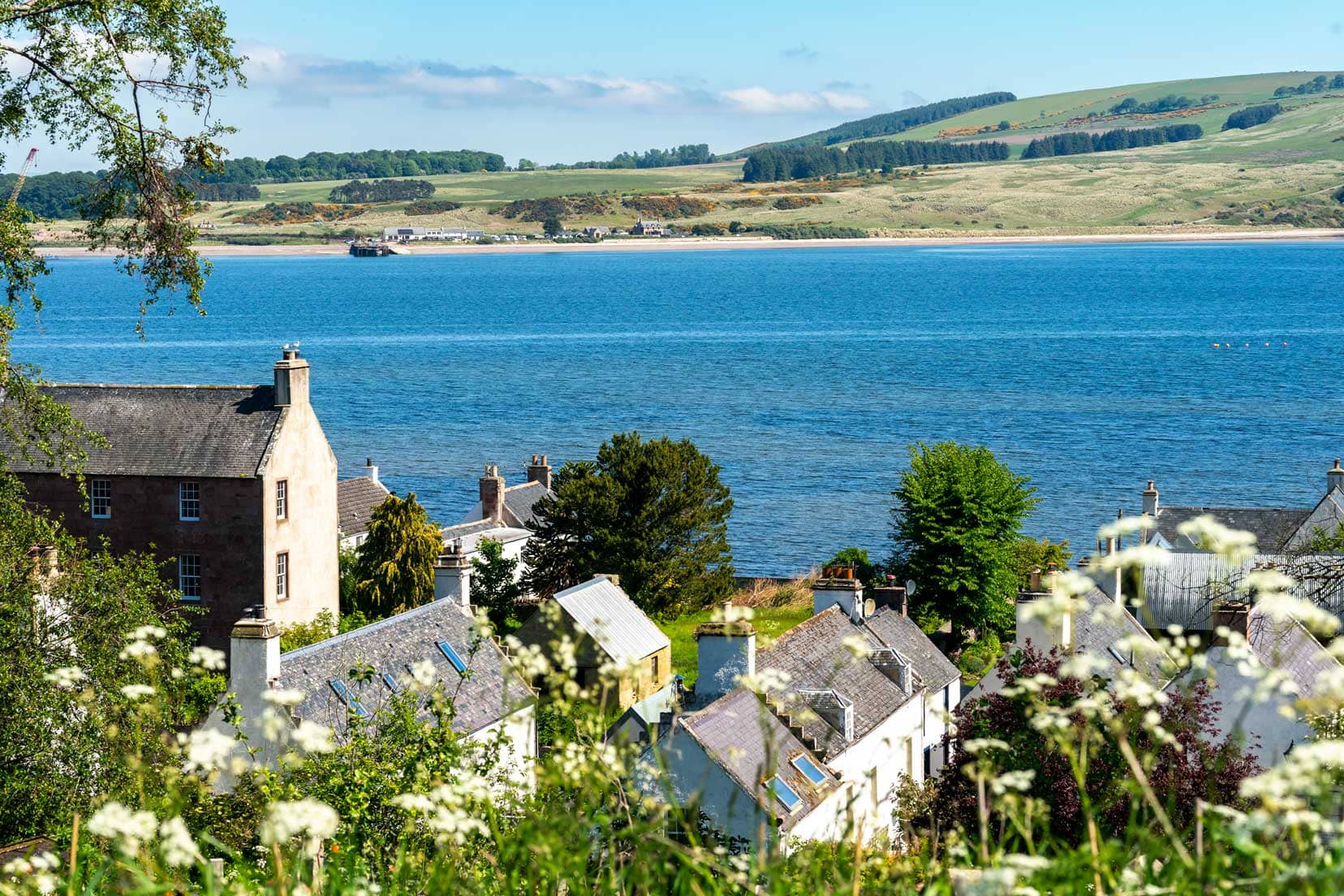 Cromarty, a picturesque village nestled at the tip of the Black Isle, is a place where history meets the charm of seaside life.
We arrived there by catching the Nigg Ferry across the Cromarty Firth, keeping an eye out for dolphins, but although the skipper said he normally saw them, we weren't lucky that day.
Cromarty is home to a remarkable collection of well-preserved 18th and 19th-century houses. One of the highlights is Hugh Miller's Cottage, a thatched-roof building that offers a glimpse into the life of the renowned geologist.
Nature enthusiasts aren't left out in Cromarty. We headed out on the Cromarty and Sutor of Cromarty Circular. It's a great spot for bird watching and takes you past the ruins of an old church and graveyard.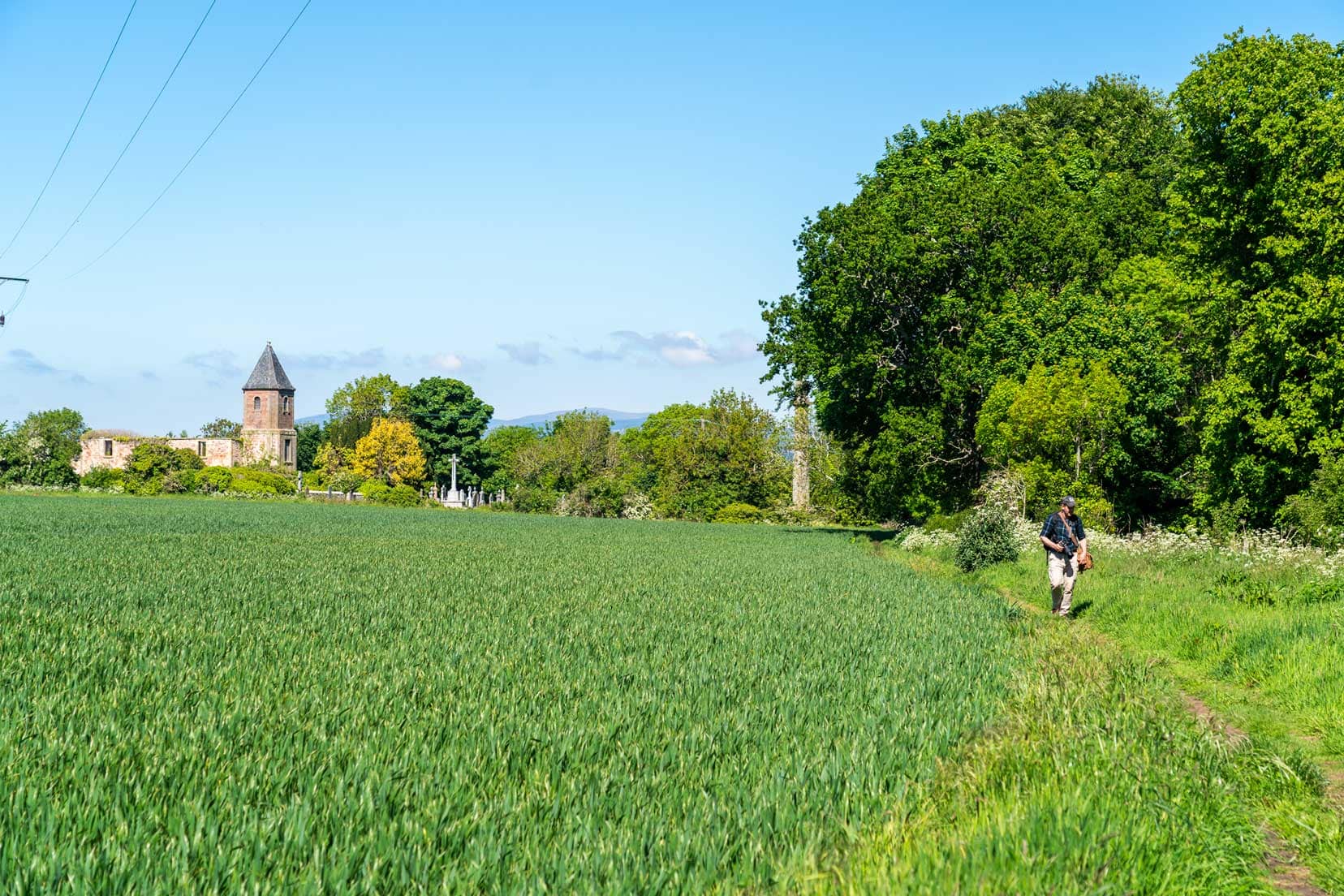 Visitor Tips
Photography: Capture the essence of Cromarty through your lens; the historic buildings and natural scenery provide a perfect backdrop.
Footwear: Equip yourself with comfortable footwear for the walking trails.
Local Interaction: Engage with the locals to learn more about the village's rich history and perhaps discover some lesser-known spots.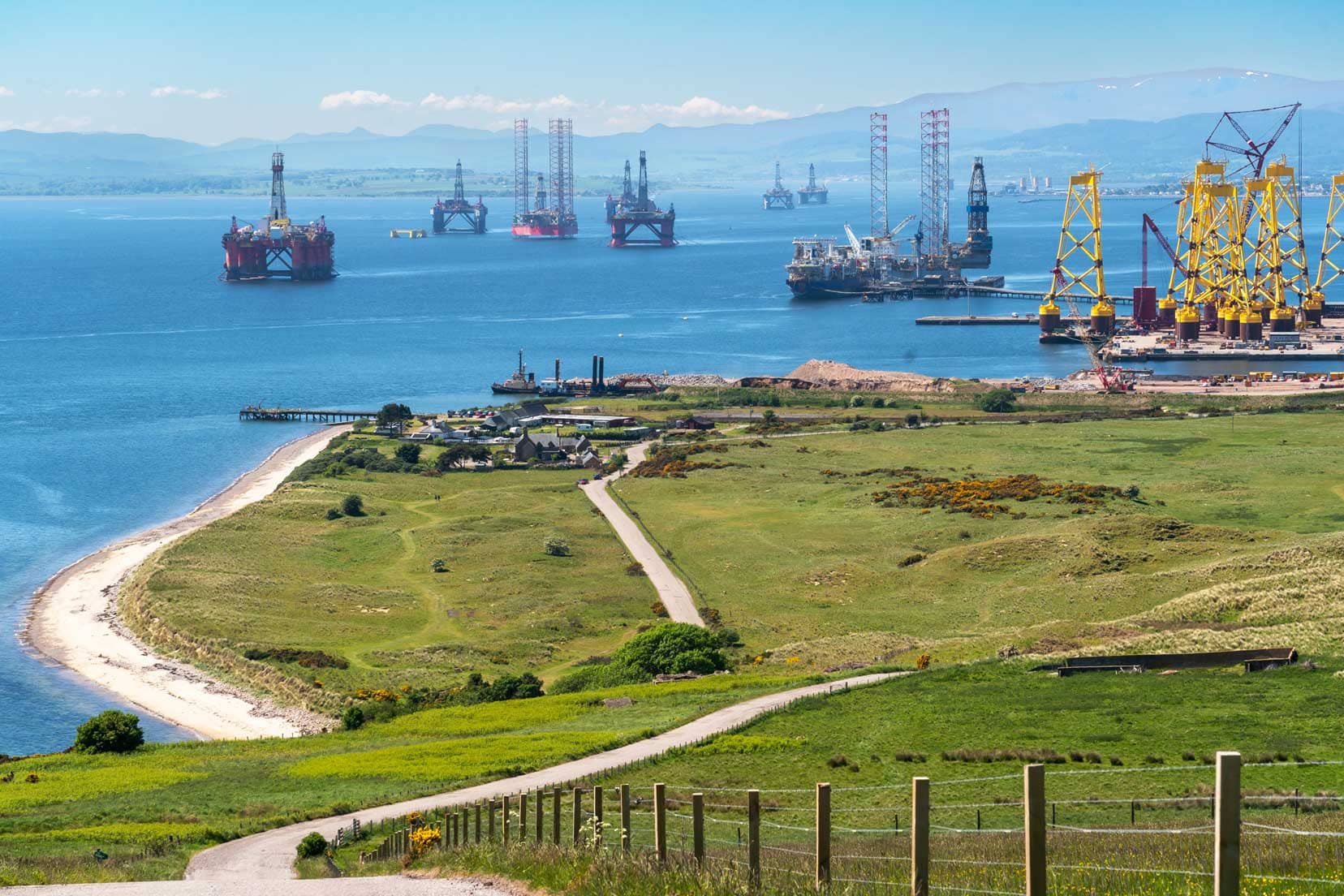 Inverness Road Trip Suggestions
If you are thinking of embarking on road trips around Inverness, then we've made planning that trip much easier.
You'll likely have heard of the North Coast 500 (NC500). This well-advertised road trip starts and ends at Inverness. If you do embark on this popular trip, be aware that it can get very busy – particularly in summer.
But for a few other road trip options, take a look below. We've added all the places we mention in this post and a few more into these four suggested road trip routes. Each route highlights Scotland's natural beauty with smatterings of Scottish history.
Coastal Wonders: A route through historical sites and coastal wonders.
Whisky and Wildlife: A blend of natural beauty and a taste of Scotland's famous whisky.
Lochs and Falls: Journey through breathtaking lochs and picturesque waterfalls.
Nature and Heritage: A rich blend of natural beauty and Scottish heritage.
Road Trip 1: Coastal Wonders
84 miles / 2.5 hours (without stops)
Starting in Inverness, this route takes you through historical sites and coastal wonders.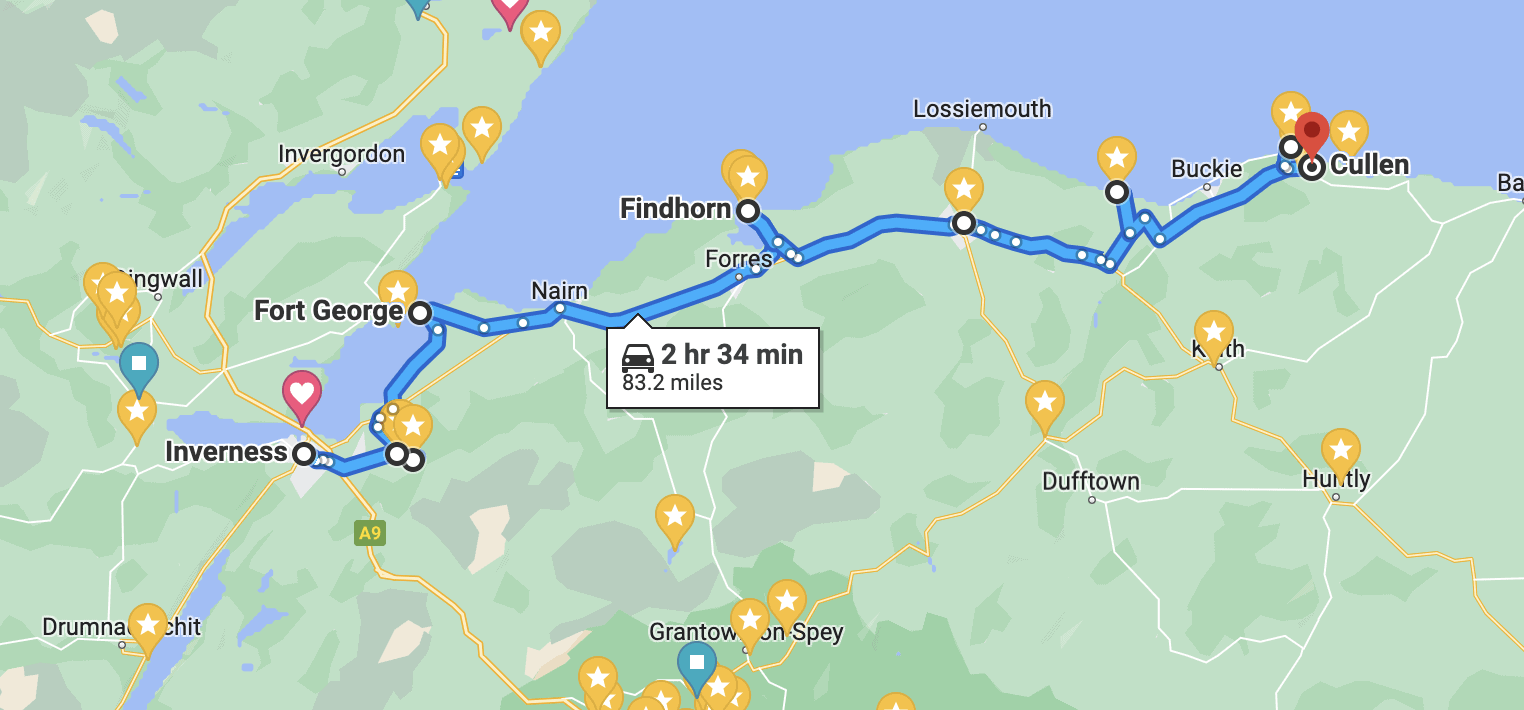 Here's your itinerary:
📍 Inverness
📍 Culloden Battlefield
📍 Clava Cairns
📍 Fort George
📍 Findhorn
📍 Elgin Cathedral
📍 WDC Scottish Dolphin Centre
📍 Bow Fiddle Rock
📍 Cullen
Road Trip 2: Whisky and Wildlife
2 hours 30 mins / 78 miles (without stops)
This route offers a blend of natural beauty and a taste of Scotland's famous whisky.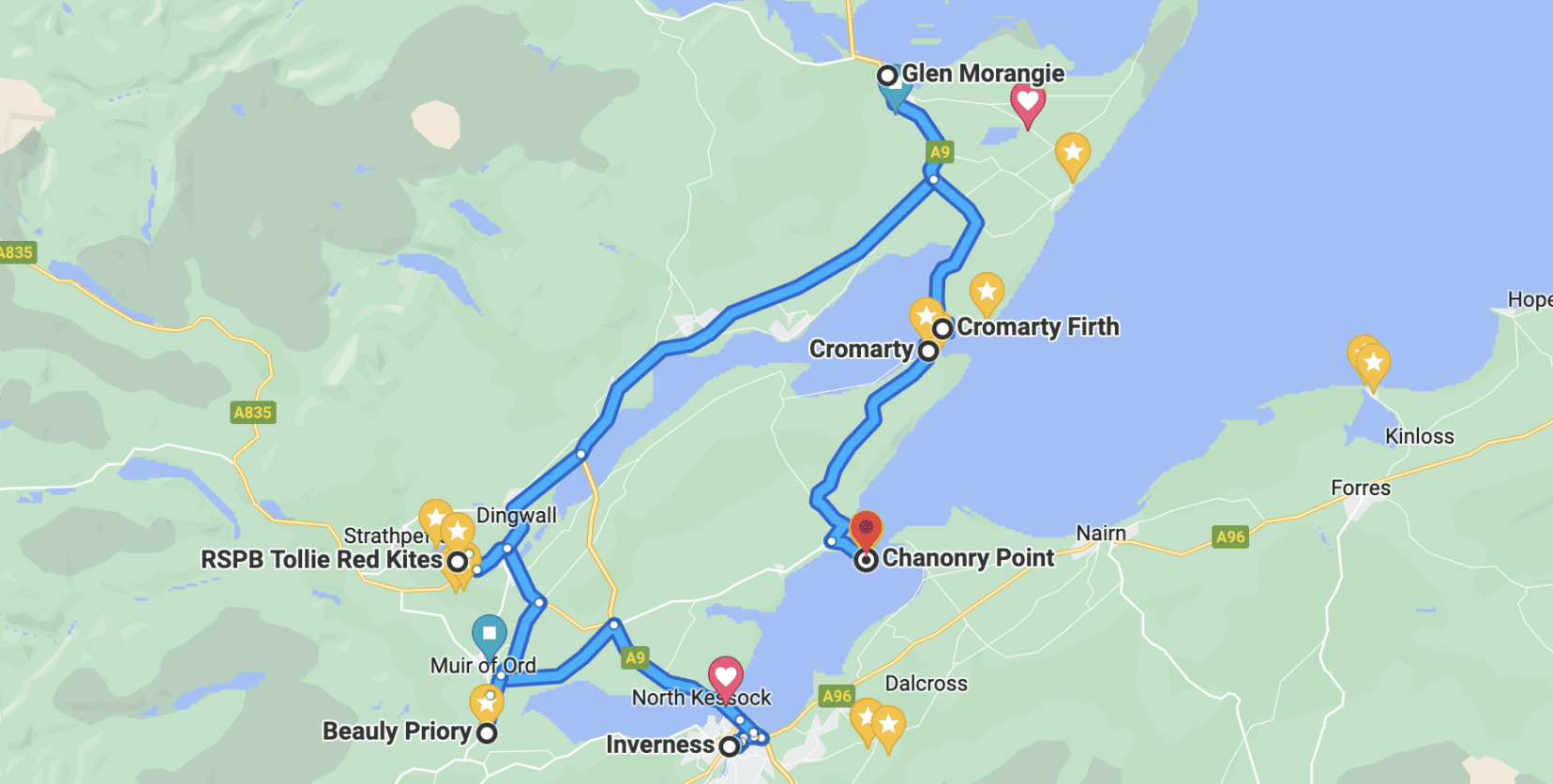 Your stops include:
📍 Inverness
📍 Beauly Priory
📍 Brahan Dell & Loch Ussie
📍 Glen Morangie
📍 Cromarty Firth
📍 Cromarty
📍 Chanonry Point
Road Trip 3: Lochs and Falls
2 hours 10 mins / 62 miles (without stops)
Embark on a journey that takes you through breathtaking lochs and picturesque waterfalls.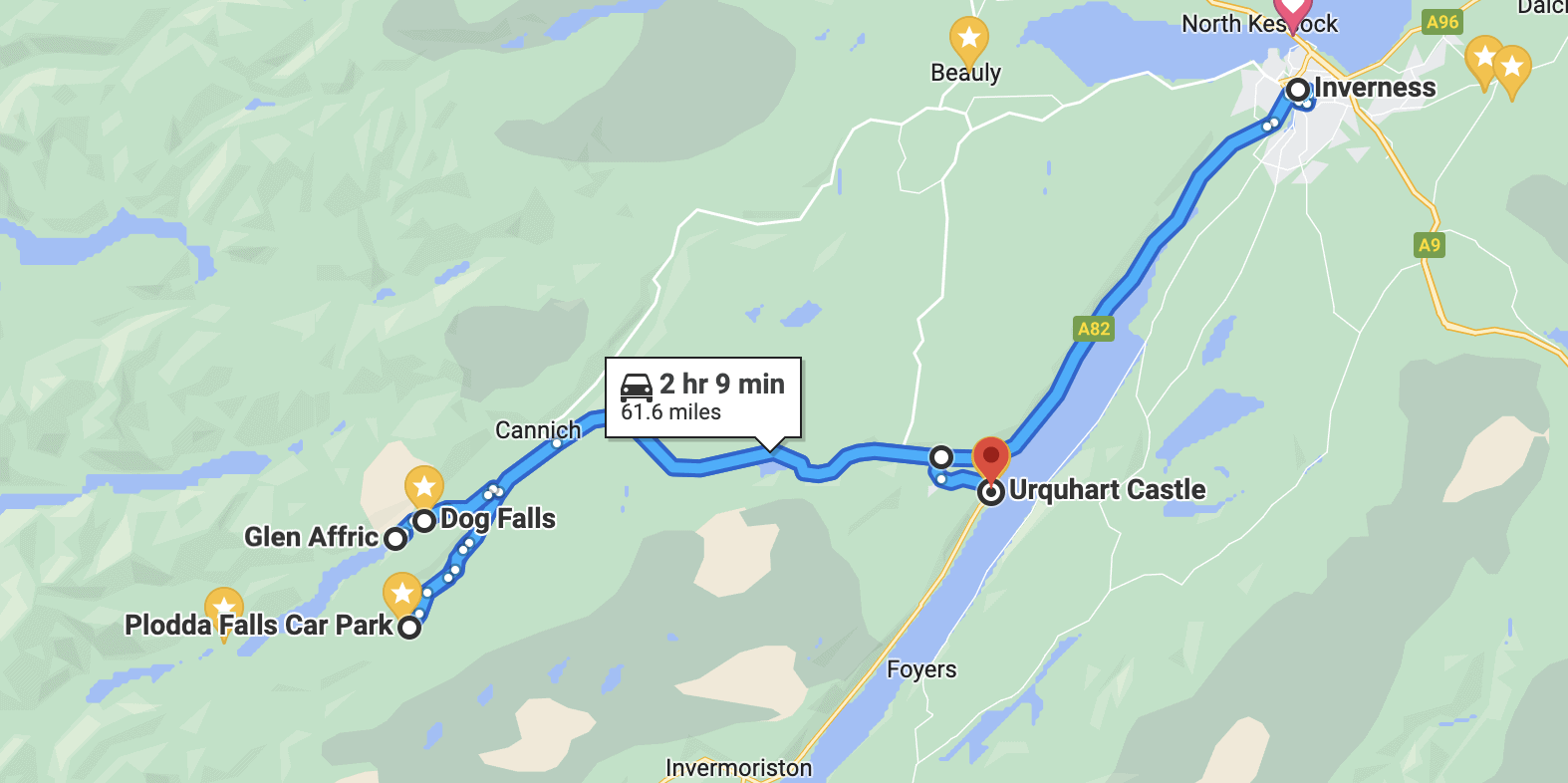 Here's your itinerary:
📍 Inverness
📍 Glen Affric
📍 Plodda Falls
📍 Dog Falls
📍 Glen Affric View Point
📍 Loch Ness Centre & Exhibition
📍 Loch Ness
📍 Urquhart Castle
📍 Skye (This a good route to add in Skye if you want to add a few days to your road trip)
Road Trip 4: Nature and Heritage
2 hours 10 mins / 70 miles (without stops)
This route offers a rich blend of natural beauty and Scottish heritage.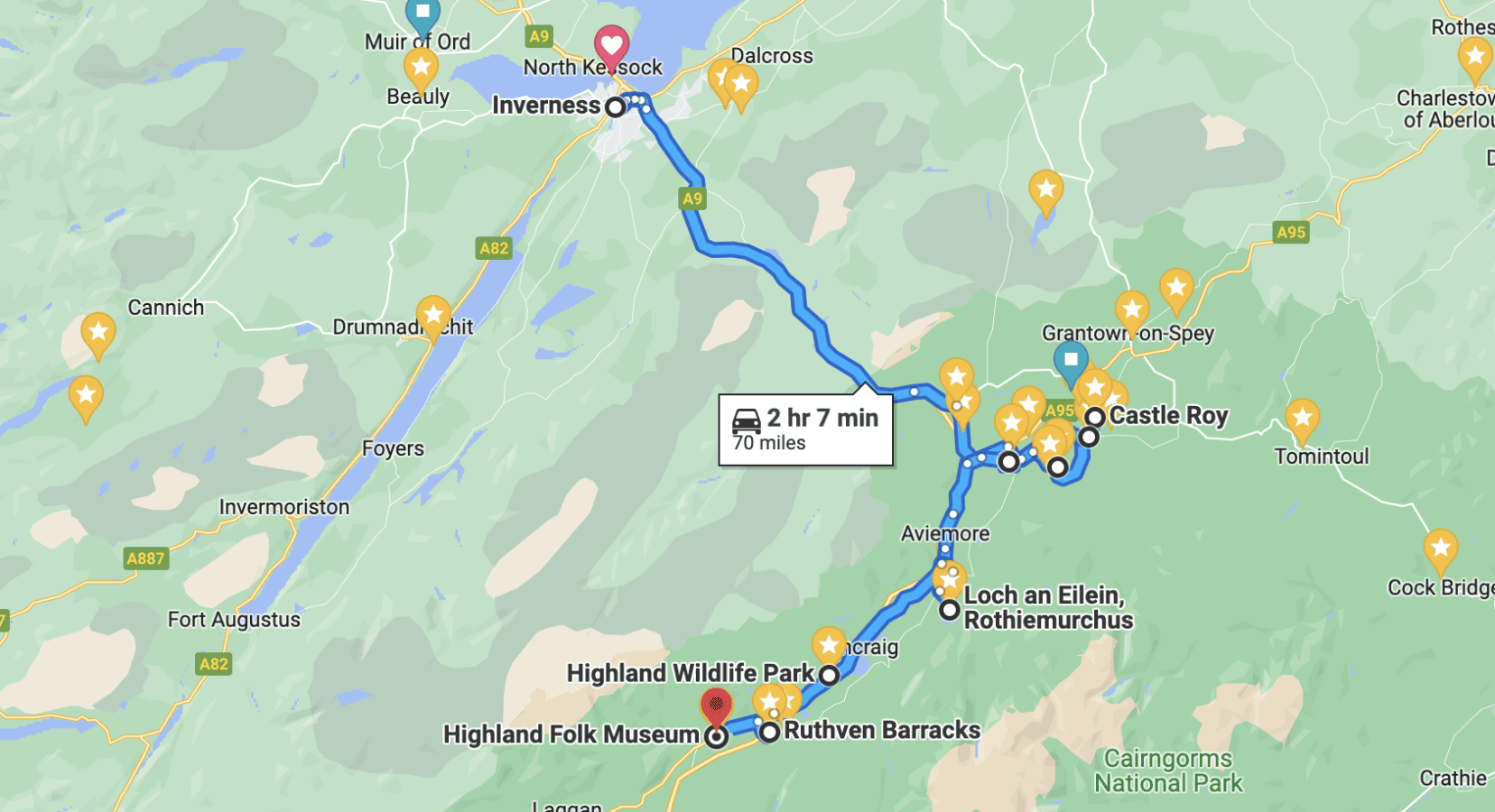 Your stops include:
📍 Inverness, UK
📍 RSPB Scotland Loch Garten Nature Centre
📍 Nethy Bridge Visitor Centre
📍 Castle Roy
📍 Boat of Garten
📍 Strathspey Railway
📍 Loch an Eilein
📍 Highland Wildlife Park
📍 Ruthven Barracks
📍 Highland Folk Museum
A Useful Tool for Your Scotland Road Trip
Grab this FREE road trip Travel planner to help make your road trips the best they can be.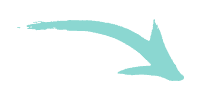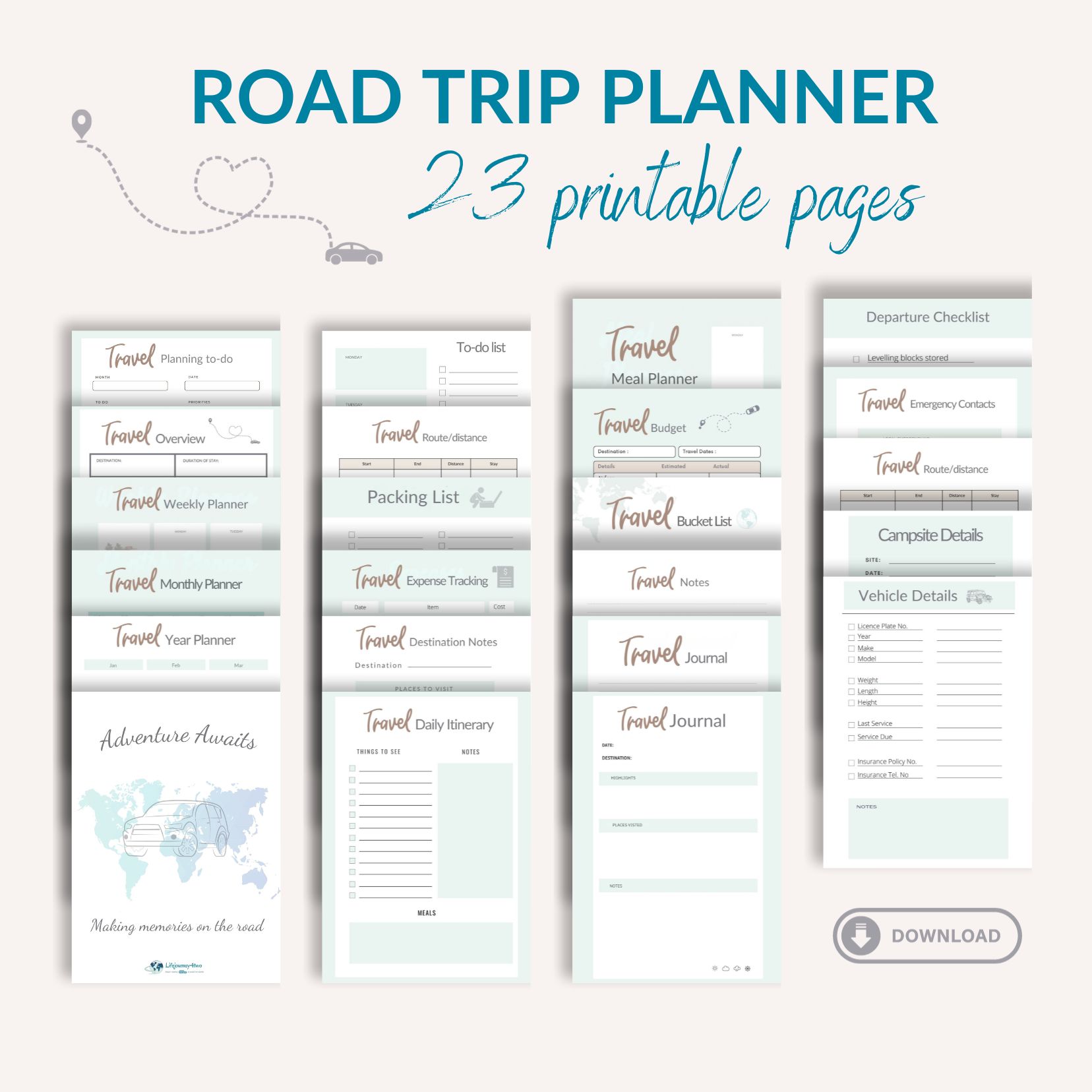 Tips for Visiting Inverness
Before you set out to explore these wonderful places, here are some tips to enhance your visit:
Visit the Visit Scotland iCentre at 36 High Street, Inverness, to get more top tips on the local area.
Whilst there are several main roads (A roads) around Inverness, many minor roads are single-track. Use the passing places by pulling to the left.
You can visit places near Inverness by public transport: Scotrail runs regular services in the area, as do the bus services run by Stagecoach and Citylink. However, we recommend using a car to enjoy the freedom of exploring the areas around Inverness.

🚘 If you are thinking of renting a car in Inverness, check out the best deals available here at DiscoverCars.com
Accommodation Tips
Most of the times that we stayed in or near Inverness, we found free accommodation options through Trusted House Sitters, which saved us a good chunk of money.
But if you are looking for accommodation, we've found three of the best-reviewed places to stay in Inverness. All have the free cancellation option, so you don't need to pay if your plans change.
Exceptional ⭐️ 9.6/ 274 reviews

✔️ Breakfast included
✔️ Free Parking
✔️ In Heart of Inverness
Very Good ⭐️ 8.5 (746 reviews)

✔️ Breakfast included
✔️ Free Parking
✔️ Scenic gardens
Exceptional ⭐️ 9.5 (206 reviews)

✔️ Breakfast included
✔️ Free Parking
✔️Easy access from A9
FAQS
1. Is Inverness worth visiting for a Scottish holiday?
Absolutely, Inverness, often dubbed as the capital of the Scottish Highlands, offers a rich tapestry of historical and natural attractions, making it a top destination for travellers seeking a blend of culture, history, wildlife and scenic beauty in Scotland.
2. What are the top attractions and things to do in Inverness?
In Inverness, visitors can immerse themselves in a variety of activities, including exploring historic sites like Culloden and Urquhart Castle, birdwatching, wildlife and nature at Abernethy Nature Reserve and Highland Wildlife Park, and embarking on scenic drives to renowned attractions such as Loch Ness and the Scottish Highlands.
3. Why should I include Inverness in my Scotland travel itinerary?
Inverness is a vibrant city that serves as a gateway to the Scottish Highlands, offering a rich cultural scene, historic landmarks, and close proximity to Scotland's natural wonders. It's a destination that promises a blend of adventure, relaxation, and a deep dive into Scotland's rich heritage.
4. Is Inverness considered a part of the Scottish Highlands?
Inverness is a prominent city in the Scottish Highlands, often regarded as the region's capital. It serves as a convenient base for exploring the breathtaking landscapes and attractions the Highlands offer.
5. How close is Inverness to the famous Loch Ness?
Inverness boasts a prime location just about 16 miles from the world-famous Loch Ness, offering visitors an excellent opportunity to explore the mysteries of the Loch and perhaps catch a glimpse of the legendary Nessie.
6. What makes Inverness a unique destination in Scotland?
Inverness captivates visitors with its picturesque landscapes, vibrant cultural scene, and rich historical background. Its strategic location near Scotland's renowned natural attractions and a plethora of historical sites make it a unique and must-visit destination in Scotland.

PLANNING YOUR TRAVELS?
These are the travel resources we recommend and use when planning our trips.
For a more thorough list, visit our Travel Resources page here.
Why Inverness is Worth Visiting … That's a Wrap
Inverness, the gateway to the Scottish Highlands in the north of Scotland, is a treasure trove of historical wonders and natural beauty.
As you explore all the things to do in Inverness, you'll find yourself stepping back in time at sites like the Elgin Cathedral and Culloden, where Scotland's rich history unfolds before your eyes. Whether spending a week in the area or just looking for an Inverness day trip, it is one of the best places to go in Scotland.
As you plan your journey, remember that Inverness is your gateway to the breathtaking Scottish Highlands, a region that promises heartwarming hospitality and awe-inspiring scenery.
▶︎ For more insights and tips on exploring Scotland, don't forget to check out our comprehensive guide to Scottish destinations. Find your next travel inspiration here: Discover Scotland with Lifejourney4two.
You May Also be interested in Reading: