Some posts on this site contain affiliate links, meaning if you book or buy something through one of these links then we may earn a small commission. Read our Disclosure Policy here.
Free Things to do in Aberdeen
If you are looking for things to do in Aberdeen, then you've come to the right place. We lived in the city for over a year, spending much of our time exploring its nooks and crannies and finding out where to go in Aberdeen.
From its vibrant culture and rich history to its stunning natural surroundings, Aberdeen is worth a visit if you are in the northeast of Scotland. Often overlooked for its more glamourous cousin, Edinburgh, Aberdeen, the granite city, was one of the top 52 places recommended to visit by the New York Times.  
We've included both free things to do in Aberdeen and a few paid activities in the city, as well as a few places to visit around Aberdeen and surrounding areas.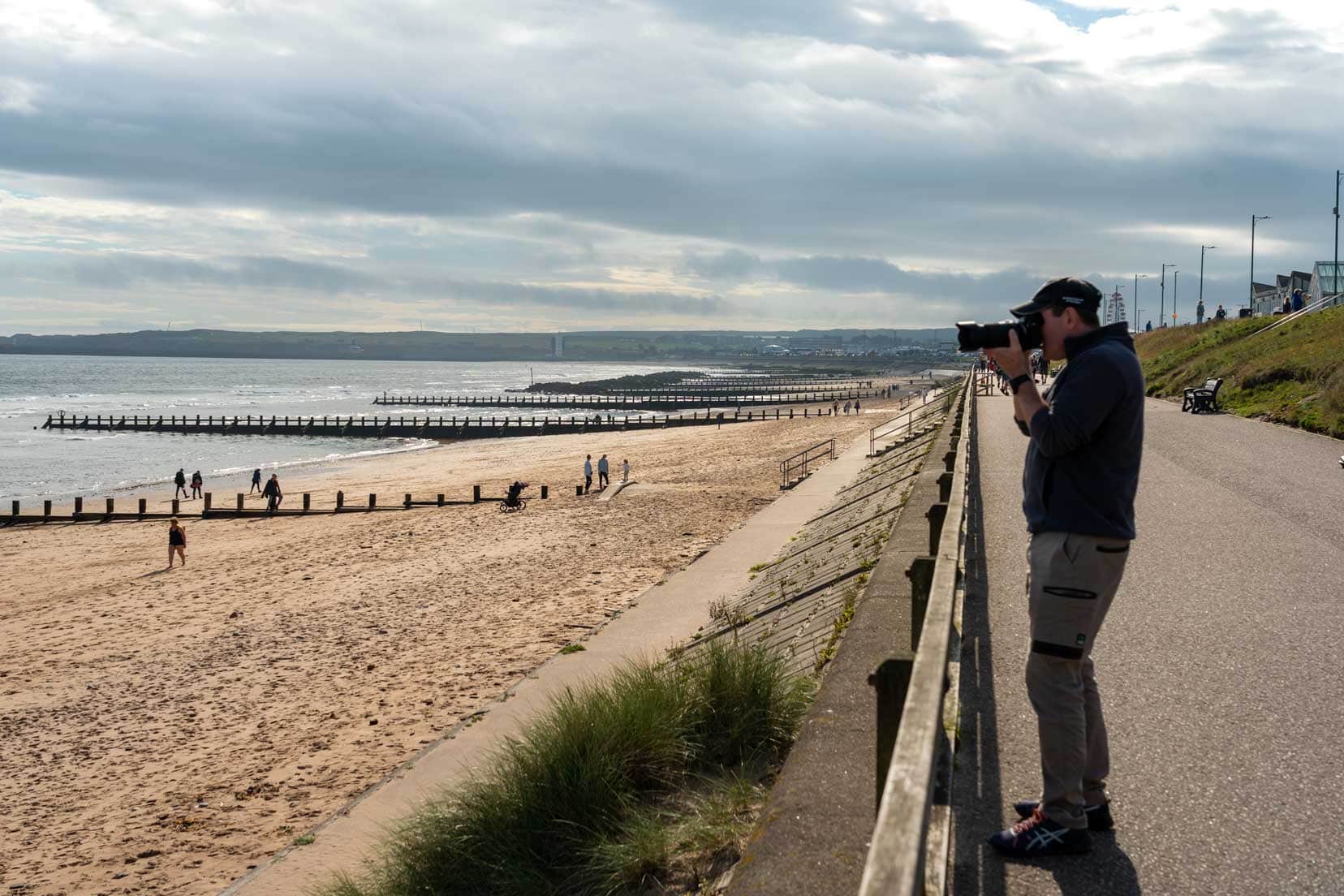 Map of Things to do in Aberdeen
Free Things to do In Aberdeen
We start this list with all the free things to do in Aberdeen — our favourite type of activity.
We travel on a budget, so when we can enjoy a place with plenty of free options the smiles are on our dials. Fortunately, Aberdeen has plenty of free things to do without burning a hole in your pocket.
From exploring the picturesque harbourfront, and the old village of Footdee, to wandering through Aberdeen's many parks and gardens, there's something for everyone in this cultural Scottish city. It's a great place to go wildlife spotting and has plenty of free museums, art galleries and historical buildings to discover.
So if you're looking for some affordable fun, read on for our top picks of free things to do in Aberdeen.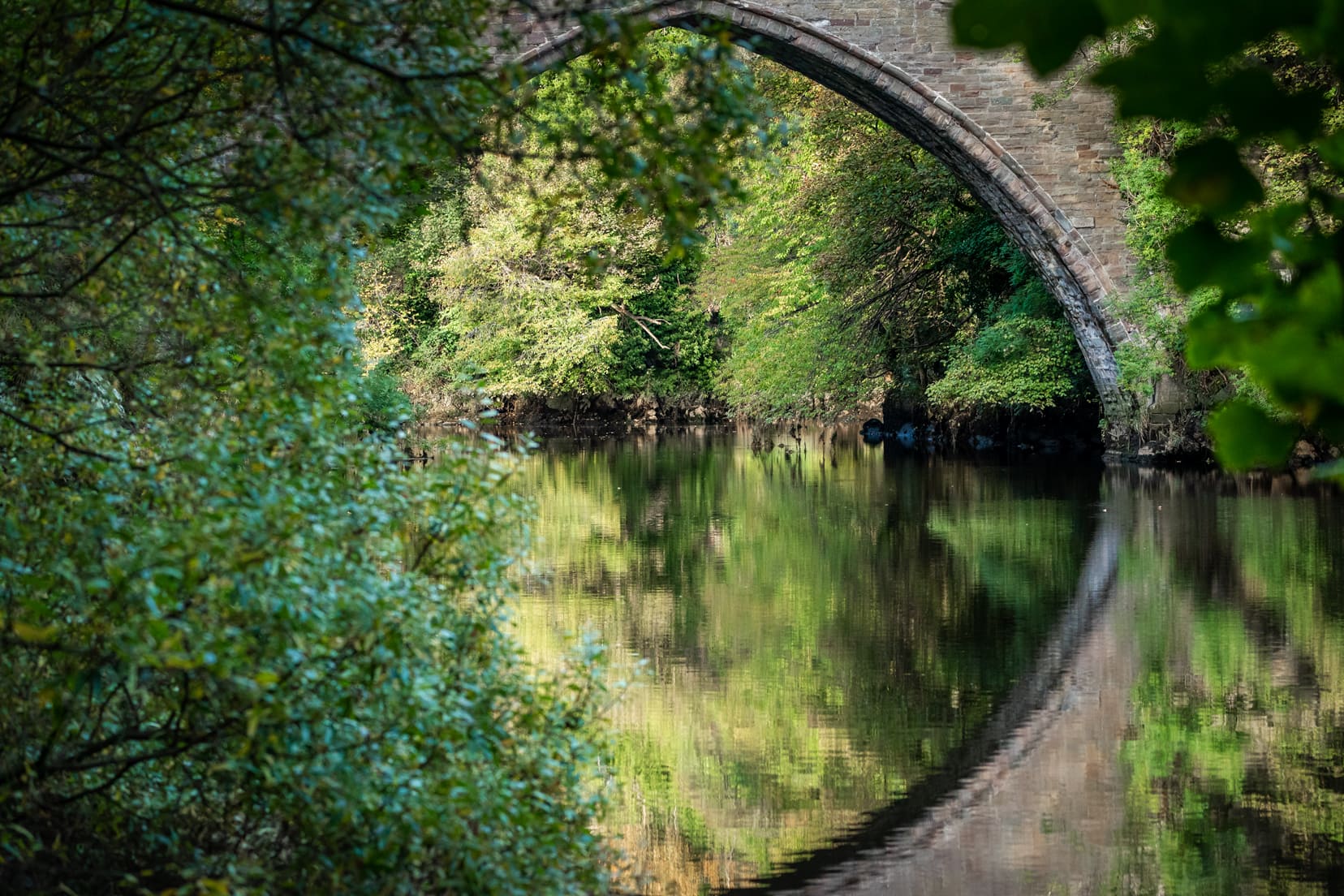 1. Johnston Gardens
Aberdeen has an abundance of green spaces, so you're never too far from a healthy dose of nature amongst the grey granite buildings that Aberdeen is so well known for.
One of our favourite parks, while living in Aberdeen, was Johnston Gardens.
Johnston Gardens is a real treat to the senses, with waterfalls and streams flowing through the park and quaint arched bridges connecting the winding leafy paths. Birds flit to and fro amongst the trees, while ducks and waterbirds entertain you on the small lake in the middle.
These gardens are relatively small and have a very intimate feel about them. They're just perfect for taking a stroll in nature and forgetting the busyness of the city around you.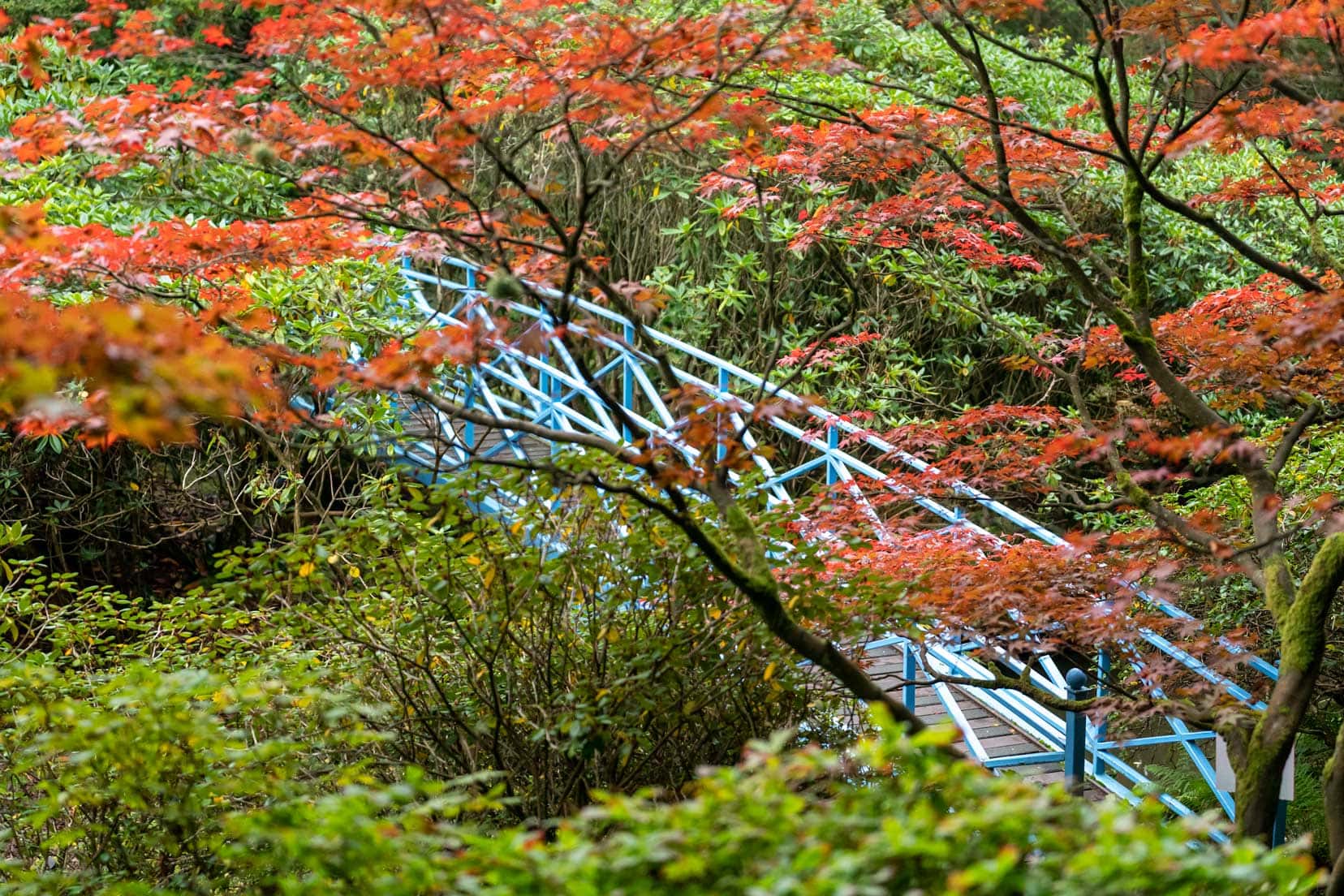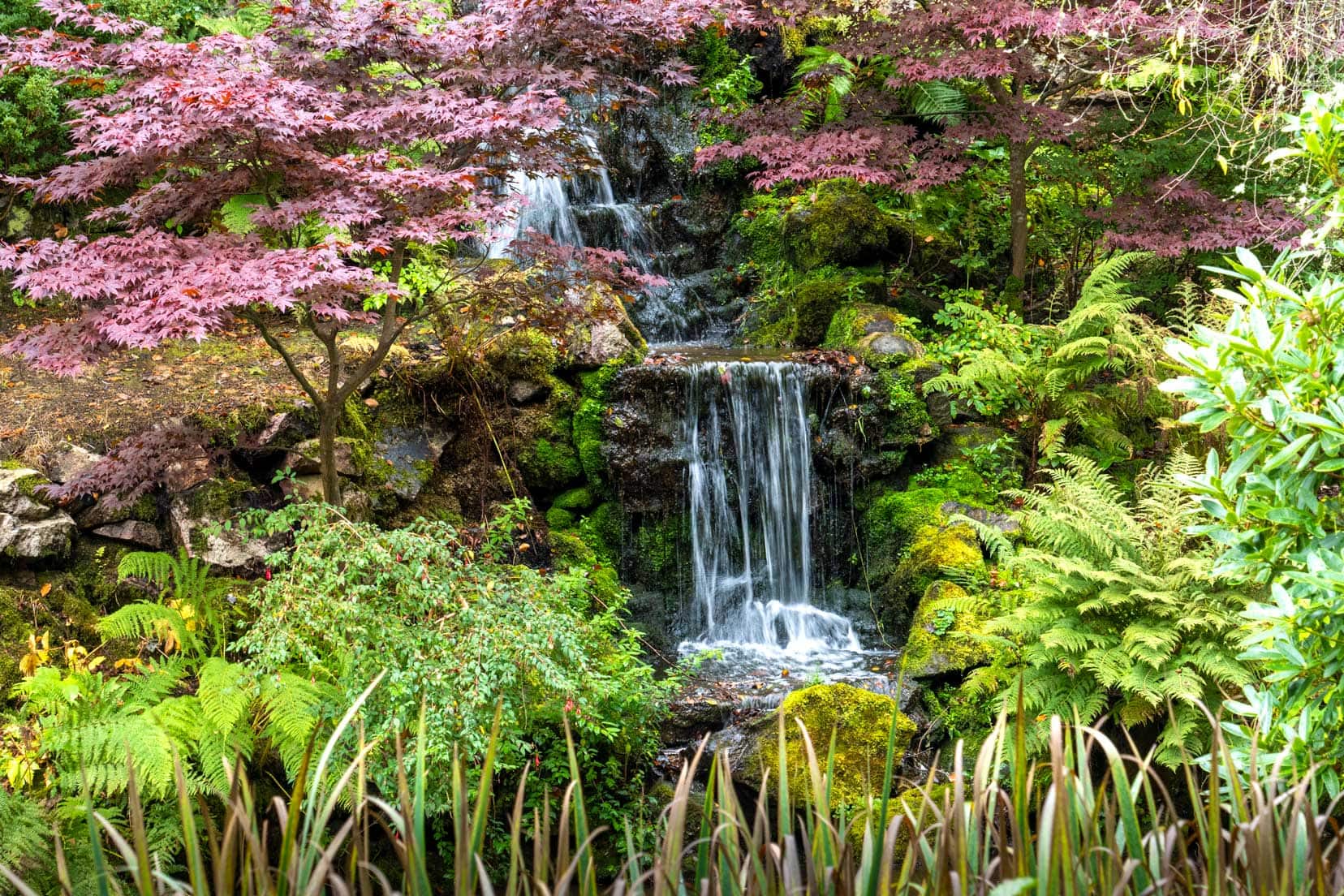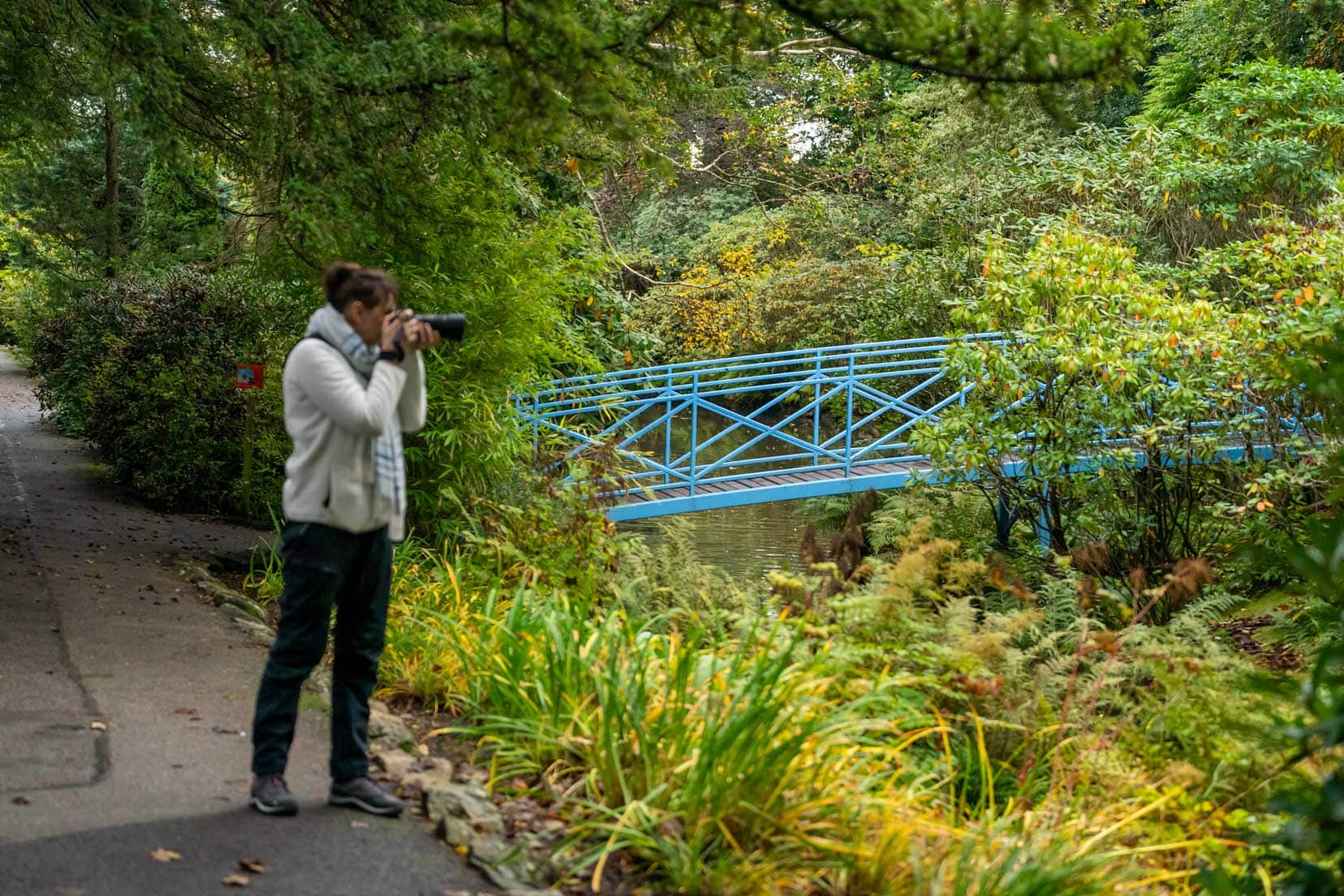 2. St Machar's Cathedral
Adjacent to another of Aberdeen's great outdoor spaces, Seaton Park, is St . Machar's Cathedral. This 16th-century twin-spired cathedral is one of the oldest granite cathedrals in the world. It's also the oldest building in Aberdeen that is still in active use. The church dates back to about AD 580.
Wander around inside to admire its ornate stained glass windows, which date from the 1870s to the 1970s. You will also see what looks like quite a modern cross, but the top of the cross is a 12th Century cross that was part of the cathedral in earlier times.
Legend tell us that St Machar's cathedral walls house a quarter of the body of  William Wallace. The parts are said to have been interred within the walls in 1305. Wallace, one of Scotland's National heroes, was hanged, disembowelled, beheaded and quartered for his crime of treason against Edward I.
On a lighter note, there are beautiful gardens in the nearby Seaton Gardens, and riverside walks along the River Don. The path lined with formally planted gardens leading towards the cathedral is aptly named Cathedral Walk.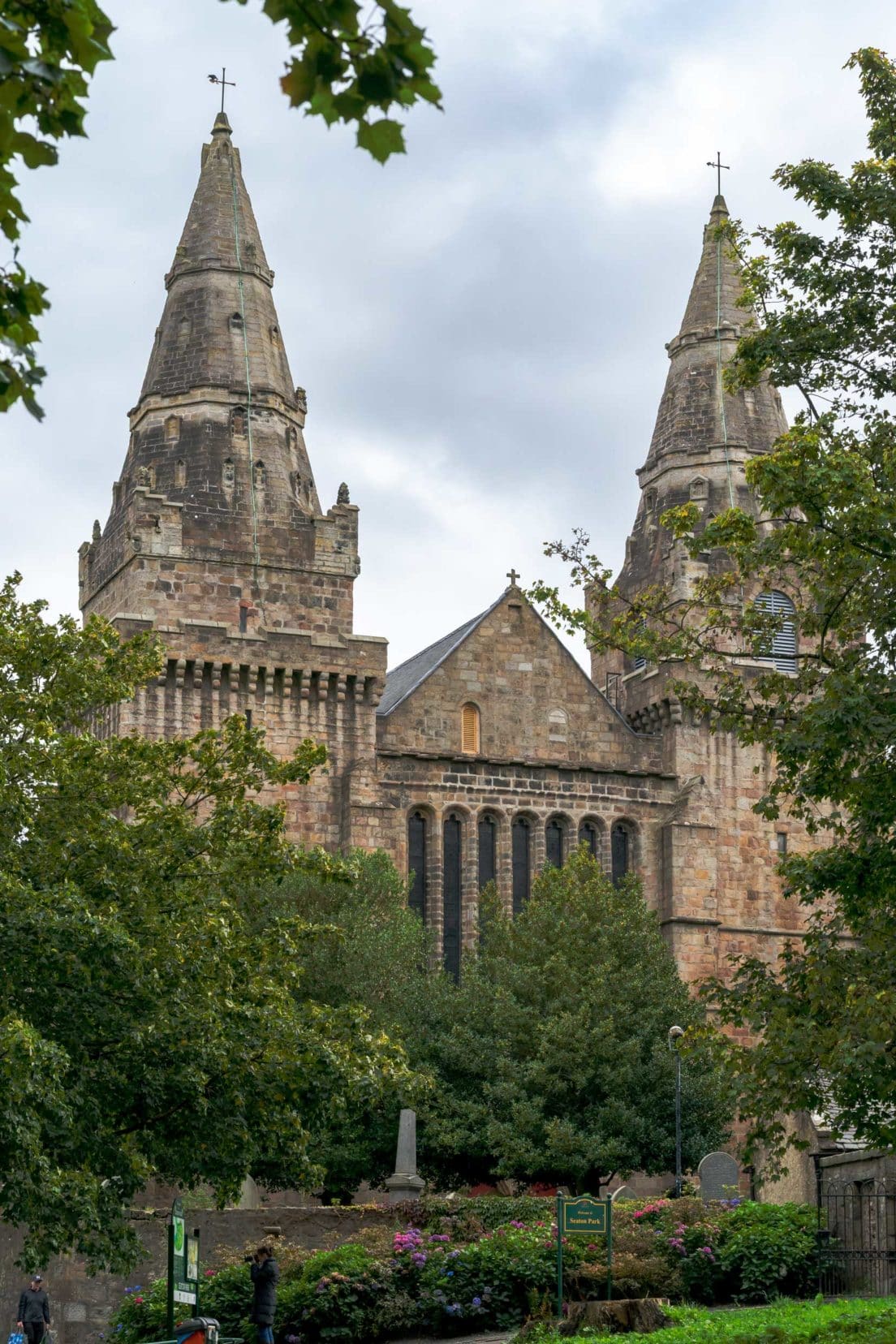 3. Seaton Park
Located in Old Aberdeen, Seaton Park is a vast mosaic of formal garden beds, wetlands, playing fields, a children's playground and paths that lead you through a walled garden.  
The children's playground contains Mr Therm, a former steam engine that was used to transport coal from Aberdeen harbour.
There are plenty of trails and lovely walks either heading towards the coast along the River Don or towards the delightful Brig O Balgownie in the opposite direction.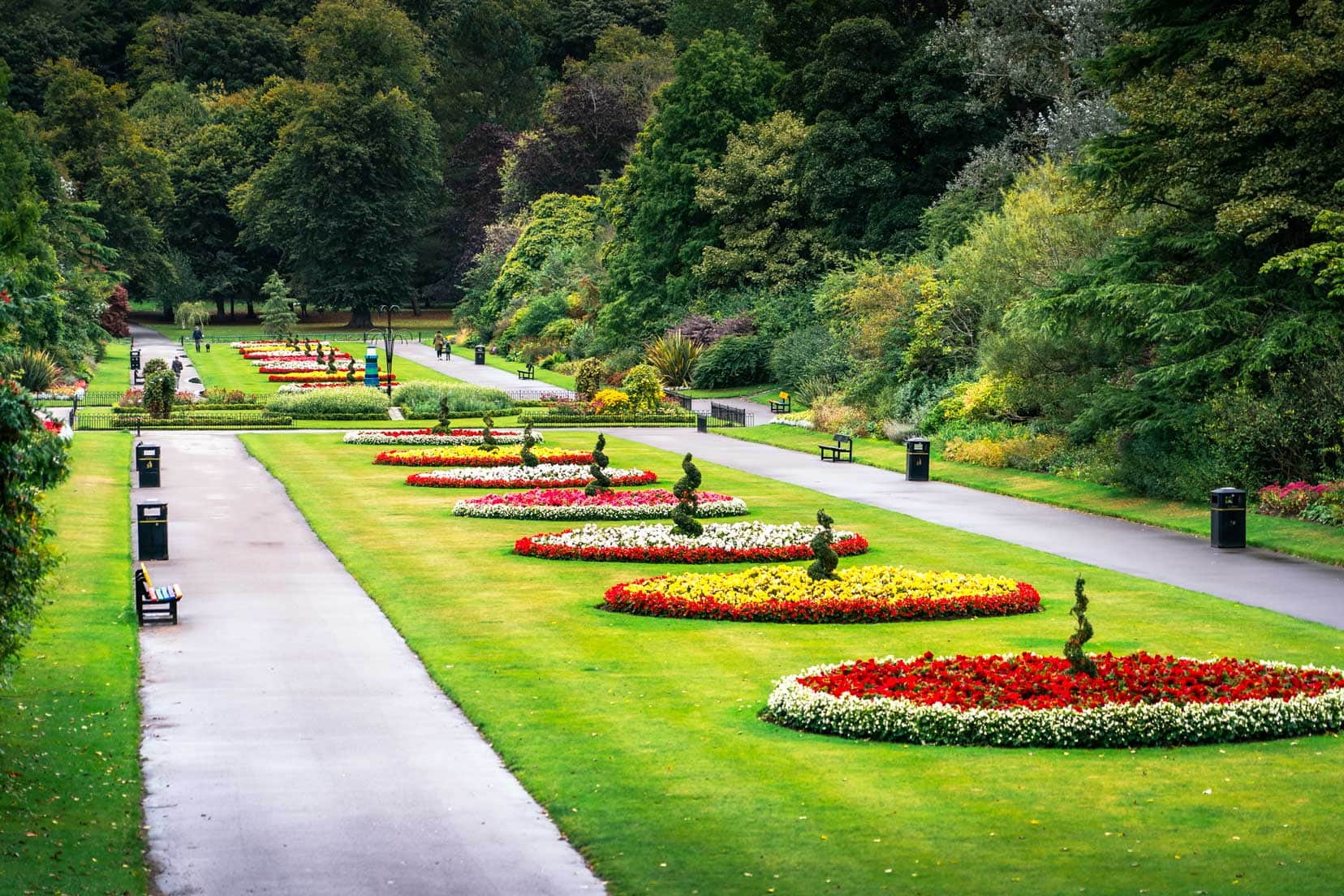 4. Admire the Picturesque Bridge of Balgownie
One of the first places we found when we moved to Aberdeen, was this beautiful old bridge. We arrived in Autumn and were out and about looking for places to photograph the autumnal leaves.
The trees were still holding on to their summer foliage when we were there. The beauty and peacefulness, however, around this out-of-the-way bridge were obvious.
Needless to say, this was another of the many things to do in Aberdeen that we did repeatedly throughout the seasons.
The Balgownie Bridge, built around 1320, was once the main bridge connecting Aberdeen to the north over the River Don. Today, it is a Scheduled Ancient Monument and crossing it leads you to the Cottown of Balgownie. This row of late 18th-century terraced industry worker's cottages reminded us of the chocolate-box cottages of the Cotswolds.
READ MORE: Brig O Balgownie — Aberdeen's Photogenic Gem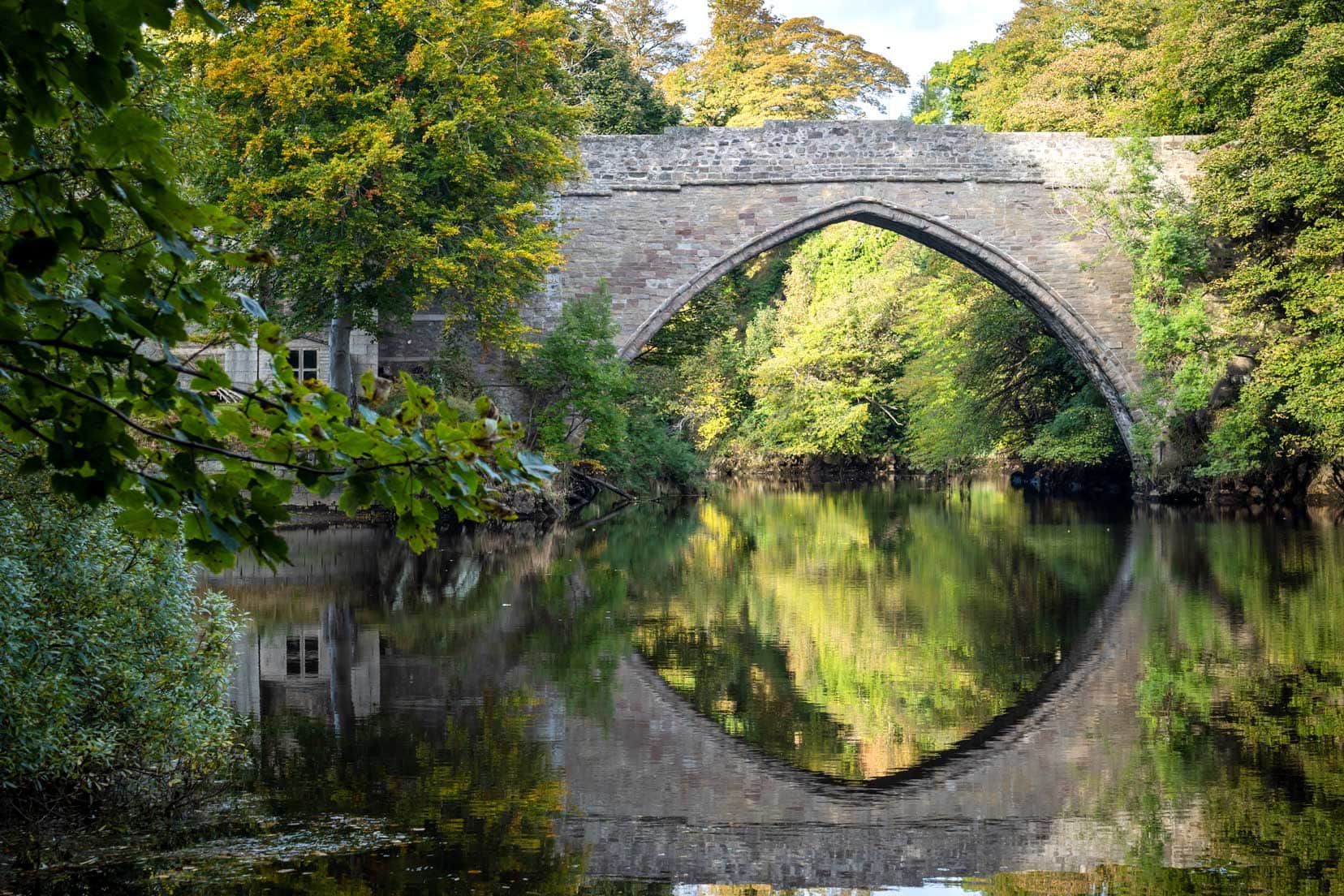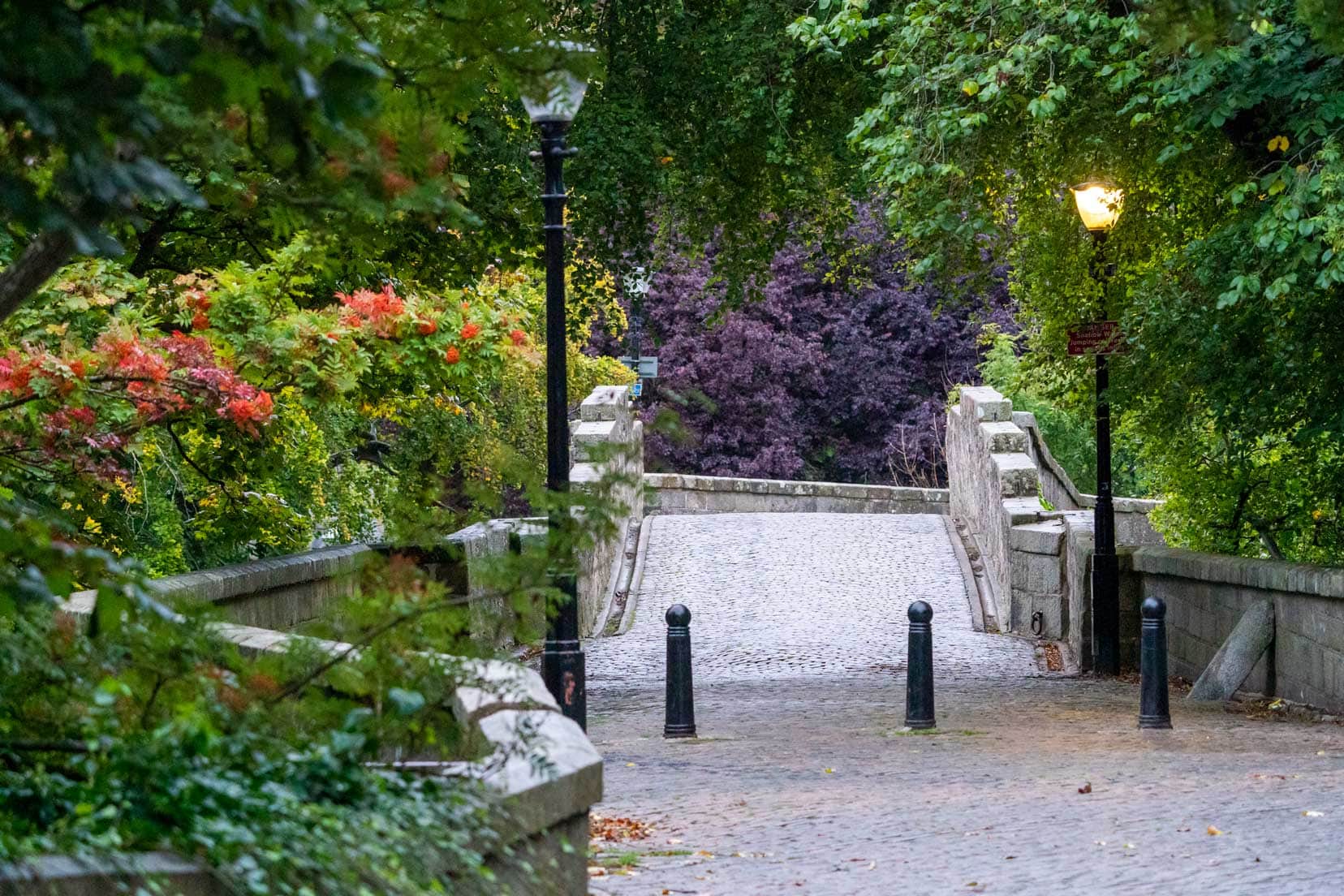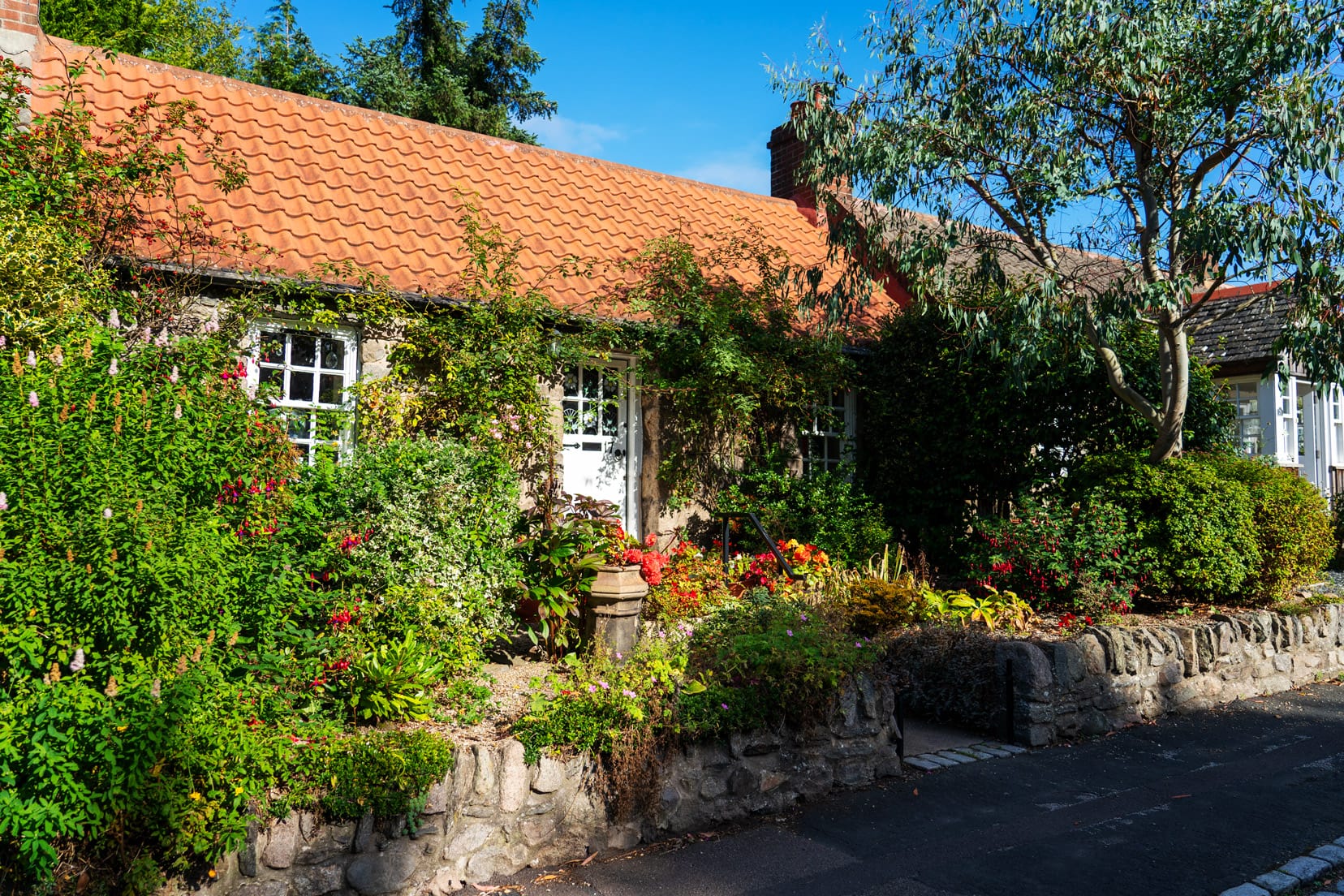 There is a lovely walk from the Balgownie Bridge towards the mouth of the River Don. Along the way, you might spot seals cruising the river. You may also see them hauled out on the small island between the banks of the Don.
Other places where you might see seals in Aberdeen are further down the river towards the coast and don't forget you can take a trip 20 minutes north to Newburgh Seal Beach.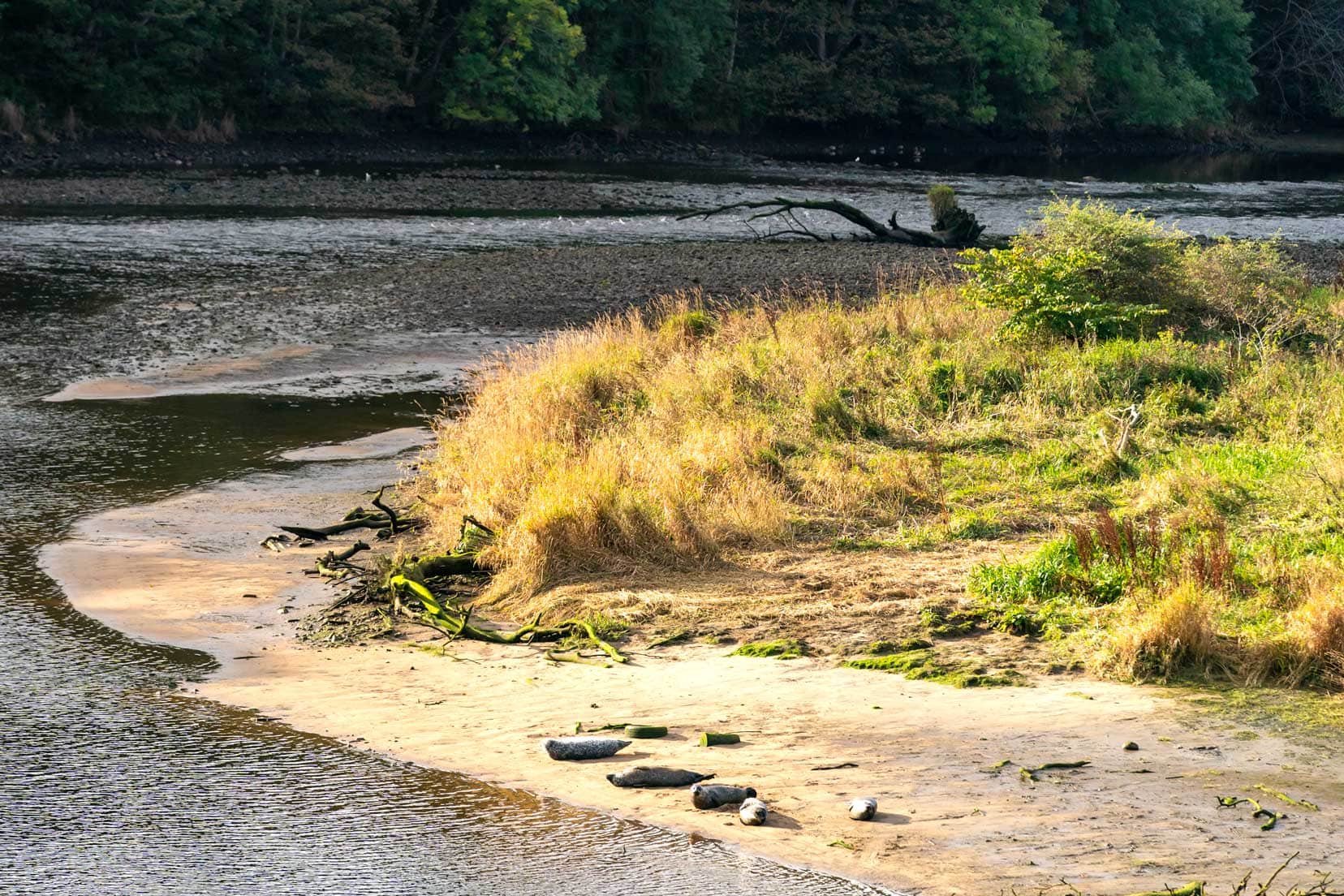 5. Duthie Park and The David Welch Winter Gardens
The David Welch Winter Gardens, in Duthie Park, is one of Europe's largest indoor gardens. They don't look much from the glass entrance outside. But once inside, you are enthralled by the selection of rare and exotic plants.
Thousands of visitors wander through these impressive gardens each year. In fact, the David Welch Gardens are the third most visited in Scotland.
There are various sections, each highlighting different types of plants: the Temperate House, Corridor of Perfumes, Fern House, the Victorian Corridor, the Japanese Garden, Tropical House and Arid House.
The Winter Gardens are in the expansive Duthie Park — a family-friendly park that includes Victorian features such as a Band Stand, fountains and a boating pond.
Entry to the Winter Gardens is free and it's open daily.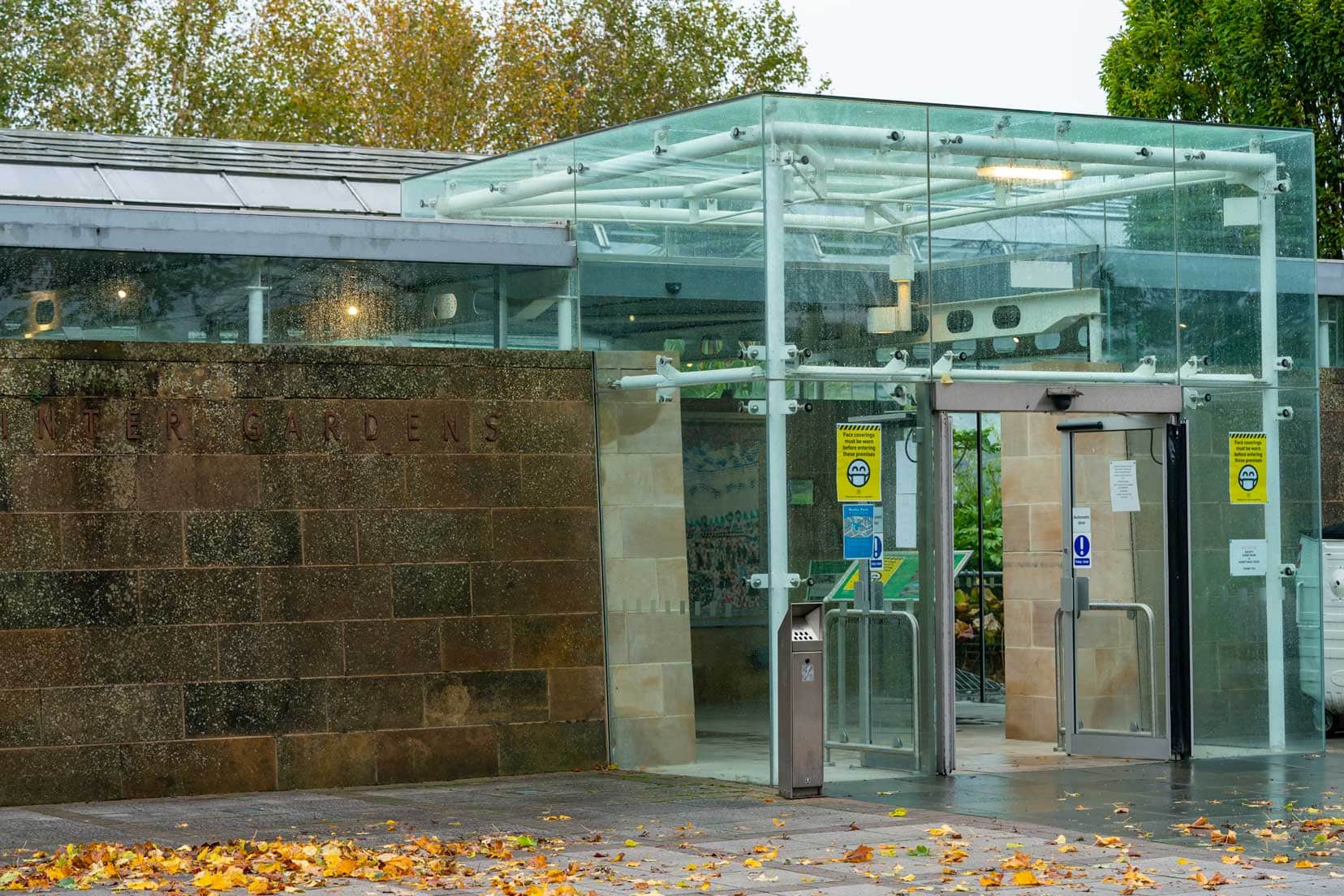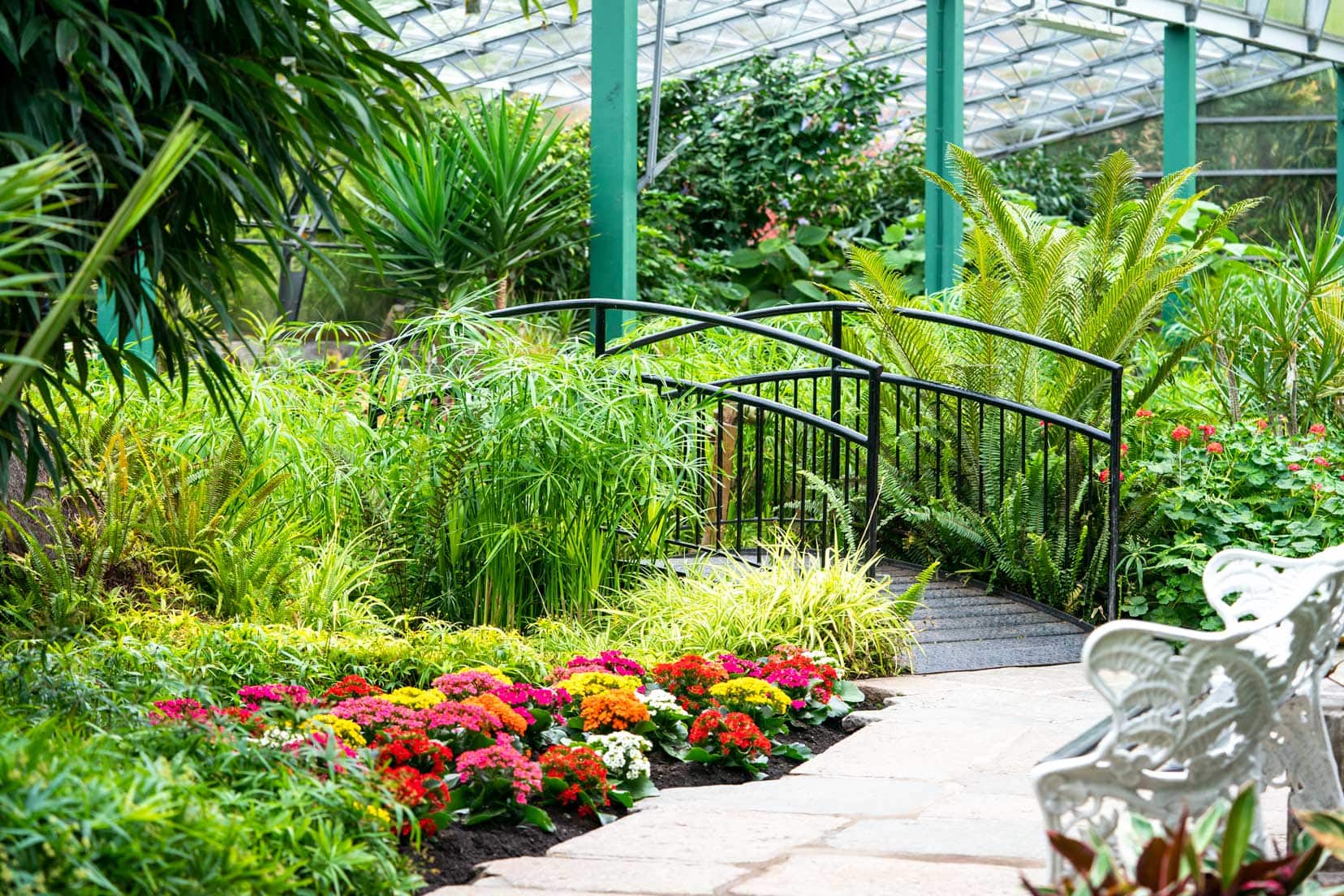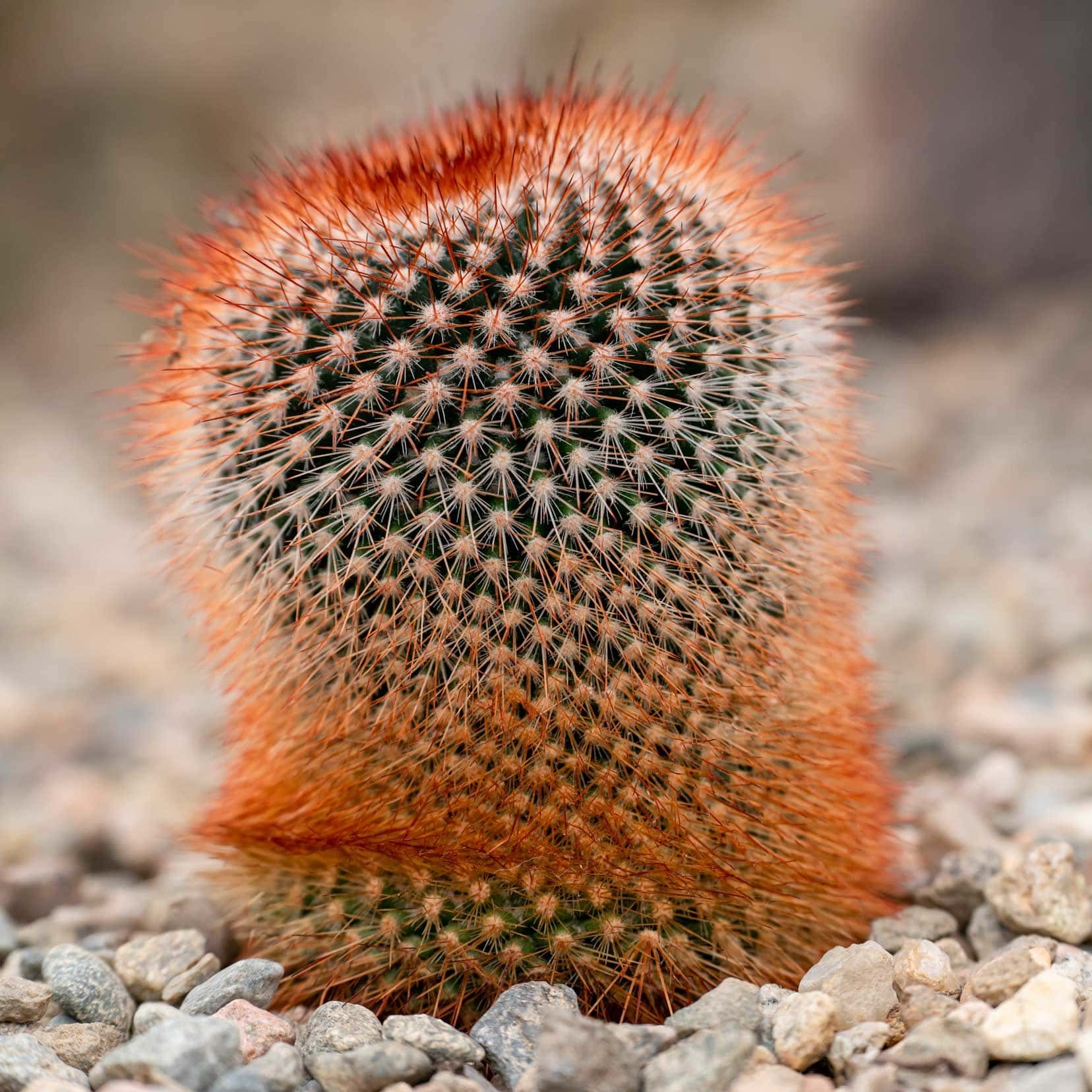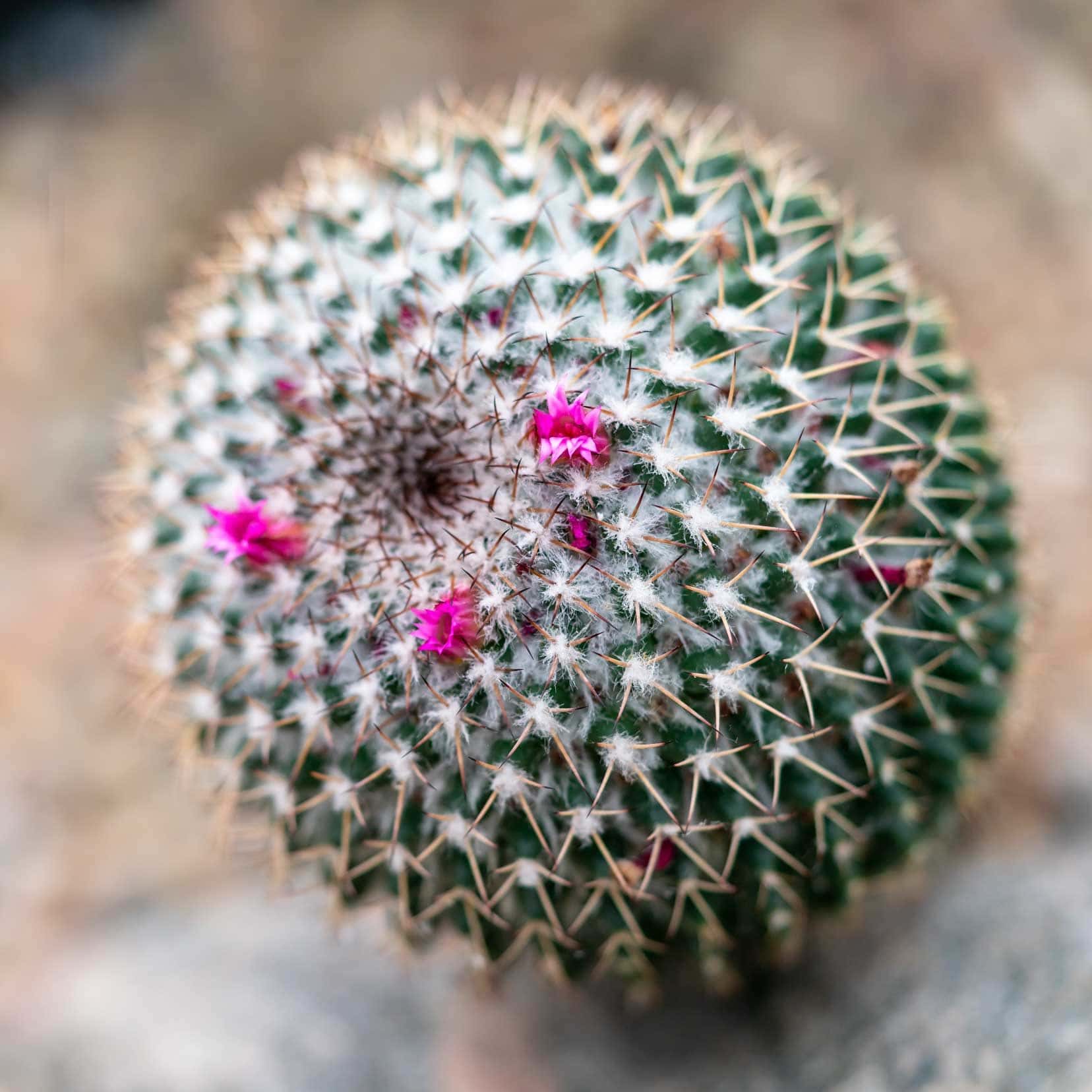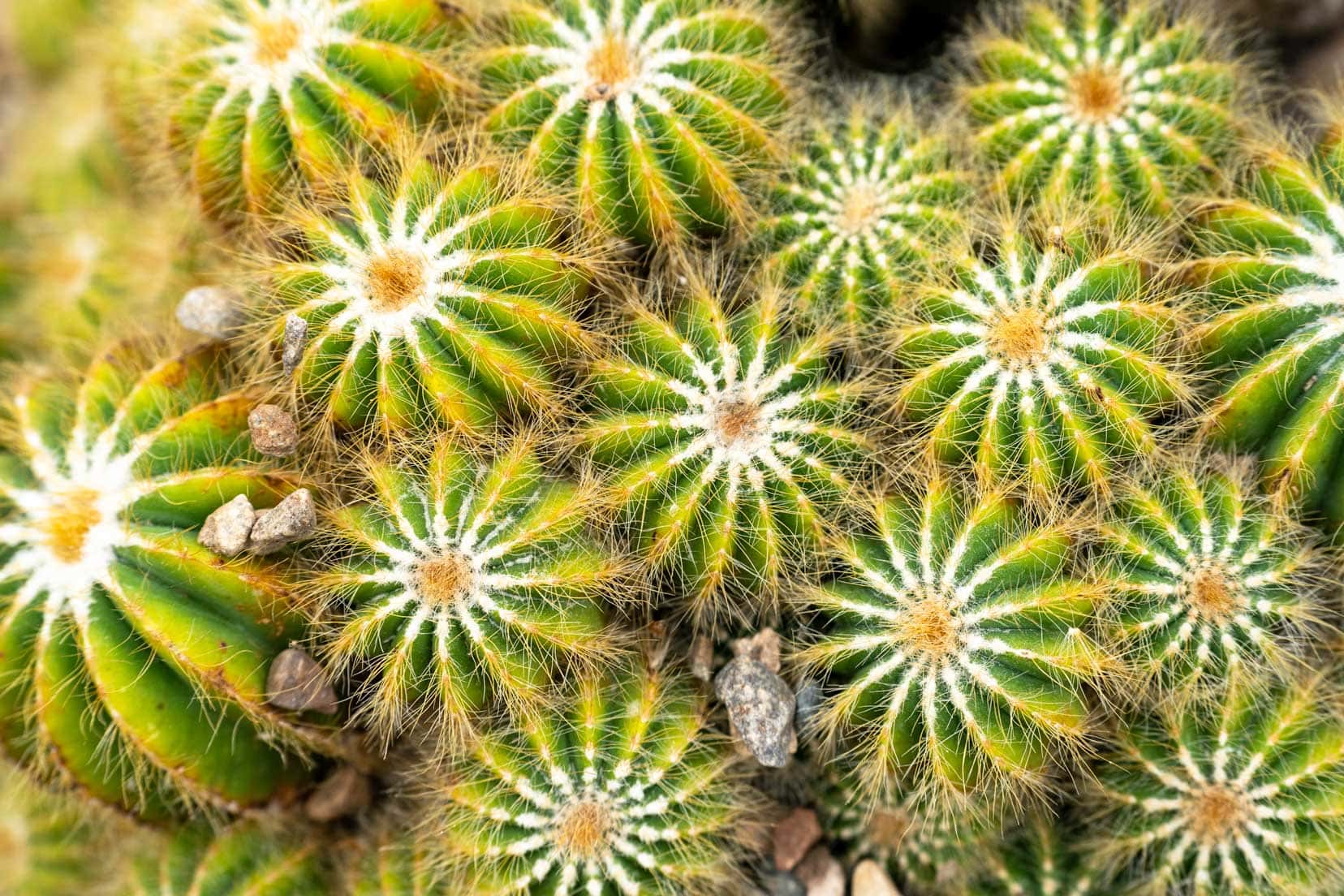 6. Walk along the River Dee
We walked along the River Dee from the Bridge of Dee and were able to continue for quite a ways before it became too overgrown. If you are wanting a stroll and the opportunity to perhaps spot local waterbirds or otters, then it's just the place.
If you want to walk further, you can take the trail along the old railway line which has tarmac and is also suitable for bikes. There is easy access from the back of Duthie Park – see map.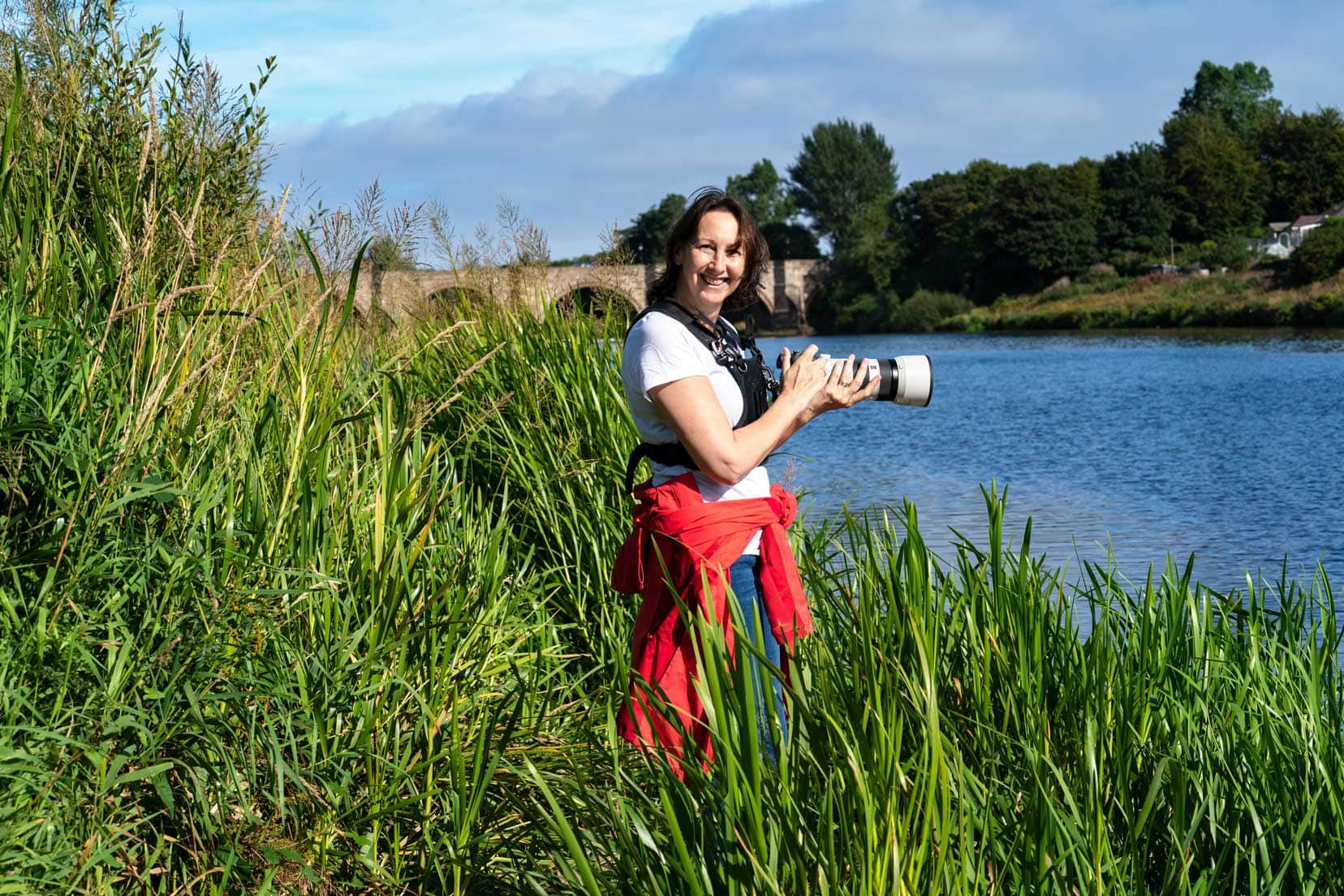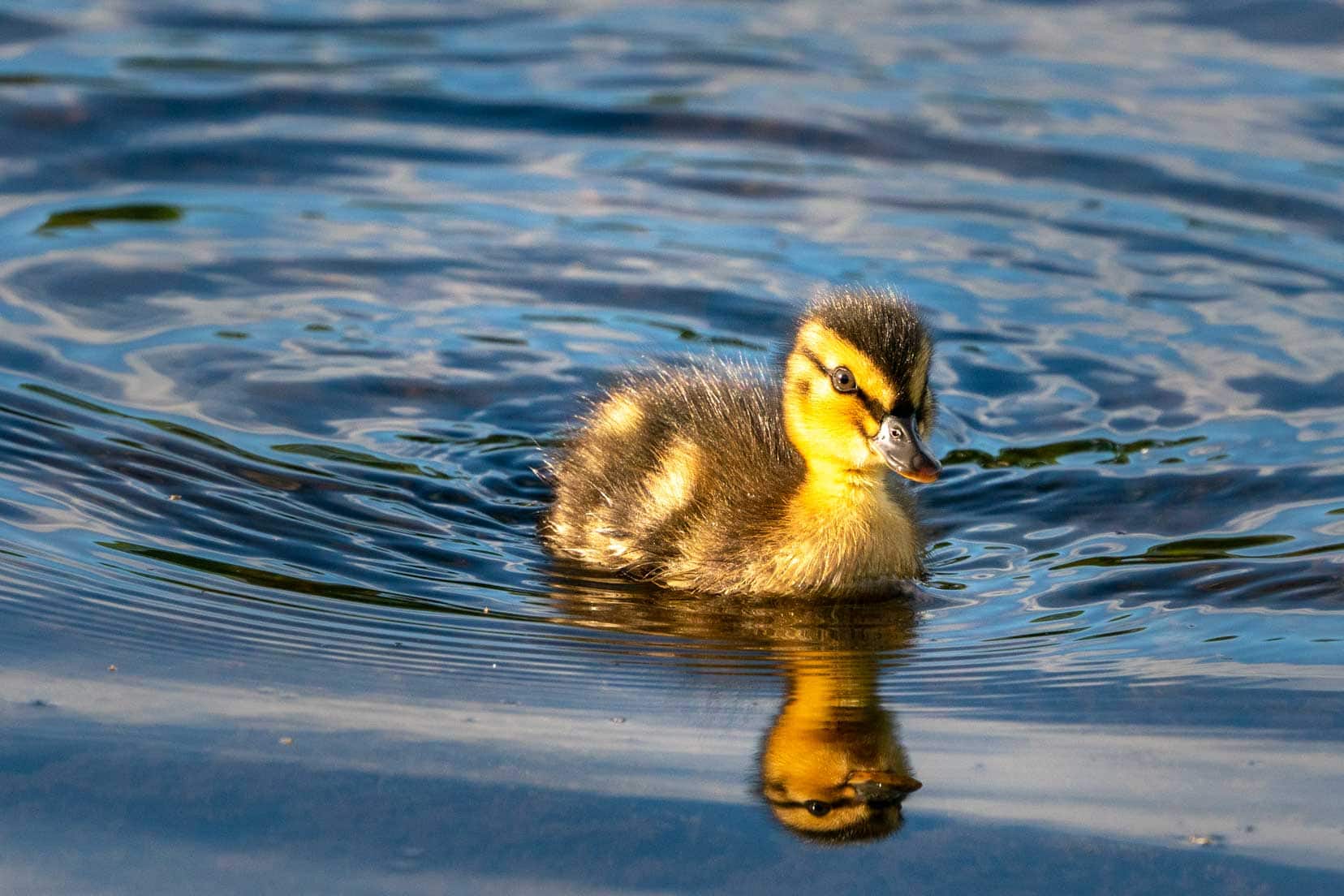 7. Spot Wildlife in the Harbour
If you hang around Aberdeen Harbour for a while and look out to the channel in front of Torry Battery you may very well spy some playful dolphins enjoying the Aberdeen waters.
8. Explore the Old Village of Footdee
The tiny village of Footdee (known as Fittie to the locals) is near the entrance to Aberdeen Harbour. Take a stroll around its narrow streets, and wander between its 19th-century cottages. Note that they all have their windows and doors facing away from the sea for protection from strong winds and stormy weather.
In 1808, the entire village of Footdee was moved to accommodate the expansion of the harbour. Along the harbour front, are benches with phrases representing the nautical attachment of the area to the sea.
You'll also find one of Aberdeen's best-known Seafood restaurants, The Silver Darling, which has exquisite elevated views of the harbour.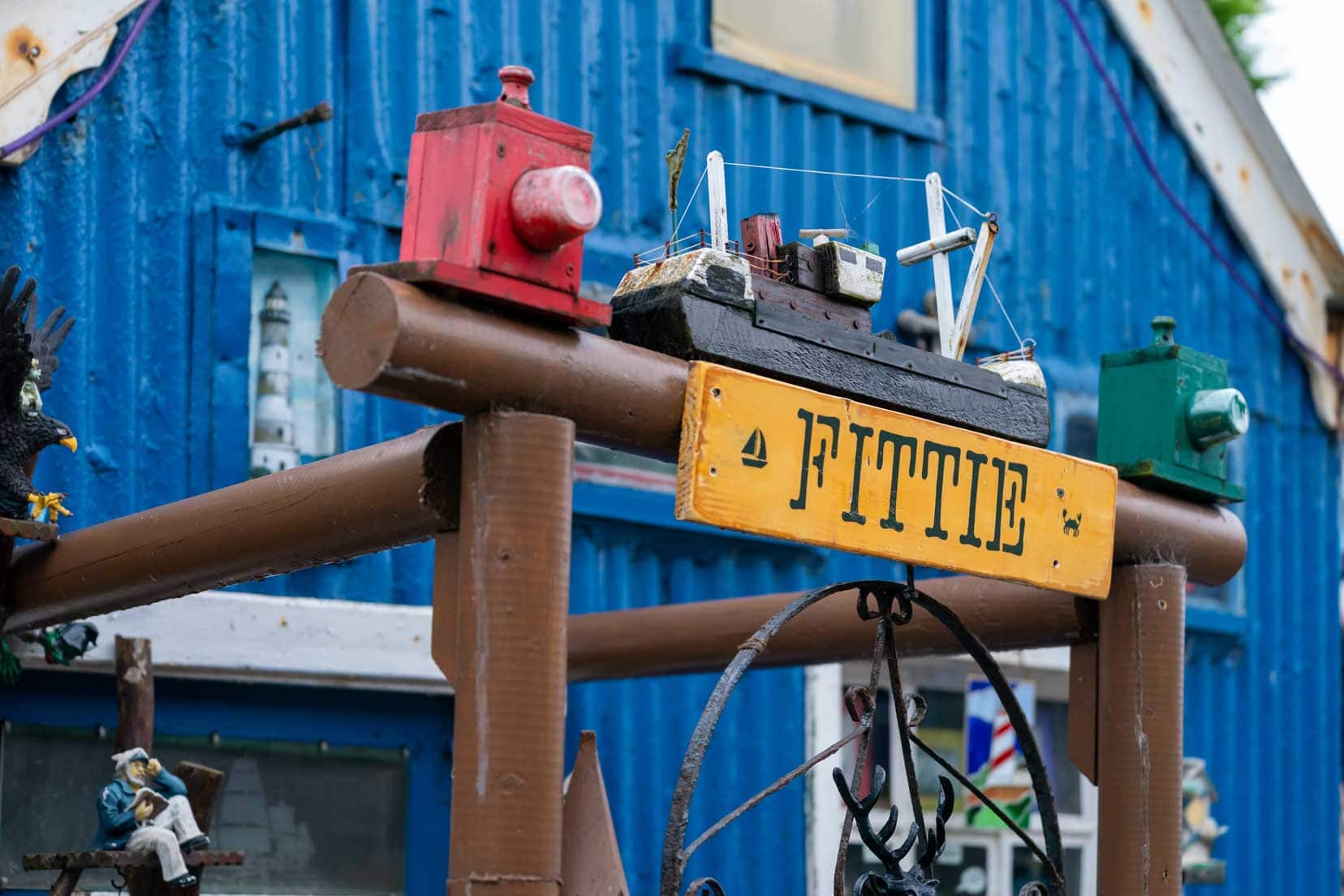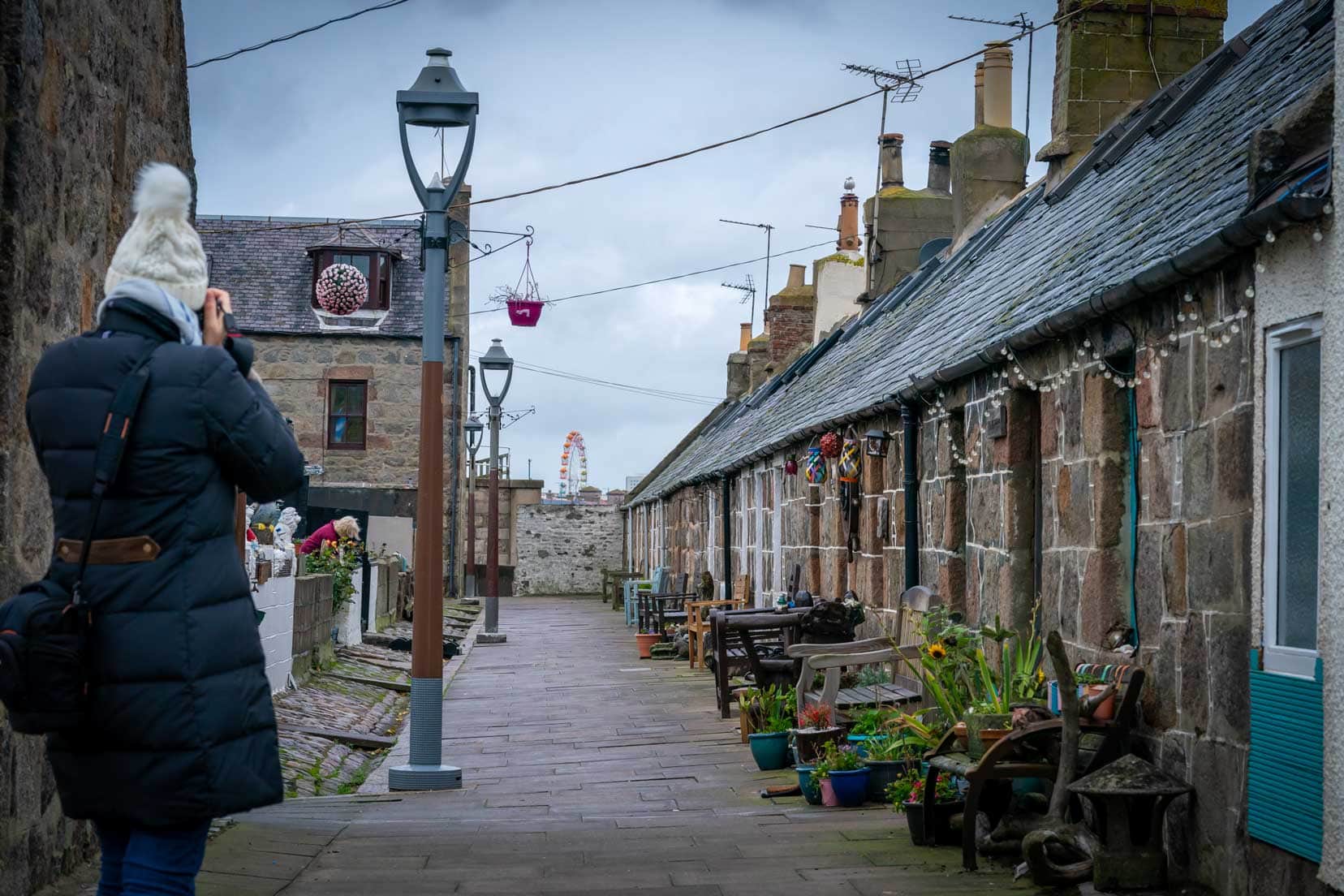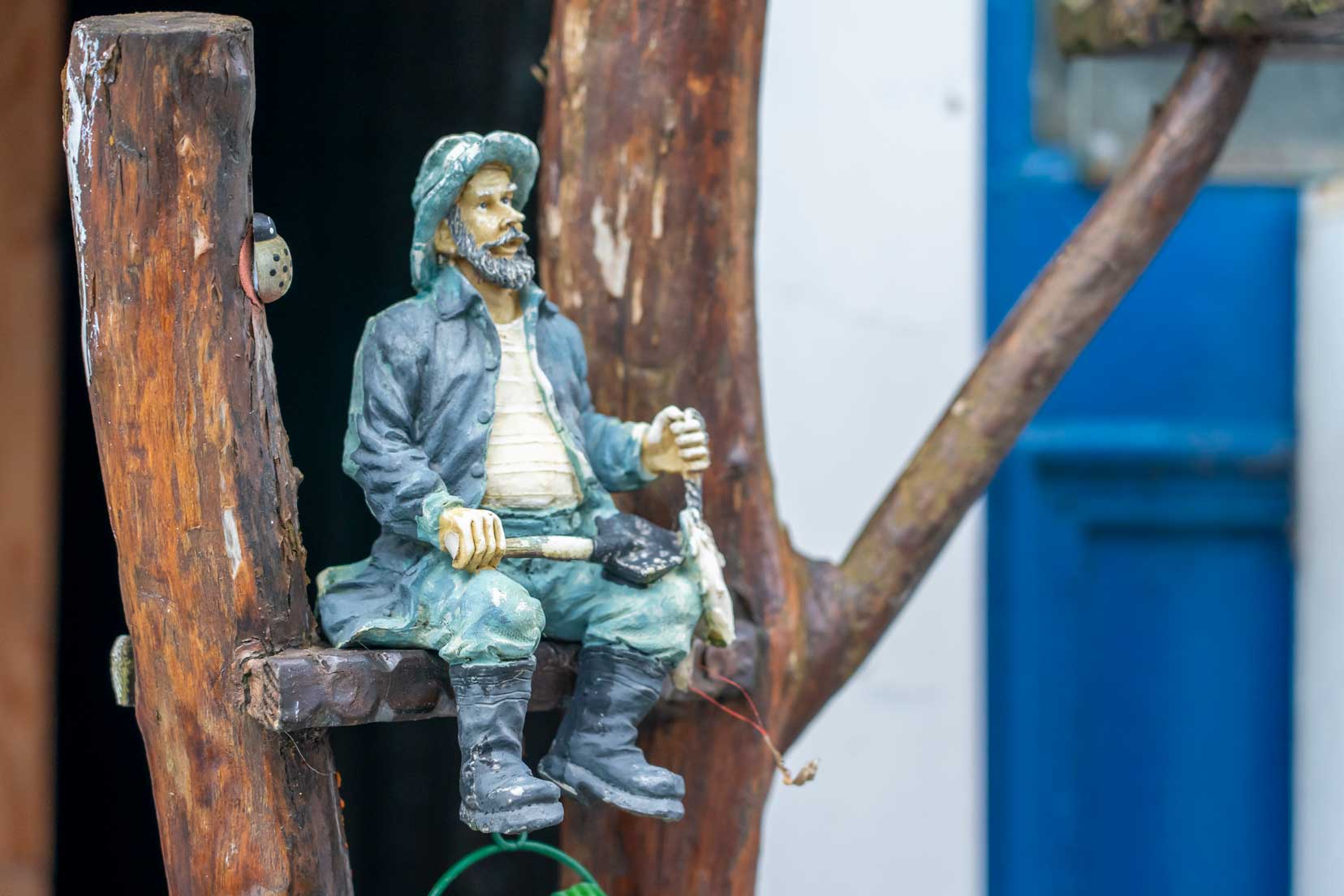 9. Aberdeen Beach
One of the biggest surprises for us, after moving to Aberdeen was Aberdeen's beach. A long stretch of golden sands is not what I was expecting to see in this Granite City.
Just a stone's throw from the city centre, and just around the corner from the old fishing village of Footdee, you'll find Aberdeen Beach, or Aberdeen Beach Resort, as it's called. From the city centre, it's about a mile's walk, a 15 to 20-minute walk.
It not only offers a chance to get the sand between your toes but has a funfair, cinema complex, and several bars and restaurants nearby. The Aberdeen Esplanade or Promenade is about 4km long and stretches from Footdee to just south of the Bridge of Don.
For those of you who like to punish yourself, treat yourself to a dip in the bracing ocean waters. You won't be alone as there are like-minded brave (crazy) people who also do this for fun;) We saw several groups take the plunge, arriving all wrapped up to the nighs with woollen gloves, beanies and puffer jackets.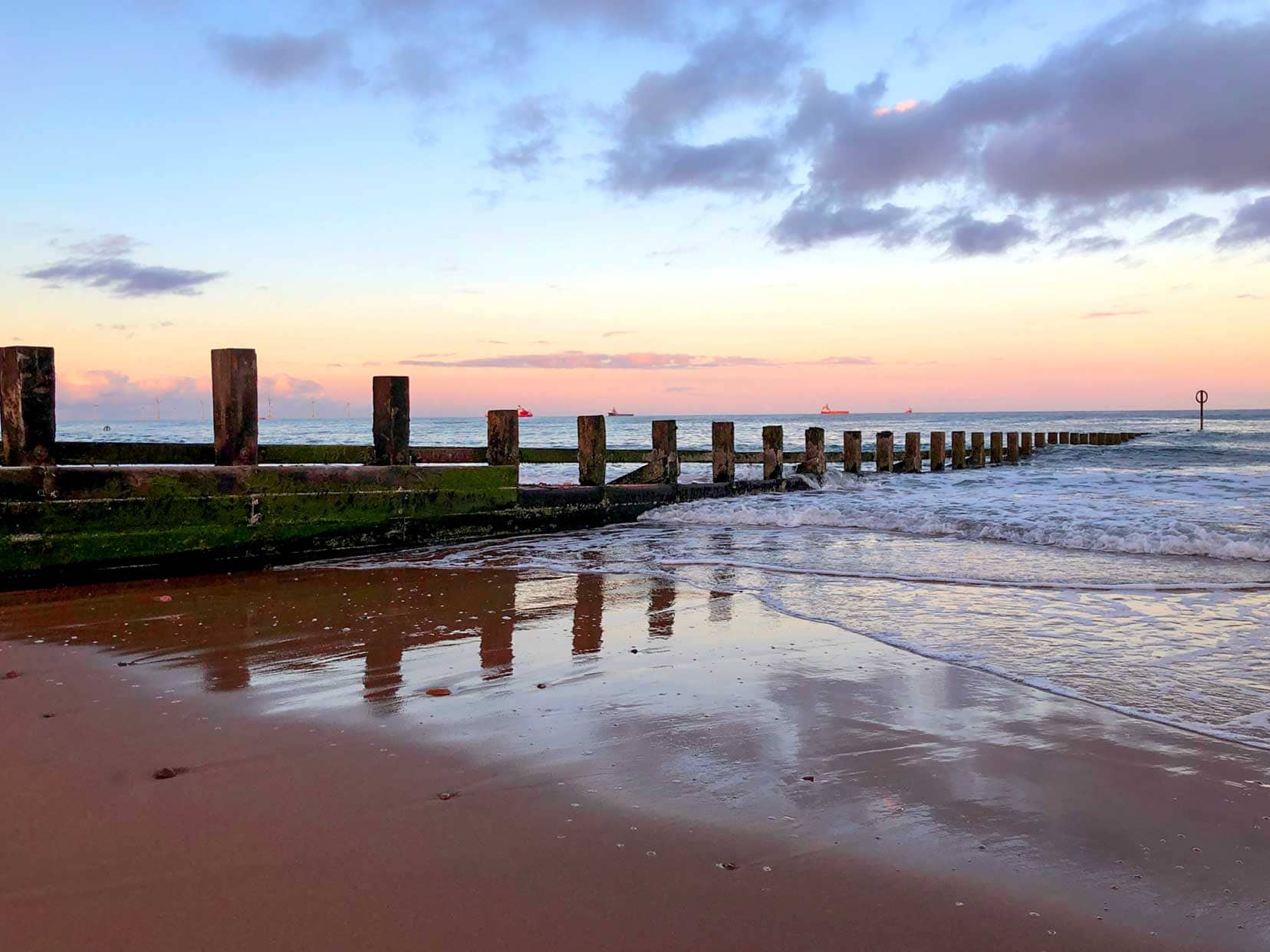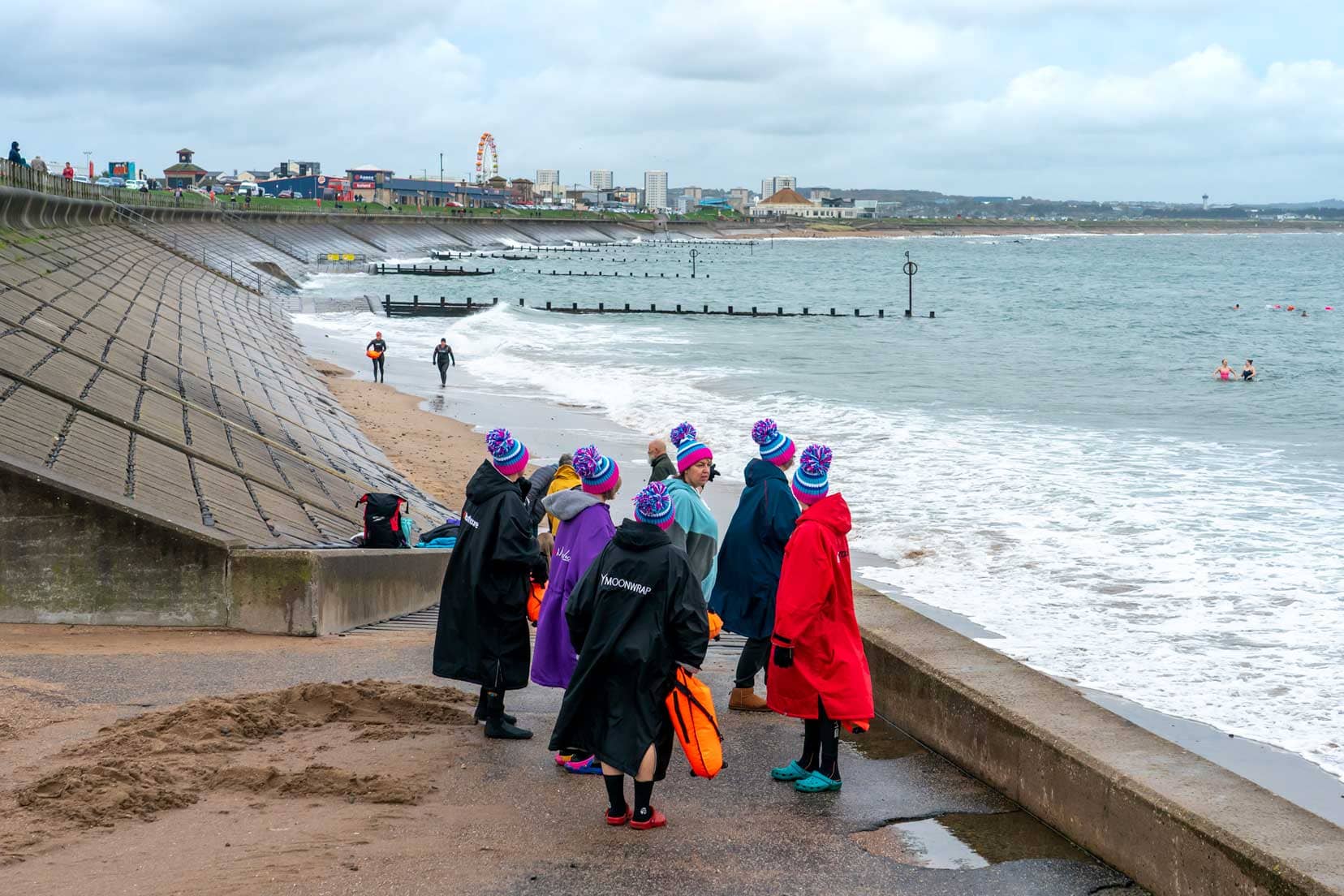 10. Torry Point Battery
From the Torry Battery, you have expansive views across the bay with the Girdleness Lighthouse standing proud at the entrance to the harbour. The lighthouse has protected mariners coming into the harbour since it was designed by Robert Stevenson in 1833.
Torry Battery was fully operational during both World Wars. After WWII, however, it was used to house Aberdeen's homeless until the early 50s. It was then partially knocked down, and parts of it were restored in 1970 and is now a Scheduled Ancient monument.
The battery itself isn't much to look at, but it is an ideal place to spot dolphins and to get a view across to Aberdeen city and harbour.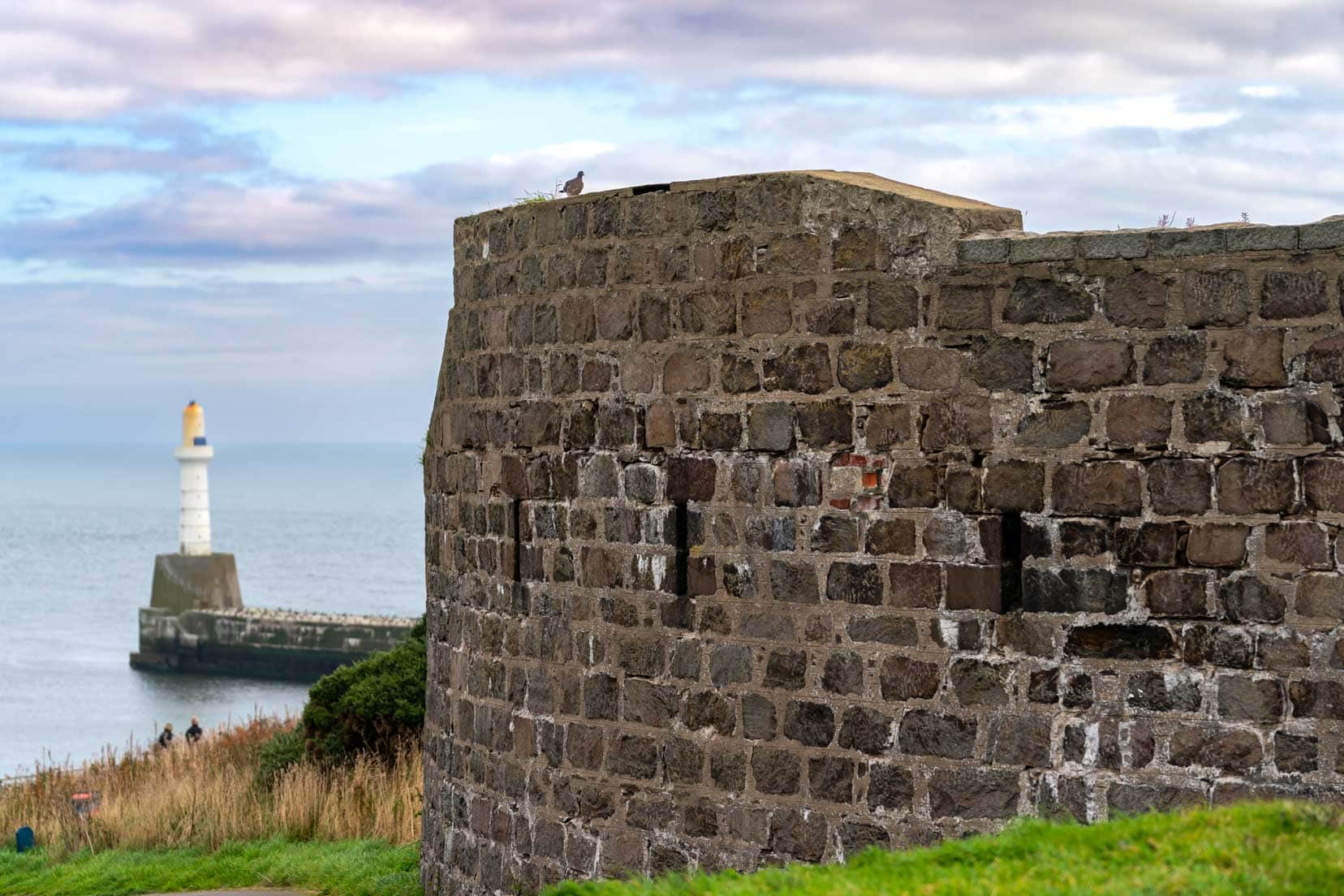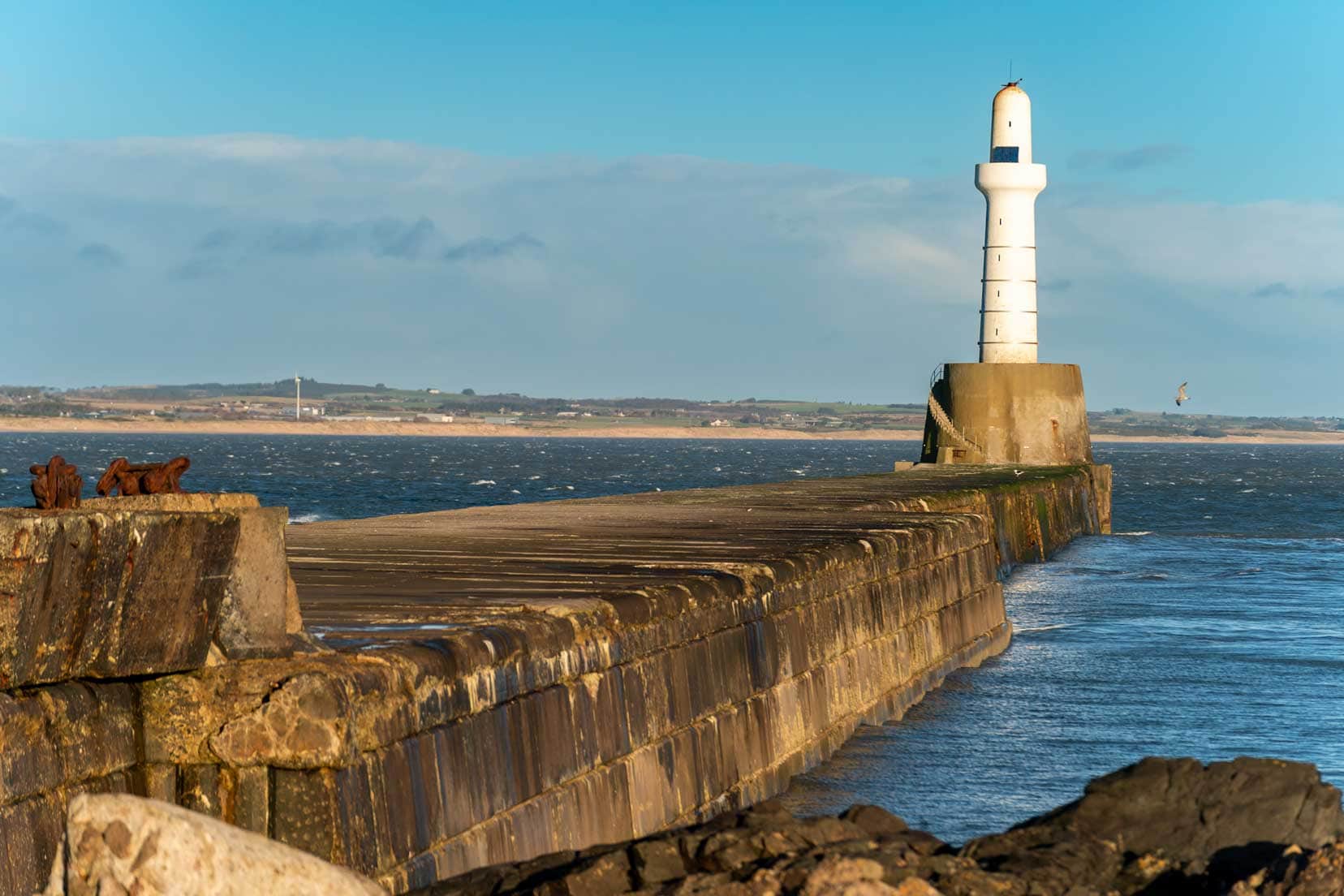 Heading away from the coast, let's now delve into all the things to do in Aberdeen city centre.
11. Get Nautical at the Aberdeen Maritime Museum
Aberdeen has always had a strong connection to the sea. At its Maritime Museum, you can discover Aberdeen's history of shipbuilding, fish markets and how the oil and gas industry became so prominent here.
Interesting Fact: During the 19th and 20th centuries, around 3,000 ships were built in Aberdeen.
[Note: The Maritime Museum is closed for renovations until the spring of 2023]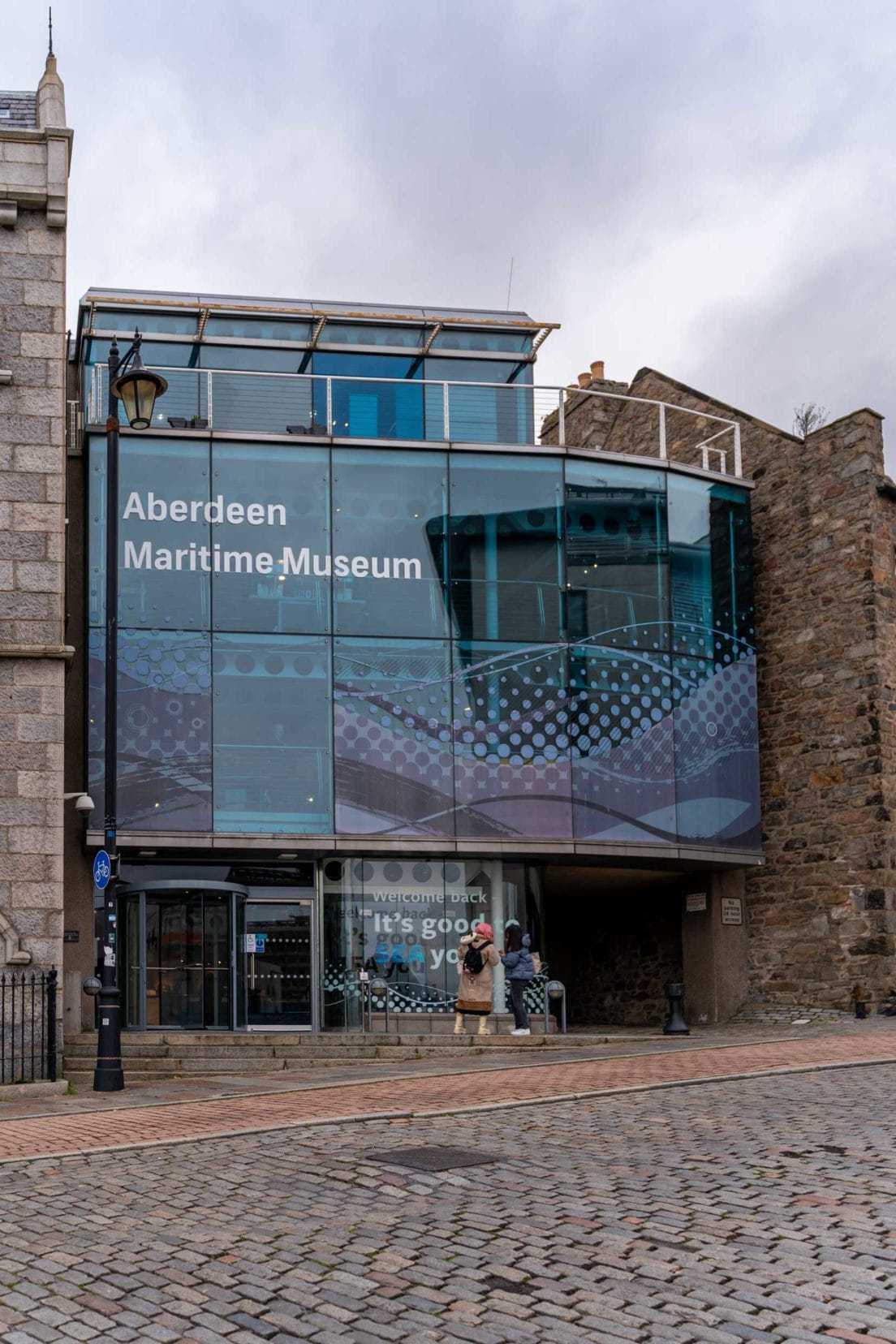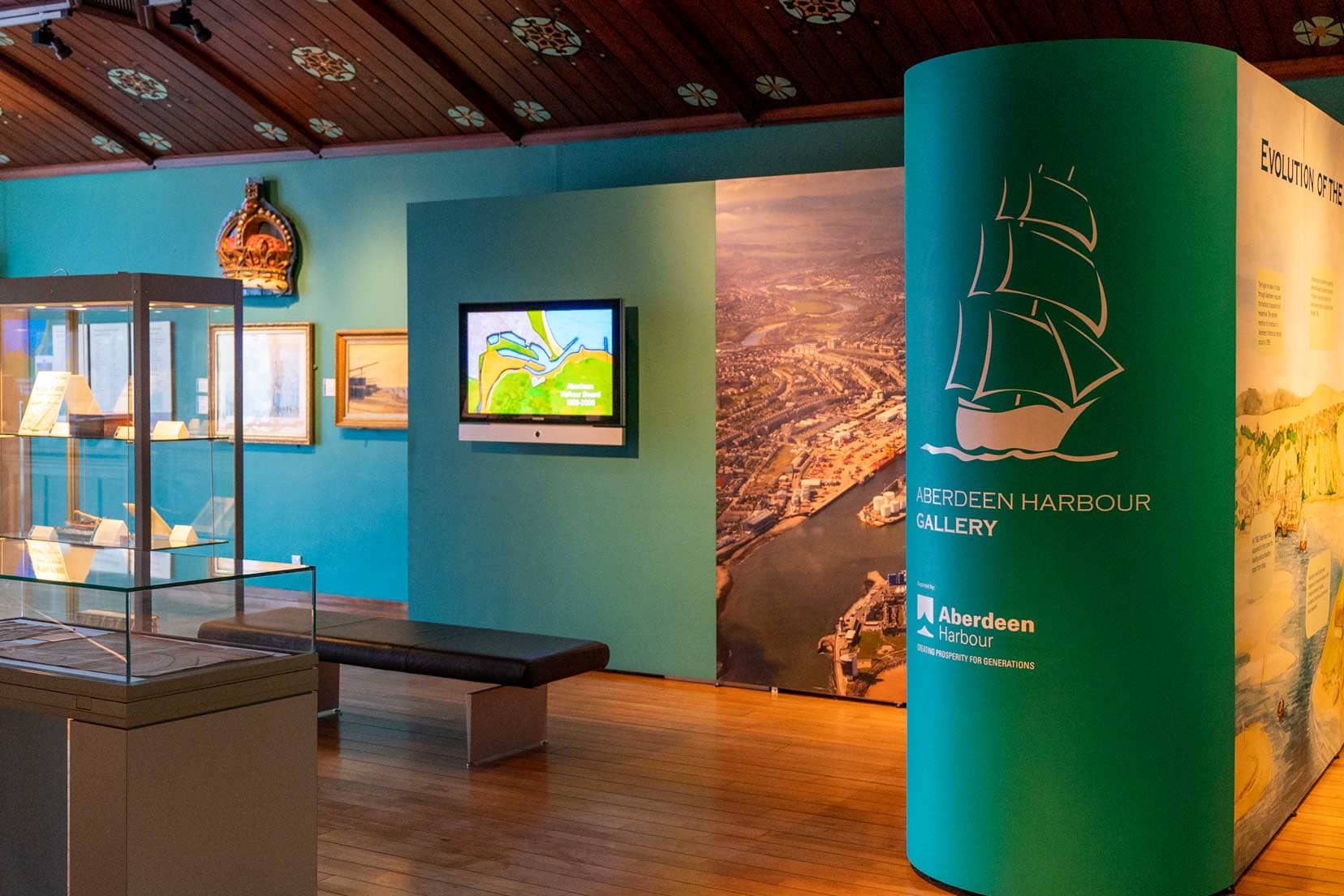 12. Ponder on Aberdeen's History at Castlegate
Castlegate is at the end of Union Street (see map) and is named after the Castle Gates removed in the early 1300s. Today, Aberdeen's impressively carved Mercat Cross is the main attraction of the square, but in the late middle ages, Aberdeen Castle would have been here.
The only building resembling a castle is the Salvation Army castellated mansion overlooking the square.
The Mercat Cross was built in 1686 and is decorated with animal gargoyles and coat of arms medallions of Stewart monarchs; James I to James V, Mary Queen of Scots, James VI, Charles I and II and James VII, as well as the Royal arms and the Burgh's arms.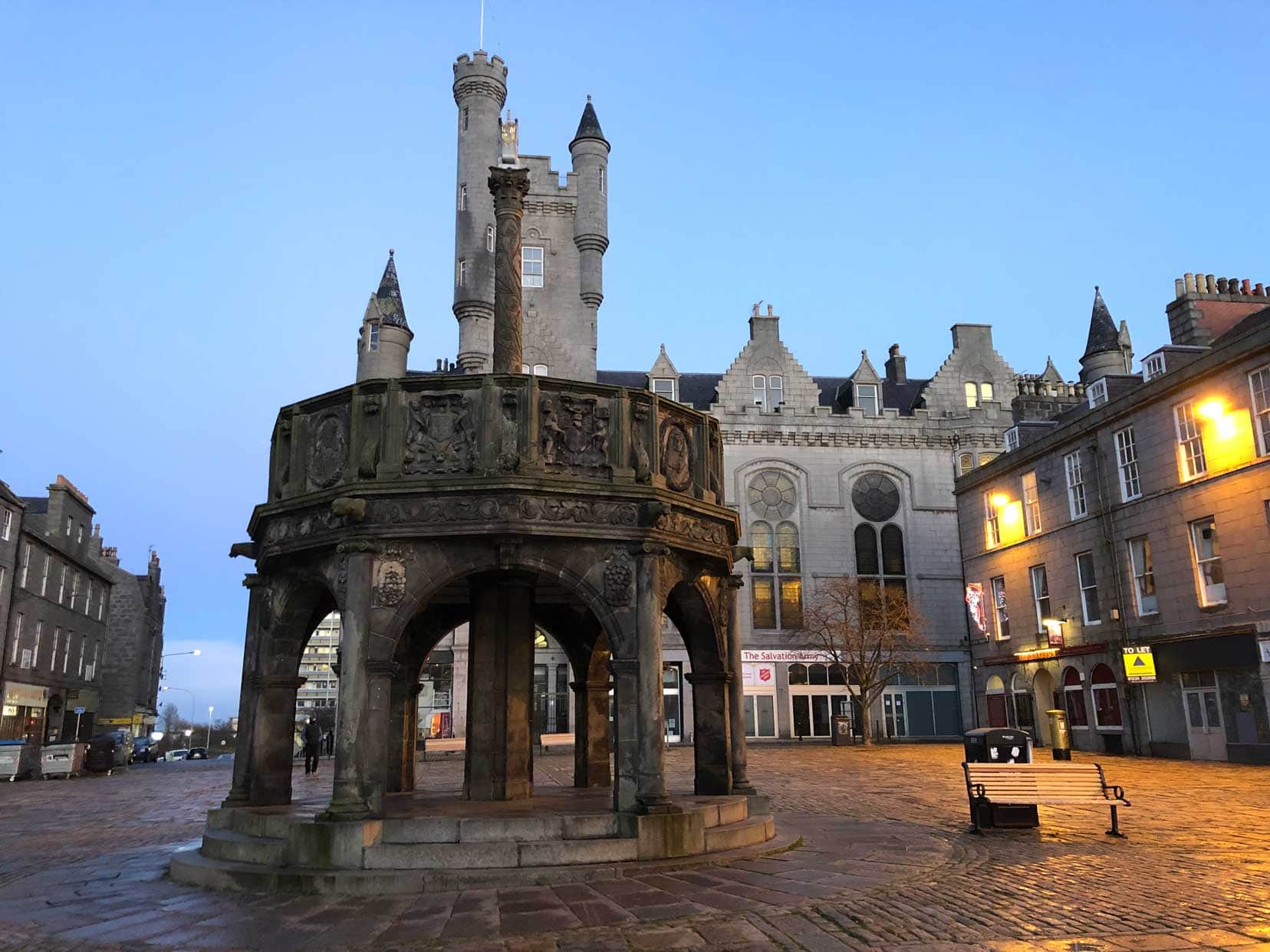 13. Union Terrace Gardens
The sunken Victorian Gardens which opened in 1879 in the centre of the city, has recently undergone a £28 million refurbishment, with a likely opening in early 2023.
14. Aberdeen Art Gallery
Aberdeen Art Gallery is said to hold one of the finest collections of 20th-century art in the UK including an interesting collection of contemporary art. 
The collection spans over 700 years and includes both local and international artists. Famous local artists include Henry Raeburn, Joan Eardley and Samuel Peploe. Some of the International artists represented are Barbara Hepworth, Francis Bacon and Claude Monet.
In 2020, the Gallery was a winner of the Art Fund Museum of the Year.
A visit to the Aberdeen Art Gallery is free.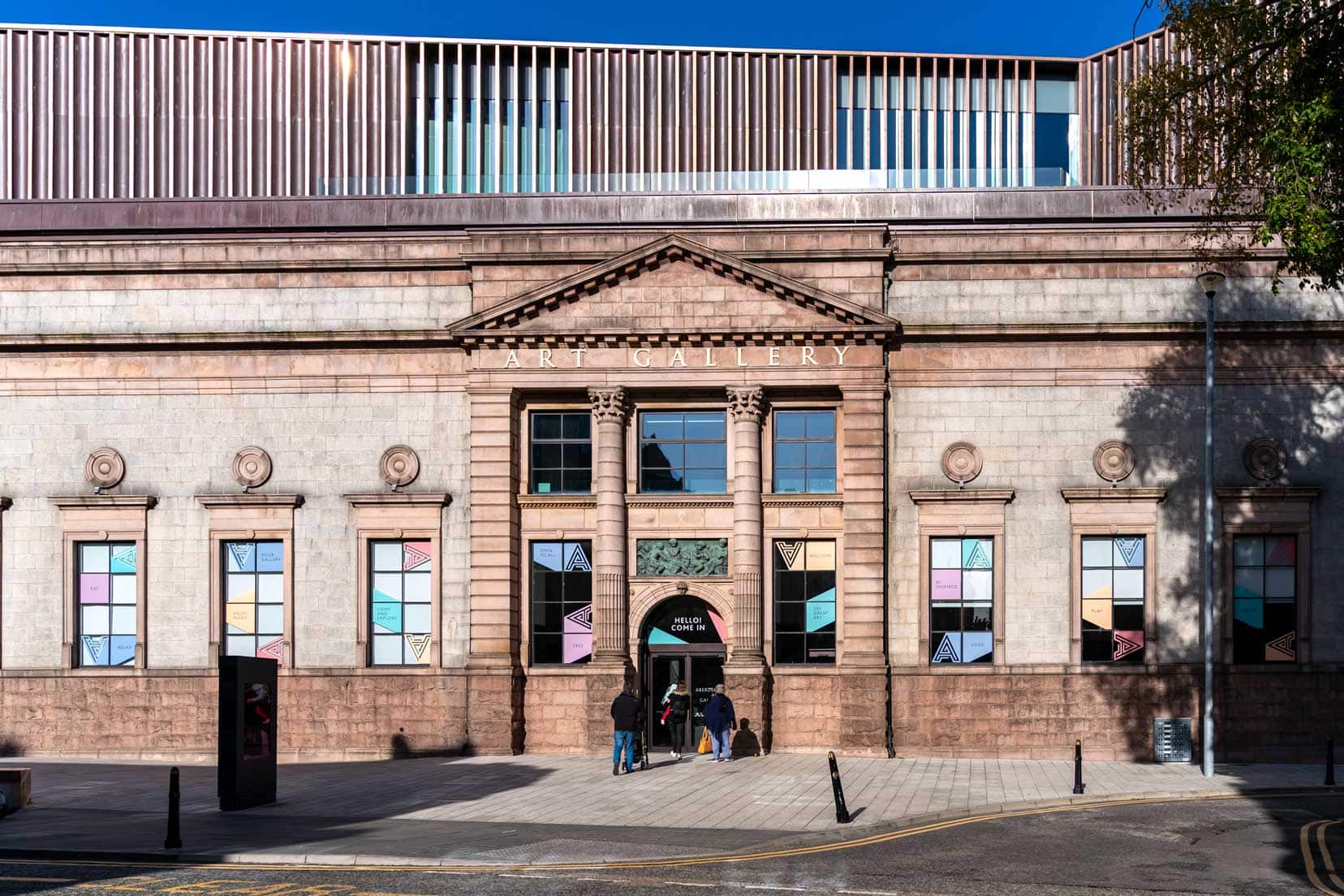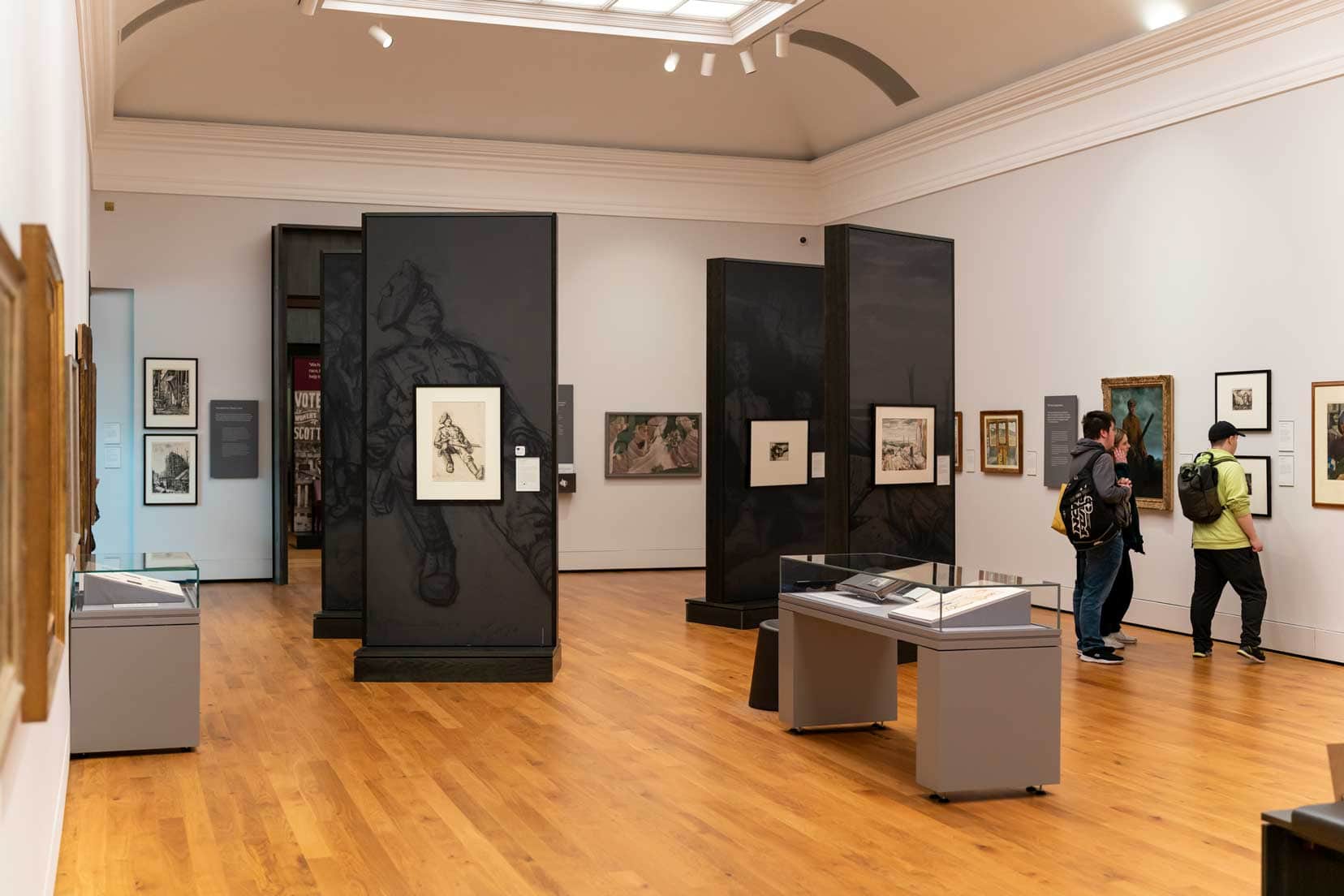 15. Discover Aberdeens's NUART Around the City
While we're on the subject of art, if you are a lover of street art, then Aberdeen is part of the internationally renowned organisation, Nuart.
Originally established in Stavanger in Norway, Nuart partnered with Aberdeen as a sister festival and the Aberdeen Nuart Festival (normally a two-week festival at the end of September) has established itself as one of the UK's leading "Street Art" events.
You can book an immersive Guided Tour of Aberdeen's Street Art, including the imposing Man & Dog mural, Jan Vormann's Lego Wall, Alice Pasquini's Side Profile and the explosive colours of Bordalo's Unicorn.
👉 Find out more or book this tour here | ⏰ 1.5 hours | ⭐️ 4.5/5 Star reviews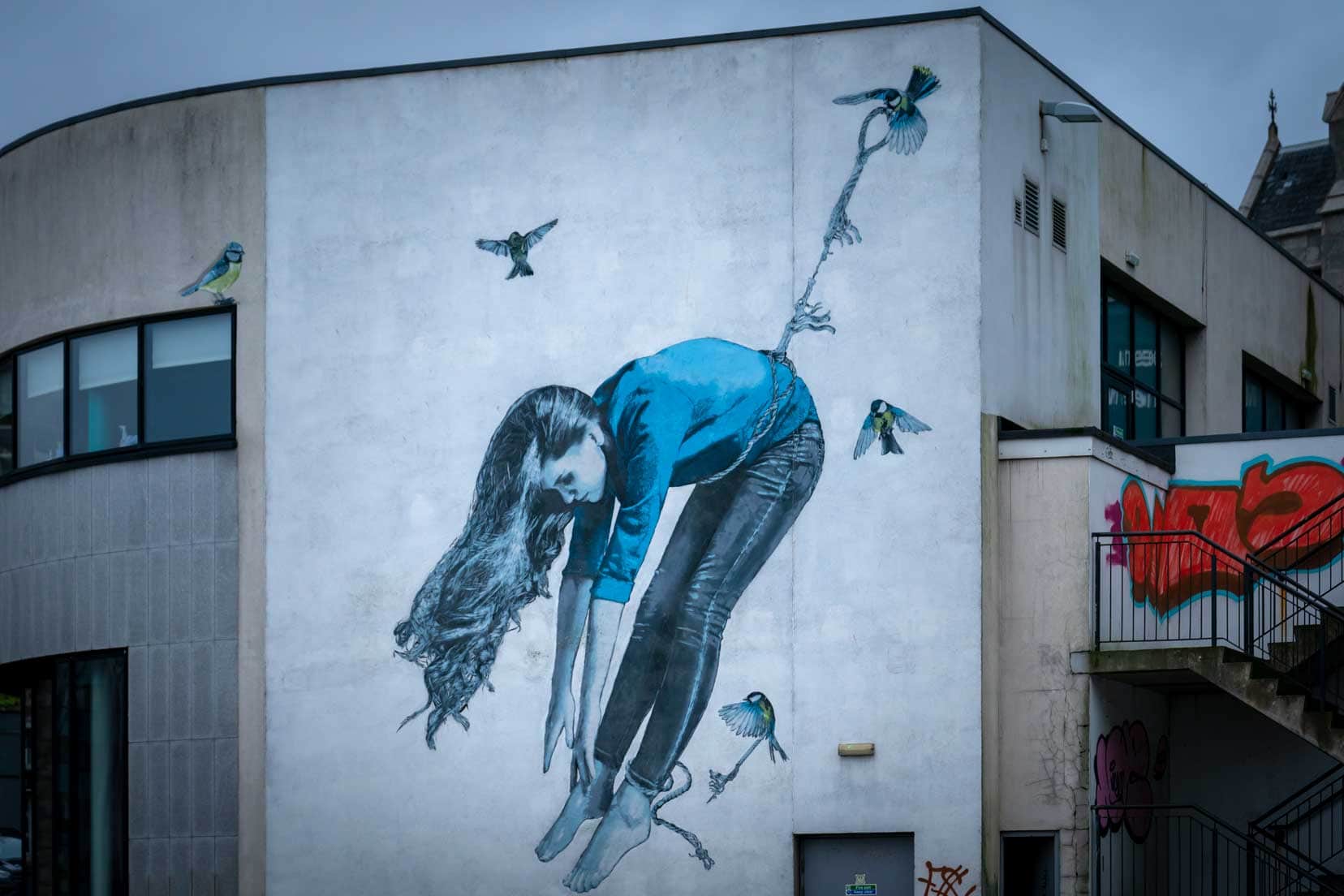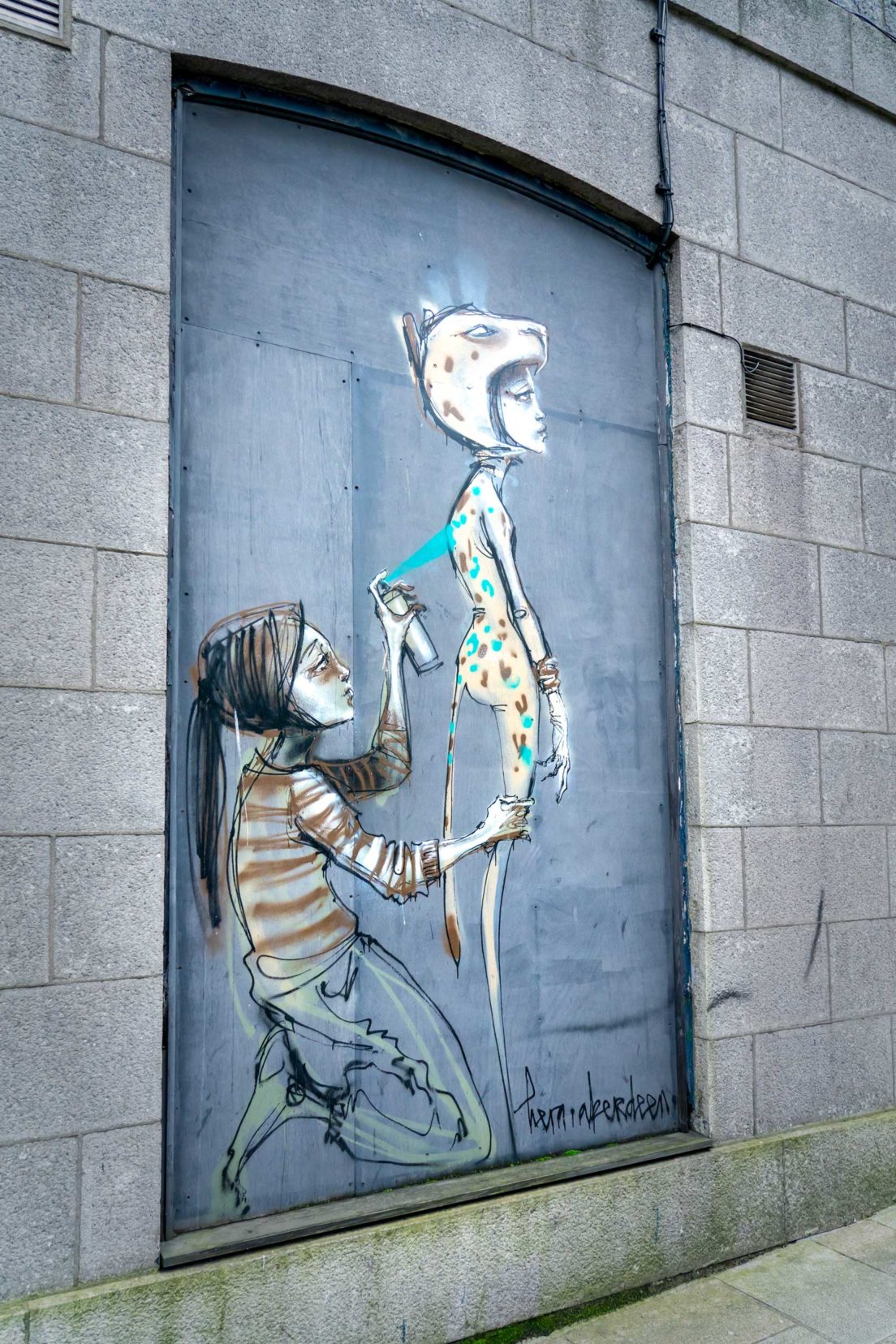 16. Step Back in Time at Provost Skene's House
This 16th-century townhouse is one of the oldest buildings in the city.
Today, as a museum, it highlights the lives of over 100 Aberdonians, those who were either born or lived and worked in Aberdeen or the northeast. — from centuries ago to the modern day. There are extensive displays and you could easily spend a few hours reading all the information on display.
The Hall of Heroes showcases ten individuals – all taking pride in place after being voted into the hall by the public.
Provost Skene House is open 7 days a week and is free.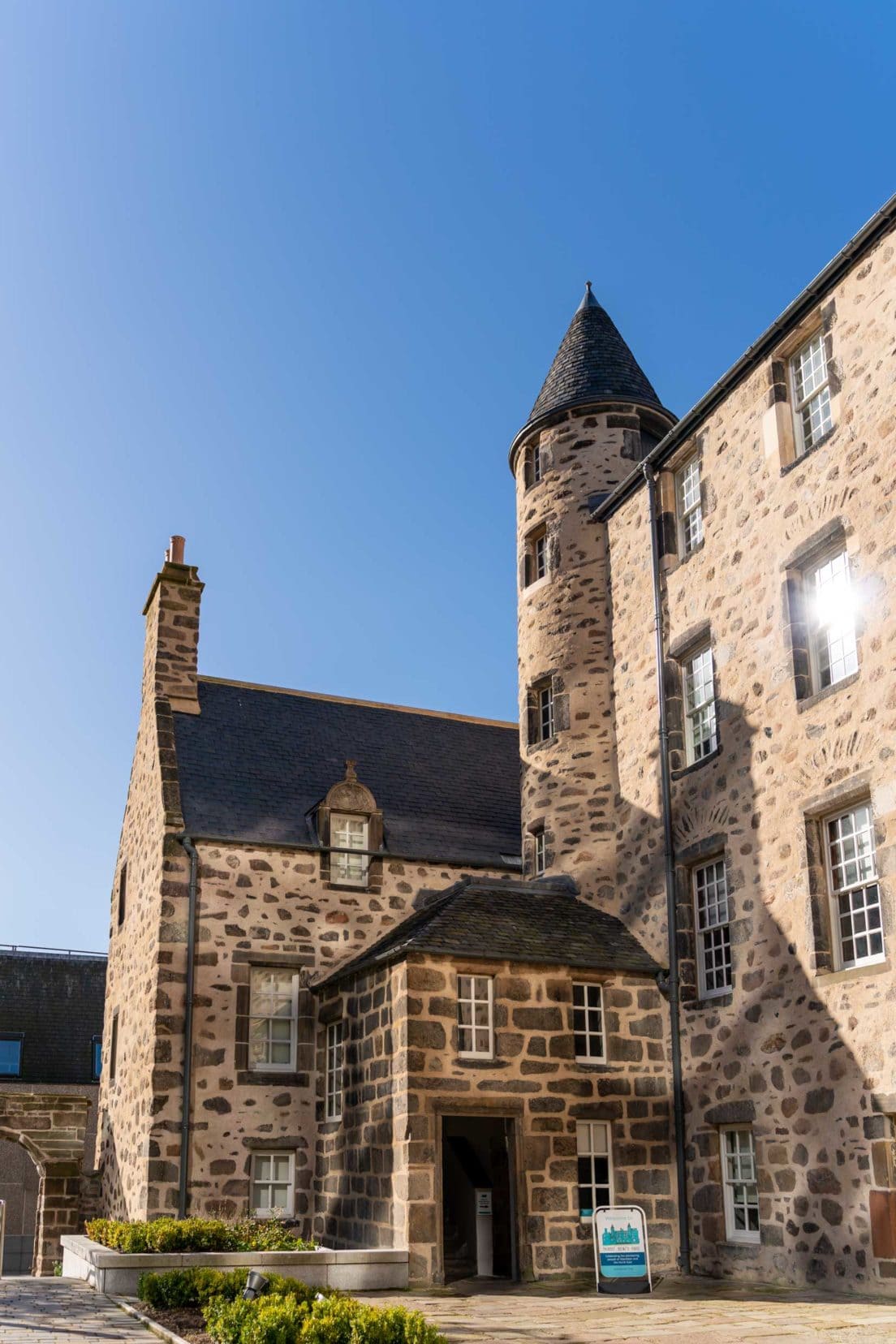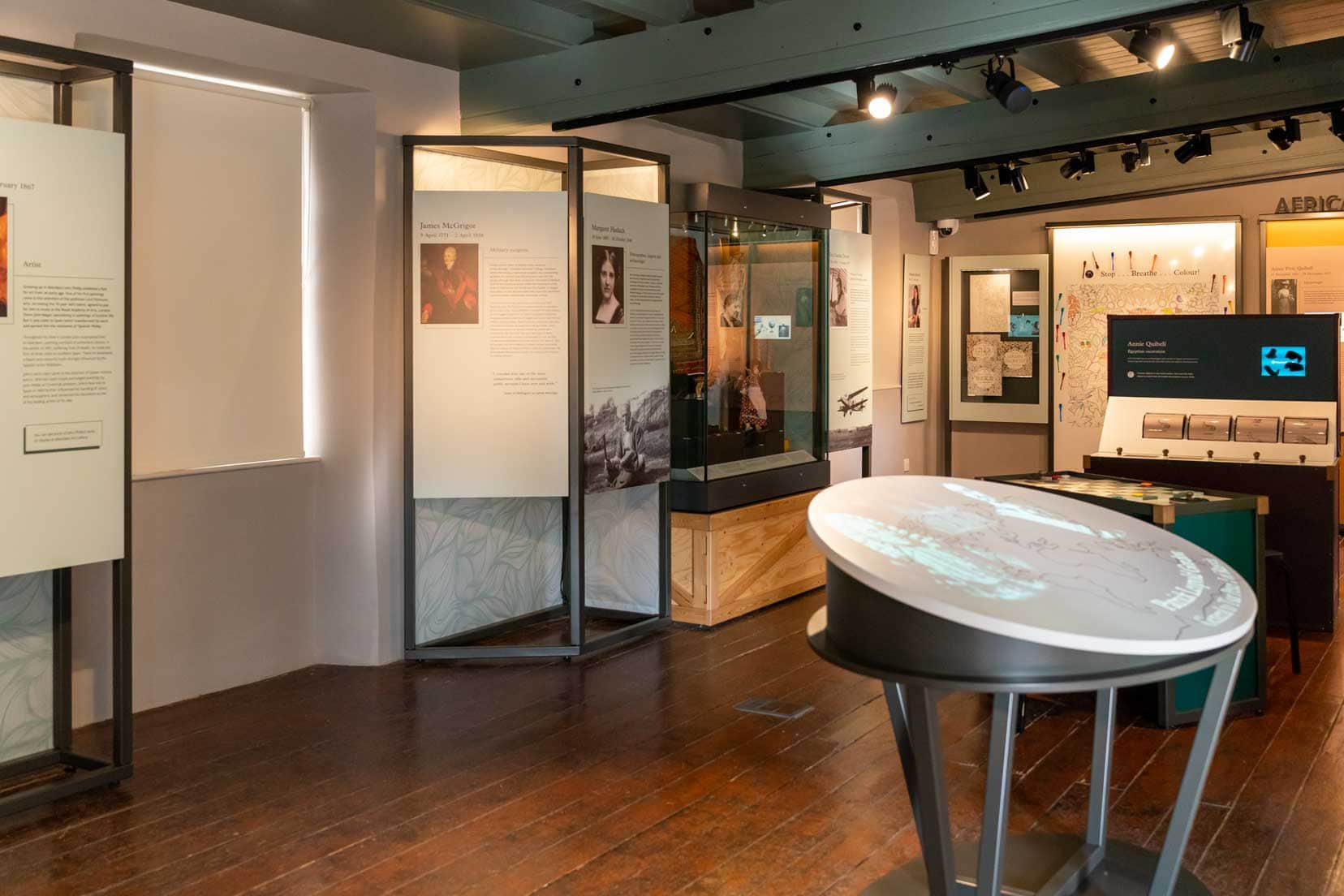 17. Kings College
Kings College, Aberdeen's first university, founded in 1495 is still the symbolic centre of the University of Aberdeen today. Situated in Old Aberdeen, this historic building is particularly known for its interesting crown spire.
The name of King's College was a nod to the then king James IV who supported the creation of the museum.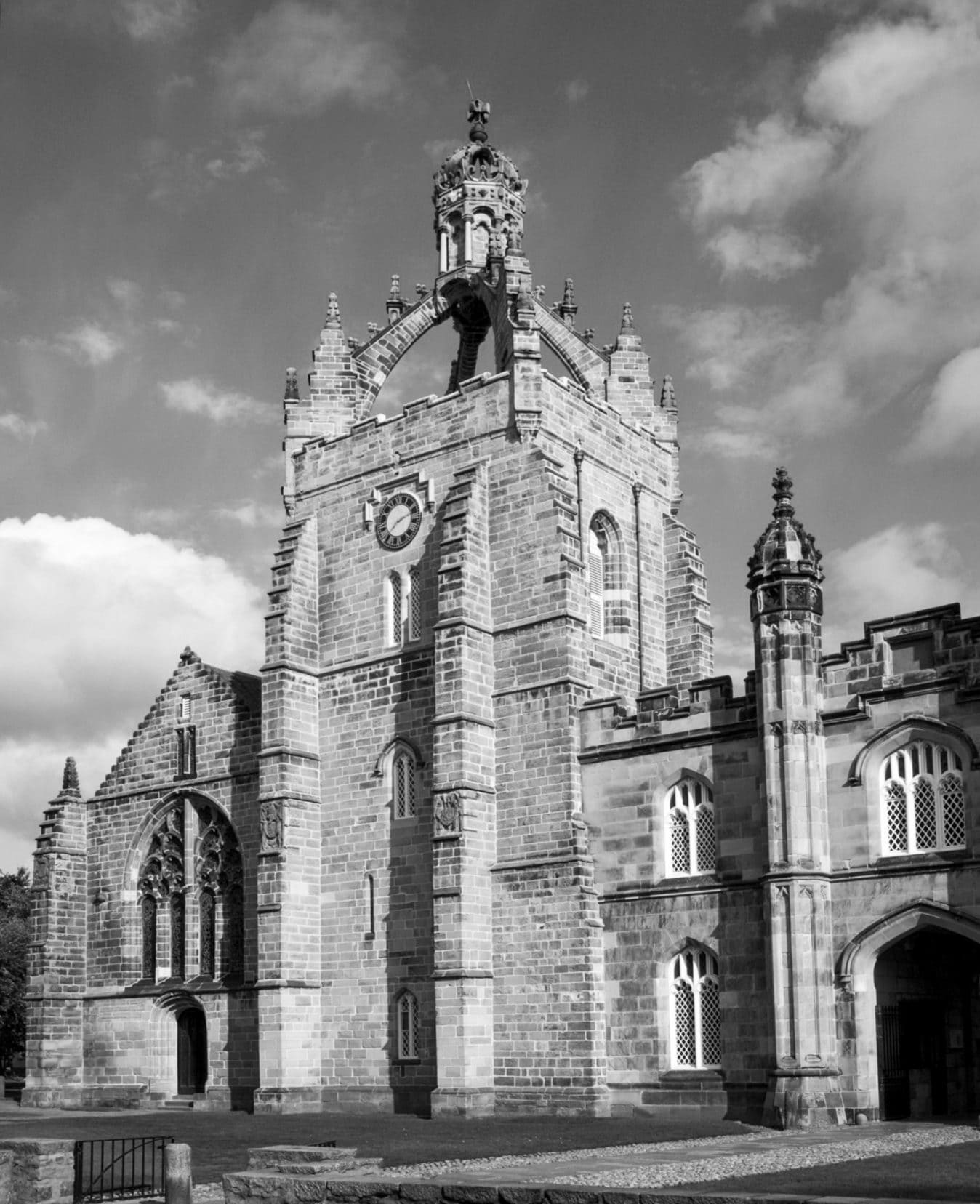 18. Marischal College
Aberdeen is famous for its granite buildings, so it is no surprise that it is home to the second-largest granite structure in the world, the Marischal College. The largest is in fact another 16th-century building, but in Spain, the El Escorial, a royal mausoleum.
Even though Marischal College can't claim to be the largest, it is recognised as one of the world's finest examples of granite architecture. It was once the second university built in Aberdeen in 1593, after Kings' College, but is now used as the Aberdeen council headquarters.
We were lucky enough to see it lit up as part of Scotland's Festival of lights (SPECTRA) which brightened the winter nights of Aberdeen. Check their website for the next festival dates.
The College is also lit up during the Christmas period, with an ice rink and some inviting Christmas stalls right in front of it.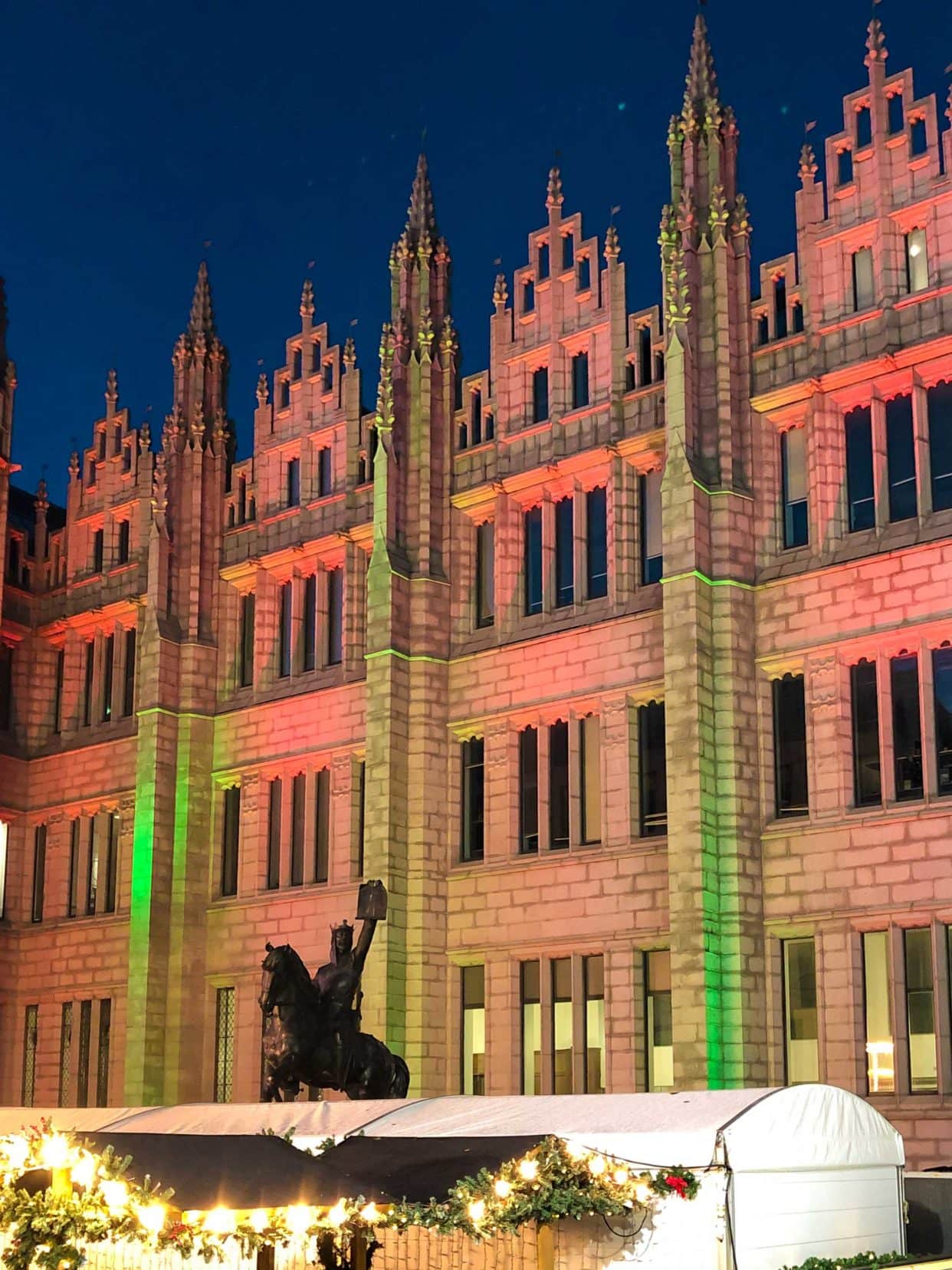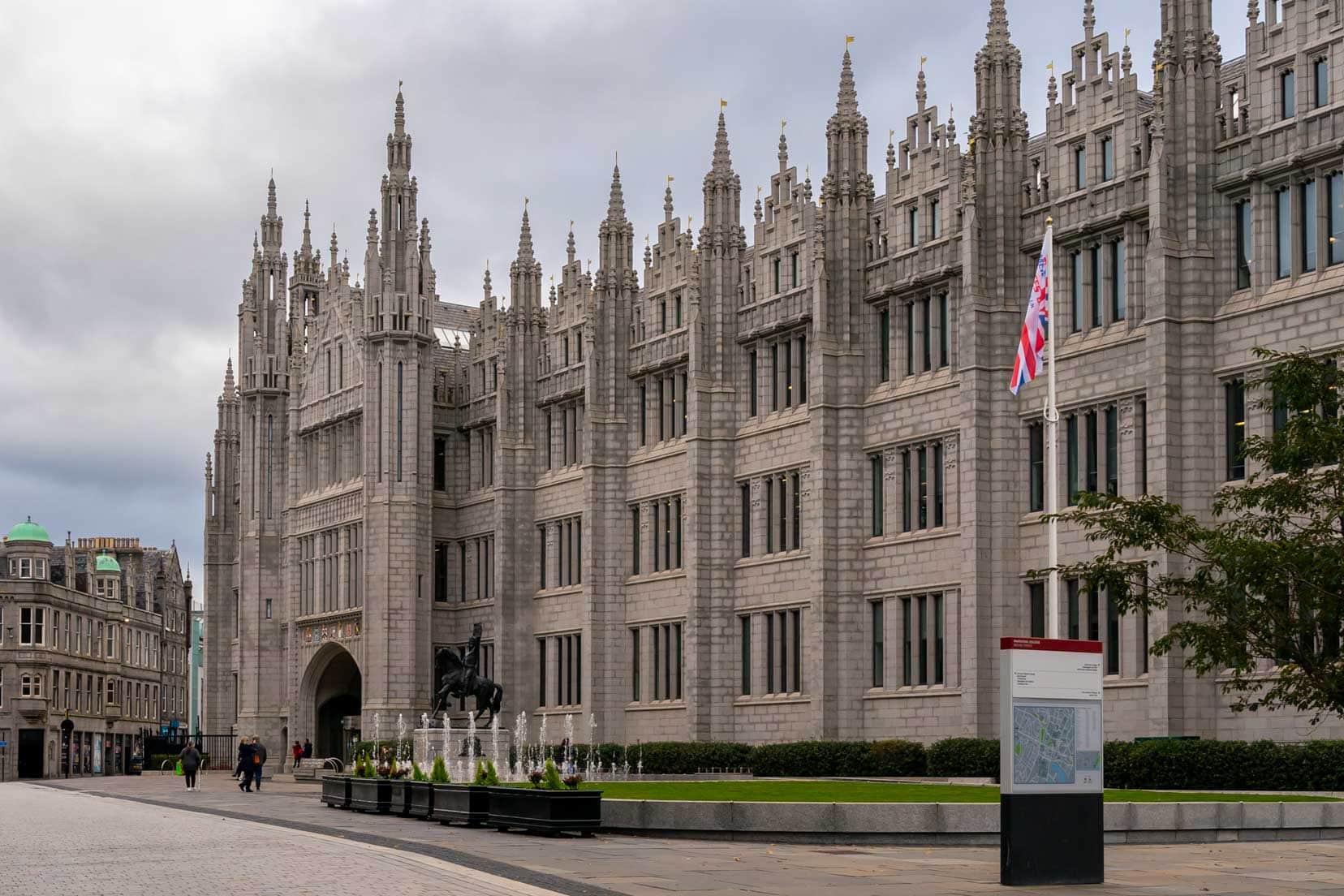 19. Visit Aberdeen's Oldest Pub
Aberdeen's oldest pub is Ma Cameron's, almost 300 years old. Amelia 'Ma' Cameron took over the pub in 1937 and before that it was known as the Sow Croft Coaching Inn. The pub dates back to 1746, and as with many old buildings, stories of ghostly presences have emerged over the years.
Stop in for some class Scottish fayre; tasty Cullen Skink with crusty bread or Haggis Fritters with whisky sauce.
20. Hazlehead Park
Hazelhead Park is a vast nature park in Aberdeen. We visited in spring, purple, with purple and white crocus peeking their heads up through the grass under the shelter of trees coming into bloom.
The park has free entry, but you need to pay to visit the Pet's corner, which has donkeys, llamas, rabbits and birds. It also has a small reptile house and a couple of meerkats.
Within the vast park, you'll find sculptures, a memorial path, a heather garden, a huge formal rose garden, and many woodland trails.
Although popular with locals walking dogs, picnicking and jogging, there are still plenty of quiet spaces where you can enjoy the simplicity of nature and listen to the birds chirping.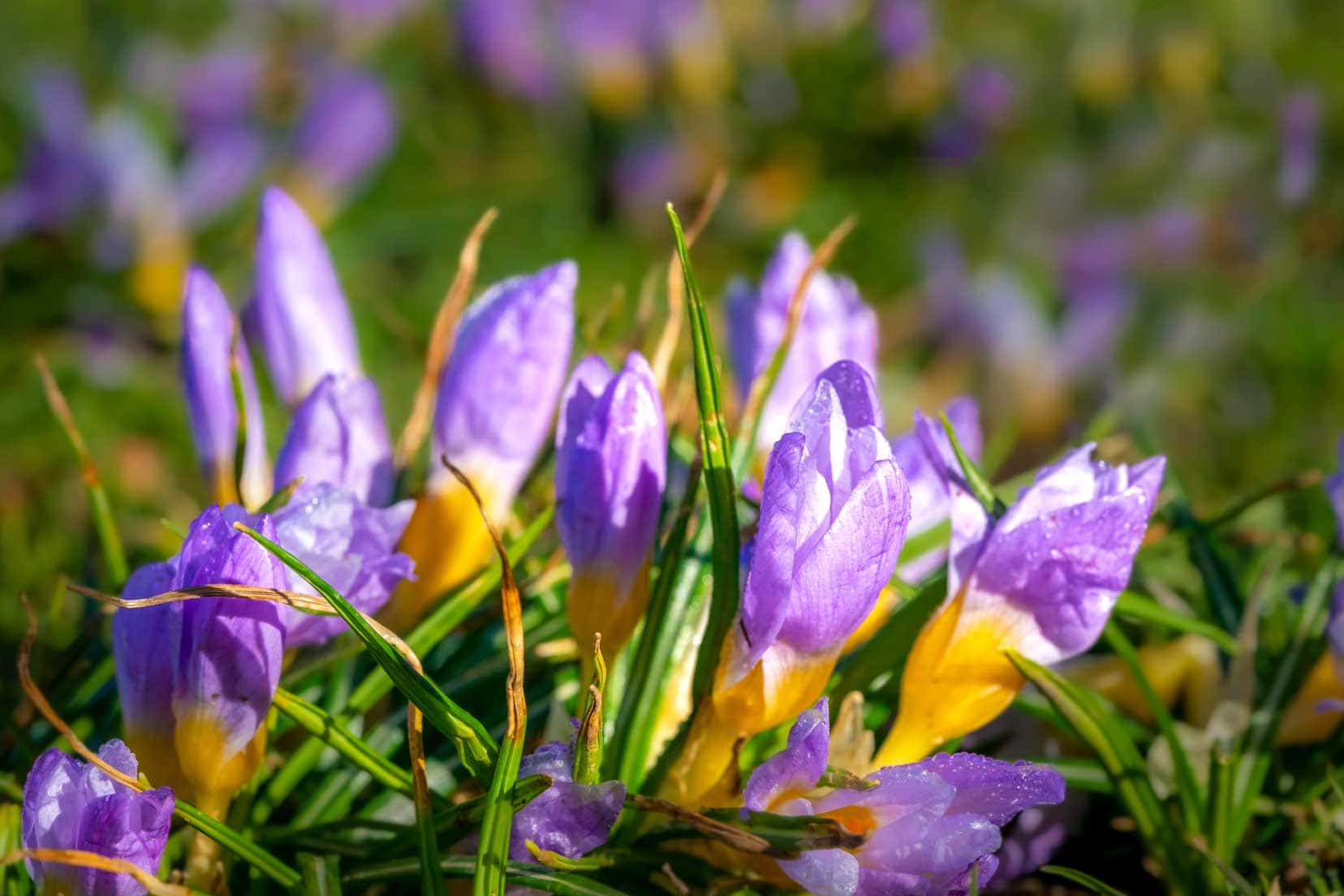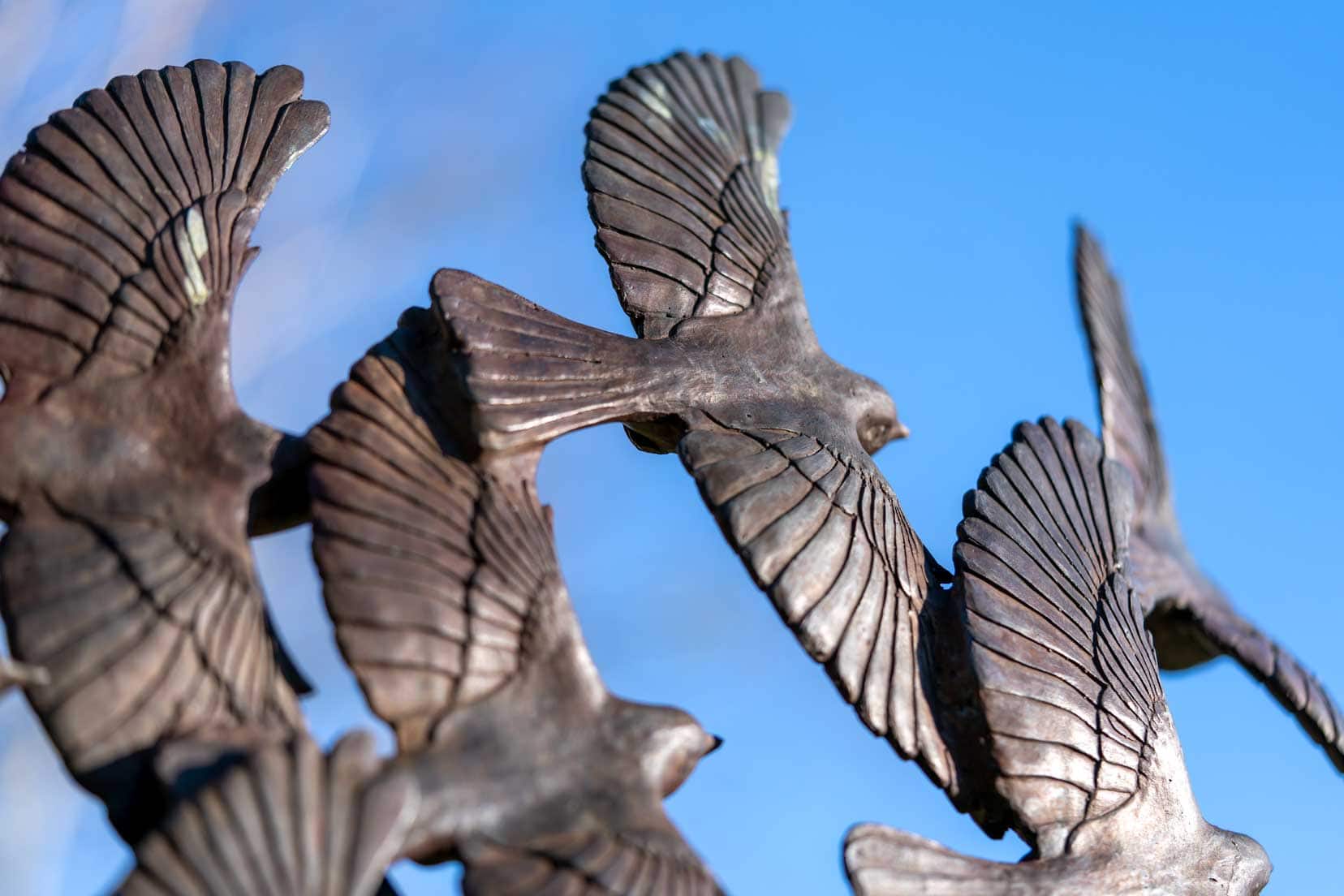 21. Gordon Highlanders Museum
This is the first of our paid activities – and as you can see there are plenty of free things to keep you occupied in Aberdeen.
If you're interested in learning about Scotland's history, though, don't miss out on visiting this museum. The museum tells the story of the Gordon Highlanders, named the finest regiment in the world by Sr Winston Churchill.
Discover the compelling and dramatic 200-year-long story of the Gordon Highlanders at the Gordon Highlanders Museum in Aberdeen.
The museum takes you on a 200-year-old journey of the Highlanders from the Napoleonic Wars to the modern day, using displays, film and guides.
Open from Feb – Nov.
Best Day Tours From Aberdeen
While in Aberdeen, make the most of the great Scottish experience day tours available from Aberdeen. Head north to Loch Ness, or stay more local and explore the historic ruins of Dunnottar Castle perched dramatically on the clifftop.
There are several whisky tours to choose from. You would think whisky was a big thing in Scotland:) The Speyside region of north-eastern Scotland is renowned for its single malt whiskies, which are sold all around the world. 
Here are a few of the best-reviewed tours from Aberdeen to consider:
Things to do Around Aberdeen
Outside of the city, you are spoilt for a choice of things to see and do around Aberdeen. Hop over to our other post that lists 33 of the best things to do in Aberdeenshire.
Drive north from Aberdeen, along the coast to explore Aberdeenshire's towering dunes, watch seals frolicking, catch the sunrise over Rattray Lighthouse, and visit the impossibly placed villages of Crovie and Pennan squeezed between cliff and sea.
If you are visiting in summer and love wildlife then stop in at Troup Head to see an array of birdlife, but most of all, the thousands of nesting gannets that call this place a temporary home.
And while on the Banffshire Coast, don't forget to sample the local speciality of Cullen Skink in the fishing village of Cullen itself.
If you have a car, it is easy to visit the surrounding areas. A few of our favourites include: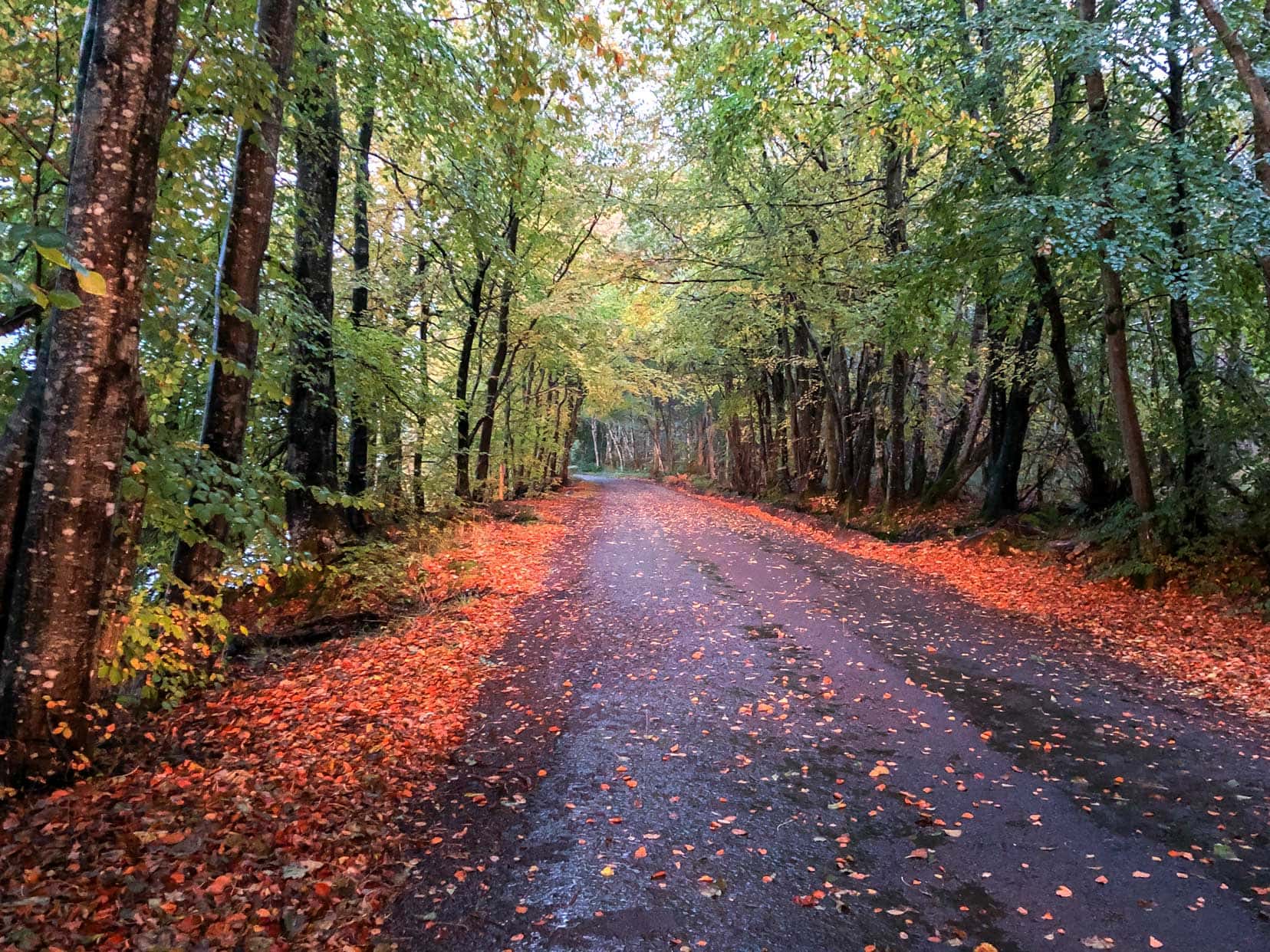 Do You Need a Car in Aberdeen?
Do you need a car in Aberdeen?
The simple answer to the question is no… But.
There are many buses that run in Aberdeen, and if you really had to travel without a car then you could get to most of the places we mention. All of the things to do in Aberdeen city centre can be reached by walking between them — the centre really isn't that big so that won't be an issue for you.
Reaching some of the other places in Aberdeen may be more difficult, especially if you are time bound. In our experience, the buses in Aberdeen can be unpredictable. We experienced regular cancellations of services when we were getting around by bus.
Therefore, we would recommend having a car to get around Aberdeen.
🚘 If you are looking to hire a car get a quote today from our favourite — DiscoverCars.com
Things to do in Aberdeen … That's a Wrap
With nature, history, wildlife, gardens and cultural activities, Aberdeen more than makes up for its lacklustre appearance. It's not the prettiest city but its attractions and the Aberdeenshire surroundings really do make it a worthwhile place to visit.
We loved our time there, and although not necessarily Scottish fare, over the year we indulged in way too many cream teas. It was the weekend treat we rewarded ourselves with after being out exploring Aberdeen and the rest of the county.
Do try one when there, and make sure it's clotted cream!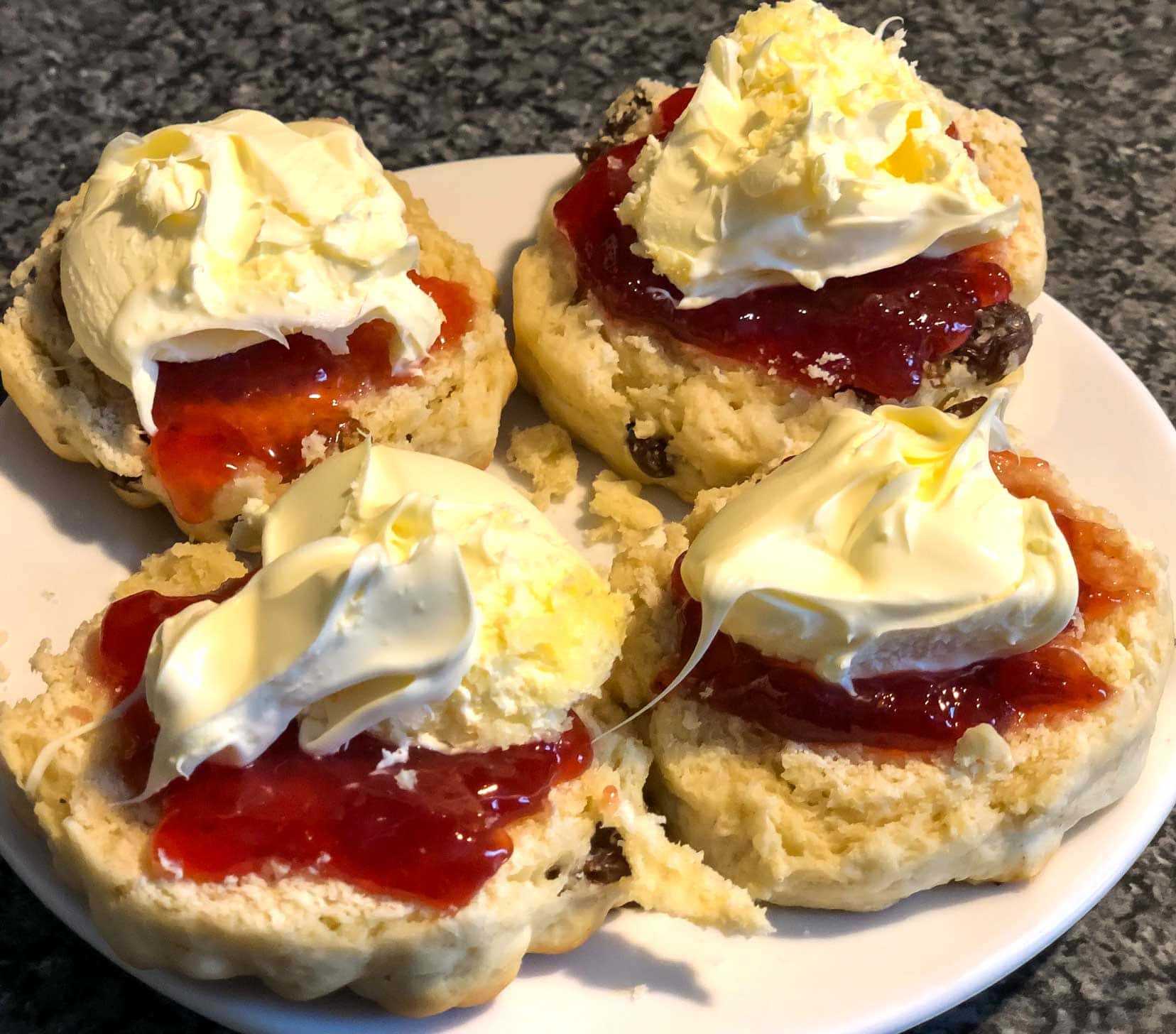 Please let us know if you have any questions and we'll do our best to help. Or if you think we've missed any of the best things to do in Aberdeen, then drop us a line.
Pin and Save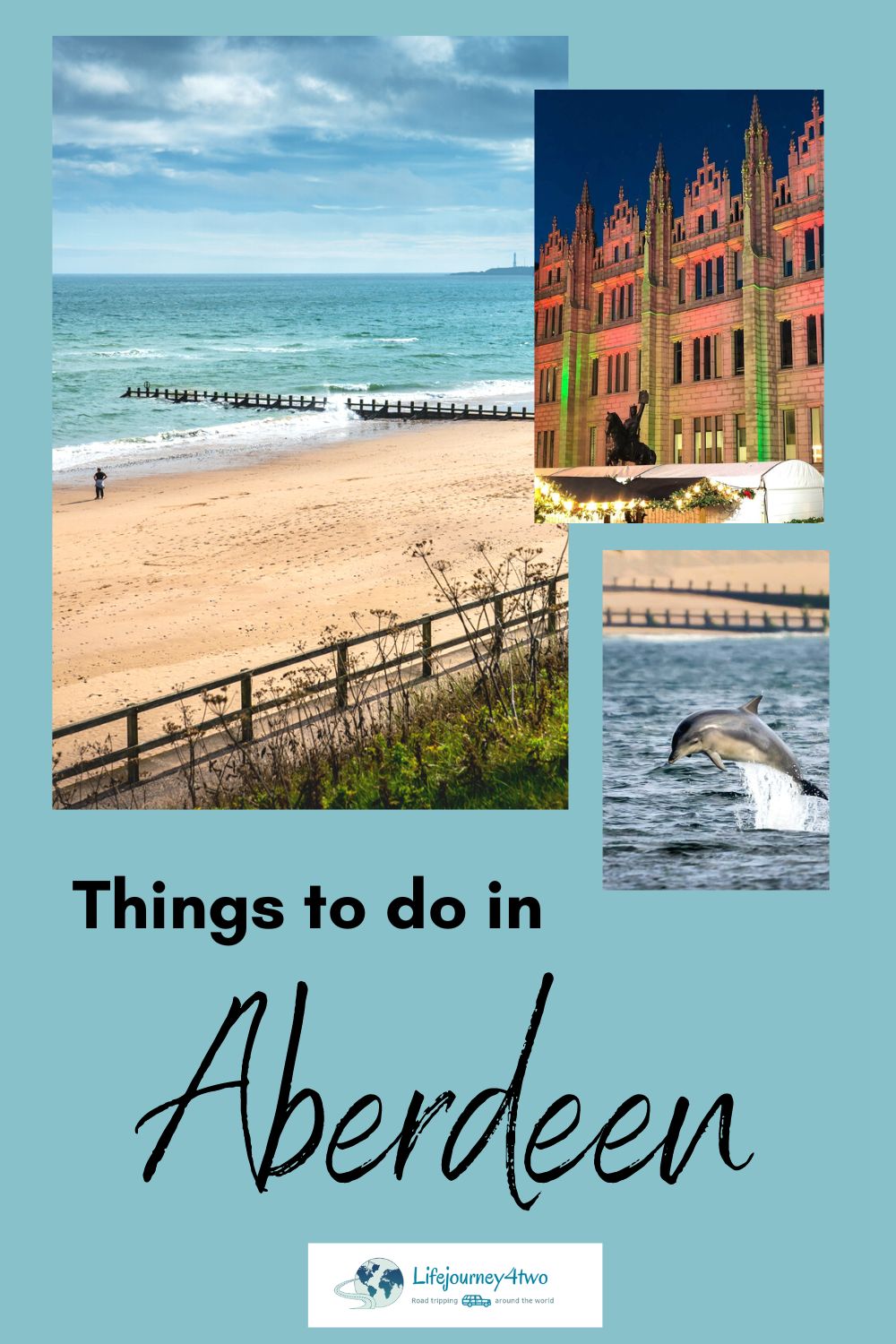 Read More:
PLANNING YOUR TRAVELS?
These are some of the travel resources we use when planning our trips.
For a more thorough list visit our Travel Resources page here.