Moving to Aberdeen in Scotland — the Adventure Continues
We were living in Aberdeen.
This wasn't part of the plan.
We were meant to be Overlanding in our 4×4 in Africa and Aberdeen is many things, but it is not Africa.
As so many of you, in all corners of the world know, travel plans had to change during Covid.
So we found ourselves moving to Aberdeen, Scotland in September 2021.
BUT...
Who doesn't want to explore the highlands of Scotland and step into a world of scenic hikes, climb lung-busting Munros (that's high mountains to those who don't speak Scottish;) and wander the historical paths taken by the likes of Claire and Jamie in the hit series Outlander?
To be able to spend time in this northeasterly city of Scotland was an exciting prospect.
A world of whisky, wildlife, hikes, haggis, historic castles, lochs, wild landscapes, bagpipes and beaches awaited us — Not sure about the whisky, but we were up for the rest.
Did you know Scotland has over 130 whisky distilleries? What is it with all the whisky? There are whisky tours, guides, distilleries and bars at every turn.
I'm beginning to wish I liked the stuff.
(Thank you to one of our readers, who has pointed out a wee mistake – I was spelling whiskey with an 'e' but Scottish whisky has no 'e', Irish whiskey, however, does have an 'e'. Who knew?)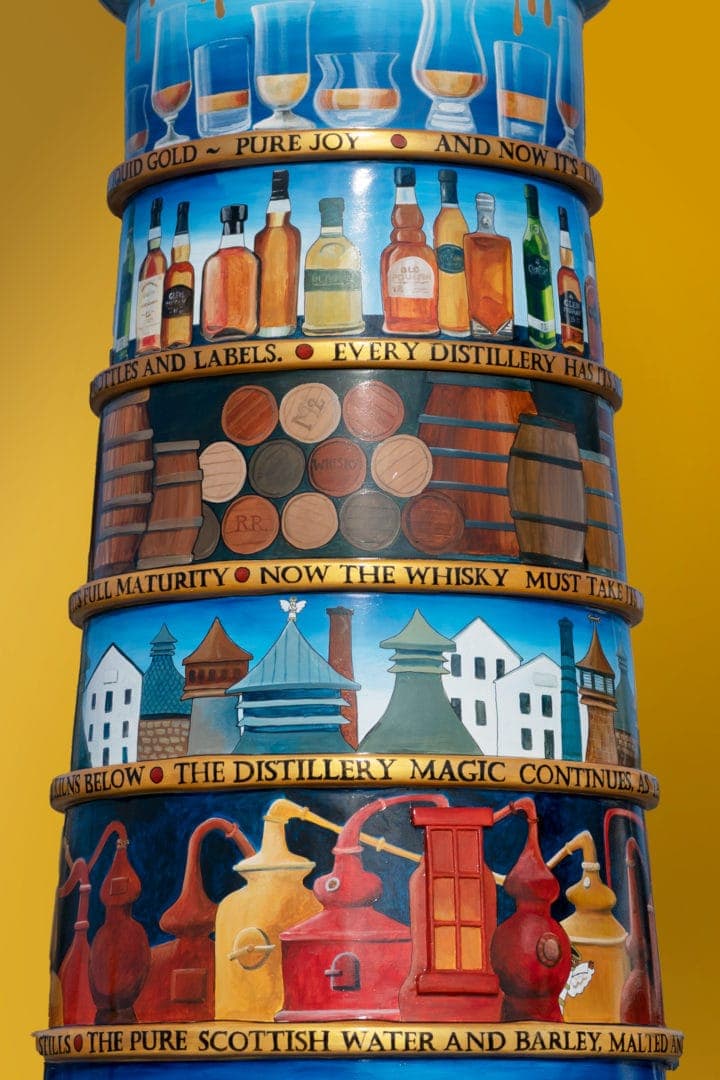 Planning a Trip to the U.K.?
What's in this Moving to Aberdeen Scotland Article?
Here, you'll find a mix of great information that will be useful if you are planning on living in Aberdeen UK, and snippets of our own experience of moving to Aberdeen.
Use this list if you want to jump to practical sections about moving to Aberdeen :
The Long Wait
We arrived in Aberdeen at the beginning of September — it had been a long time coming. Lars, my husband, was offered a contract job in Aberdeen back in March and was to start on 1st April 2021.
Now, as you may or may not have heard, there was a worldwide pandemic. So, getting to Scotland from Norway was a tad difficult.
Constantly changing lockdown rules, a chaotic traffic light system for countries (all of which could change mid-flight), and the normal bureaucratic red tape, all played their part.
But we finally stepped foot on Scottish soil at the beginning of September 2021.
We were excited to finally touch down.
Not because we weren't happy in our harbour apartment in Skudeneshavn in Norway, but because we'd been there for ten months and as 'road trippers' without a car, we were going a little stir-crazy.
We'd explored the local area; hiking snowy forests, tentatively walking across frozen lakes and admiring the swathes of golden daffodils when the cute lambs appeared in spring.
Summer beckoned the tourists (Norwegian tourists of course – did I mention the pandemic?), and on weekends, boats and yachts were three or four abreast in Skudeneshavn's tiny harbour as the boating revellers sipped sundowners under the midnight sun.
It was a pleasant way to pass the seasons, but our travel bugs were itching.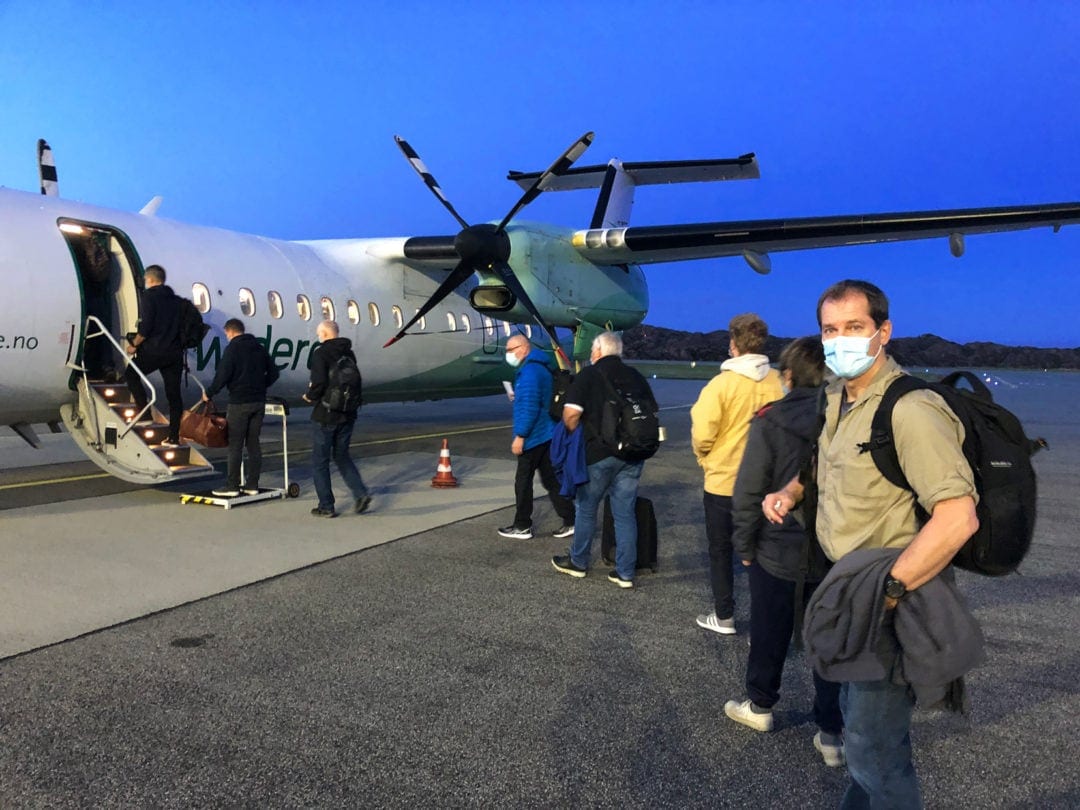 The Journey to Aberdeen
The journey from Skudeneshavn involved a 45-minute taxi ride, a short Norwegian domestic flight from Haugesund to Bergen, and then to Aberdeen Airport.
Yes, Aberdeen has its very own airport.
Very convenient for someone moving to Aberdeen and wanting easy access to international travel opportunities.
I don't like to generalise, though I seem to do it often, (reminder to myself to try and do it less!), but the scenario we watched unfold, as the plane landed in Bergen, may give you an insight into the Norwegian culture.
As usual, on landing, the passengers are told not to remove their seatbelts until the plane has stopped moving. In any other part of the world, this is generally followed by a clicking frenzy as passengers unclip their belts (even though the plane is still trundling to the terminal).
Then, when the plane finally comes to a standstill, a rush of bodies squeeze into the aisles, amongst a flurry of baggage swinging from overhead lockers.
Not so on a Norwegian flight.
No premature unclipping here. Not one person stood up until disembarking began and even then, only the front row passengers. Not until the previous row had collected their baggage and started to leave, did the next row even lift their rear ends from their seat.
And so it went on… the Norwegian way.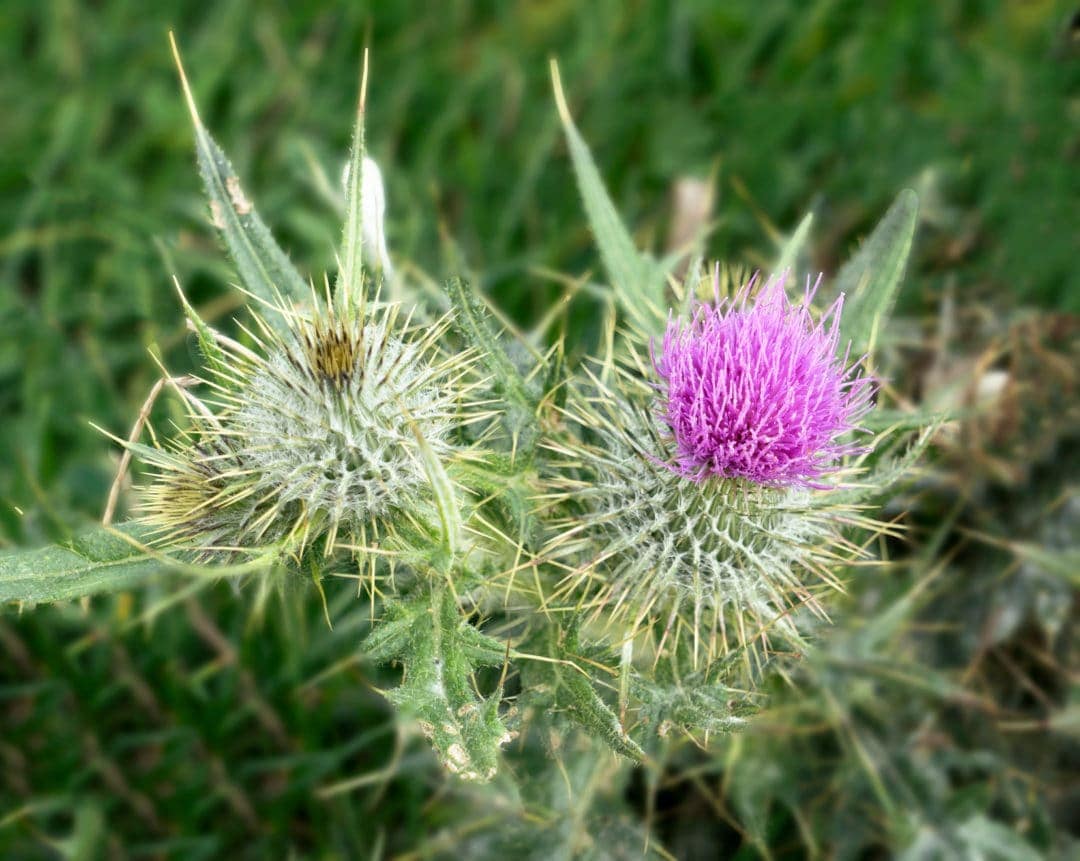 Moving to Aberdeen
The first couple of weeks, after moving to Aberdeen, passed in a blur of form filling, appointment making and the general busyness of finding our feet.
We've been constantly on the move since 2017, so are quite adept at moving to new places. However, because we were to be in Aberdeen for just over a year, there were more things to tick off on our arrival 'To-do' list than usual.
Aberdeen To-Do-List
For those of you interested, this is a quick peek at our 'To-do list for arriving in Aberdeen, Scotland:
Find a place to rent: Aberdeen has the highest rental prices in Scotland and in 2019, it had the highest cost of living too. We managed to negotiate a great deal for a serviced apartment because we were to be here so long. [UPDATE: That turned out to be too expensive and we found a much cheaper rented accommodation just out of Aberdeen]
Buy a car: Prices are much cheaper than in Australia – woohoo! We've bought a little silver Peugeot 207 and feel whole again now we have wheels.
Read all our tips on road-tripping in this post: Road Trip Essentials for Couples
Find car insurance: Note that in the UK you can only pay your car insurance with a UK credit or debit card… err ok, slight problem — we only had Australian cards
Pay the Road Tax for the car: Can only be paid with a UK Credit/debit card … you've got to be kidding me!
Therefore, set up a UK bank account: Easier said than done when they ask for utility bills, and proof of address etc. etc. After several failed attempts, the Bank of Scotland came to our rescue.
Register with a Doctor: Be prepared for the health system to be completely different to what you are used to. I'm not going to bore you with my frustrations, but I am appreciating the Australian healthcare system at the moment!
Buy Groceries and all the basics: You know like salt, pepper, bread, Cornish clotted cream, mini pork pies, scotch eggs and all the other essentials (Haha)
Apply for grocery store points cards: You know the saying, "Look after the pennies and the pounds look after themselves"
Go mad on Amazon: Because online shipping to Norway was very expensive and now we can get free delivery!
You might not need the last item on your to-do list, but when you've been wearing the same minimal (can I fit it all in my backpack wardrobe) clothes for two years, including Overlanding in South Africa, you'd be excited as me!
First Impressions of Moving to Aberdeen
So, here we were in the Granite City, so-called due to the number of buildings built from the mid-18th to the mid-20th century out of — yes, you guessed it — Granite.
Mined from the local quarries, this hardy stone also gives Aberdeen its other nicknames, the Grey City, and the slightly more appealing, Silver City (when the sunlight catches the mica in the granite it gives it a silver fleck effect).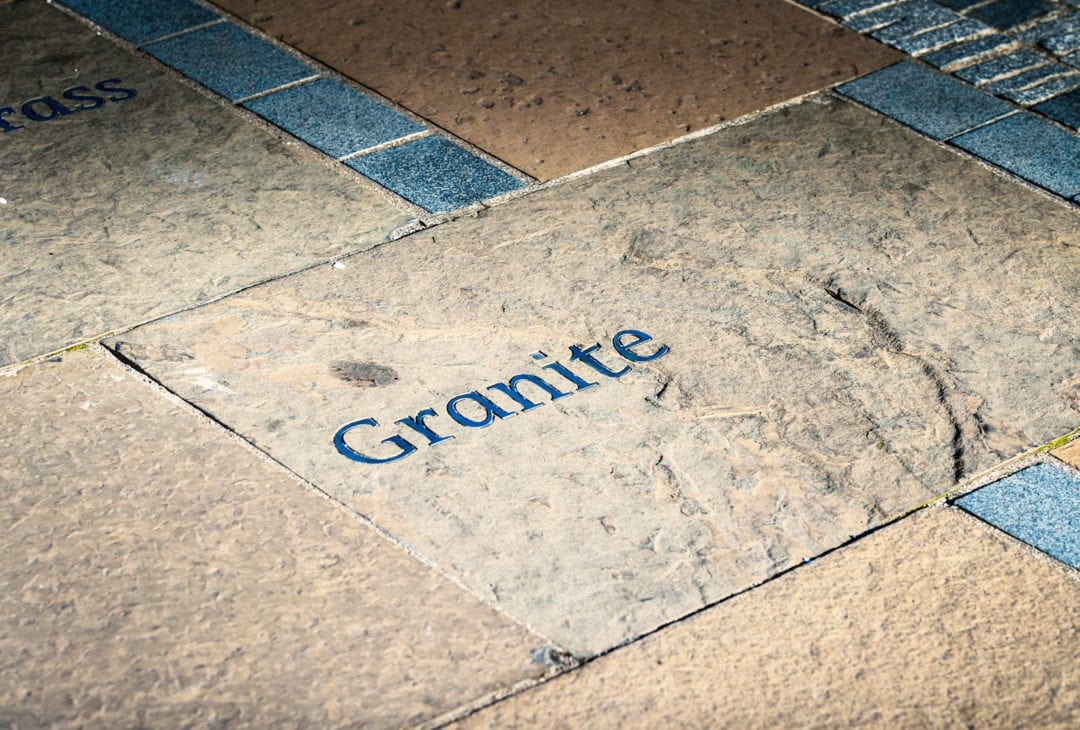 I was pleasantly surprised. I was expecting a dull, grey, industrial city with the only respite being an escape to the surrounding highlands of the Cairngorms.
However, although the city is industrialised, (it is the United Kingdom's hub for the oil and gas industry) there are plenty of parks, riverside walks, sandy beach fronts and rugged coastlines to draw your focus away.
In 1969, oil was discovered in the North Sea. Although there is evidence that people have been inhabiting the area for the last 8000 years, it was this discovery and the development of the oil and gas industry in Aberdeen, that has led to it being called the offshore oil capital of the world, (note that Aberdeen's sister city of Stavanger, in Norway, also claims this accolade).
Although Aberdeen is the third-largest city in Scotland, its city centre is relatively small and easy to navigate. Its old granite buildings merge incongruously with its commercial quays.
Aberdeen is not the prettiest city, but look past the hotchpotch of this industrial area and you will find much more that sparkles, other than just the mica in its granite buildings.
Gems to Discover in Aberdeen
Although Aberdeen city centre can't be called attractive, the city more than makes up for it with its parks, river walks and areas of natural beauty in close vicinity. There are plenty of wonderful things to do in Aberdeen with plenty of them being free.
Just 20 minutes south of Aberdeen are the ruins of Dunnotar Castle, perched on a rugged outcrop. Close by is the historic harbour town of Stonehaven, which boasts the best fish and chips and ice cream in the area.
We've walked along the picturesque banks of the River Dee, and also found ourselves in a mini Cotswolds at the Cottown of Balgownie by the oldest bridge in Scotland, the Brig O' Balgownie over the River Don.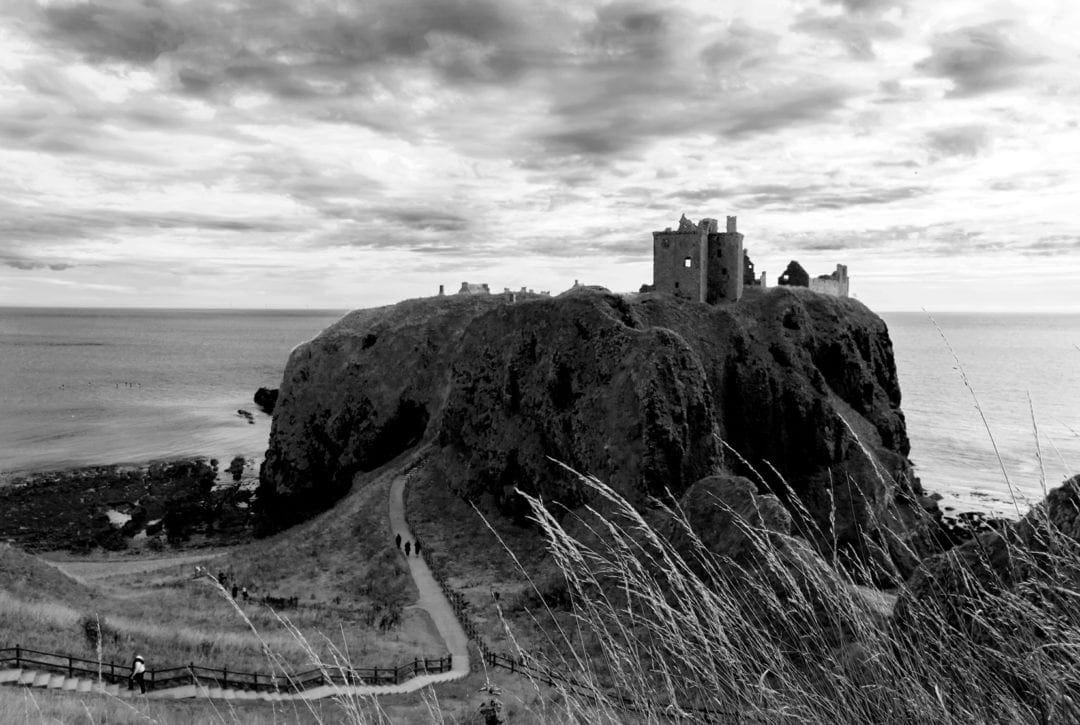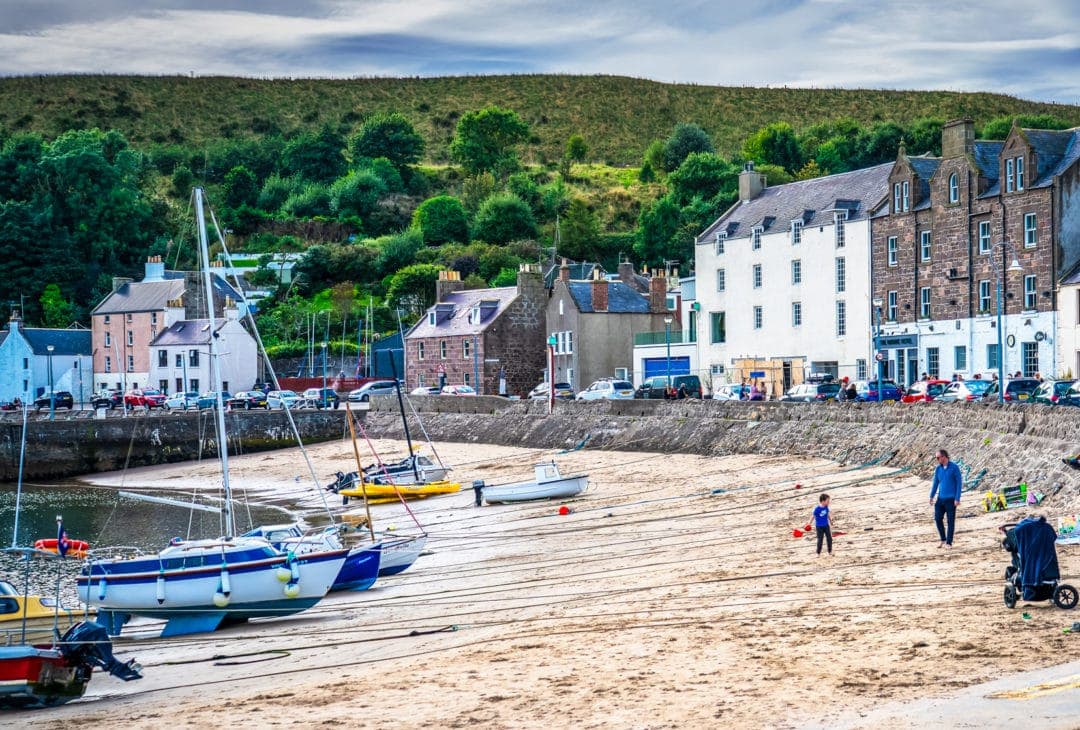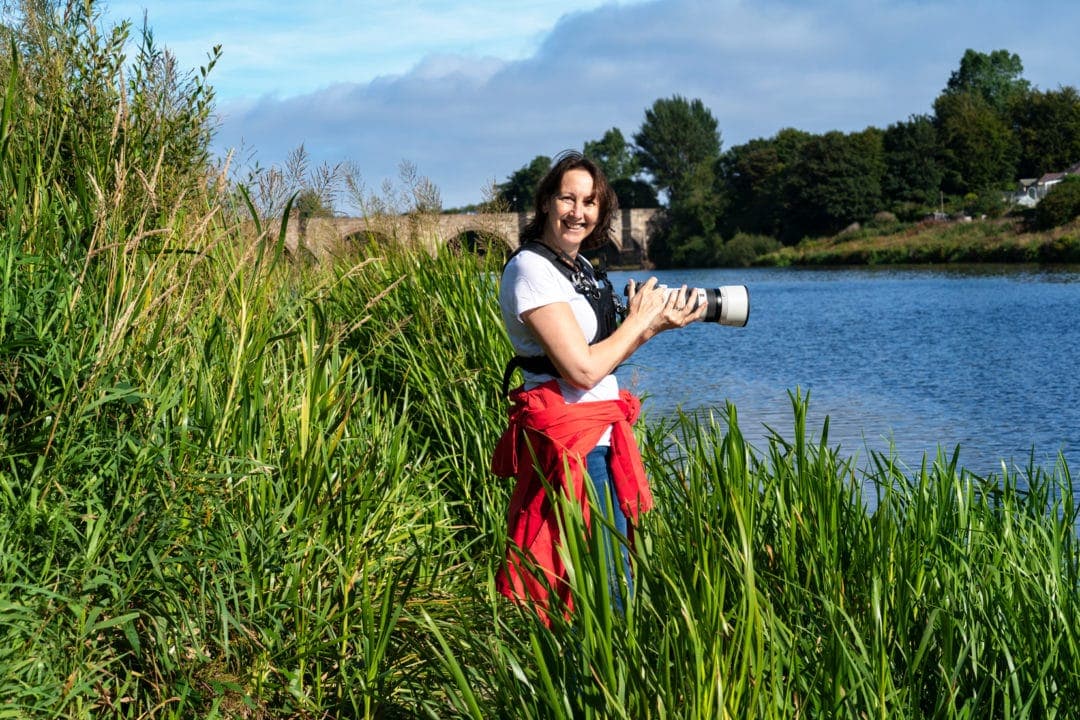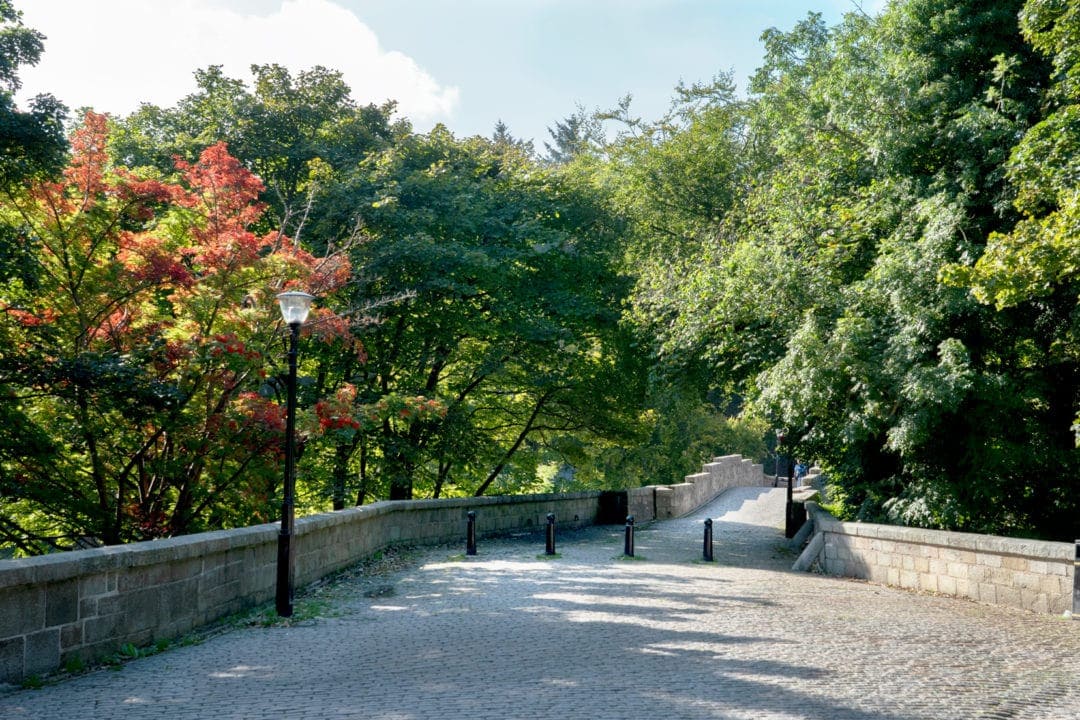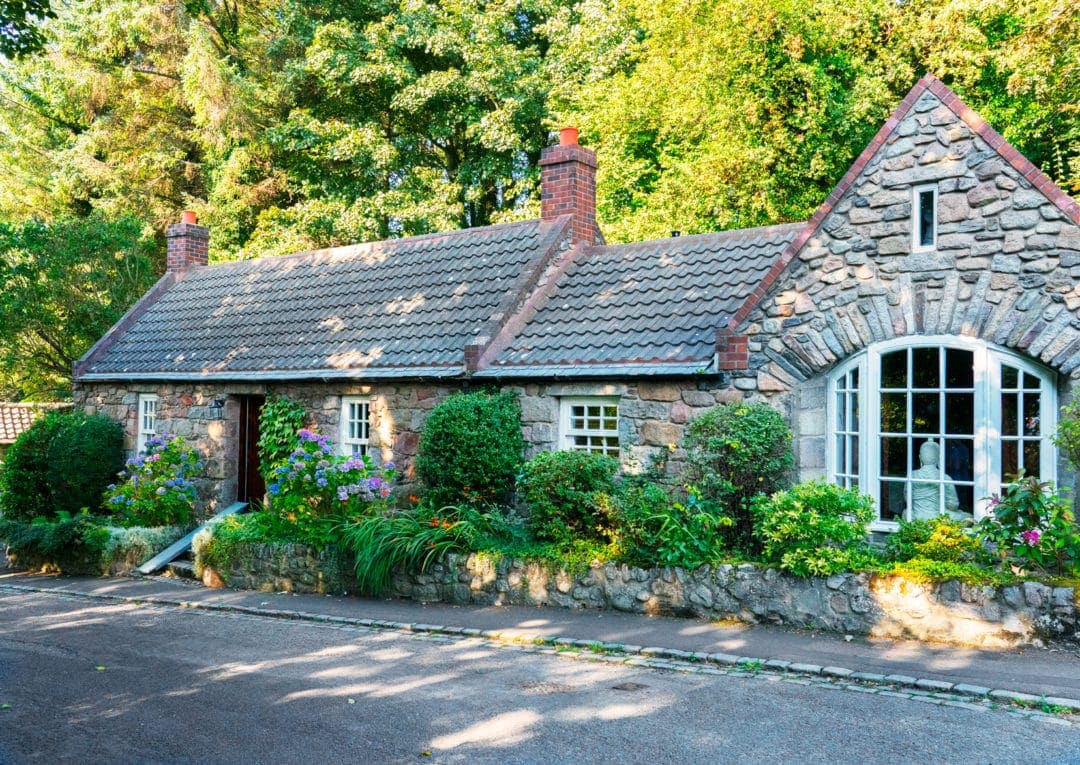 We stopped by Seaton Park and were surprised to find beautiful formal flower beds a centrepiece for a pathway named Cathedral Walk which leads you to Machar Cathedral, which has been a site of worship since the year 590.
I think the cathedral is beautiful in its simplicity – take a virtual tour here. In Seaton Park, you'll also find peaceful walled gardens, a granite garden, a fountain and a fun children's playground complete with an old train engine named 'Mr Therm'.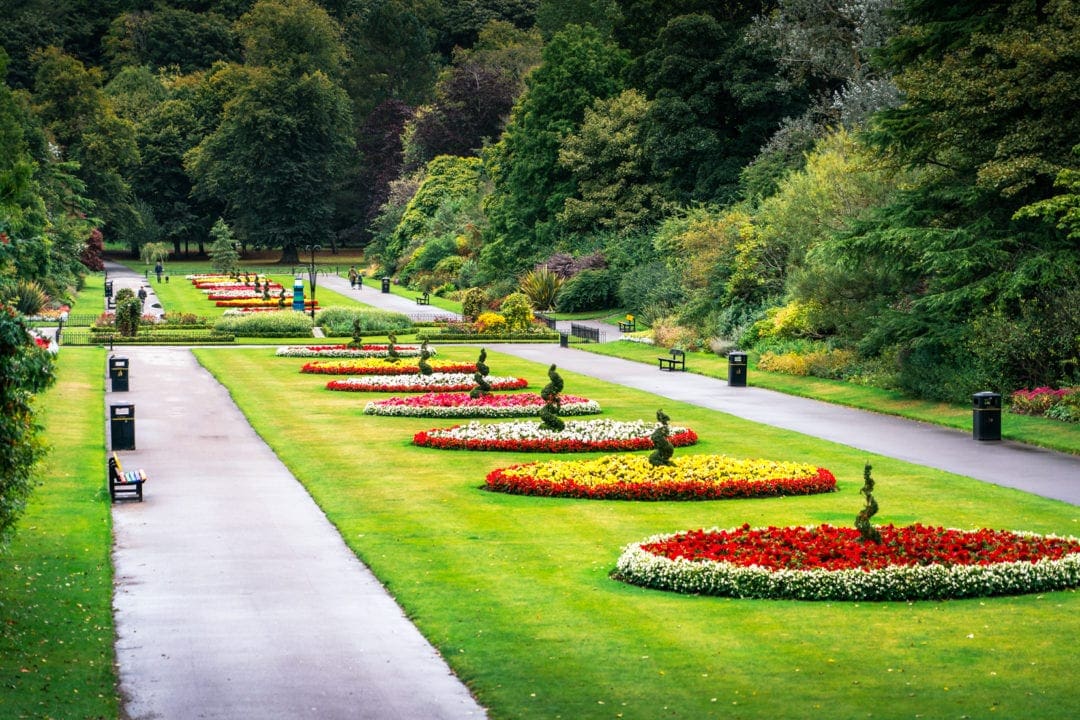 Aberdeen has a long sandy beach, and lots of places around its harbour and coastline to spot the local dolphins, porpoises, minke whales and numerous seabirds.
The beachfront promenade is popular with locals walking their dogs and others getting their 8,000 steps a day and taking in the fresh Aberdonian sea air.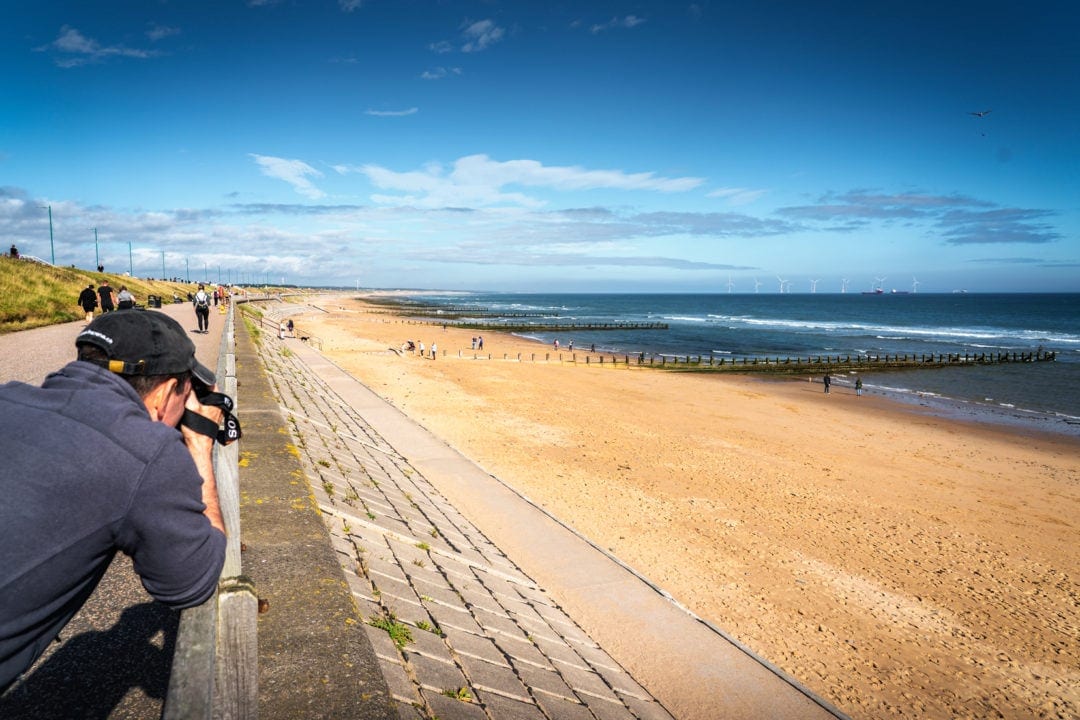 For over a year we discovered all the best things to do in Aberdeenshire.
Aberdeen Weather
Aberdeen is one of Scotland's sunniest regions in Scotland, clocking up an average of 2370 hours of sunshine a year. We were blessed with good weather when we arrived at the beginning of September — I was expecting incessant rain and grey skies.
But, not to worry — we also had plenty of incessant rain, grey skies and stormy winds!
Locals told us that Aberdeen is known for its mild winters. The average temperatures range from about 4.5º C in winter (the coldest month being February) to about 15º C in Summer, (the warmest month being August). However, if you haven't got the right clothes – Aberdeen can seem very cold.
Aberdeen does get a lot of rain. November tends to have the highest number of rainy days (16.27 days) and May, has the lowest number of rainy days (11.27 days).
What is there to Explore in Aberdeen?
I'm glad we had over a year to explore the area. Our list of places to see in Aberdeen mounted up quickly, and it spilled off the page when we include all the things we wanted to do in Aberdeenshire.
We planned some house-sits throughout Scotland too, so we had more than enough to keep us 'road trippers' happy until we returned to Africa to continue our 4×4 Overlanding adventure.
Historical monuments, parks, gardens, walking trails, and wildlife spotting points were all on the list. A quick browse of Visit Aberdeen's website highlights the vast array of attractions and experiences that lay in wait.
Aberdeen has the UK's largest National Park, the Cairngorms, right on its doorstep, where castles, lochs, mountains and walking trails all entice you to explore this area of natural beauty.
We'll be bagging Munros, Corbetts, Grahams and Donalds and just so we're not seen as sexist, we'll also be having a go at the Marilyns — the ones that prove that size doesn't matter;)
As lovers of wildlife, we kept a keen eye out and cameras at the ready for the variety of animals the guidebooks and blogs promised us. Here are a few examples of the wildlife we hoped to see:
✅ Dolphins
Porpoises
Minke whales
✅ Grey seals and harbour (common) seals (See our article about Newburgh Seal Beach)
✅ Otters
✅ Red deer
✅ Guillemots
✅ Gannets
✅ Puffins
The rare golden eagle
The protected capercaillie
As enthusiastic photographers, we did bombard you with scenes of fairytale castles, ancient bridges, shimmering lochs, vast swathes of rugged landscapes and every bird, mammal, reptile and insect that we come upon in Scotland via our social media, Facebook and Instagram.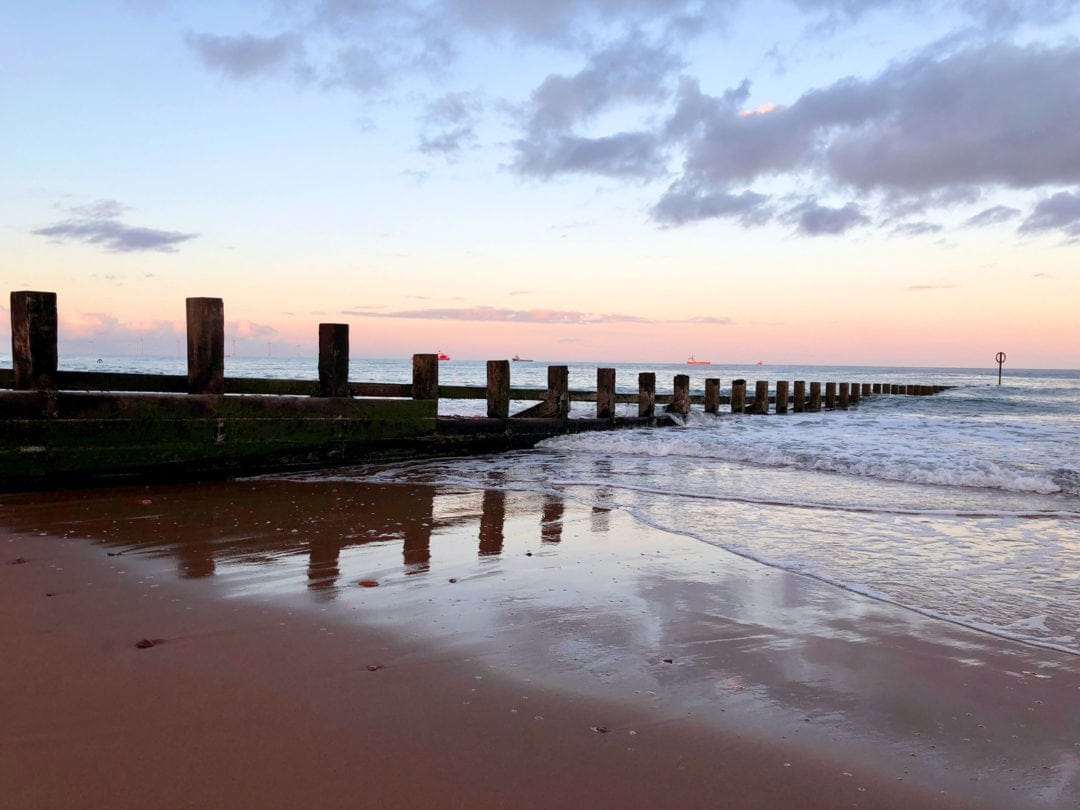 Good To Know When Moving to Aberdeen
Here are some useful tidbits of information that are good to know if you are moving to Aberdeen:
Ex-pat Communities: There are quite a few ex-pat communities that provide opportunities to ask questions and to make new friends as you make Aberdeen your new home.
Buses in Aberdeen: Note: Drivers do not carry change!

Visit the First Bus website (Download the app and which allows you to plan ahead for your journey, predict when the bus will be quietest to travel on, track the bus to the bus stop and even buy your tickets in advance for contact-free entry to the bus.)
You can buy a Grasshopper Pass from the bus driver – see more info here.


Shopping in Aberdeen: There are three main shopping malls in the centre of Aberdeen
Aberdeen Food and Drink
Living in Aberdeen means you have top pickings of local delicacies in the area:
Aberdeen Angus Beef
Cullen Skink (A hearty, thick Scottish soup made from smoked haddock, potatoes and onions. This local recipe originated in the town of Cullen, in Moray)
Shortbread (Walkers having been baking their renowned shortbread in Aberlour, Moray for over 100 years) — Walkers is more expensive but we've tried most brands now and they are definitely the best
Seafood fresh from the sea to the table
Whisky, whisky and more whisky. (Aberdeenshire is home to more than half of Scotland's distilleries.
Quick Fact: 42 bottles of Scotch Whisky are shipped worldwide every second!)
The area even has its own Malt Whisky Trail
There are plenty of bars, restaurants and clubs in Aberdeen, it is a student city, after all, so you are spoilt for choice of places to eat and drink.
Aberdeen Entertainment
Coming from Perth, in Western Australia, we aren't used to seeing a plethora of big names visiting the city. Reading off the list of performers, bands and comedians playing in Aberdeen was like watching the Oscars.
So many well-known acts.
If you have lived in a major city before, then this probably isn't that impressive to you but for us, it's a big WOW!
You can find out what's on at:
Map of Aberdeen and Places to Visit
Things to Find out about Scotland
Part of travelling and living in another part of the world is finding out about the history and experiencing the culture of where you are. Scotland is steeped in both enticing romantic histories and blood-curdling violent battles, all drenched with mystical stories and legends.
We were fortunate to be able to immerse ourselves in the heart of the country and hear the stories of the passionate Scots who live here.
We brushed up on our knowledge of Scottish history. The Scots seem very passionate about their heritage and I didn't want to offend by muddling the little knowledge I had (mainly sourced from films and tv series — thank you, Braveheart and Outlander ).
I had heard of William Wallace (it is said that his arm may be interred in the Machar Cathedral here in Aberdeen), and I knew the Battle of Culloden was crushing for the Scots.
But that wasn't enough to cut it.
I found out who Robert the Bruce was, why oh why Scotland so obsessed with its whisky, why the Scots are eating Skink, what on earth a 'capercaillie' was and why they are protected.
Luckily Google was on hand to help fill my cuppeth until it overfloweth with Scottish history and facts.
Moving to Aberdeen … That's a Wrap
The Aberdonians have been nothing but friendly and helpful and with so much to explore, parks to peruse, hikes to hike and Munros to bag and conquer, moving to Aberdeen was another exciting adventure added to our list of experiences as we road trip our way around the world.
As always thank you for your support — we really appreciate it.
Pin and Save for Later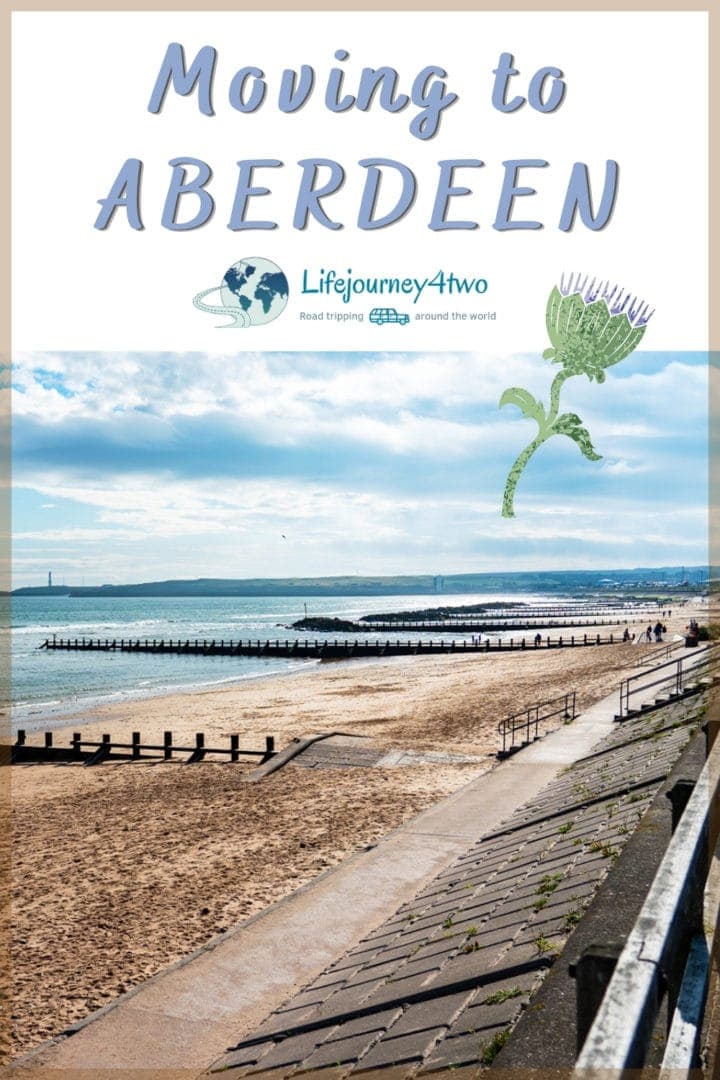 Read More on the UK here:
---
PLANNING YOUR TRAVELS?
These are some of the travel resources we use when planning our trips.
For a more thorough list visit our Travel Resources page here.